Going Through Storms Quotes & Sayings
Enjoy reading and share 46 famous quotes about Going Through Storms with everyone.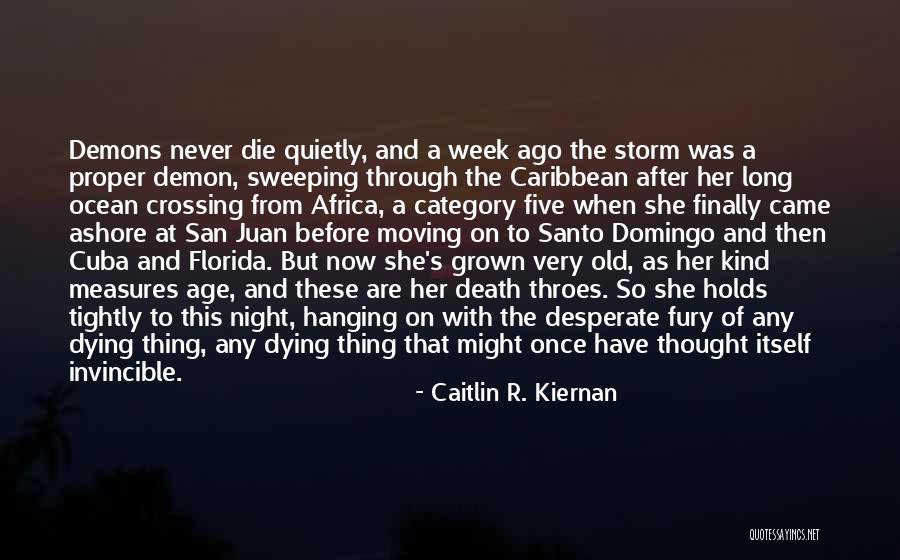 Demons never die quietly, and a week ago the storm was a proper demon, sweeping through the Caribbean after her long ocean crossing from Africa, a category five when she finally came ashore at San Juan before moving on to Santo Domingo and then Cuba and Florida. But now she's grown very old, as her kind measures age, and these are her death throes. So she holds tightly to this night, hanging on with the desperate fury of any dying thing, any dying thing that might once have thought itself invincible. — Caitlin R. Kiernan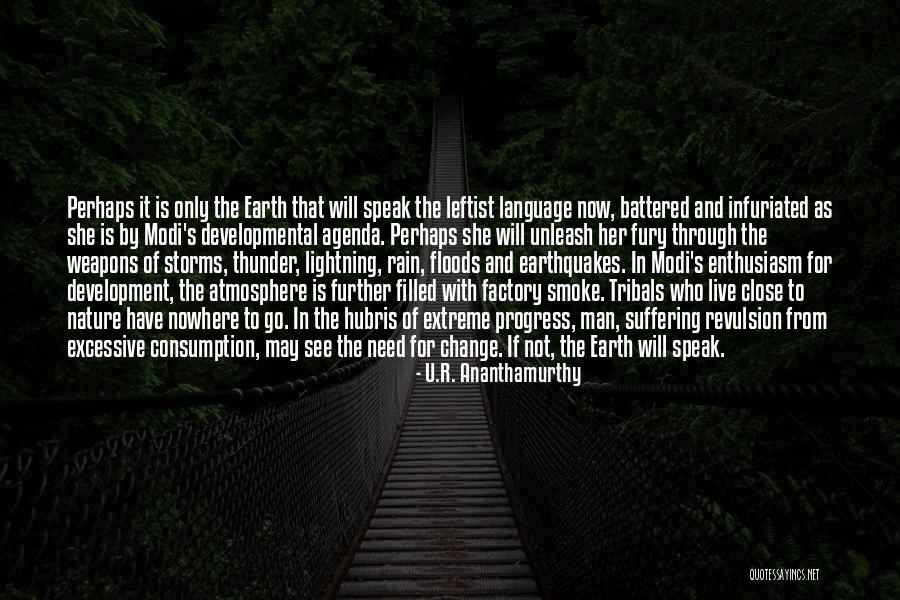 Perhaps it is only the Earth that will speak the leftist language now, battered and infuriated as she is by Modi's developmental agenda. Perhaps she will unleash her fury through the weapons of storms, thunder, lightning, rain, floods and earthquakes. In Modi's enthusiasm for development, the atmosphere is further filled with factory smoke. Tribals who live close to nature have nowhere to go. In the hubris of extreme progress, man, suffering revulsion from excessive consumption, may see the need for change. If not, the Earth will speak. — U.R. Ananthamurthy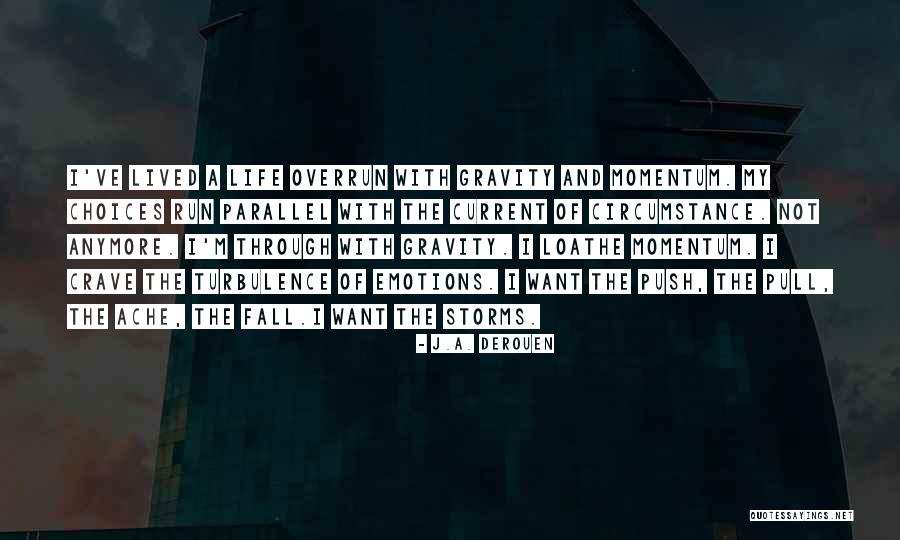 I've lived a life overrun with gravity and momentum. My choices run parallel with the current of circumstance.
Not anymore. I'm through with gravity. I loathe momentum. I crave the turbulence of emotions. I want the push, the pull, the ache, the fall.
I want the storms. — J.A. DeRouen
The ship of democracy, which has weathered all storms, may sink through the mutiny of those on board. — Grover Cleveland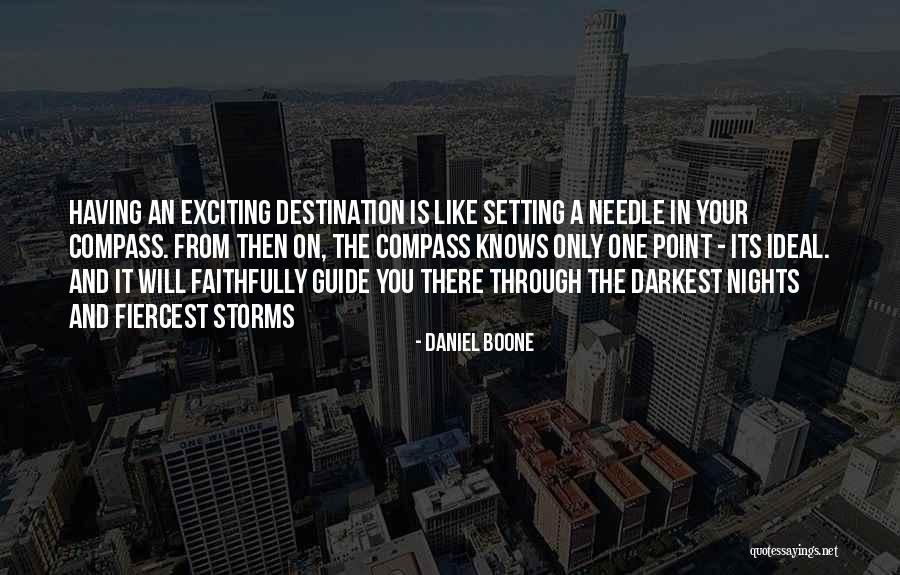 Having an exciting destination is like setting a needle in your compass. From then on, the compass knows only one point - its ideal. And it will faithfully guide you there through the darkest nights and fiercest storms — Daniel Boone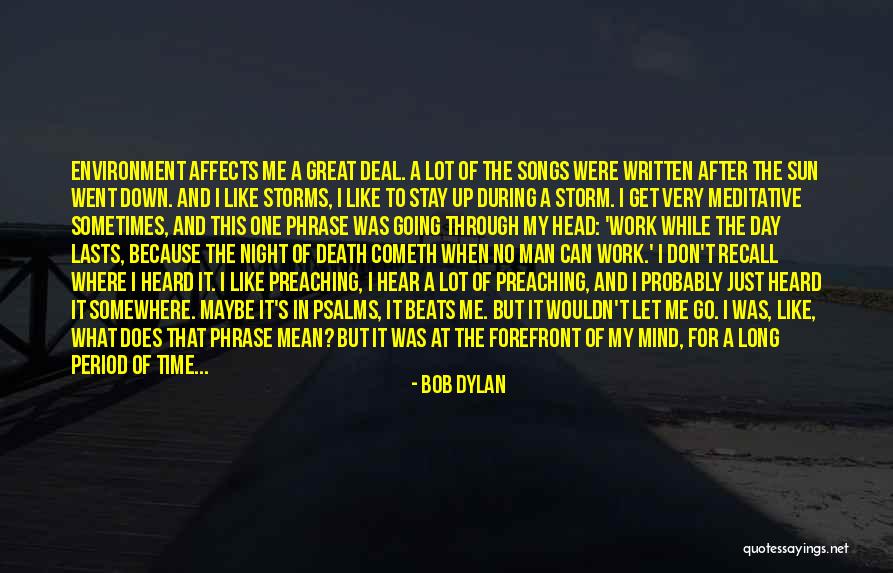 Environment affects me a great deal. A lot of the songs were written after the sun went down. And I like storms, I like to stay up during a storm. I get very meditative sometimes, and this one phrase was going through my head: 'Work while the day lasts, because the night of death cometh when no man can work.' I don't recall where I heard it. I like preaching, I hear a lot of preaching, and I probably just heard it somewhere. Maybe it's in Psalms, it beats me. But it wouldn't let me go. I was, like, what does that phrase mean? But it was at the forefront of my mind, for a long period of time... — Bob Dylan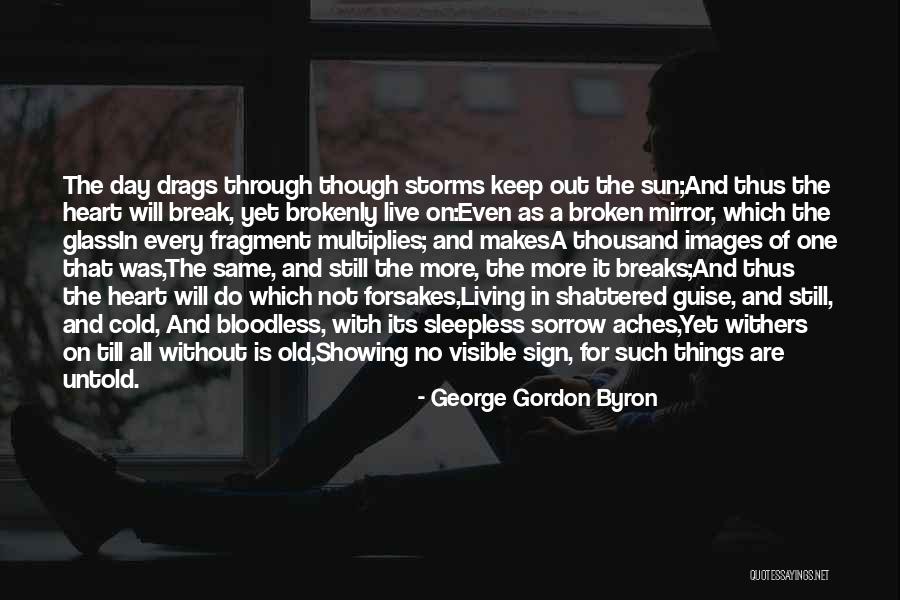 The day drags through though storms keep out the sun;
And thus the heart will break, yet brokenly live on:
Even as a broken mirror, which the glass
In every fragment multiplies; and makes
A thousand images of one that was,
The same, and still the more, the more it breaks;
And thus the heart will do which not forsakes,
Living in shattered guise, and still, and cold,
And bloodless, with its sleepless sorrow aches,
Yet withers on till all without is old,
Showing no visible sign, for such things are untold. — George Gordon Byron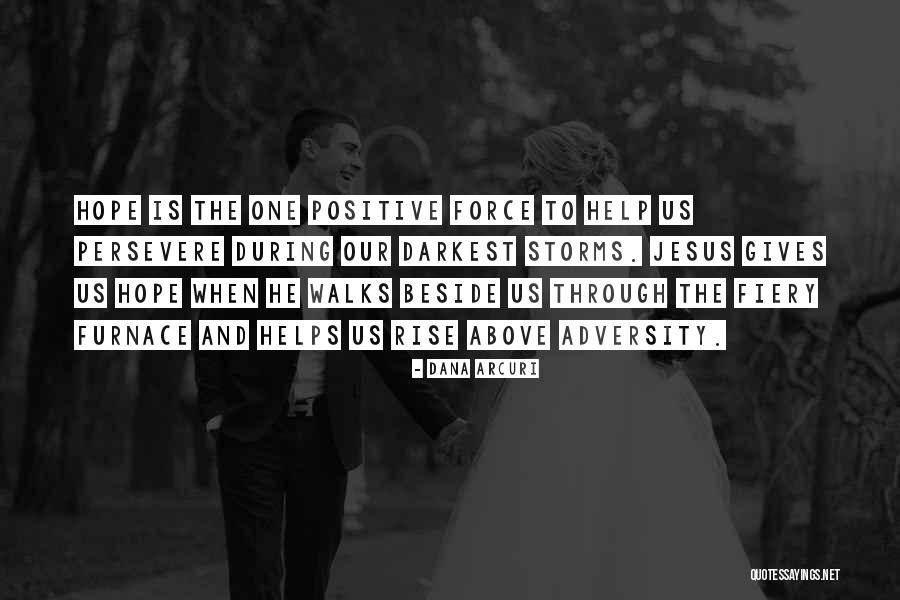 Hope is the one positive force to help us persevere during our darkest storms. Jesus gives us hope when He walks beside us through the fiery furnace and helps us rise above adversity. — Dana Arcuri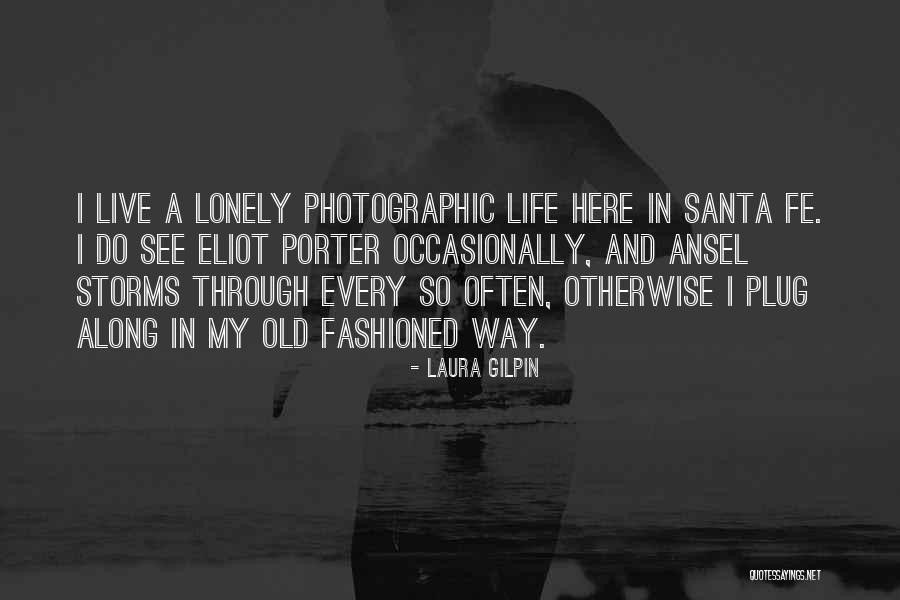 I live a lonely photographic life here in Santa Fe. I do see Eliot Porter occasionally, and Ansel storms through every so often, otherwise I plug along in my old fashioned way. — Laura Gilpin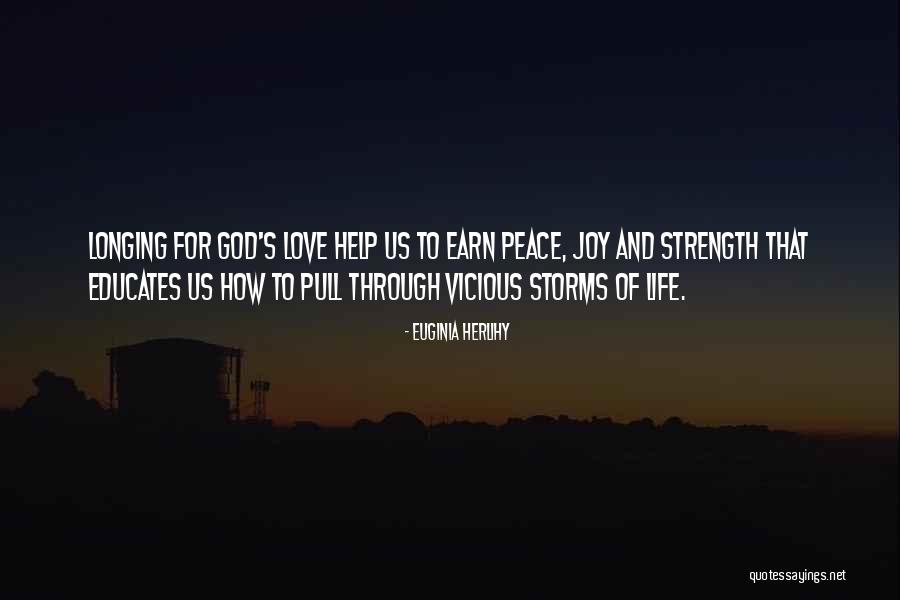 Longing for God's love help us to earn peace, joy and strength that educates us how to pull through vicious storms of life. — Euginia Herlihy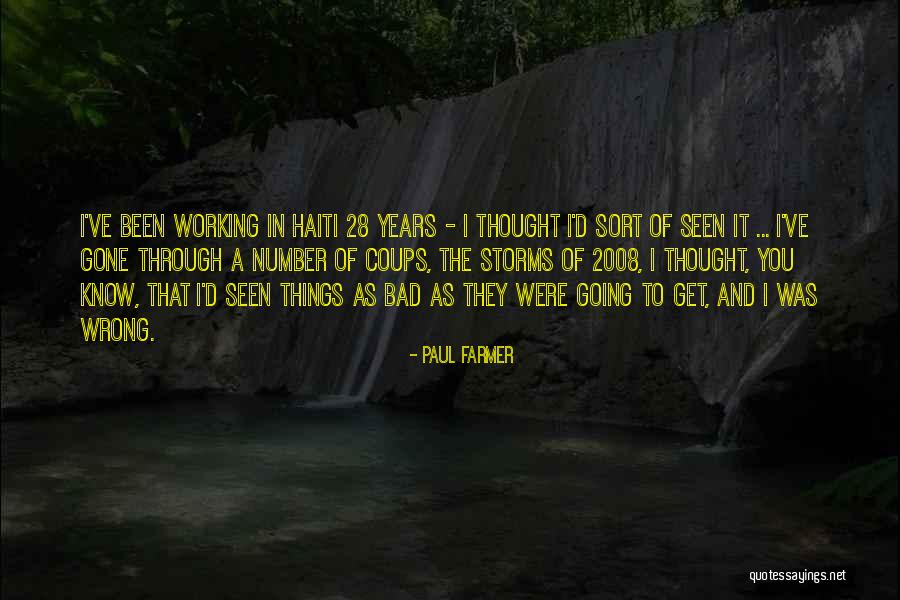 I've been working in Haiti 28 years - I thought I'd sort of seen it ... I've gone through a number of coups, the storms of 2008, I thought, you know, that I'd seen things as bad as they were going to get, and I was wrong. — Paul Farmer
The present life of man upon earth, O King, seems to me in comparison with that time which is unknown to us like the swift flight of a sparrow through the mead-hall where you sit at supper in winter, with your Ealdormen and thanes, while the fire blazes in the midst and the hall is warmed, but the wintry storms of rain or snow are raging abroad. The sparrow, flying in at one door and immediately out at another, whilst he is within, is safe from the wintry tempest, but after a short space of fair weather, he immediately vanishes out of your sight, passing from winter to winter again. So this life of man appears for a little while, but of what is to follow or what went before we know nothing at all. — Bede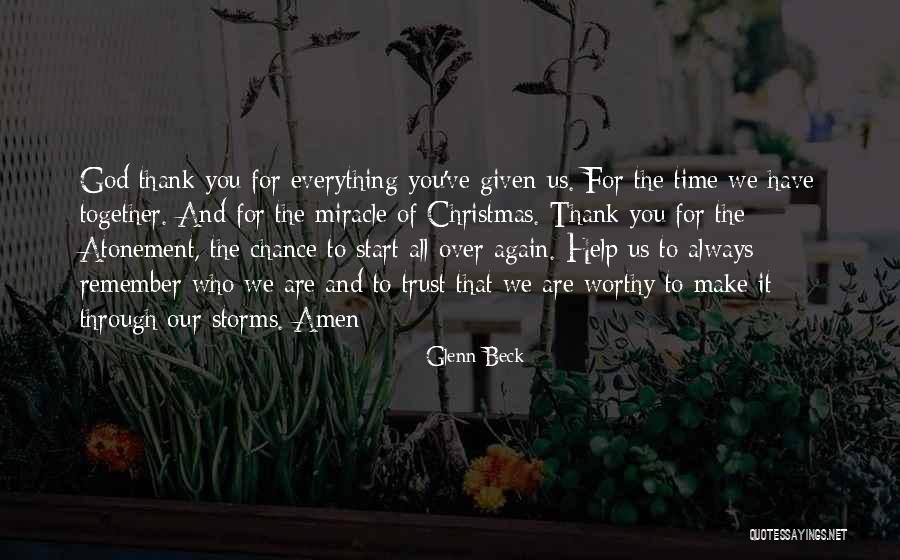 God thank you for everything you've given us. For the time we have together. And for the miracle of Christmas. Thank you for the Atonement, the chance to start all over again. Help us to always remember who we are and to trust that we are worthy to make it through our storms. Amen> — Glenn Beck
She persisted when I resisted. And thank God for that. Because the number of storms I needed to go through before appreciating the way the wind whipped through her hair was one to many. Now, I'd move mountains to make her mine. Rain or shine. — J. Raymond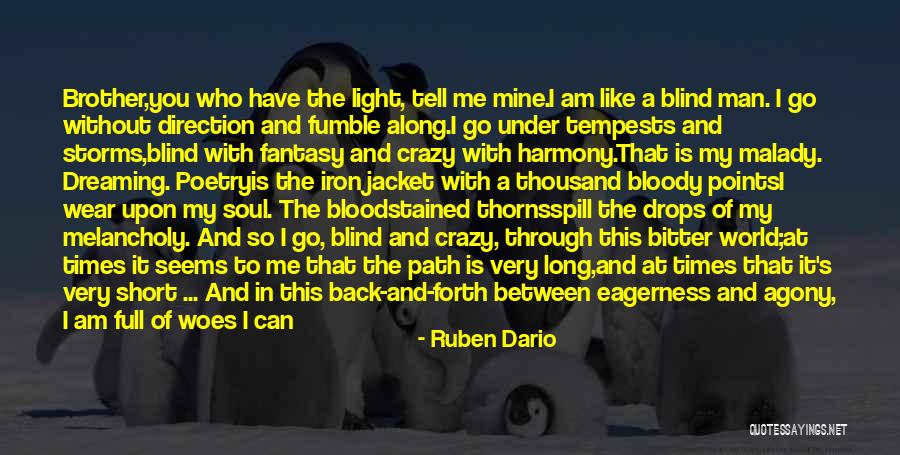 Brother,you who have the light, tell me mine.
I am like a blind man. I go without direction and fumble along.
I go under tempests and storms,
blind with fantasy and crazy with harmony.
That is my malady. Dreaming. Poetry
is the iron jacket with a thousand bloody points
I wear upon my soul. The bloodstained thorns
spill the drops of my melancholy.
And so I go, blind and crazy, through this bitter world;
at times it seems to me that the path is very long,
and at times that it's very short ...
And in this back-and-forth between eagerness and agony,
I am full of woes I can hardly bear.
Don't you hear the drops of my melancholy falling? — Ruben Dario
Snow-melt in the stream: Mama Nature turning winter's storms into nourishment for the soil, fecundity, and beauty. This is what I must now learn to do with the stormy weather I've been passing through: turn it into beauty, turn it into art, so new life can germinate and bloom.
One example of a creative artist who does this is my friend Jane Yolen, who wrote her exquisite book of poems The Radiation Sonnets while her husband was undergoing treatment for the cancer that would eventually claim his life. This is what all artists must do: take whatever life gives us and "alchemize" it into our art (either directly and autobiographically, as in Jane's book, or indirectly; whatever approach works best), turning darkness into light, spinning straw into gold, transforming pain and hardship into what J.R.R. Tolkien called 'a miraculous grace. — Terri Windling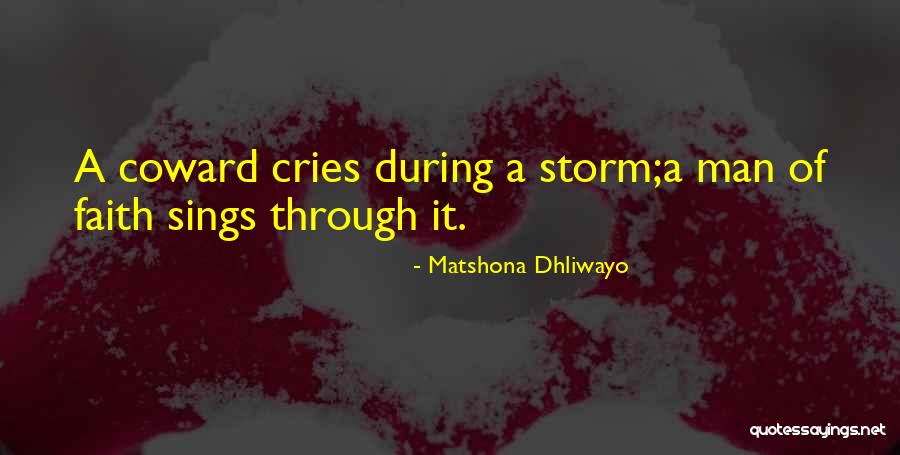 A coward cries during a storm;
a man of faith sings through it. — Matshona Dhliwayo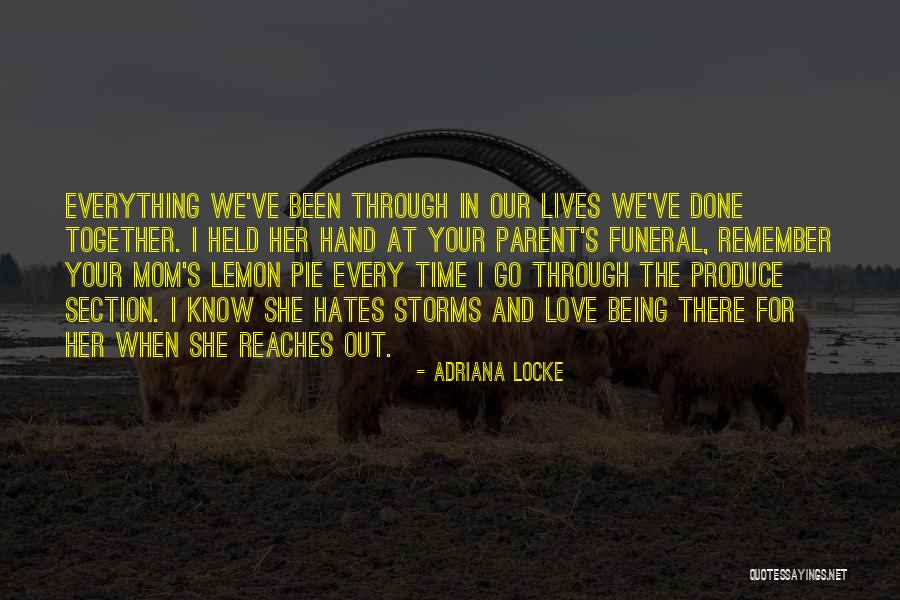 Everything we've been through in our lives we've done together. I held her hand at your parent's funeral, remember your mom's lemon pie every time I go through the produce section. I know she hates storms and love being there for her when she reaches out. — Adriana Locke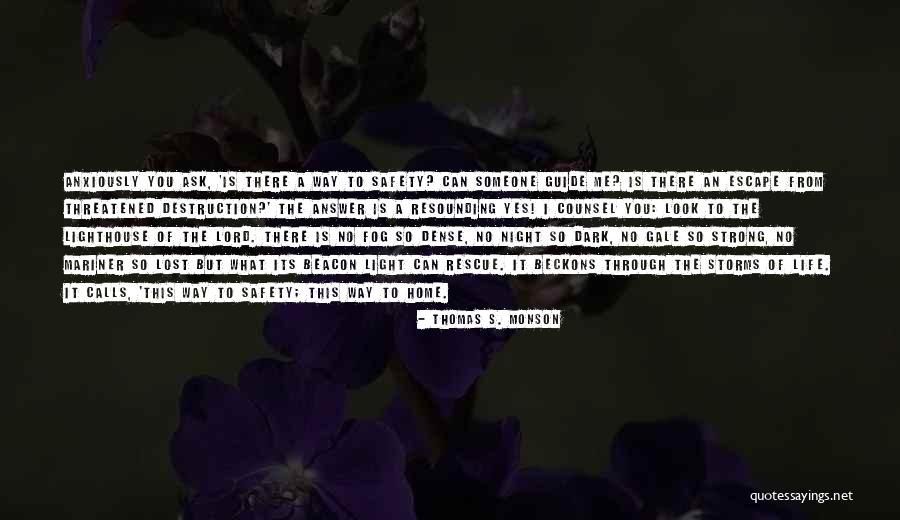 Anxiously you ask, 'Is there a way to safety? Can someone guide me? Is there an escape from threatened destruction?' The answer is a resounding yes! I counsel you: Look to the lighthouse of the Lord. There is no fog so dense, no night so dark, no gale so strong, no mariner so lost but what its beacon light can rescue. It beckons through the storms of life. It calls, 'This way to safety; this way to home. — Thomas S. Monson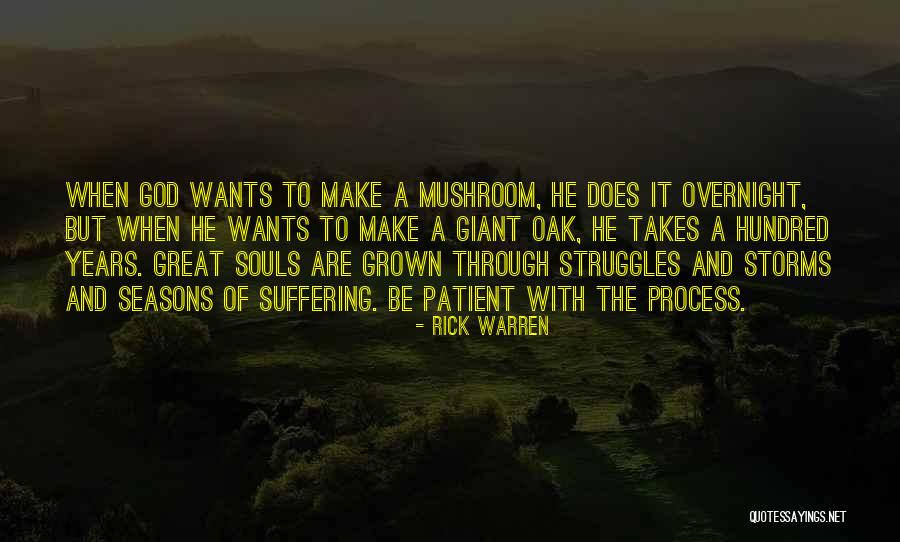 When God wants to make a mushroom, he does it overnight, but when He wants to make a giant oak, He takes a hundred years. Great souls are grown through struggles and storms and seasons of suffering. Be patient with the process. — Rick Warren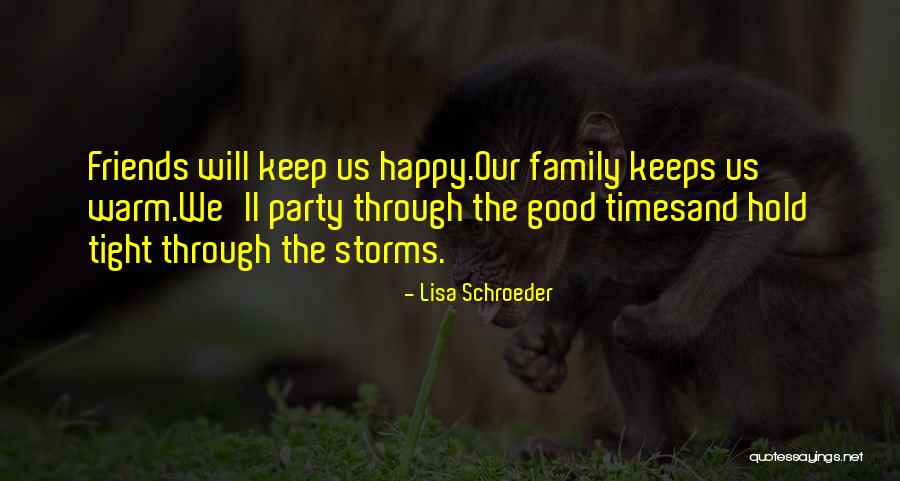 Friends will keep us happy.
Our family keeps us warm.
We'll party through the good times
and hold tight through the storms. — Lisa Schroeder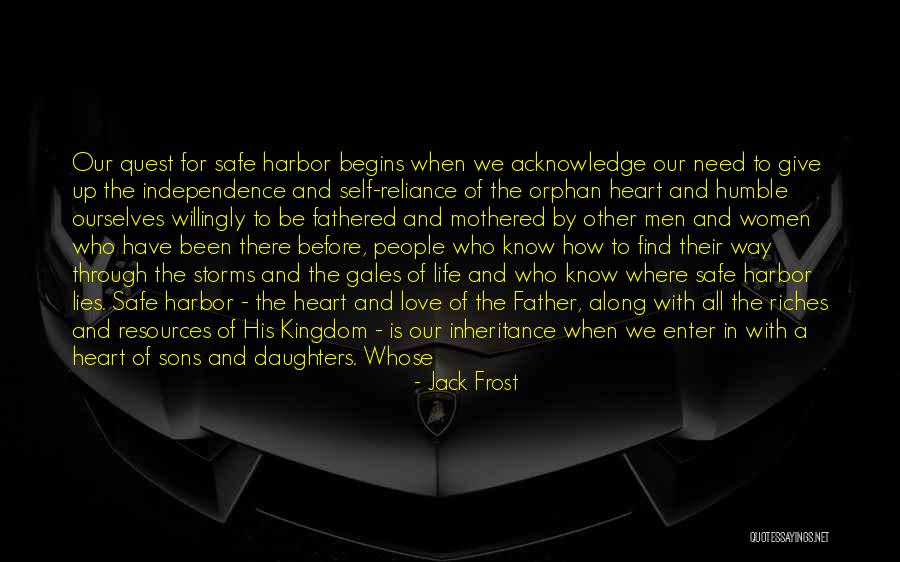 Our quest for safe harbor begins when we acknowledge our need to give up the independence and self-reliance of the orphan heart and humble ourselves willingly to be fathered and mothered by other men and women who have been there before, people who know how to find their way through the storms and the gales of life and who know where safe harbor lies. Safe harbor - the heart and love of the Father, along with all the riches and resources of His Kingdom - is our inheritance when we enter in with a heart of sons and daughters. Whose son are you? Whose daughter are you? Remember - no sonship, no inheritance. — Jack Frost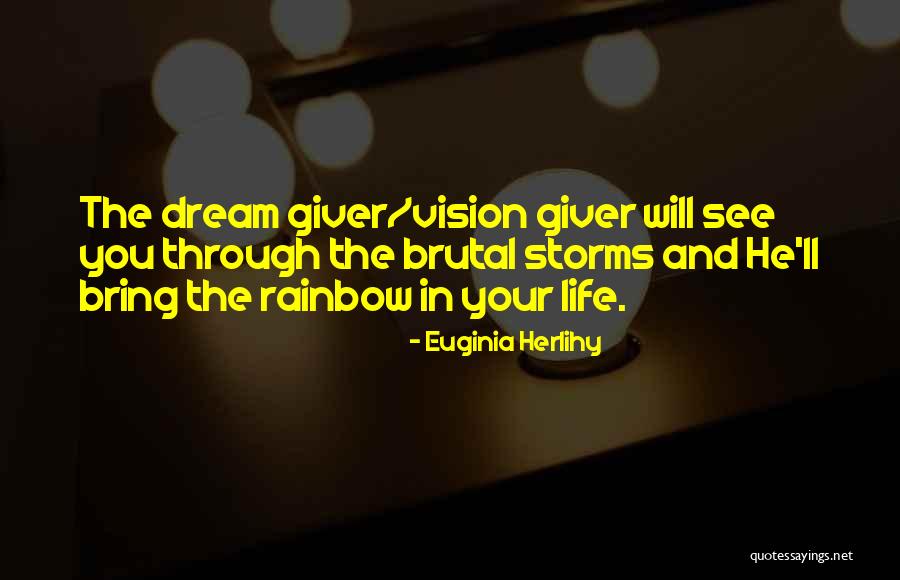 The dream giver/vision giver will see you through the brutal storms and He'll bring the rainbow in your life. — Euginia Herlihy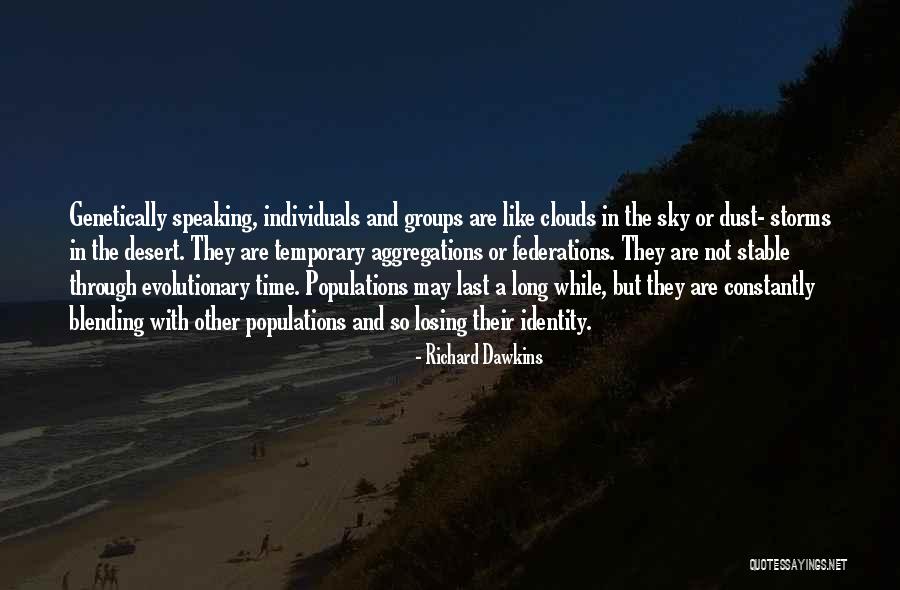 Genetically speaking, individuals and groups are like clouds in the sky or dust- storms in the desert. They are temporary aggregations or federations. They are not stable through evolutionary time. Populations may last a long while, but they are constantly blending with other populations and so losing their identity. — Richard Dawkins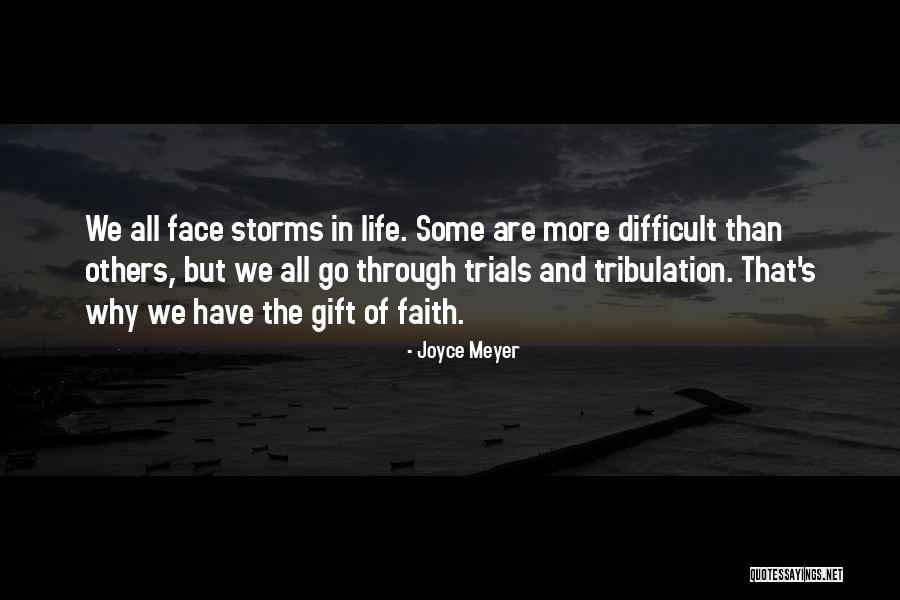 We all face storms in life. Some are more difficult than others, but we all go through trials and tribulation. That's why we have the gift of faith. — Joyce Meyer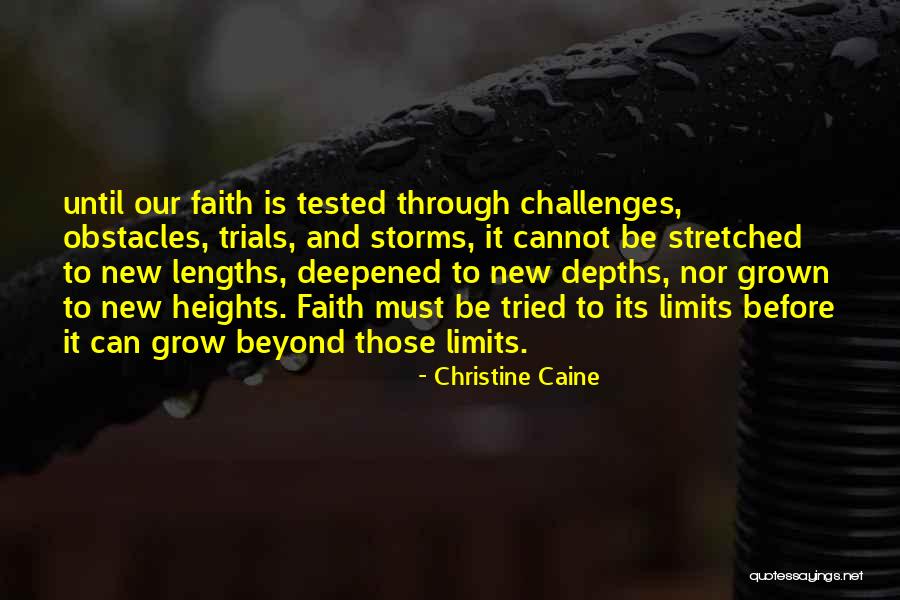 until our faith is tested through challenges, obstacles, trials, and storms, it cannot be stretched to new lengths, deepened to new depths, nor grown to new heights. Faith must be tried to its limits before it can grow beyond those limits. — Christine Caine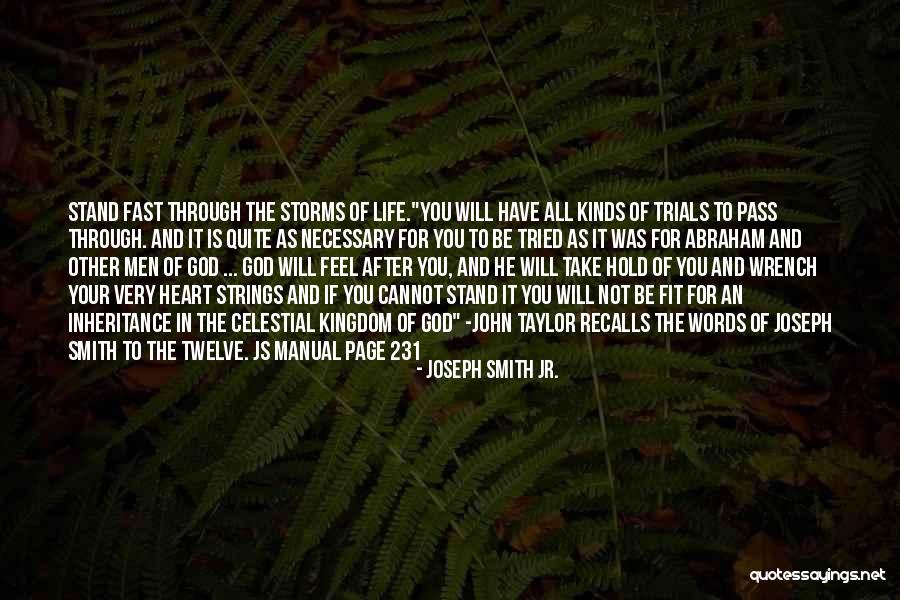 Stand Fast Through the Storms of Life.
"You will have all kinds of trials to pass through. And it is quite as necessary for you to be tried as it was for Abraham and other men of God ... God will feel after you, and He will take hold of you and wrench your very heart strings and if you cannot stand it you will not be fit for an inheritance in the Celestial kingdom of God"
-John Taylor recalls the words of Joseph Smith to the Twelve. JS manual page 231 — Joseph Smith Jr.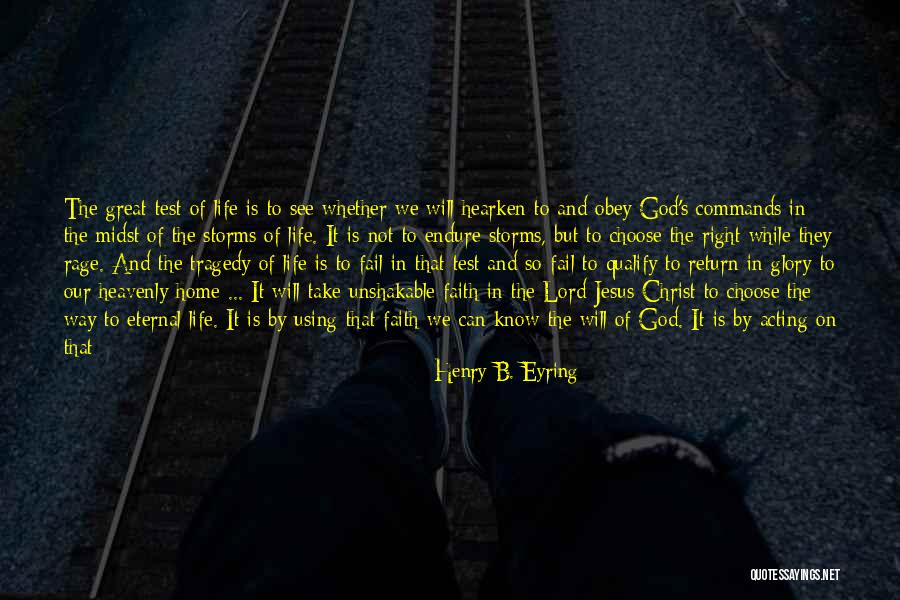 The great test of life is to see whether we will hearken to and obey God's commands in the midst of the storms of life. It is not to endure storms, but to choose the right while they rage. And the tragedy of life is to fail in that test and so fail to qualify to return in glory to our heavenly home ... It will take unshakable faith in the Lord Jesus Christ to choose the way to eternal life. It is by using that faith we can know the will of God. It is by acting on that faith we build the strength to do the will of God. And it is by exercising that faith in Jesus Christ that we can resist temptation and gain forgiveness through the Atonement. — Henry B. Eyring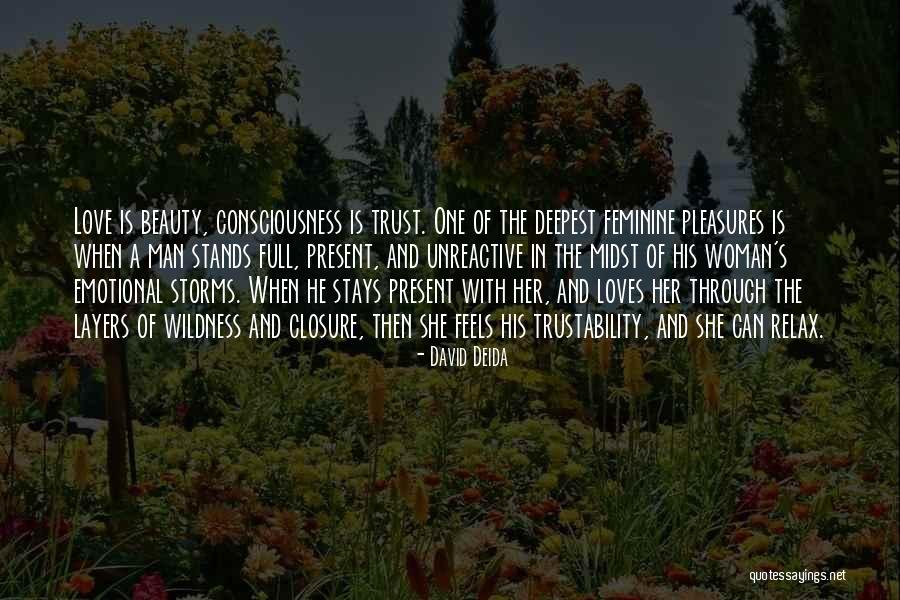 Love is beauty, consciousness is trust. One of the deepest feminine pleasures is when a man stands full, present, and unreactive in the midst of his woman's emotional storms. When he stays present with her, and loves her through the layers of wildness and closure, then she feels his trustability, and she can relax. — David Deida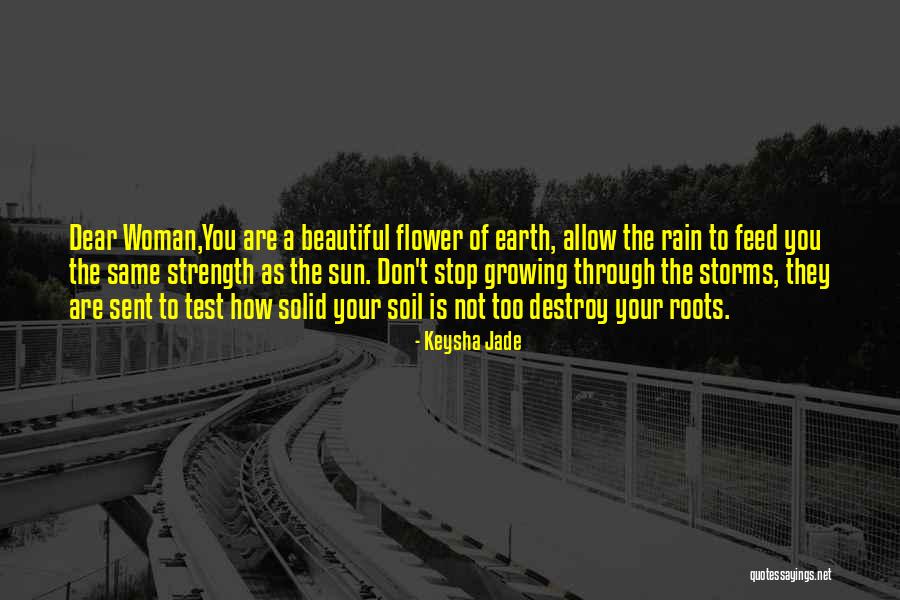 Dear Woman,
You are a beautiful flower of earth, allow the rain to feed you the same strength as the sun. Don't stop growing through the storms, they are sent to test how solid your soil is not too destroy your roots. — Keysha Jade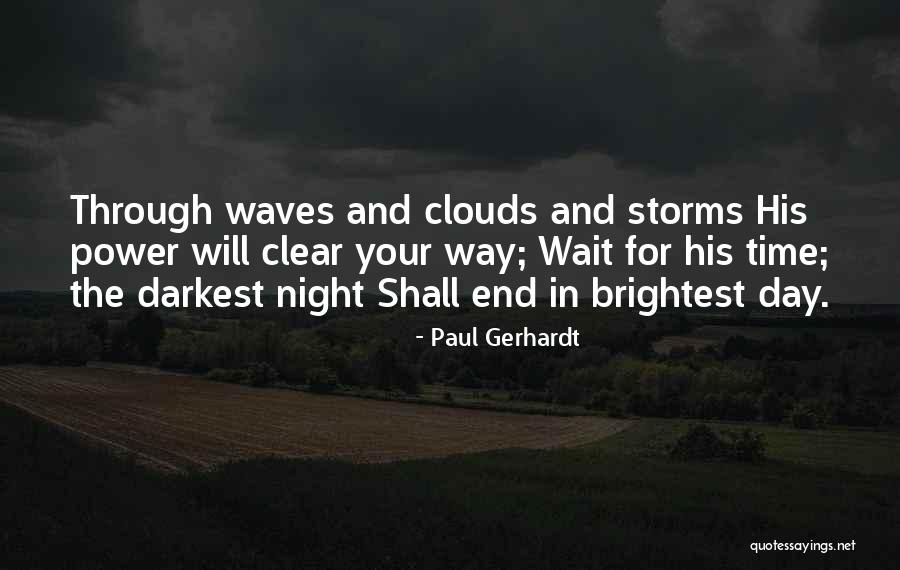 Through waves and clouds and storms His power will clear your way; Wait for his time; the darkest night Shall end in brightest day. — Paul Gerhardt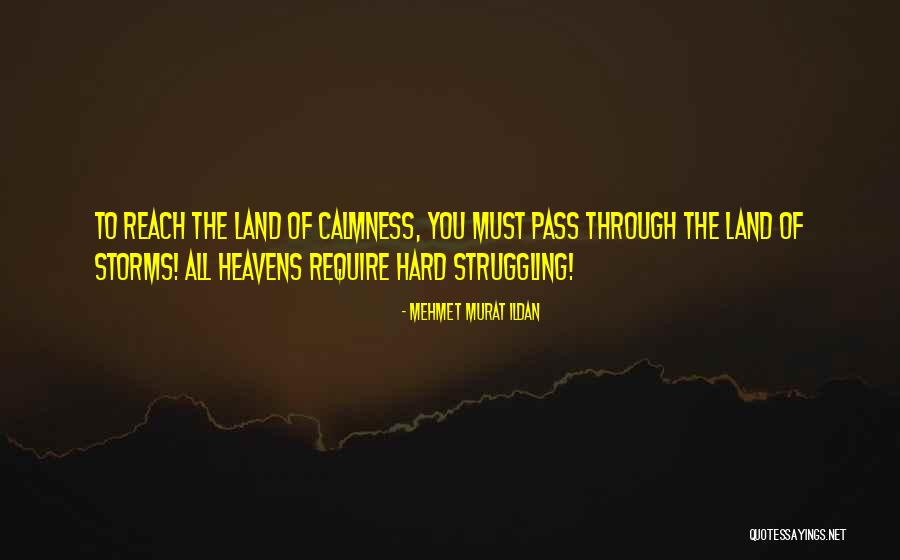 To reach the Land of Calmness, you must pass through the Land of Storms! All heavens require hard struggling! — Mehmet Murat Ildan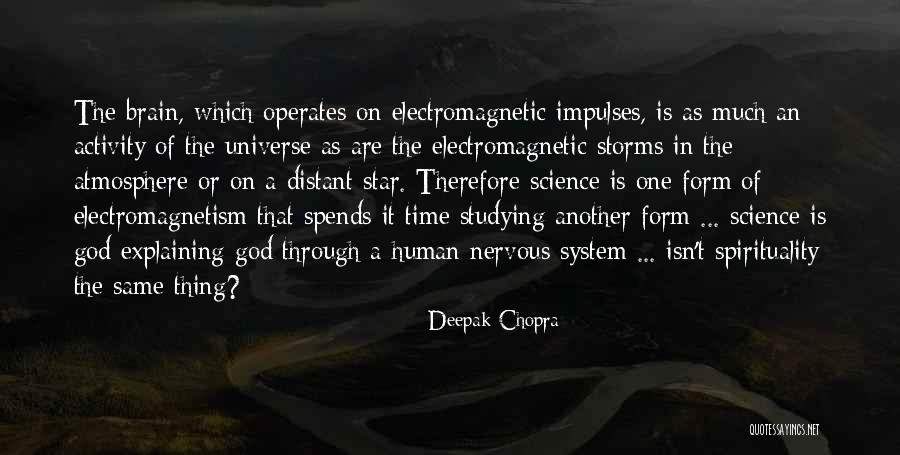 The brain, which operates on electromagnetic impulses, is as much an activity of the universe as are the electromagnetic storms in the atmosphere or on a distant star. Therefore science is one form of electromagnetism that spends it time studying another form ... science is god explaining god through a human nervous system ... isn't spirituality the same thing? — Deepak Chopra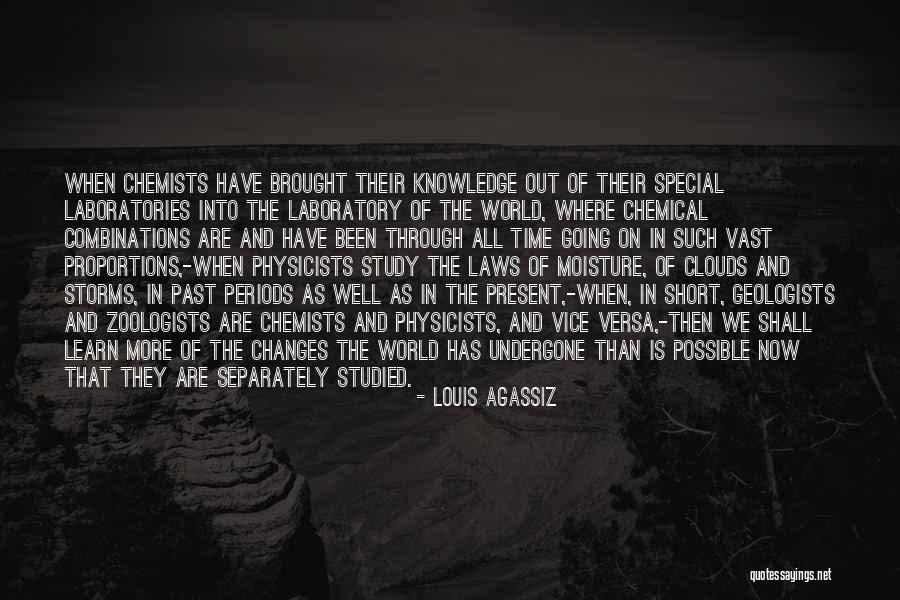 When chemists have brought their knowledge out of their special laboratories into the laboratory of the world, where chemical combinations are and have been through all time going on in such vast proportions,-when physicists study the laws of moisture, of clouds and storms, in past periods as well as in the present,-when, in short, geologists and zoologists are chemists and physicists, and vice versa,-then we shall learn more of the changes the world has undergone than is possible now that they are separately studied. — Louis Agassiz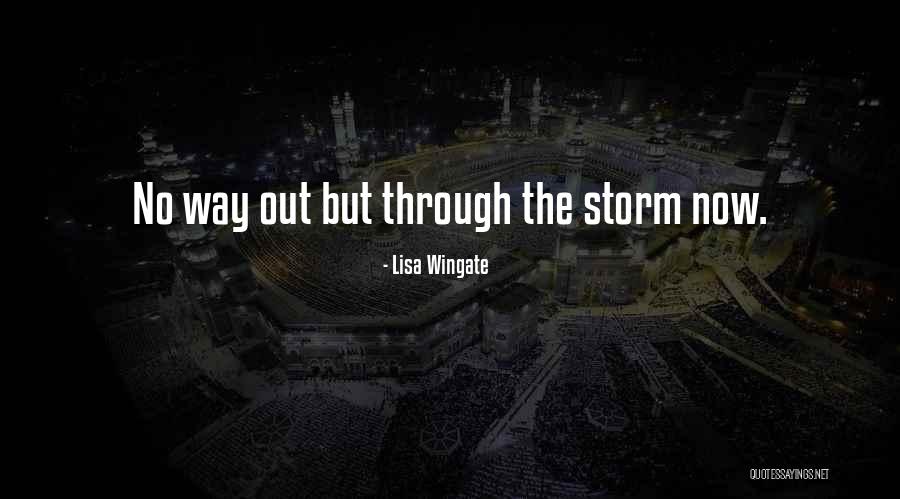 No way out but through the storm now. — Lisa Wingate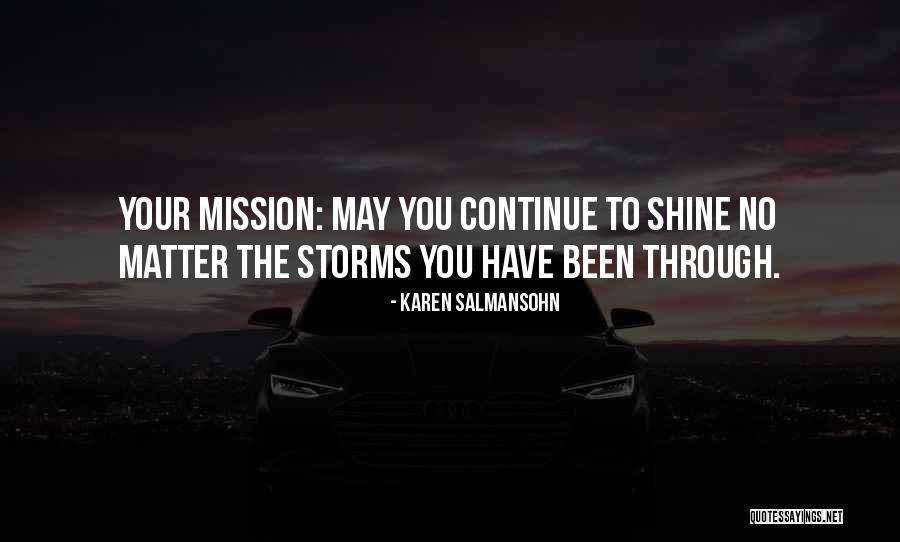 Your mission: May you continue to shine no matter the storms you have been through. — Karen Salmansohn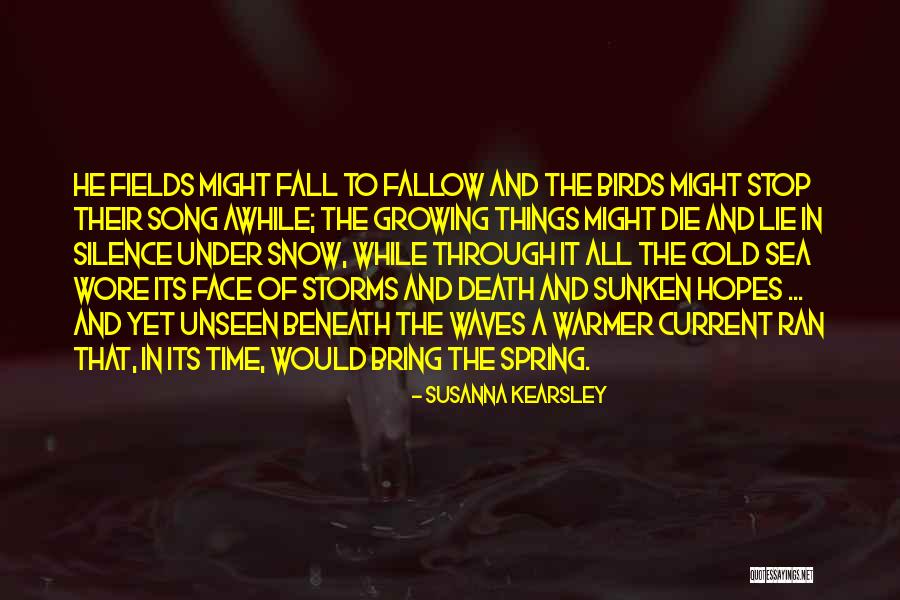 He fields might fall to fallow and the birds might stop their song awhile; the growing things might die and lie in silence under snow, while through it all the cold sea wore its face of storms and death and sunken hopes ... and yet unseen beneath the waves a warmer current ran that, in its time, would bring the spring. — Susanna Kearsley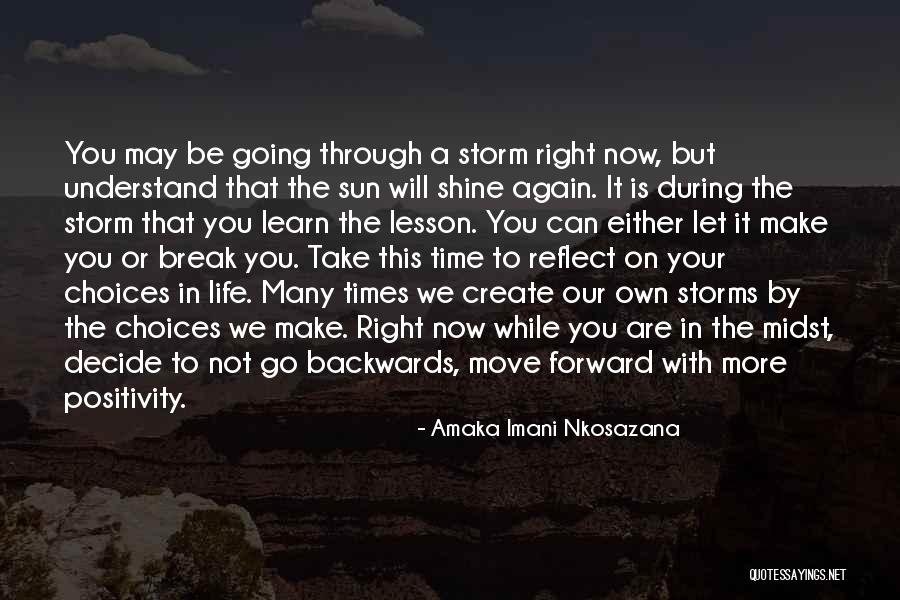 You may be going through a storm right now, but understand that the sun will shine again. It is during the storm that you learn the lesson. You can either let it make you or break you. Take this time to reflect on your choices in life. Many times we create our own storms by the choices we make. Right now while you are in the midst, decide to not go backwards, move forward with more positivity. — Amaka Imani Nkosazana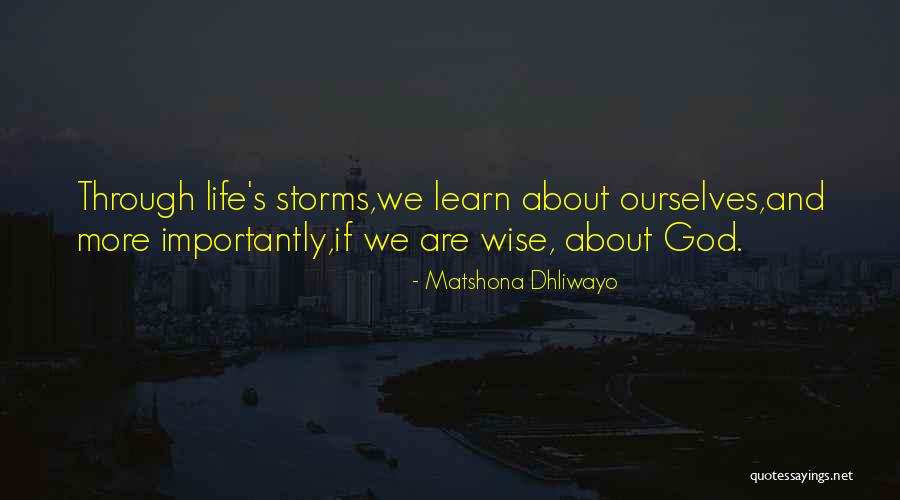 Through life's storms,
we learn about ourselves,
and more importantly,
if we are wise, about God. — Matshona Dhliwayo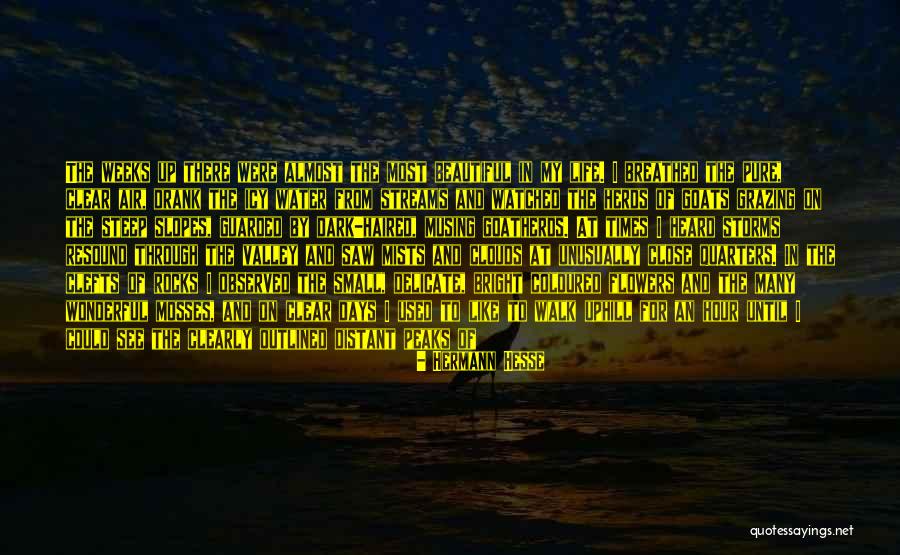 The weeks up there were almost the most beautiful in my life. I breathed the pure, clear air, drank the icy water from streams and watched the herds of goats grazing on the steep slopes, guarded by dark-haired, musing goatherds. At times I heard storms resound through the valley and saw mists and clouds at unusually close quarters. In the clefts of rocks I observed the small, delicate, bright coloured flowers and the many wonderful mosses, and on clear days I used to like to walk uphill for an hour until I could see the clearly outlined distant peaks of high mountains, their blue silhouettes, and white, sparkling snow fields across the other side of the hill. — Hermann Hesse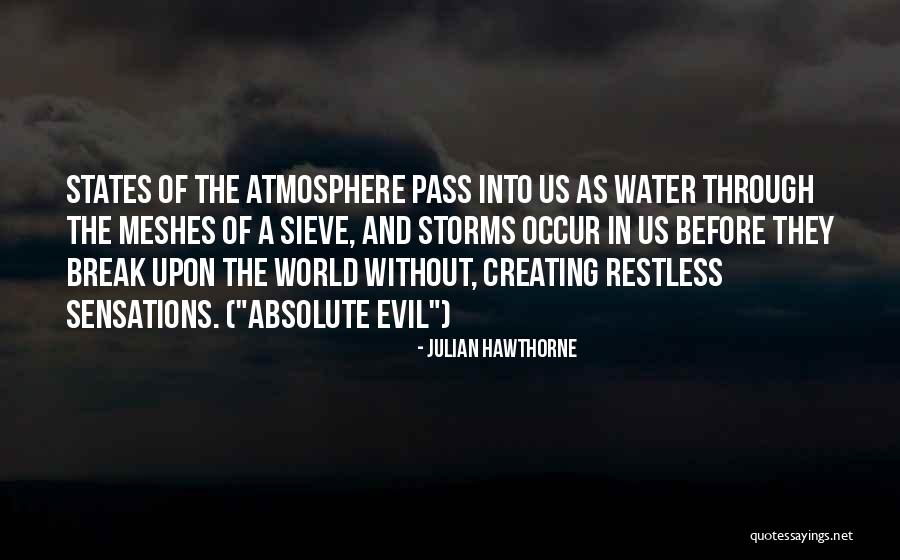 States of the atmosphere pass into us as water through the meshes of a sieve, and storms occur in us before they break upon the world without, creating restless sensations. ("Absolute Evil") — Julian Hawthorne
I love weather. I'm a connoisseur of weather. Wherever my travels take me, the first thing I do is turn on the weather channel and see what's going on, what's coming. I like to know about regional weather patterns, how storms are created in different altitudes, what kinds of clouds are forming or dissipating or blowing through, where the winds are coming from, where they've been. That's not a passion everybody shares, I know, but I don't believe there are any people on earth who, properly sheltered, don't feel the peace inside a summer rain and the cleansing it brings, the renewal of the earth in its aftermath. — Johnny Cash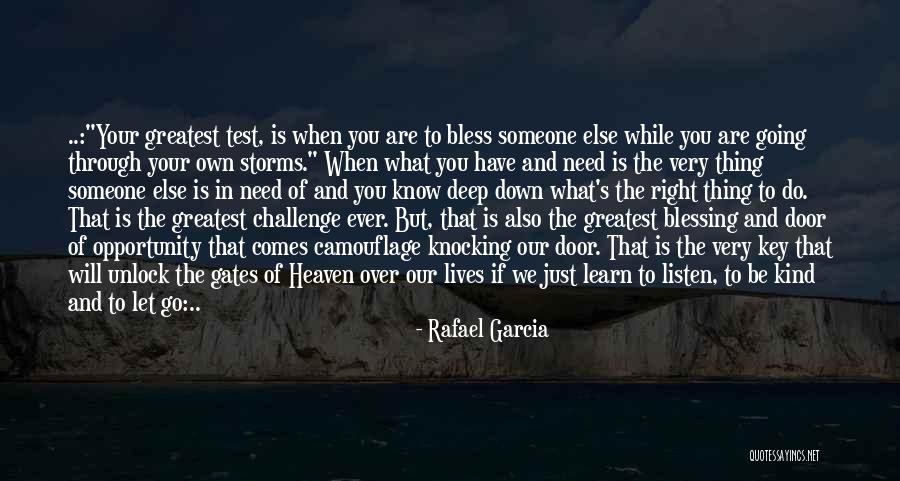 ..:"Your greatest test, is when you are to bless someone else while you are going through your own storms." When what you have and need is the very thing someone else is in need of and you know deep down what's the right thing to do. That is the greatest challenge ever. But, that is also the greatest blessing and door of opportunity that comes camouflage knocking our door. That is the very key that will unlock the gates of Heaven over our lives if we just learn to listen, to be kind and to let go:.. — Rafael Garcia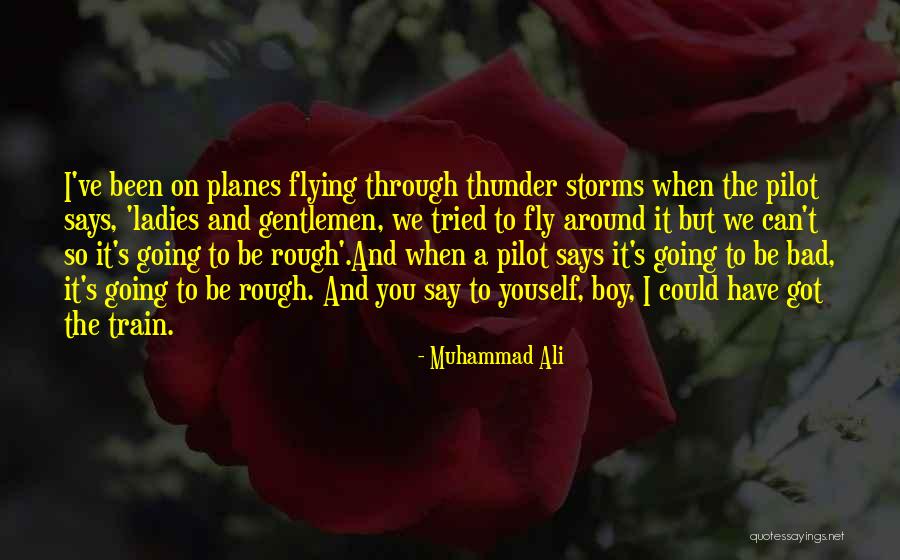 I've been on planes flying through thunder storms when the pilot says, 'ladies and gentlemen, we tried to fly around it but we can't so it's going to be rough'.And when a pilot says it's going to be bad, it's going to be rough. And you say to youself, boy, I could have got the train. — Muhammad Ali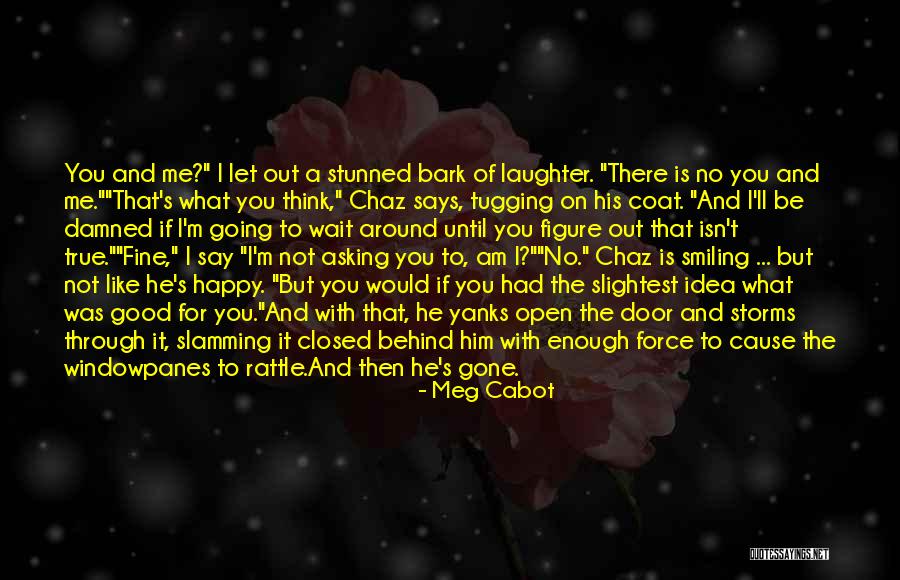 You and me?" I let out a stunned bark of laughter. "There is no you and me."
"That's what you think," Chaz says, tugging on his coat. "And I'll be damned if I'm going to wait around until you figure out that isn't true."
"Fine," I say "I'm not asking you to, am I?"
"No." Chaz is smiling ... but not like he's happy. "But you would if you had the slightest idea what was good for you."
And with that, he yanks open the door and storms through it, slamming it closed behind him with enough force to cause the windowpanes to rattle.
And then he's gone. — Meg Cabot