Quotes & Sayings About Going Home For Christmas
Enjoy reading and share 46 famous quotes about Going Home For Christmas with everyone.
Top Going Home For Christmas Quotes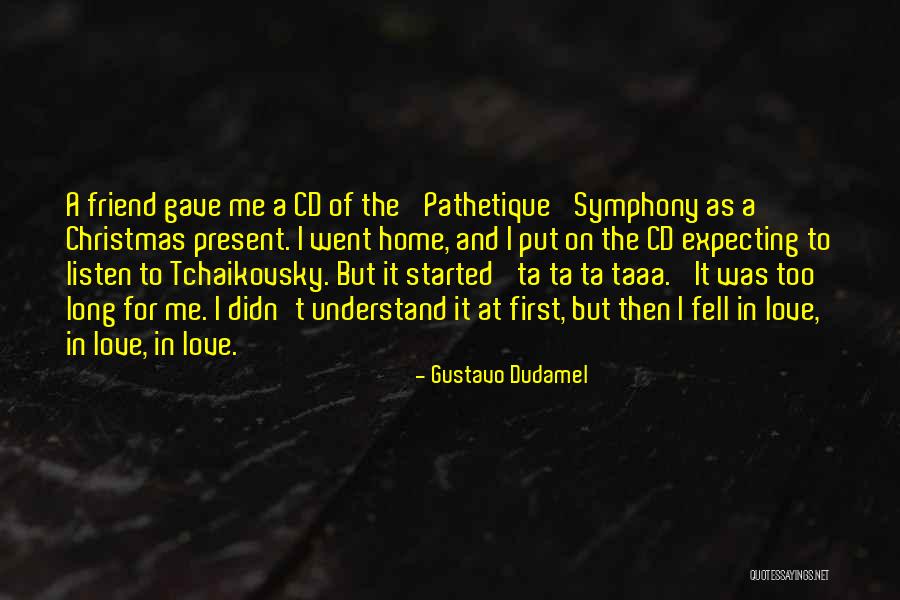 A friend gave me a CD of the 'Pathetique' Symphony as a Christmas present. I went home, and I put on the CD expecting to listen to Tchaikovsky. But it started 'ta ta ta taaa.' It was too long for me. I didn't understand it at first, but then I fell in love, in love, in love. — Gustavo Dudamel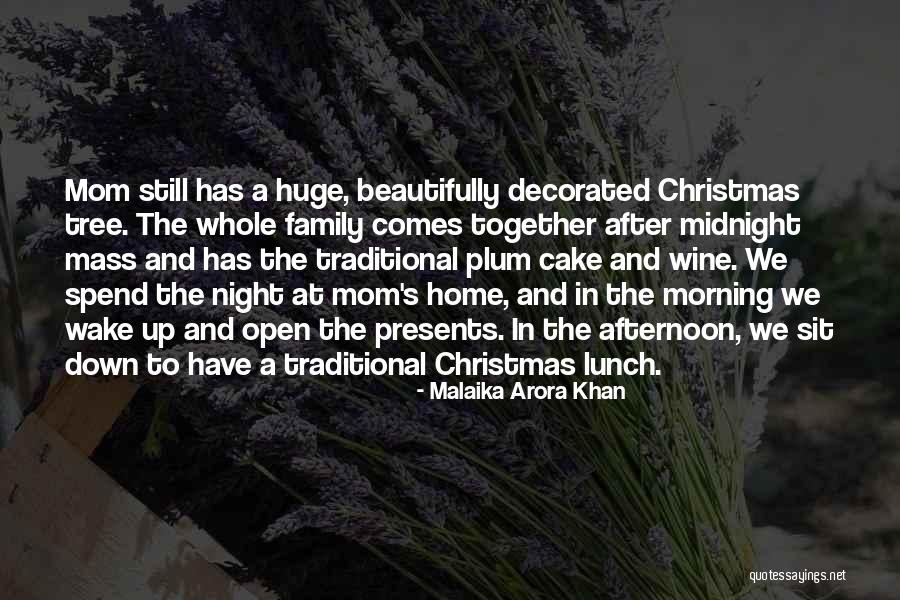 Mom still has a huge, beautifully decorated Christmas tree. The whole family comes together after midnight mass and has the traditional plum cake and wine. We spend the night at mom's home, and in the morning we wake up and open the presents. In the afternoon, we sit down to have a traditional Christmas lunch. — Malaika Arora Khan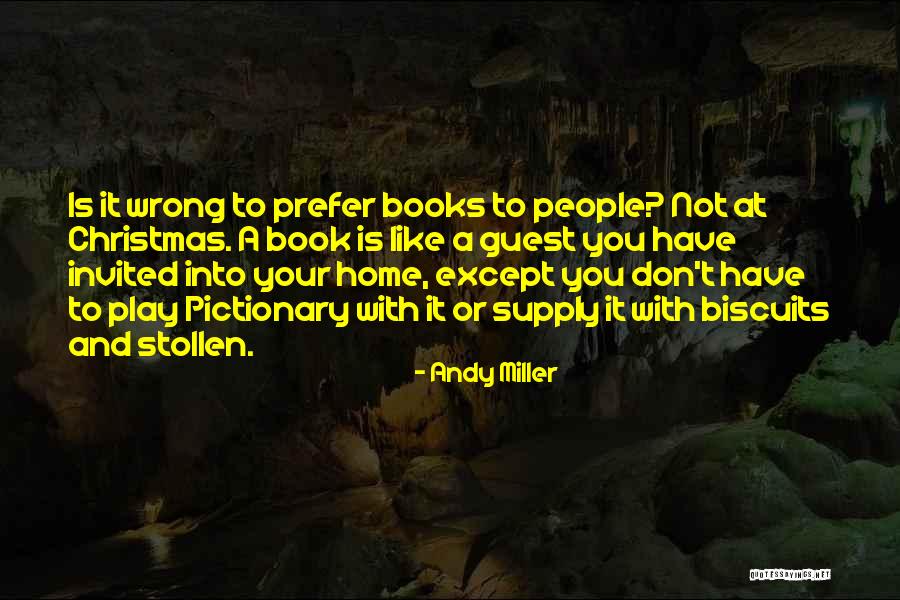 Is it wrong to prefer books to people? Not at Christmas. A book is like a guest you have invited into your home, except you don't have to play Pictionary with it or supply it with biscuits and stollen. — Andy Miller
Of course we have a Tomorrow on the map ... located east of Today and west of Yesterday ... and we have no end of "times" in fairyland. Spring-time, long time, short time, new-moon time, good-night time, next time ... but no last time, because that is too sad a time for fairyland; old time, young time ... because if there is an old time there ought to be a young time, too; mountain time ... because that has such a fascinating sound; night-time and day-time ... but no bed-time or school-time; Christmas-time; no only time, because that also is too sad ... but lost time, because it is so nice to find it; some time, good time, fast time, slow time, half-past kissing-time, going-home time, and time immemorial ... which is one of the most beautiful phrases in the world. — L.M. Montgomery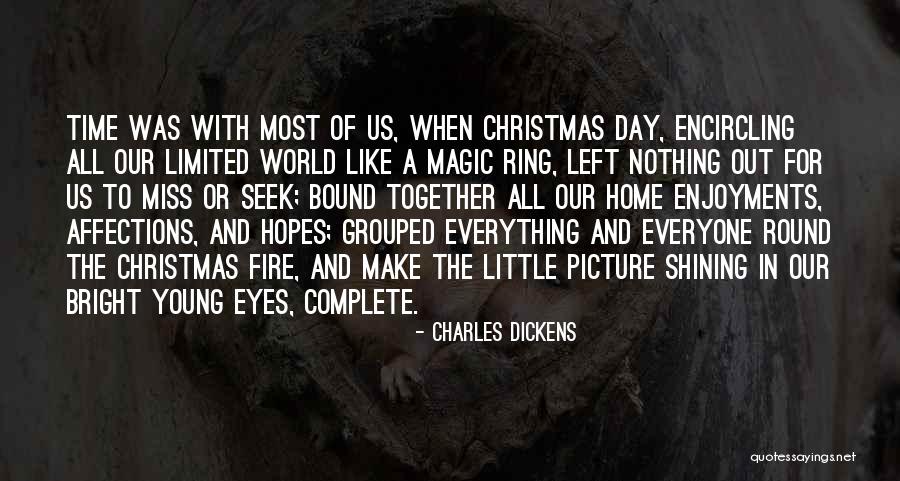 Time was with most of us, when Christmas Day, encircling all our limited world like a magic ring, left nothing out for us to miss or seek; bound together all our home enjoyments, affections, and hopes; grouped everything and everyone round the Christmas fire, and make the little picture shining in our bright young eyes, complete. — Charles Dickens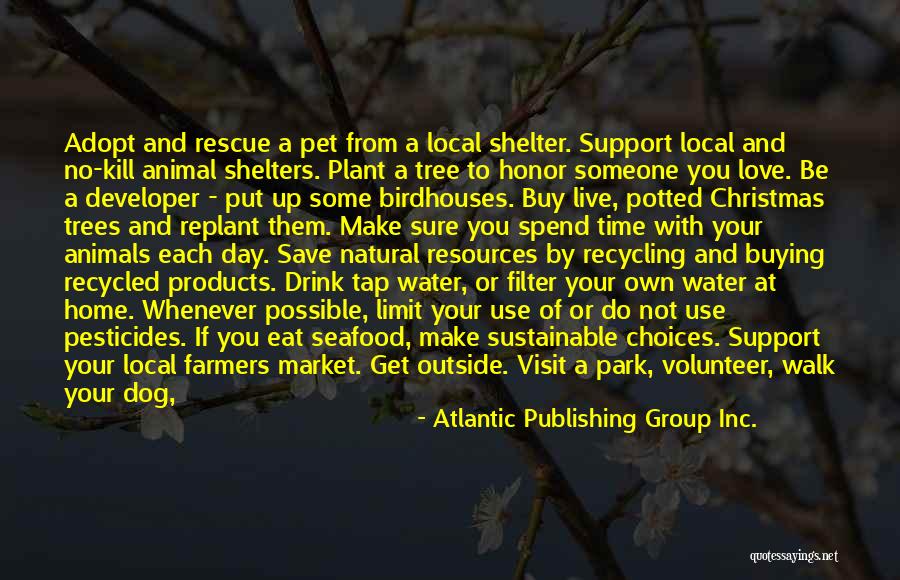 Adopt and rescue a pet from a local shelter. Support local and no-kill animal shelters. Plant a tree to honor someone you love. Be a developer - put up some birdhouses. Buy live, potted Christmas trees and replant them. Make sure you spend time with your animals each day. Save natural resources by recycling and buying recycled products. Drink tap water, or filter your own water at home. Whenever possible, limit your use of or do not use pesticides. If you eat seafood, make sustainable choices. Support your local farmers market. Get outside. Visit a park, volunteer, walk your dog, or ride your bike. — Atlantic Publishing Group Inc.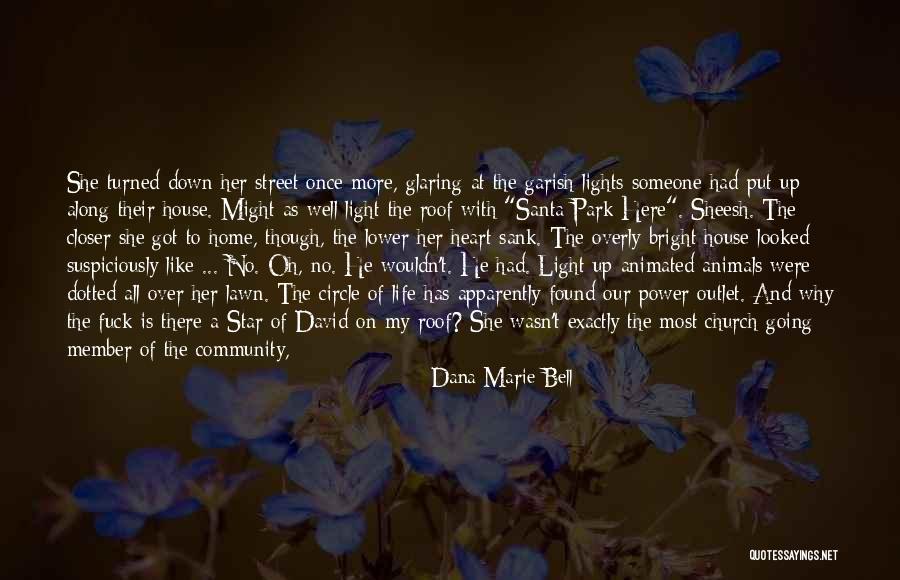 She turned down her street once more, glaring at the garish lights someone had put up along their house. Might as well light the roof with "Santa Park Here". Sheesh. The closer she got to home, though, the lower her heart sank. The overly bright house looked suspiciously like ... No. Oh, no. He wouldn't. He had. Light up animated animals were dotted all over her lawn. The circle of life has apparently found our power outlet. And why the fuck is there a Star of David on my roof? She wasn't exactly the most church-going member of the community, but you'd think Simon would know what religion she was. After all, she knew exactly who was going to officiate at his funeral. She picked up her cell phone and called Emma. "I'm going to kill him. — Dana Marie Bell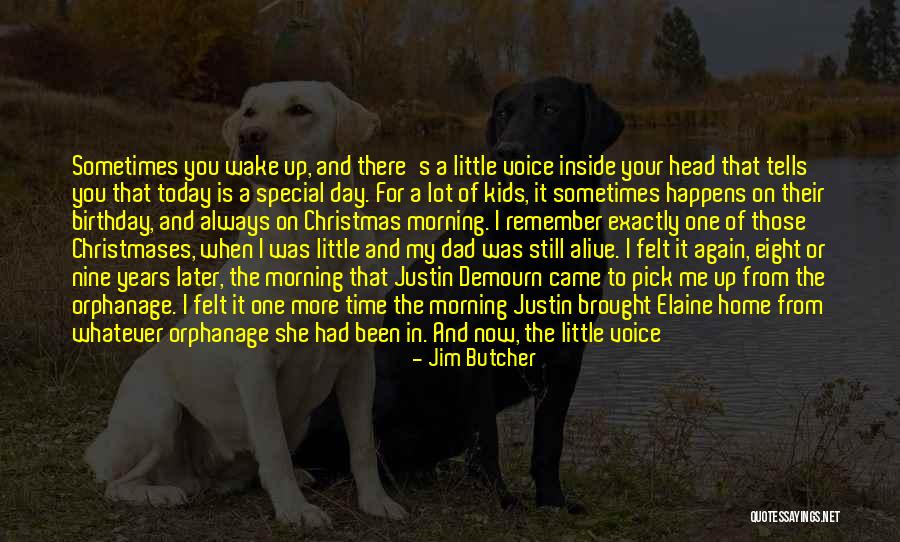 Sometimes you wake up, and there's a little voice inside your head that tells you that today is a special day. For a lot of kids, it sometimes happens on their birthday, and always on Christmas morning.
I remember exactly one of those Christmases, when I was little and my dad was still alive. I felt it again, eight or nine years later, the morning that Justin Demourn came to pick me up from the orphanage. I felt it one more time the morning Justin brought Elaine home from whatever orphanage she had been in.
And now, the little voice was telling me to wake up. That it was a special day.
My little voice is some kind of psycho. — Jim Butcher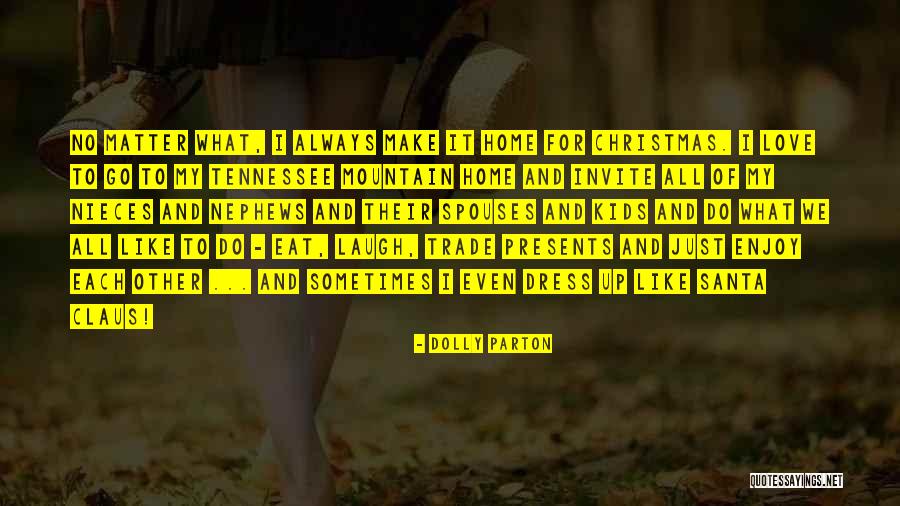 No matter what, I always make it home for Christmas. I love to go to my Tennessee Mountain Home and invite all of my nieces and nephews and their spouses and kids and do what we all like to do - eat, laugh, trade presents and just enjoy each other ... and sometimes I even dress up like Santa Claus! — Dolly Parton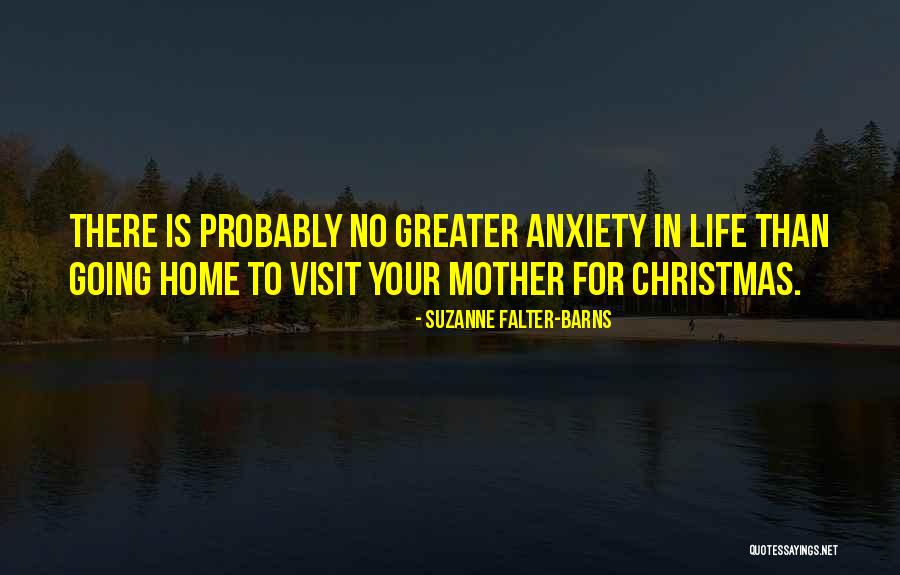 There is probably no greater anxiety in life than going home to visit your mother for Christmas. — Suzanne Falter-Barns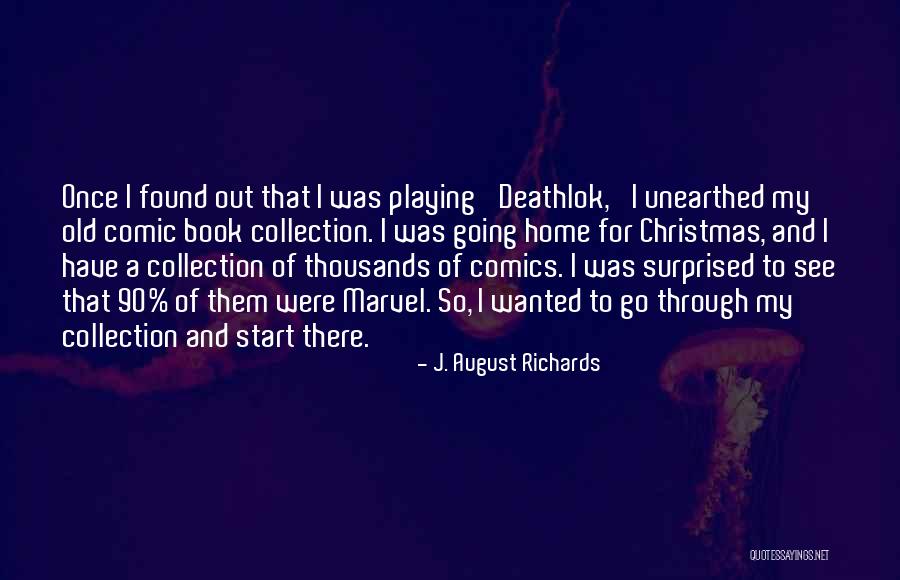 Once I found out that I was playing 'Deathlok,' I unearthed my old comic book collection. I was going home for Christmas, and I have a collection of thousands of comics. I was surprised to see that 90% of them were Marvel. So, I wanted to go through my collection and start there. — J. August Richards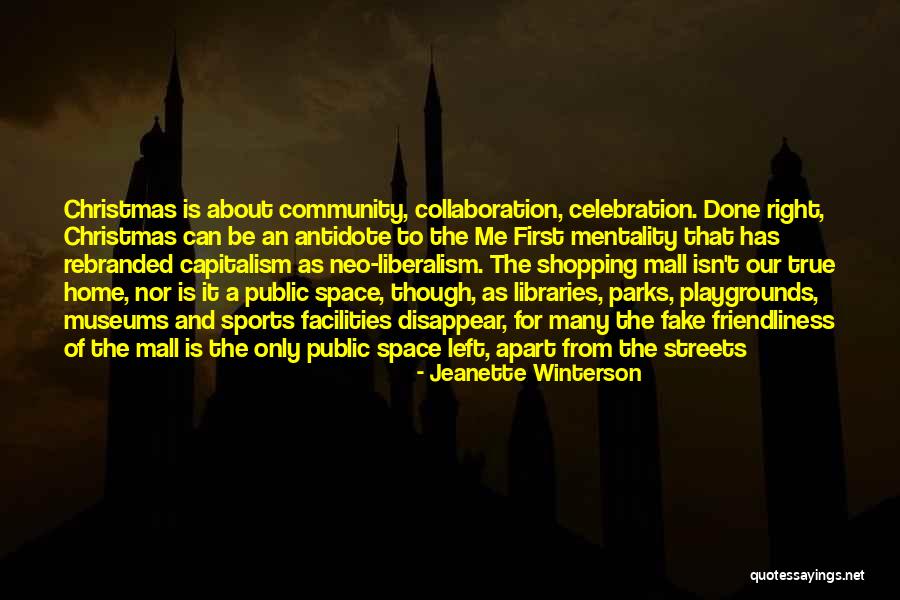 Christmas is about community, collaboration, celebration. Done right, Christmas can be an antidote to the Me First mentality that has rebranded capitalism as neo-liberalism. The shopping mall isn't our true home, nor is it a public space, though, as libraries, parks, playgrounds, museums and sports facilities disappear, for many the fake friendliness of the mall is the only public space left, apart from the streets — Jeanette Winterson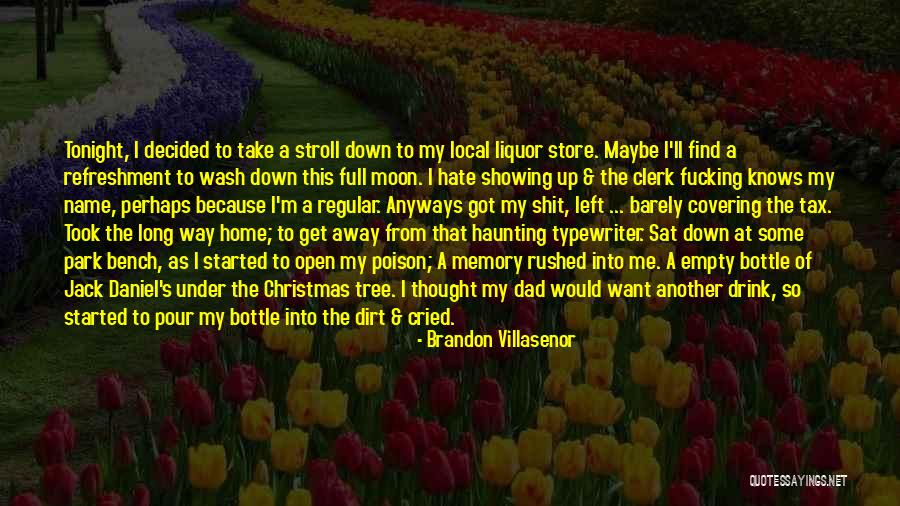 Tonight, I decided to take a stroll down to my local liquor store. Maybe I'll find a refreshment to wash down this full moon. I hate showing up & the clerk fucking knows my name, perhaps because I'm a regular. Anyways got my shit, left ... barely covering the tax. Took the long way home; to get away from that haunting typewriter. Sat down at some park bench, as I started to open my poison; A memory rushed into me. A empty bottle of Jack Daniel's under the Christmas tree. I thought my dad would want another drink, so started to pour my bottle into the dirt & cried. — Brandon Villasenor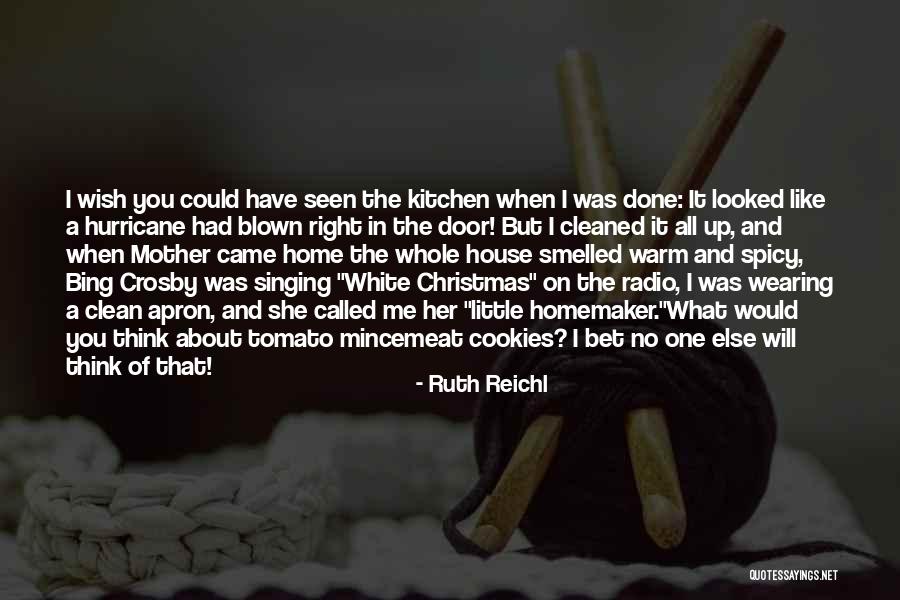 I wish you could have seen the kitchen when I was done: It looked like a hurricane had blown right in the door! But I cleaned it all up, and when Mother came home the whole house smelled warm and spicy, Bing Crosby was singing "White Christmas" on the radio, I was wearing a clean apron, and she called me her "little homemaker."
What would you think about tomato mincemeat cookies? I bet no one else will think of that! — Ruth Reichl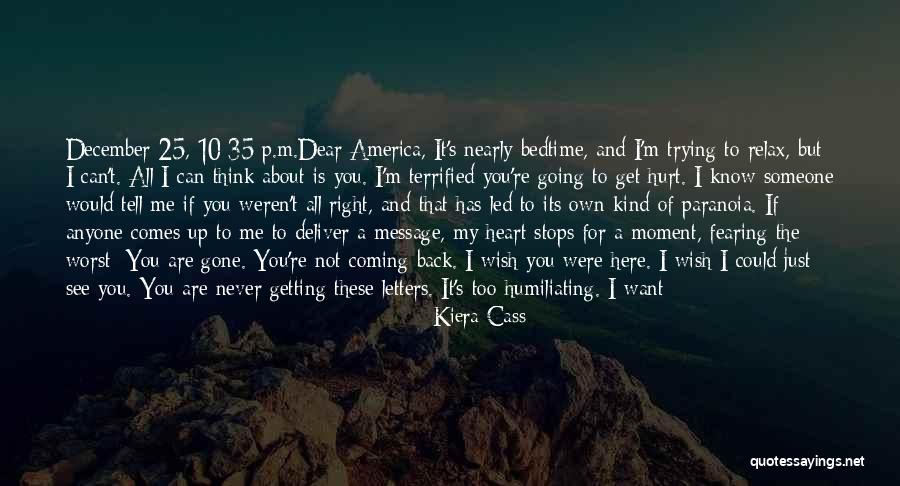 December 25, 10:35 p.m.
Dear America,
It's nearly bedtime, and I'm trying to relax, but I can't. All I can think about is you. I'm terrified you're going to get hurt. I know someone would tell me if you weren't all right, and that has led to its own kind of paranoia. If anyone comes up to me to deliver a message, my heart stops for a moment, fearing the worst: You are gone. You're not coming back.
I wish you were here. I wish I could just see you.
You are never getting these letters. It's too humiliating.
I want you home. I keep thinking of your smile and worrying that I'll never see it again.
I hope you come back to me, America.
Merry Christmas.
Maxon — Kiera Cass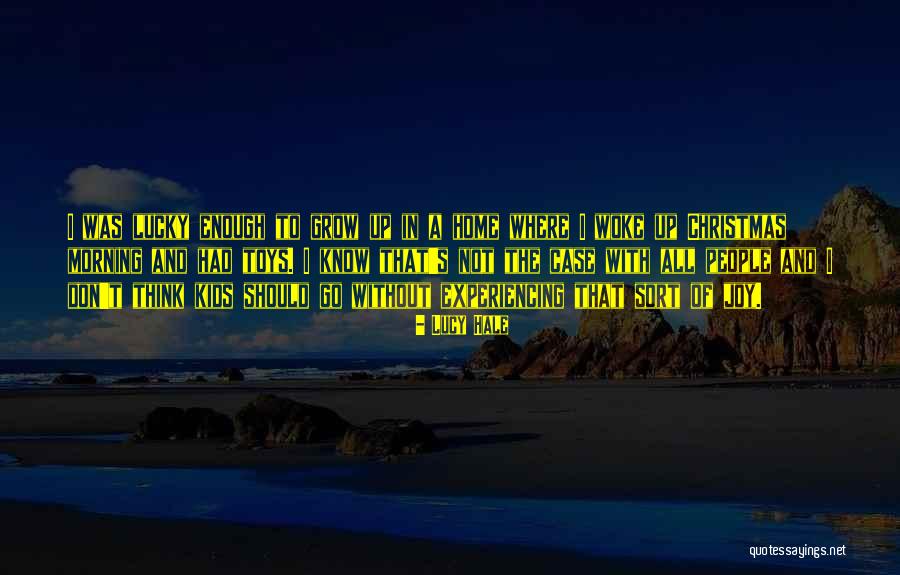 I was lucky enough to grow up in a home where I woke up Christmas morning and had toys. I know that's not the case with all people and I don't think kids should go without experiencing that sort of joy. — Lucy Hale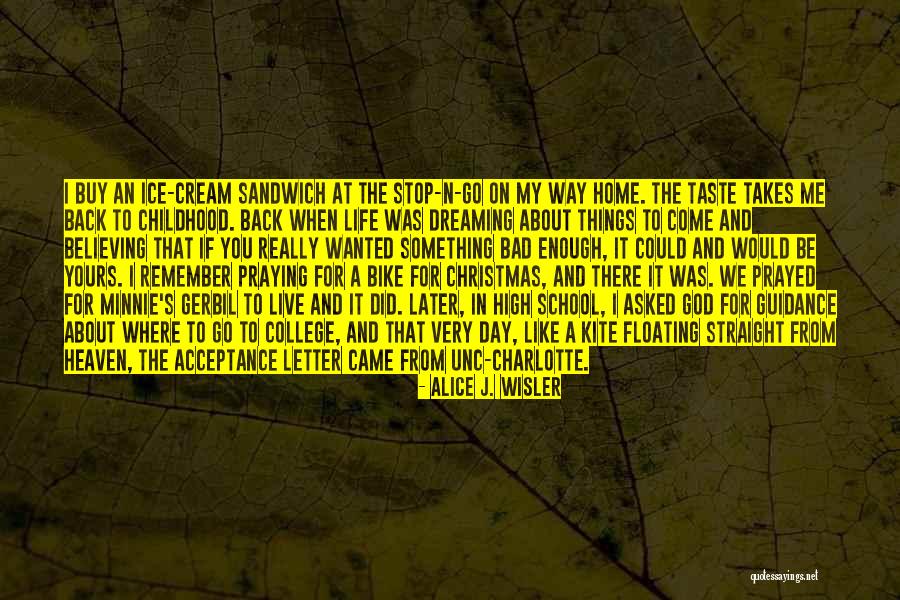 I buy an ice-cream sandwich at the Stop-N-Go on my way home. The taste takes me back to childhood. Back when life was dreaming about things to come and believing that if you really wanted something bad enough, it could and would be yours. I remember praying for a bike for Christmas, and there it was. We prayed for Minnie's gerbil to live and it did. Later, in high school, I asked God for guidance about where to go to college, and that very day, like a kite floating straight from heaven, the acceptance letter came from UNC-Charlotte. — Alice J. Wisler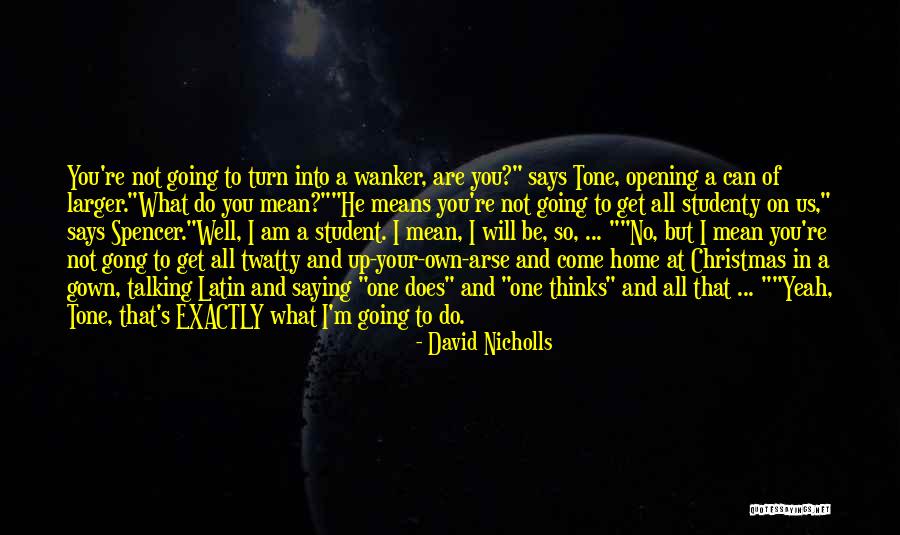 You're not going to turn into a wanker, are you?" says Tone, opening a can of larger.
"What do you mean?"
"He means you're not going to get all studenty on us," says Spencer.
"Well, I am a student. I mean, I will be, so, ... "
"No, but I mean you're not gong to get all twatty and up-your-own-arse and come home at Christmas in a gown, talking Latin and saying "one does" and "one thinks" and all that ... "
"Yeah, Tone, that's EXACTLY what I'm going to do. — David Nicholls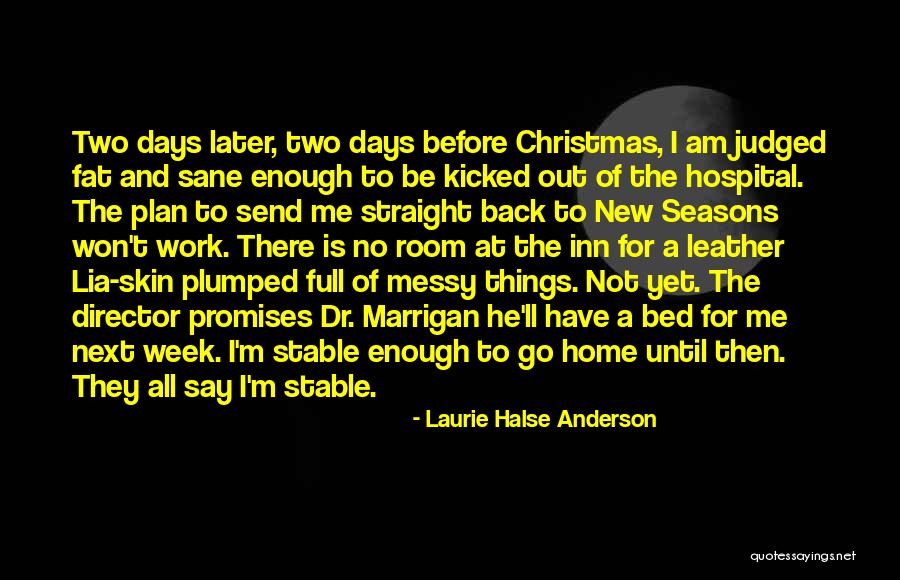 Two days later, two days before Christmas, I am judged fat and sane enough to be kicked out of the hospital. The plan to send me straight back to New Seasons won't work. There is no room at the inn for a leather Lia-skin plumped full of messy things. Not yet. The director promises Dr. Marrigan he'll have a bed for me next week. I'm stable enough to go home until then. They all say I'm stable. — Laurie Halse Anderson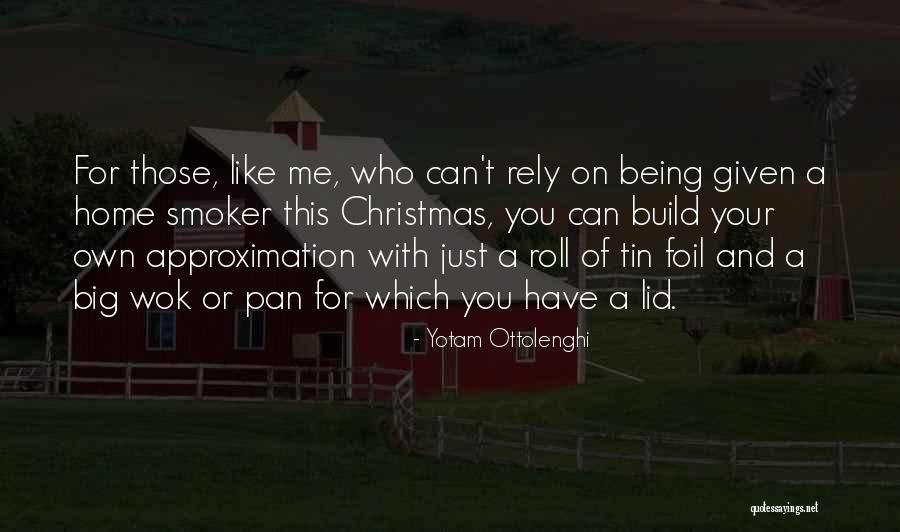 For those, like me, who can't rely on being given a home smoker this Christmas, you can build your own approximation with just a roll of tin foil and a big wok or pan for which you have a lid. — Yotam Ottolenghi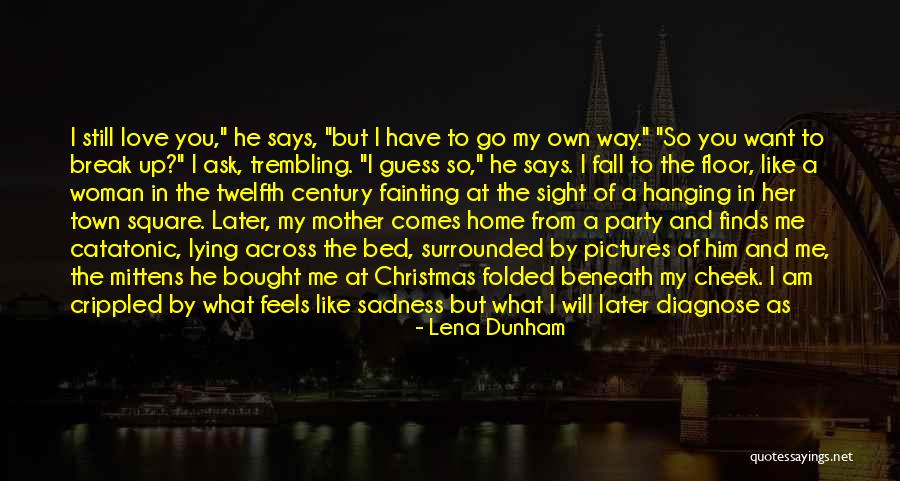 I still love you," he says, "but I have to go my own way." "So you want to break up?" I ask, trembling. "I guess so," he says. I fall to the floor, like a woman in the twelfth century fainting at the sight of a hanging in her town square. Later, my mother comes home from a party and finds me catatonic, lying across the bed, surrounded by pictures of him and me, the mittens he bought me at Christmas folded beneath my cheek. I am crippled by what feels like sadness but what I will later diagnose as embarrassment. She tells me this is a great excuse: to take time for myself, to cry a bunch, to eat only carbohydrates slathered in cheese. "You will find," she says, "that there's a certain grace to having your heart broken." I will use this line many times in the years to come, giving it as a gift to anyone who needs it. — Lena Dunham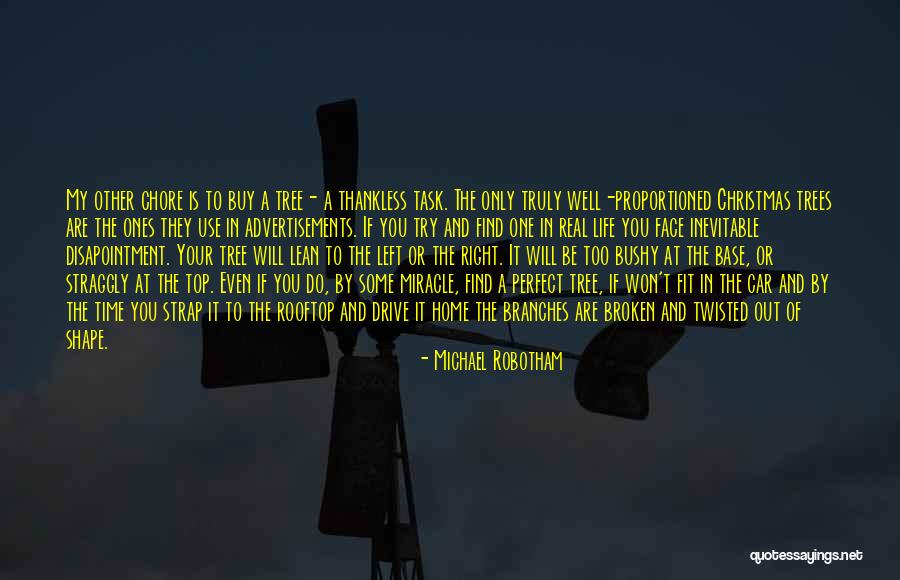 My other chore is to buy a tree- a thankless task. The only truly well-proportioned Christmas trees are the ones they use in advertisements. If you try and find one in real life you face inevitable disapointment. Your tree will lean to the left or the right. It will be too bushy at the base, or straggly at the top. Even if you do, by some miracle, find a perfect tree, if won't fit in the car and by the time you strap it to the rooftop and drive it home the branches are broken and twisted out of shape. You
wrestle it through the door, gagling on pine needles and sweating profusely, only to hear the maddening question from countless Christmases past: 'Is that really the best one you could find? — Michael Robotham
Congress may be going home for the holidays soon. How can you beat a Christmas gift like that? — Bob Hope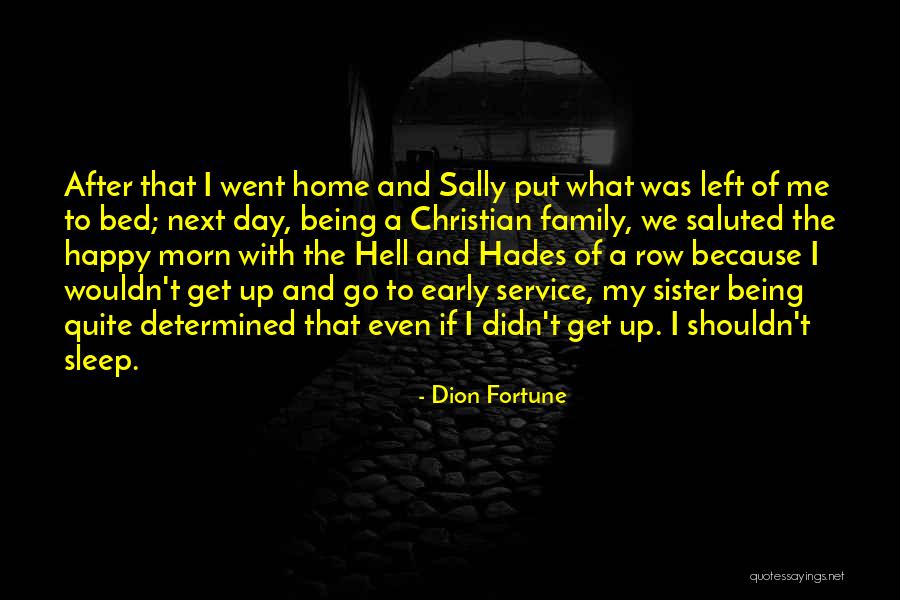 After that I went home and Sally put what was left of me to bed; next day, being a Christian family, we saluted the happy morn with the Hell and Hades of a row because I wouldn't get up and go to early service, my sister being quite determined that even if I didn't get up. I shouldn't sleep. — Dion Fortune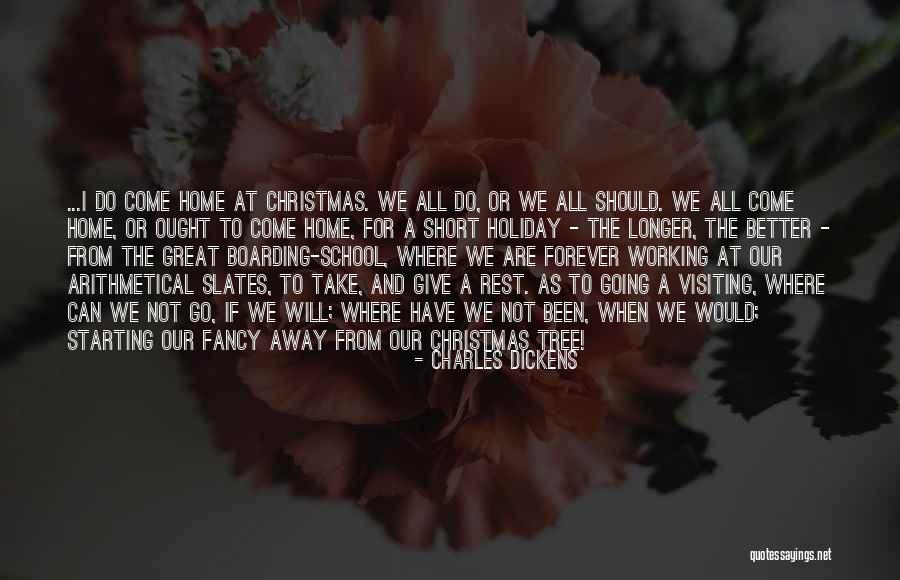 ...I do come home at Christmas. We all do, or we all should. We all come home, or ought to come home, for a short holiday - the longer, the better - from the great boarding-school, where we are forever working at our arithmetical slates, to take, and give a rest. As to going a visiting, where can we not go, if we will; where have we not been, when we would; starting our fancy away from our Christmas Tree! — Charles Dickens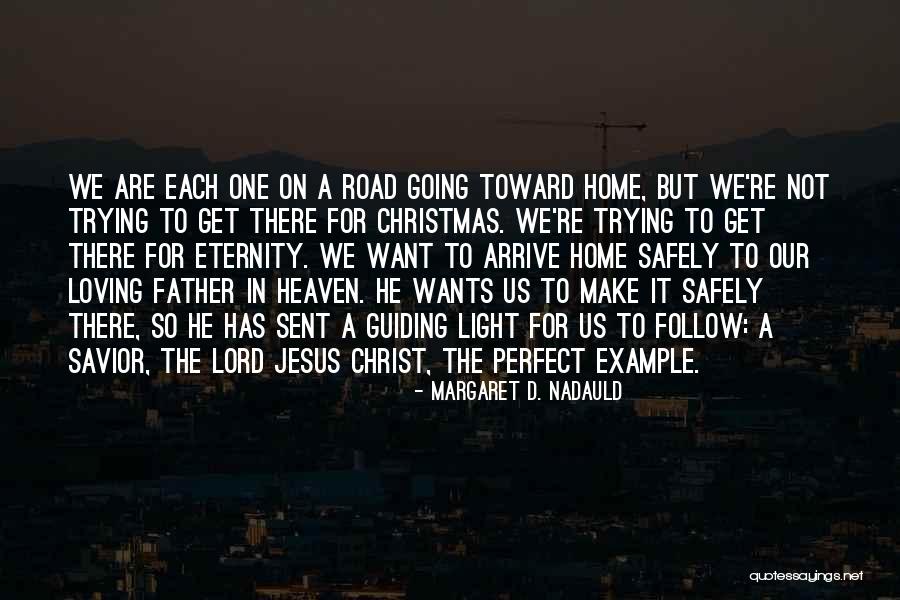 We are each one on a road going toward home, but we're not trying to get there for Christmas. We're trying to get there for eternity. We want to arrive home safely to our loving Father in Heaven. He wants us to make it safely there, so He has sent a guiding light for us to follow: a Savior, the Lord Jesus Christ, the perfect example. — Margaret D. Nadauld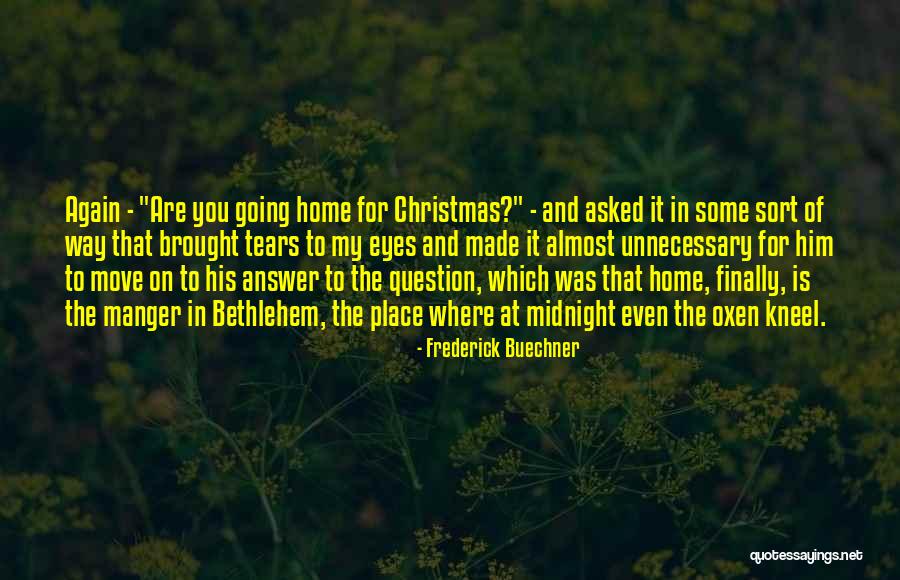 Again - "Are you going home for Christmas?" - and asked it in some sort of way that brought tears to my eyes and made it almost unnecessary for him to move on to his answer to the question, which was that home, finally, is the manger in Bethlehem, the place where at midnight even the oxen kneel. — Frederick Buechner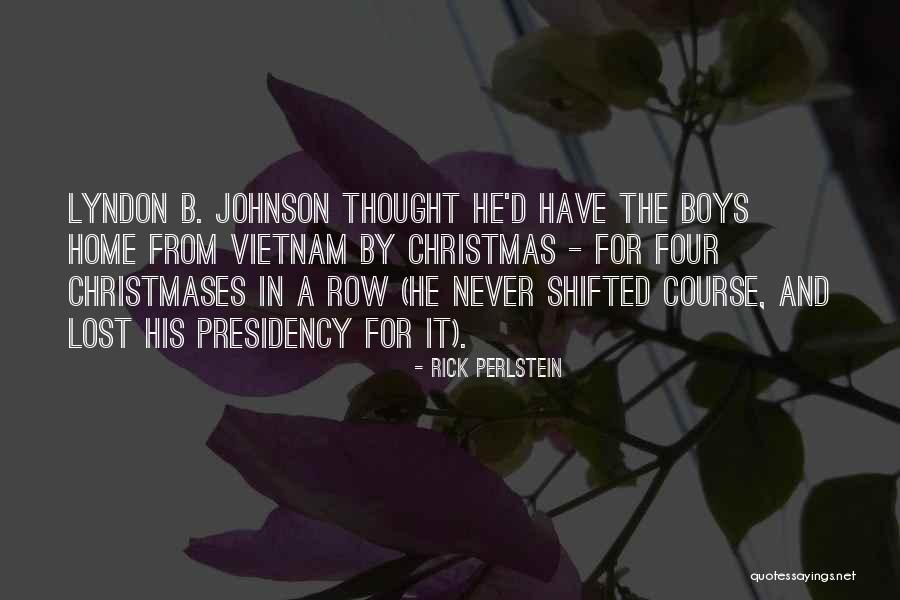 Lyndon B. Johnson thought he'd have the boys home from Vietnam by Christmas - for four Christmases in a row (he never shifted course, and lost his presidency for it). — Rick Perlstein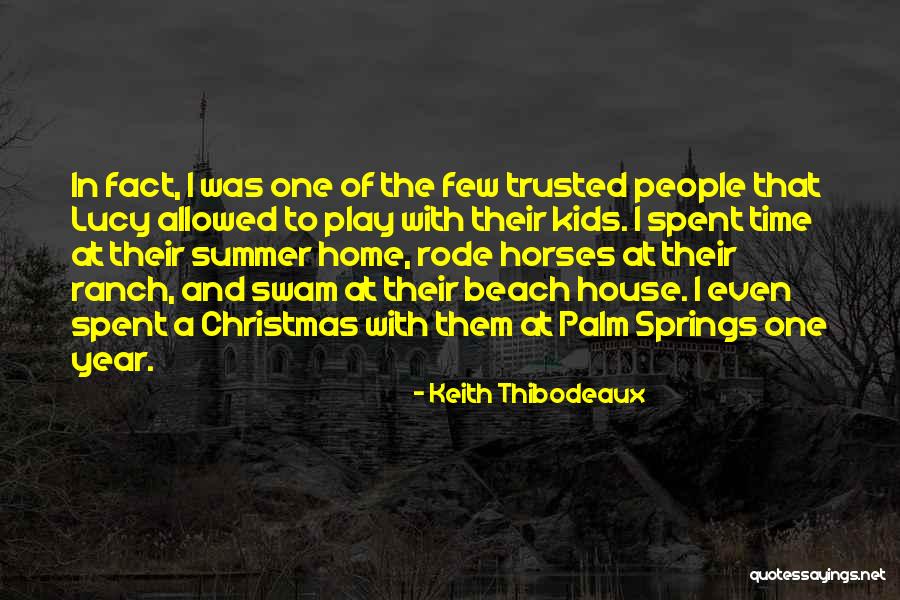 In fact, I was one of the few trusted people that Lucy allowed to play with their kids. I spent time at their summer home, rode horses at their ranch, and swam at their beach house. I even spent a Christmas with them at Palm Springs one year. — Keith Thibodeaux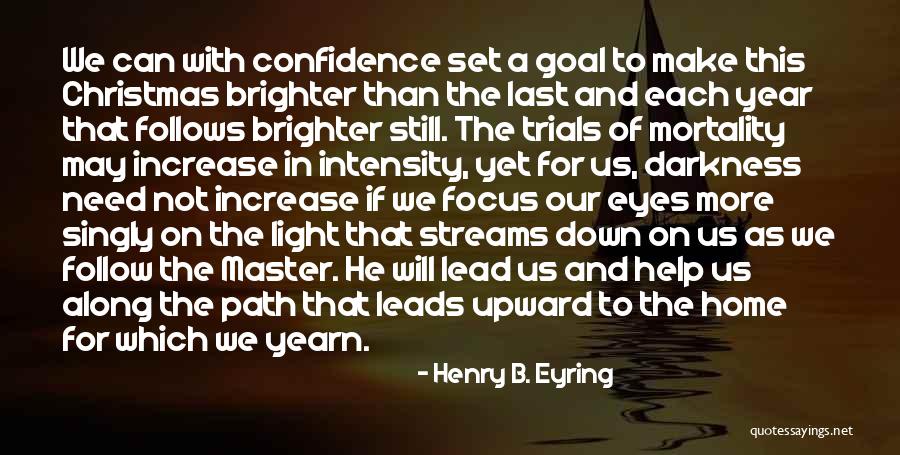 We can with confidence set a goal to make this Christmas brighter than the last and each year that follows brighter still. The trials of mortality may increase in intensity, yet for us, darkness need not increase if we focus our eyes more singly on the light that streams down on us as we follow the Master. He will lead us and help us along the path that leads upward to the home for which we yearn. — Henry B. Eyring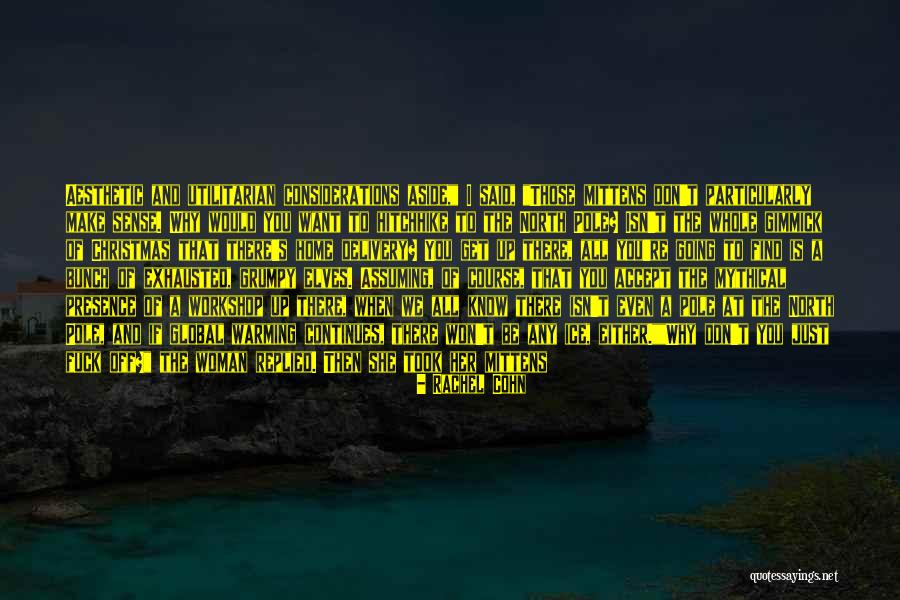 Aesthetic and utilitarian considerations aside," I said, "Those mittens don't particularly make sense. Why would you want to hitchhike to the North Pole? Isn't the whole gimmick of Christmas that there's home delivery? You get up there, all you're going to find is a bunch of exhausted, grumpy elves. Assuming, of course, that you accept the mythical presence of a workshop up there, when we all know there isn't even a pole at the North Pole, and if global warming continues, there won't be any ice, either."
"Why don't you just fuck off?" the woman replied. Then she took her mittens and got out of there. — Rachel Cohn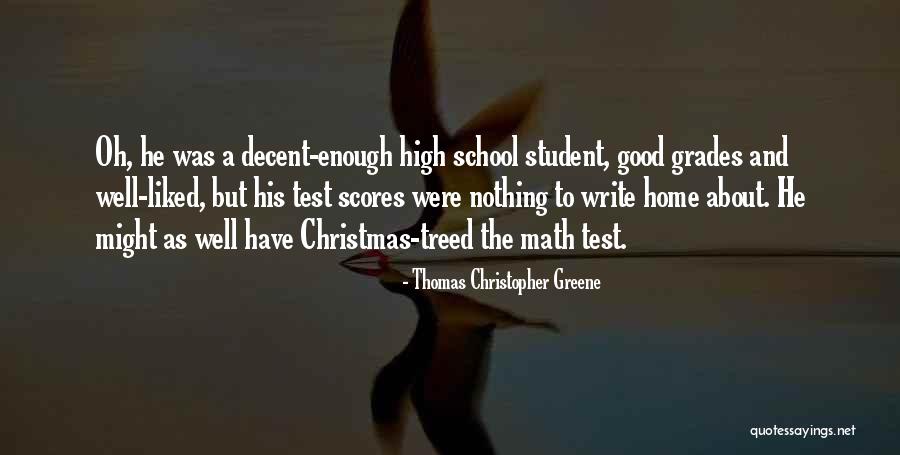 Oh, he was a decent-enough high school student, good grades and well-liked, but his test scores were nothing to write home about. He might as well have Christmas-treed the math test. — Thomas Christopher Greene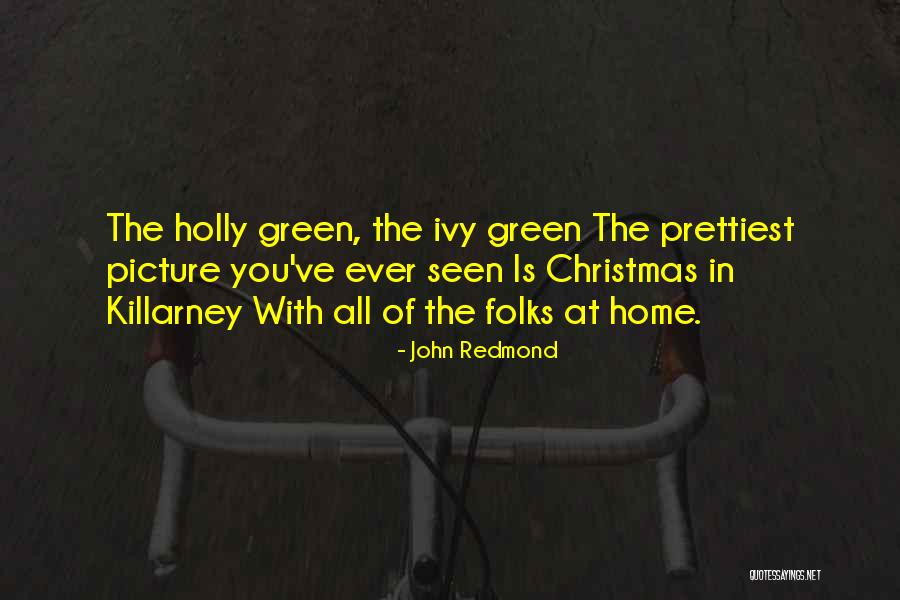 The holly green, the ivy green The prettiest picture you've ever seen Is Christmas in Killarney With all of the folks at home. — John Redmond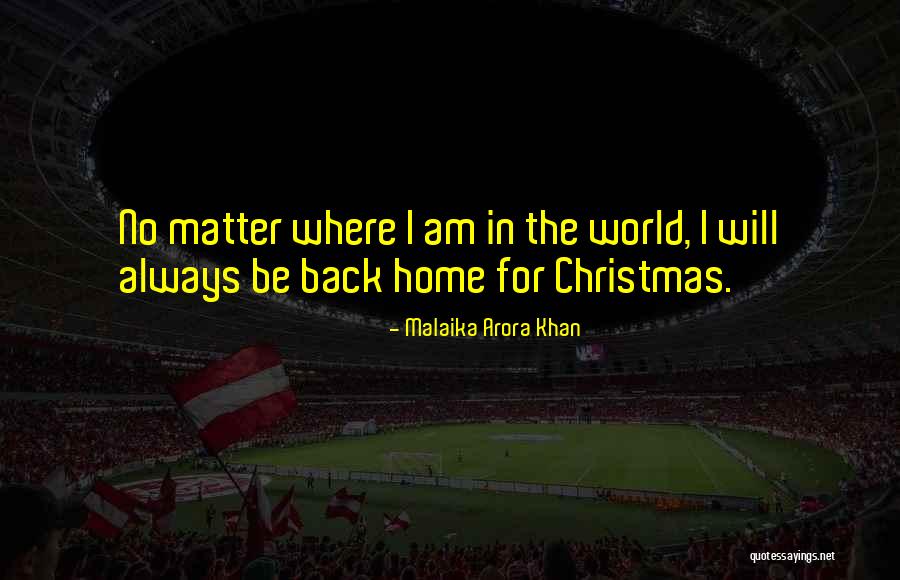 No matter where I am in the world, I will always be back home for Christmas. — Malaika Arora Khan
Certainly, nothing would stop me coming home for Christmas, if I can. But I've worked a lot in theatre, and in theatre in New York, we work Christmas Day a lot of the time as well. — Brian F. O'Byrne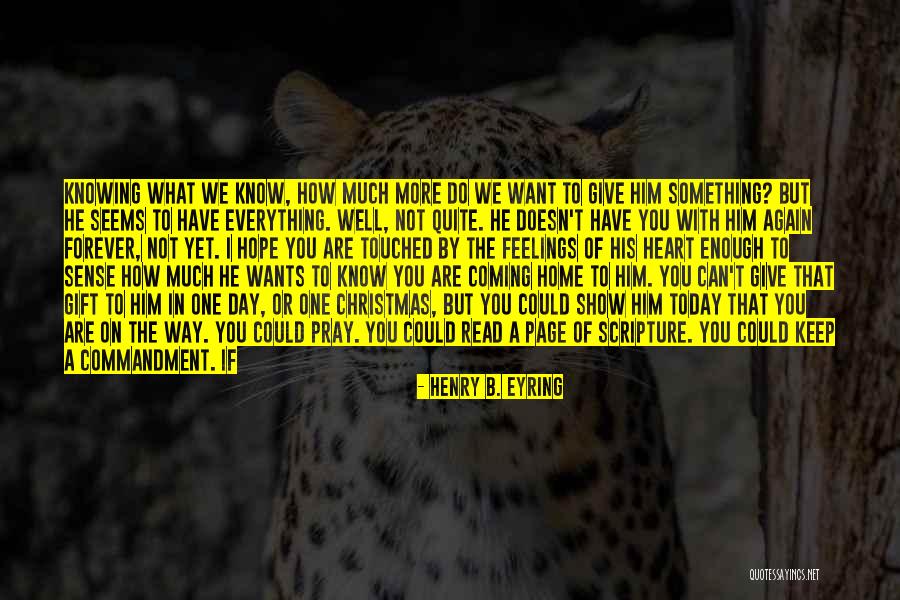 Knowing what we know, how much more do we want to give Him something? But He seems to have everything. Well, not quite. He doesn't have you with Him again forever, not yet. I hope you are touched by the feelings of His heart enough to sense how much He wants to know you are coming home to Him. You can't give that gift to Him in one day, or one Christmas, but you could show Him today that you are on the way. You could pray. You could read a page of scripture. You could keep a commandment. If you have already done these, there is still something left to give. All around you are people He loves but can help only through you and me. One of the sure signs that we have accepted the gift of the Savior's atonement is that we give gifts to others. — Henry B. Eyring
People who grew up in major cities may wonder why the hell I would act like it's a big deal to be unaccompanied in New York City at that age. It's populated with both adults and children, it's a functioning metropolis, Kevin McCallister was only ten in Home Alone 2: Lost in New York, and that kid saved Christmas. Conversely, people from suburban areas act like my parents sent me wandering around the site of the Baby Jessica well, blindfolded and holding a flaming baton. So pick a side and prepare to judge me wither way! — Anna Kendrick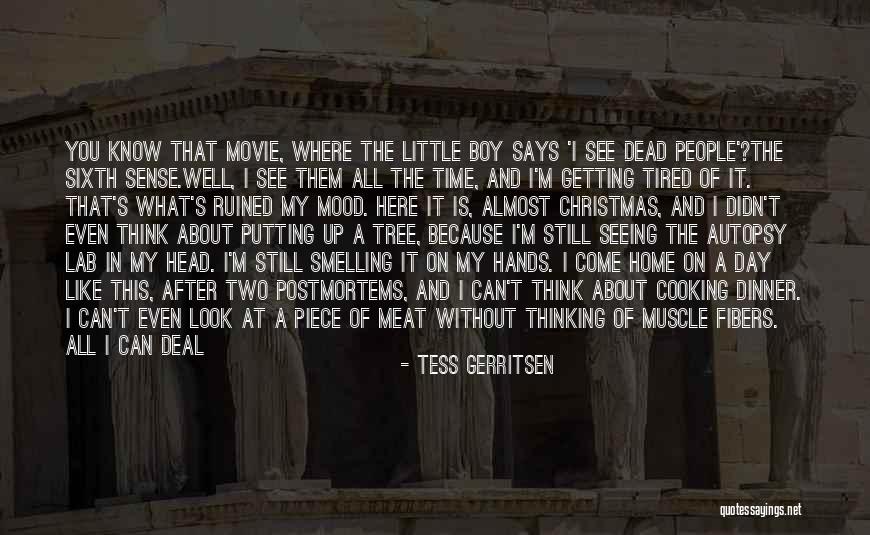 You know that movie, where the little boy says 'I see dead people'?
The Sixth Sense.
Well, I see them all the time, and I'm getting tired of it. That's what's ruined my mood. Here it is, almost Christmas, and I didn't even think about putting up a tree, because I'm still seeing the autopsy lab in my head. I'm still smelling it on my hands. I come home on a day like this, after two postmortems, and I can't think about cooking dinner. I can't even look at a piece of meat without thinking of muscle fibers. All I can deal with is a cocktail. And then I pour the drink and smell the alcohol, and suddenly there I am, back in the lab. Alcohol, formalin, they both have that same sharp smell. — Tess Gerritsen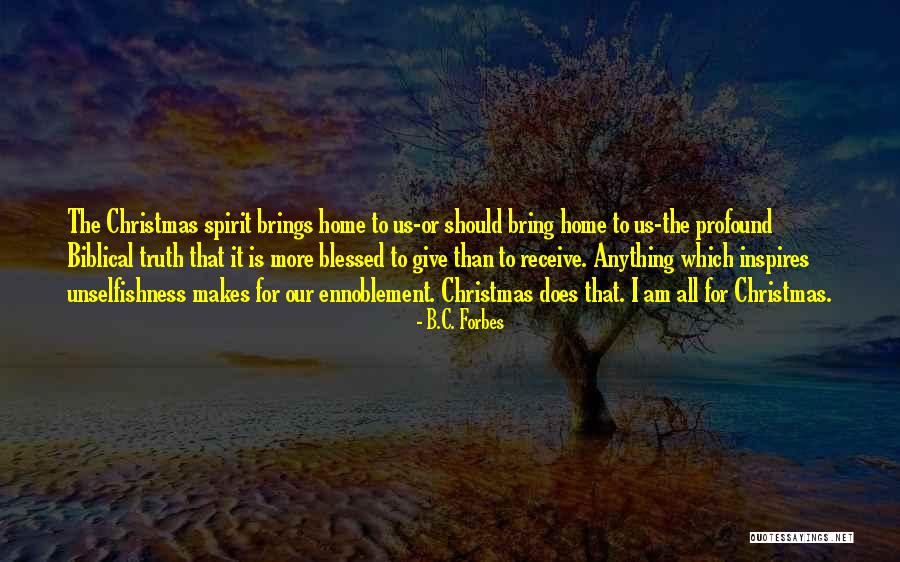 The Christmas spirit brings home to us-or should bring home to us-the profound Biblical truth that it is more blessed to give than to receive. Anything which inspires unselfishness makes for our ennoblement. Christmas does that. I am all for Christmas. — B.C. Forbes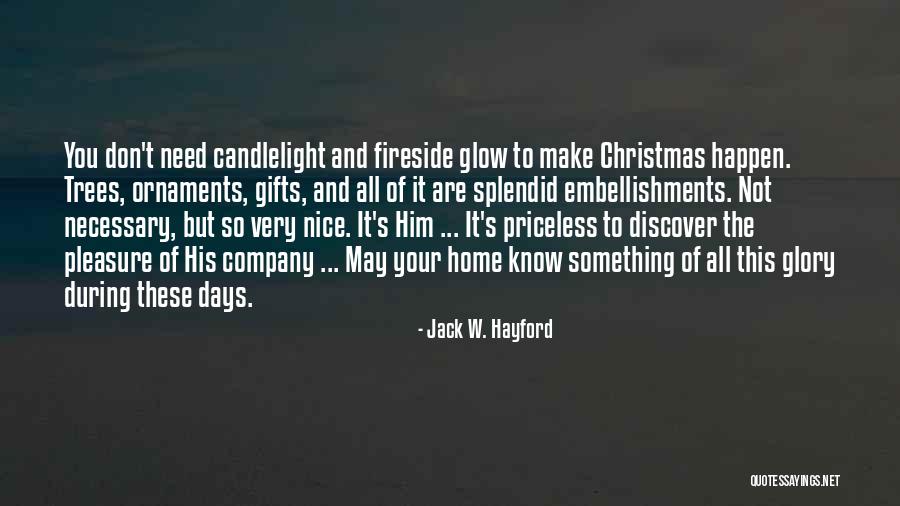 You don't need candlelight and fireside glow to make Christmas happen. Trees, ornaments, gifts, and all of it are splendid embellishments. Not necessary, but so very nice. It's Him ... It's priceless to discover the pleasure of His company ... May your home know something of all this glory during these days. — Jack W. Hayford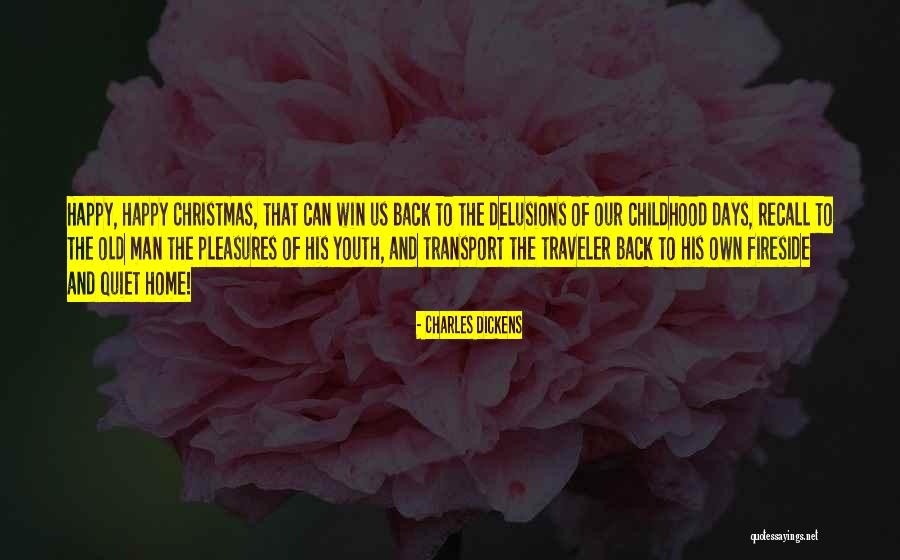 Happy, happy Christmas, that can win us back to the delusions of our childhood days, recall to the old man the pleasures of his youth, and transport the traveler back to his own fireside and quiet home! — Charles Dickens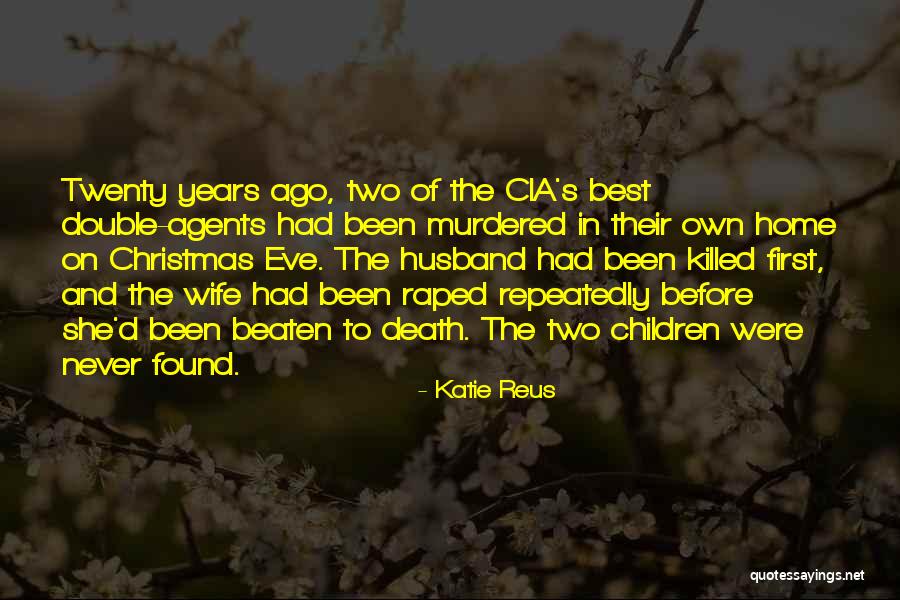 Twenty years ago, two of the CIA's best double-agents had been murdered in their own home on Christmas Eve. The husband had been killed first, and the wife had been raped repeatedly before she'd been beaten to death. The two children were never found. — Katie Reus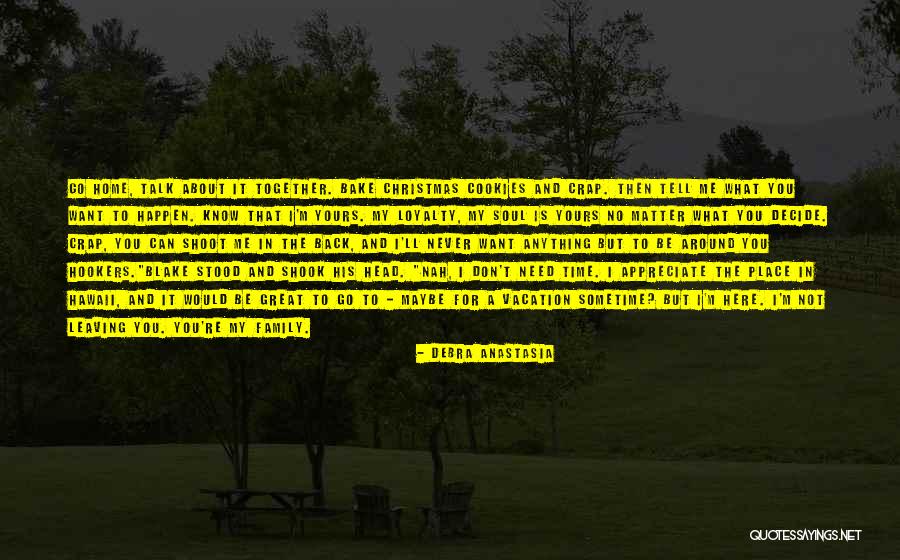 Go home, talk about it together. Bake Christmas cookies and crap. Then tell me what you want to happen. Know that I'm yours. My loyalty, my soul is yours no matter what you decide. Crap, you can shoot me in the back, and I'll never want anything but to be around you hookers."
Blake stood and shook his head. "Nah, I don't need time. I appreciate the place in Hawaii, and it would be great to go to - maybe for a vacation sometime? But I'm here. I'm not leaving you. You're my family. — Debra Anastasia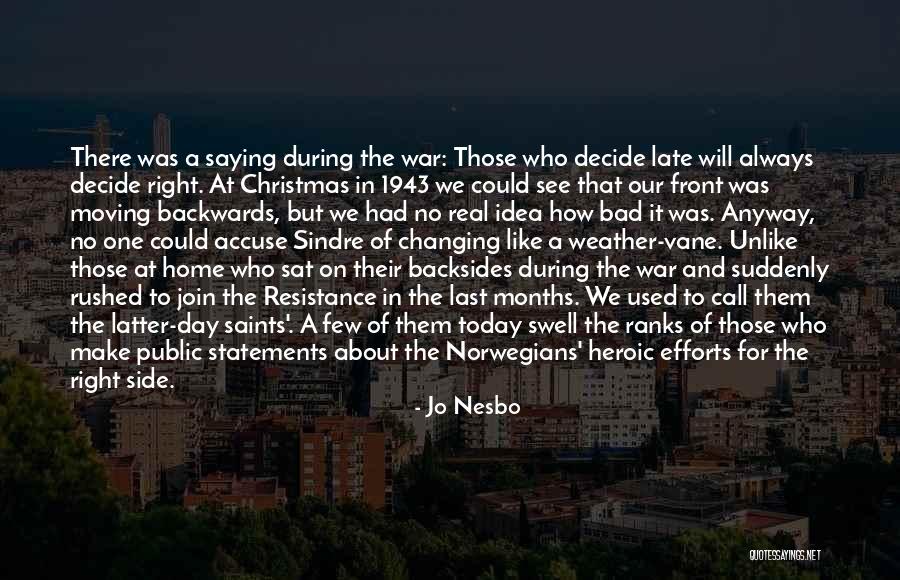 There was a saying during the war: Those who decide late will always decide right. At Christmas in 1943 we could see that our front was moving backwards, but we had no real idea how bad it was. Anyway, no one could accuse Sindre of changing like a weather-vane. Unlike those at home who sat on their backsides during the war and suddenly rushed to join the Resistance in the last months. We used to call them the latter-day saints'. A few of them today swell the ranks of those who make public statements about the Norwegians' heroic efforts for the right side. — Jo Nesbo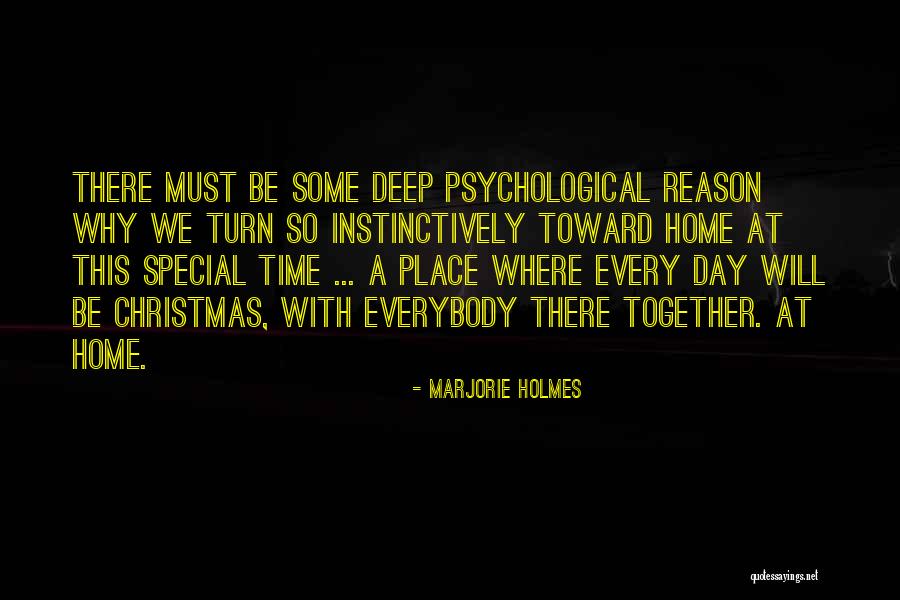 There must be some deep psychological reason why we turn so instinctively toward home at this special time ... A place where every day will be Christmas, with everybody there together. At home. — Marjorie Holmes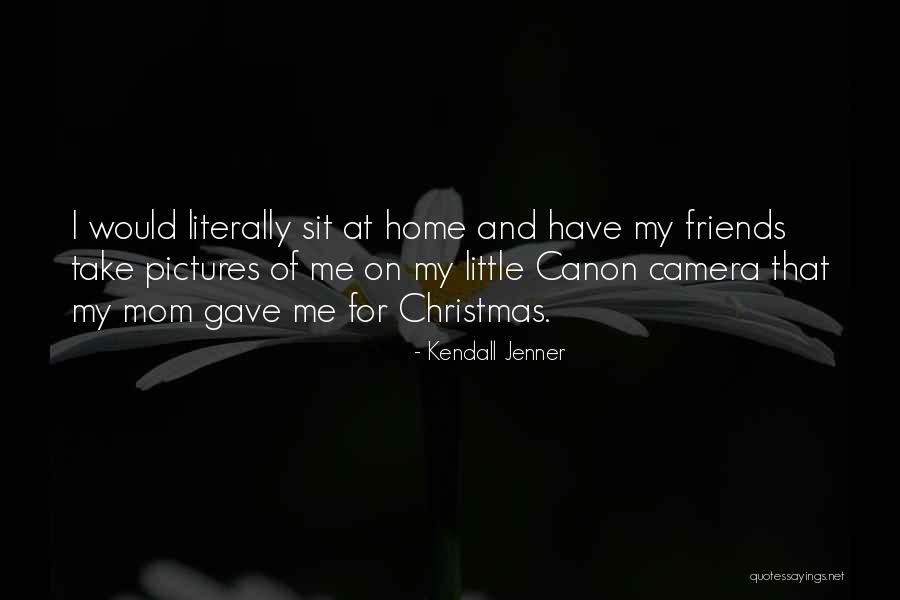 I would literally sit at home and have my friends take pictures of me on my little Canon camera that my mom gave me for Christmas. — Kendall Jenner