Quotes & Sayings About Going Back To College
Enjoy reading and share 52 famous quotes about Going Back To College with everyone.
Top Going Back To College Quotes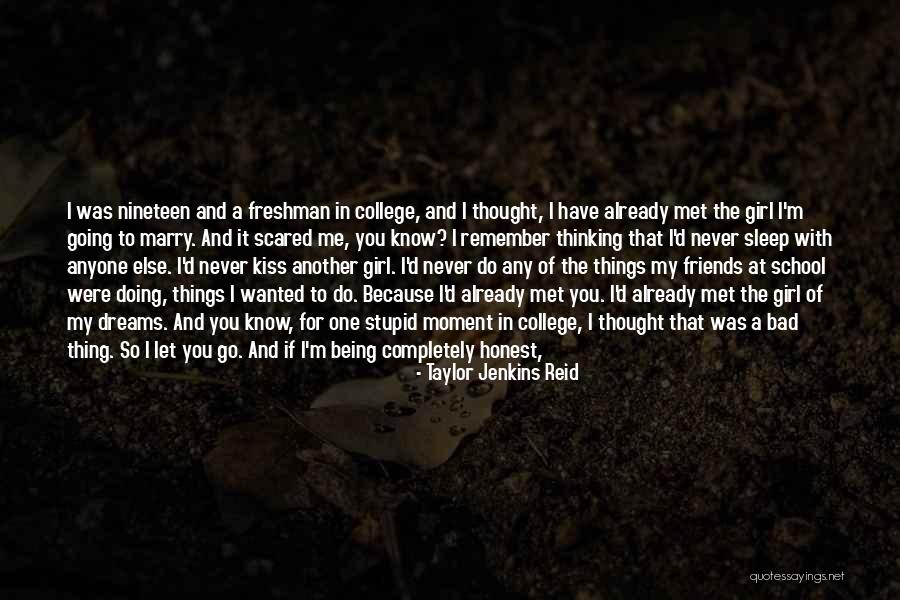 I was nineteen and a freshman in college, and I thought, I have already met the girl I'm going to marry. And it scared me, you know? I remember thinking that I'd never sleep with anyone else. I'd never kiss another girl. I'd never do any of the things my friends at school were doing, things I wanted to do. Because I'd already met you. I'd already met the girl of my dreams. And you know, for one stupid moment in college, I thought that was a bad thing. So I let you go. And if I'm being completely honest, even though it makes me sound like a total jerk, I always thought I'd get you back. I thought I could break up with you and have my fun and be young, and then, when I was done, I'd go get you back. It never occurred to me that you have to hold those things sacred. — Taylor Jenkins Reid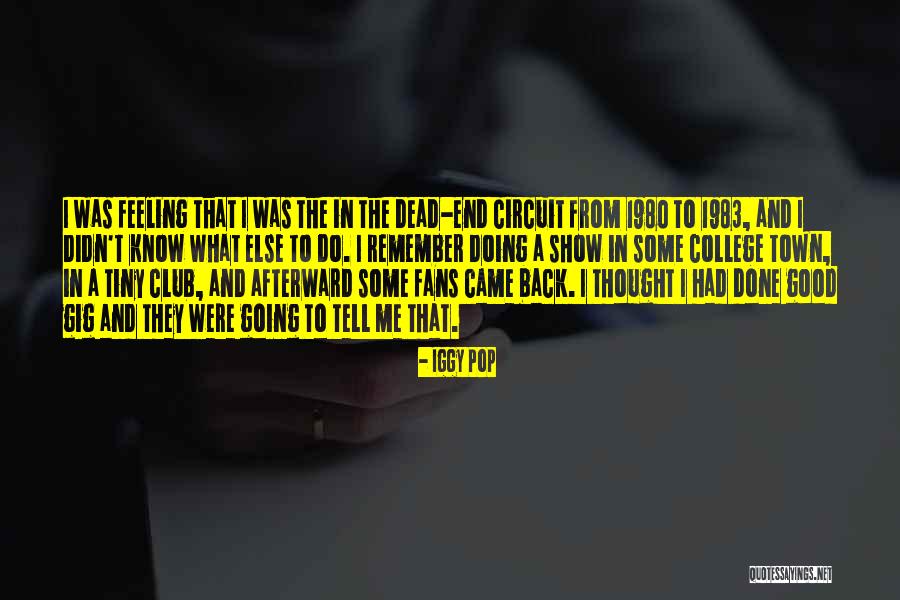 I was feeling that I was the in the dead-end circuit from 1980 to 1983, and I didn't know what else to do. I remember doing a show in some college town, in a tiny club, and afterward some fans came back. I thought I had done good gig and they were going to tell me that. — Iggy Pop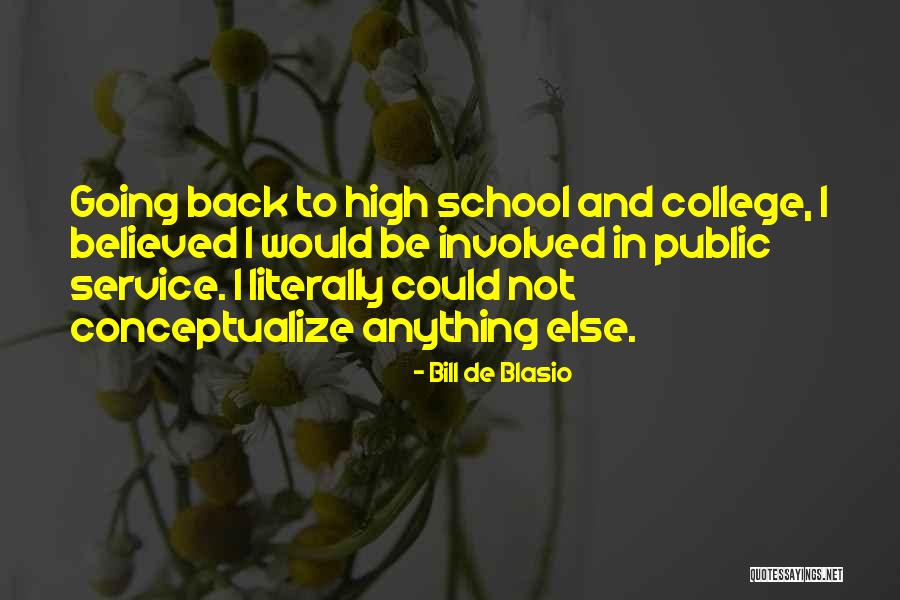 Going back to high school and college, I believed I would be involved in public service. I literally could not conceptualize anything else. — Bill De Blasio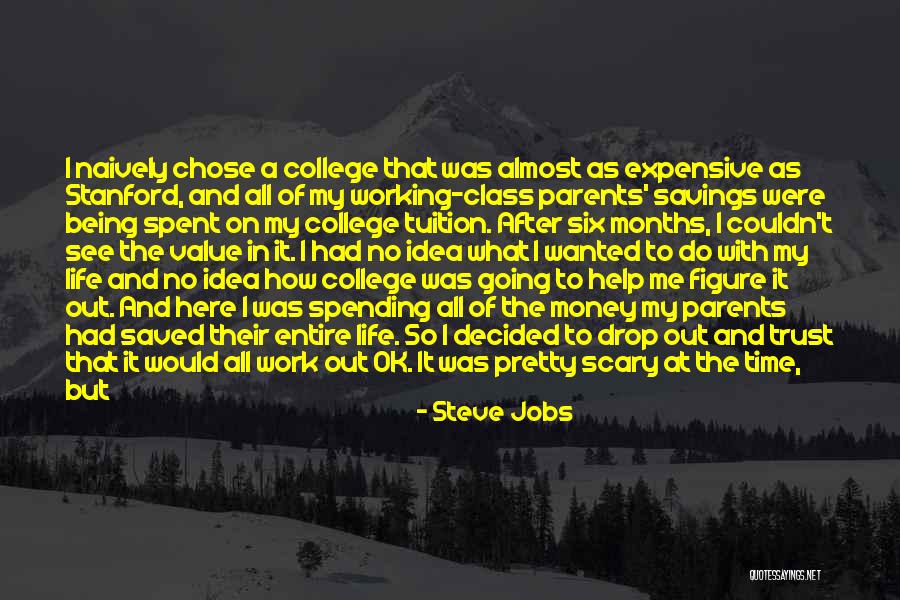 I naively chose a college that was almost as expensive as Stanford, and all of my working-class parents' savings were being spent on my college tuition. After six months, I couldn't see the value in it. I had no idea what I wanted to do with my life and no idea how college was going to help me figure it out. And here I was spending all of the money my parents had saved their entire life. So I decided to drop out and trust that it would all work out OK. It was pretty scary at the time, but looking back it was one of the best decisions I ever made. The minute I dropped out I could stop taking the required classes that didn't interest me, and begin dropping in on the ones that looked interesting. — Steve Jobs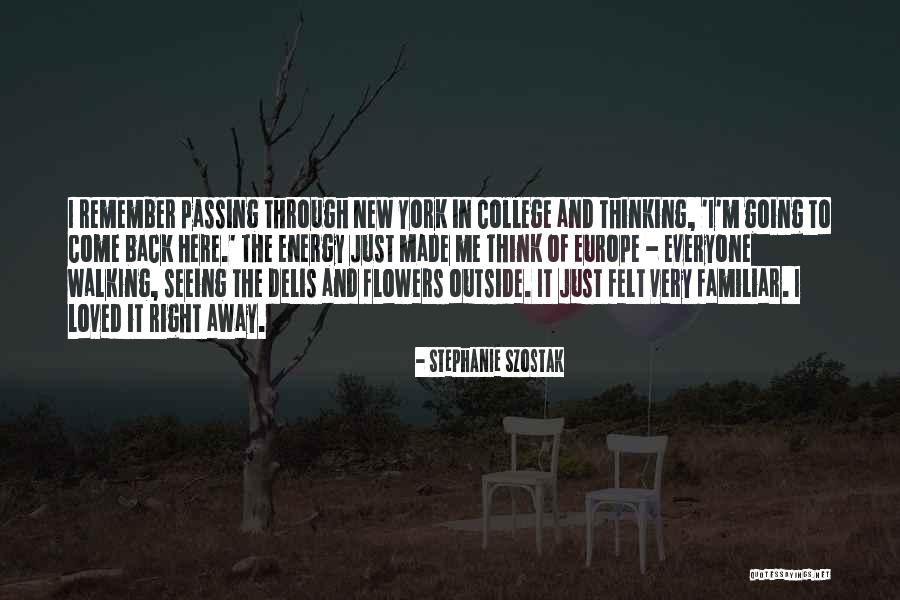 I remember passing through New York in college and thinking, 'I'm going to come back here.' The energy just made me think of Europe - everyone walking, seeing the delis and flowers outside. It just felt very familiar. I loved it right away. — Stephanie Szostak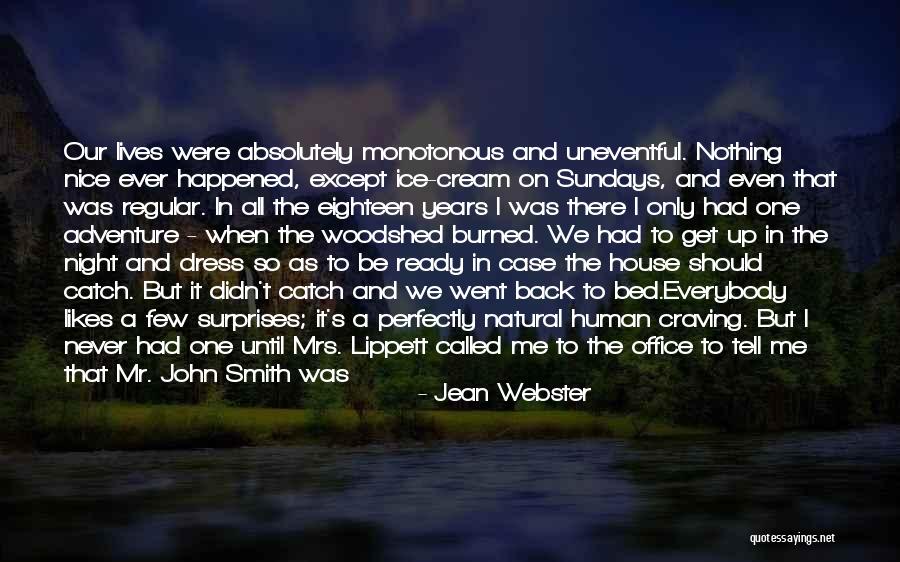 Our lives were absolutely monotonous and uneventful. Nothing nice ever happened, except ice-cream on Sundays, and even that was regular. In all the eighteen years I was there I only had one adventure - when the woodshed burned. We had to get up in the night and dress so as to be ready in case the house should catch. But it didn't catch and we went back to bed.
Everybody likes a few surprises; it's a perfectly natural human craving. But I never had one until Mrs. Lippett called me to the office to tell me that Mr. John Smith was going to send me to college. And then she broke the news so gradually that it just barely shocked me. — Jean Webster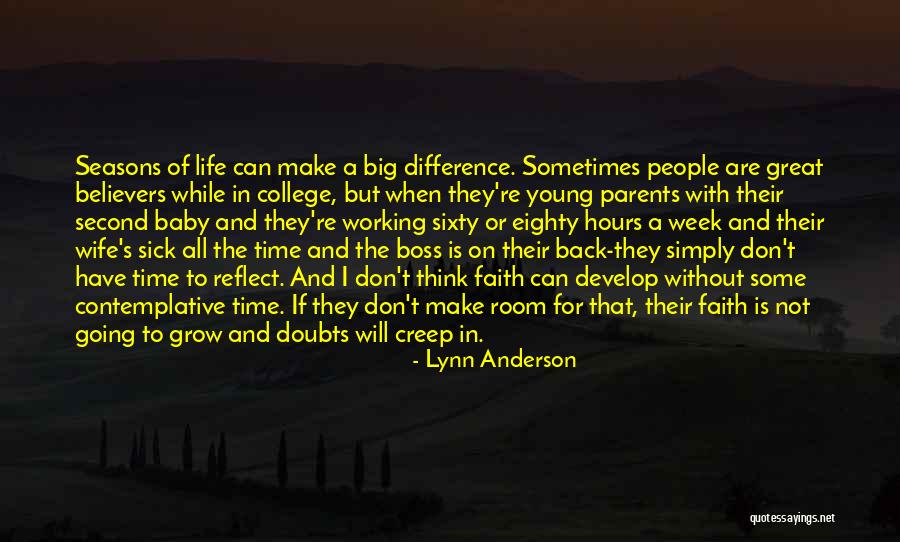 Seasons of life can make a big difference. Sometimes people are great believers while in college, but when they're young parents with their second baby and they're working sixty or eighty hours a week and their wife's sick all the time and the boss is on their back-they simply don't have time to reflect. And I don't think faith can develop without some contemplative time. If they don't make room for that, their faith is not going to grow and doubts will creep in. — Lynn Anderson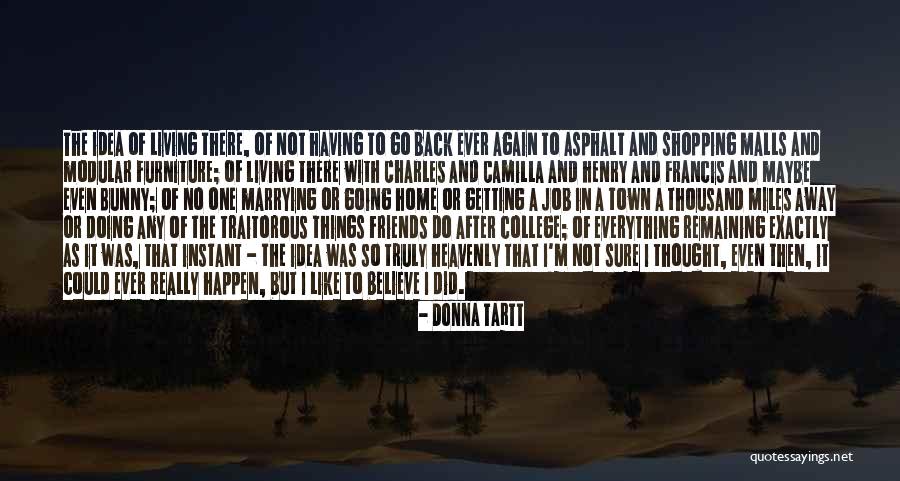 The idea of living there, of not having to go back ever again to asphalt and shopping malls and modular furniture; of living there with Charles and Camilla and Henry and Francis and maybe even Bunny; of no one marrying or going home or getting a job in a town a thousand miles away or doing any of the traitorous things friends do after college; of everything remaining exactly as it was, that instant - the idea was so truly heavenly that I'm not sure I thought, even then, it could ever really happen, but I like to believe I did. — Donna Tartt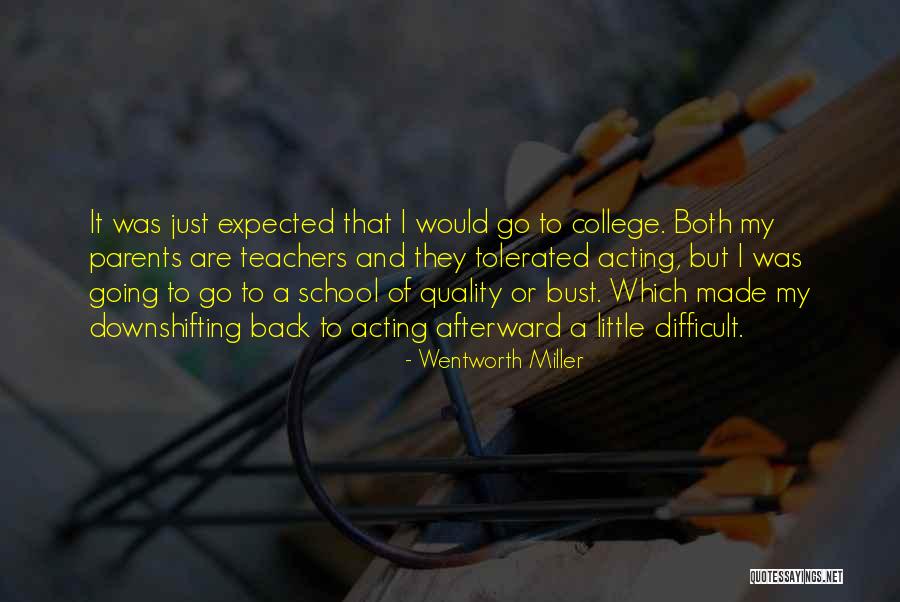 It was just expected that I would go to college. Both my parents are teachers and they tolerated acting, but I was going to go to a school of quality or bust. Which made my downshifting back to acting afterward a little difficult. — Wentworth Miller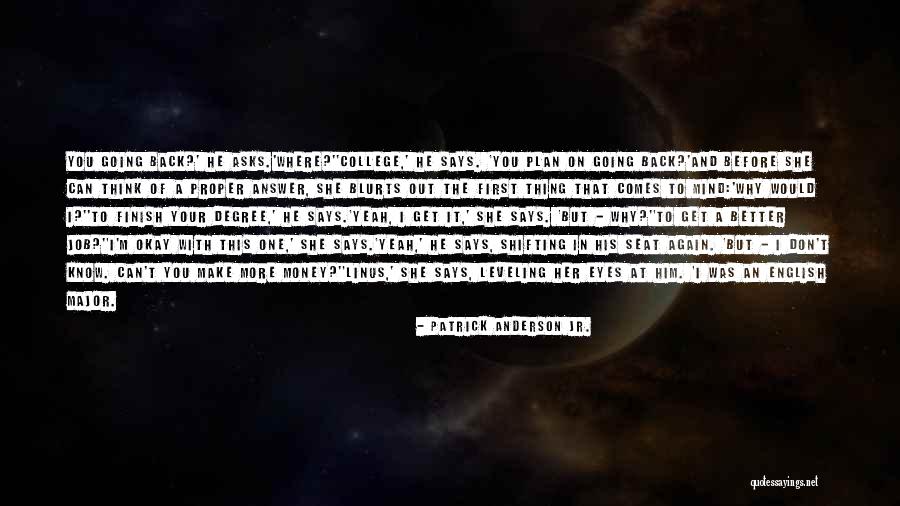 You going back?' he asks.
'Where?'
'College,' he says. 'You plan on going back?'
And before she can think of a proper answer, she blurts out the first thing that comes to mind:
'Why would I?'
'To finish your degree,' he says.
'Yeah, I get it,' she says. 'But - why?'
'To get a better job?'
'I'm okay with this one,' she says.
'Yeah,' he says, shifting in his seat again. 'But - I don't know. Can't you make more money?'
'Linus,' she says, leveling her eyes at him. 'I was an English major. — Patrick Anderson Jr.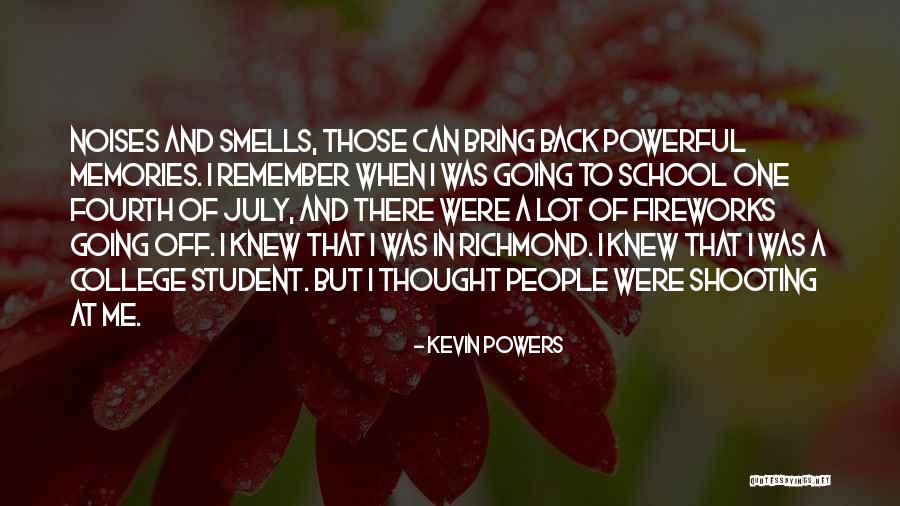 Noises and smells, those can bring back powerful memories. I remember when I was going to school one Fourth of July, and there were a lot of fireworks going off. I knew that I was in Richmond. I knew that I was a college student. But I thought people were shooting at me. — Kevin Powers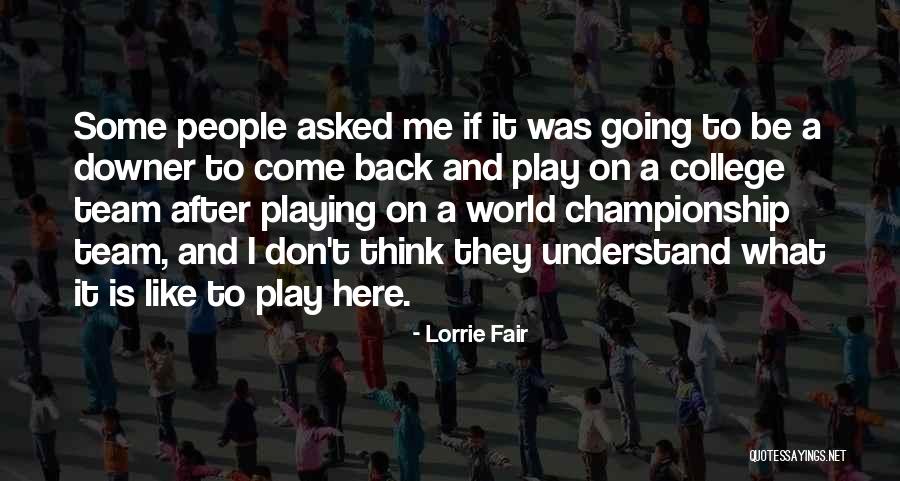 Some people asked me if it was going to be a downer to come back and play on a college team after playing on a world championship team, and I don't think they understand what it is like to play here. — Lorrie Fair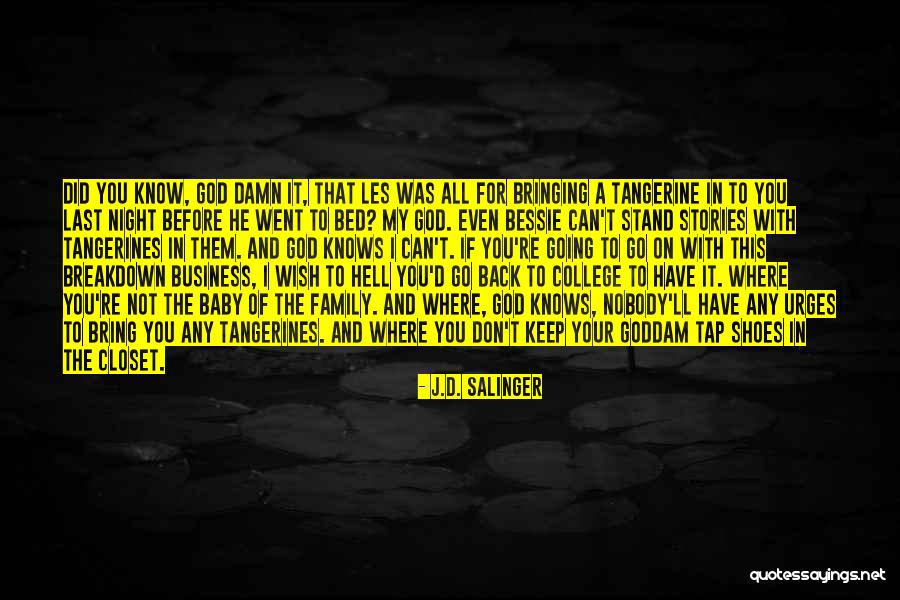 Did you know, God damn it, that Les was all for bringing a tangerine in to you last night before he went to bed? My God. Even Bessie can't stand stories with tangerines in them. And God knows I can't. If you're going to go on with this breakdown business, I wish to hell you'd go back to college to have it. Where you're not the baby of the family. And where, God knows, nobody'll have any urges to bring you any tangerines. And where you don't keep your goddam tap shoes in the closet. — J.D. Salinger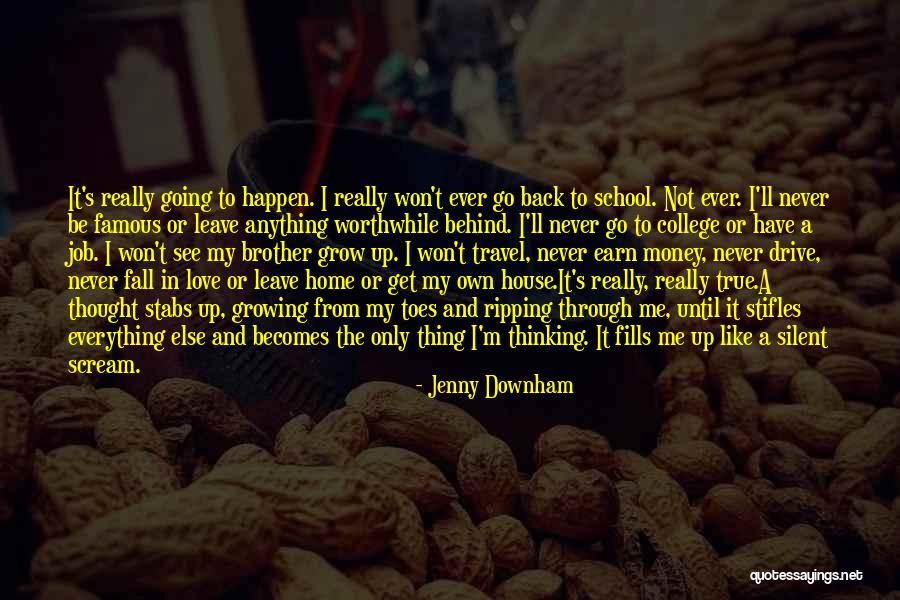 It's really going to happen. I really won't ever go back to school. Not ever. I'll never be famous or leave anything worthwhile behind. I'll never go to college or have a job. I won't see my brother grow up. I won't travel, never earn money, never drive, never fall in love or leave home or get my own house.
It's really, really true.
A thought stabs up, growing from my toes and ripping through me, until it stifles everything else and becomes the only thing I'm thinking. It fills me up like a silent scream. — Jenny Downham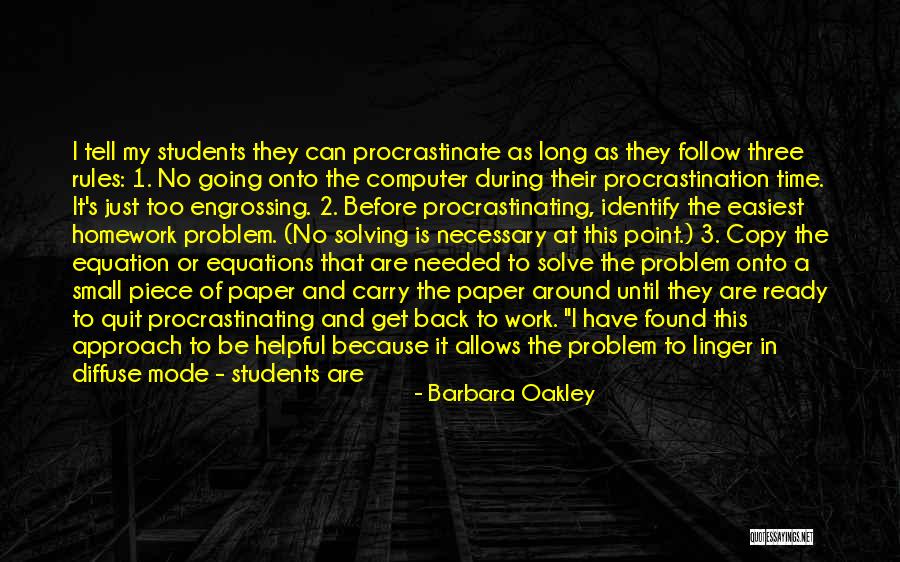 I tell my students they can procrastinate as long as they follow three rules: 1. No going onto the computer during their procrastination time. It's just too engrossing. 2. Before procrastinating, identify the easiest homework problem. (No solving is necessary at this point.) 3. Copy the equation or equations that are needed to solve the problem onto a small piece of paper and carry the paper around until they are ready to quit procrastinating and get back to work. "I have found this approach to be helpful because it allows the problem to linger in diffuse mode - students are working on it even while they are procrastinating." - Elizabeth Ploughman, Lecturer of Physics, Camosun College, Victoria, British Columbia — Barbara Oakley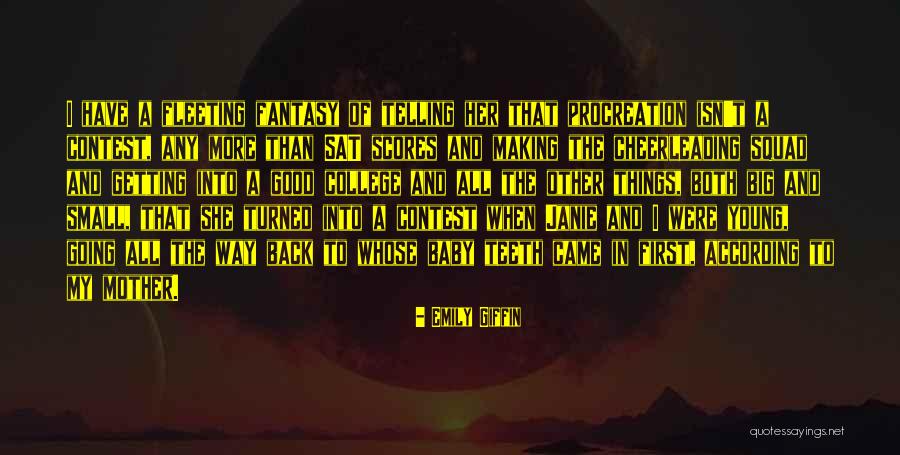 I have a fleeting fantasy of telling her that procreation isn't a contest, any more than SAT scores and making the cheerleading squad and getting into a good college and all the other things, both big and small, that she turned into a contest when Janie and I were young, going all the way back to whose baby teeth came in first, according to my mother. — Emily Giffin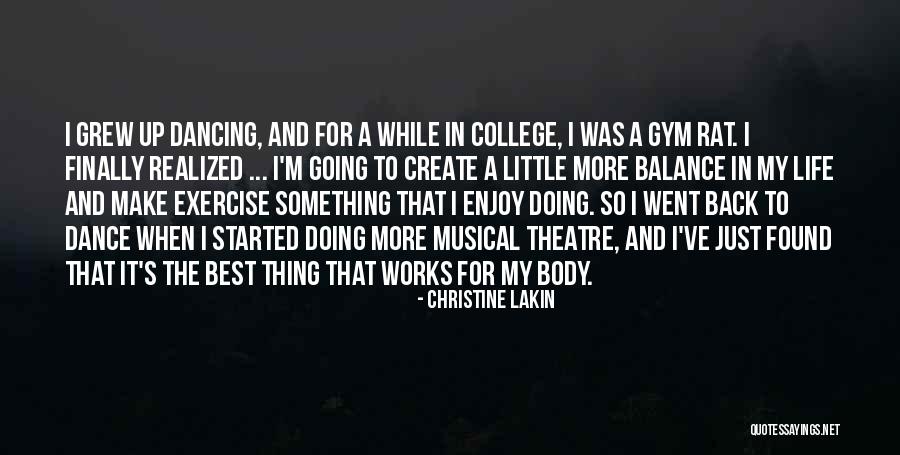 I grew up dancing, and for a while in college, I was a gym rat. I finally realized ... I'm going to create a little more balance in my life and make exercise something that I enjoy doing. So I went back to dance when I started doing more musical theatre, and I've just found that it's the best thing that works for my body. — Christine Lakin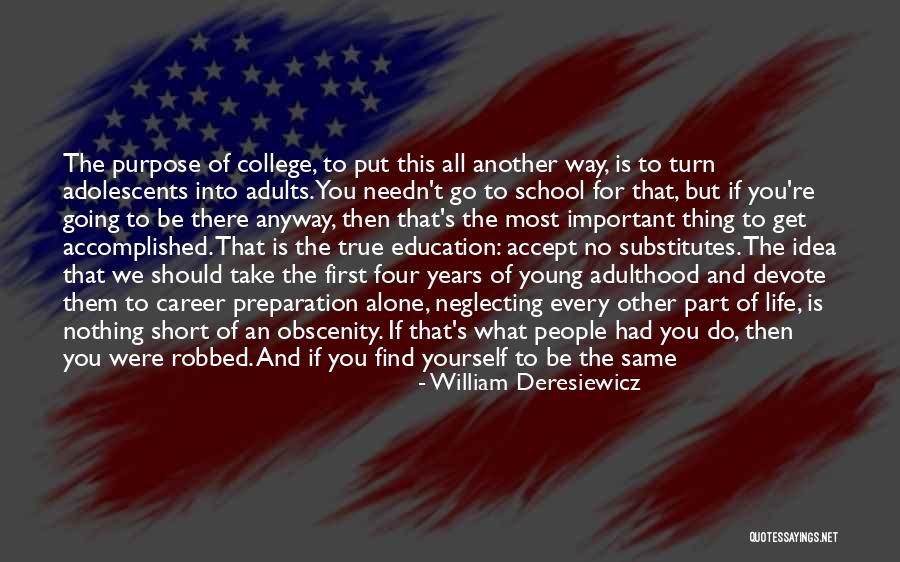 The purpose of college, to put this all another way, is to turn adolescents into adults. You needn't go to school for that, but if you're going to be there anyway, then that's the most important thing to get accomplished. That is the true education: accept no substitutes. The idea that we should take the first four years of young adulthood and devote them to career preparation alone, neglecting every other part of life, is nothing short of an obscenity. If that's what people had you do, then you were robbed. And if you find yourself to be the same person at the end of college as you were at the beginning - the same beliefs, the same values, the same desires, the same goals for the same reasons - then you did it wrong. Go back and do it again. — William Deresiewicz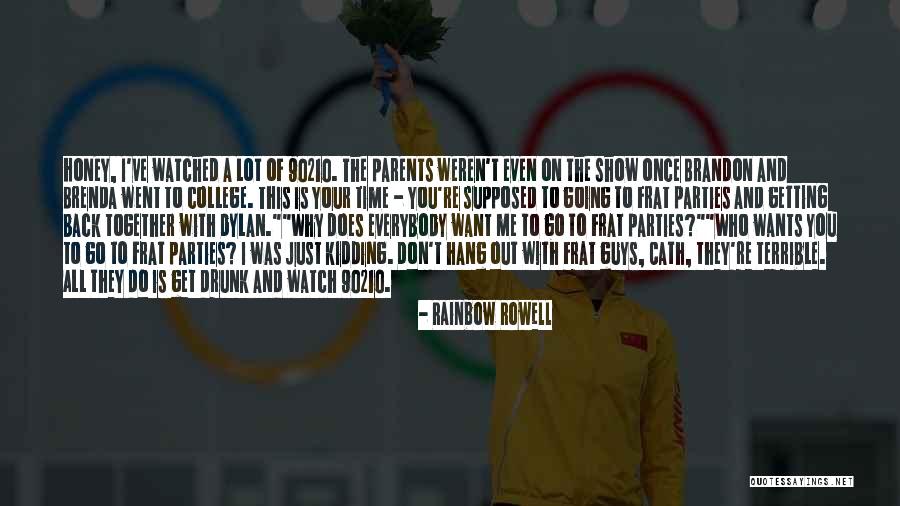 Honey, I've watched a lot of 90210. The parents weren't even on the show once Brandon and Brenda went to college. This is your time - you're supposed to going to frat parties and getting back together with Dylan."
"Why does everybody want me to go to frat parties?"
"Who wants you to go to frat parties? I was just kidding. Don't hang out with frat guys, Cath, they're terrible. All they do is get drunk and watch 90210. — Rainbow Rowell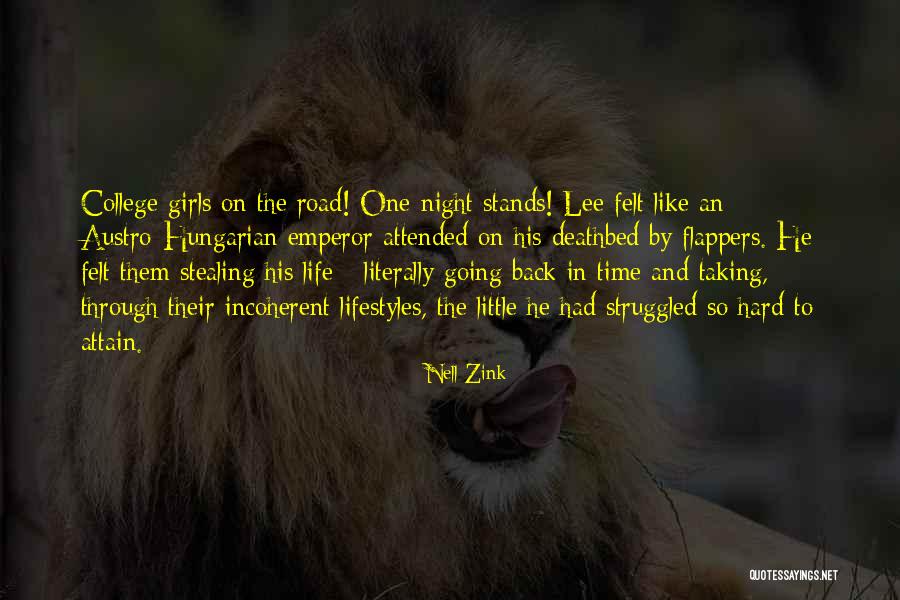 College girls on the road! One-night stands! Lee felt like an Austro-Hungarian emperor attended on his deathbed by flappers. He felt them stealing his life - literally going back in time and taking, through their incoherent lifestyles, the little he had struggled so hard to attain. — Nell Zink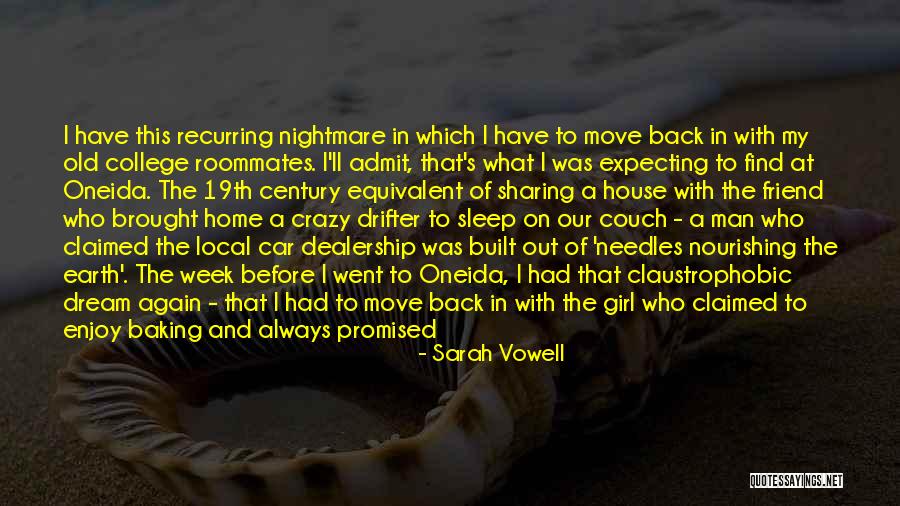 I have this recurring nightmare in which I have to move back in with my old college roommates. I'll admit, that's what I was expecting to find at Oneida. The 19th century equivalent of sharing a house with the friend who brought home a crazy drifter to sleep on our couch - a man who claimed the local car dealership was built out of 'needles nourishing the earth'. The week before I went to Oneida, I had that claustrophobic dream again - that I had to move back in with the girl who claimed to enjoy baking and always promised tomorrow was going to be 'Muffin Day!' even though tomorrow was never Muffin Day. It was Muffin Day maybe once. — Sarah Vowell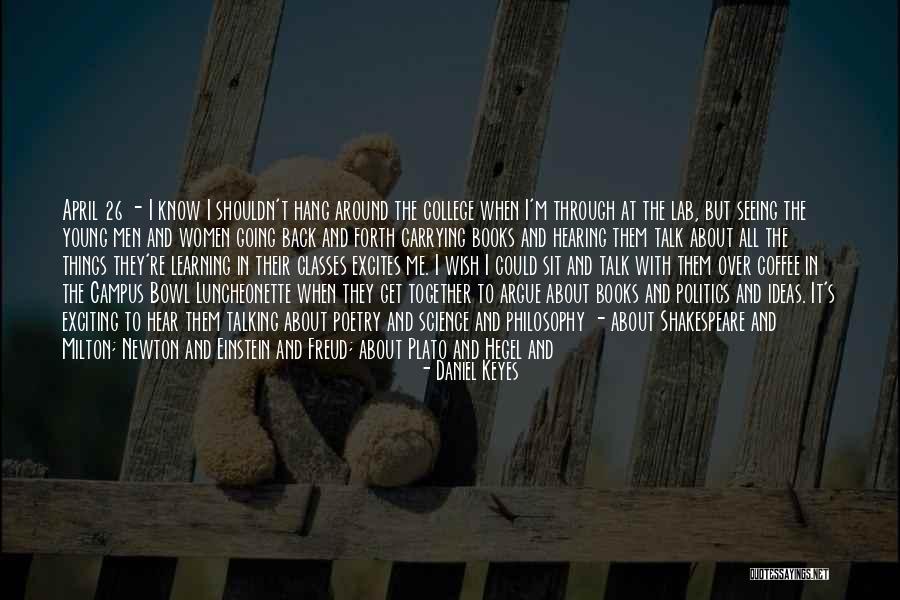 April 26 - I know I shouldn't hang around the college when I'm through at the lab, but seeing the young men and women going back and forth carrying books and hearing them talk about all the things they're learning in their classes excites me. I wish I could sit and talk with them over coffee in the Campus Bowl Luncheonette when they get together to argue about books and politics and ideas. It's exciting to hear them talking about poetry and science and philosophy - about Shakespeare and Milton; Newton and Einstein and Freud; about Plato and Hegel and Kant, and all the other names that echo like great church bells in my mind. Sometimes I listen in on the conversations at the tables around me, and pretend I'm a college student, even though I'm a lot older than they are. I carry books around, and I've started to smoke a pipe. It's silly, but since I belong at the lab I feel as if I'm a part of the university. I hate to go home to that lonely room. — Daniel Keyes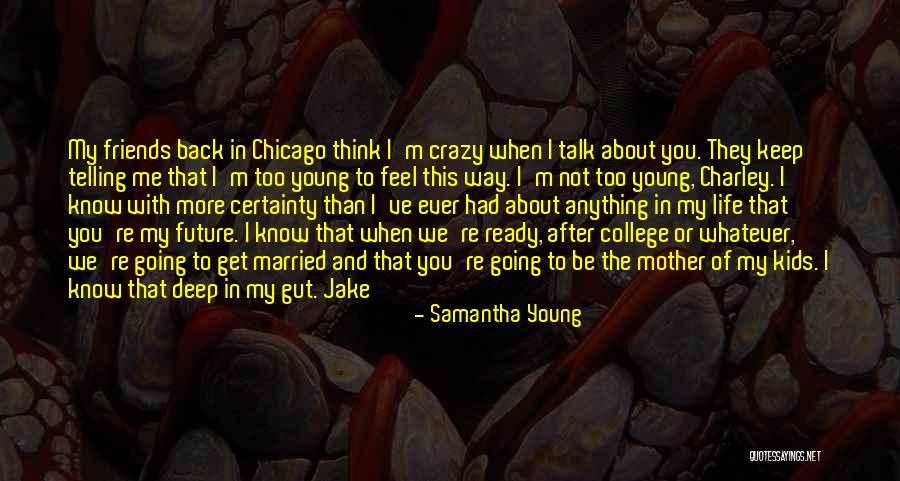 My friends back in Chicago think I'm crazy when I talk about you. They keep telling me that I'm too young to feel this way. I'm not too young, Charley. I know with more certainty than I've ever had about anything in my life that you're my future. I know that when we're ready, after college or whatever, we're going to get married and that you're going to be the mother of my kids. I know that deep in my gut.
Jake — Samantha Young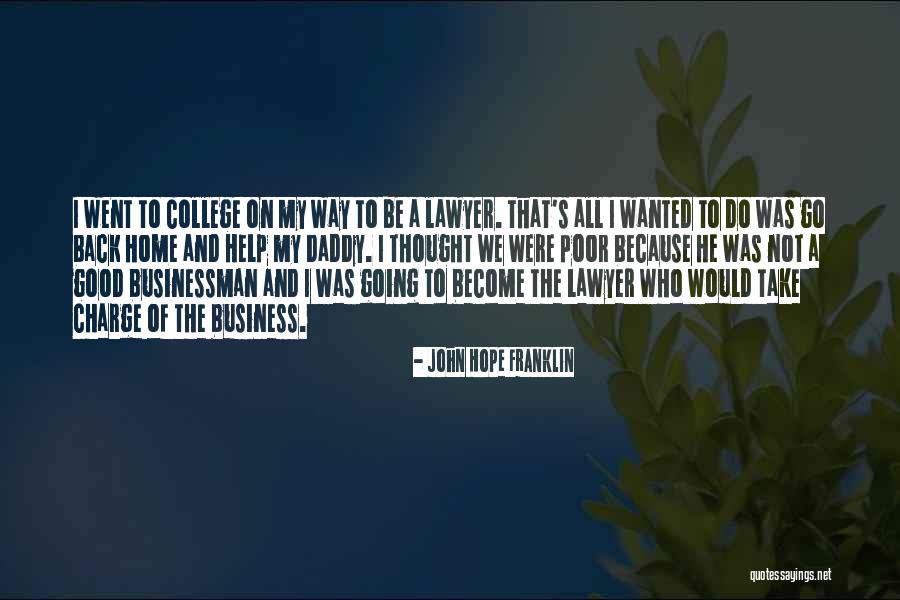 I went to college on my way to be a lawyer. That's all I wanted to do was go back home and help my daddy. I thought we were poor because he was not a good businessman and I was going to become the lawyer who would take charge of the business. — John Hope Franklin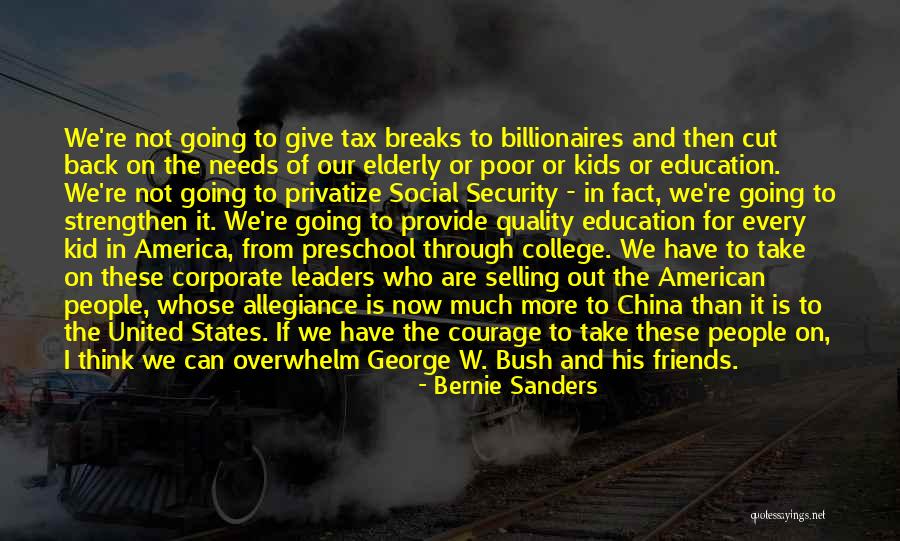 We're not going to give tax breaks to billionaires and then cut back on the needs of our elderly or poor or kids or education. We're not going to privatize Social Security - in fact, we're going to strengthen it. We're going to provide quality education for every kid in America, from preschool through college. We have to take on these corporate leaders who are selling out the American people, whose allegiance is now much more to China than it is to the United States. If we have the courage to take these people on, I think we can overwhelm George W. Bush and his friends. — Bernie Sanders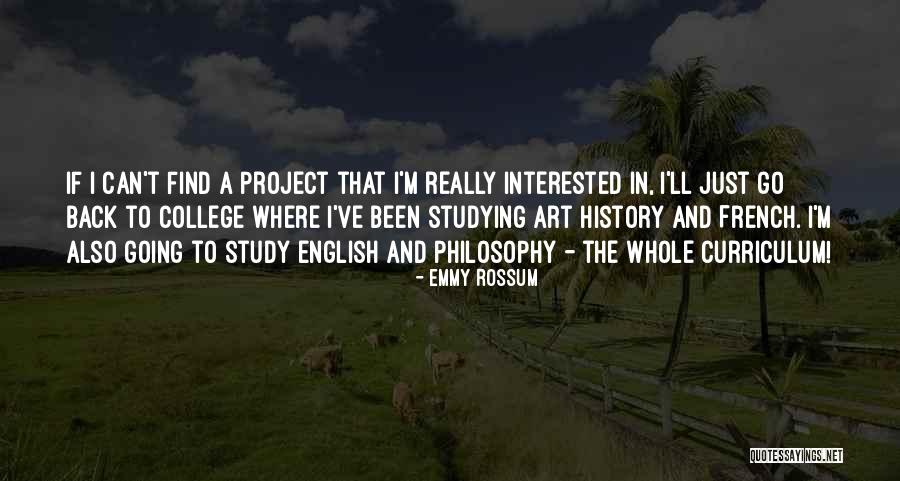 If I can't find a project that I'm really interested in, I'll just go back to college where I've been studying art history and French. I'm also going to study English and philosophy - the whole curriculum! — Emmy Rossum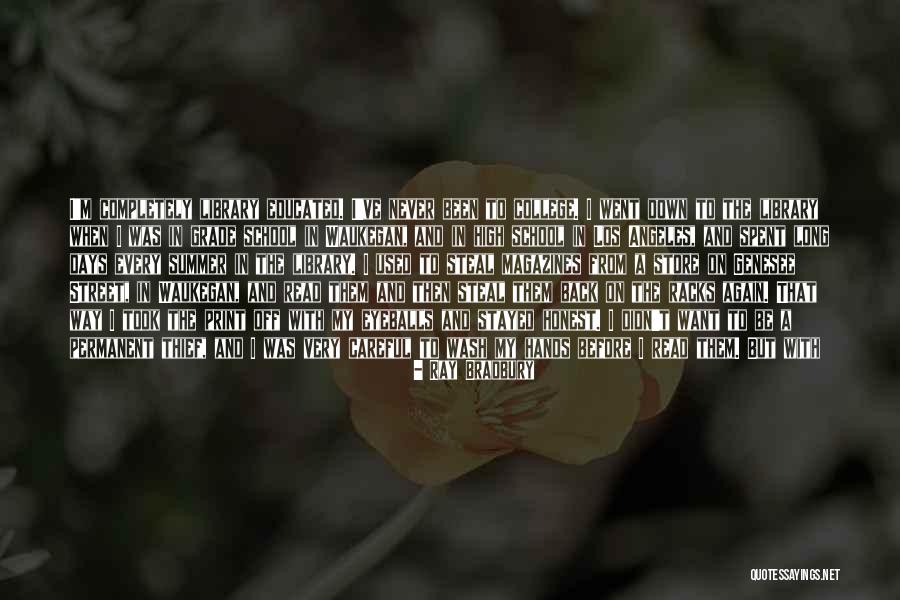 I'm completely library educated. I've never been to college. I went down to the library when I was in grade school in Waukegan, and in high school in Los Angeles, and spent long days every summer in the library. I used to steal magazines from a store on Genesee Street, in Waukegan, and read them and then steal them back on the racks again. That way I took the print off with my eyeballs and stayed honest. I didn't want to be a permanent thief, and I was very careful to wash my hands before I read them. But with the library, it's like catnip, I suppose: you begin to run in circles because there's so much to look at and read. And it's far more fun than going to school, simply because you make up your own list and you don't have to listen to anyone. When I would see some of the books my kids were forced to bring home and read by some of their teachers, and were graded on - well, what if you don't like those books? — Ray Bradbury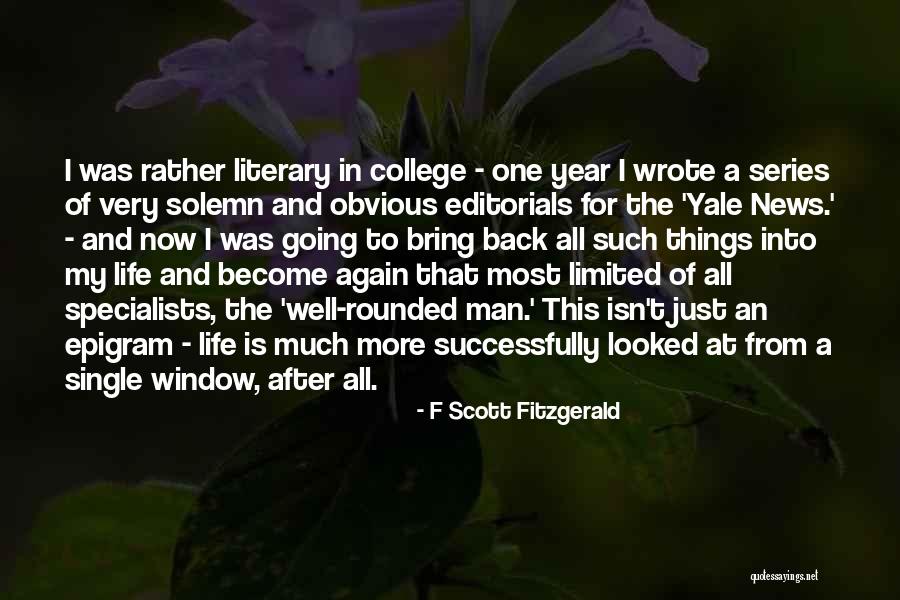 I was rather literary in college - one year I wrote a series of very solemn and obvious editorials for the 'Yale News.' - and now I was going to bring back all such things into my life and become again that most limited of all specialists, the 'well-rounded man.' This isn't just an epigram - life is much more successfully looked at from a single window, after all. — F Scott Fitzgerald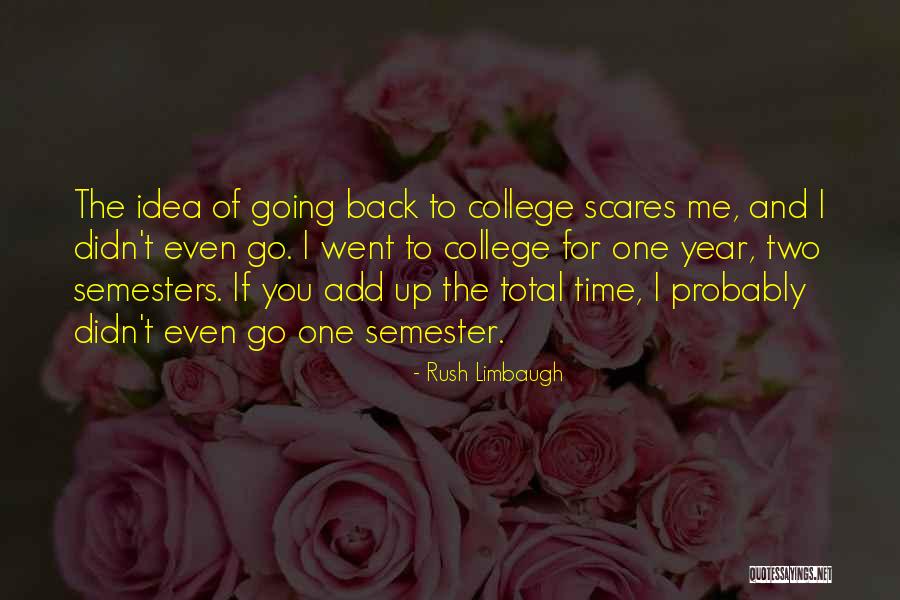 The idea of going back to college scares me, and I didn't even go. I went to college for one year, two semesters. If you add up the total time, I probably didn't even go one semester. — Rush Limbaugh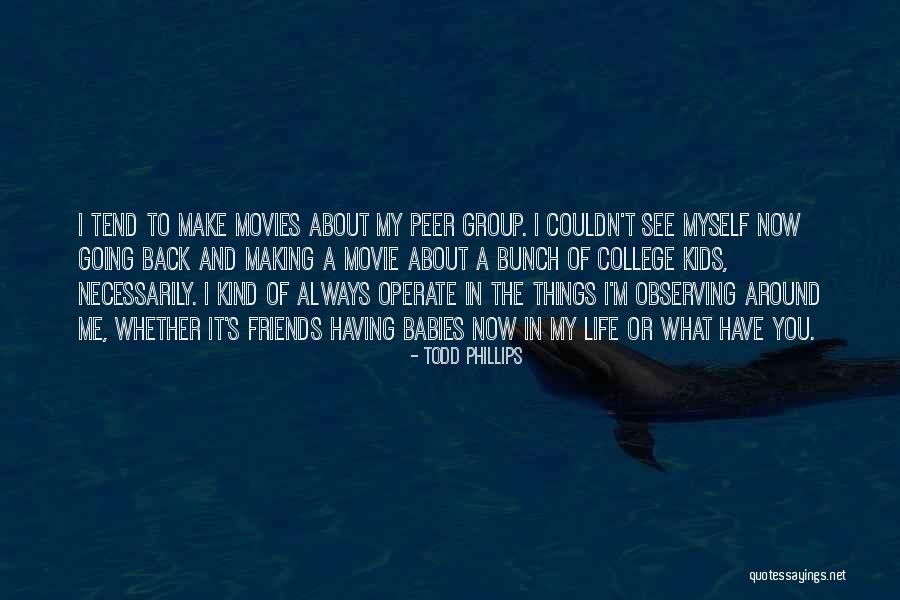 I tend to make movies about my peer group. I couldn't see myself now going back and making a movie about a bunch of college kids, necessarily. I kind of always operate in the things I'm observing around me, whether it's friends having babies now in my life or what have you. — Todd Phillips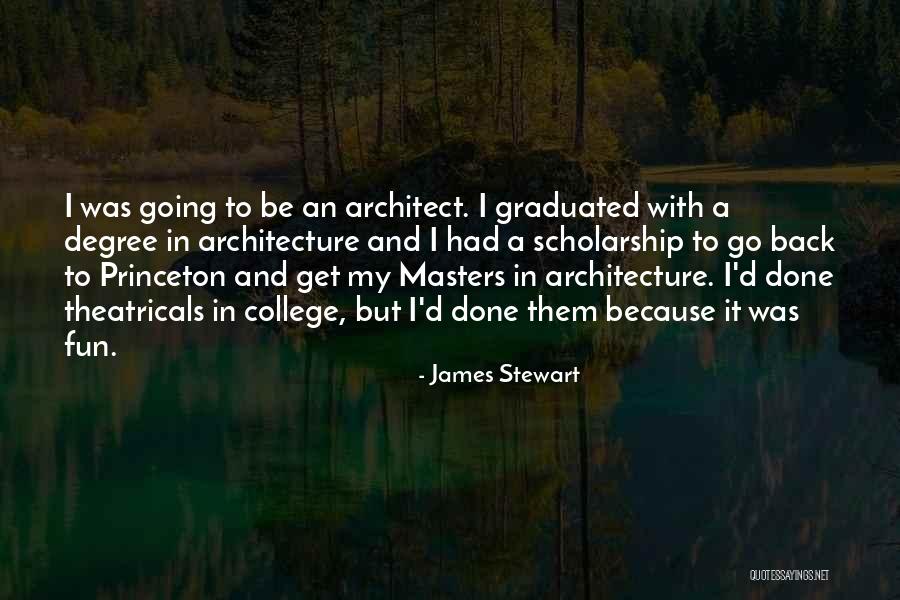 I was going to be an architect. I graduated with a degree in architecture and I had a scholarship to go back to Princeton and get my Masters in architecture. I'd done theatricals in college, but I'd done them because it was fun. — James Stewart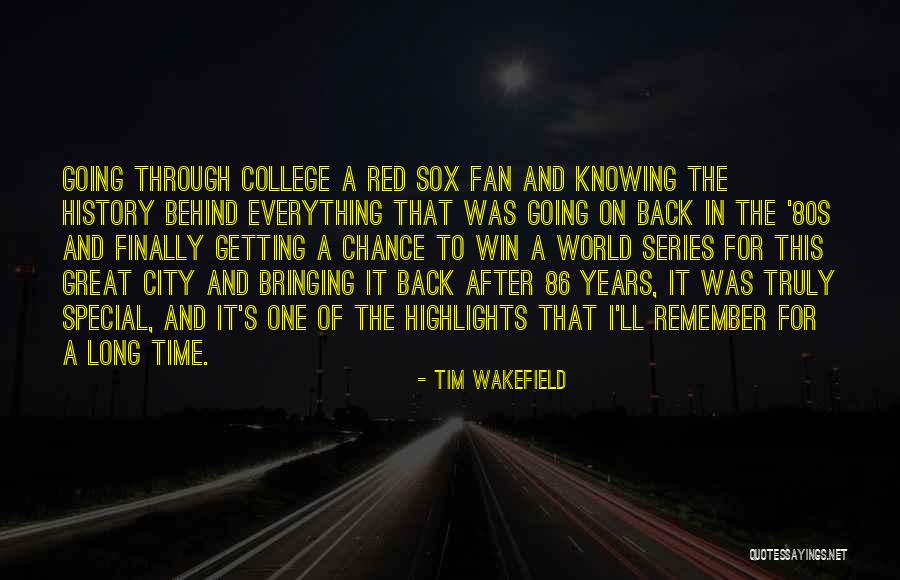 Going through college a Red Sox fan and knowing the history behind everything that was going on back in the '80s and finally getting a chance to win a World Series for this great city and bringing it back after 86 years, it was truly special, and it's one of the highlights that I'll remember for a long time. — Tim Wakefield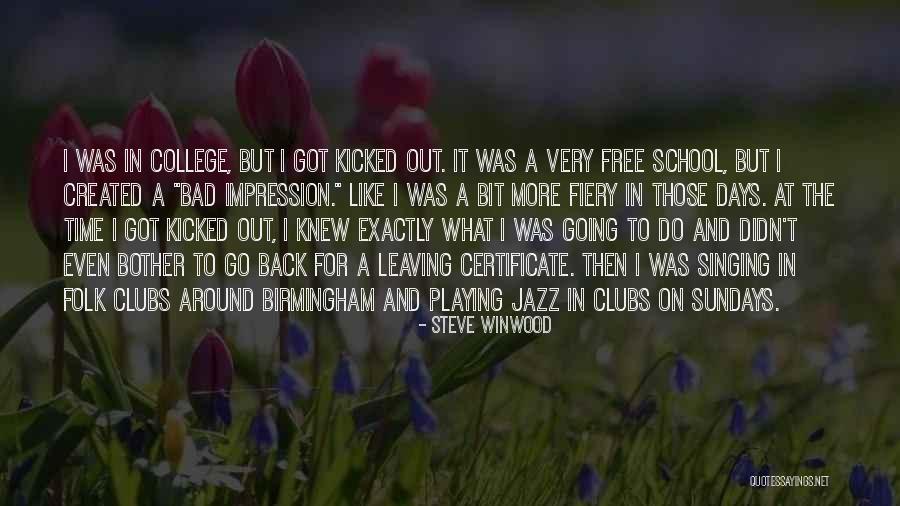 I was in college, but I got kicked out. It was a very free school, but I created a "bad impression." Like I was a bit more fiery in those days. At the time I got kicked out, I knew exactly what I was going to do and didn't even bother to go back for a leaving certificate. Then I was singing in folk clubs around Birmingham and playing jazz in clubs on Sundays. — Steve Winwood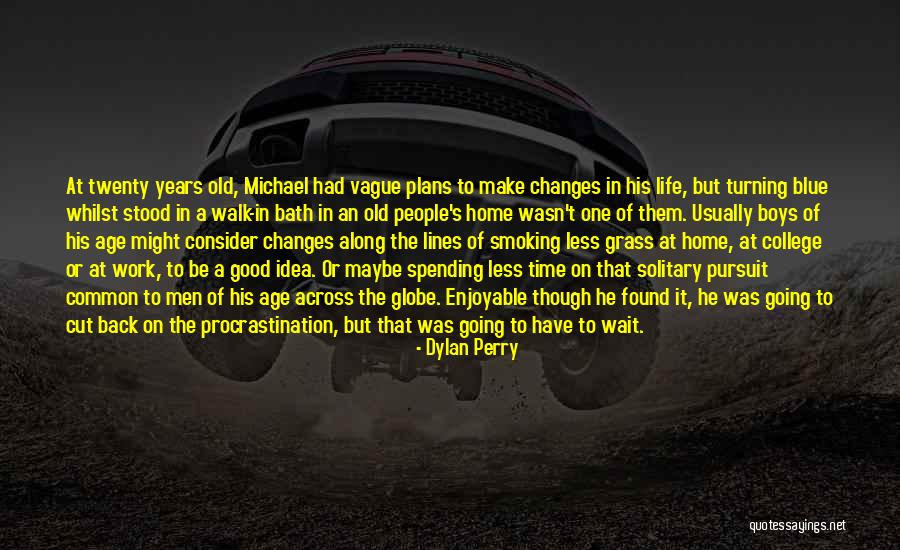 At twenty years old, Michael had vague plans to make changes in his life, but turning blue whilst stood in a walk-in bath in an old people's home wasn't one of them. Usually boys of his age might consider changes along the lines of smoking less grass at home, at college or at work, to be a good idea. Or maybe spending less time on that solitary pursuit common to men of his age across the globe. Enjoyable though he found it, he was going to cut back on the procrastination, but that was going to have to wait. — Dylan Perry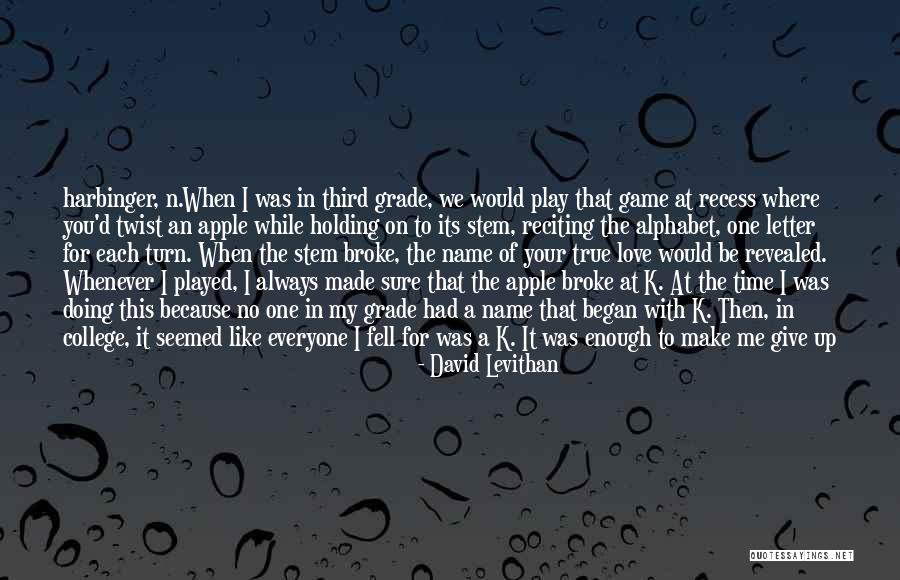 harbinger, n.
When I was in third grade, we would play that game at recess where you'd twist an apple while holding on to its stem, reciting the alphabet, one letter for each turn. When the stem broke, the name of your true love would be revealed. Whenever I played, I always made sure that the apple broke at K. At the time I was doing this because no one in my grade had a name that began with K. Then, in college, it seemed like everyone I fell for was a K. It was enough to make me give up on the letter, and I didn't even associate it with you until later on, when I saw your signature on a credit card receipt, and the only legible letter was that first K. I will admit: When I got home that night, I went to the refrigerator and took out another apple. But I stopped twisting at J and put the apple back. You see, I didn't trust myself. I knew that even if the apple wasn't ready, I was going to pull that stem — David Levithan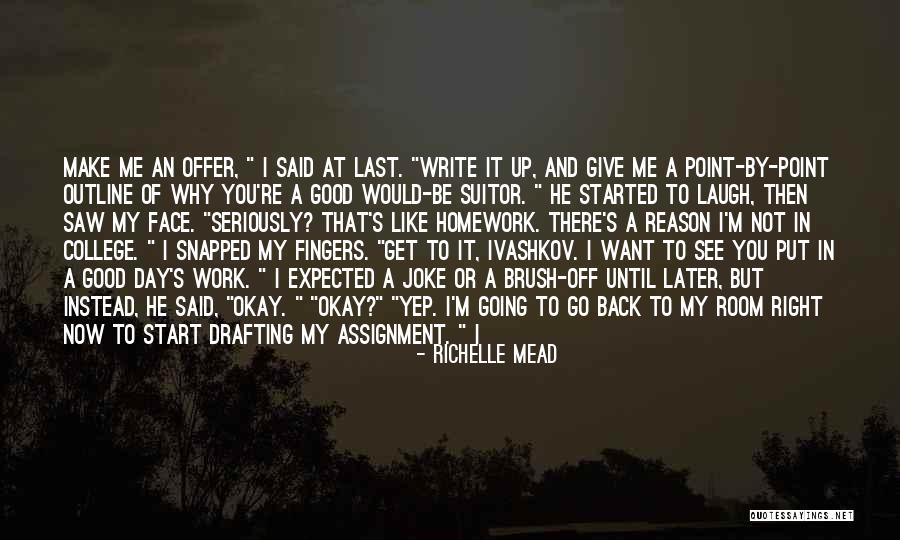 Make me an offer, " I said at last. "Write it up, and give me a point-by-point outline of why you're a good would-be suitor. "
He started to laugh, then saw my face. "Seriously? That's like homework. There's a reason I'm not in college. " I snapped my fingers. "Get to it, Ivashkov. I want to see you put in a good day's work. "
I expected a joke or a brush-off until later, but instead, he said, "Okay. "
"Okay?"
"Yep. I'm going to go back to my room right now to start drafting my assignment. "
I stared incredulously as he reached for his coat. I had never seen Adrian move that fast when any kind of labor was involved. Oh no. What had I gotten myself into? — Richelle Mead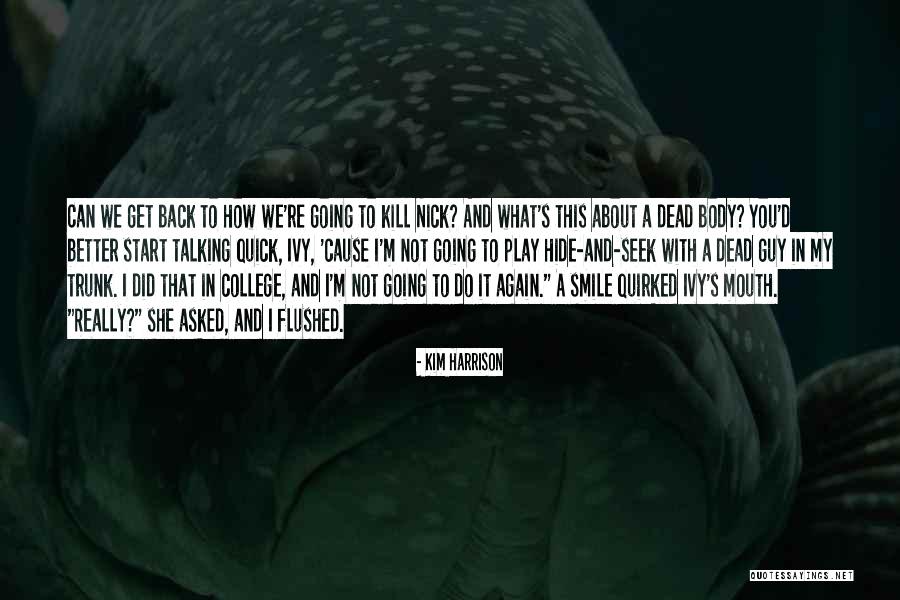 Can we get back to how we're going to kill Nick? And what's this about a dead body? You'd better start talking quick, Ivy, 'cause I'm not going to play hide-and-seek with a dead guy in my trunk. I did that in college, and I'm not going to do it again." A smile quirked Ivy's mouth.
"Really?" she asked, and I flushed. — Kim Harrison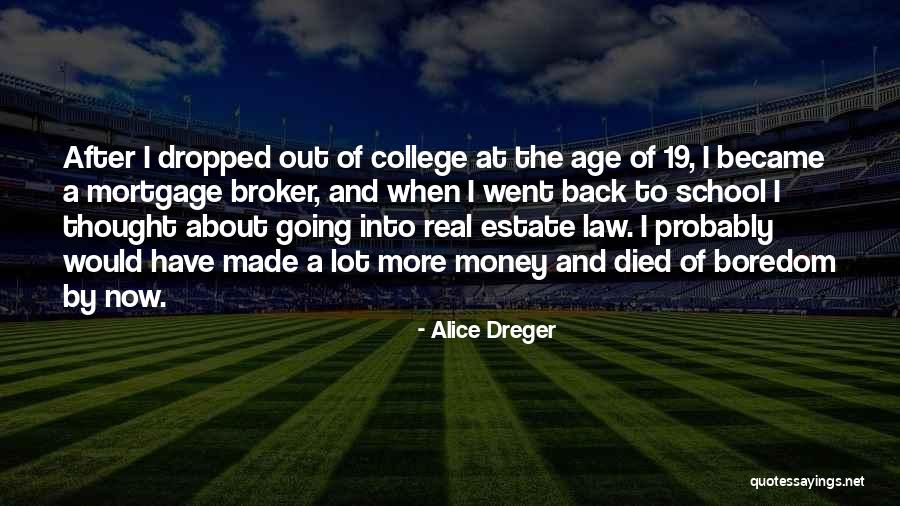 After I dropped out of college at the age of 19, I became a mortgage broker, and when I went back to school I thought about going into real estate law. I probably would have made a lot more money and died of boredom by now. — Alice Dreger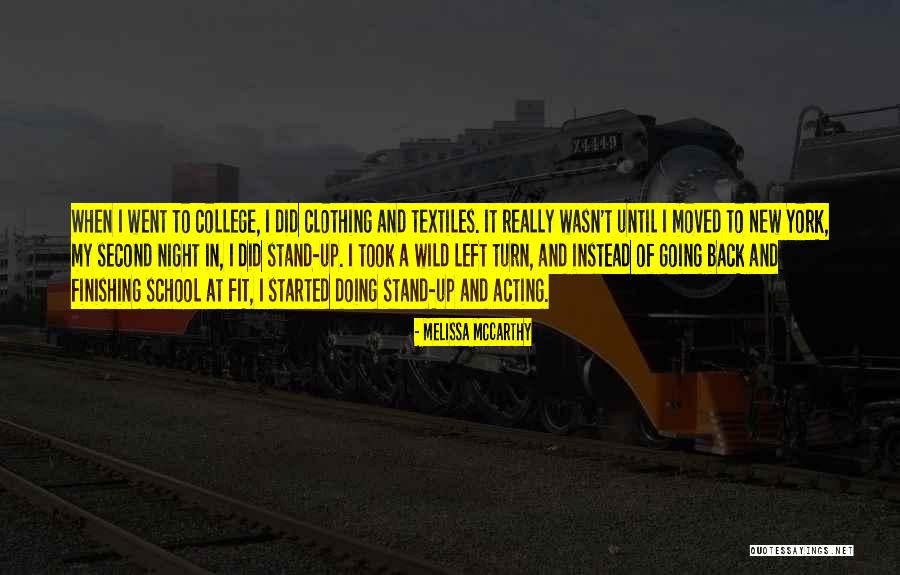 When I went to college, I did clothing and textiles. It really wasn't until I moved to New York, my second night in, I did stand-up. I took a wild left turn, and instead of going back and finishing school at FIT, I started doing stand-up and acting. — Melissa McCarthy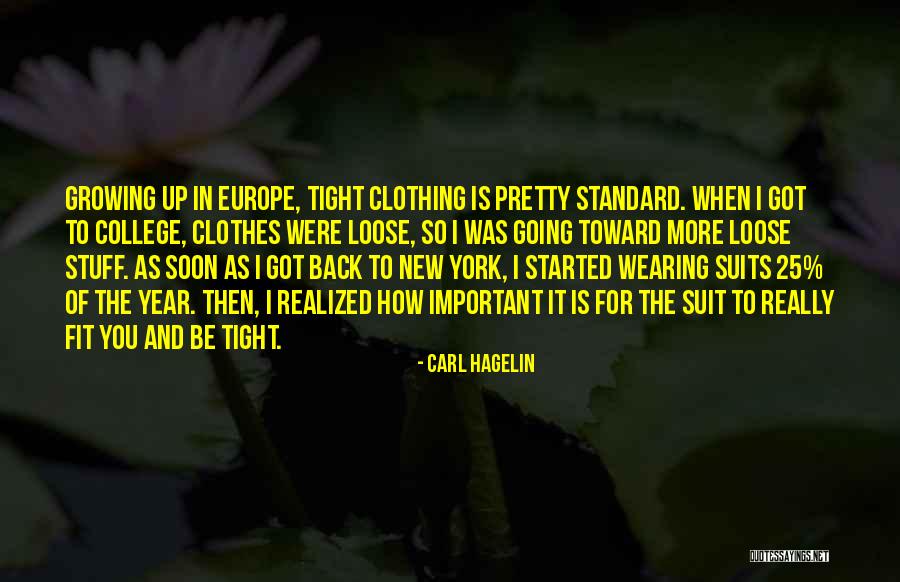 Growing up in Europe, tight clothing is pretty standard. When I got to college, clothes were loose, so I was going toward more loose stuff. As soon as I got back to New York, I started wearing suits 25% of the year. Then, I realized how important it is for the suit to really fit you and be tight. — Carl Hagelin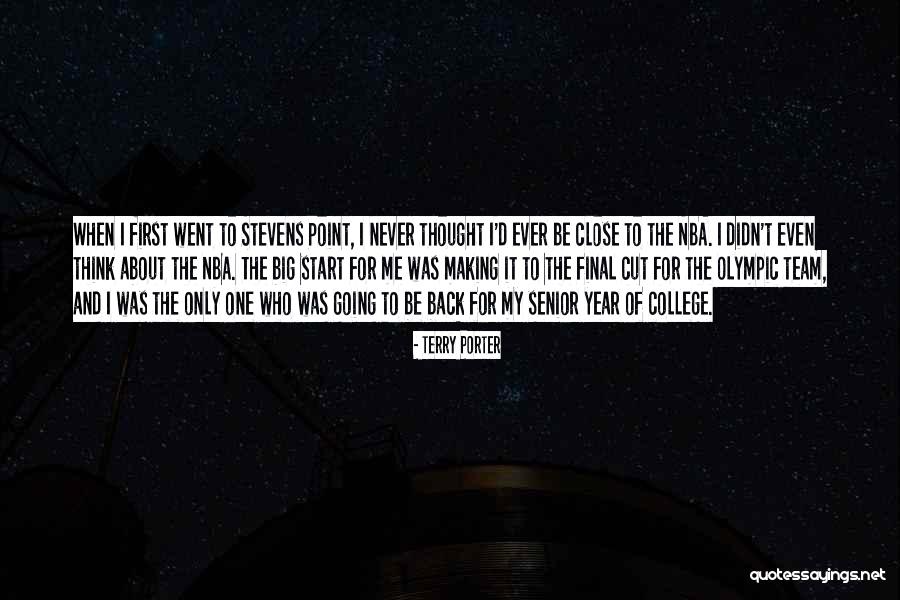 When I first went to Stevens Point, I never thought I'd ever be close to the NBA. I didn't even think about the NBA. The big start for me was making it to the final cut for the Olympic team, and I was the only one who was going to be back for my senior year of college. — Terry Porter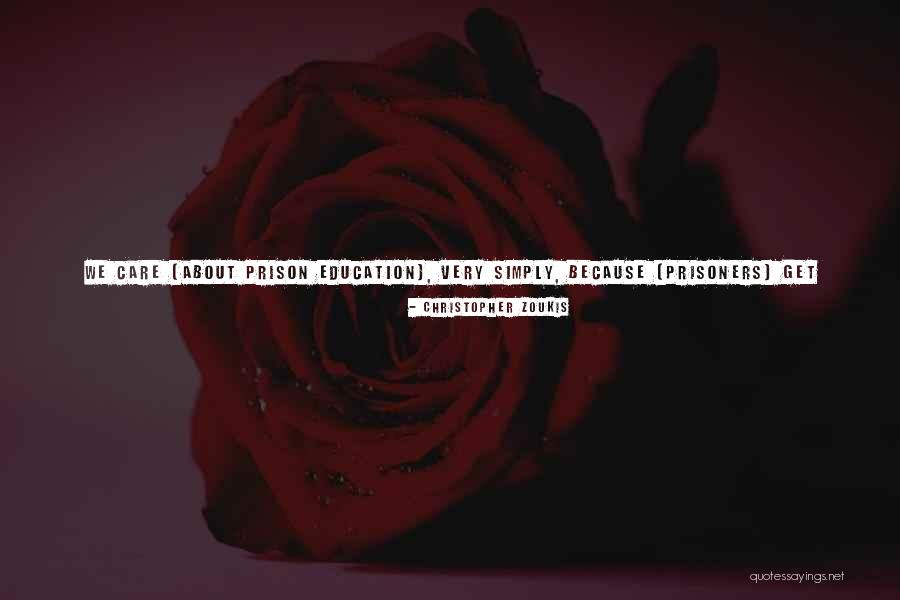 We care (about prison education), very simply, because (prisoners) get out. Almost everyone who is locked up now is going to be set free one day. If we treat prisoners like animals the whole time they are locked up, that's what we'll get when they're back on the streets: wild, dangerous animals. — Christopher Zoukis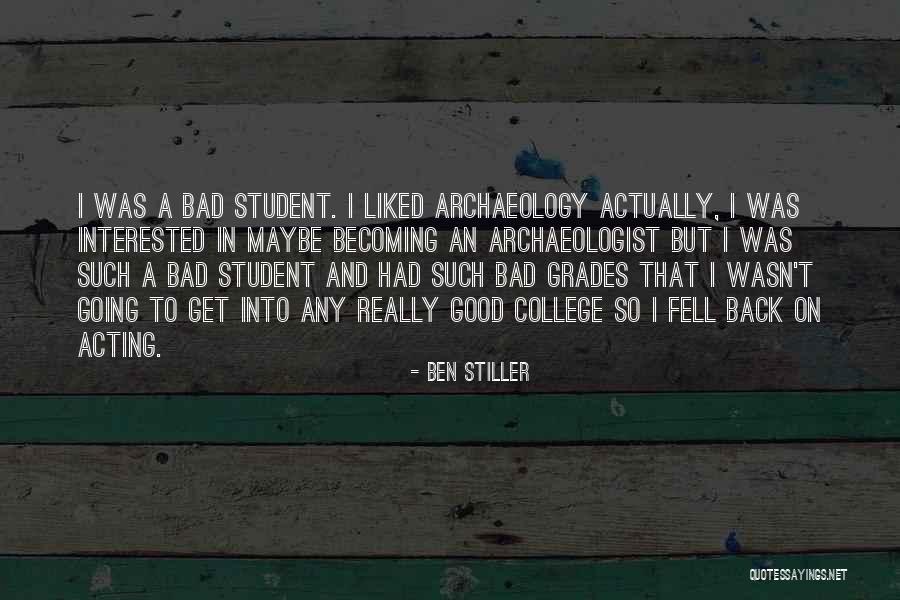 I was a bad student. I liked archaeology actually, I was interested in maybe becoming an archaeologist but I was such a bad student and had such bad grades that I wasn't going to get into any really good college so I fell back on acting. — Ben Stiller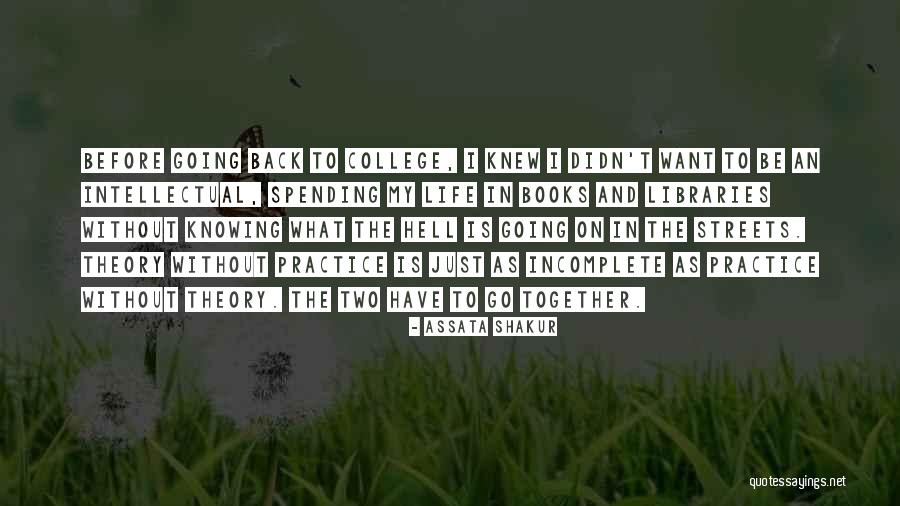 Before going back to college, i knew i didn't want to be an intellectual, spending my life in books and libraries without knowing what the hell is going on in the streets. Theory without practice is just as incomplete as practice without theory. The two have to go together. — Assata Shakur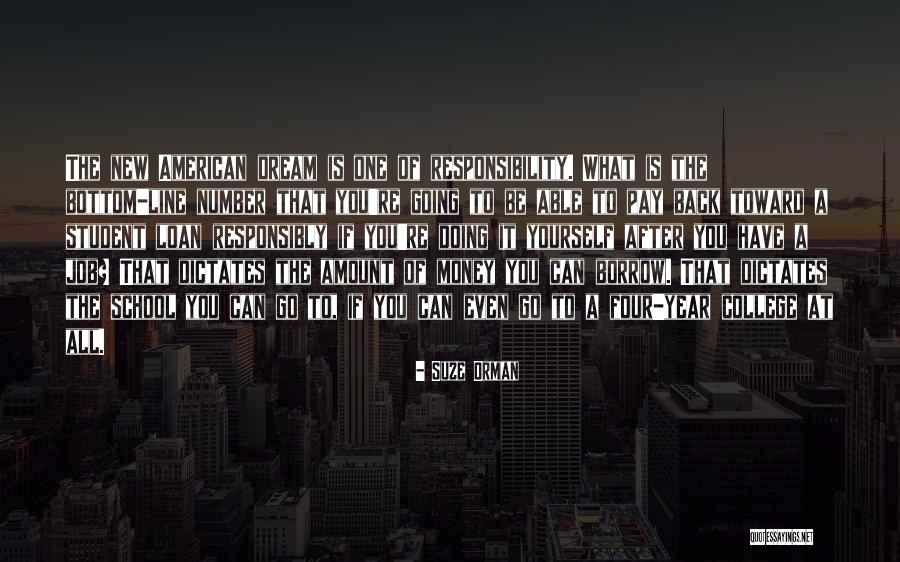 The new American dream is one of responsibility. What is the bottom-line number that you're going to be able to pay back toward a student loan responsibly if you're doing it yourself after you have a job? That dictates the amount of money you can borrow. That dictates the school you can go to, if you can even go to a four-year college at all. — Suze Orman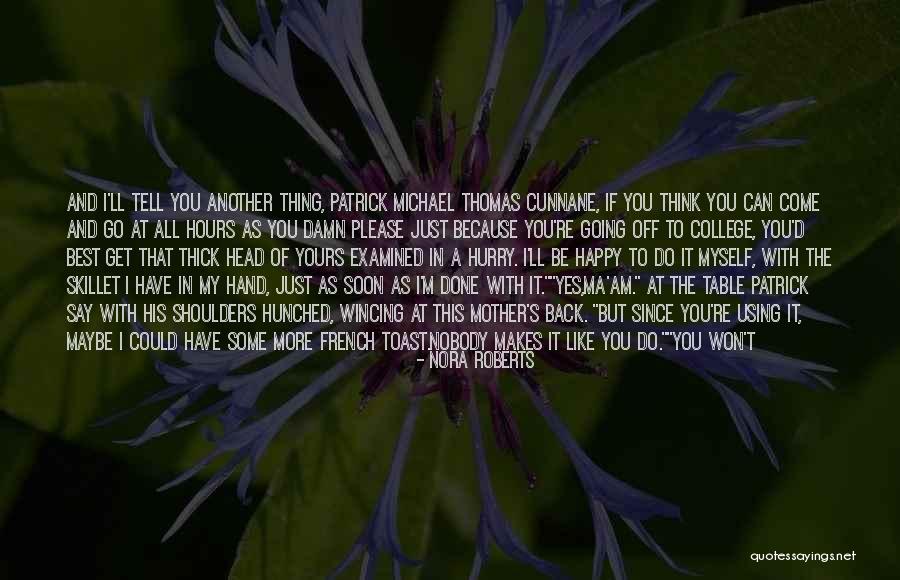 And I'll tell you another thing, Patrick Michael Thomas Cunnane, if you think you can come and go at all hours as you damn please just because you're going off to college, you'd best get that thick head of yours examined in a hurry. I'll be happy to do it myself, with the skillet I have in my hand, just as soon as I'm done with it."
"Yes,ma'am." At the table Patrick say with his shoulders hunched, wincing at this mother's back. "But since you're using it, maybe I could have some more French toast.Nobody makes it like you do."
"You won't get around me that way."
"Maybe I will."
She shot a look over her shoulder that Brian recognized as one only a mother could conjure to wither a child.
"And maybe I won't," Patrick muttered, then brightened when he saw Brian at the door. "Ma,we've got company. Have a seat,Brian. Had breakfast? My mother makes world-famous French toast."
"Witnessess won't save you," Adelia said mildly, but turned to smile at Brian. — Nora Roberts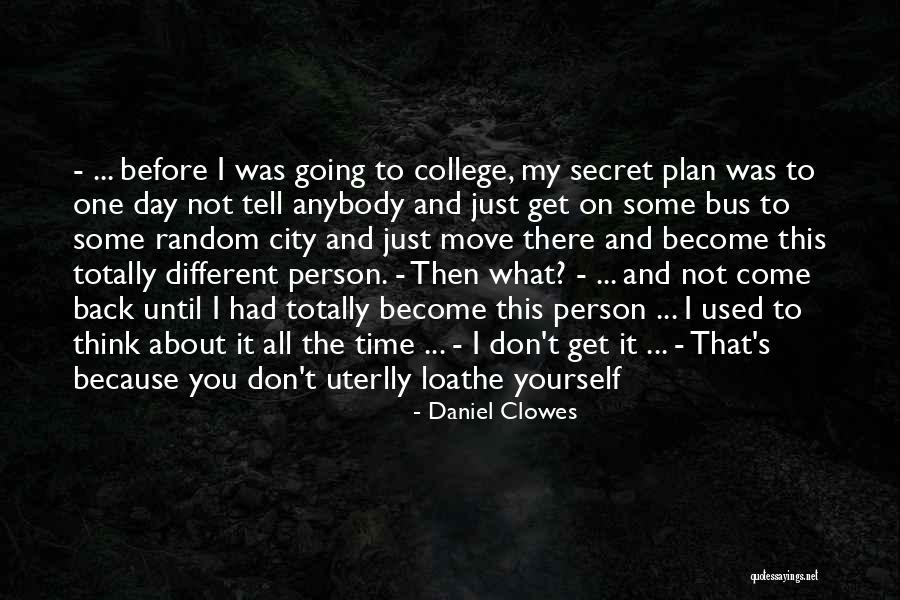 - ... before I was going to college, my secret plan was to one day not tell anybody and just get on some bus to some random city and just move there and become this totally different person.
- Then what?
- ... and not come back until I had totally become this person ... I used to think about it all the time ...
- I don't get it ...
- That's because you don't uterlly loathe yourself — Daniel Clowes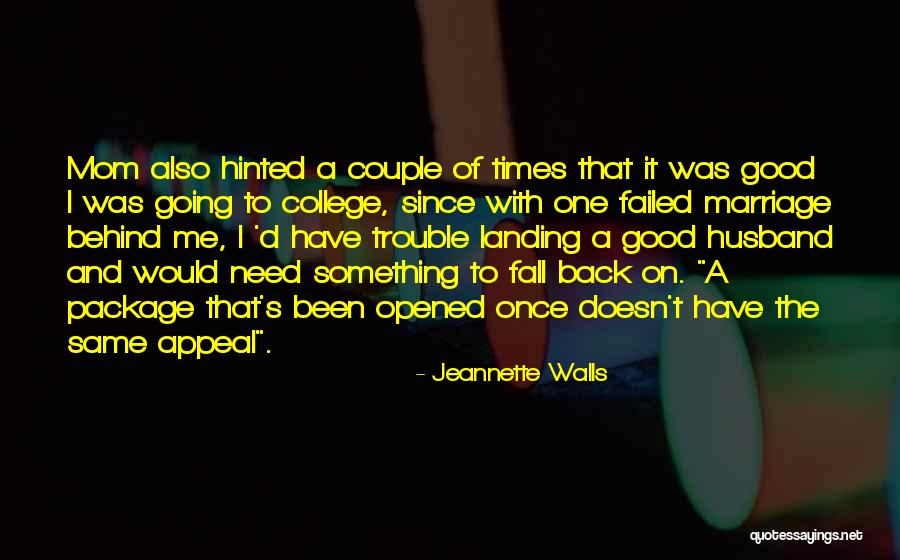 Mom also hinted a couple of times that it was good I was going to college, since with one failed marriage behind me, I 'd have trouble landing a good husband and would need something to fall back on. "A package that's been opened once doesn't have the same appeal". — Jeannette Walls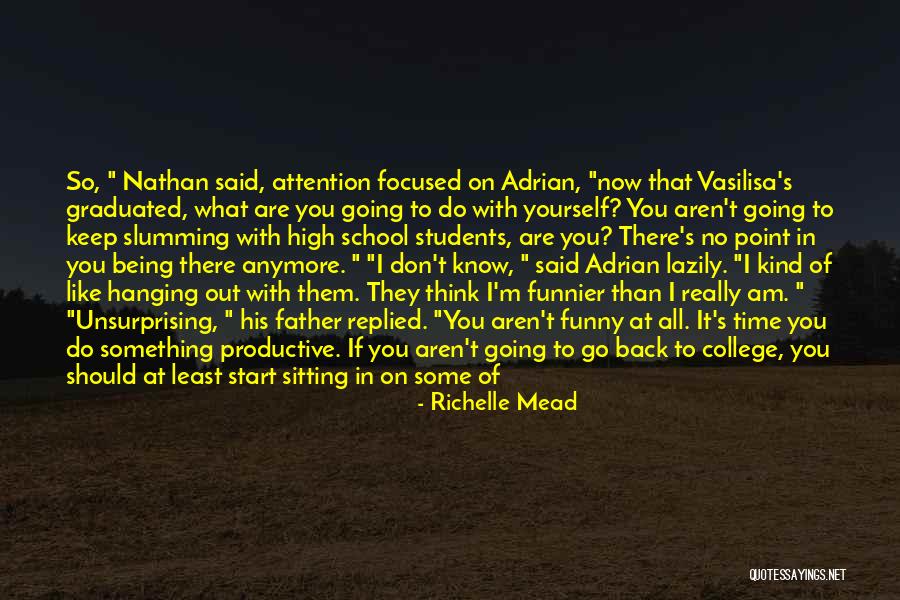 So, " Nathan said, attention focused on Adrian, "now that Vasilisa's graduated, what are you going to do with yourself? You aren't going to keep slumming with high school students, are you? There's no point in you being there anymore. "
"I don't know, " said Adrian lazily. "I kind of like hanging out with them. They think I'm funnier than I really am. "
"Unsurprising, " his father replied. "You aren't funny at all. It's time you do something productive. If you aren't going to go back to college, you should at least start sitting in on some of the family business meetings. Tatiana spoils you, but you could learn a lot from Rufus. "
"True, " said Adrian deadpan."I'd really like to know how he keeps his two mistresses a secret from his wife. "
"Adrian!" snapped Daniella, a flush spilling over her pale cheeks — Richelle Mead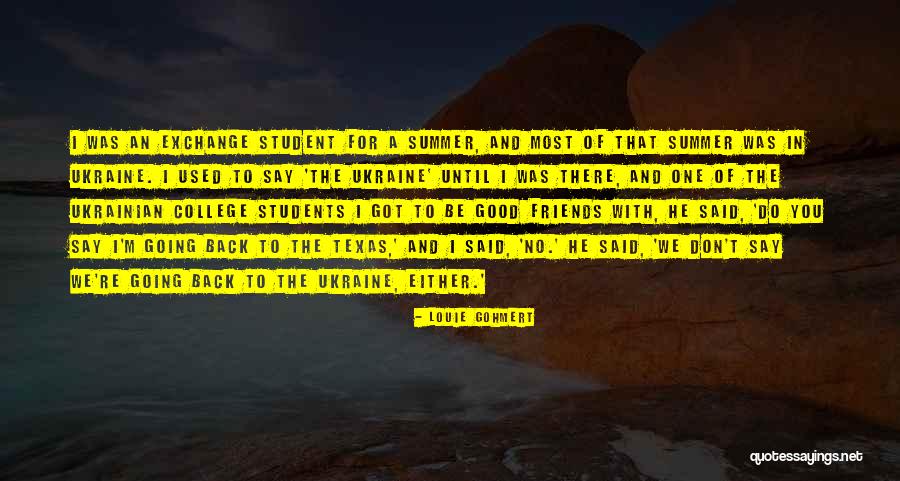 I was an exchange student for a summer, and most of that summer was in Ukraine. I used to say 'the Ukraine' until I was there, and one of the Ukrainian college students I got to be good friends with, he said, 'Do you say I'm going back to the Texas,' and I said, 'No.' He said, 'We don't say we're going back to the Ukraine, either.' — Louie Gohmert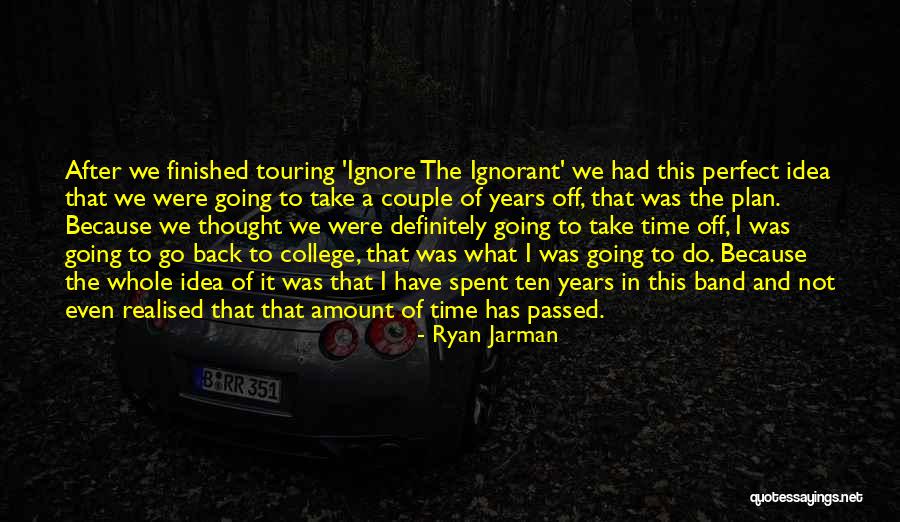 After we finished touring 'Ignore The Ignorant' we had this perfect idea that we were going to take a couple of years off, that was the plan. Because we thought we were definitely going to take time off, I was going to go back to college, that was what I was going to do. Because the whole idea of it was that I have spent ten years in this band and not even realised that that amount of time has passed. — Ryan Jarman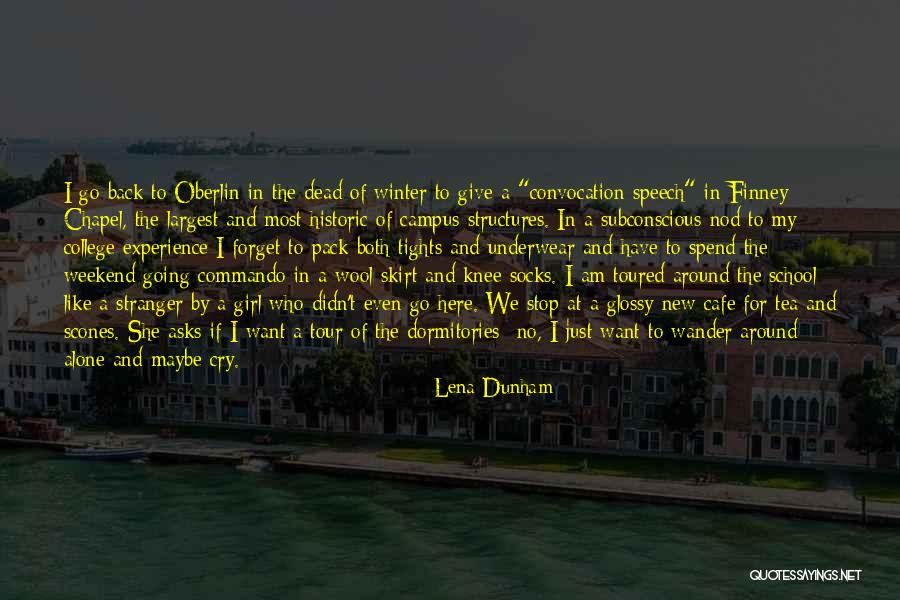 I go back to Oberlin in the dead of winter to give a "convocation speech" in Finney Chapel, the largest and most historic of campus structures. In a subconscious nod to my college experience I forget to pack both tights and underwear and have to spend the weekend going commando in a wool skirt and knee socks. I am toured around the school like a stranger by a girl who didn't even go here. We stop at a glossy new cafe for tea and scones. She asks if I want a tour of the dormitories- no, I just want to wander around alone and maybe cry. — Lena Dunham