God Presence In My Life Quotes & Sayings
Enjoy reading and share 50 famous quotes about God Presence In My Life with everyone.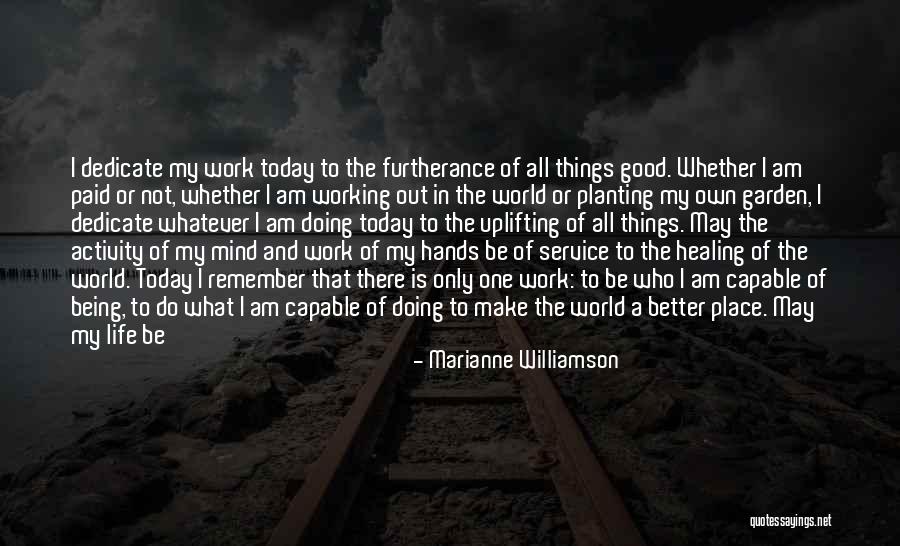 I dedicate my work today to the furtherance of all things good. Whether I am paid or not, whether I am working out in the world or planting my own garden, I dedicate whatever I am doing today to the uplifting of all things. May the activity of my mind and work of my hands be of service to the healing of the world. Today I remember that there is only one work: to be who I am capable of being, to do what I am capable of doing to make the world a better place. May my life be of use to something greater than myself, that I might feel the joy of being used. Dear God, Today I dedicate all I am and all that I have, That love might use me as a conduit of its power. Illumine my mind and increase my understanding, Hone my personality and deepen my skills, That all I do might glorify Your presence in the world. And so it is. Amen. — Marianne Williamson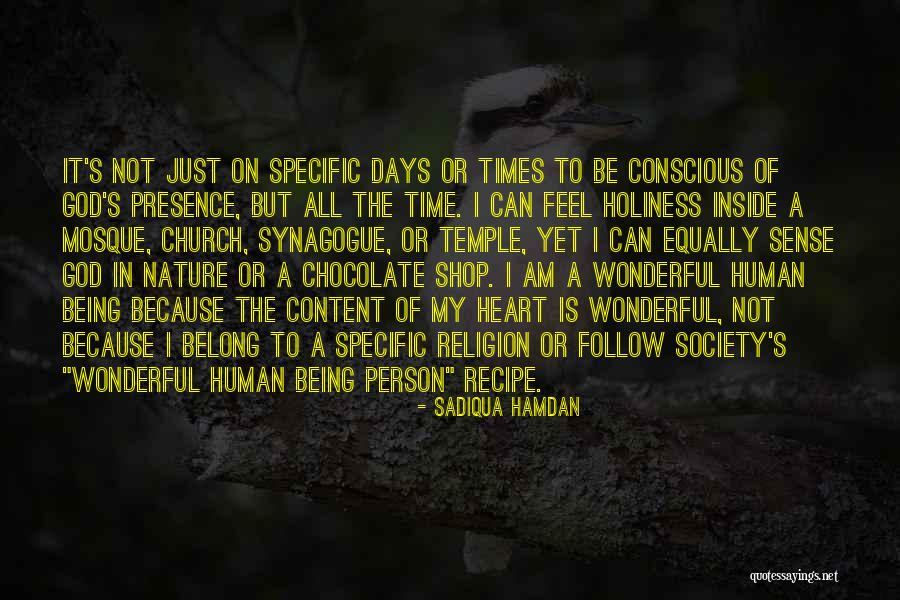 It's not just on specific days or times to be conscious of God's presence, but all the time. I can feel holiness inside a mosque, church, synagogue, or temple, yet I can equally sense God in nature or a chocolate shop. I am a wonderful human being because the content of my heart is wonderful, not because I belong to a specific religion or follow society's "wonderful human being person" recipe. — Sadiqua Hamdan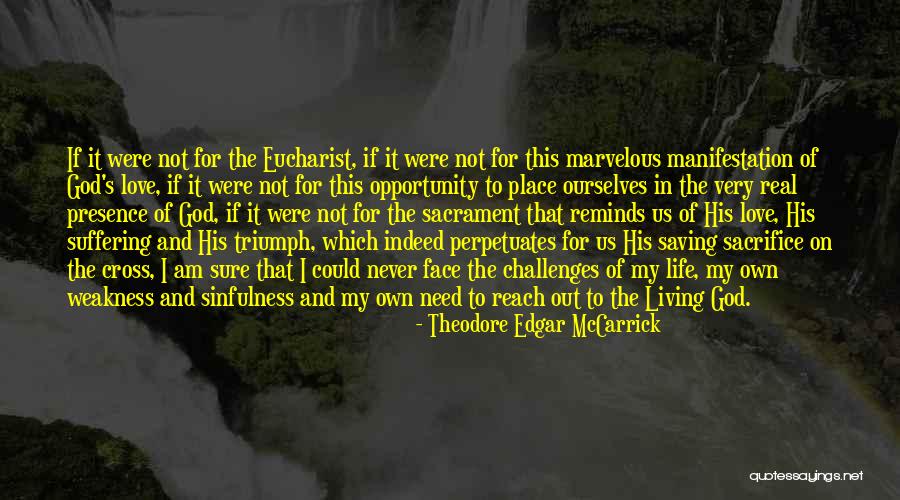 If it were not for the Eucharist, if it were not for this marvelous manifestation of God's love, if it were not for this opportunity to place ourselves in the very real presence of God, if it were not for the sacrament that reminds us of His love, His suffering and His triumph, which indeed perpetuates for us His saving sacrifice on the cross, I am sure that I could never face the challenges of my life, my own weakness and sinfulness and my own need to reach out to the Living God. — Theodore Edgar McCarrick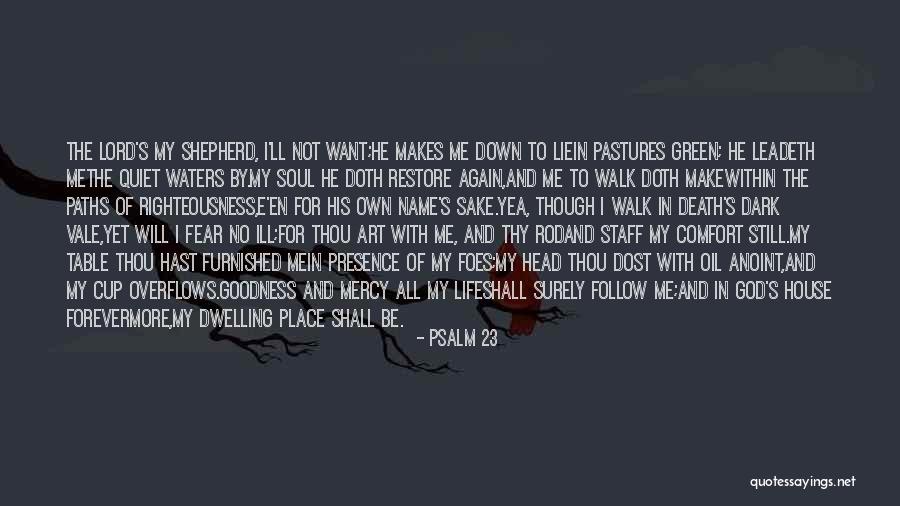 The Lord's my Shepherd, I'll not want;
He makes me down to lie
In pastures green; He leadeth me
The quiet waters by.
My soul He doth restore again,
And me to walk doth make
Within the paths of righteousness,
E'en for His own name's sake.
Yea, though I walk in death's dark vale,
Yet will I fear no ill;
For Thou art with me, and Thy rod
And staff my comfort still.
My table Thou hast furnished me
In presence of my foes;
My head Thou dost with oil anoint,
And my cup overflows.
Goodness and mercy all my life
Shall surely follow me;
And in God's house forevermore,
My dwelling place shall be. — Psalm 23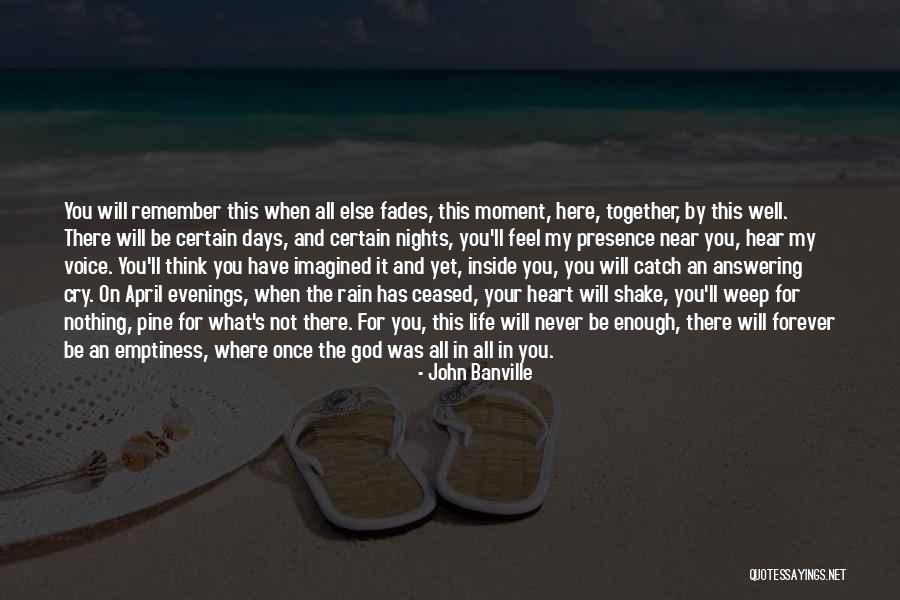 You will remember this when all else fades, this moment, here, together, by this well. There will be certain days, and certain nights, you'll feel my presence near you, hear my voice. You'll think you have imagined it and yet, inside you, you will catch an answering cry. On April evenings, when the rain has ceased, your heart will shake, you'll weep for nothing, pine for what's not there. For you, this life will never be enough, there will forever be an emptiness, where once the god was all in all in you. — John Banville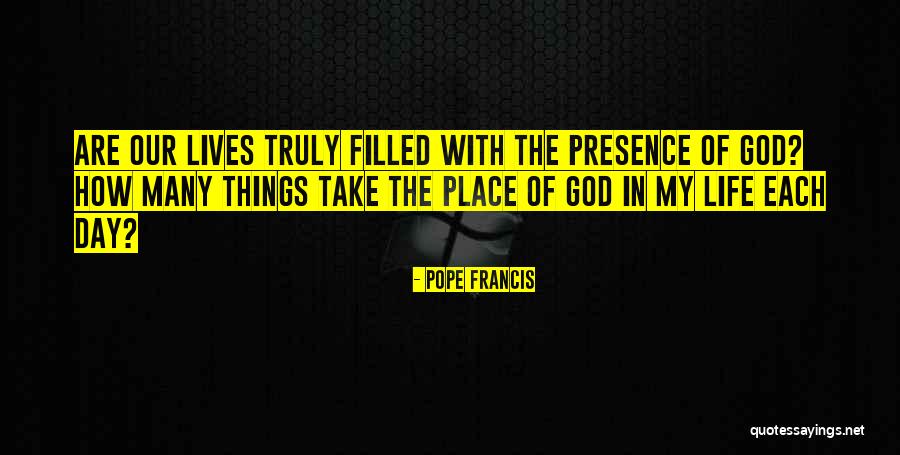 Are our lives truly filled with the presence of God? How many things take the place of God in my life each day? — Pope Francis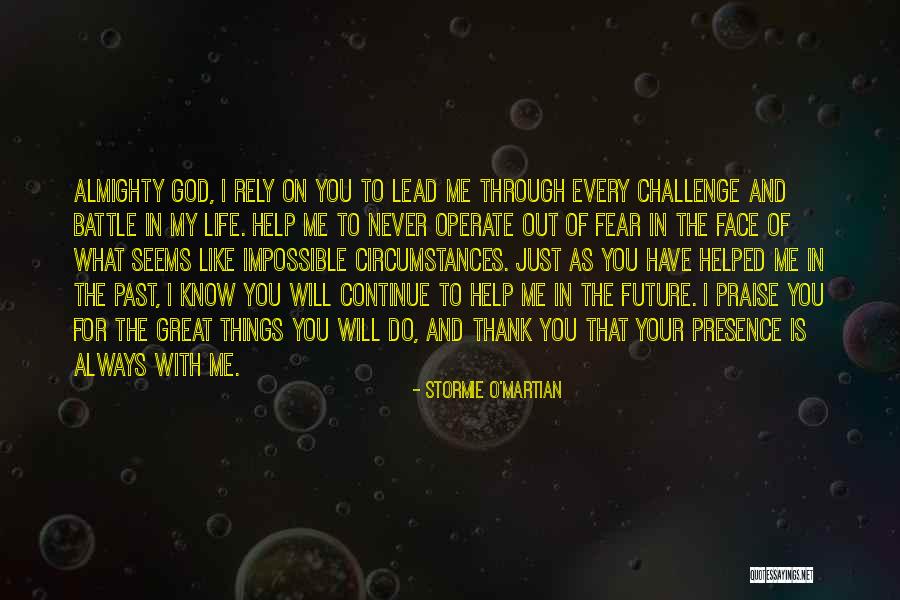 Almighty God, I rely on You to lead me through every challenge and battle in my life. Help me to never operate out of fear in the face of what seems like impossible circumstances. Just as You have helped me in the past, I know You will continue to help me in the future. I praise You for the great things You will do, and thank You that Your presence is always with me. — Stormie O'martian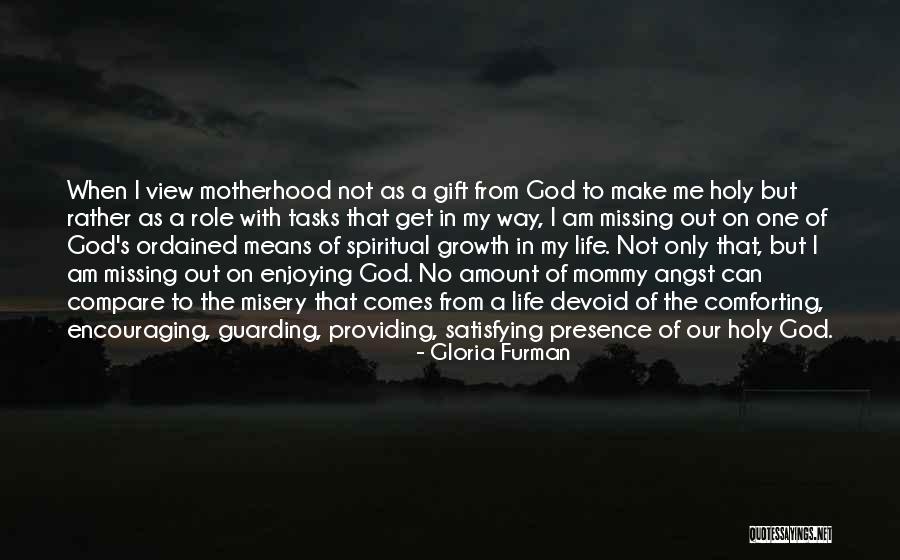 When I view motherhood not as a gift from God to make me holy but rather as a role with tasks that get in my way, I am missing out on one of God's ordained means of spiritual growth in my life. Not only that, but I am missing out on enjoying God. No amount of mommy angst can compare to the misery that comes from a life devoid of the comforting, encouraging, guarding, providing, satisfying presence of our holy God. — Gloria Furman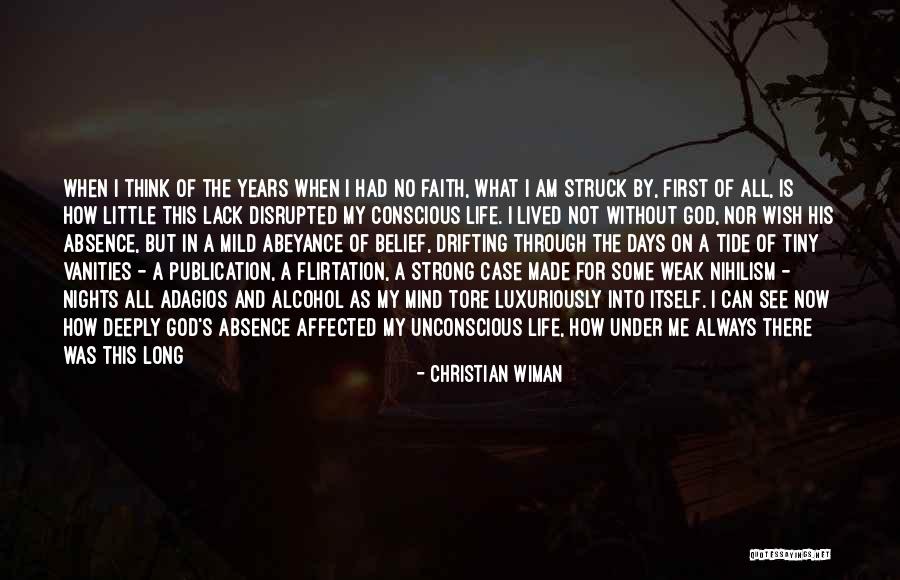 When I think of the years when I had no faith, what I am struck by, first of all, is how little this lack disrupted my conscious life. I lived not without God, nor wish his absence, but in a mild abeyance of belief, drifting through the days on a tide of tiny vanities - a publication, a flirtation, a strong case made for some weak nihilism - nights all adagios and alcohol as my mind tore luxuriously into itself. I can see now how deeply God's absence affected my unconscious life, how under me always there was this long fall that pride and fear and self-live at once protected me from and subjected me to. Was the fall into belief or into unbelief? Both. For if grace woke me to God's presence in the world and in my heart, it also woke me to his absence. I never truly felt the pain of unbelief until I began to believe. — Christian Wiman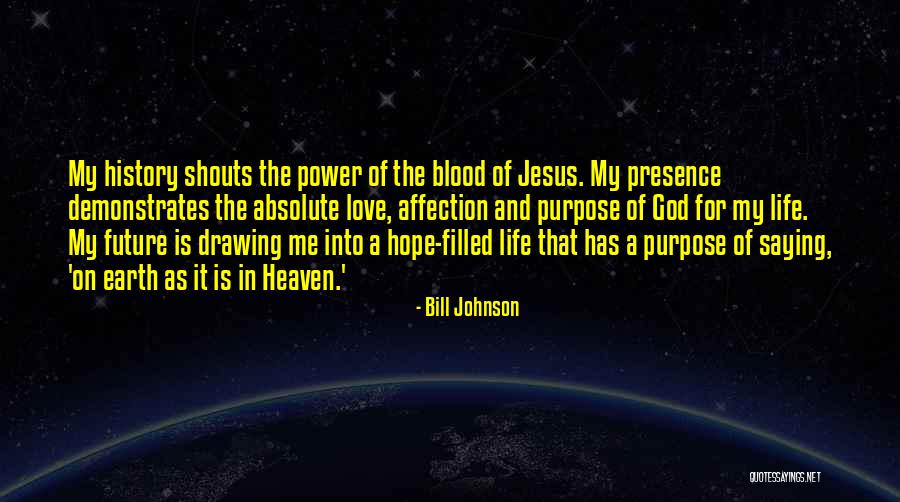 My history shouts the power of the blood of Jesus. My presence demonstrates the absolute love, affection and purpose of God for my life. My future is drawing me into a hope-filled life that has a purpose of saying, 'on earth as it is in Heaven.' — Bill Johnson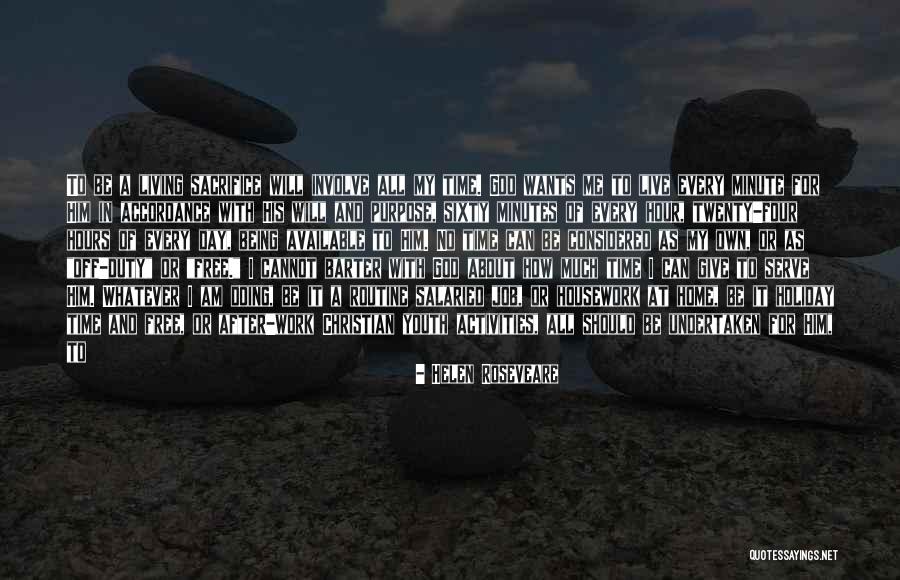 To be a living sacrifice will involve all my time. God wants me to live every minute for Him in accordance with His will and purpose, sixty minutes of every hour, twenty-four hours of every day, being available to Him. No time can be considered as my own, or as "off-duty" or "free." I cannot barter with God about how much time I can give to serve Him. Whatever I am doing, be it a routine salaried job, or housework at home, be it holiday time and free, or after-work Christian youth activities, all should be undertaken for Him, to reveal His indwelling presence to those around me. The example of my life must be as telling as my preaching if He is to be honored. — Helen Roseveare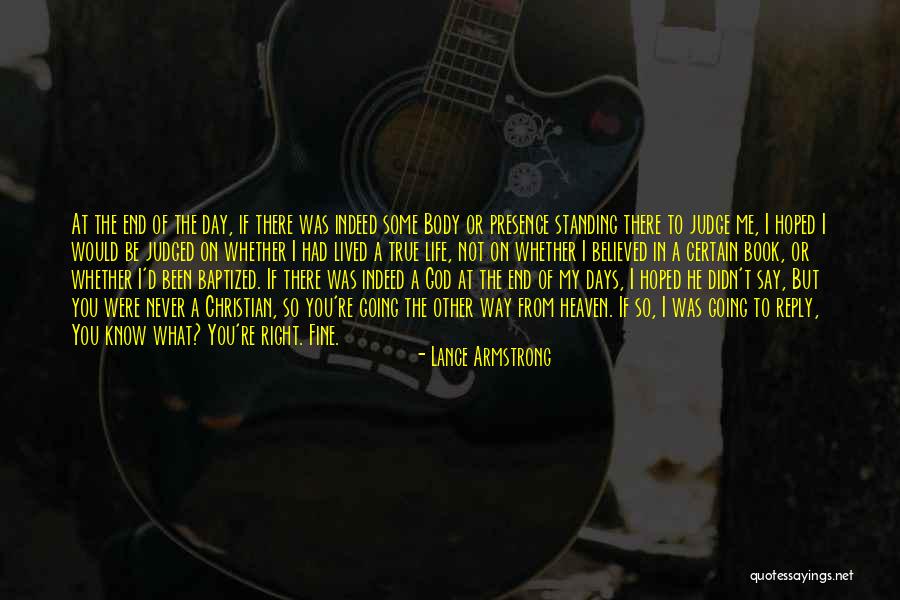 At the end of the day, if there was indeed some Body or presence standing there to judge me, I hoped I would be judged on whether I had lived a true life, not on whether I believed in a certain book, or whether I'd been baptized. If there was indeed a God at the end of my days, I hoped he didn't say, But you were never a Christian, so you're going the other way from heaven. If so, I was going to reply, You know what? You're right. Fine. — Lance Armstrong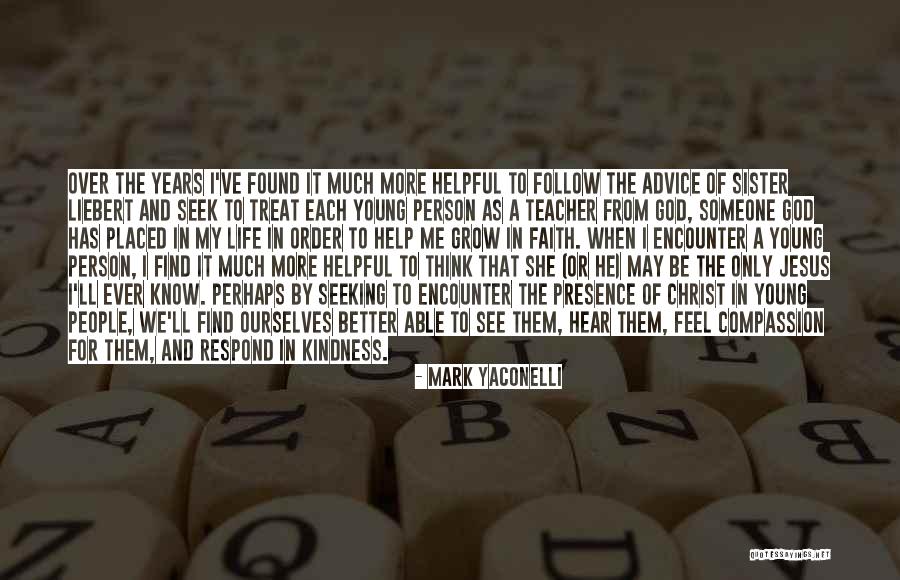 Over the years I've found it much more helpful to follow the advice of Sister Liebert and seek to treat each young person as a teacher from God, someone God has placed in my life in order to help me grow in faith. When I encounter a young person, I find it much more helpful to think that she (or he) may be the only Jesus I'll ever know. Perhaps by seeking to encounter the presence of Christ in young people, we'll find ourselves better able to see them, hear them, feel compassion for them, and respond in kindness. — Mark Yaconelli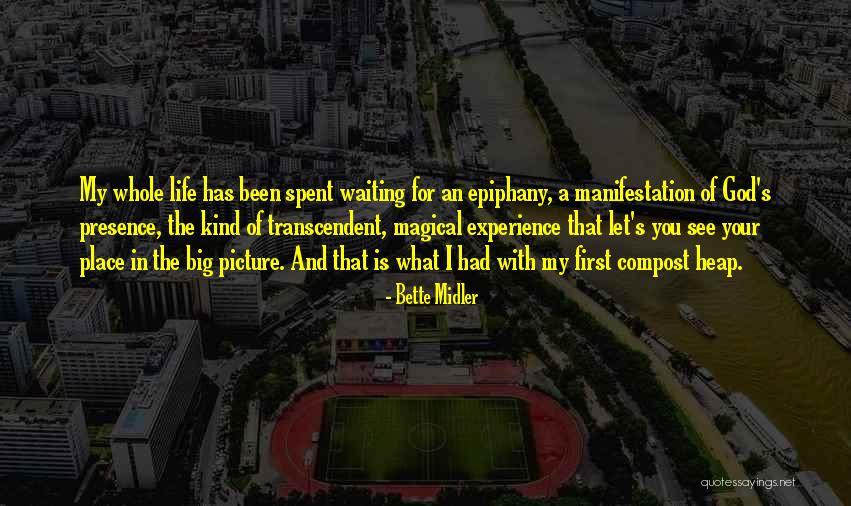 My whole life has been spent waiting for an epiphany, a manifestation of God's presence, the kind of transcendent, magical experience that let's you see your place in the big picture. And that is what I had with my first compost heap. — Bette Midler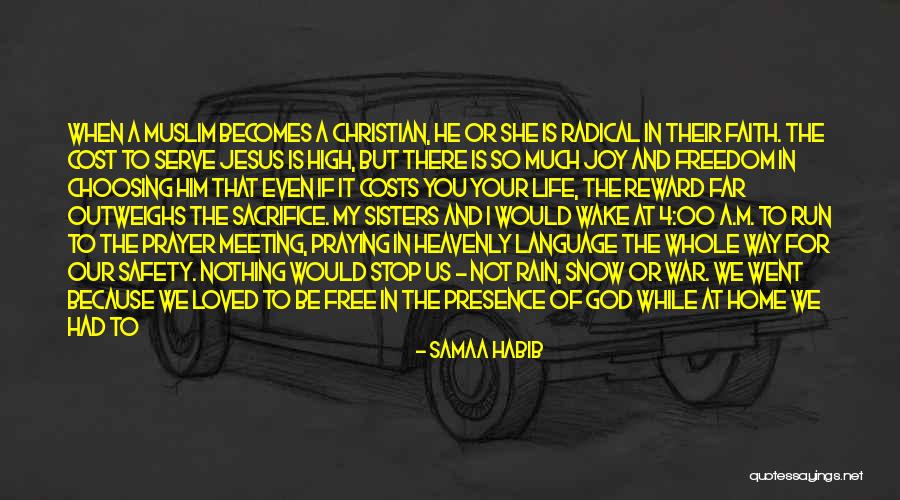 When a Muslim becomes a Christian, he or she is radical in their faith. The cost to serve Jesus is high, but there is so much joy and freedom in choosing Him that even if it costs you your life, the reward far outweighs the sacrifice. My sisters and I would wake at 4:00 a.m. to run to the prayer meeting, praying in heavenly language the whole way for our safety. Nothing would stop us - not rain, snow or war. We went because we loved to be free in the presence of God while at home we had to hide our faith. Our mother knew where we were going, but our father and brothers had no idea. They woke up early to go to work and assumed we were still asleep in our beds. — Samaa Habib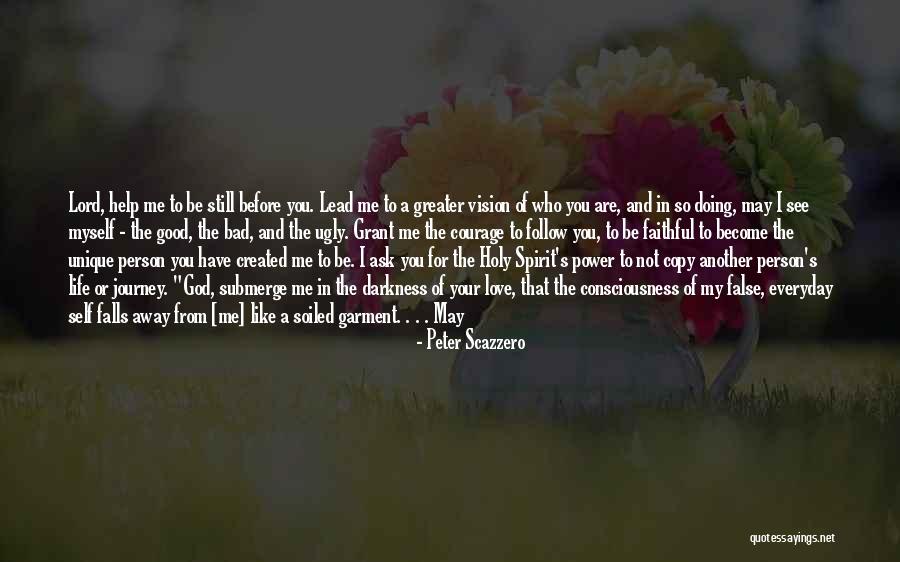 Lord, help me to be still before you. Lead me to a greater vision of who you are, and in so doing, may I see myself - the good, the bad, and the ugly. Grant me the courage to follow you, to be faithful to become the unique person you have created me to be. I ask you for the Holy Spirit's power to not copy another person's life or journey. "God, submerge me in the darkness of your love, that the consciousness of my false, everyday self falls away from [me] like a soiled garment. . . . May my 'deep self' fall into your presence. . . . knowing you alone . . . carried away into eternity like a dead leaf in the November wind."24 In Jesus' name, amen. — Peter Scazzero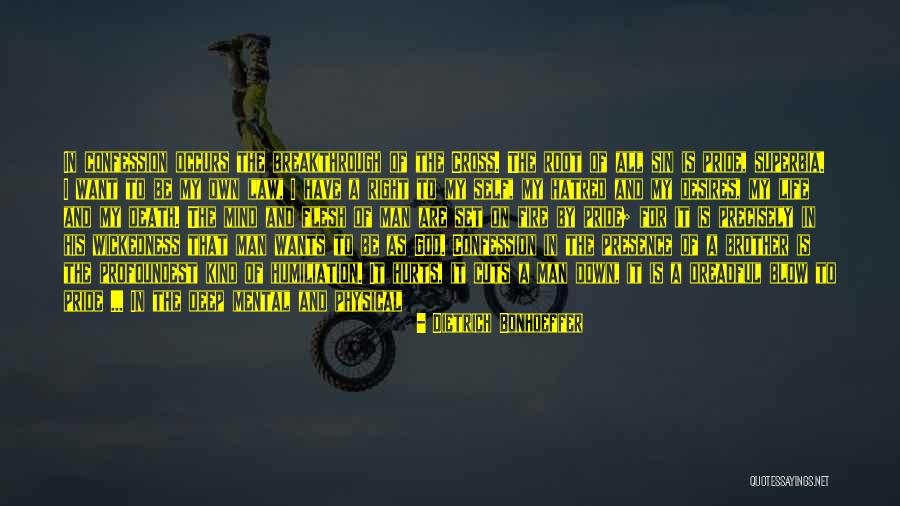 In confession occurs the breakthrough of the Cross. The root of all sin is pride, superbia. I want to be my own law, I have a right to my self, my hatred and my desires, my life and my death. The mind and flesh of man are set on fire by pride; for it is precisely in his wickedness that man wants to be as God. Confession in the presence of a brother is the profoundest kind of humiliation. It hurts, it cuts a man down, it is a dreadful blow to pride ... In the deep mental and physical pain of humiliation before a brother - which means, before God - we experience the Cross of Jesus as our rescue and salvation. The old man dies, but it is God who has conquered him. Now we share in the resurrection of Christ and eternal life. — Dietrich Bonhoeffer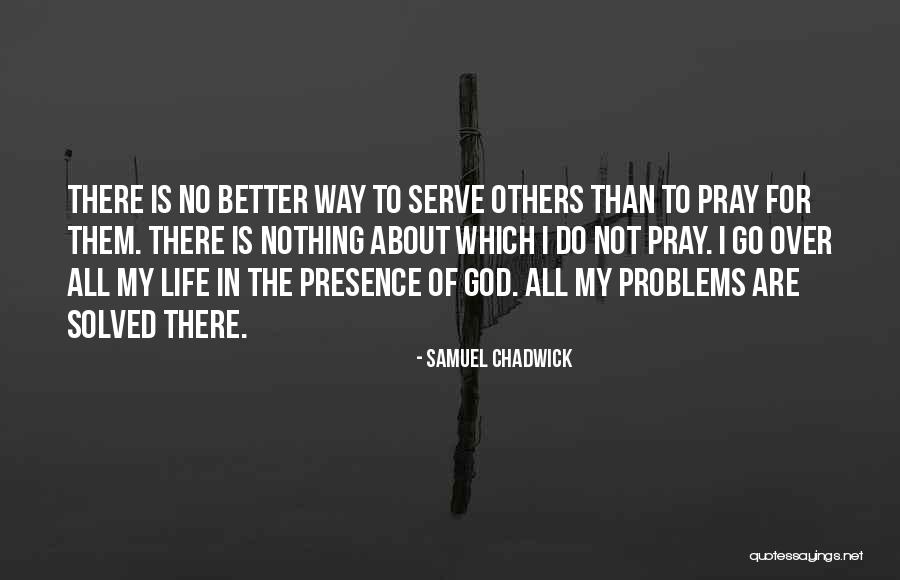 There is no better way to serve others than to pray for them. There is nothing about which I do not pray. I go over all my life in the presence of God. All my problems are solved there. — Samuel Chadwick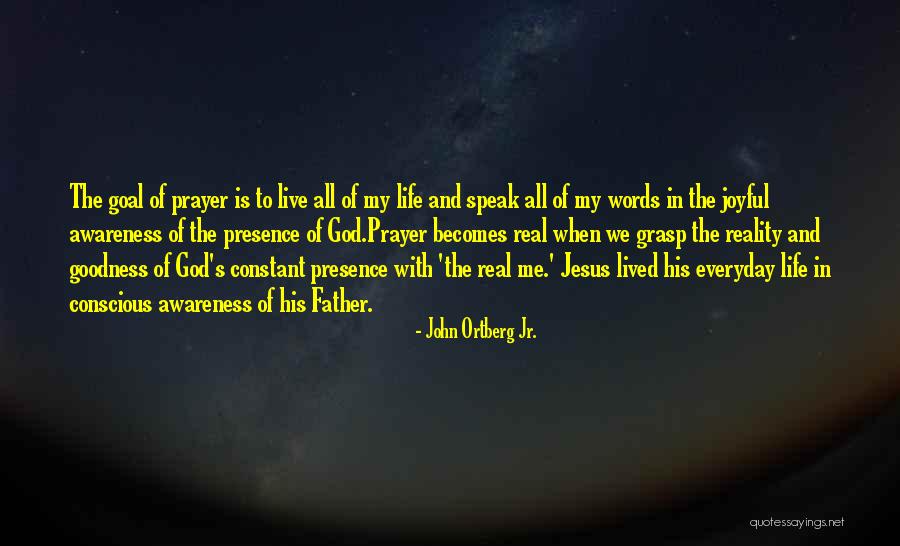 The goal of prayer is to live all of my life and speak all of my words in the joyful awareness of the presence of God.
Prayer becomes real when we grasp the reality and goodness of God's constant presence with 'the real me.' Jesus lived his everyday life in conscious awareness of his Father. — John Ortberg Jr.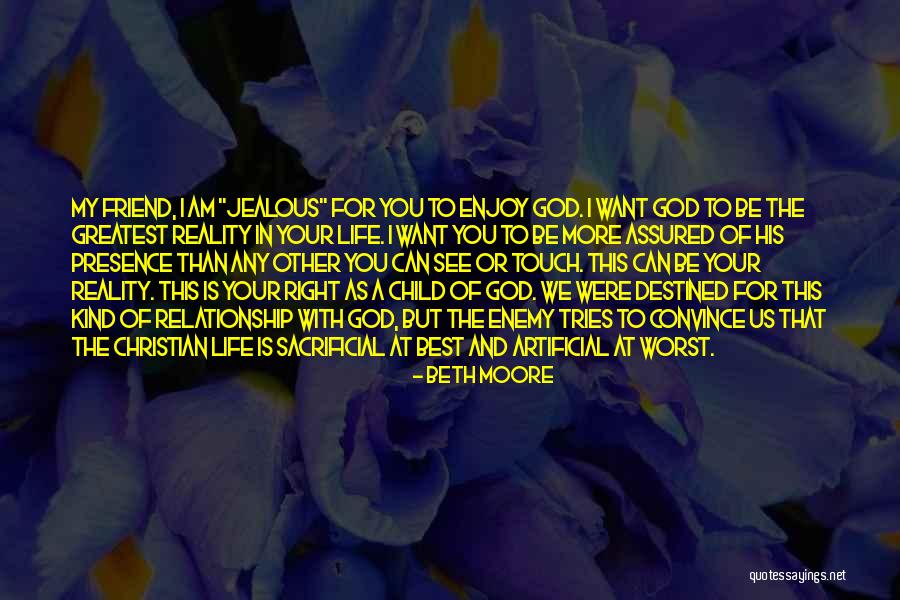 My friend, I am "jealous" for you to enjoy God. I want God to be the greatest reality in your life. I want you to be more assured of His presence than any other you can see or touch. This can be your reality. This is your right as a child of God. We were destined for this kind of relationship with God, but the enemy tries to convince us that the Christian life is sacrificial at best and artificial at worst. — Beth Moore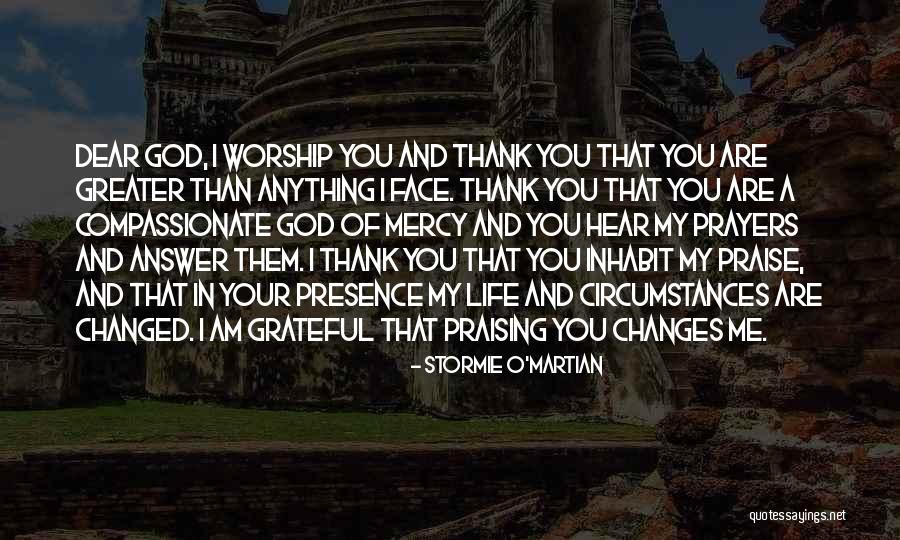 Dear God, I worship You and thank You that You are greater than anything I face. Thank You that You are a compassionate God of mercy and You hear my prayers and answer them. I thank You that You inhabit my praise, and that in Your presence my life and circumstances are changed. I am grateful that praising You changes me. — Stormie O'martian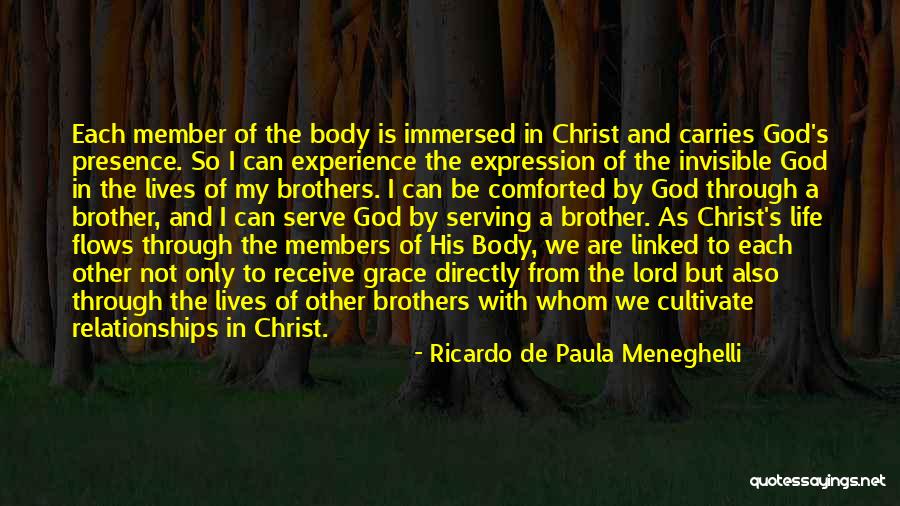 Each member of the body is immersed in Christ and carries God's presence. So I can experience the expression of the invisible God in the lives of my brothers. I can be comforted by God through a brother, and I can serve God by serving a brother. As Christ's life flows through the members of His Body, we are linked to each other not only to receive grace directly from the lord but also through the lives of other brothers with whom we cultivate relationships in Christ. — Ricardo De Paula Meneghelli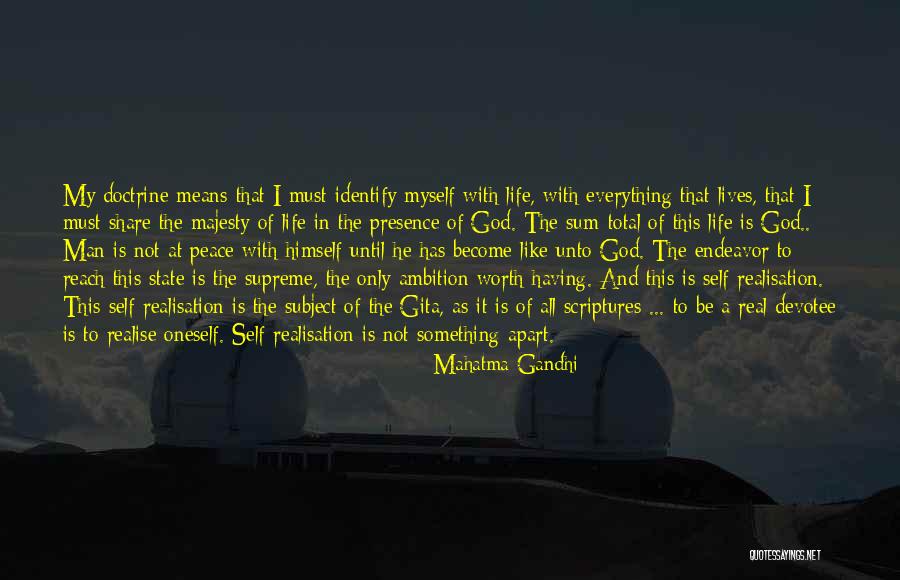 My doctrine means that I must identify myself with life, with everything that lives, that I must share the majesty of life in the presence of God. The sum-total of this life is God.. Man is not at peace with himself until he has become like unto God. The endeavor to reach this state is the supreme, the only ambition worth having. And this is self-realisation. This self-realisation is the subject of the Gita, as it is of all scriptures ... to be a real devotee is to realise oneself. Self-realisation is not something apart. — Mahatma Gandhi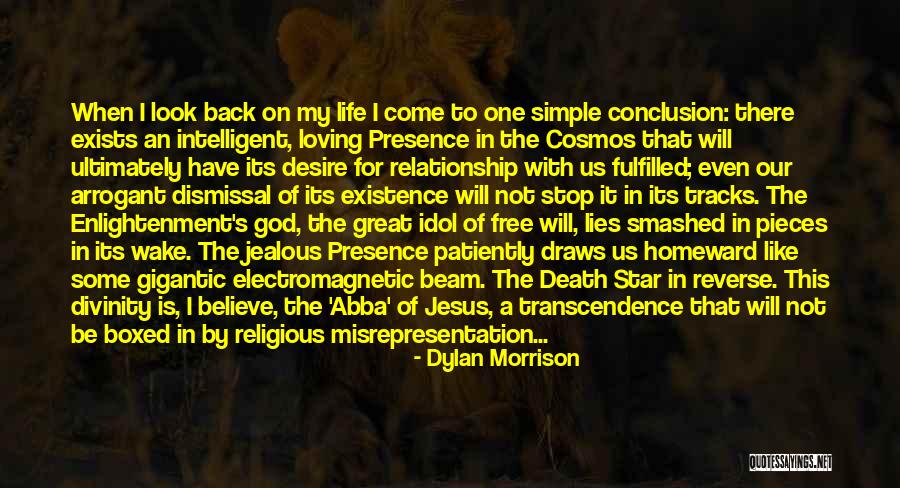 When I look back on my life I come to one simple conclusion: there exists an intelligent, loving Presence in the Cosmos that will ultimately have its desire for relationship with us fulfilled; even our arrogant dismissal of its existence will not stop it in its tracks. The Enlightenment's god, the great idol of free will, lies smashed in pieces in its wake. The jealous Presence patiently draws us homeward like some gigantic electromagnetic beam. The Death Star in reverse. This divinity is, I believe, the 'Abba' of Jesus, a transcendence that will not be boxed in by religious misrepresentation... — Dylan Morrison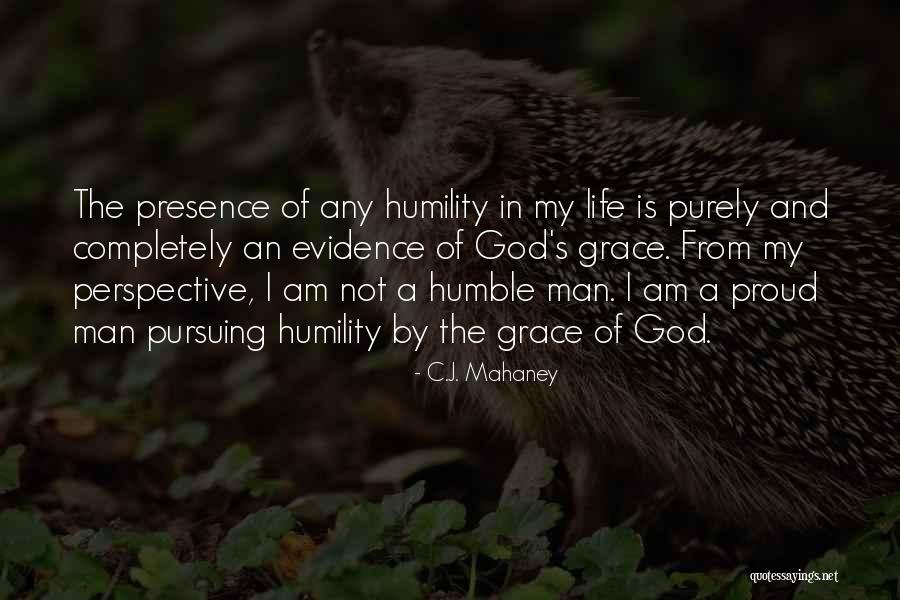 The presence of any humility in my life is purely and completely an evidence of God's grace. From my perspective, I am not a humble man. I am a proud man pursuing humility by the grace of God. — C.J. Mahaney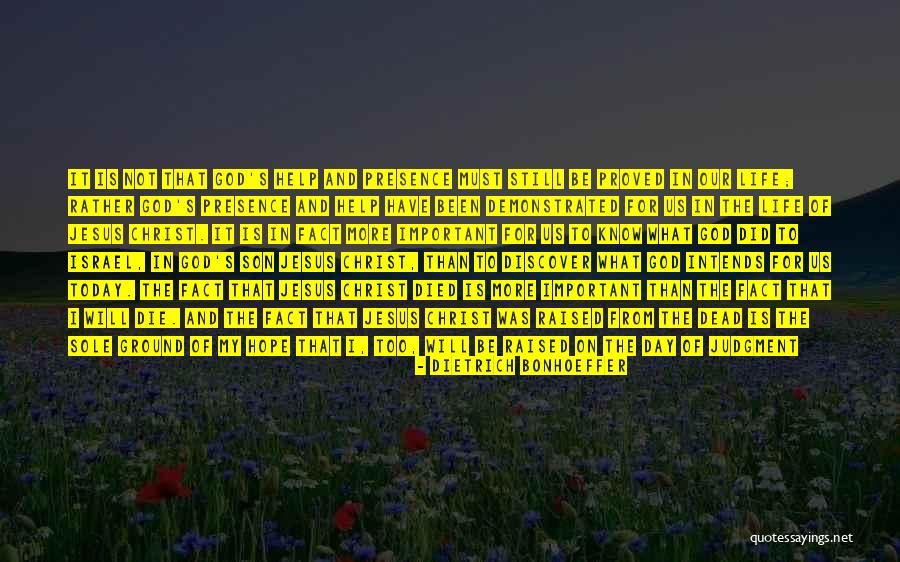 It is not that God's help and presence must still be proved in our life; rather God's presence and help have been demonstrated for us in the life of Jesus Christ. It is in fact more important for us to know what God did to Israel, in God's Son Jesus Christ, than to discover what God intends for us today. The fact that Jesus Christ died is more important than the fact that I will die. And the fact that Jesus Christ was raised from the dead is the sole ground of my hope that I, too, will be raised on the day of judgment — Dietrich Bonhoeffer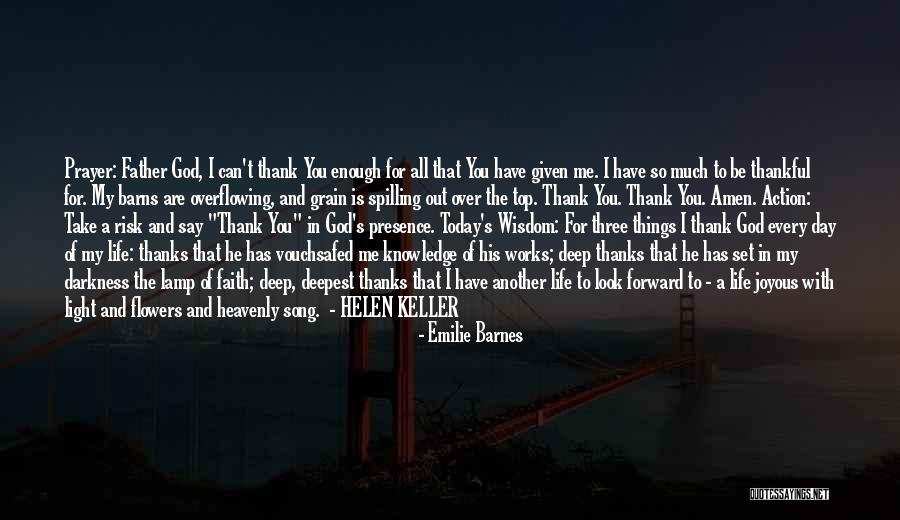 Prayer: Father God, I can't thank You enough for all that You have given me. I have so much to be thankful for. My barns are overflowing, and grain is spilling out over the top. Thank You. Thank You. Amen. Action: Take a risk and say "Thank You" in God's presence. Today's Wisdom: For three things I thank God every day of my life: thanks that he has vouchsafed me knowledge of his works; deep thanks that he has set in my darkness the lamp of faith; deep, deepest thanks that I have another life to look forward to - a life joyous with light and flowers and heavenly song. - HELEN KELLER — Emilie Barnes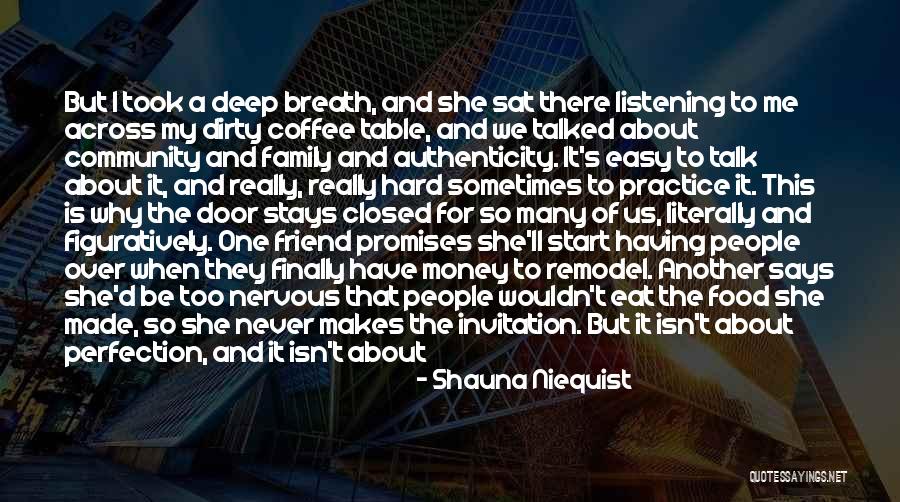 But I took a deep breath, and she sat there listening to me across my dirty coffee table, and we talked about community and family and authenticity. It's easy to talk about it, and really, really hard sometimes to practice it. This is why the door stays closed for so many of us, literally and figuratively. One friend promises she'll start having people over when they finally have money to remodel. Another says she'd be too nervous that people wouldn't eat the food she made, so she never makes the invitation. But it isn't about perfection, and it isn't about performance. You'll miss the richest moments in life - the sacred moments when we feel God's grace and presence through the actual faces and hands of the people we love - if you're too scared or too ashamed to open the door. I know it's scary, but throw open the door anyway, even though someone might see you in your terribly ugly half-zip. — Shauna Niequist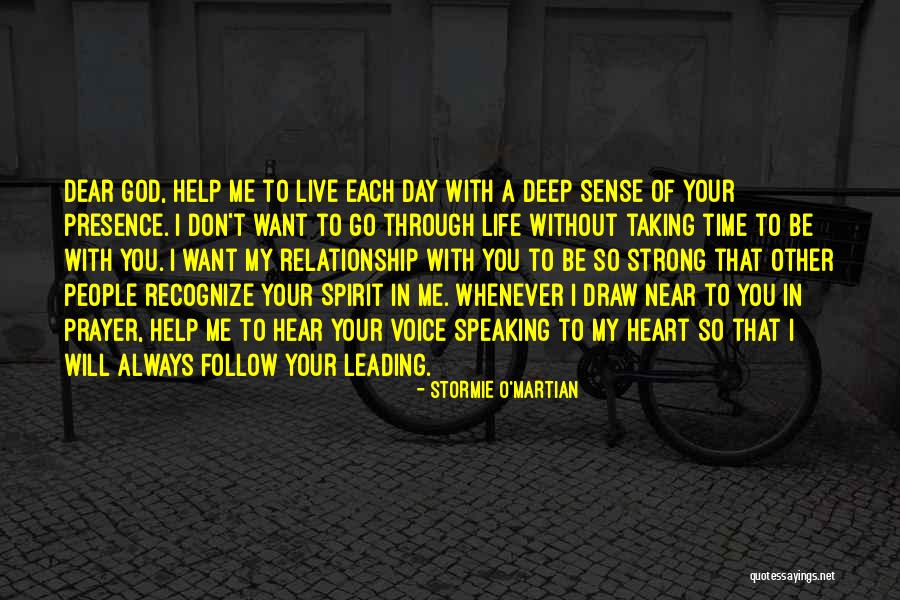 Dear God, help me to live each day with a deep sense of Your presence. I don't want to go through life without taking time to be with You. I want my relationship with You to be so strong that other people recognize Your Spirit in me. Whenever I draw near to You in prayer, help me to hear Your voice speaking to my heart so that I will always follow Your leading. — Stormie O'martian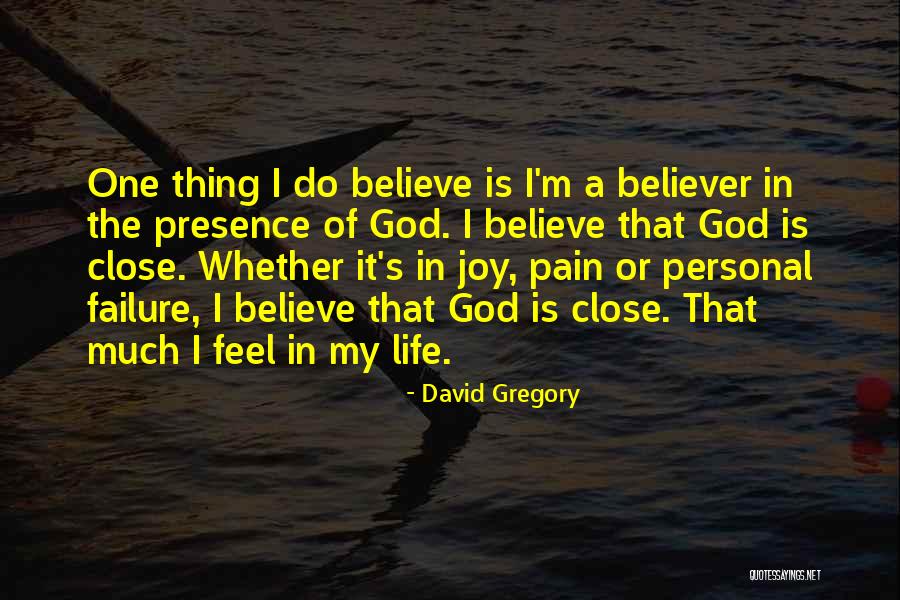 One thing I do believe is I'm a believer in the presence of God. I believe that God is close. Whether it's in joy, pain or personal failure, I believe that God is close. That much I feel in my life. — David Gregory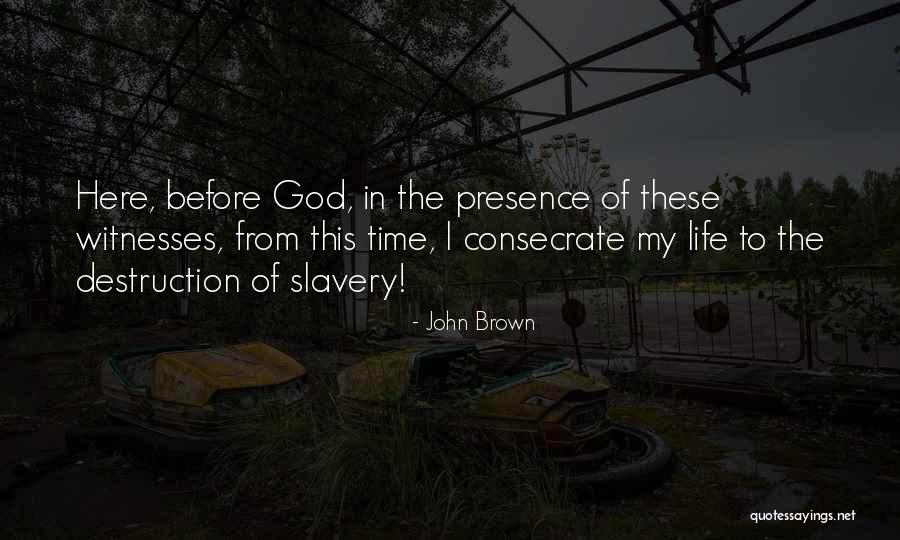 Here, before God, in the presence of these witnesses, from this time, I consecrate my life to the destruction of slavery! — John Brown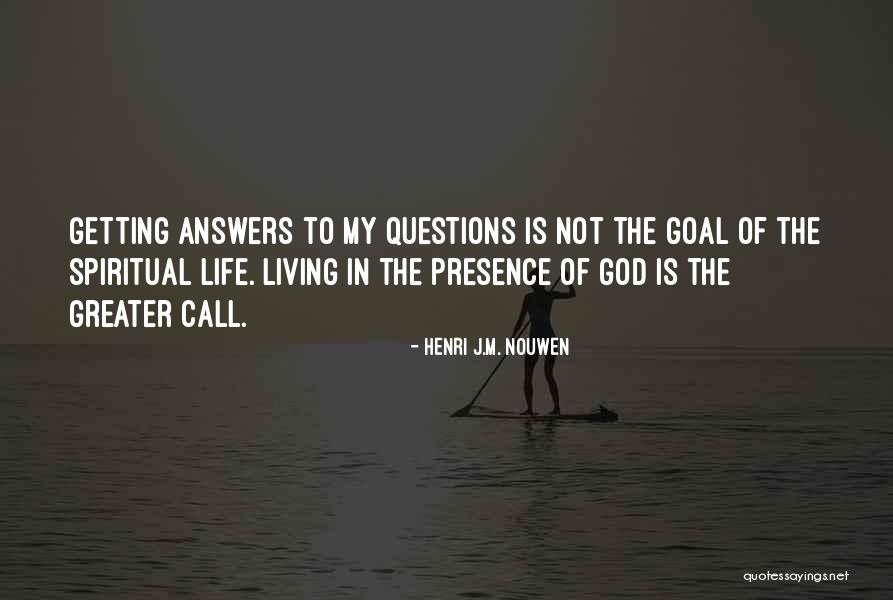 Getting answers to my questions is not the goal of the spiritual life. Living in the presence of God is the greater call. — Henri J.M. Nouwen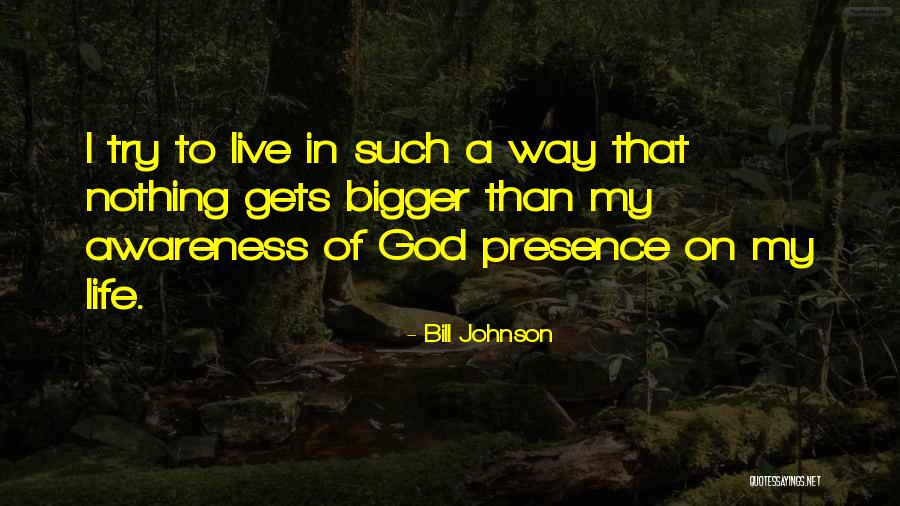 I try to live in such a way that nothing gets bigger than my awareness of God presence on my life. — Bill Johnson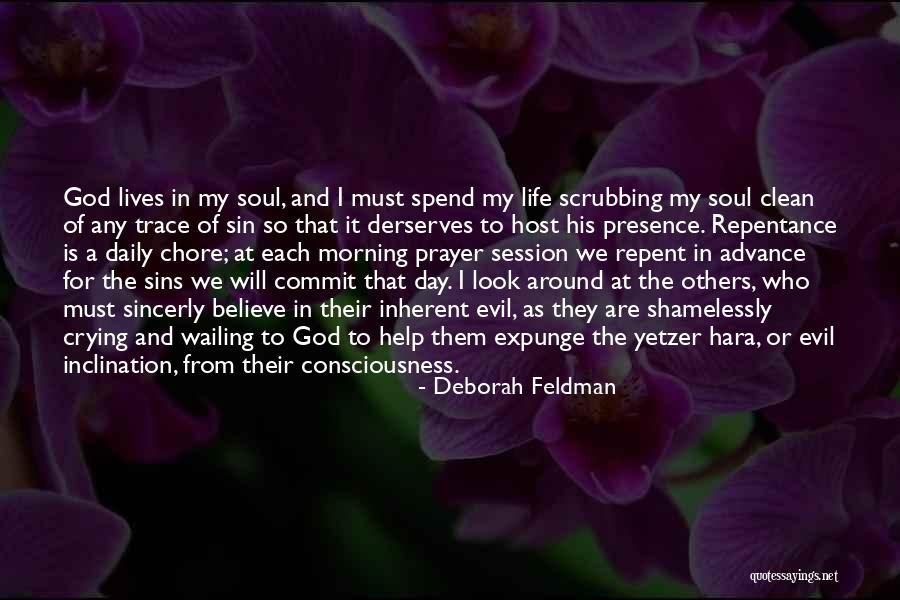 God lives in my soul, and I must spend my life scrubbing my soul clean of any trace of sin so that it derserves to host his presence. Repentance is a daily chore; at each morning prayer session we repent in advance for the sins we will commit that day. I look around at the others, who must sincerly believe in their inherent evil, as they are shamelessly crying and wailing to God to help them expunge the yetzer hara, or evil inclination, from their consciousness. — Deborah Feldman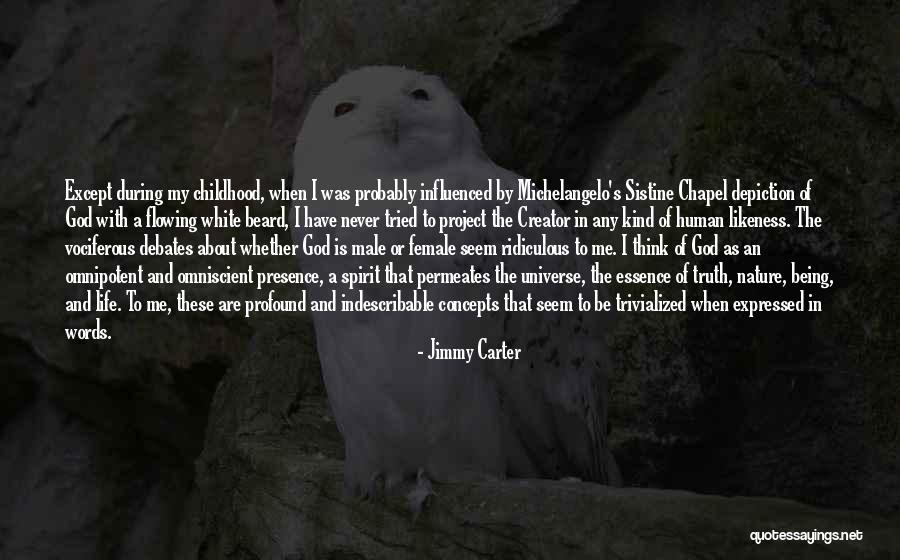 Except during my childhood, when I was probably influenced by Michelangelo's Sistine Chapel depiction of God with a flowing white beard, I have never tried to project the Creator in any kind of human likeness. The vociferous debates about whether God is male or female seem ridiculous to me. I think of God as an omnipotent and omniscient presence, a spirit that permeates the universe, the essence of truth, nature, being, and life. To me, these are profound and indescribable concepts that seem to be trivialized when expressed in words. — Jimmy Carter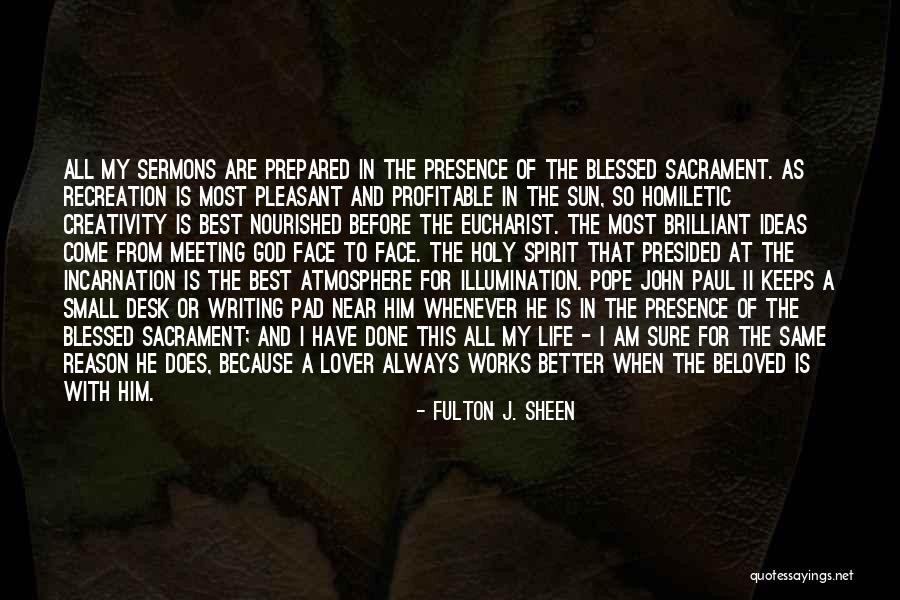 All my sermons are prepared in the presence of the Blessed Sacrament. As recreation is most pleasant and profitable in the sun, so homiletic creativity is best nourished before the Eucharist. The most brilliant ideas come from meeting God face to face. The Holy Spirit that presided at the Incarnation is the best atmosphere for illumination. Pope John Paul II keeps a small desk or writing pad near him whenever he is in the presence of the Blessed Sacrament; and I have done this all my life - I am sure for the same reason he does, because a lover always works better when the beloved is with him. — Fulton J. Sheen
In my life, I have been told that as a gay man I am a threat to the American family. I have been told that to accept me as an equal is an insult to God. I have been told that I am no better than a pedophile. I have been told that I cannot serve in the military because my presence will undermine unit cohesion. I have had bottles thrown at me when I gathered with others to protest for marriage equality. I have been told that I am sick, that I am damaged, and that I am damage and sickness incarnate.

Let the record show that what finally made me snap is the suggestion that I was supposed to have chemistry with Tori Spelling. — Dave Holmes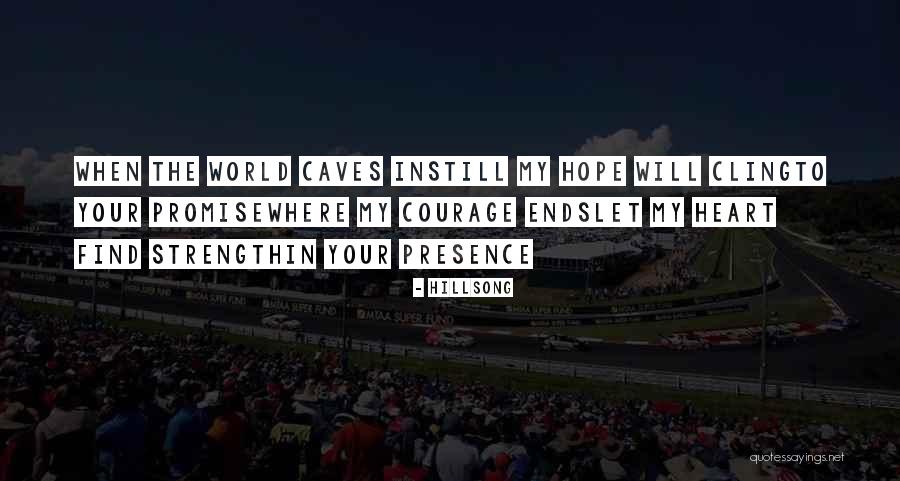 When the world caves in
Still my hope will cling
To Your promise
Where my courage ends
Let my heart find strength
In Your presence — Hillsong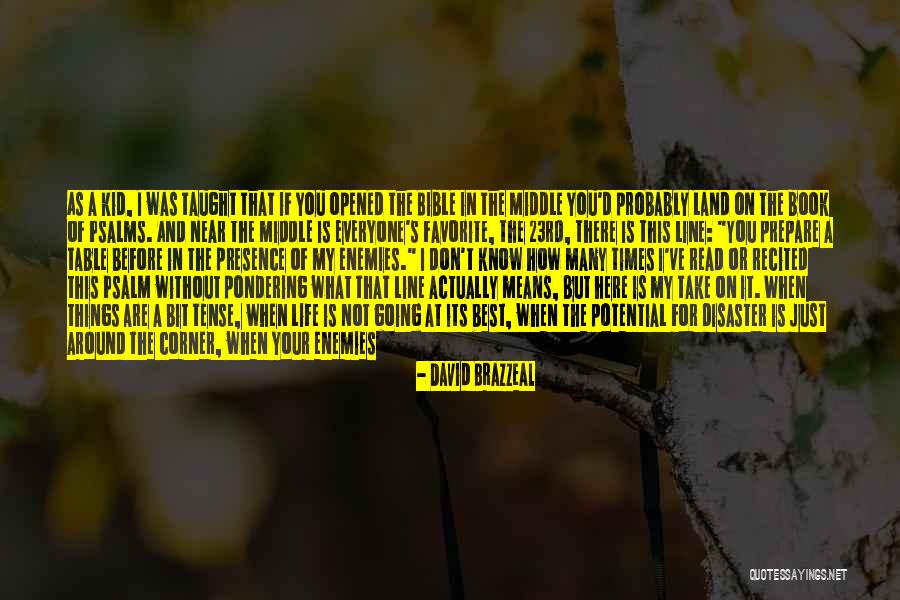 As a kid, I was taught that if you opened the Bible in the middle you'd probably land on the book of Psalms. And near the middle is everyone's favorite, the 23rd, there is this line: "You prepare a table before in the presence of my enemies." I don't know how many times I've read or recited this Psalm without pondering what that line actually means, but here is my take on it. When things are a bit tense, when life is not going at its best, when the potential for disaster is just around the corner, when your enemies are all around you - and even staring you down! - that's when God lays out the red-checkered picnic cloth and says, "Oooo, this is a nice place. Let's hang out here together for a while...just you and me. — David Brazzeal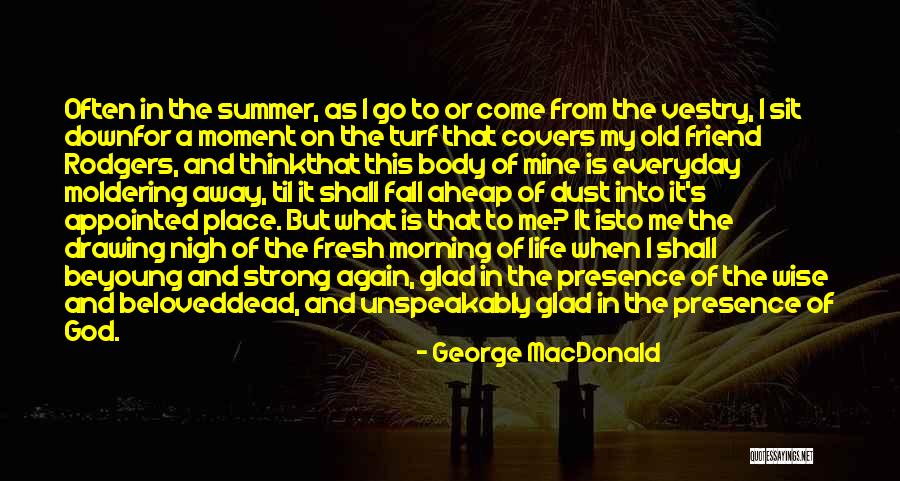 Often in the summer, as I go to or come from the vestry, I sit down
for a moment on the turf that covers my old friend Rodgers, and think
that this body of mine is everyday moldering away, til it shall fall a
heap of dust into it's appointed place. But what is that to me? It is
to me the drawing nigh of the fresh morning of life when I shall be
young and strong again, glad in the presence of the wise and beloved
dead, and unspeakably glad in the presence of God. — George MacDonald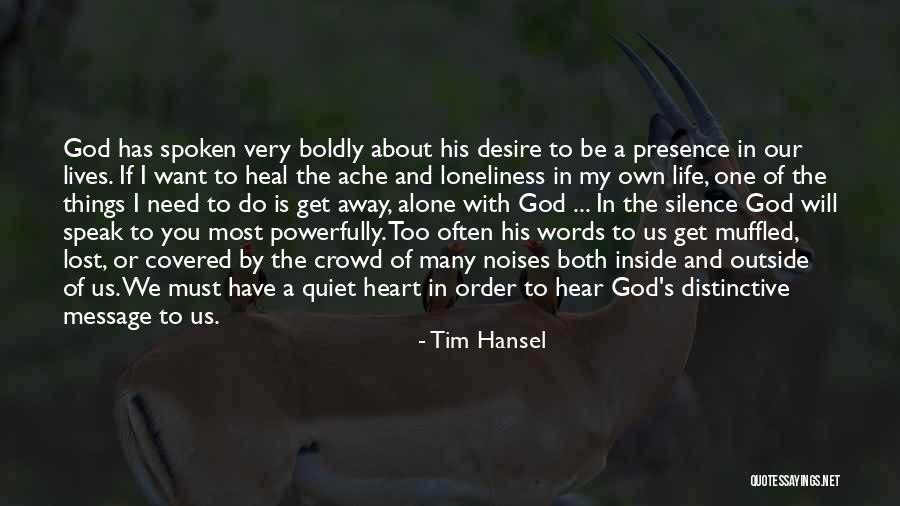 God has spoken very boldly about his desire to be a presence in our lives. If I want to heal the ache and loneliness in my own life, one of the things I need to do is get away, alone with God ... In the silence God will speak to you most powerfully. Too often his words to us get muffled, lost, or covered by the crowd of many noises both inside and outside of us. We must have a quiet heart in order to hear God's distinctive message to us. — Tim Hansel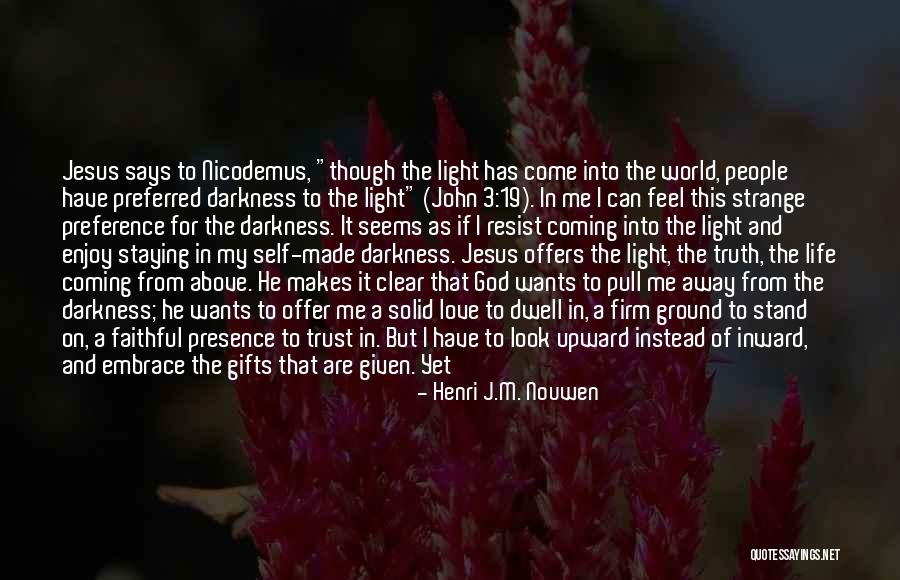 Jesus says to Nicodemus, "though the light has come into the world, people have preferred darkness to the light" (John 3:19). In me I can feel this strange preference for the darkness. It seems as if I resist coming into the light and enjoy staying in my self-made darkness. Jesus offers the light, the truth, the life coming from above. He makes it clear that God wants to pull me away from the darkness; he wants to offer me a solid love to dwell in, a firm ground to stand on, a faithful presence to trust in. But I have to look upward instead of inward, and embrace the gifts that are given. Yet — Henri J.M. Nouwen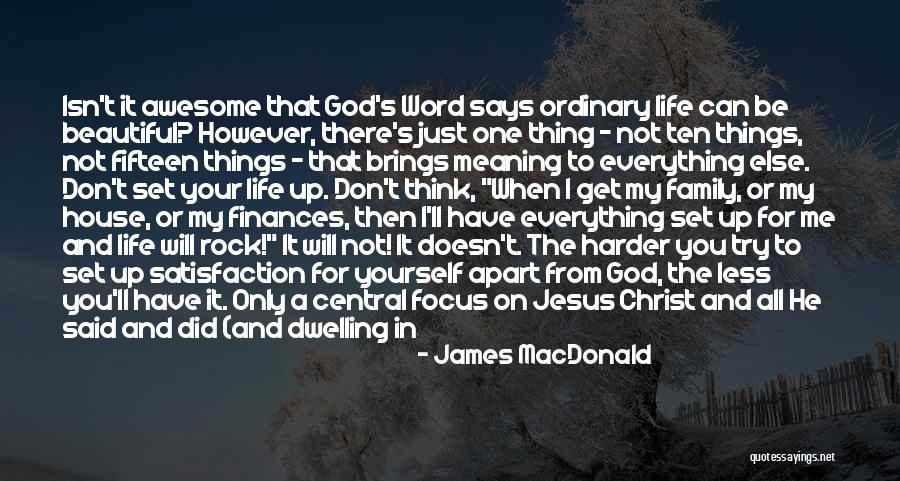 Isn't it awesome that God's Word says ordinary life can be beautiful? However, there's just one thing - not ten things, not fifteen things - that brings meaning to everything else. Don't set your life up. Don't think, "When I get my family, or my house, or my finances, then I'll have everything set up for me and life will rock!" It will not! It doesn't. The harder you try to set up satisfaction for yourself apart from God, the less you'll have it. Only a central focus on Jesus Christ and all He said and did (and dwelling in His presence) can be the one thing that puts everything else in order. Even when it seems like it's falling apart. — James MacDonald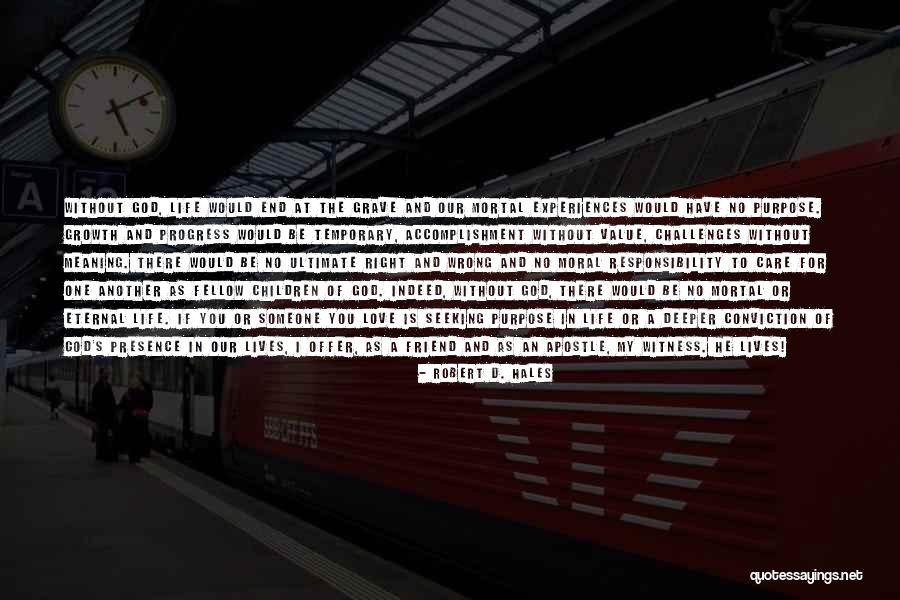 Without God, life would end at the grave and our mortal experiences would have no purpose. Growth and progress would be temporary, accomplishment without value, challenges without meaning. There would be no ultimate right and wrong and no moral responsibility to care for one another as fellow children of God. Indeed, without God, there would be no mortal or eternal life.
If you or someone you love is seeking purpose in life or a deeper conviction of God's presence in our lives, I offer, as a friend and as an Apostle, my witness. He lives! — Robert D. Hales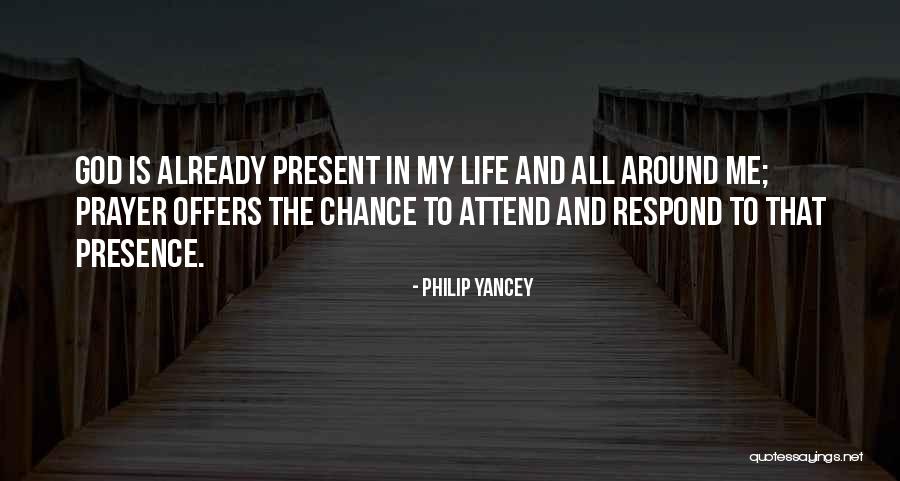 God is already present in my life and all around me; prayer offers the chance to attend and respond to that presence. — Philip Yancey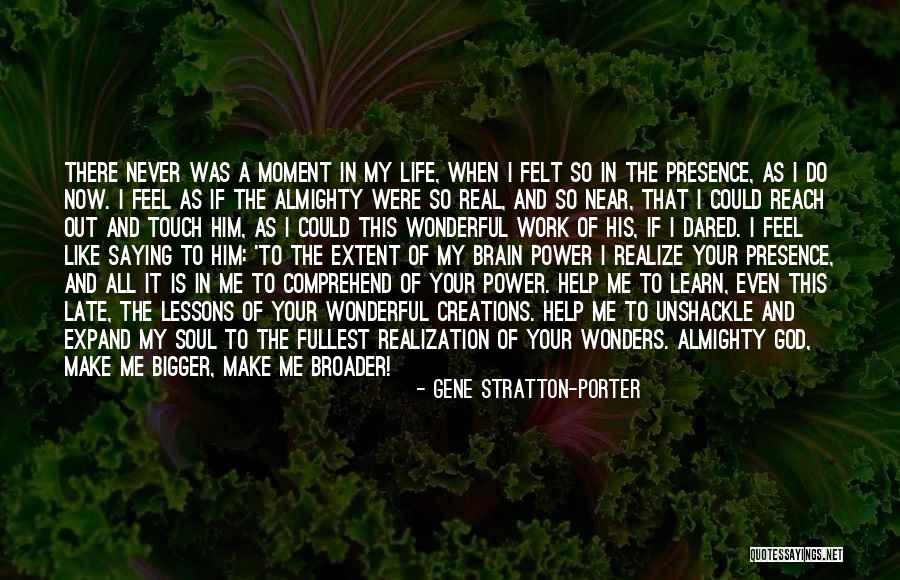 There never was a moment in my life, when I felt so in the Presence, as I do now. I feel as if the Almighty were so real, and so near, that I could reach out and touch Him, as I could this wonderful work of His, if I dared. I feel like saying to Him: 'To the extent of my brain power I realize Your presence, and all it is in me to comprehend of Your power. Help me to learn, even this late, the lessons of Your wonderful creations. Help me to unshackle and expand my soul to the fullest realization of Your wonders. Almighty God, make me bigger, make me broader! — Gene Stratton-Porter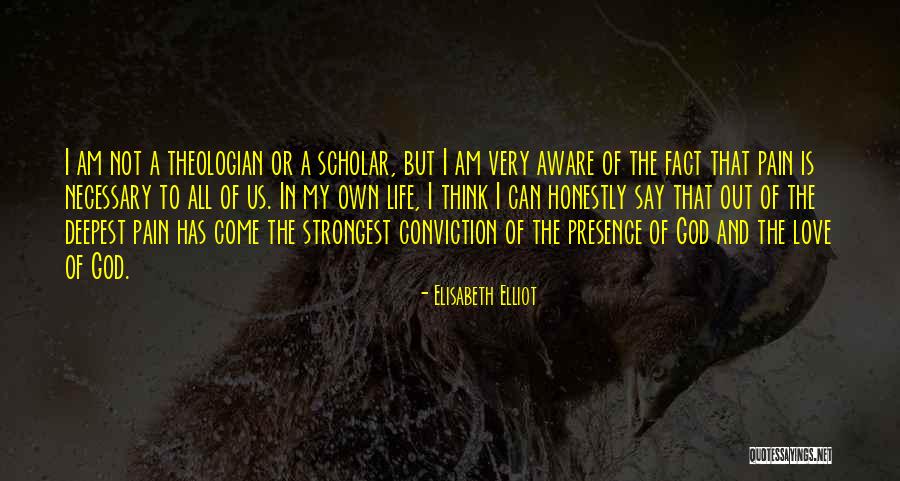 I am not a theologian or a scholar, but I am very aware of the fact that pain is necessary to all of us. In my own life, I think I can honestly say that out of the deepest pain has come the strongest conviction of the presence of God and the love of God. — Elisabeth Elliot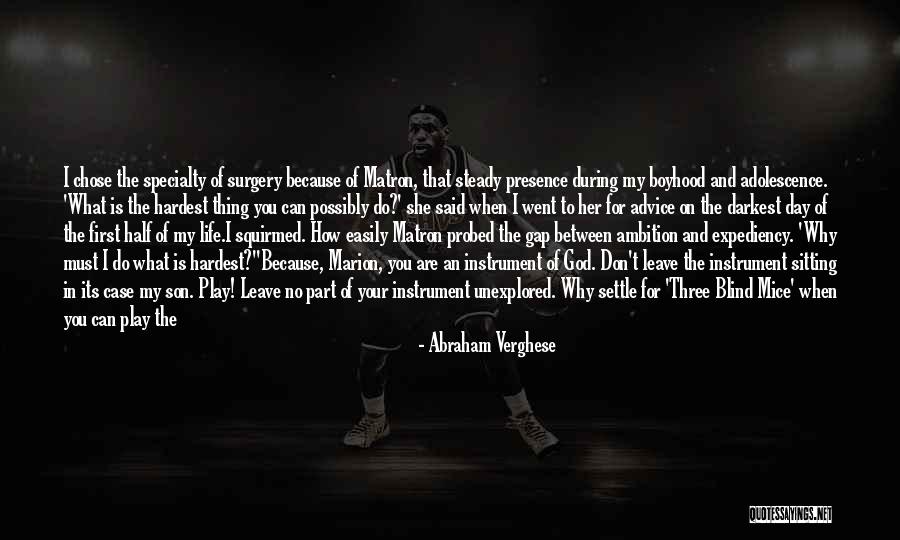 I chose the specialty of surgery because of Matron, that steady presence during my boyhood and adolescence. 'What is the hardest thing you can possibly do?' she said when I went to her for advice on the darkest day of the first half of my life.
I squirmed. How easily Matron probed the gap between ambition and expediency. 'Why must I do what is hardest?'
'Because, Marion, you are an instrument of God. Don't leave the instrument sitting in its case my son. Play! Leave no part of your instrument unexplored. Why settle for 'Three Blind Mice' when you can play the 'Gloria'?
'But, Matron, I can't dream of playing Bach ... I couldn't read music.
'No, Marion,' she said her gaze soft ... 'No, not Bach's 'Gloria'. Yours! Your 'Gloria' lives within you. The greatest sin is not finding it, ignoring what God made possible in you. — Abraham Verghese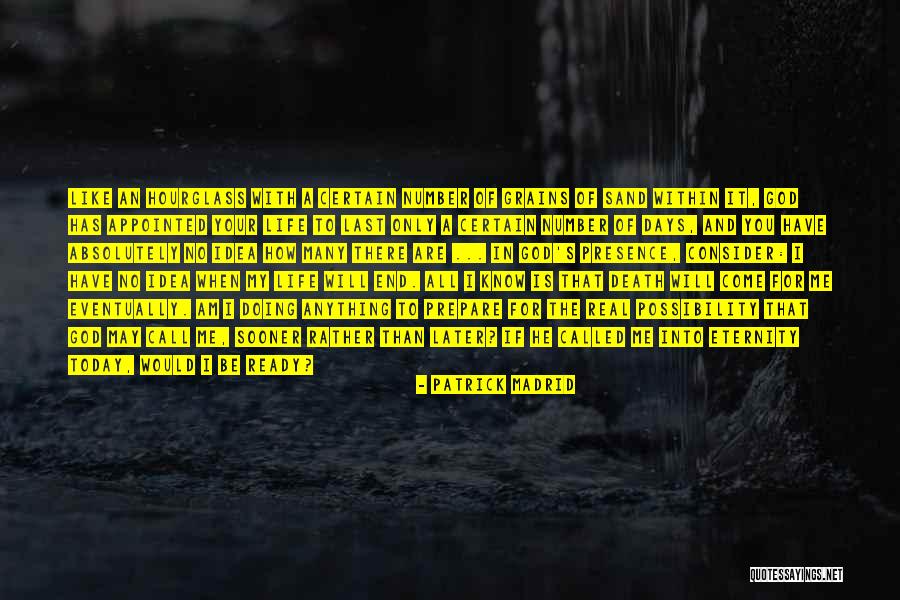 Like an hourglass with a certain number of grains of sand within it, God has appointed your life to last only a certain number of days, and you have absolutely no idea how many there are ... In God's presence, consider: I have no idea when my life will end. All I know is that death will come for me eventually. Am I doing anything to prepare for the real possibility that God may call me, sooner rather than later? If he called me into eternity today, would I be ready? — Patrick Madrid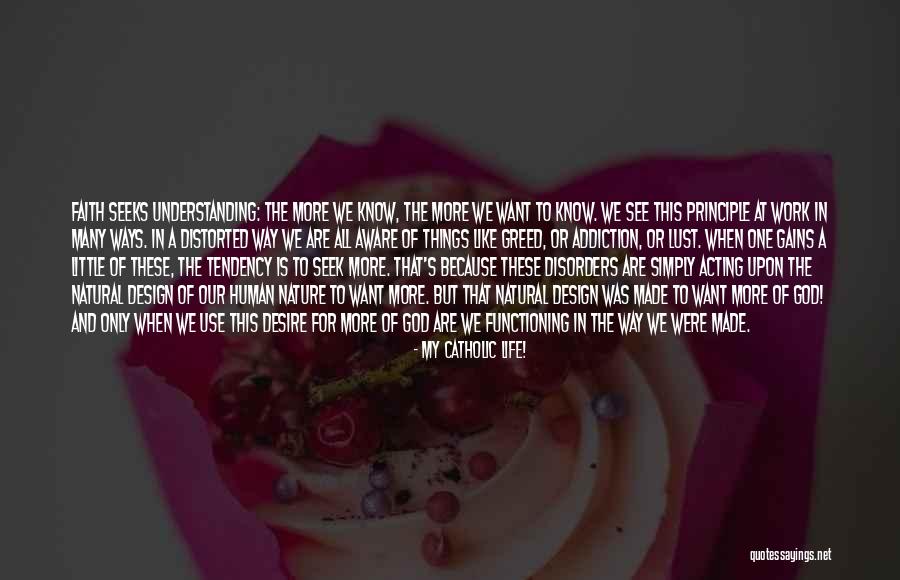 Faith seeks understanding: The more we know, the more we want to know. We see this principle at work in many ways. In a distorted way we are all aware of things like greed, or addiction, or lust. When one gains a little of these, the tendency is to seek more. That's because these disorders are simply acting upon the natural design of our human nature to want more. But that natural design was made to want more of God! And only when we use this desire for more of God are we functioning in the way we were made. So with faith we see this at work. The more one knows God, personally, truly, intimately, the more one wants to know God, love God and be with God all the more. And there is no limit to how much the human soul can receive of this glorious Gift! So seek God and let the gift of His presence in your life stir up the desire for more. — My Catholic Life!