Fulfill Your Dreams Quotes & Sayings
Enjoy reading and share 54 famous quotes about Fulfill Your Dreams with everyone.
Top Fulfill Your Dreams Quotes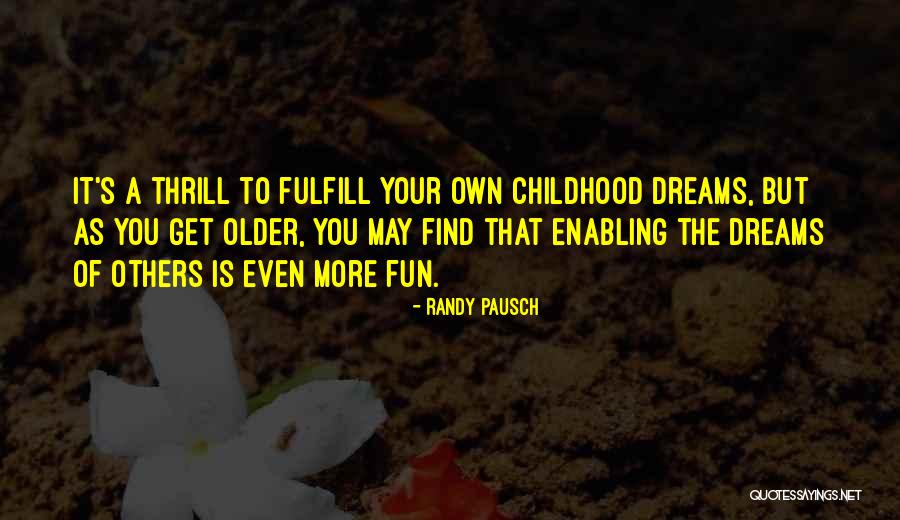 It's a thrill to fulfill your own childhood dreams, but as you get older, you may find that enabling the dreams of others is even more fun. — Randy Pausch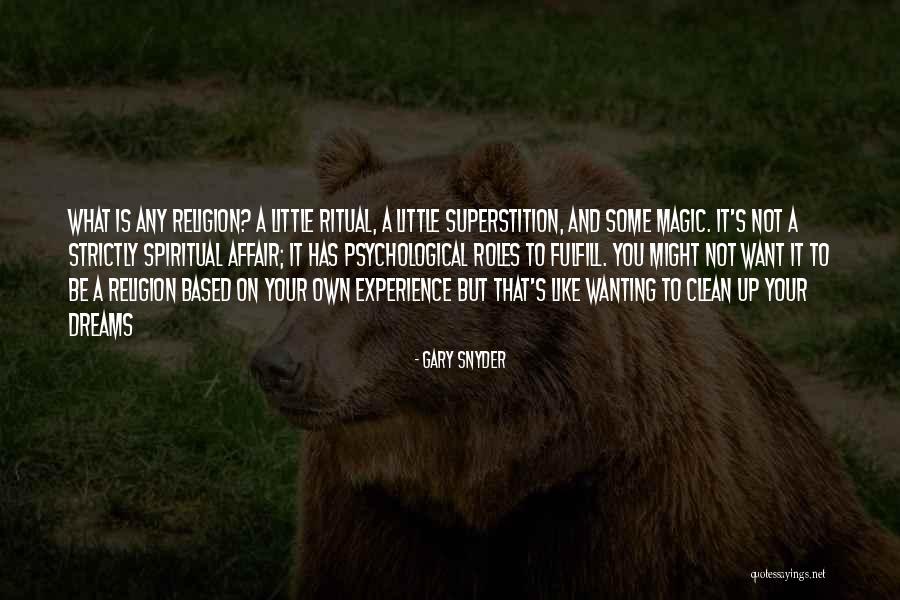 What is any religion? A little ritual, a little superstition, and some magic. It's not a strictly spiritual affair; it has psychological roles to fulfill. You might not want it to be a religion based on your own experience but that's like wanting to clean up your dreams — Gary Snyder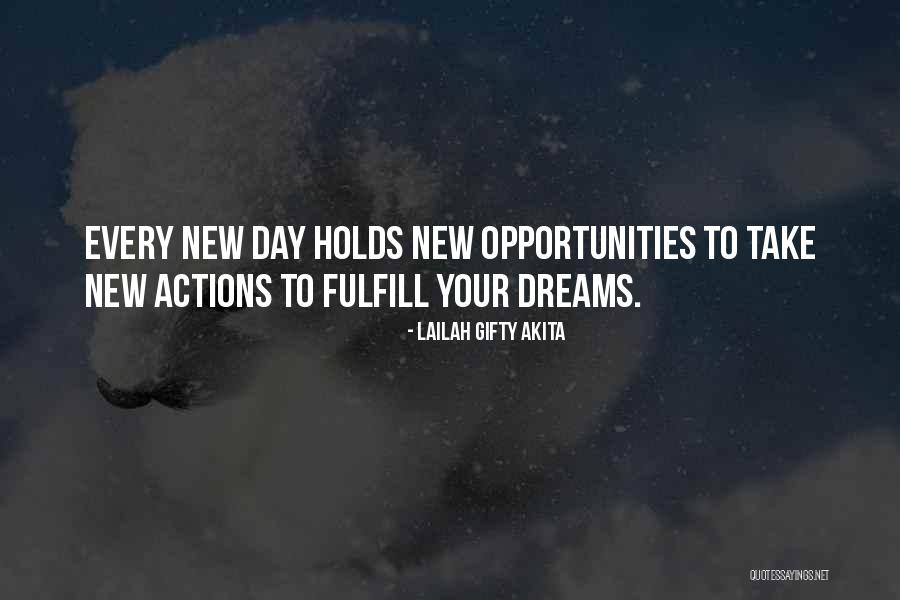 Every new day holds new opportunities to take new actions to fulfill your dreams. — Lailah Gifty Akita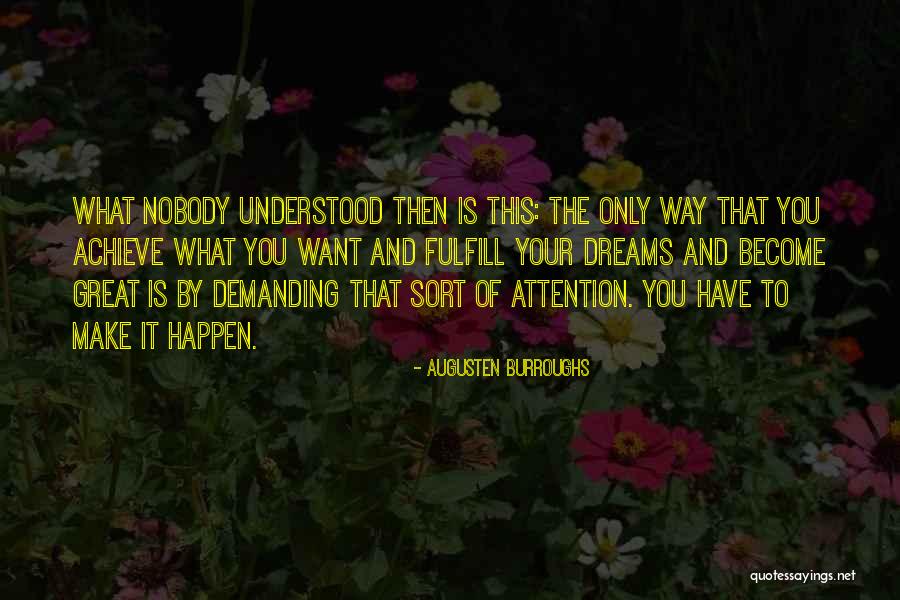 What nobody understood then is this: The only way that you achieve what you want and fulfill your dreams and become great is by demanding that sort of attention. You have to make it happen. — Augusten Burroughs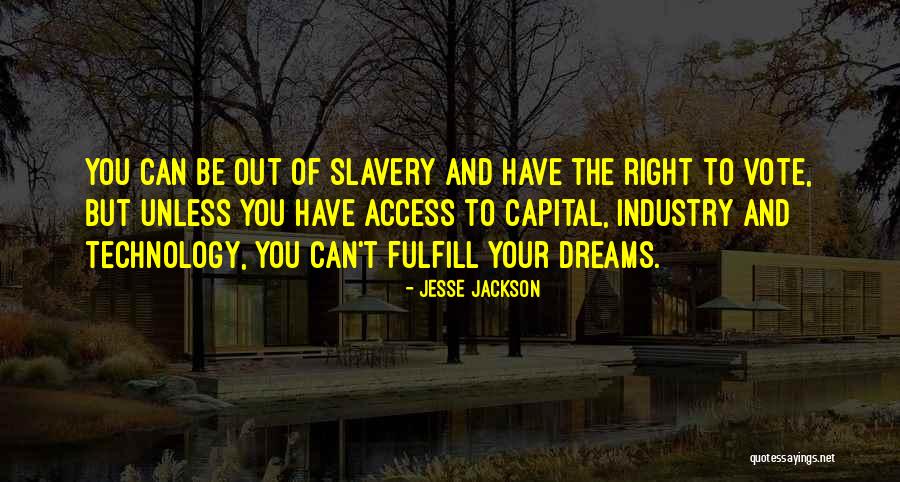 You can be out of slavery and have the right to vote, but unless you have access to capital, industry and technology, you can't fulfill your dreams. — Jesse Jackson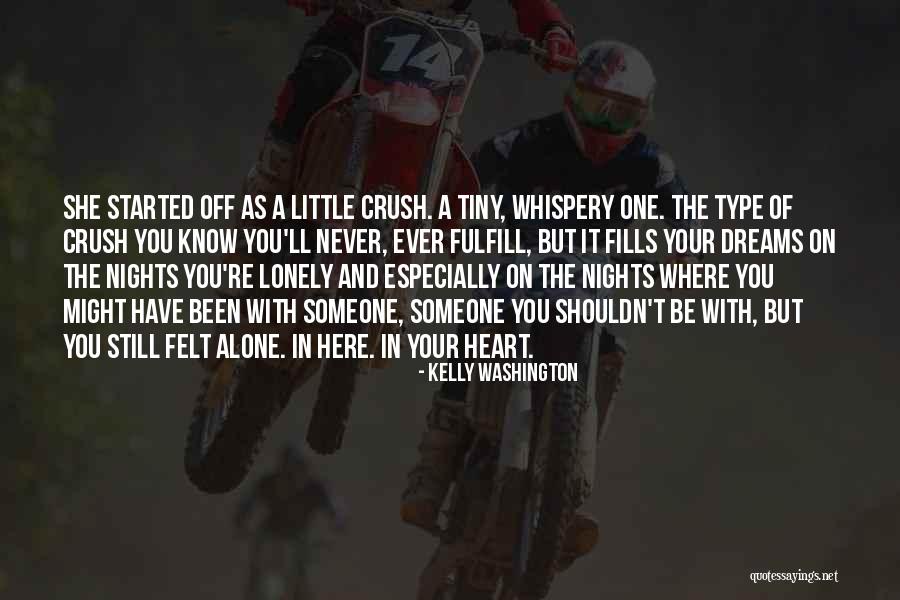 She started off as a little crush. A tiny, whispery one. The type of crush you know you'll never, ever fulfill, but it fills your dreams on the nights you're lonely and especially on the nights where you might have been with someone, someone you shouldn't be with, but you still felt alone. In here. In your heart. — Kelly Washington
Pain is a spiritual wake-up call showing you that there are oceans you have not yet explored. Step beyond the world you know. Reach for heights that you never thought possible. Go to places you have deemed off limits. This is the time to take off the shell of your past and step into the rich possibilities of your future. God does not give us dreams that we cannot fulfill. If you want to do something great with your life-whether it's to fall madly in love, become a teacher, be a great parent-if you aspire to do something beyond what you are doing now, this is the time to begin. Trust yourself. — Debbie Ford
You have a choice: pursue your dreams, or be hired by someone else to help them fulfill their dreams. — Jay Samit
But after it's all said and done, don't you want to grow old with your best friend? At the end of the day, that's who you want to share your life and laughter with. Someone who will be there in hard times to hold you tight. Someone who will fight for your honor and support your decisions. Someone who will encourage your dreams and help you to fulfill them. — Dannika Dark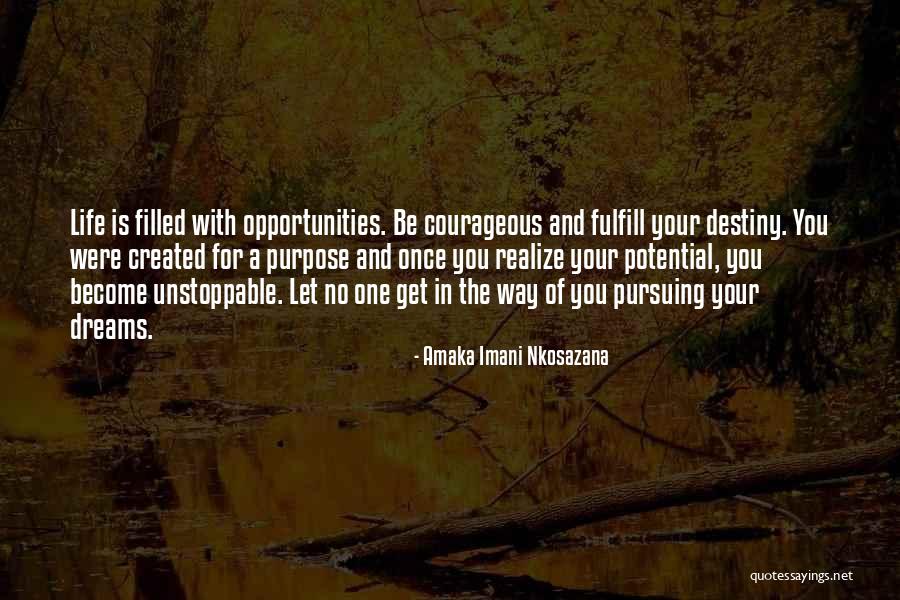 Life is filled with opportunities. Be courageous and fulfill your destiny. You were created for a purpose and once you realize your potential, you become unstoppable. Let no one get in the way of you pursuing your dreams. — Amaka Imani Nkosazana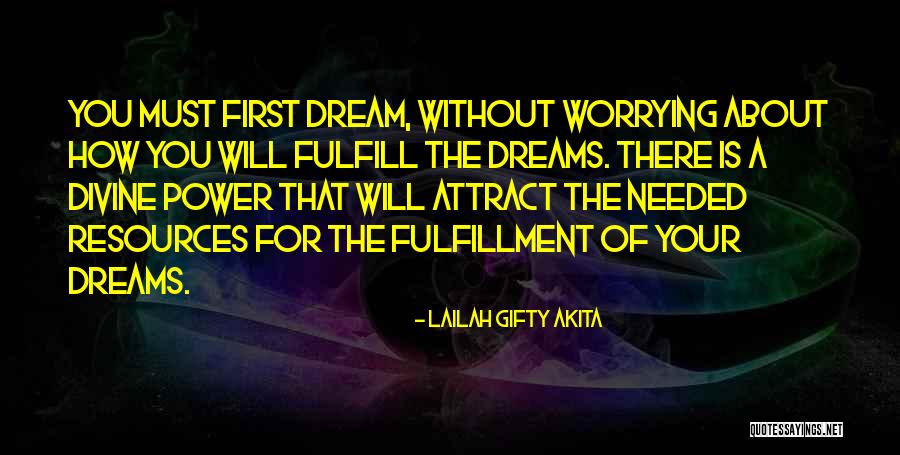 You must first dream, without worrying about how you will fulfill the dreams. There is a divine power that will attract the needed resources for the fulfillment of your dreams. — Lailah Gifty Akita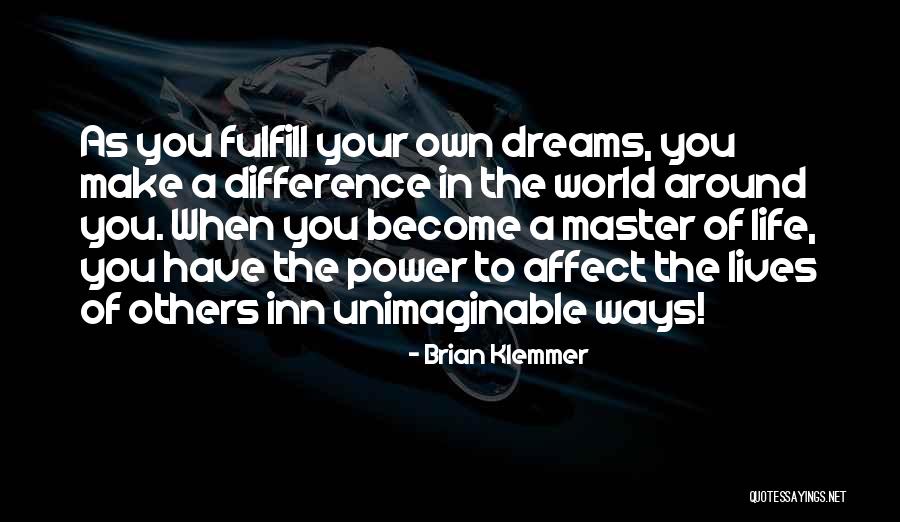 As you fulfill your own dreams, you make a difference in the world around you. When you become a master of life, you have the power to affect the lives of others inn unimaginable ways! — Brian Klemmer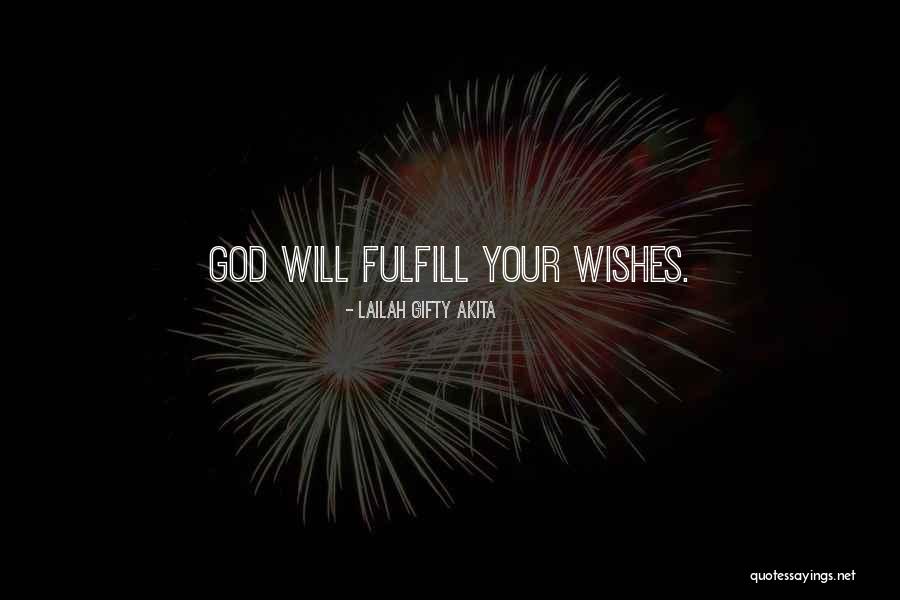 God will fulfill your wishes. — Lailah Gifty Akita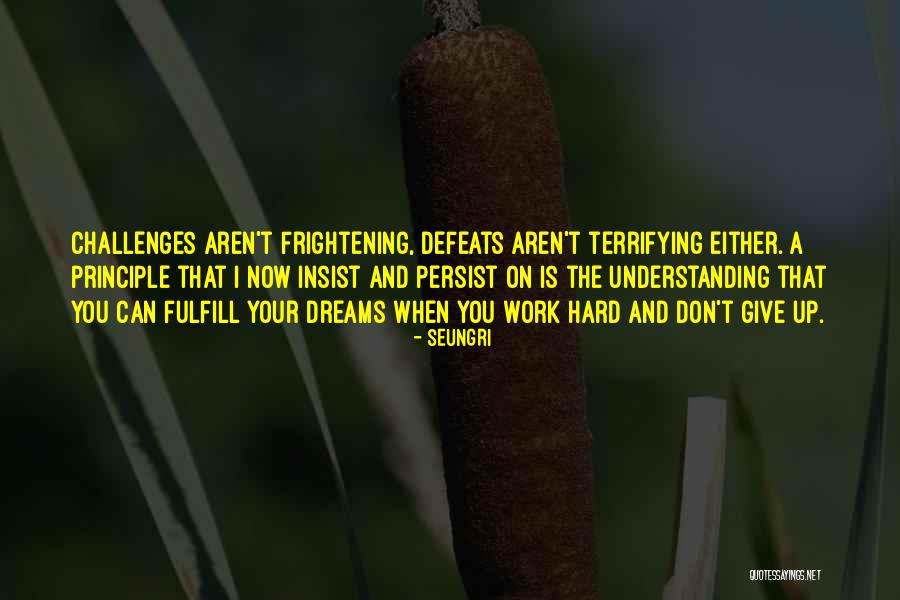 Challenges aren't frightening, defeats aren't terrifying either. A principle that I now insist and persist on is the understanding that you can fulfill your dreams when you work hard and don't give up. — Seungri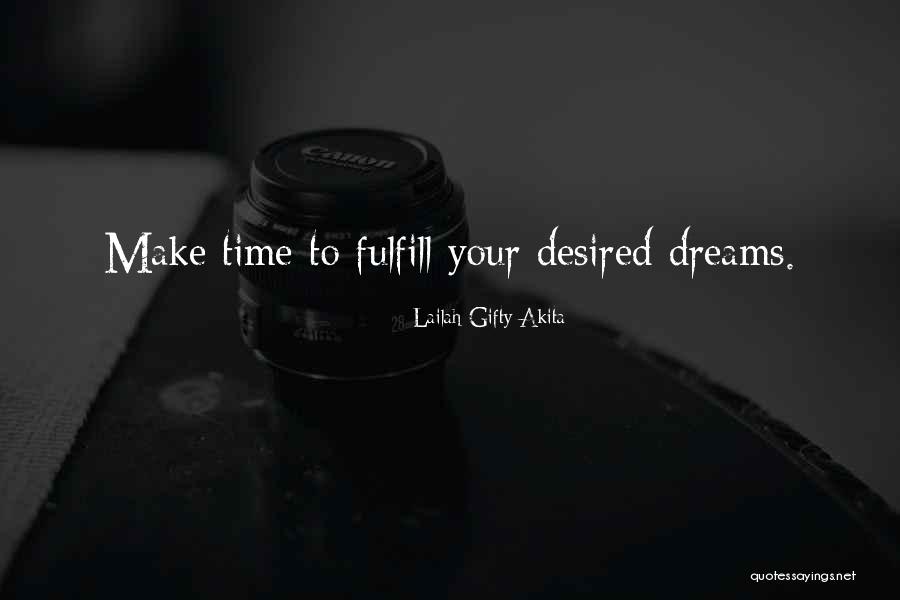 Make time to fulfill your desired dreams. — Lailah Gifty Akita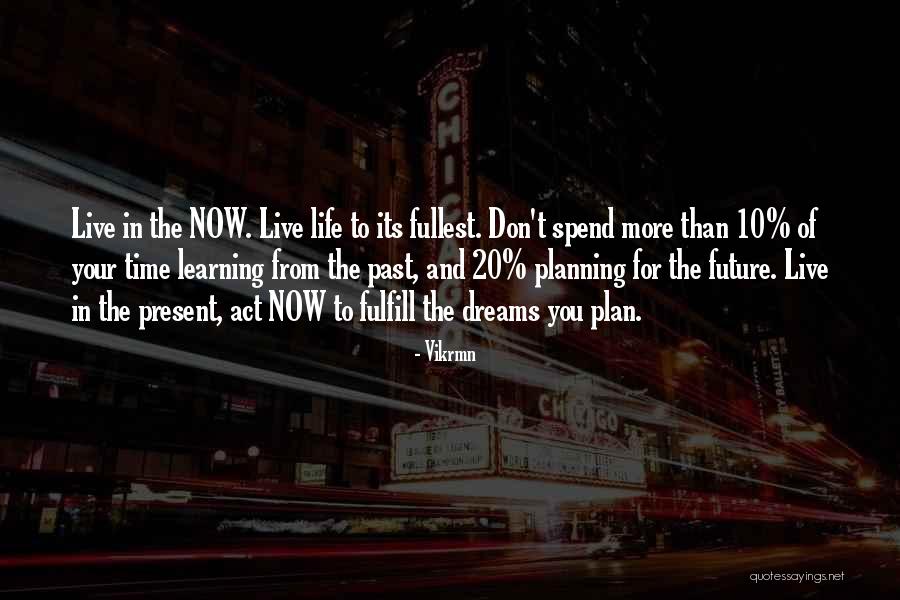 Live in the NOW. Live life to its fullest. Don't spend more than 10% of your time learning from the past, and 20% planning for the future. Live in the present, act NOW to fulfill the dreams you plan. — Vikrmn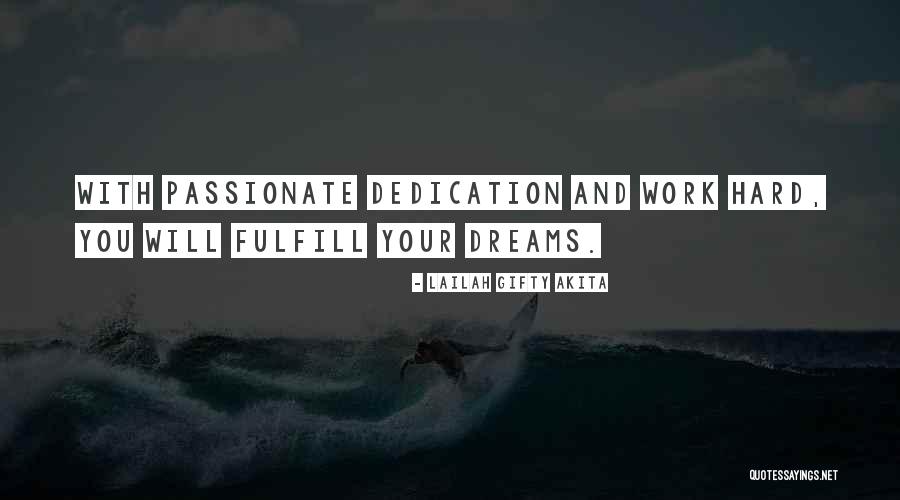 With passionate dedication and work hard, you will fulfill your dreams. — Lailah Gifty Akita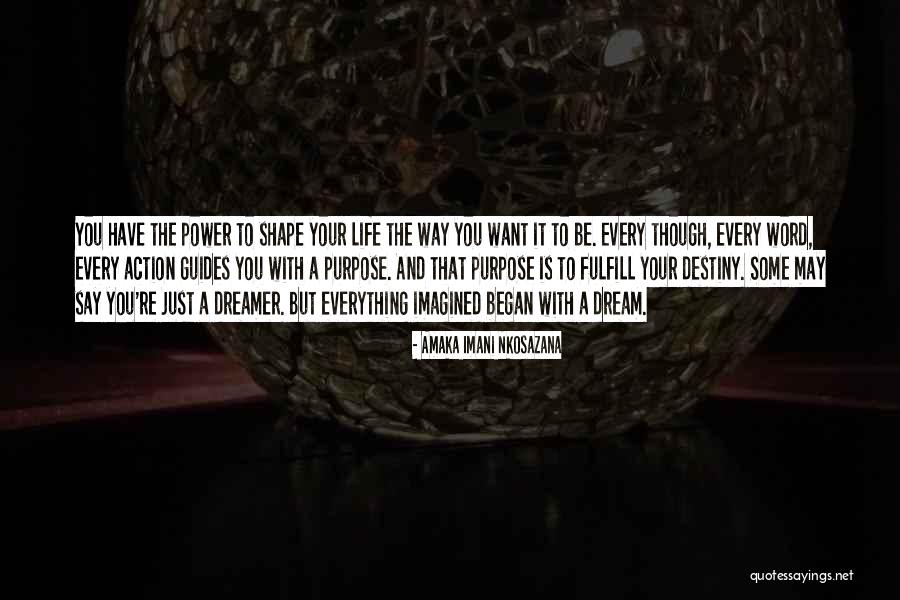 You have the power to shape your life the way you want it to be. Every though, every word, every action guides you with a purpose. And that purpose is to fulfill your destiny. Some may say you're just a dreamer. But everything imagined began with a dream. — Amaka Imani Nkosazana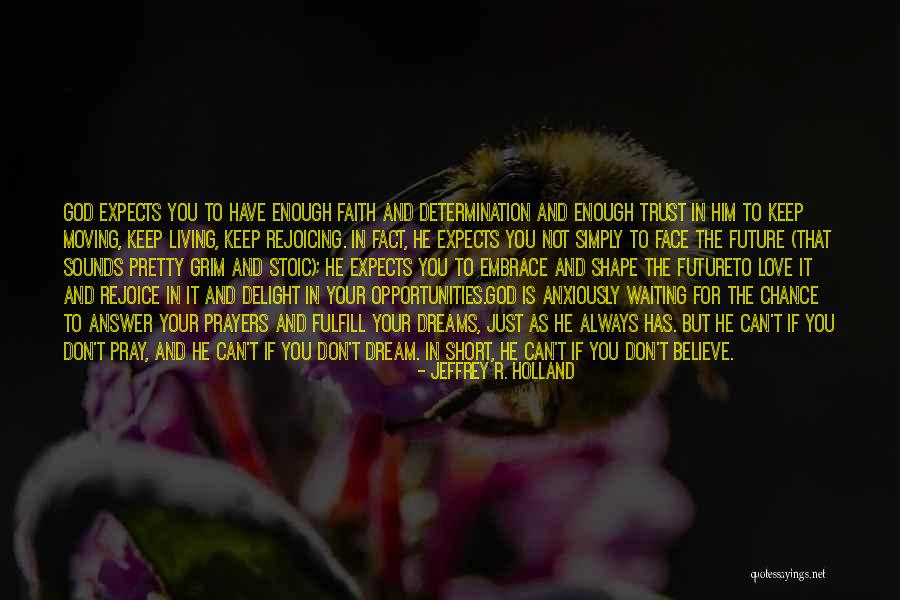 God expects you to have enough faith and determination and enough trust in Him to keep moving, keep living, keep rejoicing. In fact, He expects you not simply to face the future (that sounds pretty grim and stoic); He expects you to embrace and shape the future
to love it and rejoice in it and delight in your opportunities.
God is anxiously waiting for the chance to answer your prayers and fulfill your dreams, just as He always has. But He can't if you don't pray, and He can't if you don't dream. In short, He can't if you don't believe. — Jeffrey R. Holland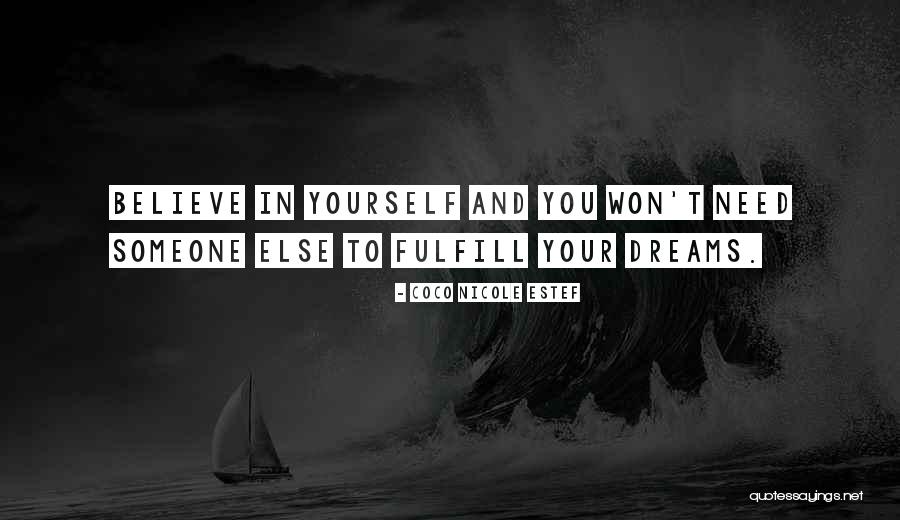 Believe in yourself and you won't need someone else to fulfill your dreams. — Coco Nicole Estef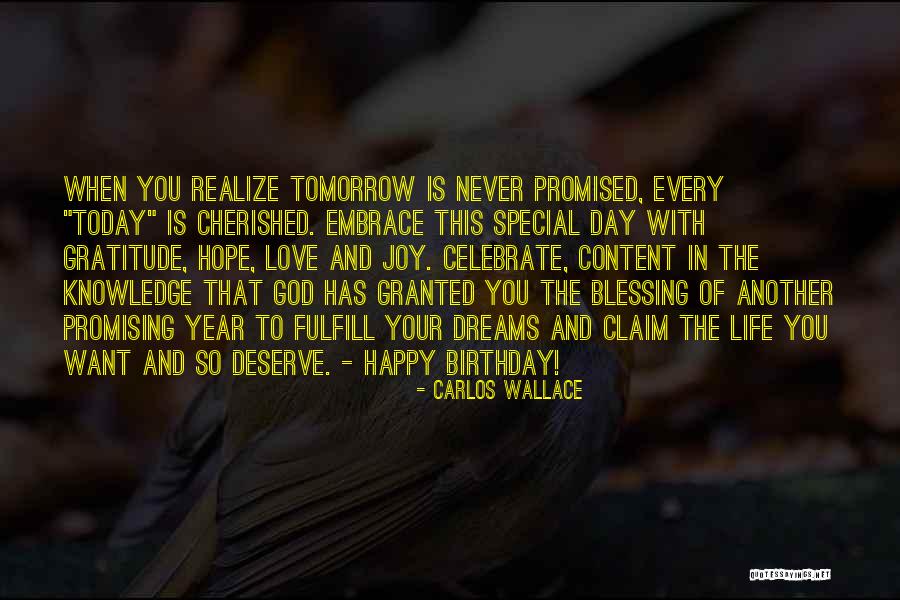 When you realize tomorrow is never promised, every "today" is cherished. Embrace this special day with gratitude, hope, love and joy. Celebrate, content in the knowledge that God has granted you the BLESSING of another promising year to fulfill your dreams and claim the life you want and so deserve. - Happy Birthday! — Carlos Wallace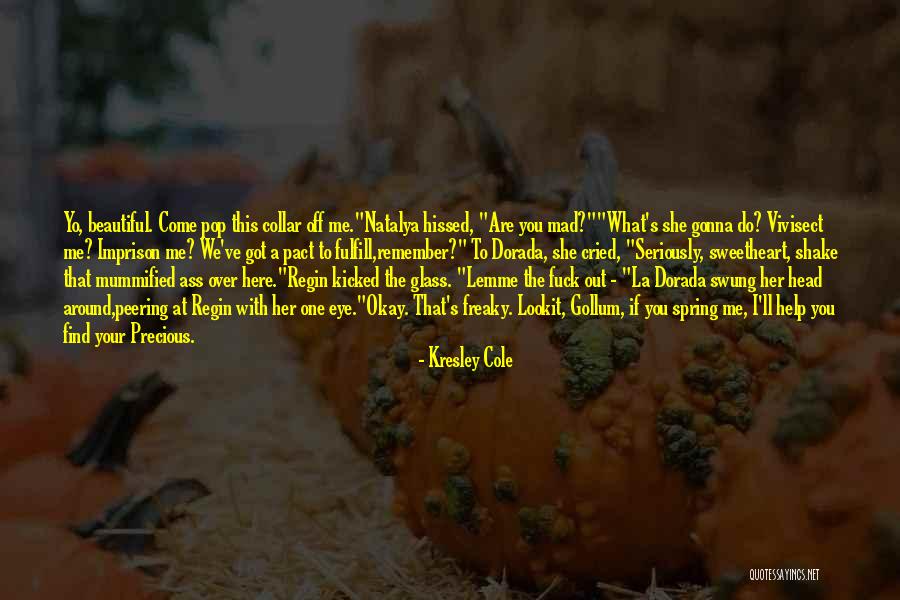 Yo, beautiful. Come pop this collar off me."
Natalya hissed, "Are you mad?"
"What's she gonna do? Vivisect me? Imprison me? We've got a pact to fulfill,remember?"
To Dorada, she cried, "Seriously, sweetheart, shake that mummified ass over here."
Regin kicked the glass. "Lemme the fuck out - "
La Dorada swung her head around,peering at Regin with her one eye.
"Okay. That's freaky. Lookit, Gollum, if you spring me, I'll help you find your Precious. — Kresley Cole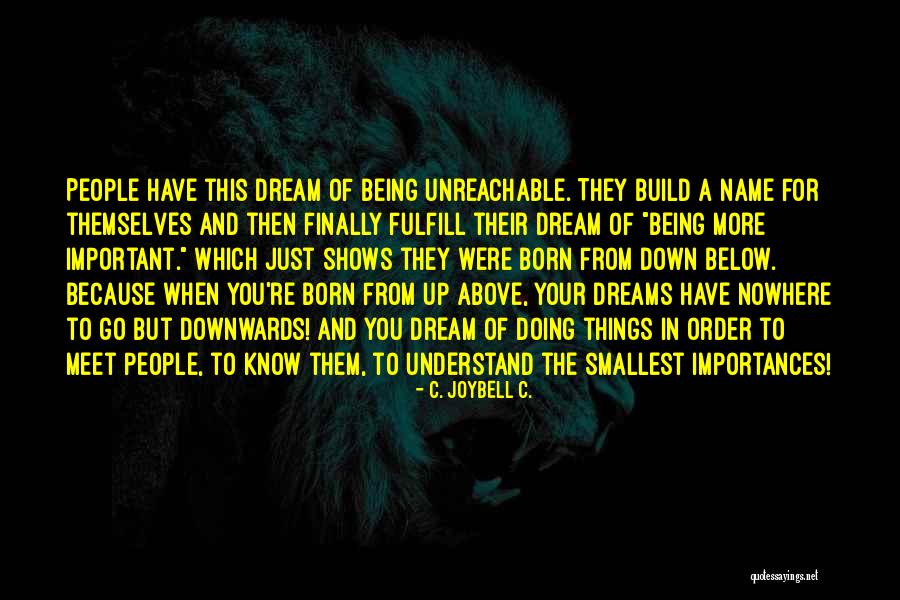 People have this dream of being unreachable. They build a name for themselves and then finally fulfill their dream of "being more important." Which just shows they were born from down below. Because when you're born from up above, your dreams have nowhere to go but downwards! And you dream of doing things in order to meet people, to know them, to understand the smallest importances! — C. JoyBell C.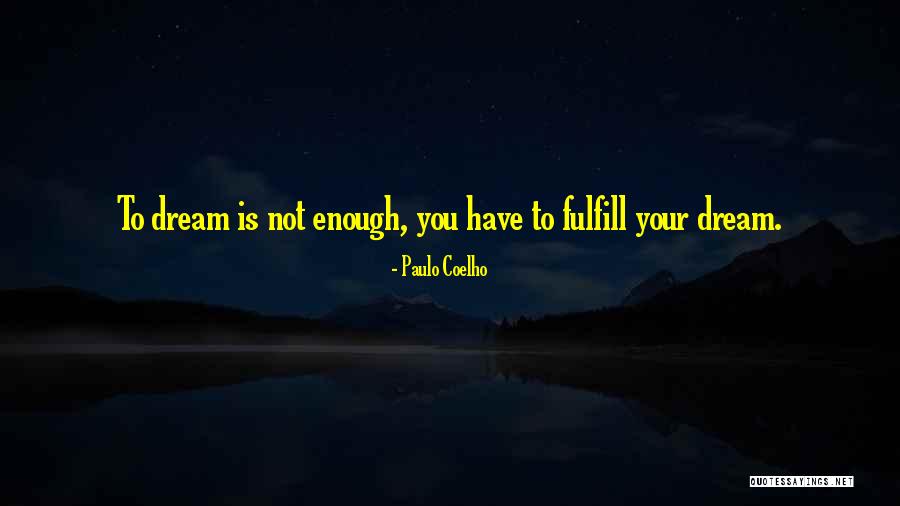 To dream is not enough, you have to fulfill your dream. — Paulo Coelho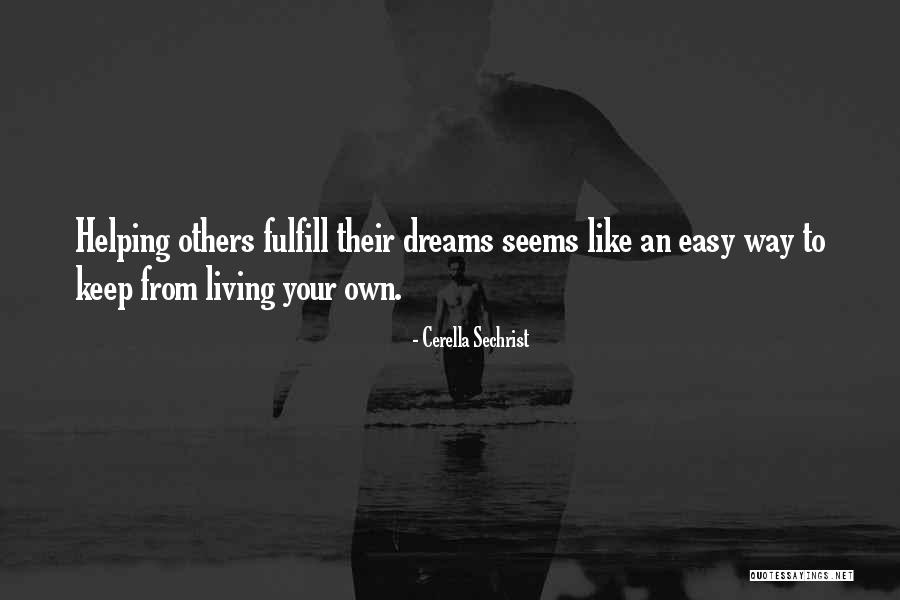 Helping others fulfill their dreams seems like an easy way to keep from living your own. — Cerella Sechrist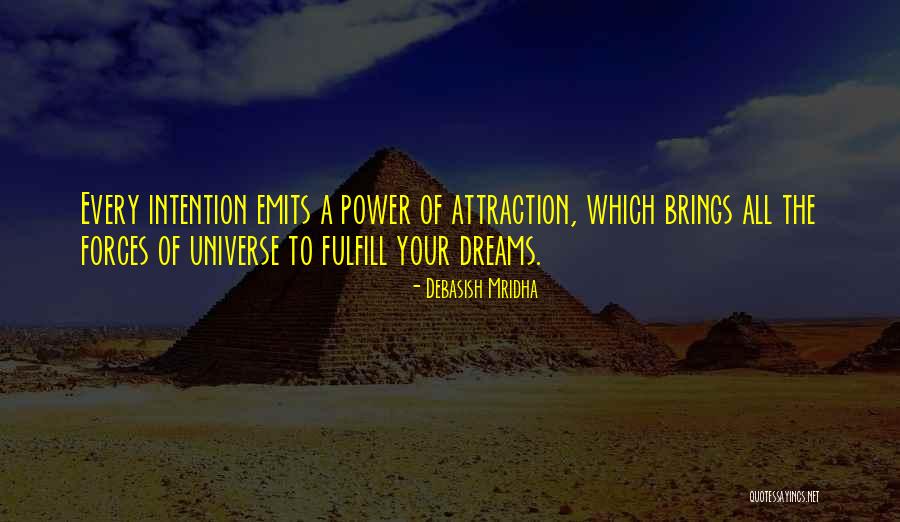 Every intention emits a power of attraction, which brings all the forces of universe to fulfill your dreams. — Debasish Mridha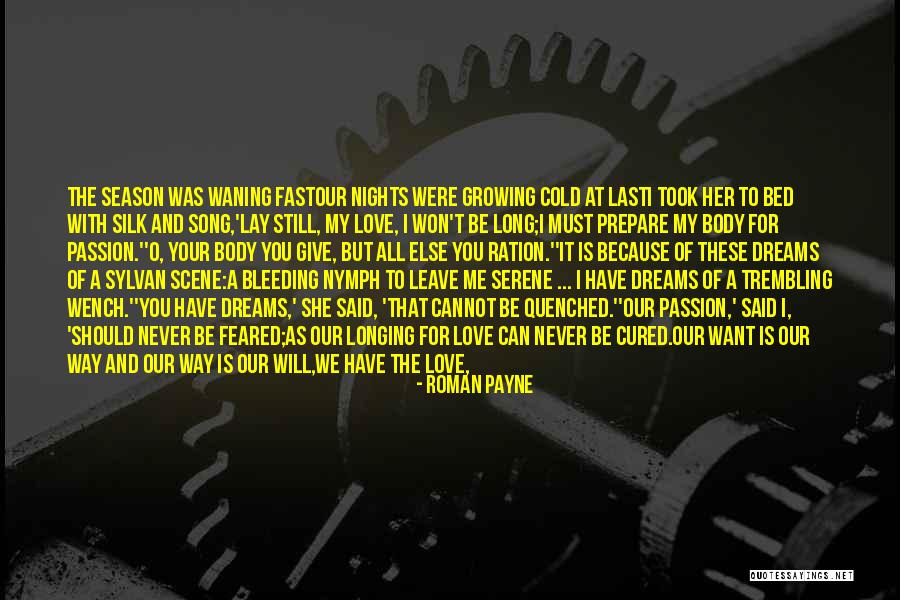 The season was waning fast
Our nights were growing cold at last
I took her to bed with silk and song,
'Lay still, my love, I won't be long;
I must prepare my body for passion.'
'O, your body you give, but all else you ration.'
'It is because of these dreams of a sylvan scene:
A bleeding nymph to leave me serene ...
I have dreams of a trembling wench.'
'You have dreams,' she said, 'that cannot be quenched.'
'Our passion,' said I, 'should never be feared;
As our longing for love can never be cured.
Our want is our way and our way is our will,
We have the love, my love, that no one can kill.'
'If night is your love, then in dreams you'll fulfill ...
This love, our love, that no one can kill.'
Yet want is my way, and my way is my will,
Thus I killed my love with a sleeping pill. — Roman Payne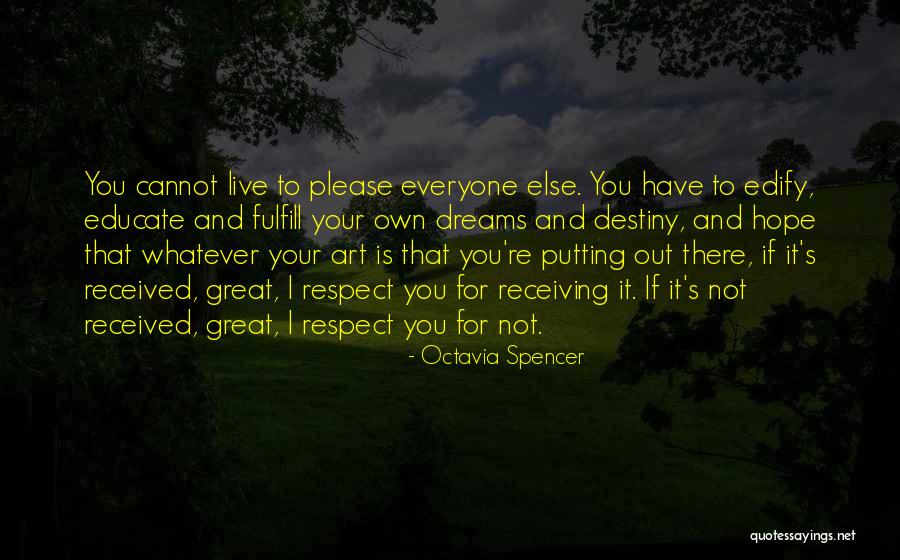 You cannot live to please everyone else. You have to edify, educate and fulfill your own dreams and destiny, and hope that whatever your art is that you're putting out there, if it's received, great, I respect you for receiving it. If it's not received, great, I respect you for not. — Octavia Spencer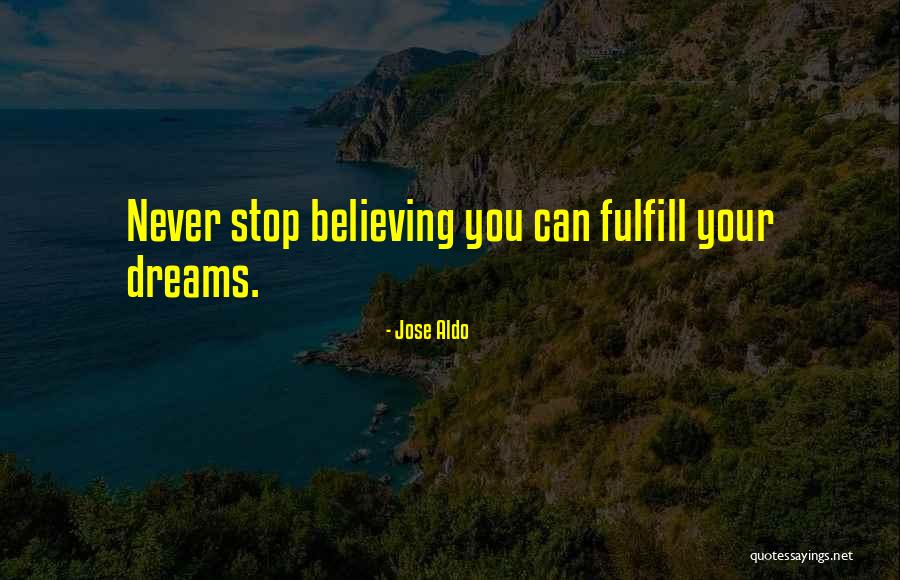 Never stop believing you can fulfill your dreams. — Jose Aldo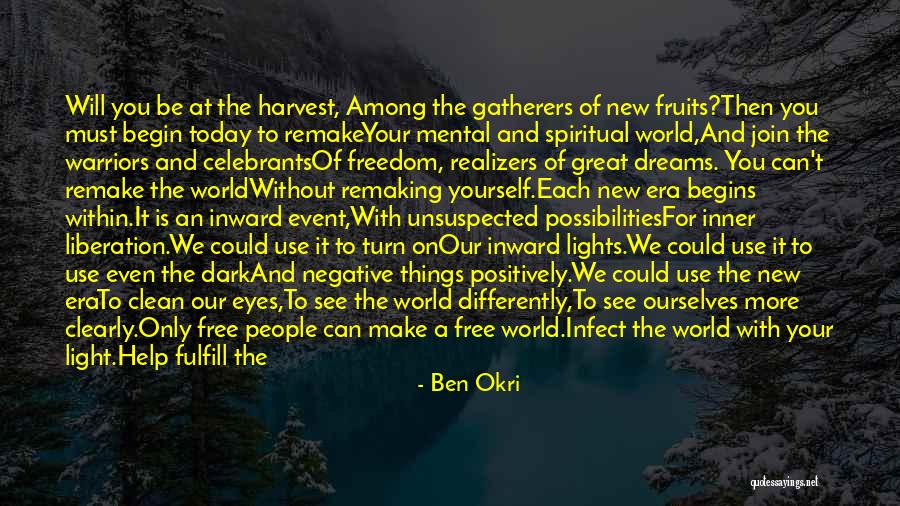 Will you be at the harvest,
Among the gatherers of new fruits?
Then you must begin today to remake
Your mental and spiritual world,
And join the warriors and celebrants
Of freedom, realizers of great dreams.
You can't remake the world
Without remaking yourself.
Each new era begins within.
It is an inward event,
With unsuspected possibilities
For inner liberation.
We could use it to turn on
Our inward lights.
We could use it to use even the dark
And negative things positively.
We could use the new era
To clean our eyes,
To see the world differently,
To see ourselves more clearly.
Only free people can make a free world.
Infect the world with your light.
Help fulfill the golden prophecies.
Press forward the human genius.
Our future is greater than our past. — Ben Okri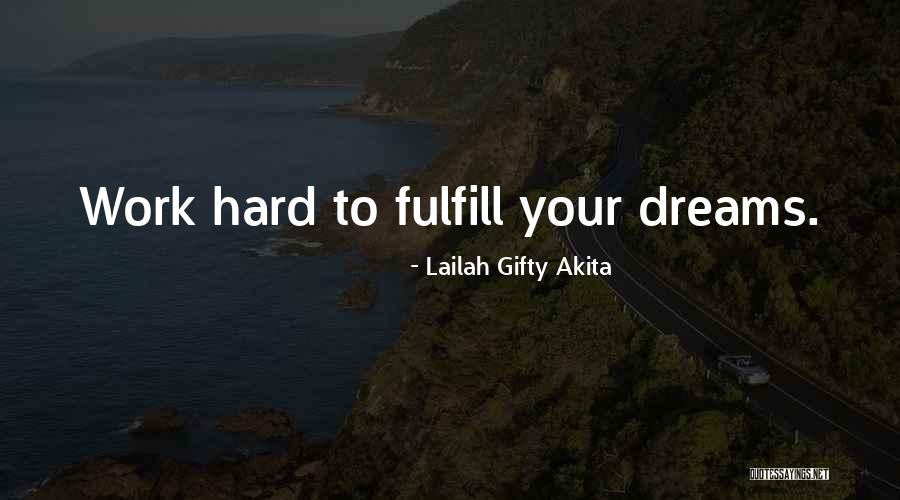 Work hard to fulfill your dreams. — Lailah Gifty Akita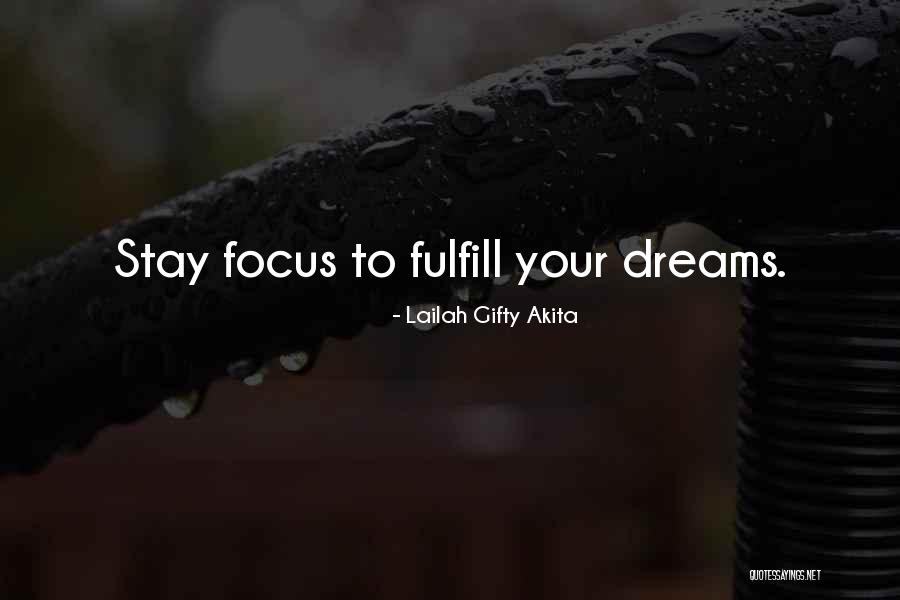 Stay focus to fulfill your dreams. — Lailah Gifty Akita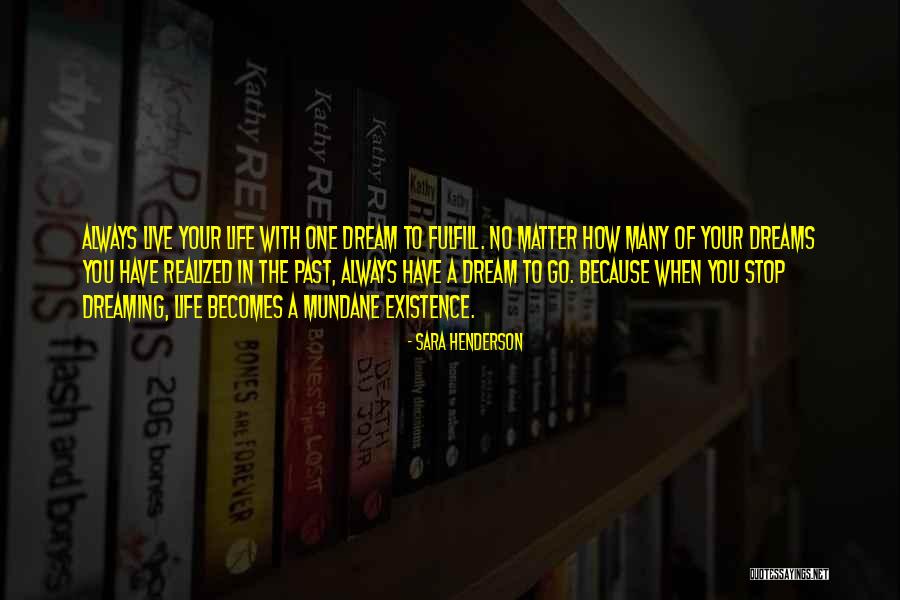 Always live your life with one dream to fulfill. No matter how many of your dreams you have realized in the past, always have a dream to go. Because when you stop dreaming, life becomes a mundane existence. — Sara Henderson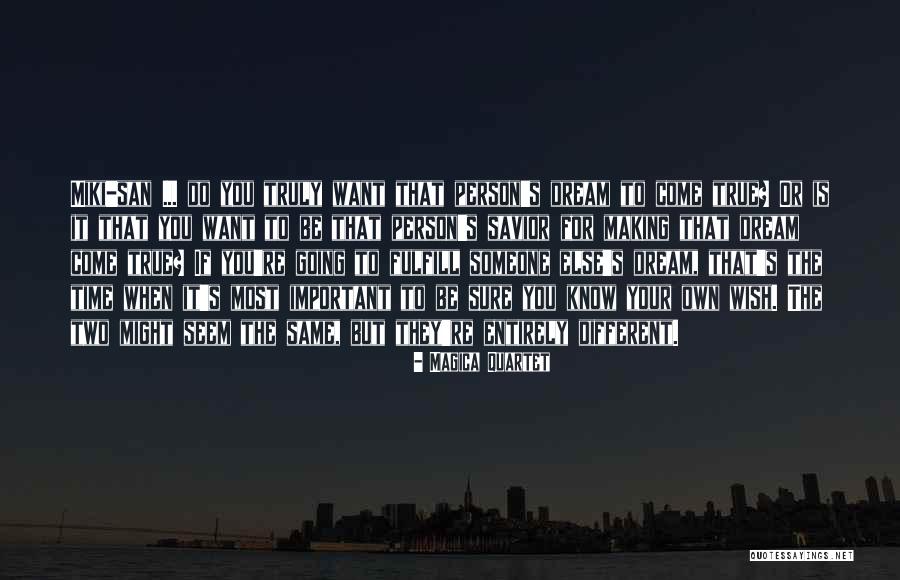 Miki-san ... do you truly want that person's dream to come true? Or is it that you want to be that person's savior for making that dream come true? If you're going to fulfill someone else's dream, that's the time when it's most important to be sure you know your own wish. The two might seem the same, but they're entirely different. — Magica Quartet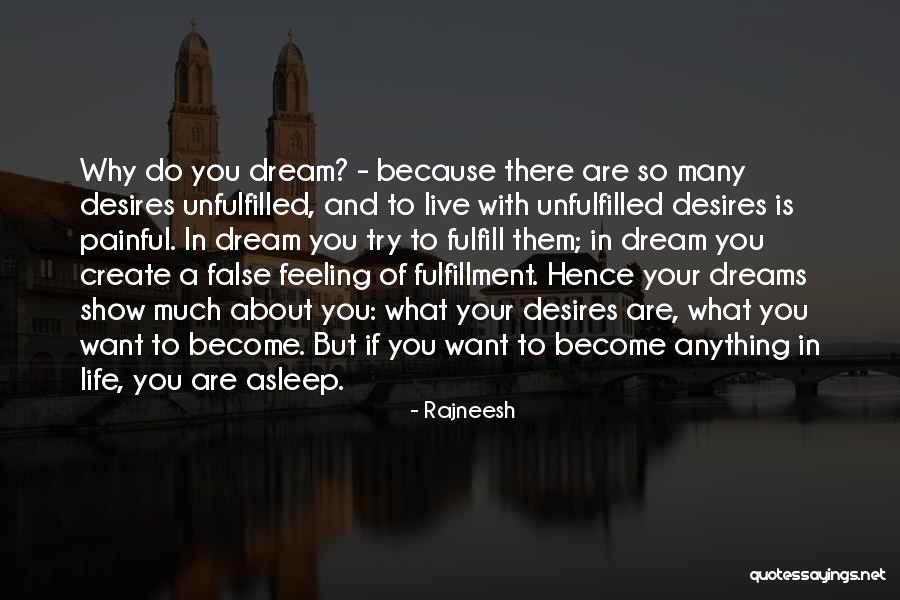 Why do you dream? - because there are so many desires unfulfilled, and to live with unfulfilled desires is painful. In dream you try to fulfill them; in dream you create a false feeling of fulfillment. Hence your dreams show much about you: what your desires are, what you want to become. But if you want to become anything in life, you are asleep. — Rajneesh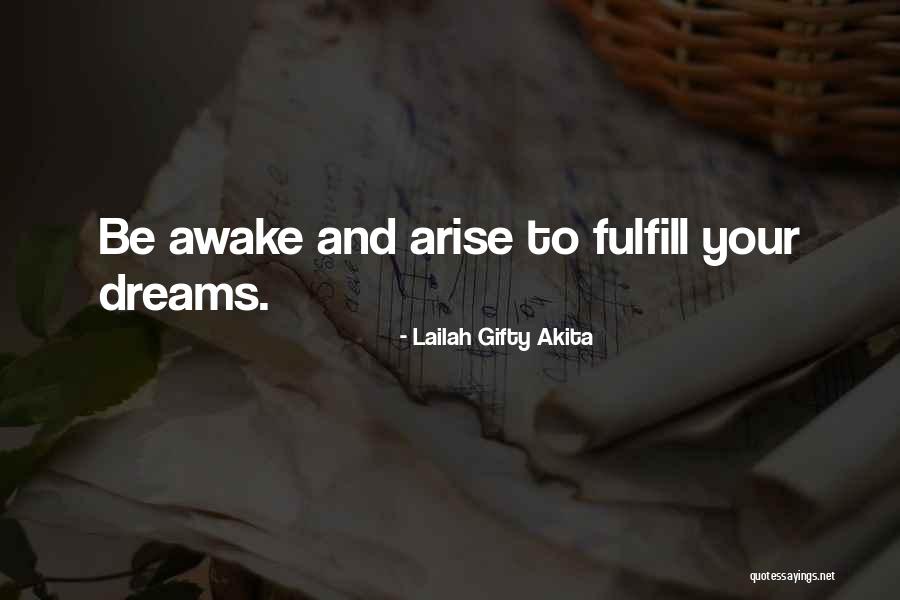 Be awake and arise to fulfill your dreams. — Lailah Gifty Akita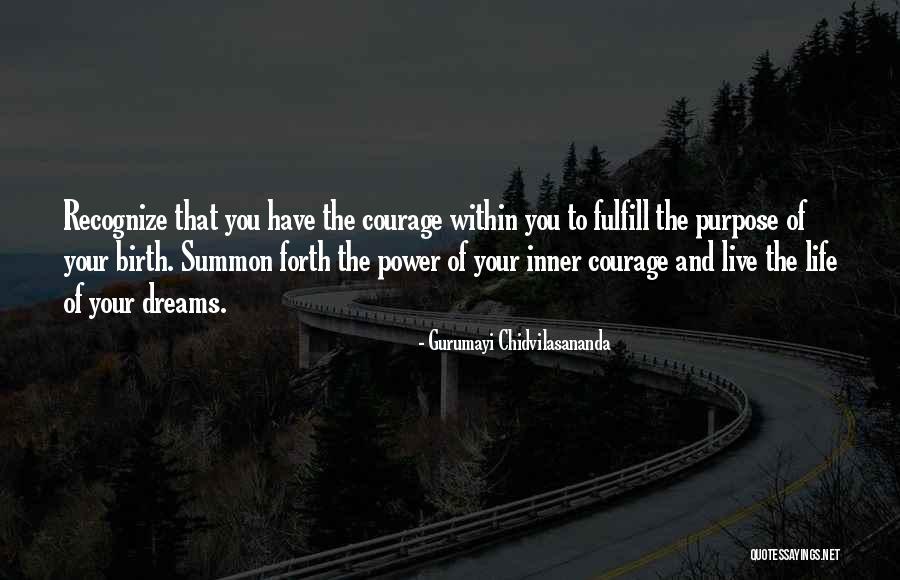 Recognize that you have the courage within you to fulfill the purpose of your birth. Summon forth the power of your inner courage and live the life of your dreams. — Gurumayi Chidvilasananda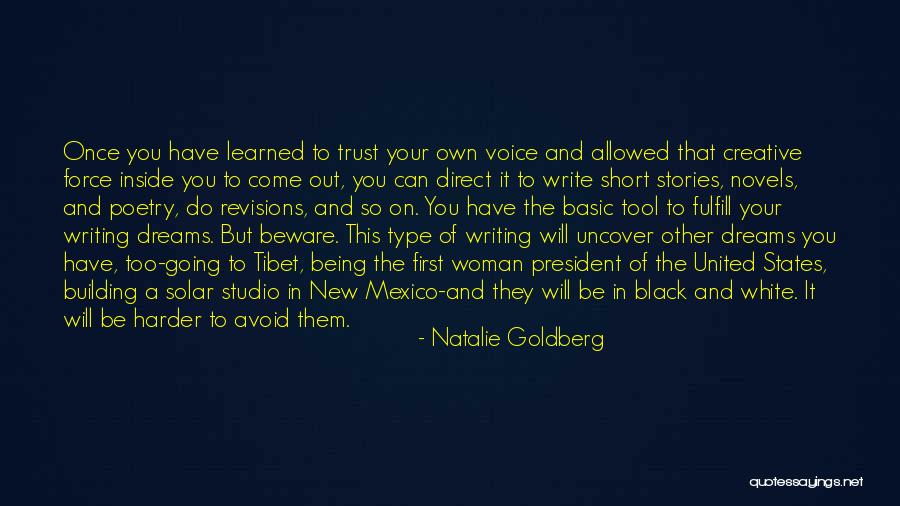 Once you have learned to trust your own voice and allowed that creative force inside you to come out, you can direct it to write short stories, novels, and poetry, do revisions, and so on. You have the basic tool to fulfill your writing dreams. But beware. This type of writing will uncover other dreams you have, too-going to Tibet, being the first woman president of the United States, building a solar studio in New Mexico-and they will be in black and white. It will be harder to avoid them. — Natalie Goldberg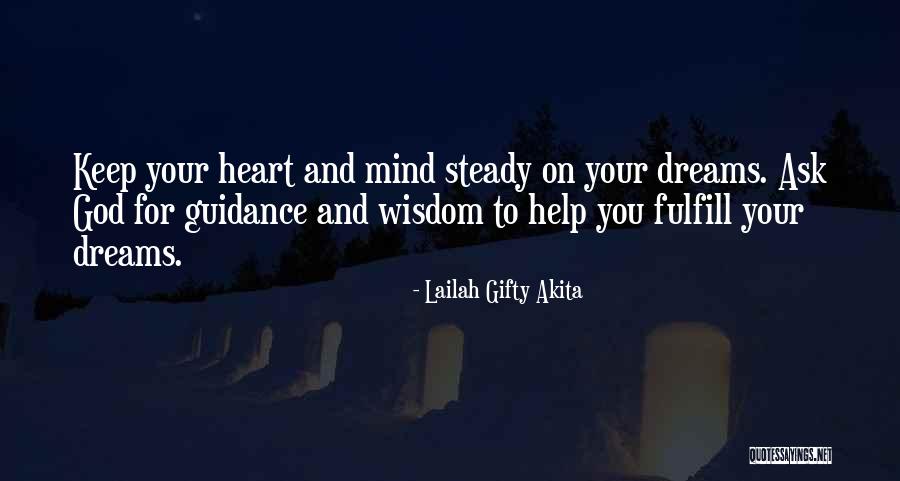 Keep your heart and mind steady on your dreams. Ask God for guidance and wisdom to help you fulfill your dreams. — Lailah Gifty Akita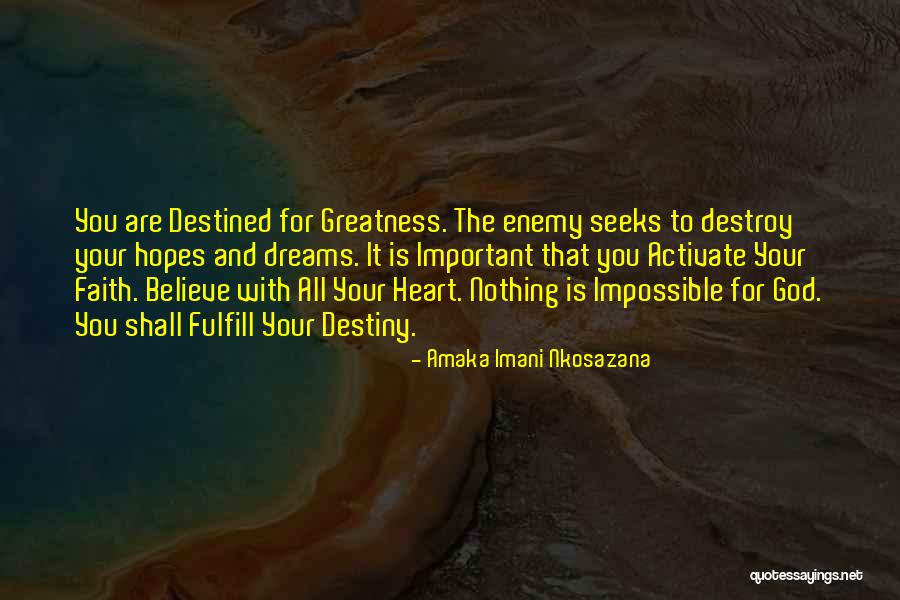 You are Destined for Greatness. The enemy seeks to destroy your hopes and dreams. It is Important that you Activate Your Faith. Believe with All Your Heart. Nothing is Impossible for God. You shall Fulfill Your Destiny. — Amaka Imani Nkosazana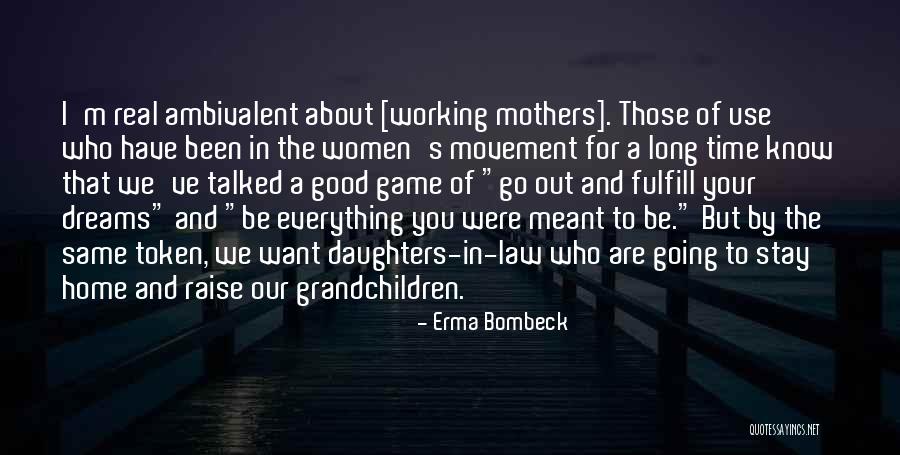 I'm real ambivalent about [working mothers]. Those of use who have been in the women's movement for a long time know that we've talked a good game of "go out and fulfill your dreams" and "be everything you were meant to be." But by the same token, we want daughters-in-law who are going to stay home and raise our grandchildren. — Erma Bombeck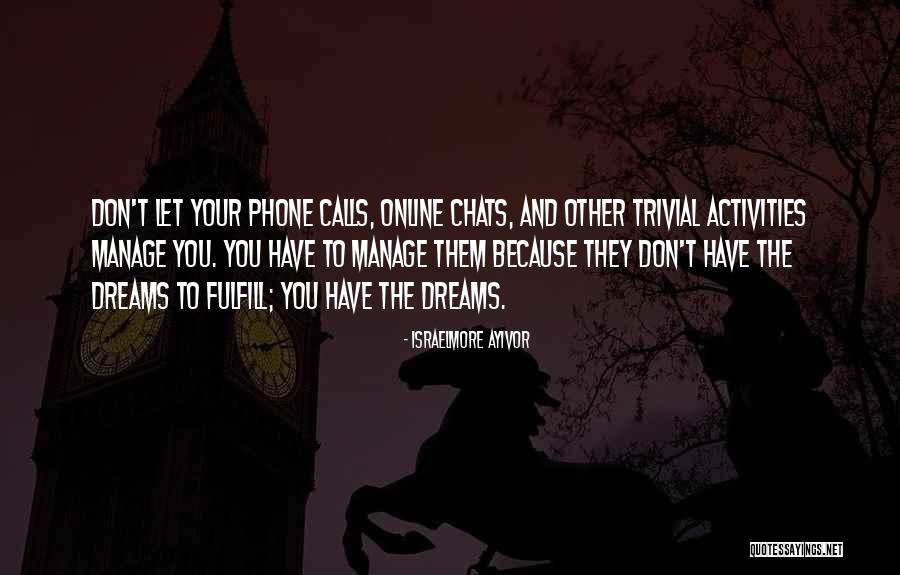 Don't let your phone calls, online chats, and other trivial activities manage you. You have to manage them because they don't have the dreams to fulfill; you have the dreams. — Israelmore Ayivor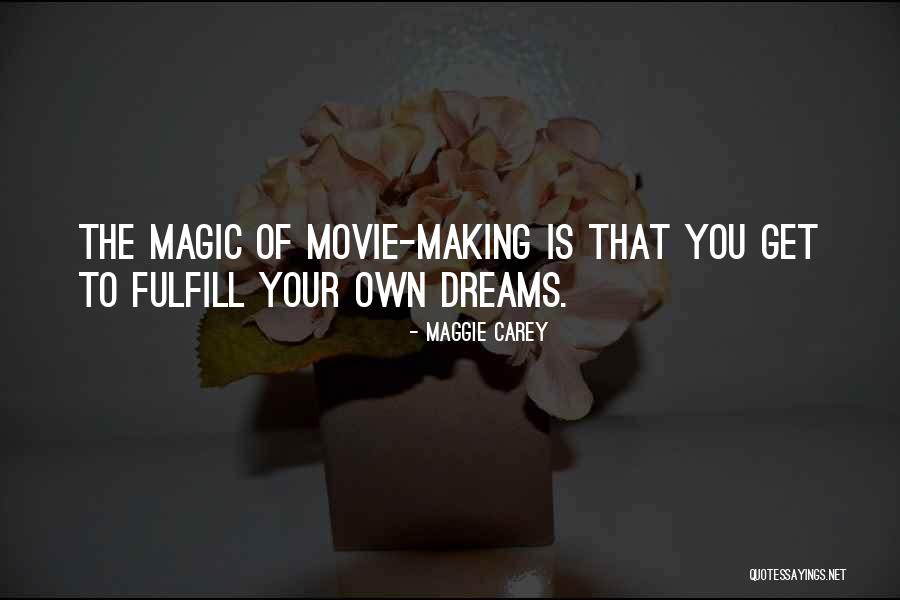 The magic of movie-making is that you get to fulfill your own dreams. — Maggie Carey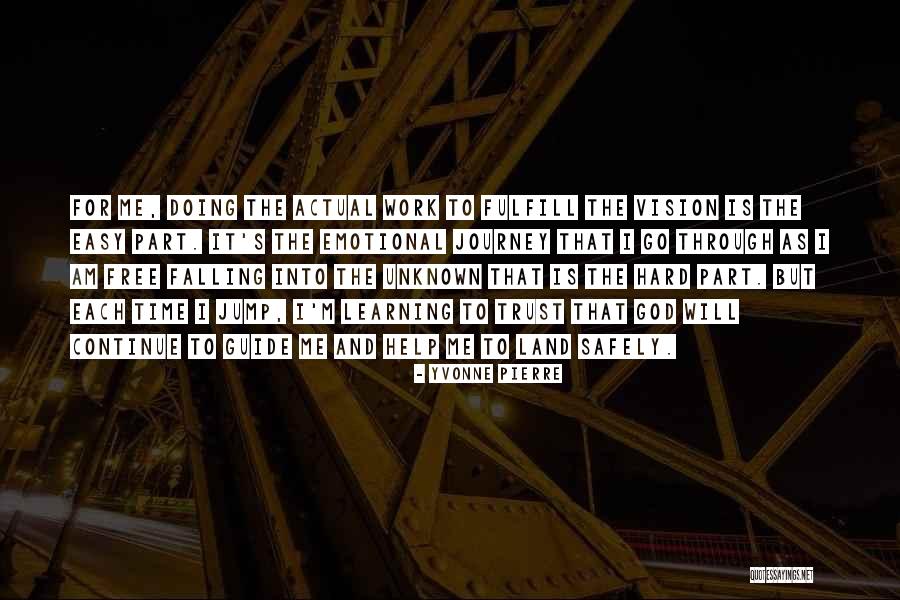 For me, doing the actual work to fulfill the vision is the easy part. It's the emotional journey that I go through as I am free falling into the unknown that is the hard part. But each time I jump, I'm learning to trust that God will continue to guide me and help me to land safely. — Yvonne Pierre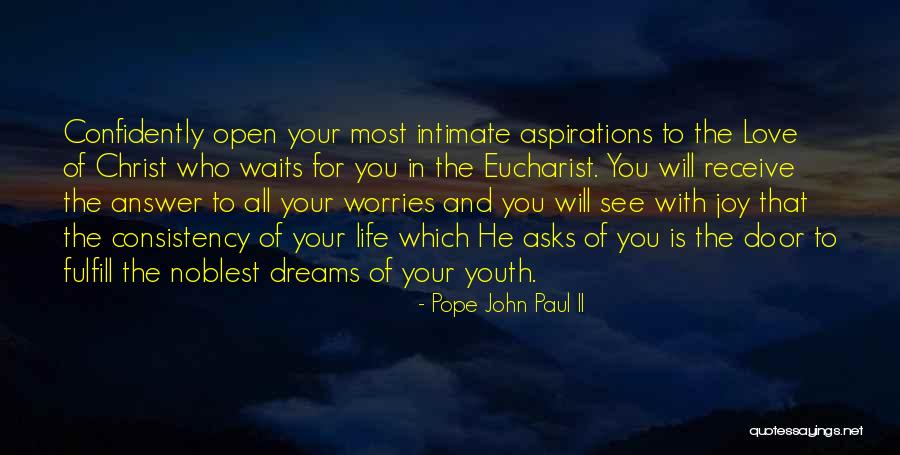 Confidently open your most intimate aspirations to the Love of Christ who waits for you in the Eucharist. You will receive the answer to all your worries and you will see with joy that the consistency of your life which He asks of you is the door to fulfill the noblest dreams of your youth. — Pope John Paul II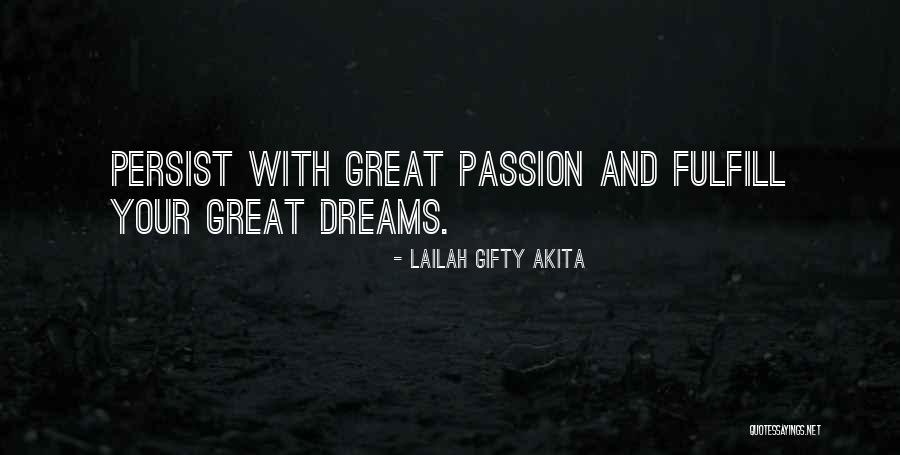 Persist with great passion and fulfill your great dreams. — Lailah Gifty Akita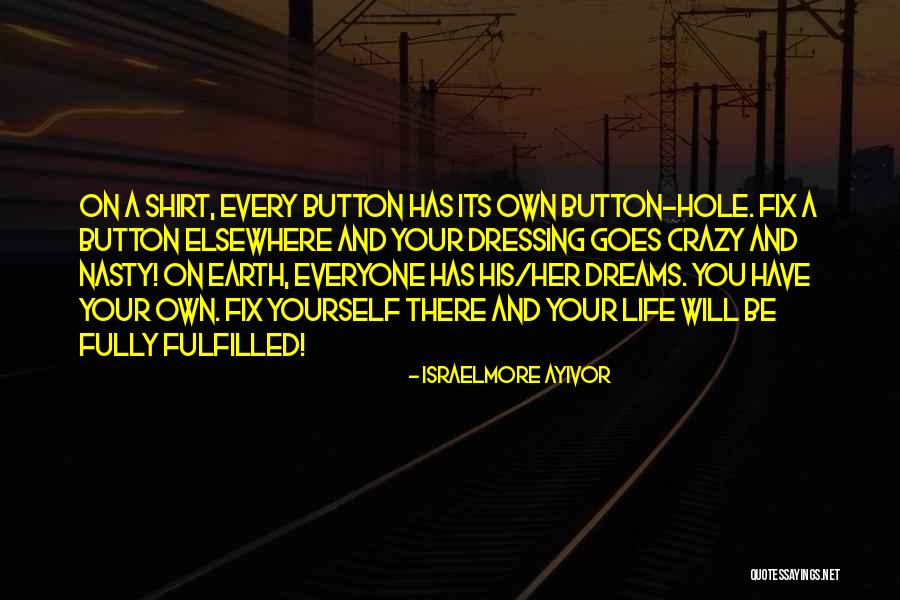 On a shirt, every button has its own button-hole. Fix a button elsewhere and your dressing goes crazy and nasty! On earth, everyone has his/her dreams. You have your own. Fix yourself there and your life will be fully fulfilled! — Israelmore Ayivor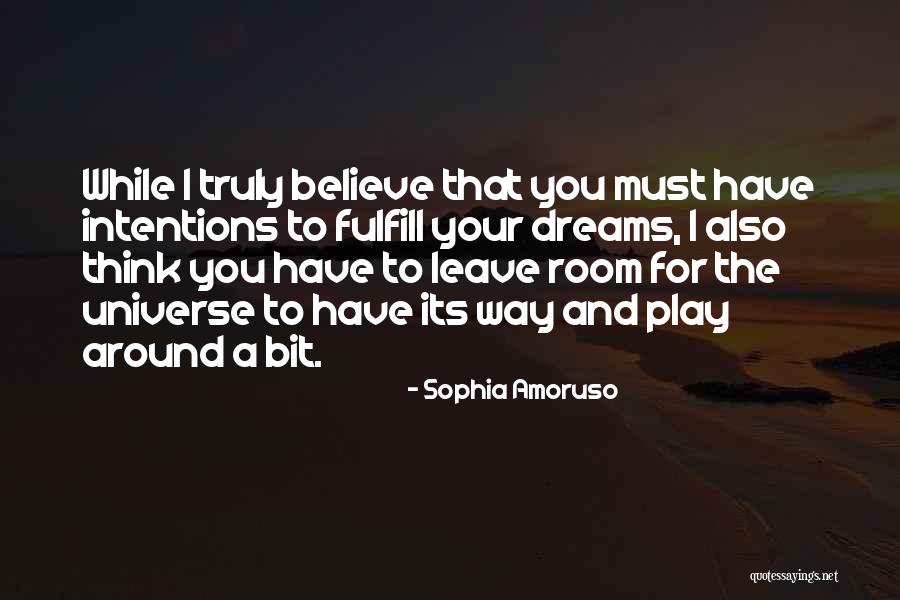 While I truly believe that you must have intentions to fulfill your dreams, I also think you have to leave room for the universe to have its way and play around a bit. — Sophia Amoruso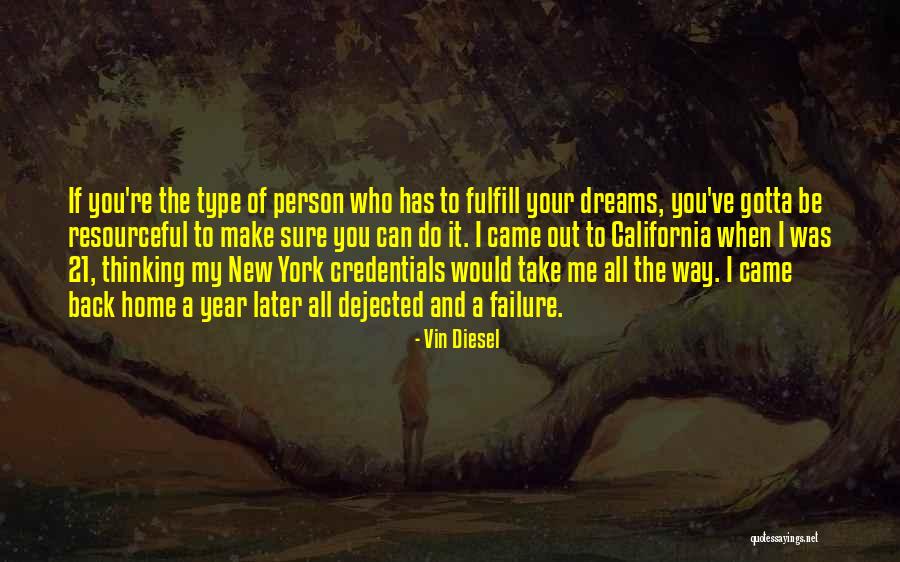 If you're the type of person who has to fulfill your dreams, you've gotta be resourceful to make sure you can do it. I came out to California when I was 21, thinking my New York credentials would take me all the way. I came back home a year later all dejected and a failure. — Vin Diesel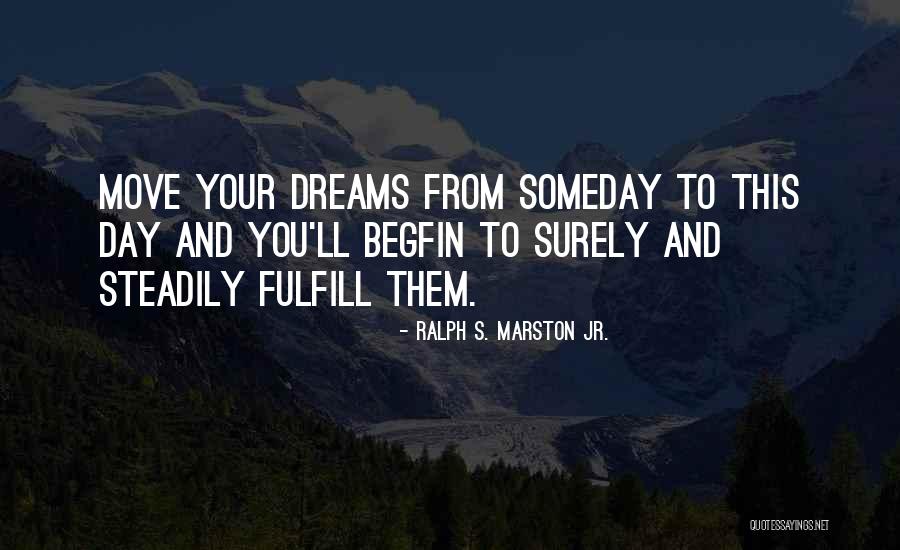 Move your dreams from someday to this day and you'll begfin to surely and steadily fulfill them. — Ralph S. Marston Jr.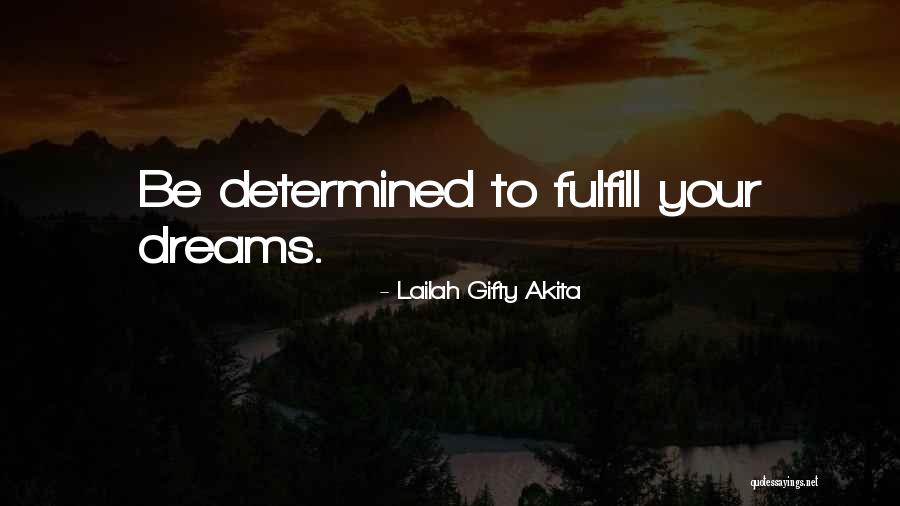 Be determined to fulfill your dreams. — Lailah Gifty Akita