Forgive Those You Love Quotes & Sayings
Enjoy reading and share 49 famous quotes about Forgive Those You Love with everyone.
Top Forgive Those You Love Quotes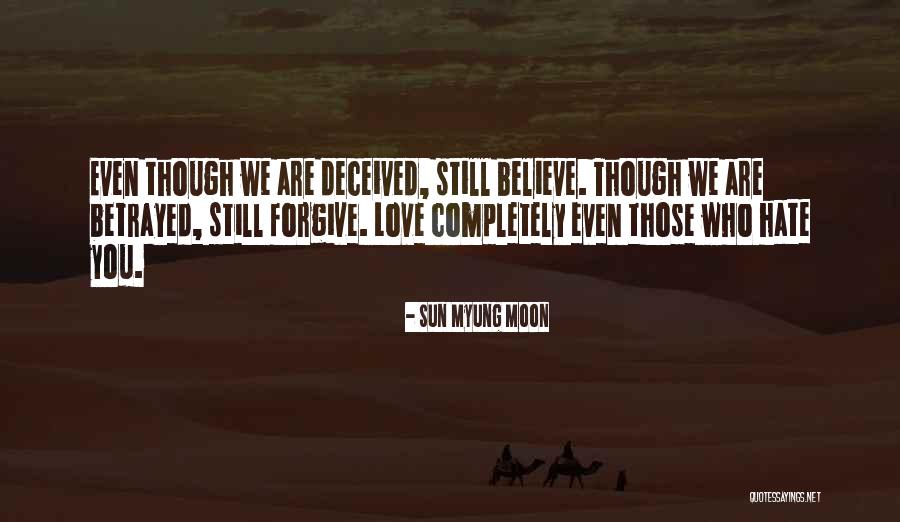 Even though we are deceived, still believe. Though we are betrayed, still forgive. Love completely even those who hate you. — Sun Myung Moon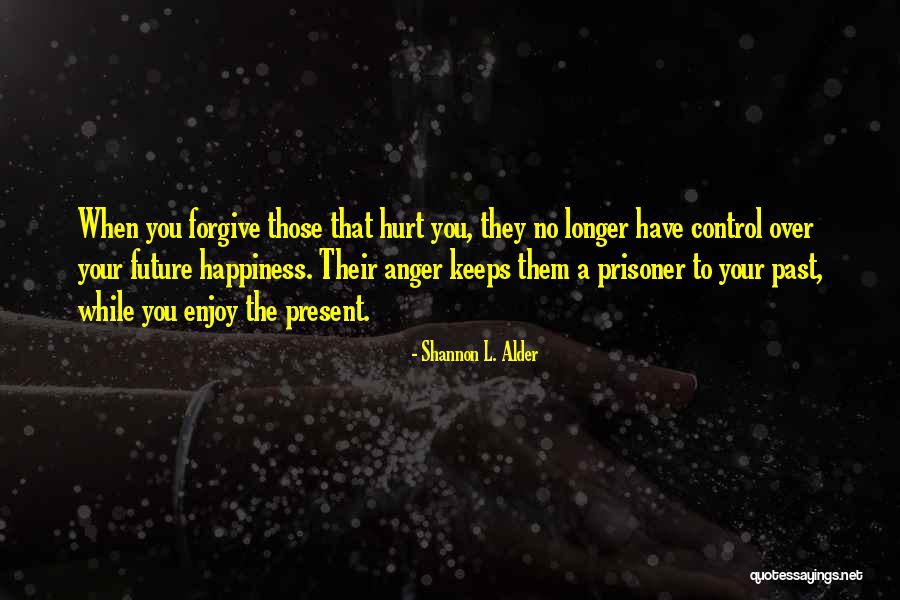 When you forgive those that hurt you, they no longer have control over your future happiness. Their anger keeps them a prisoner to your past, while you enjoy the present. — Shannon L. Alder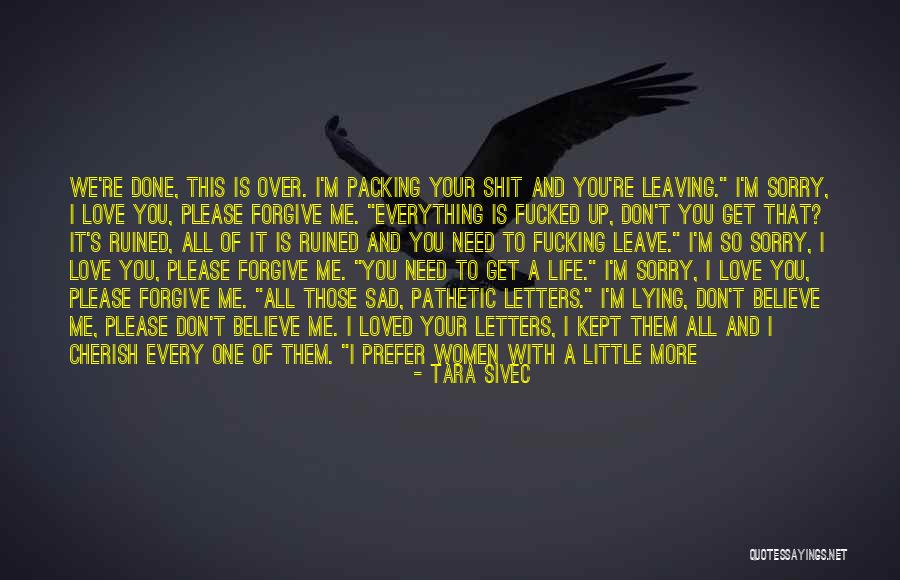 We're done, this is over. I'm packing your shit and you're leaving." I'm sorry, I love you, please forgive me. "Everything is fucked up, don't you get that? It's ruined, all of it is ruined and you need to fucking leave." I'm so sorry, I love you, please forgive me. "You need to get a life." I'm sorry, I love you, please forgive me. "All those sad, pathetic letters." I'm lying, don't believe me, please don't believe me. I loved your letters, I kept them all and I cherish every one of them. "I prefer women with a little more experience." I don't mean it. I don't mean any of it. Knowing I'm the only man who has ever been inside of you makes me feel like a fucking king and the luckiest man alive. I'm sorry, I love you, please forgive me. "It doesn't get better when I come home to you. I hate this life." I'm lying! Every word is a lie. I love our life and I wouldn't change it for anything in the world. I love you, I love you, I love you. — Tara Sivec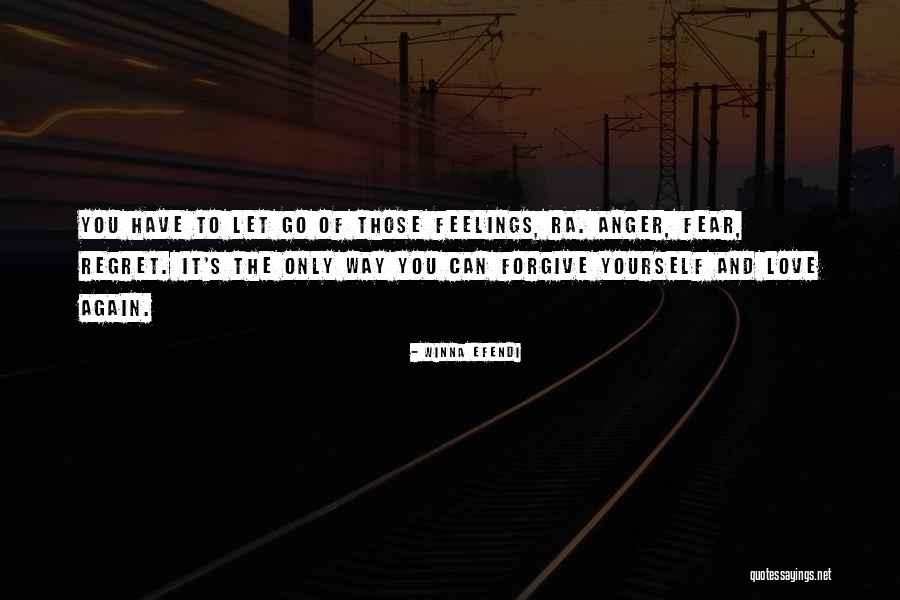 You have to let go of those feelings, Ra. Anger, fear, regret. It's the only way you can forgive yourself and love again. — Winna Efendi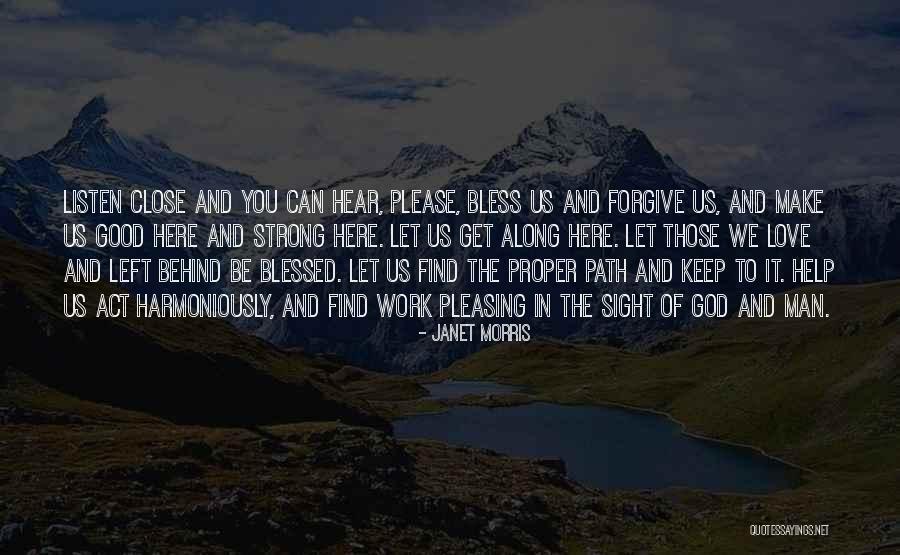 Listen close and you can hear, Please, bless us and forgive us, and make us good here and strong here. Let us get along here. Let those we love and left behind be blessed. Let us find the proper path and keep to it. Help us act harmoniously, and find work pleasing in the sight of god and man. — Janet Morris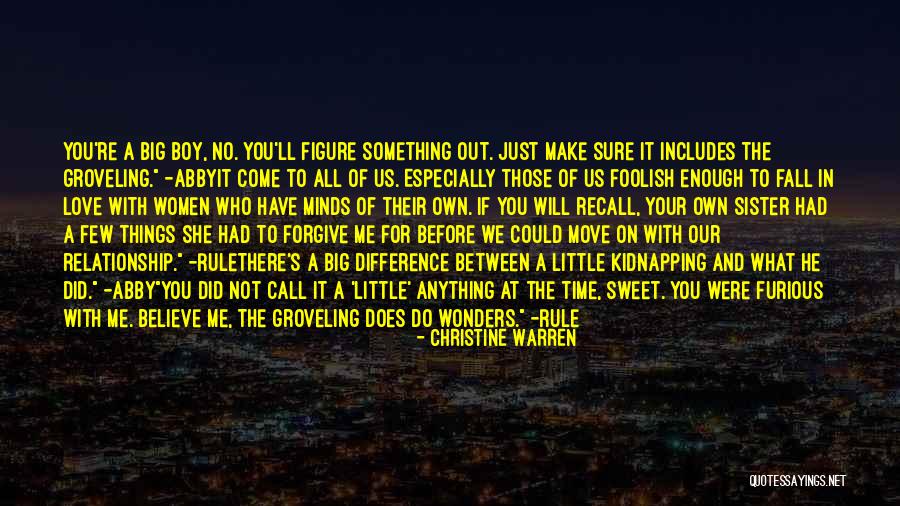 You're a big boy, No. You'll figure something out. Just make sure it includes the groveling." -Abby
It come to all of us. Especially those of us foolish enough to fall in love with women who have minds of their own. If you will recall, your own sister had a few things she had to forgive me for before we could move on with our relationship." -Rule
There's a big difference between a little kidnapping and what he did." -Abby
"You did not call it a 'little' anything at the time, sweet. You were furious with me. Believe me, the groveling does do wonders." -Rule — Christine Warren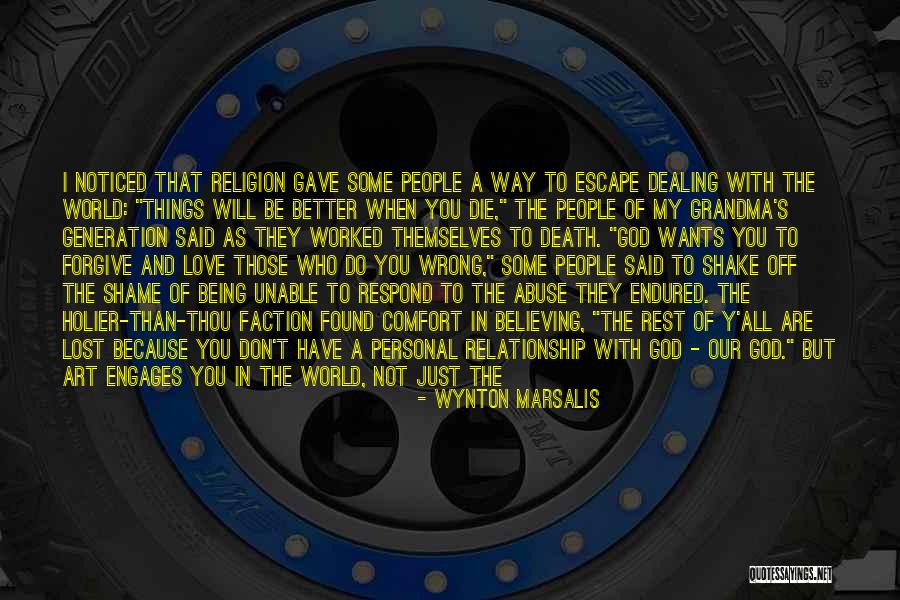 I noticed that religion gave some people a way to escape dealing with the world: "Things will be better when you die," the people of my grandma's generation said as they worked themselves to death. "God wants you to forgive and love those who do you wrong," some people said to shake off the shame of being unable to respond to the abuse they endured. The holier-than-thou faction found comfort in believing, "The rest of y'all are lost because you don't have a personal relationship with God - our God."
But art engages you in the world, not just the world around you but the big world, and not just the big world of Tokyo and Sydney and Johannesburg, but the bigger world of ideas and concepts and feelings of history and humanity. — Wynton Marsalis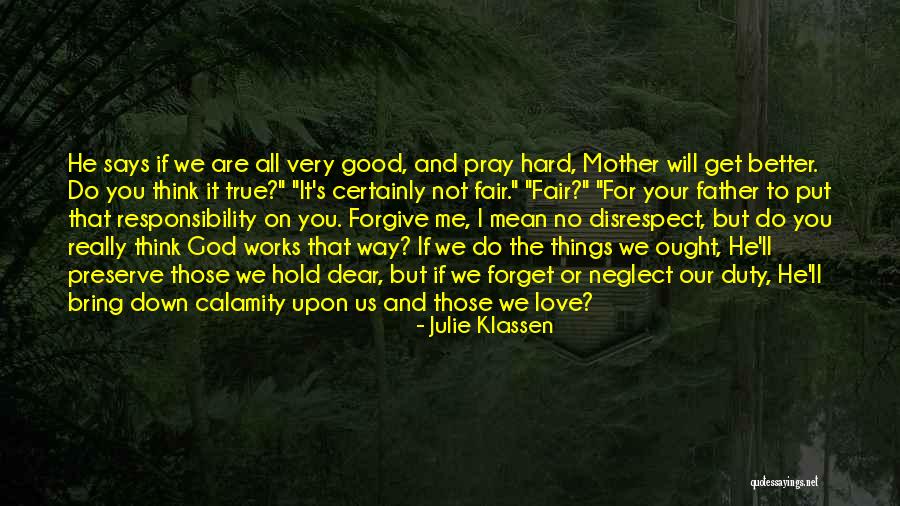 He says if we are all very good, and pray hard, Mother will get better. Do you think it true?" "It's certainly not fair." "Fair?" "For your father to put that responsibility on you. Forgive me, I mean no disrespect, but do you really think God works that way? If we do the things we ought, He'll preserve those we hold dear, but if we forget or neglect our duty, He'll bring down calamity upon us and those we love? — Julie Klassen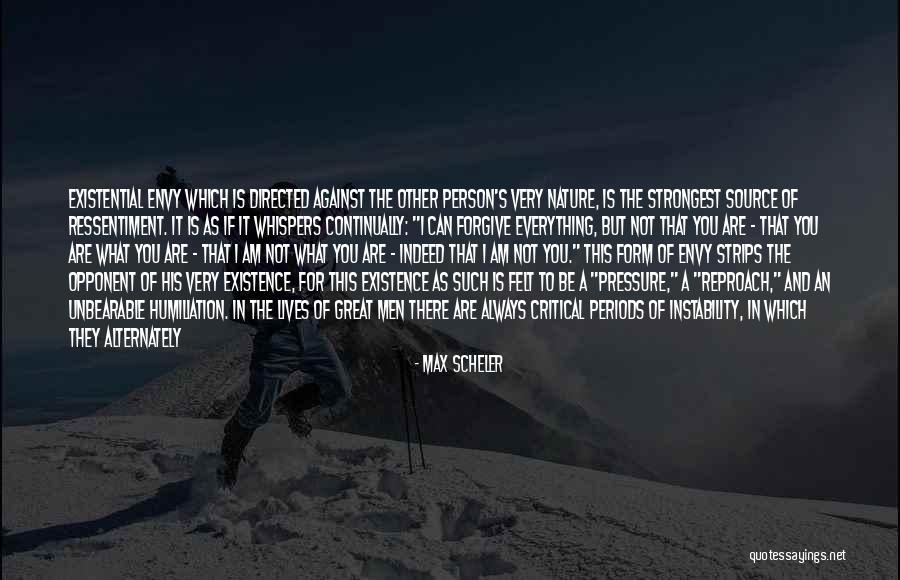 Existential envy which is directed against the other person's very nature, is the strongest source of ressentiment. It is as if it whispers continually: "I can forgive everything, but not that you are - that you are what you are - that I am not what you are - indeed that I am not you." This form of envy strips the opponent of his very existence, for this existence as such is felt to be a "pressure," a "reproach," and an unbearable humiliation. In the lives of great men there are always critical periods of instability, in which they alternately envy and try to love those whose merits they cannot but esteem. Only gradually, one of these attitudes will predominate. Here lies the meaning of Goethe's reflection that "against another's great merits, there is no remedy but love. — Max Scheler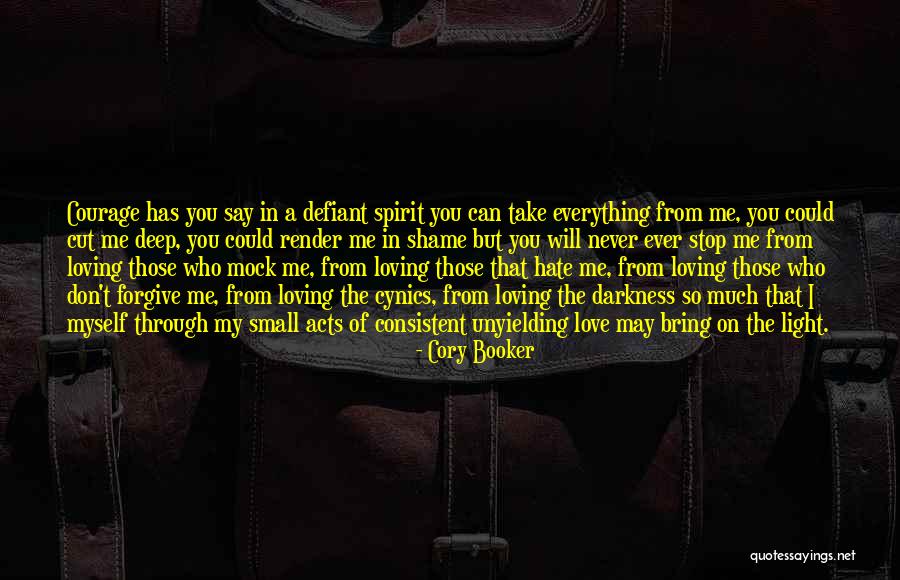 Courage has you say in a defiant spirit you can take everything from me, you could cut me deep, you could render me in shame but you will never ever stop me from loving those who mock me, from loving those that hate me, from loving those who don't forgive me, from loving the cynics, from loving the darkness so much that I myself through my small acts of consistent unyielding love may bring on the light. — Cory Booker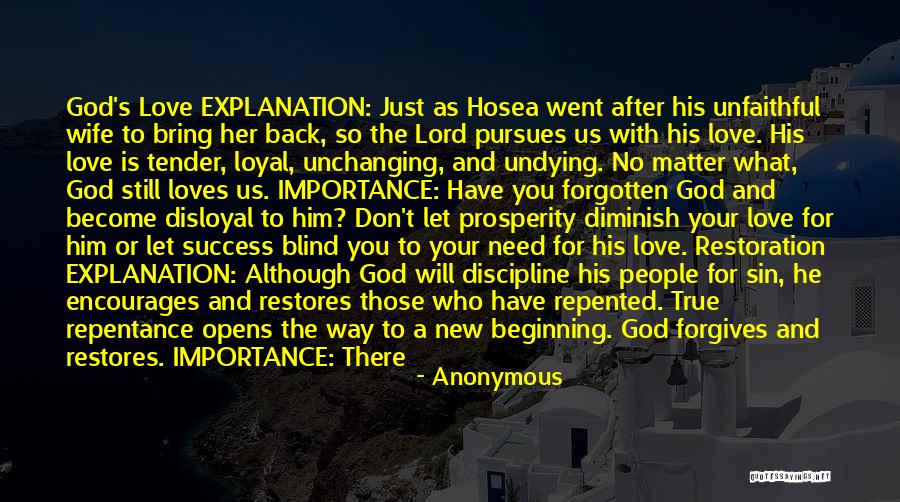 God's Love EXPLANATION: Just as Hosea went after his unfaithful wife to bring her back, so the Lord pursues us with his love. His love is tender, loyal, unchanging, and undying. No matter what, God still loves us. IMPORTANCE: Have you forgotten God and become disloyal to him? Don't let prosperity diminish your love for him or let success blind you to your need for his love. Restoration EXPLANATION: Although God will discipline his people for sin, he encourages and restores those who have repented. True repentance opens the way to a new beginning. God forgives and restores. IMPORTANCE: There is still hope for those who turn back to God. No loyalty, achievement, or honor can be compared to loving him. Turn to the Lord while the offer is still good. No matter how far you have strayed, God is willing to forgive you. — Anonymous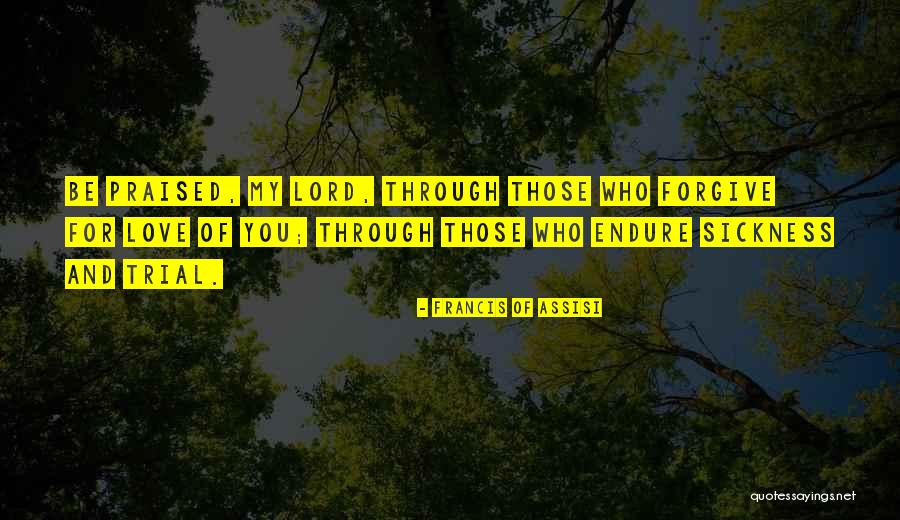 Be praised, my Lord, through those who forgive for love of you; through those who endure sickness and trial. — Francis Of Assisi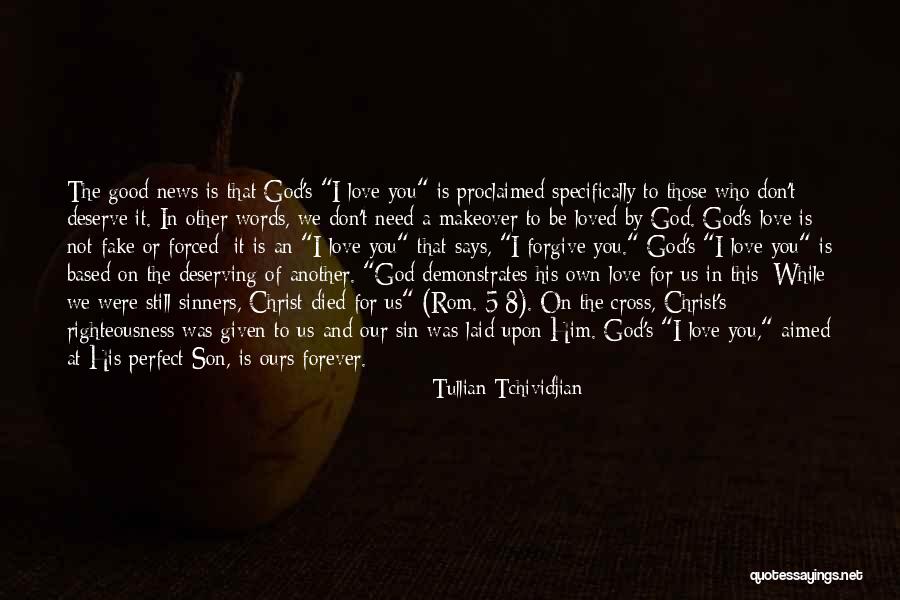 The good news is that God's "I love you" is proclaimed specifically to those who don't deserve it. In other words, we don't need a makeover to be loved by God. God's love is not fake or forced; it is an "I love you" that says, "I forgive you." God's "I love you" is based on the deserving of another. "God demonstrates his own love for us in this: While we were still sinners, Christ died for us" (Rom. 5:8). On the cross, Christ's righteousness was given to us and our sin was laid upon Him. God's "I love you," aimed at His perfect Son, is ours forever. — Tullian Tchividjian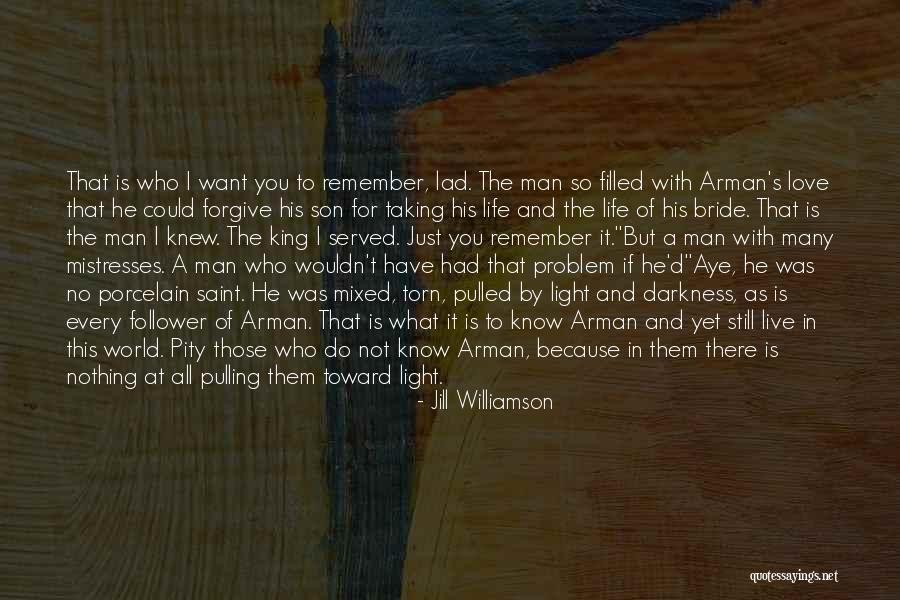 That is who I want you to remember, lad. The man so filled with Arman's love that he could forgive his son for taking his life and the life of his bride. That is the man I knew. The king I served. Just you remember it.'
'But a man with many mistresses. A man who wouldn't have had that problem if he'd
'
'Aye, he was no porcelain saint. He was mixed, torn, pulled by light and darkness, as is every follower of Arman. That is what it is to know Arman and yet still live in this world. Pity those who do not know Arman, because in them there is nothing at all pulling them toward light. — Jill Williamson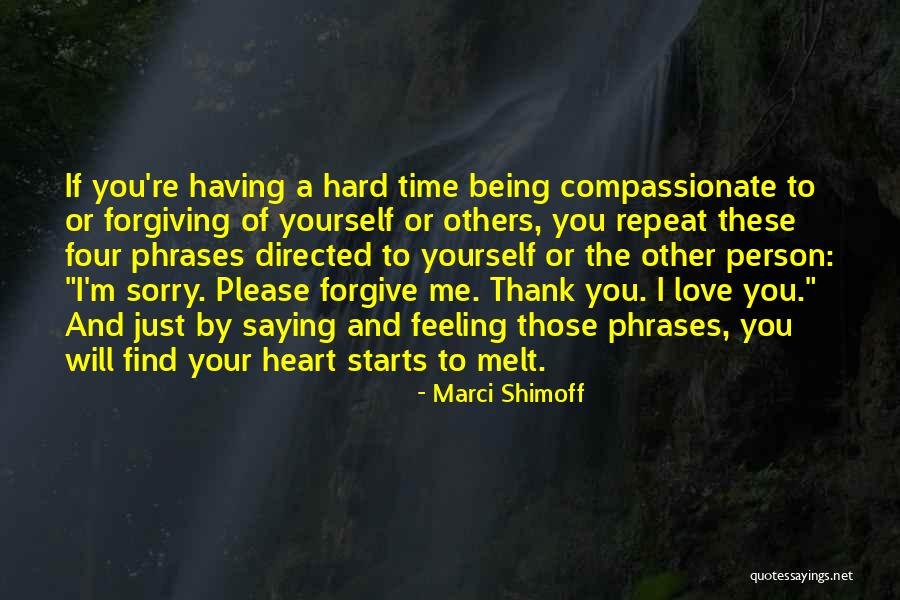 If you're having a hard time being compassionate to or forgiving of yourself or others, you repeat these four phrases directed to yourself or the other person: "I'm sorry. Please forgive me. Thank you. I love you." And just by saying and feeling those phrases, you will find your heart starts to melt. — Marci Shimoff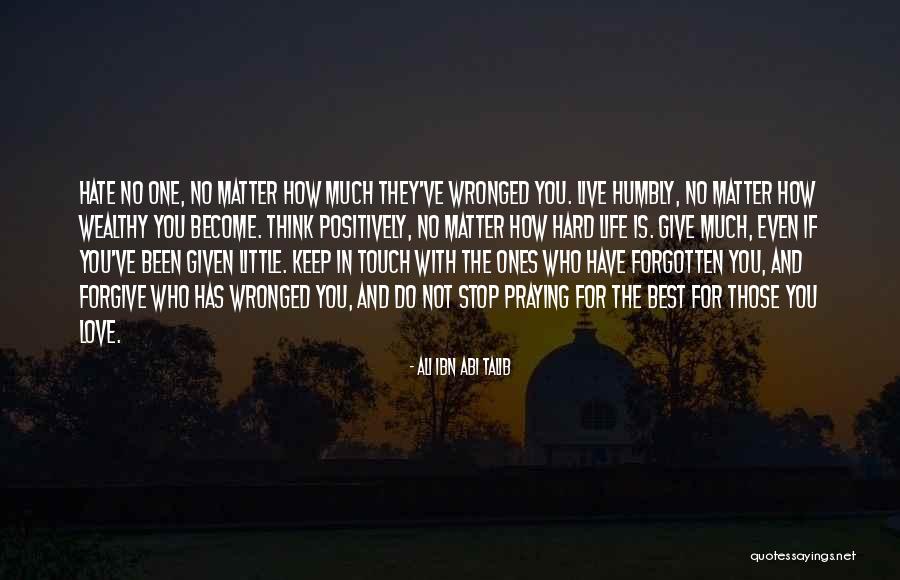 Hate no one, no matter how much they've wronged you. Live humbly, no matter how wealthy you become. Think positively, no matter how hard life is. Give much, even if you've been given little. Keep in touch with the ones who have forgotten you, and forgive who has wronged you, and do not stop praying for the best for those you love. — Ali Ibn Abi Talib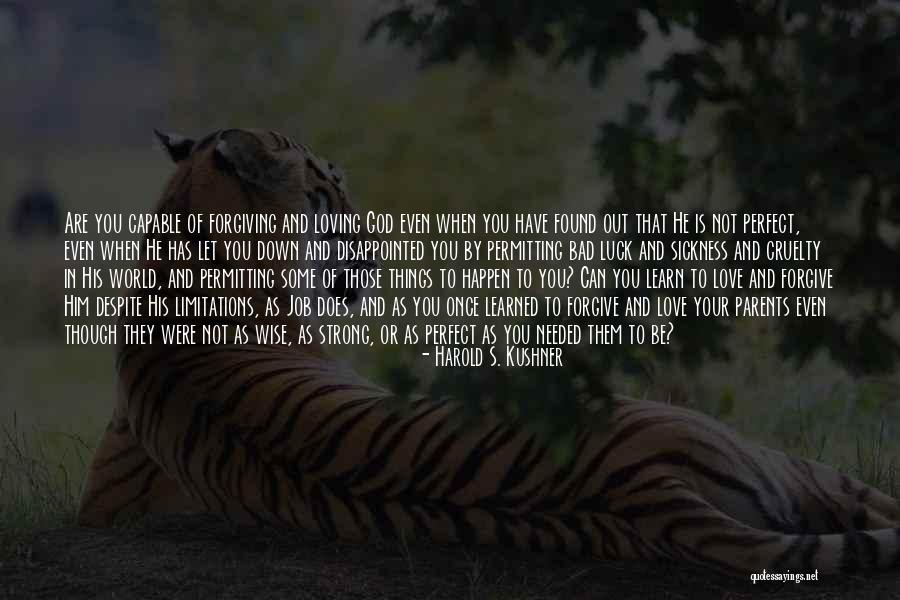 Are you capable of forgiving and loving God even when you have found out that He is not perfect, even when He has let you down and disappointed you by permitting bad luck and sickness and cruelty in His world, and permitting some of those things to happen to you? Can you learn to love and forgive Him despite His limitations, as Job does, and as you once learned to forgive and love your parents even though they were not as wise, as strong, or as perfect as you needed them to be? — Harold S. Kushner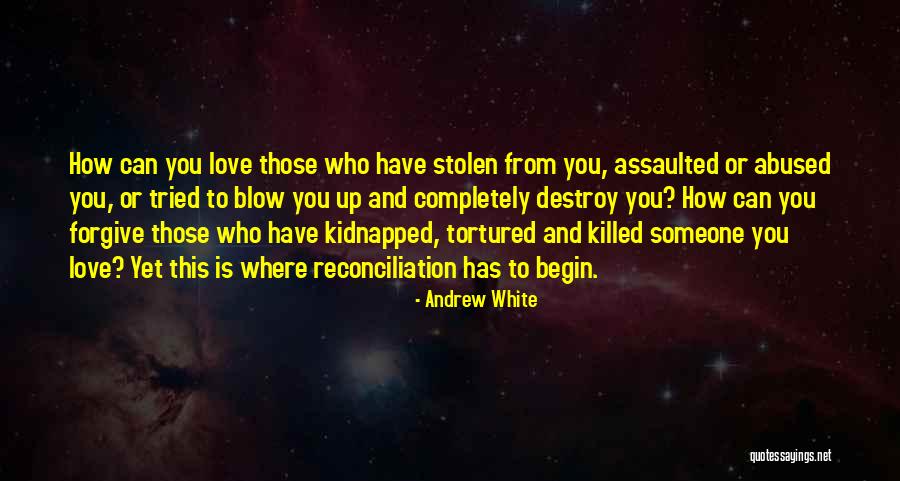 How can you love those who have stolen from you, assaulted or abused you, or tried to blow you up and completely destroy you? How can you forgive those who have kidnapped, tortured and killed someone you love? Yet this is where reconciliation has to begin. — Andrew White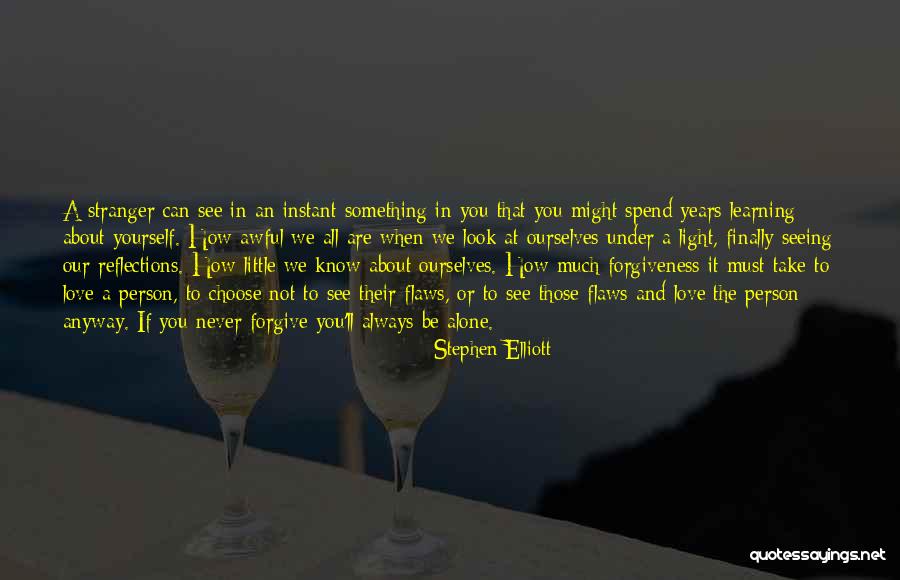 A stranger can see in an instant something in you that you might spend years learning about yourself. How awful we all are when we look at ourselves under a light, finally seeing our reflections. How little we know about ourselves. How much forgiveness it must take to love a person, to choose not to see their flaws, or to see those flaws and love the person anyway. If you never forgive you'll always be alone. — Stephen Elliott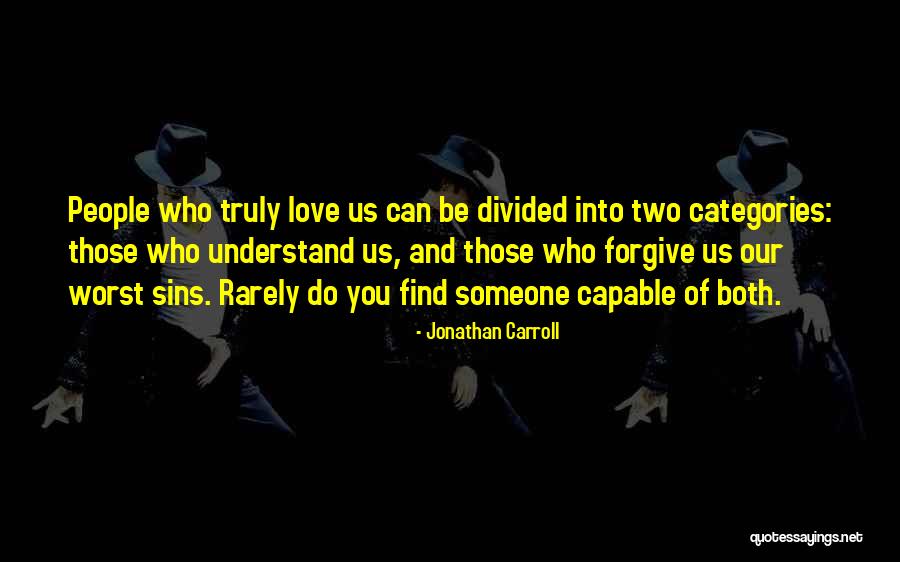 People who truly love us can be divided into two categories: those who understand us, and those who forgive us our worst sins. Rarely do you find someone capable of both. — Jonathan Carroll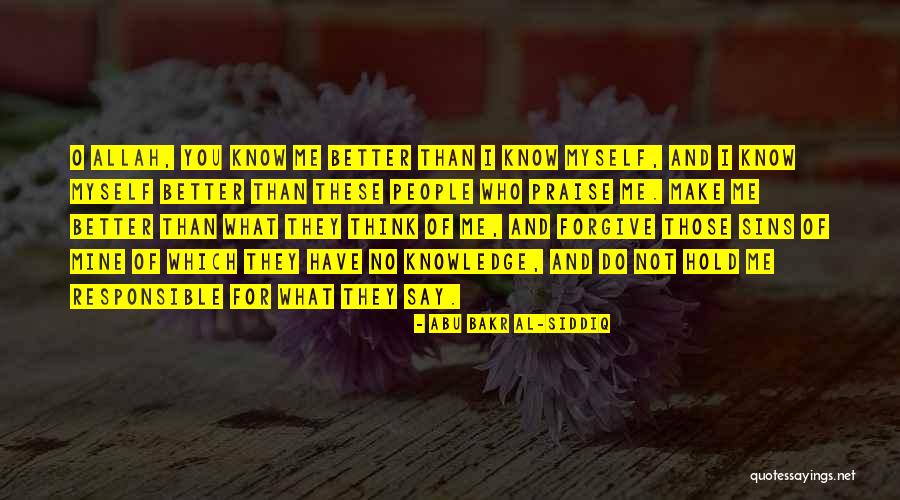 O Allah, You know me better than I know myself, and I know myself better than these people who praise me. Make me better than what they think of me, and forgive those sins of mine of which they have no knowledge, and do not hold me responsible for what they say. — Abu Bakr Al-Siddiq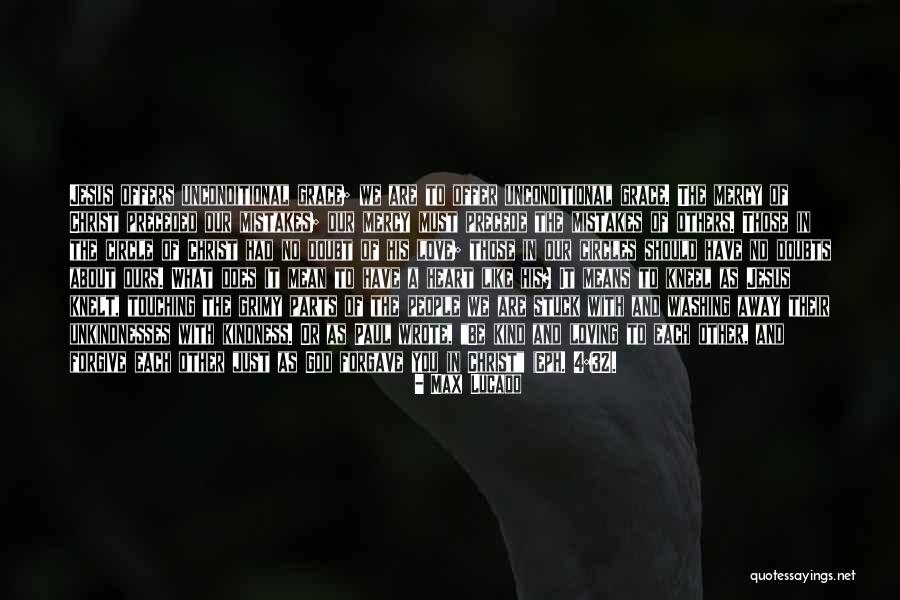 Jesus offers unconditional grace; we are to offer unconditional grace. The mercy of Christ preceded our mistakes; our mercy must precede the mistakes of others. Those in the circle of Christ had no doubt of his love; those in our circles should have no doubts about ours. What does it mean to have a heart like his? It means to kneel as Jesus knelt, touching the grimy parts of the people we are stuck with and washing away their unkindnesses with kindness. Or as Paul wrote, "Be kind and loving to each other, and forgive each other just as God forgave you in Christ" (Eph. 4:32). — Max Lucado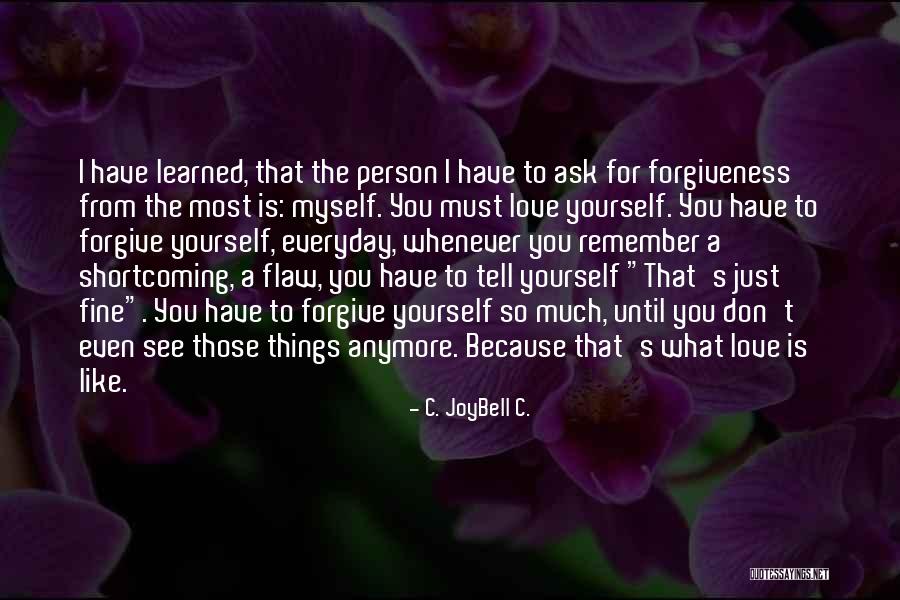 I have learned, that the person I have to ask for forgiveness from the most is: myself. You must love yourself. You have to forgive yourself, everyday, whenever you remember a shortcoming, a flaw, you have to tell yourself "That's just fine". You have to forgive yourself so much, until you don't even see those things anymore. Because that's what love is like. — C. JoyBell C.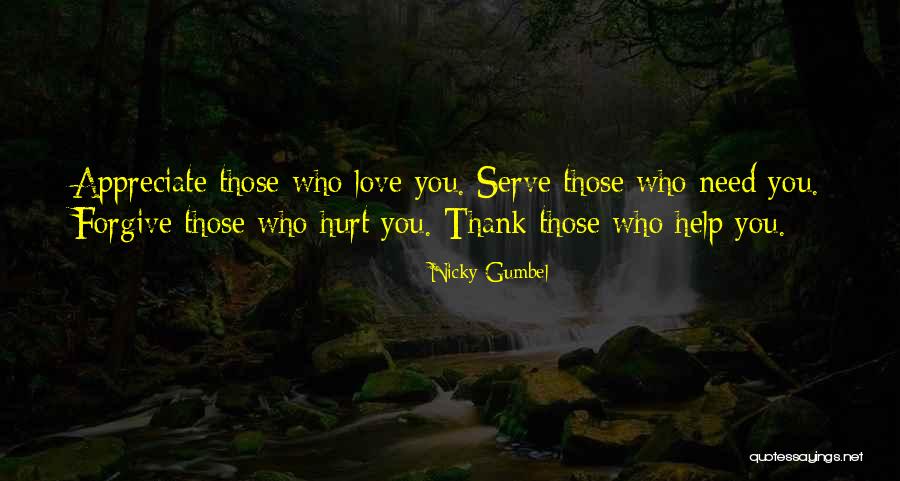 Appreciate those who love you. Serve those who need you. Forgive those who hurt you. Thank those who help you. — Nicky Gumbel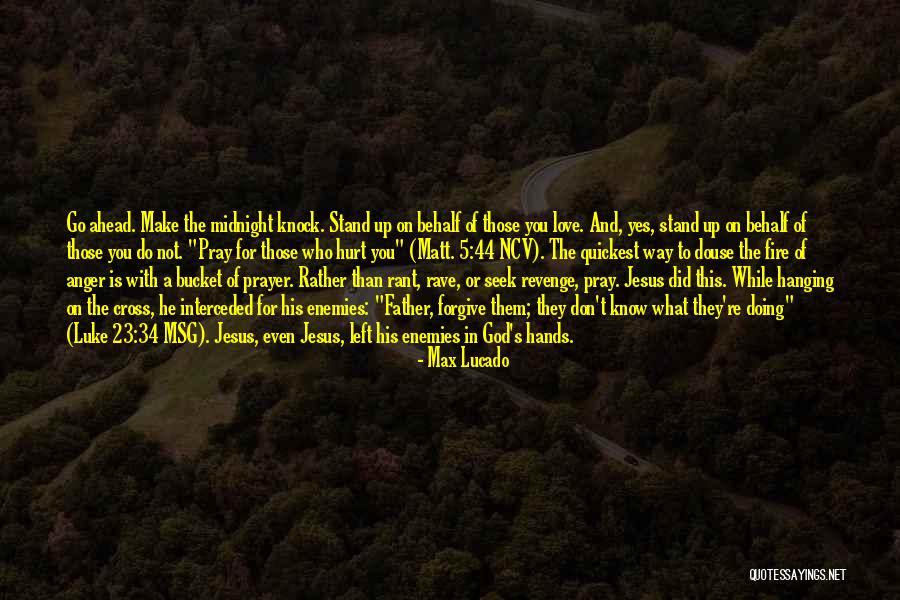 Go ahead. Make the midnight knock. Stand up on behalf of those you love. And, yes, stand up on behalf of those you do not. "Pray for those who hurt you" (Matt. 5:44 NCV). The quickest way to douse the fire of anger is with a bucket of prayer. Rather than rant, rave, or seek revenge, pray. Jesus did this. While hanging on the cross, he interceded for his enemies: "Father, forgive them; they don't know what they're doing" (Luke 23:34 MSG). Jesus, even Jesus, left his enemies in God's hands. — Max Lucado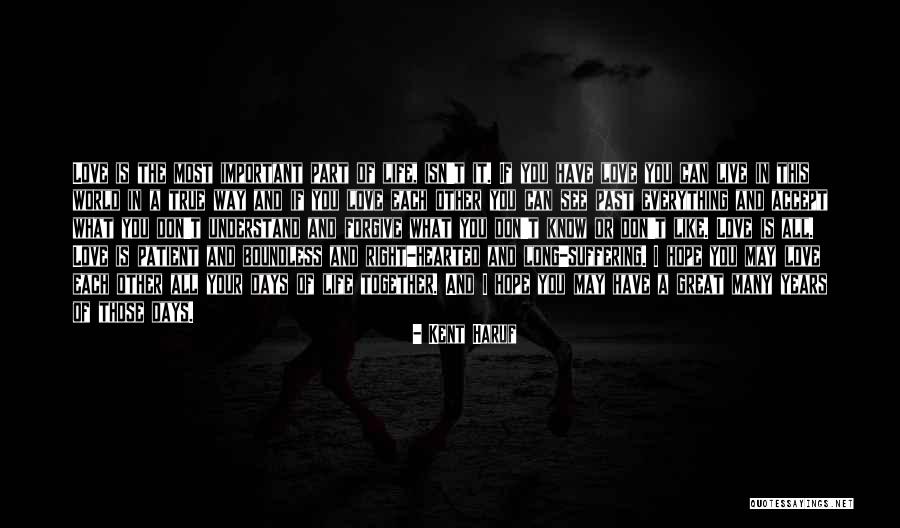 Love is the most important part of life, isn't it. If you have love you can live in this world in a true way and if you love each other you can see past everything and accept what you don't understand and forgive what you don't know or don't like. Love is all. Love is patient and boundless and right-hearted and long-suffering. I hope you may love each other all your days of life together. And I hope you may have a great many years of those days. — Kent Haruf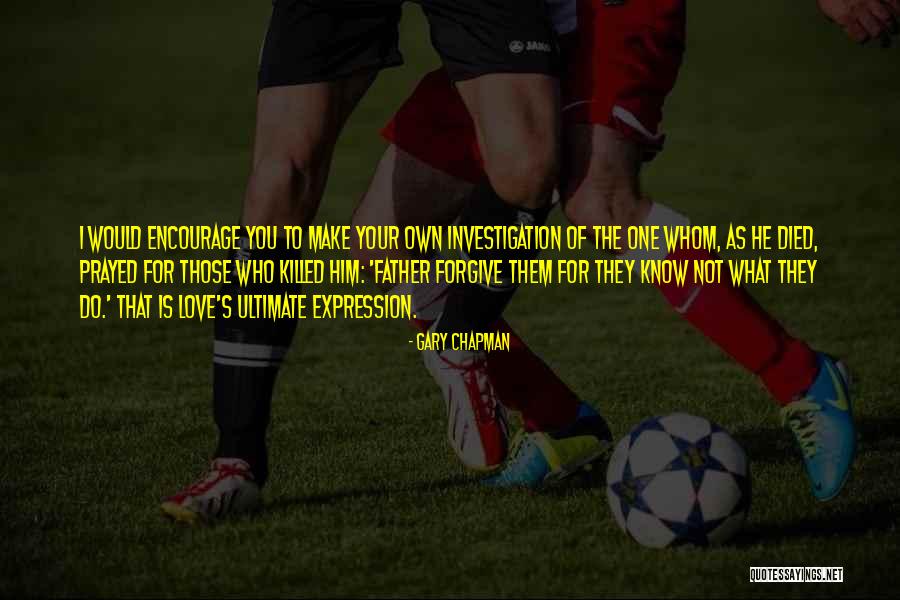 I would encourage you to make your own investigation of the one whom, as He died, prayed for those who killed Him: 'Father forgive them for they know not what they do.' That is love's ultimate expression. — Gary Chapman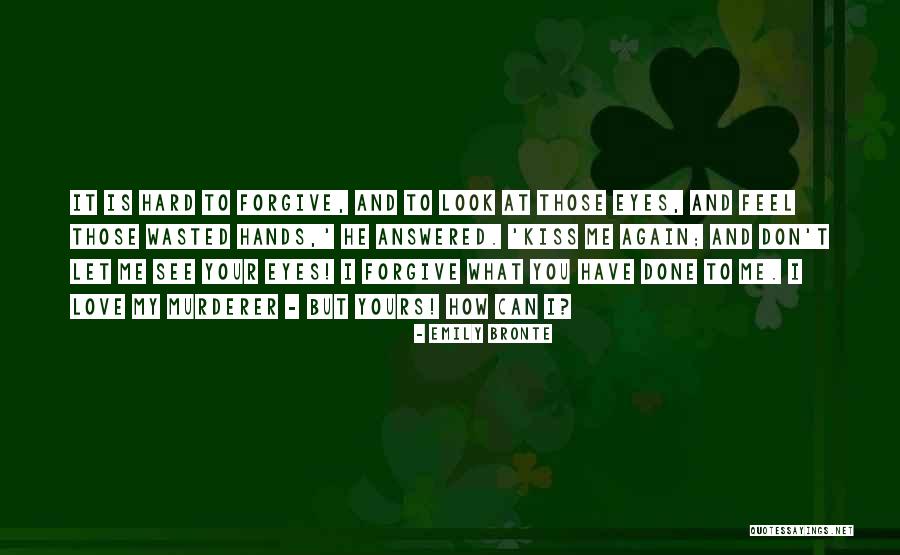 It is hard to forgive, and to look at those eyes, and feel those wasted hands,' he answered. 'Kiss me again; and don't let me see your eyes! I forgive what you have done to me. I love my murderer - but yours! How can I? — Emily Bronte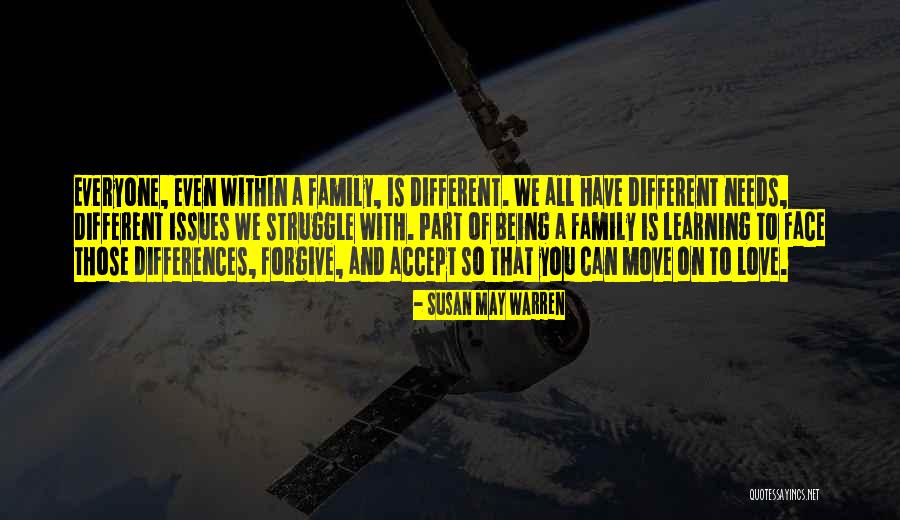 Everyone, even within a family, is different. We all have different needs, different issues we struggle with. Part of being a family is learning to face those differences, forgive, and accept so that you can move on to love. — Susan May Warren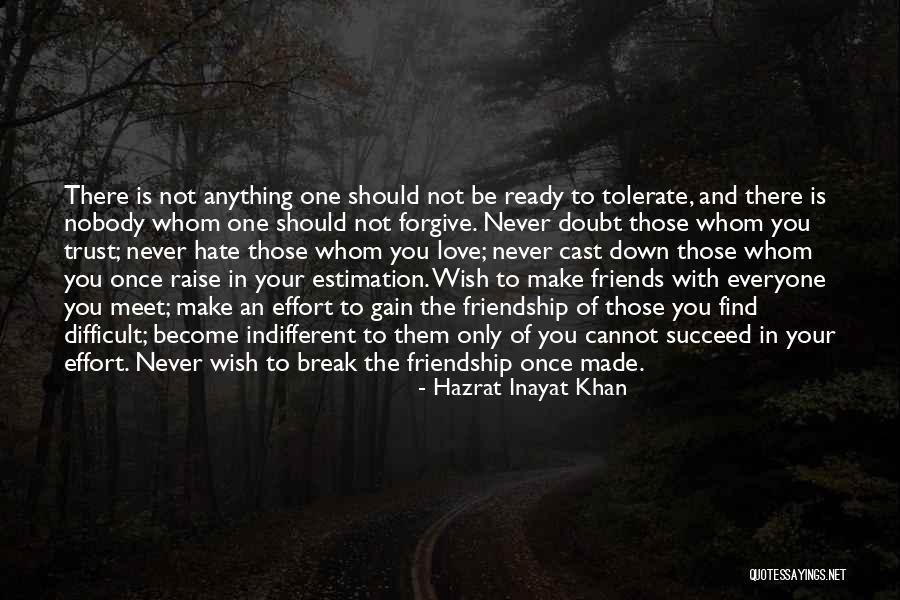 There is not anything one should not be ready to tolerate, and there is nobody whom one should not forgive. Never doubt those whom you trust; never hate those whom you love; never cast down those whom you once raise in your estimation. Wish to make friends with everyone you meet; make an effort to gain the friendship of those you find difficult; become indifferent to them only of you cannot succeed in your effort. Never wish to break the friendship once made. — Hazrat Inayat Khan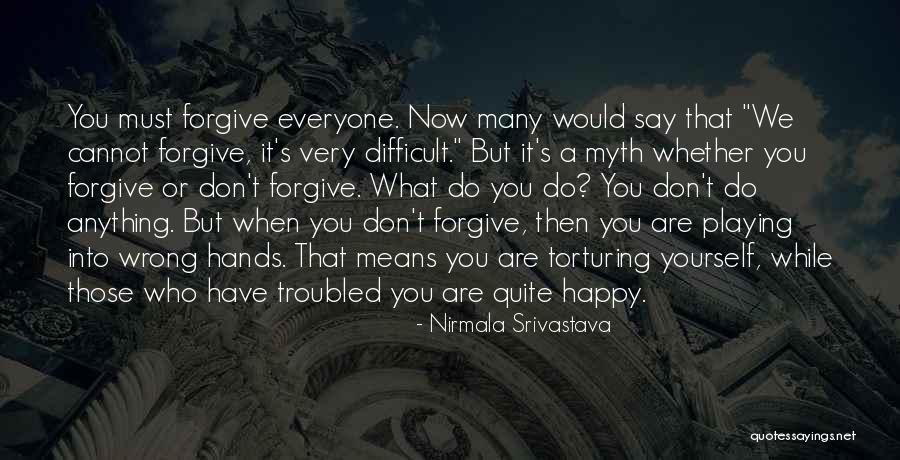 You must forgive everyone. Now many would say that "We cannot forgive, it's very difficult." But it's a myth whether you forgive or don't forgive. What do you do? You don't do anything. But when you don't forgive, then you are playing into wrong hands. That means you are torturing yourself, while those who have troubled you are quite happy. — Nirmala Srivastava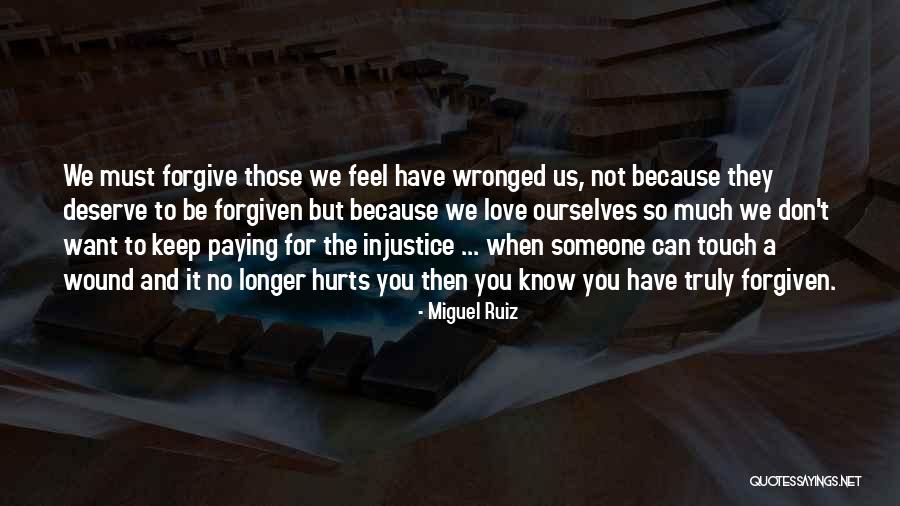 We must forgive those we feel have wronged us, not because they deserve to be forgiven but because we love ourselves so much we don't want to keep paying for the injustice ... when someone can touch a wound and it no longer hurts you then you know you have truly forgiven. — Miguel Ruiz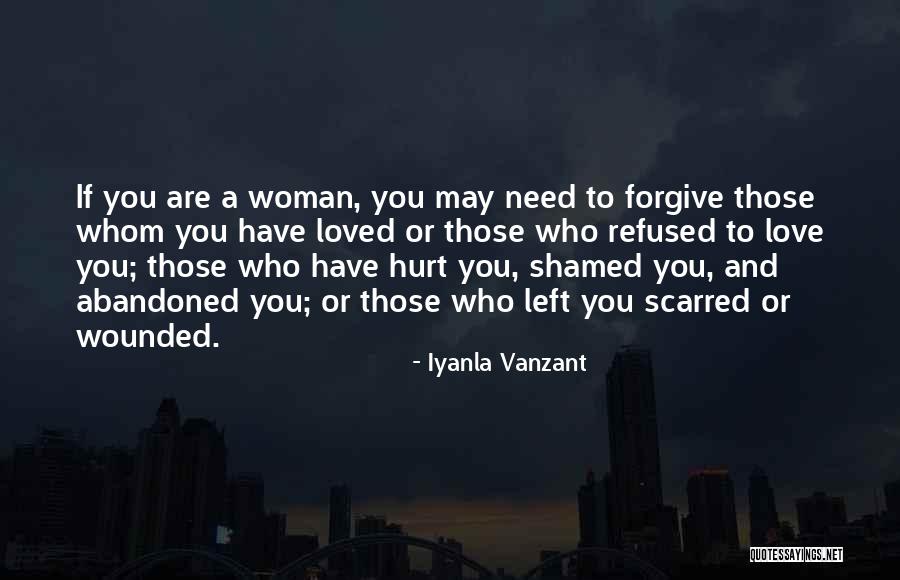 If you are a woman, you may need to forgive those whom you have loved or those who refused to love you; those who have hurt you, shamed you, and abandoned you; or those who left you scarred or wounded. — Iyanla Vanzant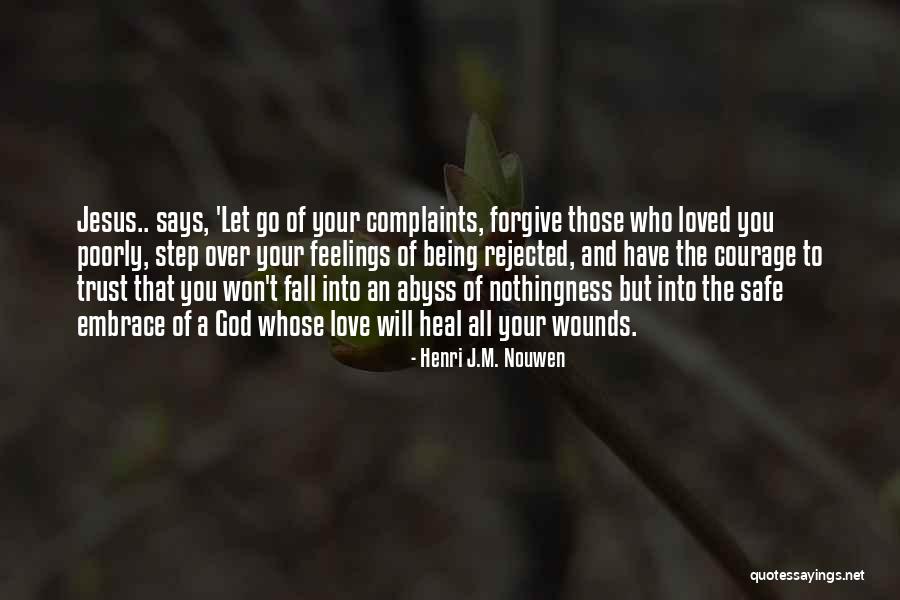 Jesus.. says, 'Let go of your complaints, forgive those who loved you poorly, step over your feelings of being rejected, and have the courage to trust that you won't fall into an abyss of nothingness but into the safe embrace of a God whose love will heal all your wounds. — Henri J.M. Nouwen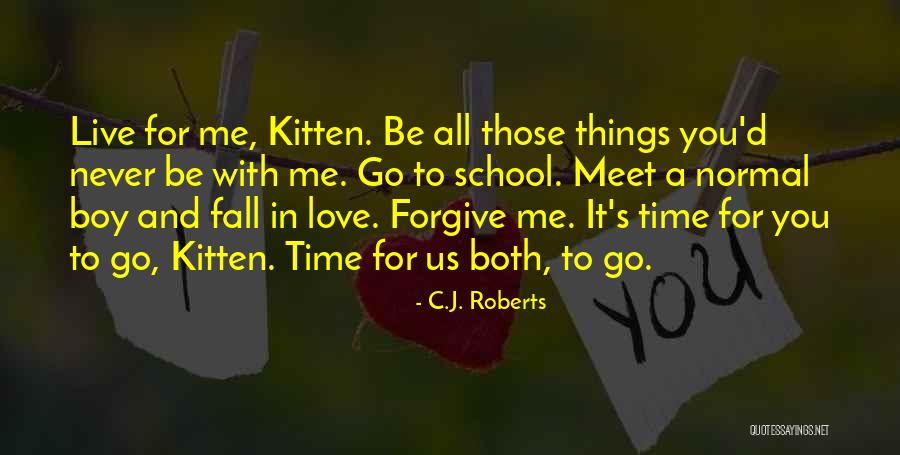 Live for me, Kitten. Be all those things you'd never be with me. Go to school. Meet a normal boy and fall in love. Forgive me. It's time for you to go, Kitten. Time for us both, to go. — C.J. Roberts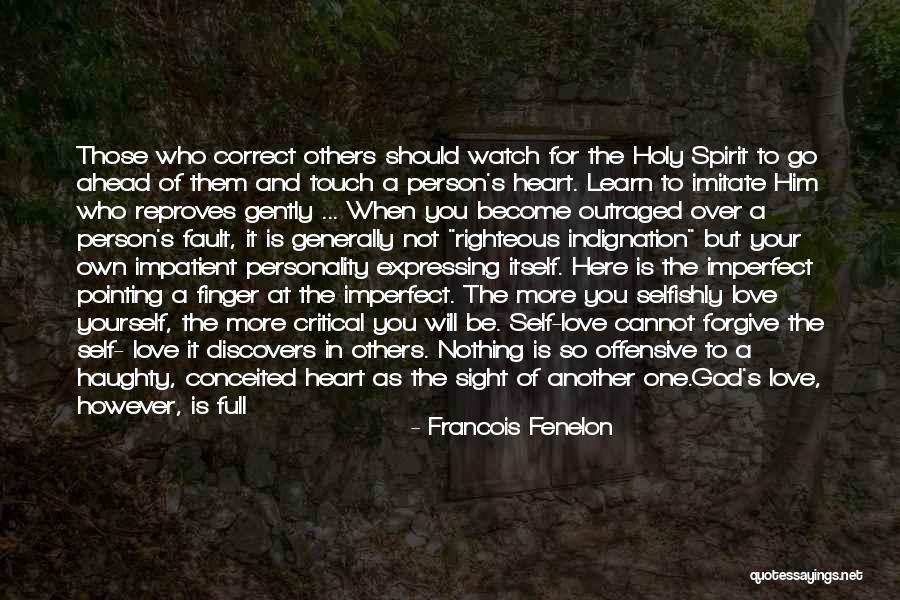 Those who correct others should watch for the Holy Spirit to go ahead of them and touch a person's heart. Learn to imitate Him who reproves gently ...
When you become outraged over a person's fault, it is generally not "righteous indignation" but your own impatient personality expressing itself. Here is the imperfect pointing a finger at the imperfect. The more you selfishly love yourself, the more critical you will be. Self-love cannot forgive the self- love it discovers in others. Nothing is so offensive to a haughty, conceited heart as the sight of another one.
God's love, however, is full of consideration, patience, and tenderness. It leads people out of their weakness and sin one step at a time. — Francois Fenelon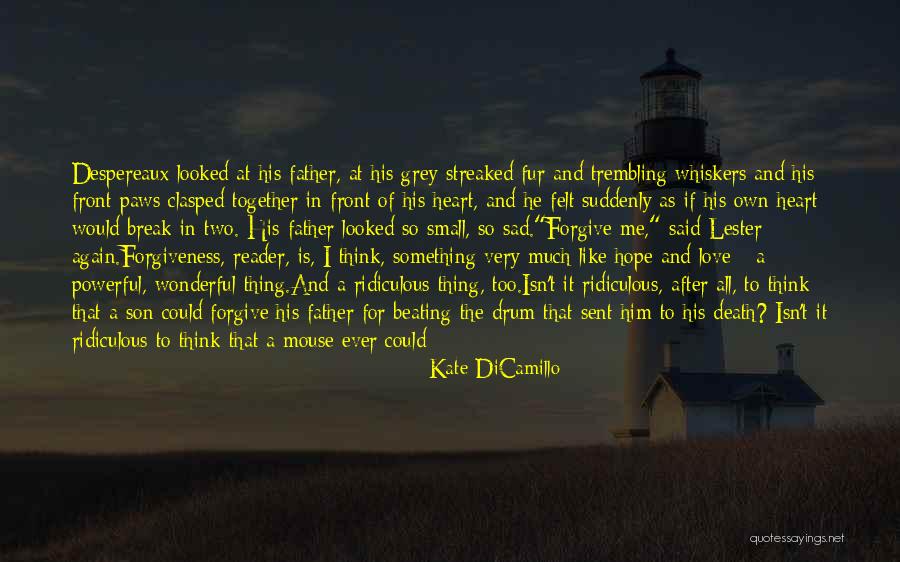 Despereaux looked at his father, at his grey-streaked fur and trembling whiskers and his front paws clasped together in front of his heart, and he felt suddenly as if his own heart would break in two. His father looked so small, so sad.
"Forgive me," said Lester again.
Forgiveness, reader, is, I think, something very much like hope and love - a powerful, wonderful thing.
And a ridiculous thing, too.
Isn't it ridiculous, after all, to think that a son could forgive his father for beating the drum that sent him to his death? Isn't it ridiculous to think that a mouse ever could forgive anyone for such perfidy?
But still, here are the words Despereaux Tilling spoke to his father. He said, "I forgive you, Pa."
And he said those words because he sensed it was the only way to save his own heart, to stop it from breaking in two. Despereaux, reader, spoke those words to save himself. — Kate DiCamillo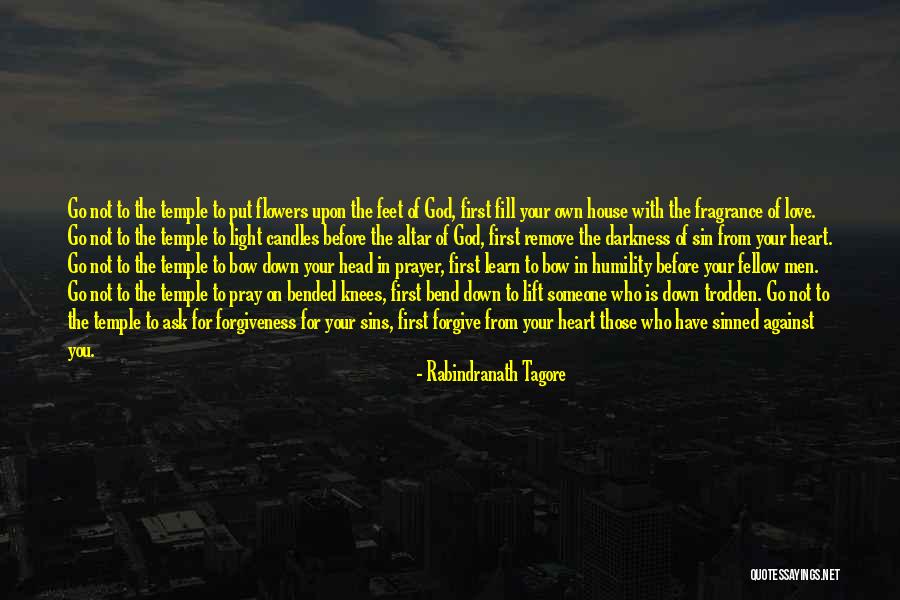 Go not to the temple to put flowers upon the feet of God, first fill your own house with the fragrance of love. Go not to the temple to light candles before the altar of God, first remove the darkness of sin from your heart. Go not to the temple to bow down your head in prayer, first learn to bow in humility before your fellow men. Go not to the temple to pray on bended knees, first bend down to lift someone who is down trodden. Go not to the temple to ask for forgiveness for your sins, first forgive from your heart those who have sinned against you. — Rabindranath Tagore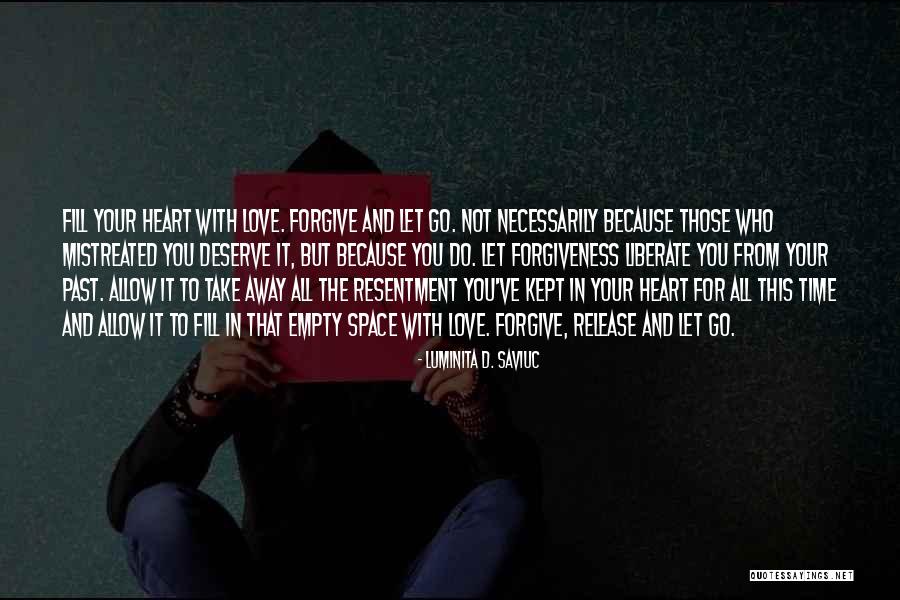 Fill your heart with love. Forgive and let go. Not necessarily because those who mistreated you deserve it, but because you do. Let forgiveness liberate you from your past. Allow it to take away all the resentment you've kept in your heart for all this time and allow it to fill in that empty space with love.
Forgive, release and let go. — Luminita D. Saviuc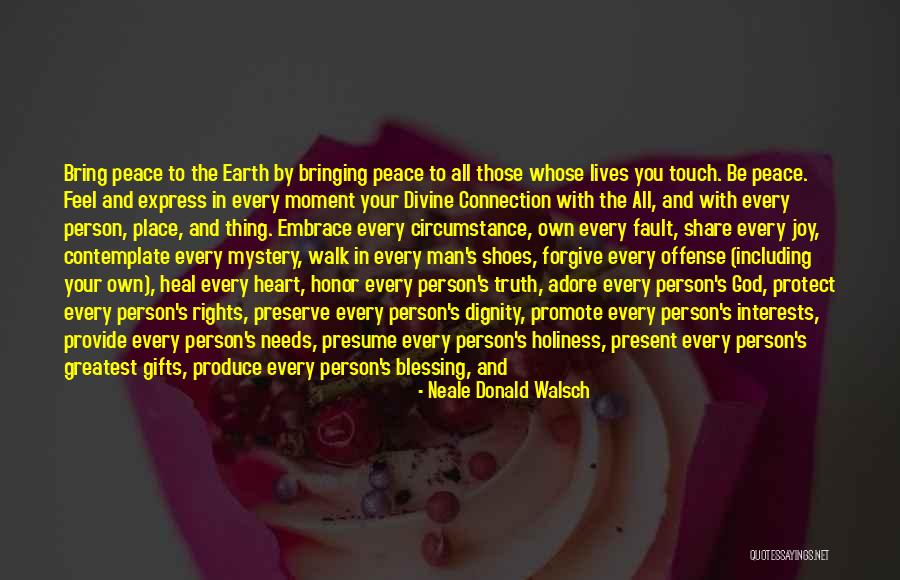 Bring peace to the Earth by bringing peace to all those whose lives you touch. Be peace. Feel and express in every moment your Divine Connection with the All, and with every person, place, and thing. Embrace every circumstance, own every fault, share every joy, contemplate every mystery, walk in every man's shoes, forgive every offense (including your own), heal every heart, honor every person's truth, adore every person's God, protect every person's rights, preserve every person's dignity, promote every person's interests, provide every person's needs, presume every person's holiness, present every person's greatest gifts, produce every person's blessing, and pronounce every person's future secure in the assured love of God. Be a living, breathing example of the Highest Truth that resides within you. — Neale Donald Walsch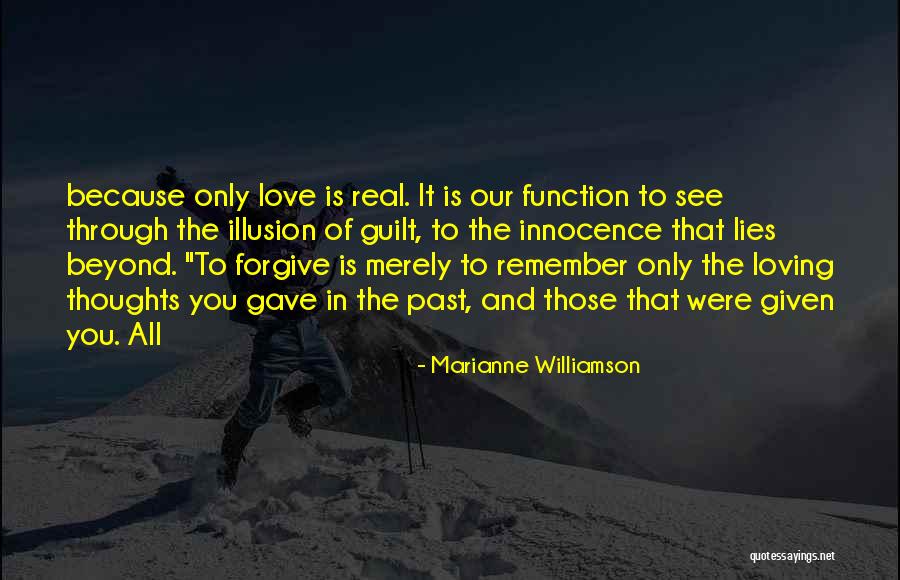 because only love is real. It is our function to see through the illusion of guilt, to the innocence that lies beyond. "To forgive is merely to remember only the loving thoughts you gave in the past, and those that were given you. All — Marianne Williamson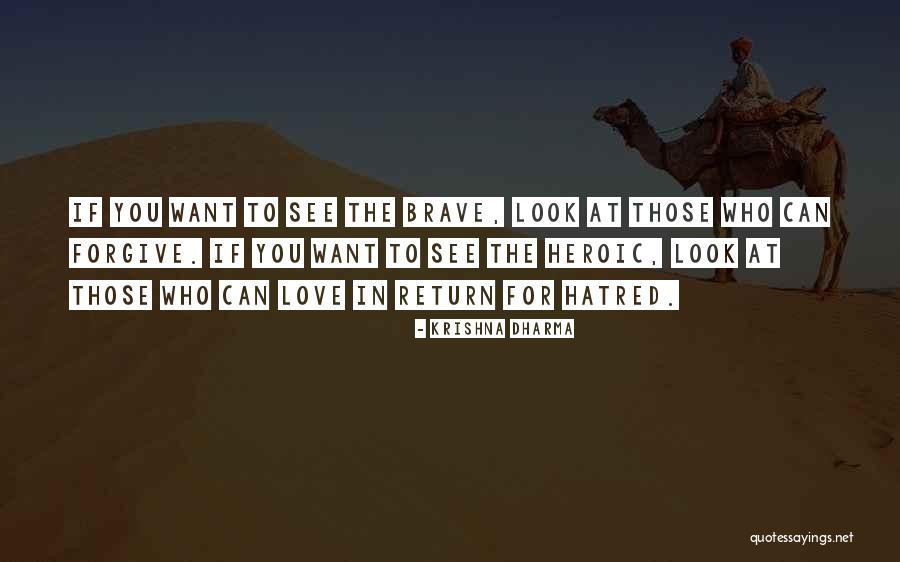 If you want to see the brave, look at those who can forgive. If you want to see the heroic, look at those who can love in return for hatred. — Krishna Dharma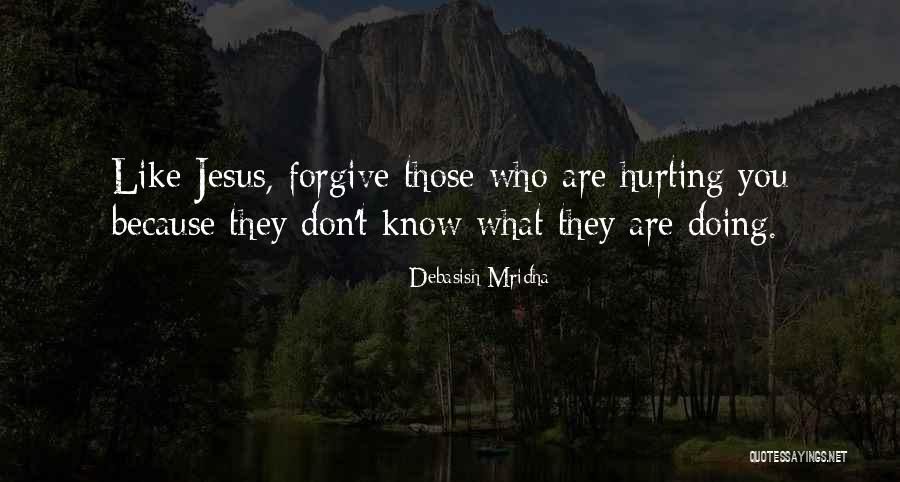 Like Jesus, forgive those who are hurting you because they don't know what they are doing. — Debasish Mridha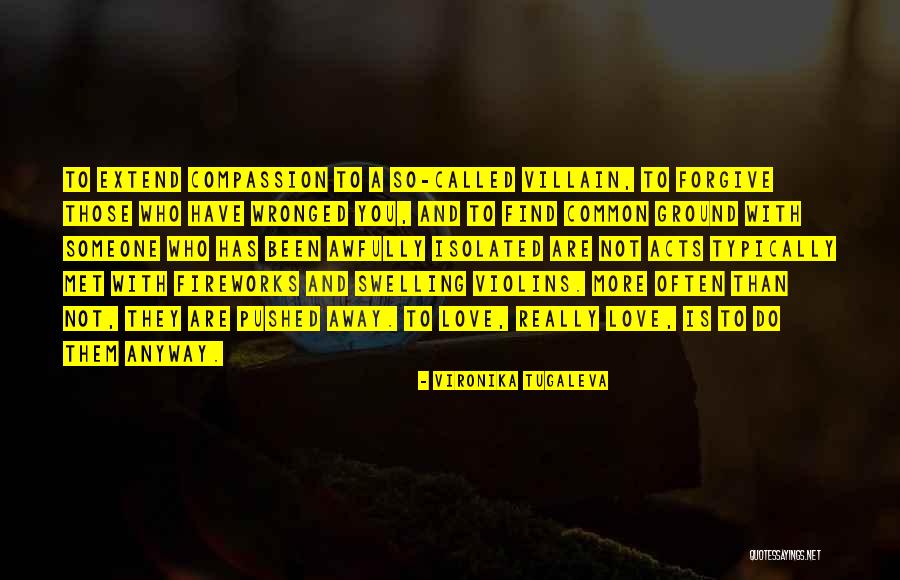 To extend compassion to a so-called villain, to forgive those who have wronged you, and to find common ground with someone who has been awfully isolated are not acts typically met with fireworks and swelling violins. More often than not, they are pushed away. To love, really love, is to do them anyway. — Vironika Tugaleva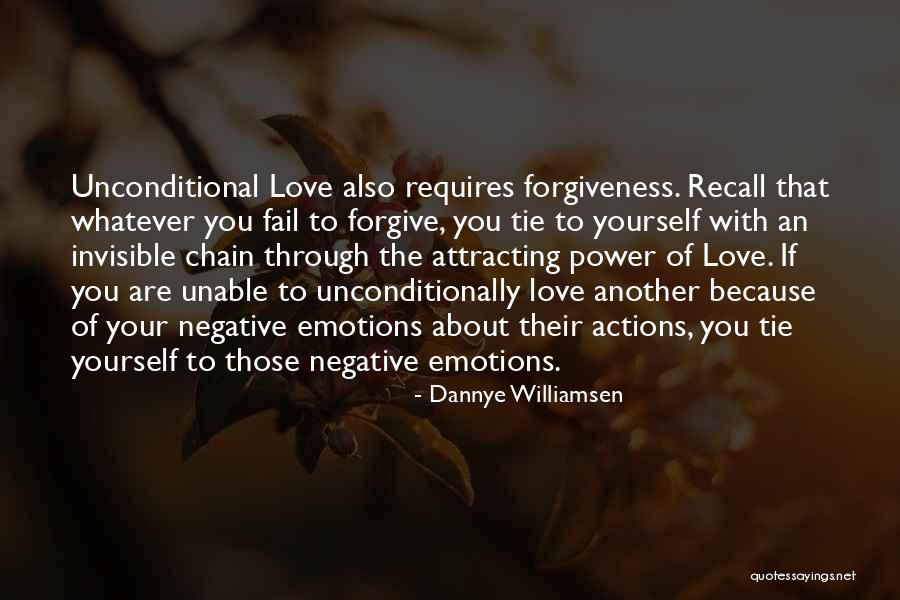 Unconditional Love also requires forgiveness. Recall that whatever you fail to forgive, you tie to yourself with an invisible chain through the attracting power of Love. If you are unable to unconditionally love another because of your negative emotions about their actions, you tie yourself to those negative emotions. — Dannye Williamsen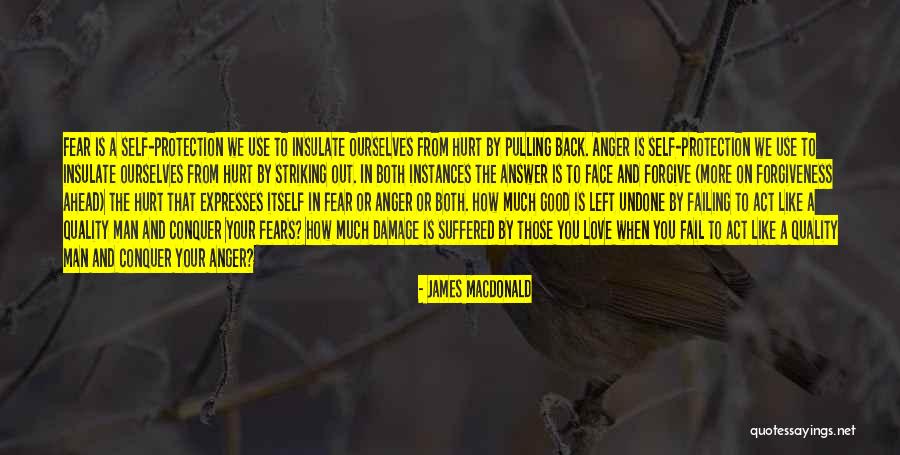 Fear is a self-protection we use to insulate ourselves from hurt by pulling back. Anger is self-protection we use to insulate ourselves from hurt by striking out. In both instances the answer is to face and forgive (more on forgiveness ahead) the hurt that expresses itself in fear or anger or both. How much good is left undone by failing to act like a quality man and conquer your fears? How much damage is suffered by those you love when you fail to act like a quality man and conquer your anger? — James MacDonald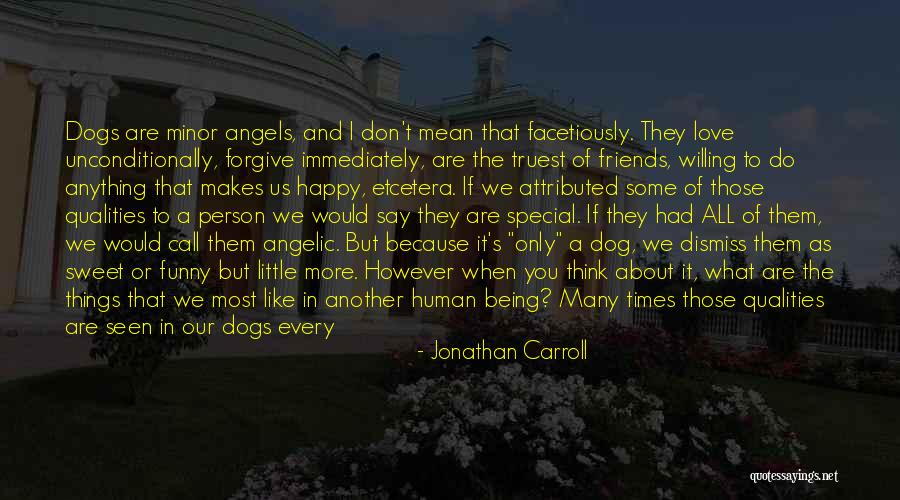 Dogs are minor angels, and I don't mean that facetiously. They love unconditionally, forgive immediately, are the truest of friends, willing to do anything that makes us happy, etcetera. If we attributed some of those qualities to a person we would say they are special. If they had ALL of them, we would call them angelic. But because it's "only" a dog, we dismiss them as sweet or funny but little more. However when you think about it, what are the things that we most like in another human being? Many times those qualities are seen in our dogs every single day
we're just so used to them that we pay no attention. — Jonathan Carroll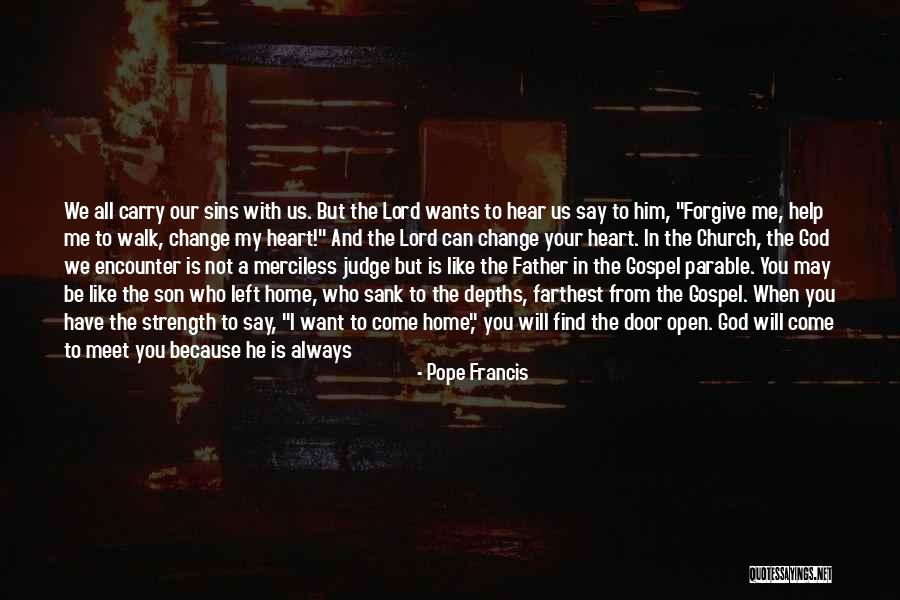 We all carry our sins with us. But the Lord wants to hear us say to him, "Forgive me, help me to walk, change my heart!" And the Lord can change your heart. In the Church, the God we encounter is not a merciless judge but is like the Father in the Gospel parable. You may be like the son who left home, who sank to the depths, farthest from the Gospel. When you have the strength to say, "I want to come home," you will find the door open. God will come to meet you because he is always waiting for you - God is always waiting for you. God embraces you, kisses you, and celebrates. That is how the Lord is, that is how the tenderness of our heavenly Father is. The Lord wants us to belong to a Church that knows how to open her arms and welcome everyone, that is not a house for the few, but a house for everyone, where all can be renewed, transformed, sanctified by his love - the strongest and the weakest, sinners, the indifferent, those who feel discouraged or lost. — Pope Francis