Quotes & Sayings About Fluttering Heart
Enjoy reading and share 37 famous quotes about Fluttering Heart with everyone.
Top Fluttering Heart Quotes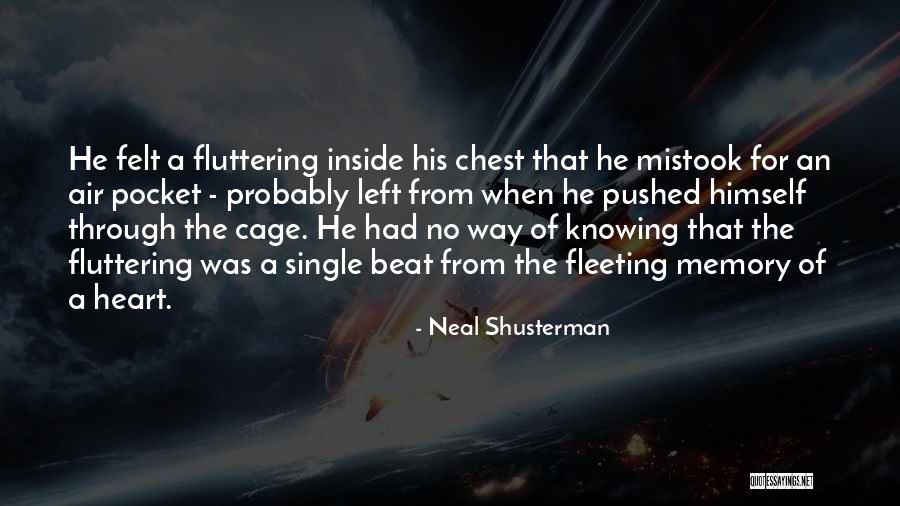 He felt a fluttering inside his chest that he mistook for an air pocket - probably left from when he pushed himself through the cage. He had no way of knowing that the fluttering was a single beat from the fleeting memory of a heart. — Neal Shusterman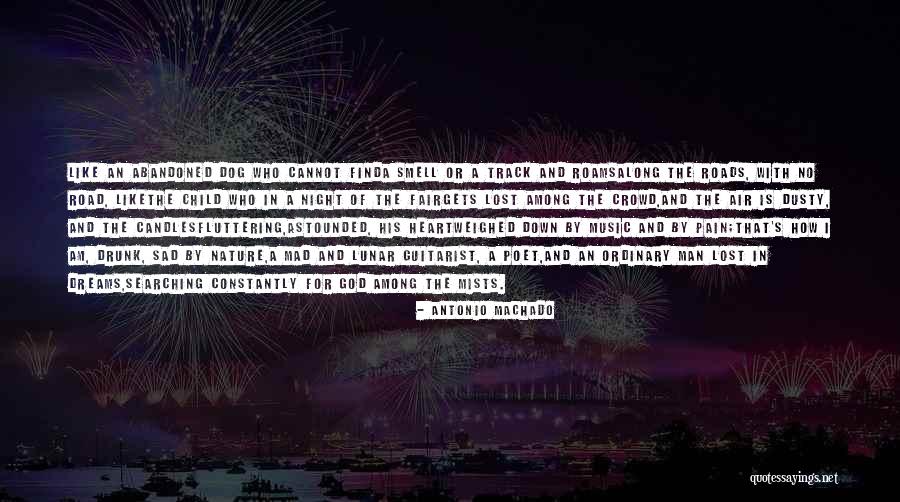 Like an abandoned dog who cannot find
a smell or a track and roams
along the roads, with no road, like
the child who in a night of the fair
gets lost among the crowd,
and the air is dusty, and the candles
fluttering,
astounded, his heart
weighed down by music and by pain;
that's how I am, drunk, sad by nature,
a mad and lunar guitarist, a poet,
and an ordinary man lost in dreams,
searching constantly for God among the mists. — Antonio Machado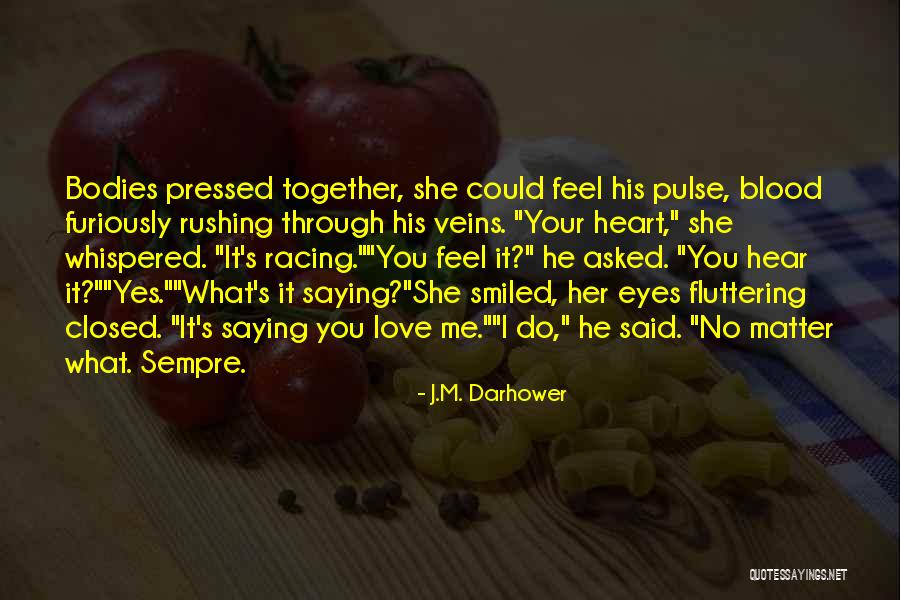 Bodies pressed together, she could feel his pulse, blood furiously rushing through his veins. "Your heart," she whispered. "It's racing."
"You feel it?" he asked. "You hear it?"
"Yes."
"What's it saying?"
She smiled, her eyes fluttering closed. "It's saying you love me."
"I do," he said. "No matter what. Sempre. — J.M. Darhower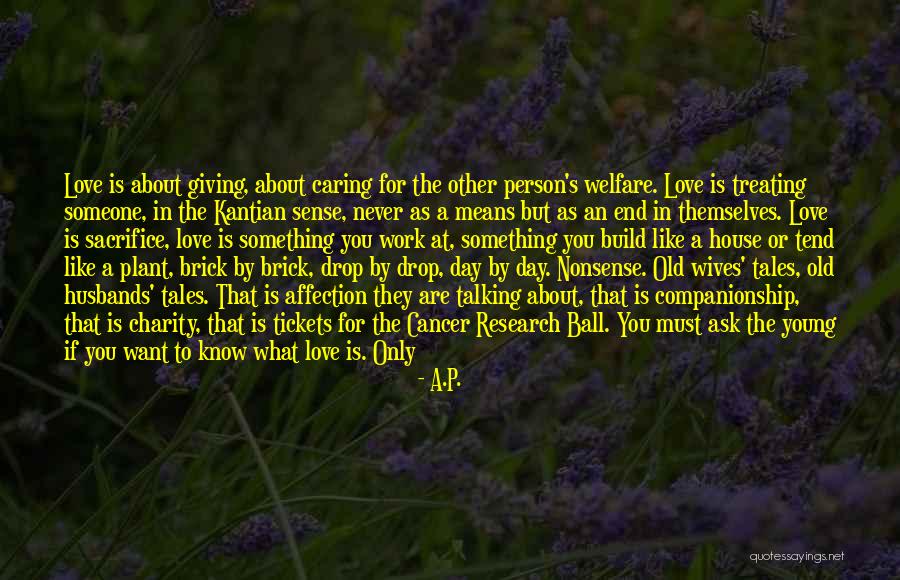 Love is about giving, about caring for the other person's welfare. Love is treating someone, in the Kantian sense, never as a means but as an end in themselves. Love is sacrifice, love is something you work at, something you build like a house or tend like a plant, brick by brick, drop by drop, day by day. Nonsense. Old wives' tales, old husbands' tales. That is affection they are talking about, that is companionship, that is charity, that is tickets for the Cancer Research Ball. You must ask the young if you want to know what love is. Only they are deep enough in it to describe. We older ones have clues and simulacra, we base our judgement, like pathologists do, on the dents and scars and sediments of hearts long kept in formaldehyde. It is the pulsing heart you want to probe: the pulsing, beating, leaping, dipping, fluttering heart of a seventeen-year-old. — A.P.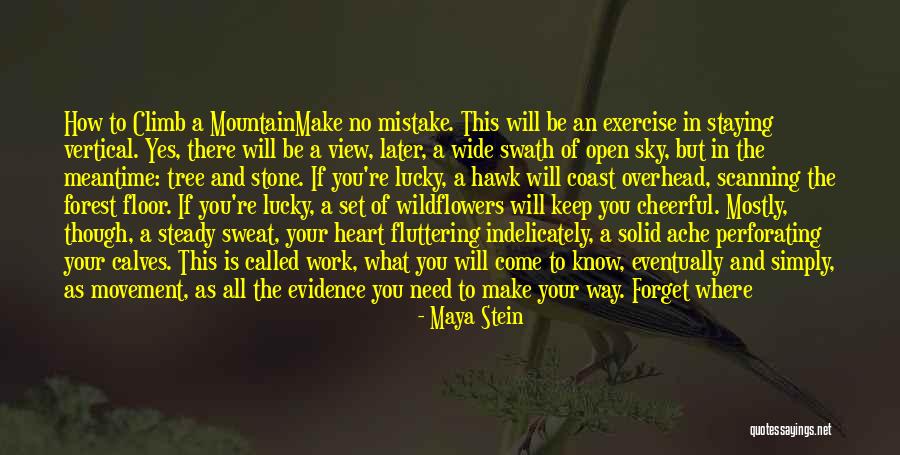 How to Climb a Mountain

Make no mistake. This will be an exercise in staying vertical.
Yes, there will be a view, later, a wide swath of open sky,
but in the meantime: tree and stone. If you're lucky, a hawk will
coast overhead, scanning the forest floor. If you're lucky,
a set of wildflowers will keep you cheerful. Mostly, though,
a steady sweat, your heart fluttering indelicately, a solid ache
perforating your calves. This is called work, what you will come to know,
eventually and simply, as movement, as all the evidence you need to make
your way. Forget where you were. That story is no longer true.
Level your gaze to the trail you're on, and even the dark won't stop you. — Maya Stein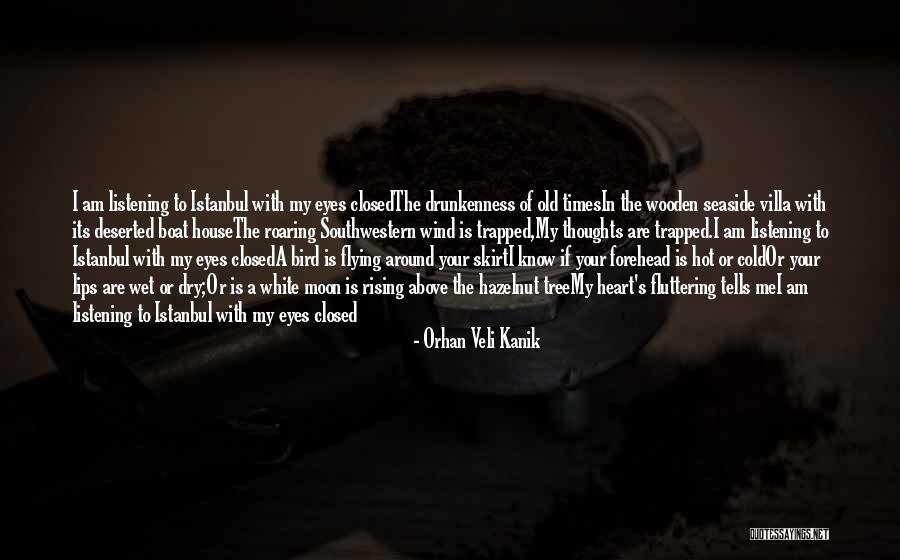 I am listening to Istanbul with my eyes closed
The drunkenness of old times
In the wooden seaside villa with its deserted boat house
The roaring Southwestern wind is trapped,
My thoughts are trapped.
I am listening to Istanbul with my eyes closed
A bird is flying around your skirt
I know if your forehead is hot or cold
Or your lips are wet or dry;
Or is a white moon is rising above the hazelnut tree
My heart's fluttering tells me
I am listening to Istanbul with my eyes closed — Orhan Veli Kanik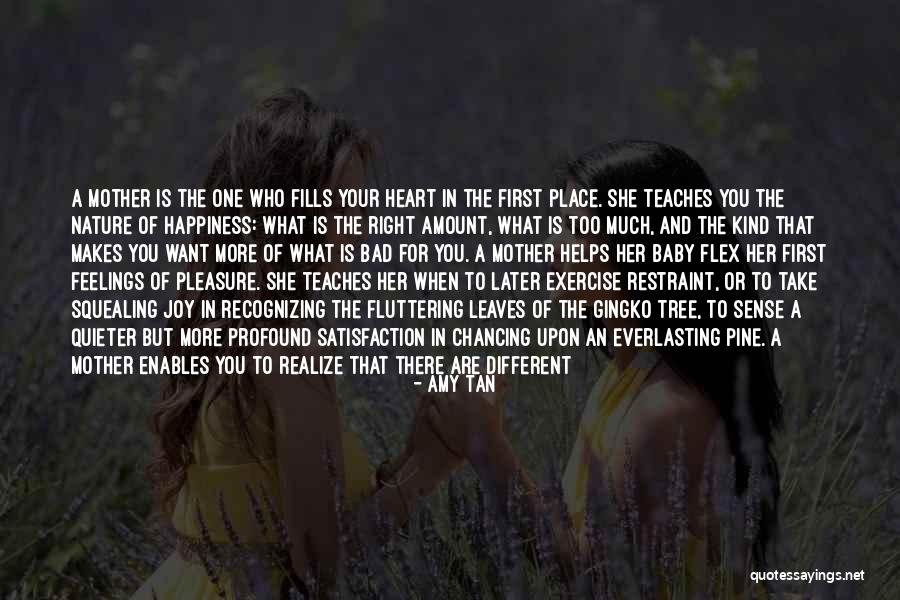 A mother is the one who fills your heart in the first place. She teaches you the nature of happiness: what is the right amount, what is too much, and the kind that makes you want more of what is bad for you. A mother helps her baby flex her first feelings of pleasure. She teaches her when to later exercise restraint, or to take squealing joy in recognizing the fluttering leaves of the gingko tree, to sense a quieter but more profound satisfaction in chancing upon an everlasting pine. A mother enables you to realize that there are different levels of beauty and therein lie the sources of pleasure, some of which are popular and ordinary, and thus of brief value, and others of which are difficult and rare, and hence worth pursuing. — Amy Tan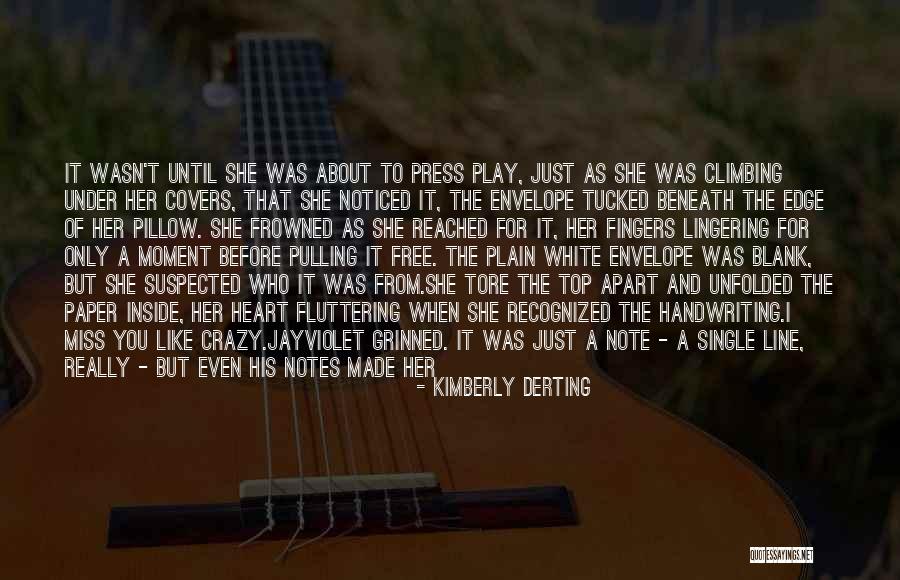 It wasn't until she was about to press Play, just as she was climbing under her covers, that she noticed it, the envelope tucked beneath the edge of her pillow. She frowned as she reached for it, her fingers lingering for only a moment before pulling it free. The plain white envelope was blank, but she suspected who it was from.
She tore the top apart and unfolded the paper inside, her heart fluttering when she recognized the handwriting.

I miss you like crazy.
Jay

Violet grinned. It was just a note - a single line, really - but even his notes made her pulse race. Ridiculous, she thought as she ran her fingertips over his words, committing them to memory. — Kimberly Derting
I'm . . . concerned. You appear to be upset. What's wrong?" His voice gentled and his eyes searched mine. "What's happened? And what can I do to help?"

I crossed my arms because my stupid heart was fluttering again. He caught me off guard. I was not at all prepared for Cletus Winston's concern.

"Nothing. Nothing is wrong. I just wanted to bring y'all muffins. Can't I bring y'all muffins?"

He was scrutinizing me again. "No. Something's off. Is it Jackson James? Do I need to maim him? Because I will. I could give him leprosy, you know. Armadillos are carriers."

My mouth fell open and a bubble of laughter emerged unchecked. "Cletus Winston, you will do no such thing."

"Sheriff's deputy or not. Just say the word. It might improve him, actually."

"You are terrible." I laughed, even though he was terrible, and I felt terrible laughing at such a terrible joke.

At least, I hope it's a joke — Penny Reid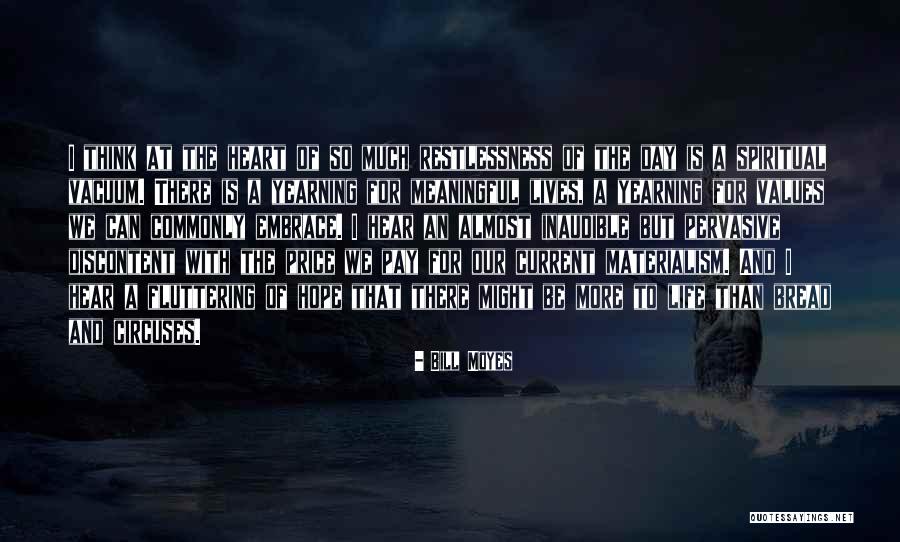 I think at the heart of so much restlessness of the day is a spiritual vacuum. There is a yearning for meaningful lives, a yearning for values we can commonly embrace. I hear an almost inaudible but pervasive discontent with the price we pay for our current materialism. And I hear a fluttering of hope that there might be more to life than bread and circuses. — Bill Moyes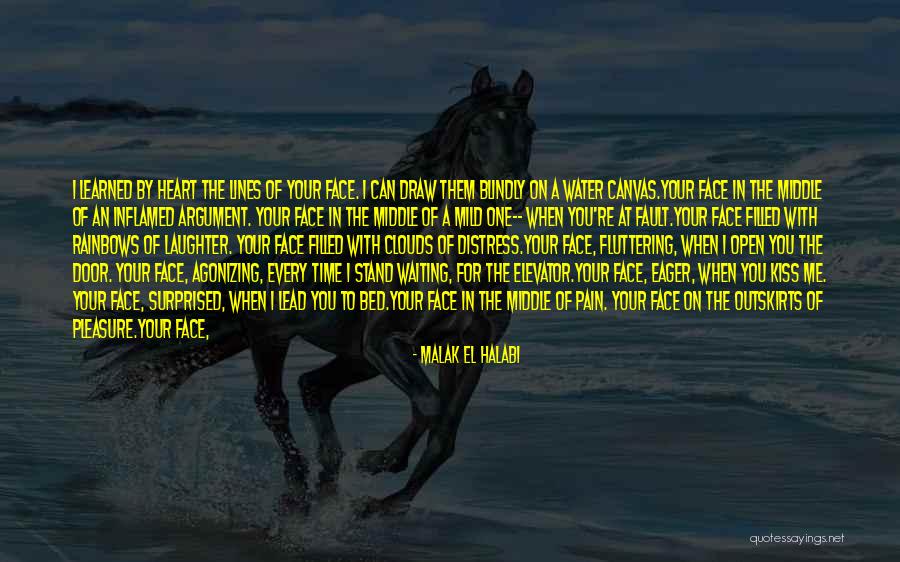 I learned by heart the lines of your face. I can draw them blindly on a water canvas.
Your face in the middle of an inflamed argument. Your face in the middle of a mild one-- when you're at fault.
Your face filled with rainbows of laughter. Your face filled with clouds of distress.
Your face, fluttering, when I open you the door. Your face, agonizing, every time I stand waiting, for the elevator.
Your face, eager, when you kiss me. Your face, surprised, when I lead you to bed.
Your face in the middle of pain. Your face on the outskirts of pleasure.
Your face, with a baffled look, when you wake up. Your face falling asleep, with total surrender.
Your face the first night we met. Your face the last night we parted.
I learned by heart the lines of your face. They all led me into hell.
They all led me into heaven. — Malak El Halabi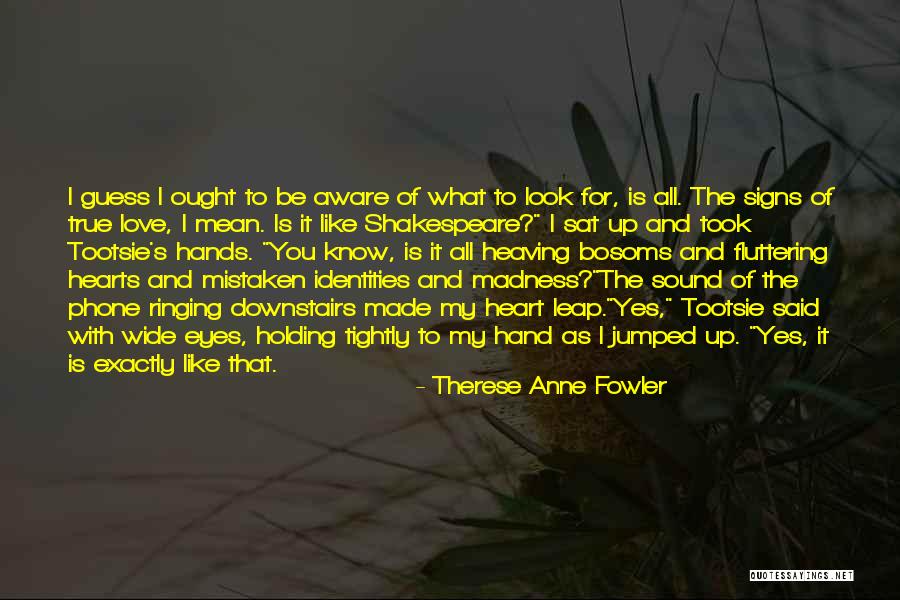 I guess I ought to be aware of what to look for, is all. The signs of true love, I mean. Is it like Shakespeare?" I sat up and took Tootsie's hands. "You know, is it all heaving bosoms and fluttering hearts and mistaken identities and madness?"
The sound of the phone ringing downstairs made my heart leap.
"Yes," Tootsie said with wide eyes, holding tightly to my hand as I jumped up. "Yes, it is exactly like that. — Therese Anne Fowler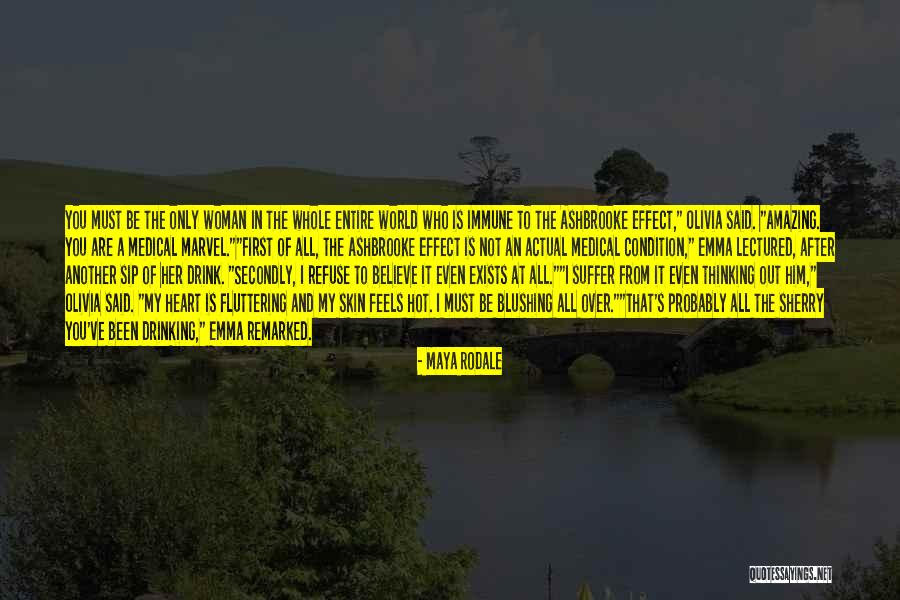 You must be the only woman in the whole entire world who is immune to the Ashbrooke Effect," Olivia said. "Amazing. You are a medical marvel."
"First of all, the Ashbrooke Effect is not an actual medical condition," Emma lectured, after another sip of her drink. "Secondly, I refuse to believe it even exists at all."
"I suffer from it even thinking out him," Olivia said. "My heart is fluttering and my skin feels hot. I must be blushing all over."
"That's probably all the sherry you've been drinking," Emma remarked. — Maya Rodale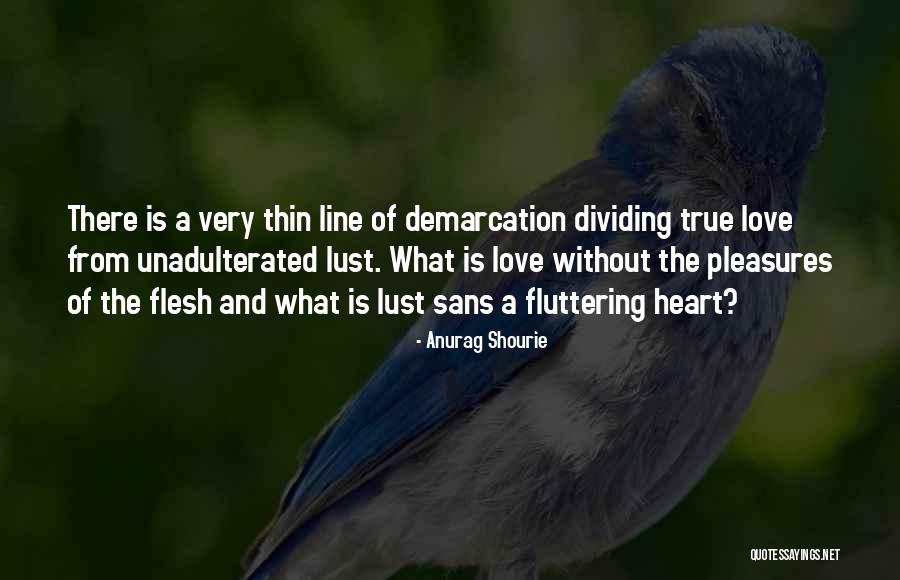 There is a very thin line of demarcation dividing true love from unadulterated lust. What is love without the pleasures of the flesh and what is lust sans a fluttering heart? — Anurag Shourie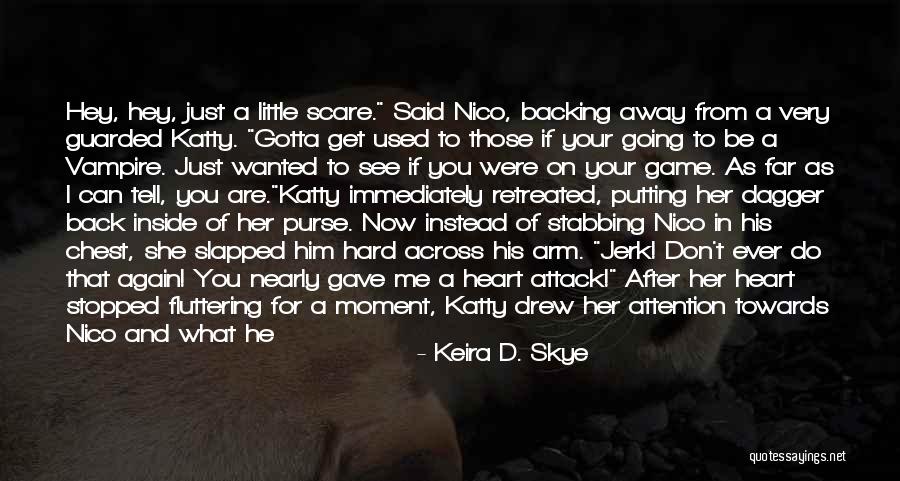 Hey, hey, just a little scare." Said Nico, backing away from a very guarded Katty. "Gotta get used to those if your going to be a Vampire. Just wanted to see if you were on your game. As far as I can tell, you are."
Katty immediately retreated, putting her dagger back inside of her purse. Now instead of stabbing Nico in his chest, she slapped him hard across his arm. "Jerk! Don't ever do that again! You nearly gave me a heart attack!" After her heart stopped fluttering for a moment, Katty drew her attention towards Nico and what he was wearing. Nico was lookin' pretty hot tonight. Jumping out and scaring her, now took second place. For what she saw before her was nothing less than a dark, Gothic dream. Mmm ... oh yes..Yum..Yum..Yum! — Keira D. Skye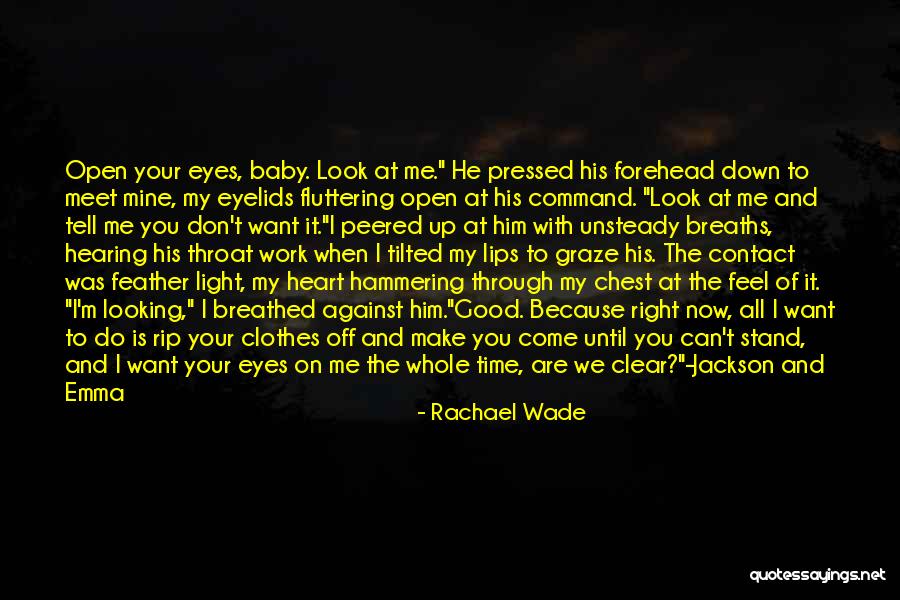 Open your eyes, baby. Look at me." He pressed his forehead down to meet mine, my eyelids fluttering open at his command. "Look at me and tell me you don't want it."
I peered up at him with unsteady breaths, hearing his throat work when I tilted my lips to graze his. The contact was feather light, my heart hammering through my chest at the feel of it. "I'm looking," I breathed against him.
"Good. Because right now, all I want to do is rip your clothes off and make you come until you can't stand, and I want your eyes on me the whole time, are we clear?"
-Jackson and Emma — Rachael Wade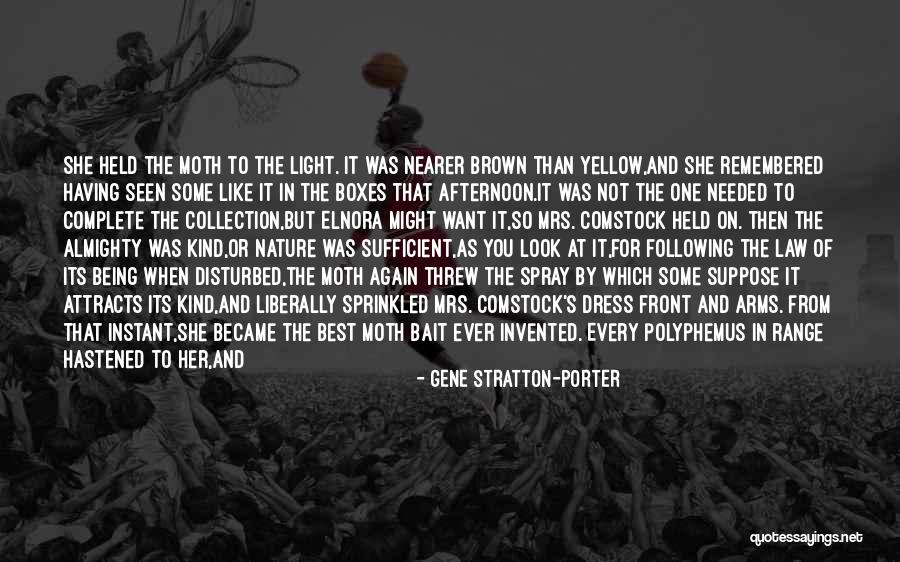 She held the moth to the light. It was nearer brown than yellow,and she remembered having seen some like it in the boxes that afternoon.It was not the one needed to complete the collection,but Elnora might want it,so Mrs. Comstock held on. Then the Almighty was kind,or nature was sufficient,as you look at it,for following the law of its being when disturbed,the moth again threw the spray by which some suppose it attracts its kind,and liberally sprinkled Mrs. Comstock's dress front and arms. From that instant,she became the best moth bait ever invented. Every Polyphemus in range hastened to her,and other fluttering creatures of night followed. The influx came her way. She snatched wildly here and there until she had one in each hand and no place to put them. She could see more coming,and her aching heart,swollen with the strain of long excitement,hurt pitifully.She prayed in broken exclamations that did not always sound reverent,but never was a human soul more intense earnest. — Gene Stratton-Porter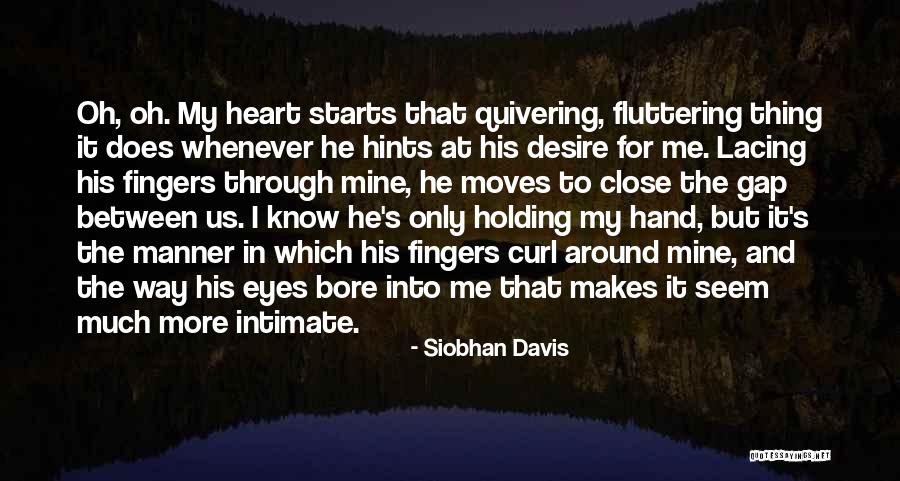 Oh, oh. My heart starts that quivering, fluttering thing it does whenever he hints at his desire for me. Lacing his fingers through mine, he moves to close the gap between us. I know he's only holding my hand, but it's the manner in which his fingers curl around mine, and the way his eyes bore into me that makes it seem much more intimate. — Siobhan Davis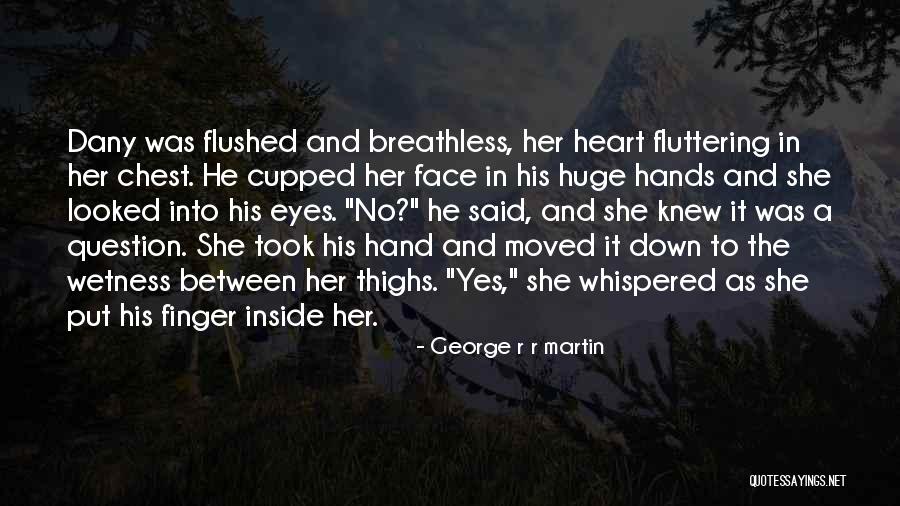 Dany was flushed and breathless, her heart fluttering in her chest. He cupped her face in his huge hands and she looked into his eyes. "No?" he said, and she knew it was a question. She took his hand and moved it down to the wetness between her thighs. "Yes," she whispered as she put his finger inside her. — George R R Martin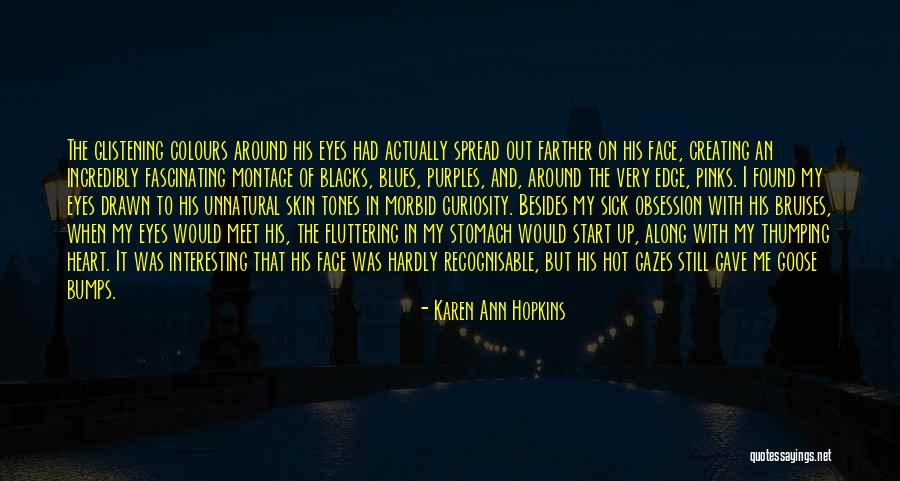 The glistening colours around his eyes had actually spread out farther on his face, creating an incredibly fascinating montage of blacks, blues, purples, and, around the very edge, pinks. I found my eyes drawn to his unnatural skin tones in morbid curiosity. Besides my sick obsession with his bruises, when my eyes would meet his, the fluttering in my stomach would start up, along with my thumping heart. It was interesting that his face was hardly recognisable, but his hot gazes still gave me goose bumps. — Karen Ann Hopkins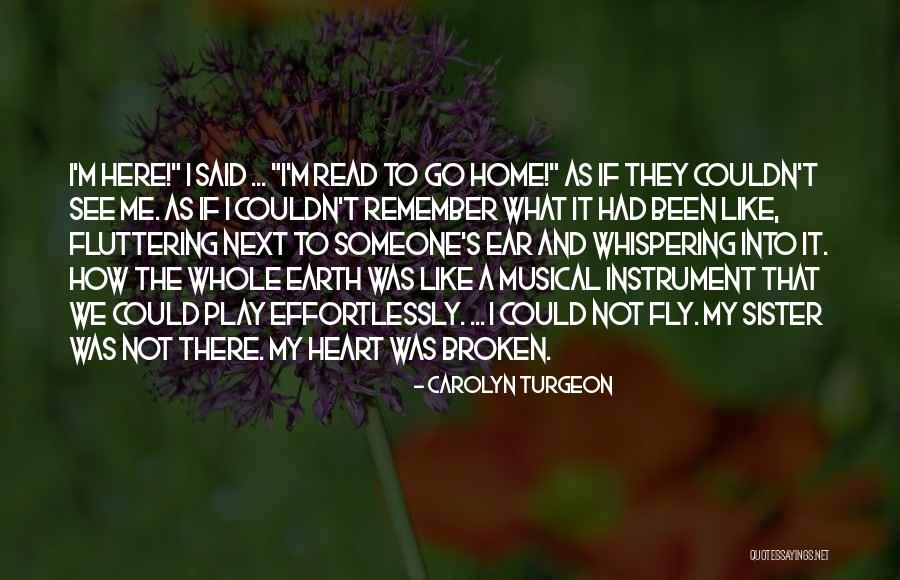 I'm here!" I said ... "I'm read to go home!" As if they couldn't see me. As if I couldn't remember what it had been like, fluttering next to someone's ear and whispering into it. How the whole earth was like a musical instrument that we could play effortlessly.
... I could not fly. My sister was not there. My heart was broken. — Carolyn Turgeon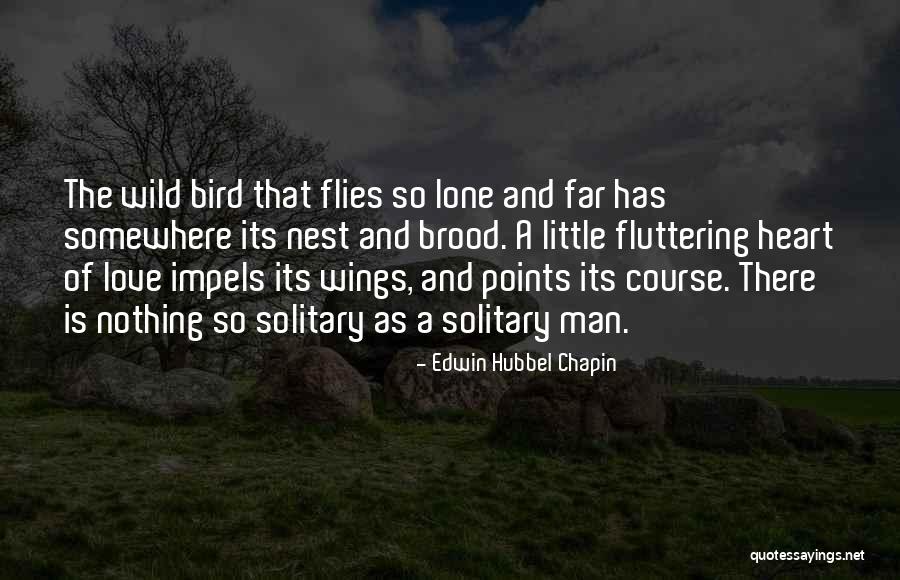 The wild bird that flies so lone and far has somewhere its nest and brood. A little fluttering heart of love impels its wings, and points its course. There is nothing so solitary as a solitary man. — Edwin Hubbel Chapin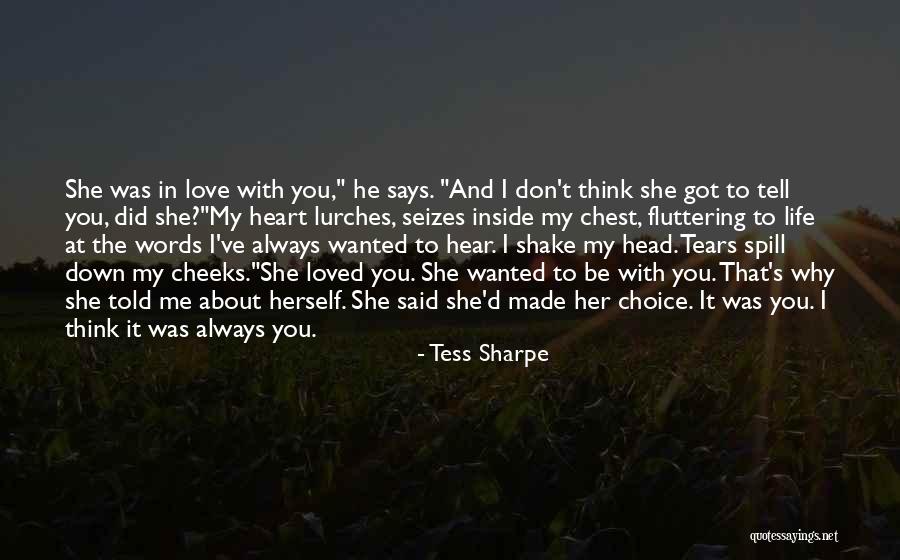 She was in love with you," he says. "And I don't think she got to tell you, did she?"

My heart lurches, seizes inside my chest, fluttering to life at the words I've always wanted to hear. I shake my head. Tears spill down my cheeks.

"She loved you. She wanted to be with you. That's why she told me about herself. She said she'd made her choice. It was you. I think it was always you. — Tess Sharpe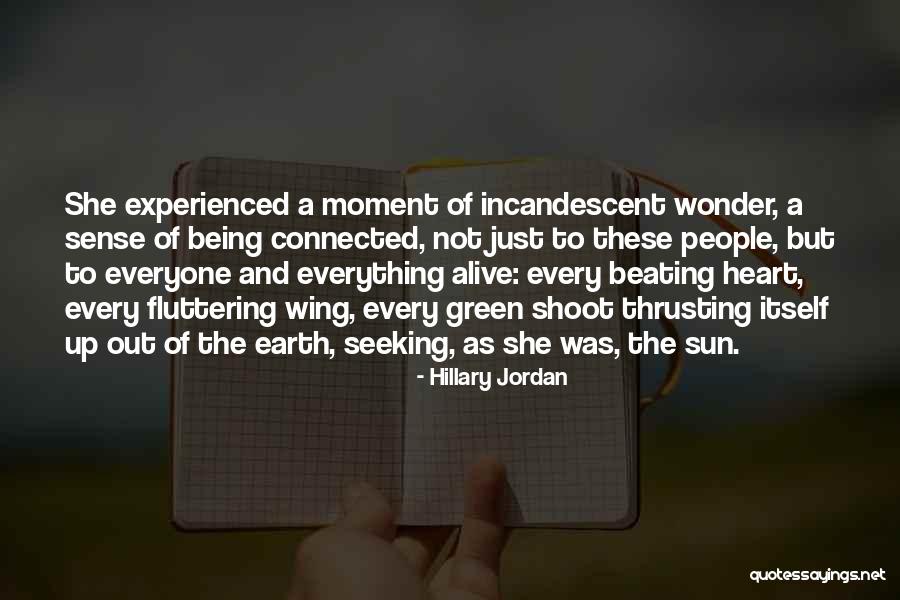 She experienced a moment of incandescent wonder, a sense of being connected, not just to these people, but to everyone and everything alive: every beating heart, every fluttering wing, every green shoot thrusting itself up out of the earth, seeking, as she was, the sun. — Hillary Jordan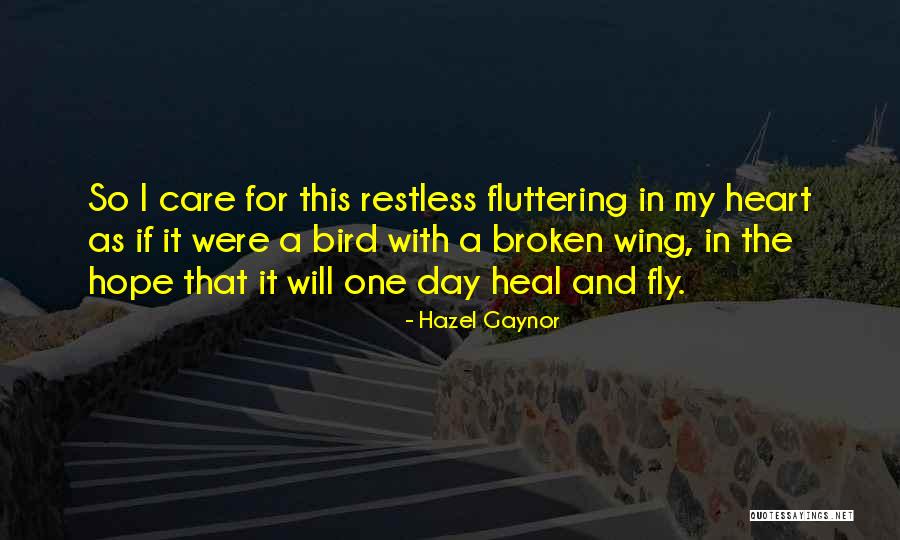 So I care for this restless fluttering in my heart as if it were a bird with a broken wing, in the hope that it will one day heal and fly. — Hazel Gaynor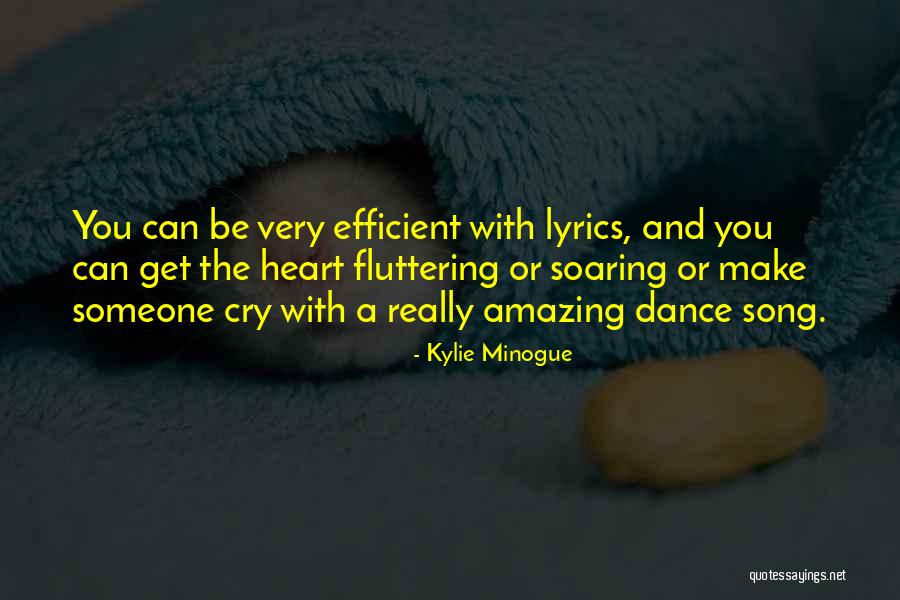 You can be very efficient with lyrics, and you can get the heart fluttering or soaring or make someone cry with a really amazing dance song. — Kylie Minogue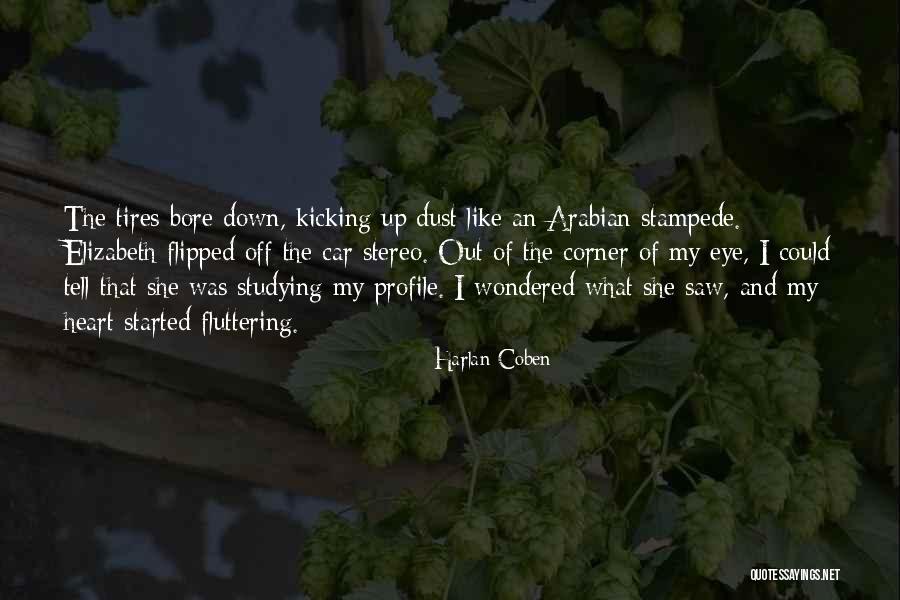 The tires bore down, kicking up dust like an Arabian stampede. Elizabeth flipped off the car stereo. Out of the corner of my eye, I could tell that she was studying my profile. I wondered what she saw, and my heart started fluttering. — Harlan Coben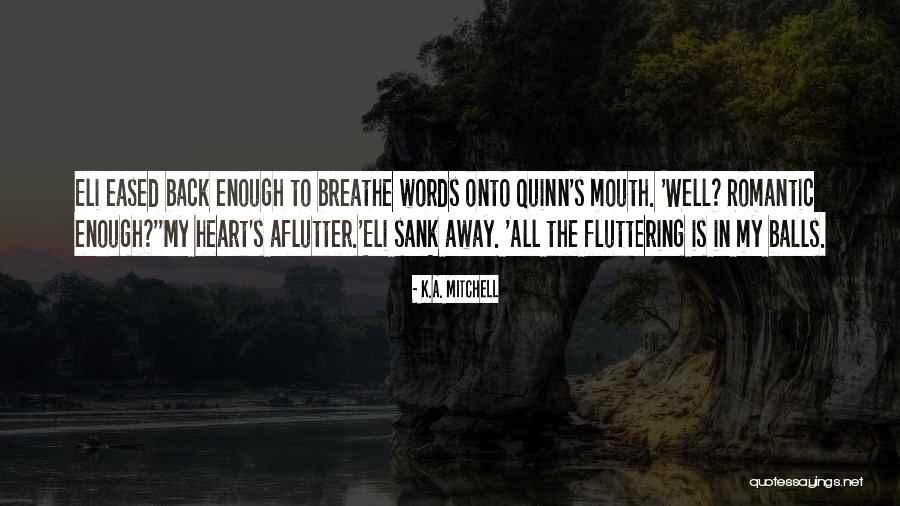 Eli eased back enough to breathe words onto Quinn's mouth. 'Well? Romantic enough?'
'My heart's aflutter.'
Eli sank away. 'All the fluttering is in my balls. — K.A. Mitchell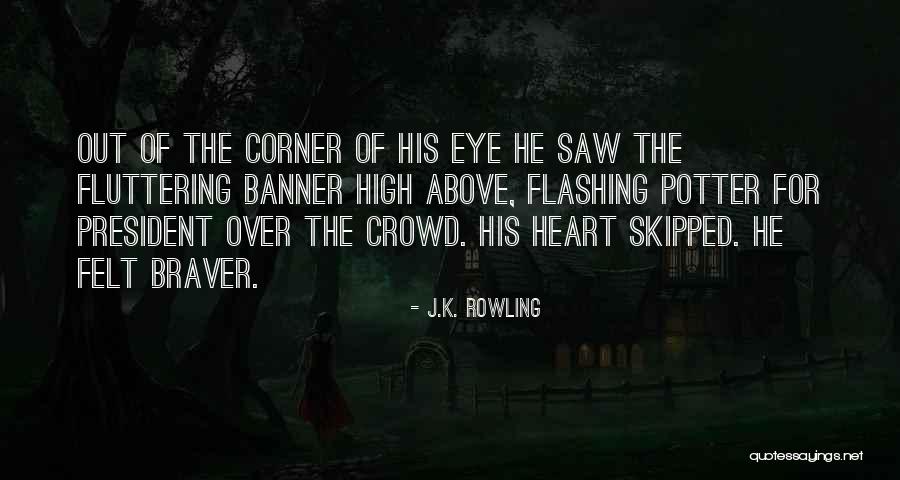 Out of the corner of his eye he saw the fluttering banner high above, flashing Potter for President over the crowd. His heart skipped. He felt braver. — J.K. Rowling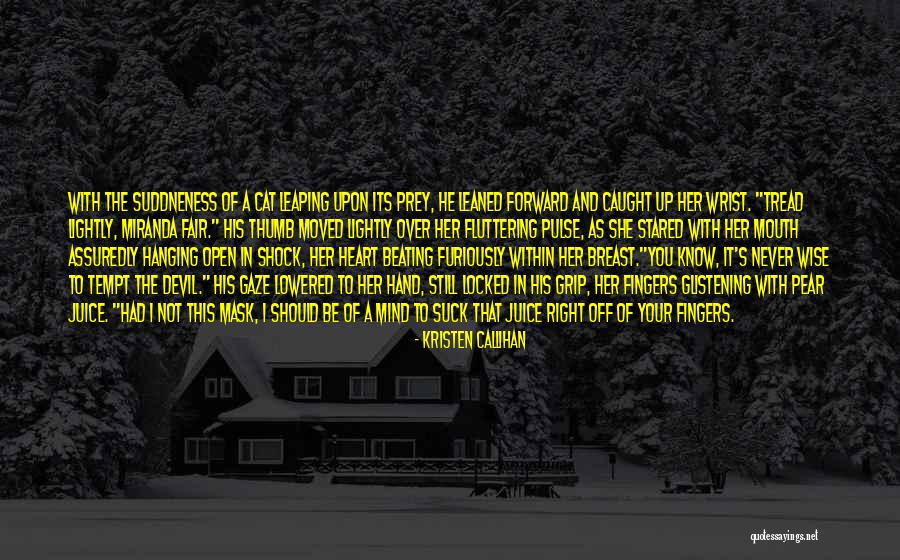 With the suddneness of a cat leaping upon its prey, he leaned forward and caught up her wrist. "Tread lightly, Miranda Fair." His thumb moved lightly over her fluttering pulse, as she stared with her mouth assuredly hanging open in shock, her heart beating furiously within her breast."You know, it's never wise to tempt the devil." His gaze lowered to her hand, still locked in his grip, her fingers glistening with pear juice. "Had I not this mask, I should be of a mind to suck that juice right off of your fingers. — Kristen Callihan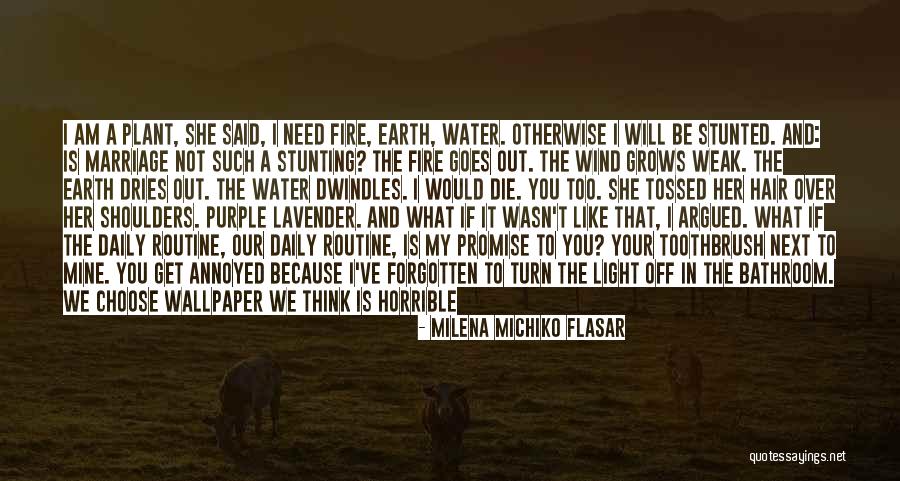 I am a plant, she said, I need fire, earth, water. Otherwise I will be stunted. And: Is marriage not such a stunting? The fire goes out. The wind grows weak. The earth dries out. The water dwindles. I would die. You too. She tossed her hair over her shoulders. Purple lavender. And what if it wasn't like that, I argued. What if the daily routine, our daily routine, is my promise to you? Your toothbrush next to mine. You get annoyed because I've forgotten to turn the light off in the bathroom. We choose wallpaper we think is horrible a year later. You tell me I'm getting a belly. Your forgetfulness. You've left your umbrella somewhere again. I snore, you can't sleep. In my dream I whisper your name...You tie my tie. Wave goodbye to me as I go to work. I think: you are like a fluttering flag. I think it with a stabbing pain in my heart. For Heaven's sake, is that not enough? Is that not enough to be happy? She turned away: Give me time. I'll think about it. — Milena Michiko Flasar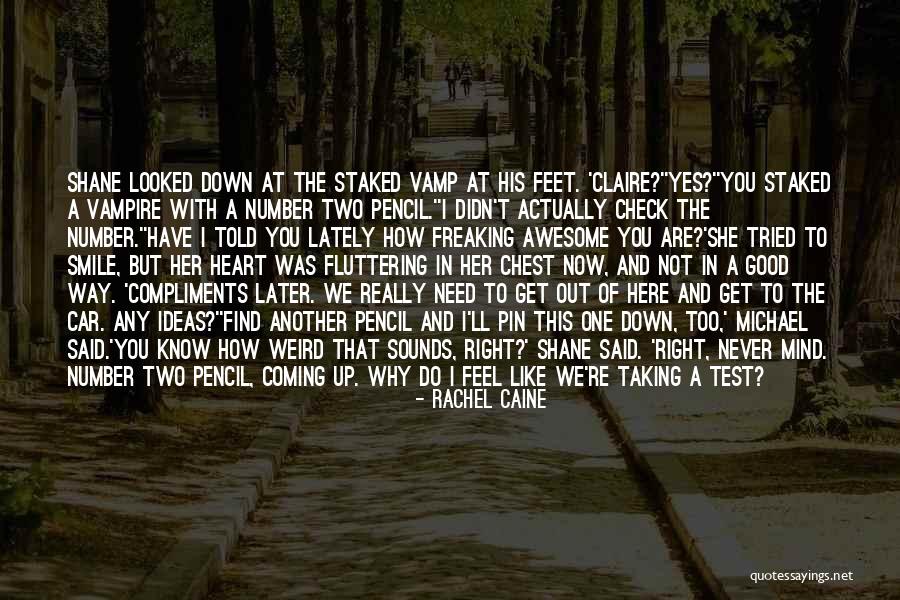 Shane looked down at the staked vamp at his feet. 'Claire?'
'Yes?'
'You staked a vampire with a number two pencil.'
'I didn't actually check the number.'
'Have I told you lately how freaking awesome you are?'
She tried to smile, but her heart was fluttering in her chest now, and not in a good way. 'Compliments later. We really need to get out of here and get to the car. Any ideas?'
'Find another pencil and I'll pin this one down, too,' Michael said.
'You know how weird that sounds, right?' Shane said. 'Right, never mind. Number two pencil, coming up. Why do I feel like we're taking a test? — Rachel Caine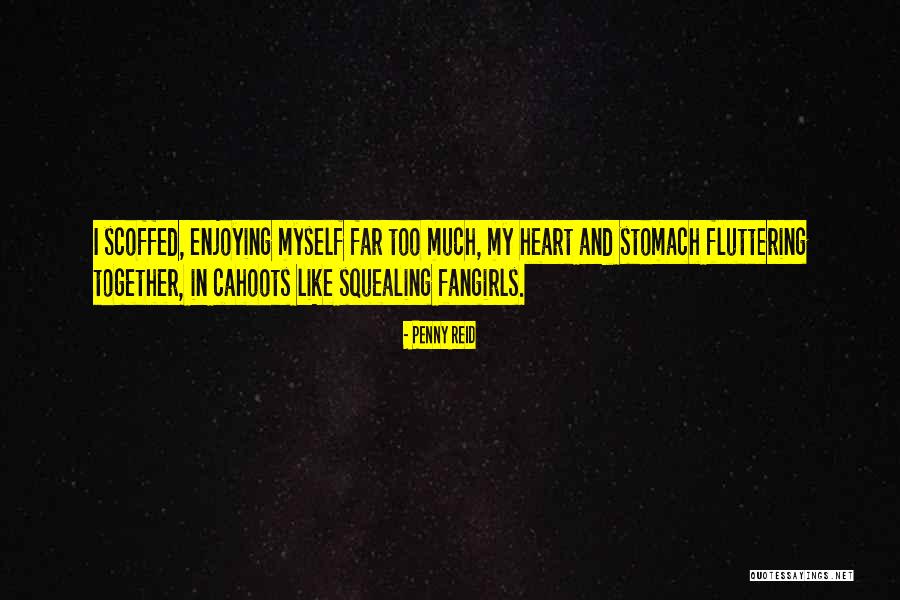 I scoffed, enjoying myself far too much, my heart and stomach fluttering together, in cahoots like squealing fangirls. — Penny Reid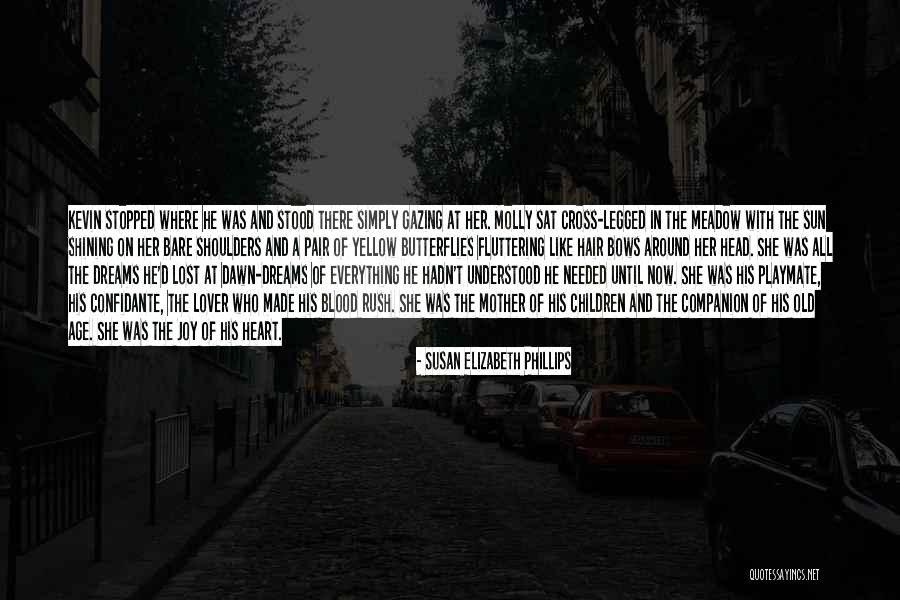 Kevin stopped where he was and stood there simply gazing at her. Molly sat cross-legged in the meadow with the sun shining on her bare shoulders and a pair of yellow butterflies fluttering like hair bows around her head. She was all the dreams he'd lost at dawn-dreams of everything he hadn't understood he needed until now. She was his playmate, his confidante, the lover who made his blood rush. She was the mother of his children and the companion of his old age. She was the joy of his heart. — Susan Elizabeth Phillips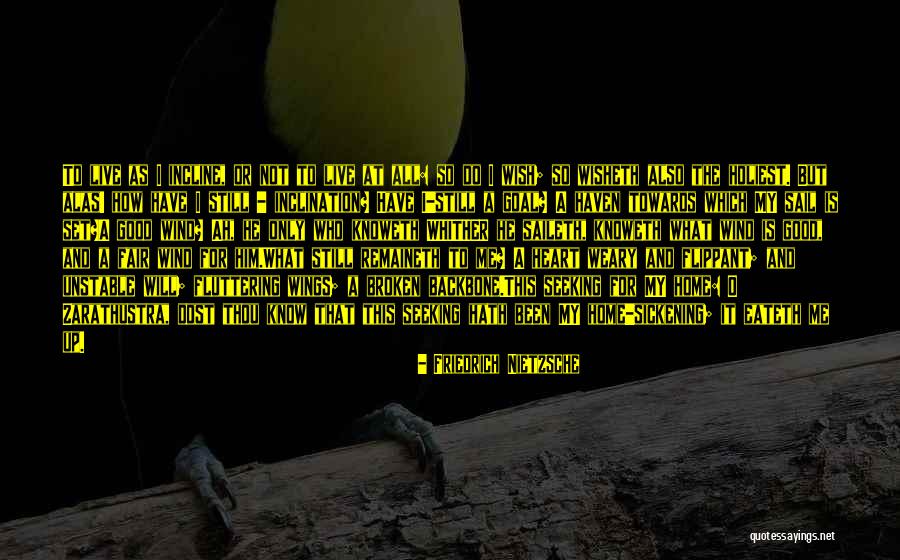 To live as I incline, or not to live at all: so do I wish; so wisheth also the holiest. But alas! how have I still - inclination?
Have I-still a goal? A haven towards which MY sail is set?
A good wind? Ah, he only who knoweth WHITHER he saileth, knoweth what wind is good, and a fair wind for him.
What still remaineth to me? A heart weary and flippant; and unstable will; fluttering wings; a broken backbone.
This seeking for MY home: O Zarathustra, dost thou know that this seeking hath been MY home-sickening; it eateth me up. — Friedrich Nietzsche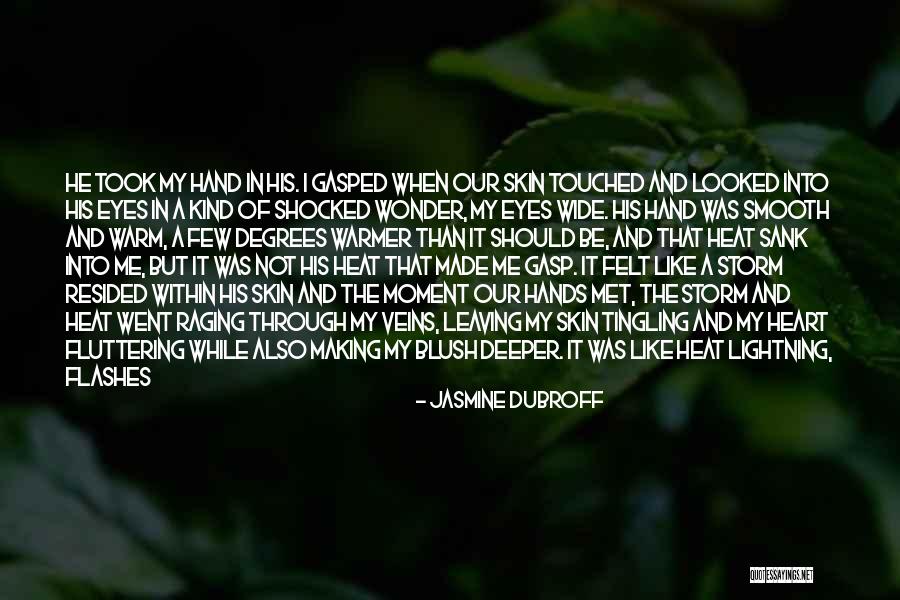 He took my hand in his. I gasped when our skin touched and looked into his eyes in a kind of shocked wonder, my eyes wide. His hand was smooth and warm, a few degrees warmer than it should be, and that heat sank into me, but it was not his heat that made me gasp. It felt like a storm resided within his skin and the moment our hands met, the storm and heat went raging through my veins, leaving my skin tingling and my heart fluttering while also making my blush deeper. It was like heat lightning, flashes of brilliance without sound that told of an impending storm. It awakened something within me, something I did not know existed, and took my breath away. I had never felt anything like it before. — Jasmine Dubroff