Quotes & Sayings About Feet And Journey
Enjoy reading and share 47 famous quotes about Feet And Journey with everyone.
Top Feet And Journey Quotes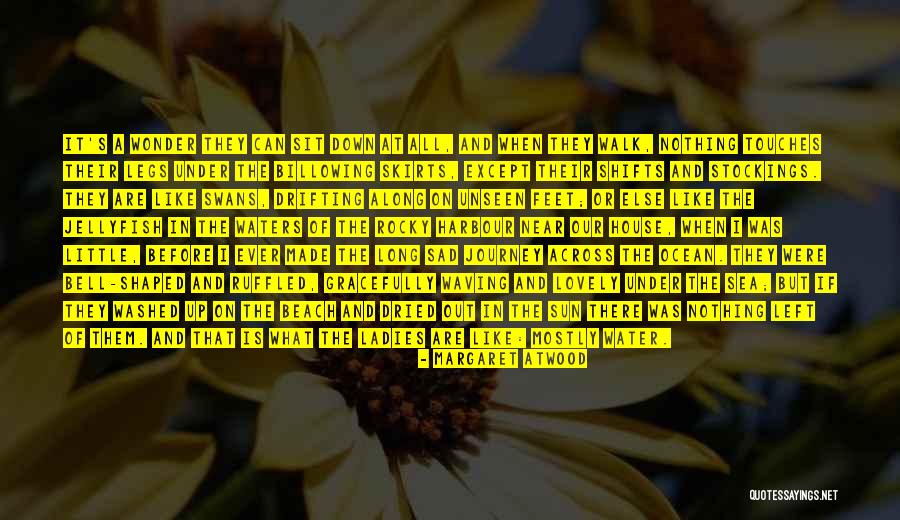 It's a wonder they can sit down at all, and when they walk, nothing touches their legs under the billowing skirts, except their shifts and stockings. They are like swans, drifting along on unseen feet; or else like the jellyfish in the waters of the rocky harbour near our house, when I was little, before I ever made the long sad journey across the ocean. They were bell-shaped and ruffled, gracefully waving and lovely under the sea; but if they washed up on the beach and dried out in the sun there was nothing left of them. And that is what the ladies are like: mostly water. — Margaret Atwood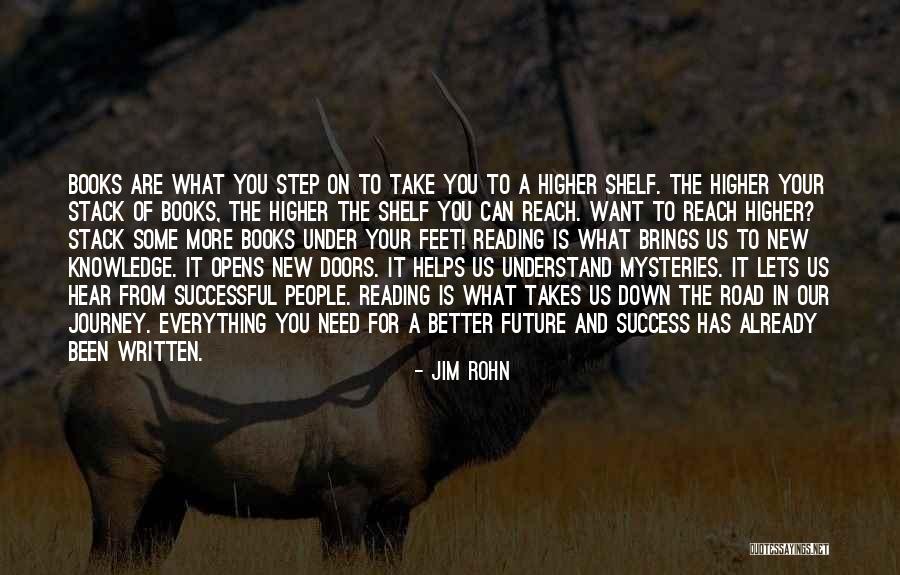 Books are what you step on to take you to a higher shelf. The higher your stack of books, the higher the shelf you can reach. Want to reach higher? Stack some more books under your feet! Reading is what brings us to new knowledge. It opens new doors. It helps us understand mysteries. It lets us hear from successful people. Reading is what takes us down the road in our journey. Everything you need for a better future and success has already been written. — Jim Rohn
Anyone looking back at the log later, trying to piece together a mystery, would find nothing but times and dry entries. It was a lazy Sunday. What made it meaningful were not the facts or details, but the imperceptibles. Inner life. The smell of the beach grass and the feel of sand on a bathroom floor when changing out of a swimsuit. The heat of American summer. Line ten of the log read simply: 10:22 Condor ate second breakfast. It couldn't capture the perfect toasting of the onion bagel or the saltiness of the fish in contrast with the thickness of cream cheese. It was time lost in a book - a journey of imagination, transportation - which to others simply looks like sitting or lying stomach-down on the rug in front of a summertime fire, legs bent at the knees, up ninety degrees, kicking absently, feet languid in the air. — Noah Hawley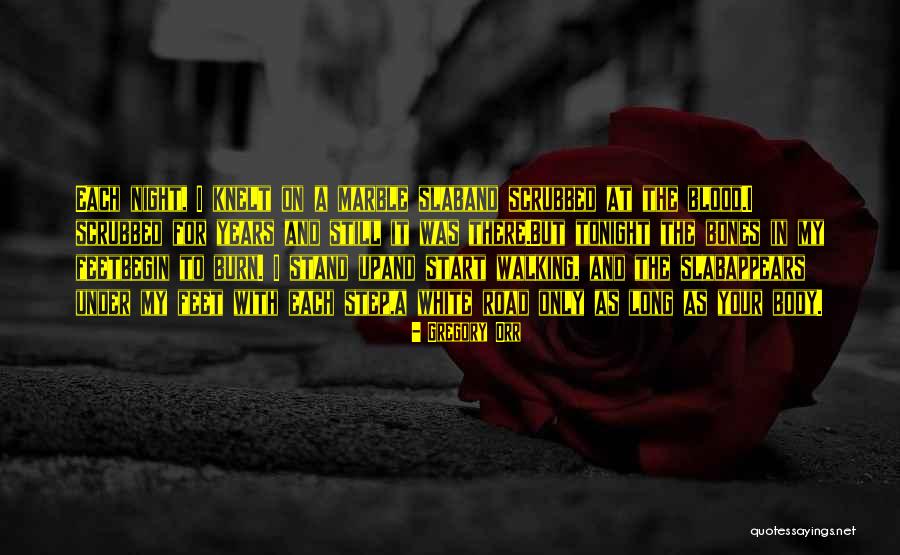 Each night, I knelt on a marble slab
and scrubbed at the blood.
I scrubbed for years and still it was there.
But tonight the bones in my feet
begin to burn. I stand up
and start walking, and the slab
appears under my feet with each step,
a white road only as long as your body. — Gregory Orr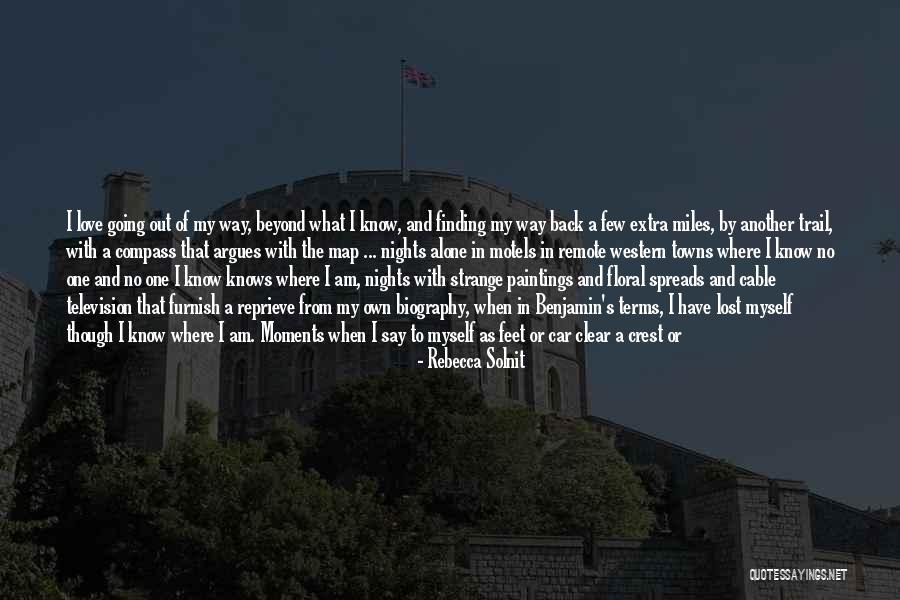 I love going out of my way, beyond what I know, and finding my way back a few extra miles, by another trail, with a compass that argues with the map ... nights alone in motels in remote western towns where I know no one and no one I know knows where I am, nights with strange paintings and floral spreads and cable television that furnish a reprieve from my own biography, when in Benjamin's terms, I have lost myself though I know where I am. Moments when I say to myself as feet or car clear a crest or round a bend, I have never seen this place before. Times when some architectural detail on vista that has escaped me these many years says to me that I never did know where I was, even when I was home. — Rebecca Solnit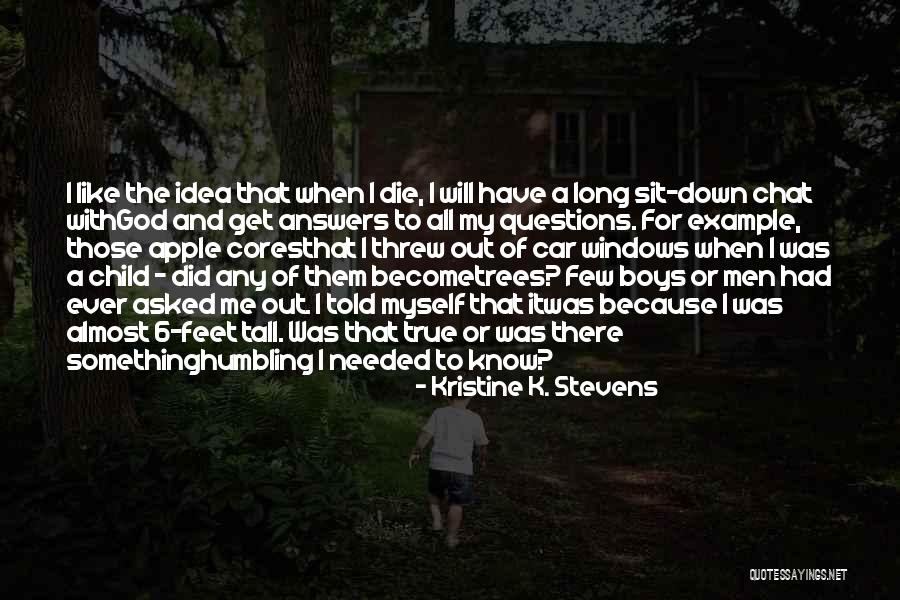 I like the idea that when I die, I will have a long sit-down chat with
God and get answers to all my questions. For example, those apple cores
that I threw out of car windows when I was a child - did any of them become
trees? Few boys or men had ever asked me out. I told myself that it
was because I was almost 6-feet tall. Was that true or was there something
humbling I needed to know? — Kristine K. Stevens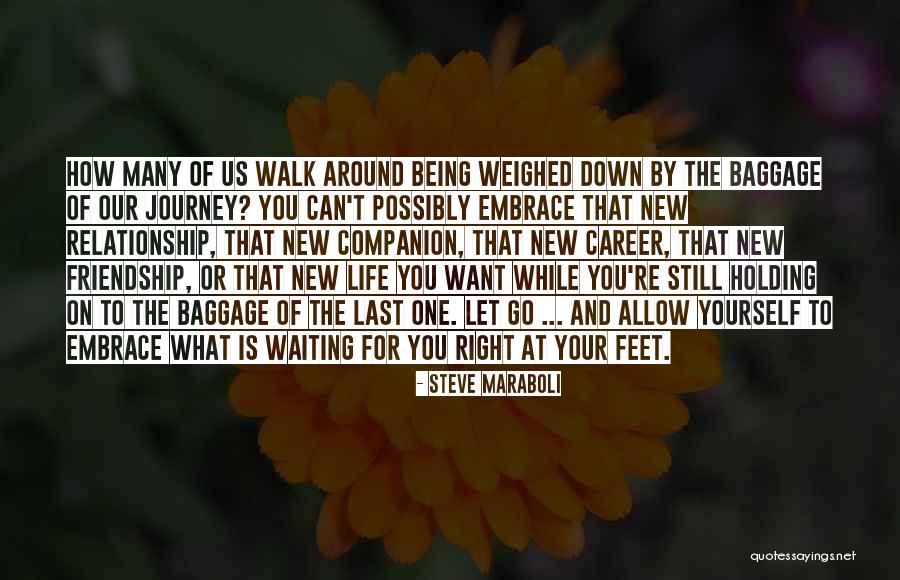 How many of us walk around being weighed down by the baggage of our journey? You can't possibly embrace that new relationship, that new companion, that new career, that new friendship, or that new life you want while you're still holding on to the baggage of the last one. Let go ... and allow yourself to embrace what is waiting for you right at your feet. — Steve Maraboli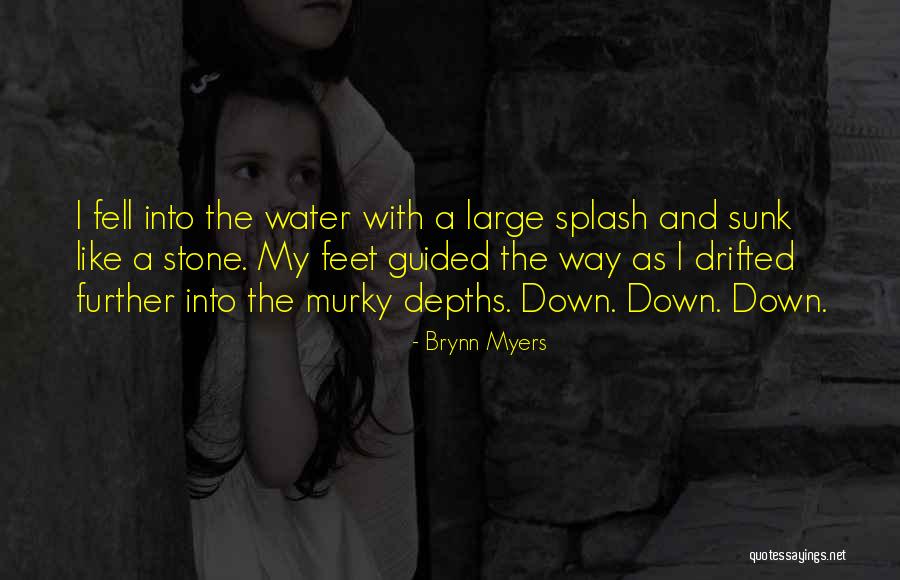 I fell into the water with a large splash and sunk like a stone. My feet guided the way as I drifted further into the murky depths.
Down.
Down.
Down. — Brynn Myers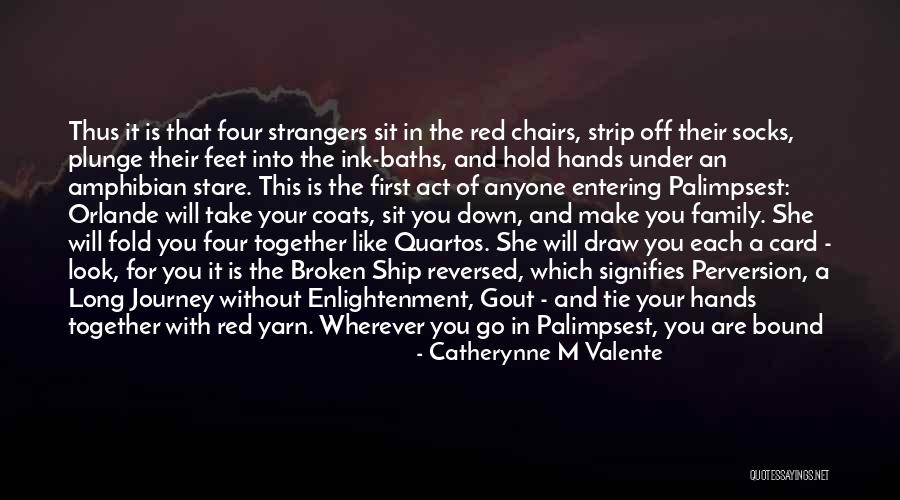 Thus it is that four strangers sit in the red chairs, strip off their socks, plunge their feet into the ink-baths, and hold hands under an amphibian stare. This is the first act of anyone entering Palimpsest: Orlande will take your coats, sit you down, and make you family. She will fold you four together like Quartos. She will draw you each a card - look, for you it is the Broken Ship reversed, which signifies Perversion, a Long Journey without Enlightenment, Gout - and tie your hands together with red yarn. Wherever you go in Palimpsest, you are bound to these strangers who happened onto Orlande's salon just when you did, and you will go nowhere, eat no capon or dormouse, drink no oversweet port that they do not also taste, and they will visit no whore that you do not also feel beneath you, and until that ink washes from your feet - which, given that Orlande is a creature of the marsh and no stranger to mud, will be some time - you cannot breathe but that they breathe also. — Catherynne M Valente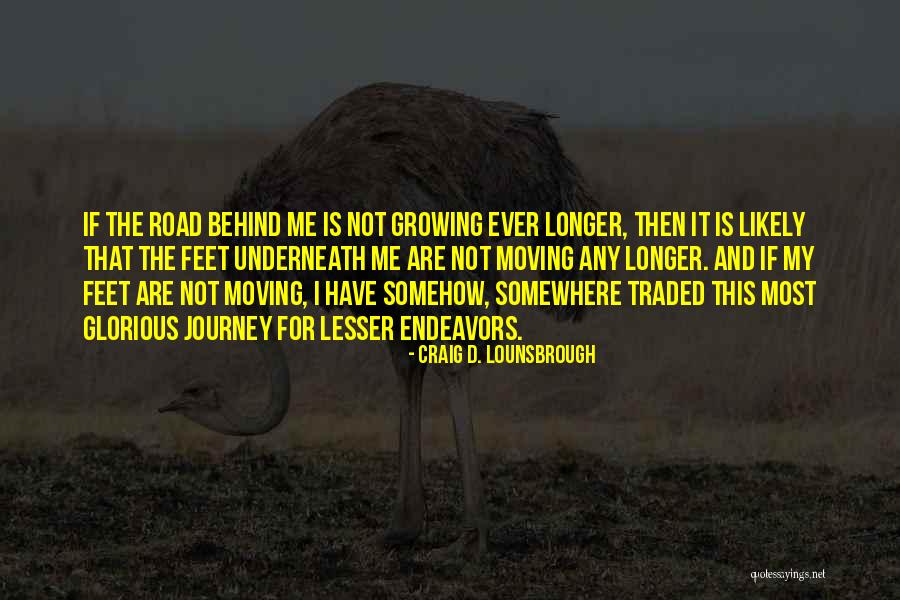 If the road behind me is not growing ever longer, then it is likely that the feet underneath me are not moving any longer. And if my feet are not moving, I have somehow, somewhere traded this most glorious journey for lesser endeavors. — Craig D. Lounsbrough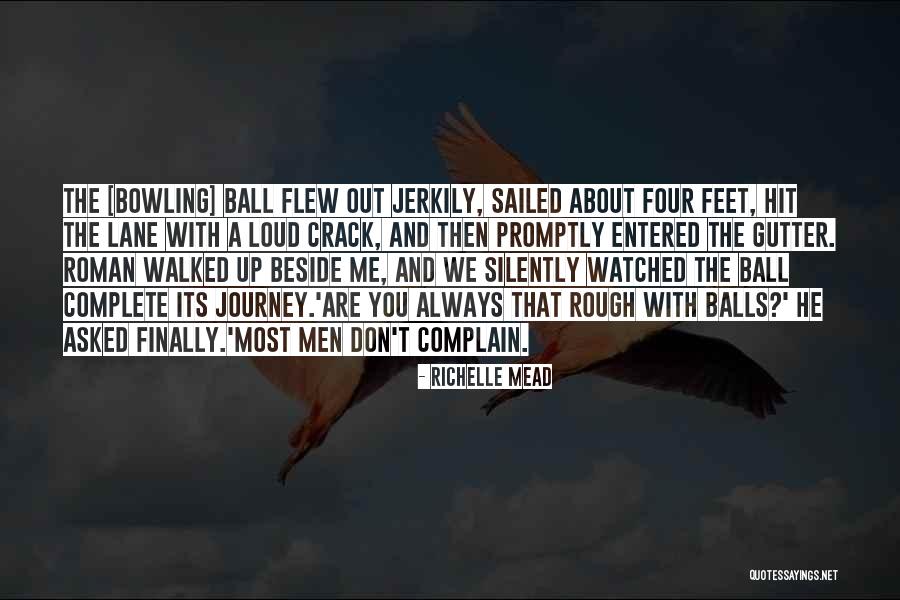 The [bowling] ball flew out jerkily, sailed about four feet, hit the lane with a loud crack, and then promptly entered the gutter. Roman walked up beside me, and we silently watched the ball complete its journey.
'Are you always that rough with balls?' he asked finally.
'Most men don't complain. — Richelle Mead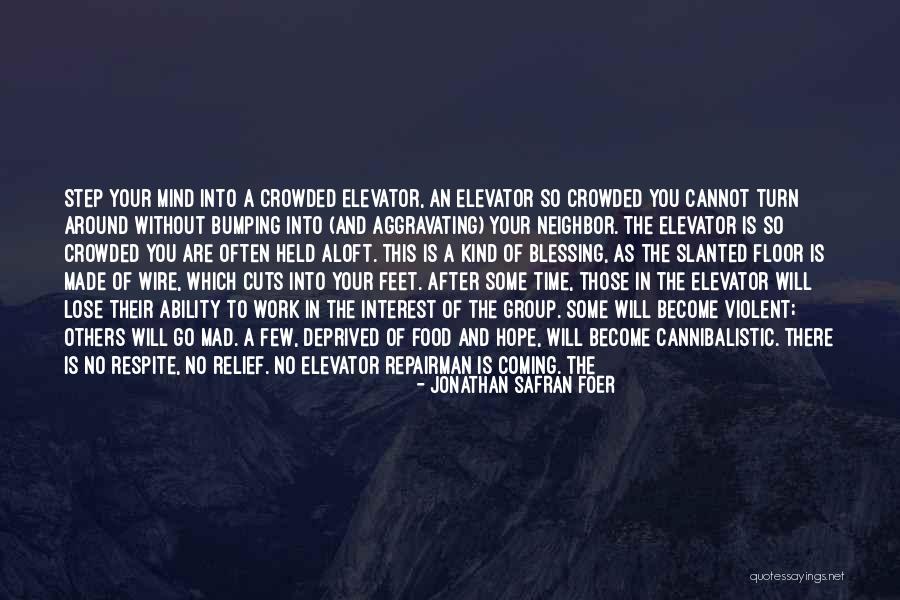 Step your mind into a crowded elevator, an elevator so crowded you cannot turn around without bumping into (and aggravating) your neighbor. The elevator is so crowded you are often held aloft. This is a kind of blessing, as the slanted floor is made of wire, which cuts into your feet. After some time, those in the elevator will lose their ability to work in the interest of the group. Some will become violent; others will go mad. A few, deprived of food and hope, will become cannibalistic. There is no respite, no relief. No elevator repairman is coming. The doors will open once, at the end of your life, for your journey to the only place worse (see: PROCESSING). — Jonathan Safran Foer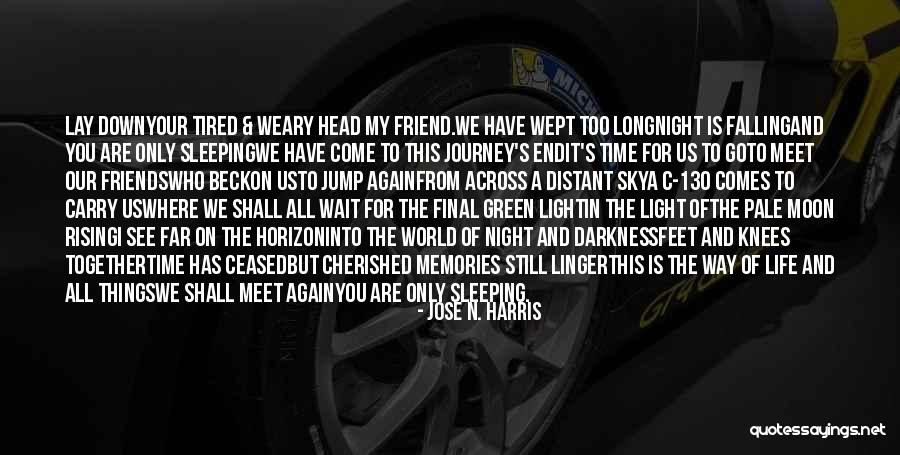 Lay down
Your tired & weary head my friend.
We have wept too long
Night is falling
And you are only sleeping

We have come to this journey's end
It's time for us to go
To meet our friends
Who beckon us
To jump again

From across a distant sky
A C-130 comes to carry us
Where we shall all wait
For the final green light

In the light of
The pale moon rising
I see far on the horizon
Into the world of night and darkness
Feet and knees together

Time has ceased
But cherished memories still linger
This is the way of life and all things
We shall meet again
You are only sleeping. — Jose N. Harris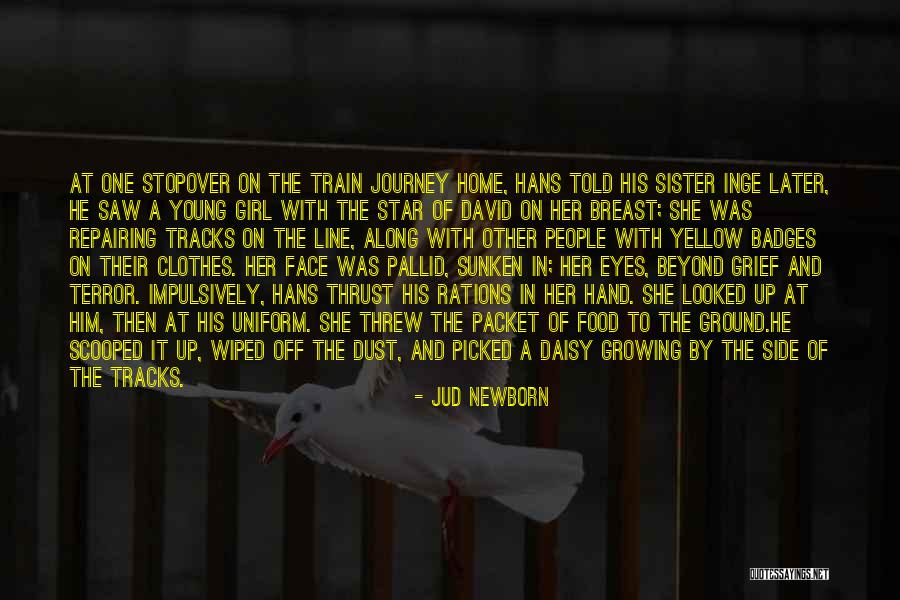 At one stopover on the train journey home, Hans told his sister Inge later, he saw a young girl with the Star of David on her breast; she was repairing tracks on the line, along with other people with yellow badges on their clothes. Her face was pallid, sunken in; her eyes, beyond grief and terror. Impulsively, Hans thrust his rations in her hand. She looked up at him, then at his uniform. She threw the packet of food to the ground.
He scooped it up, wiped off the dust, and picked a daisy growing by the side of the tracks. He placed the package, with the daisy on top, at her feet. He said, "I would have liked to give you a little pleasure." He boarded the train.
When he looked back, the girl was standing there, watching the train disappear, the flower in her hair. — Jud Newborn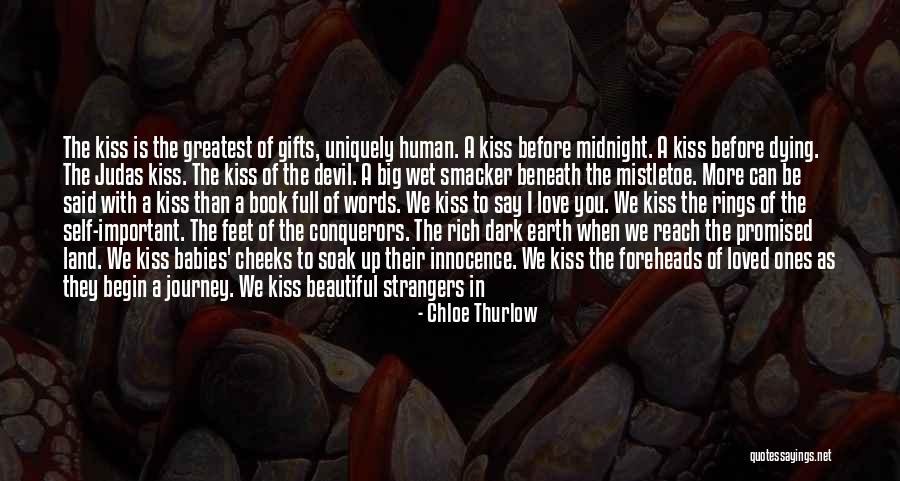 The kiss is the greatest of gifts, uniquely human. A kiss before midnight. A kiss before dying. The Judas kiss. The kiss of the devil. A big wet smacker beneath the mistletoe. More can be said with a kiss than a book full of words. We kiss to say I love you. We kiss the rings of the self-important. The feet of the conquerors. The rich dark earth when we reach the promised land. We kiss babies' cheeks to soak up their innocence. We kiss the foreheads of loved ones as they begin a journey. We kiss beautiful strangers in far away places because on hot July nights with the music of the sea and the stars above your head your lips are incomplete until they are joined in a kiss. — Chloe Thurlow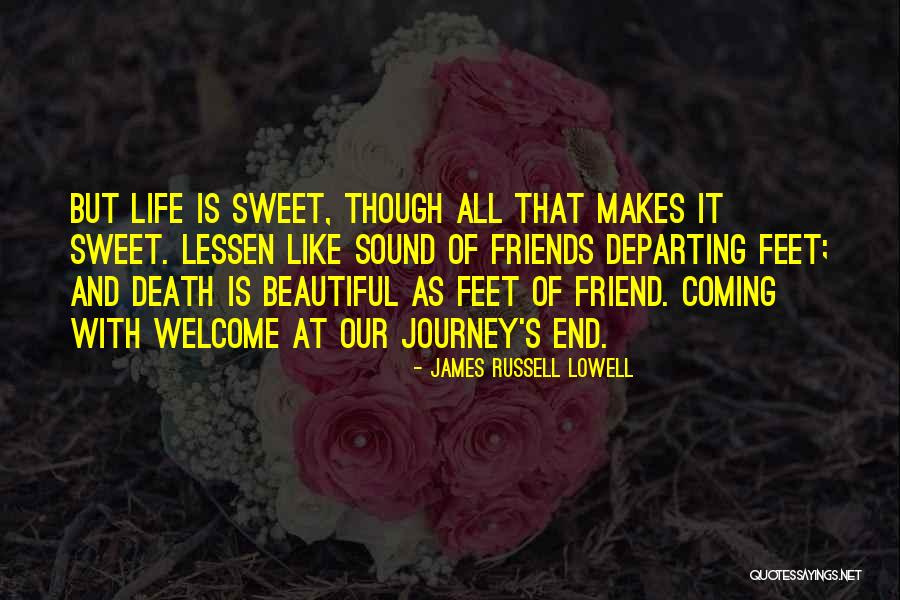 But life is sweet, though all that makes it sweet. Lessen like sound of friends departing feet; And death is beautiful as feet of friend. Coming with welcome at our journey's end. — James Russell Lowell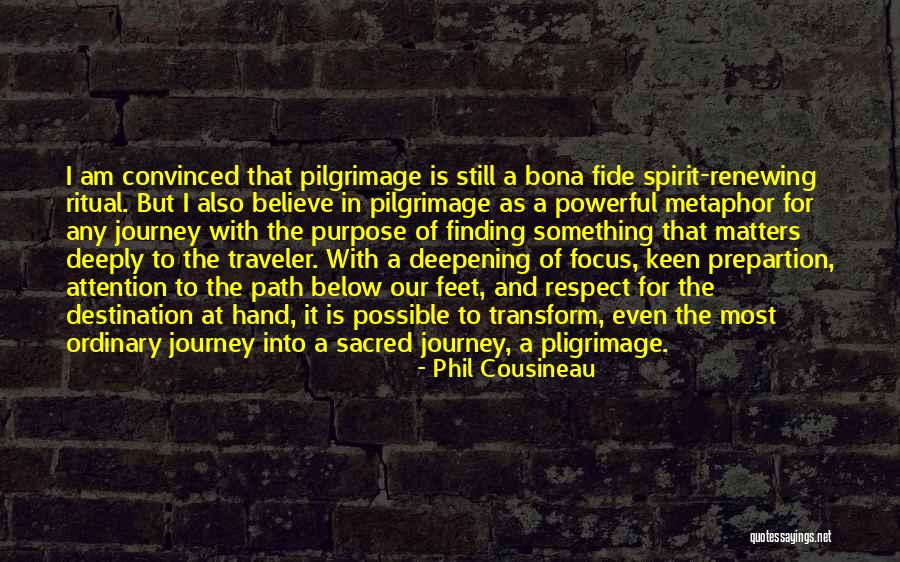 I am convinced that pilgrimage is still a bona fide spirit-renewing ritual. But I also believe in pilgrimage as a powerful metaphor for any journey with the purpose of finding something that matters deeply to the traveler. With a deepening of focus, keen prepartion, attention to the path below our feet, and respect for the destination at hand, it is possible to transform, even the most ordinary journey into a sacred journey, a pligrimage. — Phil Cousineau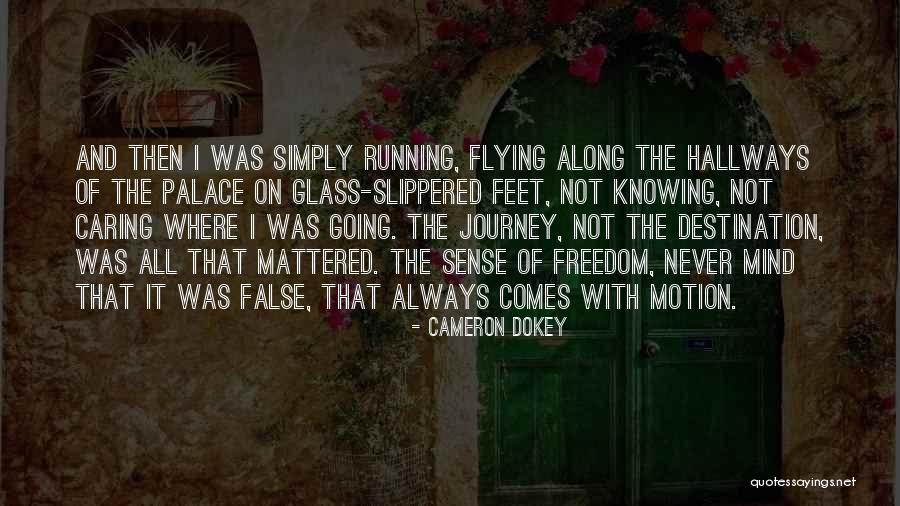 And then I was simply running, flying along the hallways of the palace on glass-slippered feet, not knowing, not caring where I was going. The journey, not the destination, was all that mattered. The sense of freedom, never mind that it was false, that always comes with motion. — Cameron Dokey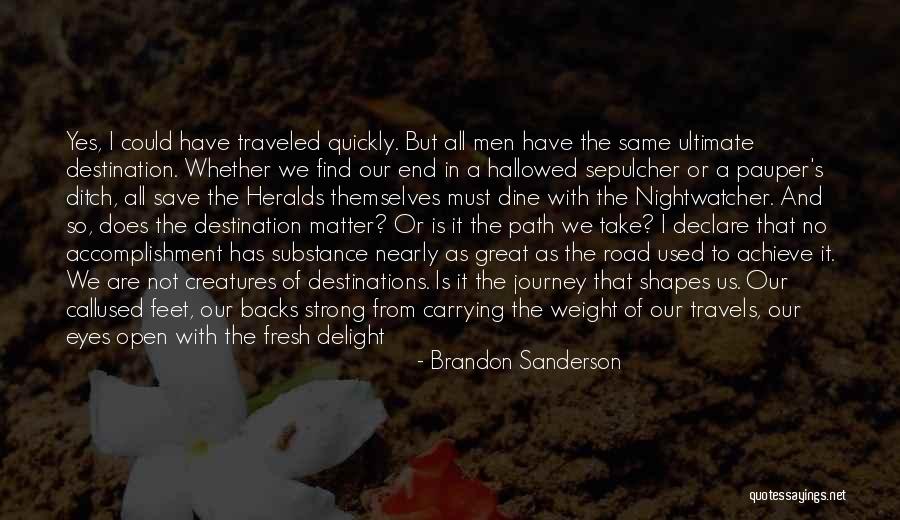 Yes, I could have traveled quickly. But all men have the same ultimate destination. Whether we find our end in a hallowed sepulcher or a pauper's ditch, all save the Heralds themselves must dine with the Nightwatcher. And so, does the destination matter? Or is it the path we take? I declare that no accomplishment has substance nearly as great as the road used to achieve it. We are not creatures of destinations. Is it the journey that shapes us. Our callused feet, our backs strong from carrying the weight of our travels, our eyes open with the fresh delight of experiences lived. In the end, I must proclaim that no good can be achieved of false means. For the substance of our existence is not in the achievement, but in the method. The Monarch must understand this; he must not become so focused on what he wishes to accomplish that he diverts his gaze from the path he must take to arrive there. — Brandon Sanderson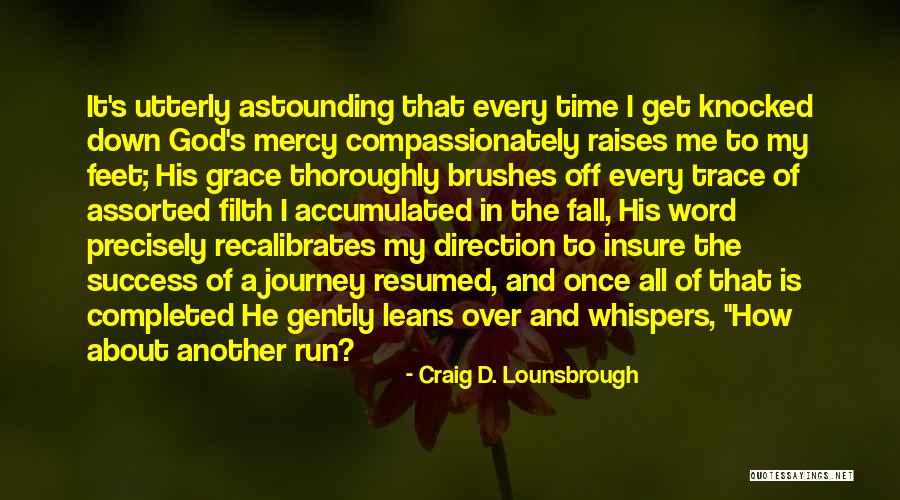 It's utterly astounding that every time I get knocked down God's mercy compassionately raises me to my feet; His grace thoroughly brushes off every trace of assorted filth I accumulated in the fall, His word precisely recalibrates my direction to insure the success of a journey resumed, and once all of that is completed He gently leans over and whispers, "How about another run? — Craig D. Lounsbrough
If people stumble, we help them get back on their feet; if they veer off course, we urge them back. On this journey we are all brothers and sisters in the same family - the family of God. — Billy Graham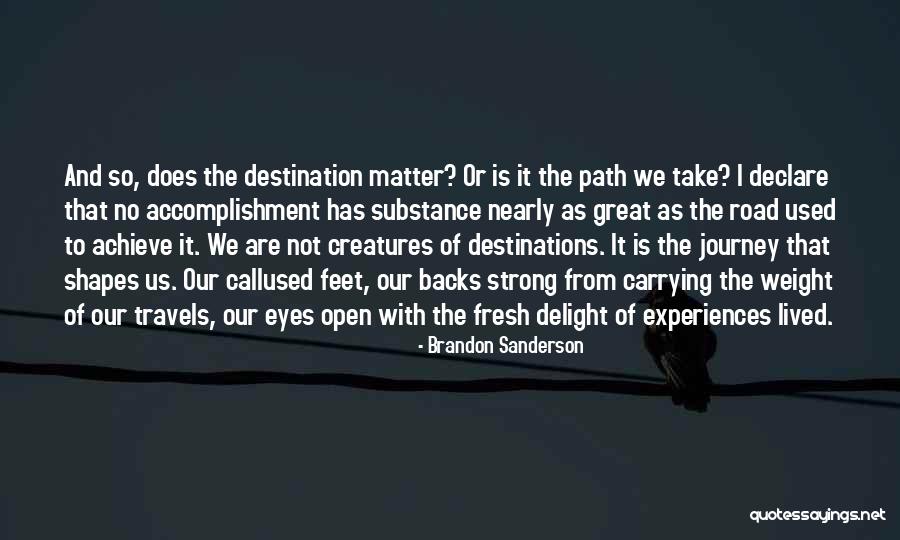 And so, does the destination matter? Or is it the path we take? I declare that no accomplishment has substance nearly as great as the road used to achieve it. We are not creatures of destinations. It is the journey that shapes us. Our callused feet, our backs strong from carrying the weight of our travels, our eyes open with the fresh delight of experiences lived. — Brandon Sanderson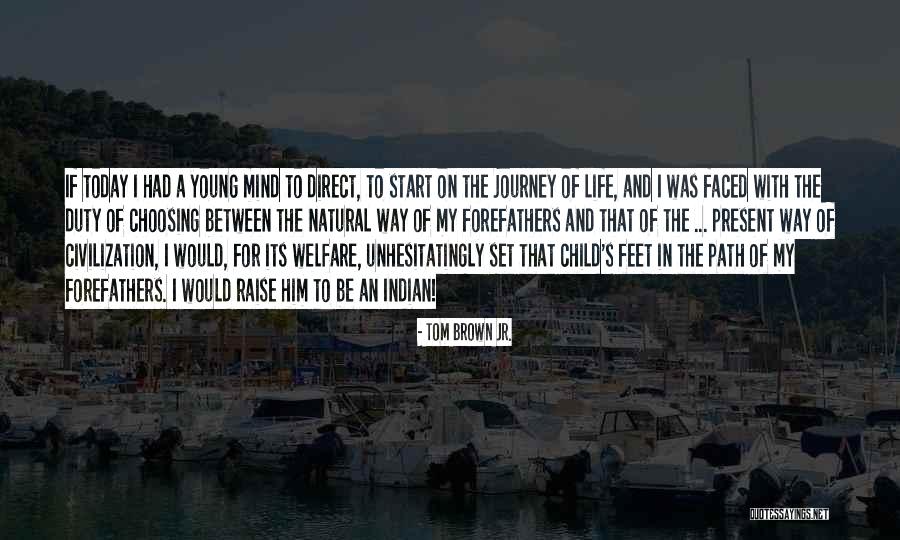 If today I had a young mind to direct, to start on the journey of life, and I was faced with the duty of choosing between the natural way of my forefathers and that of the ... present way of civilization, I would, for its welfare, unhesitatingly set that child's feet in the path of my forefathers. I would raise him to be an Indian! — Tom Brown Jr.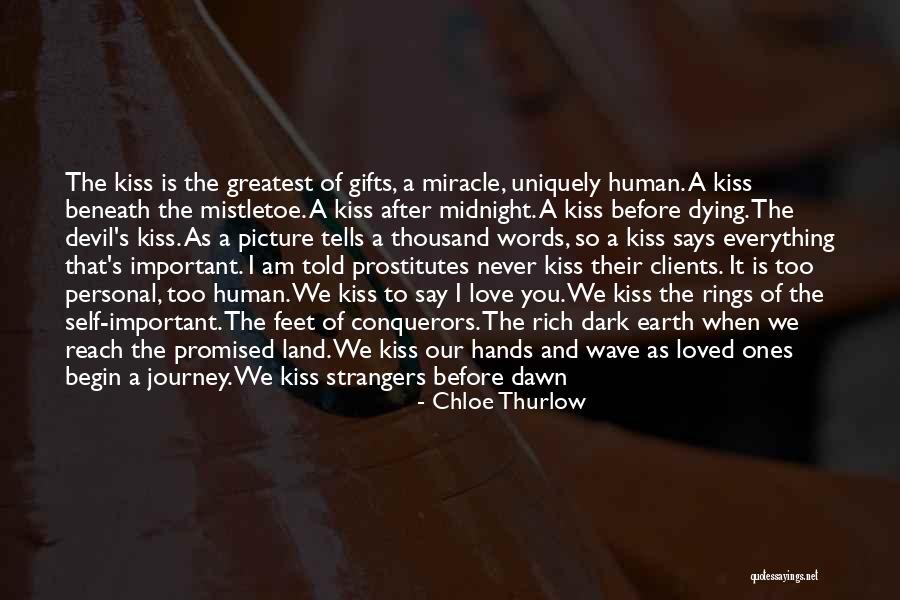 The kiss is the greatest of gifts, a miracle, uniquely human. A kiss beneath the mistletoe. A kiss after midnight. A kiss before dying. The devil's kiss. As a picture tells a thousand words, so a kiss says everything that's important. I am told prostitutes never kiss their clients. It is too personal, too human. We kiss to say I love you. We kiss the rings of the self-important. The feet of conquerors. The rich dark earth when we reach the promised land. We kiss our hands and wave as loved ones begin a journey. We kiss strangers before dawn in the first hours of a New Year because our wintry lips are incomplete until they are oiled by a kiss. — Chloe Thurlow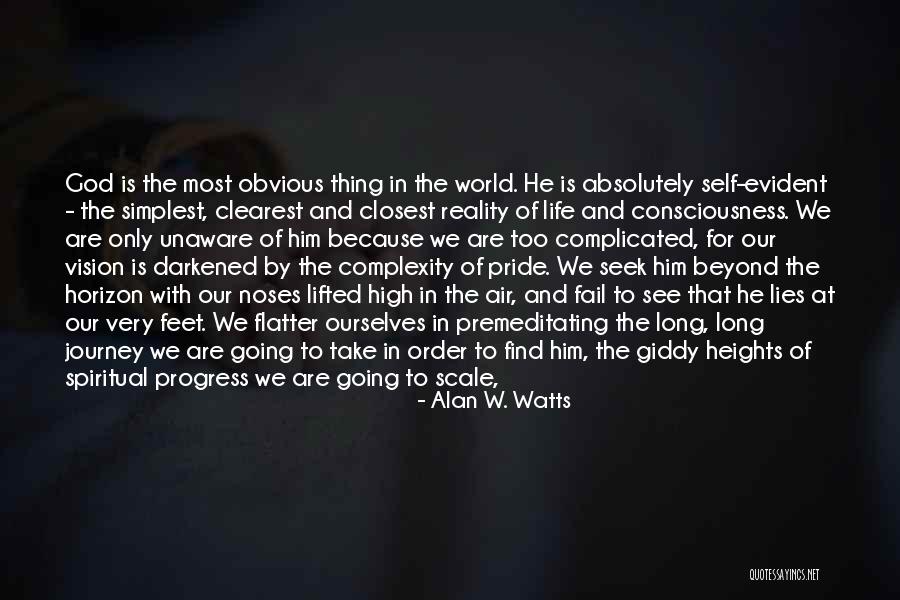 God is the most obvious thing in the world. He is absolutely self-evident - the simplest, clearest and closest reality of life and consciousness. We are only unaware of him because we are too complicated, for our vision is darkened by the complexity of pride. We seek him beyond the horizon with our noses lifted high in the air, and fail to see that he lies at our very feet. We flatter ourselves in premeditating the long, long journey we are going to take in order to find him, the giddy heights of spiritual progress we are going to scale, and all the time are unaware of the truth that "God is nearer to us than we are to ourselves." We are like birds flying in quest of the air, or men with lighted candles searching through the darkness for fire. — Alan W. Watts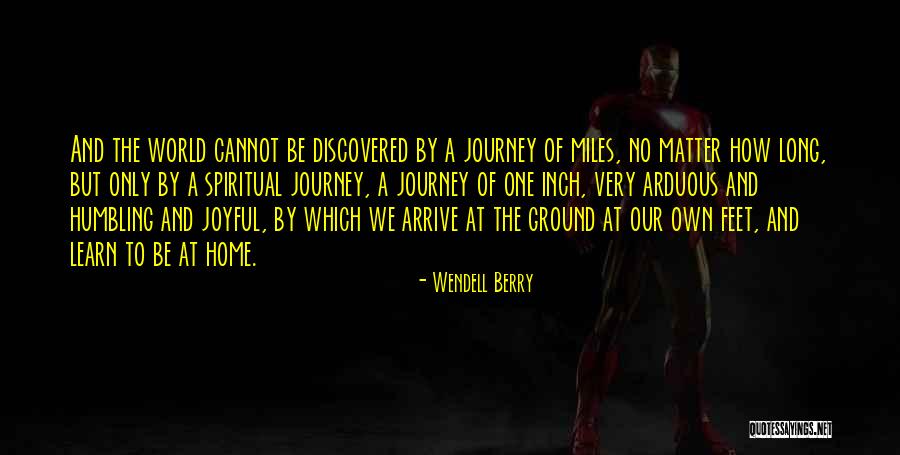 And the world cannot be discovered by a journey of miles, no matter how long, but only by a spiritual journey, a journey of one inch, very arduous and humbling and joyful, by which we arrive at the ground at our own feet, and learn to be at home. — Wendell Berry
It was a perfect spring day. The air was sweet and gentle and the sky stretched high, an intense blue. Harold was certain that the last time he had peered through the net drapes of Fossebridge Road (his home), the trees and hedges were dark bones and spindles against the skyline; yet now that he was out, and on his feet, it was as if everywhere he looked, the fields, gardens, trees, and hedgerows and exploded with growth. A canopy of sticky young leaves clung to the branches above him. There were startling yellow clouds of forsythia, trails of purple aubrietia; a young willow shook in a fountain of silver. The first of the potato shoots fingered through the soil, and already tiny buds hung from the gooseberry and currant shrubs like the earrings Maureen used to wear. The abundance of new life was enough to make him giddy. — Rachel Joyce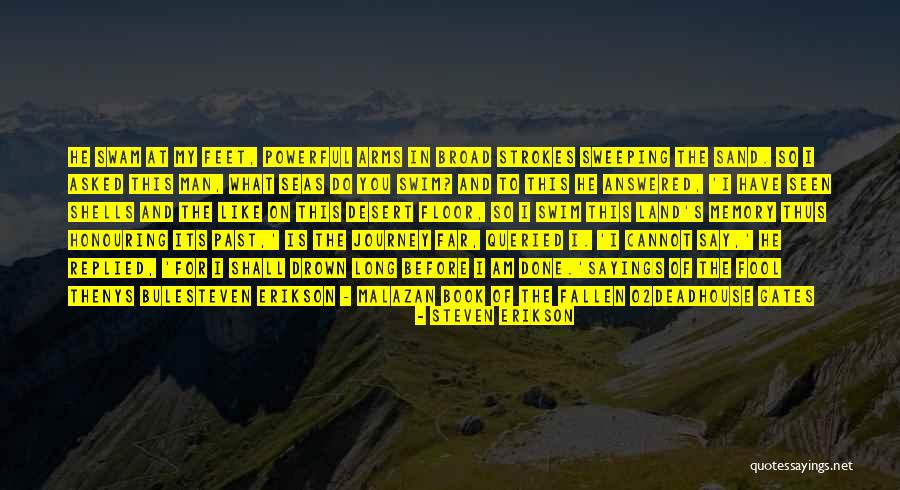 He swam at my feet,
Powerful arms in broad strokes
Sweeping the sand.
So I asked this man,
What seas do you swim?
And to this he answered,
'I have seen shells and the like
On this desert floor,
So I swim this land's memory
Thus honouring its past,'
Is the journey far, queried I.
'I cannot say,' he replied,
'For I shall drown long before
I am done.'
Sayings of the Fool
Thenys Bule
Steven Erikson - Malazan Book of the Fallen 02
Deadhouse Gates — Steven Erikson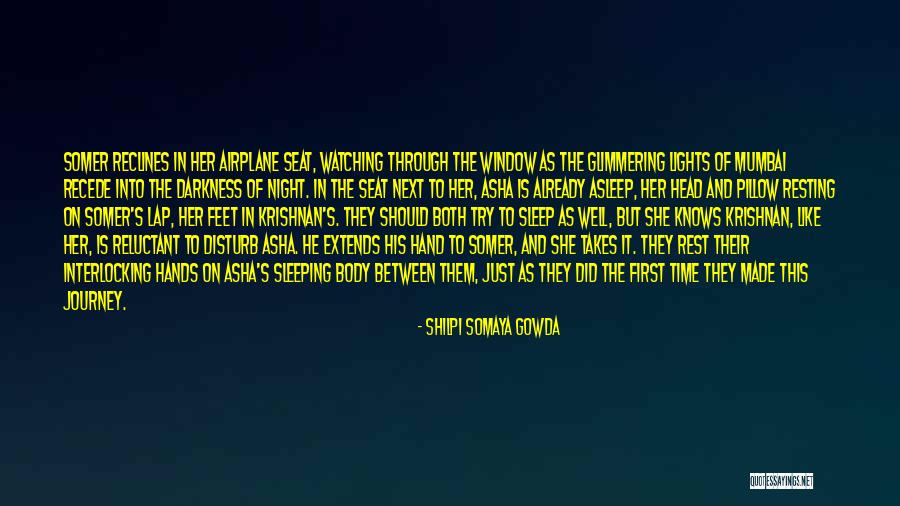 Somer reclines in her airplane seat, watching through the window as the glimmering lights of Mumbai recede into the darkness of night. In the seat next to her, Asha is already asleep, her head and pillow resting on Somer's lap, her feet in Krishnan's. They should both try to sleep as well, but she knows Krishnan, like her, is reluctant to disturb Asha. He extends his hand to Somer, and she takes it. They rest their interlocking hands on Asha's sleeping body between them, just as they did the first time they made this journey. — Shilpi Somaya Gowda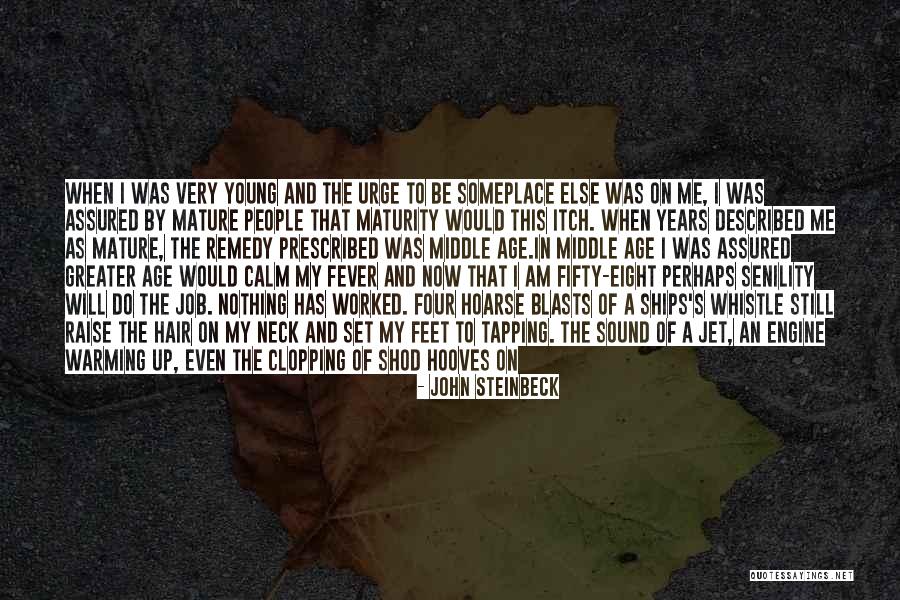 When I was very young and the urge to be someplace else was on me, I was assured by mature people that maturity would this itch. When years described me as mature, the remedy prescribed was middle age.In middle age I was assured greater age would calm my fever and now that I am fifty-eight perhaps senility will do the job. Nothing has worked. Four hoarse blasts of a ships's whistle still raise the hair on my neck and set my feet to tapping. The sound of a jet, an engine warming up, even the clopping of shod hooves on pavement brings on the ancient shudder, the dry mouth and vacant eye, the hot palms and the churn of stomach high up under the rib cage. In other words, once a bum always a bum. I fear this disease incurable. I set this matter down not to instruct others but to inform myself ... A journey is a person in itself; no two are alike. And all plans, safeguards, policing, and coercion are fruitless. We find after years of struggle that we not take a trip; a trip takes us. — John Steinbeck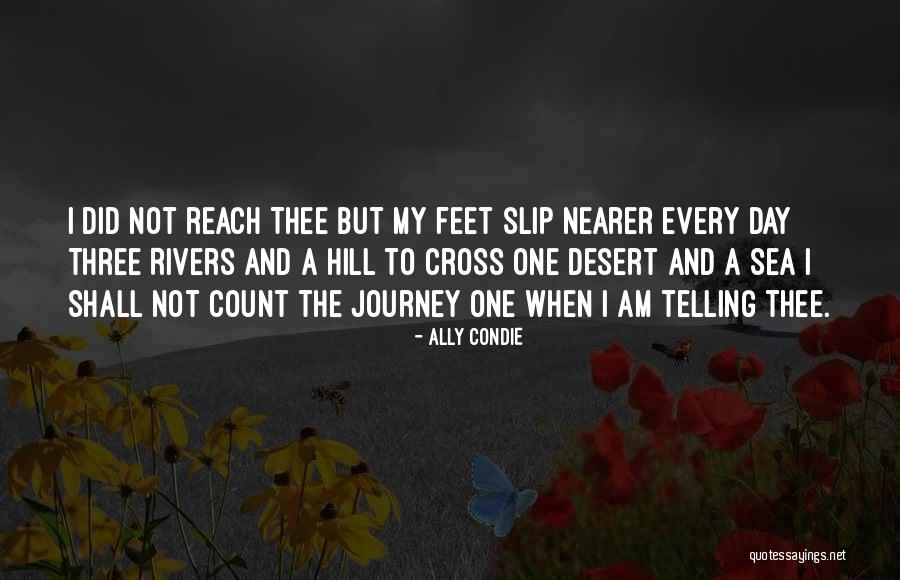 I did not reach Thee But my feet slip nearer every day Three Rivers and a Hill to cross One Desert and a Sea I shall not count the journey one When I am telling thee. — Ally Condie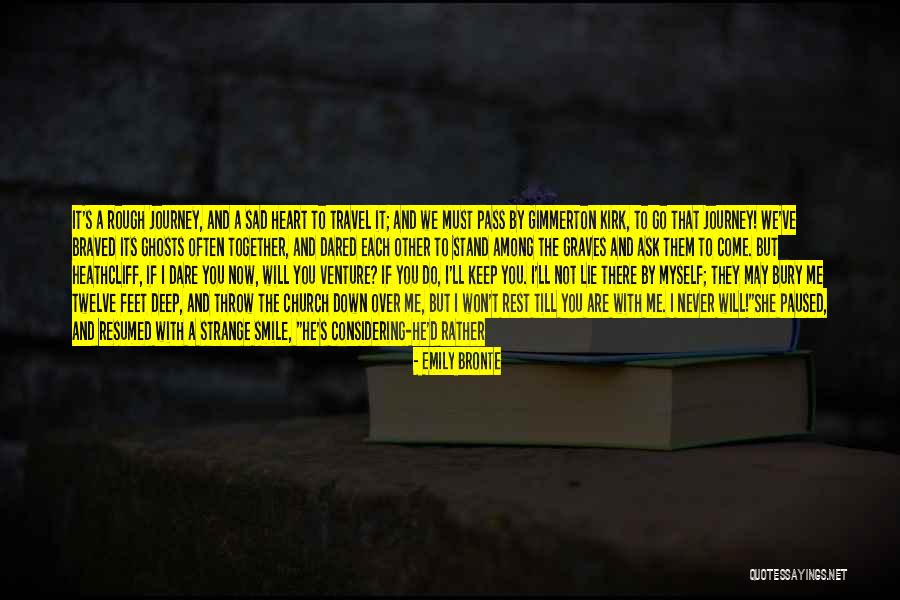 It's a rough journey, and a sad heart to travel it; and we must pass by Gimmerton Kirk, to go that journey! We've braved its ghosts often together, and dared each other to stand among the graves and ask them to come. But Heathcliff, if I dare you now, will you venture? If you do, I'll keep you. I'll not lie there by myself; they may bury me twelve feet deep, and throw the church down over me, but I won't rest till you are with me. I never will!"
She paused, and resumed with a strange smile, "He's considering-he'd rather I'd come to him! Find a way, then! not through that Kirkyard. You are slow! Be content, you always followed me! — Emily Bronte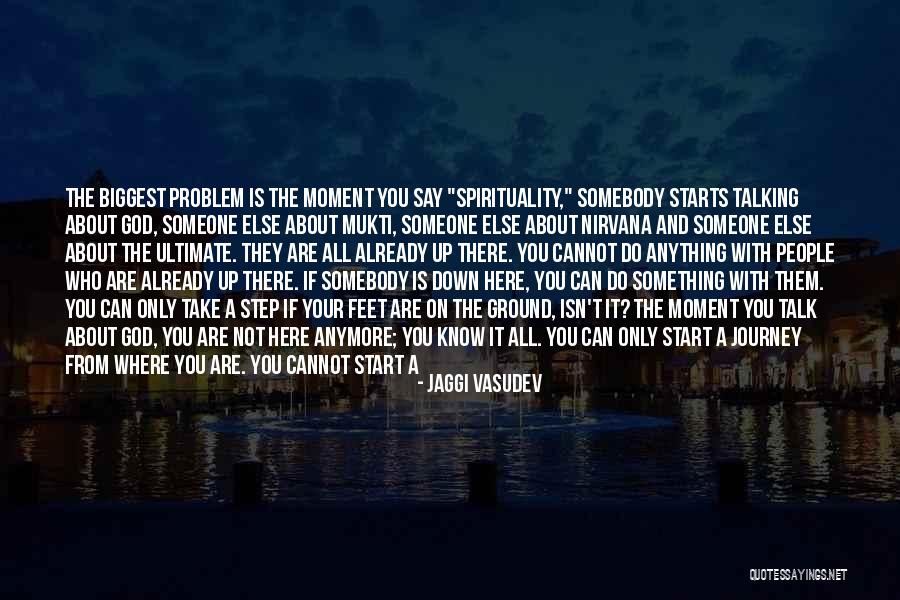 The biggest problem is the moment you say "spirituality," somebody starts talking about God, someone else about mukti, someone else about nirvana and someone else about the Ultimate. They are all already up there. You cannot do anything with people who are already up there. If somebody is down here, you can do something with them. You can only take a step if your feet are on the ground, isn't it? The moment you talk about God, you are not here anymore; you know it all. You can only start a journey from where you are. You cannot start a journey from where you are not. If you are willing to come down to where you are, then we can see what the next step is. If you are already on the third step to heaven, what can I do with you? — Jaggi Vasudev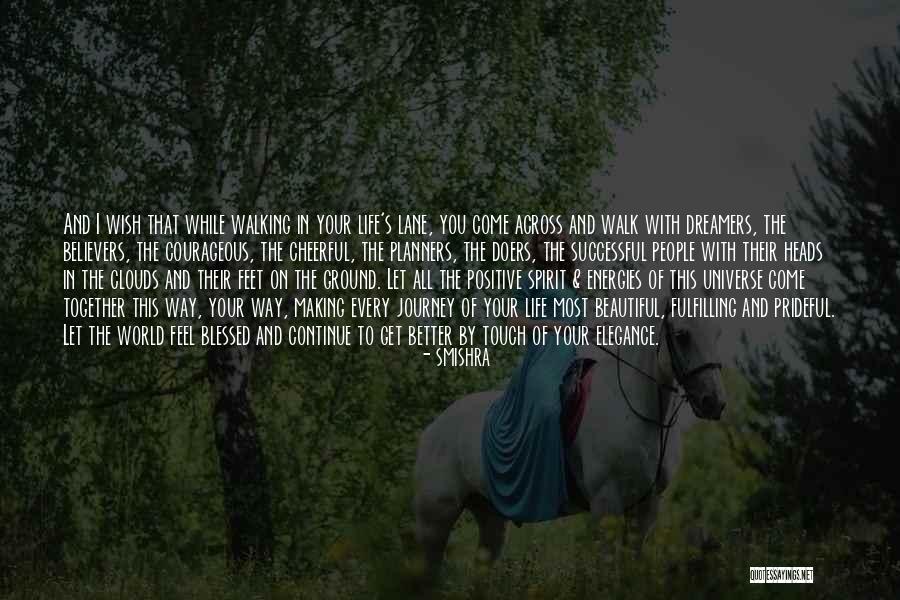 And I wish that while walking in your life's lane, you come across and walk with dreamers, the believers, the courageous, the cheerful, the planners, the doers, the successful people with their heads in the clouds and their feet on the ground. Let all the positive spirit & energies of this universe come together this way, your way, making every journey of your life most beautiful, fulfilling and prideful. Let the world feel blessed and continue to get better by touch of your elegance. — Smishra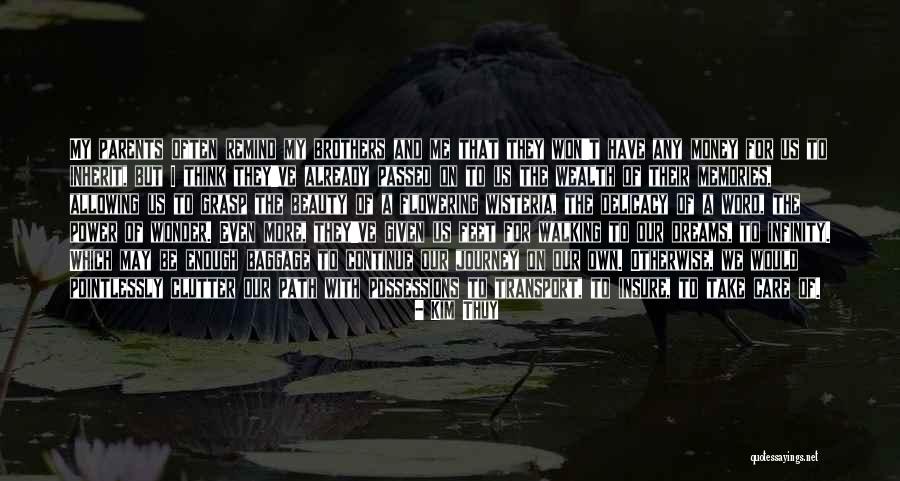 My parents often remind my brothers and me that they won't have any money for us to inherit, but I think they've already passed on to us the wealth of their memories, allowing us to grasp the beauty of a flowering wisteria, the delicacy of a word, the power of wonder. Even more, they've given us feet for walking to our dreams, to infinity. Which may be enough baggage to continue our journey on our own. Otherwise, we would pointlessly clutter our path with possessions to transport, to insure, to take care of. — Kim Thuy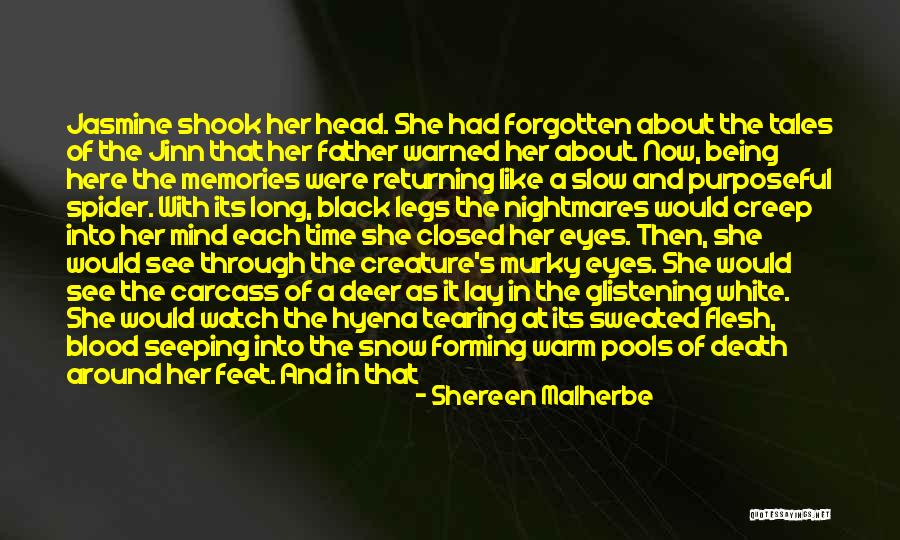 Jasmine shook her head. She had forgotten about the tales of the Jinn that her father warned her about. Now, being here the memories were returning like a slow and purposeful
spider. With its long, black legs the nightmares would creep into her mind each time she closed her eyes. Then, she would see through the creature's murky eyes. She would see the carcass of a deer as it lay in the glistening white. She would watch the hyena tearing at its sweated flesh, blood seeping into the snow forming warm pools of death around her feet. And in that moment, the deer shifted. It shifted into the shape of a young boy. — Shereen Malherbe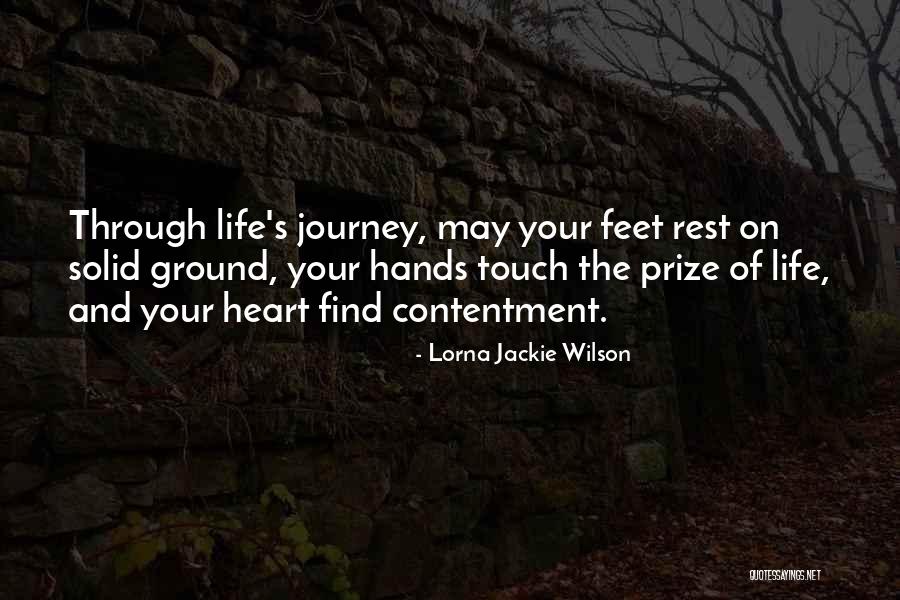 Through life's journey, may your feet rest on solid ground, your hands touch the prize of life, and your heart find contentment. — Lorna Jackie Wilson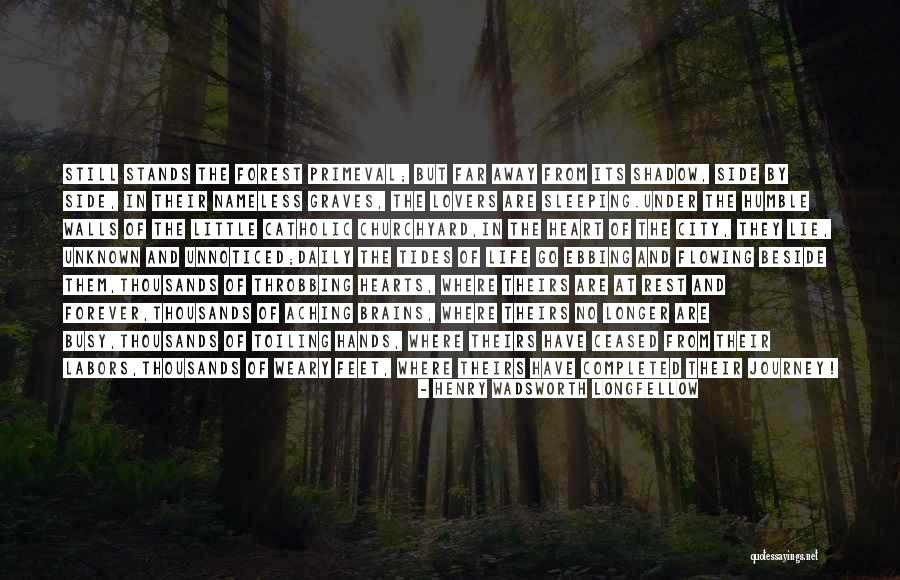 Still stands the forest primeval; but far away from its shadow,
Side by side, in their nameless graves, the lovers are sleeping.
Under the humble walls of the little catholic churchyard,
In the heart of the city, they lie, unknown and unnoticed;
Daily the tides of life go ebbing and flowing beside them,
Thousands of throbbing hearts, where theirs are at rest and forever,
Thousands of aching brains, where theirs no longer are busy,
Thousands of toiling hands, where theirs have ceased from their labors,
Thousands of weary feet, where theirs have completed their journey! — Henry Wadsworth Longfellow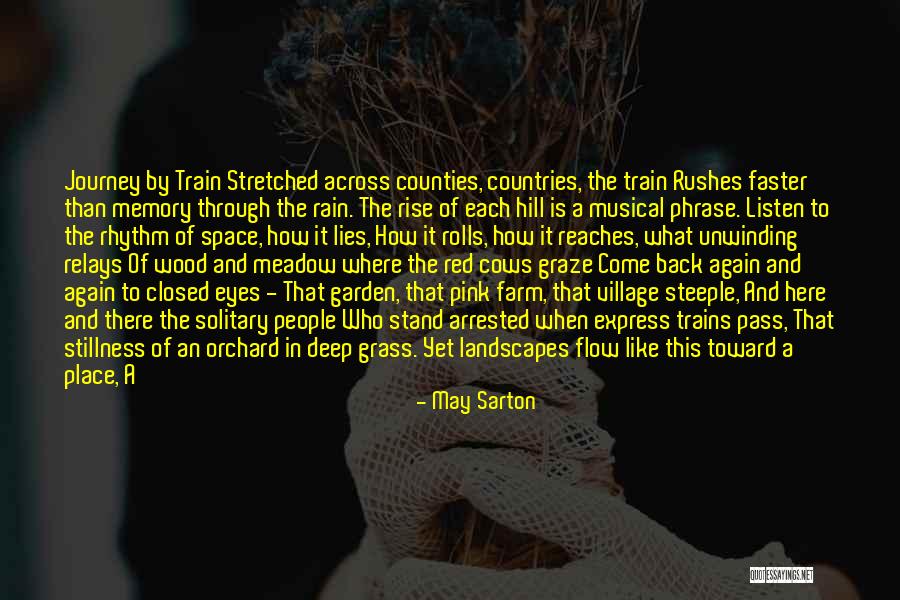 Journey by Train Stretched across counties, countries, the train Rushes faster than memory through the rain. The rise of each hill is a musical phrase. Listen to the rhythm of space, how it lies, How it rolls, how it reaches, what unwinding relays Of wood and meadow where the red cows graze Come back again and again to closed eyes - That garden, that pink farm, that village steeple, And here and there the solitary people Who stand arrested when express trains pass, That stillness of an orchard in deep grass. Yet landscapes flow like this toward a place, A point in time and memory's own face. So when the clamor stops, we really climb Down to the earth, closing the curve of time, Meeting those we have left, to those we meet Bringing our whole life that has moved so fast, And now is gathered up and here at last, To unroll like a ribbon at their feet. — May Sarton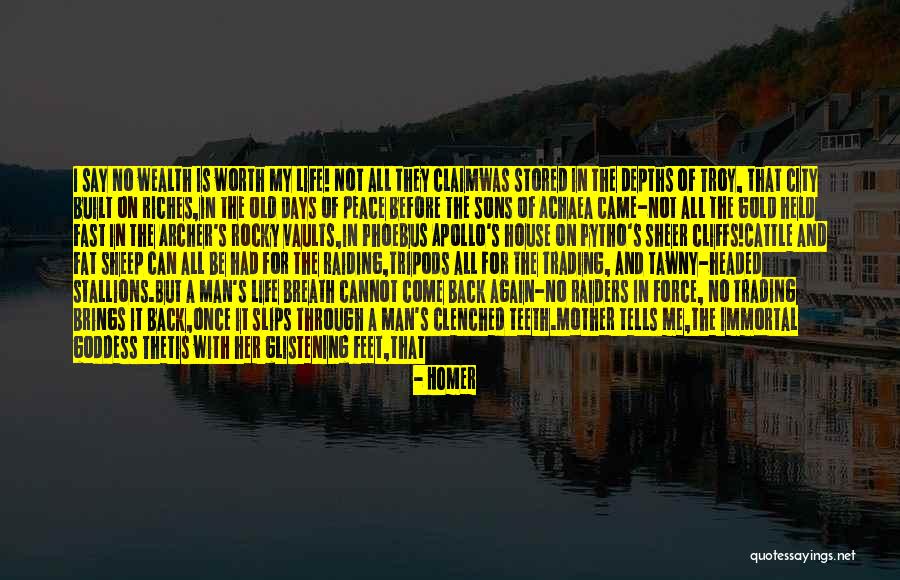 I say no wealth is worth my life! Not all they claim
was stored in the depths of Troy, that city built on riches,
in the old days of peace before the sons of Achaea came-
not all the gold held fast in the Archer's rocky vaults,
in Phoebus Apollo's house on Pytho's sheer cliffs!
Cattle and fat sheep can all be had for the raiding,
tripods all for the trading, and tawny-headed stallions.
But a man's life breath cannot come back again-
no raiders in force, no trading brings it back,
once it slips through a man's clenched teeth.
Mother tells me,
the immortal goddess Thetis with her glistening feet,
that two fates bear me on to the day of death.
If I hold out here and I lay siege to Troy,
my journey home is gone, but my glory never dies.
If I voyage back to the fatherland I love,
my pride, my glory dies ...
true, but the life that's left me will be long,
the stroke of death will not come on me quickly. — Homer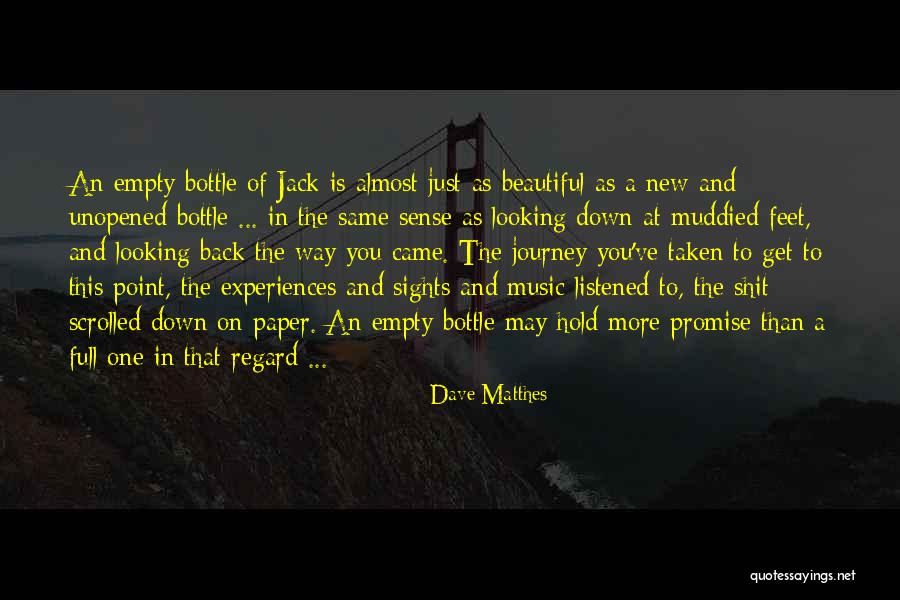 An empty bottle of Jack is almost just as beautiful as a new and unopened bottle ... in the same sense as looking down at muddied feet, and looking back the way you came. The journey you've taken to get to this point, the experiences and sights and music listened to, the shit scrolled down on paper. An empty bottle may hold more promise than a full one in that regard ... — Dave Matthes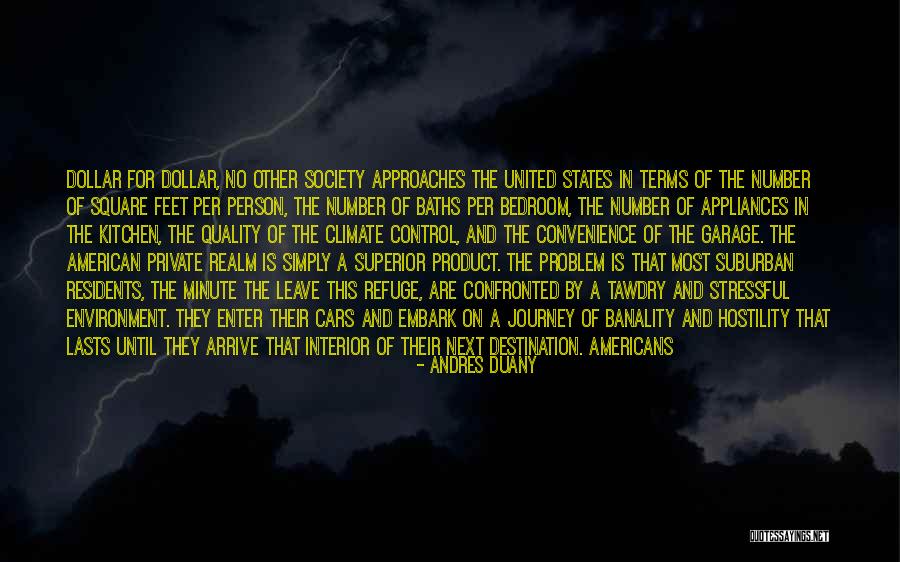 Dollar for dollar, no other society approaches the United States in terms of the number of square feet per person, the number of baths per bedroom, the number of appliances in the kitchen, the quality of the climate control, and the convenience of the garage. The American private realm is simply a superior product. The problem is that most suburban residents, the minute the leave this refuge, are confronted by a tawdry and stressful environment. They enter their cars and embark on a journey of banality and hostility that lasts until they arrive that interior of their next destination. Americans may have the finest private realm in the developed world, but our public realm is brutal. — Andres Duany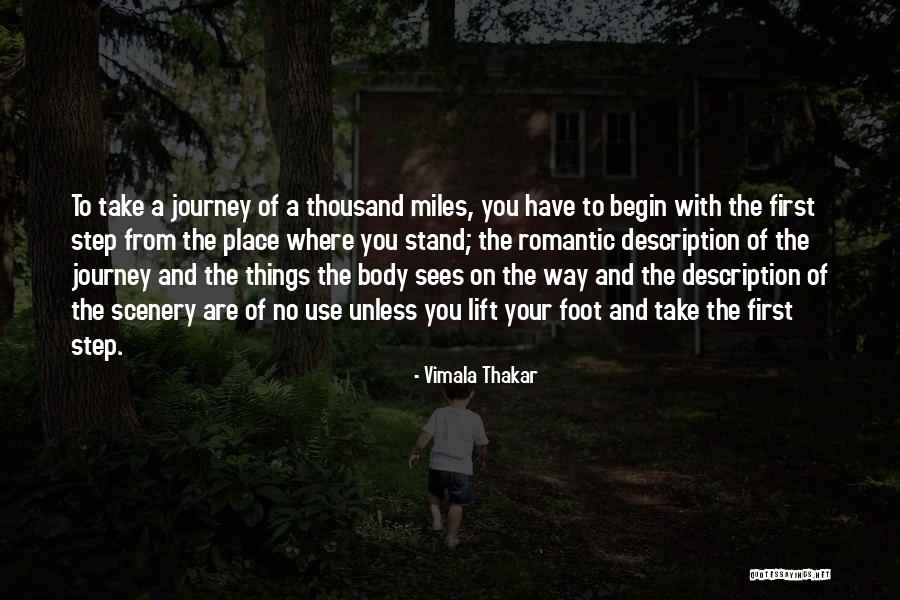 To take a journey of a thousand miles, you have to begin with the first step from the place where you stand; the romantic description of the journey and the things the body sees on the way and the description of the scenery are of no use unless you lift your foot and take the first step. — Vimala Thakar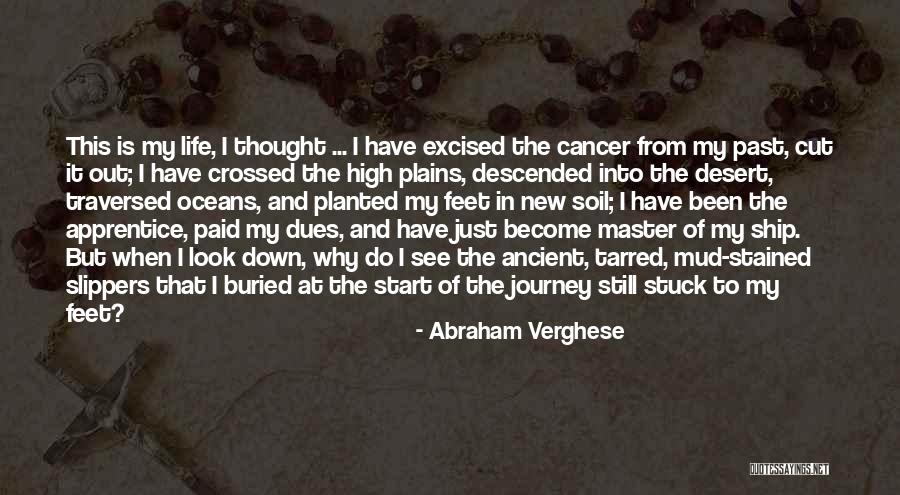 This is my life, I thought ... I have excised the cancer from my past, cut it out; I have crossed the high plains, descended into the desert, traversed oceans, and planted my feet in new soil; I have been the apprentice, paid my dues, and have just become master of my ship. But when I look down, why do I see the ancient, tarred, mud-stained slippers that I buried at the start of the journey still stuck to my feet? — Abraham Verghese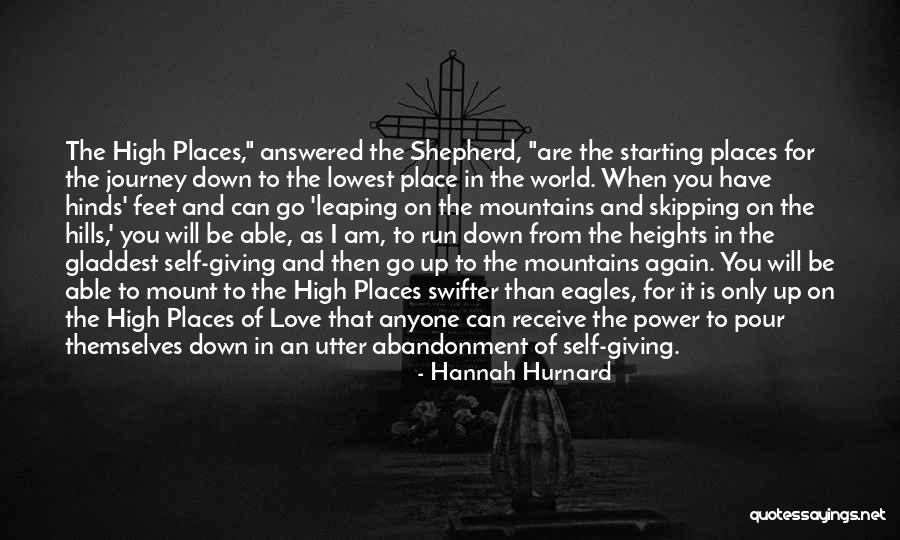 The High Places," answered the Shepherd, "are the starting places for the journey down to the lowest place in the world. When you have hinds' feet and can go 'leaping on the mountains and skipping on the hills,' you will be able, as I am, to run down from the heights in the gladdest self-giving and then go up to the mountains again. You will be able to mount to the High Places swifter than eagles, for it is only up on the High Places of Love that anyone can receive the power to pour themselves down in an utter abandonment of self-giving. — Hannah Hurnard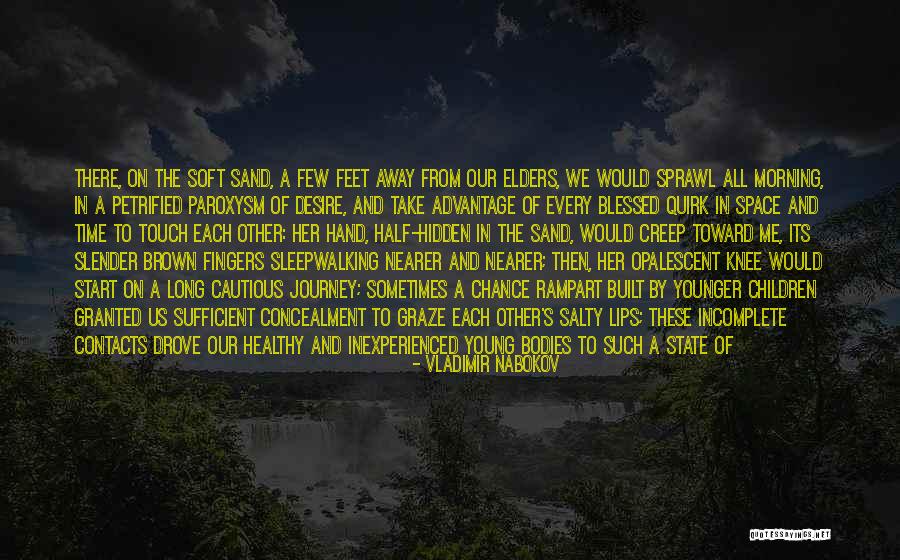 There, on the soft sand, a few feet away from our elders, we would sprawl all morning, in a petrified paroxysm of desire, and take advantage of every blessed quirk in space and time to touch each other: her hand, half-hidden in the sand, would creep toward me, its slender brown fingers sleepwalking nearer and nearer; then, her opalescent knee would start on a long cautious journey; sometimes a chance rampart built by younger children granted us sufficient concealment to graze each other's salty lips; these incomplete contacts drove our healthy and inexperienced young bodies to such a state of exasperation that not even the cold blue water, under which we still clawed at each other, could bring relief. — Vladimir Nabokov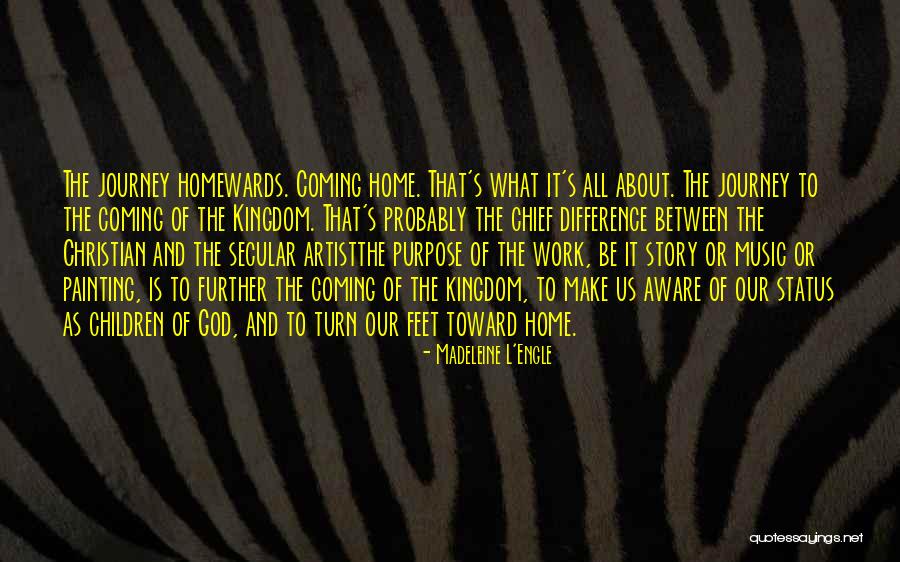 The journey homewards. Coming home. That's what it's all about. The journey to the coming of the Kingdom. That's probably the chief difference between the Christian and the secular artist
the purpose of the work, be it story or music or painting, is to further the coming of the kingdom, to make us aware of our status as children of God, and to turn our feet toward home. — Madeleine L'Engle