Quotes & Sayings About Feeling Entitled
Enjoy reading and share 27 famous quotes about Feeling Entitled with everyone.
Top Feeling Entitled Quotes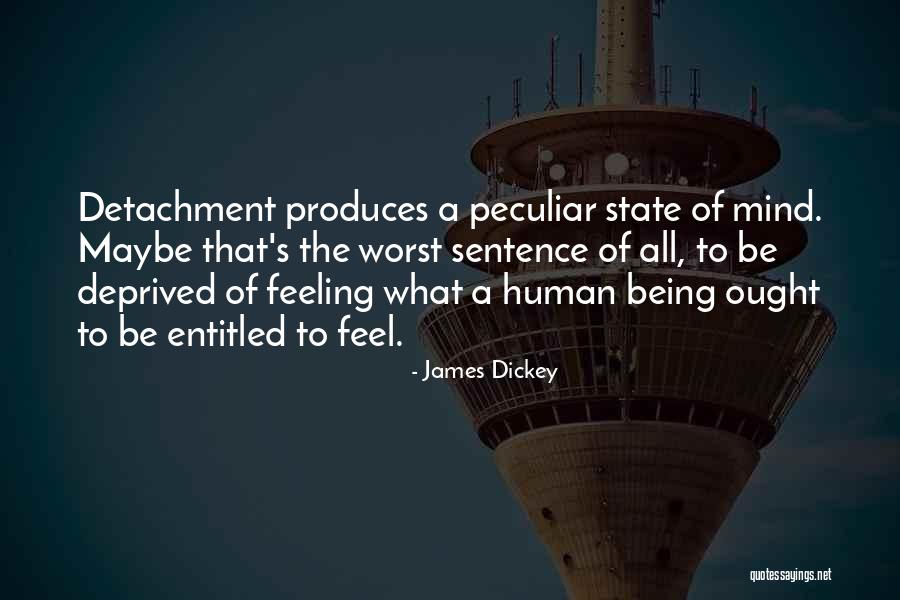 Detachment produces a peculiar state of mind. Maybe that's the worst sentence of all, to be deprived of feeling what a human being ought to be entitled to feel. — James Dickey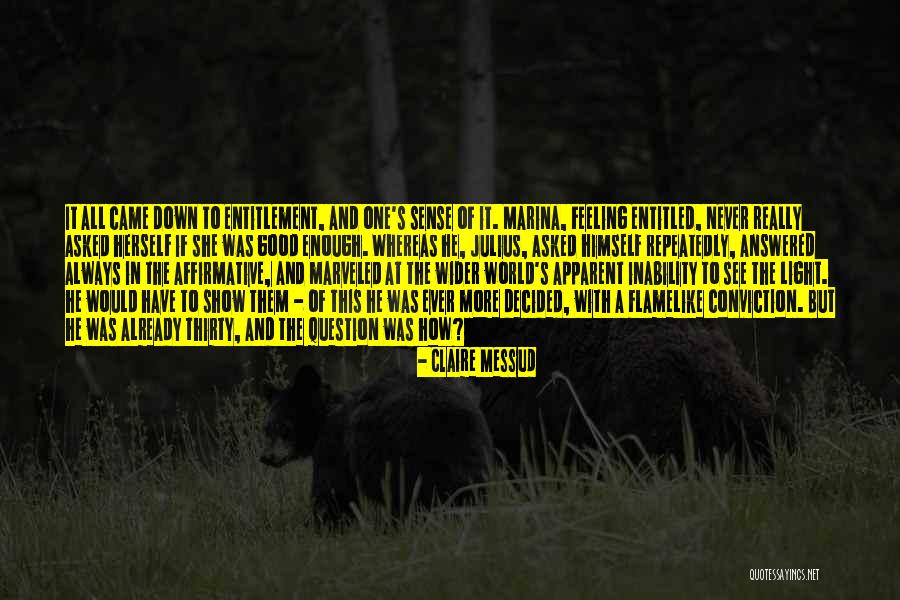 It all came down to entitlement, and one's sense of it. Marina, feeling entitled, never really asked herself if she was good enough. Whereas he, Julius, asked himself repeatedly, answered always in the affirmative, and marveled at the wider world's apparent inability to see the light. he would have to show them - of this he was ever more decided, with a flamelike conviction. But he was already thirty, and the question was how? — Claire Messud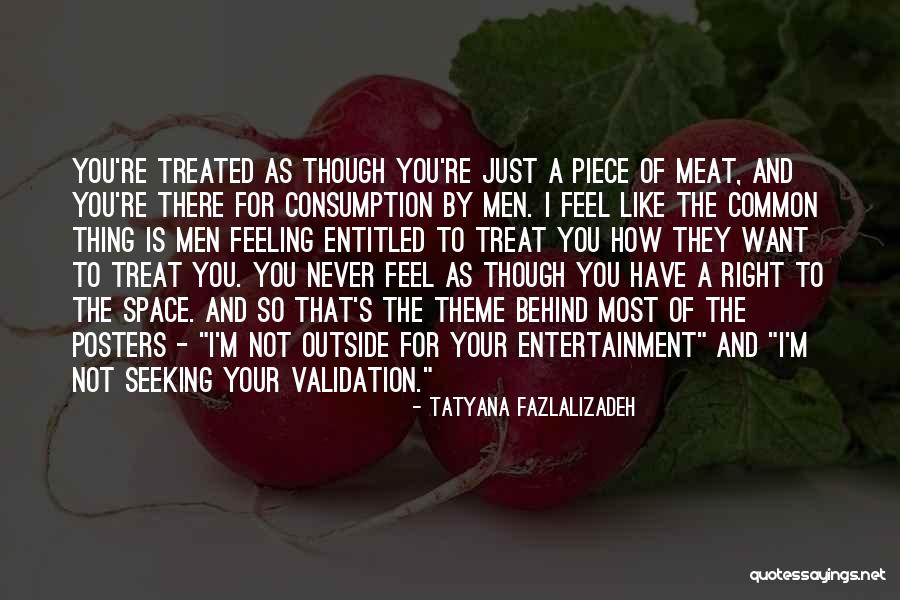 You're treated as though you're just a piece of meat, and you're there for consumption by men. I feel like the common thing is men feeling entitled to treat you how they want to treat you. You never feel as though you have a right to the space. And so that's the theme behind most of the posters - "I'm not outside for your entertainment" and "I'm not seeking your validation." — Tatyana Fazlalizadeh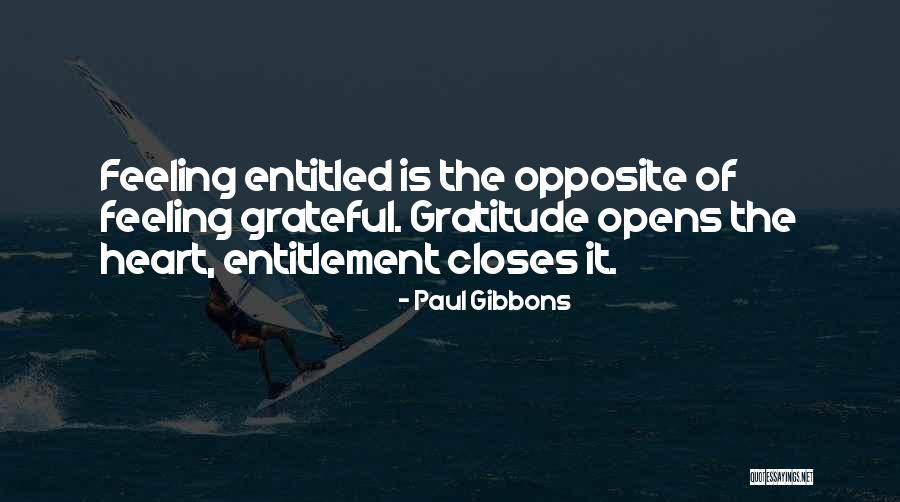 Feeling entitled is the opposite of feeling grateful. Gratitude opens the heart, entitlement closes it. — Paul Gibbons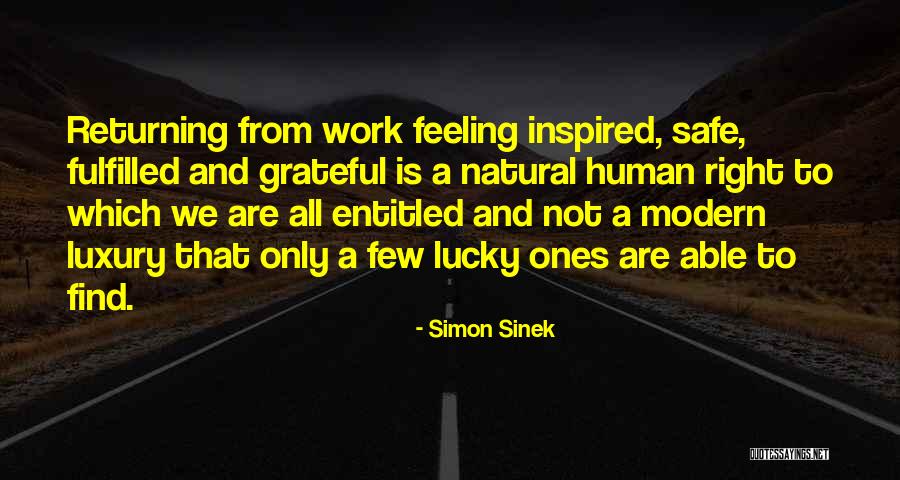 Returning from work feeling inspired, safe, fulfilled and grateful is a natural human right to which we are all entitled and not a modern luxury that only a few lucky ones are able to find. — Simon Sinek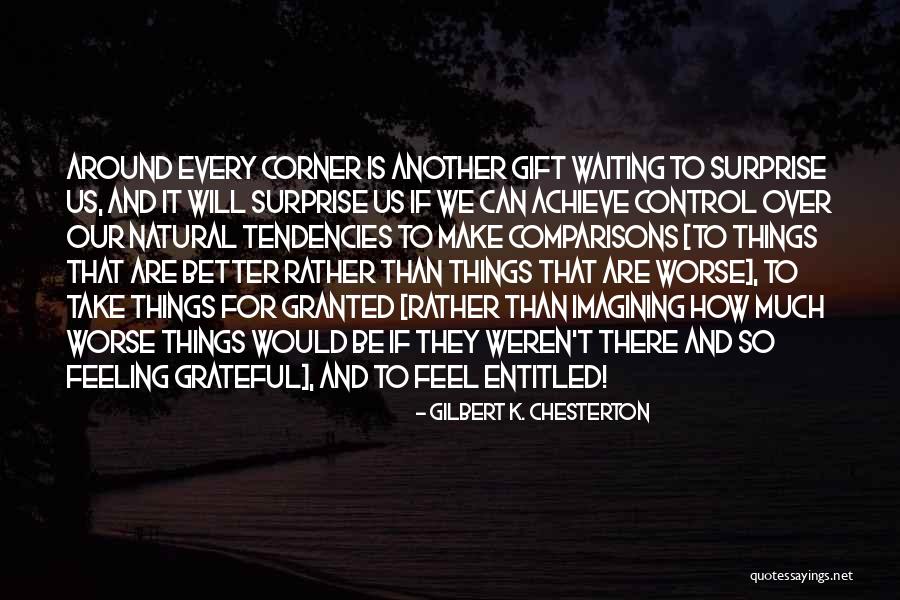 Around every corner is another gift waiting to surprise us, and it will surprise us if we can achieve control over our natural tendencies to make comparisons [to things that are better rather than things that are worse], to take things for granted [rather than imagining how much worse things would be if they weren't there and so feeling grateful], and to feel entitled! — Gilbert K. Chesterton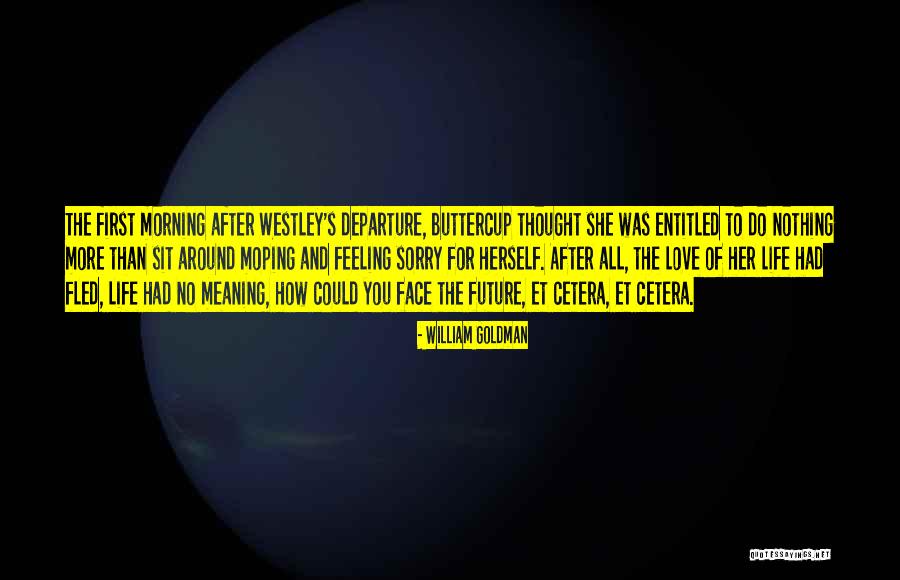 The first morning after Westley's departure, Buttercup thought she was entitled to do nothing more than sit around moping and feeling sorry for herself. After all, the love of her life had fled, life had no meaning, how could you face the future, et cetera, et cetera. — William Goldman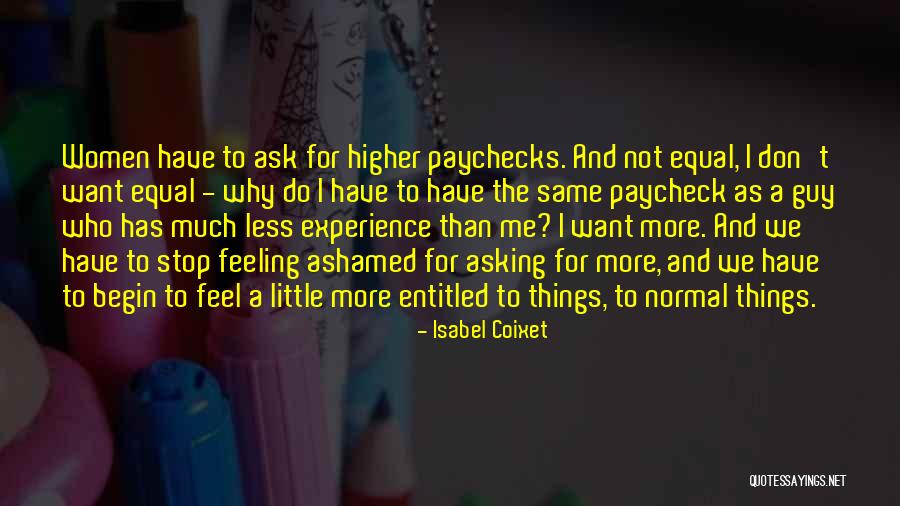 Women have to ask for higher paychecks. And not equal, I don't want equal - why do I have to have the same paycheck as a guy who has much less experience than me? I want more. And we have to stop feeling ashamed for asking for more, and we have to begin to feel a little more entitled to things, to normal things. — Isabel Coixet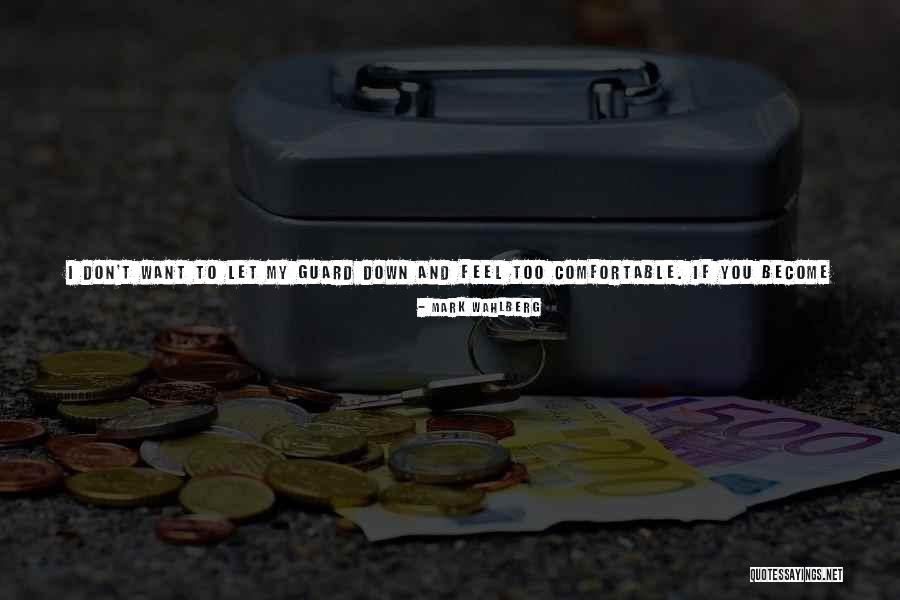 I don't want to let my guard down and feel too comfortable. If you become complacent, you start feeling entitled. I'm ready to go dig ditches if I have to. Whatever I gotta do to provide for my family. Whatever I gotta do to make sure that I do the best possible job at whatever wonderful opportunities I've been handed. — Mark Wahlberg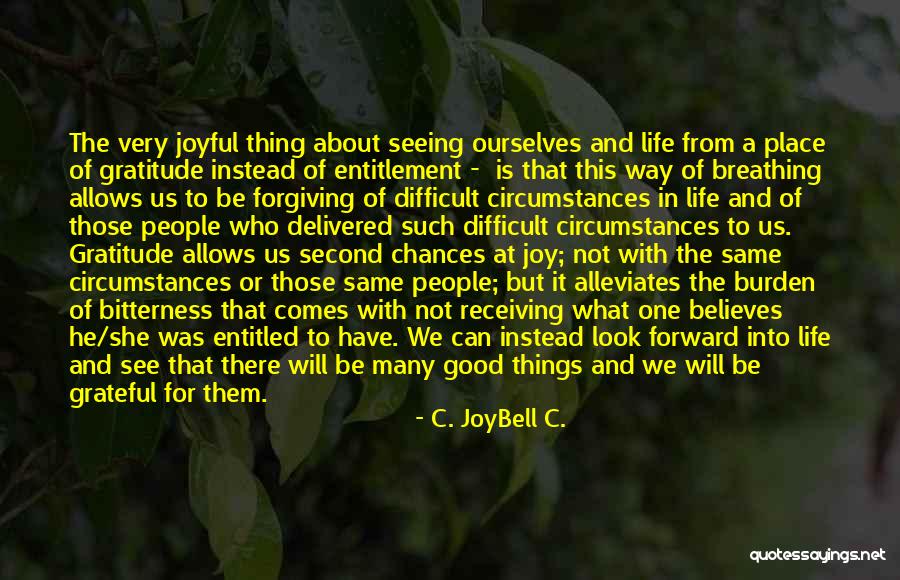 The very joyful thing about seeing ourselves and life from a place of gratitude instead of entitlement - is that this way of breathing allows us to be forgiving of difficult circumstances in life and of those people who delivered such difficult circumstances to us. Gratitude allows us second chances at joy; not with the same circumstances or those same people; but it alleviates the burden of bitterness that comes with not receiving what one believes he/she was entitled to have. We can instead look forward into life and see that there will be many good things and we will be grateful for them. — C. JoyBell C.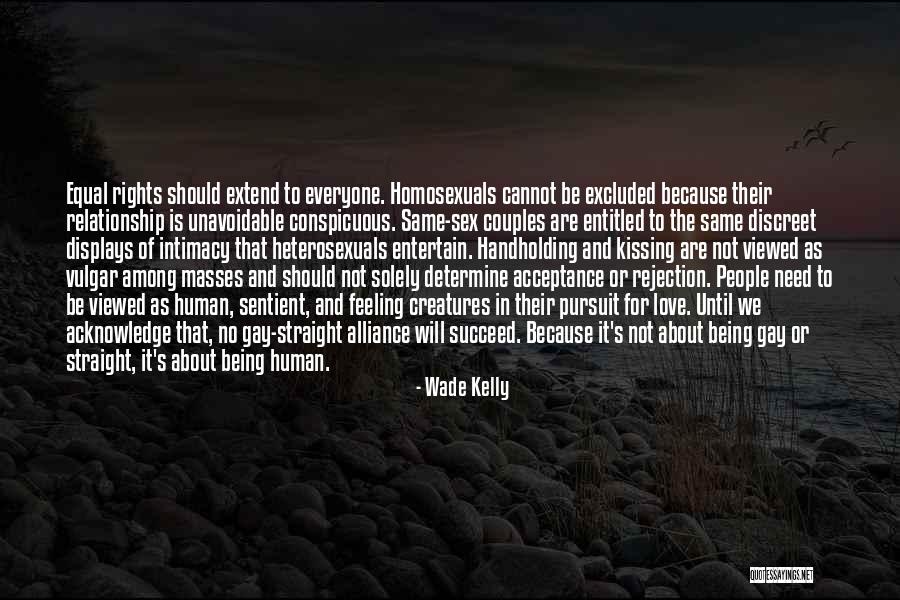 Equal rights should extend to everyone. Homosexuals cannot be excluded because their relationship is unavoidable conspicuous. Same-sex couples are entitled to the same discreet displays of intimacy that heterosexuals entertain. Handholding and kissing are not viewed as vulgar among masses and should not solely determine acceptance or rejection. People need to be viewed as human, sentient, and feeling creatures in their pursuit for love. Until we acknowledge that, no gay-straight alliance will succeed. Because it's not about being gay or straight, it's about being human. — Wade Kelly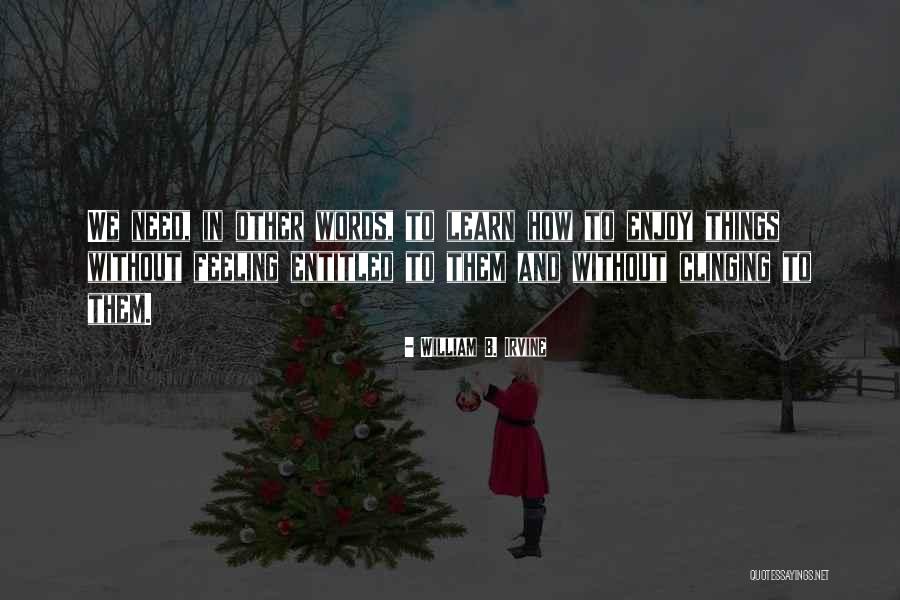 We need, in other words, to learn how to enjoy things without feeling entitled to them and without clinging to them. — William B. Irvine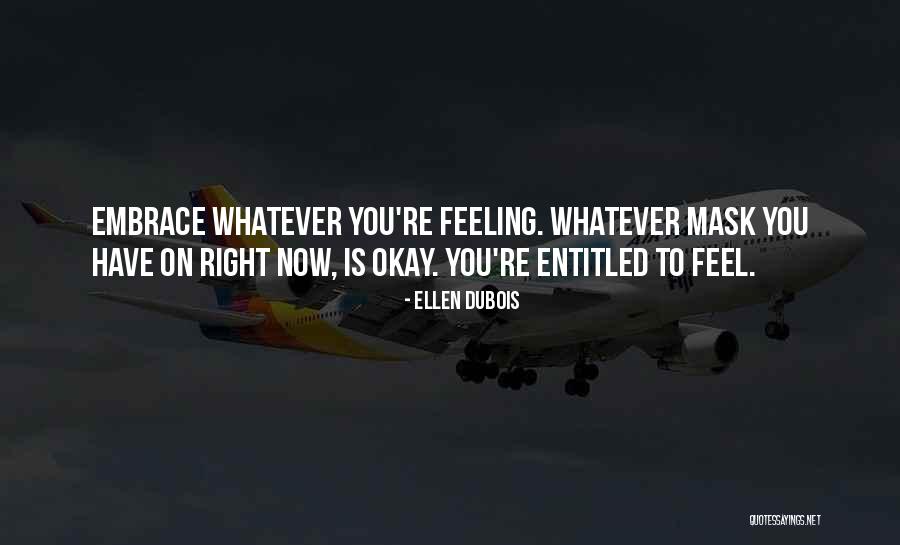 Embrace whatever you're feeling. Whatever mask you have on right now, is okay. You're entitled to feel. — Ellen DuBois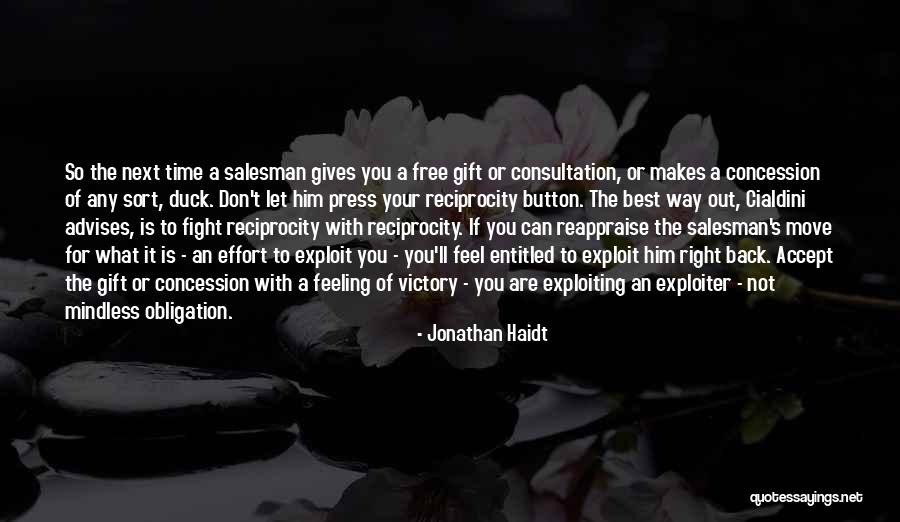 So the next time a salesman gives you a free gift or consultation, or makes a concession of any sort, duck. Don't let him press your reciprocity button. The best way out, Cialdini advises, is to fight reciprocity with reciprocity. If you can reappraise the salesman's move for what it is - an effort to exploit you - you'll feel entitled to exploit him right back. Accept the gift or concession with a feeling of victory - you are exploiting an exploiter - not mindless obligation. — Jonathan Haidt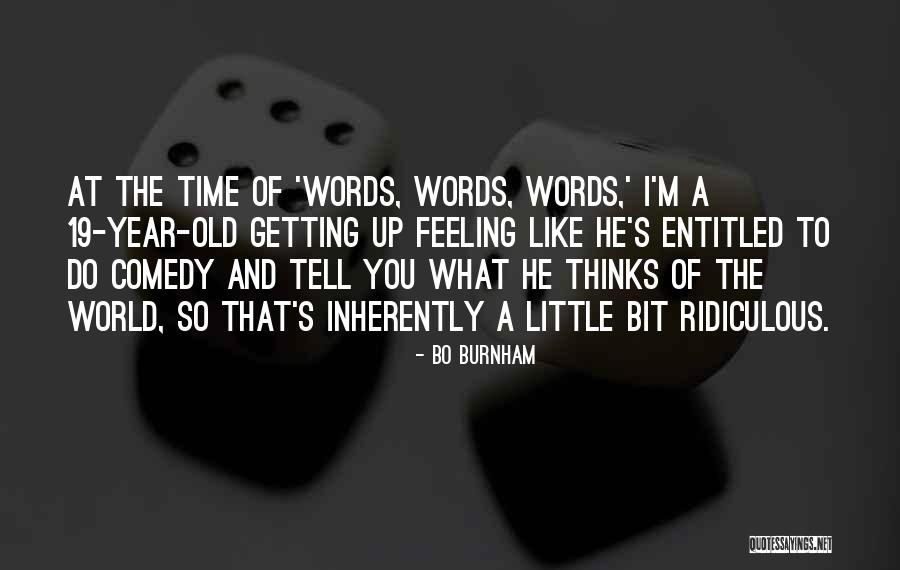 At the time of 'Words, Words, Words,' I'm a 19-year-old getting up feeling like he's entitled to do comedy and tell you what he thinks of the world, so that's inherently a little bit ridiculous. — Bo Burnham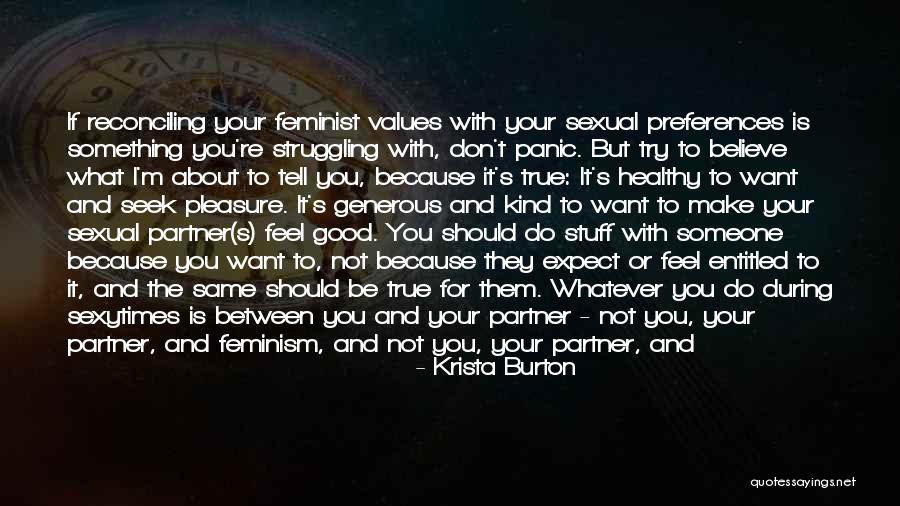 If reconciling your feminist values with your sexual preferences is something you're struggling with, don't panic. But try to believe what I'm about to tell you, because it's true: It's healthy to want and seek pleasure. It's generous and kind to want to make your sexual partner(s) feel good. You should do stuff with someone because you want to, not because they expect or feel entitled to it, and the same should be true for them. Whatever you do during sexytimes is between you and your partner - not you, your partner, and feminism, and not you, your partner, and the Gender Roles Police Force. Everything doesn't always have to be equal - unless you want it to be. The only things that matter are that everyone's having fun, and everyone's feeling respected by and respectful of their partners the whole time you're doing whatever it is that you get up to. Because in the end, that's all that sex is: Two people who want to have sex, alone in a room. No judgy voices allowed. — Krista Burton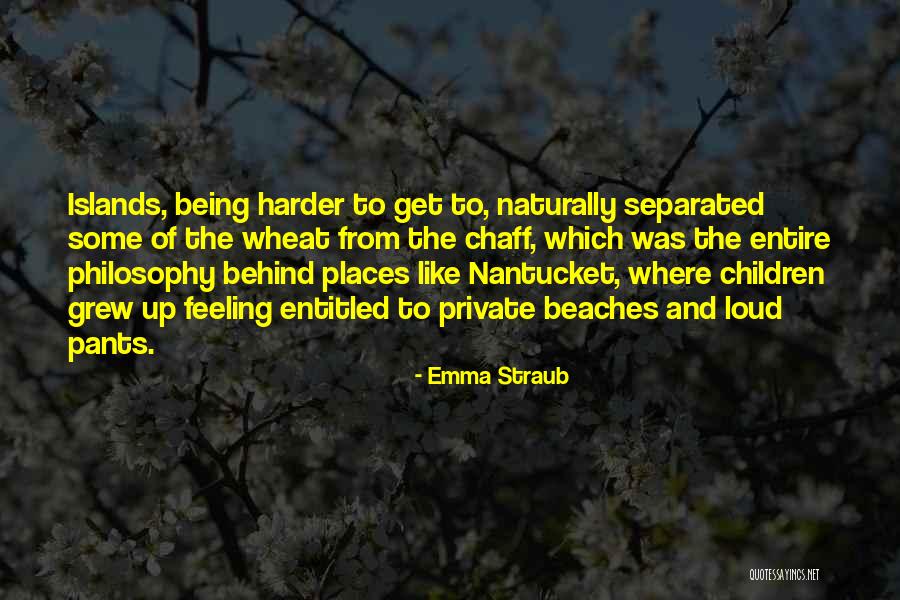 Islands, being harder to get to, naturally separated some of the wheat from the chaff, which was the entire philosophy behind places like Nantucket, where children grew up feeling entitled to private beaches and loud pants. — Emma Straub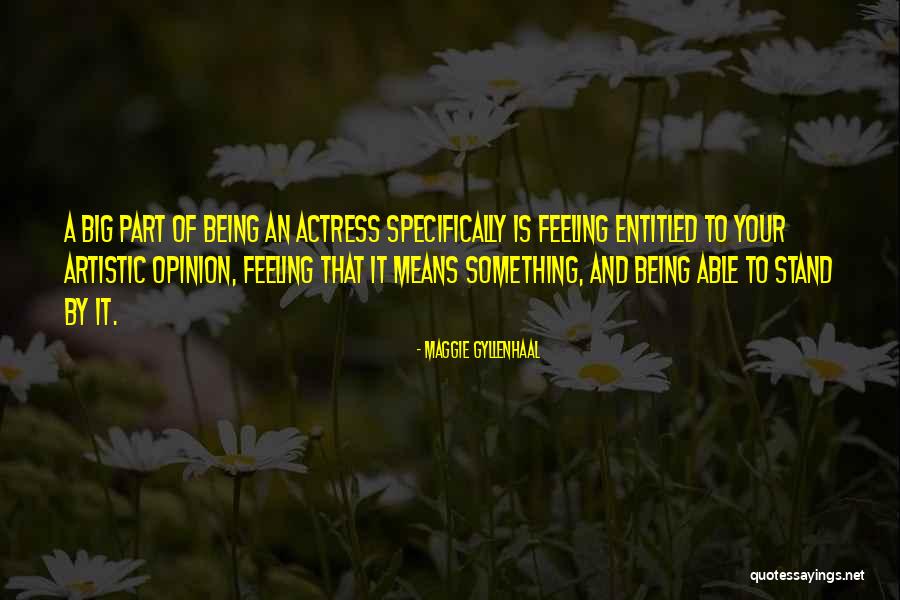 A big part of being an actress specifically is feeling entitled to your artistic opinion, feeling that it means something, and being able to stand by it. — Maggie Gyllenhaal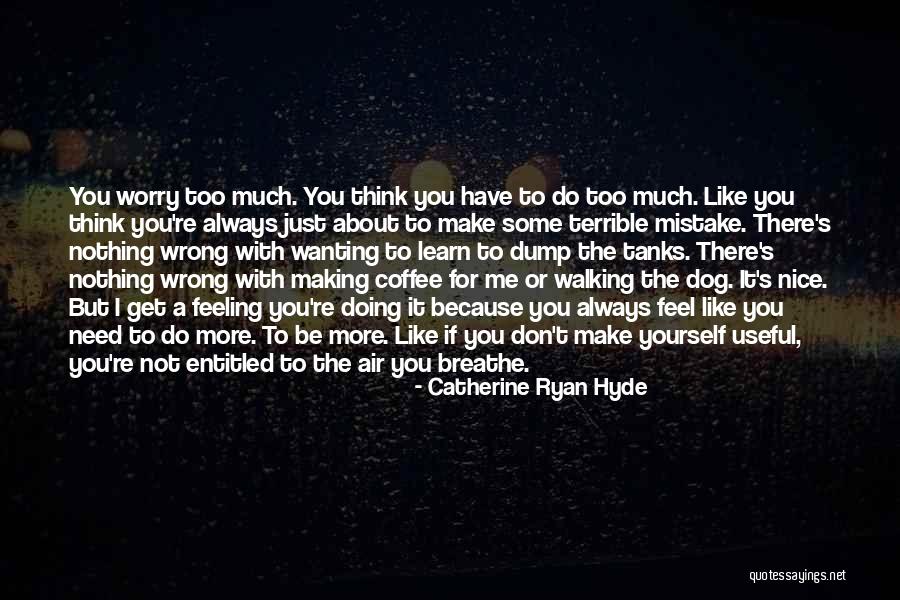 You worry too much. You think you have to do too much. Like you think you're always just about to make some terrible mistake. There's nothing wrong with wanting to learn to dump the tanks. There's nothing wrong with making coffee for me or walking the dog. It's nice. But I get a feeling you're doing it because you always feel like you need to do more. To be more. Like if you don't make yourself useful, you're not entitled to the air you breathe. — Catherine Ryan Hyde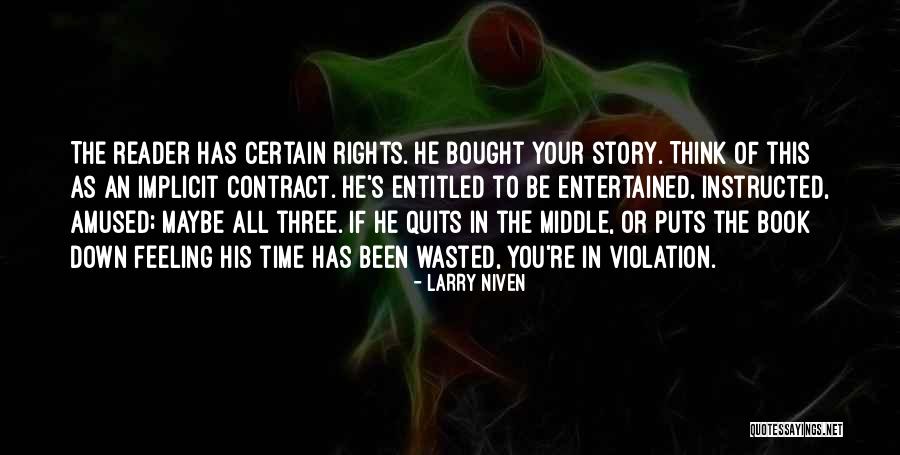 The reader has certain rights. He bought your story. Think of this as an implicit contract. He's entitled to be entertained, instructed, amused; maybe all three. If he quits in the middle, or puts the book down feeling his time has been wasted, you're in violation. — Larry Niven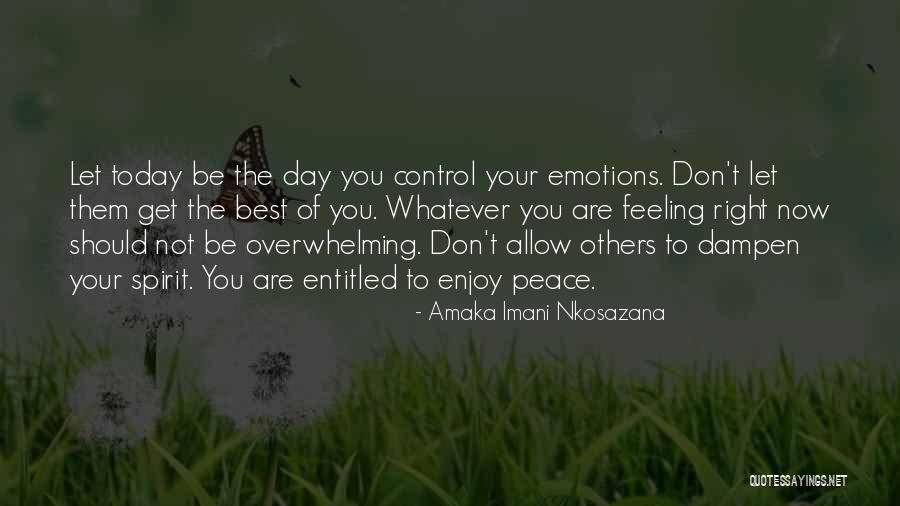 Let today be the day you control your emotions. Don't let them get the best of you. Whatever you are feeling right now should not be overwhelming. Don't allow others to dampen your spirit. You are entitled to enjoy peace. — Amaka Imani Nkosazana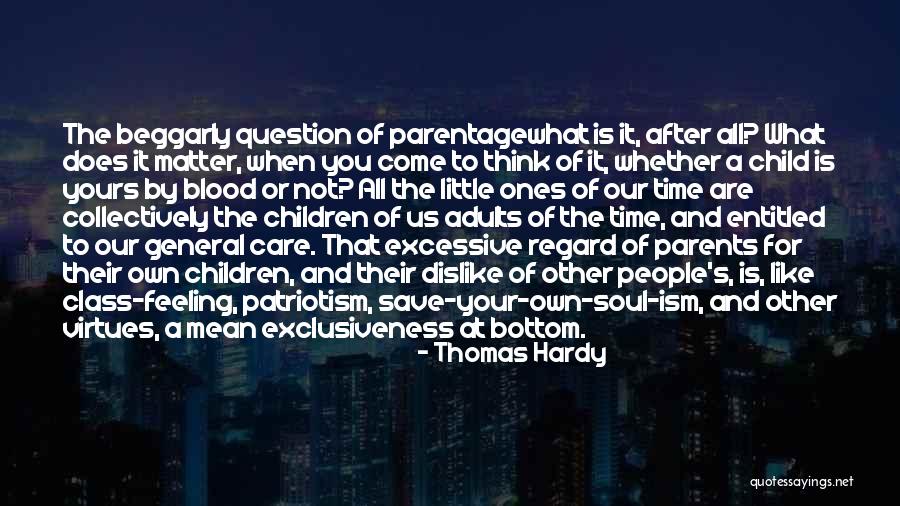 The beggarly question of parentage
what is it, after all? What does it matter, when you come to think of it, whether a child is yours by blood or not? All the little ones of our time are collectively the children of us adults of the time, and entitled to our general care. That excessive regard of parents for their own children, and their dislike of other people's, is, like class-feeling, patriotism, save-your-own-soul-ism, and other virtues, a mean exclusiveness at bottom. — Thomas Hardy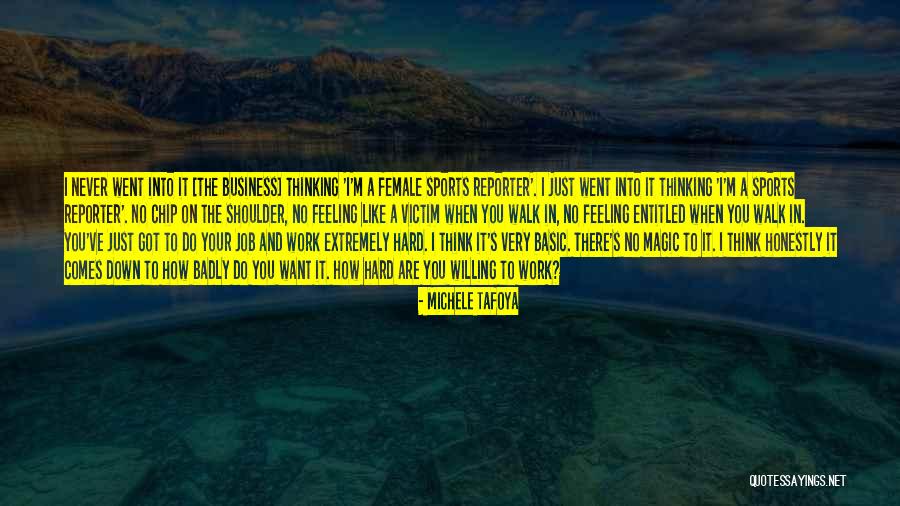 I never went into it [the business] thinking 'I'm a female sports reporter'. I just went into it thinking 'I'm a sports reporter'. No chip on the shoulder, no feeling like a victim when you walk in, no feeling entitled when you walk in. You've just got to do your job and work extremely hard. I think it's very basic. There's no magic to it. I think honestly it comes down to how badly do you want it. How hard are you willing to work? — Michele Tafoya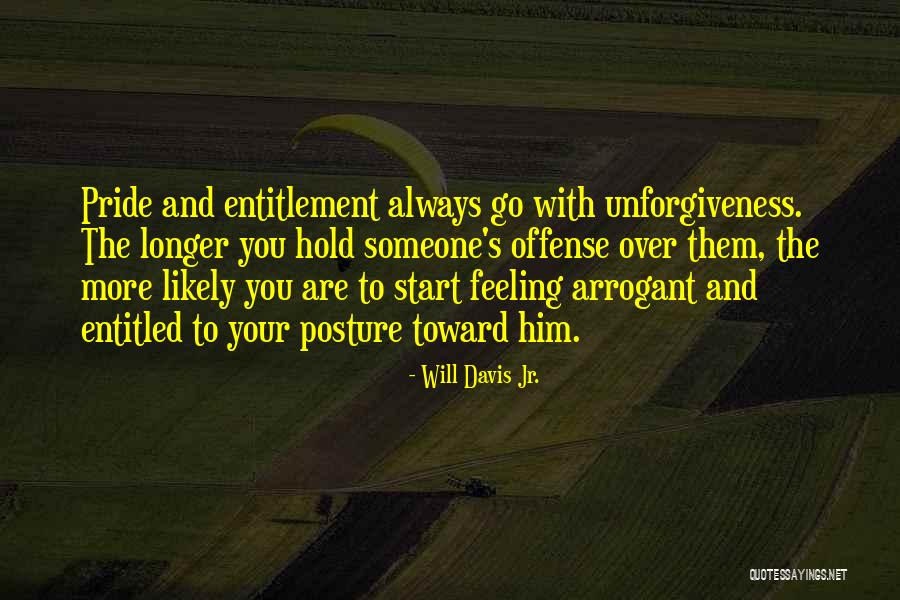 Pride and entitlement always go with unforgiveness. The longer you hold someone's offense over them, the more likely you are to start feeling arrogant and entitled to your posture toward him. — Will Davis Jr.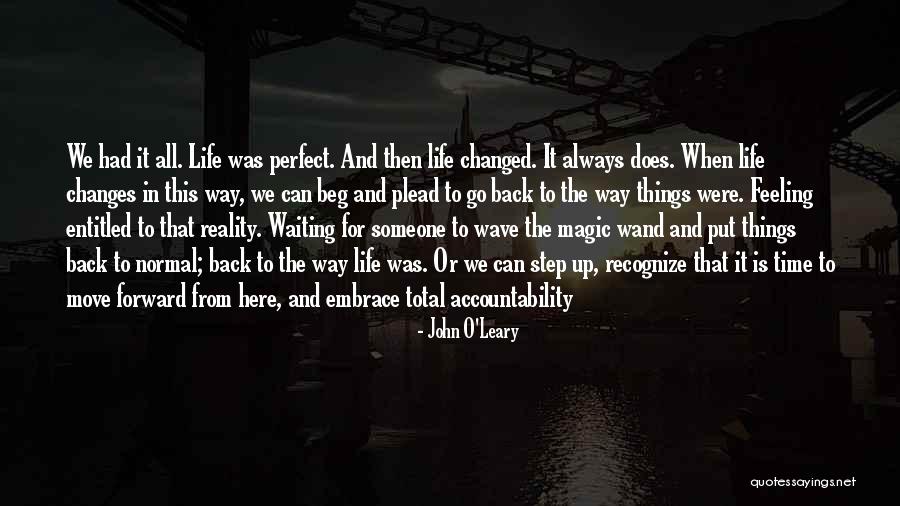 We had it all. Life was perfect. And then life changed. It always does. When life changes in this way, we can beg and plead to go back to the way things were. Feeling entitled to that reality. Waiting for someone to wave the magic wand and put things back to normal; back to the way life was. Or we can step up, recognize that it is time to move forward from here, and embrace total accountability — John O'Leary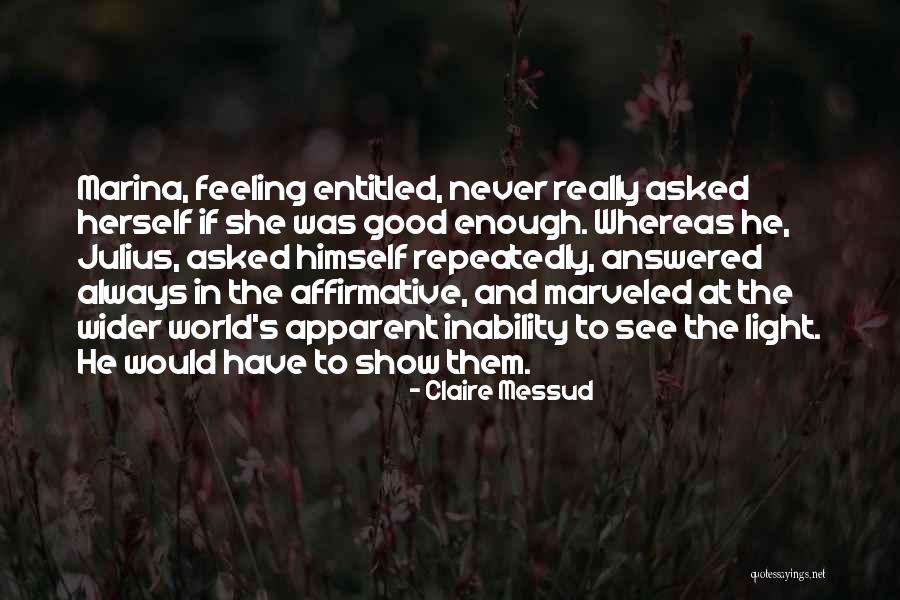 Marina, feeling entitled, never really asked herself if she was good enough. Whereas he, Julius, asked himself repeatedly, answered always in the affirmative, and marveled at the wider world's apparent inability to see the light. He would have to show them. — Claire Messud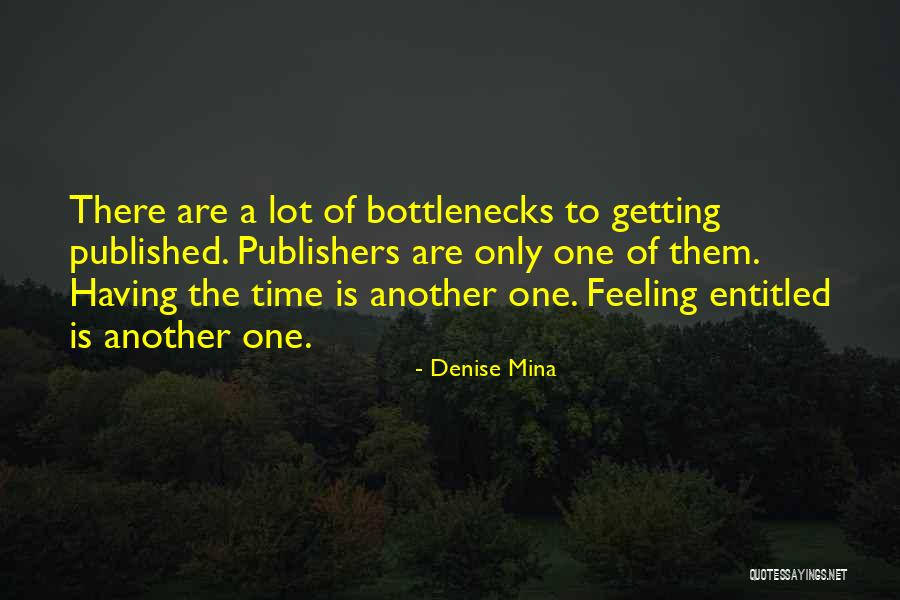 There are a lot of bottlenecks to getting published. Publishers are only one of them. Having the time is another one. Feeling entitled is another one. — Denise Mina