Family Is Just Blood Quotes & Sayings
Enjoy reading and share 70 famous quotes about Family Is Just Blood with everyone.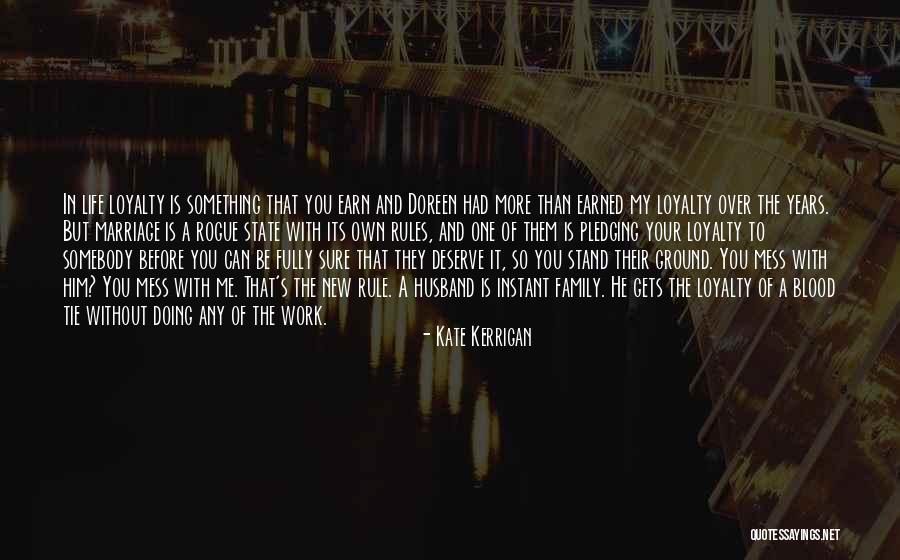 In life loyalty is something that you earn and Doreen had more than earned my loyalty over the years. But marriage is a rogue state with its own rules, and one of them is pledging your loyalty to somebody before you can be fully sure that they deserve it, so you stand their ground. You mess with him? You mess with me. That's the new rule. A husband is instant family. He gets the loyalty of a blood tie without doing any of the work. — Kate Kerrigan
We read that Adam and Methuselah lived so many centuries; at that time, it was the custom to marry in the family - marry as closely as possible - so that the tie of blood might be as strong as it could be made. — Max Heindel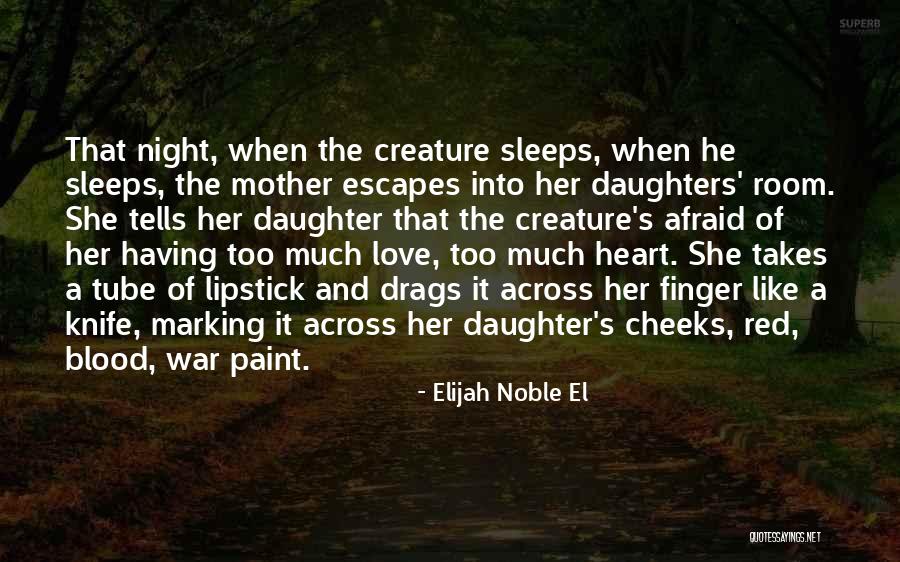 That night, when the creature sleeps, when he sleeps, the mother escapes into her daughters' room. She tells her daughter that the creature's afraid of her having too much love, too much heart. She takes a tube of lipstick and drags it across her finger like a knife, marking it across her daughter's cheeks, red, blood, war paint. — Elijah Noble El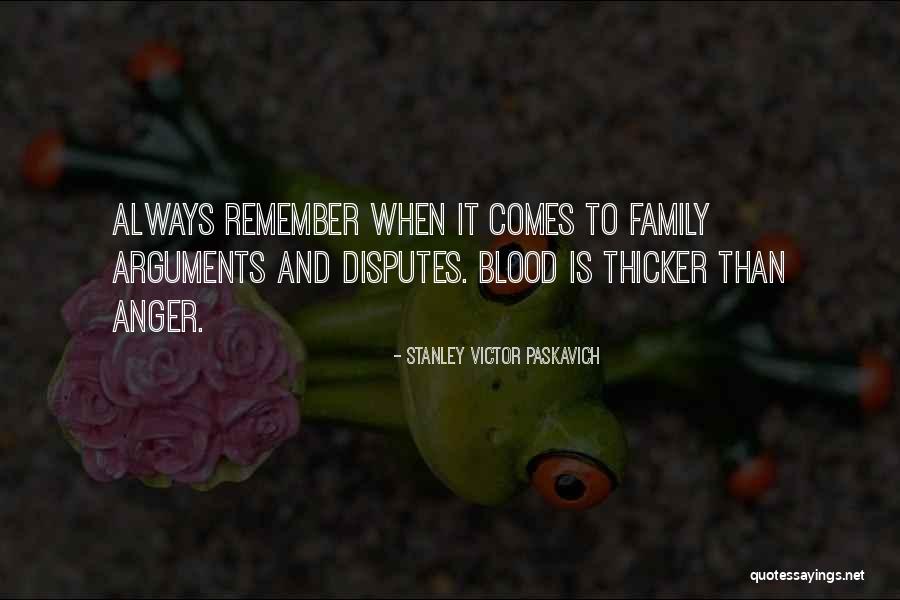 Always remember when it comes to family arguments and disputes. Blood is thicker than anger. — Stanley Victor Paskavich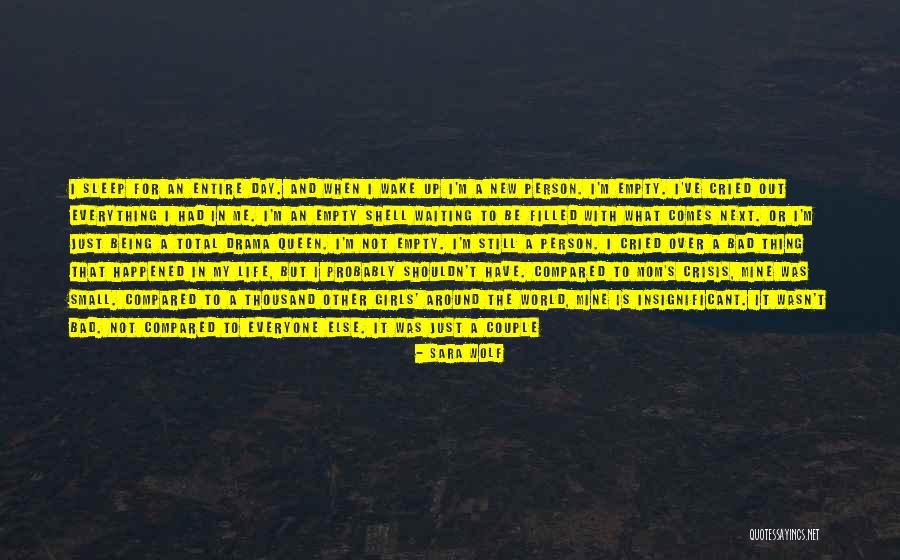 I sleep for an entire day. And when I wake up I'm a new person. I'm empty. I've cried out everything I had in me. I'm an empty shell waiting to be filled with what comes next. Or I'm just being a total drama queen. I'm not empty. I'm still a person. I cried over a bad thing that happened in my life, but I probably shouldn't have. Compared to Mom's crisis, mine was small. Compared to a thousand other girls' around the world, mine is insignificant. It wasn't bad. Not compared to everyone else. It was just a couple seconds. It wasn't years. It wasn't months, like Mom. It wasn't a family member. Wasn't someone I see anymore. It didn't even hurt. There was no blood. It wasn't bad. Not compared to others'. So I should stop crying. — Sara Wolf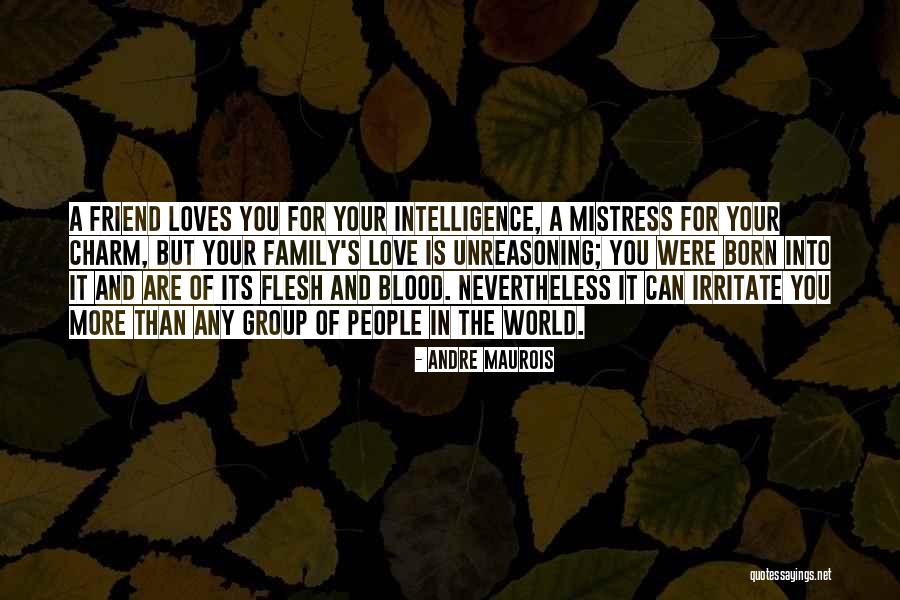 A friend loves you for your intelligence, a mistress for your charm, but your family's love is unreasoning; you were born into it and are of its flesh and blood. Nevertheless it can irritate you more than any group of people in the world. — Andre Maurois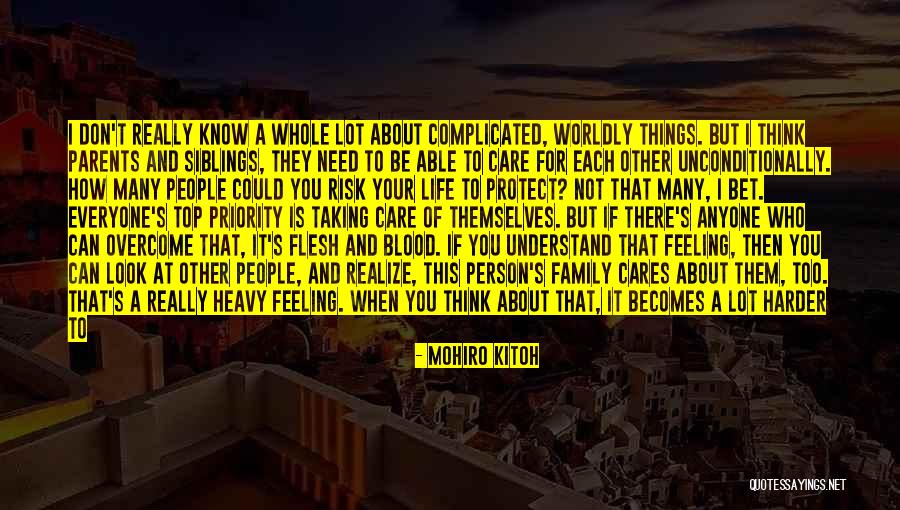 I don't really know a whole lot about complicated, worldly things. But I think parents and siblings, they need to be able to care for each other unconditionally. How many people could you risk your life to protect? Not that many, I bet. Everyone's top priority is taking care of themselves. But if there's anyone who can overcome that, it's flesh and blood. If you understand that feeling, then you can look at other people, and realize, this person's family cares about them, too. That's a really heavy feeling. When you think about that, it becomes a lot harder to do horrible things to them. So I think that love for your family ... is really at the root of what it means to care for other people. — Mohiro Kitoh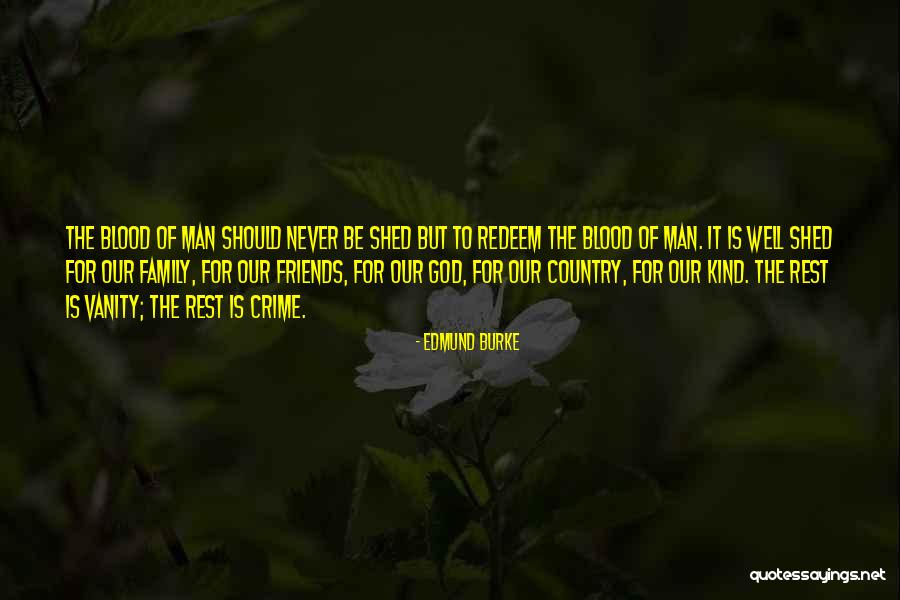 The blood of man should never be shed but to redeem the blood of man. It is well shed for our family, for our friends, for our God, for our country, for our kind. The rest is vanity; the rest is crime. — Edmund Burke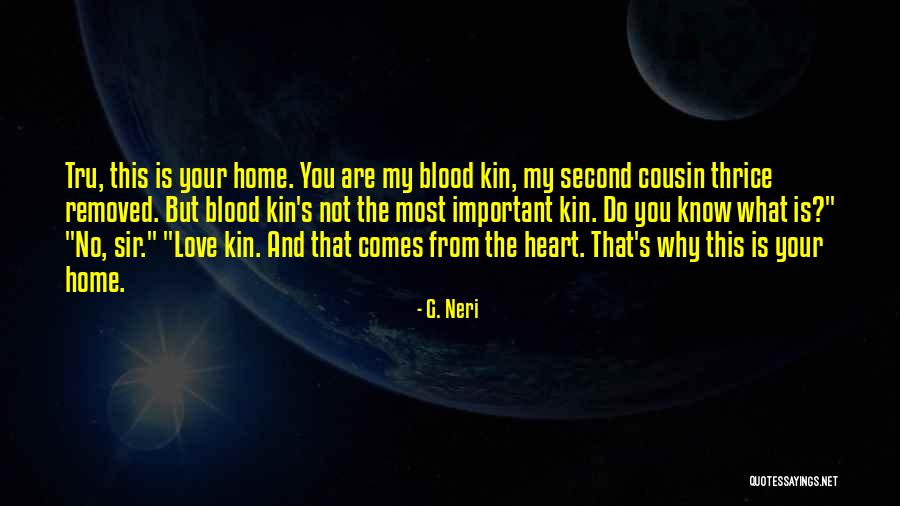 Tru, this is your home. You are my blood kin, my second cousin thrice removed. But blood kin's not the most important kin. Do you know what is?" "No, sir." "Love kin. And that comes from the heart. That's why this is your home. — G. Neri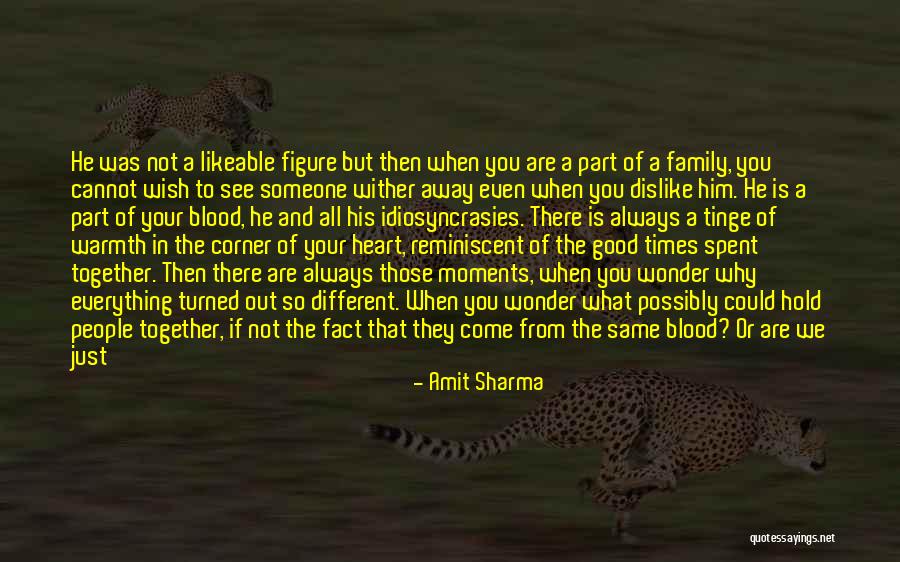 He was not a likeable figure but then when you are a part of a family, you cannot wish to see someone wither away even when you dislike him. He is a part of your blood, he and all his idiosyncrasies. There is always a tinge of warmth in the corner of your heart, reminiscent of the good times spent together. Then there are always those moments, when you wonder why everything turned out so different. When you wonder what possibly could hold people together, if not the fact that they come from the same blood? Or are we just not born to be that way? Craving to be something that we cannot be, each with our own false ceilings to hide our true selves? — Amit Sharma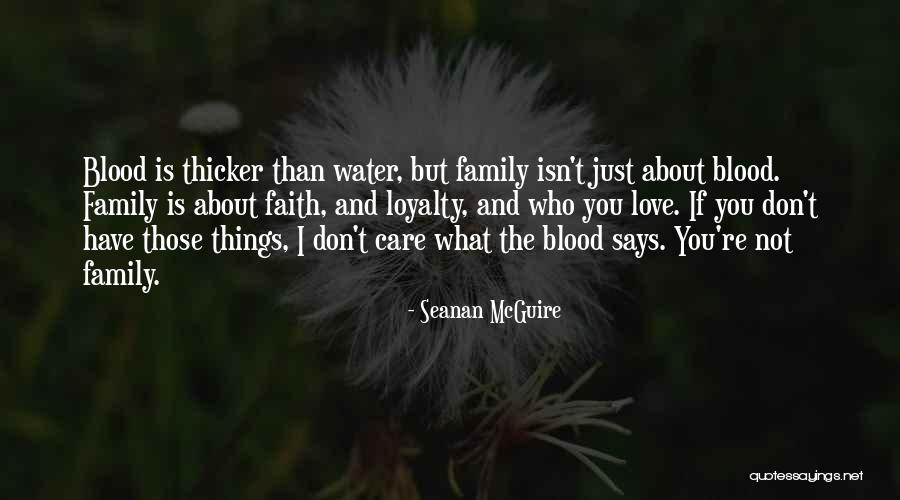 Blood is thicker than water, but family isn't just about blood. Family is about faith, and loyalty, and who you love. If you don't have those things, I don't care what the blood says. You're not family. — Seanan McGuire
When you have a family as big as mine, there are many things that affect my family members, in many different ways. It could be high blood pressure, it could be cholesterol, it could be obesity, it could be sleep deprivation or sleep apnea. An illness is an illness, especially if it affects younger kids. Illnesses affect your family and they impact you because you want to do the best you can to help your family member become more healthy, just as my family members want me to be healthy. — Queen Latifah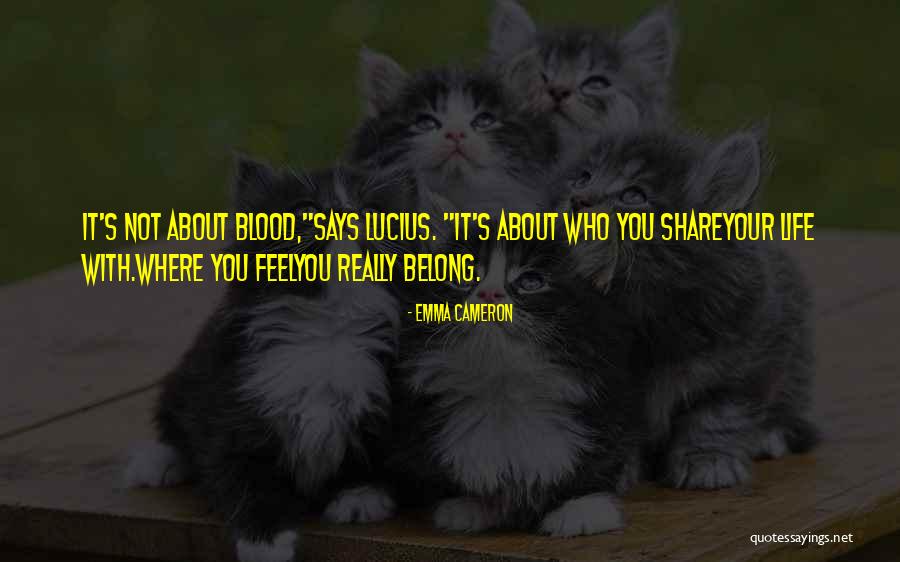 It's not about blood,"
says Lucius. "It's
about who you share
your life with.
Where you feel
you really belong. — Emma Cameron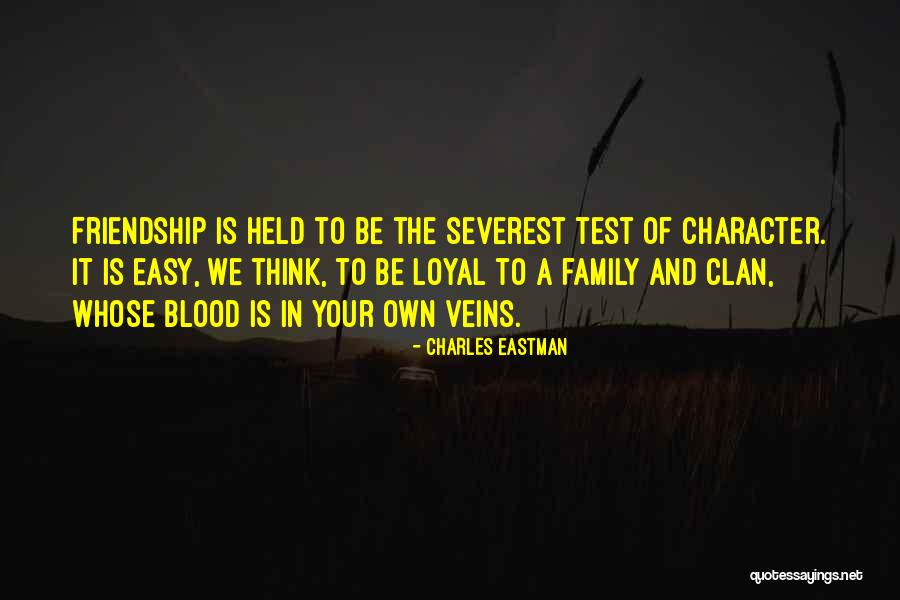 Friendship is held to be the severest test of character. It is easy, we think, to be loyal to a family and clan, whose blood is in your own veins. — Charles Eastman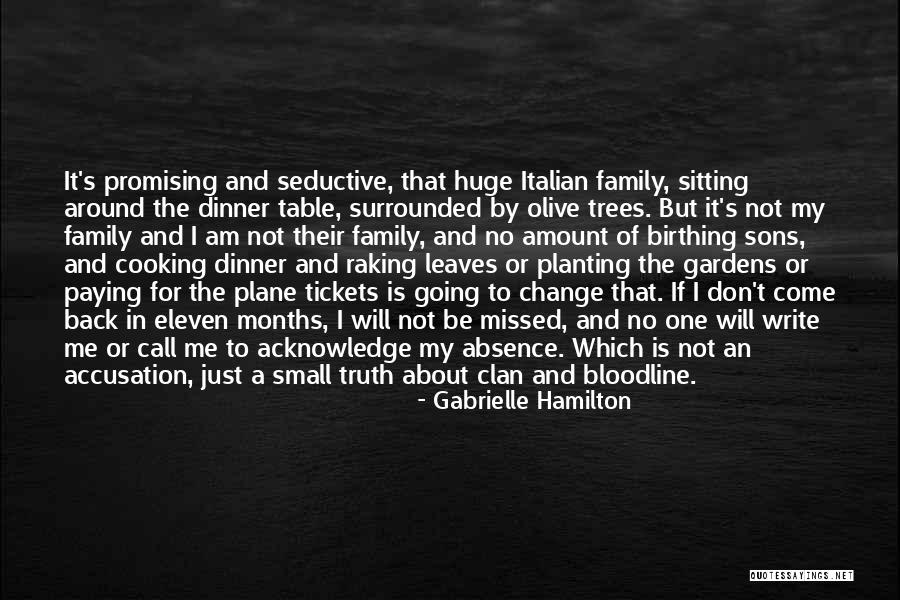 It's promising and seductive, that huge Italian family, sitting around the dinner table, surrounded by olive trees. But it's not my family and I am not their family, and no amount of birthing sons, and cooking dinner and raking leaves or planting the gardens or paying for the plane tickets is going to change that. If I don't come back in eleven months, I will not be missed, and no one will write me or call me to acknowledge my absence. Which is not an accusation, just a small truth about clan and bloodline. — Gabrielle Hamilton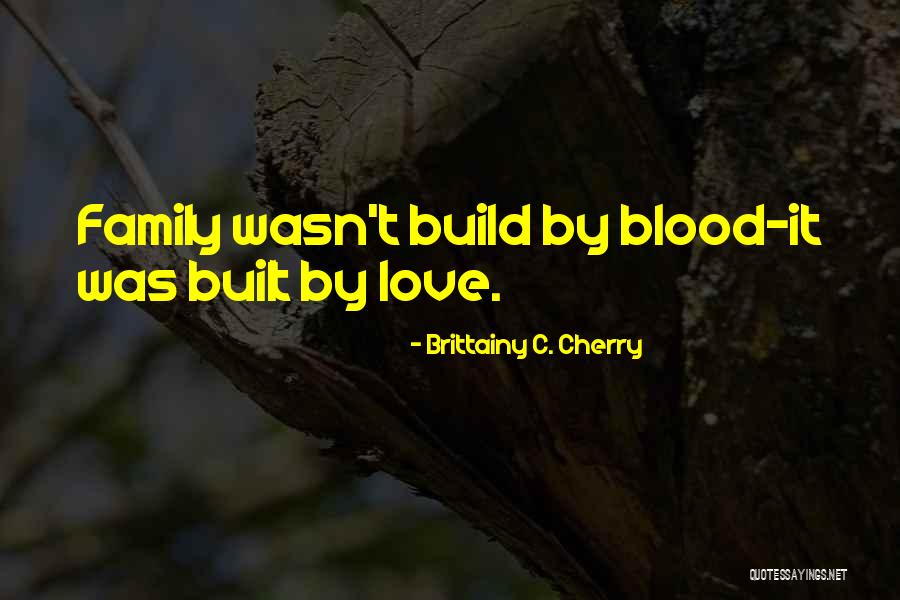 Family wasn't build by blood-it was built by love. — Brittainy C. Cherry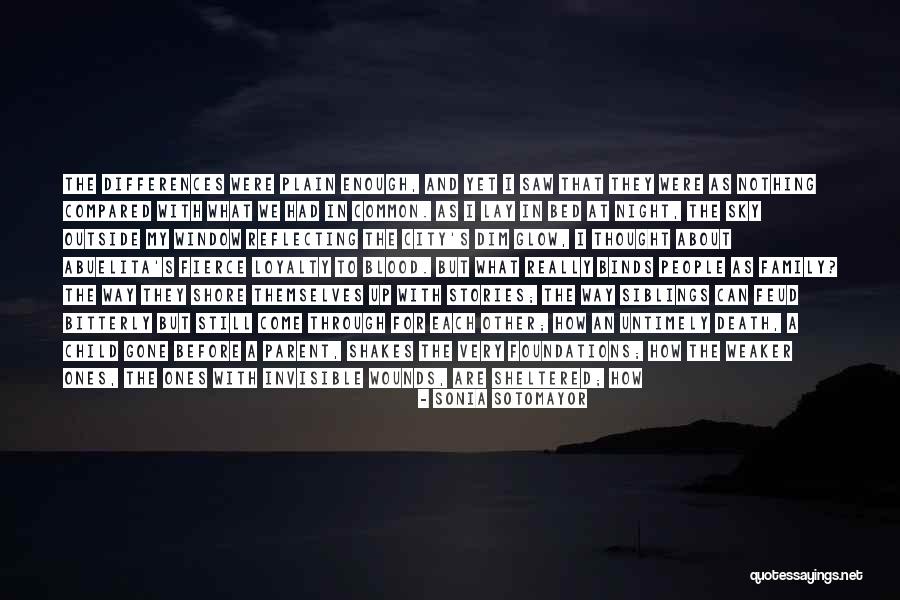 The differences were plain enough, and yet I saw that they were as nothing compared with what we had in common. As I lay in bed at night, the sky outside my window reflecting the city's dim glow, I thought about Abuelita's fierce loyalty to blood. But what really binds people as family? The way they shore themselves up with stories; the way siblings can feud bitterly but still come through for each other; how an untimely death, a child gone before a parent, shakes the very foundations; how the weaker ones, the ones with invisible wounds, are sheltered; how a constant din is medicine against loneliness; and how celebrating the same occasions year after year steels us to the changes they herald. And always food at the center of it all. — Sonia Sotomayor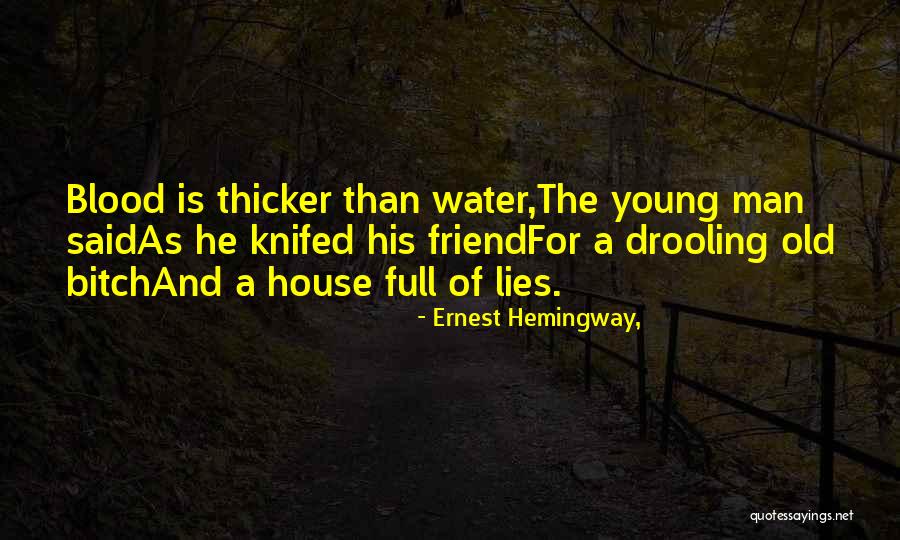 Blood is thicker than water,
The young man said
As he knifed his friend
For a drooling old bitch
And a house full of lies. — Ernest Hemingway,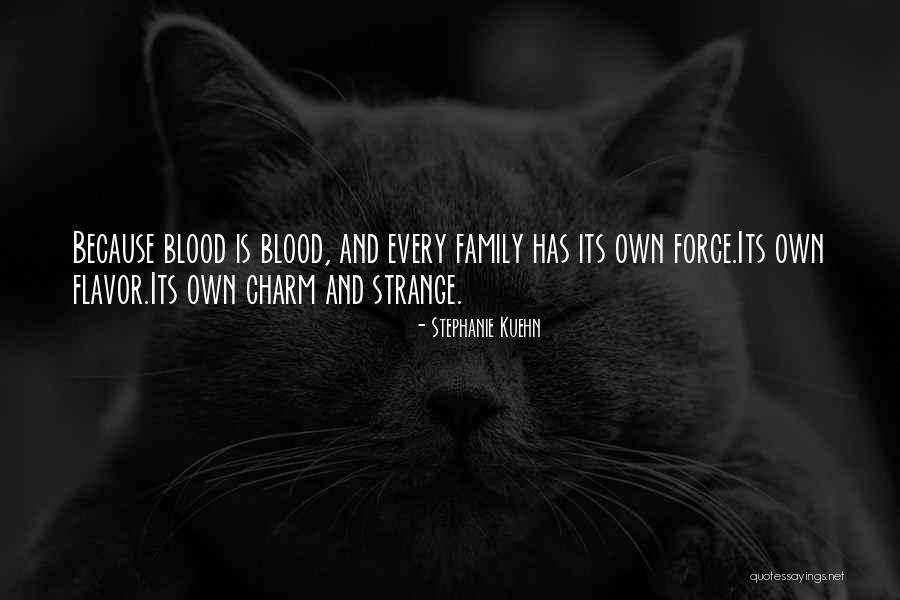 Because blood is blood, and every family has its own force.
Its own flavor.
Its own charm and strange. — Stephanie Kuehn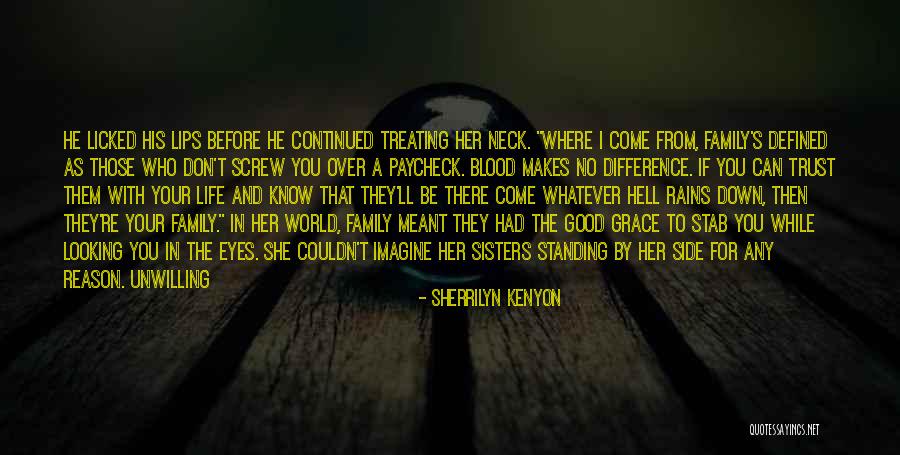 He licked his lips before he continued treating her neck. "Where I come from, family's defined as those who don't screw you over a paycheck. Blood makes no difference. If you can trust them with your life and know that they'll be there come whatever hell rains down, then they're your family." In her world, family meant they had the good grace to stab you while looking you in the eyes. She couldn't imagine her sisters standing by her side for any reason. Unwilling — Sherrilyn Kenyon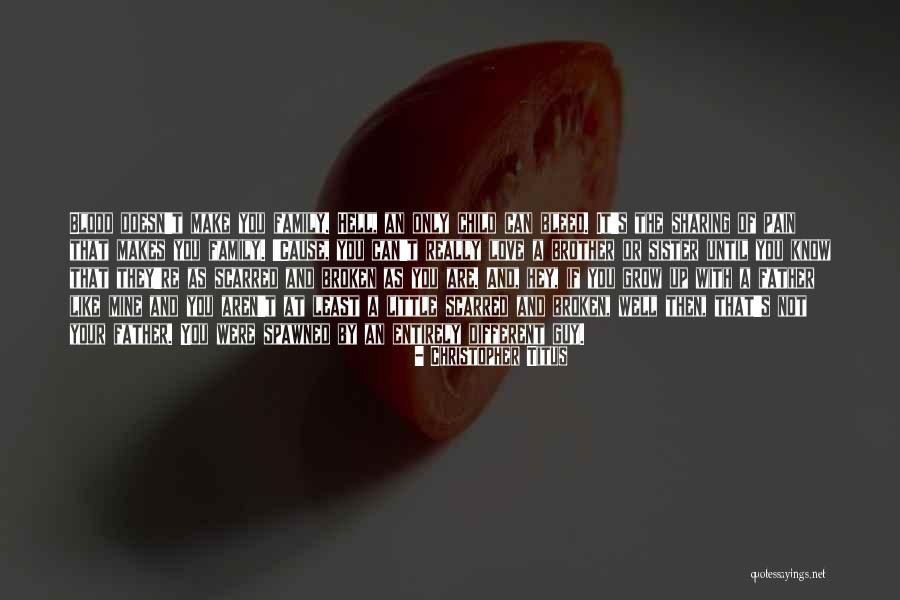 Blood doesn't make you family. Hell, an only child can bleed. It's the sharing of pain that makes you family. 'Cause, you can't really love a brother or sister until you know that they're as scarred and broken as you are. And, hey, if you grow up with a father like mine and you aren't at least a little scarred and broken, well then, that's not your father. You were spawned by an entirely different guy. — Christopher Titus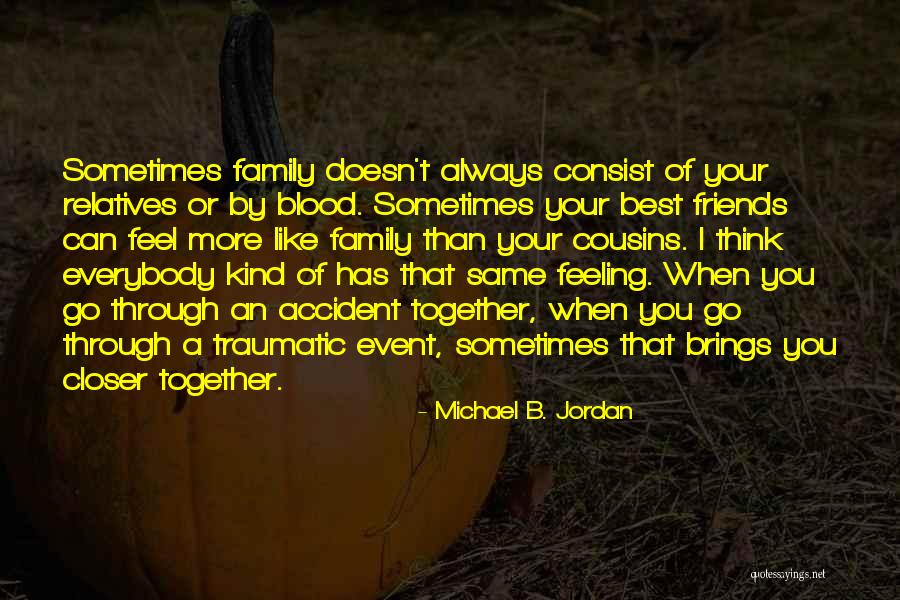 Sometimes family doesn't always consist of your relatives or by blood. Sometimes your best friends can feel more like family than your cousins. I think everybody kind of has that same feeling. When you go through an accident together, when you go through a traumatic event, sometimes that brings you closer together. — Michael B. Jordan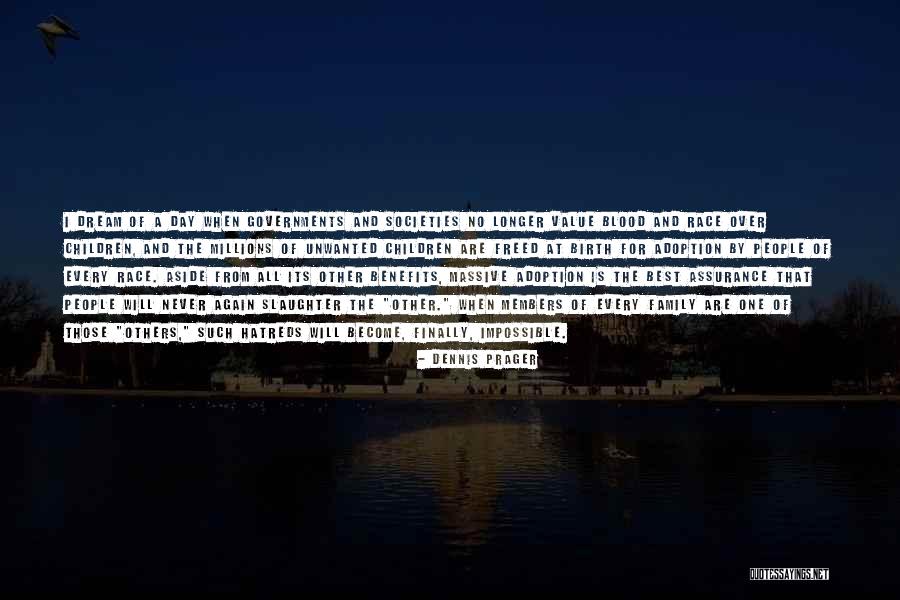 I dream of a day when governments and societies no longer value blood and race over children, and the millions of unwanted children are freed at birth for adoption by people of every race. Aside from all its other benefits, massive adoption is the best assurance that people will never again slaughter the "other." When members of every family are one of those "others," such hatreds will become, finally, impossible. — Dennis Prager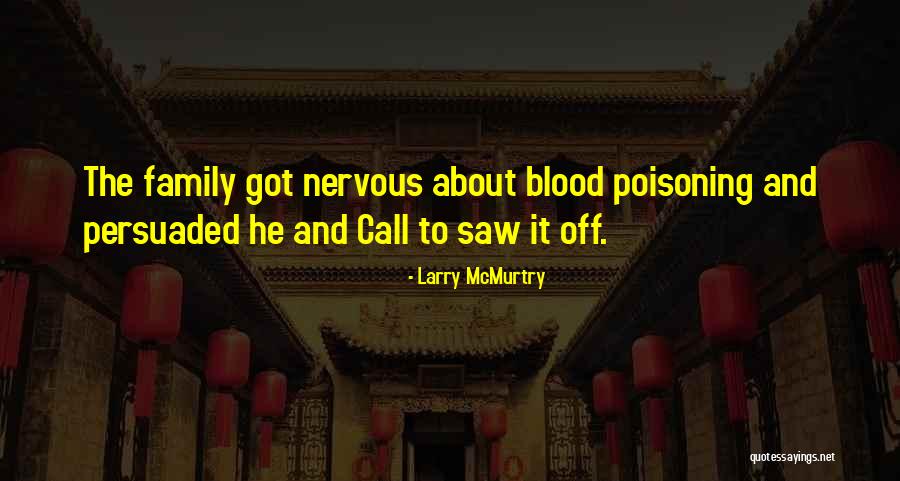 The family got nervous about blood poisoning and persuaded he and Call to saw it off. — Larry McMurtry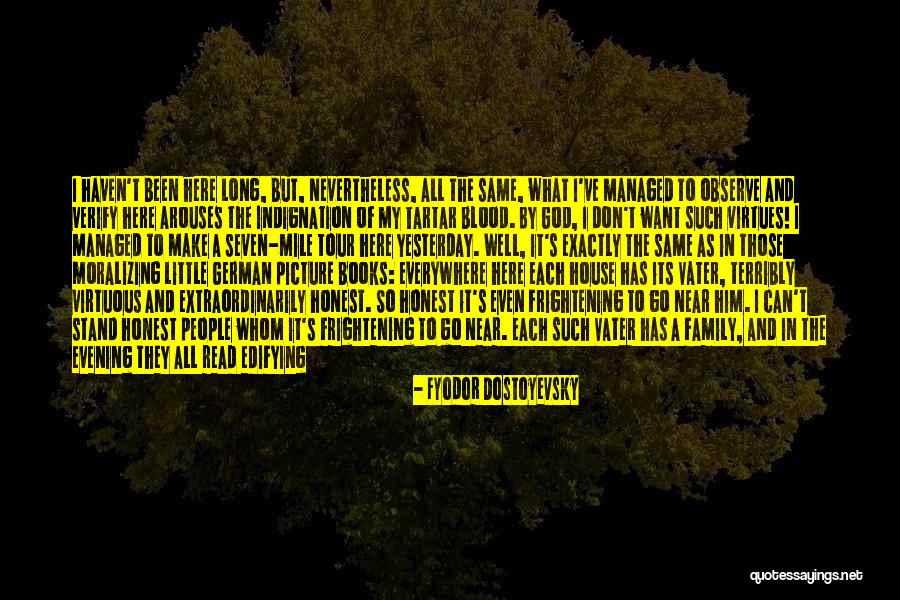 I haven't been here long, but, nevertheless, all the same, what I've managed to observe and verify here arouses the indignation of my Tartar blood. By God, I don't want such virtues! I managed to make a seven-mile tour here yesterday. Well, it's exactly the same as in those moralizing little German picture books: everywhere here each house has its Vater, terribly virtuous and extraordinarily honest. So honest it's even frightening to go near him. I can't stand honest people whom it's frightening to go near. Each such Vater has a family, and in the evening they all read edifying books aloud. Over their little house, elms and chestnuts rustle. A sunset, a stork on the roof, and all of it extraordinarily poetic and touching ... — Fyodor Dostoyevsky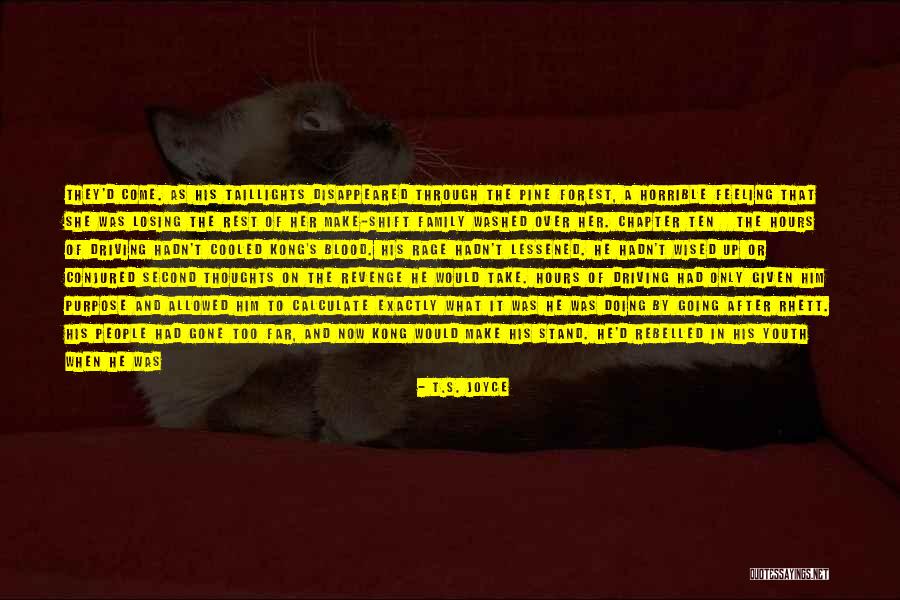 they'd come. As his taillights disappeared through the pine forest, a horrible feeling that she was losing the rest of her make-shift family washed over her. Chapter Ten The hours of driving hadn't cooled Kong's blood. His rage hadn't lessened. He hadn't wised up or conjured second thoughts on the revenge he would take. Hours of driving had only given him purpose and allowed him to calculate exactly what it was he was doing by going after Rhett. His people had gone too far, and now Kong would make his stand. He'd rebelled in his youth when he was — T.S. Joyce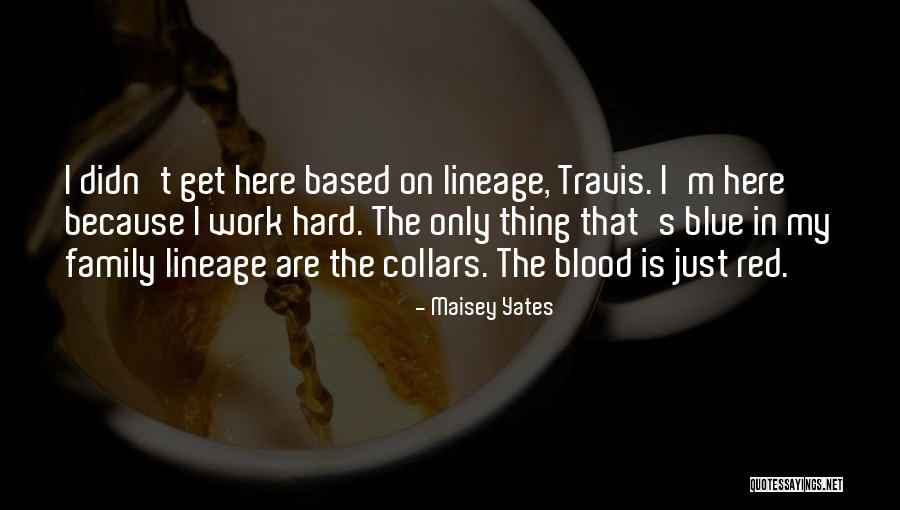 I didn't get here based on lineage, Travis. I'm here because I work hard. The only thing that's blue in my family lineage are the collars. The blood is just red. — Maisey Yates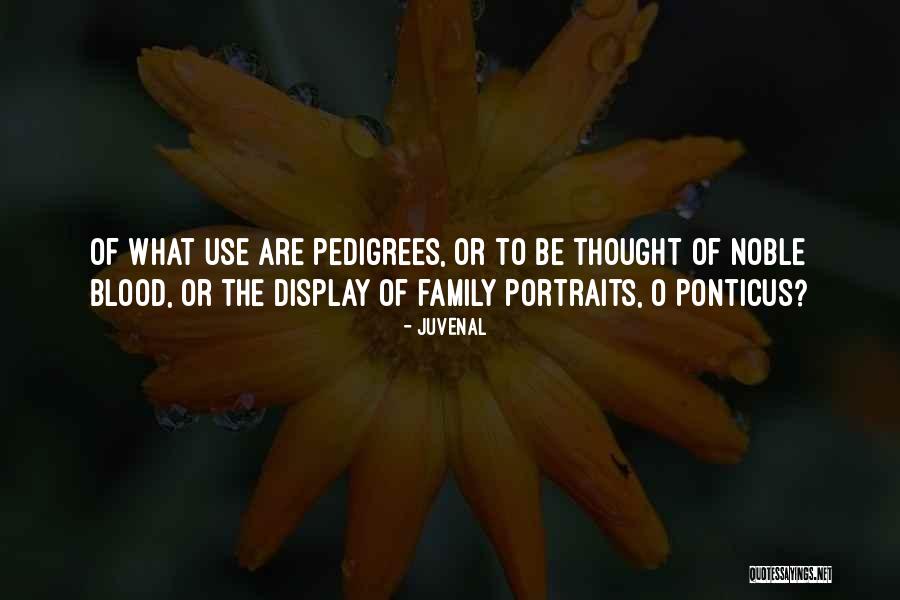 Of what use are pedigrees, or to be thought of noble blood, or the display of family portraits, O Ponticus? — Juvenal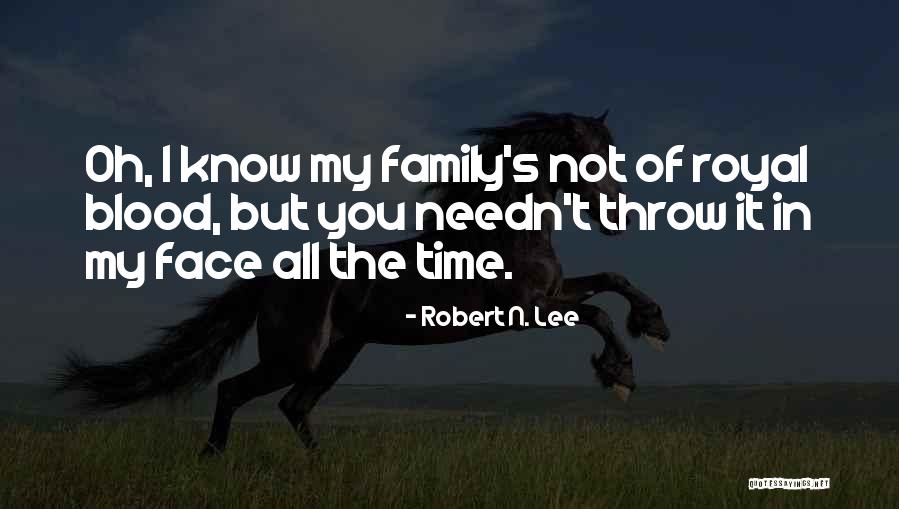 Oh, I know my family's not of royal blood, but you needn't throw it in my face all the time. — Robert N. Lee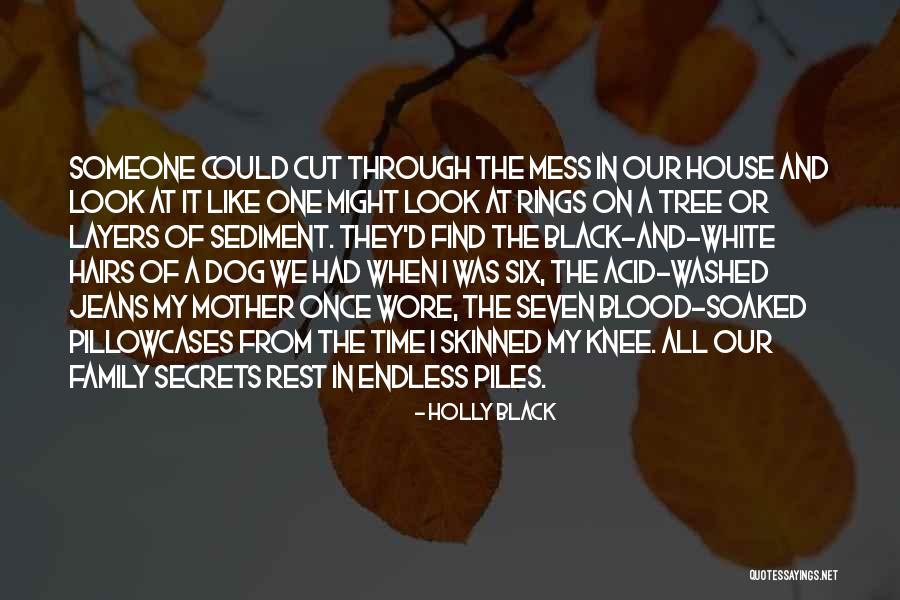 Someone could cut through the mess in our house and look at it like one might look at rings on a tree or layers of sediment. They'd find the black-and-white hairs of a dog we had when I was six, the acid-washed jeans my mother once wore, the seven blood-soaked pillowcases from the time I skinned my knee. All our family secrets rest in endless piles. — Holly Black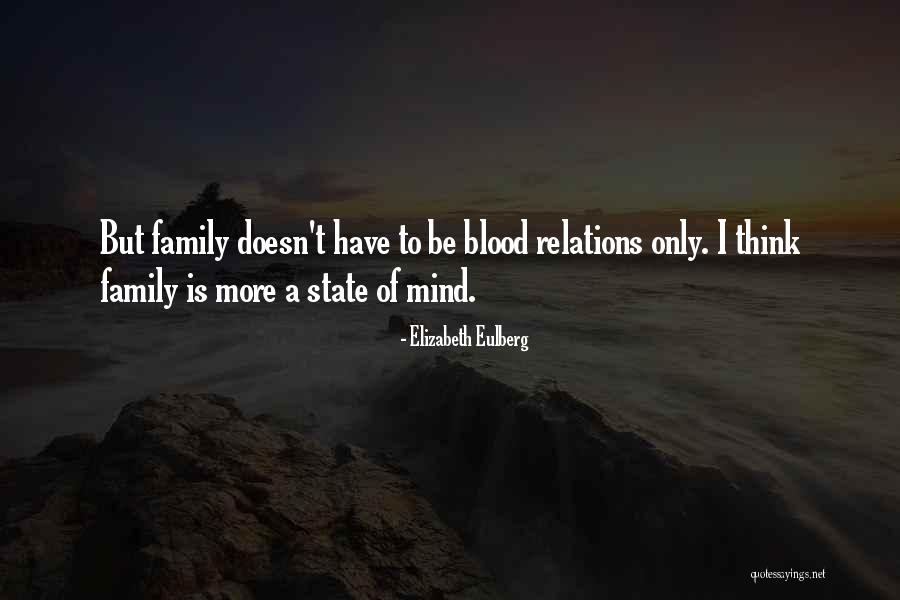 But family doesn't have to be blood relations only. I think family is more a state of mind. — Elizabeth Eulberg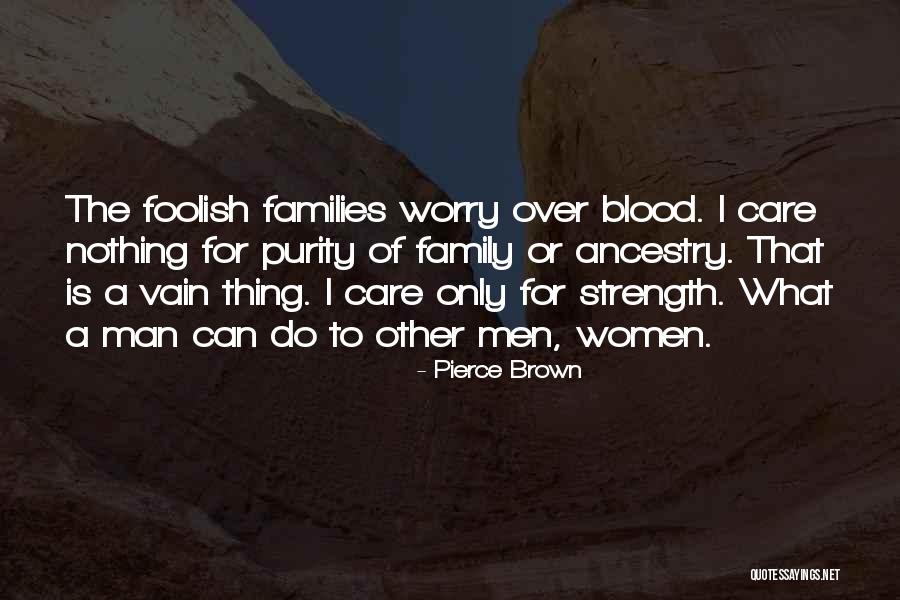 The foolish families worry over blood. I care nothing for purity of family or ancestry. That is a vain thing. I care only for strength. What a man can do to other men, women. — Pierce Brown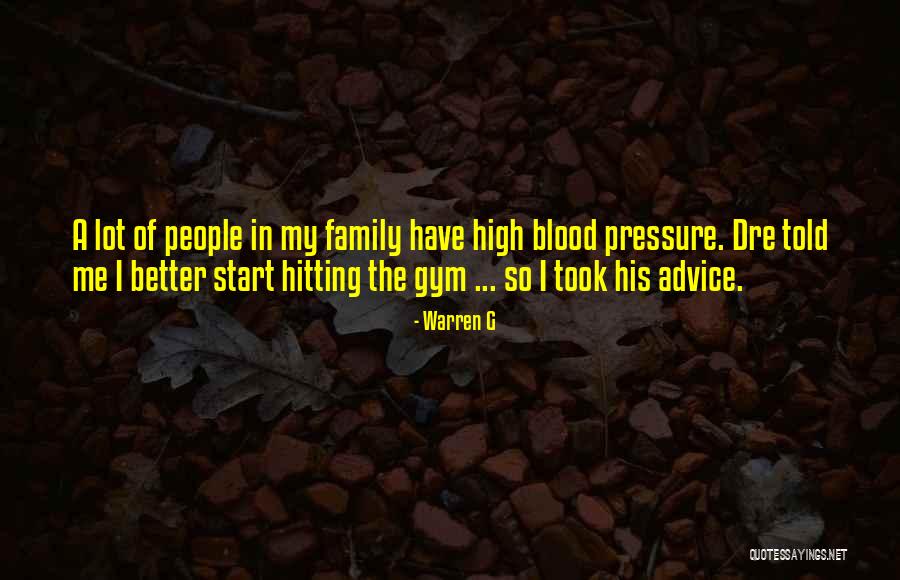 A lot of people in my family have high blood pressure. Dre told me I better start hitting the gym ... so I took his advice. — Warren G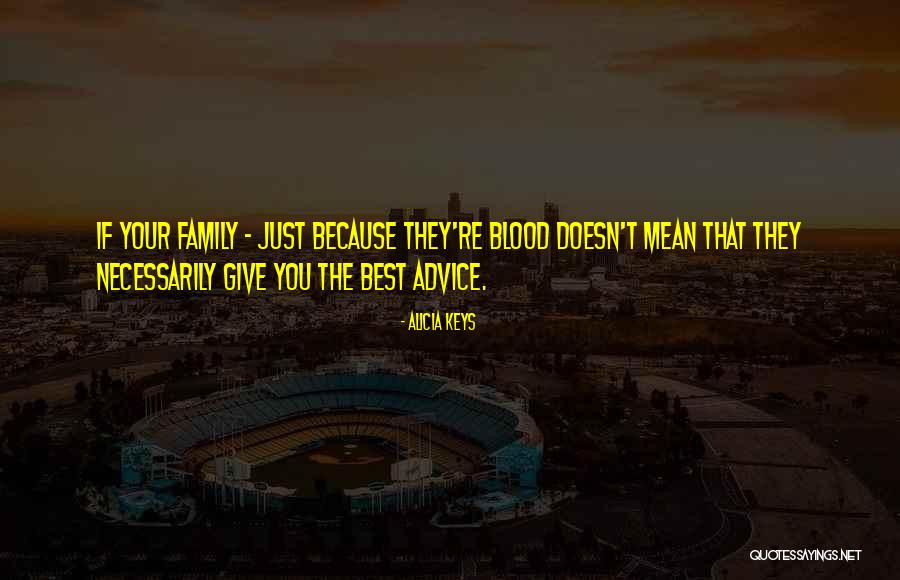 If your family - just because they're blood doesn't mean that they necessarily give you the best advice. — Alicia Keys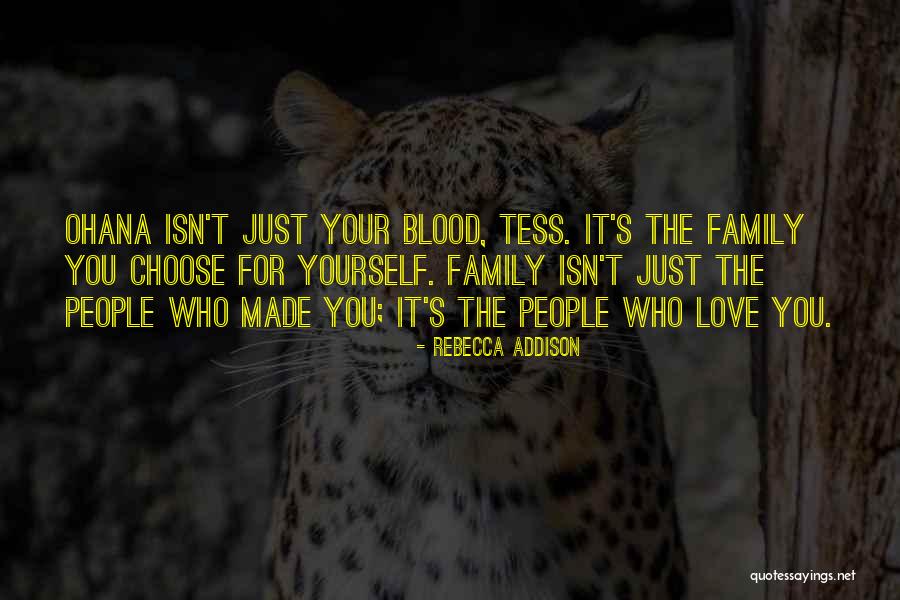 Ohana isn't just your blood, Tess. It's the family you choose for yourself. Family isn't just the people who made you; it's the people who love you. — Rebecca Addison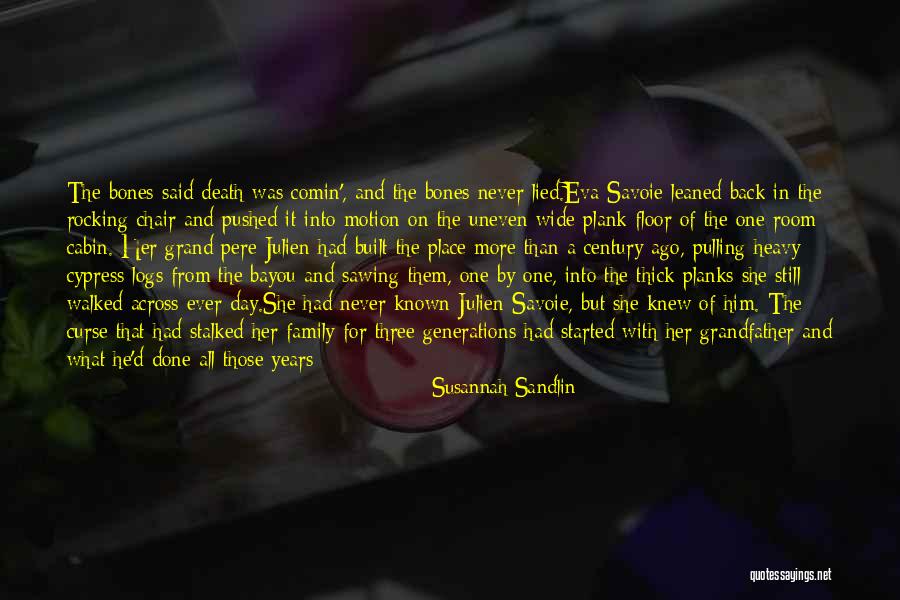 The bones said death was comin', and the bones never lied.
Eva Savoie leaned back in the rocking chair and pushed it into motion on the uneven wide-plank floor of the one-room cabin. Her grand pere Julien had built the place more than a century ago, pulling heavy cypress logs from the bayou and sawing them, one by one, into the thick planks she still walked across ever day.
She had never known Julien Savoie, but she knew of him. The curse that had stalked her family for three generations had started with her grandfather and what he'd done all those years ago.
What he'd brought with him to Whiskey Bayou with blood on his hands.
What had driven her daddy to shoot her mama, and then himself, before either turned forty-five.
What had led Eva's brother, Antoine, to drown in the bayou only a half mile from this cabin, leaving a wife and infant son behind.
What stalked Eva now. — Susannah Sandlin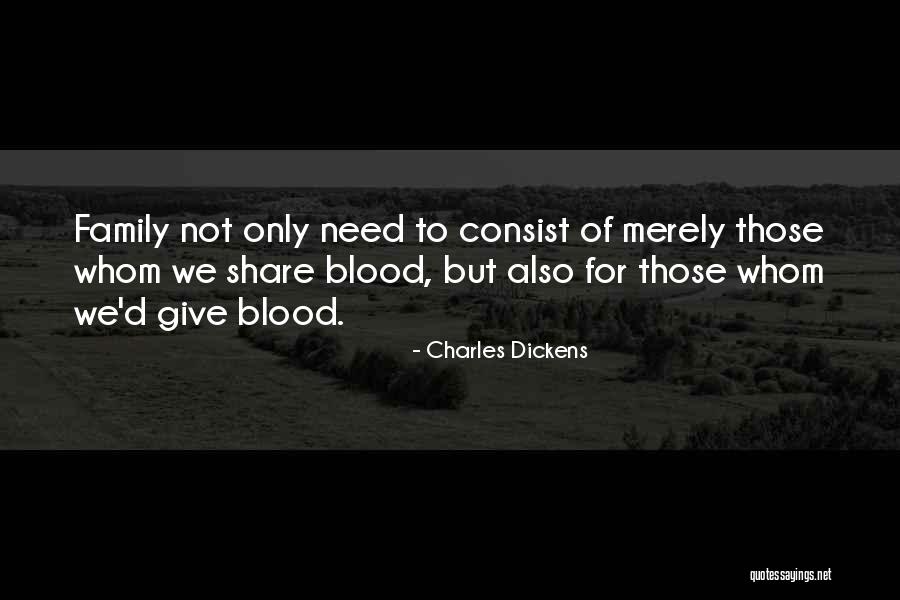 Family not only need to consist of merely those whom we share blood, but also for those whom we'd give blood. — Charles Dickens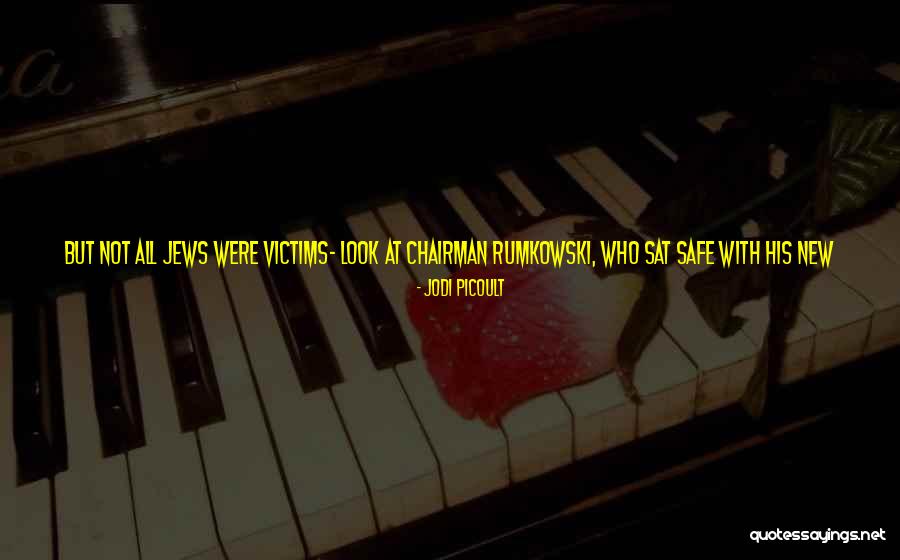 But not all Jews were victims- look at Chairman Rumkowski, who sat safe with his new wife in his cushy home making lists, with the blood of my family on his hands. And not all Germans were murderers. Look at Herr Fassbinder, who had saved so many children on the night that children were taken away. — Jodi Picoult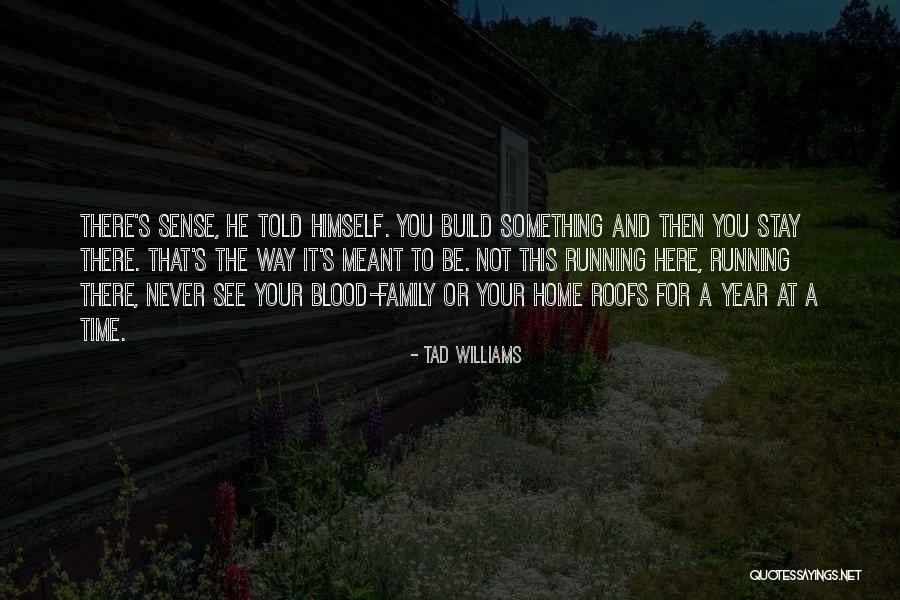 There's sense, he told himself. You build something and then you stay there. That's the way it's meant to be. Not this running here, running there, never see your blood-family or your home roofs for a year at a time. — Tad Williams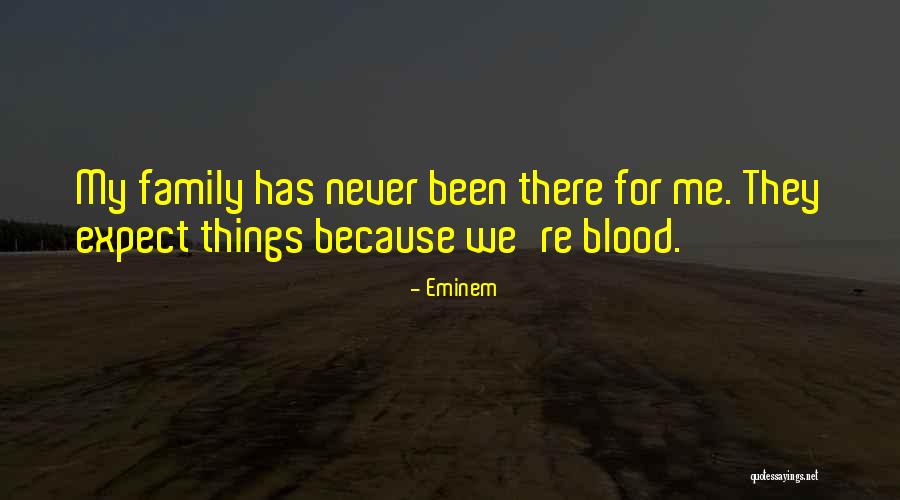 My family has never been there for me. They expect things because we're blood. — Eminem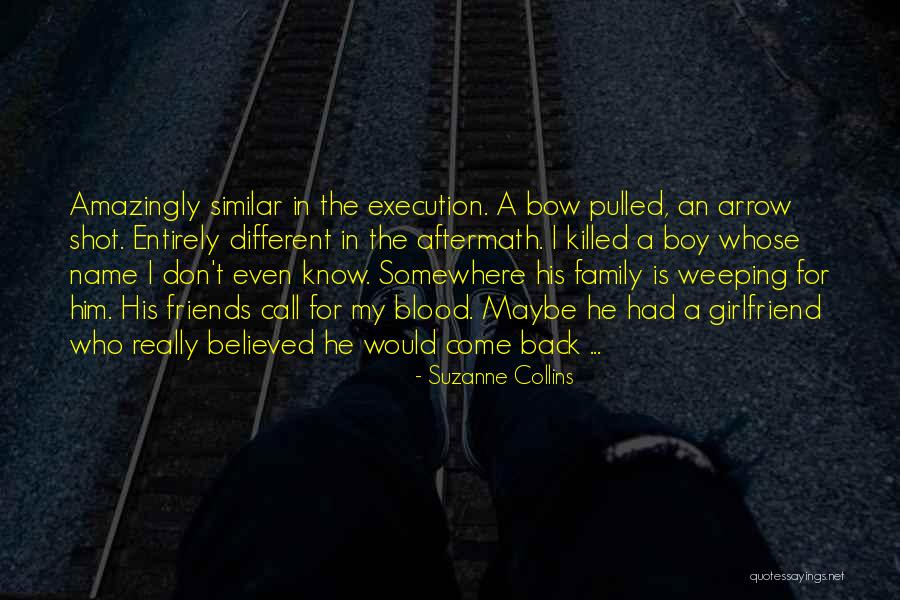 Amazingly similar in the execution. A bow pulled, an arrow shot. Entirely different in the aftermath. I killed a boy whose name I don't even know. Somewhere his family is weeping for him. His friends call for my blood. Maybe he had a girlfriend who really believed he would come back ... — Suzanne Collins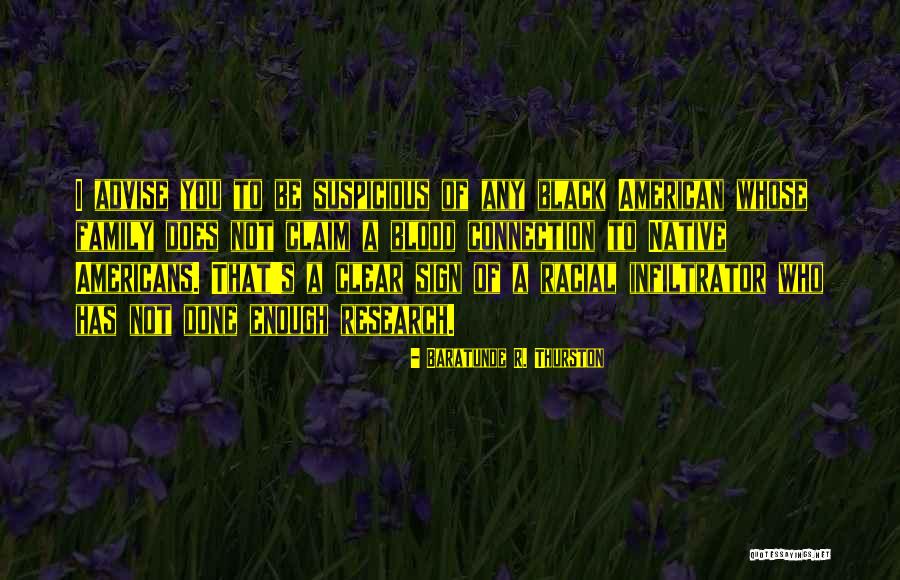 I advise you to be suspicious of any black American whose family does not claim a blood connection to Native Americans. That's a clear sign of a racial infiltrator who has not done enough research. — Baratunde R. Thurston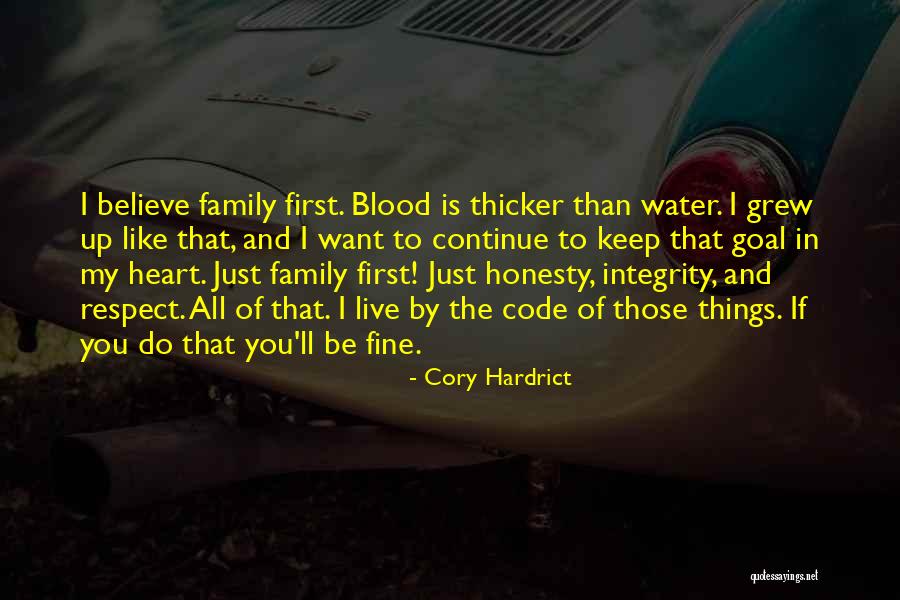 I believe family first. Blood is thicker than water. I grew up like that, and I want to continue to keep that goal in my heart. Just family first! Just honesty, integrity, and respect. All of that. I live by the code of those things. If you do that you'll be fine. — Cory Hardrict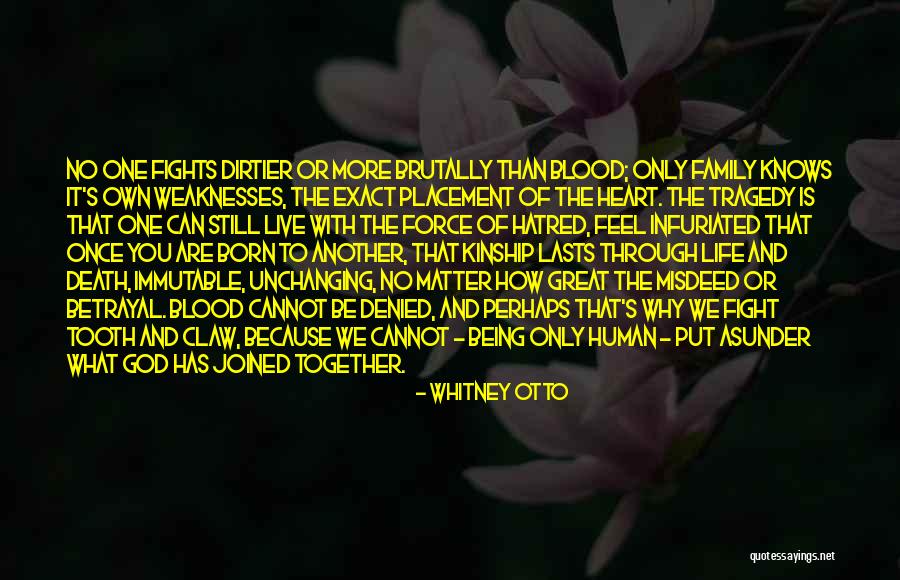 No one fights dirtier or more brutally than blood; only family knows it's own weaknesses, the exact placement of the heart. The tragedy is that one can still live with the force of hatred, feel infuriated that once you are born to another, that kinship lasts through life and death, immutable, unchanging, no matter how great the misdeed or betrayal. Blood cannot be denied, and perhaps that's why we fight tooth and claw, because we cannot - being only human - put asunder what God has joined together. — Whitney Otto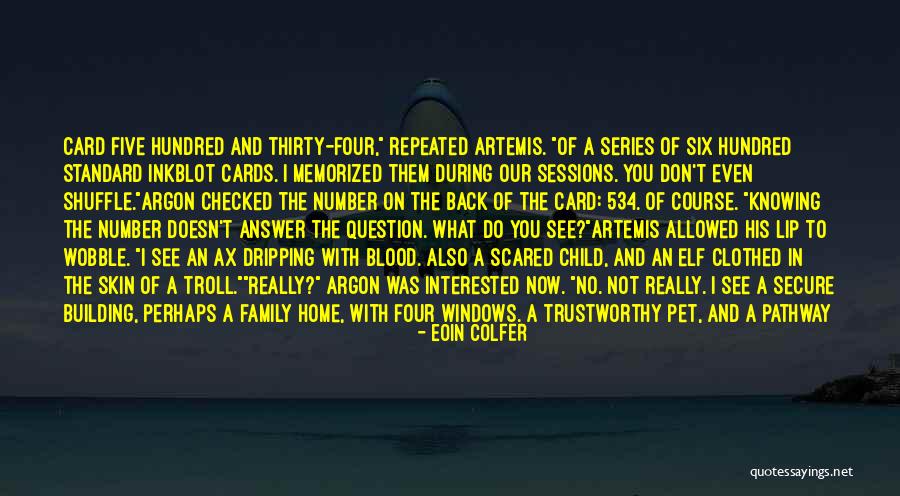 Card five hundred and thirty-four," repeated Artemis. "Of a series of six hundred standard inkblot cards. I memorized them during our sessions. You don't even shuffle."
Argon checked the number on the back of the card: 534. Of course. "Knowing the number doesn't answer the question. What do you see?"
Artemis allowed his lip to wobble. "I see an ax dripping with blood. Also a scared child, and an elf clothed in the skin of a troll."
"Really?" Argon was interested now.
"No. Not really. I see a secure building, perhaps a family home, with four windows. A trustworthy pet, and a pathway leading from the door into the distance. I think, if you check your manual, you will find that these answers fall inside healthy parameters."
Argon did not need to check. The Mud Boy was right, as usual. — Eoin Colfer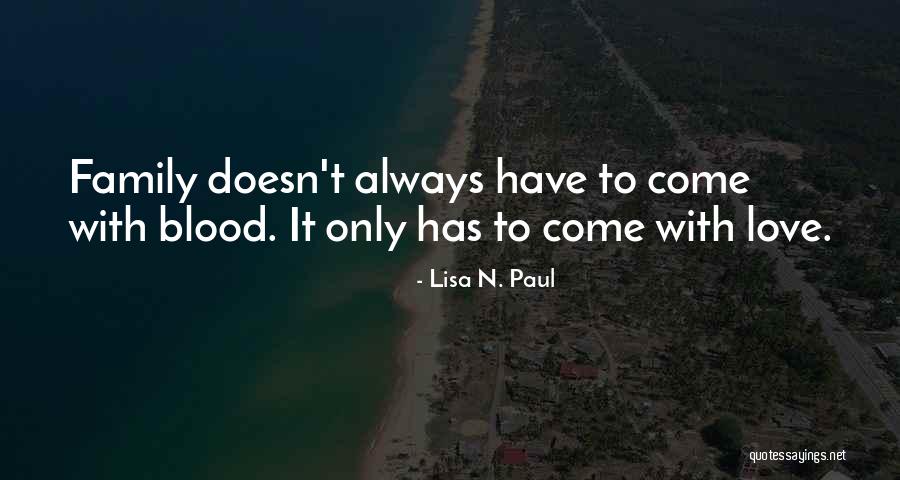 Family doesn't always have to come with blood. It only has to come with love. — Lisa N. Paul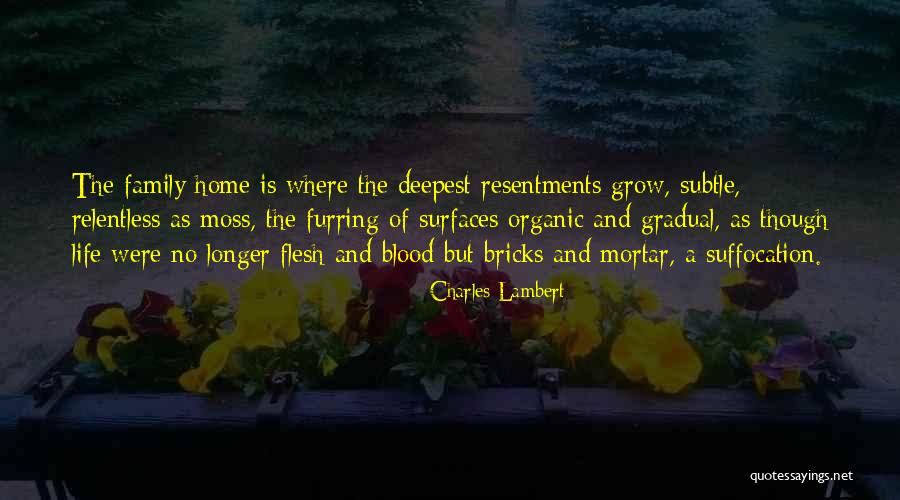 The family home is where the deepest resentments grow, subtle, relentless as moss, the furring of surfaces organic and gradual, as though life were no longer flesh and blood but bricks and mortar, a suffocation. — Charles Lambert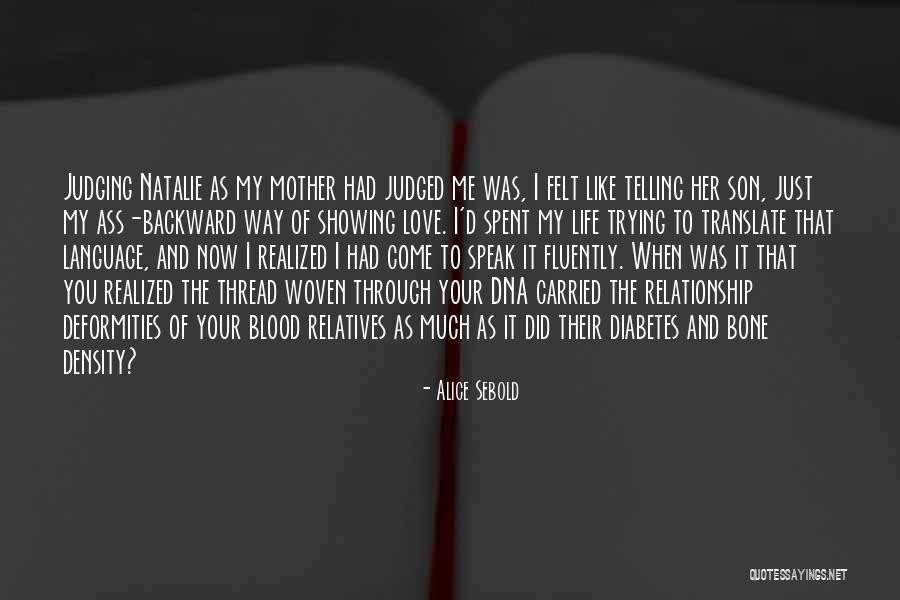 Judging Natalie as my mother had judged me was, I felt like telling her son, just my ass-backward way of showing love. I'd spent my life trying to translate that language, and now I realized I had come to speak it fluently. When was it that you realized the thread woven through your DNA carried the relationship deformities of your blood relatives as much as it did their diabetes and bone density? — Alice Sebold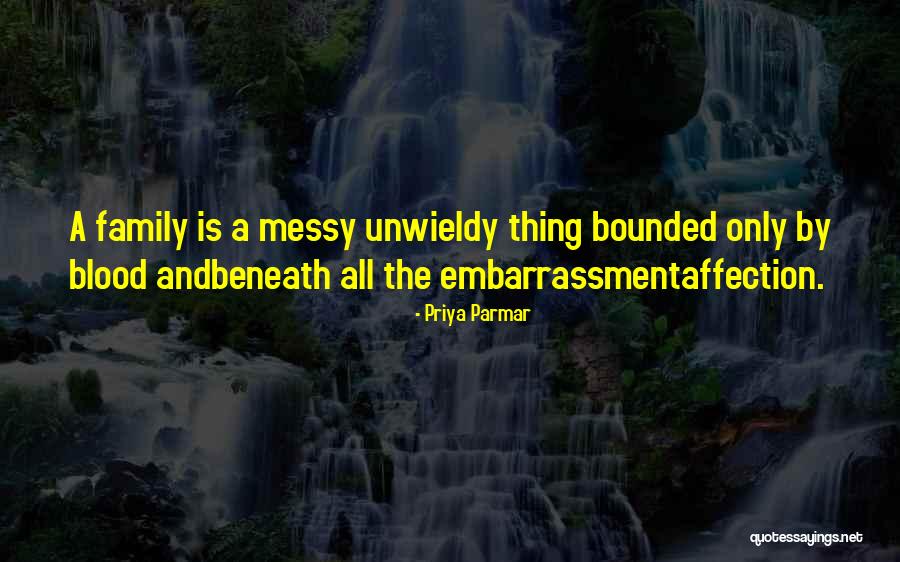 A family is a messy unwieldy thing bounded only by blood andbeneath all the embarrassmentaffection. — Priya Parmar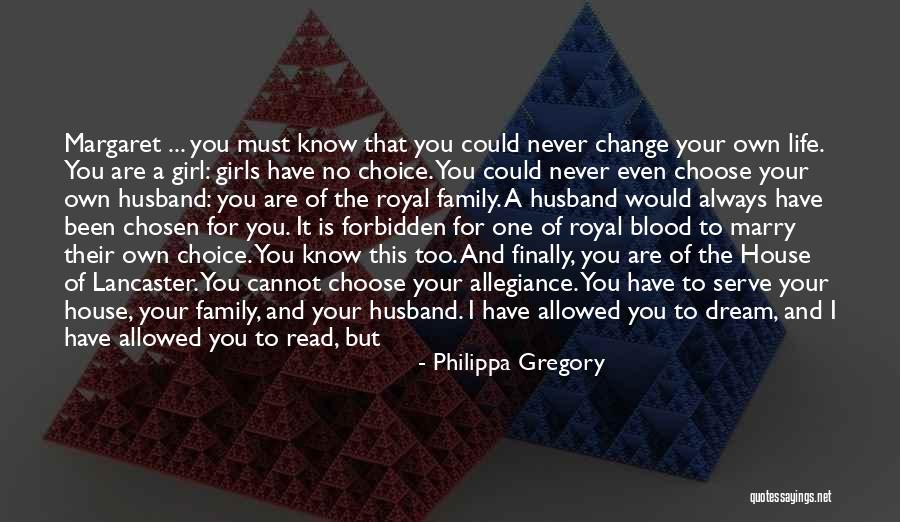 Margaret ... you must know that you could never change your own life. You are a girl: girls have no choice. You could never even choose your own husband: you are of the royal family. A husband would always have been chosen for you. It is forbidden for one of royal blood to marry their own choice. You know this too. And finally, you are of the House of Lancaster. You cannot choose your allegiance. You have to serve your house, your family, and your husband. I have allowed you to dream, and I have allowed you to read, but the time has come to put aside silly stories and silly dreams and do your duty. — Philippa Gregory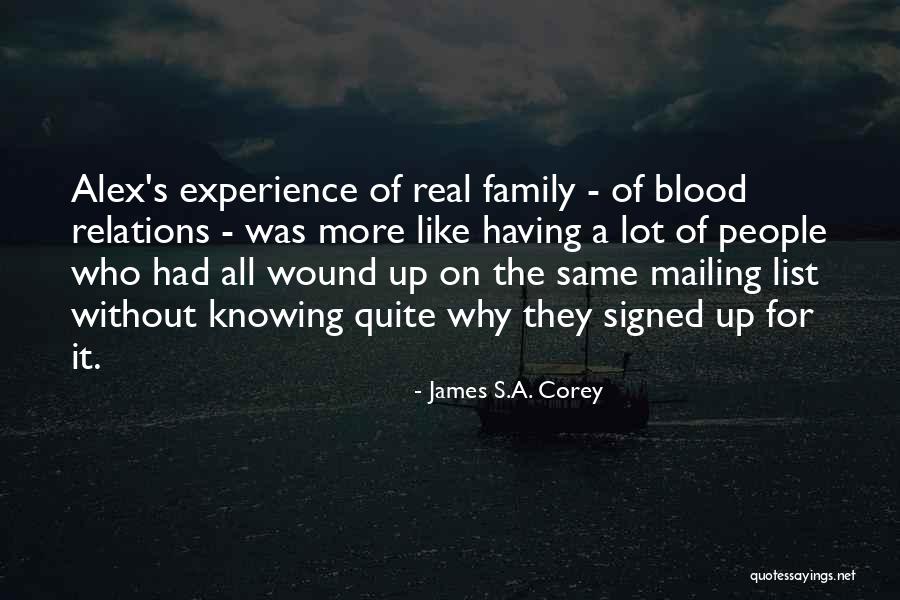 Alex's experience of real family - of blood relations - was more like having a lot of people who had all wound up on the same mailing list without knowing quite why they signed up for it. — James S.A. Corey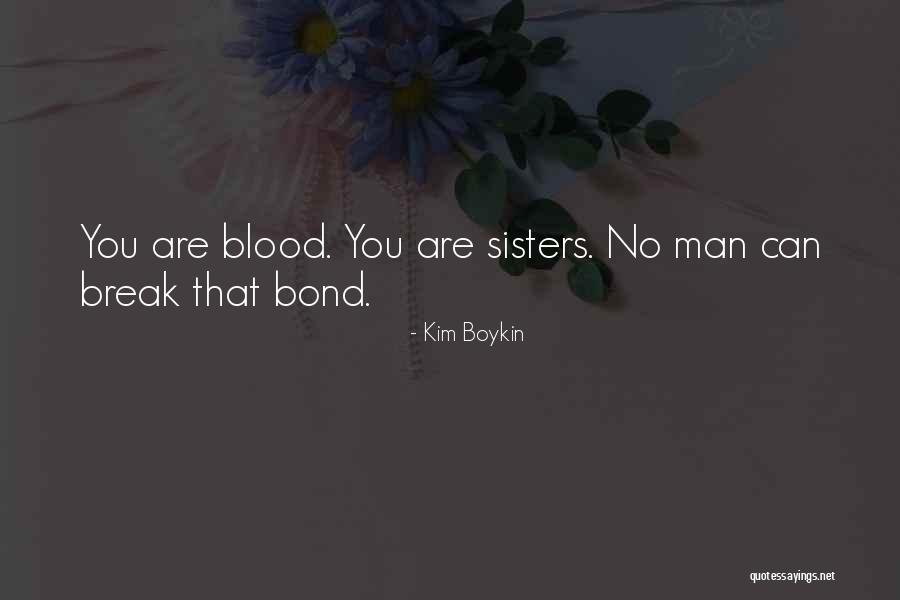 You are blood. You are sisters. No man can break that bond. — Kim Boykin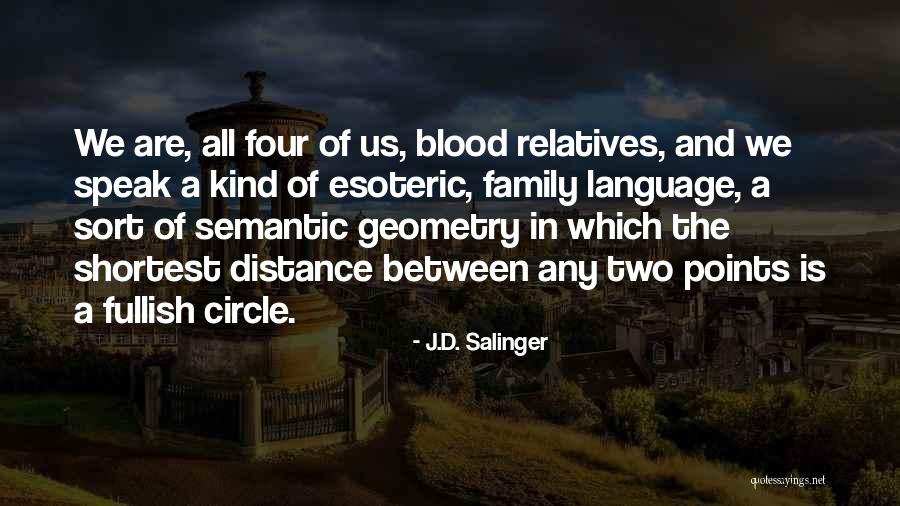 We are, all four of us, blood relatives, and we speak a kind of esoteric, family language, a sort of semantic geometry in which the shortest distance between any two points is a fullish circle. — J.D. Salinger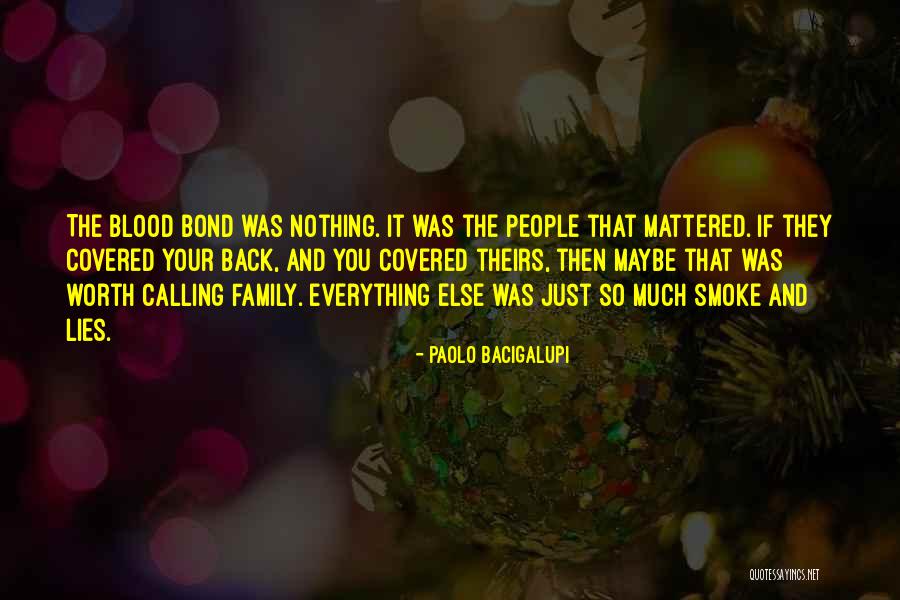 The blood bond was nothing. It was the people that mattered. If they covered your back, and you covered theirs, then maybe that was worth calling family. Everything else was just so much smoke and lies. — Paolo Bacigalupi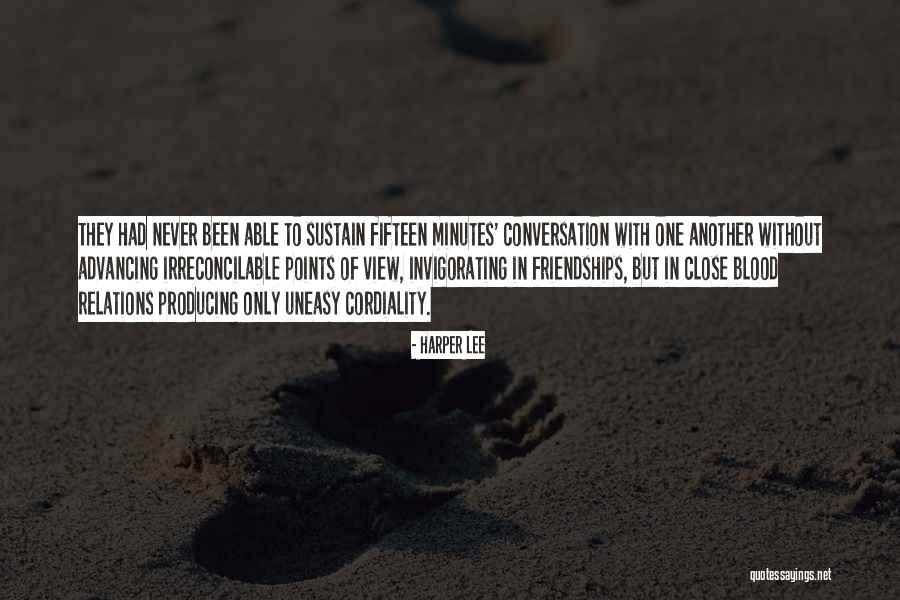 They had never been able to sustain fifteen minutes' conversation with one another without advancing irreconcilable points of view, invigorating in friendships, but in close blood relations producing only uneasy cordiality. — Harper Lee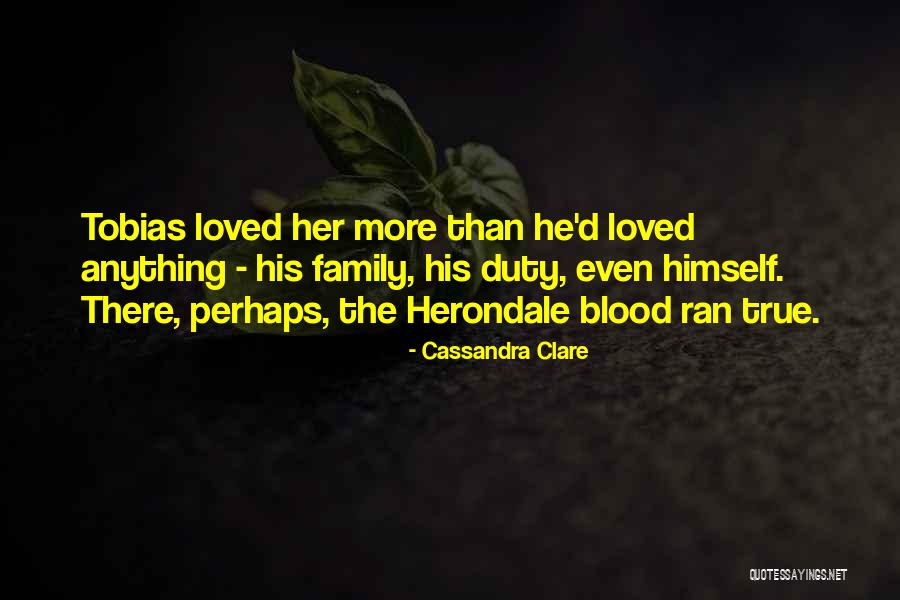 Tobias loved her more than he'd loved anything - his family, his duty, even himself. There, perhaps, the Herondale blood ran true. — Cassandra Clare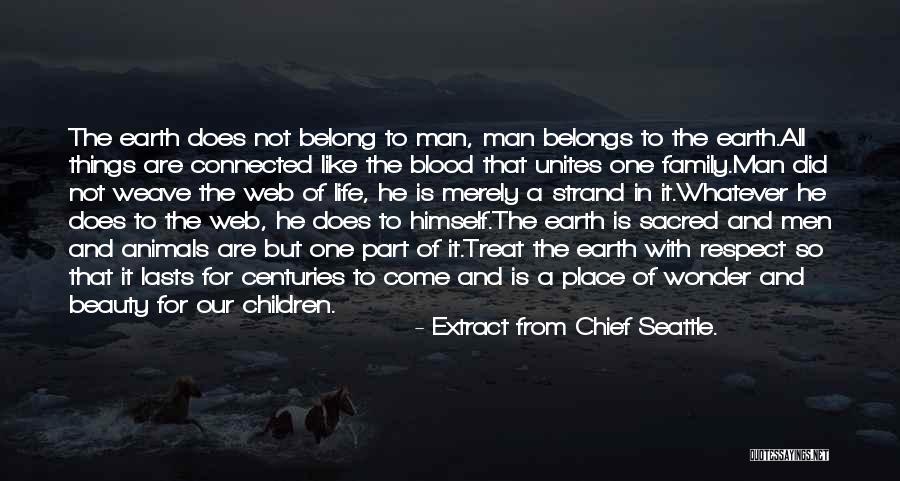 The earth does not belong to man, man belongs to the earth.
All things are connected like the blood that unites one family.
Man did not weave the web of life, he is merely a strand in it.
Whatever he does to the web, he does to himself.
The earth is sacred and men and animals are but one part of it.
Treat the earth with respect so that it lasts for centuries to come and is a place of wonder and beauty for our children. — Extract From Chief Seattle.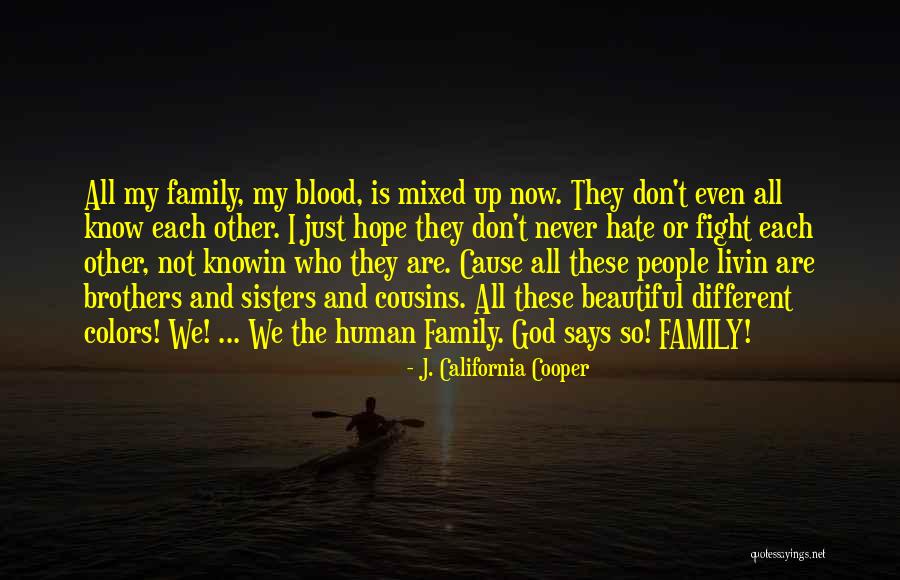 All my family, my blood, is mixed up now. They don't even all know each other. I just hope they don't never hate or fight each other, not knowin who they are. Cause all these people livin are brothers and sisters and cousins. All these beautiful different colors! We! ... We the human Family. God says so! FAMILY! — J. California Cooper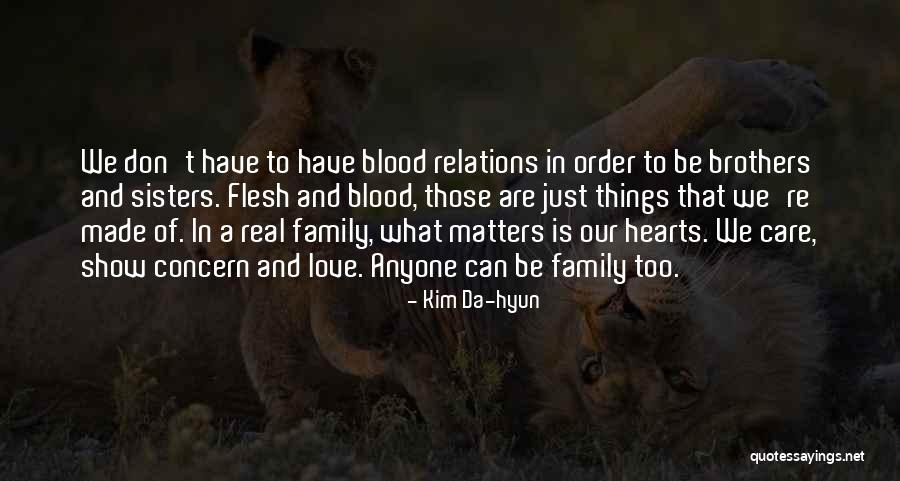 We don't have to have blood relations in order to be brothers and sisters. Flesh and blood, those are just things that we're made of. In a real family, what matters is our hearts. We care, show concern and love. Anyone can be family too. — Kim Da-hyun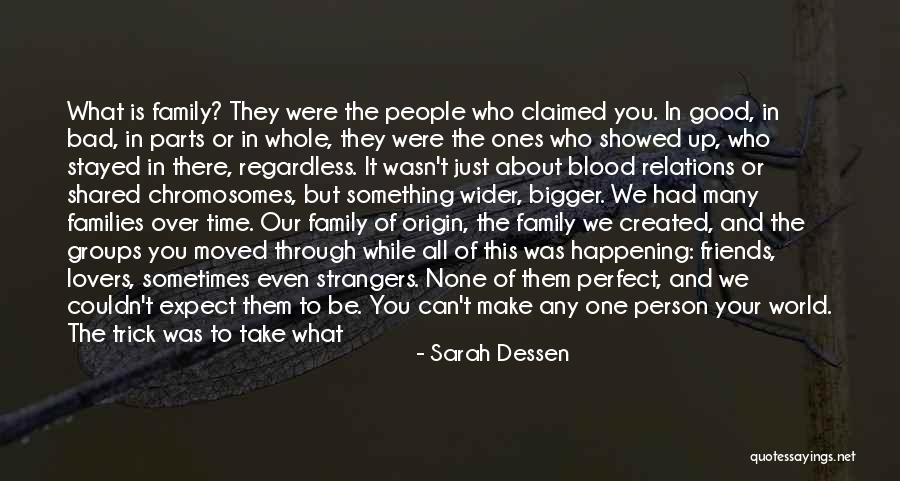 What is family? They were the people who claimed you. In good, in bad, in parts or in whole, they were the ones who showed up, who stayed in there, regardless. It wasn't just about blood relations or shared chromosomes, but something wider, bigger. We had many families over time. Our family of origin, the family we created, and the groups you moved through while all of this was happening: friends, lovers, sometimes even strangers. None of them perfect, and we couldn't expect them to be. You can't make any one person your world. The trick was to take what each could give you and build your world from it. — Sarah Dessen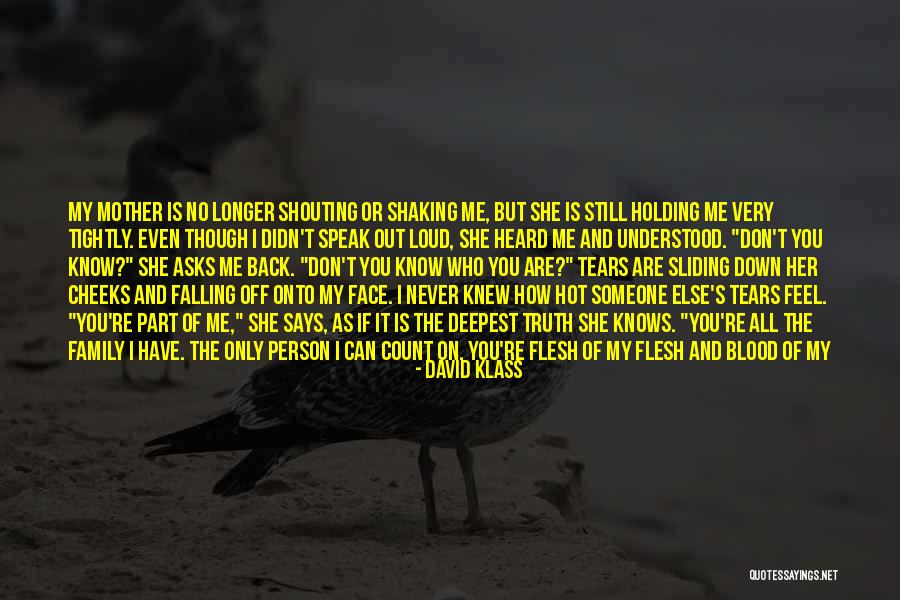 My mother is no longer shouting or shaking me, but she is still holding me very tightly. Even though I didn't speak out loud, she heard me and understood. "Don't you know?" she asks me back. "Don't you know who you are?" Tears are sliding down her cheeks and falling off onto my face. I never knew how hot someone else's tears feel. "You're part of me," she says, as if it is the deepest truth she knows. "You're all the family I have. The only person I can count on. You're flesh of my flesh and blood of my blood, my only baby, and nothing else comes close to that. Nothing."
And then she runs out of words, so she just clings to me, and not all the doctors in the world can pull her away. — David Klass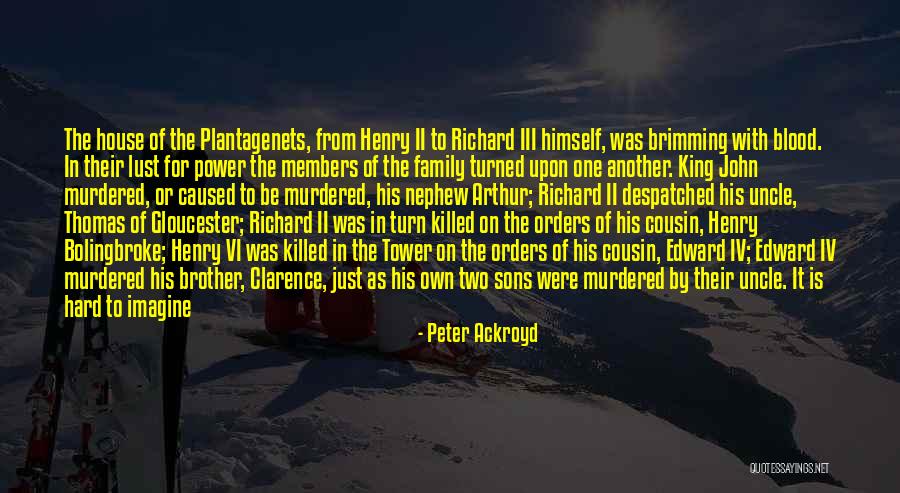 The house of the Plantagenets, from Henry II to Richard III himself, was brimming with blood. In their lust for power the members of the family turned upon one another. King John murdered, or caused to be murdered, his nephew Arthur; Richard II despatched his uncle, Thomas of Gloucester; Richard II was in turn killed on the orders of his cousin, Henry Bolingbroke; Henry VI was killed in the Tower on the orders of his cousin, Edward IV; Edward IV murdered his brother, Clarence, just as his own two sons were murdered by their uncle. It is hard to imagine a family more steeped in slaughter and revenge, of which the Wars of the Roses were only one effusion. It might be thought that some curse had been laid upon the house of the Plantagenets, except of course that in the world of kings the palm of victory always goes to the most violent and the most ruthless. It could be said that the royal family was the begetter of organized crime. — Peter Ackroyd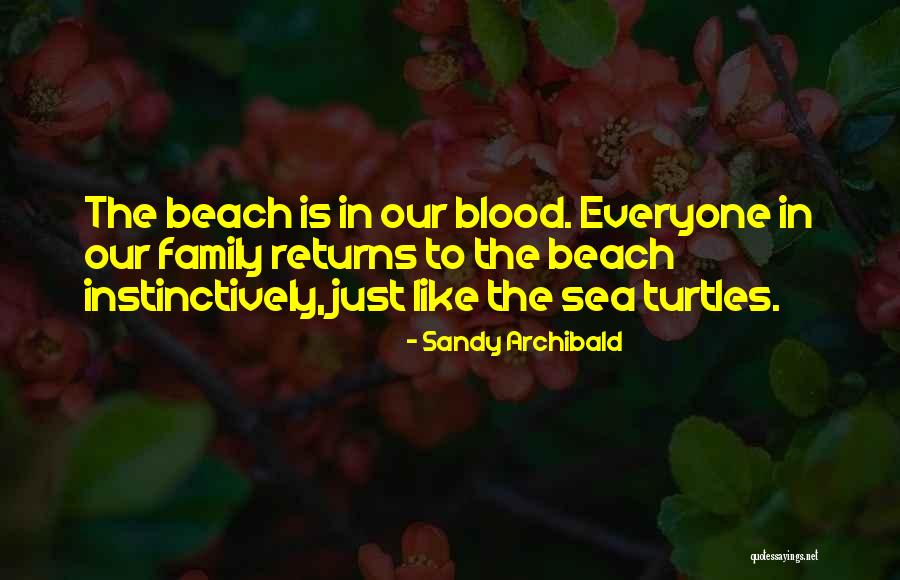 The beach is in our blood. Everyone in our family returns to the beach instinctively, just like the sea turtles. — Sandy Archibald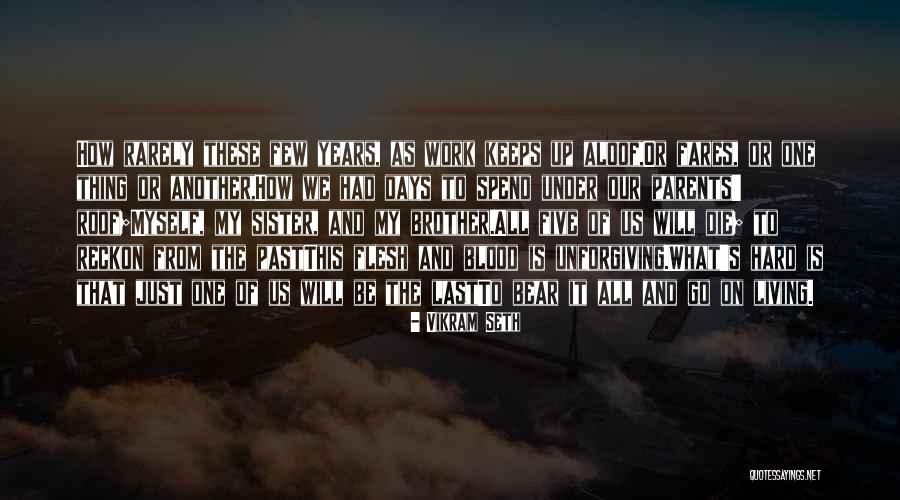 How rarely these few years, as work keeps up aloof,
Or fares, or one thing or another,
How we had days to spend under our parents' roof;
Myself, my sister, and my brother.
All five of us will die; to reckon from the past
This flesh and blood is unforgiving.
What's hard is that just one of us will be the last
To bear it all and go on living. — Vikram Seth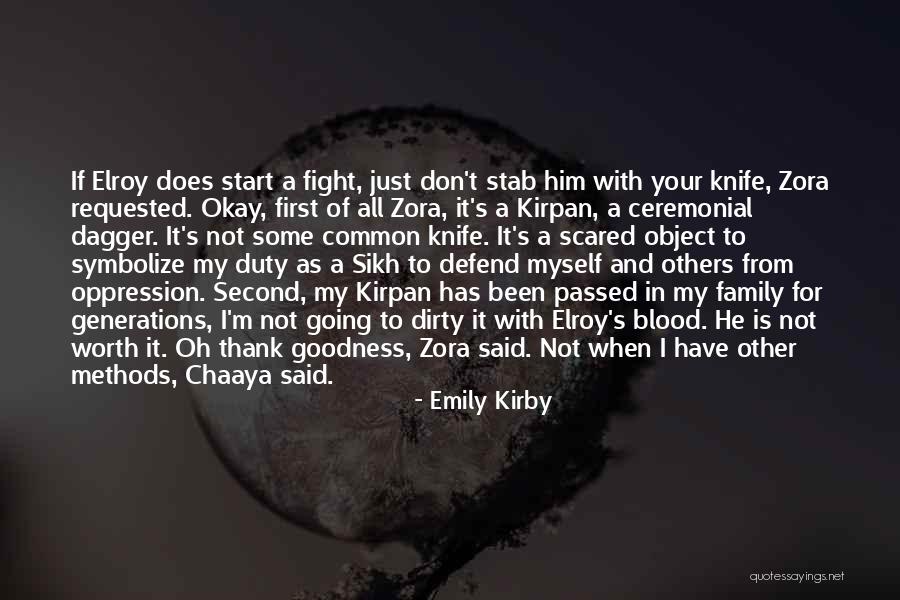 If Elroy does start a fight, just don't stab him with your knife, Zora requested.

Okay, first of all Zora, it's a Kirpan, a ceremonial dagger. It's not some common knife. It's a scared object to symbolize my duty as a Sikh to defend myself and others from oppression. Second, my Kirpan has been passed in my family for generations, I'm not going to dirty it with Elroy's blood. He is not worth it.

Oh thank goodness, Zora said.

Not when I have other methods, Chaaya said. — Emily Kirby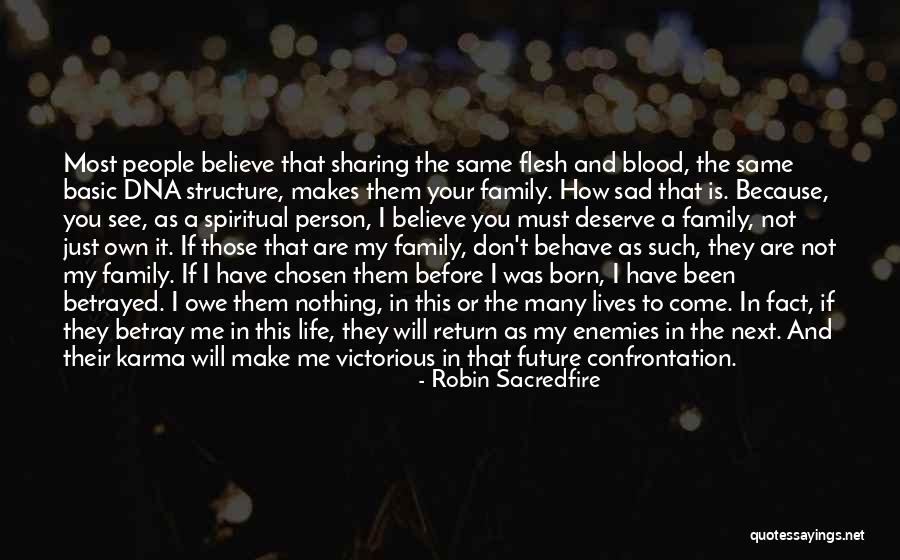 Most people believe that sharing the same flesh and blood, the same basic DNA structure, makes them your family. How sad that is. Because, you see, as a spiritual person, I believe you must deserve a family, not just own it. If those that are my family, don't behave as such, they are not my family. If I have chosen them before I was born, I have been betrayed. I owe them nothing, in this or the many lives to come. In fact, if they betray me in this life, they will return as my enemies in the next. And their karma will make me victorious in that future confrontation. — Robin Sacredfire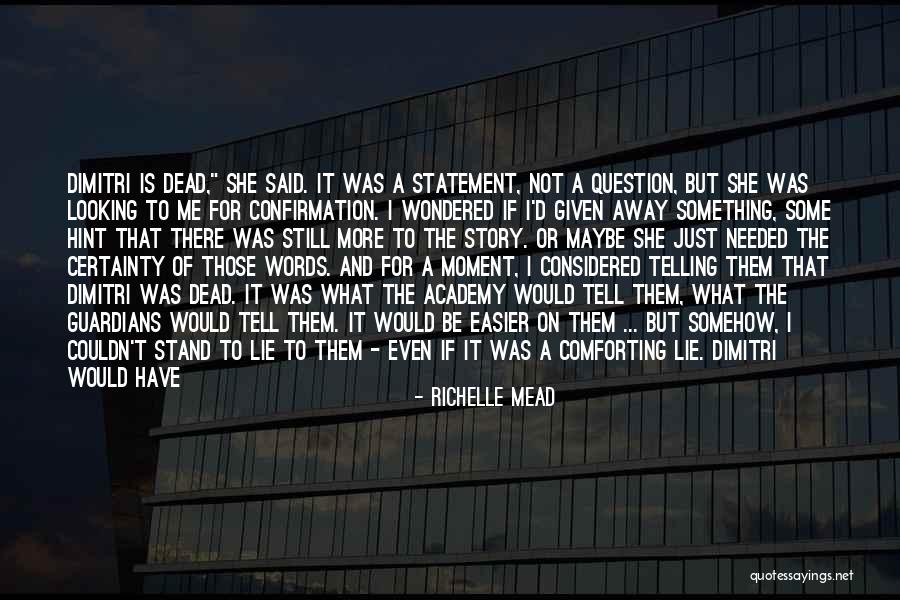 Dimitri is dead," she said.
It was a statement, not a question, but she was looking to me for confirmation. I wondered if I'd given away something, some hint that there was still more to the story. Or maybe she just needed the certainty of those words. And for a moment, I considered telling them that Dimitri was dead. It was what the Academy would tell them, what the guardians would tell them. It would be easier on them ... but somehow, I couldn't stand to lie to them - even if it was a comforting lie. Dimitri would have wanted the whole truth, and his family would too.
"No," I said, and for a heartbeat, hope sprang up in everyone's faces - at least until I spoke again. "Dimitri's a Strigoi. — Richelle Mead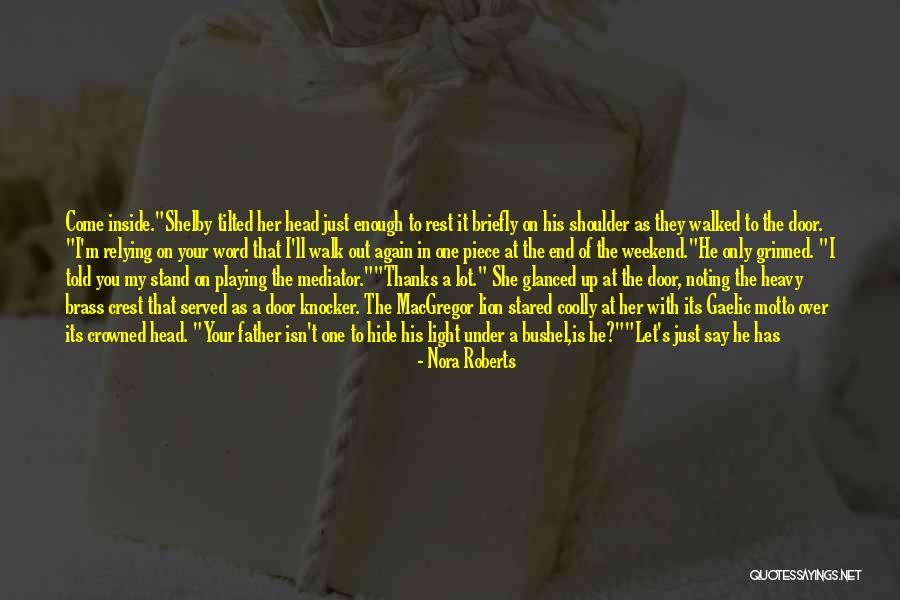 Come inside."
Shelby tilted her head just enough to rest it briefly on his shoulder as they walked to the door. "I'm relying on your word that I'll walk out again in one piece at the end of the weekend."
He only grinned. "I told you my stand on playing the mediator."
"Thanks a lot." She glanced up at the door, noting the heavy brass crest that served as a door knocker. The MacGregor lion stared coolly at her with its Gaelic motto over its crowned head. "Your father isn't one to hide his light under a bushel,is he?"
"Let's just say he has a strong sense of family pride." Alan lifted the knocker, then let it fall heavily against the thick door. Shelby imagined the sound would vibrate into every nook and cranny in the house. "The Clan MacGregor," Alan began in a low rolling burr, "is one of the few permitted to use the crown in their crest.Good blood. Strong stock. — Nora Roberts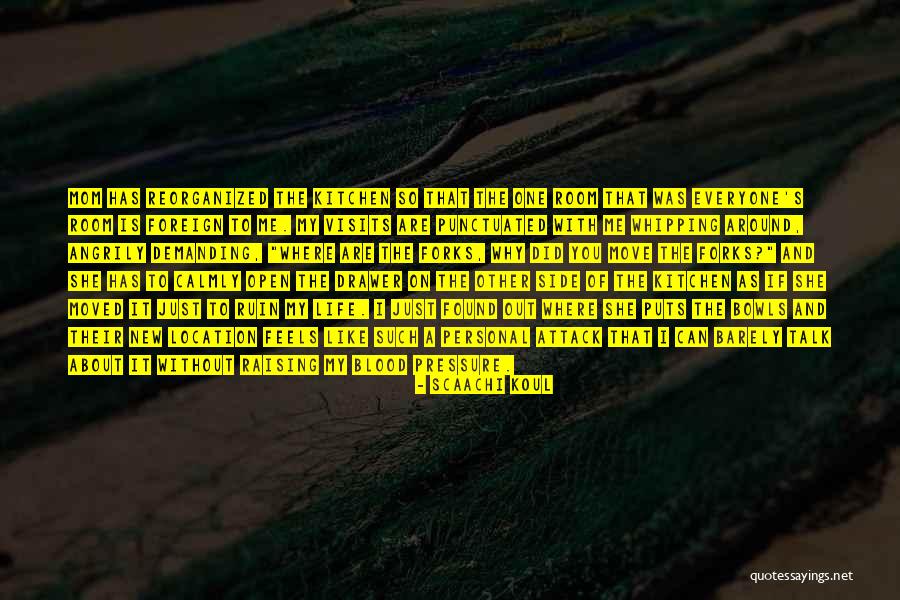 Mom has reorganized the kitchen so that the one room that was everyone's room is foreign to me. My visits are punctuated with me whipping around, angrily demanding, "Where are the forks, WHY DID YOU MOVE THE FORKS?" and she has to calmly open the drawer on the other side of the kitchen as if she moved it just to ruin my life. I just found out where she puts the bowls and their new location feels like such a personal attack that I can barely talk about it without raising my blood pressure. — Scaachi Koul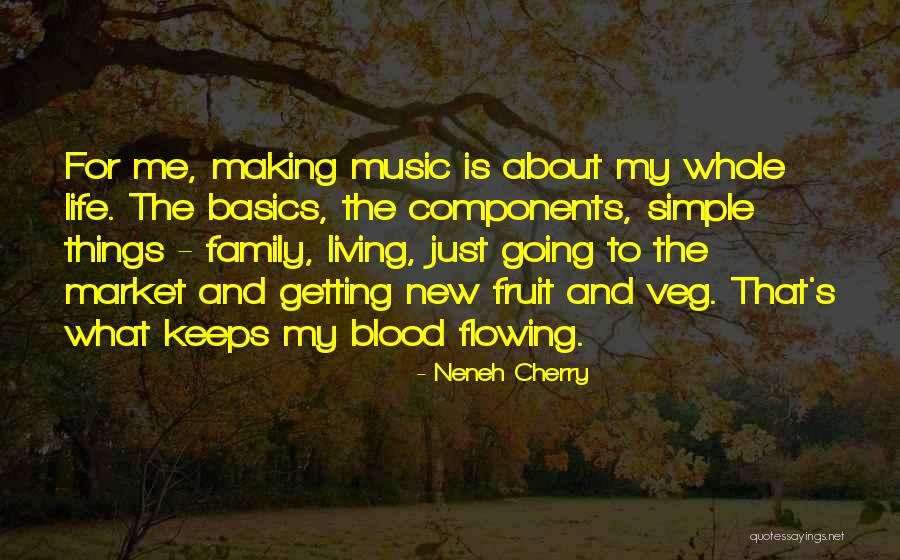 For me, making music is about my whole life. The basics, the components, simple things - family, living, just going to the market and getting new fruit and veg. That's what keeps my blood flowing. — Neneh Cherry