Family Fight Love Quotes & Sayings
Enjoy reading and share 28 famous quotes about Family Fight Love with everyone.
Top Family Fight Love Quotes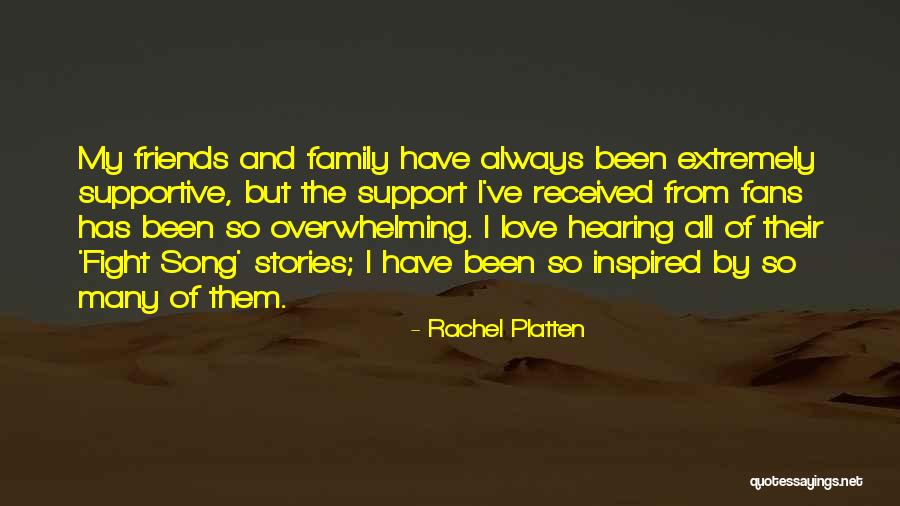 My friends and family have always been extremely supportive, but the support I've received from fans has been so overwhelming. I love hearing all of their 'Fight Song' stories; I have been so inspired by so many of them. — Rachel Platten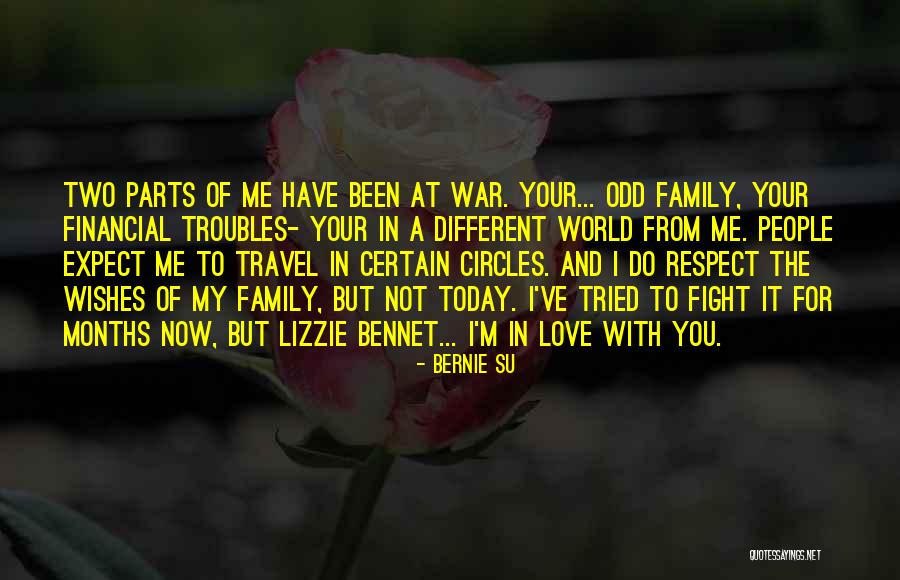 Two parts of me have been at war. Your... odd family, your financial troubles- your in a different world from me. people expect me to travel in certain circles. And I do respect the wishes of my family, but not today. I've tried to fight it for months now, but Lizzie Bennet... I'm in love with you. — Bernie Su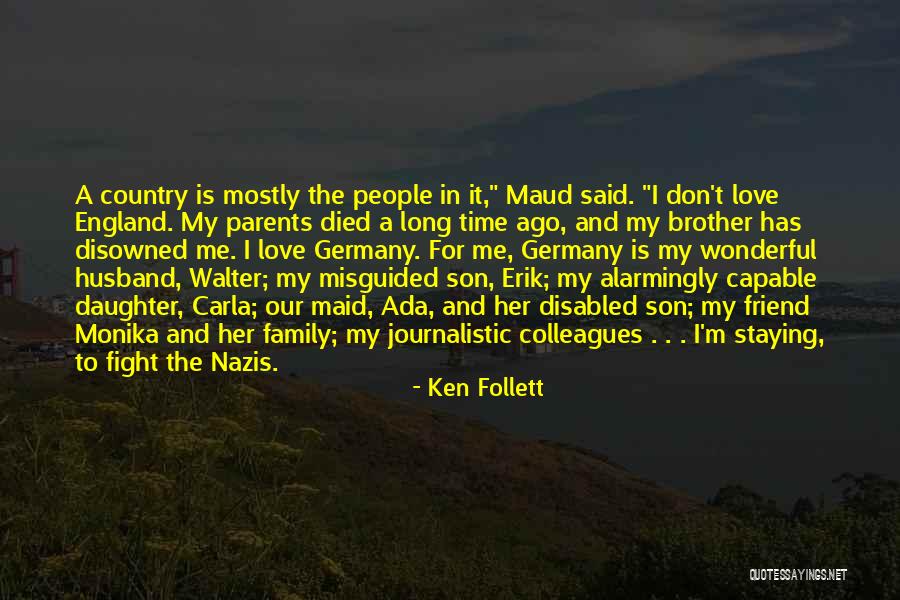 A country is mostly the people in it," Maud said. "I don't love England. My parents died a long time ago, and my brother has disowned me. I love Germany. For me, Germany is my wonderful husband, Walter; my misguided son, Erik; my alarmingly capable daughter, Carla; our maid, Ada, and her disabled son; my friend Monika and her family; my journalistic colleagues . . . I'm staying, to fight the Nazis. — Ken Follett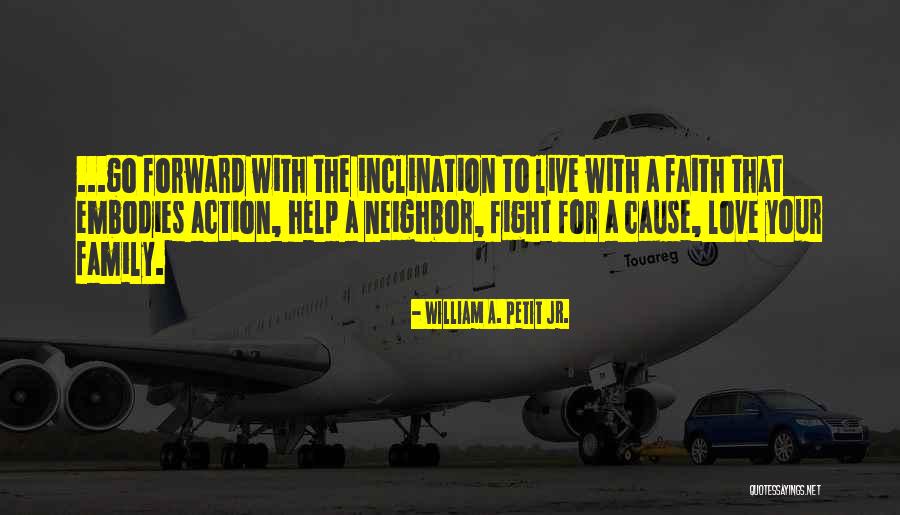 ...go forward with the inclination to live with a faith that embodies action, help a neighbor, fight for a cause, love your family. — William A. Petit Jr.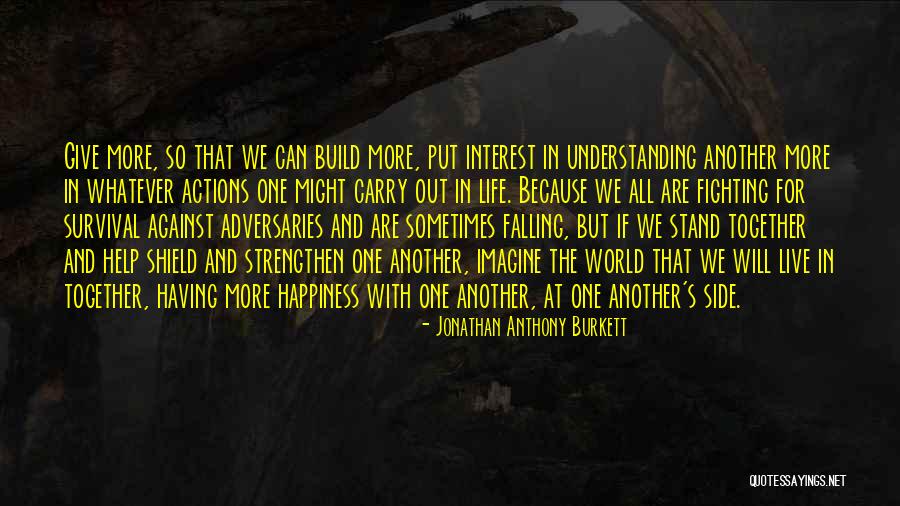 Give more, so that we can build more, put interest in understanding another more in whatever actions one might carry out in life. Because we all are fighting for survival against adversaries and are sometimes falling, but if we stand together and help shield and strengthen one another, imagine the world that we will live in together, having more happiness with one another, at one another's side. — Jonathan Anthony Burkett
Truth means facing denial and saying I know who I am, I know who I need to be and I'm not afraid to become that person no matter what...Never be without fear; but Letti, never be without fight. — S.R. Crawford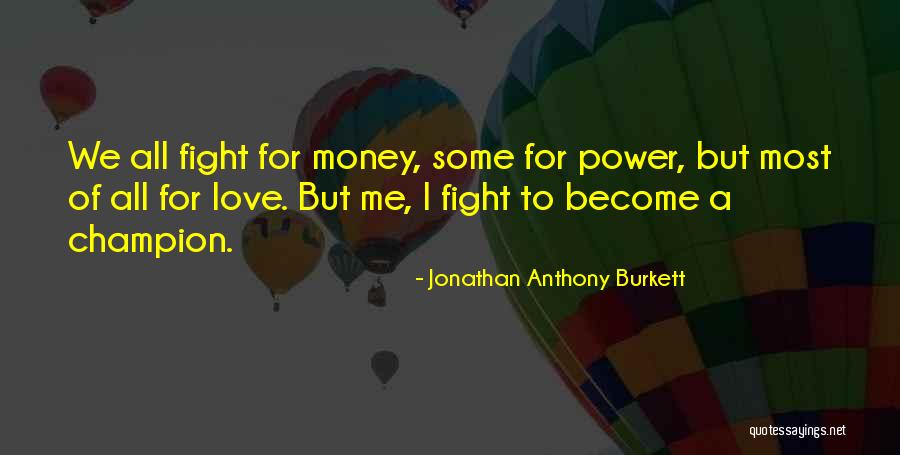 We all fight for money, some for power, but most of all for love. But me, I fight to become a champion. — Jonathan Anthony Burkett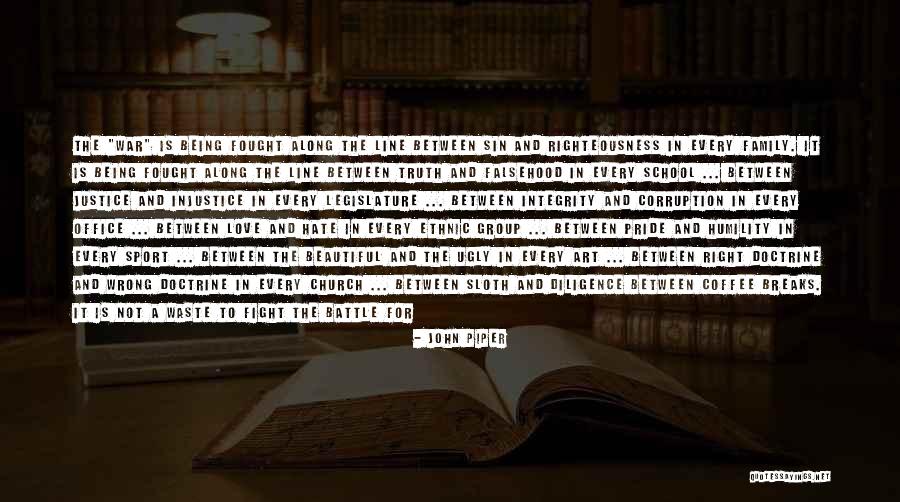 The "war" is being fought along the line between sin and righteousness in every family. It is being fought along the line between truth and falsehood in every school ... Between justice and injustice in every legislature ... Between integrity and corruption in every office ... Between love and hate in every ethnic group ... Between pride and humility in every sport ... Between the beautiful and the ugly in every art ... Between right doctrine and wrong doctrine in every church ... Between sloth and diligence between coffee breaks. It is not a waste to fight the battle for truth and faith and love on any of these fronts. — John Piper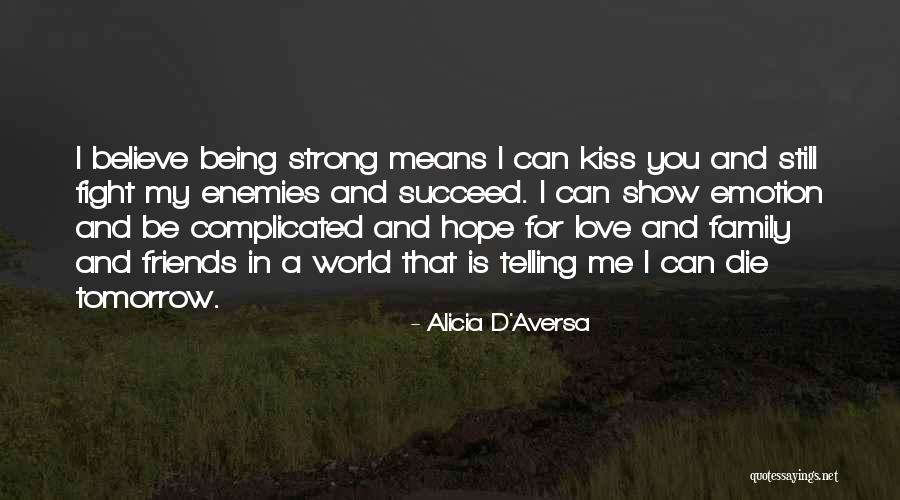 I believe being strong means I can kiss you and still fight my enemies and succeed. I can show emotion and be complicated and hope for love and family and friends in a world that is telling me I can die tomorrow. — Alicia D'Aversa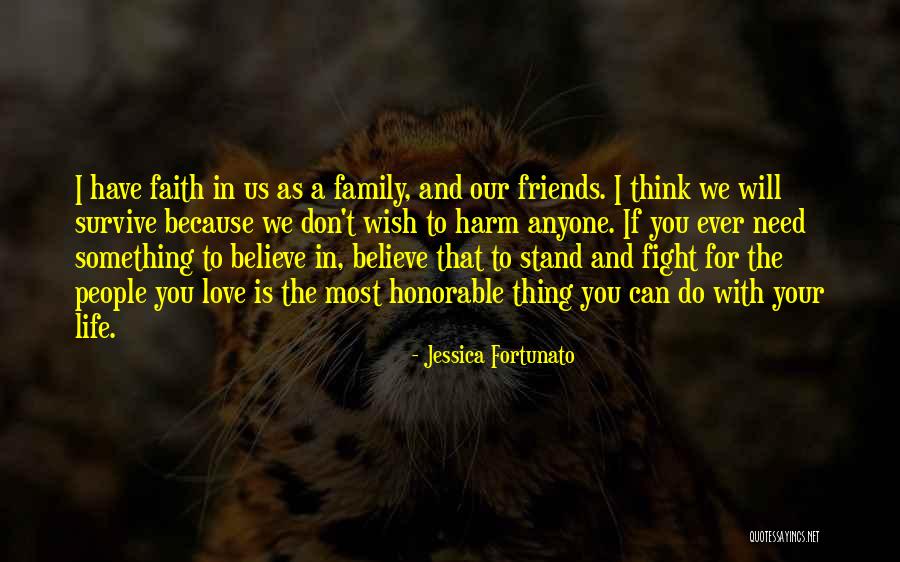 I have faith in us as a family, and our friends. I think we will survive because we don't wish to harm anyone. If you ever need something to believe in, believe that to stand and fight for the people you love is the most honorable thing you can do with your life. — Jessica Fortunato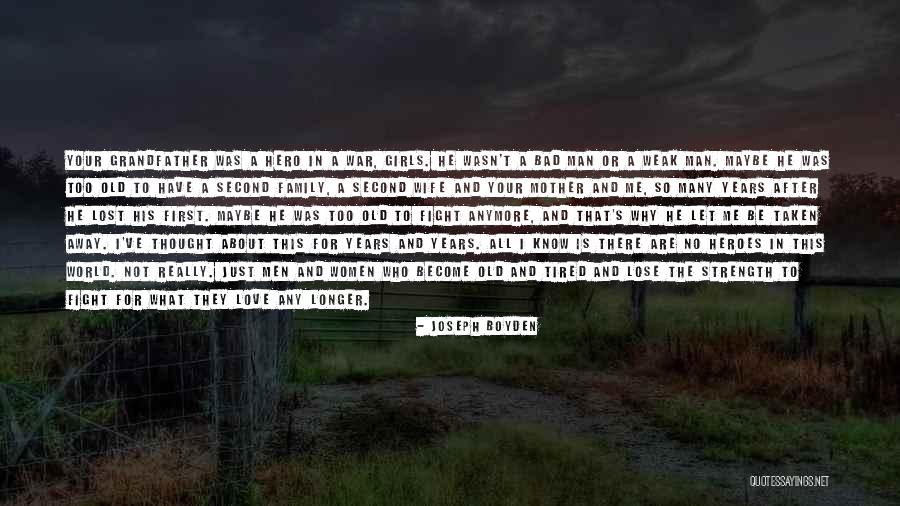 Your grandfather was a hero in a war, girls. He wasn't a bad man or a weak man. Maybe he was too old to have a second family, a second wife and your mother and me, so many years after he lost his first. Maybe he was too old to fight anymore, and that's why he let me be taken away. I've thought about this for years and years. All I know is there are no heroes in this world. Not really. Just men and women who become old and tired and lose the strength to fight for what they love any longer. — Joseph Boyden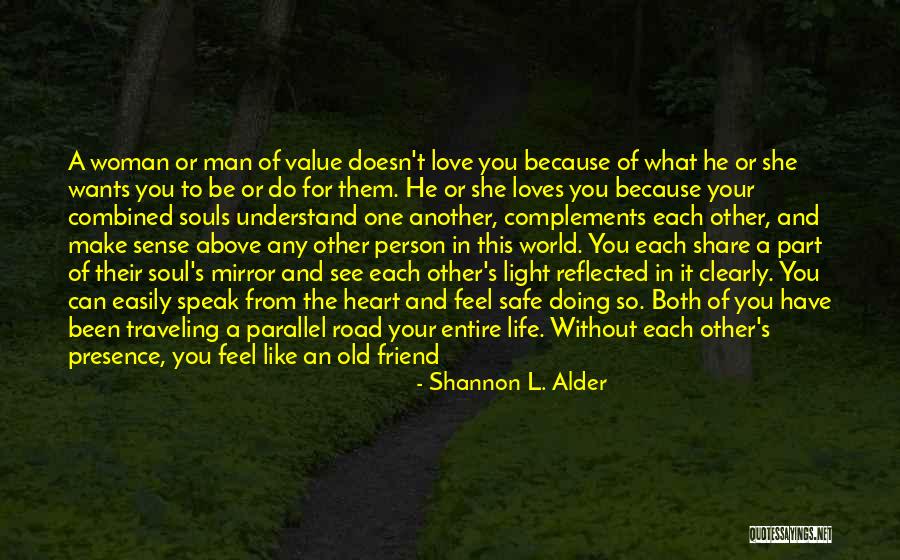 A woman or man of value doesn't love you because of what he or she wants you to be or do for them. He or she loves you because your combined souls understand one another, complements each other, and make sense above any other person in this world. You each share a part of their soul's mirror and see each other's light reflected in it clearly. You can easily speak from the heart and feel safe doing so. Both of you have been traveling a parallel road your entire life. Without each other's presence, you feel like an old friend or family member was lost. It bothers you, not because you have given it too much meaning, but because God did. This is the type of person you don't have to fight for because you can't get rid of them and your heart doesn't want them to leave anyways. — Shannon L. Alder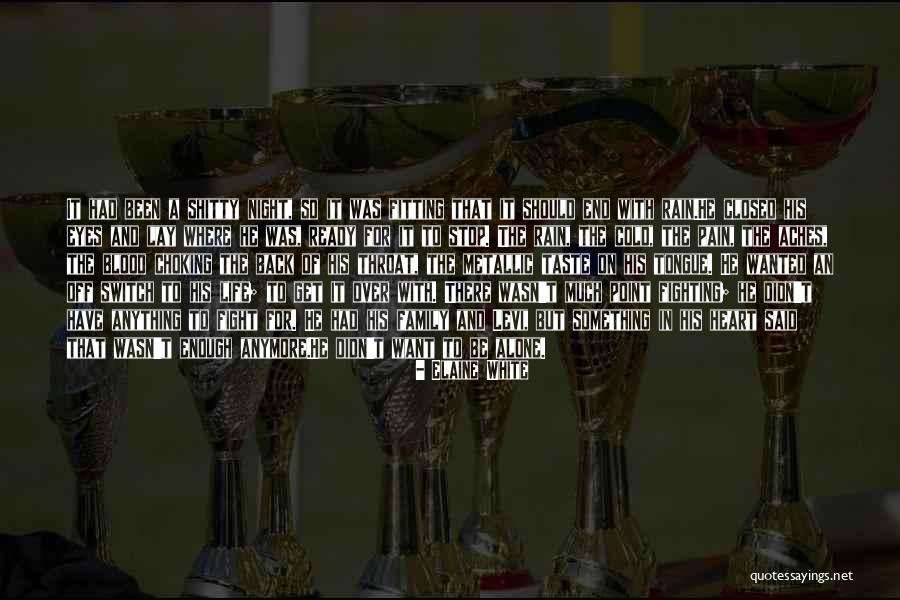 It had been a shitty night, so it was fitting that it should end with rain.
He closed his eyes and lay where he was, ready for it to stop. The rain, the cold, the pain, the aches, the blood choking the back of his throat, the metallic taste on his tongue. He wanted an off switch to his life; to get it over with. There wasn't much point fighting; he didn't have anything to fight for. He had his family and Levi, but something in his heart said that wasn't enough anymore.
He didn't want to be alone. — Elaine White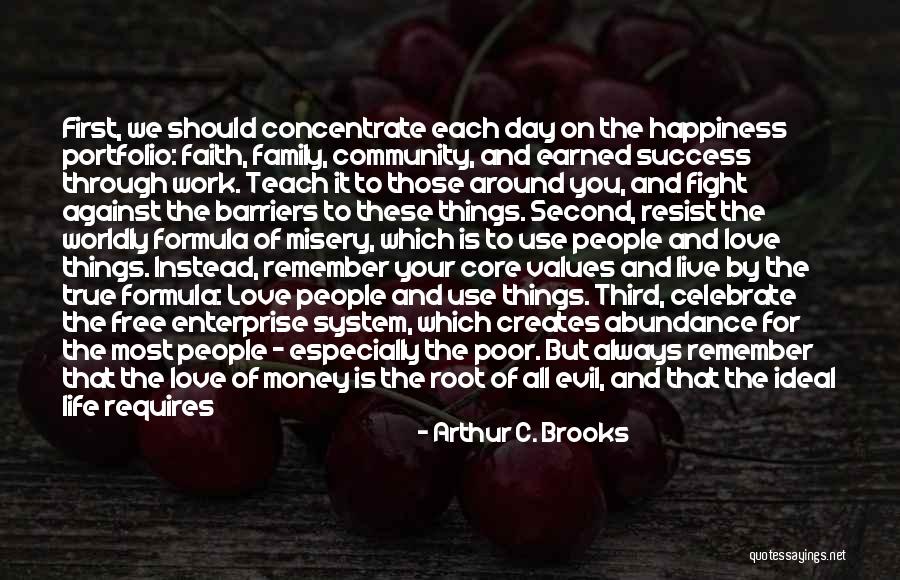 First, we should concentrate each day on the happiness portfolio: faith, family, community, and earned success through work. Teach it to those around you, and fight against the barriers to these things. Second, resist the worldly formula of misery, which is to use people and love things. Instead, remember your core values and live by the true formula: Love people and use things. Third, celebrate the free enterprise system, which creates abundance for the most people - especially the poor. But always remember that the love of money is the root of all evil, and that the ideal life requires abundance without attachment. — Arthur C. Brooks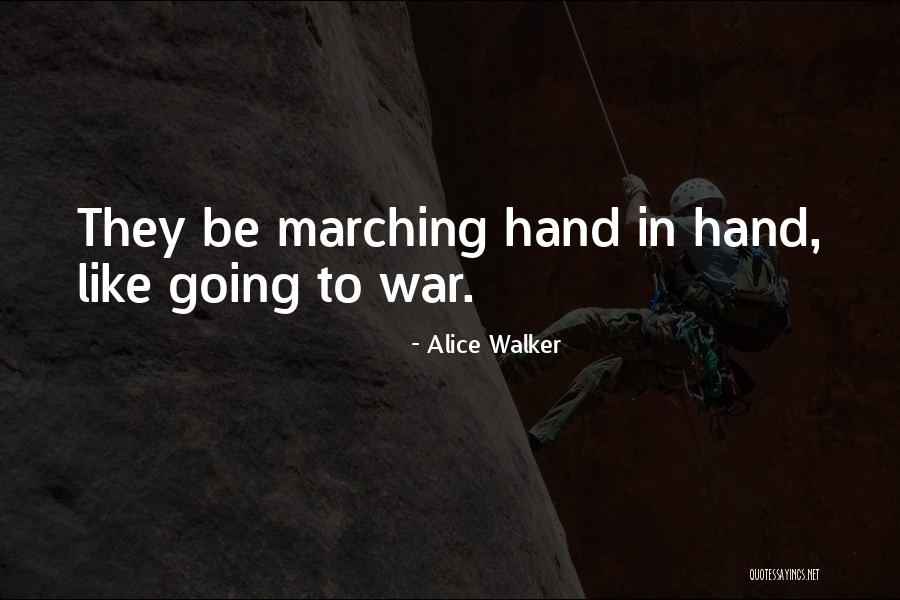 They be marching hand in hand, like going to war. — Alice Walker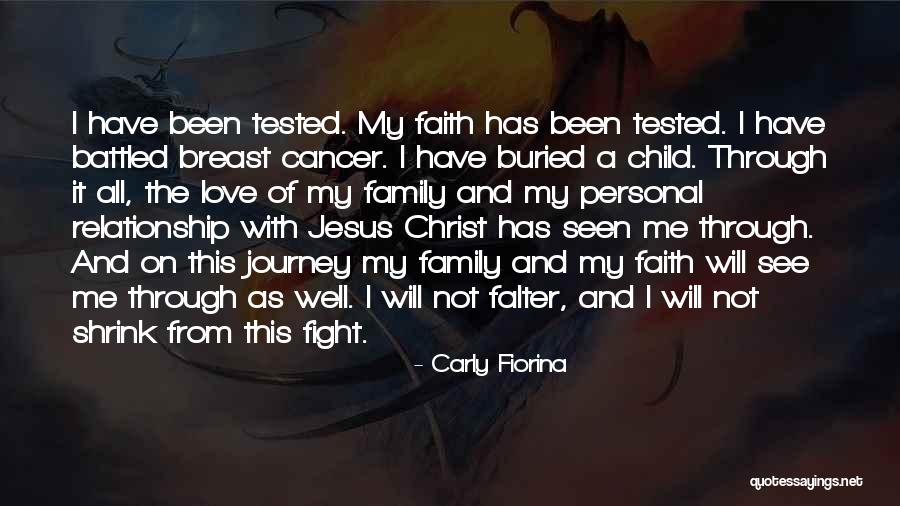 I have been tested. My faith has been tested. I have battled breast cancer. I have buried a child. Through it all, the love of my family and my personal relationship with Jesus Christ has seen me through. And on this journey my family and my faith will see me through as well. I will not falter, and I will not shrink from this fight. — Carly Fiorina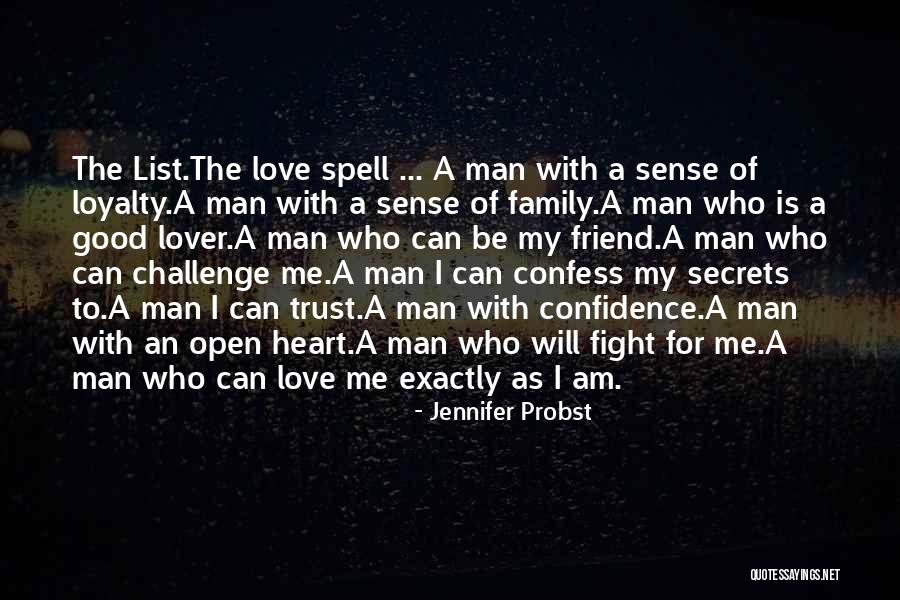 The List.
The love spell ...
A man with a sense of loyalty.
A man with a sense of family.
A man who is a good lover.
A man who can be my friend.
A man who can challenge me.
A man I can confess my secrets to.
A man I can trust.
A man with confidence.
A man with an open heart.
A man who will fight for me.
A man who can love me exactly as I am. — Jennifer Probst
You'll be back like before. I will fight the fight and win the war for your love, for your praise, and I'll love you till my dying days. When you're gone I'll go mad, so don't throw away this thing we had. Cuz when push comes to shove, I will kill you friends and family to remind you of my love.
- King George — Lin-Manuel Miranda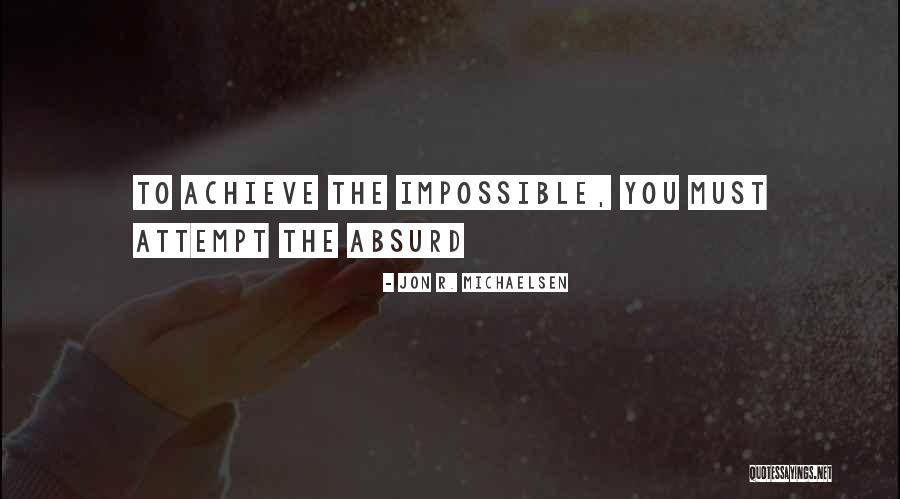 To achieve the impossible, you must attempt the absurd — Jon R. Michaelsen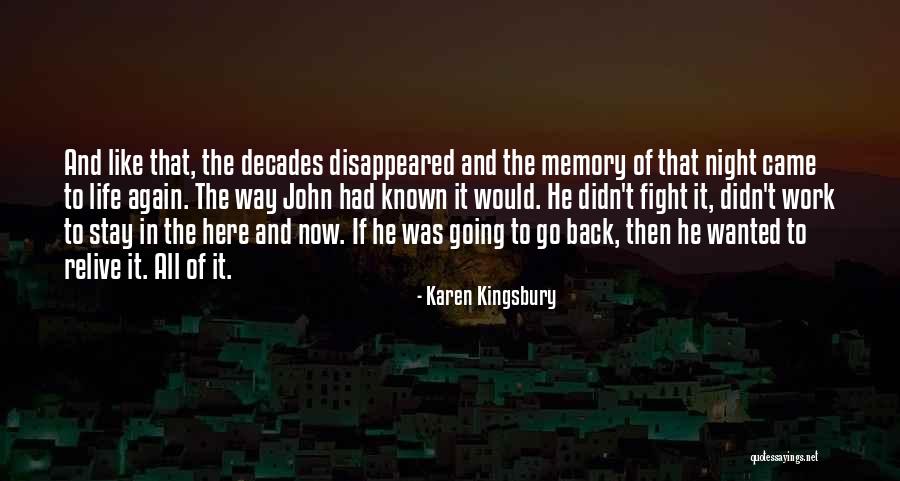 And like that, the decades disappeared and the memory of that night came to life again. The way John had known it would. He didn't fight it, didn't work to stay in the here and now. If he was going to go back, then he wanted to relive it. All of it. — Karen Kingsbury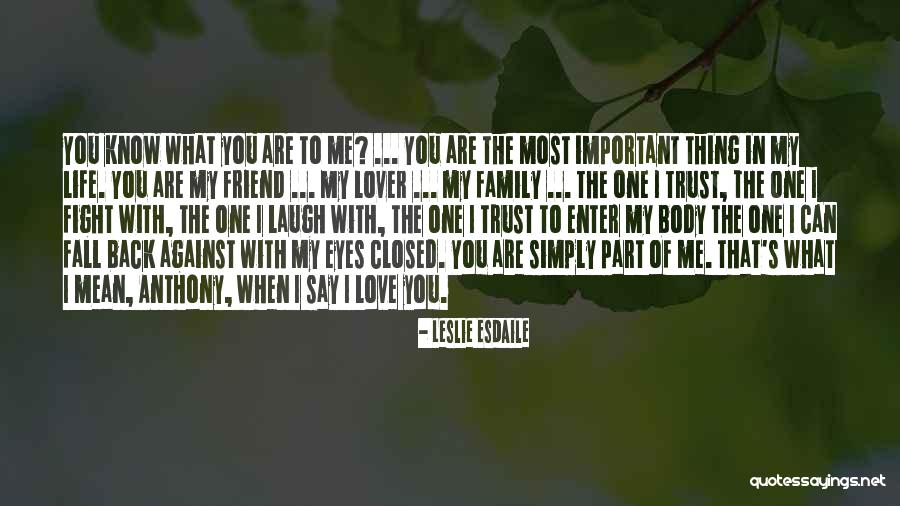 You know what you are to me? ... You are the most important thing in my life. You are my friend ... my lover ... my family ... the one I trust, the one I fight with, the one I laugh with, the one I trust to enter my body the one I can fall back against with my eyes closed. You are simply part of me. That's what I mean, Anthony, when I say I love you. — Leslie Esdaile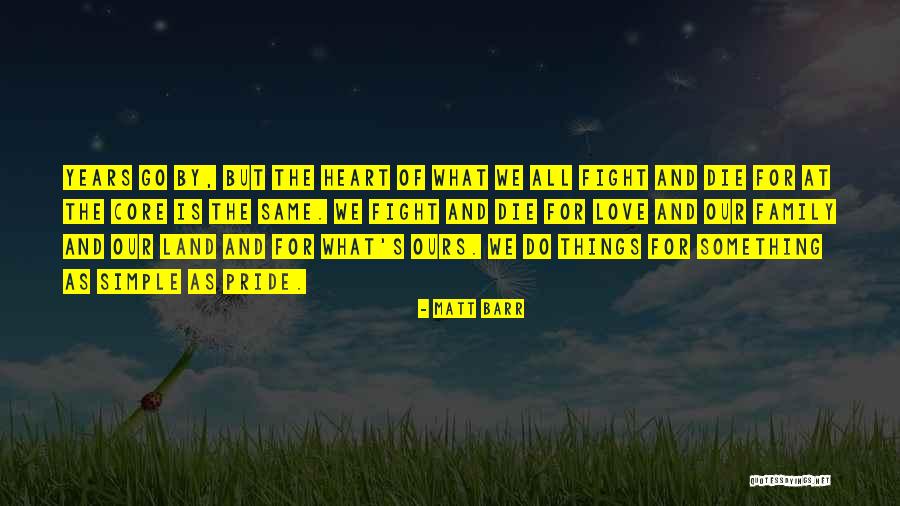 Years go by, but the heart of what we all fight and die for at the core is the same. We fight and die for love and our family and our land and for what's ours. We do things for something as simple as pride. — Matt Barr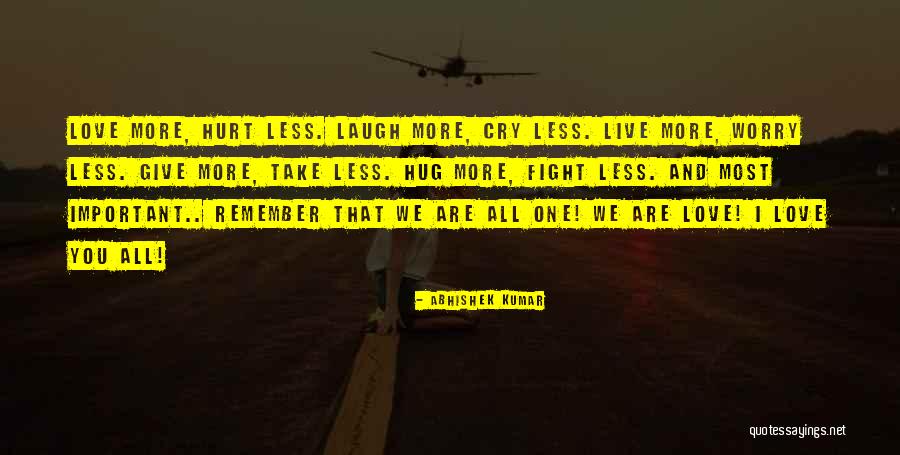 Love more, hurt less. Laugh more, cry less. Live more, worry less. Give more, take less. Hug more, fight less. And most important.. Remember that we are all one! We are love! I LOVE YOU ALL! — Abhishek Kumar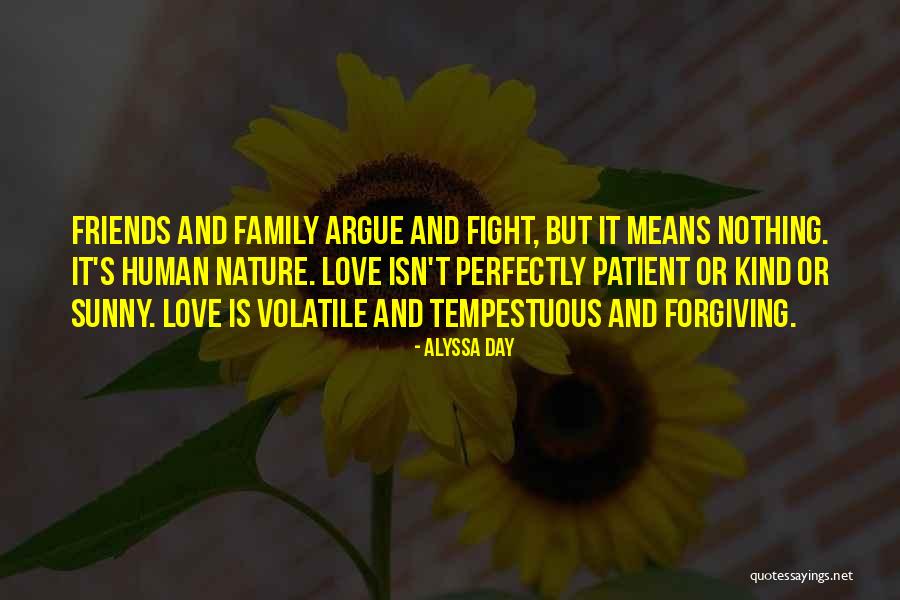 Friends and family argue and fight, but it means nothing. It's human nature. Love isn't perfectly patient or kind or sunny. Love is volatile and tempestuous and forgiving. — Alyssa Day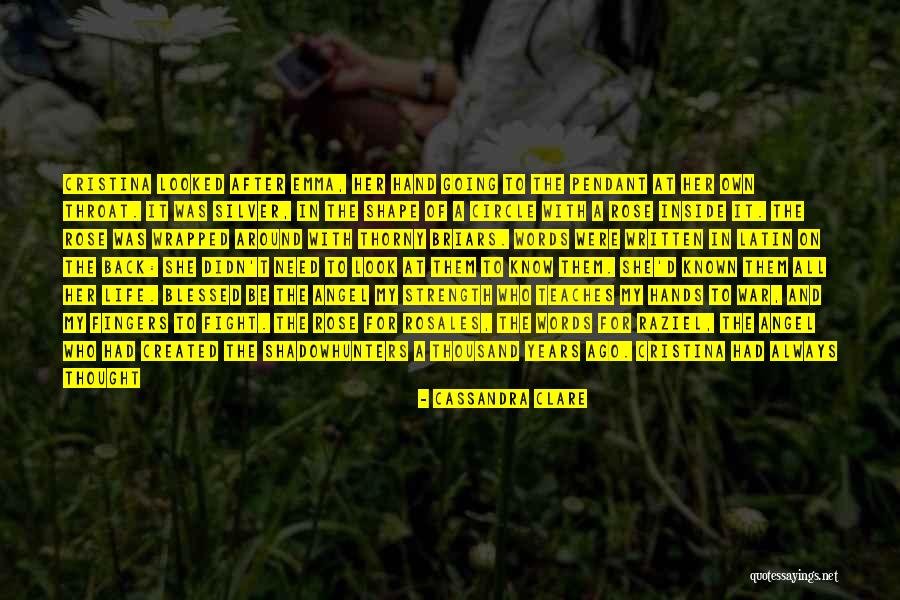 Cristina looked after Emma, her hand going to the pendant at her own throat. It was silver, in the shape of a circle with a rose inside it. The rose was wrapped around with thorny briars. Words were written in Latin on the back: she didn't need to look at them to know them. She'd known them all her life. Blessed be the Angel my strength who teaches my hands to war, and my fingers to fight. The rose for Rosales, the words for Raziel, the Angel who had created the Shadowhunters a thousand years ago. Cristina had always thought Emma fought for her parabatai and for revenge, while she fought for family and faith. But maybe it was all the same thing: maybe it was all love, in the end. — Cassandra Clare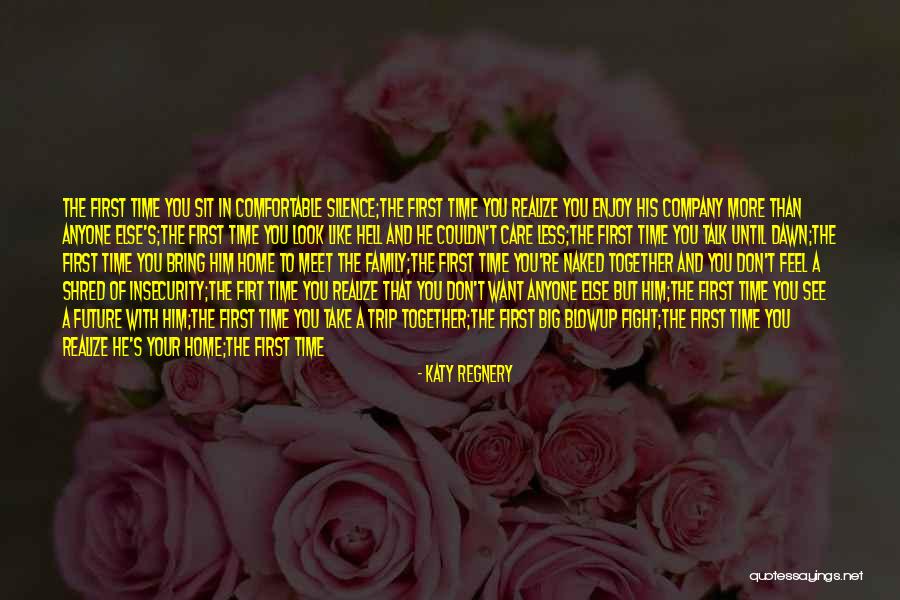 The first time you sit in comfortable silence;
The first time you realize you enjoy his company more than anyone else's;
The first time you look like hell and he couldn't care less;
The first time you talk until dawn;
The first time you bring him home to meet the family;
The first time you're naked together and you don't feel a shred of insecurity;
The firt time you realize that you don't want anyone else but him;
The first time you see a future with him;
The first time you take a trip together;
The first big blowup fight;
The first time you realize he's your home;
The first time you realize taht he loves you as much as you love him. — Katy Regnery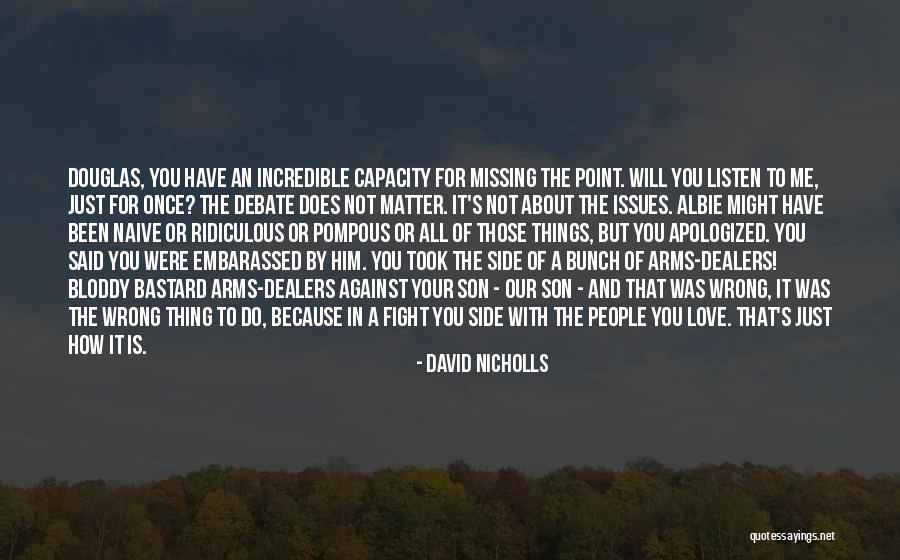 Douglas, you have an incredible capacity for missing the point. Will you listen to me, just for once? The debate does not matter. It's not about the issues. Albie might have been naive or ridiculous or pompous or all of those things, but you apologized. You said you were embarassed by him. You took the side of a bunch of arms-dealers! Bloddy bastard arms-dealers against your son - our son - and that was wrong, it was the wrong thing to do, because in a fight you side with the people you love. That's just how it is. — David Nicholls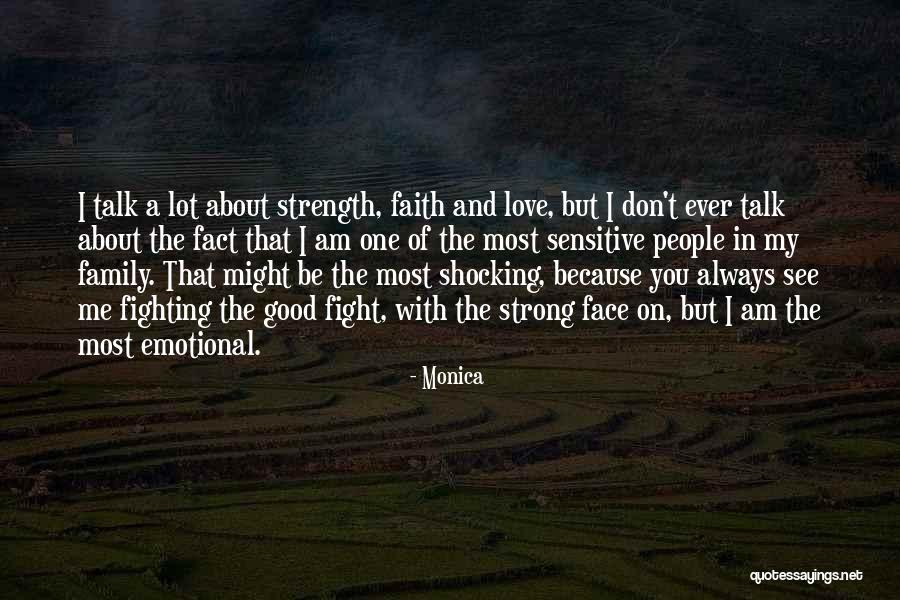 I talk a lot about strength, faith and love, but I don't ever talk about the fact that I am one of the most sensitive people in my family. That might be the most shocking, because you always see me fighting the good fight, with the strong face on, but I am the most emotional. — Monica