Faith In The Valley Quotes & Sayings
Enjoy reading and share 17 famous quotes about Faith In The Valley with everyone.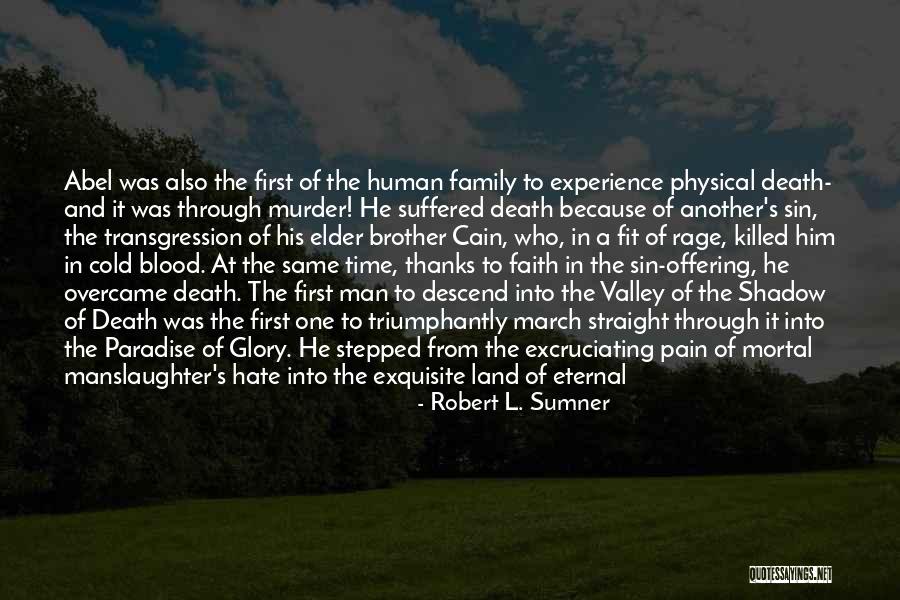 Abel was also the first of the human family to experience physical death- and it was through murder! He suffered death because of another's sin, the transgression of his elder brother Cain, who, in a fit of rage, killed him in cold blood. At the same time, thanks to faith in the sin-offering, he overcame death. The first man to descend into the Valley of the Shadow of Death was the first one to triumphantly march straight through it into the Paradise of Glory. He stepped from the excruciating pain of mortal manslaughter's hate into the exquisite land of eternal delights prepared by the Father's love! He led the way, like a pioneer, for all subsequent generations of men and women of faith throughout human history. — Robert L. Sumner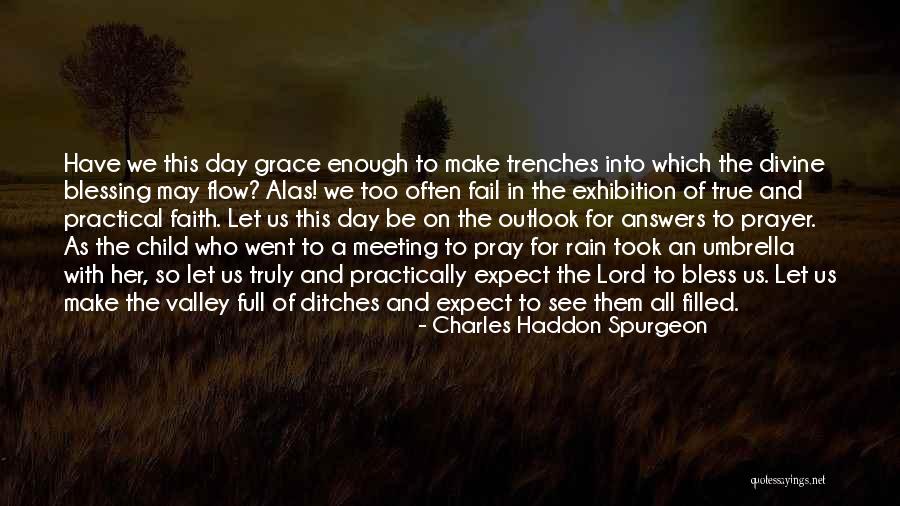 Have we this day grace enough to make trenches into which the divine blessing may flow? Alas! we too often fail in the exhibition of true and practical faith. Let us this day be on the outlook for answers to prayer. As the child who went to a meeting to pray for rain took an umbrella with her, so let us truly and practically expect the Lord to bless us. Let us make the valley full of ditches and expect to see them all filled. — Charles Haddon Spurgeon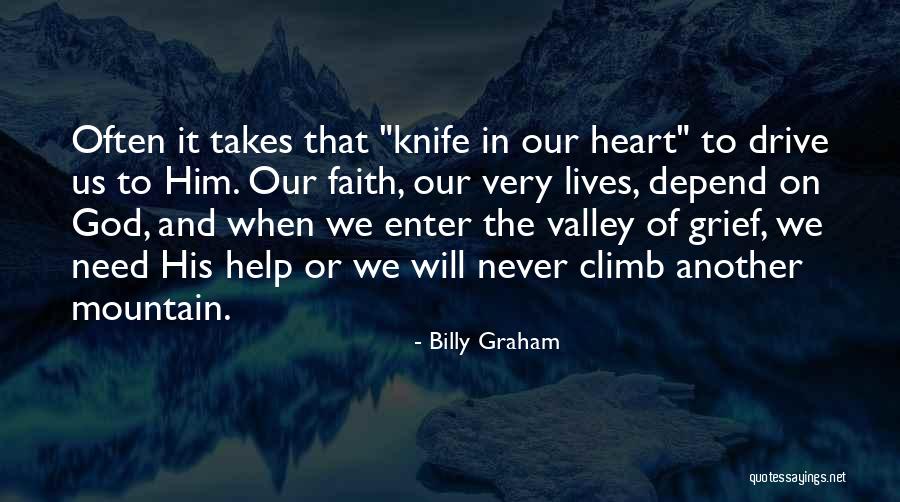 Often it takes that "knife in our heart" to drive us to Him. Our faith, our very lives, depend on God, and when we enter the valley of grief, we need His help or we will never climb another mountain. — Billy Graham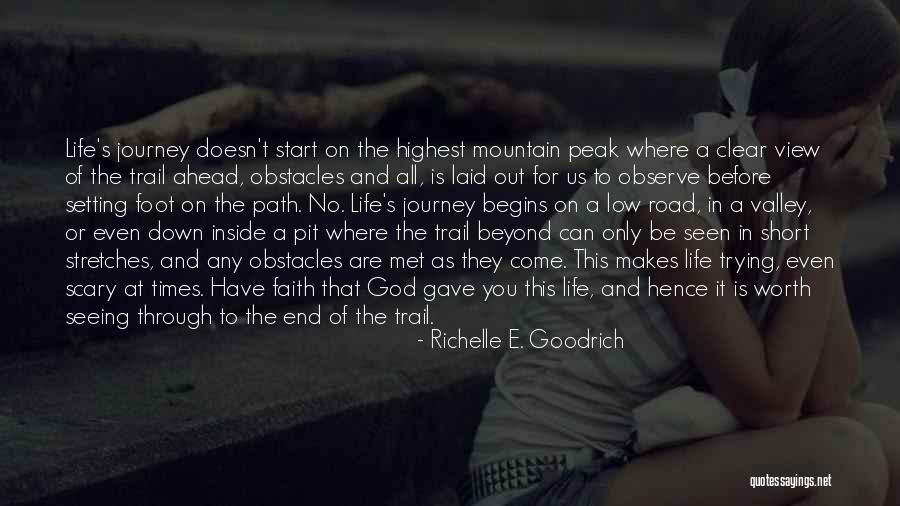 Life's journey doesn't start on the highest mountain peak where a clear view of the trail ahead, obstacles and all, is laid out for us to observe before setting foot on the path. No. Life's journey begins on a low road, in a valley, or even down inside a pit where the trail beyond can only be seen in short stretches, and any obstacles are met as they come. This makes life trying, even scary at times. Have faith that God gave you this life, and hence it is worth seeing through to the end of the trail. — Richelle E. Goodrich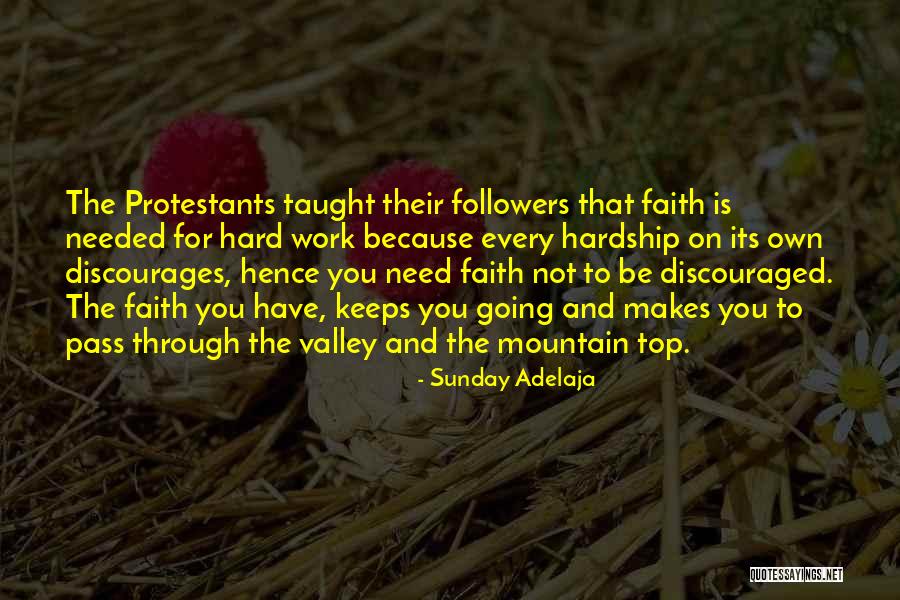 The Protestants taught their followers that faith is needed for hard work because every hardship on its own discourages, hence you need faith not to be discouraged. The faith you have, keeps you going and makes you to pass through the valley and the mountain top. — Sunday Adelaja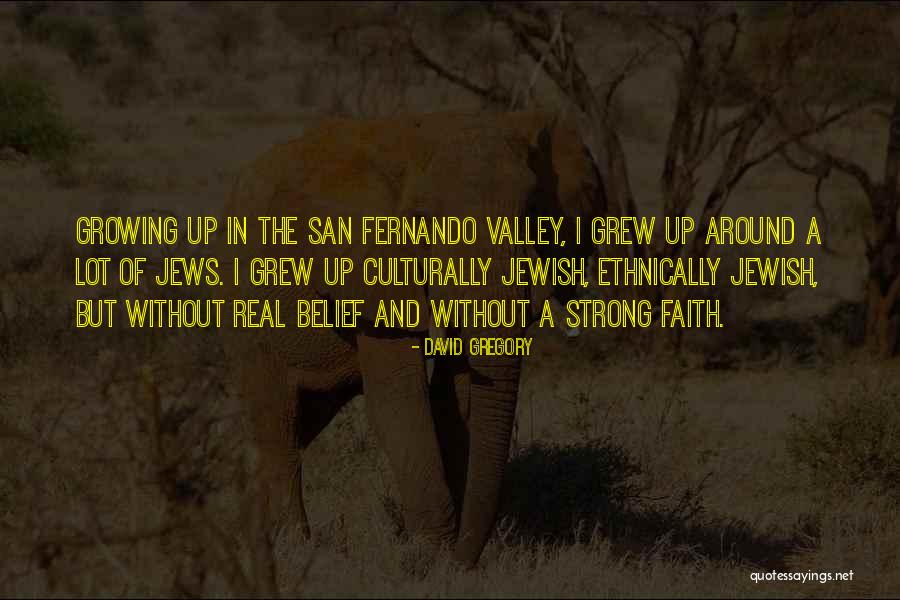 Growing up in the San Fernando Valley, I grew up around a lot of Jews. I grew up culturally Jewish, ethnically Jewish, but without real belief and without a strong faith. — David Gregory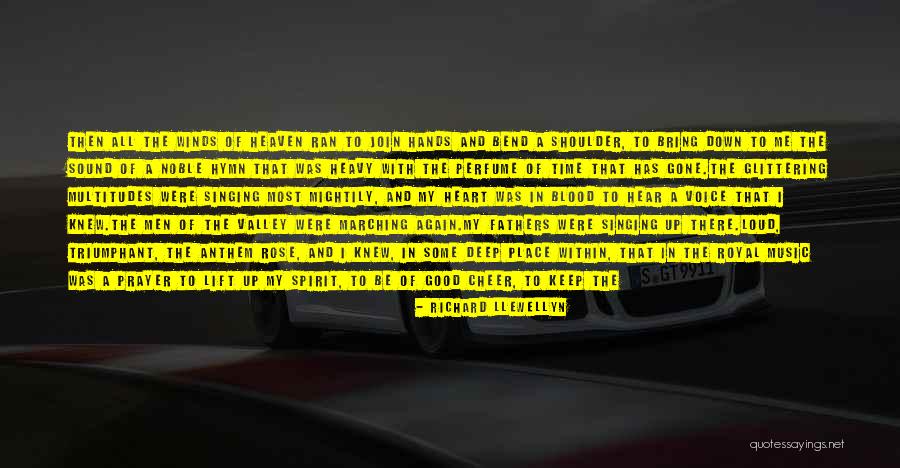 Then all the winds of Heaven ran to join hands and bend a shoulder, to bring down to me the sound of a noble hymn that was heavy with the perfume of Time That Has Gone.
The glittering multitudes were singing most mightily, and my heart was in blood to hear a Voice that I knew.
The Men of the Valley were marching again.
My Fathers were singing up there.
Loud, triumphant, the anthem rose, and I knew, in some deep place within, that in the royal music was a prayer to lift up my spirit, to be of good cheer, to keep the faith, that Death was only an end to the things that are made of clay, and to fight, without heed of wounds, all that brings death to the Spirit, with Glory to the Eternal Father, forever, Amen. — Richard Llewellyn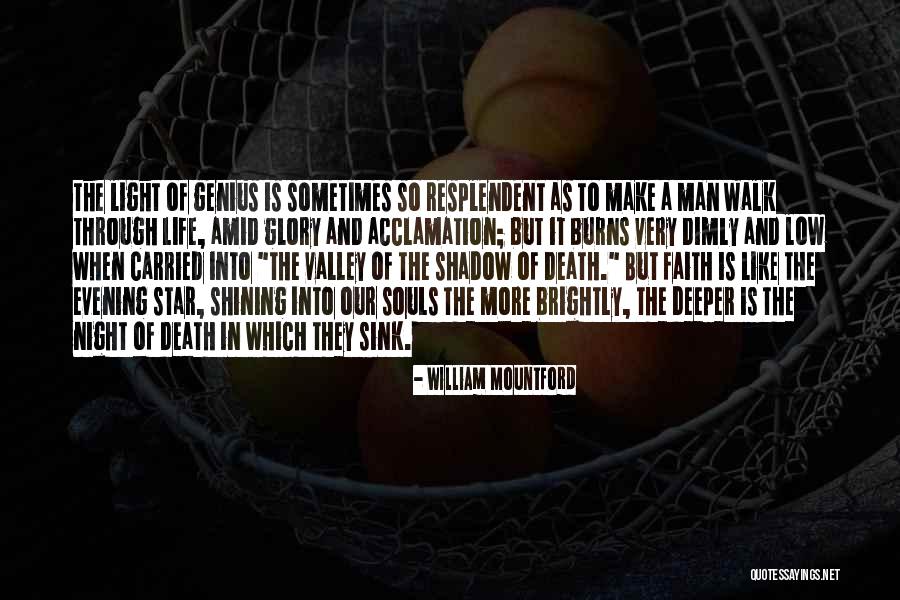 The light of genius is sometimes so resplendent as to make a man walk through life, amid glory and acclamation; but it burns very dimly and low when carried into "the valley of the shadow of death." But faith is like the evening star, shining into our souls the more brightly, the deeper is the night of death in which they sink. — William Mountford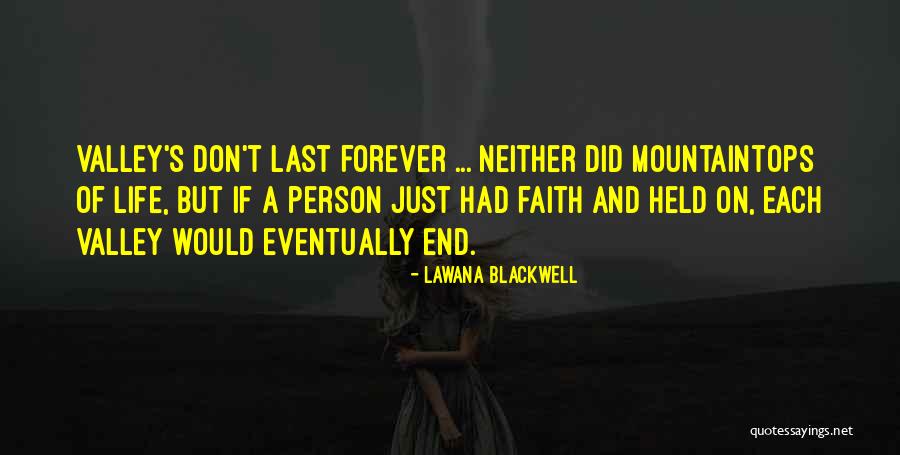 Valley's don't last forever ... Neither did mountaintops of life, but if a person just had faith and held on, each valley would eventually end. — Lawana Blackwell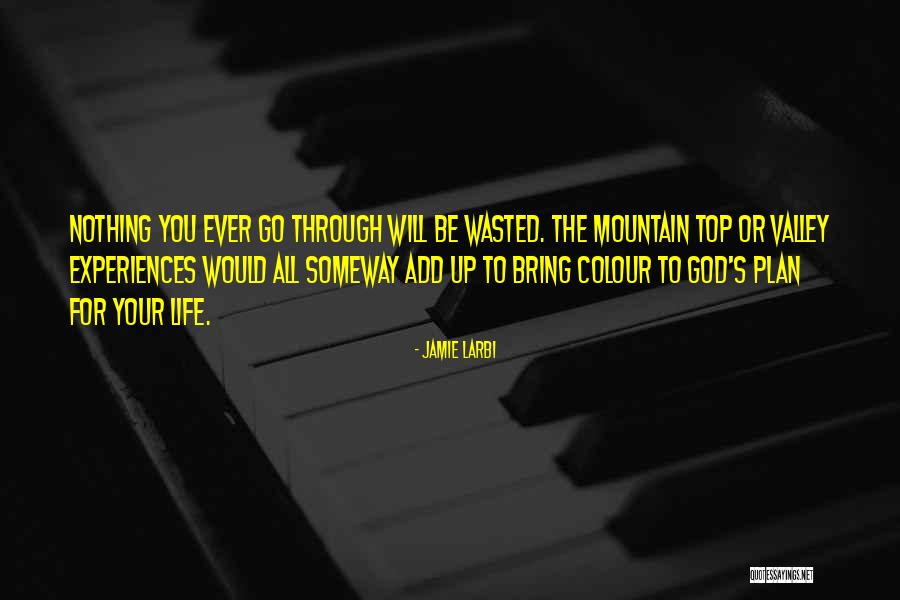 Nothing you ever go through will be wasted. The mountain top or valley experiences would all someway add up to bring colour to God's plan for your life. — Jamie Larbi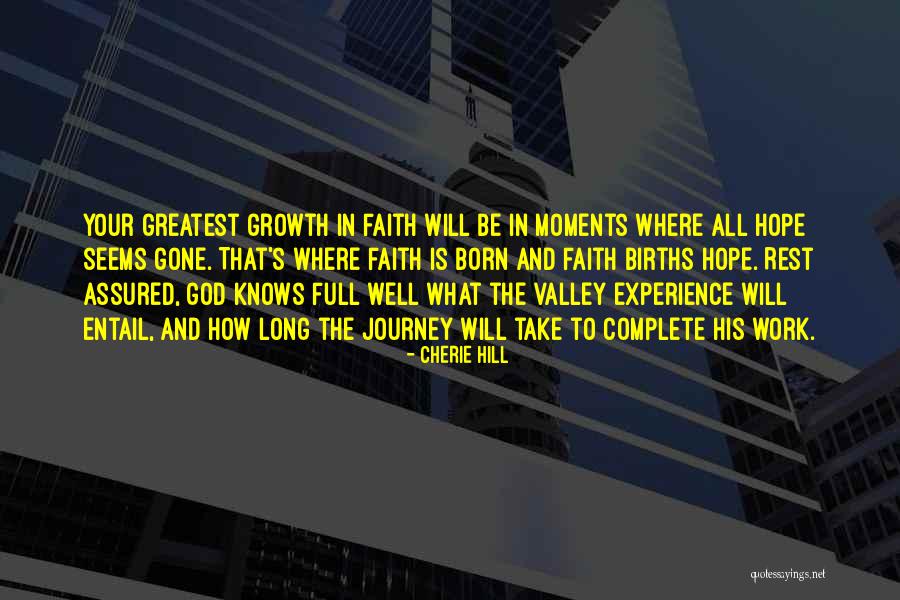 Your greatest growth in faith will be in moments where all hope seems gone. That's where faith is born and faith births hope. Rest assured, God knows full well what the valley experience will entail, and how long the journey will take to complete His work. — Cherie Hill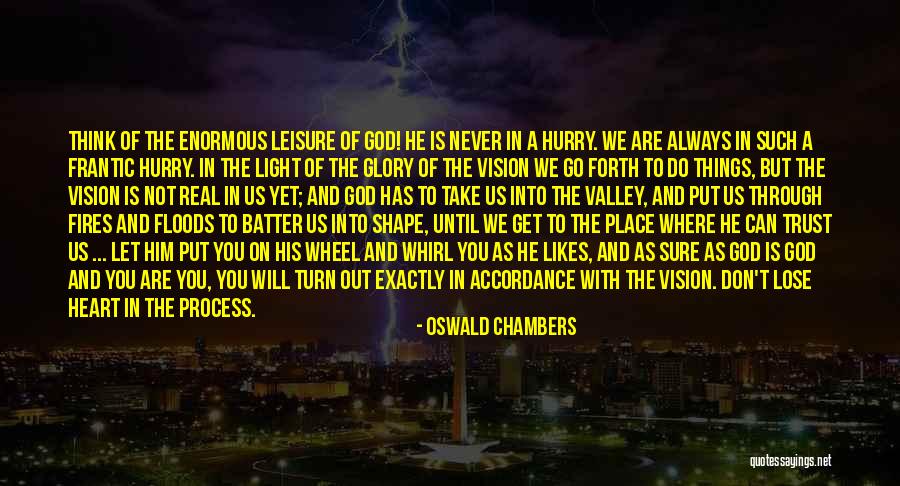 Think of the enormous leisure of God! He is never in a hurry. We are always in such a frantic hurry. In the light of the glory of the vision we go forth to do things, but the vision is not real in us yet; and God has to take us into the valley, and put us through fires and floods to batter us into shape, until we get to the place where He can trust us ... Let Him put you on His wheel and whirl you as He likes, and as sure as God is God and you are you, you will turn out exactly in accordance with the vision. Don't lose heart in the process. — Oswald Chambers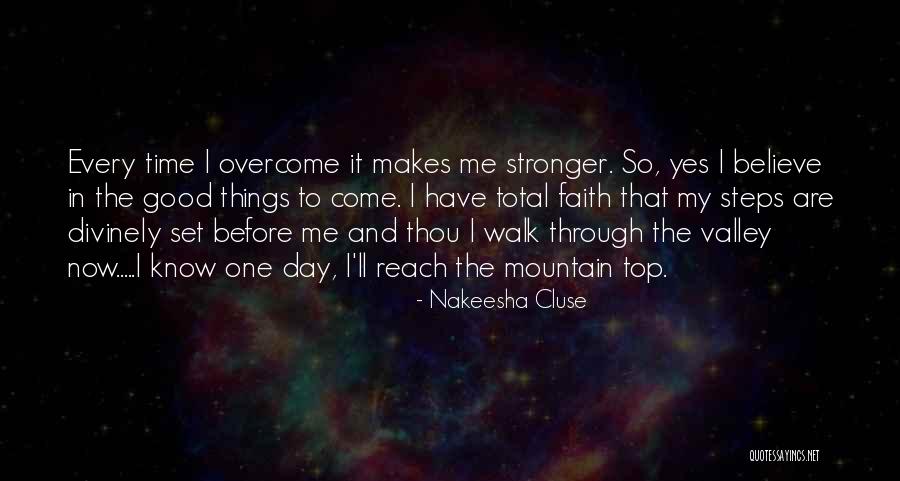 Every time I overcome it makes me stronger. So, yes I believe in the good things to come. I have total faith that my steps are divinely set before me and thou I walk through the valley now.....I know one day, I'll reach the mountain top. — Nakeesha Cluse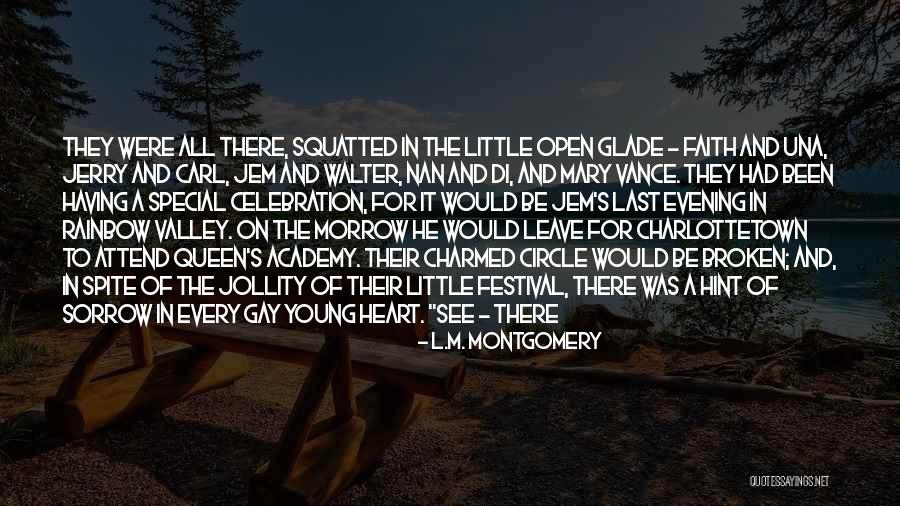 They were all there, squatted in the little open glade - Faith and Una, Jerry and Carl, Jem and Walter, Nan and Di, and Mary Vance. They had been having a special celebration, for it would be Jem's last evening in Rainbow Valley. On the morrow he would leave for Charlottetown to attend Queen's Academy. Their charmed circle would be broken; and, in spite of the jollity of their little festival, there was a hint of sorrow in every gay young heart. "See - there — L.M. Montgomery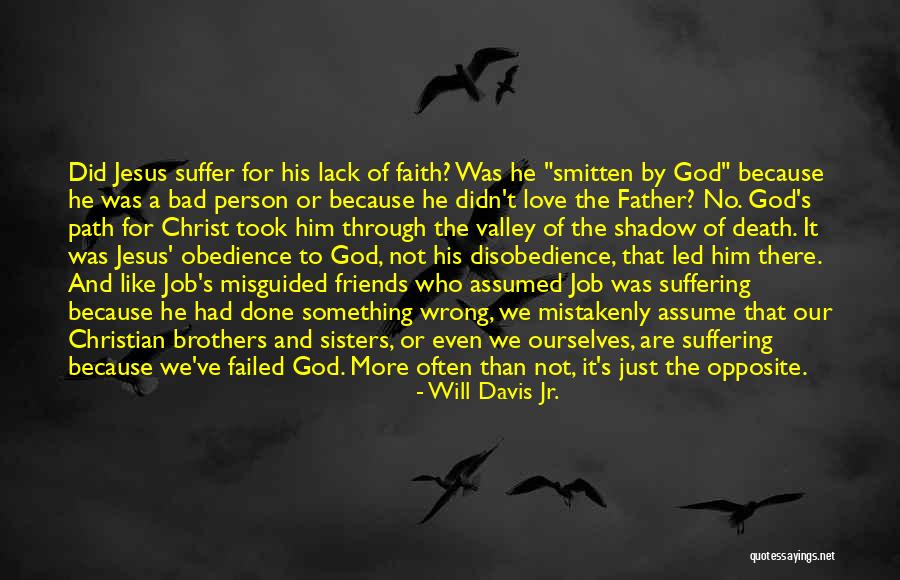 Did Jesus suffer for his lack of faith? Was he "smitten by God" because he was a bad person or because he didn't love the Father? No. God's path for Christ took him through the valley of the shadow of death. It was Jesus' obedience to God, not his disobedience, that led him there. And like Job's misguided friends who assumed Job was suffering because he had done something wrong, we mistakenly assume that our Christian brothers and sisters, or even we ourselves, are suffering because we've failed God. More often than not, it's just the opposite. — Will Davis Jr.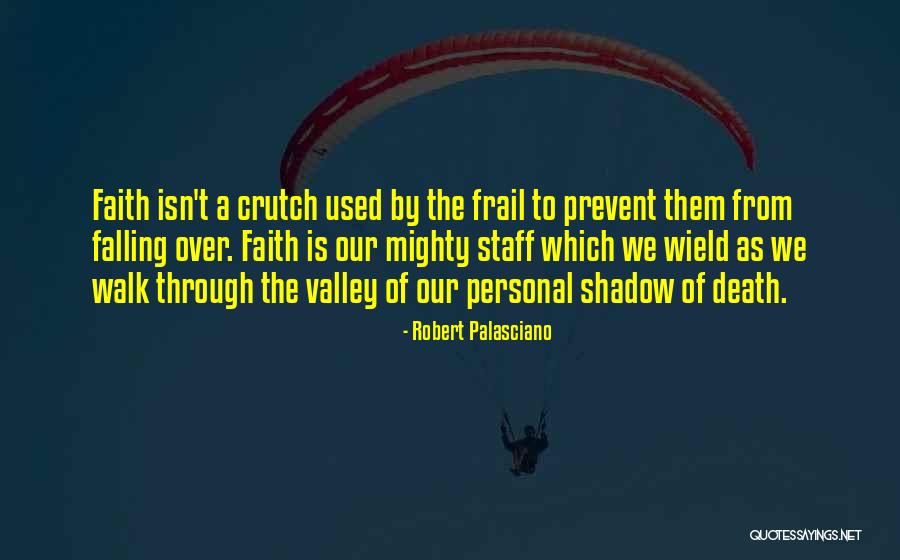 Faith isn't a crutch used by the frail to prevent them from falling over. Faith is our mighty staff which we wield as we walk through the valley of our personal shadow of death. — Robert Palasciano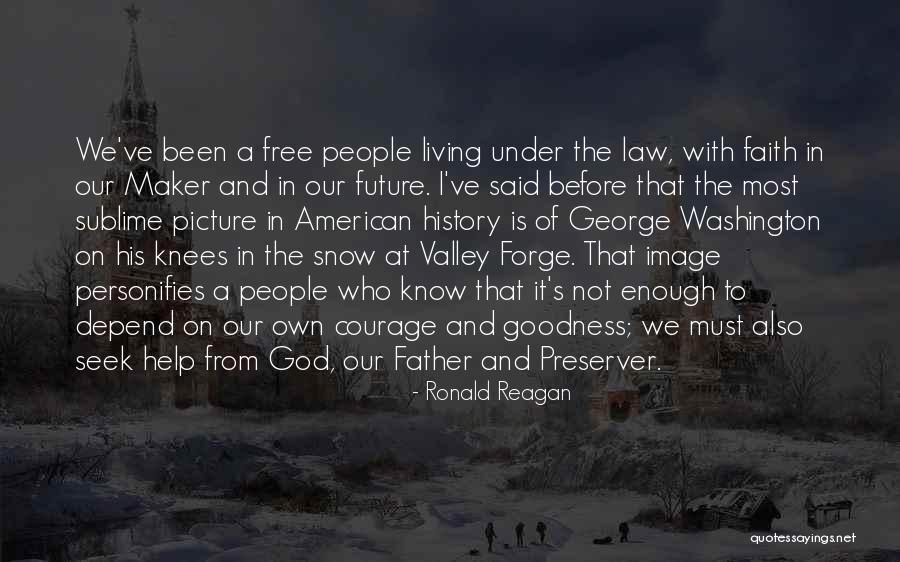 We've been a free people living under the law, with faith in our Maker and in our future. I've said before that the most sublime picture in American history is of George Washington on his knees in the snow at Valley Forge. That image personifies a people who know that it's not enough to depend on our own courage and goodness; we must also seek help from God, our Father and Preserver. — Ronald Reagan