Quotes & Sayings About Fair Treatment
Enjoy reading and share 31 famous quotes about Fair Treatment with everyone.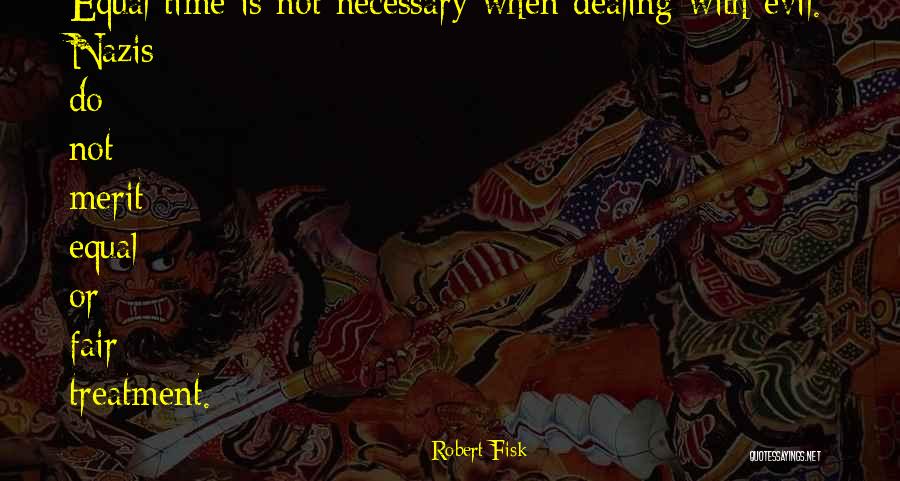 Equal time is not necessary when dealing with evil. Nazis do not merit equal or fair treatment. — Robert Fisk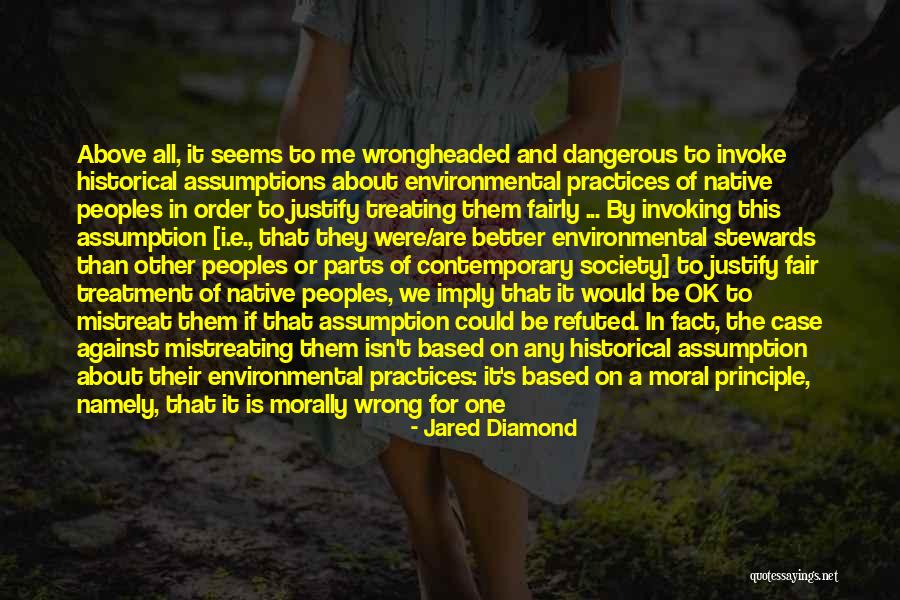 Above all, it seems to me wrongheaded and dangerous to invoke historical assumptions about environmental practices of native peoples in order to justify treating them fairly ... By invoking this assumption [i.e., that they were/are better environmental stewards than other peoples or parts of contemporary society] to justify fair treatment of native peoples, we imply that it would be OK to mistreat them if that assumption could be refuted. In fact, the case against mistreating them isn't based on any historical assumption about their environmental practices: it's based on a moral principle, namely, that it is morally wrong for one people to dispossess, subjugate or exterminate another people. — Jared Diamond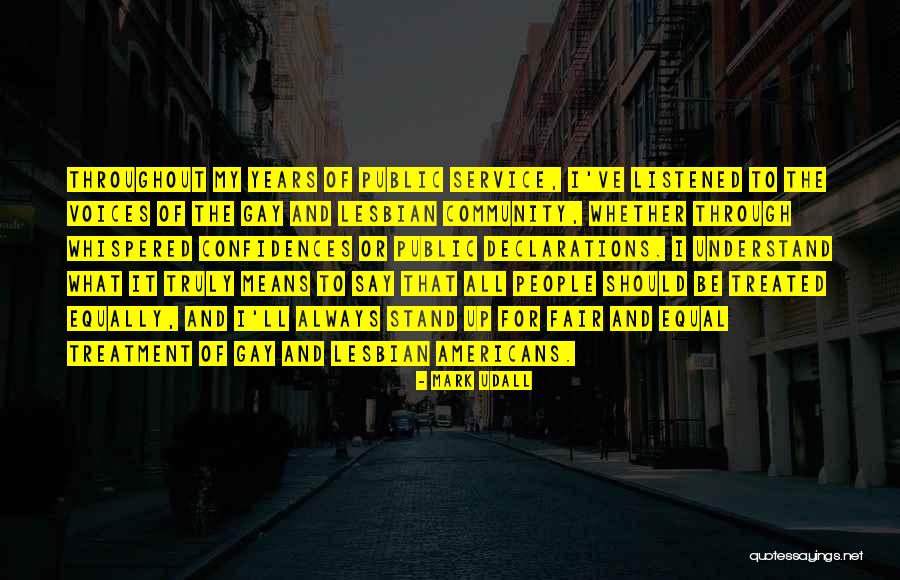 Throughout my years of public service, I've listened to the voices of the gay and lesbian community, whether through whispered confidences or public declarations. I understand what it truly means to say that all people should be treated equally, and I'll always stand up for fair and equal treatment of gay and lesbian Americans. — Mark Udall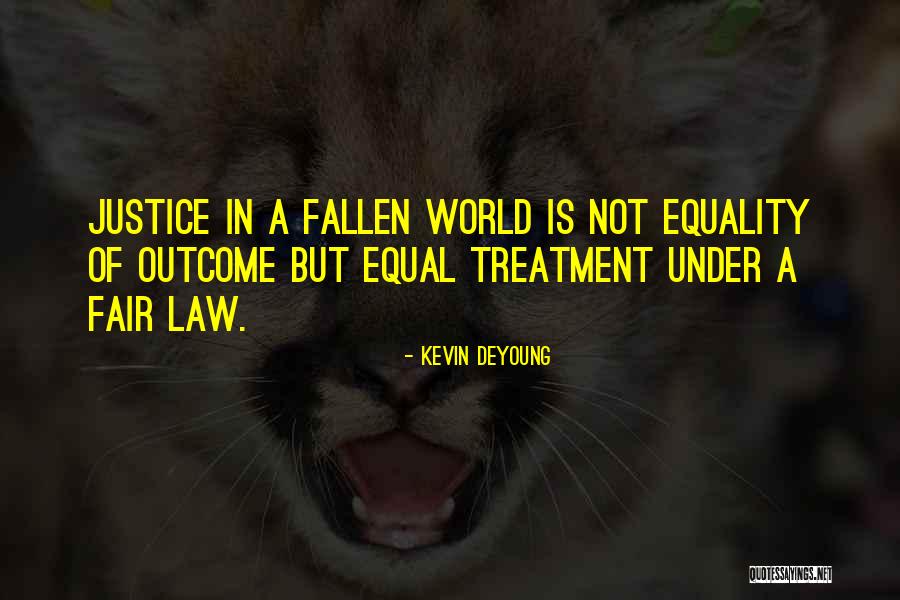 Justice in a fallen world is not equality of outcome but equal treatment under a fair law. — Kevin DeYoung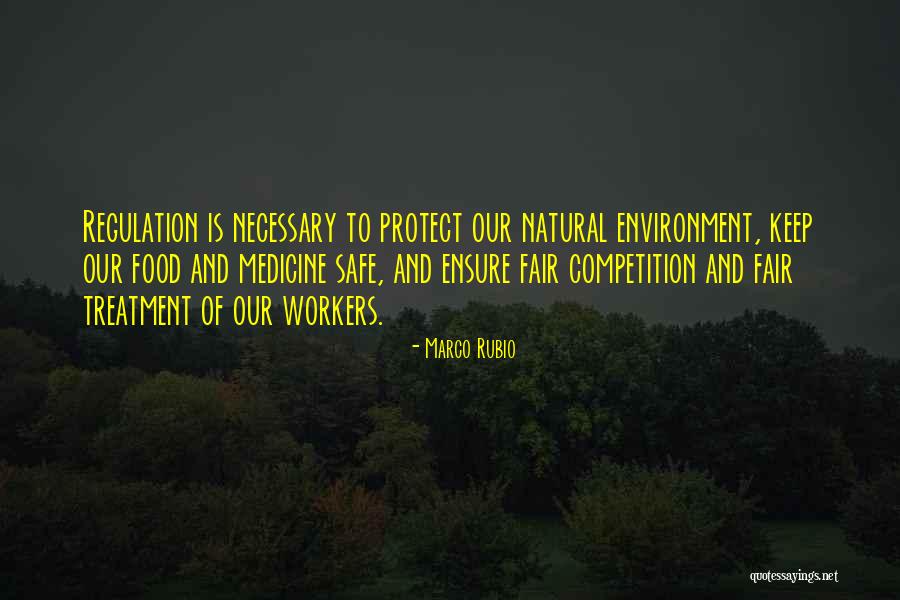 Regulation is necessary to protect our natural environment, keep our food and medicine safe, and ensure fair competition and fair treatment of our workers. — Marco Rubio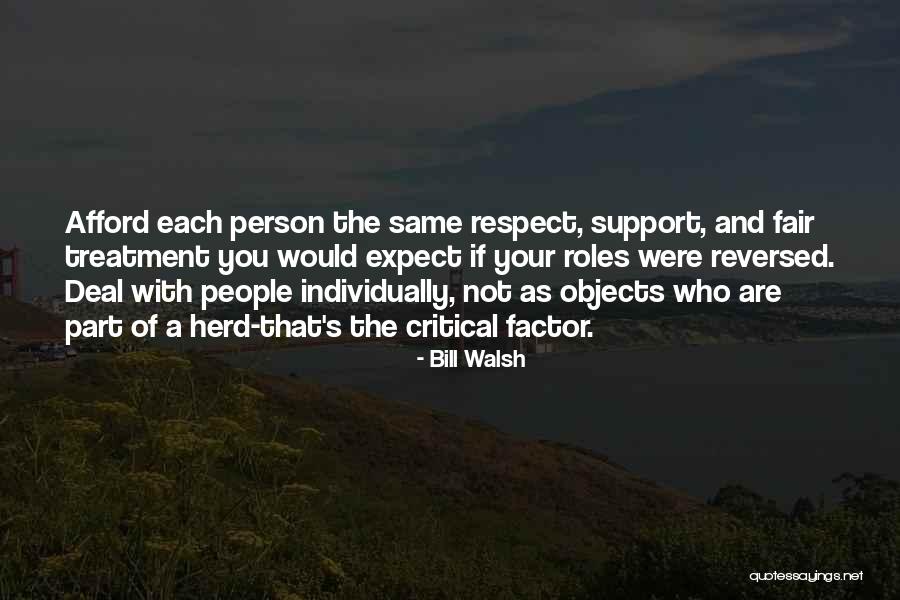 Afford each person the same respect, support, and fair treatment you would expect if your roles were reversed. Deal with people individually, not as objects who are part of a herd-that's the critical factor. — Bill Walsh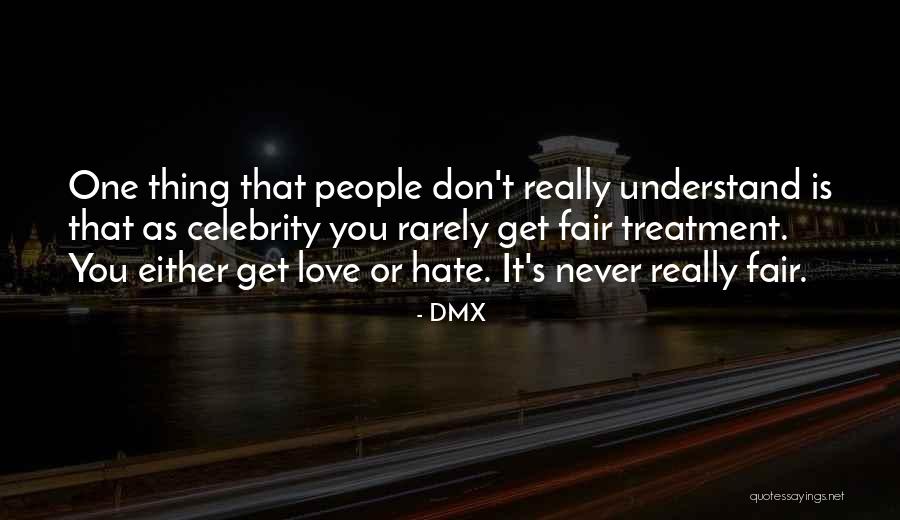 One thing that people don't really understand is that as celebrity you rarely get fair treatment. You either get love or hate. It's never really fair. — DMX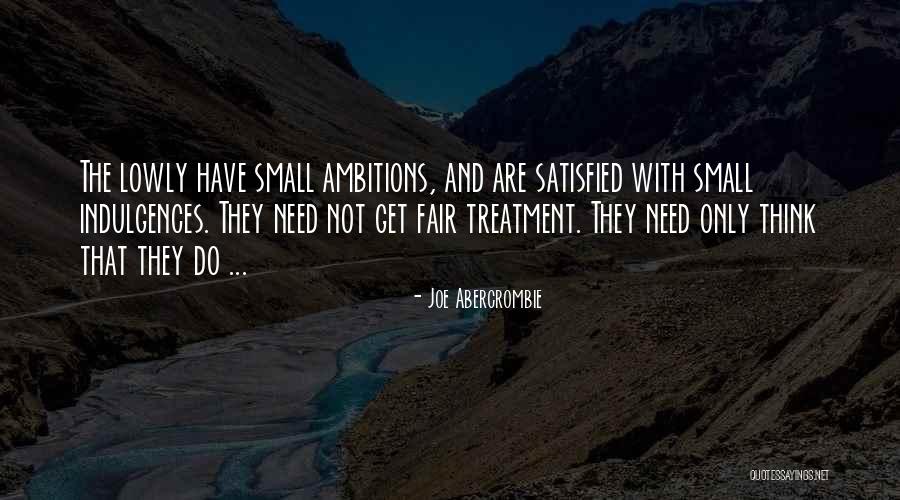 The lowly have small ambitions, and are satisfied with small indulgences. They need not get fair treatment. They need only think that they do ... — Joe Abercrombie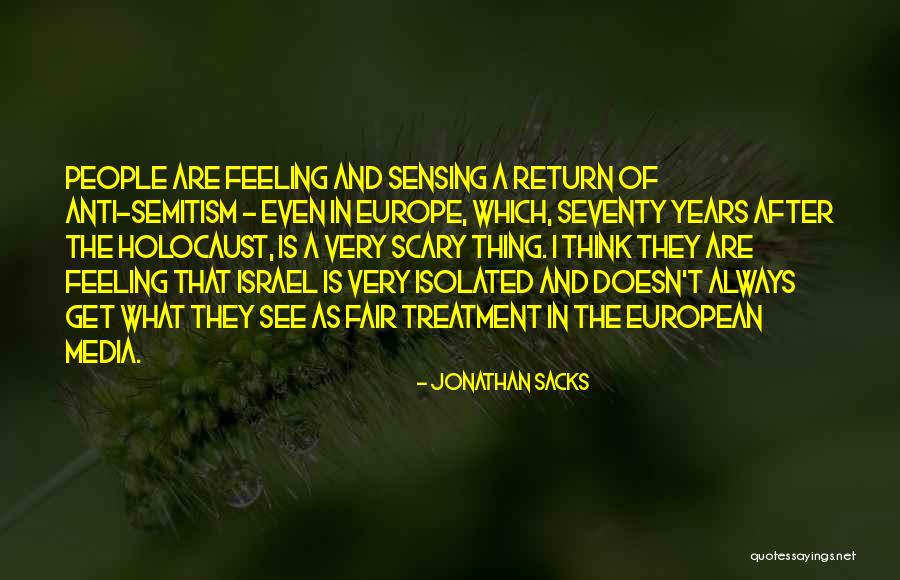 People are feeling and sensing a return of anti-Semitism - even in Europe, which, seventy years after the Holocaust, is a very scary thing. I think they are feeling that Israel is very isolated and doesn't always get what they see as fair treatment in the European media. — Jonathan Sacks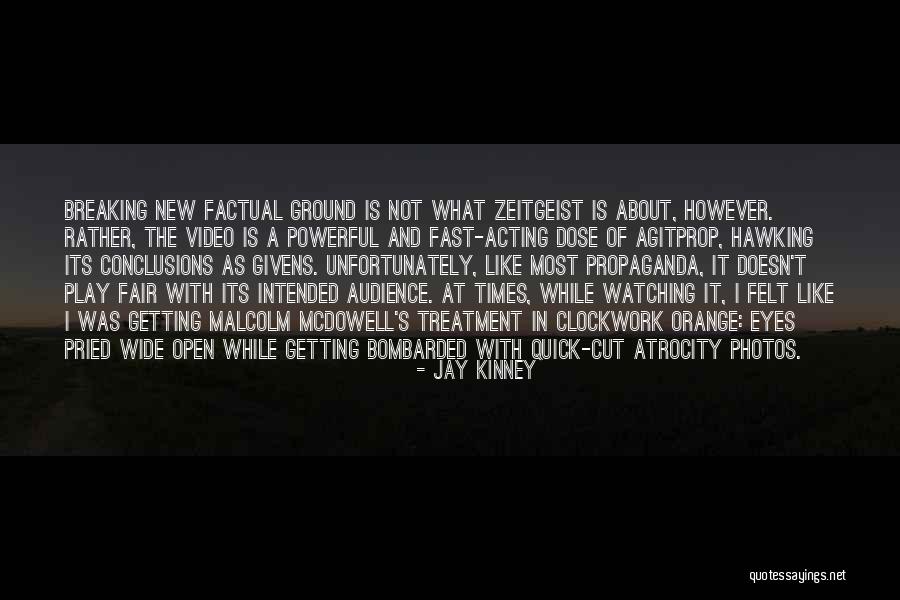 Breaking new factual ground is not what Zeitgeist is about, however. Rather, the video is a powerful and fast-acting dose of agitprop, hawking its conclusions as givens. Unfortunately, like most propaganda, it doesn't play fair with its intended audience. At times, while watching it, I felt like I was getting Malcolm McDowell's treatment in Clockwork Orange: eyes pried wide open while getting bombarded with quick-cut atrocity photos. — Jay Kinney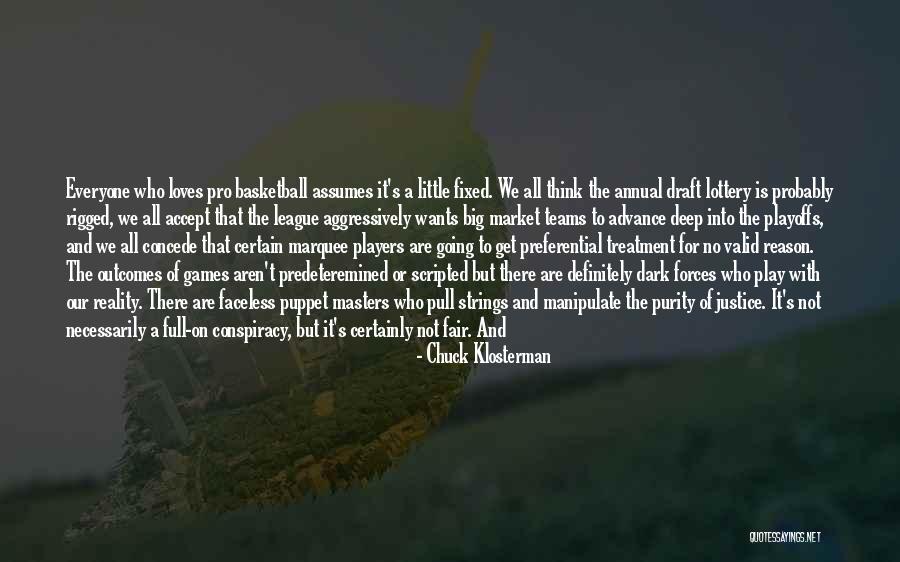 Everyone who loves pro basketball assumes it's a little fixed. We all think the annual draft lottery is probably rigged, we all accept that the league aggressively wants big market teams to advance deep into the playoffs, and we all concede that certain marquee players are going to get preferential treatment for no valid reason. The outcomes of games aren't predeteremined or scripted but there are definitely dark forces who play with our reality. There are faceless puppet masters who pull strings and manipulate the purity of justice. It's not necessarily a full-on conspiracy, but it's certainly not fair. And that's why the NBA remains the only game that matters: Pro basketball is exactly like life. — Chuck Klosterman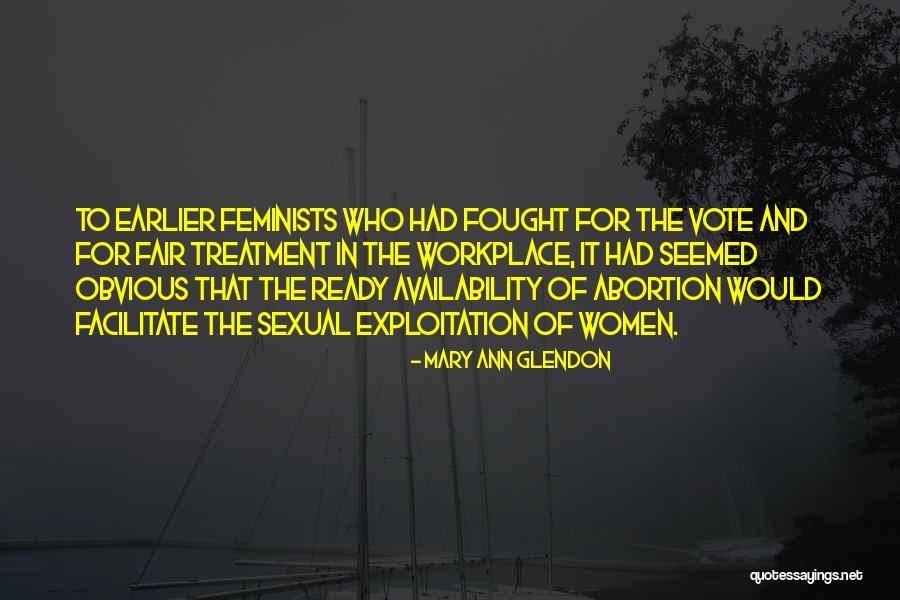 To earlier feminists who had fought for the vote and for fair treatment in the workplace, it had seemed obvious that the ready availability of abortion would facilitate the sexual exploitation of women. — Mary Ann Glendon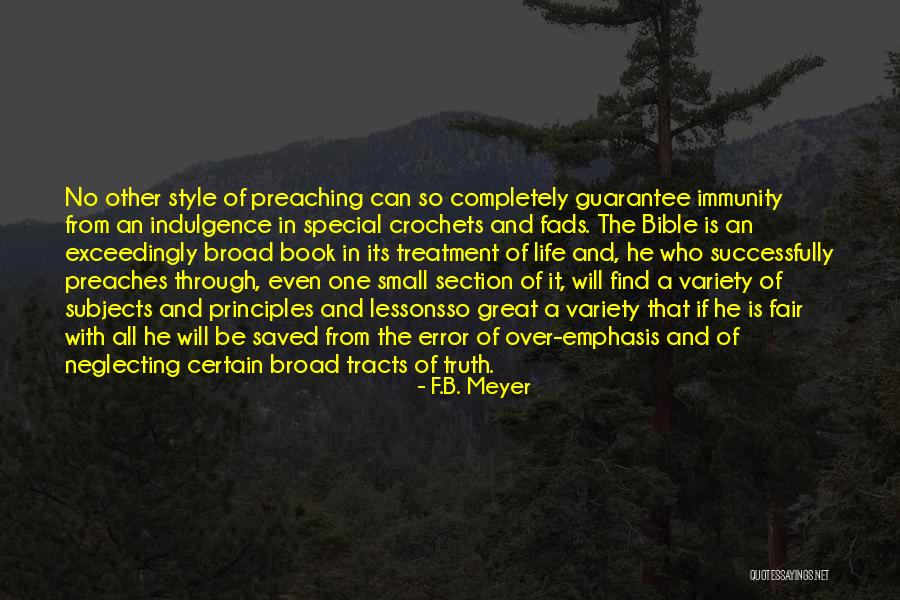 No other style of preaching can so completely guarantee immunity from an indulgence in special crochets and fads. The Bible is an exceedingly broad book in its treatment of life and, he who successfully preaches through, even one small section of it, will find a variety of subjects and principles and lessons
so great a variety that if he is fair with all he will be saved from the error of over-emphasis and of neglecting certain broad tracts of truth. — F.B. Meyer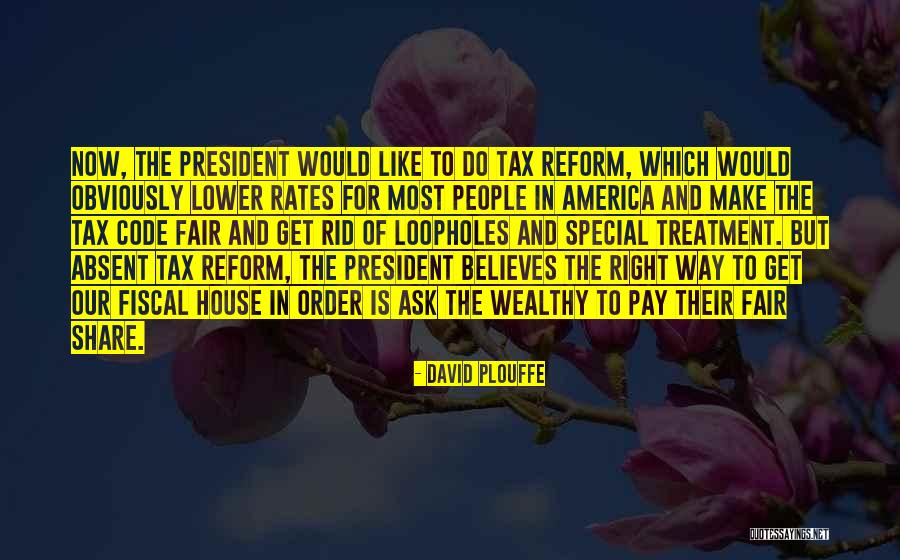 Now, the president would like to do tax reform, which would obviously lower rates for most people in America and make the tax code fair and get rid of loopholes and special treatment. But absent tax reform, the president believes the right way to get our fiscal house in order is ask the wealthy to pay their fair share. — David Plouffe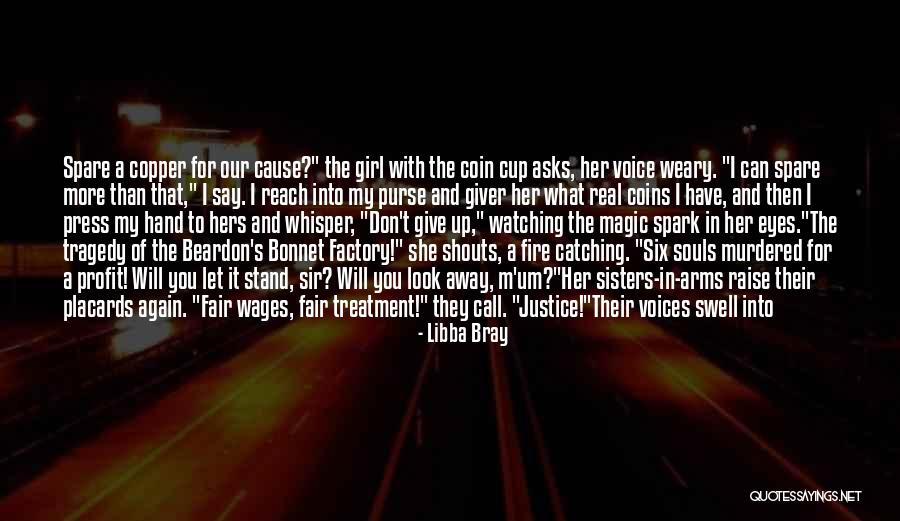 Spare a copper for our cause?" the girl with the coin cup asks, her voice weary.
"I can spare more than that," I say. I reach into my purse and giver her what real coins I have, and then I press my hand to hers and whisper, "Don't give up," watching the magic spark in her eyes.
"The tragedy of the Beardon's Bonnet Factory!" she shouts, a fire catching. "Six souls murdered for a profit! Will you let it stand, sir? Will you look away, m'um?"
Her sisters-in-arms raise their placards again. "Fair wages, fair treatment!" they call. "Justice!"
Their voices swell into a chorus that thunders through the dark London streets until it can no longer be ignored. — Libba Bray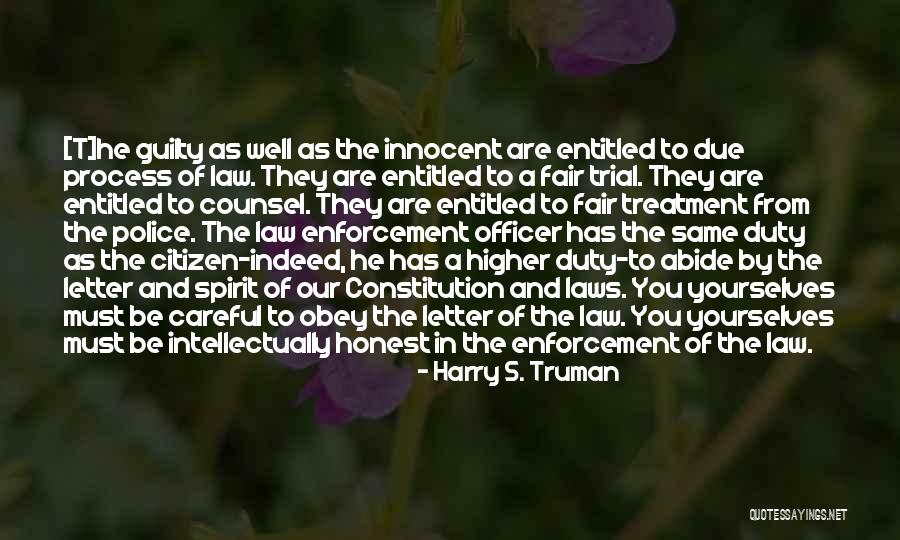 [T]he guilty as well as the innocent are entitled to due process of law. They are entitled to a fair trial. They are entitled to counsel. They are entitled to fair treatment from the police. The law enforcement officer has the same duty as the citizen-indeed, he has a higher duty-to abide by the letter and spirit of our Constitution and laws. You yourselves must be careful to obey the letter of the law. You yourselves must be intellectually honest in the enforcement of the law. — Harry S. Truman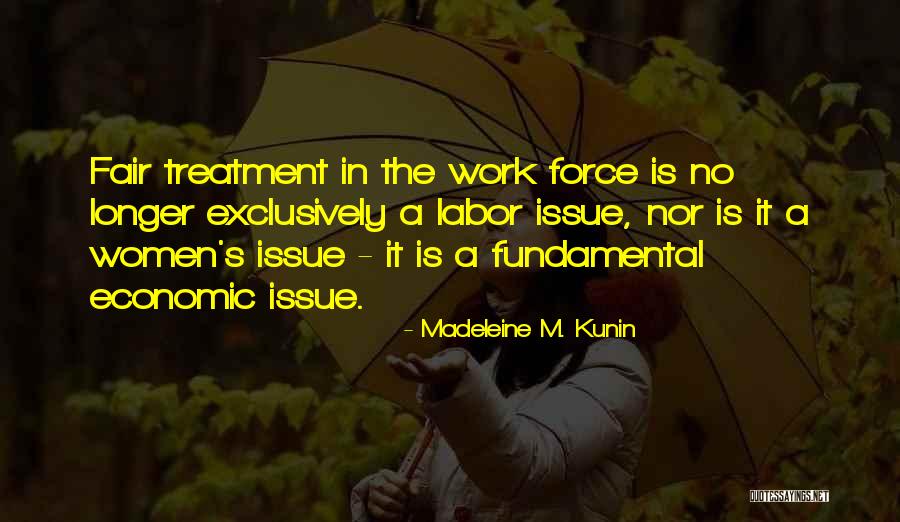 Fair treatment in the work force is no longer exclusively a labor issue, nor is it a women's issue - it is a fundamental economic issue. — Madeleine M. Kunin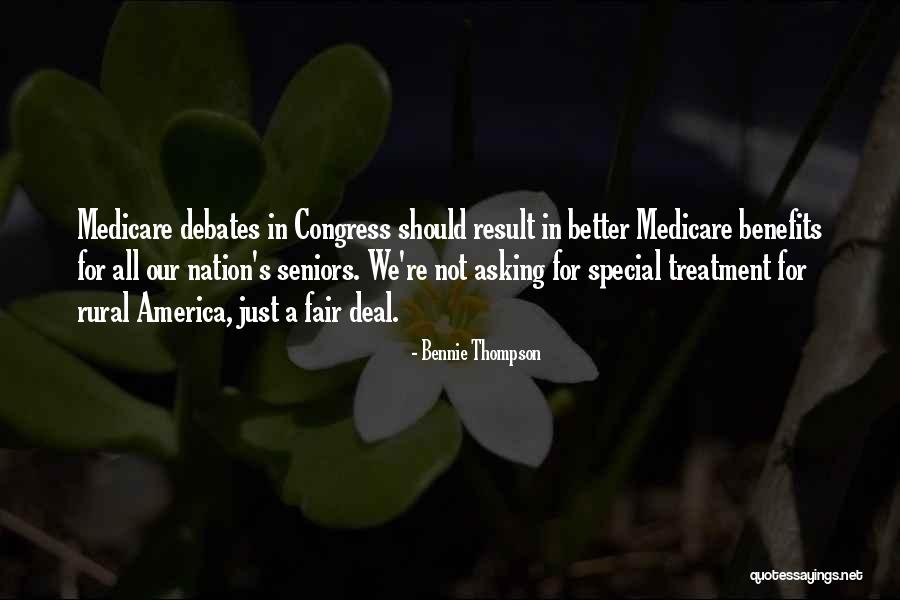 Medicare debates in Congress should result in better Medicare benefits for all our nation's seniors. We're not asking for special treatment for rural America, just a fair deal. — Bennie Thompson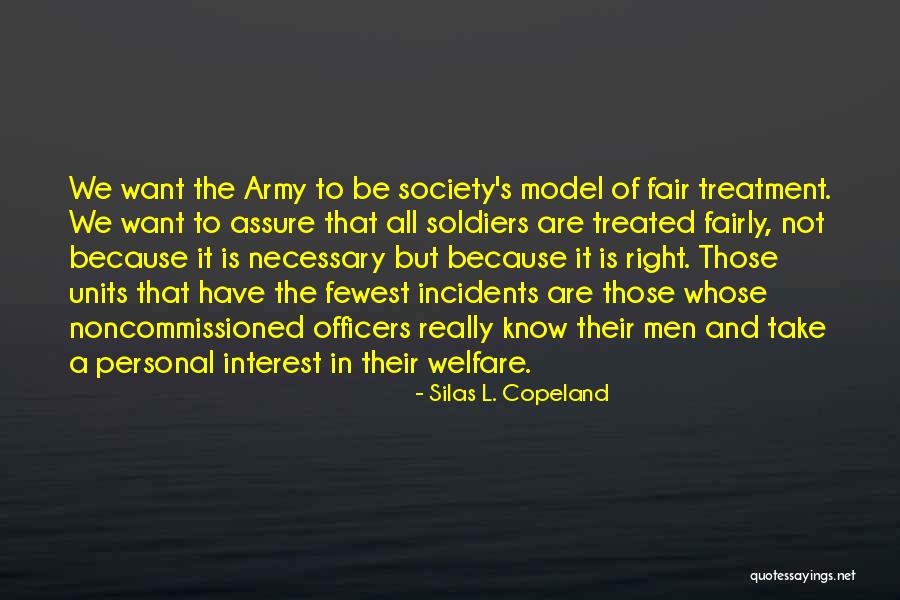 We want the Army to be society's model of fair treatment. We want to assure that all soldiers are treated fairly, not because it is necessary but because it is right. Those units that have the fewest incidents are those whose noncommissioned officers really know their men and take a personal interest in their welfare. — Silas L. Copeland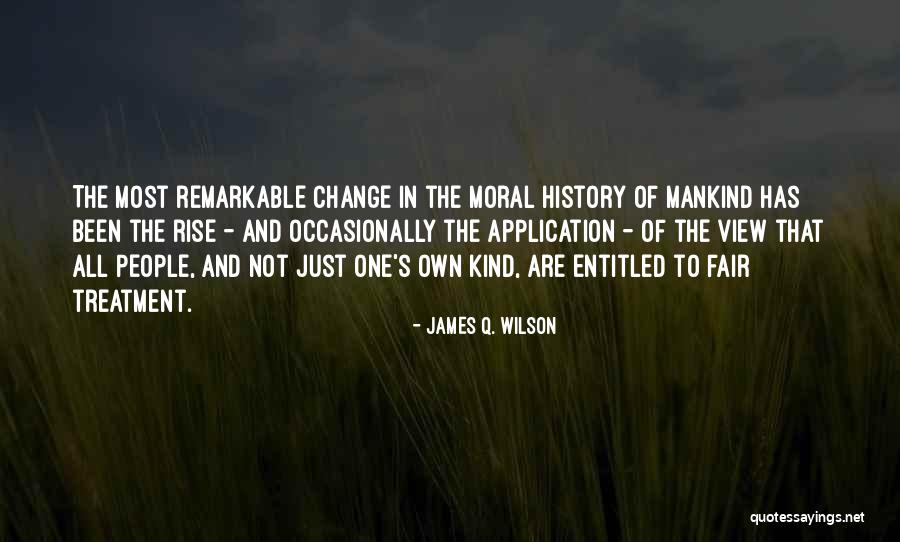 The most remarkable change in the moral history of mankind has been the rise - and occasionally the application - of the view that all people, and not just one's own kind, are entitled to fair treatment. — James Q. Wilson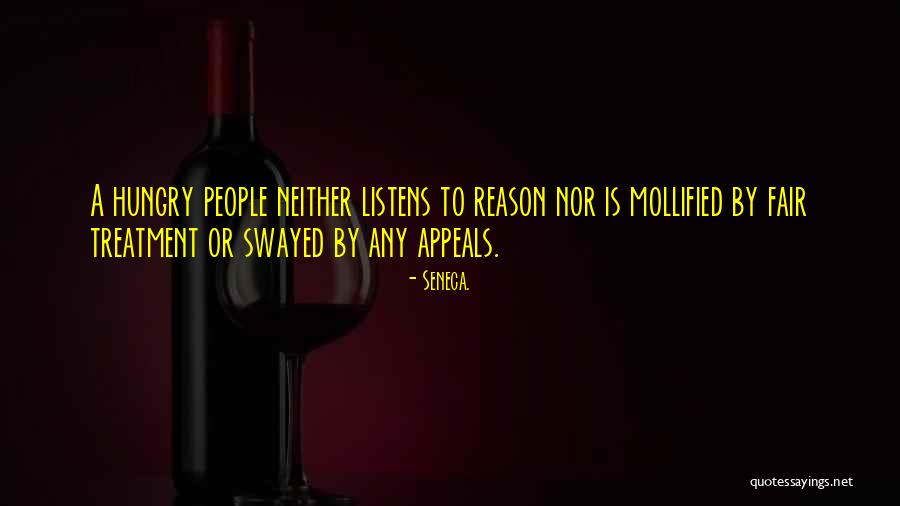 A hungry people neither listens to reason nor is mollified by fair treatment or swayed by any appeals. — Seneca.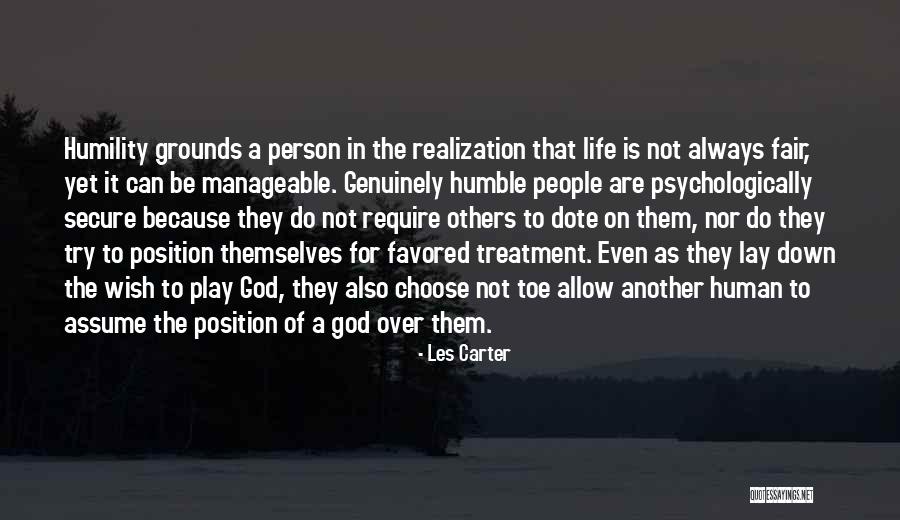 Humility grounds a person in the realization that life is not always fair, yet it can be manageable. Genuinely humble people are psychologically secure because they do not require others to dote on them, nor do they try to position themselves for favored treatment. Even as they lay down the wish to play God, they also choose not toe allow another human to assume the position of a god over them. — Les Carter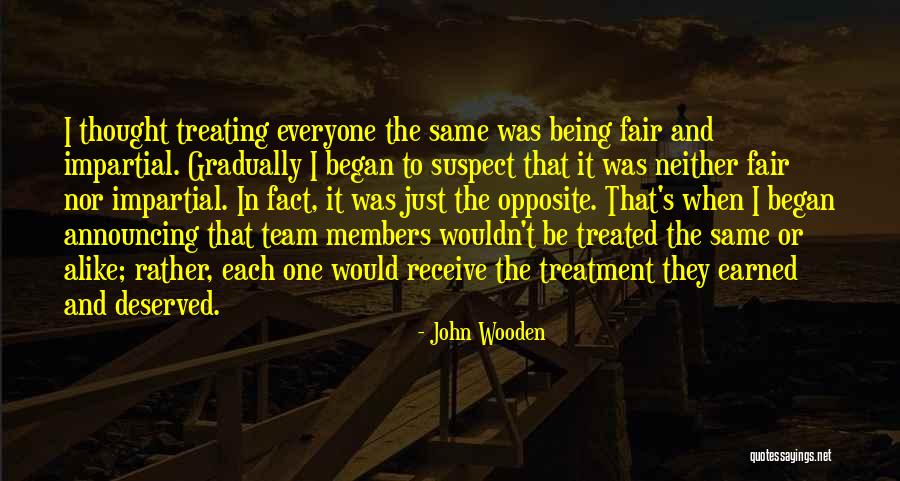 I thought treating everyone the same was being fair and impartial. Gradually I began to suspect that it was neither fair nor impartial. In fact, it was just the opposite. That's when I began announcing that team members wouldn't be treated the same or alike; rather, each one would receive the treatment they earned and deserved. — John Wooden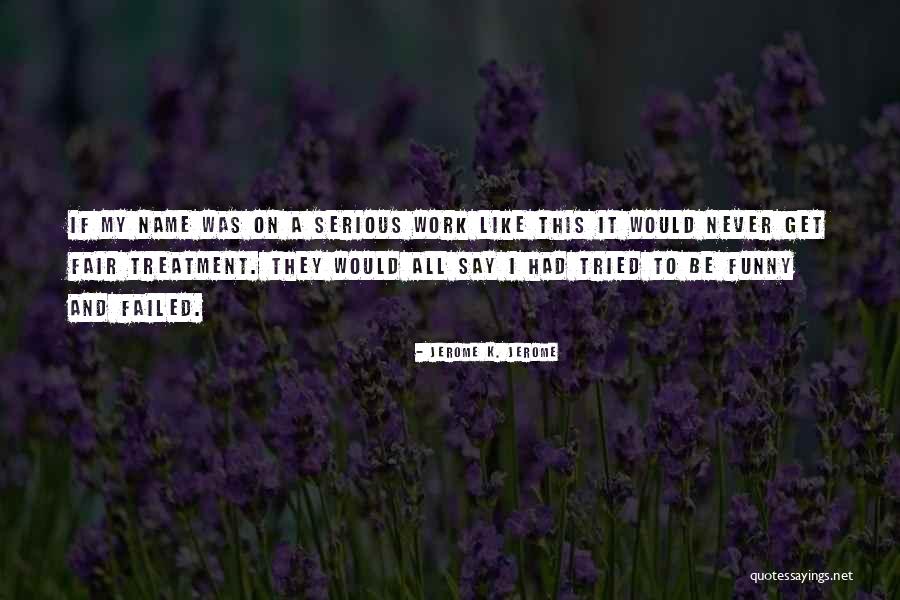 If my name was on a serious work like this it would never get fair treatment. They would all say I had tried to be funny and failed. — Jerome K. Jerome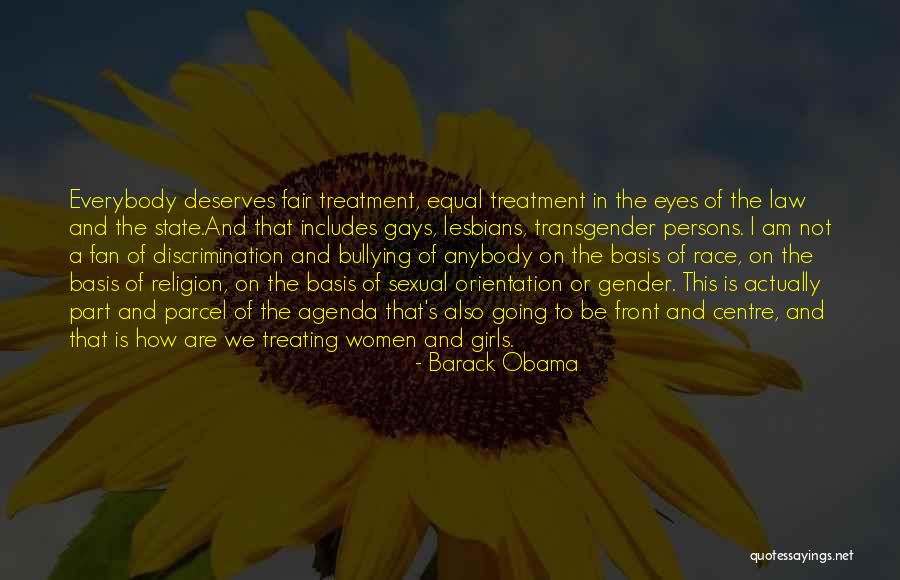 Everybody deserves fair treatment, equal treatment in the eyes of the law and the state.
And that includes gays, lesbians, transgender persons. I am not a fan of discrimination and bullying of anybody on the basis of race, on the basis of religion, on the basis of sexual orientation or gender. This is actually part and parcel of the agenda that's also going to be front and centre, and that is how are we treating women and girls. — Barack Obama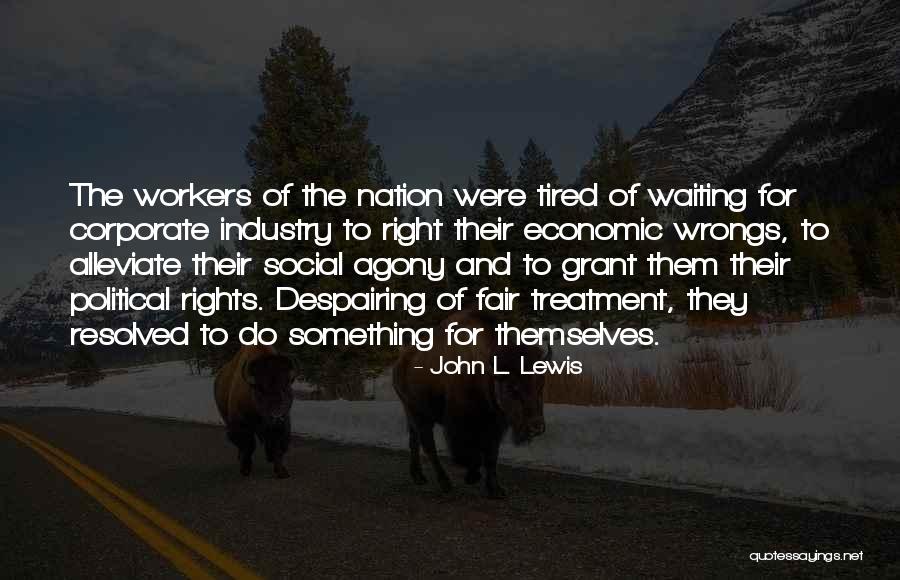 The workers of the nation were tired of waiting for corporate industry to right their economic wrongs, to alleviate their social agony and to grant them their political rights. Despairing of fair treatment, they resolved to do something for themselves. — John L. Lewis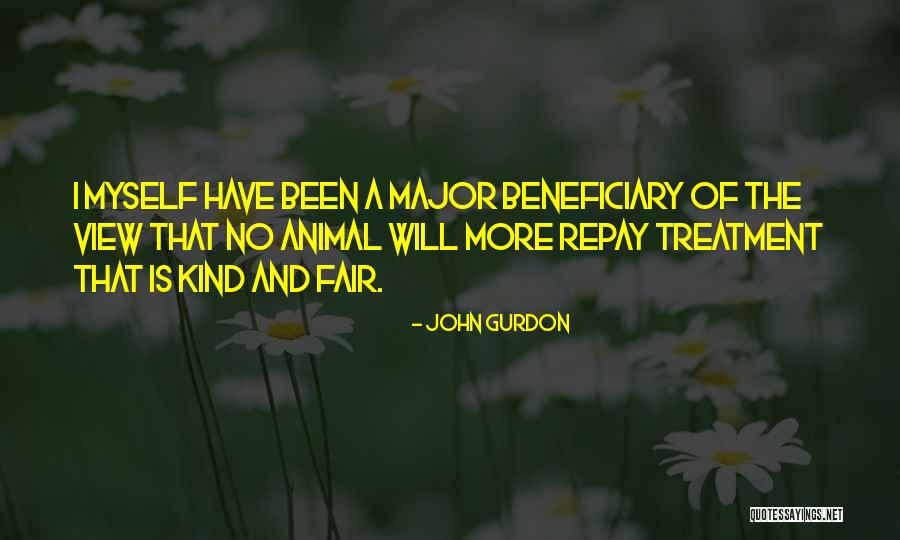 I myself have been a major beneficiary of the view that no animal will more repay treatment that is kind and fair. — John Gurdon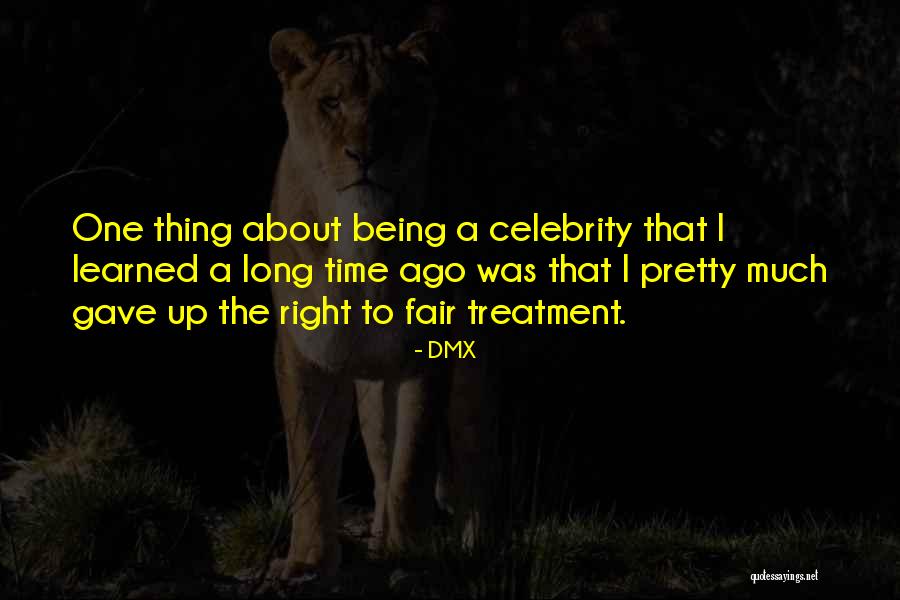 One thing about being a celebrity that I learned a long time ago was that I pretty much gave up the right to fair treatment. — DMX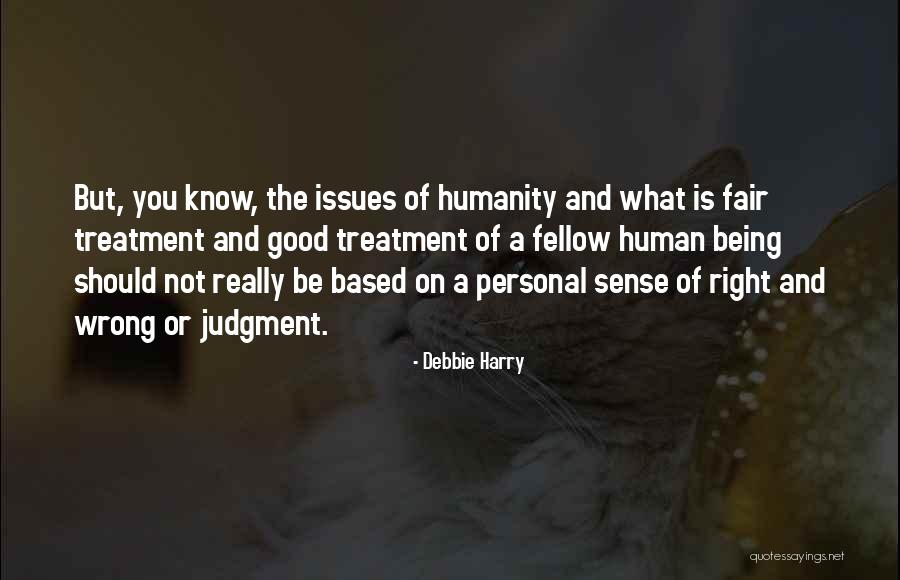 But, you know, the issues of humanity and what is fair treatment and good treatment of a fellow human being should not really be based on a personal sense of right and wrong or judgment. — Debbie Harry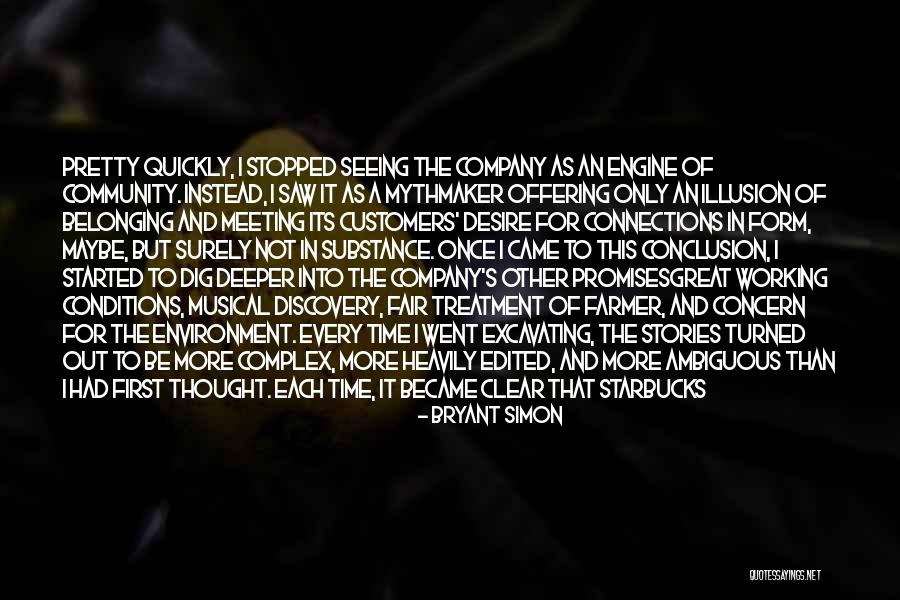 Pretty quickly, I stopped seeing the company as an engine of community. Instead, I saw it as a mythmaker offering only an illusion of belonging and meeting its customers' desire for connections in form, maybe, but surely not in substance. Once I came to this conclusion, I started to dig deeper into the company's other promises
great working conditions, musical discovery, fair treatment of farmer, and concern for the environment. Every time I went excavating, the stories turned out to be more complex, more heavily edited, and more ambiguous than I had first thought. Each time, it became clear that Starbucks fulfilled its many promises only in the thinnest, most transitory of ways and that people's desires went largely unfulfilled. — Bryant Simon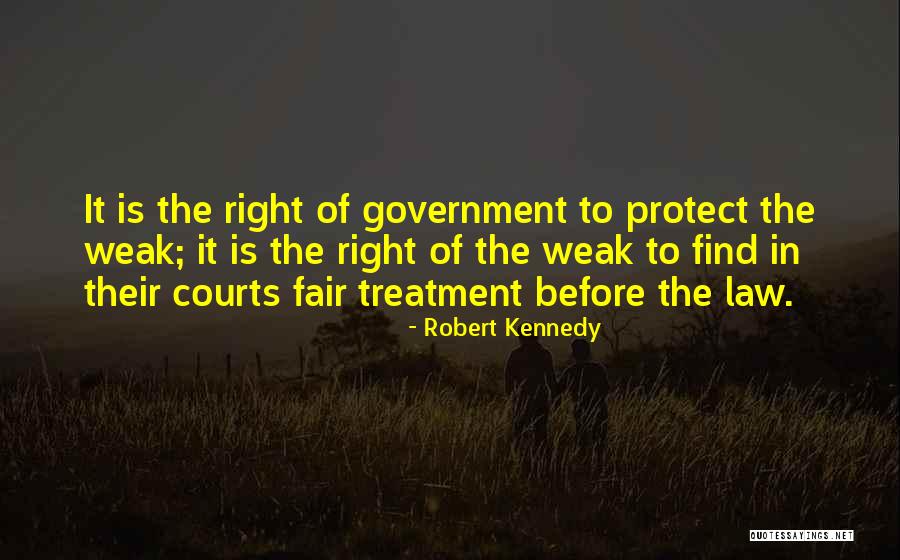 It is the right of government to protect the weak; it is the right of the weak to find in their courts fair treatment before the law. — Robert Kennedy