Quotes & Sayings About Exclamation Marks
Enjoy reading and share 25 famous quotes about Exclamation Marks with everyone.
Top Exclamation Marks Quotes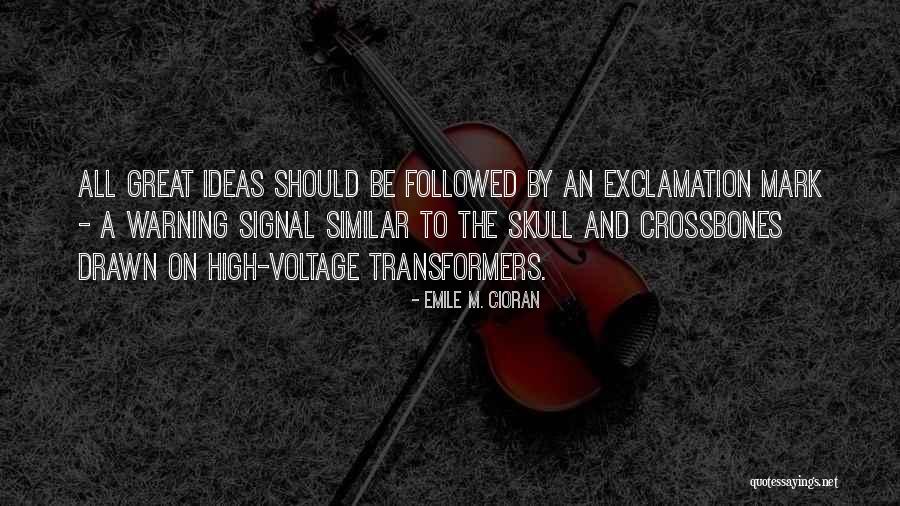 All great ideas should be followed by an exclamation mark - a warning signal similar to the skull and crossbones drawn on high-voltage transformers. — Emile M. Cioran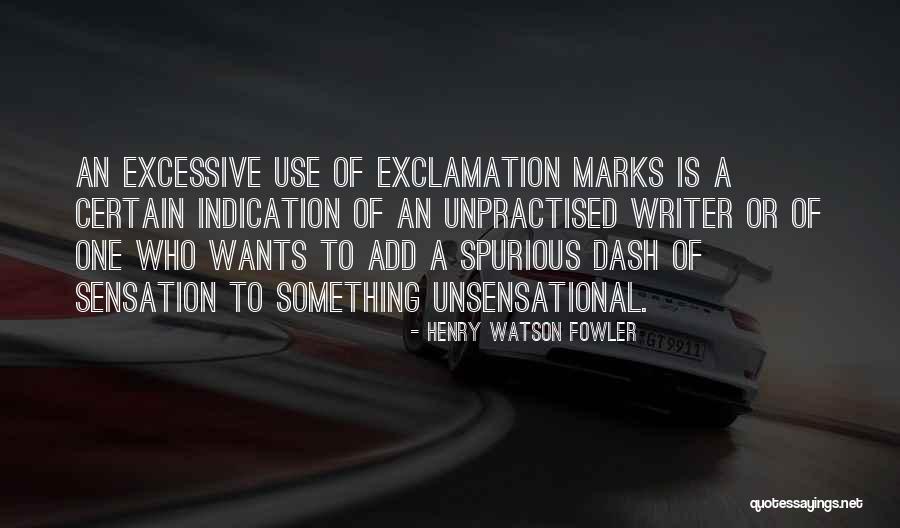 An excessive use of exclamation marks is a certain indication of an unpractised writer or of one who wants to add a spurious dash of sensation to something unsensational. — Henry Watson Fowler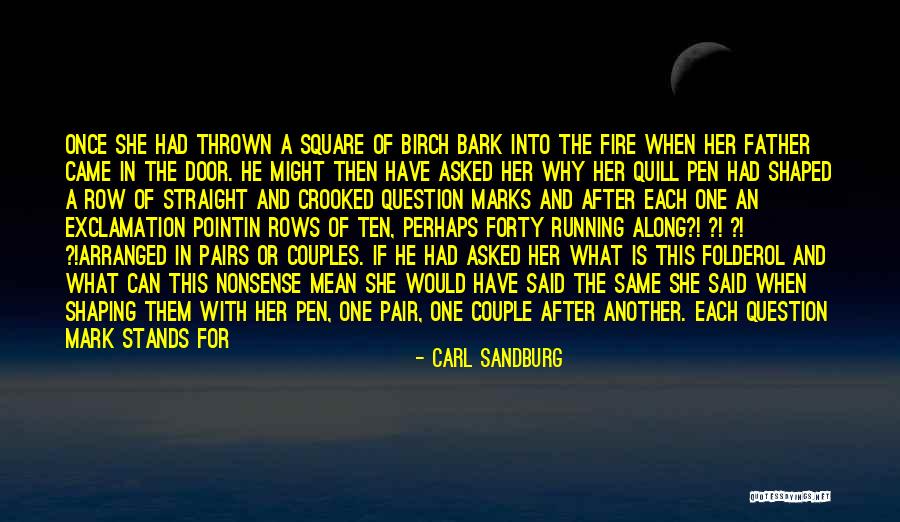 Once she had thrown a square of birch bark into the fire when her father came in the door. He might then have asked her why her quill pen had shaped a row of straight and crooked question marks and after each one an exclamation point
in rows of ten, perhaps forty running along
?! ?! ?! ?!
arranged in pairs or couples. If he had asked her what is this folderol and what can this nonsense mean she would have said the same she said when shaping them with her pen, one pair, one couple after another. Each question mark stands for my ignorance and asks if I may learn and know the answer. And each exclamation point stands for my surprise at how little I know, my amazement at my vast ignorance, my utter astonishment at how much there is for me to learn. — Carl Sandburg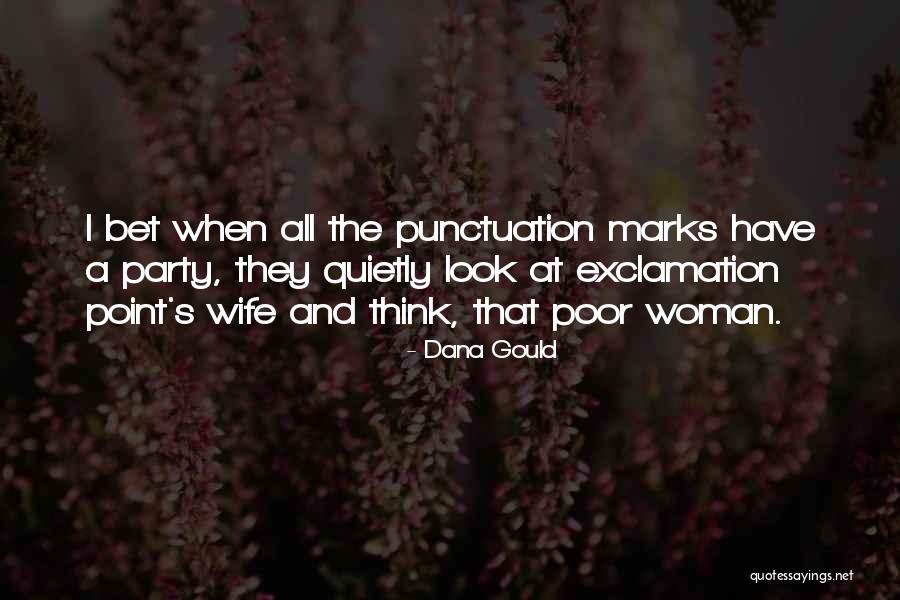 I bet when all the punctuation marks have a party, they quietly look at exclamation point's wife and think, that poor woman. — Dana Gould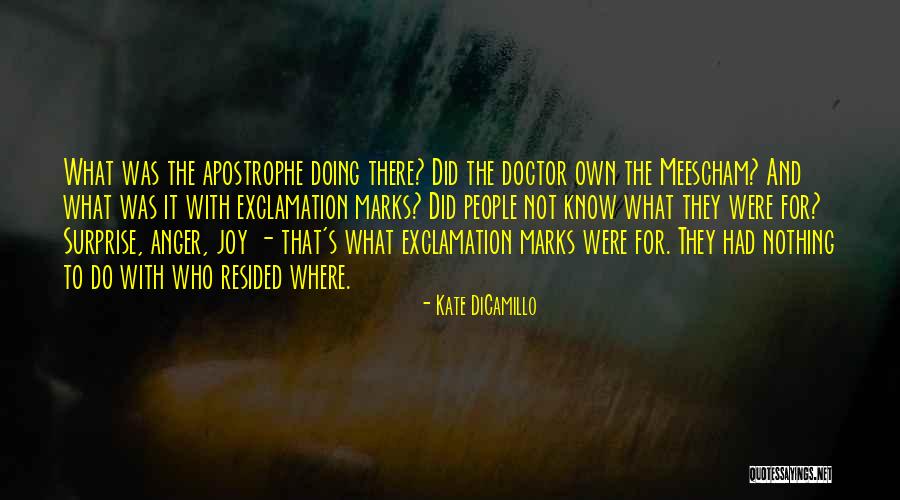 What was the apostrophe doing there? Did the doctor own the Meescham? And what was it with exclamation marks? Did people not know what they were for? Surprise, anger, joy - that's what exclamation marks were for. They had nothing to do with who resided where. — Kate DiCamillo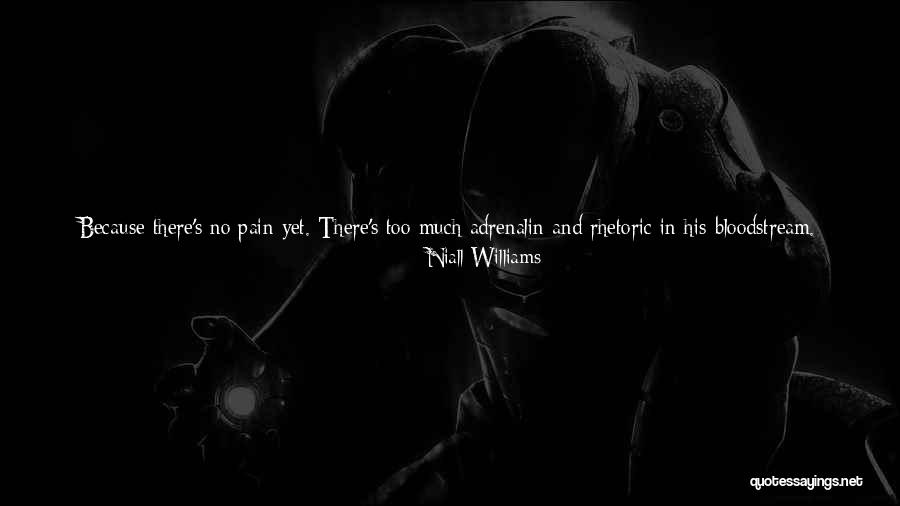 Because there's no pain yet. There's too much adrenalin and rhetoric in his bloodstream. There's whole chunky paragraphs of What it Means to King and Country. Never mind God. There's fine speeches still pumping up along his arteries, principal and subordinate clauses, the adjectival, the adverbial, in gorgeous Latinate construction and hot breath. It's the Age of Speeches. There's exclamation marks doing needle dancing in his brain, and so he gets twenty yards into the war. — Niall Williams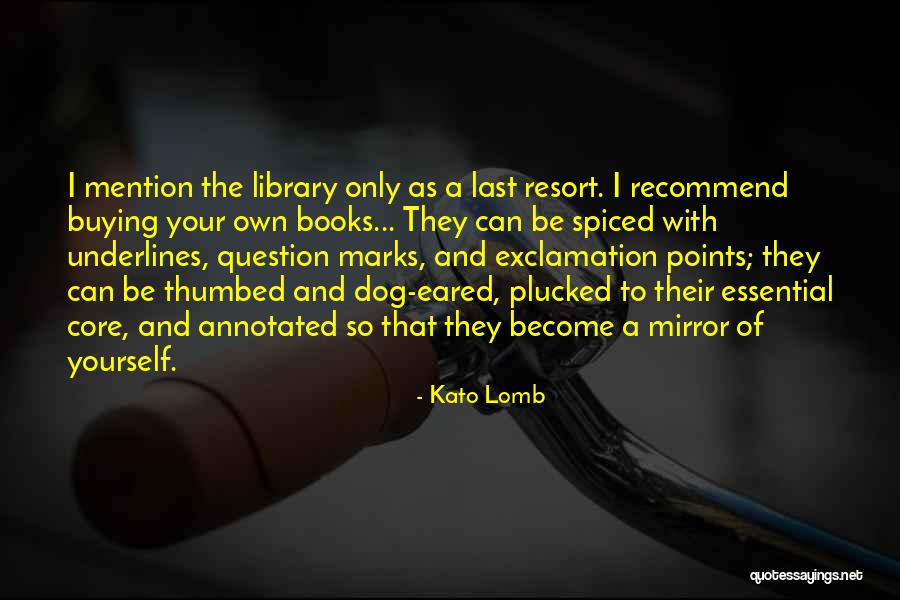 I mention the library only as a last resort. I recommend buying your own books... They can be spiced with underlines, question marks, and exclamation points; they can be thumbed and dog-eared, plucked to their essential core, and annotated so that they become a mirror of yourself. — Kato Lomb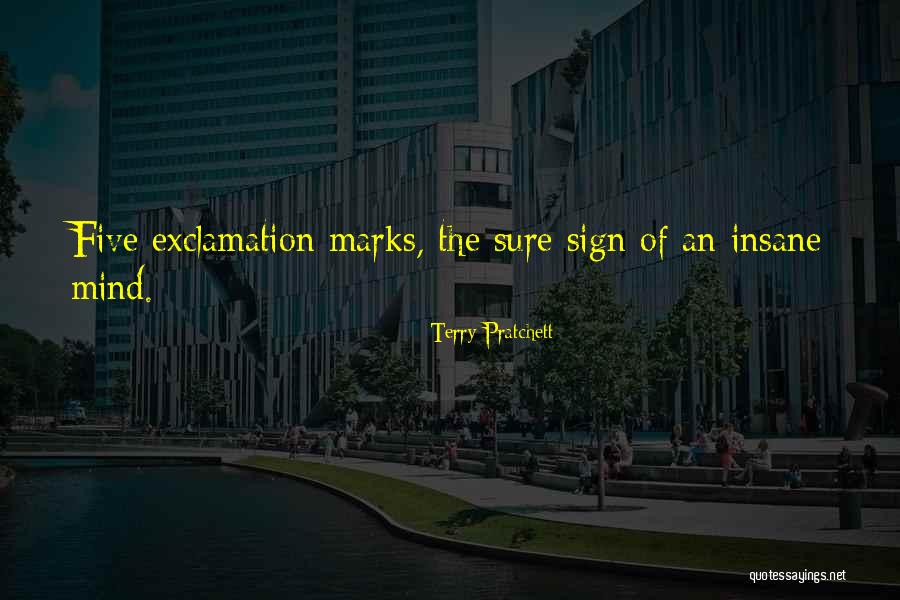 Five exclamation marks, the sure sign of an insane mind. — Terry Pratchett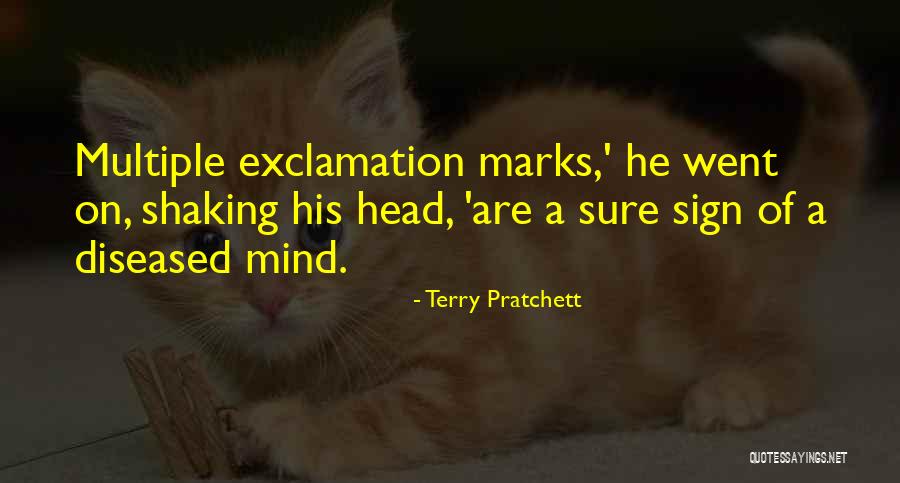 Multiple exclamation marks,' he went on, shaking his head, 'are a sure sign of a diseased mind. — Terry Pratchett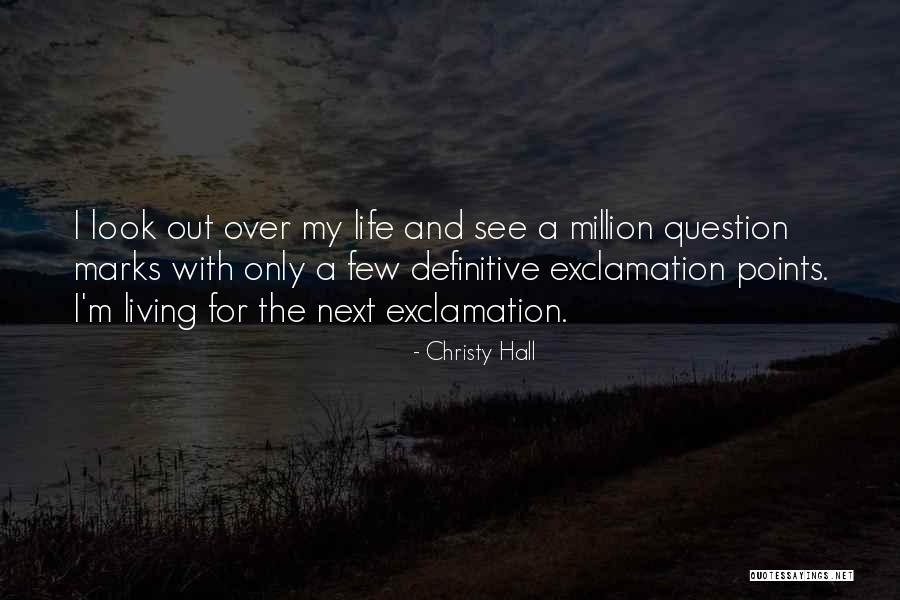 I look out over my life and see a million question marks with only a few definitive exclamation points. I'm living for the next exclamation. — Christy Hall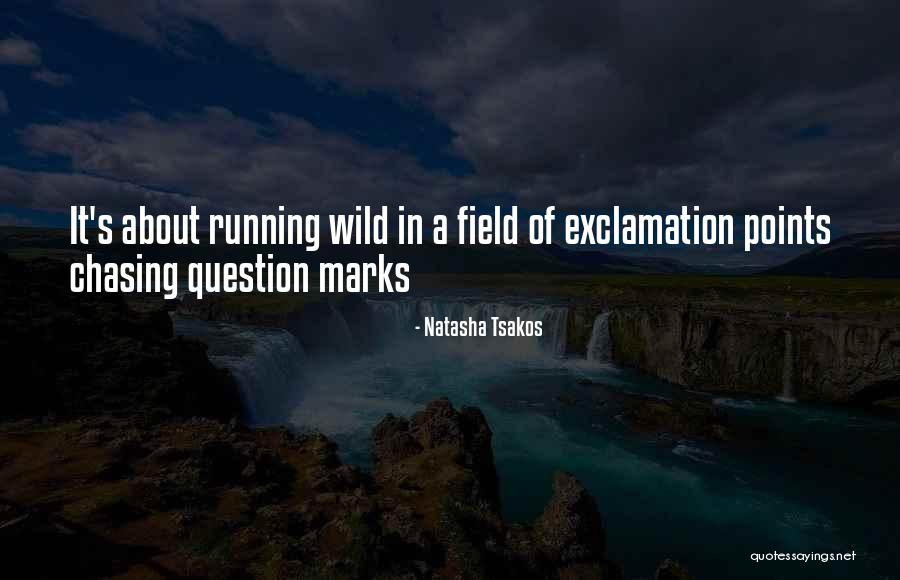 It's about running wild in a field of exclamation points chasing question marks — Natasha Tsakos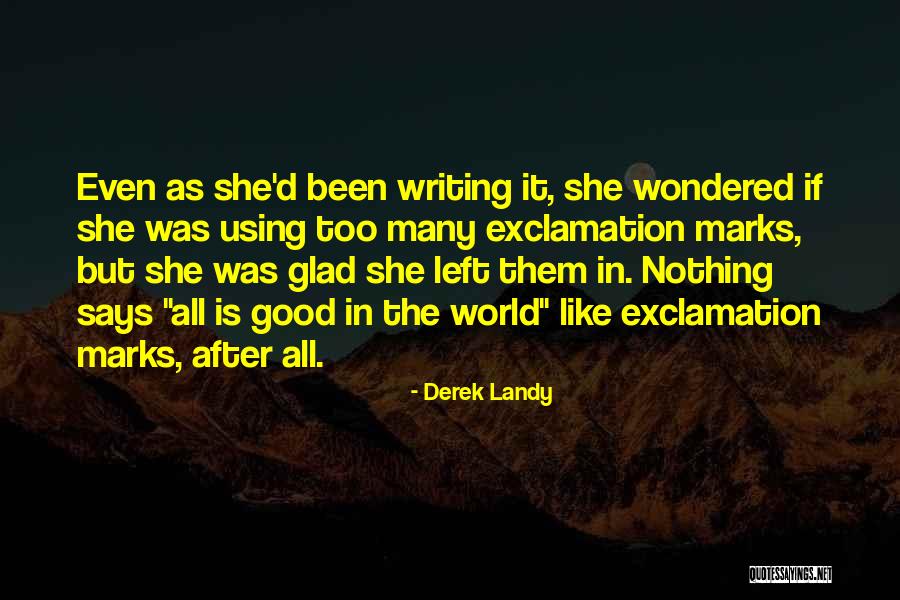 Even as she'd been writing it, she wondered if she was using too many exclamation marks, but she was glad she left them in. Nothing says "all is good in the world" like exclamation marks, after all. — Derek Landy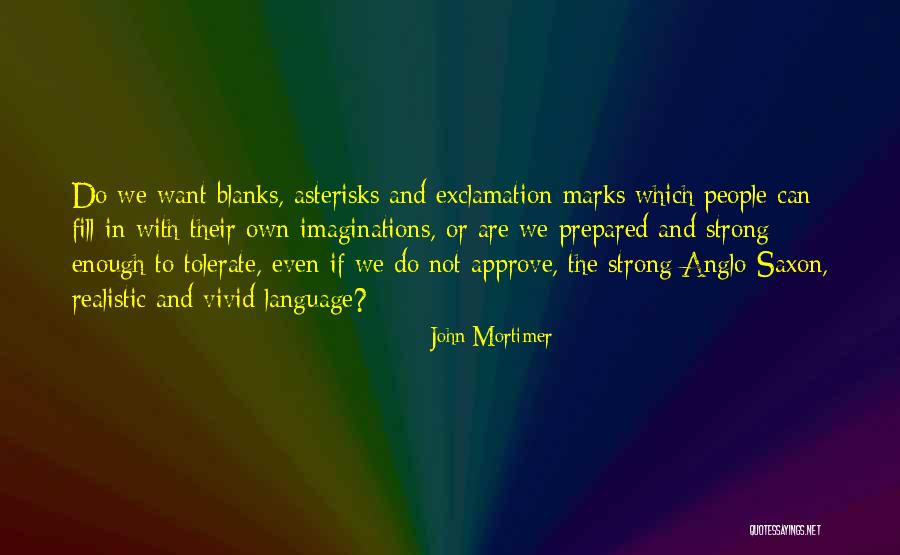 Do we want blanks, asterisks and exclamation marks which people can fill in with their own imaginations, or are we prepared and strong enough to tolerate, even if we do not approve, the strong Anglo-Saxon, realistic and vivid language? — John Mortimer
Note: When reading dry political theory, such as the texts you will find on the following pages, it may be useful to apply the Exclamation Point Test from time to time, to determine if the material you are reading is actually relevant to your life. To apply this test, simply go through the text replacing all the punctuation marks at the ends of the sentences with exclamation points. If the results sound absurd when read aloud, then you know you're wasting your time. — CrimethInc.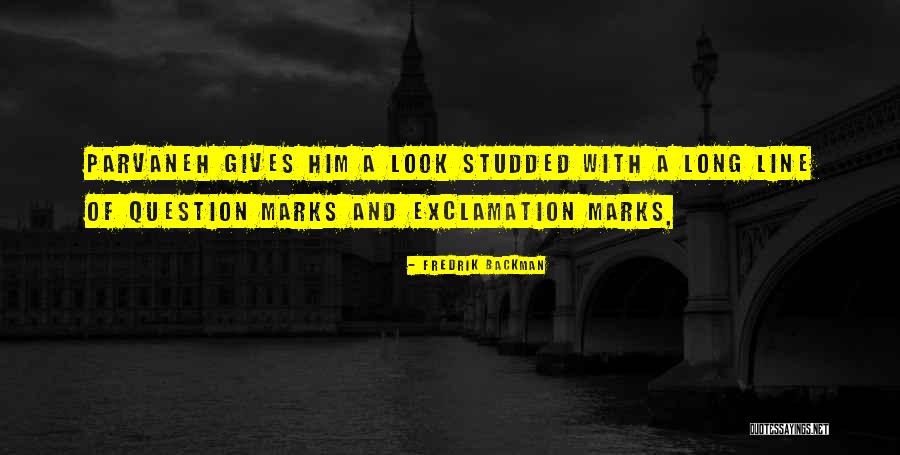 Parvaneh gives him a look studded with a long line of question marks and exclamation marks, — Fredrik Backman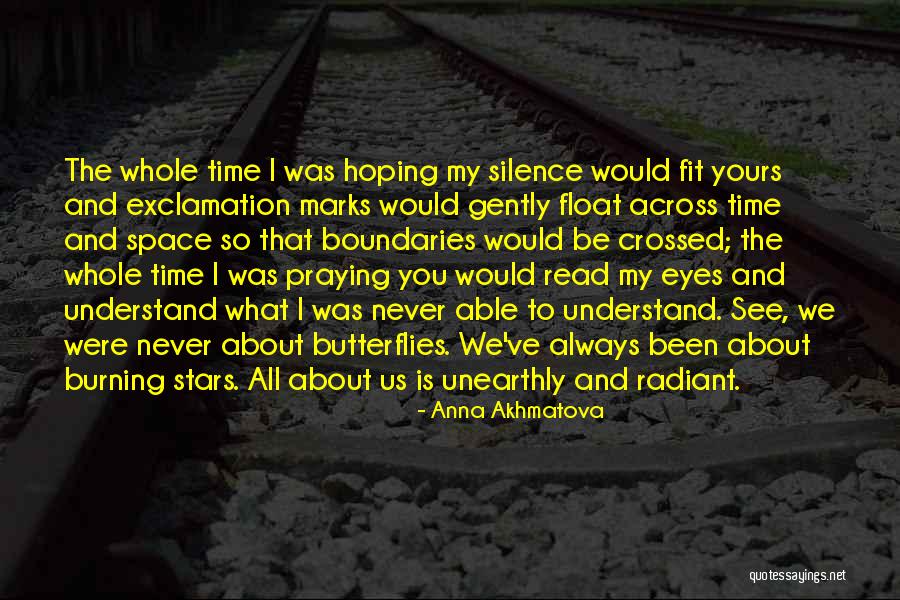 The whole time I was hoping my silence would fit yours and exclamation marks would gently float across time and space so that boundaries would be crossed; the whole time I was praying you would read my eyes and understand what I was never able to understand. See, we were never about butterflies. We've always been about burning stars. All about us is unearthly and radiant. — Anna Akhmatova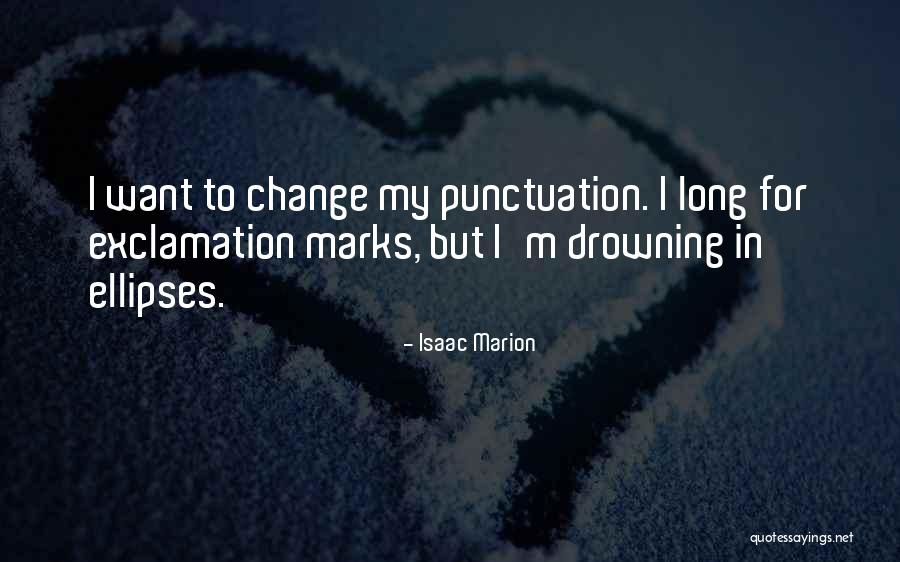 I want to change my punctuation. I long for exclamation marks, but I'm drowning in ellipses. — Isaac Marion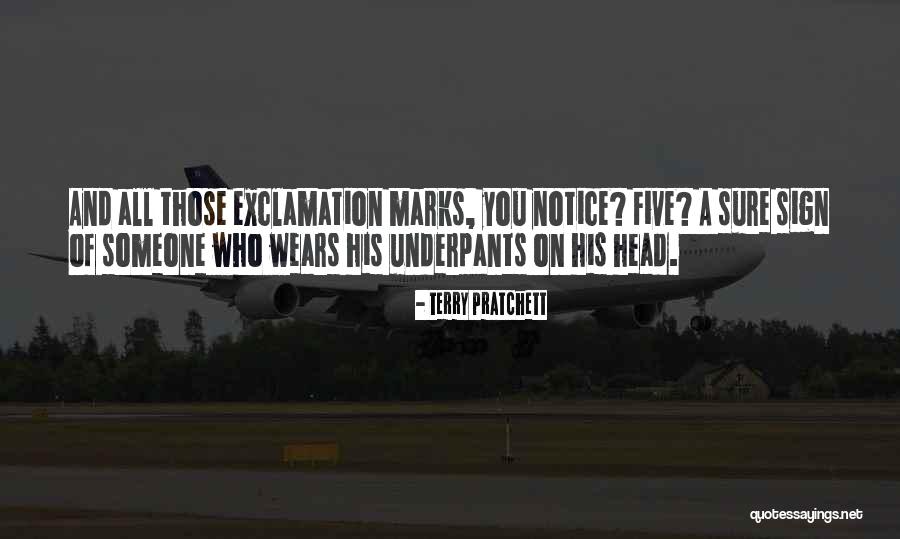 And all those exclamation marks, you notice? Five? A sure sign of someone who wears his underpants on his head. — Terry Pratchett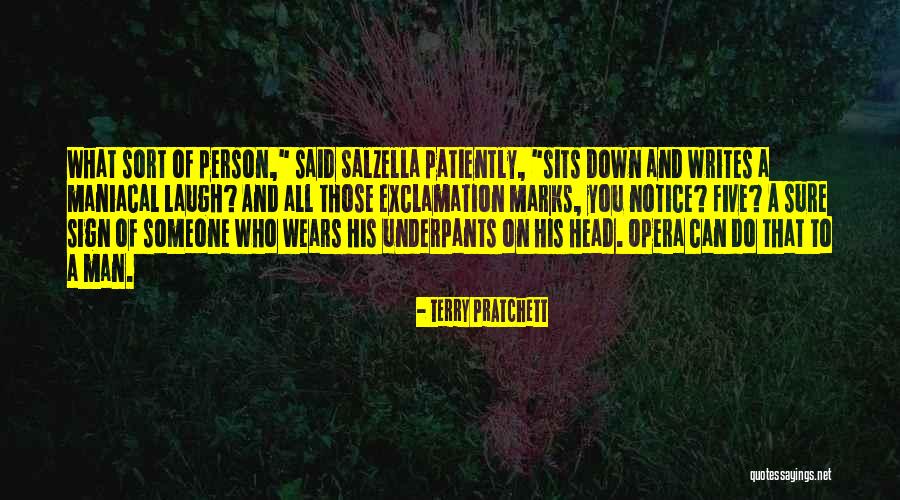 What sort of person," said Salzella patiently, "sits down and writes a maniacal laugh? And all those exclamation marks, you notice? Five? A sure sign of someone who wears his underpants on his head. Opera can do that to a man. — Terry Pratchett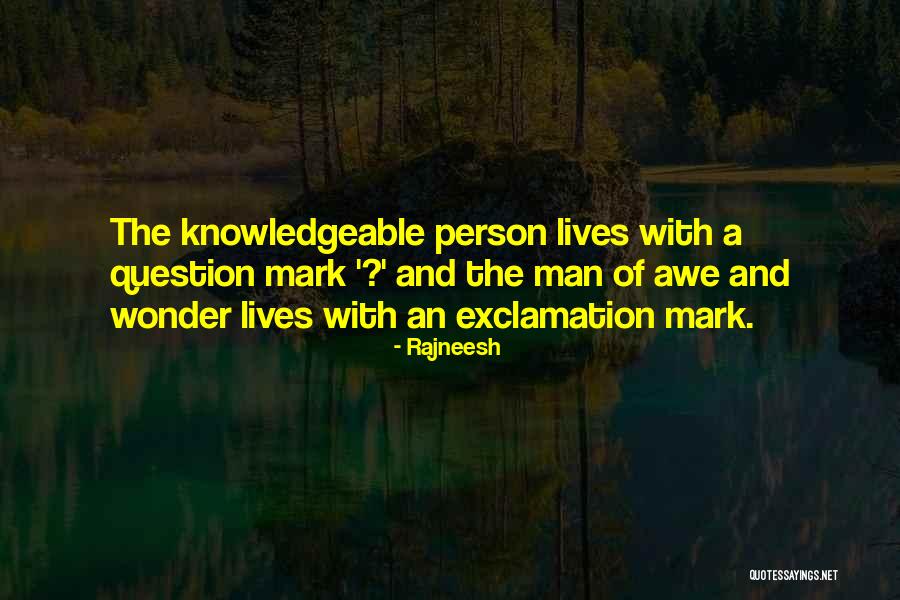 The knowledgeable person lives with a question mark '?' and the man of awe and wonder lives with an exclamation mark. — Rajneesh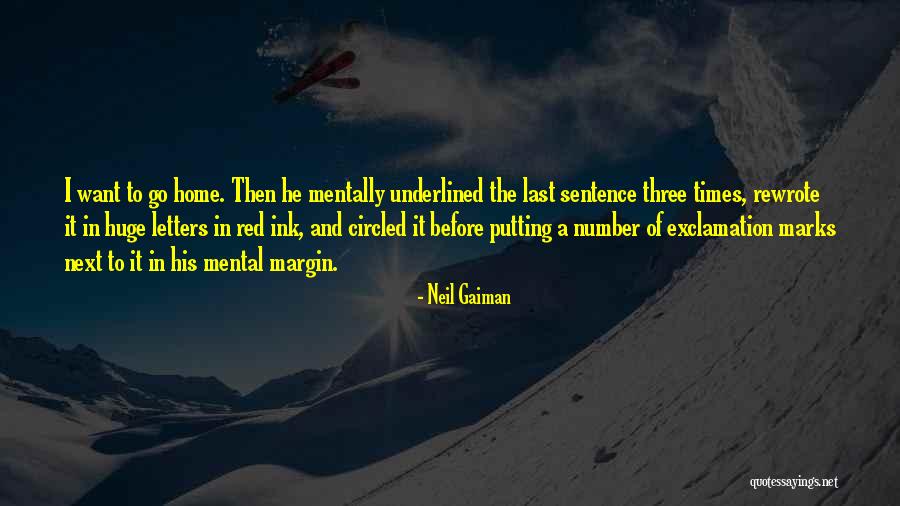 I want to go home. Then he mentally underlined the last sentence three times, rewrote it in huge letters in red ink, and circled it before putting a number of exclamation marks next to it in his mental margin. — Neil Gaiman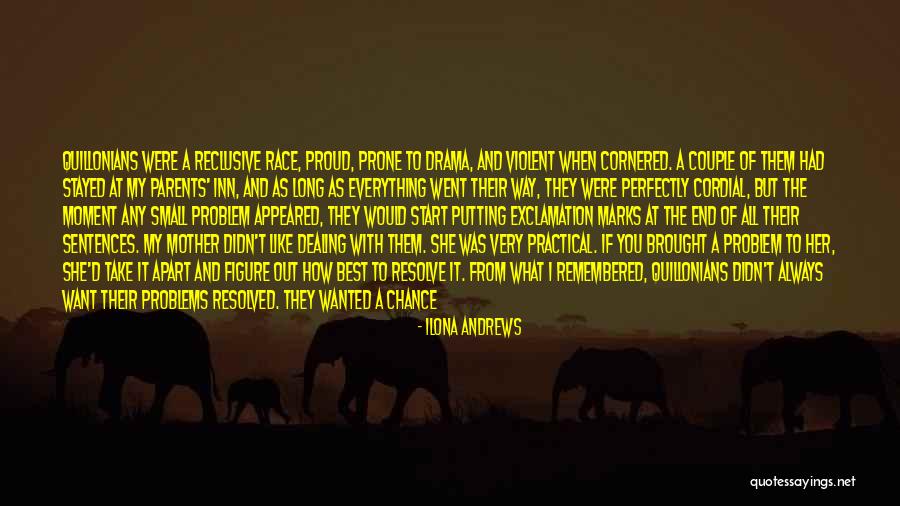 Quillonians were a reclusive race, proud, prone to drama, and violent when cornered. A couple of them had stayed at my parents' inn, and as long as everything went their way, they were perfectly cordial, but the moment any small problem appeared, they would start putting exclamation marks at the end of all their sentences. My mother didn't like dealing with them. She was very practical. If you brought a problem to her, she'd take it apart and figure out how best to resolve it. From what I remembered, Quillonians didn't always want their problems resolved. They wanted a chance to shake their clawed fists at the sky, invoke their gods, and act as if the world was ending. — Ilona Andrews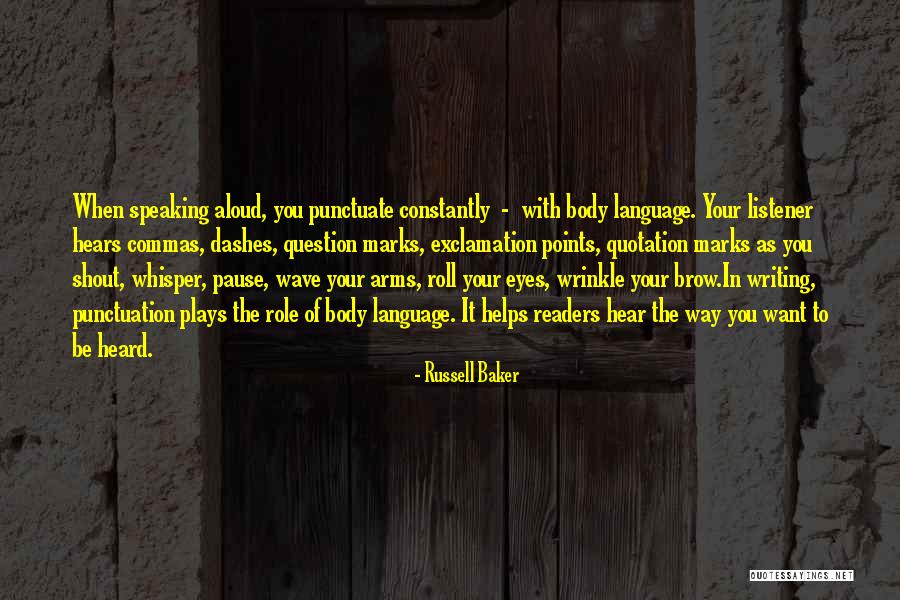 When speaking aloud, you punctuate constantly - with body language.
Your listener hears commas, dashes, question marks, exclamation points, quotation marks as you shout, whisper, pause, wave your arms, roll your eyes, wrinkle your brow.
In writing, punctuation plays the role of body language. It helps readers hear the way you want to be heard. — Russell Baker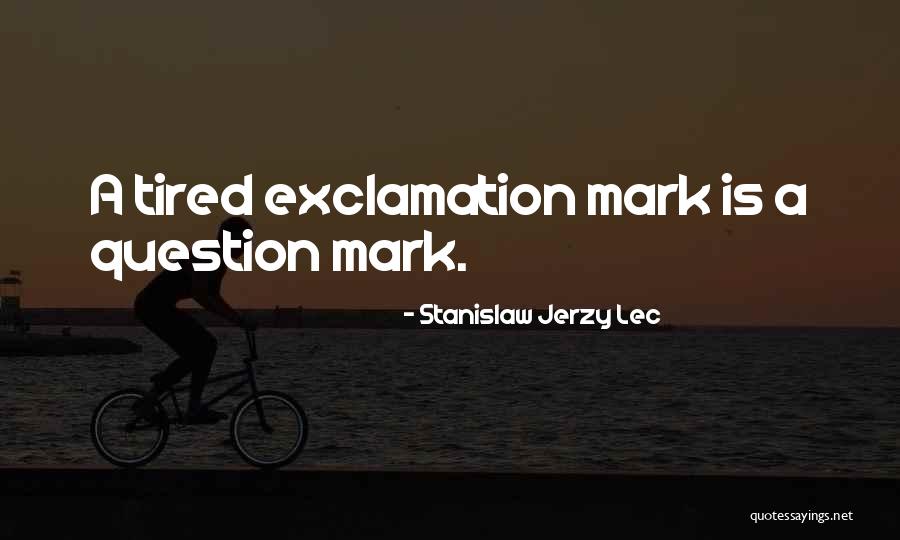 A tired exclamation mark is a question mark. — Stanislaw Jerzy Lec