Quotes & Sayings About Enemy Brother
Enjoy reading and share 39 famous quotes about Enemy Brother with everyone.
Top Enemy Brother Quotes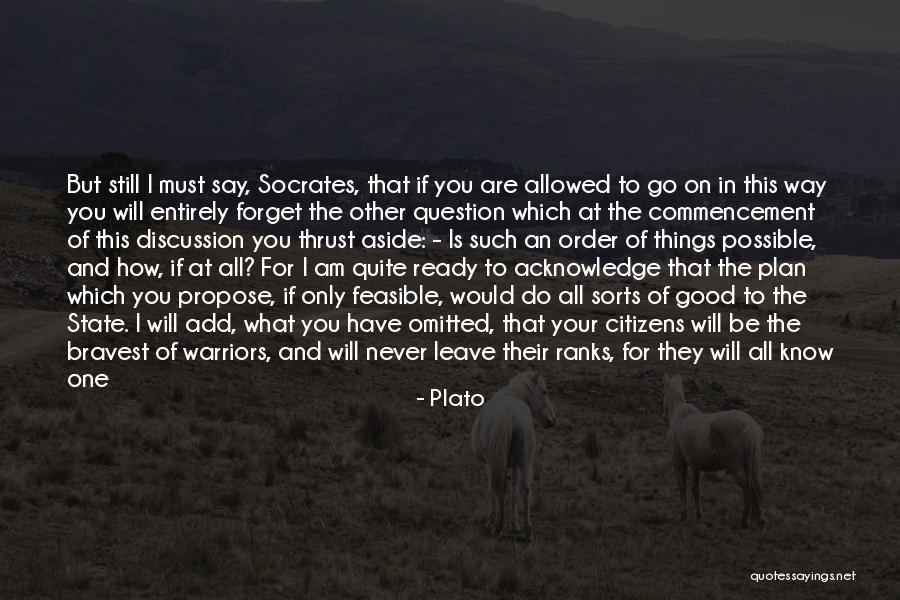 But still I must say, Socrates, that if you are allowed to go on in this way you will entirely forget the other question which at the commencement of this discussion you thrust aside: - Is such an order of things possible, and how, if at all? For I am quite ready to acknowledge that the plan which you propose, if only feasible, would do all sorts of good to the State. I will add, what you have omitted, that your citizens will be the bravest of warriors, and will never leave their ranks, for they will all know one another, and each will call the other father, brother, son; and if you suppose the women to join their armies, whether in the same rank or in the rear, either as a terror to the enemy, or as auxiliaries in case of need, I know that they will then be absolutely invincible; and there are many domestic advantages which — Plato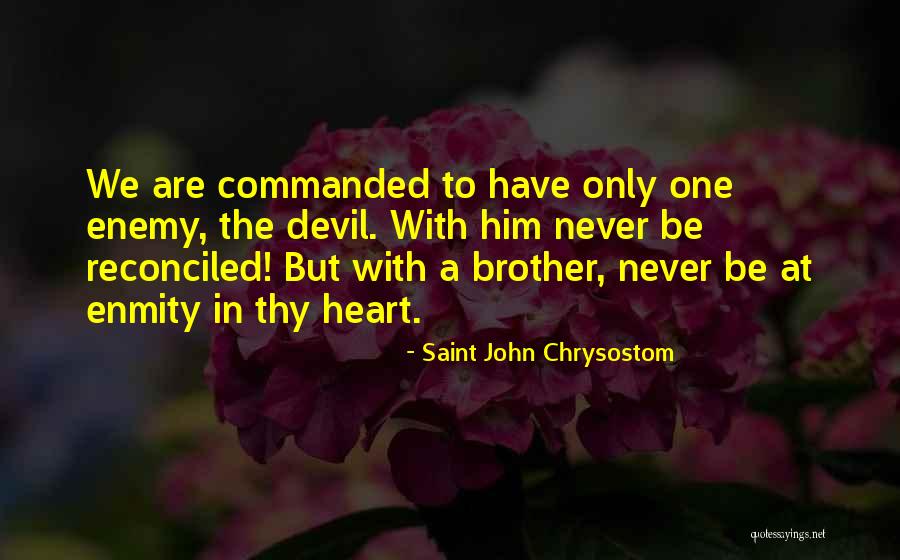 We are commanded to have only one enemy, the devil. With him never be reconciled! But with a brother, never be at enmity in thy heart. — Saint John Chrysostom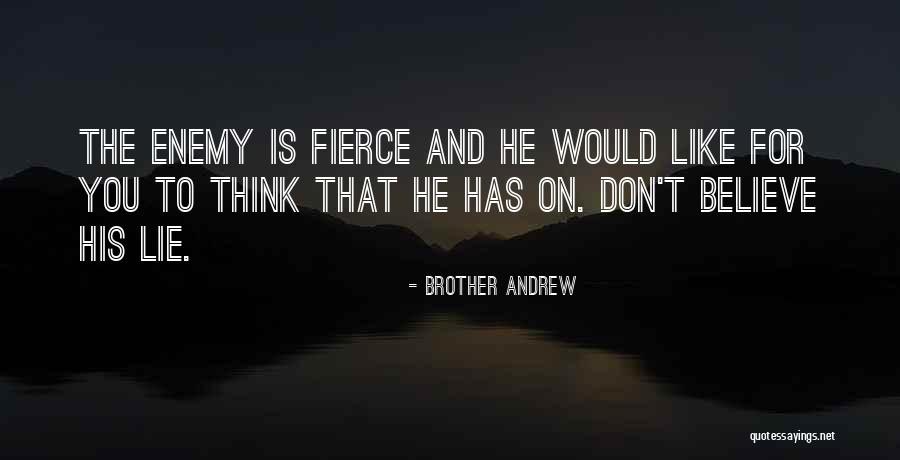 The enemy is fierce and he would like for you to think that he has on. Don't believe his lie. — Brother Andrew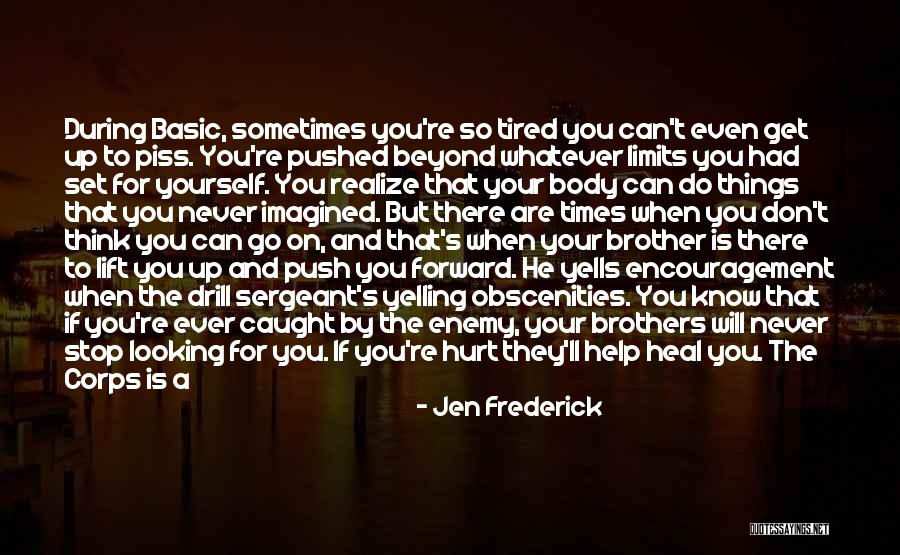 During Basic, sometimes you're so tired you can't even get up to piss. You're pushed beyond whatever limits you had set for yourself. You realize that your body can do things that you never imagined. But there are times when you don't think you can go on, and that's when your brother is there to lift you up and push you forward. He yells encouragement when the drill sergeant's yelling obscenities. You know that if you're ever caught by the enemy, your brothers will never stop looking for you. If you're hurt they'll help heal you. The Corps is a unit of many, not one, but dozens, thousands even, who have your back. You can smite one Marine, but a thousand will rose up to avenge him. — Jen Frederick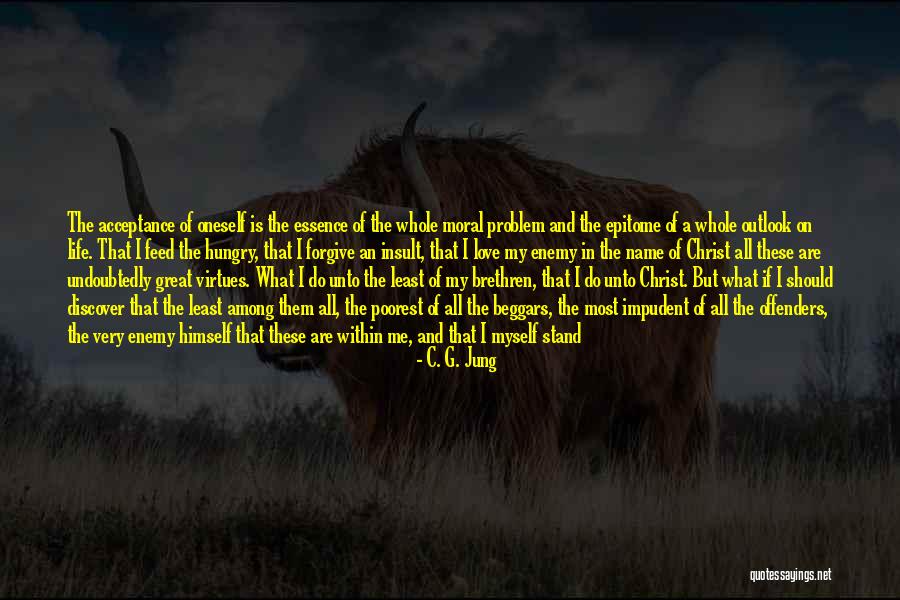 The acceptance of oneself is the essence of the whole moral problem and the epitome of a whole outlook on life. That I feed the hungry, that I forgive an insult, that I love my enemy in the name of Christ
all these are undoubtedly great virtues. What I do unto the least of my brethren, that I do unto Christ. But what if I should discover that the least among them all, the poorest of all the beggars, the most impudent of all the offenders, the very enemy himself
that these are within me, and that I myself stand in need of the alms of my own kindness
that I myself am the enemy who must be loved
what then? As a rule, the Christian's attitude is then reversed; there is no longer any question of love or long-suffering; we say to the brother within us "Raca," and condemn and rage against ourselves. We hide it from the world; we refuse to admit ever having met this least among the lowly in ourselves. — C. G. Jung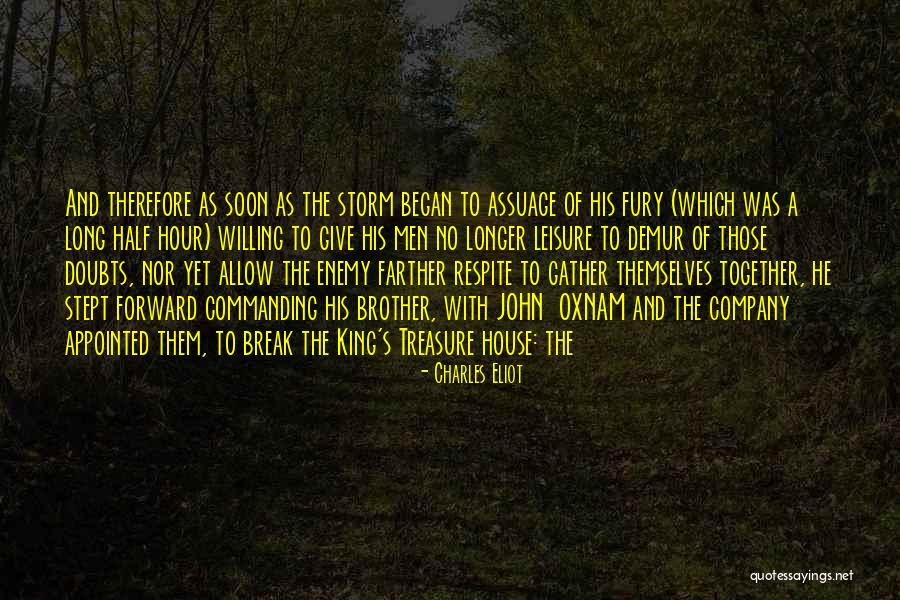 And therefore as soon as the storm began to assuage of his fury (which was a long half hour) willing to give his men no longer leisure to demur of those doubts, nor yet allow the enemy farther respite to gather themselves together, he stept forward commanding his brother, with JOHN OXNAM and the company appointed them, to break the King's Treasure house: the — Charles Eliot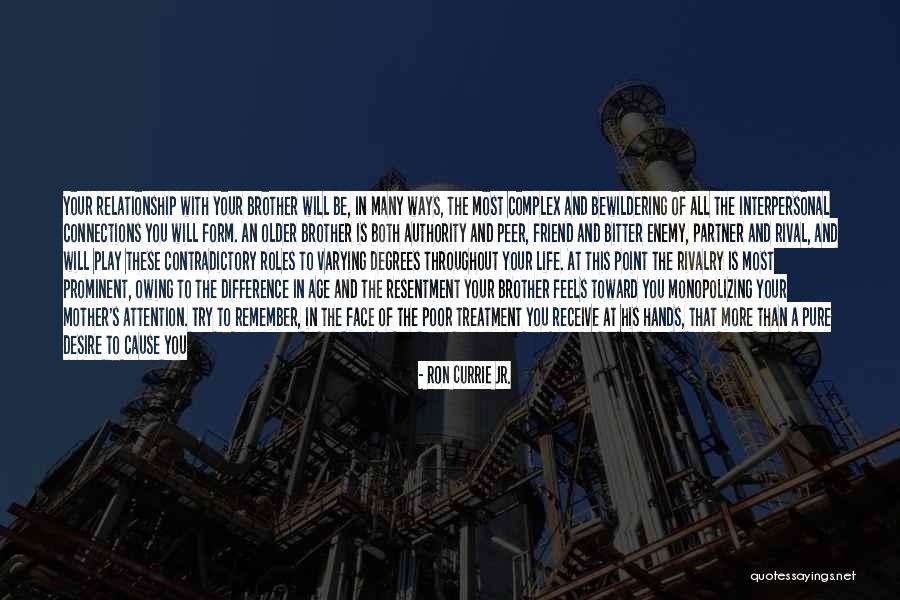 Your relationship with your brother will be, in many ways, the most complex and bewildering of all the interpersonal connections you will form. An older brother is both authority and peer, friend and bitter enemy, partner and rival, and will play these contradictory roles to varying degrees throughout your life. At this point the rivalry is most prominent, owing to the difference in age and the resentment your brother feels toward you monopolizing your mother's attention. Try to remember, in the face of the poor treatment you receive at his hands, that more than a pure desire to cause you harm or pain, this is an effort on his part to win back some of that attention, even if it's only through being scolded and punished. — Ron Currie Jr.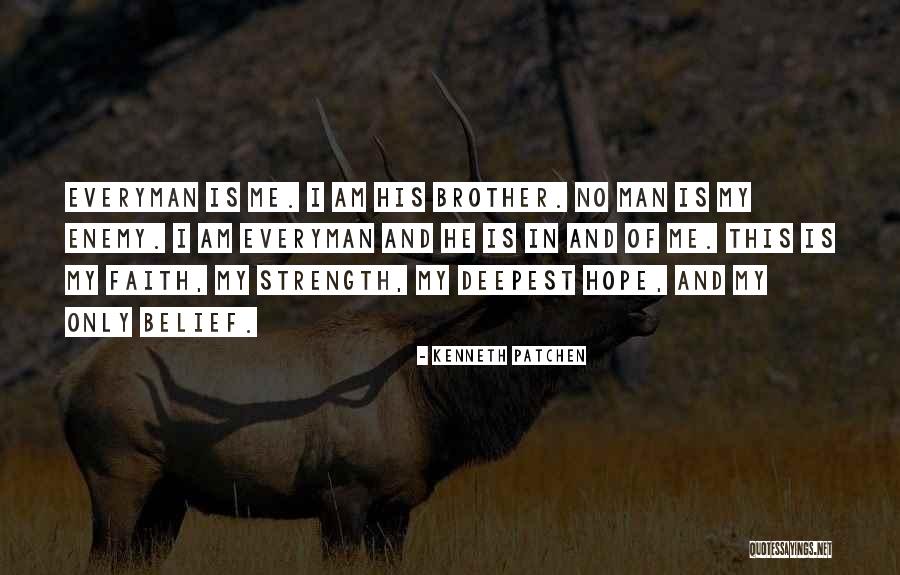 Everyman is me. I am his brother. No man is my enemy. I am Everyman and he is in and of me. This is my faith, my strength, my deepest hope, and my only belief. — Kenneth Patchen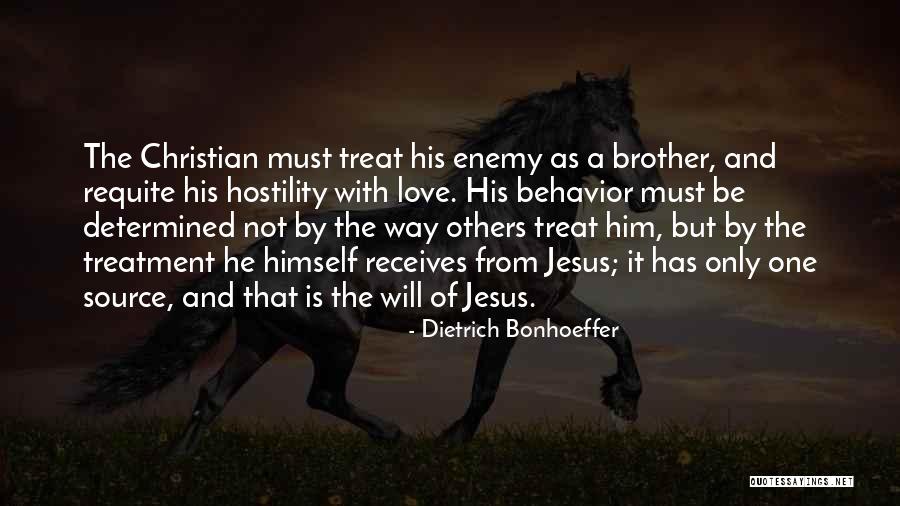 The Christian must treat his enemy as a brother, and requite his hostility with love. His behavior must be determined not by the way others treat him, but by the treatment he himself receives from Jesus; it has only one source, and that is the will of Jesus. — Dietrich Bonhoeffer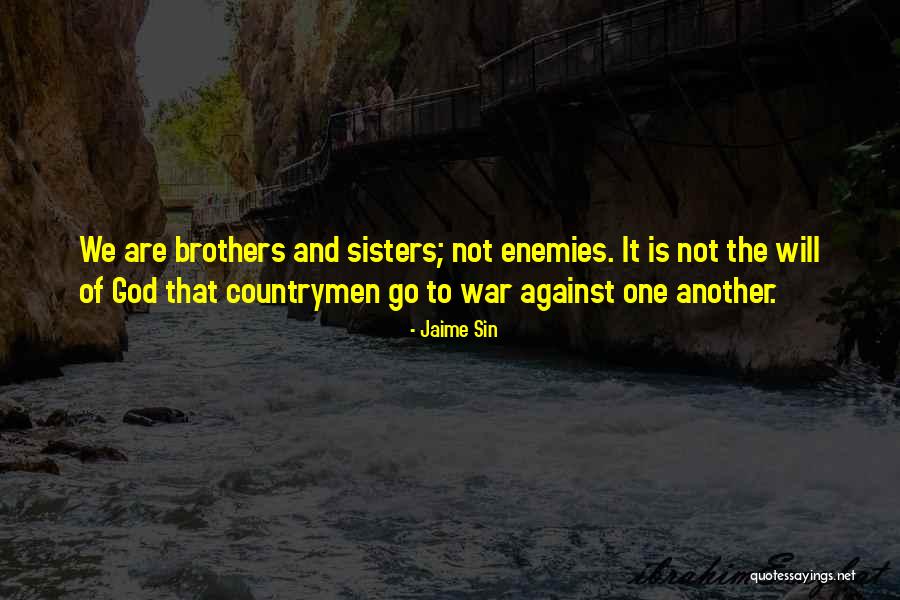 We are brothers and sisters; not enemies. It is not the will of God that countrymen go to war against one another. — Jaime Sin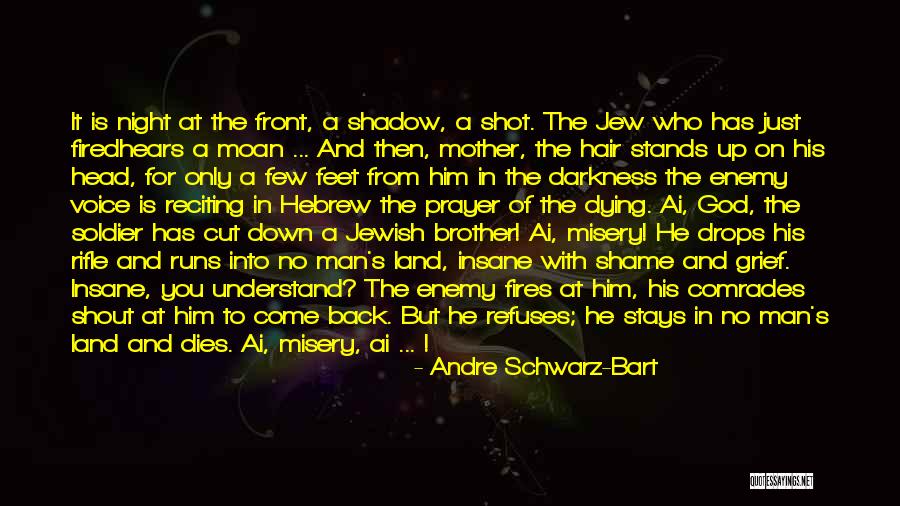 It is night at the front, a shadow, a shot. The Jew who has just fired
hears a moan ...
And then, mother, the hair stands up on his head, for only a few feet from him in the darkness the enemy voice is reciting in Hebrew the prayer of the dying. Ai, God, the soldier has cut down a Jewish brother! Ai, misery! He drops his rifle and runs into no man's land, insane with shame and grief. Insane, you understand? The enemy fires at him, his comrades shout at him to come back. But he refuses; he stays in no man's land and dies. Ai, misery, ai ... ! — Andre Schwarz-Bart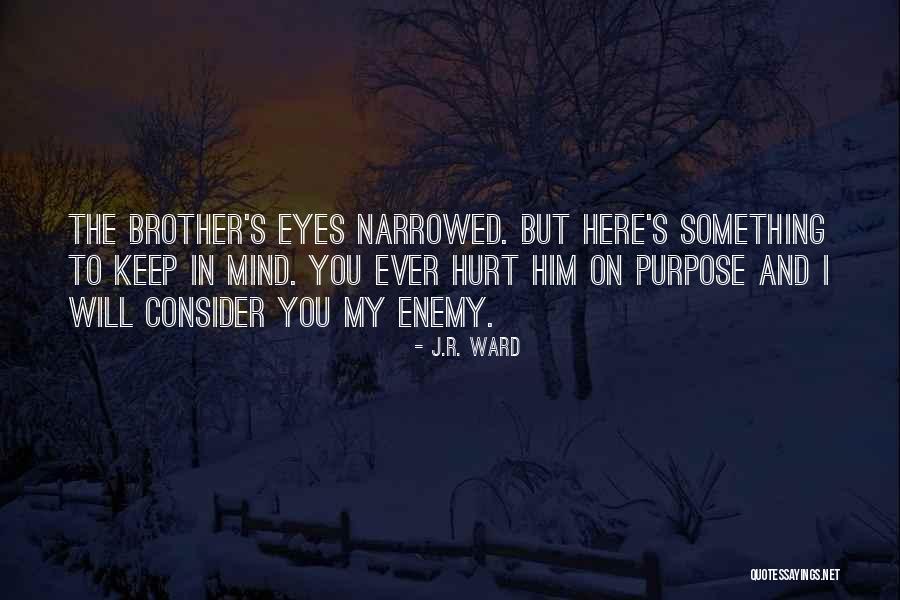 The Brother's eyes narrowed. But here's something to keep in mind. You ever hurt him on purpose and I will consider you my enemy. — J.R. Ward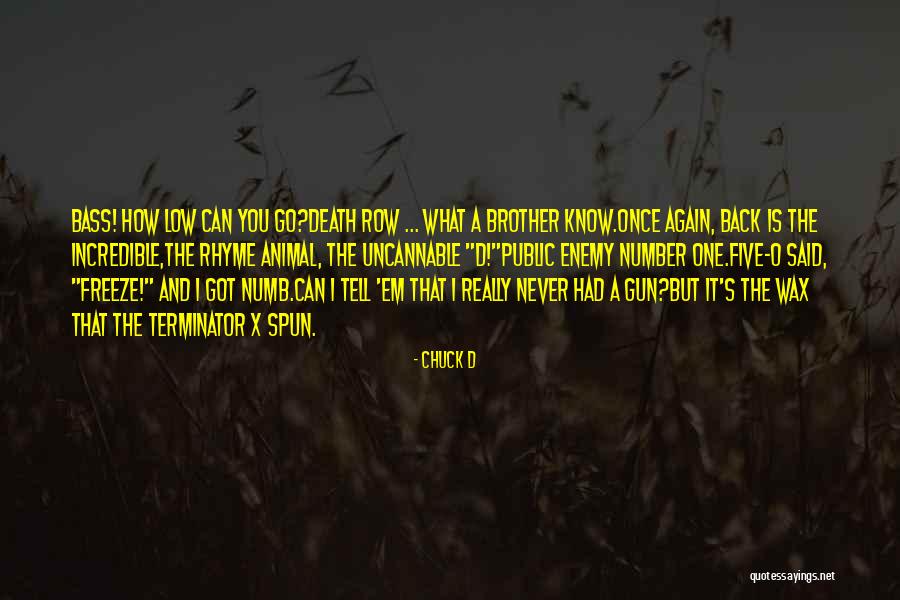 Bass! How low can you go?
Death row ... what a brother know.
Once again, back is the incredible,
The rhyme animal, the uncannable "D!"
Public Enemy Number One.
Five-O said, "Freeze!" and I got numb.
Can I tell 'em that I really never had a gun?
But it's the wax that the Terminator X spun. — Chuck D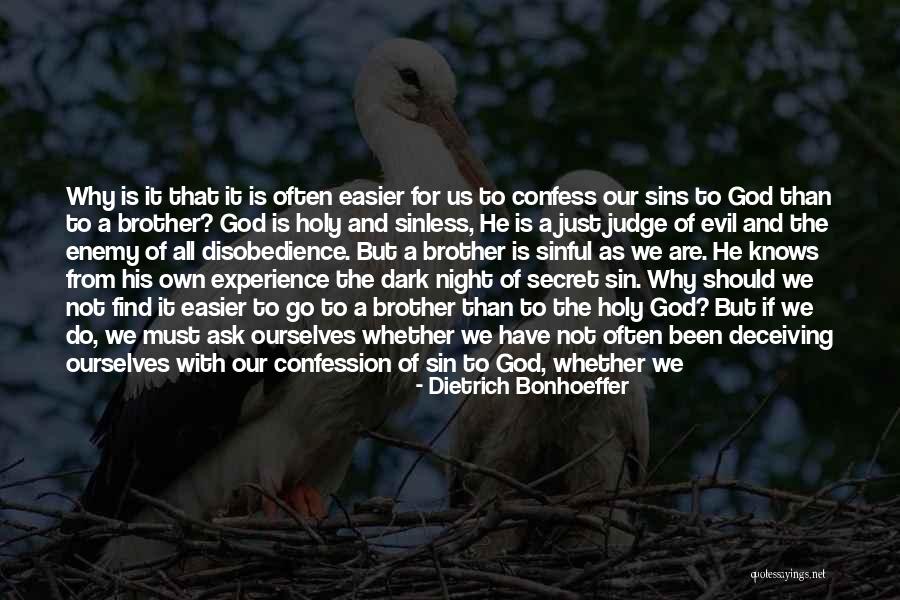 Why is it that it is often easier for us to confess our sins to God than to a brother? God is holy and sinless, He is a just judge of evil and the enemy of all disobedience. But a brother is sinful as we are. He knows from his own experience the dark night of secret sin. Why should we not find it easier to go to a brother than to the holy God? But if we do, we must ask ourselves whether we have not often been deceiving ourselves with our confession of sin to God, whether we have not rather been confessing our sins to ourselves and also granting ourselves absolution ... Who can give us the certainty that, in the confession and the forgiveness of our sins, we are not dealing with ourselves but with the living God? God gives us this certainty through our brother. Our brother breaks the circle of self-deception. A man who confesses his sins in the presence of a brother knows that he is no longer alone with himself; he experiences the presence of God in the reality of the other person. — Dietrich Bonhoeffer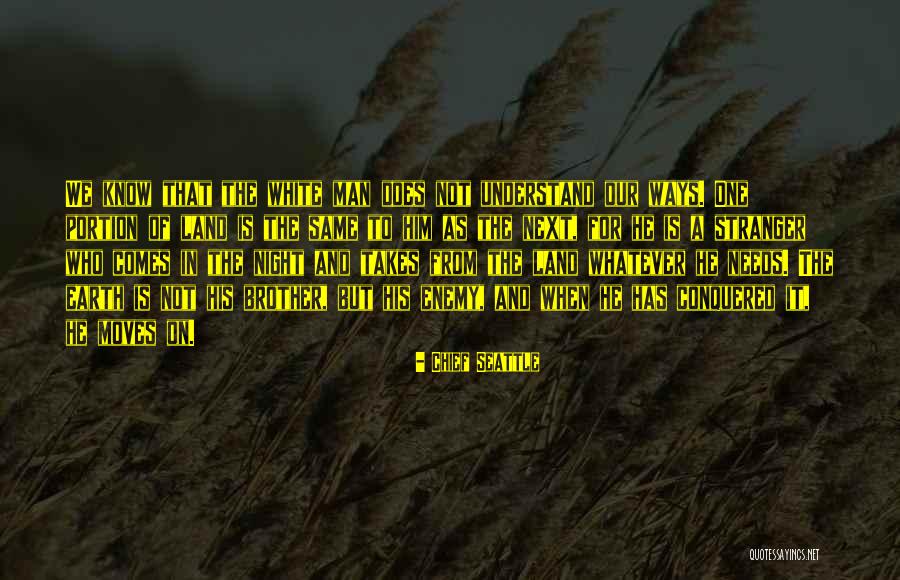 We know that the white man does not understand our ways. One portion of land is the same to him as the next, for he is a stranger who comes in the night and takes from the land whatever he needs. The earth is not his brother, but his enemy, and when he has conquered it, he moves on. — Chief Seattle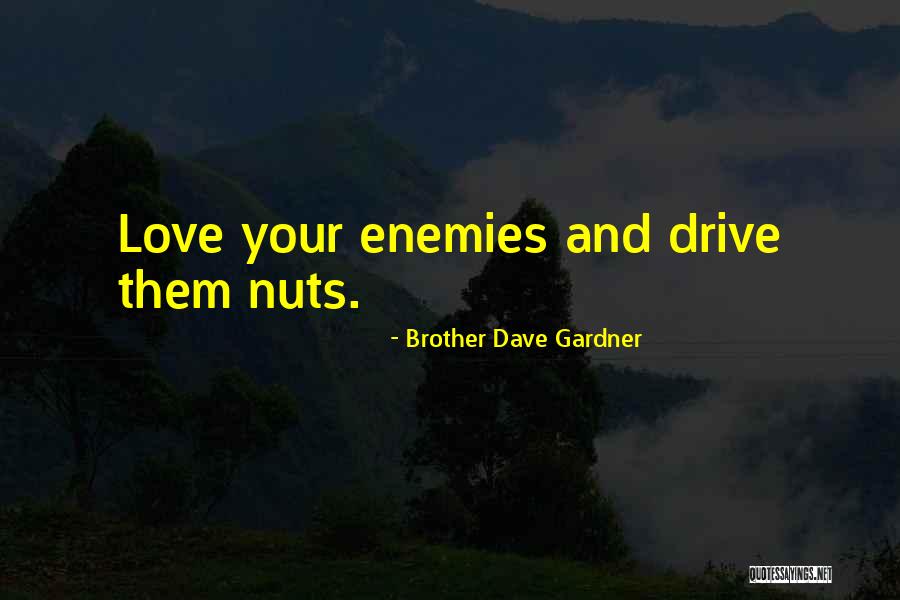 Love your enemies and drive them nuts. — Brother Dave Gardner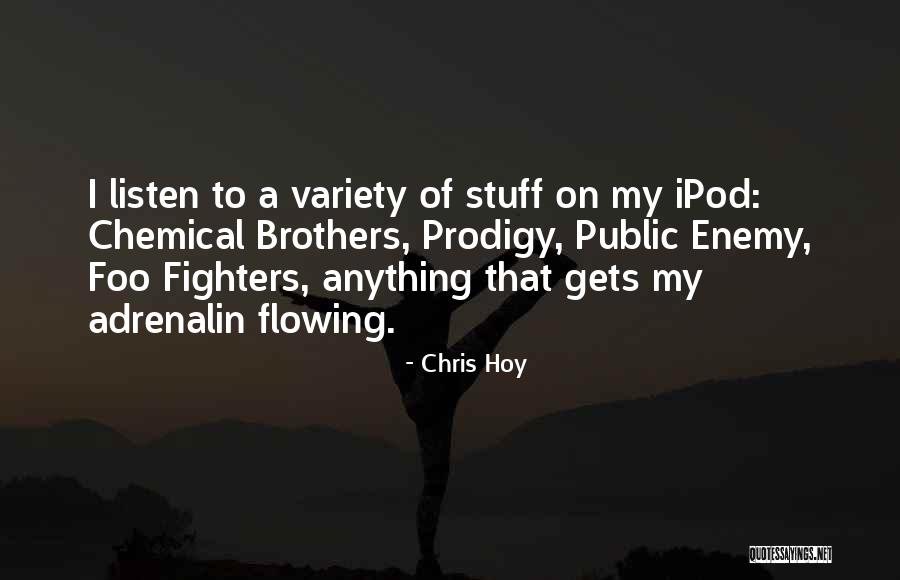 I listen to a variety of stuff on my iPod: Chemical Brothers, Prodigy, Public Enemy, Foo Fighters, anything that gets my adrenalin flowing. — Chris Hoy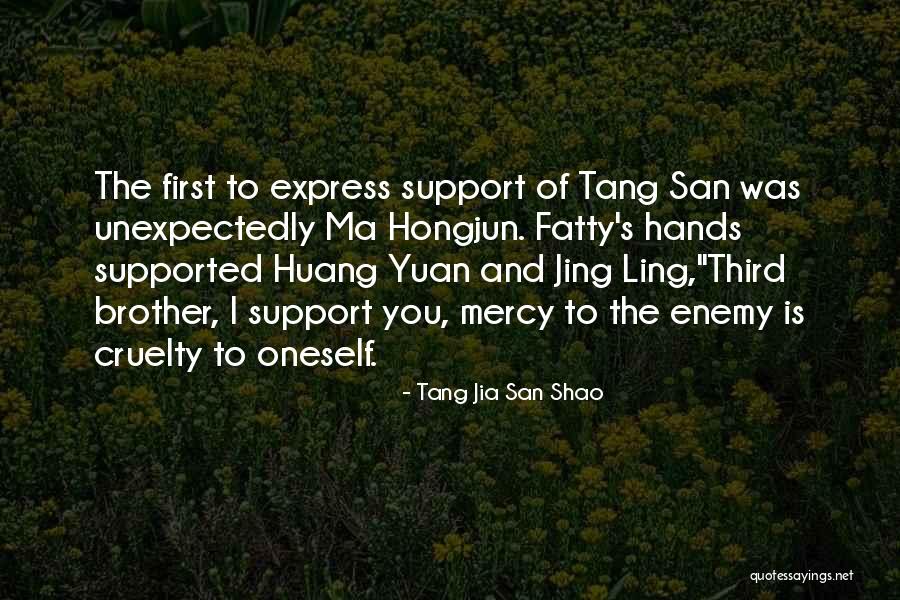 The first to express support of Tang San was unexpectedly Ma Hongjun. Fatty's hands supported Huang Yuan and Jing Ling,
"Third brother, I support you, mercy to the enemy is cruelty to oneself. — Tang Jia San Shao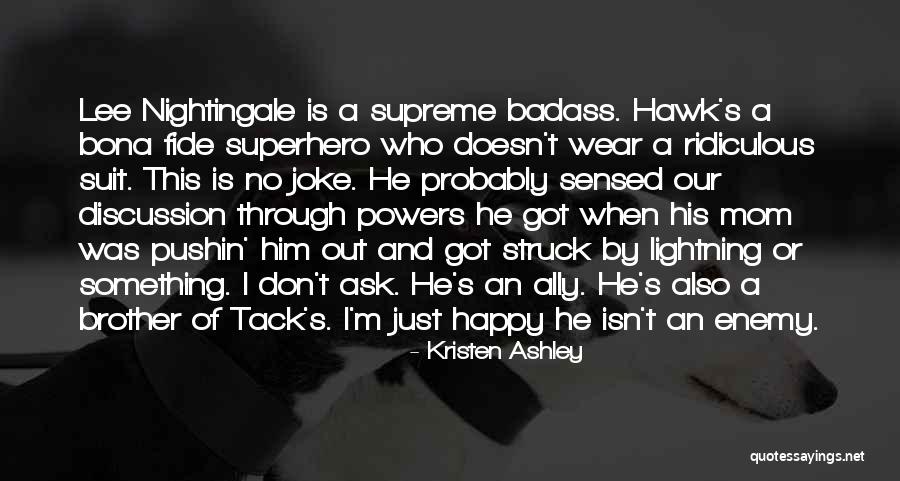 Lee Nightingale is a supreme badass. Hawk's a bona fide superhero who doesn't wear a ridiculous suit. This is no joke. He probably sensed our discussion through powers he got when his mom was pushin' him out and got struck by lightning or something. I don't ask. He's an ally. He's also a brother of Tack's. I'm just happy he isn't an enemy. — Kristen Ashley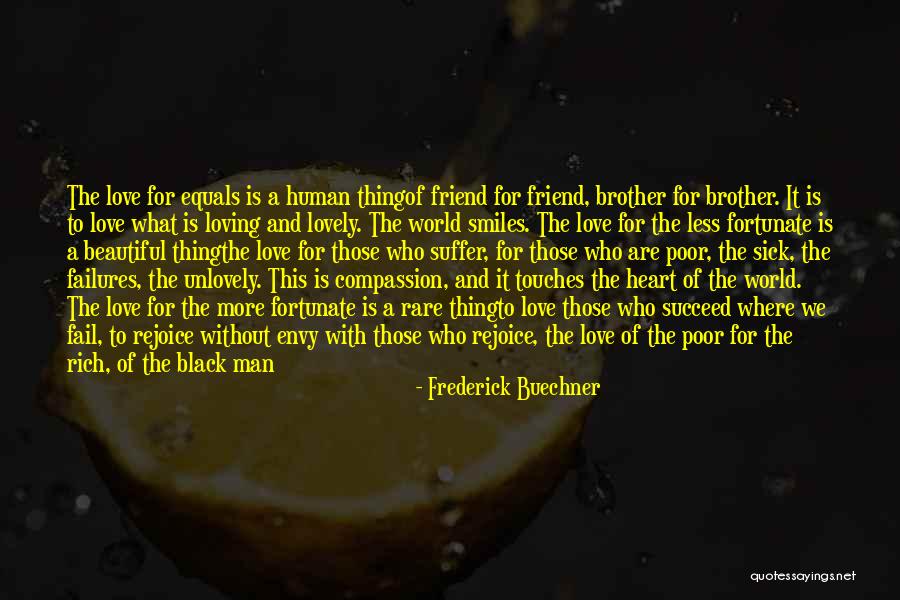 The love for equals is a human thing
of friend for friend, brother for brother. It is to love what is loving and lovely. The world smiles. The love for the less fortunate is a beautiful thing
the love for those who suffer, for those who are poor, the sick, the failures, the unlovely. This is compassion, and it touches the heart of the world. The love for the more fortunate is a rare thing
to love those who succeed where we fail, to rejoice without envy with those who rejoice, the love of the poor for the rich, of the black man for the white man. The world is always bewildered by its saints. And then there is the love for the enemy
love for the one who does not love you but mocks, threatens, and inflicts pain. The tortured's love for the torturer. This is God's love. It conquers the world. — Frederick Buechner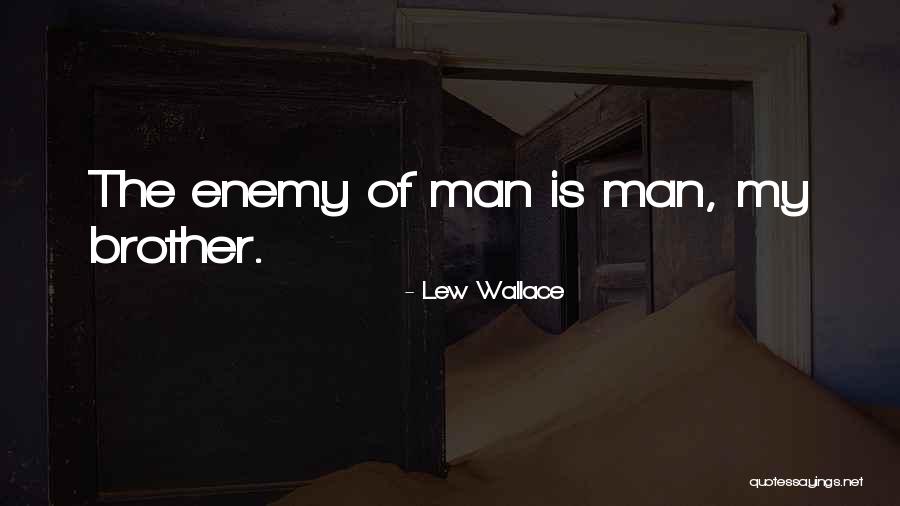 The enemy of man is man, my brother. — Lew Wallace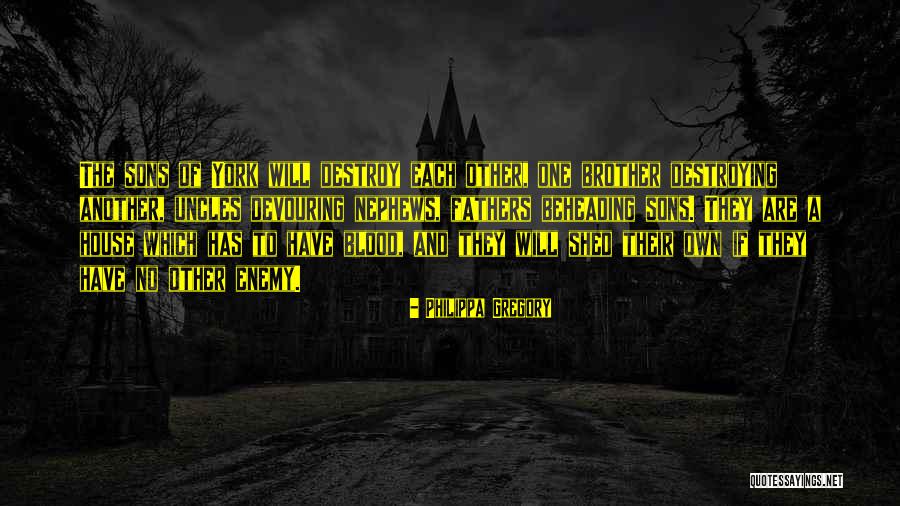 The sons of York will destroy each other, one brother destroying another, uncles devouring nephews, fathers beheading sons. They are a house which has to have blood, and they will shed their own if they have no other enemy. — Philippa Gregory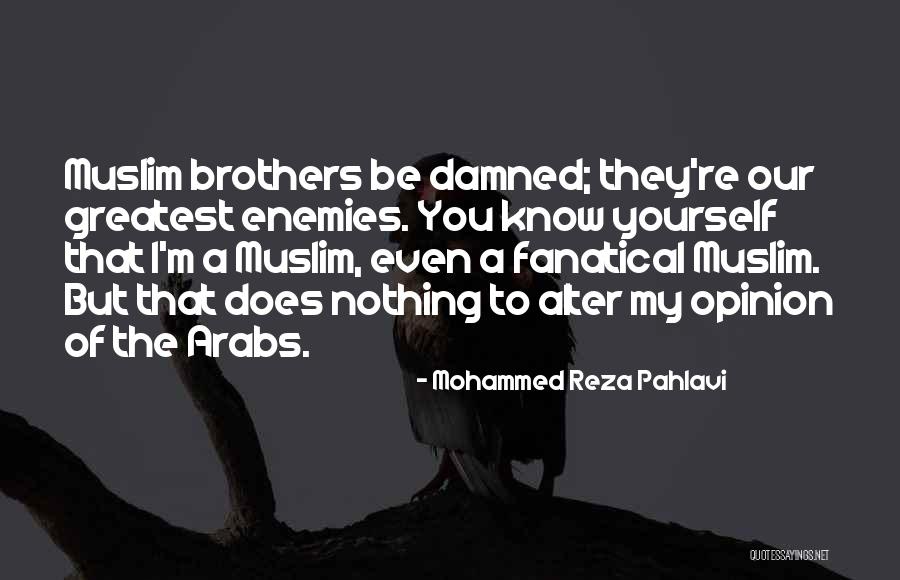 Muslim brothers be damned; they're our greatest enemies. You know yourself that I'm a Muslim, even a fanatical Muslim. But that does nothing to alter my opinion of the Arabs. — Mohammed Reza Pahlavi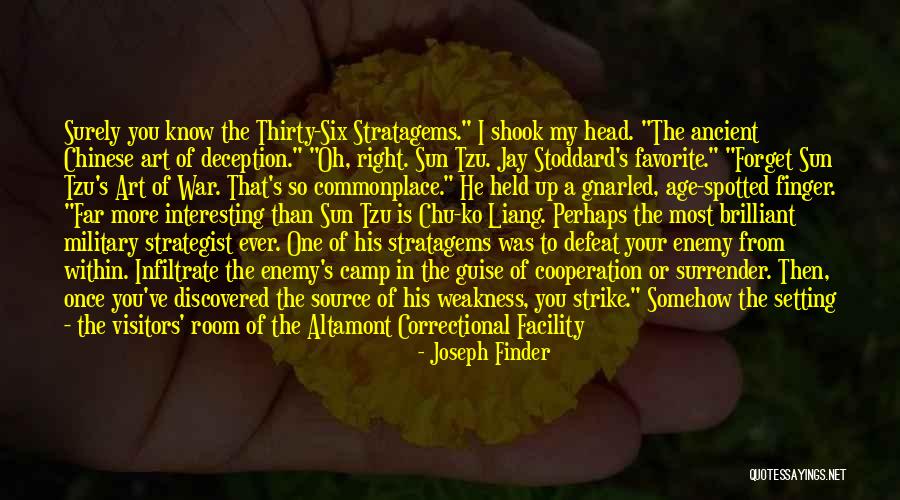 Surely you know the Thirty-Six Stratagems." I shook my head. "The ancient Chinese art of deception." "Oh, right. Sun Tzu. Jay Stoddard's favorite." "Forget Sun Tzu's Art of War. That's so commonplace." He held up a gnarled, age-spotted finger. "Far more interesting than Sun Tzu is Chu-ko Liang. Perhaps the most brilliant military strategist ever. One of his stratagems was to defeat your enemy from within. Infiltrate the enemy's camp in the guise of cooperation or surrender. Then, once you've discovered the source of his weakness, you strike." Somehow the setting - the visitors' room of the Altamont Correctional Facility - made my father's advice a little less authoritative. As I walked out of the visitors' room, I savored a feeling of relief. Because at that moment I knew that my brother was alive. — Joseph Finder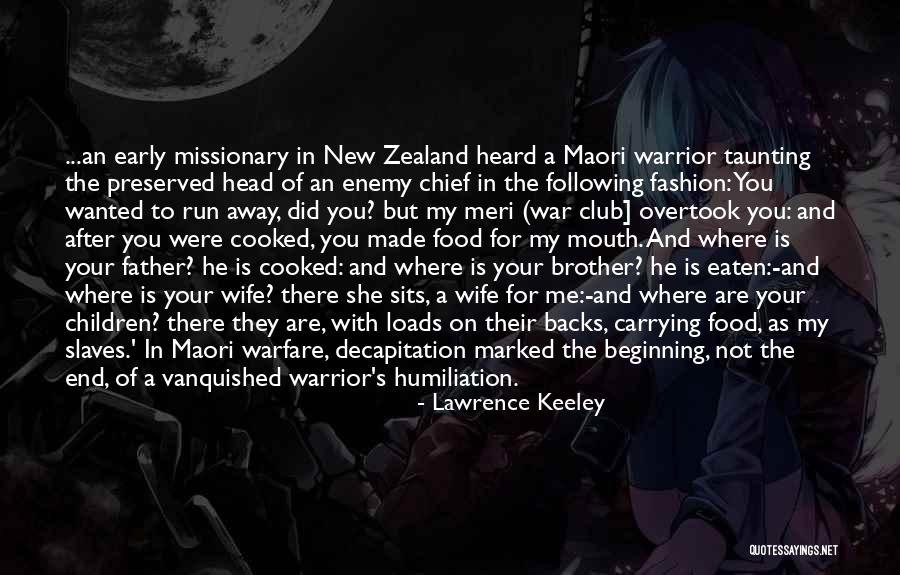 ...an early missionary in New Zealand heard a Maori warrior taunting the preserved head of an enemy chief in the following fashion:

You wanted to run away, did you? but my meri (war club] overtook you: and after you were cooked, you made food for my mouth. And where is your father? he is cooked: and where is your brother? he is eaten:-and where is your wife? there she sits, a wife for me:-and where are your children? there they are, with loads on their backs, carrying food, as my slaves.' In Maori warfare, decapitation marked the beginning, not the end, of a vanquished warrior's humiliation. — Lawrence Keeley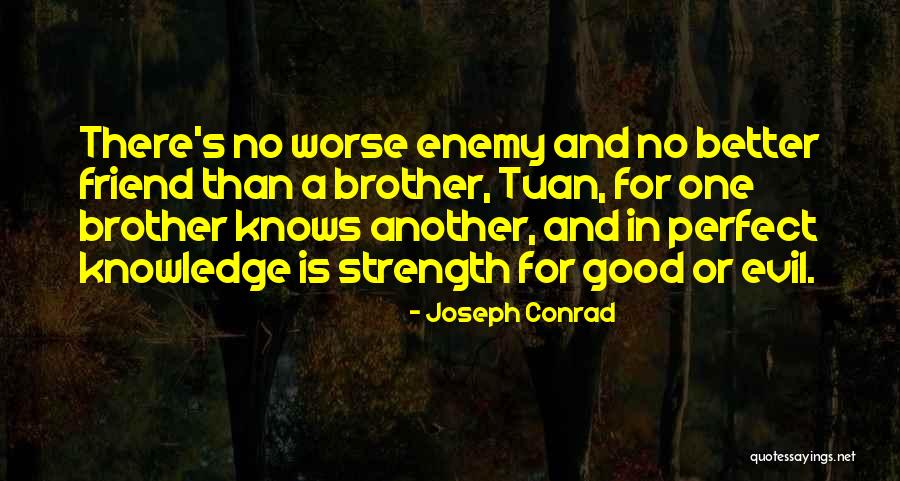 There's no worse enemy and no better friend than a brother, Tuan, for one brother knows another, and in perfect knowledge is strength for good or evil. — Joseph Conrad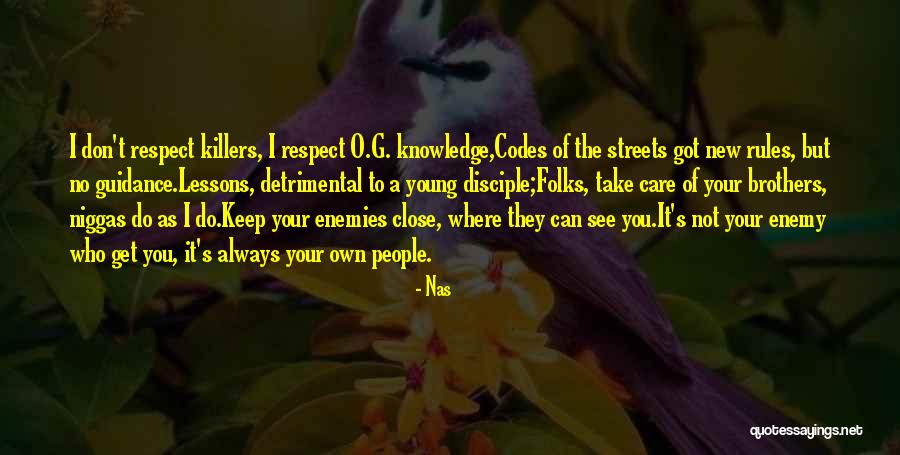 I don't respect killers, I respect O.G. knowledge,
Codes of the streets got new rules, but no guidance.
Lessons, detrimental to a young disciple;
Folks, take care of your brothers, niggas do as I do.
Keep your enemies close, where they can see you.
It's not your enemy who get you, it's always your own people. — Nas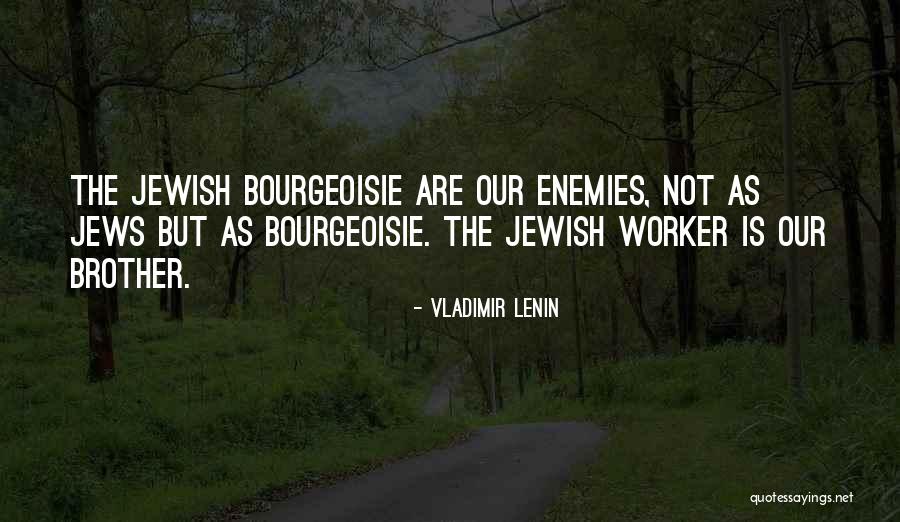 The Jewish bourgeoisie are our enemies, not as Jews but as bourgeoisie. The Jewish worker is our brother. — Vladimir Lenin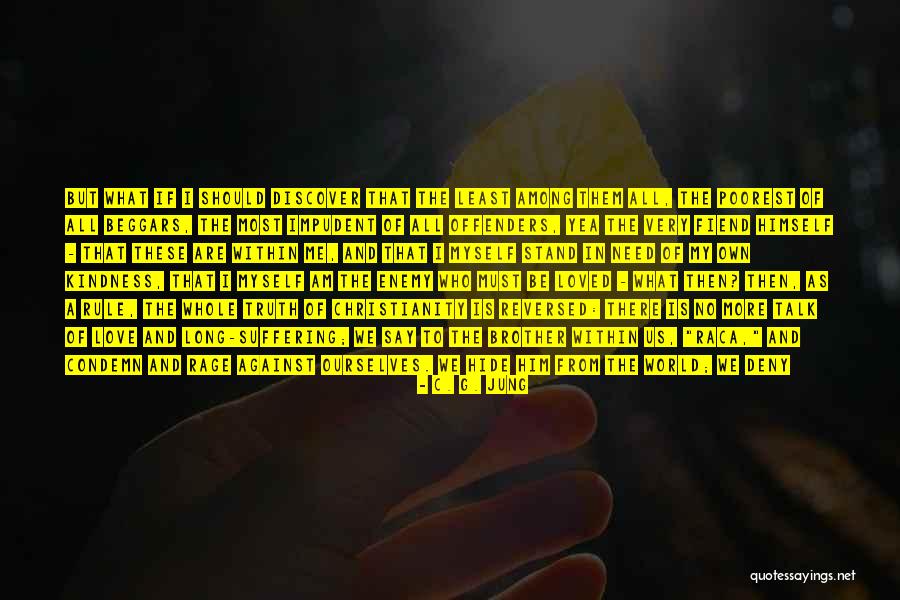 But what if I should discover that the least among them all, the poorest of all beggars, the most impudent of all offenders, yea the very fiend himself - that these are within me, and that I myself stand in need of my own kindness, that I myself am the enemy who must be loved - what then? Then, as a rule, the whole truth of Christianity is reversed: there is no more talk of love and long-suffering; we say to the brother within us, "Raca," and condemn and rage against ourselves. We hide him from the world; we deny ever having met this least among the lowly in ourselves, and had it been God himself who drew near to us in this despicable form, we should have denied him a thousand times before a single cock had crowed. — C. G. Jung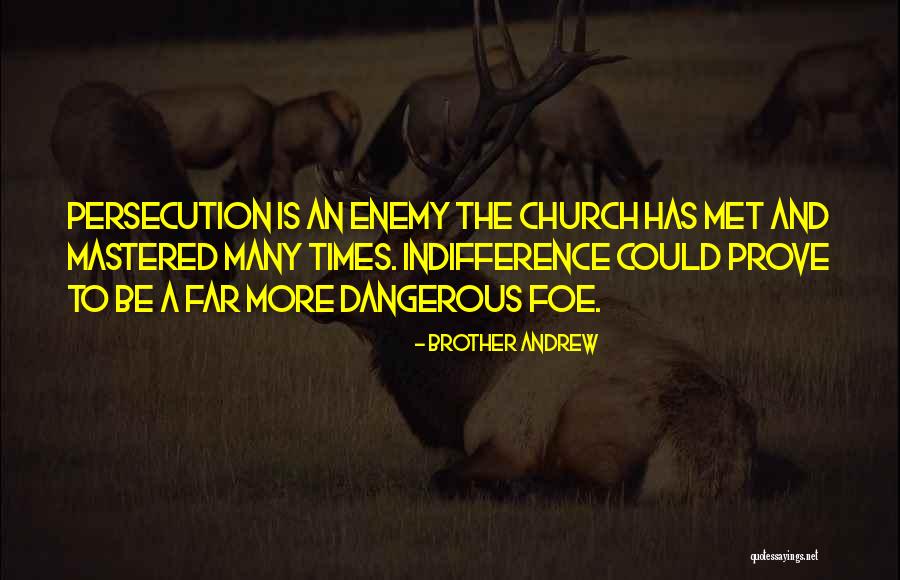 Persecution is an enemy the Church has met and mastered many times. Indifference could prove to be a far more dangerous foe. — Brother Andrew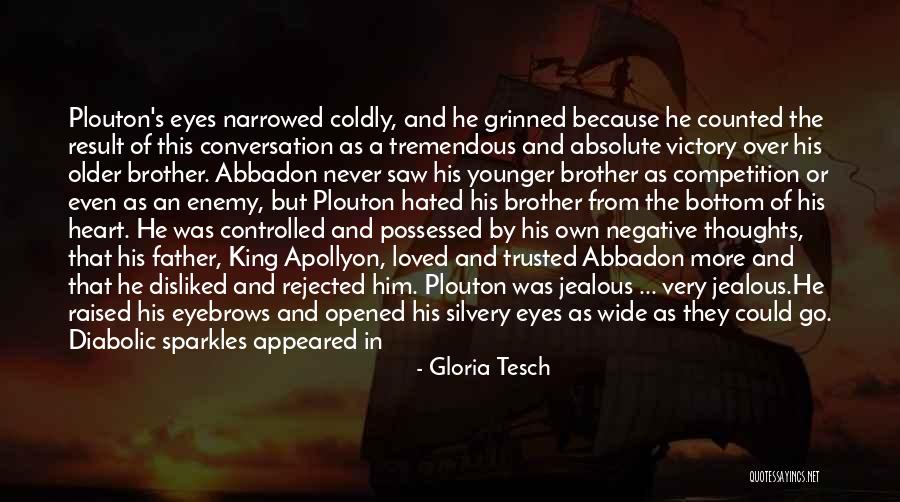 Plouton's eyes narrowed coldly, and he grinned because he counted the result of this conversation as a tremendous and absolute victory over his older brother.
Abbadon never saw his younger brother as competition or even as an enemy, but Plouton hated his brother from the bottom of his heart. He was controlled and possessed by his own negative thoughts, that his father, King Apollyon, loved and trusted Abbadon more and that he disliked and rejected him.
Plouton was jealous ... very jealous.
He raised his eyebrows and opened his silvery eyes as wide as they could go. Diabolic sparkles appeared in his eyes. He grinned again when he thought about the Titans, the cave, the iron chains, the vultures, and the unforgiving ocean at the Rock of Mukane. (Maradonia and the Gold of Ophir) — Gloria Tesch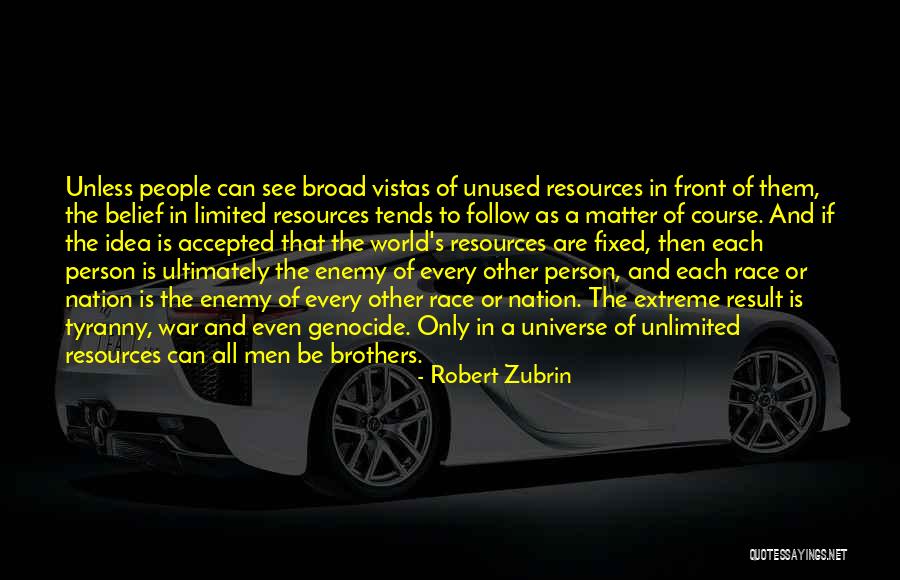 Unless people can see broad vistas of unused resources in front of them, the belief in limited resources tends to follow as a matter of course. And if the idea is accepted that the world's resources are fixed, then each person is ultimately the enemy of every other person, and each race or nation is the enemy of every other race or nation. The extreme result is tyranny, war and even genocide. Only in a universe of unlimited resources can all men be brothers. — Robert Zubrin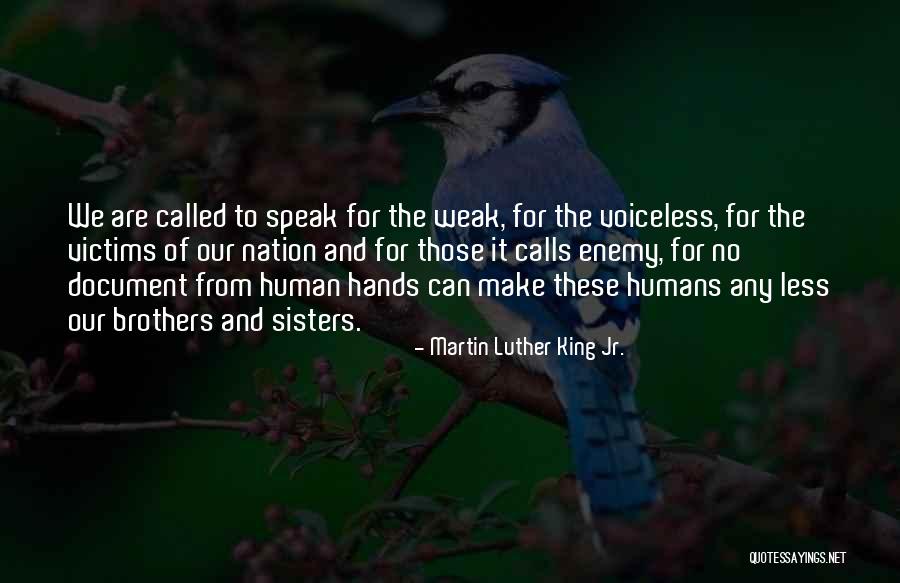 We are called to speak for the weak, for the voiceless, for the victims of our nation and for those it calls enemy, for no document from human hands can make these humans any less our brothers and sisters. — Martin Luther King Jr.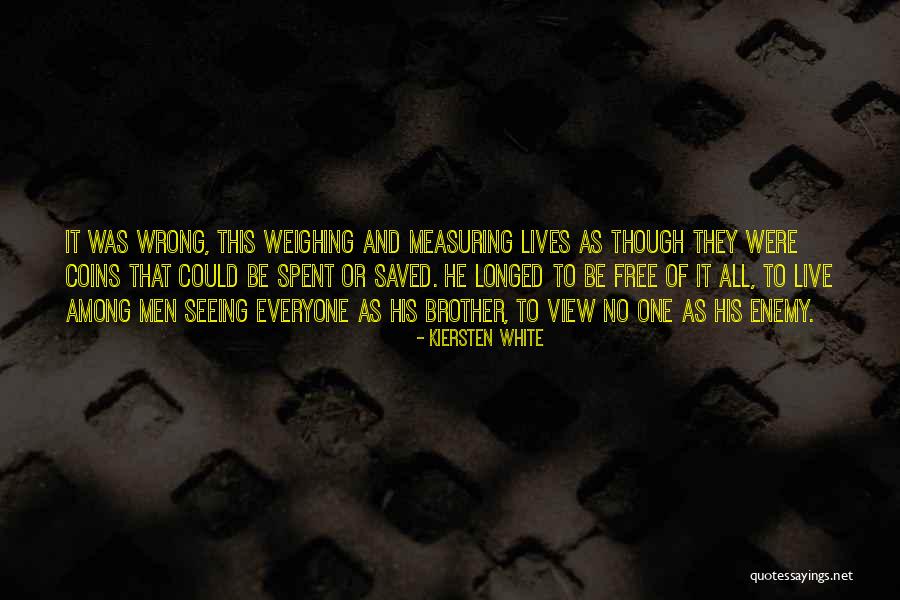 It was wrong, this weighing and measuring lives as though they were coins that could be spent or saved. He longed to be free of it all, to live among men seeing everyone as his brother, to view no one as his enemy. — Kiersten White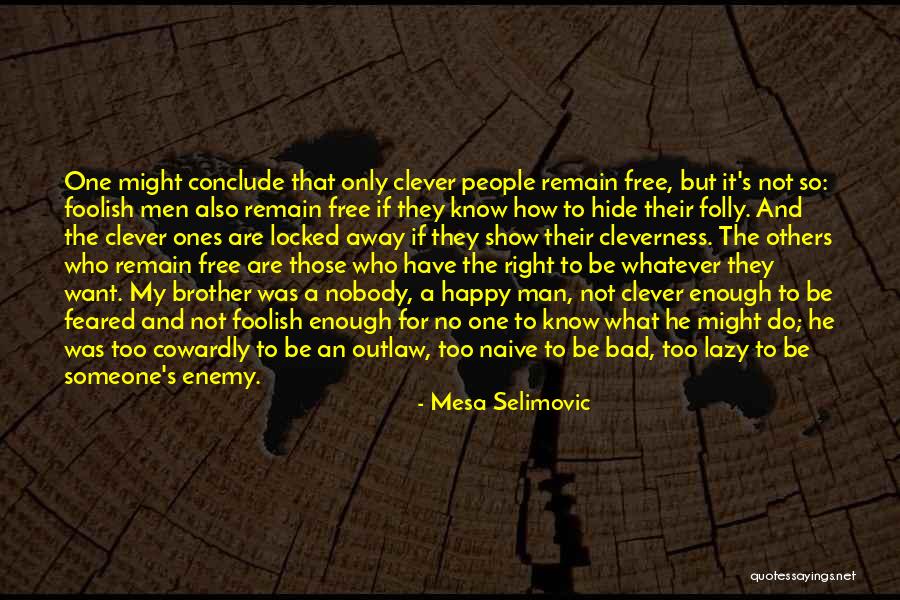 One might conclude that only clever people remain free, but it's not so: foolish men also remain free if they know how to hide their folly. And the clever ones are locked away if they show their cleverness. The others who remain free are those who have the right to be whatever they want. My brother was a nobody, a happy man, not clever enough to be feared and not foolish enough for no one to know what he might do; he was too cowardly to be an outlaw, too naive to be bad, too lazy to be someone's enemy. In a word, he was destined by divine providence to be greeted by people without respect, to be recognized for his value without being asked to show it. — Mesa Selimovic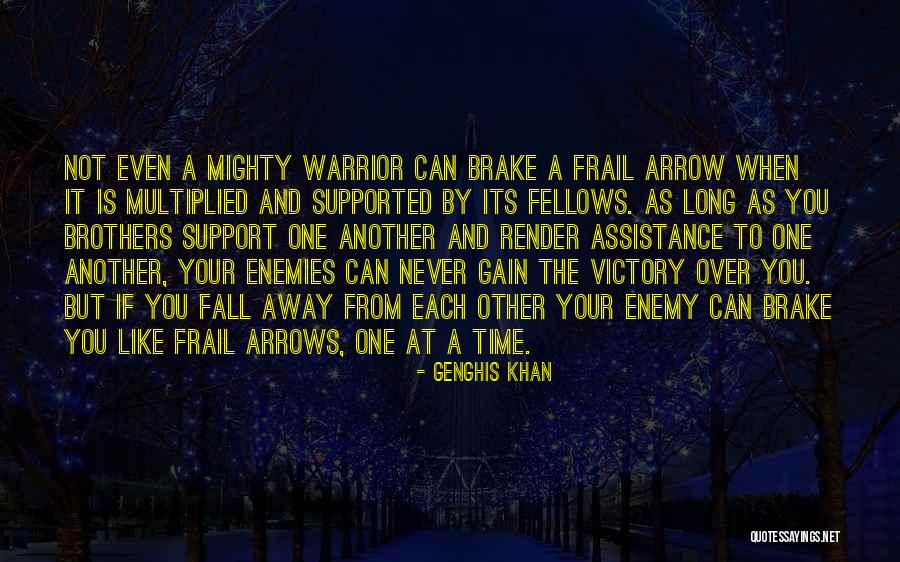 Not even a mighty warrior can brake a frail arrow when it is multiplied and supported by its fellows. As long as you brothers support one another and render assistance to one another, your enemies can never gain the victory over you. But if you fall away from each other your enemy can brake you like frail arrows, one at a time. — Genghis Khan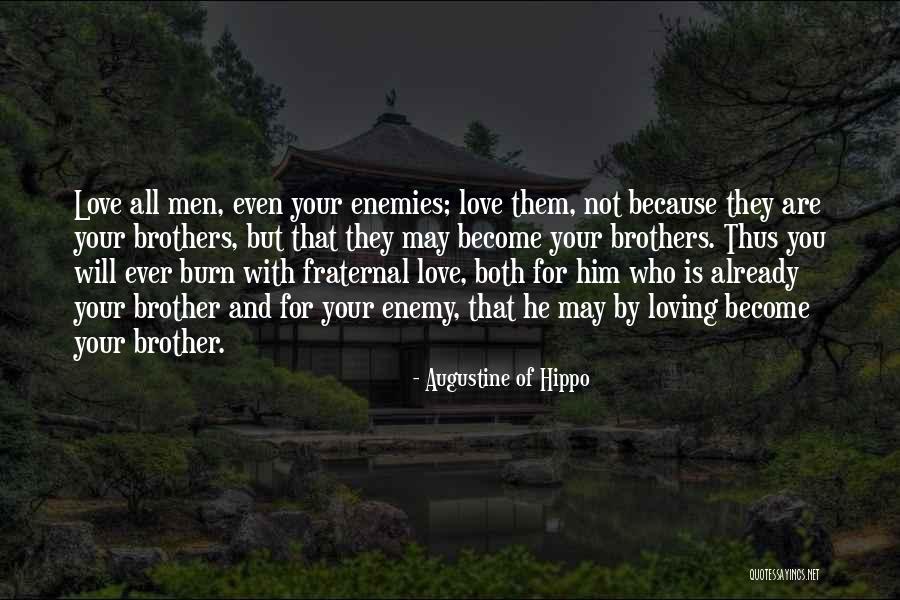 Love all men, even your enemies; love them, not because they are your brothers, but that they may become your brothers. Thus you will ever burn with fraternal love, both for him who is already your brother and for your enemy, that he may by loving become your brother. — Augustine Of Hippo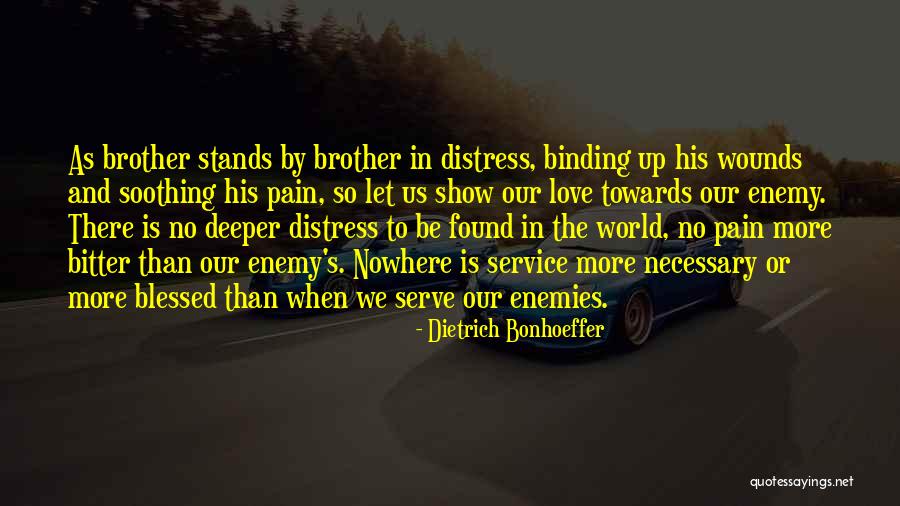 As brother stands by brother in distress, binding up his wounds and soothing his pain, so let us show our love towards our enemy. There is no deeper distress to be found in the world, no pain more bitter than our enemy's. Nowhere is service more necessary or more blessed than when we serve our enemies. — Dietrich Bonhoeffer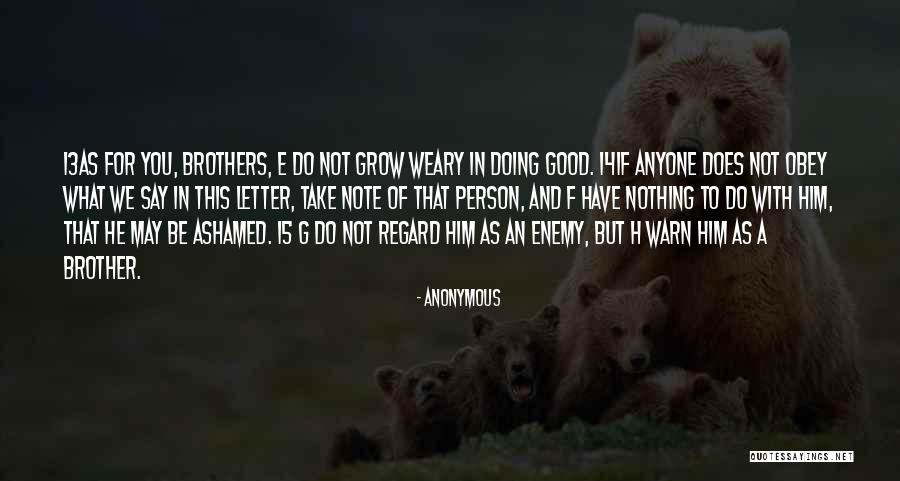 13As for you, brothers, e do not grow weary in doing good. 14If anyone does not obey what we say in this letter, take note of that person, and f have nothing to do with him, that he may be ashamed. 15 g Do not regard him as an enemy, but h warn him as a brother. — Anonymous