Egon Quotes & Sayings
Enjoy reading and share 38 famous quotes about Egon with everyone.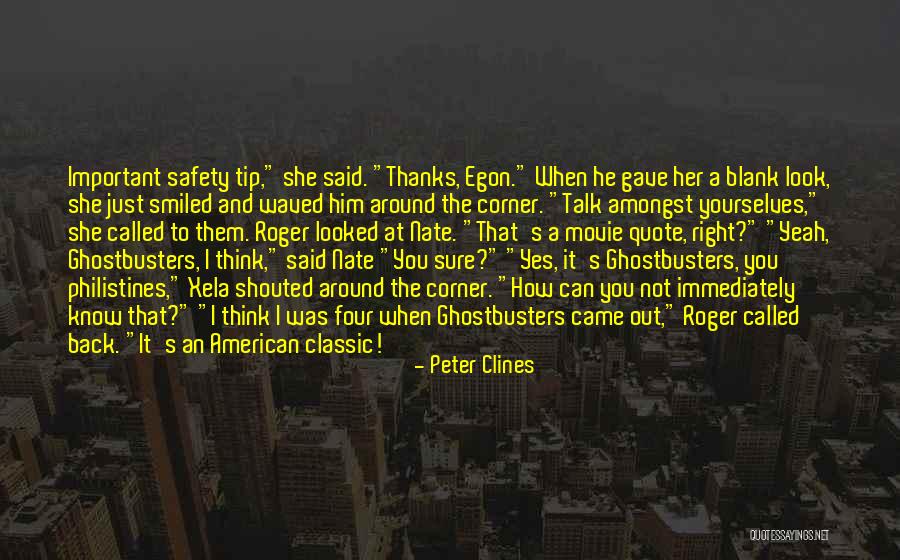 Important safety tip," she said. "Thanks, Egon." When he gave her a blank look, she just smiled and waved him around the corner. "Talk amongst yourselves," she called to them. Roger looked at Nate. "That's a movie quote, right?" "Yeah, Ghostbusters, I think," said Nate "You sure?" "Yes, it's Ghostbusters, you philistines," Xela shouted around the corner. "How can you not immediately know that?" "I think I was four when Ghostbusters came out," Roger called back. "It's an American classic! — Peter Clines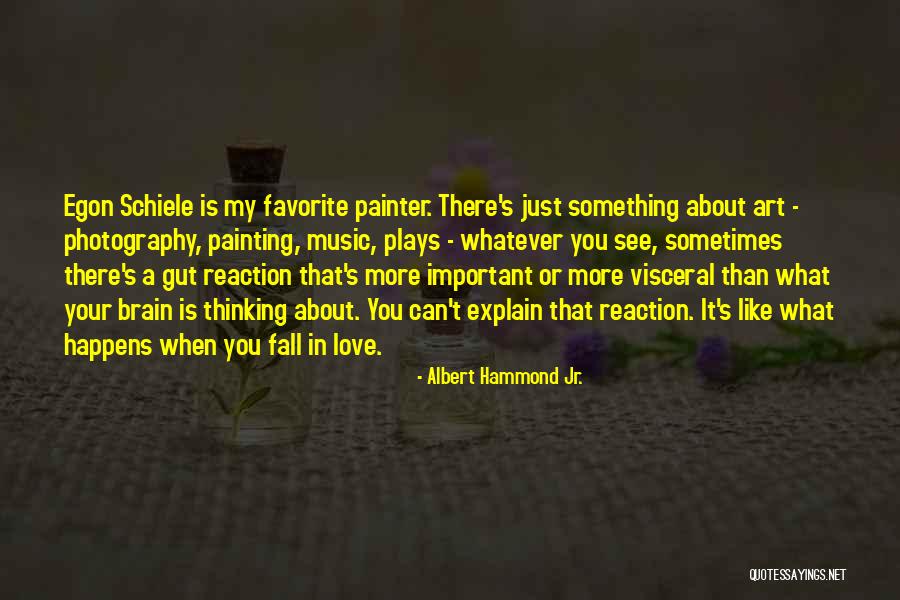 Egon Schiele is my favorite painter. There's just something about art - photography, painting, music, plays - whatever you see, sometimes there's a gut reaction that's more important or more visceral than what your brain is thinking about. You can't explain that reaction. It's like what happens when you fall in love. — Albert Hammond Jr.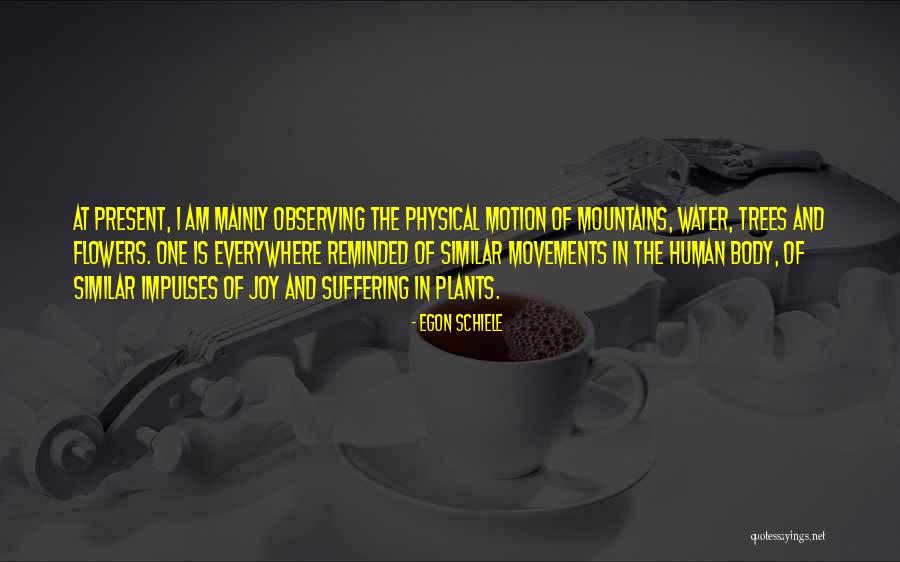 At present, I am mainly observing the physical motion of mountains, water, trees and flowers. One is everywhere reminded of similar movements in the human body, of similar impulses of joy and suffering in plants. — Egon Schiele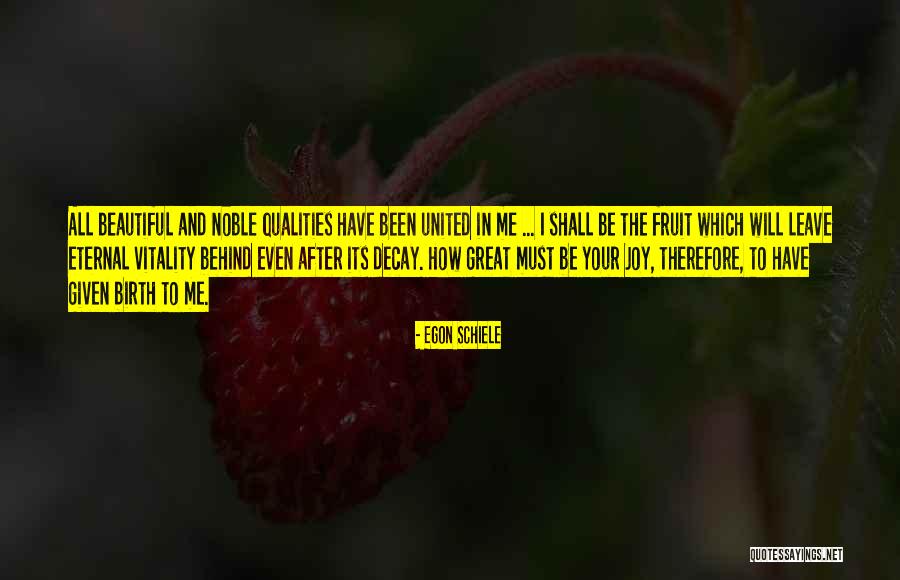 All beautiful and noble qualities have been united in me ... I shall be the fruit which will leave eternal vitality behind even after its decay. How great must be your joy, therefore, to have given birth to me. — Egon Schiele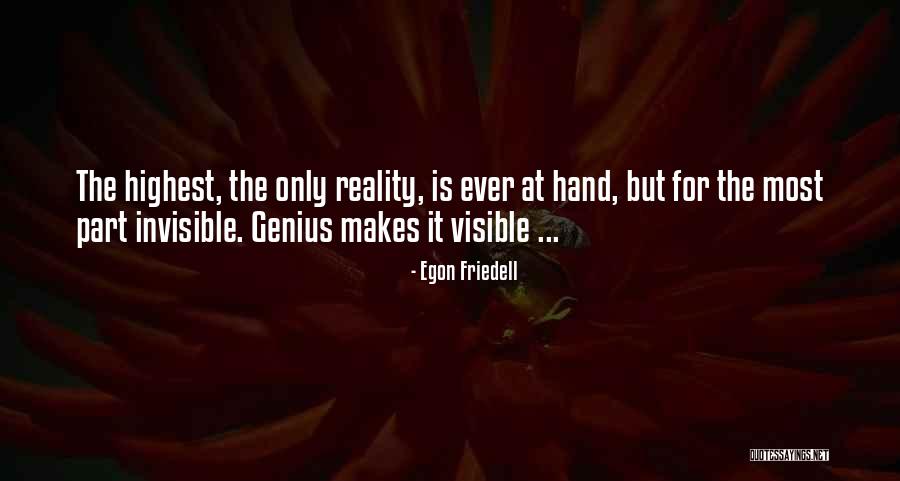 The highest, the only reality, is ever at hand, but for the most part invisible. Genius makes it visible ... — Egon Friedell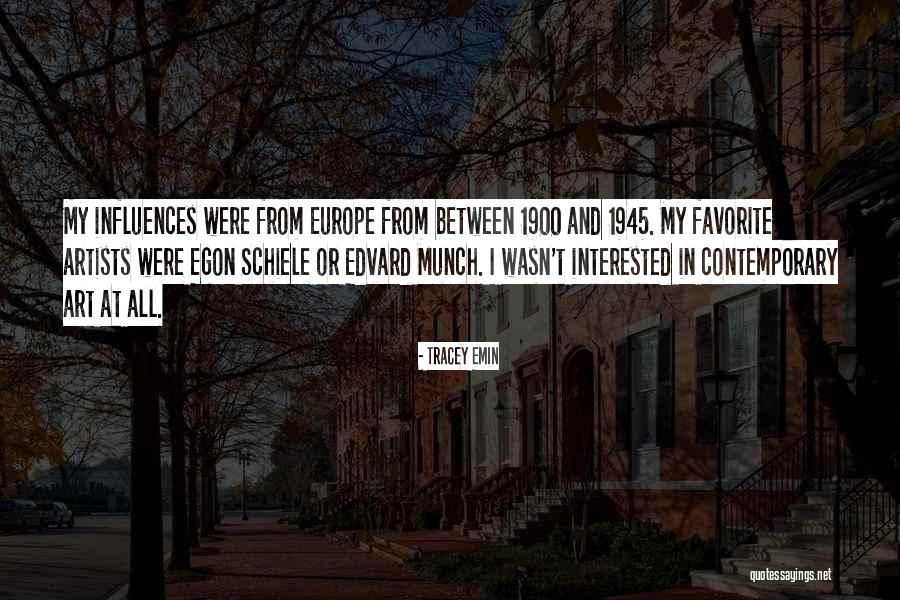 My influences were from Europe from between 1900 and 1945. My favorite artists were Egon Schiele or Edvard Munch. I wasn't interested in contemporary art at all. — Tracey Emin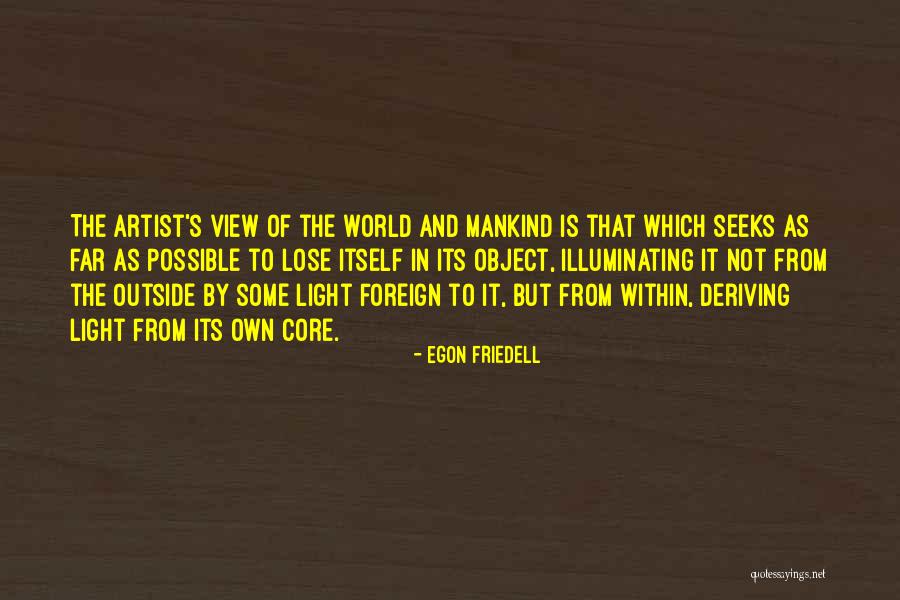 The artist's view of the world and mankind is that which seeks as far as possible to lose itself in its object, illuminating it not from the outside by some light foreign to it, but from within, deriving light from its own core. — Egon Friedell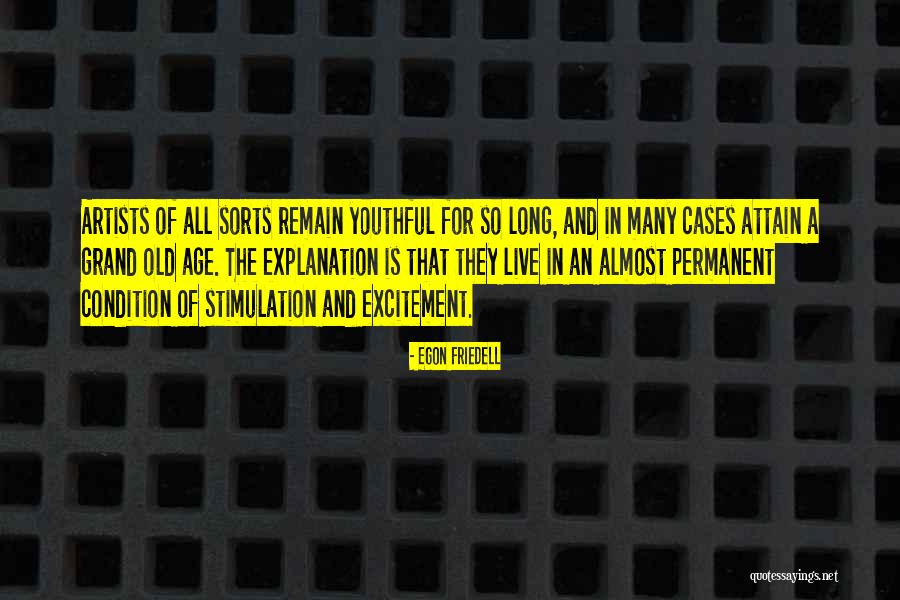 Artists of all sorts remain youthful for so long, and in many cases attain a grand old age. The explanation is that they live in an almost permanent condition of stimulation and excitement. — Egon Friedell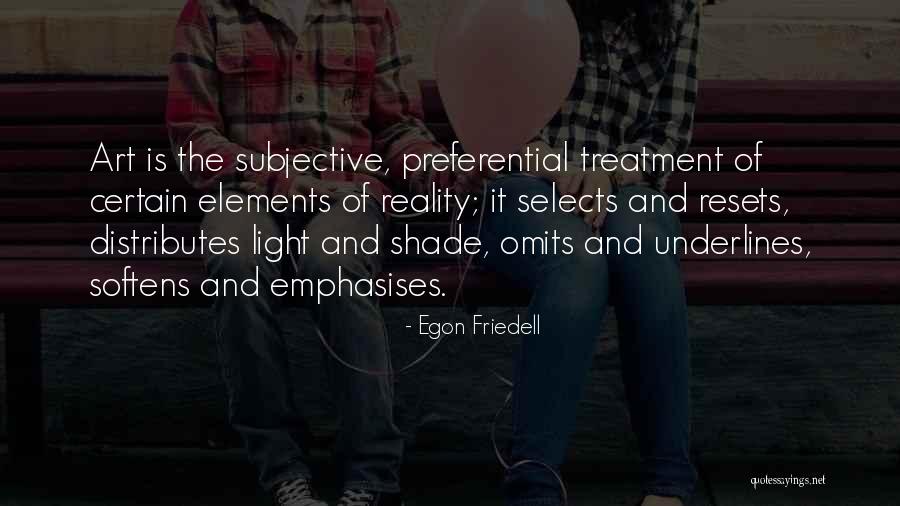 Art is the subjective, preferential treatment of certain elements of reality; it selects and resets, distributes light and shade, omits and underlines, softens and emphasises. — Egon Friedell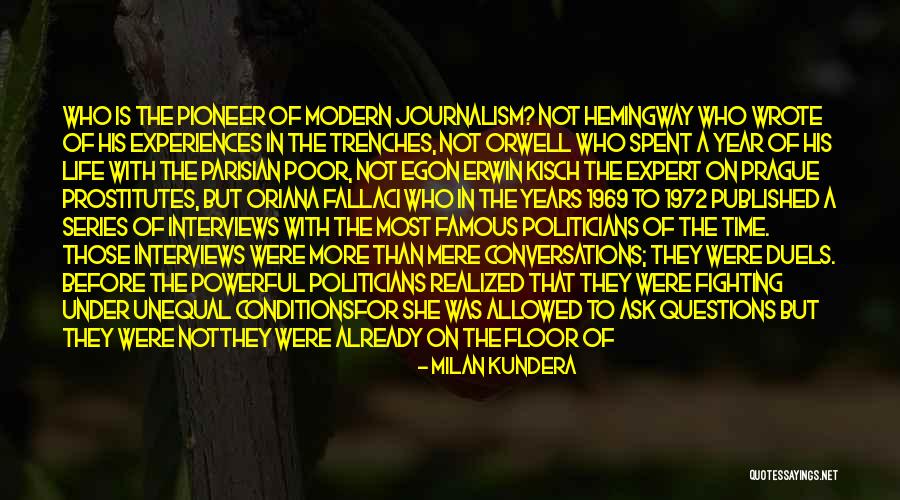 Who is the pioneer of modern journalism? Not Hemingway who wrote of his experiences in the trenches, not Orwell who spent a year of his life with the Parisian poor, not Egon Erwin Kisch the expert on Prague prostitutes, but Oriana Fallaci who in the years 1969 to 1972 published a series of interviews with the most famous politicians of the time. Those interviews were more than mere conversations; they were duels. Before the powerful politicians realized that they were fighting under unequal conditions
for she was allowed to ask questions but they were not
they were already on the floor of the ring, KO'ed. — Milan Kundera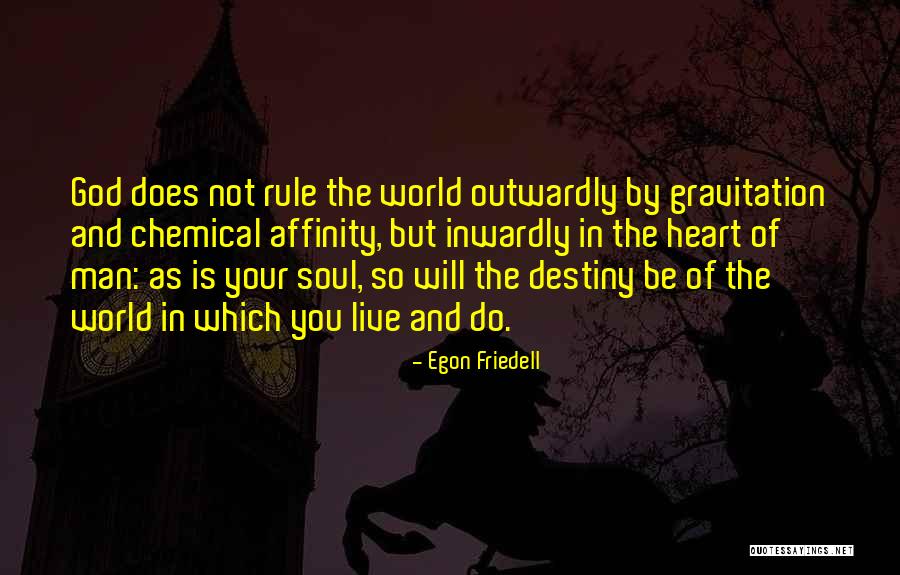 God does not rule the world outwardly by gravitation and chemical affinity, but inwardly in the heart of man: as is your soul, so will the destiny be of the world in which you live and do. — Egon Friedell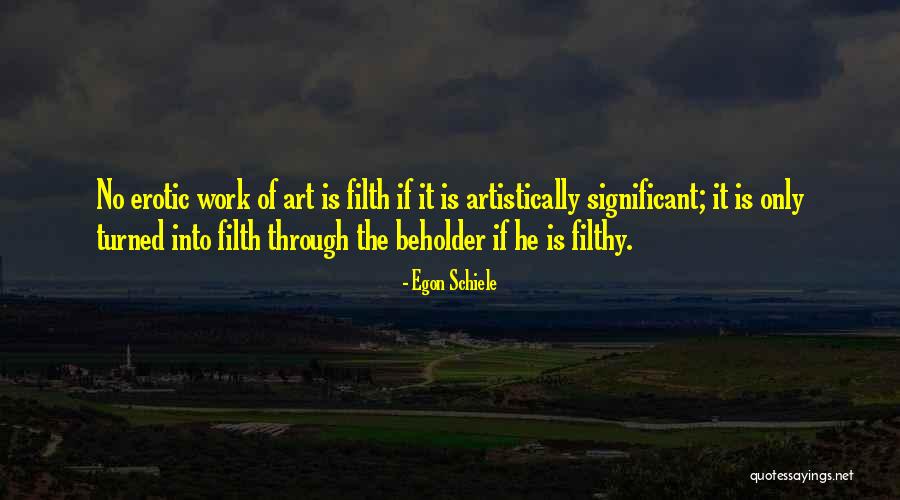 No erotic work of art is filth if it is artistically significant; it is only turned into filth through the beholder if he is filthy. — Egon Schiele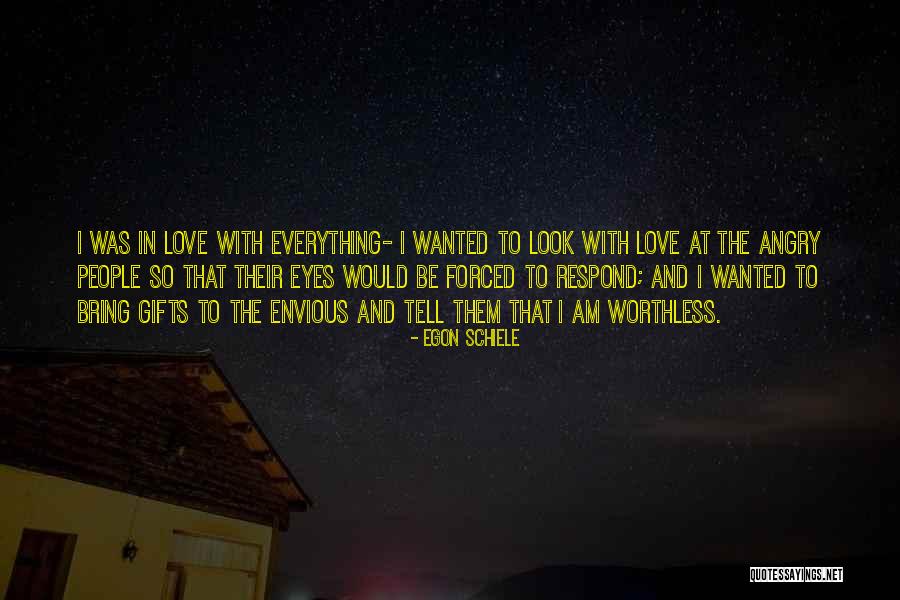 I was in love with everything- I wanted to look with love at the angry people so that their eyes would be forced to respond; and I wanted to bring gifts to the envious and tell them that I am worthless. — Egon Schiele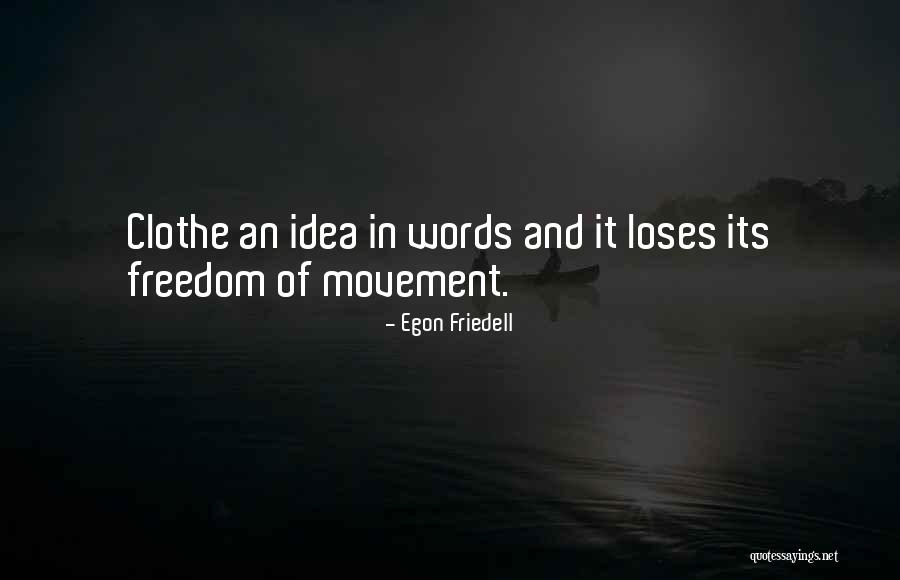 Clothe an idea in words and it loses its freedom of movement. — Egon Friedell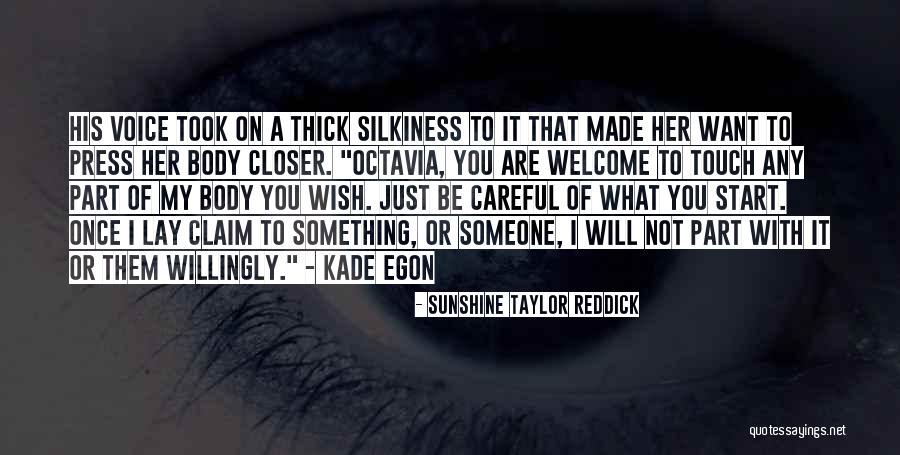 His voice took on a thick silkiness to it that made her want to press her body closer. "Octavia, you are welcome to touch any part of my body you wish. Just be careful of what you start. Once I lay claim to something, or someone, I will not part with it or them willingly." - Kade Egon — Sunshine Taylor Reddick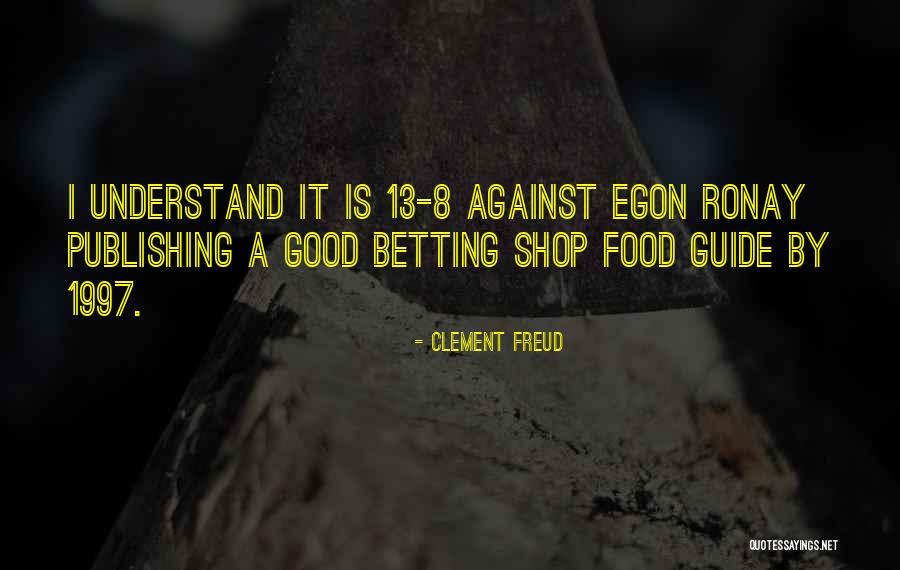 I understand it is 13-8 against Egon Ronay publishing a Good Betting Shop Food Guide by 1997. — Clement Freud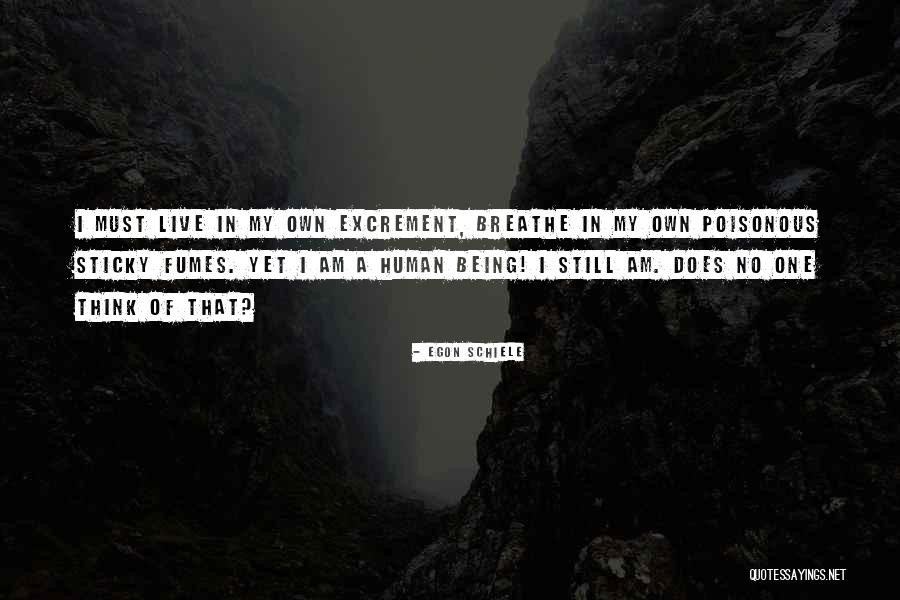 I must live in my own excrement, breathe in my own poisonous sticky fumes. Yet I am a human being! I still am. Does no one think of that? — Egon Schiele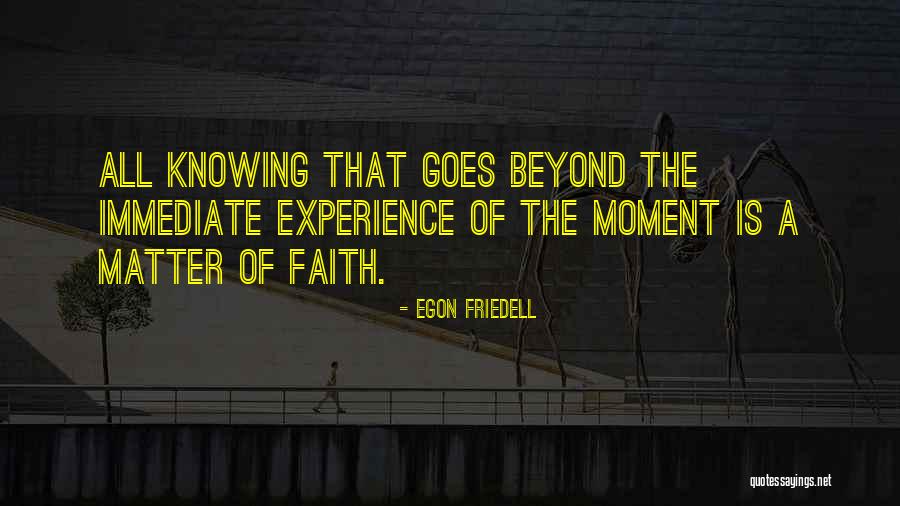 All knowing that goes beyond the immediate experience of the moment is a matter of faith. — Egon Friedell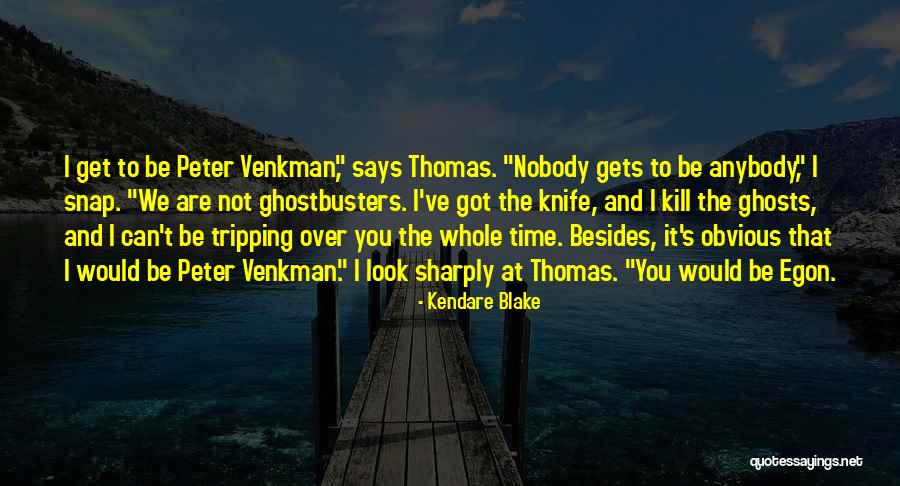 I get to be Peter Venkman," says Thomas. "Nobody gets to be anybody," I snap. "We are not ghostbusters. I've got the knife, and I kill the ghosts, and I can't be tripping over you the whole time. Besides, it's obvious that I would be Peter Venkman." I look sharply at Thomas. "You would be Egon. — Kendare Blake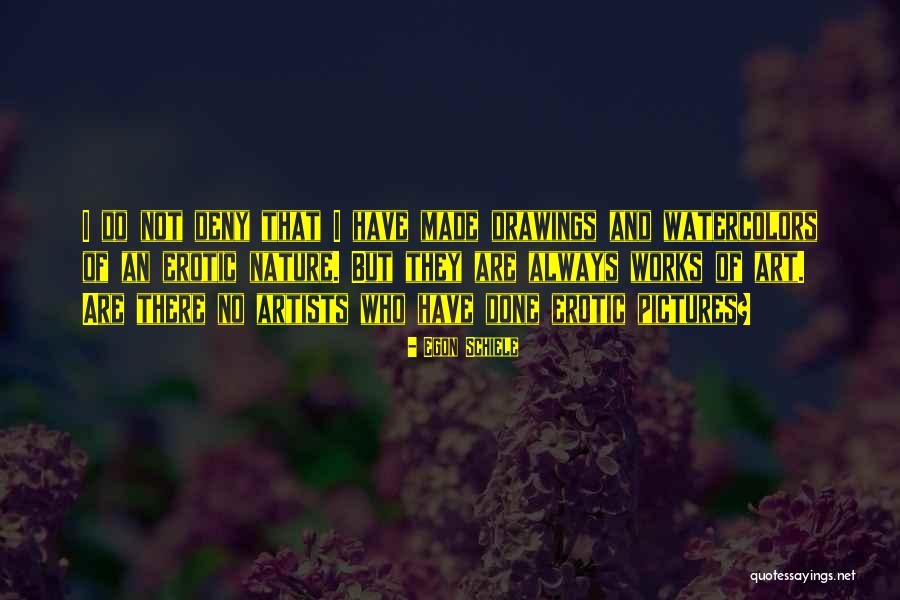 I do not deny that I have made drawings and watercolors of an erotic nature. But they are always works of art. Are there no artists who have done erotic pictures? — Egon Schiele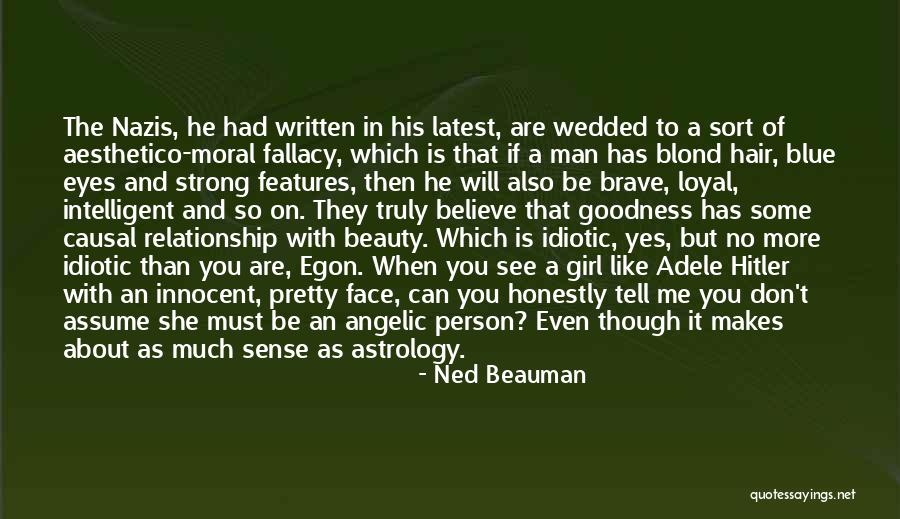 The Nazis, he had written in his latest, are wedded to a sort of aesthetico-moral fallacy, which is that if a man has blond hair, blue eyes and strong features, then he will also be brave, loyal, intelligent and so on. They truly believe that goodness has some causal relationship with beauty. Which is idiotic, yes, but no more idiotic than you are, Egon. When you see a girl like Adele Hitler with an innocent, pretty face, can you honestly tell me you don't assume she must be an angelic person? Even though it makes about as much sense as astrology. — Ned Beauman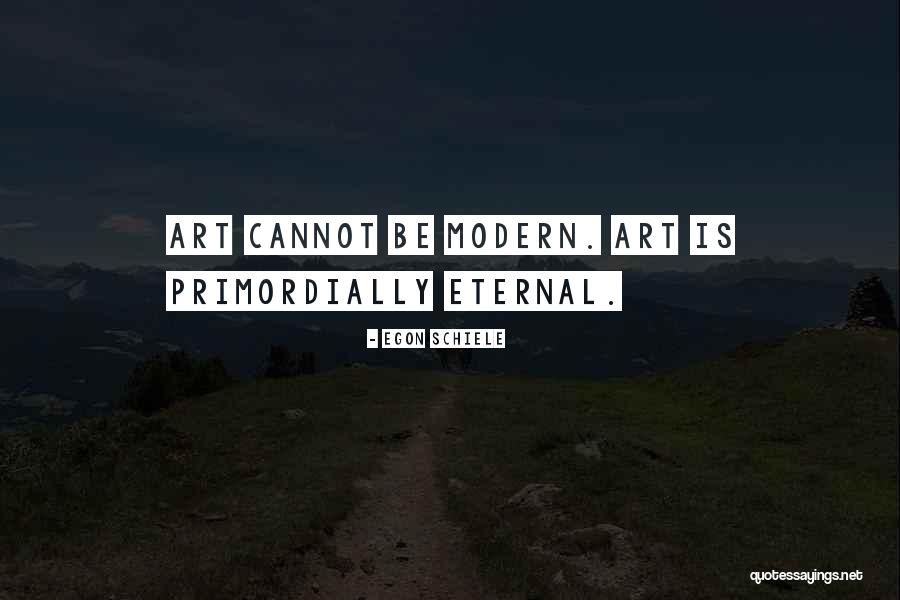 Art cannot be modern. Art is primordially eternal. — Egon Schiele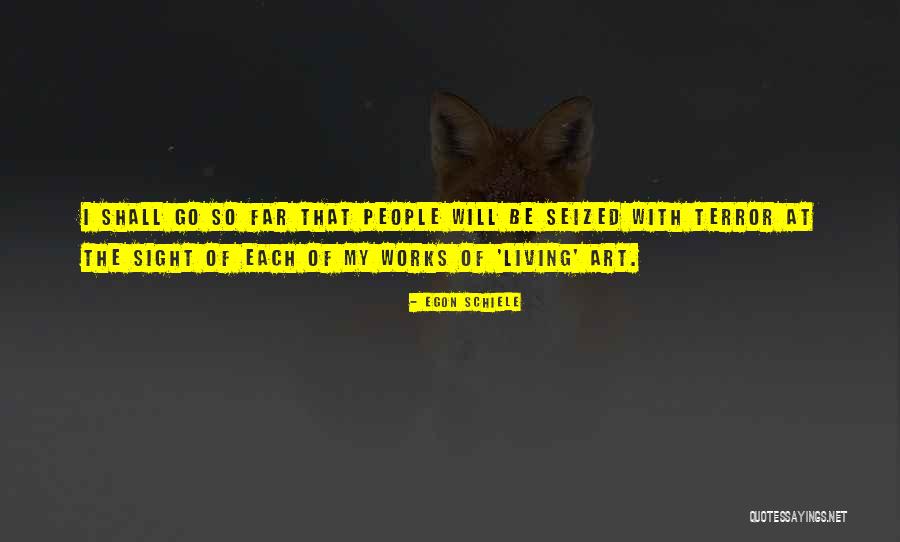 I shall go so far that people will be seized with terror at the sight of each of my works of 'living' art. — Egon Schiele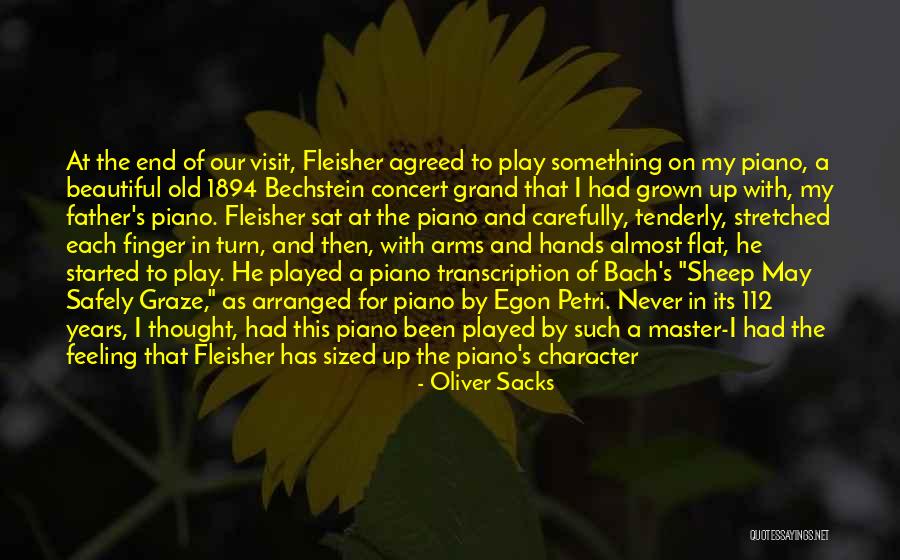 At the end of our visit, Fleisher agreed to play something on my piano, a beautiful old 1894 Bechstein concert grand that I had grown up with, my father's piano. Fleisher sat at the piano and carefully, tenderly, stretched each finger in turn, and then, with arms and hands almost flat, he started to play. He played a piano transcription of Bach's "Sheep May Safely Graze," as arranged for piano by Egon Petri. Never in its 112 years, I thought, had this piano been played by such a master-I had the feeling that Fleisher has sized up the piano's character and perhaps its idiosyncrasies within seconds, that he had matched his playing to the instrument, to bring out its greatest potential, its particularity. Fleisher seemed to distill the beauty, drop by drop, like an alchemist, into flowing notes of an almost unbearable beauty-and, after this, there was nothing more to be said. — Oliver Sacks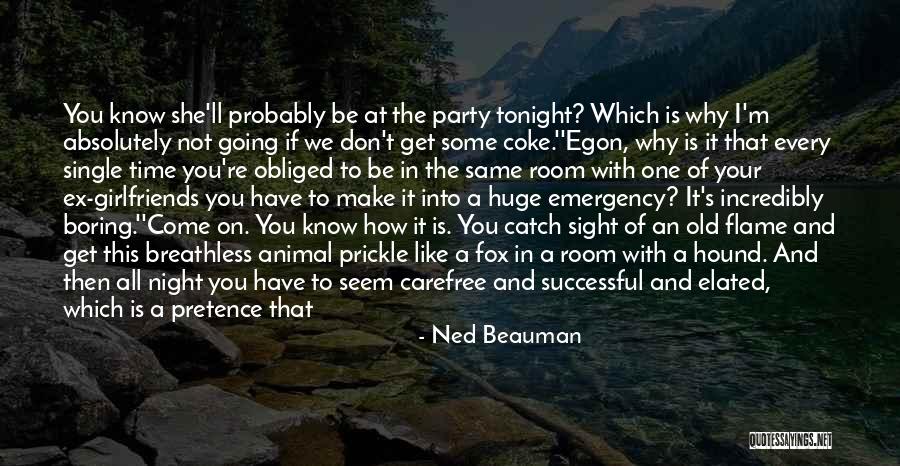 You know she'll probably be at the party tonight? Which is why I'm absolutely not going if we don't get some coke.'
'Egon, why is it that every single time you're obliged to be in the same room with one of your ex-girlfriends you have to make it into a huge emergency? It's incredibly boring.'
'Come on. You know how it is. You catch sight of an old flame and get this breathless
animal prickle like a fox in a room with a hound. And then all night you have to seem carefree and successful and elated, which is a pretence that for some reason you feel no choice but to maintain even though you know they're better qualified than anyone else
in the world to detect immediately that you're really the same hapless cunt as ever.'
'That's adolescent. The fact that you are so neurotic about your past lovers makes it both fortunate and predictable that you have so few of them. It's one of those elegant self-regulating systems that one so often finds in nature. — Ned Beauman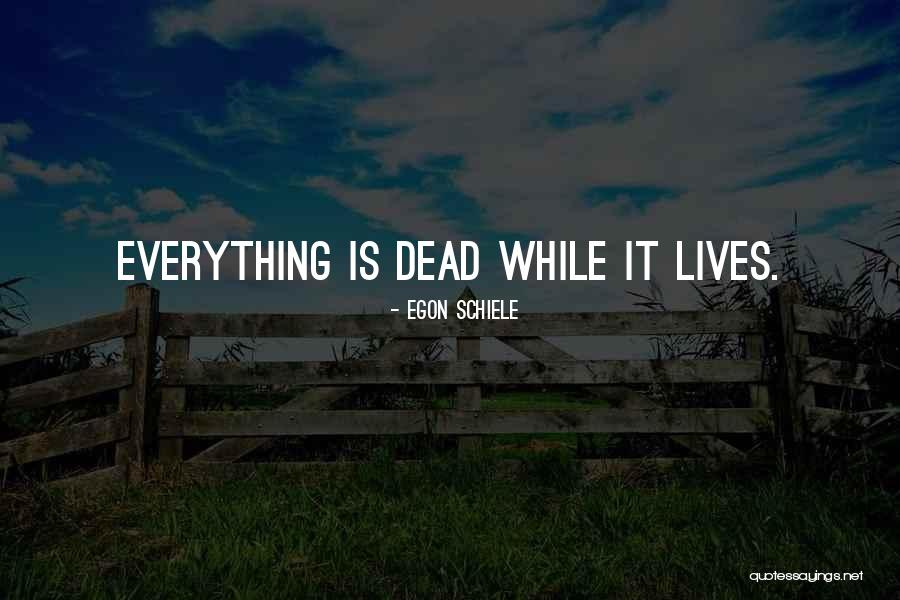 Everything is dead while it lives. — Egon Schiele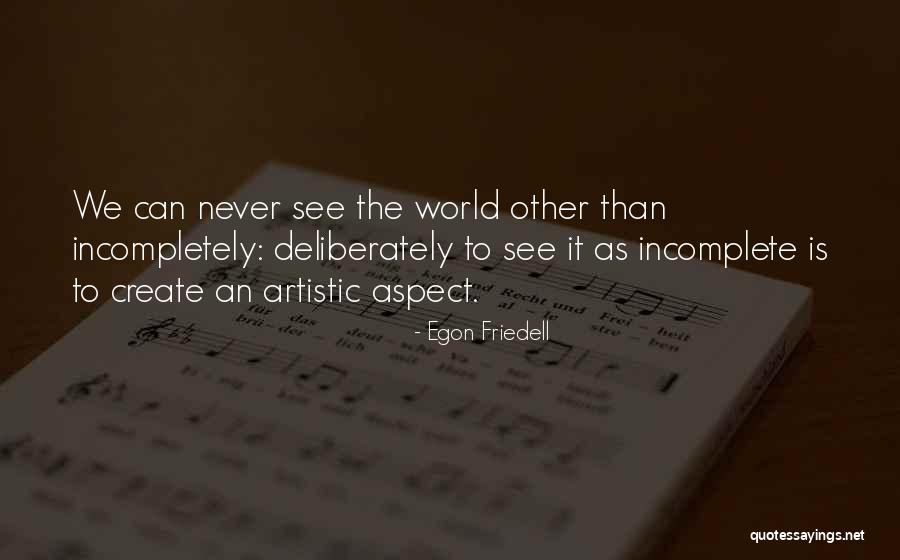 We can never see the world other than incompletely: deliberately to see it as incomplete is to create an artistic aspect. — Egon Friedell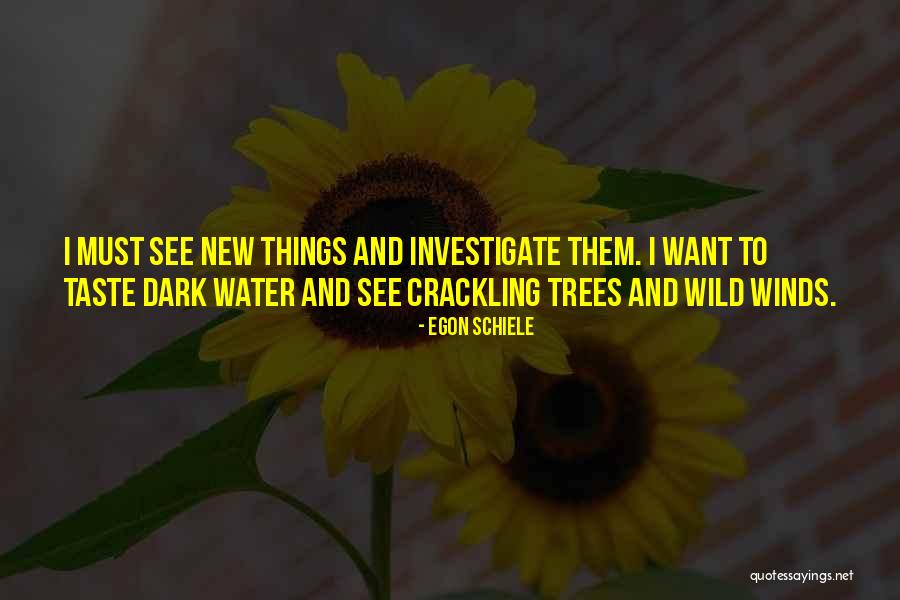 I must see new things and investigate them. I want to taste dark water and see crackling trees and wild winds. — Egon Schiele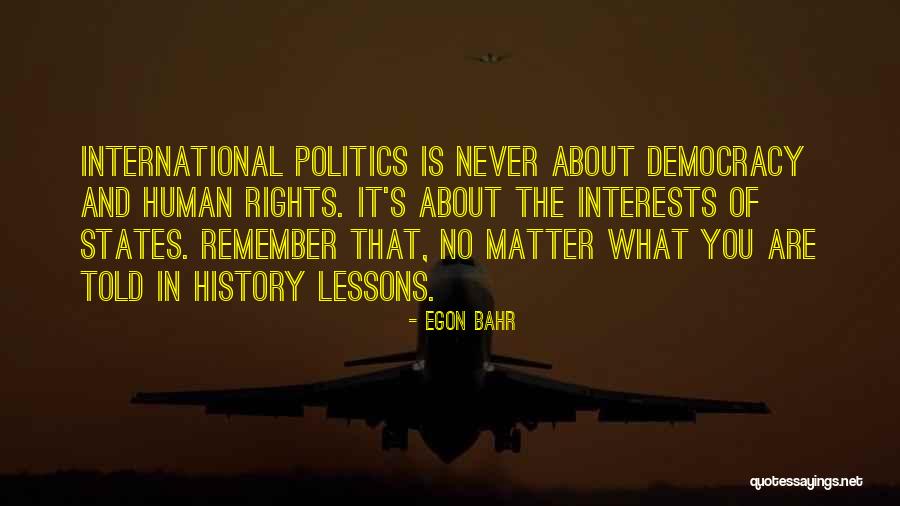 International politics is never about democracy and human rights. It's about the interests of states. Remember that, no matter what you are told in history lessons. — Egon Bahr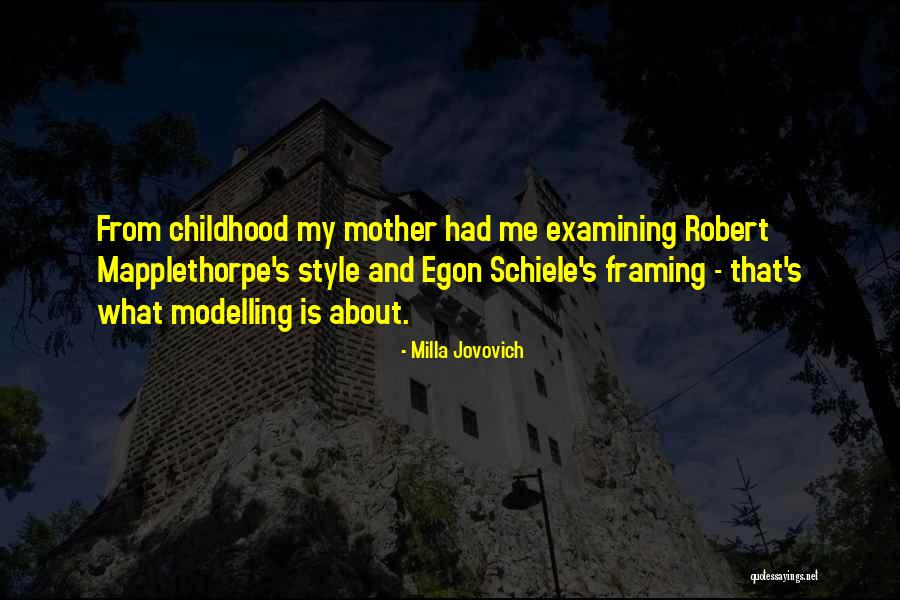 From childhood my mother had me examining Robert Mapplethorpe's style and Egon Schiele's framing - that's what modelling is about. — Milla Jovovich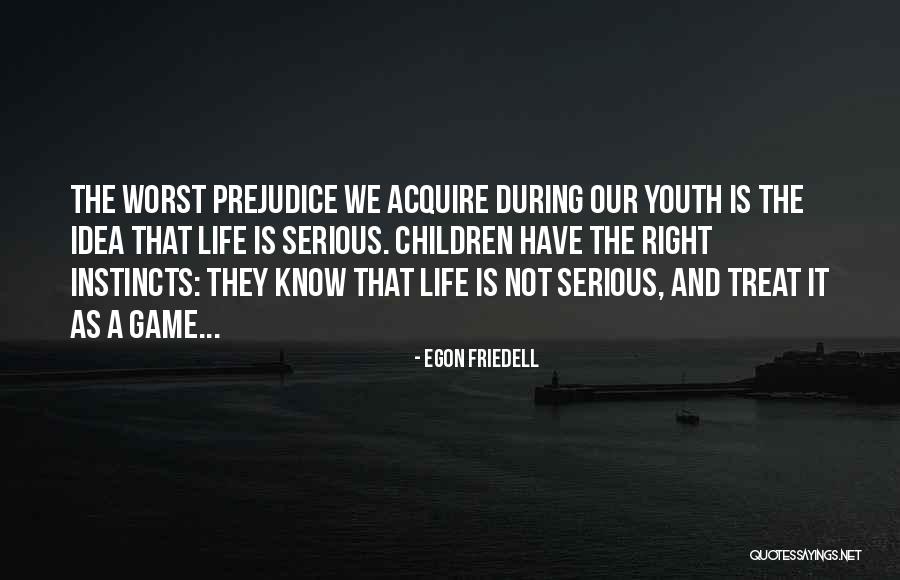 The worst prejudice we acquire during our youth is the idea that life is serious. Children have the right instincts: they know that life is not serious, and treat it as a game... — Egon Friedell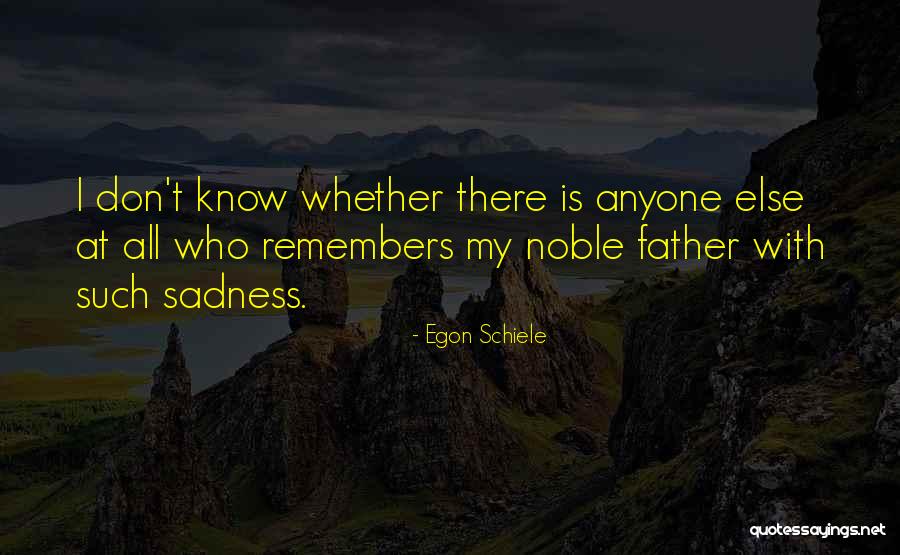 I don't know whether there is anyone else at all who remembers my noble father with such sadness. — Egon Schiele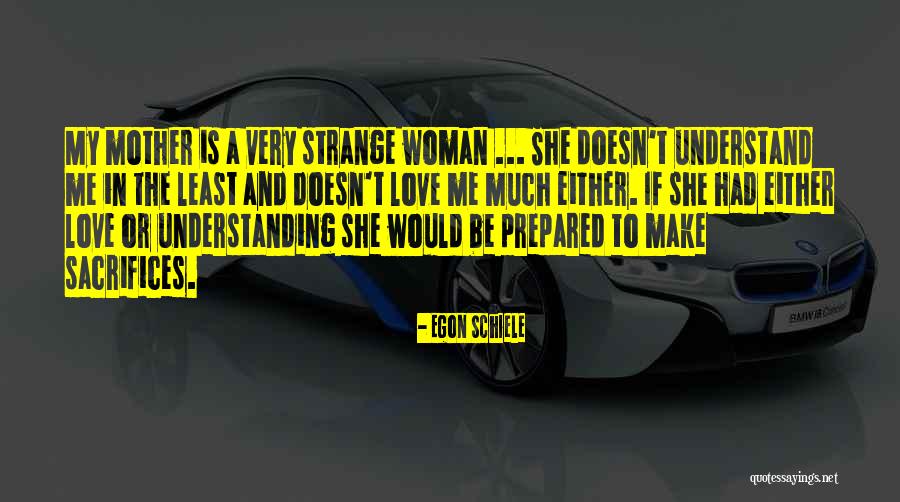 My mother is a very strange woman ... She doesn't understand me in the least and doesn't love me much either. If she had either love or understanding she would be prepared to make sacrifices. — Egon Schiele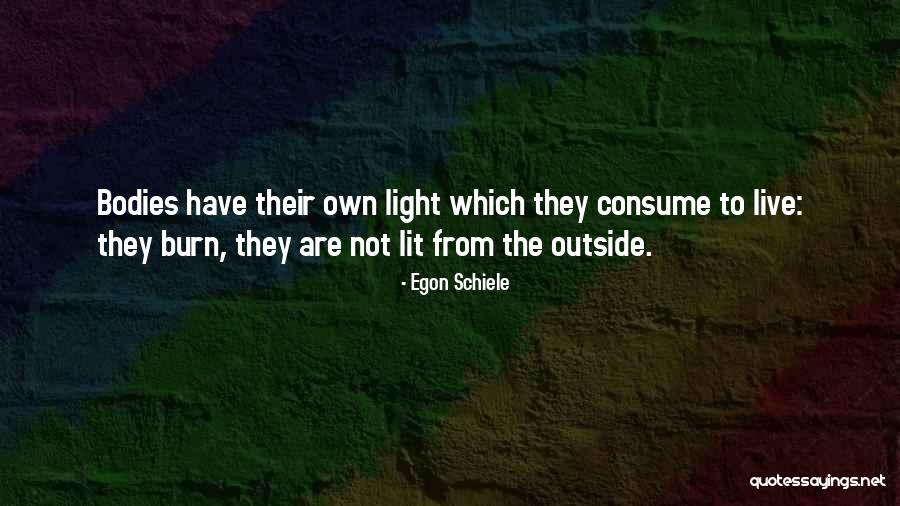 Bodies have their own light which they consume to live: they burn, they are not lit from the outside. — Egon Schiele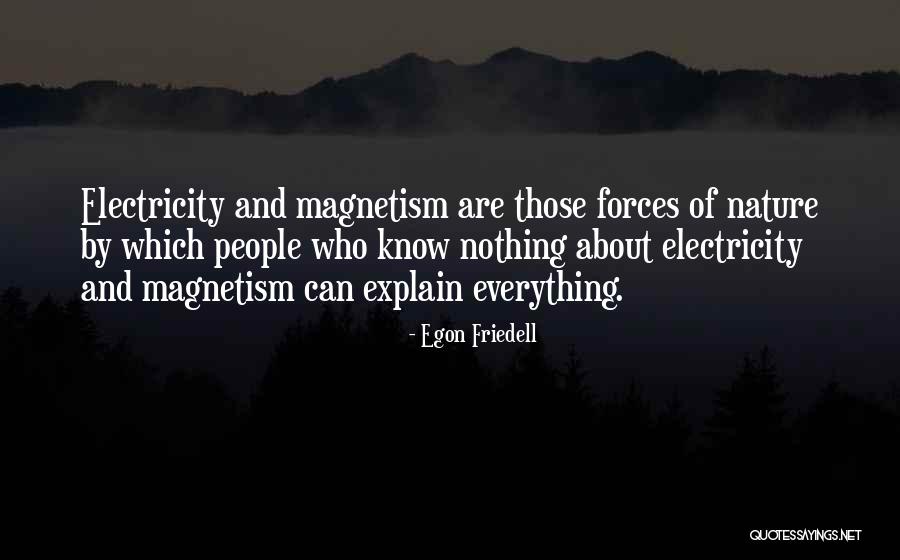 Electricity and magnetism are those forces of nature by which people who know nothing about electricity and magnetism can explain everything. — Egon Friedell