Eat Local Quotes & Sayings
Enjoy reading and share 38 famous quotes about Eat Local with everyone.
Top Eat Local Quotes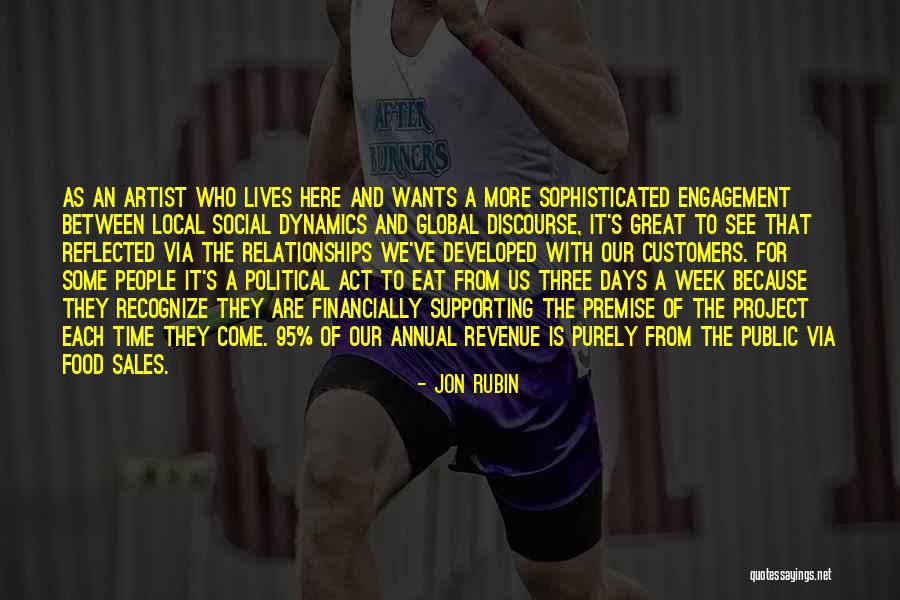 As an artist who lives here and wants a more sophisticated engagement between local social dynamics and global discourse, it's great to see that reflected via the relationships we've developed with our customers. For some people it's a political act to eat from us three days a week because they recognize they are financially supporting the premise of the project each time they come. 95% of our annual revenue is purely from the public via food sales. — Jon Rubin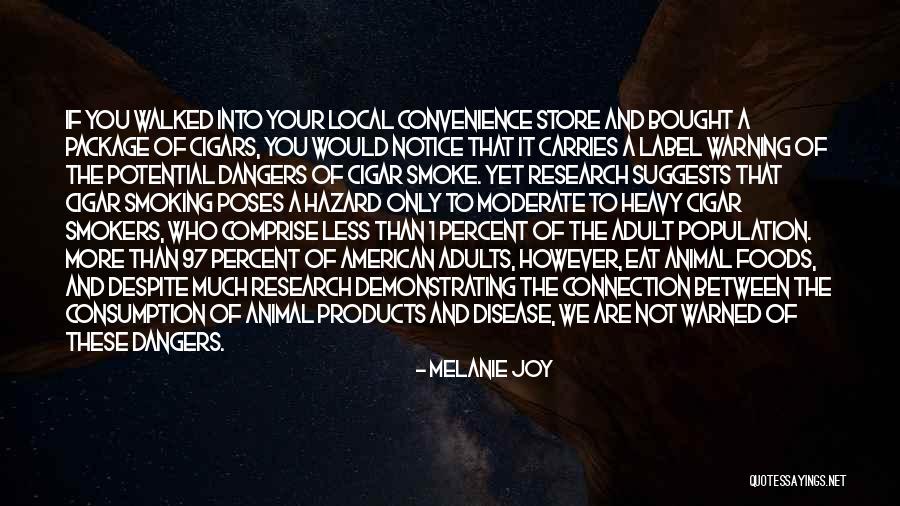 If you walked into your local convenience store and bought a package of cigars, you would notice that it carries a label warning of the potential dangers of cigar smoke. Yet research suggests that cigar smoking poses a hazard only to moderate to heavy cigar smokers, who comprise less than 1 percent of the adult population. More than 97 percent of American adults, however, eat animal foods, and despite much research demonstrating the connection between the consumption of animal products and disease, we are not warned of these dangers. — Melanie Joy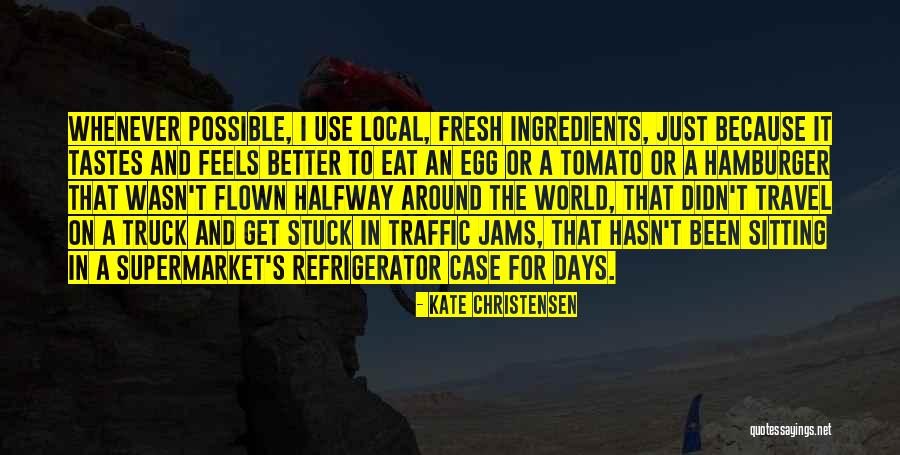 Whenever possible, I use local, fresh ingredients, just because it tastes and feels better to eat an egg or a tomato or a hamburger that wasn't flown halfway around the world, that didn't travel on a truck and get stuck in traffic jams, that hasn't been sitting in a supermarket's refrigerator case for days. — Kate Christensen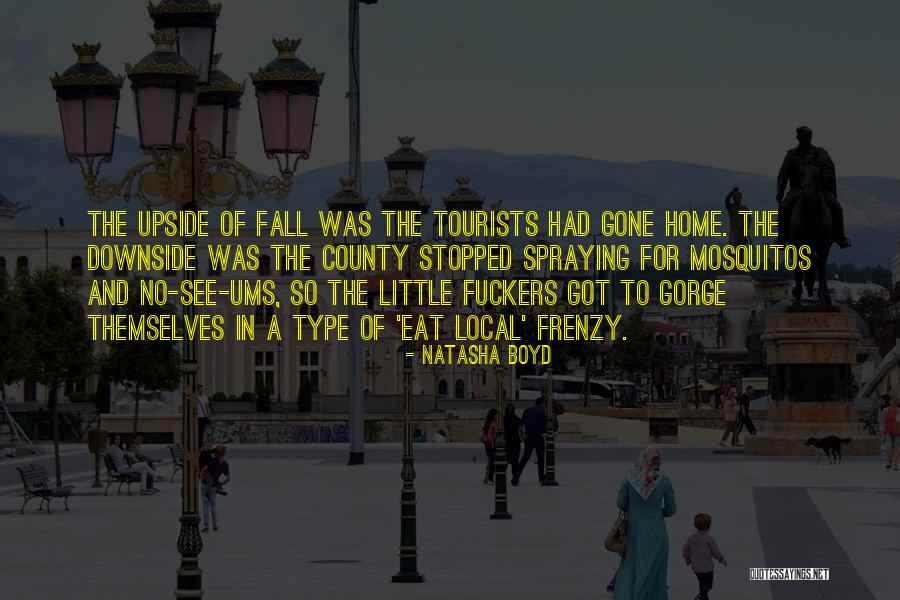 The upside of fall was the tourists had gone home. The downside was the county stopped spraying for mosquitos and no-see-ums, so the little fuckers got to gorge themselves in a type of 'eat local' frenzy. — Natasha Boyd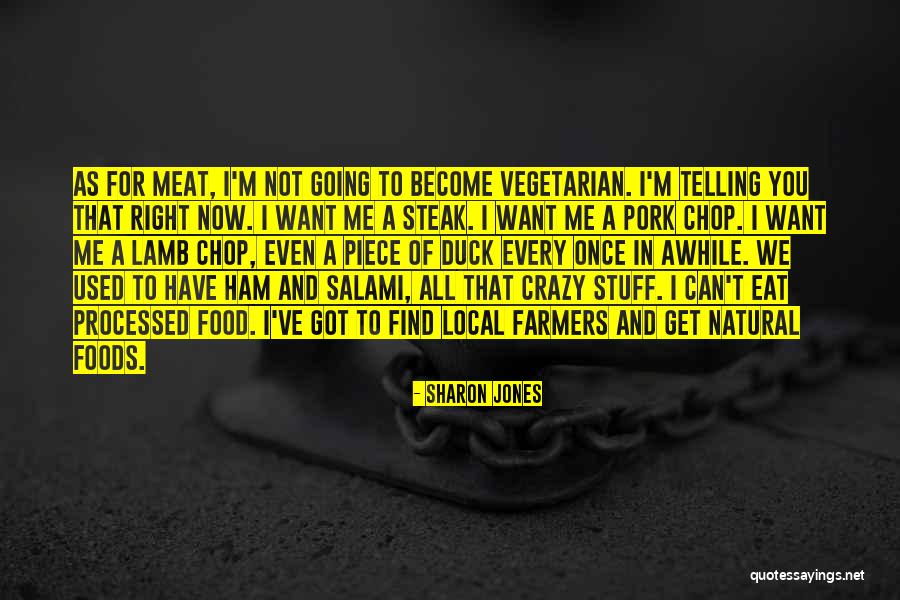 As for meat, I'm not going to become vegetarian. I'm telling you that right now. I want me a steak. I want me a pork chop. I want me a lamb chop, even a piece of duck every once in awhile. We used to have ham and salami, all that crazy stuff. I can't eat processed food. I've got to find local farmers and get natural foods. — Sharon Jones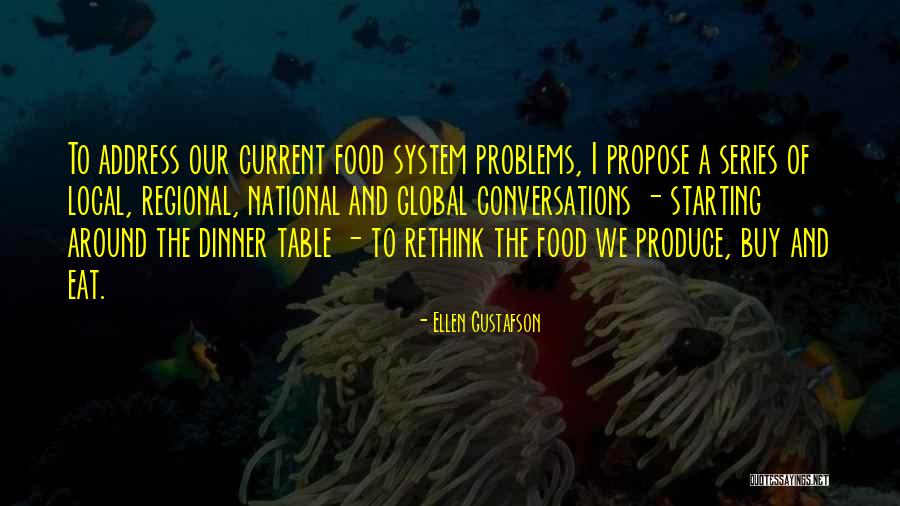 To address our current food system problems, I propose a series of local, regional, national and global conversations - starting around the dinner table - to rethink the food we produce, buy and eat. — Ellen Gustafson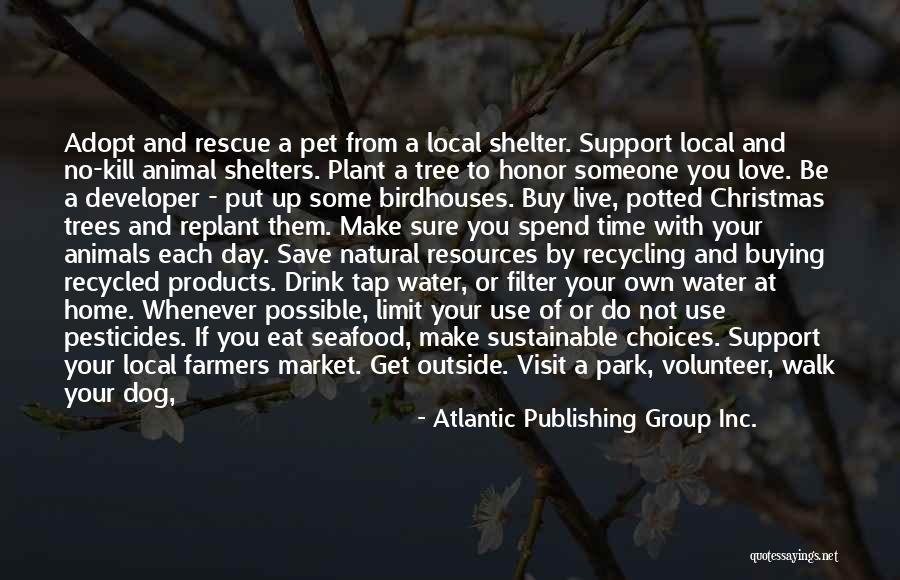 Adopt and rescue a pet from a local shelter. Support local and no-kill animal shelters. Plant a tree to honor someone you love. Be a developer - put up some birdhouses. Buy live, potted Christmas trees and replant them. Make sure you spend time with your animals each day. Save natural resources by recycling and buying recycled products. Drink tap water, or filter your own water at home. Whenever possible, limit your use of or do not use pesticides. If you eat seafood, make sustainable choices. Support your local farmers market. Get outside. Visit a park, volunteer, walk your dog, or ride your bike. — Atlantic Publishing Group Inc.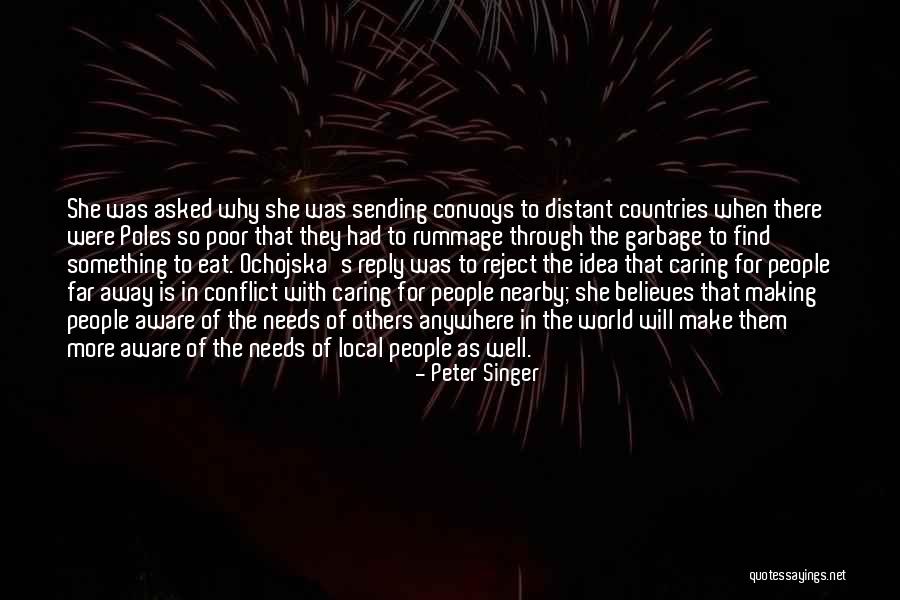 She was asked why she was sending convoys to distant countries when there were Poles so poor that they had to rummage through the garbage to find something to eat. Ochojska's reply was to reject the idea that caring for people far away is in conflict with caring for people nearby; she believes that making people aware of the needs of others anywhere in the world will make them more aware of the needs of local people as well. — Peter Singer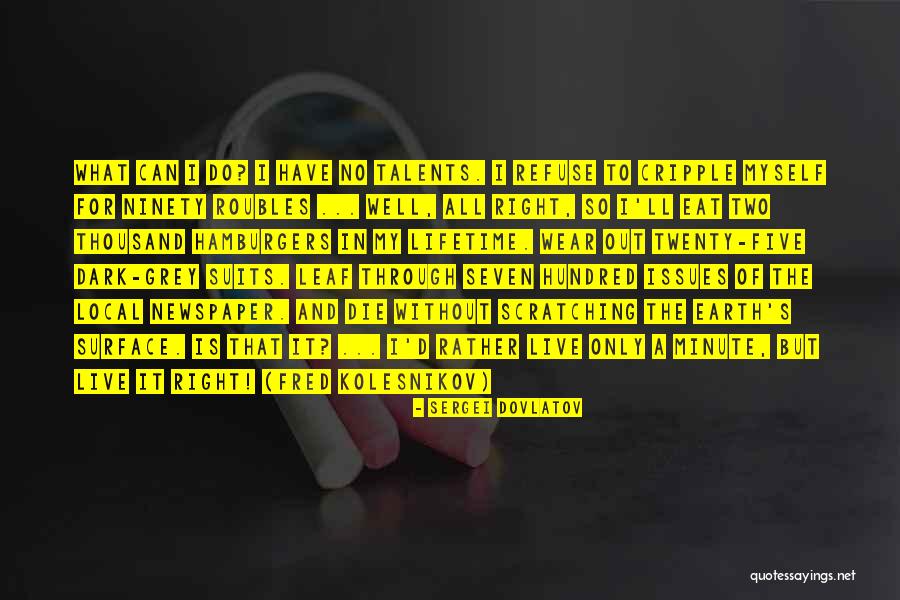 What can I do? I have no talents. I refuse to cripple myself for ninety roubles ... Well, all right, so I'll eat two thousand hamburgers in my lifetime. Wear out twenty-five dark-grey suits. Leaf through seven hundred issues of the local newspaper. And die without scratching the earth's surface. Is that it? ... I'd rather live only a minute, but live it right! (Fred Kolesnikov) — Sergei Dovlatov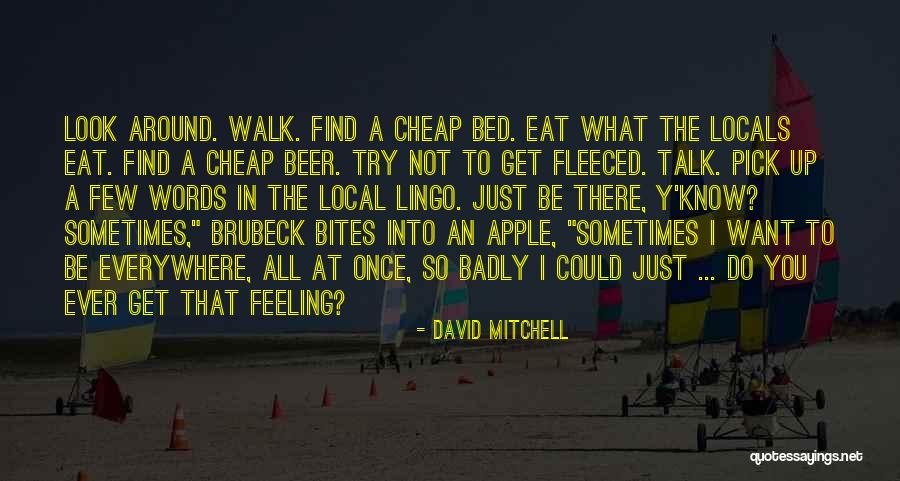 Look around. Walk. Find a cheap bed. Eat what the locals eat. Find a cheap beer. Try not to get fleeced. Talk. Pick up a few words in the local lingo. Just BE there, y'know? Sometimes," Brubeck bites into an apple, "Sometimes I want to be everywhere, all at once, so badly I could just ... Do you ever get that feeling? — David Mitchell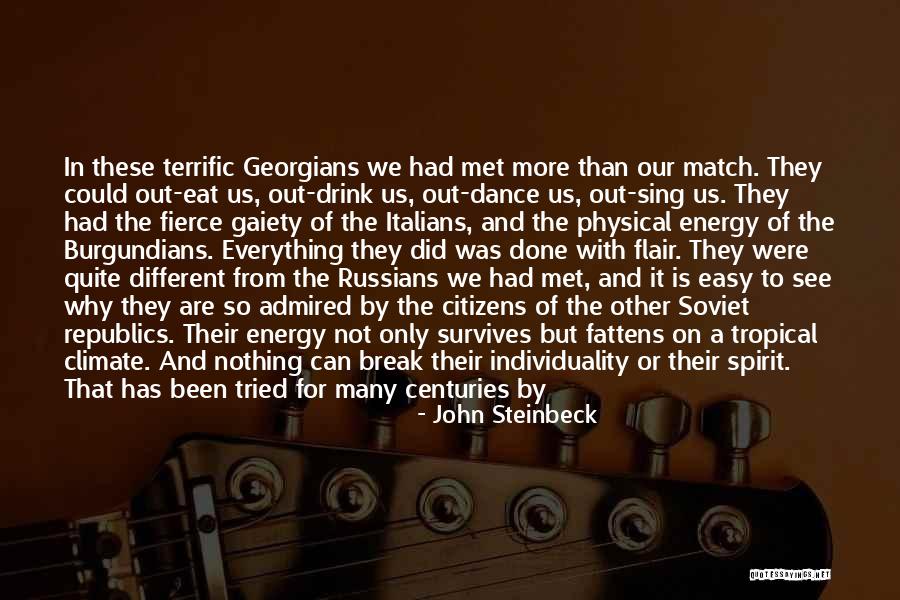 In these terrific Georgians we had met more than our match. They could out-eat us, out-drink us, out-dance us, out-sing us. They had the fierce gaiety of the Italians, and the physical energy of the Burgundians. Everything they did was done with flair. They were quite different from the Russians we had met, and it is easy to see why they are so admired by the citizens of the other Soviet republics. Their energy not only survives but fattens on a tropical climate. And nothing can break their individuality or their spirit. That has been tried for many centuries by invaders, by czarist armies, by despots, by the little local nobility. Everything has struck at their spirit and nothing has succeeded in making a dent in it. — John Steinbeck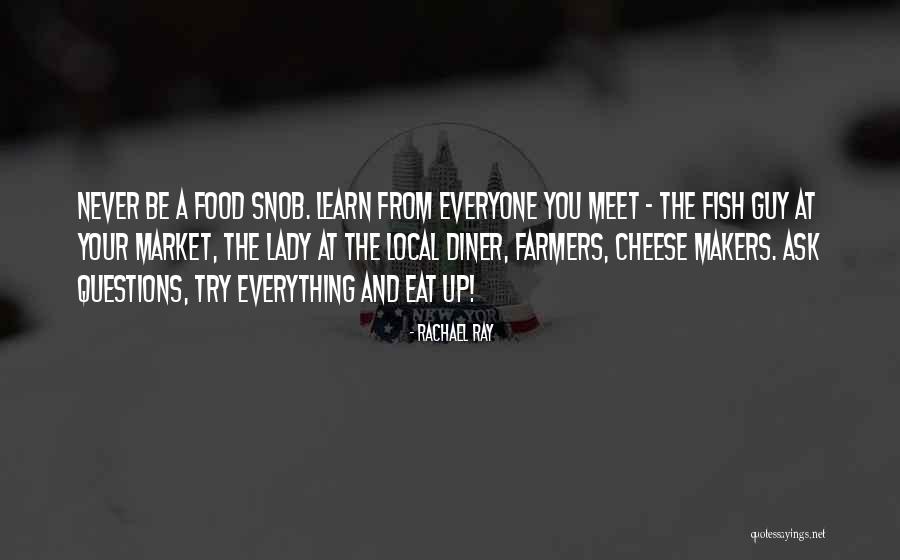 Never be a food snob. Learn from everyone you meet - the fish guy at your market, the lady at the local diner, farmers, cheese makers. Ask questions, try everything and eat up! — Rachael Ray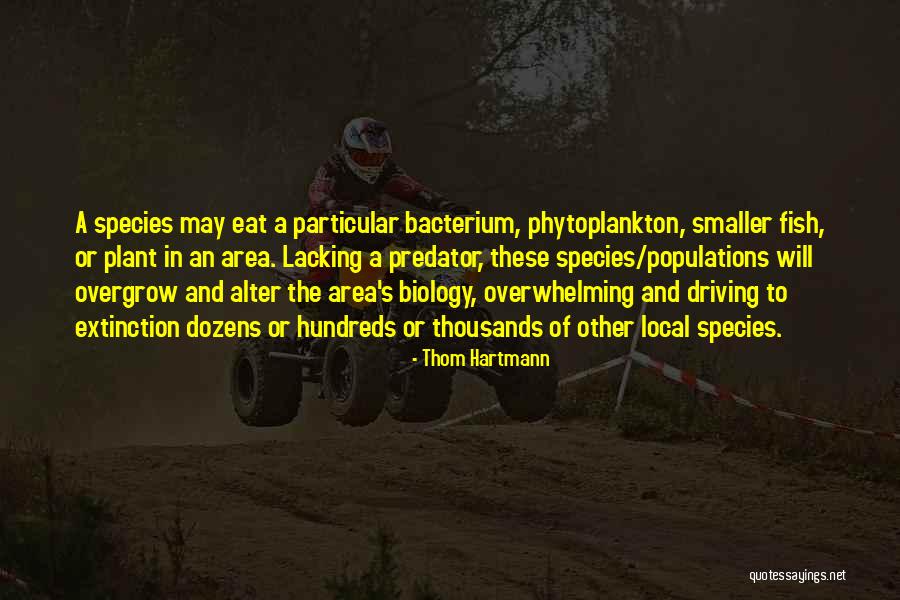 A species may eat a particular bacterium, phytoplankton, smaller fish, or plant in an area. Lacking a predator, these species/populations will overgrow and alter the area's biology, overwhelming and driving to extinction dozens or hundreds or thousands of other local species. — Thom Hartmann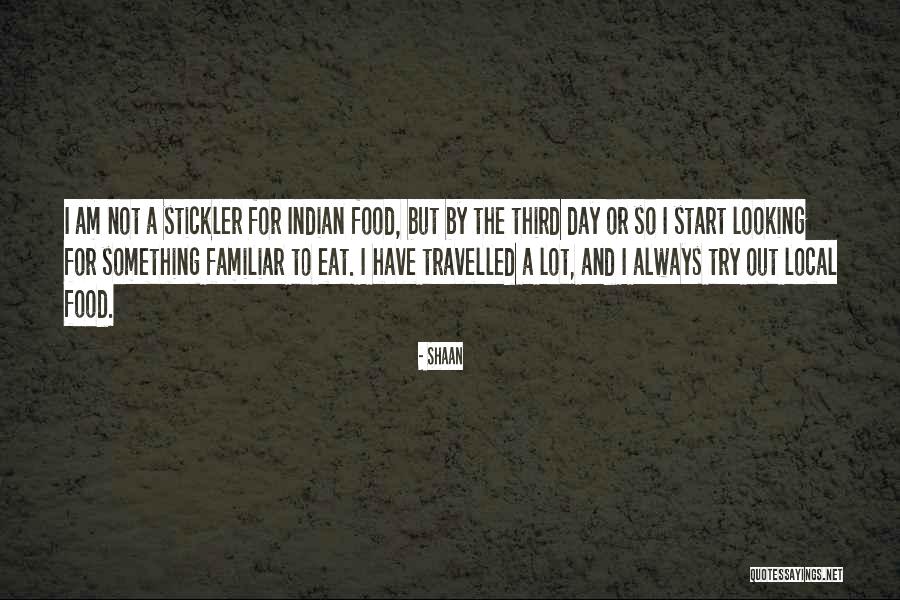 I am not a stickler for Indian food, but by the third day or so I start looking for something familiar to eat. I have travelled a lot, and I always try out local food. — Shaan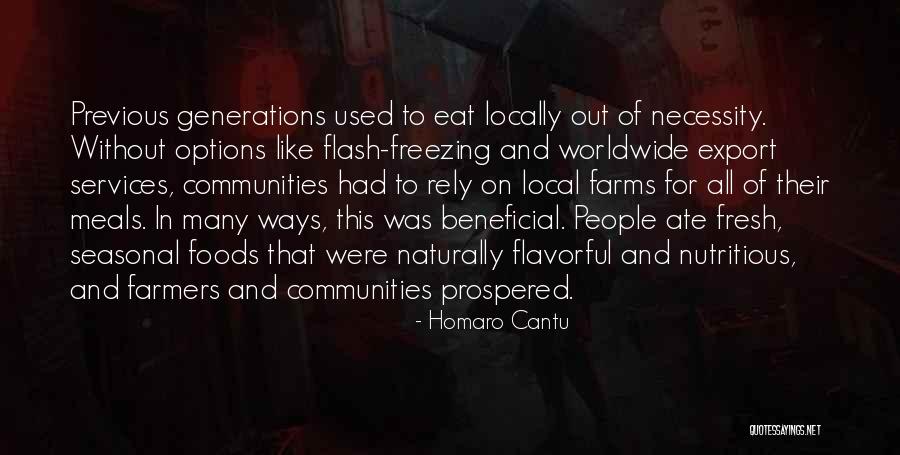 Previous generations used to eat locally out of necessity. Without options like flash-freezing and worldwide export services, communities had to rely on local farms for all of their meals. In many ways, this was beneficial. People ate fresh, seasonal foods that were naturally flavorful and nutritious, and farmers and communities prospered. — Homaro Cantu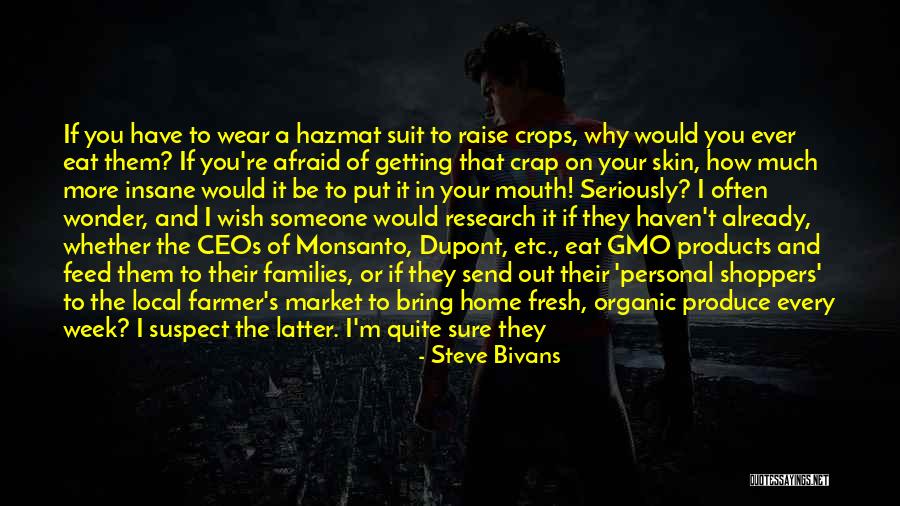 If you have to wear a hazmat suit to raise crops, why would you ever eat them? If you're afraid of getting that crap on your skin, how much more insane would it be to put it in your mouth! Seriously? I often wonder, and I wish someone would research it if they haven't already, whether the CEOs of Monsanto, Dupont, etc., eat GMO products and feed them to their families, or if they send out their 'personal shoppers' to the local farmer's market to bring home fresh, organic produce every week? I suspect the latter. I'm quite sure they all have reverse osmosis water systems in their mansions. Let me put it bluntly, if I haven't been clear so far. The day the CEO of Monsanto guzzles a gallon of Roundup, is the day I'll consider buying their products, maybe. — Steve Bivans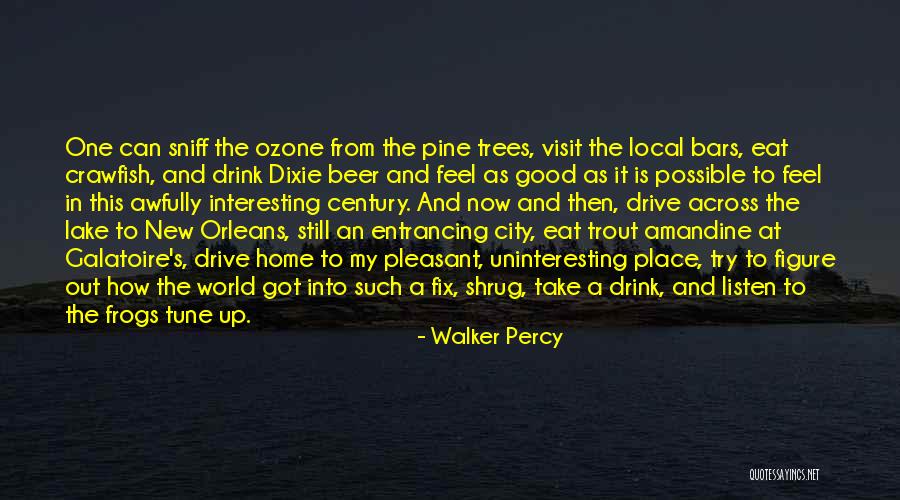 One can sniff the ozone from the pine trees, visit the local bars, eat crawfish, and drink Dixie beer and feel as good as it is possible to feel in this awfully interesting century. And now and then, drive across the lake to New Orleans, still an entrancing city, eat trout amandine at Galatoire's, drive home to my pleasant, uninteresting place, try to figure out how the world got into such a fix, shrug, take a drink, and listen to the frogs tune up. — Walker Percy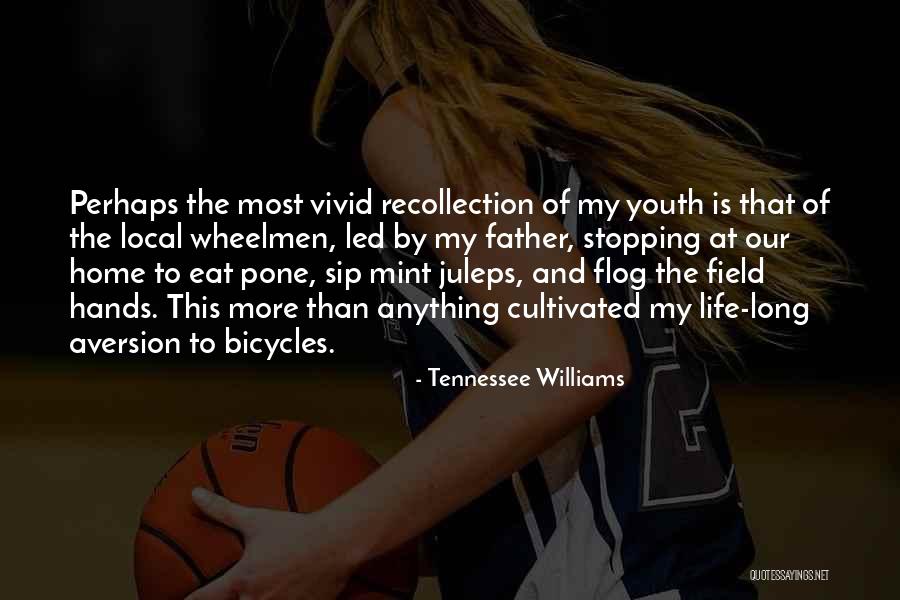 Perhaps the most vivid recollection of my youth is that of the local wheelmen, led by my father, stopping at our home to eat pone, sip mint juleps, and flog the field hands. This more than anything cultivated my life-long aversion to bicycles. — Tennessee Williams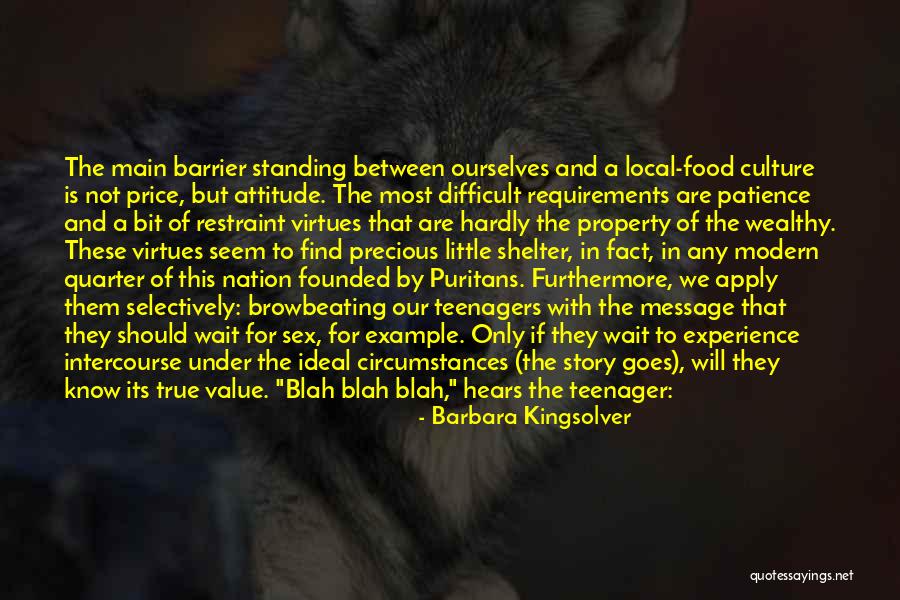 The main barrier standing between ourselves and a local-food culture is not price, but attitude. The most difficult requirements are patience and a bit of restraint
virtues that are hardly the property of the wealthy. These virtues seem to find precious little shelter, in fact, in any modern quarter of this nation founded by Puritans. Furthermore, we apply them selectively: browbeating our teenagers with the message that they should wait for sex, for example. Only if they wait to experience intercourse under the ideal circumstances (the story goes), will they know its true value. "Blah blah blah," hears the teenager: words issuing from a mouth that can't even wait for the right time to eat a tomatoes, but instead consumes tasteless ones all winter to satisfy a craving for everything NOW. — Barbara Kingsolver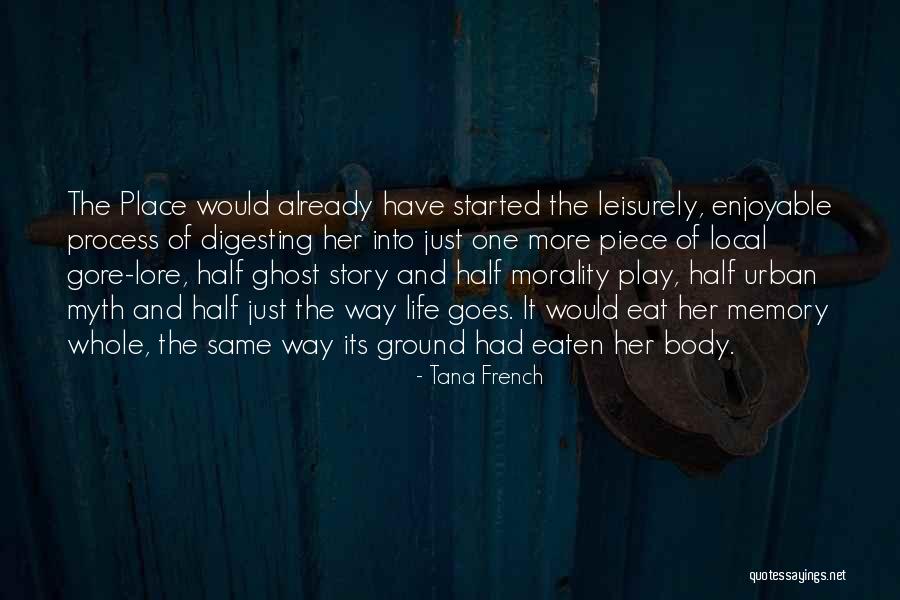 The Place would already have started the leisurely, enjoyable process of digesting her into just one more piece of local gore-lore, half ghost story and half morality play, half urban myth and half just the way life goes. It would eat her memory whole, the same way its ground had eaten her body. — Tana French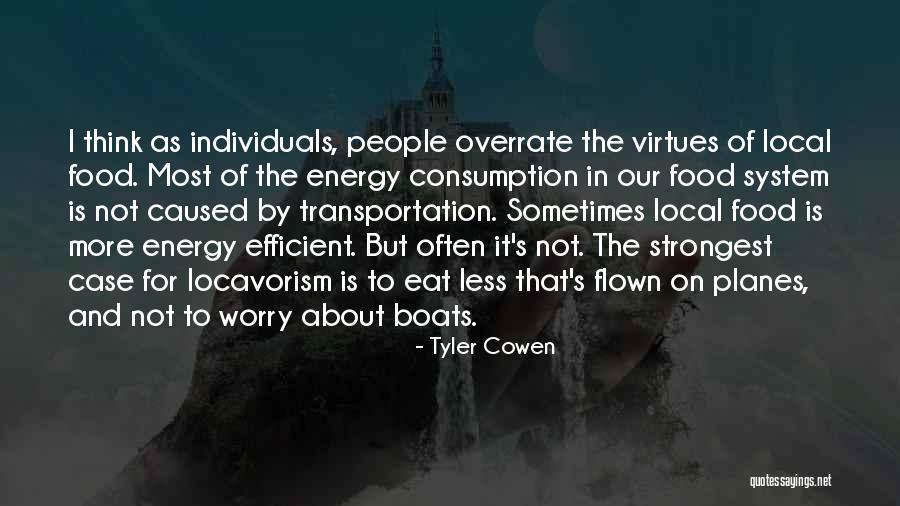 I think as individuals, people overrate the virtues of local food. Most of the energy consumption in our food system is not caused by transportation. Sometimes local food is more energy efficient. But often it's not. The strongest case for locavorism is to eat less that's flown on planes, and not to worry about boats. — Tyler Cowen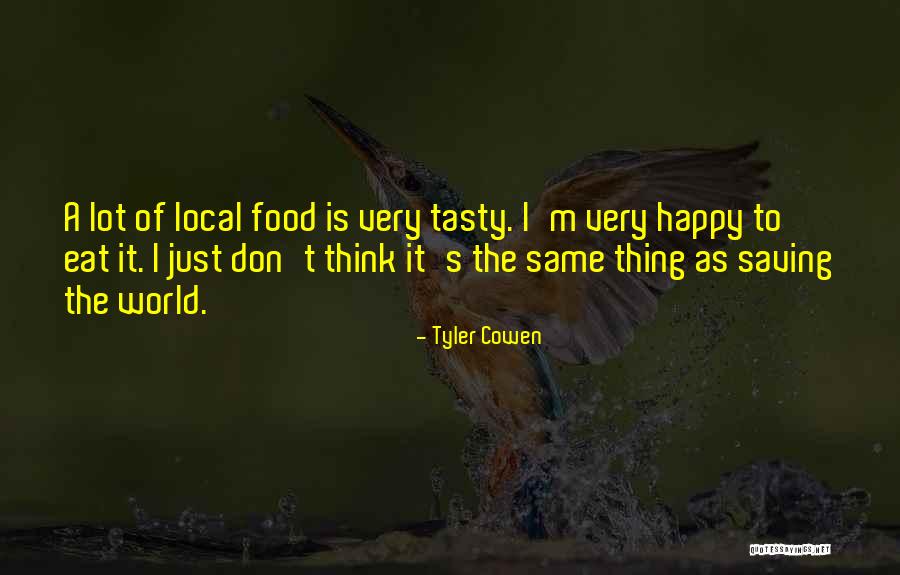 A lot of local food is very tasty. I'm very happy to eat it. I just don't think it's the same thing as saving the world. — Tyler Cowen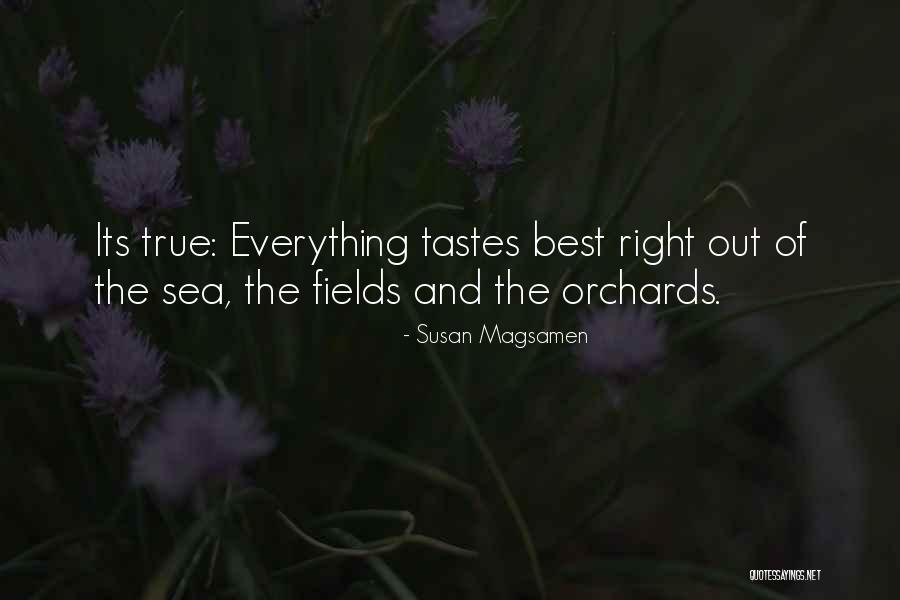 Its true: Everything tastes best right out of the sea, the fields and the orchards. — Susan Magsamen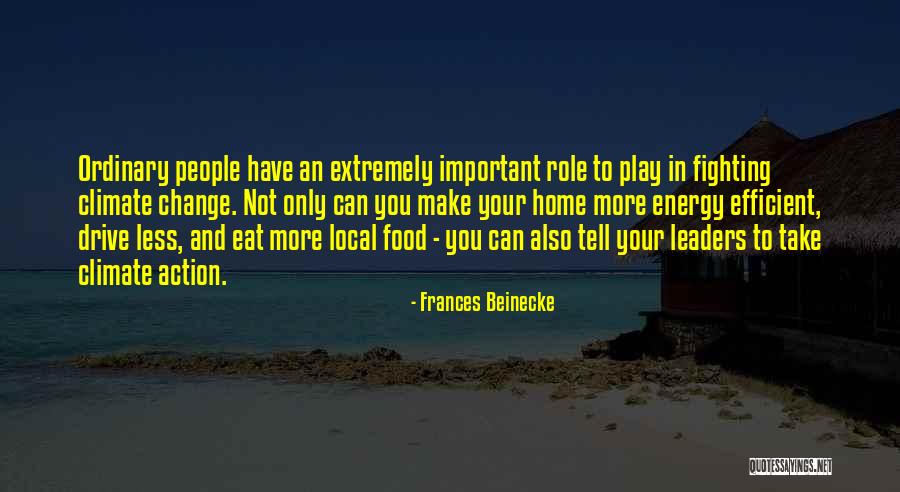 Ordinary people have an extremely important role to play in fighting climate change. Not only can you make your home more energy efficient, drive less, and eat more local food - you can also tell your leaders to take climate action. — Frances Beinecke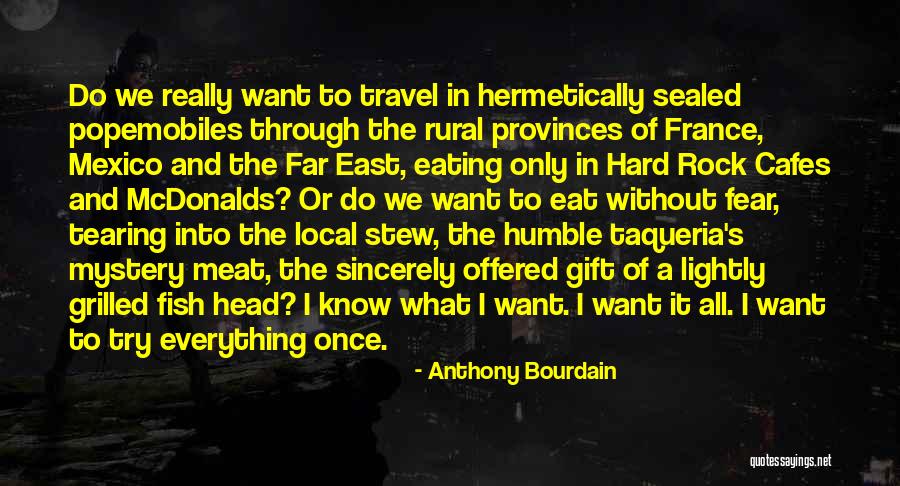 Do we really want to travel in hermetically sealed popemobiles through the rural provinces of France, Mexico and the Far East, eating only in Hard Rock Cafes and McDonalds? Or do we want to eat without fear, tearing into the local stew, the humble taqueria's mystery meat, the sincerely offered gift of a lightly grilled fish head? I know what I want. I want it all. I want to try everything once. — Anthony Bourdain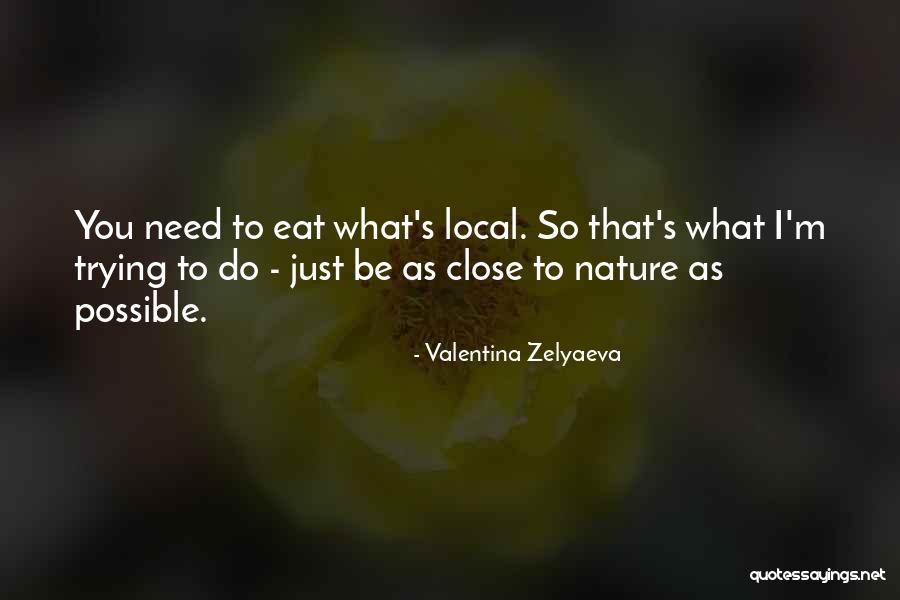 You need to eat what's local. So that's what I'm trying to do - just be as close to nature as possible. — Valentina Zelyaeva
In this country of the bountiful harvest, everyone can have enough to eat - we have it! We grow enough for everyone. Let's share it by supporting our local foodbanks, houses of worship and organizations who help people. — Catherine Hicks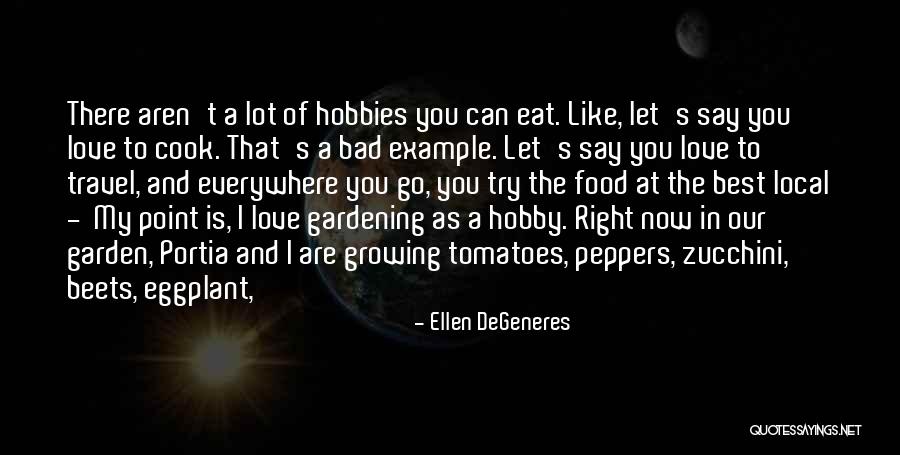 There aren't a lot of hobbies you can eat. Like, let's say you love to cook. That's a bad example. Let's say you love to travel, and everywhere you go, you try the food at the best local - My point is, I love gardening as a hobby. Right now in our garden, Portia and I are growing tomatoes, peppers, zucchini, beets, eggplant, — Ellen DeGeneres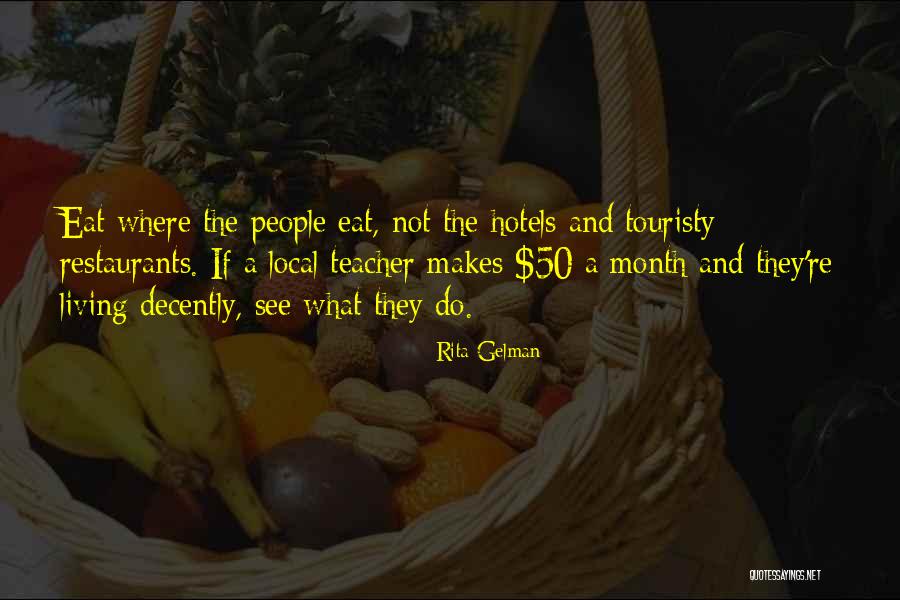 Eat where the people eat, not the hotels and touristy restaurants. If a local teacher makes $50 a month and they're living decently, see what they do. — Rita Gelman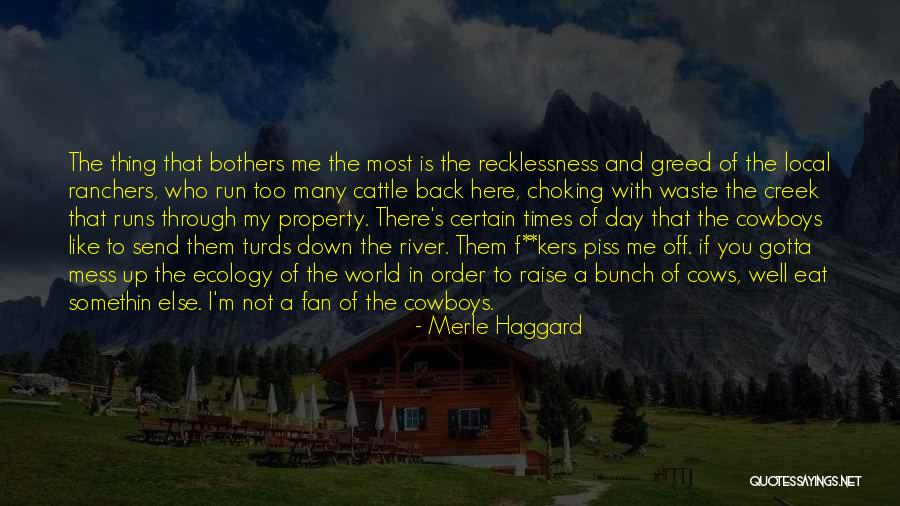 The thing that bothers me the most is the recklessness and greed of the local ranchers, who run too many cattle back here, choking with waste the creek that runs through my property. There's certain times of day that the cowboys like to send them turds down the river. Them f**kers piss me off. if you gotta mess up the ecology of the world in order to raise a bunch of cows, well eat somethin else. I'm not a fan of the cowboys. — Merle Haggard
WILL'S RULES FOR LIVING #10: WHEN VISITING A FOREIGN LAND, IT IS ALWAYS WISE TO OBSERVE AND ABIDE BY THE CUSTOMS OF THE LOCAL CULTURE. UNLESS THEY'RE TRYING TO EAT YOU. — Mark Frost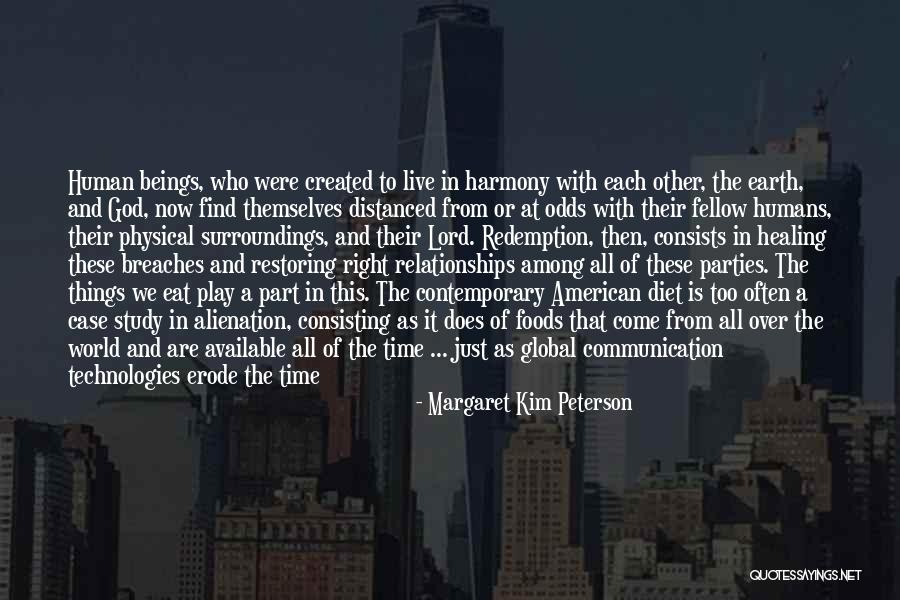 Human beings, who were created to live in harmony with each other, the earth, and God, now find themselves distanced from or at odds with their fellow humans, their physical surroundings, and their Lord. Redemption, then, consists in healing these breaches and restoring right relationships among all of these parties.
The things we eat play a part in this. The contemporary American diet is too often a case study in alienation, consisting as it does of foods that come from all over the world and are available all of the time ... just as global communication technologies erode the time people spend talking in person to people they actually know, so the constant availability of foods from all over the world erodes the connection people have to their own local environment and the foods associated with it. — Margaret Kim Peterson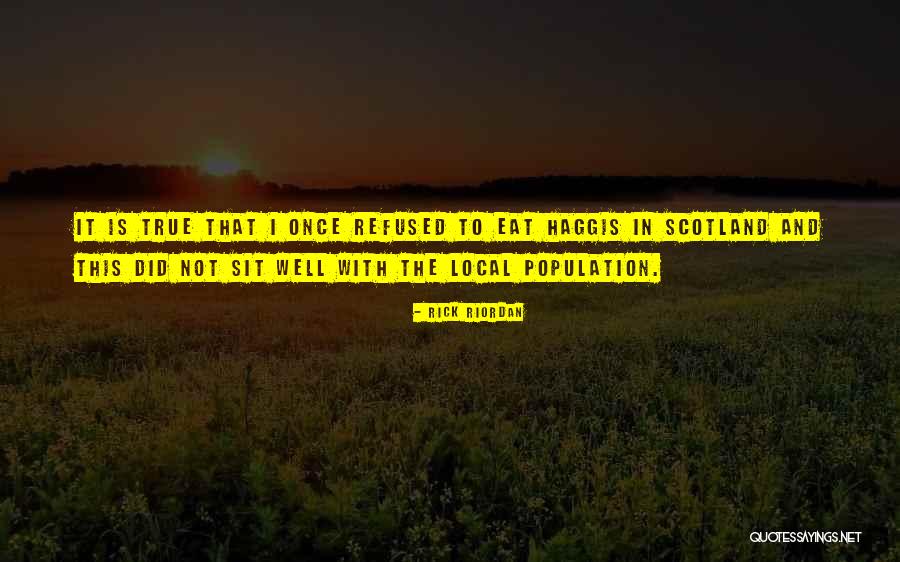 It is true that I once refused to eat haggis in Scotland and this did not sit well with the local population. — Rick Riordan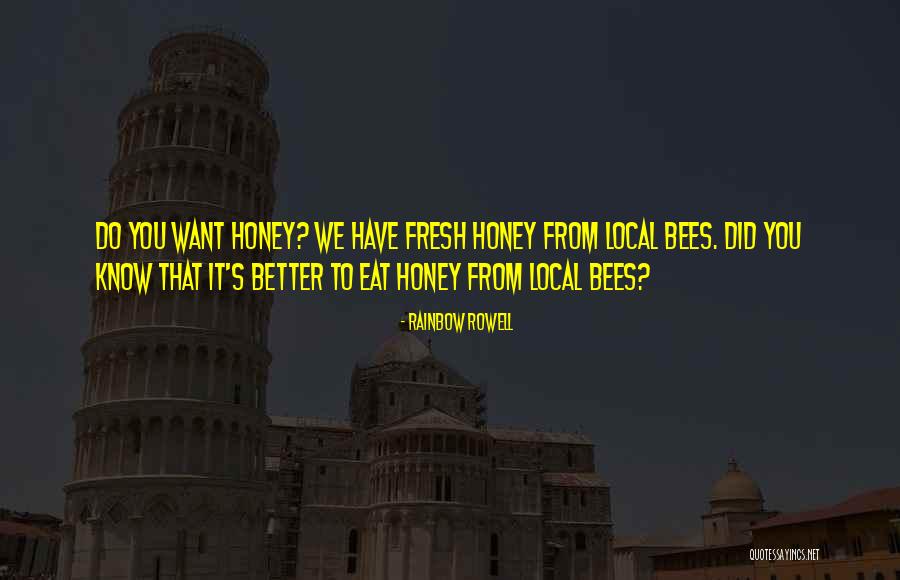 Do you want honey? We have fresh honey from local bees. Did you know that it's better to eat honey from local bees? — Rainbow Rowell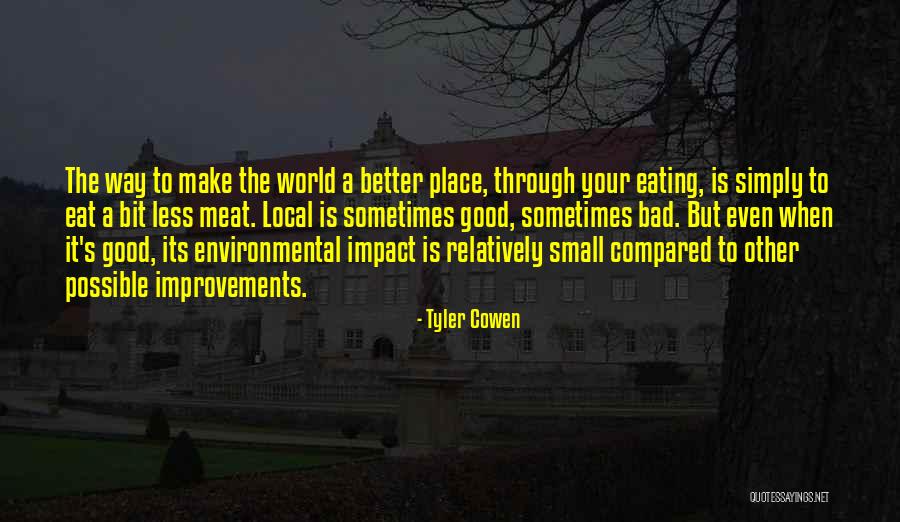 The way to make the world a better place, through your eating, is simply to eat a bit less meat. Local is sometimes good, sometimes bad. But even when it's good, its environmental impact is relatively small compared to other possible improvements. — Tyler Cowen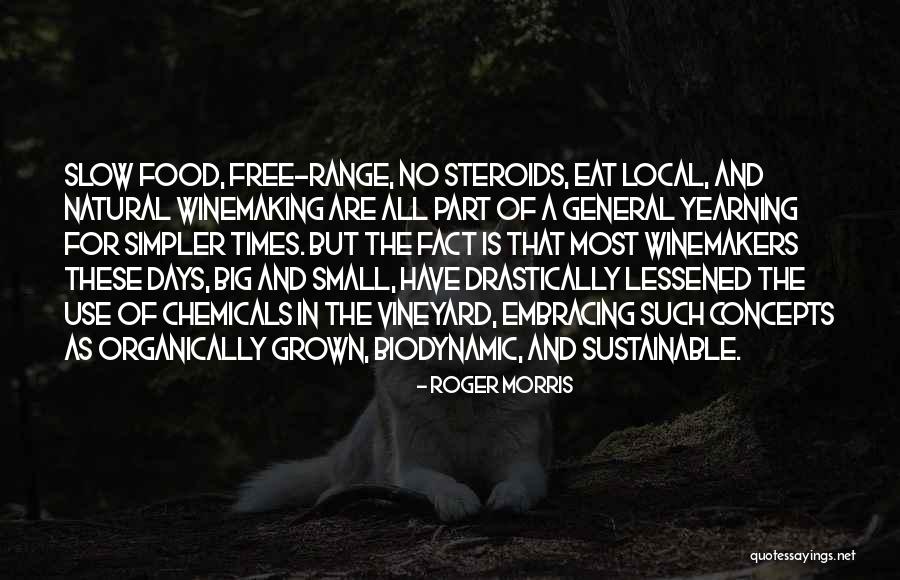 Slow food, free-range, no steroids, eat local, and natural winemaking are all part of a general yearning for simpler times. But the fact is that most winemakers these days, big and small, have drastically lessened the use of chemicals in the vineyard, embracing such concepts as organically grown, biodynamic, and sustainable. — Roger Morris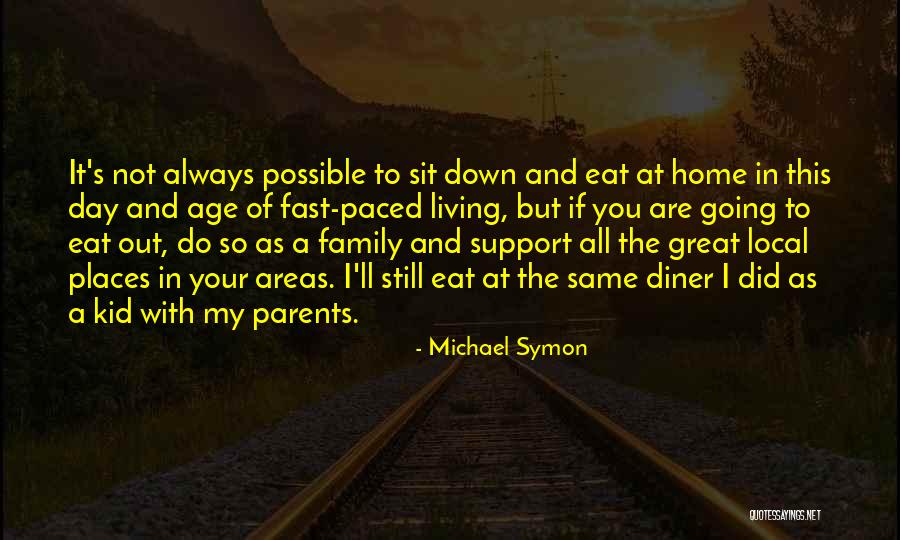 It's not always possible to sit down and eat at home in this day and age of fast-paced living, but if you are going to eat out, do so as a family and support all the great local places in your areas. I'll still eat at the same diner I did as a kid with my parents. — Michael Symon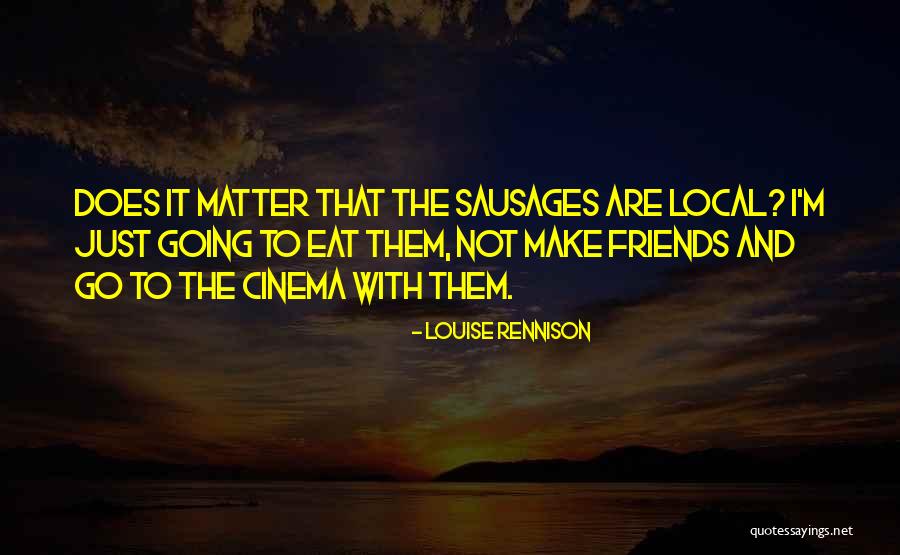 Does it matter that the sausages are local? I'm just going to eat them, not make friends and go to the cinema with them. — Louise Rennison