Quotes & Sayings About Dying For Others
Enjoy reading and share 61 famous quotes about Dying For Others with everyone.
Top Dying For Others Quotes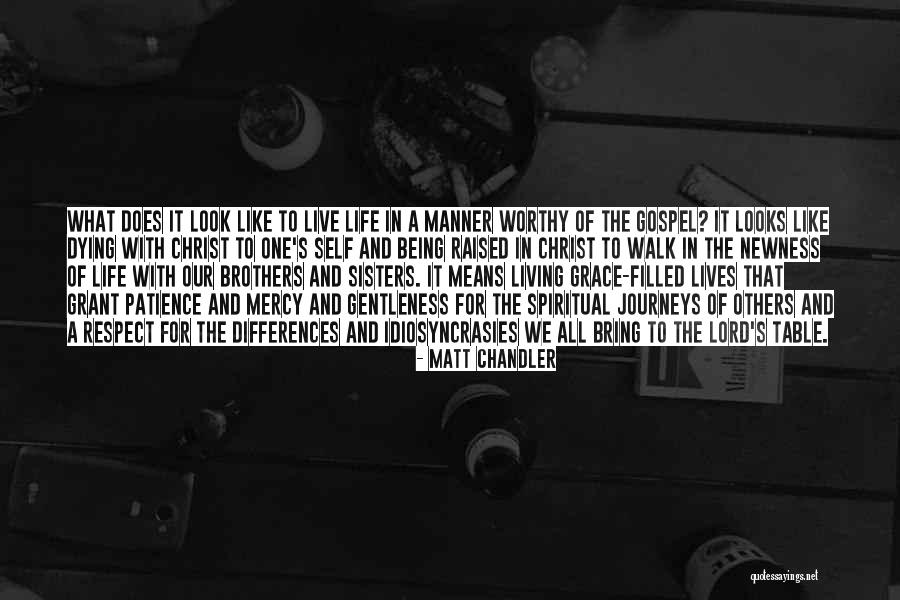 What does it look like to live life in a manner worthy of the gospel? It looks like dying with Christ to one's self and being raised in Christ to walk in the newness of life with our brothers and sisters. It means living grace-filled lives that grant patience and mercy and gentleness for the spiritual journeys of others and a respect for the differences and idiosyncrasies we all bring to the Lord's table. — Matt Chandler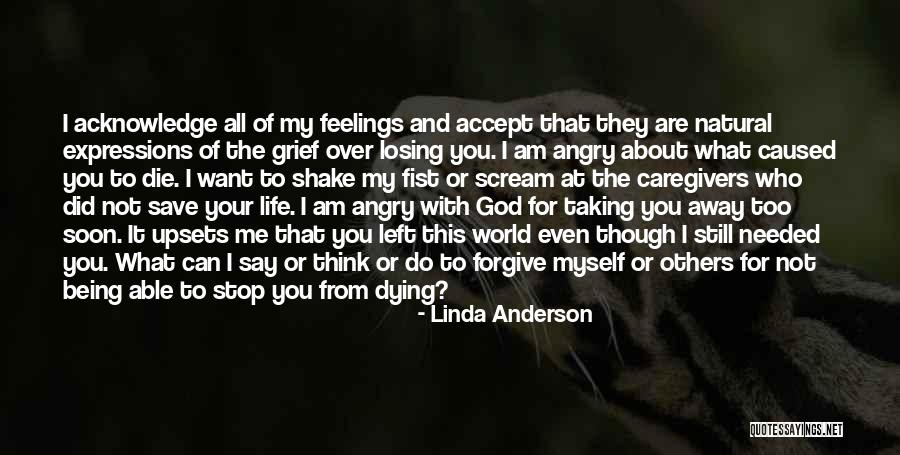 I acknowledge all of my feelings and accept that they are natural expressions of the grief over losing you. I am angry about what caused you to die. I want to shake my fist or scream at the caregivers who did not save your life. I am angry with God for taking you away too soon. It upsets me that you left this world even though I still needed you. What can I say or think or do to forgive myself or others for not being able to stop you from dying? — Linda Anderson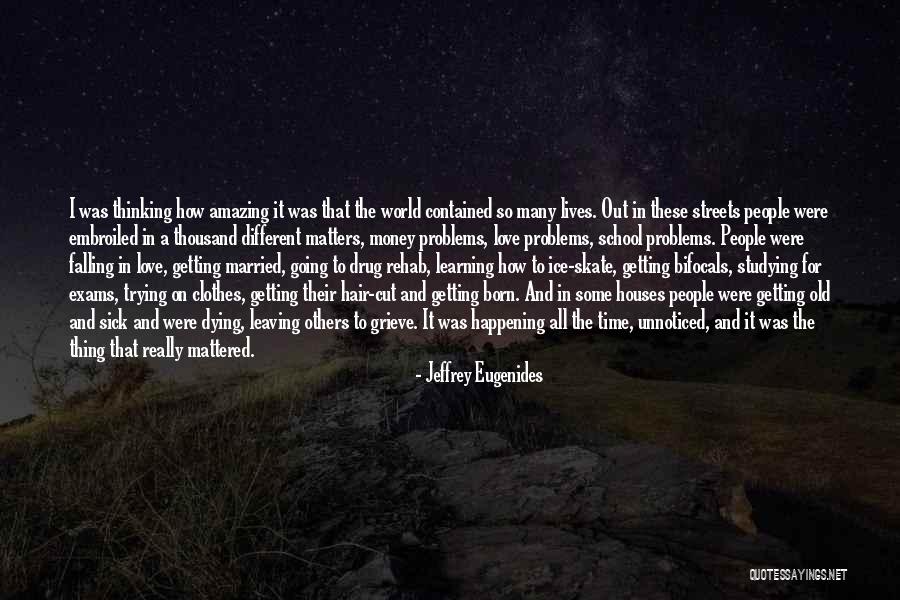 I was thinking how amazing it was that the world contained so many lives. Out in these streets people were embroiled in a thousand different matters, money problems, love problems, school problems. People were falling in love, getting married, going to drug rehab, learning how to ice-skate, getting bifocals, studying for exams, trying on clothes, getting their hair-cut and getting born. And in some houses people were getting old and sick and were dying, leaving others to grieve. It was happening all the time, unnoticed, and it was the thing that really mattered. — Jeffrey Eugenides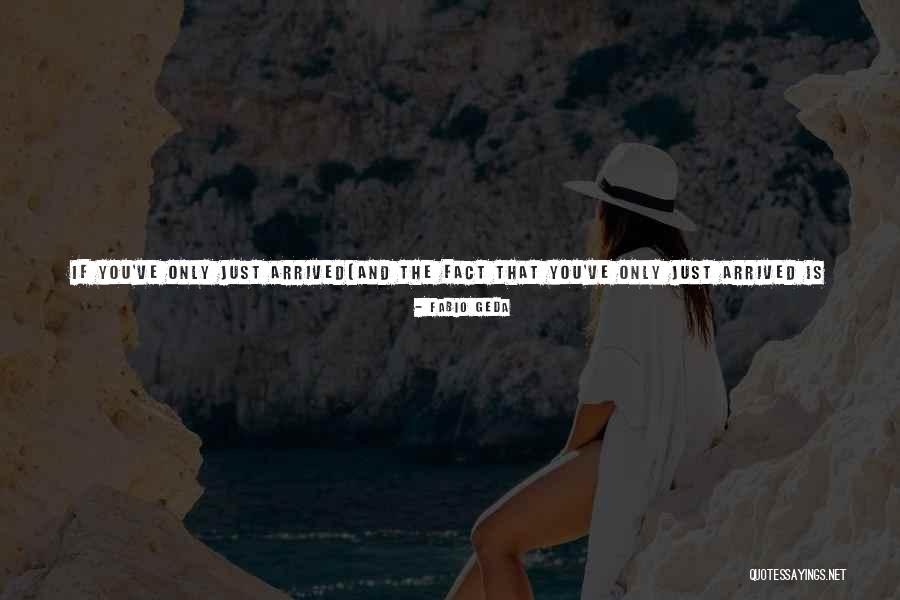 If you've only just arrived(and the fact that you've only just arrived is obvious the moment you open your mouth to ask for something), if you don't know where you are,or how things work in a place,or how your'e supposed to behave, people can easily take advantage of you.One thing I wanted to avoid (one among many others, like dying) was people taking advantage of me. — Fabio Geda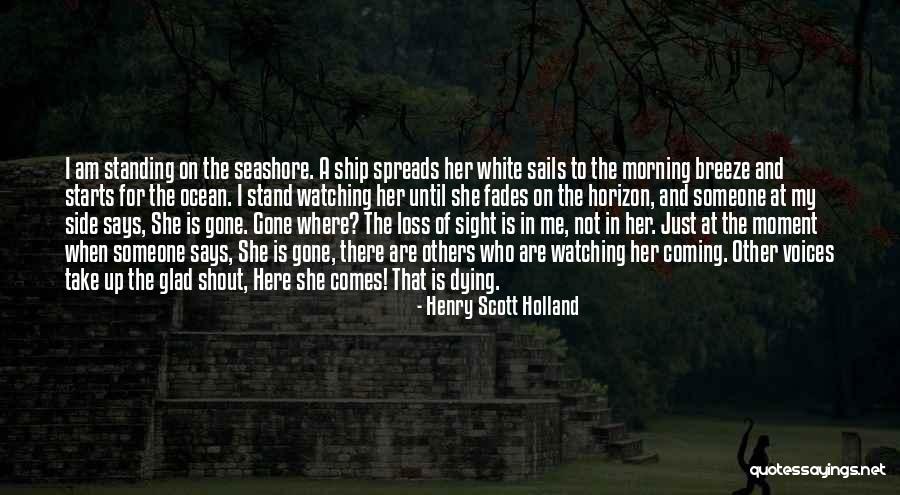 I am standing on the seashore. A ship spreads her white sails to the morning breeze and starts for the ocean. I stand watching her until she fades on the horizon, and someone at my side says, She is gone. Gone where? The loss of sight is in me, not in her. Just at the moment when someone says, She is gone, there are others who are watching her coming. Other voices take up the glad shout, Here she comes! That is dying. — Henry Scott Holland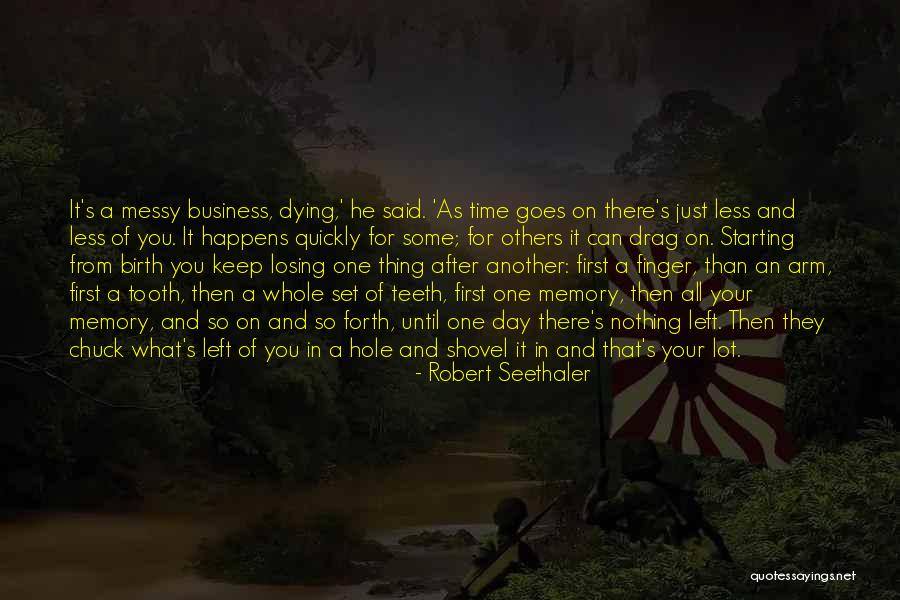 It's a messy business, dying,' he said. 'As time goes on there's just less and less of you. It happens quickly for some; for others it can drag on. Starting from birth you keep losing one thing after another: first a finger, than an arm, first a tooth, then a whole set of teeth, first one memory, then all your memory, and so on and so forth, until one day there's nothing left. Then they chuck what's left of you in a hole and shovel it in and that's your lot. — Robert Seethaler
People have been fighting and dying over religion for thousands of years. I could understand that fear. It creeps up on you a bit more when you're alone in a foreign land. You certainly worry about it more when you walk the same streets as violent people that harbor a clear hatred of your beliefs and values. The reality is some Muslims in the world would kill me for being Christian, just as some Christians in the world would kill Maya, Gita, Farid and Ridwan for being Muslim. Nowadays news outlets and social media have reified that fear. It keeps some people focused and aware. It paralyzes others. It blinds some of us. That's what happened to me. It's why I felt the whole world shake. Twice. — Tucker Elliot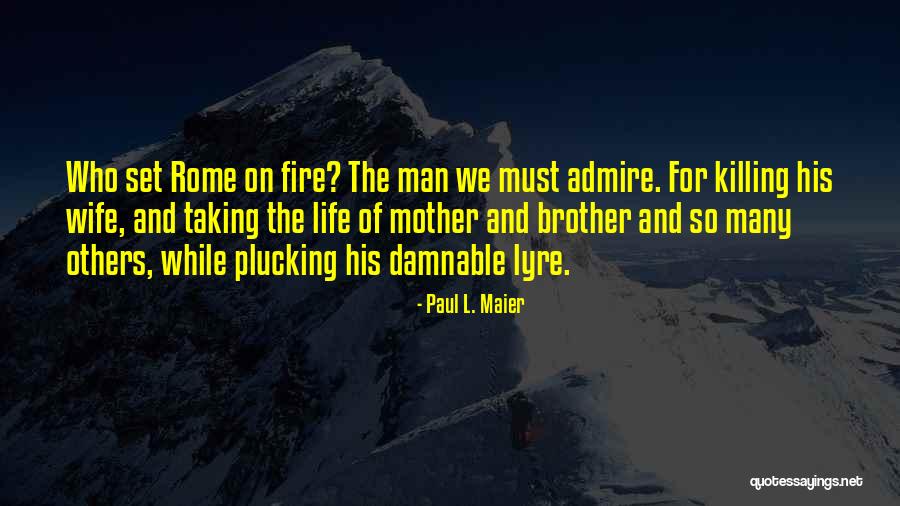 Who set Rome on fire? The man we must admire. For killing his wife, and taking the life of mother and brother and so many others, while plucking his damnable lyre. — Paul L. Maier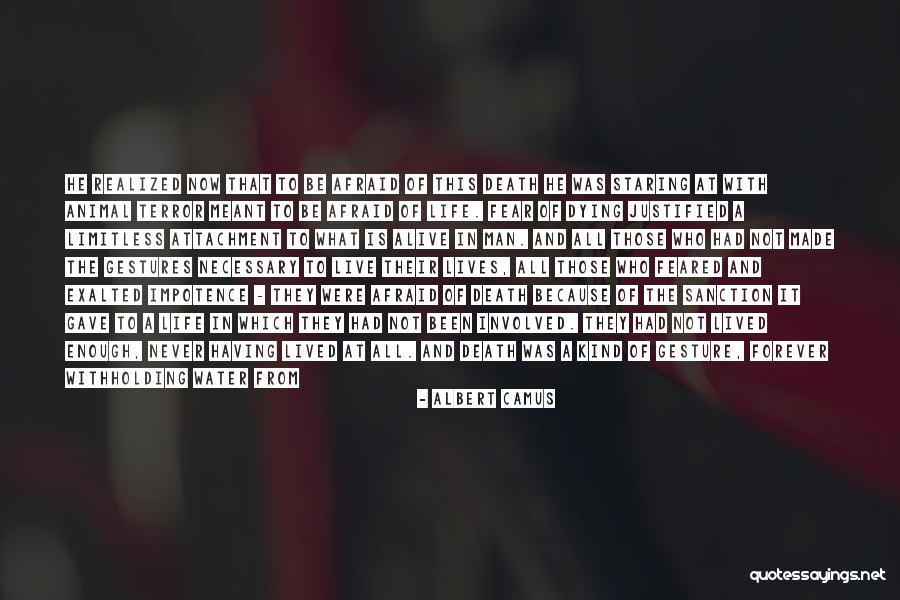 He realized now that to be afraid of this death he was staring at with animal terror meant to be afraid of life. Fear of dying justified a limitless attachment to what is alive in man. And all those who had not made the gestures necessary to live their lives, all those who feared and exalted impotence - they were afraid of death because of the sanction it gave to a life in which they had not been involved. They had not lived enough, never having lived at all. And death was a kind of gesture, forever withholding water from the traveler vainly seeking to slake his thirst. But for the others, it was the fatal and tender gesture that erases and denies, smiling at gratitude as at rebellion. — Albert Camus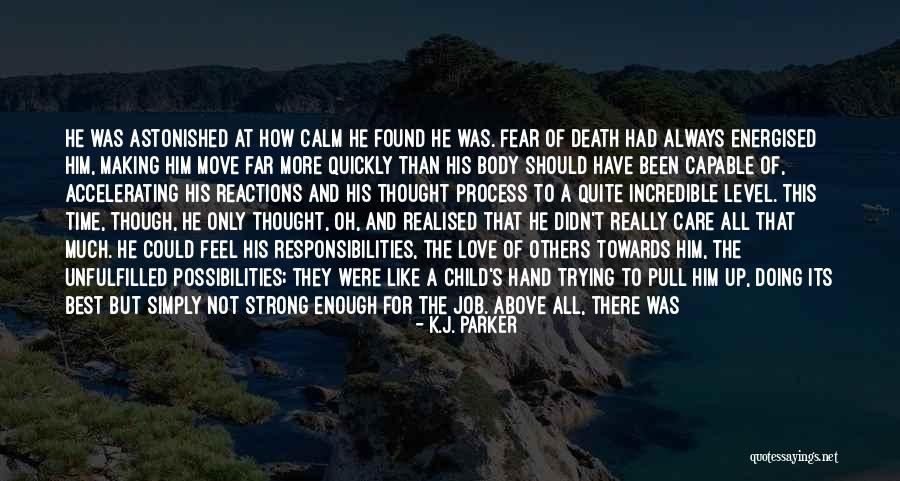 He was astonished at how calm he found he was. Fear of death had always energised him, making him move far more quickly than his body should have been capable of, accelerating his reactions and his thought process to a quite incredible level. This time, though, he only thought, Oh, and realised that he didn't really care all that much. He could feel his responsibilities, the love of others towards him, the unfulfilled possibilities; they were like a child's hand trying to pull him up, doing its best but simply not strong enough for the job. Above all, there was no blame. I tried to climb a wall, but I couldn't, and there it is. — K.J. Parker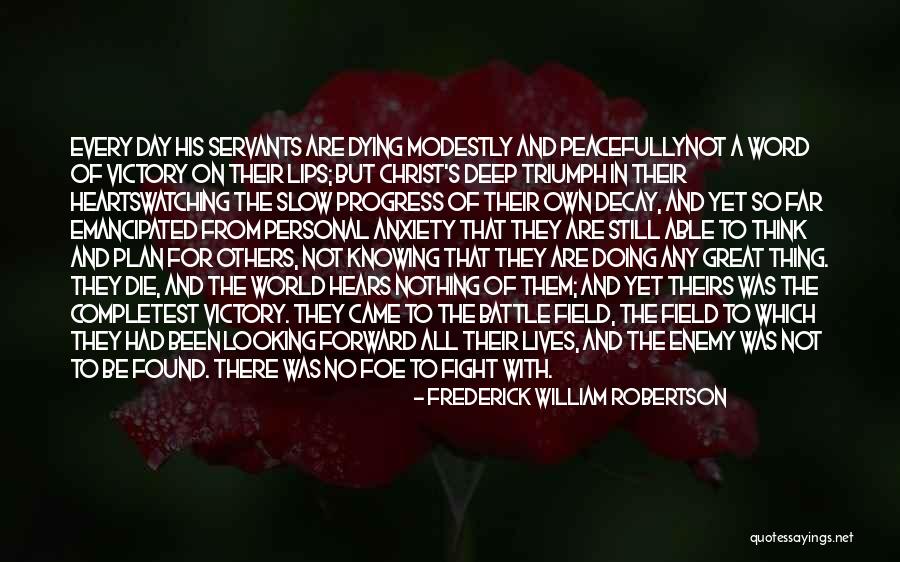 Every day His servants are dying modestly and peacefully
not a word of victory on their lips; but Christ's deep triumph in their hearts
watching the slow progress of their own decay, and yet so far emancipated from personal anxiety that they are still able to think and plan for others, not knowing that they are doing any great thing. They die, and the world hears nothing of them; and yet theirs was the completest victory. They came to the battle field, the field to which they had been looking forward all their lives, and the enemy was not to be found. There was no foe to fight with. — Frederick William Robertson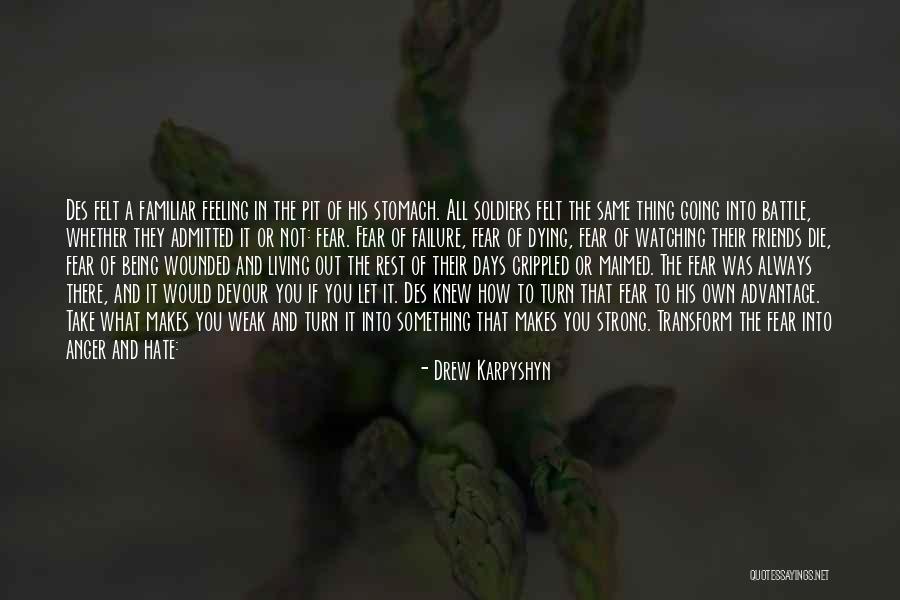 Des felt a familiar feeling in the pit of his stomach. All soldiers felt the same thing going into battle, whether they admitted it or not: fear. Fear of failure, fear of dying, fear of watching their friends die, fear of being wounded and living out the rest of their days crippled or maimed. The fear was always there, and it would devour you if you let it.
Des knew how to turn that fear to his own advantage. Take what makes you weak and turn it into something that makes you strong. Transform the fear into anger and hate: hatred of the enemy; hatred of the Republic and the Jedi. The hate gave him strength, and the strength brought him victory.
For Des the transformation came easily once the fighting started. Thanks to his abusive father, he'd been turning fear into anger and hate ever since he was a child. Maybe that was why he was such a good soldier. Maybe that was why the others looked to him for leadership. — Drew Karpyshyn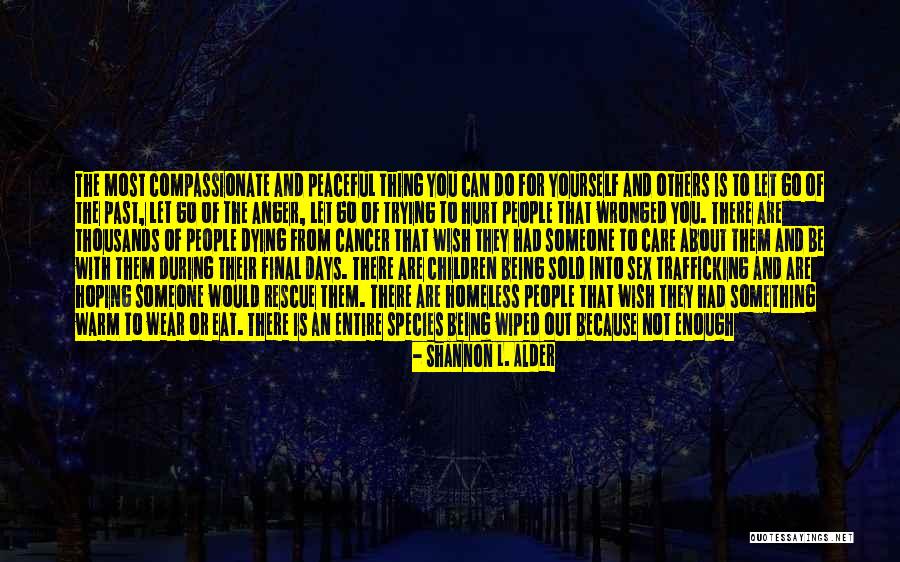 The most compassionate and peaceful thing you can do for yourself and others is to let go of the past, let go of the anger, let go of trying to hurt people that wronged you. There are thousands of people dying from cancer that wish they had someone to care about them and be with them during their final days. There are children being sold into sex trafficking and are hoping someone would rescue them. There are homeless people that wish they had something warm to wear or eat. There is an entire species being wiped out because not enough people care about our oceans. Today, remember that there is someone praying for the very things you take for granted. Spend your effort where God needs you to be
on the front lines of the war on earth, not on the battlefields of the past. — Shannon L. Alder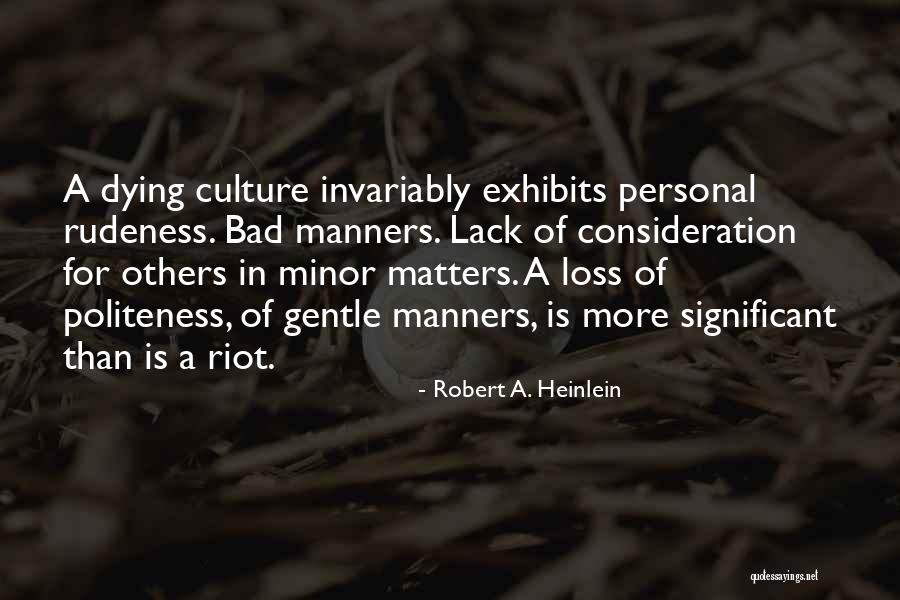 A dying culture invariably exhibits personal rudeness. Bad manners. Lack of consideration for others in minor matters. A loss of politeness, of gentle manners, is more significant than is a riot. — Robert A. Heinlein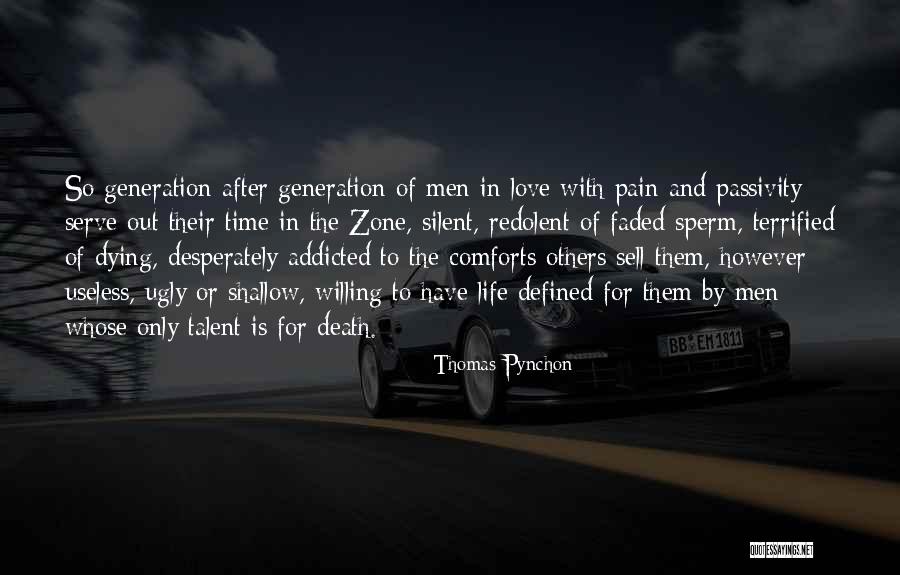 So generation after generation of men in love with pain and passivity serve out their time in the Zone, silent, redolent of faded sperm, terrified of dying, desperately addicted to the comforts others sell them, however useless, ugly or shallow, willing to have life defined for them by men whose only talent is for death. — Thomas Pynchon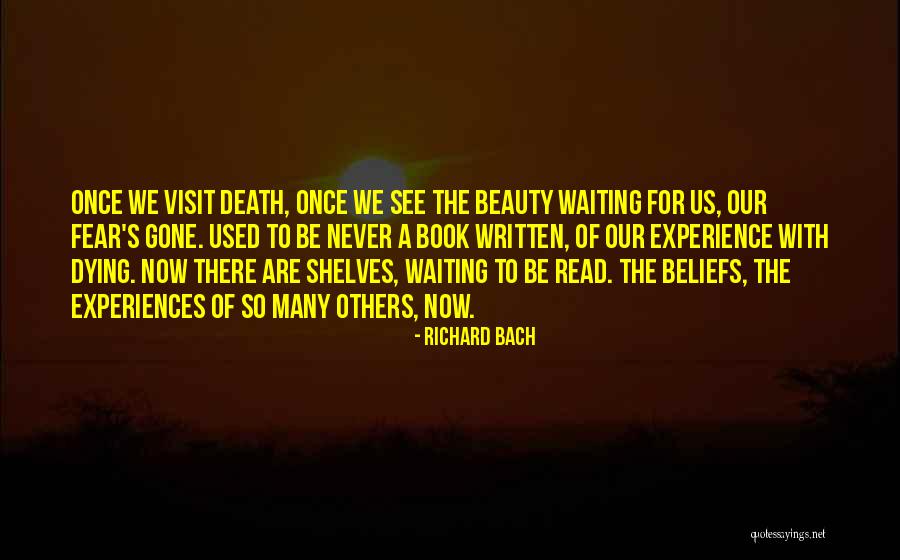 Once we visit death, once we see the beauty waiting for us, our fear's gone. Used to be never a book written, of our experience with dying. Now there are shelves, waiting to be read. The beliefs, the experiences of so many others, now. — Richard Bach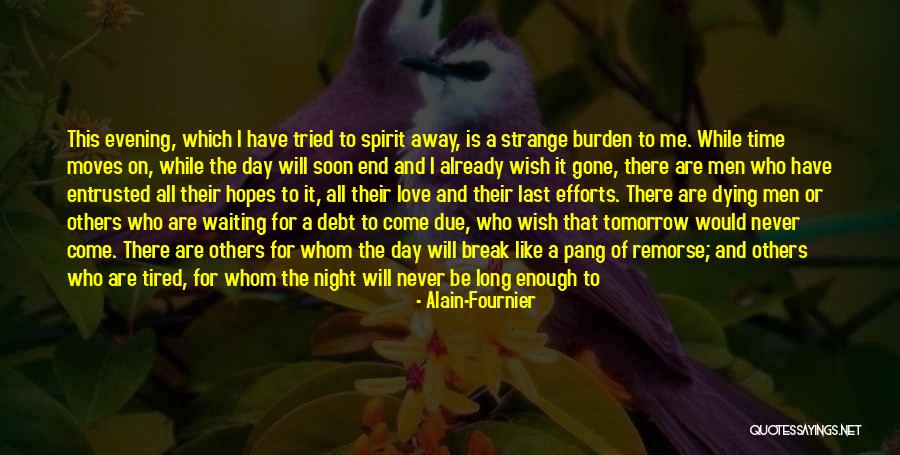 This evening, which I have tried to spirit away, is a strange burden to me. While time moves on, while the day will soon end and I already wish it gone, there are men who have entrusted all their hopes to it, all their love and their last efforts. There are dying men or others who are waiting for a debt to come due, who wish that tomorrow would never come. There are others for whom the day will break like a pang of remorse; and others who are tired, for whom the night will never be long enough to give them the rest that they need. And I - who have lost my day - what right do I have to wish that tomorrow comes? — Alain-Fournier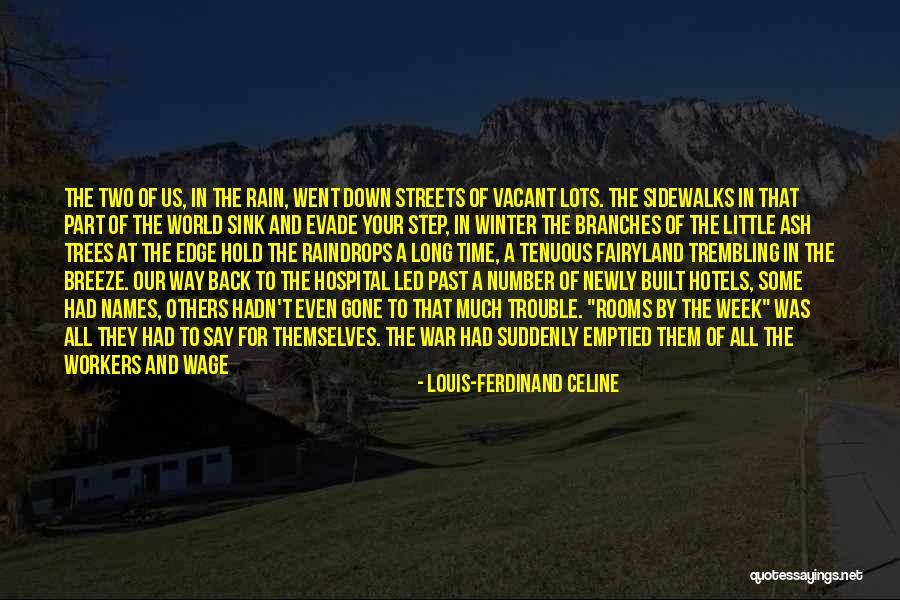 The two of us, in the rain, went down streets of vacant lots. The sidewalks in that part of the world sink and evade your step, in winter the branches of the little ash trees at the edge hold the raindrops a long time, a tenuous fairyland trembling in the breeze. Our way back to the hospital led past a number of newly built hotels, some had names, others hadn't even gone to that much trouble. "Rooms by the week" was all they had to say for themselves. The war had suddenly emptied them of all the workers and wage slaves who had lived there. They wouldn't even come back to die. Dying is work, too, but they'd do it somewhere else. — Louis-Ferdinand Celine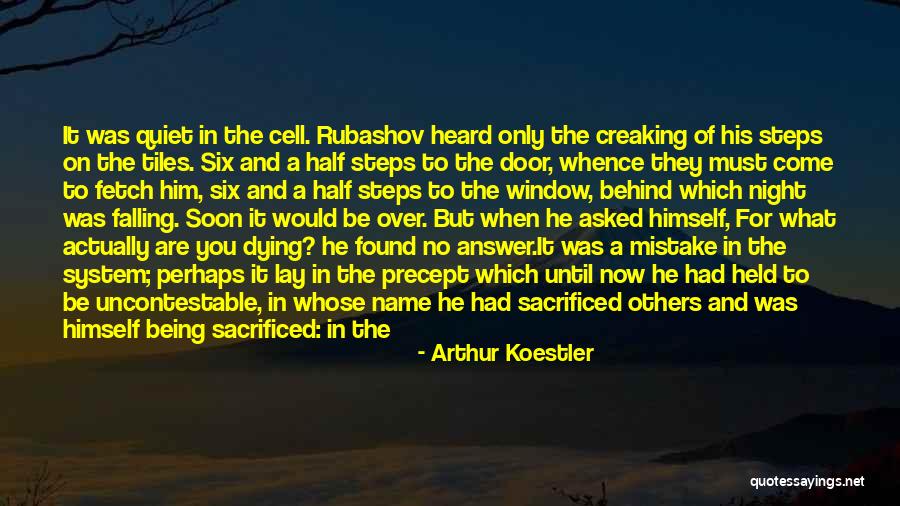 It was quiet in the cell. Rubashov heard only the creaking of his steps on the tiles. Six and a half steps to the door, whence they must come to fetch him, six and a half steps to the window, behind which night was falling. Soon it would be over. But when he asked himself, For what actually are you dying? he found no answer.
It was a mistake in the system; perhaps it lay in the precept which until now he had held to be uncontestable, in whose name he had sacrificed others and was himself being sacrificed: in the precept, that the end justifies the means. It was this sentence which had killed the great fraternity of the Revolution and made them run amuck. What had he once written in his diary? We have thrown overboard all conventions, our sole guiding principle is that of consequent logic; we are sailing without ethical ballast. — Arthur Koestler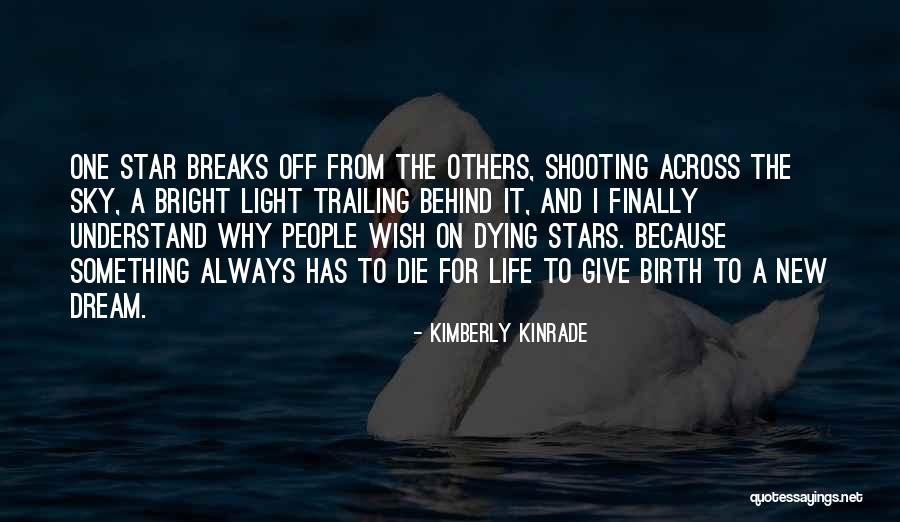 One star breaks off from the others, shooting across the sky, a bright light trailing behind it, and I finally understand why people wish on dying stars. Because something always has to die for life to give birth to a new dream. — Kimberly Kinrade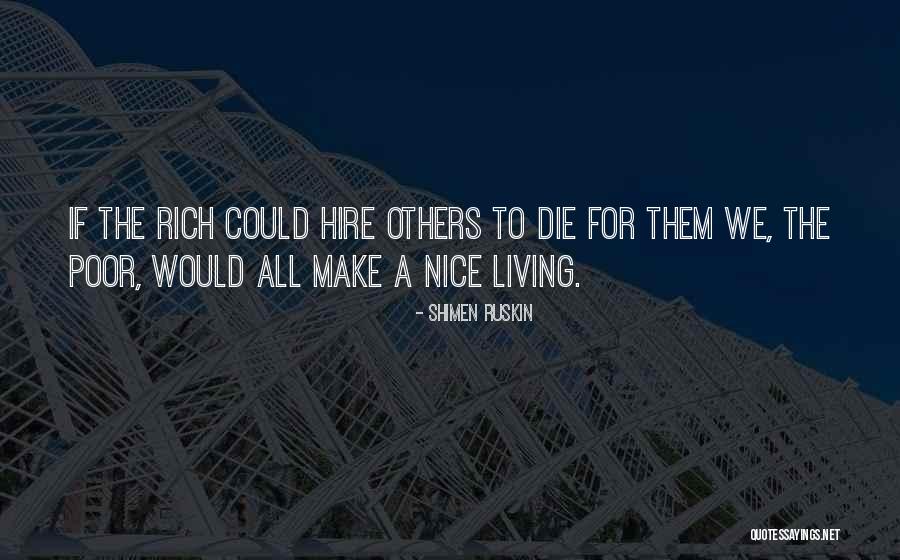 If the rich could hire others to die for them we, the poor, would all make a nice living. — Shimen Ruskin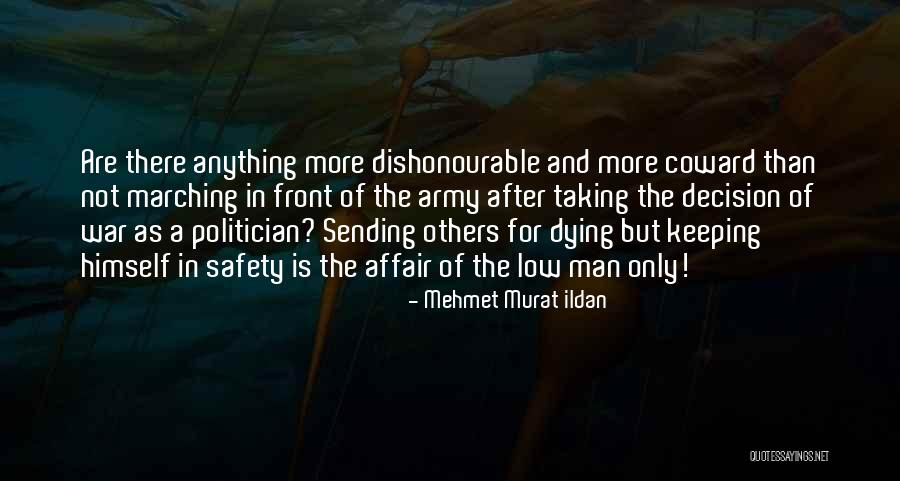 Are there anything more dishonourable and more coward than not marching in front of the army after taking the decision of war as a politician? Sending others for dying but keeping himself in safety is the affair of the low man only! — Mehmet Murat Ildan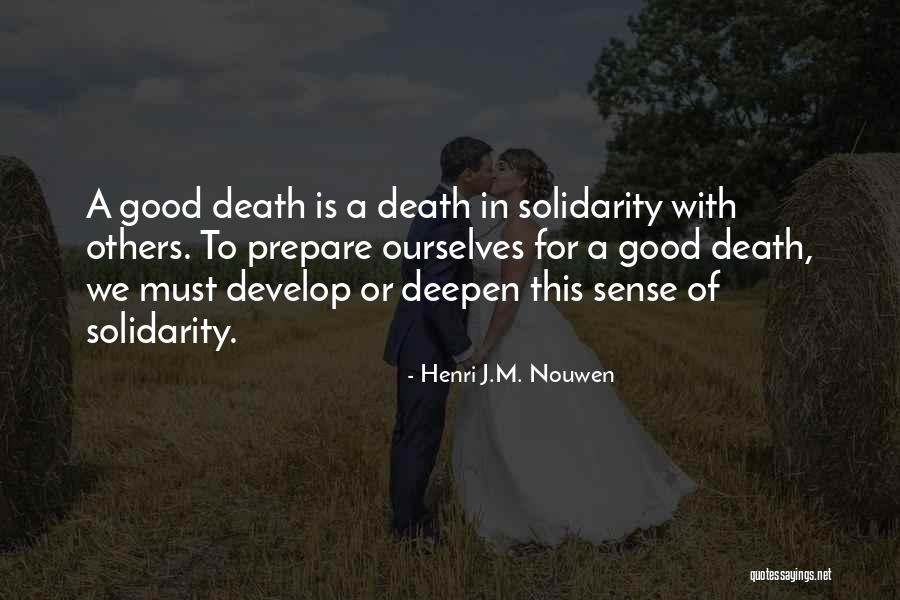 A good death is a death in solidarity with others. To prepare ourselves for a good death, we must develop or deepen this sense of solidarity. — Henri J.M. Nouwen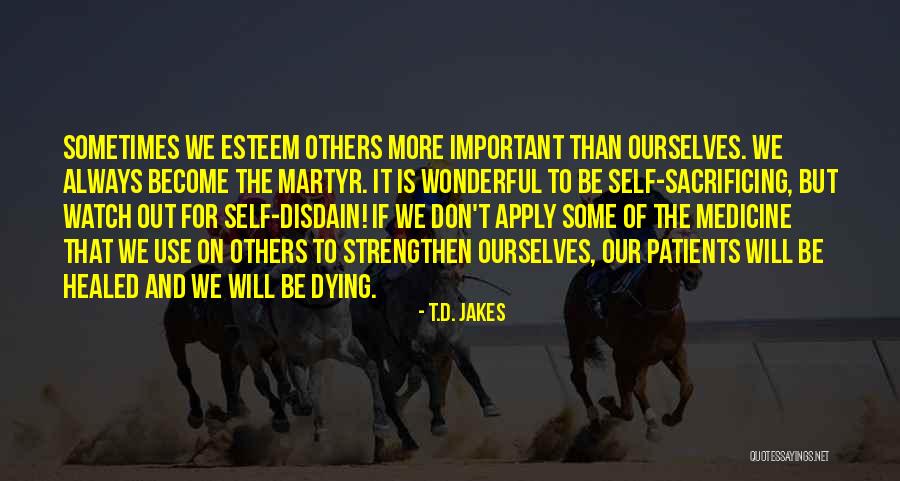 Sometimes we esteem others more important than ourselves. We always become the martyr. It is wonderful to be self-sacrificing, but watch out for self-disdain! If we don't apply some of the
medicine that we use on others to strengthen ourselves, our patients will be healed and we will be dying. — T.D. Jakes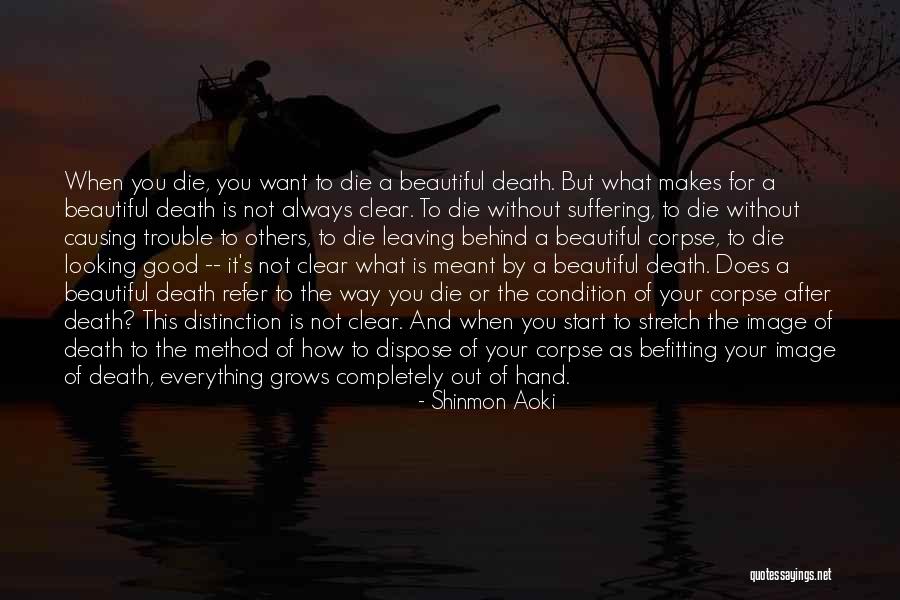 When you die, you want to die a beautiful death. But what makes for a beautiful death is not always clear. To die without suffering, to die without causing trouble to others, to die leaving behind a beautiful corpse, to die looking good -- it's not clear what is meant by a beautiful death. Does a beautiful death refer to the way you die or the condition of your corpse after death? This distinction is not clear. And when you start to stretch the image of death to the method of how to dispose of your corpse as befitting your image of death, everything grows completely out of hand. — Shinmon Aoki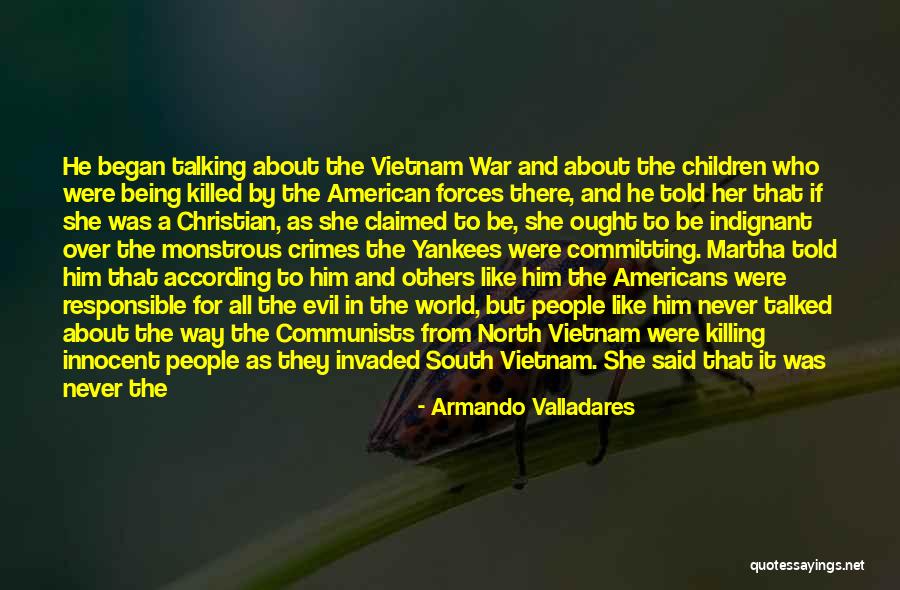 He began talking about the Vietnam War and about the children who were being killed by the American forces there, and he told her that if she was a Christian, as she claimed to be, she ought to be indignant over the monstrous crimes the Yankees were committing. Martha told him that according to him and others like him the Americans were responsible for all the evil in the world, but people like him never talked about the way the Communists from North Vietnam were killing innocent people as they invaded South Vietnam. She said that it was never the men that caused the war who died - they sat comfortably behind their desks while the poor wretches they sent out to fight were dying. — Armando Valladares
I waver, continually fly to the summit of the mountain, but cannot stay up there for more than a moment. Others waver too, but in lower regions, with greater strength; if they are in danger of falling, they are caught up by the kinsman who walks beside them for that purpose. But I waver on the heights; it is not death, alas, but the eternal torments of dying. — Franz Kafka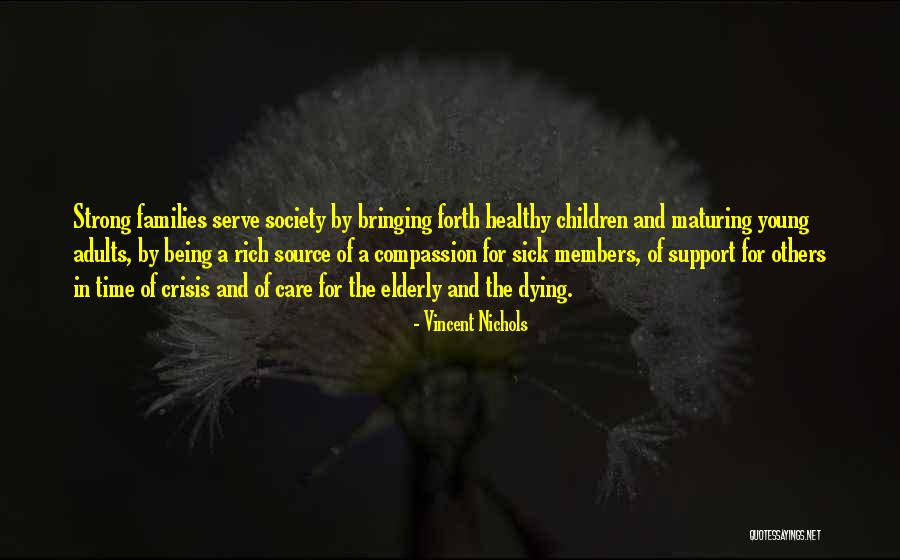 Strong families serve society by bringing forth healthy children and maturing young adults, by being a rich source of a compassion for sick members, of support for others in time of crisis and of care for the elderly and the dying. — Vincent Nichols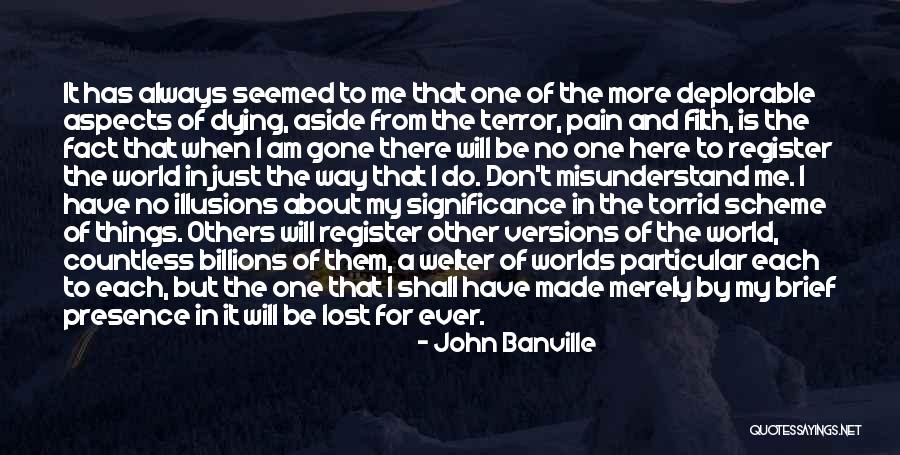 It has always seemed to me that one of the more deplorable aspects of dying, aside from the terror, pain and filth, is the fact that when I am gone there will be no one here to register the world in just the way that I do. Don't misunderstand me. I have no illusions about my significance in the torrid scheme of things. Others will register other versions of the world, countless billions of them, a welter of worlds particular each to each, but the one that I shall have made merely by my brief presence in it will be lost for ever. — John Banville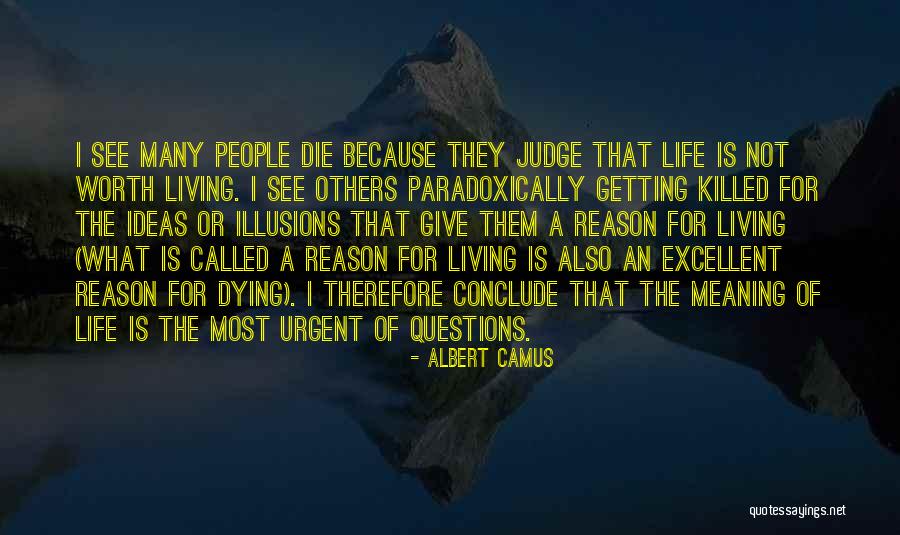 I see many people die because they judge that life is not worth living. I see others paradoxically getting killed for the ideas or illusions that give them a reason for living (what is called a reason for living is also an excellent reason for dying). I therefore conclude that the meaning of life is the most urgent of questions. — Albert Camus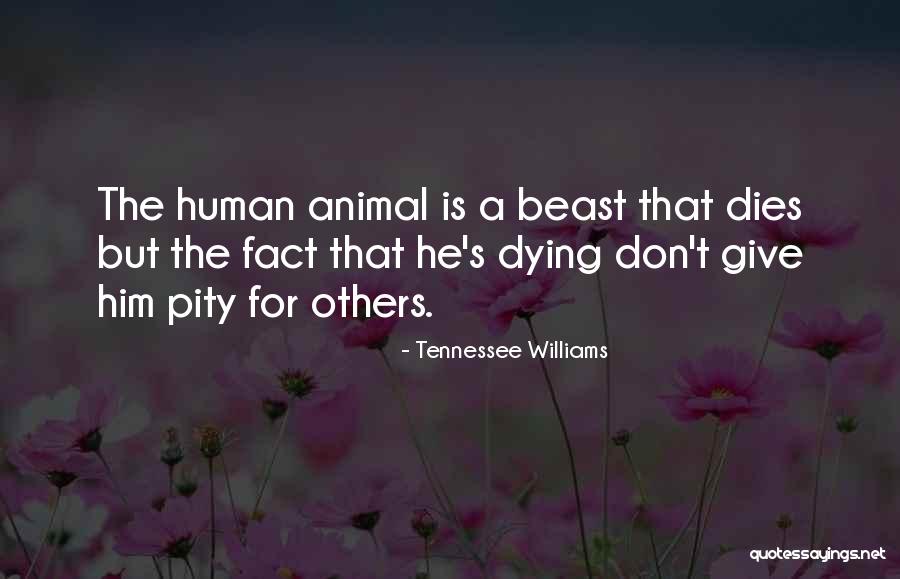 The human animal is a beast that dies but the fact that he's dying don't give him pity for others. — Tennessee Williams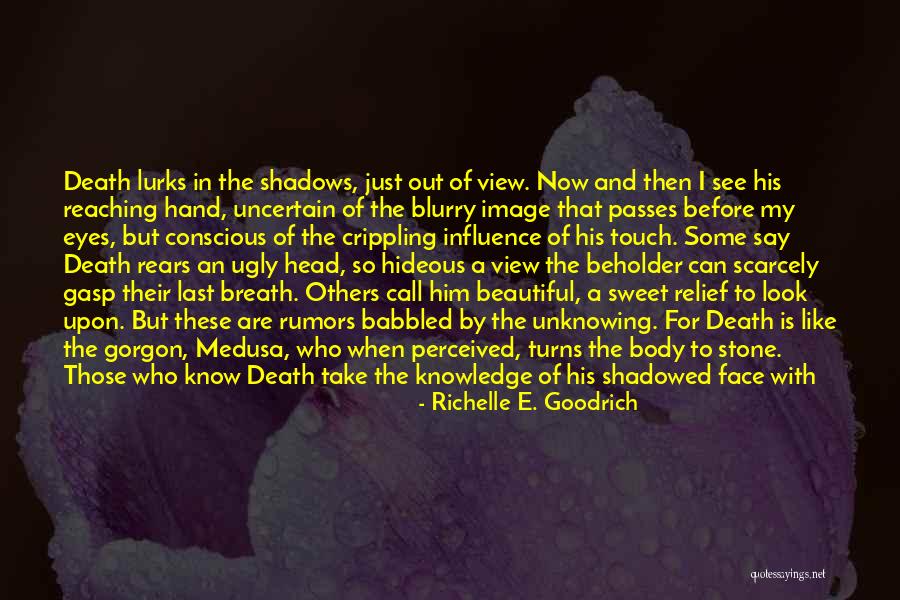 Death lurks in the shadows, just out of view.

Now and then I see his reaching hand, uncertain of the blurry image that passes before my eyes, but conscious of the crippling influence of his touch.

Some say Death rears an ugly head, so hideous a view the beholder can scarcely gasp their last breath. Others call him beautiful, a sweet relief to look upon. But these are rumors babbled by the unknowing. For Death is like the gorgon, Medusa, who when perceived, turns the body to stone.

Those who know Death take the knowledge of his shadowed face with them to wherever it is he leads our dearly departed by the hand. All who are left behind must wait their turn to glance into the eyes of the one who will close our mouths forever. — Richelle E. Goodrich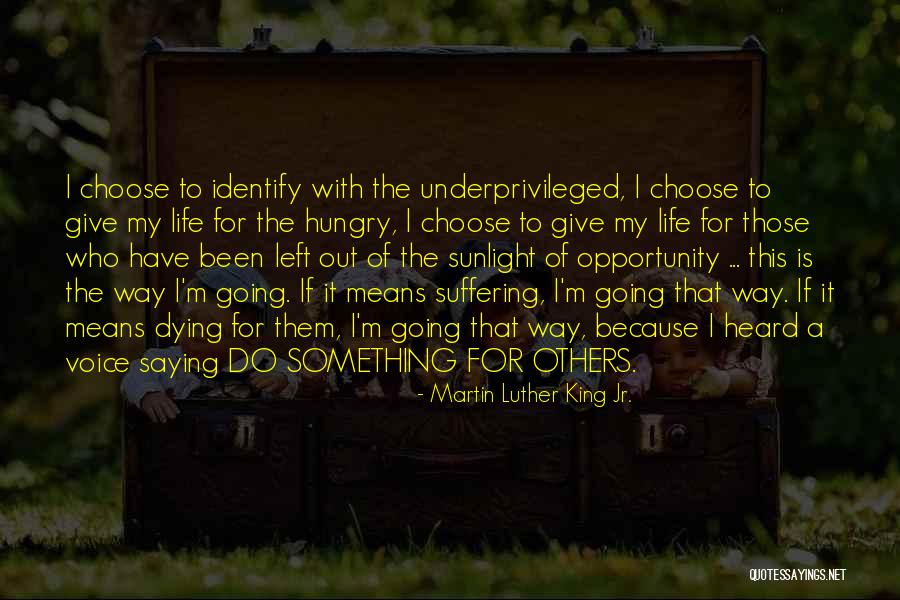 I choose to identify with the underprivileged, I choose to give my life for the hungry, I choose to give my life for those who have been left out of the sunlight of opportunity ... this is the way I'm going. If it means suffering, I'm going that way. If it means dying for them, I'm going that way, because I heard a voice saying DO SOMETHING FOR OTHERS. — Martin Luther King Jr.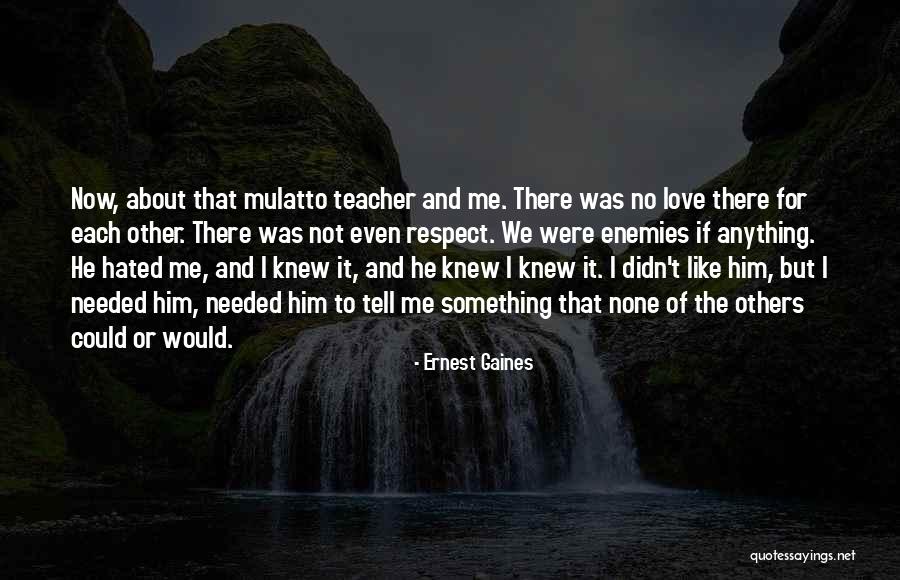 Now, about that mulatto teacher and me. There was no love there for each other. There was not even respect. We were enemies if anything. He hated me, and I knew it, and he knew I knew it. I didn't like him, but I needed him, needed him to tell me something that none of the others could or would. — Ernest Gaines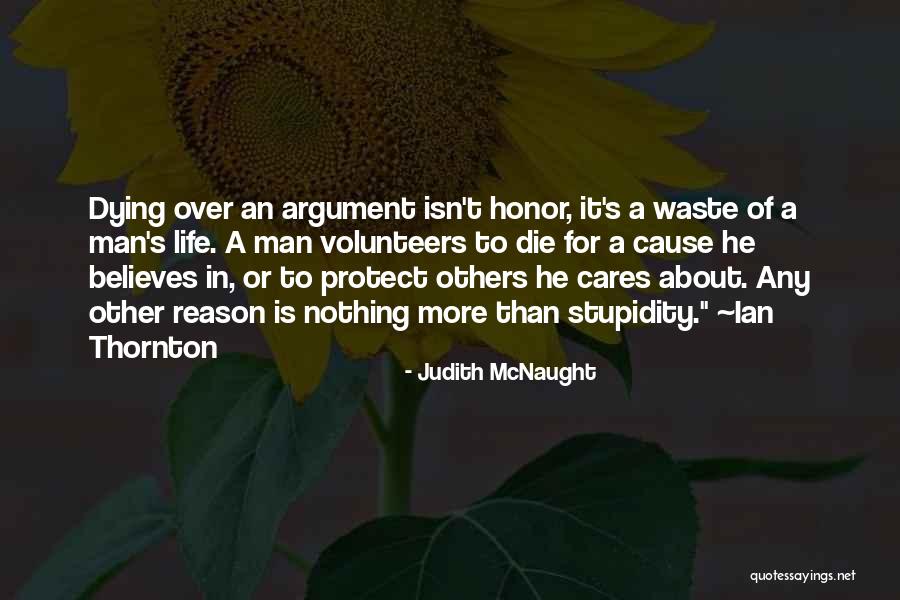 Dying over an argument isn't honor, it's a waste of a man's life. A man volunteers to die for a cause he believes in, or to protect others he cares about. Any other reason is nothing more than stupidity." ~Ian Thornton — Judith McNaught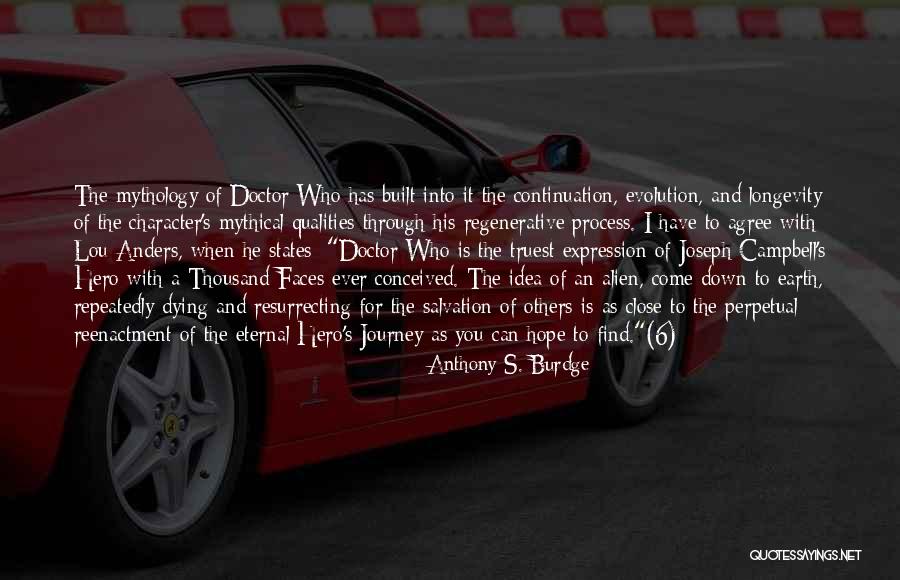 The mythology of Doctor Who has built into it the continuation, evolution, and longevity of the character's mythical qualities through his regenerative process. I have to agree with Lou Anders, when he states: "Doctor Who is the truest expression of Joseph Campbell's Hero with a Thousand Faces ever conceived. The idea of an alien, come down to earth, repeatedly dying and resurrecting for the salvation of others is as close to the perpetual reenactment of the eternal Hero's Journey as you can hope to find."(6) — Anthony S. Burdge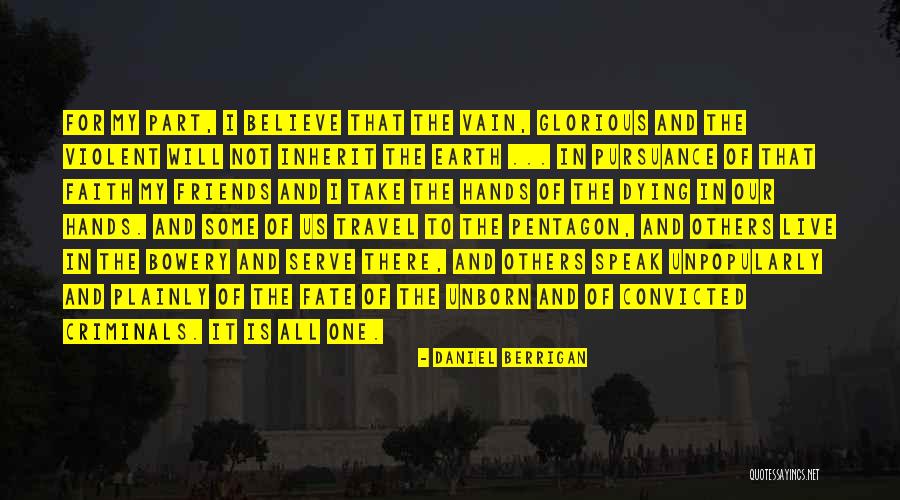 For my part, I believe that the vain, glorious and the violent will not inherit the earth ... In pursuance of that faith my friends and I take the hands of the dying in our hands. And some of us travel to the Pentagon, and others live in the Bowery and serve there, and others speak unpopularly and plainly of the fate of the unborn and of convicted criminals. It is all one. — Daniel Berrigan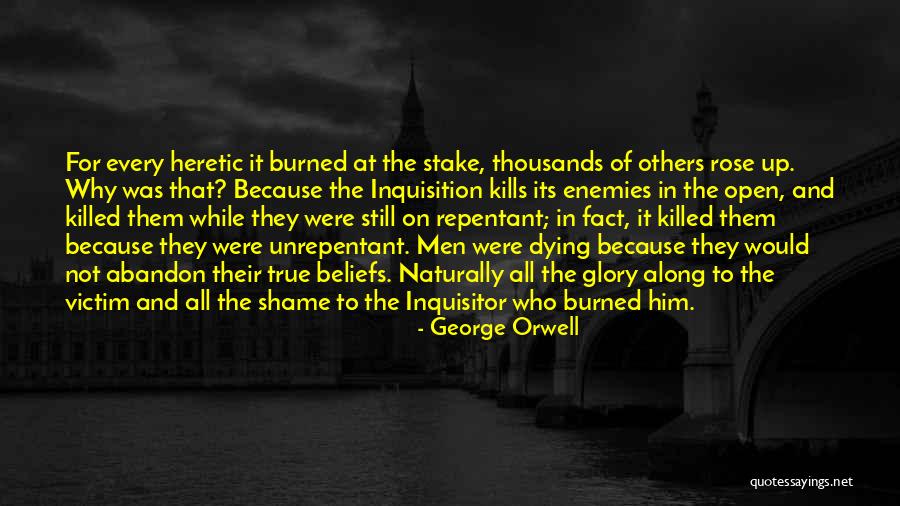 For every heretic it burned at the stake, thousands of others rose up. Why was that? Because the Inquisition kills its enemies in the open, and killed them while they were still on repentant; in fact, it killed them because they were unrepentant. Men were dying because they would not abandon their true beliefs. Naturally all the glory along to the victim and all the shame to the Inquisitor who burned him. — George Orwell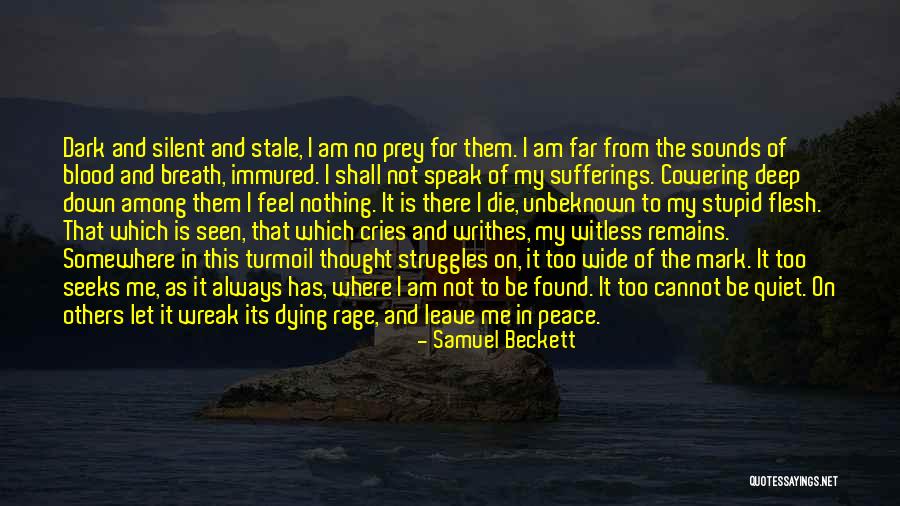 Dark and silent and stale, I am no prey for them. I am far from the sounds of blood and breath, immured. I shall not speak of my sufferings. Cowering deep down among them I feel nothing. It is there I die, unbeknown to my stupid flesh. That which is seen, that which cries and writhes, my witless remains. Somewhere in this turmoil thought struggles on, it too wide of the mark. It too seeks me, as it always has, where I am not to be found. It too cannot be quiet. On others let it wreak its dying rage, and leave me in peace. — Samuel Beckett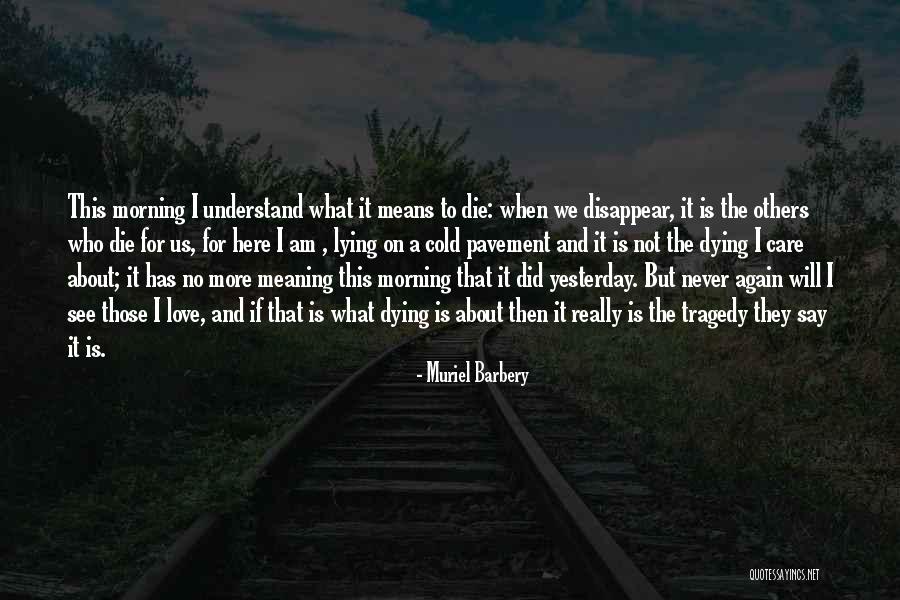 This morning I understand what it means to die: when we disappear, it is the others who die for us, for here I am , lying on a cold pavement and it is not the dying I care about; it has no more meaning this morning that it did yesterday. But never again will I see those I love, and if that is what dying is about then it really is the tragedy they say it is. — Muriel Barbery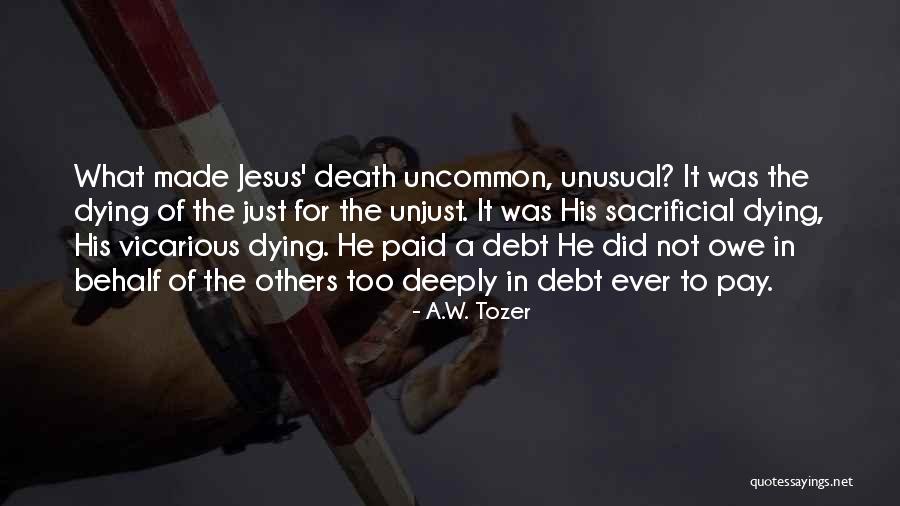 What made Jesus' death uncommon, unusual? It was the dying of the just for the unjust. It was His sacrificial dying, His vicarious dying. He paid a debt He did not owe in behalf of the others too deeply in debt ever to pay. — A.W. Tozer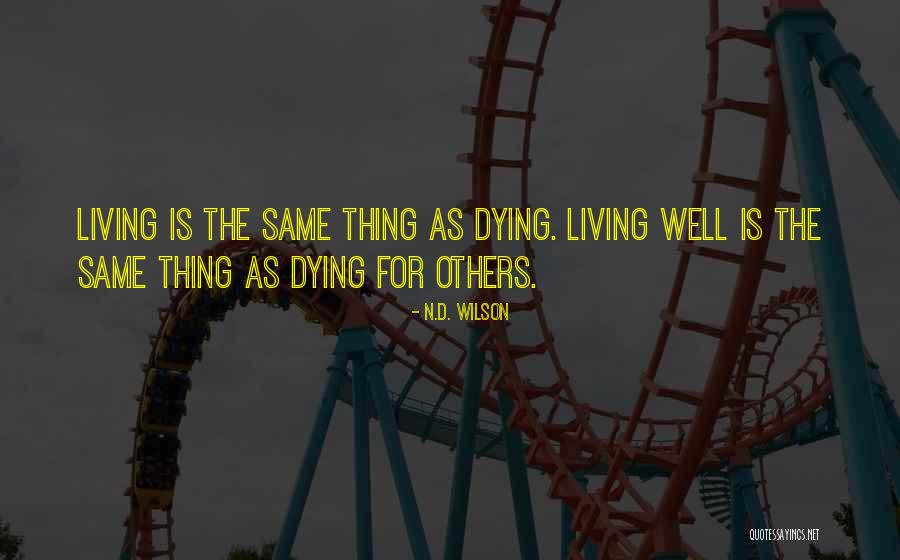 Living is the same thing as dying. Living well is the same thing as dying for others. — N.D. Wilson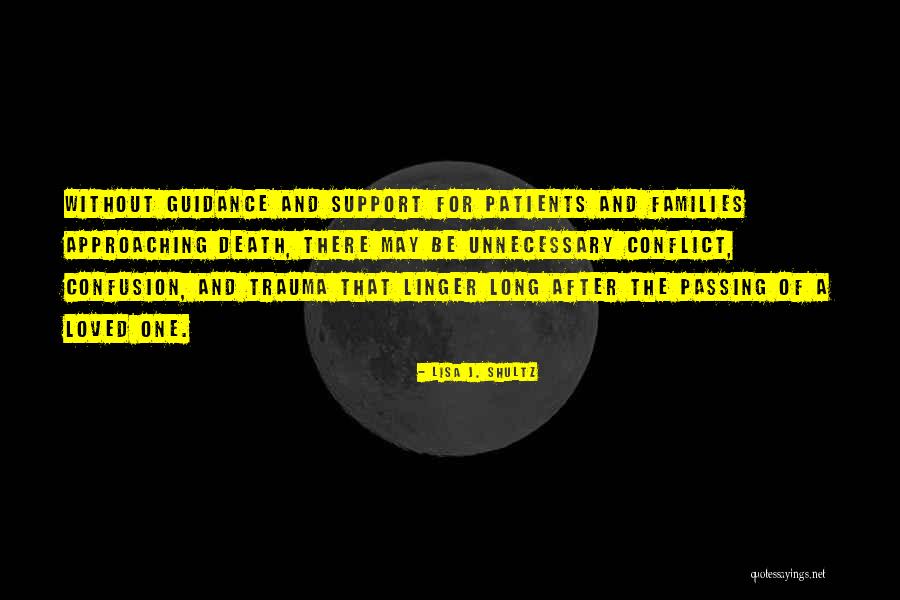 Without guidance and support for patients and families approaching death, there may be unnecessary conflict, confusion, and trauma that linger long after the passing of a loved one. — Lisa J. Shultz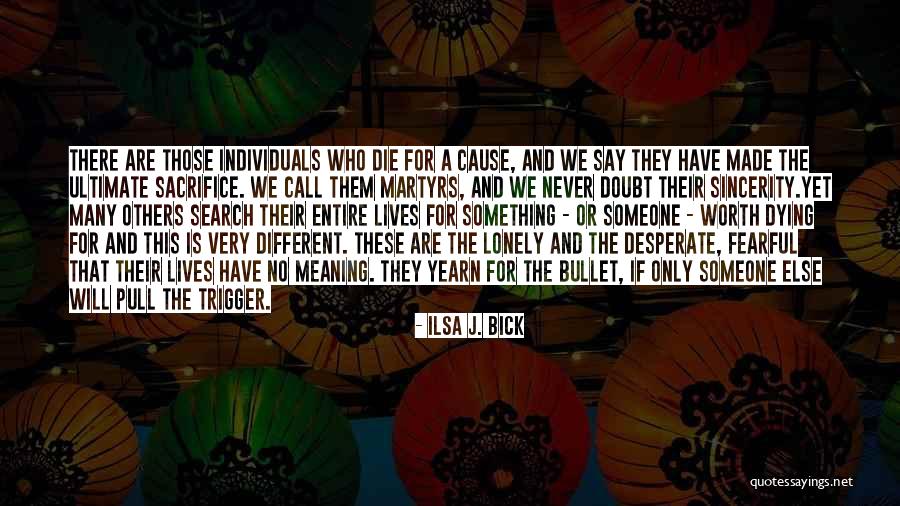 There are those individuals who die for a cause, and we say they have made the ultimate sacrifice. We call them martyrs, and we never doubt their sincerity.
Yet many others search their entire lives for something - or someone - worth dying for and this is very different. These are the lonely and the desperate, fearful that their lives have no meaning. They yearn for the bullet, if only someone else will pull the trigger. — Ilsa J. Bick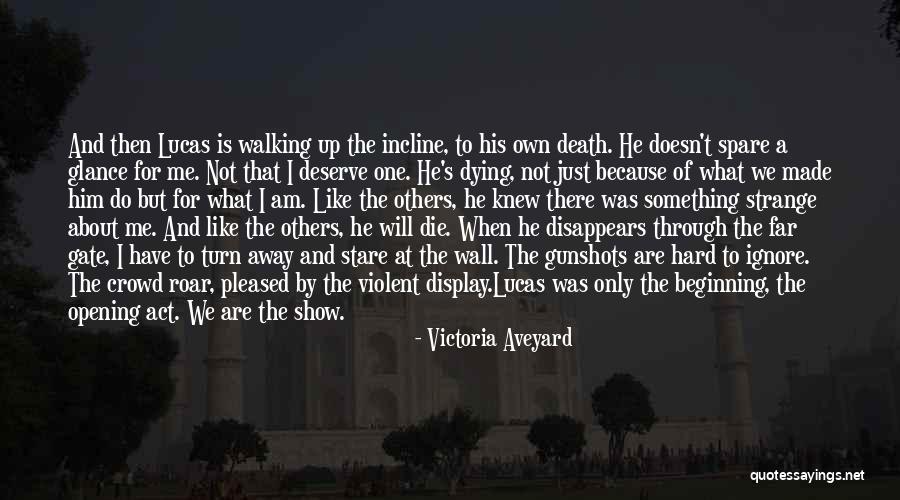 And then Lucas is walking up the incline, to his own death. He doesn't spare a glance for me. Not that I deserve one. He's dying, not just because of what we made him do but for what I am. Like the others, he knew there was something strange about me. And like the others, he will die. When he disappears through the far gate, I have to turn away and stare at the wall. The gunshots are hard to ignore. The crowd roar, pleased by the violent display.
Lucas was only the beginning, the opening act. We are the show. — Victoria Aveyard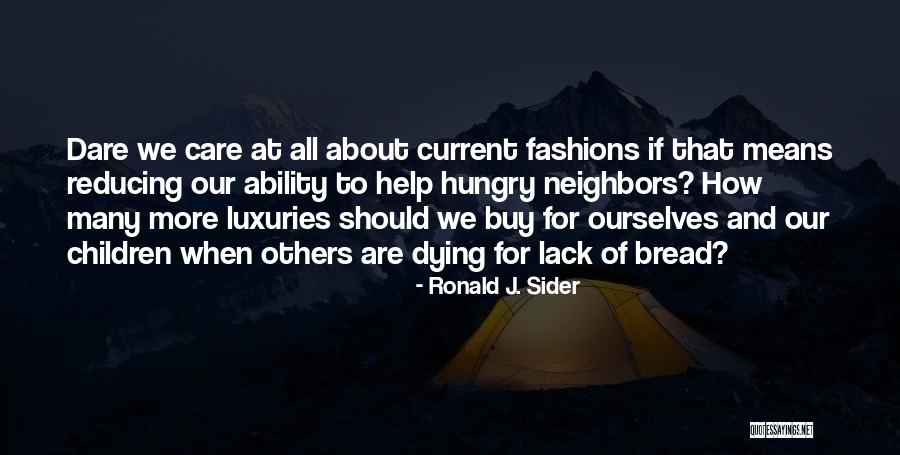 Dare we care at all about current fashions if that means reducing our ability to help hungry neighbors? How many more luxuries should we buy for ourselves and our children when others are dying for lack of bread? — Ronald J. Sider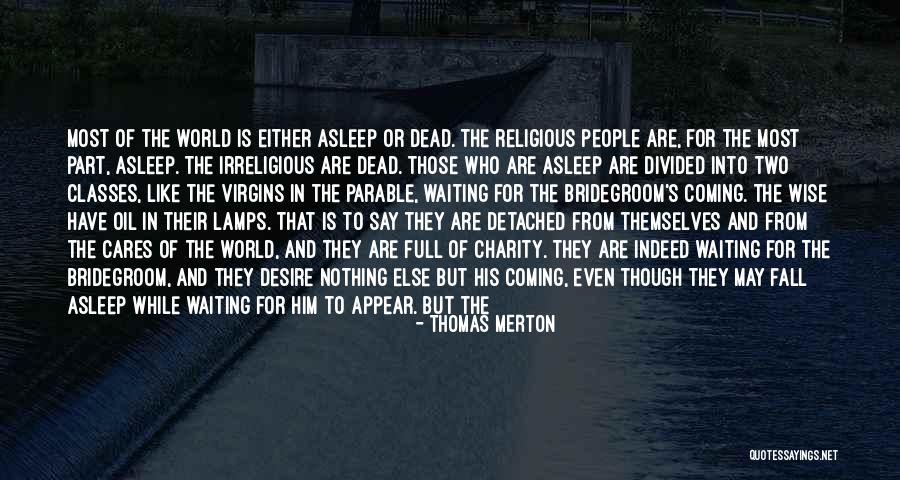 Most of the world is either asleep or dead. The religious people are, for the most part, asleep. The irreligious are dead. Those who are asleep are divided into two classes, like the Virgins in the parable, waiting for the Bridegroom's coming. The wise have oil in their lamps. That is to say they are detached from themselves and from the cares of the world, and they are full of charity. They are indeed waiting for the Bridegroom, and they desire nothing else but His coming, even though they may fall asleep while waiting for Him to appear. But the others are not only asleep: they are full of other dreams and other desires. Their lamps are empty because they have burned themselves out in the wisdom of the flesh and in their own vanity. When He comes, it is too late for them to buy oil. They light their lamps only after He has gone. So they fall asleep again, with useless lamps, and when they wake up they trim them to investigate, once again, the matters of a dying world. — Thomas Merton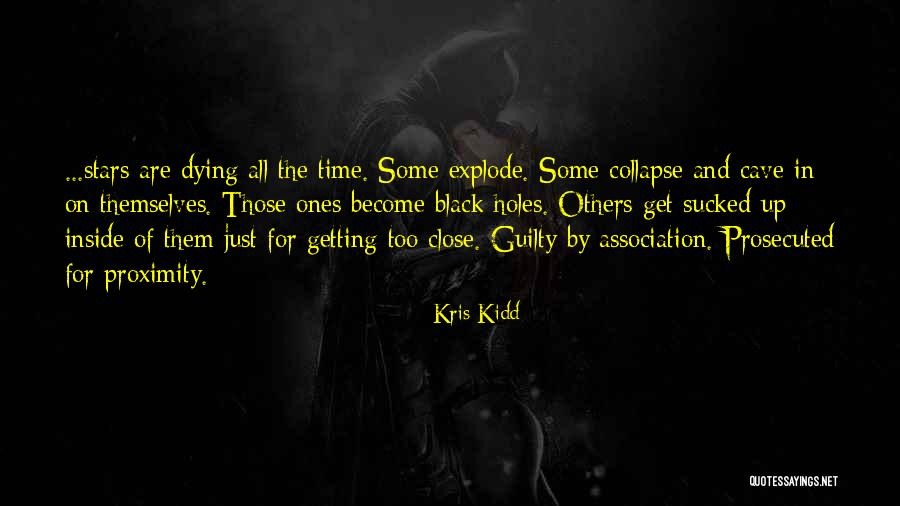 ...stars are dying all the time. Some explode. Some collapse and cave in on themselves. Those ones become black holes. Others get sucked up inside of them just for getting too close. Guilty by association. Prosecuted for proximity. — Kris Kidd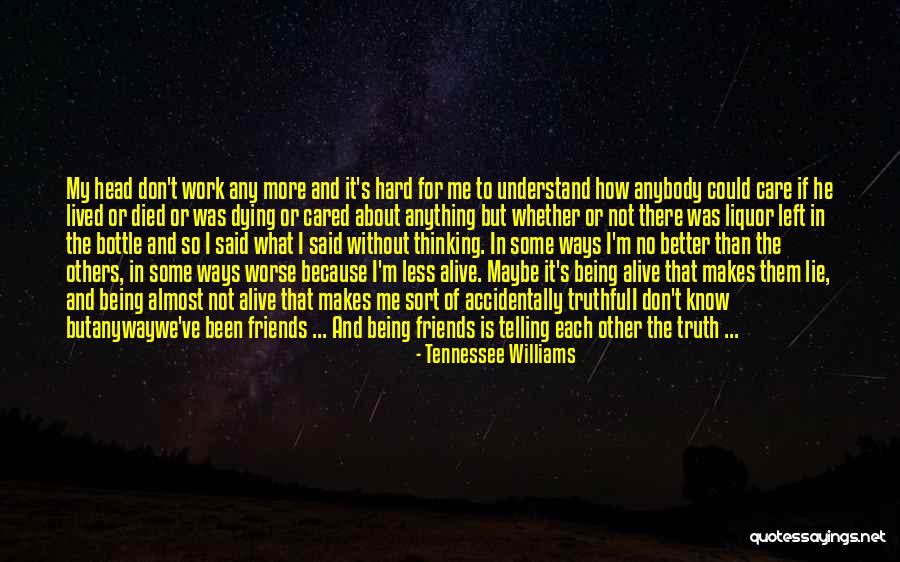 My head don't work any more and it's hard for me to understand how anybody could care if he lived or died or was dying or cared about anything but whether or not there was liquor left in the bottle and so I said what I said without thinking. In some ways I'm no better than the others, in some ways worse because I'm less alive. Maybe it's being alive that makes them lie, and being almost not alive that makes me sort of accidentally truthful
I don't know but
anyway
we've been friends ... And being friends is telling each other the truth ... — Tennessee Williams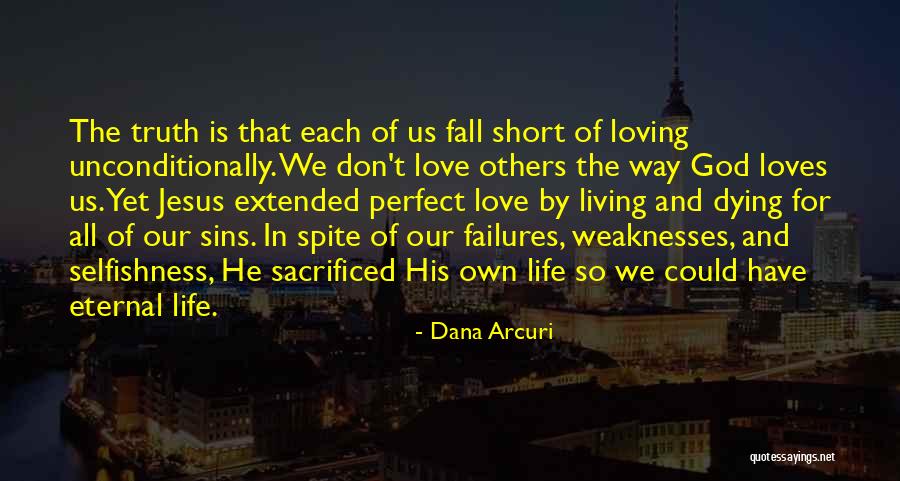 The truth is that each of us fall short of loving unconditionally. We don't love others the way God loves us. Yet Jesus extended perfect love by living and dying for all of our sins. In spite of our failures, weaknesses, and selfishness, He sacrificed His own life so we could have eternal life. — Dana Arcuri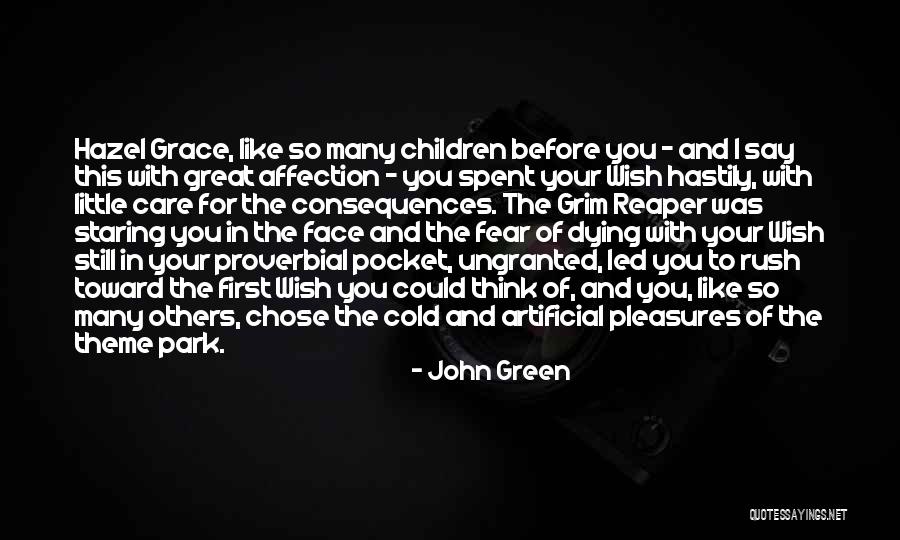 Hazel Grace, like so many children before you - and I say this with great affection - you spent your Wish hastily, with little care for the consequences. The Grim Reaper was staring you in the face and the fear of dying with your Wish still in your proverbial pocket, ungranted, led you to rush toward the first Wish you could think of, and you, like so many others, chose the cold and artificial pleasures of the theme park. — John Green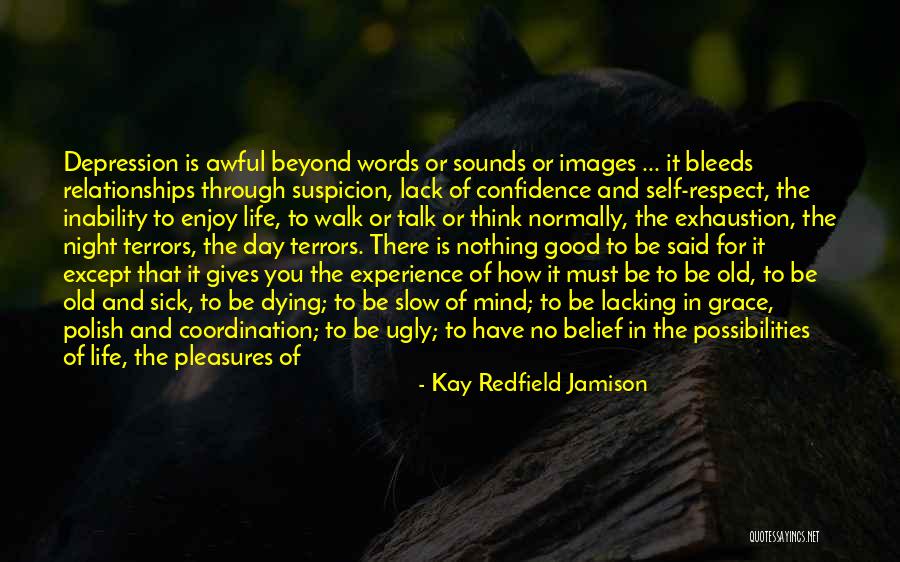 Depression is awful beyond words or sounds or images ... it bleeds relationships through suspicion, lack of confidence and self-respect, the inability to enjoy life, to walk or talk or think normally, the exhaustion, the night terrors, the day terrors. There is nothing good to be said for it except that it gives you the experience of how it must be to be old, to be old and sick, to be dying; to be slow of mind; to be lacking in grace, polish and coordination; to be ugly; to have no belief in the possibilities of life, the pleasures of sex, the exquisiteness of music or the ability to make yourself and others laugh. — Kay Redfield Jamison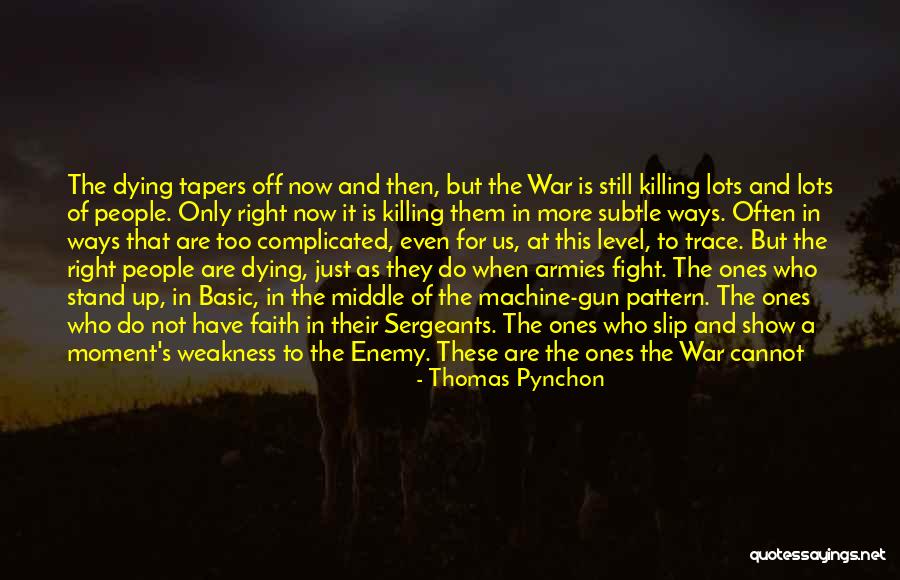 The dying tapers off now and then, but the War is still killing lots and lots of people. Only right now it is killing them in more subtle ways. Often in ways that are too complicated, even for us, at this level, to trace. But the right people are dying, just as they do when armies fight. The ones who stand up, in Basic, in the middle of the machine-gun pattern. The ones who do not have faith in their Sergeants. The ones who slip and show a moment's weakness to the Enemy. These are the ones the War cannot use, and so they die. The right ones survive. The others, it's said, even know they have a short life expectancy. But they persist in acting the way that they do. Nobody knows why. Wouldn't it be nice if we could eliminate them completely? Then no one would have to be killed in the War. — Thomas Pynchon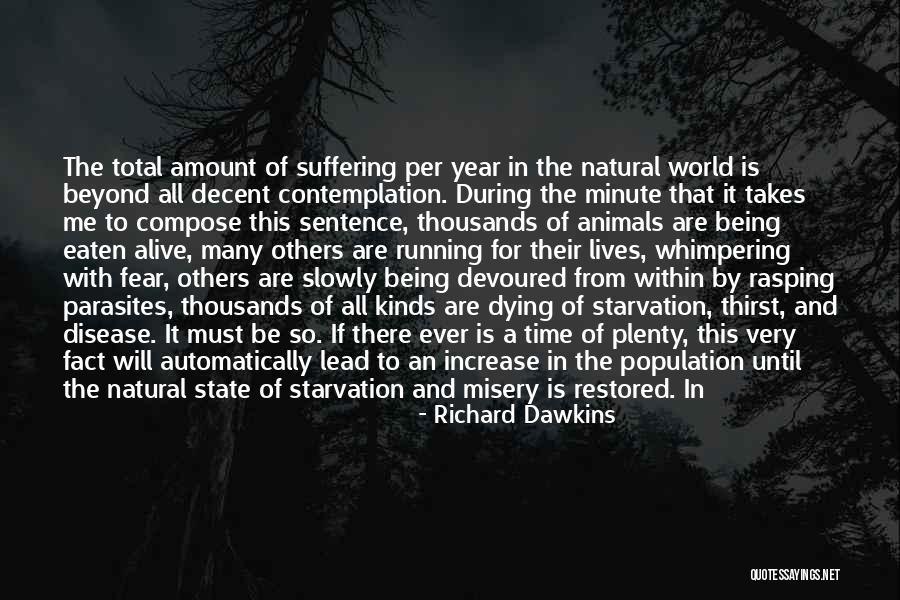 The total amount of suffering per year in the natural world is beyond all decent contemplation. During the minute that it takes me to compose this sentence, thousands of animals are being eaten alive, many others are running for their lives, whimpering with fear, others are slowly being devoured from within by rasping parasites, thousands of all kinds are dying of starvation, thirst, and disease. It must be so. If there ever is a time of plenty, this very fact will automatically lead to an increase in the population until the natural state of starvation and misery is restored. In a universe of electrons and selfish genes, blind physical forces and genetic replication, some people are going to get hurt, other people are going to get lucky, and you won't find any rhyme or reason in it, nor any justice. The universe that we observe has precisely the properties we should expect if there is, at bottom, no design, no purpose, no evil, no good, nothing but pitiless indifference. — Richard Dawkins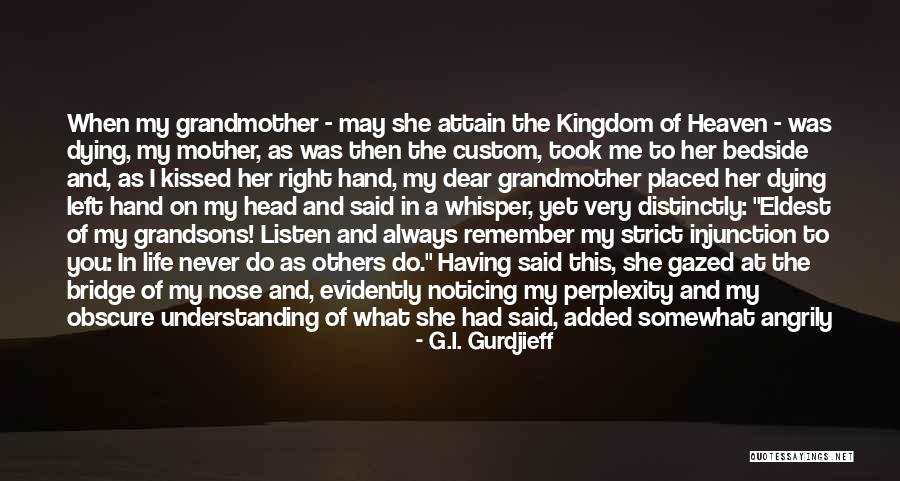 When my grandmother - may she attain the Kingdom of Heaven - was dying, my mother, as was then the custom, took me to her bedside and, as I kissed her right hand, my dear grandmother placed her dying left hand on my head and said in a whisper, yet very distinctly: "Eldest of my grandsons! Listen and always remember my strict injunction to you: In life never do as others do." Having said this, she gazed at the bridge of my nose and, evidently noticing my perplexity and my obscure understanding of what she had said, added somewhat angrily and imperiously: "Either do nothing - just go to school - or do something nobody else does Whereupon she immediately, without hesitation and with a perceptible impulse of disdain for all around her, and with commendable self-cognizance, gave up her soul directly into the hands of His Faithfulness, the Archangel Gabriel. — G.I. Gurdjieff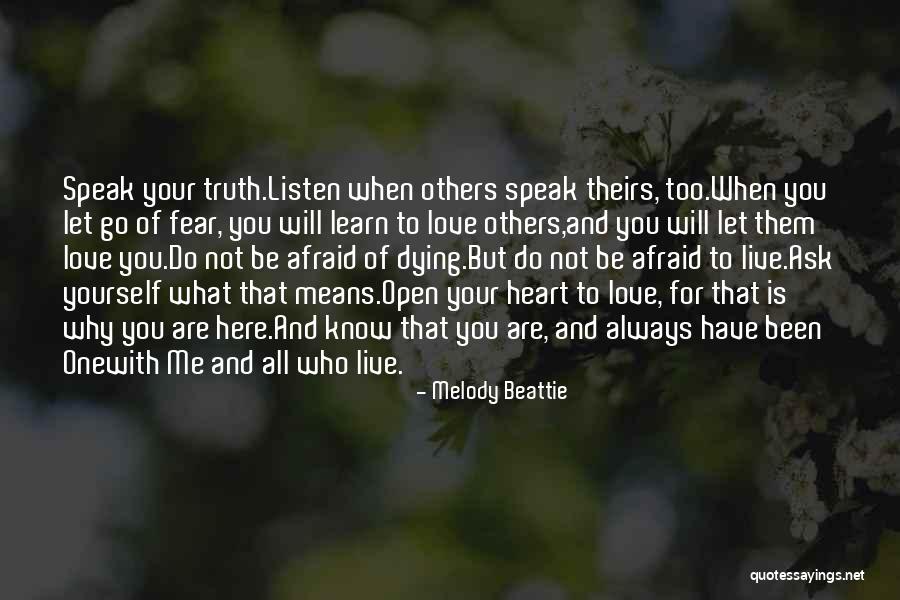 Speak your truth.
Listen when others speak theirs, too.
When you let go of fear, you will learn to love others,
and you will let them love you.
Do not be afraid of dying.
But do not be afraid to live.
Ask yourself what that means.
Open your heart to love, for that is why you are here.
And know that you are, and always have been One
with Me and all who live. — Melody Beattie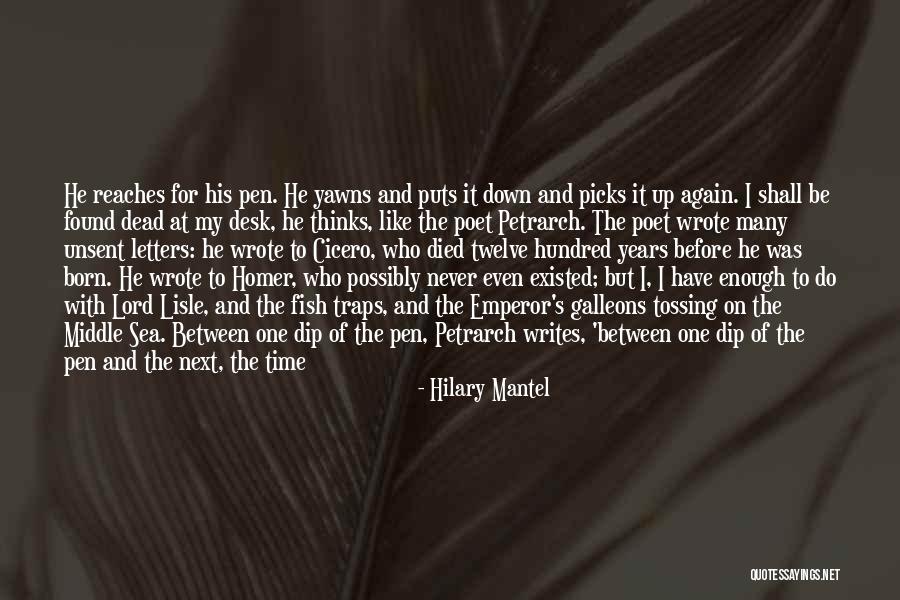 He reaches for his pen. He yawns and puts it down and picks it up again. I shall be found dead at my desk, he thinks, like the poet Petrarch. The poet wrote many unsent letters: he wrote to Cicero, who died twelve hundred years before he was born. He wrote to Homer, who possibly never even existed; but I, I have enough to do with Lord Lisle, and the fish traps, and the Emperor's galleons tossing on the Middle Sea. Between one dip of the pen, Petrarch writes, 'between one dip of the pen and the next, the time passes: and I hurry, I drive myself, and I speed towards death. We are always dying - I while I write, you while you read, and others while they listen or block their ears; they are all dying. — Hilary Mantel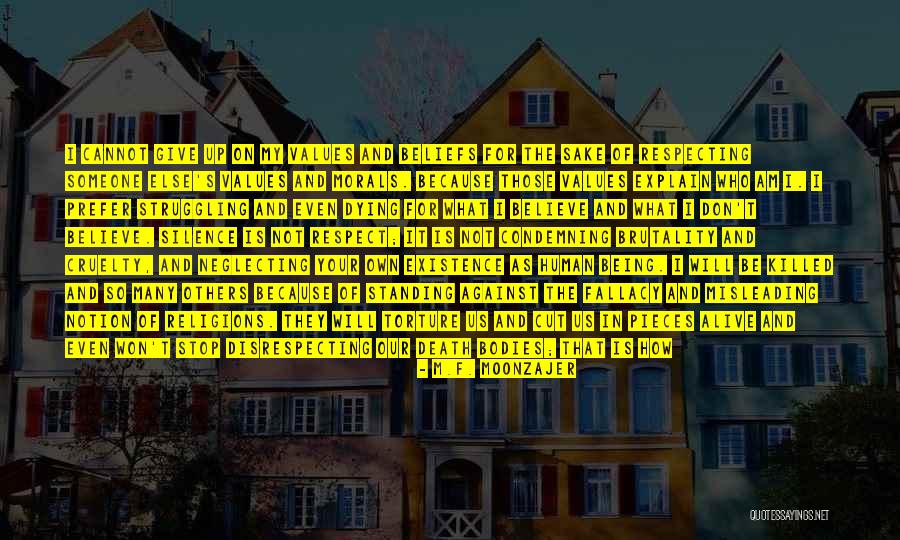 I cannot give up on my values and beliefs for the sake of respecting someone else's values and morals. Because those values explain who am I. I prefer struggling and even dying for what I believe and what I don't believe.
Silence is not respect; it is not condemning brutality and cruelty, and neglecting your own existence as human being. I will be killed and so many others because of standing against the fallacy and misleading notion of religions. They will torture us and cut us in pieces alive and even won't stop disrespecting our death bodies; that is how these monsters have been governing for hundreds thousands of years. — M.F. Moonzajer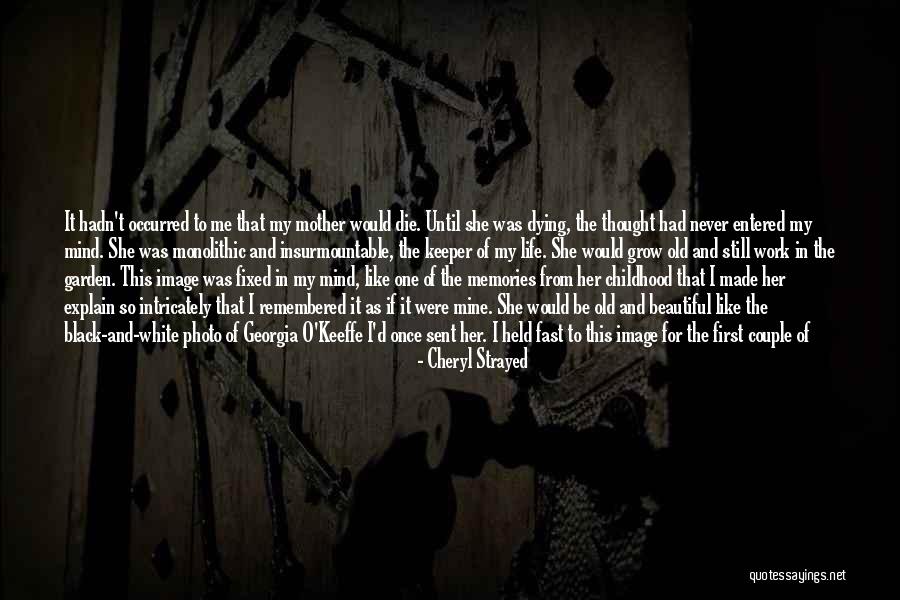 It hadn't occurred to me that my mother would die. Until she was dying, the thought had never entered my mind. She was monolithic and insurmountable, the keeper of my life. She would grow old and still work in the garden. This image was fixed in my mind, like one of the memories from her childhood that I made her explain so intricately that I remembered it as if it were mine. She would be old and beautiful like the black-and-white photo of Georgia O'Keeffe I'd once sent her. I held fast to this image for the first couple of weeks after we left the Mayo Clinic, and then, once she was admitted to the hospice wing of the hospital in Duluth, that image unfurled, gave way to the others, more modest and true. I imagined my mother in October; I wrote the scene in my mind. And then the one of my mother in August and another in May. Each day that passed, another month peeled away. — Cheryl Strayed
How was she not the quintessential woman in our culture, compulsively pleasing others in order to achieve some degree of perfection and power that's forever just around the corner, out of reach? It was easier for her to disappear, to free herself finally from that body, to find a perfection in dying. — Kim Gordon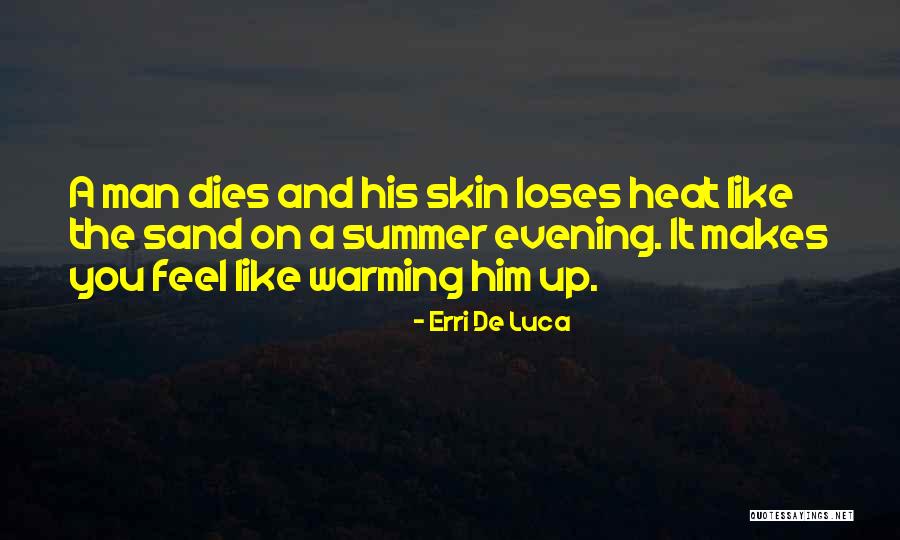 A man dies and his skin loses heat like the sand on a summer evening. It makes you feel like warming him up. — Erri De Luca