Quotes & Sayings About Down To Earth Woman
Enjoy reading and share 28 famous quotes about Down To Earth Woman with everyone.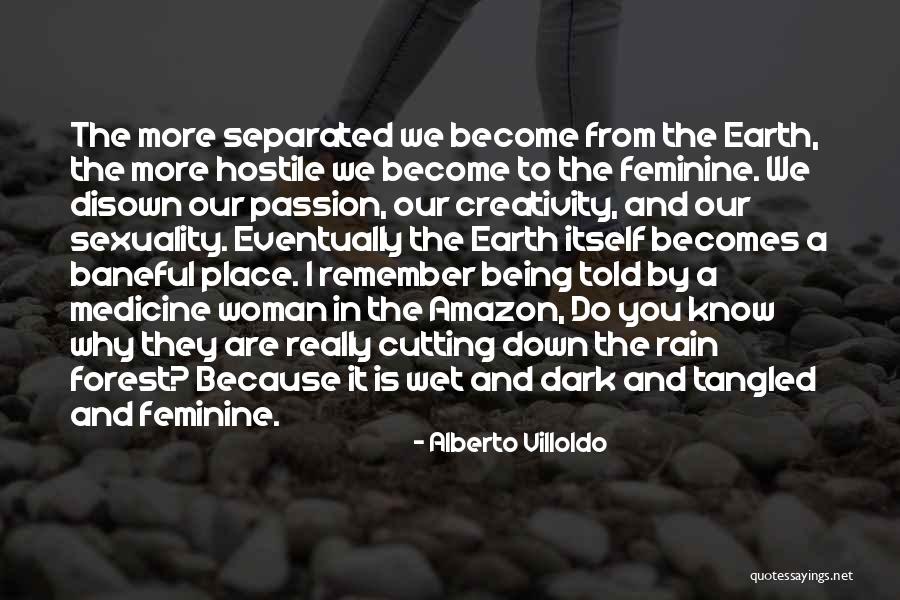 The more separated we become from the Earth, the more hostile we become to the feminine. We disown our passion, our creativity, and our sexuality. Eventually the Earth itself becomes a baneful place. I remember being told by a medicine woman in the Amazon, Do you know why they are really cutting down the rain forest? Because it is wet and dark and tangled and feminine. — Alberto Villoldo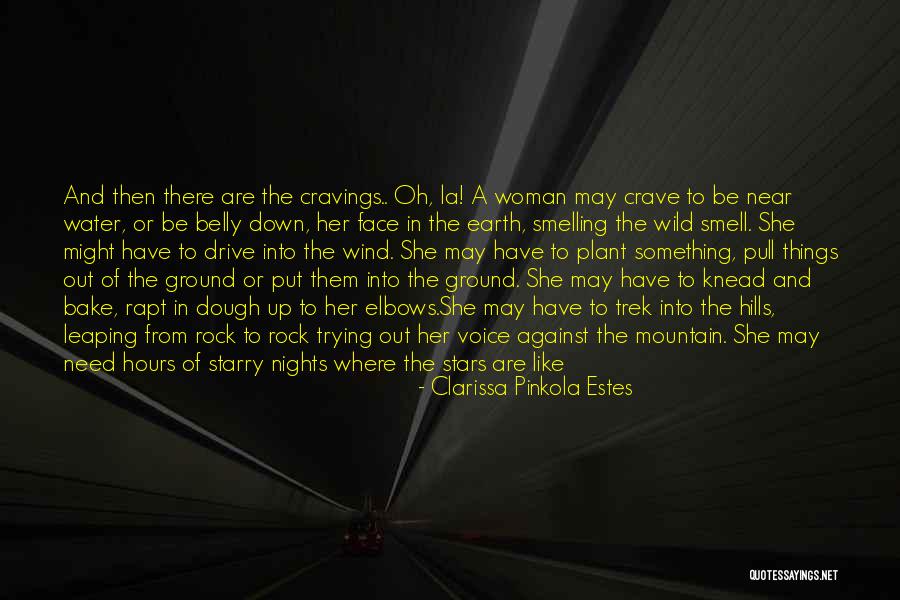 And then there are the cravings.. Oh, la! A woman may crave to be near water, or be belly down, her face in the earth, smelling the wild smell. She might have to drive into the wind. She may have to plant something, pull things out of the ground or put them into the ground. She may have to knead and bake, rapt in dough up to her elbows.
She may have to trek into the hills, leaping from rock to rock trying out her voice against the mountain. She may need hours of starry nights where the stars are like face powder spilt on a black marble floor. She may feel she will die if she doesn't dance naked in a thunderstorm, sit in perfect silence, return home ink-stained, paint-stained, tear-stained, moon-stained. — Clarissa Pinkola Estes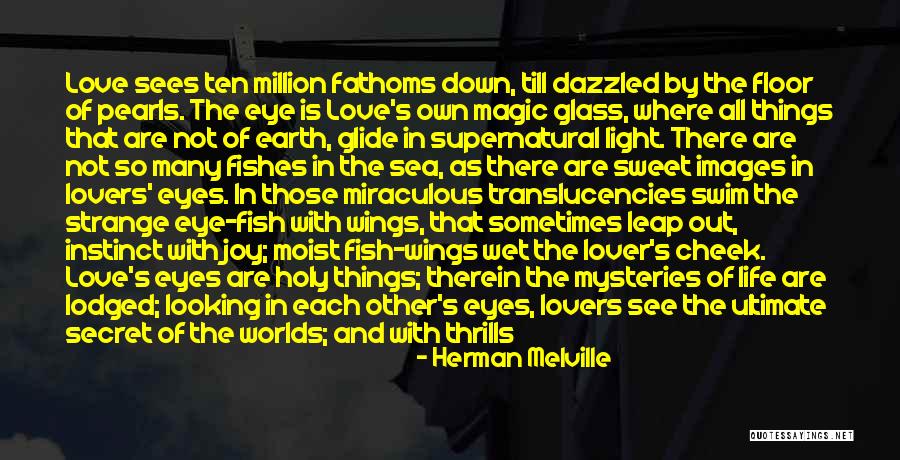 Love sees ten million fathoms down, till dazzled by the floor of pearls. The eye is Love's own magic glass, where all things that are not of earth, glide in supernatural light. There are not so many fishes in the sea, as there are sweet images in lovers' eyes. In those miraculous translucencies swim the strange eye-fish with wings, that sometimes leap out, instinct with joy; moist fish-wings wet the lover's cheek. Love's eyes are holy things; therein the mysteries of life are lodged; looking in each other's eyes, lovers see the ultimate secret of the worlds; and with thrills eternally untranslatable, feel that Love is god of all. Man or woman who has never loved, nor once looked deep down into their own lover's eyes, they know not the sweetest and the loftiest religion of this earth. Love is both Creator's and Saviour's gospel to mankind; a volume bound in rose-leaves, clasped with violets, and by the beaks of humming-birds printed with peach-juice on the leaves of lilies. — Herman Melville
You, who only know love when in love, do not ask what it is, nor do you look for it. But when a woman once asked you if you were in love with love itself, you were evasive and escaped by answering: I love you. She persisted: Do you not love love? You said: I love you, because of you. She left you, because you could not be trusted with her absence. Love is not an idea. It is an emotion that can cool down or heat up. It comes and goes. It is an embodied feeling and has five, or more, senses. Sometimes it appears as an angel with delicate wings that can uproot us from the earth. Sometimes it charges at us like a bull, hurls us to the ground, and walks away. At other times it is a storm we only recognize in its devastating aftermath. Sometimes it falls upon us like the night dew when a magical hand milks a wandering cloud. — Mahmoud Darwish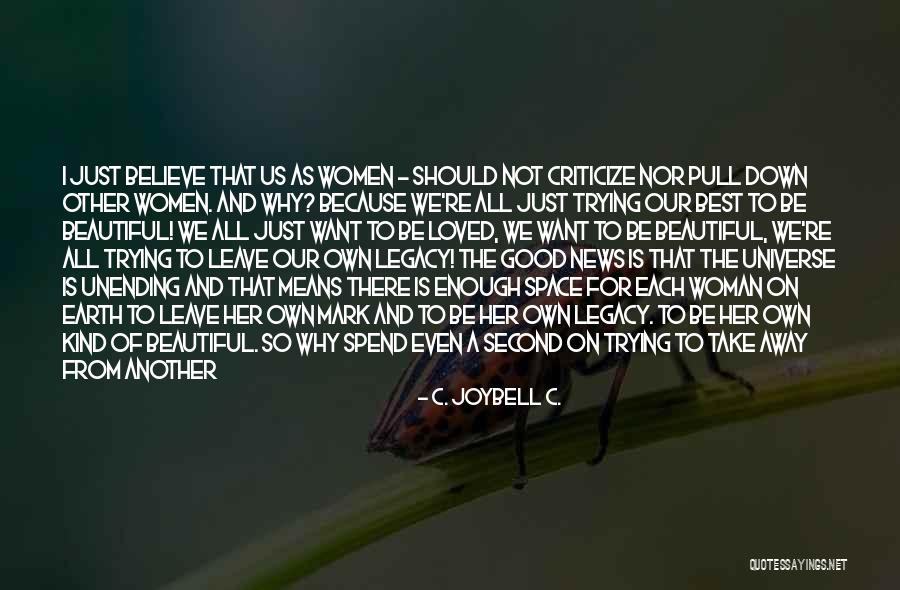 I just believe that us as women - should not criticize nor pull down other women. And why? Because we're all just trying our best to be beautiful! We all just want to be loved, we want to be beautiful, we're all trying to leave our own legacy! The good news is that the universe is unending and that means there is enough space for each woman on earth to leave her own mark and to be her own legacy. To be her own kind of beautiful. So why spend even a second on trying to take away from another woman? Trying to steal, trying to criticize, trying to oppress? There is enough space for every woman and every kind of beautiful, in this vast cosmos! When you waste any amount of time trying to take what is another's - you are wasting your huge chunk of a galaxy that's already been given to you! — C. JoyBell C.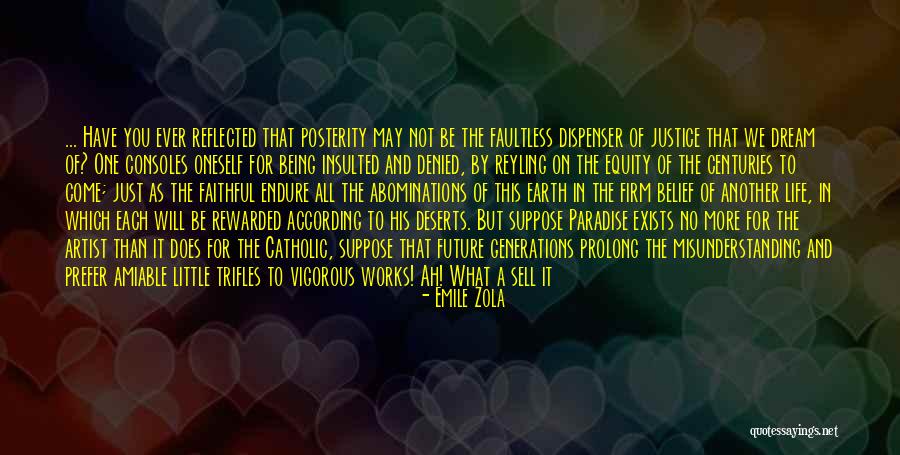 ... Have you ever reflected that posterity may not be the faultless dispenser of justice that we dream of? One consoles oneself for being insulted and denied, by reyling on the equity of the centuries to come; just as the faithful endure all the abominations of this earth in the firm belief of another life, in which each will be rewarded according to his deserts. But suppose Paradise exists no more for the artist than it does for the Catholic, suppose that future generations prolong the misunderstanding and prefer amiable little trifles to vigorous works! Ah! What a sell it would be, eh? To have led a convict's life - to have screwed oneself down to one's work - all for a mere delusion!...

"Bah! What does it matter? Well, there's nothing hereafter. We are even madder than the fools who kill themselves for a woman. When the earth splits to pieces in space like a dry walnut, our works won't add one atom to its dust. — Emile Zola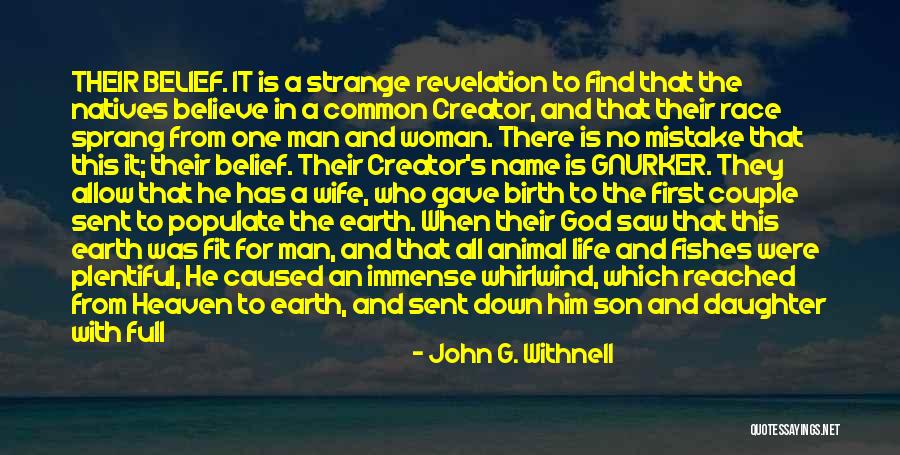 THEIR BELIEF. IT is a strange revelation to find that the natives believe in a common Creator, and that their race sprang from one man and woman. There is no mistake that this it; their belief. Their Creator's name is GNURKER. They allow that he has a wife, who gave birth to the first couple sent to populate the earth. When their God saw that this earth was fit for man, and that all animal life and fishes were plentiful, He caused an immense whirlwind, which reached from Heaven to earth, and sent down him son and daughter with full instructions in all manner of ceremonies. They were to name their children by four tribal names--Banaka, Boorung, Paljarri, Kymera--and thus observe the marriage laws. They were to strictly follow out His commands, and when they died, their and their children's spirits would be received into heaven. They were given control over the fishes of the waters, the birds of the air, all animals, insects, and every living thing--that — John G. Withnell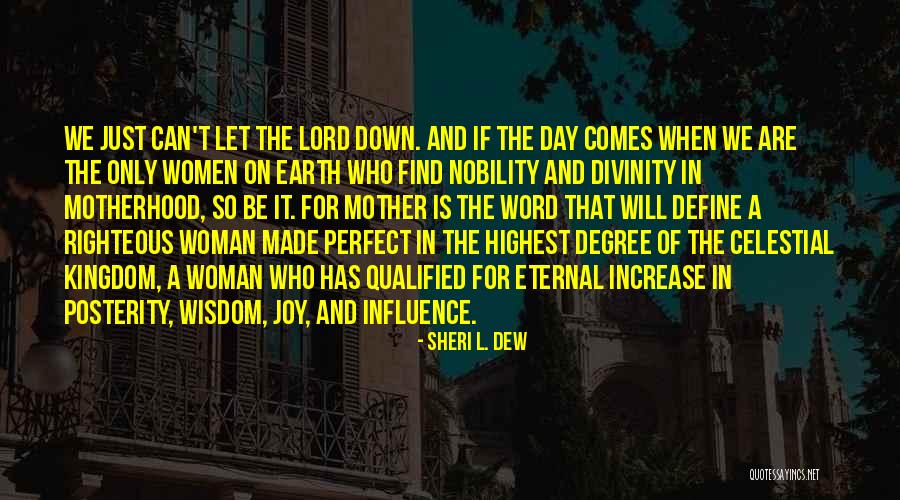 We just can't let the Lord down. And if the day comes when we are the only women on earth who find nobility and divinity in motherhood, so be it. For mother is the word that will define a righteous woman made perfect in the highest degree of the celestial kingdom, a woman who has qualified for eternal increase in posterity, wisdom, joy, and influence. — Sheri L. Dew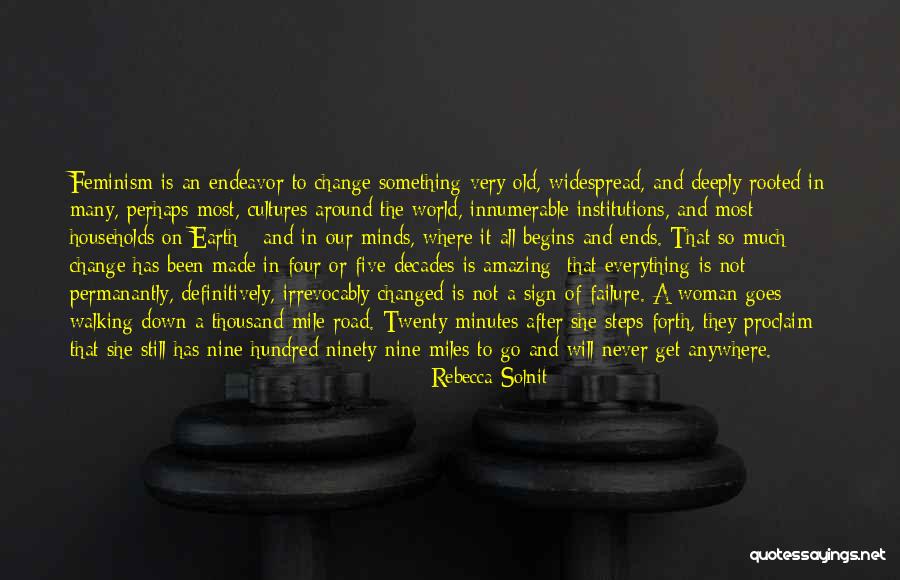 Feminism is an endeavor to change something very old, widespread, and deeply rooted in many, perhaps most, cultures around the world, innumerable institutions, and most households on Earth - and in our minds, where it all begins and ends. That so much change has been made in four or five decades is amazing; that everything is not permanantly, definitively, irrevocably changed is not a sign of failure. A woman goes walking down a thousand-mile road. Twenty minutes after she steps forth, they proclaim that she still has nine hundred ninety-nine miles to go and will never get anywhere. — Rebecca Solnit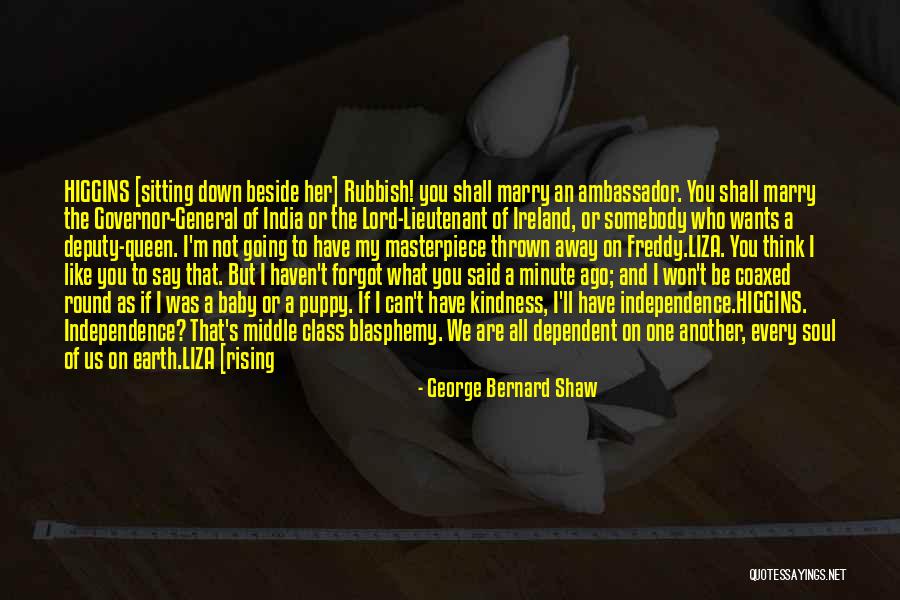 HIGGINS [sitting down beside her] Rubbish! you shall marry an ambassador. You shall marry the Governor-General of India or the Lord-Lieutenant of Ireland, or somebody who wants a deputy-queen. I'm not going to have my masterpiece thrown away on Freddy.

LIZA. You think I like you to say that. But I haven't forgot what you said a minute ago; and I won't be coaxed round as if I was a baby or a puppy. If I can't have kindness, I'll have independence.

HIGGINS. Independence? That's middle class blasphemy. We are all dependent on one another, every soul of us on earth.

LIZA [rising determinedly] I'll let you see whether I'm dependent on you. If you can preach, I can teach. I'll go and be a teacher.

HIGGINS. What'll you teach, in heaven's name?

LIZA. What you taught me. I'll teach phonetics.

HIGGINS. Ha! Ha! Ha! — George Bernard Shaw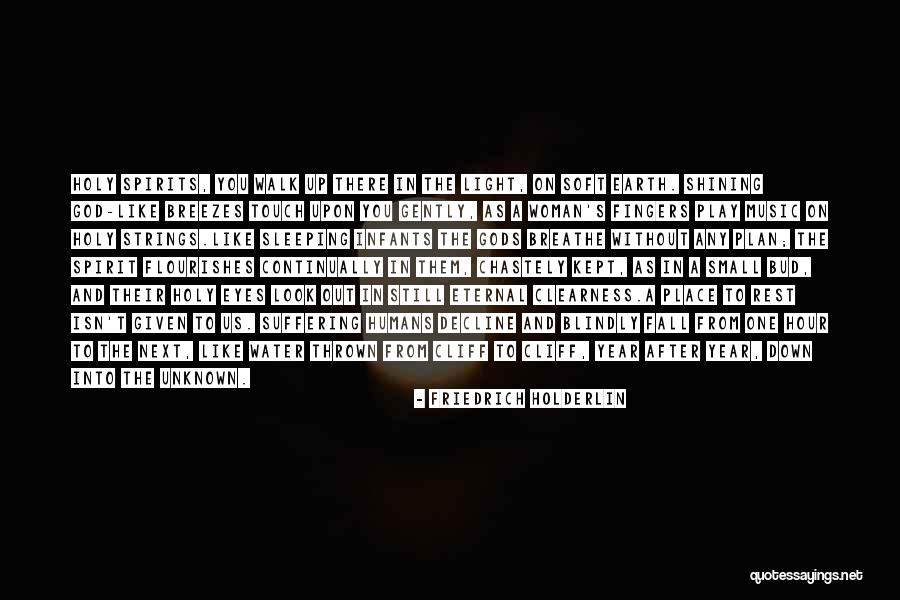 Holy spirits, you walk up there
in the light, on soft earth.
Shining god-like breezes
touch upon you gently,
as a woman's fingers
play music on holy strings.

Like sleeping infants the gods
breathe without any plan;
the spirit flourishes continually
in them, chastely kept,
as in a small bud,
and their holy eyes
look out in still
eternal clearness.

A place to rest
isn't given to us.
Suffering humans
decline and blindly fall
from one hour to the next,
like water thrown
from cliff to cliff,
year after year,
down into the Unknown. — Friedrich Holderlin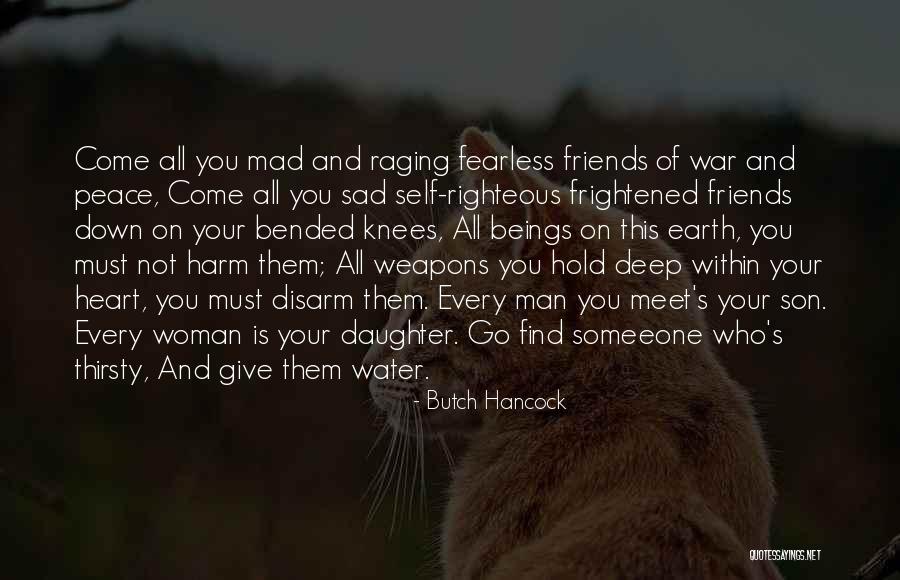 Come all you mad and raging fearless friends of war and peace,
Come all you sad self-righteous frightened friends down on your bended knees,
All beings on this earth, you must not harm them;
All weapons you hold deep within your heart, you must disarm them.
Every man you meet's your son.
Every woman is your daughter.
Go find someeone who's thirsty,
And give them water. — Butch Hancock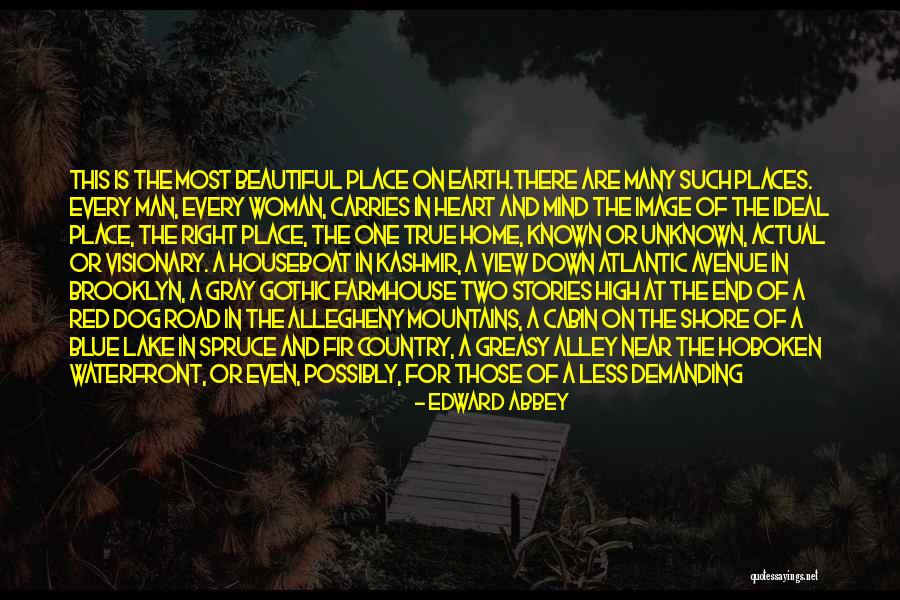 This is the most beautiful place on earth.
There are many such places. Every man, every woman, carries in heart and mind the image of the ideal place, the right place, the one true home, known or unknown, actual or visionary. A houseboat in Kashmir, a view down Atlantic Avenue in Brooklyn, a gray gothic farmhouse two stories high at the end of a red dog road in the Allegheny Mountains, a cabin on the shore of a blue lake in spruce and fir country, a greasy alley near the Hoboken waterfront, or even, possibly, for those of a less demanding sensibility, the world to be seen from a comfortable apartment high in the tender, velvety smog of Manhattan, Chicago, Paris, Tokyo, Rio, or Rome - there's no limit to the human capacity for the homing sentiment. — Edward Abbey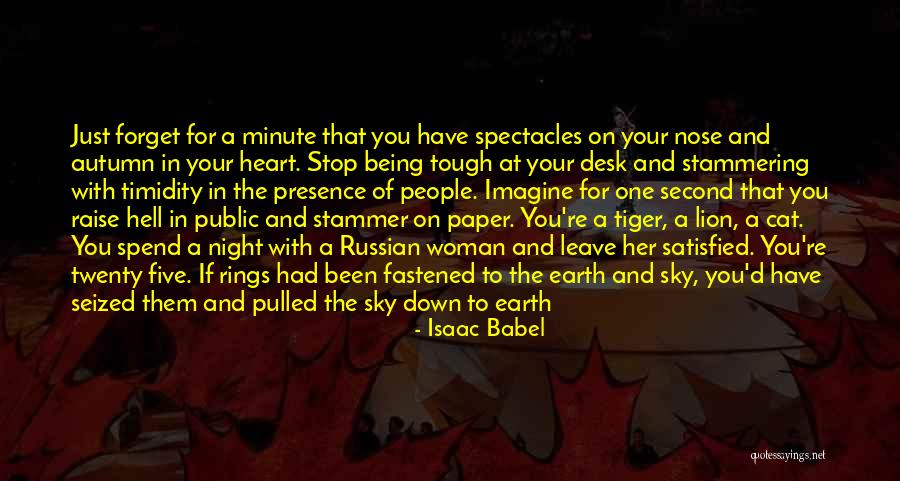 Just forget for a minute that you have spectacles on your nose and autumn in your heart. Stop being tough at your desk and stammering with timidity in the presence of people. Imagine for one second that you raise hell in public and stammer on paper. You're a tiger, a lion, a cat. You spend a night with a Russian woman and leave her satisfied. You're twenty five. If rings had been fastened to the earth and sky, you'd have seized them and pulled the sky down to earth — Isaac Babel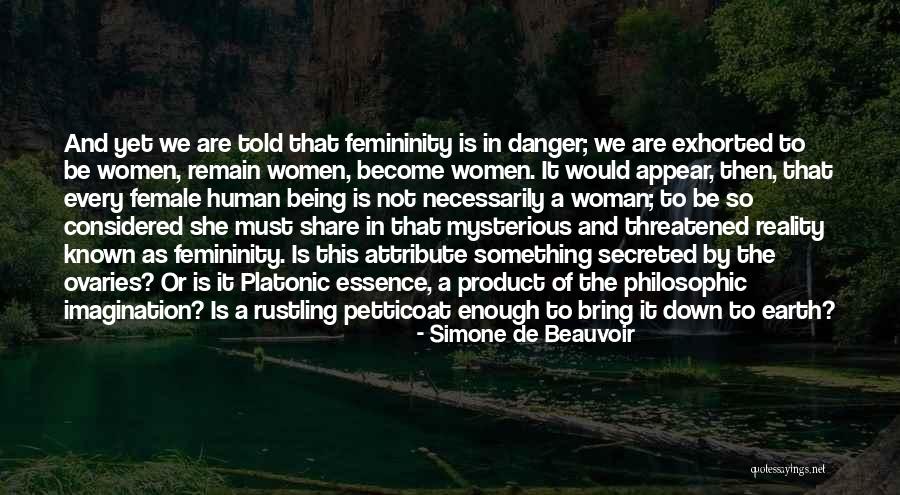 And yet we are told that femininity is in danger; we are exhorted to be women, remain women, become women. It would appear, then, that every female human being is not necessarily a woman; to be so considered she must share in that mysterious and threatened reality known as femininity. Is this attribute something secreted by the ovaries? Or is it Platonic essence, a product of the philosophic imagination? Is a rustling petticoat enough to bring it down to earth? — Simone De Beauvoir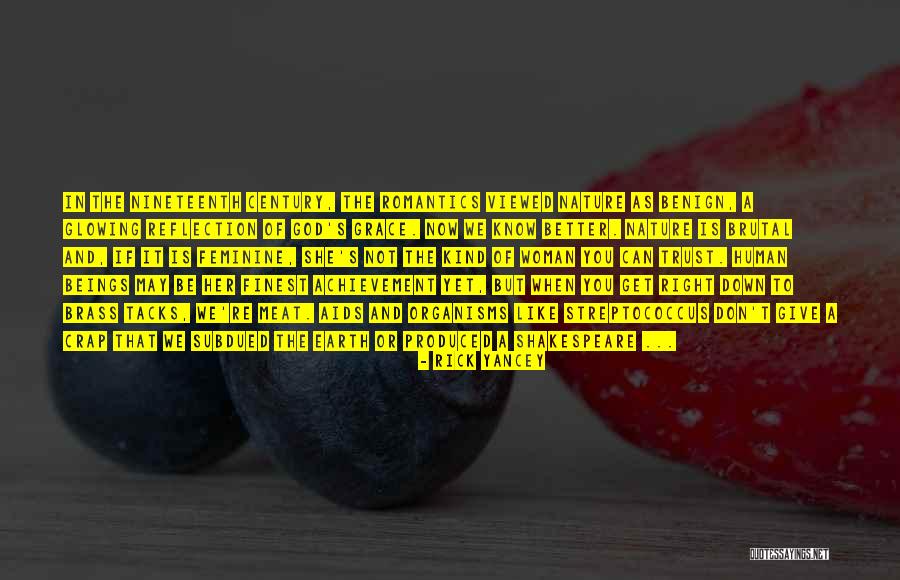 In the nineteenth century, The Romantics viewed Nature as benign, a glowing reflection of God's grace. Now we know better. Nature is brutal and, if it is feminine, she's not the kind of woman you can trust. Human beings may be her finest achievement yet, but when you get right down to brass tacks, we're meat. AIDS and organisms like streptococcus don't give a crap that we subdued the earth or produced a Shakespeare ... — Rick Yancey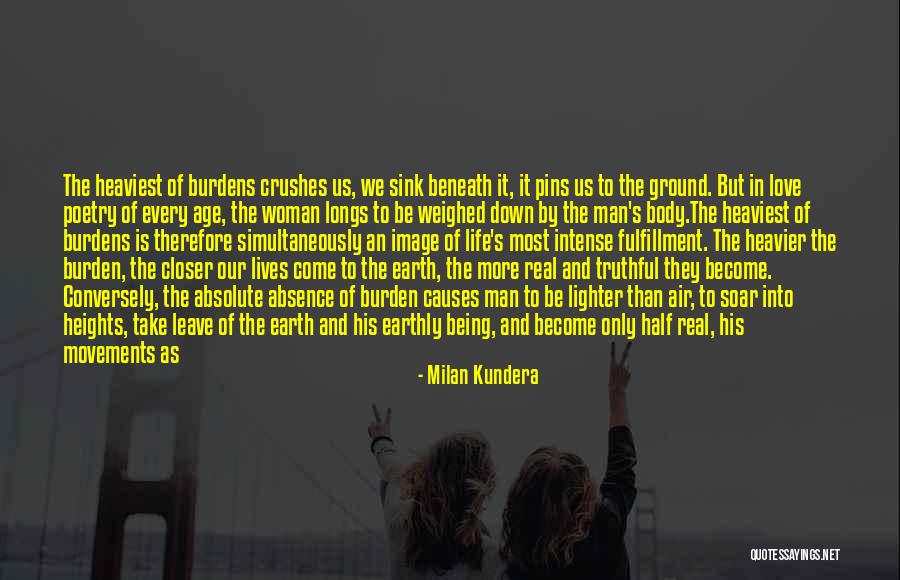 The heaviest of burdens crushes us, we sink beneath it, it pins us to the ground. But in love poetry of every age, the woman longs to be weighed down by the man's body.The heaviest of burdens is therefore simultaneously an image of life's most intense fulfillment. The heavier the burden, the closer our lives come to the earth, the more real and truthful they become. Conversely, the absolute absence of burden causes man to be lighter than air, to soar into heights, take leave of the earth and his earthly being, and become only half real, his movements as free as they are insignificant. What then shall we choose? Weight or lightness? — Milan Kundera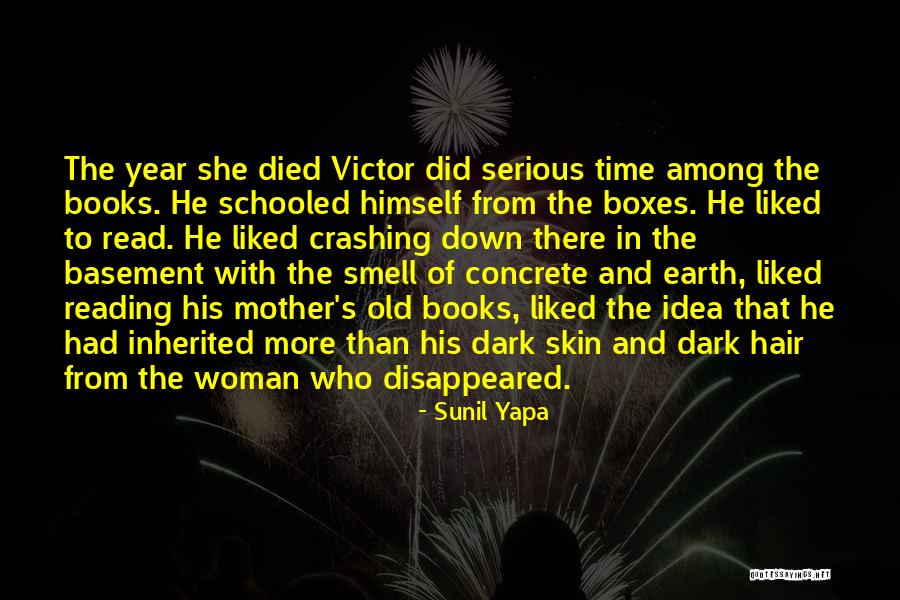 The year she died Victor did serious time among the books. He schooled himself from the boxes. He liked to read. He liked crashing down there in the basement with the smell of concrete and earth, liked reading his mother's old books, liked the idea that he had inherited more than his dark skin and dark hair from the woman who disappeared. — Sunil Yapa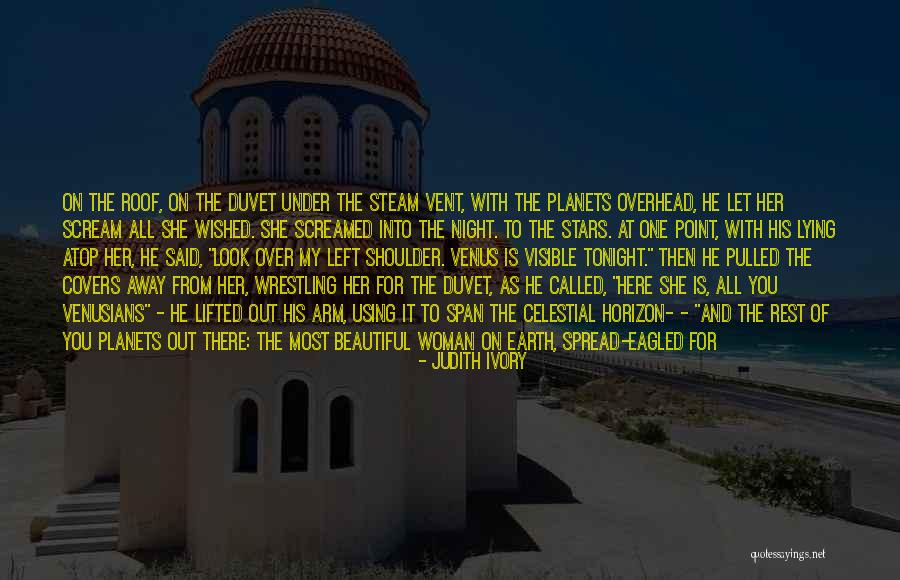 On the roof, on the duvet under the steam vent, with the planets overhead, he let her scream all she wished. She screamed into the night. To the stars. At one point, with his lying atop her, he said, "Look over my left shoulder. Venus is visible tonight." Then he pulled the covers away from her, wrestling her for the duvet, as he called, "Here she is, all you Venusians" - he lifted out his arm, using it to span the celestial horizon- - "and the rest of you planets out there: the most beautiful woman on Earth, spread-eagled for your pleasure!" He laughed. "At my disposal, mm-m-m!" He bent down, nibbling, kissing her neck with his teeth, his lips, his mouth. — Judith Ivory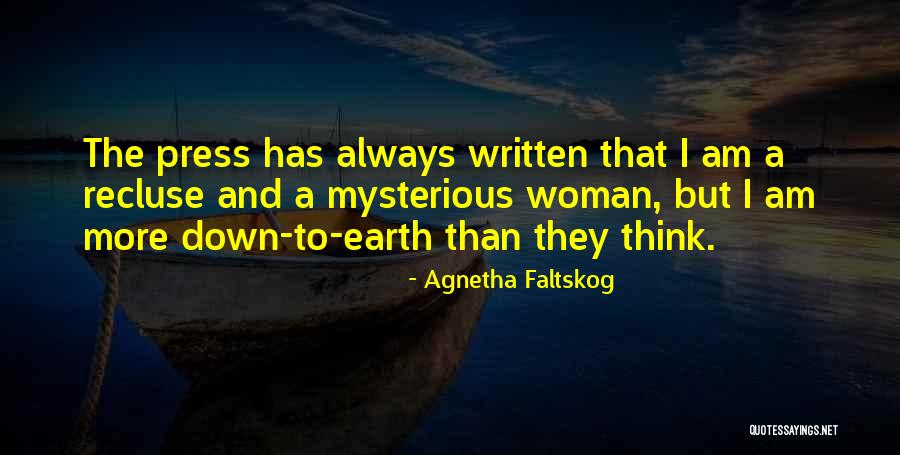 The press has always written that I am a recluse and a mysterious woman, but I am more down-to-earth than they think. — Agnetha Faltskog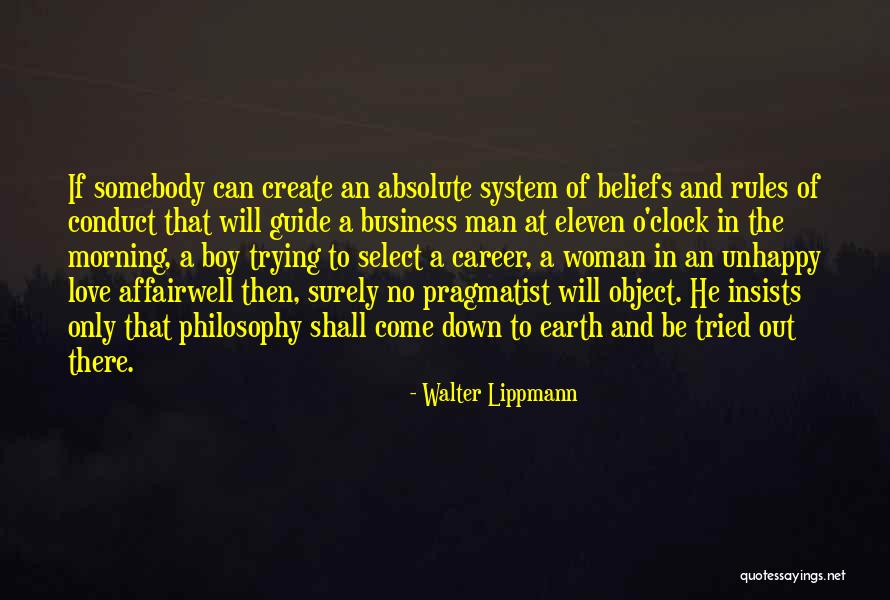 If somebody can create an absolute system of beliefs and rules of conduct that will guide a business man at eleven o'clock in the morning, a boy trying to select a career, a woman in an unhappy love affair
well then, surely no pragmatist will object. He insists only that philosophy shall come down to earth and be tried out there. — Walter Lippmann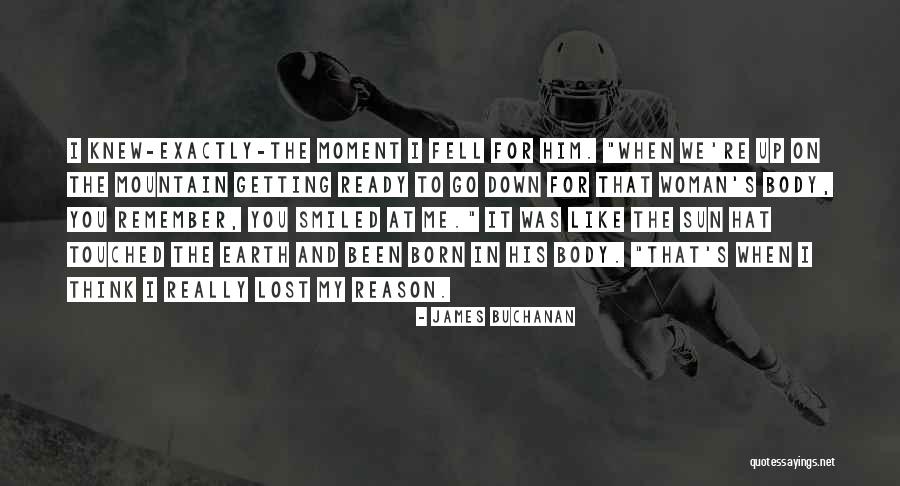 I knew-exactly-the moment I fell for him. "When we're up on the mountain getting ready to go down for that woman's body, you remember, you smiled at me." It was like the sun hat touched the earth and been born in his body. "That's when I think I really lost my reason. — James Buchanan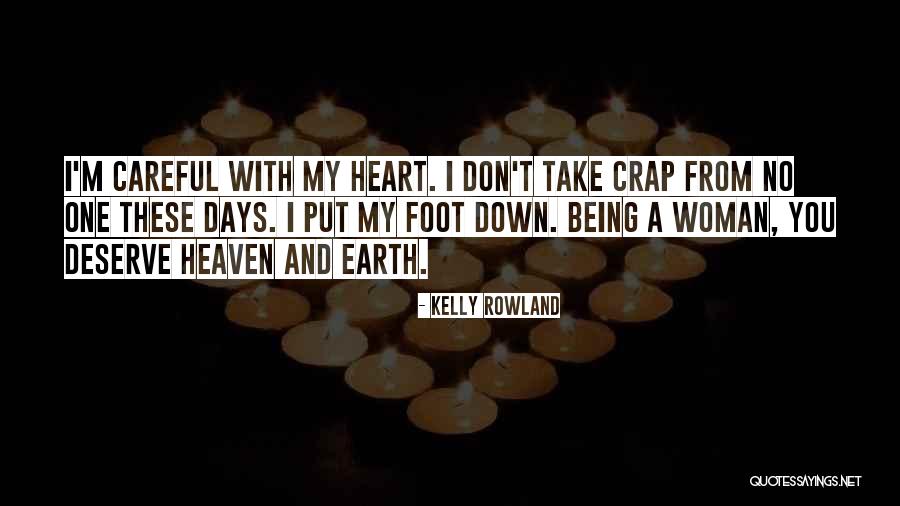 I'm careful with my heart. I don't take crap from no one these days. I put my foot down. Being a woman, you deserve heaven and earth. — Kelly Rowland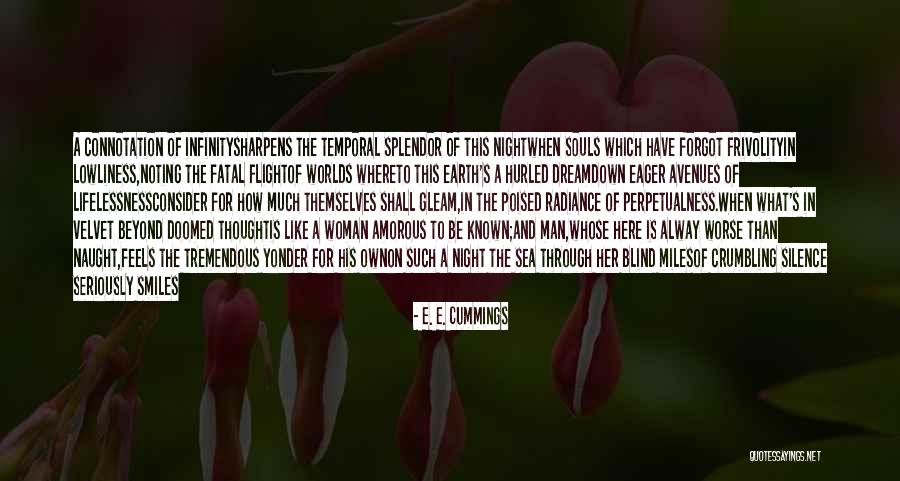 A connotation of infinity
sharpens the temporal splendor of this night
when souls which have forgot frivolity
in lowliness,noting the fatal flight
of worlds whereto this earth's a hurled dream
down eager avenues of lifelessness
consider for how much themselves shall gleam,
in the poised radiance of perpetualness.
When what's in velvet beyond doomed thought
is like a woman amorous to be known;
and man,whose here is alway worse than naught,
feels the tremendous yonder for his own
on such a night the sea through her blind miles
of crumbling silence seriously smiles — E. E. Cummings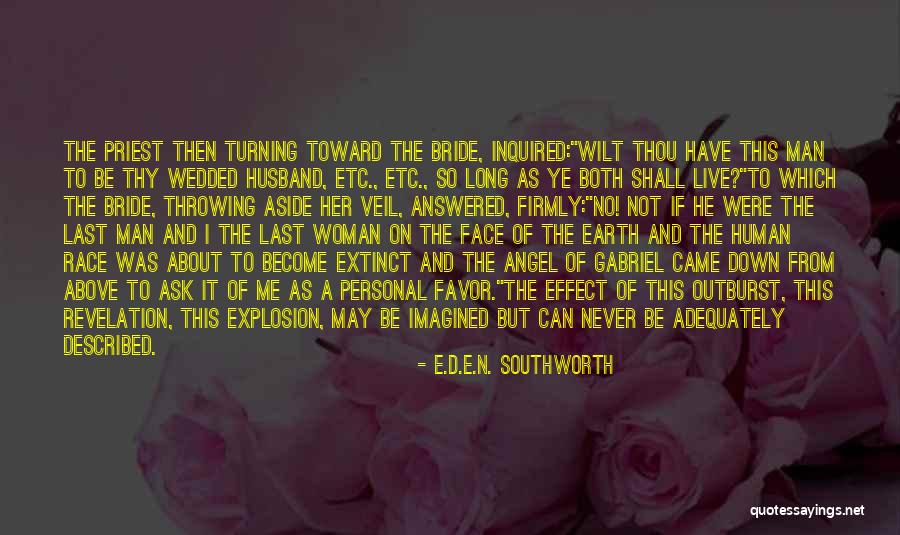 The priest then turning toward the bride, inquired:
"Wilt thou have this man to be thy wedded husband, etc., etc., so long as ye both shall live?"
To which the bride, throwing aside her veil, answered, firmly:
"No! Not if he were the last man and I the last woman on the face of the earth and the human race was about to become extinct and the angel of Gabriel came down from above to ask it of me as a personal favor."
The effect of this outburst, this revelation, this explosion, may be imagined but can never be adequately described. — E.D.E.N. Southworth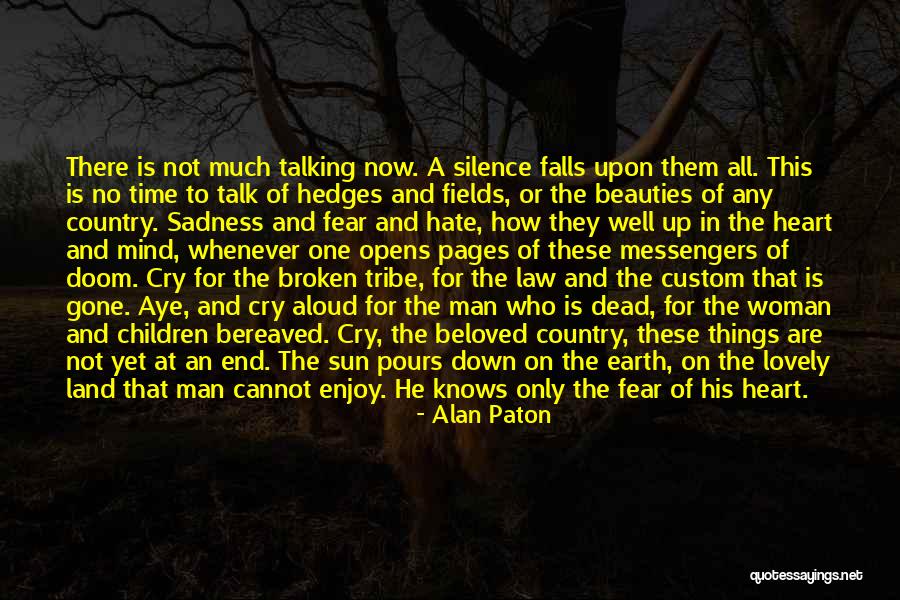 There is not much talking now. A silence falls upon them all. This is no time to talk of hedges and fields, or the beauties of any country. Sadness and fear and hate, how they well up in the heart and mind, whenever one opens pages of these messengers of doom. Cry for the broken tribe, for the law and the custom that is gone. Aye, and cry aloud for the man who is dead, for the woman and children bereaved. Cry, the beloved country, these things are not yet at an end. The sun pours down on the earth, on the lovely land that man cannot enjoy. He knows only the fear of his heart. — Alan Paton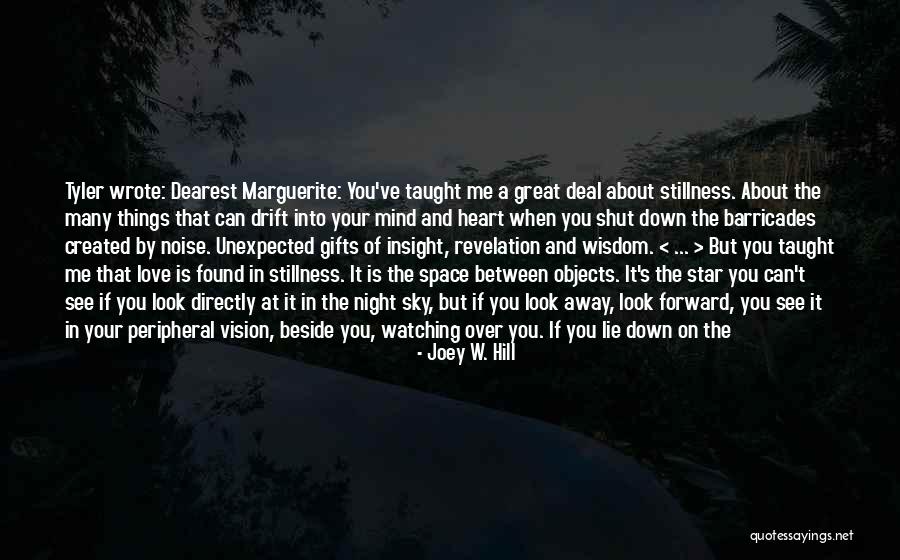 Tyler wrote:
Dearest Marguerite:
You've taught me a great deal about stillness. About the many things that can drift into your mind and heart when you shut down the barricades created by noise. Unexpected gifts of insight, revelation and wisdom. < ... >
But you taught me that love is found in stillness. It is the space between objects. It's the star you can't see if you look directly at it in the night sky, but if you look away, look forward, you see it in your peripheral vision, beside you, watching over you. If you lie down on the earth it's there, beneath you, cradling you.< ... >
You're my angel, my tormentor, my woman, my love.
God, Tyler is such a gentleman! He is gentle AND a gentleman. — Joey W. Hill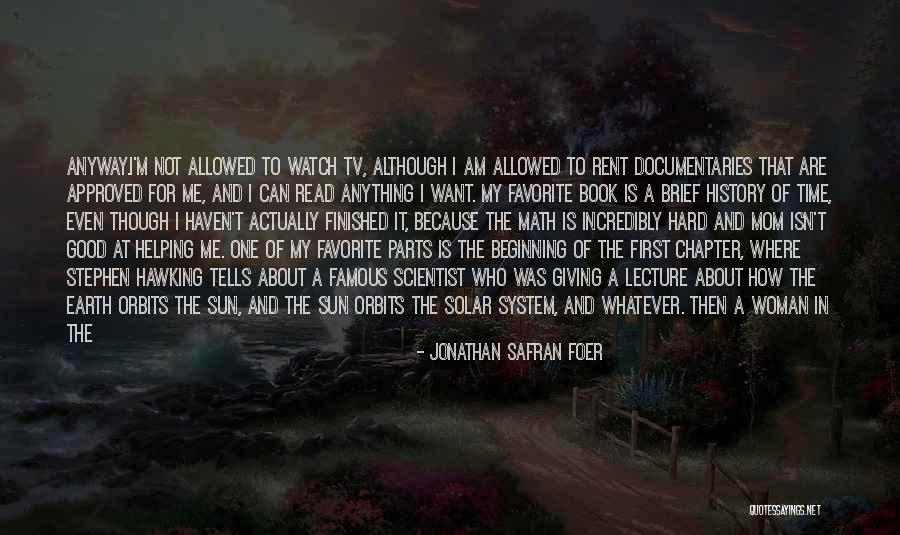 Anyway.
I'm not allowed to watch TV, although I am allowed to rent documentaries that are approved for me, and I can read anything I want. My favorite book is A Brief History of Time, even though I haven't actually finished it, because the math is incredibly hard and Mom isn't good at helping me. One of my favorite parts is the beginning of the first chapter, where Stephen Hawking tells about a famous scientist who was giving a lecture about how the earth orbits the sun, and the sun orbits the solar system, and whatever. Then a woman in the back of the room raised her hand and said, "What you
have told us is rubbish. The world is really a flat plate supported on the back
of a giant tortoise." So the scientist asked her what the tortoise was standing
on. And she said, "But it's turtles all the way down!"
I love that story, because it shows how ignorant people can be. And also because I love tortoises. — Jonathan Safran Foer