Quotes & Sayings About Doing The Right Thing For The Right Reason
Enjoy reading and share 48 famous quotes about Doing The Right Thing For The Right Reason with everyone.
Top Doing The Right Thing For The Right Reason Quotes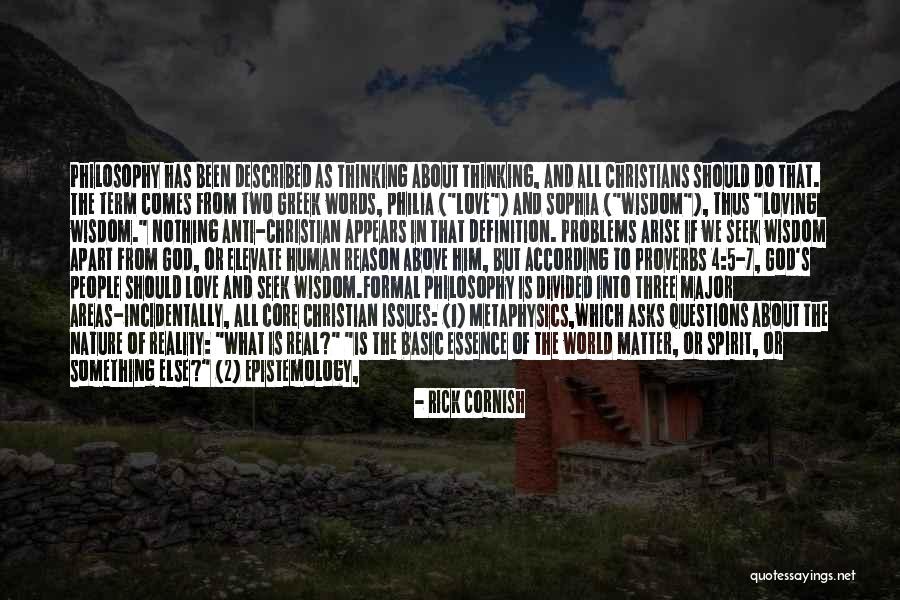 Philosophy has been described as thinking about thinking, and all Christians should do that. The term comes from two Greek words, philia ("love") and sophia ("wisdom"), thus "loving wisdom." Nothing anti-Christian appears in that definition. Problems arise if we seek wisdom apart from God, or elevate human reason above Him, but according to Proverbs 4:5-7, God's people should love and seek wisdom.
Formal philosophy is divided into three major areas-incidentally, all core Christian issues: (1) Metaphysics,
which asks questions about the nature of reality: "What is real?" "Is the basic essence of the world matter, or spirit, or something else?" (2) Epistemology, which addresses issues concerning truth and knowledge: "What do we know?" "How do we know it?" "Why do we think it's true?" (3) Ethics, which considers moral problems: "What is right and wrong?" "Are moral values absolute or relative?" "What is the good life, and how do we achieve it? — Rick Cornish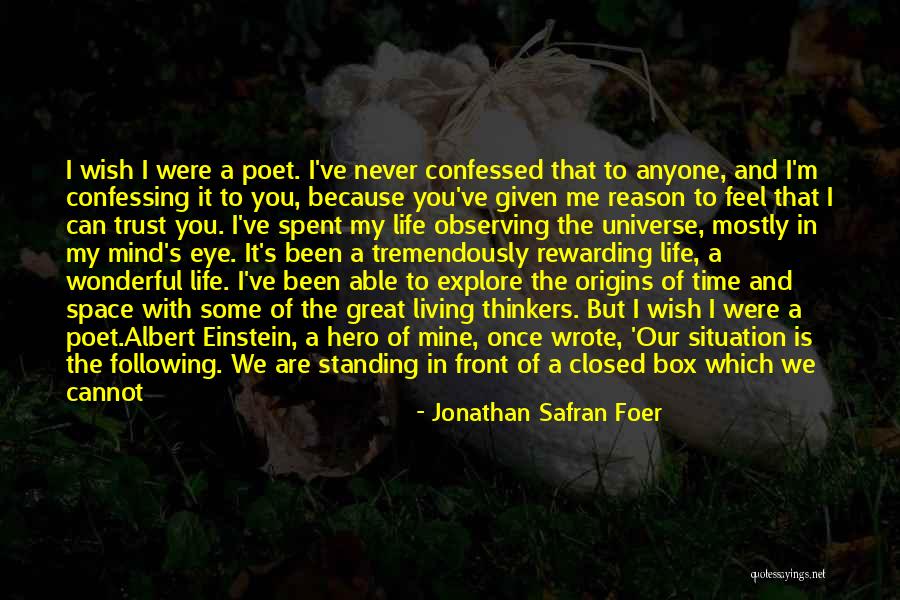 I wish I were a poet. I've never confessed that to anyone, and I'm confessing it to you, because you've given me reason to feel that I can trust you. I've spent my life observing the universe, mostly in my mind's eye. It's been a tremendously rewarding life, a wonderful life. I've been able to explore the origins of time and space with some of the great living thinkers. But I wish I were a poet.
Albert Einstein, a hero of mine, once wrote, 'Our situation is the following. We are standing in front of a closed box which we cannot open.'
I'm sure I don't have to tell you that the vast majority of the universe is composed of dark matter. The fragile balance depends on things we'll never be able to see, hear, smell, taste, or touch. Life itself depends on them. What's real? What isn't real? Maybe those aren't the right questions to be asking. What does life depend on?
I wish I had made things for life to depend on. — Jonathan Safran Foer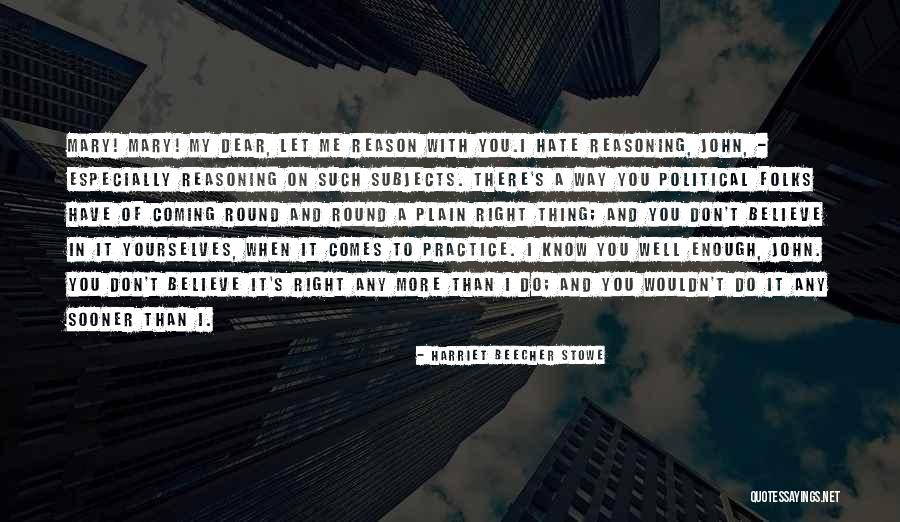 Mary! Mary! My dear, let me reason with you.
I hate reasoning, John, - especially reasoning on such subjects. There's a way you political folks have of coming round and round a plain right thing; and you don't believe in it yourselves, when it comes to practice. I know you well enough, John. You don't believe it's right any more than I do; and you wouldn't do it any sooner than I. — Harriet Beecher Stowe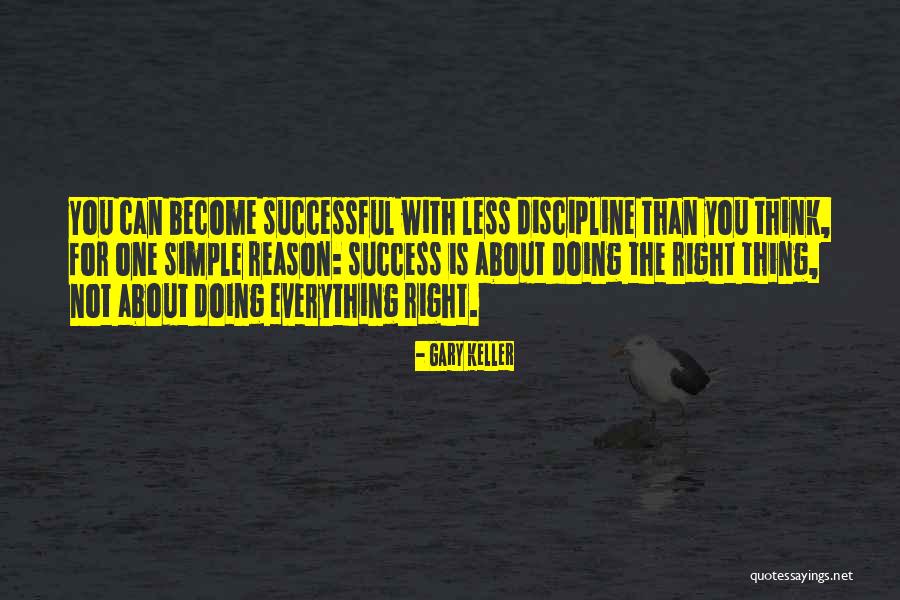 You can become successful with less discipline than you think, for one simple reason: success is about doing the right thing, not about doing everything right. — Gary Keller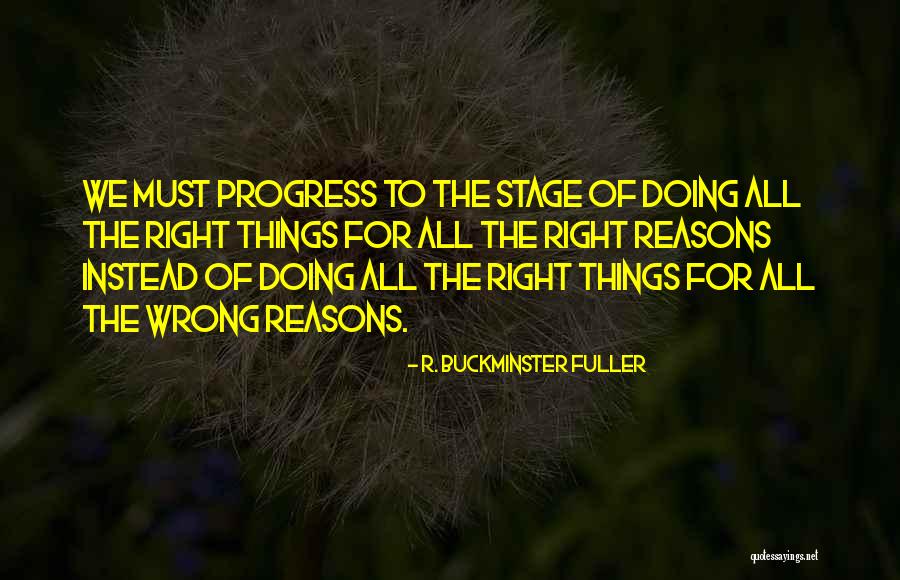 We must progress to the stage of doing all the right things for all the right reasons instead of doing all the right things for all the wrong reasons. — R. Buckminster Fuller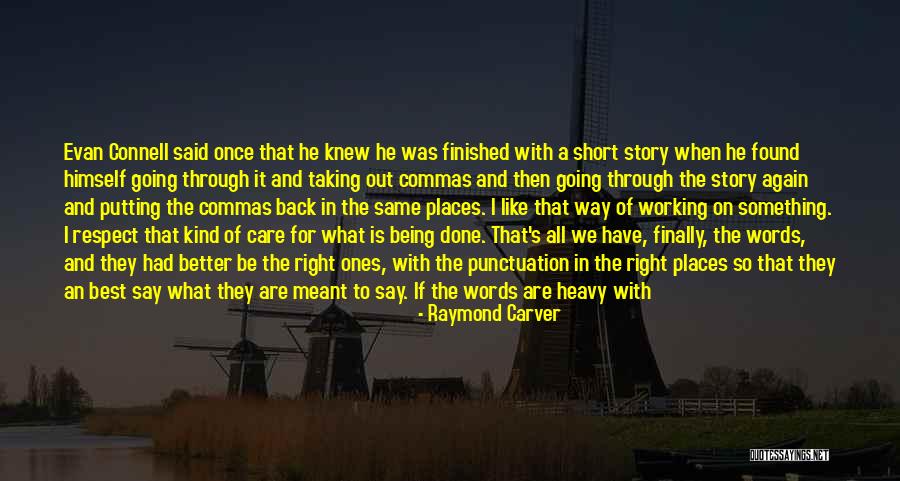 Evan Connell said once that he knew he was finished with a short story when he found himself going through it and taking out commas and then going through the story again and putting the commas back in the same places. I like that way of working on something. I respect that kind of care for what is being done. That's all we have, finally, the words, and they had better be the right ones, with the punctuation in the right places so that they an best say what they are meant to say. If the words are heavy with the writer's own unbridled emotions, or if they are imprecise and inaccurate for some other reason
if the worlds are in any way blurred
the reader's eyes will slide right over them and nothing will be achieved. Henry James called this sort of hapless writing 'weak specification'. — Raymond Carver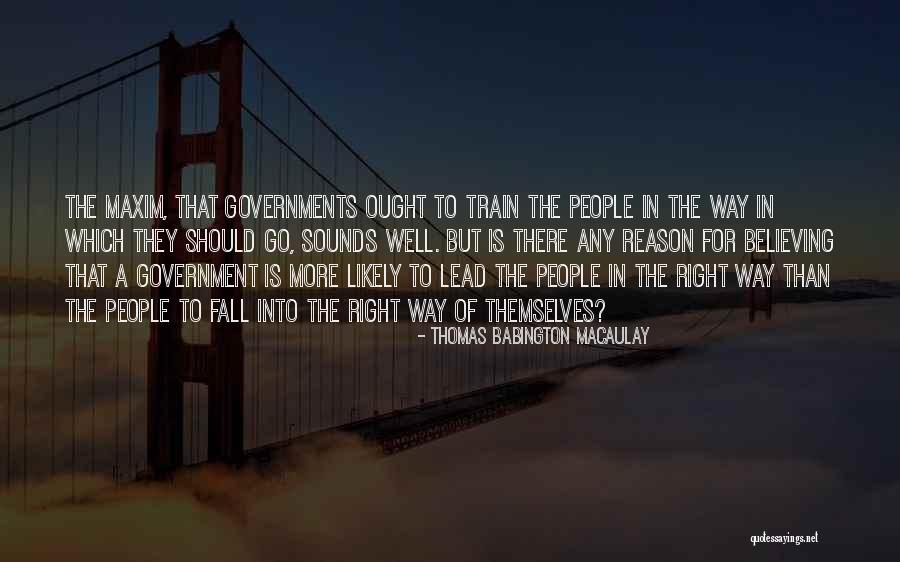 The maxim, that governments ought to train the people in the way in which they should go, sounds well. But is there any reason for believing that a government is more likely to lead the people in the right way than the people to fall into the right way of themselves? — Thomas Babington Macaulay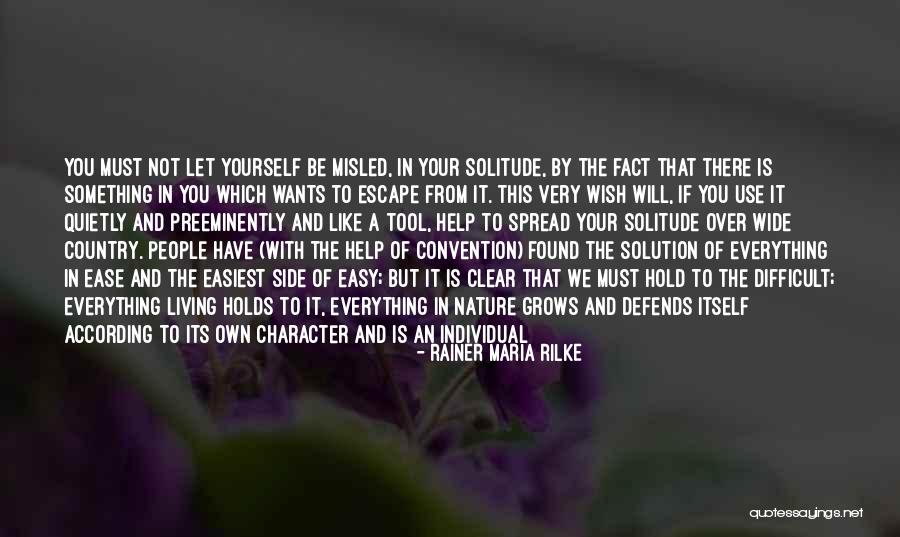 You must not let yourself be misled, in your solitude, by the fact that there is something in you which wants to escape from it. This very wish will, if you use it quietly and preeminently and like a tool, help to spread your solitude over wide country. People have (with the help of convention) found the solution of everything in ease and the easiest side of easy; but it is clear that we must hold to the difficult; everything living holds to it, everything in Nature grows and defends itself according to its own character and is an individual in its own right, strives to be so at any cost and against all opposition. We know little, but that we must hold to the difficult is a certainty that will not leave us; it is good to be solitary, for solitude is difficult; the fact that a thing is difficult must be one more reason for our doing it. — Rainer Maria Rilke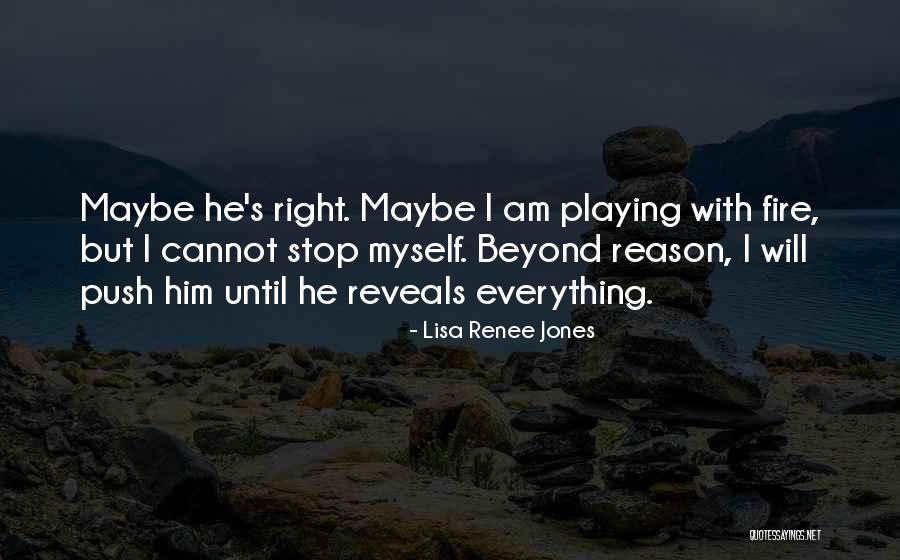 Maybe he's right. Maybe I am playing with fire, but I cannot stop myself. Beyond reason, I will push him until he reveals everything. — Lisa Renee Jones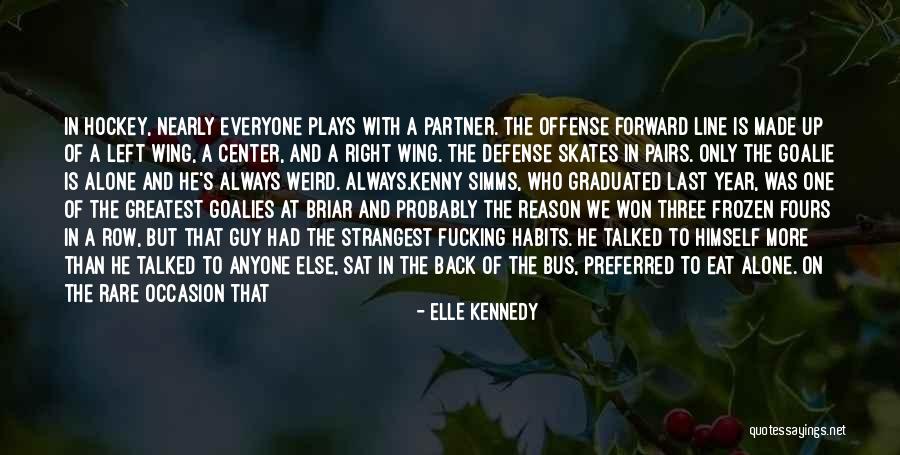 In hockey, nearly everyone plays with a partner. The offense forward line is made up of a left wing, a center, and a right wing. The defense skates in pairs. Only the goalie is alone and he's always weird. Always.

Kenny Simms, who graduated last year, was one of the greatest goalies at Briar and probably the reason we won three Frozen Fours in a row, but that guy had the strangest fucking habits. He talked to himself more than he talked to anyone else, sat in the back of the bus, preferred to eat alone. On the rare occasion that he came out with us, he'd argue the entire time. I once got into it with him over whether there was too much technology available to children. We argued about that topic for the entire three hours we were knocking back beers at the bar.

Sabrina reminds me of Simms. — Elle Kennedy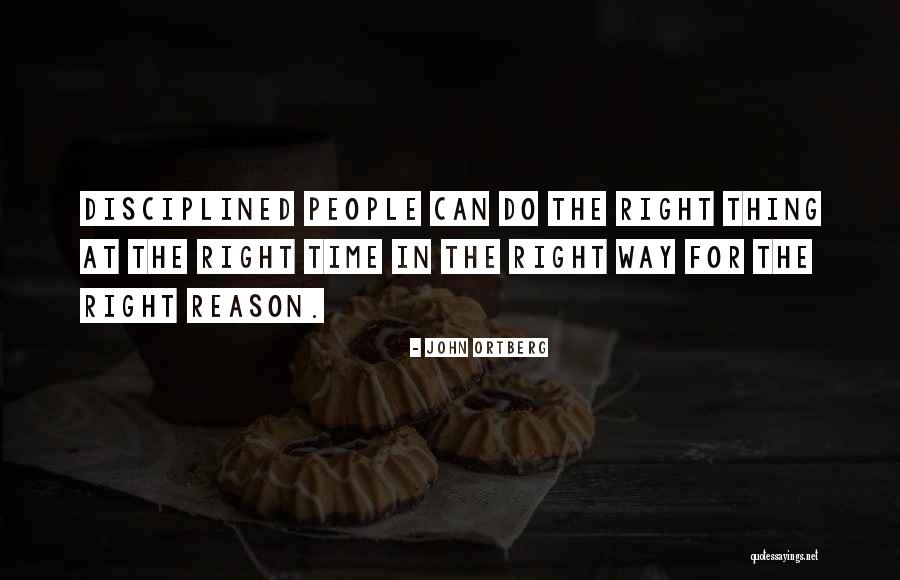 Disciplined people can do the right thing at the right time in the right way for the right reason. — John Ortberg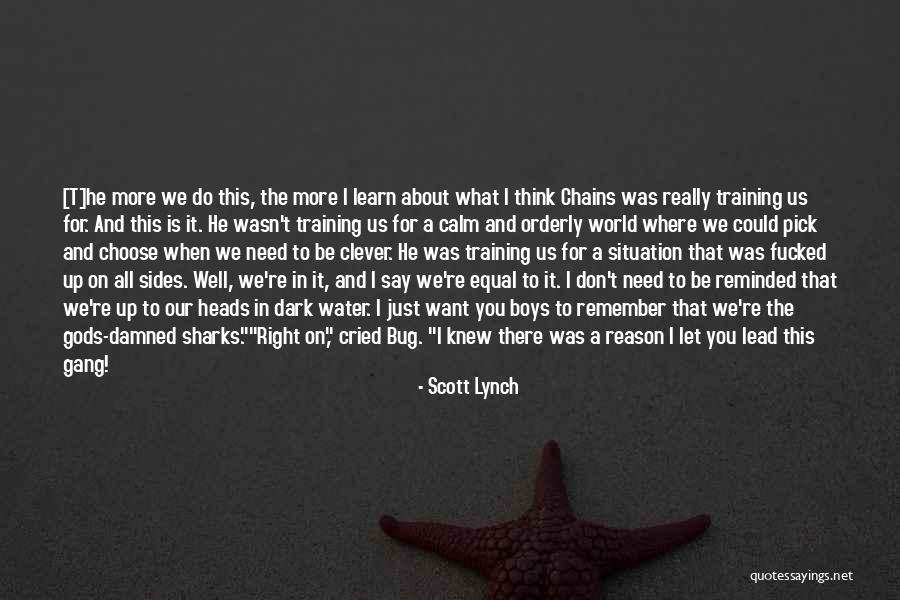 [T]he more we do this, the more I learn about what I think Chains was really training us for. And this is it. He wasn't training us for a calm and orderly world where we could pick and choose when we need to be clever. He was training us for a situation that was fucked up on all sides. Well, we're in it, and I say we're equal to it. I don't need to be reminded that we're up to our heads in dark water. I just want you boys to remember that we're the gods-damned sharks."
"Right on," cried Bug. "I knew there was a reason I let you lead this gang! — Scott Lynch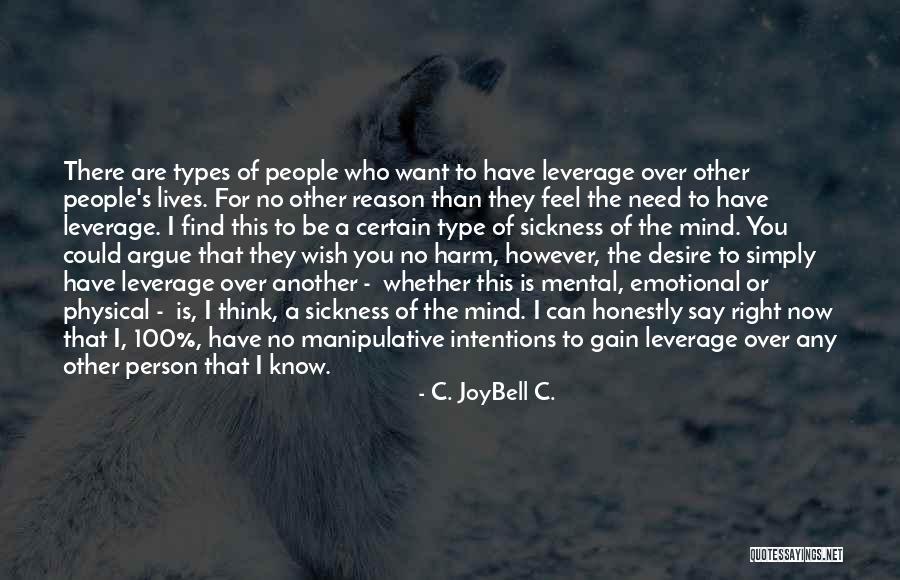 There are types of people who want to have leverage over other people's lives. For no other reason than they feel the need to have leverage. I find this to be a certain type of sickness of the mind. You could argue that they wish you no harm, however, the desire to simply have leverage over another - whether this is mental, emotional or physical - is, I think, a sickness of the mind. I can honestly say right now that I, 100%, have no manipulative intentions to gain leverage over any other person that I know. — C. JoyBell C.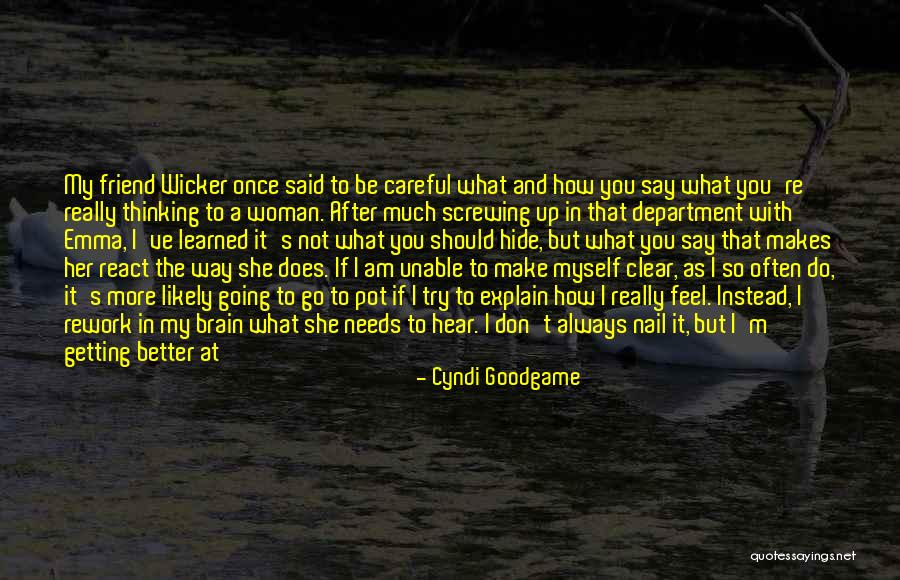 My friend Wicker once said to be careful what and how you say what you're really thinking to a woman. After much screwing up in that department with Emma, I've learned it's not what you should hide, but what you say that makes her react the way she does. If I am unable to make myself clear, as I so often do, it's more likely going to go to pot if I try to explain how I really feel. Instead, I rework in my brain what she needs to hear. I don't always nail it, but I'm getting better at it. And it's always the truth even if it isn't how I see it.
Is it deceiving? No. It's being considerate and aware that she is an emotional creature, and that for some crazy reason, craves my attention. I love to make her happy. My jumbled up mess of a mind isn't important in the long run if it just confuses her. So I chose words carefully. When something goes right, I use it over and over again. -Ames — Cyndi Goodgame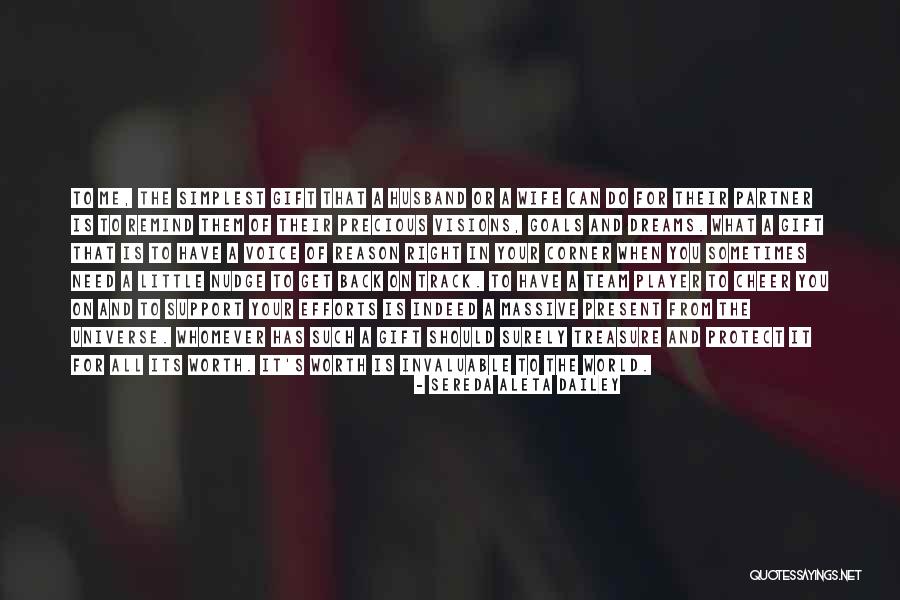 To me, the simplest gift that a husband or a wife can do for their partner is to remind them of their precious visions, goals and dreams. What a gift that is to have a voice of reason right in your corner when you sometimes need a little nudge to get back on track. To have a team player to cheer you on and to support your efforts is indeed a massive present from the universe. Whomever has such a gift should surely treasure and protect it for all its worth. It's worth is invaluable to the world. — Sereda Aleta Dailey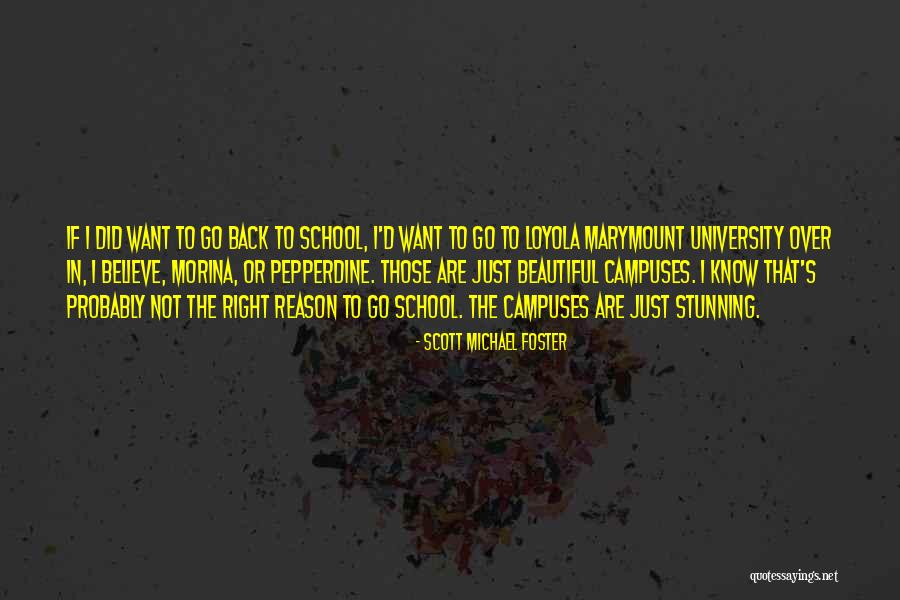 If I did want to go back to school, I'd want to go to Loyola Marymount University over in, I believe, Morina, or Pepperdine. Those are just beautiful campuses. I know that's probably not the right reason to go school. The campuses are just stunning. — Scott Michael Foster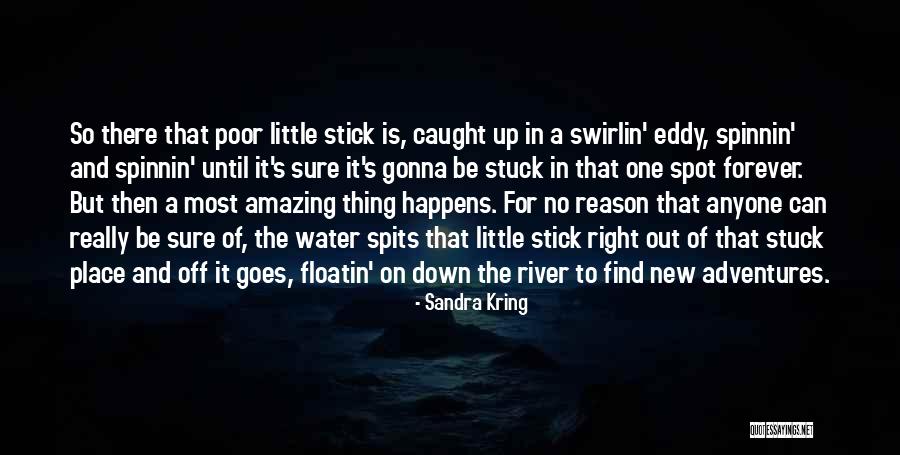 So there that poor little stick is, caught up in a swirlin' eddy, spinnin' and spinnin' until it's sure it's gonna be stuck in that one spot forever. But then a most amazing thing happens. For no reason that anyone can really be sure of, the water spits that little stick right out of that stuck place and off it goes, floatin' on down the river to find new adventures. — Sandra Kring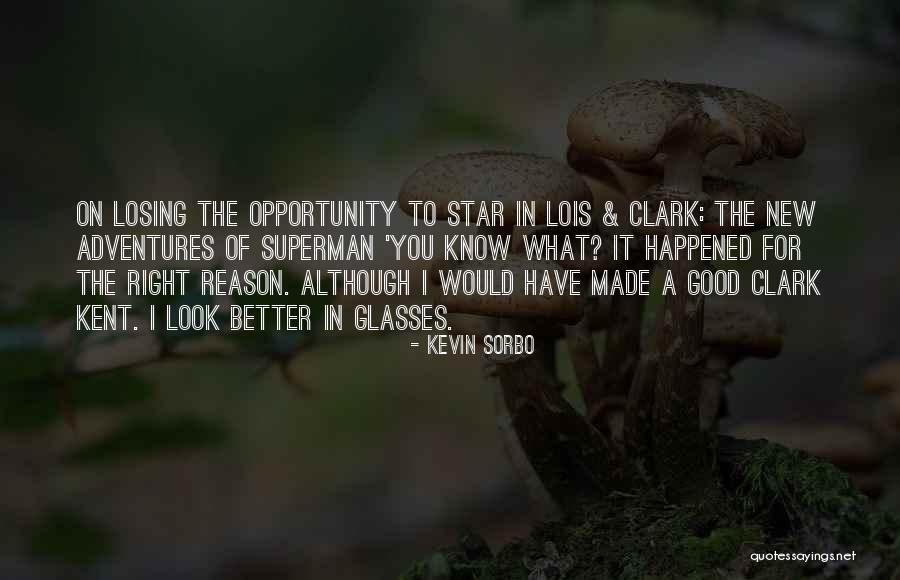 On losing the opportunity to star in Lois & Clark: The New Adventures of Superman 'You know what? It happened for the right reason. Although I would have made a good Clark Kent. I look better in glasses. — Kevin Sorbo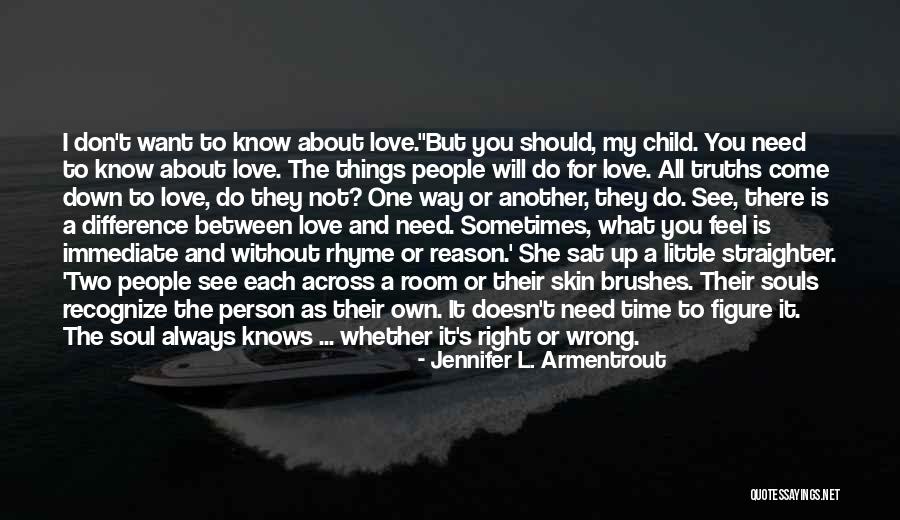 I don't want to know about love.'
'But you should, my child. You need to know about love. The things people will do for love. All truths come down to love, do they not? One way or another, they do. See, there is a difference between love and need. Sometimes, what you feel is immediate and without rhyme or reason.' She sat up a little straighter. 'Two people see each across a room or their skin brushes. Their souls recognize the person as their own. It doesn't need time to figure it. The soul always knows ... whether it's right or wrong. — Jennifer L. Armentrout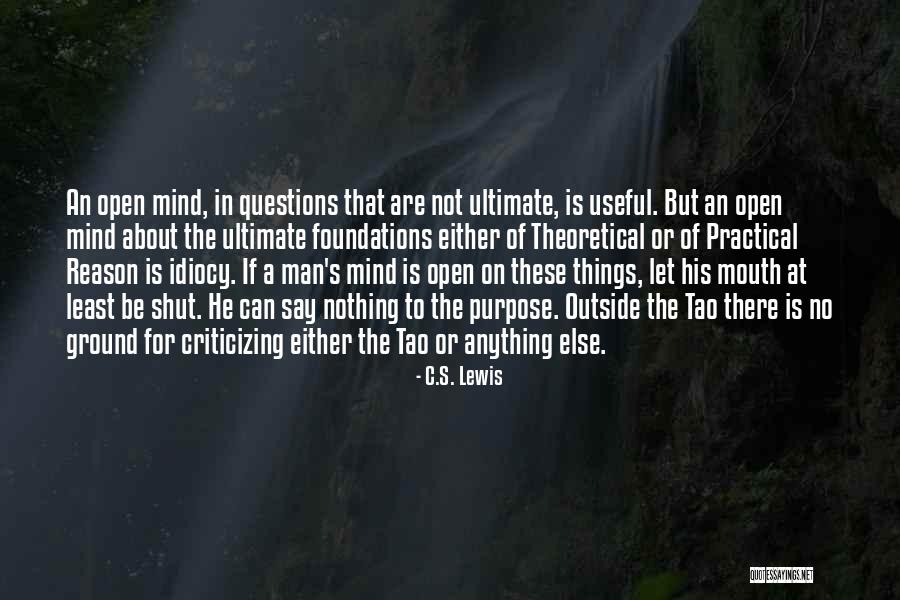 An open mind, in questions that are not ultimate, is useful. But an open mind about the ultimate foundations either of Theoretical or of Practical Reason is idiocy. If a man's mind is open on these things, let his mouth at least be shut. He can say nothing to the purpose. Outside the Tao there is no ground for criticizing either the Tao or anything else. — C.S. Lewis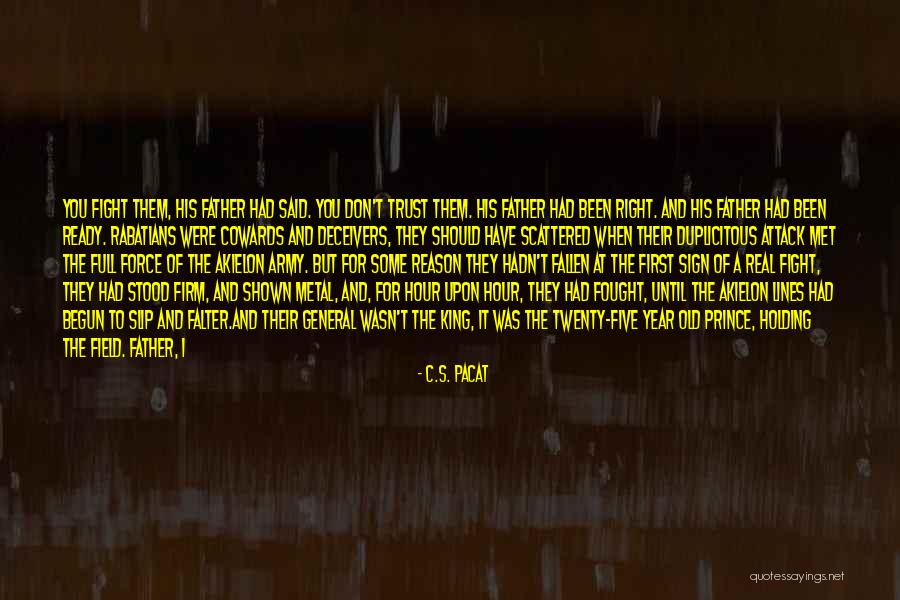 You fight them, his father had said.
You don't trust them. His father had been right. And his father had been ready. Rabatians were cowards and deceivers, they should have scattered when their duplicitous attack met the full force of the Akielon army. But for some reason they hadn't fallen at the first sign of a real fight, they had stood firm, and shown metal, and, for hour upon hour, they had fought, until the Akielon lines had begun to slip and falter.
And their general wasn't the king, it was the twenty-five year old prince, holding the field.
Father, I can take him, he'd said.
Then go, his father had said, and bring
us back victory. — C.S. Pacat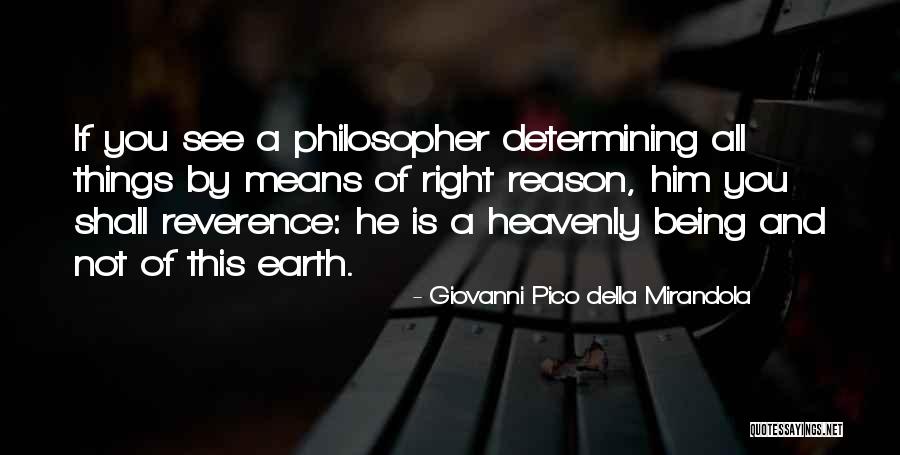 If you see a philosopher determining all things by means of right reason, him you shall reverence: he is a heavenly being and not of this earth. — Giovanni Pico Della Mirandola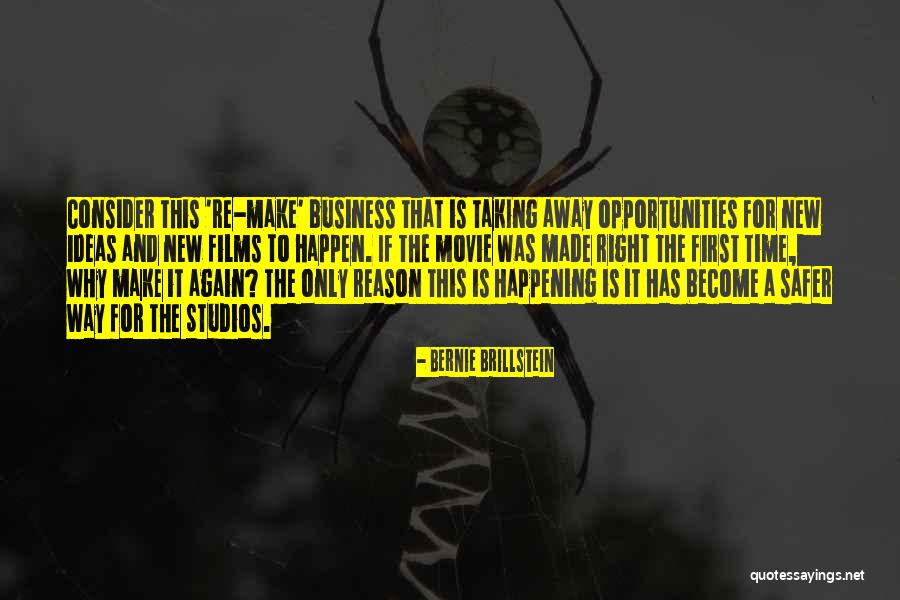 Consider this 're-make' business that is taking away opportunities for new ideas and new films to happen. If the movie was made right the first time, why make it again? The only reason this is happening is it has become a safer way for the Studios. — Bernie Brillstein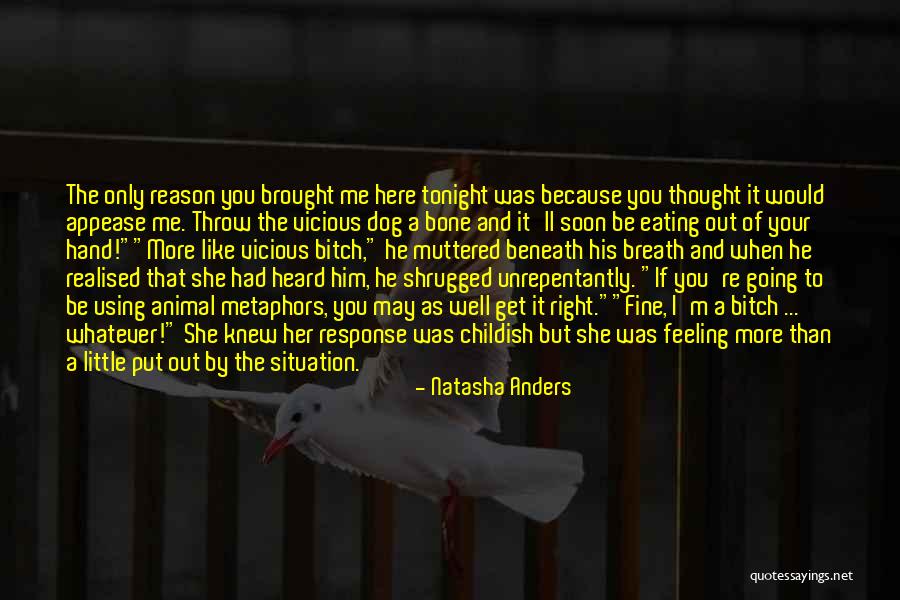 The only reason you brought me here tonight was because you thought it would appease me. Throw the vicious dog a bone and it'll soon be eating out of your hand!"
"More like vicious bitch," he muttered beneath his breath and when he realised that she had heard him, he shrugged unrepentantly. "If you're going to be using animal metaphors, you may as well get it right."
"Fine, I'm a bitch ... whatever!" She knew her response was childish but she was feeling more than a little put out by the situation. — Natasha Anders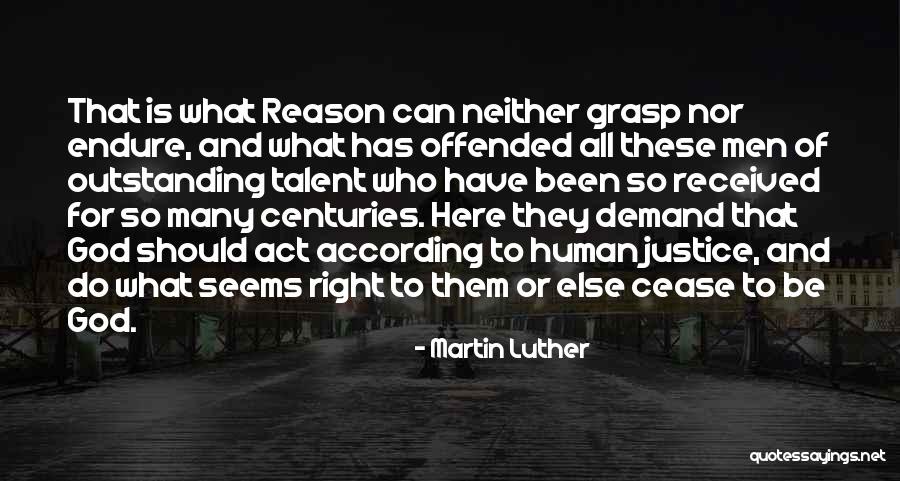 That is what Reason can neither grasp nor endure, and what has offended all these men of outstanding talent who have been so received for so many centuries. Here they demand that God should act according to human justice, and do what seems right to them or else cease to be God. — Martin Luther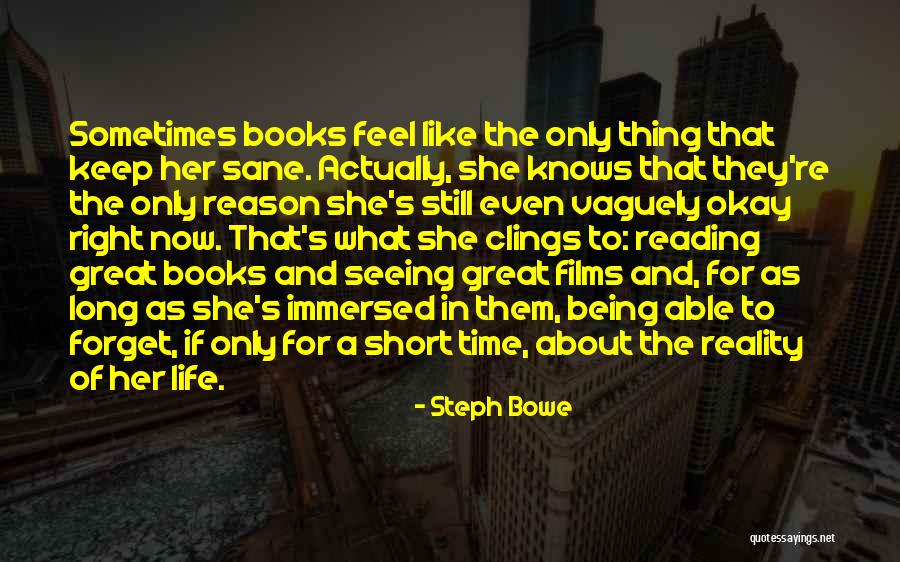 Sometimes books feel like the only thing that keep her sane. Actually, she knows that they're the only reason she's still even vaguely okay right now. That's what she clings to: reading great books and seeing great films and, for as long as she's immersed in them, being able to forget, if only for a short time, about the reality of her life. — Steph Bowe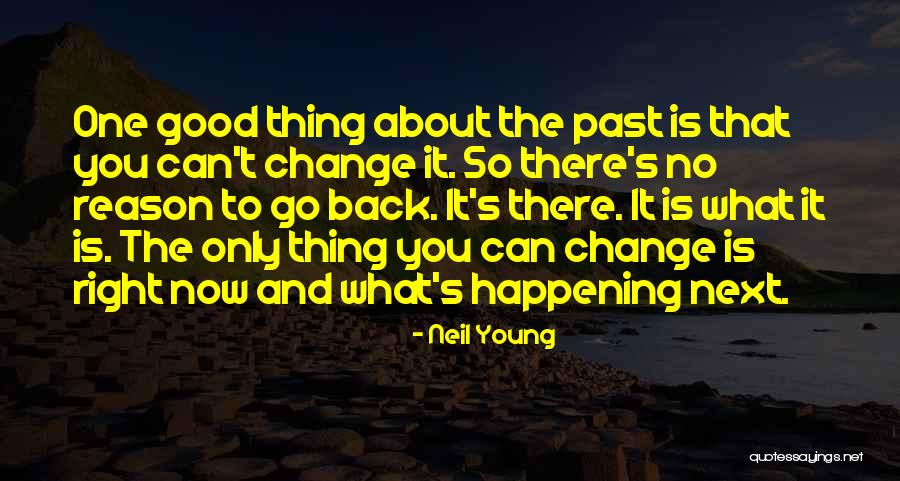 One good thing about the past is that you can't change it. So there's no reason to go back. It's there. It is what it is. The only thing you can change is right now and what's happening next. — Neil Young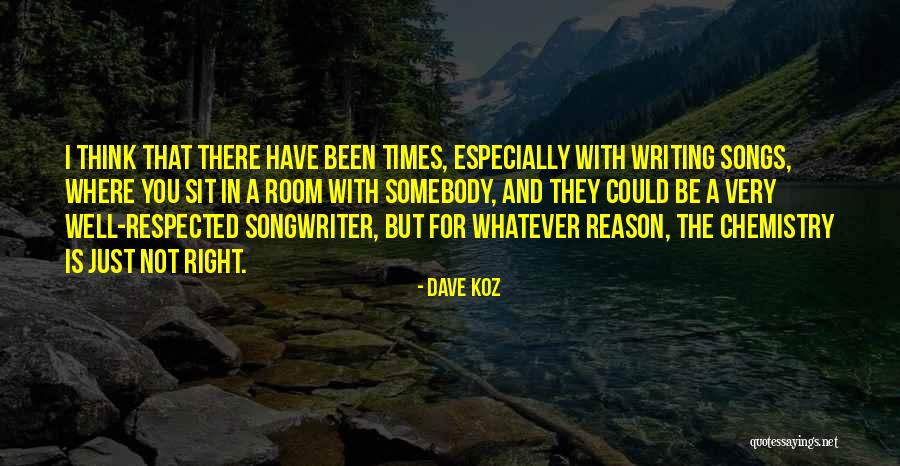 I think that there have been times, especially with writing songs, where you sit in a room with somebody, and they could be a very well-respected songwriter, but for whatever reason, the chemistry is just not right. — Dave Koz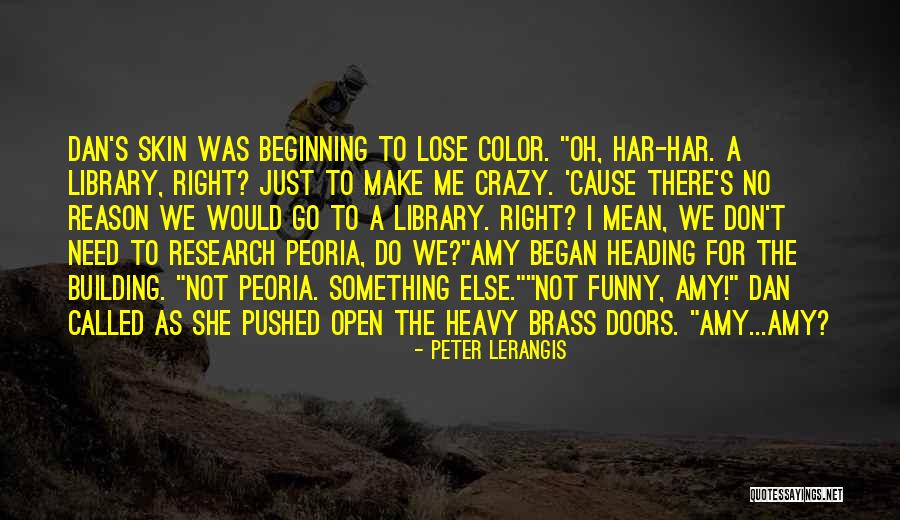 Dan's skin was beginning to lose color. "Oh, har-har. A library, right? Just to make me crazy. 'Cause there's no reason we would go to a library. Right? I mean, we don't need to research Peoria, do we?"
Amy began heading for the building. "Not Peoria. Something else."
"Not funny, Amy!" Dan called as she pushed open the heavy brass doors. "Amy...Amy? — Peter Lerangis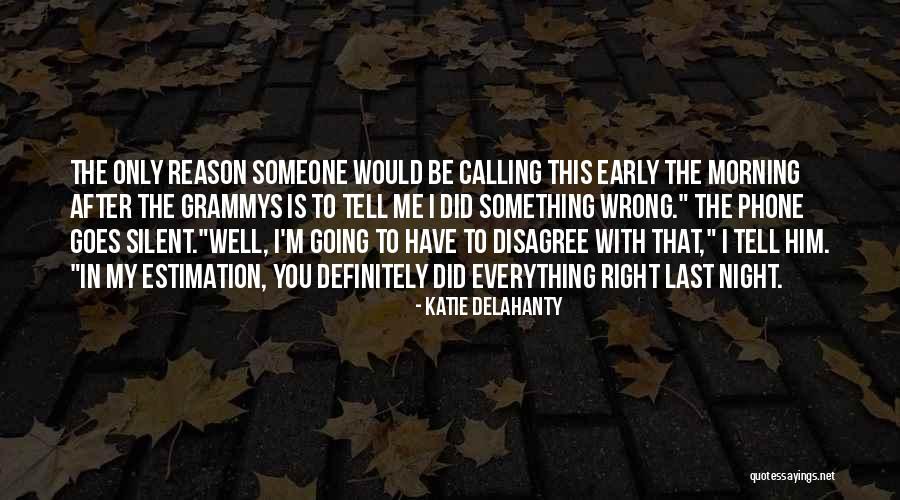 The only reason someone would be calling this early the morning after the Grammys is to tell me I did something wrong."

The phone goes silent.

"Well, I'm going to have to disagree with that," I tell him. "In my estimation, you definitely did everything right last night. — Katie Delahanty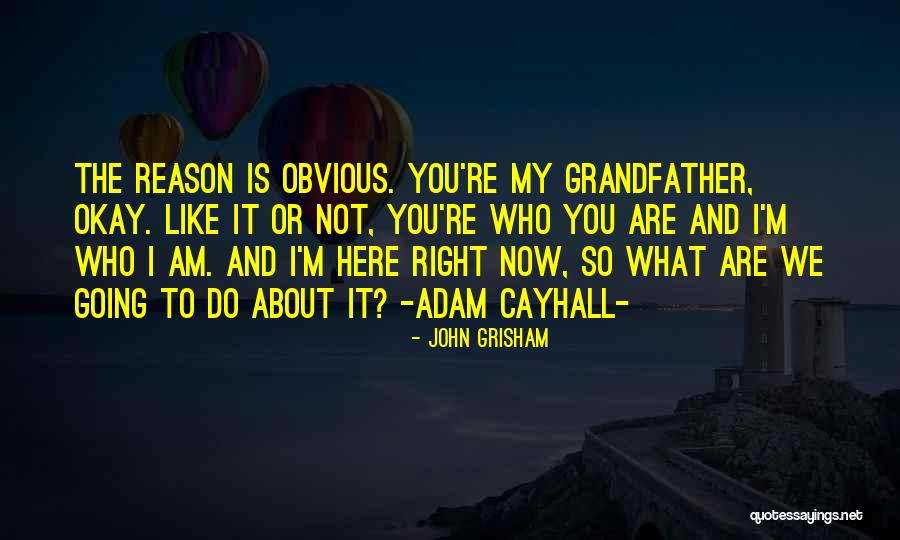 The reason is obvious. You're my grandfather, okay. Like it or not, you're who you are and i'm who i am. And i'm here right now, so what are we going to do about it? -Adam Cayhall- — John Grisham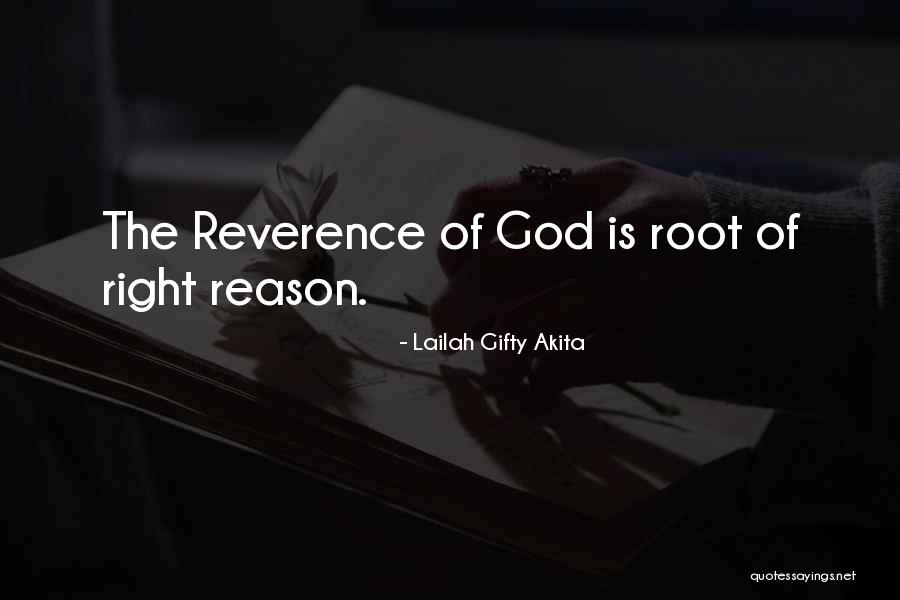 The Reverence of God is root of right reason. — Lailah Gifty Akita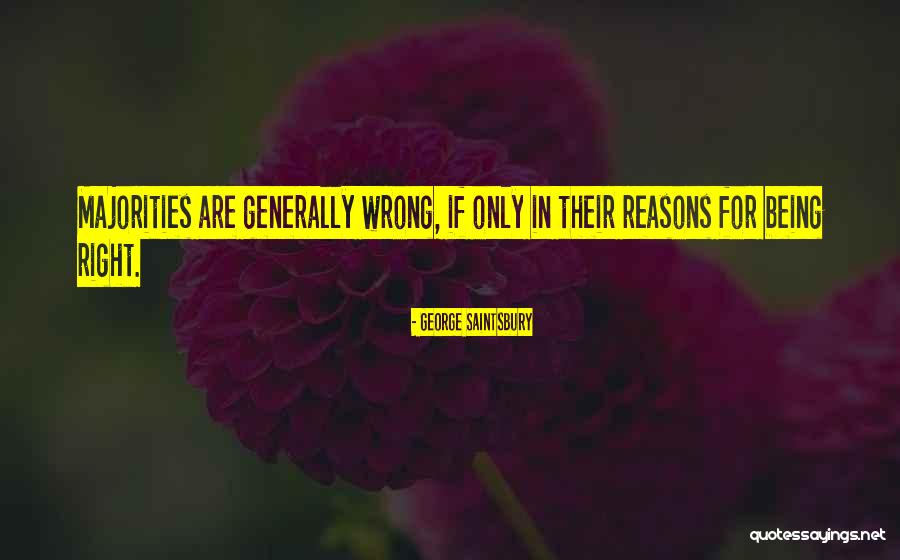 Majorities are generally wrong, if only in their reasons for being right. — George Saintsbury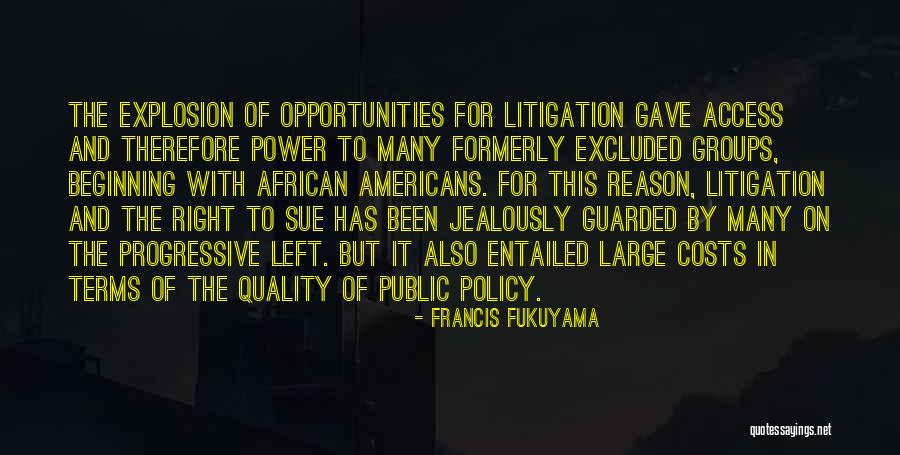 The explosion of opportunities for litigation gave access and therefore power to many formerly excluded groups, beginning with African Americans. For this reason, litigation and the right to sue has been jealously guarded by many on the progressive left. But it also entailed large costs in terms of the quality of public policy. — Francis Fukuyama
Live by old Ethicks and the classical Rules of Honesty. Put no new names or notions upon Authentick Virtues and Vices. Think not that Morality is Ambulatory; that Vices in one age are not Vices in another; or that Virtues, which are under the everlasting Seal of right Reason, may be Stamped by Opinion. And therefore though vicious times invert the opinion of things, and set up a new Ethicks against Virtue, yet hold thou unto old Morality; and rather than follow a multitude to do evil, stand like Pompey's pillar conspicuous by thyself, and single in Example of Virtue; since no Deluge of Vice is like to be so general but more than eight will escape; Eye well those Heroes who have held their Heads above Water, who have touched Pitch, and have not been defiled, and in the common Contagion have remained uncorrupted. — Thomas Browne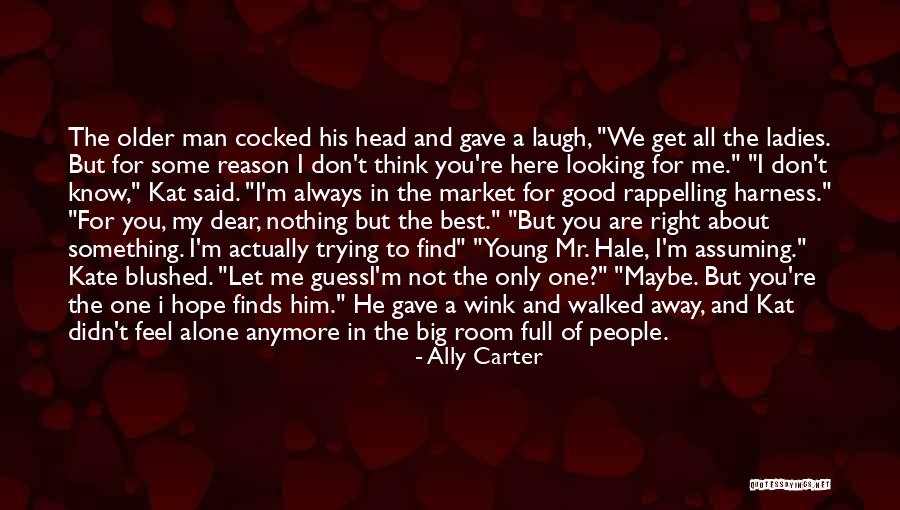 The older man cocked his head and gave a laugh, "We get all the ladies. But for some reason I don't think you're here looking for me." "I don't know," Kat said. "I'm always in the market for good rappelling harness." "For you, my dear, nothing but the best." "But you are right about something. I'm actually trying to find
" "Young Mr. Hale, I'm assuming." Kate blushed. "Let me guess
I'm not the only one?" "Maybe. But you're the one i hope finds him." He gave a wink and walked away, and Kat didn't feel alone anymore in the big room full of people. — Ally Carter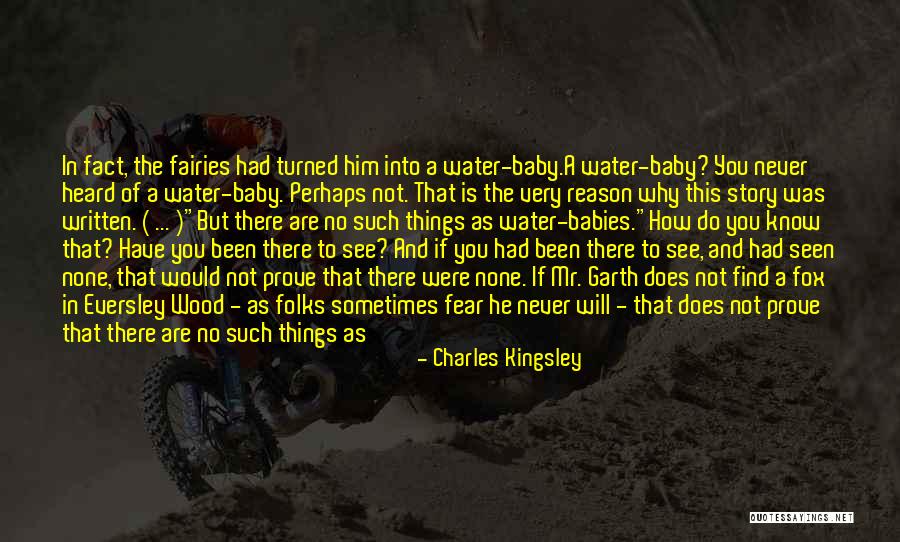 In fact, the fairies had turned him into a water-baby.
A water-baby? You never heard of a water-baby. Perhaps not. That is the very reason why this story was written.
( ... )
"But there are no such things as water-babies."
How do you know that? Have you been there to see? And if you had been there to see, and had seen none, that would not prove that there were none. If Mr. Garth does not find a fox in Eversley Wood - as folks sometimes fear he never will - that does not prove that there are no such things as foxes. And as is Eversley Wood to all the woods in England, so are the waters we know to all the waters in the world. And no one has a right to say that no water-babies exist, till they have seen no water-babies existing; which is quite a different thing, mind, from not seeing water-babies; and a thing which nobody ever did, or perhaps ever will do. — Charles Kingsley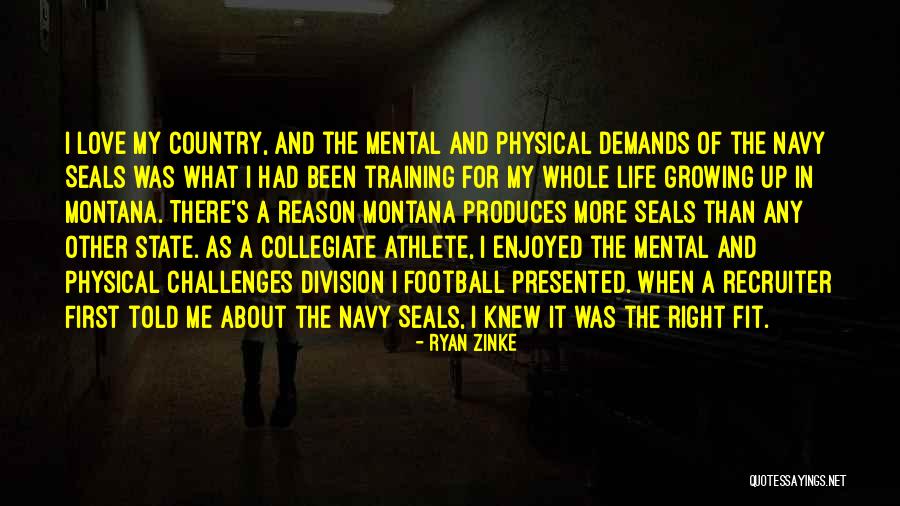 I love my country, and the mental and physical demands of the Navy SEALs was what I had been training for my whole life growing up in Montana. There's a reason Montana produces more SEALs than any other state. As a collegiate athlete, I enjoyed the mental and physical challenges Division I football presented. When a recruiter first told me about the Navy SEALs, I knew it was the right fit. — Ryan Zinke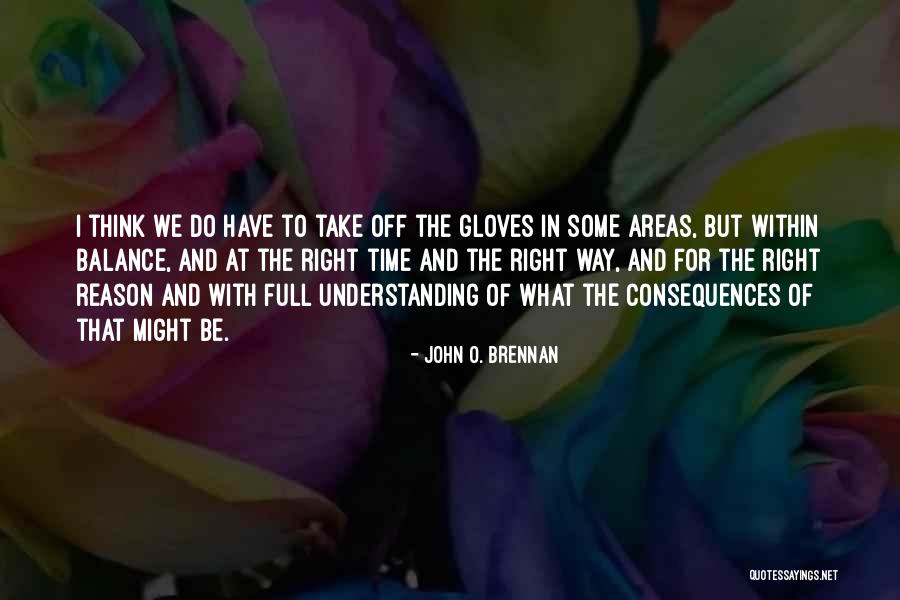 I think we do have to take off the gloves in some areas, but within balance, and at the right time and the right way, and for the right reason and with full understanding of what the consequences of that might be. — John O. Brennan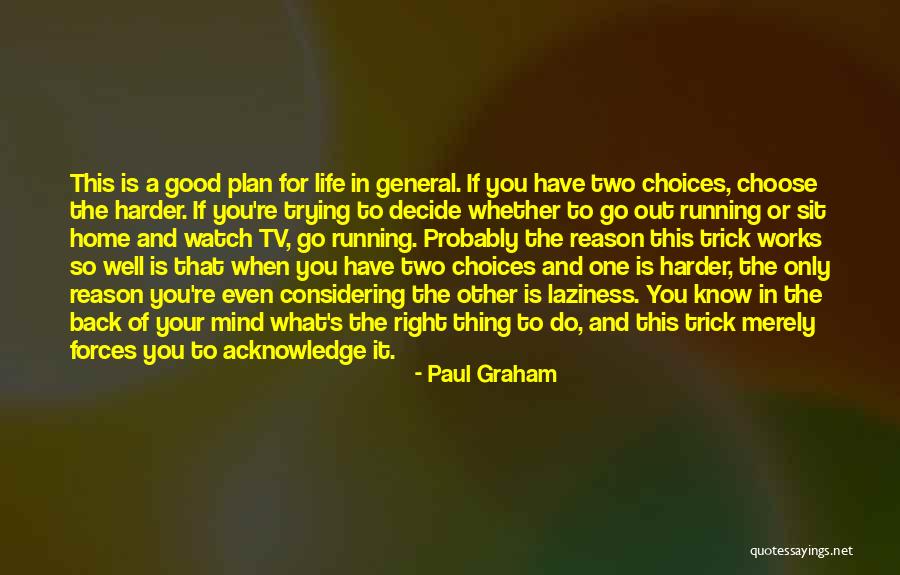 This is a good plan for life in general. If you have two choices, choose the harder. If you're trying to decide whether to go out running or sit home and watch TV, go running. Probably the reason this trick works so well is that when you have two choices and one is harder, the only reason you're even considering the other is laziness. You know in the back of your mind what's the right thing to do, and this trick merely forces you to acknowledge it. — Paul Graham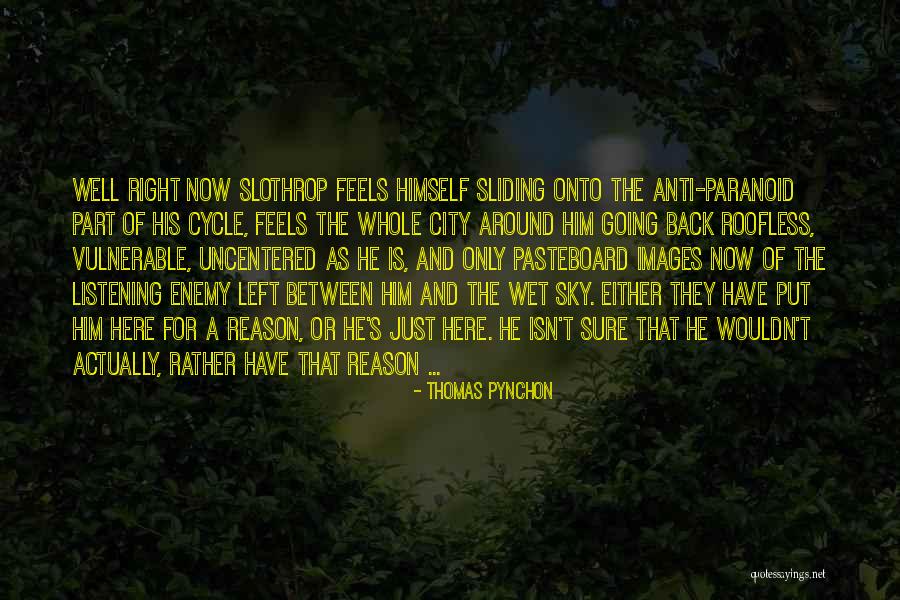 Well right now Slothrop feels himself sliding onto the anti-paranoid part of his cycle, feels the whole city around him going back roofless, vulnerable, uncentered as he is, and only pasteboard images now of the Listening Enemy left between him and the wet sky.
Either They have put him here for a reason, or he's just here. He isn't sure that he wouldn't actually, rather have that reason ... — Thomas Pynchon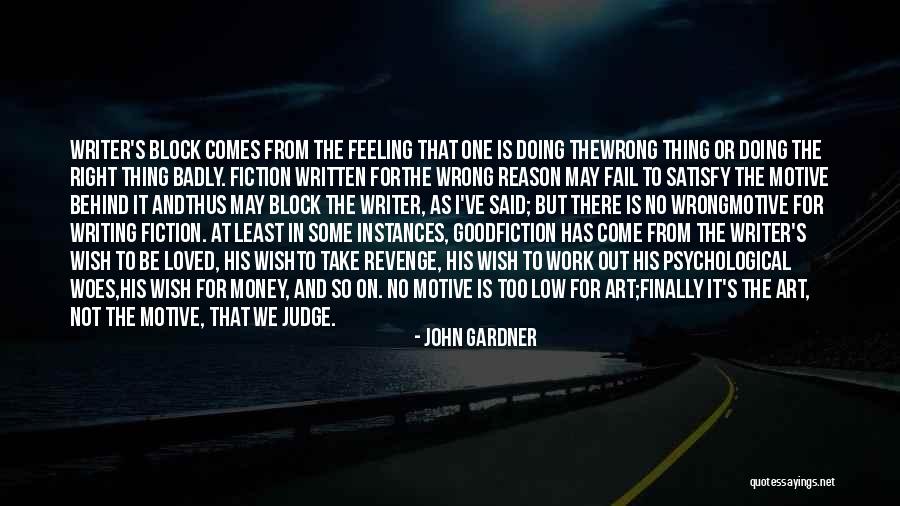 Writer's block comes from the feeling that one is doing the
wrong thing or doing the right thing badly. Fiction written for
the wrong reason may fail to satisfy the motive behind it and
thus may block the writer, as I've said; but there is no wrong
motive for writing fiction. At least in some instances, good
fiction has come from the writer's wish to be loved, his wish
to take revenge, his wish to work out his psychological woes,
his wish for money, and so on. No motive is too low for art;
finally it's the art, not the motive, that we judge. — John Gardner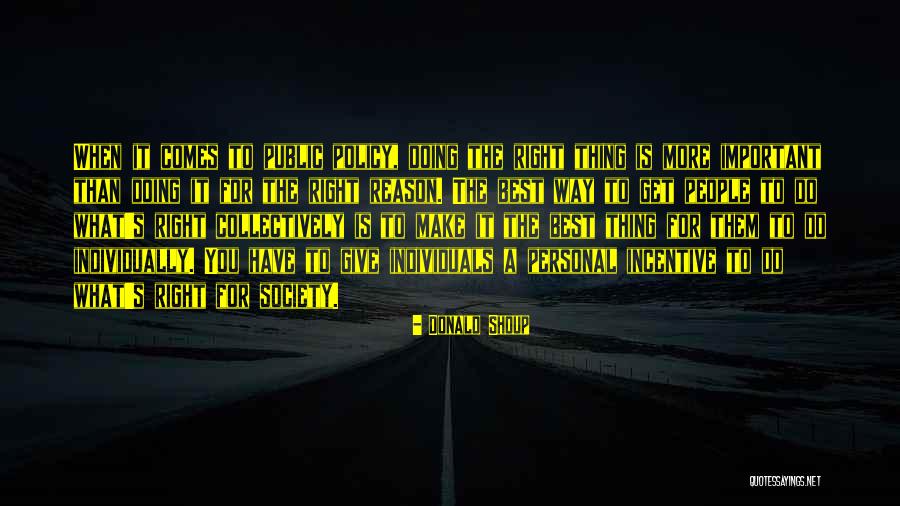 When it comes to public policy, doing the right thing is more important than doing it for the right reason. The best way to get people to do what's right collectively is to make it the best thing for them to do individually. You have to give individuals a personal incentive to do what's right for society. — Donald Shoup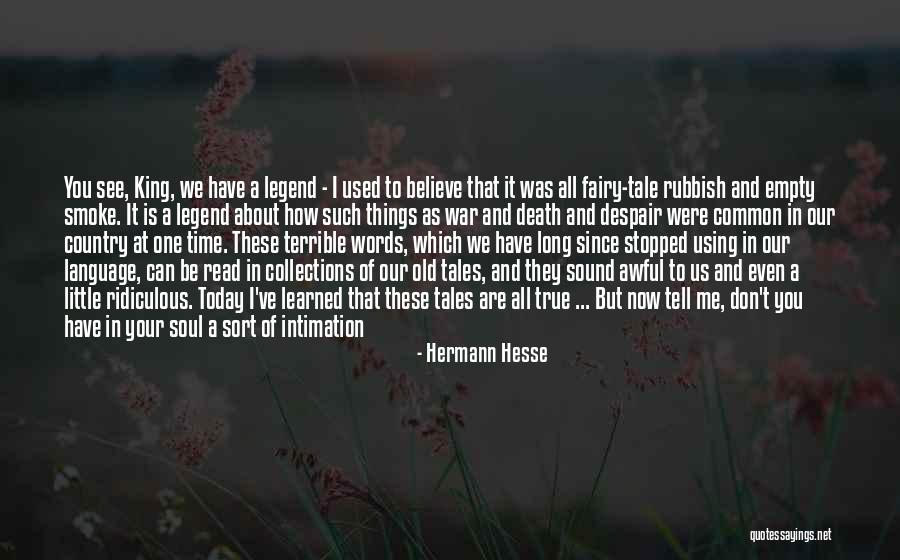 You see, King, we have a legend - I used to believe that it was all fairy-tale rubbish and empty smoke. It is a legend about how such things as war and death and despair were common in our country at one time. These terrible words, which we have long since stopped using in our language, can be read in collections of our old tales, and they sound awful to us and even a little ridiculous. Today I've learned that these tales are all true ... But now tell me, don't you have in your soul a sort of intimation that you're not doing the right thing? Don't you have a yearning for bright, serene gods, for sensible and cheerful leaders and mentors? Don't you ever dream in your sleep about another, more beautiful life where nobody is envious of others, where reason and order prevails, where people treat other people only with cheerfulness and considerations? — Hermann Hesse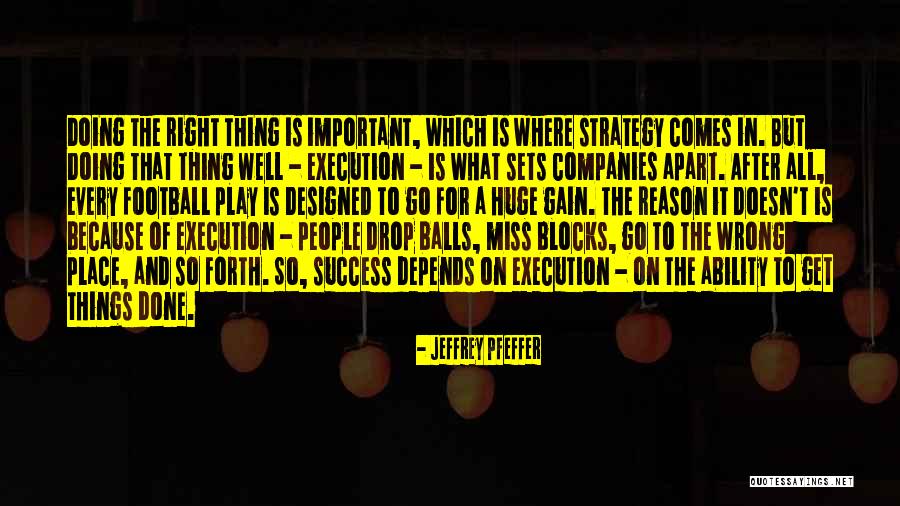 Doing the right thing is important, which is where strategy comes in. But doing that thing well - execution - is what sets companies apart. After all, every football play is designed to go for a huge gain. The reason it doesn't is because of execution - people drop balls, miss blocks, go to the wrong place, and so forth. So, success depends on execution - on the ability to get things done. — Jeffrey Pfeffer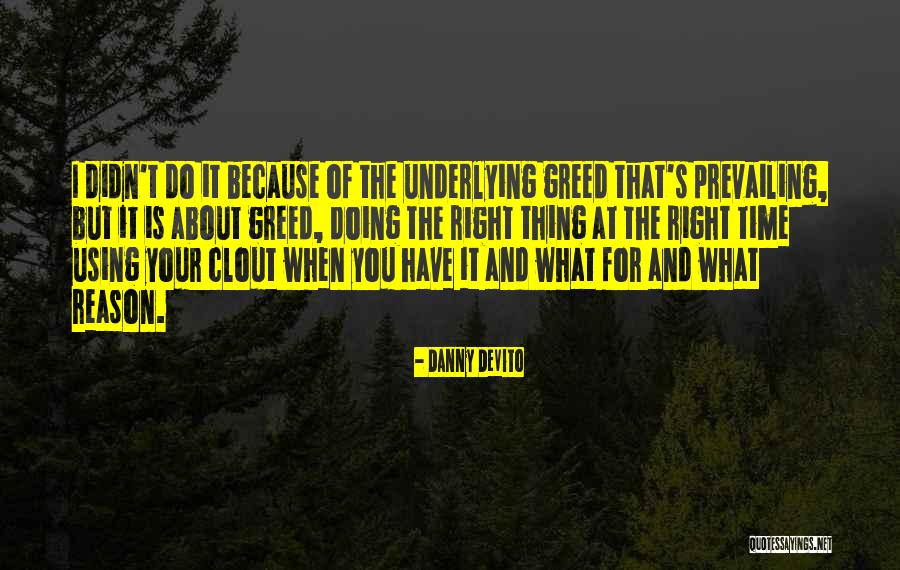 I didn't do it because of the underlying greed that's prevailing, but it is about greed, doing the right thing at the right time using your clout when you have it and what for and what reason. — Danny DeVito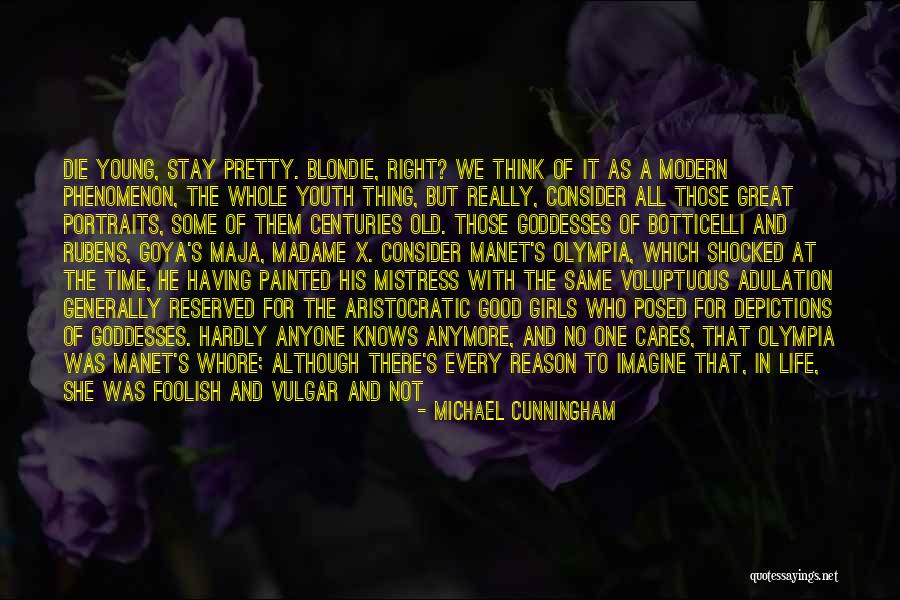 Die young, stay pretty. Blondie, right? We think of it as a modern phenomenon, the whole youth thing, but really, consider all those great portraits, some of them centuries old. Those goddesses of Botticelli and Rubens, Goya's Maja, Madame X. Consider Manet's Olympia, which shocked at the time, he having painted his mistress with the same voluptuous adulation generally reserved for the aristocratic good girls who posed for depictions of goddesses. Hardly anyone knows anymore, and no one cares, that Olympia was Manet's whore; although there's every reason to imagine that, in life, she was foolish and vulgar and not entirely hygienic (Paris in the 1860s being what it was). She's immortal now, she's a great historic beauty, having been scrubbed clean by the attention of a great artist. And okay, we can't help but notice that Manet did not choose to paint her twenty years later, when time had started doing its work. The world has always worshipped nascence. Goddamn the world. — Michael Cunningham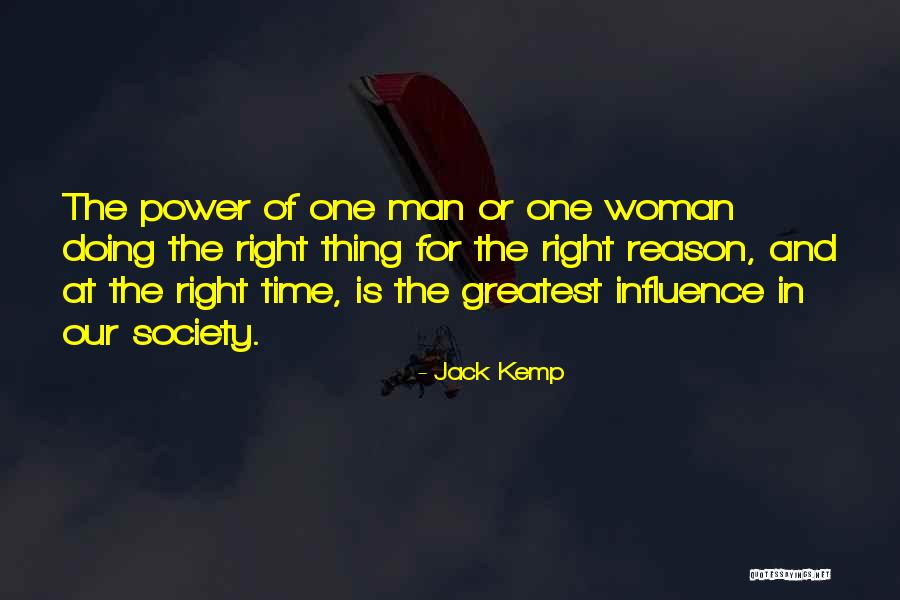 The power of one man or one woman doing the right thing for the right reason, and at the right time, is the greatest influence in our society. — Jack Kemp