Do Everything In Moderation Quotes & Sayings
Enjoy reading and share 46 famous quotes about Do Everything In Moderation with everyone.
Top Do Everything In Moderation Quotes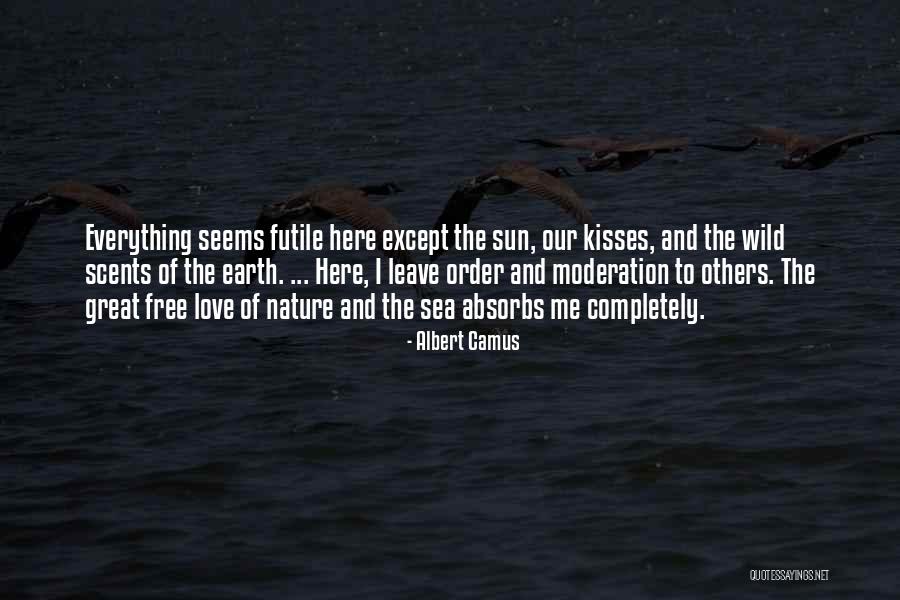 Everything seems futile here except the sun, our kisses, and the wild scents of the earth. ... Here, I leave order and moderation to others. The great free love of nature and the sea absorbs me completely. — Albert Camus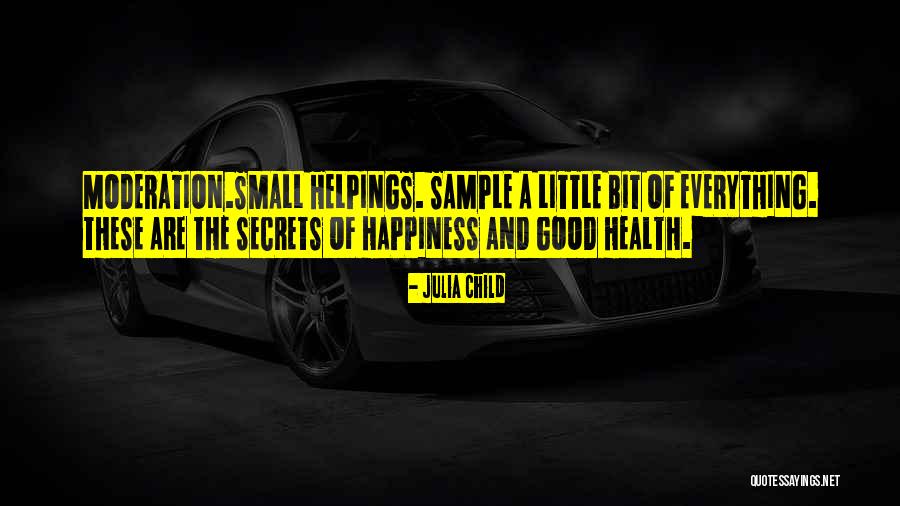 MODERATION.SMALL HELPINGS. SAMPLE A LITTLE BIT OF EVERYTHING. THESE ARE THE SECRETS OF HAPPINESS AND GOOD HEALTH. — Julia Child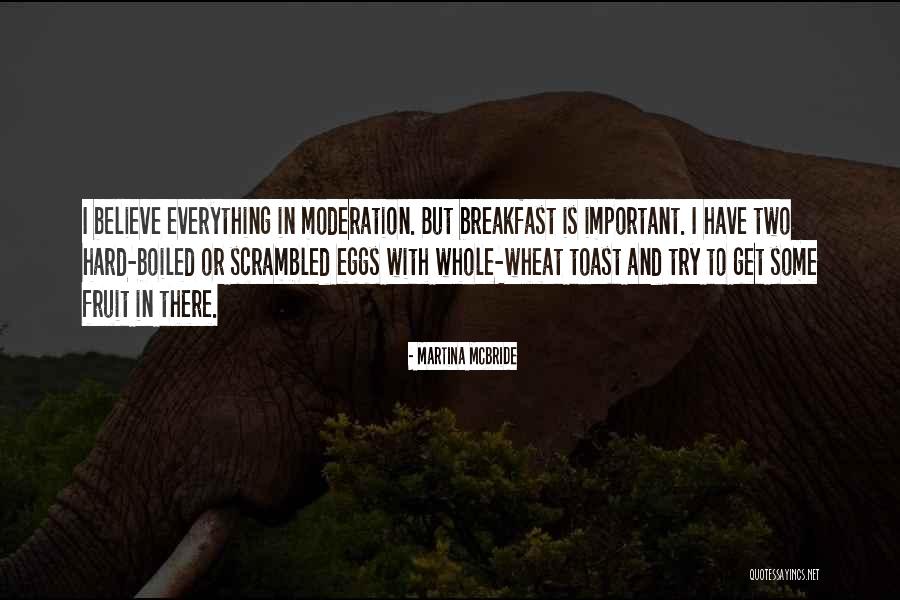 I believe everything in moderation. But breakfast is important. I have two hard-boiled or scrambled eggs with whole-wheat toast and try to get some fruit in there. — Martina Mcbride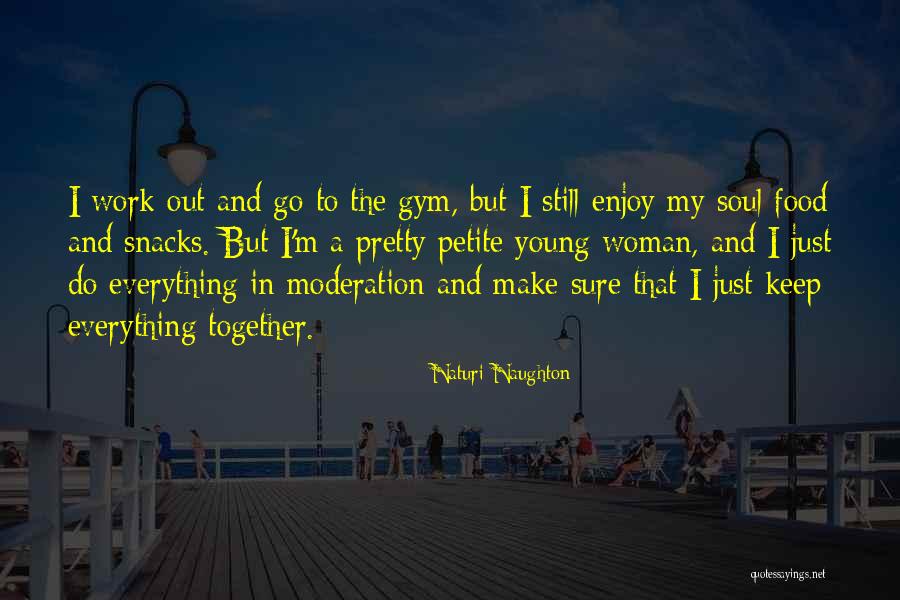 I work out and go to the gym, but I still enjoy my soul food and snacks. But I'm a pretty petite young woman, and I just do everything in moderation and make sure that I just keep everything together. — Naturi Naughton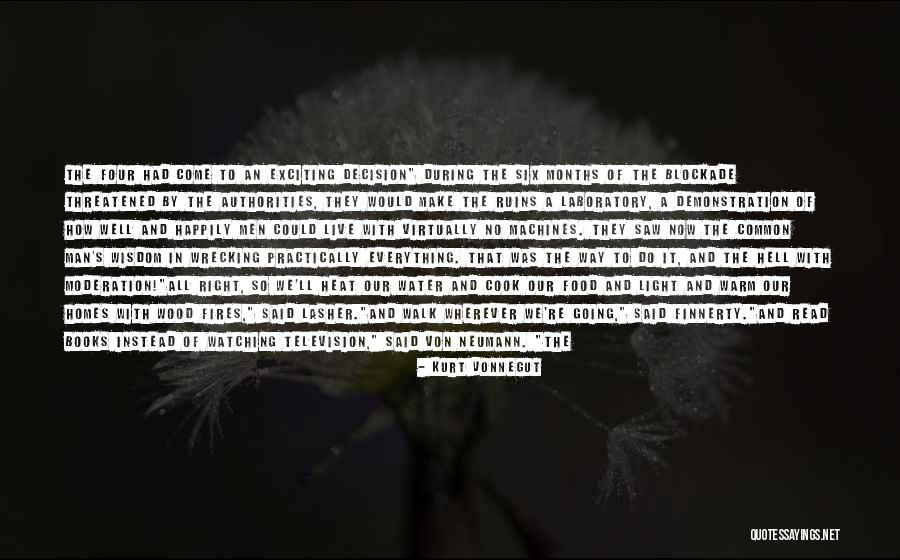 The four had come to an exciting decision" during the six months of the blockade threatened by the authorities, they would make the ruins a laboratory, a demonstration of how well and happily men could live with virtually no machines. They saw now the common man's wisdom in wrecking practically everything. That was the way to do it, and the hell with moderation!
"All right, so we'll heat our water and cook our food and light and warm our homes with wood fires," said Lasher.
"And walk wherever we're going," said Finnerty.
"And read books instead of watching television," said von Neumann. "The Renaissance comes to upstate New York! We'll rediscover the two greatest wonders of the world, the human mind and hand. — Kurt Vonnegut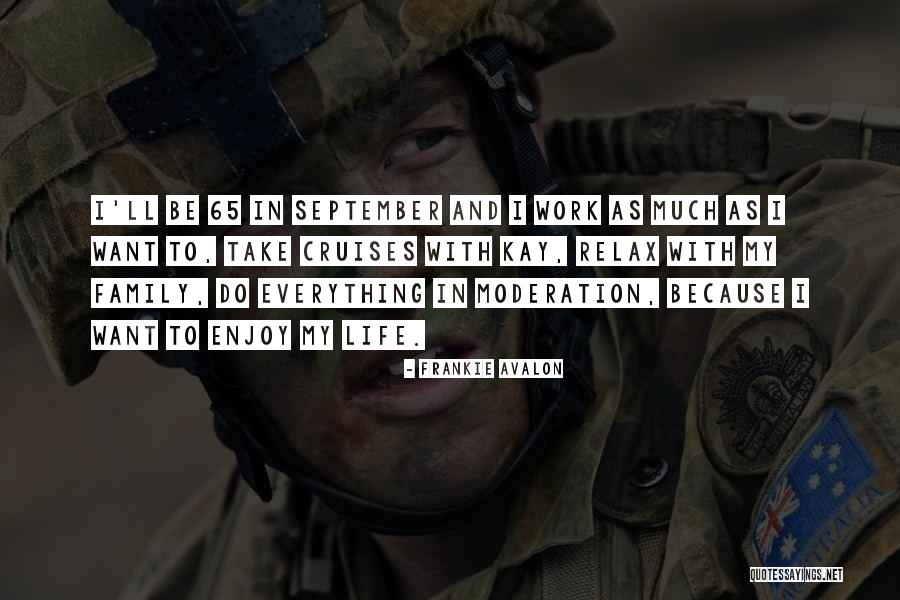 I'll be 65 in September and I work as much as I want to, take cruises with Kay, relax with my family, do everything in moderation, because I want to enjoy my life. — Frankie Avalon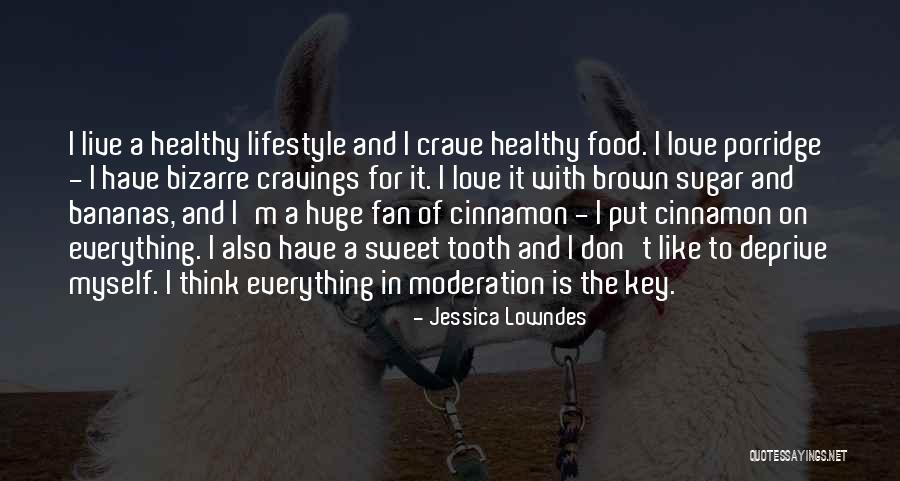 I live a healthy lifestyle and I crave healthy food. I love porridge - I have bizarre cravings for it. I love it with brown sugar and bananas, and I'm a huge fan of cinnamon - I put cinnamon on everything. I also have a sweet tooth and I don't like to deprive myself. I think everything in moderation is the key. — Jessica Lowndes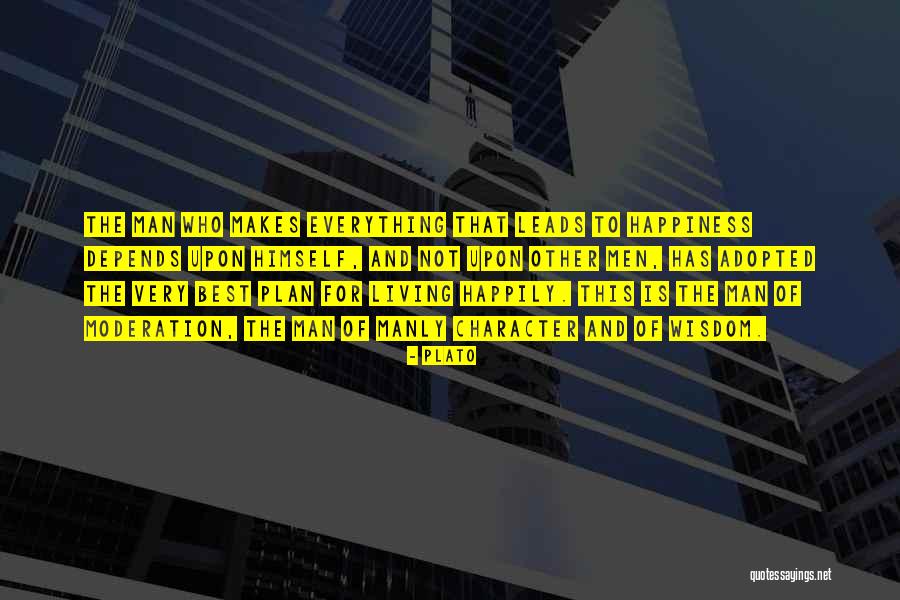 The man who makes everything that leads to happiness depends upon himself, and not upon other men, has adopted the very best plan for living happily. This is the man of moderation, the man of manly character and of wisdom. — Plato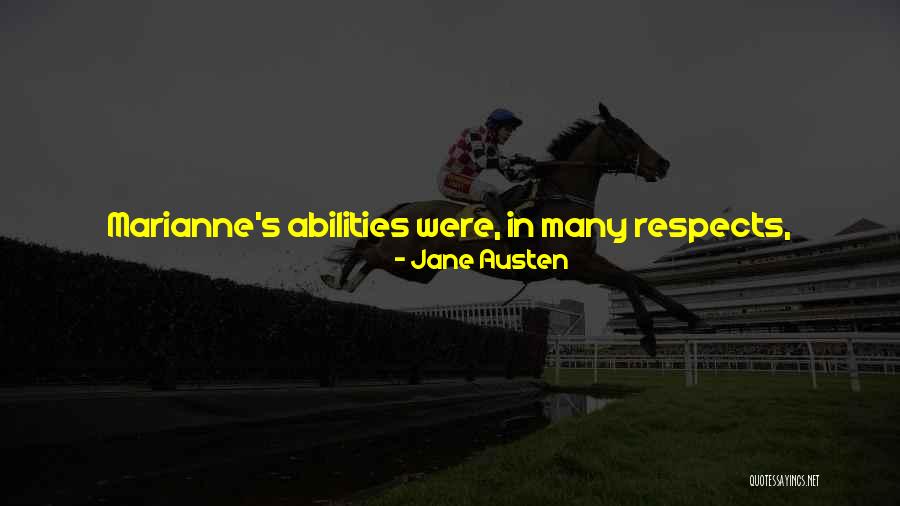 Marianne's abilities were, in many respects, quite equal to Elinor's. She was sensible and clever; but eager in everything: her sorrows, her joys, could have no moderation. She was generous, amiable, interesting: she was everything but prudent. The resemblance between her and her mother was strikingly great. — Jane Austen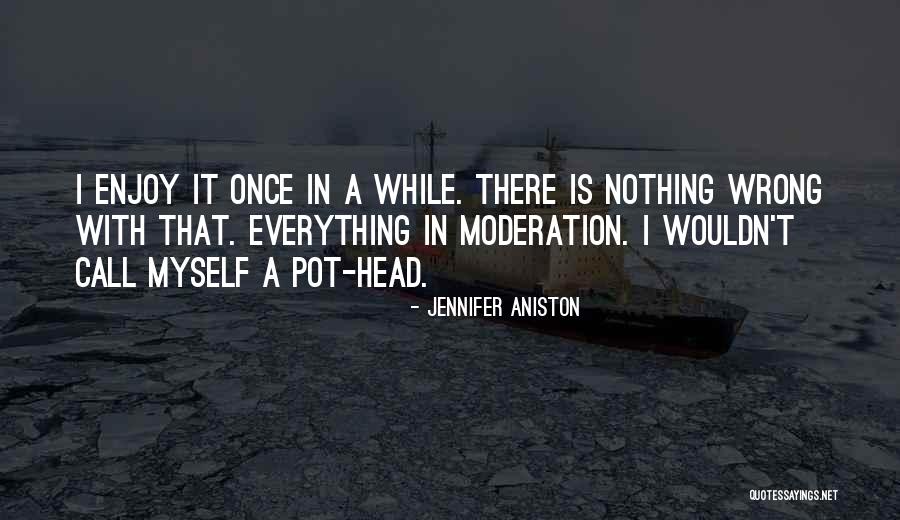 I enjoy it once in a while. There is nothing wrong with that. Everything in moderation. I wouldn't call myself a pot-head. — Jennifer Aniston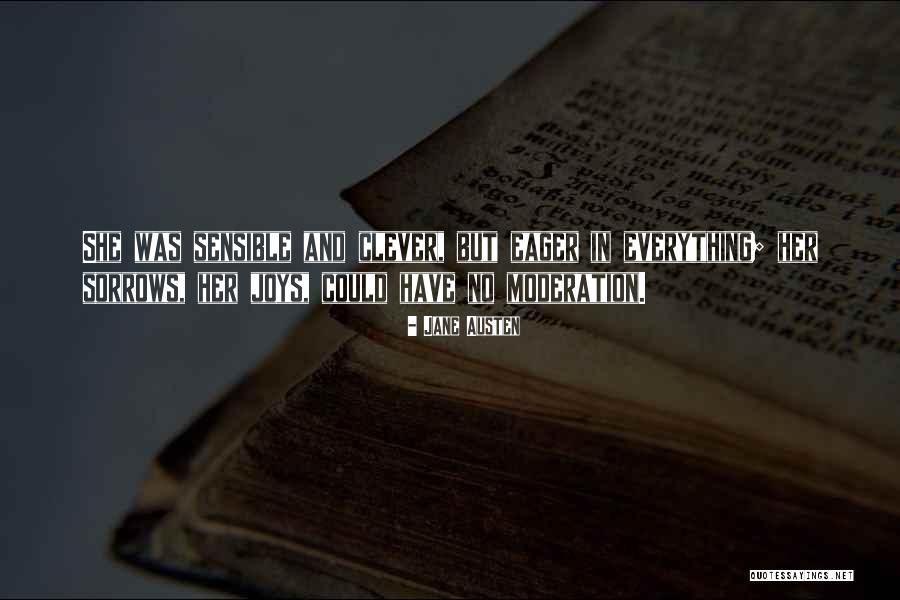 She was sensible and clever, but eager in everything; her sorrows, her joys, could have no moderation. — Jane Austen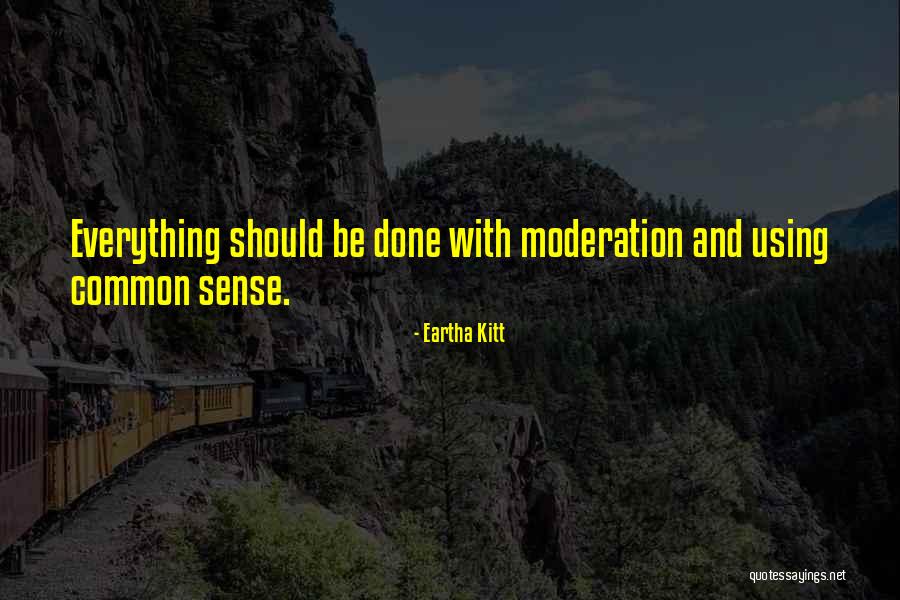 Everything should be done with moderation and using common sense. — Eartha Kitt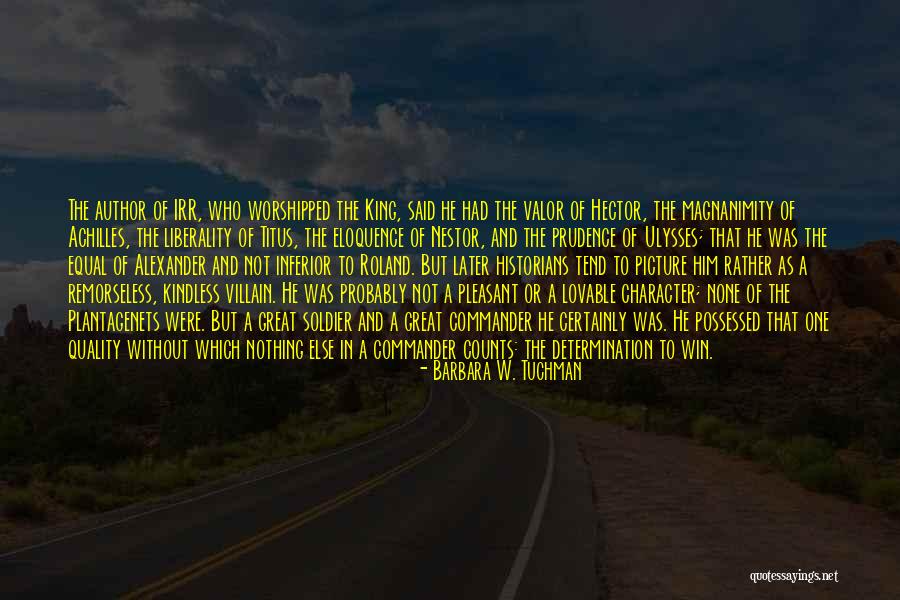 The author of IRR, who worshipped the King, said he had the valor of Hector, the magnanimity of Achilles, the liberality of Titus, the eloquence of Nestor, and the prudence of Ulysses; that he was the equal of Alexander and not inferior to Roland. But later historians tend to picture him rather as a remorseless, kindless villain. He was probably not a pleasant or a lovable character; none of the Plantagenets were. But a great soldier and a great commander he certainly was. He possessed that one quality without which nothing else in a commander counts: the determination to win. To this everything else - mercy, moderation, tact - was sacrificed. The avarice that so horrifies his critics was not simple greed: it was a quartermaster's greed for his army. His massacre of the prisoners was not simple cruelty, but a deliberate reminder to Saladin to keep faith with the terms agreed to, which that great opponent understood and respected. — Barbara W. Tuchman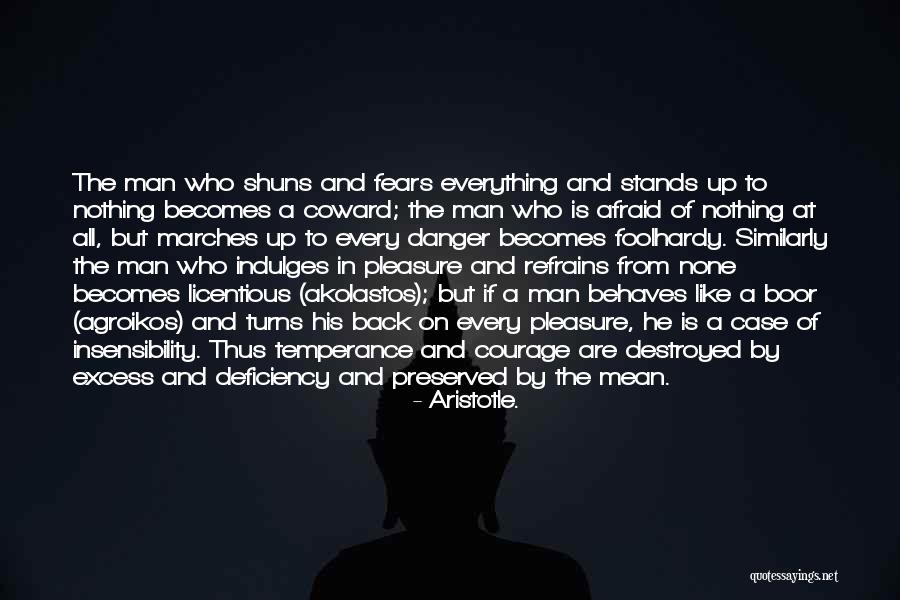 The man who shuns and fears everything and stands up to nothing becomes a coward; the man who is afraid of nothing at all, but marches up to every danger becomes foolhardy. Similarly the man who indulges in pleasure and refrains from none becomes licentious (akolastos); but if a man behaves like a boor (agroikos) and turns his back on every pleasure, he is a case of insensibility. Thus temperance and courage are destroyed by excess and deficiency and preserved by the mean. — Aristotle.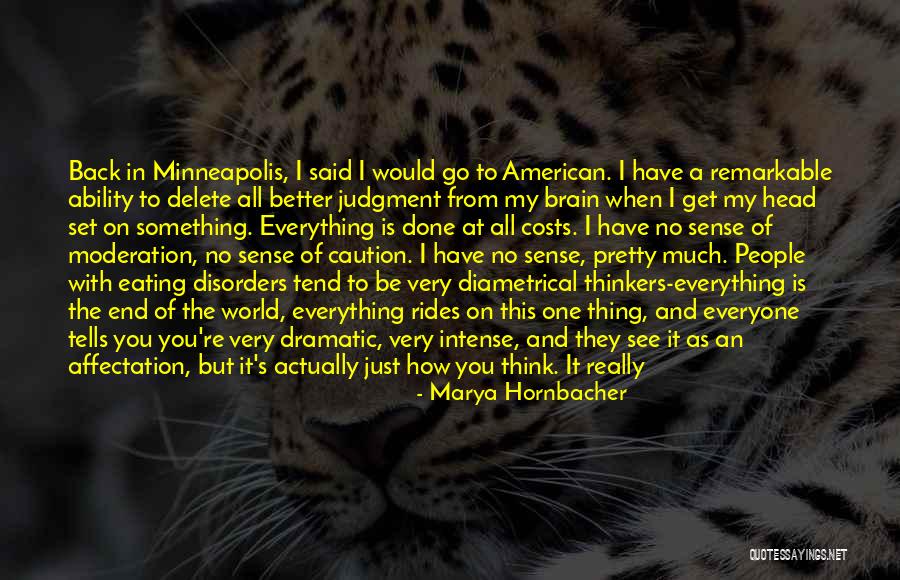 Back in Minneapolis, I said I would go to American. I have a remarkable ability to delete all better judgment from my brain when I get my head set on something. Everything is done at all costs. I have no sense of moderation, no sense of caution. I have no sense, pretty much. People with eating disorders tend to be very diametrical thinkers-everything is the end of the world, everything rides on this one thing, and everyone tells you you're very dramatic, very intense, and they see it as an affectation, but it's actually just how you think. It really seems to you that the sky will fall if you are not personally holding it up. On the one hand, this is sheer arrogance; on the other hand, this is a very real fear. And it isn't that you ignore the potential repercussions of your actions. You don't think there are any. — Marya Hornbacher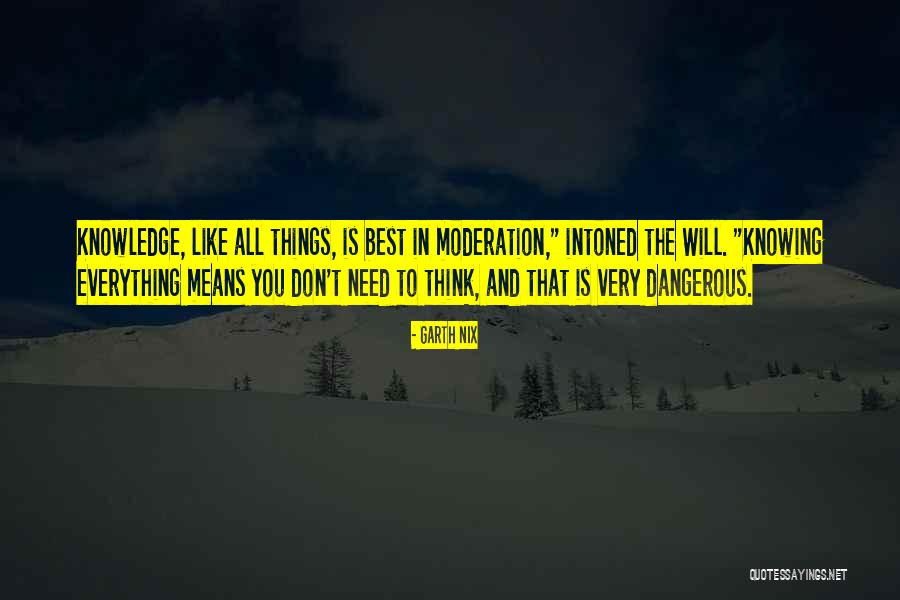 Knowledge, like all things, is best in moderation," intoned the Will. "Knowing everything means you don't need to think, and that is very dangerous. — Garth Nix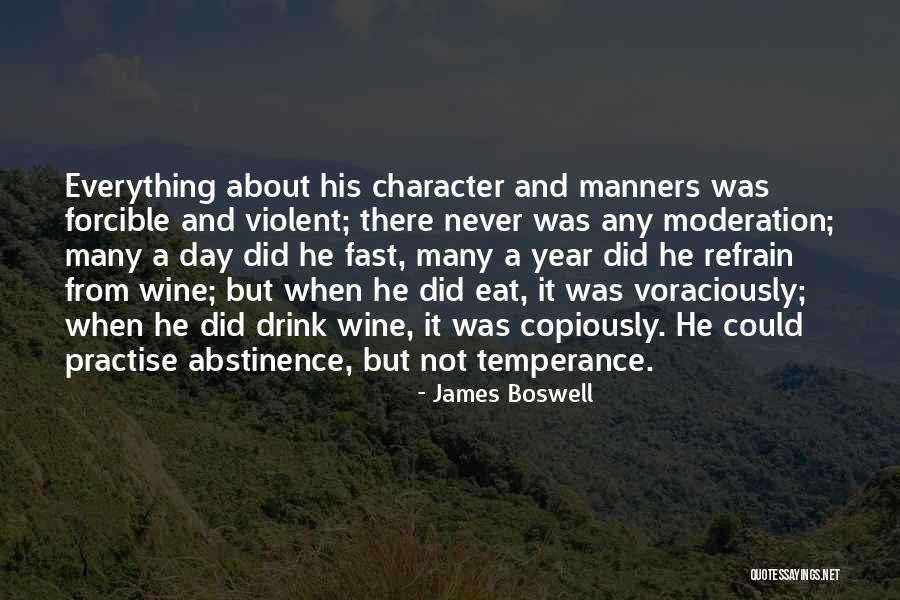 Everything about his character and manners was forcible and violent; there never was any moderation; many a day did he fast, many a year did he refrain from wine; but when he did eat, it was voraciously; when he did drink wine, it was copiously. He could practise abstinence, but not temperance. — James Boswell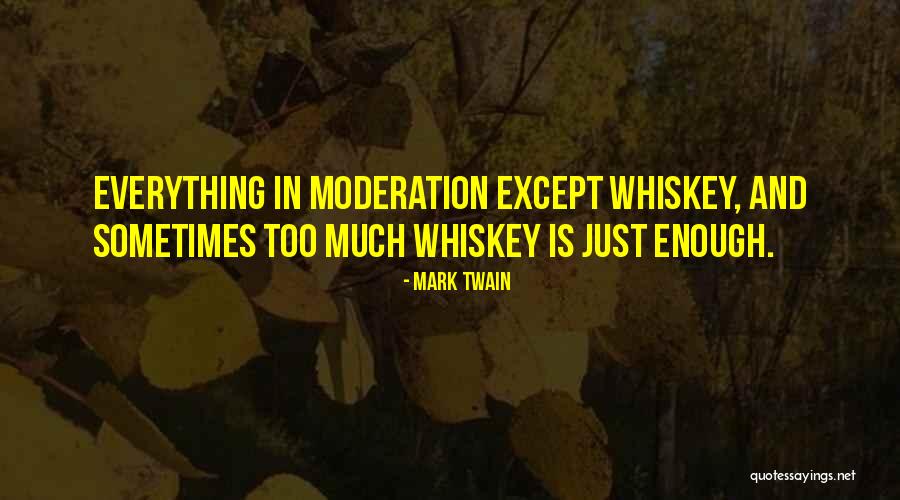 Everything in moderation except whiskey, and sometimes too much whiskey is just enough. — Mark Twain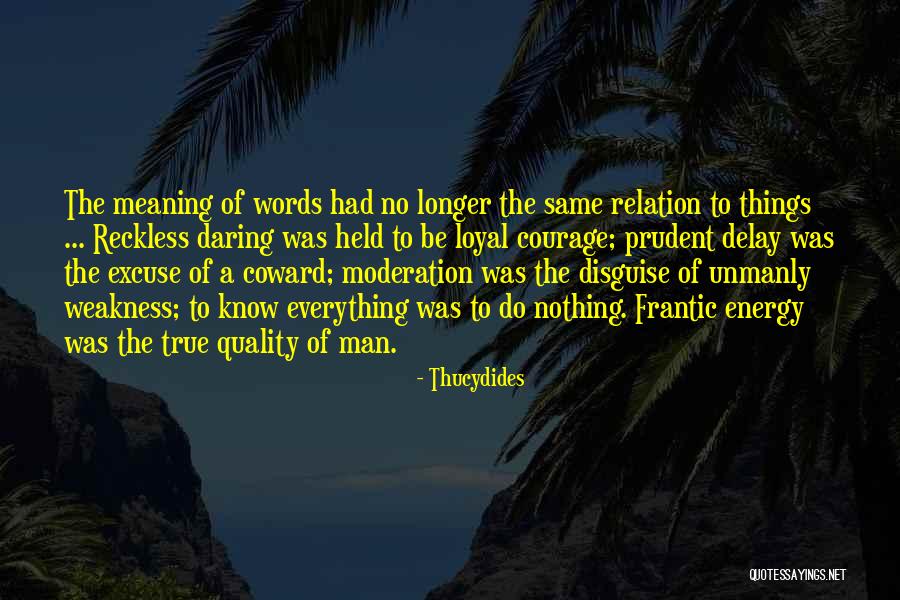 The meaning of words had no longer the same relation to things ... Reckless daring was held to be loyal courage; prudent delay was the excuse of a coward; moderation was the disguise of unmanly weakness; to know everything was to do nothing. Frantic energy was the true quality of man. — Thucydides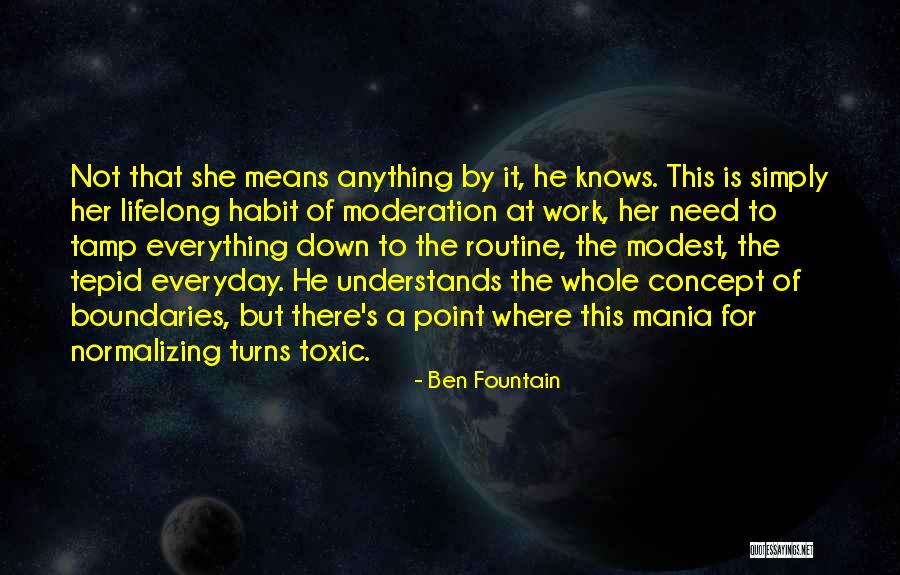 Not that she means anything by it, he knows. This is simply her lifelong habit of moderation at work, her need to tamp everything down to the routine, the modest, the tepid everyday. He understands the whole concept of boundaries, but there's a point where this mania for normalizing turns toxic. — Ben Fountain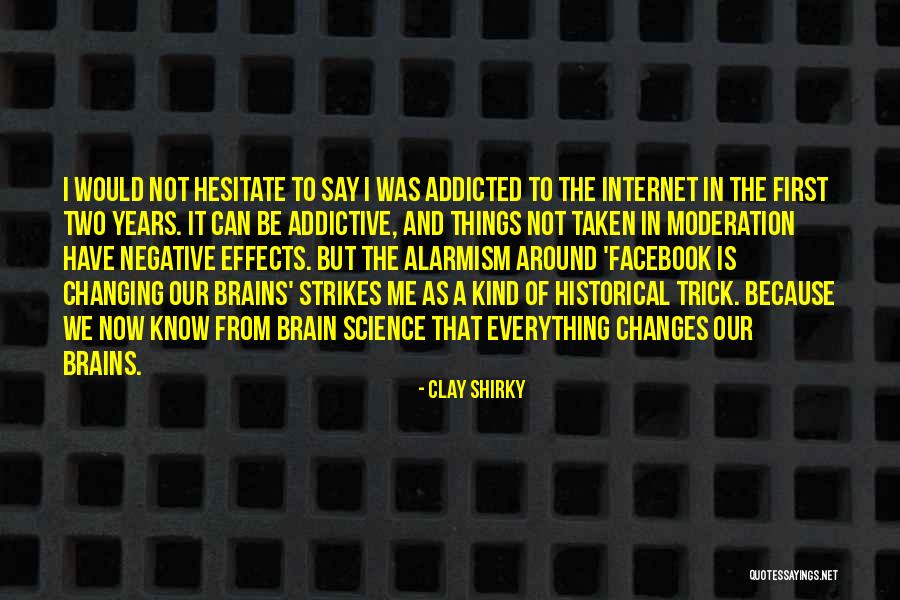 I would not hesitate to say I was addicted to the Internet in the first two years. It can be addictive, and things not taken in moderation have negative effects. But the alarmism around 'Facebook is changing our brains' strikes me as a kind of historical trick. Because we now know from brain science that everything changes our brains. — Clay Shirky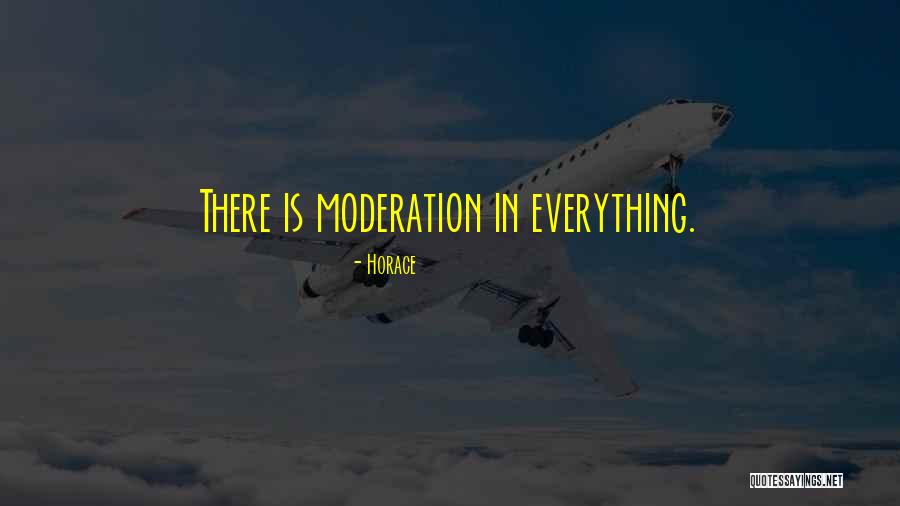 There is moderation in everything. — Horace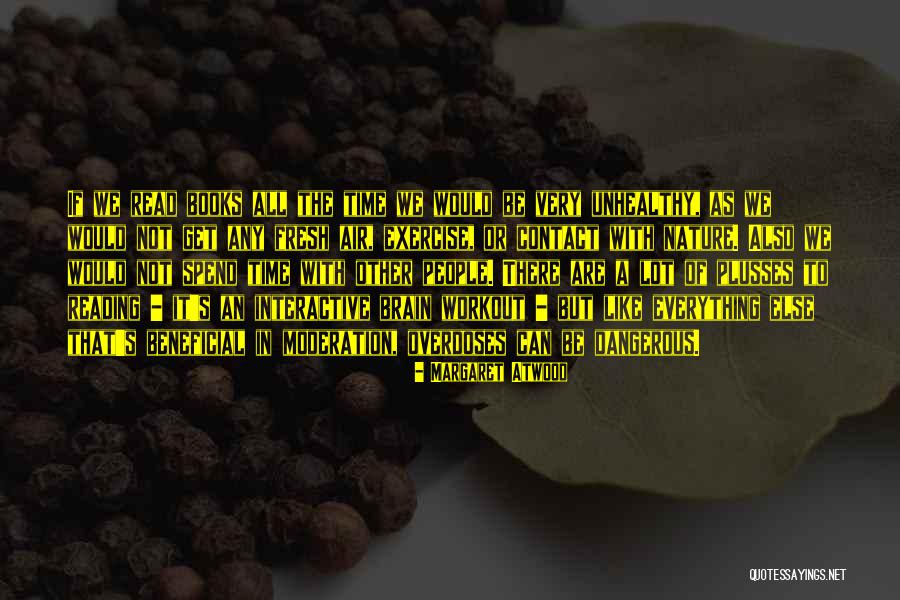 If we read books all the time we would be very unhealthy, as we would not get any fresh air, exercise, or contact with nature. Also we would not spend time with other people. There are a lot of plusses to reading - it's an interactive brain workout - but like everything else that's beneficial in moderation, overdoses can be dangerous. — Margaret Atwood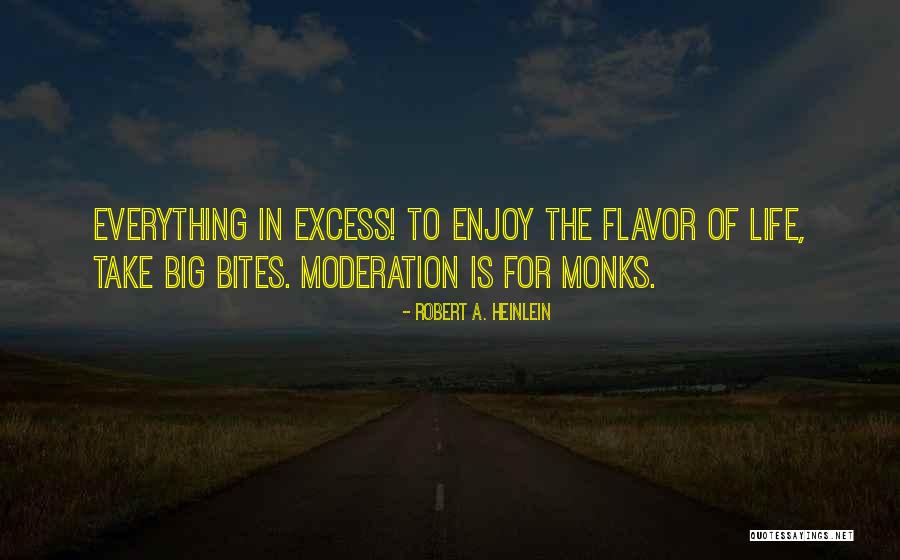 Everything in excess! To enjoy the flavor of life, take big bites. Moderation is for monks. — Robert A. Heinlein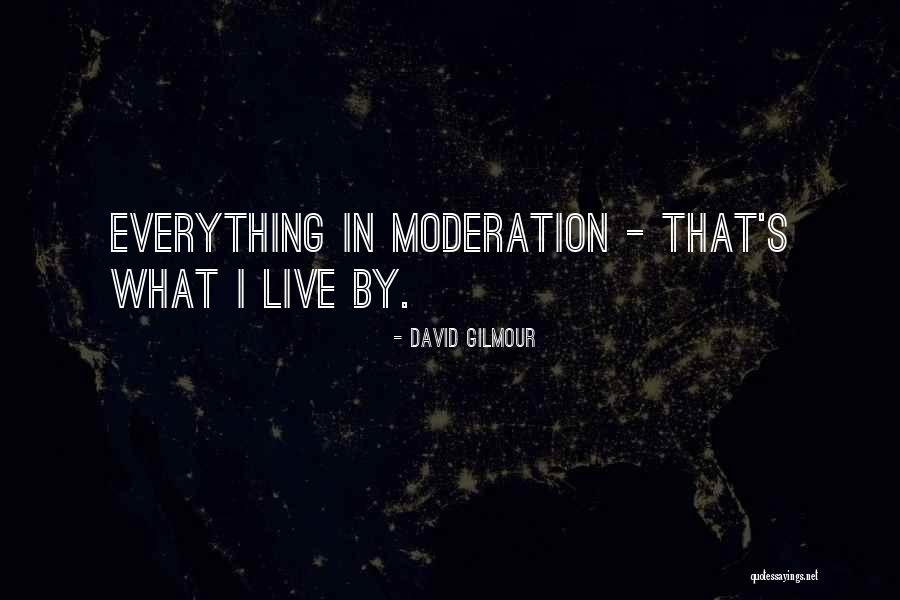 Everything in moderation - that's what I live by. — David Gilmour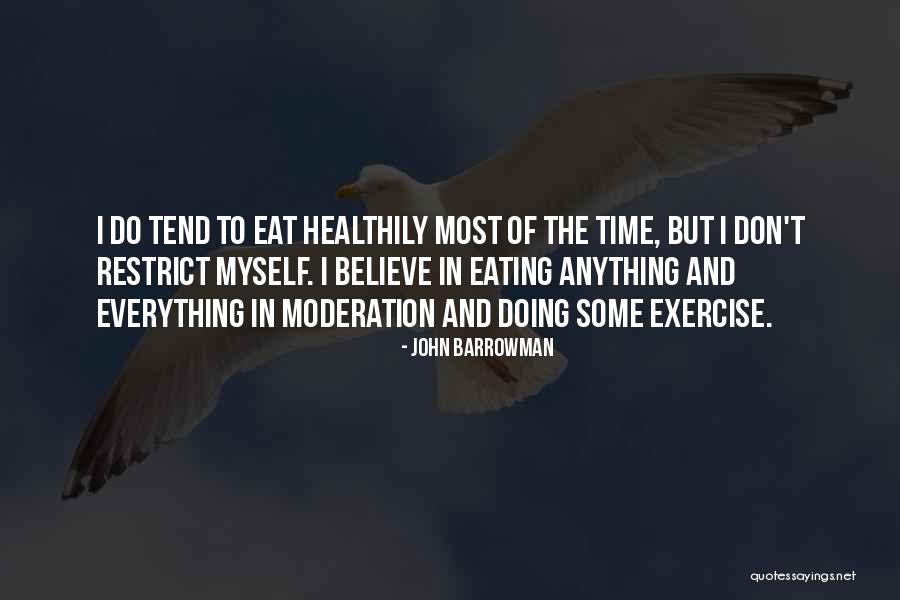 I do tend to eat healthily most of the time, but I don't restrict myself. I believe in eating anything and everything in moderation and doing some exercise. — John Barrowman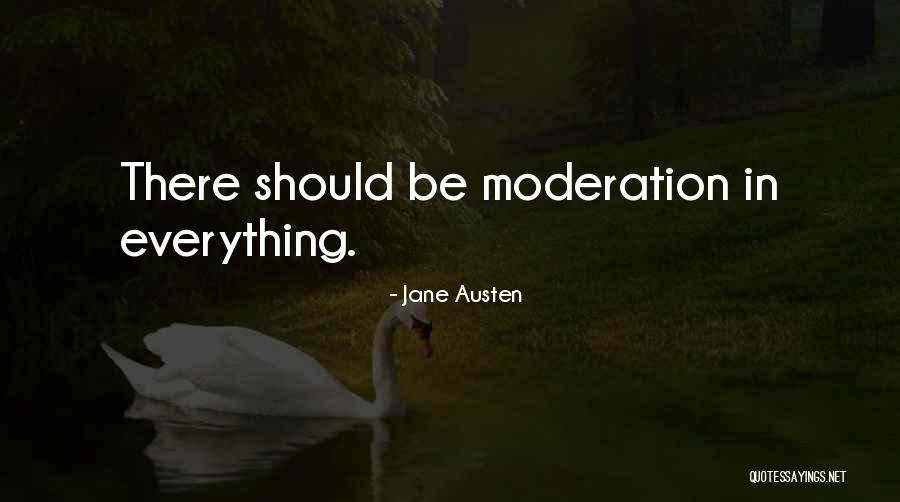 There should be moderation in everything. — Jane Austen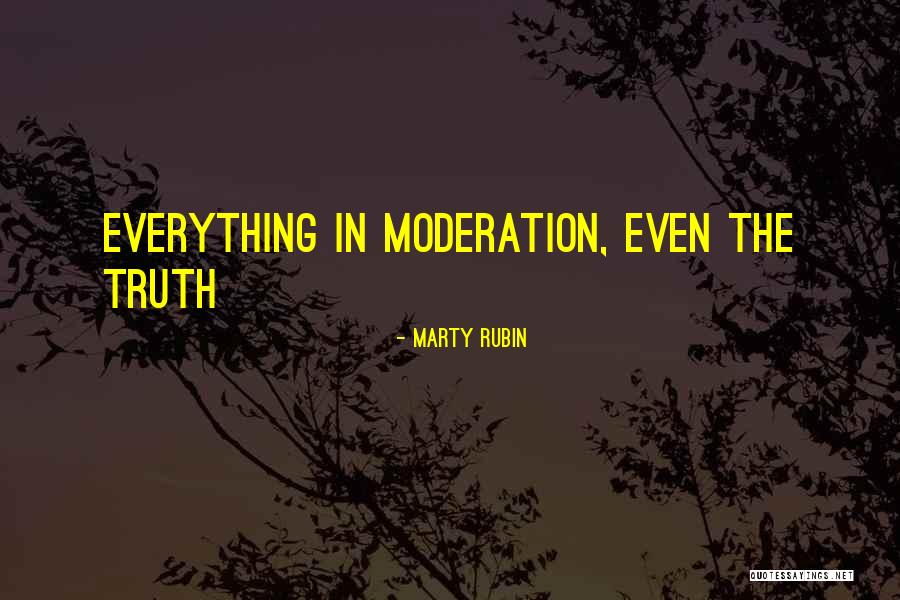 Everything in moderation, even the truth — Marty Rubin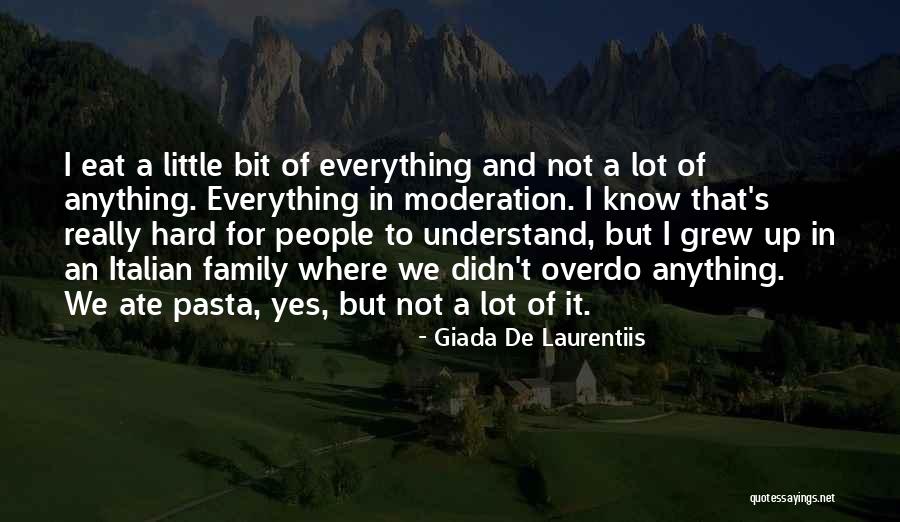 I eat a little bit of everything and not a lot of anything. Everything in moderation. I know that's really hard for people to understand, but I grew up in an Italian family where we didn't overdo anything. We ate pasta, yes, but not a lot of it. — Giada De Laurentiis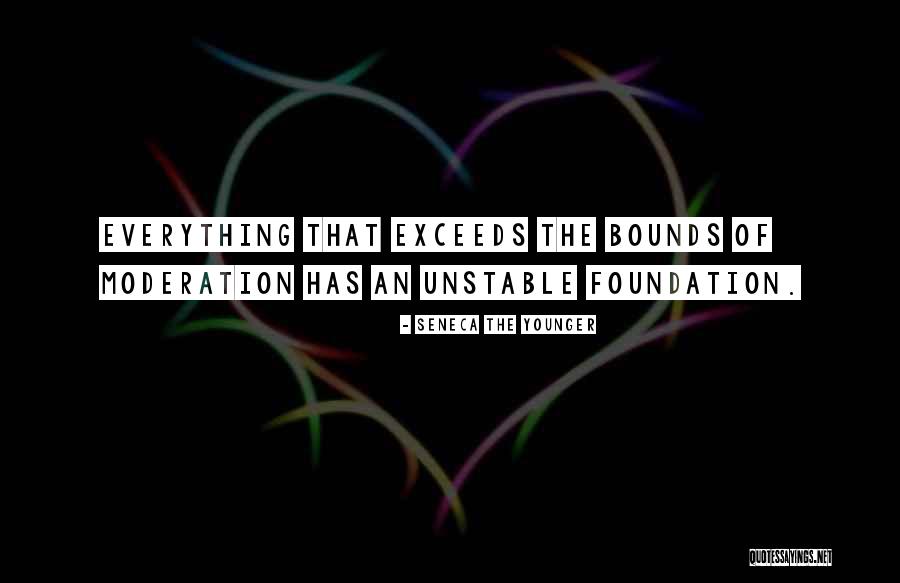 Everything that exceeds the bounds of moderation has an unstable foundation. — Seneca The Younger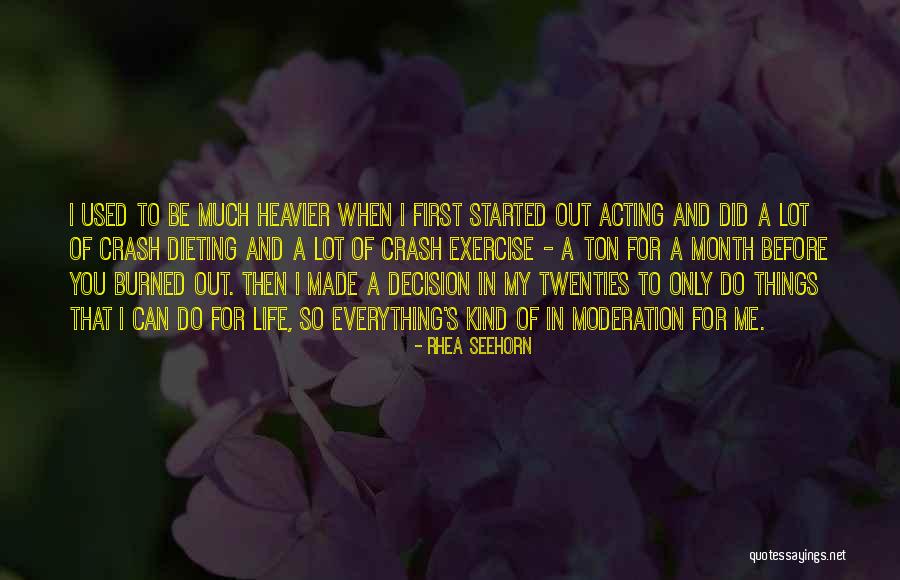 I used to be much heavier when I first started out acting and did a lot of crash dieting and a lot of crash exercise - a ton for a month before you burned out. Then I made a decision in my twenties to only do things that I can do for life, so everything's kind of in moderation for me. — Rhea Seehorn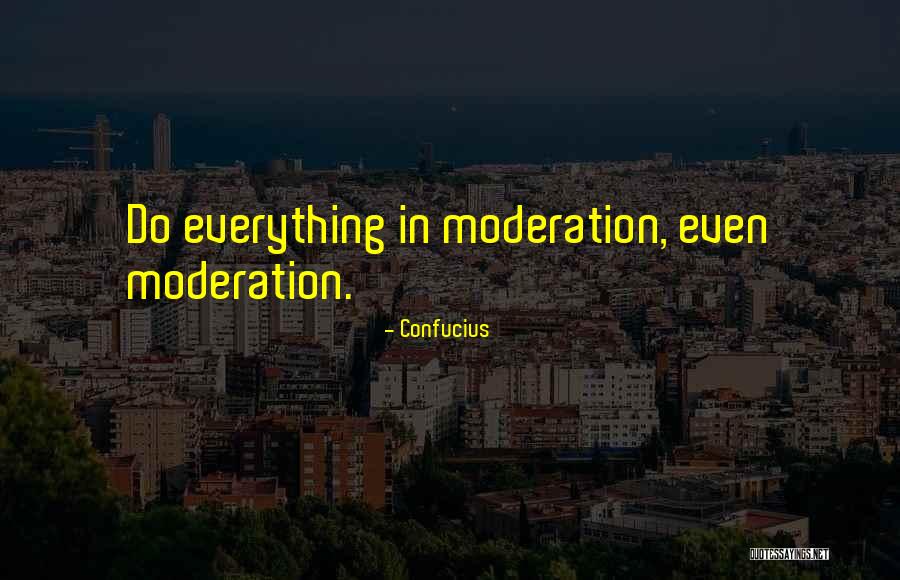 Do everything in moderation, even moderation. — Confucius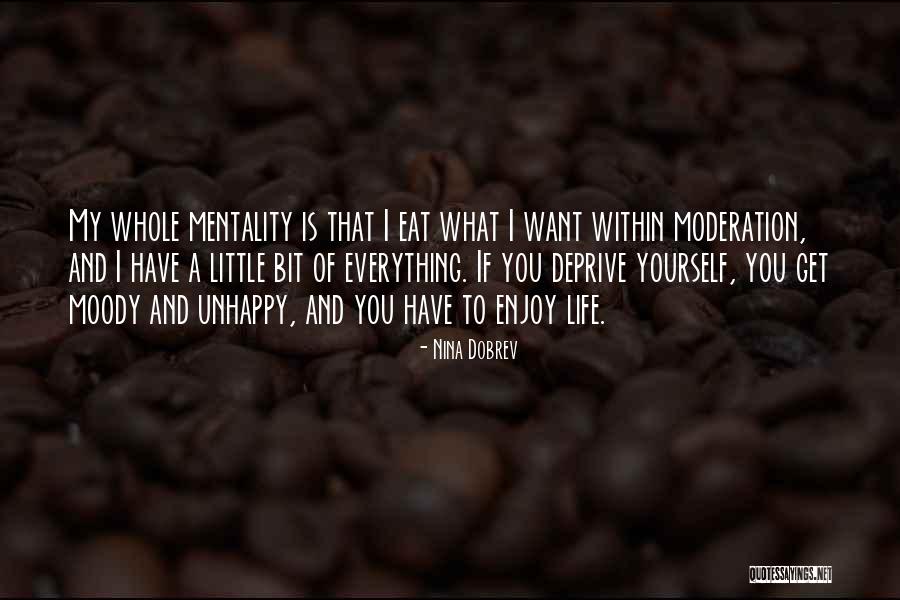 My whole mentality is that I eat what I want within moderation, and I have a little bit of everything. If you deprive yourself, you get moody and unhappy, and you have to enjoy life. — Nina Dobrev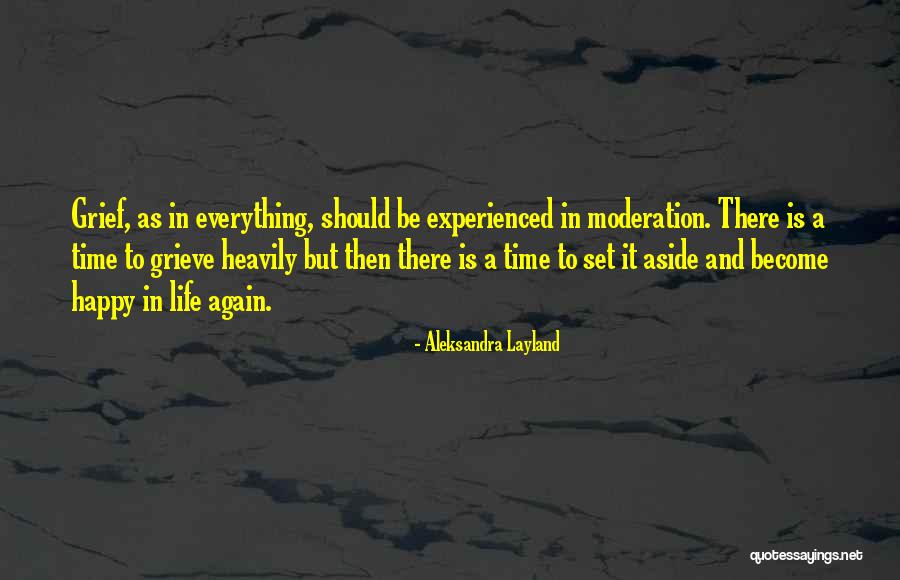 Grief, as in everything, should be experienced in moderation. There is a time to grieve heavily but then there is a time to set it aside and become happy in life again. — Aleksandra Layland
Fasting may not be as easy as feasting, but after a while it is not too different. Both are extremes. It is not hard to go the extreme way, but what is really difficult is neither to fast nor to feast, but to be moderate in everything we do. — Eknath Easwaran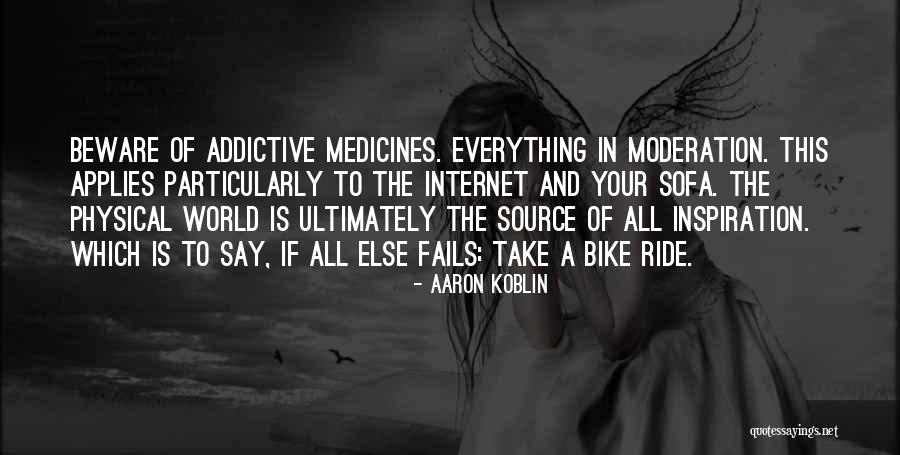 Beware of addictive medicines. Everything in moderation. This applies particularly to the Internet and your sofa. The physical world is ultimately the source of all inspiration. Which is to say, if all else fails: take a bike ride. — Aaron Koblin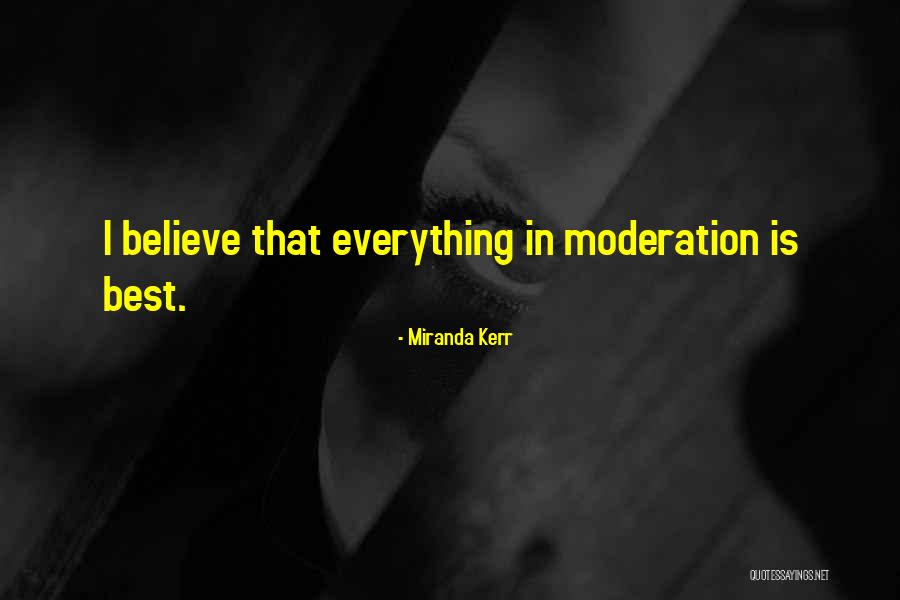 I believe that everything in moderation is best. — Miranda Kerr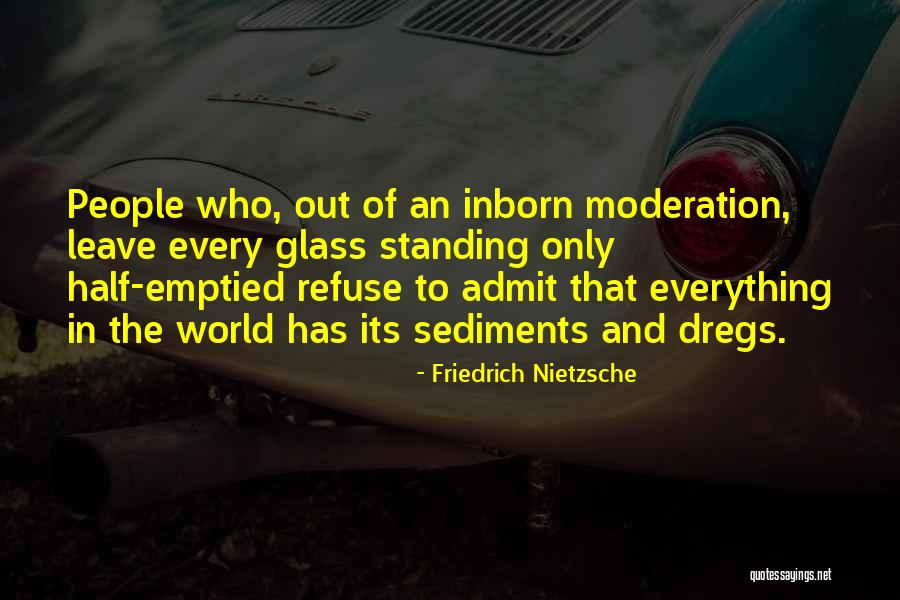 People who, out of an inborn moderation, leave every glass standing only half-emptied refuse to admit that everything in the world has its sediments and dregs. — Friedrich Nietzsche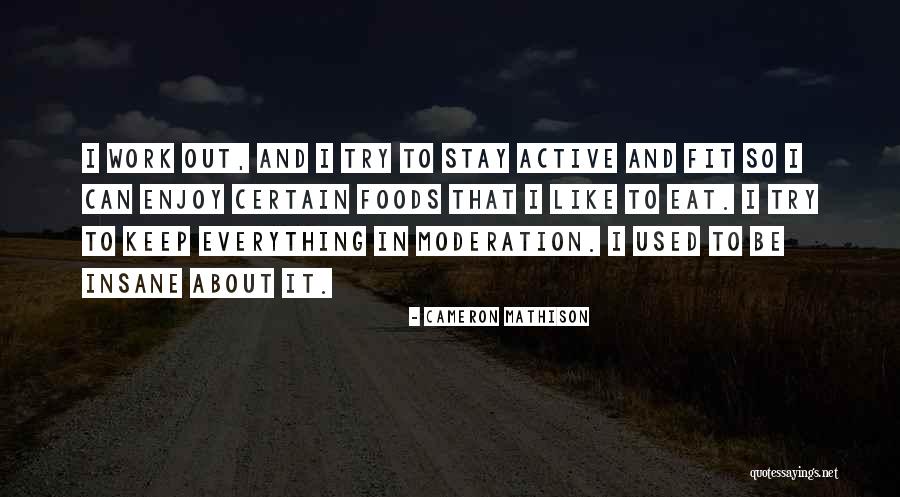 I work out, and I try to stay active and fit so I can enjoy certain foods that I like to eat. I try to keep everything in moderation. I used to be insane about it. — Cameron Mathison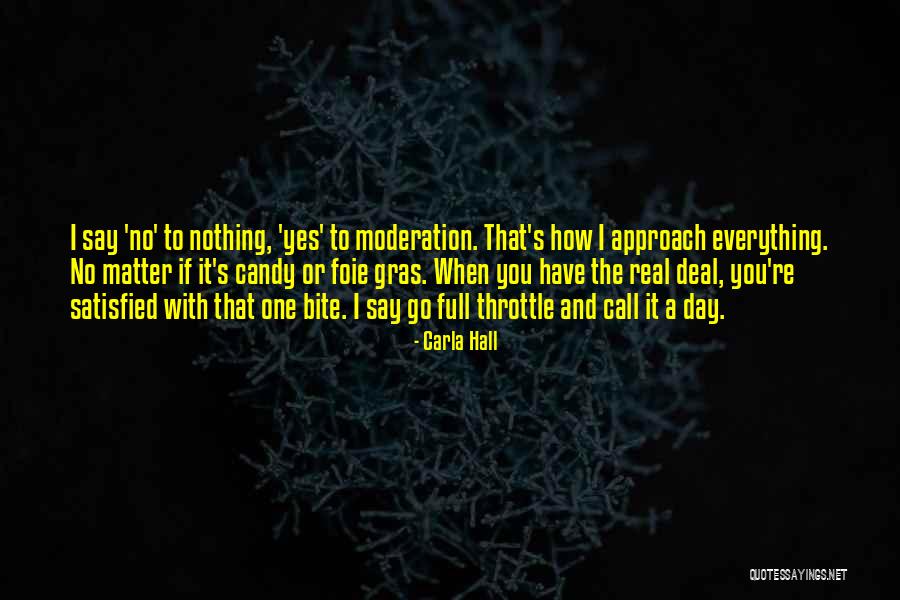 I say 'no' to nothing, 'yes' to moderation. That's how I approach everything. No matter if it's candy or foie gras. When you have the real deal, you're satisfied with that one bite. I say go full throttle and call it a day. — Carla Hall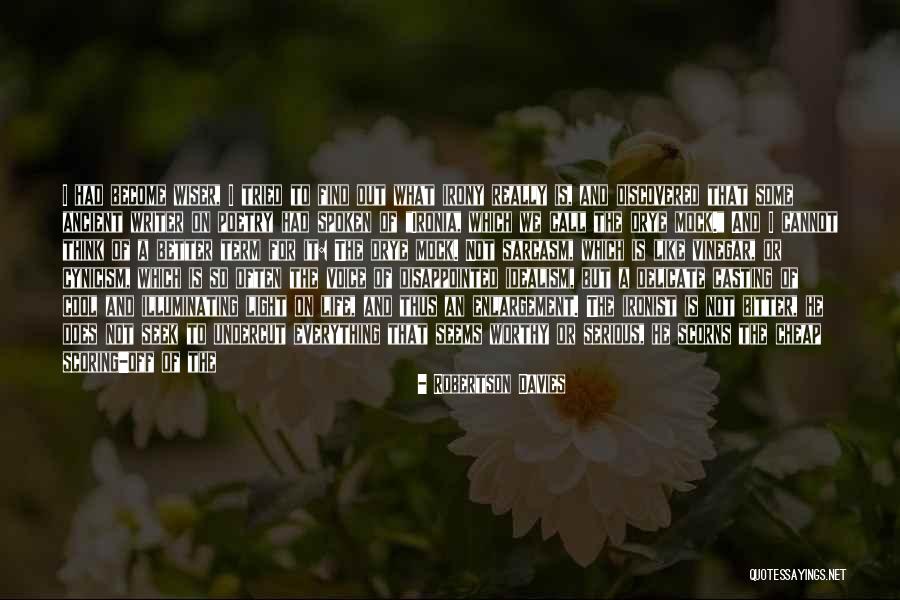 I had become wiser, I tried to find out what irony really is, and discovered that some ancient writer on poetry had spoken of "Ironia, which we call the drye mock." And I cannot think of a better term for it: The drye mock. Not sarcasm, which is like vinegar, or cynicism, which is so often the voice of disappointed idealism, but a delicate casting of cool and illuminating light on life, and thus an enlargement. The ironist is not bitter, he does not seek to undercut everything that seems worthy or serious, he scorns the cheap scoring-off of the wisecracker. He stands, so to speak, somewhat at one side, observes and speaks with a moderation which is occasionally embellished with a flash of controlled exaggeration. He speaks from a certain depth, and thus he is not of the same nature as the wit, who so often speaks from the tongue and no deeper. The wit's desire is to be funny; the ironist is only funny as a secondary achievement. — Robertson Davies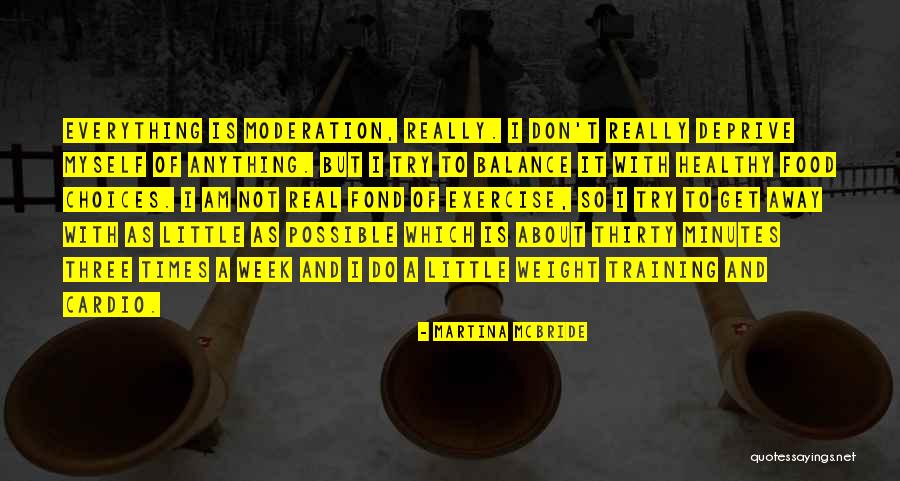 Everything is moderation, really. I don't really deprive myself of anything. But I try to balance it with healthy food choices. I am not real fond of exercise, so I try to get away with as little as possible which is about thirty minutes three times a week and I do a little weight training and cardio. — Martina Mcbride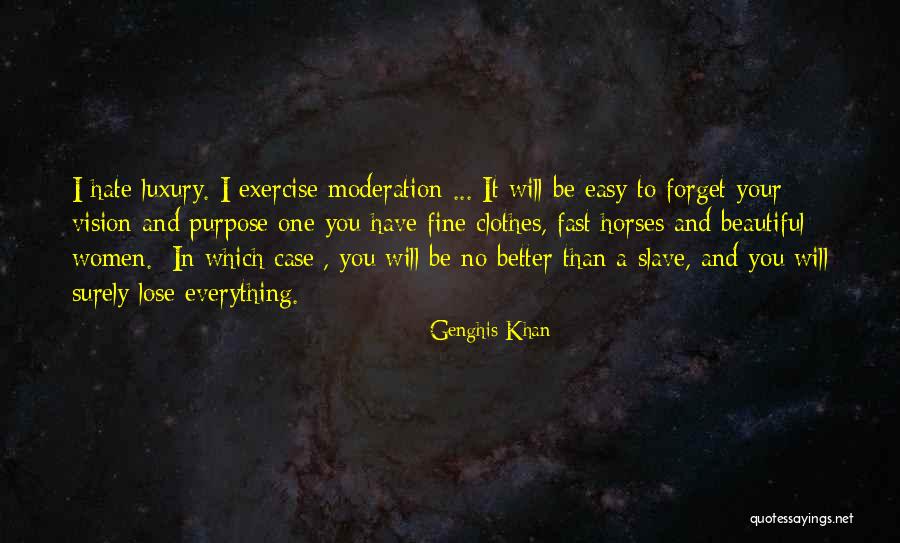 I hate luxury. I exercise moderation ... It will be easy to forget your vision and purpose one you have fine clothes, fast horses and beautiful women. [In which case], you will be no better than a slave, and you will surely lose everything. — Genghis Khan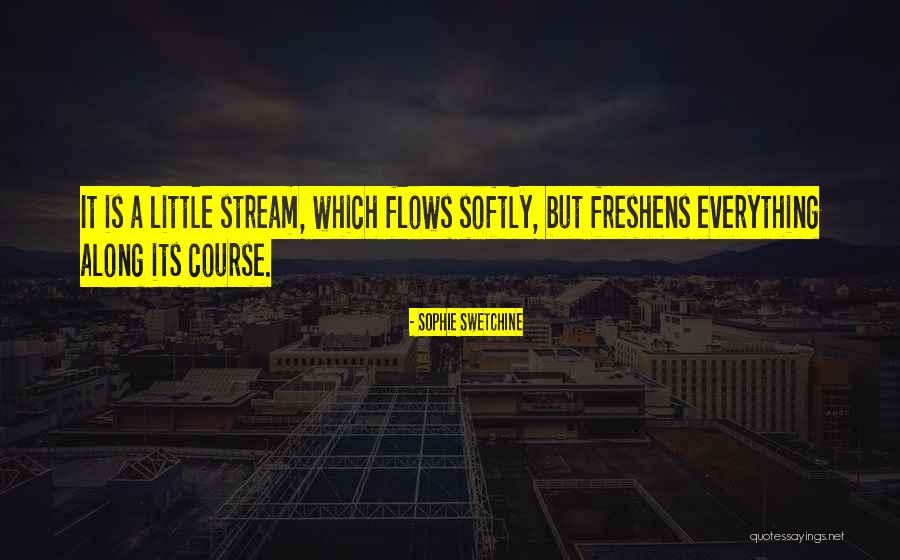 It is a little stream, which flows softly, but freshens everything along its course. — Sophie Swetchine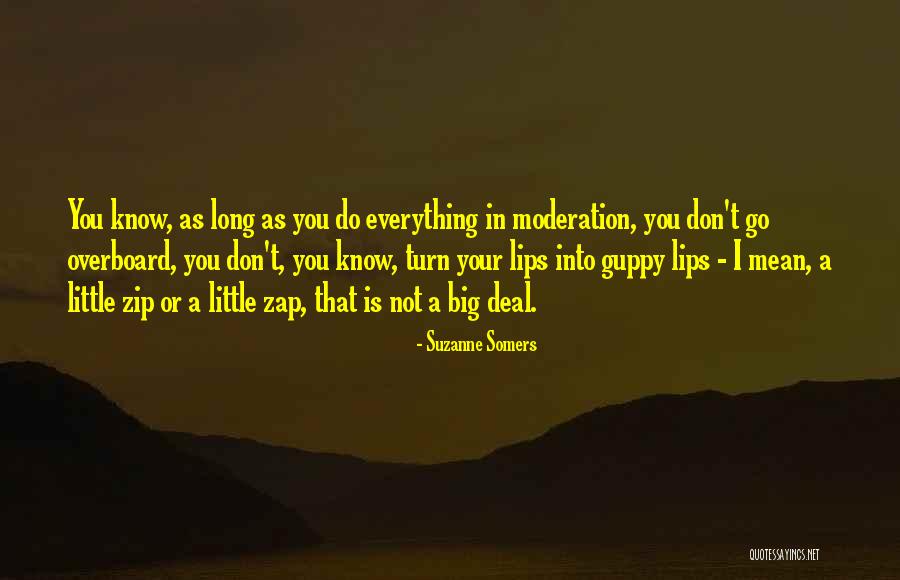 You know, as long as you do everything in moderation, you don't go overboard, you don't, you know, turn your lips into guppy lips - I mean, a little zip or a little zap, that is not a big deal. — Suzanne Somers