Dice Rules Quotes & Sayings
Enjoy reading and share 7 famous quotes about Dice Rules with everyone.
Top Dice Rules Quotes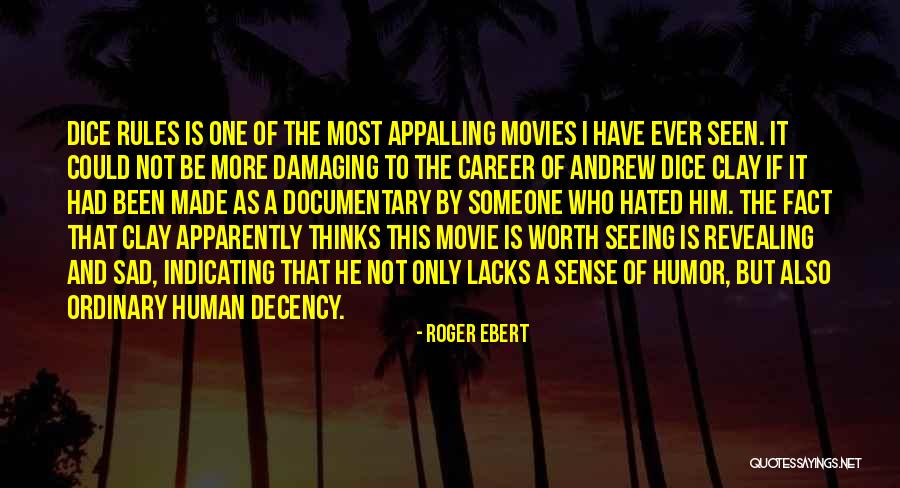 Dice Rules is one of the most appalling movies I have ever seen. It could not be more damaging to the career of Andrew Dice Clay if it had been made as a documentary by someone who hated him. The fact that Clay apparently thinks this movie is worth seeing is revealing and sad, indicating that he not only lacks a sense of humor, but also ordinary human decency. — Roger Ebert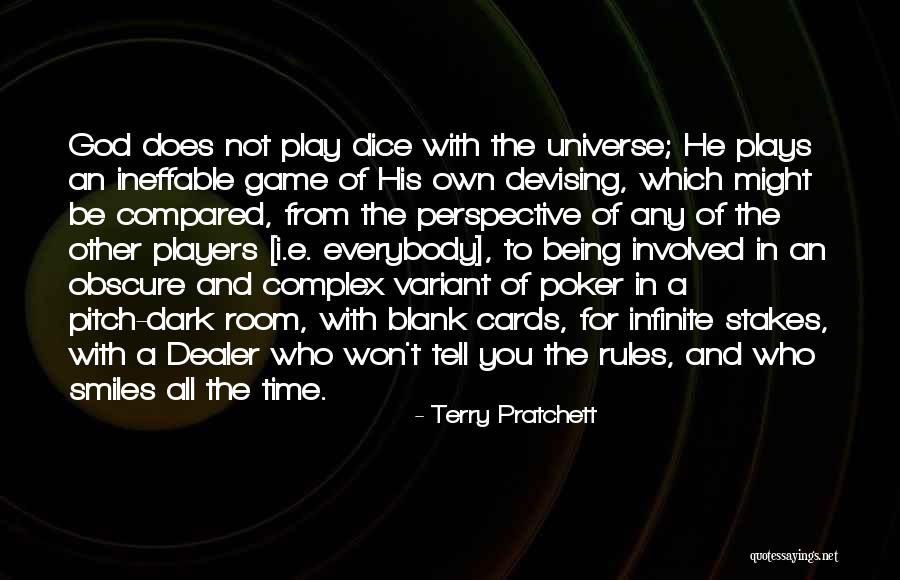 God does not play dice with the universe; He plays an ineffable game of His own devising, which might be compared, from the perspective of any of the other players [i.e. everybody], to being involved in an obscure and complex variant of poker in a pitch-dark room, with blank cards, for infinite stakes, with a Dealer who won't tell you the rules, and who smiles all the time. — Terry Pratchett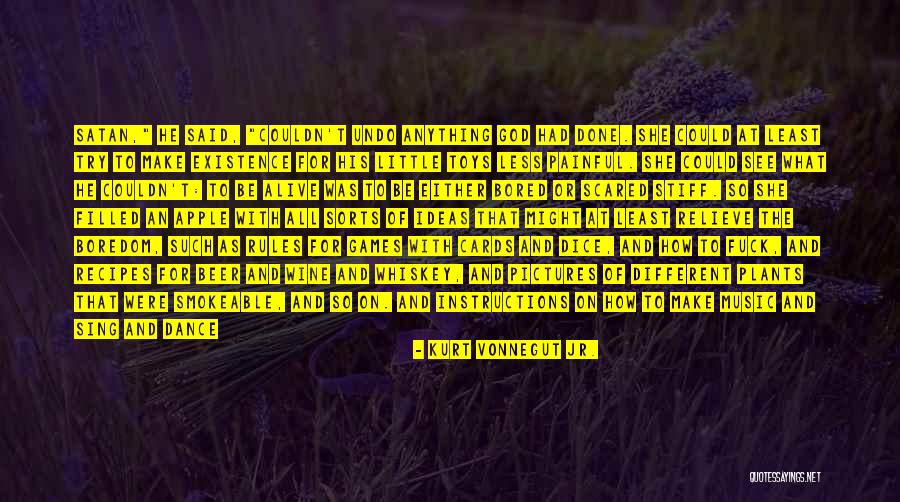 Satan," he said, "couldn't undo anything God had done. She could at least try to make existence for His little toys less painful. She could see what He couldn't: To be alive was to be either bored or scared stiff. So she filled an apple with all sorts of ideas that might at least relieve the boredom, such as rules for games with cards and dice, and how to fuck, and recipes for beer and wine and whiskey, and pictures of different plants that were smokeable, and so on. And instructions on how to make music and sing and dance real crazy, real sexy. And how to spout blasphemy when they stubbed their toes.
"Satan had a serpent give Eve the apple. Eve took a bite and handed it to Adam. Hee took a bite, and then they fucked. — Kurt Vonnegut Jr.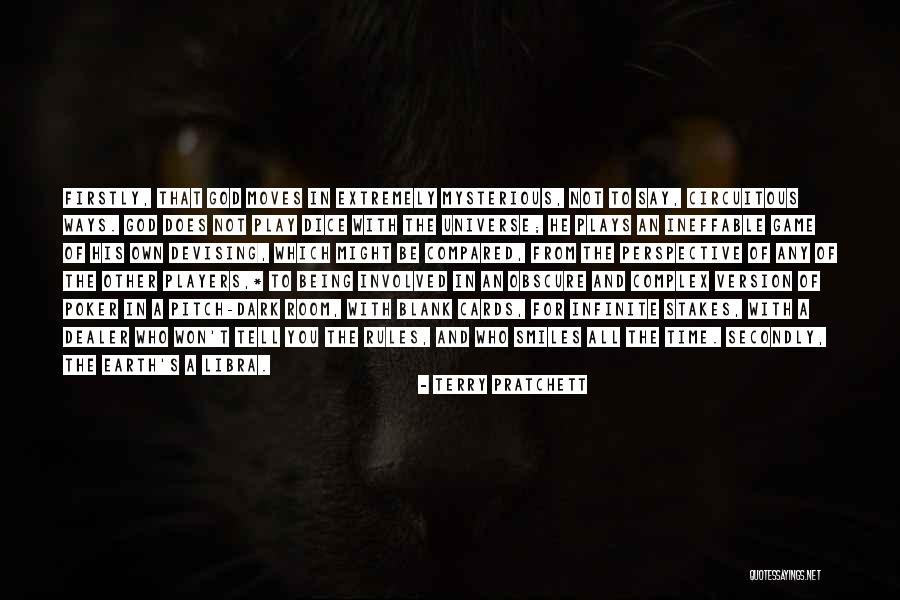 Firstly, that God moves in extremely mysterious, not to say, circuitous ways. God does not play dice with the universe; He plays an ineffable game of His own devising, which might be compared, from the perspective of any of the other players,* to being involved in an obscure and complex version of poker in a pitch-dark room, with blank cards, for infinite stakes, with a Dealer who won't tell you the rules, and who smiles all the time. Secondly, the Earth's a Libra. — Terry Pratchett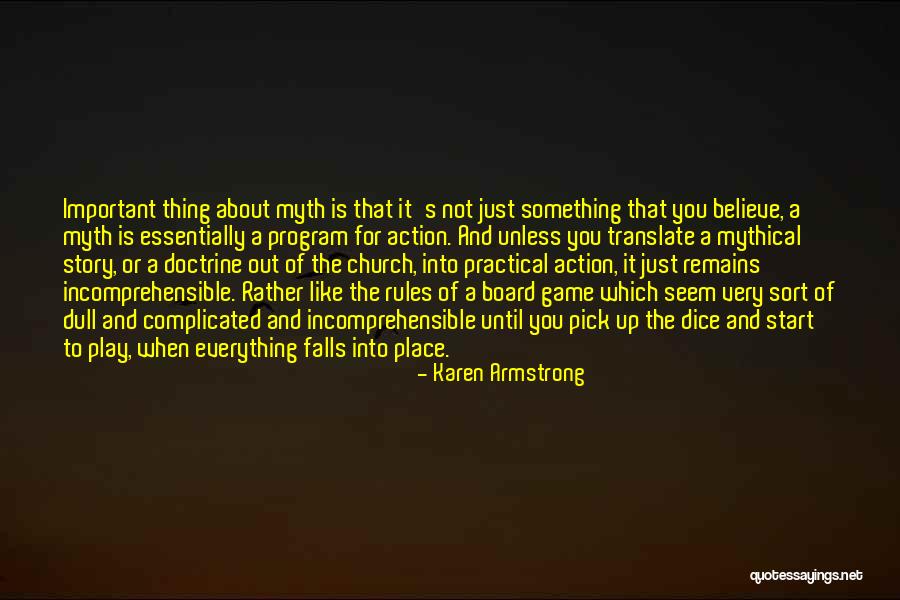 Important thing about myth is that it's not just something that you believe, a myth is essentially a program for action. And unless you translate a mythical story, or a doctrine out of the church, into practical action, it just remains incomprehensible. Rather like the rules of a board game which seem very sort of dull and complicated and incomprehensible until you pick up the dice and start to play, when everything falls into place. — Karen Armstrong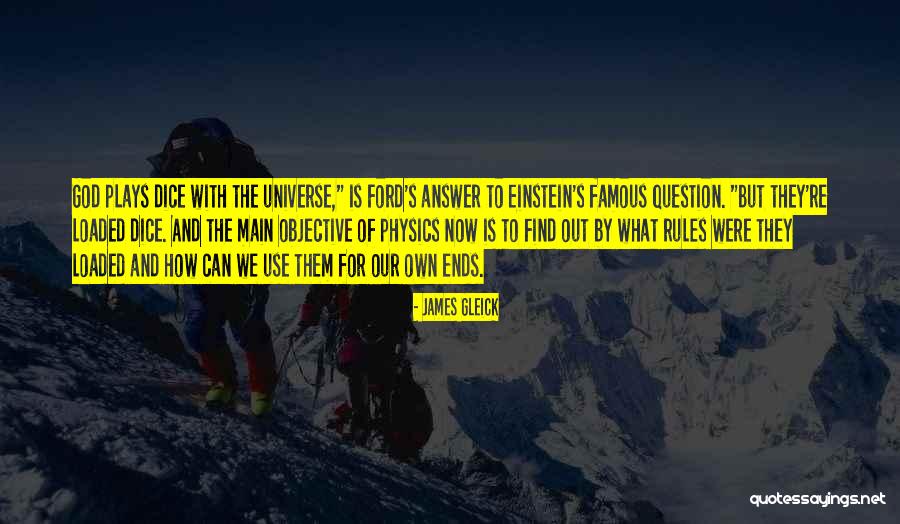 God plays dice with the universe," is Ford's answer to Einstein's famous question. "But they're loaded dice. And the main objective of physics now is to find out by what rules were they loaded and how can we use them for our own ends. — James Gleick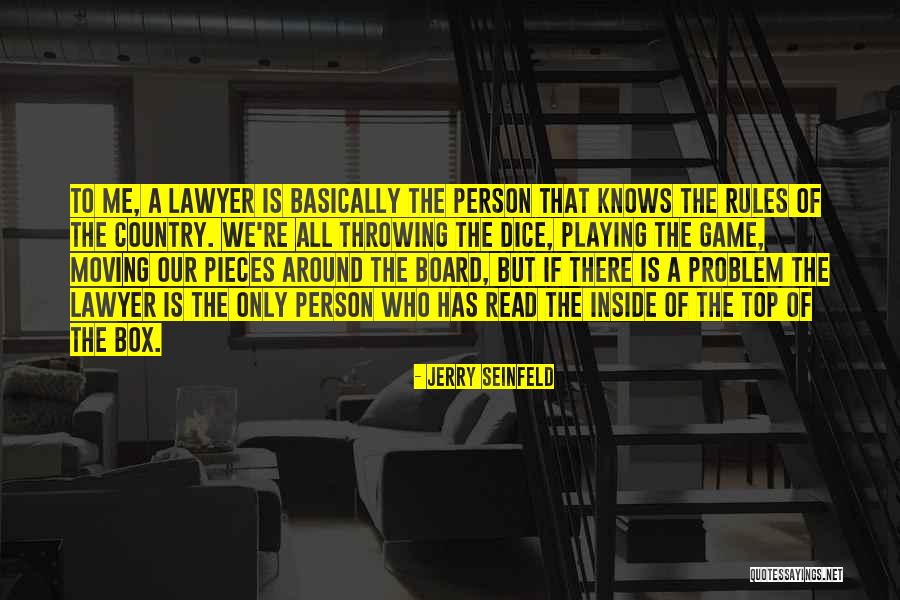 To me, a lawyer is basically the person that knows the rules of the country. We're all throwing the dice, playing the game, moving our pieces around the board, but if there is a problem the lawyer is the only person who has read the inside of the top of the box. — Jerry Seinfeld