Quotes & Sayings About Destructive Criticism
Enjoy reading and share 21 famous quotes about Destructive Criticism with everyone.
Top Destructive Criticism Quotes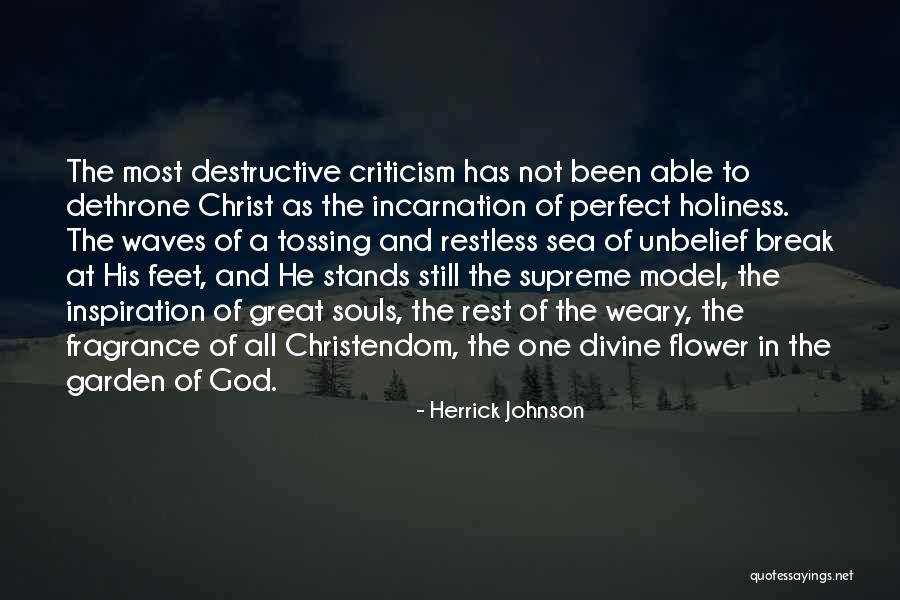 The most destructive criticism has not been able to dethrone Christ as the incarnation of perfect holiness. The waves of a tossing and restless sea of unbelief break at His feet, and He stands still the supreme model, the inspiration of great souls, the rest of the weary, the fragrance of all Christendom, the one divine flower in the garden of God. — Herrick Johnson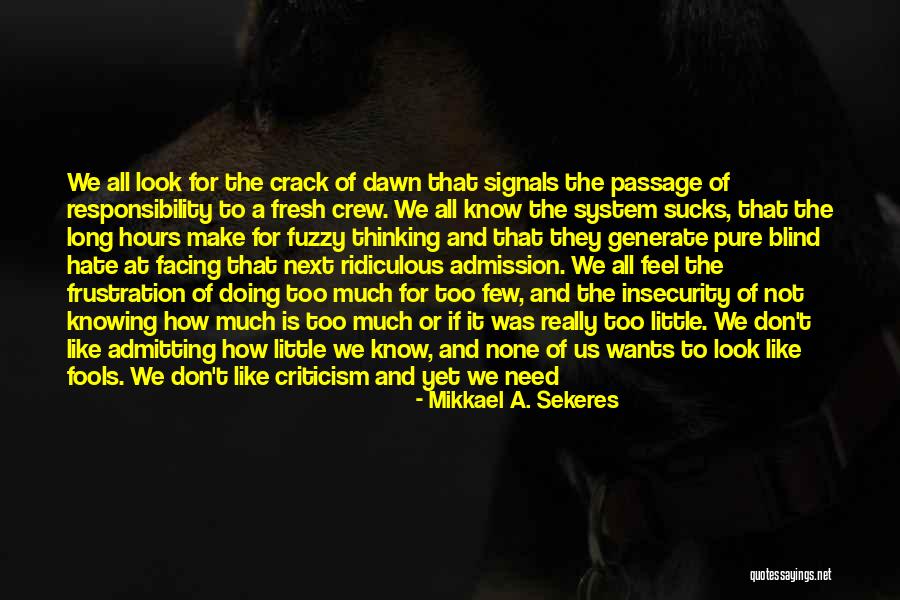 We all look for the crack of dawn that signals the passage of responsibility to a fresh crew. We all know the system sucks, that the long hours make for fuzzy thinking and that they generate pure blind hate at facing that next ridiculous admission. We all feel the frustration of doing too much for too few, and the insecurity of not knowing how much is too much or if it was really too little. We don't like admitting how little we know, and none of us wants to look like fools. We don't like criticism and yet we need it. We flog and flog, and rarely have the opportunity to see the veritable forest for the trees. We hate the patients for making more work for us. We especially hate the grossly self-destructive ones who don't deserve our sweat and society's money. — Mikkael A. Sekeres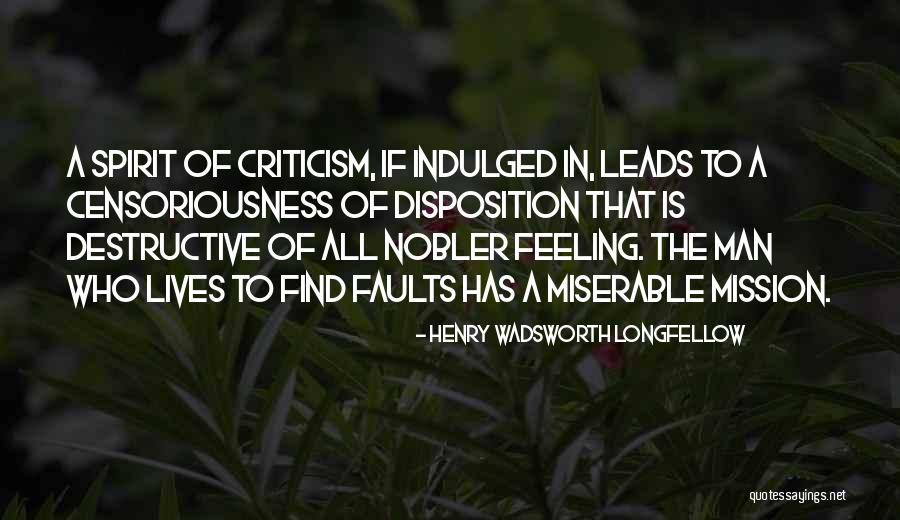 A spirit of criticism, if indulged in, leads to a censoriousness of disposition that is destructive of all nobler feeling. The man who lives to find faults has a miserable mission. — Henry Wadsworth Longfellow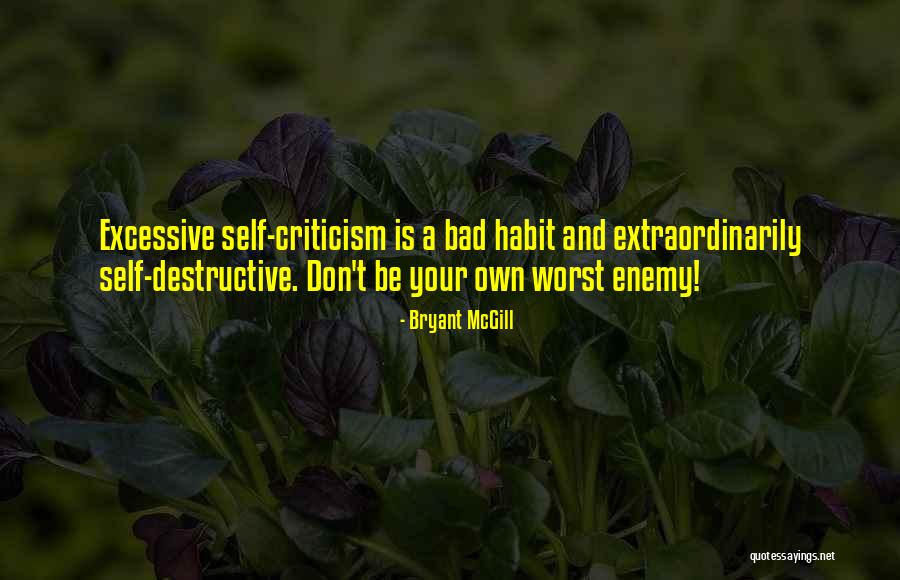 Excessive self-criticism is a bad habit and extraordinarily self-destructive. Don't be your own worst enemy! — Bryant McGill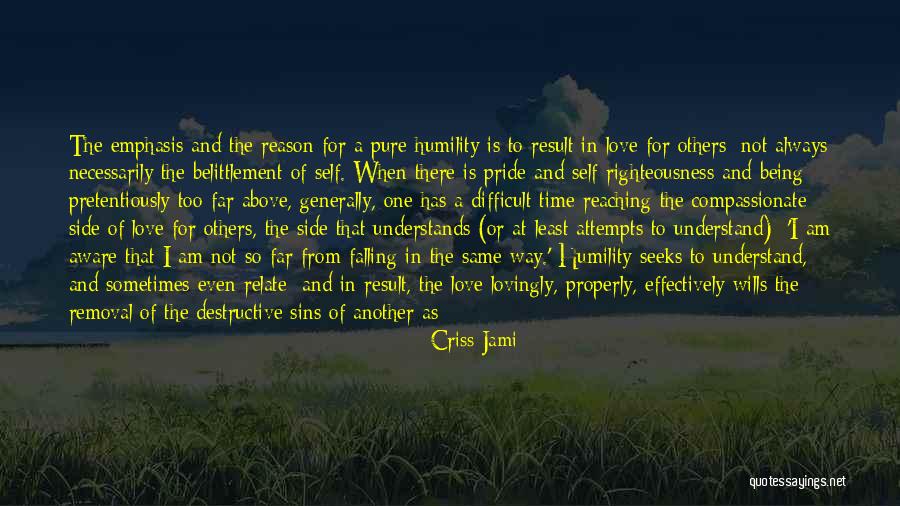 The emphasis and the reason for a pure humility is to result in love for others; not always necessarily the belittlement of self. When there is pride and self-righteousness and being pretentiously too far above, generally, one has a difficult time reaching the compassionate side of love for others, the side that understands (or at least attempts to understand): 'I am aware that I am not so far from falling in the same way.' Humility seeks to understand, and sometimes even relate; and in result, the love lovingly, properly, effectively wills the removal of the destructive sins of another as from oneself. — Criss Jami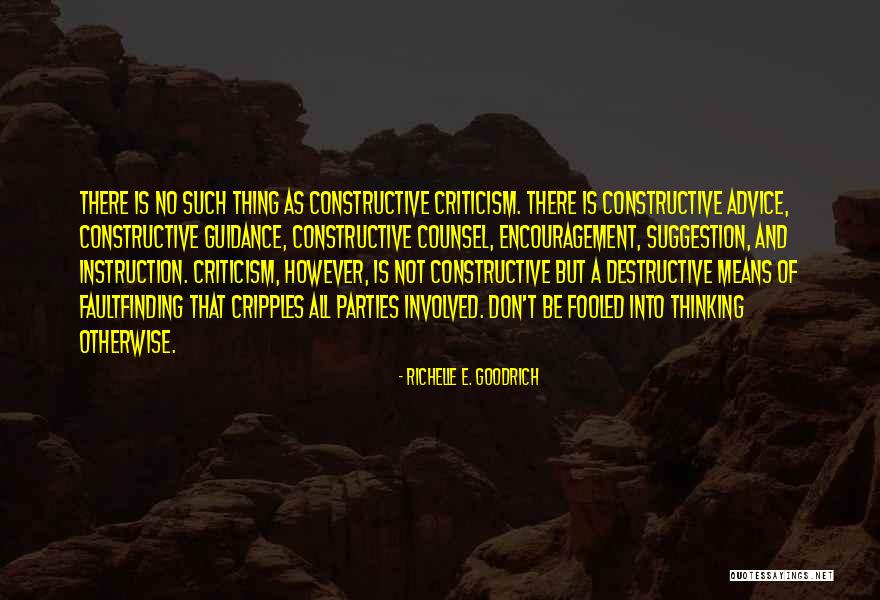 There is no such thing as constructive criticism. There is constructive advice, constructive guidance, constructive counsel, encouragement, suggestion, and instruction. Criticism, however, is not constructive but a destructive means of faultfinding that cripples all parties involved. Don't be fooled into thinking otherwise. — Richelle E. Goodrich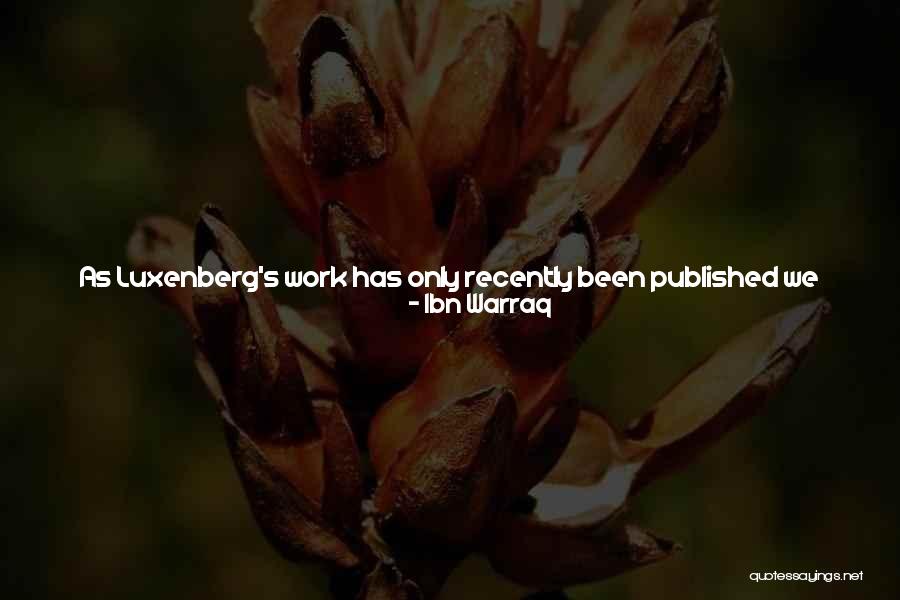 As Luxenberg's work has only recently been published we must await its scholarly assessment before we can pass any judgements. But if his analysis is correct then suicide bombers, or rather prospective martyrs, would do well to abandon their culture of death, and instead concentrate on getting laid 72 times in this world, unless of course they would really prefer chilled or white raisins, according to their taste, in the next. — Ibn Warraq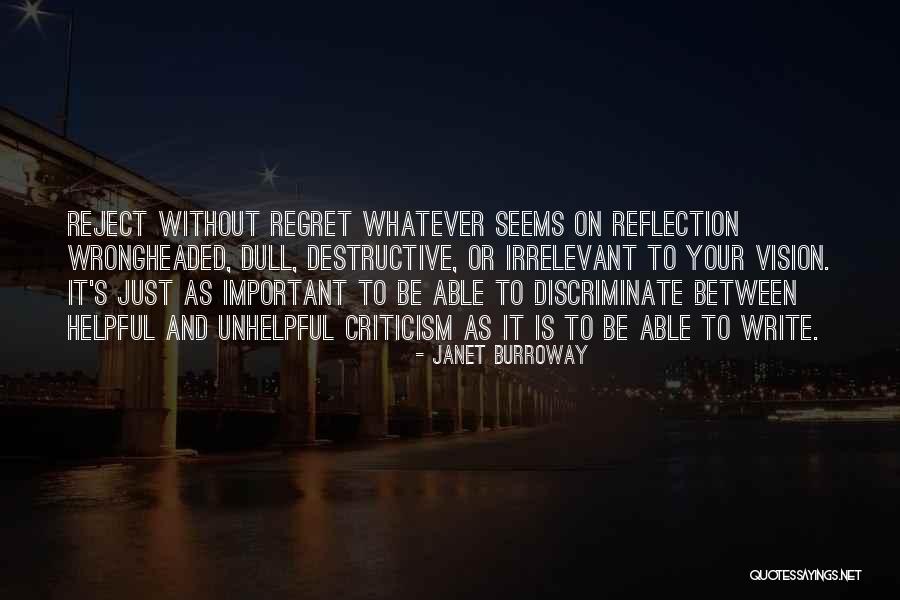 Reject without regret whatever seems on reflection wrongheaded, dull, destructive, or irrelevant to your vision. It's just as important to be able to discriminate between helpful and unhelpful criticism as it is to be able to write. — Janet Burroway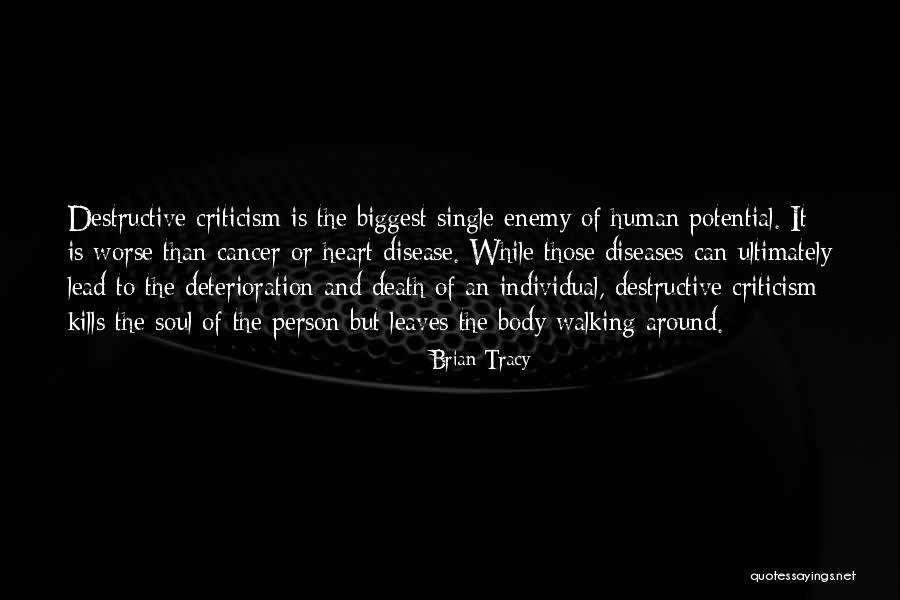 Destructive criticism is the biggest single enemy of human potential. It is worse than cancer or heart disease. While those diseases can ultimately lead to the deterioration and death of an individual, destructive criticism kills the soul of the person but leaves the body walking around. — Brian Tracy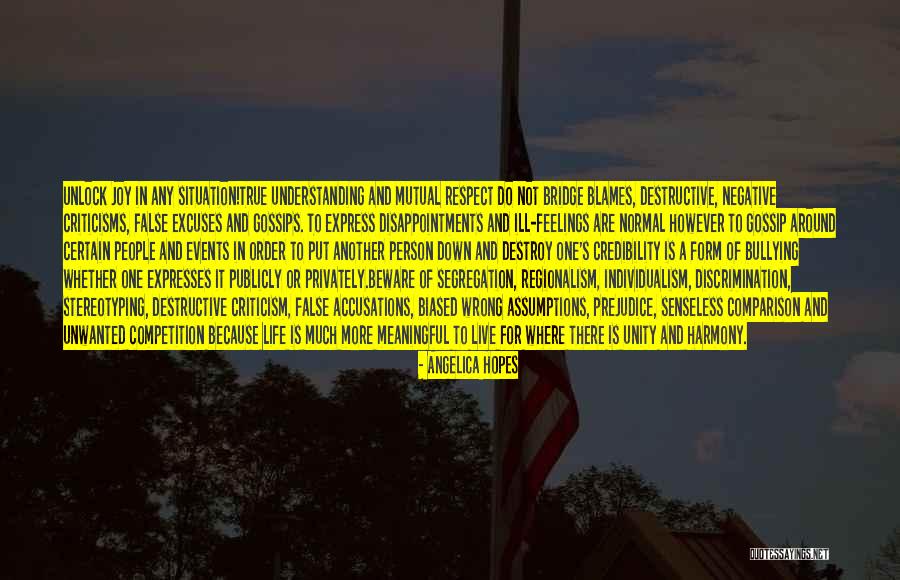 Unlock joy in any situation!
True understanding and mutual respect do not bridge blames, destructive, negative criticisms, false excuses and gossips. To express disappointments and ill-feelings are normal however to gossip around certain people and events in order to put another person down and destroy one's credibility is a form of bullying whether one expresses it publicly or privately.
Beware of segregation, regionalism, individualism, discrimination, stereotyping, destructive criticism, false accusations, biased wrong assumptions, prejudice, senseless comparison and unwanted competition because life is much more meaningful to live for where there is unity and harmony. — Angelica Hopes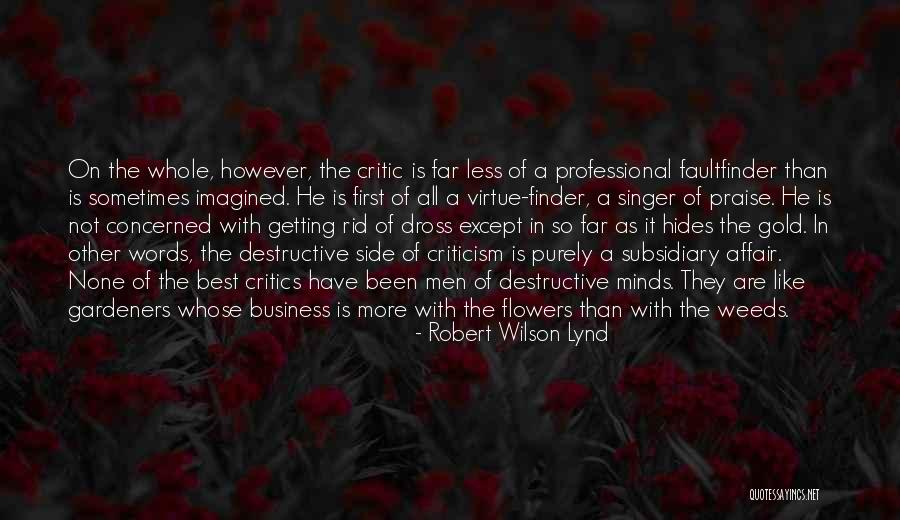 On the whole, however, the critic is far less of a professional faultfinder than is sometimes imagined. He is first of all a virtue-finder, a singer of praise. He is not concerned with getting rid of dross except in so far as it hides the gold. In other words, the destructive side of criticism is purely a subsidiary affair. None of the best critics have been men of destructive minds. They are like gardeners whose business is more with the flowers than with the weeds. — Robert Wilson Lynd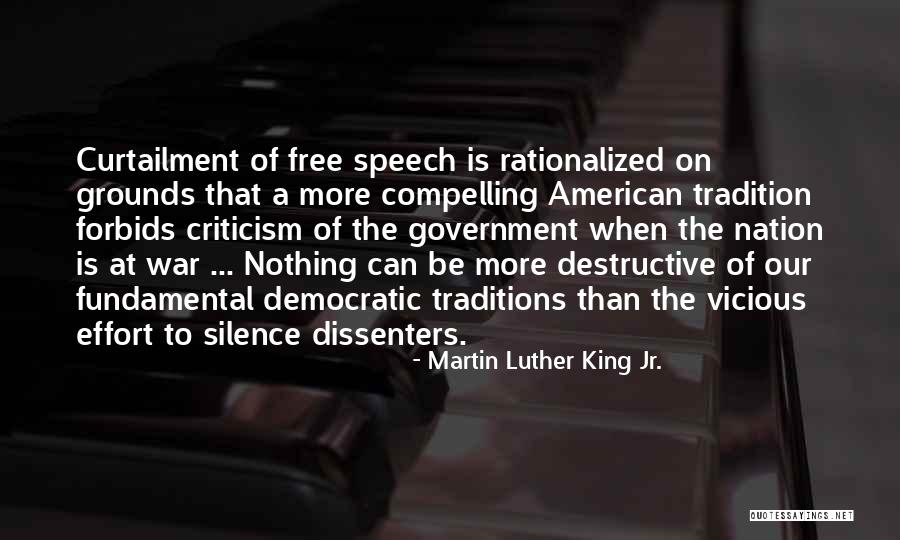 Curtailment of free speech is rationalized on grounds that a more compelling American tradition forbids criticism of the government when the nation is at war ... Nothing can be more destructive of our fundamental democratic traditions than the vicious effort to silence dissenters. — Martin Luther King Jr.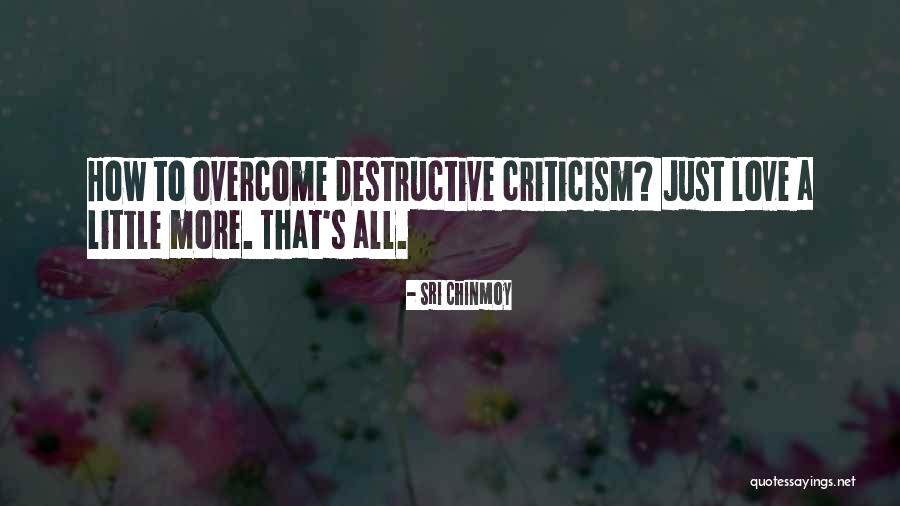 How to overcome destructive criticism? Just love a little more. That's all. — Sri Chinmoy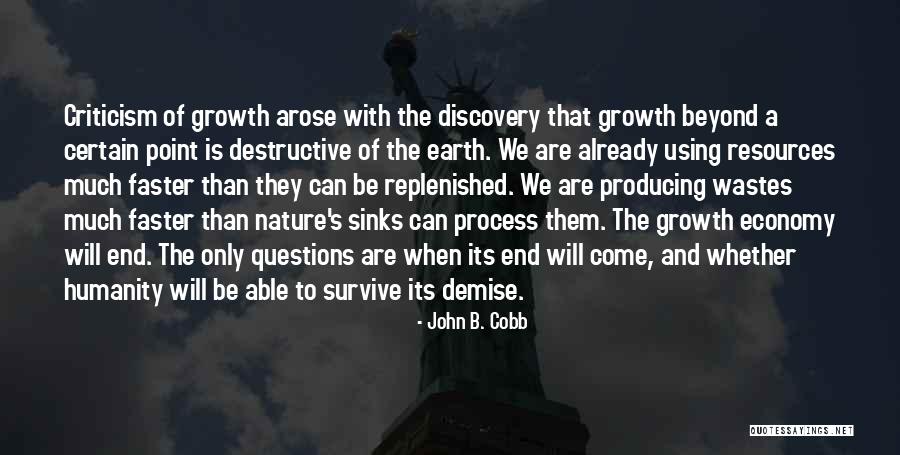 Criticism of growth arose with the discovery that growth beyond a certain point is destructive of the earth. We are already using resources much faster than they can be replenished. We are producing wastes much faster than nature's sinks can process them. The growth economy will end. The only questions are when its end will come, and whether humanity will be able to survive its demise. — John B. Cobb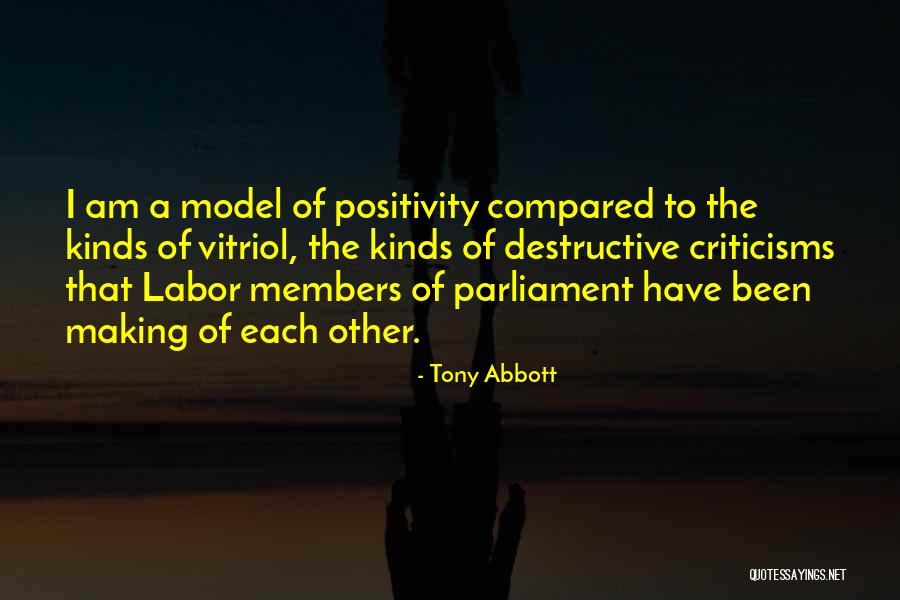 I am a model of positivity compared to the kinds of vitriol, the kinds of destructive criticisms that Labor members of parliament have been making of each other. — Tony Abbott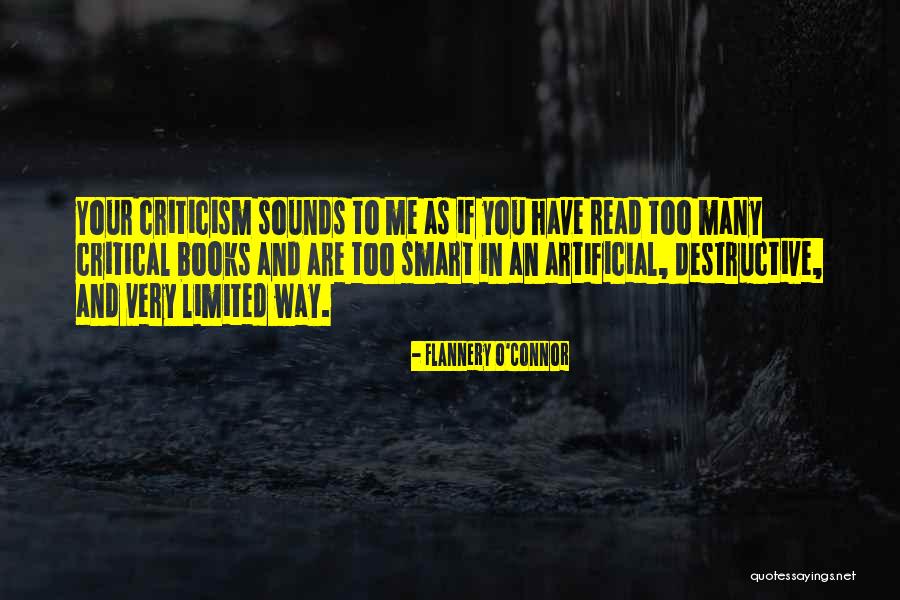 Your criticism sounds to me as if you have read too many critical books and are too smart in an artificial, destructive, and very limited way. — Flannery O'Connor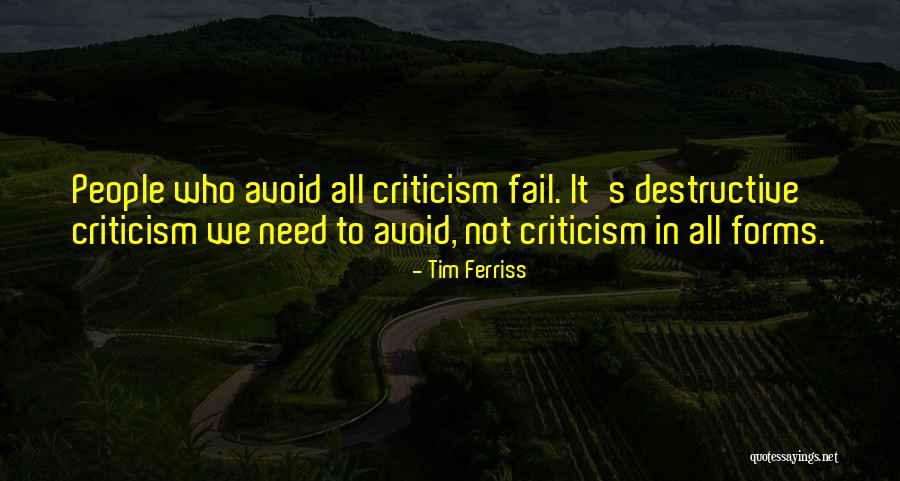 People who avoid all criticism fail. It's destructive criticism we need to avoid, not criticism in all forms. — Tim Ferriss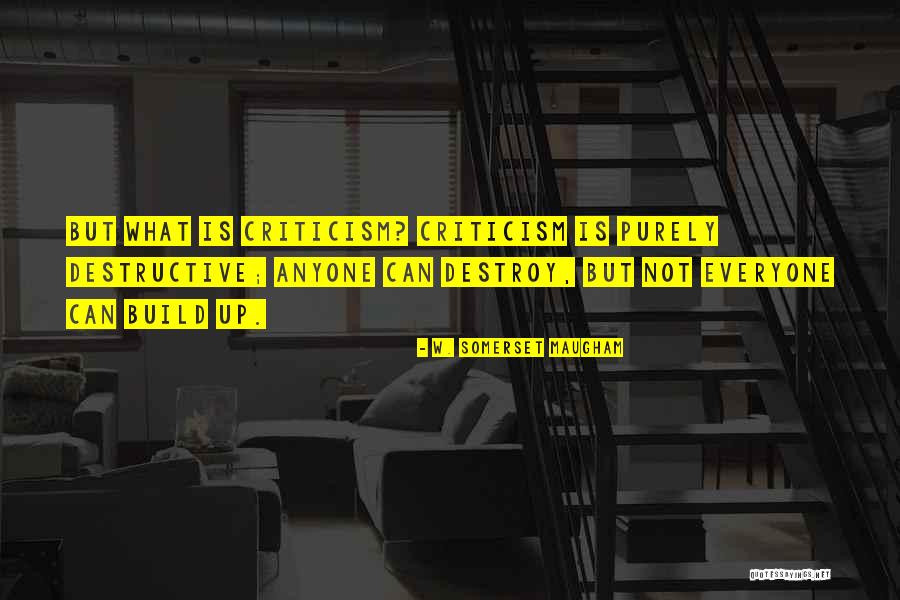 But what is criticism? Criticism is purely destructive; anyone can destroy, but not everyone can build up. — W. Somerset Maugham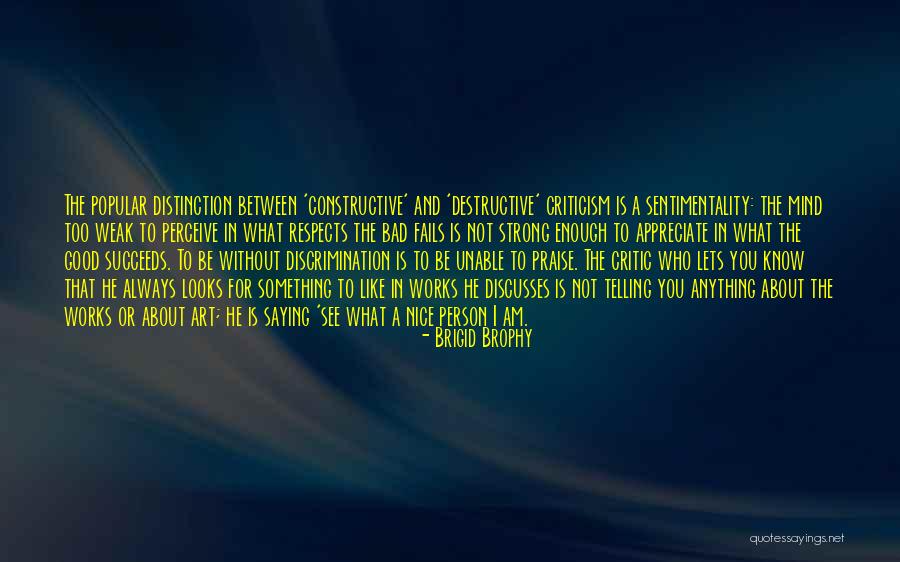 The popular distinction between 'constructive' and 'destructive' criticism is a sentimentality: the mind too weak to perceive in what respects the bad fails is not strong enough to appreciate in what the good succeeds. To be without discrimination is to be unable to praise. The critic who lets you know that he always looks for something to like in works he discusses is not telling you anything about the works or about art; he is saying 'see what a nice person I am. — Brigid Brophy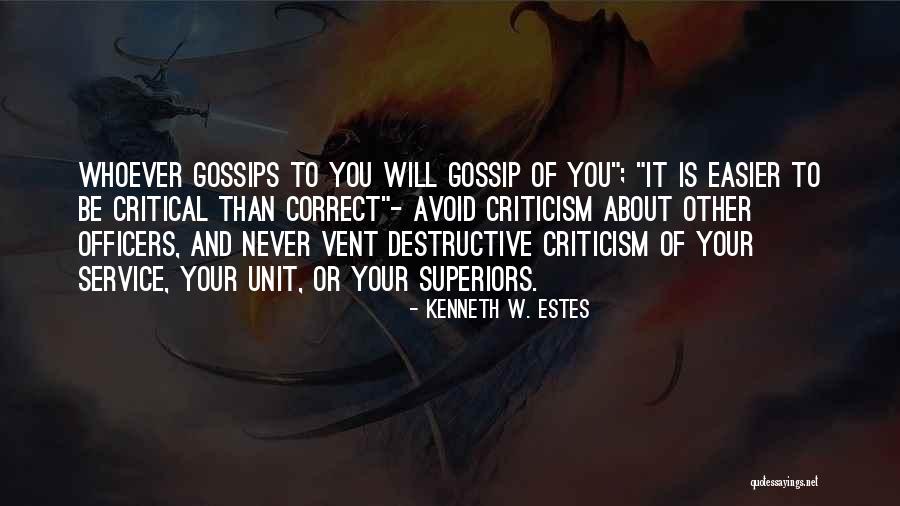 Whoever gossips to you will gossip of you"; "It is easier to be critical than correct"- avoid criticism about other officers, and never vent destructive criticism of your service, your unit, or your superiors. — Kenneth W. Estes