Deserve Better Life Quotes & Sayings
Enjoy reading and share 51 famous quotes about Deserve Better Life with everyone.
Top Deserve Better Life Quotes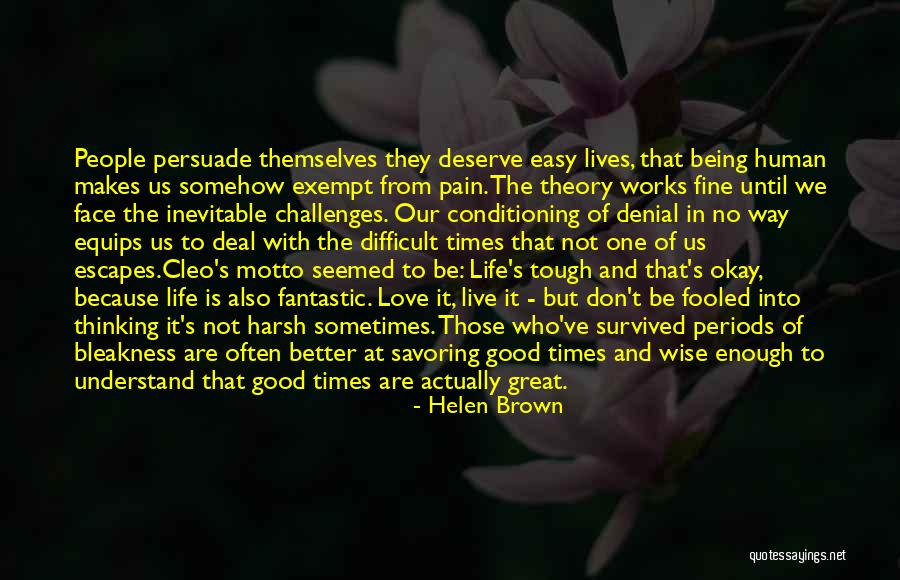 People persuade themselves they deserve easy lives, that being human makes us somehow exempt from pain. The theory works fine until we face the inevitable challenges. Our conditioning of denial in no way equips us to deal with the difficult times that not one of us escapes.
Cleo's motto seemed to be: Life's tough and that's okay, because life is also fantastic. Love it, live it - but don't be fooled into thinking it's not harsh sometimes. Those who've survived periods of bleakness are often better at savoring good times and wise enough to understand that good times are actually great. — Helen Brown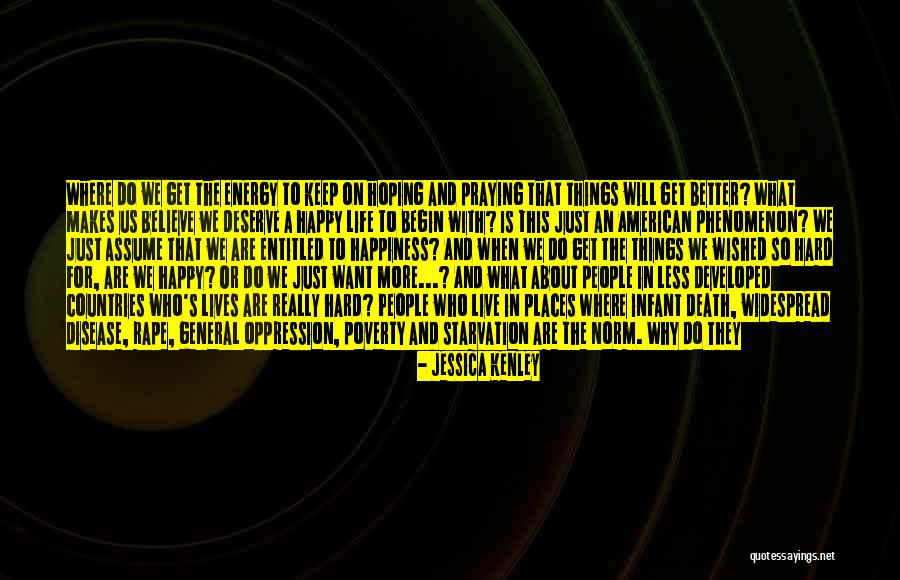 Where do we get the energy to keep on hoping and praying that things will get better? What makes us believe we DESERVE a happy life to begin with? Is this just an American phenomenon? We just assume that we are entitled to happiness? And when we do get the things we wished so hard for, are we happy? Or do we just want more...? And what about people in less developed countries who's lives are REALLY hard? People who live in places where infant death, widespread disease, rape, general oppression, poverty and starvation are the norm. Why do THEY keep going? Do they hope for happiness too, or do they think there are no other options but to keep living. I need to know. — Jessica Kenley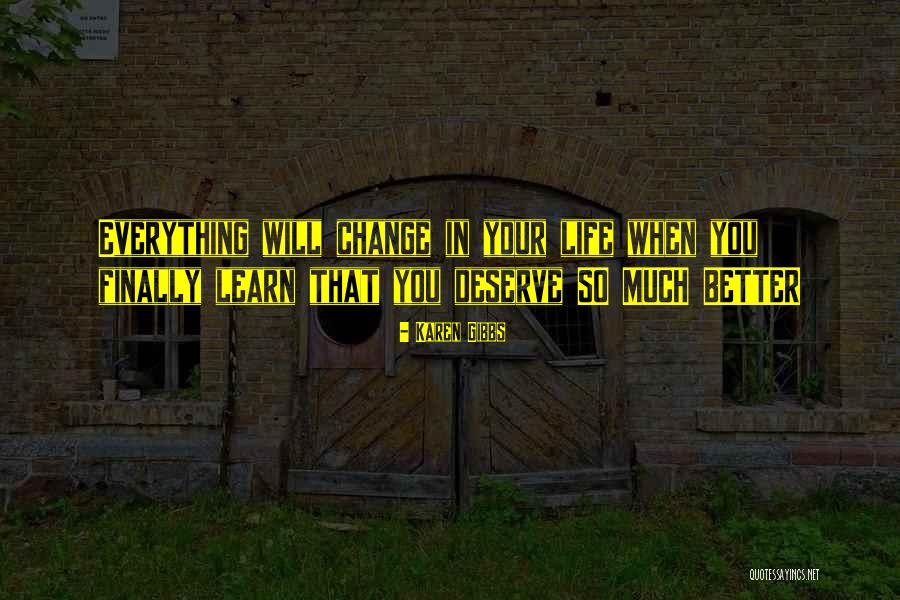 Everything will change in your life when you finally learn that you deserve SO MUCH BETTER — Karen Gibbs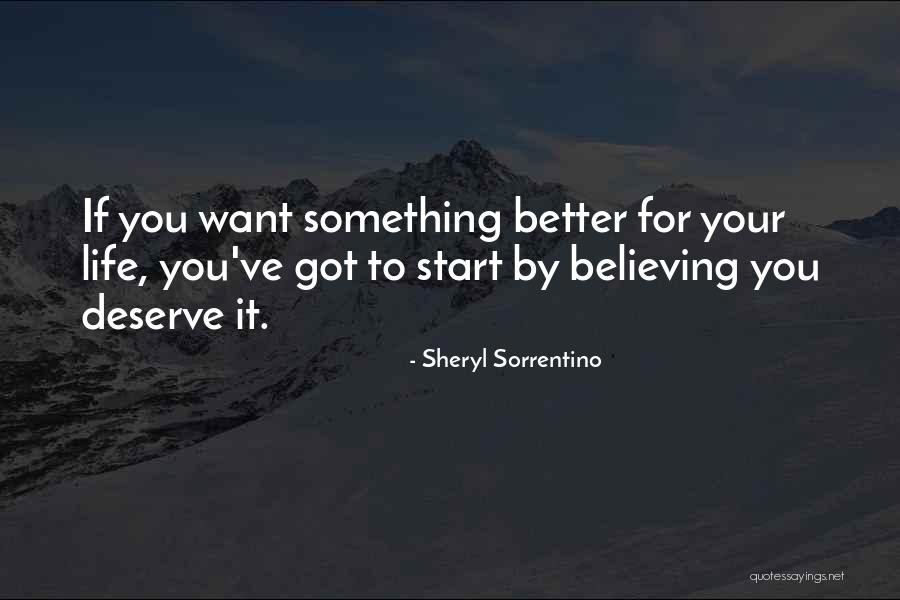 If you want something better for your life, you've got to start by believing you deserve it. — Sheryl Sorrentino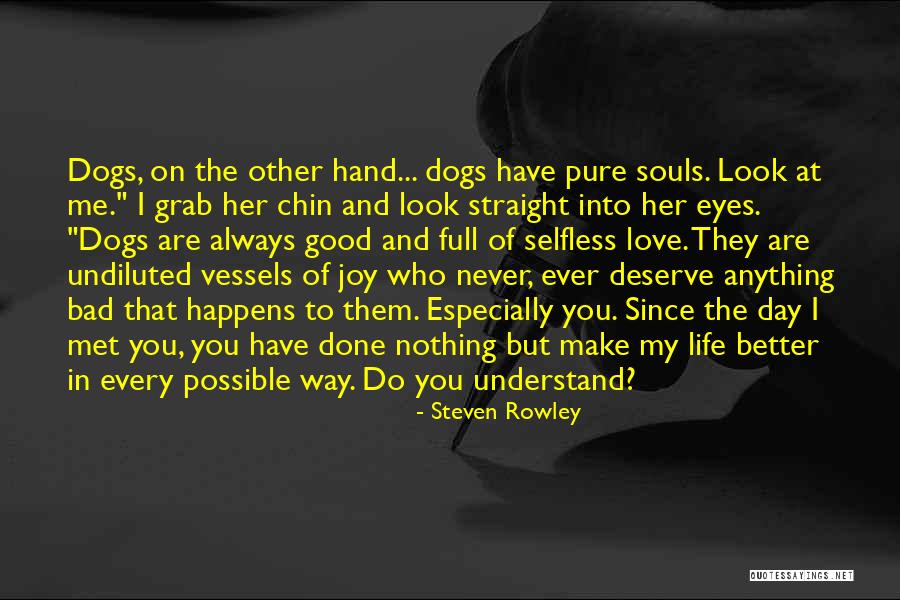 Dogs, on the other hand... dogs have pure souls. Look at me." I grab her chin and look straight into her eyes. "Dogs are always good and full of selfless love. They are undiluted vessels of joy who never, ever deserve anything bad that happens to them. Especially you. Since the day I met you, you have done nothing but make my life better in every possible way. Do you understand? — Steven Rowley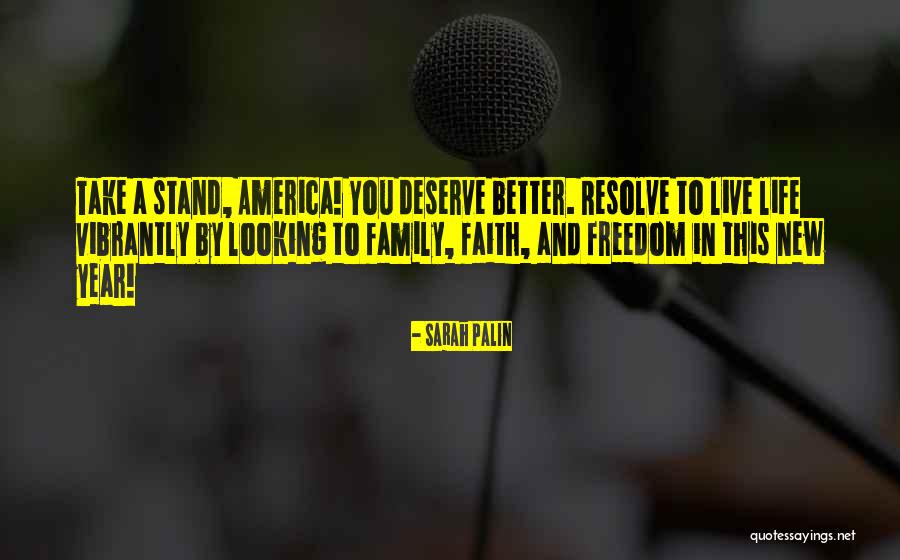 Take a stand, America! You deserve better. Resolve to live life vibrantly by looking to family, faith, and freedom in this new year! — Sarah Palin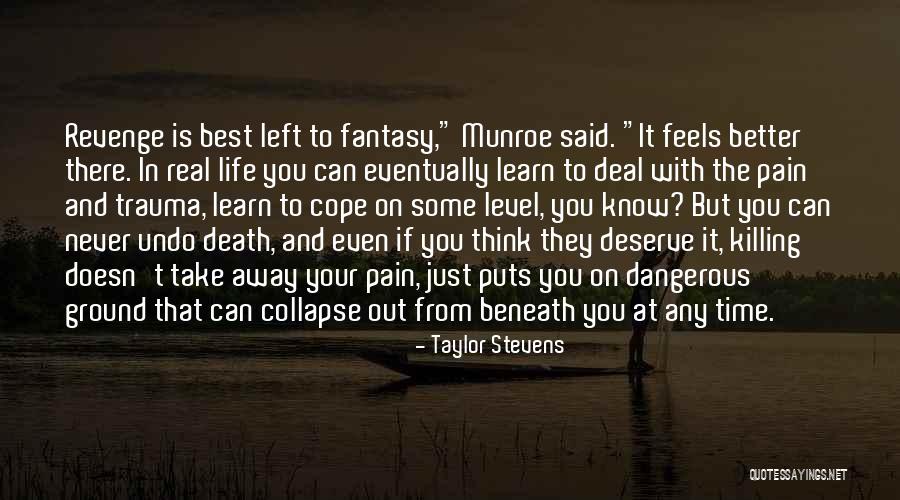 Revenge is best left to fantasy," Munroe said. "It feels better there. In real life you can eventually learn to deal with the pain and trauma, learn to cope on some level, you know? But you can never undo death, and even if you think they deserve it, killing doesn't take away your pain, just puts you on dangerous ground that can collapse out from beneath you at any time. — Taylor Stevens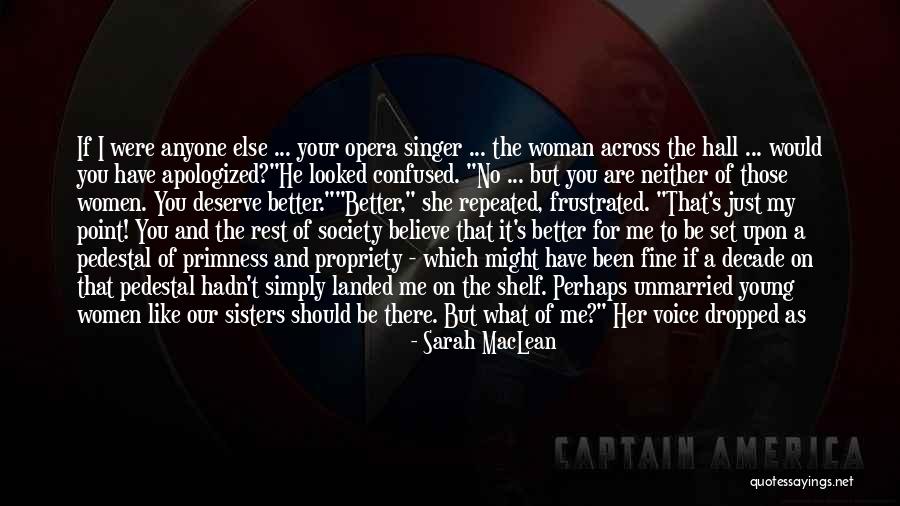 If I were anyone else ... your opera singer ... the woman across the hall ... would you have apologized?"
He looked confused. "No ... but you are neither of those women. You deserve better."
"Better," she repeated, frustrated. "That's just my point! You and the rest of society believe that it's better for me to be set upon a pedestal of primness and propriety - which might have been fine if a decade on that pedestal hadn't simply landed me on the shelf. Perhaps unmarried young women like our sisters should be there. But what of me?" Her voice dropped as she looked down at the cards in her hands. "I'm never going to get a chance to experience life from up there. All that is up there is dust and unwanted apologies. The same cage as hers" - she indicated the woman outside - "merely a different gilt. — Sarah MacLean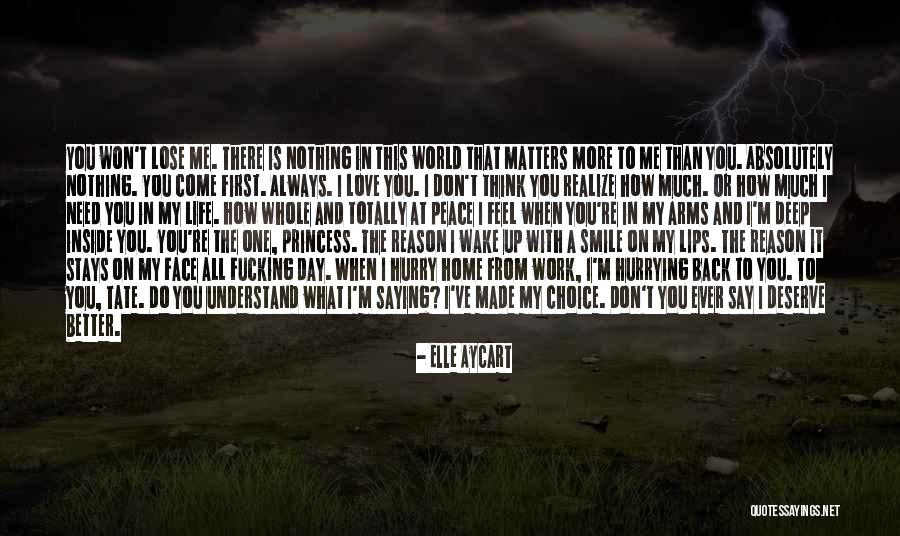 You won't lose me. There is nothing in this world that matters more to me than you. Absolutely nothing. You come first. Always. I love you. I don't think you realize how much. Or how much I need you in my life. How whole and totally at peace I feel when you're in my arms and I'm deep inside you. You're the one, princess. The reason I wake up with a smile on my lips. The reason it stays on my face all fucking day. When I hurry home from work, I'm hurrying back to you. To you, Tate. Do you understand what I'm saying? I've made my choice. Don't you ever say I deserve better. — Elle Aycart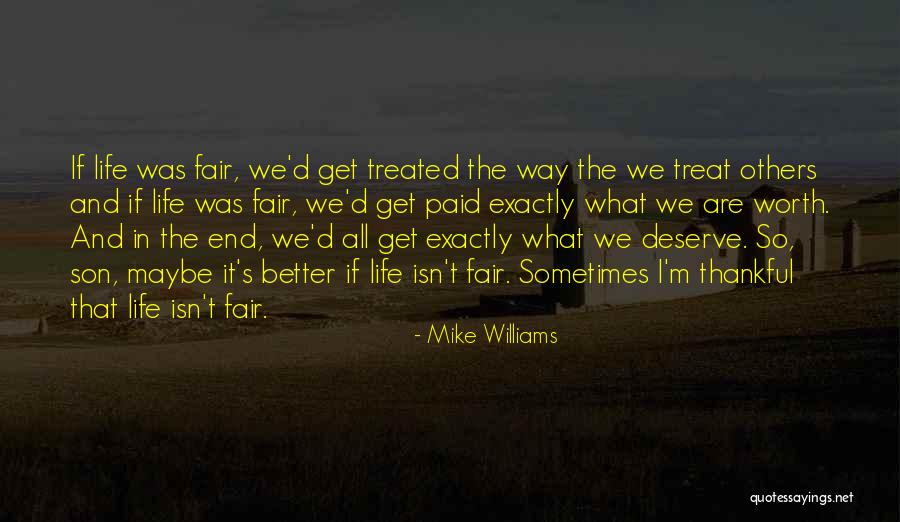 If life was fair, we'd get treated the way the we treat others and if life was fair, we'd get paid exactly what we are worth. And in the end, we'd all get exactly what we deserve. So, son, maybe it's better if life isn't fair. Sometimes I'm thankful that life isn't fair. — Mike Williams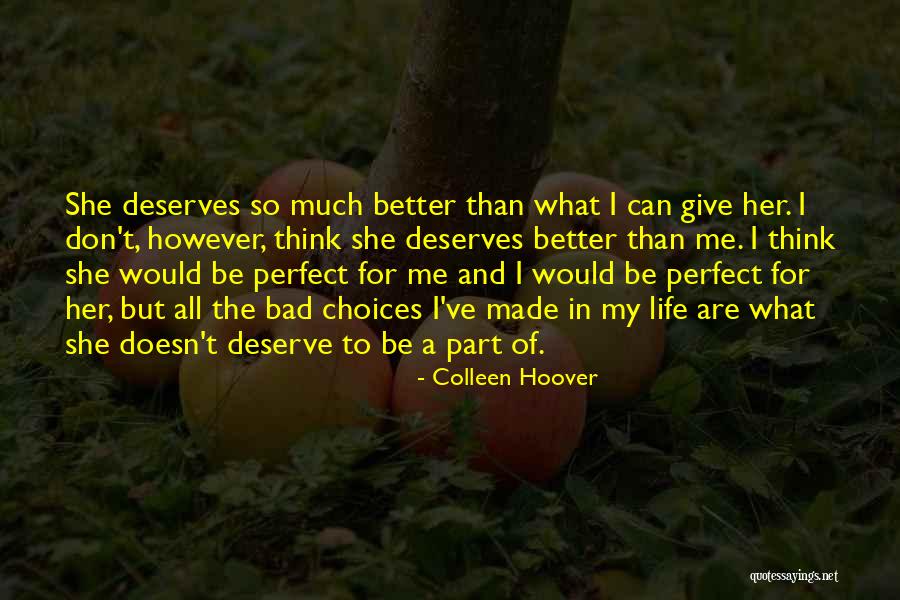 She deserves so much better than what I can give her. I don't, however, think she deserves better than me. I think she would be perfect for me and I would be perfect for her, but all the bad choices I've made in my life are what she doesn't deserve to be a part of. — Colleen Hoover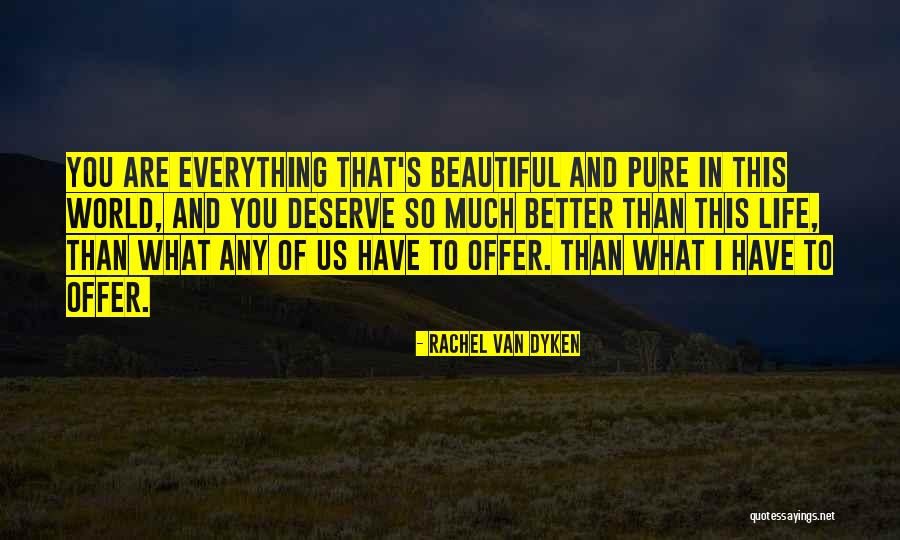 You are everything that's beautiful and pure in this world, and you deserve so much better than this life, than what any of us have to offer. Than what I have to offer. — Rachel Van Dyken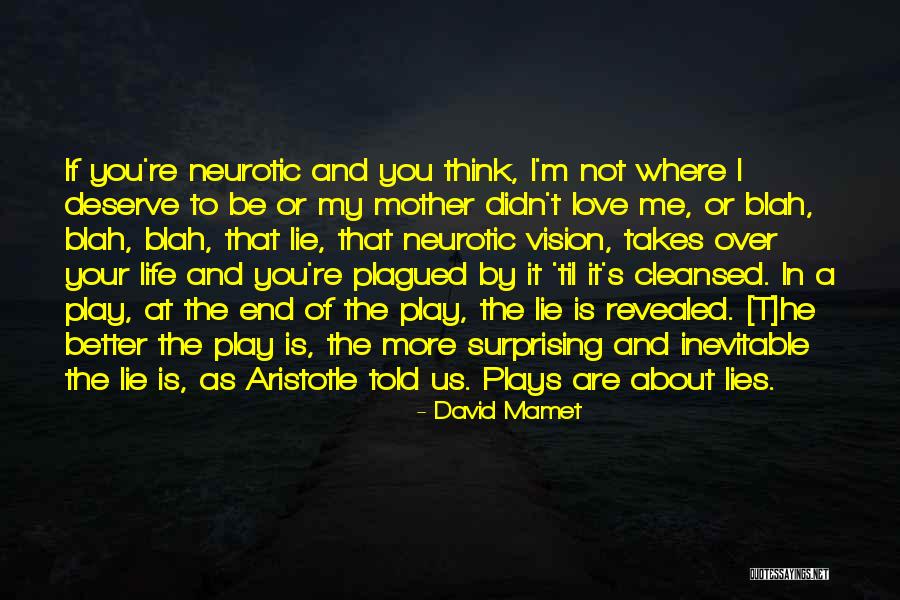 If you're neurotic and you think, I'm not where I deserve to be or my mother didn't love me, or blah, blah, blah, that lie, that neurotic vision, takes over your life and you're plagued by it 'til it's cleansed. In a play, at the end of the play, the lie is revealed. [T]he better the play is, the more surprising and inevitable the lie is, as Aristotle told us. Plays are about lies. — David Mamet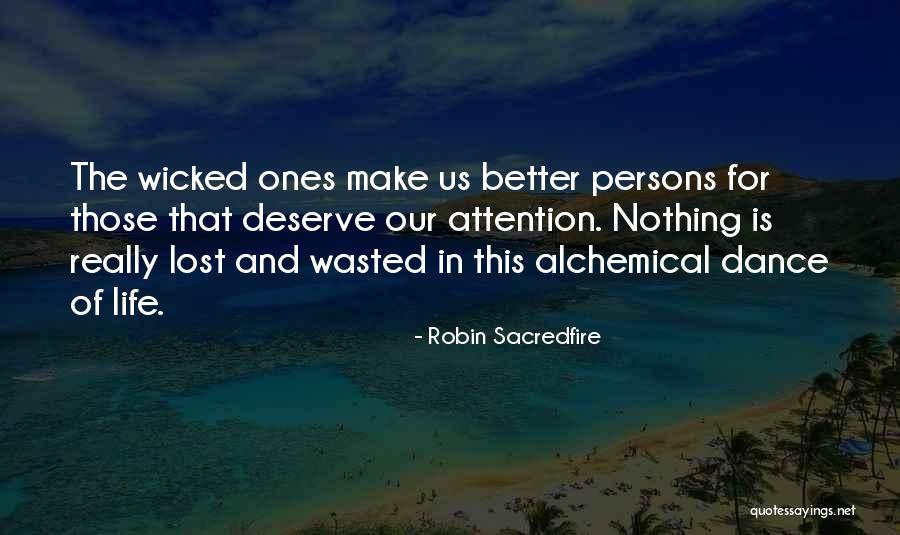 The wicked ones make us better persons for those that deserve our attention. Nothing is really lost and wasted in this alchemical dance of life. — Robin Sacredfire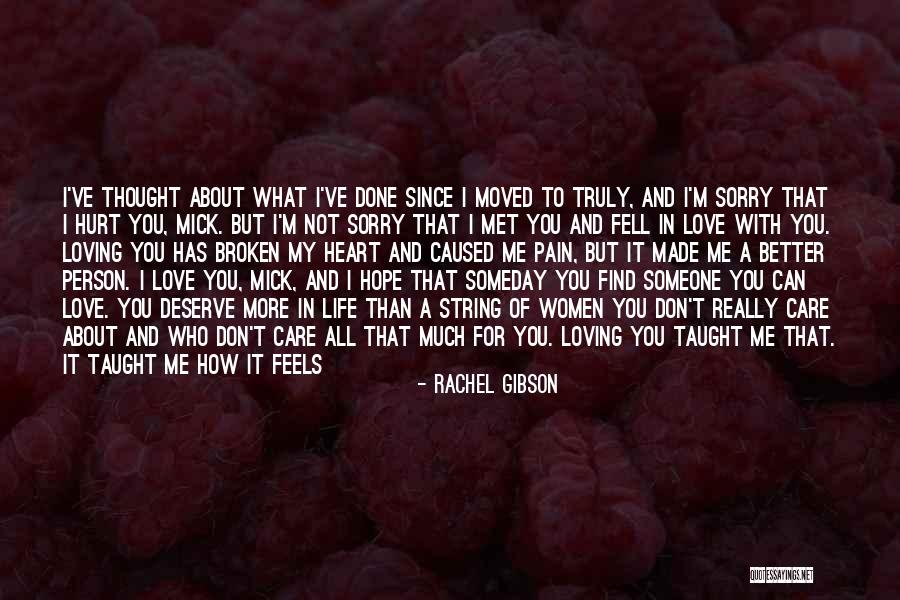 I've thought about what I've done since I moved to Truly, and I'm sorry that I hurt you, Mick. But I'm not sorry that I met you and fell in love with you. Loving you has broken my heart and caused me pain, but it made me a better person. I love you, Mick, and I hope that someday you find someone you can love. You deserve more in life than a string of women you don't really care about and who don't care all that much for you. Loving you taught me that. It taught me how it feels to love a man, and I hope that someday I can find someone who will love me the way that you can't. Because I deserve more that a string of men who don't really care about me. — Rachel Gibson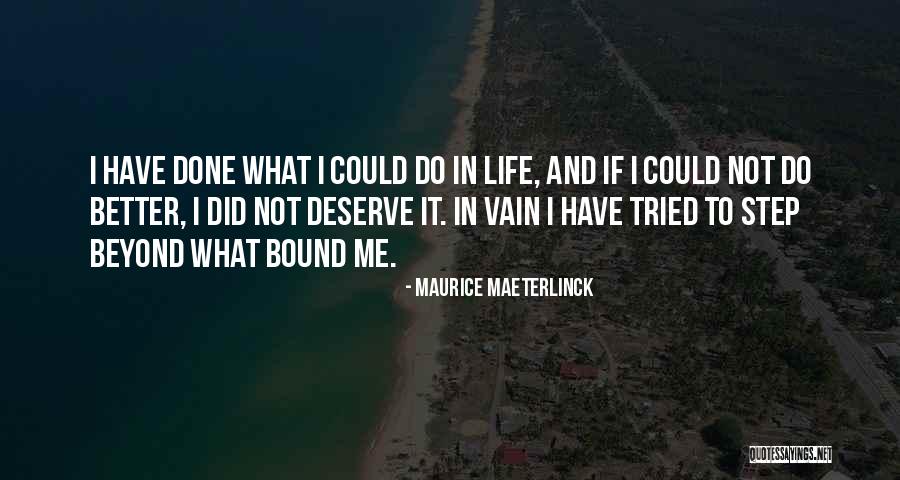 I have done what I could do in life, and if I could not do better, I did not deserve it. In vain I have tried to step beyond what bound me. — Maurice Maeterlinck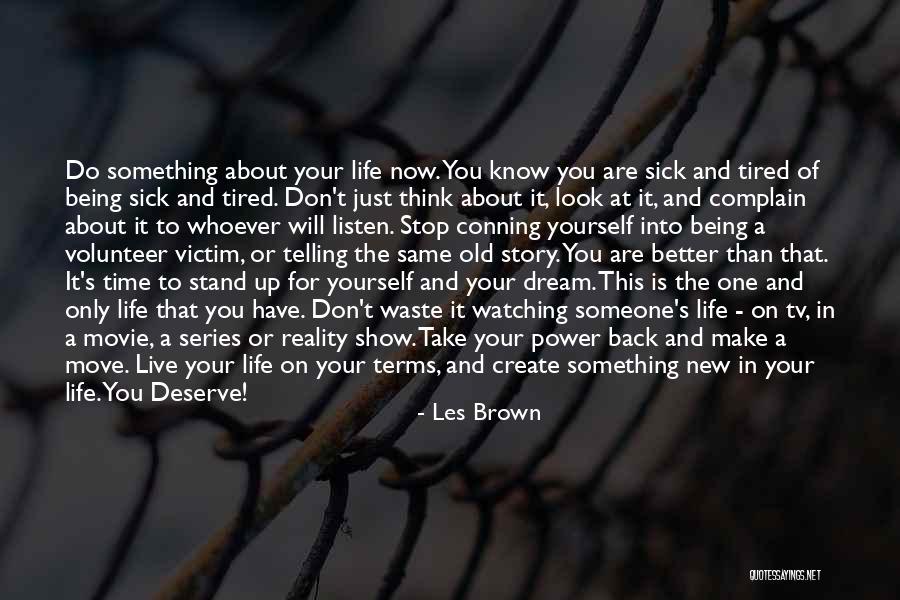 Do something about your life now. You know you are sick and tired of being sick and tired. Don't just think about it, look at it, and complain about it to whoever will listen. Stop conning yourself into being a volunteer victim, or telling the same old story. You are better than that. It's time to stand up for yourself and your dream. This is the one and only life that you have. Don't waste it watching someone's life - on tv, in a movie, a series or reality show. Take your power back and make a move. Live your life on your terms, and create something new in your life. You Deserve! — Les Brown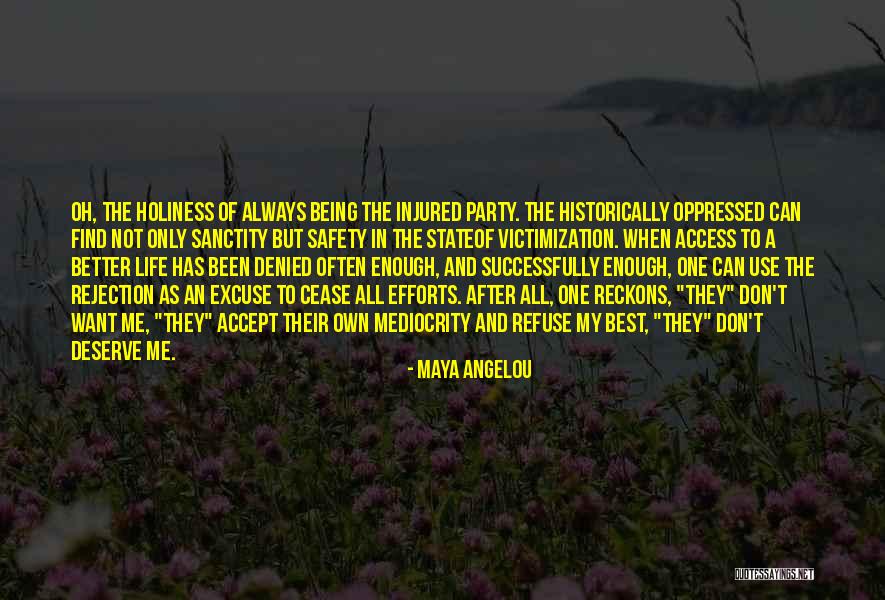 Oh, the holiness of always being the injured party. The historically oppressed can find not only sanctity but safety in the stateof victimization. When access to a better life has been denied often enough, and successfully enough, one can use the rejection as an excuse to cease all efforts. After all, one reckons, "they" don't want me, "they" accept their own mediocrity and refuse my best, "they" don't deserve me. — Maya Angelou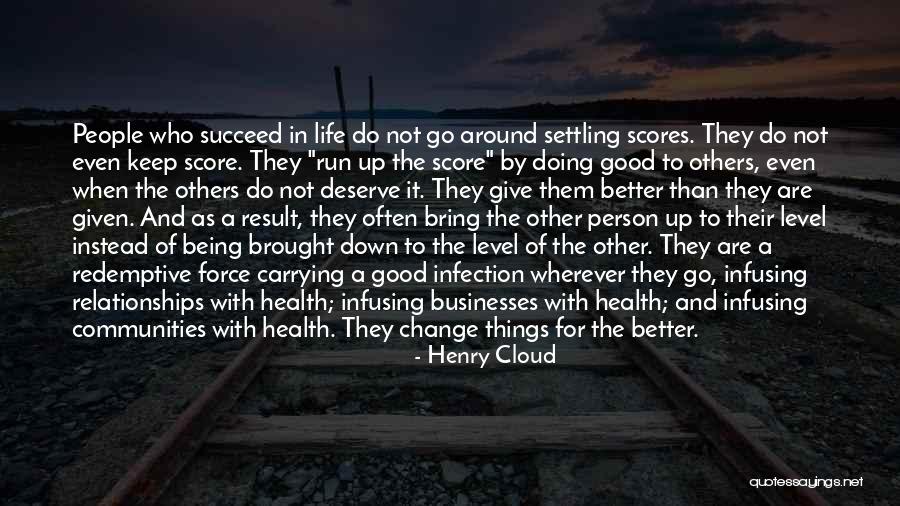 People who succeed in life do not go around settling scores. They do not even keep score. They "run up the score" by doing good to others, even when the others do not deserve it. They give them better than they are given. And as a result, they often bring the other person up to their level instead of being brought down to the level of the other. They are a redemptive force carrying a good infection wherever they go, infusing relationships with health; infusing businesses with health; and infusing communities with health. They change things for the better. — Henry Cloud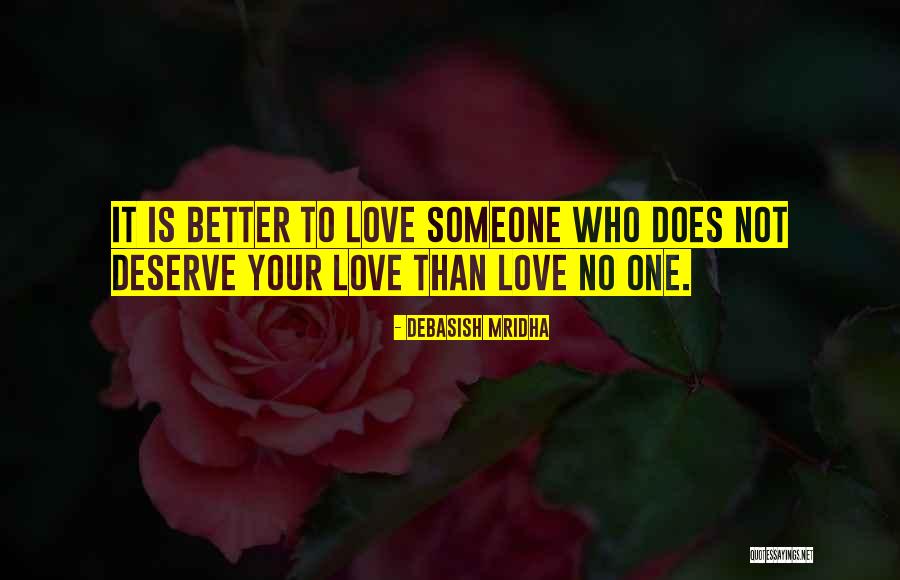 It is better to love someone who does not deserve your love than love no one. — Debasish Mridha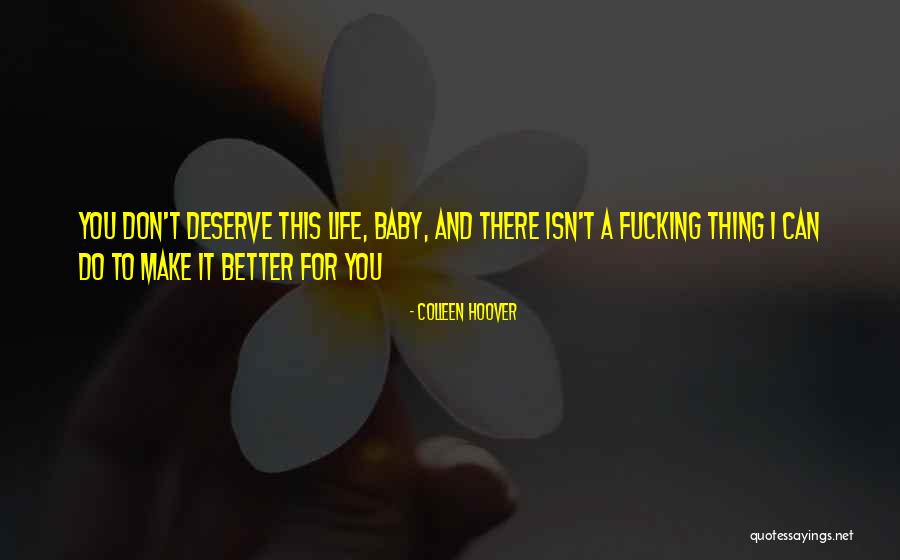 You don't deserve this life, baby, and there isn't a fucking thing I can do to make it better for you — Colleen Hoover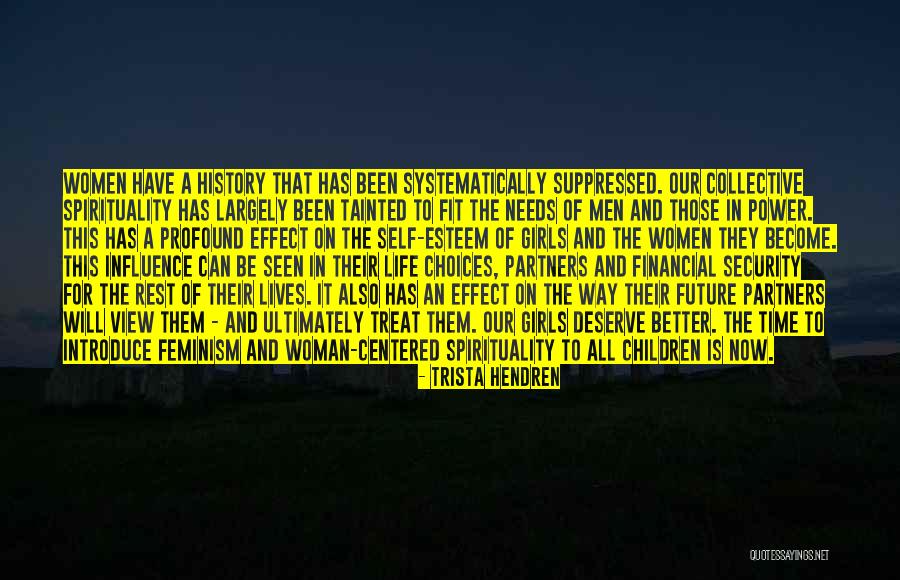 Women HAVE a history that has been systematically suppressed. Our collective spirituality has largely been tainted to fit the needs of men and those in power. This has a profound effect on the self-esteem of girls and the women they become. This influence can be seen in their life choices, partners and financial security for the rest of their lives. It also has an effect on the way their future partners will view them - and ultimately treat them. Our girls deserve better. The time to introduce feminism and woman-centered spirituality to ALL children is now. — Trista Hendren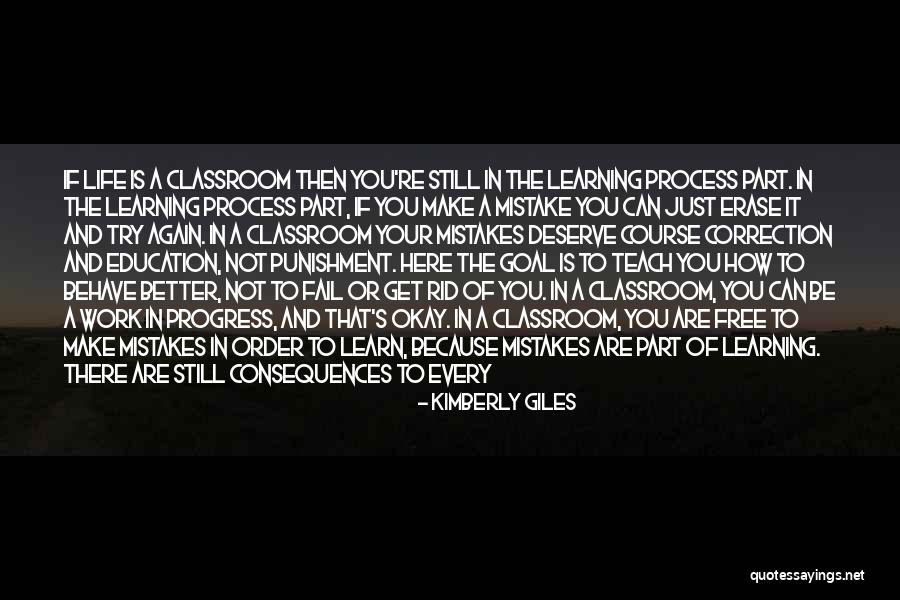 If life is a classroom then you're still in the learning process part. In the learning process part, if you make a mistake you can just erase it and try again. In a classroom your mistakes deserve course correction and education, not punishment. Here the goal is to teach you how to behave better, not to fail or get rid of you. In a classroom, you can be a work in progress, and that's okay.
In a classroom, you are free to make mistakes in order to learn, because mistakes are part of learning. There are still consequences to every choice, but in a classroom you can't fail, because your value isn't on the line. If life is a classroom, you have the same value no matter how much you struggle, how many mistakes you make or how you perform. If life is a classroom you are safe. — Kimberly Giles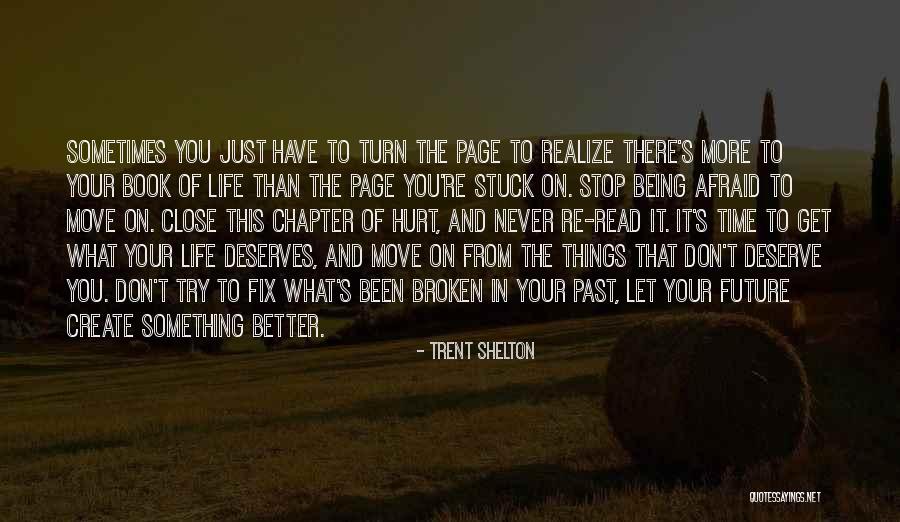 Sometimes you just have to turn the page to realize there's more to your book of life than the page you're stuck on. Stop being afraid to move on. Close this chapter of hurt, and never re-read it. It's time to get what your life deserves, and move on from the things that don't deserve you. Don't try to fix what's been broken in your past, let your future create something better. — Trent Shelton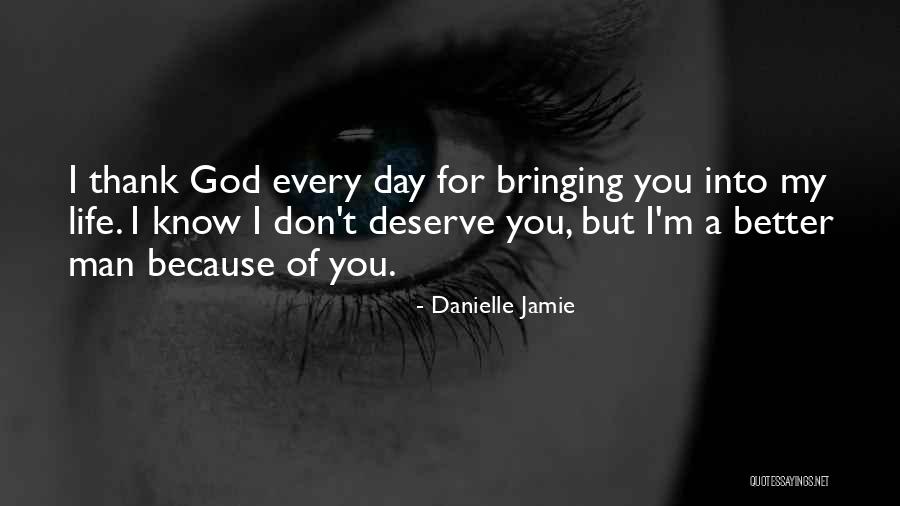 I thank God every day for bringing you into my life. I know I don't deserve you, but I'm a better man because of you. — Danielle Jamie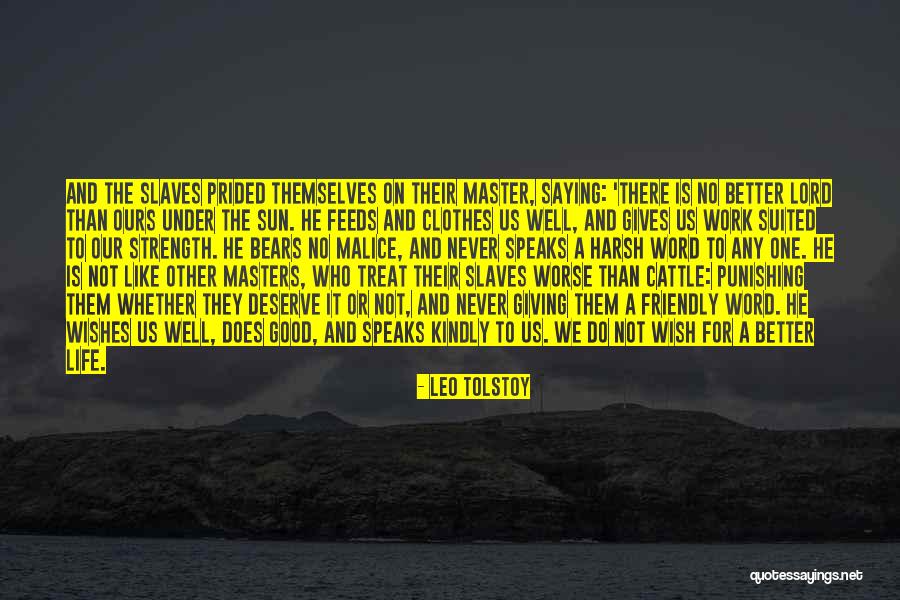 And the slaves prided themselves on their master, saying: 'There is no better lord than ours under the sun. He feeds and clothes us well, and gives us work suited to our strength. He bears no malice, and never speaks a harsh word to any one. He is not like other masters, who treat their slaves worse than cattle: punishing them whether they deserve it or not, and never giving them a friendly word. He wishes us well, does good, and speaks kindly to us. We do not wish for a better life. — Leo Tolstoy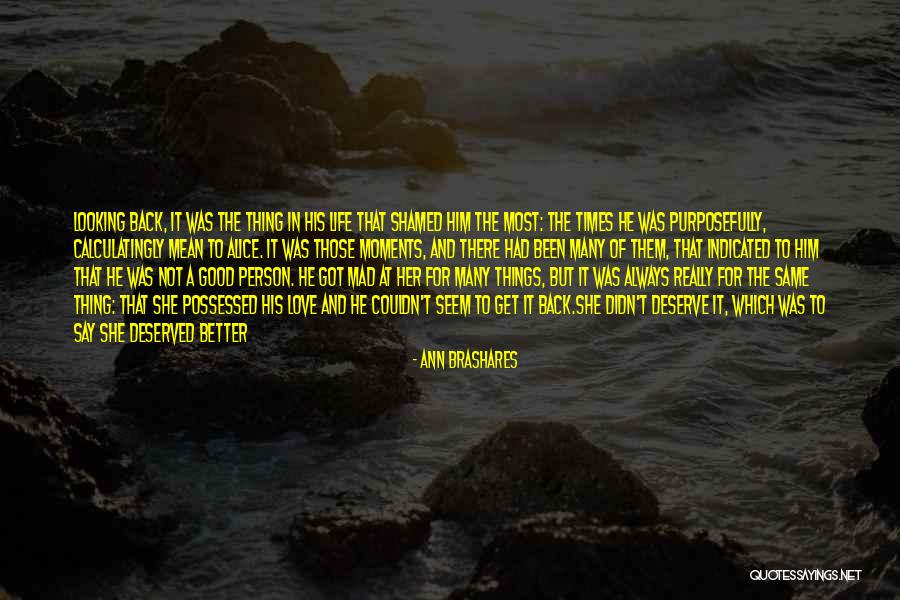 Looking back, it was the thing in his life that shamed him the most: the times he was purposefully, calculatingly mean to Alice. It was those moments, and there had been many of them, that indicated to him that he was not a good person. He got mad at her for many things, but it was always really for the same thing: that she possessed his love and he couldn't seem to get it back.
She didn't deserve it, which was to say she deserved better — Ann Brashares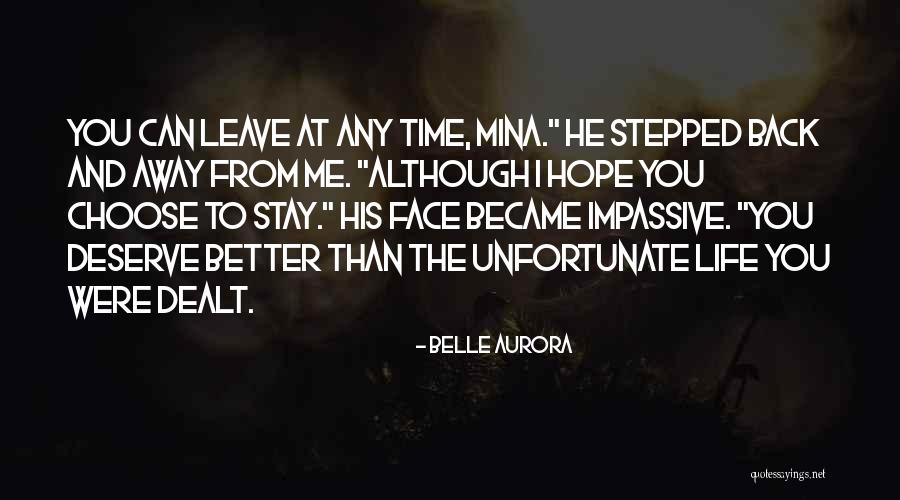 You can leave at any time, Mina." He stepped back and away from me. "Although I hope you choose to stay." His face became impassive. "You deserve better than the unfortunate life you were dealt. — Belle Aurora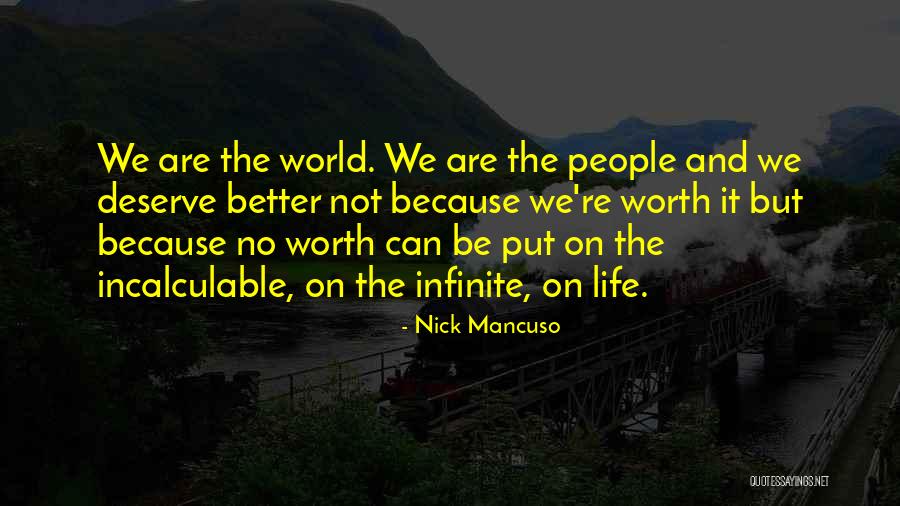 We are the world. We are the people and we deserve better not because we're worth it but because no worth can be put on the incalculable, on the infinite, on life. — Nick Mancuso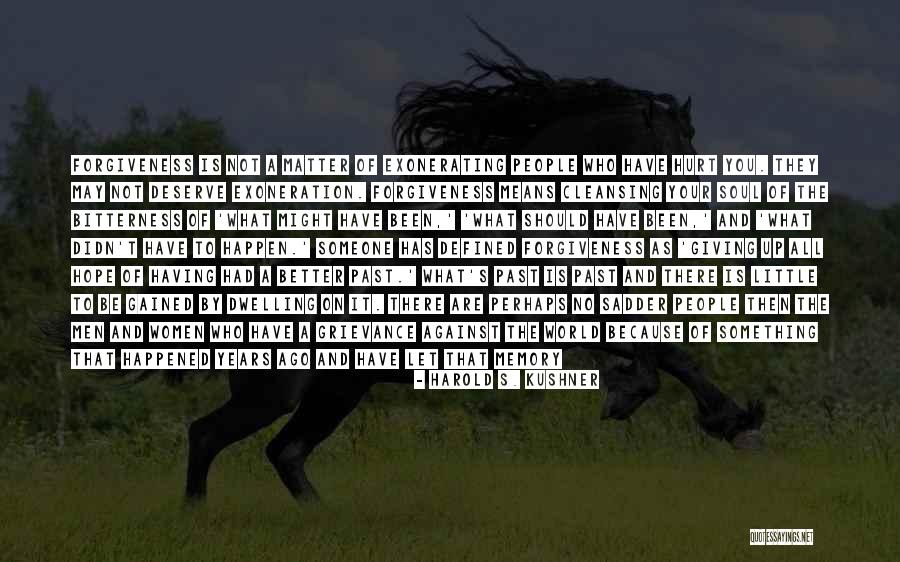 Forgiveness is not a matter of exonerating people who have hurt you. They may not deserve exoneration. Forgiveness means cleansing your soul of the bitterness of 'what might have been,' 'what should have been,' and 'what didn't have to happen.' Someone has defined forgiveness as 'giving up all hope of having had a better past.' What's past is past and there is little to be gained by dwelling on it. There are perhaps no sadder people then the men and women who have a grievance against the world because of something that happened years ago and have let that memory sour their view of life ever since. — Harold S. Kushner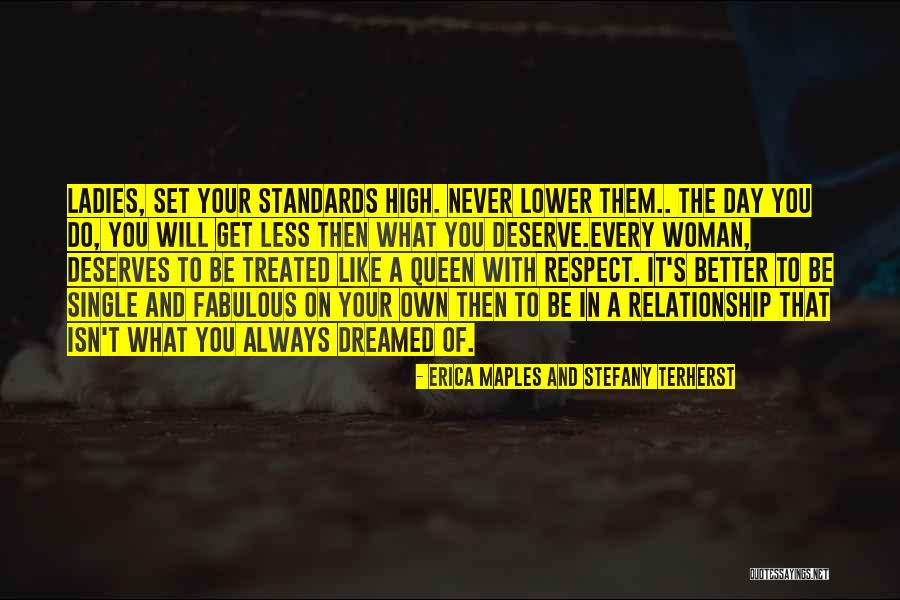 Ladies, set your standards high. Never lower them.. The day you do, you will get less then what you deserve.
Every woman, deserves to be treated like a queen with respect. It's better to be single and fabulous on your own then to be in a relationship that isn't what you always dreamed of. — Erica Maples And Stefany Terherst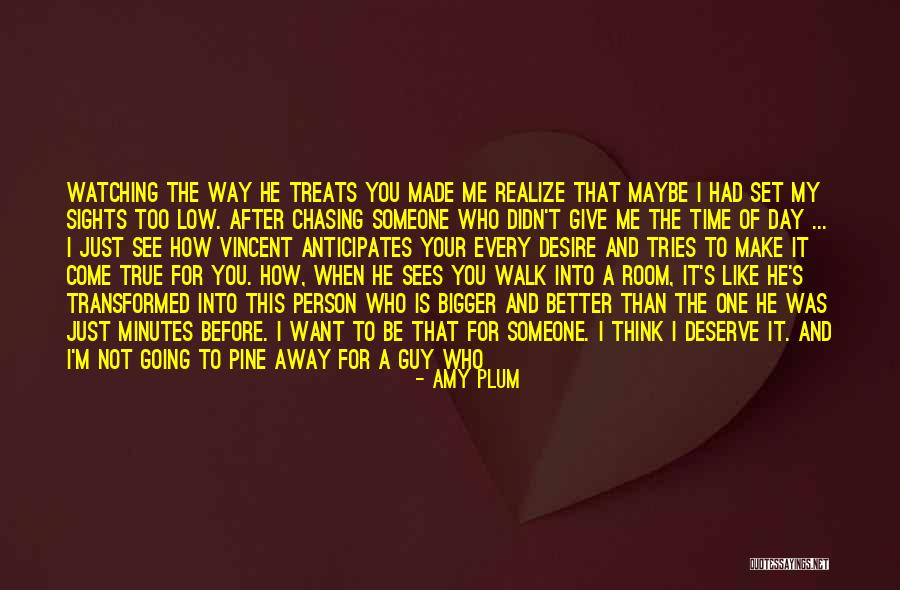 Watching the way he treats you made me realize that maybe I had set my sights too low. After chasing someone who didn't give me the time of day ... I just see how Vincent anticipates your every desire and tries to make it come true for you. How, when he sees you walk into a room, it's like he's transformed into this person who is bigger and better than the one he was just minutes before. I want to be that for someone. I think I deserve it. And I'm not going to pine away for a guy who feels that for someone else. So until my own chivalrous knight shows up, I've decided to live a full life and be happy with my lot. — Amy Plum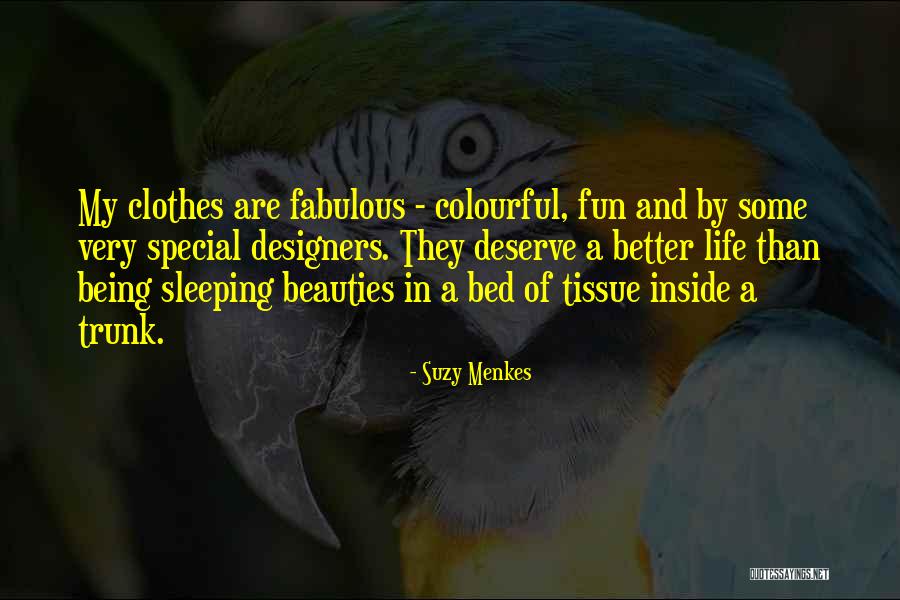 My clothes are fabulous - colourful, fun and by some very special designers. They deserve a better life than being sleeping beauties in a bed of tissue inside a trunk. — Suzy Menkes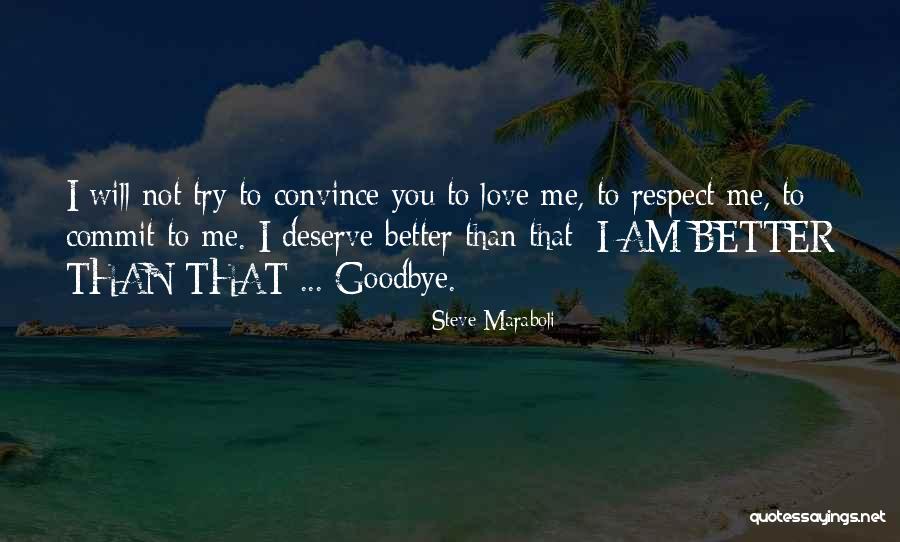 I will not try to convince you to love me, to respect me, to commit to me. I deserve better than that; I AM BETTER THAN THAT ... Goodbye. — Steve Maraboli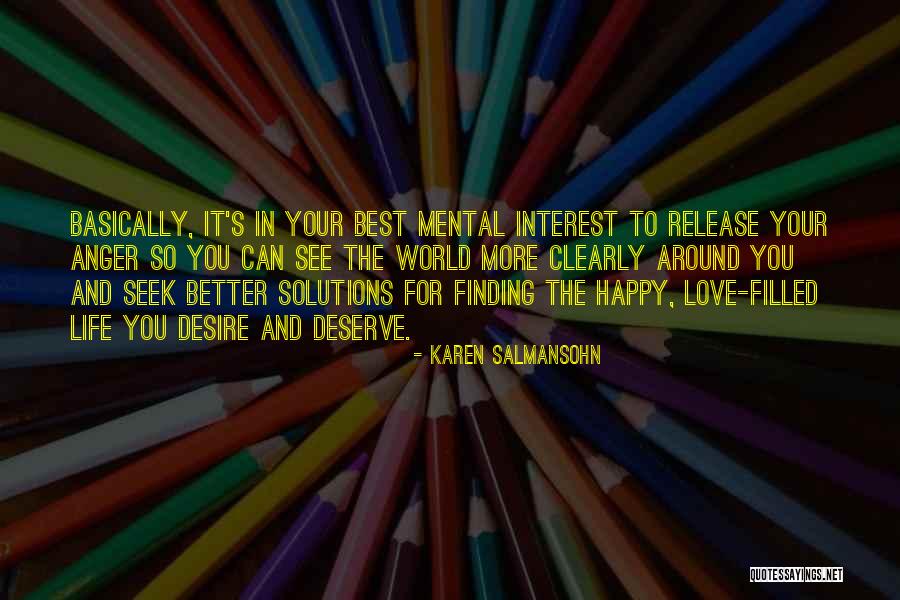 Basically, it's in your best mental interest to release your anger so you can see the world more clearly around you and seek better solutions for finding the happy, love-filled life you desire and deserve. — Karen Salmansohn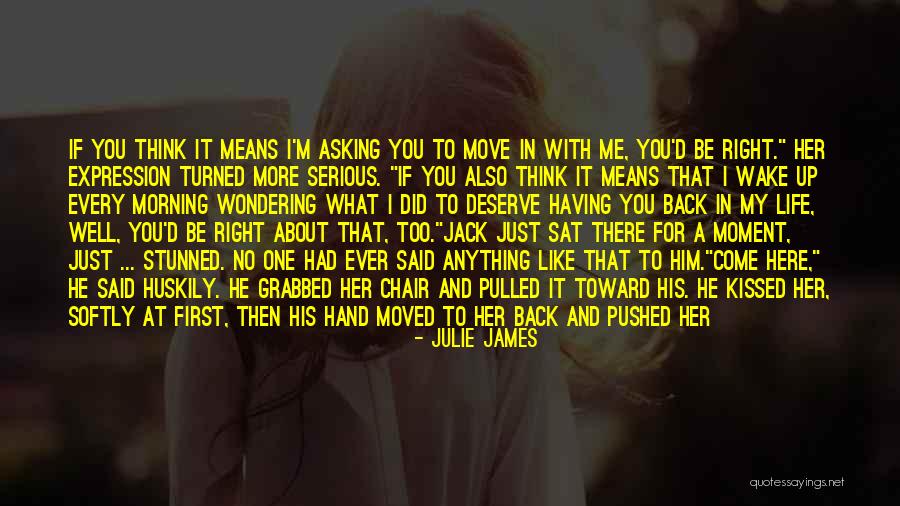 If you think it means I'm asking you to move in with me, you'd be right." Her expression turned more serious. "If you also think it means that I wake up every morning wondering what I did to deserve having you back in my life, well, you'd be right about that, too."
Jack just sat there for a moment, just ... stunned. No one had ever said anything like that to him.
"Come here," he said huskily. He grabbed her chair and pulled it toward his. He kissed her, softly at first, then his hand moved to her back and pushed her close as his emotions got the better of him. He pulled back to hold her gaze. "I love you, Cameron. You know that, right?"
She kissed him back, whispering the words in his ear. "I love you, too. — Julie James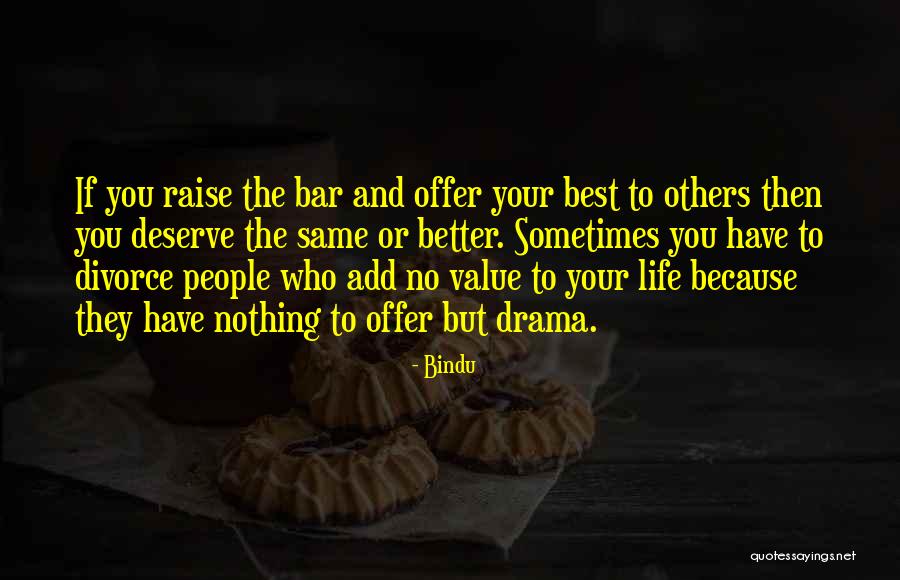 If you raise the bar and offer your best to others then you deserve the same or better. Sometimes you have to divorce people who add no value to your life because they have nothing to offer but drama. — Bindu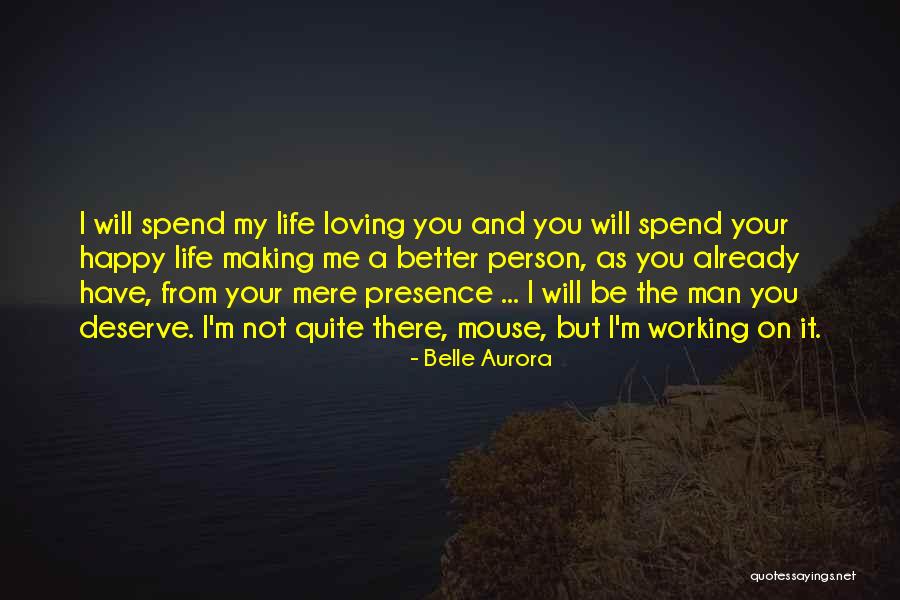 I will spend my life loving you and you will spend your happy life making me a better person, as you already have, from your mere presence ... I will be the man you deserve. I'm not quite there, mouse, but I'm working on it. — Belle Aurora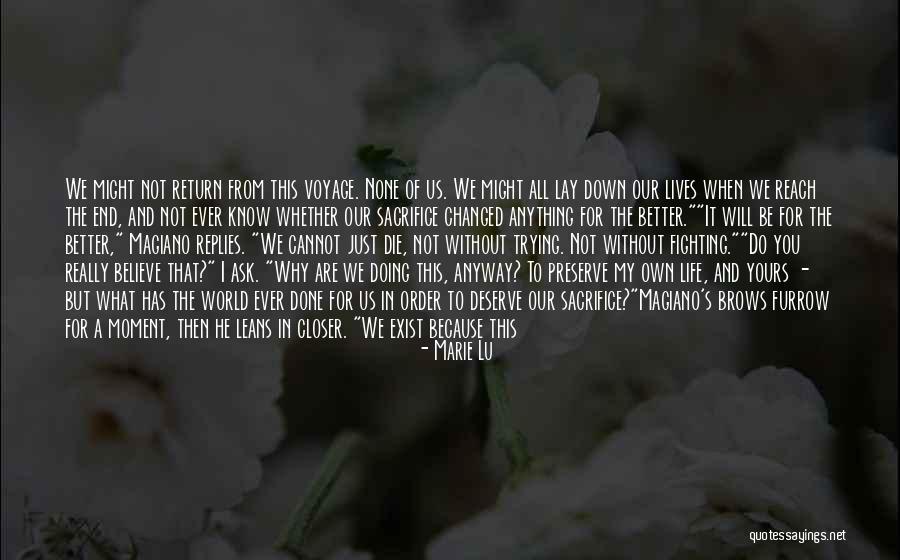 We might not return from this voyage. None of us. We might all lay down our lives when we reach the end, and not ever know whether our sacrifice changed anything for the better."
"It will be for the better," Magiano replies. "We cannot just die, not without trying. Not without fighting."
"Do you really believe that?" I ask. "Why are we doing this, anyway? To preserve my own life, and yours - but what has the world ever done for us in order to deserve our sacrifice?"
Magiano's brows furrow for a moment, then he leans in closer. "We exist because this world exists. It's a responsibility of ours, whether or not anyone will remember it." He nods at me. "And they will. Because we will return and make sure of it. — Marie Lu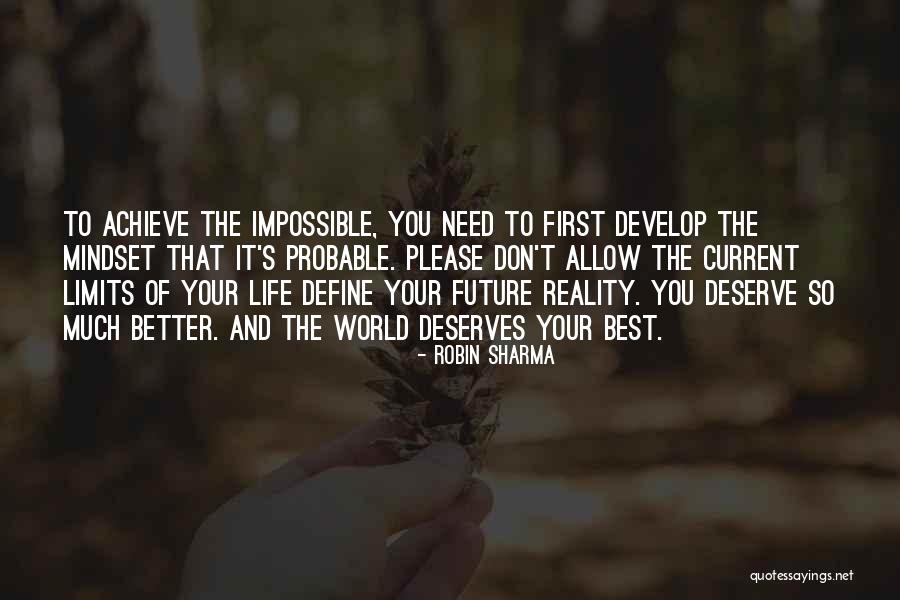 To achieve the impossible, you need to first develop the mindset that it's probable. Please don't allow the current limits of your life define your future reality. You deserve so much better. And the world deserves your best. — Robin Sharma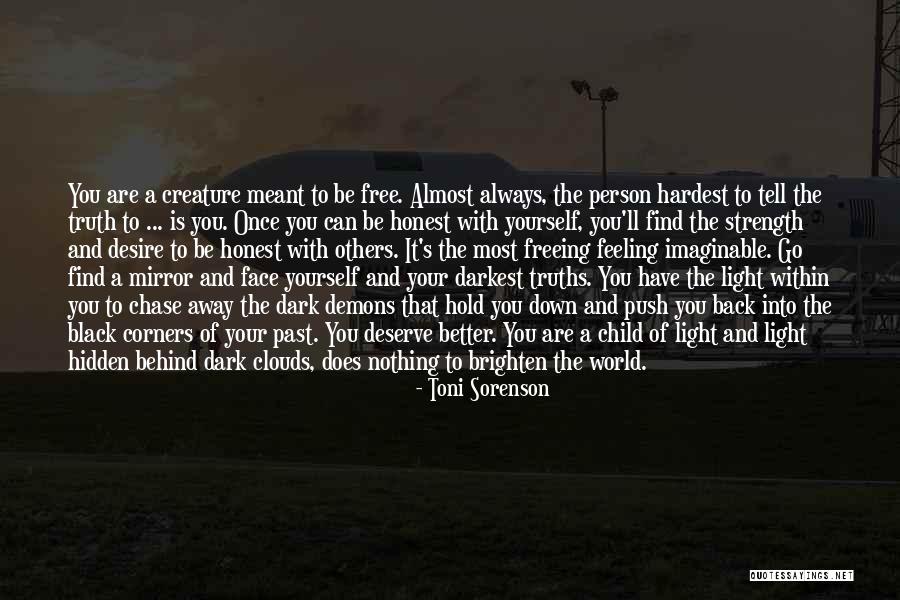 You are a creature meant to be free. Almost always, the person hardest to tell the truth to ... is you. Once you can be honest with yourself, you'll find the strength and desire to be honest with others. It's the most freeing feeling imaginable. Go find a mirror and face yourself and your darkest truths. You have the light within you to chase away the dark demons that hold you down and push you back into the black corners of your past. You deserve better. You are a child of light and light hidden behind dark clouds, does nothing to brighten the world. — Toni Sorenson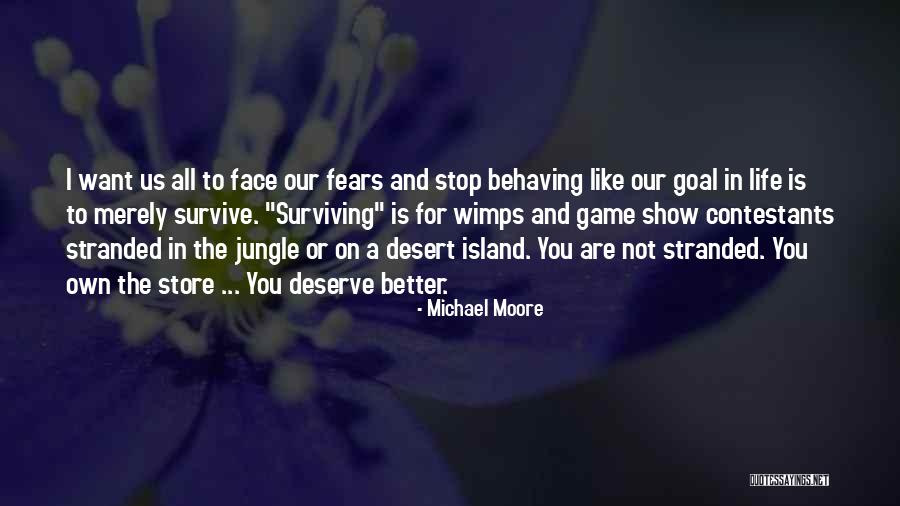 I want us all to face our fears and stop behaving like our goal in life is to merely survive. "Surviving" is for wimps and game show contestants stranded in the jungle or on a desert island. You are not stranded. You own the store ... You deserve better. — Michael Moore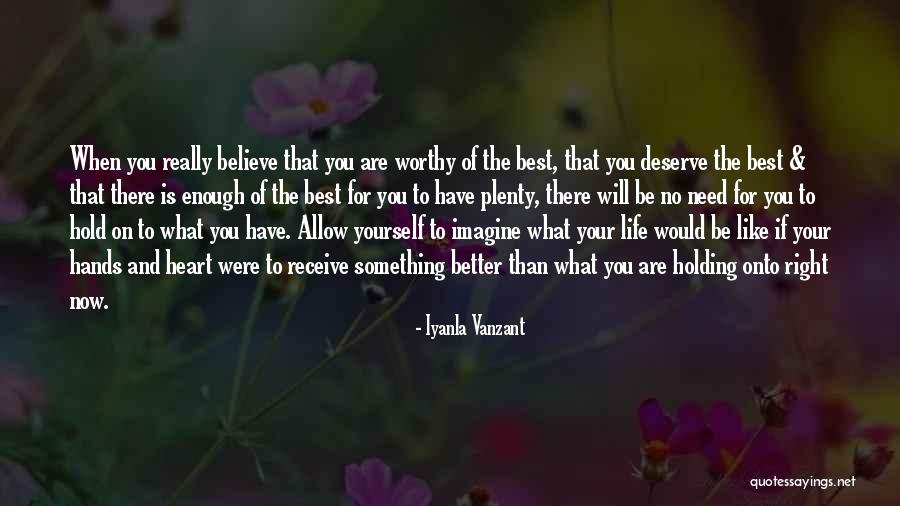 When you really believe that you are worthy of the best, that you deserve the best & that there is enough of the best for you to have plenty, there will be no need for you to hold on to what you have. Allow yourself to imagine what your life would be like if your hands and heart were to receive something better than what you are holding onto right now. — Iyanla Vanzant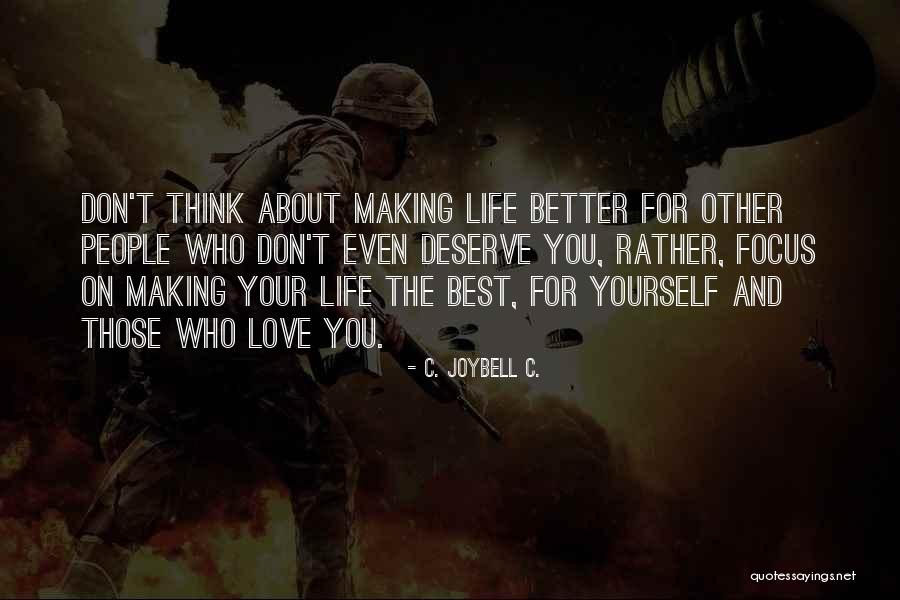 Don't think about making life better for other people who don't even deserve you, rather, focus on making your life the best, for yourself and those who love you. — C. JoyBell C.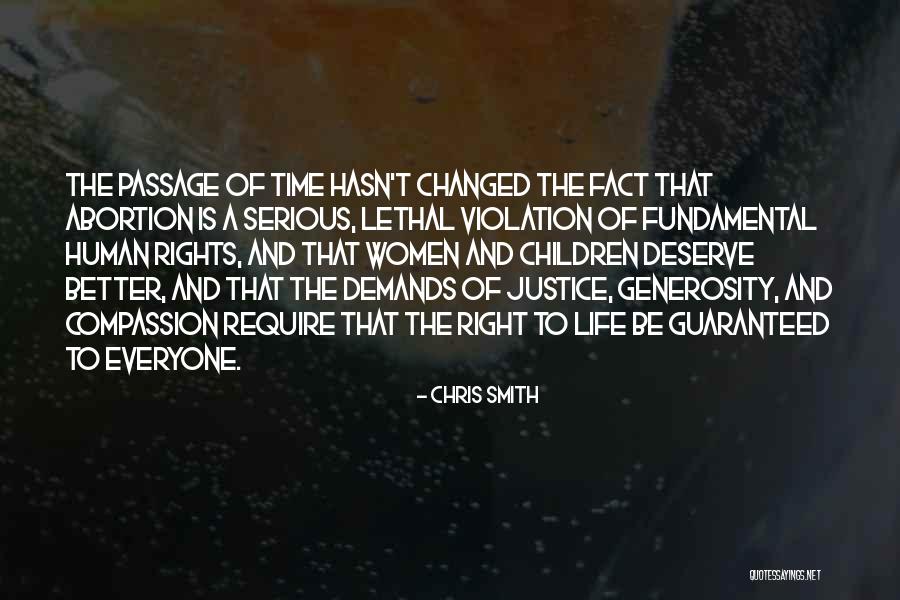 The passage of time hasn't changed the fact that abortion is a serious, lethal violation of fundamental human rights, and that women and children deserve better, and that the demands of justice, generosity, and compassion require that the right to life be guaranteed to everyone. — Chris Smith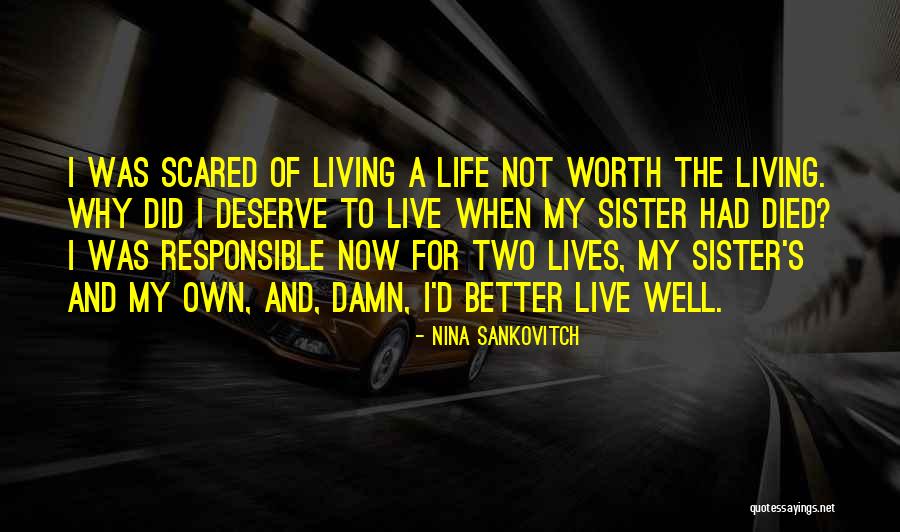 I was scared of living a life not worth the living. Why did I deserve to live when my sister had died? I was responsible now for two lives, my sister's and my own, and, damn, I'd better live well. — Nina Sankovitch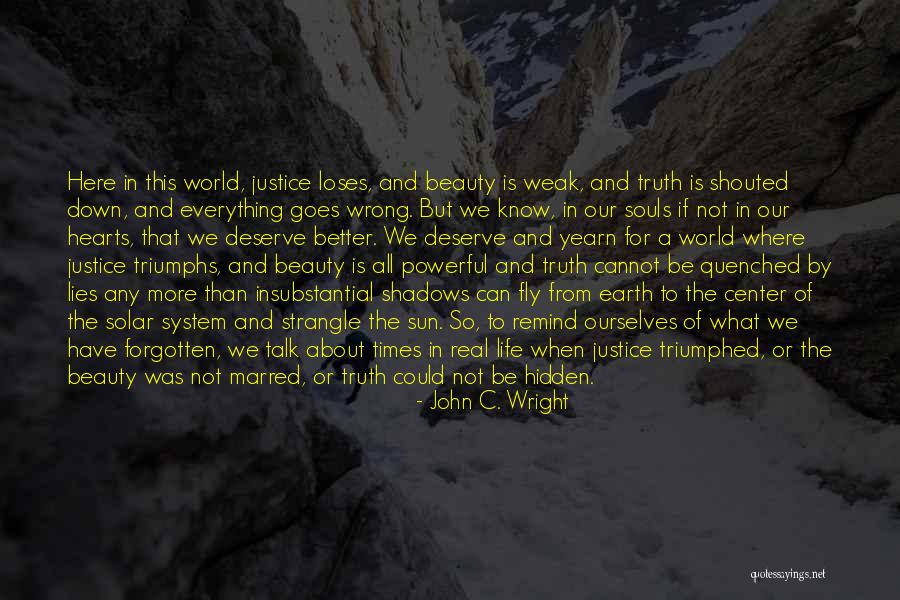 Here in this world, justice loses, and beauty is weak, and truth is shouted down, and everything goes wrong. But we know, in our souls if not in our hearts, that we deserve better. We deserve and yearn for a world where justice triumphs, and beauty is all powerful and truth cannot be quenched by lies any more than insubstantial shadows can fly from earth to the center of the solar system and strangle the sun. So, to remind ourselves of what we have forgotten, we talk about times in real life when justice triumphed, or the beauty was not marred, or truth could not be hidden. — John C. Wright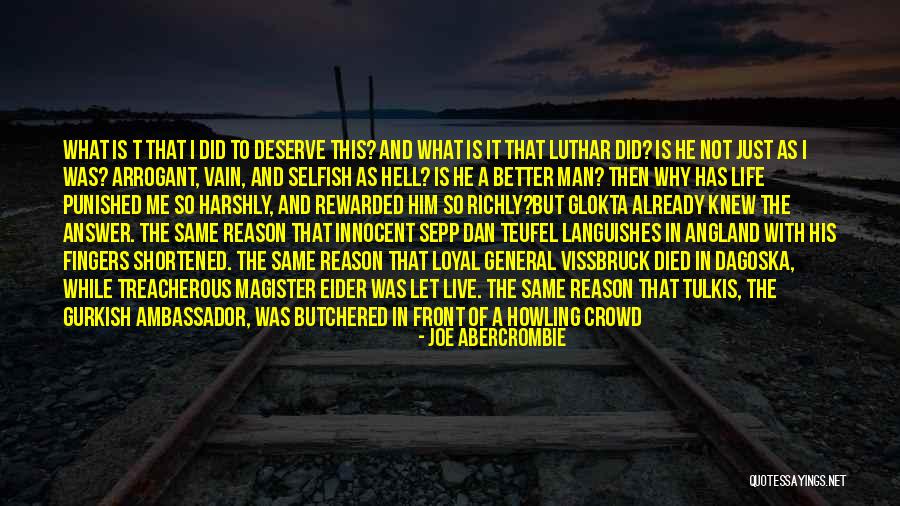 What is t that I did to deserve this? And what is it that Luthar did? Is he not just as I was? Arrogant, vain, and selfish as hell? Is he a better man? Then why has life punished me so harshly, and rewarded him so richly?
But Glokta already knew the answer. The same reason that innocent Sepp dan Teufel languishes in Angland with his fingers shortened. The same reason that loyal General Vissbruck died in Dagoska, while treacherous Magister Eider was let live. The same reason that Tulkis, the Gurkish Ambassador, was butchered in front of a howling crowd for a crime he did not commit.
He pressed his tongue into one of his few remaining teeth. Life is not fair. — Joe Abercrombie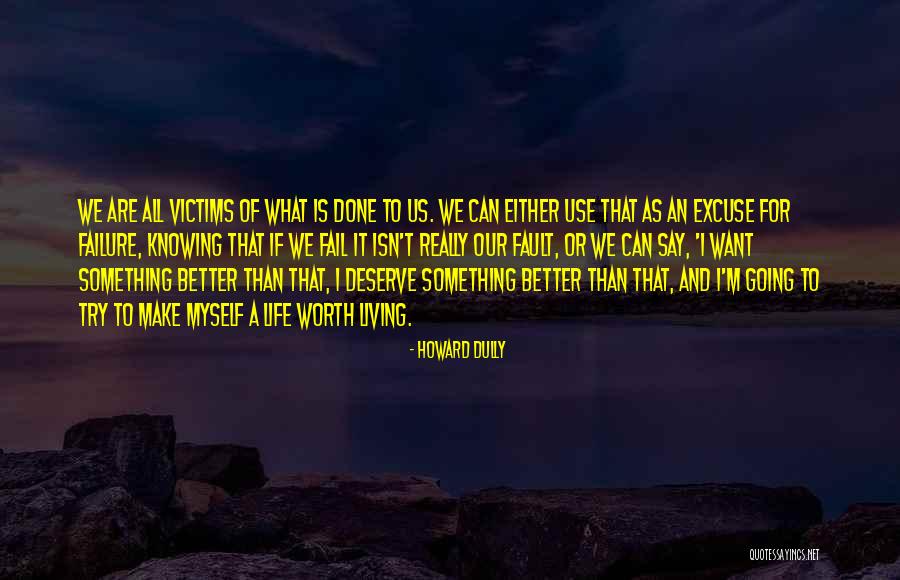 We are all victims of what is done to us. We can either use that as an excuse for failure, knowing that if we fail it isn't really our fault, or we can say, 'I want something better than that, I deserve something better than that, and i'm going to try to make myself a life worth living. — Howard Dully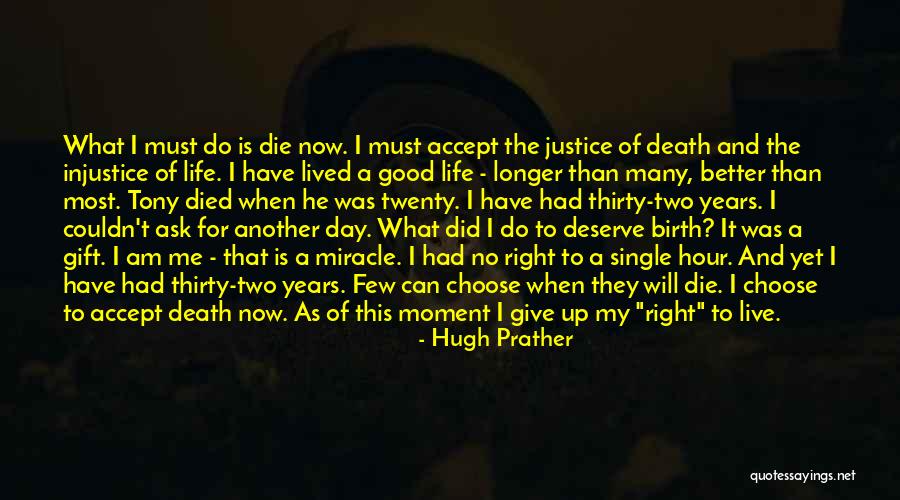 What I must do is die now. I must accept the justice of death and the injustice of life. I have lived a good life - longer than many, better than most. Tony died when he was twenty. I have had thirty-two years. I couldn't ask for another day. What did I do to deserve birth? It was a gift. I am me - that is a miracle. I had no right to a single hour. And yet I have had thirty-two years. Few can choose when they will die. I choose to accept death now. As of this moment I give up my "right" to live. — Hugh Prather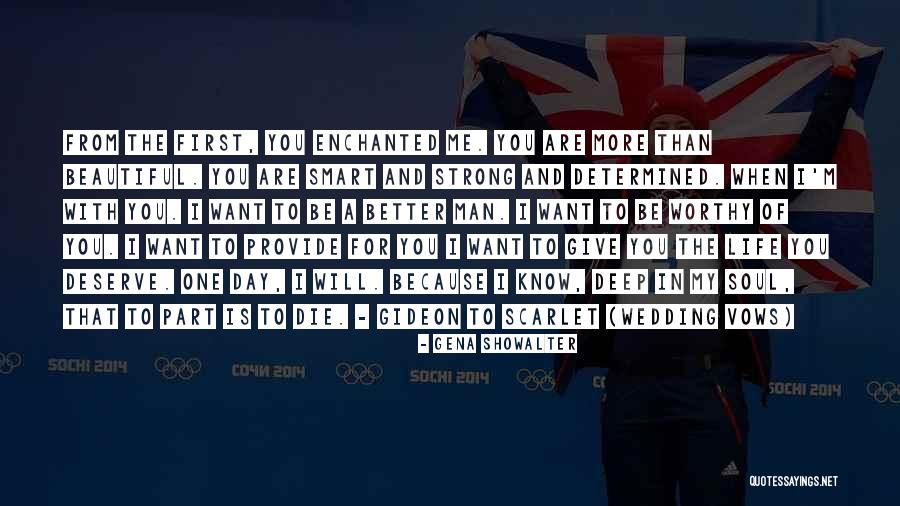 From the first, you enchanted me. You are more than beautiful. You are smart and strong and determined. When I'm with you. I want to be a better man. I want to be worthy of you. I want to provide for you I want to give you the life you deserve. One day, I will. Because I know, deep in my soul, that to part is to die. - Gideon to Scarlet (wedding vows) — Gena Showalter