Cross The Finish Line Quotes & Sayings
Enjoy reading and share 30 famous quotes about Cross The Finish Line with everyone.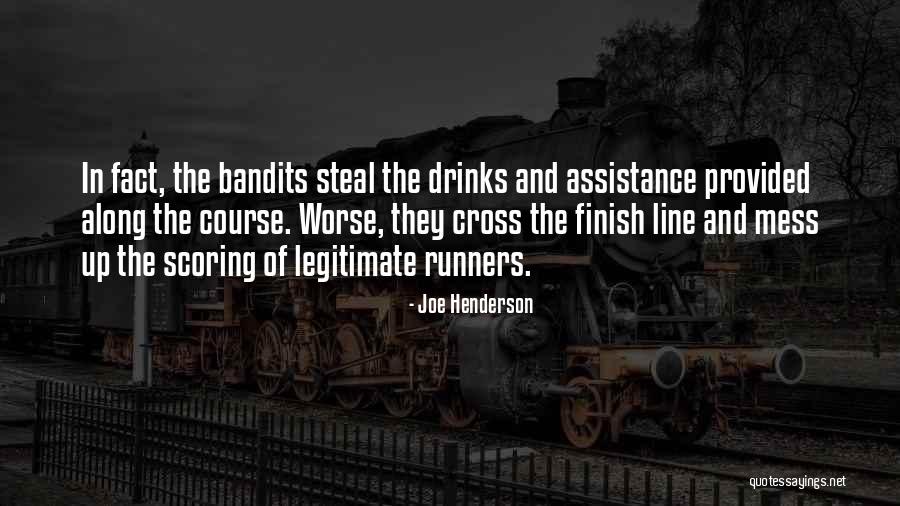 In fact, the bandits steal the drinks and assistance provided along the course. Worse, they cross the finish line and mess up the scoring of legitimate runners. — Joe Henderson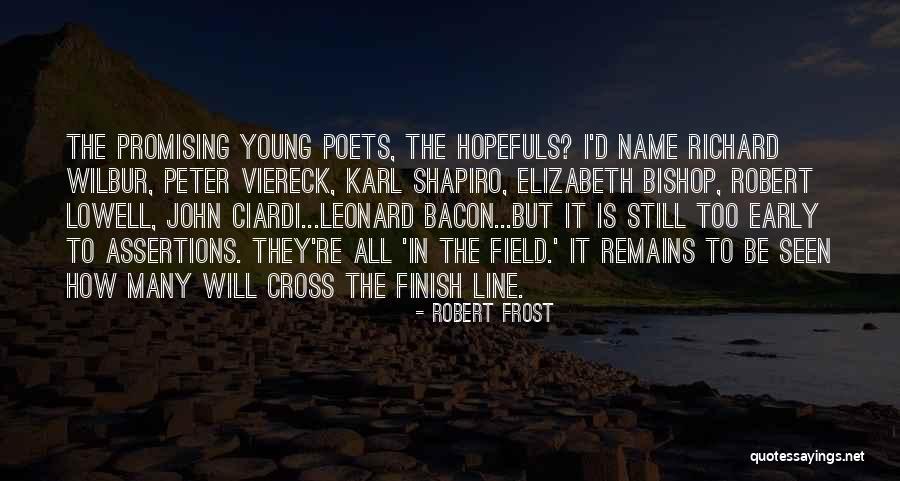 The promising young poets, the hopefuls? I'd name Richard Wilbur, Peter Viereck, Karl Shapiro, Elizabeth Bishop, Robert Lowell, John Ciardi...Leonard Bacon...but it is still too early to assertions. They're all 'in the field.' It remains to be seen how many will cross the finish line. — Robert Frost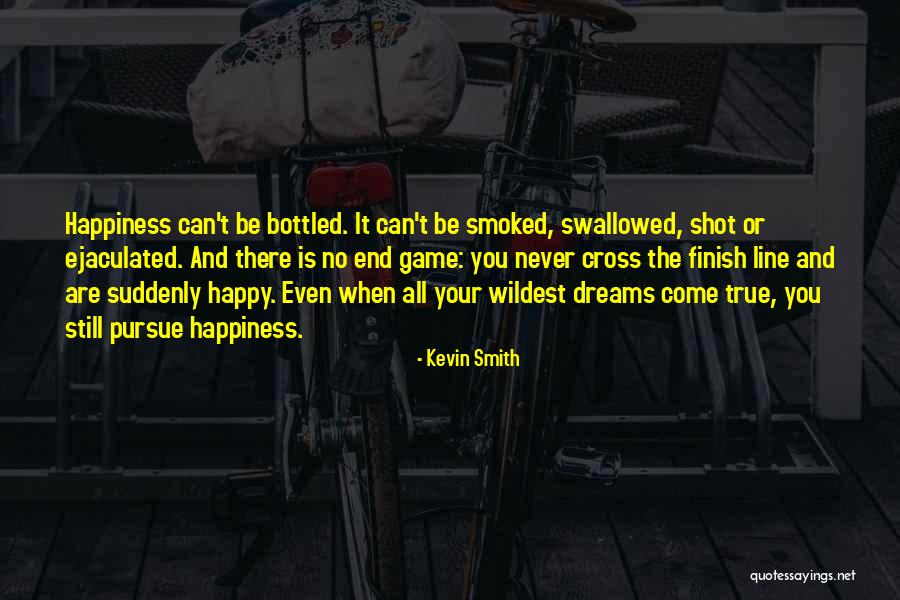 Happiness can't be bottled. It can't be smoked, swallowed, shot or ejaculated. And there is no end game: you never cross the finish line and are suddenly happy. Even when all your wildest dreams come true, you still pursue happiness. — Kevin Smith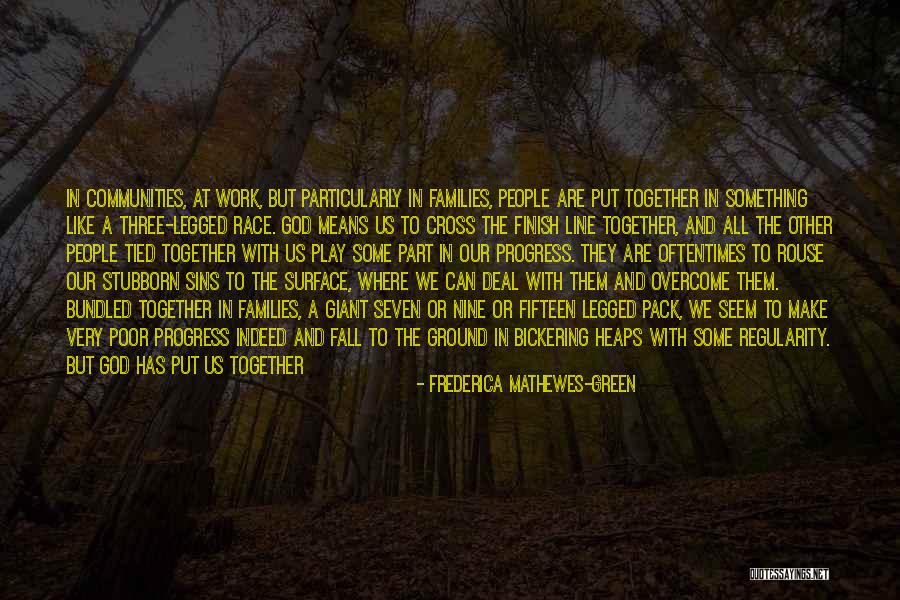 In communities, at work, but particularly in families, people are put together in something like a three-legged race. God means us to cross the finish line together, and all the other people tied together with us play some part in our progress. They are oftentimes to rouse our stubborn sins to the surface, where we can deal with them and overcome them. Bundled together in families, a giant seven or nine or fifteen legged pack, we seem to make very poor progress indeed and fall to the ground in bickering heaps with some regularity. But God has put us together - has appointed each person in your bundle specifically for you, and you for them. And so, 'little children, let us love one another' with might and main, and keep hopping together toward the finish line. — Frederica Mathewes-Green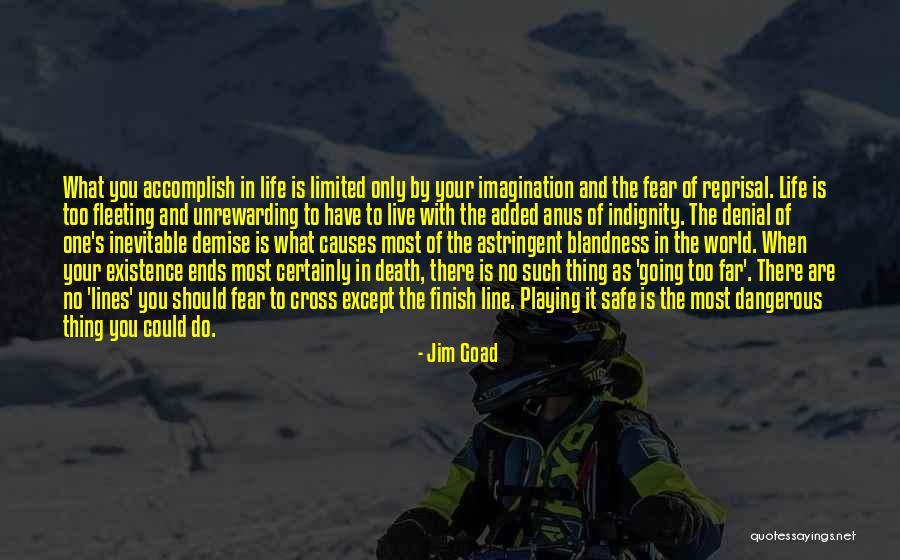 What you accomplish in life is limited only by your imagination and the fear of reprisal. Life is too fleeting and unrewarding to have to live with the added anus of indignity. The denial of one's inevitable demise is what causes most of the astringent blandness in the world. When your existence ends most certainly in death, there is no such thing as 'going too far'. There are no 'lines' you should fear to cross except the finish line. Playing it safe is the most dangerous thing you could do. — Jim Goad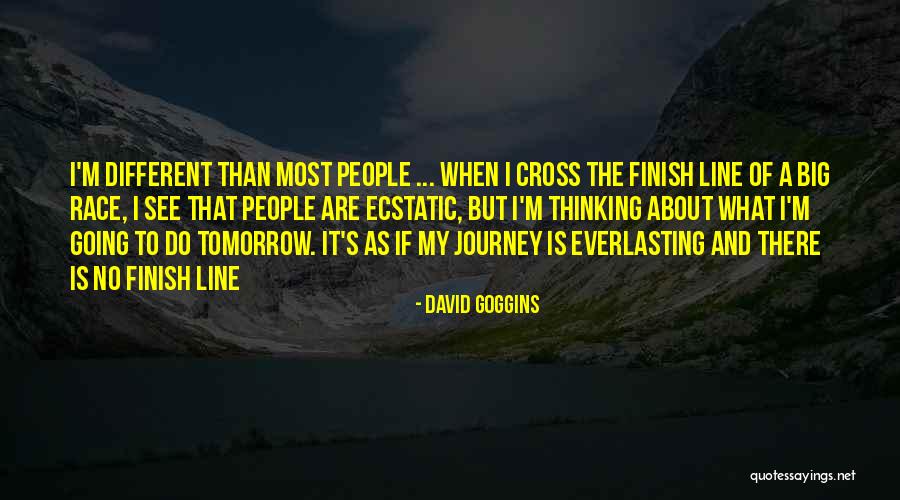 I'm different than most people ... when I cross the finish line of a big race, I see that people are ecstatic, but I'm thinking about what I'm going to do tomorrow. It's as If my Journey is everlasting and there is no finish line — David Goggins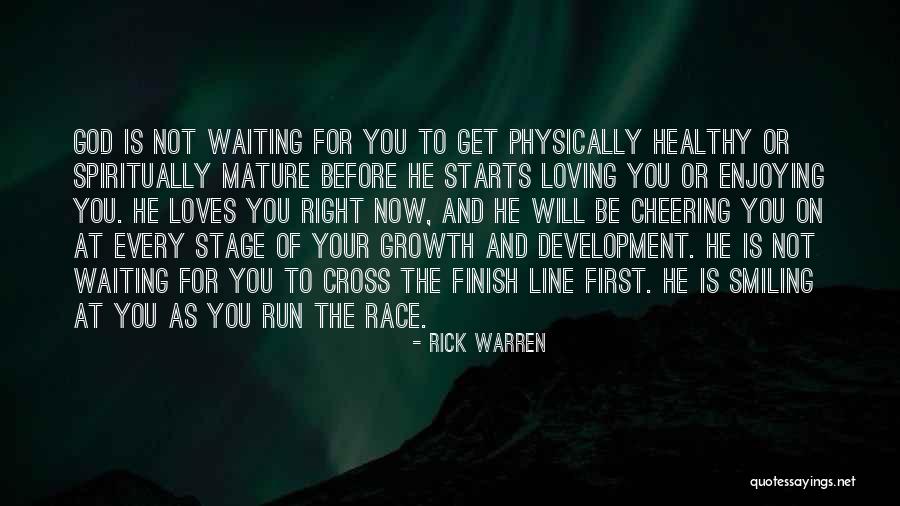 God is not waiting for you to get physically healthy or spiritually mature before he starts loving you or enjoying you. He loves you right now, and he will be cheering you on at every stage of your growth and development. He is not waiting for you to cross the finish line first. He is smiling at you as you run the race. — Rick Warren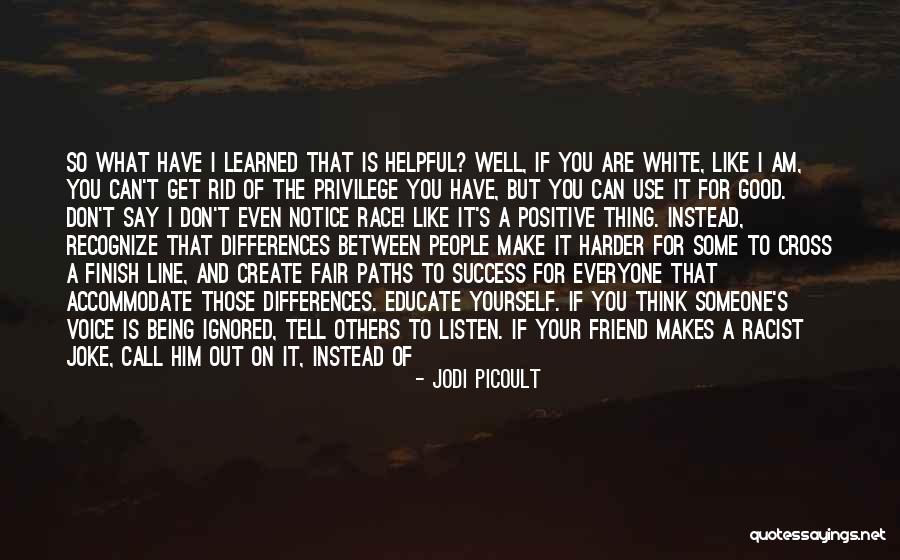 So what have I learned that is helpful? Well, if you are white, like I am, you can't get rid of the privilege you have, but you can use it for good. Don't say I don't even notice race! like it's a positive thing. Instead, recognize that differences between people make it harder for some to cross a finish line, and create fair paths to success for everyone that accommodate those differences. Educate yourself. If you think someone's voice is being ignored, tell others to listen. If your friend makes a racist joke, call him out on it, instead of just going along with it. If the two former skinheads I met can have such a complete change of heart, I feel confident that ordinary people can, too. — Jodi Picoult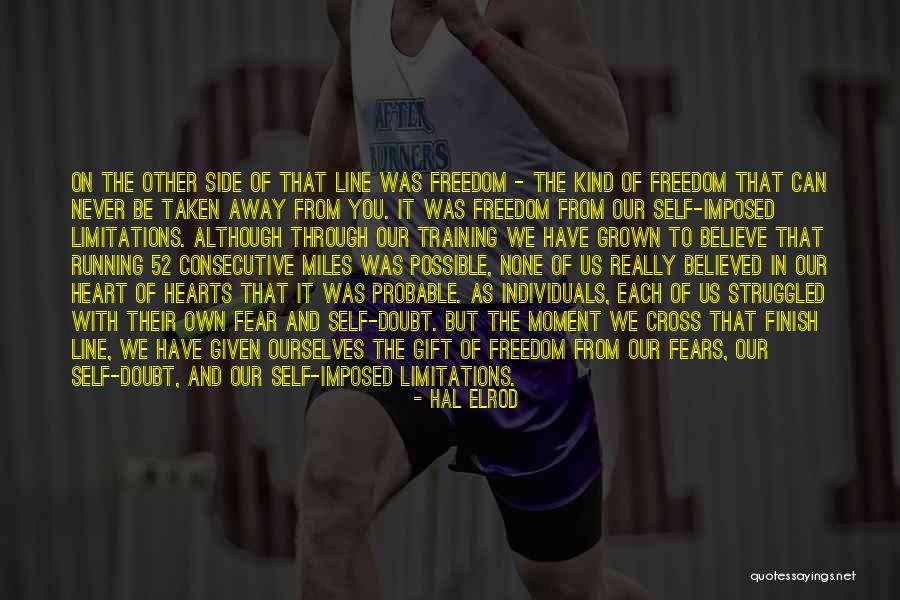 On the other side of that line was freedom - the kind of freedom that can never be taken away from you. It was freedom from our self-imposed limitations. Although through our training we have grown to believe that running 52 consecutive miles was possible, none of us really believed in our heart of hearts that it was probable. As individuals, each of us struggled with their own fear and self-doubt. But the moment we cross that finish line, we have given ourselves the gift of freedom from our fears, our self-doubt, and our self-imposed limitations. — Hal Elrod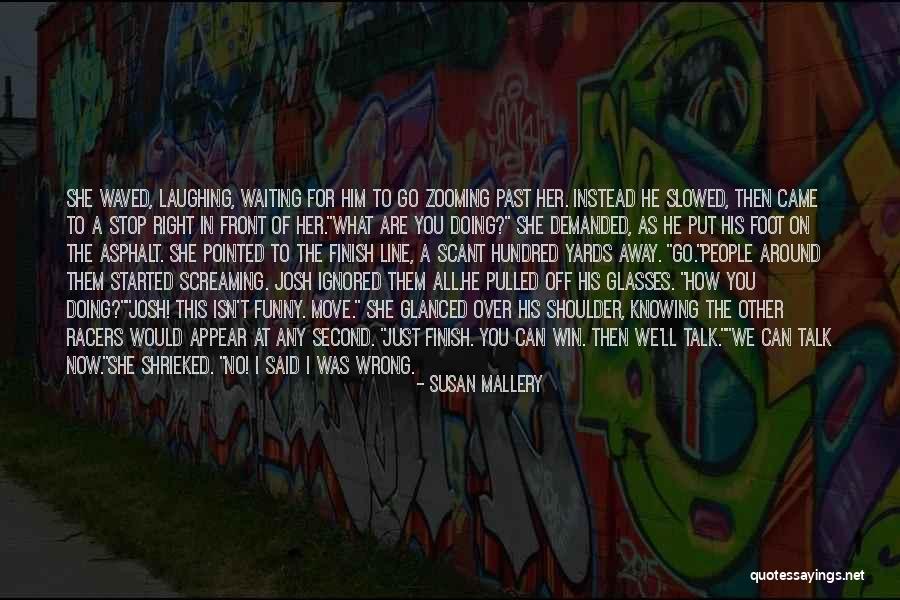 She waved, laughing, waiting for him to go zooming past her. Instead he slowed, then came to a stop right in front of her.
"What are you doing?" she demanded, as he put his foot on the asphalt. She pointed to the finish line, a scant hundred yards away. "Go."
People around them started screaming. Josh ignored them all.
He pulled off his glasses. "How you doing?"
"Josh! This isn't funny. Move." She glanced over his shoulder, knowing the other racers would appear at any second. "Just finish. You can win. Then we'll talk."
"We can talk now."
She shrieked. "No! I said I was wrong. I said I loved you. What more do you want?"
"You," he said. "For always."
"Yes, yes. You can have that. Now go. Cross the finish line. It's right there. Can't see it? Hurry."
"You'll marry me?"
The man next to her turned. "For God's sake, lady. Marry him already. — Susan Mallery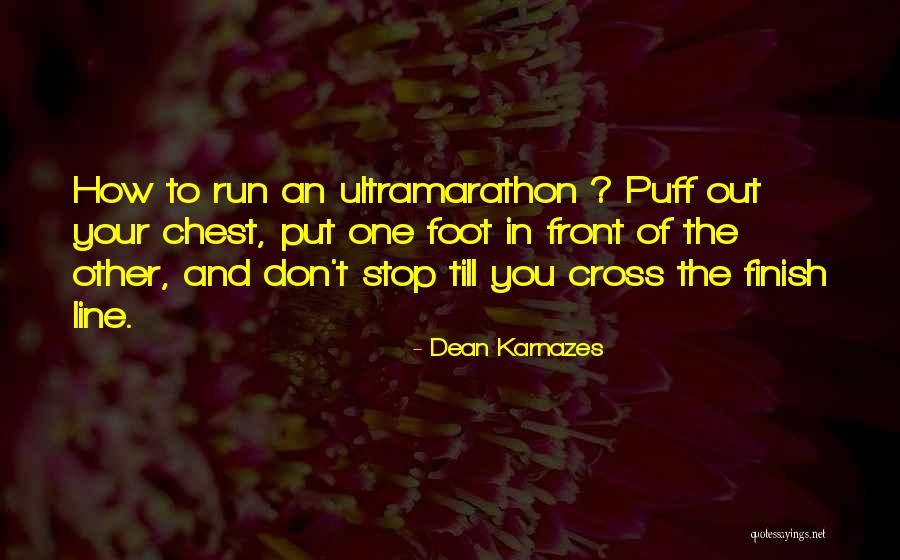 How to run an ultramarathon ? Puff out your chest, put one foot in front of the other, and don't stop till you cross the finish line. — Dean Karnazes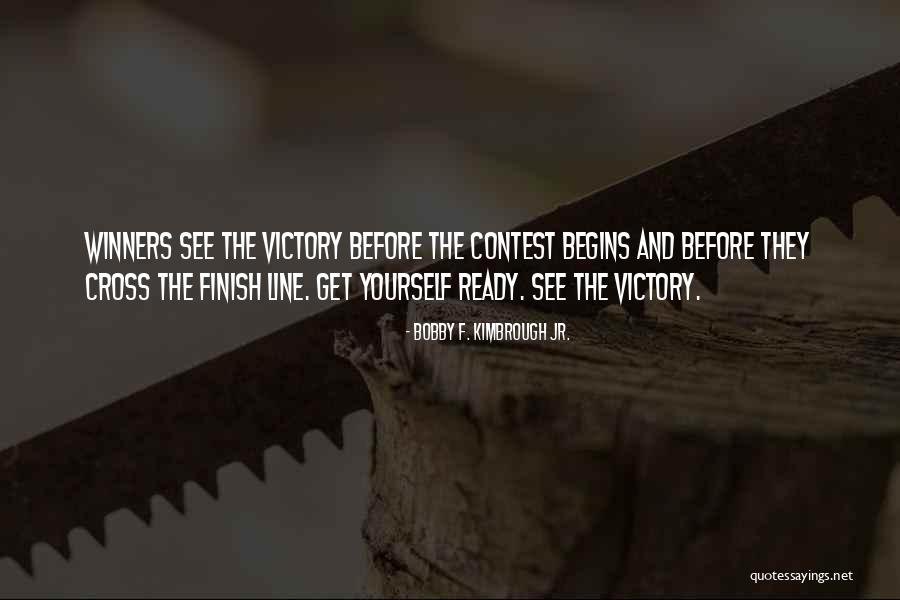 Winners see the victory before the contest begins and before they cross the finish line. Get yourself ready. SEE THE VICTORY. — Bobby F. Kimbrough Jr.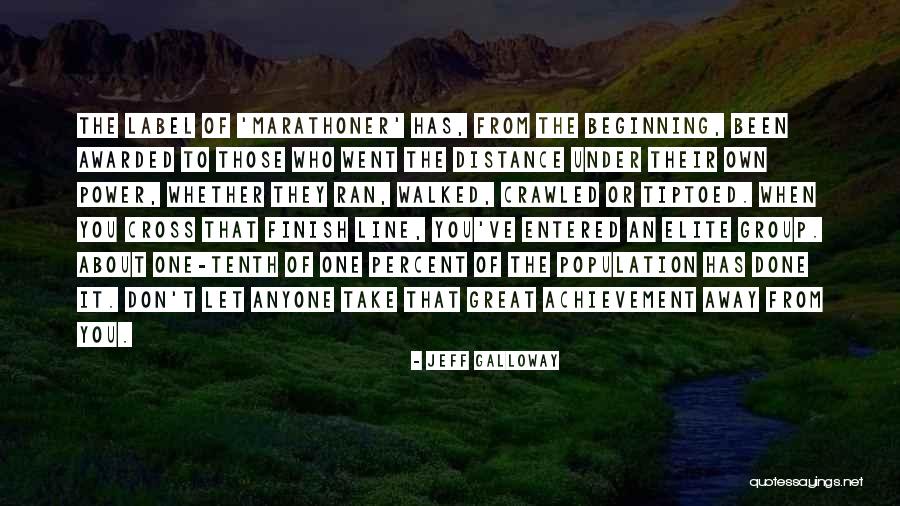 The label of 'marathoner' has, from the beginning, been awarded to those who went the distance under their own power, whether they ran, walked, crawled or tiptoed. When you cross that finish line, you've entered an elite group. About one-tenth of one percent of the population has done it. Don't let anyone take that great achievement away from you. — Jeff Galloway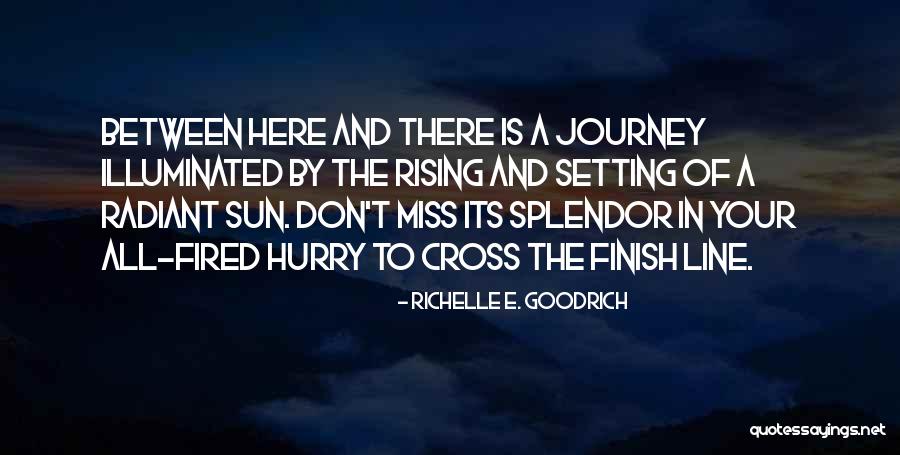 Between here and there is a journey illuminated by the rising and setting of a radiant sun. Don't miss its splendor in your all-fired hurry to cross the finish line. — Richelle E. Goodrich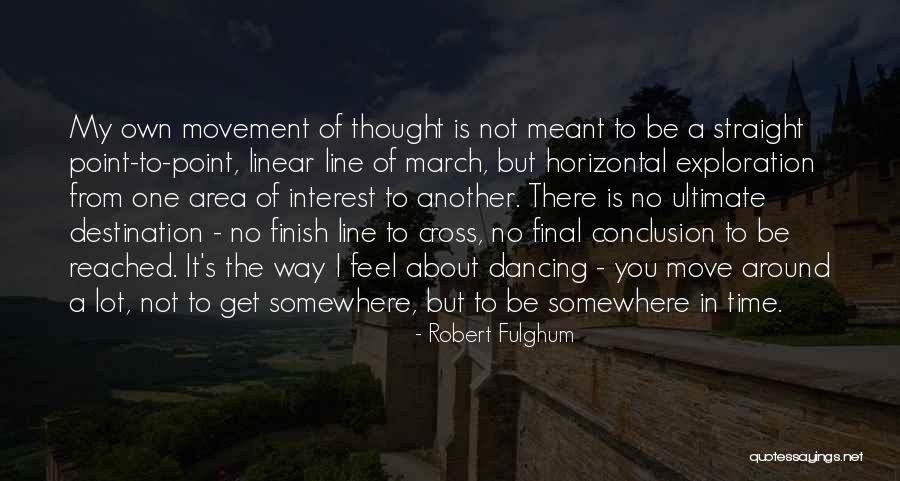 My own movement of thought is not meant to be a straight point-to-point, linear line of march, but horizontal exploration from one area of interest to another. There is no ultimate destination - no finish line to cross, no final conclusion to be reached. It's the way I feel about dancing - you move around a lot, not to get somewhere, but to be somewhere in time. — Robert Fulghum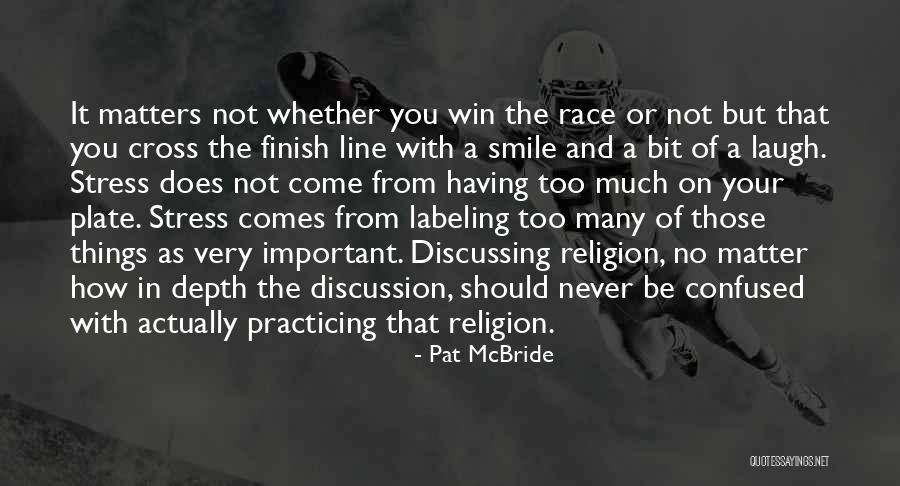 It matters not whether you win the race or not but that you cross the finish line with a smile and a bit of a laugh. Stress does not come from having too much on your plate. Stress comes from labeling too many of those things as very important. Discussing religion, no matter how in depth the discussion, should never be confused with actually practicing that religion. — Pat McBride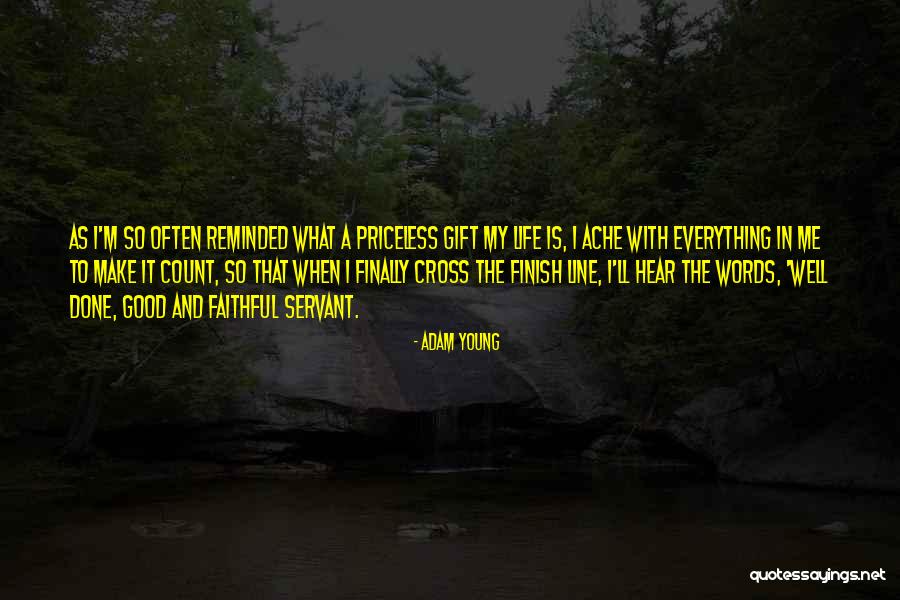 As I'm so often reminded what a priceless gift my life is, I ache with everything in me to make it count, so that when I finally cross the finish line, I'll hear the words, 'Well done, good and faithful servant. — Adam Young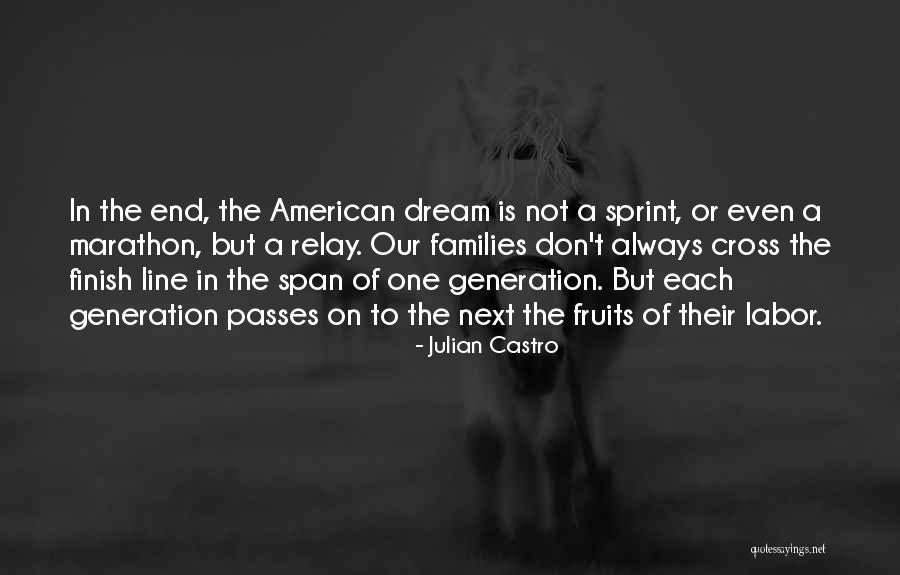 In the end, the American dream is not a sprint, or even a marathon, but a relay. Our families don't always cross the finish line in the span of one generation. But each generation passes on to the next the fruits of their labor. — Julian Castro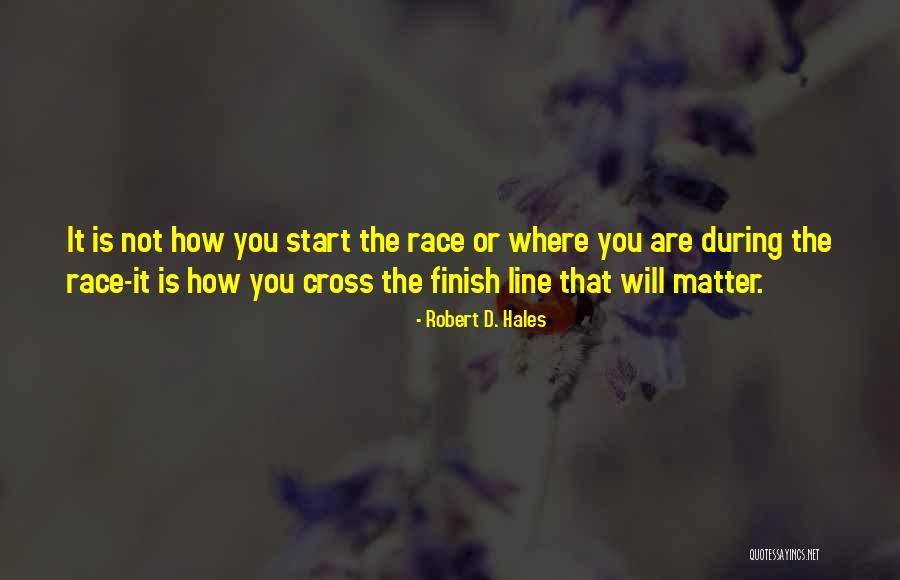 It is not how you start the race or where you are during the race-it is how you cross the finish line that will matter. — Robert D. Hales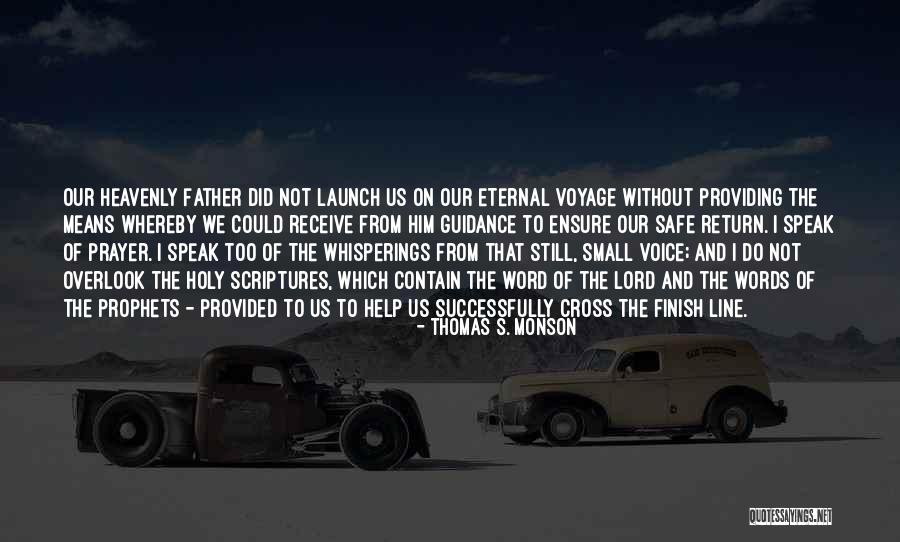 Our Heavenly Father did not launch us on our eternal voyage without providing the means whereby we could receive from Him guidance to ensure our safe return. I speak of prayer. I speak too of the whisperings from that still, small voice; and I do not overlook the holy scriptures, which contain the word of the Lord and the words of the prophets - provided to us to help us successfully cross the finish line. — Thomas S. Monson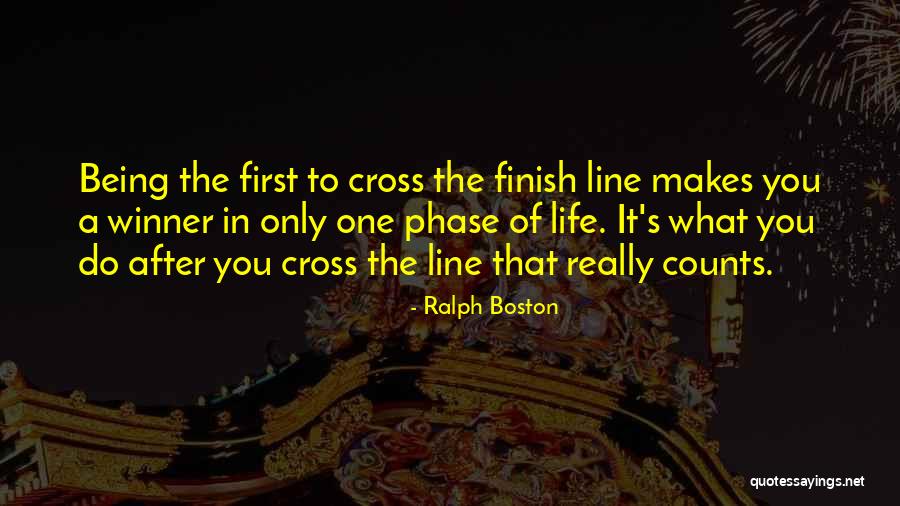 Being the first to cross the finish line makes you a winner in only one phase of life. It's what you do after you cross the line that really counts. — Ralph Boston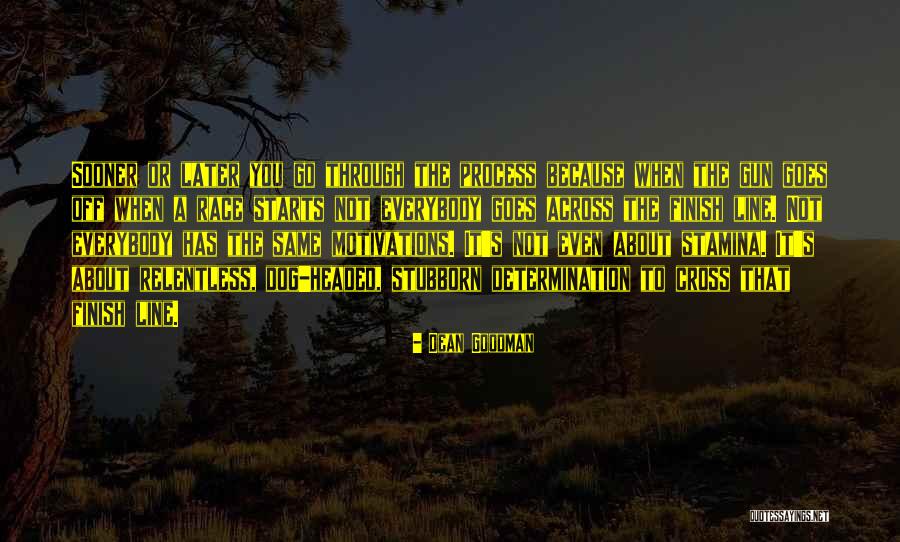 Sooner or later you go through the process because when the gun goes off when a race starts not everybody goes across the finish line. Not everybody has the same motivations. It's not even about stamina. It's about relentless, dog-headed, stubborn determination to cross that finish line. — Dean Goodman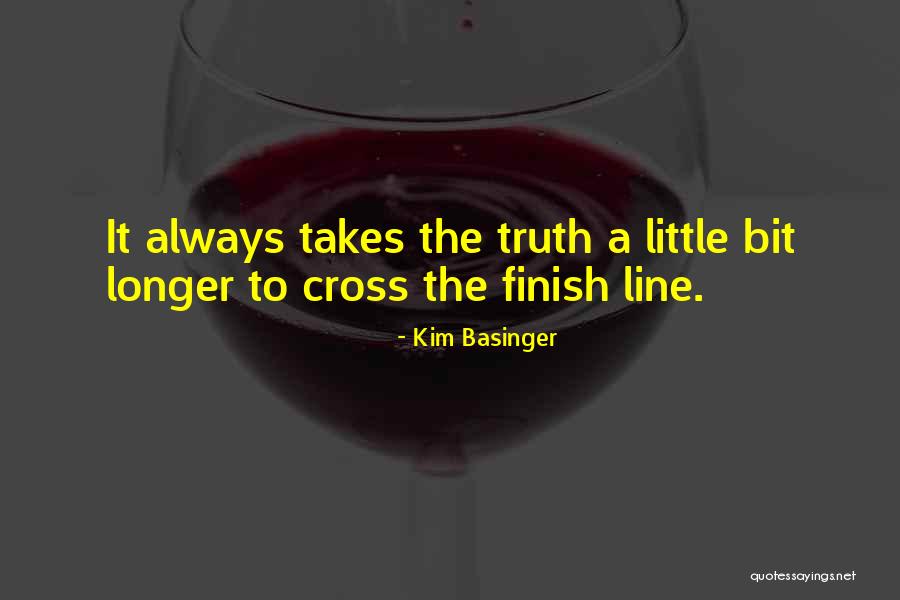 It always takes the truth a little bit longer to cross the finish line. — Kim Basinger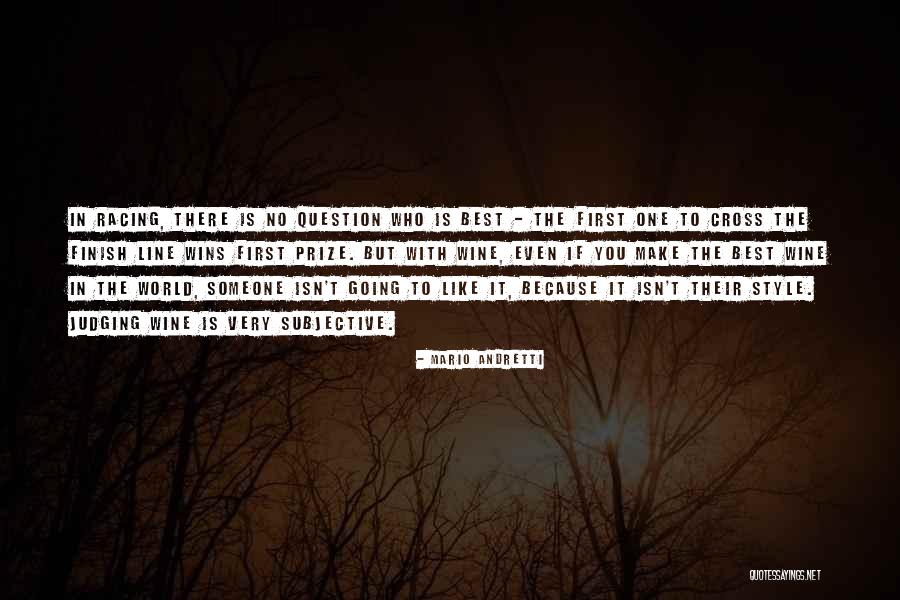 In racing, there is no question who is best - the first one to cross the finish line wins first prize. But with wine, even if you make the best wine in the world, someone isn't going to like it, because it isn't their style. Judging wine is very subjective. — Mario Andretti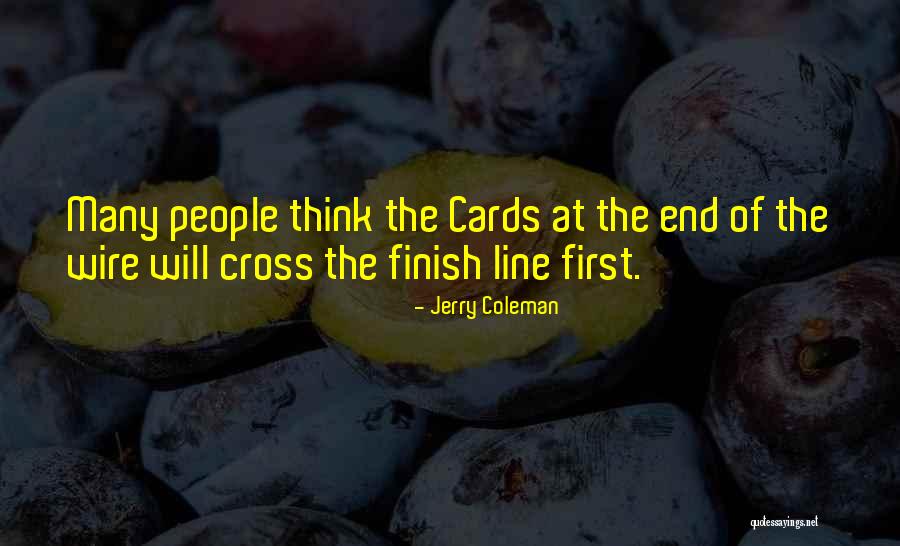 Many people think the Cards at the end of the wire will cross the finish line first. — Jerry Coleman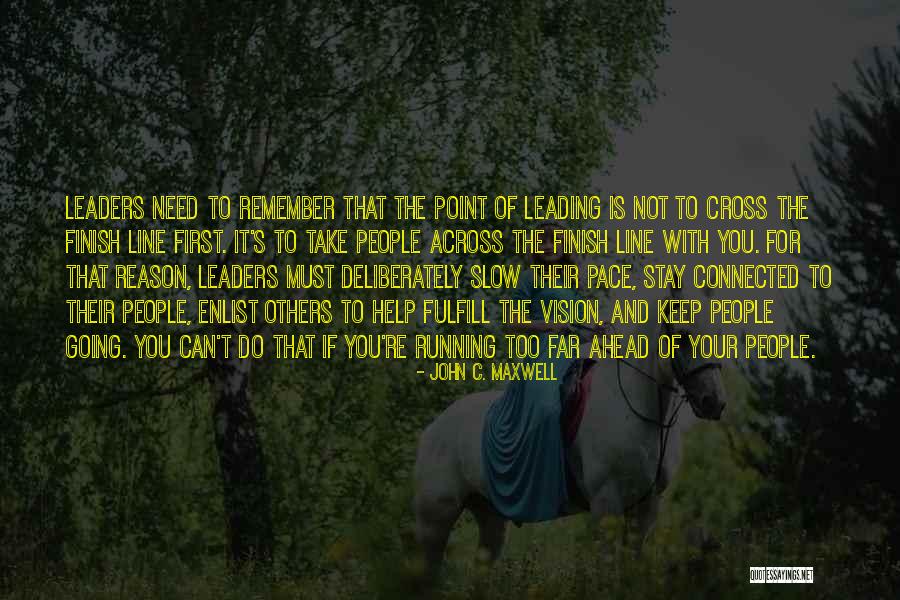 Leaders need to remember that the point of leading is not to cross the finish line first. It's to take people across the finish line with you. For that reason, leaders must deliberately slow their pace, stay connected to their people, enlist others to help fulfill the vision, and keep people going. You can't do that if you're running too far ahead of your people. — John C. Maxwell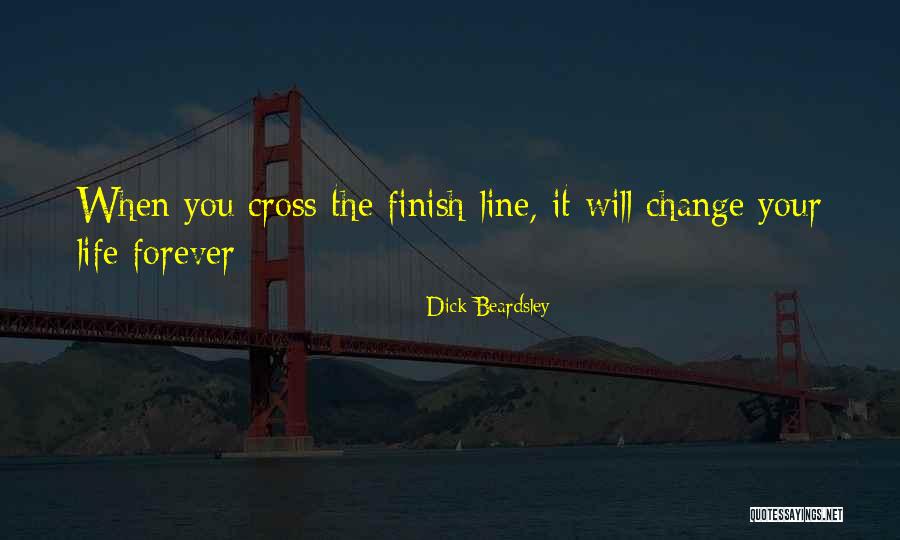 When you cross the finish line, it will change your life forever — Dick Beardsley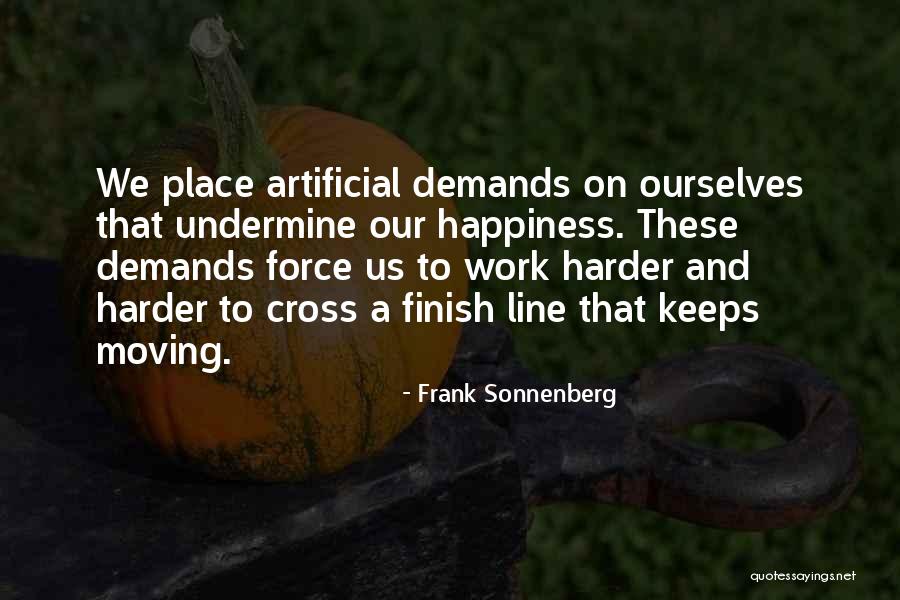 We place artificial demands on ourselves that undermine our happiness. These demands force us to work harder and harder to cross a finish line that keeps moving. — Frank Sonnenberg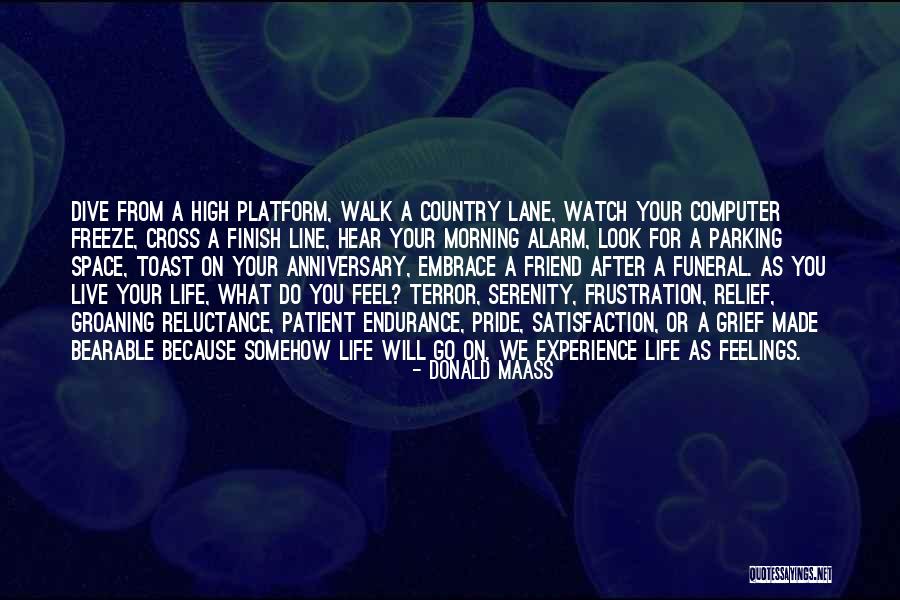 Dive from a high platform, walk a country lane, watch your computer freeze, cross a finish line, hear your morning alarm, look for a parking space, toast on your anniversary, embrace a friend after a funeral. As you live your life, what do you feel? Terror, serenity, frustration, relief, groaning reluctance, patient endurance, pride, satisfaction, or a grief made bearable because somehow life will go on. We experience life as feelings. — Donald Maass