Creative Director Quotes & Sayings
Enjoy reading and share 63 famous quotes about Creative Director with everyone.
Top Creative Director Quotes
In Hollywood, story content of movies follows a hierarchy of power, not the relative quality of various ideas. Hollywood does not lack for quality writing. It's just that quality writing commonly has to be sacrificed in order to propel a film into production. A studio needs a star and a director to make a film, so those are the folk who'll define the content. If they don't have the same creative sensibilities, then the content will change. — Terry Rossio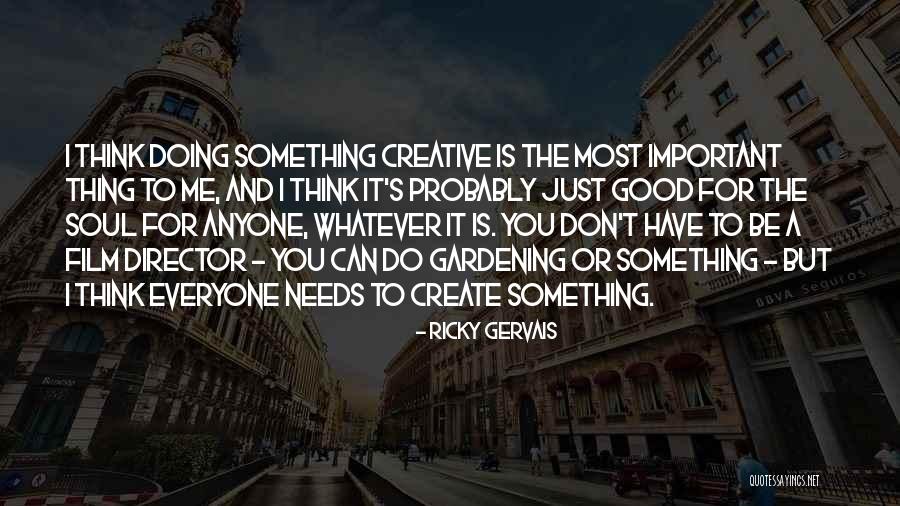 I think doing something creative is the most important thing to me, and I think it's probably just good for the soul for anyone, whatever it is. You don't have to be a film director - you can do gardening or something - but I think everyone needs to create something. — Ricky Gervais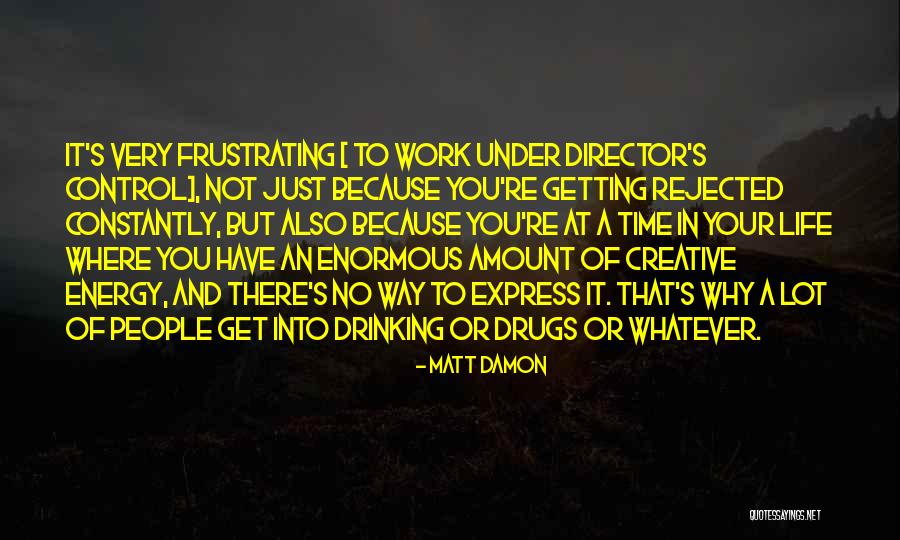 It's very frustrating [ to work under director's control], not just because you're getting rejected constantly, but also because you're at a time in your life where you have an enormous amount of creative energy, and there's no way to express it. That's why a lot of people get into drinking or drugs or whatever. — Matt Damon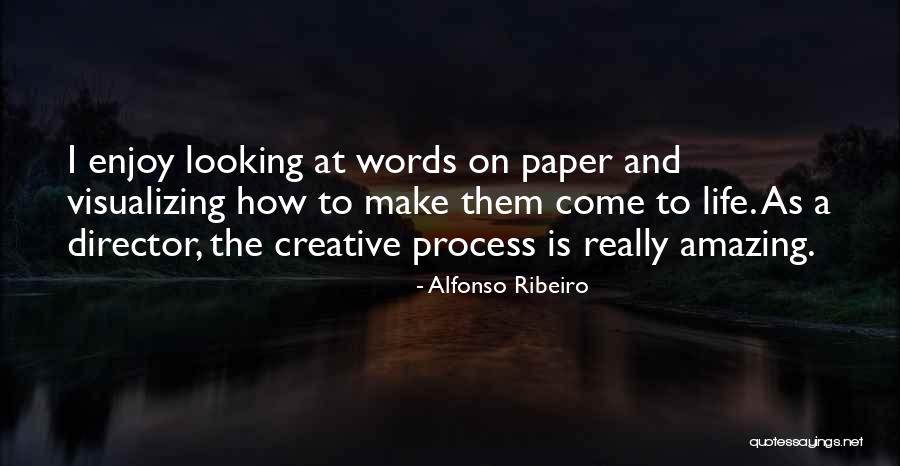 I enjoy looking at words on paper and visualizing how to make them come to life. As a director, the creative process is really amazing. — Alfonso Ribeiro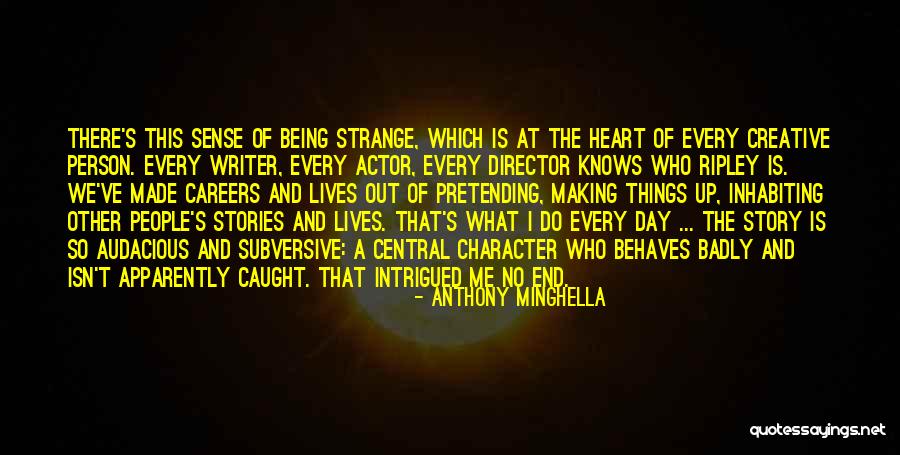 There's this sense of being strange, which is at the heart of every creative person. Every writer, every actor, every director knows who Ripley is. We've made careers and lives out of pretending, making things up, inhabiting other people's stories and lives. That's what I do every day ... The story is so audacious and subversive: a central character who behaves badly and isn't apparently caught. That intrigued me no end. — Anthony Minghella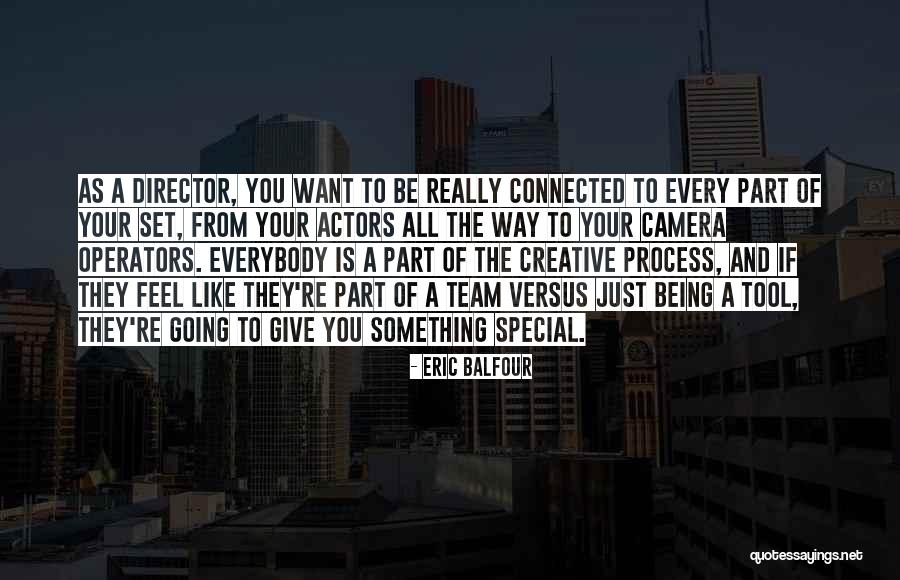 As a director, you want to be really connected to every part of your set, from your actors all the way to your camera operators. Everybody is a part of the creative process, and if they feel like they're part of a team versus just being a tool, they're going to give you something special. — Eric Balfour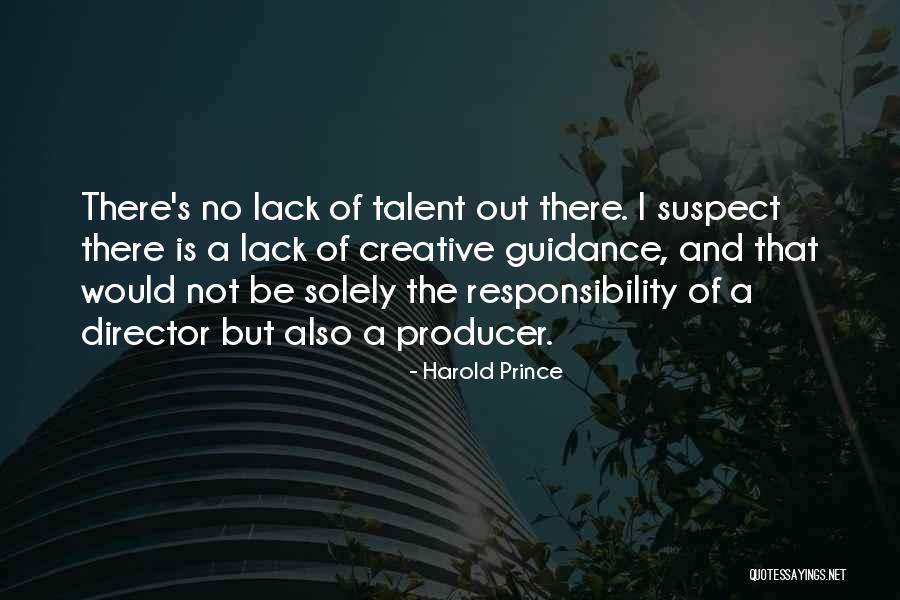 There's no lack of talent out there. I suspect there is a lack of creative guidance, and that would not be solely the responsibility of a director but also a producer. — Harold Prince
You can be playing a line some way and the director wants you to change that, or you can disagree. But I always think that the creative conversation between director and actor is what leads to good work. — Ewan McGregor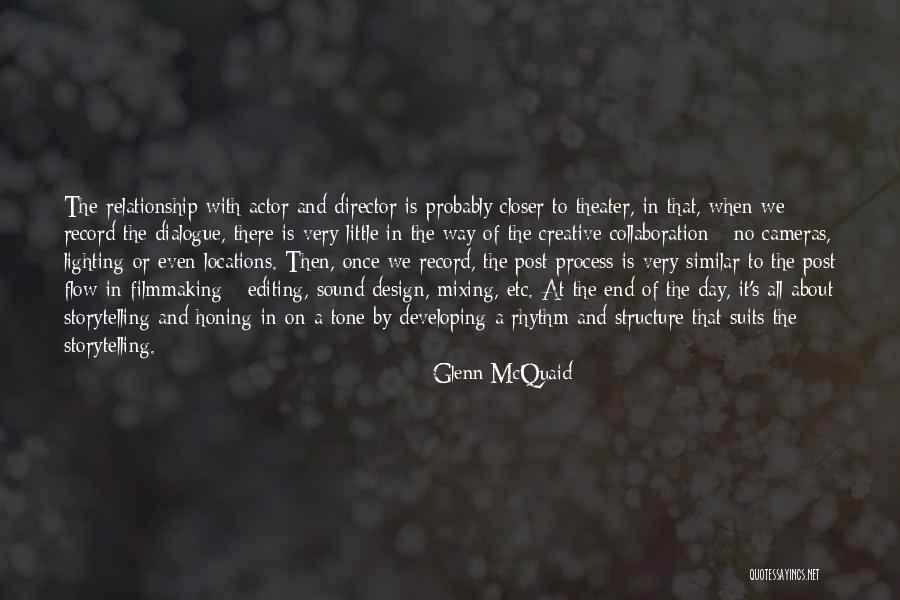 The relationship with actor and director is probably closer to theater, in that, when we record the dialogue, there is very little in the way of the creative collaboration - no cameras, lighting or even locations. Then, once we record, the post process is very similar to the post flow in filmmaking - editing, sound design, mixing, etc. At the end of the day, it's all about storytelling and honing in on a tone by developing a rhythm and structure that suits the storytelling. — Glenn McQuaid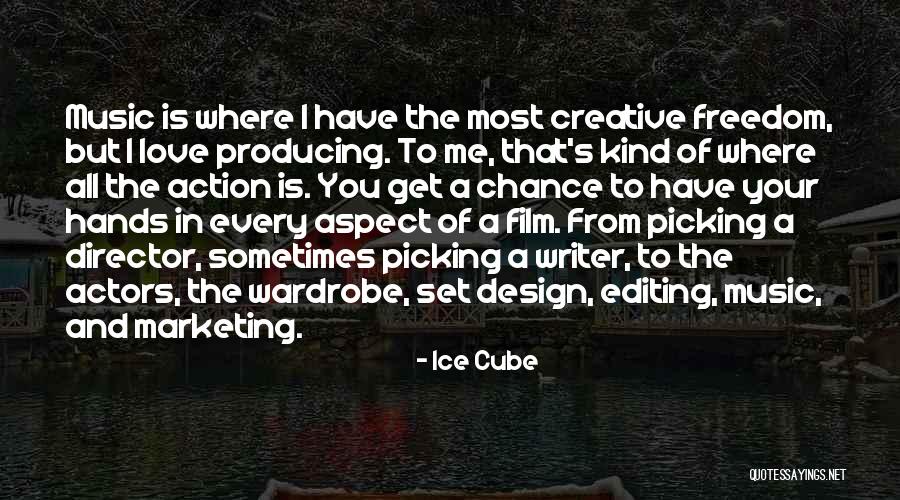 Music is where I have the most creative freedom, but I love producing. To me, that's kind of where all the action is. You get a chance to have your hands in every aspect of a film. From picking a director, sometimes picking a writer, to the actors, the wardrobe, set design, editing, music, and marketing. — Ice Cube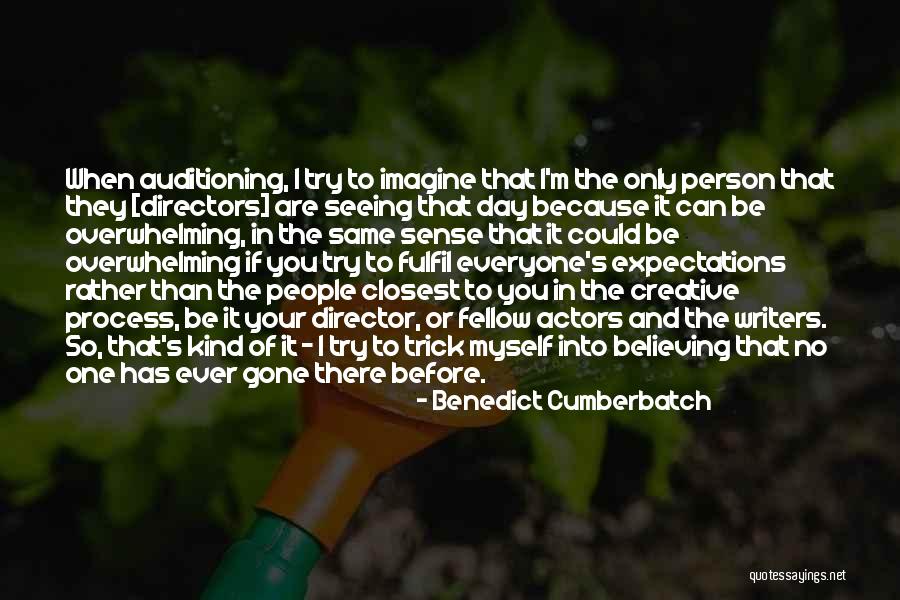 When auditioning, I try to imagine that I'm the only person that they [directors] are seeing that day because it can be overwhelming, in the same sense that it could be overwhelming if you try to fulfil everyone's expectations rather than the people closest to you in the creative process, be it your director, or fellow actors and the writers. So, that's kind of it - I try to trick myself into believing that no one has ever gone there before. — Benedict Cumberbatch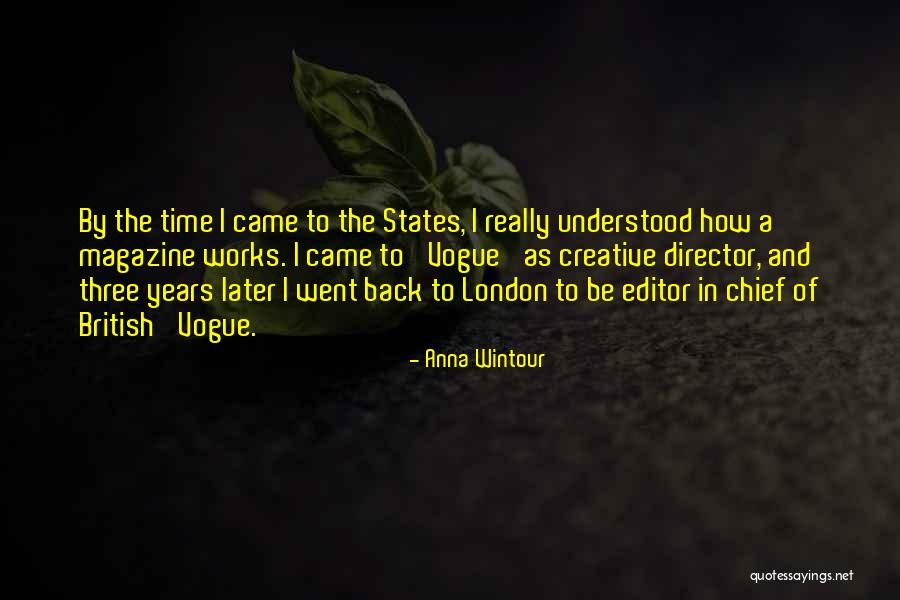 By the time I came to the States, I really understood how a magazine works. I came to 'Vogue' as creative director, and three years later I went back to London to be editor in chief of British 'Vogue.' — Anna Wintour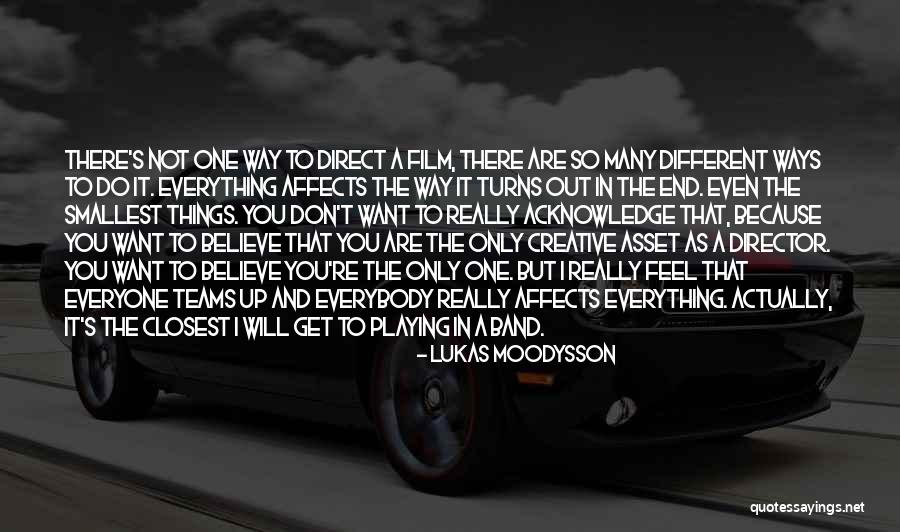 There's not one way to direct a film, there are so many different ways to do it. Everything affects the way it turns out in the end. Even the smallest things. You don't want to really acknowledge that, because you want to believe that you are the only creative asset as a director. You want to believe you're the only one. But I really feel that everyone teams up and everybody really affects everything. Actually, it's the closest I will get to playing in a band. — Lukas Moodysson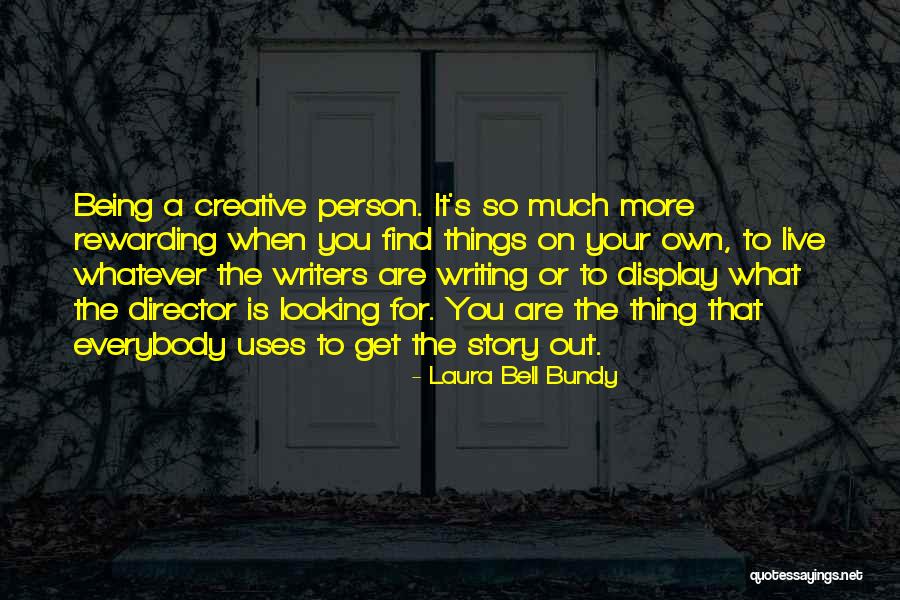 Being a creative person. It's so much more rewarding when you find things on your own, to live whatever the writers are writing or to display what the director is looking for. You are the thing that everybody uses to get the story out. — Laura Bell Bundy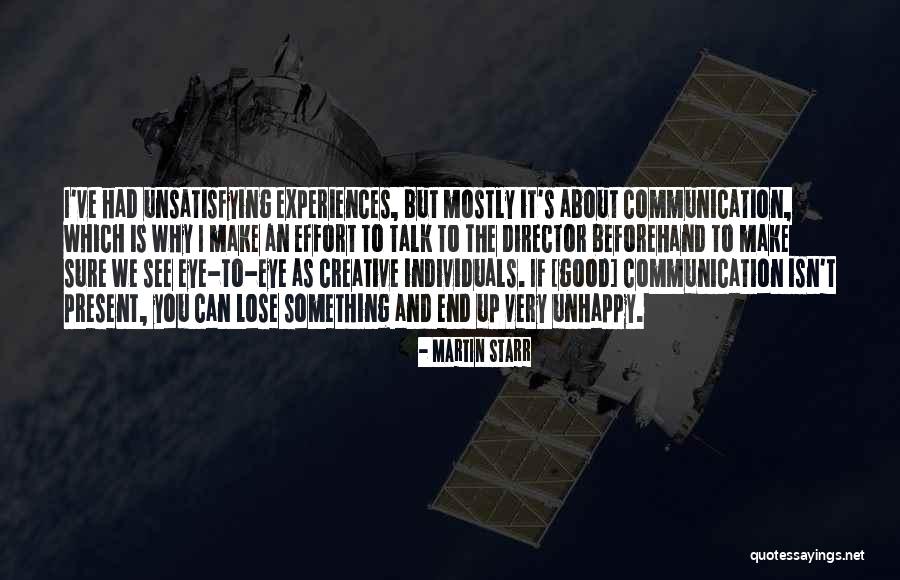 I've had unsatisfying experiences, but mostly it's about communication, which is why I make an effort to talk to the director beforehand to make sure we see eye-to-eye as creative individuals. If [good] communication isn't present, you can lose something and end up very unhappy. — Martin Starr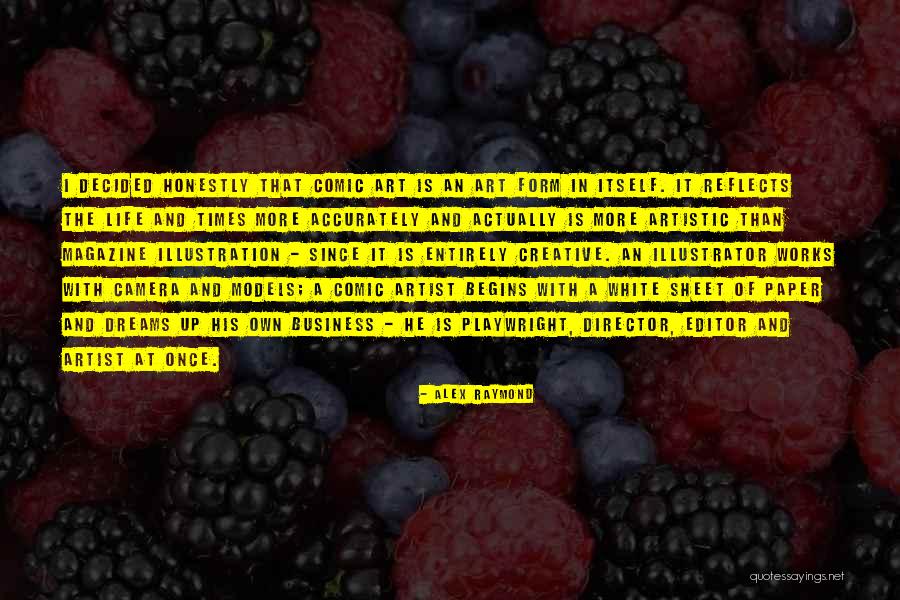 I decided honestly that comic art is an art form in itself. It reflects the life and times more accurately and actually is more artistic than magazine illustration - since it is entirely creative. An illustrator works with camera and models; a comic artist begins with a white sheet of paper and dreams up his own business - he is playwright, director, editor and artist at once. — Alex Raymond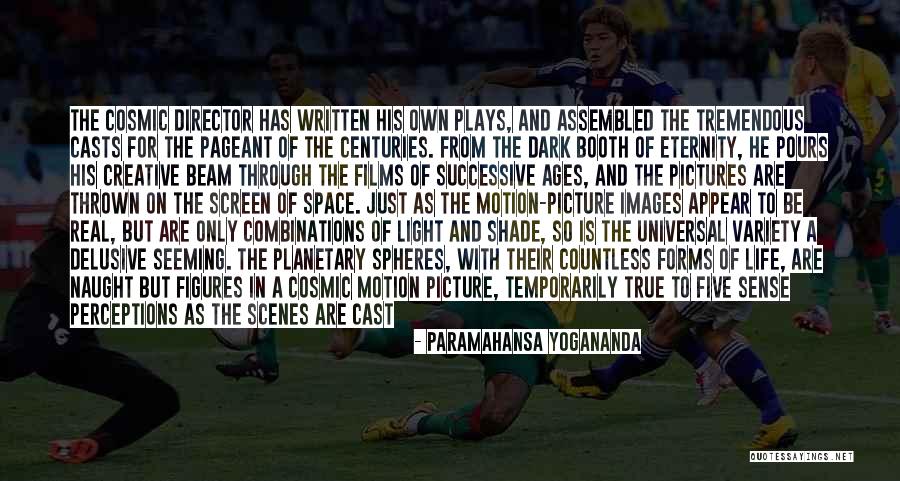 The Cosmic Director has written His own plays, and assembled the tremendous casts for the pageant of the centuries. From the dark booth of eternity, He pours His creative beam through the films of successive ages, and the pictures are thrown on the screen of space. Just as the motion-picture images appear to be real, but are only combinations of light and shade, so is the universal variety a delusive seeming. The planetary spheres, with their countless forms of life, are naught but figures in a cosmic motion picture, temporarily true to five sense perceptions as the scenes are cast on the screen of man's consciousness by the infinite creative beam. — Paramahansa Yogananda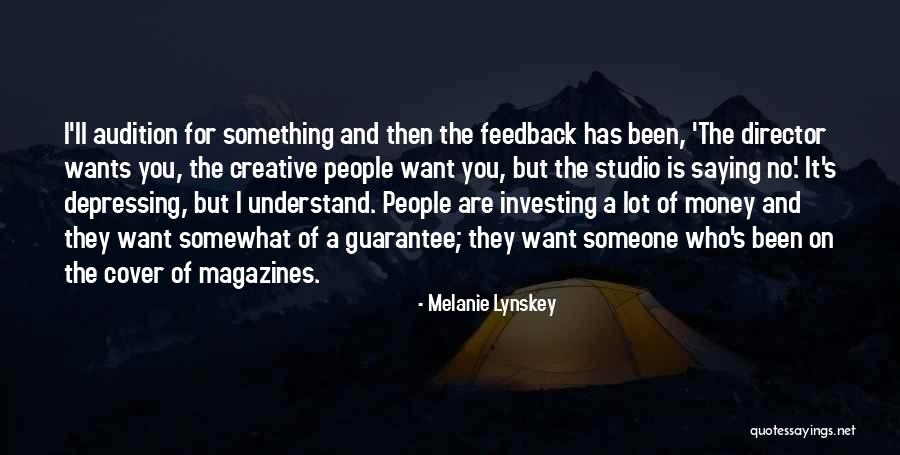 I'll audition for something and then the feedback has been, 'The director wants you, the creative people want you, but the studio is saying no.' It's depressing, but I understand. People are investing a lot of money and they want somewhat of a guarantee; they want someone who's been on the cover of magazines. — Melanie Lynskey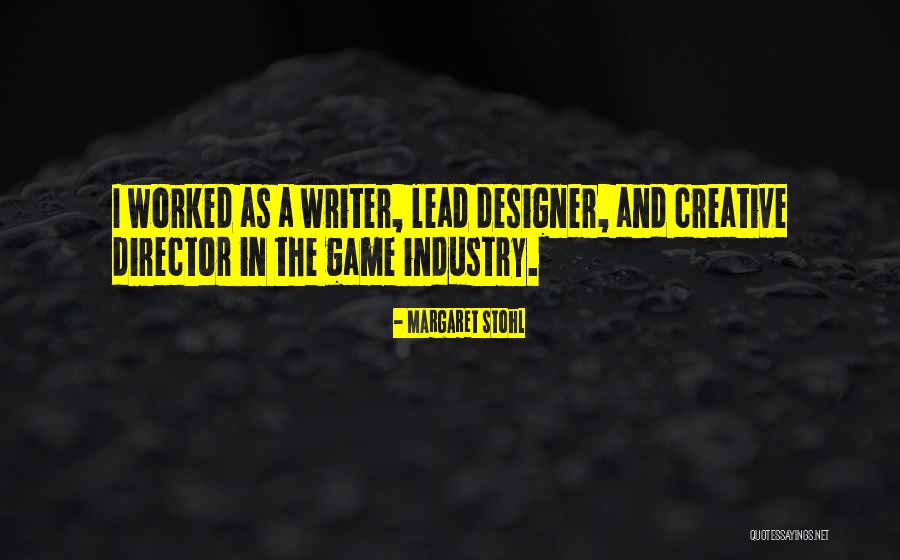 I worked as a writer, lead designer, and creative director in the game industry. — Margaret Stohl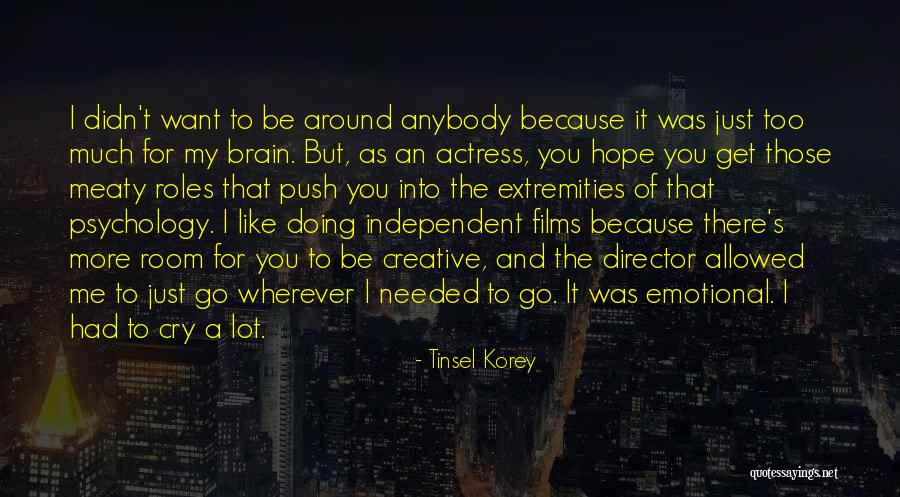 I didn't want to be around anybody because it was just too much for my brain. But, as an actress, you hope you get those meaty roles that push you into the extremities of that psychology. I like doing independent films because there's more room for you to be creative, and the director allowed me to just go wherever I needed to go. It was emotional. I had to cry a lot. — Tinsel Korey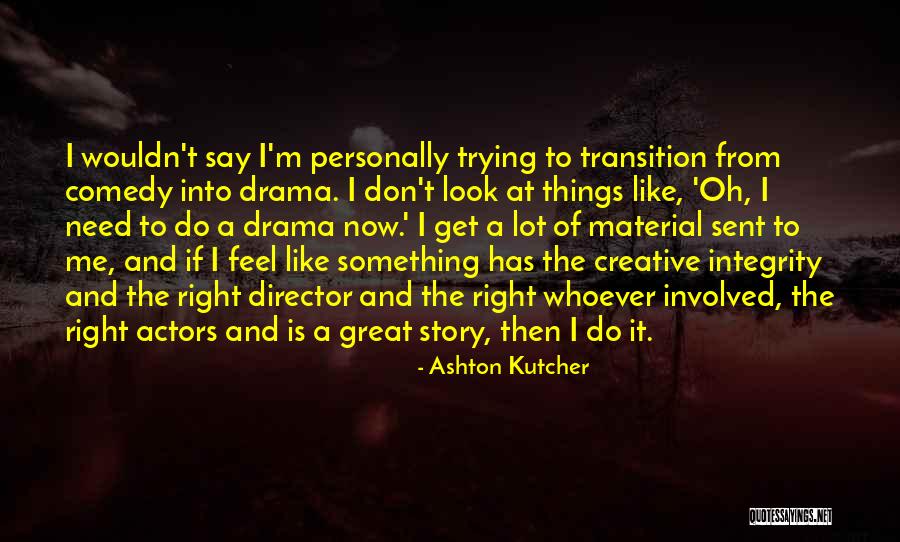 I wouldn't say I'm personally trying to transition from comedy into drama. I don't look at things like, 'Oh, I need to do a drama now.' I get a lot of material sent to me, and if I feel like something has the creative integrity and the right director and the right whoever involved, the right actors and is a great story, then I do it. — Ashton Kutcher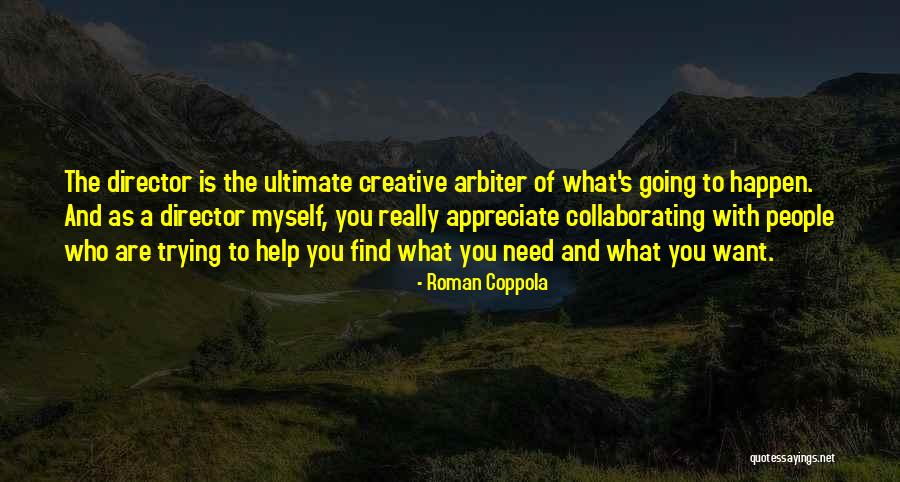 The director is the ultimate creative arbiter of what's going to happen. And as a director myself, you really appreciate collaborating with people who are trying to help you find what you need and what you want. — Roman Coppola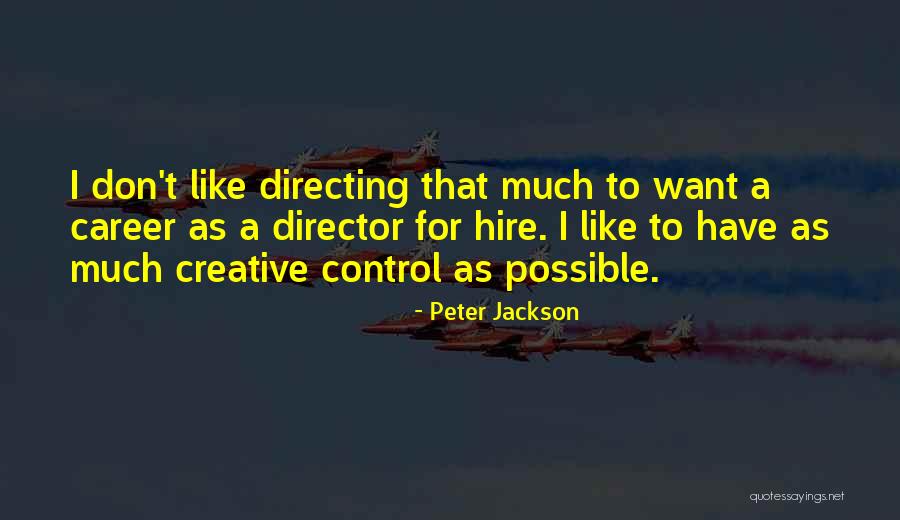 I don't like directing that much to want a career as a director for hire. I like to have as much creative control as possible. — Peter Jackson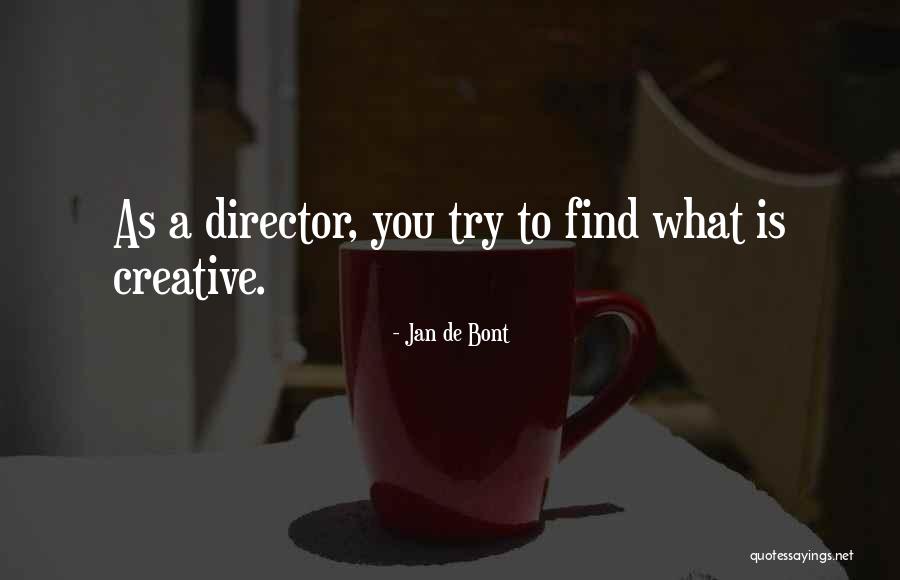 As a director, you try to find what is creative. — Jan De Bont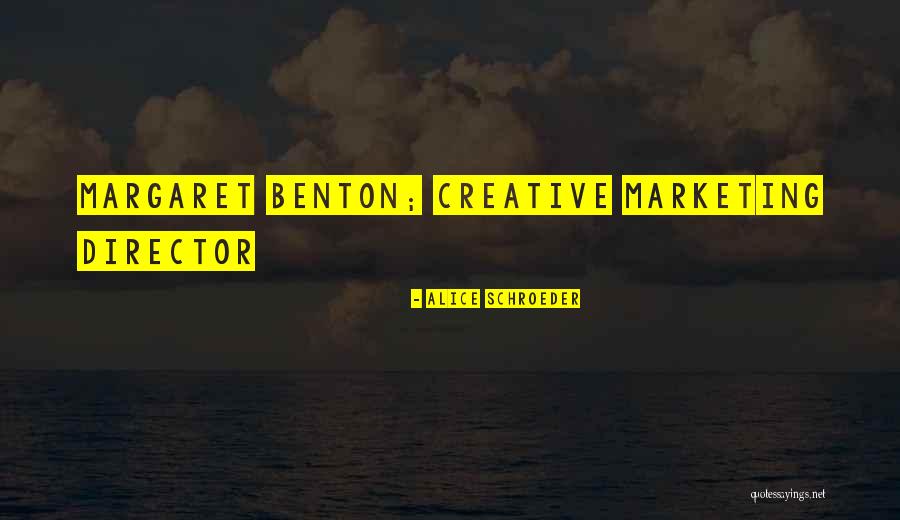 Margaret Benton; creative marketing director — Alice Schroeder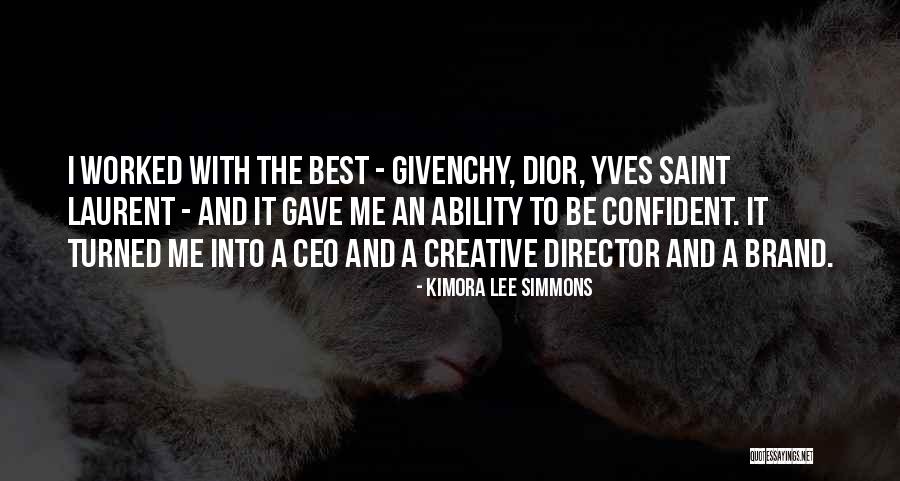 I worked with the best - Givenchy, Dior, Yves Saint Laurent - and it gave me an ability to be confident. It turned me into a CEO and a creative director and a brand. — Kimora Lee Simmons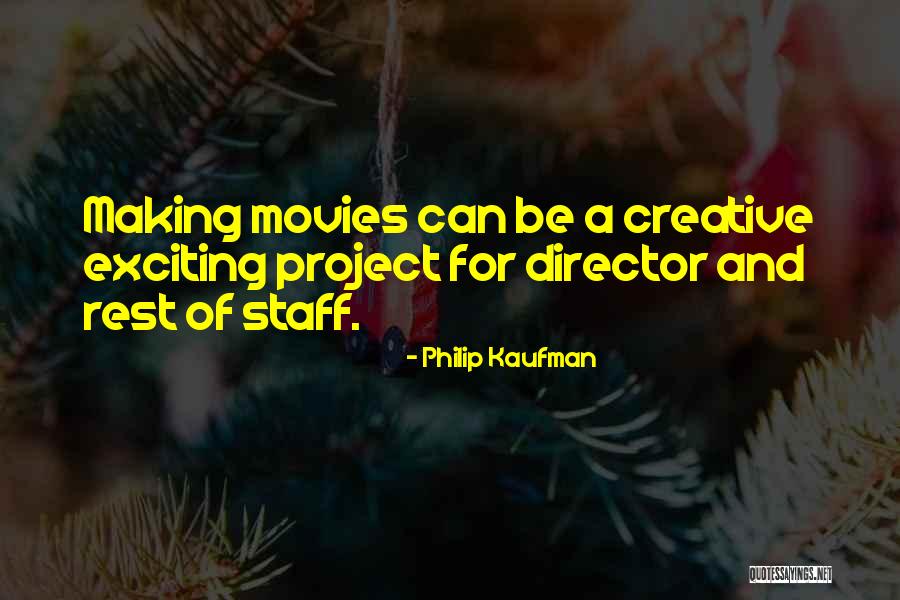 Making movies can be a creative exciting project for director and rest of staff. — Philip Kaufman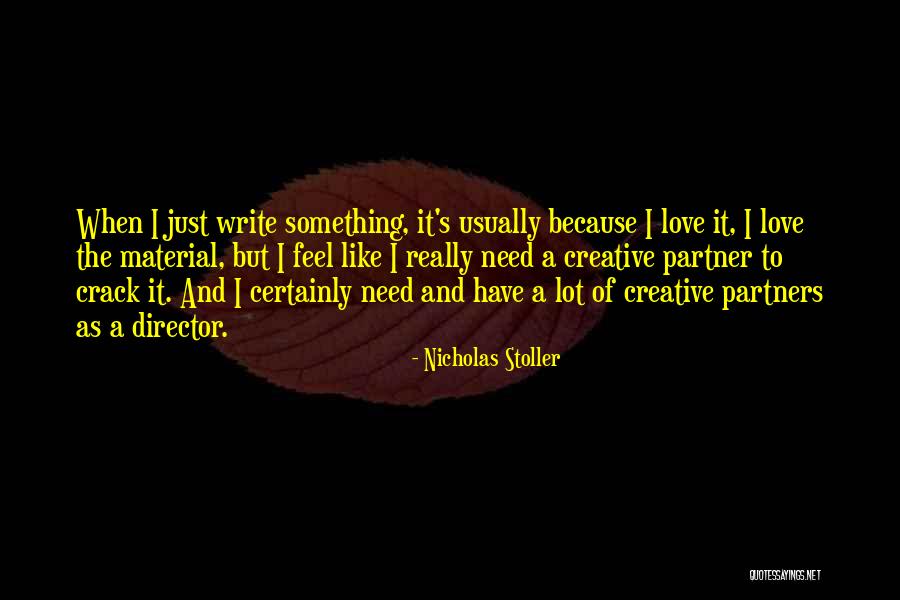 When I just write something, it's usually because I love it, I love the material, but I feel like I really need a creative partner to crack it. And I certainly need and have a lot of creative partners as a director. — Nicholas Stoller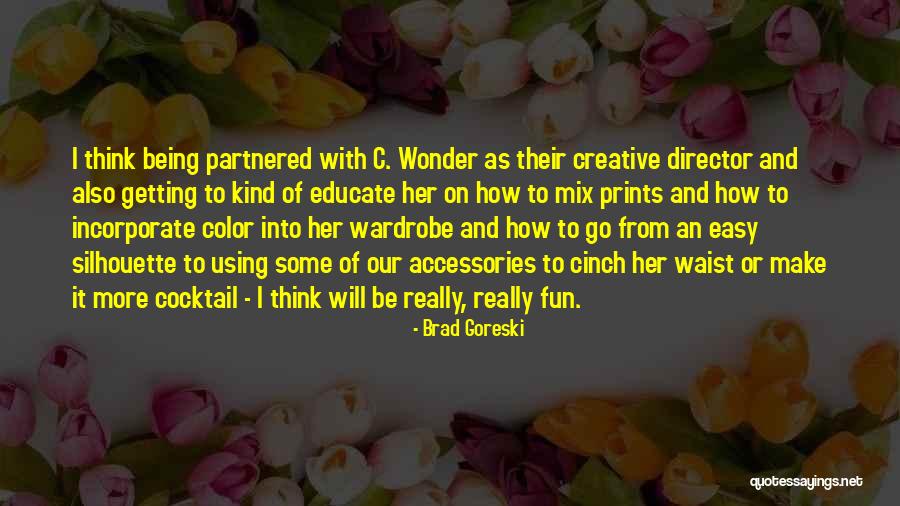 I think being partnered with C. Wonder as their creative director and also getting to kind of educate her on how to mix prints and how to incorporate color into her wardrobe and how to go from an easy silhouette to using some of our accessories to cinch her waist or make it more cocktail - I think will be really, really fun. — Brad Goreski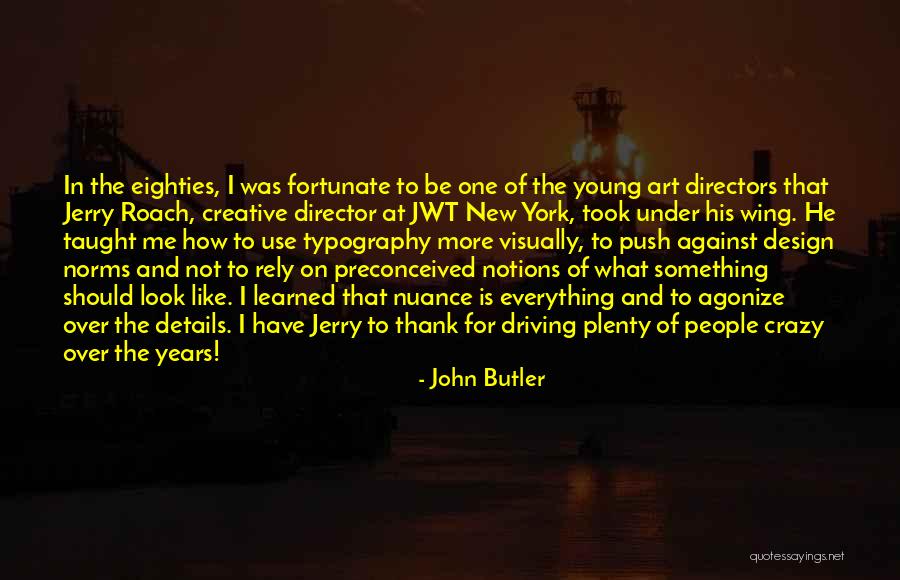 In the eighties, I was fortunate to be one of the young art directors that Jerry Roach, creative director at JWT New York, took under his wing. He taught me how to use typography more visually, to push against design norms and not to rely on preconceived notions of what something should look like. I learned that nuance is everything and to agonize over the details. I have Jerry to thank for driving plenty of people crazy over the years! — John Butler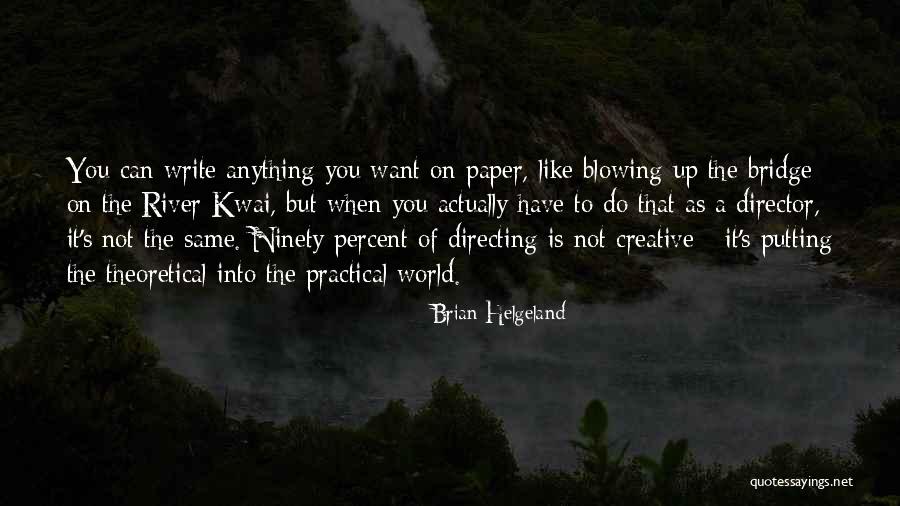 You can write anything you want on paper, like blowing up the bridge on the River Kwai, but when you actually have to do that as a director, it's not the same. Ninety percent of directing is not creative - it's putting the theoretical into the practical world. — Brian Helgeland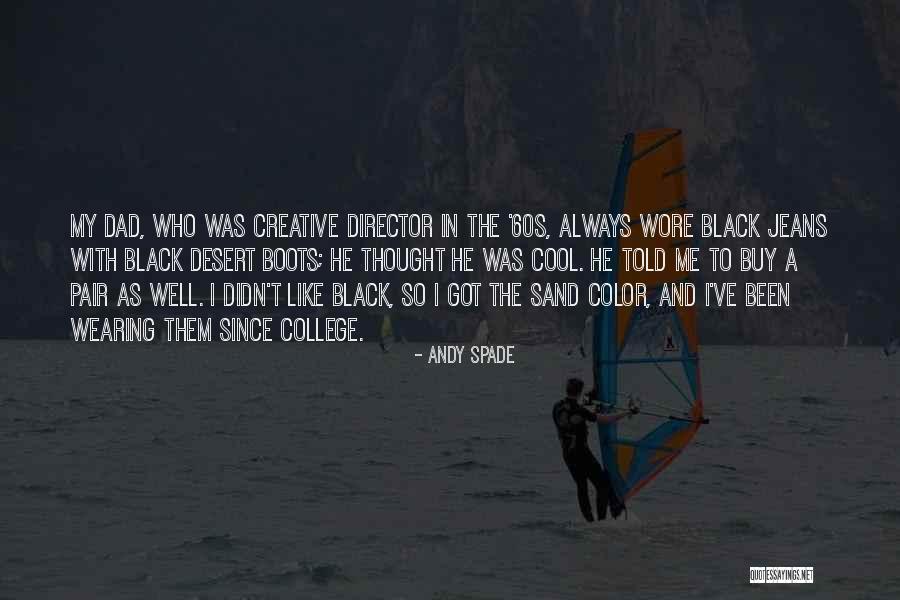 My dad, who was creative director in the '60s, always wore black jeans with black desert boots; he thought he was cool. He told me to buy a pair as well. I didn't like black, so I got the sand color, and I've been wearing them since college. — Andy Spade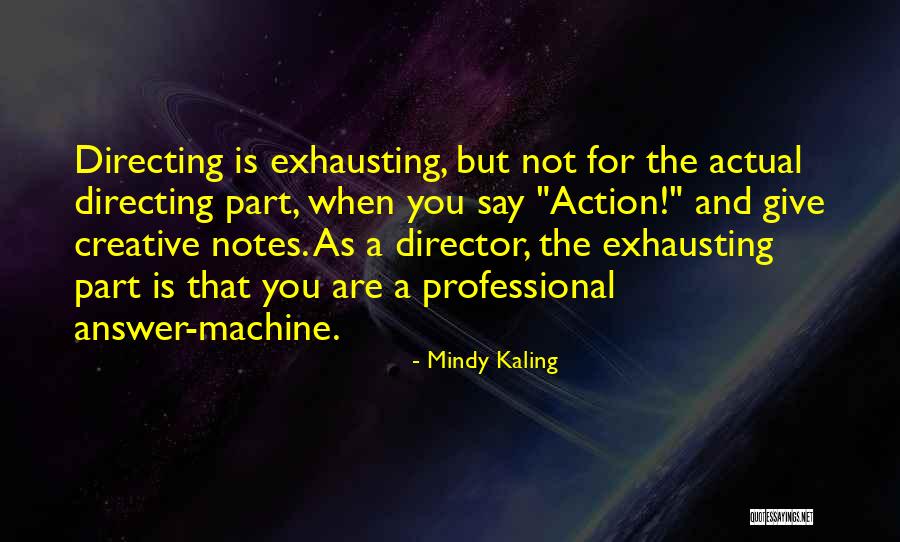 Directing is exhausting, but not for the actual directing part, when you say "Action!" and give creative notes. As a director, the exhausting part is that you are a professional answer-machine. — Mindy Kaling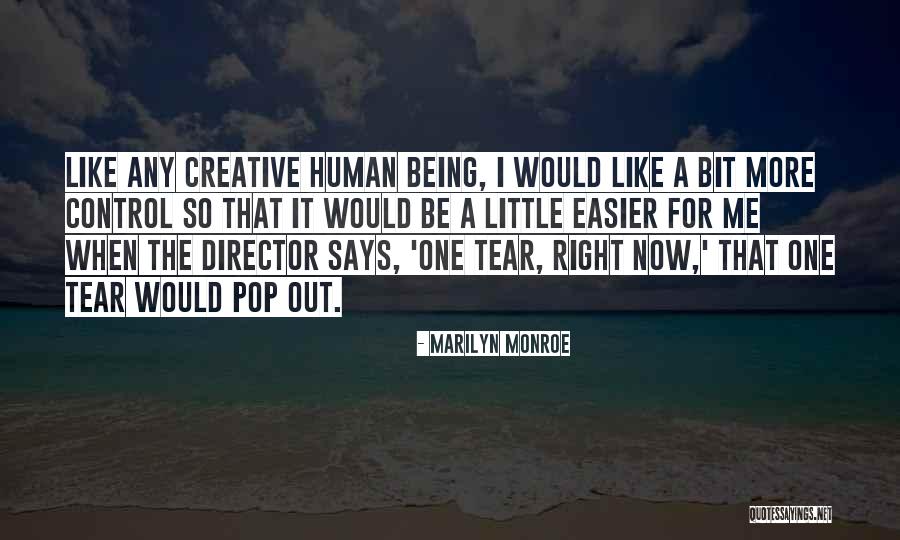 Like any creative human being, I would like a bit more control so that it would be a little easier for me when the director says, 'One tear, right now,' that one tear would pop out. — Marilyn Monroe
I think the financial restraint really pushes me as a director to be more creative with the way I shoot the film. — James Wan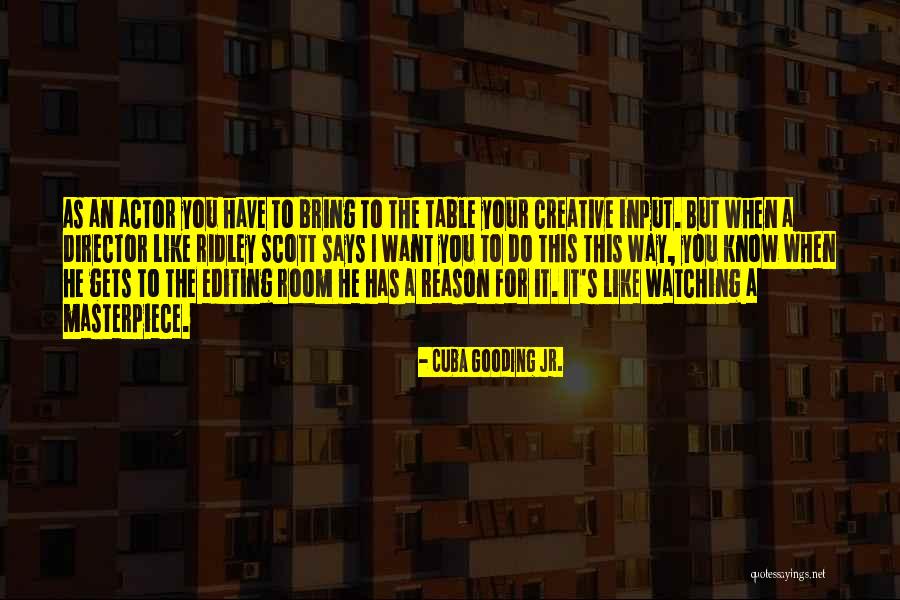 As an actor you have to bring to the table your creative input. But when a director like Ridley Scott says I want you to do this this way, you know when he gets to the editing room he has a reason for it. It's like watching a masterpiece. — Cuba Gooding Jr.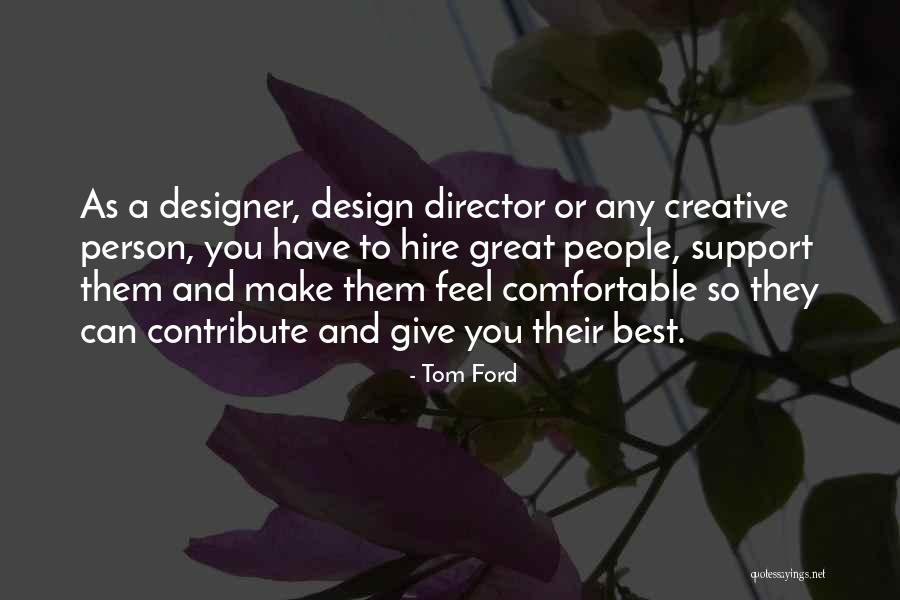 As a designer, design director or any creative person, you have to hire great people, support them and make them feel comfortable so they can contribute and give you their best. — Tom Ford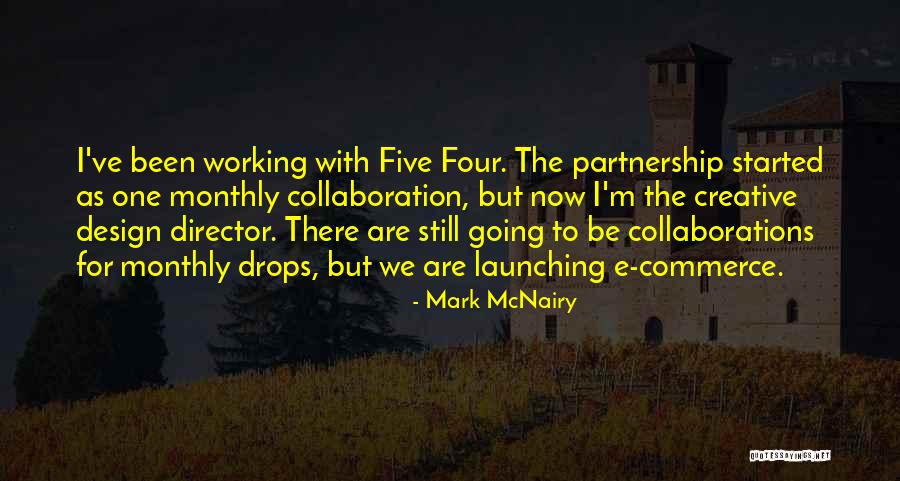 I've been working with Five Four. The partnership started as one monthly collaboration, but now I'm the creative design director. There are still going to be collaborations for monthly drops, but we are launching e-commerce. — Mark McNairy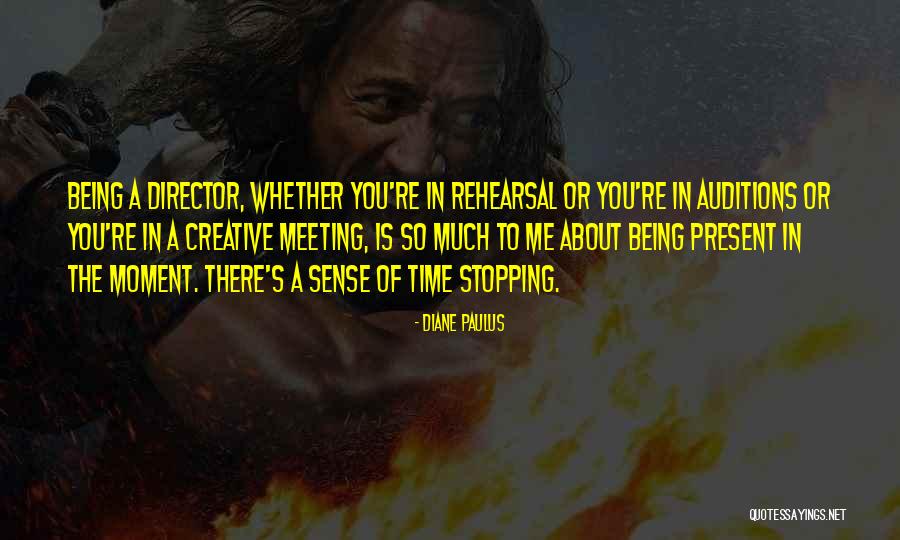 Being a director, whether you're in rehearsal or you're in auditions or you're in a creative meeting, is so much to me about being present in the moment. There's a sense of time stopping. — Diane Paulus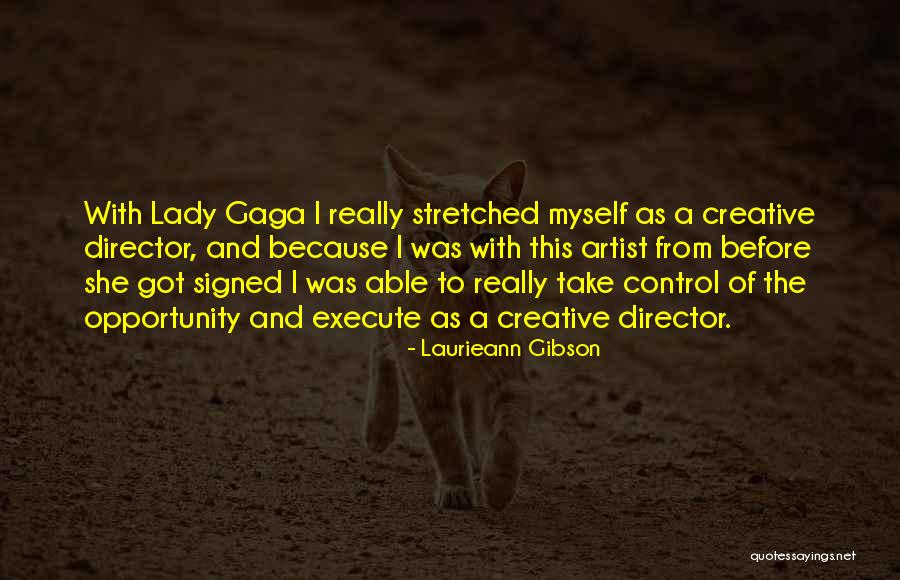 With Lady Gaga I really stretched myself as a creative director, and because I was with this artist from before she got signed I was able to really take control of the opportunity and execute as a creative director. — Laurieann Gibson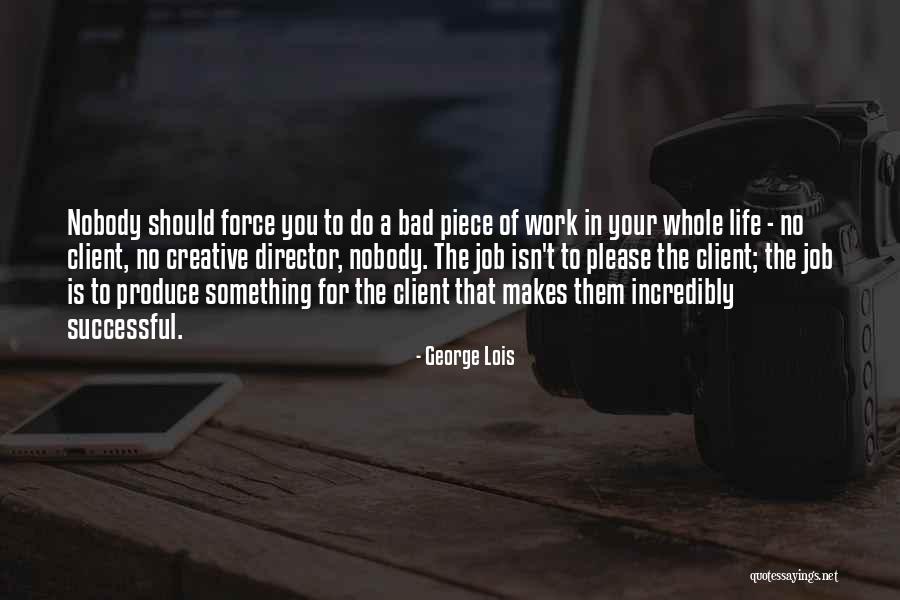 Nobody should force you to do a bad piece of work in your whole life - no client, no creative director, nobody. The job isn't to please the client; the job is to produce something for the client that makes them incredibly successful. — George Lois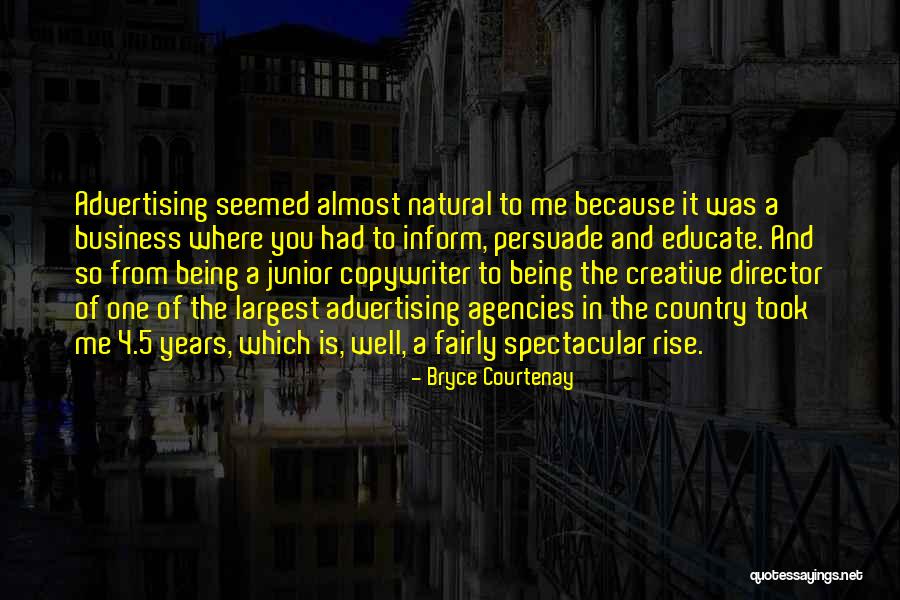 Advertising seemed almost natural to me because it was a business where you had to inform, persuade and educate. And so from being a junior copywriter to being the creative director of one of the largest advertising agencies in the country took me 4.5 years, which is, well, a fairly spectacular rise. — Bryce Courtenay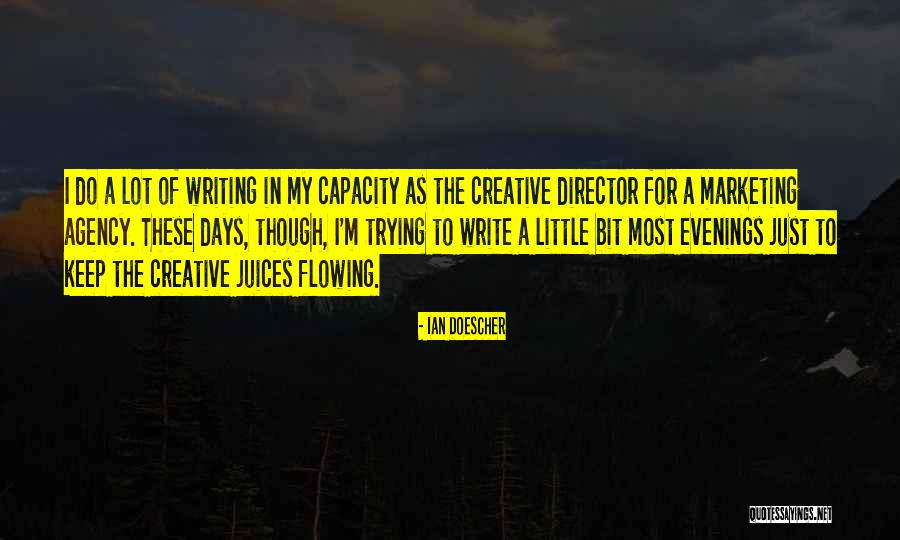 I do a lot of writing in my capacity as the creative director for a marketing agency. These days, though, I'm trying to write a little bit most evenings just to keep the creative juices flowing. — Ian Doescher
With 'That Awkward Moment', you could argue I'm just playing the girlfriend of Zac Efron, but the director was such a creative force and let me make her my own. I loved being part of something that felt so relevant and fresh. — Imogen Poots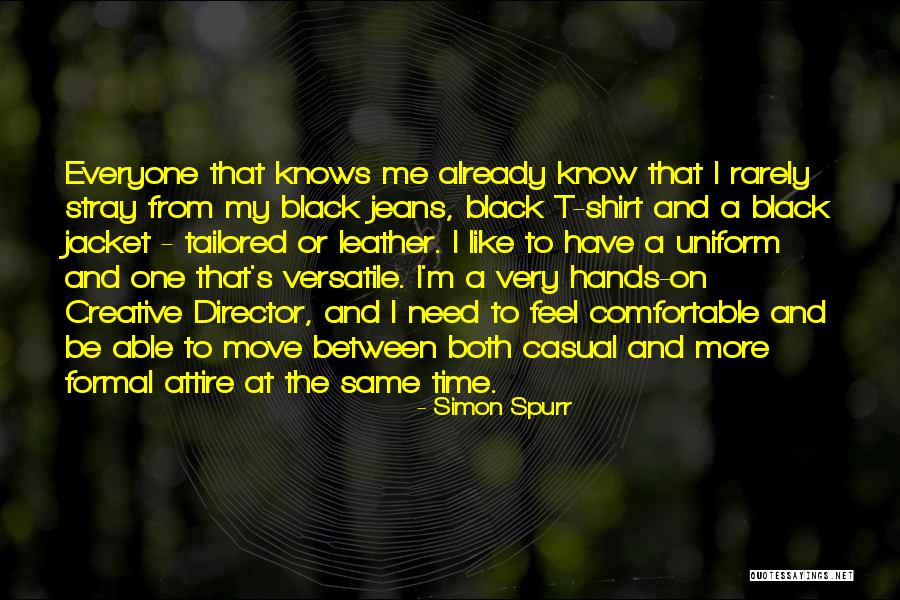 Everyone that knows me already know that I rarely stray from my black jeans, black T-shirt and a black jacket - tailored or leather. I like to have a uniform and one that's versatile. I'm a very hands-on Creative Director, and I need to feel comfortable and be able to move between both casual and more formal attire at the same time. — Simon Spurr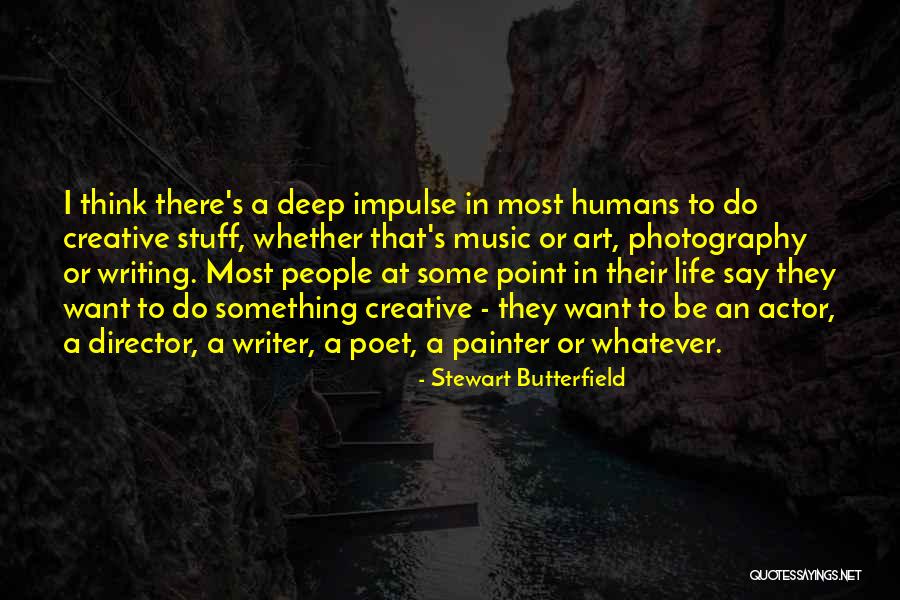 I think there's a deep impulse in most humans to do creative stuff, whether that's music or art, photography or writing. Most people at some point in their life say they want to do something creative - they want to be an actor, a director, a writer, a poet, a painter or whatever. — Stewart Butterfield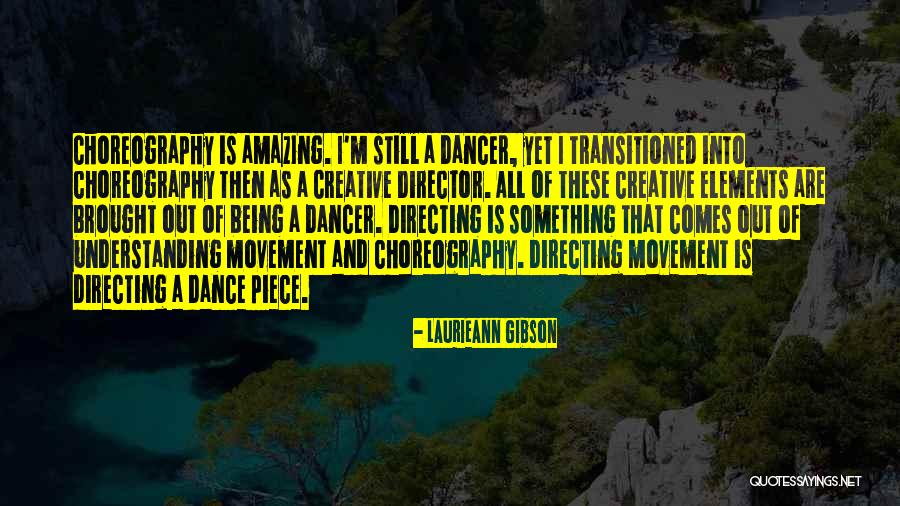 Choreography is amazing. I'm still a dancer, yet I transitioned into choreography then as a Creative Director. All of these creative elements are brought out of being a dancer. Directing is something that comes out of understanding movement and choreography. Directing movement is directing a dance piece. — Laurieann Gibson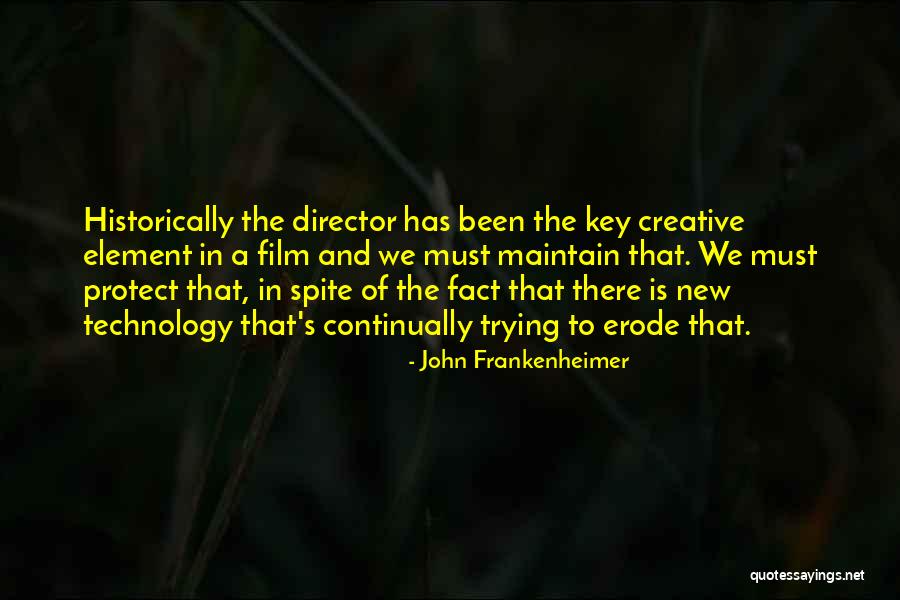 Historically the director has been the key creative element in a film and we must maintain that. We must protect that, in spite of the fact that there is new technology that's continually trying to erode that. — John Frankenheimer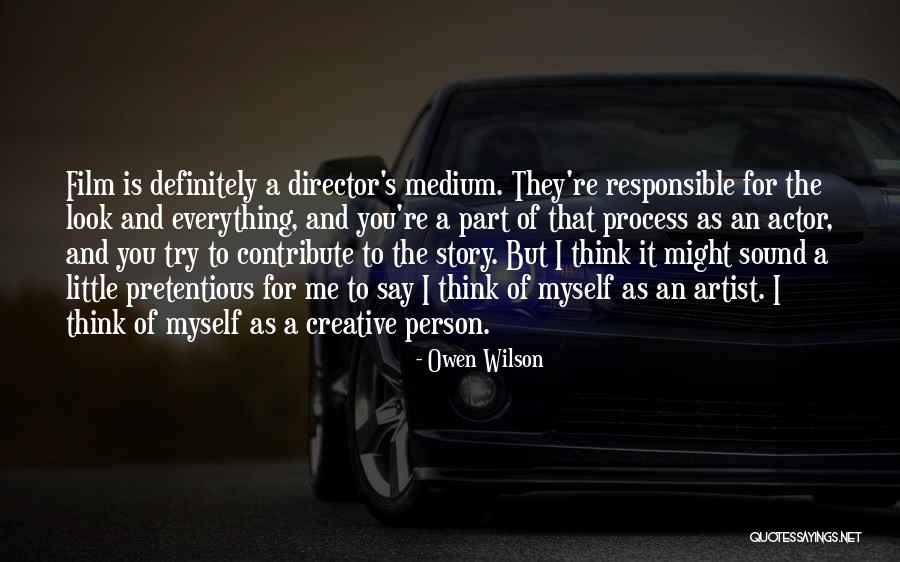 Film is definitely a director's medium. They're responsible for the look and everything, and you're a part of that process as an actor, and you try to contribute to the story. But I think it might sound a little pretentious for me to say I think of myself as an artist. I think of myself as a creative person. — Owen Wilson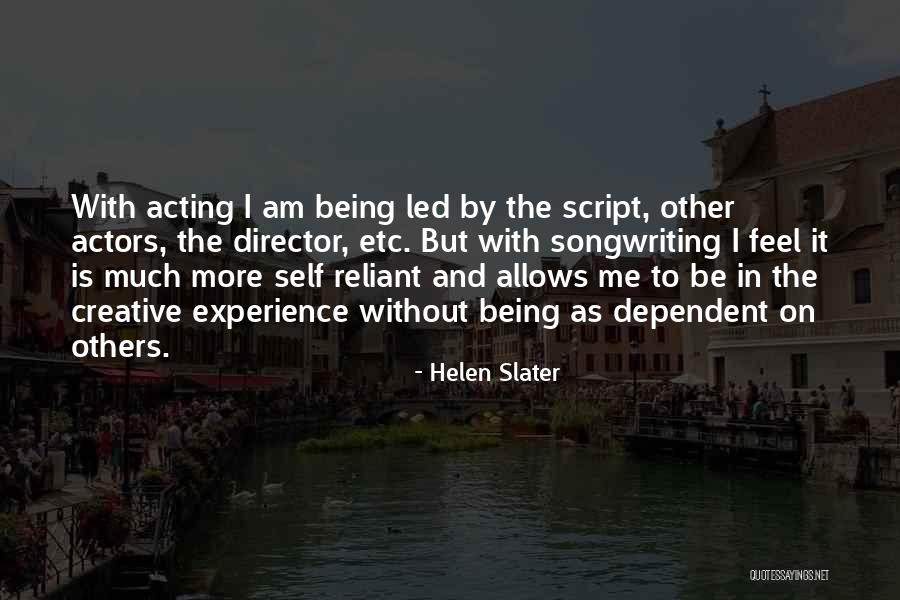 With acting I am being led by the script, other actors, the director, etc. But with songwriting I feel it is much more self reliant and allows me to be in the creative experience without being as dependent on others. — Helen Slater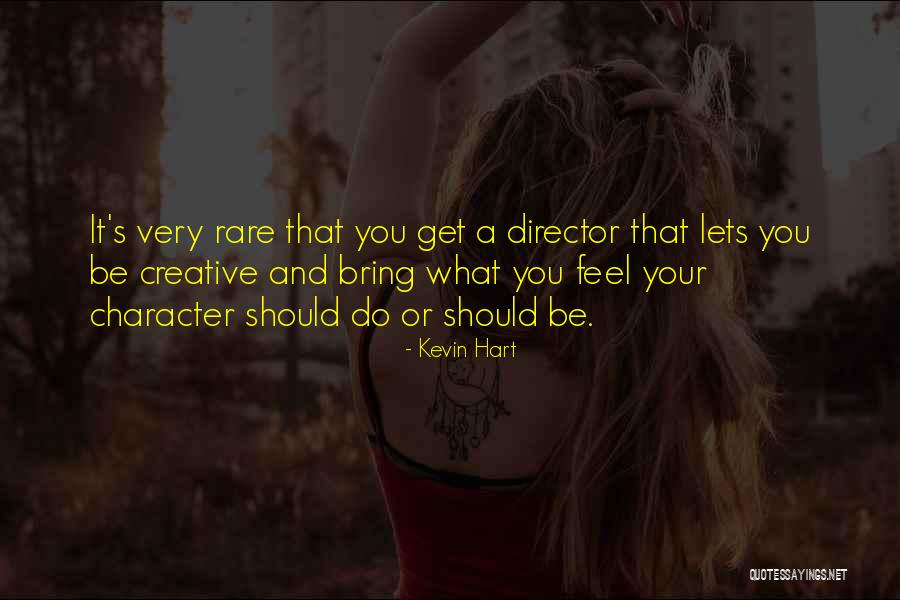 It's very rare that you get a director that lets you be creative and bring what you feel your character should do or should be. — Kevin Hart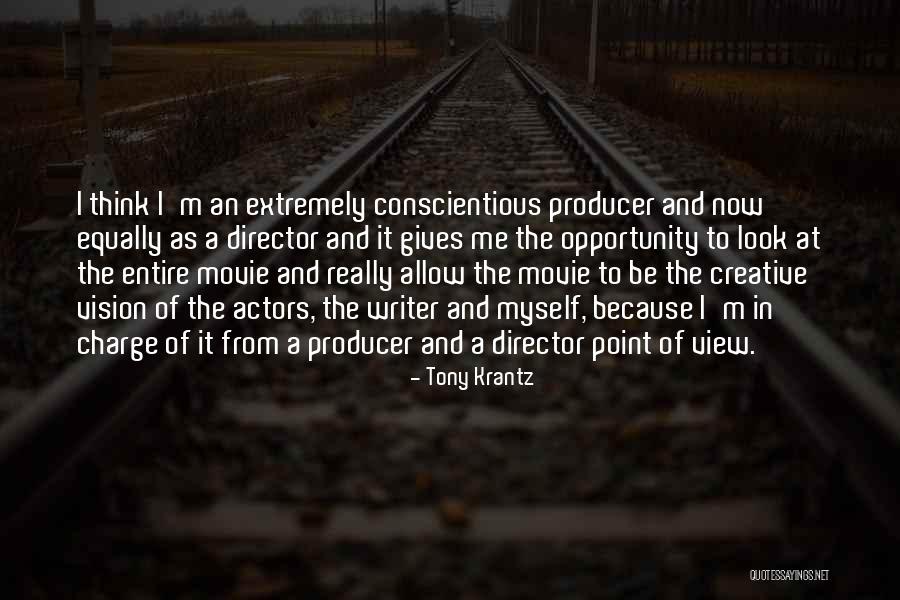 I think I'm an extremely conscientious producer and now equally as a director and it gives me the opportunity to look at the entire movie and really allow the movie to be the creative vision of the actors, the writer and myself, because I'm in charge of it from a producer and a director point of view. — Tony Krantz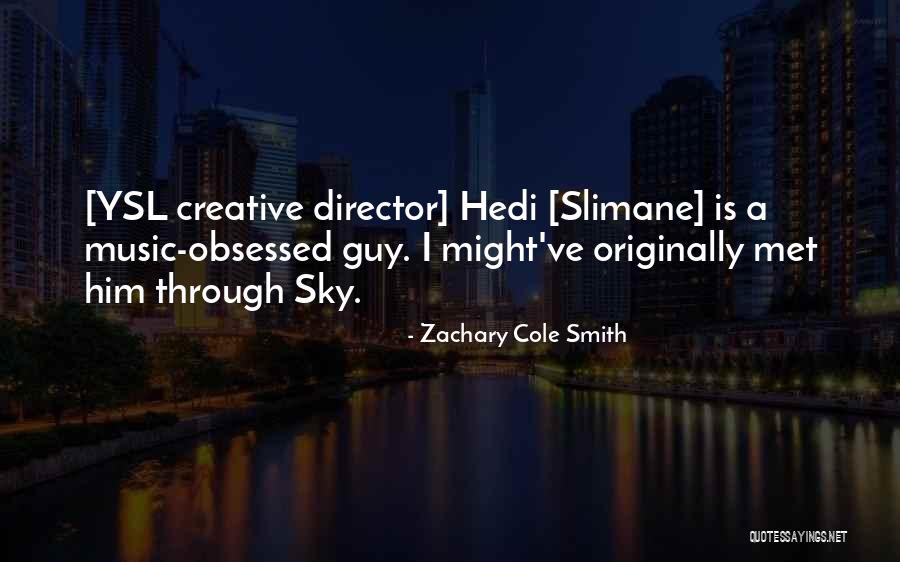 [YSL creative director] Hedi [Slimane] is a music-obsessed guy. I might've originally met him through Sky. — Zachary Cole Smith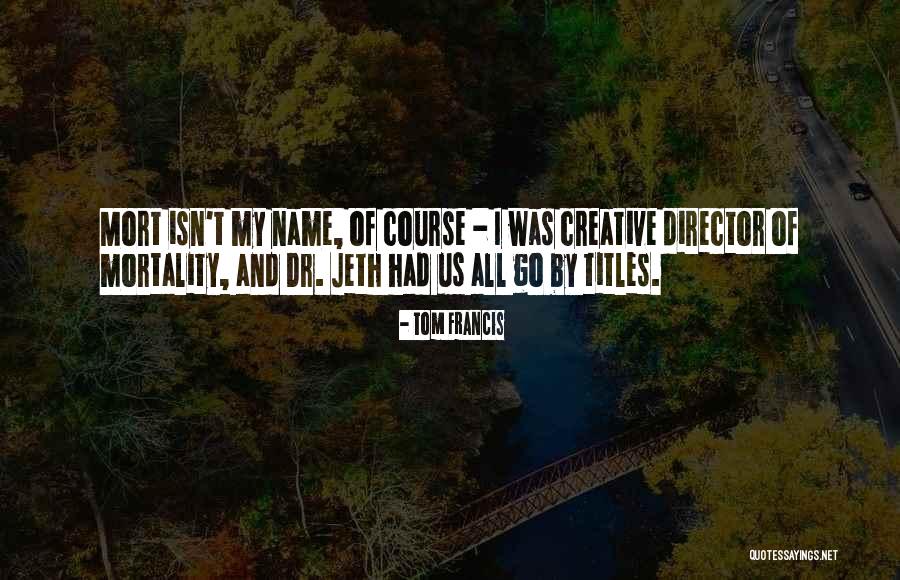 Mort isn't my name, of course - I was creative director of mortality, and Dr. Jeth had us all go by titles. — Tom Francis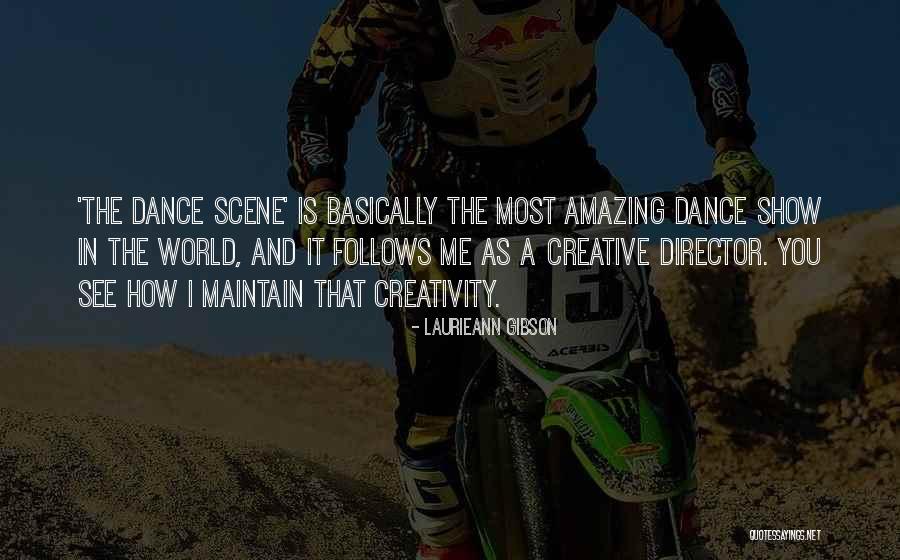 'The Dance Scene' is basically the most amazing dance show in the world, and it follows me as a creative director. You see how I maintain that creativity. — Laurieann Gibson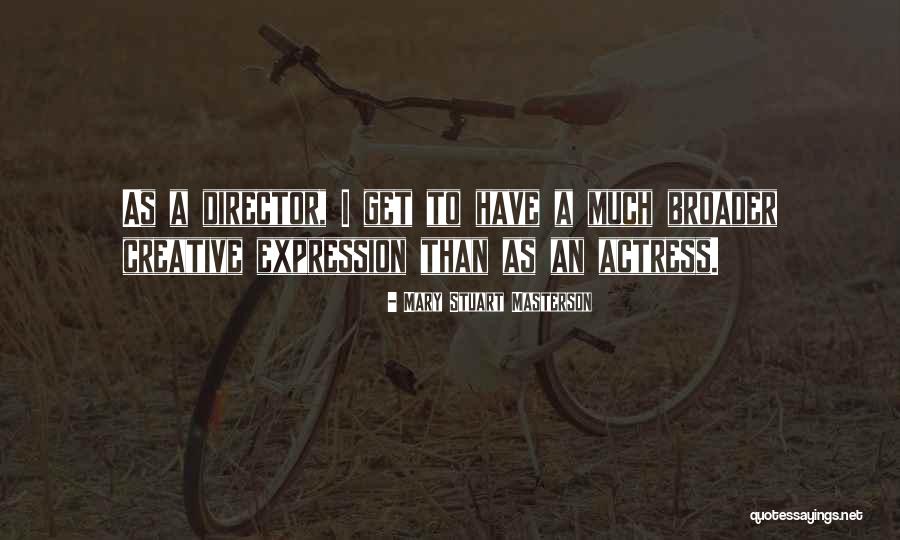 As a director, I get to have a much broader creative expression than as an actress. — Mary Stuart Masterson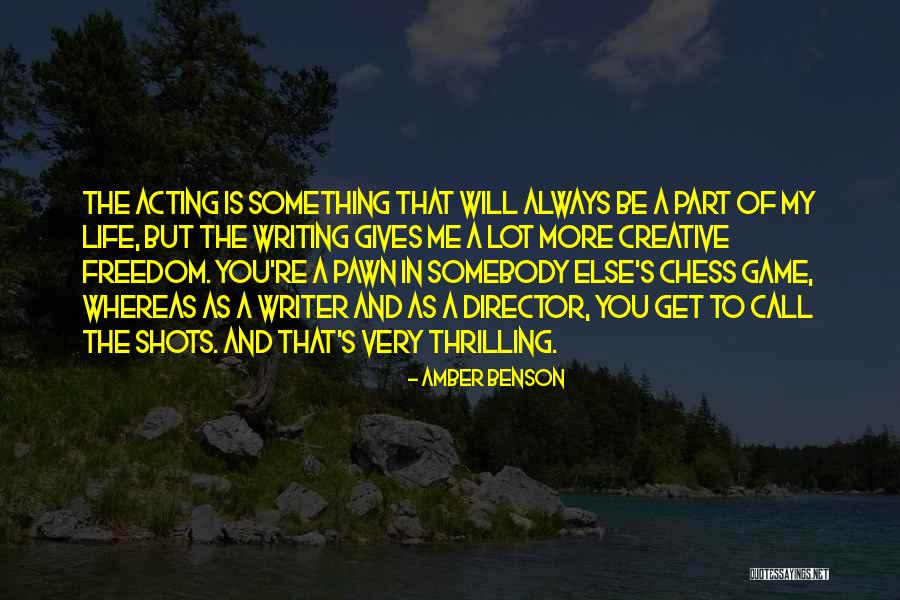 The acting is something that will always be a part of my life, but the writing gives me a lot more creative freedom. You're a pawn in somebody else's chess game, whereas as a writer and as a director, you get to call the shots. And that's very thrilling. — Amber Benson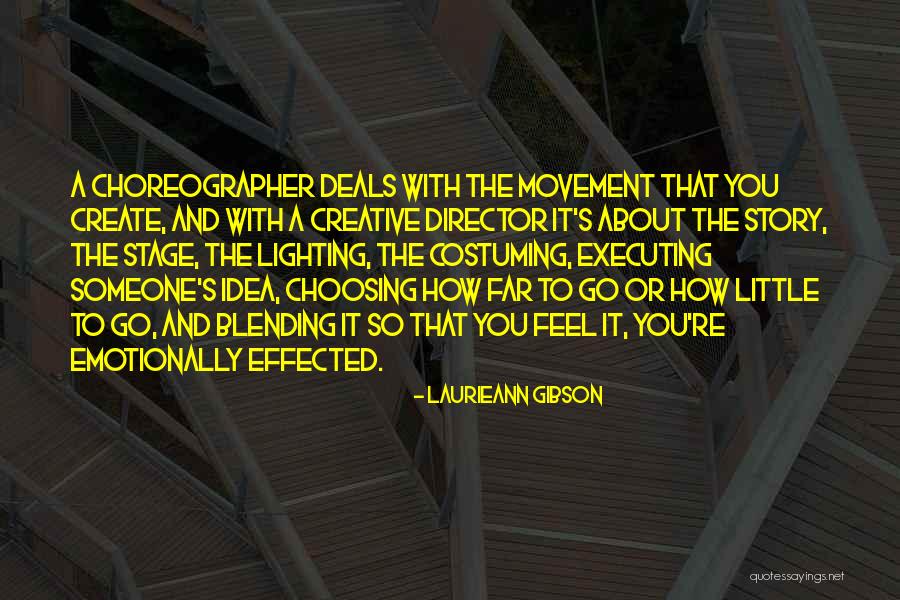 A choreographer deals with the movement that you create, and with a creative director it's about the story, the stage, the lighting, the costuming, executing someone's idea, choosing how far to go or how little to go, and blending it so that you feel it, you're emotionally effected. — Laurieann Gibson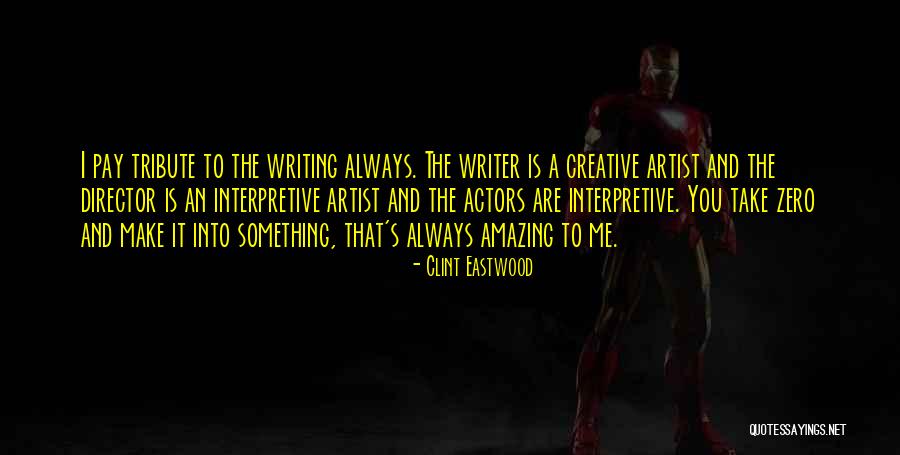 I pay tribute to the writing always. The writer is a creative artist and the director is an interpretive artist and the actors are interpretive. You take zero and make it into something, that's always amazing to me. — Clint Eastwood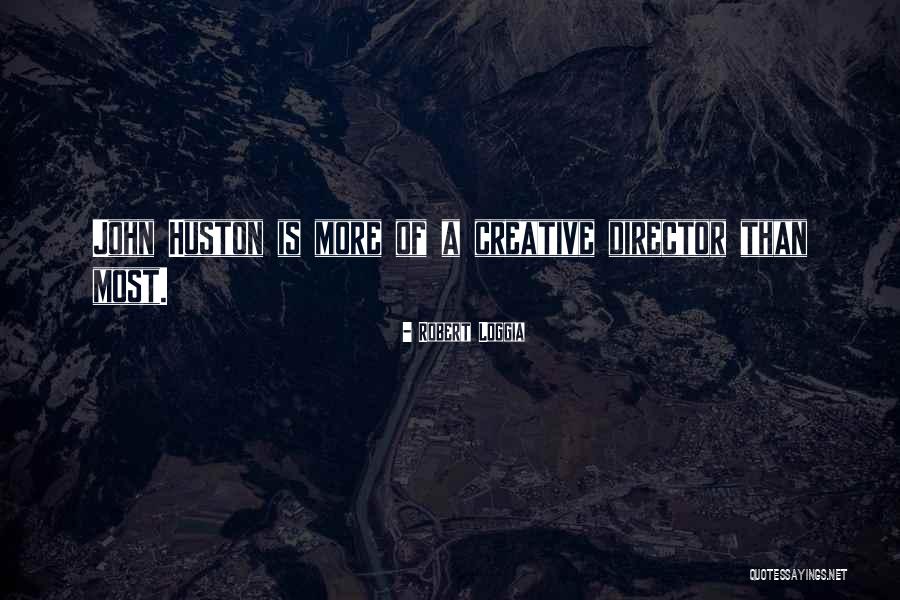 John Huston is more of a creative director than most. — Robert Loggia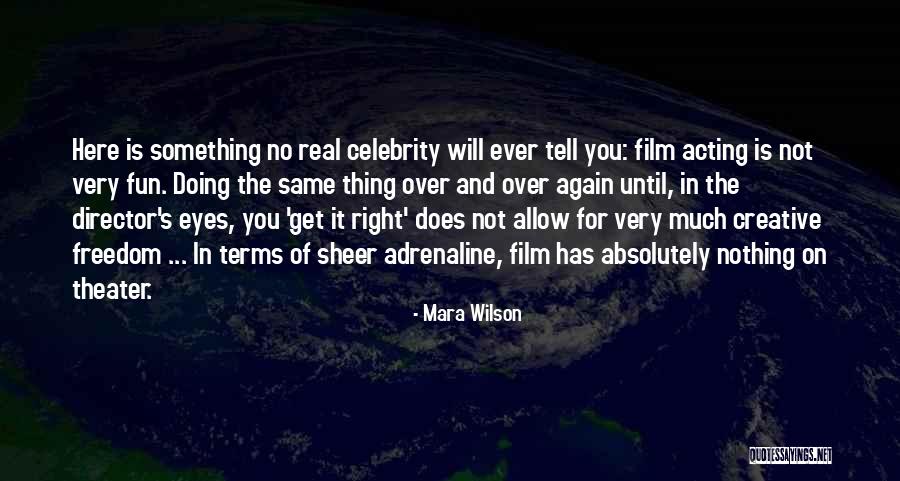 Here is something no real celebrity will ever tell you: film acting is not very fun. Doing the same thing over and over again until, in the director's eyes, you 'get it right' does not allow for very much creative freedom ... In terms of sheer adrenaline, film has absolutely nothing on theater. — Mara Wilson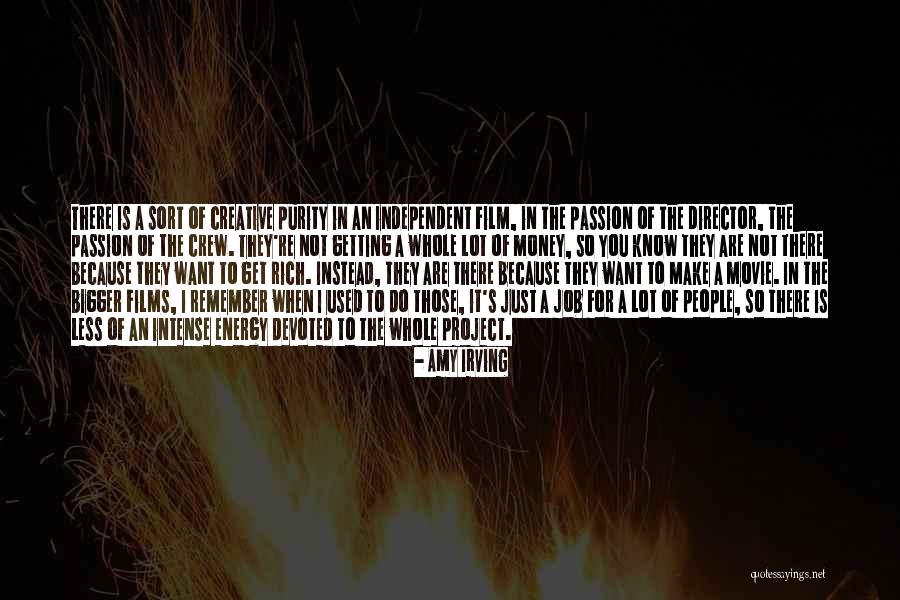 There is a sort of creative purity in an independent film, in the passion of the director, the passion of the crew. They're not getting a whole lot of money, so you know they are not there because they want to get rich. Instead, they are there because they want to make a movie. In the bigger films, I remember when I used to do those, it's just a job for a lot of people, so there is less of an intense energy devoted to the whole project. — Amy Irving
One of the good things is the relationship between director and editor used to be more contentious. Studios used to leave directors alone more during the post production process and now they're clamoring to get in. So, the director and the editor end up teaming up sort of against the studio to fight what they're doing and you lose the creative tension that you used to have between an editor and a director. — Michael Sucsy