Quotes & Sayings About Cowardice And Love
Enjoy reading and share 41 famous quotes about Cowardice And Love with everyone.
Top Cowardice And Love Quotes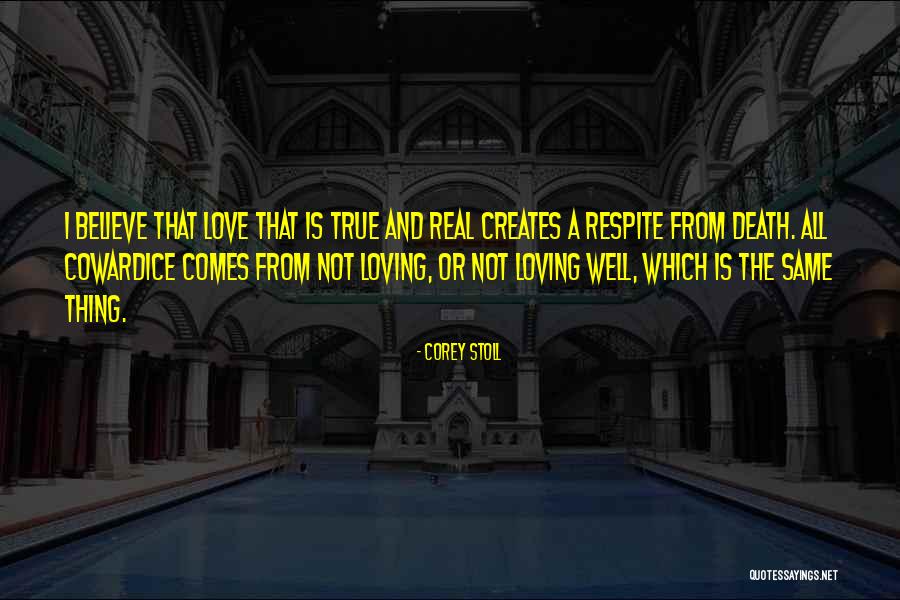 I believe that love that is true and real creates a respite from death. All cowardice comes from not loving, or not loving well, which is the same thing. — Corey Stoll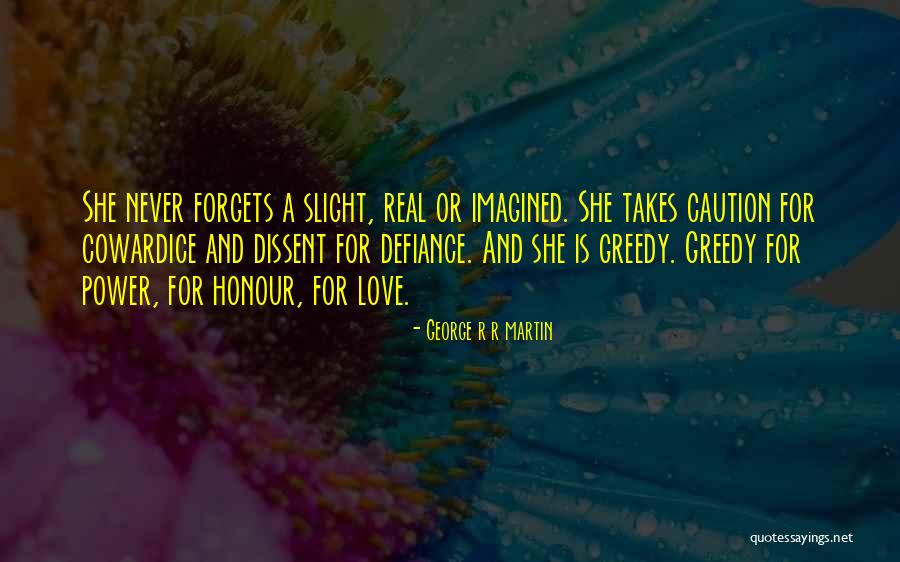 She never forgets a slight, real or imagined. She takes caution for cowardice and dissent for defiance. And she is greedy. Greedy for power, for honour, for love. — George R R Martin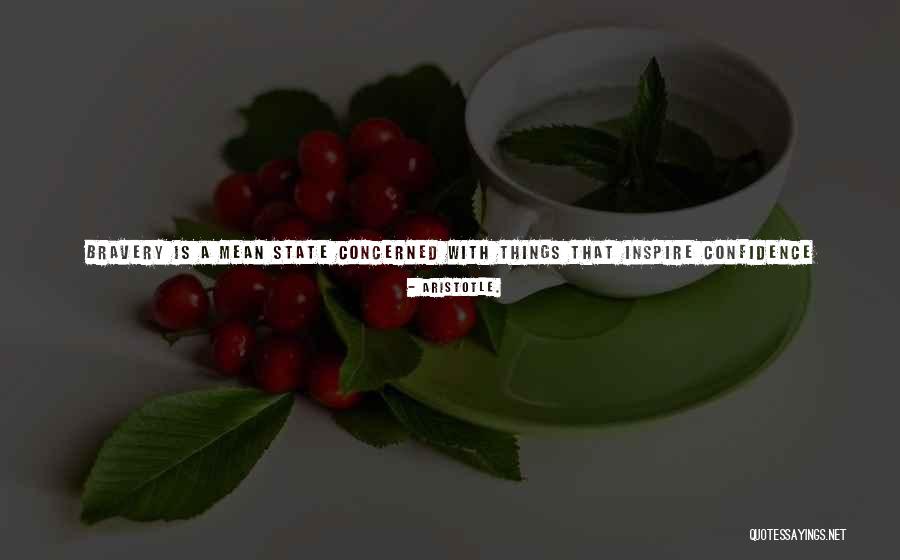 Bravery is a mean state concerned with things that inspire confidence and with things fearful ... and leading us to choose danger and to face it, either because to do so is noble, or because not to do so is base. But to court death as an escape from poverty, or from love, or from some grievous pain, is no proof of bravery, but rather of cowardice. — Aristotle.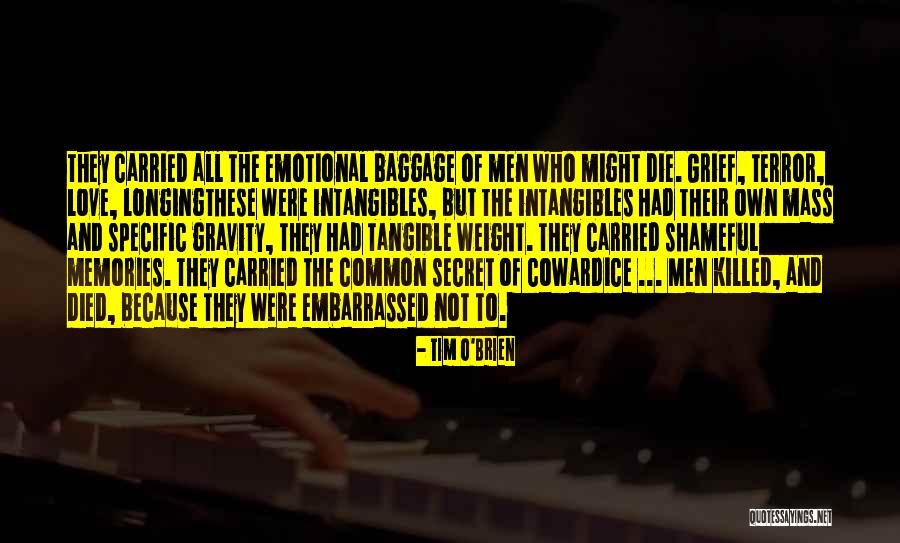 They carried all the emotional baggage of men who might die. Grief, terror, love, longing
these were intangibles, but the intangibles had their own mass and specific gravity, they had tangible weight. They carried shameful memories. They carried the common secret of cowardice ... Men killed, and died, because they were embarrassed not to. — Tim O'Brien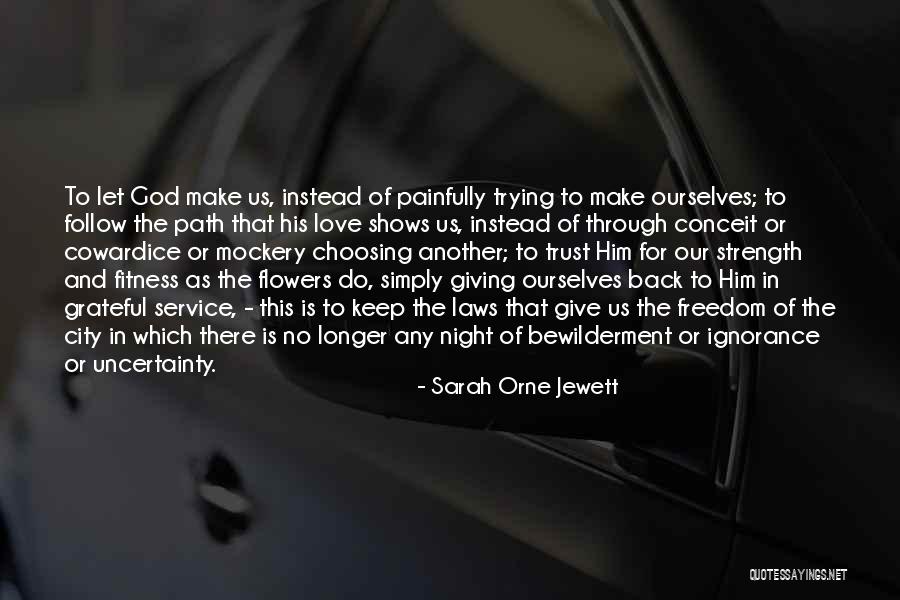 To let God make us, instead of painfully trying to make ourselves; to follow the path that his love shows us, instead of through conceit or cowardice or mockery choosing another; to trust Him for our strength and fitness as the flowers do, simply giving ourselves back to Him in grateful service, - this is to keep the laws that give us the freedom of the city in which there is no longer any night of bewilderment or ignorance or uncertainty. — Sarah Orne Jewett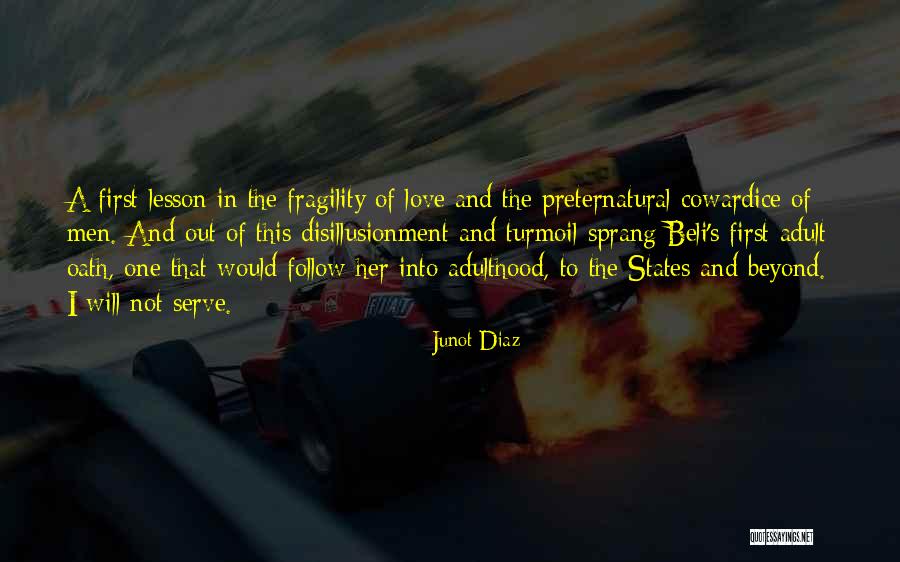 A first lesson in the fragility of love and the preternatural cowardice of men. And out of this disillusionment and turmoil sprang Beli's first adult oath, one that would follow her into adulthood, to the States and beyond. I will not serve. — Junot Diaz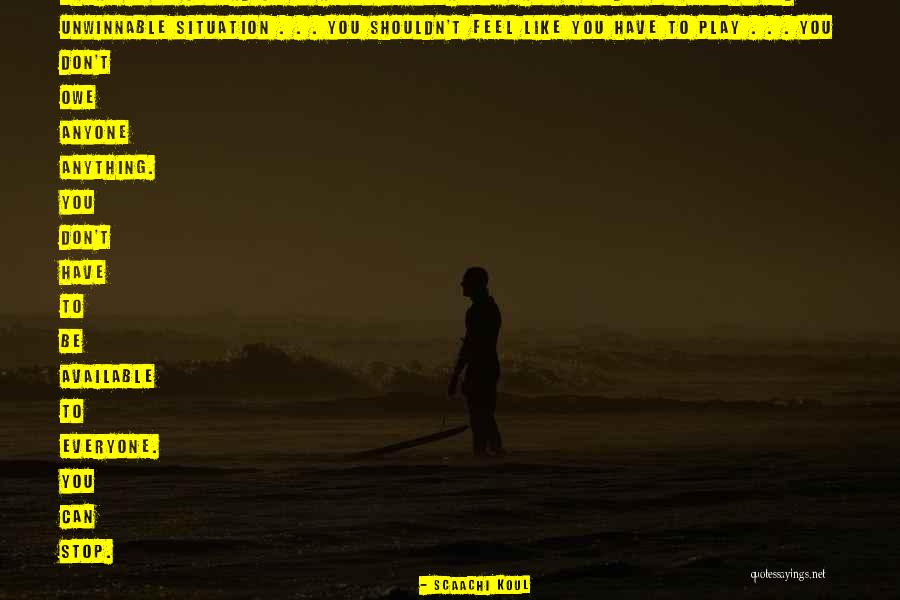 There is no cowardice in removing yourself from a wildly unhealthy and unwinnable situation . . . You shouldn't feel like you have to play . . . you don't owe anyone anything. You don't have to be available to everyone. You can stop. — Scaachi Koul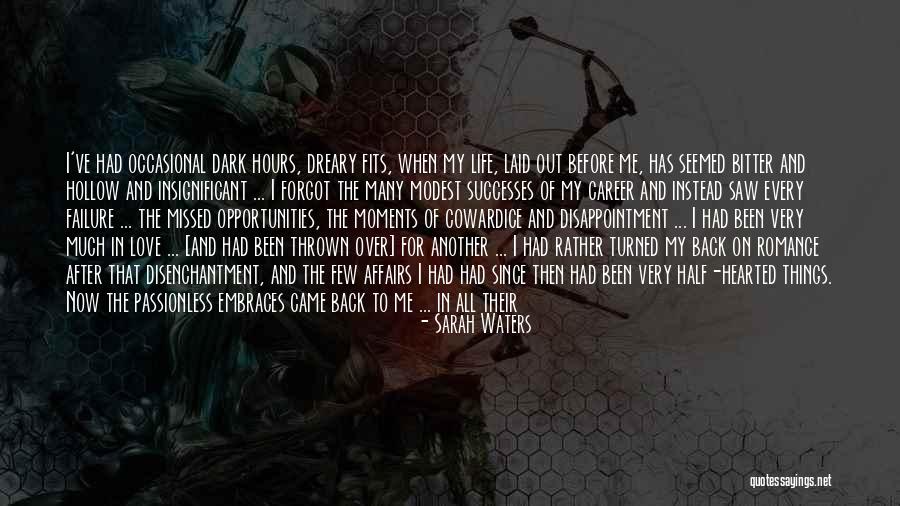 I've had occasional dark hours, dreary fits, when my life, laid out before me, has seemed bitter and hollow and insignificant ... I forgot the many modest successes of my career and instead saw every failure ... the missed opportunities, the moments of cowardice and disappointment ... I had been very much in love ... [and had been thrown over] for another ... I had rather turned my back on romance after that disenchantment, and the few affairs I had had since then had been very half-hearted things. Now the passionless embraces came back to me ... in all their dry mechanical detail. I felt a wave of disgust for myself, and a pity for the [others] involved. — Sarah Waters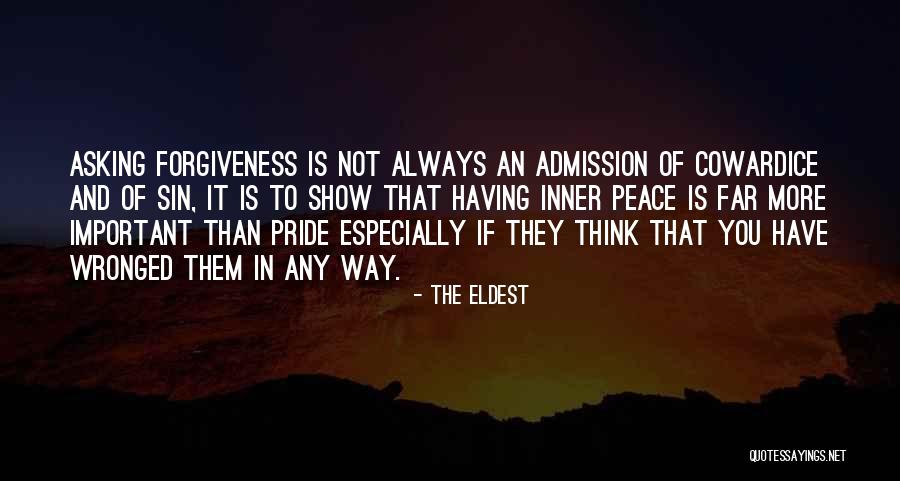 Asking forgiveness is not ALWAYS an admission of cowardice and of sin, It is to show that having inner peace is far more important than pride especially if they think that you have wronged them in any way. — The Eldest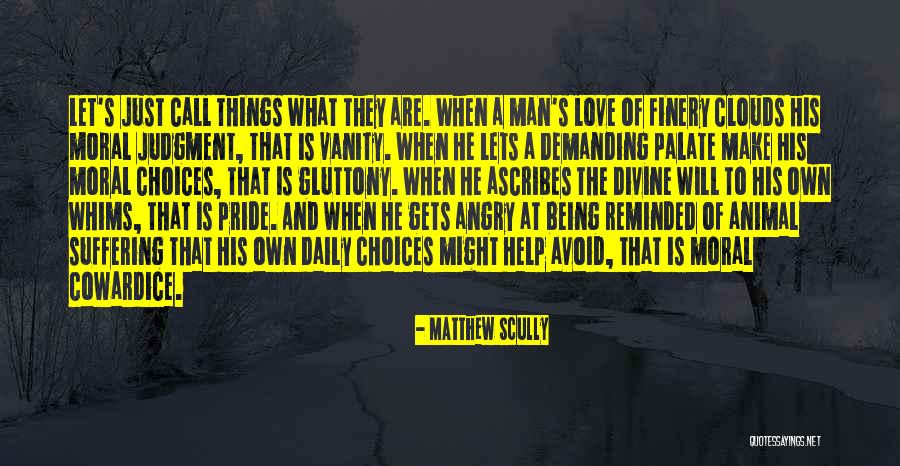 Let's just call things what they are. When a man's love of finery clouds his moral judgment, that is vanity. When he lets a demanding palate make his moral choices, that is gluttony. When he ascribes the divine will to his own whims, that is pride. And when he gets angry at being reminded of animal suffering that his own daily choices might help avoid, that is moral cowardice. — Matthew Scully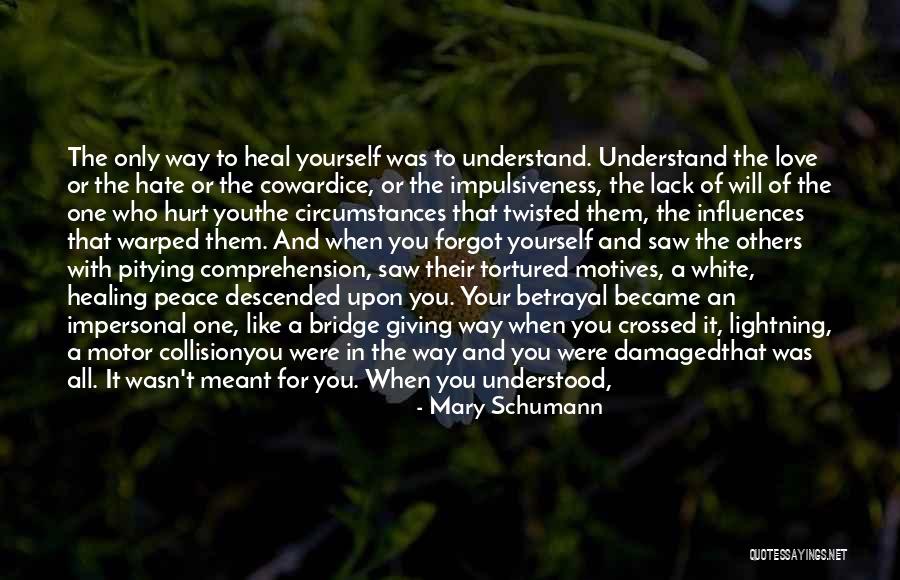 The only way to heal yourself was to understand. Understand the love or the hate or the cowardice, or the impulsiveness, the lack of will of the one who hurt you
the circumstances that twisted them, the influences that warped them. And when you forgot yourself and saw the others with pitying comprehension, saw their tortured motives, a white, healing peace descended upon you. Your betrayal became an impersonal one, like a bridge giving way when you crossed it, lightning, a motor collision
you were in the way and you were damaged
that was all. It wasn't meant for you. When you understood, you were released into a new freedom and wisdom. — Mary Schumann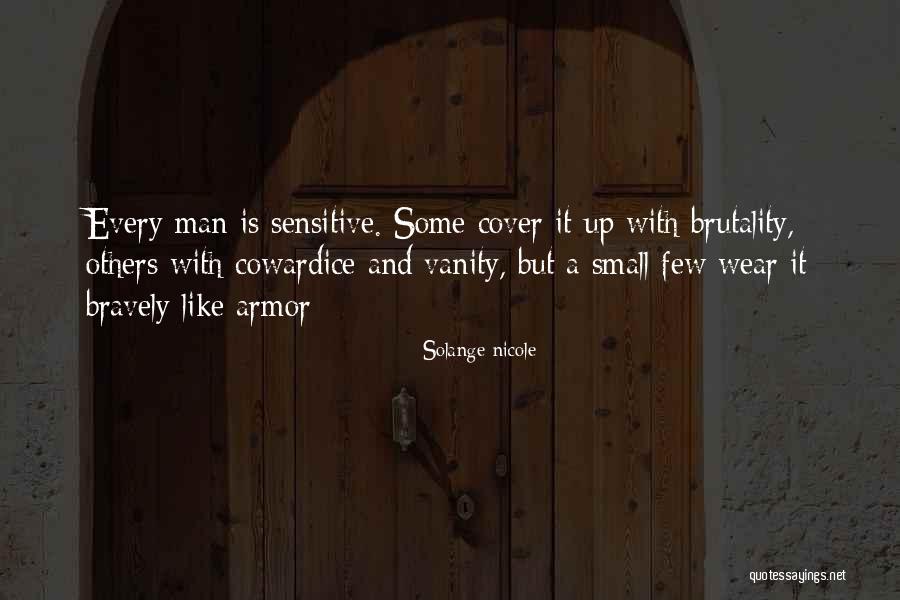 Every man is sensitive. Some cover it up with brutality, others with cowardice and vanity, but a small few wear it bravely like armor — Solange Nicole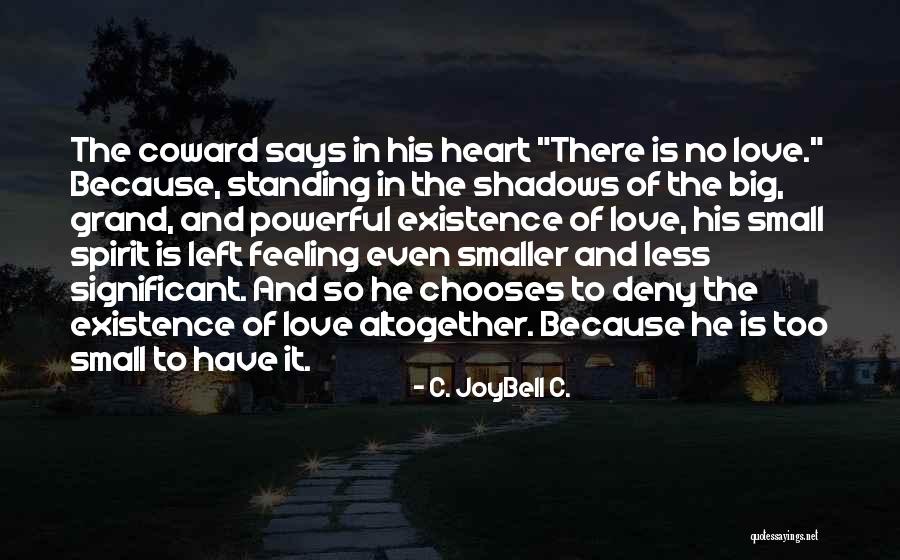 The coward says in his heart "There is no love." Because, standing in the shadows of the big, grand, and powerful existence of love, his small spirit is left feeling even smaller and less significant. And so he chooses to deny the existence of love altogether. Because he is too small to have it. — C. JoyBell C.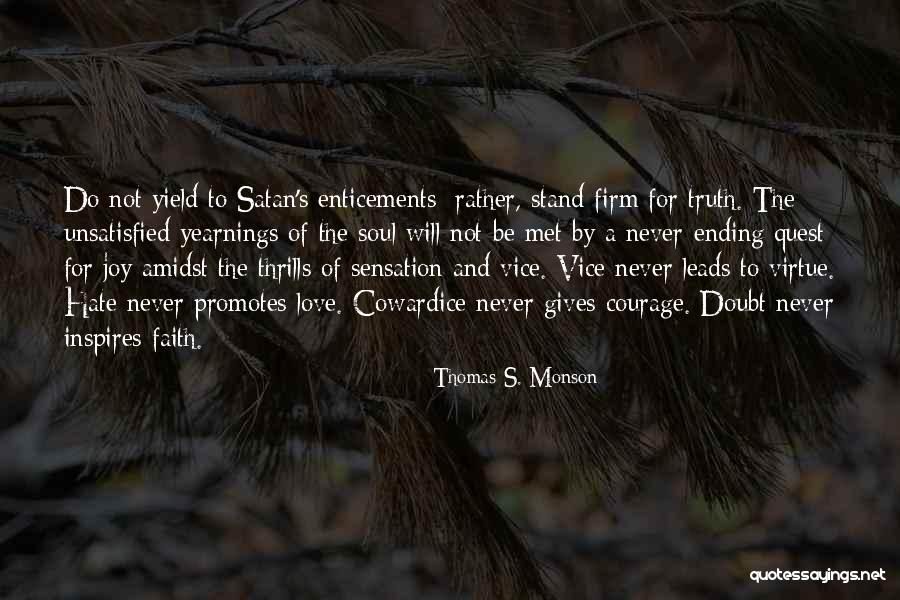 Do not yield to Satan's enticements; rather, stand firm for truth. The unsatisfied yearnings of the soul will not be met by a never-ending quest for joy amidst the thrills of sensation and vice. Vice never leads to virtue. Hate never promotes love. Cowardice never gives courage. Doubt never inspires faith. — Thomas S. Monson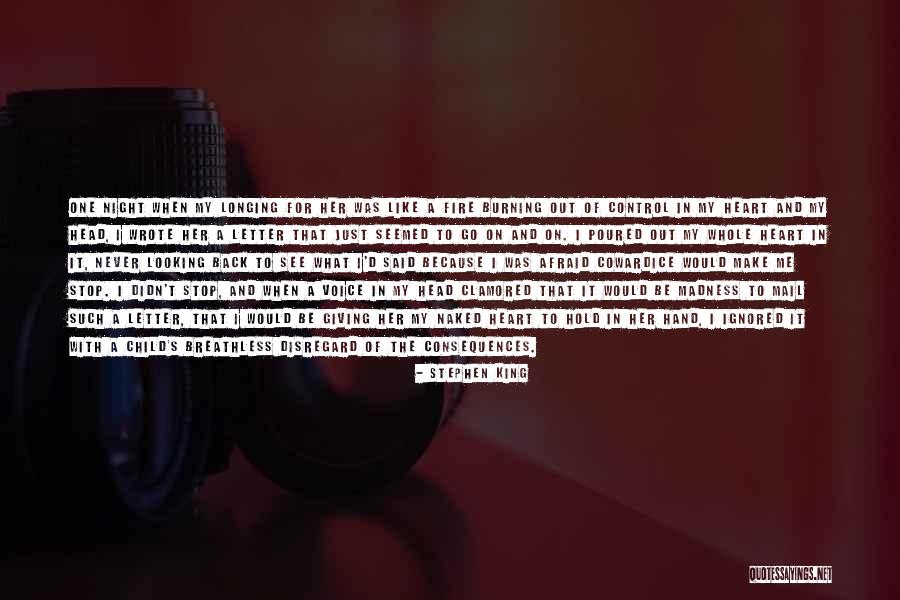 One night when my longing for her was like a fire burning out of control in my heart and my head, I wrote her a letter that just seemed to go on and on. I poured out my whole heart in it, never looking back to see what I'd said because I was afraid cowardice would make me stop. I didn't stop, and when a voice in my head clamored that it would be madness to mail such a letter, that I would be giving her my naked heart to hold in her hand, I ignored it with a child's breathless disregard of the consequences. — Stephen King
True love happened rarely and standing in the brink of one, it would in all certainty be an act of cowardice to retreat without letting her know his desire. — Maliny Mohan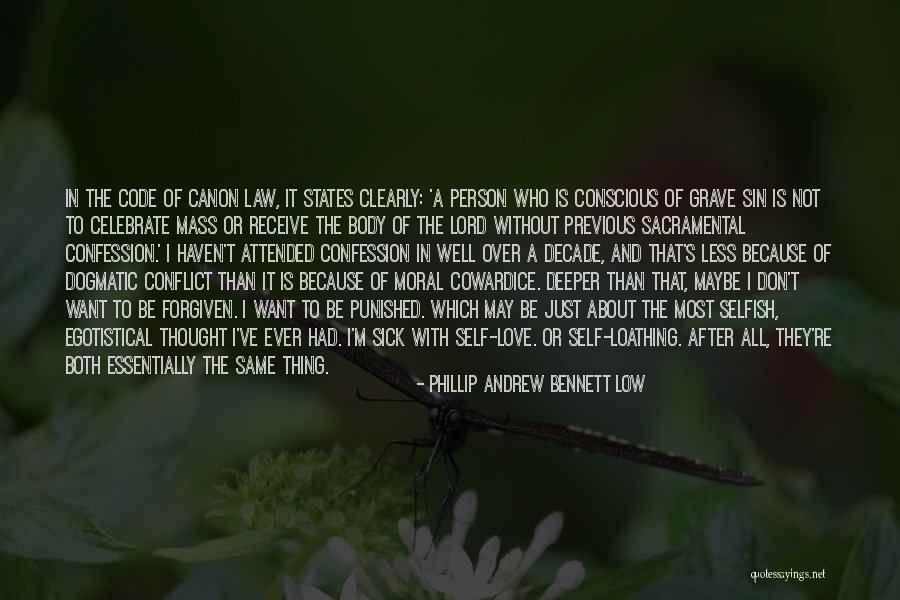 In the Code of Canon Law, it states clearly: 'A person who is conscious of grave sin is not to celebrate Mass or receive the body of the Lord without previous sacramental confession.' I haven't attended confession in well over a decade, and that's less because of dogmatic conflict than it is because of moral cowardice. Deeper than that, maybe I don't want to be forgiven. I want to be punished. Which may be just about the most selfish, egotistical thought I've ever had. I'm sick with self-love. Or self-loathing. After all, they're both essentially the same thing. — Phillip Andrew Bennett Low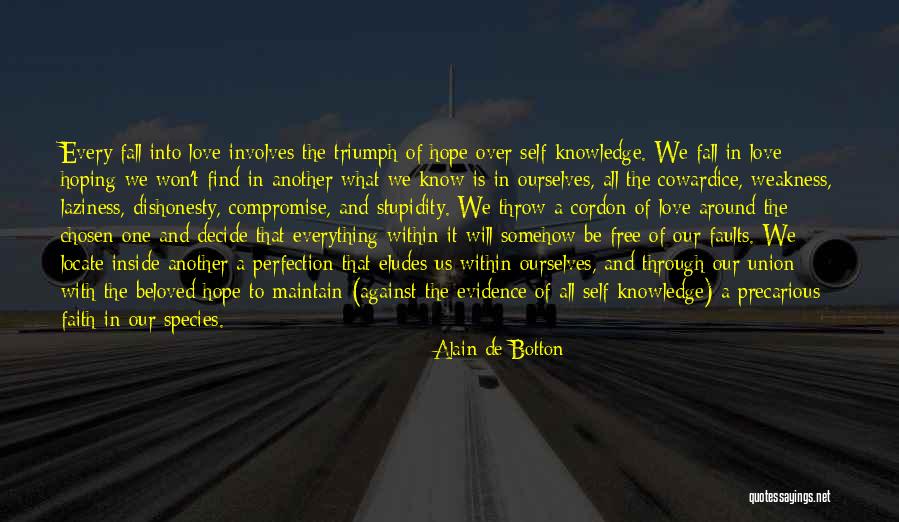 Every fall into love involves the triumph of hope over self-knowledge. We fall in love hoping we won't find in another what we know is in ourselves, all the cowardice, weakness, laziness, dishonesty, compromise, and stupidity. We throw a cordon of love around the chosen one and decide that everything within it will somehow be free of our faults. We locate inside another a perfection that eludes us within ourselves, and through our union with the beloved hope to maintain (against the evidence of all self-knowledge) a precarious faith in our species. — Alain De Botton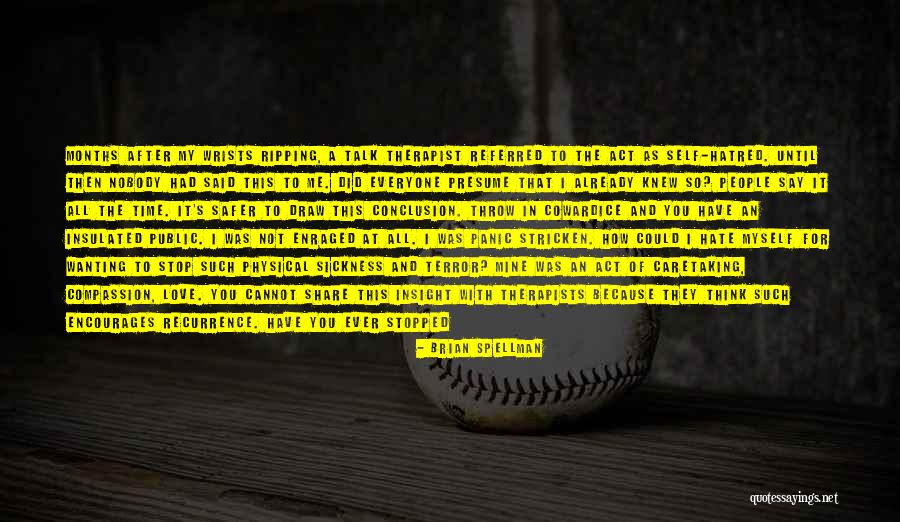 Months after my wrists ripping, a talk therapist referred to the act as self-hatred. Until then nobody had said this to me. Did everyone presume that I already knew so? People say it all the time. It's safer to draw this conclusion. Throw in cowardice and you have an insulated public. I was not enraged at all. I was panic stricken. How could I hate myself for wanting to stop such physical sickness and terror? Mine was an act of caretaking, compassion, love. You cannot share this insight with therapists because they think such encourages recurrence. Have you ever stopped diarrhea with a prayer? If you have to go, you go. If you have to die, you die. — Brian Spellman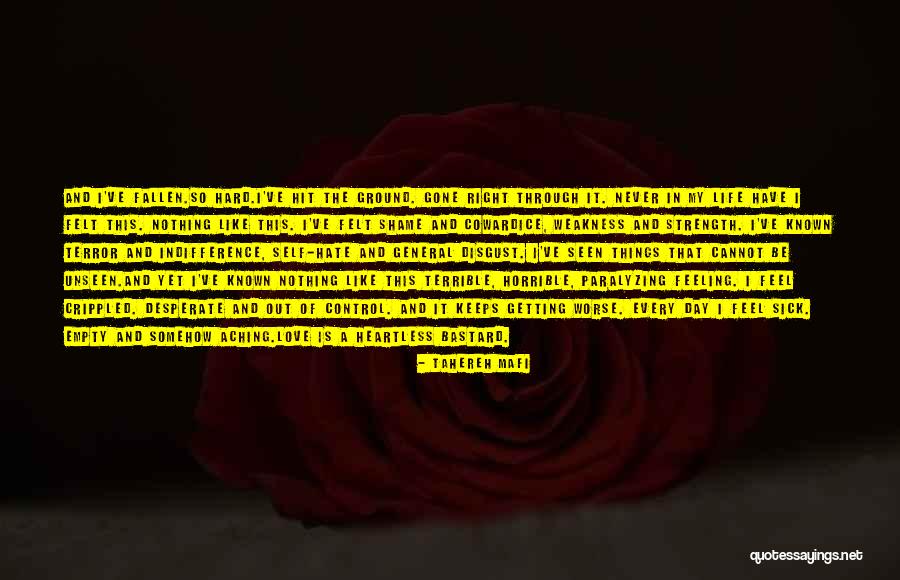 And I've fallen.
So hard.
I've hit the ground. Gone right through it. Never in my life have I felt this. Nothing like this. I've felt shame and cowardice, weakness and strength. I've known terror and indifference, self-hate and general disgust. I've seen things that cannot be unseen.
And yet I've known nothing like this terrible, horrible, paralyzing feeling. I feel crippled. Desperate and out of control. And it keeps getting worse. Every day I feel sick. Empty and somehow aching.
Love is a heartless bastard. — Tahereh Mafi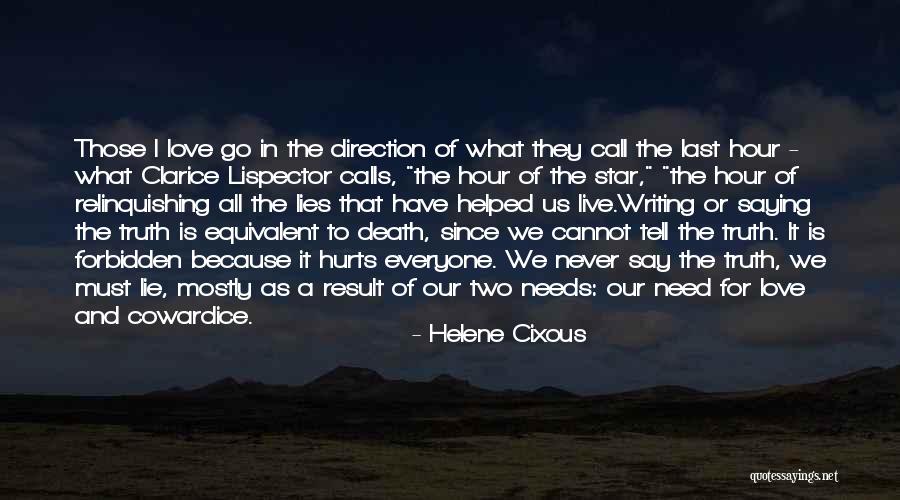 Those I love go in the direction of what they call the last hour - what Clarice Lispector calls, "the hour of the star," "the hour of relinquishing all the lies that have helped us live.
Writing or saying the truth is equivalent to death, since we cannot tell the truth. It is forbidden because it hurts everyone. We never say the truth, we must lie, mostly as a result of our two needs: our need for love and cowardice. — Helene Cixous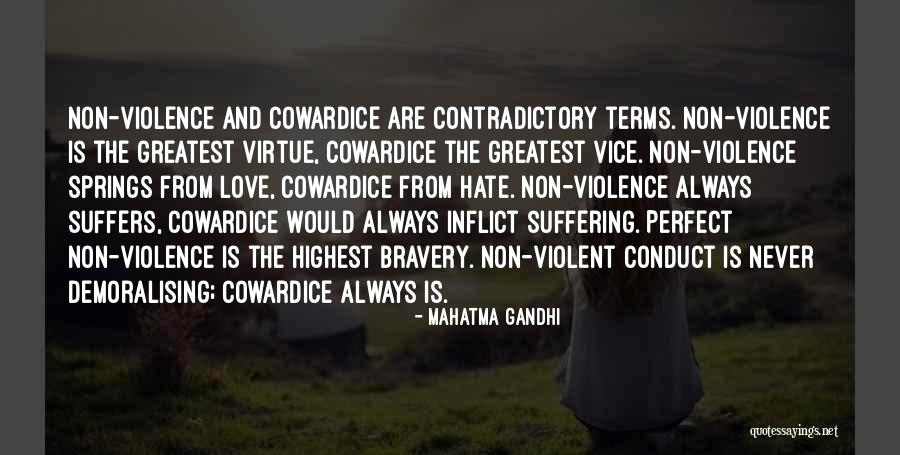 Non-violence and cowardice are contradictory terms. Non-violence is the greatest virtue, cowardice the greatest vice. Non-violence springs from love, cowardice from hate. Non-violence always suffers, cowardice would always inflict suffering. Perfect non-violence is the highest bravery. Non-violent conduct is never demoralising; cowardice always is. — Mahatma Gandhi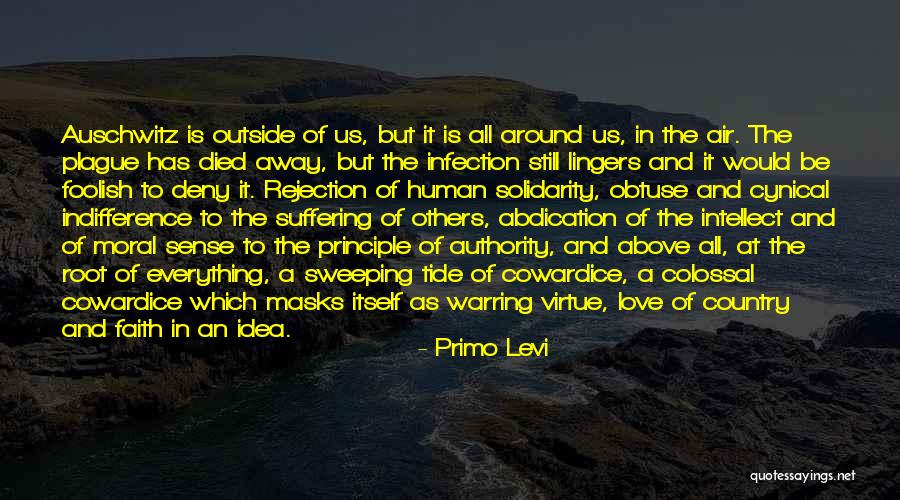 Auschwitz is outside of us, but it is all around us, in the air. The plague has died away, but the infection still lingers and it would be foolish to deny it. Rejection of human solidarity, obtuse and cynical indifference to the suffering of others, abdication of the intellect and of moral sense to the principle of authority, and above all, at the root of everything, a sweeping tide of cowardice, a colossal cowardice which masks itself as warring virtue, love of country and faith in an idea. — Primo Levi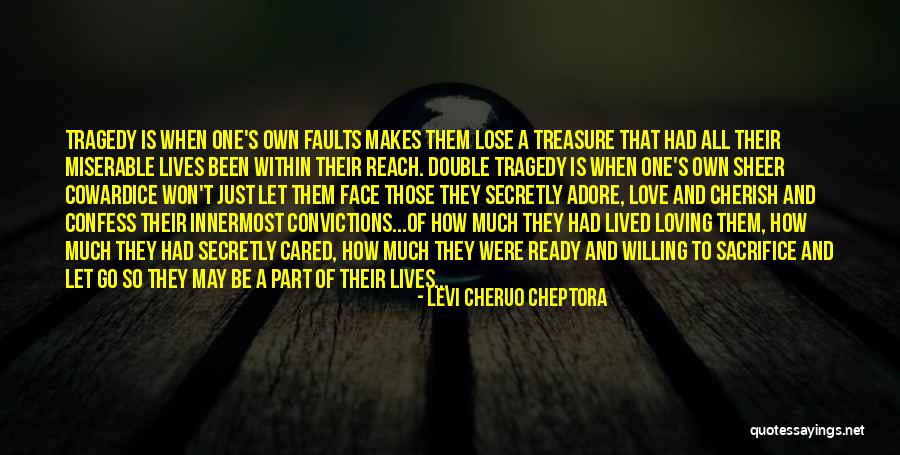 Tragedy is when one's own faults makes them lose a treasure that had all their miserable lives been within their reach. Double tragedy is when one's own sheer cowardice won't just let them face those they secretly adore, love and cherish and confess their innermost convictions...of how much they had lived loving them, how much they had secretly cared, how much they were ready and willing to sacrifice and let go so they may be a part of their lives... — Levi Cheruo Cheptora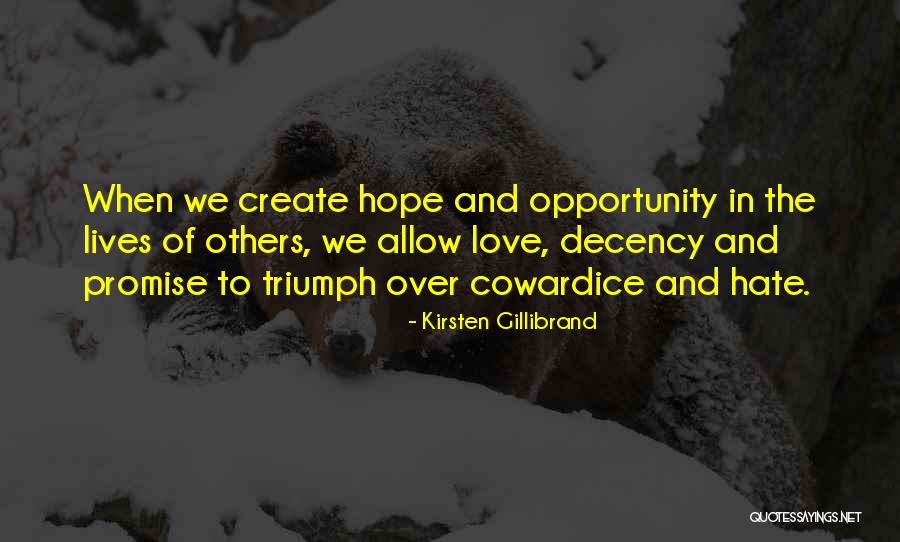 When we create hope and opportunity in the lives of others, we allow love, decency and promise to triumph over cowardice and hate. — Kirsten Gillibrand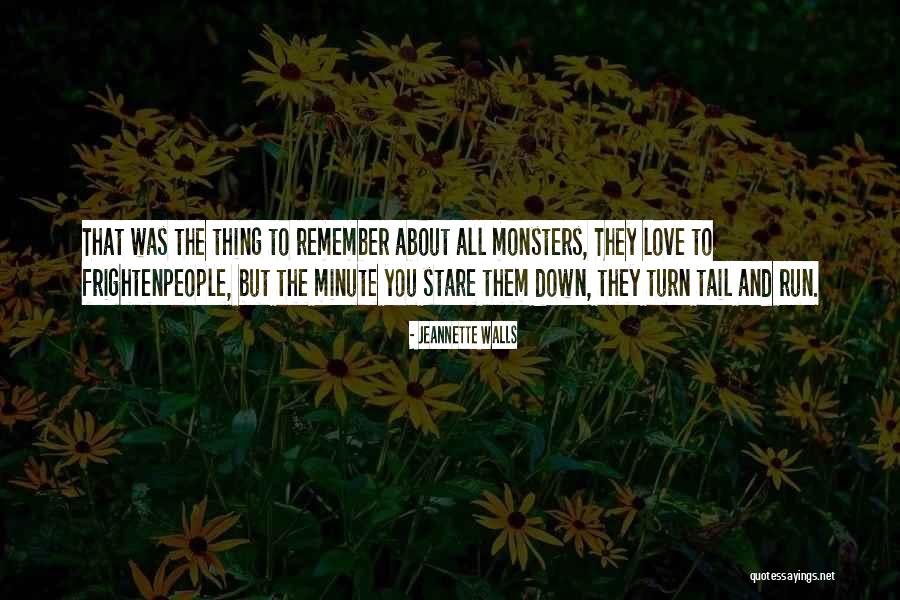 That was the thing to remember about all monsters, They love to frighten
people, but the minute you stare them down, they turn tail and run. — Jeannette Walls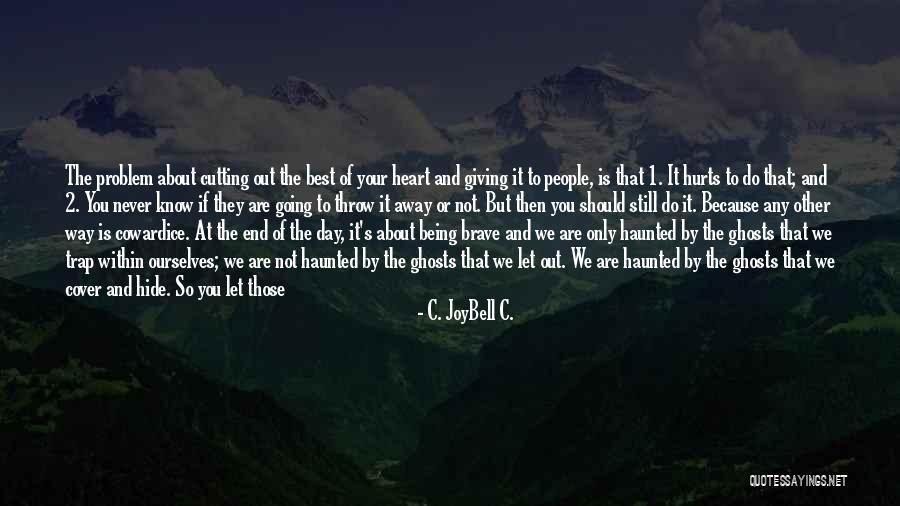 The problem about cutting out the best of your heart and giving it to people, is that 1. It hurts to do that; and 2. You never know if they are going to throw it away or not. But then you should still do it. Because any other way is cowardice. At the end of the day, it's about being brave and we are only haunted by the ghosts that we trap within ourselves; we are not haunted by the ghosts that we let out. We are haunted by the ghosts that we cover and hide. So you let those ghosts out in that best piece of your heart that you give to someone. And if the other person throws it away? Or doesn't want it to begin with? Someone else will come along one day, cut out from his/her heart that exact same jagged shape that you cut out of your own heart, and make their piece of heart fit into the rest of yours. Wait for that person. And you can fill their missing piece with your soul. — C. JoyBell C.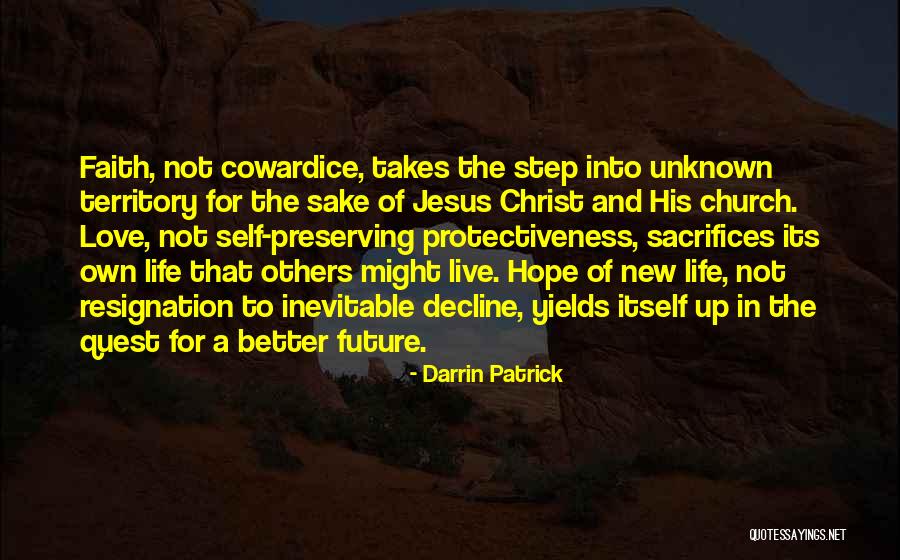 Faith, not cowardice, takes the step into unknown territory for the sake of Jesus Christ and His church. Love, not self-preserving protectiveness, sacrifices its own life that others might live. Hope of new life, not resignation to inevitable decline, yields itself up in the quest for a better future. — Darrin Patrick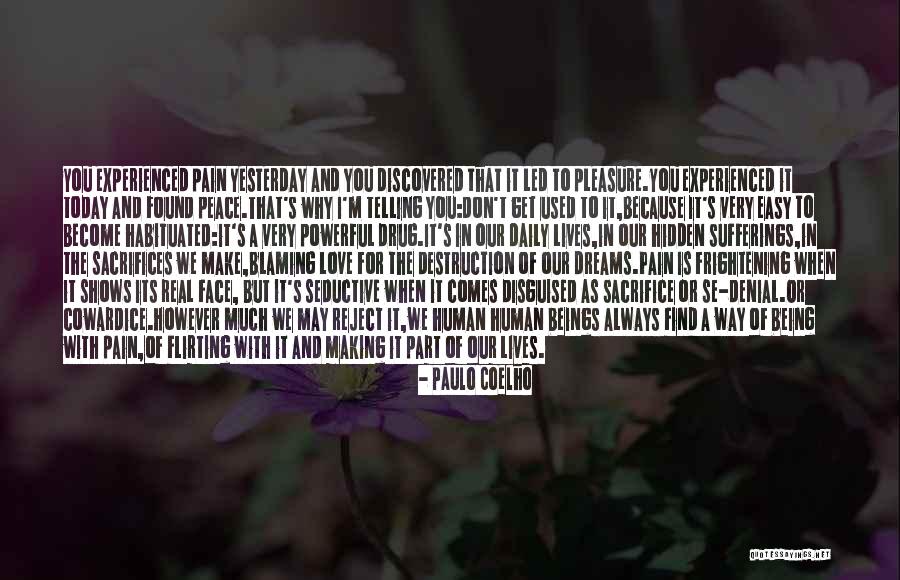 You experienced pain yesterday and you discovered that it led to pleasure.You experienced it today and found peace.That's why I'm telling you:Don't get used to it,because it's very easy to become habituated:it's a very powerful drug.It's in our daily lives,in our hidden sufferings,in the sacrifices we make,blaming love for the destruction of our dreams.Pain is frightening when it shows its real face, but it's seductive when it comes disguised as sacrifice or se-denial.Or cowardice.However much we may reject it,we human human beings always find a way of being with pain,of flirting with it and making it part of our lives. — Paulo Coelho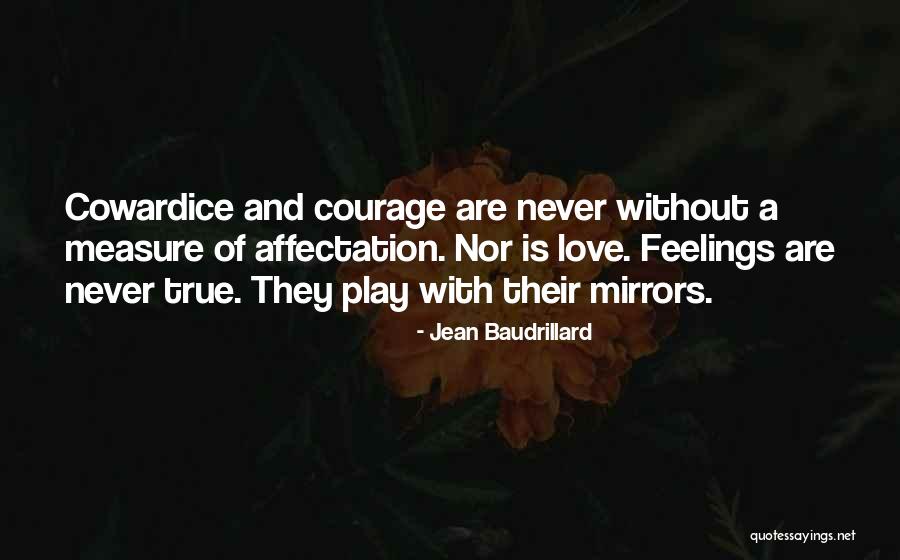 Cowardice and courage are never without a measure of affectation. Nor is love. Feelings are never true. They play with their mirrors. — Jean Baudrillard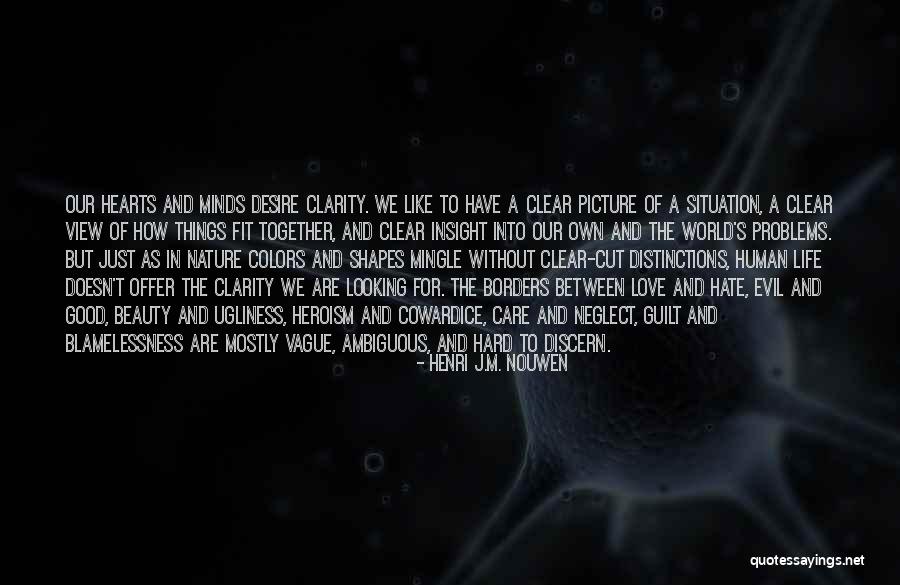 Our hearts and minds desire clarity. We like to have a clear picture of a situation, a clear view of how things fit together, and clear insight into our own and the world's problems. But just as in nature colors and shapes mingle without clear-cut distinctions, human life doesn't offer the clarity we are looking for. The borders between love and hate, evil and good, beauty and ugliness, heroism and cowardice, care and neglect, guilt and blamelessness are mostly vague, ambiguous, and hard to discern. — Henri J.M. Nouwen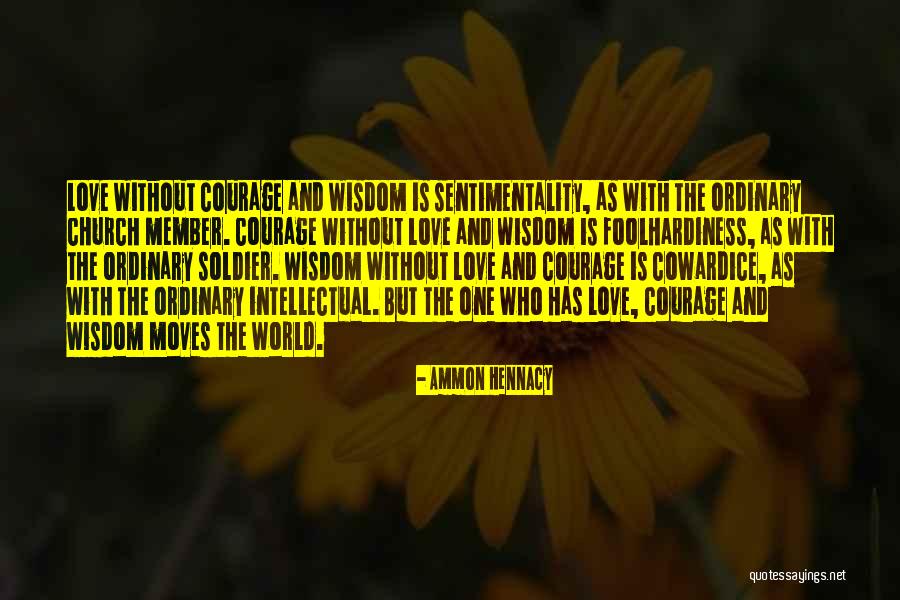 Love without courage and wisdom is sentimentality, as with the ordinary church member. Courage without love and wisdom is foolhardiness, as with the ordinary soldier. Wisdom without love and courage is cowardice, as with the ordinary intellectual. But the one who has love, courage and wisdom moves the world. — Ammon Hennacy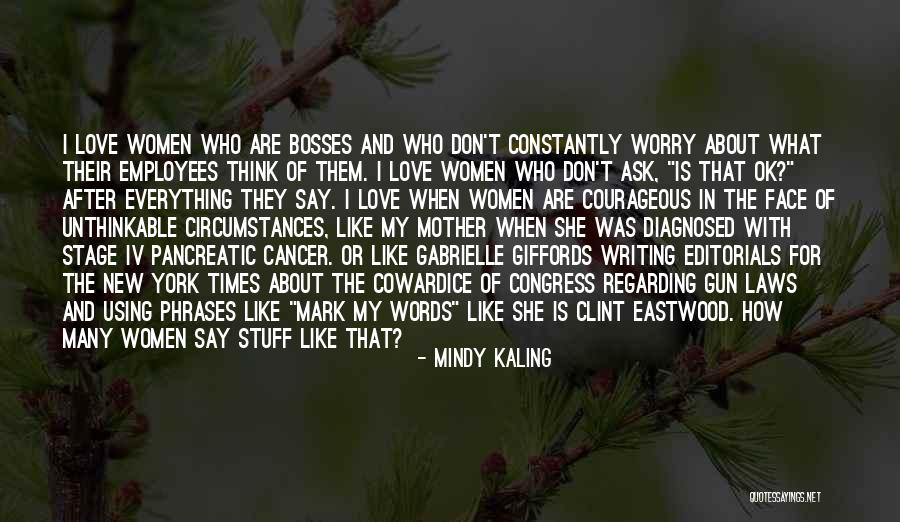 I love women who are bosses and who don't constantly worry about what their employees think of them. I love women who don't ask, "Is that OK?" after everything they say. I love when women are courageous in the face of unthinkable circumstances, like my mother when she was diagnosed with stage IV pancreatic cancer. Or like Gabrielle Giffords writing editorials for the New York Times about the cowardice of Congress regarding gun laws and using phrases like "mark my words" like she is Clint Eastwood. How many women say stuff like that? — Mindy Kaling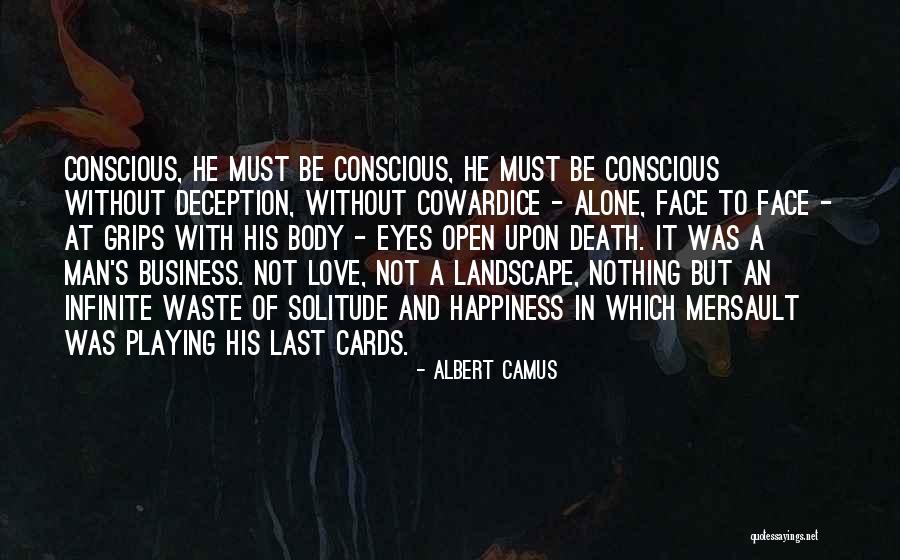 Conscious, he must be conscious, he must be conscious without deception, without cowardice - alone, face to face - at grips with his body - eyes open upon death. It was a man's business. Not love, not a landscape, nothing but an infinite waste of solitude and happiness in which Mersault was playing his last cards. — Albert Camus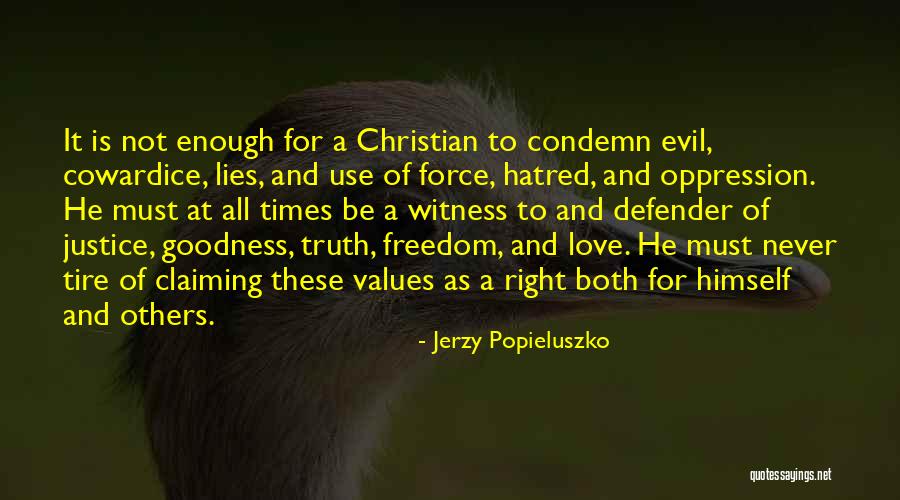 It is not enough for a Christian to condemn evil, cowardice, lies, and use of force, hatred, and oppression. He must at all times be a witness to and defender of justice, goodness, truth, freedom, and love. He must never tire of claiming these values as a right both for himself and others. — Jerzy Popieluszko
Yet I'm sure there's something more to be read in a man. People dare not
they dare not turn the page. The laws of mimicry
I call them the laws of fear. People are afraid to find themselves alone, and don't find themselves at all. I hate this moral agoraphobia
it's the worst kind of cowardice. You can't create something without being alone. But who's trying to create here? What seems different in yourself: that's the one rare thing you possess, the one thing which gives each of us his worth; and that's just what we try to suppress. We imitate. And we claim to love life. — Andre Gide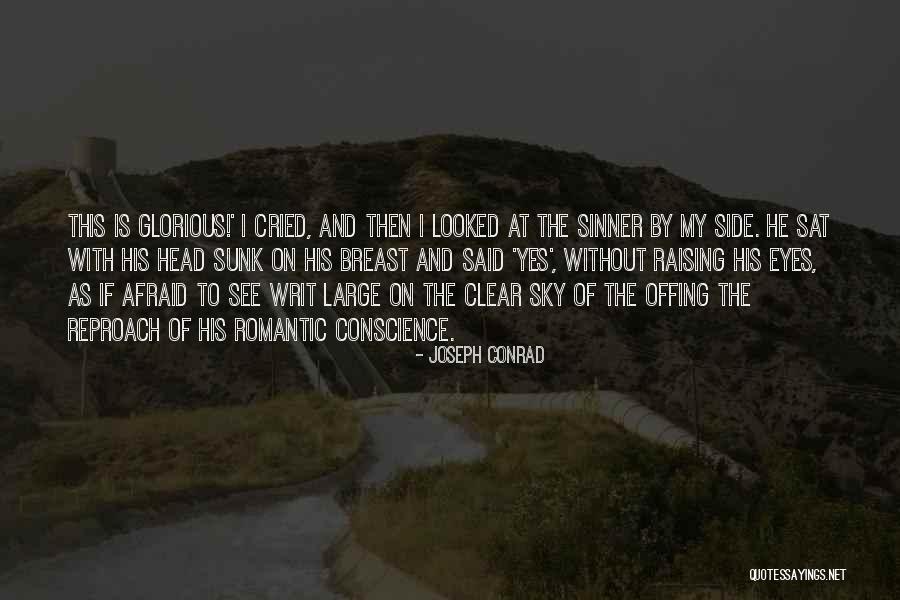 This is glorious!' I cried, and then i looked at the sinner by my side. He sat with his head sunk on his breast and said 'Yes', without raising his eyes, as if afraid to see writ large on the clear sky of the offing the reproach of his romantic conscience. — Joseph Conrad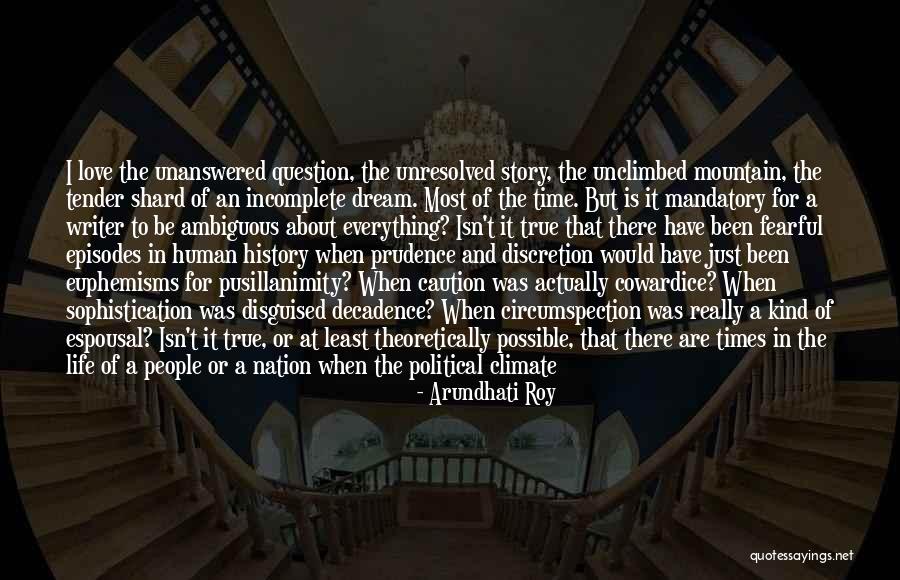 I love the unanswered question, the unresolved story, the unclimbed mountain, the tender shard of an incomplete dream. Most of the time. But is it mandatory for a writer to be ambiguous about everything? Isn't it true that there have been fearful episodes in human history when prudence and discretion would have just been euphemisms for pusillanimity? When caution was actually cowardice? When sophistication was disguised decadence? When circumspection was really a kind of espousal? Isn't it true, or at least theoretically possible, that there are times in the life of a people or a nation when the political climate demands that we - even the most sophisticated of us - overtly take sides? I think such times are upon us. — Arundhati Roy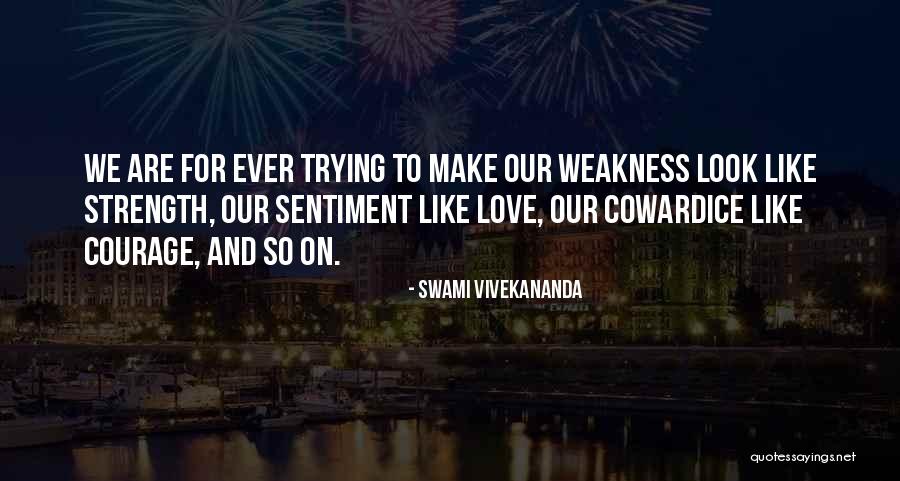 We are for ever trying to make our weakness look like strength, our sentiment like love, our cowardice like courage, and so on. — Swami Vivekananda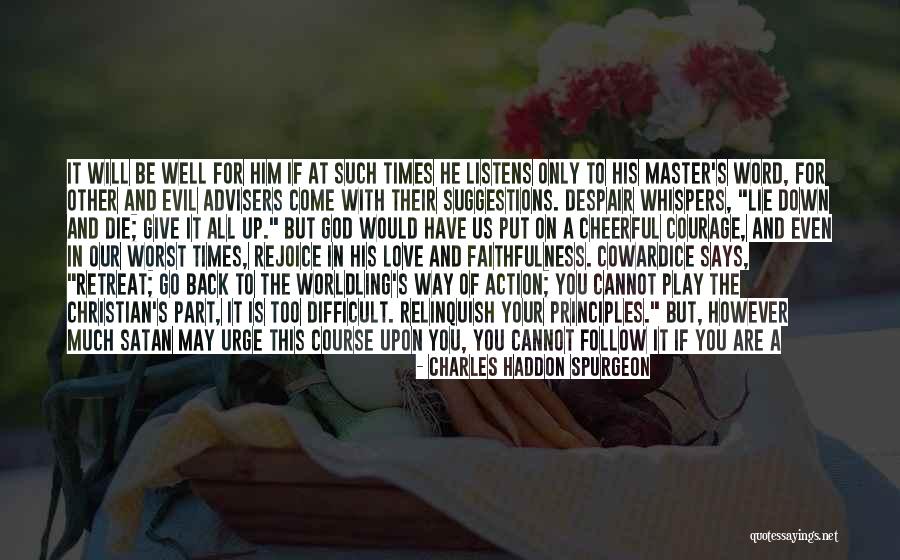 It will be well for him if at such times he listens only to his Master's word, for other and evil advisers come with their suggestions. Despair whispers, "Lie down and die; give it all up." But God would have us put on a cheerful courage, and even in our worst times, rejoice in his love and faithfulness. Cowardice says, "Retreat; go back to the worldling's way of action; you cannot play the Christian's part, it is too difficult. Relinquish your principles." But, however much Satan may urge this course upon you, you cannot follow it if you are a child of God. His divine fiat has bid thee go from strength to strength, and so thou shalt, and neither death nor hell shall turn thee from thy course. What, if for a while thou art called to stand still, yet this is but to renew thy strength for some greater advance in due time. — Charles Haddon Spurgeon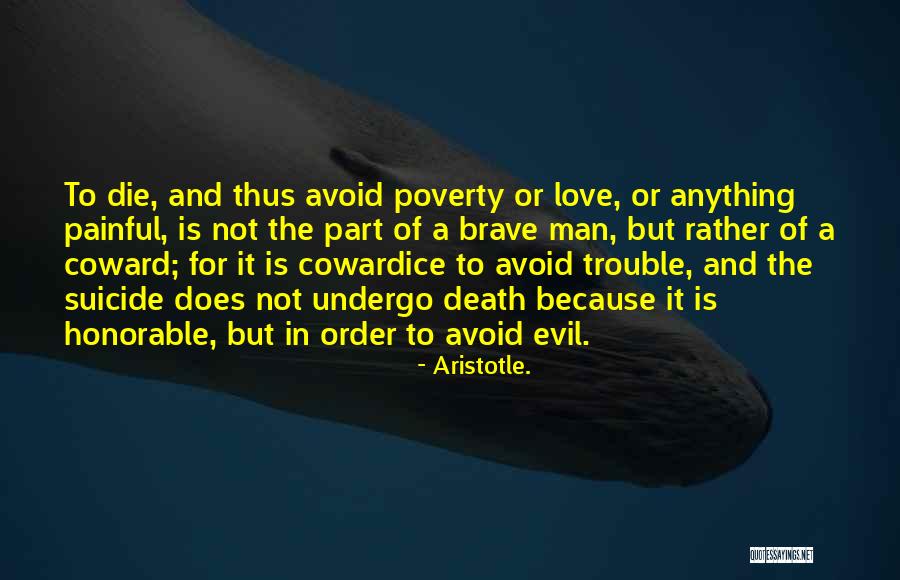 To die, and thus avoid poverty or love, or anything painful, is not the part of a brave man, but rather of a coward; for it is cowardice to avoid trouble, and the suicide does not undergo death because it is honorable, but in order to avoid evil. — Aristotle.