Quotes & Sayings About Correct Decisions
Enjoy reading and share 33 famous quotes about Correct Decisions with everyone.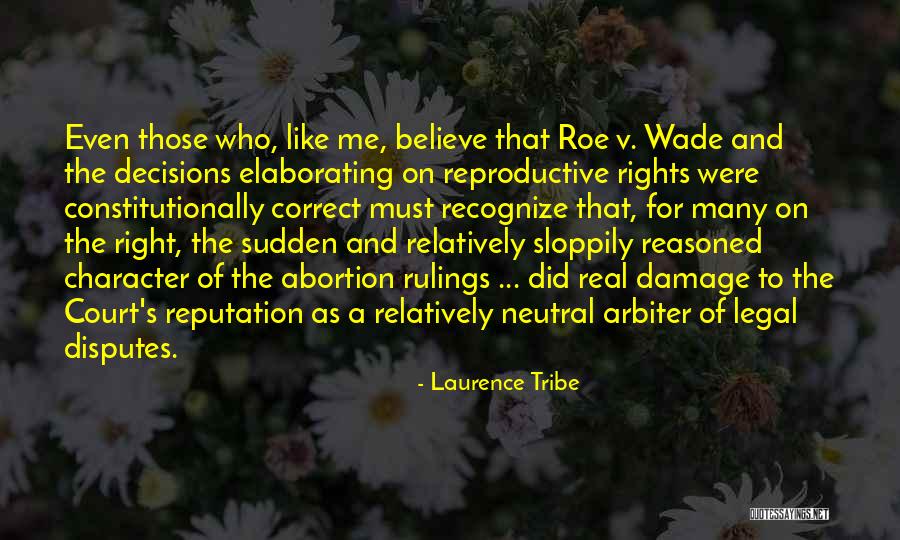 Even those who, like me, believe that Roe v. Wade and the decisions elaborating on reproductive rights were constitutionally correct must recognize that, for many on the right, the sudden and relatively sloppily reasoned character of the abortion rulings ... did real damage to the Court's reputation as a relatively neutral arbiter of legal disputes. — Laurence Tribe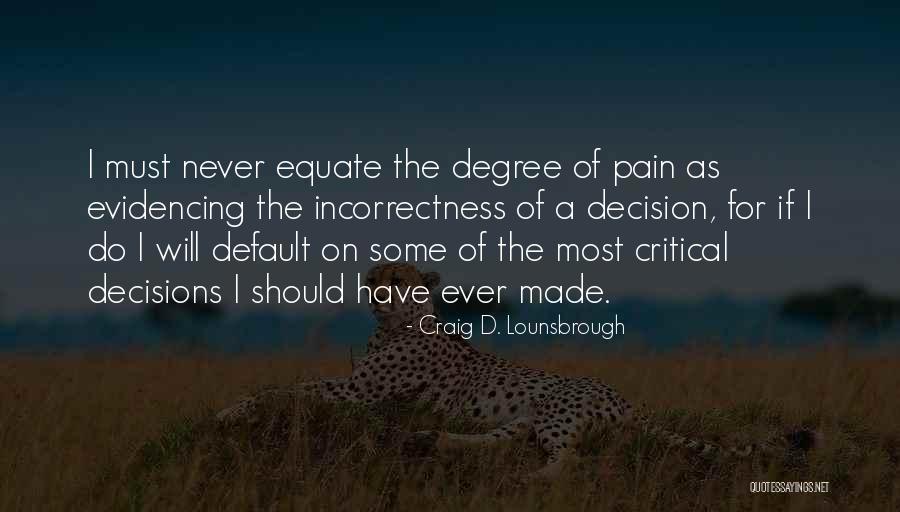 I must never equate the degree of pain as evidencing the incorrectness of a decision, for if I do I will default on some of the most critical decisions I should have ever made. — Craig D. Lounsbrough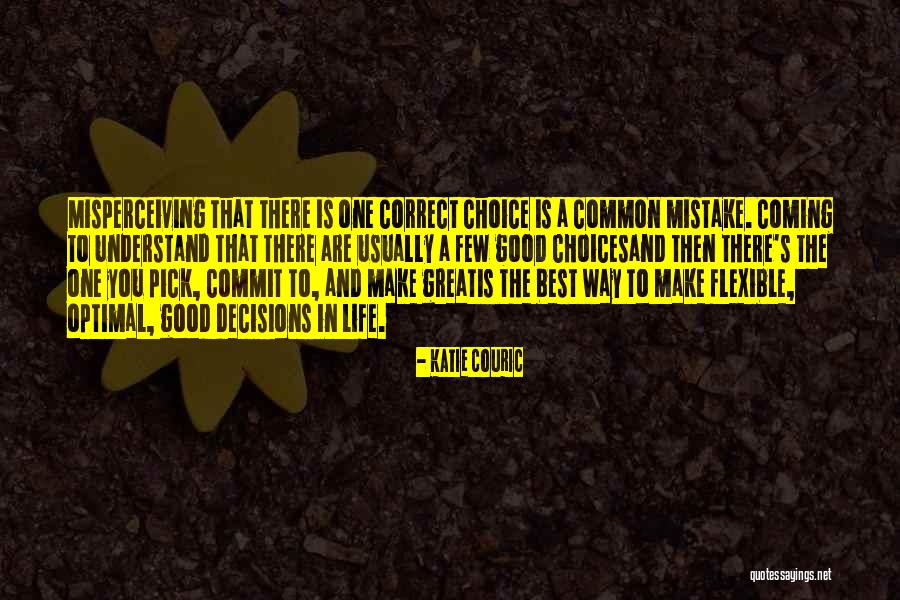 Misperceiving that there is one correct choice is a common mistake. Coming to understand that there are usually a few good choices
and then there's the one you pick, commit to, and make great
is the best way to make flexible, optimal, good decisions in life. — Katie Couric
The correctness of any of our policies has always to be tested and is always being tested by the masses themselves. We ourselves constantly examine our own decisions and policies. We correct our mistakes whenever we find them. We draw conclusions from all positive and negative experiences and apply those conclusions as widely as possible. In these ways relations between the Communist party and the masses of the people are constantly being improved. — Mao Zedong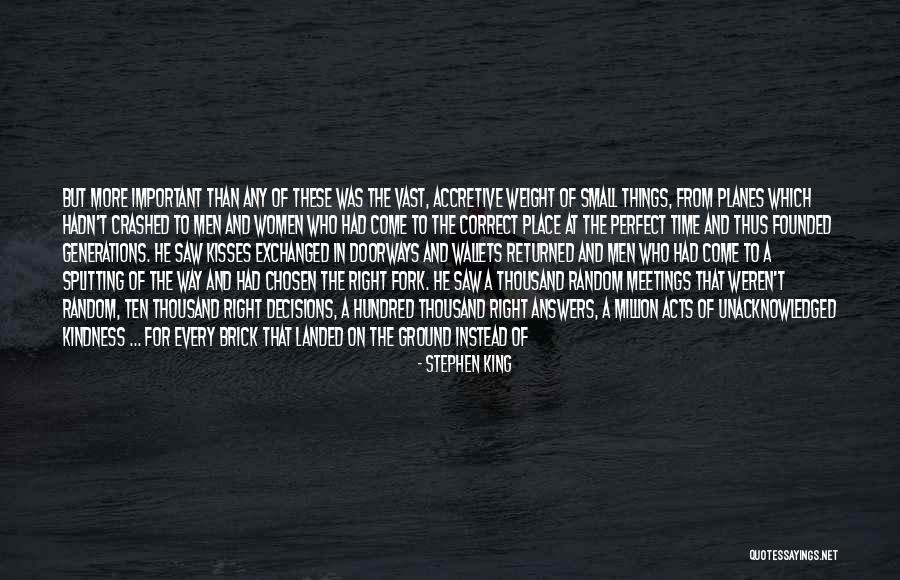 But more important than any of these was the vast, accretive weight of small things, from planes which hadn't crashed to men and women who had come to the correct place at the perfect time and thus founded generations. He saw kisses exchanged in doorways and wallets returned and men who had come to a splitting of the way and had chosen the right fork. He saw a thousand random meetings that weren't random, ten thousand right decisions, a hundred thousand right answers, a million acts of unacknowledged kindness ... For every brick that landed on the ground instead of some little kid's head, for every tornado that missed the trailer park, for every missile that didn't fly, for every hand stayed from violence, there was the Tower. — Stephen King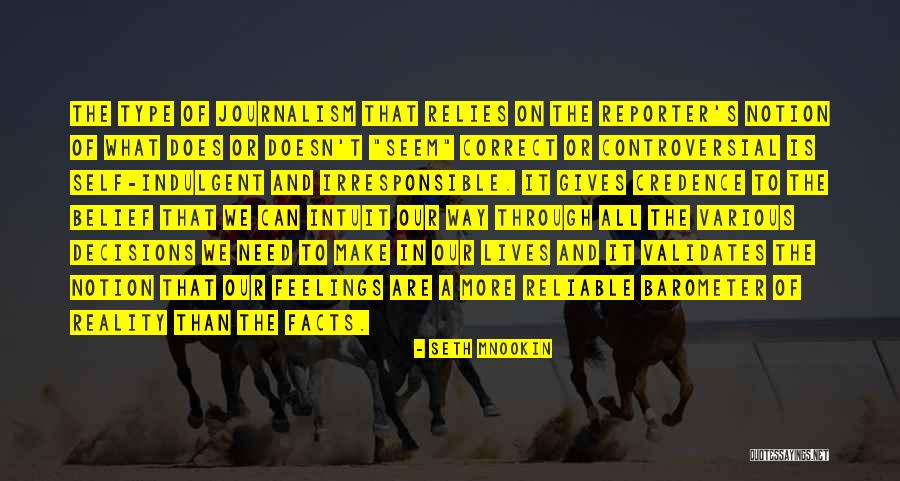 The type of journalism that relies on the reporter's notion of what does or doesn't "seem" correct or controversial is self-indulgent and irresponsible. It gives credence to the belief that we can intuit our way through all the various decisions we need to make in our lives and it validates the notion that our feelings are a more reliable barometer of reality than the facts. — Seth Mnookin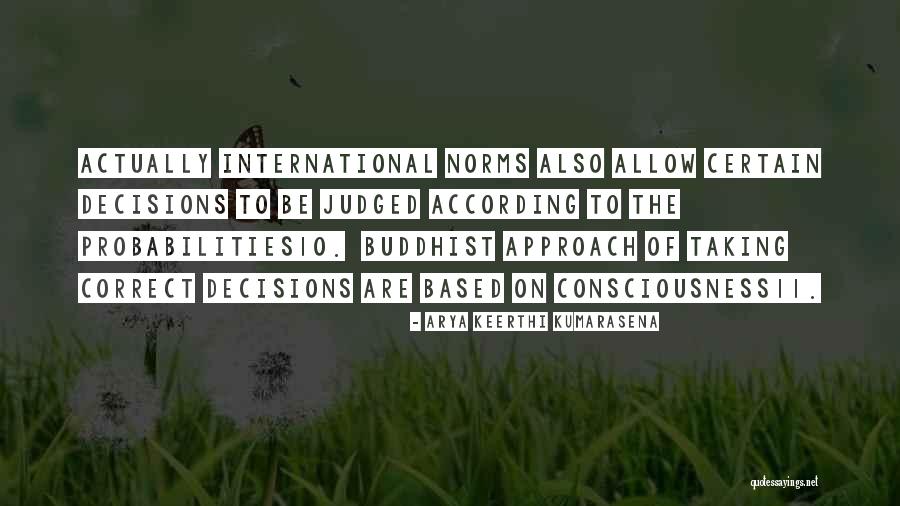 Actually international norms also allow certain decisions to be judged according to the probabilities10. Buddhist approach of taking correct decisions are based on consciousness11. — Arya Keerthi Kumarasena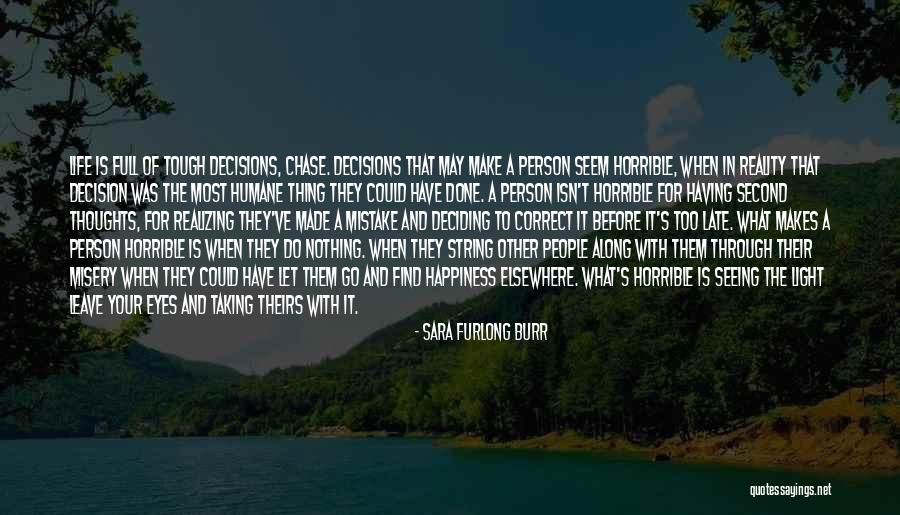 Life is full of tough decisions, Chase. Decisions that may make a person seem horrible, when in reality that decision was the most humane thing they could have done. A person isn't horrible for having second thoughts, for realizing they've made a mistake and deciding to correct it before it's too late. What makes a person horrible is when they do nothing. When they string other people along with them through their misery when they could have let them go and find happiness elsewhere. What's horrible is seeing the light leave your eyes and taking theirs with it. — Sara Furlong Burr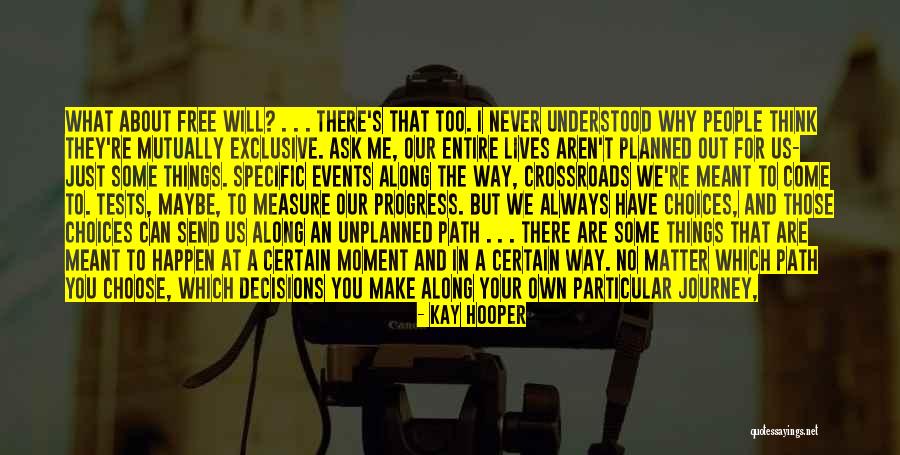 What about free will? . . . There's that too. I never understood why people think they're mutually exclusive. Ask me, our entire lives aren't planned out for us- just some things. Specific events along the way, crossroads we're meant to come to. Tests, maybe, to measure our progress. But we always have choices, and those choices can send us along an unplanned path . . . there are some things that are meant to happen at a certain moment and in a certain way. No matter which path you choose, which decisions you make along your own particular journey, those pivotal moments appear to be set in stone. Maybe they represent the specific lessons we're meant to learn . . . Things we have to face. Things we have to learn. Responsibilities we have to fulfill. And mistakes we have to correct. — Kay Hooper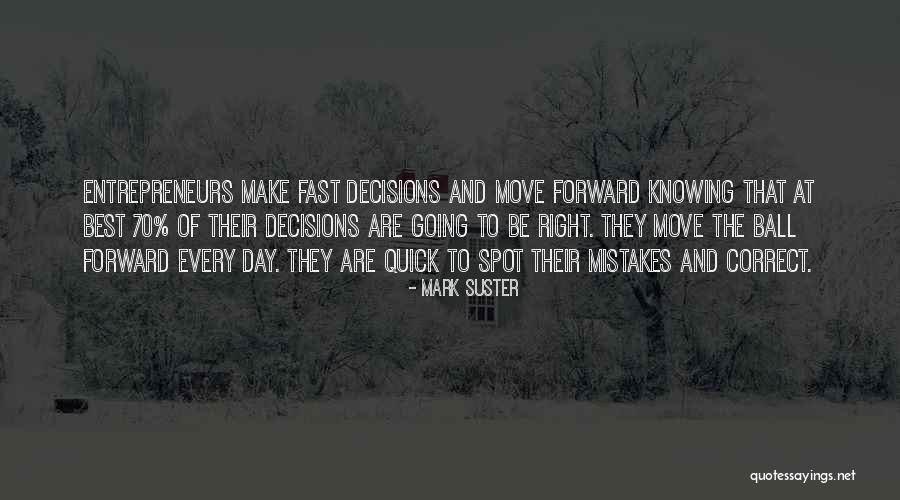 Entrepreneurs make fast decisions and move forward knowing that at best 70% of their decisions are going to be right. They move the ball forward every day. They are quick to spot their mistakes and correct. — Mark Suster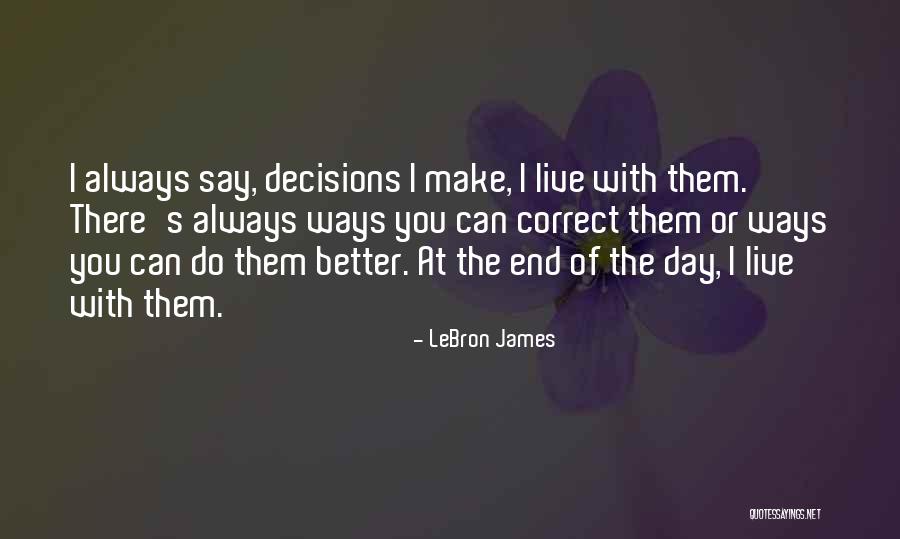 I always say, decisions I make, I live with them. There's always ways you can correct them or ways you can do them better. At the end of the day, I live with them. — LeBron James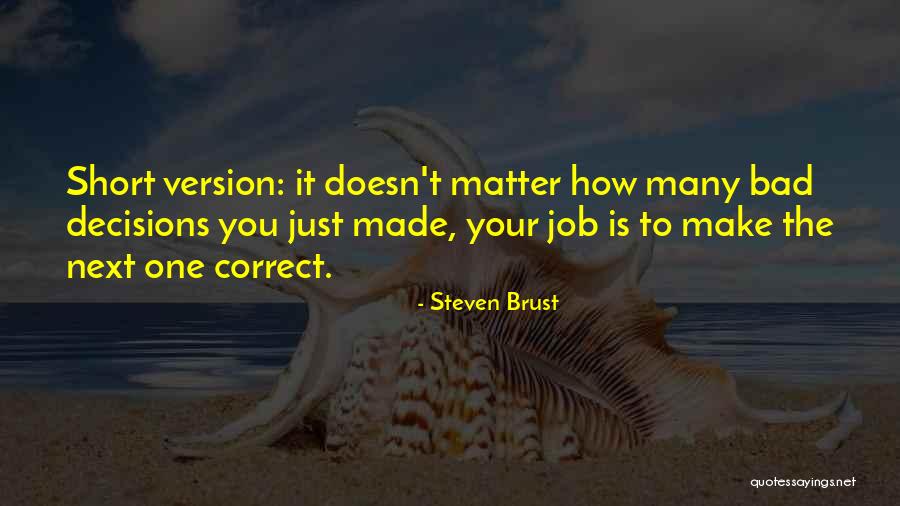 Short version: it doesn't matter how many bad decisions you just made, your job is to make the next one correct. — Steven Brust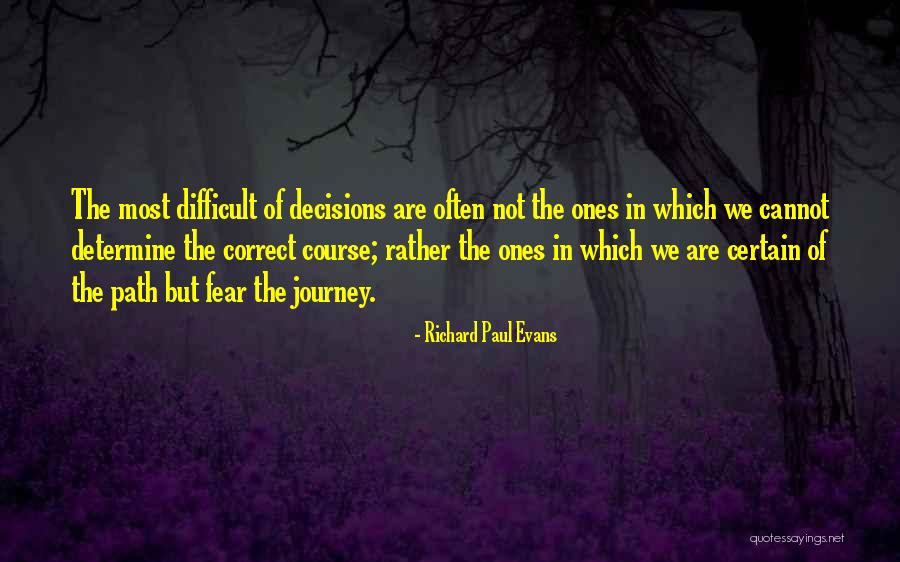 The most difficult of decisions are often not the ones in which we cannot determine the correct course; rather the ones in which we are certain of the path but fear the journey. — Richard Paul Evans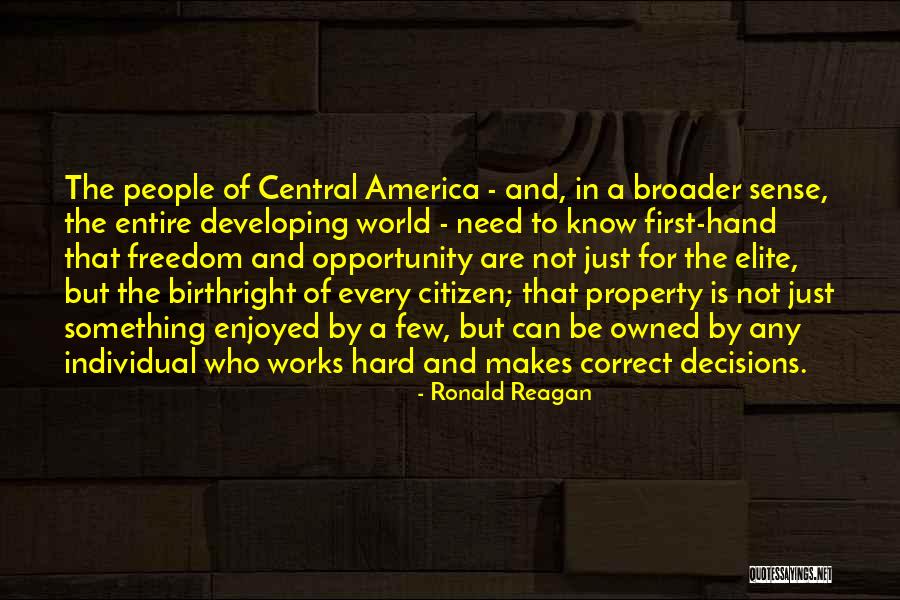 The people of Central America - and, in a broader sense, the entire developing world - need to know first-hand that freedom and opportunity are not just for the elite, but the birthright of every citizen; that property is not just something enjoyed by a few, but can be owned by any individual who works hard and makes correct decisions. — Ronald Reagan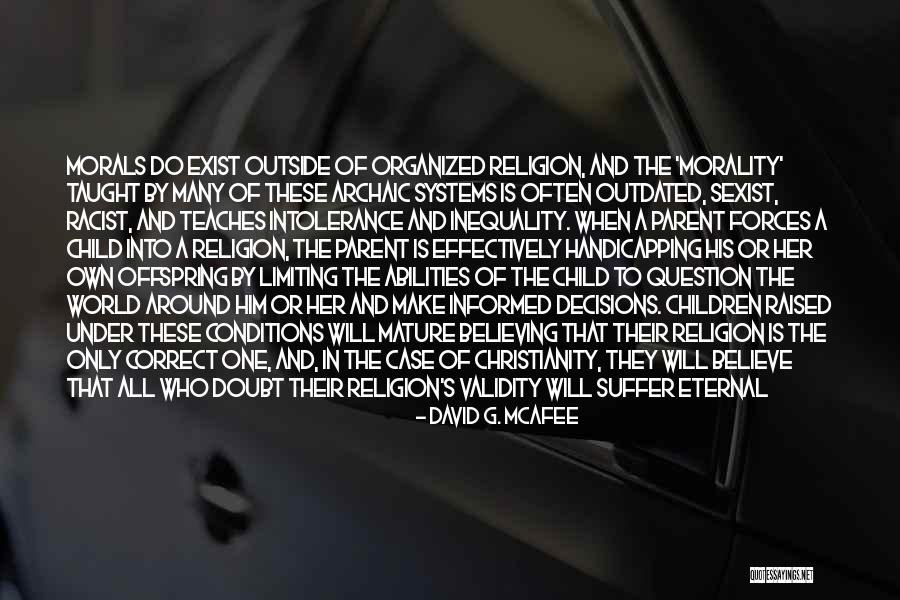 Morals do exist outside of organized religion, and the 'morality' taught by many of these archaic systems is often outdated, sexist, racist, and teaches intolerance and inequality. When a parent forces a child into a religion, the parent is effectively handicapping his or her own offspring by limiting the abilities of the child to question the world around him or her and make informed decisions. Children raised under these conditions will mature believing that their religion is the only correct one, and, in the case of Christianity, they will believe that all who doubt their religion's validity will suffer eternal damnation. This environment is one that often breeds hate, ignorance, and 'justified' violence. — David G. McAfee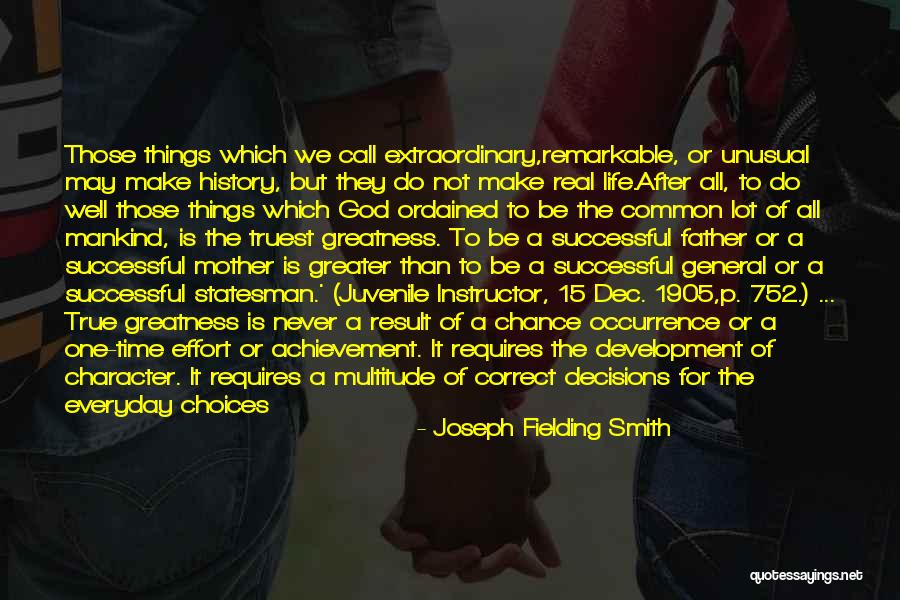 Those things which we call extraordinary,remarkable, or unusual may make history, but they do not make real life.
After all, to do well those things which God ordained to be the common lot of all mankind, is the truest greatness. To be a successful father or a successful mother is greater than to be a successful general or a successful statesman.' (Juvenile Instructor, 15 Dec. 1905,
p. 752.) ...
True greatness is never a result of a chance occurrence or a one-time effort or achievement. It requires the development of character. It requires a multitude of correct decisions for the everyday choices between good and evil. — Joseph Fielding Smith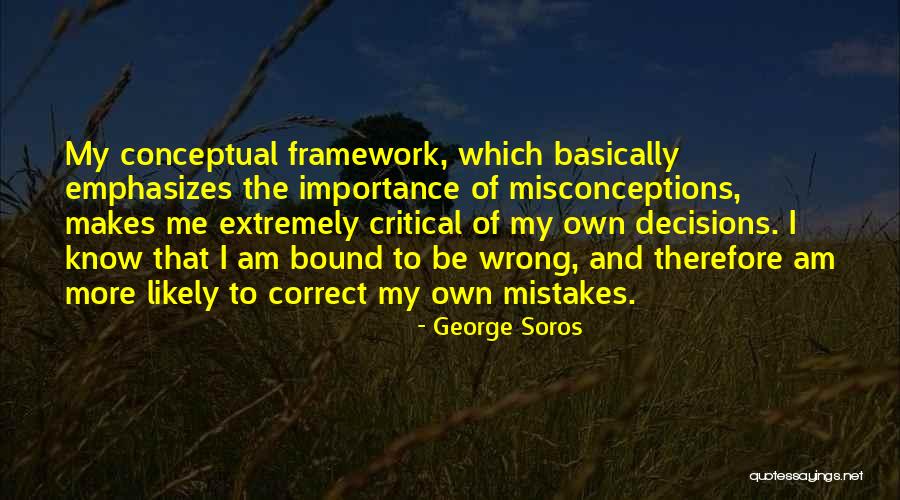 My conceptual framework, which basically emphasizes the importance of misconceptions, makes me extremely critical of my own decisions. I know that I am bound to be wrong, and therefore am more likely to correct my own mistakes. — George Soros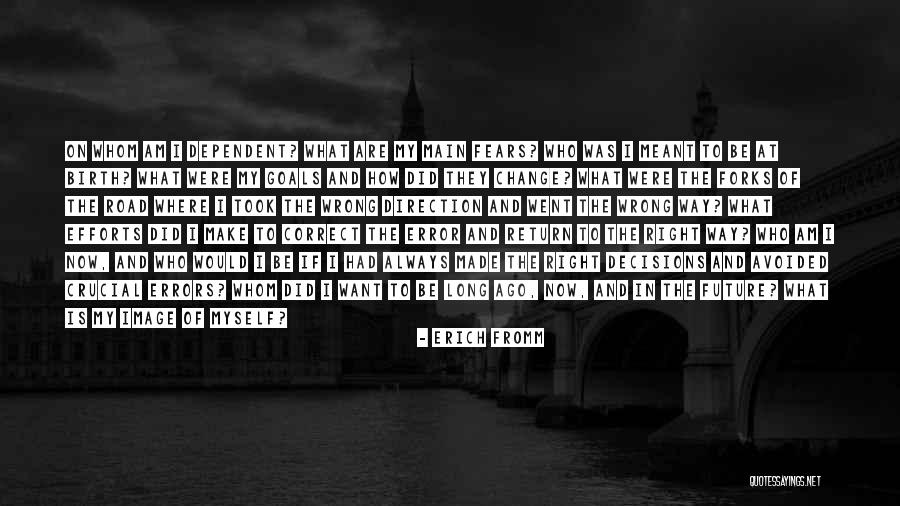 On whom am I dependent? What are my main fears? Who was I meant to be at birth? What were my goals and how did they change? What were the forks of the road where I took the wrong direction and went the wrong way? What efforts did I make to correct the error and return to the right way? Who am I now, and who would I be if I had always made the right decisions and avoided crucial errors? Whom did I want to be long ago, now, and in the future? What is my image of myself? What is the image I wish others to have of me? Where are the discrepancies between the two images, both between themselves and with what I sense in my real self? Who will I be if I continue to live as I am living now? What are the conditions responsible for the development as it happened? What are the alternatives for further development open to me now? What must I do to realize the possibility I choose? — Erich Fromm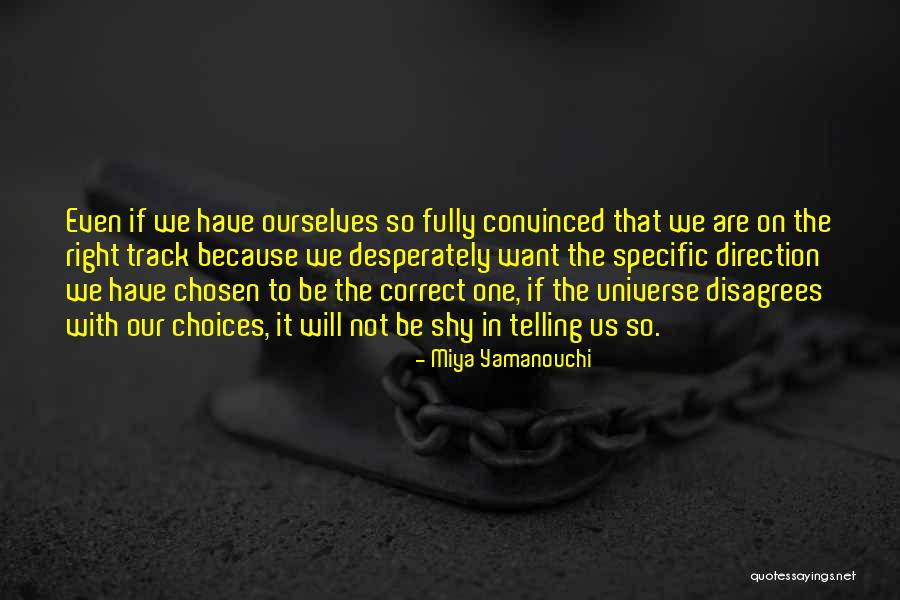 Even if we have ourselves so fully convinced that we are on the right track because we desperately want the specific direction we have chosen to be the correct one, if the universe disagrees with our choices, it will not be shy in telling us so. — Miya Yamanouchi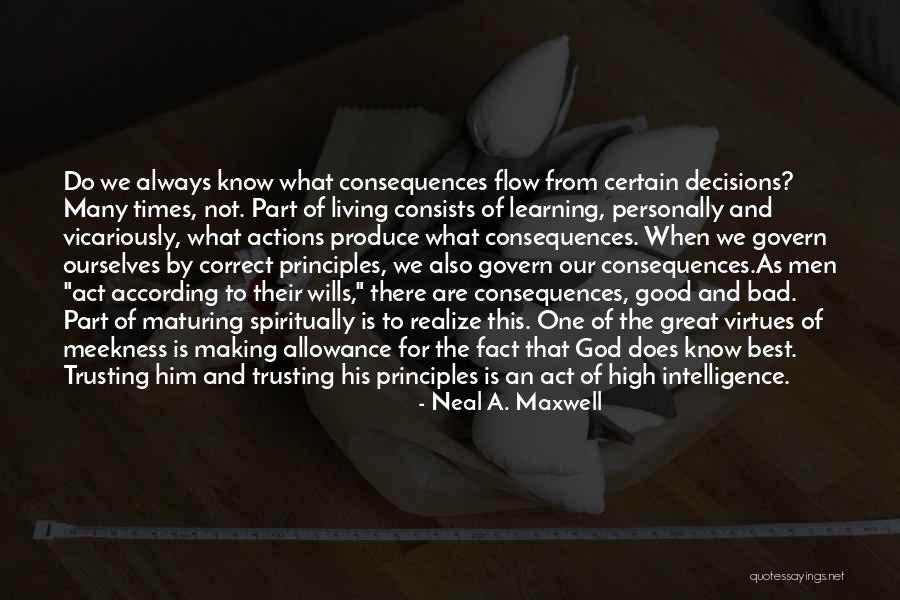 Do we always know what consequences flow from certain decisions? Many times, not. Part of living consists of learning, personally and vicariously, what actions produce what consequences. When we govern ourselves by correct principles, we also govern our consequences.
As men "act according to their wills," there are consequences, good and bad. Part of maturing spiritually is to realize this. One of the great virtues of meekness is making allowance for the fact that God does know best. Trusting him and trusting his principles is an act of high intelligence. — Neal A. Maxwell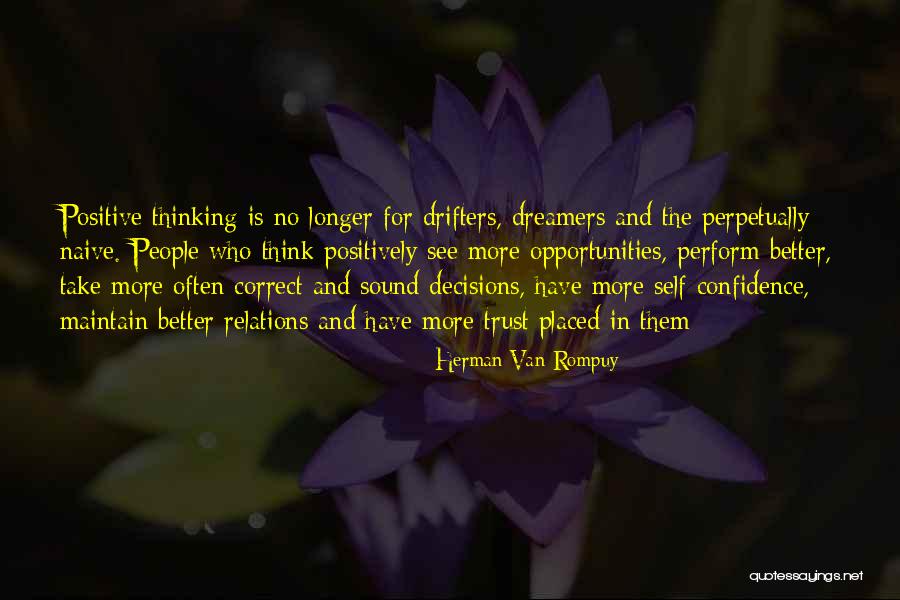 Positive thinking is no longer for drifters, dreamers and the perpetually naive. People who think positively see more opportunities, perform better, take more often correct and sound decisions, have more self-confidence, maintain better relations and have more trust placed in them — Herman Van Rompuy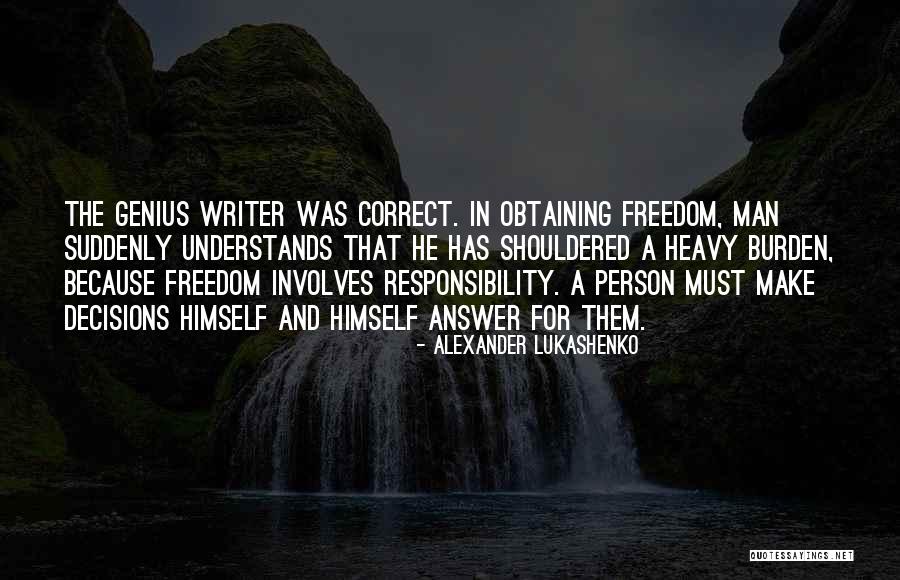 The genius writer was correct. In obtaining freedom, man suddenly understands that he has shouldered a heavy burden, because freedom involves responsibility. A person must make decisions himself and himself answer for them. — Alexander Lukashenko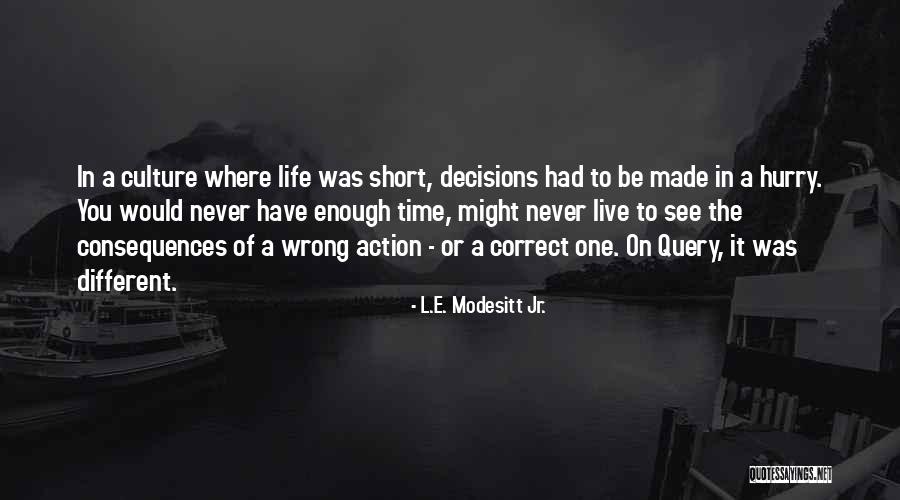 In a culture where life was short, decisions had to be made in a hurry. You would never have enough time, might never live to see the consequences of a wrong action - or a correct one. On Query, it was different. — L.E. Modesitt Jr.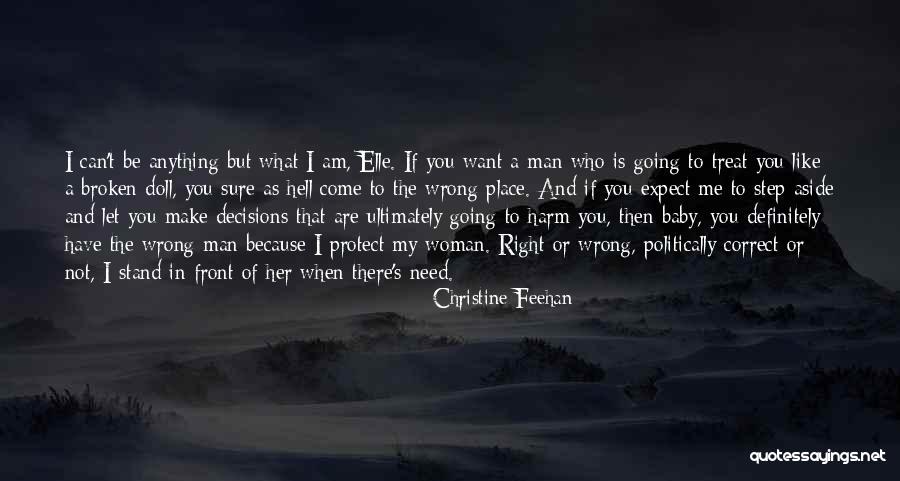 I can't be anything but what I am, Elle. If you want a man who is going to treat you like a broken doll, you sure as hell come to the wrong place. And if you expect me to step aside and let you make decisions that are ultimately going to harm you, then baby, you definitely have the wrong man because I protect my woman. Right or wrong, politically correct or not, I stand in front of her when there's need. — Christine Feehan
Your exercise of faith builds character. Fortified character expands your capacity to exercise greater faith. Thus, your confidence in making correct decisions is enhanced. And the strengthening cycle continues. The more your character is fortified, the more enabled you are to exercise the power of faith for yet stronger character. — Richard G. Scott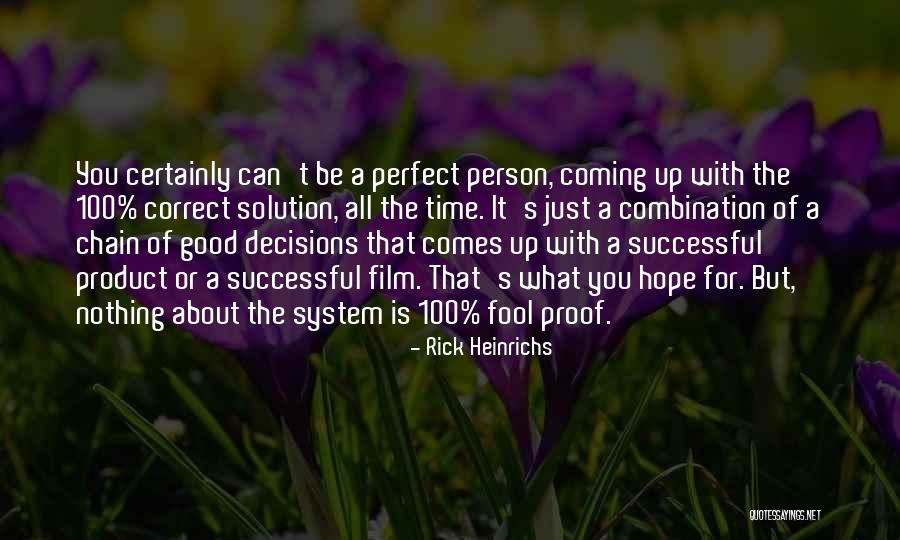 You certainly can't be a perfect person, coming up with the 100% correct solution, all the time. It's just a combination of a chain of good decisions that comes up with a successful product or a successful film. That's what you hope for. But, nothing about the system is 100% fool proof. — Rick Heinrichs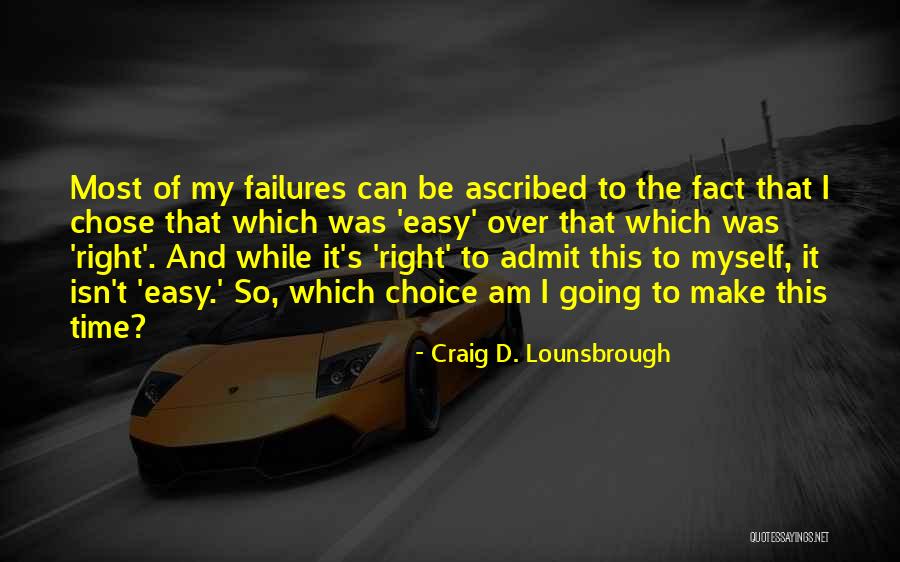 Most of my failures can be ascribed to the fact that I chose that which was 'easy' over that which was 'right'. And while it's 'right' to admit this to myself, it isn't 'easy.' So, which choice am I going to make this time? — Craig D. Lounsbrough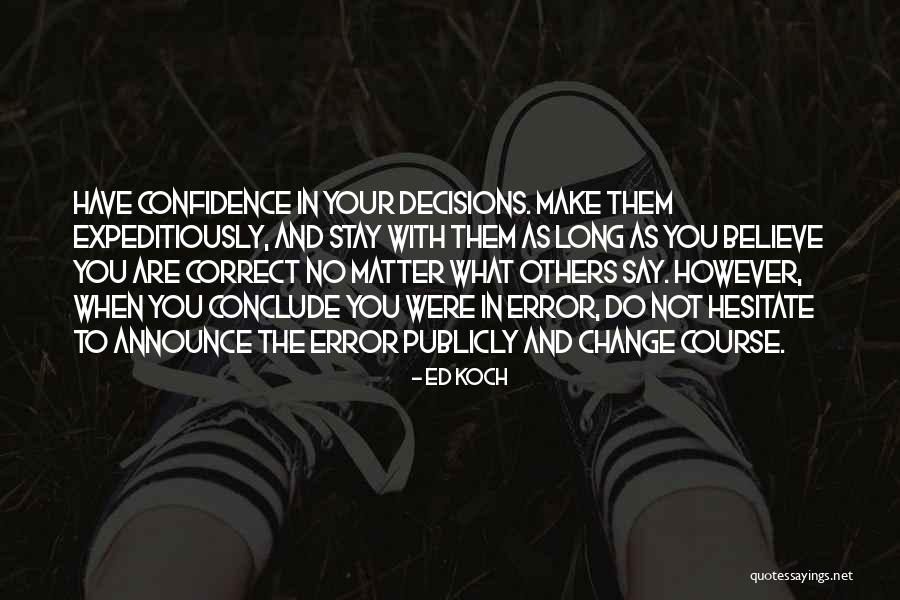 Have confidence in your decisions. Make them expeditiously, and stay with them as long as you believe you are correct no matter what others say. However, when you conclude you were in error, do not hesitate to announce the error publicly and change course. — Ed Koch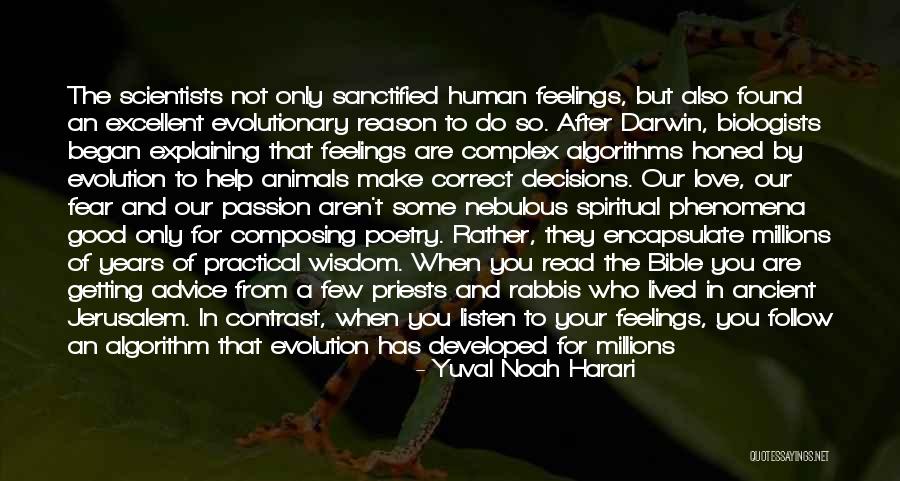 The scientists not only sanctified human feelings, but also found an excellent evolutionary reason to do so. After Darwin, biologists began explaining that feelings are complex algorithms honed by evolution to help animals make correct decisions. Our love, our fear and our passion aren't some nebulous spiritual phenomena good only for composing poetry. Rather, they encapsulate millions of years of practical wisdom. When you read the Bible you are getting advice from a few priests and rabbis who lived in ancient Jerusalem. In contrast, when you listen to your feelings, you follow an algorithm that evolution has developed for millions of years, and that withstood the harshest quality-control tests of natural selection. Your feelings are the voice of millions of ancestors, each of whom managed to survive and reproduce in an unforgiving environment. — Yuval Noah Harari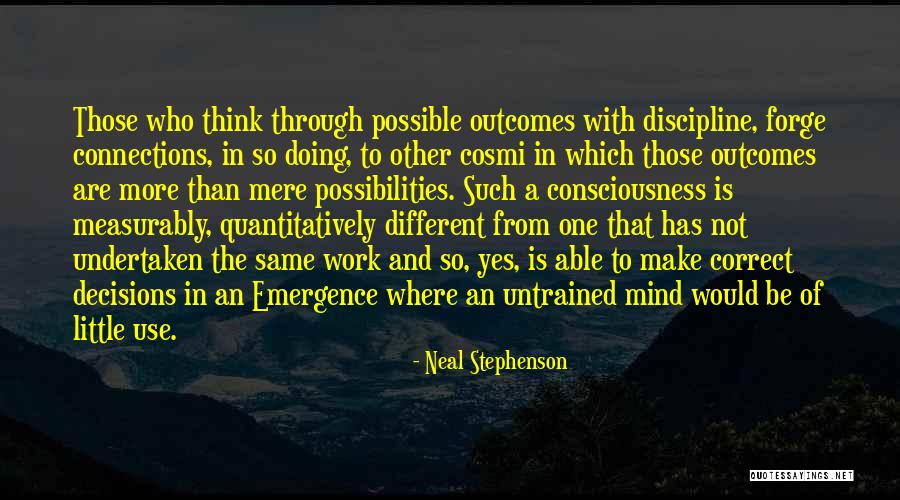 Those who think through possible outcomes with discipline, forge connections, in so doing, to other cosmi in which those outcomes are more than mere possibilities. Such a consciousness is measurably, quantitatively different from one that has not undertaken the same work and so, yes, is able to make correct decisions in an Emergence where an untrained mind would be of little use. — Neal Stephenson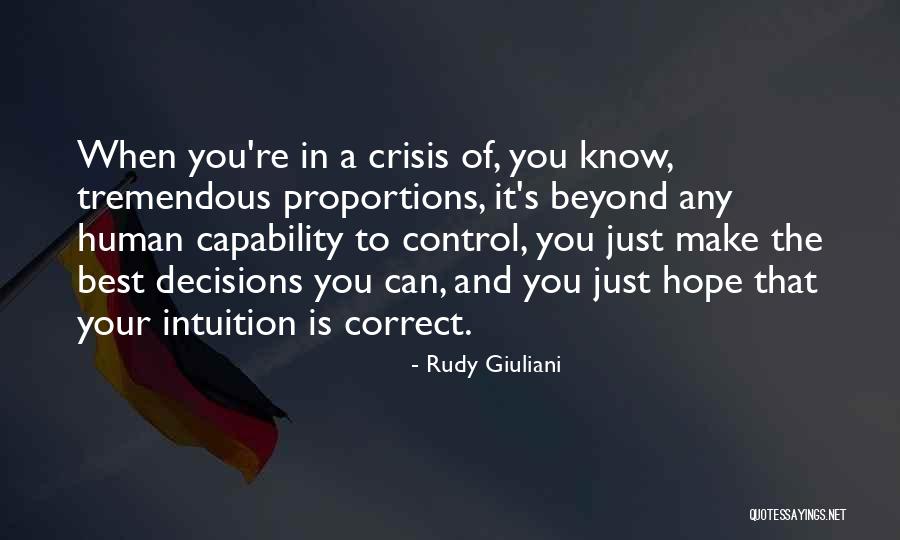 When you're in a crisis of, you know, tremendous proportions, it's beyond any human capability to control, you just make the best decisions you can, and you just hope that your intuition is correct. — Rudy Giuliani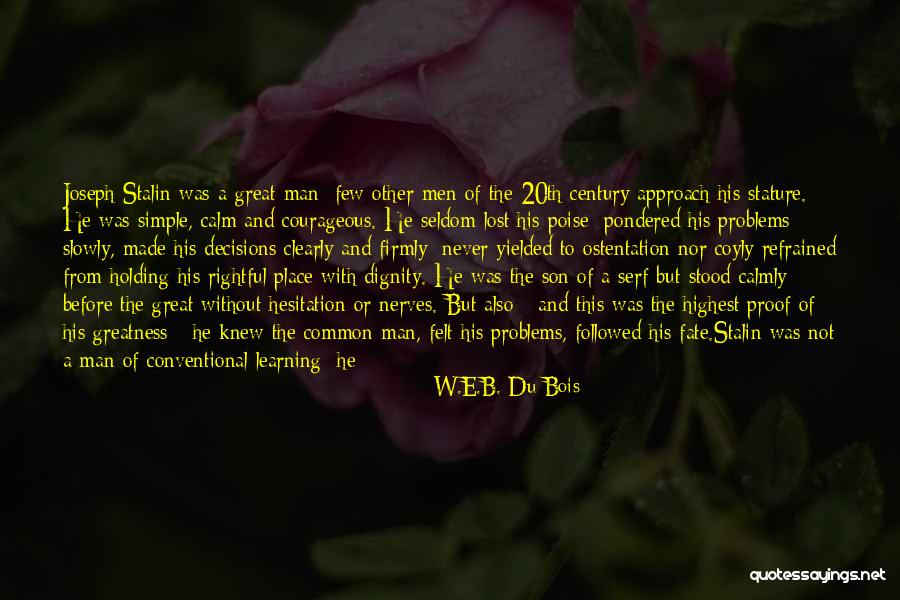 Joseph Stalin was a great man; few other men of the 20th century approach his stature. He was simple, calm and courageous. He seldom lost his poise; pondered his problems slowly, made his decisions clearly and firmly; never yielded to ostentation nor coyly refrained from holding his rightful place with dignity. He was the son of a serf but stood calmly before the great without hesitation or nerves. But also - and this was the highest proof of his greatness - he knew the common man, felt his problems, followed his fate.
Stalin was not a man of conventional learning; he was much more than that: he was a man who thought deeply, read understandingly and listened to wisdom, no matter whence it came. He was attacked and slandered as few men of power have been; yet he seldom lost his courtesy and balance; nor did he let attack drive him from his convictions nor induce him to surrender positions which he knew were correct. — W.E.B. Du Bois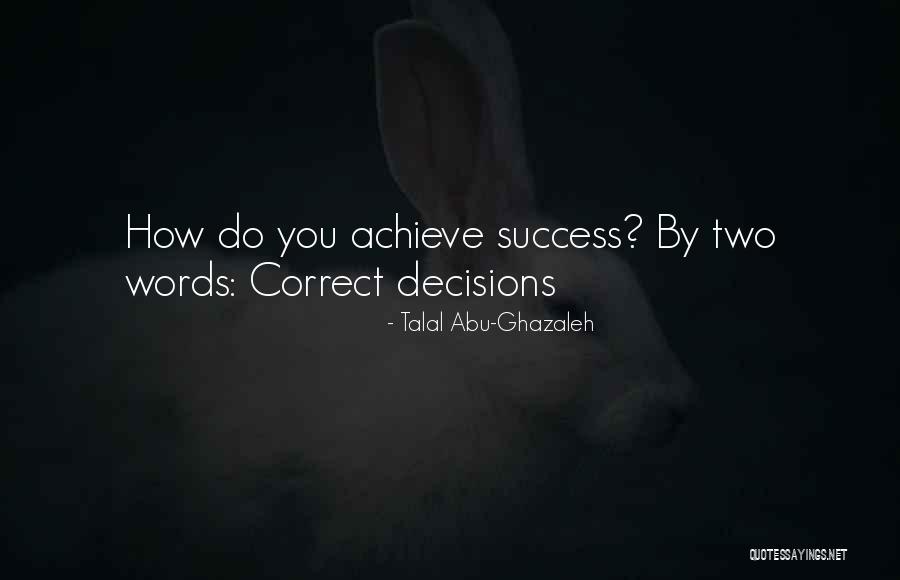 How do you achieve success? By two words: Correct decisions — Talal Abu-Ghazaleh