Quotes & Sayings About Competition In Love
Enjoy reading and share 64 famous quotes about Competition In Love with everyone.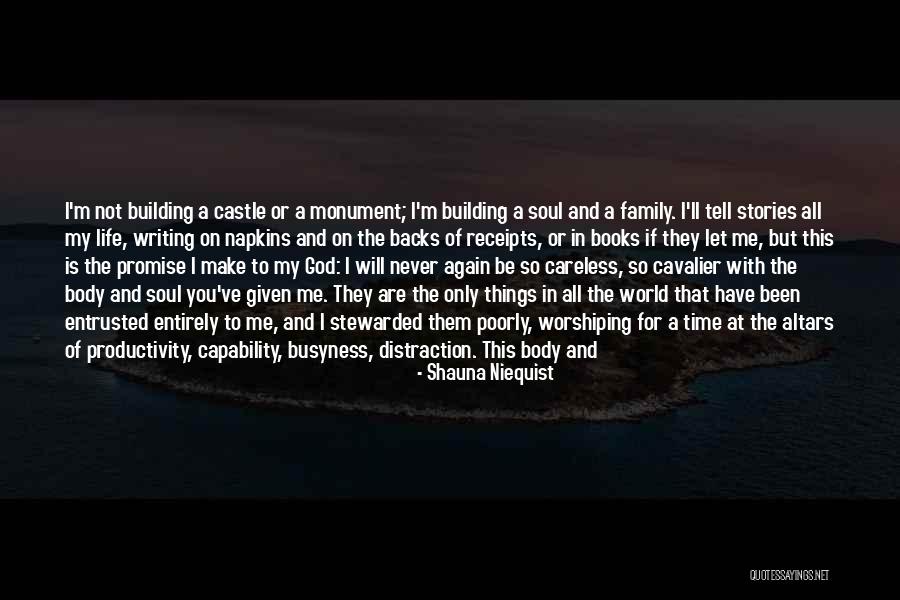 I'm not building a castle or a monument; I'm building a soul and a family. I'll tell stories all my life, writing on napkins and on the backs of receipts, or in books if they let me, but this is the promise I make to my God: I will never again be so careless, so cavalier with the body and soul you've given me. They are the only things in all the world that have been entrusted entirely to me, and I stewarded them poorly, worshiping for a time at the altars of productivity, capability, busyness, distraction. This body and soul will become again what God intended them to be: living sacrifices, offered only to him. I will spend my life on meaning, on connection, on love, on freedom. I will not waste one more day trapped in comparison, competition, proving, and earning. That's the currency of a culture that has nothing to offer me. It — Shauna Niequist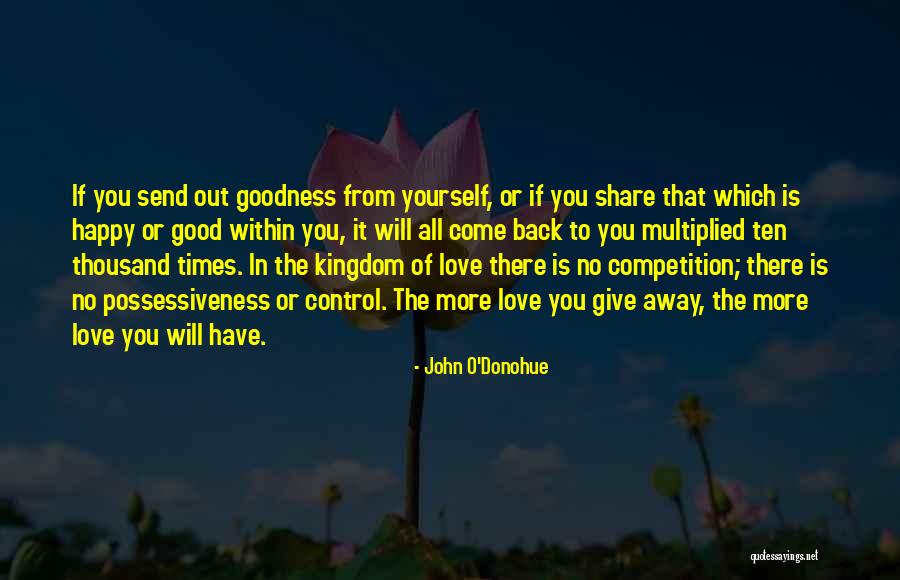 If you send out goodness from yourself, or if you share that which is happy or good within you, it will all come back to you multiplied ten thousand times. In the kingdom of love there is no competition; there is no possessiveness or control. The more love you give away, the more love you will have. — John O'Donohue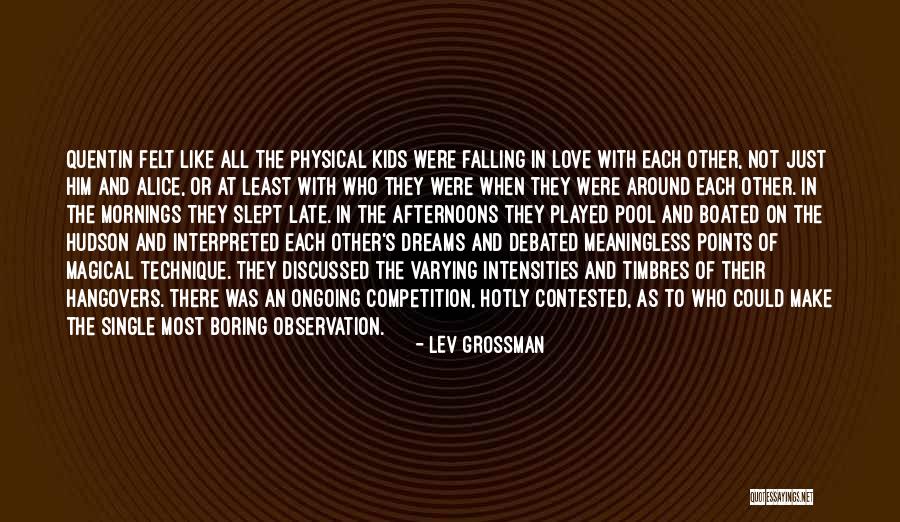 Quentin felt like all the Physical Kids were falling in love with each other, not just him and Alice, or at least with who they were when they were around each other. In the mornings they slept late. In the afternoons they played pool and boated on the Hudson and interpreted each other's dreams and debated meaningless points of magical technique. They discussed the varying intensities and timbres of their hangovers. There was an ongoing competition, hotly contested, as to who could make the single most boring observation. — Lev Grossman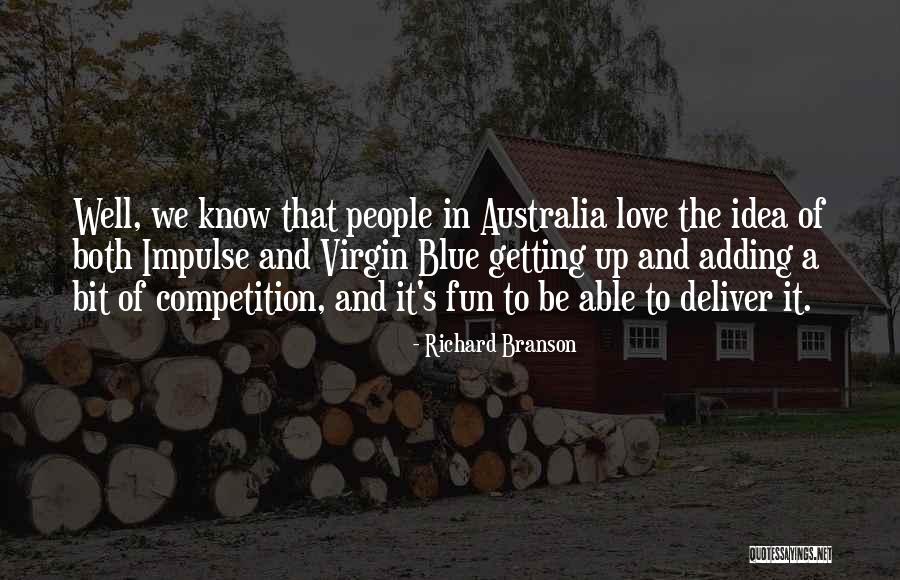 Well, we know that people in Australia love the idea of both Impulse and Virgin Blue getting up and adding a bit of competition, and it's fun to be able to deliver it. — Richard Branson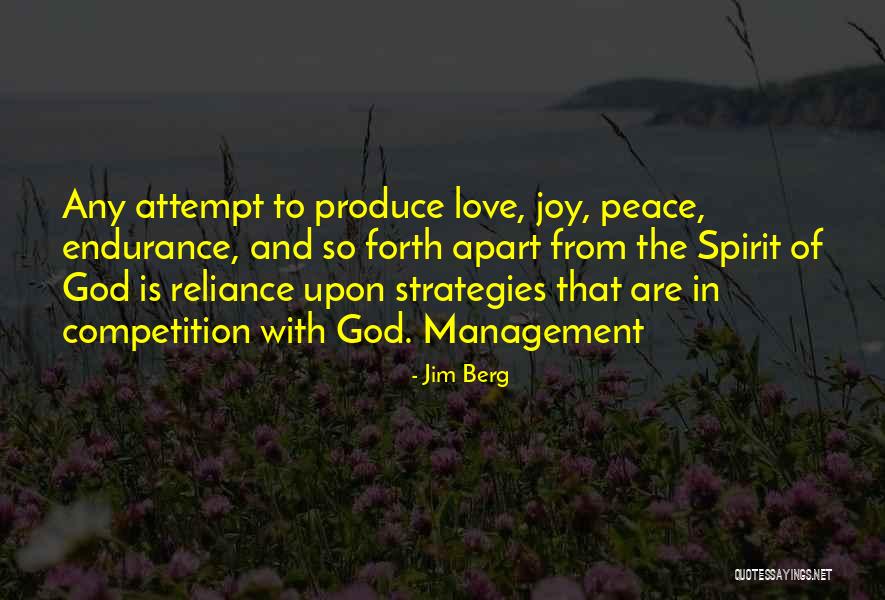 Any attempt to produce love, joy, peace, endurance, and so forth apart from the Spirit of God is reliance upon strategies that are in competition with God. Management — Jim Berg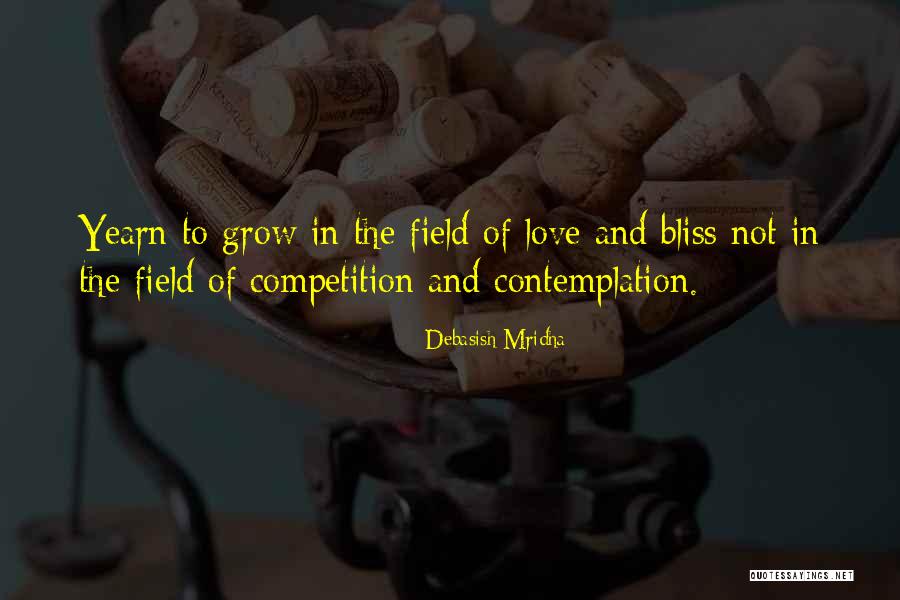 Yearn to grow in the field of love and bliss not in the field of competition and contemplation. — Debasish Mridha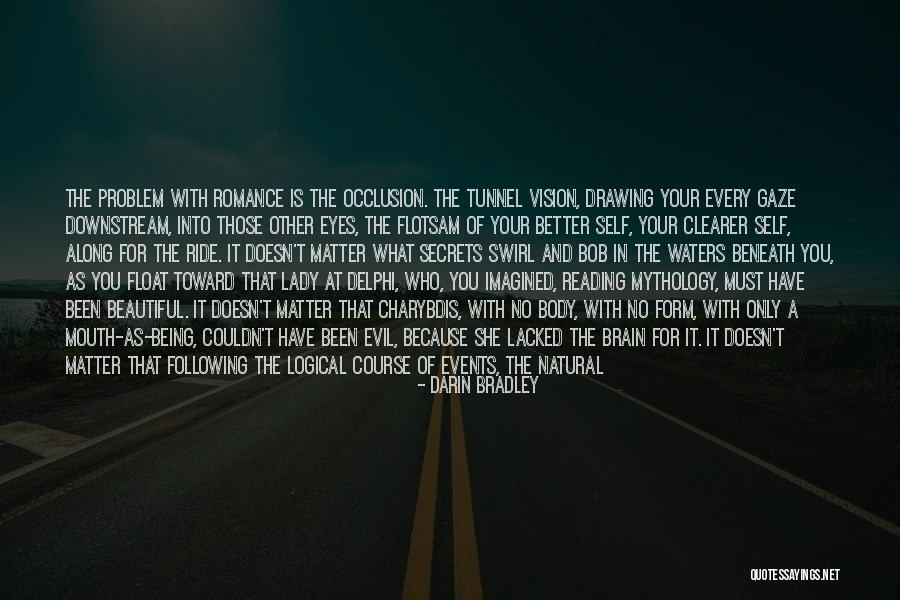 The problem with romance is the occlusion. The tunnel vision, drawing your every gaze downstream, into those other eyes, the flotsam of your better self, your clearer self, along for the ride. It doesn't matter what secrets swirl and bob in the waters beneath you, as you float toward that lady at Delphi, who, you imagined, reading Mythology, must have been beautiful. It doesn't matter that Charybdis, with no body, with no form, with only a mouth-as-being, couldn't have been evil, because she lacked the brain for it. It doesn't matter that following the logical course of events, the natural course, always disadvantages someone else, because love, after all, is simply a competition for resources, made infinitely complex and unknowable when squared and cubed and raised to every other emotional exponent - and then layered with sex and society and a bad memory for what those resources were in the first place. — Darin Bradley
Payton "Sin" Sinclair was an unapologetic people-watcher. As a sports consultant, working with some of the biggest and most recognizable athletes in sports and business, he had to be able to read the smallest nuances of others. That ability was just one of the unique attributes that set him apart from the competition and made him the go-to person when corporations wanted to align themselves with the top professional athletes in the country. — Francis Ray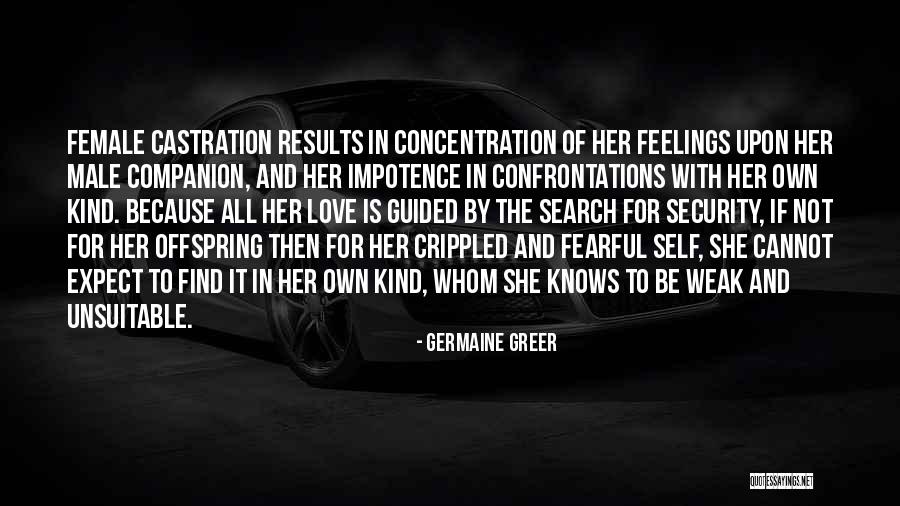 Female castration results in concentration of her feelings upon her male companion, and her impotence in confrontations with her own kind. Because all her love is guided by the search for security, if not for her offspring then for her crippled and fearful self, she cannot expect to find it in her own kind, whom she knows to be weak and unsuitable. — Germaine Greer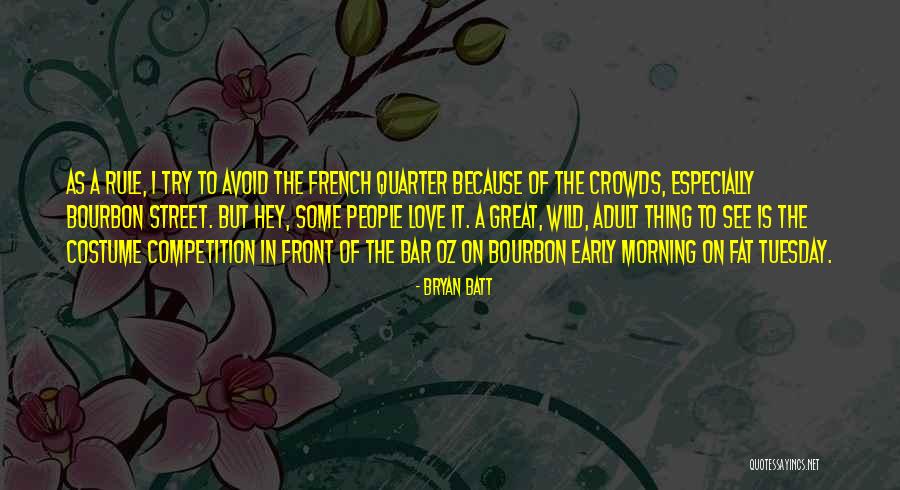 As a rule, I try to avoid the French Quarter because of the crowds, especially Bourbon Street. But hey, some people love it. A great, wild, adult thing to see is the costume competition in front of the bar Oz on Bourbon early morning on Fat Tuesday. — Bryan Batt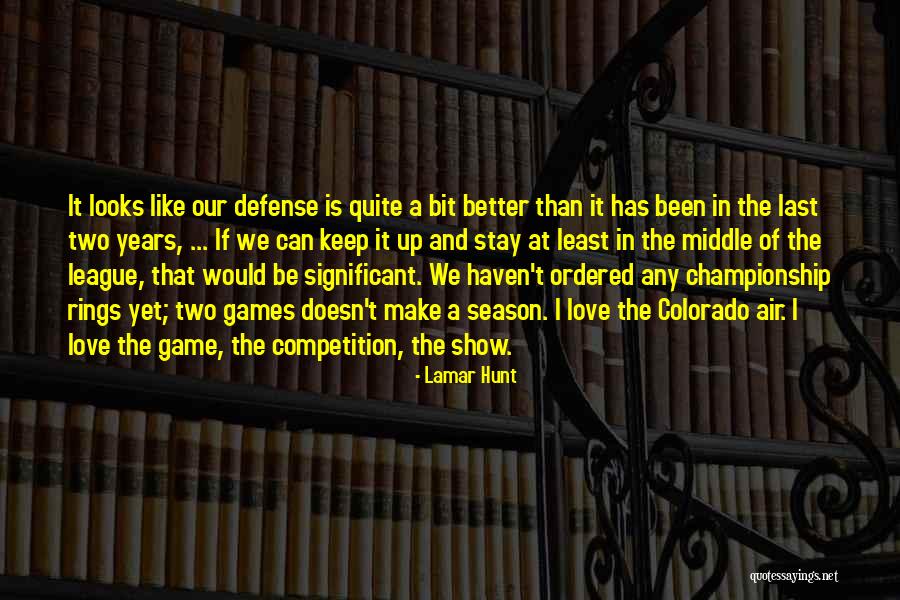 It looks like our defense is quite a bit better than it has been in the last two years, ... If we can keep it up and stay at least in the middle of the league, that would be significant. We haven't ordered any championship rings yet; two games doesn't make a season. I love the Colorado air. I love the game, the competition, the show. — Lamar Hunt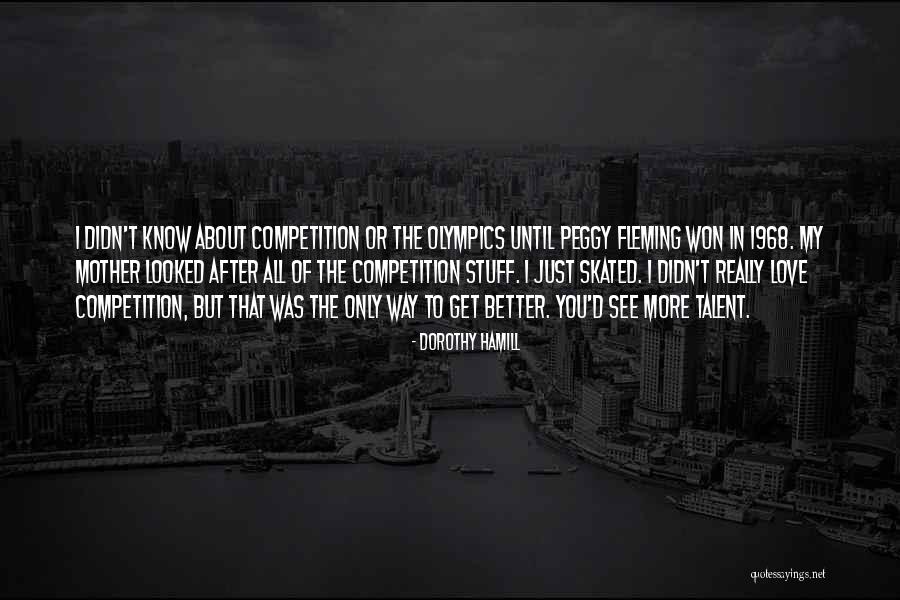 I didn't know about competition or the Olympics until Peggy Fleming won in 1968. My mother looked after all of the competition stuff. I just skated. I didn't really love competition, but that was the only way to get better. You'd see more talent. — Dorothy Hamill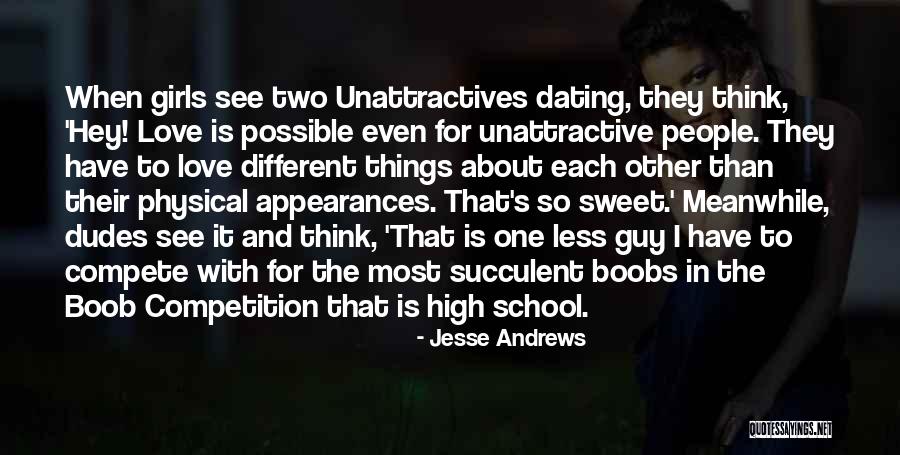 When girls see two Unattractives dating, they think, 'Hey! Love is possible even for unattractive people. They have to love different things about each other than their physical appearances. That's so sweet.' Meanwhile, dudes see it and think, 'That is one less guy I have to compete with for the most succulent boobs in the Boob Competition that is high school. — Jesse Andrews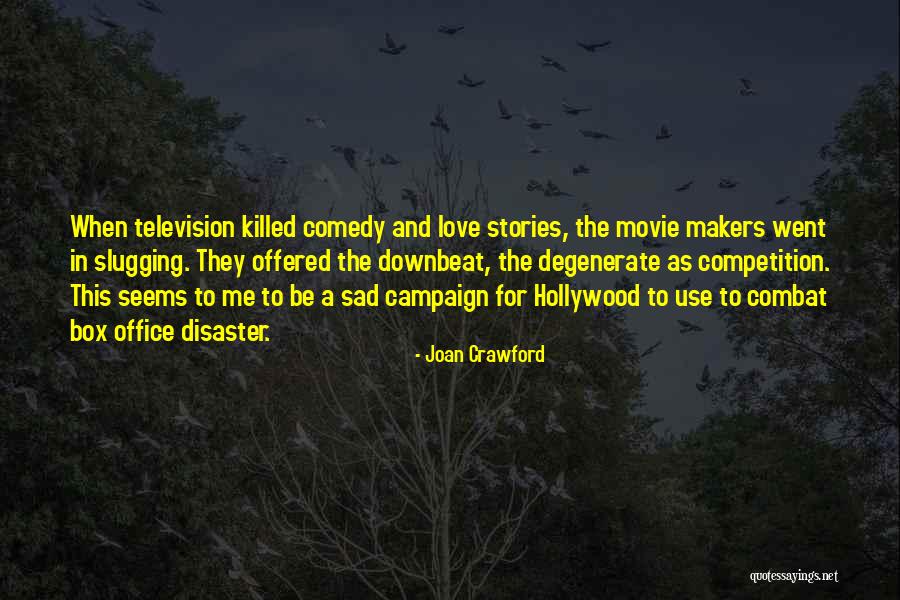 When television killed comedy and love stories, the movie makers went in slugging. They offered the downbeat, the degenerate as competition. This seems to me to be a sad campaign for Hollywood to use to combat box office disaster. — Joan Crawford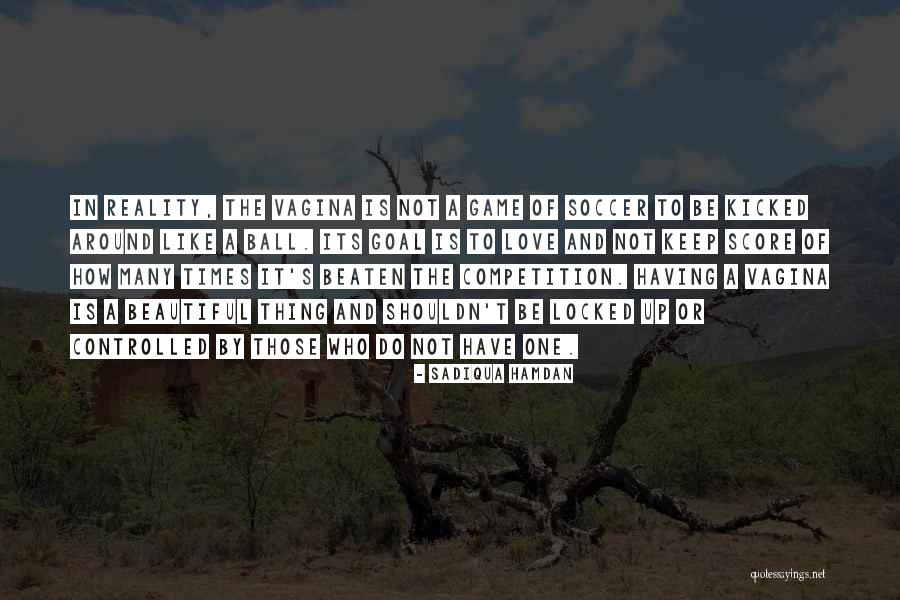 In reality, the vagina is not a game of soccer to be kicked around like a ball. Its goal is to love and not keep score of how many times it's beaten the competition. Having a vagina is a beautiful thing and shouldn't be locked up or controlled by those who do not have one. — Sadiqua Hamdan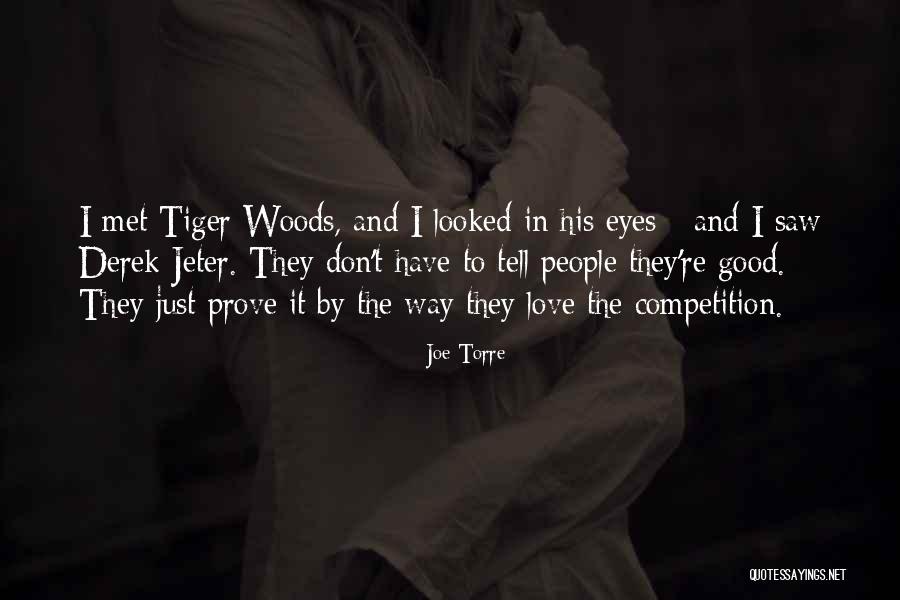 I met Tiger Woods, and I looked in his eyes - and I saw Derek Jeter. They don't have to tell people they're good. They just prove it by the way they love the competition. — Joe Torre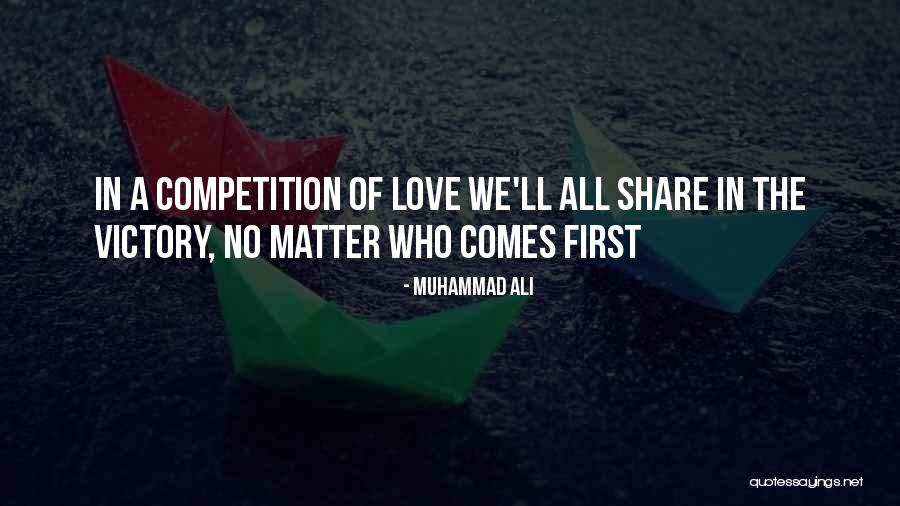 In a competition of love we'll all share in the victory, no matter who comes first — Muhammad Ali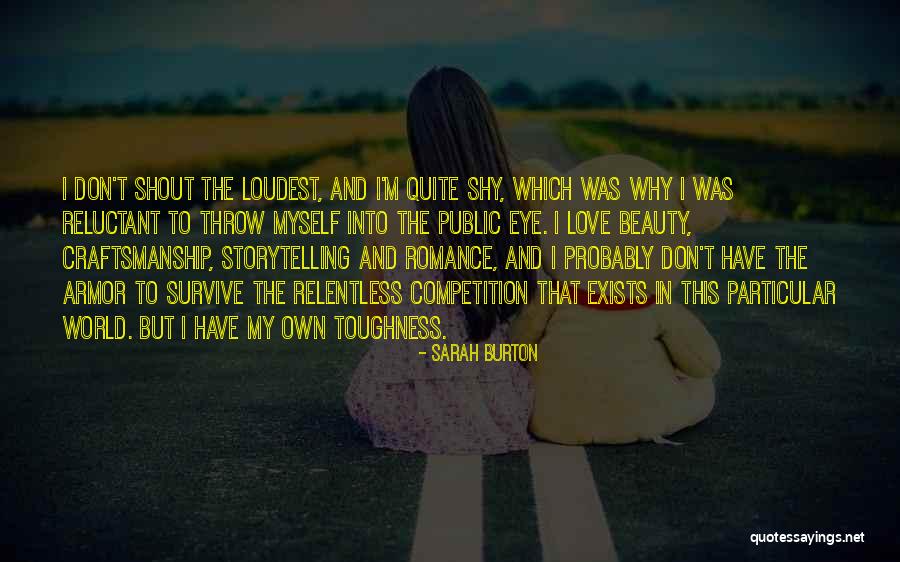 I don't shout the loudest, and I'm quite shy, which was why I was reluctant to throw myself into the public eye. I love beauty, craftsmanship, storytelling and romance, and I probably don't have the armor to survive the relentless competition that exists in this particular world. But I have my own toughness. — Sarah Burton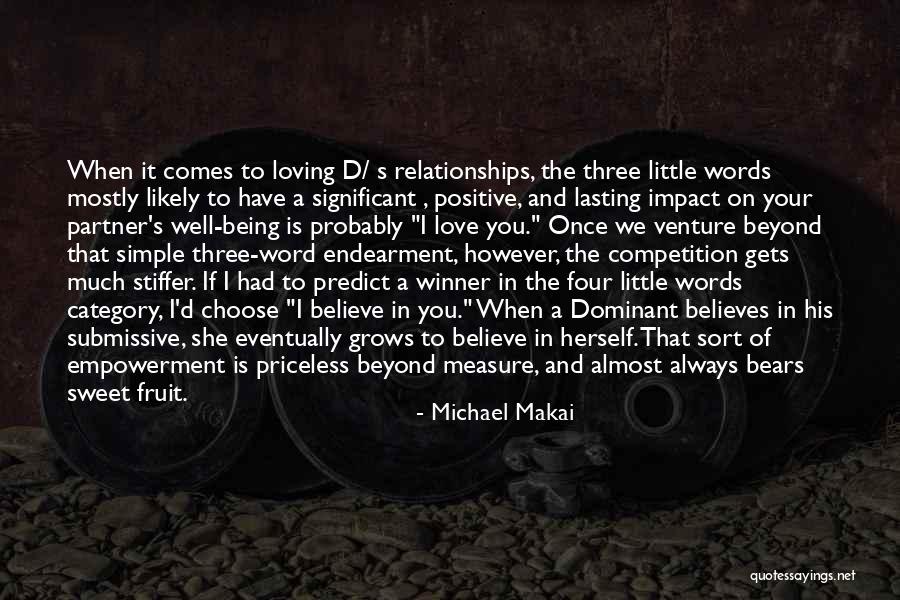 When it comes to loving D/ s relationships, the three little words mostly likely to have a significant , positive, and lasting impact on your partner's well-being is probably "I love you." Once we venture beyond that simple three-word endearment, however, the competition gets much stiffer. If I had to predict a winner in the four little words category, I'd choose "I believe in you." When a Dominant believes in his submissive, she eventually grows to believe in herself. That sort of empowerment is priceless beyond measure, and almost always bears sweet fruit. — Michael Makai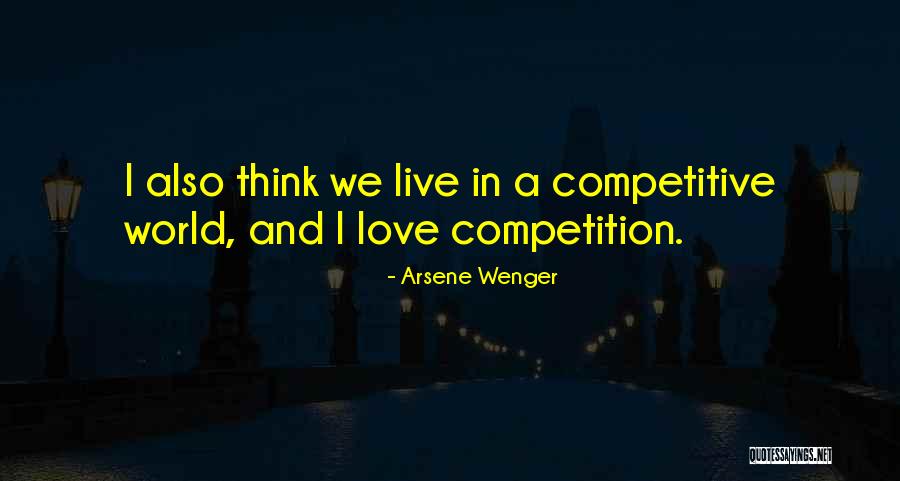 I also think we live in a competitive world, and I love competition. — Arsene Wenger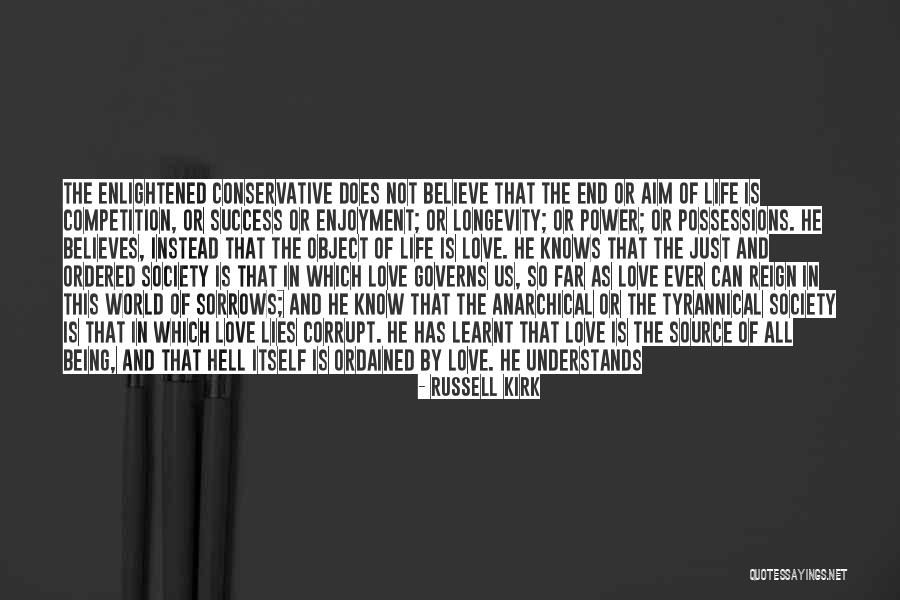 The enlightened conservative does not believe that the end or aim of life is competition, or success or enjoyment; or longevity; or power; or possessions. He believes, instead that the object of life is Love. He knows that the just and ordered society is that in which Love governs us, so far as Love ever can reign in this world of sorrows; and he know that the anarchical or the tyrannical society is that in which Love lies corrupt. He has learnt that Love is the source of all being, and that Hell itself is ordained by Love. He understands that Death, when we have finished the part that was assigned to us, is the reward of Love. And he apprehends the truth that the greatest happiness ever granted to a man is the privilege of being happy in the hour of his death. — Russell Kirk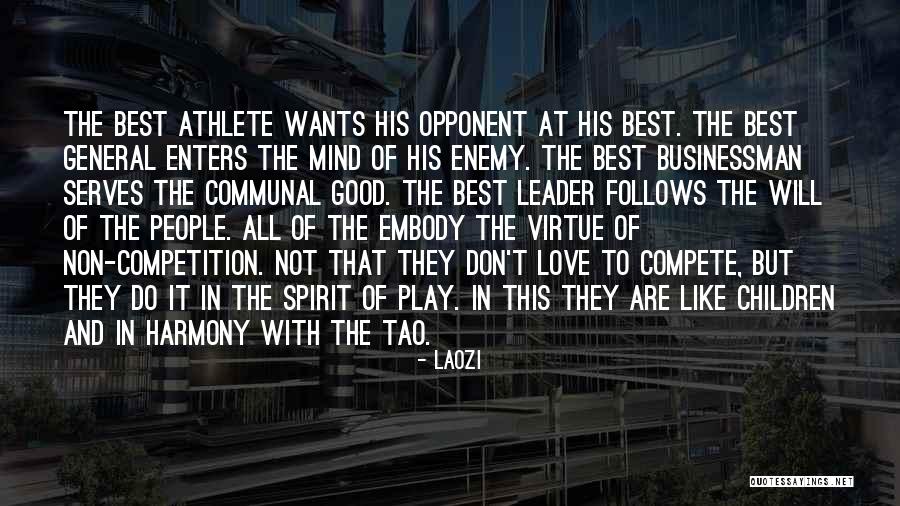 The best athlete wants his opponent at his best. The best general enters the mind of his enemy. The best businessman serves the communal good. The best leader follows the will of the people. All of the embody the virtue of non-competition. Not that they don't love to compete, but they do it in the spirit of play. In this they are like children and in harmony with the Tao. — Laozi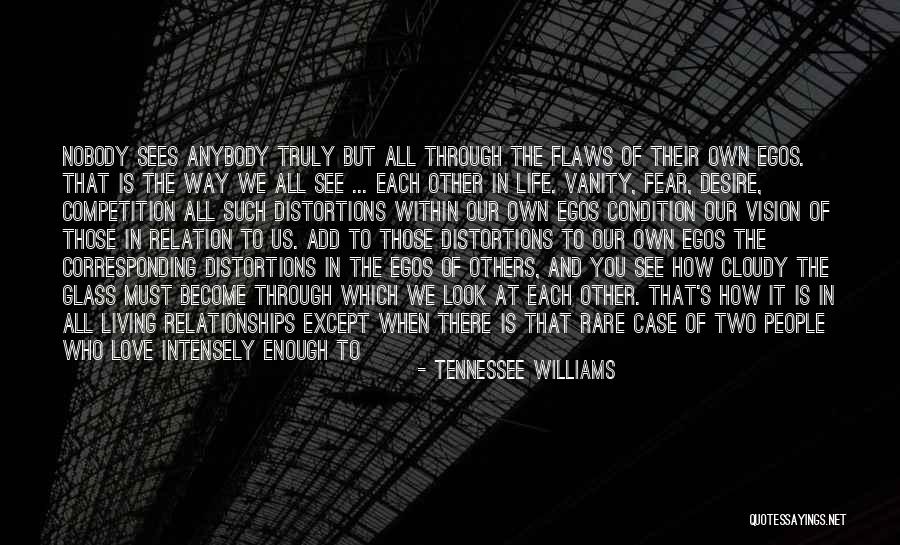 Nobody sees anybody truly but all through the flaws of their own egos. That is the way we all see ... each other in life. Vanity, fear, desire, competition
all such distortions within our own egos
condition our vision of those in relation to us. Add to those distortions to our own egos the corresponding distortions in the egos of others, and you see how cloudy the glass must become through which we look at each other. That's how it is in all living relationships except when there is that rare case of two people who love intensely enough to burn through all those layers of opacity and see each other's naked hearts. — Tennessee Williams
The disciples of the One resurrected are the oddest of people; we live honestly in the now but yearn for a future so greatly that we take on its future characteristics. In a world of competition, power, and hatred, we live into the future by taking on the future's characteristics of being last, weak, and loving. In this way we provide a world that knows only certainty, immediacy, and domination with a vision of the future encompassed in the faith, hope, and love made possible by the resurrection of Jesus, who has been crucified as our place-sharer. — Andrew Root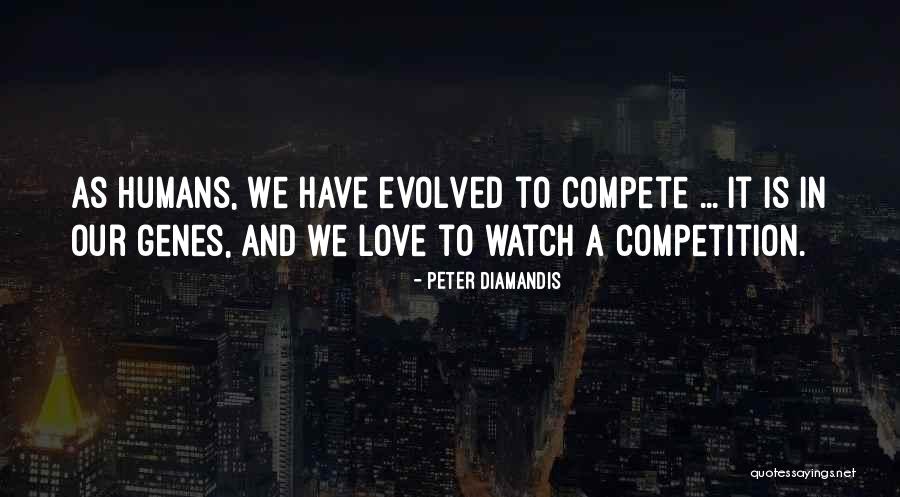 As humans, we have evolved to compete ... it is in our genes, and we love to watch a competition. — Peter Diamandis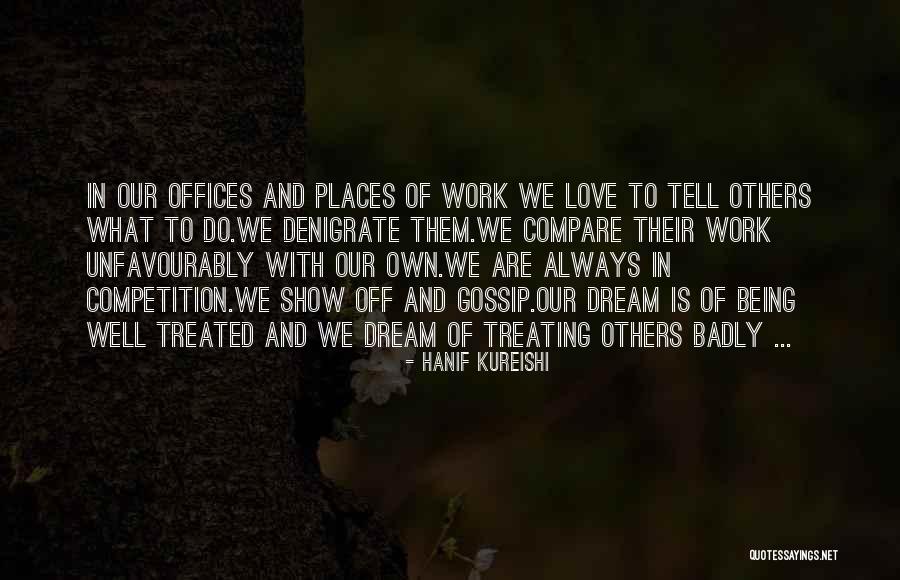 In our offices and places of work we love to tell others what to do.We denigrate them.We compare their work unfavourably with our own.We are always in competition.We show off and gossip.Our dream is of being well treated and we dream of treating others badly ... — Hanif Kureishi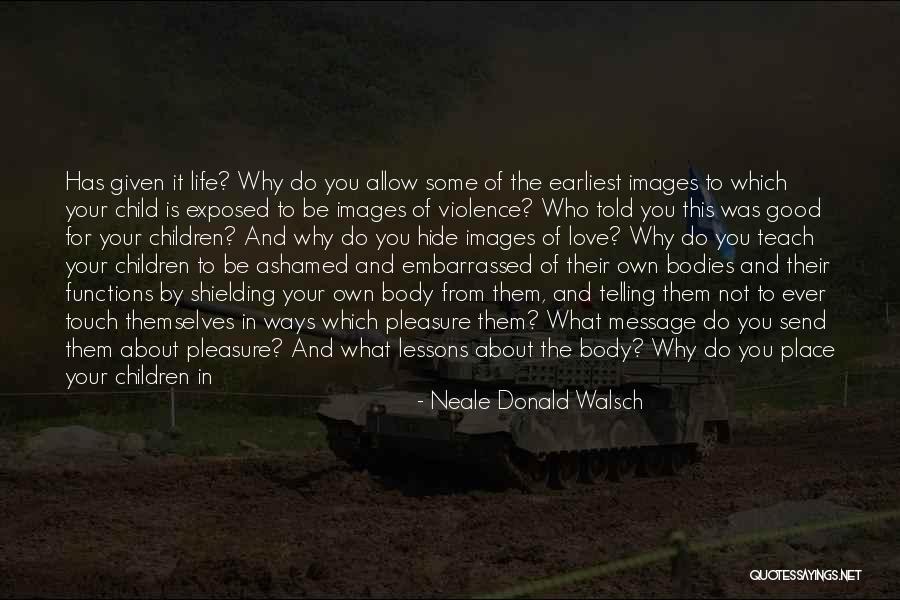 Has given it life? Why do you allow some of the earliest images to which your child is exposed to be images of violence? Who told you this was good for your children? And why do you hide images of love? Why do you teach your children to be ashamed and embarrassed of their own bodies and their functions by shielding your own body from them, and telling them not to ever touch themselves in ways which pleasure them? What message do you send them about pleasure? And what lessons about the body? Why do you place your children in schools where competition is allowed and encouraged, where being the "best" and learning the "most" is rewarded, where "performance" is graded, and moving at one's own pace is barely tolerated? What does your child understand from this? — Neale Donald Walsch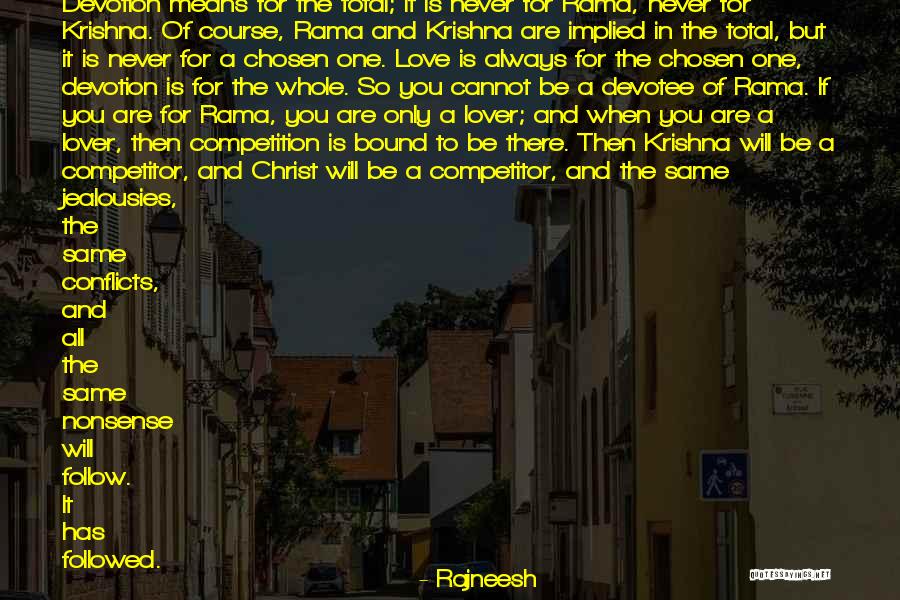 Devotion means for the total; it is never for Rama, never for Krishna. Of course, Rama and Krishna are implied in the total, but it is never for a chosen one. Love is always for the chosen one, devotion is for the whole. So you cannot be a devotee of Rama. If you are for Rama, you are only a lover; and when you are a lover, then competition is bound to be there. Then Krishna will be a competitor, and Christ will be a competitor, and the same jealousies, the same conflicts, and all the same nonsense will follow. It has followed. — Rajneesh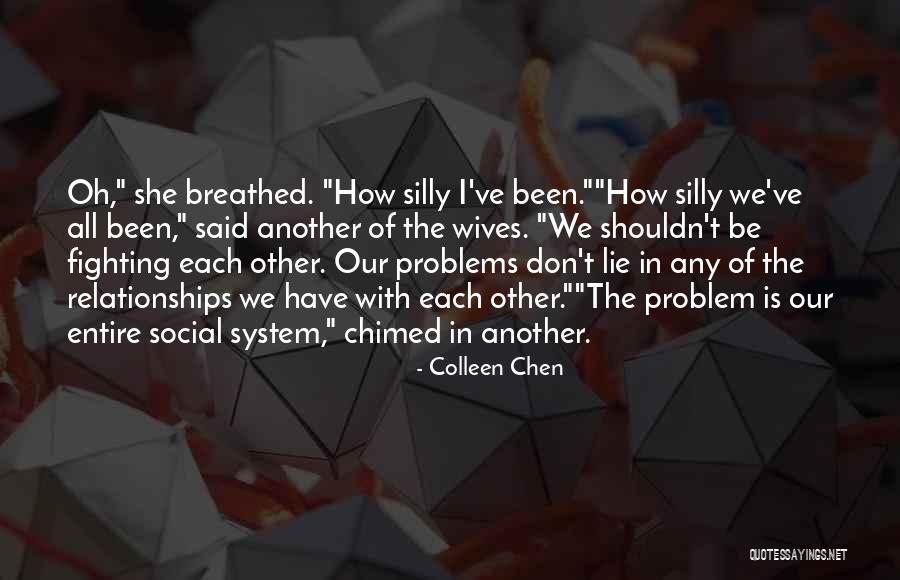 Oh," she breathed. "How silly I've been."
"How silly we've all been," said another of the wives. "We shouldn't be fighting each other. Our problems don't lie in any of the relationships we have with each other."
"The problem is our entire social system," chimed in another. — Colleen Chen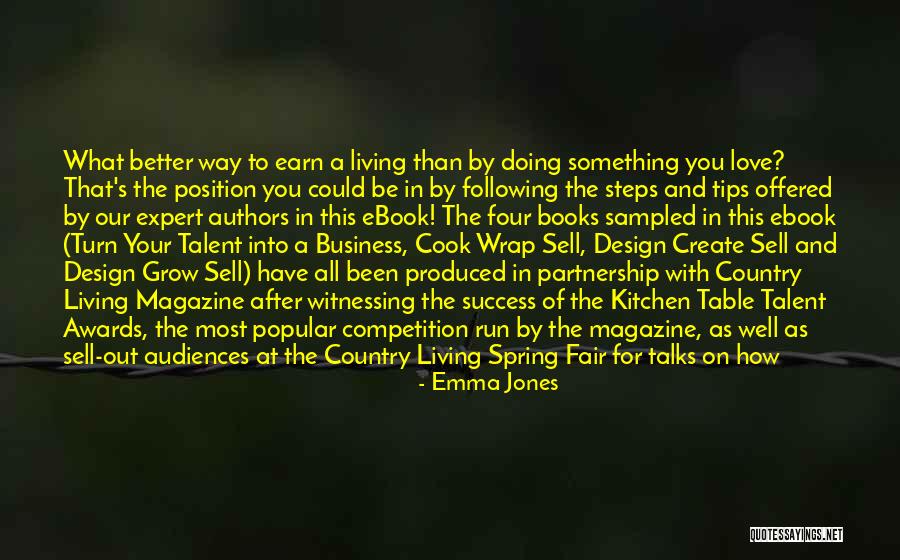 What better way to earn a living than by doing something you love? That's the position you could be in by following the steps and tips offered by our expert authors in this eBook! The four books sampled in this ebook (Turn Your Talent into a Business, Cook Wrap Sell, Design Create Sell and Design Grow Sell) have all been produced in partnership with Country Living Magazine after witnessing the success of the Kitchen Table Talent Awards, the most popular competition run by the magazine, as well as sell-out audiences at the Country Living Spring Fair for talks on how to turn a hobby into a business. The team at Country Living know their readers have bags of talent; what was becoming increasingly clear is how many of them are considering turning that talent into turnover! — Emma Jones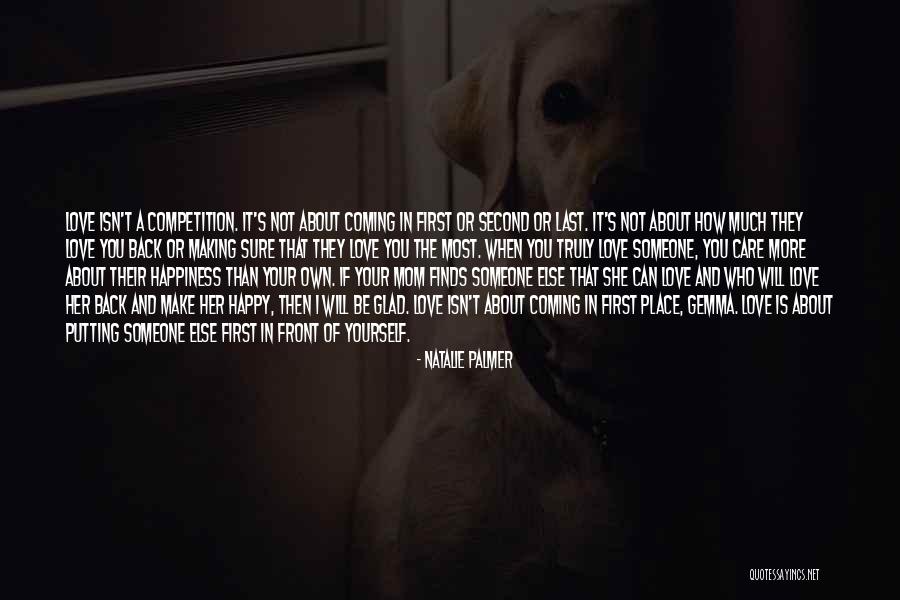 Love isn't a competition. It's not about coming in first or second or last. It's not about how much they love you back or making sure that they love you the most. When you truly love someone, you care more about their happiness than your own. If your mom finds someone else that she can love and who will love her back and make her happy, then I will be glad. Love isn't about coming in first place, Gemma. Love is about putting someone else first in front of yourself. — Natalie Palmer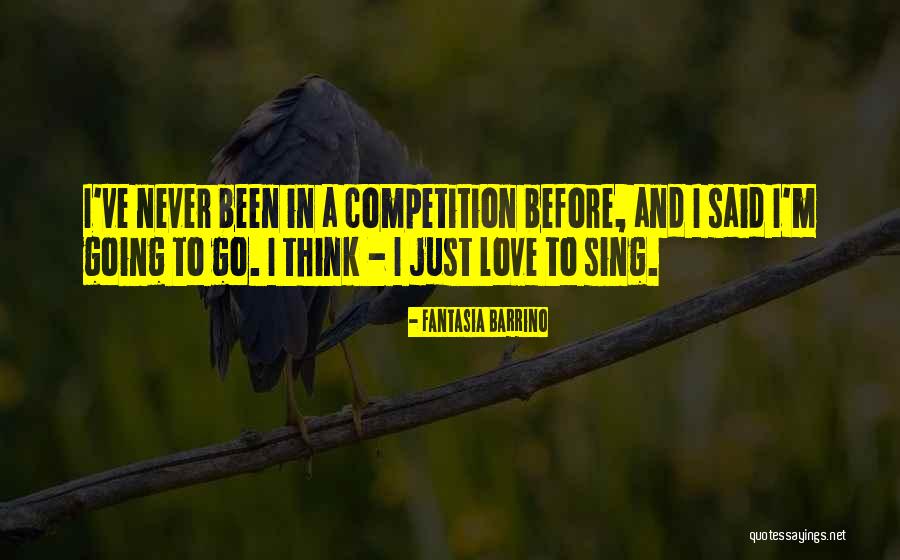 I've never been in a competition before, and I said I'm going to go. I think - I just love to sing. — Fantasia Barrino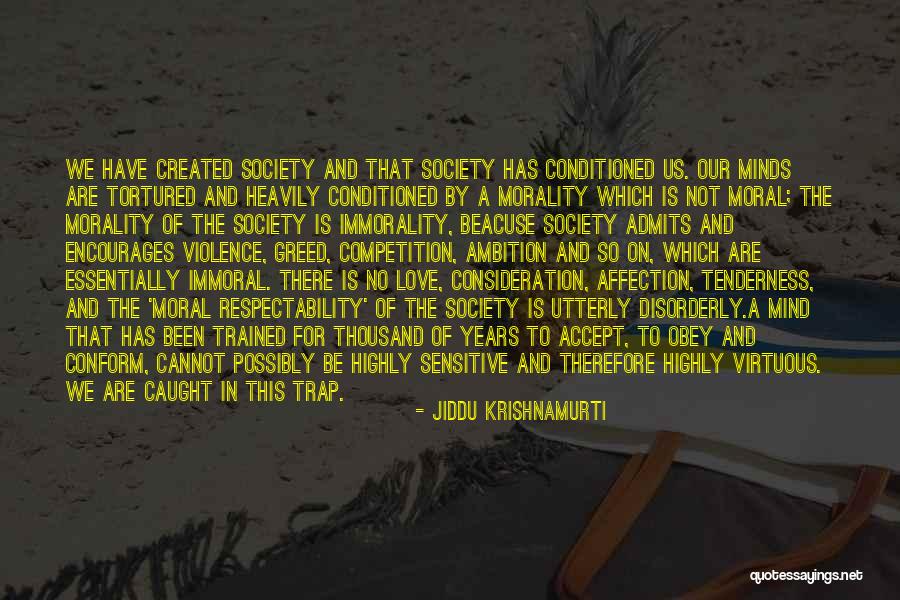 We have created society and that society has conditioned us. Our minds are tortured and heavily conditioned by a morality which is not moral; the morality of the society is immorality, beacuse society admits and encourages violence, greed, competition, ambition and so on, which are essentially immoral. There is no love, consideration, affection, tenderness, and the 'moral respectability' of the society is utterly disorderly.
A mind that has been trained for thousand of years to accept, to obey and conform, cannot possibly be highly sensitive and therefore highly virtuous. We are caught in this trap. — Jiddu Krishnamurti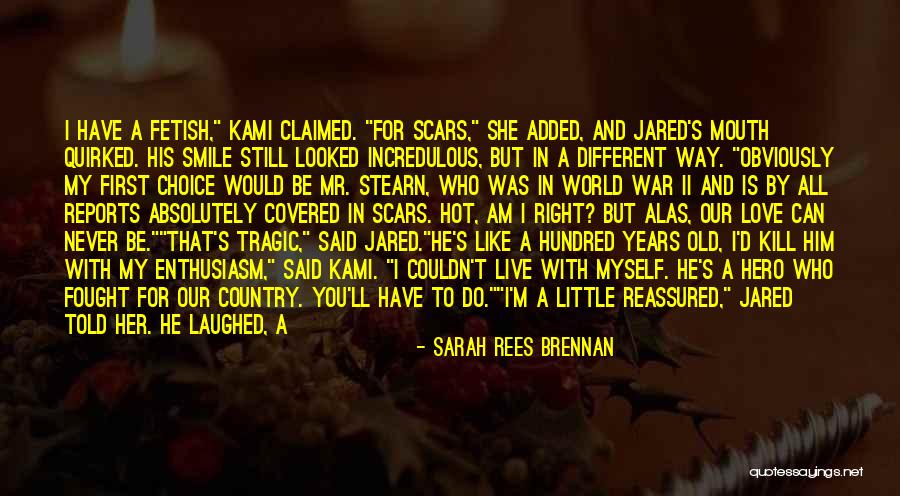 I have a fetish," Kami claimed. "For scars," she added, and Jared's mouth quirked. His smile still looked incredulous, but in a different way. "Obviously my first choice would be Mr. Stearn, who was in World War II and is by all reports absolutely covered in scars. Hot, am I right? But alas, our love can never be."
"That's tragic," said Jared.
"He's like a hundred years old, I'd kill him with my enthusiasm," said Kami. "I couldn't live with myself. He's a hero who fought for our country. You'll have to do."
"I'm a little reassured," Jared told her. He laughed, a slow, wonderful sound, warm as the line of his body against hers. "But I'm mostly appalled. I had no idea of the massive age range my competition apparently fits into. Anyone from the age of thirteen to a hundred? — Sarah Rees Brennan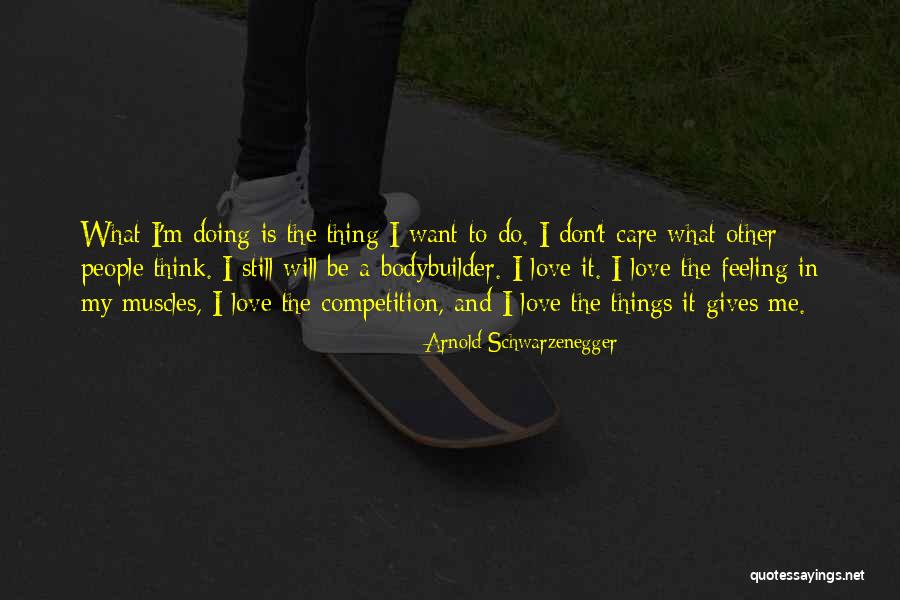 What I'm doing is the thing I want to do. I don't care what other people think. I still will be a bodybuilder. I love it. I love the feeling in my muscles, I love the competition, and I love the things it gives me. — Arnold Schwarzenegger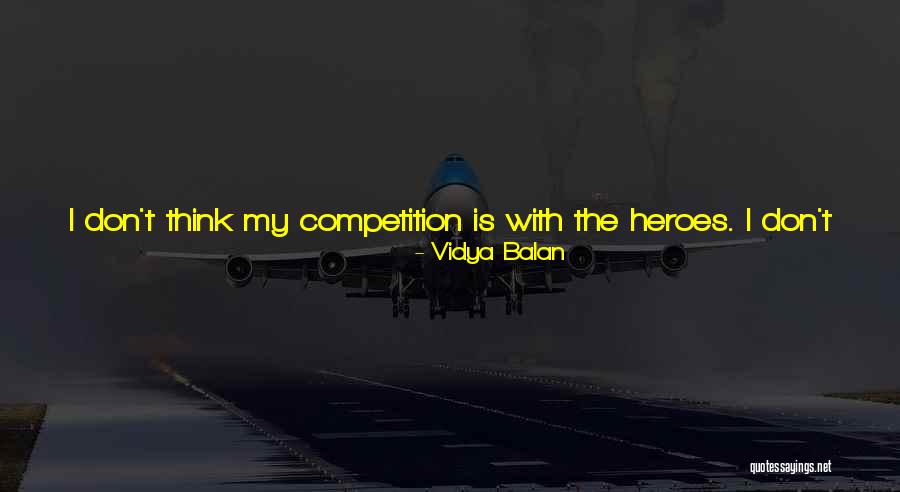 I don't think my competition is with the heroes. I don't think I'm competing with anyone. I don't mean to sound Zen, but genuinely, when I stopped competing with anything is when I started enjoying my work, and that brought out the best in me. I'm living in a universe of my own, and I'm enjoying that. I love to appreciate other people's work. — Vidya Balan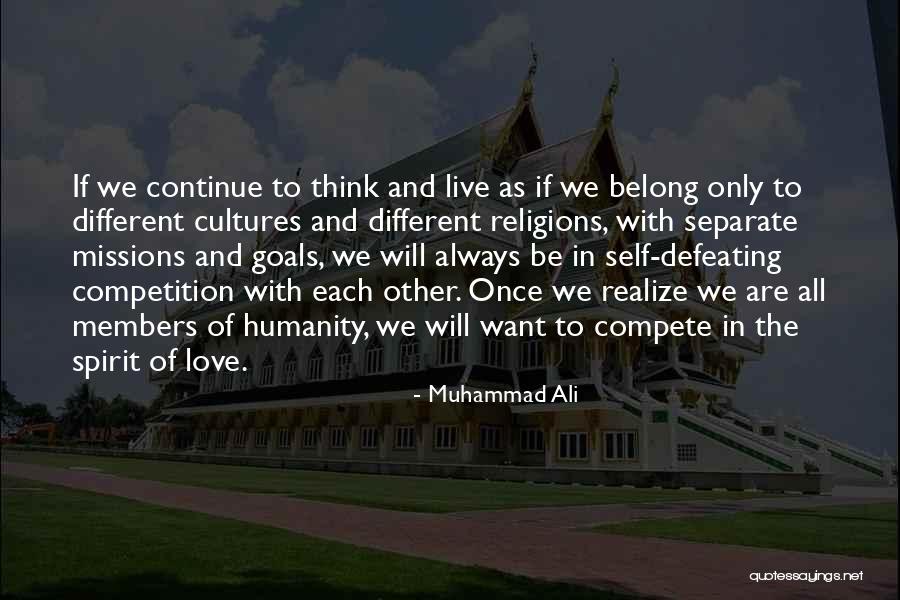 If we continue to think and live as if we belong only to different cultures and different religions, with separate missions and goals, we will always be in self-defeating competition with each other. Once we realize we are all members of humanity, we will want to compete in the spirit of love. — Muhammad Ali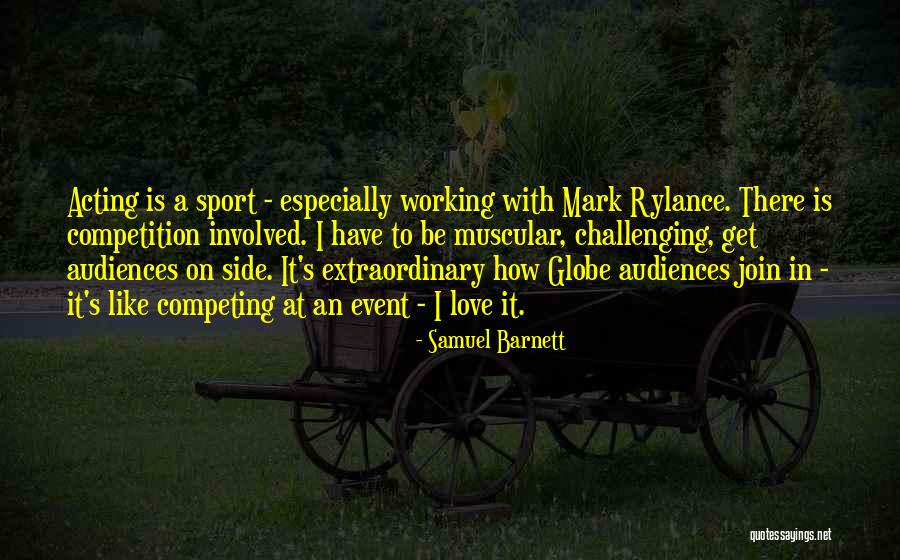 Acting is a sport - especially working with Mark Rylance. There is competition involved. I have to be muscular, challenging, get audiences on side. It's extraordinary how Globe audiences join in - it's like competing at an event - I love it. — Samuel Barnett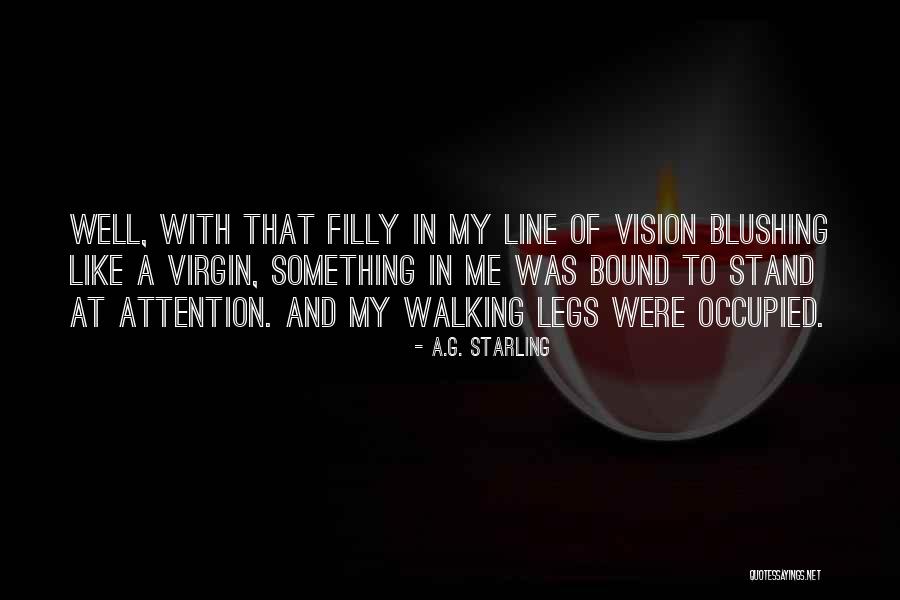 Well, with that filly in my line of vision blushing like a virgin, something in me was bound to stand at attention. And my walking legs were occupied. — A.G. Starling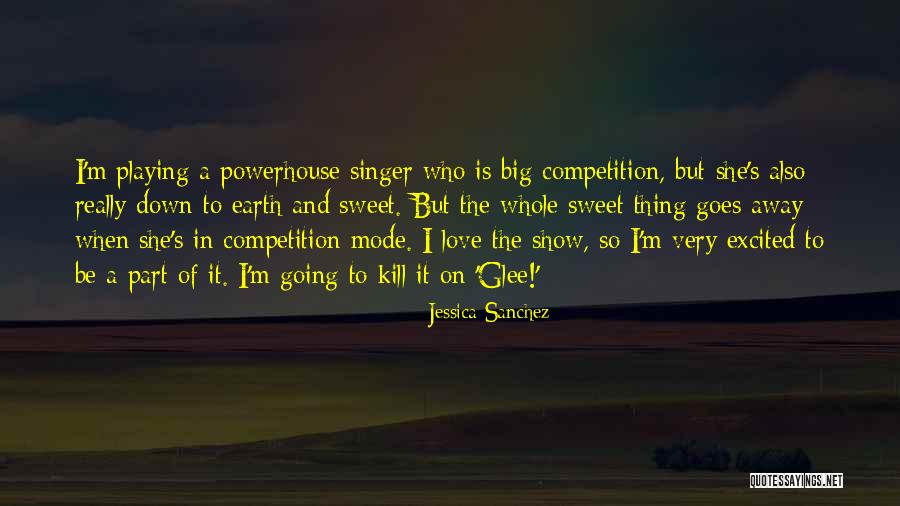 I'm playing a powerhouse singer who is big competition, but she's also really down to earth and sweet. But the whole sweet thing goes away when she's in competition mode. I love the show, so I'm very excited to be a part of it. I'm going to kill it on 'Glee!' — Jessica Sanchez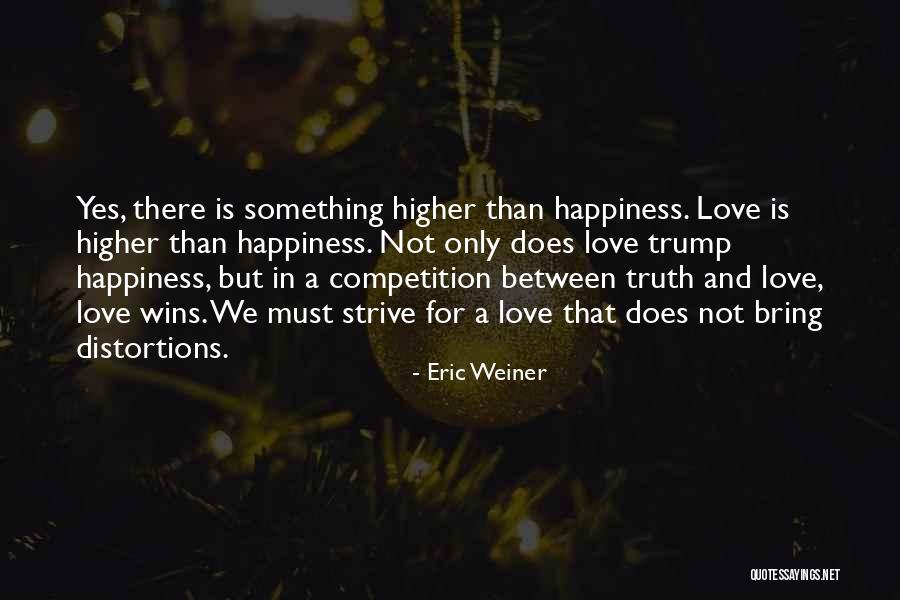 Yes, there is something higher than happiness. Love is higher than happiness. Not only does love trump happiness, but in a competition between truth and love, love wins. We must strive for a love that does not bring distortions. — Eric Weiner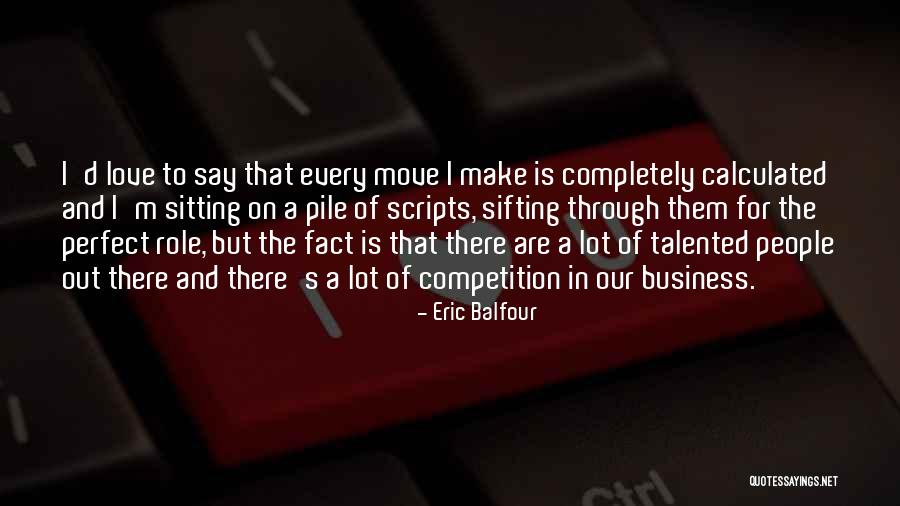 I'd love to say that every move I make is completely calculated and I'm sitting on a pile of scripts, sifting through them for the perfect role, but the fact is that there are a lot of talented people out there and there's a lot of competition in our business. — Eric Balfour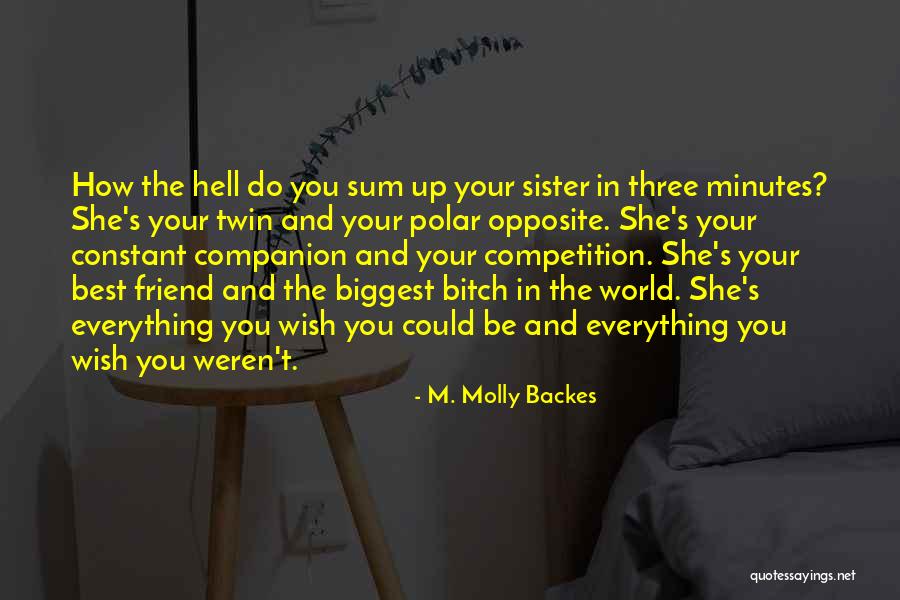 How the hell do you sum up your sister in three minutes? She's your twin and your polar opposite. She's your constant companion and your competition. She's your best friend and the biggest bitch in the world. She's everything you wish you could be and everything you wish you weren't. — M. Molly Backes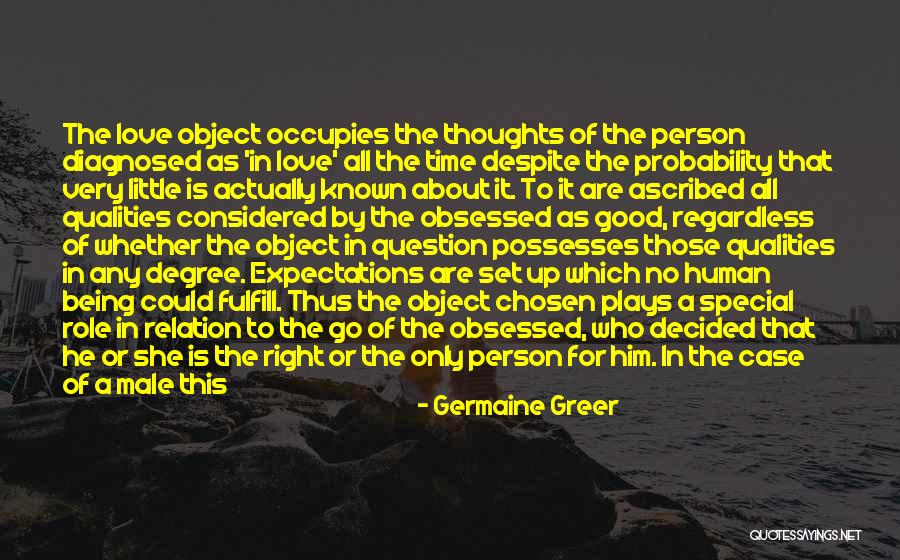 The love object occupies the thoughts of the person diagnosed as 'in love' all the time despite the probability that very little is actually known about it. To it are ascribed all qualities considered by the obsessed as good, regardless of whether the object in question possesses those qualities in any degree. Expectations are set up which no human being could fulfill. Thus the object chosen plays a special role in relation to the go of the obsessed, who decided that he or she is the right or the only person for him. In the case of a male this notion may sanction a degree of directly aggressive behavior either in pursuing the object or driving off competition. — Germaine Greer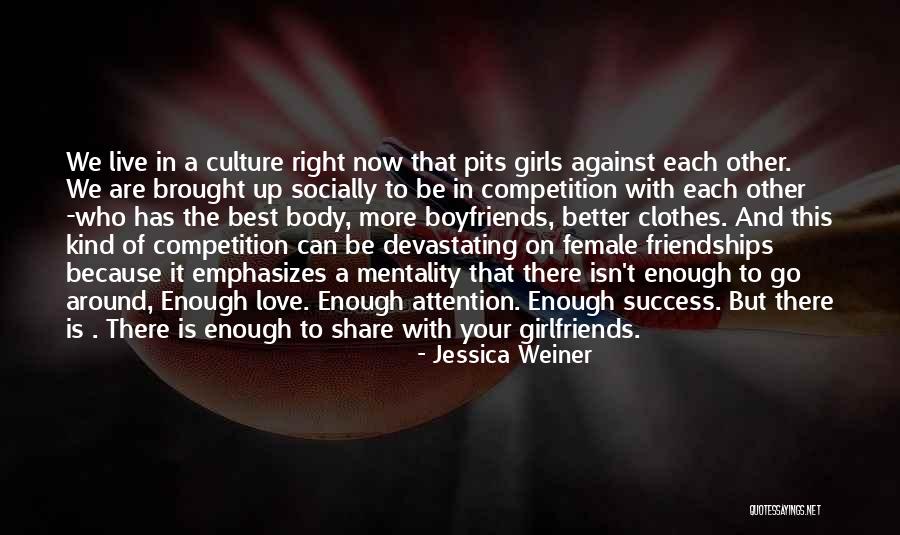 We live in a culture right now that pits girls against each other. We are brought up socially to be in competition with each other -who has the best body, more boyfriends, better clothes. And this kind of competition can be devastating on female friendships because it emphasizes a mentality that there isn't enough to go around, Enough love. Enough attention. Enough success. But there is . There is enough to share with your girlfriends. — Jessica Weiner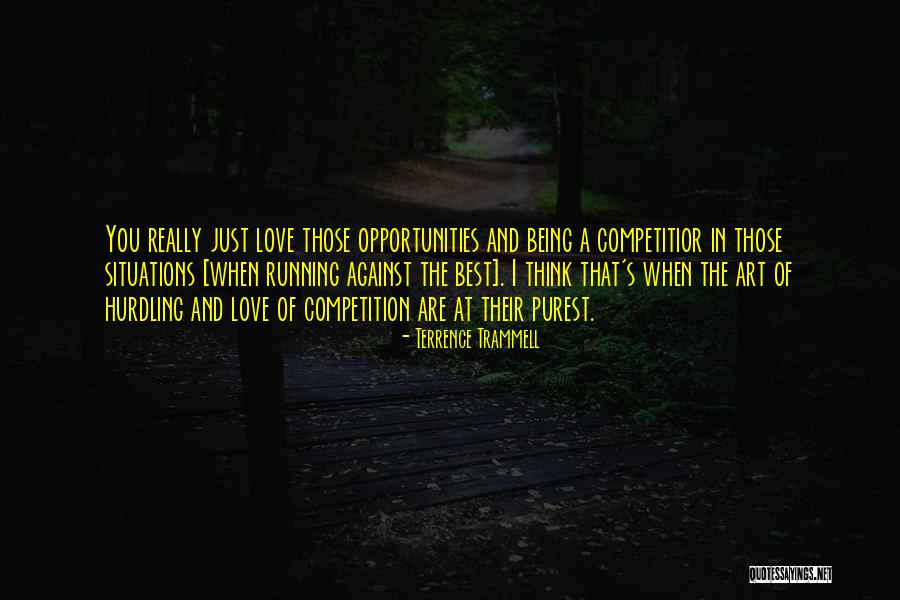 You really just love those opportunities and being a competitior in those situations [when running against the best]. I think that's when the art of hurdling and love of competition are at their purest. — Terrence Trammell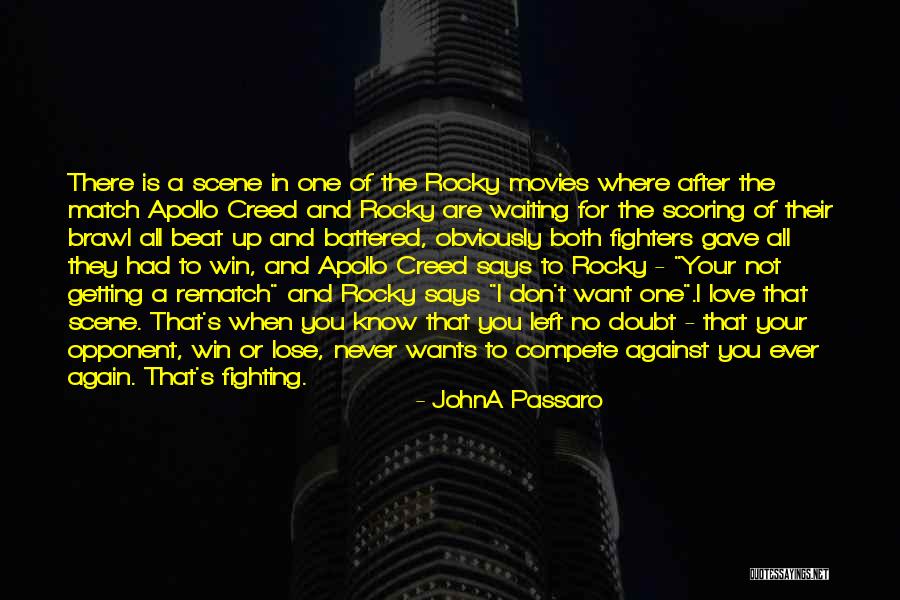 There is a scene in one of the Rocky movies where after the match Apollo Creed and Rocky are waiting for the scoring of their brawl all beat up and battered, obviously both fighters gave all they had to win, and Apollo Creed says to Rocky - "Your not getting a rematch" and Rocky says "I don't want one".
I love that scene.
That's when you know that you left no doubt - that your opponent, win or lose, never wants to compete against you ever again.
That's fighting. — JohnA Passaro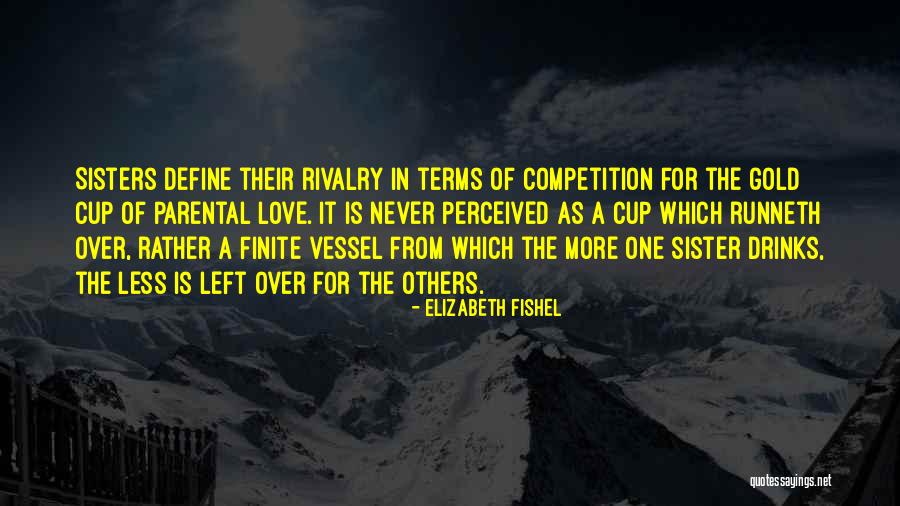 Sisters define their rivalry in terms of competition for the gold cup of parental love. It is never perceived as a cup which runneth over, rather a finite vessel from which the more one sister drinks, the less is left over for the others. — Elizabeth Fishel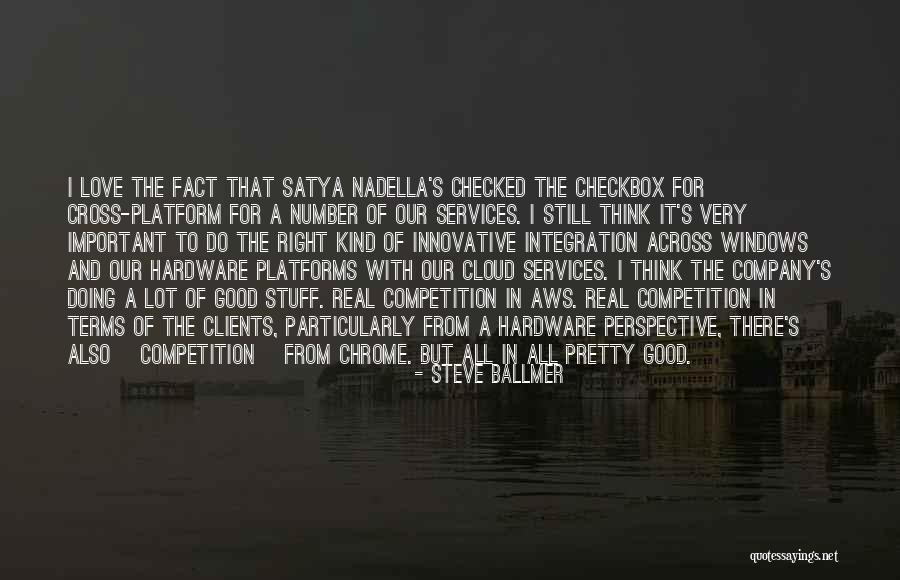 I love the fact that Satya Nadella's checked the checkbox for cross-platform for a number of our services. I still think it's very important to do the right kind of innovative integration across Windows and our hardware platforms with our cloud services. I think the company's doing a lot of good stuff. Real competition in AWS. Real competition in terms of the clients, particularly from a hardware perspective, there's also [competition] from Chrome. But all in all pretty good. — Steve Ballmer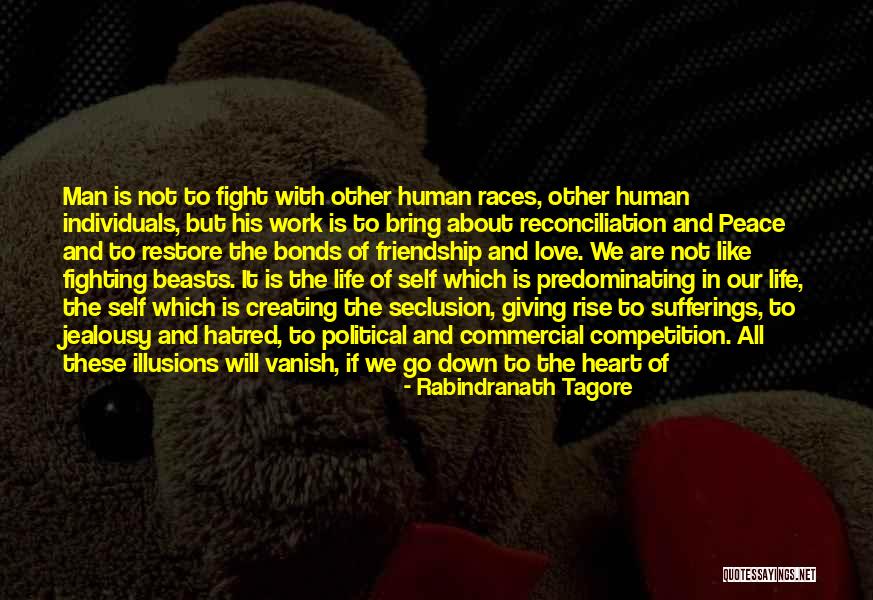 Man is not to fight with other human races, other human individuals, but his work is to bring about reconciliation and Peace and to restore the bonds of friendship and love. We are not like fighting beasts. It is the life of self which is predominating in our life, the self which is creating the seclusion, giving rise to sufferings, to jealousy and hatred, to political and commercial competition. All these illusions will vanish, if we go down to the heart of — Rabindranath Tagore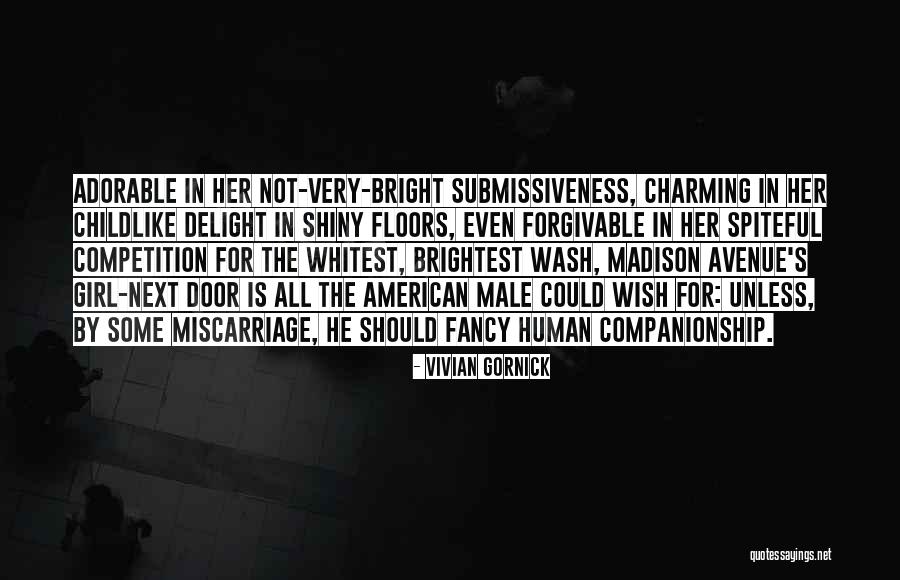 Adorable in her not-very-bright submissiveness, charming in her childlike delight in shiny floors, even forgivable in her spiteful competition for the whitest, brightest wash, Madison Avenue's girl-next door is all the American male could wish for: unless, by some miscarriage, he should fancy human companionship. — Vivian Gornick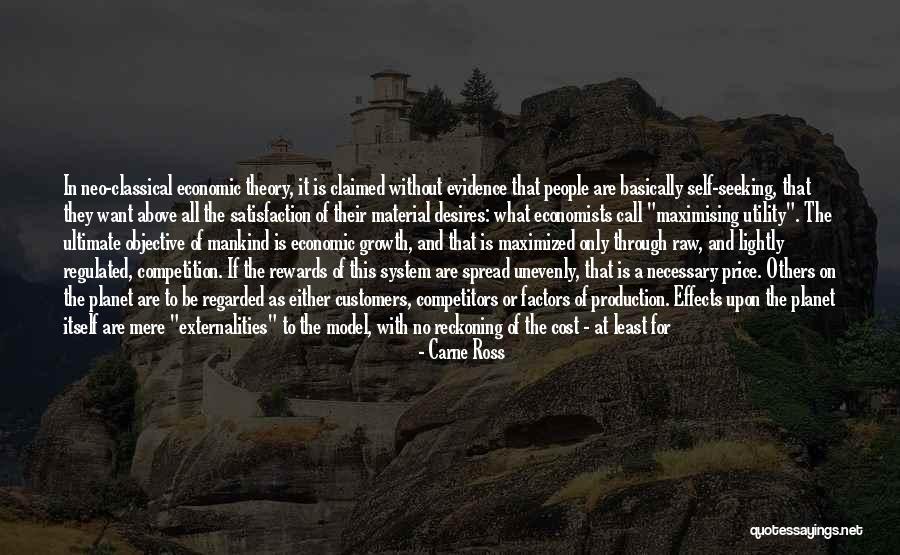 In neo-classical economic theory, it is claimed without evidence that people are basically self-seeking, that they want above all the satisfaction of their material desires: what economists call "maximising utility". The ultimate objective of mankind is economic growth, and that is maximized only through raw, and lightly regulated, competition. If the rewards of this system are spread unevenly, that is a necessary price. Others on the planet are to be regarded as either customers, competitors or factors of production. Effects upon the planet itself are mere "externalities" to the model, with no reckoning of the cost - at least for now. Nowhere in this analysis appears factors such as human cooperation, love, trust, compassion or hatred, curiosity or beauty. Nowhere appears the concept of meaning. What cannot be measured is ignored. But the trouble is that once our basic needs for shelter and food have been met, these factors may be the most important of all. — Carne Ross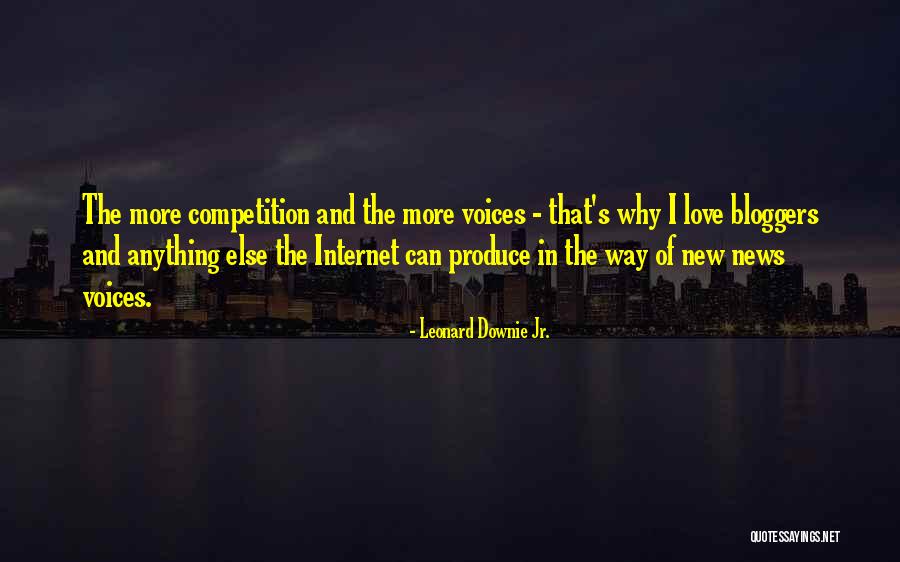 The more competition and the more voices - that's why I love bloggers and anything else the Internet can produce in the way of new news voices. — Leonard Downie Jr.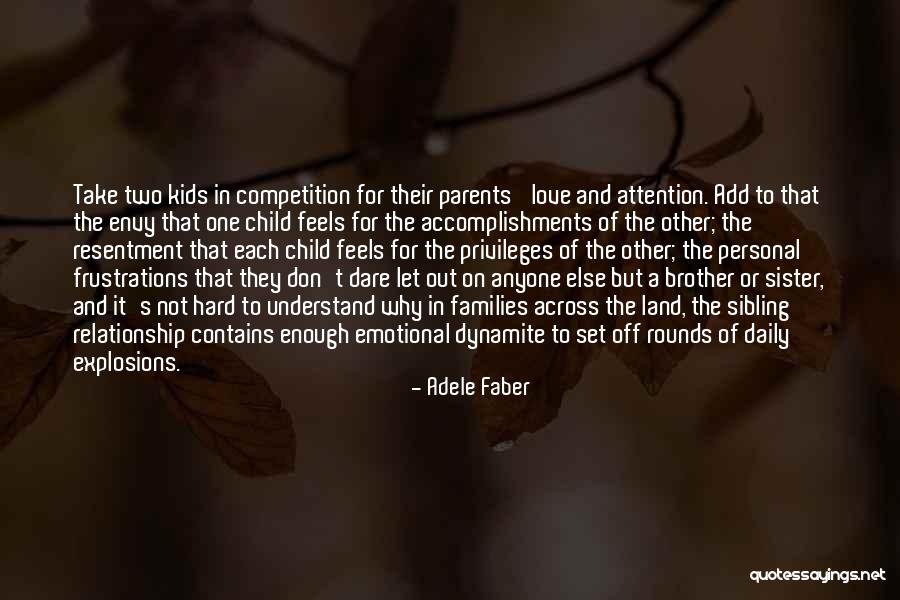 Take two kids in competition for their parents' love and attention. Add to that the envy that one child feels for the accomplishments of the other; the resentment that each child feels for the privileges of the other; the personal frustrations that they don't dare let out on anyone else but a brother or sister, and it's not hard to understand why in families across the land, the sibling relationship contains enough emotional dynamite to set off rounds of daily explosions. — Adele Faber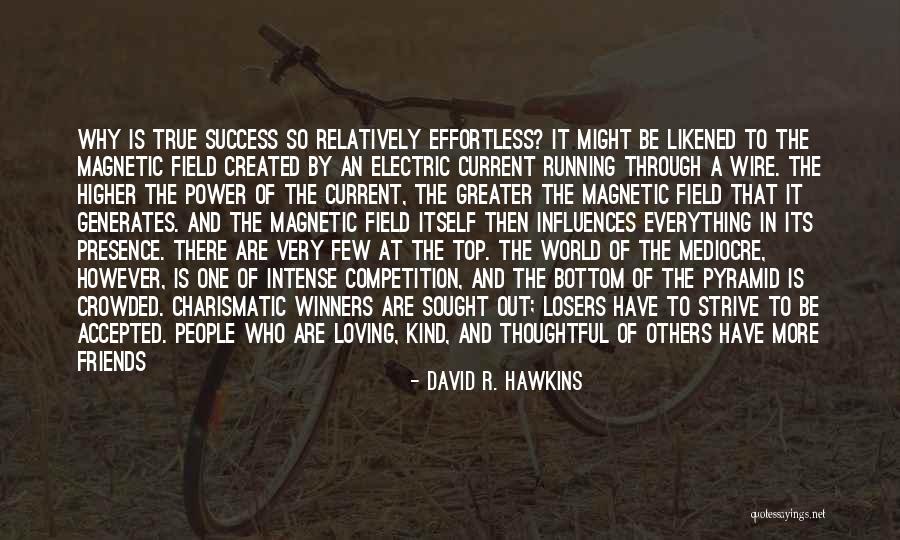 Why is true success so relatively effortless? It might be likened to the magnetic field created by an electric current running through a wire. The higher the power of the current, the greater the magnetic field that it generates. And the magnetic field itself then influences everything in its presence. There are very few at the top. The world of the mediocre, however, is one of intense competition, and the bottom of the pyramid is crowded. Charismatic winners are sought out; losers have to strive to be accepted. People who are loving, kind, and thoughtful of others have more friends than they can count; success in every area of life is a reflex to those who are aligned with successful patterns. And the capacity to be able to discern the difference between the strong patterns of success and the weak patterns leading to failure is now available to each of us. — David R. Hawkins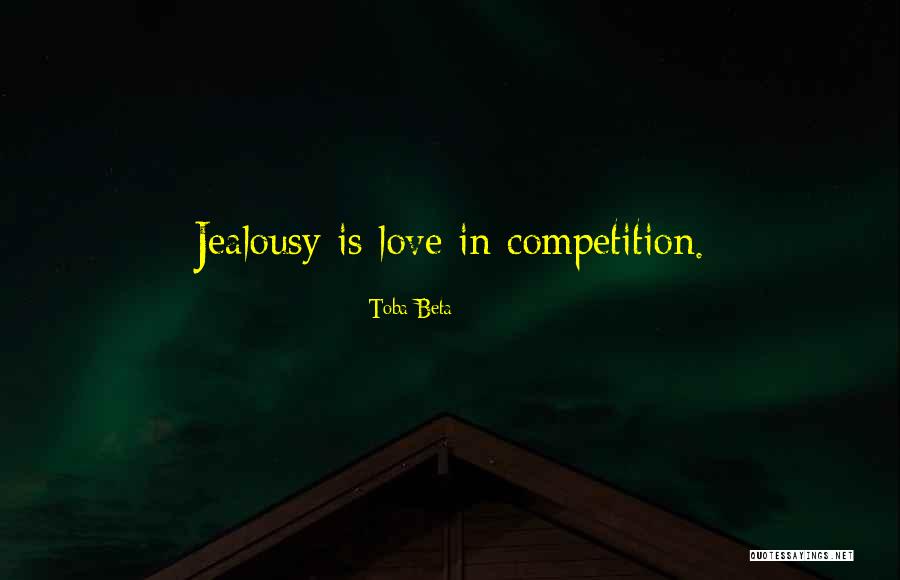 Jealousy is love in competition. — Toba Beta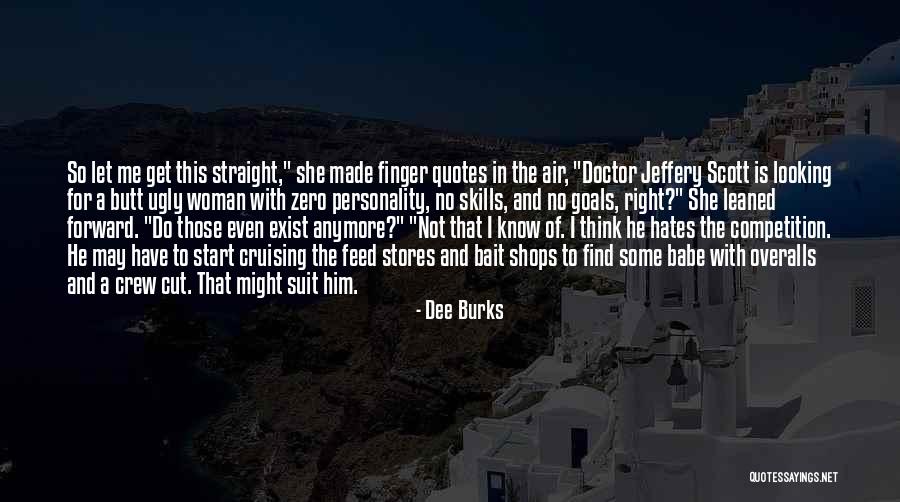 So let me get this straight," she made finger quotes in the air, "Doctor Jeffery Scott is looking for a butt ugly woman with zero personality, no skills, and no goals, right?"
She leaned forward. "Do those even exist anymore?"
"Not that I know of. I think he hates the competition. He may have to start cruising the feed stores and bait shops to find some babe with overalls and a crew cut. That might suit him. — Dee Burks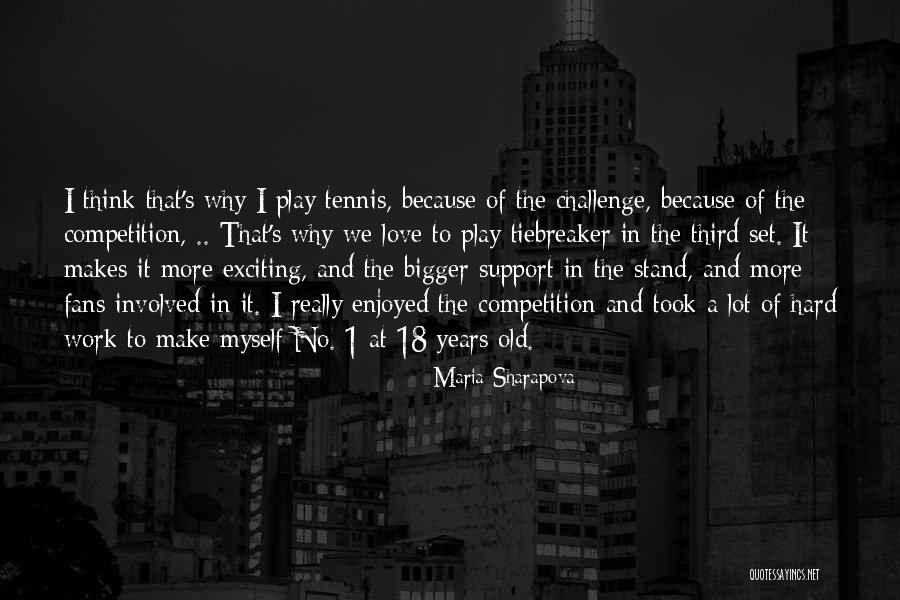 I think that's why I play tennis, because of the challenge, because of the competition, .. That's why we love to play tiebreaker in the third set. It makes it more exciting, and the bigger support in the stand, and more fans involved in it. I really enjoyed the competition and took a lot of hard work to make myself No. 1 at 18 years old. — Maria Sharapova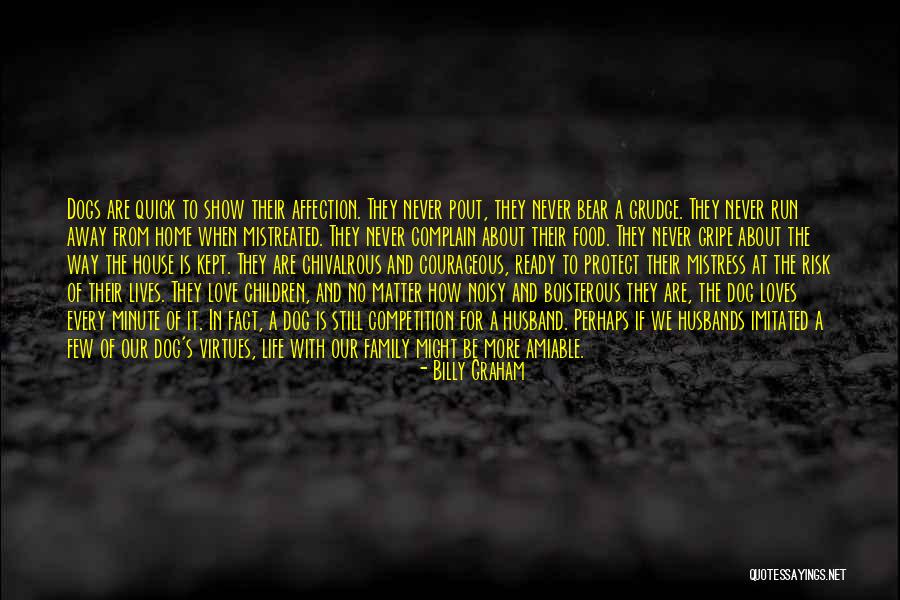 Dogs are quick to show their affection. They never pout, they never bear a grudge. They never run away from home when mistreated. They never complain about their food. They never gripe about the way the house is kept. They are chivalrous and courageous, ready to protect their mistress at the risk of their lives. They love children, and no matter how noisy and boisterous they are, the dog loves every minute of it. In fact, a dog is still competition for a husband. Perhaps if we husbands imitated a few of our dog's virtues, life with our family might be more amiable. — Billy Graham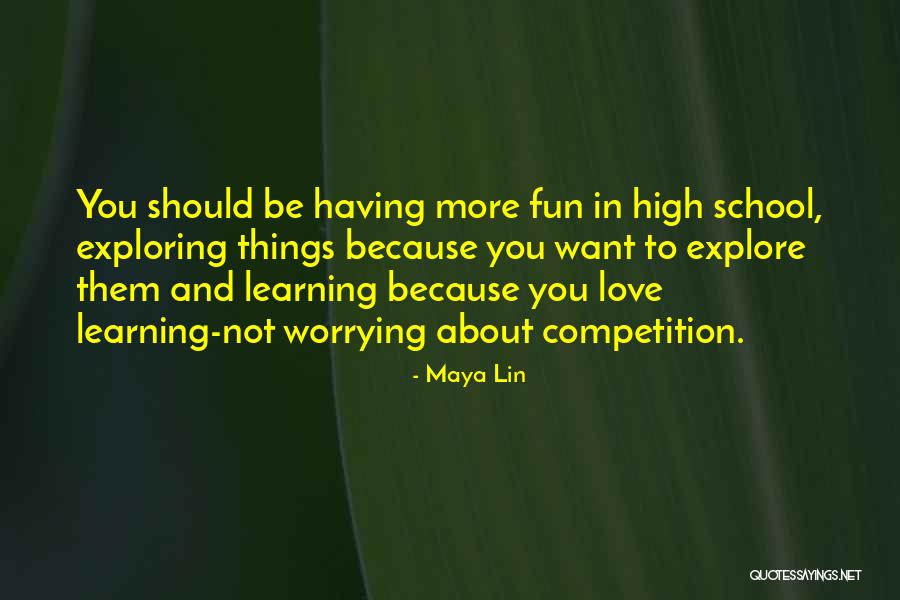 You should be having more fun in high school, exploring things because you want to explore them and learning because you love learning-not worrying about competition. — Maya Lin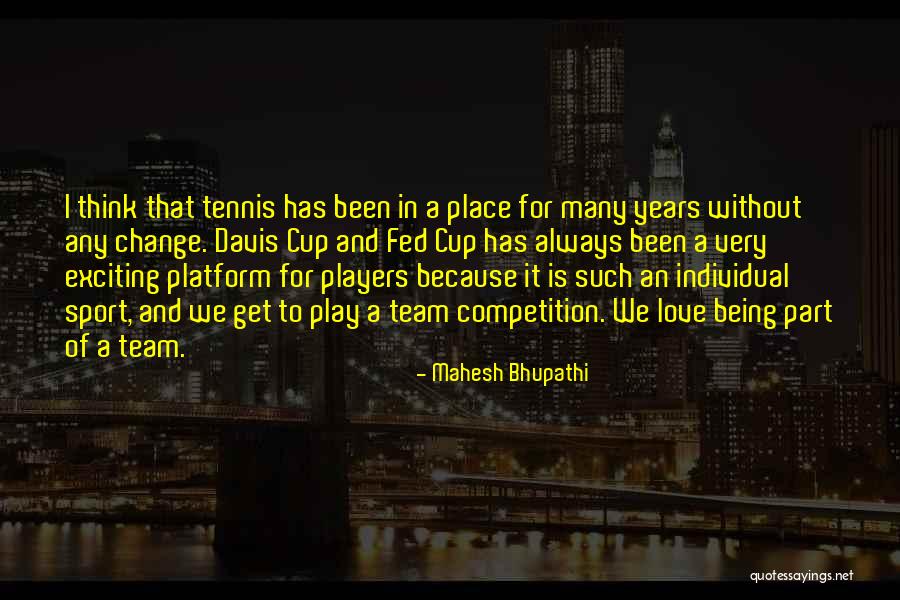 I think that tennis has been in a place for many years without any change. Davis Cup and Fed Cup has always been a very exciting platform for players because it is such an individual sport, and we get to play a team competition. We love being part of a team. — Mahesh Bhupathi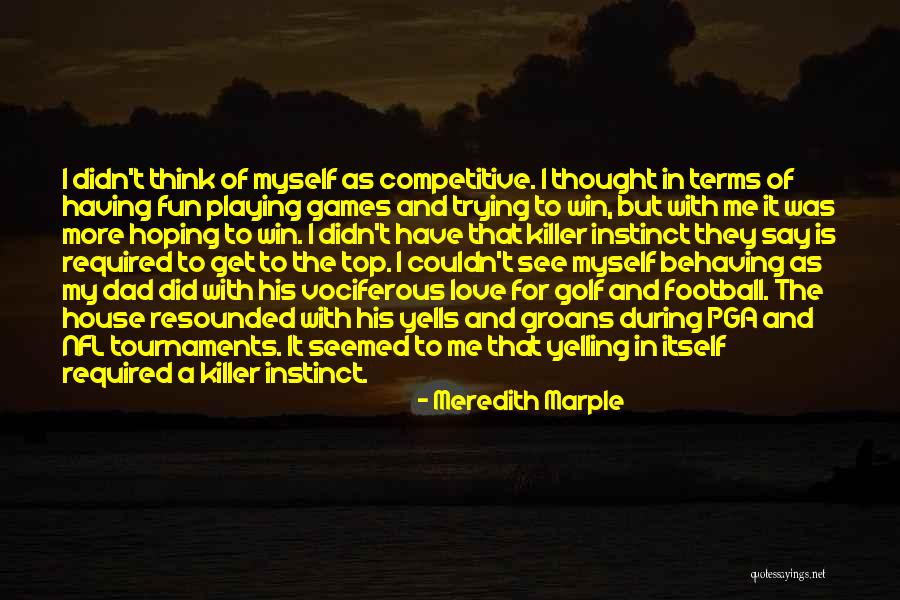 I didn't think of myself as competitive. I thought in terms of having fun playing games and trying to win, but with me it was more hoping to win. I didn't have that killer instinct they say is required to get to the top. I couldn't see myself behaving as my dad did with his vociferous love for golf and football. The house resounded with his yells and groans during PGA and NFL tournaments. It seemed to me that yelling in itself required a killer instinct. — Meredith Marple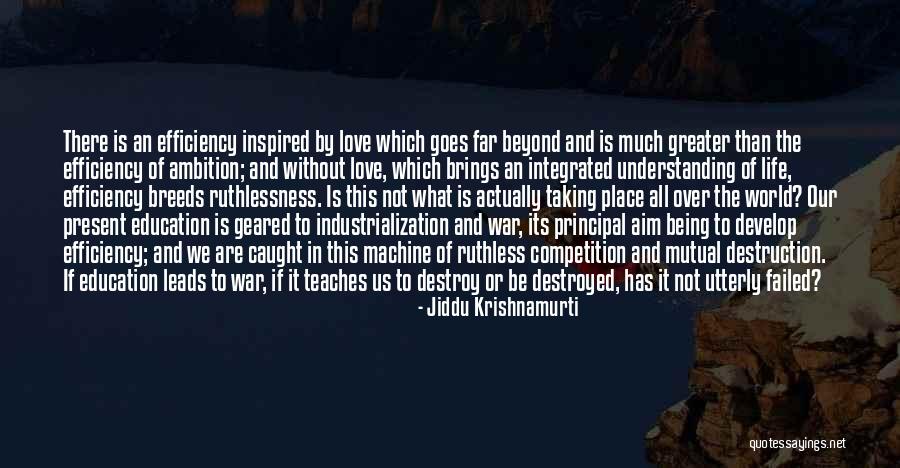 There is an efficiency inspired by love which goes far beyond and is much greater than the efficiency of ambition; and without love, which brings an integrated understanding of life, efficiency breeds ruthlessness. Is this not what is actually taking place all over the world? Our present education is geared to industrialization and war, its principal aim being to develop efficiency; and we are caught in this machine of ruthless competition and mutual destruction. If education leads to war, if it teaches us to destroy or be destroyed, has it not utterly failed? — Jiddu Krishnamurti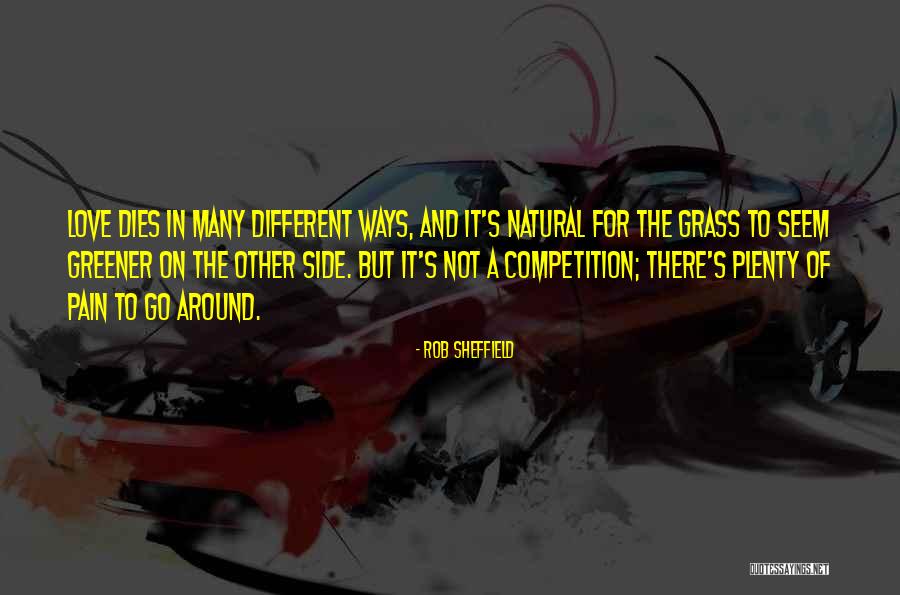 Love dies in many different ways, and it's natural for the grass to seem greener on the other side. But it's not a competition; there's plenty of pain to go around. — Rob Sheffield