Quotes & Sayings About Changing The World For The Better
Enjoy reading and share 51 famous quotes about Changing The World For The Better with everyone.
Top Changing The World For The Better Quotes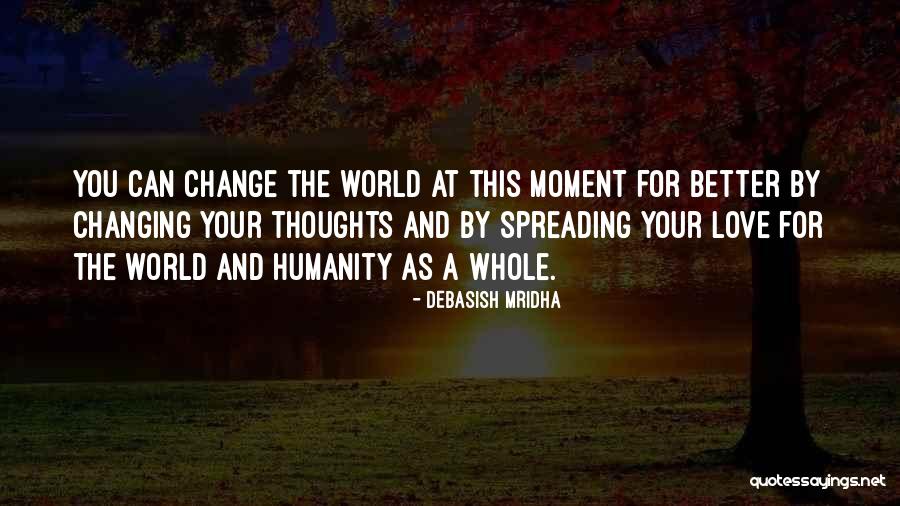 You can change the world at this moment for better by changing your thoughts and by spreading your love for the world and humanity as a whole. — Debasish Mridha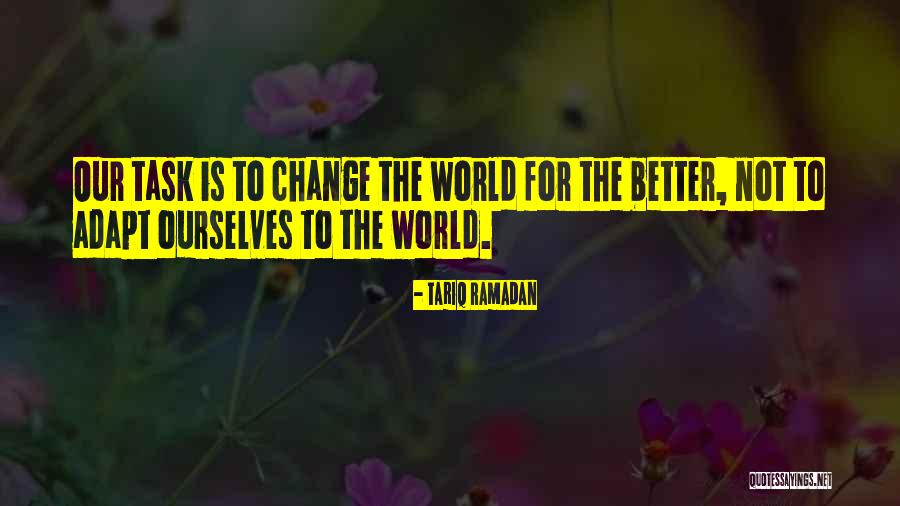 Our task is to change the world for the better, not to adapt ourselves to the world. — Tariq Ramadan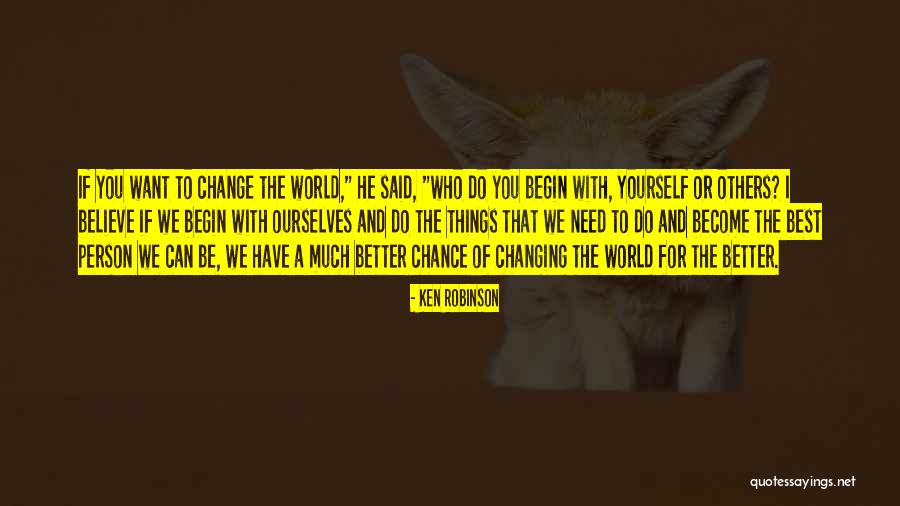 If you want to change the world," he said, "who do you begin with, yourself or others? I believe if we begin with ourselves and do the things that we need to do and become the best person we can be, we have a much better chance of changing the world for the better. — Ken Robinson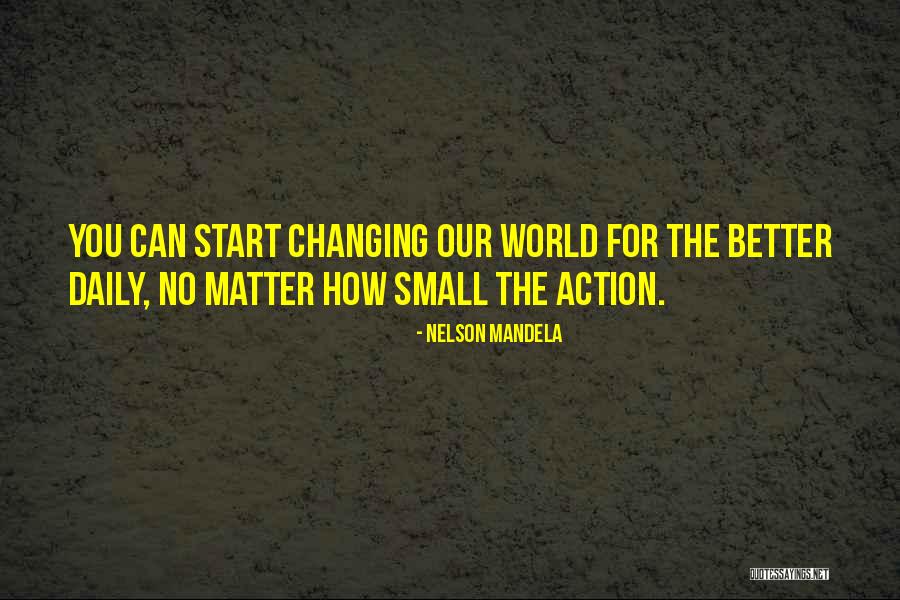 You can start changing our world for the better daily, no matter how small the action. — Nelson Mandela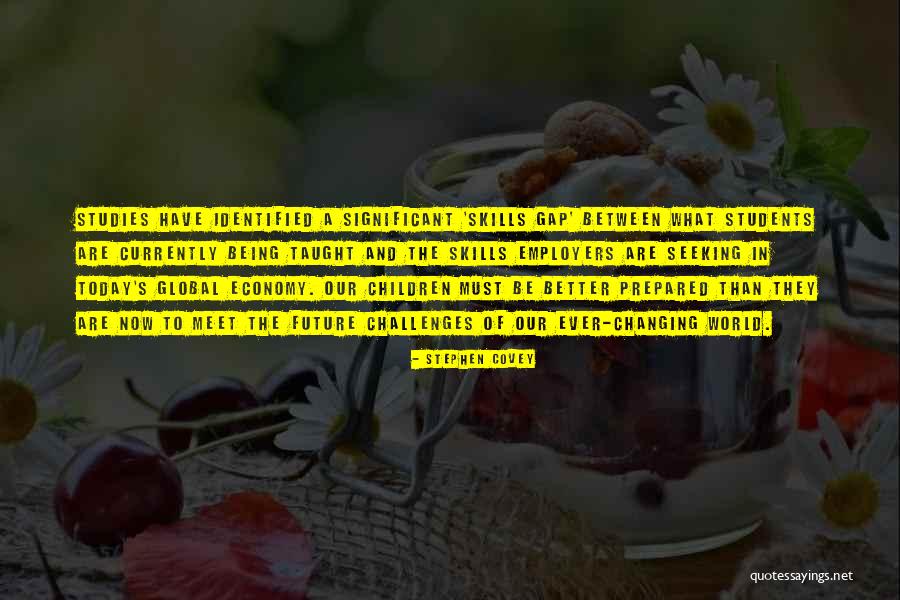 Studies have identified a significant 'skills gap' between what students are currently being taught and the skills employers are seeking in today's global economy. Our children must be better prepared than they are now to meet the future challenges of our ever-changing world. — Stephen Covey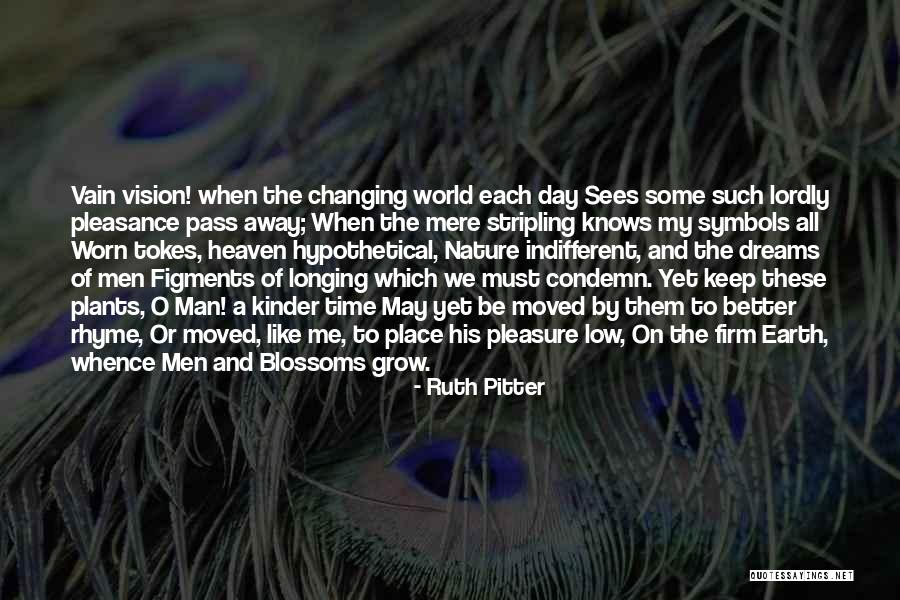 Vain vision! when the changing world each day Sees some such lordly pleasance pass away; When the mere stripling knows my symbols all Worn tokes, heaven hypothetical, Nature indifferent, and the dreams of men Figments of longing which we must condemn. Yet keep these plants, O Man! a kinder time May yet be moved by them to better rhyme, Or moved, like me, to place his pleasure low, On the firm Earth, whence Men and Blossoms grow. — Ruth Pitter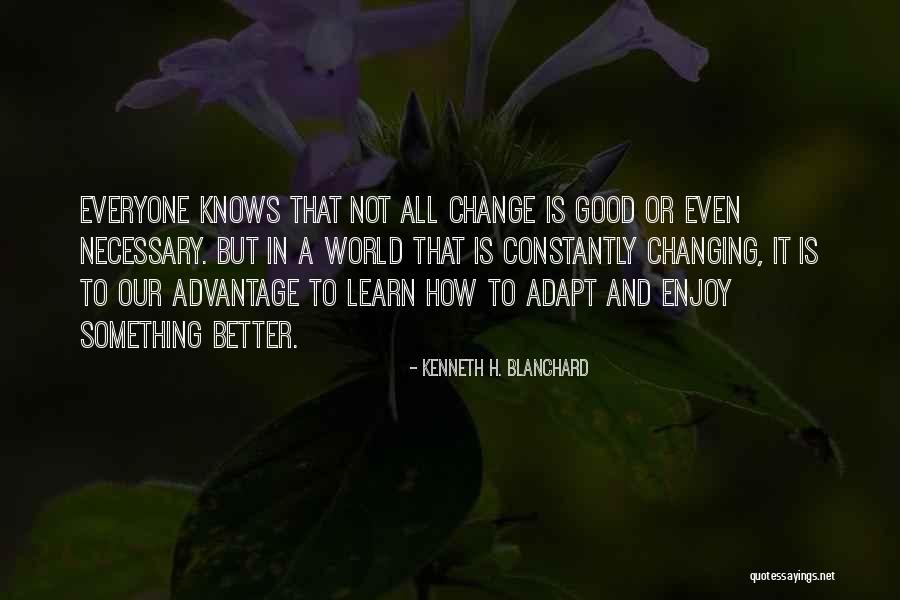 Everyone knows that not all change is good or even necessary. But in a world that is constantly changing, it is to our advantage to learn how to adapt and enjoy something better. — Kenneth H. Blanchard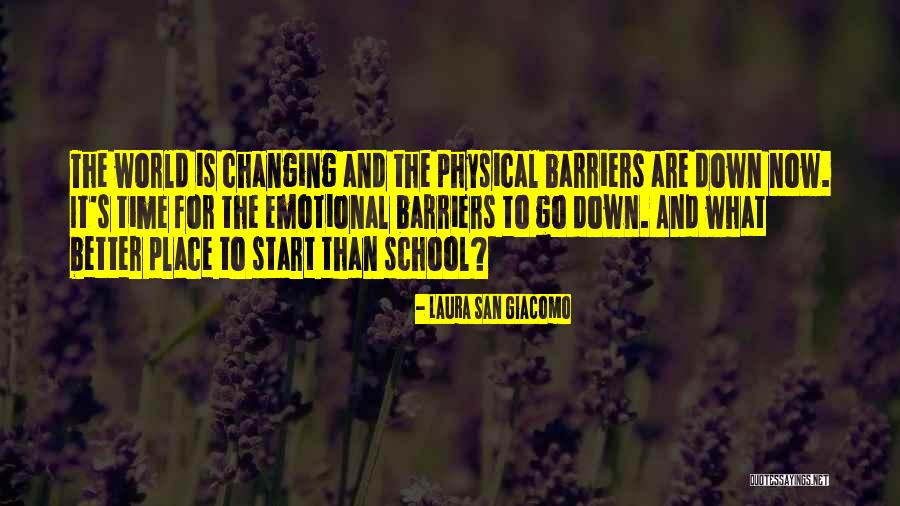 The world is changing and the physical barriers are down now. It's time for the emotional barriers to go down. And what better place to start than school? — Laura San Giacomo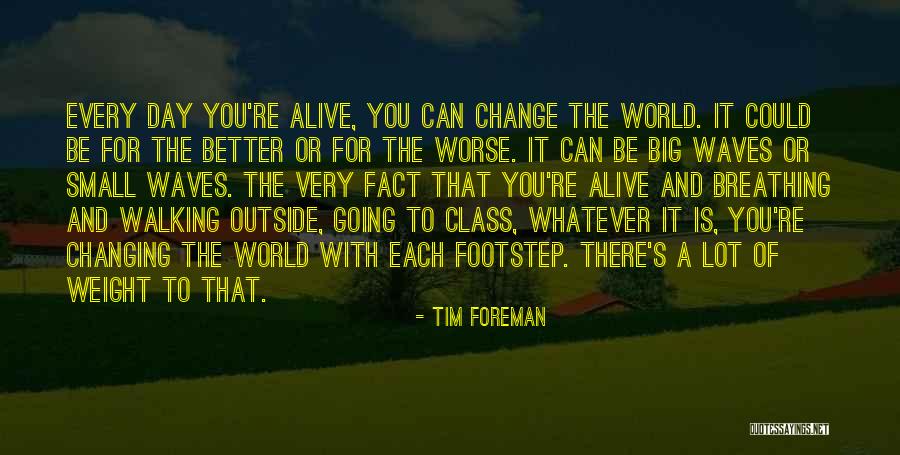 Every day you're alive, you can change the world. It could be for the better or for the worse. It can be big waves or small waves. The very fact that you're alive and breathing and walking outside, going to class, whatever it is, you're changing the world with each footstep. There's a lot of weight to that. — Tim Foreman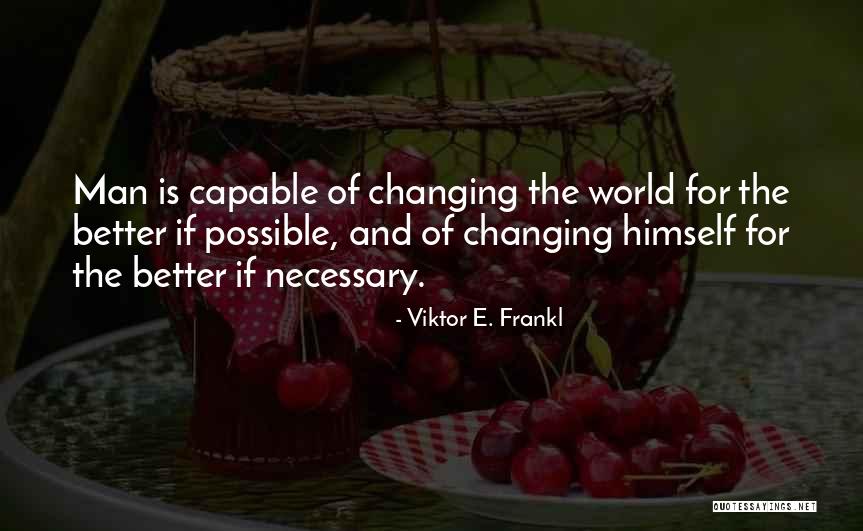 Man is capable of changing the world for the better if possible, and of changing himself for the better if necessary. — Viktor E. Frankl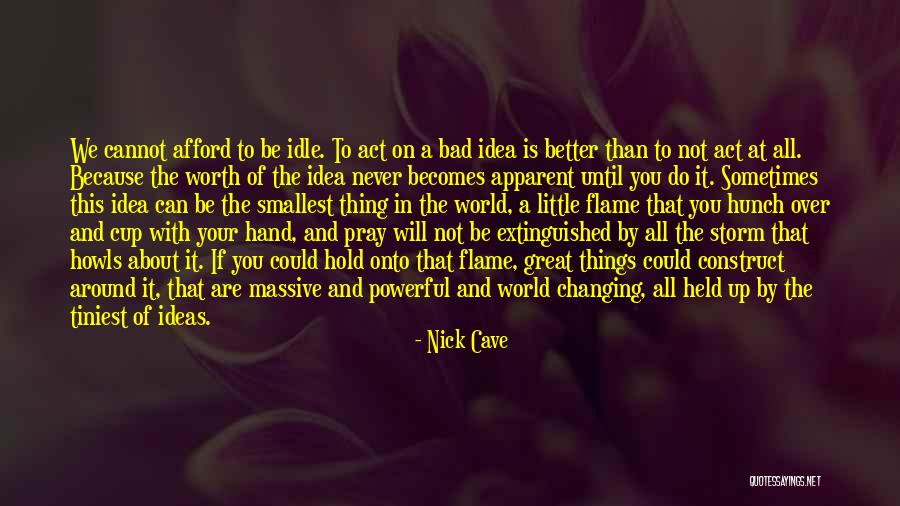 We cannot afford to be idle. To act on a bad idea is better than to not act at all. Because the worth of the idea never becomes apparent until you do it. Sometimes this idea can be the smallest thing in the world, a little flame that you hunch over and cup with your hand, and pray will not be extinguished by all the storm that howls about it. If you could hold onto that flame, great things could construct around it, that are massive and powerful and world changing, all held up by the tiniest of ideas. — Nick Cave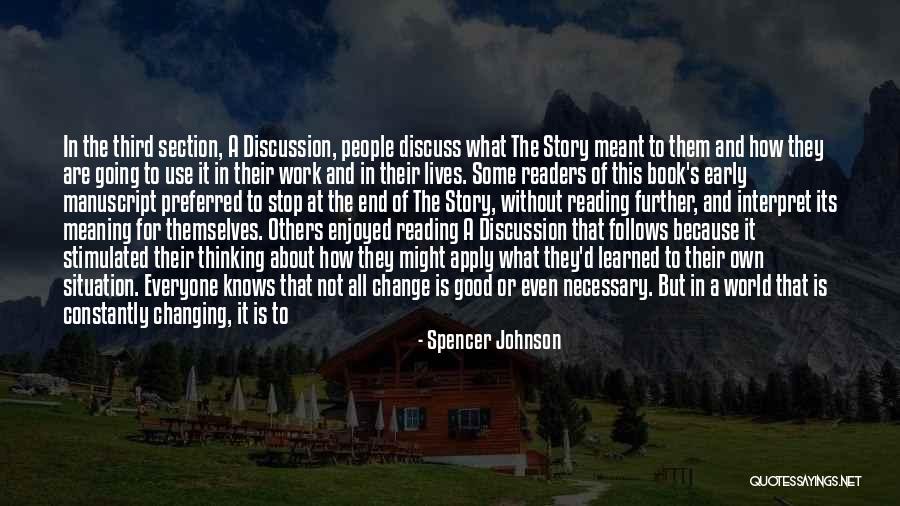 In the third section, A Discussion, people discuss what The Story meant to them and how they are going to use it in their work and in their lives. Some readers of this book's early manuscript preferred to stop at the end of The Story, without reading further, and interpret its meaning for themselves. Others enjoyed reading A Discussion that follows because it stimulated their thinking about how they might apply what they'd learned to their own situation. Everyone knows that not all change is good or even necessary. But in a world that is constantly changing, it is to our advantage to learn how to adapt and enjoy something better. In any case, I hope each time you re-read Who Moved My Cheese? you will find something new and useful in the brief story, as I do, and that it will help you deal with change and bring you success, whatever you decide success is for you. I hope you enjoy what you discover, and I wish you well. — Spencer Johnson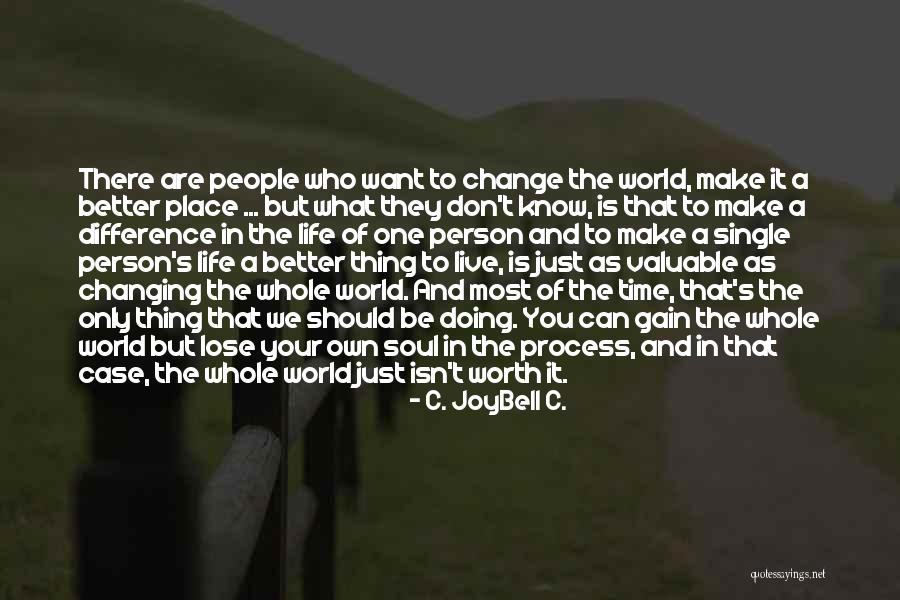 There are people who want to change the world, make it a better place ... but what they don't know, is that to make a difference in the life of one person and to make a single person's life a better thing to live, is just as valuable as changing the whole world. And most of the time, that's the only thing that we should be doing. You can gain the whole world but lose your own soul in the process, and in that case, the whole world just isn't worth it. — C. JoyBell C.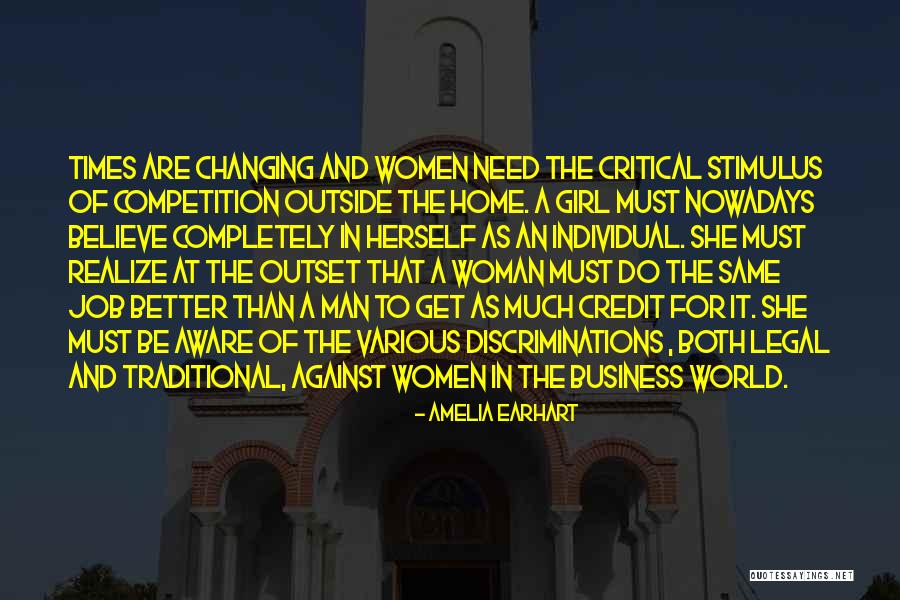 Times are changing and women need the critical stimulus of competition outside the home. A girl must nowadays believe completely in herself as an individual. She must realize at the outset that a woman must do the same job better than a man to get as much credit for it. She must be aware of the various discriminations , both legal and traditional, against women in the business world. — Amelia Earhart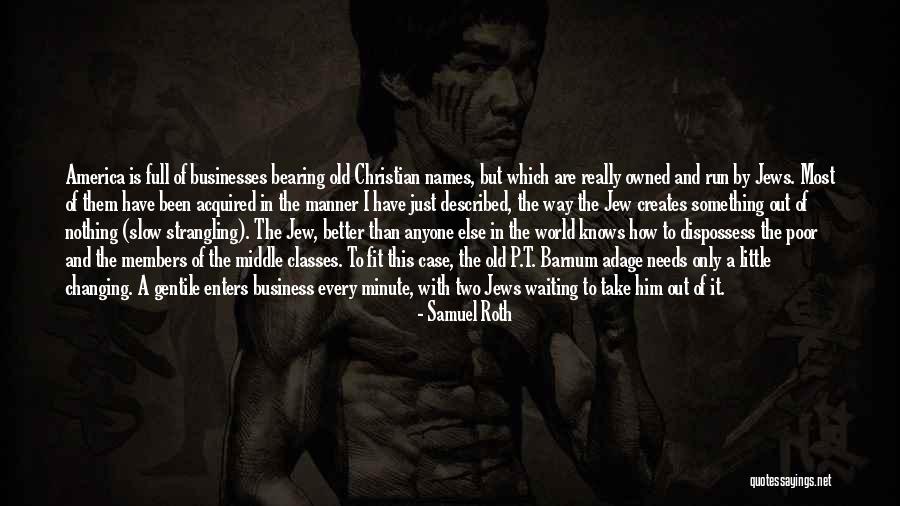 America is full of businesses bearing old Christian names, but which are really owned and run by Jews. Most of them have been acquired in the manner I have just described, the way the Jew creates something out of nothing (slow strangling). The Jew, better than anyone else in the world knows how to dispossess the poor and the members of the middle classes. To fit this case, the old P.T. Barnum adage needs only a little changing. A gentile enters business every minute, with two Jews waiting to take him out of it. — Samuel Roth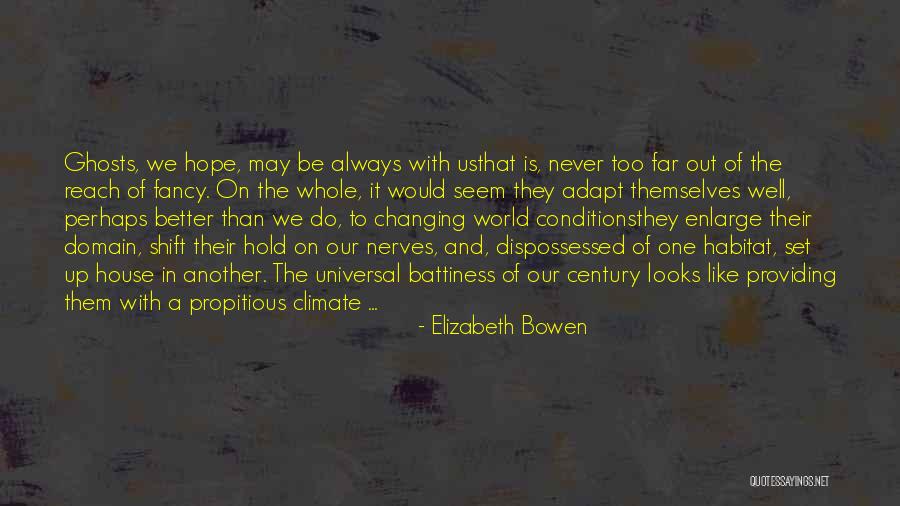 Ghosts, we hope, may be always with us
that is, never too far out of the reach of fancy. On the whole, it would seem they adapt themselves well, perhaps better than we do, to changing world conditions
they enlarge their domain, shift their hold on our nerves, and, dispossessed of one habitat, set up house in another. The universal battiness of our century looks like providing them with a propitious climate ... — Elizabeth Bowen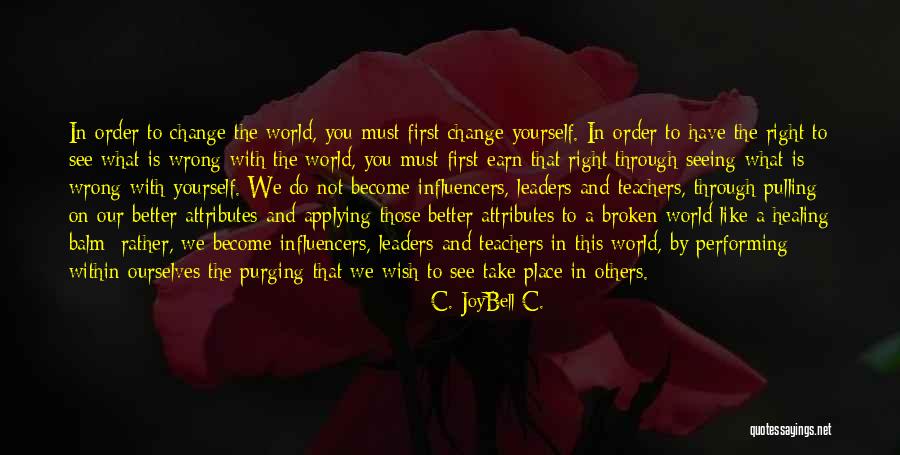 In order to change the world, you must first change yourself. In order to have the right to see what is wrong with the world, you must first earn that right through seeing what is wrong with yourself. We do not become influencers, leaders and teachers, through pulling on our better attributes and applying those better attributes to a broken world like a healing balm; rather, we become influencers, leaders and teachers in this world, by performing within ourselves the purging that we wish to see take place in others. — C. JoyBell C.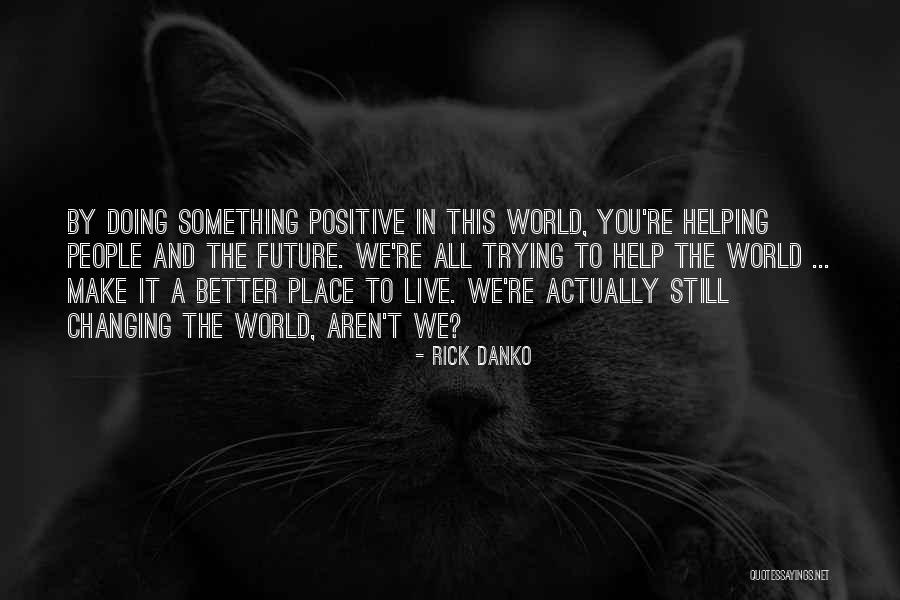 By doing something positive in this world, you're helping people and the future. We're all trying to help the world ... make it a better place to live. We're actually still changing the world, aren't we? — Rick Danko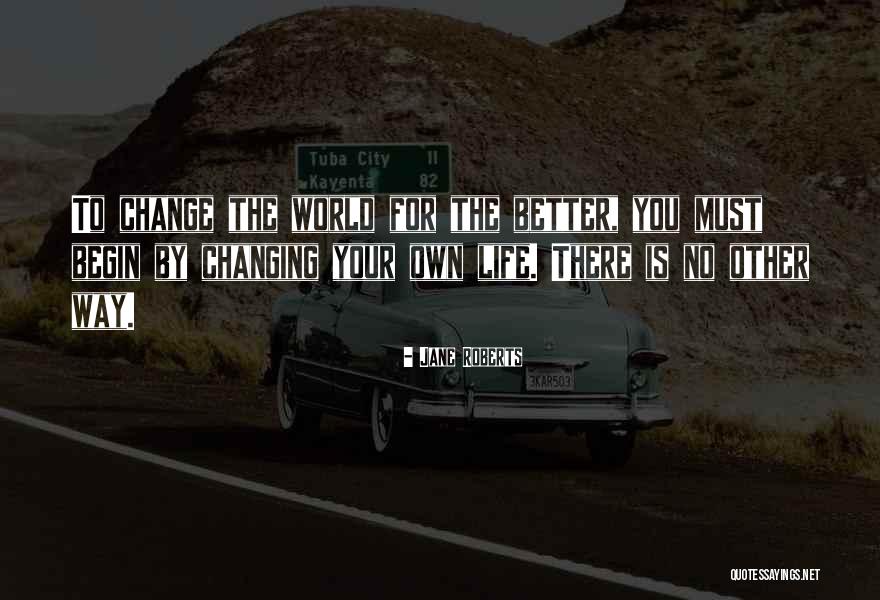 To change the world for the better, you must begin by changing your own life. There is no other way. — Jane Roberts
I've learned the importance of changing people's minds at the grassroots level so that whoever does run will have a much better chance of encountering public opinion that reaches a critical mass and brings about a change not only in White House policies but in the Congress and in the state legislatures and all around the world. — Al Gore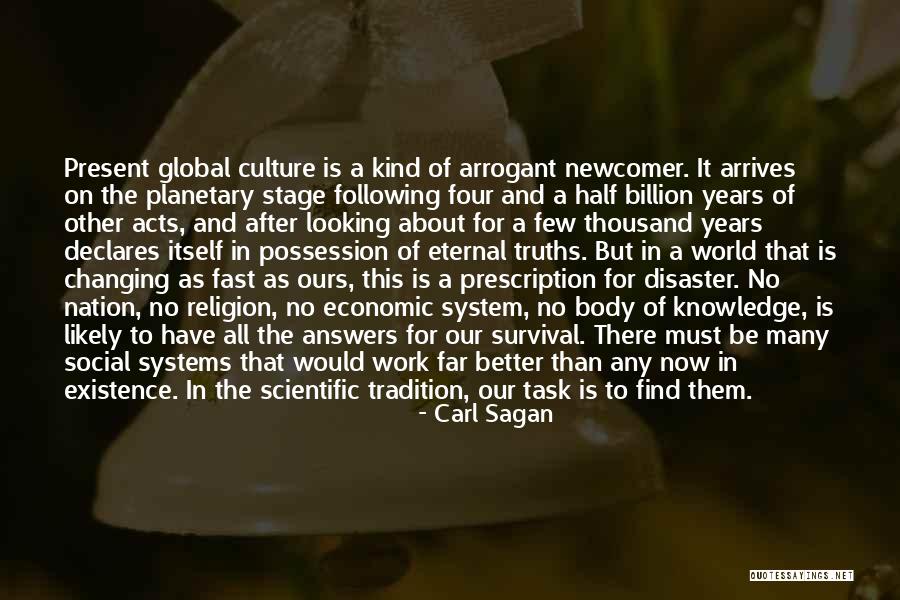 Present global culture is a kind of arrogant newcomer. It arrives on the planetary stage following four and a half billion years of other acts, and after looking about for a few thousand years declares itself in possession of eternal truths. But in a world that is changing as fast as ours, this is a prescription for disaster. No nation, no religion, no economic system, no body of knowledge, is likely to have all the answers for our survival. There must be many social systems that would work far better than any now in existence. In the scientific tradition, our task is to find them. — Carl Sagan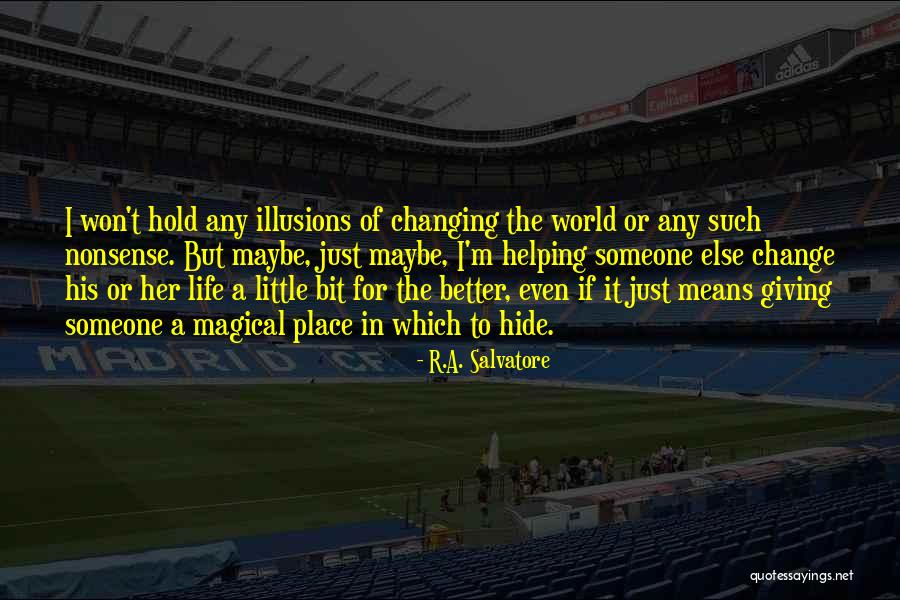 I won't hold any illusions of changing the world or any such nonsense. But maybe, just maybe, I'm helping someone else change his or her life a little bit for the better, even if it just means giving someone a magical place in which to hide. — R.A. Salvatore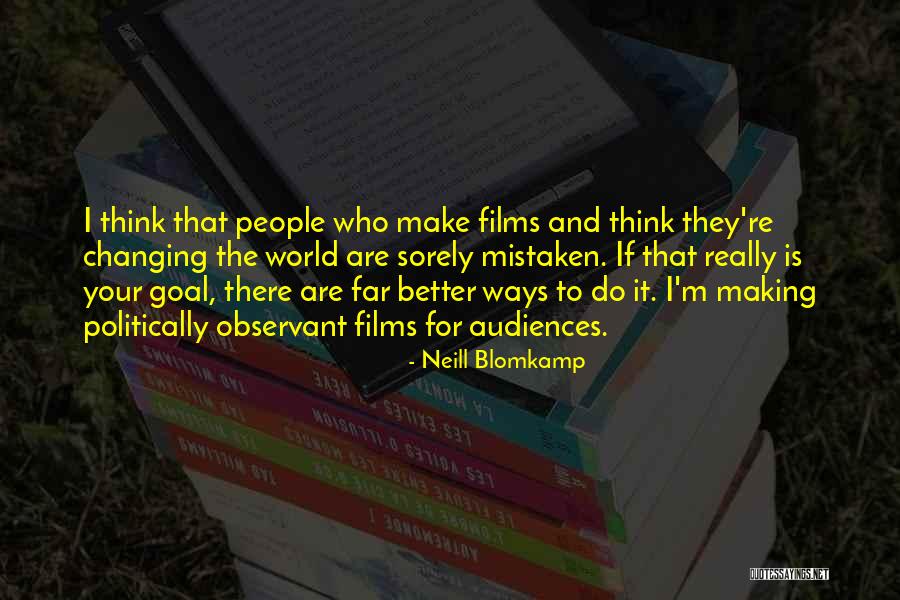 I think that people who make films and think they're changing the world are sorely mistaken. If that really is your goal, there are far better ways to do it. I'm making politically observant films for audiences. — Neill Blomkamp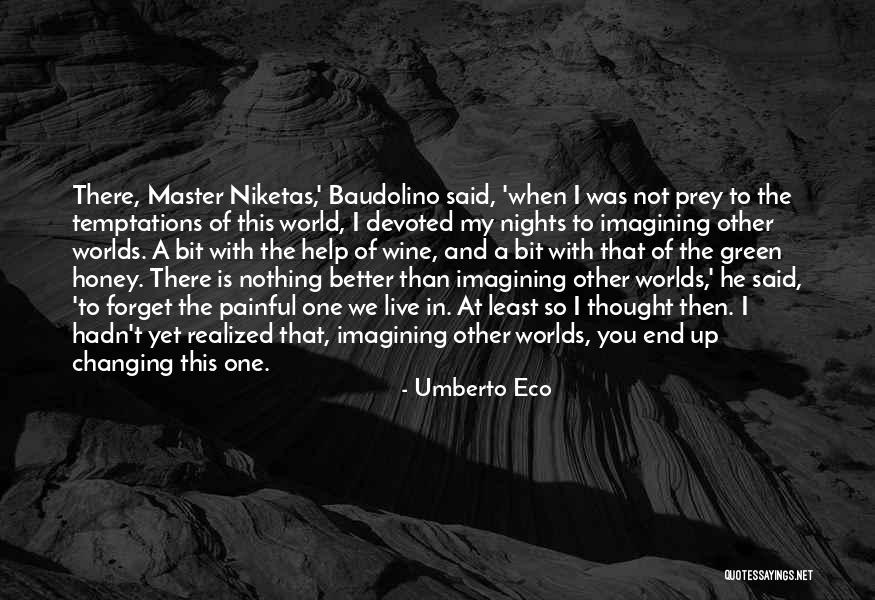 There, Master Niketas,' Baudolino said, 'when I was not prey to the temptations of this world, I devoted my nights to imagining other worlds. A bit with the help of wine, and a bit with that of the green honey. There is nothing better than imagining other worlds,' he said, 'to forget the painful one we live in. At least so I thought then. I hadn't yet realized that, imagining other worlds, you end up changing this one. — Umberto Eco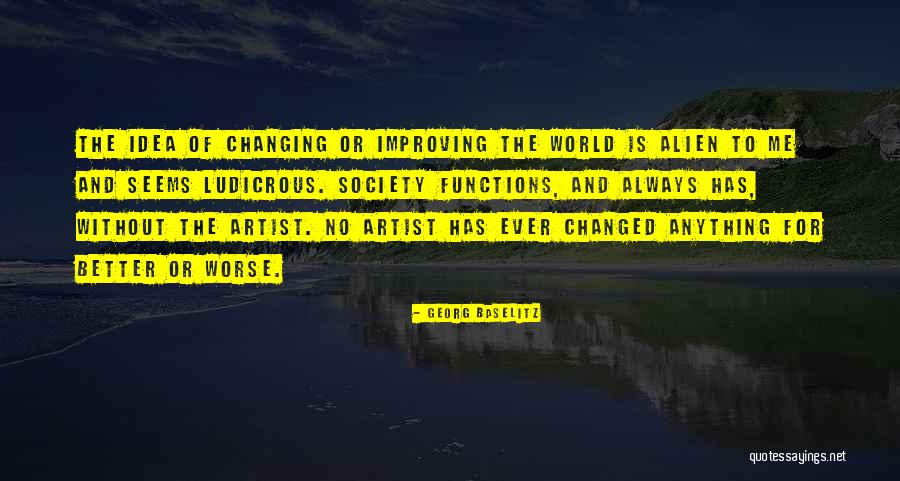 The idea of changing or improving the world is alien to me and seems ludicrous. Society functions, and always has, without the artist. No artist has ever changed anything for better or worse. — Georg Baselitz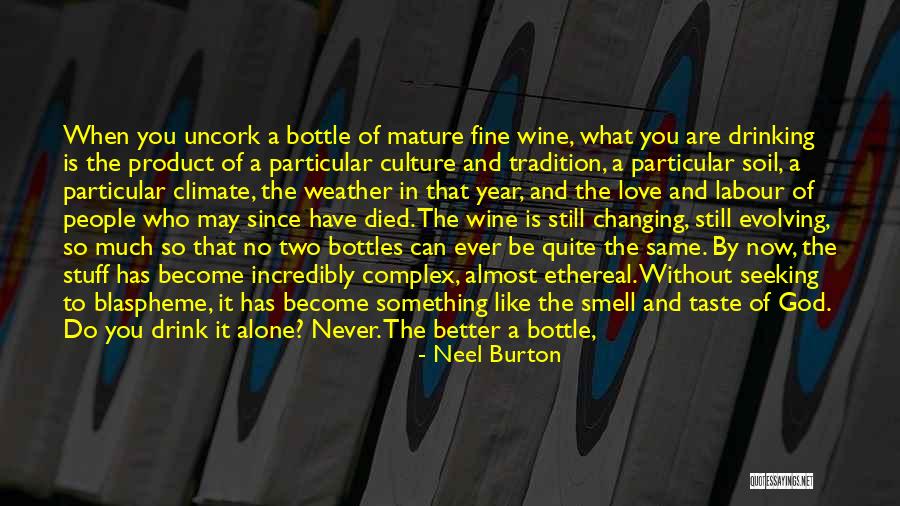 When you uncork a bottle of mature fine wine, what you are drinking is the product of a particular culture and tradition, a particular soil, a particular climate, the weather in that year, and the love and labour of people who may since have died. The wine is still changing, still evolving, so much so that no two bottles can ever be quite the same. By now, the stuff has become incredibly complex, almost ethereal. Without seeking to blaspheme, it has become something like the smell and taste of God. Do you drink it alone? Never. The better a bottle, the more you want to share it with others ... and that is the other incredible thing about wine, that it brings people together, makes them share with one another, laugh with one another, fall in love with one another and with the world around them. — Neel Burton
For you will find, as women have found through the ages, that changing the world requires a lot of free time. Requires a lot of mobility. Requires money, and, as Virginia Woolf put it so well, "a room of one's own," preferably one with a key and a lock. Which means that women must be prepared to think for themselves, which means, undoubtedly, trouble with boyfriends, lovers, and husbands, which means all kinds of heartache and misery, and times when you will wonder if independence, freedom of thought, or your own work is worth it all. We must believe that it is. For the world is not good enough; we must make it better. — Alice Walker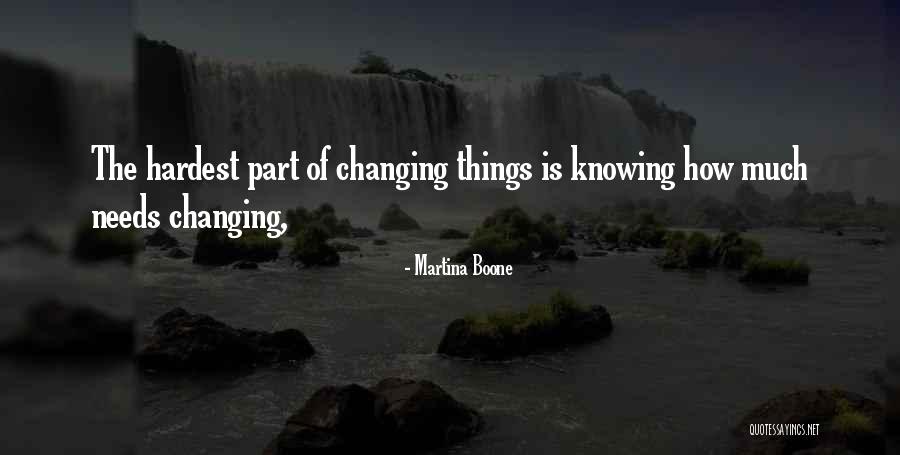 The hardest part of changing things is knowing how much needs changing, — Martina Boone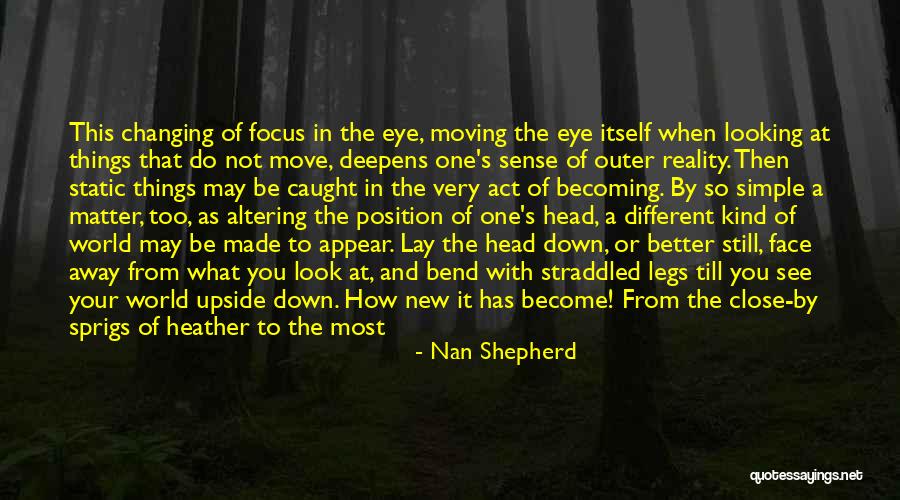 This changing of focus in the eye, moving the eye itself when looking at things that do not move, deepens one's sense of outer reality. Then static things may be caught in the very act of becoming. By so simple a matter, too, as altering the position of one's head, a different kind of world may be made to appear. Lay the head down, or better still, face away from what you look at, and bend with straddled legs till you see your world upside down. How new it has become! From the close-by sprigs of heather to the most distant fold of the land, each detail stands erect in its own validity. In no other way have I seen of my own unaided sight that the earth is round. As I watch, it arches its back, and each layer of landscape bristles - though bristles is a word of too much commotion for it. Details are no longer part of a grouping in a picture of which I am the focal point, the focal point is everywhere. Nothing has reference to me, the looker. This is how the earth must see itself. — Nan Shepherd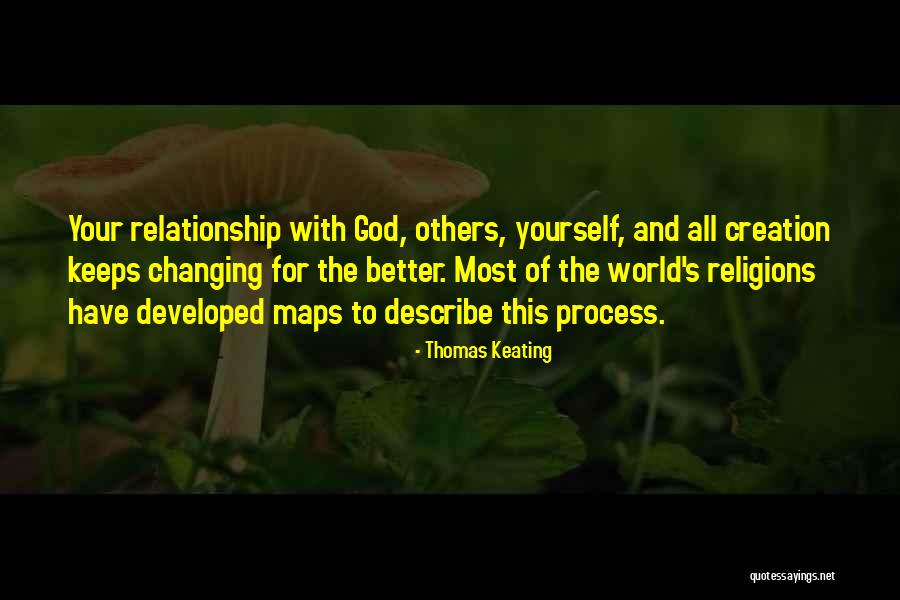 Your relationship with God, others, yourself, and all creation keeps changing for the better. Most of the world's religions have developed maps to describe this process. — Thomas Keating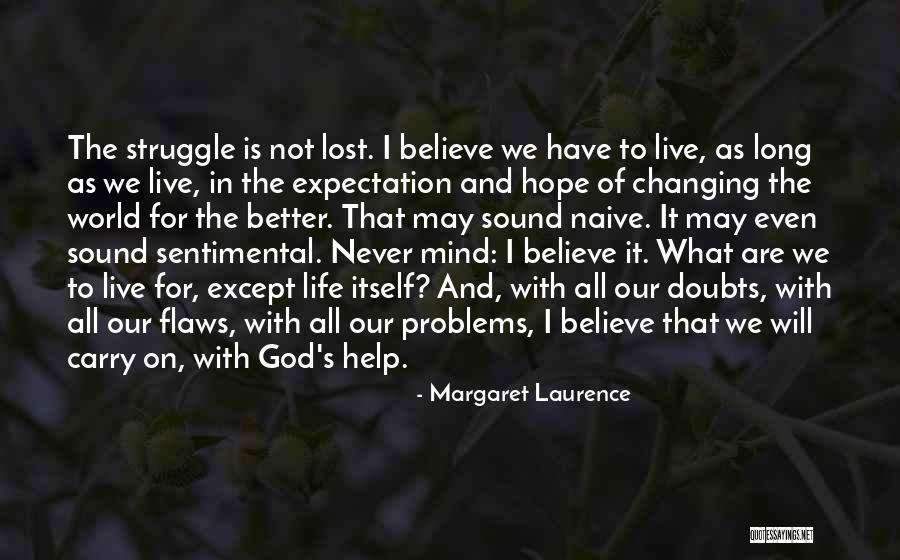 The struggle is not lost. I believe we have to live, as long as we live, in the expectation and hope of changing the world for the better. That may sound naive. It may even sound sentimental. Never mind: I believe it. What are we to live for, except life itself? And, with all our doubts, with all our flaws, with all our problems, I believe that we will carry on, with God's help. — Margaret Laurence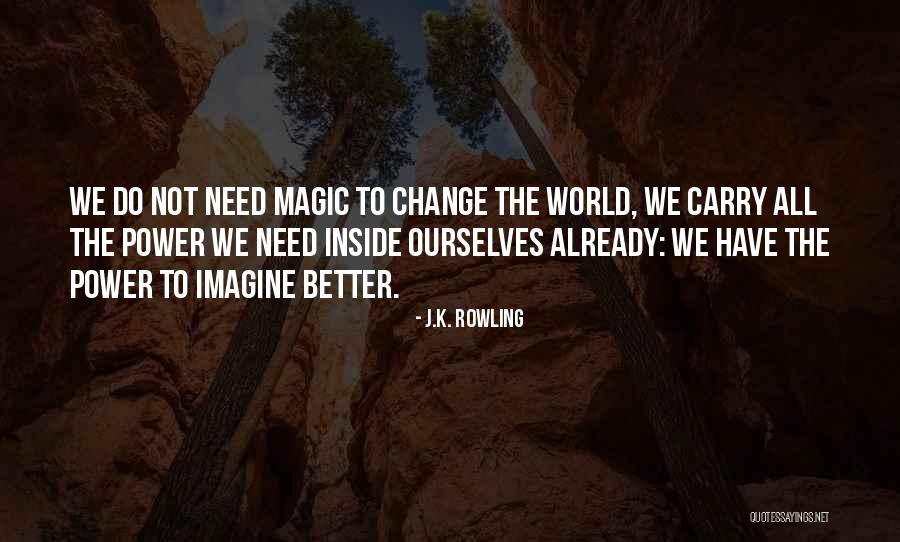 We do not need magic to change the world, we carry all the power we need inside ourselves already: we have the power to imagine better. — J.K. Rowling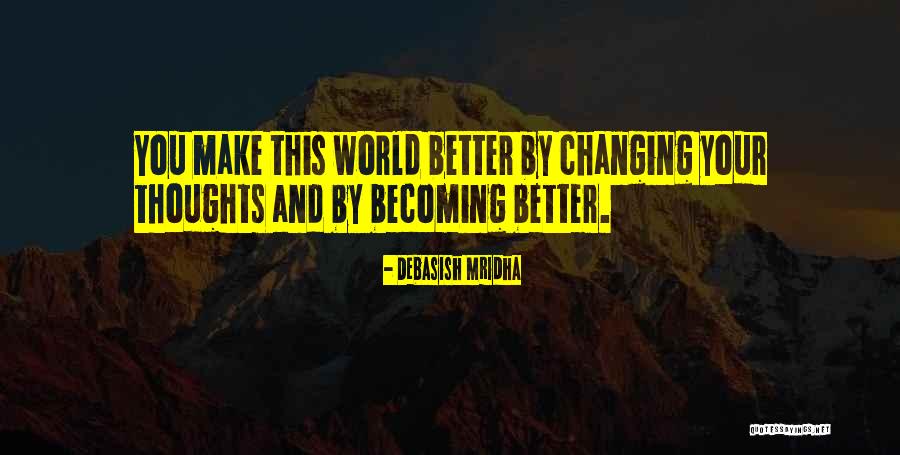 You make this world better by changing your thoughts and by becoming better. — Debasish Mridha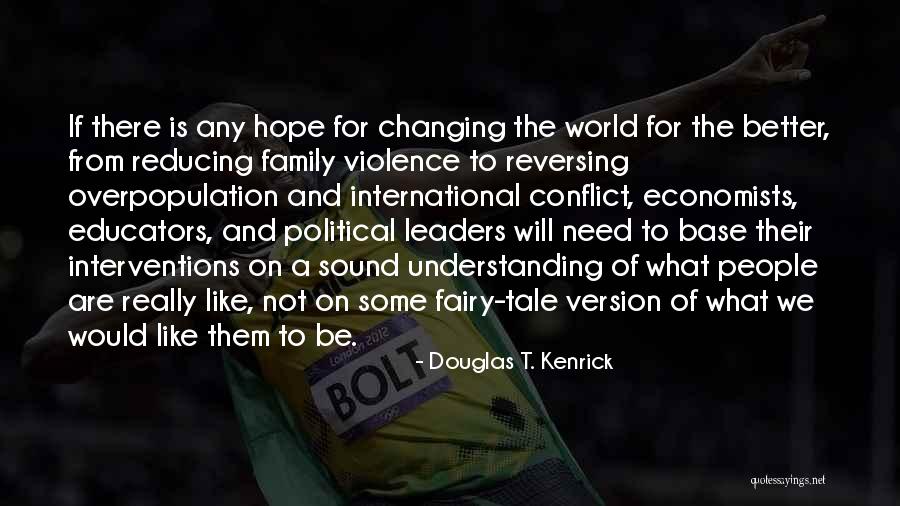 If there is any hope for changing the world for the better, from reducing family violence to reversing overpopulation and international conflict, economists, educators, and political leaders will need to base their interventions on a sound understanding of what people are really like, not on some fairy-tale version of what we would like them to be. — Douglas T. Kenrick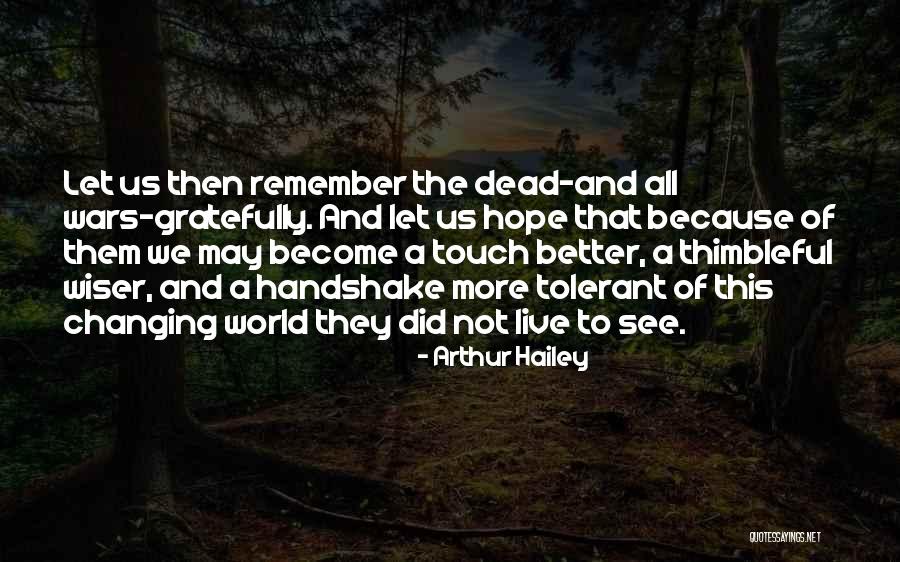 Let us then remember the dead-and all wars-gratefully. And let us hope that because of them we may become a touch better, a thimbleful wiser, and a handshake more tolerant of this changing world they did not live to see. — Arthur Hailey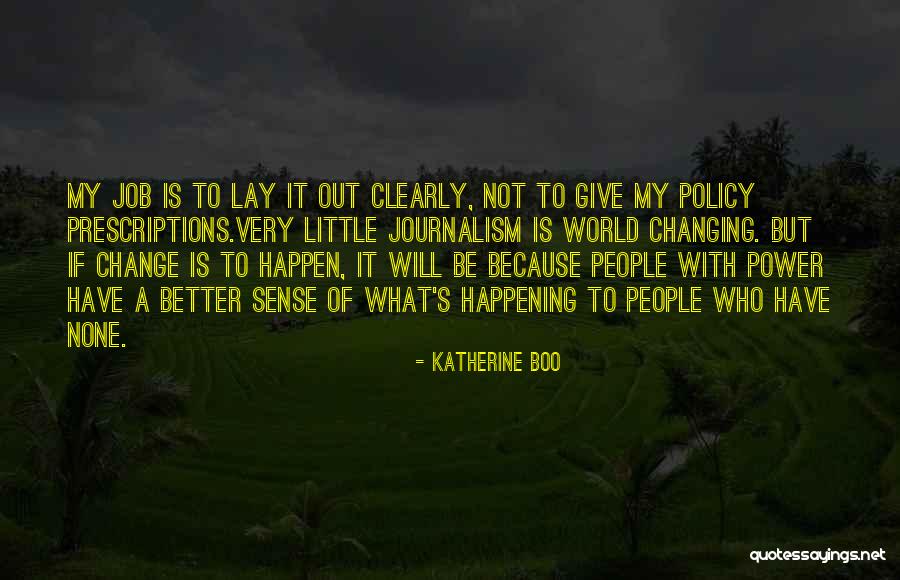 My job is to lay it out clearly, not to give my policy prescriptions.Very little journalism is world changing. But if change is to happen, it will be because people with power have a better sense of what's happening to people who have none. — Katherine Boo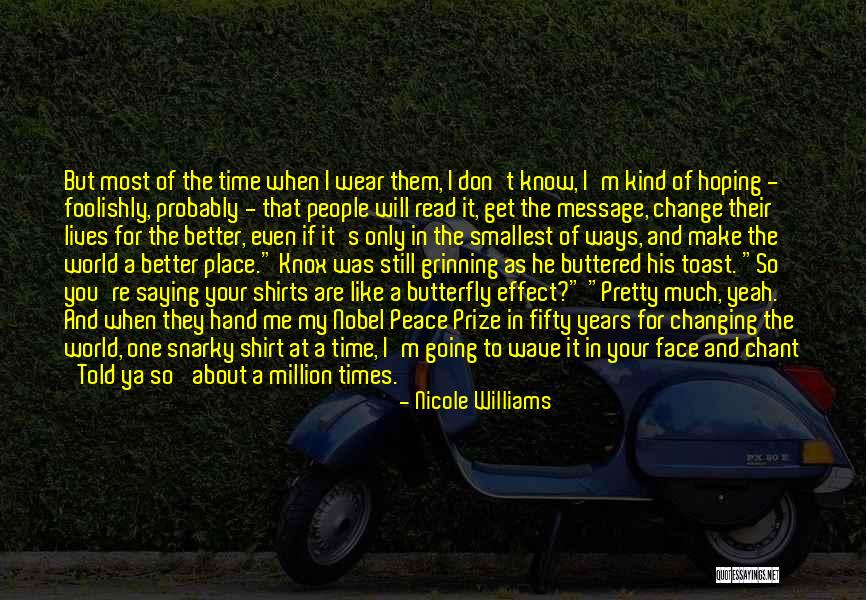 But most of the time when I wear them, I don't know, I'm kind of hoping - foolishly, probably - that people will read it, get the message, change their lives for the better, even if it's only in the smallest of ways, and make the world a better place." Knox was still grinning as he buttered his toast. "So you're saying your shirts are like a butterfly effect?" "Pretty much, yeah. And when they hand me my Nobel Peace Prize in fifty years for changing the world, one snarky shirt at a time, I'm going to wave it in your face and chant 'Told ya so' about a million times. — Nicole Williams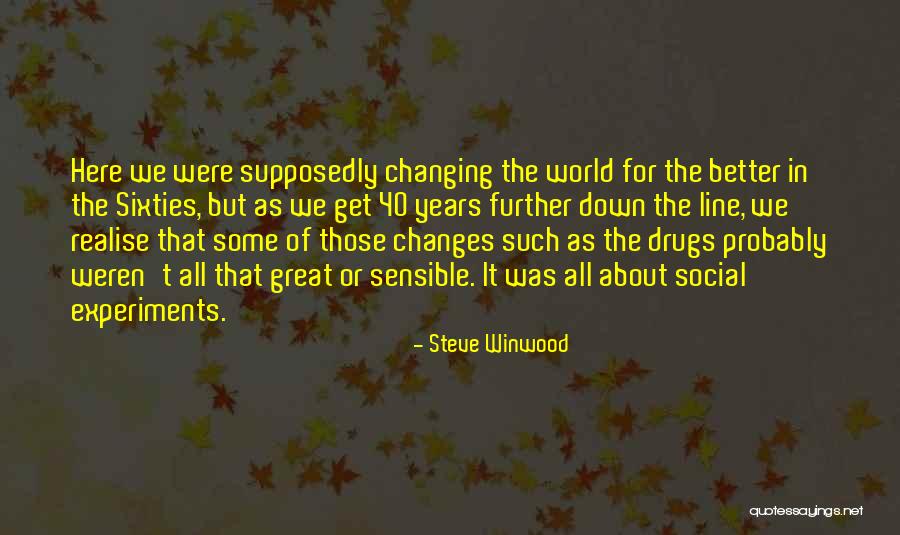 Here we were supposedly changing the world for the better in the Sixties, but as we get 40 years further down the line, we realise that some of those changes such as the drugs probably weren't all that great or sensible. It was all about social experiments. — Steve Winwood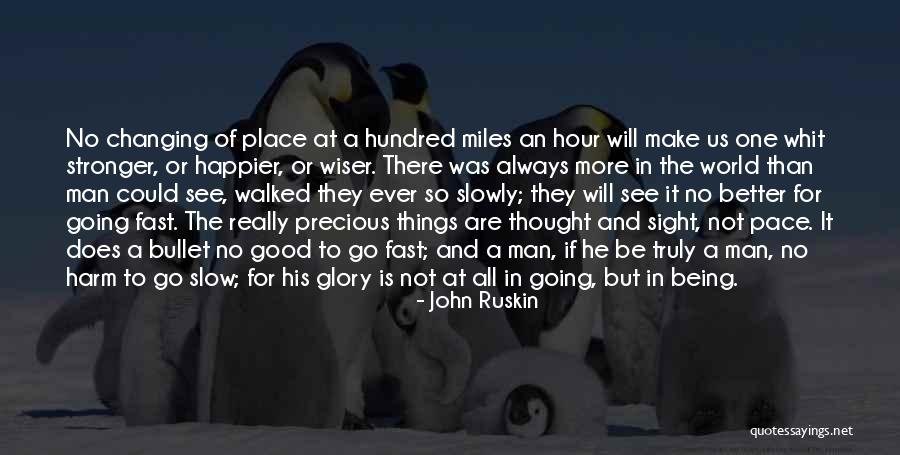 No changing of place at a hundred miles an hour will make us one whit stronger, or happier, or wiser. There was always more in the world than man could see, walked they ever so slowly; they will see it no better for going fast. The really precious things are thought and sight, not pace. It does a bullet no good to go fast; and a man, if he be truly a man, no harm to go slow; for his glory is not at all in going, but in being. — John Ruskin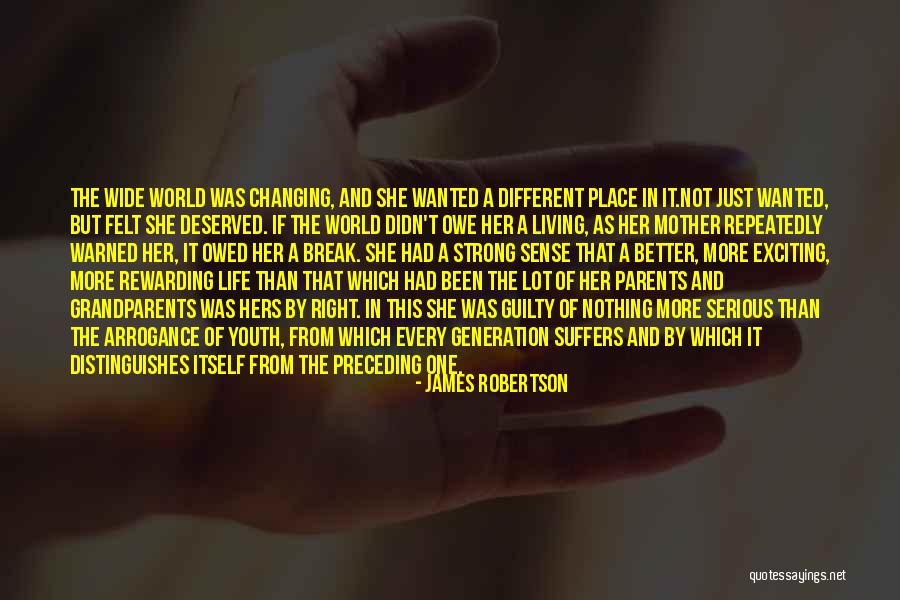 The wide world was changing, and she wanted a different place in it.
Not just wanted, but felt she deserved. If the world didn't owe her a living, as her mother repeatedly warned her, it owed her a break. She had a strong sense that a better, more exciting, more rewarding life than that which had been the lot of her parents and grandparents was hers by right. In this she was guilty of nothing more serious than the arrogance of youth, from which every generation suffers and by which it distinguishes itself from the preceding one. — James Robertson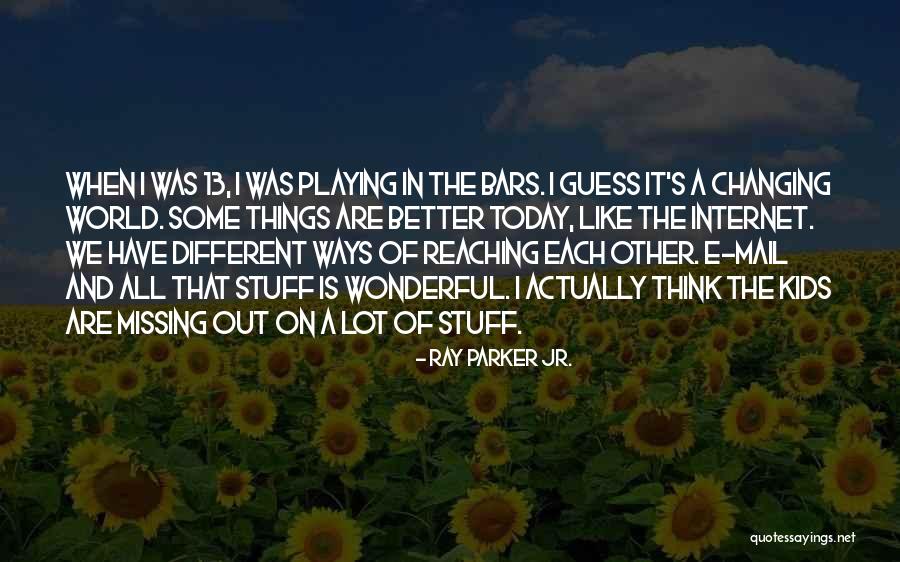 When I was 13, I was playing in the bars. I guess it's a changing world. Some things are better today, like the internet. We have different ways of reaching each other. E-mail and all that stuff is wonderful. I actually think the kids are missing out on a lot of stuff. — Ray Parker Jr.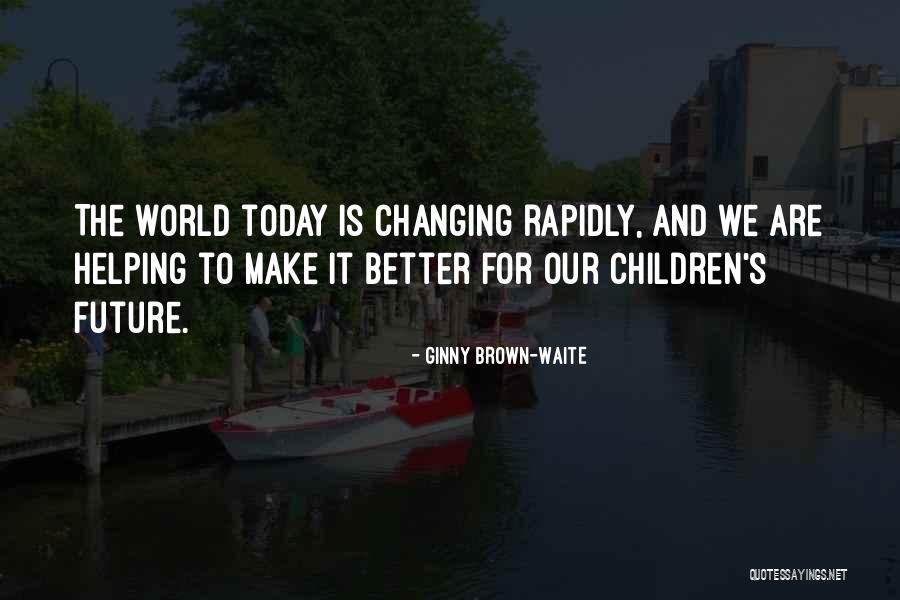 The world today is changing rapidly, and we are helping to make it better for our children's future. — Ginny Brown-Waite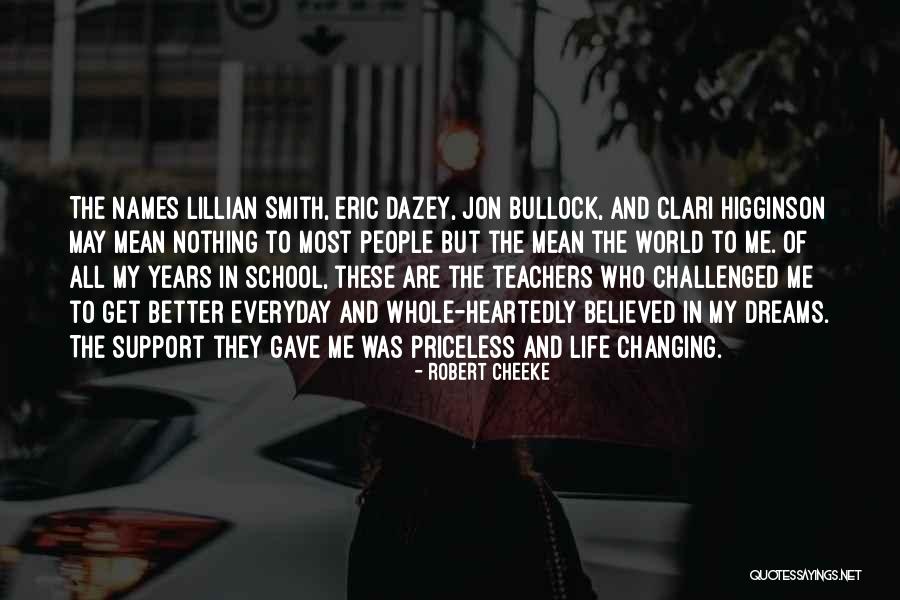 The names Lillian Smith, Eric Dazey, Jon Bullock, and Clari Higginson may mean nothing to most people but the mean the world to me. Of all my years in school, these are the teachers who challenged me to get better everyday and whole-heartedly believed in my dreams. The support they gave me was priceless and life changing. — Robert Cheeke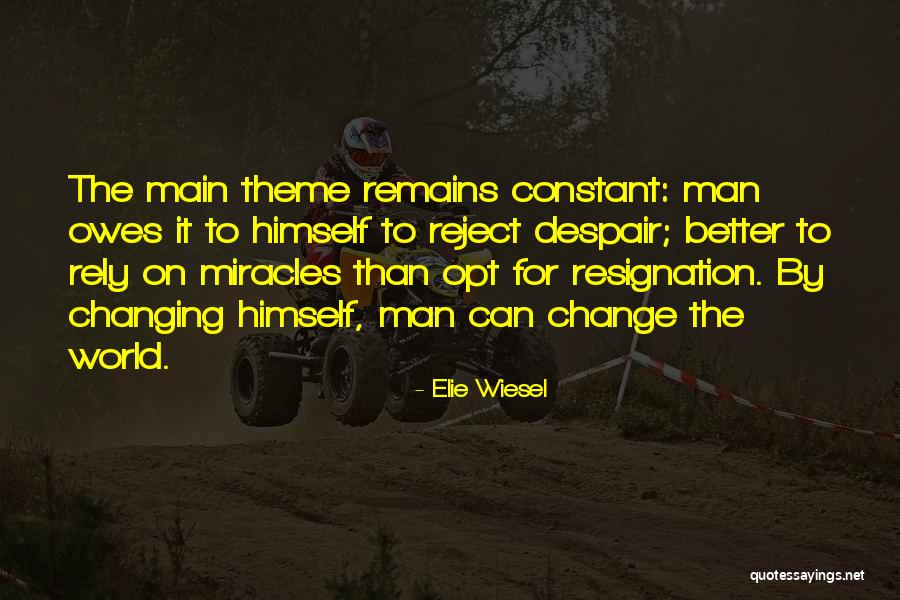 The main theme remains constant: man owes it to himself to reject despair; better to rely on miracles than opt for resignation. By changing himself, man can change the world. — Elie Wiesel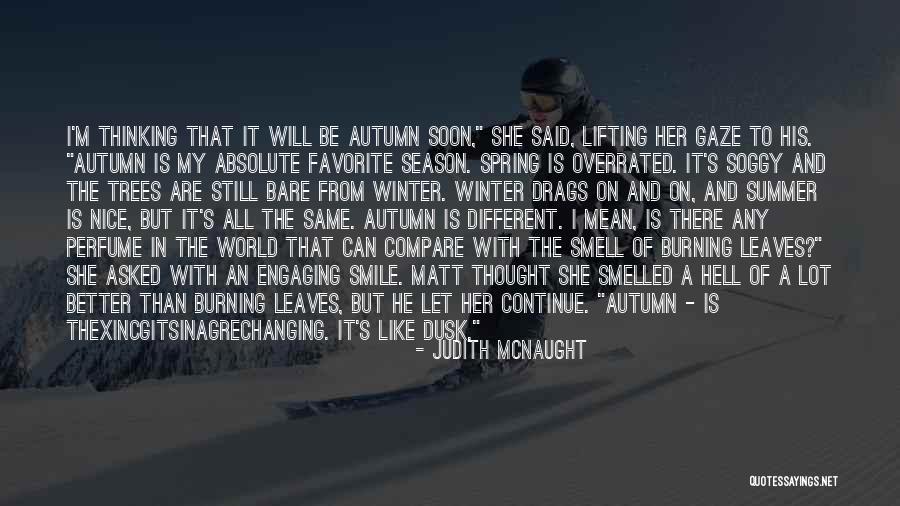 I'm thinking that it will be autumn soon," she said, lifting her gaze to his. "Autumn is my absolute favorite season. Spring is overrated. It's soggy and the trees are still bare from winter. Winter drags on and on, and summer is nice, but it's all the same. Autumn is different. I mean, is there any perfume in the world that can compare with the smell of burning leaves?" she asked with an engaging smile. Matt thought she smelled a hell of a lot better than burning leaves, but he let her continue. "Autumn - is thexincgitsinagre
changing. It's like dusk." "Dusk?"
"Dusk is my favorite time of day, for the same reason. When I was young, I used to walk down our driveway at dusk in the summer and stand at the fence, watching all the cars going by with their headlights on. Everyone had a place to go, something to do. The night was just beginning ... " She trailed off in embarrassment. "That must sound incredibly silly."
"It sounds incredibly lonely. — Judith McNaught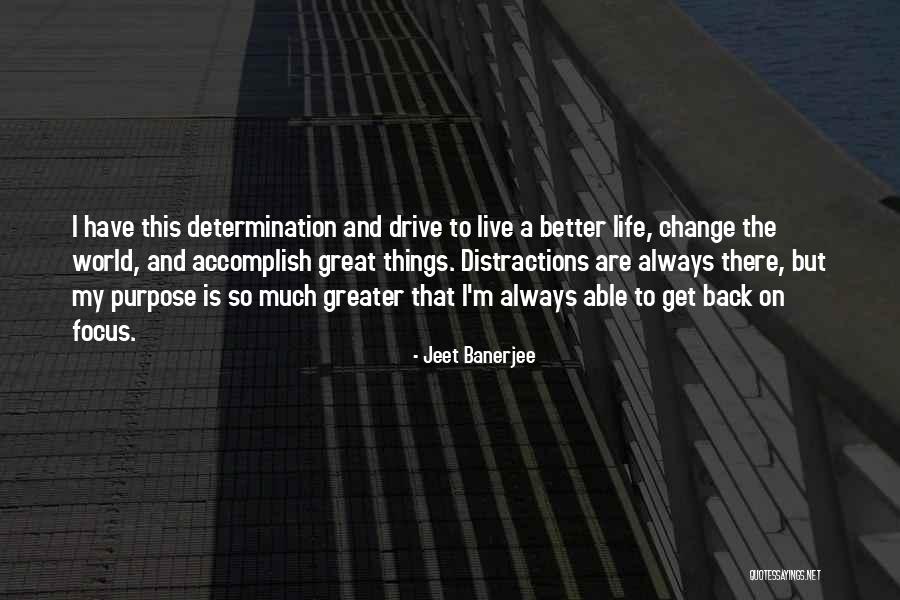 I have this determination and drive to live a better life, change the world, and accomplish great things. Distractions are always there, but my purpose is so much greater that I'm always able to get back on focus. — Jeet Banerjee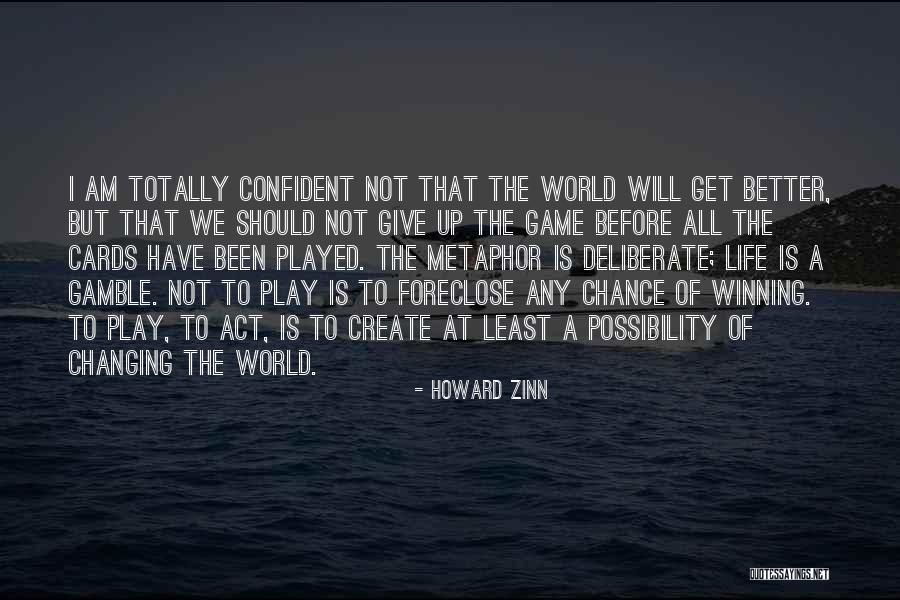 I am totally confident not that the world will get better, but that we should not give up the game before all the cards have been played. The metaphor is deliberate; life is a gamble. Not to play is to foreclose any chance of winning. To play, to act, is to create at least a possibility of changing the world. — Howard Zinn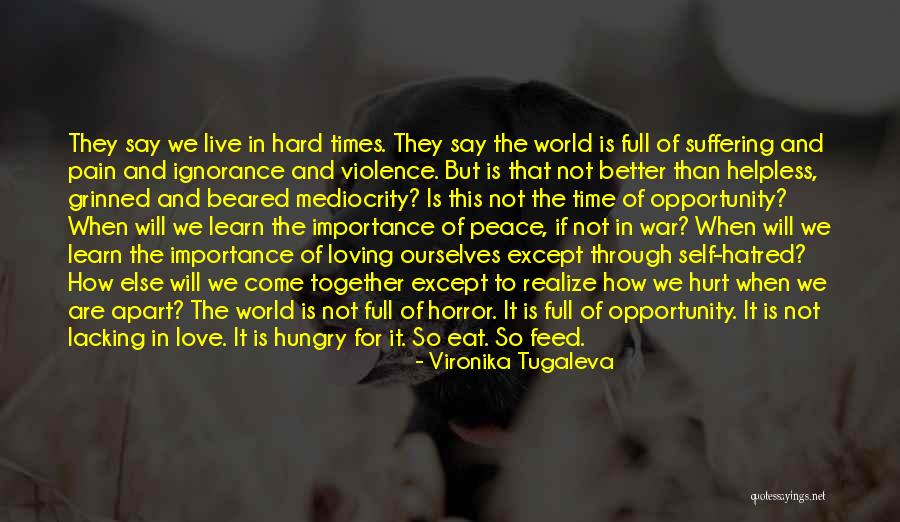 They say we live in hard times. They say the world is full of suffering and pain and ignorance and violence. But is that not better than helpless, grinned and beared mediocrity? Is this not the time of opportunity? When will we learn the importance of peace, if not in war? When will we learn the importance of loving ourselves except through self-hatred? How else will we come together except to realize how we hurt when we are apart? The world is not full of horror. It is full of opportunity. It is not lacking in love. It is hungry for it. So eat. So feed. — Vironika Tugaleva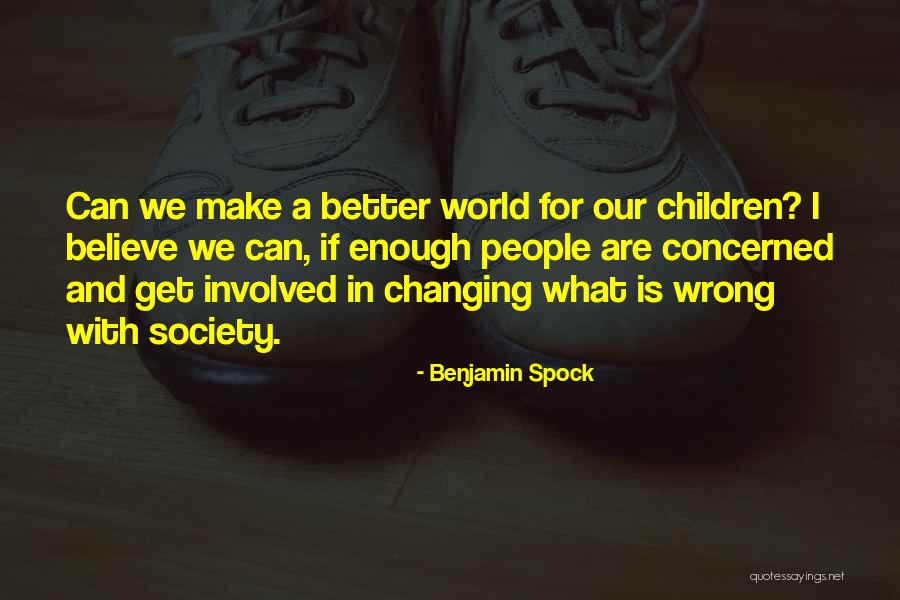 Can we make a better world for our children? I believe we can, if enough people are concerned and get involved in changing what is wrong with society. — Benjamin Spock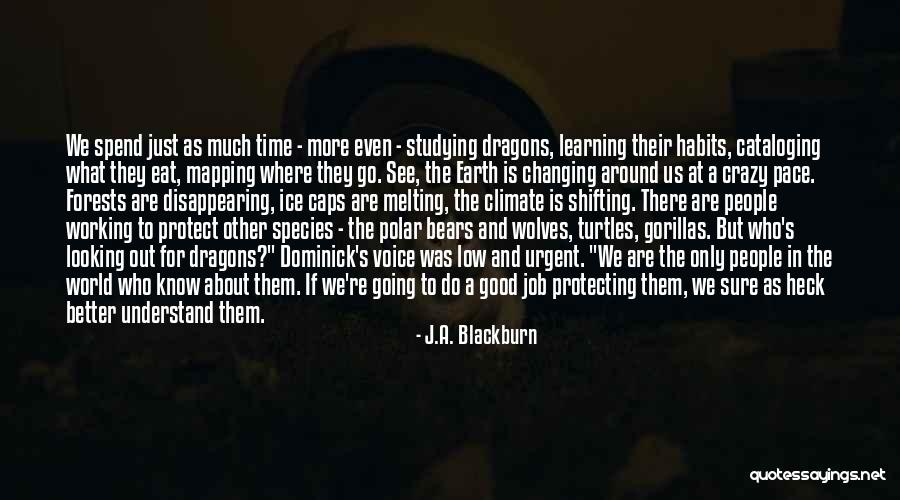 We spend just as much time - more even - studying dragons, learning their habits, cataloging what they eat, mapping where they go. See, the Earth is changing around us at a crazy pace. Forests are disappearing, ice caps are melting, the climate is shifting. There are people working to protect other species - the polar bears and wolves, turtles, gorillas. But who's looking out for dragons?" Dominick's voice was low and urgent. "We are the only people in the world who know about them. If we're going to do a good job protecting them, we sure as heck better understand them. — J.A. Blackburn