Catch A Ride Quotes & Sayings
Enjoy reading and share 40 famous quotes about Catch A Ride with everyone.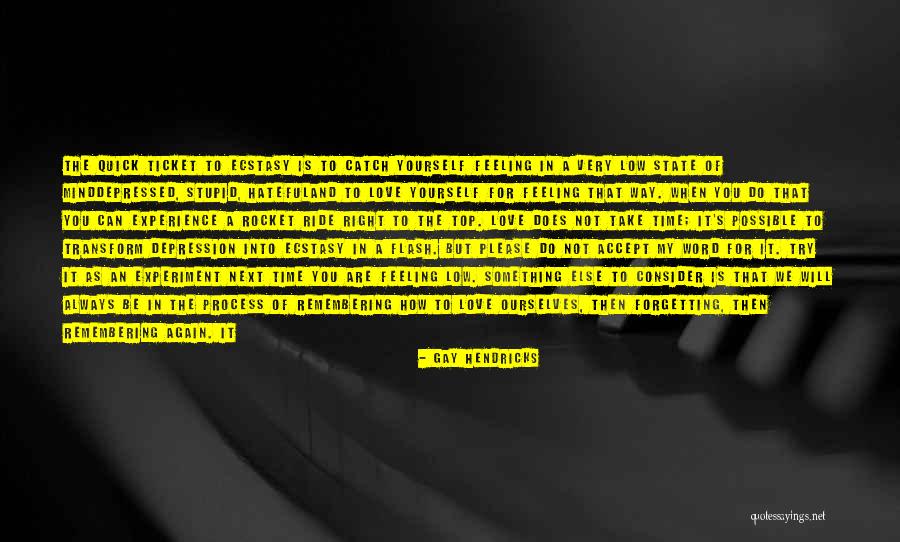 The quick ticket to ecstasy is to catch yourself feeling in a very low state of mind
depressed, stupid, hateful
and to love yourself for feeling that way. When you do that you can experience a rocket ride right to the top. Love does not take time; it's possible to transform depression into ecstasy in a flash. But please do not accept my word for it. Try it as an experiment next time you are feeling low.
Something else to consider is that we will always be in the process of remembering how to love ourselves, then forgetting, then remembering again. It does not seem to be our destiny to be any one way all the time. So let's get used to being pendulums and enjoy the ride. — Gay Hendricks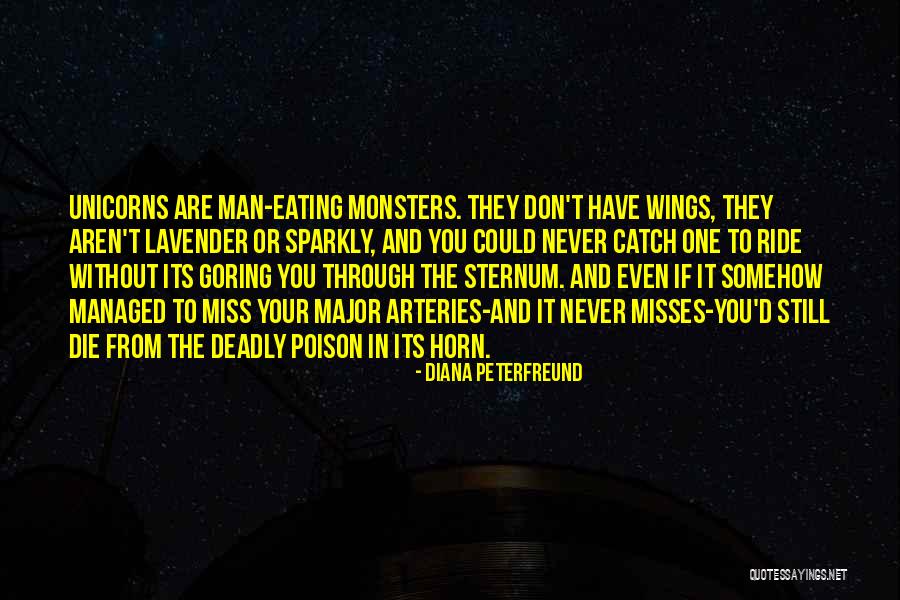 Unicorns are man-eating monsters. They don't have wings, they aren't lavender or sparkly, and you could never catch one to ride without its goring you through the sternum. And even if it somehow managed to miss your major arteries-and it never misses-you'd still die from the deadly poison in its horn. — Diana Peterfreund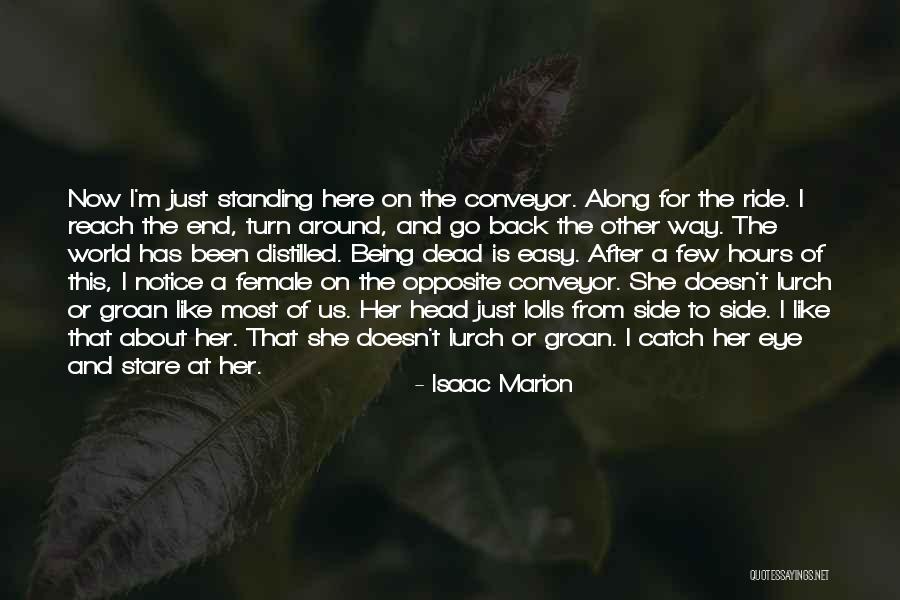 Now I'm just standing here on the conveyor. Along for the ride. I reach the end, turn around, and go back the other way. The world has been distilled. Being dead is easy. After a few hours of this, I notice a female on the opposite conveyor. She doesn't lurch or groan like most of us. Her head just lolls from side to side. I like that about her. That she doesn't lurch or groan. I catch her eye and stare at her. — Isaac Marion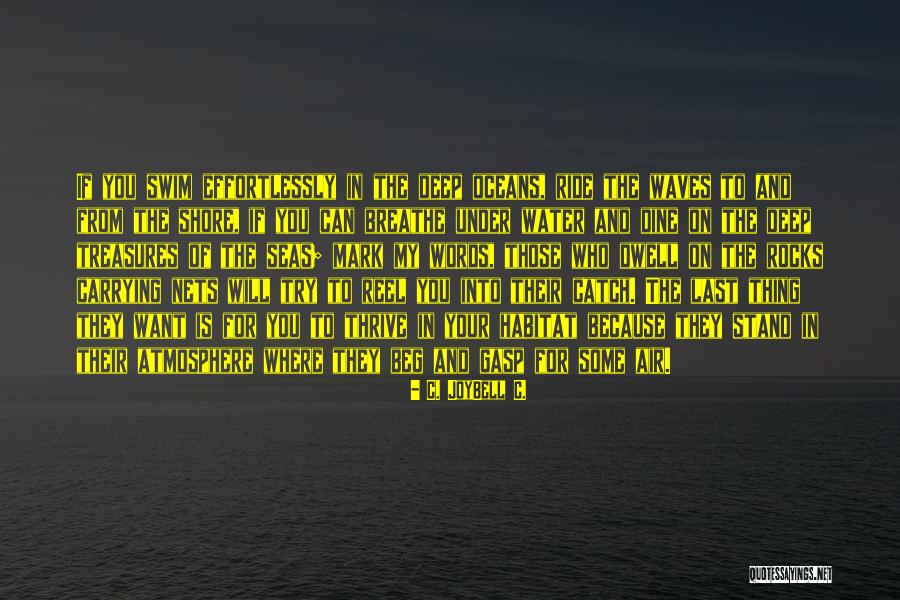 If you swim effortlessly in the deep oceans, ride the waves to and from the shore, if you can breathe under water and dine on the deep treasures of the seas; mark my words, those who dwell on the rocks carrying nets will try to reel you into their catch. The last thing they want is for you to thrive in your habitat because they stand in their atmosphere where they beg and gasp for some air. — C. JoyBell C.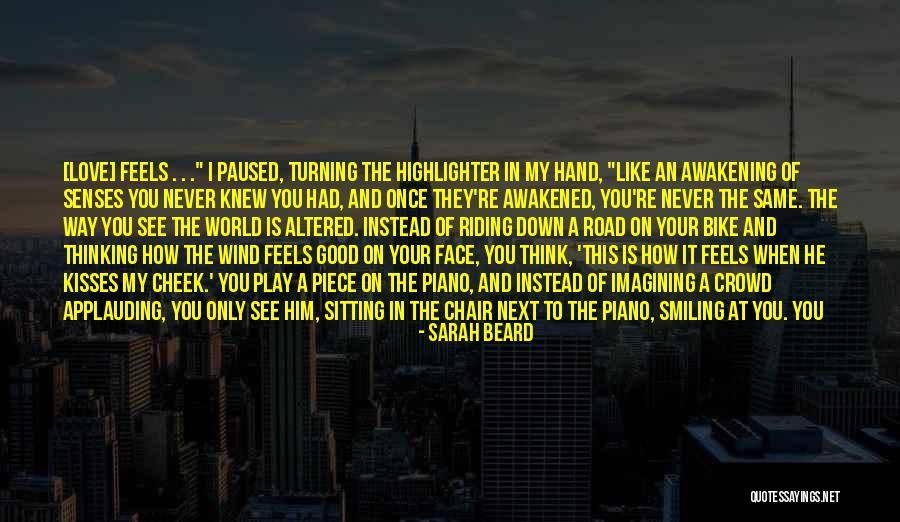 [Love] feels . . ." I paused, turning the highlighter in my hand, "like an awakening of senses you never knew you had, and once they're awakened, you're never the same. The way you see the world is altered. Instead of riding down a road on your bike and thinking how the wind feels good on your face, you think, 'This is how it feels when he kisses my cheek.' You play a piece on the piano, and instead of imagining a crowd applauding, you only see him, sitting in the chair next to the piano, smiling at you. You catch the scent of sage in the air and think, 'This is how he smells.' But it's also kind of like being on a mousetrap ride. Exhilarating and terrifying all at the same time. You smile and laugh and feel a thrill inside of you, all the while wondering in the back of your mind if the car will come off the track at the next turn, or if your harness will come open and you will be tossed to the ground to your death. — Sarah Beard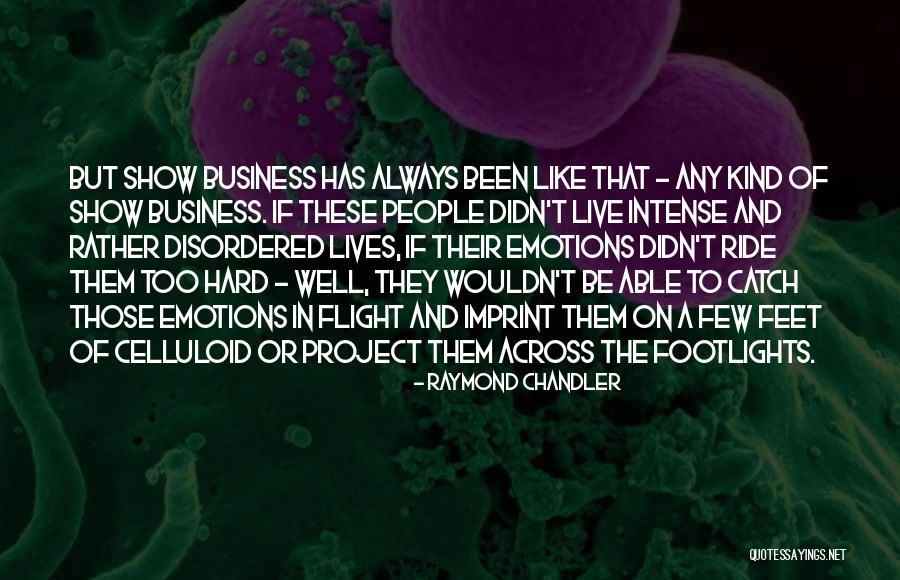 But show business has always been like that - any kind of show business. If these people didn't live intense and rather disordered lives, if their emotions didn't ride them too hard - well, they wouldn't be able to catch those emotions in flight and imprint them on a few feet of celluloid or project them across the footlights. — Raymond Chandler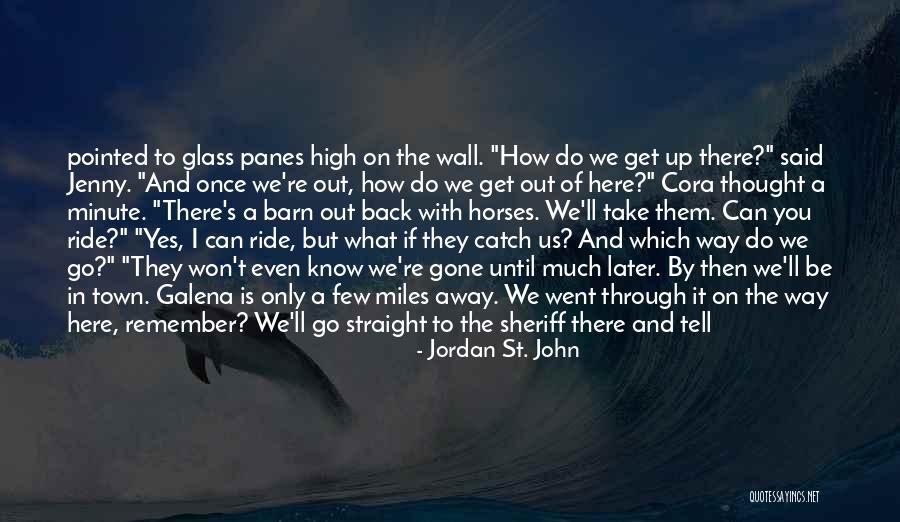 pointed to glass panes high on the wall. "How do we get up there?" said Jenny. "And once we're out, how do we get out of here?" Cora thought a minute. "There's a barn out back with horses. We'll take them. Can you ride?" "Yes, I can ride, but what if they catch us? And which way do we go?" "They won't even know we're gone until much later. By then we'll be in town. Galena is only a few miles away. We went through it on the way here, remember? We'll go straight to the sheriff there and tell him what happened. Now help me move some tables and chairs." They assembled a rickety pile that gave them access to the high window, which was loose enough — Jordan St. John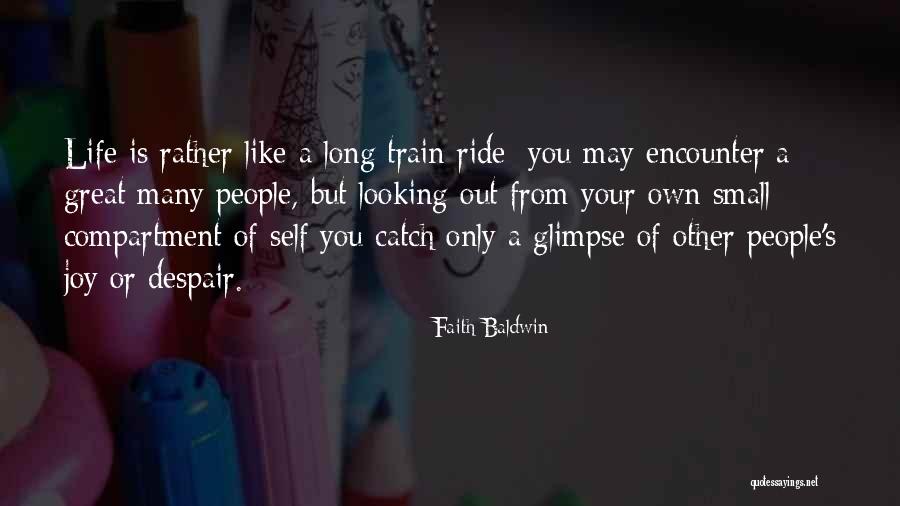 Life is rather like a long train ride; you may encounter a great many people, but looking out from your own small compartment of self you catch only a glimpse of other people's joy or despair. — Faith Baldwin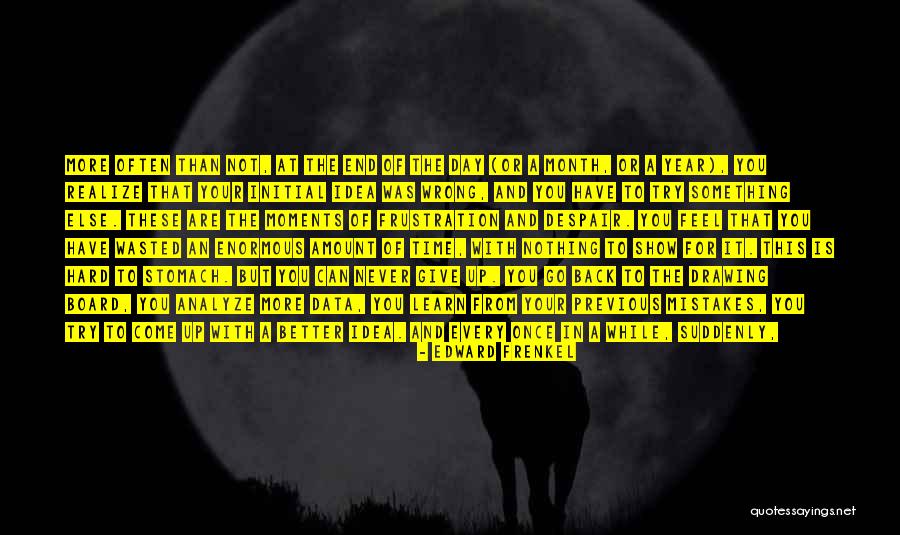 More often than not, at the end of the day (or a month, or a year), you realize that your initial idea was wrong, and you have to try something else. These are the moments of frustration and despair. You feel that you have wasted an enormous amount of time, with nothing to show for it. This is hard to stomach. But you can never give up. You go back to the drawing board, you analyze more data, you learn from your previous mistakes, you try to come up with a better idea. And every once in a while, suddenly, your idea starts to work. It's as if you had spent a fruitless day surfing, when you finally catch a wave: you try to hold on to it and ride it for as long as possible. At moments like this, you have to free your imagination and let the wave take you as far as it can. Even if the idea sounds totally crazy at first. — Edward Frenkel
I need air. I need a new brain. I need to jump out a window and catch a ride with a dragon to a world far from here. — Tahereh Mafi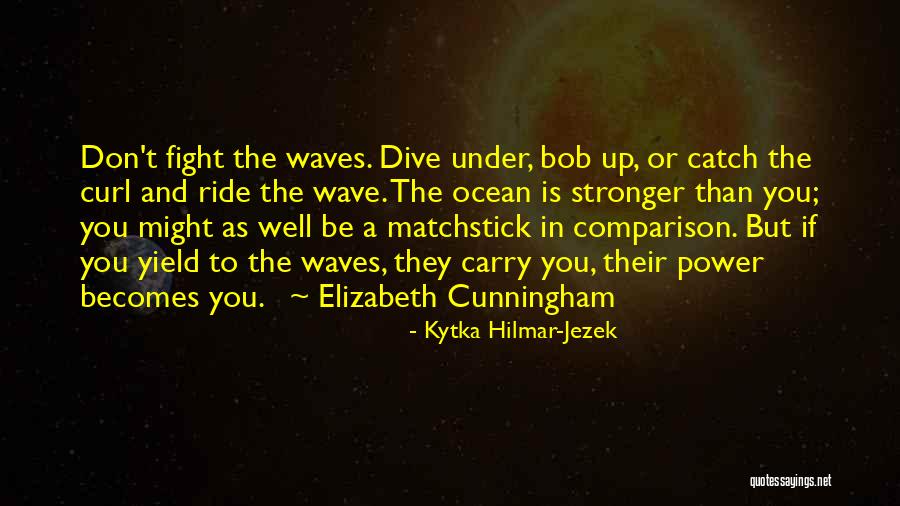 Don't fight the waves. Dive under, bob up, or catch the curl and ride the wave. The ocean is stronger than you; you might as well be a matchstick in comparison. But if you yield to the waves, they carry you, their power becomes you. ~ Elizabeth Cunningham — Kytka Hilmar-Jezek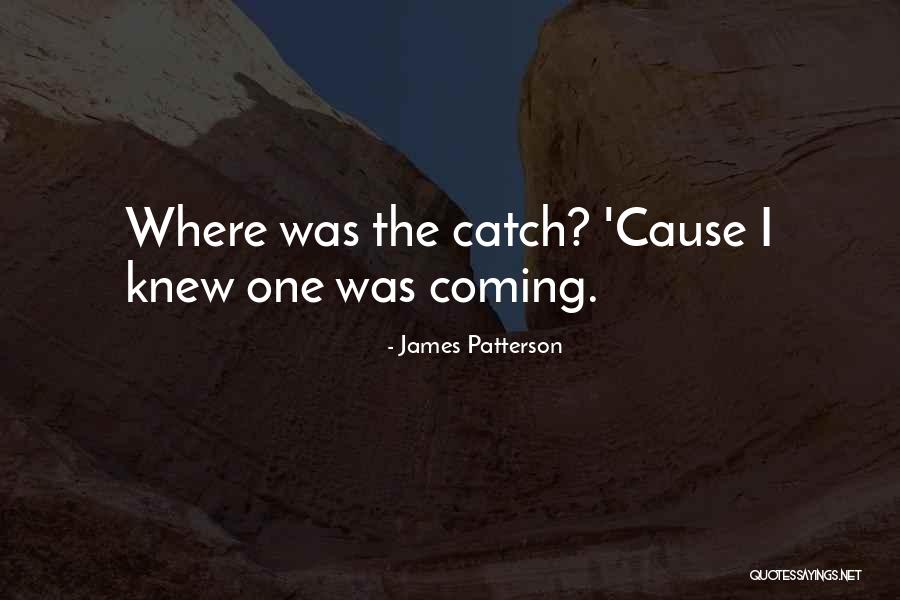 Where was the catch? 'Cause I knew one was coming. — James Patterson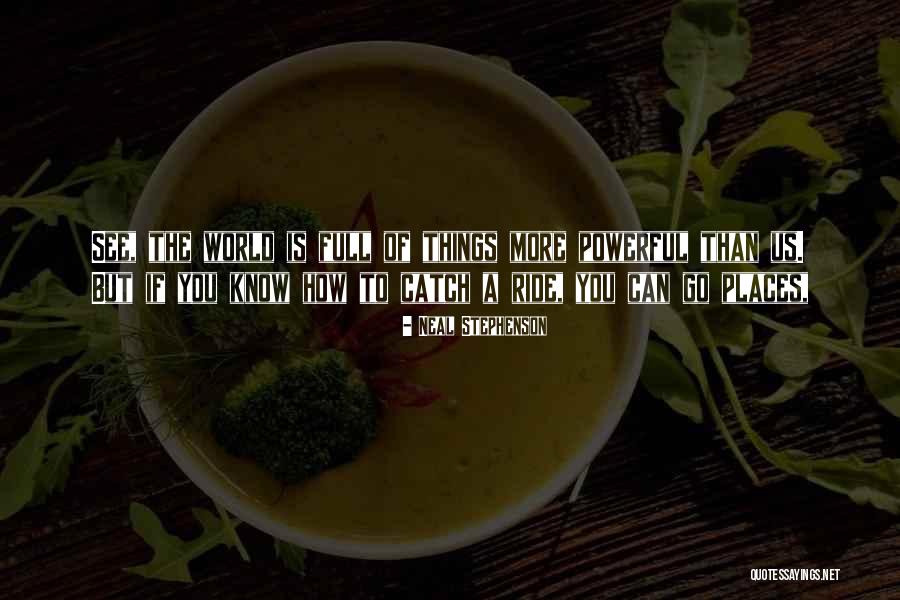 See, the world is full of things more powerful than us. But if you know how to catch a ride, you can go places, — Neal Stephenson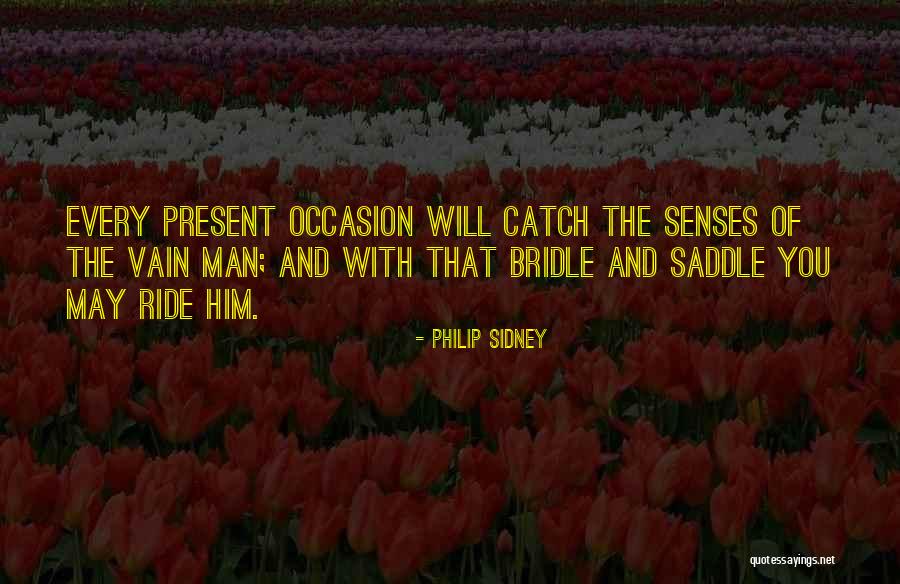 Every present occasion will catch the senses of the vain man; and with that bridle and saddle you may ride him. — Philip Sidney
I was an avid tomboy, and as long as I could ride my bike just as fast, hit the ball just as hard, and catch just as many garter snakes, I was accepted as one of the boys and enjoyed all the perks of superiority. — Tawni O'Dell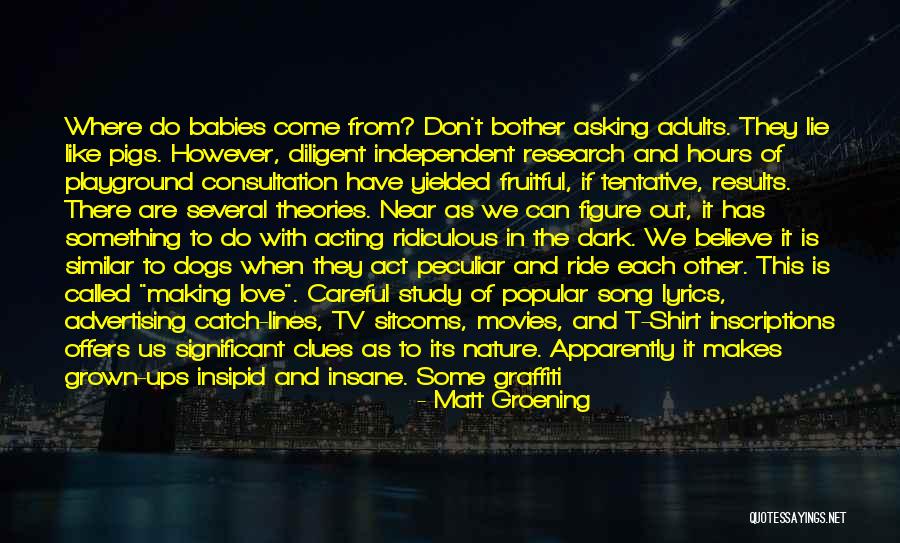 Where do babies come from? Don't bother asking adults. They lie like pigs. However, diligent independent research and hours of playground consultation have yielded fruitful, if tentative, results. There are several theories. Near as we can figure out, it has something to do with acting ridiculous in the dark. We believe it is similar to dogs when they act peculiar and ride each other. This is called "making love". Careful study of popular song lyrics, advertising catch-lines, TV sitcoms, movies, and T-Shirt inscriptions offers us significant clues as to its nature. Apparently it makes grown-ups insipid and insane. Some graffiti was once observed that said "sex is good". All available evidence, however, points to the contrary. — Matt Groening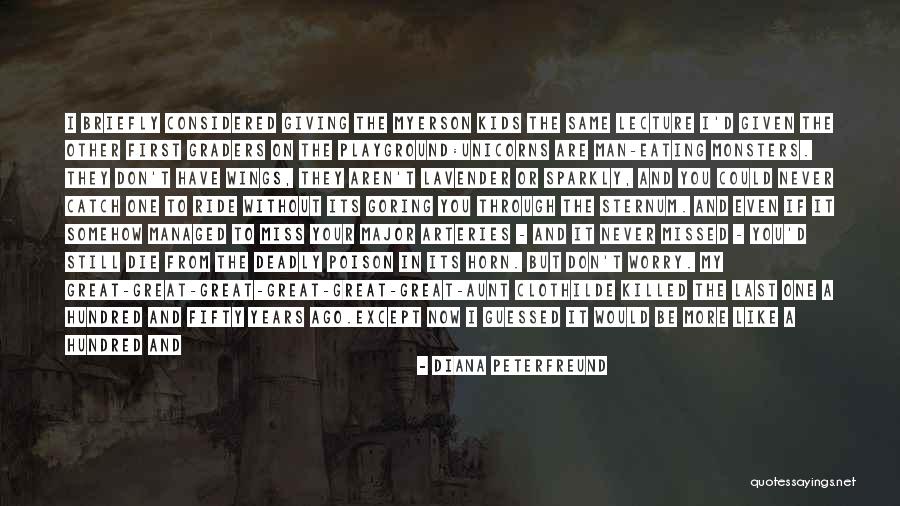 I briefly considered giving the Myerson kids the same lecture I'd given the other first graders on the playground:
Unicorns are man-eating monsters. They don't have wings, they aren't lavender or sparkly, and you could never catch one to ride without its goring you through the sternum. And even if it somehow managed to miss your major arteries - and it never missed - you'd still die from the deadly poison in its horn. But don't worry. My great-great-great-great-great-great-aunt Clothilde killed the last one a hundred and fifty years ago.
Except now I guessed it would be more like a hundred and sixty. How time doth fly in a unicorn-free world. — Diana Peterfreund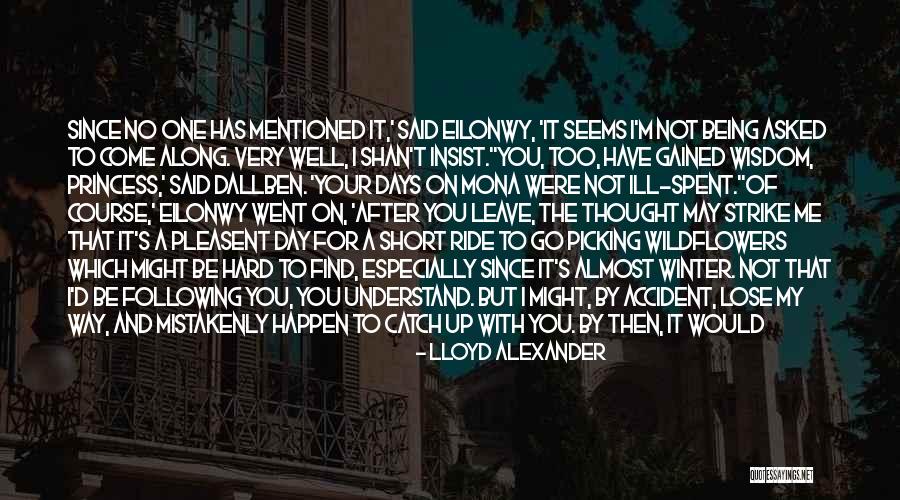 Since no one has mentioned it,' said Eilonwy, 'it seems I'm not being asked to come along. Very well, I shan't insist.'
'You, too, have gained wisdom, Princess,' said Dallben. 'Your days on Mona were not ill-spent.'
'Of course,' Eilonwy went on, 'after you leave, the thought may strike me that it's a pleasent day for a short ride to go picking wildflowers which might be hard to find, especially since it's almost winter. Not that I'd be following you, you understand. But I might, by accident, lose my way, and mistakenly happen to catch up with you. By then, it would be too late for me to come home, through no fault of my own. — Lloyd Alexander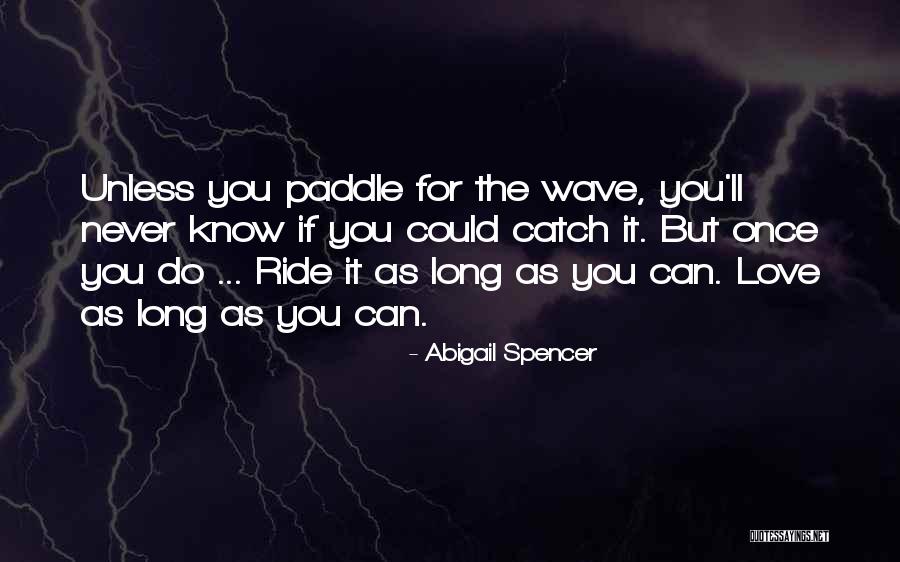 Unless you paddle for the wave, you'll never know if you could catch it. But once you do ... Ride it as long as you can. Love as long as you can. — Abigail Spencer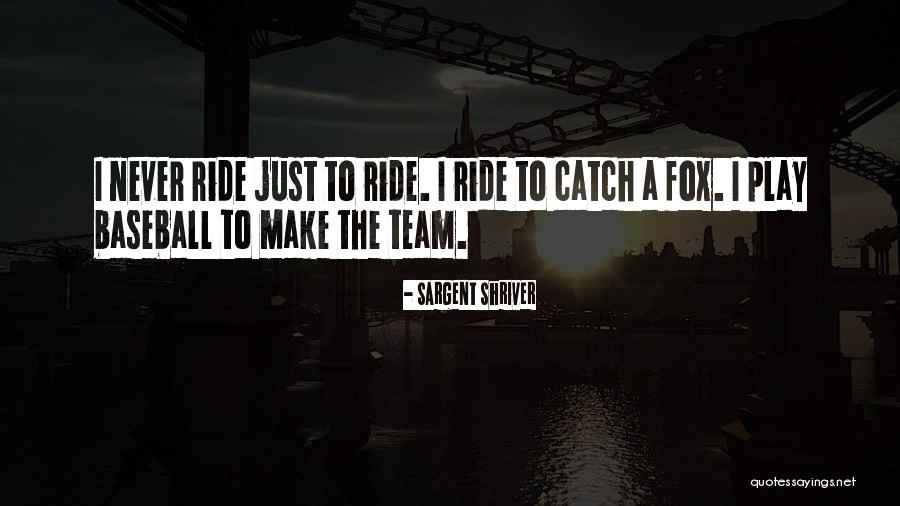 I never ride just to ride. I ride to catch a fox. I play baseball to make the team. — Sargent Shriver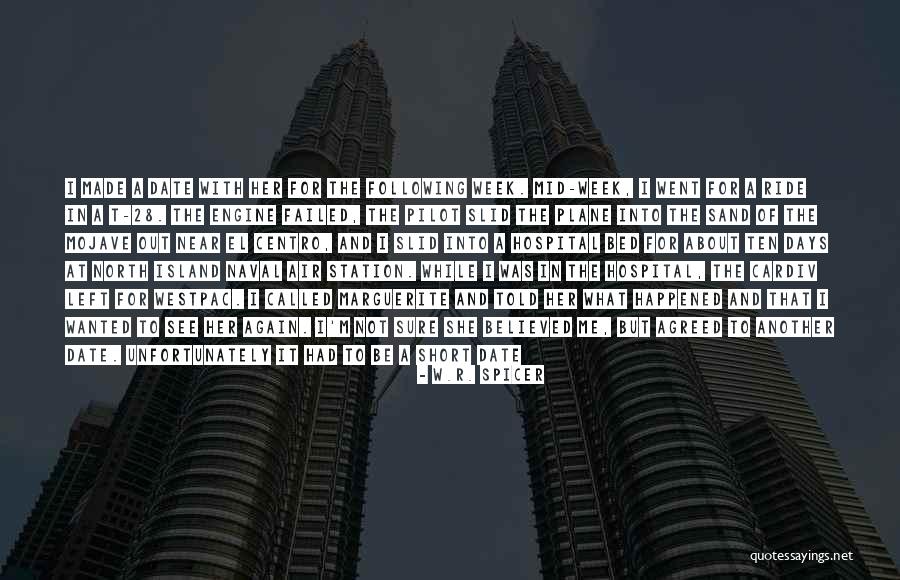 I made a date with her for the following week. Mid-week, I went for a ride in a T-28. The engine failed, the pilot slid the plane into the sand of the Mojave out near El Centro, and I slid into a hospital bed for about ten days at North Island Naval Air Station. While I was in the hospital, the CARDIV left for WestPac. I called Marguerite and told her what happened and that I wanted to see her again. I'm not sure she believed me, but agreed to another date. Unfortunately it had to be a short date because I had to head for Norton Air Force base to catch a flight for Hawaii, to meet up with the CARDIV. — W.R. Spicer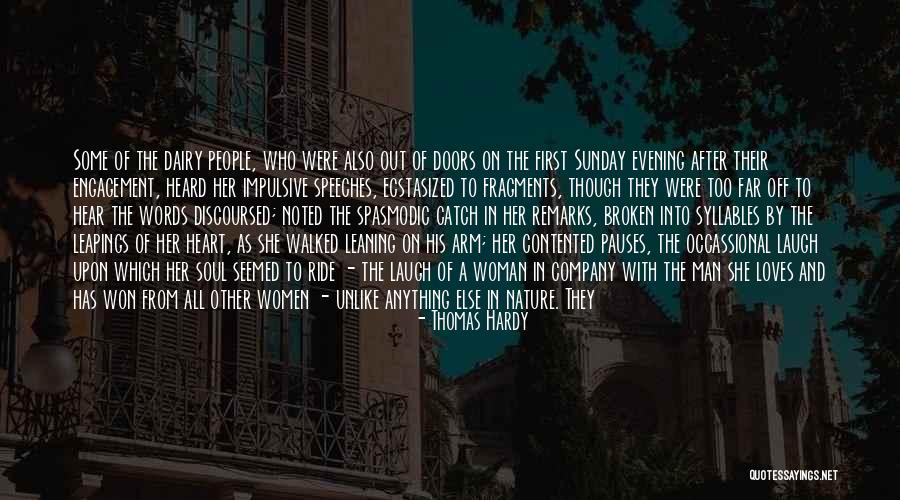 Some of the dairy people, who were also out of doors on the first Sunday evening after their engagement, heard her impulsive speeches, ecstasized to fragments, though they were too far off to hear the words discoursed; noted the spasmodic catch in her remarks, broken into syllables by the leapings of her heart, as she walked leaning on his arm; her contented pauses, the occassional laugh upon which her soul seemed to ride - the laugh of a woman in company with the man she loves and has won from all other women - unlike anything else in nature. They marked the buoyancy of her tread, like the skim of a bird which has not yet alighted. — Thomas Hardy
Once I catch a serious FUCK IT wave, I ride that thing right up to the sand. — Jeremy Robert Johnson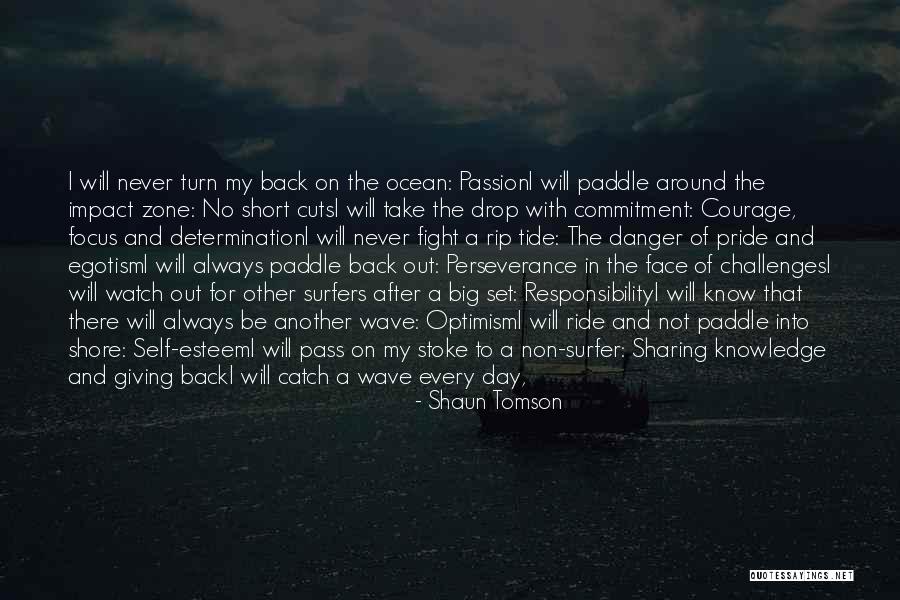 I will never turn my back on the ocean: Passion
I will paddle around the impact zone: No short cuts
I will take the drop with commitment: Courage, focus and determination
I will never fight a rip tide: The danger of pride and egotism
I will always paddle back out: Perseverance in the face of challenges
I will watch out for other surfers after a big set: Responsibility
I will know that there will always be another wave: Optimism
I will ride and not paddle into shore: Self-esteem
I will pass on my stoke to a non-surfer: Sharing knowledge and giving back
I will catch a wave every day, even in my mind: Imagination
I will realize that all surfers are joined by one ocean: Empathy
I will honor the sport of kings: Honor and integrity — Shaun Tomson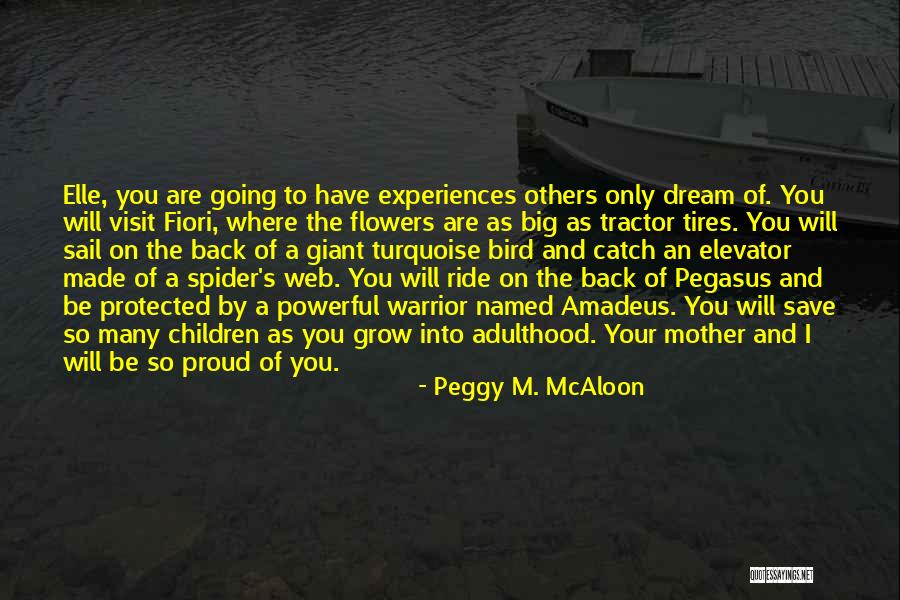 Elle, you are going to have experiences others only dream of. You will visit Fiori, where the flowers are as big as tractor tires. You will sail on the back of a giant turquoise bird and catch an elevator made of a spider's web. You will ride on the back of Pegasus and be protected by a powerful warrior named Amadeus. You will save so many children as you grow into adulthood. Your mother and I will be so proud of you. — Peggy M. McAloon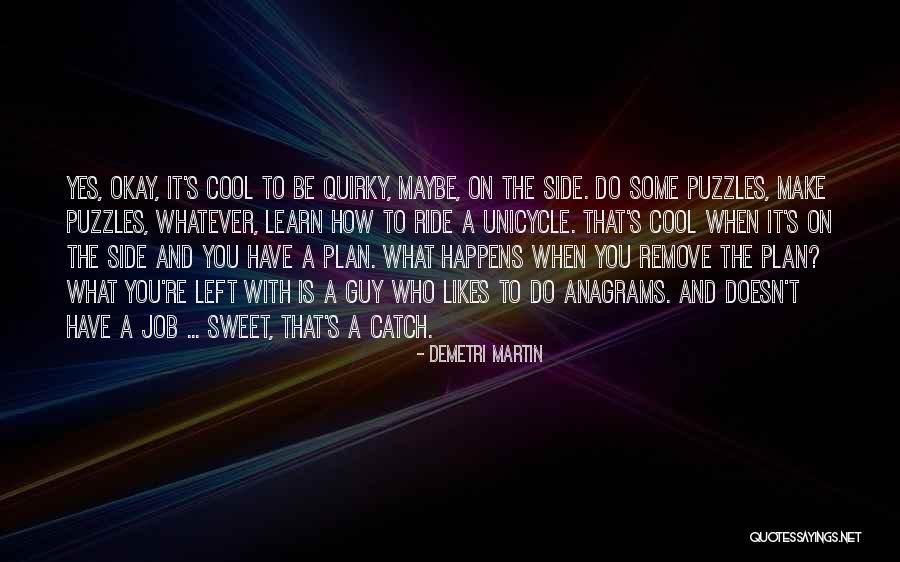 Yes, okay, it's cool to be quirky, maybe, on the side. Do some puzzles, make puzzles, whatever, learn how to ride a unicycle. That's cool when it's on the side and you have a plan. What happens when you remove the plan? What you're left with is a guy who likes to do anagrams. And doesn't have a job ... Sweet, that's a catch. — Demetri Martin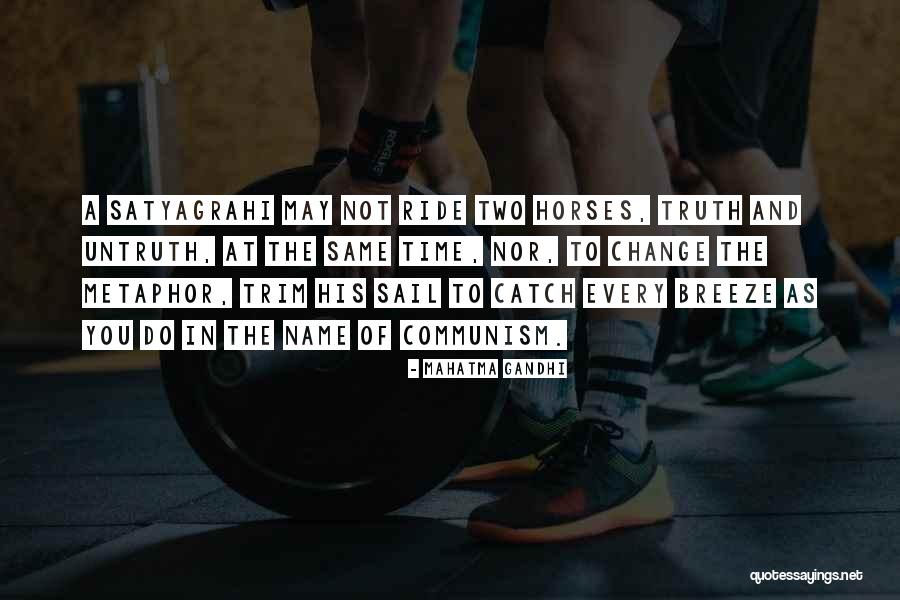 A satyagrahi may not ride two horses, truth and untruth, at the same time, nor, to change the metaphor, trim his sail to catch every breeze as you do in the name of communism. — Mahatma Gandhi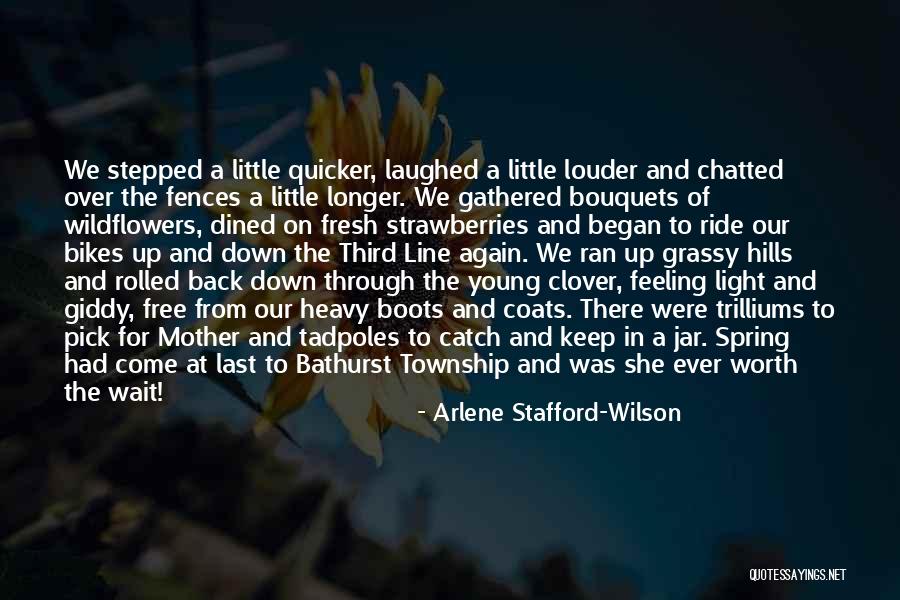 We stepped a little quicker, laughed a little louder and chatted over the fences a little longer. We gathered bouquets of wildflowers, dined on fresh strawberries and began to ride our bikes up and down the Third Line again. We ran up grassy hills and rolled back down through the young clover, feeling light and giddy, free from our heavy boots and coats. There were trilliums to pick for Mother and tadpoles to catch and keep in a jar. Spring had come at last to Bathurst Township and was she ever worth the wait! — Arlene Stafford-Wilson
You may not remember the time you let me go first.
Or the time you dropped back to tell me it wasn't that far to go.
Or the time you waited at the crossroads for me to catch up.
You may not remember any of those, but I do and this is what I have to say to you:
Today, no matter what it takes,
we ride home together. — Brian Andreas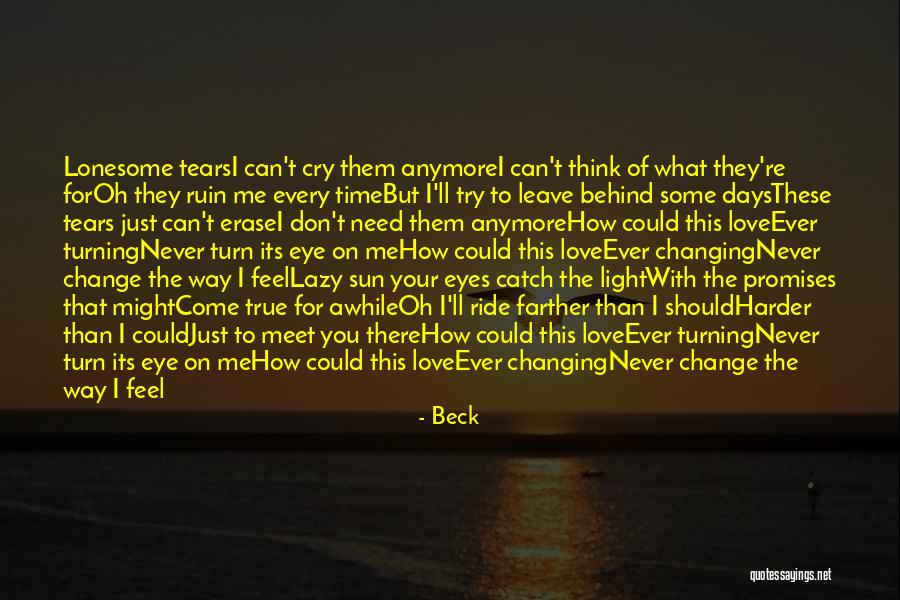 Lonesome tears
I can't cry them anymore
I can't think of what they're for
Oh they ruin me every time

But I'll try to leave behind some days
These tears just can't erase
I don't need them anymore

How could this love
Ever turning
Never turn its eye on me
How could this love
Ever changing
Never change the way I feel

Lazy sun your eyes catch the light
With the promises that might
Come true for awhile

Oh I'll ride farther than I should
Harder than I could
Just to meet you there

How could this love
Ever turning
Never turn its eye on me
How could this love
Ever changing
Never change the way I feel — Beck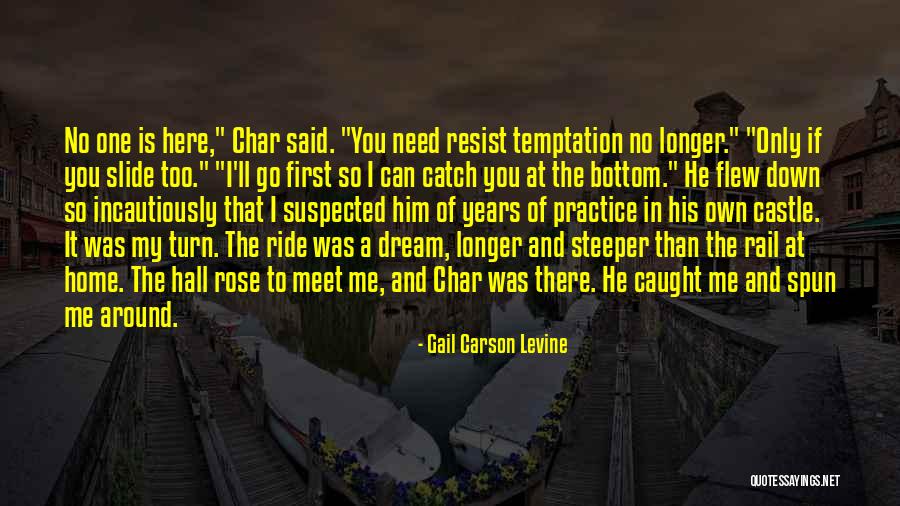 No one is here," Char said. "You need resist temptation no longer." "Only if you slide too." "I'll go first so I can catch you at the bottom." He flew down so incautiously that I suspected him of years of practice in his own castle. It was my turn. The ride was a dream, longer and steeper than the rail at home. The hall rose to meet me, and Char was there. He caught me and spun me around. — Gail Carson Levine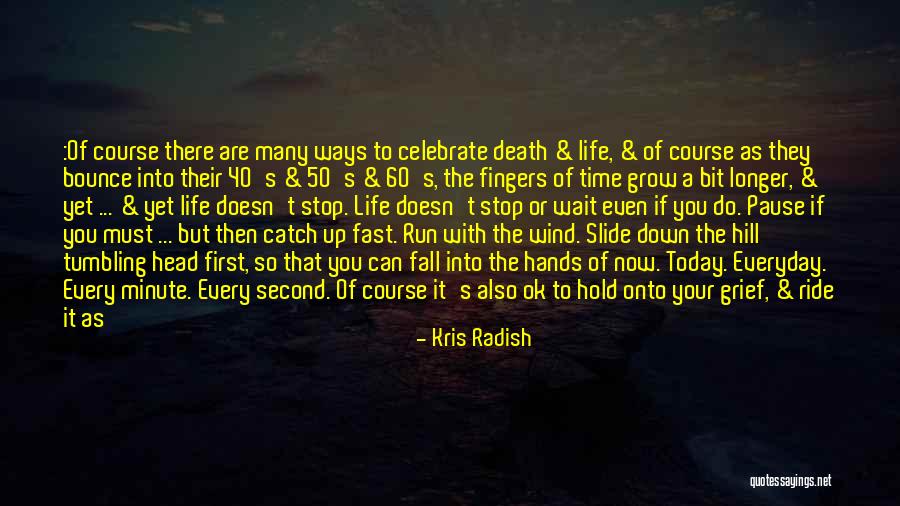 :Of course there are many ways to celebrate death & life, & of course as they bounce into their 40's & 50's & 60's, the fingers of time grow a bit longer, & yet ... & yet life doesn't stop. Life doesn't stop or wait even if you do. Pause if you must ... but then catch up fast. Run with the wind. Slide down the hill tumbling head first, so that you can fall into the hands of now. Today. Everyday. Every minute. Every second. Of course it's also ok to hold onto your grief, & ride it as if your own life depended on it through a sea of rough waters, waves as high as heaven, through the thunderous barrage of emotions that are the very heart of loss. Any loss. Love. Death. Job. A slice of a segment of your life that made up the whole. Of course ... the whole damn world needs to have more fun. A hellofa lot more fun. — Kris Radish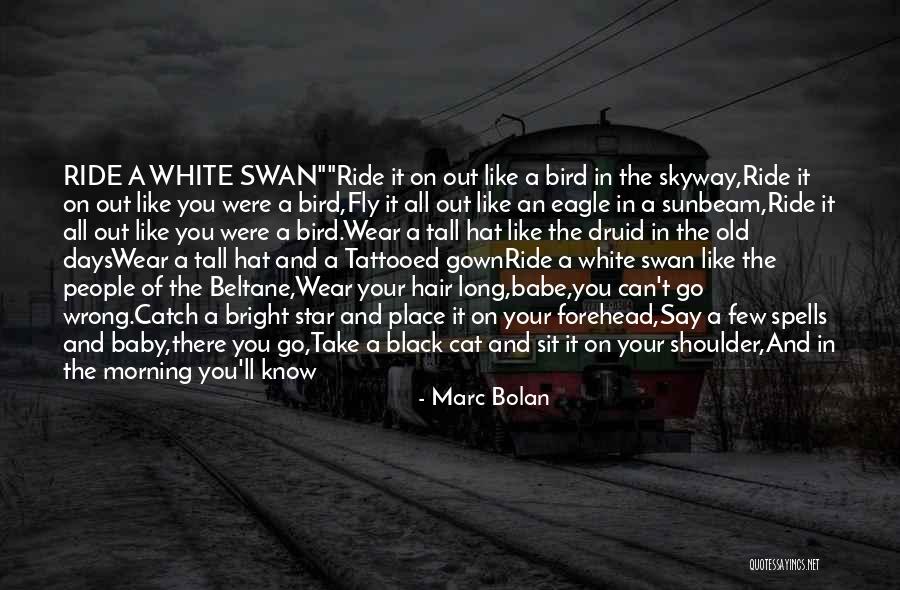 RIDE A WHITE SWAN"
"Ride it on out like a bird in the skyway,
Ride it on out like you were a bird,
Fly it all out like an eagle in a sunbeam,
Ride it all out like you were a bird.
Wear a tall hat like the druid in the old days
Wear a tall hat and a Tattooed gown
Ride a white swan like the people of the Beltane,
Wear your hair long,babe,you can't go wrong.
Catch a bright star and place it on your forehead,
Say a few spells and baby,there you go,
Take a black cat and sit it on your shoulder,
And in the morning you'll know all you know.
Wear a tall hat like the druid in the old days
Wear a tall hat and a Tattooed gown
Ride a white swan like the people of the Beltane,
Wear your hair long, babe ,you can't go wrong.
Da di di da, da di di da — Marc Bolan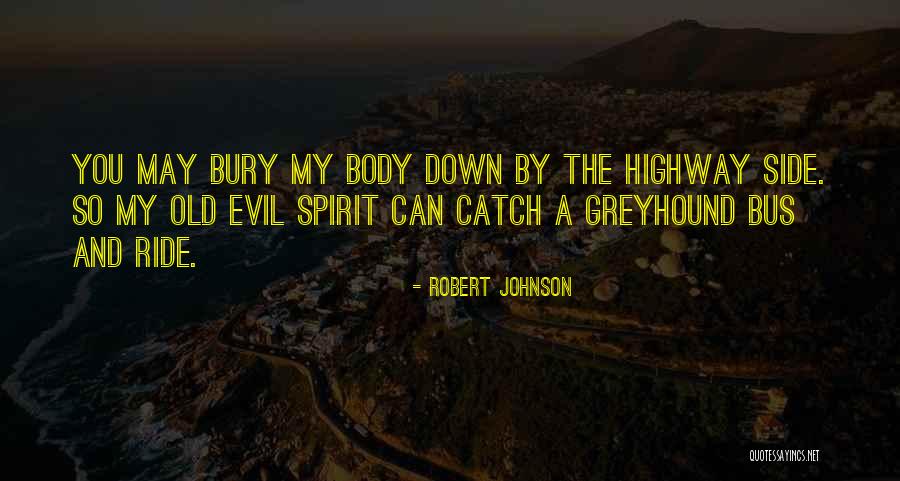 You may bury my body down by the highway side. So my old evil spirit can catch a Greyhound bus and ride. — Robert Johnson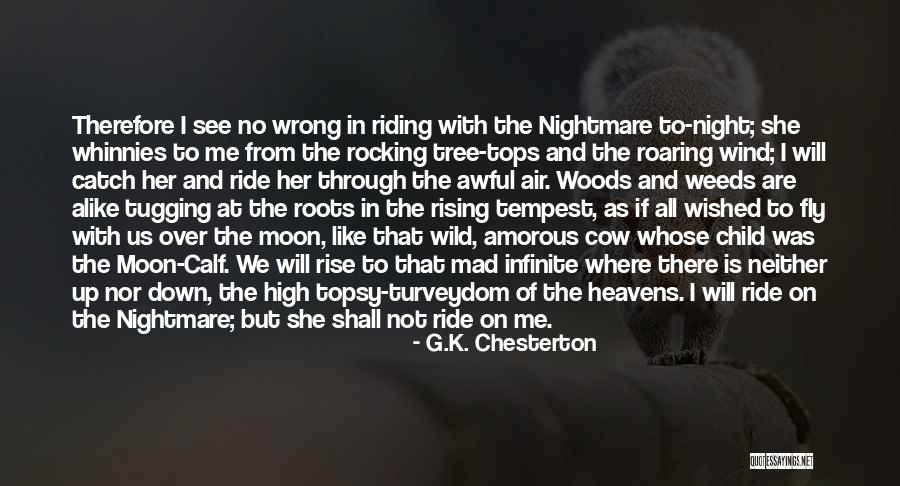 Therefore I see no wrong in riding with the Nightmare to-night; she whinnies to me from the rocking tree-tops and the roaring wind; I will catch her and ride her through the awful air. Woods and weeds are alike tugging at the roots in the rising tempest, as if all wished to fly with us over the moon, like that wild, amorous cow whose child was the Moon-Calf. We will rise to that mad infinite where there is neither up nor down, the high topsy-turveydom of the heavens. I will ride on the Nightmare; but she shall not ride on me. — G.K. Chesterton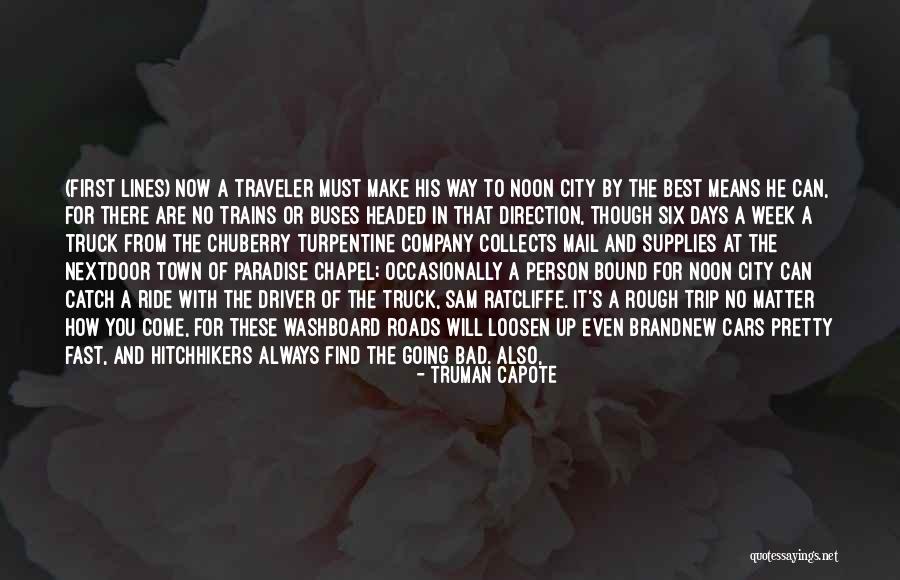 (First lines) Now a traveler must make his way to Noon City by the best means he can, for there are no trains or buses headed in that direction, though six days a week a truck from the Chuberry Turpentine Company collects mail and supplies at the nextdoor town of Paradise Chapel; occasionally a person bound for Noon City can catch a ride with the driver of the truck, Sam Ratcliffe. It's a rough trip no matter how you come, for these washboard roads will loosen up even brandnew cars pretty fast, and hitchhikers always find the going bad. Also, this is lonesome country, and here in the sunken marshes where tiger lilies bloom the size of a man's head there are luminous green logs that shine under the dark water like drowned corpses. Often the only movement on the landscape is a broken spiral of smoke from a sorry-looking farmhouse on the horizon, or a wing-stiffened bird, silent and arrow-eyed, circling endlessly over the bleak deserted pinewoods. — Truman Capote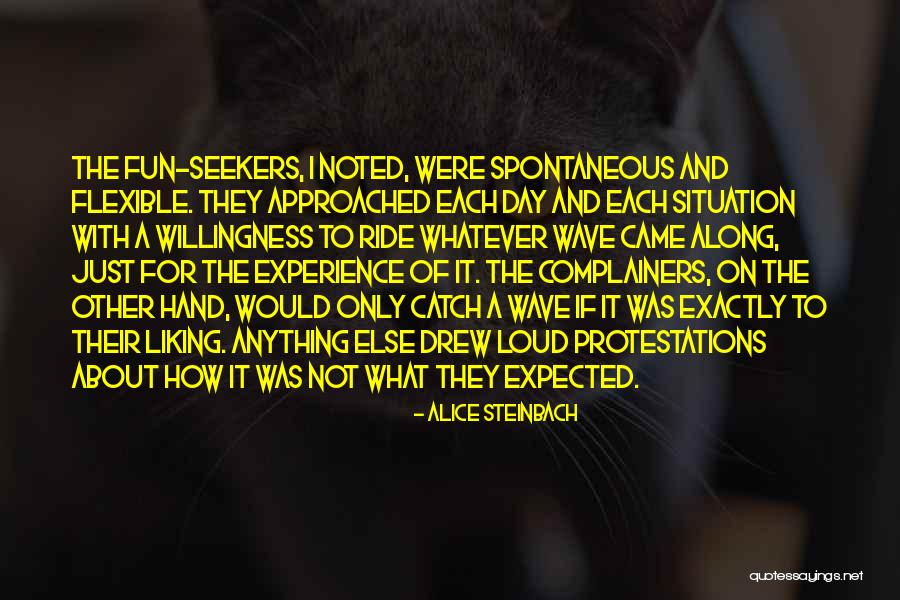 The fun-seekers, I noted, were spontaneous and flexible. They approached each day and each situation with a willingness to ride whatever wave came along, just for the experience of it. The complainers, on the other hand, would only catch a wave if it was exactly to their liking. Anything else drew loud protestations about how it was not what they expected. — Alice Steinbach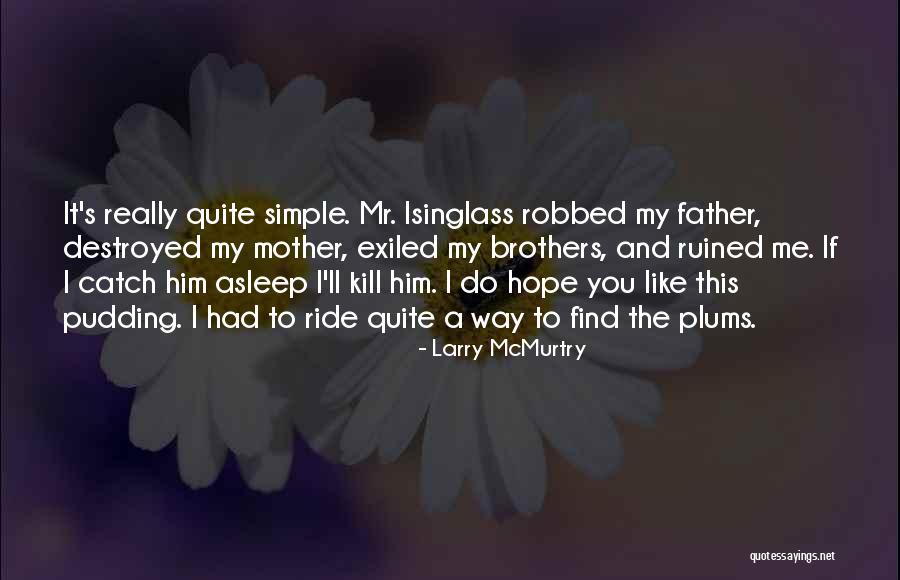 It's really quite simple. Mr. Isinglass robbed my father, destroyed my mother, exiled my brothers, and ruined me. If I catch him asleep I'll kill him. I do hope you like this pudding. I had to ride quite a way to find the plums. — Larry McMurtry
I believe in going with the flow. I don't believe in fighting against the flow. You ride on your river and you go with the tides and the flow. But it has to be your river, not someone else's. Everyone has their own river, and you don't need to swim,float,sail on their's, but you need to be in your own river and you need to go with it. And I don't believe in fighting the wind. You go and you fly with your wind. Let everyone else catch their own gusts of wind and let them fly with their own gusts of wind, and you go and you fly with yours. — C. JoyBell C.