Quotes & Sayings About Calming The Mind
Enjoy reading and share 34 famous quotes about Calming The Mind with everyone.
Top Calming The Mind Quotes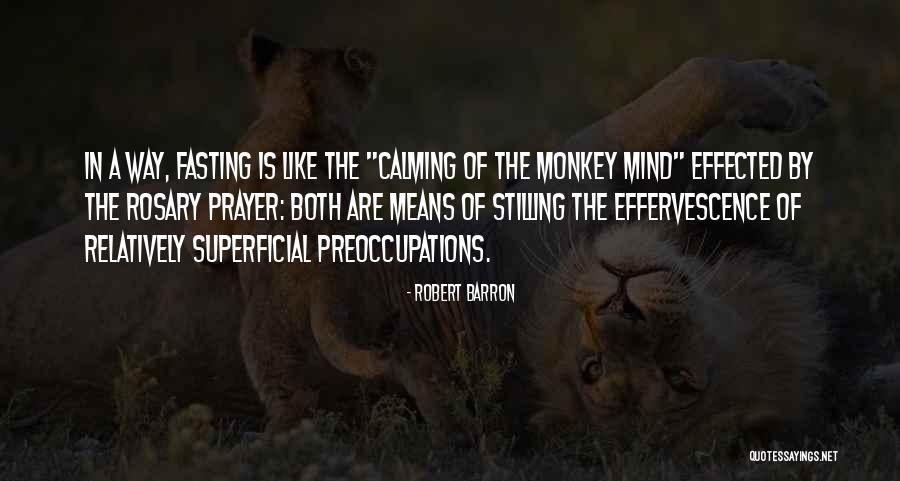 In a way, fasting is like the "calming of the monkey mind" effected by the rosary prayer: both are means of stilling the effervescence of relatively superficial preoccupations. — Robert Barron
I am continually calming the restless scanning of my rational mind in order to perceive the finer energies that enable me to unitively merge with everything around me. — Ken Keyes Jr.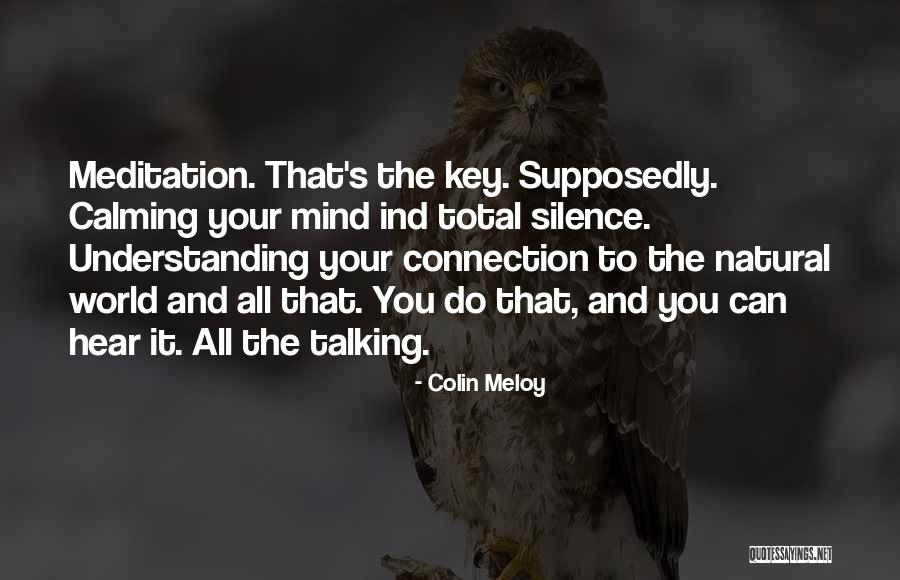 Meditation. That's the key. Supposedly. Calming your mind ind total silence. Understanding your connection to the natural world and all that. You do that, and you can hear it. All the talking. — Colin Meloy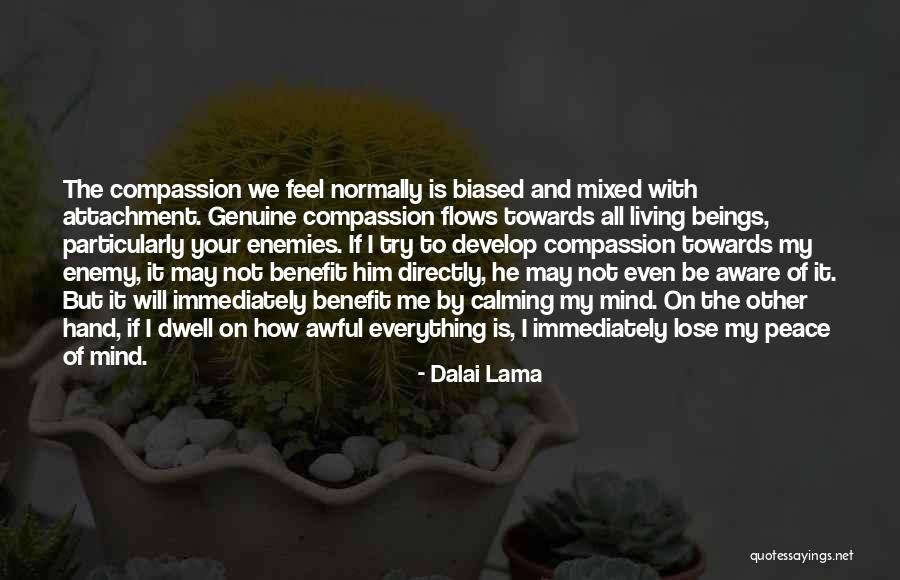 The compassion we feel normally is biased and mixed with attachment. Genuine compassion flows towards all living beings, particularly your enemies. If I try to develop compassion towards my enemy, it may not benefit him directly, he may not even be aware of it. But it will immediately benefit me by calming my mind. On the other hand, if I dwell on how awful everything is, I immediately lose my peace of mind. — Dalai Lama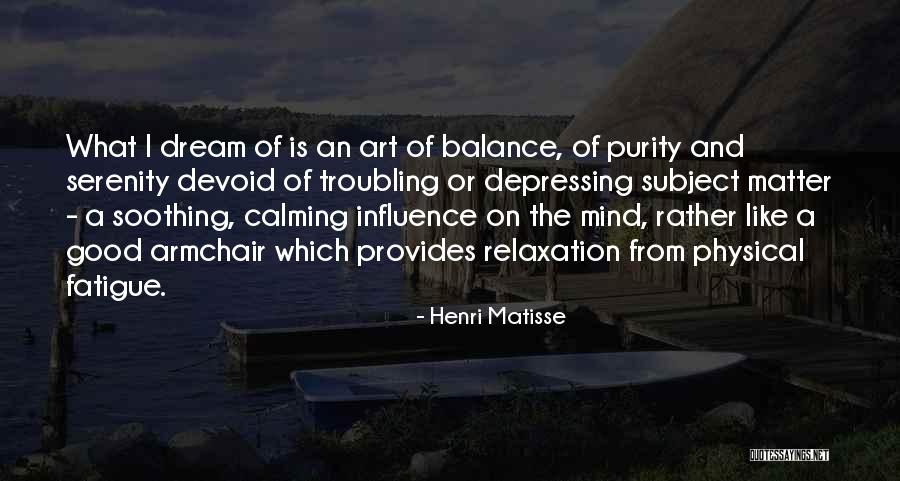 What I dream of is an art of balance, of purity and serenity devoid of troubling or depressing subject matter - a soothing, calming influence on the mind, rather like a good armchair which provides relaxation from physical fatigue. — Henri Matisse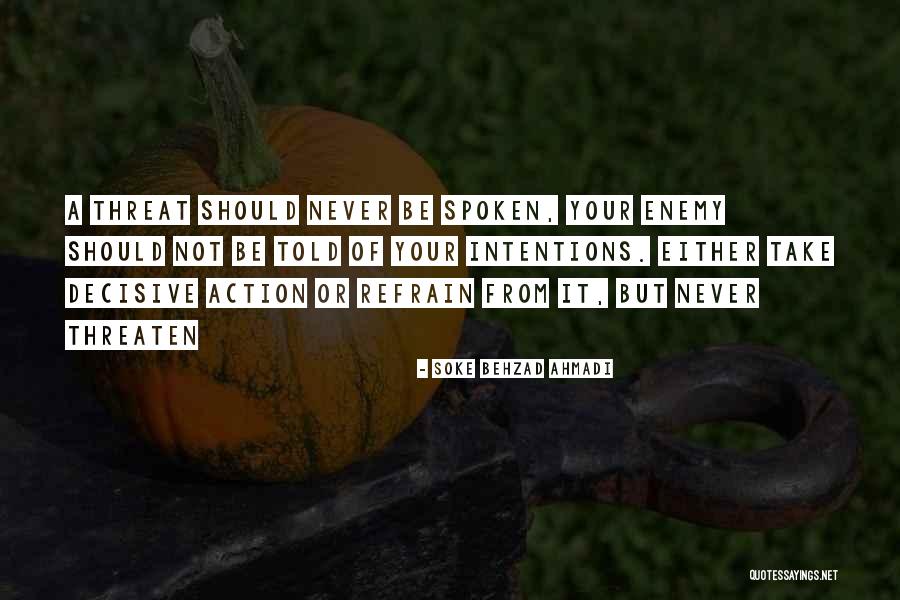 A threat should never be spoken, your enemy should not be told of your intentions. Either take decisive action or refrain from it, but never threaten — Soke Behzad Ahmadi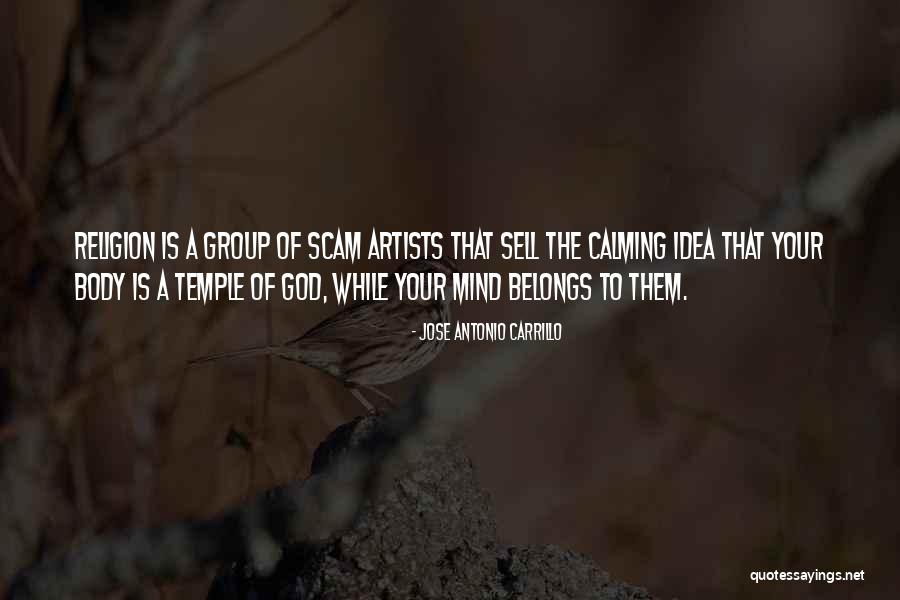 Religion is a group of scam artists that sell the calming idea that your body is a temple of God, while your mind belongs to them. — Jose Antonio Carrillo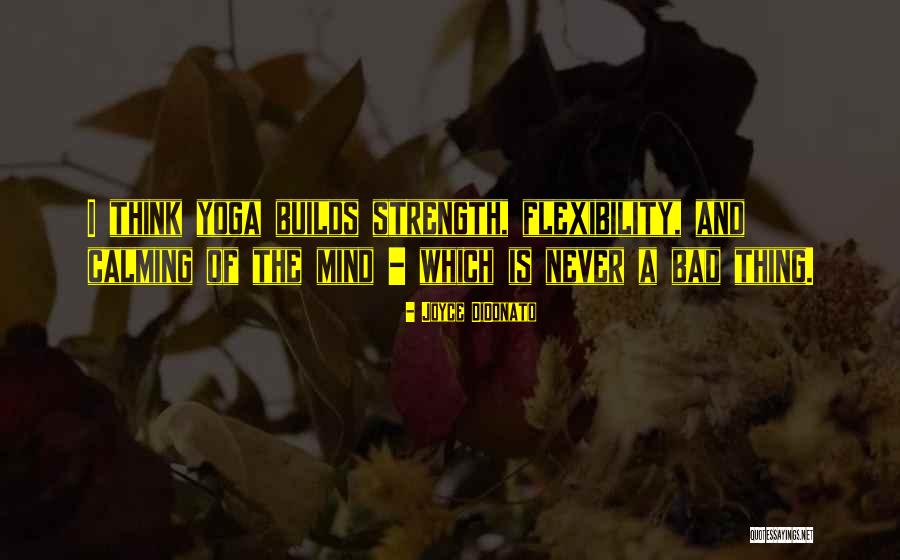 I think yoga builds strength, flexibility, and calming of the mind - which is never a bad thing. — Joyce DiDonato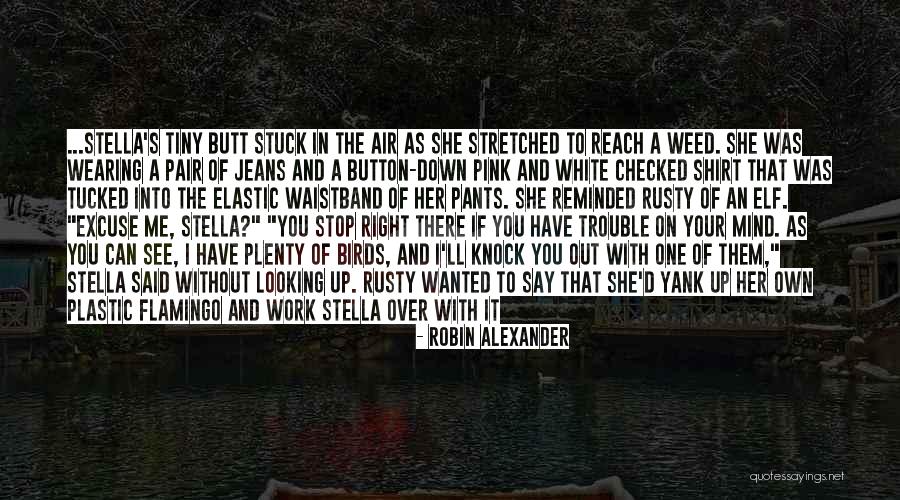 ...Stella's tiny butt stuck in the air as she stretched to reach a weed. She was wearing a pair of jeans and a button-down pink and white checked shirt that was tucked into the elastic waistband of her pants. She reminded Rusty of an elf. "Excuse me, Stella?" "You stop right there if you have trouble on your mind. As you can see, I have plenty of birds, and I'll knock you out with one of them," Stella said without looking up. Rusty wanted to say that she'd yank up her own plastic flamingo and work Stella over with it in a heartbeat. Instead, she took a calming breath and said, "I made something you might like to have." "If it's a grenade launcher, I'm listening, Achmed. — Robin Alexander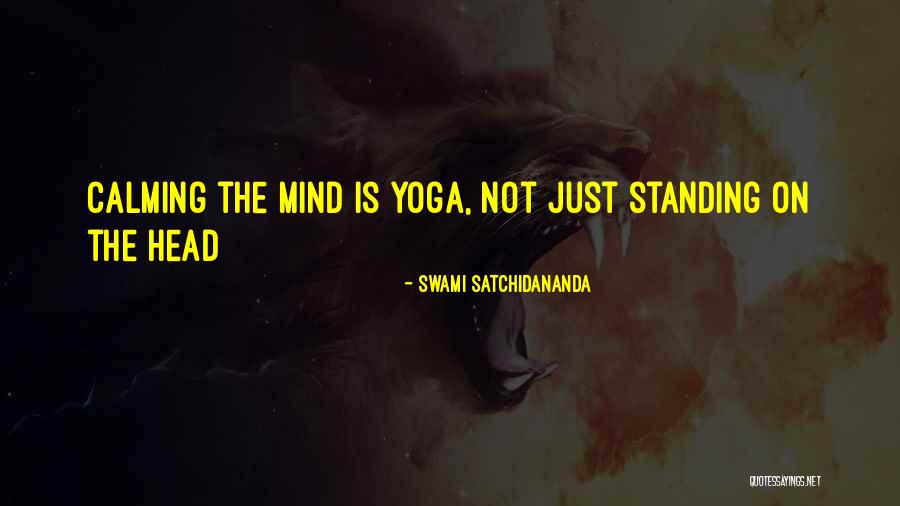 Calming the mind is yoga, not just standing on the head — Swami Satchidananda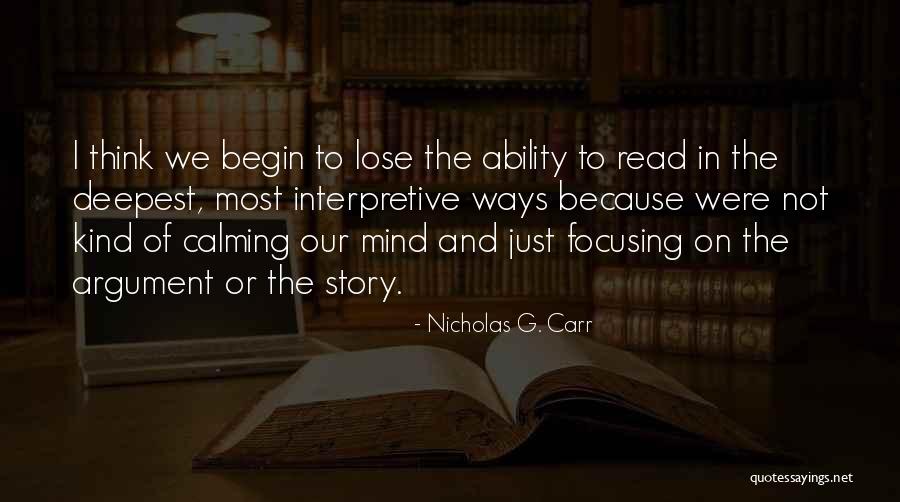 I think we begin to lose the ability to read in the deepest, most interpretive ways because were not kind of calming our mind and just focusing on the argument or the story. — Nicholas G. Carr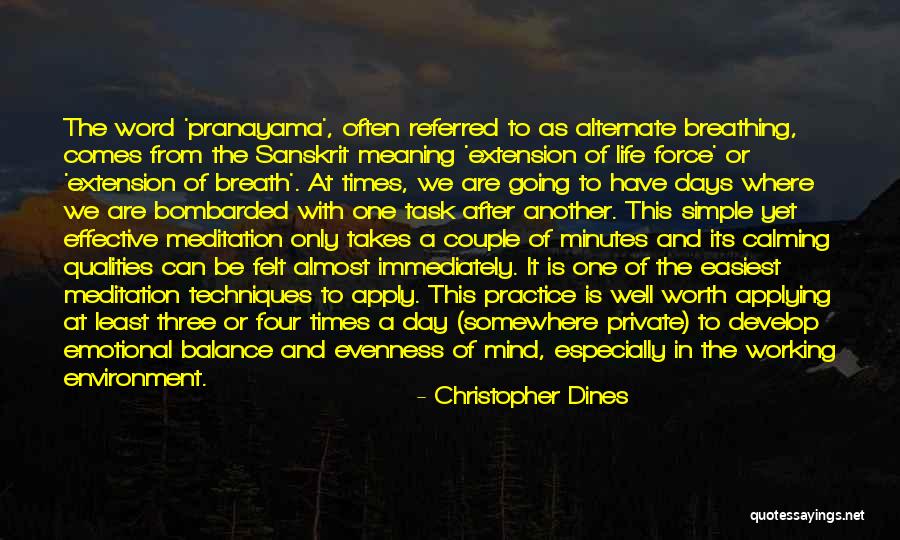 The word 'pranayama', often referred to as alternate breathing, comes from the Sanskrit meaning 'extension of life force' or 'extension of breath'. At times, we are going to have days where we are bombarded with one task after another.

This simple yet effective meditation only takes a couple of minutes and its calming qualities can be felt almost immediately. It is one of the easiest meditation techniques to apply. This practice is well worth applying at least three or four times a day (somewhere private) to develop emotional balance and evenness of mind, especially in the working environment. — Christopher Dines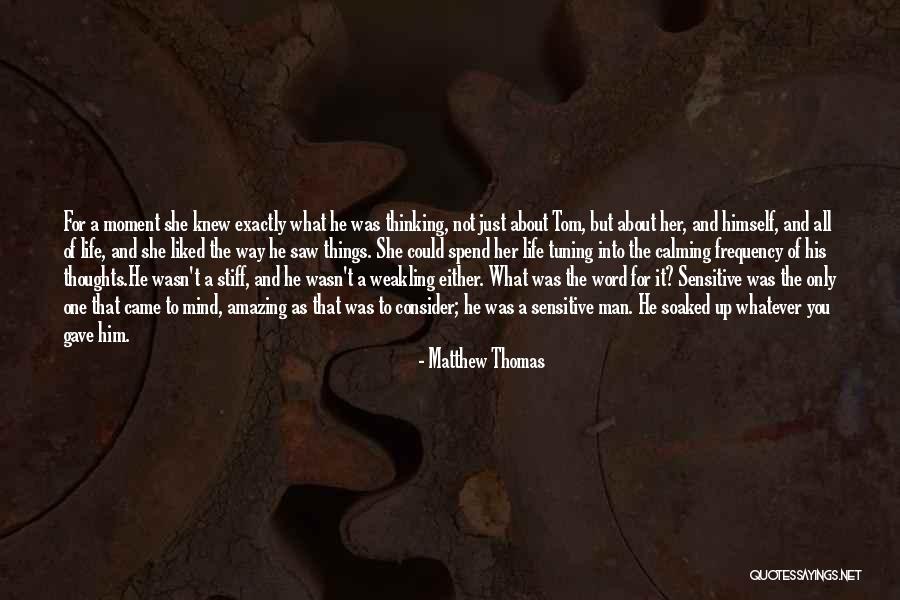 For a moment she knew exactly what he was thinking, not just about Tom, but about her, and himself, and all of life, and she liked the way he saw things. She could spend her life tuning into the calming frequency of his thoughts.
He wasn't a stiff, and he wasn't a weakling either. What was the word for it? Sensitive was the only one that came to mind, amazing as that was to consider; he was a sensitive man. He soaked up whatever you gave him. — Matthew Thomas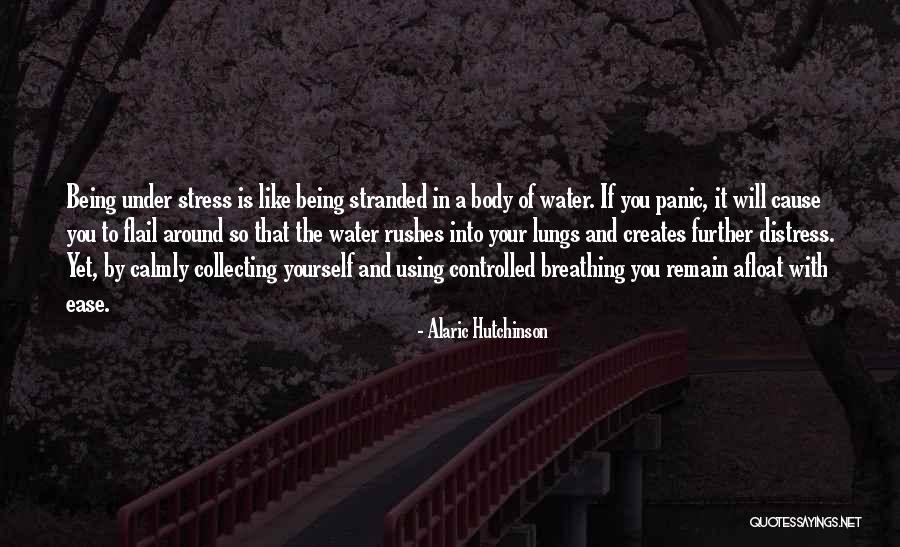 Being under stress is like being stranded in a body of water. If you panic, it will cause you to flail around so that the water rushes into your lungs and creates further distress. Yet, by calmly collecting yourself and using controlled breathing you remain afloat with ease. — Alaric Hutchinson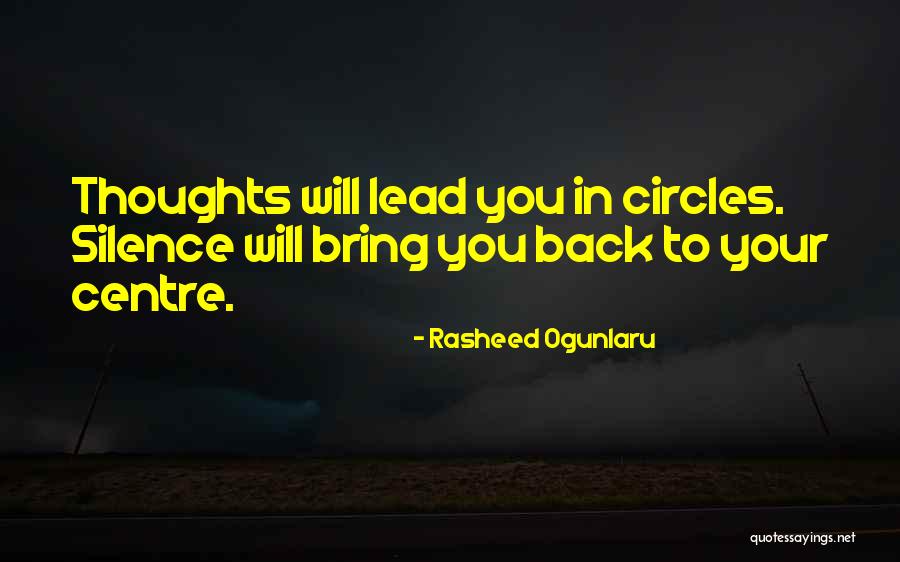 Thoughts will lead you in circles. Silence will bring you back to your centre. — Rasheed Ogunlaru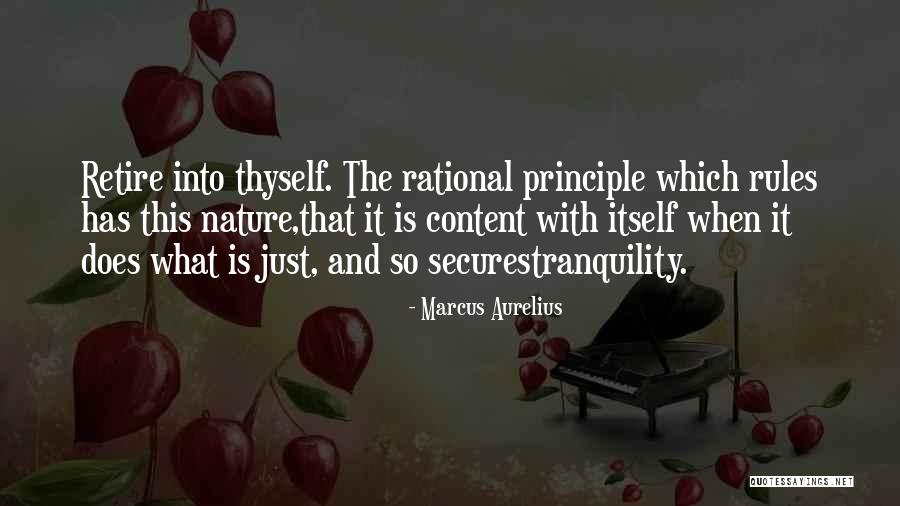 Retire into thyself. The rational principle which rules has this nature,
that it is content with itself when it does what is just, and so secures
tranquility. — Marcus Aurelius
I would fall asleep with my face pressed into her fur, while her deep electrical purr vibrated softly against my cheek. They made me think of the seaside, and so I called her Ocean, and I could not have told you why. — Neil Gaiman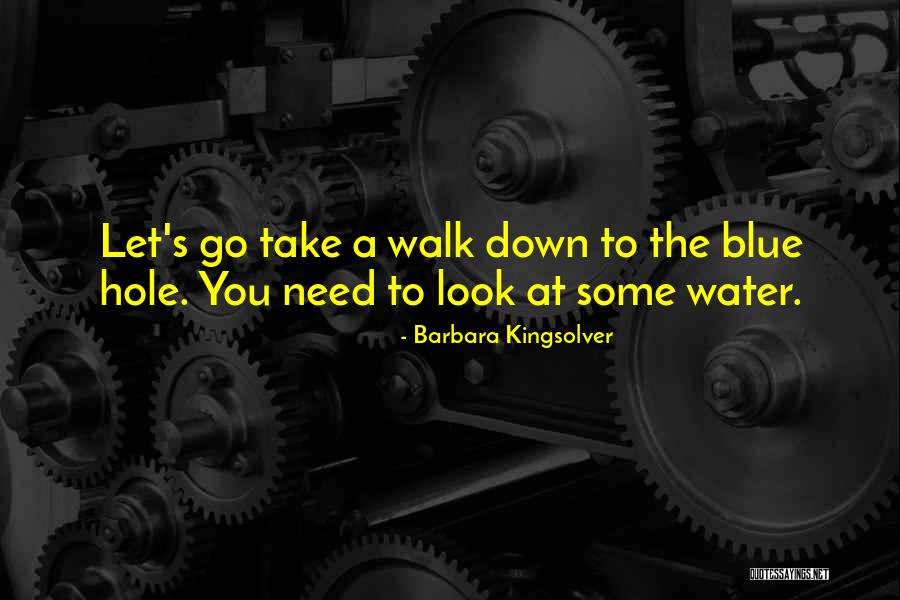 Let's go take a walk down to the blue hole. You need to look at some water. — Barbara Kingsolver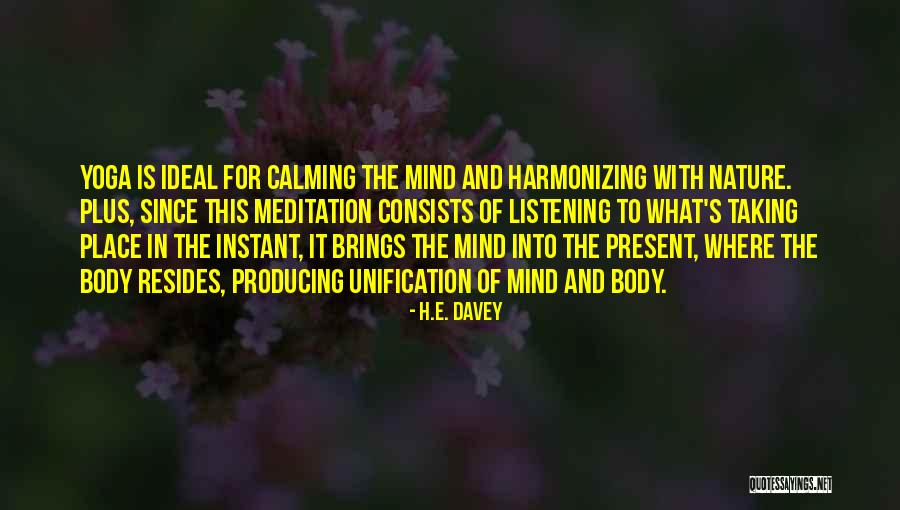 Yoga is ideal for calming the mind and harmonizing with nature. Plus, since this meditation consists of listening to what's taking place in the instant, it brings the mind into the present, where the body resides, producing unification of mind and body. — H.E. Davey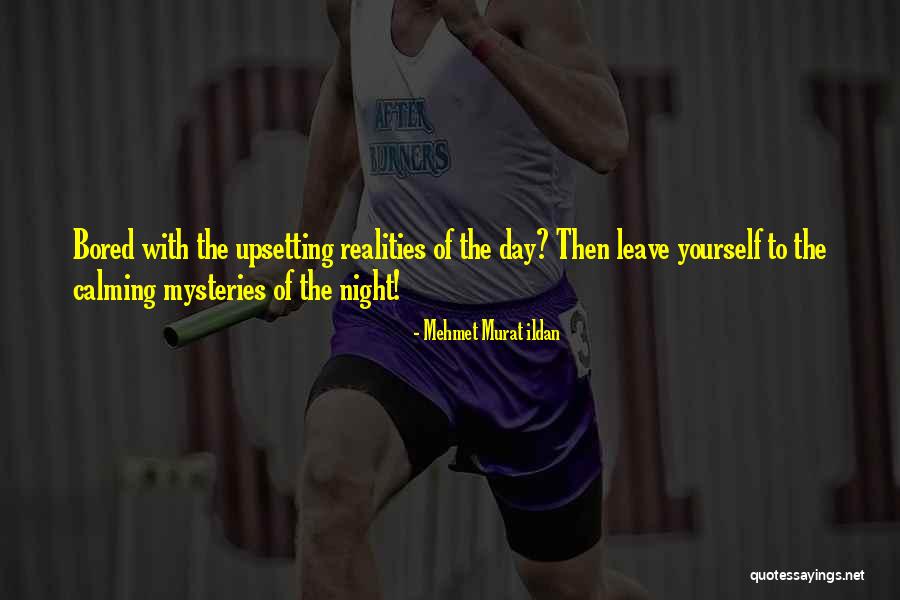 Bored with the upsetting realities of the day? Then leave yourself to the calming mysteries of the night! — Mehmet Murat Ildan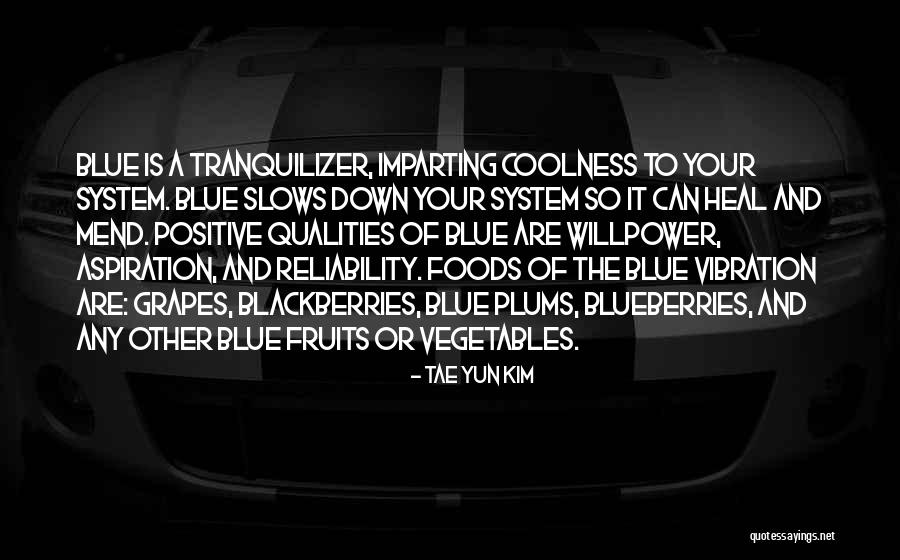 Blue is a tranquilizer, imparting coolness to your system. Blue slows down your system so it can heal and mend. Positive qualities of blue are willpower, aspiration, and reliability. Foods of the blue vibration are: grapes, blackberries, blue plums, blueberries, and any other blue fruits or vegetables. — Tae Yun Kim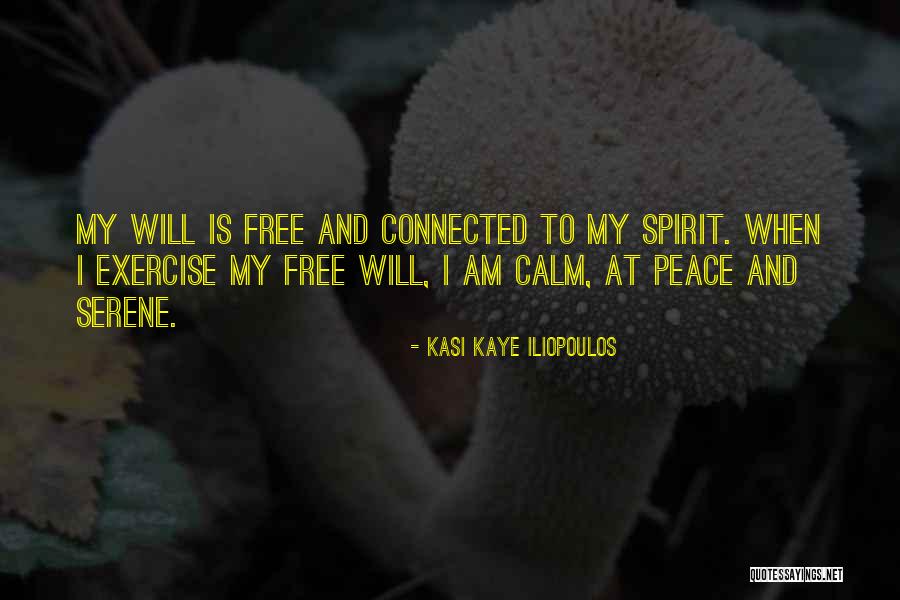 My will is free and connected to my Spirit. When I exercise my free will, I am calm, at peace and serene. — Kasi Kaye Iliopoulos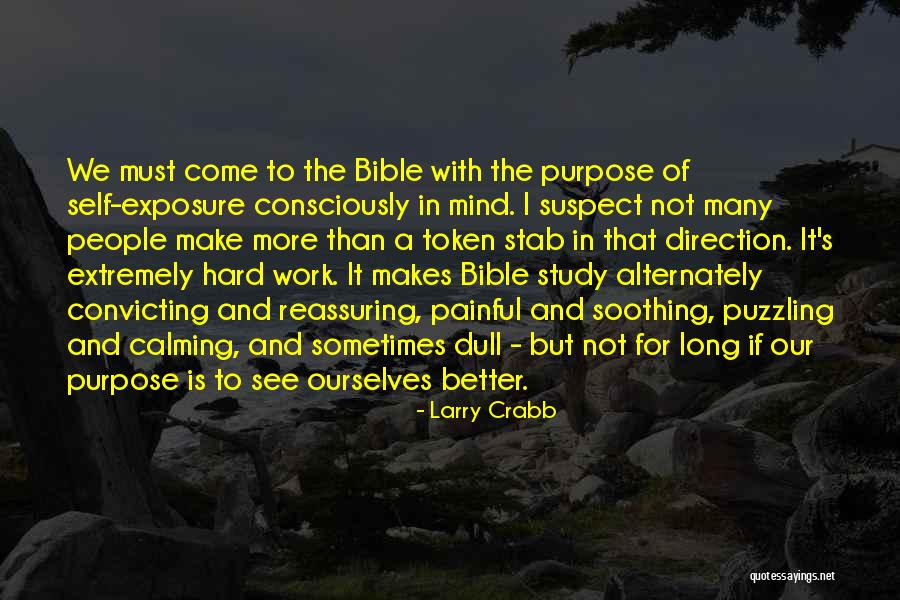 We must come to the Bible with the purpose of self-exposure consciously in mind. I suspect not many people make more than a token stab in that direction. It's extremely hard work. It makes Bible study alternately convicting and reassuring, painful and soothing, puzzling and calming, and sometimes dull - but not for long if our purpose is to see ourselves better. — Larry Crabb
Peace doesn't deny difficulty, but it has an inner calm and quietness even while enduring the difficulty. — Glenn C. Stewart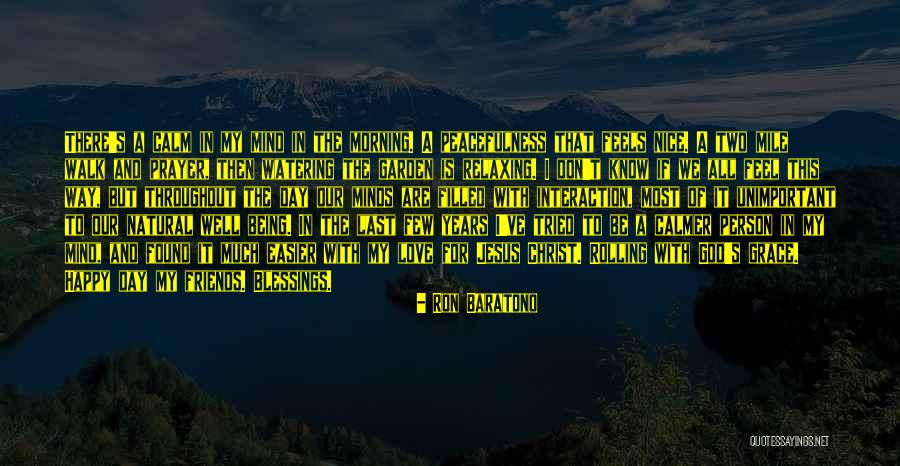 There's a calm in my mind in the morning. A peacefulness that feels nice. A two mile walk and prayer, then watering the garden is relaxing. I don't know if we all feel this way, but throughout the day our minds are filled with interaction, most of it unimportant to our natural well being. In the last few years I've tried to be a calmer person in my mind, and found it much easier with my love for Jesus Christ. Rolling with God's grace. Happy day my friends. Blessings. — Ron Baratono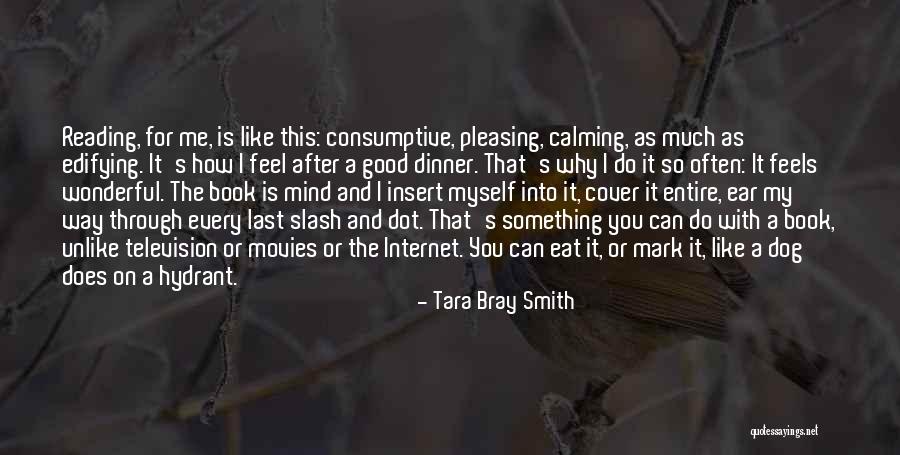 Reading, for me, is like this: consumptive, pleasing, calming, as much as edifying. It's how I feel after a good dinner. That's why I do it so often: It feels wonderful. The book is mind and I insert myself into it, cover it entire, ear my way through every last slash and dot. That's something you can do with a book, unlike television or movies or the Internet. You can eat it, or mark it, like a dog does on a hydrant. — Tara Bray Smith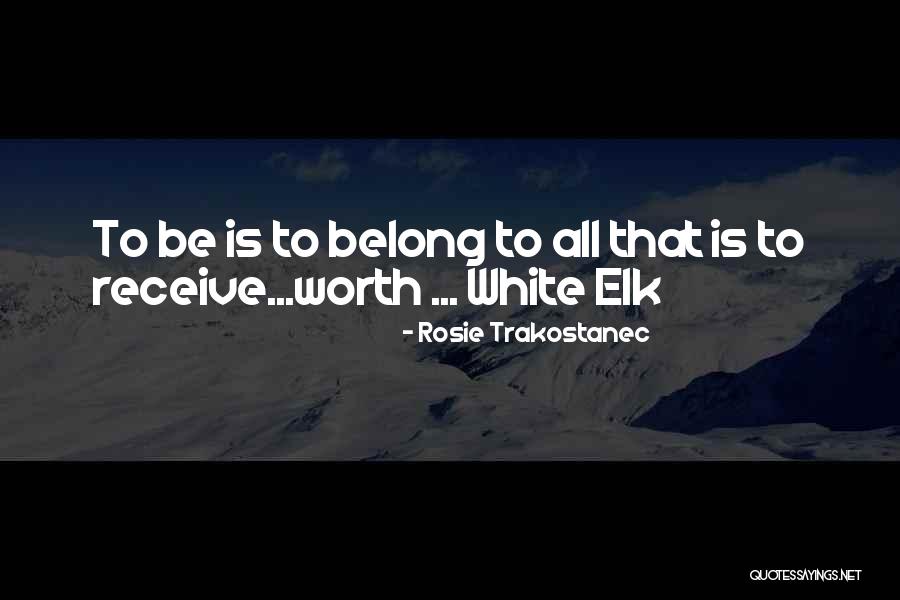 To be is to belong to all that is to receive...worth ... White Elk — Rosie Trakostanec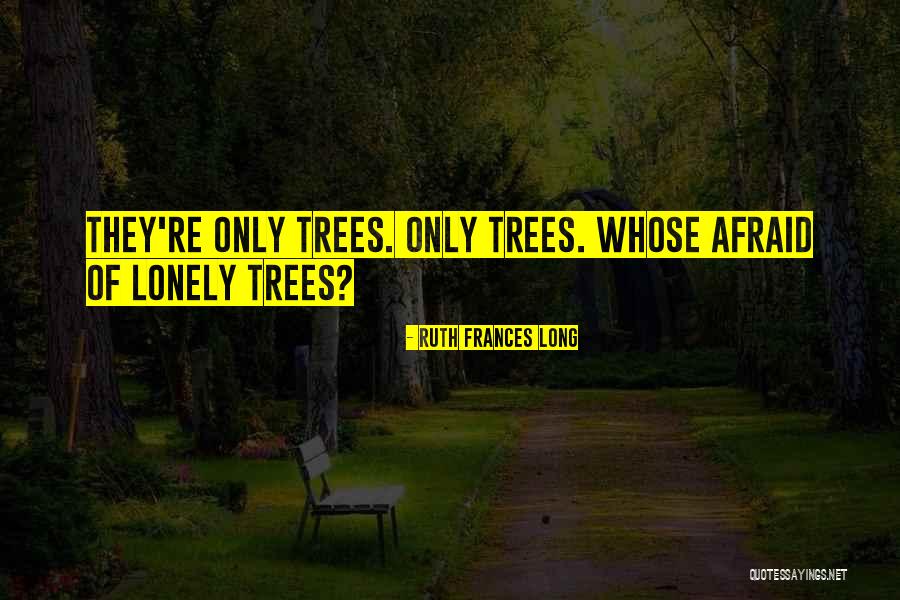 They're only trees. Only trees. Whose afraid of lonely trees? — Ruth Frances Long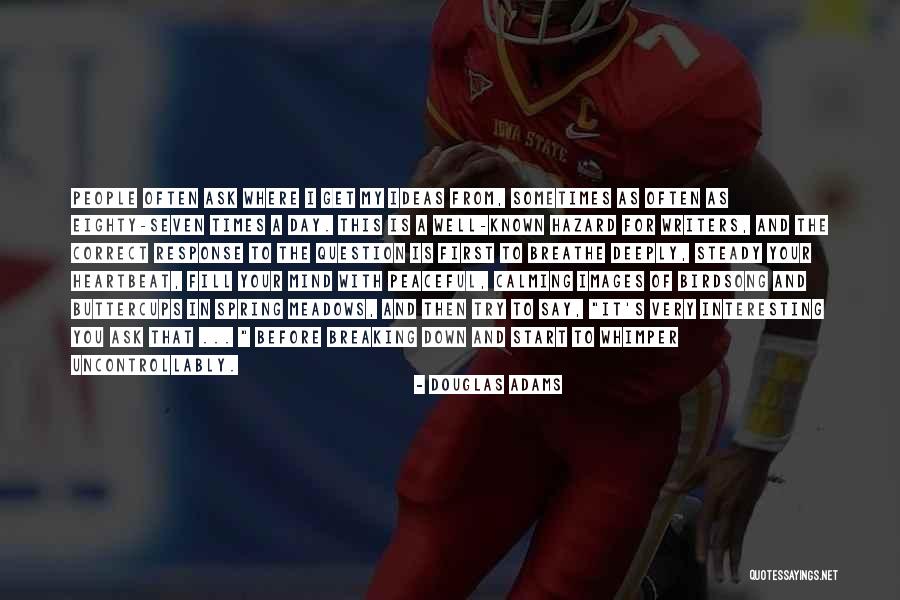 People often ask where I get my ideas from, sometimes as often as eighty-seven times a day. This is a well-known hazard for writers, and the correct response to the question is first to breathe deeply, steady your heartbeat, fill your mind with peaceful, calming images of birdsong and buttercups in spring meadows, and then try to say, "It's very interesting you ask that ... " before breaking down and start to whimper uncontrollably. — Douglas Adams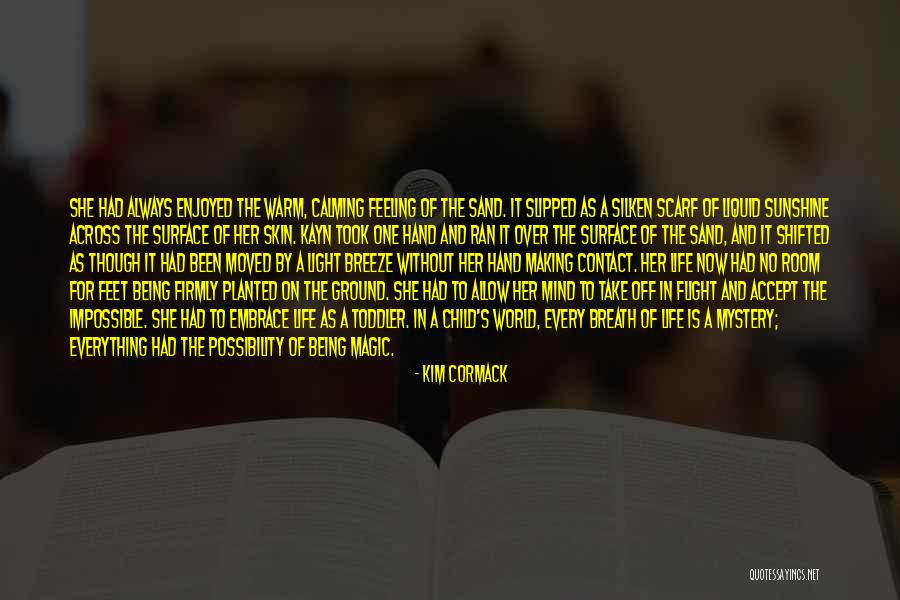 She had always enjoyed the warm, calming feeling of the sand. It slipped as a silken scarf of liquid sunshine across the surface of her skin. Kayn took one hand and ran it over the surface of the sand, and it shifted as though it had been moved by a light breeze without her hand making contact. Her life now had no room for feet being firmly planted on the ground. She had to allow her mind to take off in flight and accept the impossible. She had to embrace life as a toddler. In a child's world, every breath of life is a mystery; everything had the possibility of being magic. — Kim Cormack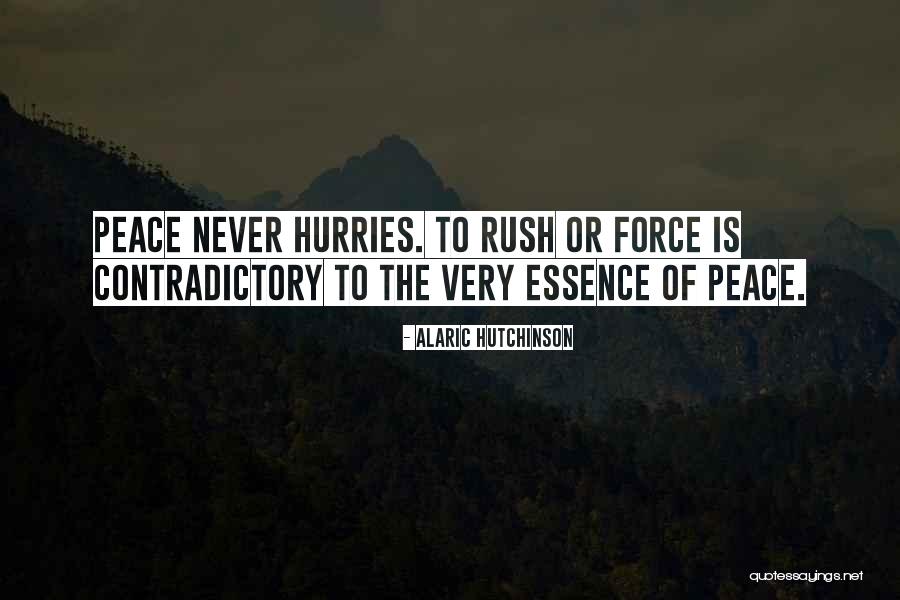 Peace never hurries. To rush or force is contradictory to the very essence of peace. — Alaric Hutchinson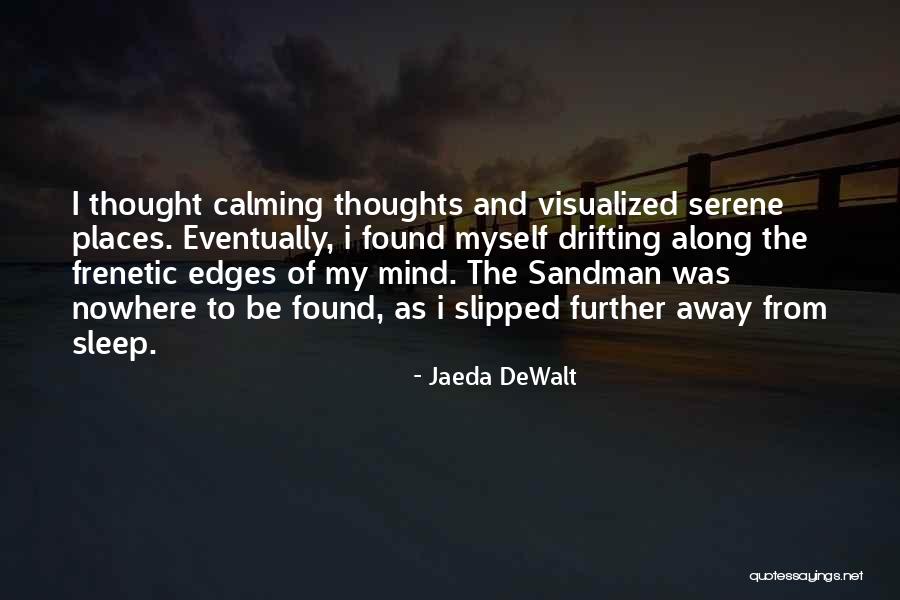 I thought calming thoughts and visualized serene places. Eventually, i found myself drifting along the frenetic edges of my mind. The Sandman was nowhere to be found, as i slipped further away from sleep. — Jaeda DeWalt