Quotes & Sayings About Breakdowns
Enjoy reading and share 62 famous quotes about Breakdowns with everyone.
Top Breakdowns Quotes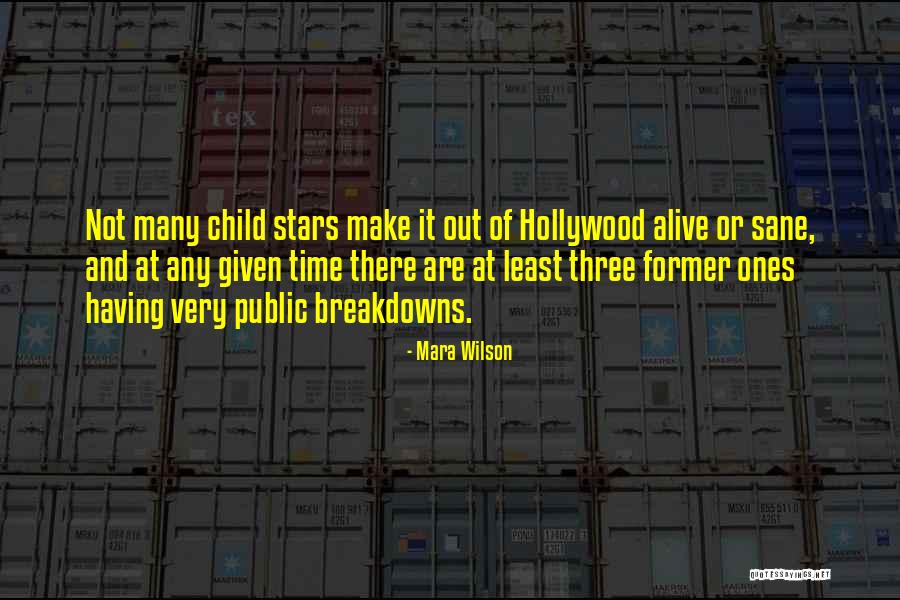 Not many child stars make it out of Hollywood alive or sane, and at any given time there are at least three former ones having very public breakdowns. — Mara Wilson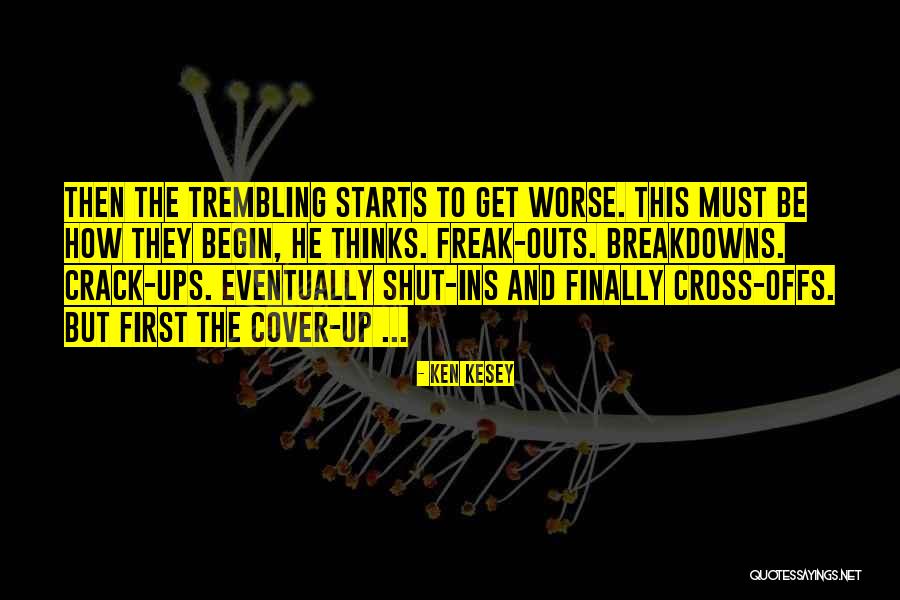 Then the trembling starts to get worse. This must be how they begin, he thinks. Freak-outs. Breakdowns. Crack-ups. Eventually shut-ins and finally cross-offs. But first the cover-up ... — Ken Kesey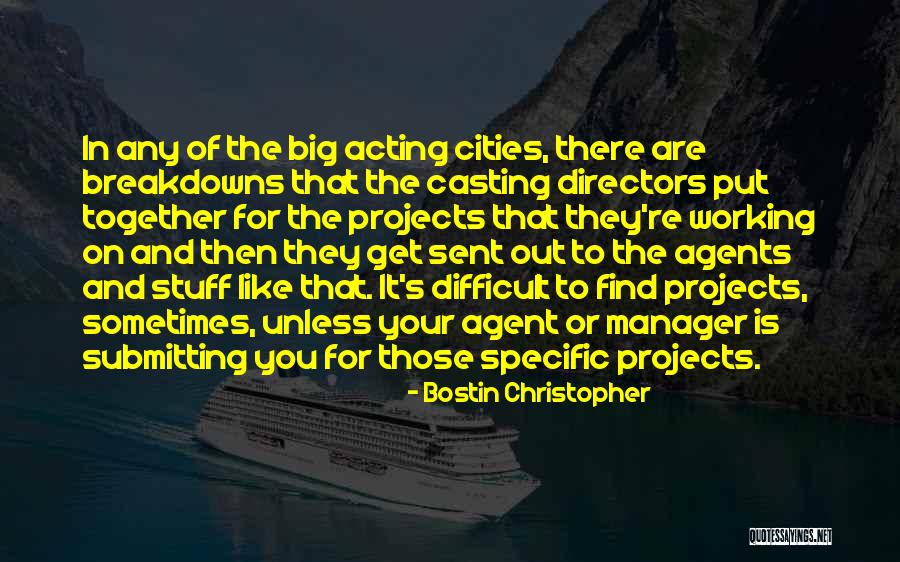 In any of the big acting cities, there are breakdowns that the casting directors put together for the projects that they're working on and then they get sent out to the agents and stuff like that. It's difficult to find projects, sometimes, unless your agent or manager is submitting you for those specific projects. — Bostin Christopher
We have noted thatthe two creation stories contained no pointers toward male "headship" in the sense that men or husbands are supposed to exercise authority or leadership over women or wives. But the audience of Genesis knew that patriarchy was a reality of life. Genesis here tells them how this came to be. Male authority or domination was not God's design but a consequence of a breakdown in relationship between humanity and God, between humanity and the animal world, and between human beings and one another. From now on, the Bible will assume the reality of patriarchy and of male headship, but it begins by noting that this came about only as a result of those various breakdowns of relationship. — John E. Goldingay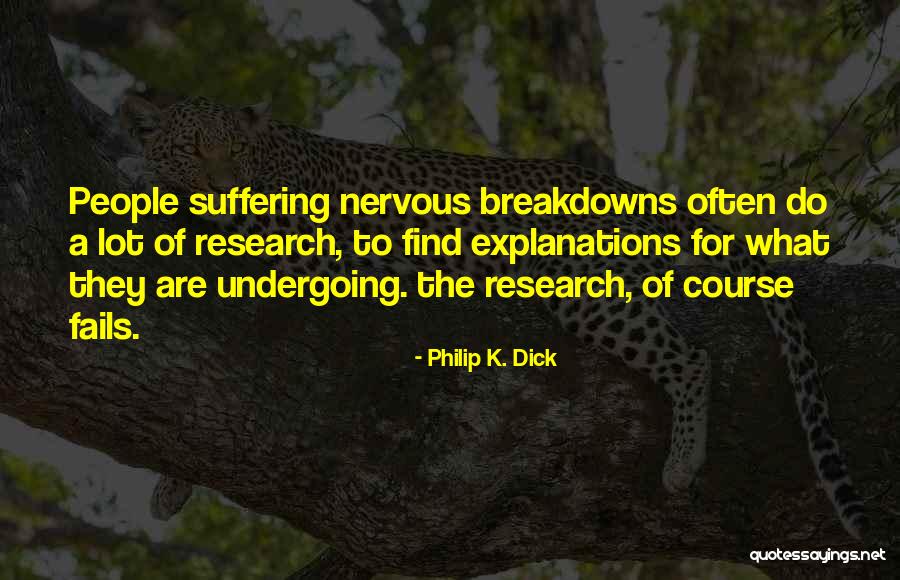 People suffering nervous breakdowns often do a lot of research, to find explanations for what they are undergoing. the research, of course fails. — Philip K. Dick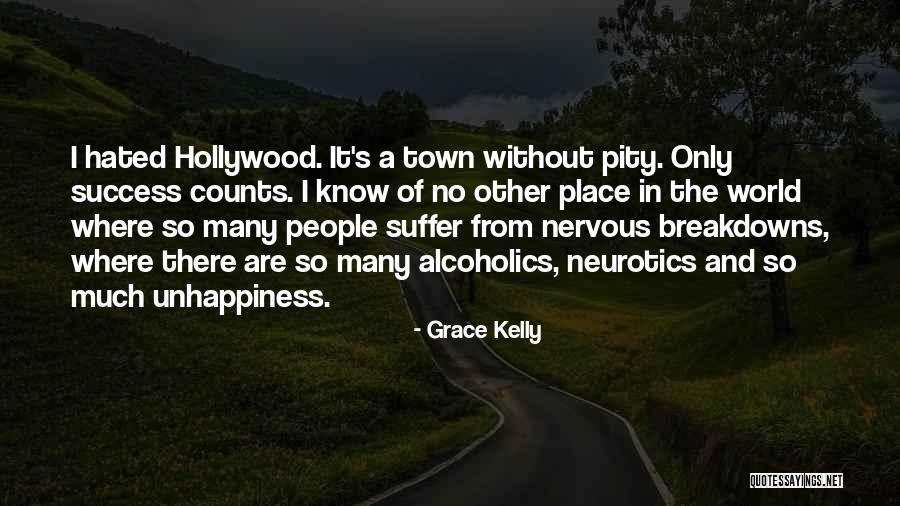 I hated Hollywood. It's a town without pity. Only success counts. I know of no other place in the world where so many people suffer from nervous breakdowns, where there are so many alcoholics, neurotics and so much unhappiness. — Grace Kelly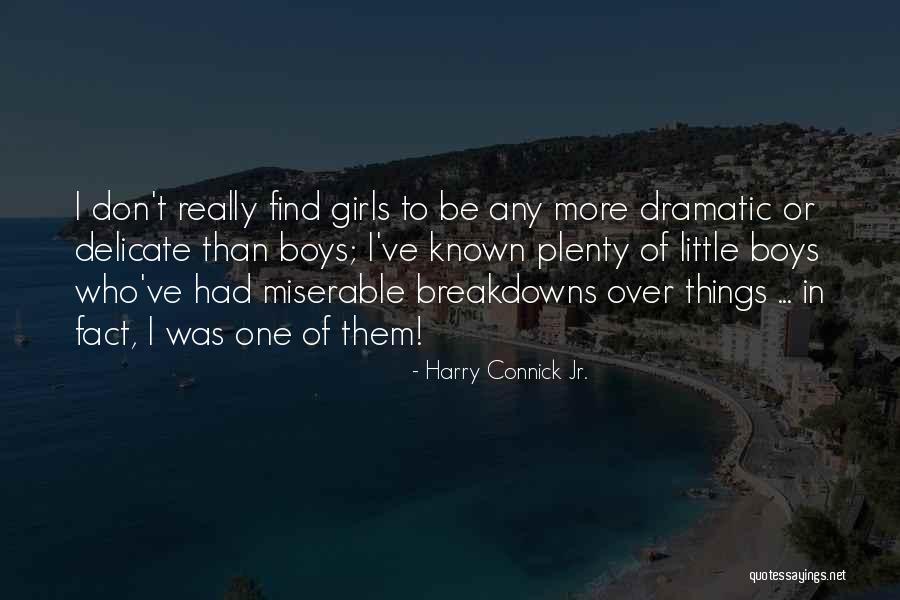 I don't really find girls to be any more dramatic or delicate than boys; I've known plenty of little boys who've had miserable breakdowns over things ... in fact, I was one of them! — Harry Connick Jr.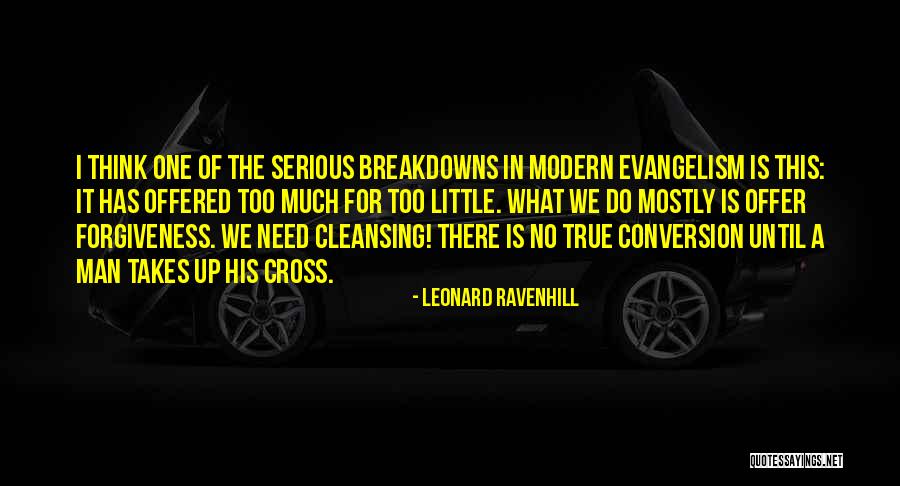 I think one of the serious breakdowns in modern evangelism is this: it has offered too much for too little. What we do mostly is offer forgiveness. We need cleansing! There is no true conversion until a man takes up his cross. — Leonard Ravenhill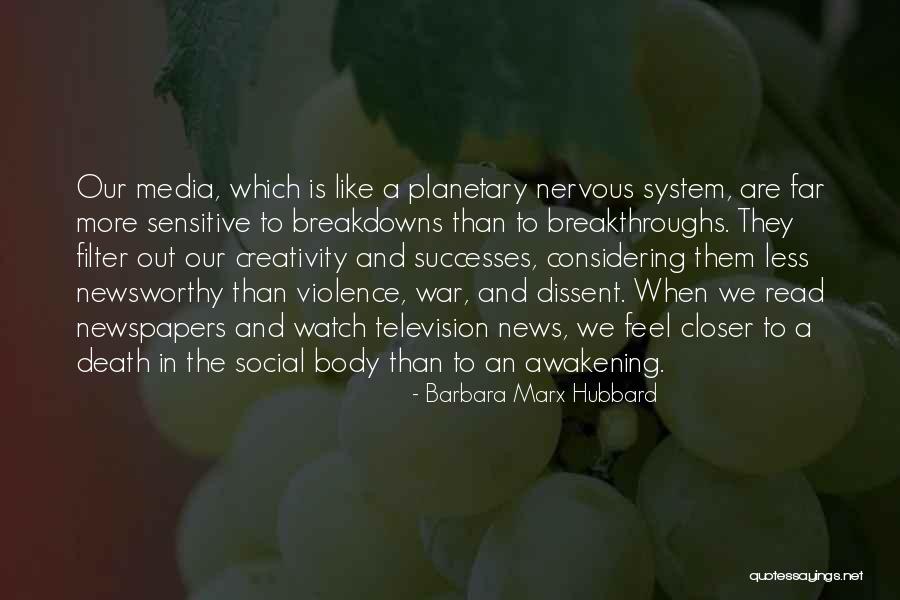 Our media, which is like a planetary nervous system, are far more sensitive to breakdowns than to breakthroughs. They filter out our creativity and successes, considering them less newsworthy than violence, war, and dissent. When we read newspapers and watch television news, we feel closer to a death in the social body than to an awakening. — Barbara Marx Hubbard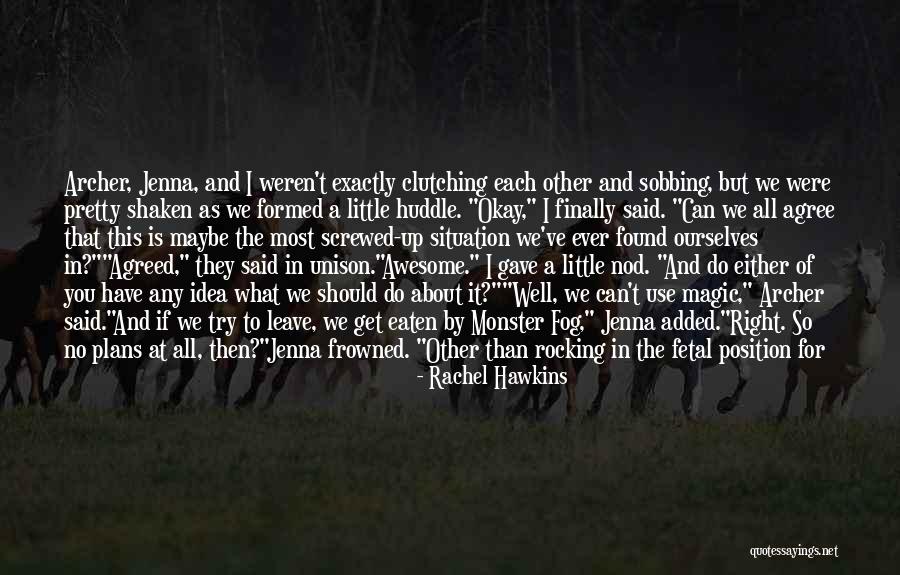 Archer, Jenna, and I weren't exactly clutching each other and sobbing, but we were pretty shaken as we formed a little huddle. "Okay," I finally said. "Can we all agree that this is maybe the most screwed-up situation we've ever found ourselves in?"
"Agreed," they said in unison.
"Awesome." I gave a little nod. "And do either of you have any idea what we should do about it?"
"Well, we can't use magic," Archer said.
"And if we try to leave, we get eaten by Monster Fog," Jenna added.
"Right. So no plans at all, then?"
Jenna frowned. "Other than rocking in the fetal position for a while?"
"Yeah, I was thinking about taking one of those showers where you huddle in the corner fully clothed and cry," Archer offered.
I couldn't help but snort with laughter. "Great. So we'll all go have our mental breakdowns, and then we'll somehow get ourselves out of this mess. — Rachel Hawkins
There is a history of mental breakdowns in my family. It will never happen to me but it has happened to others in the family. — Brian Cox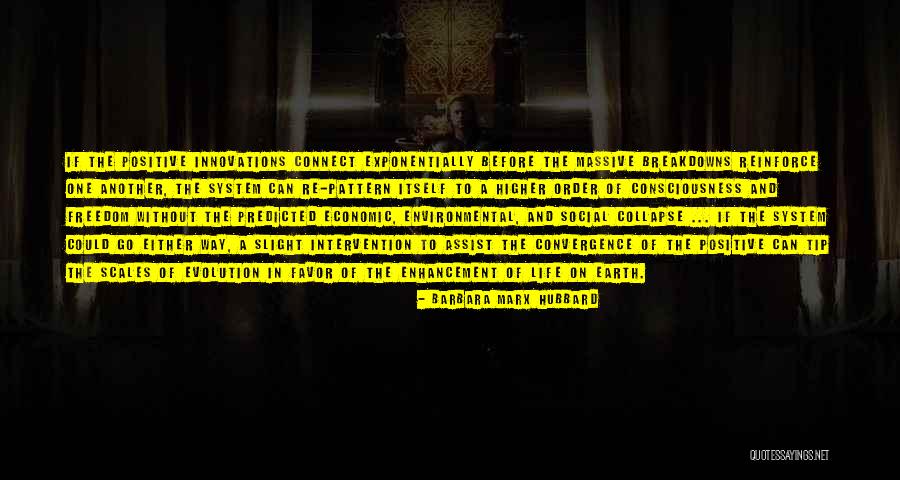 If the positive innovations connect exponentially before the massive breakdowns reinforce one another, the system can re-pattern itself to a higher order of consciousness and freedom without the predicted economic, environmental, and social collapse ... If the system could go either way, a slight intervention to assist the convergence of the positive can tip the scales of evolution in favor of the enhancement of life on Earth. — Barbara Marx Hubbard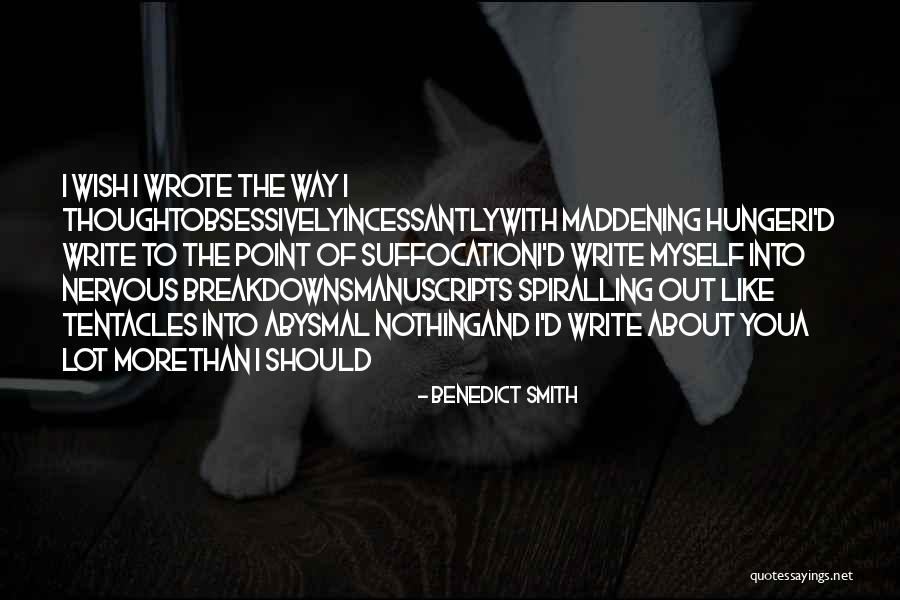 I wish I wrote the way I thought
Obsessively
Incessantly
With maddening hunger
I'd write to the point of suffocation
I'd write myself into nervous breakdowns
Manuscripts spiralling out like tentacles into abysmal nothing
And I'd write about you
a lot more
than I should — Benedict Smith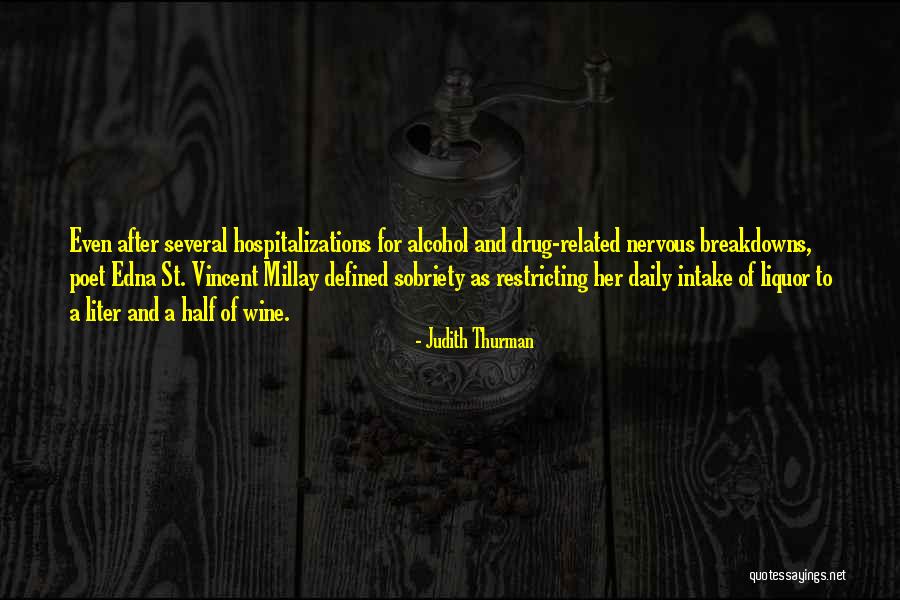 Even after several hospitalizations for alcohol and drug-related nervous breakdowns, poet Edna St. Vincent Millay defined sobriety as restricting her daily intake of liquor to a liter and a half of wine. — Judith Thurman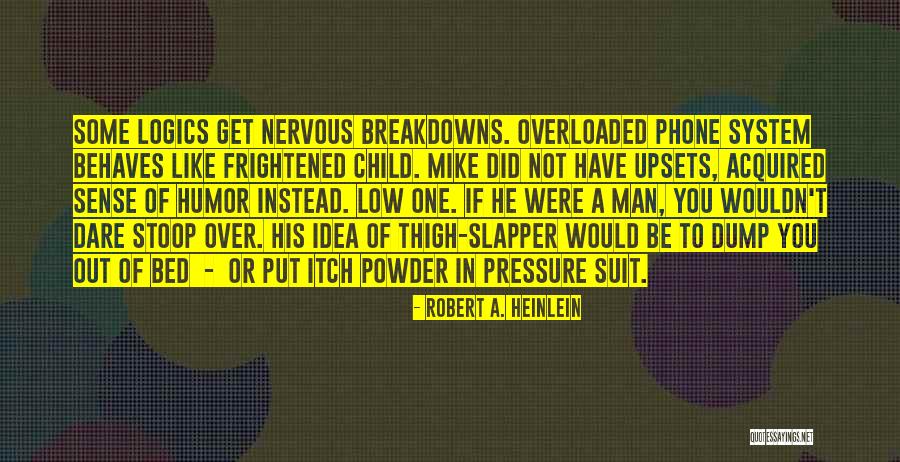 Some logics get nervous breakdowns. Overloaded phone system behaves like frightened child. Mike did not have upsets, acquired sense of humor instead. Low one. If he were a man, you wouldn't dare stoop over. His idea of thigh-slapper would be to dump you out of bed - or put itch powder in pressure suit. — Robert A. Heinlein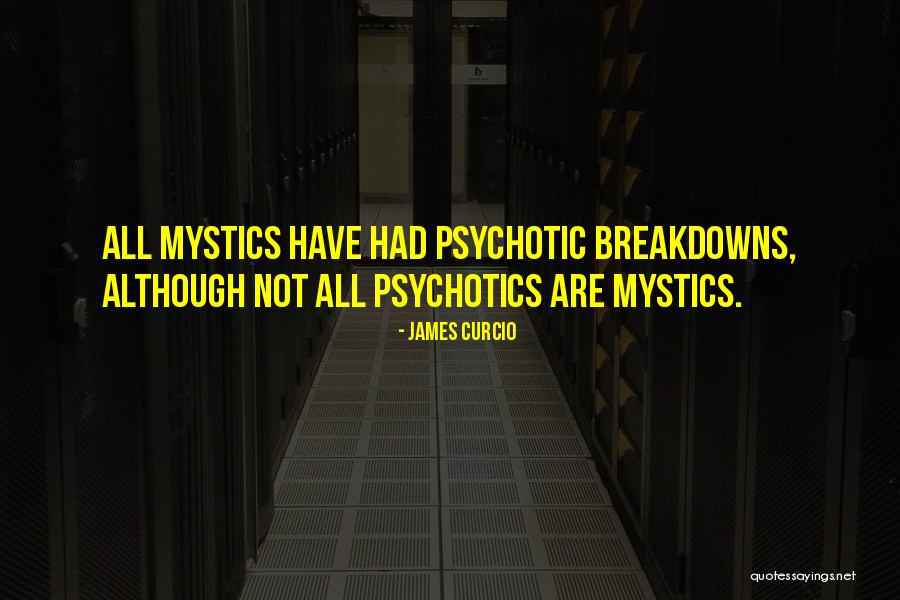 All mystics have had psychotic breakdowns, although not all psychotics are mystics. — James Curcio
I don't mean that creative people are somehow finer, or more sensitive, and thus have finer, more sensitive nervous breakdowns - you can save that horseshit for the Sylvia Plath worshipers. It's just that creative people have creative breakdowns. — Stephen King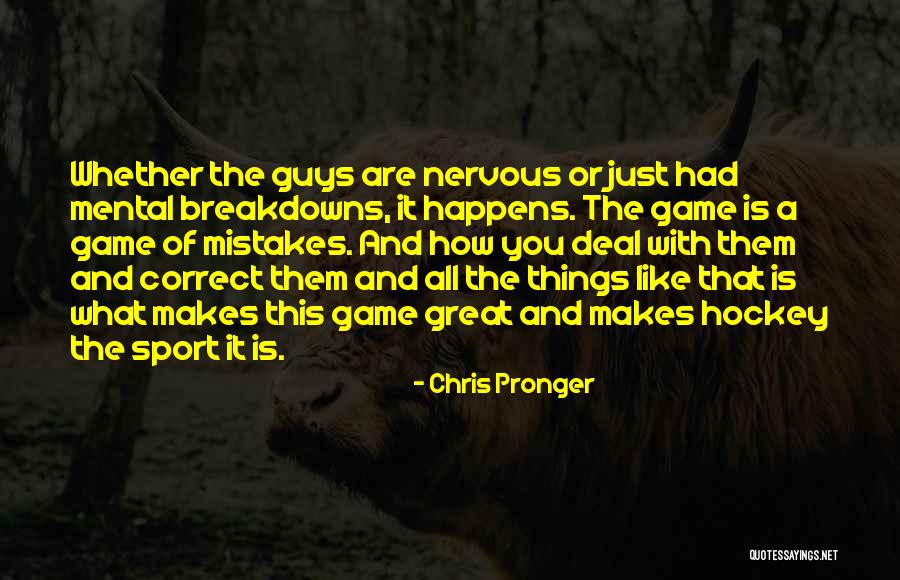 Whether the guys are nervous or just had mental breakdowns, it happens. The game is a game of mistakes. And how you deal with them and correct them and all the things like that is what makes this game great and makes hockey the sport it is. — Chris Pronger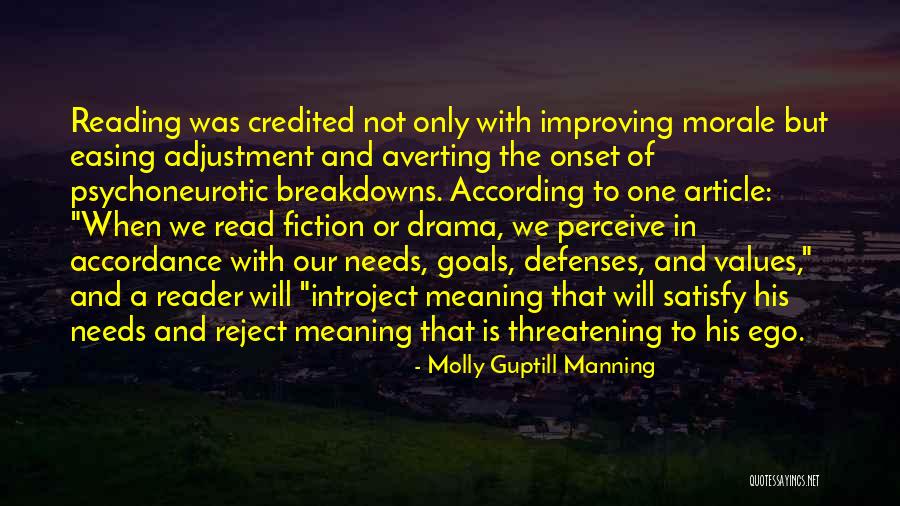 Reading was credited not only with improving morale but easing adjustment and averting the onset of psychoneurotic breakdowns. According to one article: "When we read fiction or drama, we perceive in accordance with our needs, goals, defenses, and values," and a reader will "introject meaning that will satisfy his needs and reject meaning that is threatening to his ego. — Molly Guptill Manning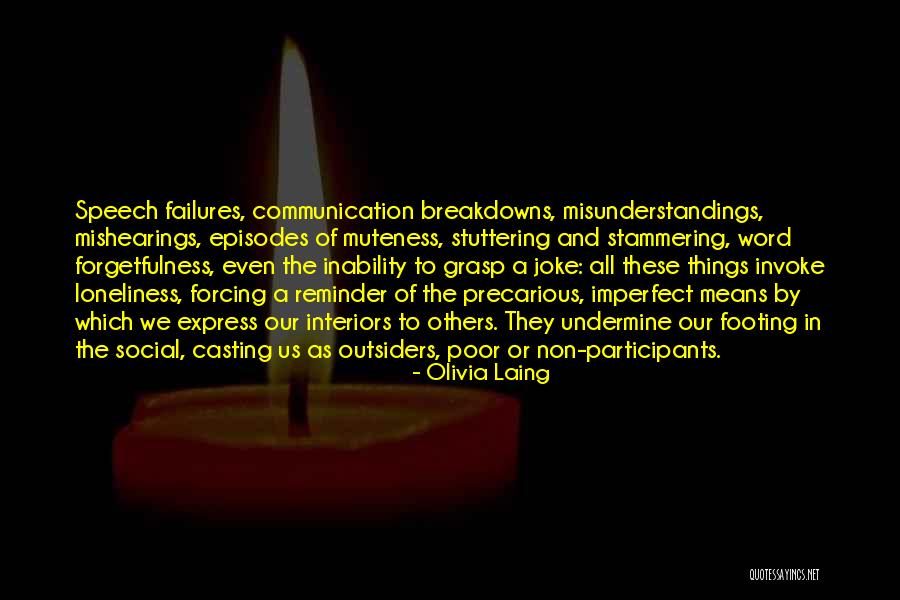 Speech failures, communication breakdowns, misunderstandings, mishearings, episodes of muteness, stuttering and stammering, word forgetfulness, even the inability to grasp a joke: all these things invoke loneliness, forcing a reminder of the precarious, imperfect means by which we express our interiors to others. They undermine our footing in the social, casting us as outsiders, poor or non-participants. — Olivia Laing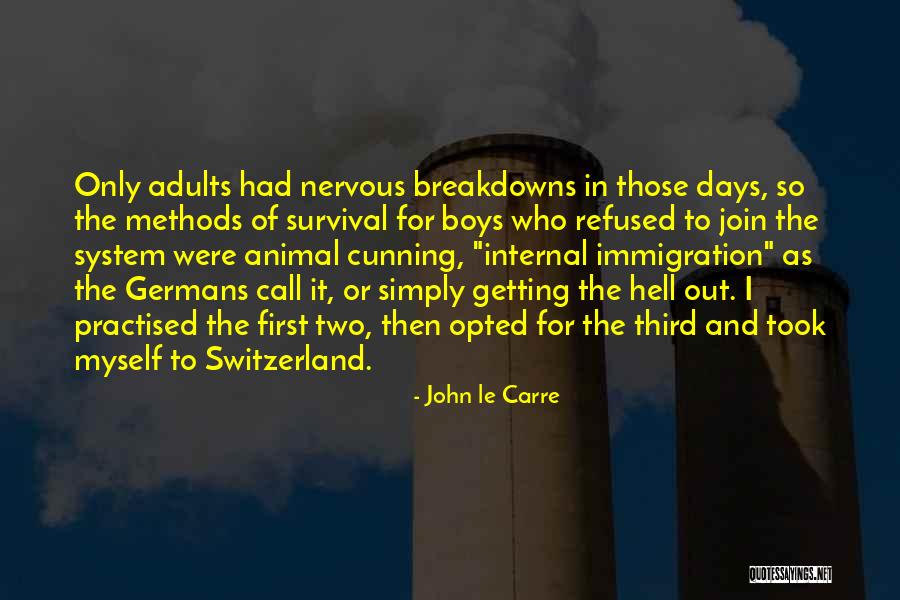 Only adults had nervous breakdowns in those days, so the methods of survival for boys who refused to join the system were animal cunning, "internal immigration" as the Germans call it, or simply getting the hell out. I practised the first two, then opted for the third and took myself to Switzerland. — John Le Carre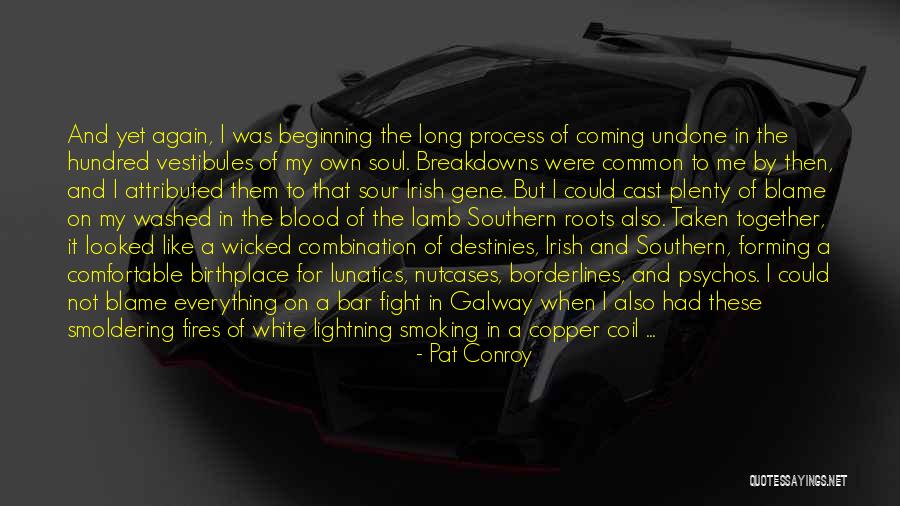 And yet again, I was beginning the long process of coming undone in the hundred vestibules of my own soul. Breakdowns were common to me by then, and I attributed them to that sour Irish gene. But I could cast plenty of blame on my washed in the blood of the lamb Southern roots also. Taken together, it looked like a wicked combination of destinies, Irish and Southern, forming a comfortable birthplace for lunatics, nutcases, borderlines, and psychos. I could not blame everything on a bar fight in Galway when I also had these smoldering fires of white lightning smoking in a copper coil ... — Pat Conroy
To transform breakdowns into breakthroughs is the whole function of a master. — Rajneesh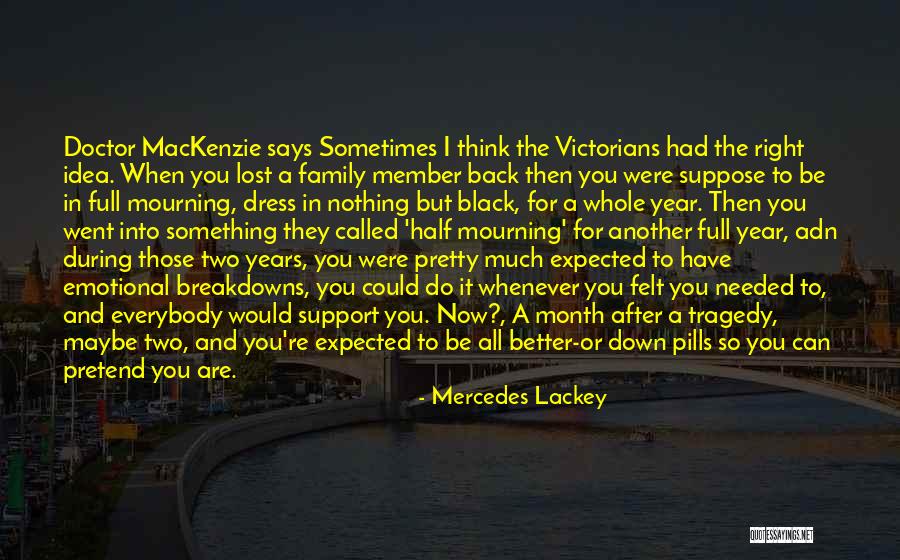 Doctor MacKenzie says Sometimes I think the Victorians had the right idea. When you lost a family member back then you were suppose to be in full mourning, dress in nothing but black, for a whole year. Then you went into something they called 'half mourning' for another full year, adn during those two years, you were pretty much expected to have emotional breakdowns, you could do it whenever you felt you needed to, and everybody would support you. Now?, A month after a tragedy, maybe two, and you're expected to be all better-or down pills so you can pretend you are. — Mercedes Lackey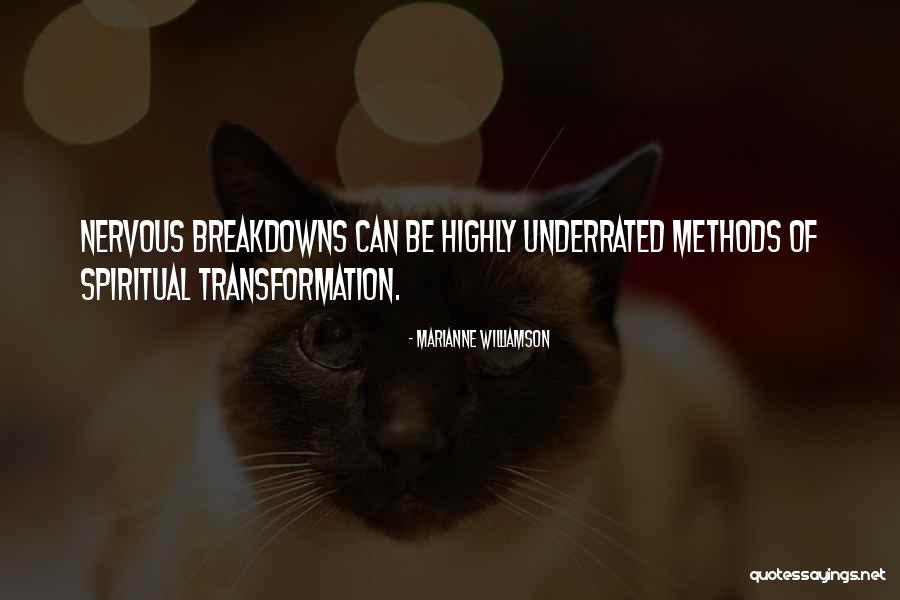 Nervous breakdowns can be highly underrated methods of spiritual transformation. — Marianne Williamson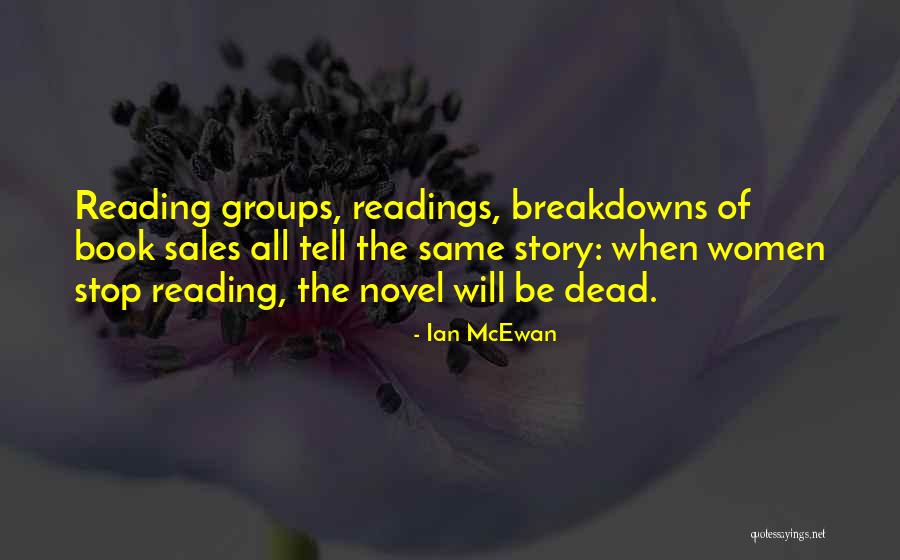 Reading groups, readings, breakdowns of book sales all tell the same story: when women stop reading, the novel will be dead. — Ian McEwan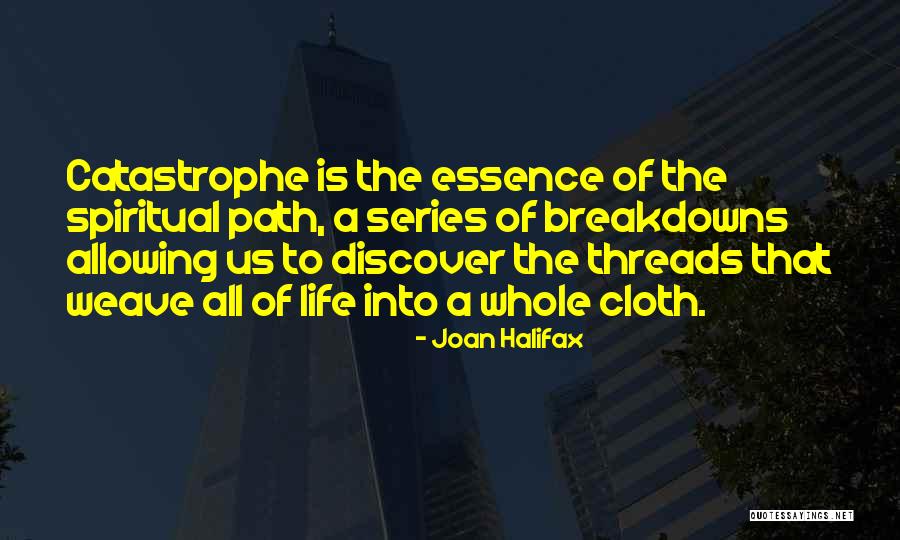 Catastrophe is the essence of the spiritual path, a series of breakdowns allowing us to discover the threads that weave all of life into a whole cloth. — Joan Halifax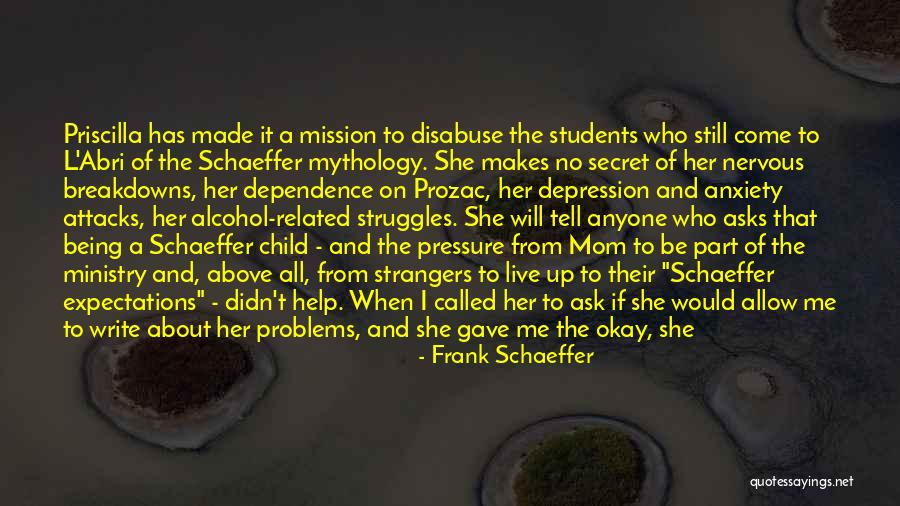 Priscilla has made it a mission to disabuse the students who still come to L'Abri of the Schaeffer mythology. She makes no secret of her nervous breakdowns, her dependence on Prozac, her depression and anxiety attacks, her alcohol-related struggles. She will tell anyone who asks that being a Schaeffer child - and the pressure from Mom to be part of the ministry and, above all, from strangers to live up to their "Schaeffer expectations" - didn't help. When I called her to ask if she would allow me to write about her problems, and she gave me the okay, she also said "Mom drove me crazy, but in fairness I would have suffered from stress and depression anywhere. I would push too hard in L'Abri, then crash. If I had been doing something else just as intense, it would have happened, too." Susan — Frank Schaeffer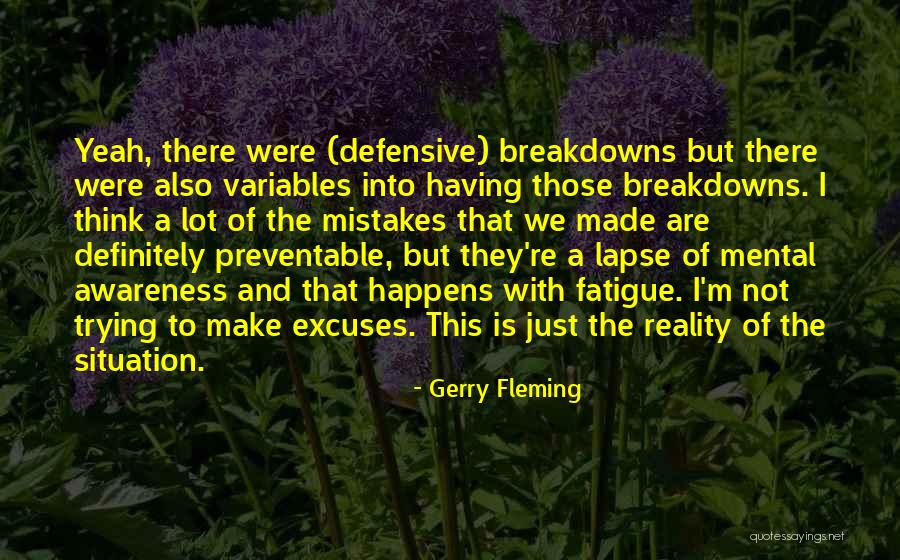 Yeah, there were (defensive) breakdowns but there were also variables into having those breakdowns. I think a lot of the mistakes that we made are definitely preventable, but they're a lapse of mental awareness and that happens with fatigue. I'm not trying to make excuses. This is just the reality of the situation. — Gerry Fleming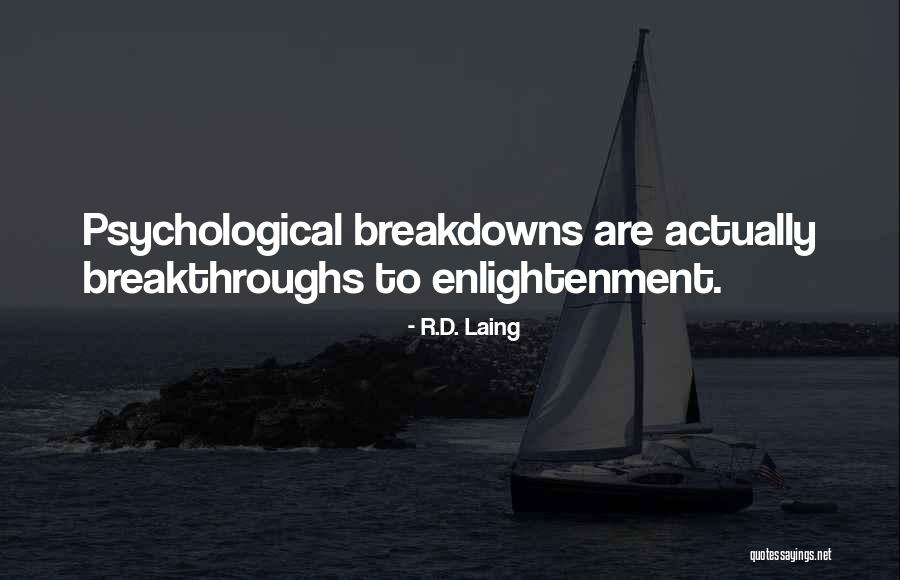 Psychological breakdowns are actually breakthroughs to enlightenment. — R.D. Laing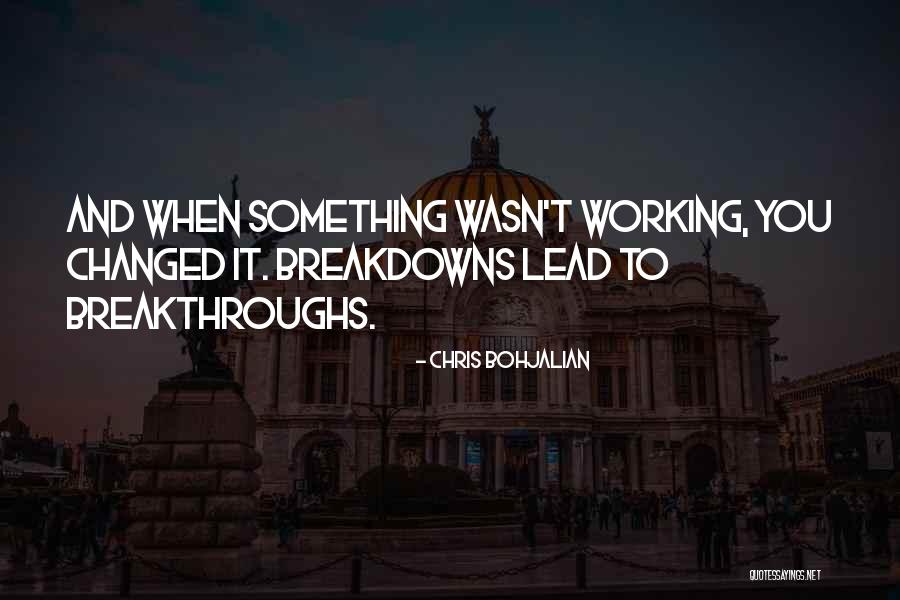 And when something wasn't working, you changed it. Breakdowns lead to breakthroughs. — Chris Bohjalian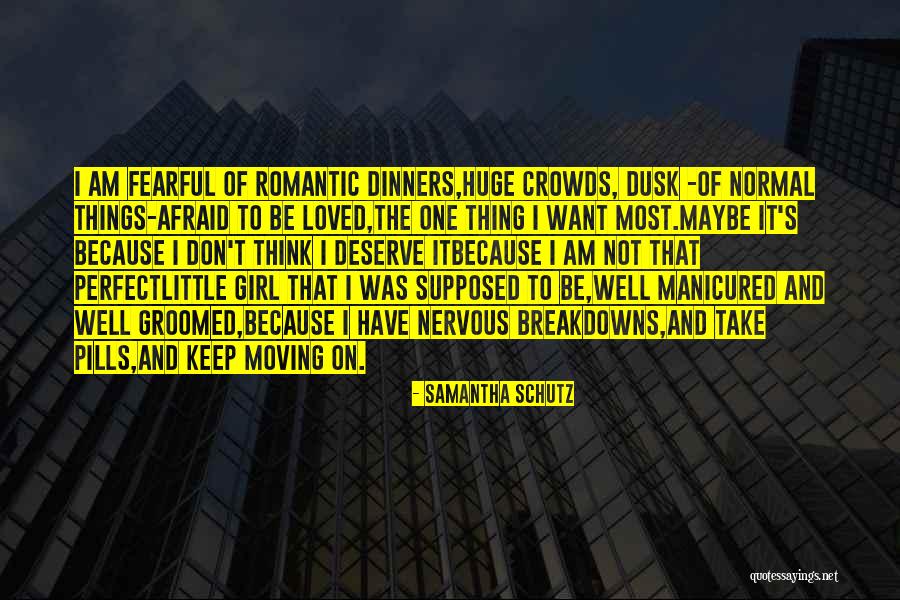 I am fearful of romantic dinners,
huge crowds, dusk -
of normal things-
afraid to be loved,
the one thing I want most.
Maybe it's because I don't think I deserve it
because I am not that perfect
little girl that I was supposed to be,
well manicured and well groomed,
because I have nervous breakdowns,
and take pills,
and keep moving on. — Samantha Schutz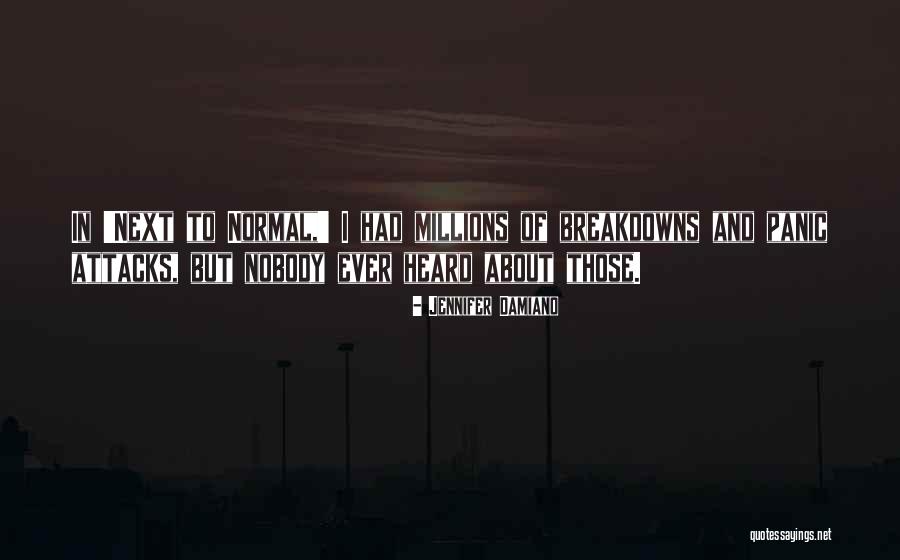 In 'Next to Normal,' I had millions of breakdowns and panic attacks, but nobody ever heard about those. — Jennifer Damiano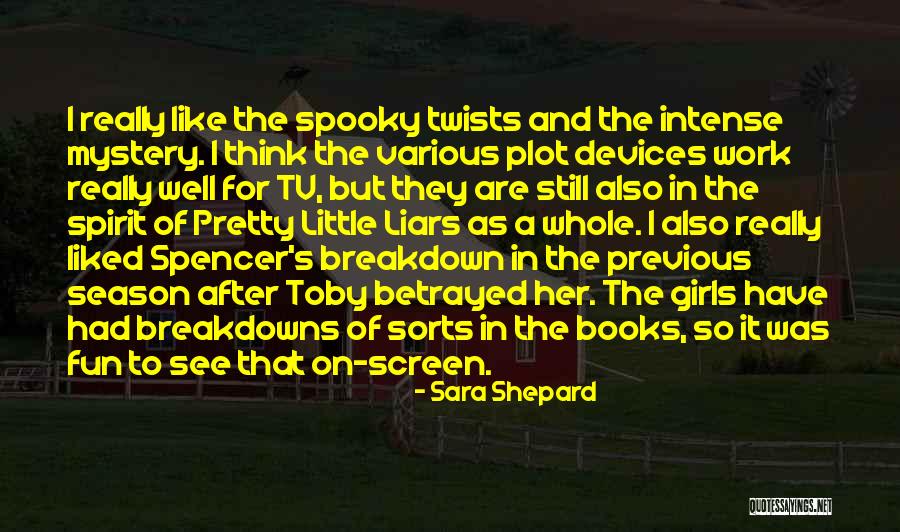 I really like the spooky twists and the intense mystery. I think the various plot devices work really well for TV, but they are still also in the spirit of Pretty Little Liars as a whole. I also really liked Spencer's breakdown in the previous season after Toby betrayed her. The girls have had breakdowns of sorts in the books, so it was fun to see that on-screen. — Sara Shepard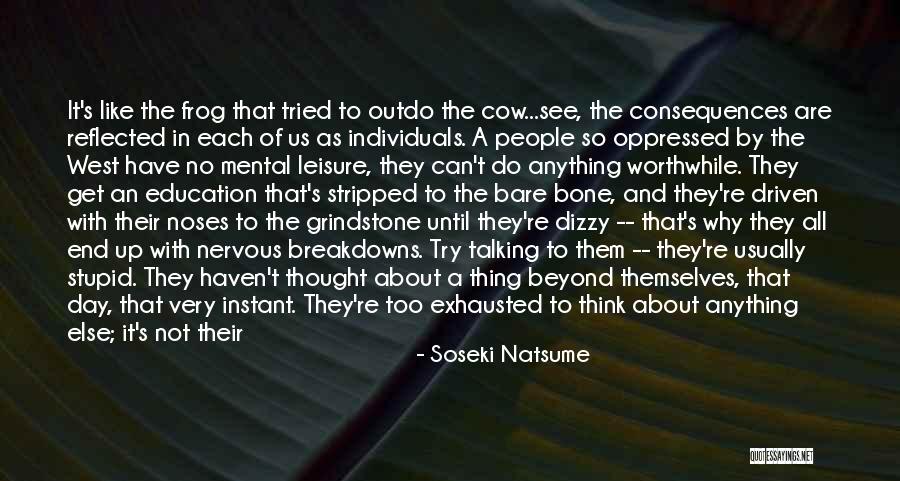 It's like the frog that tried to outdo the cow...see, the consequences are reflected in each of us as individuals. A people so oppressed by the West have no mental leisure, they can't do anything worthwhile. They get an education that's stripped to the bare bone, and they're driven with their noses to the grindstone until they're dizzy -- that's why they all end up with nervous breakdowns. Try talking to them -- they're usually stupid. They haven't thought about a thing beyond themselves, that day, that very instant. They're too exhausted to think about anything else; it's not their fault. Unfortunately, exhaustion of the spirit and deterioration of the body come hand-in-hand. And that's not all. The decline of morality has set in too. Look where you will in this country, you won't find one square inch of brightness. It's all pitch black. So what difference would it make... — Soseki Natsume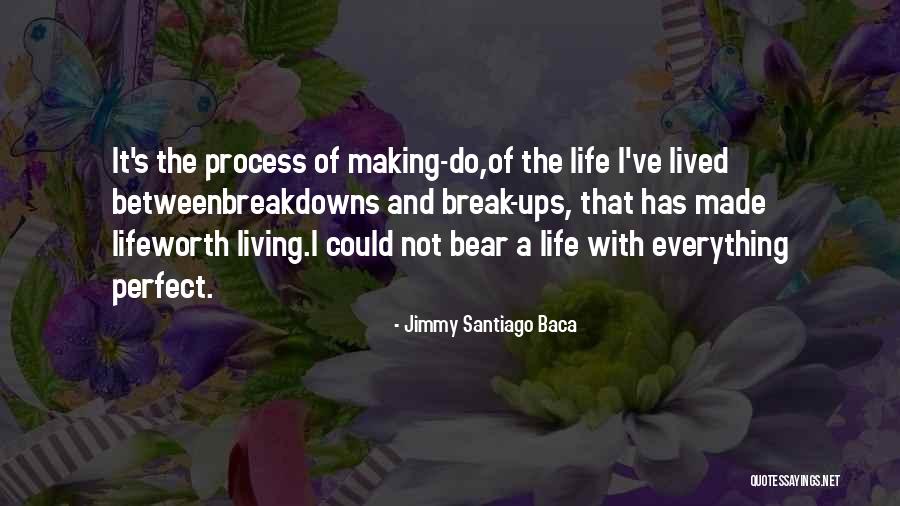 It's the process of making-do,
of the life I've lived between
breakdowns and break-ups, that has made life
worth living.
I could not bear a life
with everything perfect. — Jimmy Santiago Baca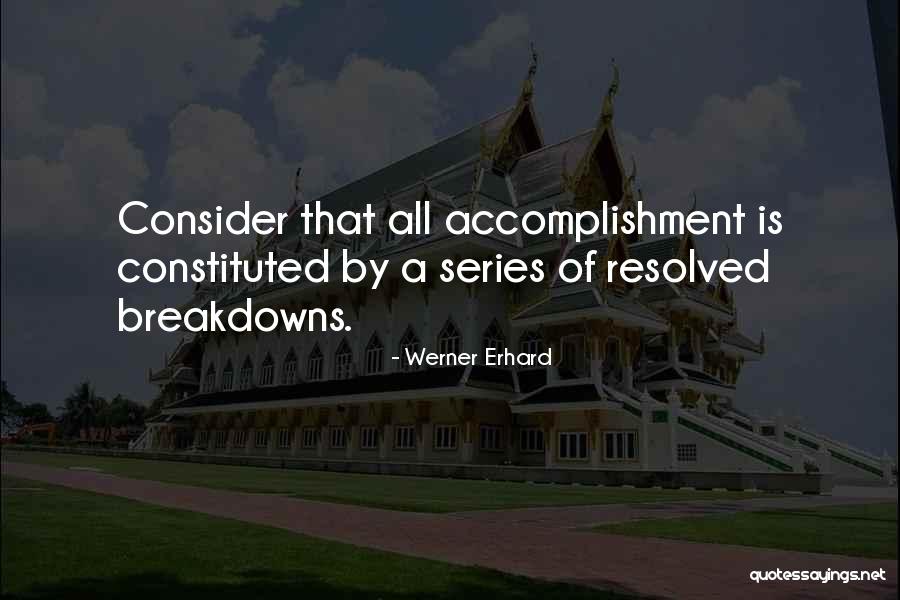 Consider that all accomplishment is constituted by a series of resolved breakdowns. — Werner Erhard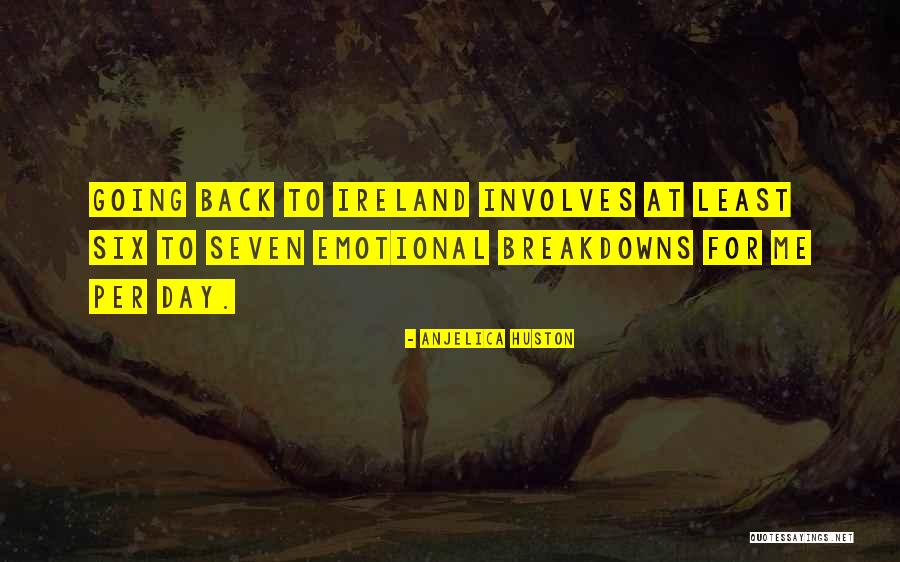 Going back to Ireland involves at least six to seven emotional breakdowns for me per day. — Anjelica Huston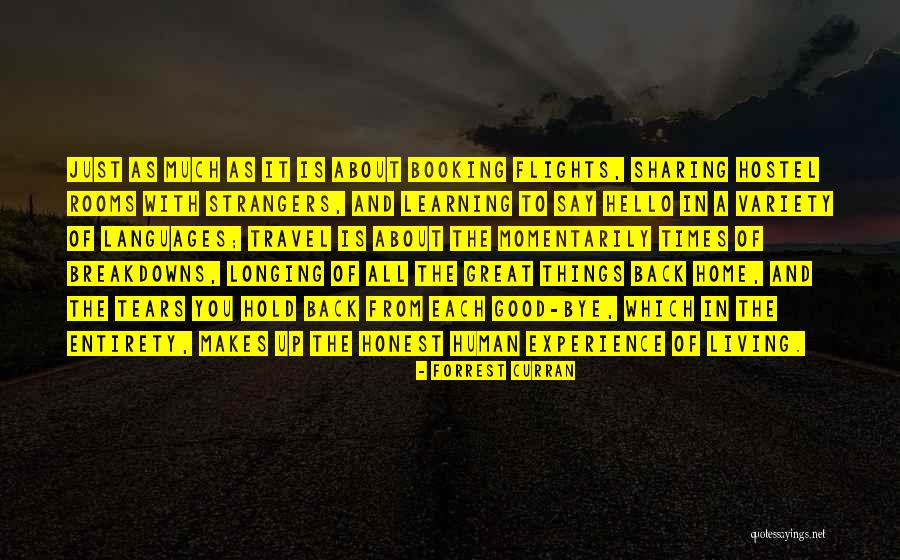 Just as much as it is about booking flights, sharing hostel rooms with strangers, and learning to say hello in a variety of languages; travel is about the momentarily times of breakdowns, longing of all the great things back home, and the tears you hold back from each good-bye, which in the entirety, makes up the honest human experience of living. — Forrest Curran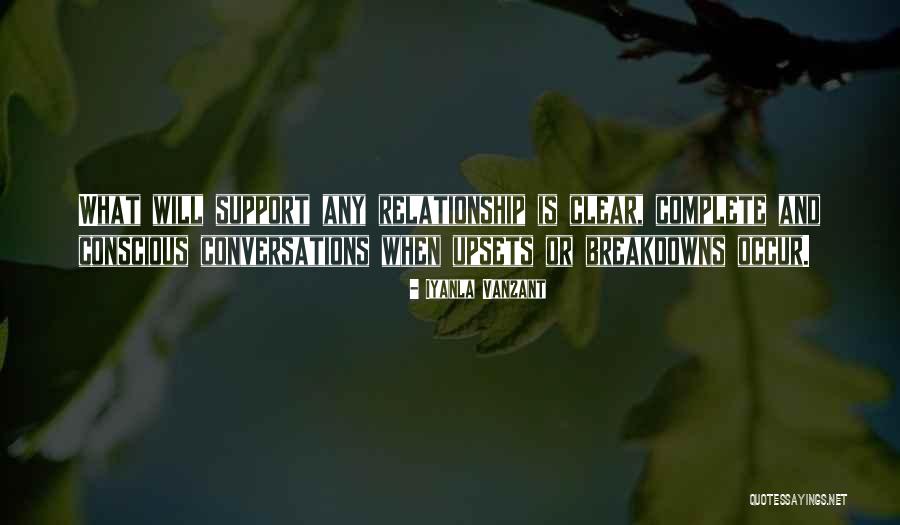 What will support any relationship is clear, complete and conscious conversations when upsets or breakdowns occur. — Iyanla Vanzant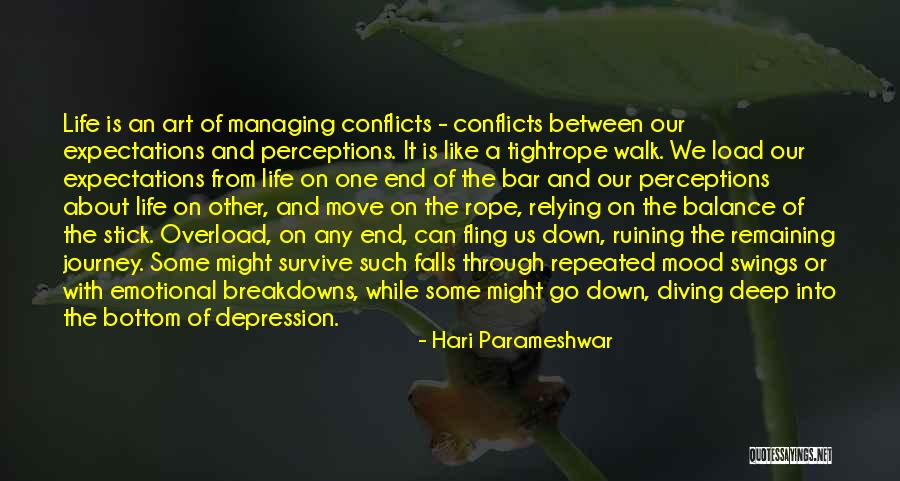 Life is an art of managing conflicts - conflicts between our expectations and perceptions. It is like a tightrope walk. We load our expectations from life on one end of the bar and our perceptions about life on other, and move on the rope, relying on the balance of the stick. Overload, on any end, can fling us down, ruining the remaining journey. Some might survive such falls through repeated mood swings or with emotional breakdowns, while some might go down, diving deep into the bottom of depression. — Hari Parameshwar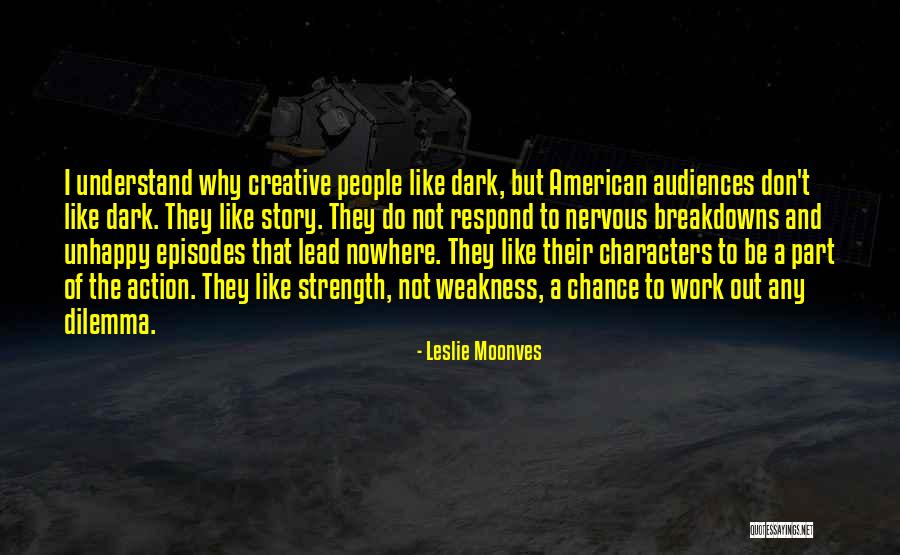 I understand why creative people like dark, but American audiences don't like dark. They like story. They do not respond to nervous breakdowns and unhappy episodes that lead nowhere. They like their characters to be a part of the action. They like strength, not weakness, a chance to work out any dilemma. — Leslie Moonves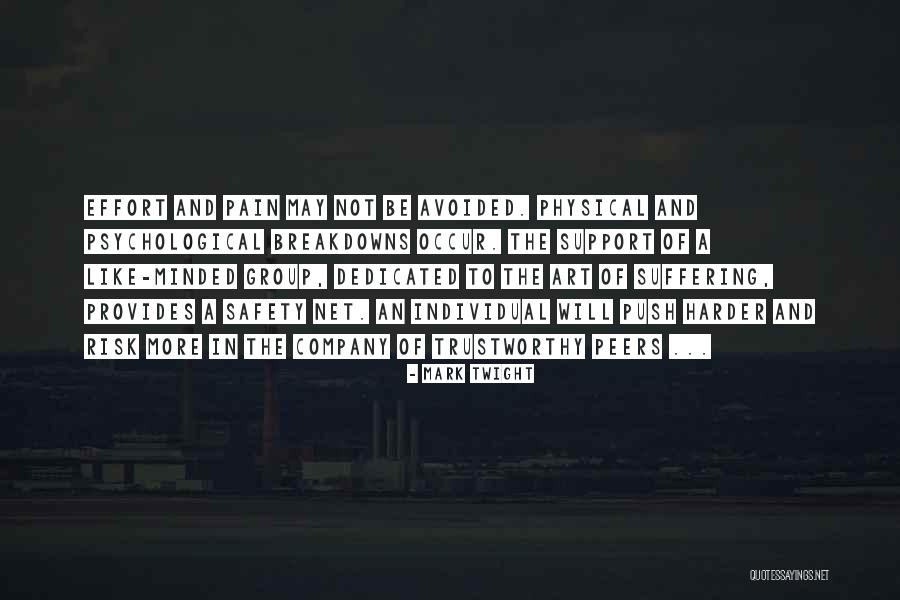 Effort and pain may not be avoided. Physical and psychological breakdowns occur. The support of a like-minded group, dedicated to The Art of Suffering, provides a safety net. An individual will push harder and risk more in the company of trustworthy peers ... — Mark Twight
Towards the end of it [working as an escort girl] I could feel myself drifting towards a liquor habit and I had a few minor mental breakdowns due to a what I felt like was a constant chipping away at my personhood (guys thinking I would have unprotected sex with them if they just paid me fifty more dollars, for instance) and a few abusive clients. — Marie Calloway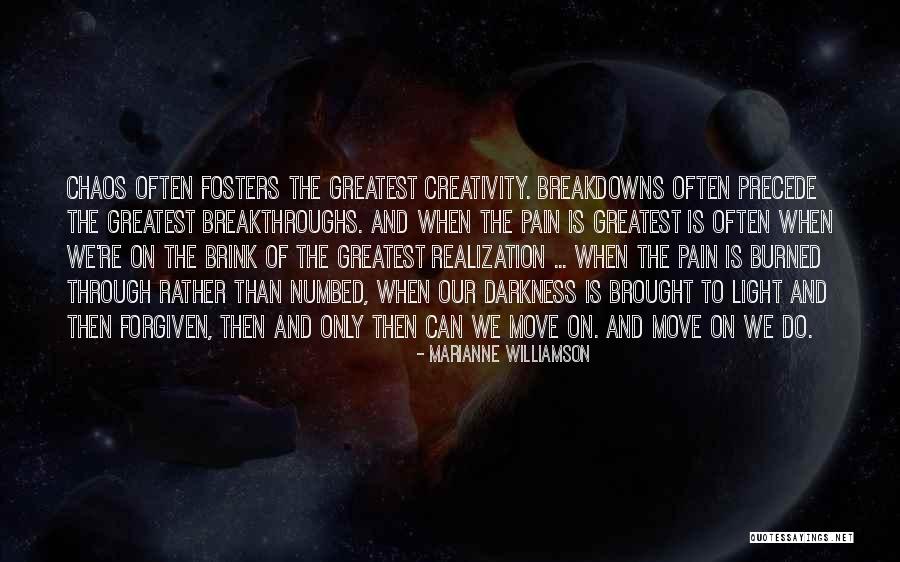 Chaos often fosters the greatest creativity. Breakdowns often precede the greatest breakthroughs. And when the pain is greatest is often when we're on the brink of the greatest realization ... When the pain is burned through rather than numbed, when our darkness is brought to light and then forgiven, then and only then can we move on. And move on we do. — Marianne Williamson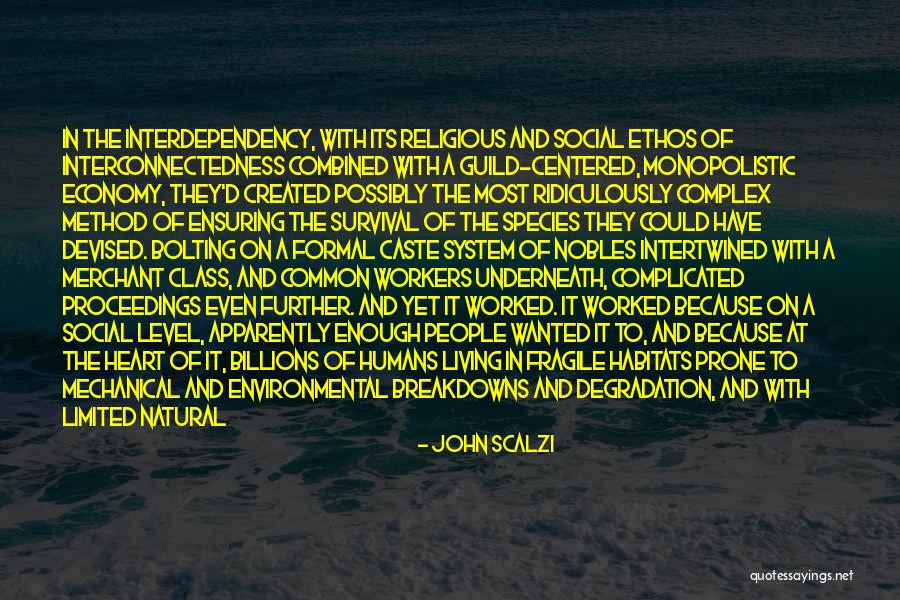 In the Interdependency, with its religious and social ethos of interconnectedness combined with a guild-centered, monopolistic economy, they'd created possibly the most ridiculously complex method of ensuring the survival of the species they could have devised. Bolting on a formal caste system of nobles intertwined with a merchant class, and common workers underneath, complicated proceedings even further. And yet it worked. It worked because on a social level, apparently enough people wanted it to, and because at the heart of it, billions of humans living in fragile habitats prone to mechanical and environmental breakdowns and degradation, and with limited natural resources, were better off relying on each other than trying to go it alone. Even without the Interdependency, being interdependent was the best way for humanity to survive. Except — John Scalzi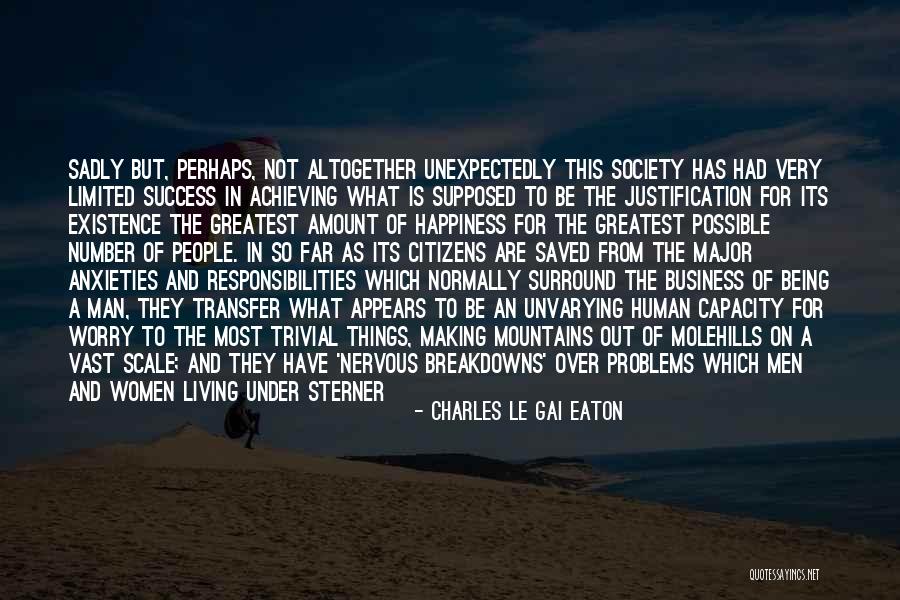 Sadly but, perhaps, not altogether unexpectedly this society has had very limited success in achieving what is supposed to be the justification for its existence
the greatest amount of happiness for the greatest possible number of people. In so far as its citizens are saved from the major anxieties and responsibilities which normally surround the business of being a man, they transfer what appears to be an unvarying human capacity for worry to the most trivial things, making mountains out of molehills on a vast scale; and they have 'nervous breakdowns' over problems which men and women living under sterner conditions would hardly find time to notice. — Charles Le Gai Eaton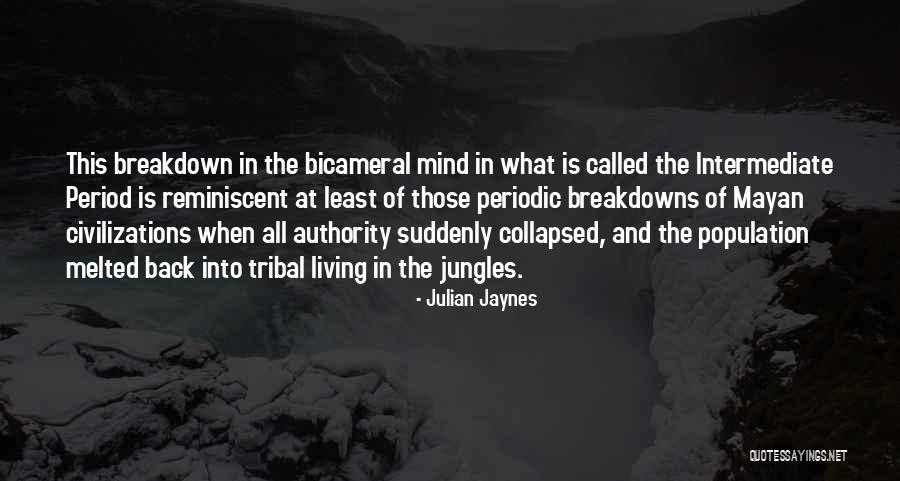 This breakdown in the bicameral mind in what is called the Intermediate Period is reminiscent at least of those periodic breakdowns of Mayan civilizations when all authority suddenly collapsed, and the population melted back into tribal living in the jungles. — Julian Jaynes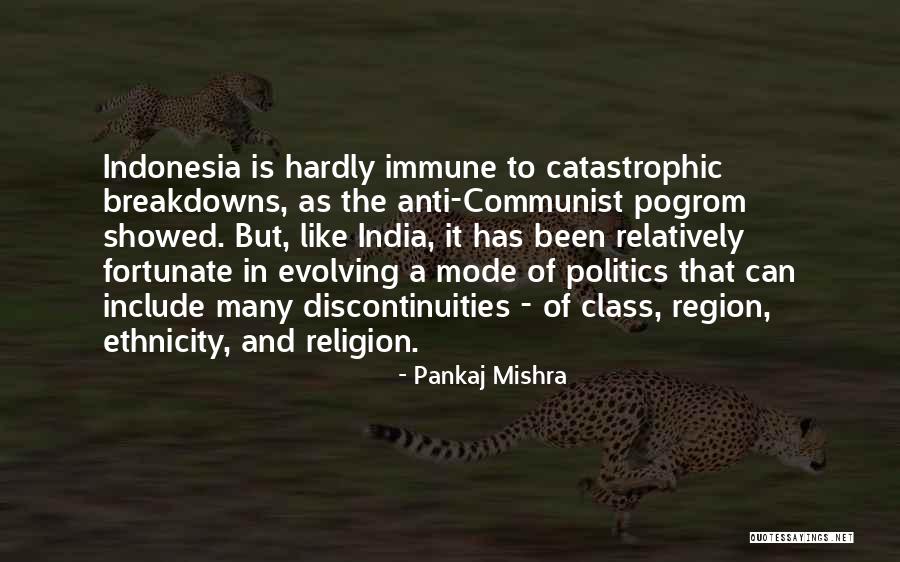 Indonesia is hardly immune to catastrophic breakdowns, as the anti-Communist pogrom showed. But, like India, it has been relatively fortunate in evolving a mode of politics that can include many discontinuities - of class, region, ethnicity, and religion. — Pankaj Mishra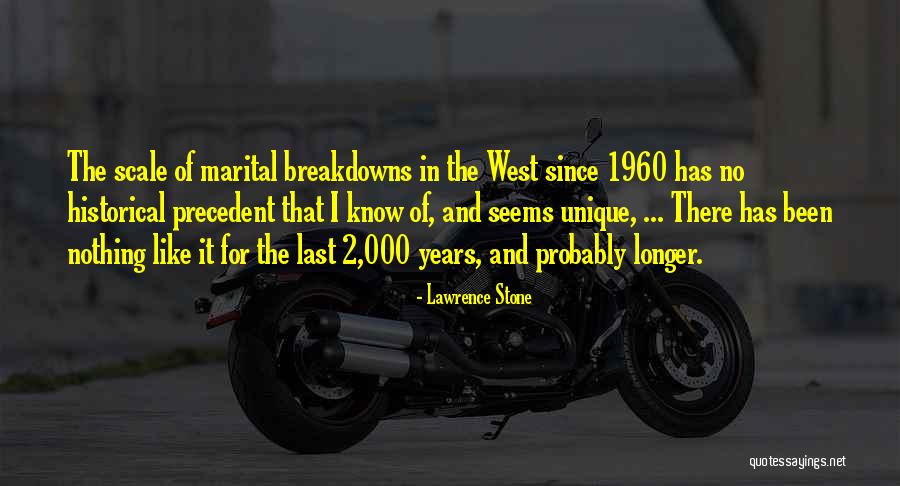 The scale of marital breakdowns in the West since 1960 has no historical precedent that I know of, and seems unique, ... There has been nothing like it for the last 2,000 years, and probably longer. — Lawrence Stone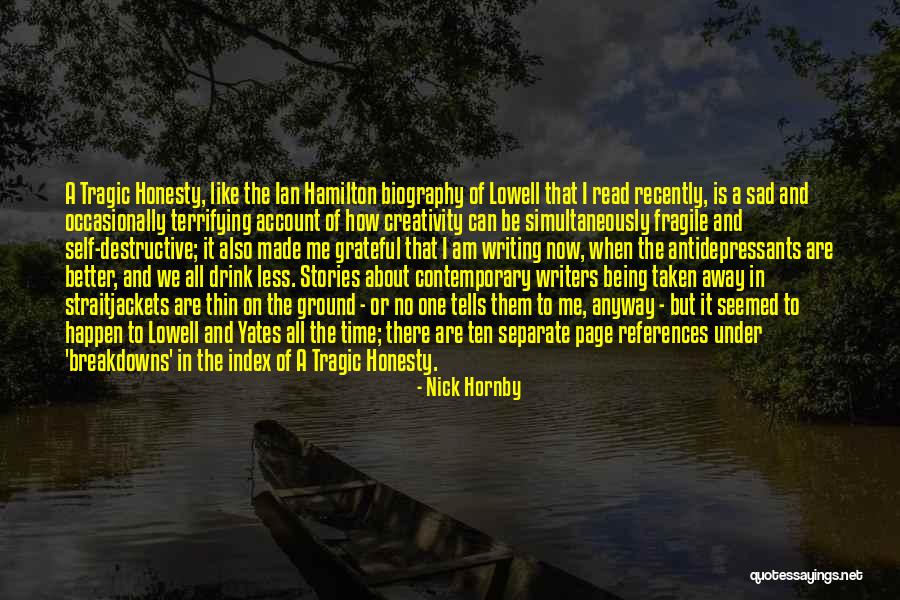 A Tragic Honesty, like the Ian Hamilton biography of Lowell that I read recently, is a sad and occasionally terrifying account of how creativity can be simultaneously fragile and self-destructive; it also made me grateful that I am writing now, when the antidepressants are better, and we all drink less. Stories about contemporary writers being taken away in straitjackets are thin on the ground - or no one tells them to me, anyway - but it seemed to happen to Lowell and Yates all the time; there are ten separate page references under 'breakdowns' in the index of A Tragic Honesty. — Nick Hornby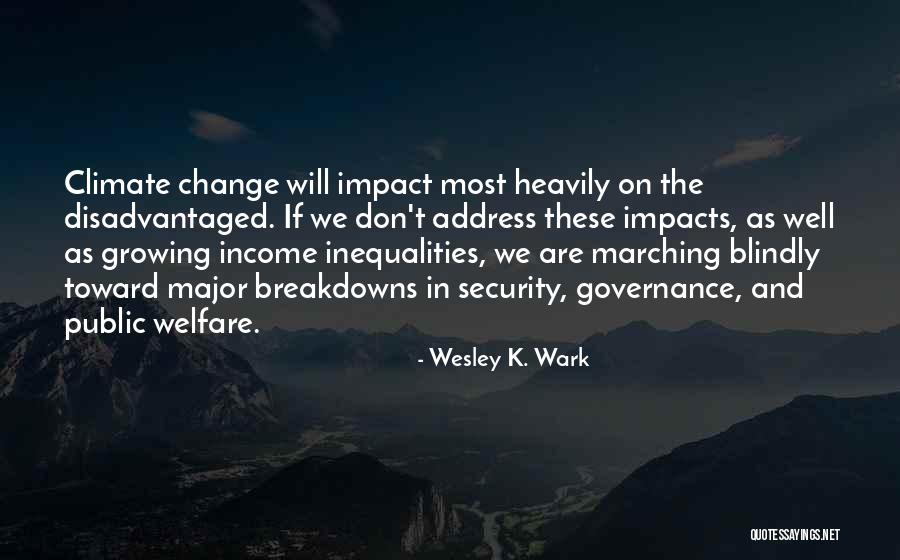 Climate change will impact most heavily on the disadvantaged. If we don't address these impacts, as well as growing income inequalities, we are marching blindly toward major breakdowns in security, governance, and public welfare. — Wesley K. Wark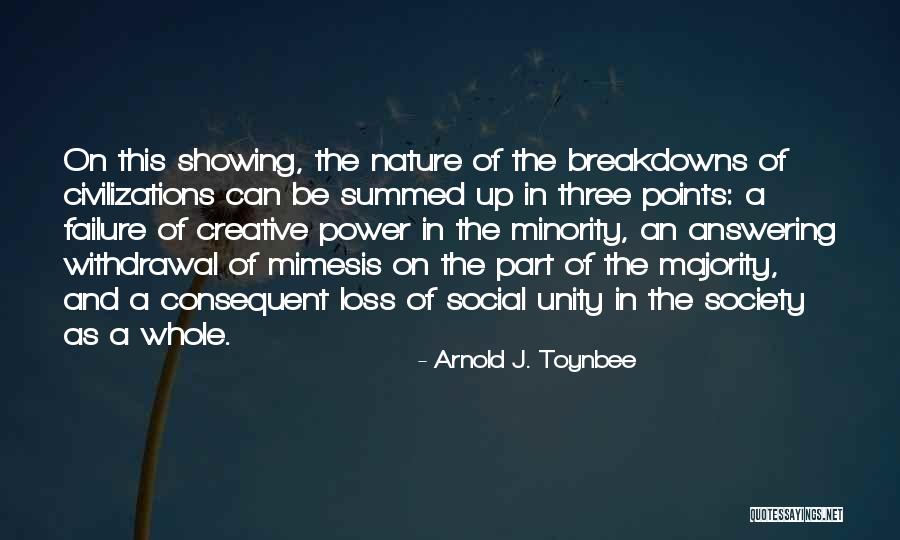 On this showing, the nature of the breakdowns of civilizations can be summed up in three points: a failure of creative power in the minority, an answering withdrawal of mimesis on the part of the majority, and a consequent loss of social unity in the society as a whole. — Arnold J. Toynbee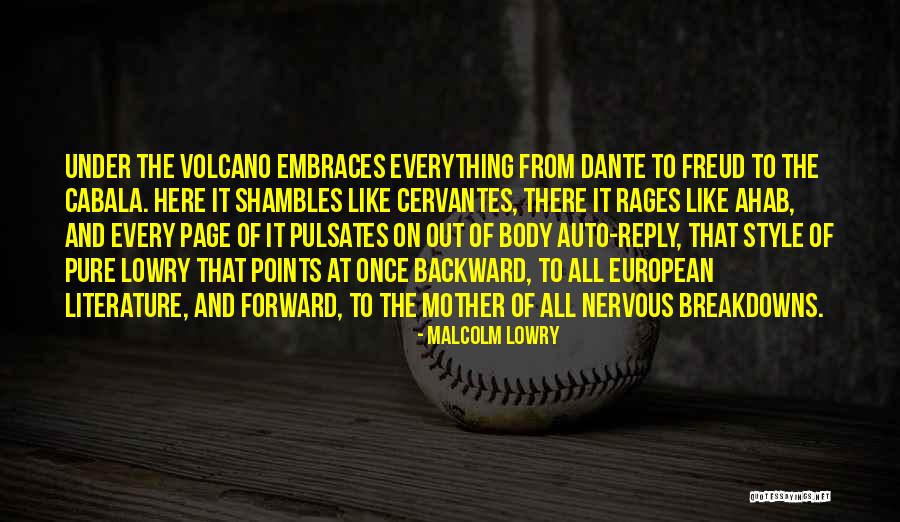 Under the Volcano embraces everything from Dante to Freud to the cabala. Here it shambles like Cervantes, there it rages like Ahab, and every page of it pulsates on Out of Body Auto-Reply, that style of pure Lowry that points at once backward, to all European literature, and forward, to the mother of all nervous breakdowns. — Malcolm Lowry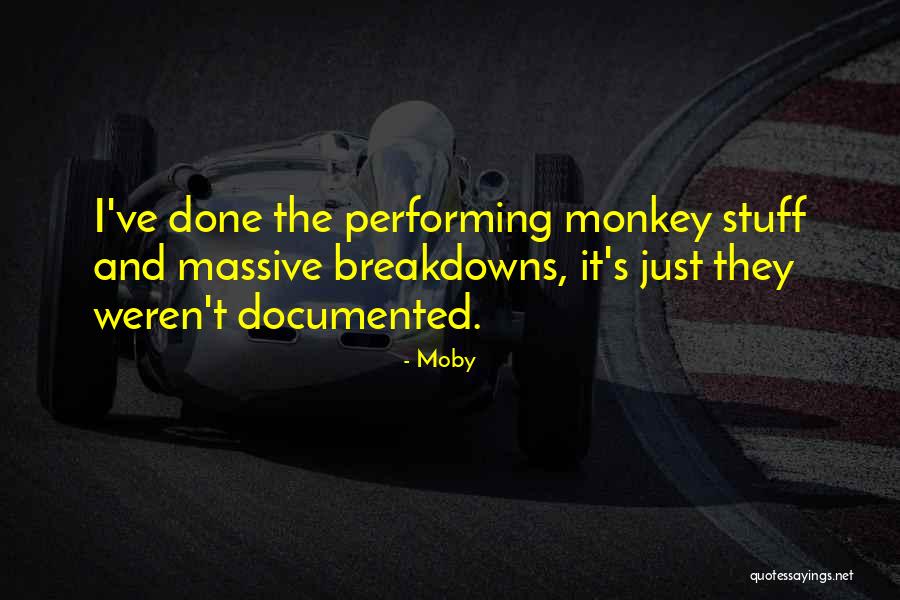 I've done the performing monkey stuff and massive breakdowns, it's just they weren't documented. — Moby
One of the symptoms of an approaching nervous breakdown is the belief that one's work is terribly important. — Bertrand Russell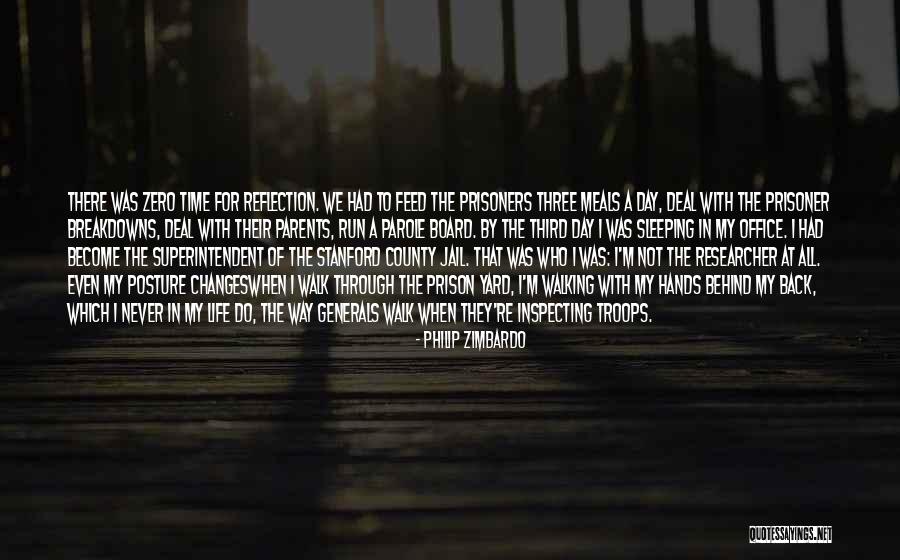 There was zero time for reflection. We had to feed the prisoners three meals a day, deal with the prisoner breakdowns, deal with their parents, run a parole board. By the third day I was sleeping in my office. I had become the superintendent of the Stanford county jail. That was who I was: I'm not the researcher at all. Even my posture changes
when I walk through the prison yard, I'm walking with my hands behind my back, which I never in my life do, the way generals walk when they're inspecting troops. — Philip Zimbardo
There is nothing like the start of a season, before all the one-run losses, pitching breakdowns and missed opportunities. Before reality sets in. — Michael Connelly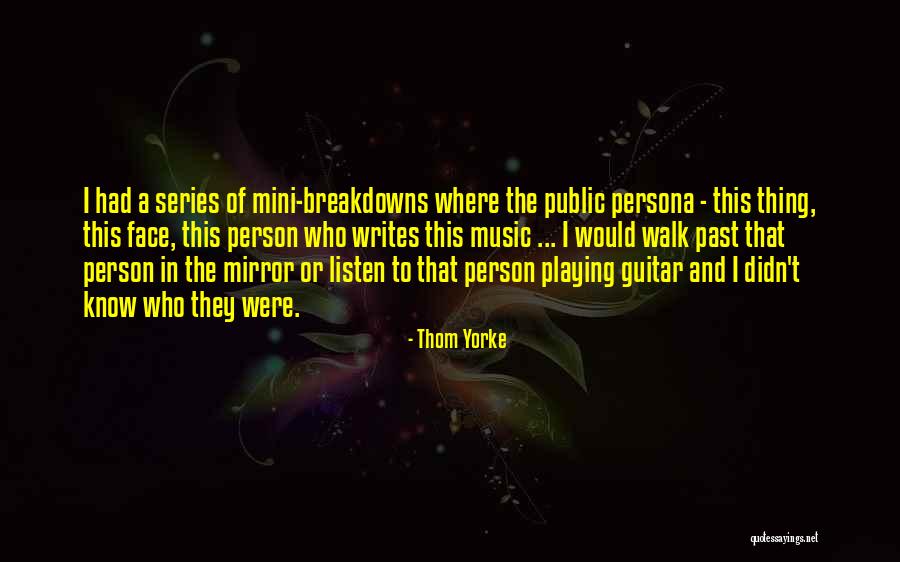 I had a series of mini-breakdowns where the public persona - this thing, this face, this person who writes this music ... I would walk past that person in the mirror or listen to that person playing guitar and I didn't know who they were. — Thom Yorke