Better Than Revenge Quotes & Sayings
Enjoy reading and share 39 famous quotes about Better Than Revenge with everyone.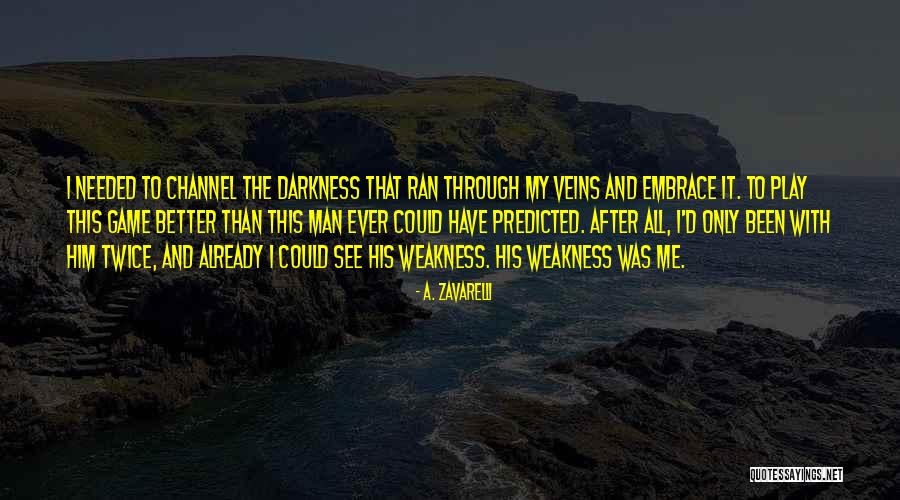 I needed to channel the darkness that ran through my veins and embrace it. To play this game better than this man ever could have predicted. After all, I'd only been with him twice, and already I could see his weakness.
His weakness was me. — A. Zavarelli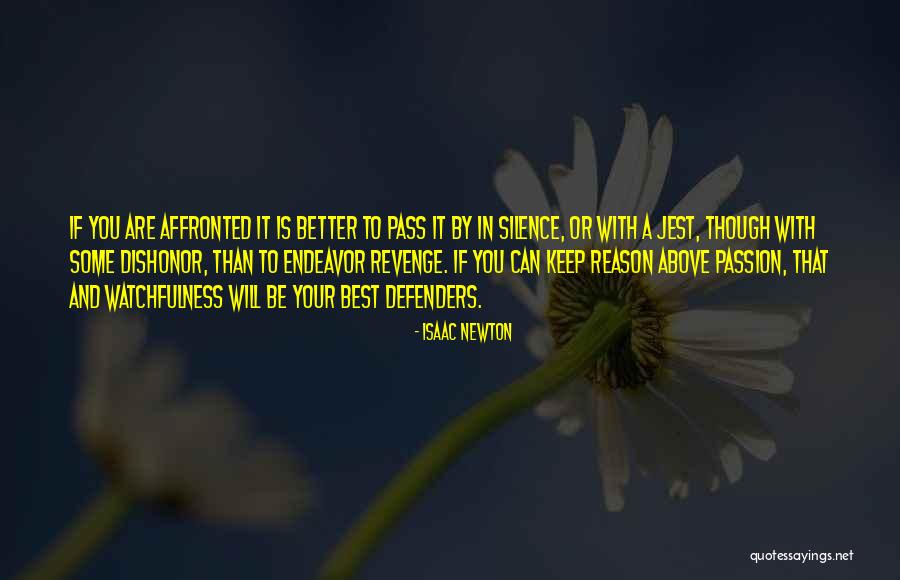 If you are affronted it is better to pass it by in silence, or with a jest, though with some dishonor, than to endeavor revenge. If you can keep reason above passion, that and watchfulness will be your best defenders. — Isaac Newton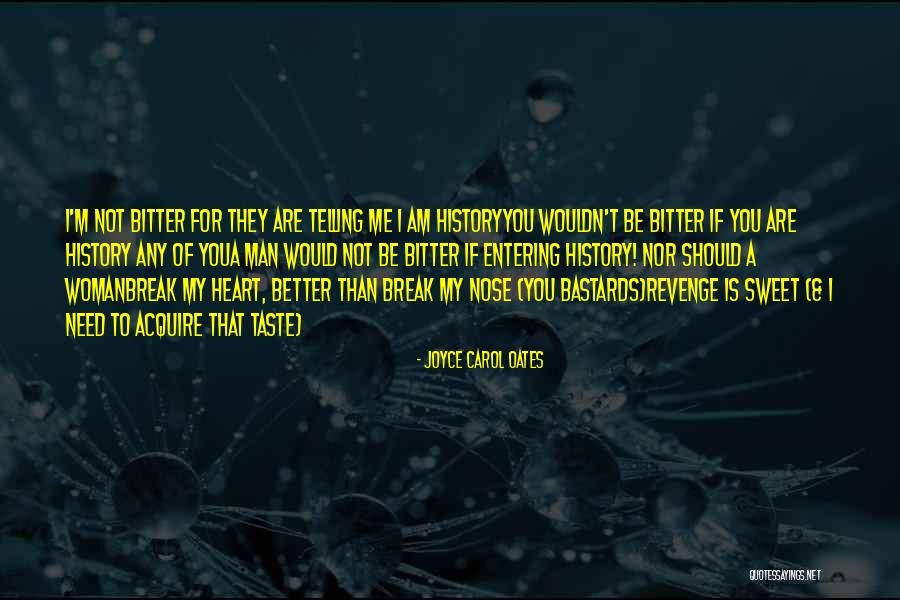 I'm not bitter for they are telling me I am HISTORY
You wouldn't be bitter if you are HISTORY any of you
A MAN would not be bitter if entering History! nor should a WOMAN
Break my heart, better than break my nose (you bastards)
Revenge is SWEET (& I need to acquire that taste) — Joyce Carol Oates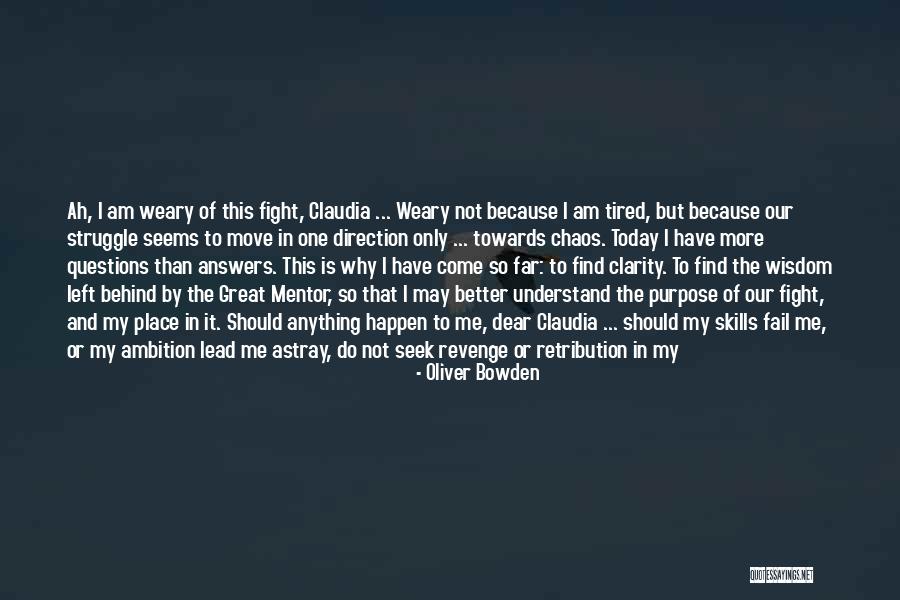 Ah, I am weary of this fight, Claudia ... Weary not because I am tired, but because our struggle seems to move in one direction only ... towards chaos. Today I have more questions than answers. This is why I have come so far: to find clarity. To find the wisdom left behind by the Great Mentor, so that I may better understand the purpose of our fight, and my place in it. Should anything happen to me, dear Claudia ... should my skills fail me, or my ambition lead me astray, do not seek revenge or retribution in my memory, but fight to continue the search for truth so that all may benefit. My story is one of many thousands, and the world will suffer if it ends too soon. — Oliver Bowden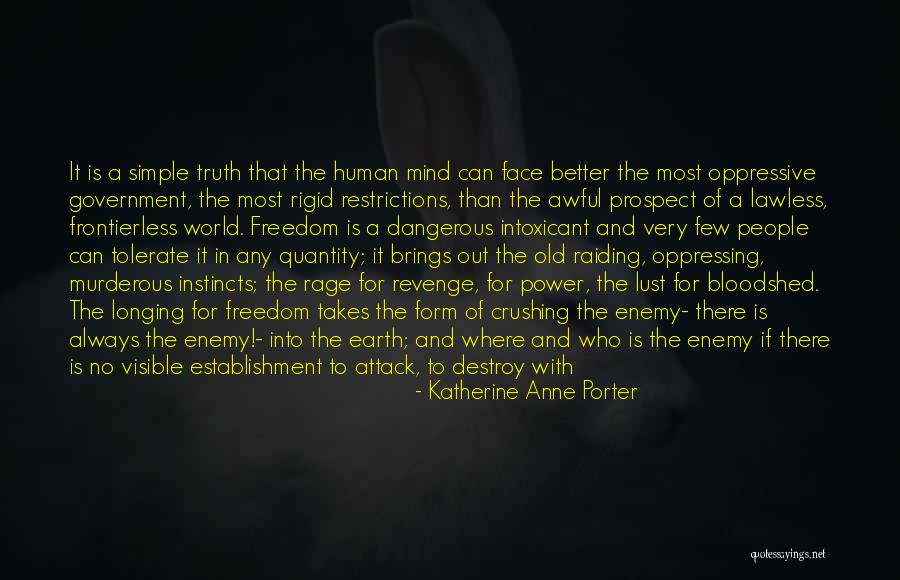 It is a simple truth that the human mind can face better the most oppressive government, the most rigid restrictions, than the awful prospect of a lawless, frontierless world. Freedom is a dangerous intoxicant and very few people can tolerate it in any quantity; it brings out the old raiding, oppressing, murderous instincts; the rage for revenge, for power, the lust for bloodshed. The longing for freedom takes the form of crushing the enemy- there is always the enemy!- into the earth; and where and who is the enemy if there is no visible establishment to attack, to destroy with blood and fire? Remember all that oratory when freedom is threatened again. Freedom, remember, is not the same as liberty. — Katherine Anne Porter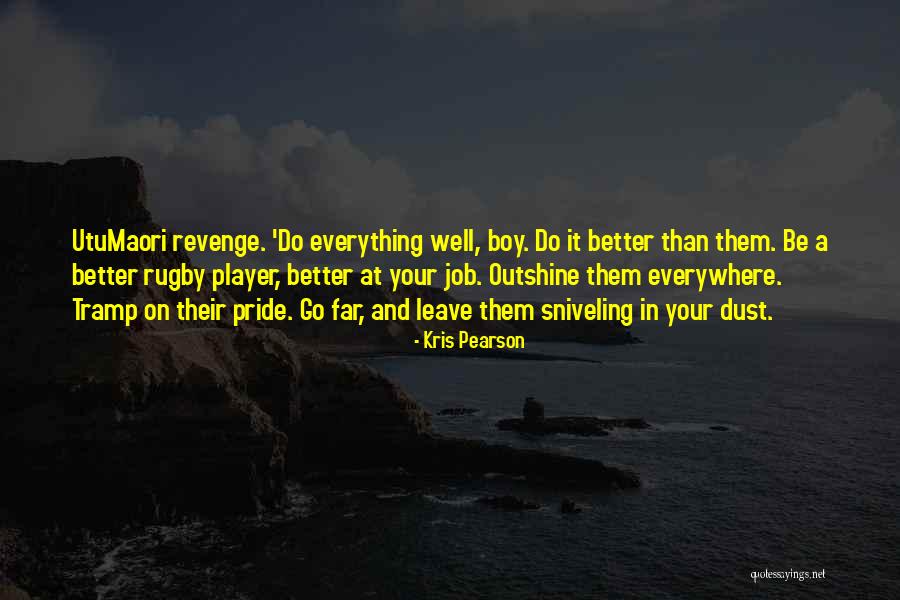 Utu
Maori revenge. 'Do everything well, boy. Do it better than them. Be a better rugby player, better at your job. Outshine them everywhere. Tramp on their pride. Go far, and leave them sniveling in your dust. — Kris Pearson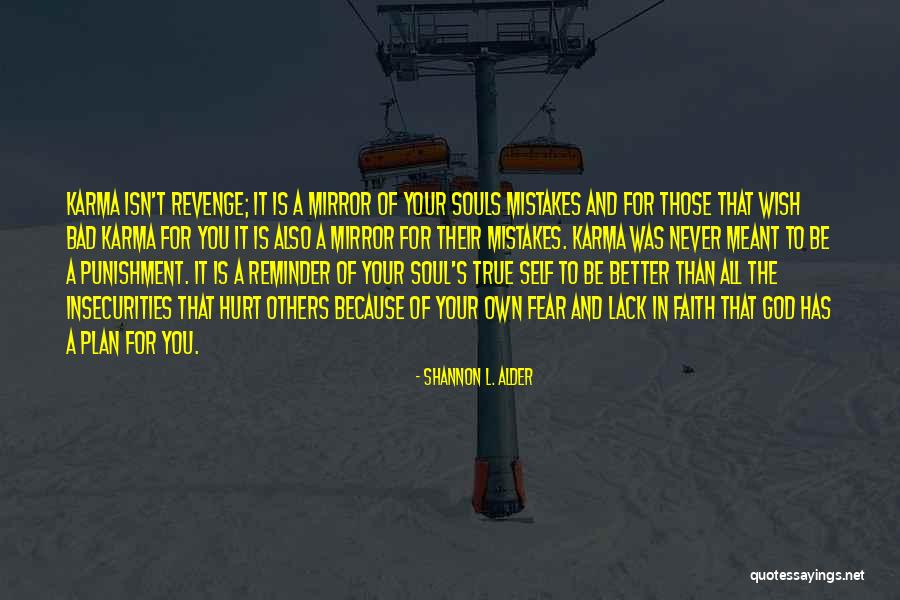 Karma isn't revenge; it is a mirror of your souls mistakes and for those that wish bad karma for you it is also a mirror for their mistakes. Karma was never meant to be a punishment. It is a reminder of your soul's true self to be better than all the insecurities that hurt others because of your own fear and lack in faith that God has a plan for you. — Shannon L. Alder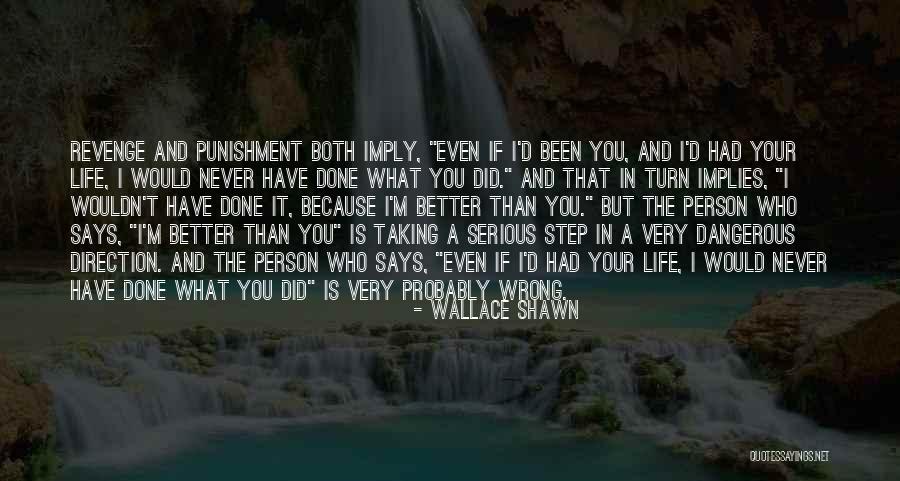 Revenge and punishment both imply, "Even if I'd been you, and I'd had your life, I would never have done what you did." And that in turn implies, "I wouldn't have done it, because I'm better than you." But the person who says, "I'm better than you" is taking a serious step in a very dangerous direction. And the person who says, "Even if I'd had your life, I would never have done what you did" is very probably wrong. — Wallace Shawn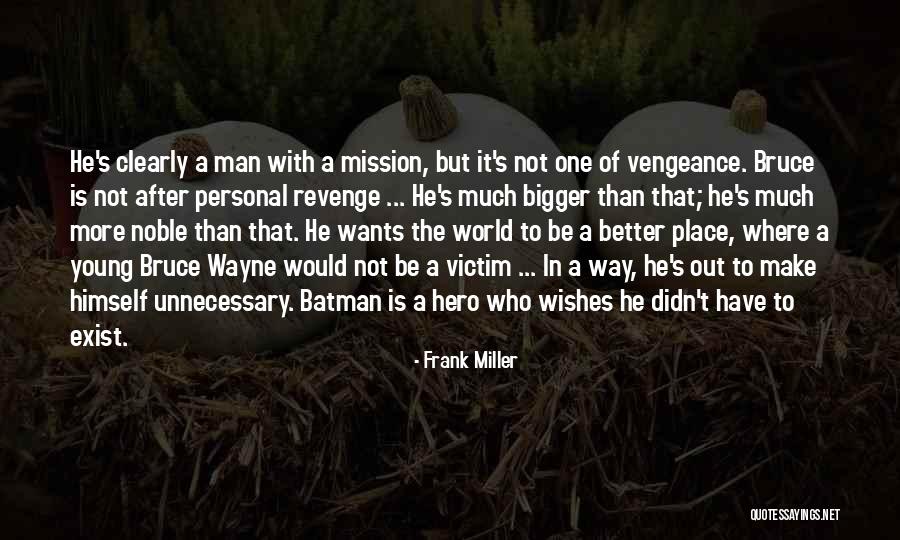 He's clearly a man with a mission, but it's not one of vengeance. Bruce is not after personal revenge ... He's much bigger than that; he's much more noble than that. He wants the world to be a better place, where a young Bruce Wayne would not be a victim ... In a way, he's out to make himself unnecessary. Batman is a hero who wishes he didn't have to exist. — Frank Miller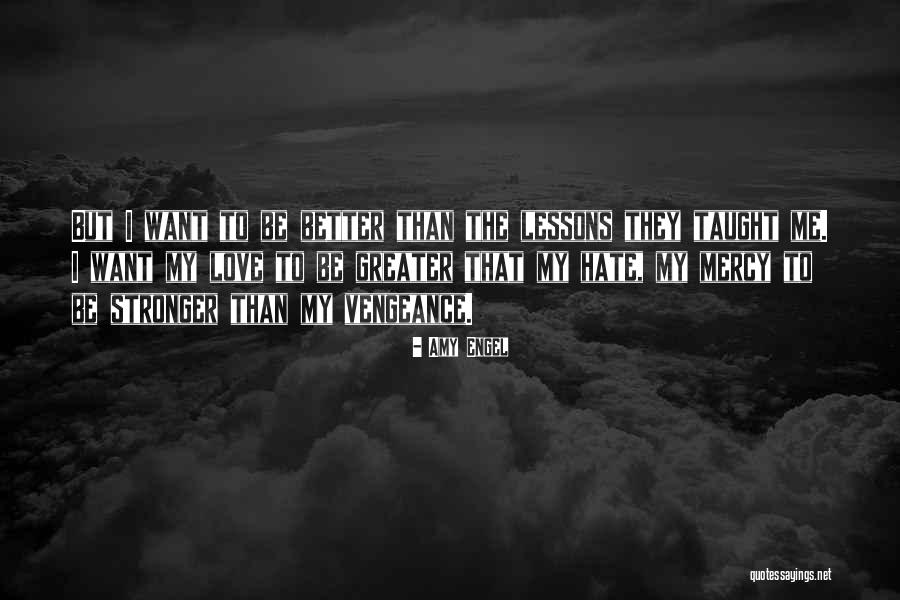 But I want to be better than the lessons they taught me. I want my love to be greater that my hate, my mercy to be stronger than my vengeance. — Amy Engel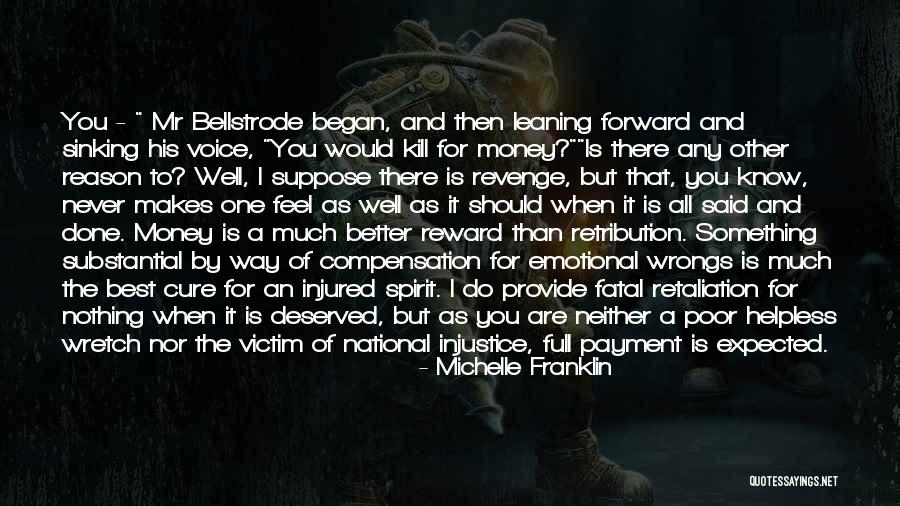 You - " Mr Bellstrode began, and then leaning forward and sinking his voice, "You would kill for money?"
"Is there any other reason to? Well, I suppose there is revenge, but that, you know, never makes one feel as well as it should when it is all said and done. Money is a much better reward than retribution. Something substantial by way of compensation for emotional wrongs is much the best cure for an injured spirit. I do provide fatal retaliation for nothing when it is deserved, but as you are neither a poor helpless wretch nor the victim of national injustice, full payment is expected. — Michelle Franklin
If another girl ever steals your man, there's no better revenge than letting her keep him. REAL MEN CAN'T BE STOLEN. — Wiz Khalifa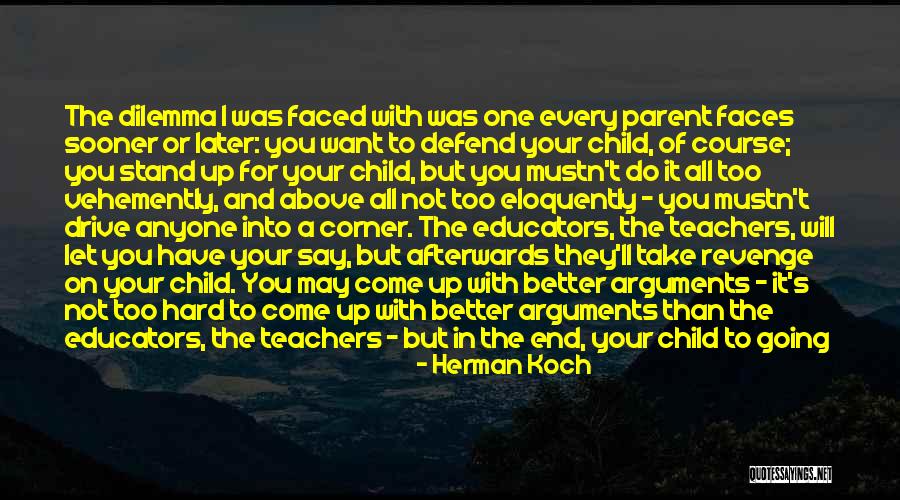 The dilemma I was faced with was one every parent faces sooner or later: you want to defend your child, of course; you stand up for your child, but you mustn't do it all too vehemently, and above all not too eloquently - you mustn't drive anyone into a corner. The educators, the teachers, will let you have your say, but afterwards they'll take revenge on your child. You may come up with better arguments - it's not too hard to come up with better arguments than the educators, the teachers - but in the end, your child to going to pay for it. Their frustration at being shown up is something they'll take out on the student. — Herman Koch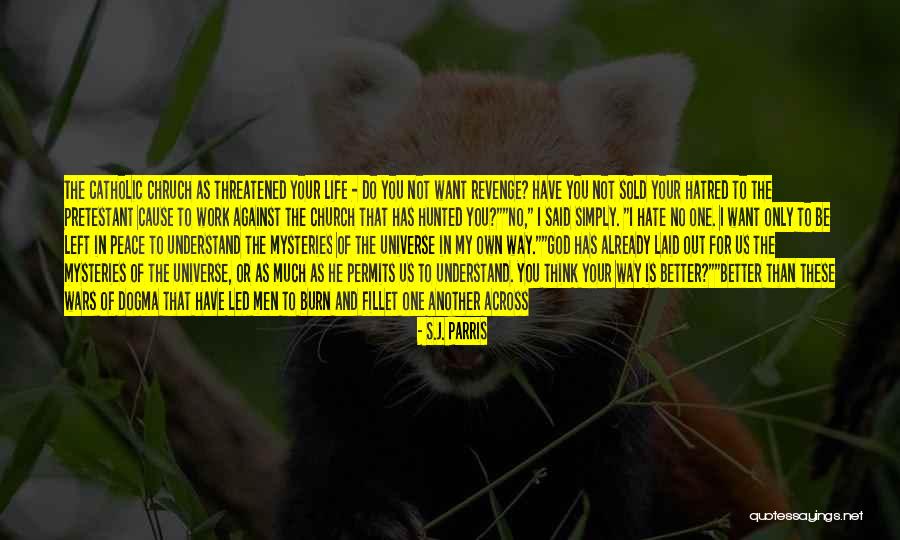 The Catholic chruch as threatened your life - do you not want revenge? Have you not sold your hatred to the Pretestant cause to work against the church that has hunted you?"
"No," I said simply. "I hate no one. I want only to be left in peace to understand the mysteries of the universe in my own way."
"God has already laid out for us the mysteries of the universe, or as much as He permits us to understand. You think your way is better?"
"Better than these wars of dogma that have led men to burn and fillet one another across Europe for fifty years? Yes, I do."
"Then what is it you believe?"
I looked at him. "I believe that, in the end, even the devils will be pardoned. — S.J. Parris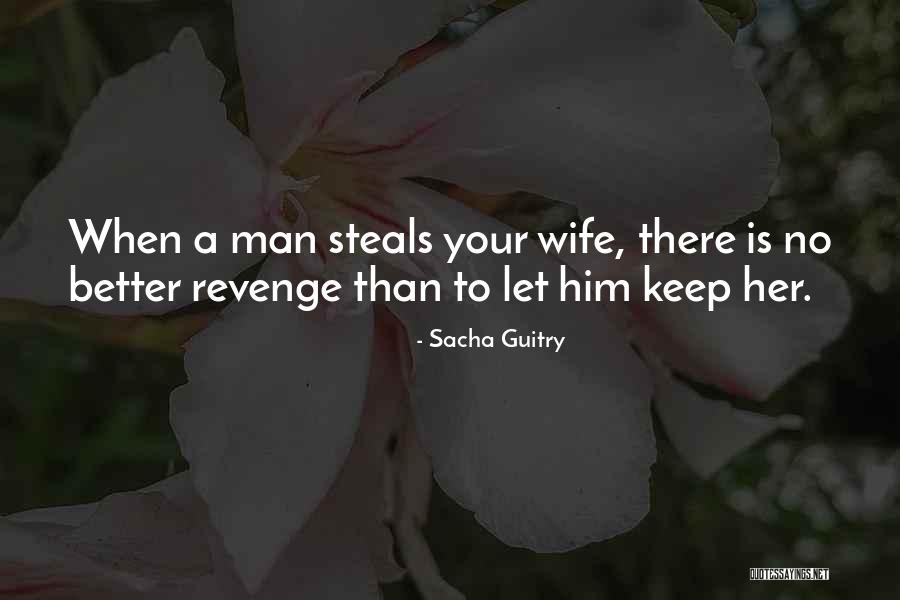 When a man steals your wife, there is no better revenge than to let him keep her. — Sacha Guitry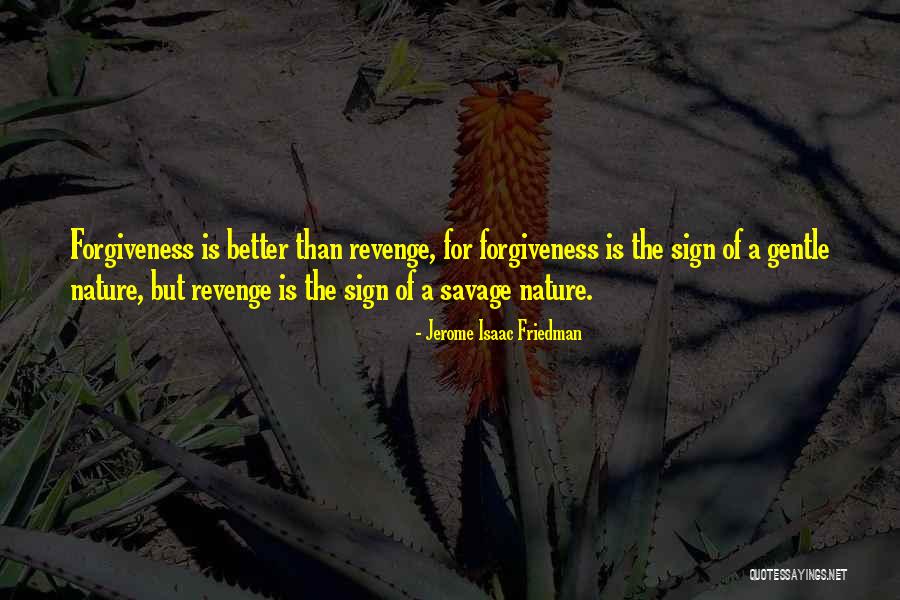 Forgiveness is better than revenge, for forgiveness is the sign of a gentle nature, but revenge is the sign of a savage nature. — Jerome Isaac Friedman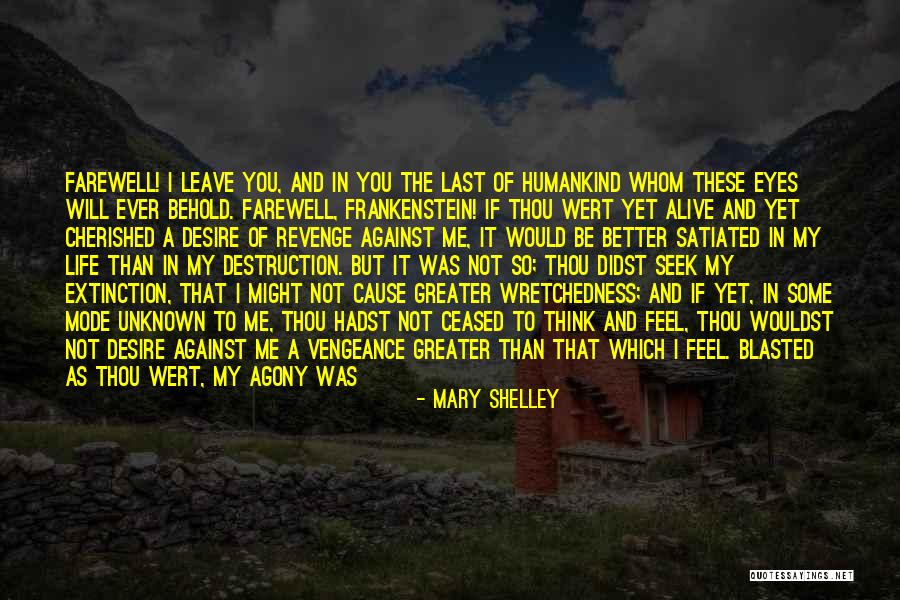 Farewell! I leave you, and in you the last of humankind whom these eyes will ever behold. Farewell, Frankenstein! If thou wert yet alive and yet cherished a desire of revenge against me, it would be better satiated in my life than in my destruction. But it was not so; thou didst seek my extinction, that I might not cause greater wretchedness; and if yet, in some mode unknown to me, thou hadst not ceased to think and feel, thou wouldst not desire against me a vengeance greater than that which I feel. Blasted as thou wert, my agony was still superior to thine, for the bitter sting of remorse will not cease to rankle in my wounds until death shall close them forever. — Mary Shelley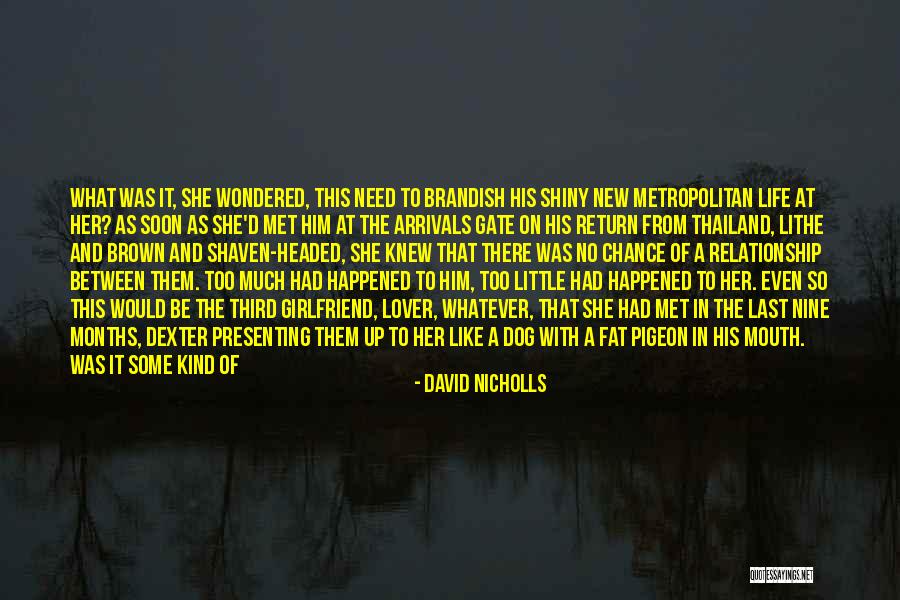 What was it, she wondered, this need to brandish his shiny new metropolitan life at her? As soon as she'd met him at the arrivals gate on his return from Thailand, lithe and brown and shaven-headed, she knew that there was no chance of a relationship between them. Too much had happened to him, too little had happened to her. Even so this would be the third girlfriend, lover, whatever, that she had met in the last nine months, Dexter presenting them up to her like a dog with a fat pigeon in his mouth. Was it some kind of some sick revenge for something? Because she got a better degree than him? Didn't he know what this was doing to her, sat at table nine with their groins jammed in each other's faces? — David Nicholls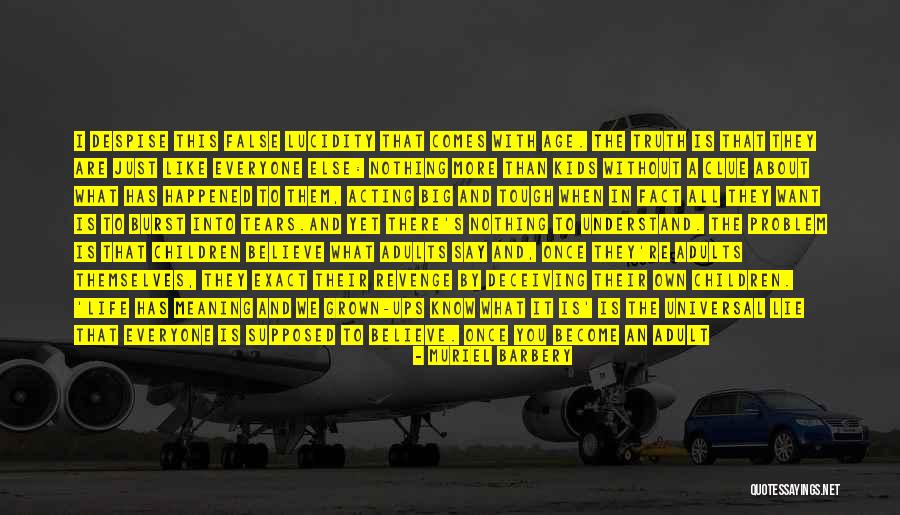 I despise this false lucidity that comes with age. The truth is that they are just like everyone else: nothing more than kids without a clue about what has happened to them, acting big and tough when in fact all they want is to burst into tears.
And yet there's nothing to understand. The problem is that children believe what adults say and, once they're adults themselves, they exact their revenge by deceiving their own children. 'Life has meaning and we grown-ups know what it is' is the universal lie that everyone is supposed to believe. Once you become an adult and you realize that's not true, it's too late. The mystery remains intact, but all your available energy has long been wasted on stupid things. All that's left is to anesthetize yourself by trying to hide the fact that you can't find any meaning in your life, and then, the better to convince yourself, you deceive your own children. — Muriel Barbery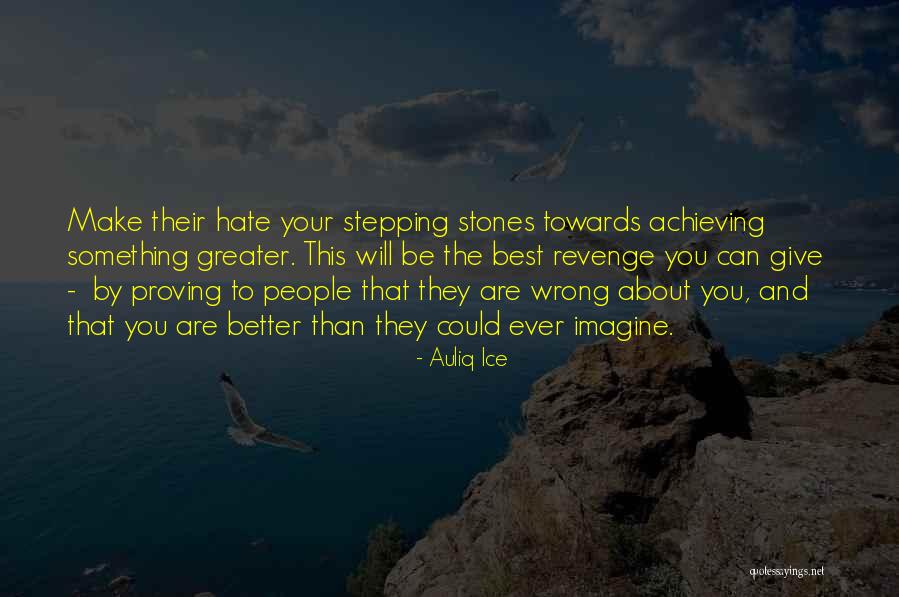 Make their hate your stepping stones towards achieving something greater. This will be the best revenge you can give - by proving to people that they are wrong about you, and that you are better than they could ever imagine. — Auliq Ice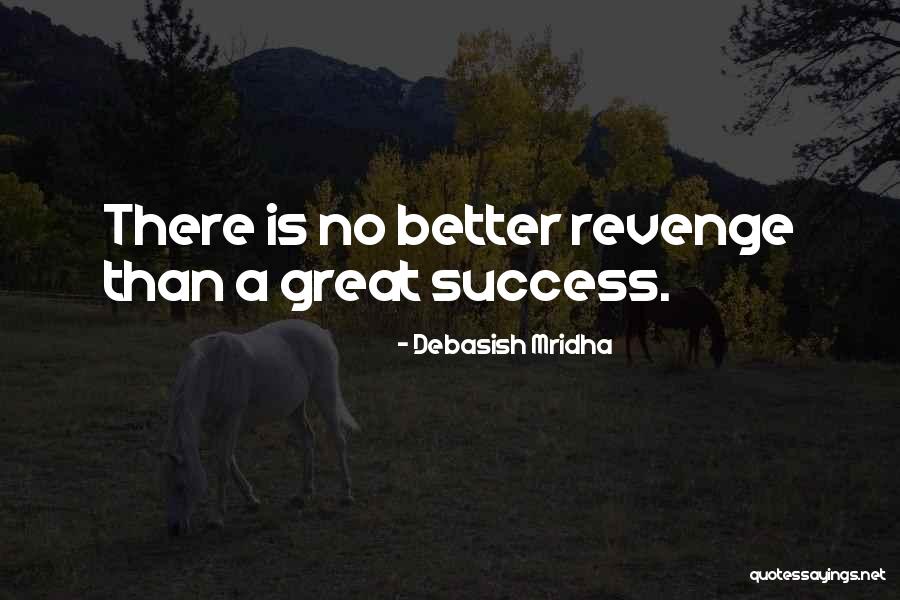 There is no better revenge than a great success. — Debasish Mridha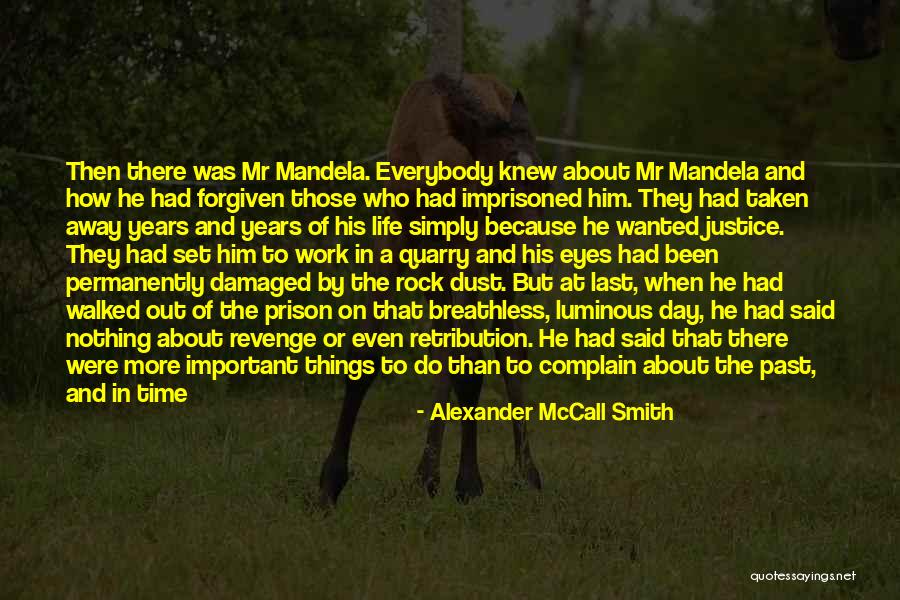 Then there was Mr Mandela. Everybody knew about Mr Mandela and how he had forgiven those who had imprisoned him. They had taken away years and years of his life simply because he wanted justice. They had set him to work in a quarry and his eyes had been permanently damaged by the rock dust. But at last, when he had walked out of the prison on that breathless, luminous day, he had said nothing about revenge or even retribution. He had said that there were more important things to do than to complain about the past, and in time he had shown that he meant this by hundreds of acts of kindness towards those who had treated him so badly. That was the real African way, the tradition that was closest to the heart of Africa. We are all children of Africa, and none of us is better or more important than the other. This is what Africa could say to the world: it could remind it what it is to be human. — Alexander McCall Smith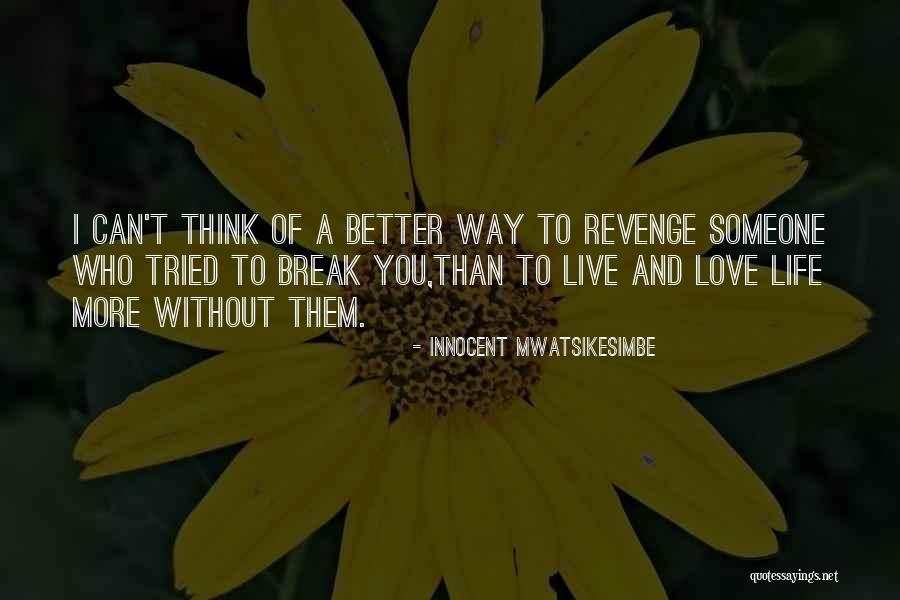 I can't think of a better way to revenge someone who tried to break you,
Than to live and love life more without them. — Innocent Mwatsikesimbe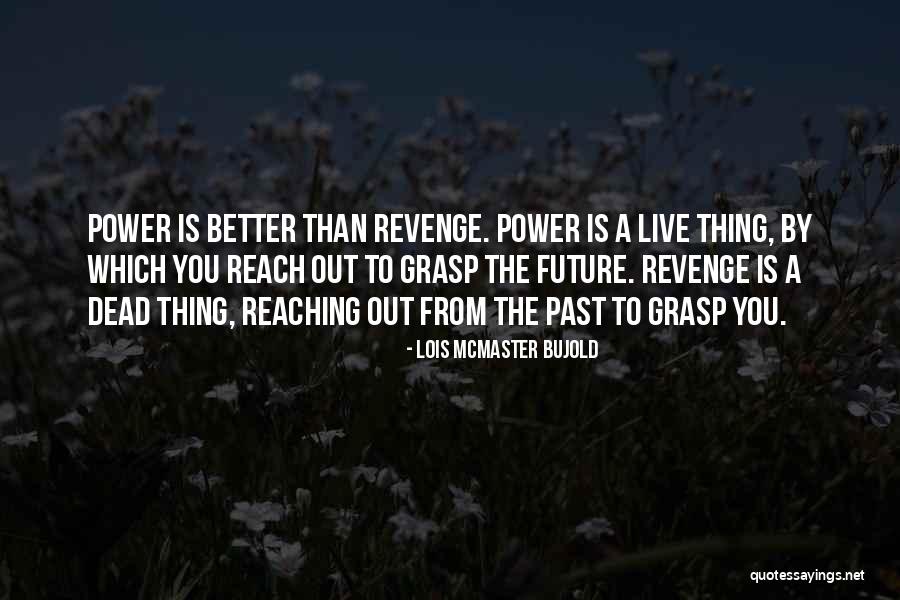 Power is better than revenge. Power is a live thing, by which you reach out to grasp the future. Revenge is a dead thing, reaching out from the past to grasp you. — Lois McMaster Bujold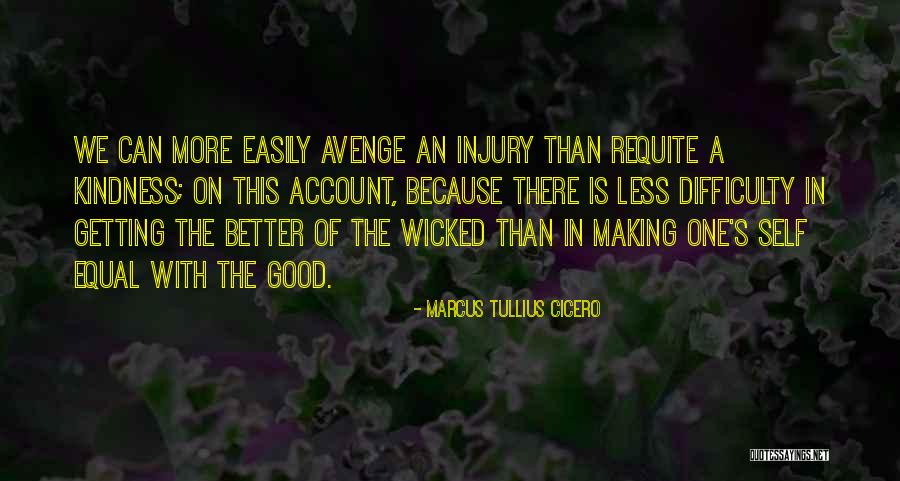 We can more easily avenge an injury than requite a kindness; on this account, because there is less difficulty in getting the better of the wicked than in making one's self equal with the good. — Marcus Tullius Cicero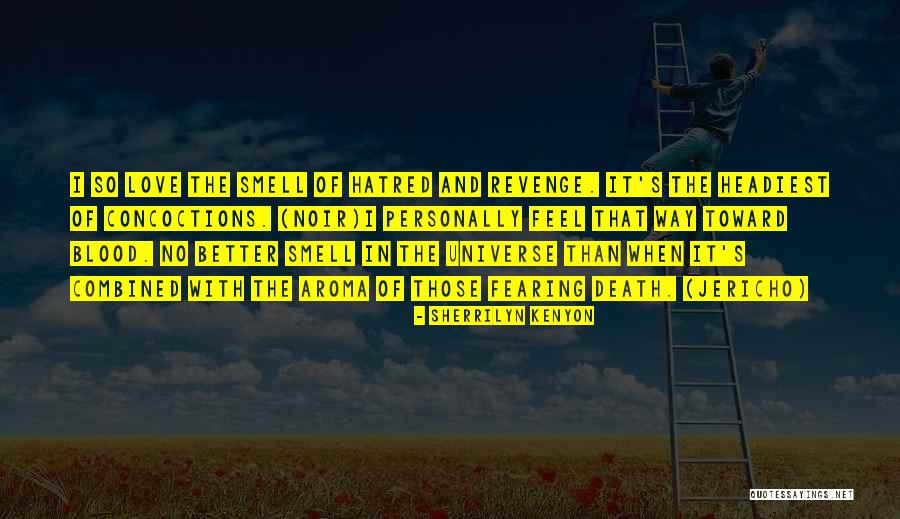 I so love the smell of hatred and revenge. It's the headiest of concoctions. (Noir)
I personally feel that way toward blood. No better smell in the universe than when it's combined with the aroma of those fearing death. (Jericho) — Sherrilyn Kenyon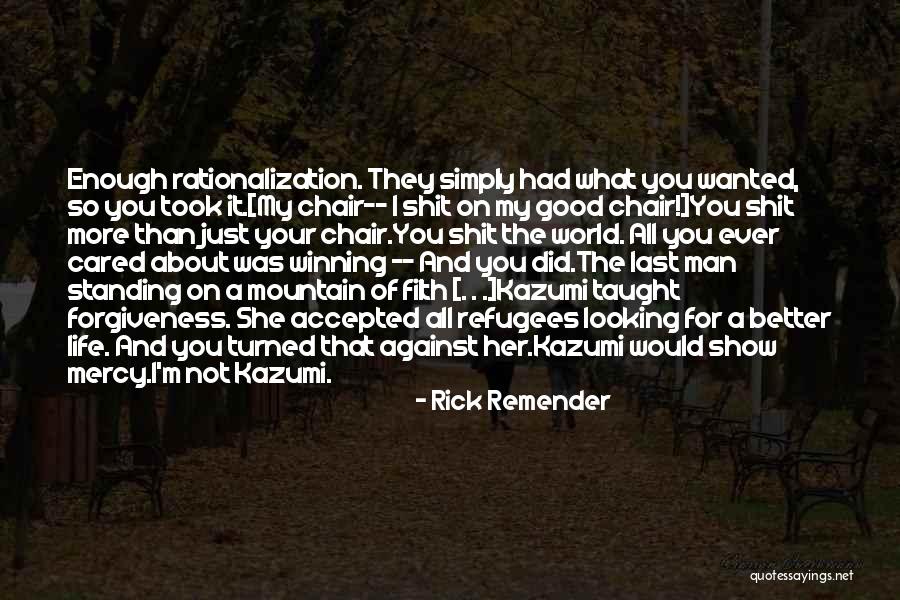 Enough rationalization. They simply had what you wanted, so you took it.

[My chair-- I shit on my good chair!]

You shit more than just your chair.

You shit the world. All you ever cared about was winning -- And you did.

The last man standing on a mountain of filth [. . .]

Kazumi taught forgiveness. She accepted all refugees looking for a better life. And you turned that against her.

Kazumi would show mercy.

I'm not Kazumi. — Rick Remender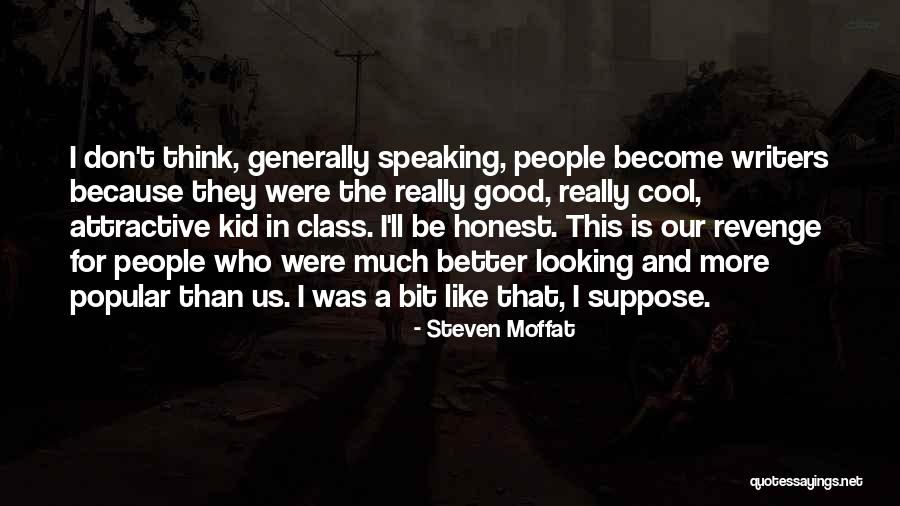 I don't think, generally speaking, people become writers because they were the really good, really cool, attractive kid in class. I'll be honest. This is our revenge for people who were much better looking and more popular than us. I was a bit like that, I suppose. — Steven Moffat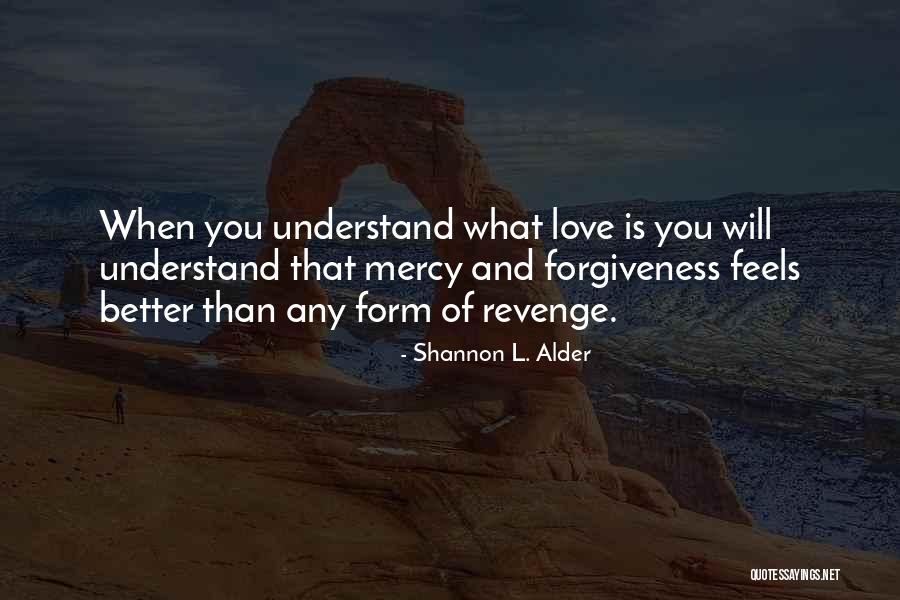 When you understand what love is you will understand that mercy and forgiveness feels better than any form of revenge. — Shannon L. Alder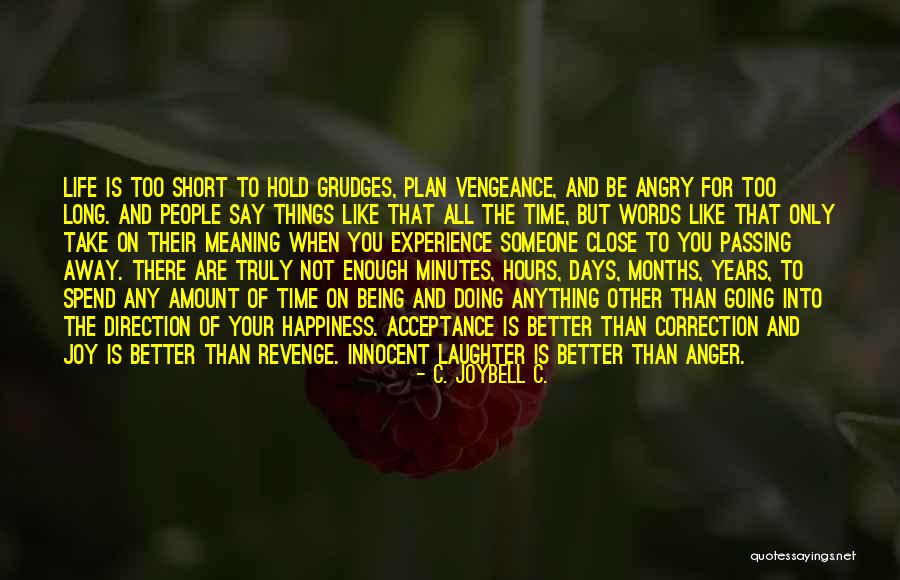 Life is too short to hold grudges, plan vengeance, and be angry for too long. And people say things like that all the time, but words like that only take on their meaning when you experience someone close to you passing away. There are truly not enough minutes, hours, days, months, years, to spend any amount of time on being and doing anything other than going into the direction of your happiness. Acceptance is better than correction and joy is better than revenge. Innocent laughter is better than anger. — C. JoyBell C.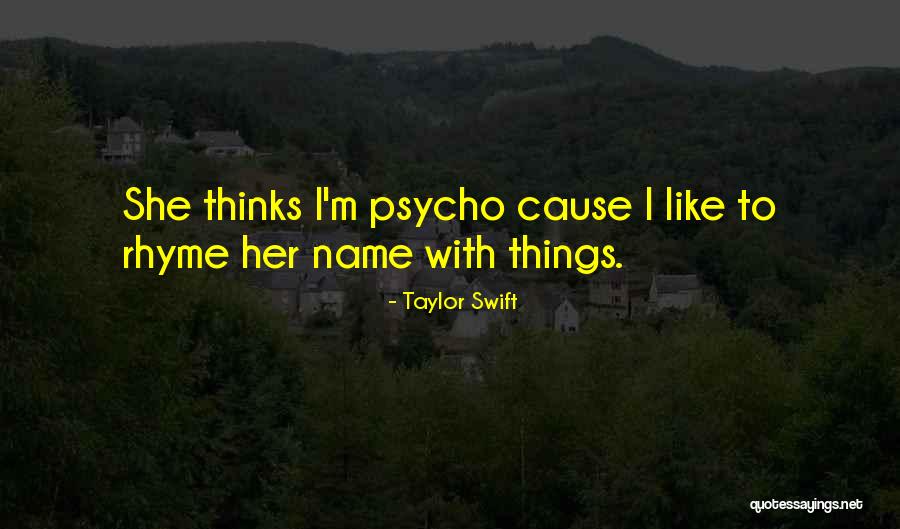 She thinks I'm psycho cause I like to rhyme her name with things. — Taylor Swift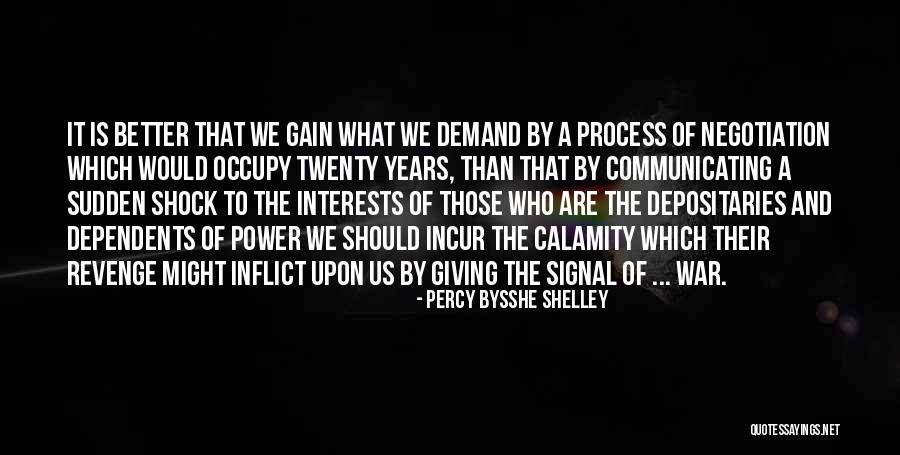 It is better that we gain what we demand by a process of negotiation which would occupy twenty years, than that by communicating a sudden shock to the interests of those who are the depositaries and dependents of power we should incur the calamity which their revenge might inflict upon us by giving the signal of ... war. — Percy Bysshe Shelley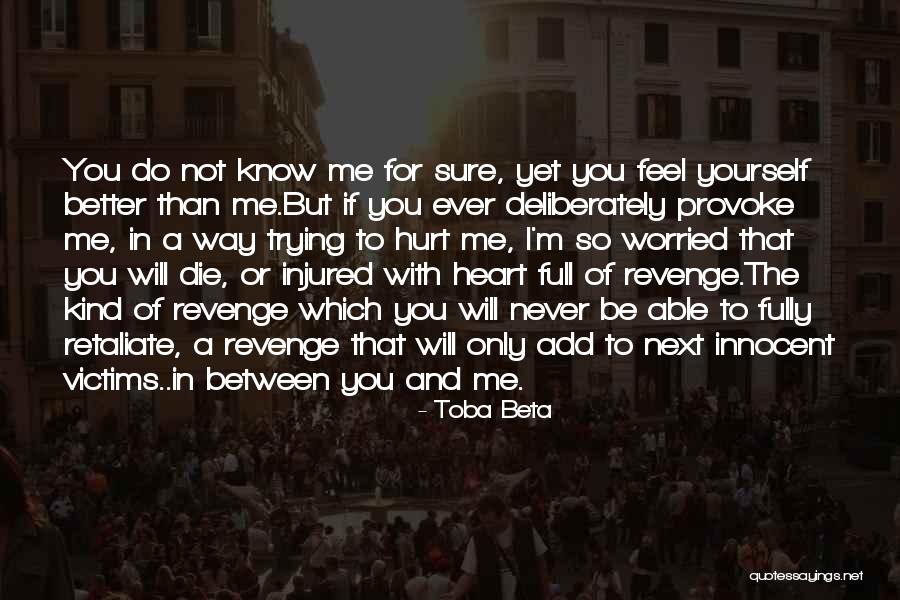 You do not know me for sure, yet you feel yourself better than me.
But if you ever deliberately provoke me, in a way trying to hurt me,
I'm so worried that you will die, or injured with heart full of revenge.
The kind of revenge which you will never be able to fully retaliate,
a revenge that will only add to next innocent victims..in between you and me. — Toba Beta
Cortana," he said. "Made by Wayland the Smith, the legendary forger of Excalibur and Durendal. Said to choose its bearer. When Ogier raised it to slay the son of Charlemagne on the field, an angel came and broke the sword and said to him, 'Mercy is better than Revenge. — Cassandra Clare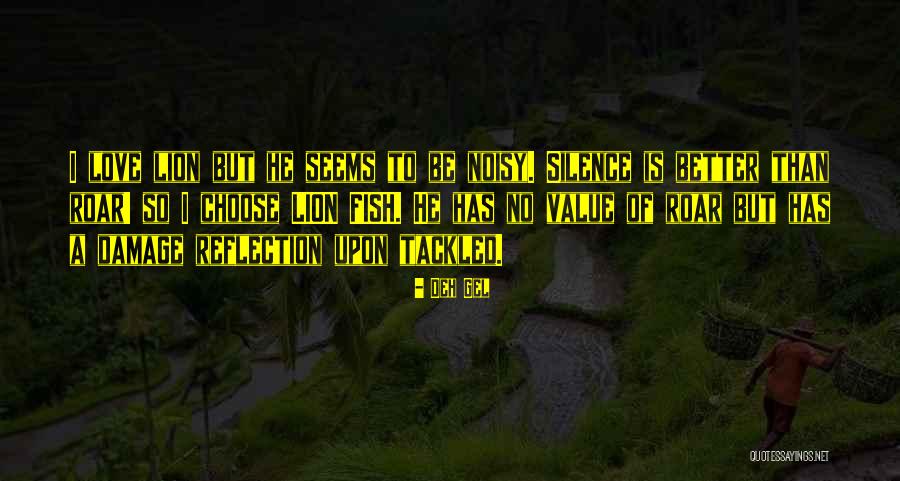 I love lion but he seems to be noisy. Silence is better than roar! so I choose LION FISH. He has no value of roar but has a damage reflection upon tackled. — Deh Gel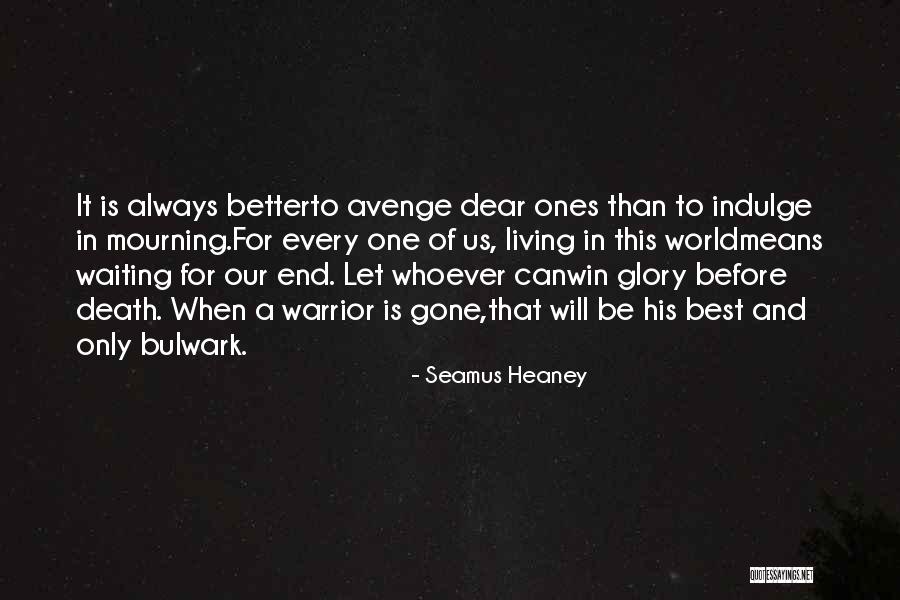 It is always better
to avenge dear ones than to indulge in mourning.
For every one of us, living in this world
means waiting for our end. Let whoever can
win glory before death. When a warrior is gone,
that will be his best and only bulwark. — Seamus Heaney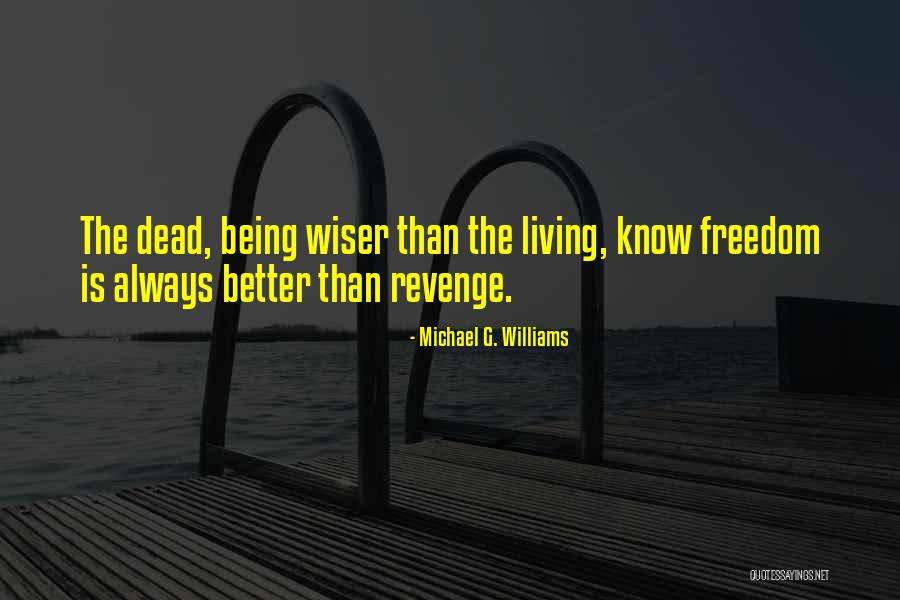 The dead, being wiser than the living, know freedom is always better than revenge. — Michael G. Williams