Quotes & Sayings About Better Life Changes
Enjoy reading and share 49 famous quotes about Better Life Changes with everyone.
Top Better Life Changes Quotes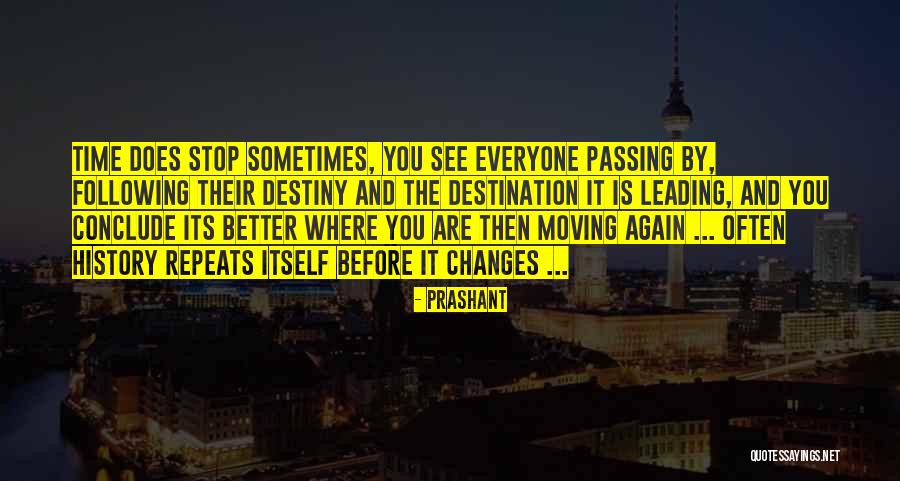 Time does stop sometimes, you see everyone passing by, following their destiny and the destination it is leading, and you conclude its better where you are then moving again ... often history repeats itself before it changes ... — Prashant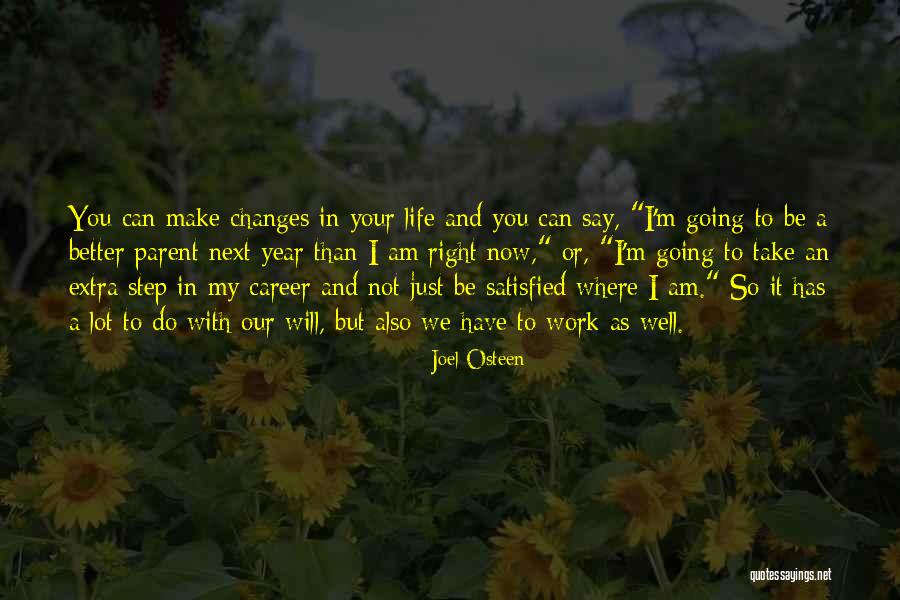 You can make changes in your life and you can say, "I'm going to be a better parent next year than I am right now," or, "I'm going to take an extra step in my career and not just be satisfied where I am." So it has a lot to do with our will, but also we have to work as well. — Joel Osteen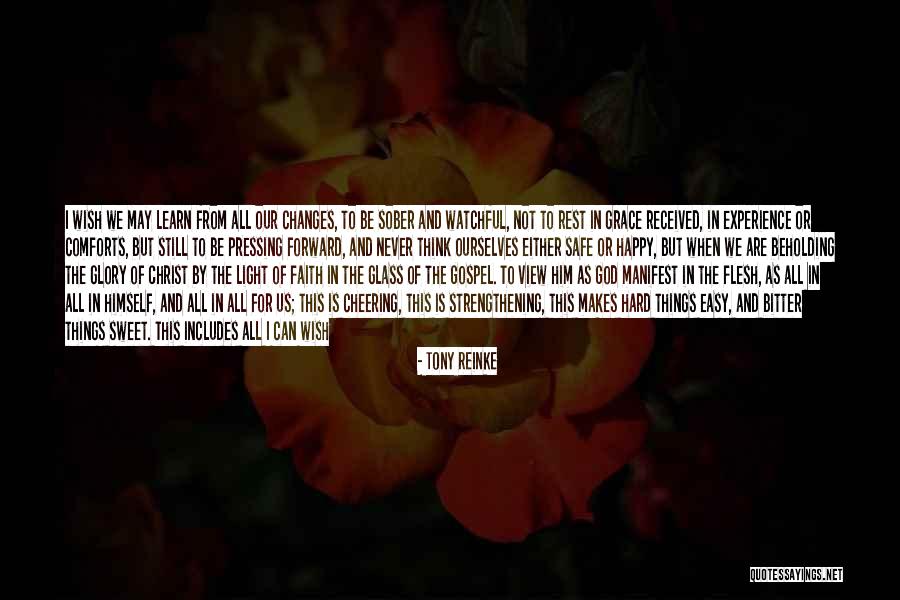 I wish we may learn from all our changes, to be sober and watchful, not to rest in grace received, in experience or comforts, but still to be pressing forward, and never think ourselves either safe or happy, but when we are beholding the glory of Christ by the light of faith in the glass of the Gospel. To view him as God manifest in the flesh, as all in all in himself, and all in all for us; this is cheering, this is strengthening, this makes hard things easy, and bitter things sweet. This includes all I can wish for my dear friends, that you may grow in grace, and in the knowledge of Jesus. To know him, is the shortest description of true grace; to know him better, is the surest mark of growth in grace; to know him perfectly, is eternal life. This is the prize of our high calling; the sum and substance of all we can desire or hope for is, to see him as he is, and to be like him: and to this honor and happiness he will surely bring all that love his name.81 — Tony Reinke
There comes an end to summer,
To spring showers and hoar rime;
His mumming to each mummer
Has somewhere end in time,
And since life ends and laughter,
And leaves fall and tears dry,
Who shall call love immortal,
When all that is must die ?

Nay, sweet, let's leave unspoken
The vows the fates gainsay,
For all vows made are broken,
We love but while we may.
Let's kiss when kissing pleases,
And part when kisses pall,
Perchance, this time to-morrow,
We shall not love at all.

You ask my love completest,
As strong next year as now,
The devil take you, sweetest,
Ere I make aught such vow.
Life is a masque that changes,
A fig for constancy!
No love at all were better,
Than love which is not free."

-"To His Mistress — Ernest Dowson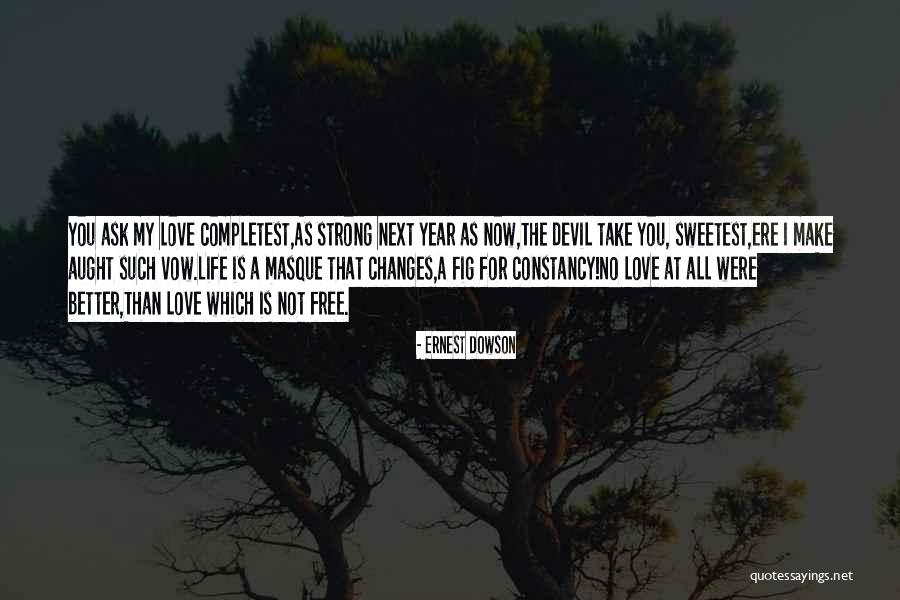 You ask my love completest,
As strong next year as now,
The devil take you, sweetest,
Ere I make aught such vow.
Life is a masque that changes,
A fig for constancy!
No love at all were better,
Than love which is not free. — Ernest Dowson
The more it changes, the more it's the same thing. But overall, things have changed. I say changed and not "changed for the better" because I am no fool. Fate is a total drama queen. The second you say things are better than they were, she'll come stumbling toward you on her six-inch heels, nasty-ass wig crooked and on sideways. You'll wonder exactly how she got all that makeup slathered onto her face. One nicotine-caked fake fingernail will point at you, and she will make sure that things are anything but better from there on out. So no, thank you. Things are different but not better and, in fact, could get much much worse, so fuck off, Fate! Is she gone? Whew. Things had changed at school and not in a bad way(crosses fingers and hope that doesn't count as pissing Fate off). — John Goode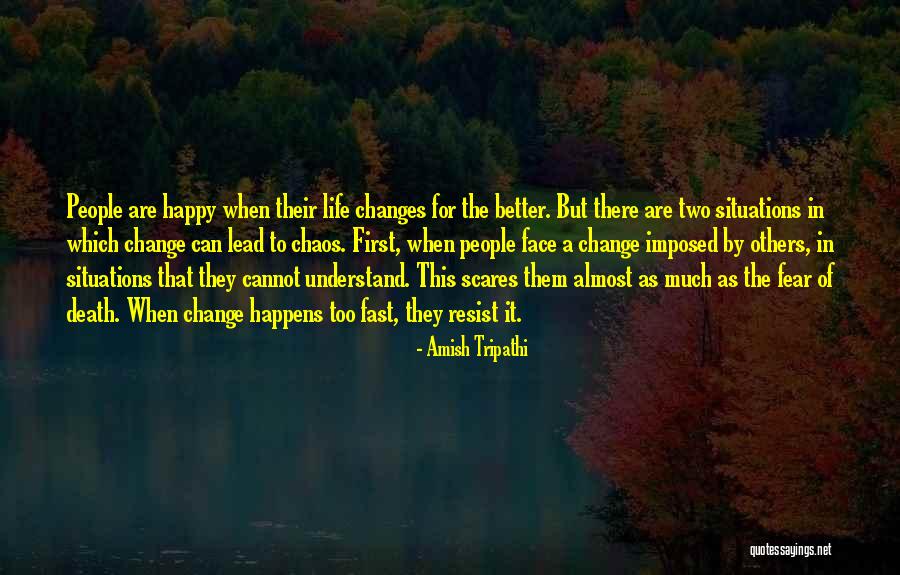 People are happy when their life changes for the better. But there are two situations in which change can lead to chaos. First, when people face a change imposed by others, in situations that they cannot understand. This scares them almost as much as the fear of death. When change happens too fast, they resist it. — Amish Tripathi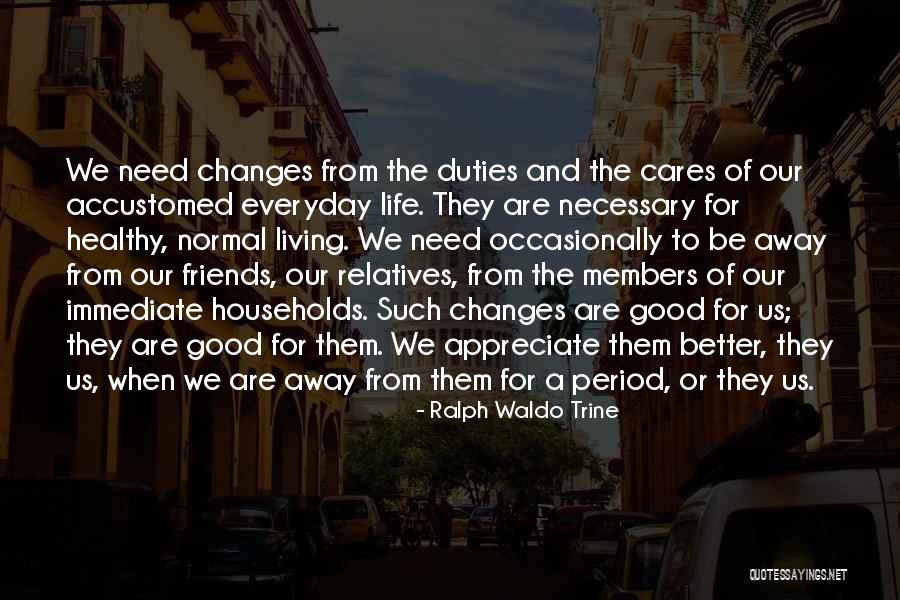 We need changes from the duties and the cares of our accustomed everyday life. They are necessary for healthy, normal living. We need occasionally to be away from our friends, our relatives, from the members of our immediate households. Such changes are good for us; they are good for them. We appreciate them better, they us, when we are away from them for a period, or they us. — Ralph Waldo Trine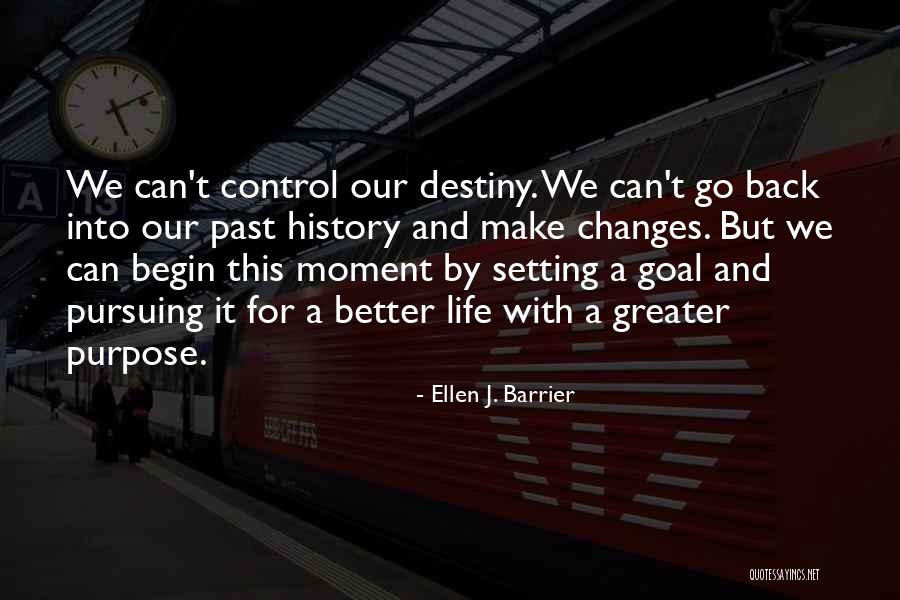 We can't control our destiny. We can't go back into our past history and make changes. But we can begin this moment by setting a goal and pursuing it for a better life with a greater purpose. — Ellen J. Barrier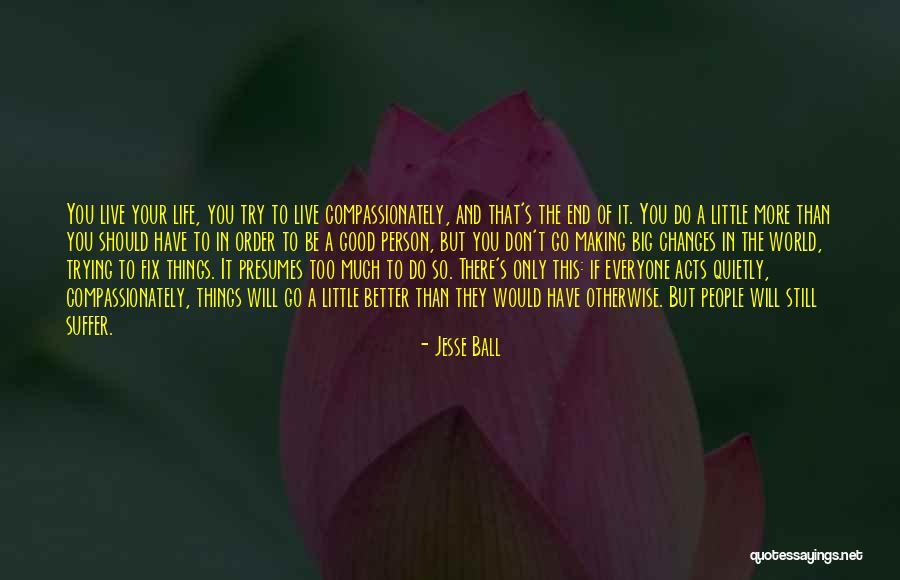 You live your life, you try to live compassionately, and that's the end of it. You do a little more than you should have to in order to be a good person, but you don't go making big changes in the world, trying to fix things. It presumes too much to do so. There's only this: if everyone acts quietly, compassionately, things will go a little better than they would have otherwise. But people will still suffer. — Jesse Ball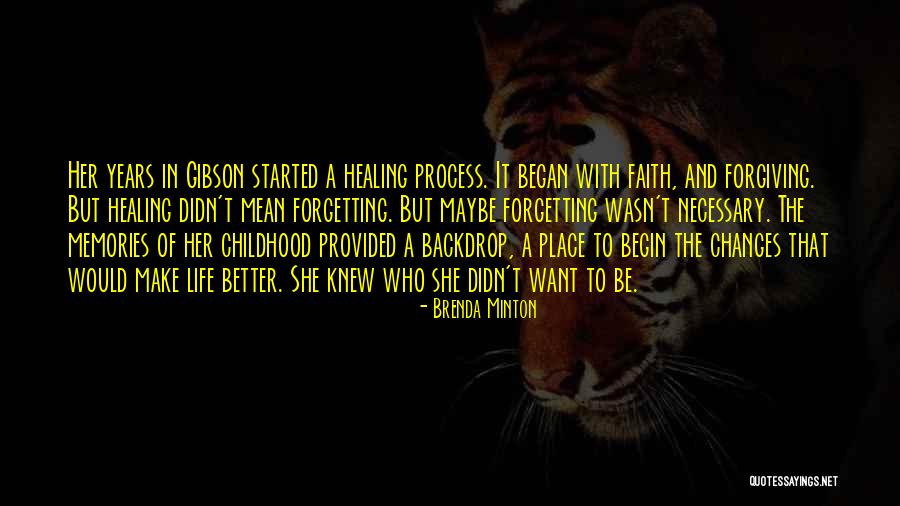 Her years in Gibson started a healing process. It began with faith, and forgiving. But healing didn't mean forgetting.

But maybe forgetting wasn't necessary. The memories of her childhood provided a backdrop, a place to begin the changes that would make life better. She knew who she didn't want to be. — Brenda Minton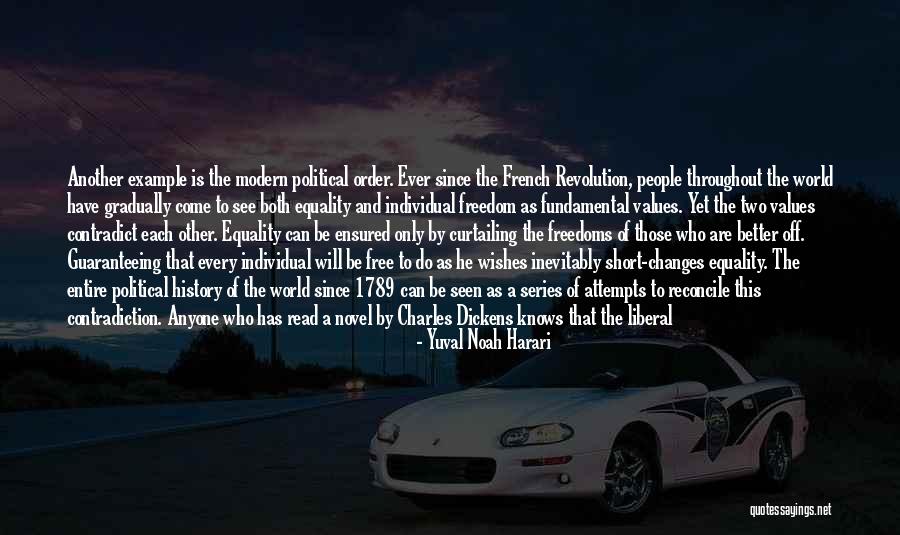 Another example is the modern political order. Ever since the French Revolution, people throughout the world have gradually come to see both equality and individual freedom as fundamental values. Yet the two values contradict each other. Equality can be ensured only by curtailing the freedoms of those who are better off. Guaranteeing that every individual will be free to do as he wishes inevitably short-changes equality. The entire political history of the world since 1789 can be seen as a series of attempts to reconcile this contradiction. Anyone who has read a novel by Charles Dickens knows that the liberal regimes of nineteenth-century Europe gave priority to individual freedom even if it meant throwing insolvent poor families in prison and giving orphans little choice but to join schools for pickpockets. Anyone who has read a novel by Alexander Solzhenitsyn knows how Communism's egalitarian ideal produced brutal tyrannies that tried to control every aspect of daily life. — Yuval Noah Harari
This is just your time, son, that's all. Your time to hurt and bleed and tear apart your notion of what makes you who you are. Life knocks us all on our ass at some point. And then we get back up, and we make some changes, because that's what men do. We adapt. And when we're done adapting, we're better equipped to survive. — Jonathan Tropper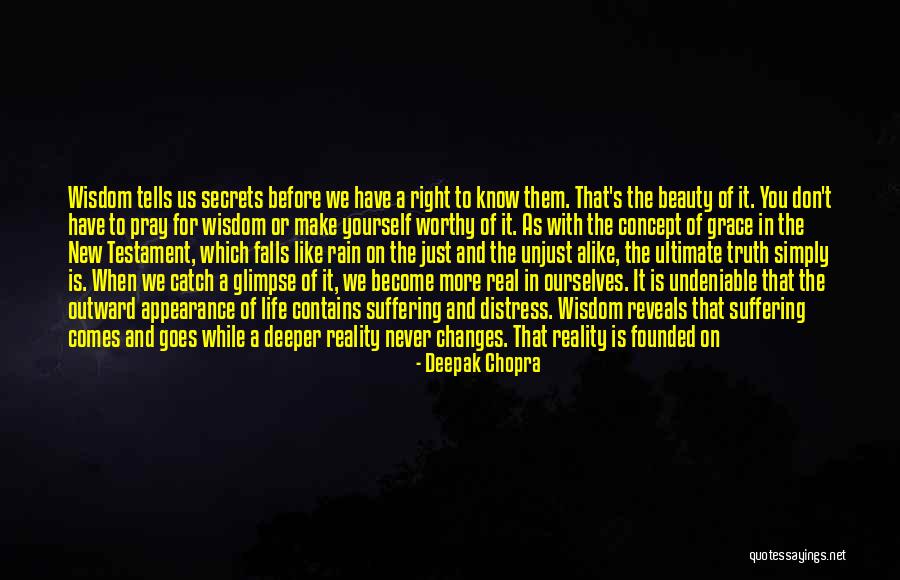 Wisdom tells us secrets before we have a right to know them. That's the beauty of it. You don't have to pray for wisdom or make yourself worthy of it. As with the concept of grace in the New Testament, which falls like rain on the just and the unjust alike, the ultimate truth simply is. When we catch a glimpse of it, we become more real in ourselves.
It is undeniable that the outward appearance of life contains suffering and distress. Wisdom reveals that suffering comes and goes while a deeper reality never changes. That reality is founded on truth and love.
Faith makes life better because in the midst of pain and suffering, we need to trust that something else is more powerful. — Deepak Chopra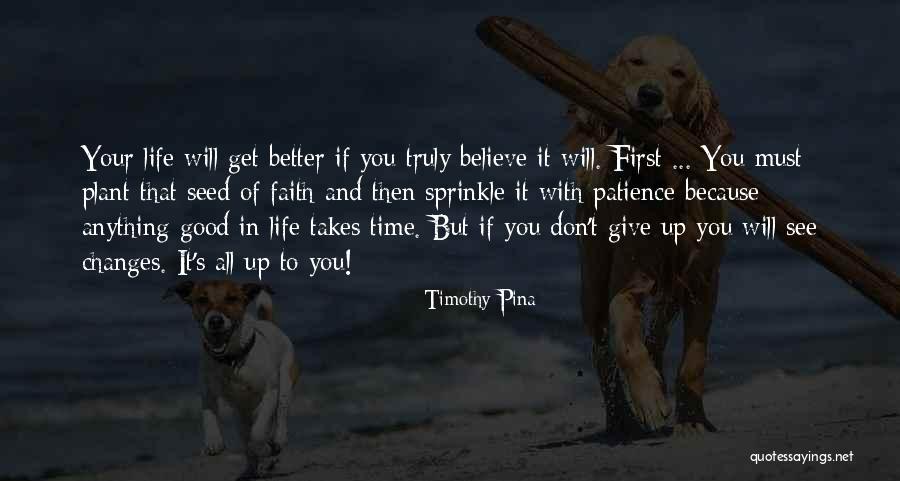 Your life will get better if you truly believe it will. First ... You must plant that seed of faith and then sprinkle it with patience because anything good in life takes time. But if you don't give up you will see changes. It's all up to you! — Timothy Pina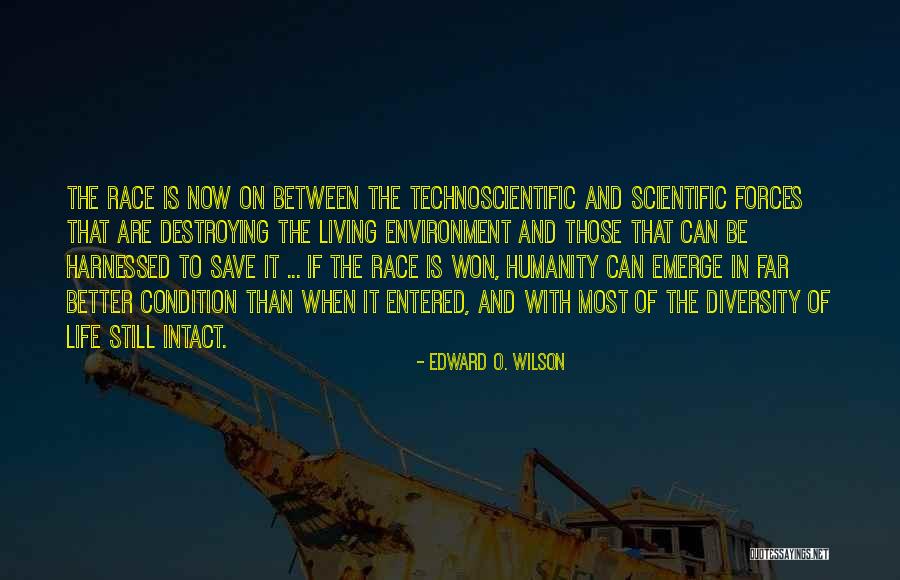 The race is now on between the technoscientific and scientific forces that are destroying the living environment and those that can be harnessed to save it ... If the race is won, humanity can emerge in far better condition than when it entered, and with most of the diversity of life still intact. — Edward O. Wilson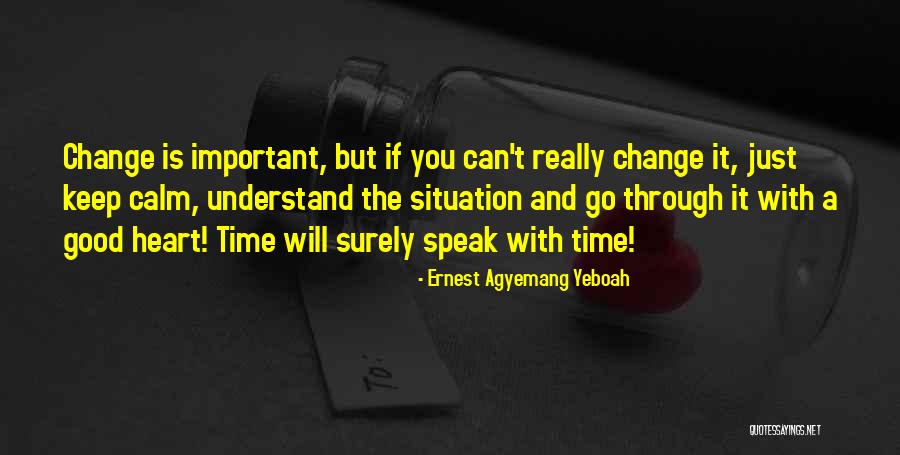 Change is important, but if you can't really change it, just keep calm, understand the situation and go through it with a good heart! Time will surely speak with time! — Ernest Agyemang Yeboah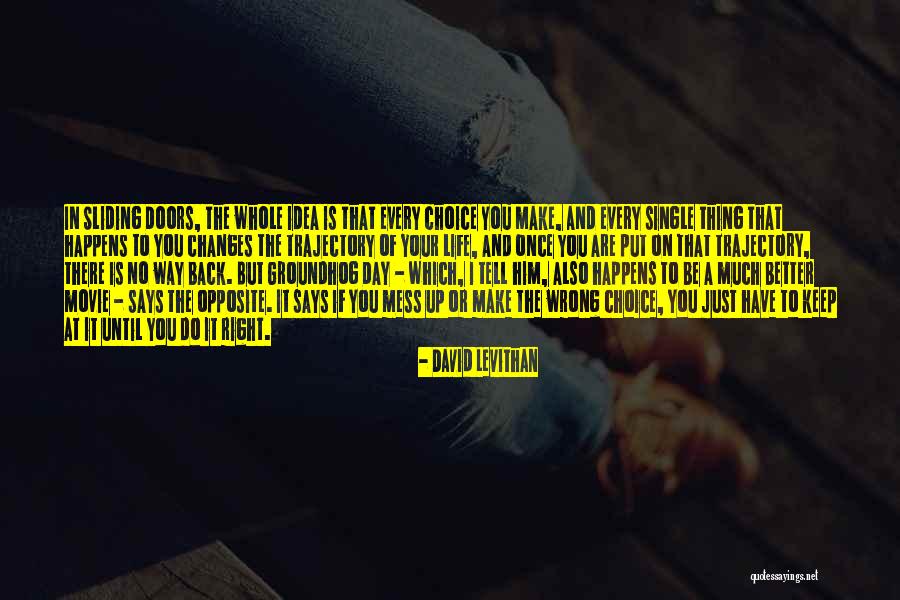 In Sliding Doors, the whole idea is that every choice you make, and every single thing that happens to you changes the trajectory of your life, and once you are put on that trajectory, there is no way back. But Groundhog Day - which, I tell him, also happens to be a much better movie - says the opposite. It says if you mess up or make the wrong choice, you just have to keep at it until you do it right. — David Levithan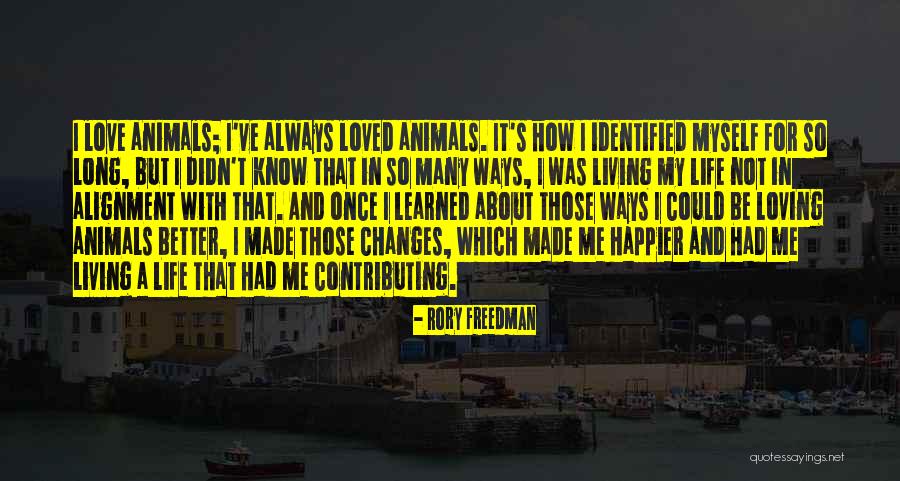 I love animals; I've always loved animals. It's how I identified myself for so long, but I didn't know that in so many ways, I was living my life not in alignment with that. And once I learned about those ways I could be loving animals better, I made those changes, which made me happier and had me living a life that had me contributing. — Rory Freedman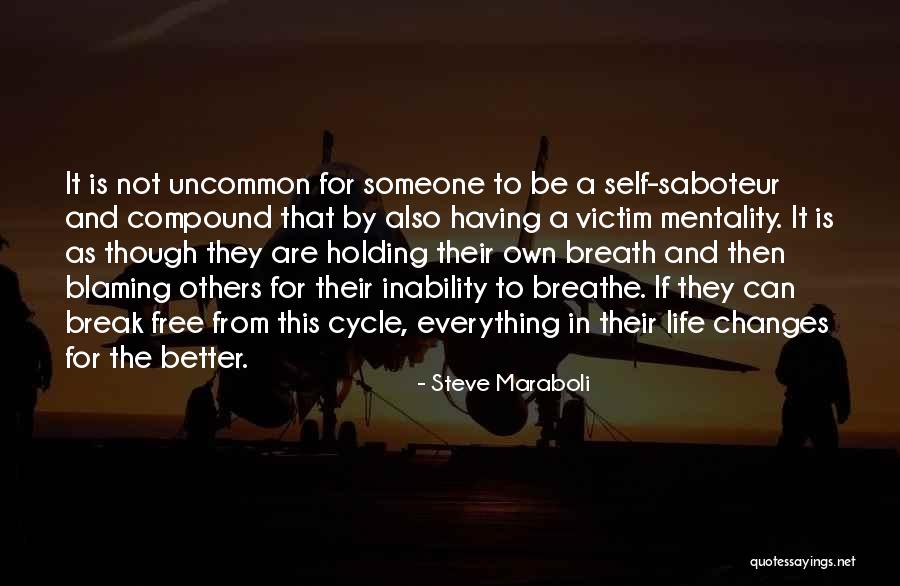 It is not uncommon for someone to be a self-saboteur and compound that by also having a victim mentality. It is as though they are holding their own breath and then blaming others for their inability to breathe. If they can break free from this cycle, everything in their life changes for the better. — Steve Maraboli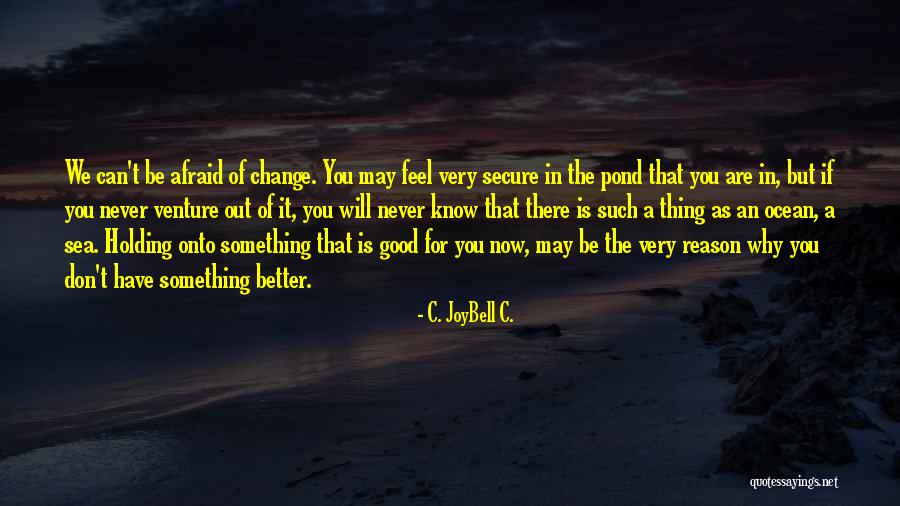 We can't be afraid of change. You may feel very secure in the pond that you are in, but if you never venture out of it, you will never know that there is such a thing as an ocean, a sea. Holding onto something that is good for you now, may be the very reason why you don't have something better. — C. JoyBell C.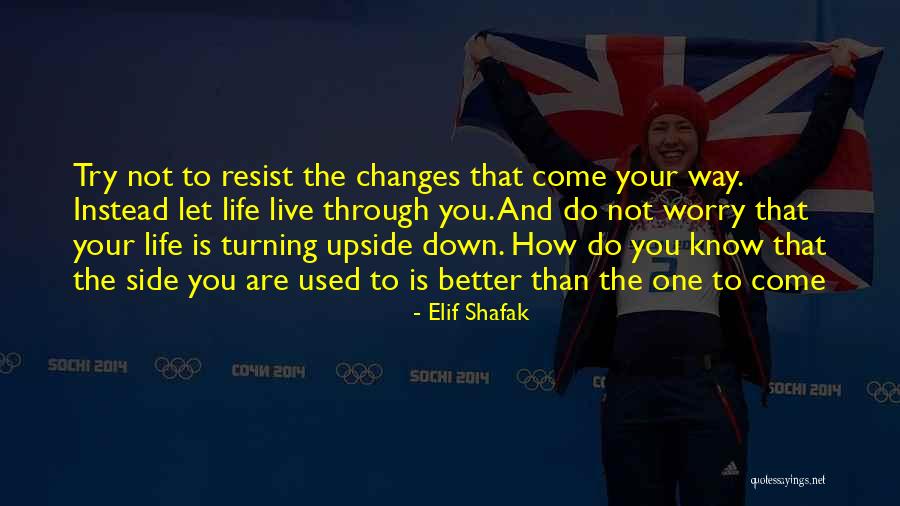 Try not to resist the changes that come your way. Instead let life live through you. And do not worry that your life is turning upside down. How do you know that the side you are used to is better than the one to come — Elif Shafak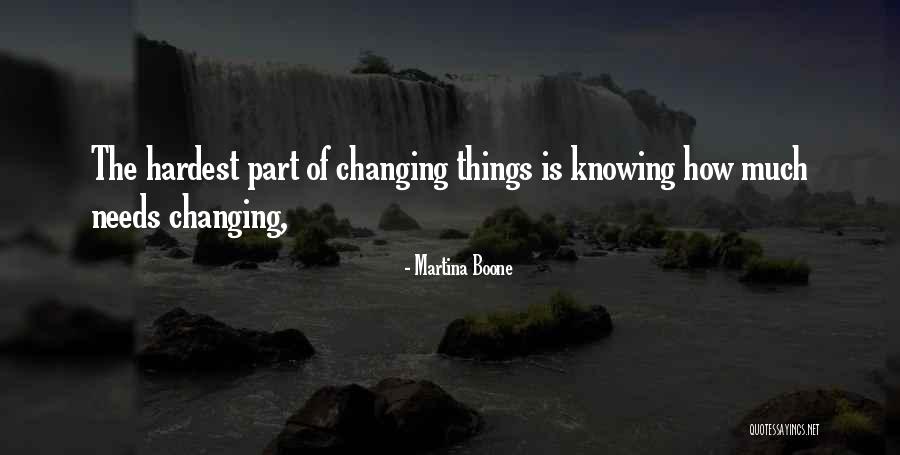 The hardest part of changing things is knowing how much needs changing, — Martina Boone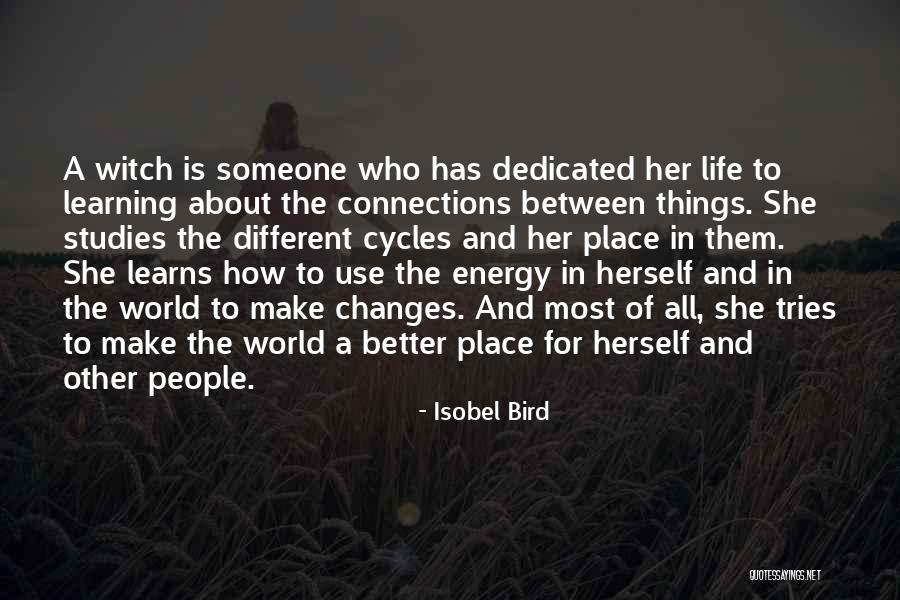 A witch is someone who has dedicated her life to learning about the connections between things. She studies the different cycles and her place in them. She learns how to use the energy in herself and in the world to make changes. And most of all, she tries to make the world a better place for herself and other people. — Isobel Bird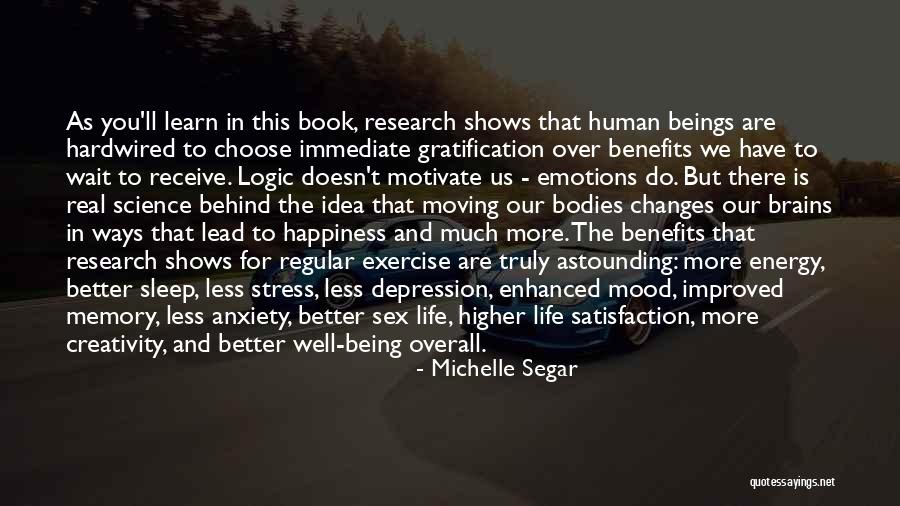 As you'll learn in this book, research shows that human beings are hardwired to choose immediate gratification over benefits we have to wait to receive. Logic doesn't motivate us - emotions do. But there is real science behind the idea that moving our bodies changes our brains in ways that lead to happiness and much more. The benefits that research shows for regular exercise are truly astounding: more energy, better sleep, less stress, less depression, enhanced mood, improved memory, less anxiety, better sex life, higher life satisfaction, more creativity, and better well-being overall. — Michelle Segar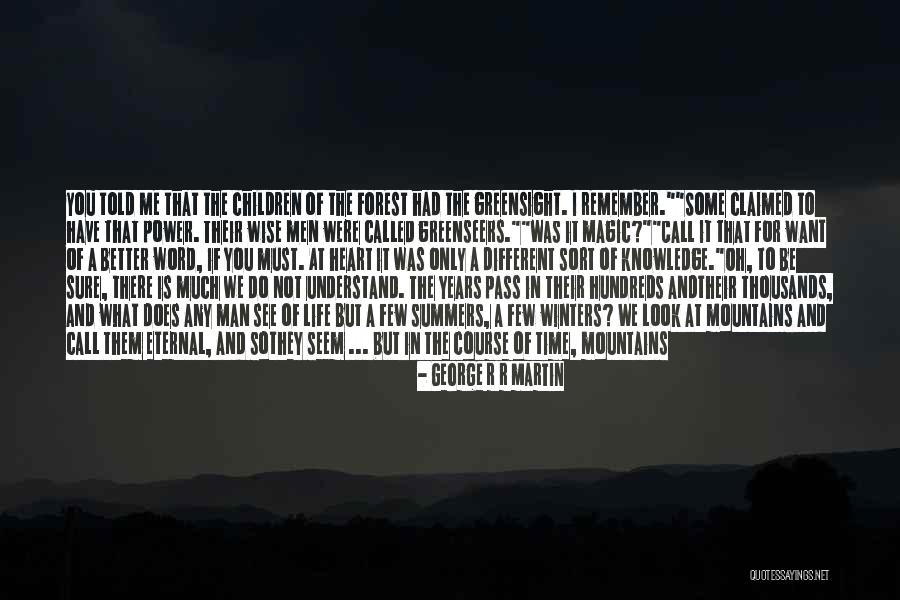 You told me that the children of the forest had the greensight. I remember."
"Some claimed to have that power. Their wise men were called greenseers."
"Was it magic?"
"Call it that for want of a better word, if you must. At heart it was only a different sort of knowledge."
Oh, to be sure, there is much we do not understand. The years pass in their hundreds and
their thousands, and what does any man see of life but a few summers, a few winters? We look at mountains and call them eternal, and so
they seem ... but in the course of time, mountains rise and fall, rivers change their courses, stars fall from the sky, and great cities sink
beneath the sea. Even gods die, we think. Everything changes.
So long as there was magic, anything could happen. Ghosts could walk, trees could talk, and broken boys could grow up to be knights. — George R R Martin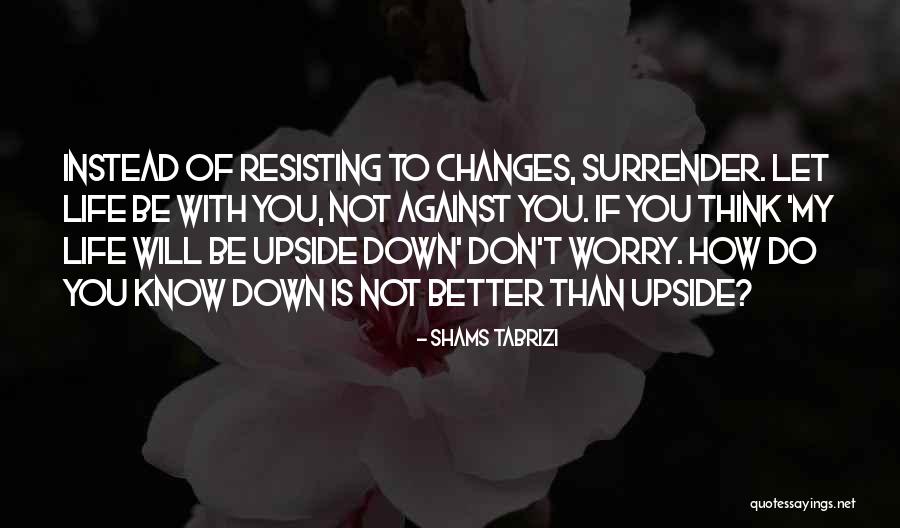 Instead of resisting to changes, surrender. Let life be with you, not against you. If you think 'My life will be upside down' don't worry. How do you know down is not better than upside? — Shams Tabrizi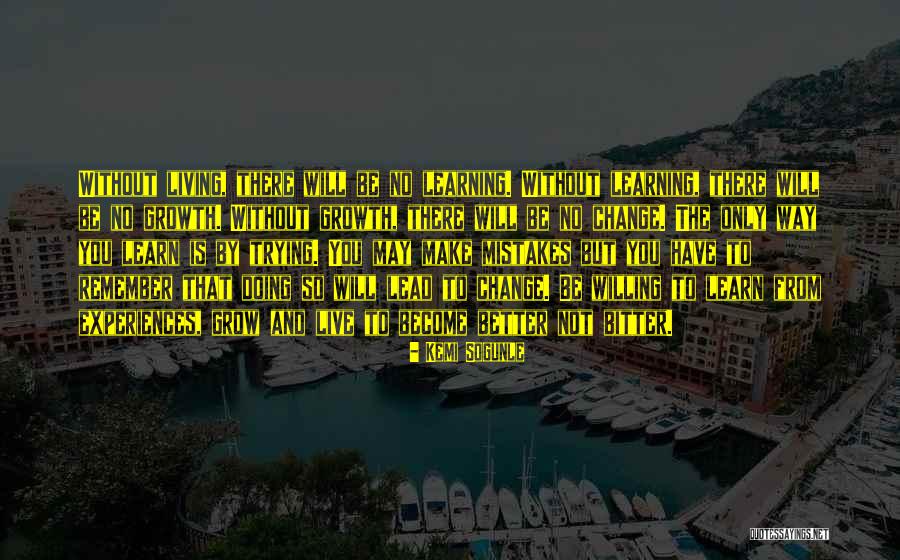 Without living, there will be no learning. Without learning, there will be no growth. Without growth, there will be no change. The only way you learn is by trying. You may make mistakes but you have to remember that doing so will lead to change. Be willing to learn from experiences, grow and live to become better not bitter. — Kemi Sogunle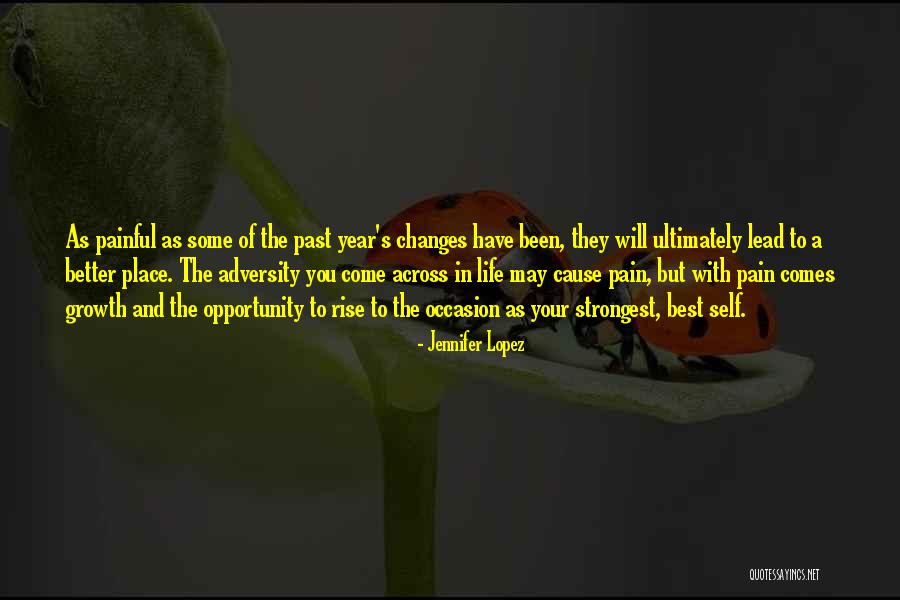 As painful as some of the past year's changes have been, they will ultimately lead to a better place. The adversity you come across in life may cause pain, but with pain comes growth and the opportunity to rise to the occasion as your strongest, best self. — Jennifer Lopez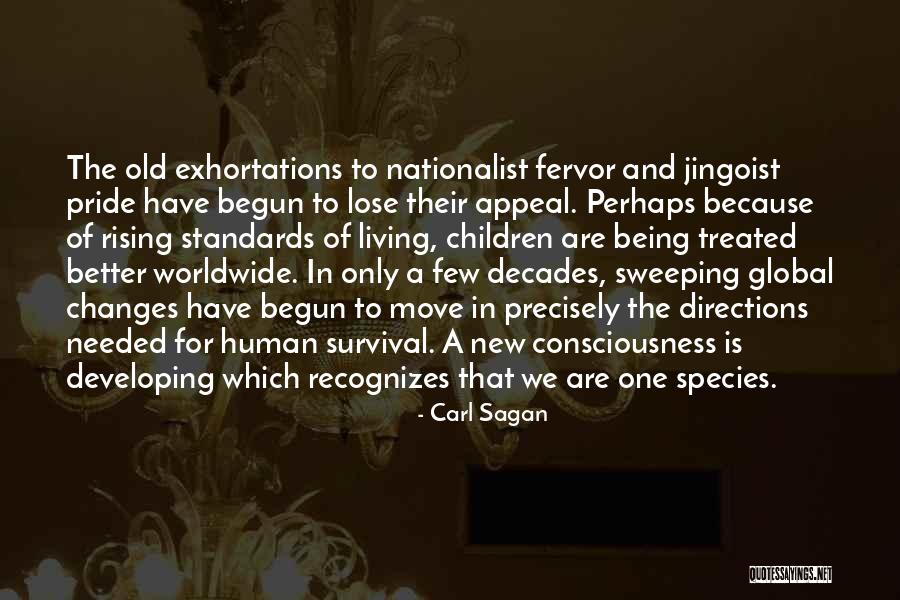 The old exhortations to nationalist fervor and jingoist pride have begun to lose their appeal. Perhaps because of rising standards of living, children are being treated better worldwide. In only a few decades, sweeping global changes have begun to move in precisely the directions needed for human survival. A new consciousness is developing which recognizes that we are one species. — Carl Sagan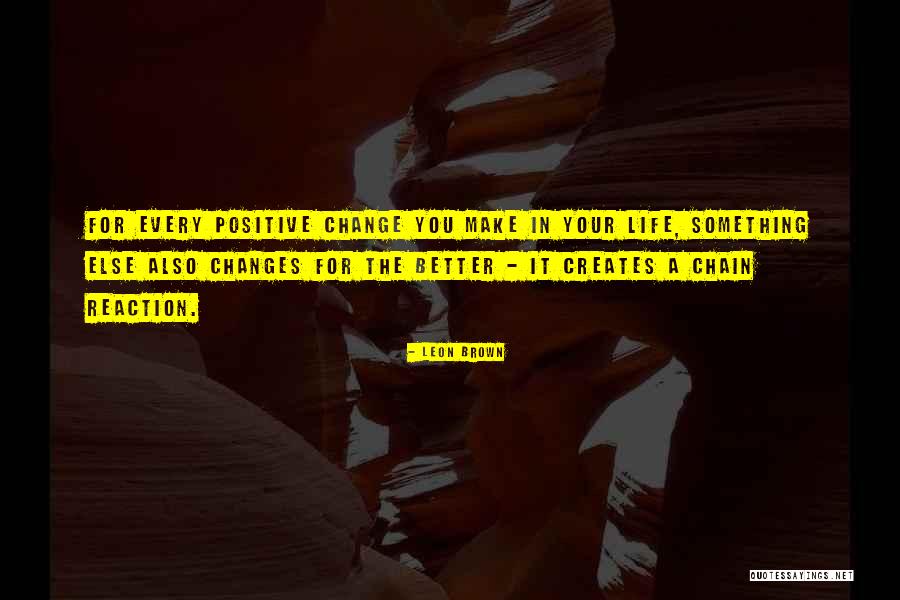 For every positive change you make in your life, something else also changes for the better - it creates a chain reaction. — Leon Brown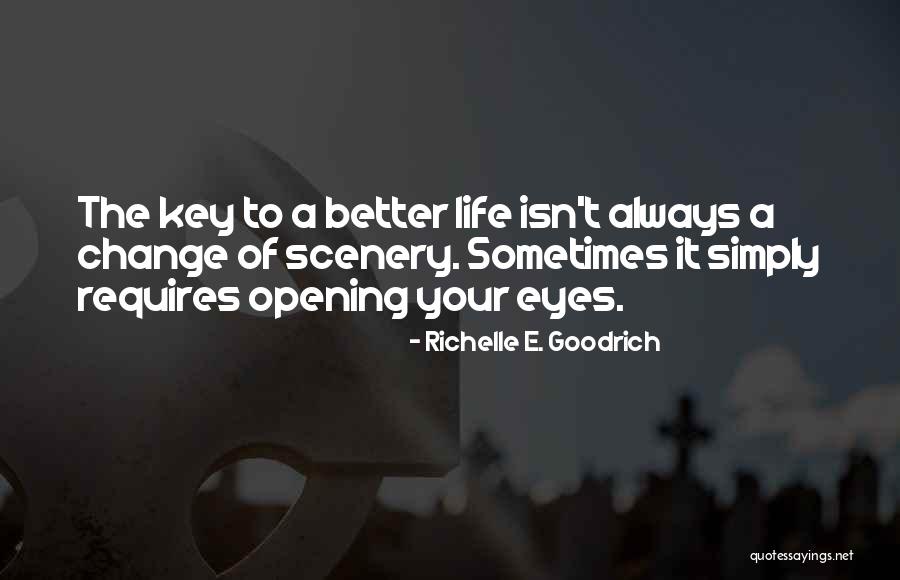 The key to a better life isn't always a change of scenery. Sometimes it simply requires opening your eyes. — Richelle E. Goodrich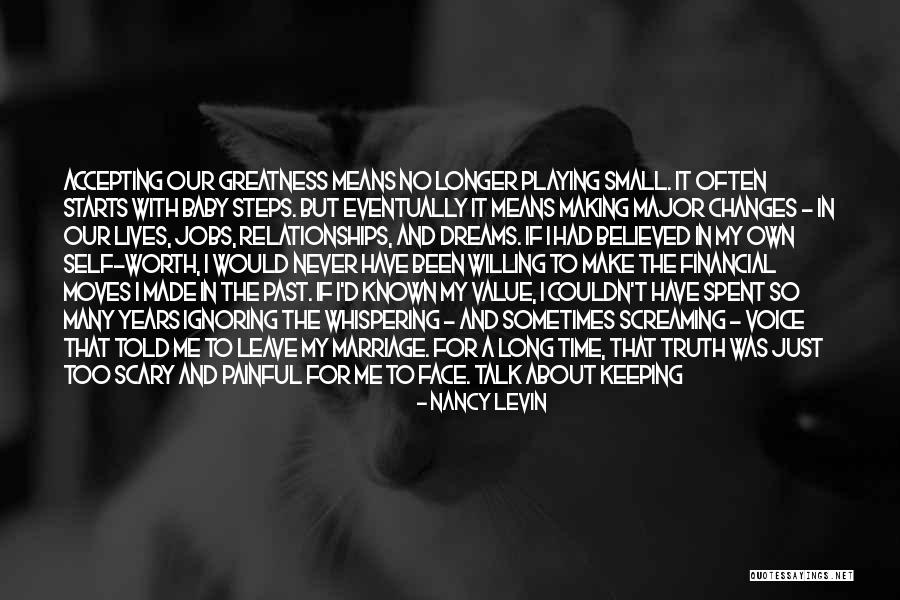 Accepting our greatness means no longer playing small. It often starts with baby steps. But eventually it means making major changes - in our lives, jobs, relationships, and dreams.

If I had believed in my own self-worth, I would never have been willing to make the financial moves I made in the past.

If I'd known my value, I couldn't have spent so many years ignoring the whispering - and sometimes screaming - voice that told me to leave my marriage. For a long time, that truth was just too scary and painful for me to face. Talk about keeping my head in the sand!

But how many years did I waste, postponing what has proven to be a much better life - simply because I went into hiding and didn't see that I was worthy of something better? — Nancy Levin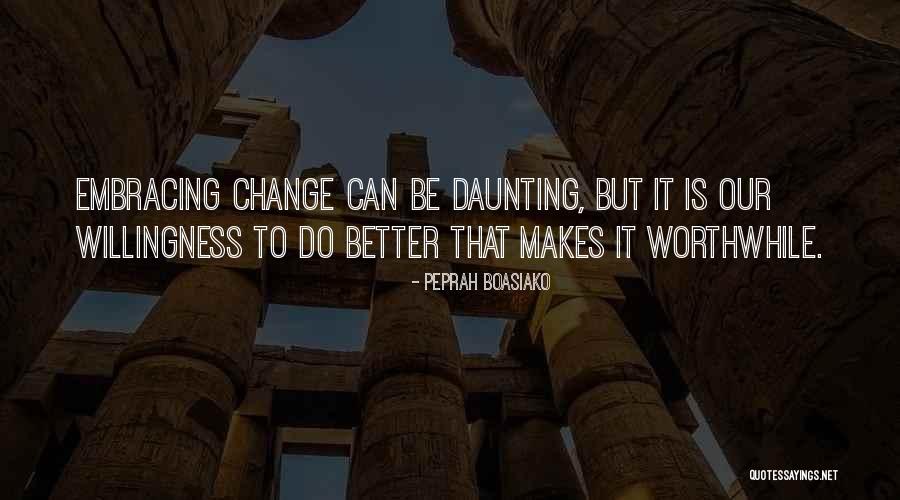 Embracing change can be daunting, but it is our willingness to do better that makes it worthwhile. — Peprah Boasiako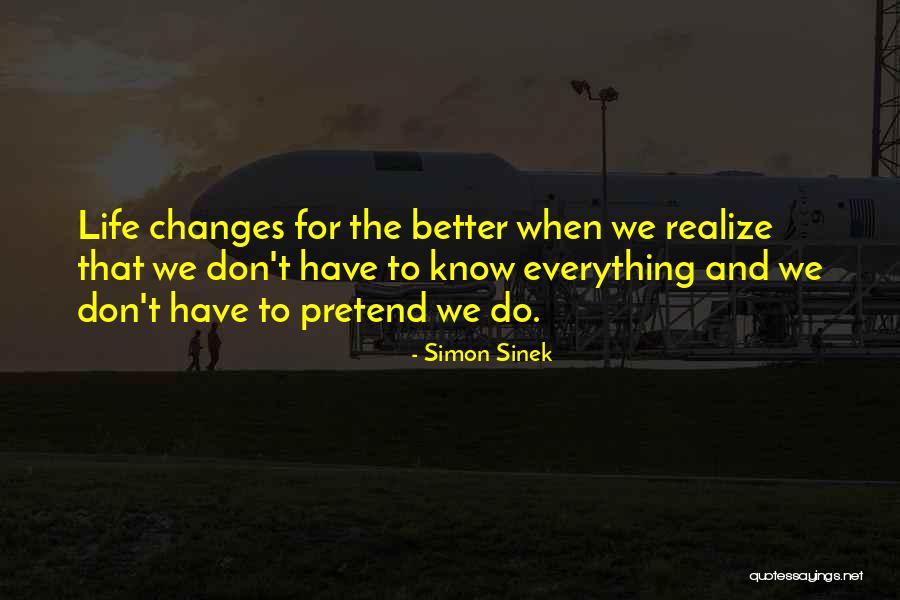 Life changes for the better when we realize that we don't have to know everything and we don't have to pretend we do. — Simon Sinek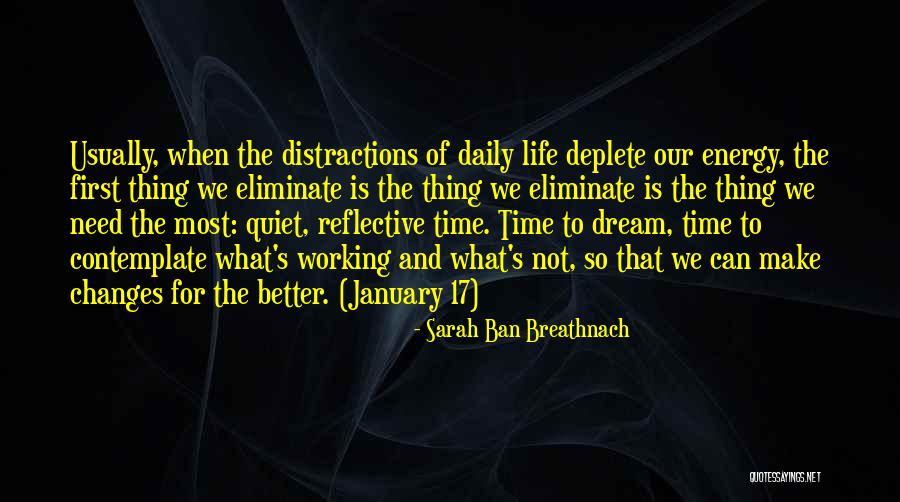 Usually, when the distractions of daily life deplete our energy, the first thing we eliminate is the thing we eliminate is the thing we need the most: quiet, reflective time. Time to dream, time to contemplate what's working and what's not, so that we can make changes for the better. (January 17) — Sarah Ban Breathnach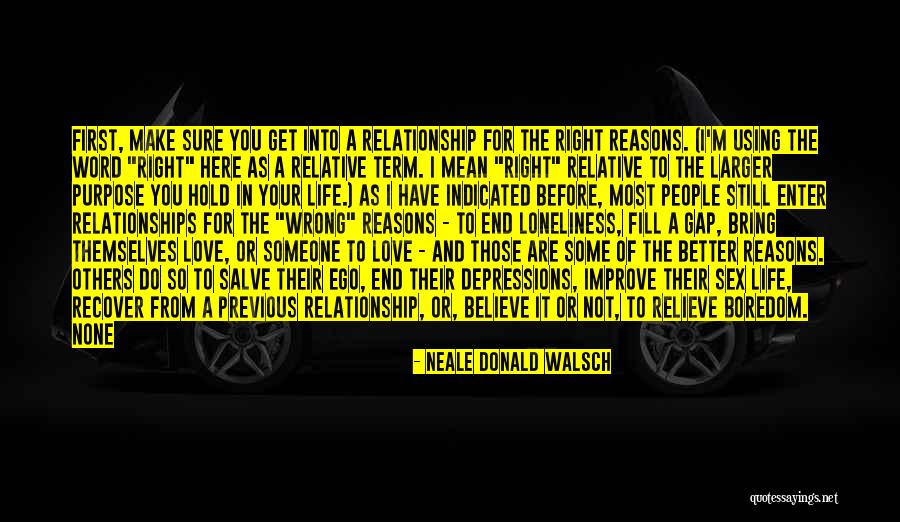 First, make sure you get into a relationship for the right reasons. (I'm using the word "right" here as a relative term. I mean "right" relative to the larger purpose you hold in your life.) As I have indicated before, most people still enter relationships for the "wrong" reasons - to end loneliness, fill a gap, bring themselves love, or someone to love - and those are some of the better reasons. Others do so to salve their ego, end their depressions, improve their sex life, recover from a previous relationship, or, believe it or not, to relieve boredom. None of these reasons will work, and unless something dramatic changes along the way, neither will the relationship. — Neale Donald Walsch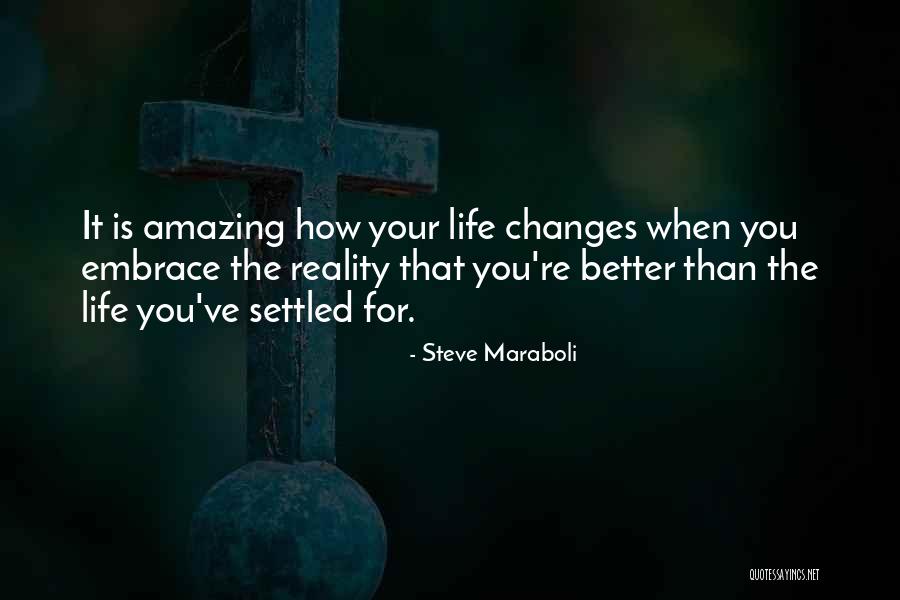 It is amazing how your life changes when you embrace the reality that you're better than the life you've settled for. — Steve Maraboli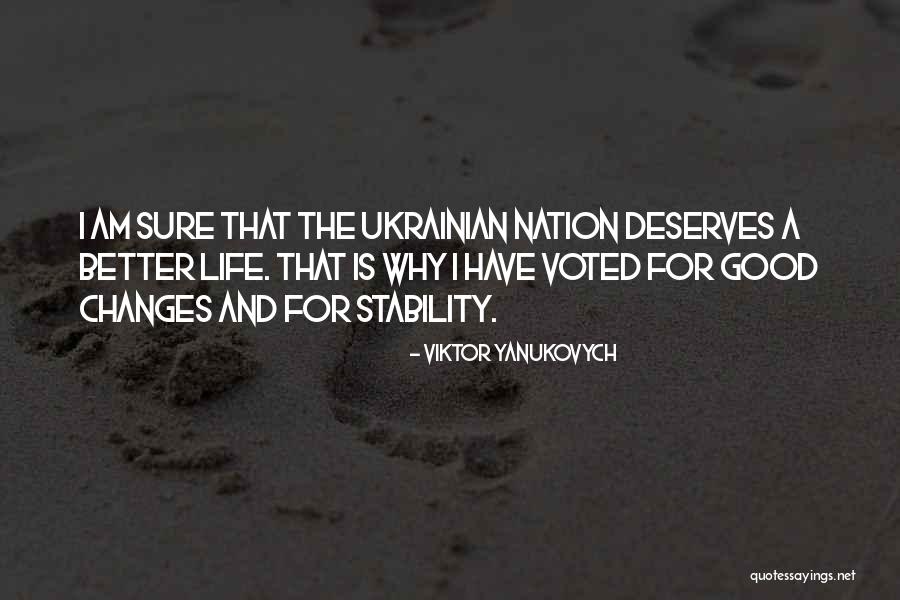 I am sure that the Ukrainian nation deserves a better life. That is why I have voted for good changes and for stability. — Viktor Yanukovych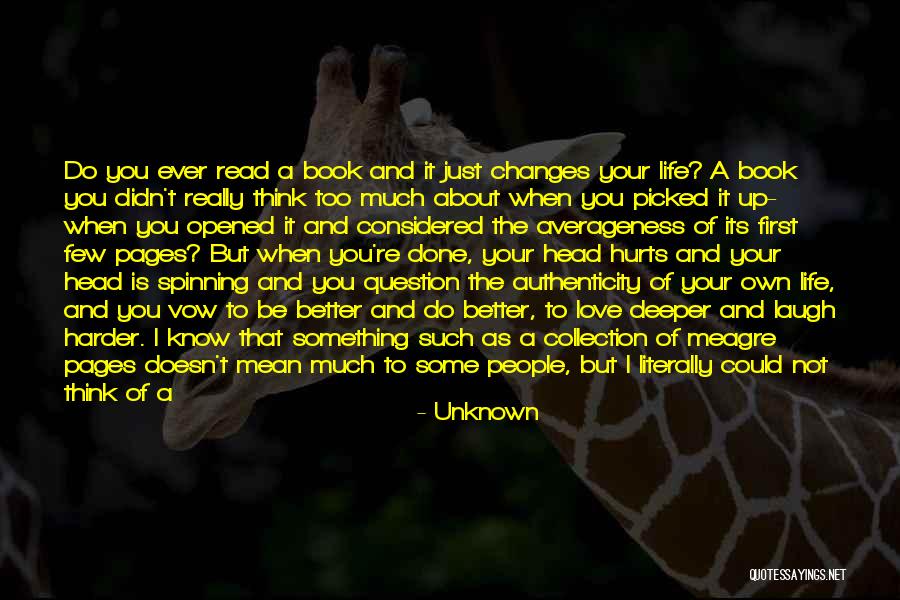 Do you ever read a book and it just changes your life? A book you didn't really think too much about when you picked it up- when you opened it and considered the averageness of its first few pages? But when you're done, your head hurts and your head is spinning and you question the authenticity of your own life, and you vow to be better and do better, to love deeper and laugh harder. I know that something such as a collection of meagre pages doesn't mean much to some people, but I literally could not think of a world without literary fiction (or non-fiction for that matter). I feel so blessed that I get to experience other peoples thoughts and imaginations through a book. — Unknown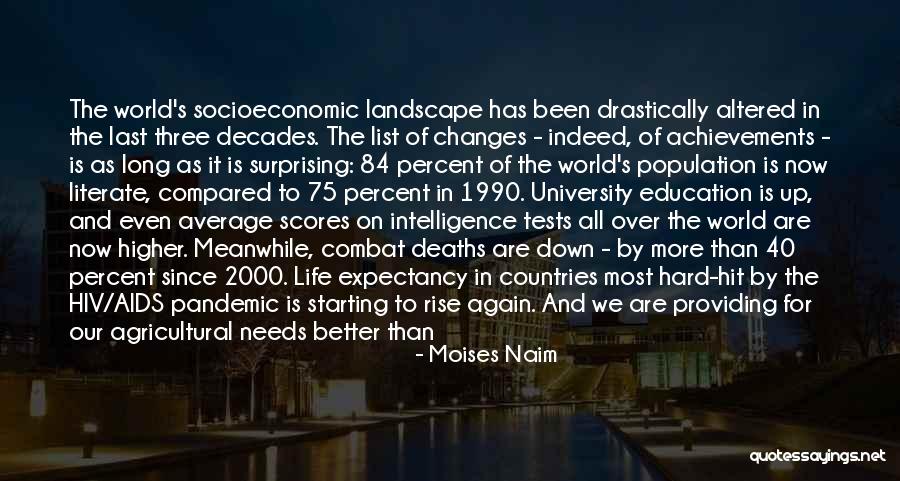 The world's socioeconomic landscape has been drastically altered in the last three decades. The list of changes - indeed, of achievements - is as long as it is surprising: 84 percent of the world's population is now literate, compared to 75 percent in 1990. University education is up, and even average scores on intelligence tests all over the world are now higher. Meanwhile, combat deaths are down - by more than 40 percent since 2000. Life expectancy in countries most hard-hit by the HIV/AIDS pandemic is starting to rise again. And we are providing for our agricultural needs better than ever: since 2000, cereal production in the developing world has increased twice as fast as population. — Moises Naim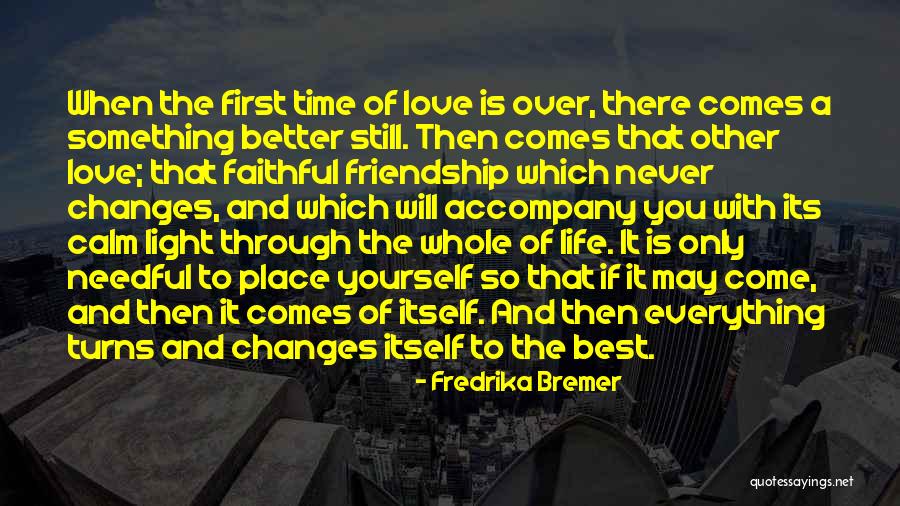 When the first time of love is over, there comes a something better still. Then comes that other love; that faithful friendship which never changes, and which will accompany you with its calm light through the whole of life. It is only needful to place yourself so that if it may come, and then it comes of itself. And then everything turns and changes itself to the best. — Fredrika Bremer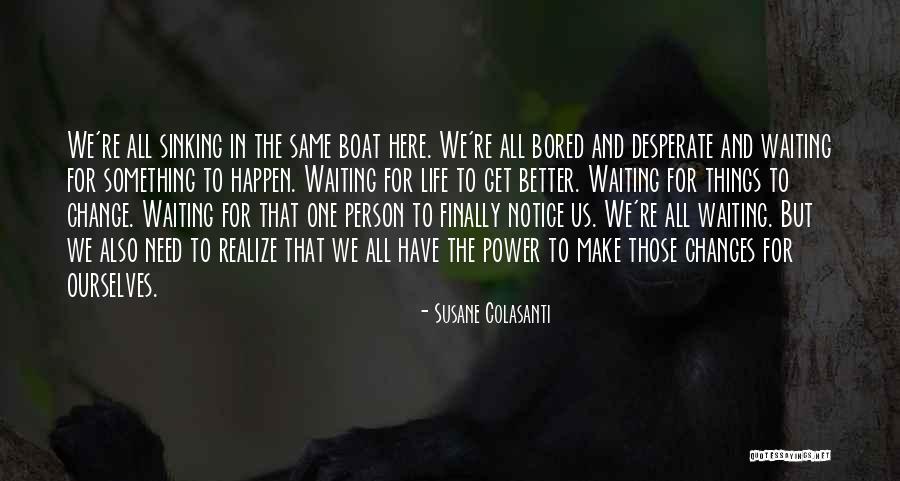 We're all sinking in the same boat here. We're all bored and desperate and waiting for something to happen. Waiting for life to get better. Waiting for things to change. Waiting for that one person to finally notice us. We're all waiting. But we also need to realize that we all have the power to make those changes for ourselves. — Susane Colasanti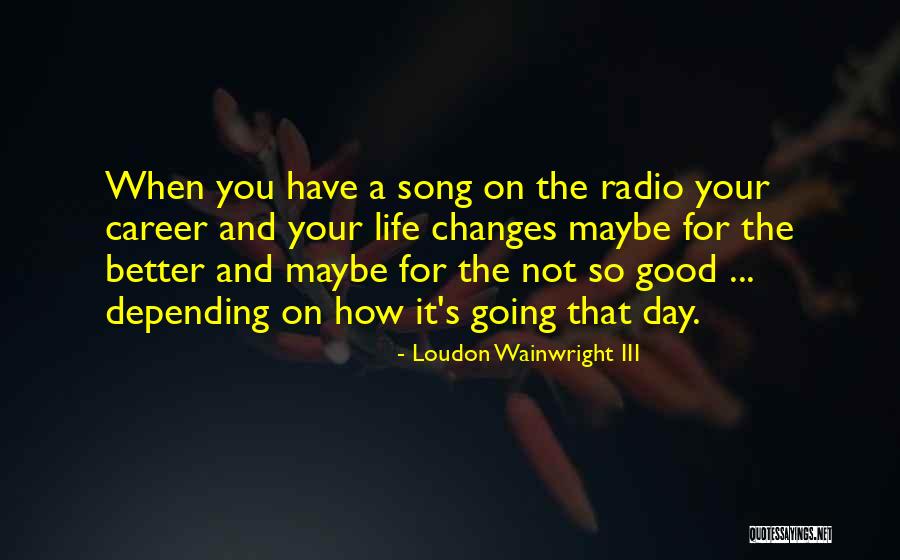 When you have a song on the radio your career and your life changes maybe for the better and maybe for the not so good ... depending on how it's going that day. — Loudon Wainwright III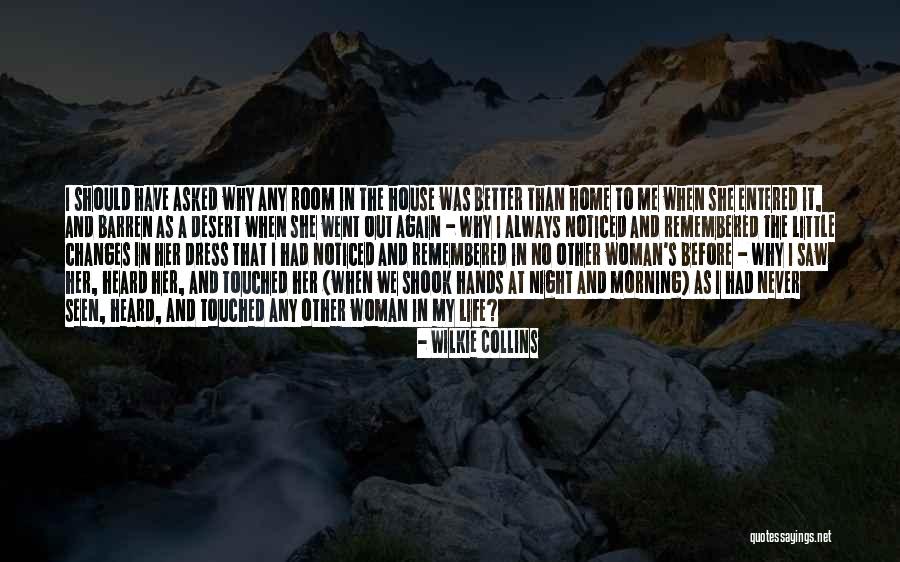 I should have asked why any room in the house was better than home to me when she entered it, and barren as a desert when she went out again - why I always noticed and remembered the little changes in her dress that I had noticed and remembered in no other woman's before - why I saw her, heard her, and touched her (when we shook hands at night and morning) as I had never seen, heard, and touched any other woman in my life? — Wilkie Collins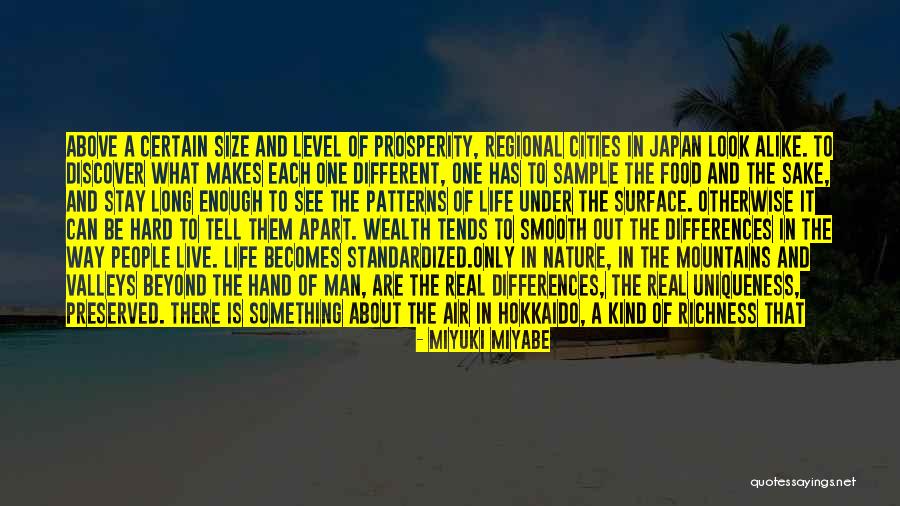 Above a certain size and level of prosperity, regional cities in Japan look alike. To discover what makes each one different, one has to sample the food and the sake, and stay long enough to see the patterns of life under the surface. Otherwise it can be hard to tell them apart. Wealth tends to smooth out the differences in the way people live. Life becomes standardized.

Only in nature, in the mountains and valleys beyond the hand of man, are the real differences, the real uniqueness, preserved. There is something about the air in Hokkaido, a kind of richness that will never change. For better or worse, the only thing that really changes is people. — Miyuki Miyabe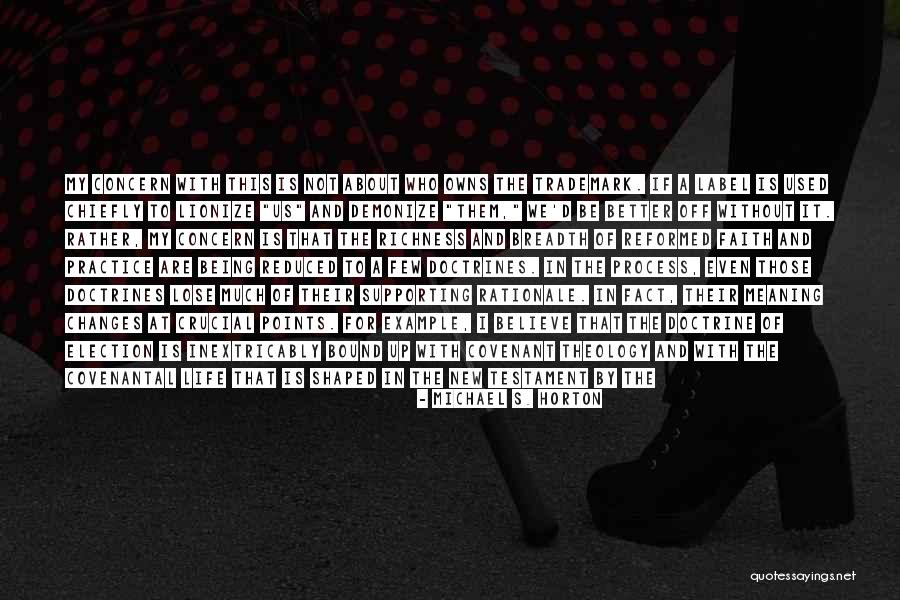 My concern with this is not about who owns the trademark. If a label is used chiefly to lionize "us" and demonize "them," we'd be better off without it. Rather, my concern is that the richness and breadth of Reformed faith and practice are being reduced to a few doctrines. In the process, even those doctrines lose much of their supporting rationale. In fact, their meaning changes at crucial points. For example, I believe that the doctrine of election is inextricably bound up with covenant theology and with the covenantal life that is shaped in the New Testament by the means of grace. As I have argued, even "eternal security" is different from the doctrine of perseverance. — Michael S. Horton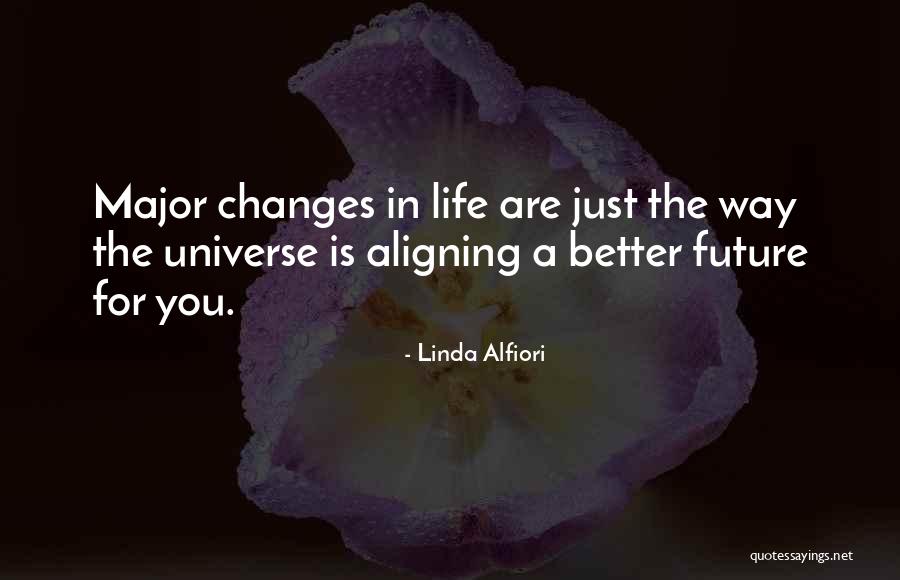 Major changes in life are just the way the universe is aligning a better future for you. — Linda Alfiori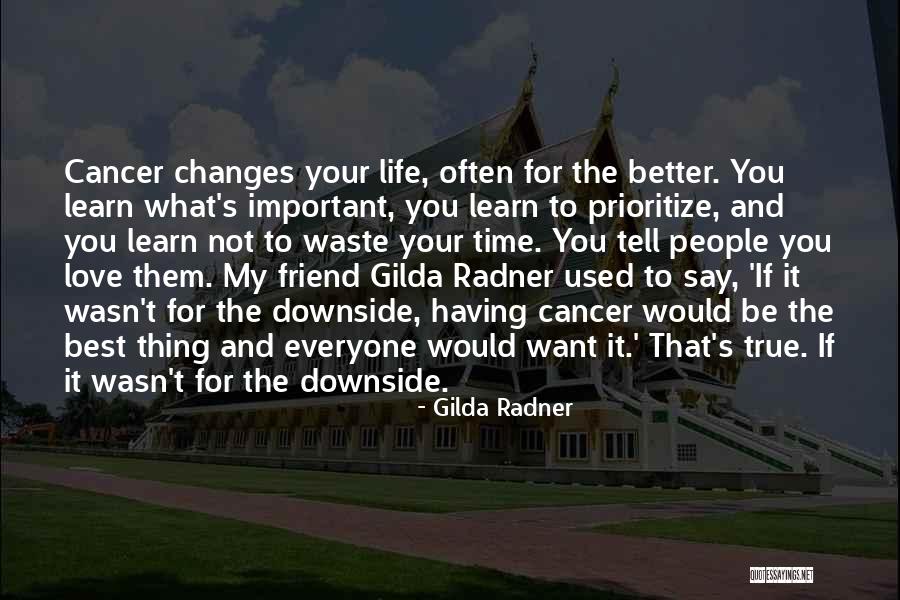 Cancer changes your life, often for the better. You learn what's important, you learn to prioritize, and you learn not to waste your time. You tell people you love them. My friend Gilda Radner used to say, 'If it wasn't for the downside, having cancer would be the best thing and everyone would want it.' That's true. If it wasn't for the downside. — Gilda Radner