Best Commencement Quotes & Sayings
Enjoy reading and share 40 famous quotes about Best Commencement with everyone.
Top Best Commencement Quotes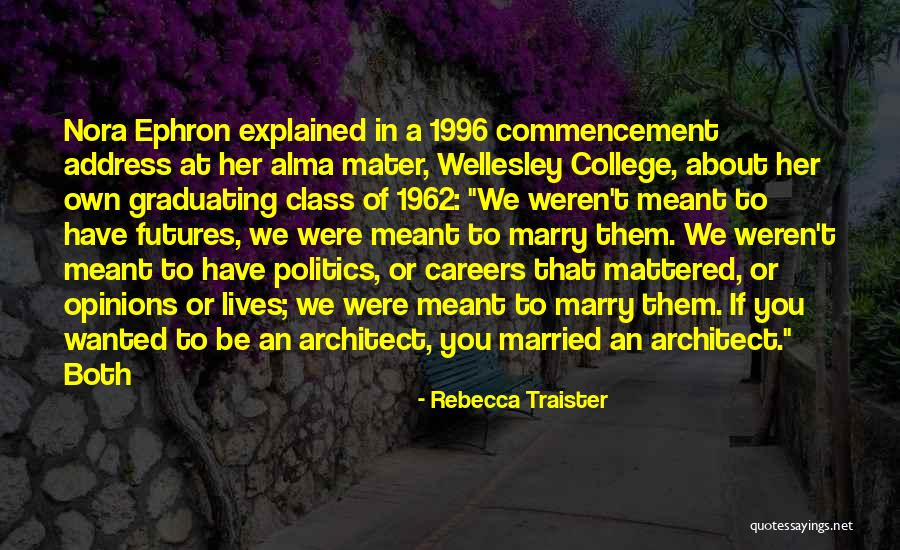 Nora Ephron explained in a 1996 commencement address at her alma mater, Wellesley College, about her own graduating class of 1962: "We weren't meant to have futures, we were meant to marry them. We weren't meant to have politics, or careers that mattered, or opinions or lives; we were meant to marry them. If you wanted to be an architect, you married an architect." Both — Rebecca Traister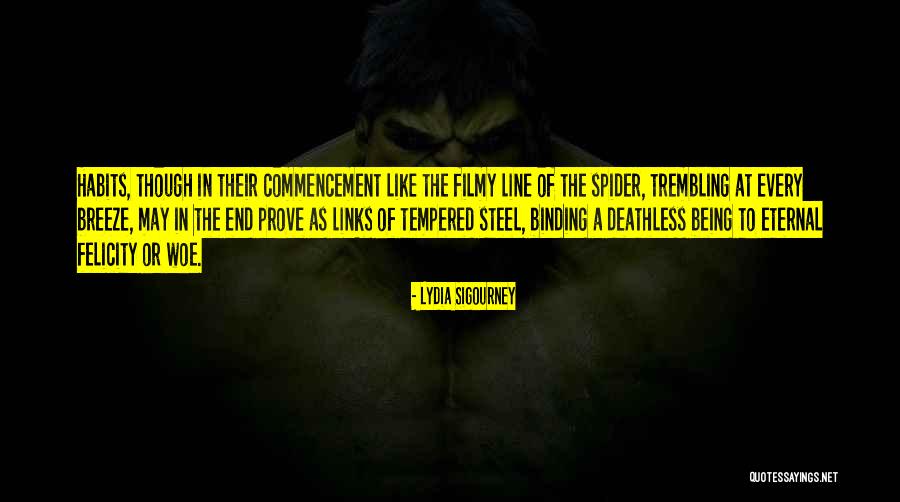 Habits, though in their commencement like the filmy line of the spider, trembling at every breeze, may in the end prove as links of tempered steel, binding a deathless being to eternal felicity or woe. — Lydia Sigourney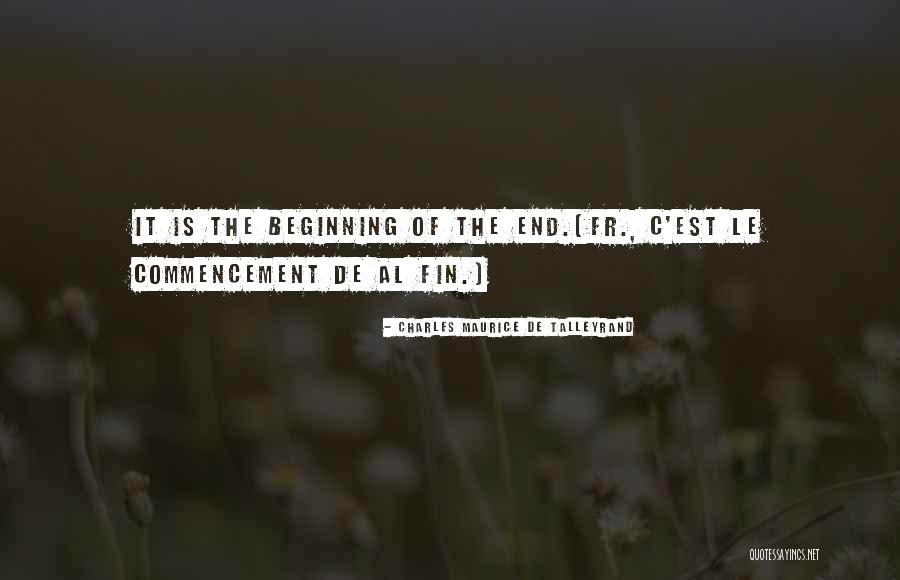 It is the beginning of the end.
[Fr., C'est le commencement de al fin.] — Charles Maurice De Talleyrand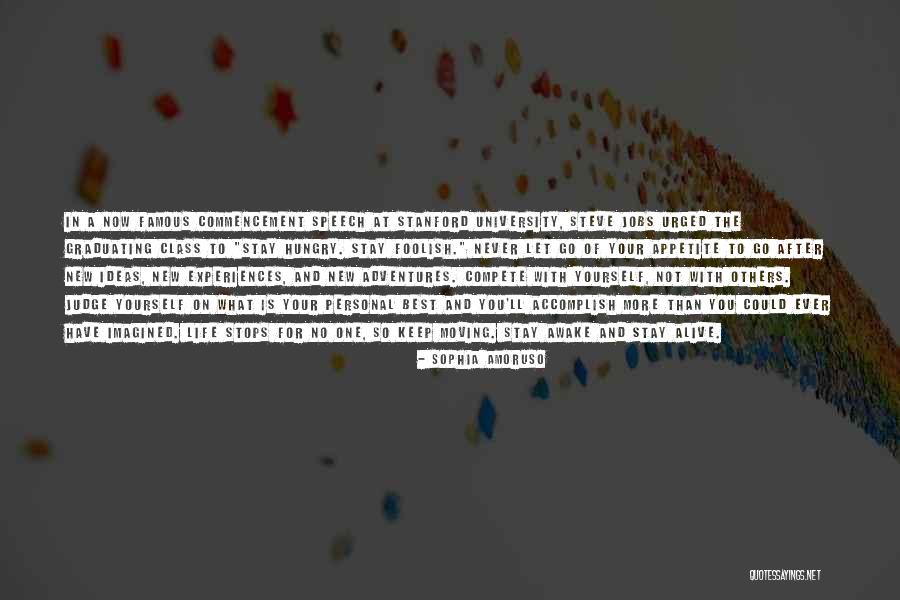 In a now famous commencement speech at Stanford University, Steve Jobs urged the graduating class to "stay hungry. Stay foolish." Never let go of your appetite to go after new ideas, new experiences, and new adventures. Compete with yourself, not with others. Judge yourself on what is your personal best and you'll accomplish more than you could ever have imagined. Life stops for no one, so keep moving. Stay awake and stay alive. — Sophia Amoruso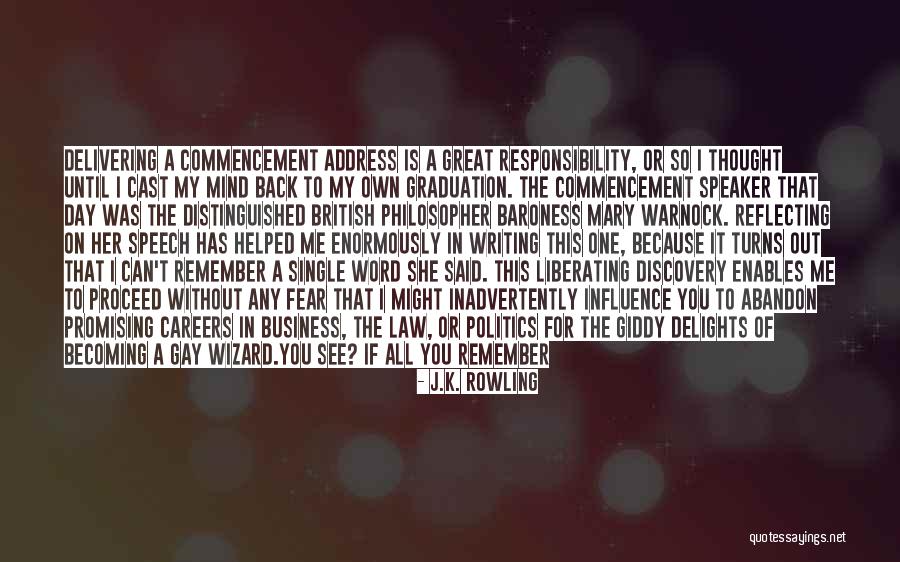 Delivering a commencement address is a great responsibility, or so I thought until I cast my mind back to my own graduation. The commencement speaker that day was the distinguished British philosopher Baroness Mary Warnock. Reflecting on her speech has helped me enormously in writing this one, because it turns out that I can't remember a single word she said. This liberating discovery enables me to proceed without any fear that I might inadvertently influence you to abandon promising careers in business, the law, or politics for the giddy delights of becoming a gay wizard.
You see? If all you remember in years to come is the 'gay wizard' joke, I've come out ahead of Baroness Mary Warnock. Achievable goals: the first step to self-improvement. — J.K. Rowling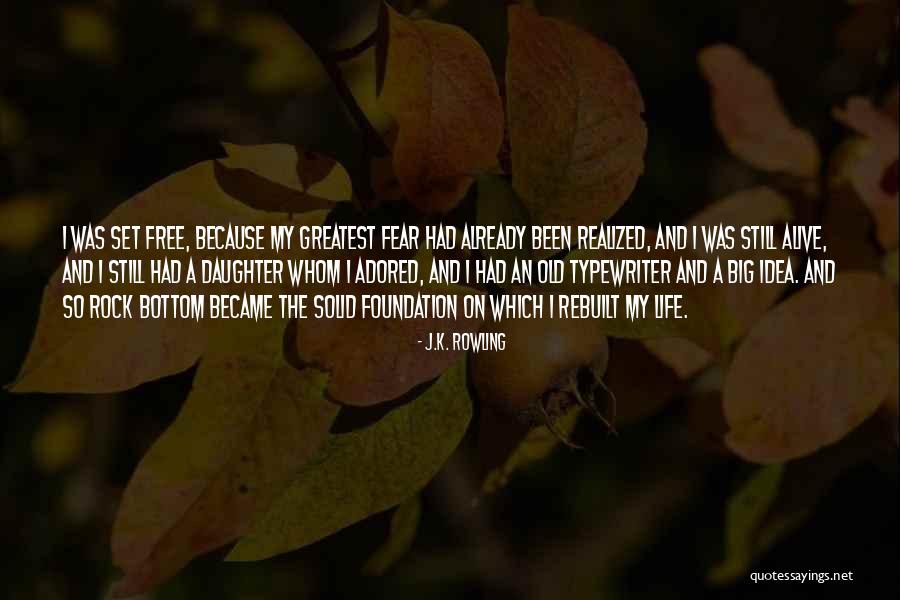 I was set free, because my greatest fear had already been realized, and I was still alive, and I still had a daughter whom I adored, and I had an old typewriter and a big idea. And so rock bottom became the solid foundation on which I rebuilt my life. — J.K. Rowling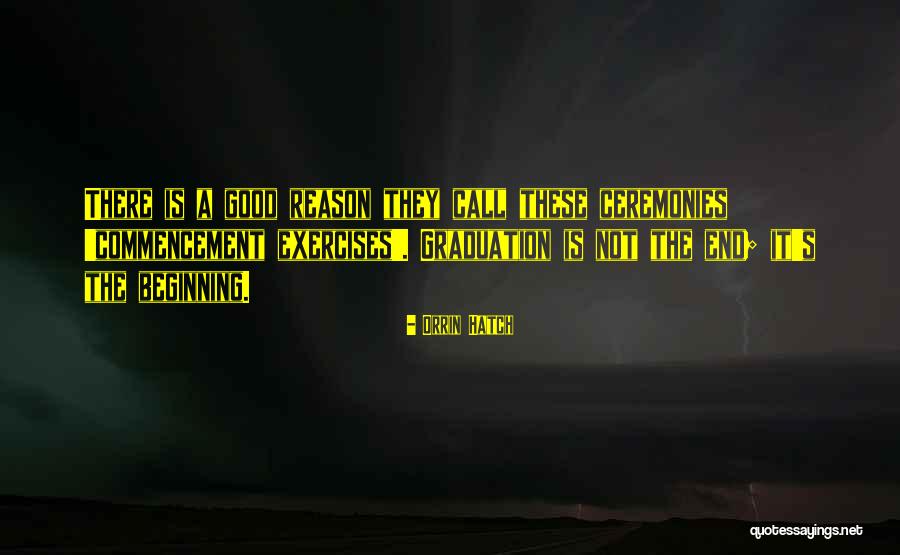 There is a good reason they call these ceremonies 'commencement exercises'. Graduation is not the end; it's the beginning. — Orrin Hatch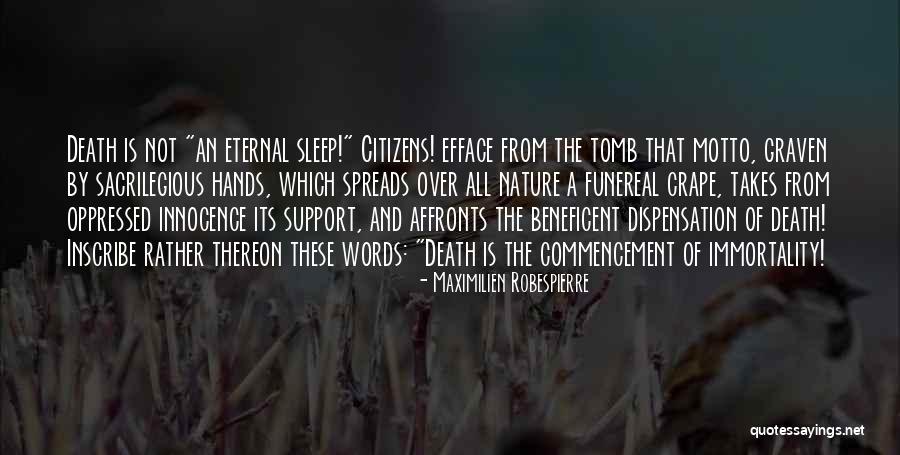 Death is not "an eternal sleep!" Citizens! efface from the tomb that motto, graven by sacrilegious hands, which spreads over all nature a funereal crape, takes from oppressed innocence its support, and affronts the beneficent dispensation of death! Inscribe rather thereon these words: "Death is the commencement of immortality! — Maximilien Robespierre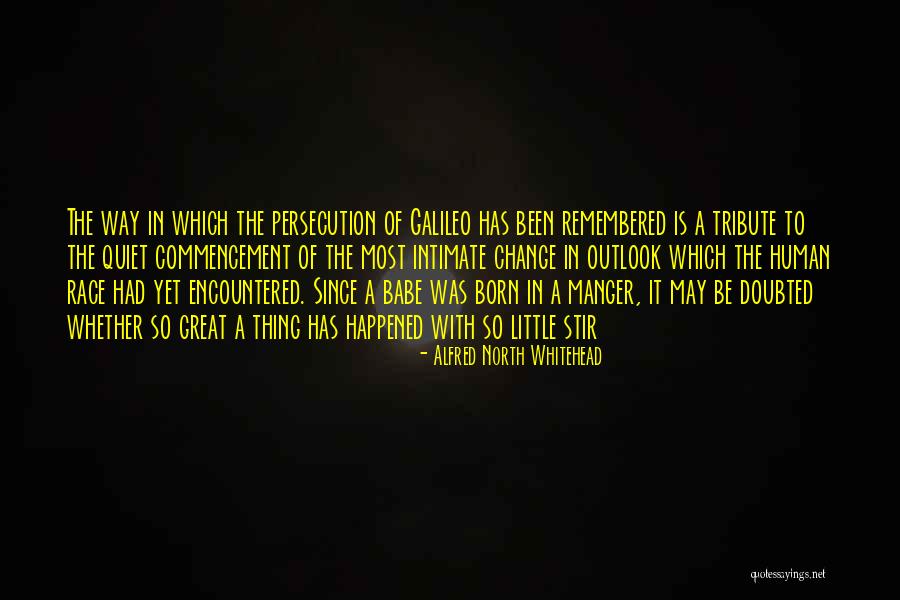 The way in which the persecution of Galileo has been remembered is a tribute to the quiet commencement of the most intimate change in outlook which the human race had yet encountered. Since a babe was born in a manger, it may be doubted whether so great a thing has happened with so little stir — Alfred North Whitehead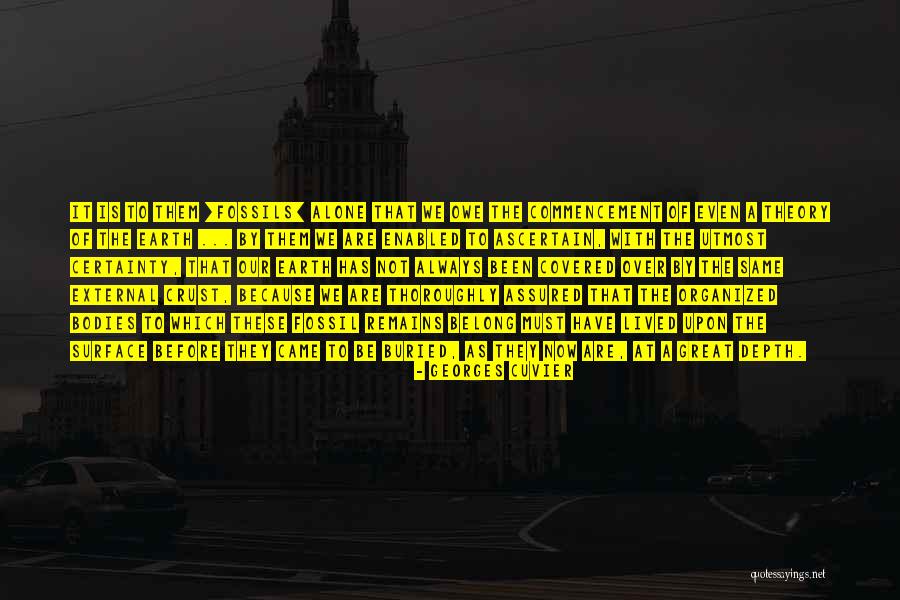 It is to them [fossils] alone that we owe the commencement of even a Theory of the Earth ... By them we are enabled to ascertain, with the utmost certainty, that our earth has not always been covered over by the same external crust, because we are thoroughly assured that the organized bodies to which these fossil remains belong must have lived upon the surface before they came to be buried, as they now are, at a great depth. — Georges Cuvier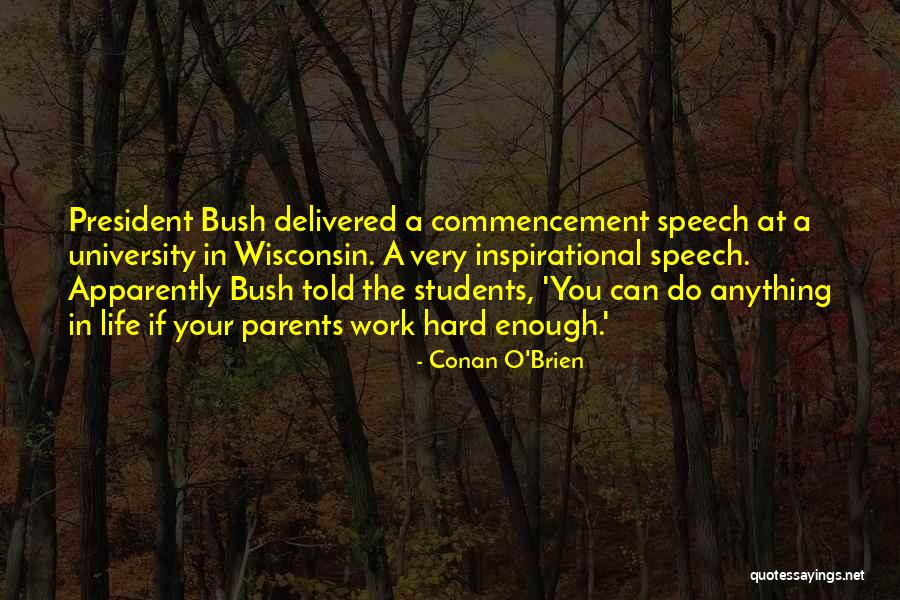 President Bush delivered a commencement speech at a university in Wisconsin. A very inspirational speech. Apparently Bush told the students, 'You can do anything in life if your parents work hard enough.' — Conan O'Brien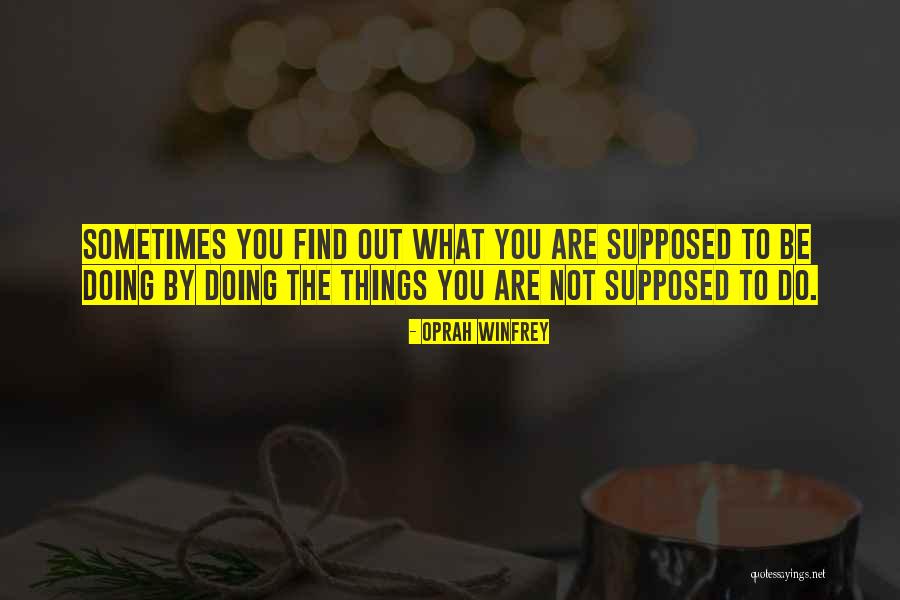 Sometimes you find out what you are supposed to be doing by doing the things you are not supposed to do. — Oprah Winfrey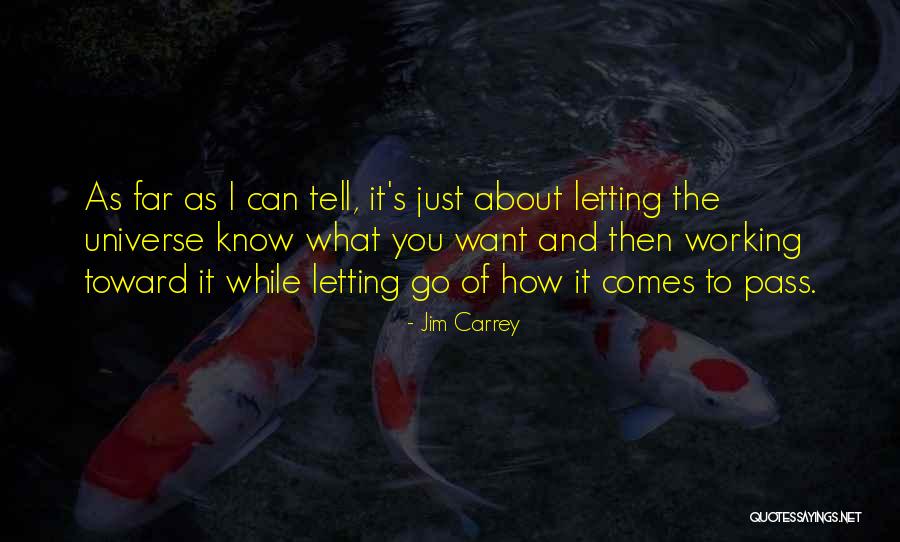 As far as I can tell, it's just about letting the universe know what you want and then working toward it while letting go of how it comes to pass. — Jim Carrey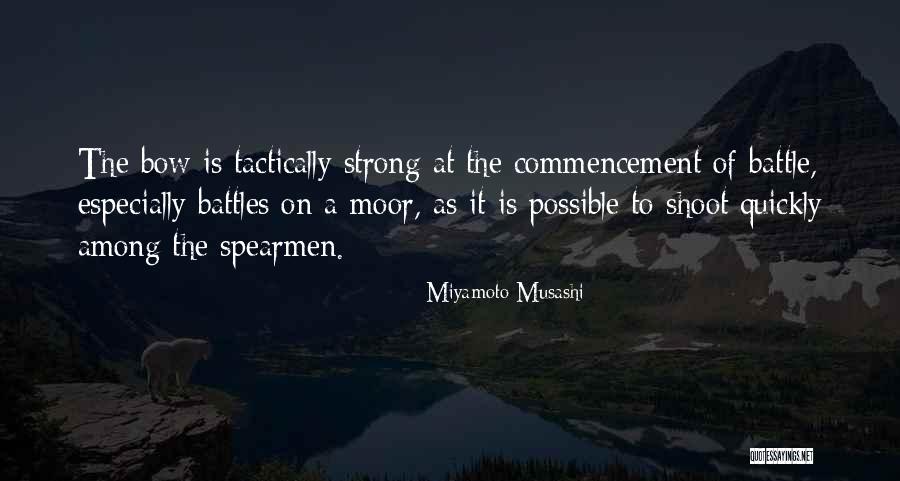 The bow is tactically strong at the commencement of battle, especially battles on a moor, as it is possible to shoot quickly among the spearmen. — Miyamoto Musashi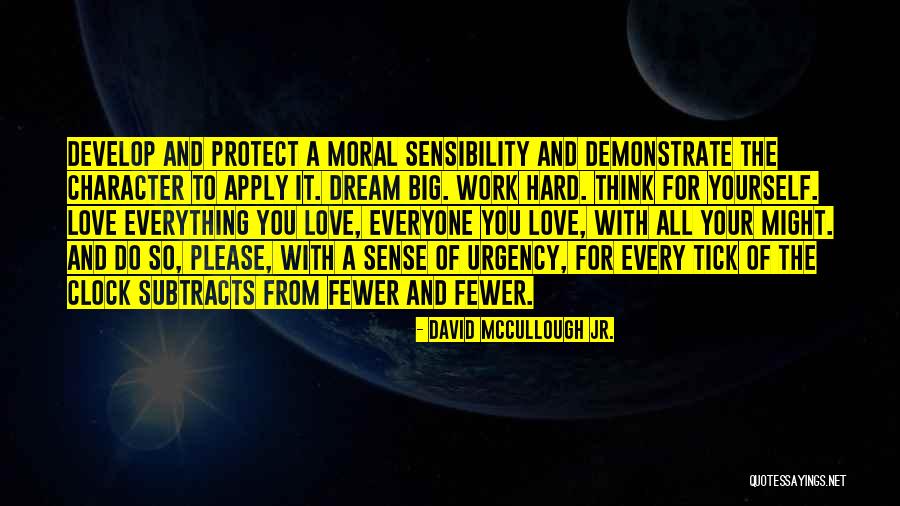 Develop and protect a moral sensibility and demonstrate the character to apply it. Dream big. Work hard. Think for yourself. Love everything you love, everyone you love, with all your might. And do so, please, with a sense of urgency, for every tick of the clock subtracts from fewer and fewer. — David McCullough Jr.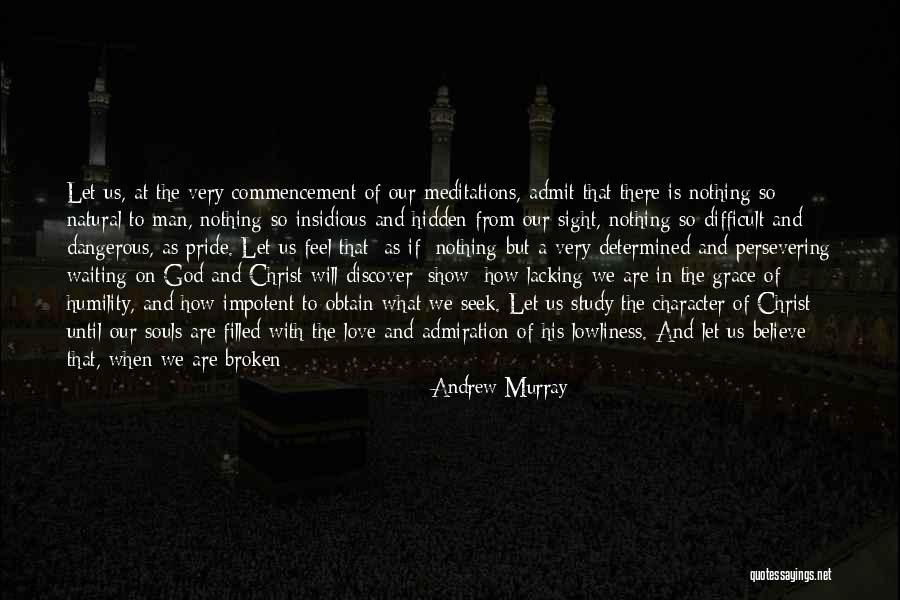 Let us, at the very commencement of our meditations, admit that there is nothing so natural to man, nothing so insidious and hidden from our sight, nothing so difficult and dangerous, as pride. Let us feel that [as if] nothing but a very determined and persevering waiting on God and Christ will discover [show] how lacking we are in the grace of humility, and how impotent to obtain what we seek. Let us study the character of Christ until our souls are filled with the love and admiration of his lowliness. And let us believe that, when we are broken down under a sense of our pride, and our impotence to cast it out, Jesus Christ himself will come in to impart this grace too, as a part of his wondrous life within us. — Andrew Murray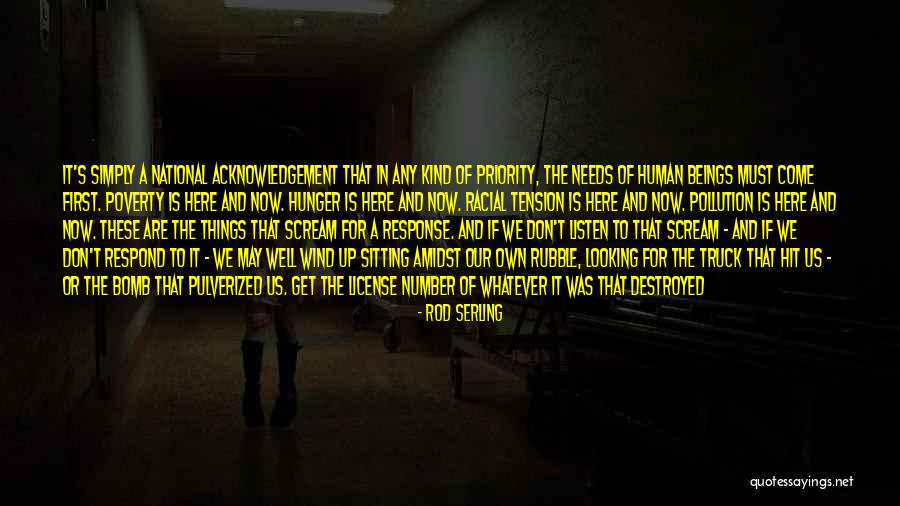 It's simply a national acknowledgement that in any kind of priority, the needs of human beings must come first. Poverty is here and now. Hunger is here and now. Racial tension is here and now. Pollution is here and now. These are the things that scream for a response. And if we don't listen to that scream - and if we don't respond to it - we may well wind up sitting amidst our own rubble, looking for the truck that hit us - or the bomb that pulverized us. Get the license number of whatever it was that destroyed the dream. And I think we will find that the vehicle was registered in our own name.
[from a Commencement Address at the University of Southern California; March 17, 1970] — Rod Serling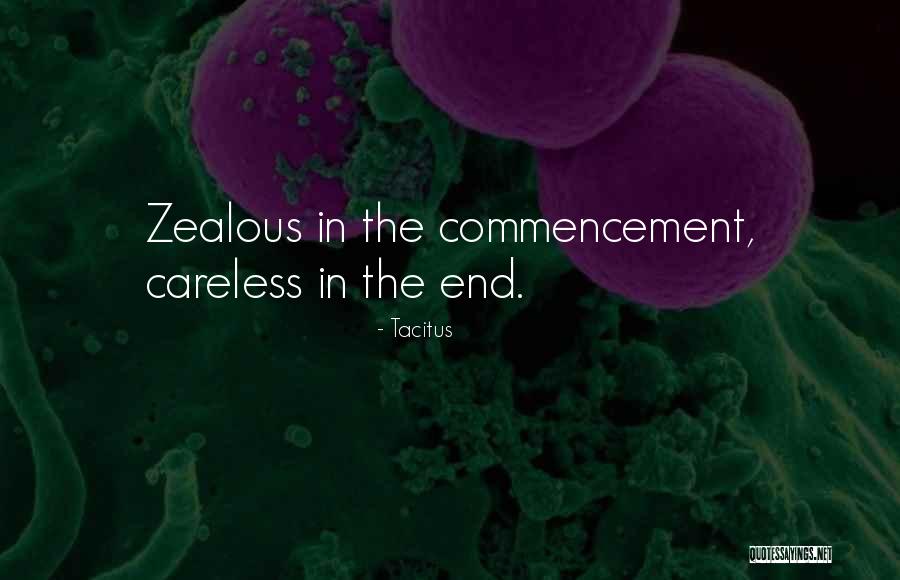 Zealous in the commencement, careless in the end. — Tacitus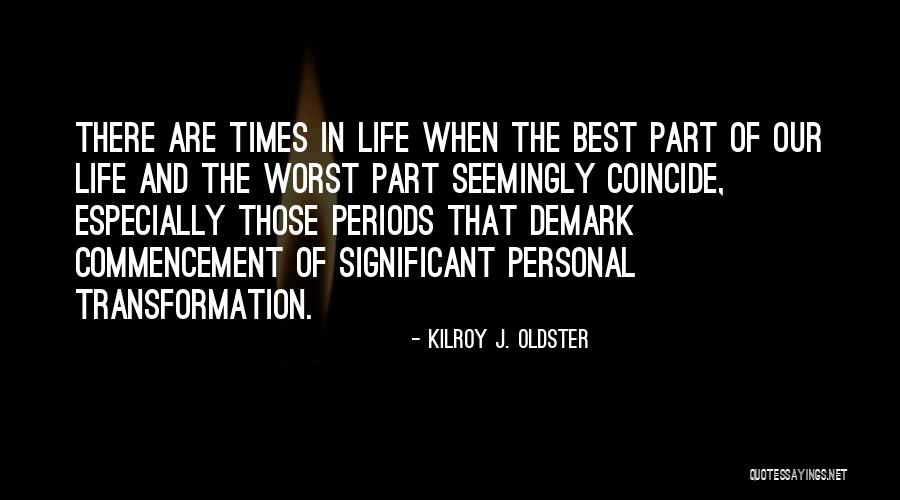 There are times in life when the best part of our life and the worst part seemingly coincide, especially those periods that demark commencement of significant personal transformation. — Kilroy J. Oldster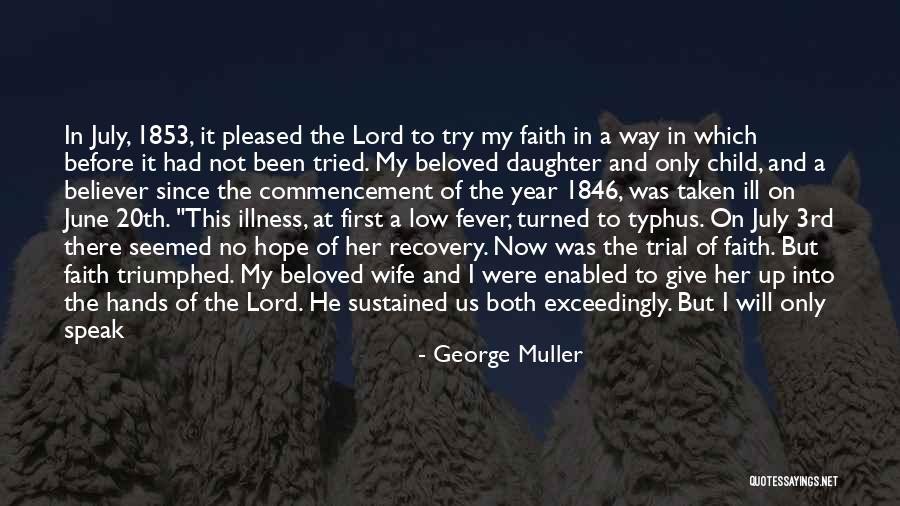 In July, 1853, it pleased the Lord to try my faith in a way in which before it had not been tried. My beloved daughter and only child, and a believer since the commencement of the year 1846, was taken ill on June 20th. "This illness, at first a low fever, turned to typhus. On July 3rd there seemed no hope of her recovery. Now was the trial of faith. But faith triumphed. My beloved wife and I were enabled to give her up into the hands of the Lord. He sustained us both exceedingly. But I will only speak about myself. Though my only and beloved child was brought near the grave, yet was my soul in perfect peace, satisfied with the will of my Heavenly Father, being assured that He would only do that for her and her parents, which in the end would be the best. She continued very ill till about July 20th, when restoration began. "On — George Muller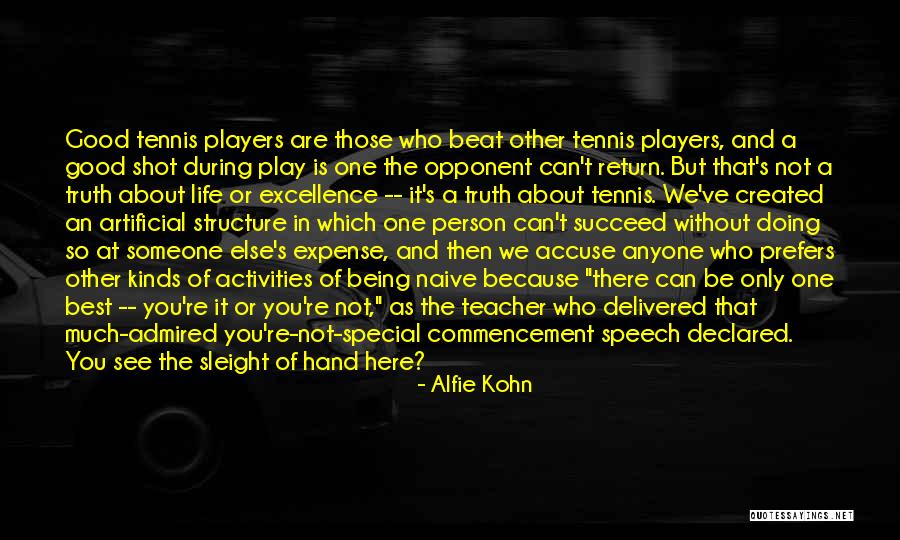 Good tennis players are those who beat other tennis players, and a good shot during play is one the opponent can't return. But that's not a truth about life or excellence -- it's a truth about tennis. We've created an artificial structure in which one person can't succeed without doing so at someone else's expense, and then we accuse anyone who prefers other kinds of activities of being naive because "there can be only one best -- you're it or you're not," as the teacher who delivered that much-admired you're-not-special commencement speech declared. You see the sleight of hand here? The question isn't whether everyone playing a competitive game can win or whether every student can be above average. Of course they can't. The question that we're discouraged from asking is why our games are competitive -- or our students are compulsively ranked against one another -- in the first place. — Alfie Kohn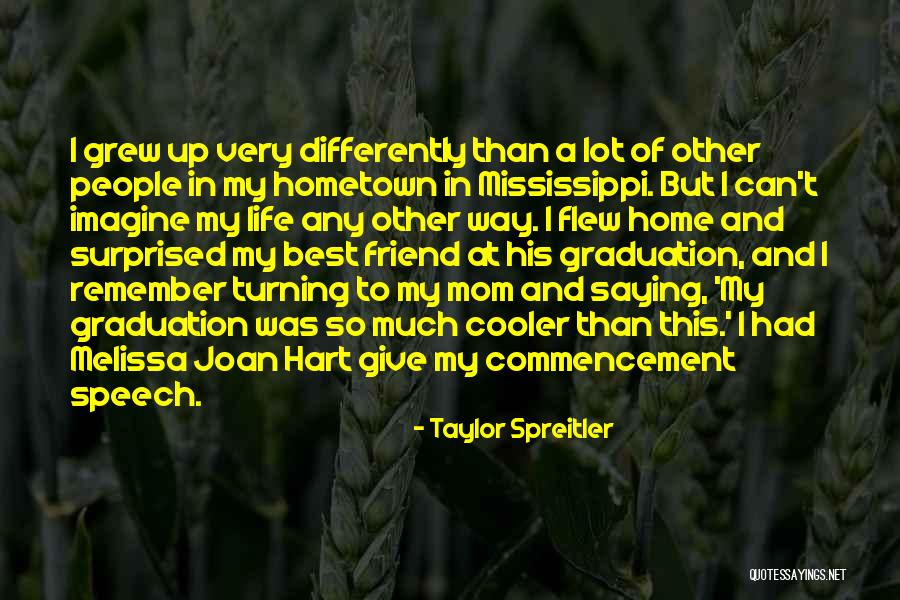 I grew up very differently than a lot of other people in my hometown in Mississippi. But I can't imagine my life any other way. I flew home and surprised my best friend at his graduation, and I remember turning to my mom and saying, 'My graduation was so much cooler than this.' I had Melissa Joan Hart give my commencement speech. — Taylor Spreitler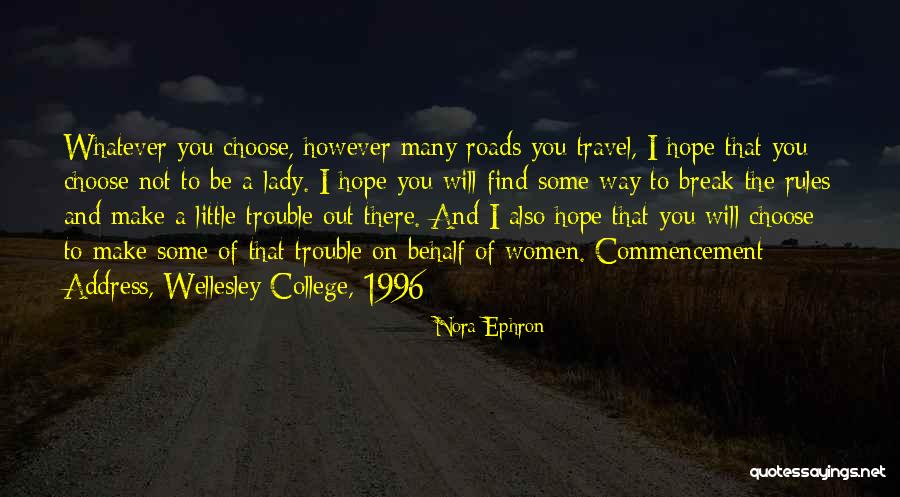 Whatever you choose, however many roads you travel, I hope that you choose not to be a lady. I hope you will find some way to break the rules and make a little trouble out there. And I also hope that you will choose to make some of that trouble on behalf of women.
[Commencement Address, Wellesley College, 1996] — Nora Ephron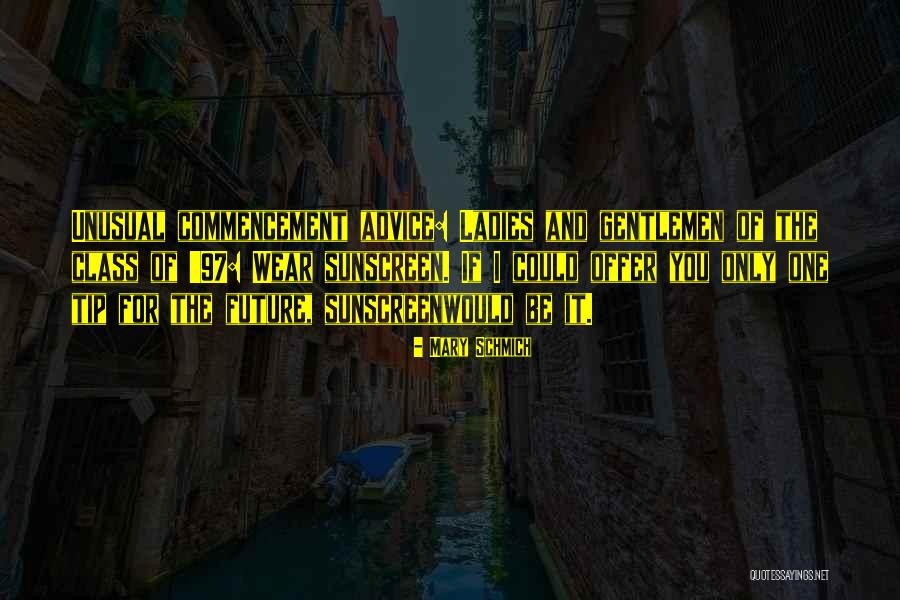 Unusual commencement advice: Ladies and gentlemen of the class of '97: Wear sunscreen. If I could offer you only one tip for the future, sunscreen
would be it. — Mary Schmich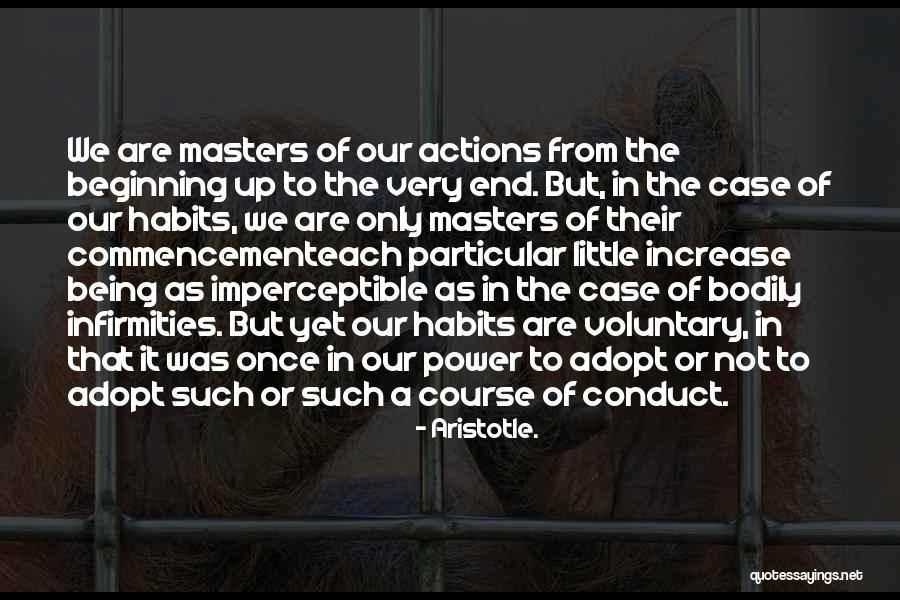 We are masters of our actions from the beginning up to the very end. But, in the case of our habits, we are only masters of their commencement
each particular little increase being as imperceptible as in the case of bodily infirmities. But yet our habits are voluntary, in that it was once in our power to adopt or not to adopt such or such a course of conduct. — Aristotle.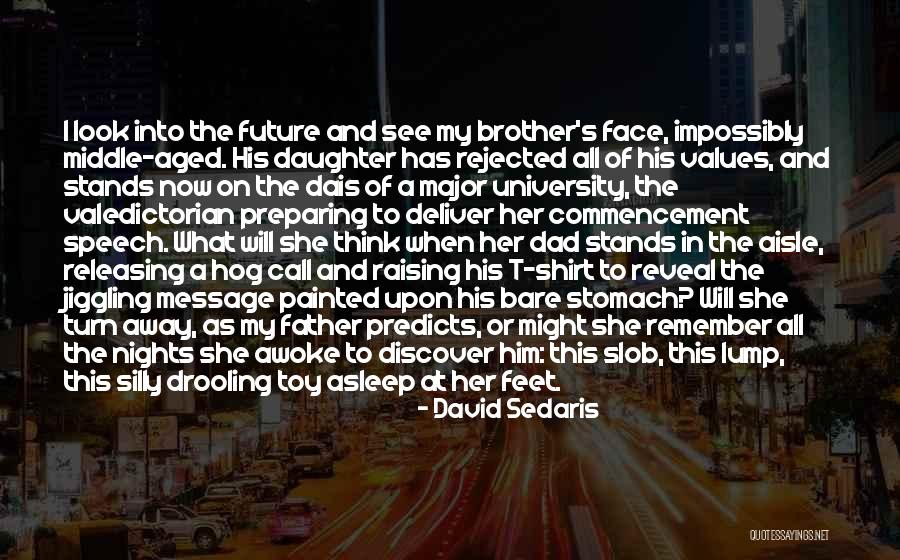 I look into the future and see my brother's face, impossibly middle-aged. His daughter has rejected all of his values, and stands now on the dais of a major university, the valedictorian preparing to deliver her commencement speech. What will she think when her dad stands in the aisle, releasing a hog call and raising his T-shirt to reveal the jiggling message painted upon his bare stomach? Will she turn away, as my father predicts, or might she remember all the nights she awoke to discover him: this slob, this lump, this silly drooling toy asleep at her feet. — David Sedaris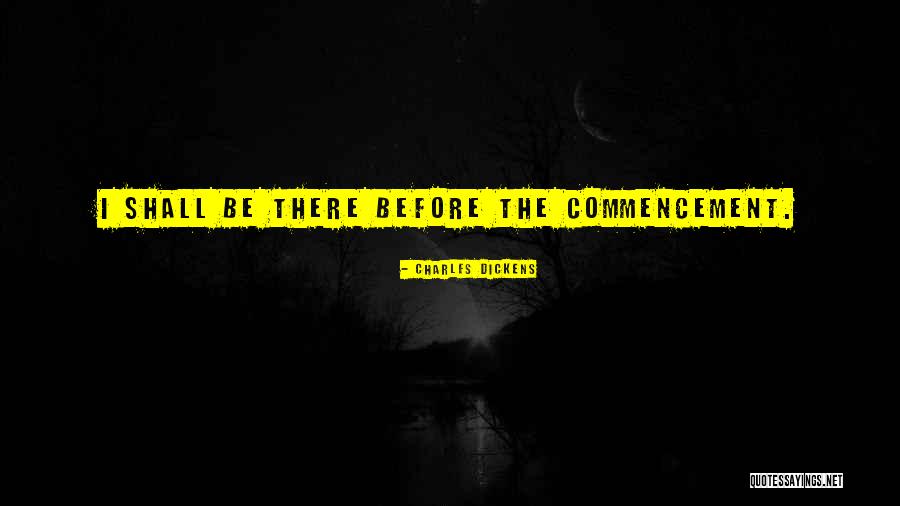 I shall be there before the commencement. — Charles Dickens
Play is a sacred thing, a divine ordinance, for developing in the child a harmonious and healthy organism, and preparing that organism for the commencement of the work of life. — J.G. Holland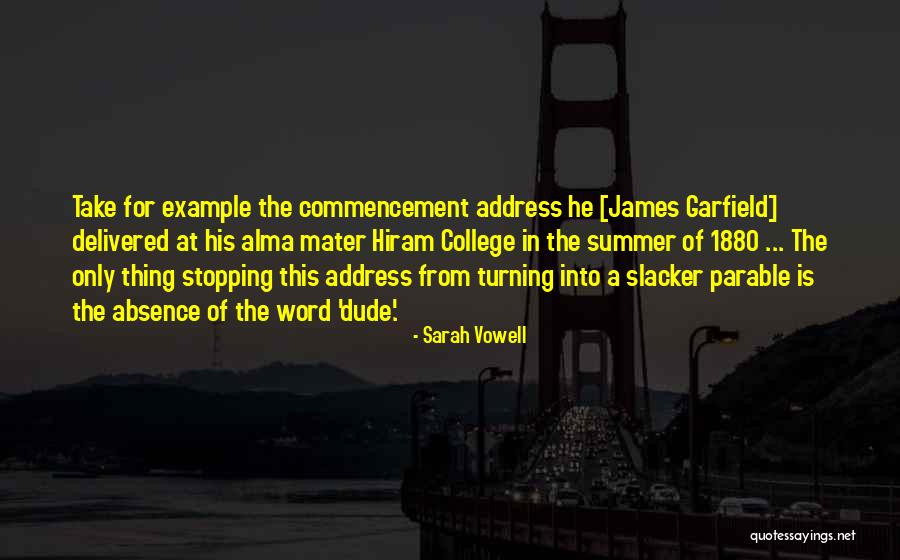 Take for example the commencement address he [James Garfield] delivered at his alma mater Hiram College in the summer of 1880 ... The only thing stopping this address from turning into a slacker parable is the absence of the word 'dude'. — Sarah Vowell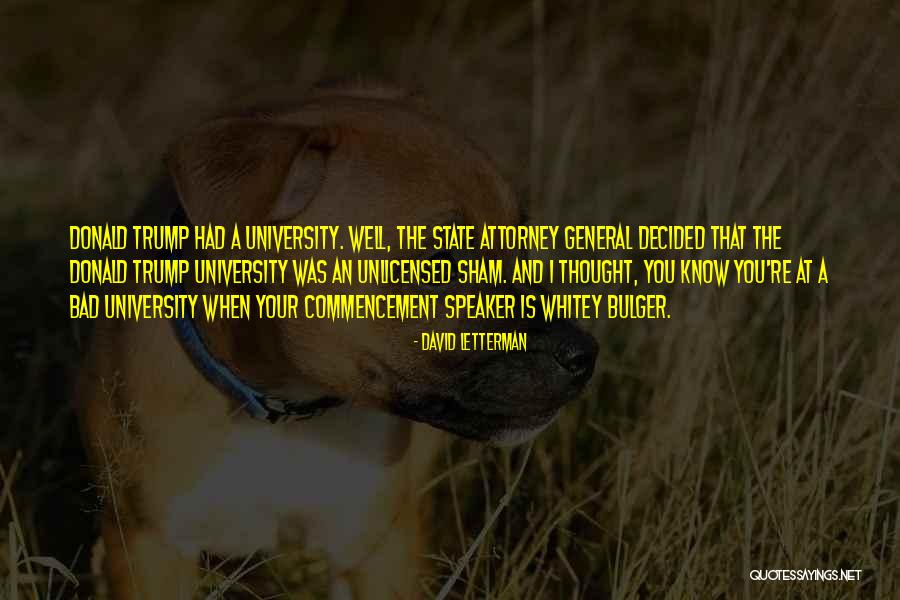 Donald Trump had a university. Well, the state attorney general decided that the Donald Trump University was an unlicensed sham. And I thought, you know you're at a bad university when your commencement speaker is Whitey Bulger. — David Letterman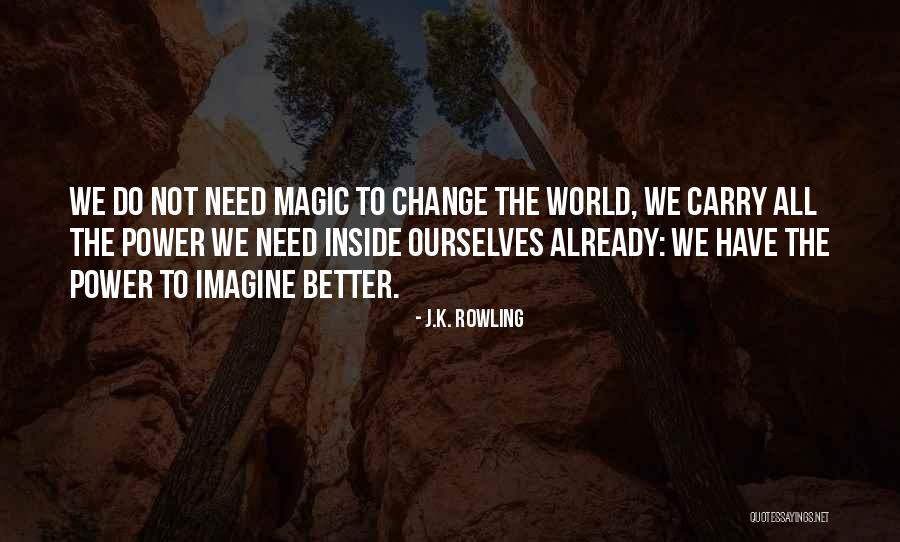 We do not need magic to change the world, we carry all the power we need inside ourselves already: we have the power to imagine better. — J.K. Rowling
How to play music may be known. At the commencement of the piece, all the parts should sound together. As it proceeds, they should be in harmony while severally distinct and flowing without break, and thus on to the conclusion. — Confucius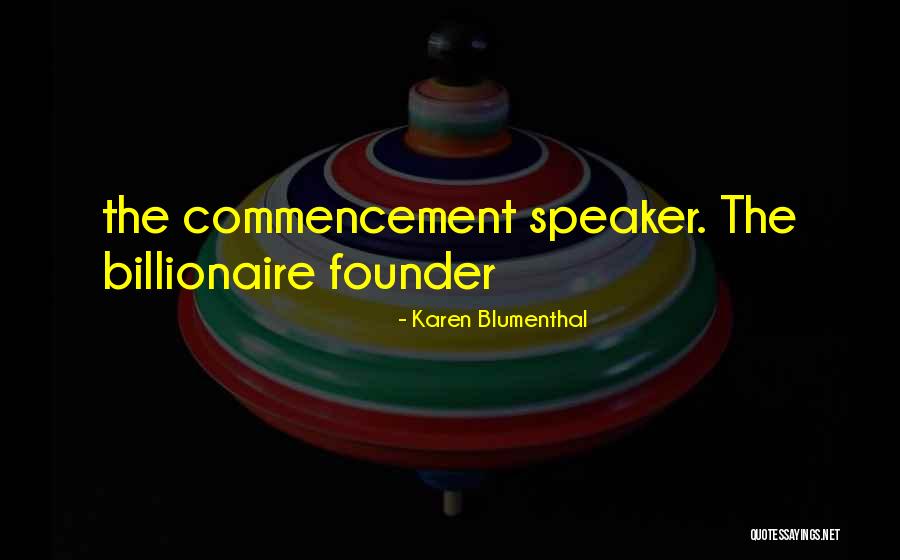 the commencement speaker. The billionaire founder — Karen Blumenthal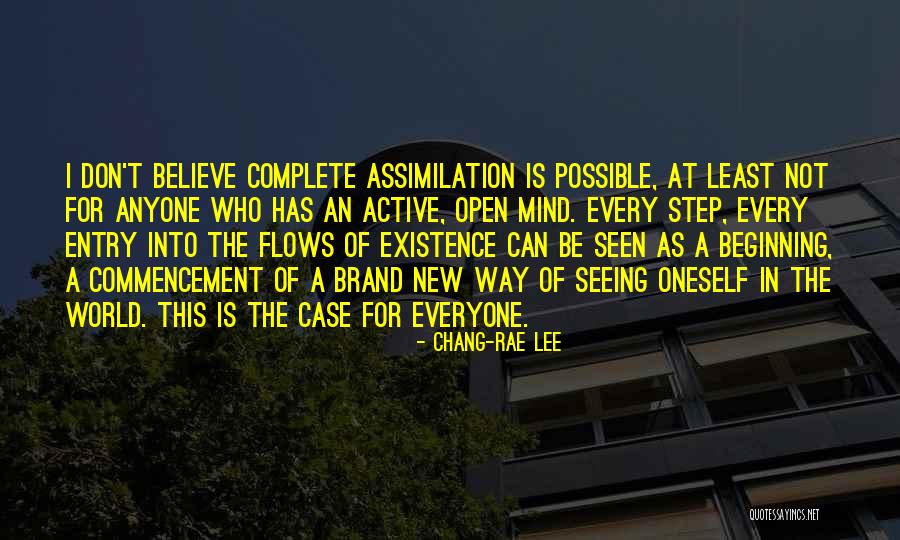 I don't believe complete assimilation is possible, at least not for anyone who has an active, open mind. Every step, every entry into the flows of existence can be seen as a beginning, a commencement of a brand new way of seeing oneself in the world. This is the case for everyone. — Chang-rae Lee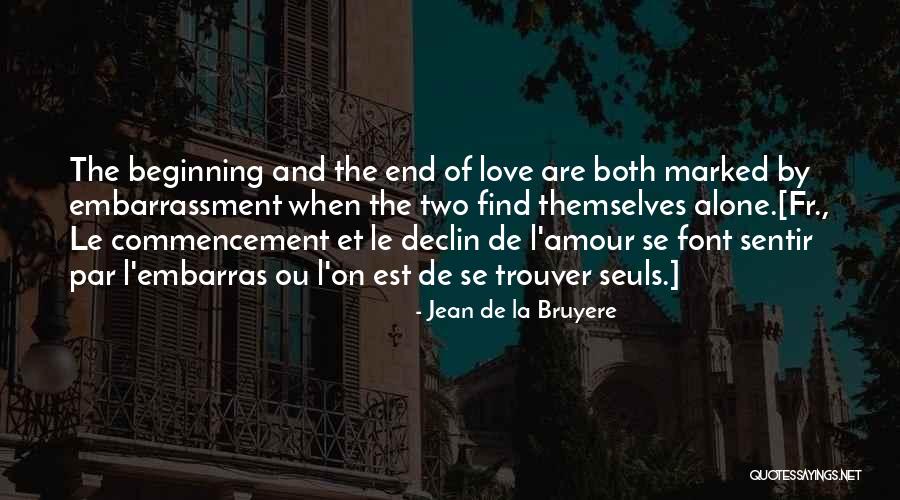 The beginning and the end of love are both marked by embarrassment when the two find themselves alone.
[Fr., Le commencement et le declin de l'amour se font sentir par l'embarras ou l'on est de se trouver seuls.] — Jean De La Bruyere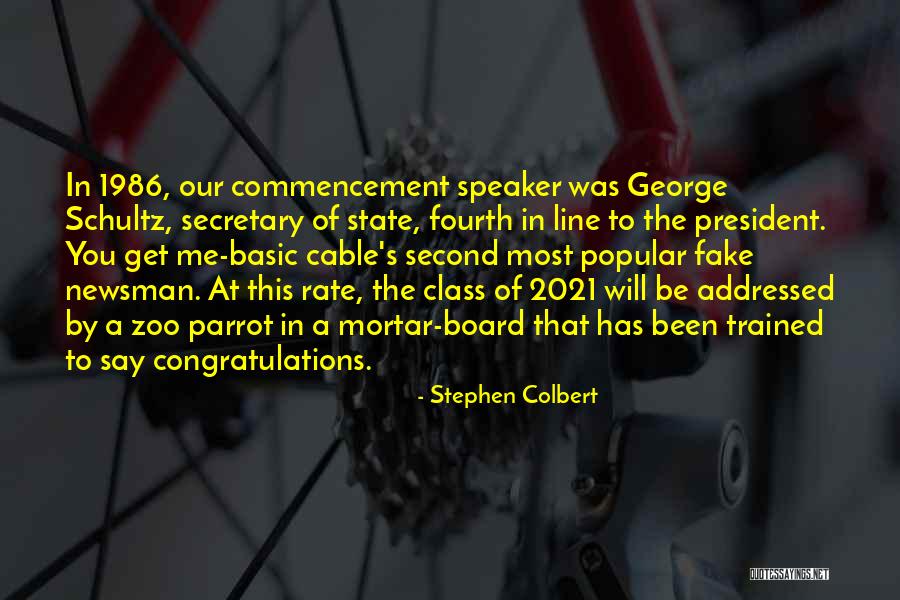 In 1986, our commencement speaker was George Schultz, secretary of state, fourth in line to the president. You get me-basic cable's second most popular fake newsman. At this rate, the class of 2021 will be addressed by a zoo parrot in a mortar-board that has been trained to say congratulations. — Stephen Colbert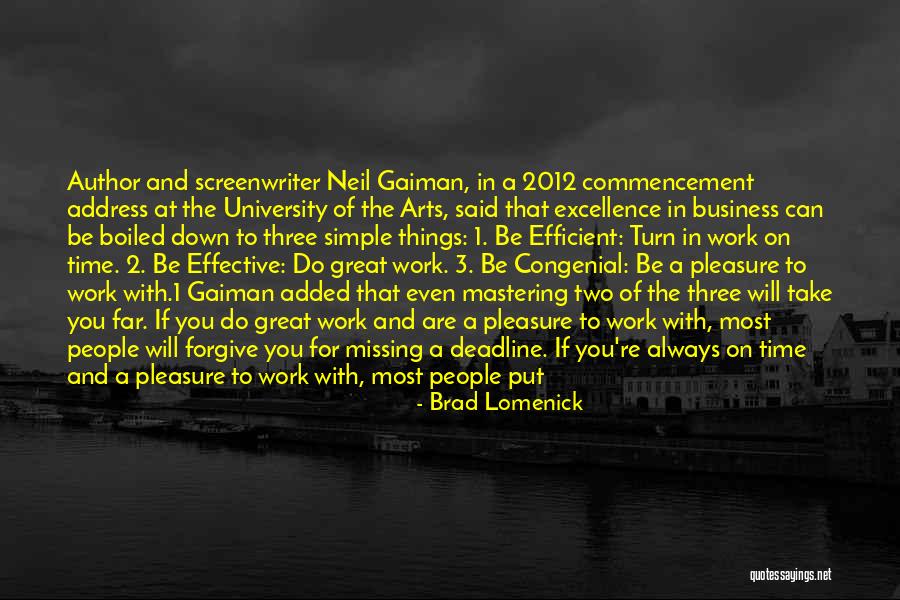 Author and screenwriter Neil Gaiman, in a 2012 commencement address at the University of the Arts, said that excellence in business can be boiled down to three simple things: 1. Be Efficient: Turn in work on time. 2. Be Effective: Do great work. 3. Be Congenial: Be a pleasure to work with.1 Gaiman added that even mastering two of the three will take you far. If you do great work and are a pleasure to work with, most people will forgive you for missing a deadline. If you're always on time and a pleasure to work with, most people put up with less than perfect work. If you turn in great work on time, most people will put up with you being unpleasant. — Brad Lomenick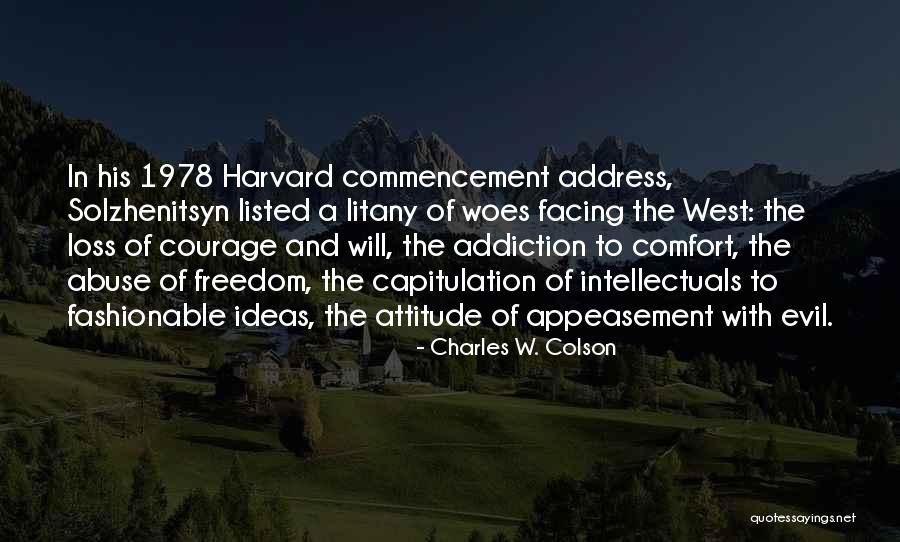 In his 1978 Harvard commencement address, Solzhenitsyn listed a litany of woes facing the West: the loss of courage and will, the addiction to comfort, the abuse of freedom, the capitulation of intellectuals to fashionable ideas, the attitude of appeasement with evil. — Charles W. Colson