Baseball Game Day Quotes & Sayings
Enjoy reading and share 39 famous quotes about Baseball Game Day with everyone.
Top Baseball Game Day Quotes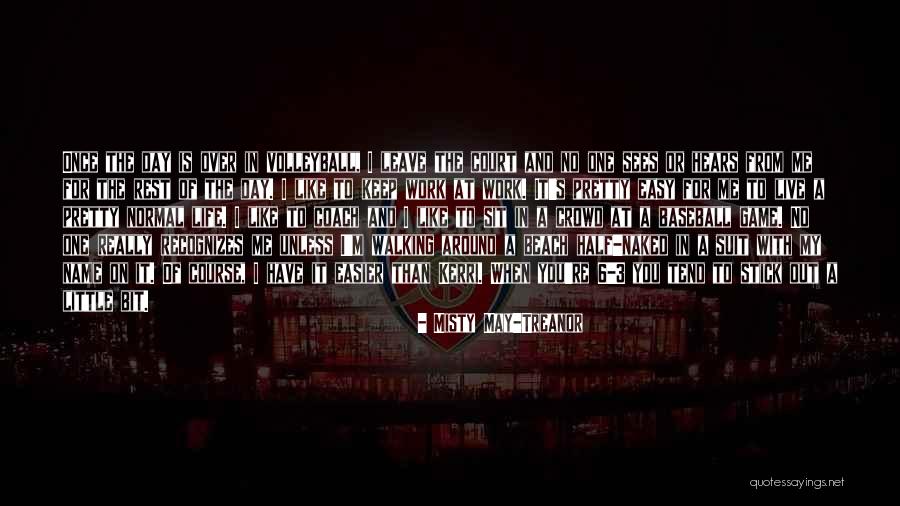 Once the day is over in volleyball, I leave the court and no one sees or hears from me for the rest of the day. I like to keep work at work. It's pretty easy for me to live a pretty normal life. I like to coach and I like to sit in a crowd at a baseball game. No one really recognizes me unless I'm walking around a beach half-naked in a suit with my name on it. Of course, I have it easier than Kerri. When you're 6-3 you tend to stick out a little bit. — Misty May-Treanor
Which is all to say maybe it's just being alive at a baseball game on a fall day in the heart of her city. — Blake Crouch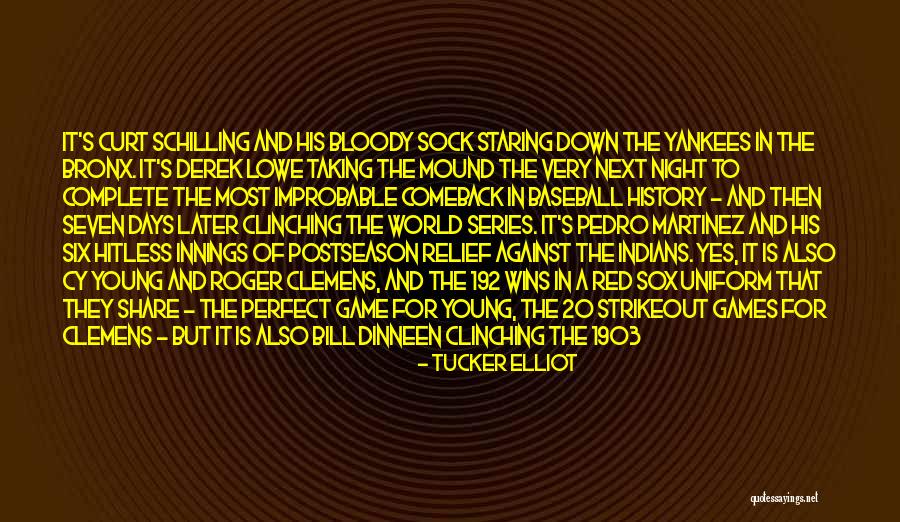 It's Curt Schilling and his bloody sock staring down the Yankees in the Bronx. It's Derek Lowe taking the mound the very next night to complete the most improbable comeback in baseball history - and then seven days later clinching the World Series. It's Pedro Martinez and his six hitless innings of postseason relief against the Indians. Yes, it is also Cy Young and Roger Clemens, and the 192 wins in a Red Sox uniform that they share - the perfect game for Young, the 20 strikeout games for Clemens - but it is also Bill Dinneen clinching the 1903 World Series with a busted, bloody hand, and Jose Santiago shutting down Minnesota with two games left in the season to keep the 1967 Impossible Dream alive, and Jim Lonborg clinching the Impossible Dream the very next day, and Jim Lonborg again, tossing a one-hitter and a three-hitter in the 1967 World Series, and Luis Tiant in the 1975 postseason, shutting out Oakland and Cincinnati in back-to-back starts. They are all winners. — Tucker Elliot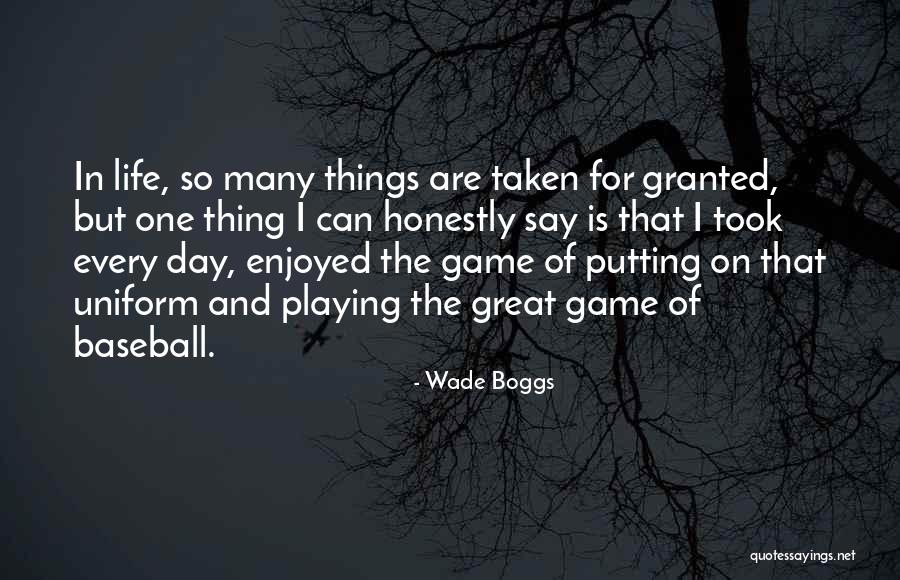 In life, so many things are taken for granted, but one thing I can honestly say is that I took every day, enjoyed the game of putting on that uniform and playing the great game of baseball. — Wade Boggs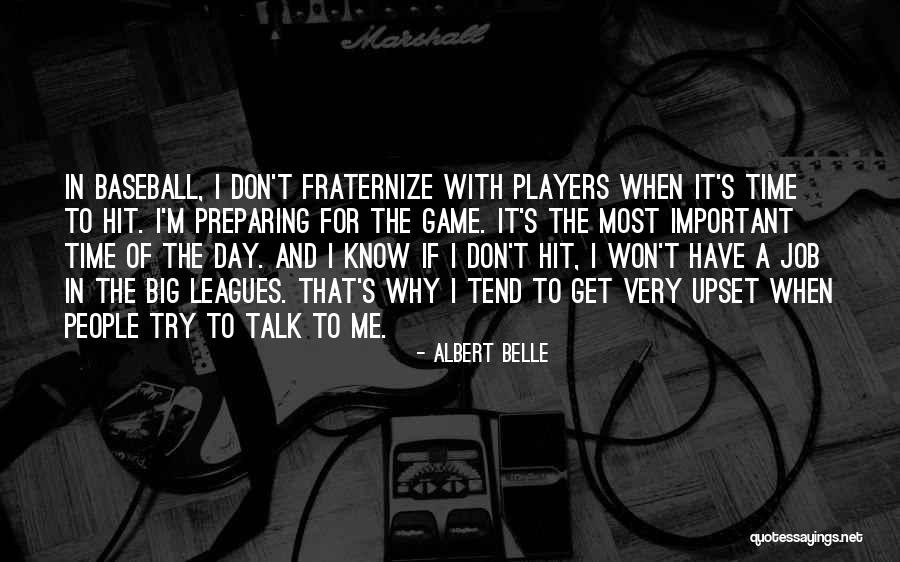 In baseball, I don't fraternize with players when it's time to hit. I'm preparing for the game. It's the most important time of the day. And I know if I don't hit, I won't have a job in the big leagues. That's why I tend to get very upset when people try to talk to me. — Albert Belle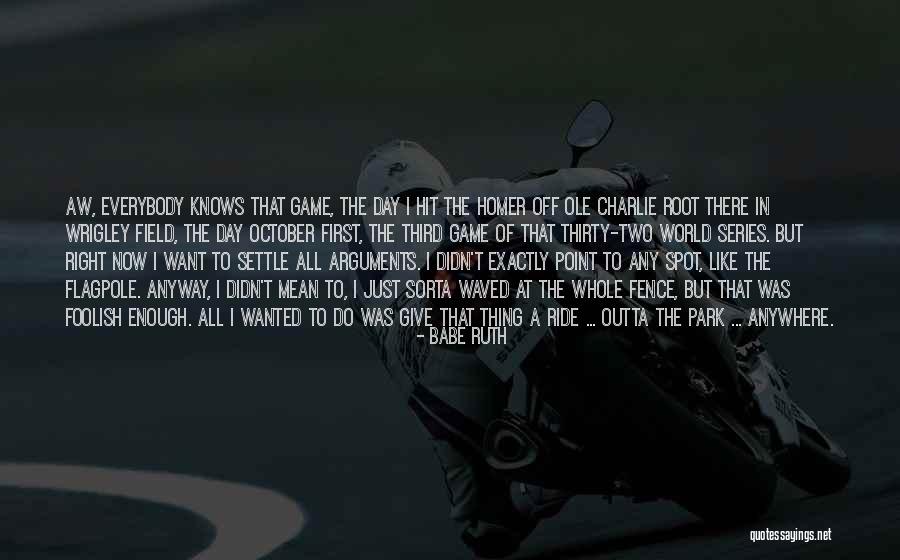 Aw, everybody knows that game, the day I hit the homer off ole Charlie Root there in Wrigley Field, the day October first, the third game of that thirty-two World Series. But right now I want to settle all arguments. I didn't exactly point to any spot, like the flagpole. Anyway, I didn't mean to, I just sorta waved at the whole fence, but that was foolish enough. All I wanted to do was give that thing a ride ... outta the park ... anywhere. — Babe Ruth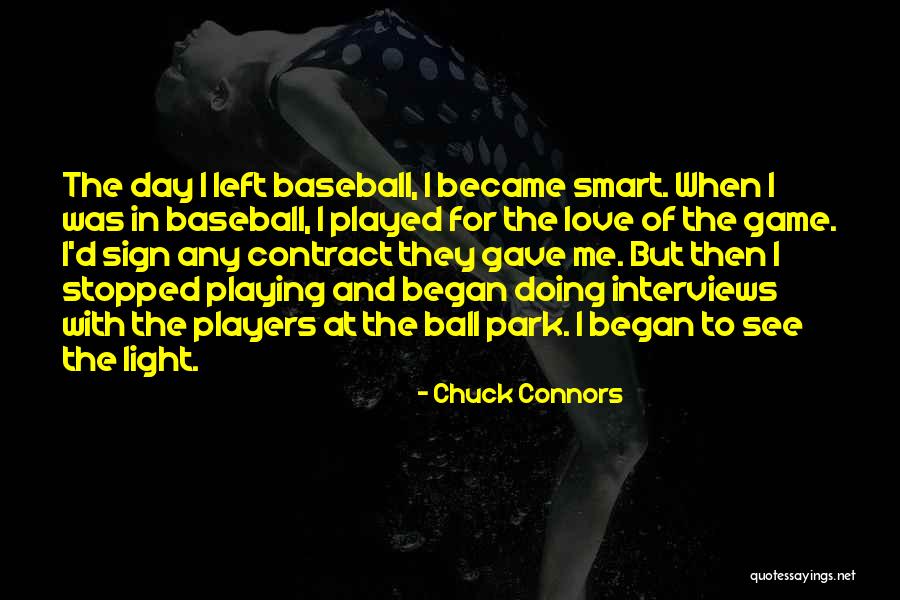 The day I left baseball, I became smart. When I was in baseball, I played for the love of the game. I'd sign any contract they gave me. But then I stopped playing and began doing interviews with the players at the ball park. I began to see the light. — Chuck Connors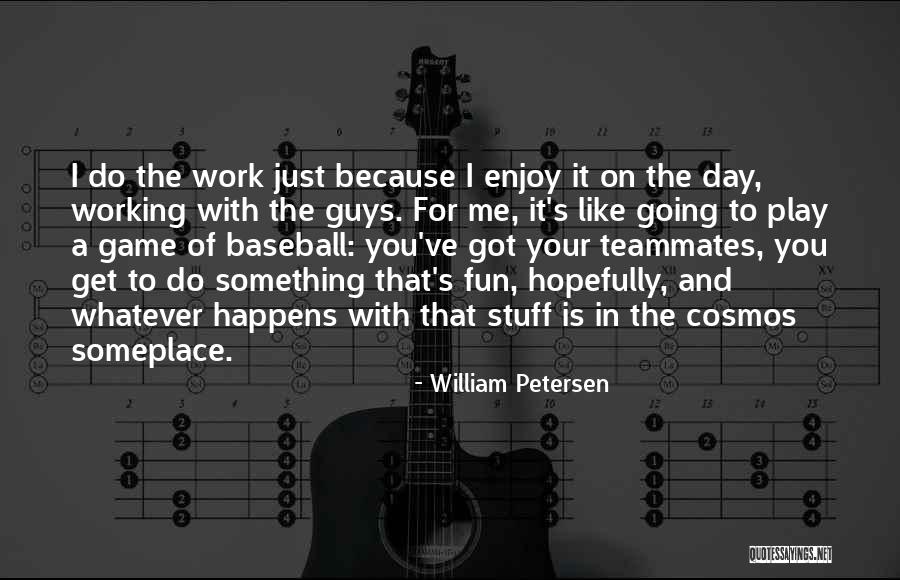 I do the work just because I enjoy it on the day, working with the guys. For me, it's like going to play a game of baseball: you've got your teammates, you get to do something that's fun, hopefully, and whatever happens with that stuff is in the cosmos someplace. — William Petersen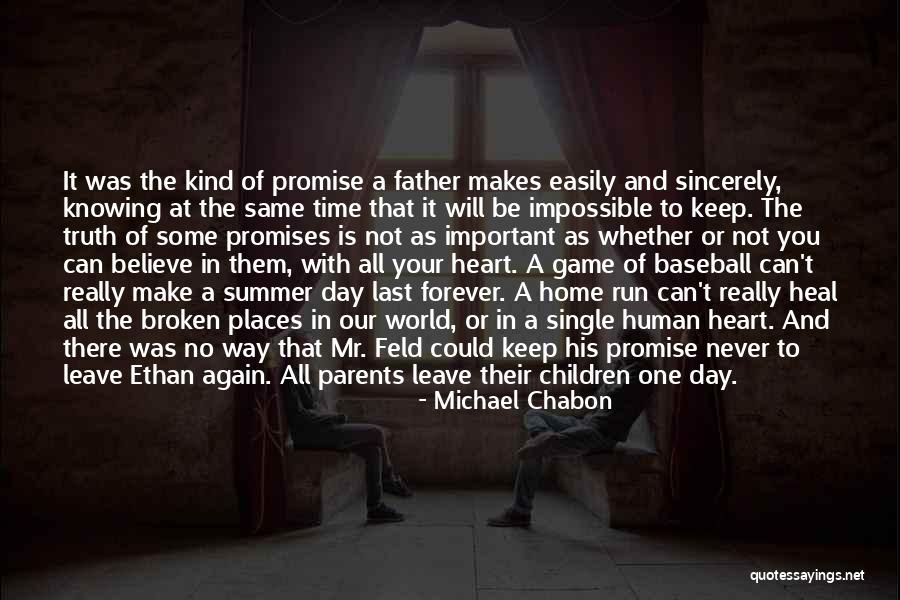 It was the kind of promise a father makes easily and sincerely, knowing at the same time that it will be impossible to keep. The truth of some promises is not as important as whether or not you can believe in them, with all your heart. A game of baseball can't really make a summer day last forever. A home run can't really heal all the broken places in our world, or in a single human heart. And there was no way that Mr. Feld could keep his promise never to leave Ethan again. All parents leave their children one day. — Michael Chabon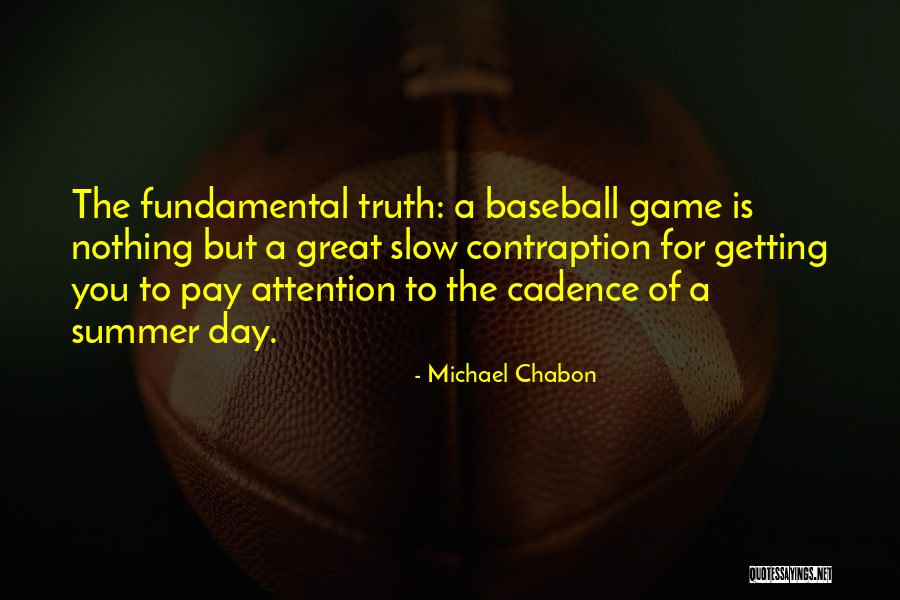 The fundamental truth: a baseball game is nothing but a great slow contraption for getting you to pay attention to the cadence of a summer day. — Michael Chabon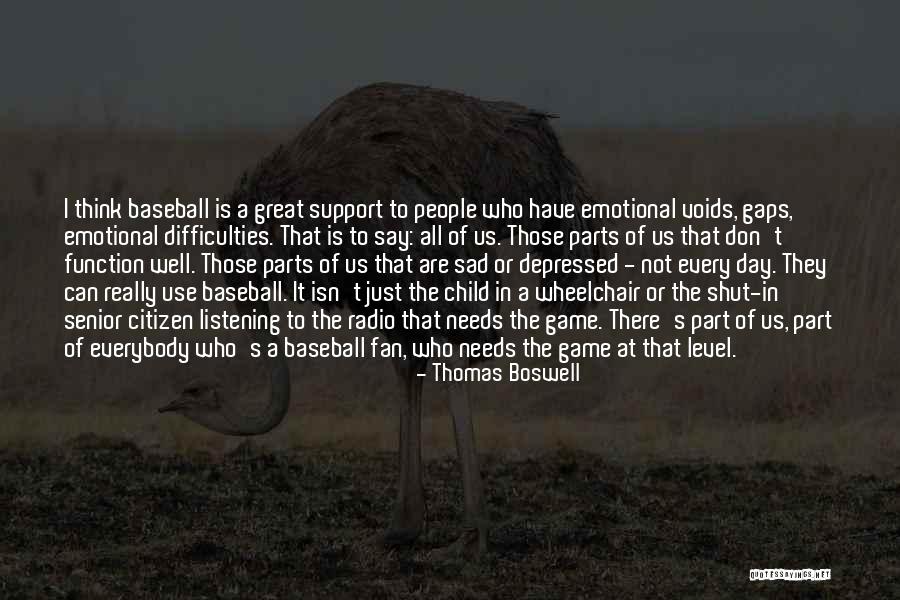 I think baseball is a great support to people who have emotional voids, gaps, emotional difficulties. That is to say: all of us. Those parts of us that don't function well. Those parts of us that are sad or depressed - not every day. They can really use baseball. It isn't just the child in a wheelchair or the shut-in senior citizen listening to the radio that needs the game. There's part of us, part of everybody who's a baseball fan, who needs the game at that level. — Thomas Boswell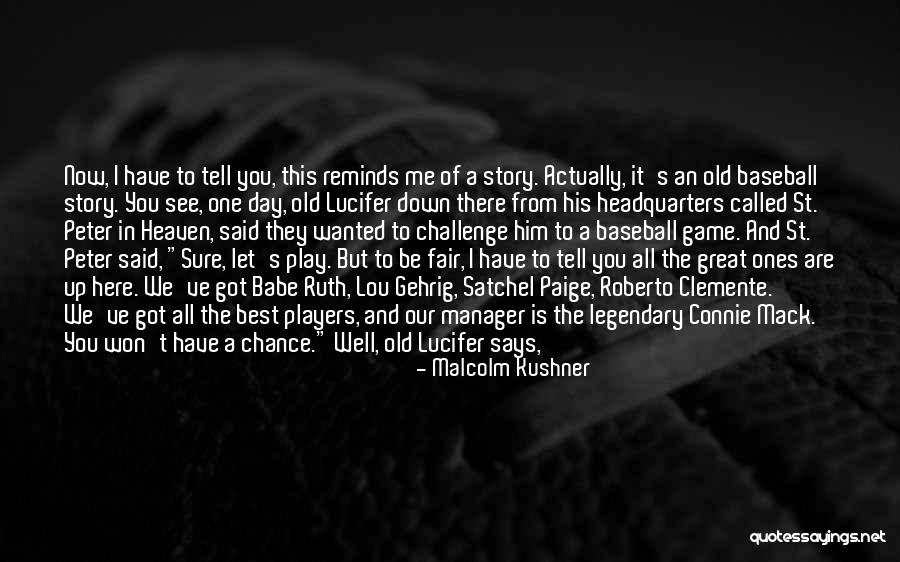 Now, I have to tell you, this reminds me of a story. Actually, it's an old baseball story. You see, one day, old Lucifer down there from his headquarters called St. Peter in Heaven, said they wanted to challenge him to a baseball game. And St. Peter said, "Sure, let's play. But to be fair, I have to tell you all the great ones are up here. We've got Babe Ruth, Lou Gehrig, Satchel Paige, Roberto Clemente. We've got all the best players, and our manager is the legendary Connie Mack. You won't have a chance." Well, old Lucifer says, "That doesn't matter, we'll win anyway." And St. Peter says, "How do you expect to do that?" "Well," he says, "simple, we've got all the umpires." Luncheon for Representative Connie Mack Miami, Florida June 29, 1988 — Malcolm Kushner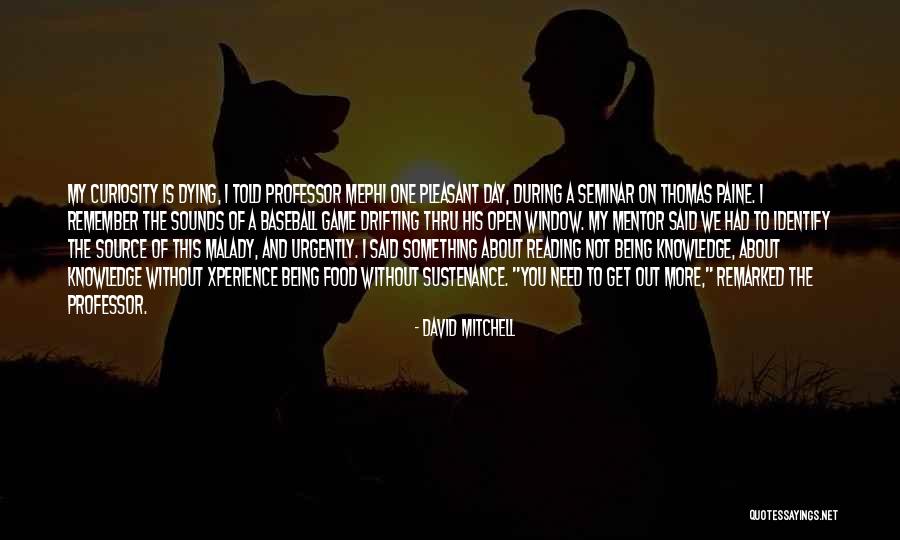 My curiosity is dying, I told Professor Mephi one pleasant day, during a seminar on Thomas Paine. I remember the sounds of a baseball game drifting thru his open window. My mentor said we had to identify the source of this malady, and urgently. I said something about reading not being knowledge, about knowledge without xperience being food without sustenance. "You need to get out more," remarked the professor. — David Mitchell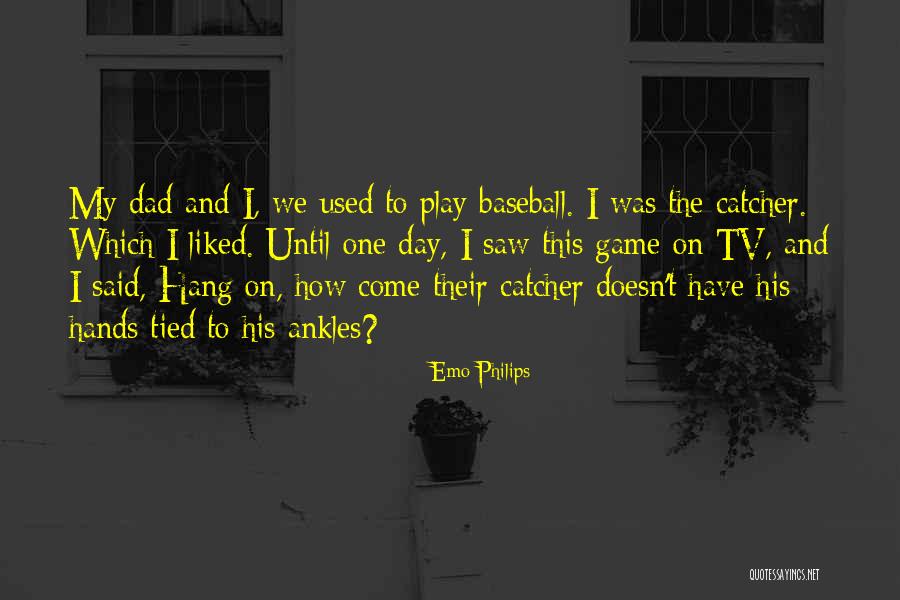 My dad and I, we used to play baseball. I was the catcher. Which I liked. Until one day, I saw this game on TV, and I said, Hang on, how come their catcher doesn't have his hands tied to his ankles? — Emo Philips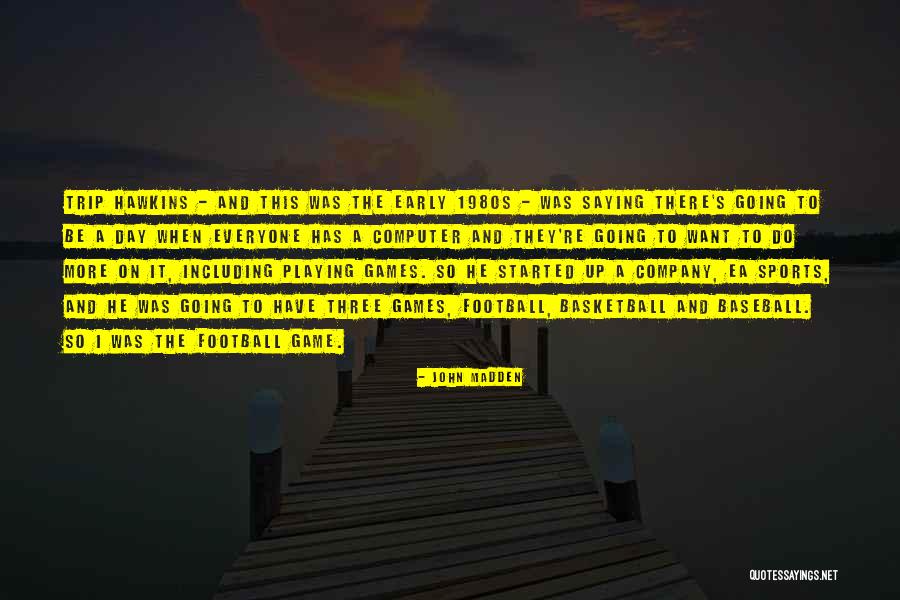 Trip Hawkins - and this was the early 1980s - was saying there's going to be a day when everyone has a computer and they're going to want to do more on it, including playing games. So he started up a company, EA Sports, and he was going to have three games, football, basketball and baseball. So I was the football game. — John Madden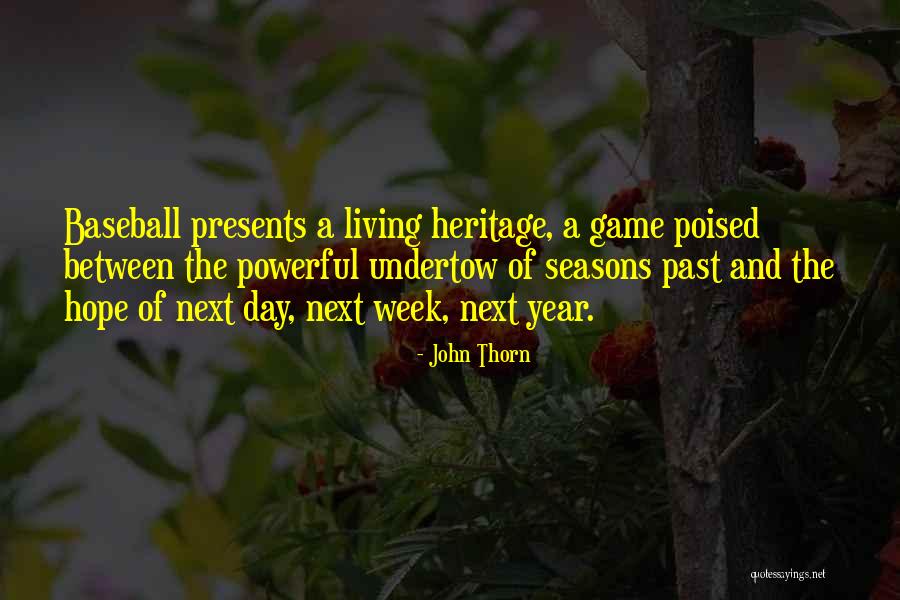 Baseball presents a living heritage, a game poised between the powerful undertow of seasons past and the hope of next day, next week, next year. — John Thorn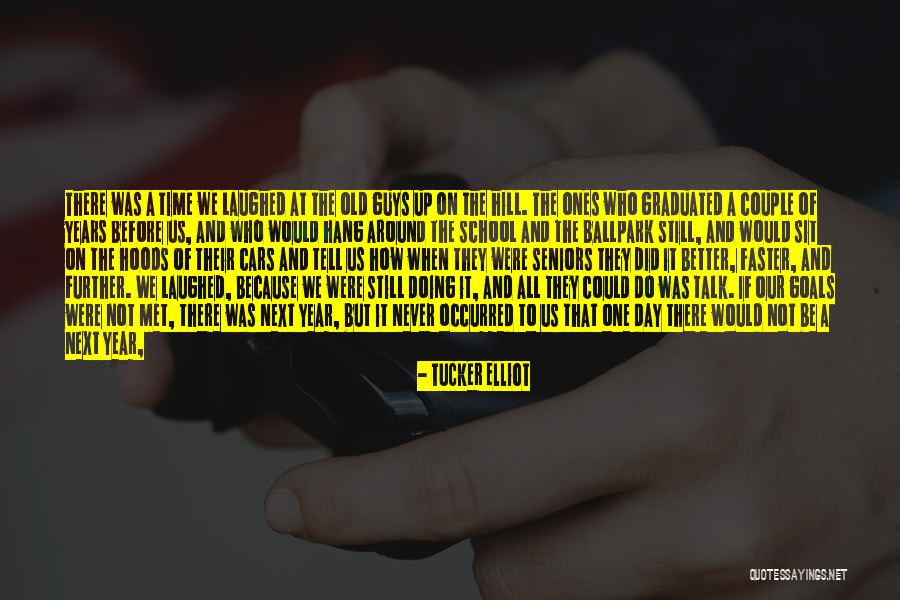 There was a time we laughed at the old guys up on the hill. The ones who graduated a couple of years before us, and who would hang around the school and the ballpark still, and would sit on the hoods of their cars and tell us how when they were seniors they did it better, faster, and further. We laughed, because we were still doing it, and all they could do was talk. If our goals were not met, there was next year, but it never occurred to us that one day there would not be a next year, and that the guys sitting on the hoods of their cars at the top of the hill, wishing they could have one more year, willing to settle for one last game, could one day be us. — Tucker Elliot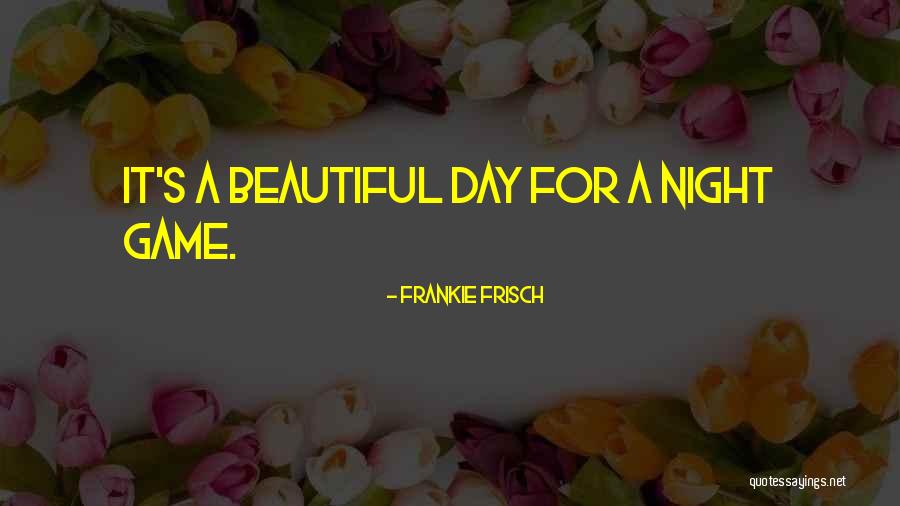 It's a beautiful day for a night game. — Frankie Frisch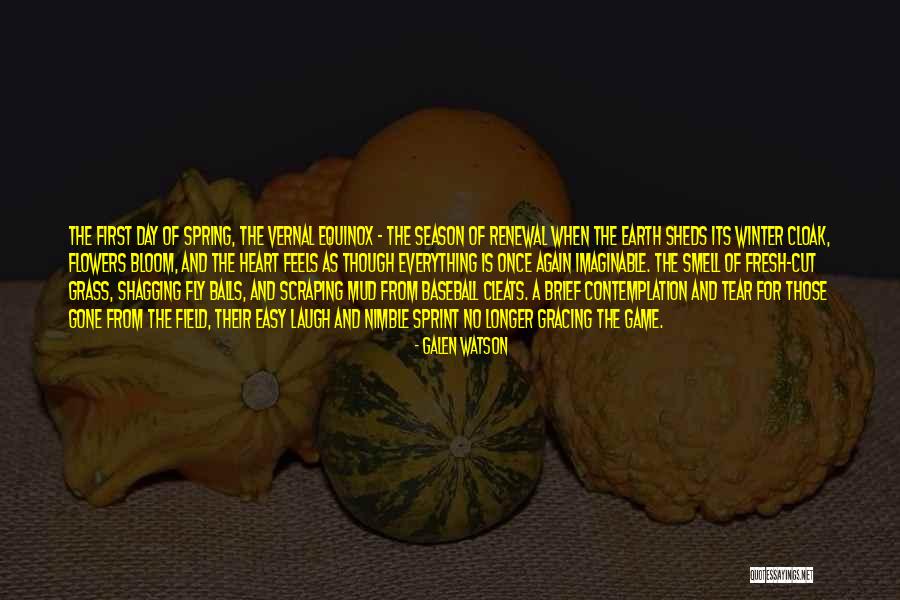 The first day of spring, the vernal equinox - the season of renewal when the earth sheds its winter cloak, flowers bloom, and the heart feels as though everything is once again imaginable. The smell of fresh-cut grass, shagging fly balls, and scraping mud from baseball cleats. A brief contemplation and tear for those gone from the field, their easy laugh and nimble sprint no longer gracing the game. — Galen Watson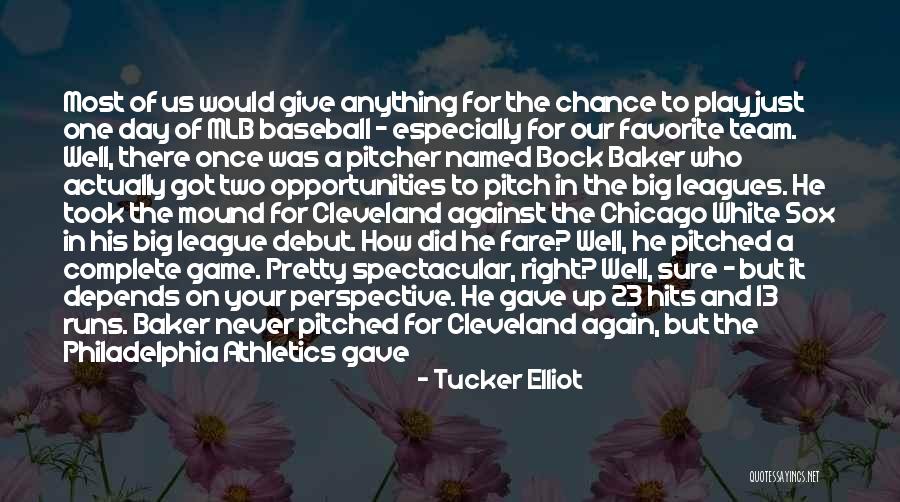 Most of us would give anything for the chance to play just one day of MLB baseball - especially for our favorite team. Well, there once was a pitcher named Bock Baker who actually got two opportunities to pitch in the big leagues. He took the mound for Cleveland against the Chicago White Sox in his big league debut. How did he fare? Well, he pitched a complete game. Pretty spectacular, right? Well, sure - but it depends on your perspective. He gave up 23 hits and 13 runs. Baker never pitched for Cleveland again, but the Philadelphia Athletics gave him a second big league start that same year (1901). He lasted juts six innings, and lost again after giving up 11 runs - and then his career was over. — Tucker Elliot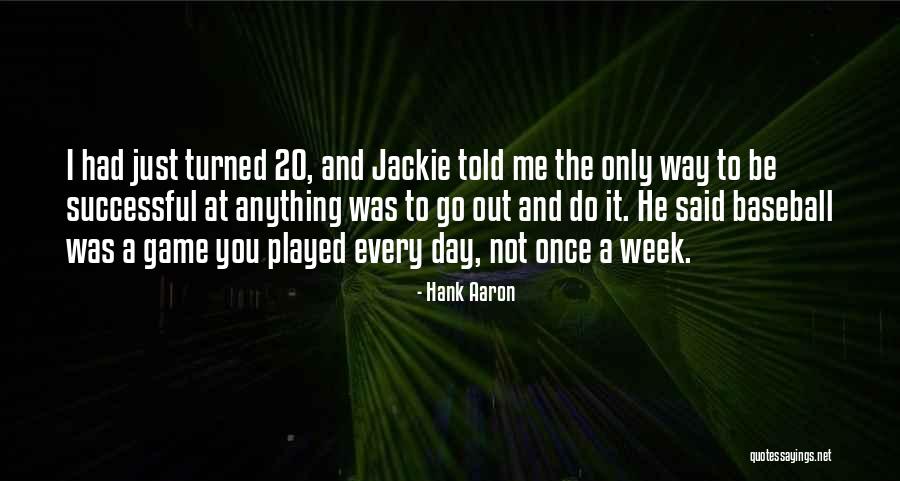 I had just turned 20, and Jackie told me the only way to be successful at anything was to go out and do it. He said baseball was a game you played every day, not once a week. — Hank Aaron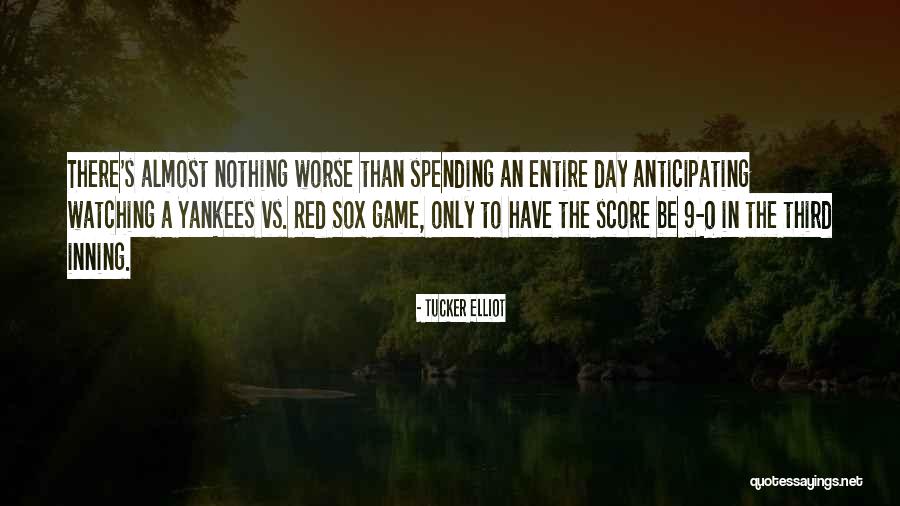 There's almost nothing worse than spending an entire day anticipating watching a Yankees vs. Red Sox game, only to have the score be 9-0 in the third inning. — Tucker Elliot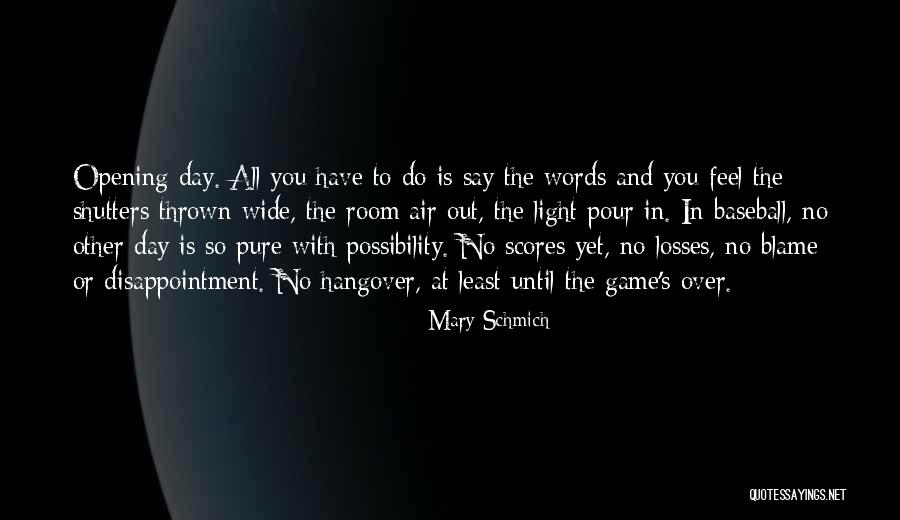 Opening day. All you have to do is say the words and you feel the shutters thrown wide, the room air out, the light pour in. In baseball, no other day is so pure with possibility. No scores yet, no losses, no blame or disappointment. No hangover, at least until the game's over. — Mary Schmich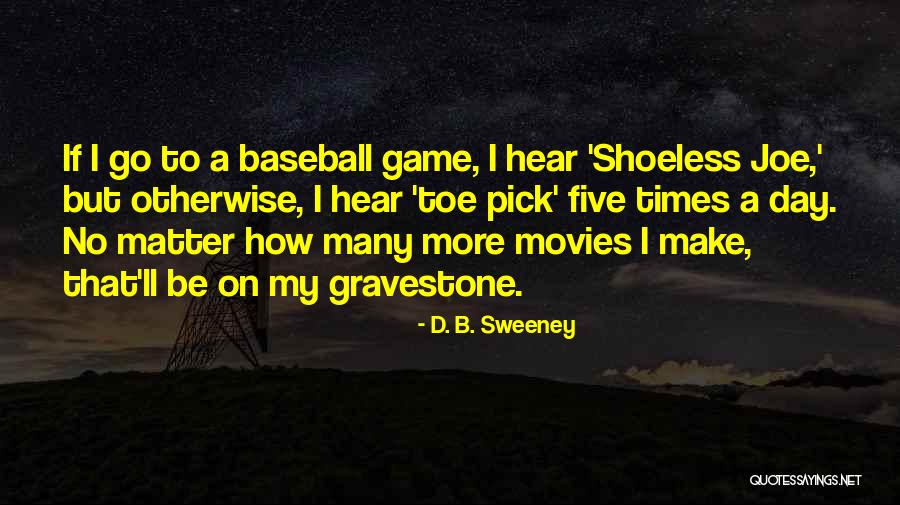 If I go to a baseball game, I hear 'Shoeless Joe,' but otherwise, I hear 'toe pick' five times a day. No matter how many more movies I make, that'll be on my gravestone. — D. B. Sweeney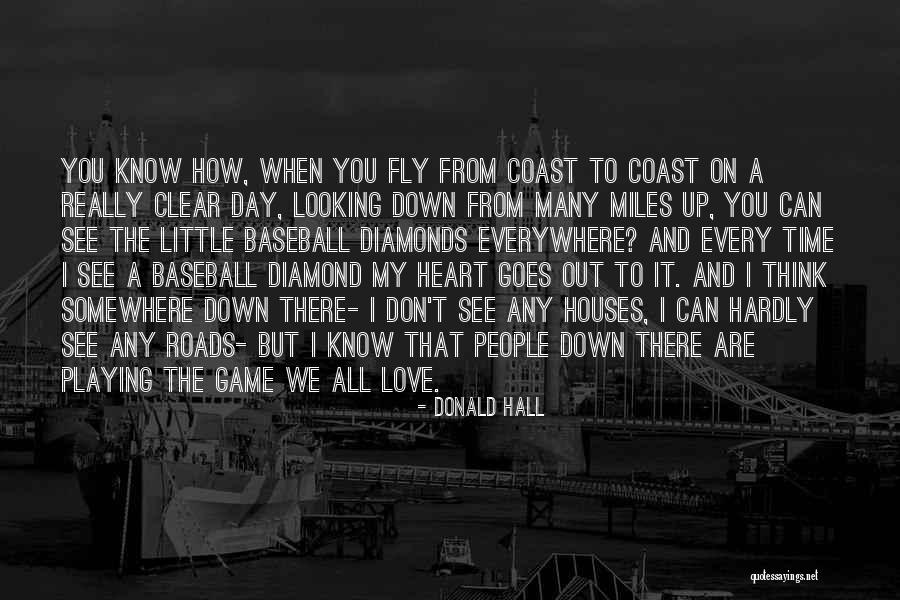 You know how, when you fly from coast to coast on a really clear day, looking down from many miles up, you can see the little baseball diamonds everywhere? And every time I see a baseball diamond my heart goes out to it. And I think somewhere down there- I don't see any houses, I can hardly see any roads- but I know that people down there are playing the game we all love. — Donald Hall
As American as an apple is and as American as baseball is, they don't go together. You can't be chewing an apple at a baseball game. You've got to let go of the diet that day. — Kevin James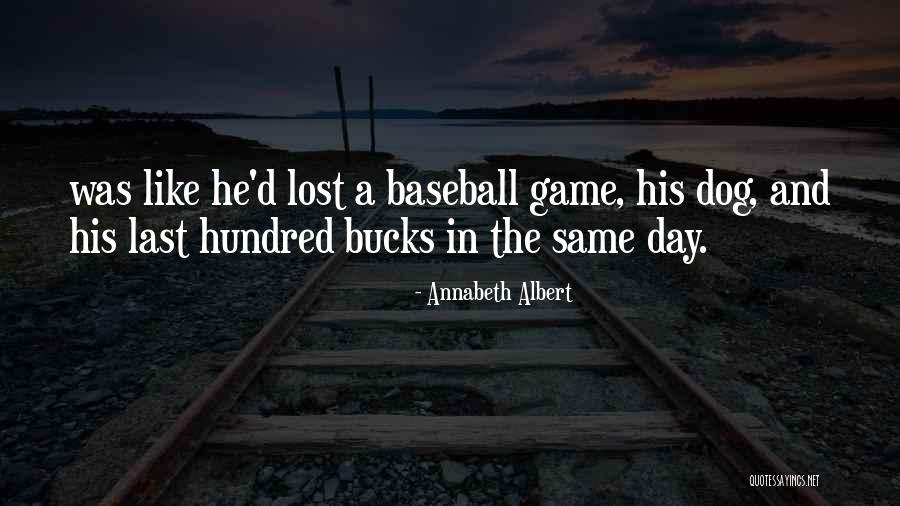 was like he'd lost a baseball game, his dog, and his last hundred bucks in the same day. — Annabeth Albert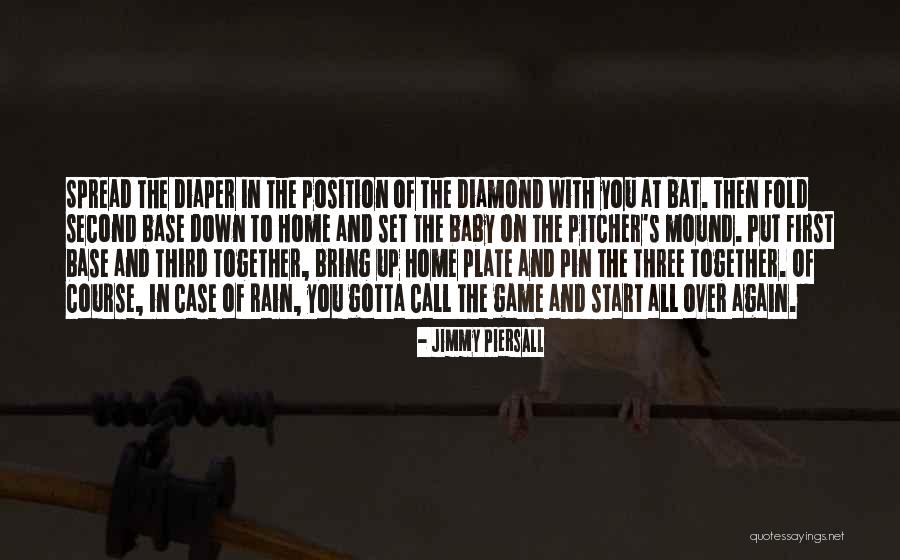 Spread the diaper in the position of the diamond with you at bat. Then fold second base down to home and set the baby on the pitcher's mound. Put first base and third together, bring up home plate and pin the three together. Of course, in case of rain, you gotta call the game and start all over again. — Jimmy Piersall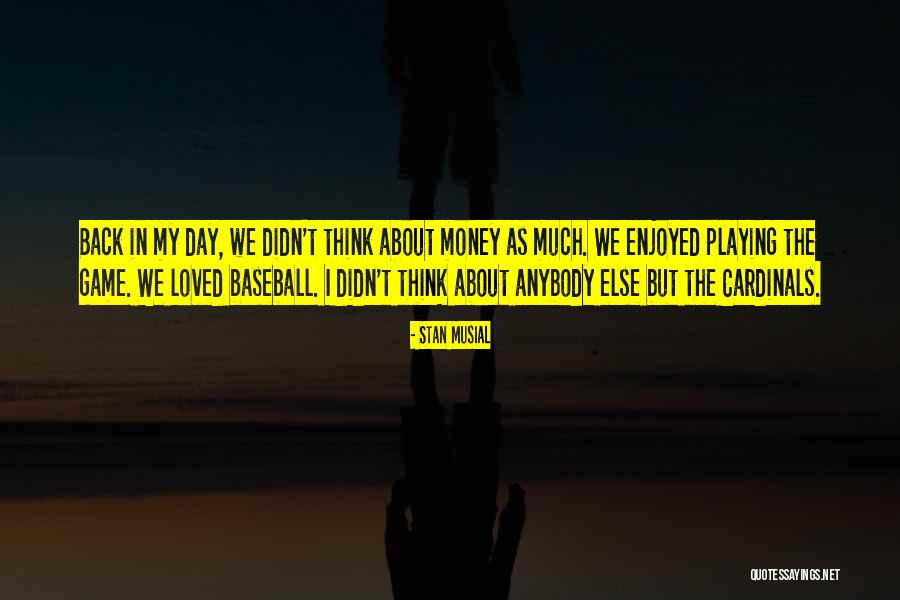 Back in my day, we didn't think about money as much. We enjoyed playing the game. We loved baseball. I didn't think about anybody else but the Cardinals. — Stan Musial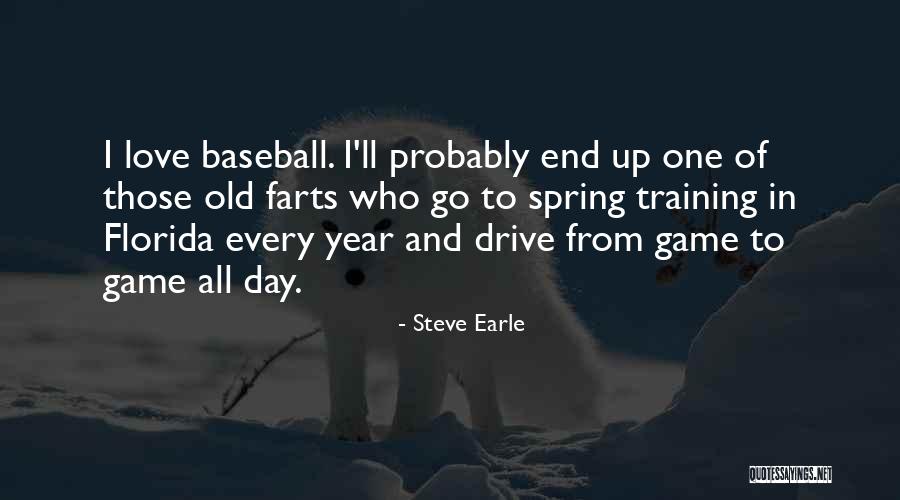 I love baseball. I'll probably end up one of those old farts who go to spring training in Florida every year and drive from game to game all day. — Steve Earle
It's the mathematical potential for a single game to last forever, in a suspended world where no clock rules the day, that aligns baseball as much with the dead as the living. — Bill Vaughn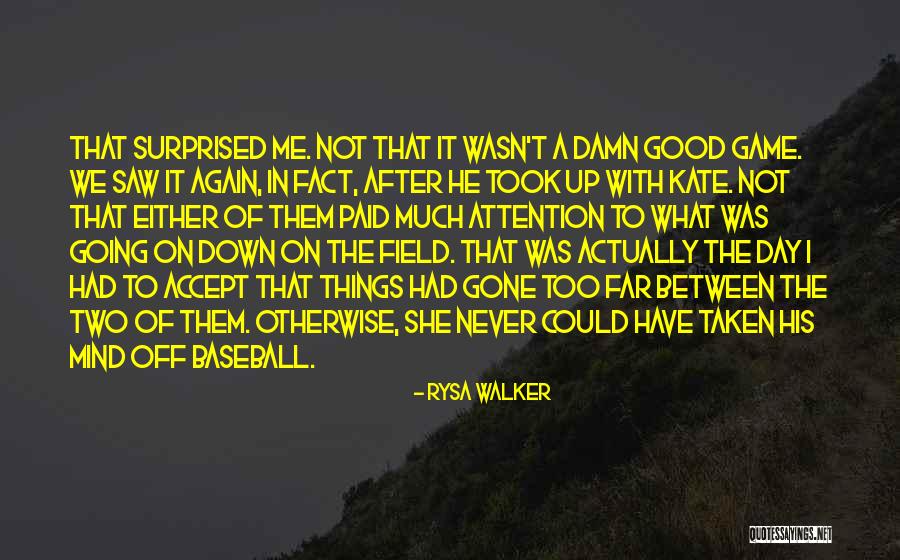 That surprised me. Not that it wasn't a damn good game. We saw it again, in fact, after he took up with Kate. Not that either of them paid much attention to what was going on down on the field. That was actually the day I had to accept that things had gone too far between the two of them. Otherwise, she never could have taken his mind off baseball. — Rysa Walker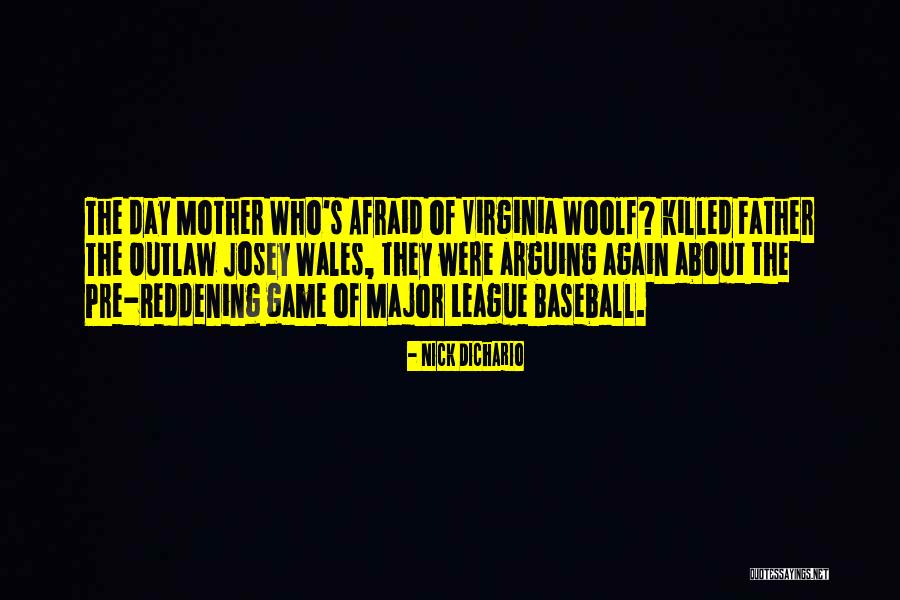 The day Mother Who's Afraid of Virginia Woolf? killed Father The Outlaw Josey Wales, they were arguing again about the Pre-Reddening game of Major League Baseball. — Nick DiChario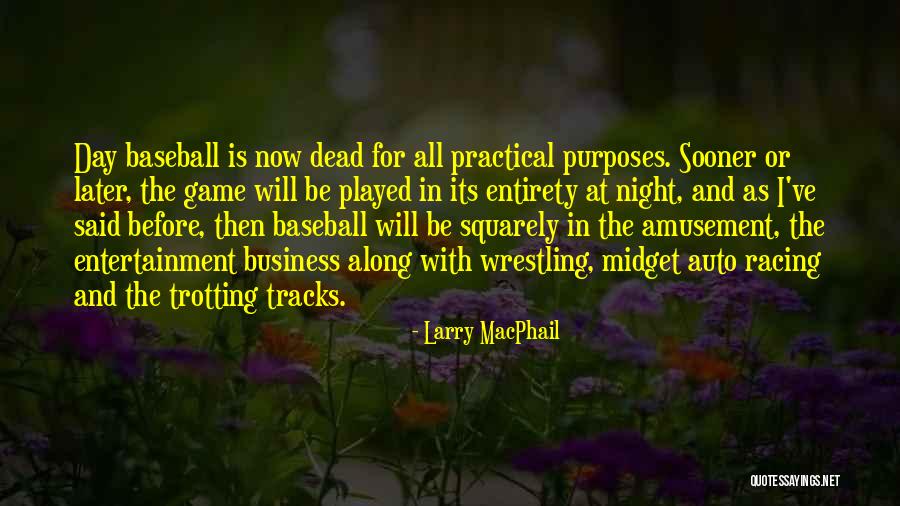 Day baseball is now dead for all practical purposes. Sooner or later, the game will be played in its entirety at night, and as I've said before, then baseball will be squarely in the amusement, the entertainment business along with wrestling, midget auto racing and the trotting tracks. — Larry MacPhail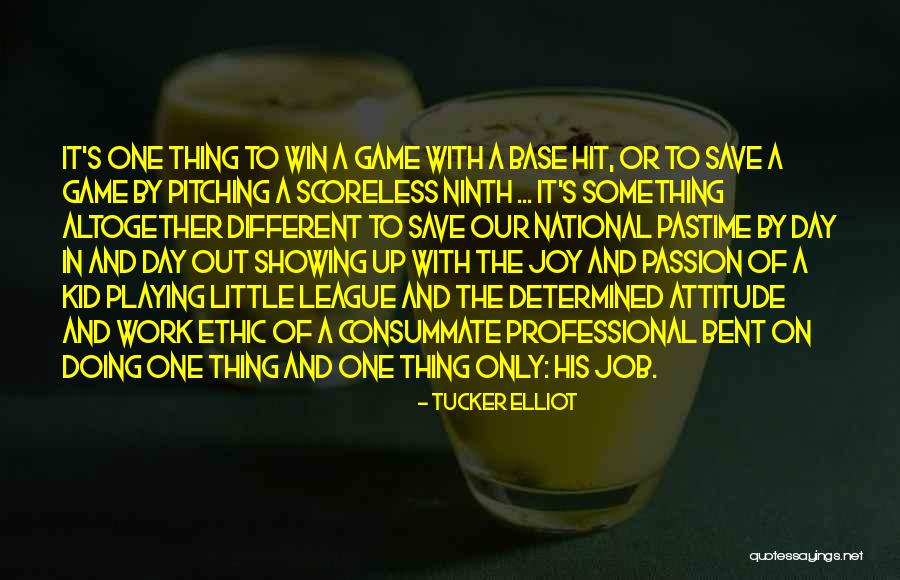 It's one thing to win a game with a base hit, or to save a game by pitching a scoreless ninth ... it's something altogether different to save our National Pastime by day in and day out showing up with the joy and passion of a kid playing Little League and the determined attitude and work ethic of a consummate professional bent on doing one thing and one thing only: his job. — Tucker Elliot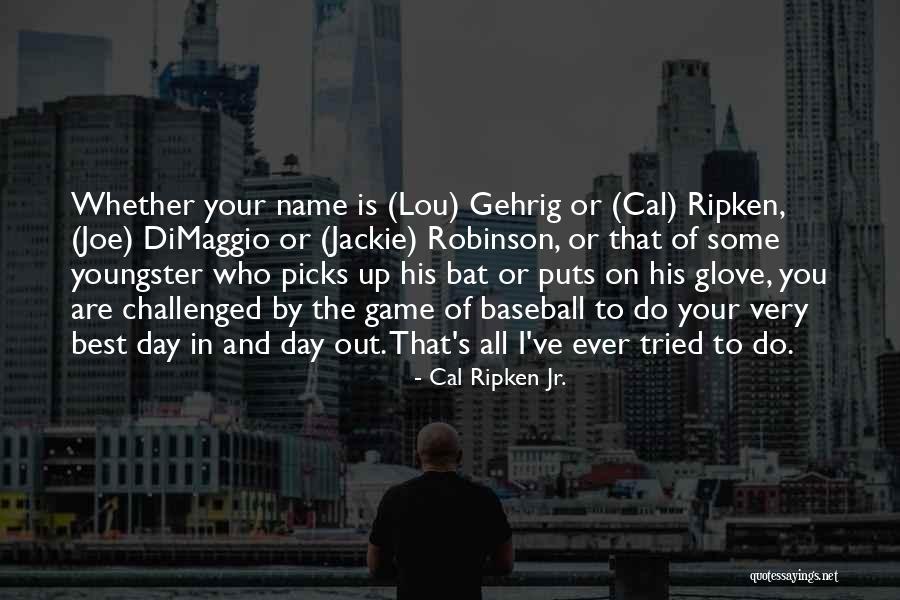 Whether your name is (Lou) Gehrig or (Cal) Ripken, (Joe) DiMaggio or (Jackie) Robinson, or that of some youngster who picks up his bat or puts on his glove, you are challenged by the game of baseball to do your very best day in and day out. That's all I've ever tried to do. — Cal Ripken Jr.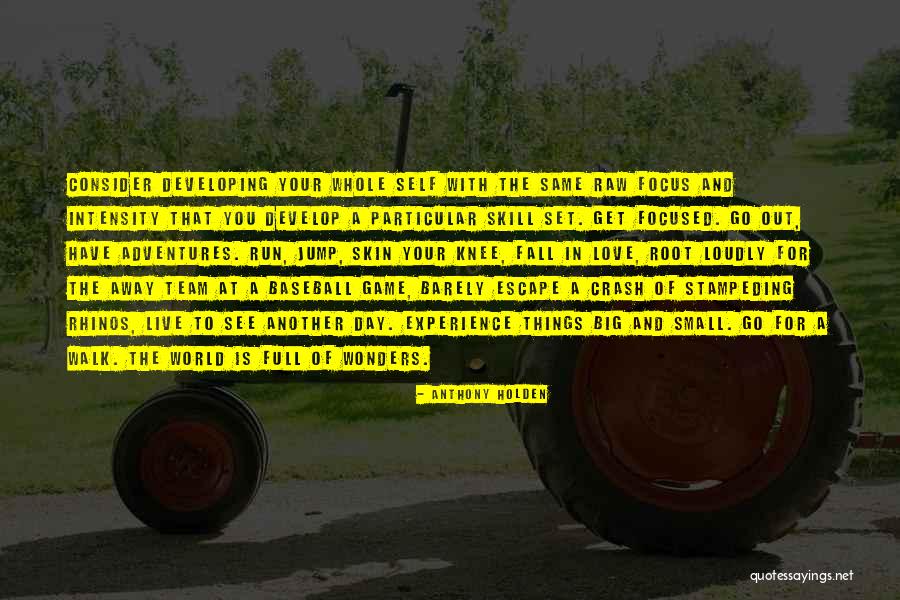 Consider developing your whole self with the same raw focus and intensity that you develop a particular skill set. Get focused. Go out, have adventures. Run, jump, skin your knee, fall in love, root loudly for the away team at a baseball game, barely escape a crash of stampeding rhinos, live to see another day. Experience things big and small. Go for a walk. The world is full of wonders. — Anthony Holden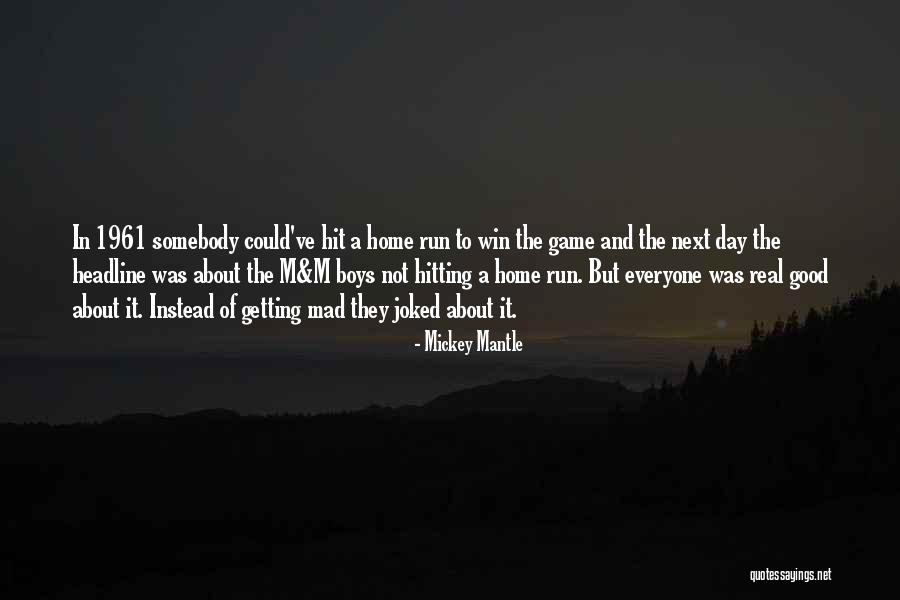 In 1961 somebody could've hit a home run to win the game and the next day the headline was about the M&M boys not hitting a home run. But everyone was real good about it. Instead of getting mad they joked about it. — Mickey Mantle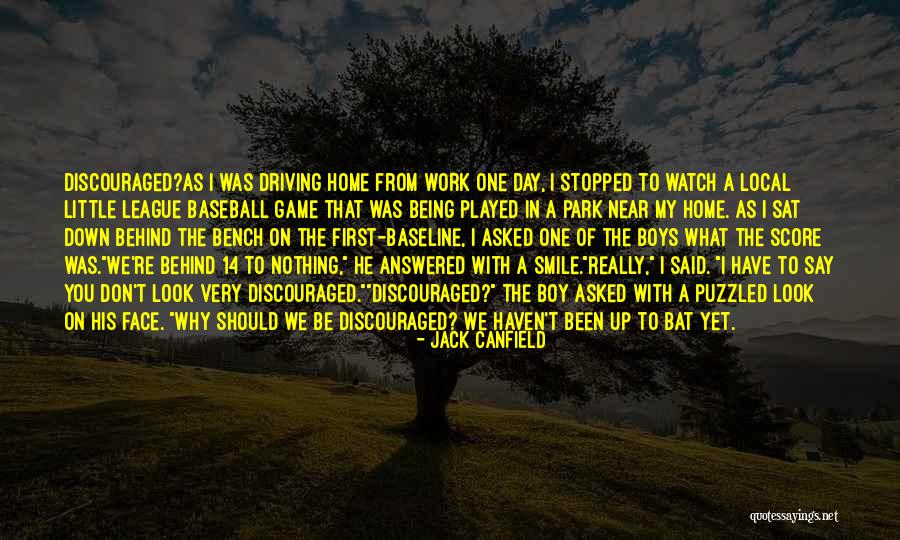 Discouraged?
As I was driving home from work one day, I stopped to watch a local Little League baseball game that was being played in a park near my home. As I sat down behind the bench on the first-baseline, I asked one of the boys what the score was.
"We're behind 14 to nothing," he answered with a smile.
"Really," I said. "I have to say you don't look very discouraged."
"Discouraged?" the boy asked with a puzzled look on his face. "Why should we be discouraged? We haven't been up to bat yet. — Jack Canfield