Evil Eye Love Quotes & Sayings
Enjoy reading and share 15 famous quotes about Evil Eye Love with everyone.
Top Evil Eye Love Quotes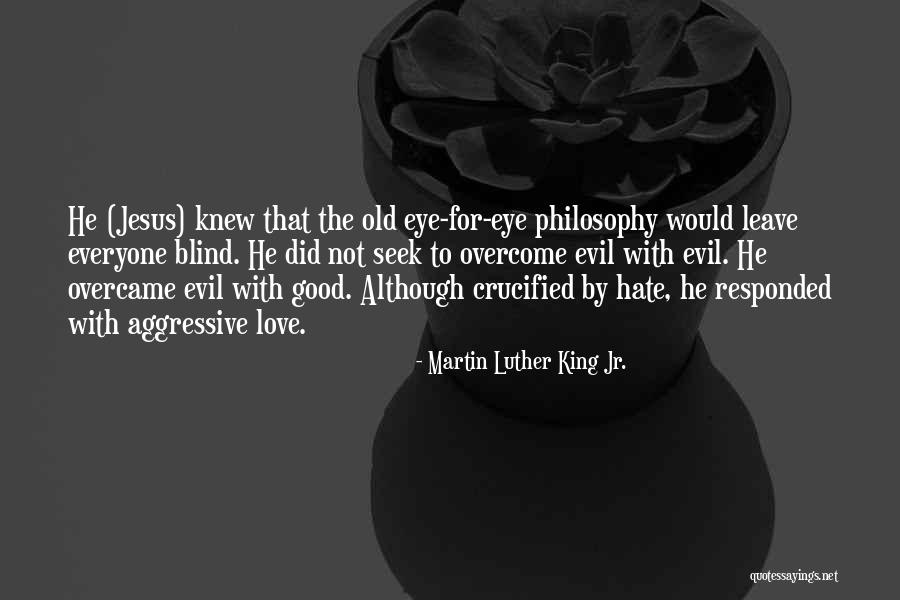 He (Jesus) knew that the old eye-for-eye philosophy would leave everyone blind. He did not seek to overcome evil with evil. He overcame evil with good. Although crucified by hate, he responded with aggressive love. — Martin Luther King Jr.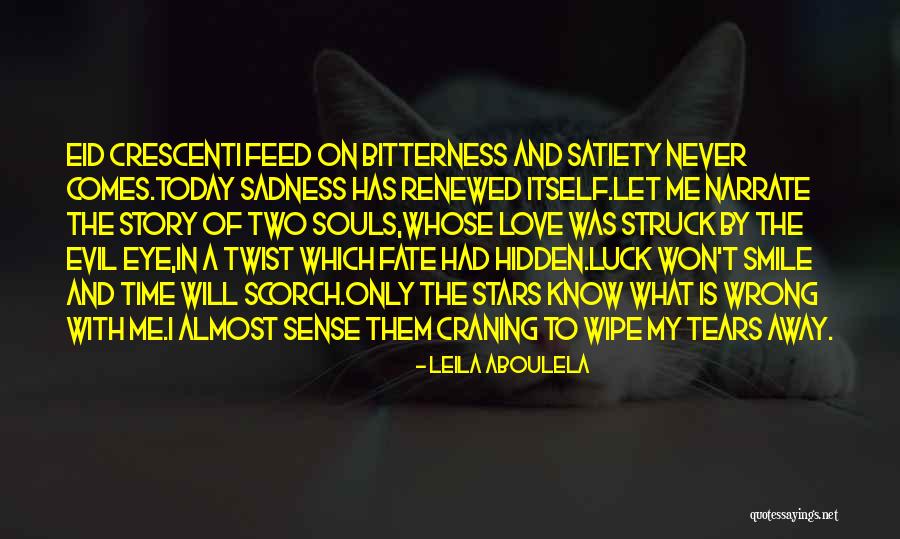 Eid Crescent
I feed on bitterness and satiety never comes.
Today sadness has renewed itself.
Let me narrate the story of two souls,
Whose love was struck by the evil eye,
In a twist which Fate had hidden.
Luck won't smile and Time will scorch.
Only the stars know what is wrong with me.
I almost sense them craning to wipe my tears away. — Leila Aboulela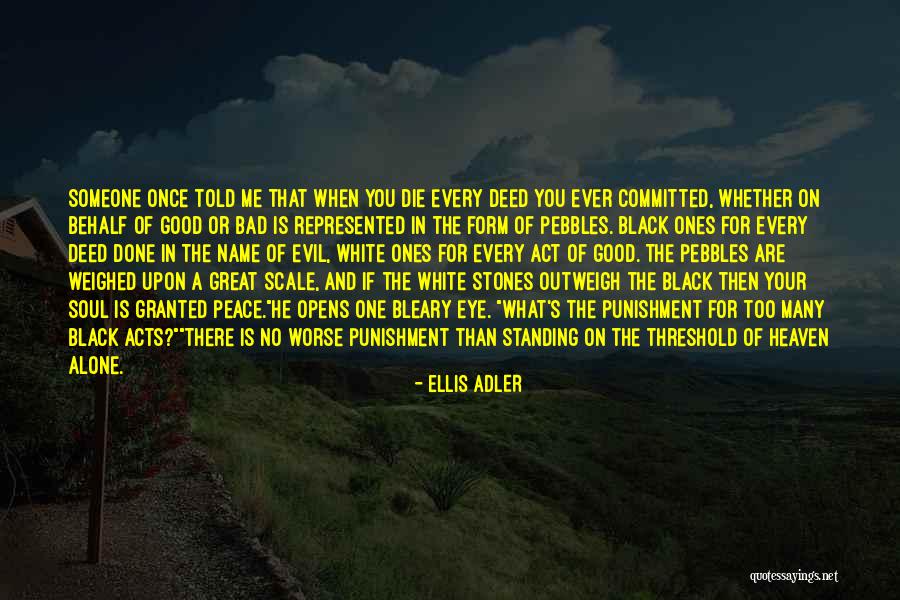 Someone once told me that when you die every deed you ever committed, whether on behalf of good or bad is represented in the form of pebbles. Black ones for every deed done in the name of evil, white ones for every act of good. The pebbles are weighed upon a great scale, and if the white stones outweigh the black then your soul is granted peace."
He opens one bleary eye. "What's the punishment for too many black acts?"
"There is no worse punishment than standing on the threshold of heaven alone. — Ellis Adler
The solid, solid universe
Is pervious to Love;
With bandaged eyes he never errs,
Around, below, above.
His blinding light
He flingeth white
On God's and Satan's brood,
And reconciles
By mystic wiles
The evil and the good. — Ralph Waldo Emerson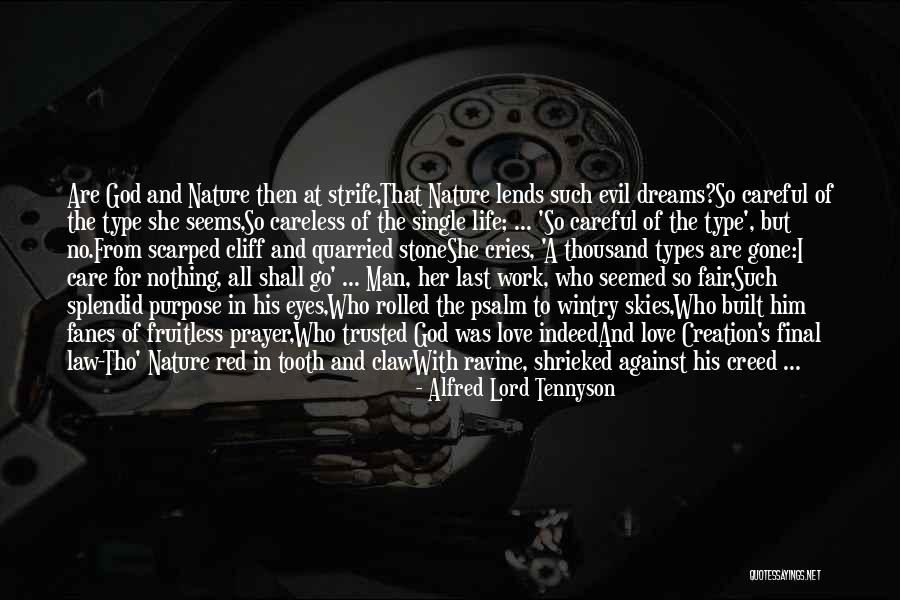 Are God and Nature then at strife,
That Nature lends such evil dreams?
So careful of the type she seems,
So careless of the single life; ...
'So careful of the type', but no.
From scarped cliff and quarried stone
She cries, 'A thousand types are gone:
I care for nothing, all shall go' ...
Man, her last work, who seemed so fair,
Such splendid purpose in his eyes,
Who rolled the psalm to wintry skies,
Who built him fanes of fruitless prayer,
Who trusted God was love indeed
And love Creation's final law-
Tho' Nature red in tooth and claw
With ravine, shrieked against his creed ... — Alfred Lord Tennyson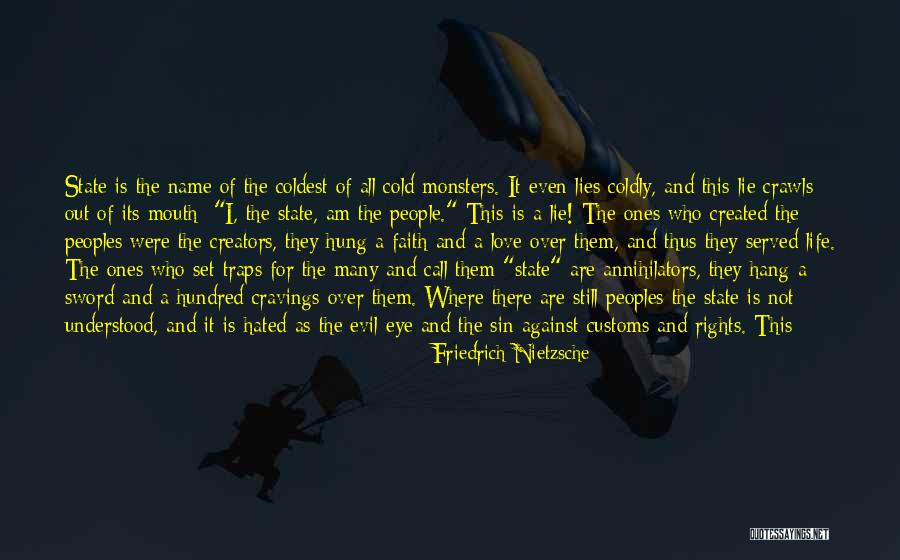 State is the name of the coldest of all cold monsters. It even lies coldly, and this lie crawls out of its mouth: "I, the state, am the people." This is a lie! The ones who created the peoples were the creators, they hung a faith and a love over them, and thus they served life. The ones who set traps for the many and call them "state" are annihilators, they hang a sword and a hundred cravings over them. Where there are still peoples the state is not understood, and it is hated as the evil eye and the sin against customs and rights. This — Friedrich Nietzsche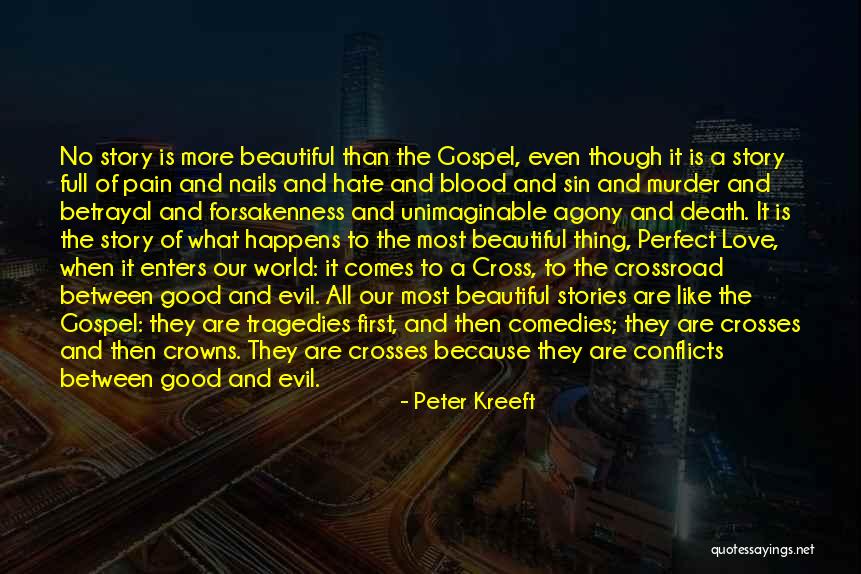 No story is more beautiful than the Gospel, even though it is a story full of pain and nails and hate and blood and sin and murder and betrayal and forsakenness and unimaginable agony and death. It is the story of what happens to the most beautiful thing, Perfect Love, when it enters our world: it comes to a Cross, to the crossroad between good and evil. All our most beautiful stories are like the Gospel: they are tragedies first, and then comedies; they are crosses and then crowns. They are crosses because they are conflicts between good and evil. That is the fundamental plot of every great story. To say "that story is beautiful" means "that story resembles the Gospel." If you are bored by the Gospel, that puts no black eye on the Gospel, but on you. Most likely, it means you have never listened to it. You must have heard it, but hearing is far from the same thing as listening ... — Peter Kreeft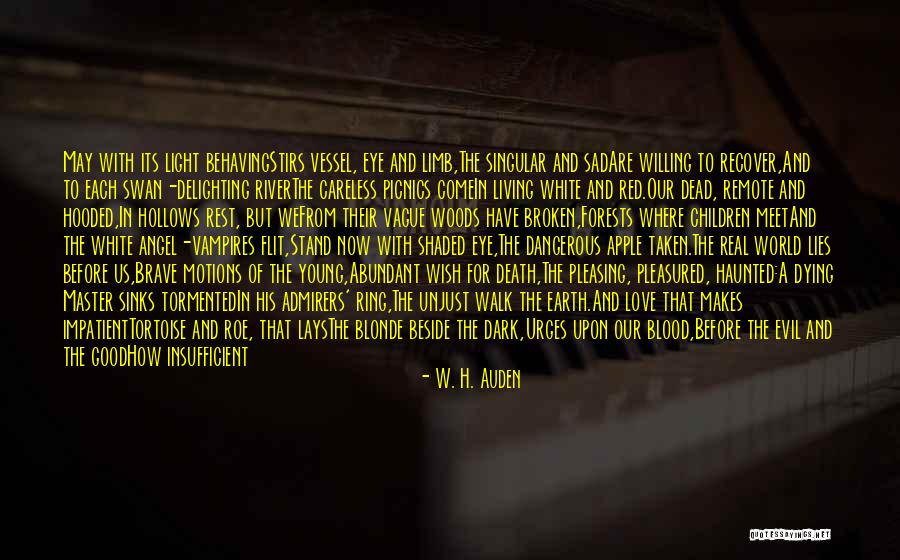 May with its light behaving
Stirs vessel, eye and limb,
The singular and sad
Are willing to recover,
And to each swan-delighting river
The careless picnics come
In living white and red.

Our dead, remote and hooded,
In hollows rest, but we
From their vague woods have broken,
Forests where children meet
And the white angel-vampires flit,
Stand now with shaded eye,
The dangerous apple taken.

The real world lies before us,
Brave motions of the young,
Abundant wish for death,
The pleasing, pleasured, haunted:
A dying Master sinks tormented
In his admirers' ring,
The unjust walk the earth.

And love that makes impatient
Tortoise and roe, that lays
The blonde beside the dark,
Urges upon our blood,
Before the evil and the good
How insufficient is
Touch, endearment, look. — W. H. Auden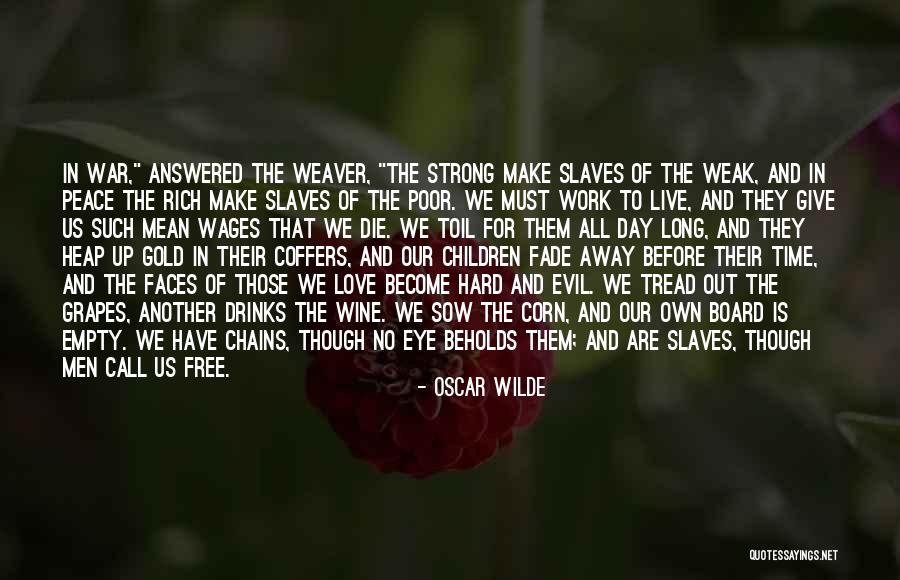 In war," answered the weaver, "the strong make slaves of the weak, and in peace the rich make slaves of the poor. We must work to live, and they give us such mean wages that we die. We toil for them all day long, and they heap up gold in their coffers, and our children fade away before their time, and the faces of those we love become hard and evil. We tread out the grapes, another drinks the wine. We sow the corn, and our own board is empty. We have chains, though no eye beholds them; and are slaves, though men call us free. — Oscar Wilde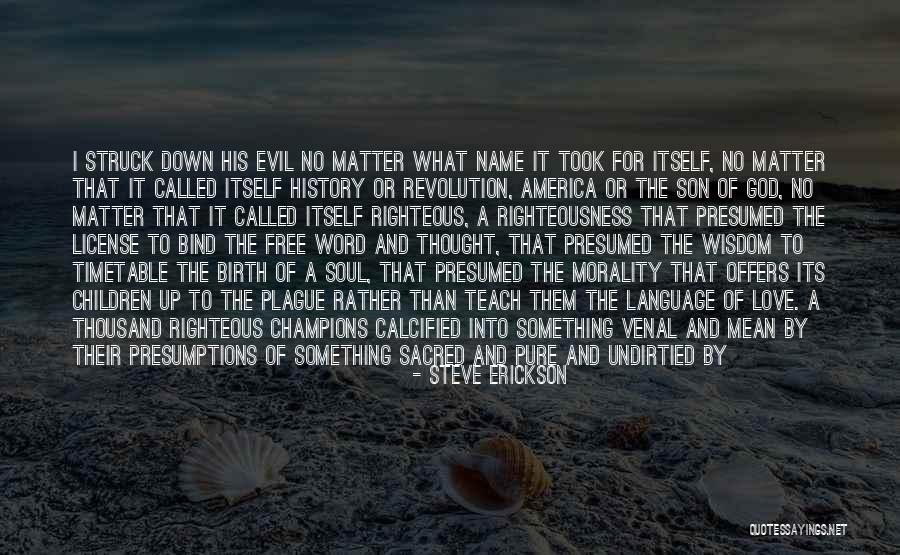 I struck down his evil no matter what name it took for itself, no matter that it called itself history or revolution, America or the son of God, no matter that it called itself righteous, a righteousness that presumed the license to bind the free word and thought, that presumed the wisdom to timetable the birth of a soul, that presumed the morality that offers its children up to the plague rather than teach them the language of love. A thousand righteous champions calcified into something venal and mean by their presumptions of something sacred and pure and undirtied by the blood and spit and semen of being human: I recognized all of them by the bit of him they carried, sometimes in one eye, sometimes under their nails. — Steve Erickson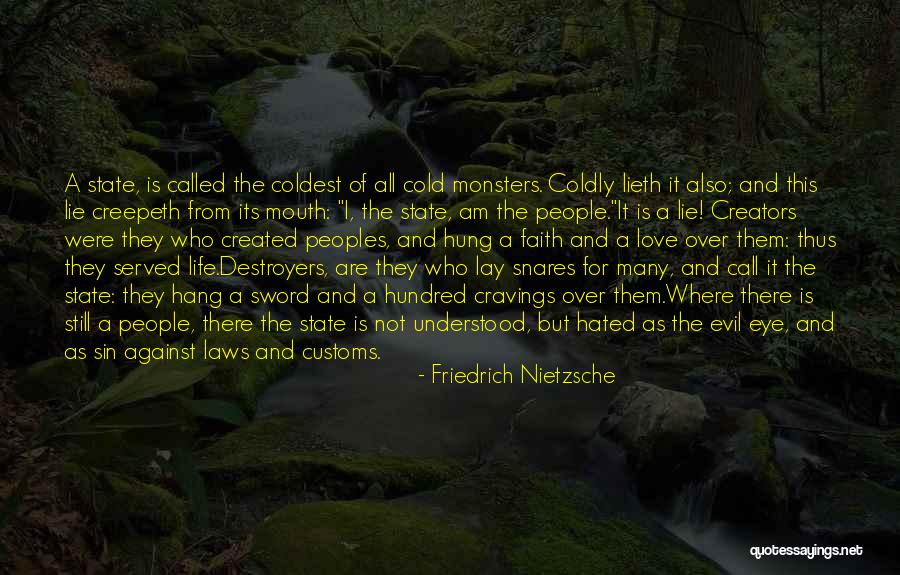 A state, is called the coldest of all cold monsters. Coldly lieth it also; and this lie creepeth from its mouth: "I, the state, am the people."
It is a lie! Creators were they who created peoples, and hung a faith and a love over them: thus they served life.
Destroyers, are they who lay snares for many, and call it the state: they hang a sword and a hundred cravings over them.
Where there is still a people, there the state is not understood, but hated as the evil eye, and as sin against laws and customs. — Friedrich Nietzsche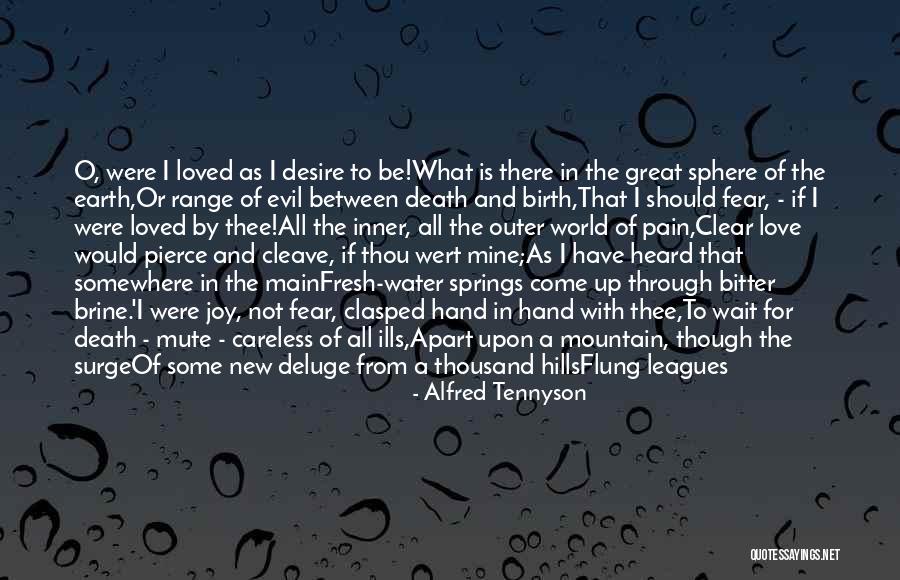 O, were I loved as I desire to be!
What is there in the great sphere of the earth,
Or range of evil between death and birth,
That I should fear, - if I were loved by thee!
All the inner, all the outer world of pain,
Clear love would pierce and cleave, if thou wert mine;
As I have heard that somewhere in the main
Fresh-water springs come up through bitter brine.
'I were joy, not fear, clasped hand in hand with thee,
To wait for death - mute - careless of all ills,
Apart upon a mountain, though the surge
Of some new deluge from a thousand hills
Flung leagues of roaring foam into the gorge
Below us, as far on as eye could see. — Alfred Tennyson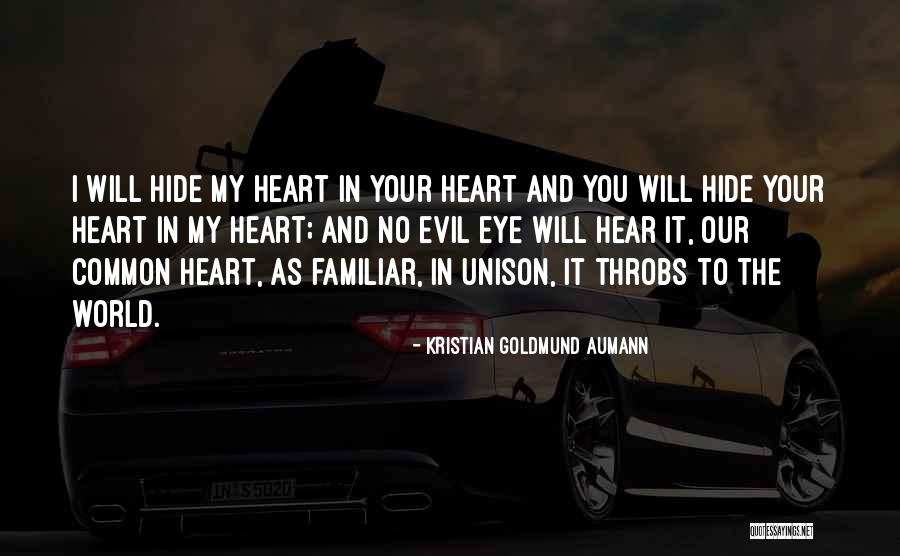 I will hide my heart in your heart and you will hide your heart in my heart; and no evil eye will hear it, our common heart, as familiar, in unison, it throbs to the world. — Kristian Goldmund Aumann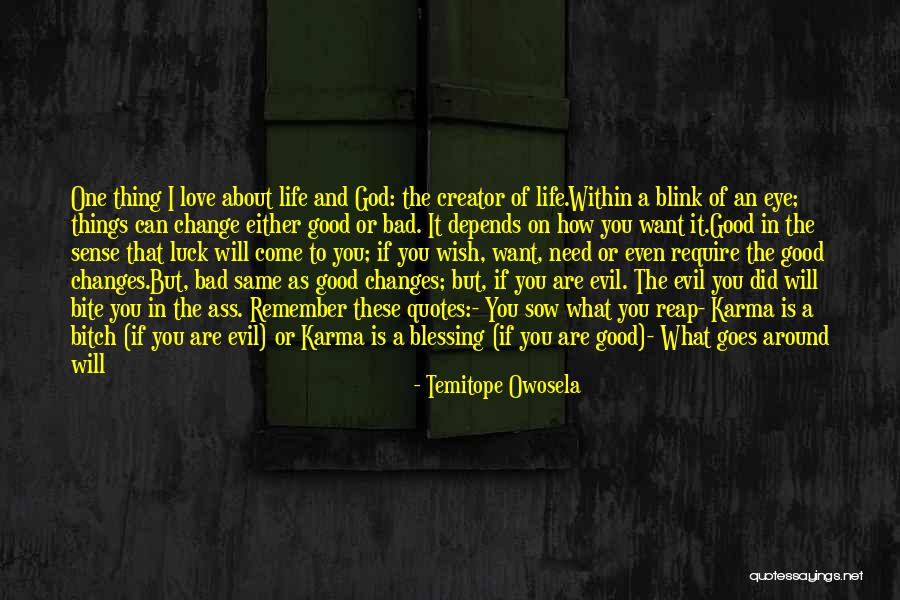 One thing I love about life and God: the creator of life.
Within a blink of an eye; things can change either good or bad. It depends on how you want it.
Good in the sense that luck will come to you; if you wish, want, need or even require the good changes.
But, bad same as good changes; but, if you are evil. The evil you did will bite you in the ass. Remember these quotes:
- You sow what you reap
- Karma is a bitch (if you are evil) or Karma is a blessing (if you are good)
- What goes around will eventually come around
- What goes up will come down
So be careful what you do to others.
That's why I am always cautious on the way I treat people. Yes; I am not perfect. But, I always try to be the best I can as a good and loving person despite my roots that is horrifying. — Temitope Owosela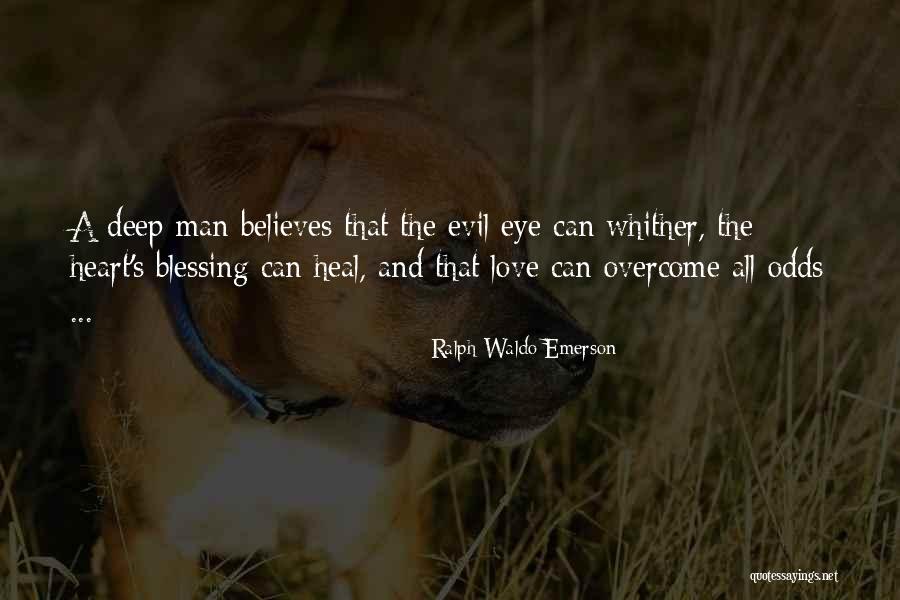 A deep man believes that the evil eye can whither, the heart's blessing can heal, and that love can overcome all odds ... — Ralph Waldo Emerson