Quotes & Sayings About Being Pain Free
Enjoy reading and share 30 famous quotes about Being Pain Free with everyone.
Top Being Pain Free Quotes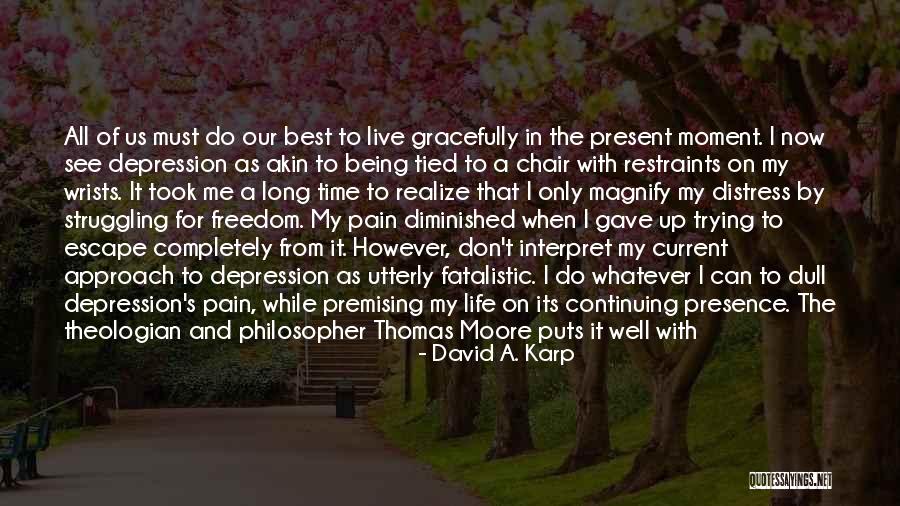 All of us must do our best to live gracefully in the present moment. I now see depression as akin to being tied to a chair with restraints on my wrists. It took me a long time to realize that I only magnify my distress by struggling for freedom. My pain diminished when I gave up trying to escape completely from it. However, don't interpret my current approach to depression as utterly fatalistic. I do whatever I can to dull depression's pain, while premising my life on its continuing presence. The theologian and philosopher Thomas Moore puts it well with his distinction between cure and care. While cure implies the eradication of trouble, care "appreciates the mystery of human suffering and does not offer the illusion of a problem-free life. — David A. Karp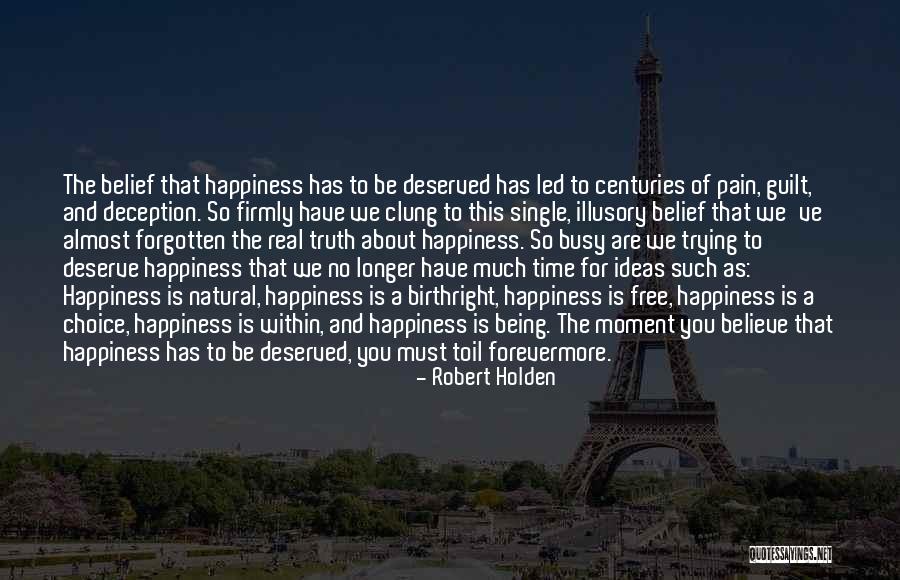 The belief that happiness has to be deserved has led to centuries of pain, guilt, and deception. So firmly have we clung to this single, illusory belief that we've almost forgotten the real truth about happiness. So busy are we trying to deserve happiness that we no longer have much time for ideas such as: Happiness is natural, happiness is a birthright, happiness is free, happiness is a choice, happiness is within, and happiness is being. The moment you believe that happiness has to be deserved, you must toil forevermore. — Robert Holden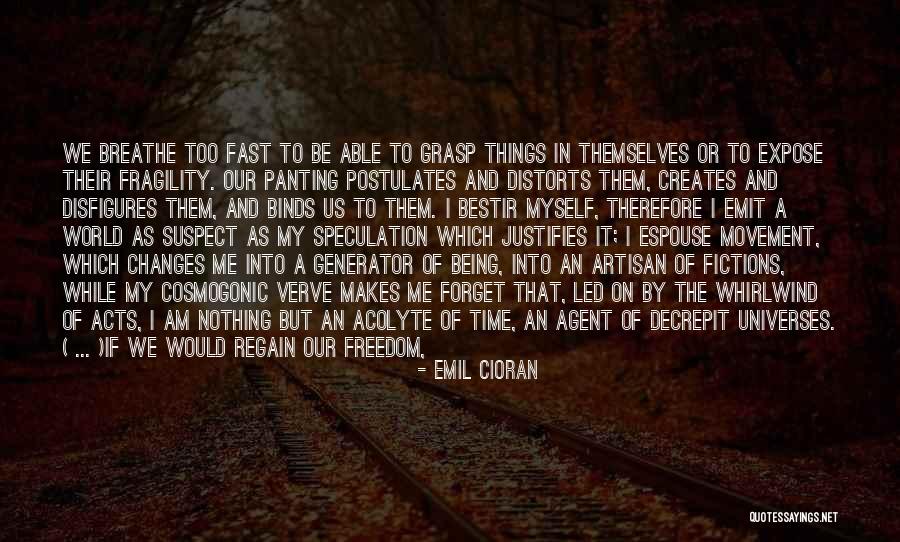 We breathe too fast to be able to grasp things in themselves or to expose their fragility. Our panting postulates and distorts them, creates and disfigures them, and binds us to them. I bestir myself, therefore I emit a world as suspect as my speculation which justifies it; I espouse movement, which changes me into a generator of being, into an artisan of fictions, while my cosmogonic verve makes me forget that, led on by the whirlwind of acts, I am nothing but an acolyte of time, an agent of decrepit universes. ( ... )
If we would regain our freedom, we must shake off the burden of sensation, no longer react to the world by our senses, break our bonds. For all sensation is a bond, pleasure as much as pain, joy as much as misery. The only free mind is the one that, pure of all intimacy with beings or objects, plies its own vacuity. — Emil Cioran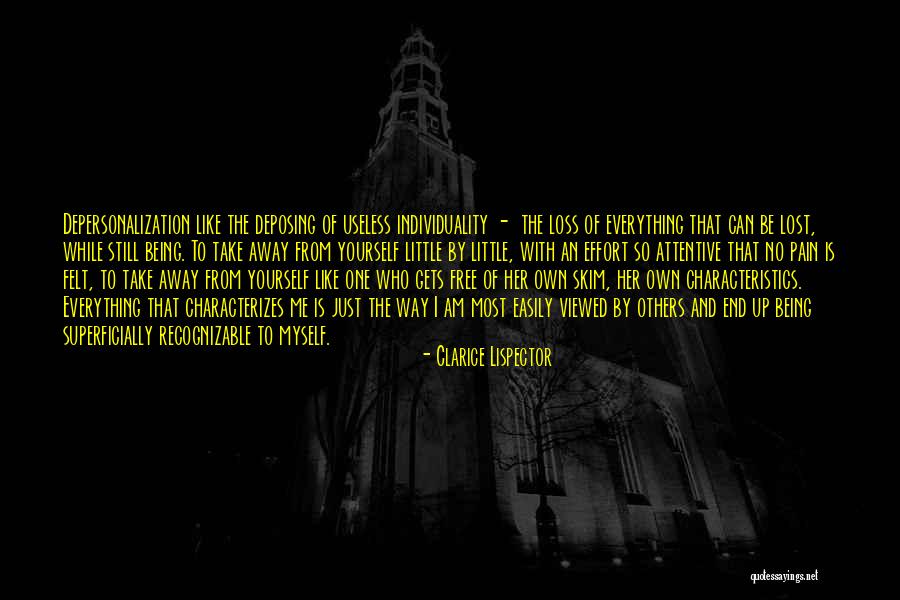 Depersonalization like the deposing of useless individuality - the loss of everything that can be lost, while still being. To take away from yourself little by little, with an effort so attentive that no pain is felt, to take away from yourself like one who gets free of her own skim, her own characteristics. Everything that characterizes me is just the way I am most easily viewed by others and end up being superficially recognizable to myself. — Clarice Lispector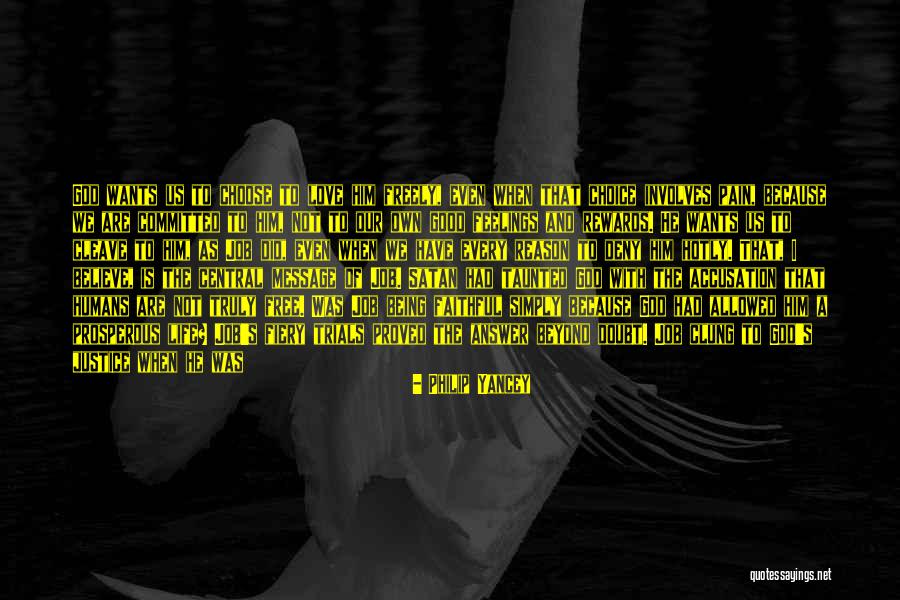 God wants us to choose to love him freely, even when that choice involves pain, because we are committed to him, not to our own good feelings and rewards. He wants us to cleave to him, as Job did, even when we have every reason to deny him hotly. That, I believe, is the central message of Job. Satan had taunted God with the accusation that humans are not truly free. Was Job being faithful simply because God had allowed him a prosperous life? Job's fiery trials proved the answer beyond doubt. Job clung to God's justice when he was the best example in history of God's apparent injustice. He did not seek the Giver because of his gifts; when all gifts were removed he still sought the Giver. — Philip Yancey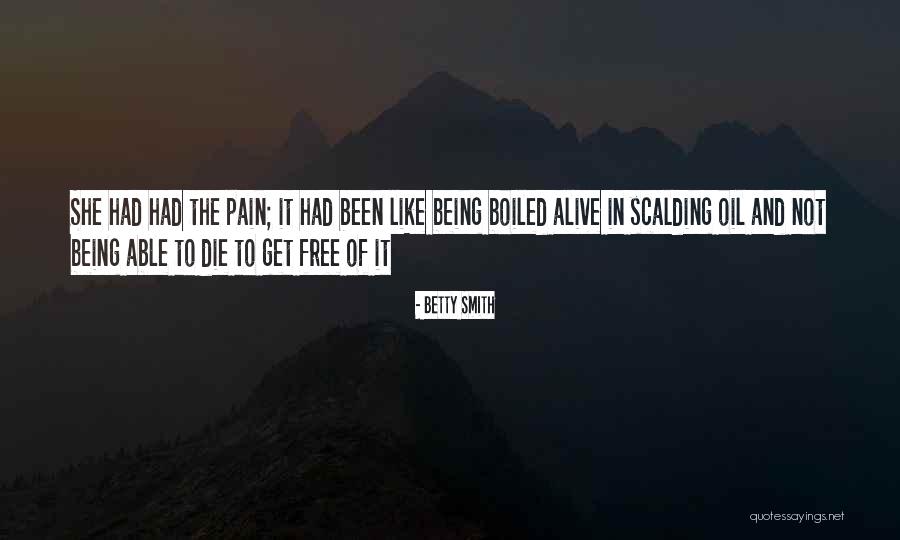 She had had the pain; it had been like being boiled alive in scalding oil and not being able to die to get free of it — Betty Smith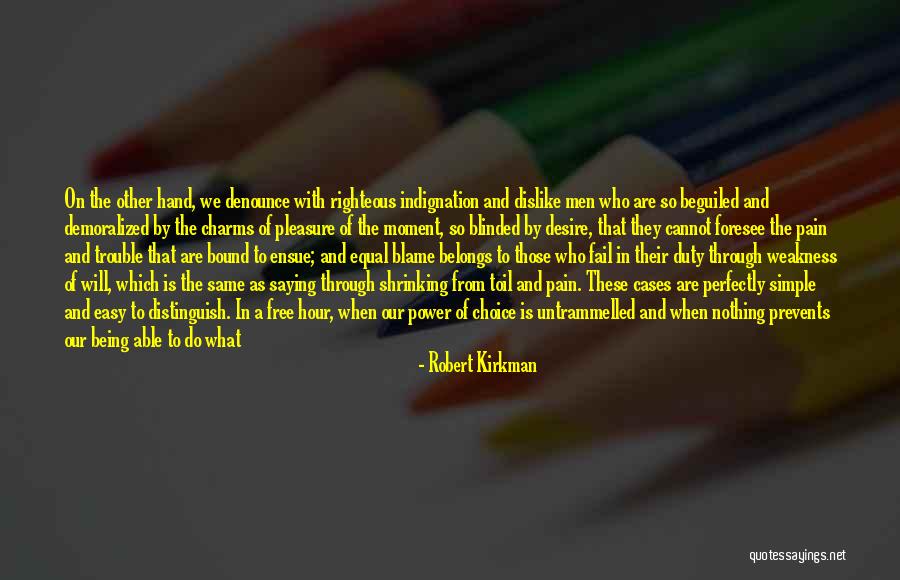 On the other hand, we denounce with righteous indignation and dislike men who are so beguiled and demoralized by the charms of pleasure of the moment, so blinded by desire, that they cannot foresee the pain and trouble that are bound to ensue; and equal blame belongs to those who fail in their duty through weakness of will, which is the same as saying through shrinking from toil and pain. These cases are perfectly simple and easy to distinguish. In a free hour, when our power of choice is untrammelled and when nothing prevents our being able to do what we like best, every pleasure is to be welcomed and every pain avoided. But in certain circumstances and owing to the claims of duty or the obligations of business it will frequently occur that pleasures have to be repudiated and annoyances accepted. The wise man therefore always holds in these matters to this principle of selection: he rejects pleasures to secure other greater pleasures, or else he endures pains to avoid worse pains. — Robert Kirkman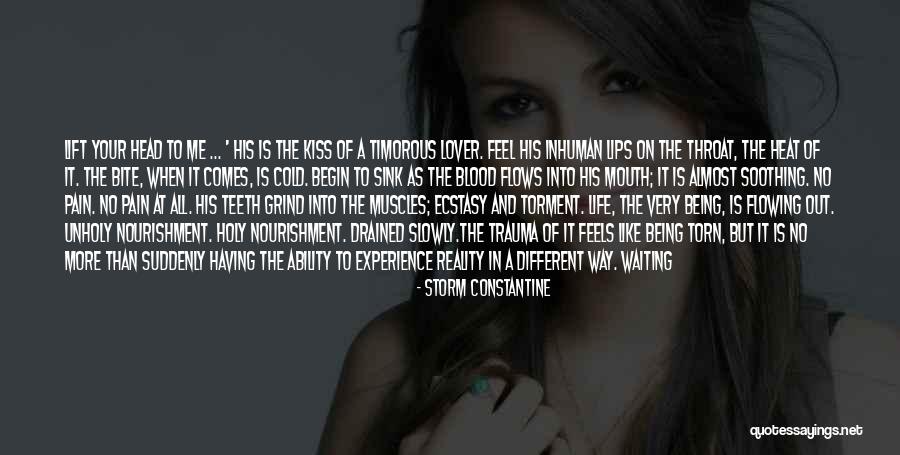 Lift your head to me ... '
His is the kiss of a timorous lover. Feel his inhuman lips on the throat, the heat of it. The bite, when it comes, is cold. Begin to sink as the blood flows into his mouth; it is almost soothing. No pain. No pain at all. His teeth grind into the muscles; ecstasy and torment. Life, the very being, is flowing out. Unholy nourishment. Holy nourishment. Drained slowly.
The trauma of it feels like being torn, but it is no more than suddenly having the ability to experience reality in a different way. Waiting for the end ... for what? Cannot foretell. No longer flesh, no longer blood. Soul. Free. — Storm Constantine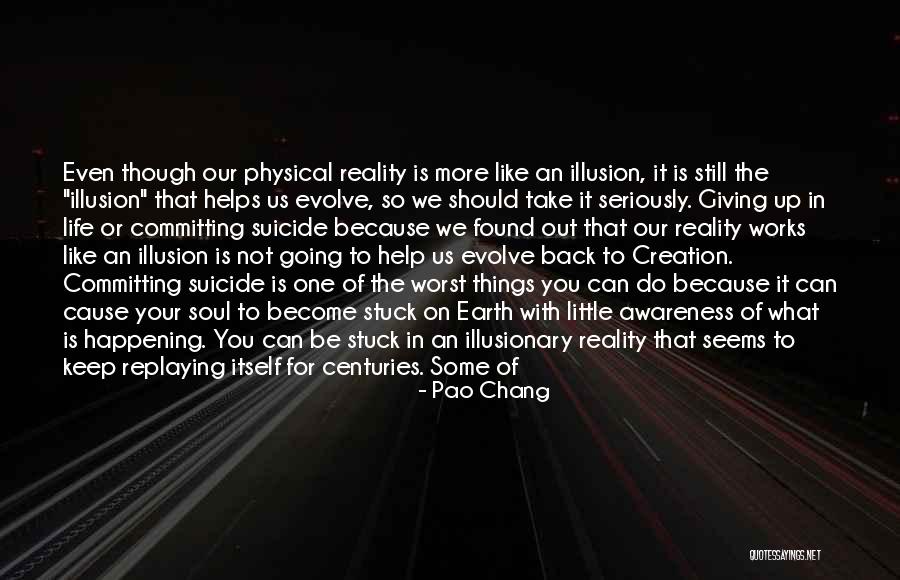 Even though our physical reality is more like an illusion, it is still the "illusion" that helps us evolve, so we should take it seriously. Giving up in life or committing suicide because we found out that our reality works like an illusion is not going to help us evolve back to Creation. Committing suicide is one of the worst things you can do because it can cause your soul to become stuck on Earth with little awareness of what is happening. You can be stuck in an illusionary reality that seems to keep replaying itself for centuries. Some of us like to refer to these lost souls as ghosts. Being in this lost state of awareness will not free you from pain and suffering, but will stunt your spiritual evolution which is one of the worst things you can do to your soul. DNA creates our external reality because — Pao Chang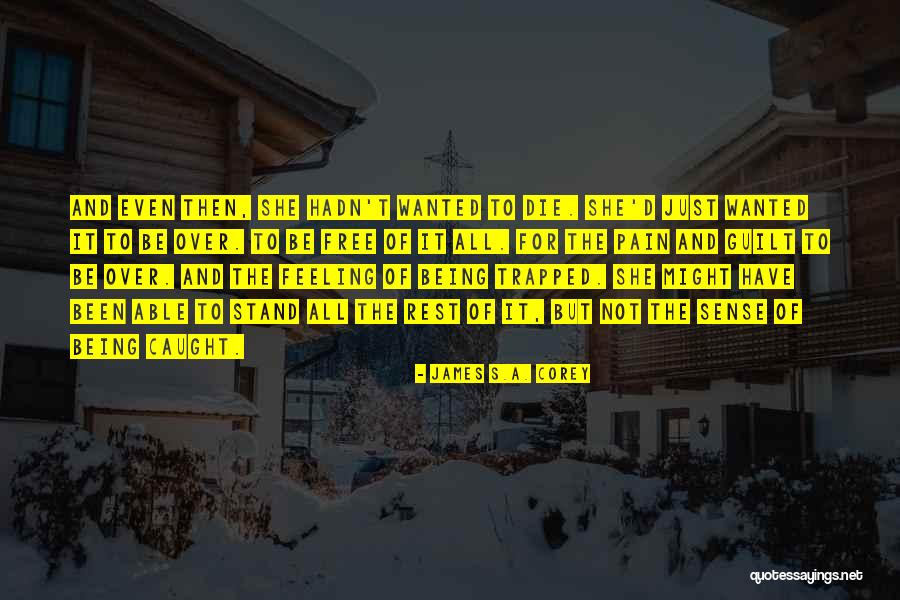 And even then, she hadn't wanted to die. She'd just wanted it to be over. To be free of it all. For the pain and guilt to be over. And the feeling of being trapped. She might have been able to stand all the rest of it, but not the sense of being caught. — James S.A. Corey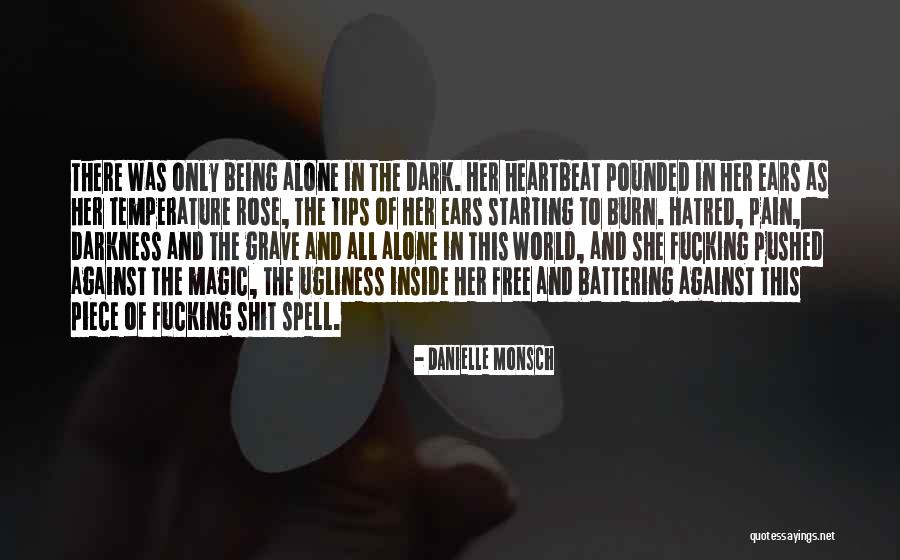 There was only being alone in the dark. Her heartbeat pounded in her ears as her temperature rose, the tips of her ears starting to burn. Hatred, pain, darkness and the grave and all alone in this world, and she fucking pushed against the magic, the ugliness inside her free and battering against this piece of fucking shit spell. — Danielle Monsch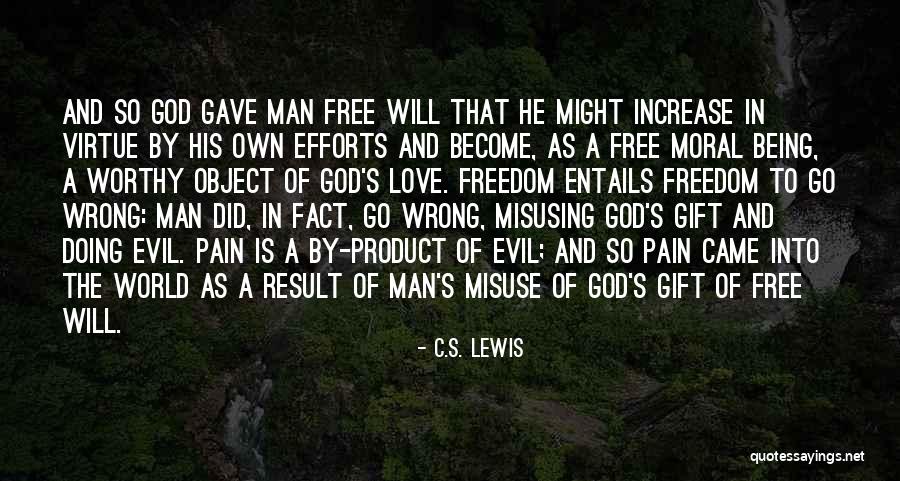 And so God gave man free will that he might increase in virtue by his own efforts and become, as a free moral being, a worthy object of God's love. Freedom entails freedom to go wrong: man did, in fact, go wrong, misusing God's gift and doing evil. Pain is a by-product of evil; and so pain came into the world as a result of man's misuse of God's gift of free will. — C.S. Lewis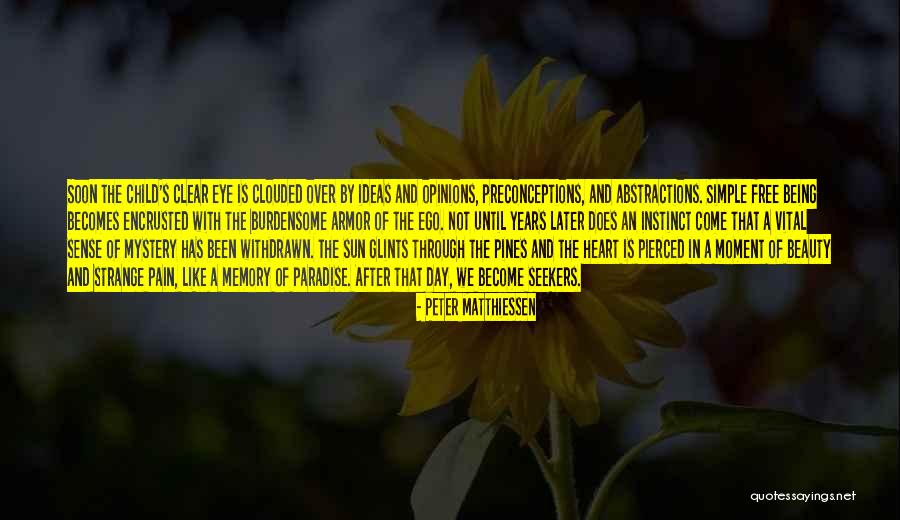 Soon the child's clear eye is clouded over by ideas and opinions, preconceptions, and abstractions. Simple free being becomes encrusted with the burdensome armor of the ego. Not until years later does an instinct come that a vital sense of mystery has been withdrawn. The sun glints through the pines and the heart is pierced in a moment of beauty and strange pain, like a memory of paradise. After that day, we become seekers. — Peter Matthiessen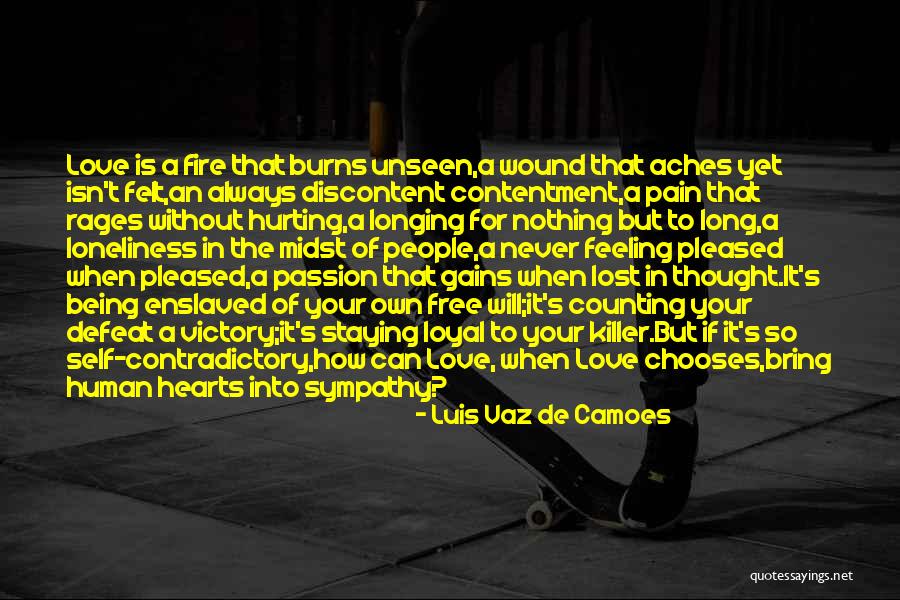 Love is a fire that burns unseen,
a wound that aches yet isn't felt,
an always discontent contentment,
a pain that rages without hurting,
a longing for nothing but to long,
a loneliness in the midst of people,
a never feeling pleased when pleased,
a passion that gains when lost in thought.
It's being enslaved of your own free will;
it's counting your defeat a victory;
it's staying loyal to your killer.
But if it's so self-contradictory,
how can Love, when Love chooses,
bring human hearts into sympathy? — Luis Vaz De Camoes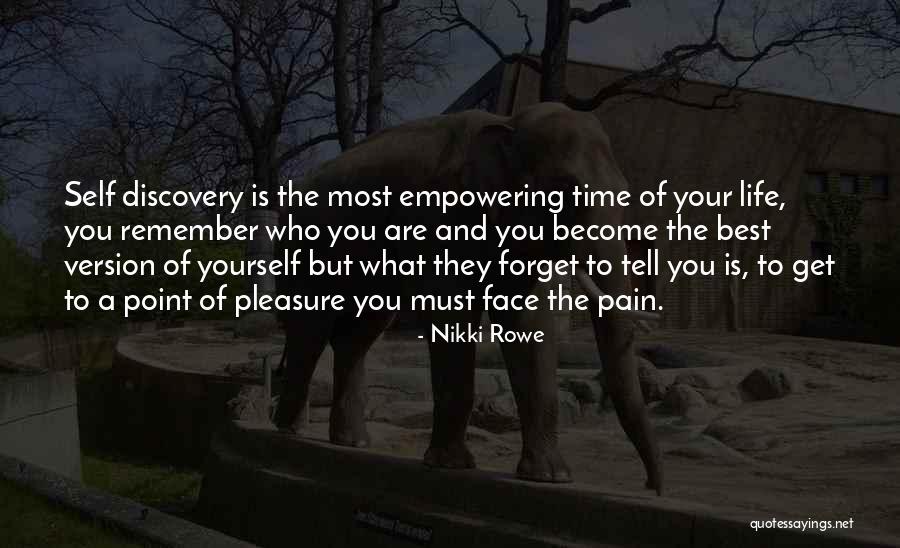 Self discovery is the most empowering time of your life, you remember who you are and you become the best version of yourself but what they forget to tell you is, to get to a point of pleasure you must face the pain. — Nikki Rowe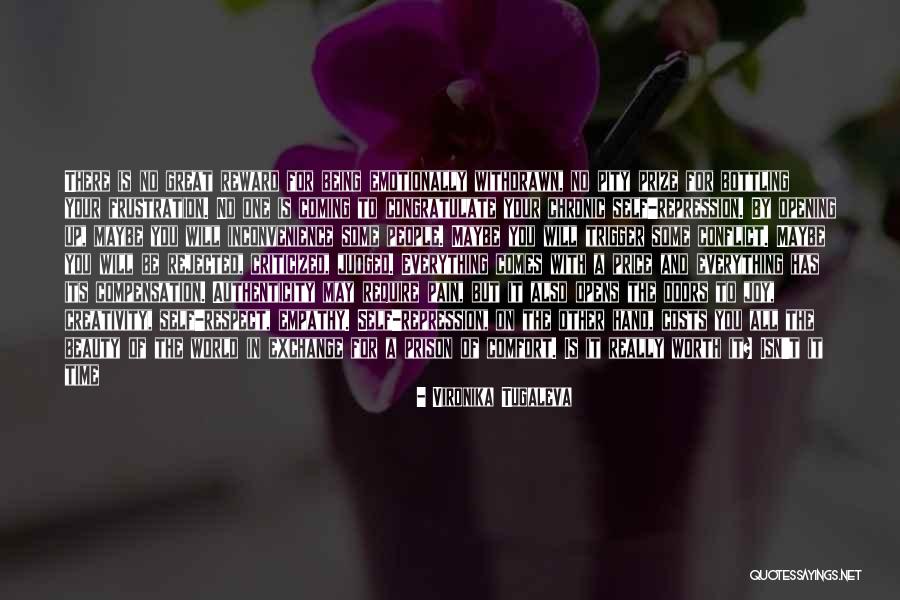 There is no great reward for being emotionally withdrawn, no pity prize for bottling your frustration. No one is coming to congratulate your chronic self-repression. By opening up, maybe you will inconvenience some people. Maybe you will trigger some conflict. Maybe you will be rejected, criticized, judged. Everything comes with a price and everything has its compensation. Authenticity may require pain, but it also opens the doors to joy, creativity, self-respect, empathy. Self-repression, on the other hand, costs you all the beauty of the world in exchange for a prison of comfort. Is it really worth it? Isn't it time to break free? — Vironika Tugaleva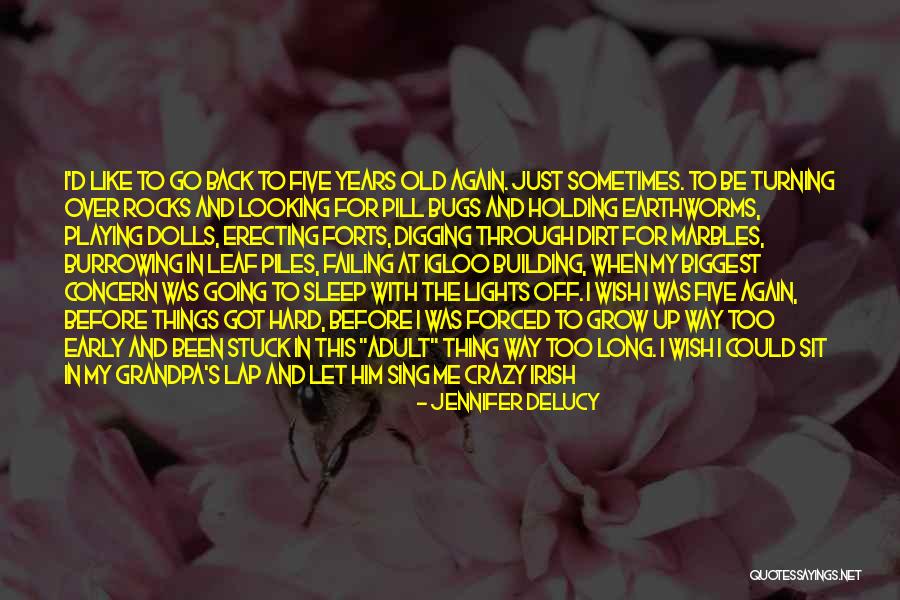 I'd like to go back to five years old again. Just sometimes. To be turning over rocks and looking for pill bugs and holding earthworms, playing dolls, erecting forts, digging through dirt for marbles, burrowing in leaf piles, failing at igloo building, when my biggest concern was going to sleep with the lights off. I wish I was five again, before things got hard, before I was forced to grow up way too early and been stuck in this "adult" thing way too long. I wish I could sit in my Grandpa's lap and let him sing me crazy Irish songs and go over the names of the planets. "Gwampa, tell me about Outer Space." ... "Gwampa, sing the Swimming Song."
I wish I could go back there, just for a little while, and pick raspberries by myself in the sun and find secret hideaways and not hurt, not worry, not carry the heavy things. If I could be five years old ... just for a few minutes. Remember what it felt like to be free. That would be something. — Jennifer DeLucy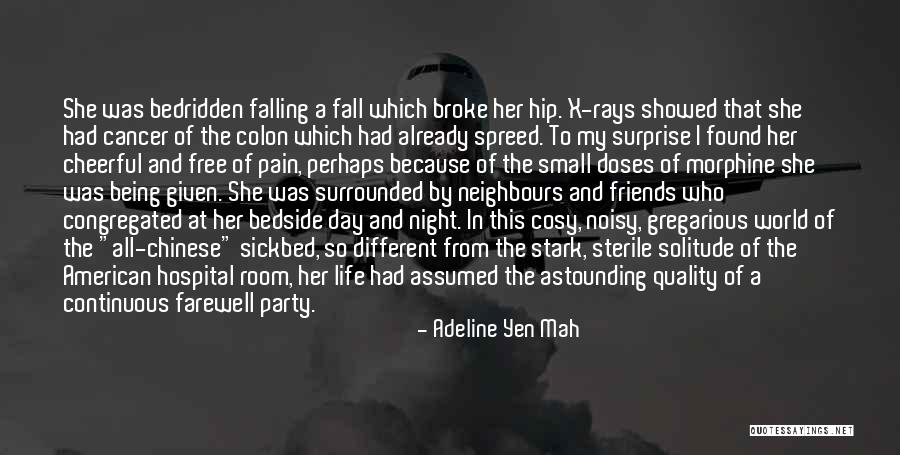 She was bedridden falling a fall which broke her hip. X-rays showed that she had cancer of the colon which had already spreed. To my surprise I found her cheerful and free of pain, perhaps because of the small doses of morphine she was being given. She was surrounded by neighbours and friends who congregated at her bedside day and night. In this cosy, noisy, gregarious world of the "all-chinese" sickbed, so different from the stark, sterile solitude of the American hospital room, her life had assumed the astounding quality of a continuous farewell party. — Adeline Yen Mah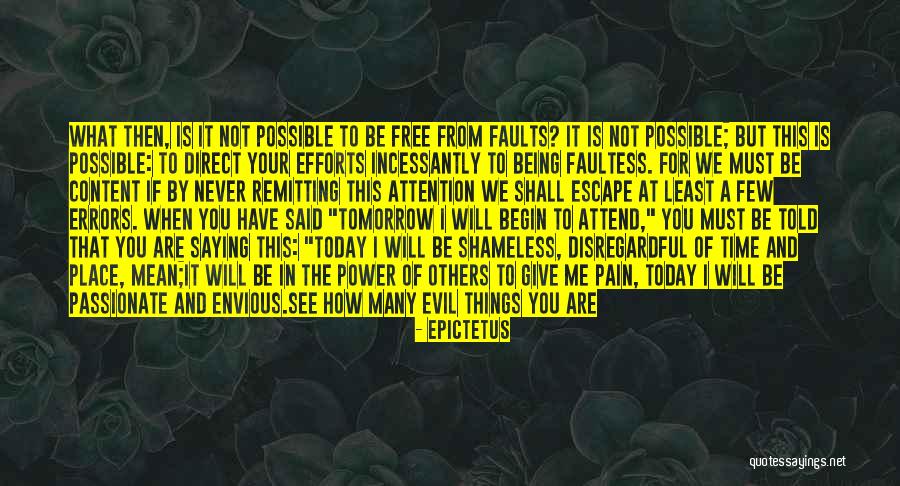 What then, is it not possible to be free from faults? It is not possible; but this is possible: to direct your efforts incessantly to being faultess. For we must be content if by never remitting this attention we shall escape at least a few errors. When you have said "Tomorrow I will begin to attend," you must be told that you are saying this: "Today I will be shameless, disregardful of time and place, mean;it will be in the power of others to give me pain, today I will be passionate and envious.
See how many evil things you are permitting yourself to do. If it is good to use attention tomorrow, how much better is it to do so today? If tomorrow it is in your interest to attend, much more is it today, that you may be able to do so tomorrow also, and may not defer it again to the third day. — Epictetus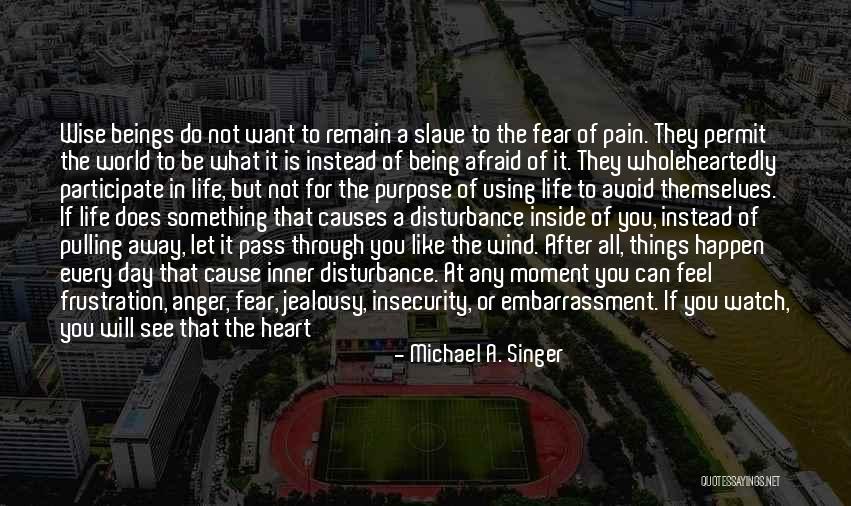 Wise beings do not want to remain a slave to the fear of pain. They permit the world to be what it is instead of being afraid of it. They wholeheartedly participate in life, but not for the purpose of using life to avoid themselves. If life does something that causes a disturbance inside of you, instead of pulling away, let it pass through you like the wind. After all, things happen every day that cause inner disturbance. At any moment you can feel frustration, anger, fear, jealousy, insecurity, or embarrassment. If you watch, you will see that the heart is trying to push it all away. If you want to be free, you have to learn to stop fighting these human feelings. — Michael A. Singer
R wrote Delahaye about all that had happened to him and about what he, R, wanted:
My friend,
You're eating white flour and mud in your pigsty. I don't miss Charleville. I don't miss being a bored pig where the sun dries up all brains but sloth. Your brains or feelings're being dried up: dead pig Delahaye.
Emotions are the movers of this world.
Me: I'm thirsty. What I'm thirsty for - whom I'm thirsty for - I can't get so I drink poisons. I've got to free myself. From what? Pain? Oh - for more poisons. Maybe more poisons'll come and I'll go so far, I'll emerge. Something is trying to emerge from this mess.
I don't know how. — Kathy Acker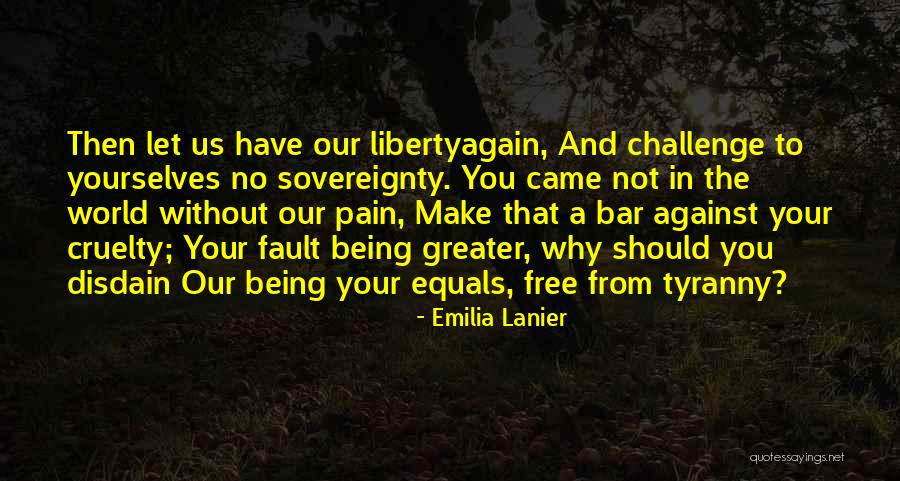 Then let us have our libertyagain, And challenge to yourselves no sovereignty. You came not in the world without our pain, Make that a bar against your cruelty; Your fault being greater, why should you disdain Our being your equals, free from tyranny? — Emilia Lanier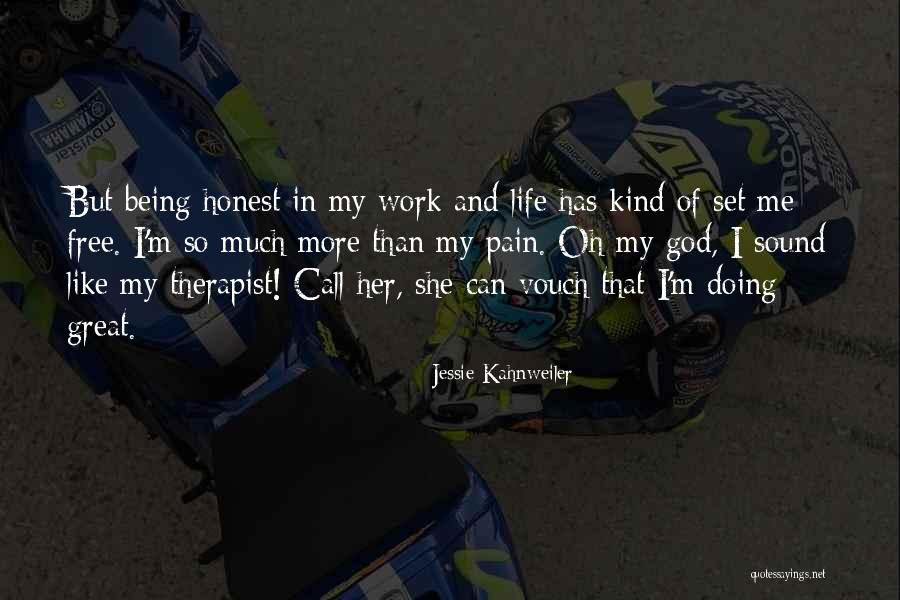 But being honest in my work and life has kind of set me free. I'm so much more than my pain. Oh my god, I sound like my therapist! Call her, she can vouch that I'm doing great. — Jessie Kahnweiler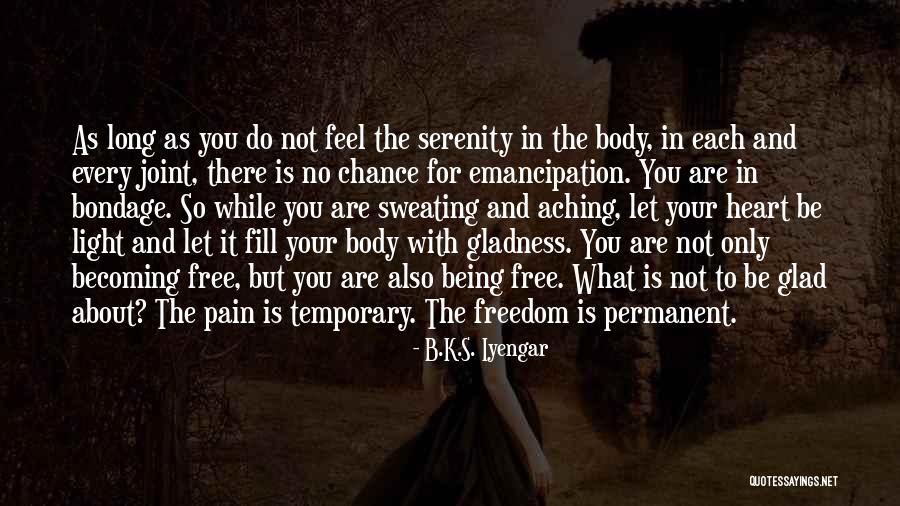 As long as you do not feel the serenity in the body, in each and every joint, there is no chance for emancipation. You are in bondage. So while you are sweating and aching, let your heart be light and let it fill your body with gladness. You are not only becoming free, but you are also being free. What is not to be glad about? The pain is temporary. The freedom is permanent. — B.K.S. Iyengar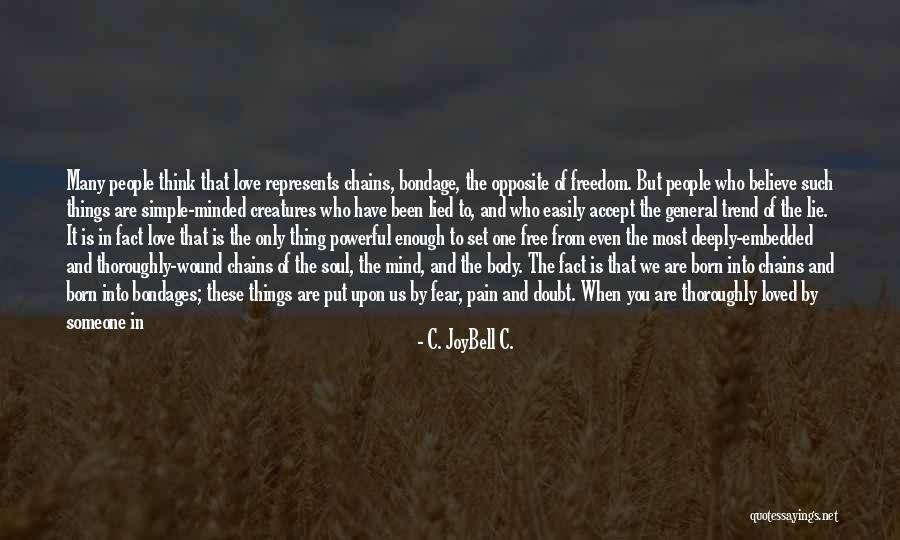 Many people think that love represents chains, bondage, the opposite of freedom. But people who believe such things are simple-minded creatures who have been lied to, and who easily accept the general trend of the lie. It is in fact love that is the only thing powerful enough to set one free from even the most deeply-embedded and thoroughly-wound chains of the soul, the mind, and the body. The fact is that we are born into chains and born into bondages; these things are put upon us by fear, pain and doubt. When you are thoroughly loved by someone in mind and in heart, this has the power to set you so free, more free than you have ever been before. And that is because freedom is not the equivalent of detachment. Freedom is the equivalent of that which sets you free. And when someone loves you the way that only they can, that is what sets you free. — C. JoyBell C.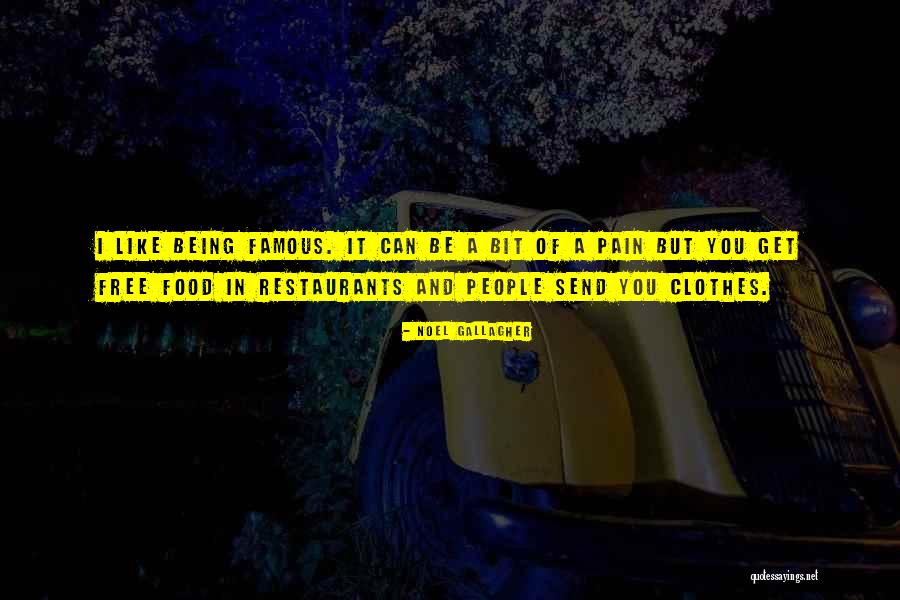 I like being famous. It can be a bit of a pain but you get free food in restaurants and people send you clothes. — Noel Gallagher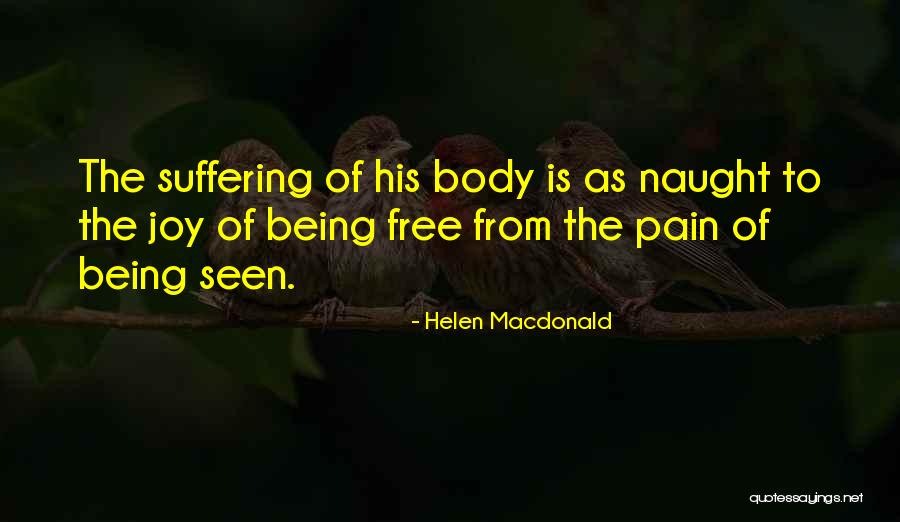 The suffering of his body is as naught to the joy of being free from the pain of being seen. — Helen Macdonald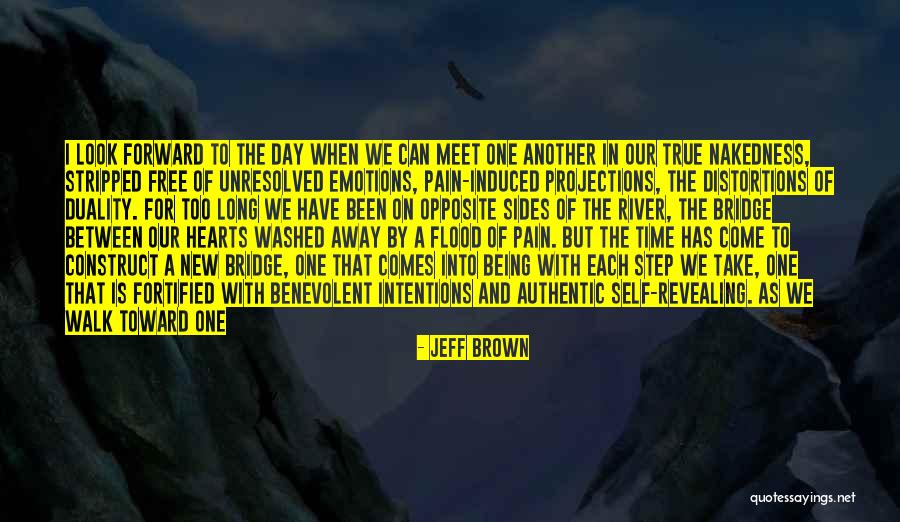 I look forward to the day when we can meet one another in our true nakedness, stripped free of unresolved emotions, pain-induced projections, the distortions of duality. For too long we have been on opposite sides of the river, the bridge between our hearts washed away by a flood of pain. But the time has come to construct a new bridge, one that comes into being with each step we take, one that is fortified with benevolent intentions and authentic self-revealing. As we walk toward one — Jeff Brown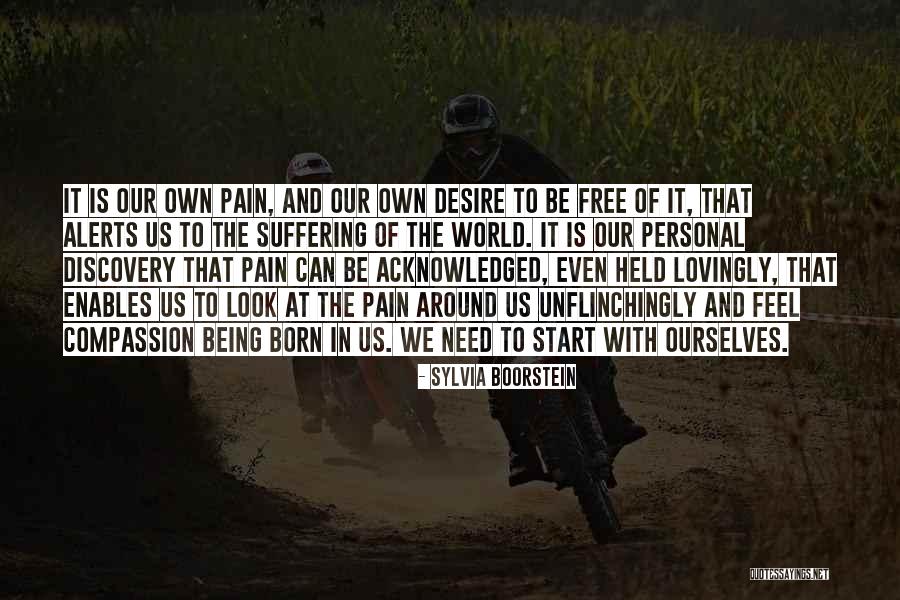 It is our own pain, and our own desire to be free of it, that alerts us to the suffering of the world. It is our personal discovery that pain can be acknowledged, even held lovingly, that enables us to look at the pain around us unflinchingly and feel compassion being born in us. We need to start with ourselves. — Sylvia Boorstein