Quotes & Sayings About Being Loved By Friends
Enjoy reading and share 39 famous quotes about Being Loved By Friends with everyone.
Top Being Loved By Friends Quotes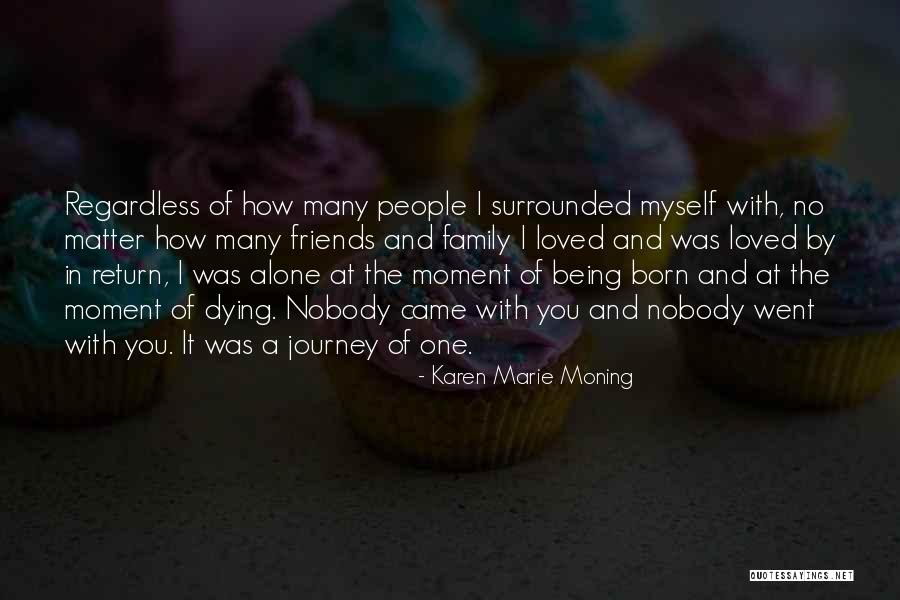 Regardless of how many people I surrounded myself with, no matter how many friends and family I loved and was loved by in return, I was alone at the moment of being born and at the moment of dying. Nobody came with you and nobody went with you. It was a journey of one. — Karen Marie Moning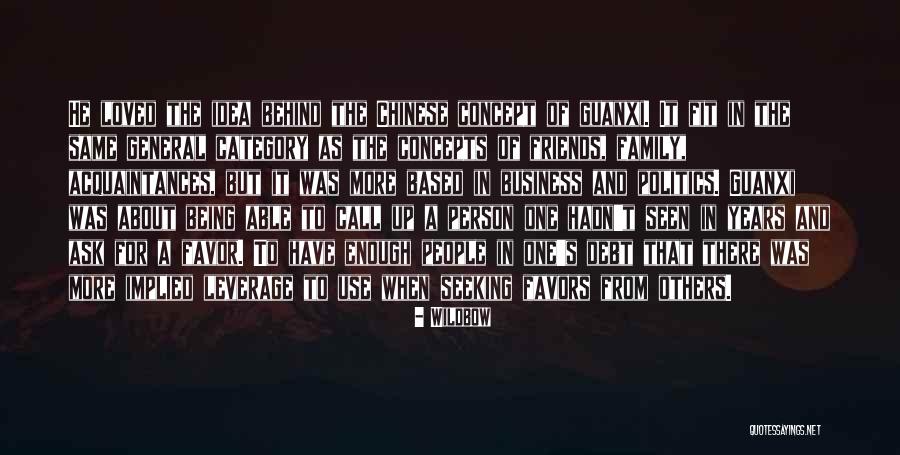 He loved the idea behind the Chinese concept of guanxi. It fit in the same general category as the concepts of friends, family, acquaintances, but it was more based in business and politics. Guanxi was about being able to call up a person one hadn't seen in years and ask for a favor. To have enough people in one's debt that there was more implied leverage to use when seeking favors from others. — Wildbow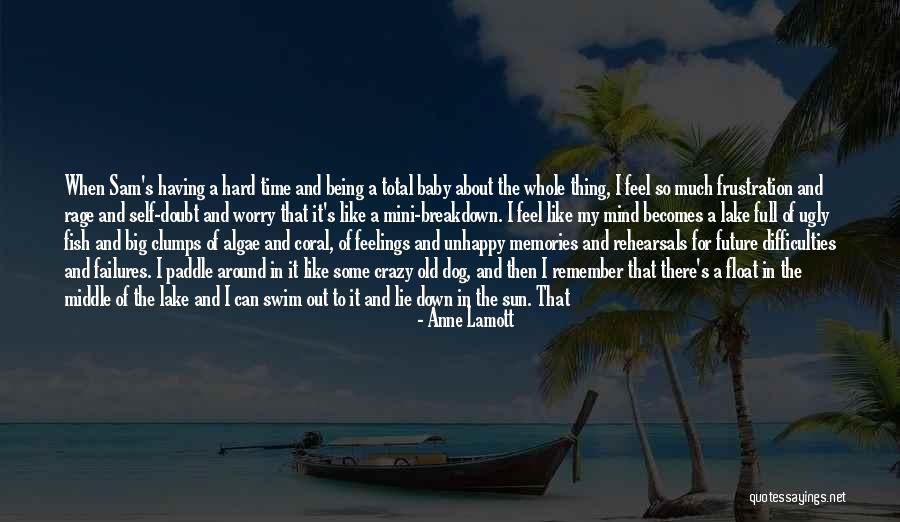 When Sam's having a hard time and being a total baby about the whole thing, I feel so much frustration and rage and self-doubt and worry that it's like a mini-breakdown. I feel like my mind becomes a lake full of ugly fish and big clumps of algae and coral, of feelings and unhappy memories and rehearsals for future difficulties and failures. I paddle around in it like some crazy old dog, and then I remember that there's a float in the middle of the lake and I can swim out to it and lie down in the sun. That float is about being loved, by my friends and by God and even sort of by me. And so I lie there and get warm and dry off, and I guess I get bored or else it is human nature because after a while I jump back into the lake, into all that crap. I guess the solution is just to keep trying to get back to the float. This morning Sam woke at 4:00, so — Anne Lamott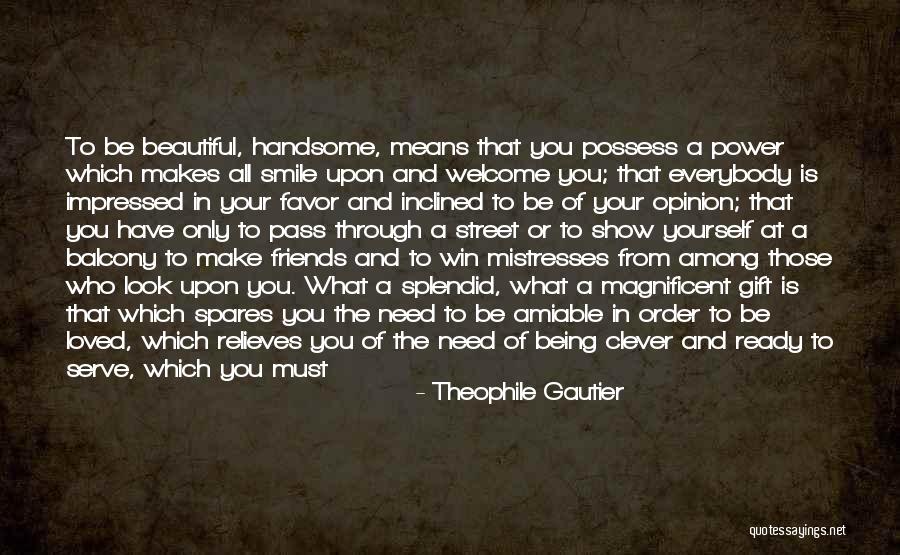 To be beautiful, handsome, means that you possess a power which makes all smile upon and welcome you; that everybody is impressed in your favor and inclined to be of your opinion; that you have only to pass through a street or to show yourself at a balcony to make friends and to win mistresses from among those who look upon you. What a splendid, what a magnificent gift is that which spares you the need to be amiable in order to be loved, which relieves you of the need of being clever and ready to serve, which you must be if ugly, and enables you to dispense with the innumerable moral qualities which you must possess in order to make up for the lack of personal beauty. — Theophile Gautier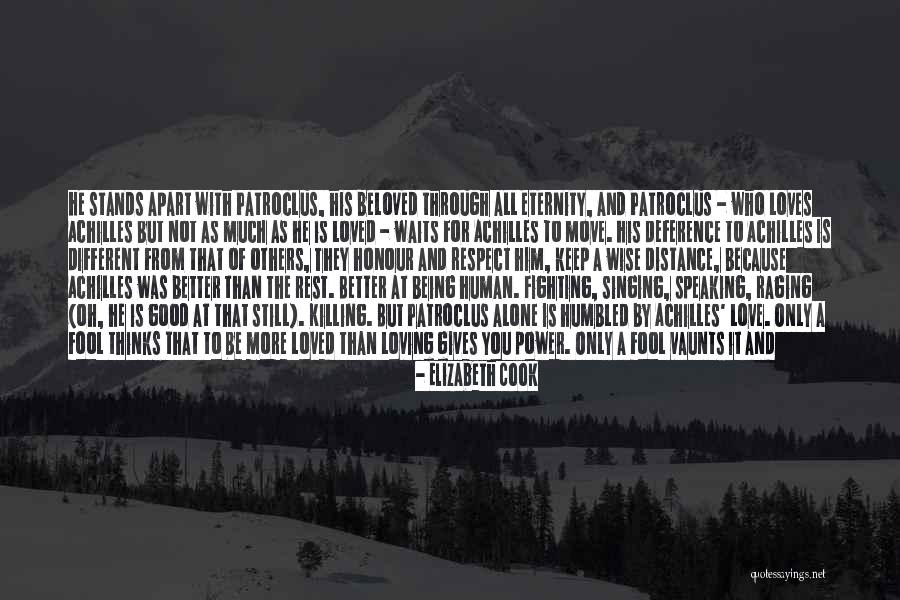 He stands apart with Patroclus, his beloved through all eternity, and Patroclus - who loves Achilles but not as much as he is loved - waits for Achilles to move. His deference to Achilles is different from that of others, They honour and respect him, keep a wise distance, because Achilles was better than the rest. Better at being human. Fighting, singing, speaking, raging (oh, he is good at that still). Killing. But Patroclus alone is humbled by Achilles' love. Only a fool thinks that to be more loved than loving gives you power. Only a fool vaunts it and displays his own littleness by bragging to his friends and making capricious demands of his lover. Patroclus isn't a fool. He knows that he is less than Achilles even in this. Humbled by the intensity of Achilles' love he loves him back with all his large, though lesser, heart. — Elizabeth Cook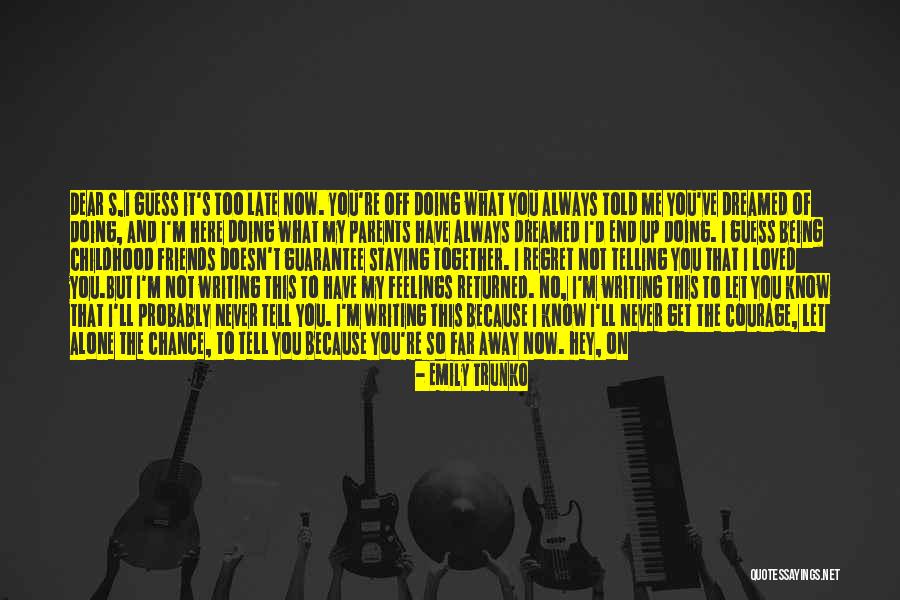 Dear S,
I guess it's too late now. You're off doing what you always told me you've dreamed of doing, and I'm here doing what my parents have always dreamed I'd end up doing. I guess being childhood friends doesn't guarantee staying together.
I regret not telling you that I loved you.
But I'm not writing this to have my feelings returned. No, I'm writing this to let you know that I'll probably never tell you. I'm writing this because I know I'll never get the courage, let alone the chance, to tell you because you're so far away now.
Hey, on the off chance that telepathy works or that you have powers to know everything, I want you to know that I love you -- not just as a childhood friend, but as someone I want to marry. — Emily Trunko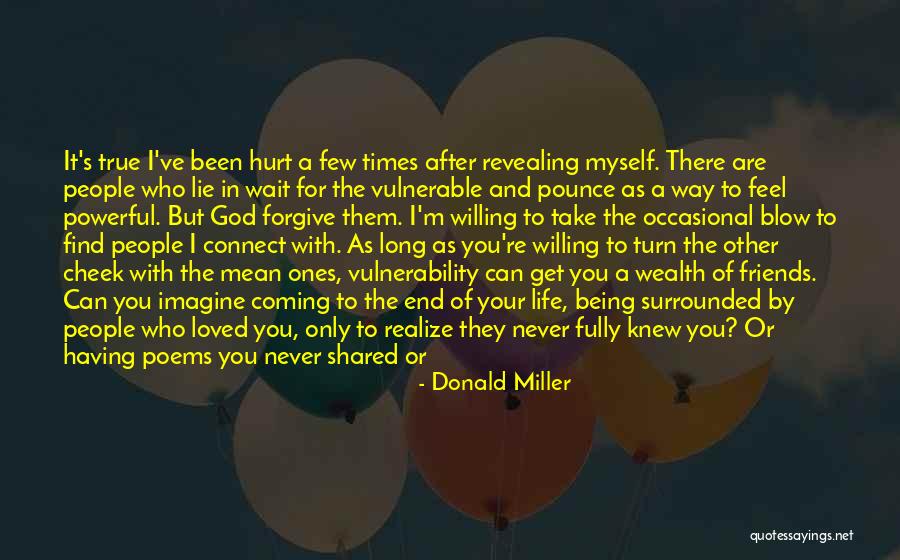 It's true I've been hurt a few times after revealing myself. There are people who lie in wait for the vulnerable and pounce as a way to feel powerful. But God forgive them. I'm willing to take the occasional blow to find people I connect with. As long as you're willing to turn the other cheek with the mean ones, vulnerability can get you a wealth of friends. Can you imagine coming to the end of your life, being surrounded by people who loved you, only to realize they never fully knew you? Or having poems you never shared or injustices you said nothing about? Can you imagine realizing, then, it was too late? How can we be loved if we are always in hiding? — Donald Miller
What is evil neither can nor should be loved; for it is not one's duty to be a lover of evil or to become like what is bad; and we have said that like is dear to like. Must the friendship, then, be forthwith broken off? Or is this not so in all cases, but only when one's friends are incurable in their wickedness? If they are capable of being reformed one should rather come to the assistance of their character or their property, inasmuch as this is better and more characteristic of friendship. But a man who breaks off such a friendship would seem to be doing nothing strange; for it was not to a man of this sort that he was a friend; when his friend changed, therefore, and he is unable to save him, he gives him up. — Aristotle.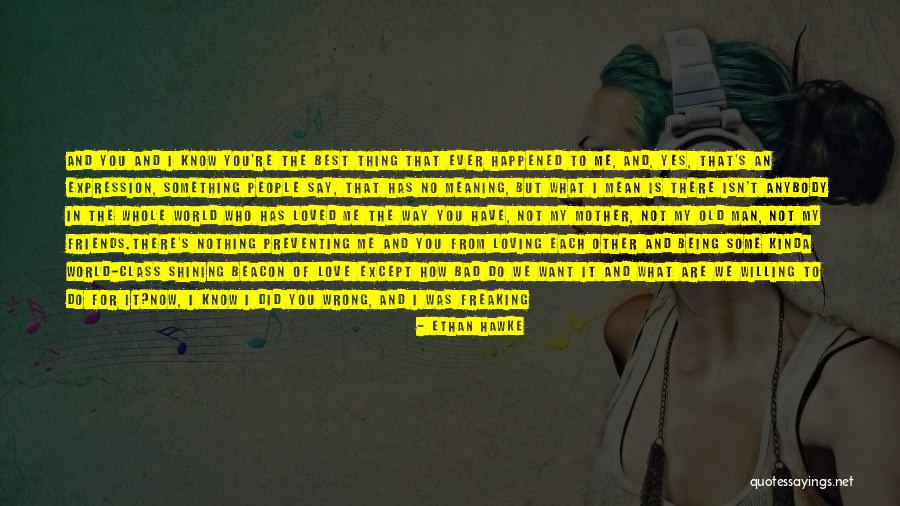 And you and I know you're the best thing that ever happened to me, and, yes, that's an expression, something people say, that has no meaning, but what I mean is there isn't anybody in the whole world who has loved me the way you have, not my mother, not my old man, not my friends.
There's nothing preventing me and you from loving each other and being some kinda world-class shining beacon of love except how bad do we want it and what are we willing to do for it?
Now, I know I did you wrong, and I was freaking out and being stupid and I was mean to you. You know sometimes I get all fucking confused and I can't see outside of my own asshole. I'm unhappy. Why am I unhappy? It's gotta be somebody's fault, right? It couldn't just be that I'm a self-centered fuck spinning around inside my own dank cloud of concerns.
There isn't anything I can think of that I really want or that the best part of me wants, that loving you won't start doing. I love you. — Ethan Hawke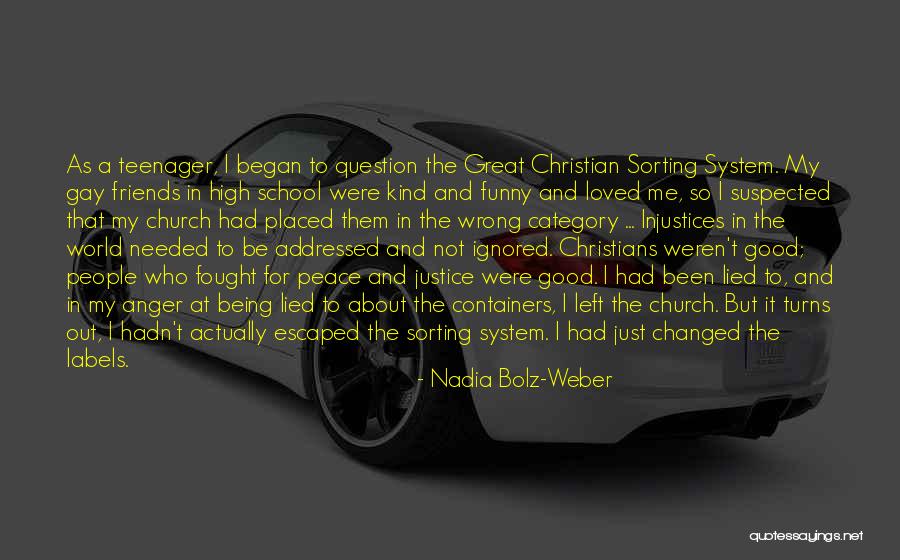 As a teenager, I began to question the Great Christian Sorting System. My gay friends in high school were kind and funny and loved me, so I suspected that my church had placed them in the wrong category ... Injustices in the world needed to be addressed and not ignored. Christians weren't good; people who fought for peace and justice were good. I had been lied to, and in my anger at being lied to about the containers, I left the church. But it turns out, I hadn't actually escaped the sorting system. I had just changed the labels. — Nadia Bolz-Weber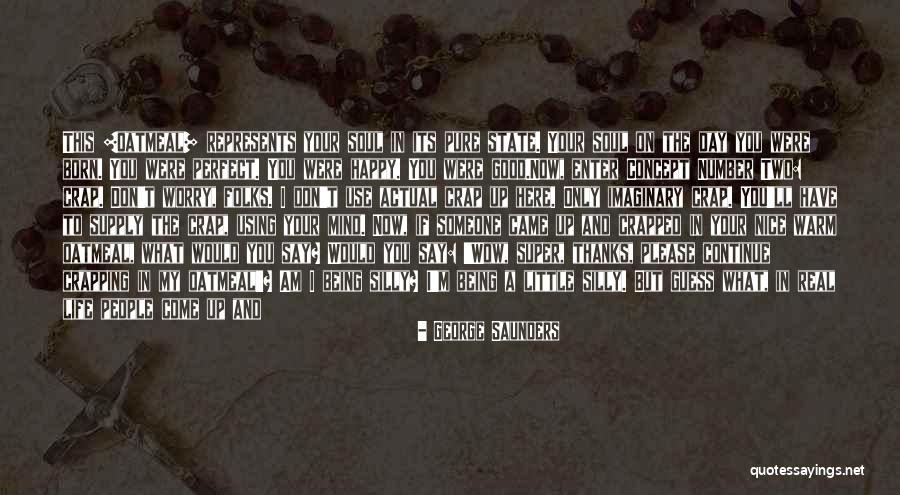 This [oatmeal] represents your soul in its pure state. Your soul on the day you were born. You were perfect. You were happy. You were good.
Now, enter Concept Number Two: crap. Don't worry, folks. I don't use actual crap up here. Only imaginary crap. You'll have to supply the crap, using your mind. Now, if someone came up and crapped in your nice warm oatmeal, what would you say? Would you say: 'Wow, super, thanks, please continue crapping in my oatmeal'? Am I being silly? I'm being a little silly. But guess what, in real life people come up and crap in your oatmeal all the time
friends, co-workers, loved ones, even you kids, especially your kids!
and that's exactly what you do. You say, 'Thanks so much!' You say, 'Crap away!' You say, and here the metaphor breaks down a bit, 'Is there some way I can help you crap in my oatmeal? — George Saunders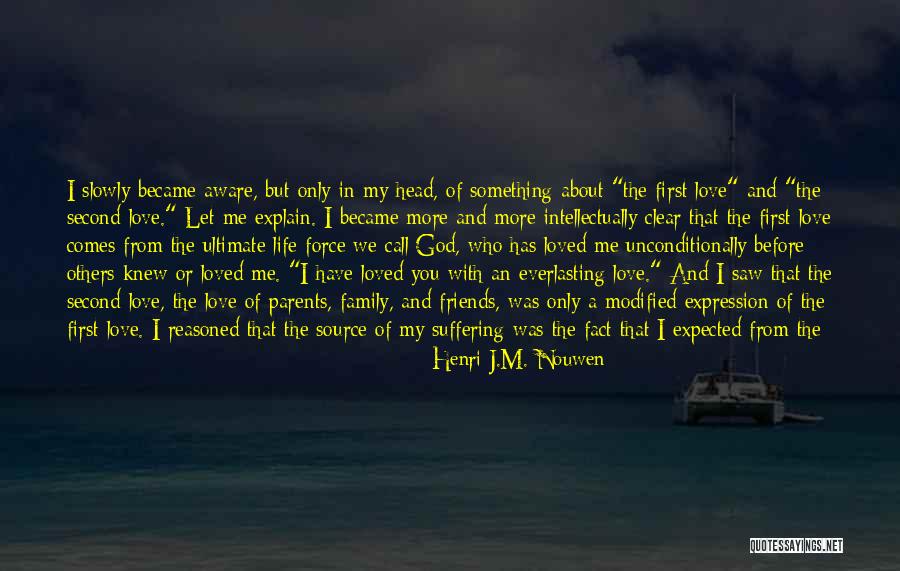 I slowly became aware, but only in my head, of something about "the first love" and "the second love." Let me explain. I became more and more intellectually clear that the first love comes from the ultimate life force we call God, who has loved me unconditionally before others knew or loved me. "I have loved you with an everlasting love." And I saw that the second love, the love of parents, family, and friends, was only a modified expression of the first love. I reasoned that the source of my suffering was the fact that I expected from the second love what only the first love could give. When I hoped for total self- giving and unconditional love from another human being who was imperfect and limited in ability to love, I was asking for the impossible. I knew from experience that the more I demanded, the more others moved away, cut loose, got angry, or left me, and the more I experienced anguish and the pain of rejection. But I felt helpless to change my behavior. — Henri J.M. Nouwen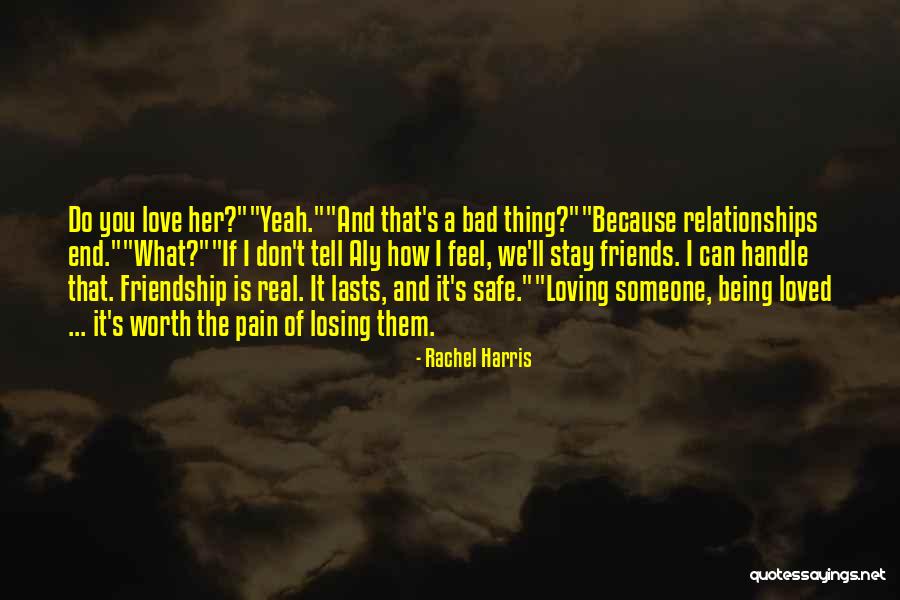 Do you love her?"
"Yeah."
"And that's a bad thing?"
"Because relationships end."
"What?"
"If I don't tell Aly how I feel, we'll stay friends. I can handle that. Friendship is real. It lasts, and it's safe."
"Loving someone, being loved ... it's worth the pain of losing them. — Rachel Harris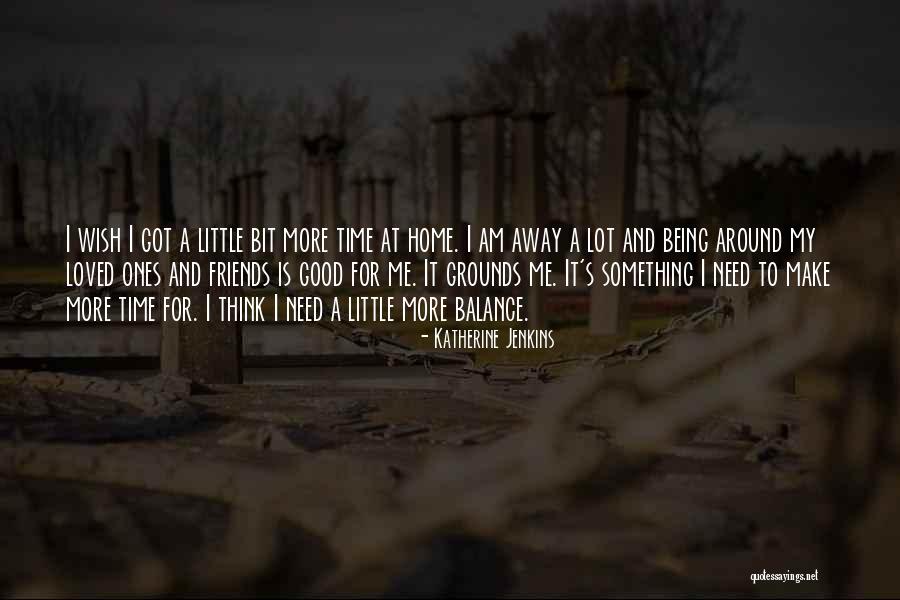 I wish I got a little bit more time at home. I am away a lot and being around my loved ones and friends is good for me. It grounds me. It's something I need to make more time for. I think I need a little more balance. — Katherine Jenkins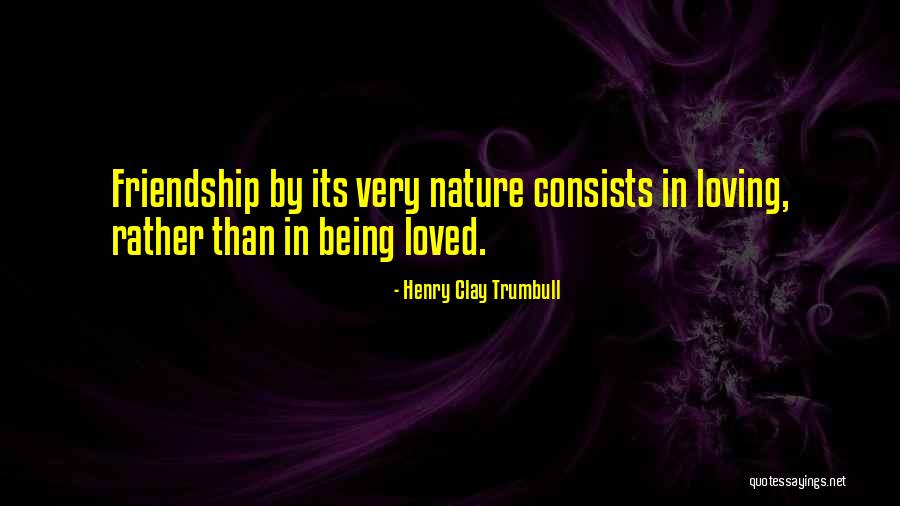 Friendship by its very nature consists in loving, rather than in being loved. — Henry Clay Trumbull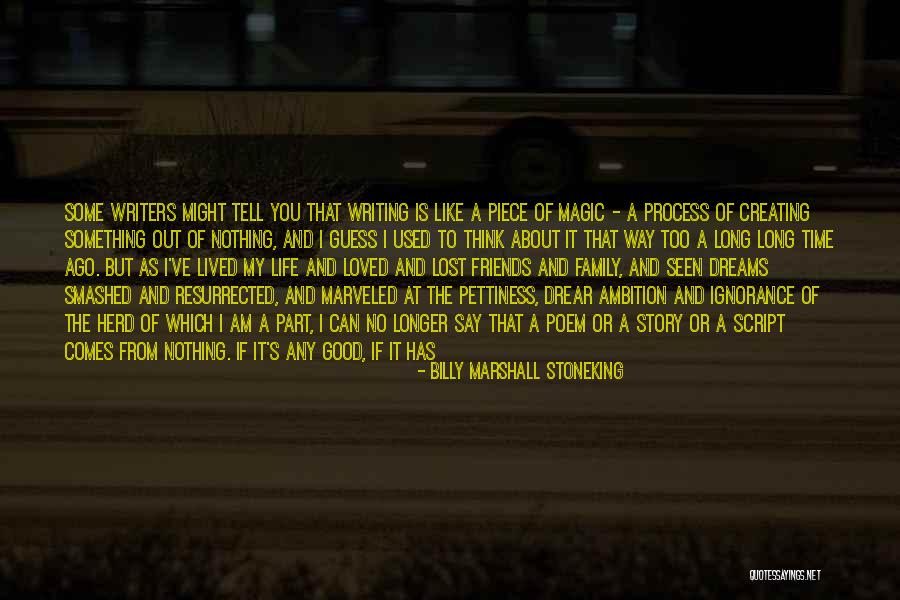 Some writers might tell you that writing is like a piece of magic - a process of creating something out of nothing, and I guess I used to think about it that way too a long long time ago. But as I've lived my life and loved and lost friends and family, and seen dreams smashed and resurrected, and marveled at the pettiness, drear ambition and ignorance of the herd of which I am a part, I can no longer say that a poem or a story or a script comes from nothing. If it's any good, if it has any power, any potent emotional body, then it's something that a writer has paid for, not only in time, but in all the anxiety that accompanies living and those small fret-filled acts of becoming present that make it possible for us to see beyond our little patch of immediacy. It's not just a reaching out, but a reaching in, into the depths of our being from whence we've sprung. — Billy Marshall Stoneking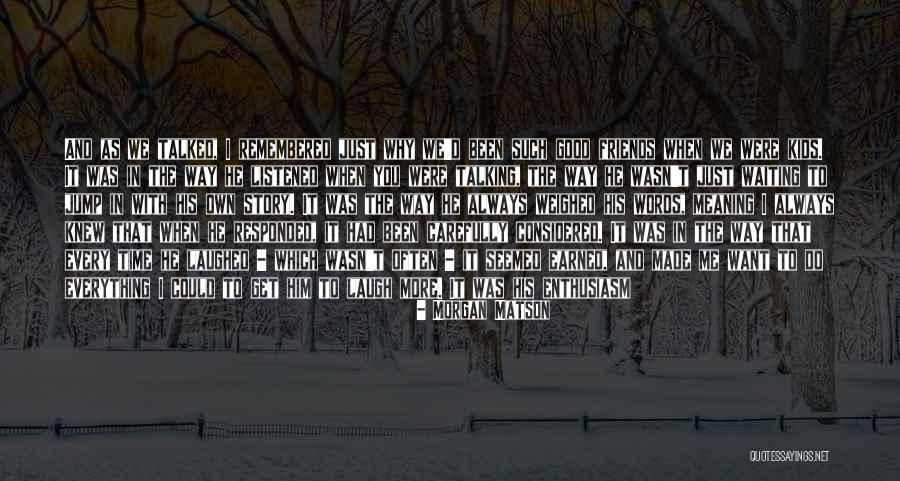 And as we talked, I remembered just why we'd been such good friends when we were kids. It was in the way he listened when you were talking, the way he wasn't just waiting to jump in with his own story. It was the way he always weighed his words, meaning I always knew that when he responded, it had been carefully considered. It was in the way that every time he laughed - which wasn't often - it seemed earned, and made me want to do everything I could to get him to laugh more. It was his enthusiasm for things, and how when he discussed what he was passionate about - like how much he loved being in the woods, how he felt things made sense there - I found myself getting swept up in it along with him. — Morgan Matson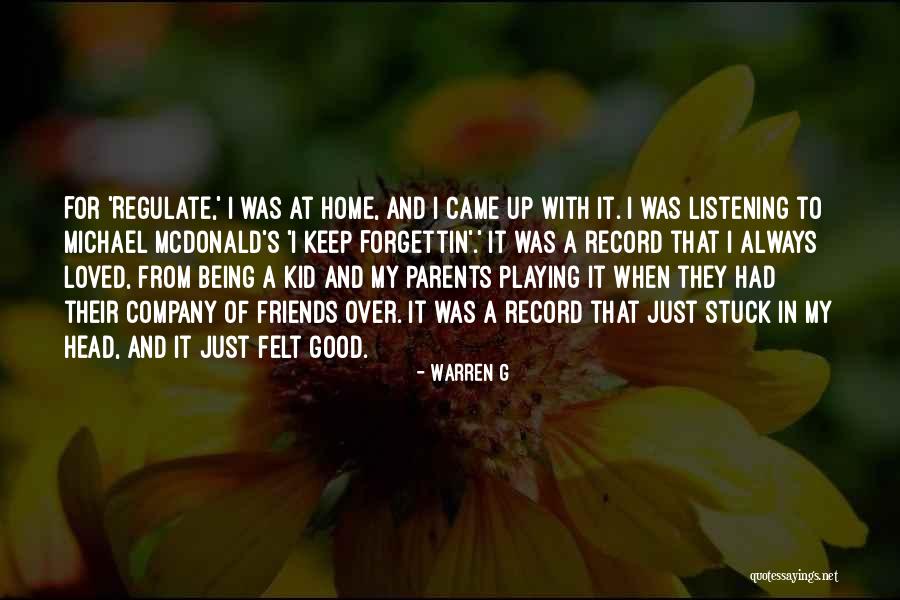 For 'Regulate,' I was at home, and I came up with it. I was listening to Michael McDonald's 'I Keep Forgettin'.' It was a record that I always loved, from being a kid and my parents playing it when they had their company of friends over. It was a record that just stuck in my head, and it just felt good. — Warren G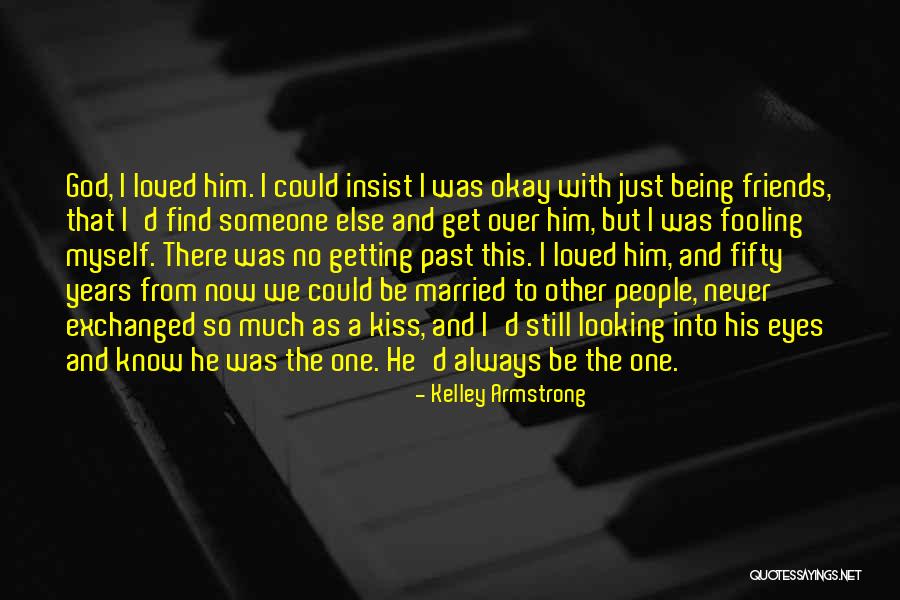 God, I loved him. I could insist I was okay with just being friends, that I'd find someone else and get over him, but I was fooling myself. There was no getting past this. I loved him, and fifty years from now we could be married to other people, never exchanged so much as a kiss, and I'd still looking into his eyes and know he was the one. He'd always be the one. — Kelley Armstrong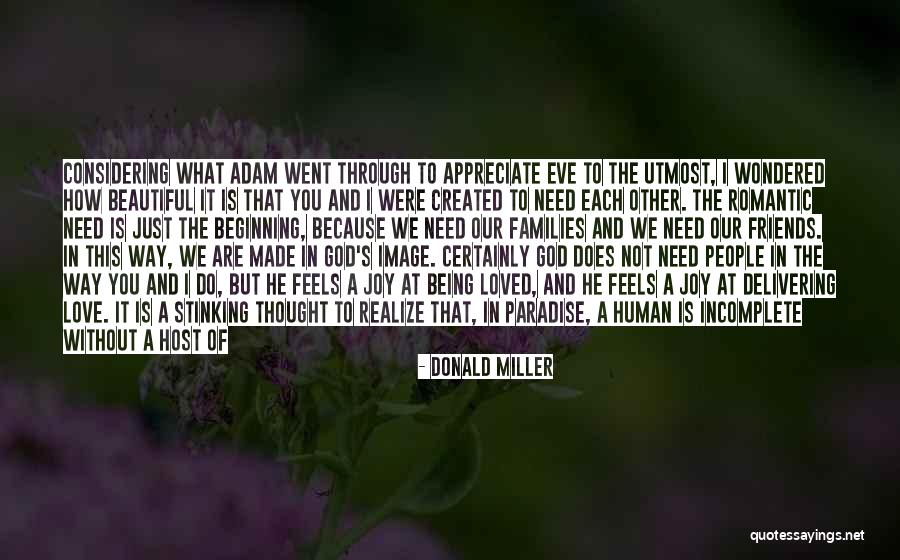 Considering what Adam went through to appreciate Eve to the utmost, I wondered how beautiful it is that you and I were created to need each other. The romantic need is just the beginning, because we need our families and we need our friends. In this way, we are made in God's image. Certainly God does not need people in the way you and I do, but He feels a joy at being loved, and He feels a joy at delivering love. It is a stinking thought to realize that, in paradise, a human is incomplete without a host of other people. We are relational indeed. And the Bible, with all its understanding of the relational needs of humans, was becoming more meaningful to me as I turned the pages. God made me, He knows me, He understands me, and He wants community. — Donald Miller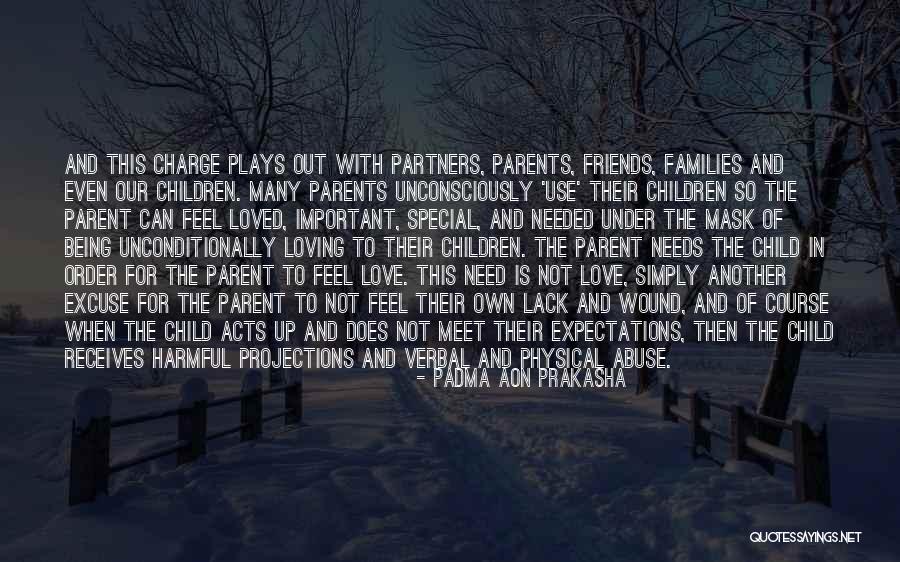 And this charge plays out with partners, parents, friends, families and even our children. Many parents unconsciously 'use' their children so the parent can feel loved, important, special, and needed under the mask of being unconditionally loving to their children. The parent needs the child in order for the parent to feel love. This need is not love, simply another excuse for the parent to not feel their own lack and wound, and of course when the child acts up and does not meet their expectations, then the child receives harmful projections and verbal and physical abuse. — Padma Aon Prakasha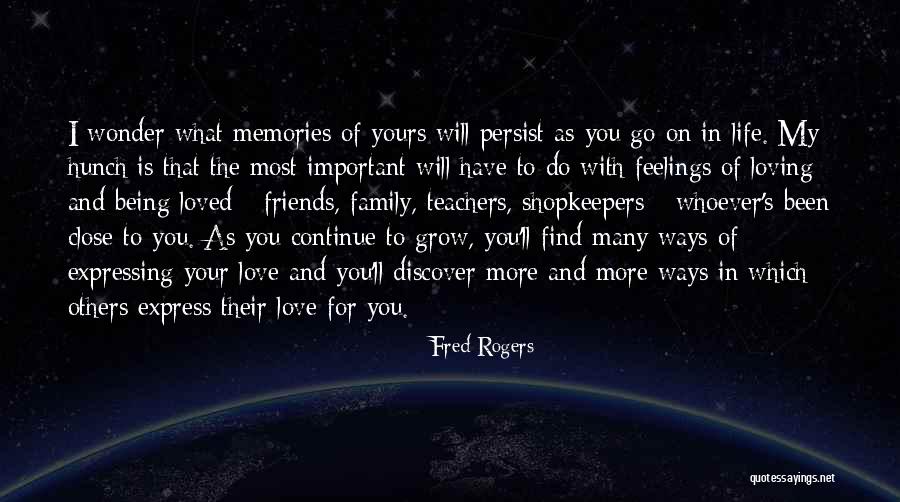 I wonder what memories of yours will persist as you go on in life. My hunch is that the most important will have to do with feelings of loving and being loved - friends, family, teachers, shopkeepers - whoever's been close to you. As you continue to grow, you'll find many ways of expressing your love and you'll discover more and more ways in which others express their love for you. — Fred Rogers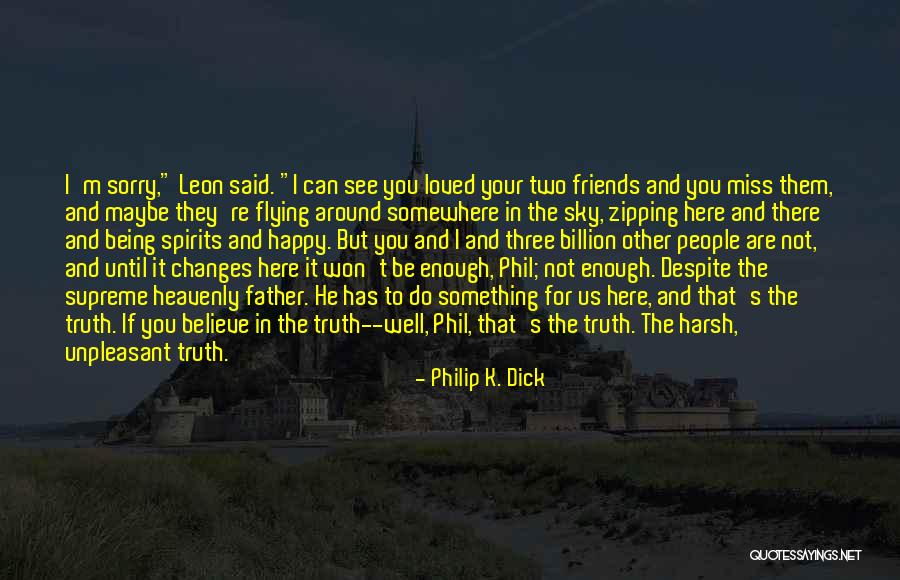 I'm sorry," Leon said. "I can see you loved your two friends and you miss them, and maybe they're flying around somewhere in the sky, zipping here and there and being spirits and happy. But you and I and three billion other people are not, and until it changes here it won't be enough, Phil; not enough. Despite the supreme heavenly father. He has to do something for us here, and that's the truth. If you believe in the truth--well, Phil, that's the truth. The harsh, unpleasant truth. — Philip K. Dick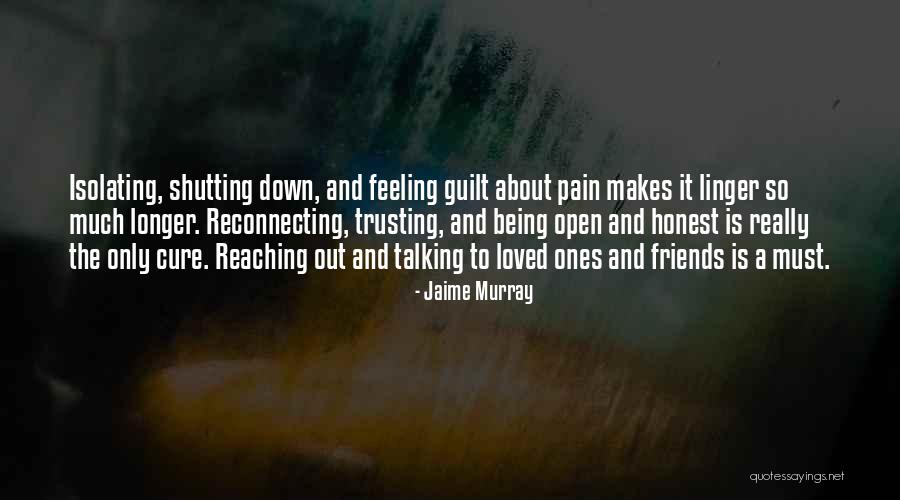 Isolating, shutting down, and feeling guilt about pain makes it linger so much longer. Reconnecting, trusting, and being open and honest is really the only cure. Reaching out and talking to loved ones and friends is a must. — Jaime Murray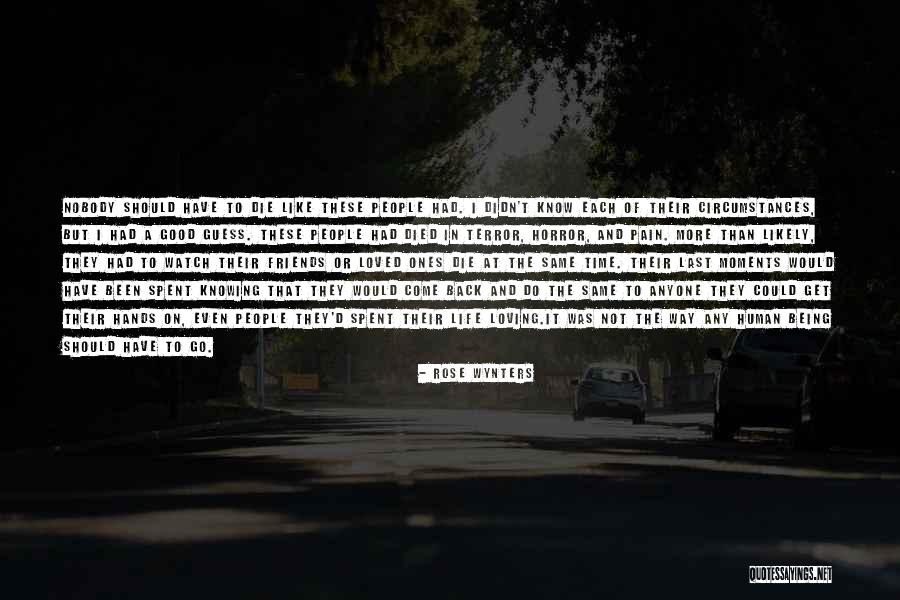 Nobody should have to die like these people had. I didn't know each of their circumstances, but I had a good guess. These people had died in terror, horror, and pain. More than likely, they had to watch their friends or loved ones die at the same time. Their last moments would have been spent knowing that they would come back and do the same to anyone they could get their hands on, even people they'd spent their life loving.
It was not the way any human being should have to go. — Rose Wynters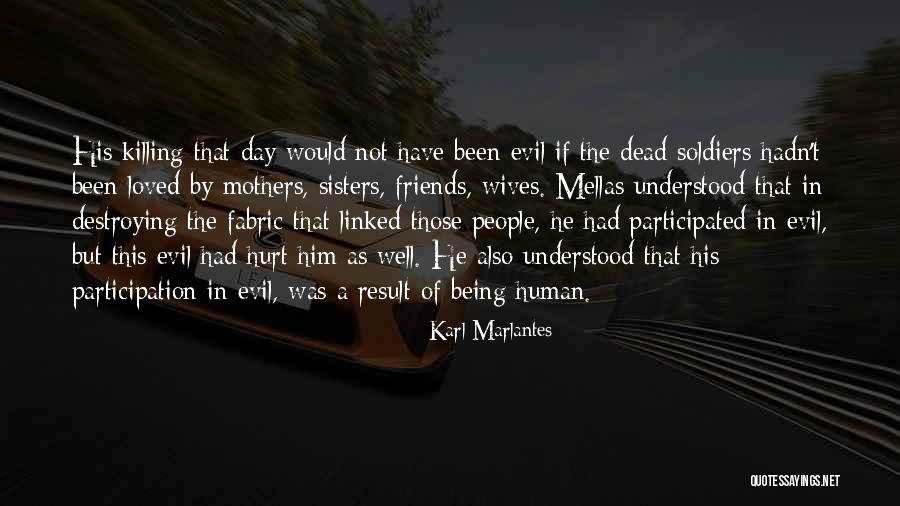 His killing that day would not have been evil if the dead soldiers hadn't been loved by mothers, sisters, friends, wives. Mellas understood that in destroying the fabric that linked those people, he had participated in evil, but this evil had hurt him as well. He also understood that his participation in evil, was a result of being human. — Karl Marlantes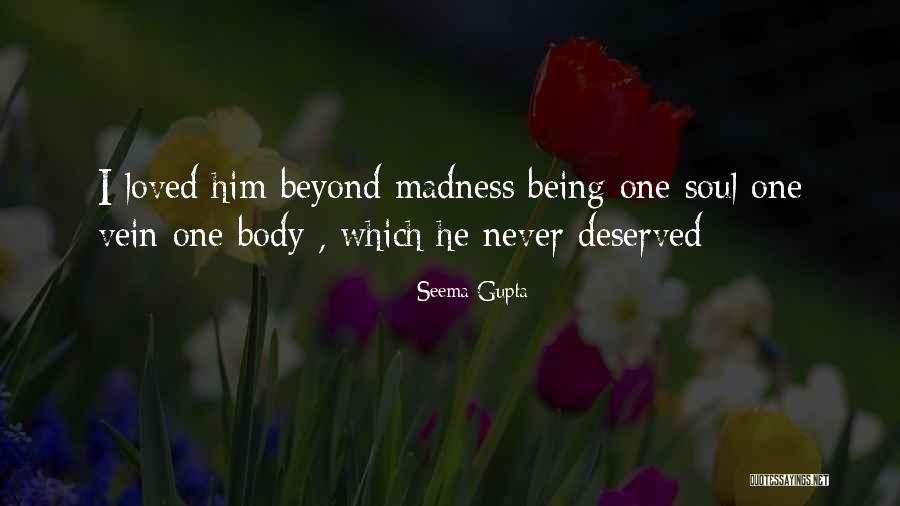 I loved him beyond madness being one soul one vein one body , which he never deserved — Seema Gupta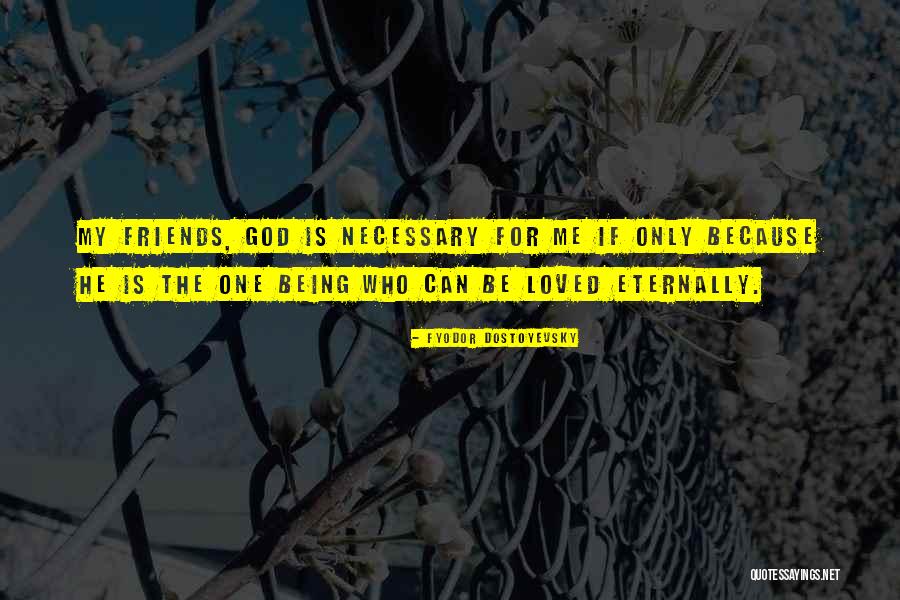 My friends, God is necessary for me if only because he is the one being who can be loved eternally. — Fyodor Dostoyevsky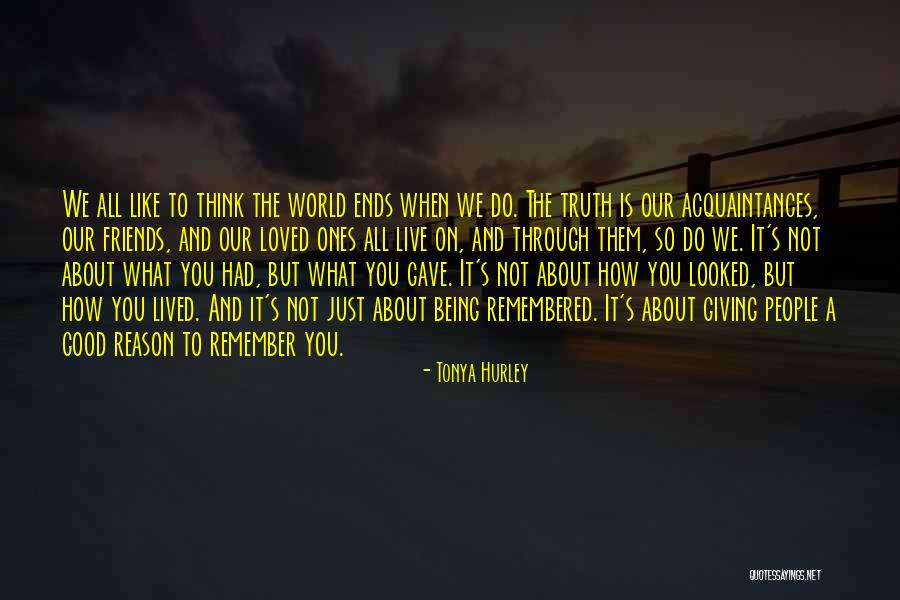 We all like to think the world ends when we do. The truth is our acquaintances, our friends, and our loved ones all live on, and through them, so do we. It's not about what you had, but what you gave. It's not about how you looked, but how you lived. And it's not just about being remembered. It's about giving people a good reason to remember you. — Tonya Hurley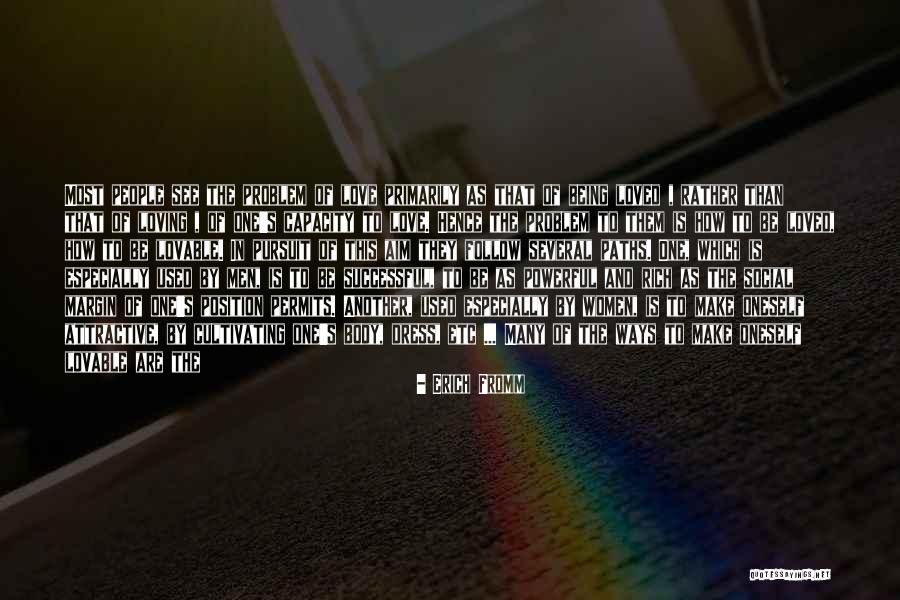 Most people see the problem of love primarily as that of being loved , rather than that of loving , of one's capacity to love. Hence the problem to them is how to be loved, how to be lovable. In pursuit of this aim they follow several paths. One, which is especially used by men, is to be successful, to be as powerful and rich as the social margin of one's position permits. Another, used especially by women, is to make oneself attractive, by cultivating one's body, dress, etc ... Many of the ways to make oneself lovable are the same as those used to make oneself successful, to 'win friends and influence people'. As a matter of fact, what most people in our culture mean by being lovable is essentially a mixture between being popular and having sex appeal. — Erich Fromm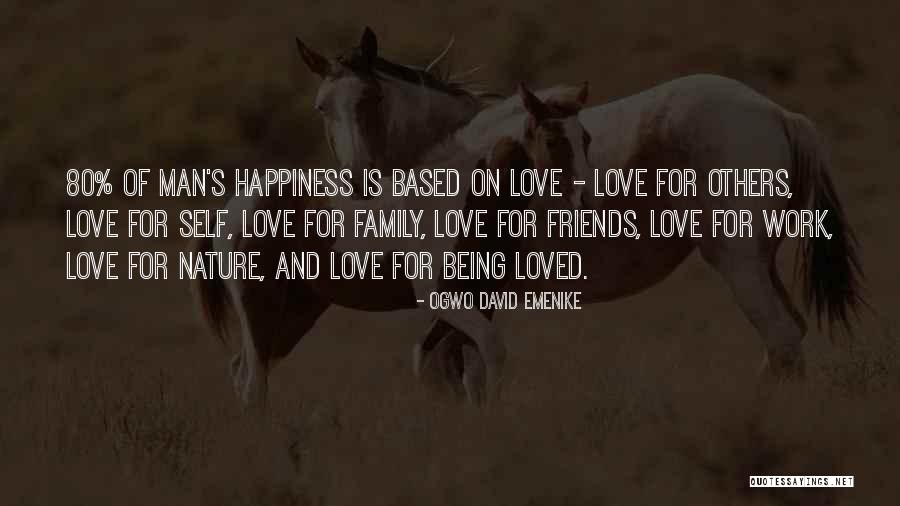 80% of man's happiness is based on love - love for others, love for self, love for family, love for friends, love for work, love for nature, and love for being loved. — Ogwo David Emenike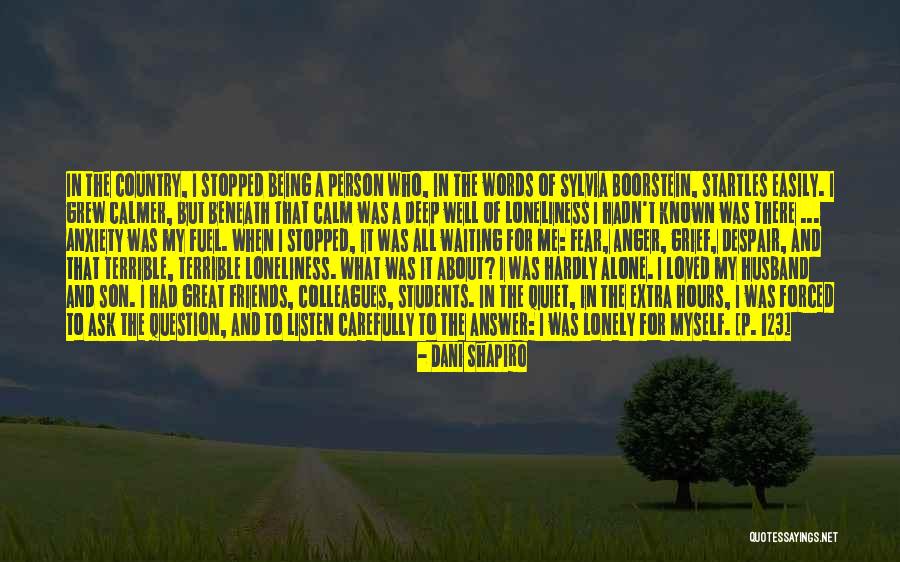 In the country, I stopped being a person who, in the words of Sylvia Boorstein, startles easily. I grew calmer, but beneath that calm was a deep well of loneliness I hadn't known was there ... Anxiety was my fuel. When I stopped, it was all waiting for me: fear, anger, grief, despair, and that terrible, terrible loneliness. What was it about? I was hardly alone. I loved my husband and son. I had great friends, colleagues, students. In the quiet, in the extra hours, I was forced to ask the question, and to listen carefully to the answer: I was lonely for myself. [p. 123] — Dani Shapiro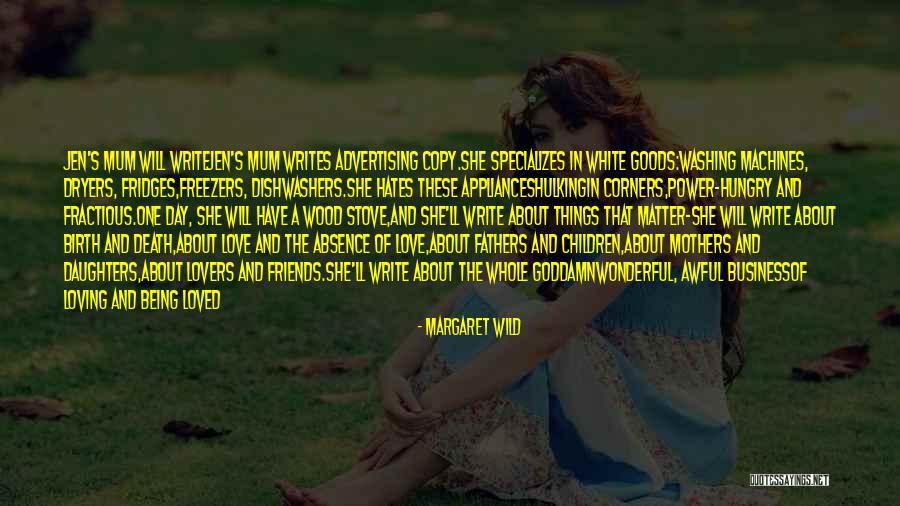 Jen's Mum Will Write
Jen's mum writes advertising copy.
She specializes in white goods:
washing machines, dryers, fridges,
freezers, dishwashers.
She hates these appliances
hulking
in corners,
power-hungry and fractious.
One day, she will have a wood stove,
and she'll write about things that matter-
she will write about birth and death,
about love and the absence of love,
about fathers and children,
about mothers and daughters,
about lovers and friends.
She'll write about the whole goddamn
wonderful, awful business
of loving and being loved — Margaret Wild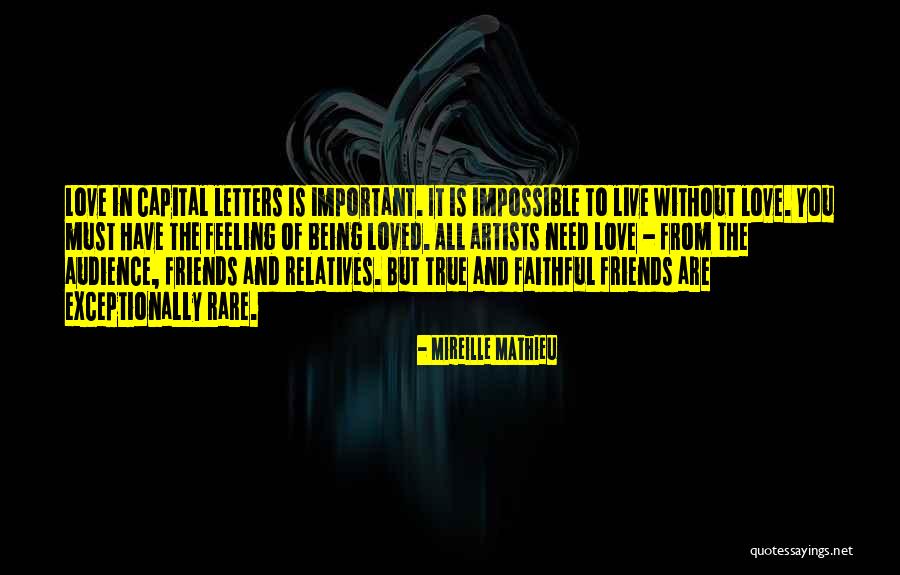 Love in capital letters is important. It is impossible to live without love. You must have the feeling of being loved. All artists need love - from the audience, friends and relatives. But true and faithful friends are exceptionally rare. — Mireille Mathieu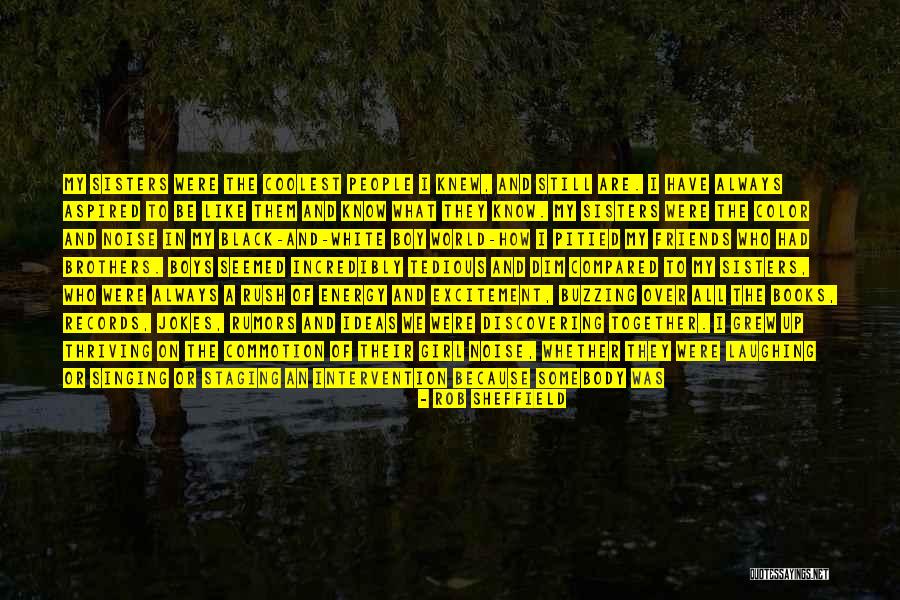 My sisters were the coolest people I knew, and still are. I have always aspired to be like them and know what they know. My sisters were the color and noise in my black-and-white boy world-how I pitied my friends who had brothers. Boys seemed incredibly tedious and dim compared to my sisters, who were always a rush of energy and excitement, buzzing over all the books, records, jokes, rumors and ideas we were discovering together. I grew up thriving on the commotion of their girl noise, whether they were laughing or singing or staging an intervention because somebody was wearing stirrup pants. I always loved being lost in that girl noise. — Rob Sheffield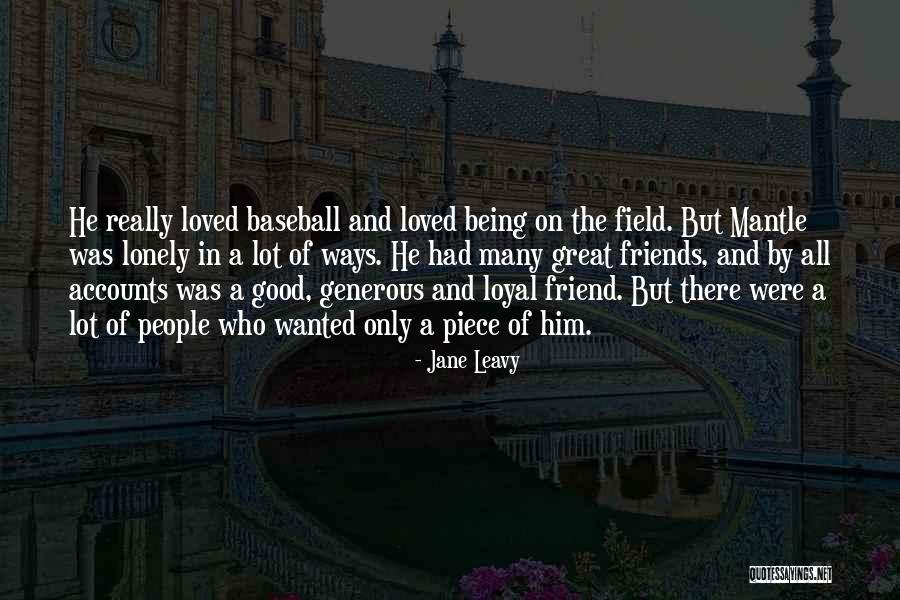 He really loved baseball and loved being on the field. But Mantle was lonely in a lot of ways. He had many great friends, and by all accounts was a good, generous and loyal friend. But there were a lot of people who wanted only a piece of him. — Jane Leavy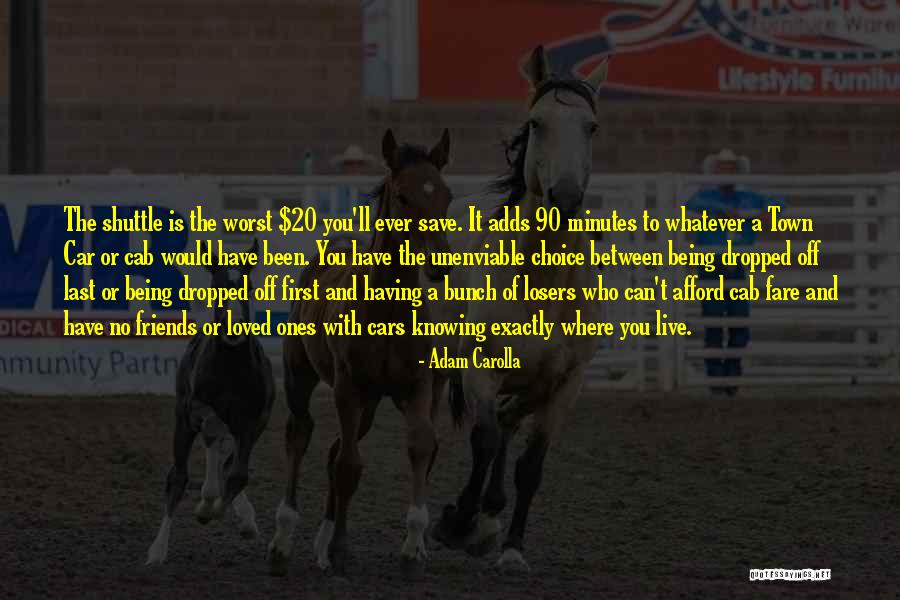 The shuttle is the worst $20 you'll ever save. It adds 90 minutes to whatever a Town Car or cab would have been. You have the unenviable choice between being dropped off last or being dropped off first and having a bunch of losers who can't afford cab fare and have no friends or loved ones with cars knowing exactly where you live. — Adam Carolla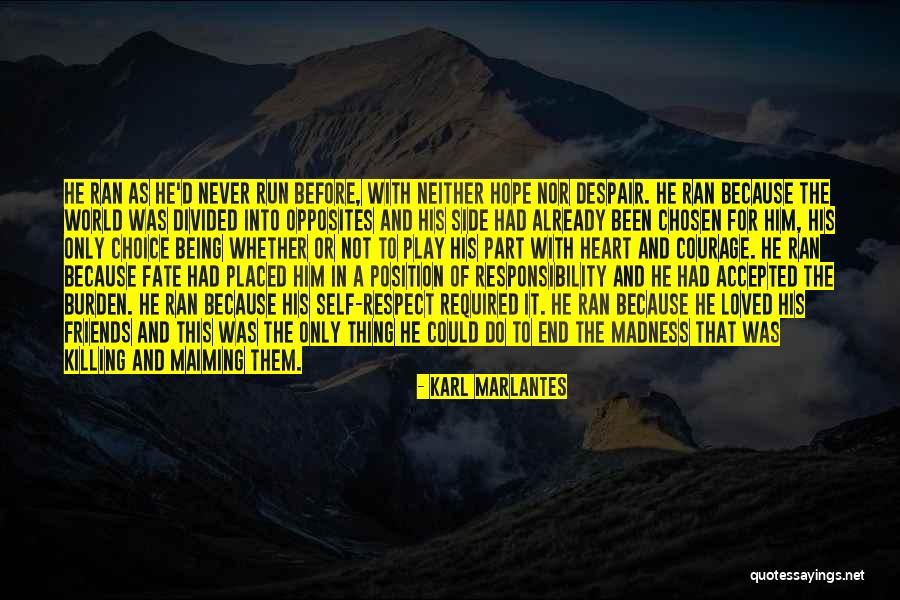 He ran as he'd never run before, with neither hope nor despair. He ran because the world was divided into opposites and his side had already been chosen for him, his only choice being whether or not to play his part with heart and courage. He ran because fate had placed him in a position of responsibility and he had accepted the burden. He ran because his self-respect required it. He ran because he loved his friends and this was the only thing he could do to end the madness that was killing and maiming them. — Karl Marlantes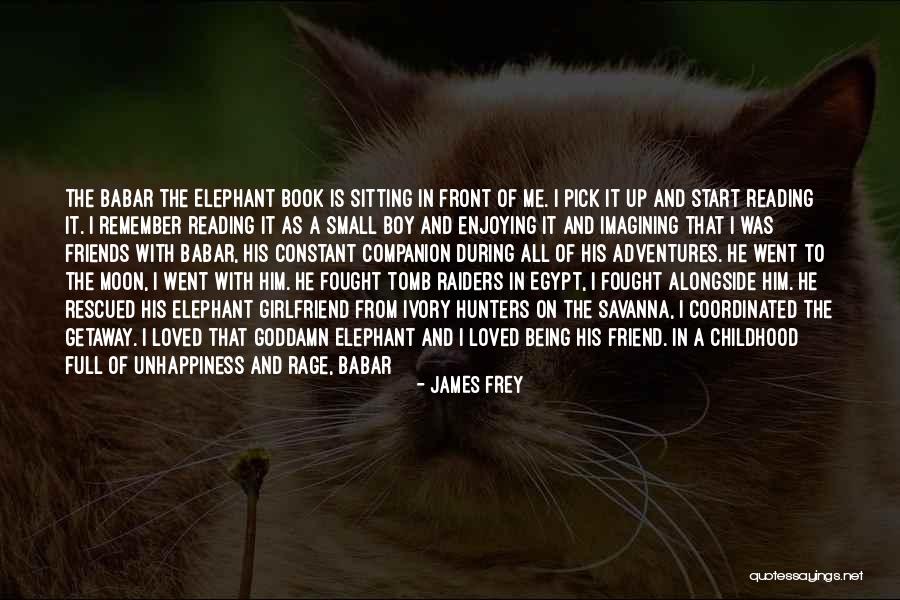 The Babar the Elephant book is sitting in front of me. I pick it up and start reading it. I remember reading it as a small Boy and enjoying it and imagining that I was friends with Babar, his constant Companion during all of his adventures. He went to the moon, I went with him. He fought Tomb Raiders in Egypt, I fought alongside him. He rescued his elephant girlfriend from Ivory Hunters on the Savanna, I coordinated the getaway. I loved that goddamn Elephant and I loved being his friend. In a childhood full of unhappiness and rage, Babar is one of the few pleasant memories that I have. Me and Babar, kicking some motherfucking ass. — James Frey