Quotes & Sayings About Being Away From Someone You Love
Enjoy reading and share 56 famous quotes about Being Away From Someone You Love with everyone.
Top Being Away From Someone You Love Quotes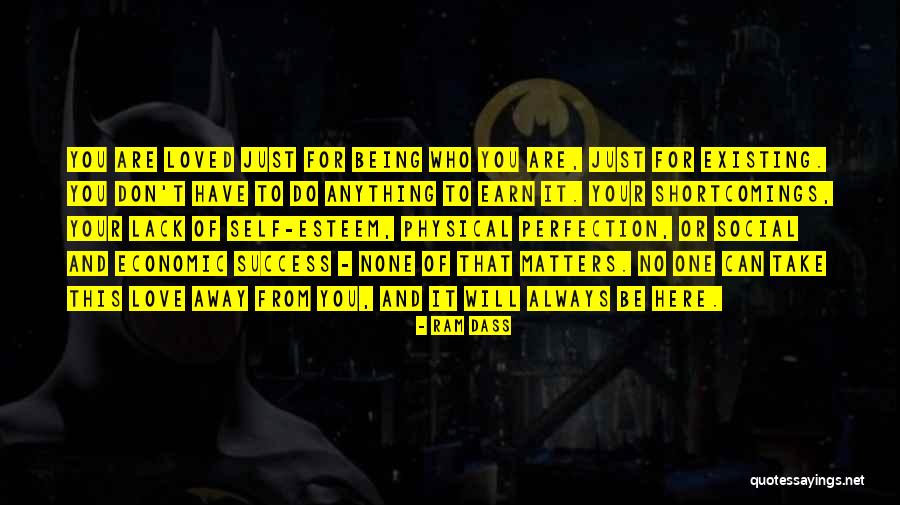 You are loved just for being who you are, just for existing. You don't have to do anything to earn it. Your shortcomings, your lack of self-esteem, physical perfection, or social and economic success - none of that matters. No one can take this love away from you, and it will always be here. — Ram Dass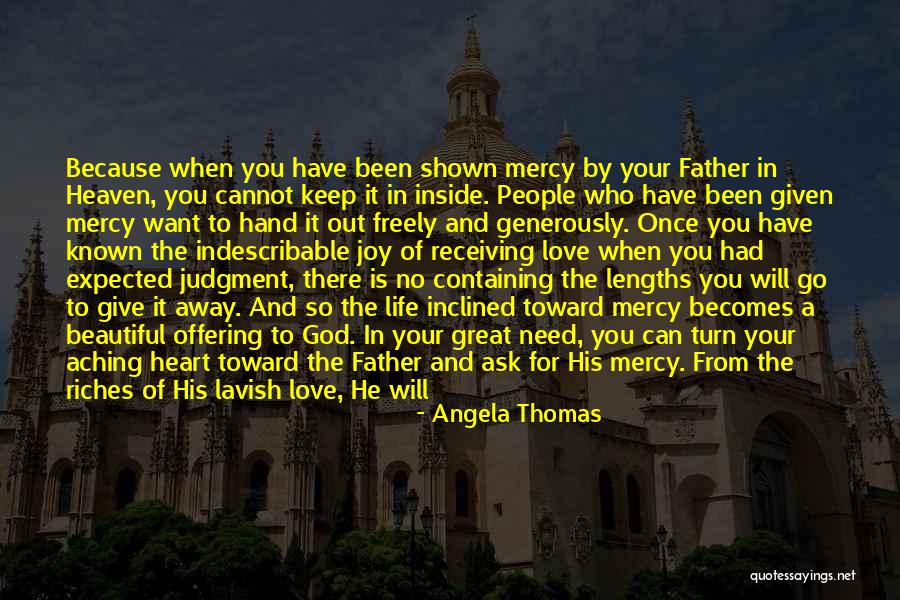 Because when you have been shown mercy by your Father in Heaven, you cannot keep it in inside. People who have been given mercy want to hand it out freely and generously. Once you have known the indescribable joy of receiving love when you had expected judgment, there is no containing the lengths you will go to give it away. And so the life inclined toward mercy becomes a beautiful offering to God. In your great need, you can turn your aching heart toward the Father and ask for His mercy. From the riches of His lavish love, He will tenderly give all that you need. Humbled by such a gracious gift, your heart will long to share with others who need mercy too. And when the one who gives mercy remains in the presence of God, all the mercy required is continually being provided. — Angela Thomas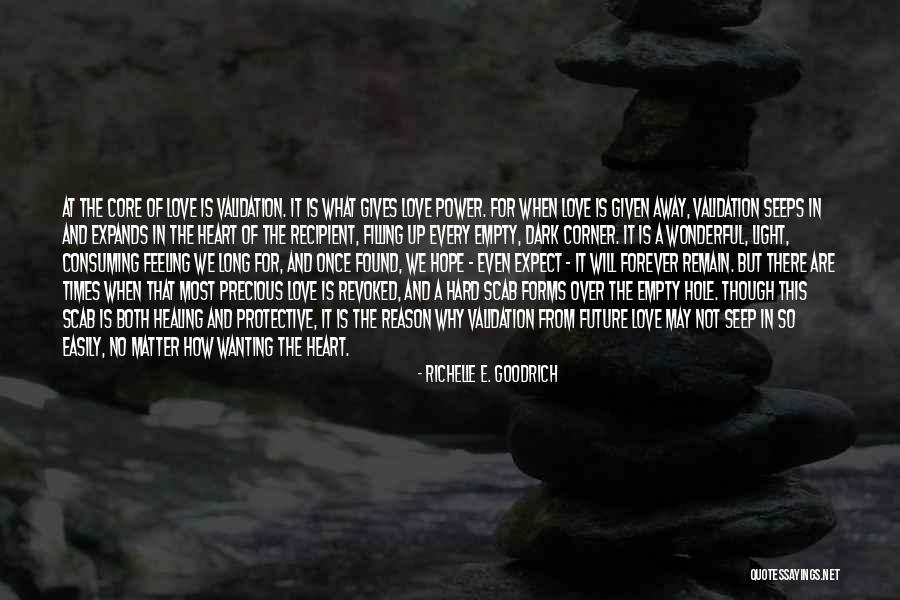 At the core of love is validation. It is what gives love power.
For when love is given away, validation seeps in and expands in the heart of the recipient, filling up every empty, dark corner. It is a wonderful, light, consuming feeling we long for, and once found, we hope - even expect - it will forever remain. But there are times when that most precious love is revoked, and a hard scab forms over the empty hole. Though this scab is both healing and protective, it is the reason why validation from future love may not seep in so easily, no matter how wanting the heart. — Richelle E. Goodrich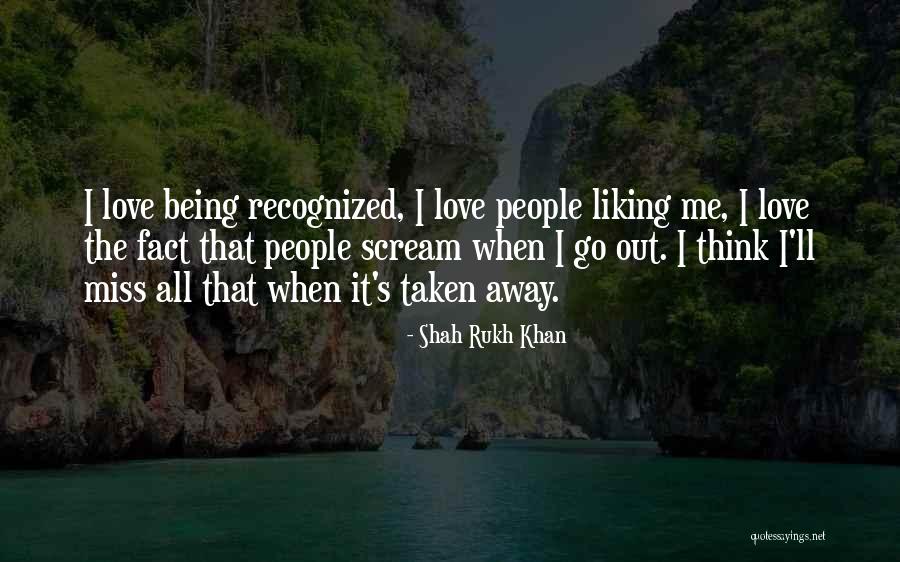 I love being recognized, I love people liking me, I love the fact that people scream when I go out. I think I'll miss all that when it's taken away. — Shah Rukh Khan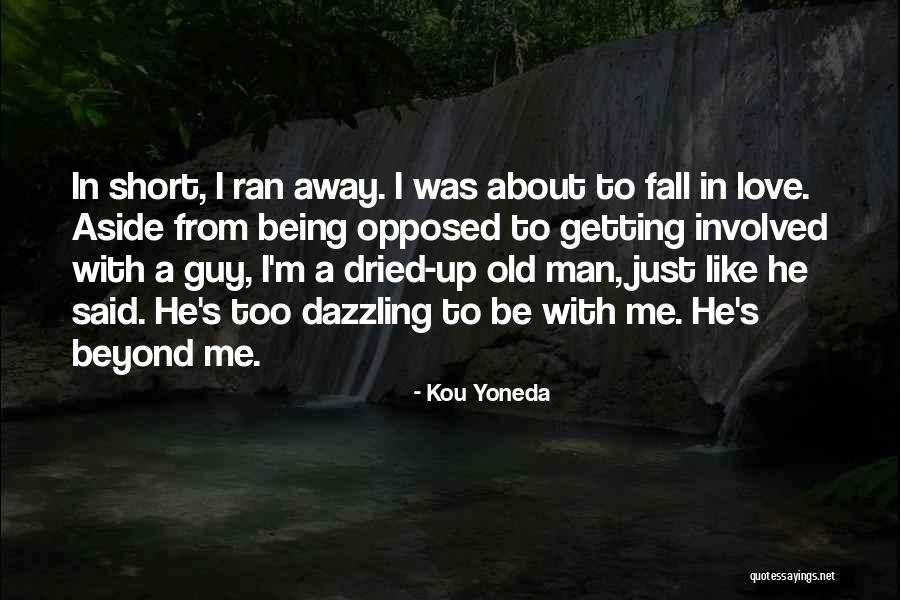 In short, I ran away. I was about to fall in love. Aside from being opposed to getting involved with a guy, I'm a dried-up old man, just like he said. He's too dazzling to be with me. He's beyond me. — Kou Yoneda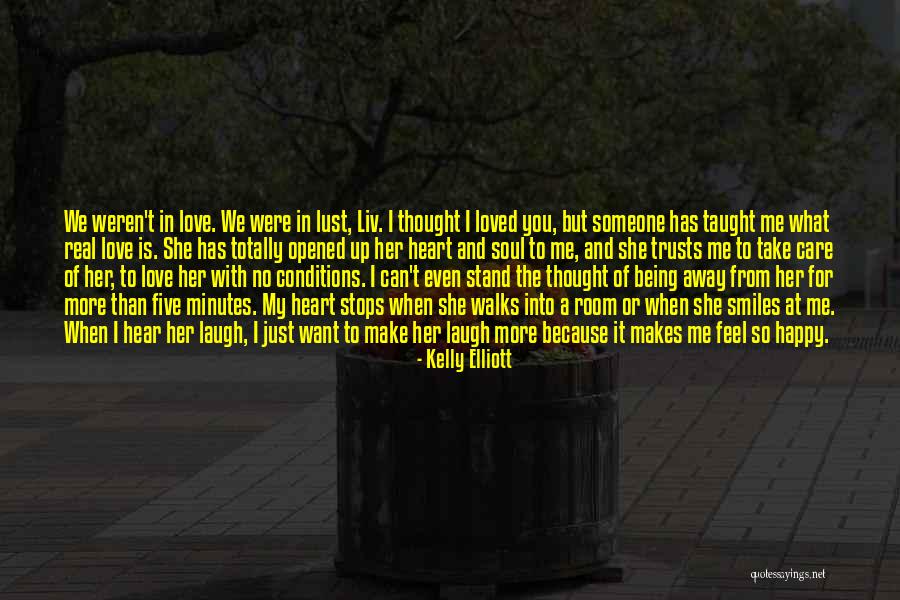 We weren't in love. We were in lust, Liv. I thought I loved you, but someone has taught me what real love is. She has totally opened up her heart and soul to me, and she trusts me to take care of her, to love her with no conditions. I can't even stand the thought of being away from her for more than five minutes. My heart stops when she walks into a room or when she smiles at me. When I hear her laugh, I just want to make her laugh more because it makes me feel so happy. — Kelly Elliott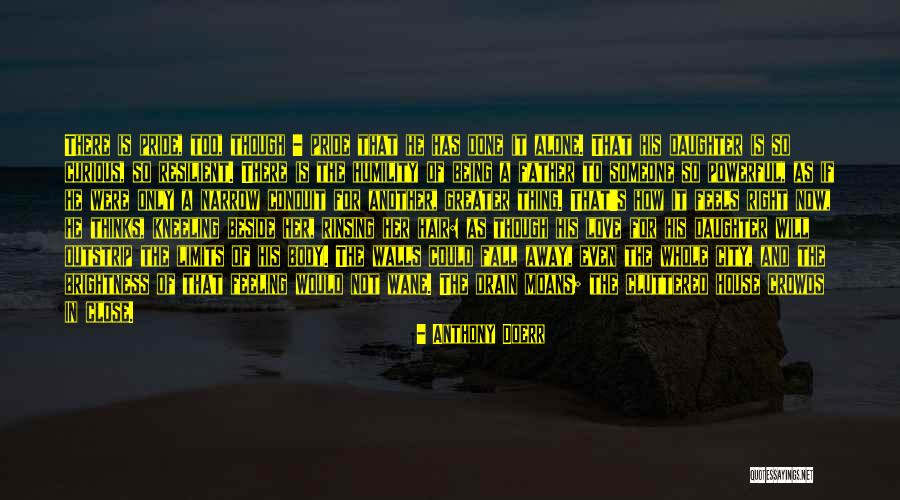 There is pride, too, though - pride that he has done it alone. That his daughter is so curious, so resilient. There is the humility of being a father to someone so powerful, as if he were only a narrow conduit for another, greater thing. That's how it feels right now, he thinks, kneeling beside her, rinsing her hair: as though his love for his daughter will outstrip the limits of his body. The walls could fall away, even the whole city, and the brightness of that feeling would not wane. The drain moans; the cluttered house crowds in close. — Anthony Doerr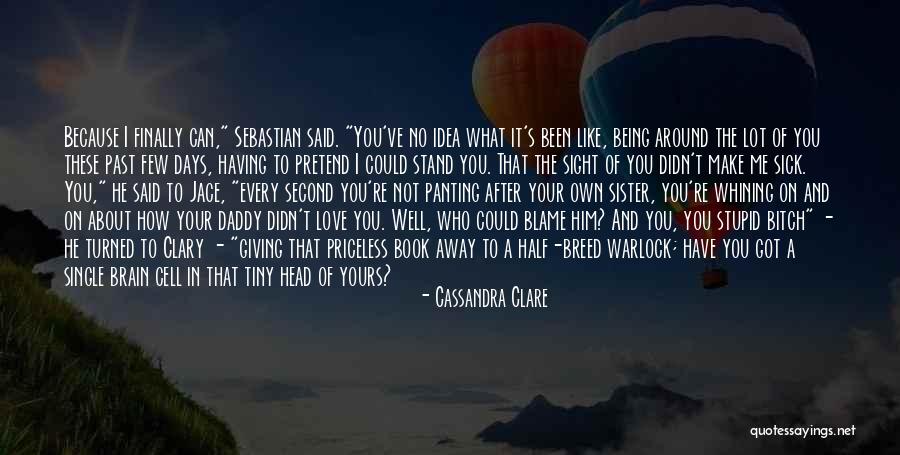 Because I finally can," Sebastian said. "You've no idea what it's been like, being around the lot of you these past few days, having to pretend I could stand you. That the sight of you didn't make me sick. You," he said to Jace, "every second you're not panting after your own sister, you're whining on and on about how your daddy didn't love you. Well, who could blame him? And you, you stupid bitch" - he turned to Clary - "giving that priceless book away to a half-breed warlock; have you got a single brain cell in that tiny head of yours? — Cassandra Clare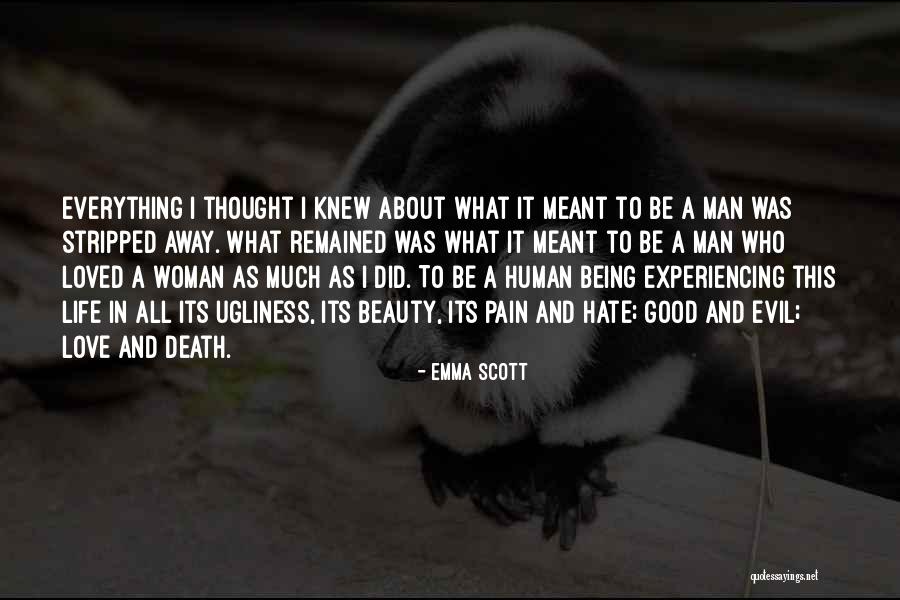 Everything I thought I knew about what it meant to be a man was stripped away. What remained was what it meant to be a man who loved a woman as much as I did. To be a human being experiencing this life in all its ugliness, its beauty, its pain and hate; good and evil; love and death. — Emma Scott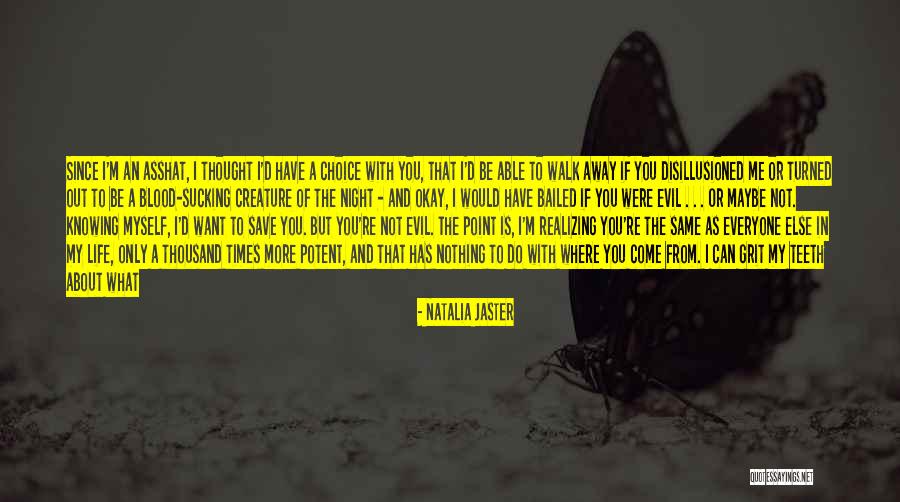 Since I'm an asshat, I thought I'd have a choice with you, that I'd be able to walk away if you disillusioned me or turned out to be a blood-sucking creature of the night - and okay, I would have bailed if you were evil . . . Or maybe not. Knowing myself, I'd want to save you. But you're not evil. The point is, I'm realizing you're the same as everyone else in my life, only a thousand times more potent, and that has nothing to do with where you come from. I can grit my teeth about what you do, but I can't control how I react to your laugh. I would rather be near you, see you touch everything but me, than be holding any other girl. I like being with you, Love. Playing, talking, fighting, not-touching. — Natalia Jaster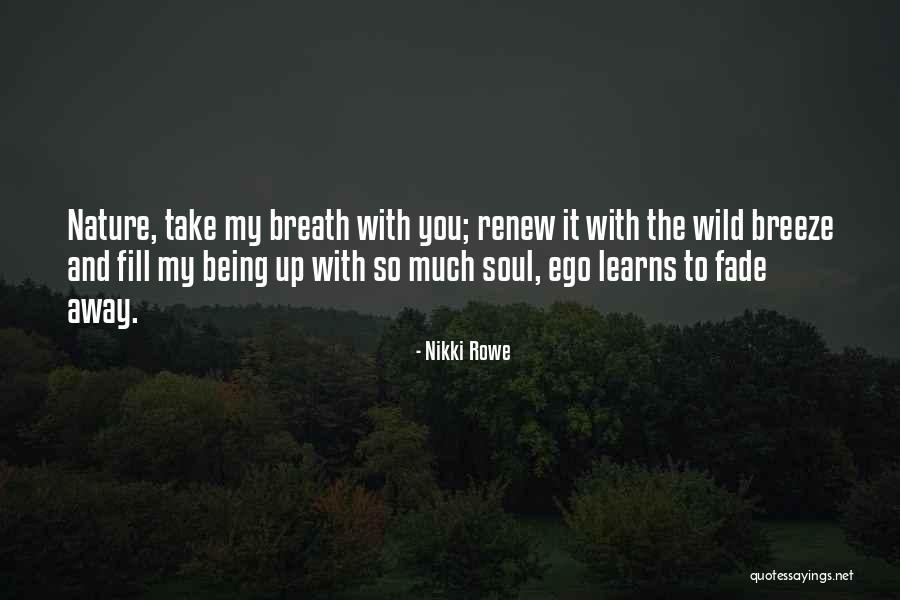 Nature, take my breath with you; renew it with the wild breeze and fill my being up with so much soul, ego learns to fade away. — Nikki Rowe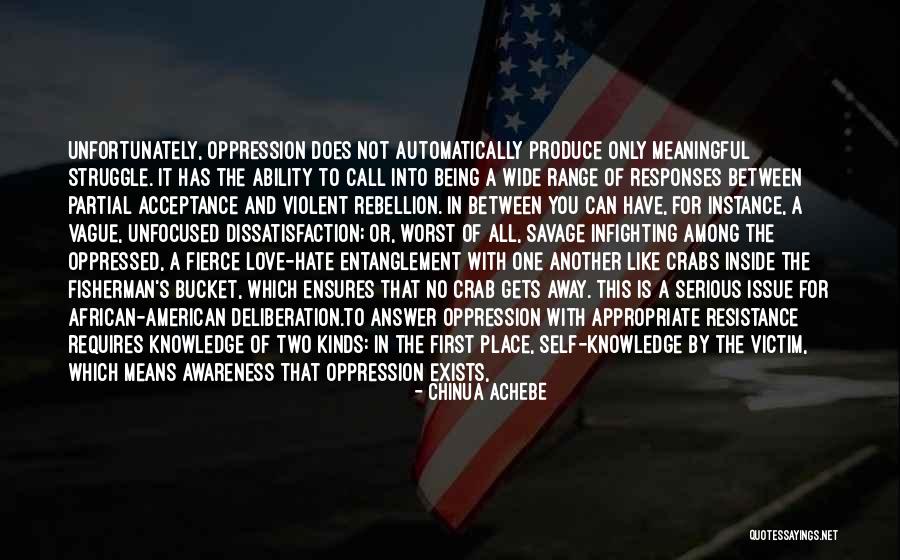 Unfortunately, oppression does not automatically produce only meaningful struggle. It has the ability to call into being a wide range of responses between partial acceptance and violent rebellion. In between you can have, for instance, a vague, unfocused dissatisfaction; or, worst of all, savage infighting among the oppressed, a fierce love-hate entanglement with one another like crabs inside the fisherman's bucket, which ensures that no crab gets away. This is a serious issue for African-American deliberation.
To answer oppression with appropriate resistance requires knowledge of two kinds: in the first place, self-knowledge by the victim, which means awareness that oppression exists, an awareness that the victim has fallen from a great height of glory or promise into the present depths; secondly, the victim must know who the enemy is. He must know his oppressor's real name, not an alias, a pseudonym, or a nom de plume! — Chinua Achebe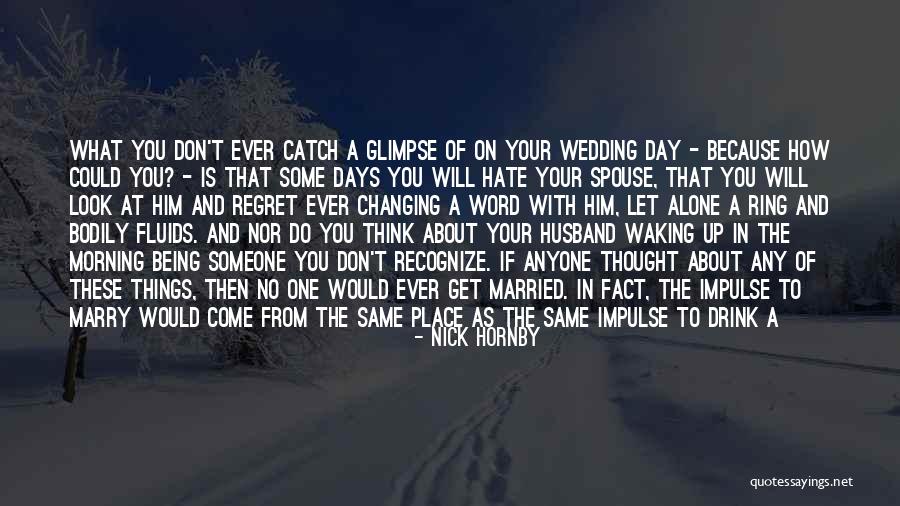 What you don't ever catch a glimpse of on your wedding day - because how could you? - is that some days you will hate your spouse, that you will look at him and regret ever changing a word with him, let alone a ring and bodily fluids. And nor do you think about your husband waking up in the morning being someone you don't recognize. If anyone thought about any of these things, then no one would ever get married. In fact, the impulse to marry would come from the same place as the same impulse to drink a bottle of bleach, and those are the kind of impulses we try to ignore rather than celebrate.
So we can't afford to think of these things because getting married - or finding a partner whom we will want to spend our lives with and have children by - is on our agenda. It's something we know we will do one day, and if you take that away from us then we are left with promotions and work and the possibility of a winning lottery ticket, and it's not enough. — Nick Hornby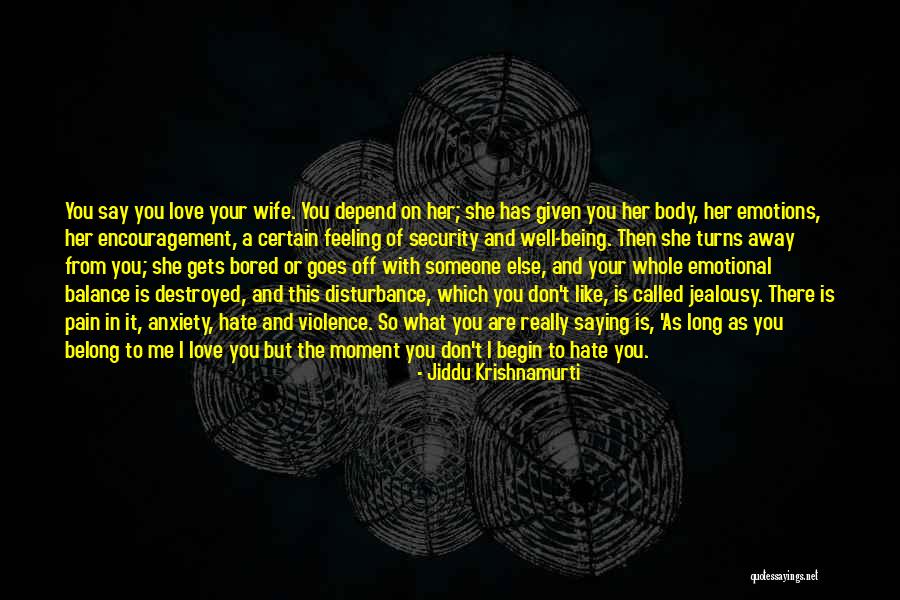 You say you love your wife. You depend on her; she has given you her body, her emotions, her encouragement, a certain feeling of security and well-being. Then she turns away from you; she gets bored or goes off with someone else, and your whole emotional balance is destroyed, and this disturbance, which you don't like, is called jealousy. There is pain in it, anxiety, hate and violence. So what you are really saying is, 'As long as you belong to me I love you but the moment you don't I begin to hate you. — Jiddu Krishnamurti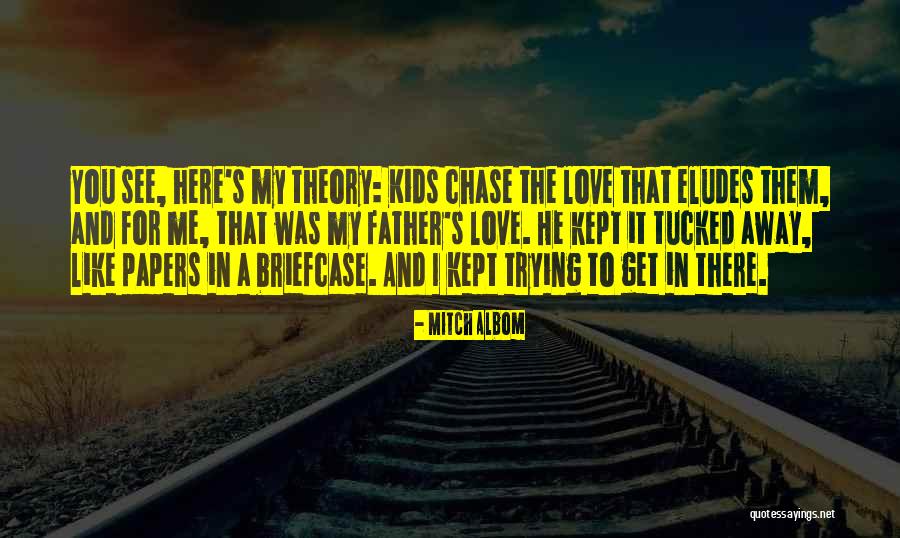 You see, here's my theory: Kids chase the love that eludes them, and for me, that was my father's love. He kept it tucked away, like papers in a briefcase. And I kept trying to get in there. — Mitch Albom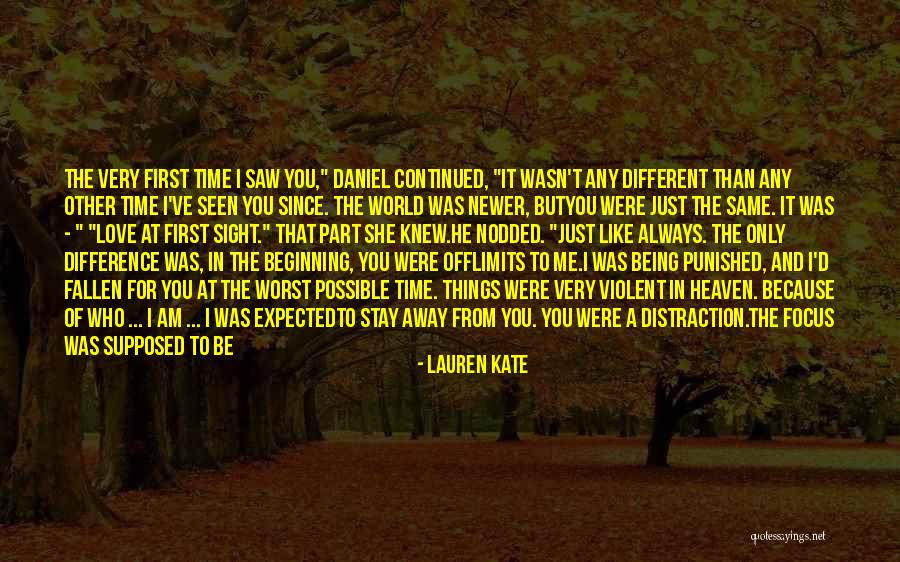 The very first time I saw you," Daniel continued, "it wasn't any different than any other time I've seen you since. The world was newer, but
you were just the same. It was - "
"Love at first sight." That part she knew.He nodded. "Just like always. The only difference was, in the beginning, you were offlimits to me.
I was being punished, and I'd fallen for you at the worst possible time. Things were very violent in Heaven. Because of who ... I am ... I was expected
to stay away from you. You were a distraction.
The focus was supposed to be on winning the
war. It's the same war that's still going on."
He sighed.
"And if you haven't noticed, I'm still very
distracted. — Lauren Kate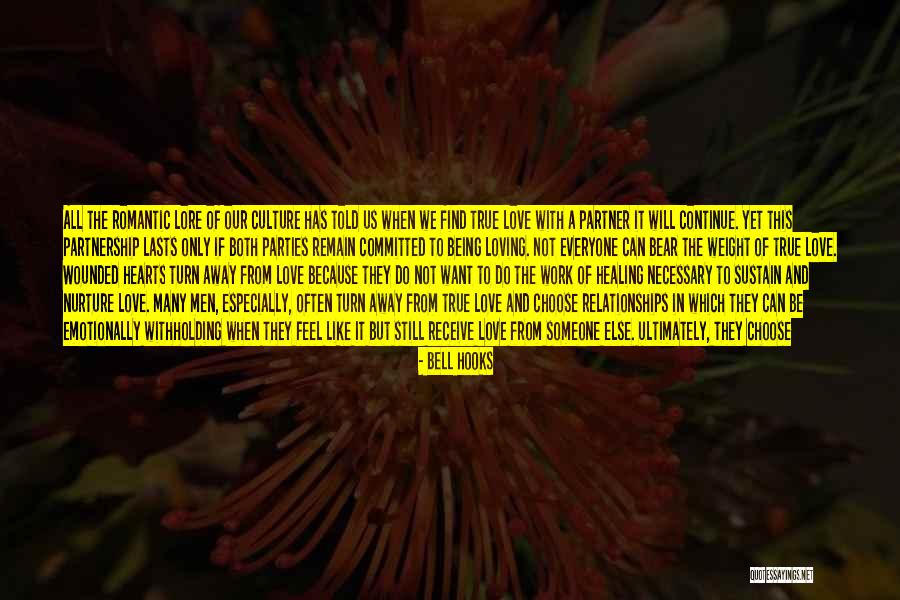 All the romantic lore of our culture has told us when we find true love with a partner it will continue. Yet this partnership lasts only if both parties remain committed to being loving. Not everyone can bear the weight of true love. Wounded hearts turn away from love because they do not want to do the work of healing necessary to sustain and nurture love. Many men, especially, often turn away from true love and choose relationships in which they can be emotionally withholding when they feel like it but still receive love from someone else. Ultimately, they choose power over love. To know and keep true love we have to be willing to surrender the will to power. — Bell Hooks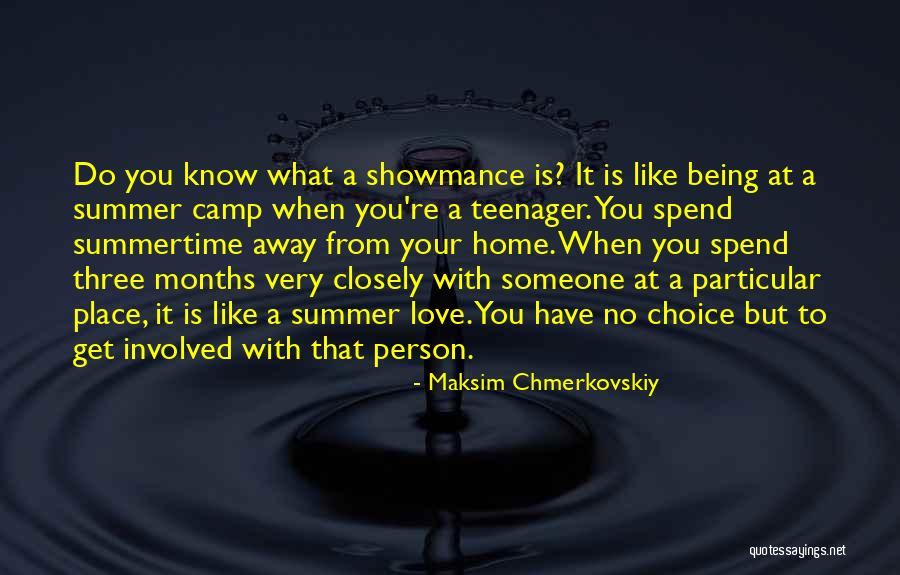 Do you know what a showmance is? It is like being at a summer camp when you're a teenager. You spend summertime away from your home. When you spend three months very closely with someone at a particular place, it is like a summer love. You have no choice but to get involved with that person. — Maksim Chmerkovskiy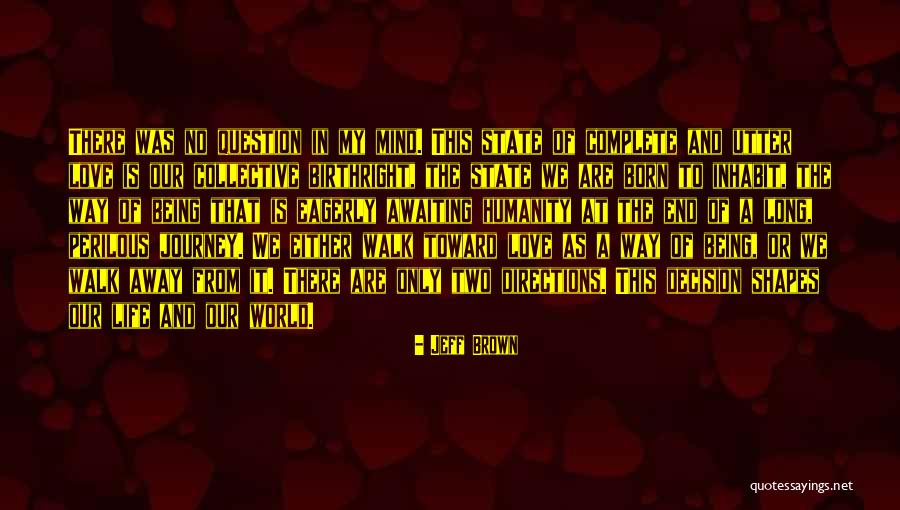 There was no question in my mind. This state of complete and utter love is our collective birthright, the state we are born to inhabit, the way of being that is eagerly awaiting humanity at the end of a long, perilous journey. We either walk toward love as a way of being, or we walk away from it. There are only two directions. This decision shapes our life and our world. — Jeff Brown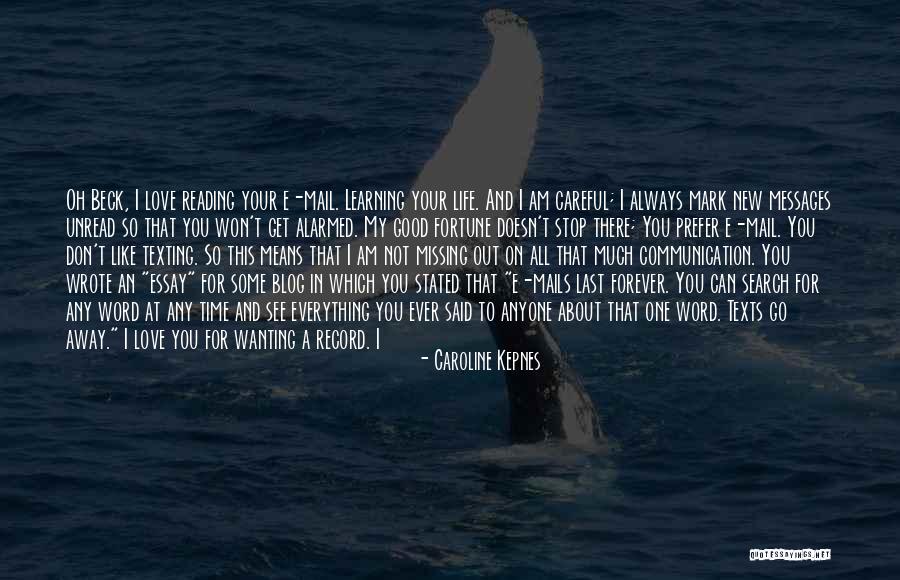 Oh Beck, I love reading your e-mail. Learning your life. And I am careful; I always mark new messages unread so that you won't get alarmed. My good fortune doesn't stop there; You prefer e-mail. You don't like texting. So this means that I am not missing out on all that much communication. You wrote an "essay" for some blog in which you stated that "e-mails last forever. You can search for any word at any time and see everything you ever said to anyone about that one word. Texts go away." I love you for wanting a record. I love your records for being so accessible and I'm so full of you, your calendar of caloric intake and hookups and menstrual moments, your self-portraits you don't publish, your recipes and exercises. You will know me soon too, I promise. — Caroline Kepnes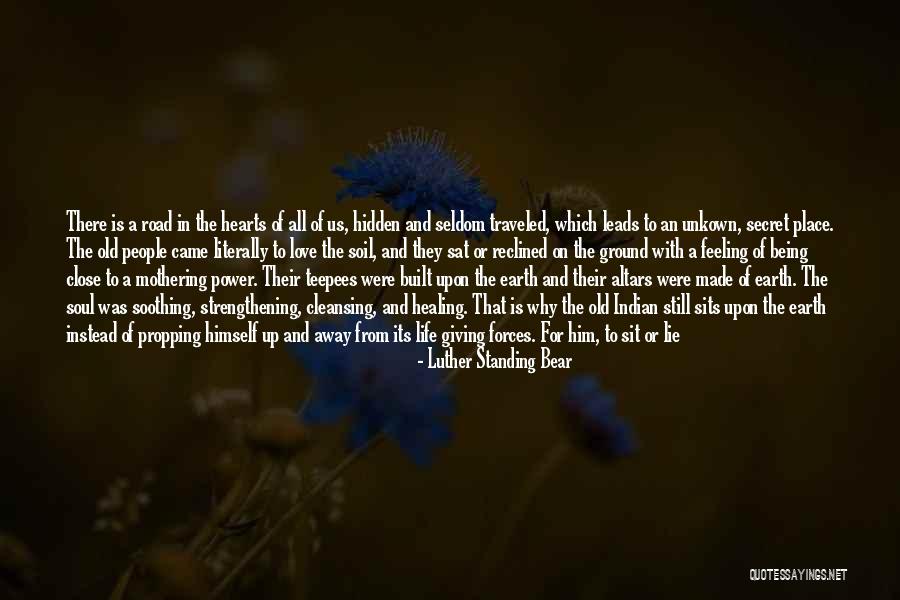 There is a road in the hearts of all of us, hidden and seldom traveled, which leads to an unkown, secret place. The old people came literally to love the soil, and they sat or reclined on the ground with a feeling of being close to a mothering power. Their teepees were built upon the earth and their altars were made of earth. The soul was soothing, strengthening, cleansing, and healing. That is why the old Indian still sits upon the earth instead of propping himself up and away from its life giving forces. For him, to sit or lie upon the ground is to be able to think more deeply and to feel more keenly. He can see more clearly into the mysteries of life and come closer in kinship to other lives about him. — Luther Standing Bear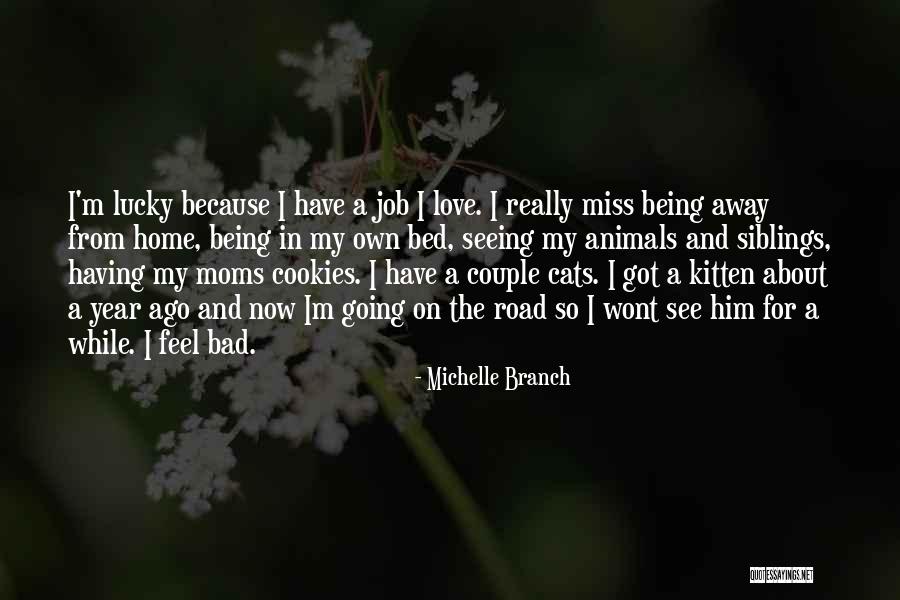 I'm lucky because I have a job I love. I really miss being away from home, being in my own bed, seeing my animals and siblings, having my moms cookies. I have a couple cats. I got a kitten about a year ago and now Im going on the road so I wont see him for a while. I feel bad. — Michelle Branch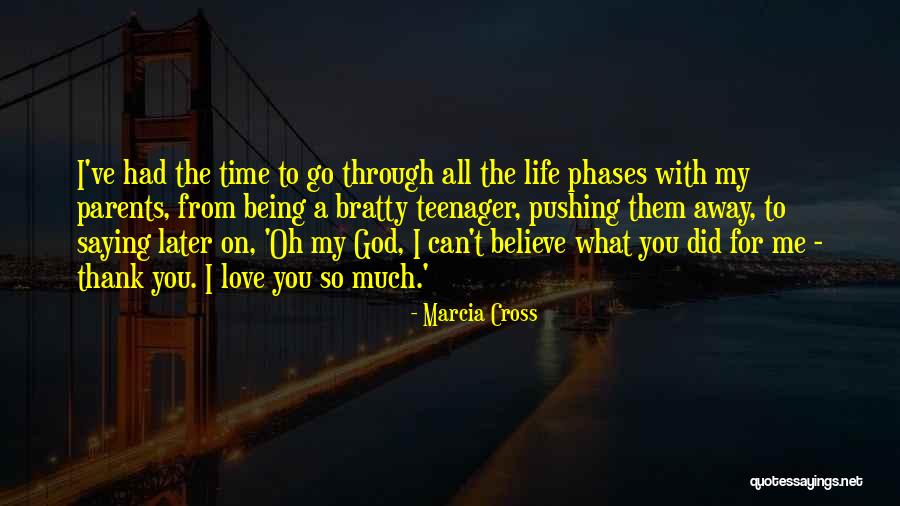 I've had the time to go through all the life phases with my parents, from being a bratty teenager, pushing them away, to saying later on, 'Oh my God, I can't believe what you did for me - thank you. I love you so much.' — Marcia Cross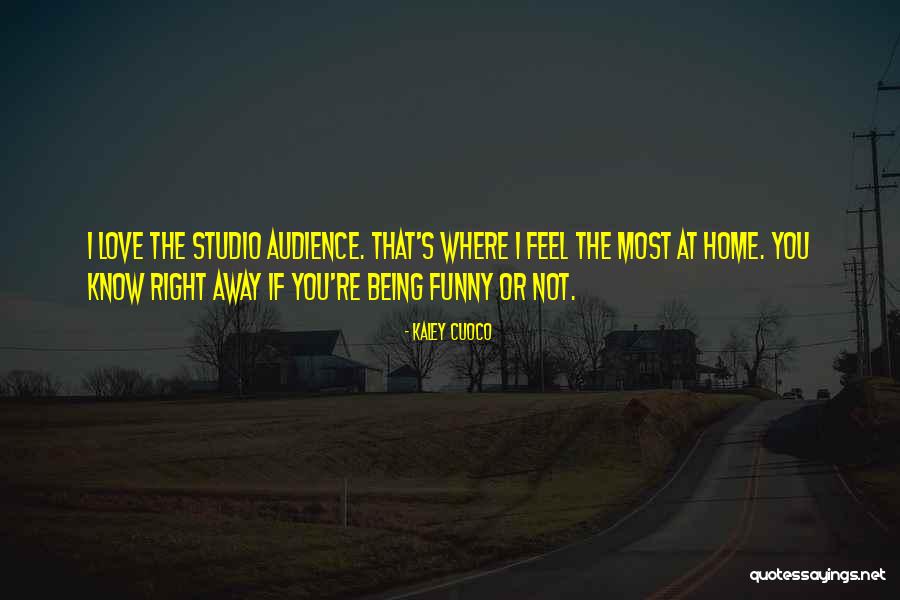 I love the studio audience. That's where I feel the most at home. You know right away if you're being funny or not. — Kaley Cuoco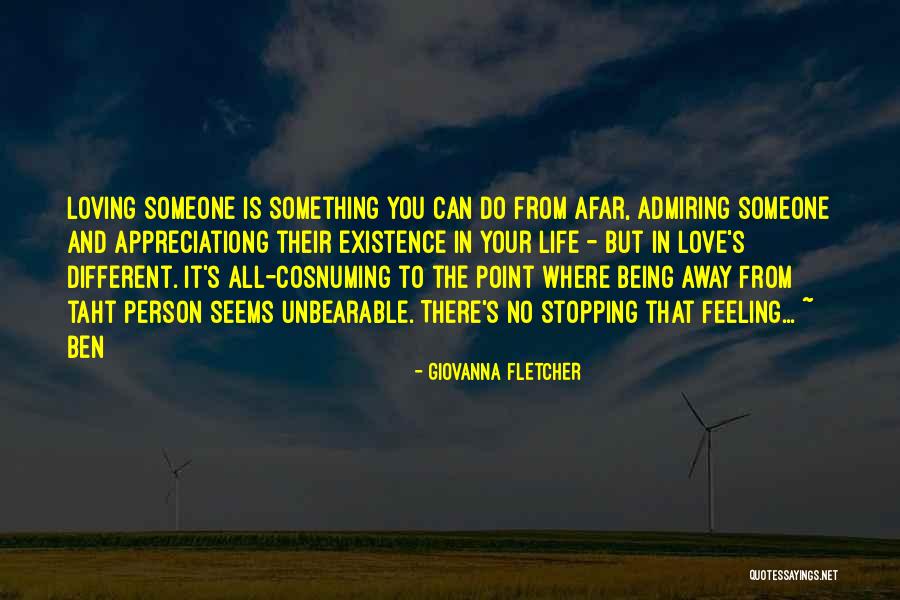 Loving someone is something you can do from afar, admiring someone and appreciationg their existence in your life - but in love's different. It's all-cosnuming to the point where being away from taht person seems unbearable. There's no stopping that feeling... ~ Ben — Giovanna Fletcher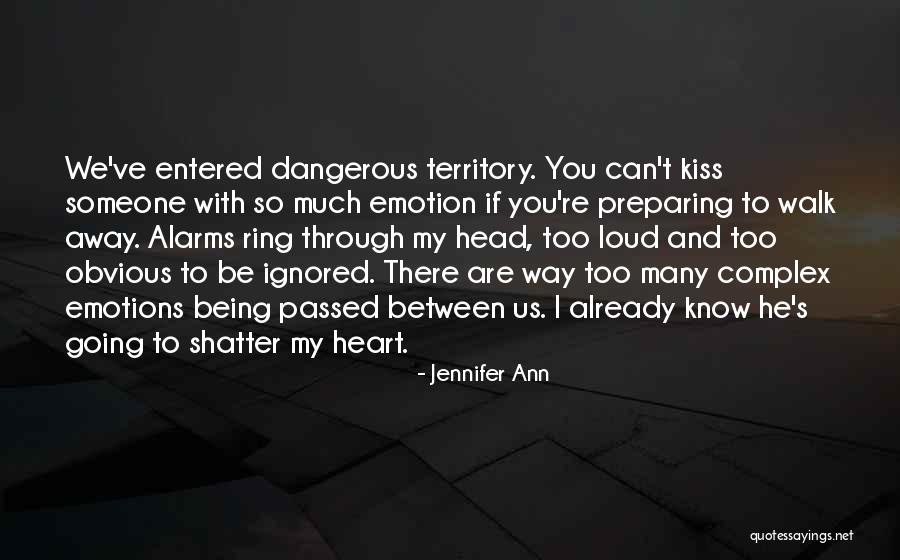 We've entered dangerous territory. You can't kiss someone with so much emotion if you're preparing to walk away. Alarms ring through my head, too loud and too obvious to be ignored. There are way too many complex emotions being passed between us. I already know he's going to shatter my heart. — Jennifer Ann
Don't stop talking to me, Makenna. I need your words. Your voice."
"I don't know what to say is all. I want to take away your hurt."
His cheek lifted into a smile under her hand. "Thank you. But sometimes I think I need it. It reminds me I'm alive. And it makes the good times that much better. Like right now, being here, with you. — Laura Kaye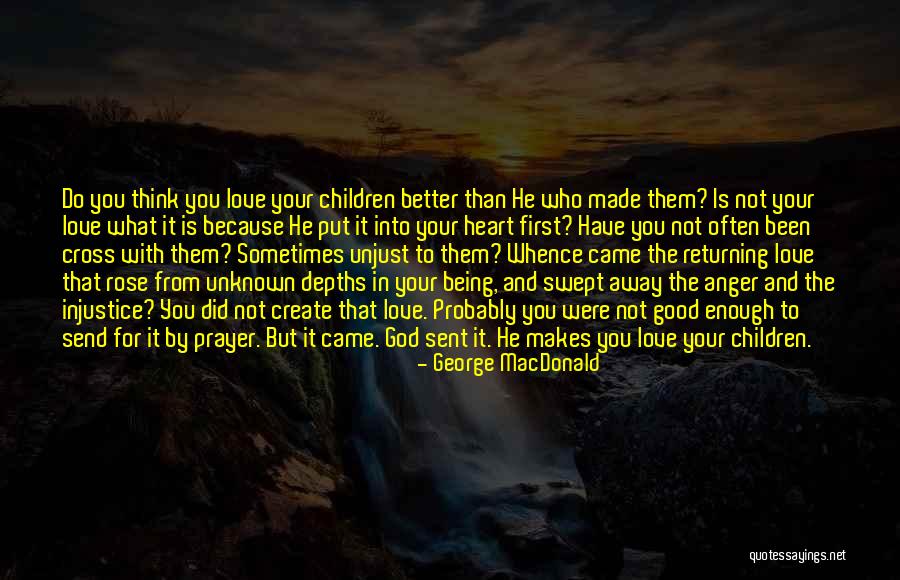 Do you think you love your children better than He who made them? Is not your love what it is because He put it into your heart first? Have you not often been cross with them? Sometimes unjust to them? Whence came the returning love that rose from unknown depths in your being, and swept away the anger and the injustice? You did not create that love. Probably you were not good enough to send for it by prayer. But it came. God sent it. He makes you love your children. — George MacDonald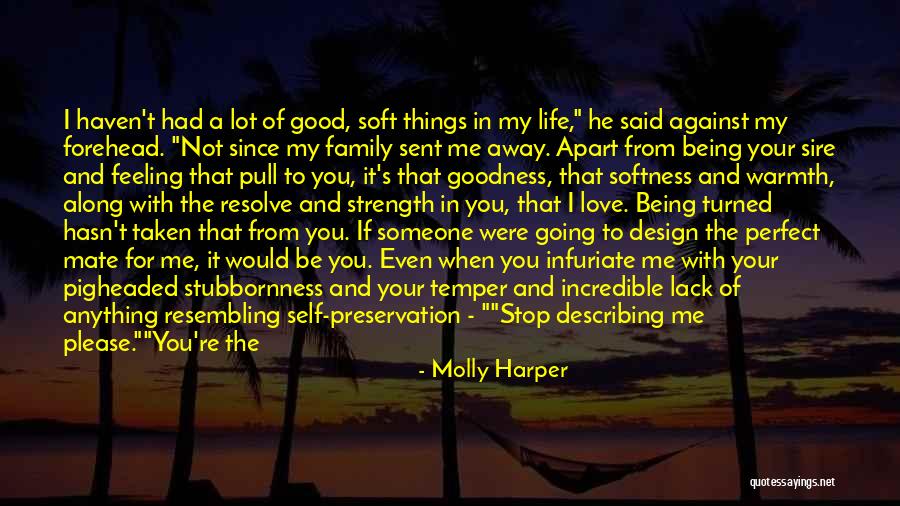 I haven't had a lot of good, soft things in my life," he said against my forehead. "Not since my family sent me away. Apart from being your sire and feeling that pull to you, it's that goodness, that softness and warmth, along with the resolve and strength in you, that I love. Being turned hasn't taken that from you. If someone were going to design the perfect mate for me, it would be you. Even when you infuriate me with your pigheaded stubbornness and your temper and incredible lack of anything resembling self-preservation - "
"Stop describing me please."
"You're the most fascinating, maddening, adorable creature I've ever met," he said, sighing and pushing my hair out of my eyes. "So, when I seem possessive or I'm raving like a lunatic, it's just that part of me is still very afraid that I'll lose that - that I'll lose you. I love you. — Molly Harper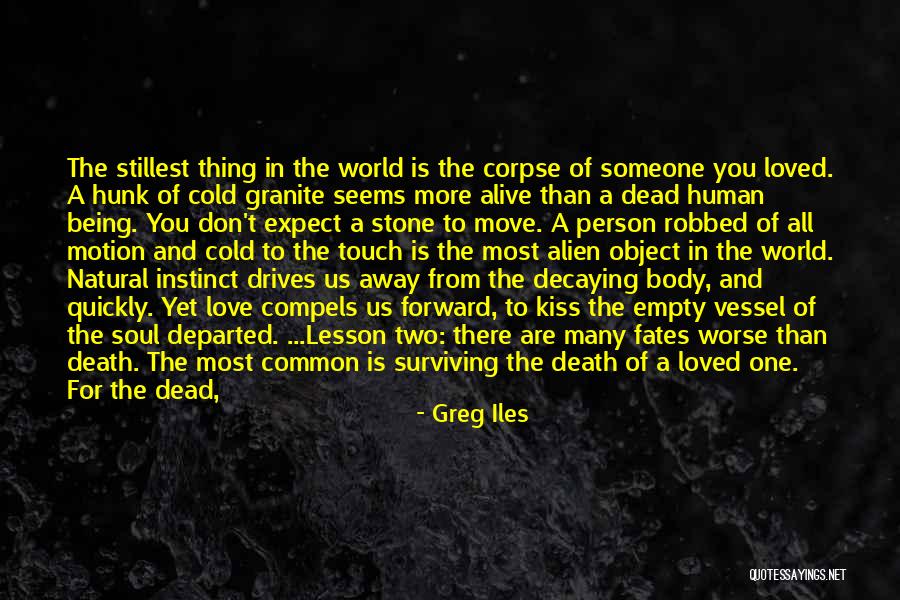 The stillest thing in the world is the corpse of someone you loved. A hunk of cold granite seems more alive than a dead human being. You don't expect a stone to move. A person robbed of all motion and cold to the touch is the most alien object in the world. Natural instinct drives us away from the decaying body, and quickly. Yet love compels us forward, to kiss the empty vessel of the soul departed. ...Lesson two: there are many fates worse than death. The most common is surviving the death of a loved one. For the dead, all questions have been answered or made irrelevant. For the survivor, some questions have been rendered unanswerable. — Greg Iles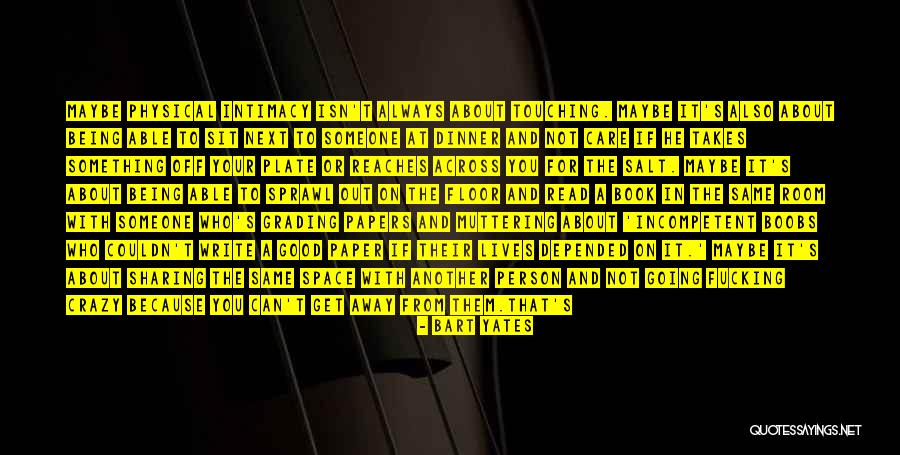 Maybe physical intimacy isn't always about touching. Maybe it's also about being able to sit next to someone at dinner and not care if he takes something off your plate or reaches across you for the salt. Maybe it's about being able to sprawl out on the floor and read a book in the same room with someone who's grading papers and muttering about 'incompetent boobs who couldn't write a good paper if their lives depended on it.' Maybe it's about sharing the same space with another person and not going fucking crazy because you can't get away from them.

That's it, I guess: true intimacy is really just the run of the mill, day to day stuff that happens without thinking - thousands of simple, meaningless, comfortable ways you can be close to someone, never dreaming how shitty you'll feel when you wake up one morning with all of it gone. — Bart Yates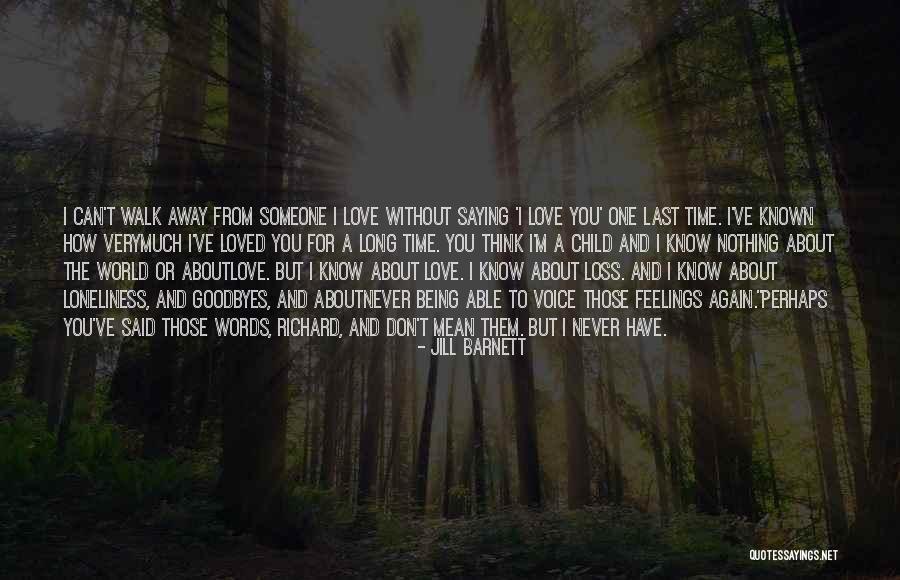 I can't walk away from someone I love without saying 'I love you' one last time. I've known how very
much I've loved you for a long time. You think I'm a child and I know nothing about the world or about
love. But I know about love. I know about loss. And I know about loneliness, and goodbyes, and about
never being able to voice those feelings again.
"Perhaps you've said those words, Richard, and don't mean them. But I never have. — Jill Barnett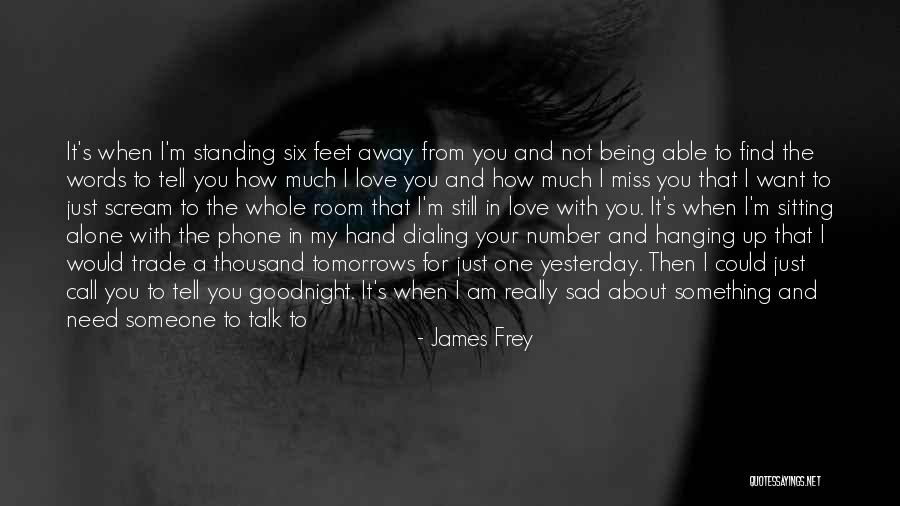 It's when I'm standing six feet away from you and not being able to find the words to tell you how much I love you and how much I miss you that I want to just scream to the whole room that I'm still in love with you. It's when I'm sitting alone with the phone in my hand dialing your number and hanging up that I would trade a thousand tomorrows for just one yesterday. Then I could just call you to tell you goodnight. It's when I am really sad about something and need someone to talk to that I realize you're the only one who really knew me at all. It's when I cry myself to sleep at night and it hits me how much I would give to hold you at that very moment. It's when I think about you that I realize no one else in the world is meant for me. — James Frey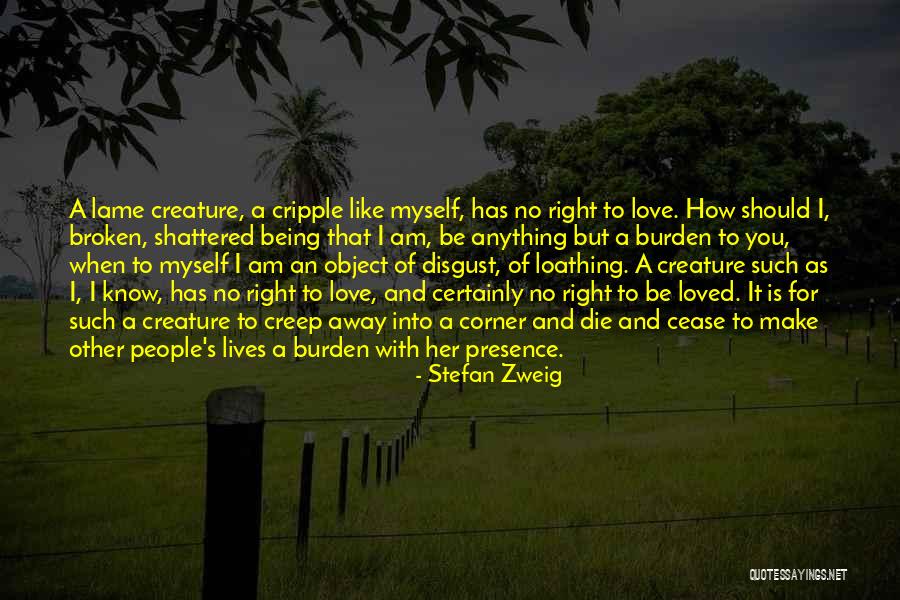 A lame creature, a cripple like myself, has no right to love. How should I, broken, shattered being that I am, be anything but a burden to you, when to myself I am an object of disgust, of loathing. A creature such as I, I know, has no right to love, and certainly no right to be loved. It is for such a creature to creep away into a corner and die and cease to make other people's lives a burden with her presence. — Stefan Zweig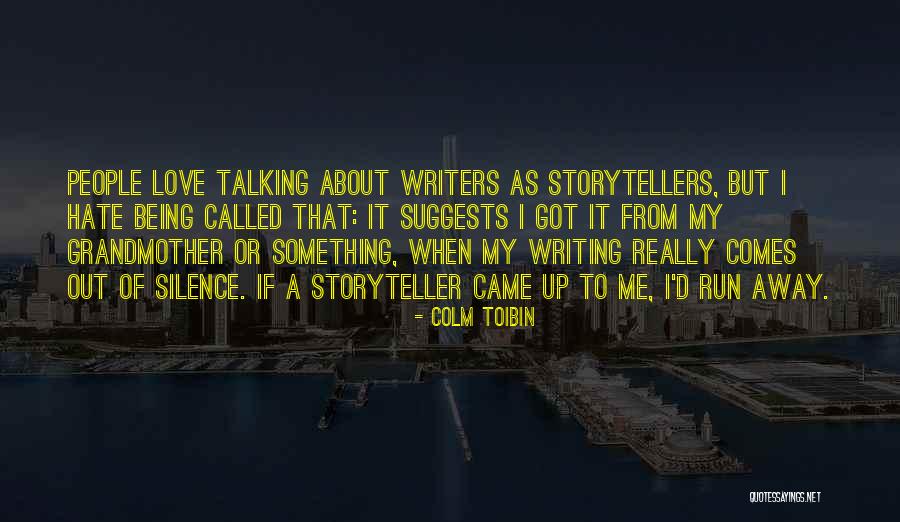 People love talking about writers as storytellers, but I hate being called that: it suggests I got it from my grandmother or something, when my writing really comes out of silence. If a storyteller came up to me, I'd run away. — Colm Toibin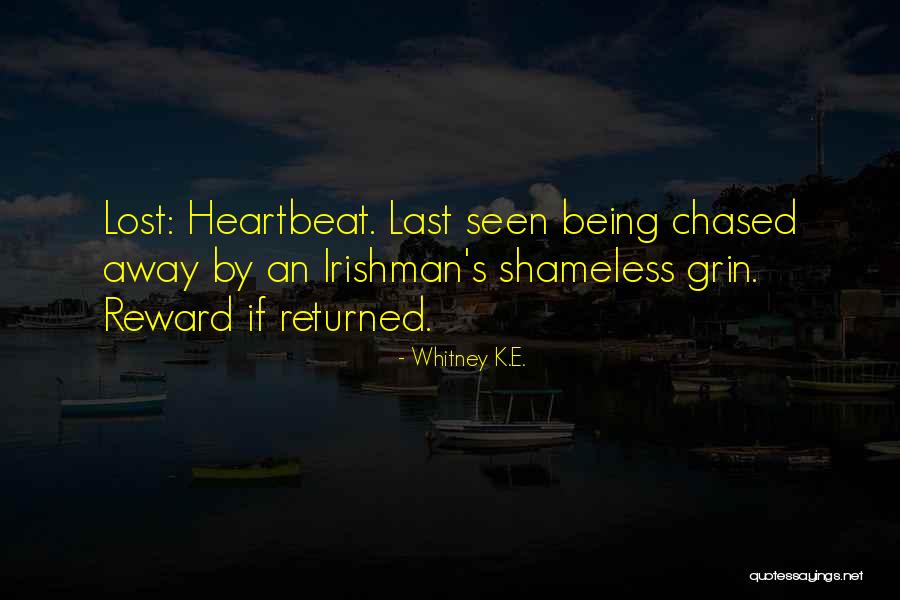 Lost: Heartbeat. Last seen being chased away by an Irishman's shameless grin. Reward if returned. — Whitney K.E.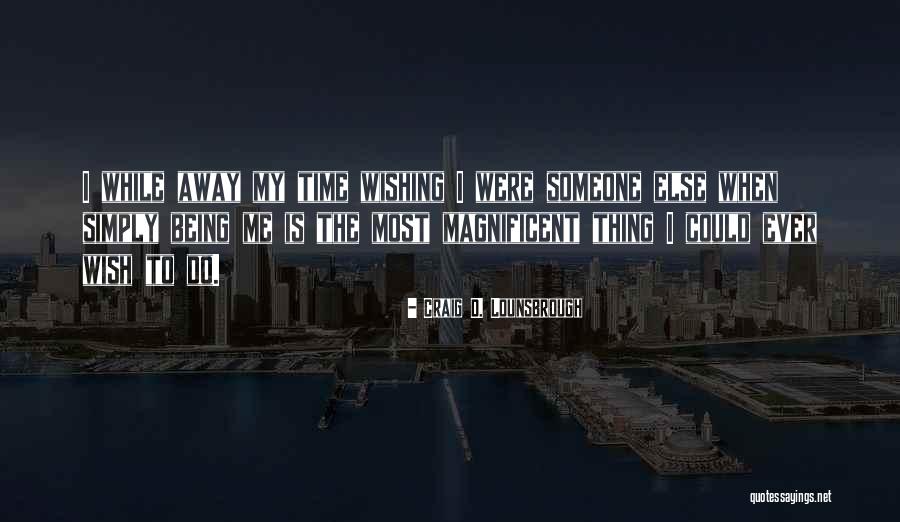 I while away my time wishing I were someone else when simply being me is the most magnificent thing I could ever wish to do. — Craig D. Lounsbrough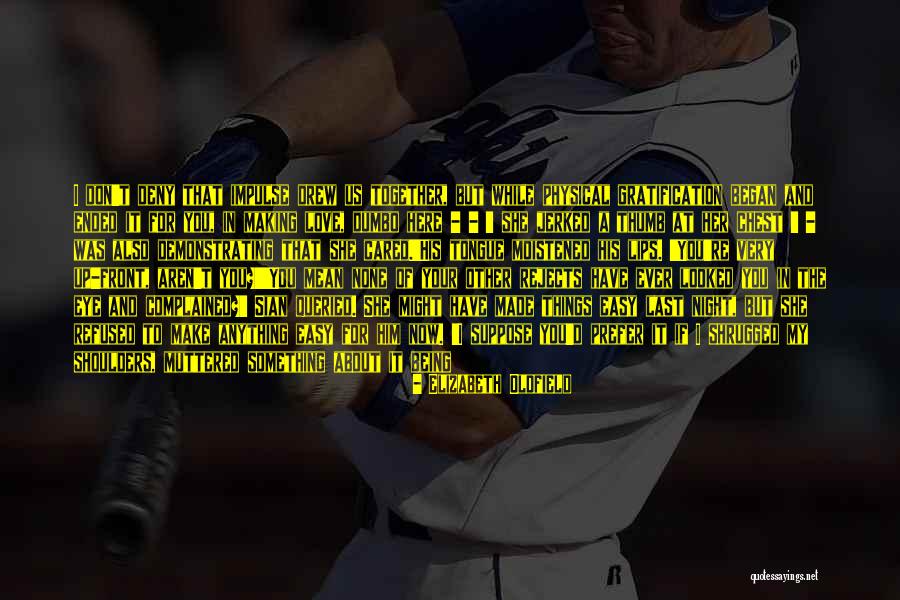 I don't deny that impulse drew us together, but while physical gratification began and ended it for you, in making love, dumbo here - - ' she jerked a thumb at her chest ' - was also demonstrating that she cared.'
His tongue moistened his lips. 'You're very up-front, aren't you?'
'You mean none of your other rejects have ever looked you in the eye and complained?' Sian queried. She might have made things easy last night, but she refused to make anything easy for him now. 'I suppose you'd prefer it if I shrugged my shoulders, muttered something about it being nice while it lasted, and filed the experience away under lessons learned? Well, sorry, but for me, and for most women if they're honest, going to bed with someone is a darn sight more complicated than that! — Elizabeth Oldfield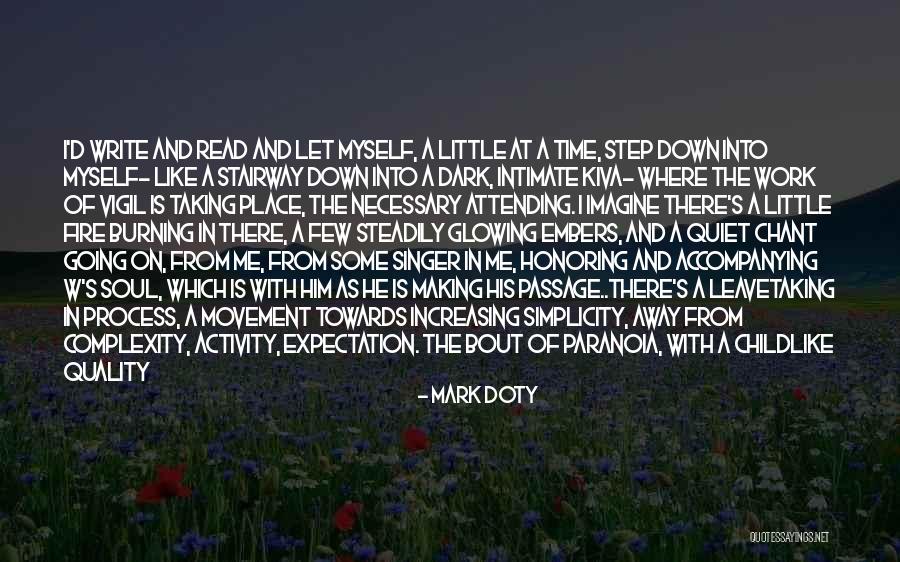 I'd write and read and let myself, a little at a time, step down into myself- like a stairway down into a dark, intimate kiva- where the work of vigil is taking place, the necessary attending. I imagine there's a little fire burning in there, a few steadily glowing embers, and a quiet chant going on, from me, from some singer in me, honoring and accompanying W's soul, which is with him as he is making his passage..there's a leavetaking in process, a movement towards increasing simplicity, away from complexity, activity, expectation. The bout of paranoia, with a childlike quality of being threatened, seems part of that-like a day or two when he couldn't just let go and float on the energies of other people, who are bearing him up-but had to doubt them, struggle. So much better when he can trust and float. There's enough love around him to carry him now ... — Mark Doty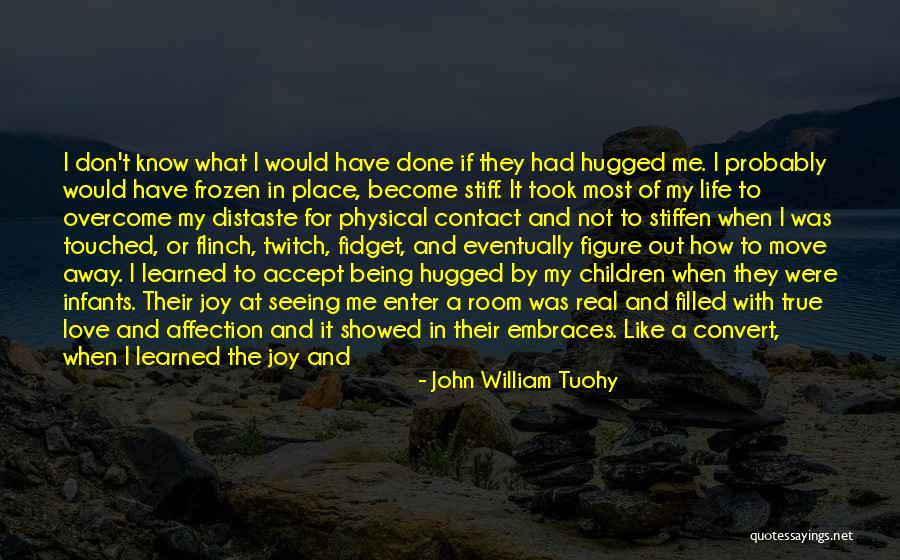 I don't know what I would have done if they had hugged me. I probably would have frozen in place, become stiff. It took most of my life to overcome my distaste for physical contact and not to stiffen when I was touched, or flinch, twitch, fidget, and eventually figure out how to move away. I learned to accept being hugged by my children when they were infants. Their joy at seeing me enter a room was real and filled with true love and affection and it showed in their embraces. Like a convert, when I learned the joy and comfort of being hugged by and hugging those I loved, I became a regular practitioner. — John William Tuohy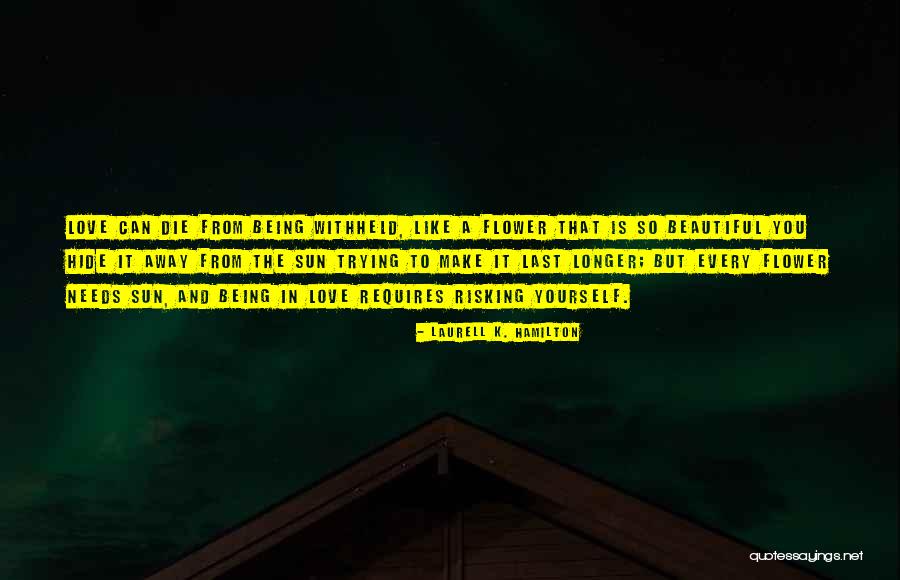 Love can die from being withheld, like a flower that is so beautiful you hide it away from the sun trying to make it last longer; but every flower needs sun, and being in love requires risking yourself. — Laurell K. Hamilton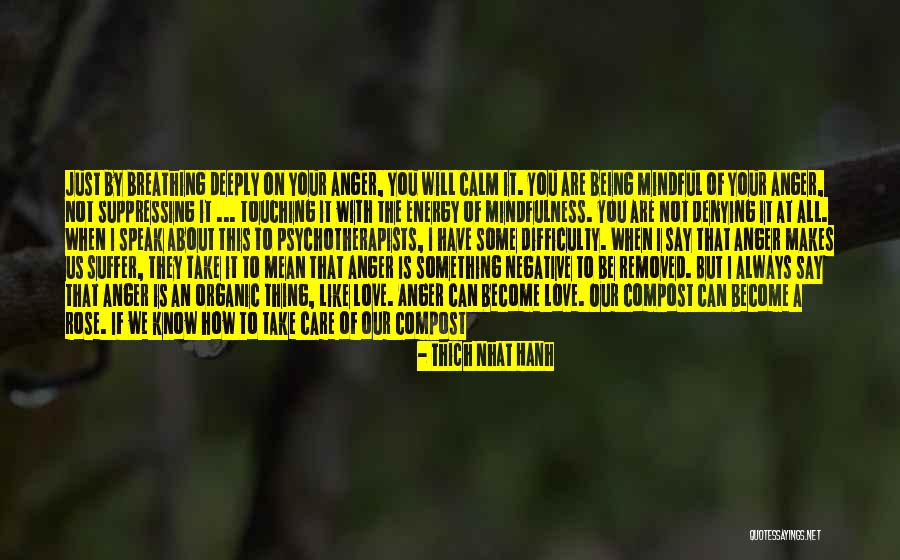 Just by breathing deeply on your anger, you will calm it. You are being mindful of your anger, not suppressing it ... touching it with the energy of mindfulness. You are not denying it at all. When I speak about this to psychotherapists, I have some difficulty. When I say that anger makes us suffer, they take it to mean that anger is something negative to be removed. But I always say that anger is an organic thing, like love. Anger can become love. Our compost can become a rose. If we know how to take care of our compost ... Anger is the same. It can be negative when we do not know how to handle it, but if we know how to handle our anger, it can be very positive. We do not need to throw anything away, (50). — Thich Nhat Hanh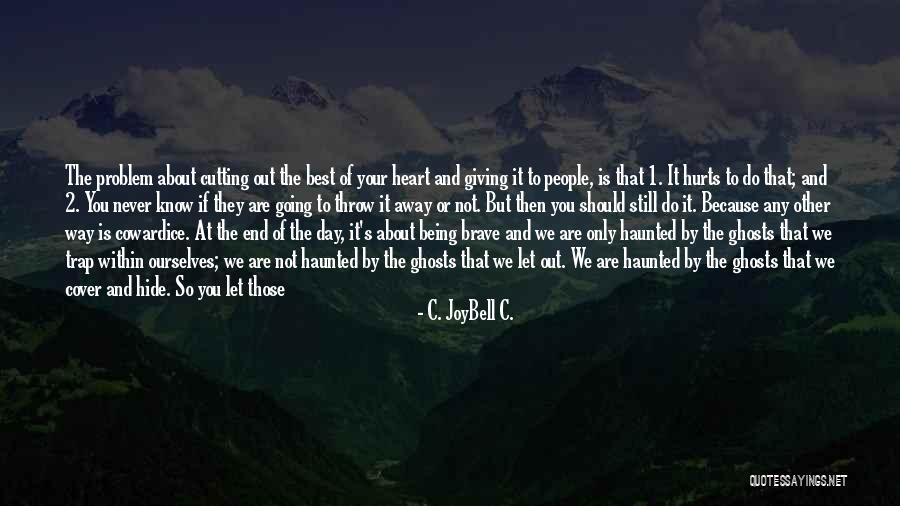 The problem about cutting out the best of your heart and giving it to people, is that 1. It hurts to do that; and 2. You never know if they are going to throw it away or not. But then you should still do it. Because any other way is cowardice. At the end of the day, it's about being brave and we are only haunted by the ghosts that we trap within ourselves; we are not haunted by the ghosts that we let out. We are haunted by the ghosts that we cover and hide. So you let those ghosts out in that best piece of your heart that you give to someone. And if the other person throws it away? Or doesn't want it to begin with? Someone else will come along one day, cut out from his/her heart that exact same jagged shape that you cut out of your own heart, and make their piece of heart fit into the rest of yours. Wait for that person. And you can fill their missing piece with your soul. — C. JoyBell C.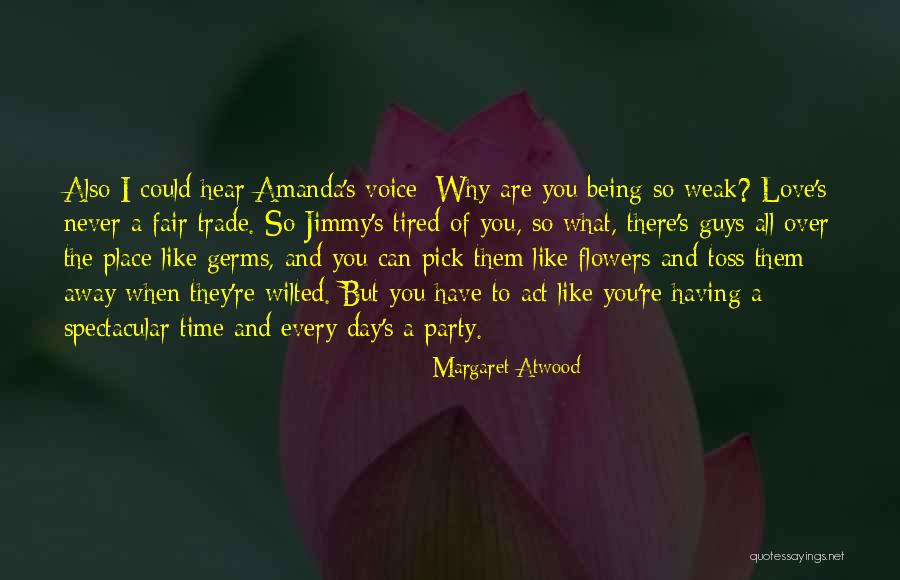 Also I could hear Amanda's voice: Why are you being so weak? Love's never a fair trade. So Jimmy's tired of you, so what, there's guys all over the place like germs, and you can pick them like flowers and toss them away when they're wilted. But you have to act like you're having a spectacular time and every day's a party. — Margaret Atwood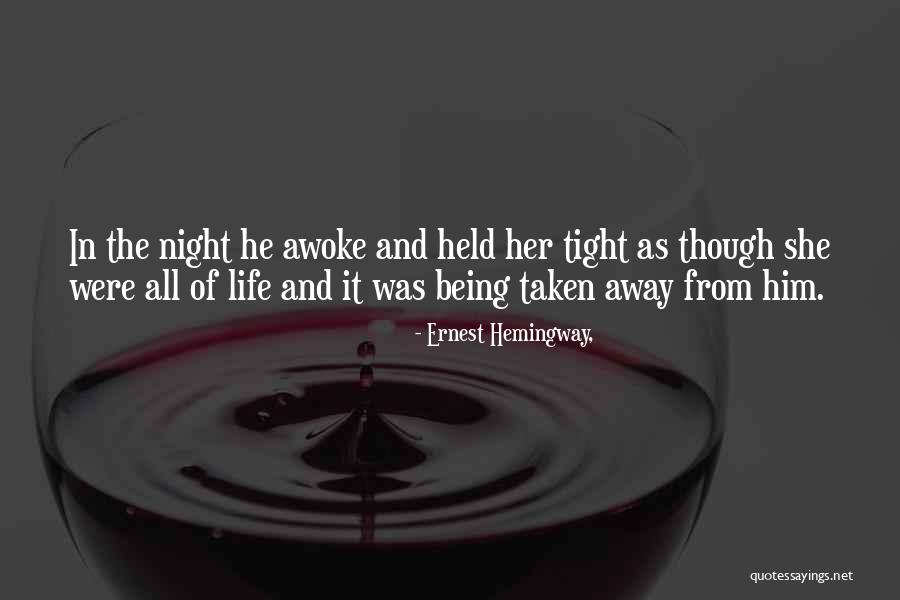 In the night he awoke and held her tight as though she were all of life and it was being taken away from him. — Ernest Hemingway,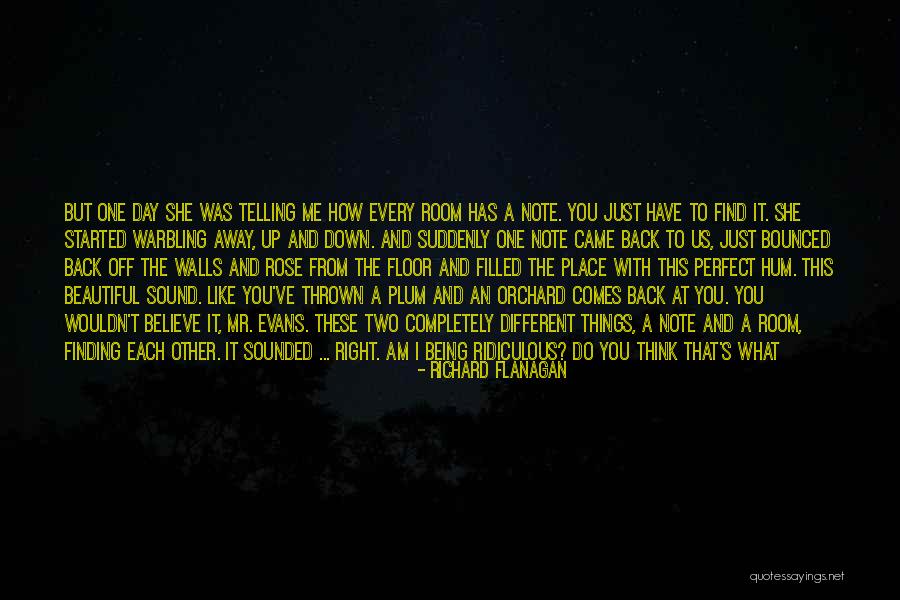 But one day she was telling me how every room has a note. You just have to find it. She started warbling away, up and down. And suddenly one note came back to us, just bounced back off the walls and rose from the floor and filled the place with this perfect hum. This beautiful sound. Like you've thrown a plum and an orchard comes back at you. You wouldn't believe it, Mr. Evans. These two completely different things, a note and a room, finding each other. It sounded ... right. Am I being ridiculous? Do you think that's what we mean by love, Mr. Evans? The note that comes back to you? That finds you even when you don't want to be found? That one day you find someone, and everything they are comes back to you in a strange way that hums? That fits. That's beautiful. — Richard Flanagan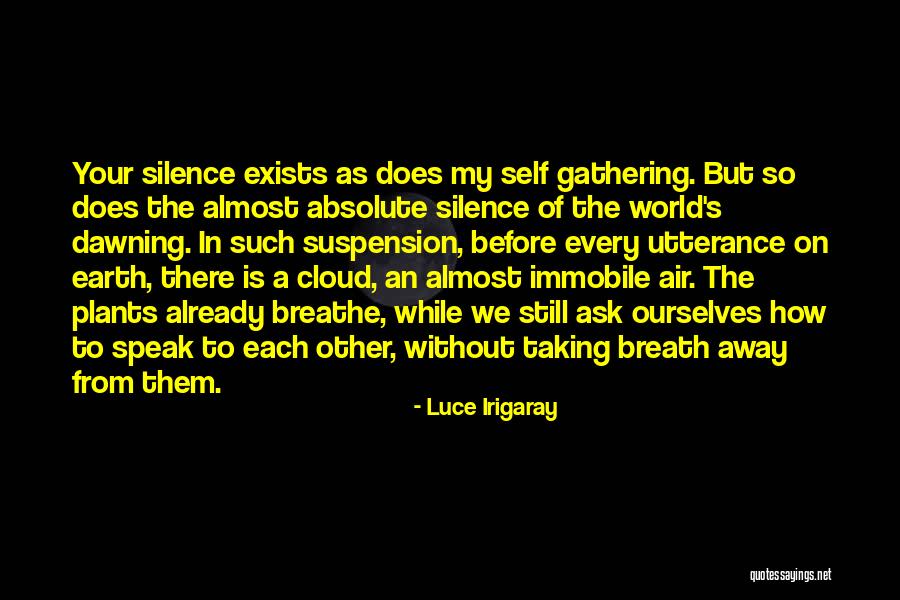 Your silence exists as does my self gathering. But so does the almost absolute silence of the world's dawning. In such suspension, before every utterance on earth, there is a cloud, an almost immobile air. The plants already breathe, while we still ask ourselves how to speak to each other, without taking breath away from them. — Luce Irigaray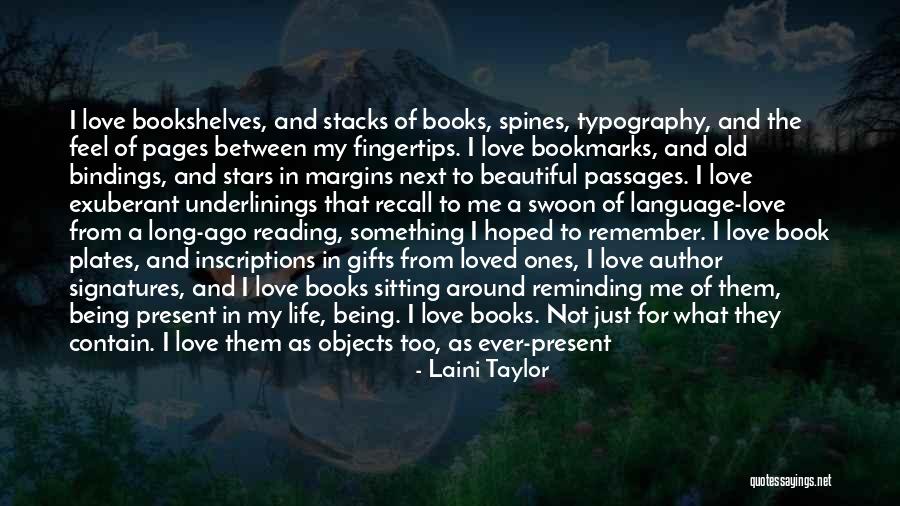 I love bookshelves, and stacks of books, spines, typography, and the feel of pages between my fingertips. I love bookmarks, and old bindings, and stars in margins next to beautiful passages. I love exuberant underlinings that recall to me a swoon of language-love from a long-ago reading, something I hoped to remember. I love book plates, and inscriptions in gifts from loved ones, I love author signatures, and I love books sitting around reminding me of them, being present in my life, being. I love books. Not just for what they contain. I love them as objects too, as ever-present reminders of what they contain, and because they are beautiful. They are one of my favorite things in life, really at the tiptop of the list, easily my favorite inanimate things in existence, and ... I am just not cottoning on to this idea of making them ... not exist anymore. Making them cease to take up space in the world, in my life? No, please do not take away the physical reality of my books. — Laini Taylor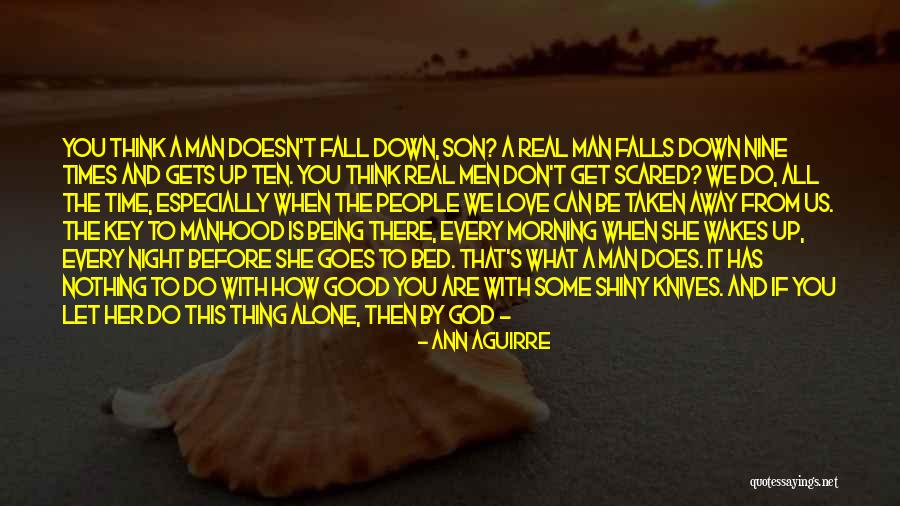 You think a man doesn't fall down, son? A real man falls down nine times and gets up ten. You think real men don't get scared? We do, all the time, especially when the people we love can be taken away from us. The key to manhood is being there, every morning when she wakes up, every night before she goes to bed. That's what a man does. It has nothing to do with how good you are with some shiny knives. And if you let her do this thing alone, then by God - — Ann Aguirre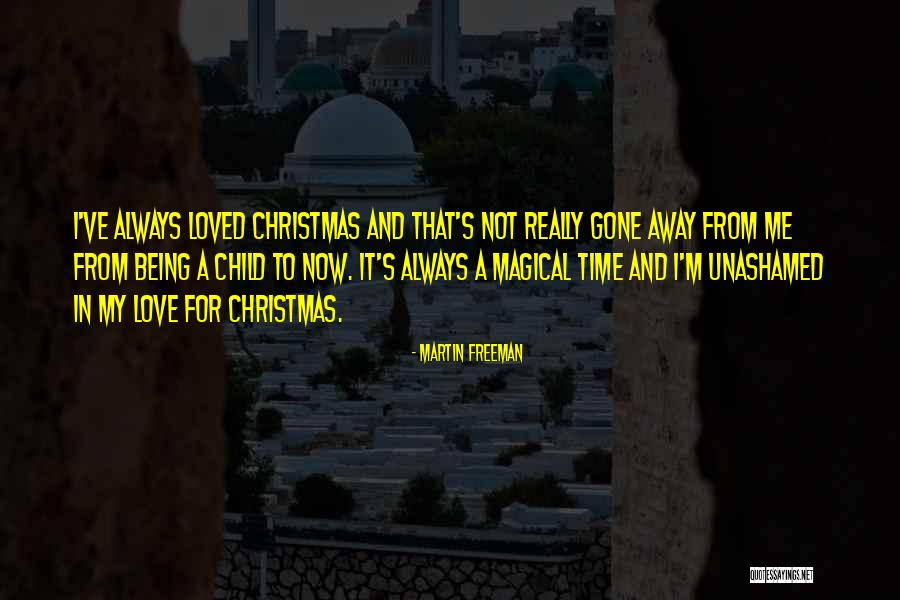 I've always loved Christmas and that's not really gone away from me from being a child to now. It's always a magical time and I'm unashamed in my love for Christmas. — Martin Freeman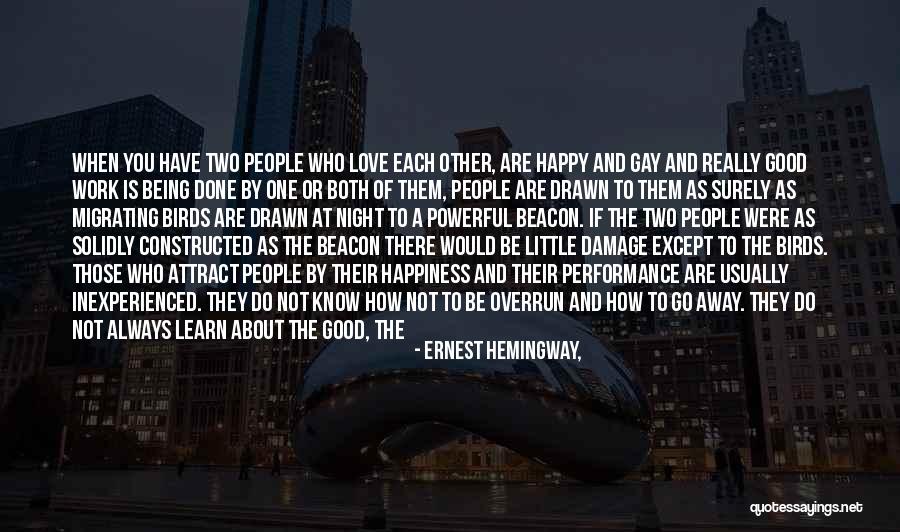 When you have two people who love each other, are happy and gay and really good work is being done by one or both of them, people are drawn to them as surely as migrating birds are drawn at night to a powerful beacon. If the two people were as solidly constructed as the beacon there would be little damage except to the birds. Those who attract people by their happiness and their performance are usually inexperienced. They do not know how not to be overrun and how to go away. They do not always learn about the good, the attractive, the charming, the soon-beloved, the generous, the understanding rich who have no bad qualities and who give each day the quality of a festival and who, when they have passed and taken the nourishment they needed, leave everything deader than the roots of any grass Attila's horses' hooves have ever scoured. — Ernest Hemingway,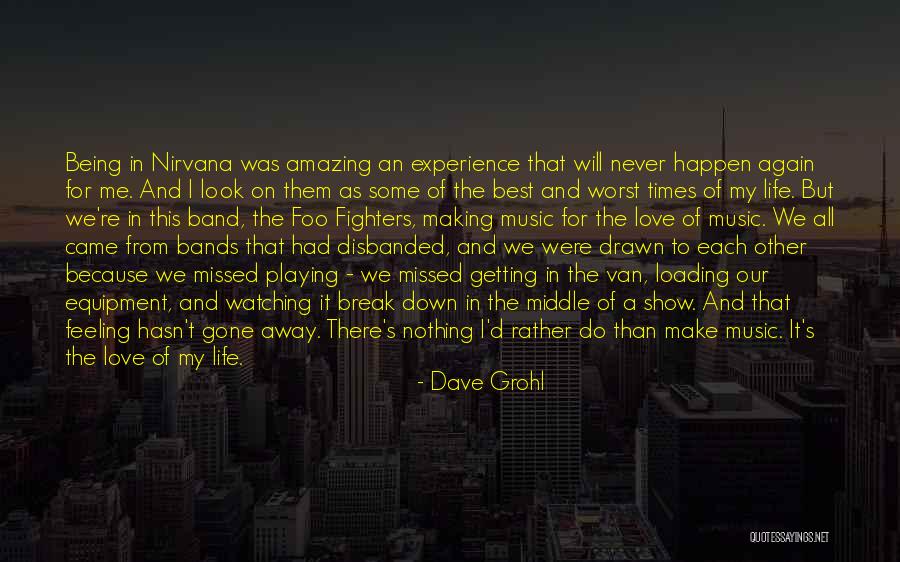 Being in Nirvana was amazing an experience that will never happen again for me. And I look on them as some of the best and worst times of my life. But we're in this band, the Foo Fighters, making music for the love of music. We all came from bands that had disbanded, and we were drawn to each other because we missed playing - we missed getting in the van, loading our equipment, and watching it break down in the middle of a show. And that feeling hasn't gone away. There's nothing I'd rather do than make music. It's the love of my life. — Dave Grohl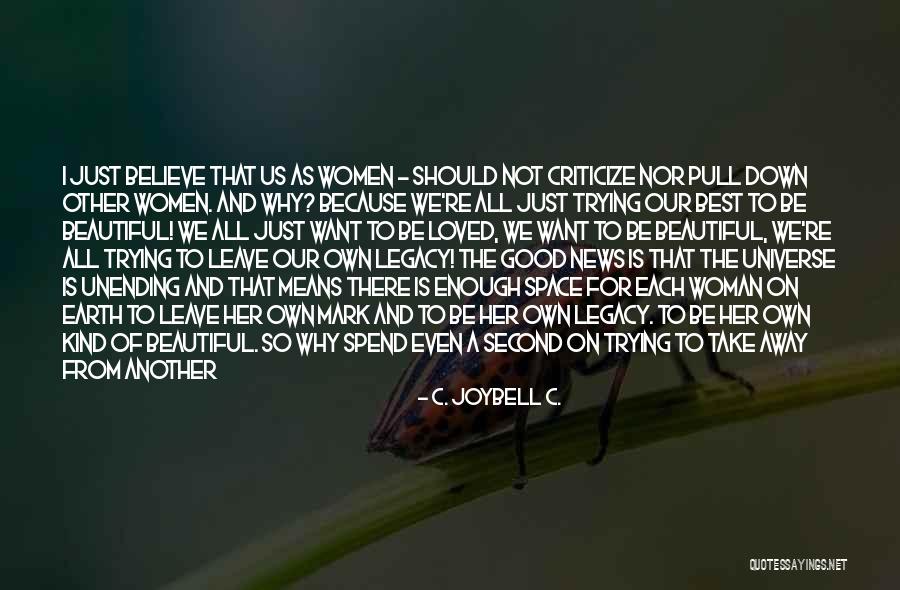 I just believe that us as women - should not criticize nor pull down other women. And why? Because we're all just trying our best to be beautiful! We all just want to be loved, we want to be beautiful, we're all trying to leave our own legacy! The good news is that the universe is unending and that means there is enough space for each woman on earth to leave her own mark and to be her own legacy. To be her own kind of beautiful. So why spend even a second on trying to take away from another woman? Trying to steal, trying to criticize, trying to oppress? There is enough space for every woman and every kind of beautiful, in this vast cosmos! When you waste any amount of time trying to take what is another's - you are wasting your huge chunk of a galaxy that's already been given to you! — C. JoyBell C.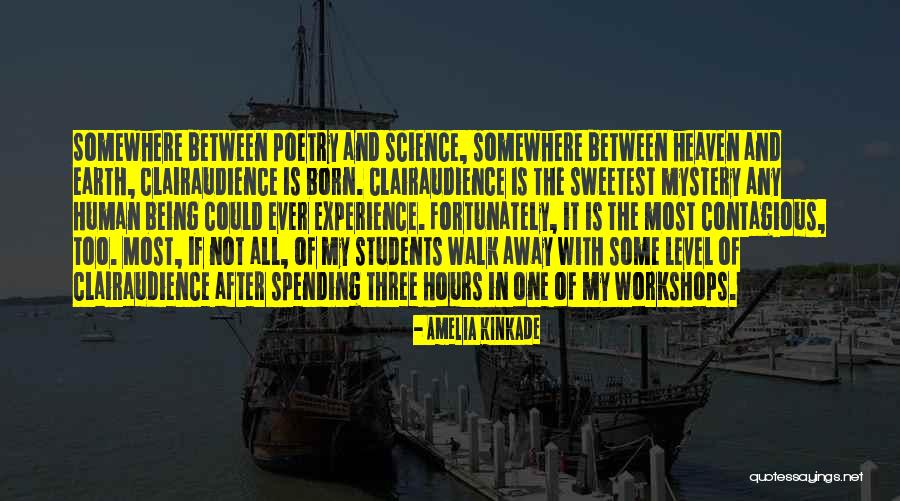 Somewhere between poetry and science, somewhere between heaven and earth, clairaudience is born. Clairaudience is the sweetest mystery any human being could ever experience. Fortunately, it is the most contagious, too. Most, if not all, of my students walk away with some level of clairaudience after spending three hours in one of my workshops. — Amelia Kinkade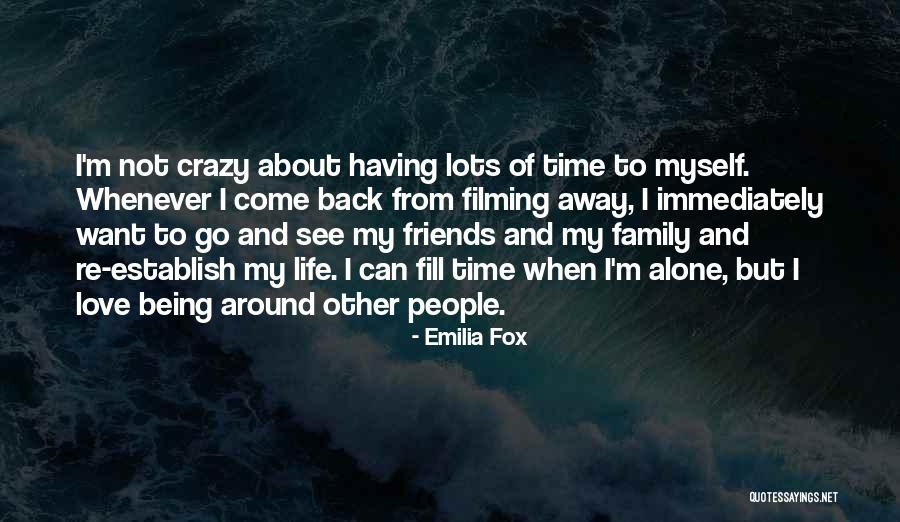 I'm not crazy about having lots of time to myself. Whenever I come back from filming away, I immediately want to go and see my friends and my family and re-establish my life. I can fill time when I'm alone, but I love being around other people. — Emilia Fox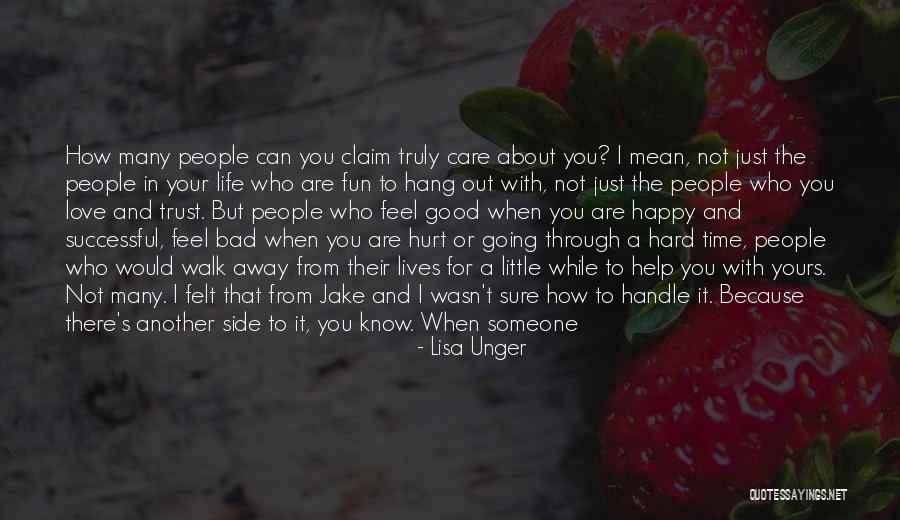 How many people can you claim truly care about you? I mean, not just the people in your life who are fun to hang out with, not just the people who you love and trust. But people who feel good when you are happy and successful, feel bad when you are hurt or going through a hard time, people who would walk away from their lives for a little while to help you with yours. Not many. I felt that from Jake and I wasn't sure how to handle it. Because there's another side to it, you know. When someone is invested in your well-being, like your parents, for example, you become responsible for them in a way. Anything you do to hurt yourself hurts them. I already felt responsible for too many people that way. You're not really free when people care about you; not if you care about them. — Lisa Unger