Quotes & Sayings About Being A Compassionate Person
Enjoy reading and share 18 famous quotes about Being A Compassionate Person with everyone.
Top Being A Compassionate Person Quotes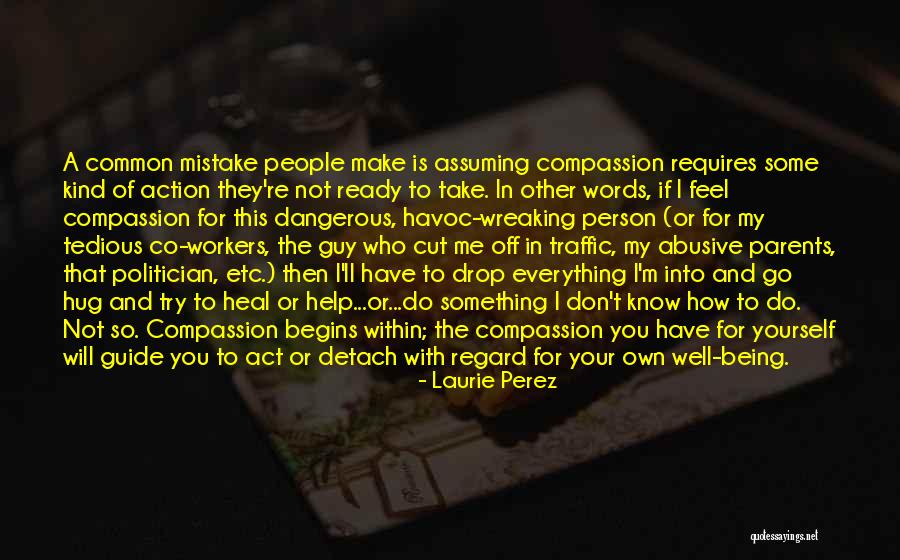 A common mistake people make is assuming compassion requires some kind of action they're not ready to take. In other words, if I feel compassion for this dangerous, havoc-wreaking person (or for my tedious co-workers, the guy who cut me off in traffic, my abusive parents, that politician, etc.) then I'll have to drop everything I'm into and go hug and try to heal or help...or
...do something I don't know how to do. Not so.

Compassion begins within; the compassion you have for yourself will guide you to act or detach with regard for your own well-being. — Laurie Perez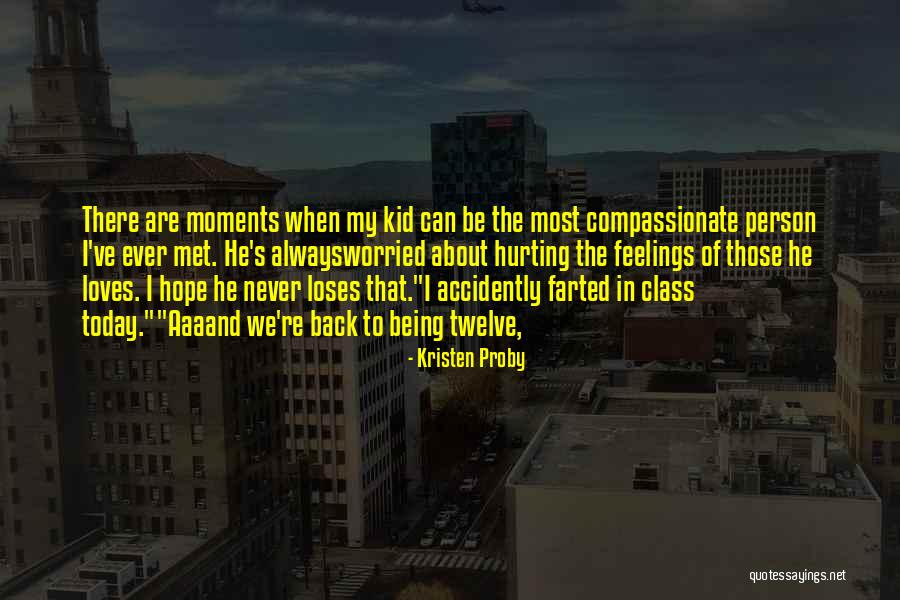 There are moments when my kid can be the most compassionate person I've ever met. He's always
worried about hurting the feelings of those he loves. I hope he never loses that.
"I accidently farted in class today."
"Aaaand we're back to being twelve, — Kristen Proby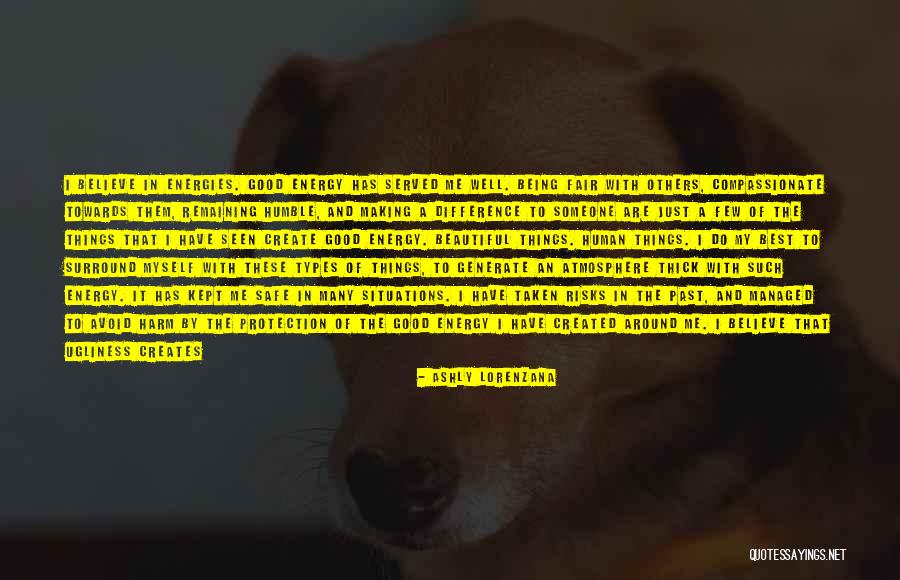 I believe in energies. Good energy has served me well. Being fair with others, compassionate towards them, remaining humble, and making a difference to someone are just a few of the things that I have seen create good energy. Beautiful things. Human things. I do my best to surround myself with these types of things, to generate an atmosphere thick with such energy. It has kept me safe in many situations. I have taken risks in the past, and managed to avoid harm by the protection of the good energy I have created around me. I believe that ugliness creates more ugliness. And no matter how touched by ugliness you are, you do not have to give in to it and start spreading it beyond yourself. I have seen this sickness and what it does to a person, and those around them. — Ashly Lorenzana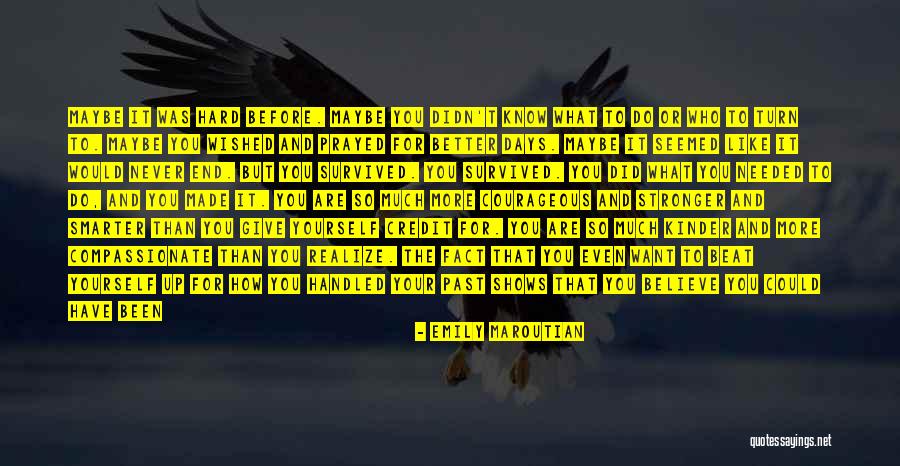 Maybe it was hard before. Maybe you didn't know what to do or who to turn to. Maybe you wished and prayed for better days. Maybe it seemed like it would never end. But you survived. You survived. You did what you needed to do, and you made it. You are so much more courageous and stronger and smarter than you give yourself credit for. You are so much kinder and more compassionate than you realize. The fact that you even want to beat yourself up for how you handled your past shows that you believe you could have been a better person. Only good people feel that way. Only good people believe they could have been better. Only good people want to be better. So be good to yourself. Let it go and let yourself be better. It doesn't start with you hurting yourself; it starts with you being good to yourself. You deserve it. — Emily Maroutian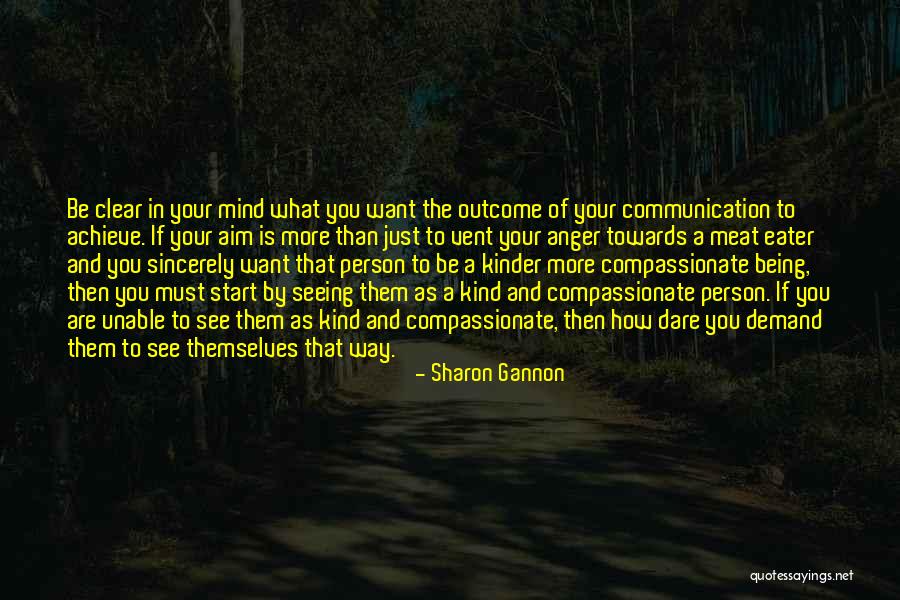 Be clear in your mind what you want the outcome of your communication to achieve. If your aim is more than just to vent your anger towards a meat eater and you sincerely want that person to be a kinder more compassionate being, then you must start by seeing them as a kind and compassionate person. If you are unable to see them as kind and compassionate, then how dare you demand them to see themselves that way. — Sharon Gannon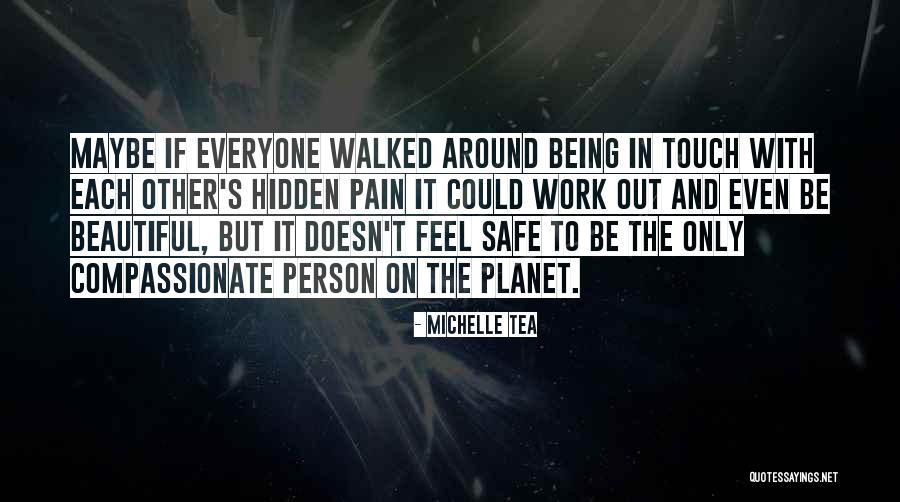 Maybe if everyone walked around being in touch with each other's hidden pain it could work out and even be beautiful, but it doesn't feel safe to be the only compassionate person on the planet. — Michelle Tea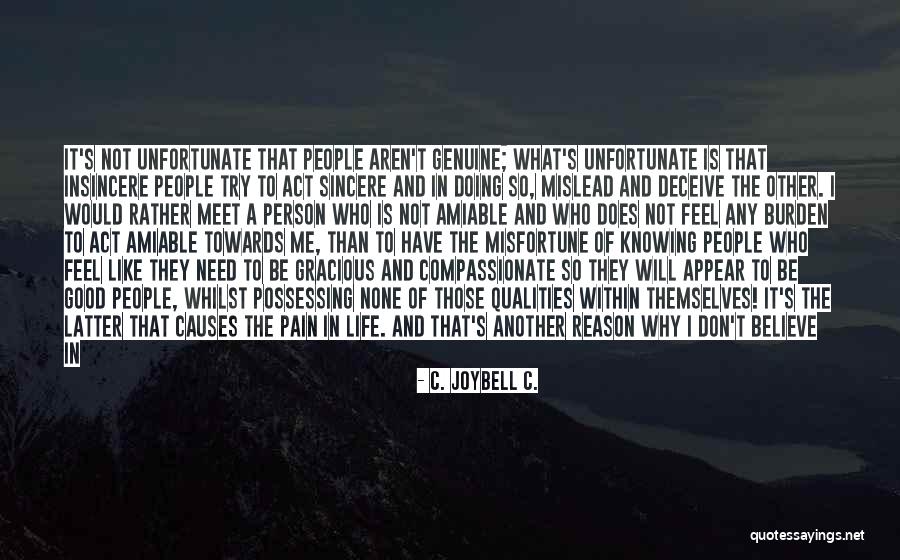 It's not unfortunate that people aren't genuine; what's unfortunate is that insincere people try to act sincere and in doing so, mislead and deceive the other. I would rather meet a person who is not amiable and who does not feel any burden to act amiable towards me, than to have the misfortune of knowing people who feel like they need to be gracious and compassionate so they will appear to be good people, whilst possessing none of those qualities within themselves! It's the latter that causes the pain in life. And that's another reason why I don't believe in religion; I have observed that religion tells people that it is highly prized a quality to act kind and compassionate and so on and so forth, but some people just do not have these innate qualities within them! We get deceived, and I'd rather not be deceived! I'd rather be able to see a person for who he/she is and not judge a brute for being a brute, but avoid the brute who carries the burden of acting like a wonderful one! — C. JoyBell C.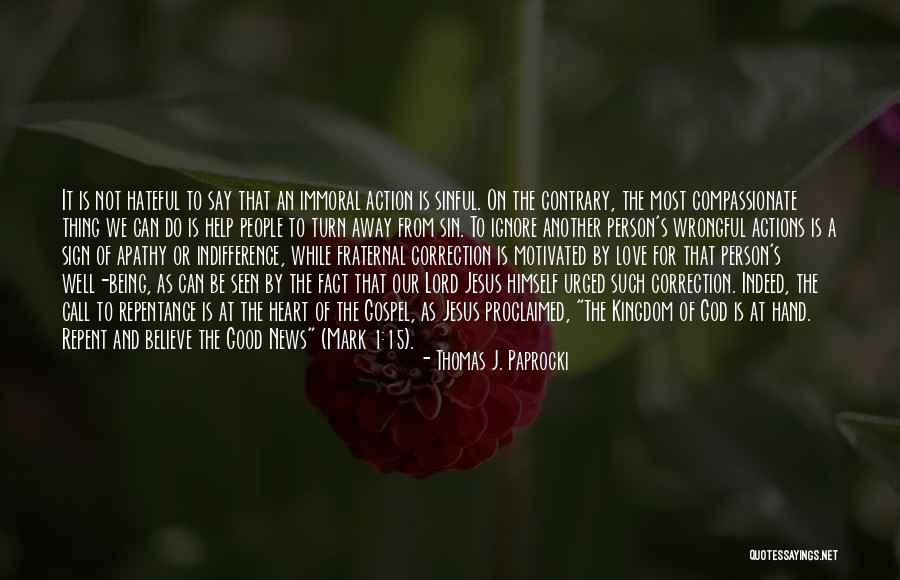 It is not hateful to say that an immoral action is sinful. On the contrary, the most compassionate thing we can do is help people to turn away from sin. To ignore another person's wrongful actions is a sign of apathy or indifference, while fraternal correction is motivated by love for that person's well-being, as can be seen by the fact that our Lord Jesus himself urged such correction. Indeed, the call to repentance is at the heart of the Gospel, as Jesus proclaimed, "The Kingdom of God is at hand. Repent and believe the Good News" (Mark 1:15). — Thomas J. Paprocki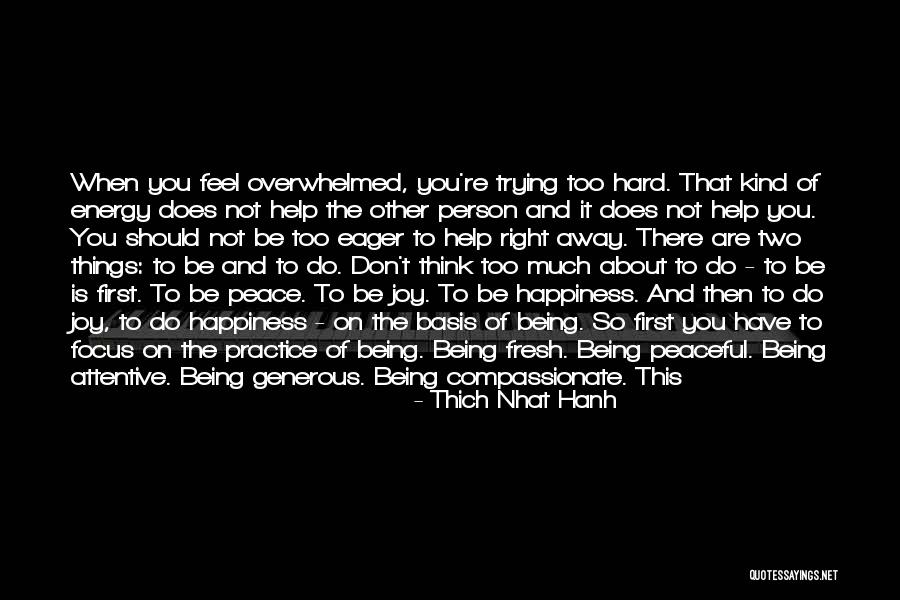 When you feel overwhelmed, you're trying too hard. That kind of energy does not help the other person and it does not help you. You should not be too eager to help right away. There are two things: to be and to do. Don't think too much about to do - to be is first. To be peace. To be joy. To be happiness. And then to do joy, to do happiness - on the basis of being. So first you have to focus on the practice of being. Being fresh. Being peaceful. Being attentive. Being generous. Being compassionate. This is the basic practice. It's like if the other person is sitting at the foot of a tree. The tree does not do anything, but the tree is fresh and alive. When you are like that tree, sending out waves of freshness, you help to calm down the suffering in the other person. — Thich Nhat Hanh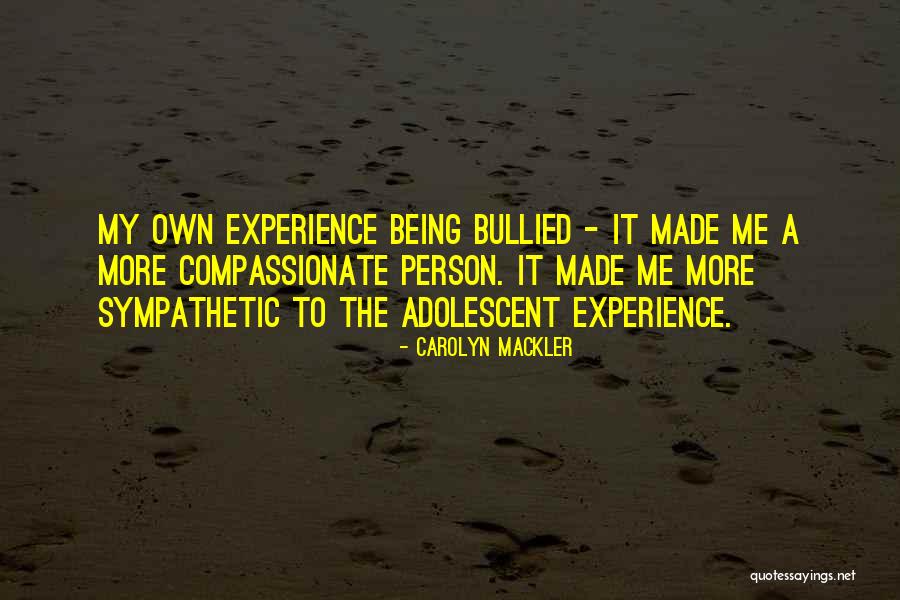 My own experience being bullied - it made me a more compassionate person. It made me more sympathetic to the adolescent experience. — Carolyn Mackler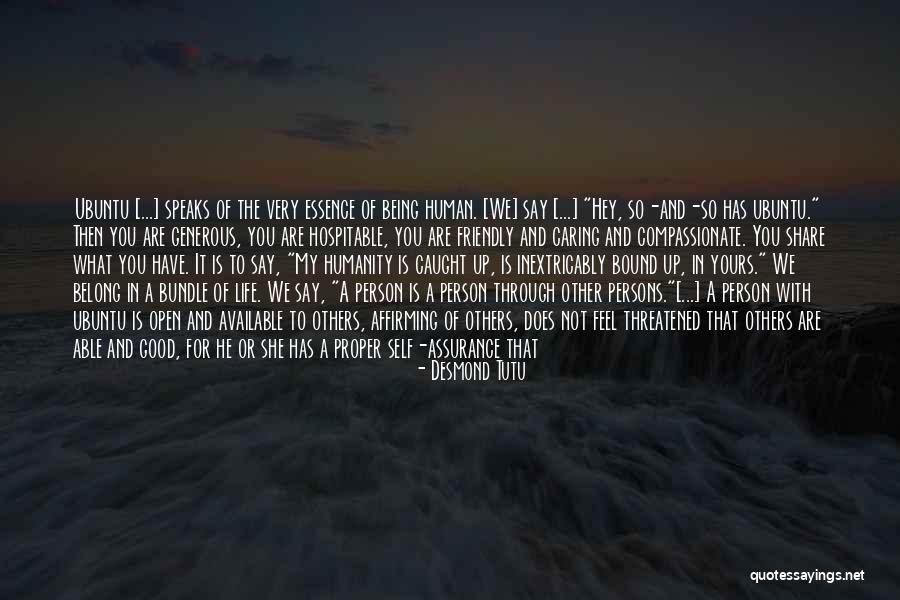 Ubuntu [...] speaks of the very essence of being human. [We] say [...] "Hey, so-and-so has ubuntu." Then you are generous, you are hospitable, you are friendly and caring and compassionate. You share what you have. It is to say, "My humanity is caught up, is inextricably bound up, in yours." We belong in a bundle of life. We say, "A person is a person through other persons."

[...] A person with ubuntu is open and available to others, affirming of others, does not feel threatened that others are able and good, for he or she has a proper self-assurance that comes from knowing that he or she belongs in a greater whole and is diminished when others are humiliated or diminished, when others are tortured or oppressed, or treated as if they were less than who they are. — Desmond Tutu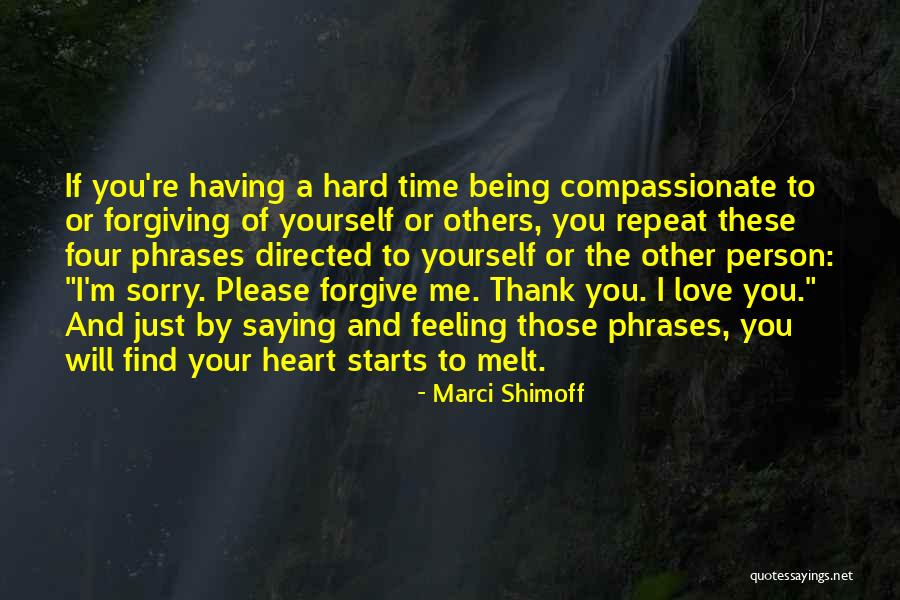 If you're having a hard time being compassionate to or forgiving of yourself or others, you repeat these four phrases directed to yourself or the other person: "I'm sorry. Please forgive me. Thank you. I love you." And just by saying and feeling those phrases, you will find your heart starts to melt. — Marci Shimoff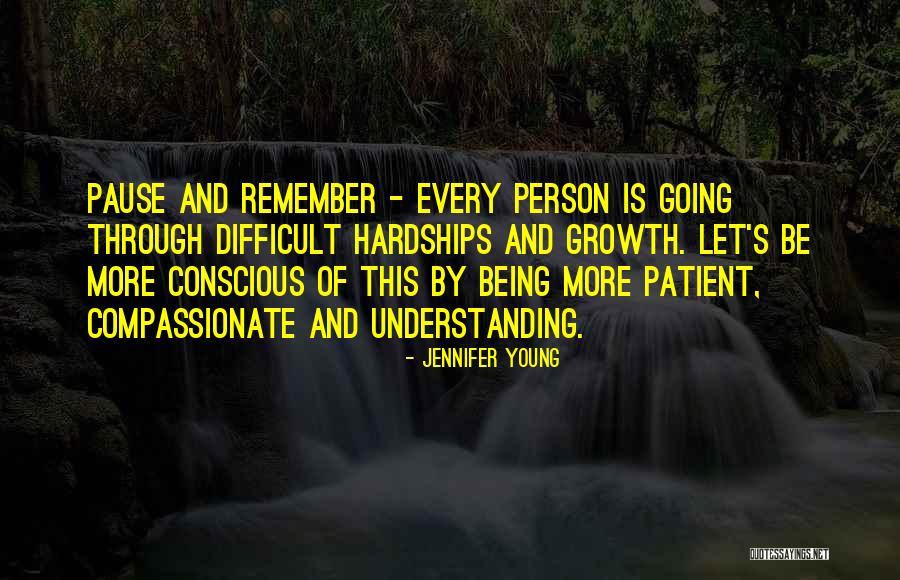 Pause and remember - Every person is going through difficult hardships and growth. Let's be more conscious of this by being more patient, compassionate and understanding. — Jennifer Young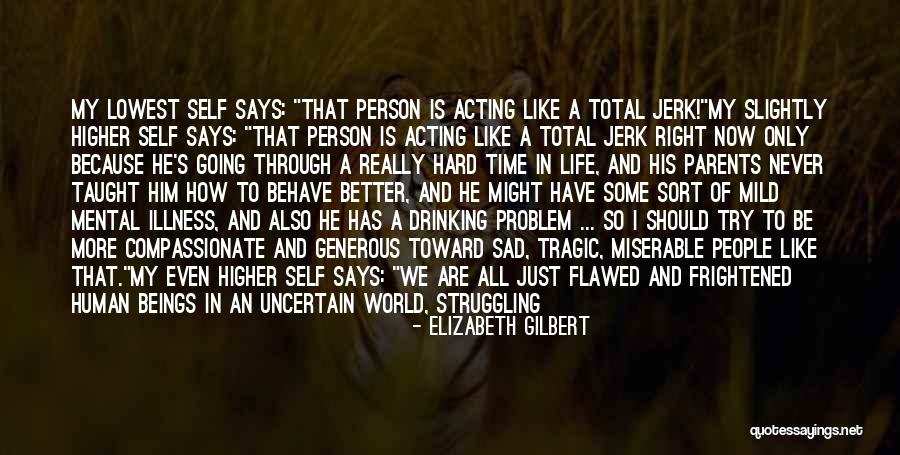 My lowest self says: "That person is acting like a total jerk!"
My slightly higher self says: "That person is acting like a total jerk right now only because he's going through a really hard time in life, and his parents never taught him how to behave better, and he might have some sort of mild mental illness, and also he has a drinking problem ... so I should try to be more compassionate and generous toward sad, tragic, miserable people like that."
My even higher self says: "We are all just flawed and frightened human beings in an uncertain world, struggling to survive."
Then finally my VERY highest self says: "Lord, please help me stop acting like a total jerk."
... and that's when it finally stops being about the other person at all. — Elizabeth Gilbert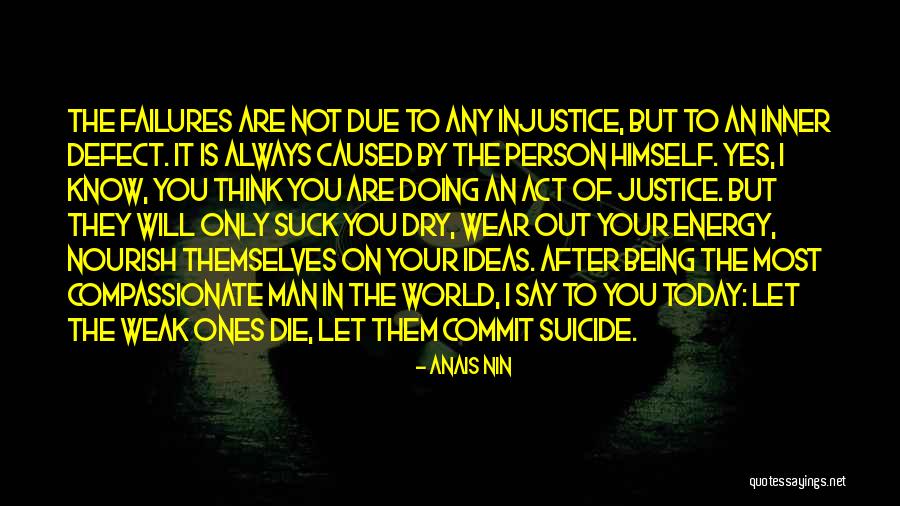 The failures are not due to any injustice, but to an inner defect. It is always caused by the person himself. Yes, I know, you think you are doing an act of justice. But they will only suck you dry, wear out your energy, nourish themselves on your ideas. After being the most compassionate man in the world, I say to you today: Let the weak ones die, let them commit suicide. — Anais Nin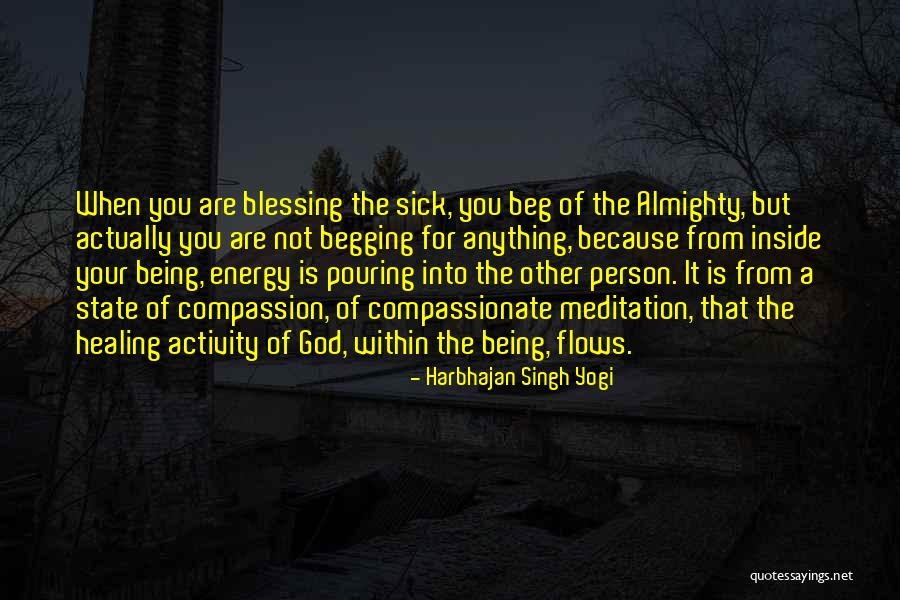 When you are blessing the sick, you beg of the Almighty, but actually you are not begging for anything, because from inside your being, energy is pouring into the other person. It is from a state of compassion, of compassionate meditation, that the healing activity of God, within the being, flows. — Harbhajan Singh Yogi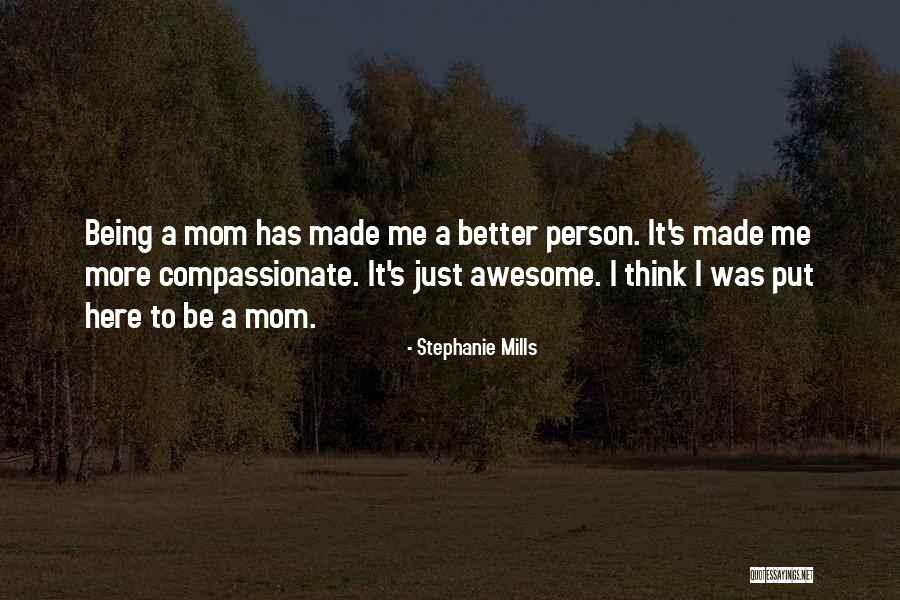 Being a mom has made me a better person. It's made me more compassionate. It's just awesome. I think I was put here to be a mom. — Stephanie Mills