Quotes & Sayings About Beginning A New Relationship
Enjoy reading and share 14 famous quotes about Beginning A New Relationship with everyone.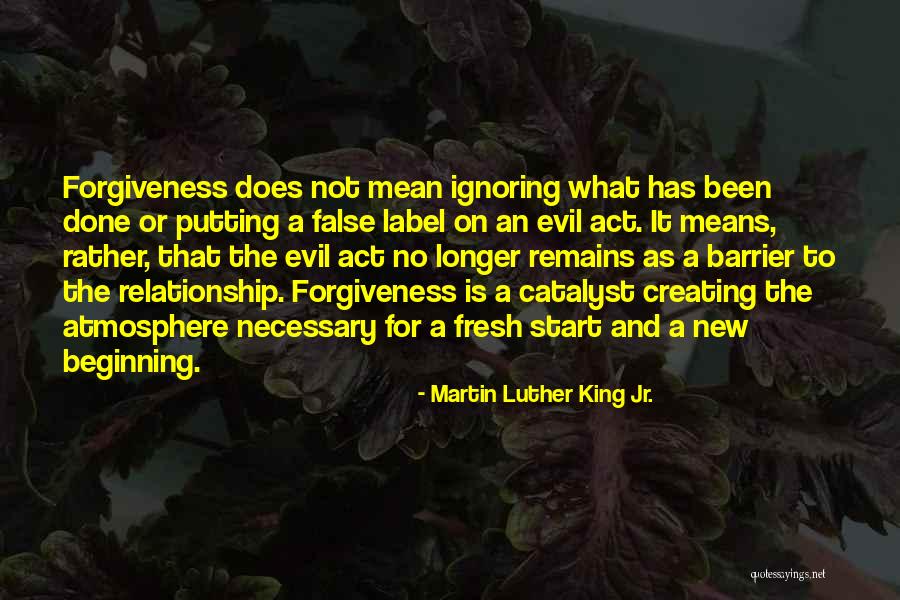 Forgiveness does not mean ignoring what has been done or putting a false label on an evil act. It means, rather, that the evil act no longer remains as a barrier to the relationship. Forgiveness is a catalyst creating the atmosphere necessary for a fresh start and a new beginning. — Martin Luther King Jr.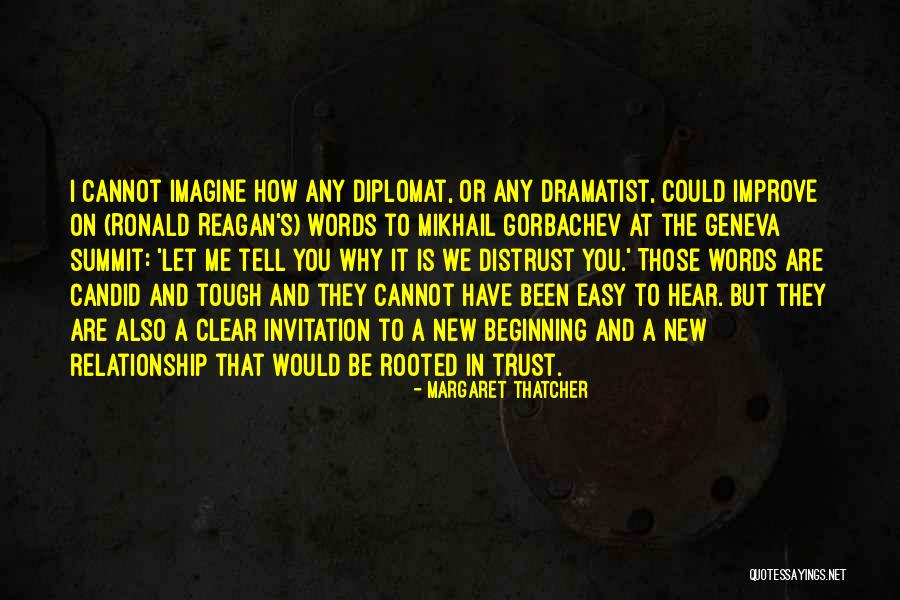 I cannot imagine how any diplomat, or any dramatist, could improve on (Ronald Reagan's) words to Mikhail Gorbachev at the Geneva summit: 'Let me tell you why it is we distrust you.' Those words are candid and tough and they cannot have been easy to hear. But they are also a clear invitation to a new beginning and a new relationship that would be rooted in trust. — Margaret Thatcher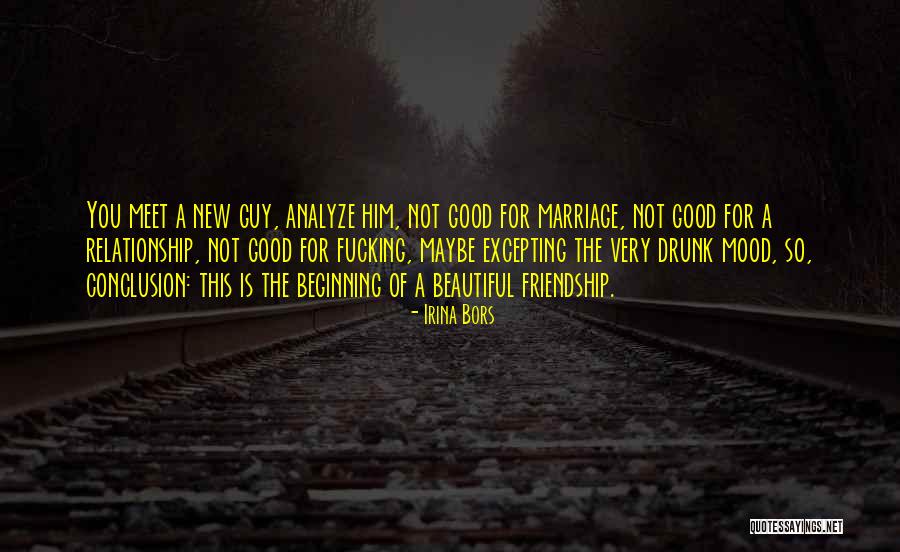 You meet a new guy, analyze him, not good for marriage, not good for a relationship, not good for fucking, maybe excepting the very drunk mood, so, conclusion: this is the beginning of a beautiful friendship. — Irina Bors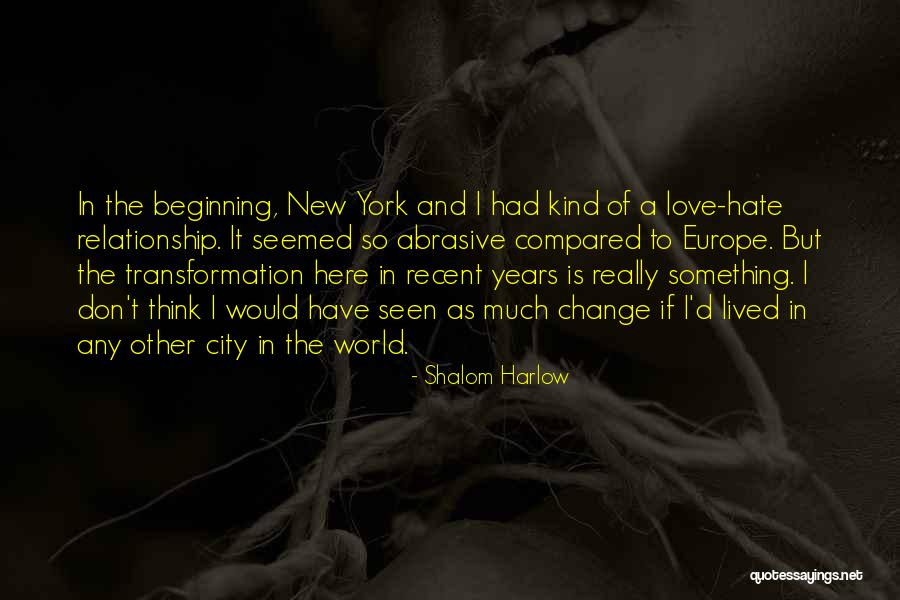 In the beginning, New York and I had kind of a love-hate relationship. It seemed so abrasive compared to Europe. But the transformation here in recent years is really something. I don't think I would have seen as much change if I'd lived in any other city in the world. — Shalom Harlow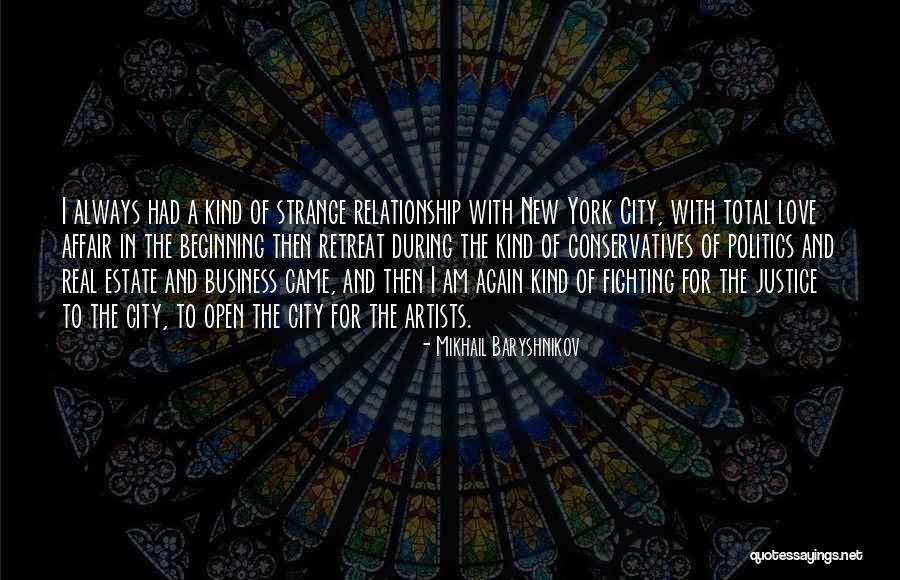 I always had a kind of strange relationship with New York City, with total love affair in the beginning then retreat during the kind of conservatives of politics and real estate and business came, and then I am again kind of fighting for the justice to the city, to open the city for the artists. — Mikhail Baryshnikov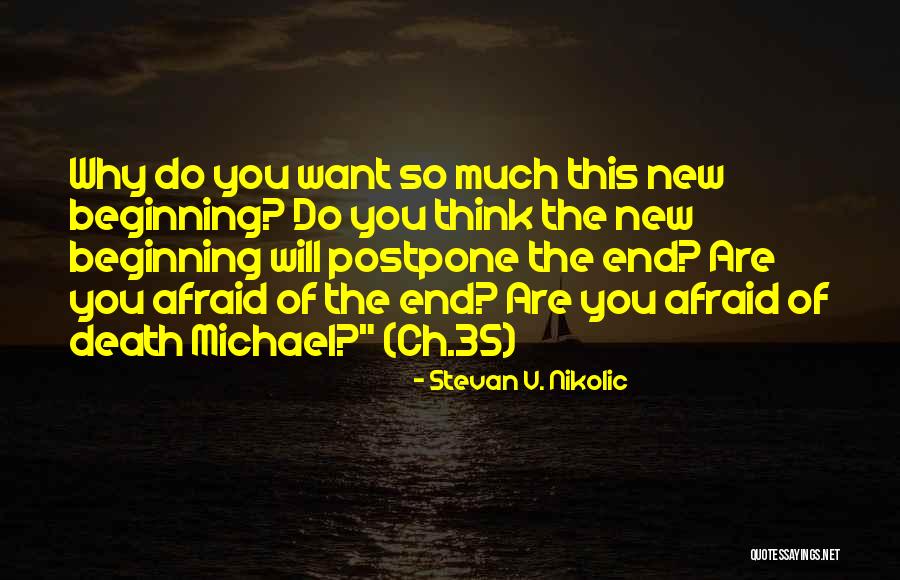 Why do you want so much this new beginning? Do you think the new beginning will postpone the end? Are you afraid of the end? Are you afraid of death Michael?" (Ch.35) — Stevan V. Nikolic
In preparing for this ceremony," Kai said, setting the bouquet on the mantel behind him, "I did some research and learned that the word Alpha has held many meanings across history. Alpha can refer to the first of something," said Kai, "or the beginning of everything. It can be attributed to a particularly powerful or charismatic person, or it can signify the dominant leader in a pack of animals, most notably, of course, wolves." His serious expression tweaked briefly into a teasing smile. "It has meanings in chemistry, physics, and even astronomy, where it describes the brightest star in a constellation. But it seems clear that Ze'ev and Scarlet have created their own definition for the word, and their relationship has given this word a new meaning for all of us. Being an Alpha means that you'll stand against all adversity to be with your mate. It means accepting each other, both for your strengths and your flaws. It means forging your own path to happiness and to love. — Marissa Meyer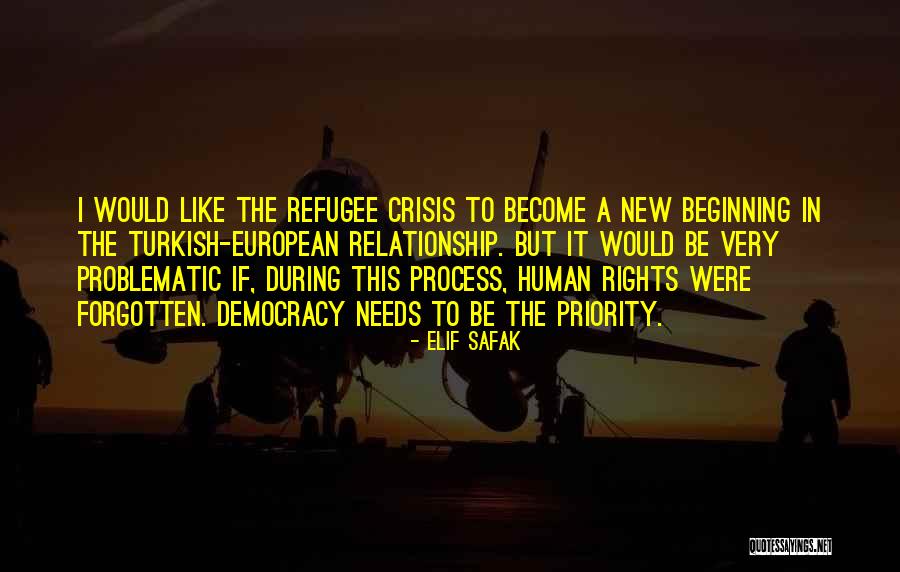 I would like the refugee crisis to become a new beginning in the Turkish-European relationship. But it would be very problematic if, during this process, human rights were forgotten. Democracy needs to be the priority. — Elif Safak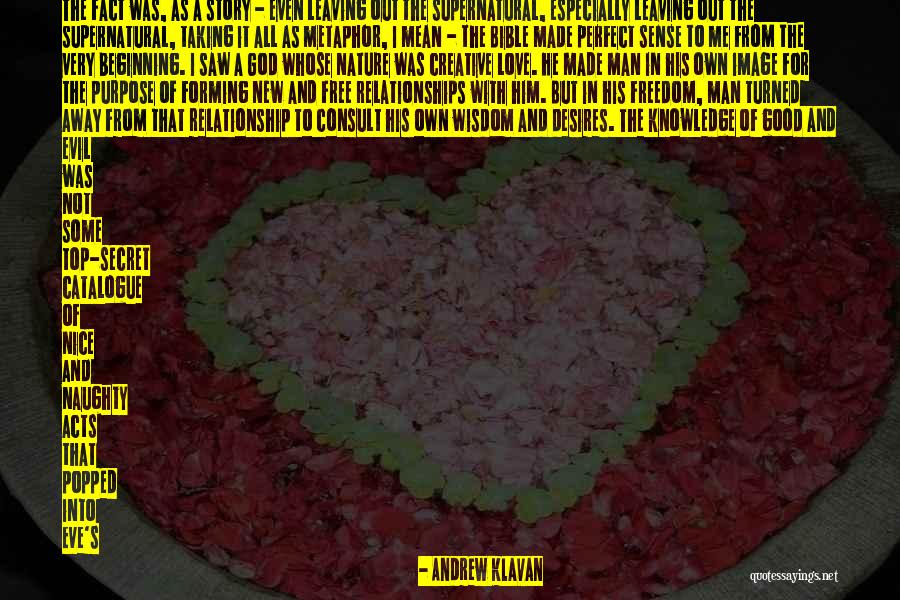 The fact was, as a story - even leaving out the supernatural, especially leaving out the supernatural, taking it all as metaphor, I mean - the Bible made perfect sense to me from the very beginning. I saw a God whose nature was creative love. He made man in his own image for the purpose of forming new and free relationships with him. But in his freedom, man turned away from that relationship to consult his own wisdom and desires. The knowledge of good and evil was not some top-secret catalogue of nice and naughty acts that popped into Eve's mind when a talking snake got her to eat the magic fruit. The knowledge was built into the action of disobedience itself: it's what she learned when she overruled the moral law God had placed within her. There was no going back from that. The original sin poisoned all history. History's murders, rapes, wars, oppressions, and injustices are now the inescapable plot of the story we're in. The — Andrew Klavan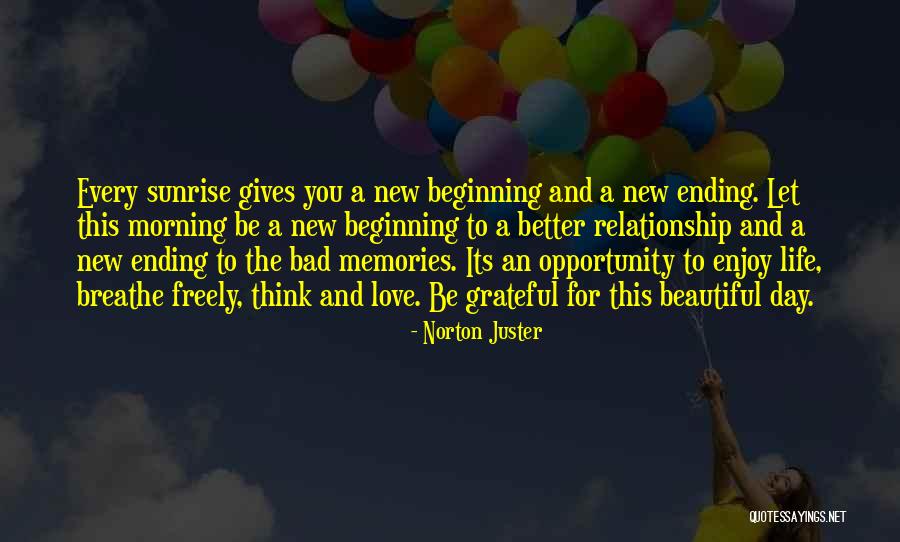 Every sunrise gives you a new beginning and a new ending. Let this morning be a new beginning to a better relationship and a new ending to the bad memories. Its an opportunity to enjoy life, breathe freely, think and love. Be grateful for this beautiful day. — Norton Juster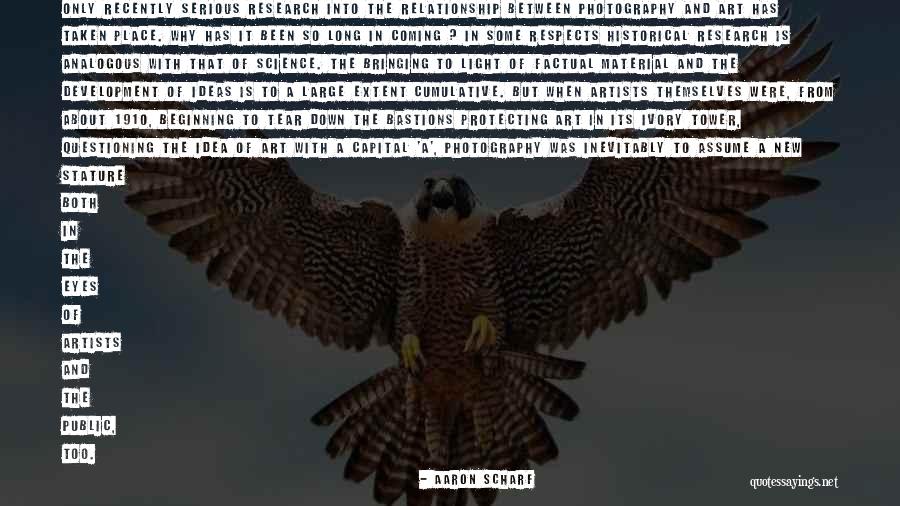 Only recently serious research into the relationship between photography and art has taken place. Why has it been so long in coming ? In some respects historical research is analogous with that of science. The bringing to light of factual material and the development of ideas is to a large extent cumulative. But when artists themselves were, from about 1910, beginning to tear down the bastions protecting Art in its ivory tower, questioning the idea of Art with a capital 'A', photography was inevitably to assume a new stature both in the eyes of artists and the public, too. — Aaron Scharf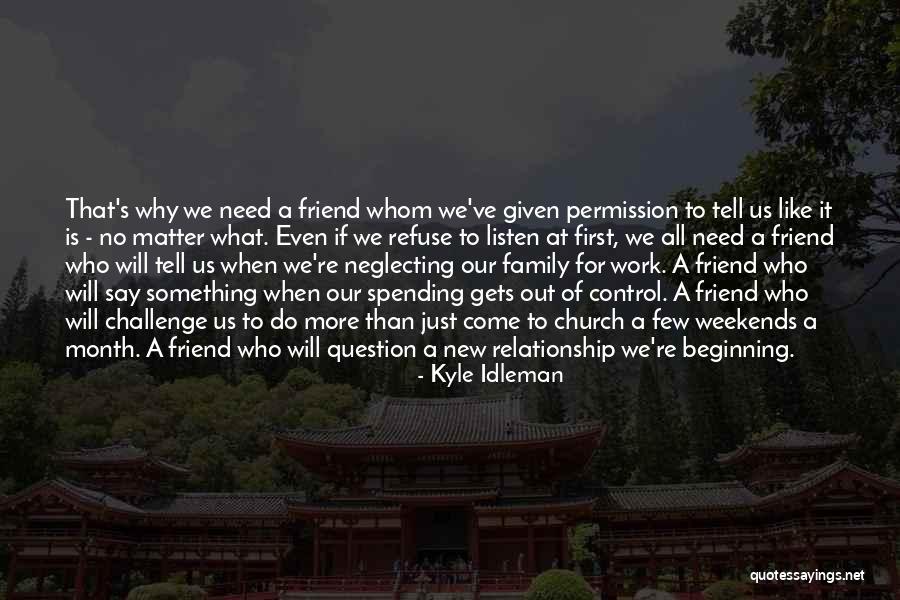 That's why we need a friend whom we've given permission to tell us like it is - no matter what. Even if we refuse to listen at first, we all need a friend who will tell us when we're neglecting our family for work. A friend who will say something when our spending gets out of control. A friend who will challenge us to do more than just come to church a few weekends a month. A friend who will question a new relationship we're beginning. — Kyle Idleman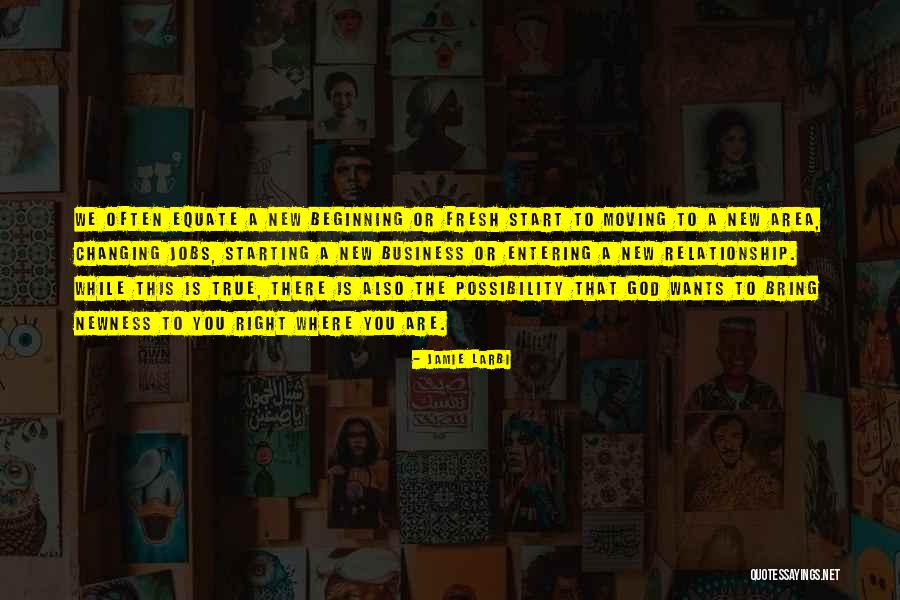 We often equate a new beginning or fresh start to moving to a new area, changing jobs, starting a new business or entering a new relationship. While this is true, there is also the possibility that God wants to bring newness to you right where you are. — Jamie Larbi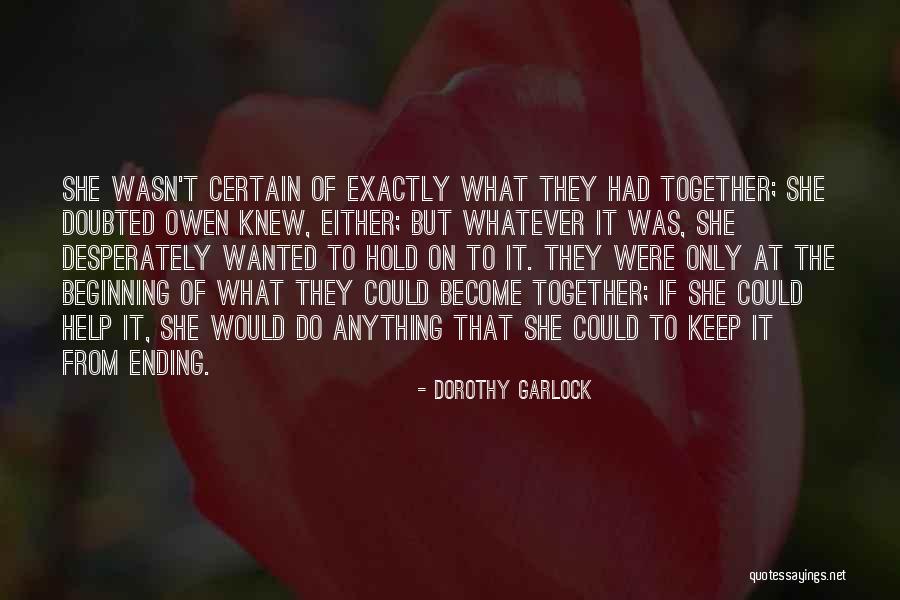 She wasn't certain of exactly what they had together; she doubted Owen knew, either; but whatever it was, she desperately wanted to hold on to it. They were only at the beginning of what they could become together; if she could help it, she would do anything that she could to keep it from ending. — Dorothy Garlock