Quotes & Sayings About Beautiful Moments In Life
Enjoy reading and share 57 famous quotes about Beautiful Moments In Life with everyone.
Top Beautiful Moments In Life Quotes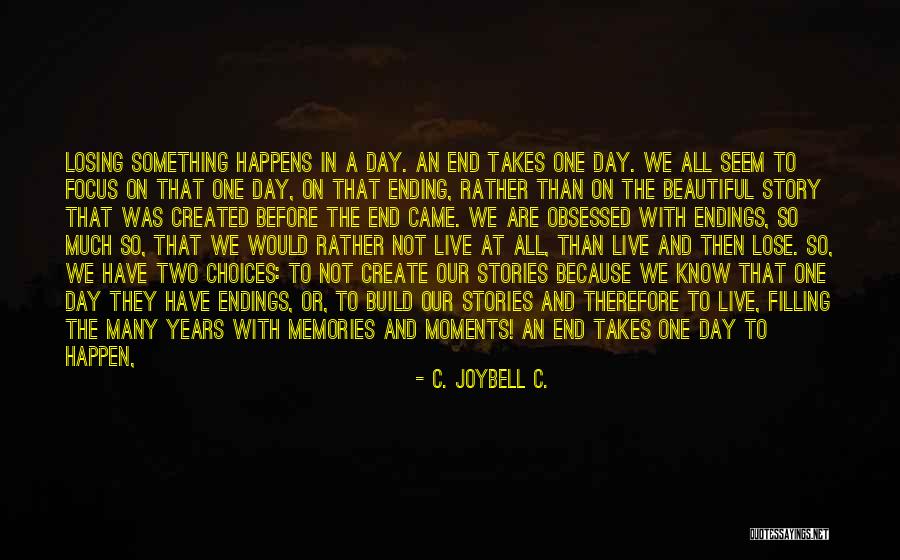 Losing something happens in a day. An end takes one day. We all seem to focus on that one day, on that ending, rather than on the beautiful story that was created before the end came. We are obsessed with endings, so much so, that we would rather not live at all, than live and then lose. So, we have two choices: to not create our stories because we know that one day they have endings, or, to build our stories and therefore to live, filling the many years with memories and moments! An end takes one day to happen, but life takes place in the moments and in the memories that we choose to feel, to build, to hold. Don't miss out on the years, for the fear of one day. — C. JoyBell C.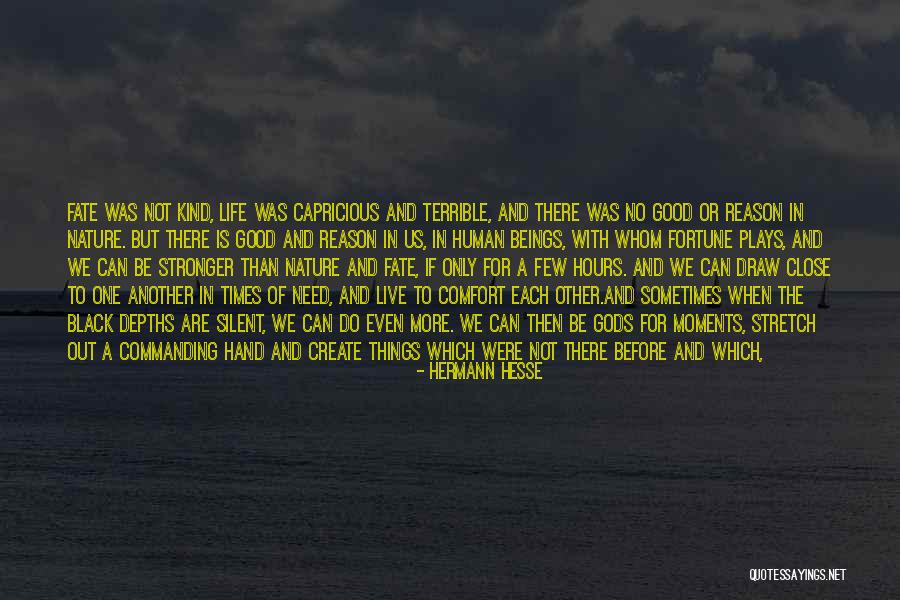 Fate was not kind, life was capricious and terrible, and there was no good or reason in nature. But there is good and reason in us, in human beings, with whom fortune plays, and we can be stronger than nature and fate, if only for a few hours. And we can draw close to one another in times of need, and live to comfort each other.

And sometimes when the black depths are silent, we can do even more. We can then be gods for moments, stretch out a commanding hand and create things which were not there before and which, when they are created, continue to live without us. Out of sounds, words and other frail and worthless things, we can construct playthings--songs and poems full of meaning, consolation and goodness, more beautiful and enduring than the grim sport of fortune and destiny. — Hermann Hesse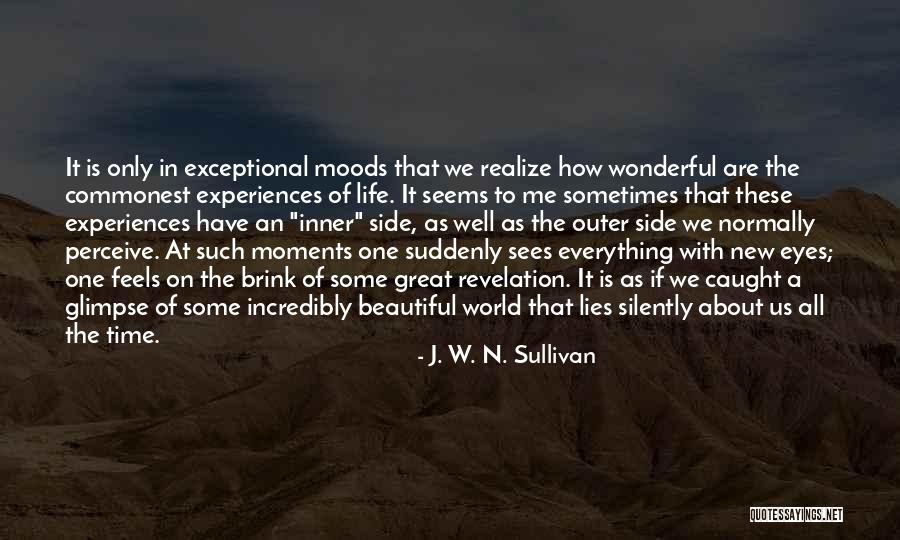 It is only in exceptional moods that we realize how wonderful are the commonest experiences of life. It seems to me sometimes that these experiences have an "inner" side, as well as the outer side we normally perceive. At such moments one suddenly sees everything with new eyes; one feels on the brink of some great revelation. It is as if we caught a glimpse of some incredibly beautiful world that lies silently about us all the time. — J. W. N. Sullivan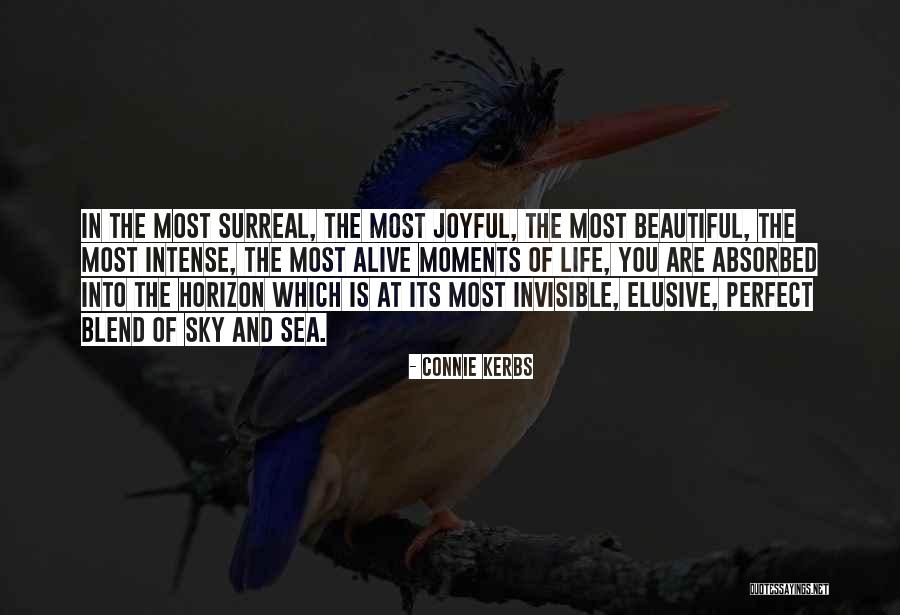 In the most surreal, the most joyful, the most beautiful, the most intense, the most alive moments of life, you are absorbed into the horizon which is at its most invisible, elusive, perfect blend of sky and sea. — Connie Kerbs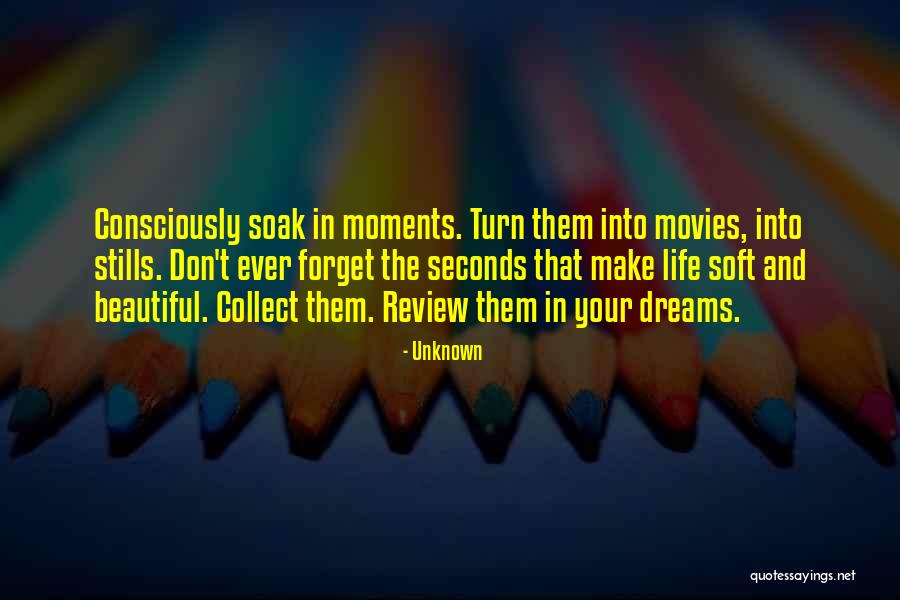 Consciously soak in moments. Turn them into movies, into stills. Don't ever forget the seconds that make life soft and beautiful. Collect them. Review them in your dreams. — Unknown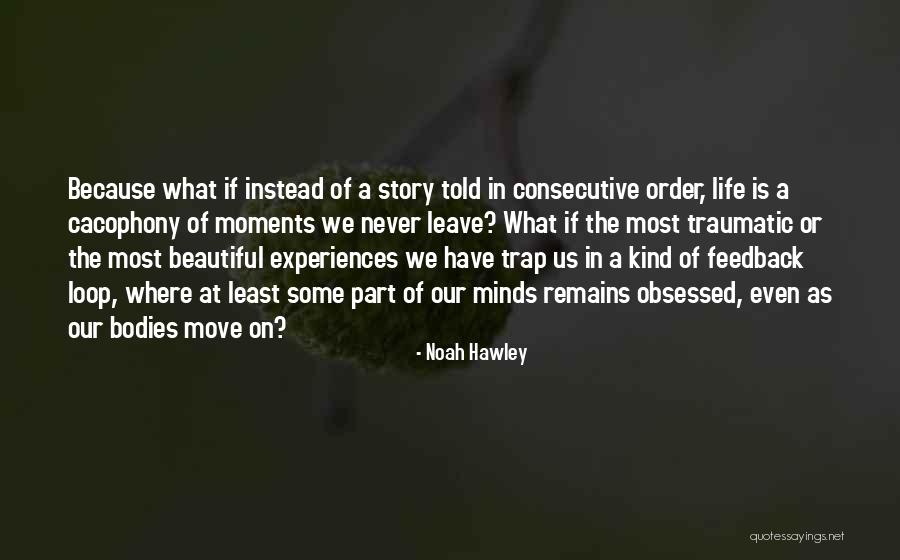 Because what if instead of a story told in consecutive order, life is a cacophony of moments we never leave? What if the most traumatic or the most beautiful experiences we have trap us in a kind of feedback loop, where at least some part of our minds remains obsessed, even as our bodies move on? — Noah Hawley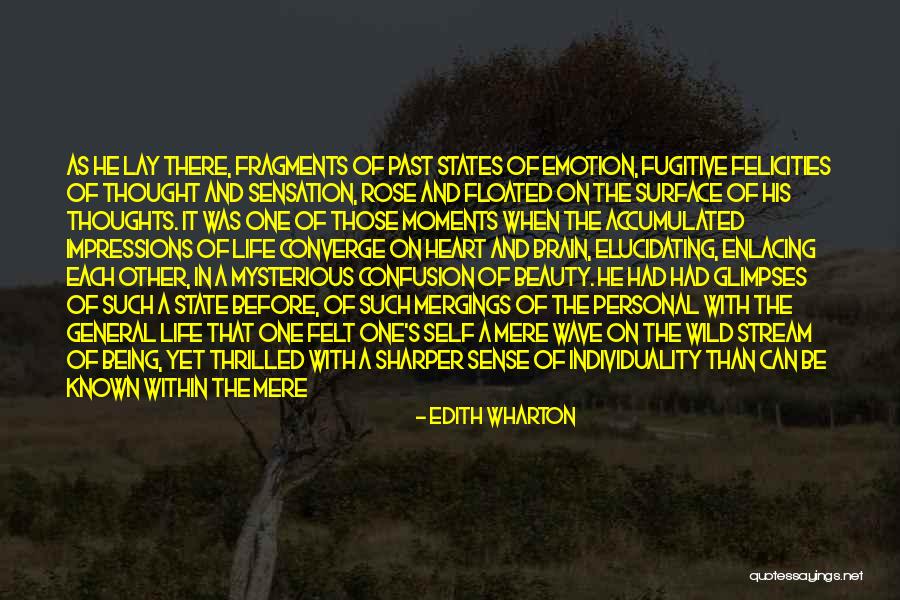 As he lay there, fragments of past states of emotion, fugitive felicities of thought and sensation, rose and floated on the surface of his thoughts. It was one of those moments when the accumulated impressions of life converge on heart and brain, elucidating, enlacing each other, in a mysterious confusion of beauty. He had had glimpses of such a state before, of such mergings of the personal with the general life that one felt one's self a mere wave on the wild stream of being, yet thrilled with a sharper sense of individuality than can be known within the mere bounds of the actual. But now he knew the sensation in its fulness, and with it came the releasing power of language. Words were flashing like brilliant birds through the boughs overhead; he had but to wave his magic wand to have them flutter down to him. Only they were so beautiful up there, weaving their fantastic flights against the blue, that it was pleasanter, for the moment, to watch them and let the wand lie. — Edith Wharton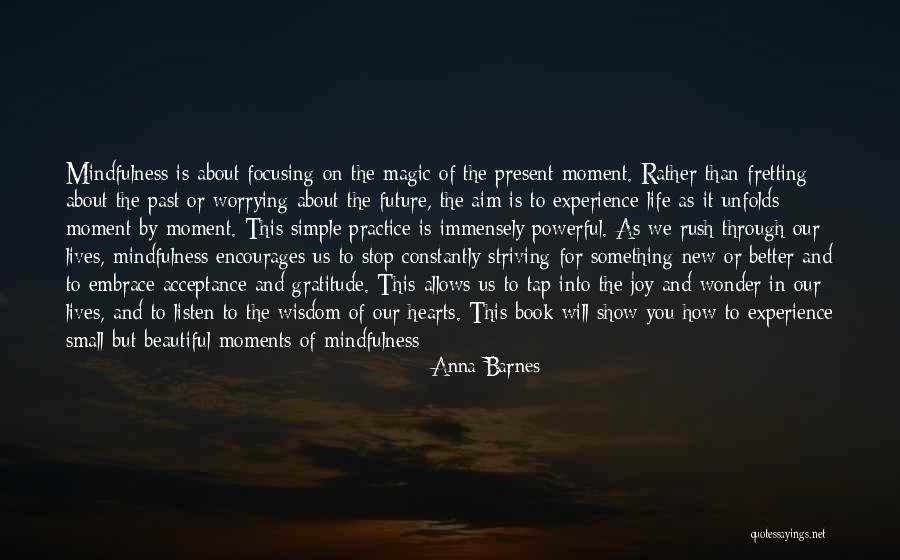 Mindfulness is about focusing on the magic of the present moment. Rather than fretting about the past or worrying about the future, the aim is to experience life as it unfolds moment by moment. This simple practice is immensely powerful. As we rush through our lives, mindfulness encourages us to stop constantly striving for something new or better and to embrace acceptance and gratitude. This allows us to tap into the joy and wonder in our lives, and to listen to the wisdom of our hearts. This book will show you how to experience small but beautiful moments of mindfulness every day and so guide you along the path to finding more peace and contentment in your life. — Anna Barnes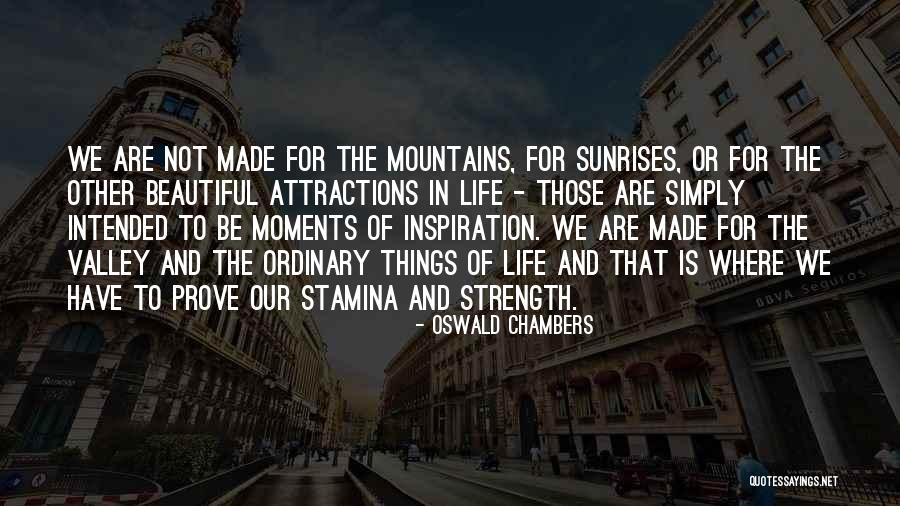 We are not made for the mountains, for sunrises, or for the other beautiful attractions in life - those are simply intended to be moments of inspiration. We are made for the valley and the ordinary things of life and that is where we have to prove our stamina and strength. — Oswald Chambers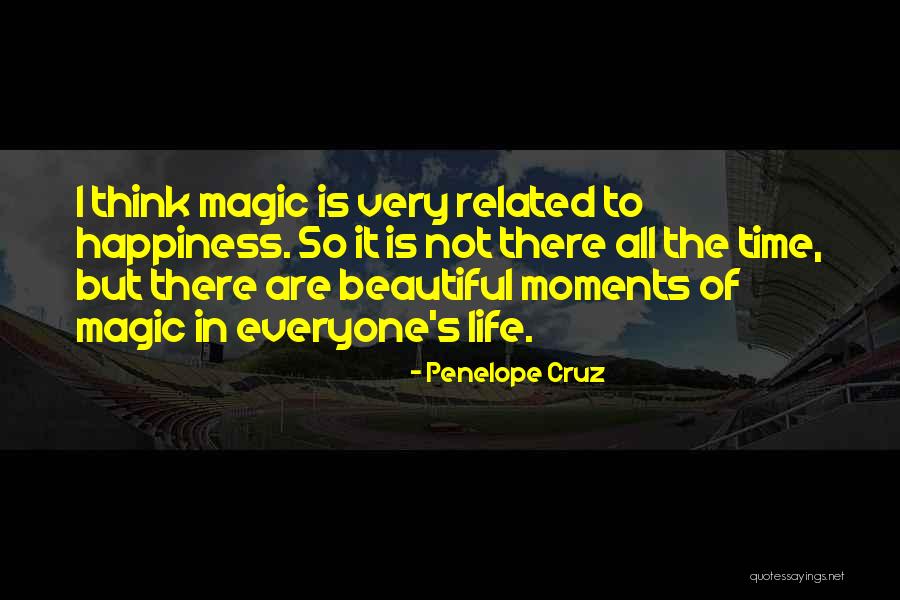 I think magic is very related to happiness. So it is not there all the time, but there are beautiful moments of magic in everyone's life. — Penelope Cruz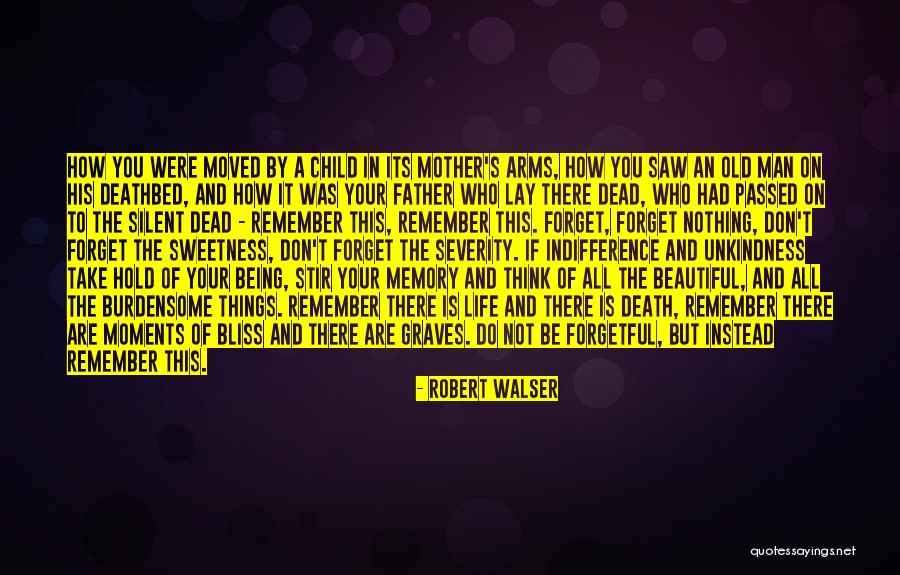 how you were moved by a child in its mother's arms, how you saw an old man on his deathbed, and how it was your father who lay there dead, who had passed on to the silent dead - remember this, remember this. Forget, forget nothing, don't forget the sweetness, don't forget the severity. If indifference and unkindness take hold of your being, stir your memory and think of all the beautiful, and all the burdensome things. Remember there is life and there is death, remember there are moments of bliss and there are graves. Do not be forgetful, but instead remember this. — Robert Walser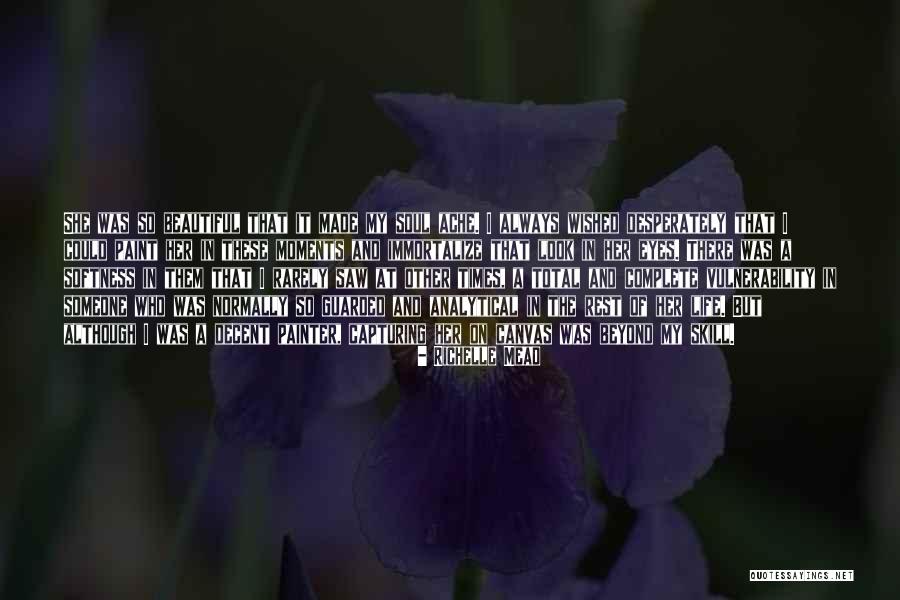 She was so beautiful that it made my soul ache. I always wished desperately that I could paint her in these moments and immortalize that look in her eyes. There was a softness in them that I rarely saw at other times, a total and complete vulnerability in someone who was normally so guarded and analytical in the rest of her life. But although I was a decent painter, capturing her on canvas was beyond my skill. — Richelle Mead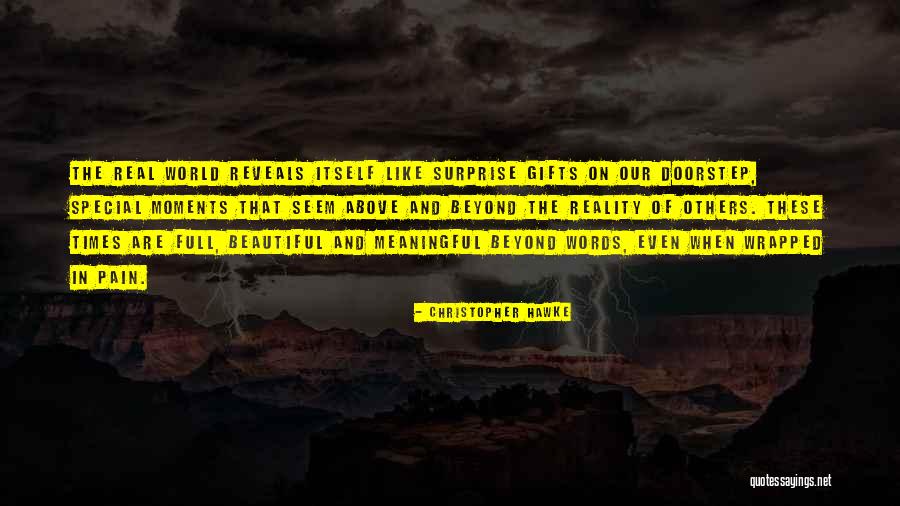 The real world reveals itself like surprise gifts on our doorstep, special moments that seem above and beyond the reality of others. These times are full, beautiful and meaningful beyond words, even when wrapped in pain. — Christopher Hawke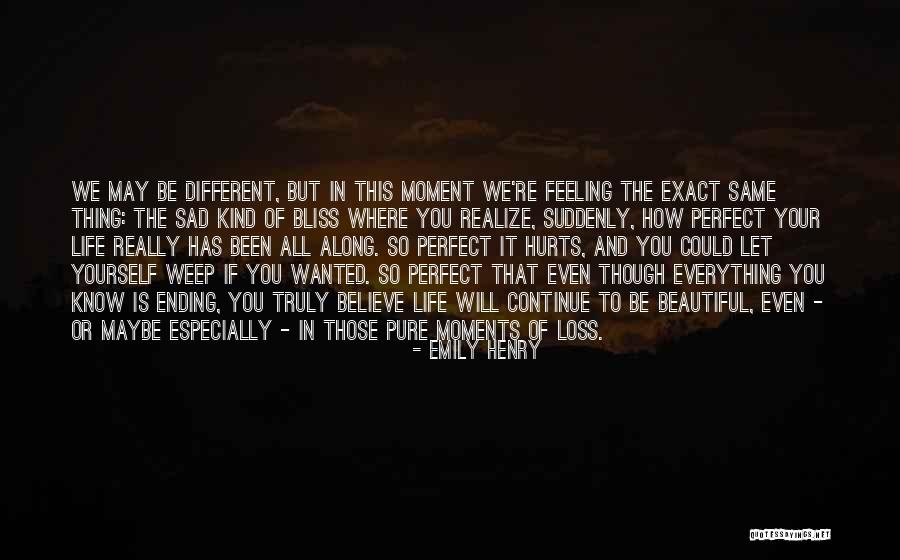 We may be different, but in this moment we're feeling the exact same thing: the sad kind of bliss where you realize, suddenly, how perfect your life really has been all along. So perfect it hurts, and you could let yourself weep if you wanted. So perfect that even though everything you know is ending, you truly believe life will continue to be beautiful, even - or maybe especially - in those pure moments of loss. — Emily Henry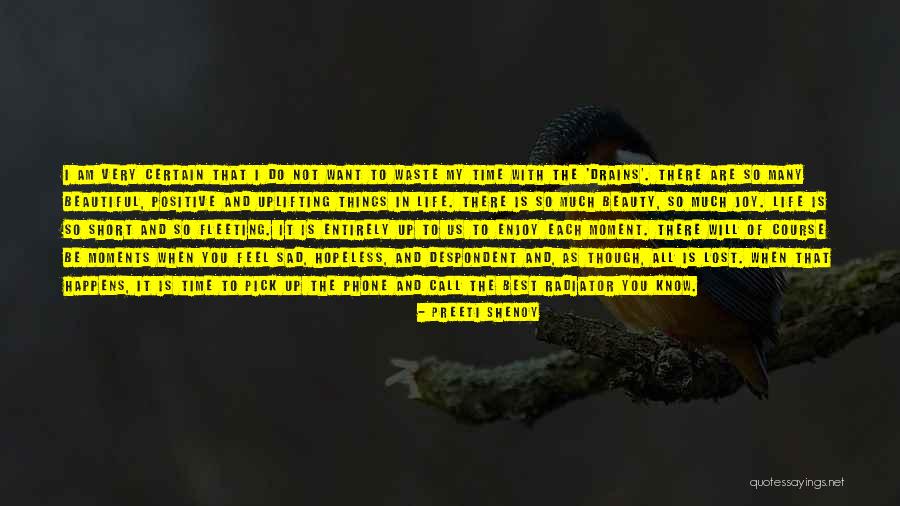 I am very certain that I do not want to waste my time with the 'drains'. There are so many beautiful, positive and uplifting things in life. There is so much beauty, so much joy. Life is so short and so fleeting. It is entirely up to us to enjoy each moment. There will of course be moments when you feel sad, hopeless, and despondent and, as though, all is lost. When that happens, it is time to pick up the phone and call the best radiator you know. — Preeti Shenoy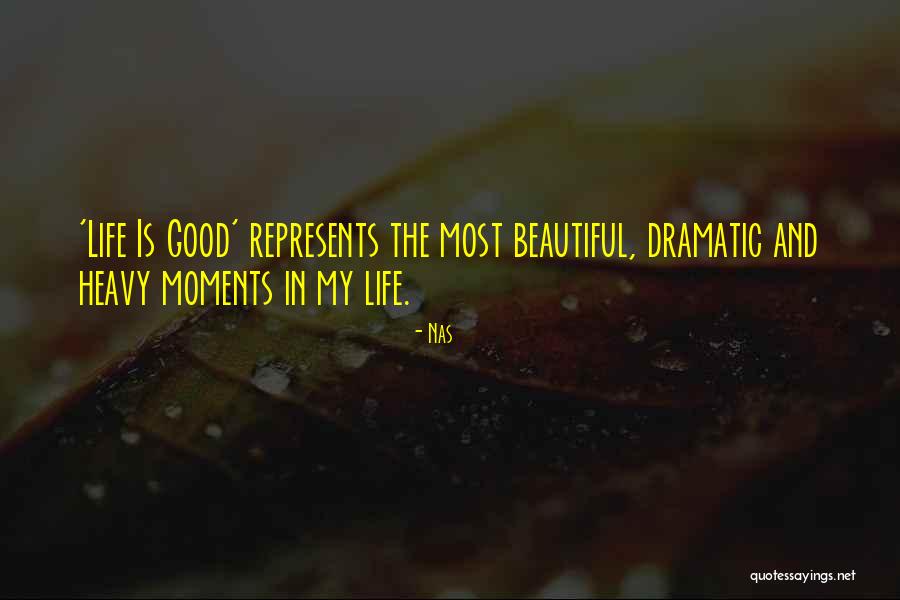 'Life Is Good' represents the most beautiful, dramatic and heavy moments in my life. — Nas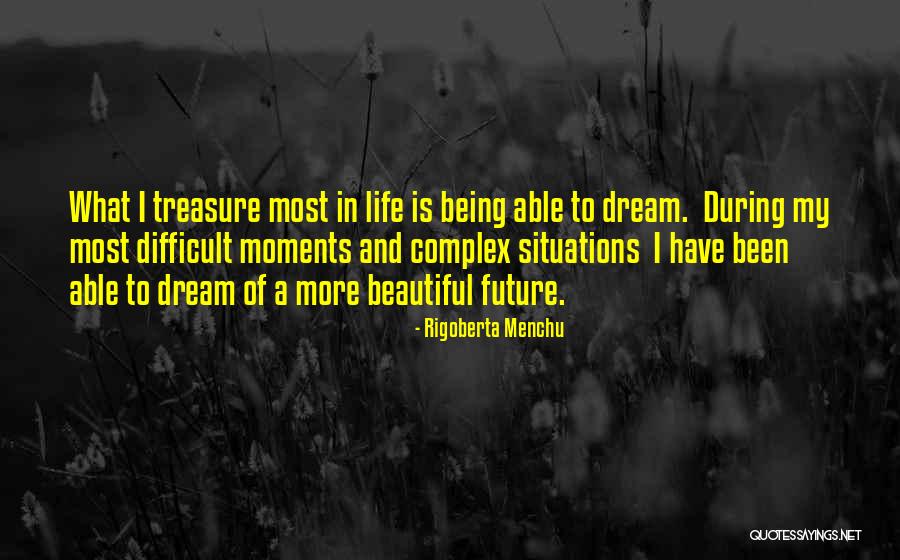 What I treasure most in life is being able to dream.
During my most difficult moments and complex situations
I have been able to dream of a more beautiful future. — Rigoberta Menchu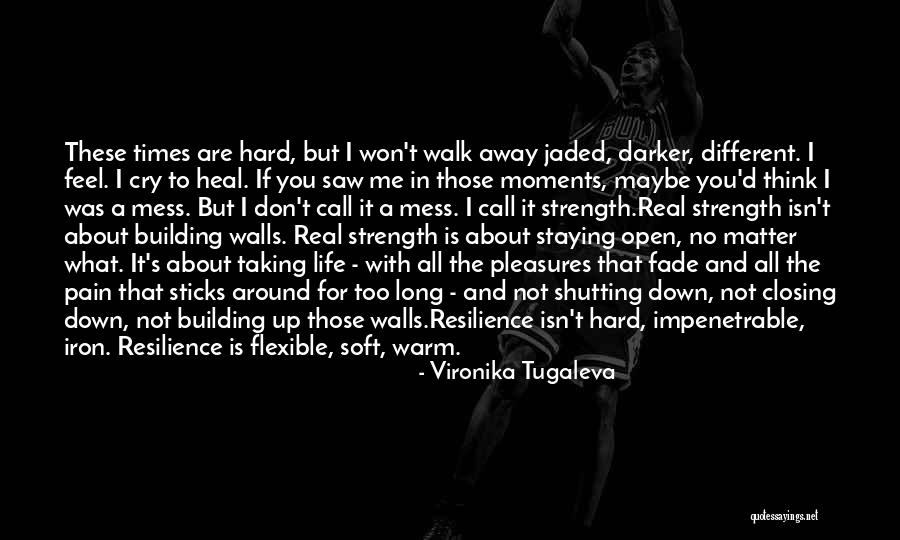 These times are hard, but I won't walk away jaded, darker, different. I feel. I cry to heal. If you saw me in those moments, maybe you'd think I was a mess. But I don't call it a mess. I call it strength.

Real strength isn't about building walls. Real strength is about staying open, no matter what. It's about taking life - with all the pleasures that fade and all the pain that sticks around for too long - and not shutting down, not closing down, not building up those walls.

Resilience isn't hard, impenetrable, iron. Resilience is flexible, soft, warm.

Stay strong. The real kind of strong. Don't let your automatic mind reflexes make you jump away from pain and towards pleasure. Make choices. See clearly. And never, ever, stop feeling.

Don't go numb. The world, even with all its horror, is too beautiful to miss. — Vironika Tugaleva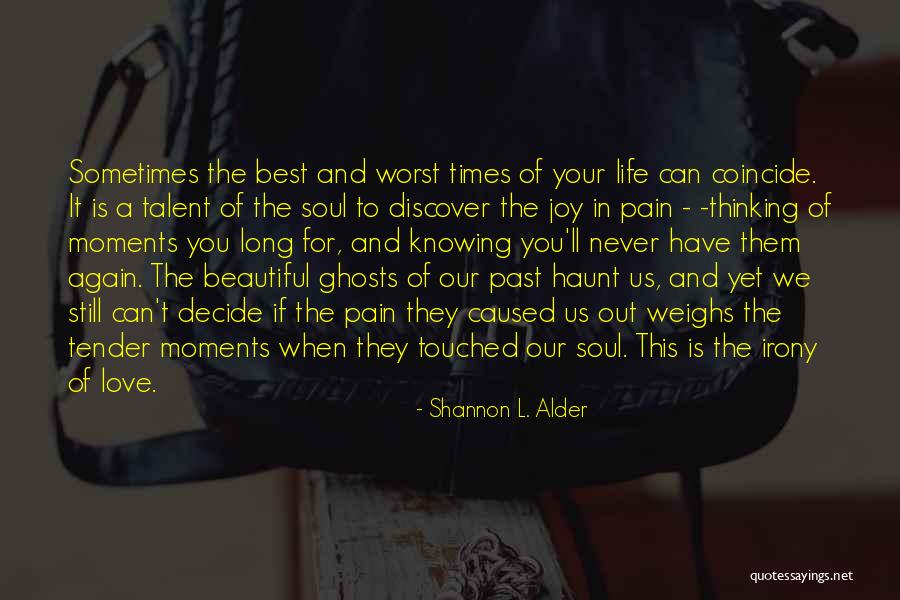 Sometimes the best and worst times of your life can coincide. It is a talent of the soul to discover the joy in pain - -thinking of moments you long for, and knowing you'll never have them again. The beautiful ghosts of our past haunt us, and yet we still can't decide if the pain they caused us out weighs the tender moments when they touched our soul. This is the irony of love. — Shannon L. Alder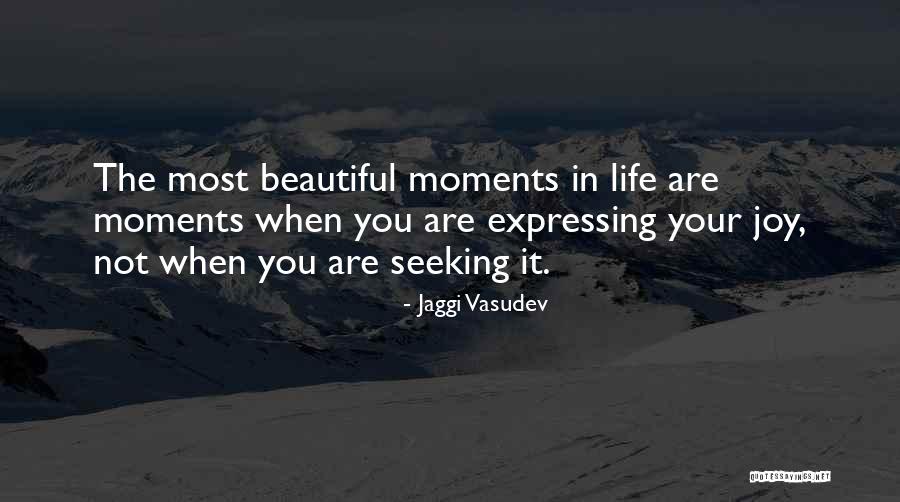 The most beautiful moments in life are moments when you are expressing your joy, not when you are seeking it. — Jaggi Vasudev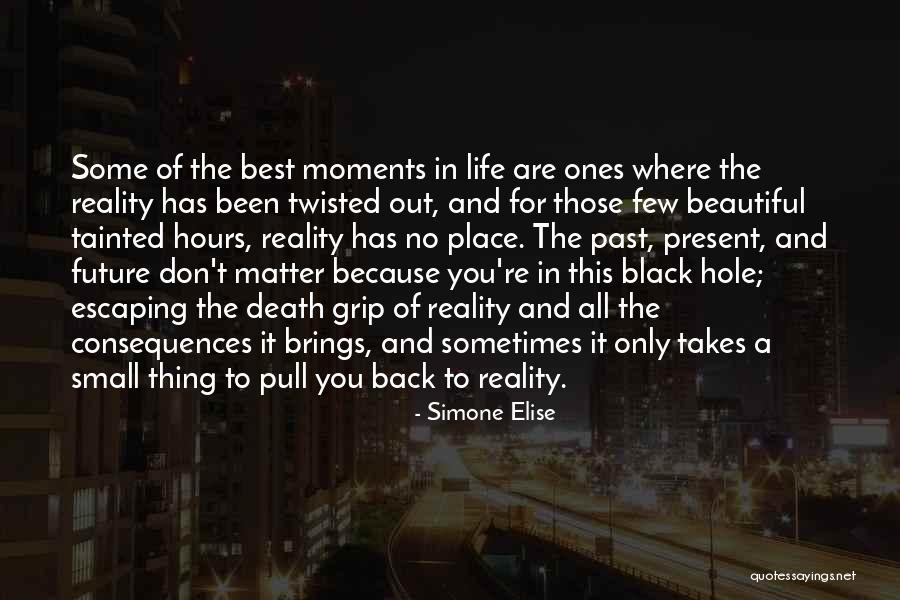 Some of the best moments in life are ones where the reality has been twisted out, and for those few beautiful tainted hours, reality has no place. The past, present, and future don't matter because you're in this black hole; escaping the death grip of reality and all the consequences it brings, and sometimes it only takes a small thing to pull you back to reality. — Simone Elise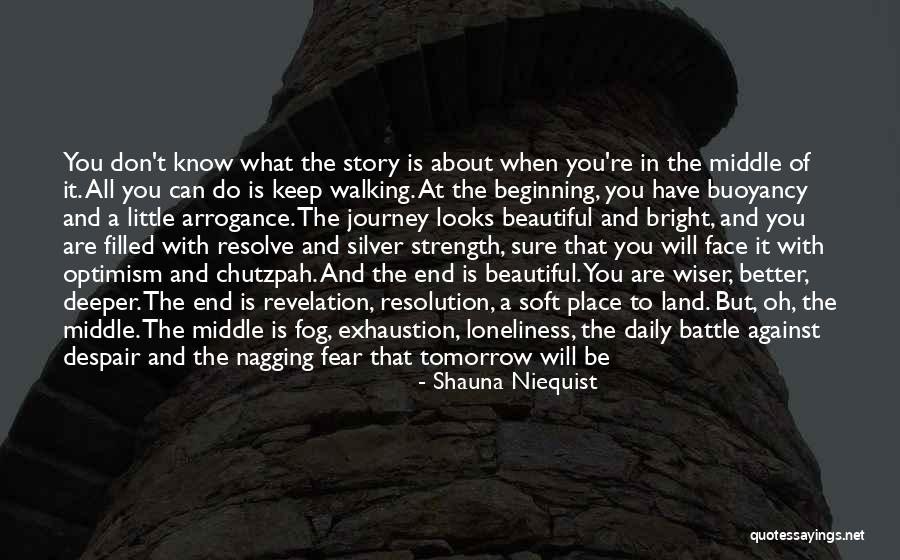 You don't know what the story is about when you're in the middle of it. All you can do is keep walking. At the beginning, you have buoyancy and a little arrogance. The journey looks beautiful and bright, and you are filled with resolve and silver strength, sure that you will face it with optimism and chutzpah. And the end is beautiful. You are wiser, better, deeper. The end is revelation, resolution, a soft place to land. But, oh, the middle. The middle is fog, exhaustion, loneliness, the daily battle against despair and the nagging fear that tomorrow will be just like today, only you'll be wearier and less able to defend yourself against it. All you can ask for, in the middle, are sweet moments of reprieve in the company of people you love. For a few hours, you'll feel protected by the goodness of friendship and life around the table, and that's the best thing I can imagine. — Shauna Niequist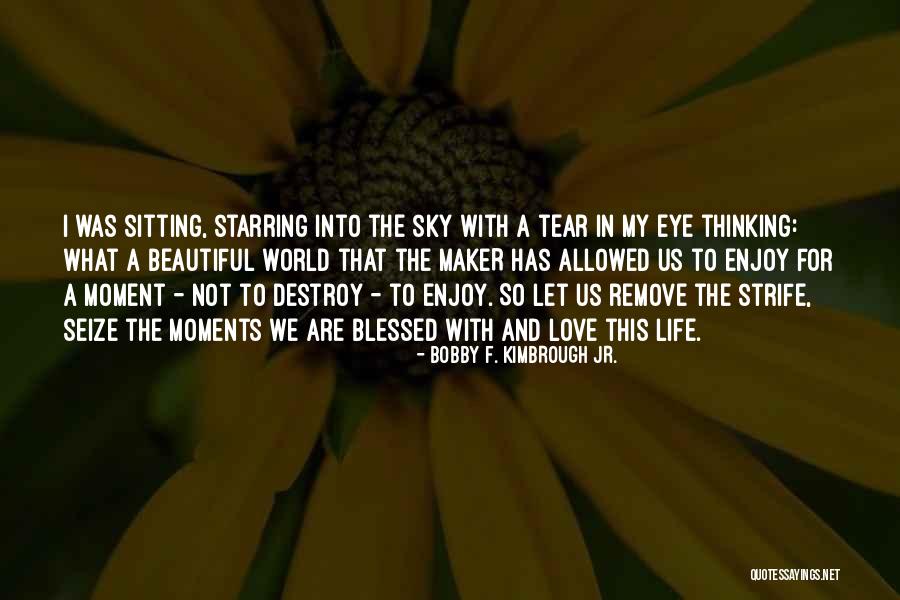 I was sitting, starring into the sky with a tear in my eye thinking: what a beautiful world that the MAKER has allowed us to enjoy for a moment - not to destroy - to enjoy. So let us remove the strife, seize the moments we are blessed with and love this life. — Bobby F. Kimbrough Jr.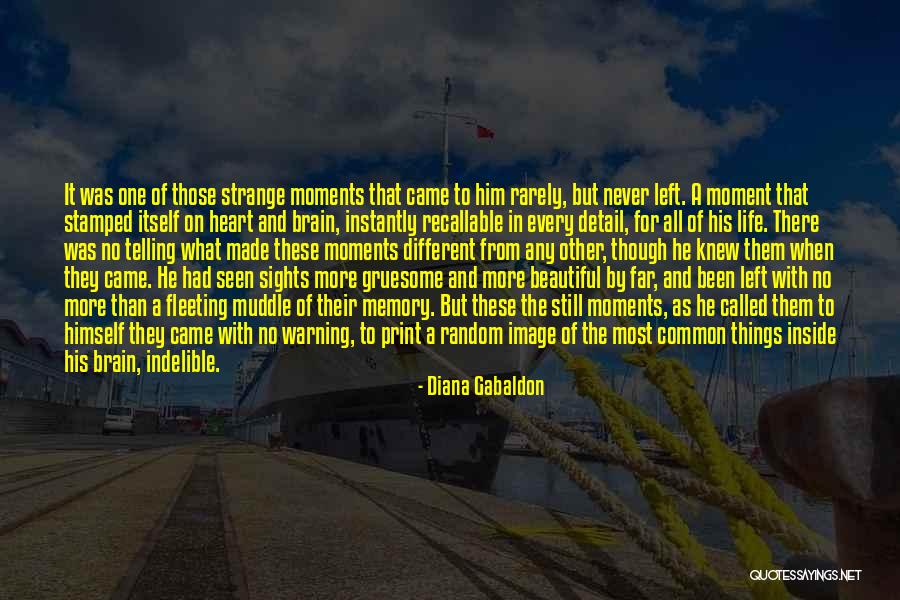 It was one of those strange moments that came to him rarely, but never left. A moment that stamped itself on heart and brain, instantly recallable in every detail, for all of his life. There was no telling what made these moments different from any other, though he knew them when they came. He had seen sights more gruesome and more beautiful by far, and been left with no more than a fleeting muddle of their memory. But these
the still moments, as he called them to himself
they came with no warning, to print a random image of the most common things inside his brain, indelible. — Diana Gabaldon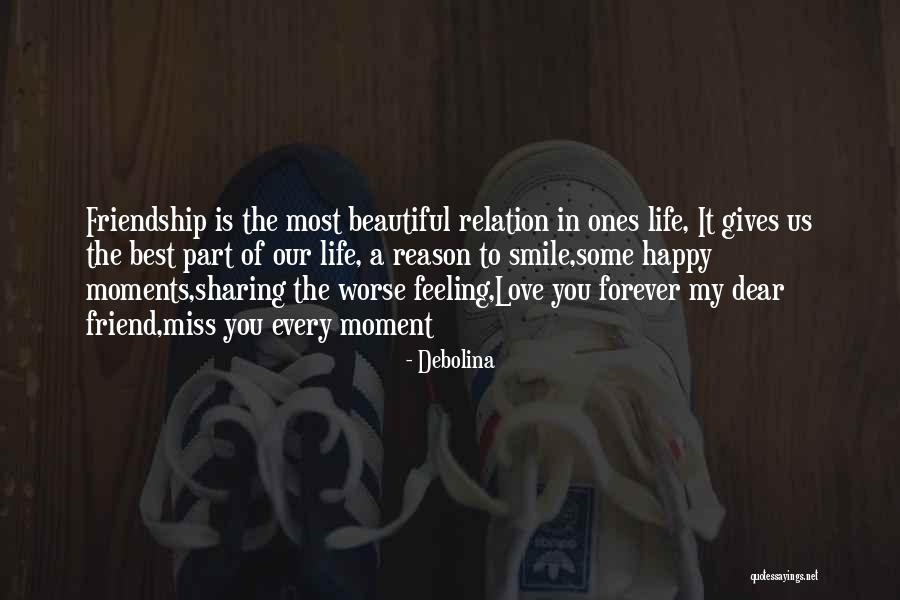 Friendship is the most beautiful relation in ones life, It gives us the best part of our life, a reason to smile,some happy moments,sharing the worse feeling,Love you forever my dear friend,miss you every moment — Debolina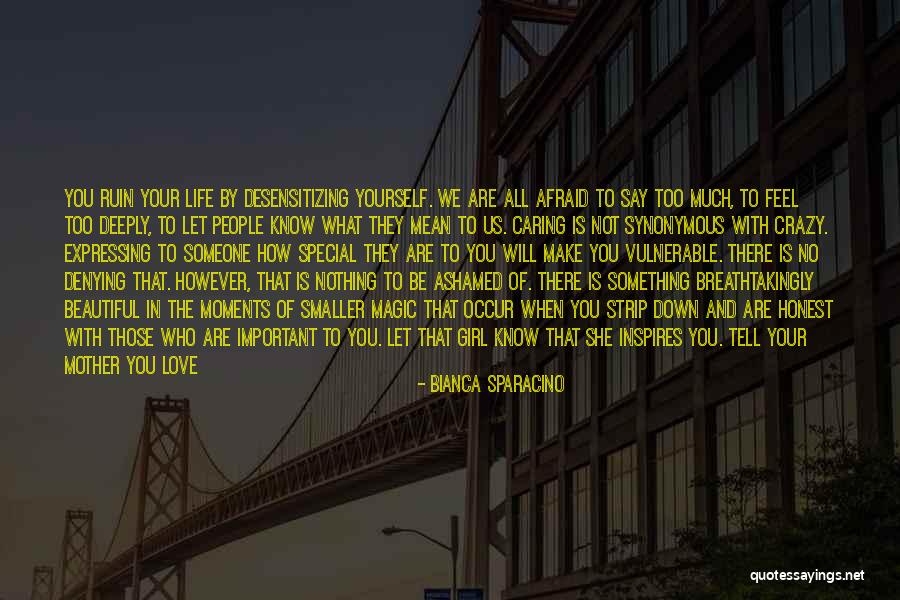 You ruin your life by desensitizing yourself. We are all afraid to say too much, to feel too deeply, to let people know what they mean to us. Caring is not synonymous with crazy. Expressing to someone how special they are to you will make you vulnerable. There is no denying that. However, that is nothing to be ashamed of. There is something breathtakingly beautiful in the moments of smaller magic that occur when you strip down and are honest with those who are important to you. Let that girl know that she inspires you. Tell your mother you love her in front of your friends. Express, express, express. Open yourself up, do not harden yourself to the world, and be bold in who, and how you love. There is courage in that. — Bianca Sparacino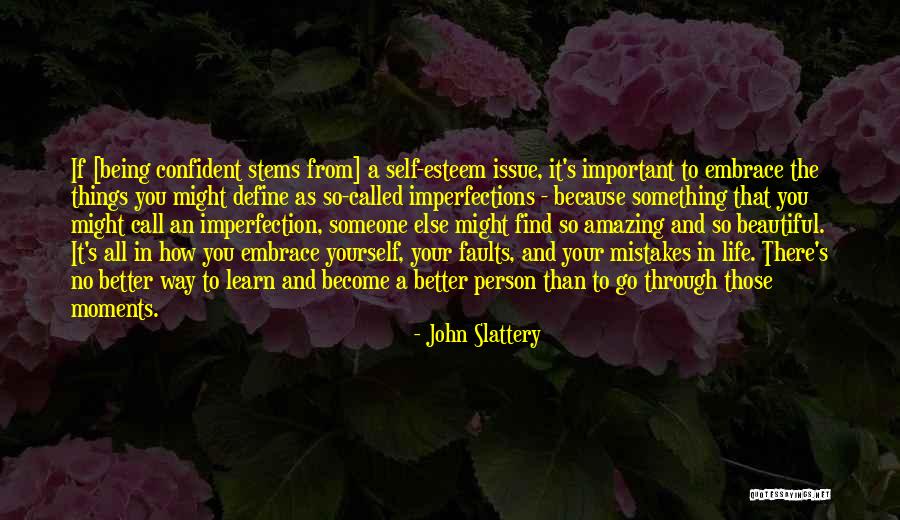 If [being confident stems from] a self-esteem issue, it's important to embrace the things you might define as so-called imperfections - because something that you might call an imperfection, someone else might find so amazing and so beautiful. It's all in how you embrace yourself, your faults, and your mistakes in life. There's no better way to learn and become a better person than to go through those moments. — John Slattery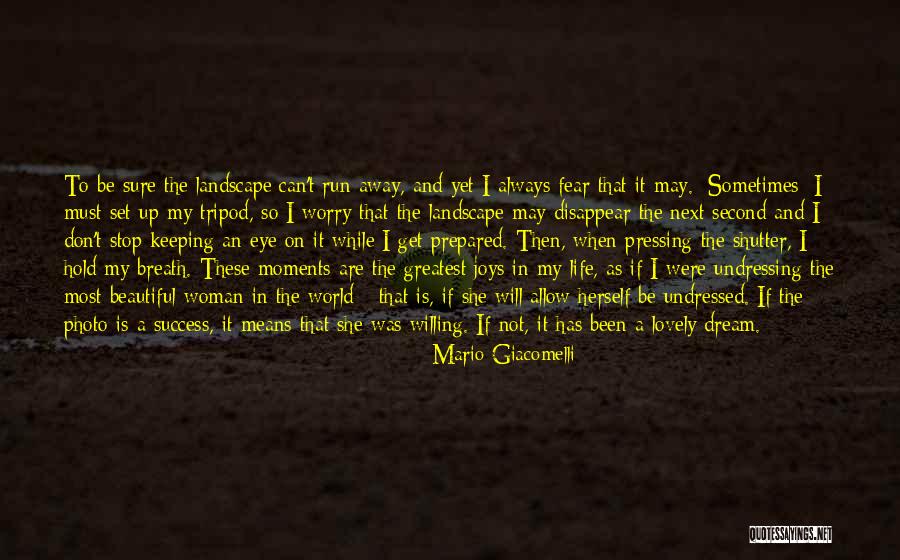 To be sure the landscape can't run away, and yet I always fear that it may. [Sometimes] I must set up my tripod, so I worry that the landscape may disappear the next second and I don't stop keeping an eye on it while I get prepared. Then, when pressing the shutter, I hold my breath. These moments are the greatest joys in my life, as if I were undressing the most beautiful woman in the world - that is, if she will allow herself be undressed. If the photo is a success, it means that she was willing. If not, it has been a lovely dream. — Mario Giacomelli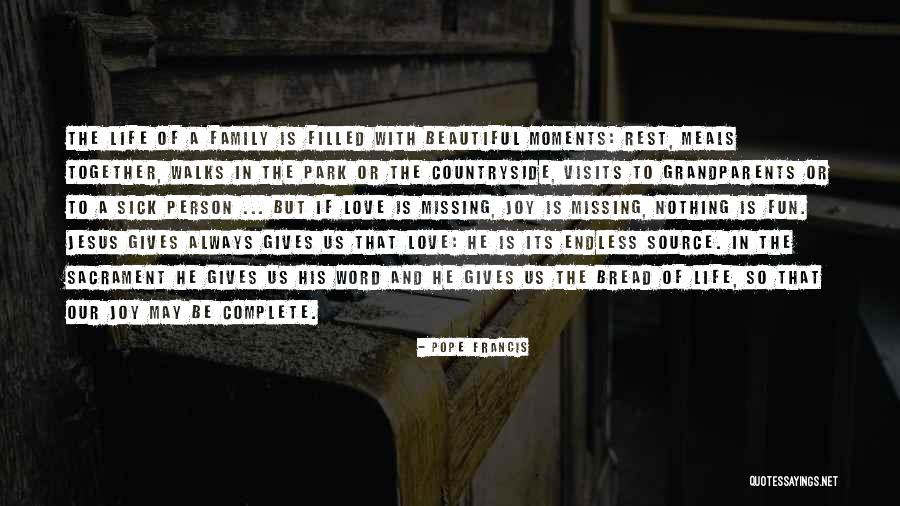 The life of a family is filled with beautiful moments: rest, meals together, walks in the park or the countryside, visits to grandparents or to a sick person ... But if love is missing, joy is missing, nothing is fun. Jesus gives always gives us that love: he is its endless source. In the sacrament he gives us his word and he gives us the bread of life, so that our joy may be complete. — Pope Francis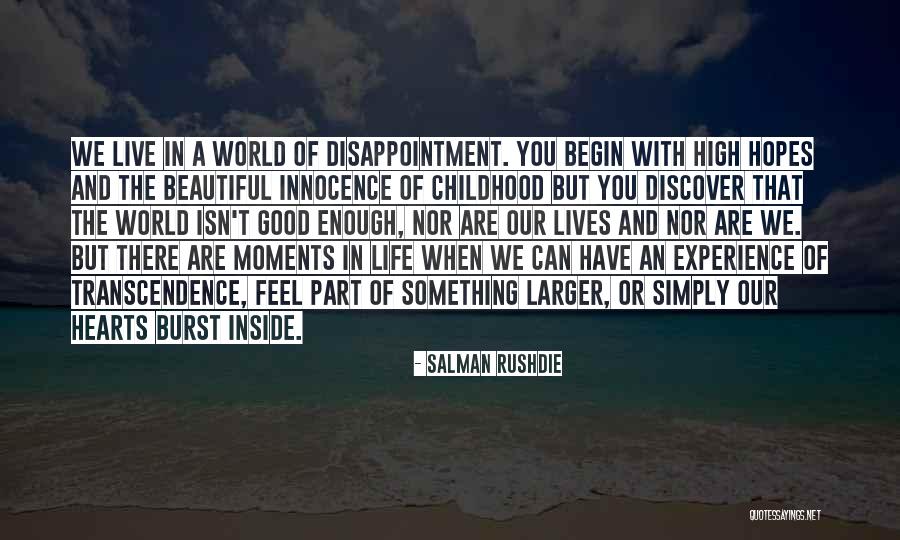 We live in a world of disappointment. You begin with high hopes and the beautiful innocence of childhood but you discover that the world isn't good enough, nor are our lives and nor are we. But there are moments in life when we can have an experience of transcendence, feel part of something larger, or simply our hearts burst inside. — Salman Rushdie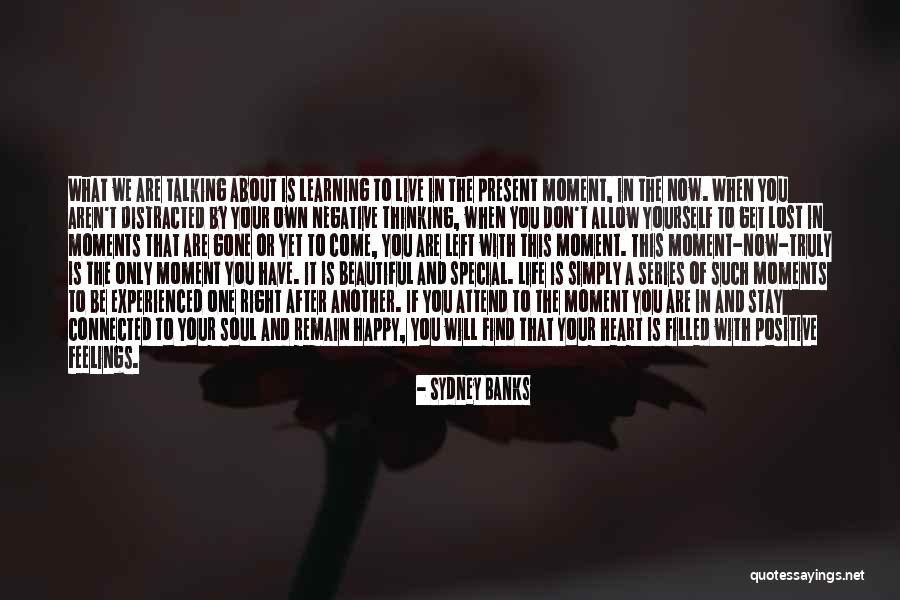 What we are talking about is learning to live in the present moment, in the now. When you aren't distracted by your own negative thinking, when you don't allow yourself to get lost in moments that are gone or yet to come, you are left with this moment. This moment-now-truly is the only moment you have. It is beautiful and special. Life is simply a series of such moments to be experienced one right after another. If you attend to the moment you are in and stay connected to your soul and remain happy, you will find that your heart is filled with positive feelings. — Sydney Banks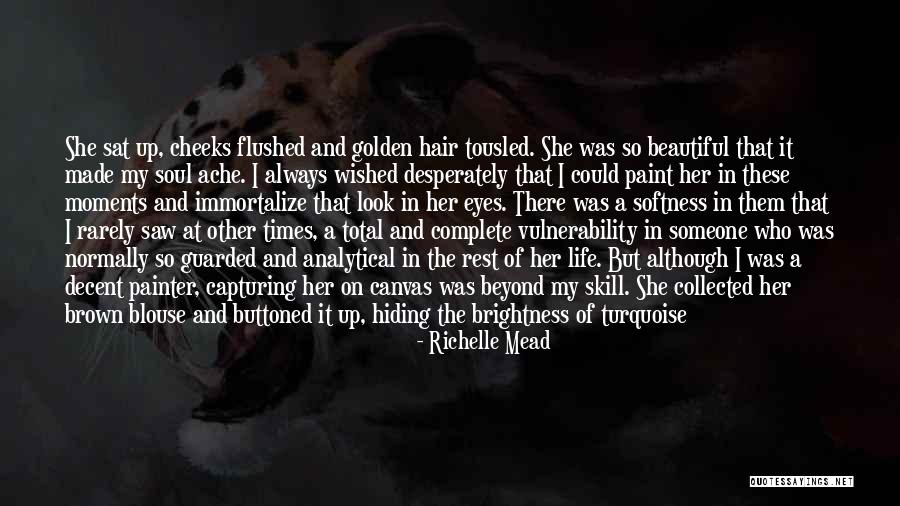 She sat up, cheeks flushed and golden hair tousled. She was so beautiful that it made my soul ache. I always wished desperately that I could paint her in these moments and immortalize that look in her eyes. There was a softness in them that I rarely saw at other times, a total and complete vulnerability in someone who was normally so guarded and analytical in the rest of her life. But although I was a decent painter, capturing her on canvas was beyond my skill.
She collected her brown blouse and buttoned it up, hiding the brightness of turquoise lace with the conservative attire she liked to armor herself in. She'd done an overhaul of her bras in the last month, and though I was always sad to see them disappear, it made me happy to know they were there, those secret spots of color in her life. — Richelle Mead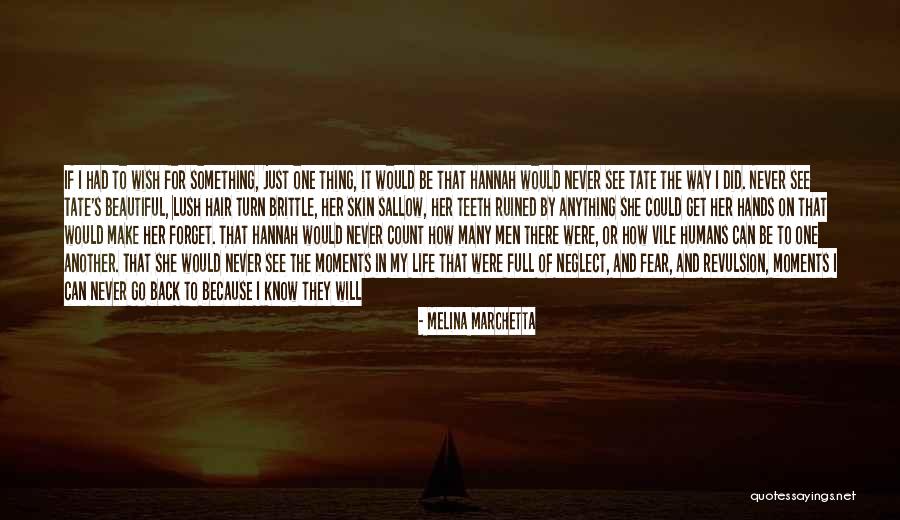 If I had to wish for something, just one thing, it would be that Hannah would never see Tate the way I did. Never see Tate's beautiful, lush hair turn brittle, her skin sallow, her teeth ruined by anything she could get her hands on that would make her forget. That Hannah would never count how many men there were, or how vile humans can be to one another. That she would never see the moments in my life that were full of neglect, and fear, and revulsion, moments I can never go back to because I know they will slow me down for the rest of my life if I let myself remember them for one moment. Tate, who had kept Hannah alive that night, reading her the story of Jem Finch and Mrs. Dubose. And suddenly I know I have to go. But this time without being chased by the Brigadier, without experiencing the kindness of a postman from Yass, and without taking along a Cadet who will change the way I breath for the rest of my life. — Melina Marchetta
People in books were always so charming, and all their thoughts and actions so comprehensible. They all invariably had a clear, well-defined object in life, and strove through a few hundred engrossing pages to attain this object. They were all noble and generous, and their lives were bright and beautiful. What interesting and delightful moments Irene had passed in their society! They had made her laugh and cry and suffer and rejoice, and had entertained her with the brilliancy of their wit. How dull and colourless real people had appeared beside these heroes and heroines of fiction. — Aimee Dostoyevsky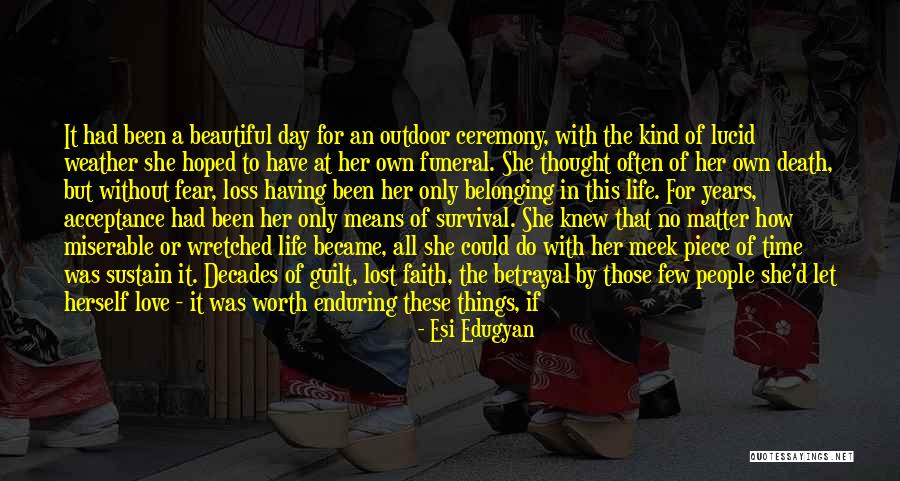 It had been a beautiful day for an outdoor ceremony, with the kind of lucid weather she hoped to have at her own funeral. She thought often of her own death, but without fear, loss having been her only belonging in this life. For years, acceptance had been her only means of survival. She knew that no matter how miserable or wretched life became, all she could do with her meek piece of time was sustain it. Decades of guilt, lost faith, the betrayal by those few people she'd let herself love - it was worth enduring these things, if only for the gift of a single, exalted moment. And such moments happened, even frequently, in the lives of people wise enough to see them. — Esi Edugyan
Each soul path is a divine unique fingerprint and its existence adds to the beautiful tapestry of the cosmos. "Life is a series of defining moments, cross roads and gateways as each door closes and new ones open. Always and in all ways follow the heartbeat of your own soul which is the pathfilled with light and love. — Jan Porter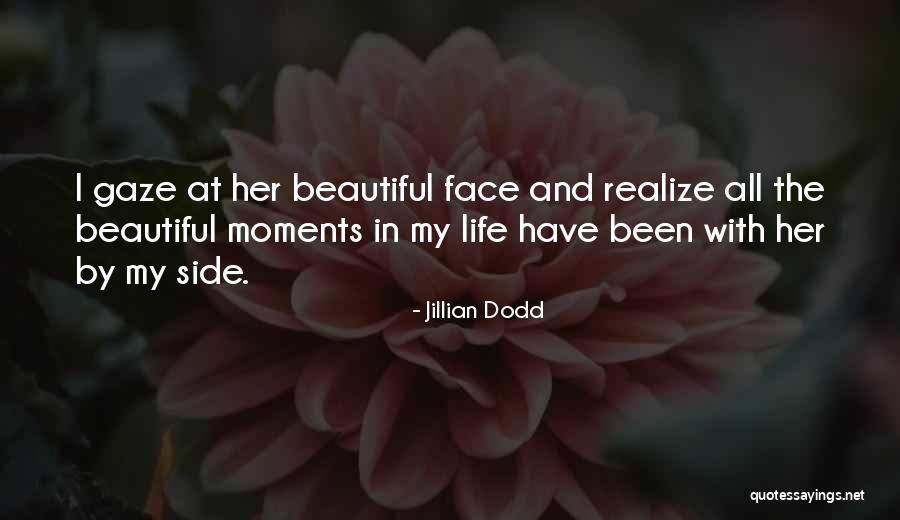 I gaze at her beautiful face and realize all the beautiful moments in my life have been with her by my side. — Jillian Dodd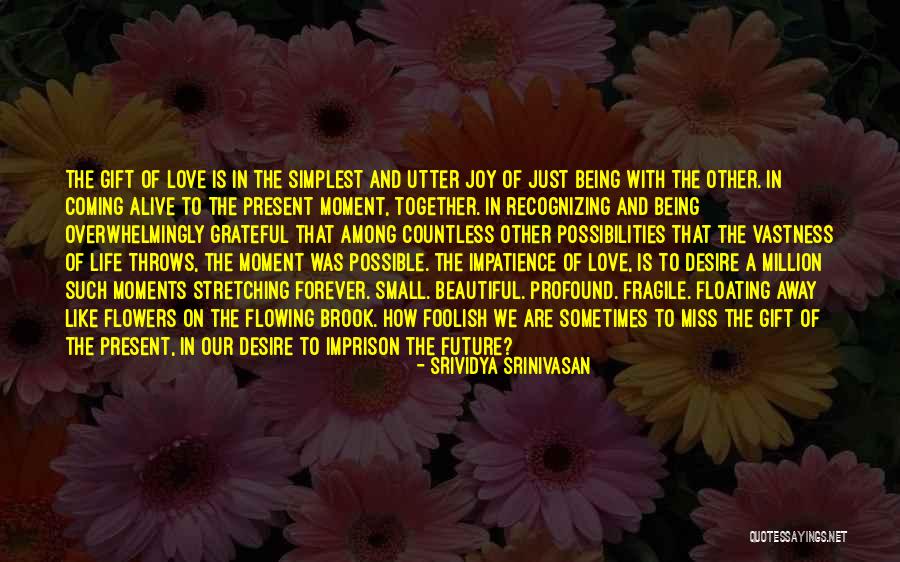 The gift of love is in the simplest and utter joy of just being with the other. In coming alive to the present moment, together. In recognizing and being overwhelmingly grateful that among countless other possibilities that the vastness of life throws, the moment was possible. The impatience of love, is to desire a million such moments stretching forever. Small. Beautiful. Profound. Fragile. Floating away like flowers on the flowing brook. How foolish we are sometimes to miss the gift of the present, in our desire to imprison the future? — Srividya Srinivasan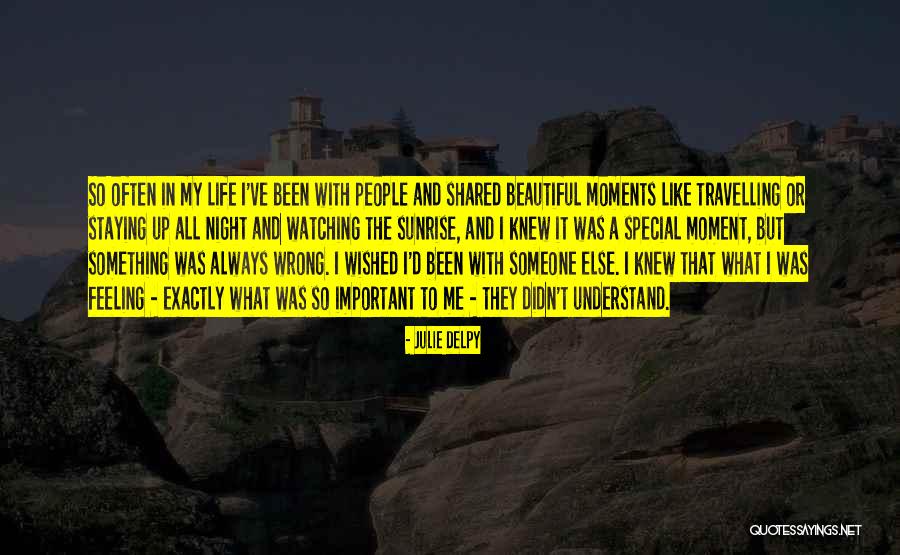 So often in my life I've been with people and shared beautiful moments like travelling or staying up all night and watching the sunrise, and I knew it was a special moment, but something was always wrong. I wished I'd been with someone else. I knew that what I was feeling - exactly what was so important to me - they didn't understand. — Julie Delpy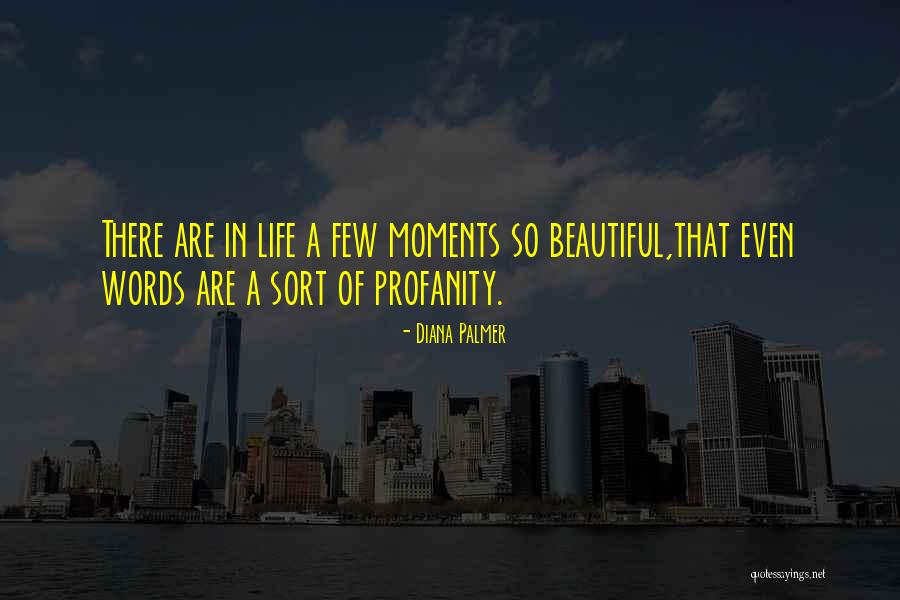 There are in life a few moments so beautiful,that even words are a sort of profanity. — Diana Palmer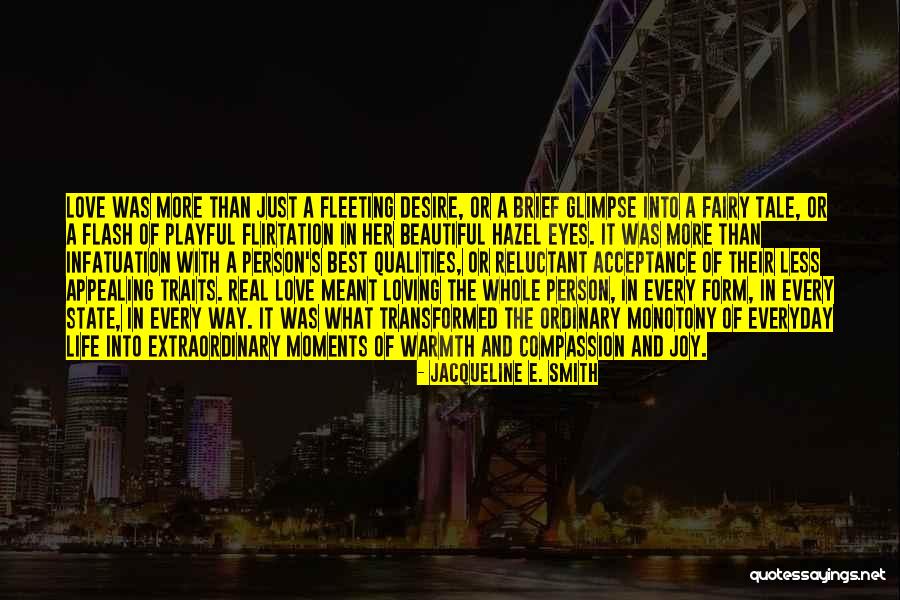 Love was more than just a fleeting desire, or a brief glimpse into a fairy tale, or a flash of playful flirtation in her beautiful hazel eyes. It was more than infatuation with a person's best qualities, or reluctant acceptance of their less appealing traits. Real love meant loving the whole person, in every form, in every state, in every way. It was what transformed the ordinary monotony of everyday life into extraordinary moments of warmth and compassion and joy. — Jacqueline E. Smith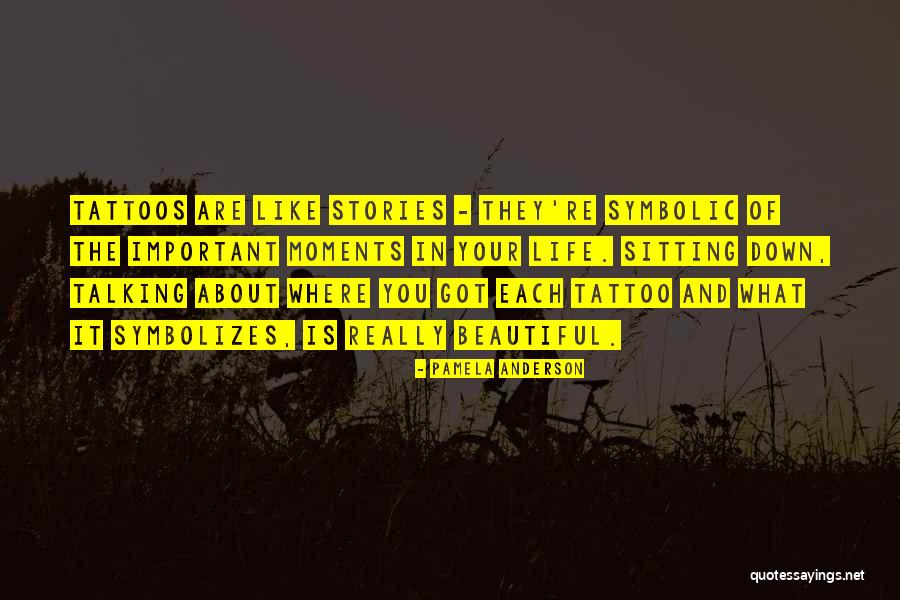 Tattoos are like stories - they're symbolic of the important moments in your life. Sitting down, talking about where you got each tattoo and what it symbolizes, is really beautiful. — Pamela Anderson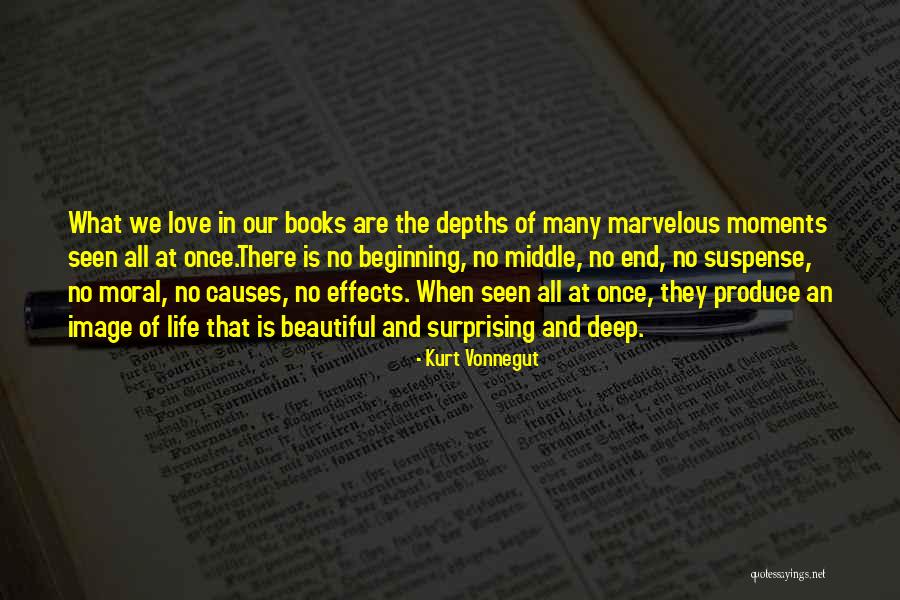 What we love in our books are the depths of many marvelous moments seen all at once.There is no beginning, no middle, no end, no suspense, no moral, no causes, no effects. When seen all at once, they produce an image of life that is beautiful and surprising and deep. — Kurt Vonnegut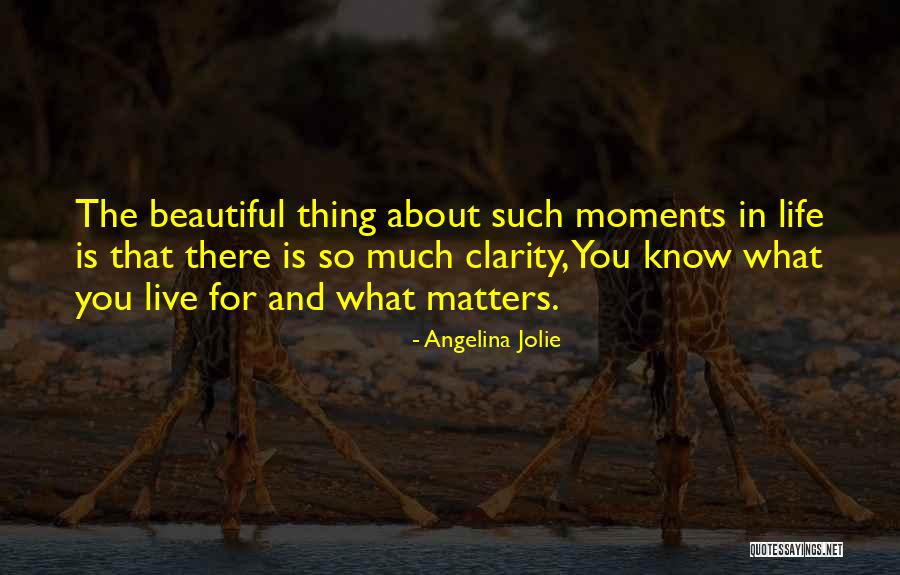 The beautiful thing about such moments in life is that there is so much clarity, You know what you live for and what matters. — Angelina Jolie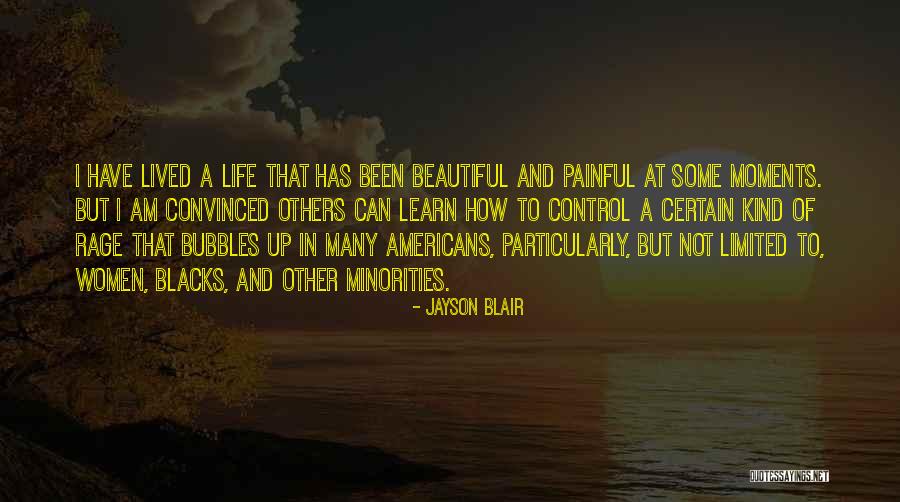 I have lived a life that has been beautiful and painful at some moments. But I am convinced others can learn how to control a certain kind of rage that bubbles up in many Americans, particularly, but not limited to, women, blacks, and other minorities. — Jayson Blair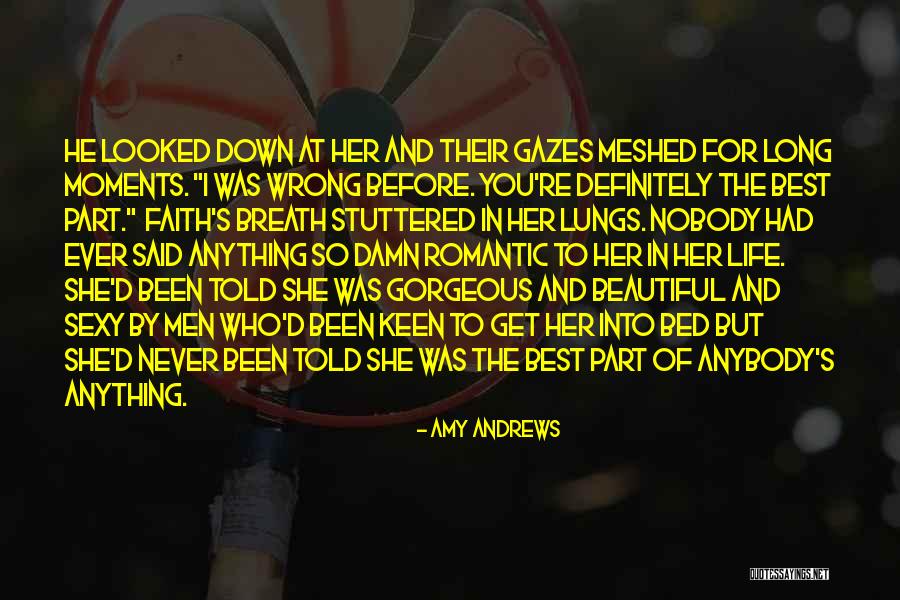 He looked down at her and their gazes meshed for long moments. "I was wrong before. You're definitely the best part."
Faith's breath stuttered in her lungs. Nobody had ever said anything so damn romantic to her in her life. She'd been told she was gorgeous and beautiful and sexy by men who'd been keen to get her into bed but she'd never been told she was the best part of anybody's anything. — Amy Andrews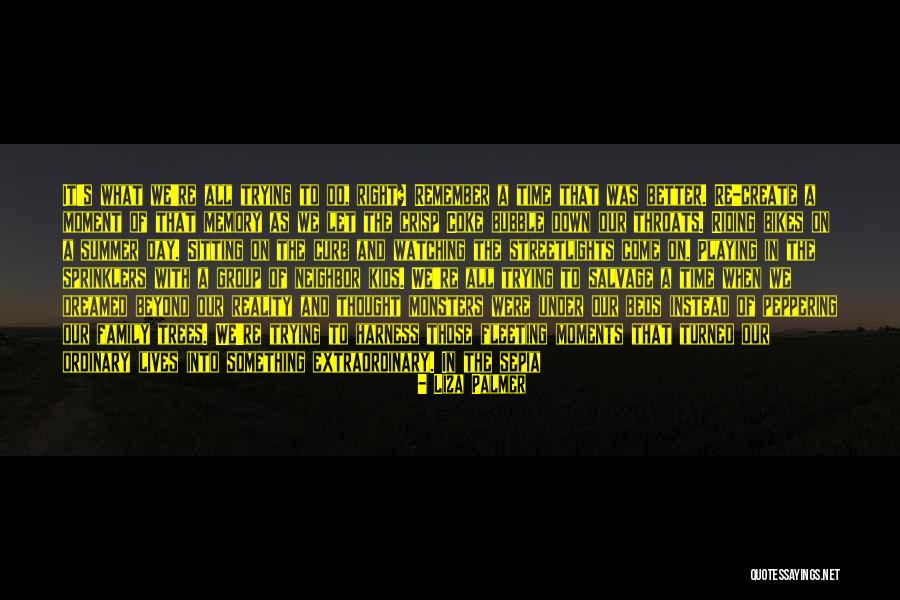 It's what we're all trying to do, right? Remember a time that was better. Re-create a moment of that memory as we let the crisp Coke bubble down our throats. Riding bikes on a summer day. Sitting on the curb and watching the streetlights come on. Playing in the sprinklers with a group of neighbor kids. We're all trying to salvage a time when we dreamed beyond our reality and thought monsters were under our beds instead of peppering our family trees. We're trying to harness those fleeting moments that turned our ordinary lives into something extraordinary. In the sepia haze of those memories, we are beautiful. — Liza Palmer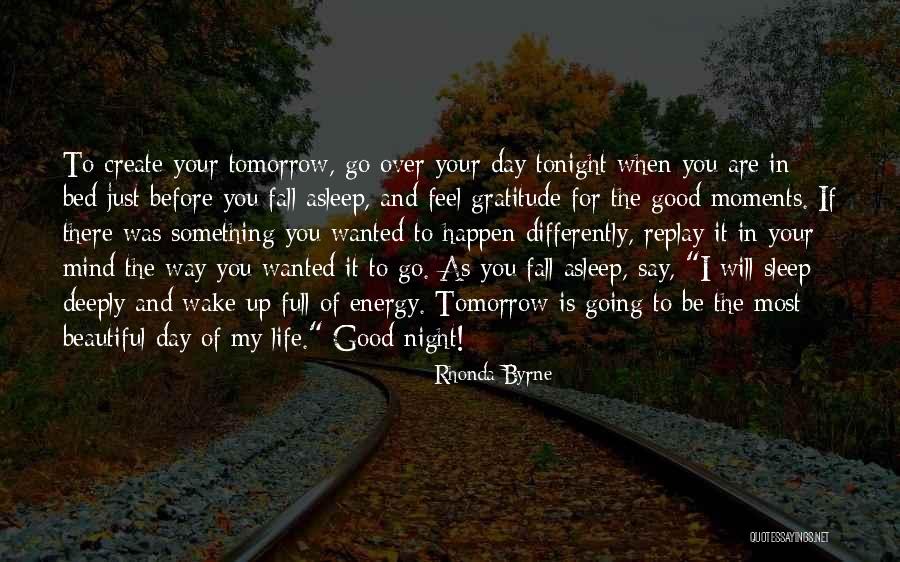 To create your tomorrow, go over your day tonight when you are in bed just before you fall asleep, and feel gratitude for the good moments. If there was something you wanted to happen differently, replay it in your mind the way you wanted it to go. As you fall asleep, say, "I will sleep deeply and wake up full of energy. Tomorrow is going to be the most beautiful day of my life." Good night! — Rhonda Byrne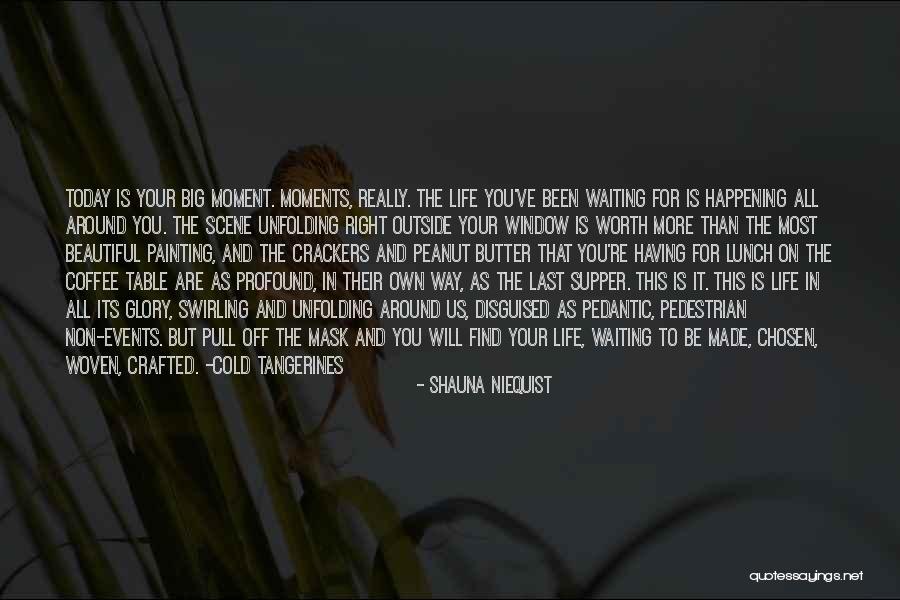 Today is your big moment. Moments, really. The life you've been waiting for is happening all around you. The scene unfolding right outside your window is worth more than the most beautiful painting, and the crackers and peanut butter that you're having for lunch on the coffee table are as profound, in their own way, as the Last Supper. This is it. This is life in all its glory, swirling and unfolding around us, disguised as pedantic, pedestrian non-events. But pull off the mask and you will find your life, waiting to be made, chosen, woven, crafted. -Cold Tangerines — Shauna Niequist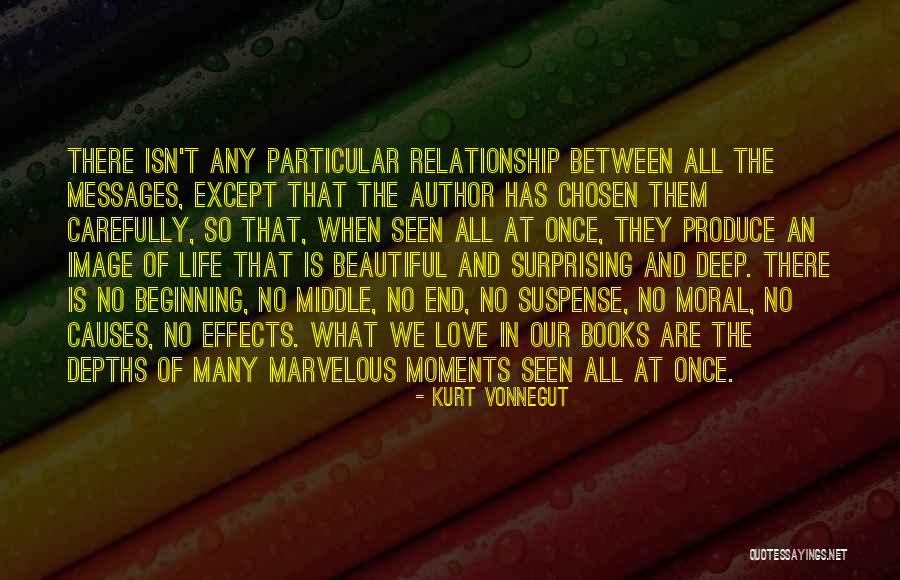 There isn't any particular relationship between all the messages, except that the author has chosen them carefully, so that, when seen all at once, they produce an image of life that is beautiful and surprising and deep. There is no beginning, no middle, no end, no suspense, no moral, no causes, no effects. What we love in our books are the depths of many marvelous moments seen all at once. — Kurt Vonnegut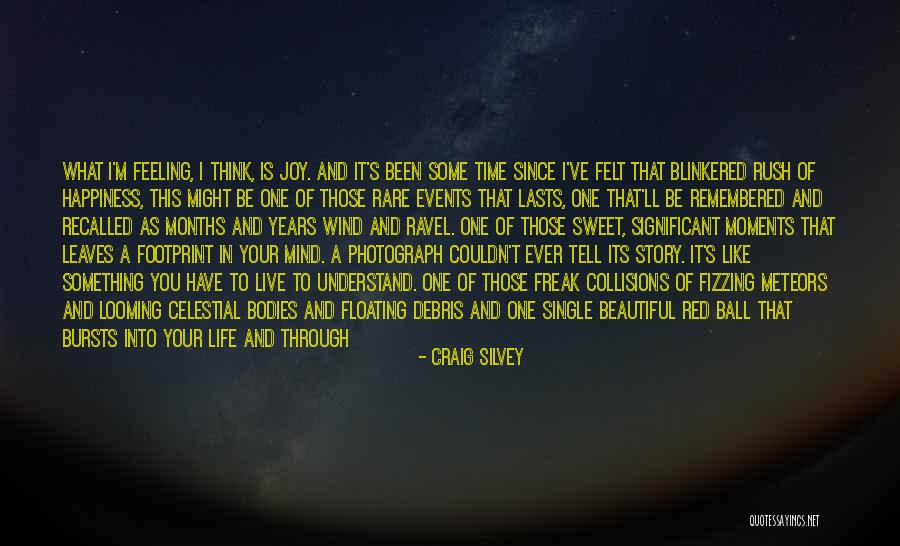 What I'm feeling, I think, is joy. And it's been some time since I've felt that blinkered rush of happiness, This might be one of those rare events that lasts, one that'll be remembered and recalled as months and years wind and ravel. One of those sweet, significant moments that leaves a footprint in your mind. A photograph couldn't ever tell its story. It's like something you have to live to understand. One of those freak collisions of fizzing meteors and looming celestial bodies and floating debris and one single beautiful red ball that bursts into your life and through your body like an enormous firework. Where things shift into focus for a moment, and everything makes sense. And it becomes one of those things inside you, a pearl among sludge, one of those big exaggerated memories you can invoke at any moment to peel away a little layer of how you felt, like a lick of ice cream. The flavor of grace. — Craig Silvey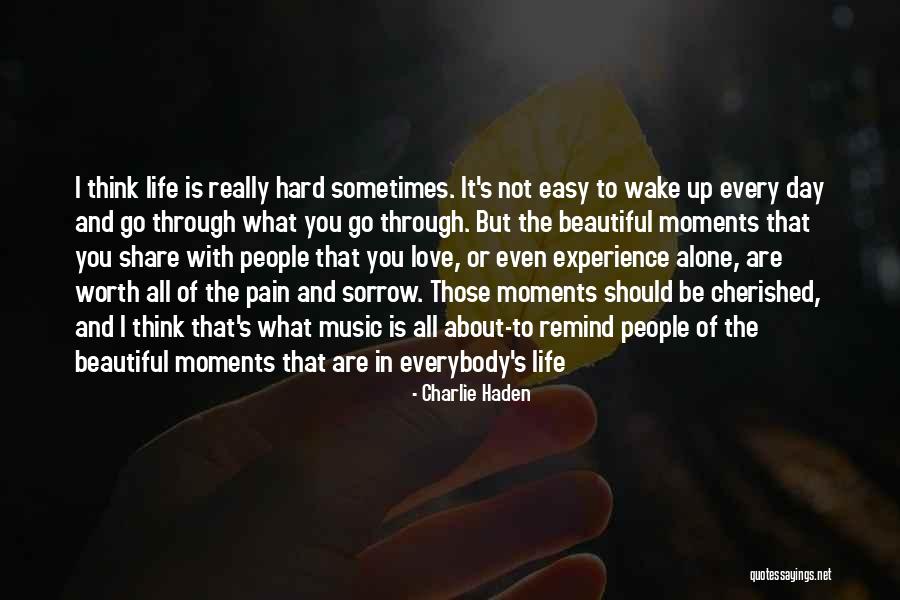 I think life is really hard sometimes. It's not easy to wake up every day and go through what you go through. But the beautiful moments that you share with people that you love, or even experience alone, are worth all of the pain and sorrow. Those moments should be cherished, and I think that's what music is all about-to remind people of the beautiful moments that are in everybody's life — Charlie Haden
There are moments in life that change us irreparably. Sometimes those moments are grand and dramatic, tragic or beautiful in their intensity. Sometimes those moments are quiet and small like footsteps fading behind a closed door. The subtlety of those moments can sometimes camouflage their impact and sometimes the impact is felt profoundly, but the quietness of the moment is lost on everyone else around you adding loneliness to the equation. — Samantha Young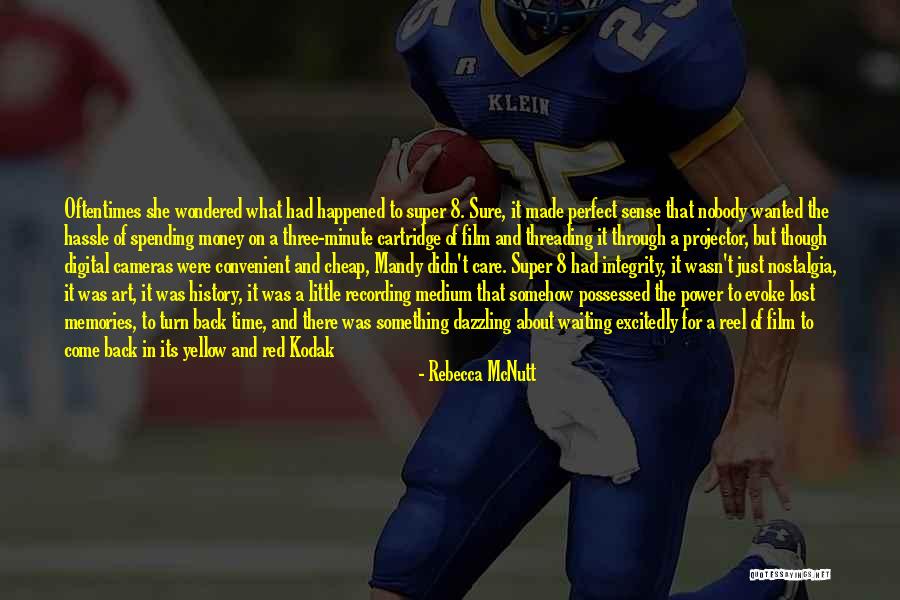 Oftentimes she wondered what had happened to super 8. Sure, it made perfect sense that nobody wanted the hassle of spending money on a three-minute cartridge of film and threading it through a projector, but though digital cameras were convenient and cheap, Mandy didn't care. Super 8 had integrity, it wasn't just nostalgia, it was art, it was history, it was a little recording medium that somehow possessed the power to evoke lost memories, to turn back time, and there was something dazzling about waiting excitedly for a reel of film to come back in its yellow and red Kodak envelope, eating buttered popcorn while the projector paraded life's best moments, and capturing something beautiful in only three minutes. — Rebecca McNutt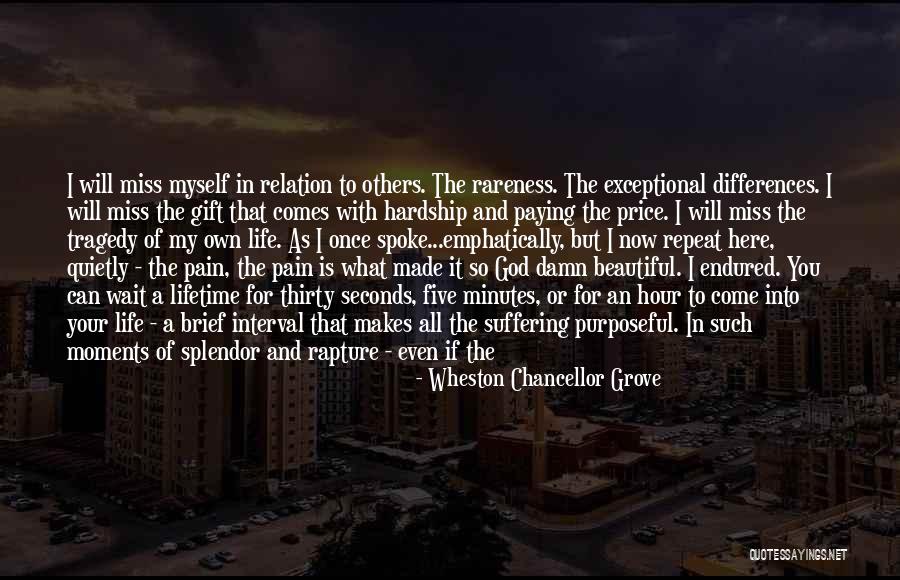 I will miss myself in relation to others. The rareness. The exceptional differences. I will miss the gift that comes with hardship and paying the price. I will miss the tragedy of my own life. As I once spoke...emphatically, but I now repeat here, quietly - the pain, the pain is what made it so God damn beautiful. I endured. You can wait a lifetime for thirty seconds, five minutes, or for an hour to come into your life - a brief interval that makes all the suffering purposeful. In such moments of splendor and rapture - even if the rapture be stilled, the private hours and years of reckoning are unloaded, a burden lifted and the spirit feels as it did on the happiest day of its life when it was young and untormented Or rather, unconscious of the torment waiting to be ignited. — Wheston Chancellor Grove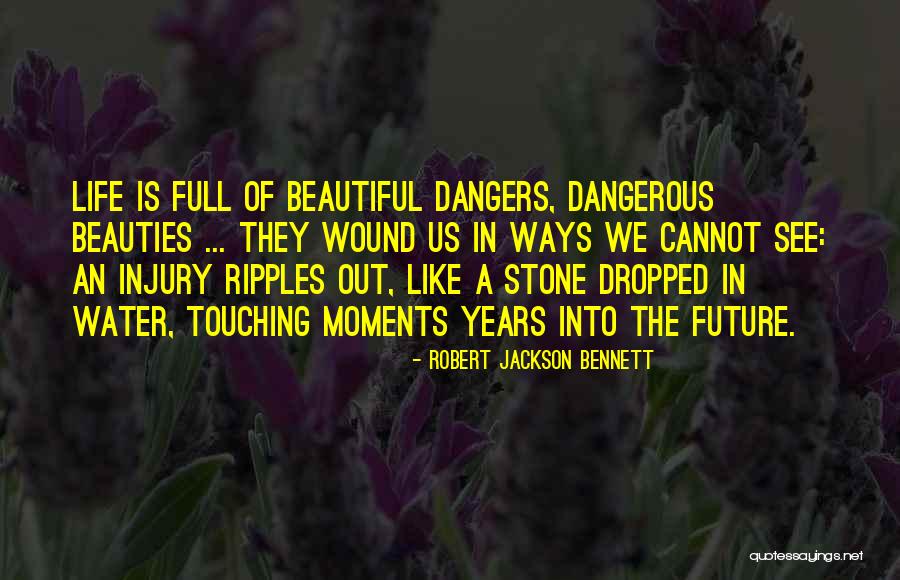 Life is full of beautiful dangers, dangerous beauties ... They wound us in ways we cannot see: an injury ripples out, like a stone dropped in water, touching moments years into the future. — Robert Jackson Bennett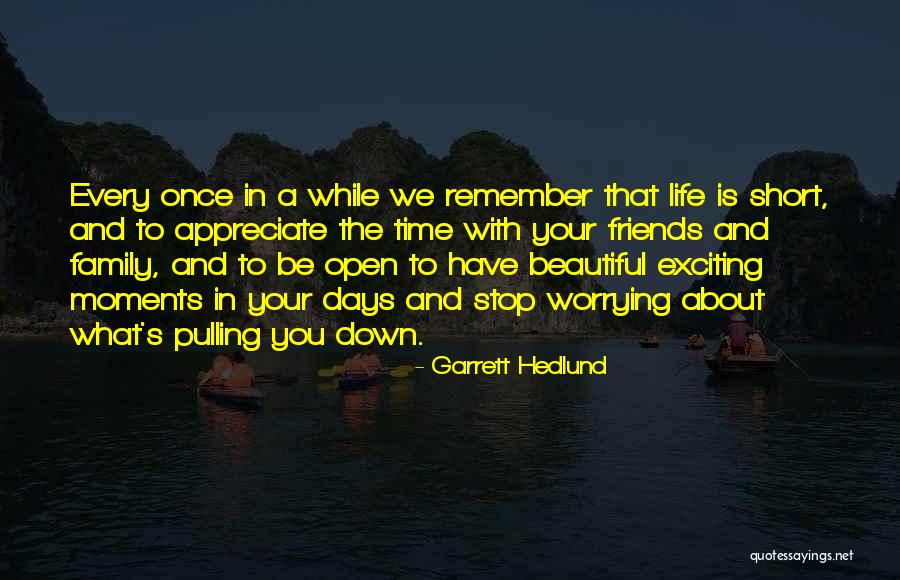 Every once in a while we remember that life is short, and to appreciate the time with your friends and family, and to be open to have beautiful exciting moments in your days and stop worrying about what's pulling you down. — Garrett Hedlund