Battle Dance Quotes & Sayings
Enjoy reading and share 24 famous quotes about Battle Dance with everyone.
Top Battle Dance Quotes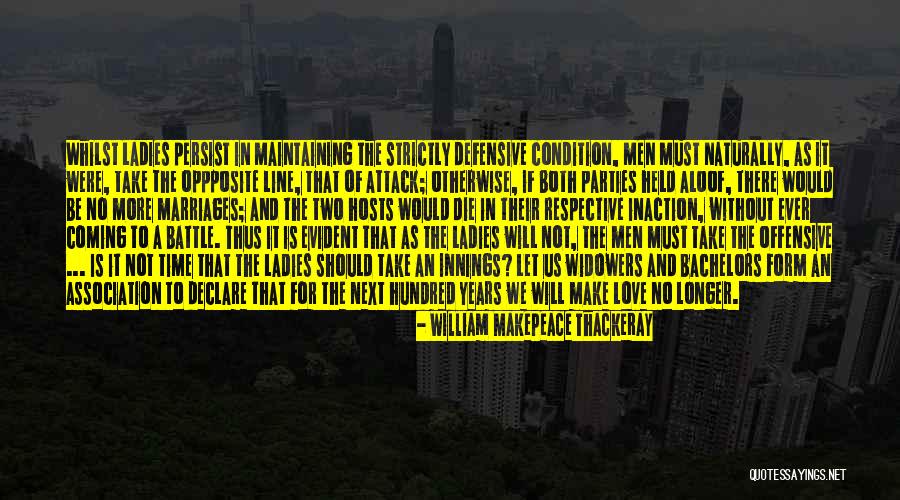 Whilst ladies persist in maintaining the strictly defensive condition, men must naturally, as it were, take the oppposite line, that of attack; otherwise, if both parties held aloof, there would be no more marriages; and the two hosts would die in their respective inaction, without ever coming to a battle. Thus it is evident that as the ladies will not, the men must take the offensive ... Is it not time that the ladies should take an innings? Let us widowers and bachelors form an association to declare that for the next hundred years we will make love no longer. Let the young women come and make love to us; let them write us verses; let them ask us to dance, get us ices and cups of tea, and help us on with our cloaks at the hall-door; and if they are eligible, we may perhaps be induced to yield and say, 'La, Miss Hopkins - I really never - I am so agitated - Ask papa! — William Makepeace Thackeray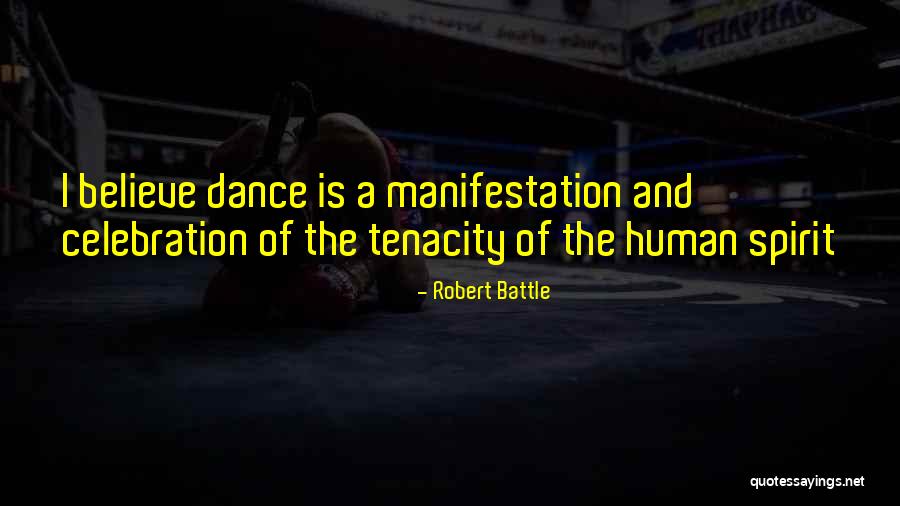 I believe dance is a manifestation and celebration of the tenacity of the human spirit — Robert Battle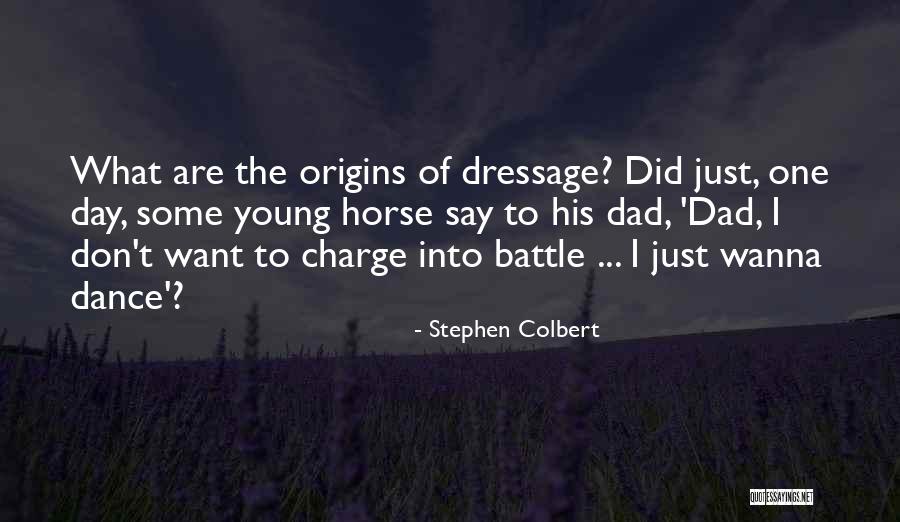 What are the origins of dressage? Did just, one day, some young horse say to his dad, 'Dad, I don't want to charge into battle ... I just wanna dance'? — Stephen Colbert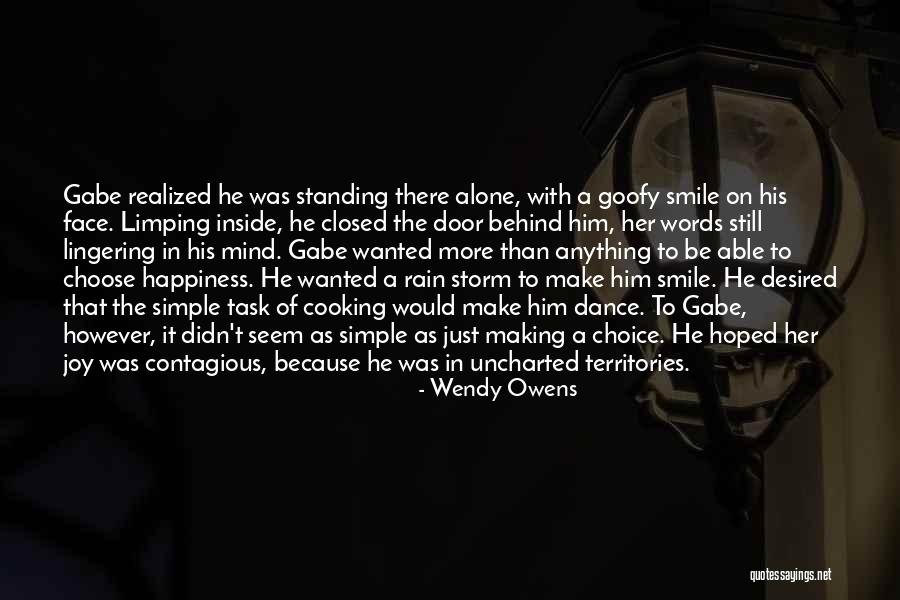 Gabe realized he was standing there alone, with a goofy smile on his face. Limping inside, he closed the door behind him, her words still lingering in his mind. Gabe wanted more than anything to be able to choose happiness. He wanted a rain storm to make him smile. He desired that the simple task of cooking would make him dance. To Gabe, however, it didn't seem as simple as just making a choice. He hoped her joy was contagious, because he was in uncharted territories. — Wendy Owens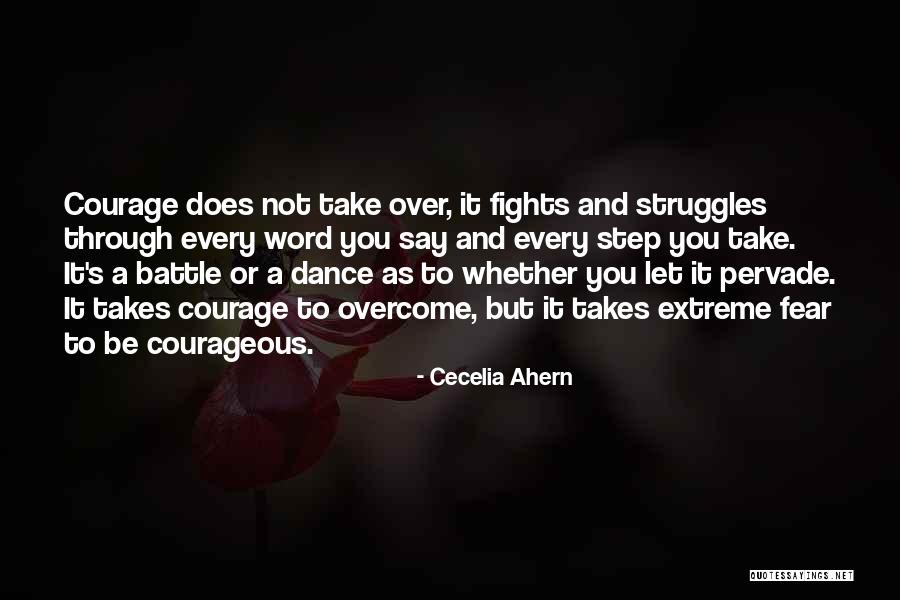 Courage does not take over, it fights and struggles through every word you say and every step you take. It's a battle or a dance as to whether you let it pervade. It takes courage to overcome, but it takes extreme fear to be courageous. — Cecelia Ahern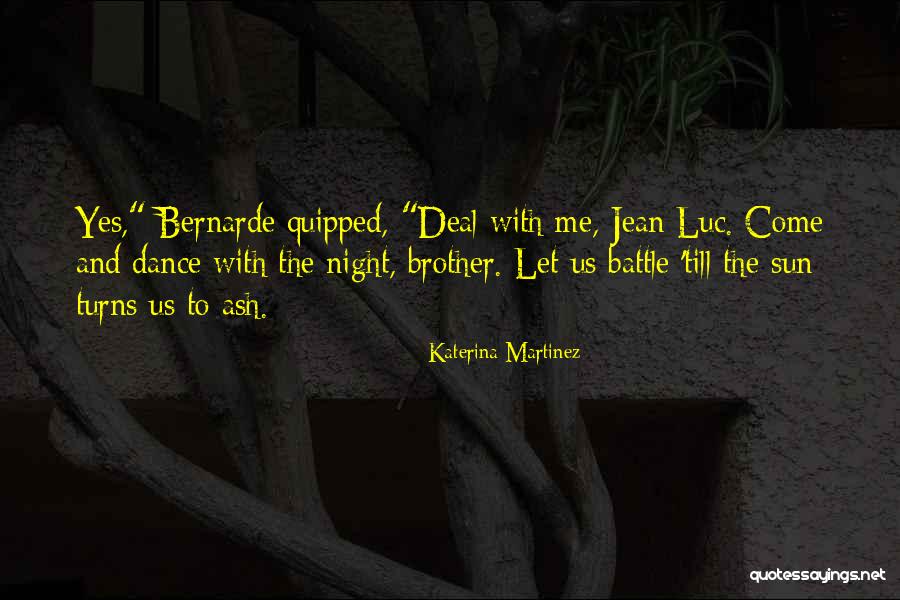 Yes," Bernarde quipped, "Deal with me, Jean Luc. Come and dance with the night, brother. Let us battle 'till the sun turns us to ash. — Katerina Martinez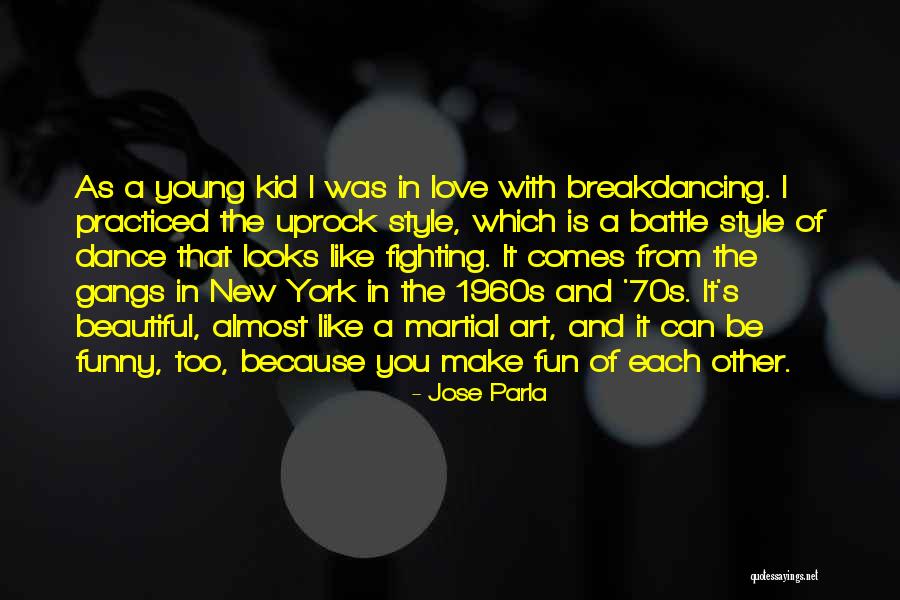 As a young kid I was in love with breakdancing. I practiced the uprock style, which is a battle style of dance that looks like fighting. It comes from the gangs in New York in the 1960s and '70s. It's beautiful, almost like a martial art, and it can be funny, too, because you make fun of each other. — Jose Parla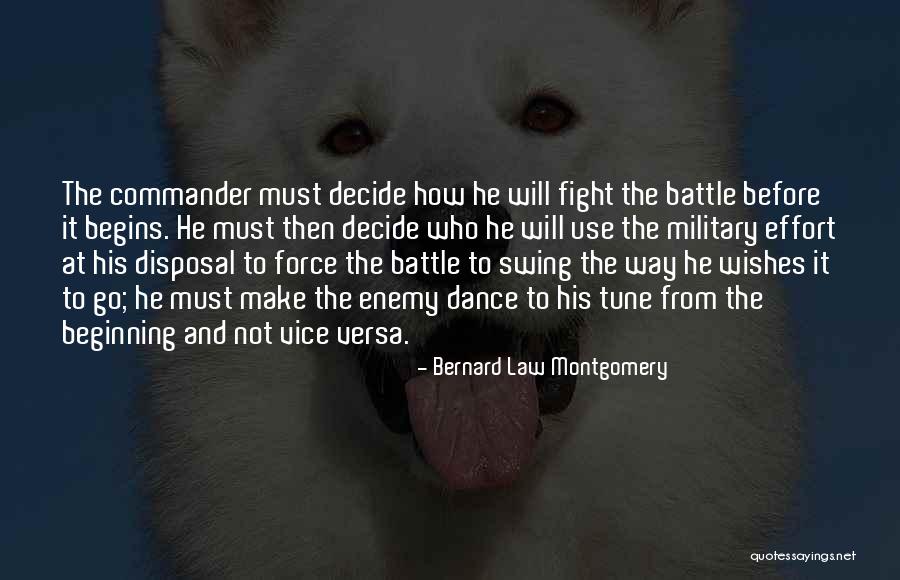 The commander must decide how he will fight the battle before it begins. He must then decide who he will use the military effort at his disposal to force the battle to swing the way he wishes it to go; he must make the enemy dance to his tune from the beginning and not vice versa. — Bernard Law Montgomery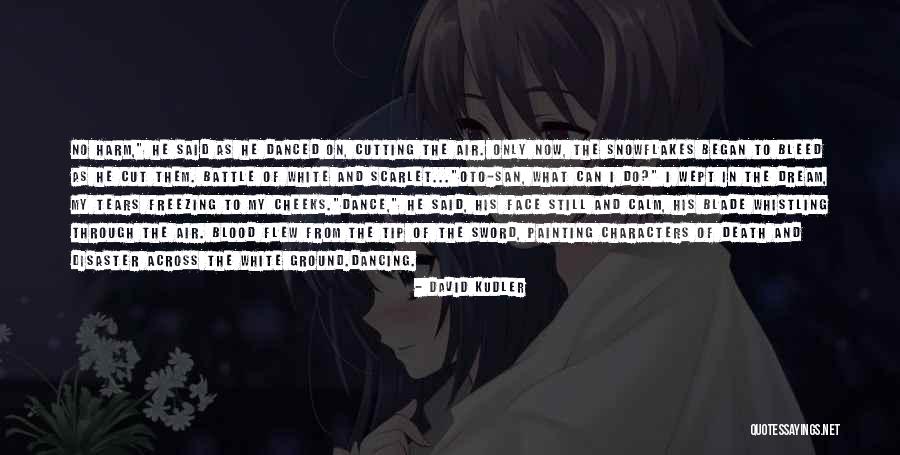 No harm," he said as he danced on, cutting the air. Only now, the snowflakes began to bleed as he cut them. Battle of white and scarlet...
"Oto-san, what can I do?" I wept in the dream, my tears freezing to my cheeks.
"Dance," he said, his face still and calm, his blade whistling through the air. Blood flew from the tip of the sword, painting characters of death and disaster across the white ground.
Dancing. — David Kudler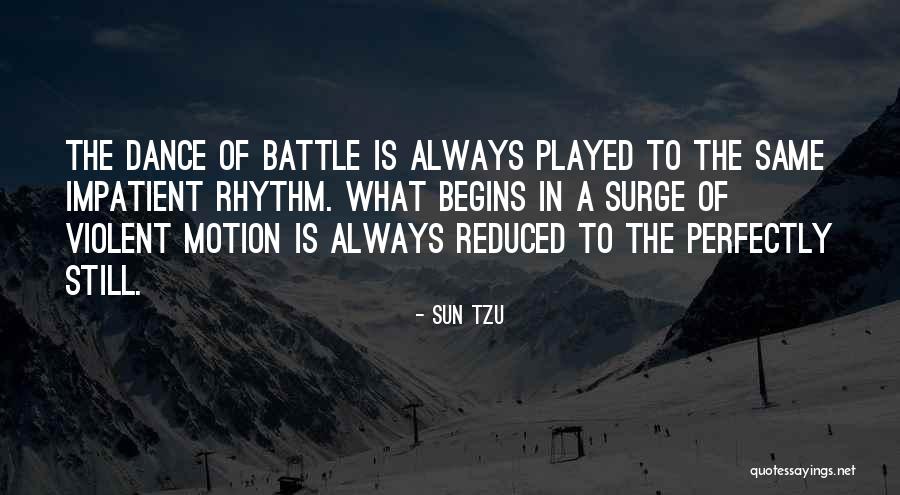 The dance of battle is always played to the same impatient rhythm. What begins in a surge of violent motion is always reduced to the perfectly still. — Sun Tzu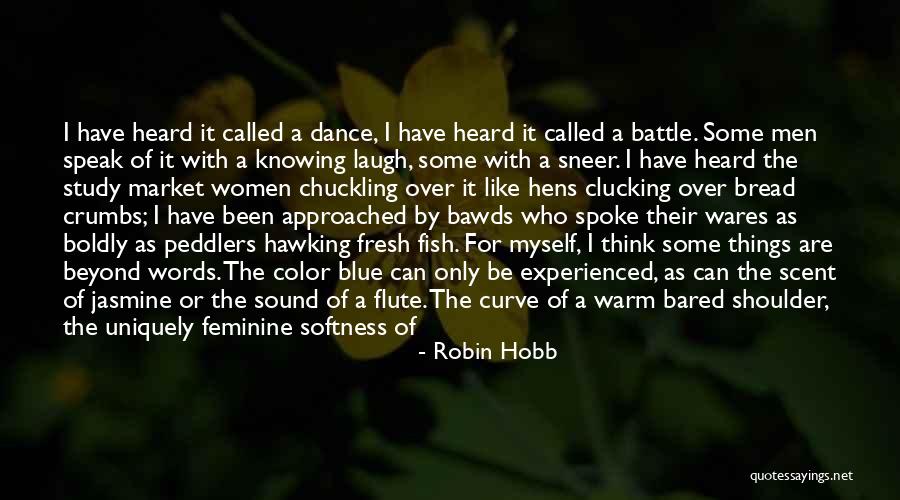 I have heard it called a dance, I have heard it called a battle. Some men speak of it with a knowing laugh, some with a sneer. I have heard the study market women chuckling over it like hens clucking over bread crumbs; I have been approached by bawds who spoke their wares as boldly as peddlers hawking fresh fish. For myself, I think some things are beyond words. The color blue can only be experienced, as can the scent of jasmine or the sound of a flute. The curve of a warm bared shoulder, the uniquely feminine softness of a breast, the startled sound one makes when all barriers suddenly yield, the perfume of her throat, the taste of her skin are all but parts, and sweet as they may be, they do not embody the whole. A thousand such details still would not illustrate it. — Robin Hobb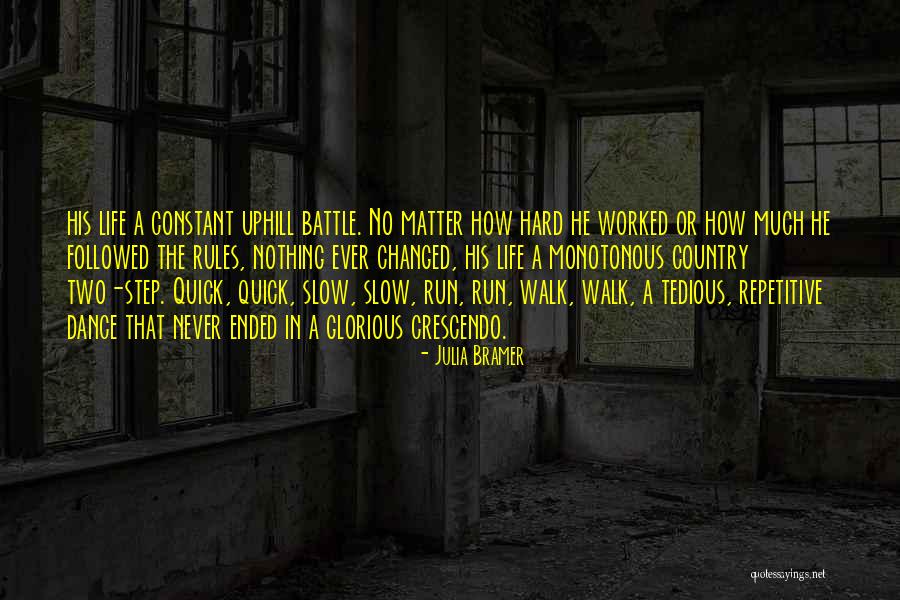 his life a constant uphill battle. No matter how hard he worked or how much he followed the rules, nothing ever changed, his life a monotonous country two-step. Quick, quick, slow, slow, run, run, walk, walk, a tedious, repetitive dance that never ended in a glorious crescendo. — Julia Bramer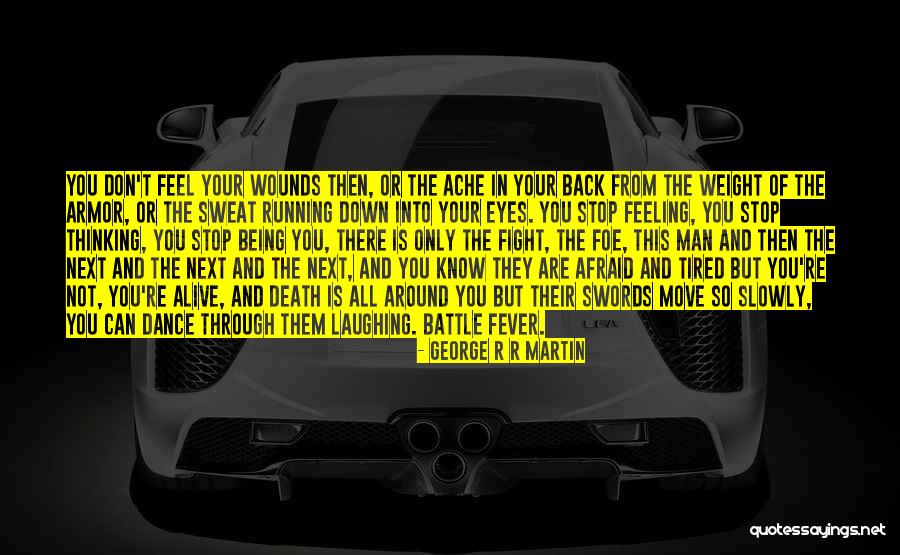 You don't feel your wounds then, or the ache in your back from the weight of the armor, or the sweat running down into your eyes. You stop feeling, you stop thinking, you stop being you, there is only the fight, the foe, this man and then the next and the next and the next, and you know they are afraid and tired but you're not, you're alive, and death is all around you but their swords move so slowly, you can dance through them laughing. Battle fever. — George R R Martin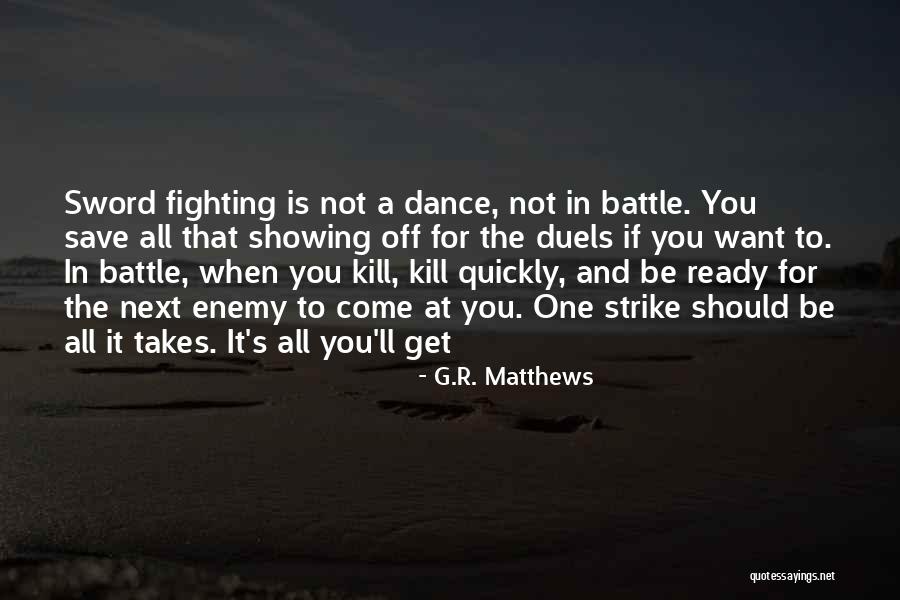 Sword fighting is not a dance, not in battle. You save all that showing off for the duels if you want to. In battle, when you kill, kill quickly, and be ready for the next enemy to come at you. One strike should be all it takes. It's all you'll get — G.R. Matthews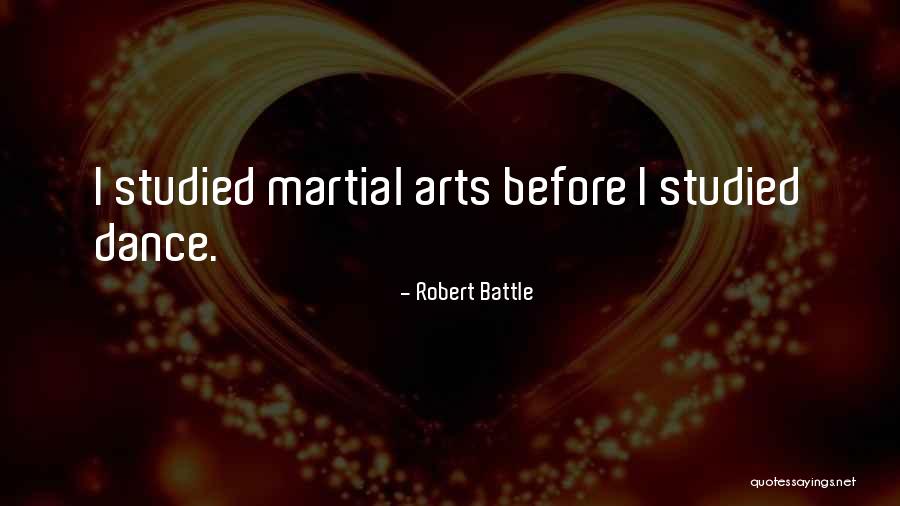 I studied martial arts before I studied dance. — Robert Battle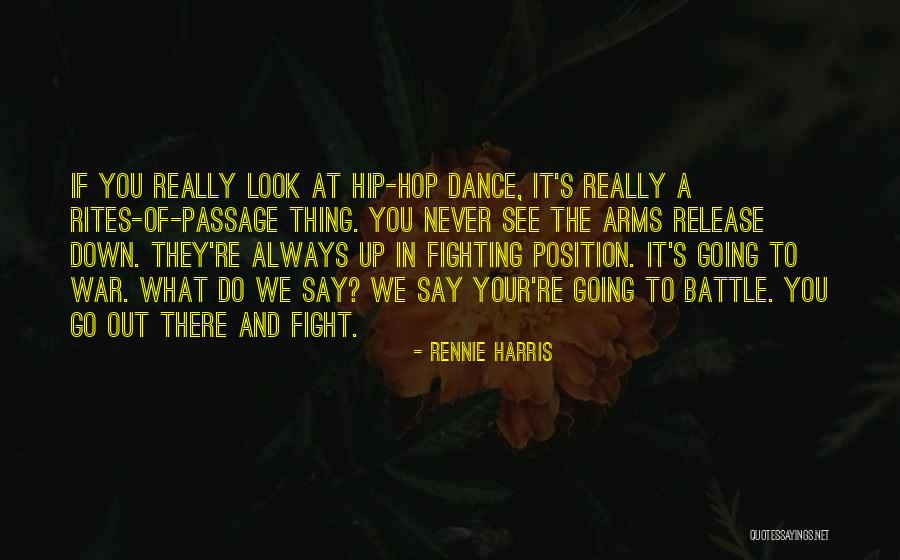 If you really look at hip-hop dance, it's really a rites-of-passage thing. You never see the arms release down. They're always up in fighting position. It's going to war. What do we say? We say your're going to battle. You go out there and fight. — Rennie Harris
Now if you are going to win any battle you have to do one
thing. You have to make the mind run the body. Never let the
body tell the mind what to do. The body will always give up.
It is always tired morning, noon, and night. But the body is
never tired if the mind is not tired. When you were younger
the mind could make you dance all night, and the body was
never tired ... You've always got to make the mind take over
and keep going. — George S. Patton Jr.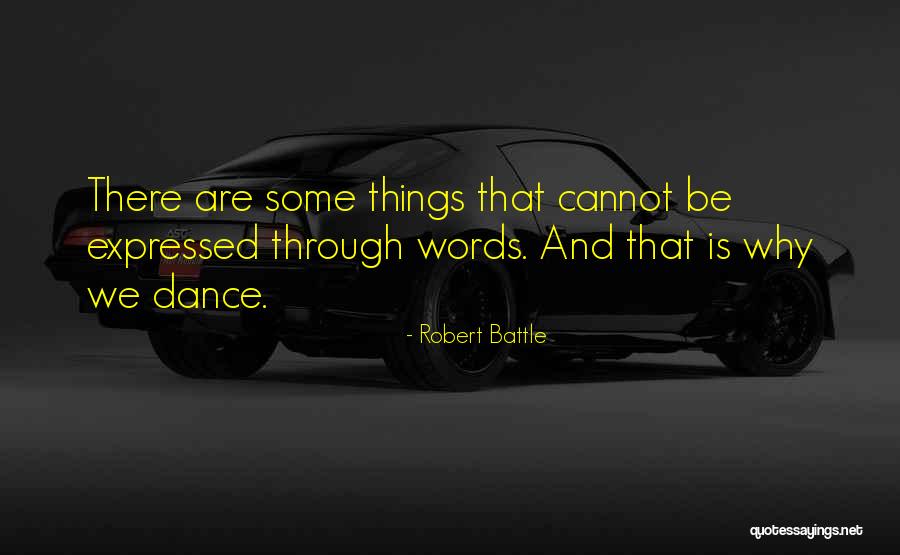 There are some things that cannot be expressed through words. And that is why we dance. — Robert Battle
Yes ... how else could Demandred explain the skill of the enemy general? Only a man with the experience of an ancient was so masterly at the dance of battlefields. At their core, many battle tactics were simple. Avoid being flanked, meet heavy force with pikes, infantry with a well-trained line, channelers with other channelers. And yet, the finesse of it ... the little details ... these took centuries to master. No man from this Age had lived long enough to learn the details with such care. — Robert Jordan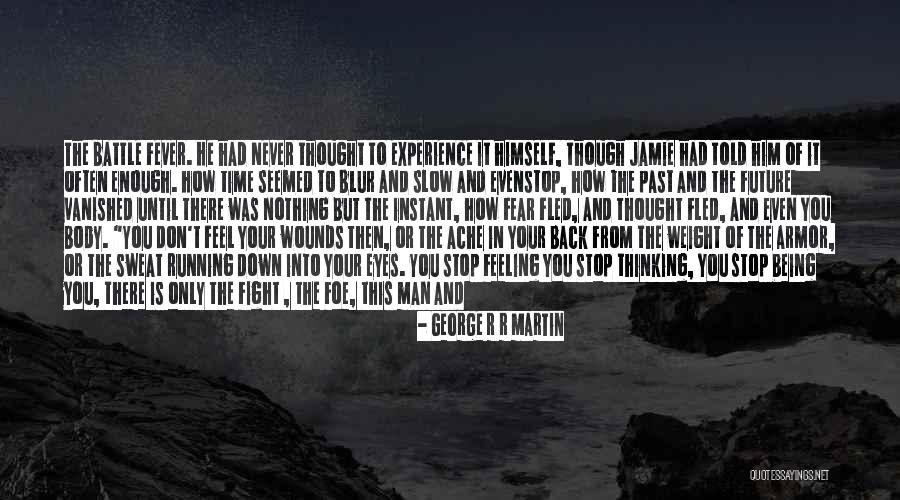 The battle fever. He had never thought to experience it himself, though Jamie had told him of it often enough. How time seemed to blur and slow and evenstop, how the past and the future vanished until there was nothing but the instant, how fear fled, and thought fled, and even you body. "You don't feel your wounds then, or the ache in your back from the weight of the armor, or the sweat running down into your eyes. You stop feeling you stop thinking, you stop being you, there is only the fight , the foe, this man and then the next and the next and the next, and you know they are afraid and tired but you're not, you're alive, and death is all around you but their swords move so slowly, you can dance through them laughing." Battle fever. I am half a man and drunk with slaughter, let them kill me if they can! — George R R Martin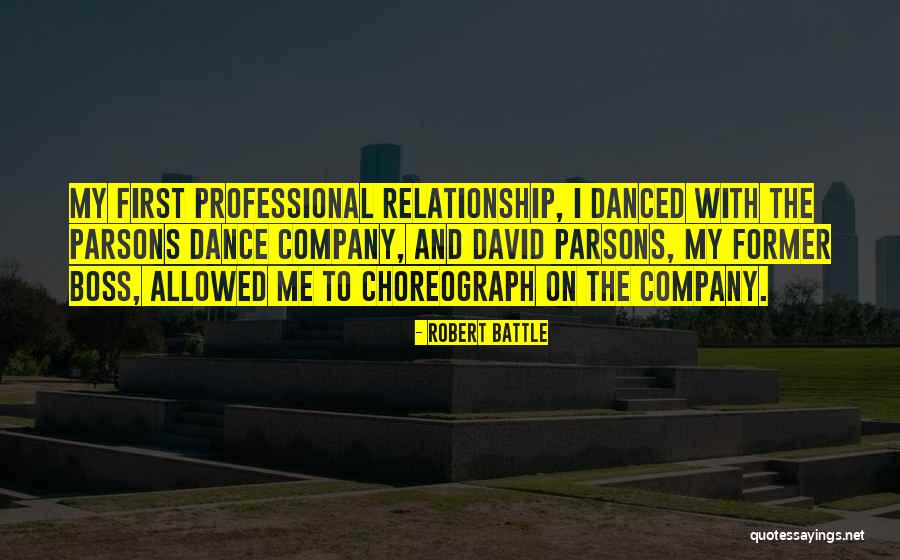 My first professional relationship, I danced with the Parsons Dance Company, and David Parsons, my former boss, allowed me to choreograph on the company. — Robert Battle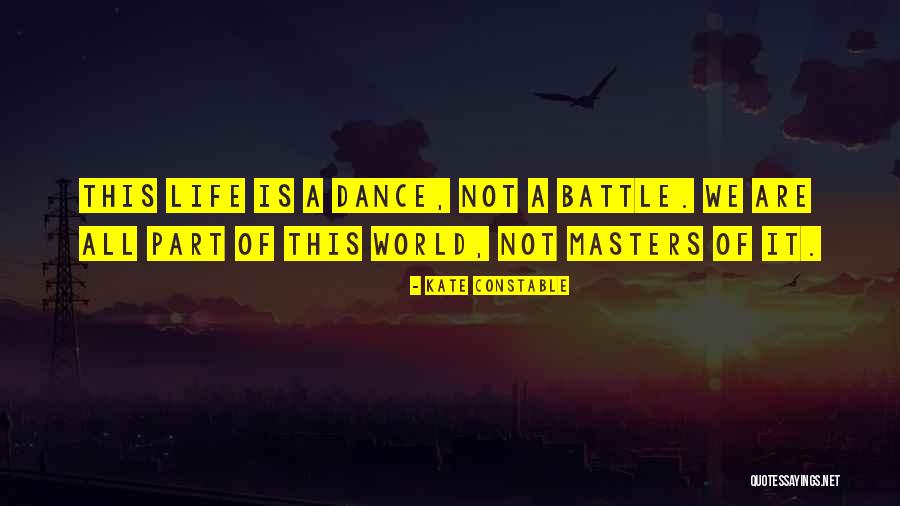 This life is a dance, not a battle. We are all part of this world, not masters of it. — Kate Constable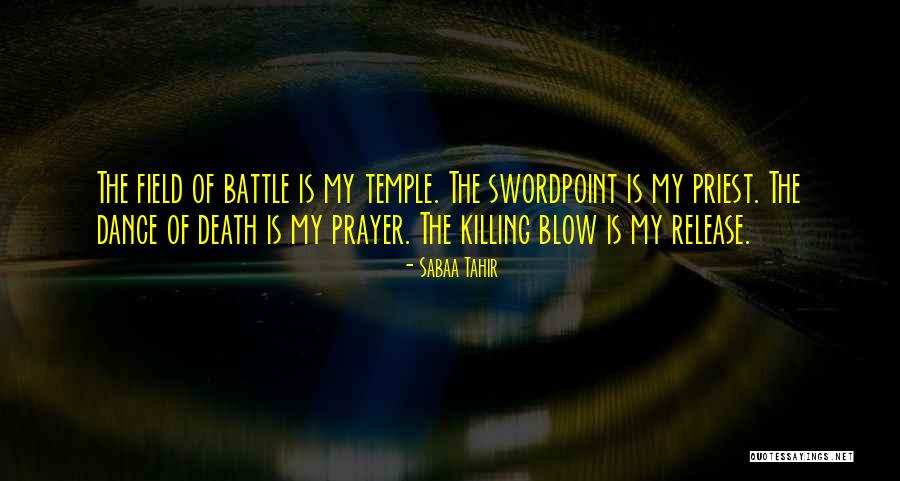 The field of battle is my temple. The swordpoint is my priest. The dance of death is my prayer. The killing blow is my release. — Sabaa Tahir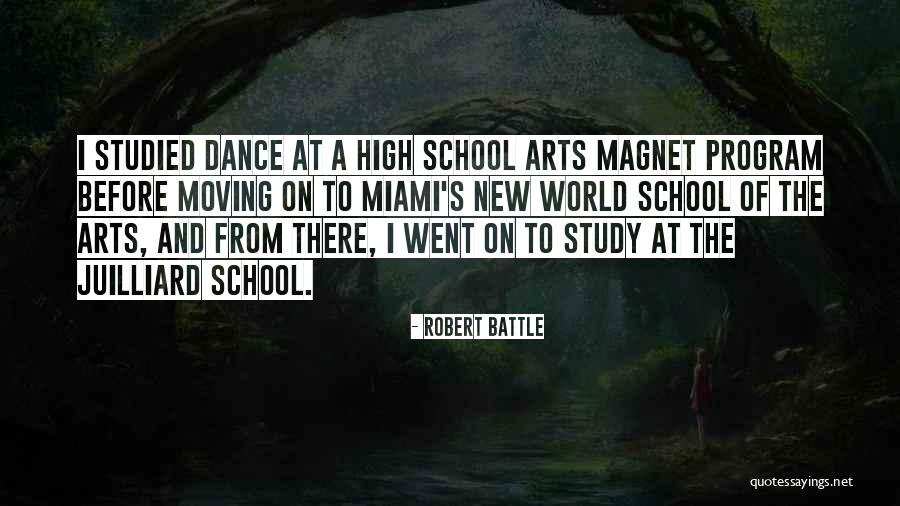 I studied dance at a high school arts magnet program before moving on to Miami's New World School of the Arts, and from there, I went on to study at The Juilliard School. — Robert Battle