Attain Goals Quotes & Sayings
Enjoy reading and share 42 famous quotes about Attain Goals with everyone.
Top Attain Goals Quotes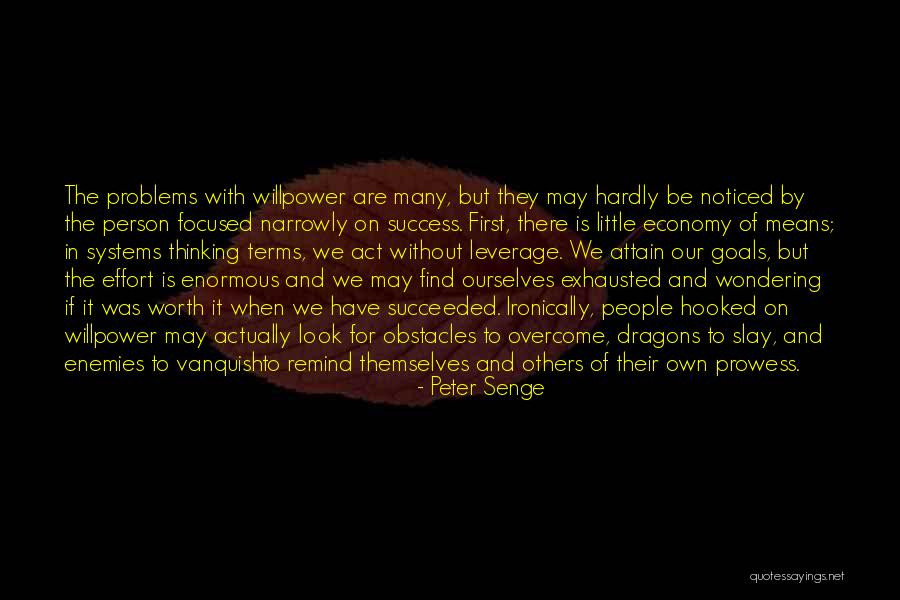 The problems with willpower are many, but they may hardly be noticed by the person focused narrowly on success. First, there is little economy of means; in systems thinking terms, we act without leverage. We attain our goals, but the effort is enormous and we may find ourselves exhausted and wondering if it was worth it when we have succeeded. Ironically, people hooked on willpower may actually look for obstacles to overcome, dragons to slay, and enemies to vanquish
to remind themselves and others of their own prowess. — Peter Senge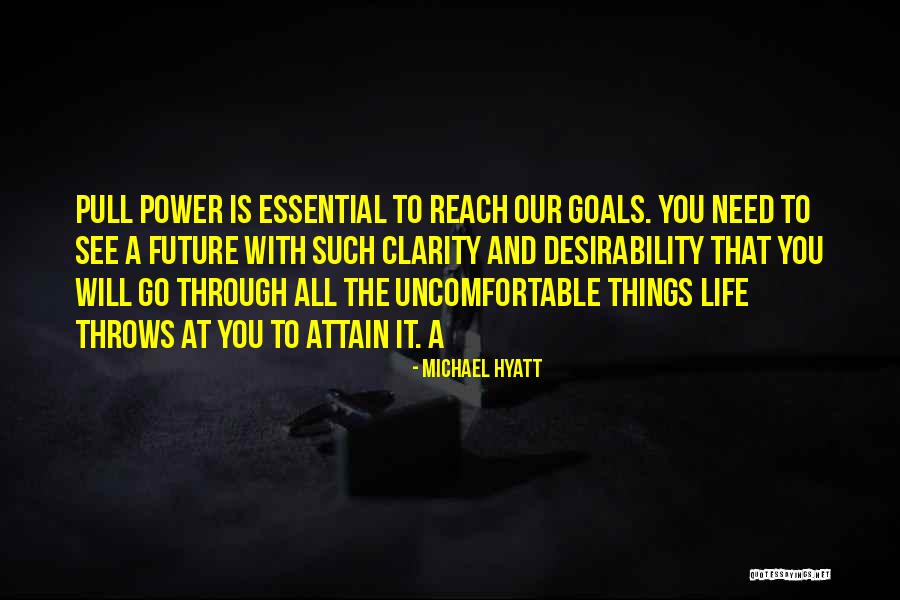 Pull power is essential to reach our goals. You need to see a future with such clarity and desirability that you will go through all the uncomfortable things life throws at you to attain it. A — Michael Hyatt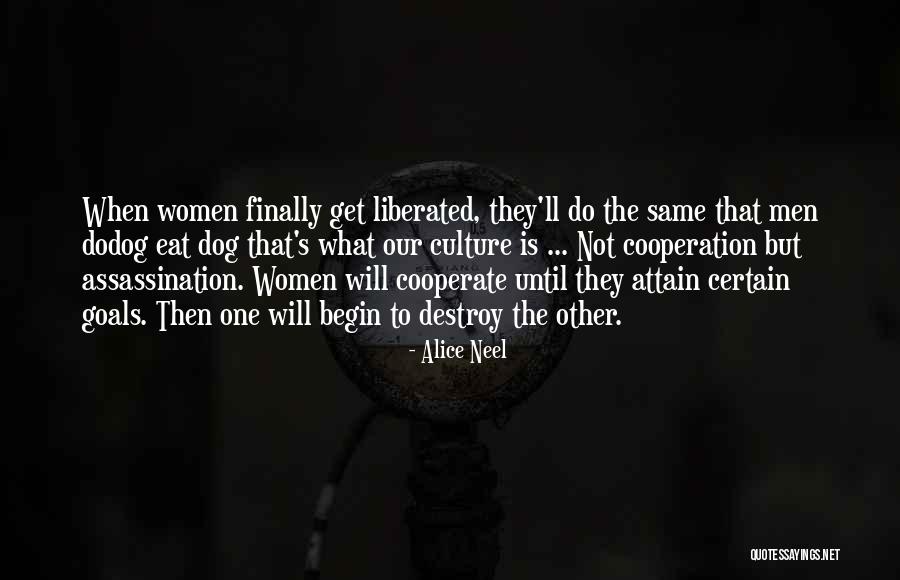 When women finally get liberated, they'll do the same that men do
dog eat dog
that's what our culture is ... Not cooperation but assassination. Women will cooperate until they attain certain goals. Then one will begin to destroy the other. — Alice Neel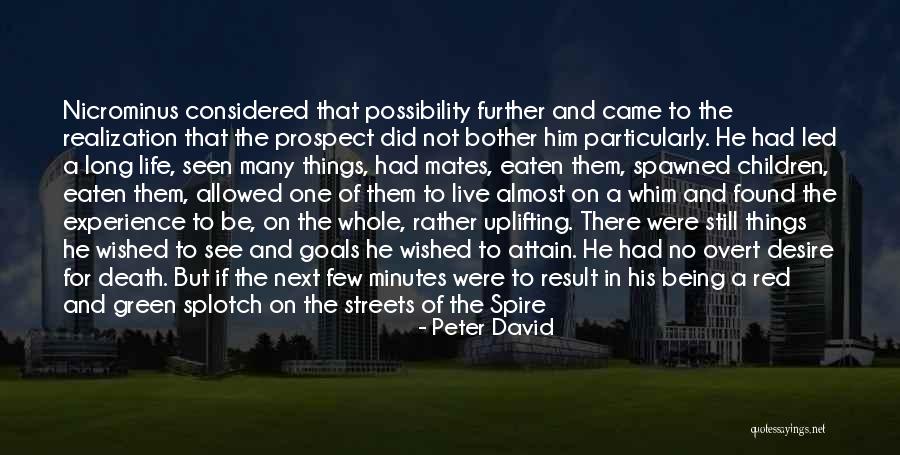 Nicrominus considered that possibility further and came to the realization that the prospect did not bother him particularly. He had led a long life, seen many things, had mates, eaten them, spawned children, eaten them, allowed one of them to live almost on a whim and found the experience to be, on the whole, rather uplifting. There were still things he wished to see and goals he wished to attain. He had no overt desire for death. But if the next few minutes were to result in his being a red and green splotch on the streets of the Spire city, well ... it wasn't as if he hadn't had more than his share of experiences. — Peter David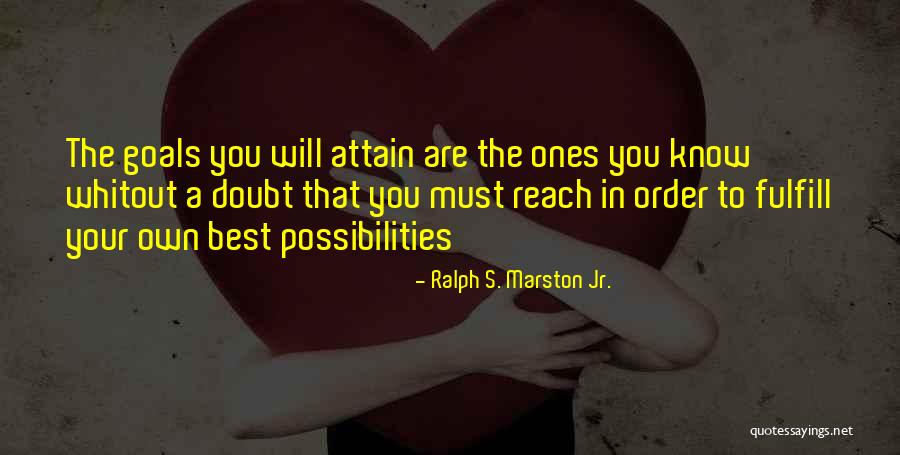 The goals you will attain are the ones you know whitout a doubt that you must reach in order to fulfill your own best possibilities — Ralph S. Marston Jr.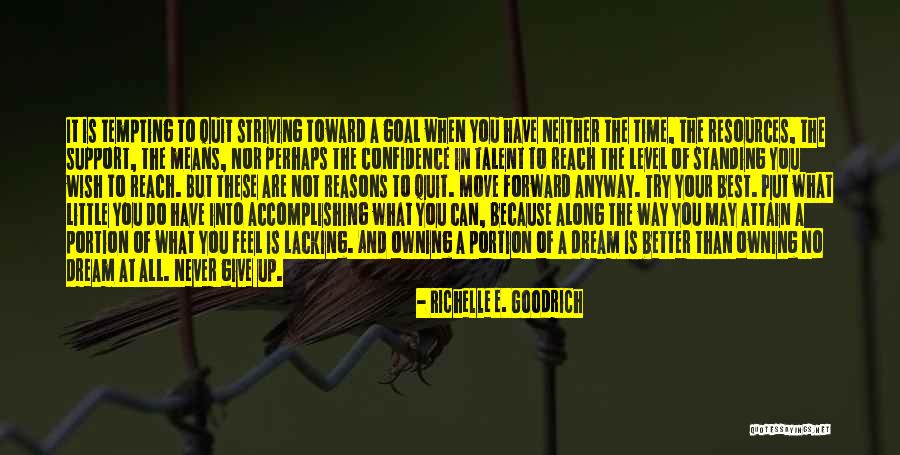 It is tempting to quit striving toward a goal when you have neither the time, the resources, the support, the means, nor perhaps the confidence in talent to reach the level of standing you wish to reach. But these are not reasons to quit. Move forward anyway. Try your best. Put what little you do have into accomplishing what you can, because along the way you may attain a portion of what you feel is lacking. And owning a portion of a dream is better than owning no dream at all. Never give up. — Richelle E. Goodrich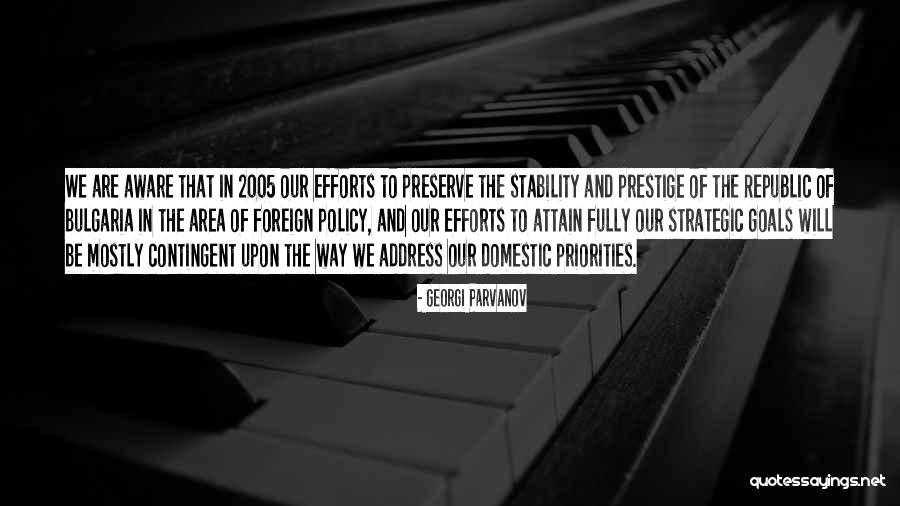 We are aware that in 2005 our efforts to preserve the stability and prestige of the Republic of Bulgaria in the area of foreign policy, and our efforts to attain fully our strategic goals will be mostly contingent upon the way we address our domestic priorities. — Georgi Parvanov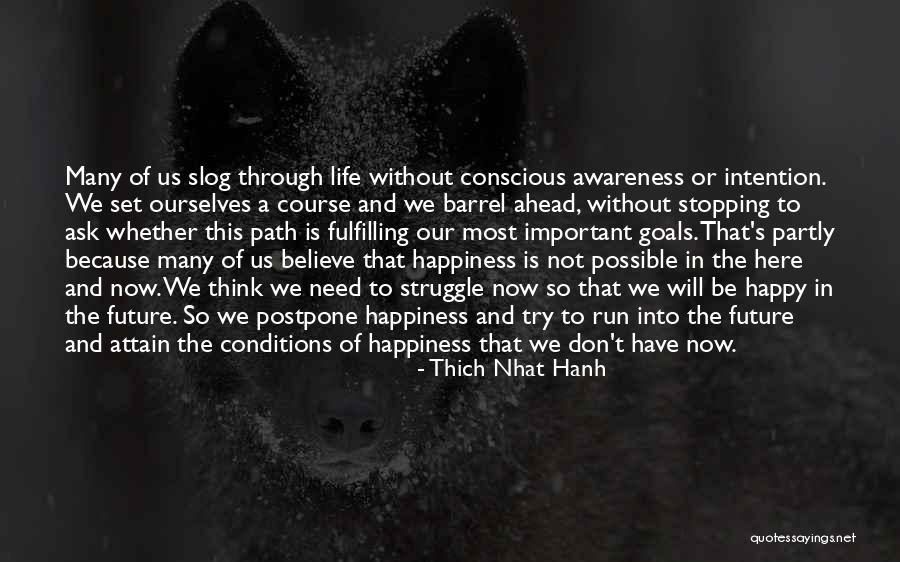 Many of us slog through life without conscious awareness or intention. We set ourselves a course and we barrel ahead, without stopping to ask whether this path is fulfilling our most important goals. That's partly because many of us believe that happiness is not possible in the here and now. We think we need to struggle now so that we will be happy in the future. So we postpone happiness and try to run into the future and attain the conditions of happiness that we don't have now. — Thich Nhat Hanh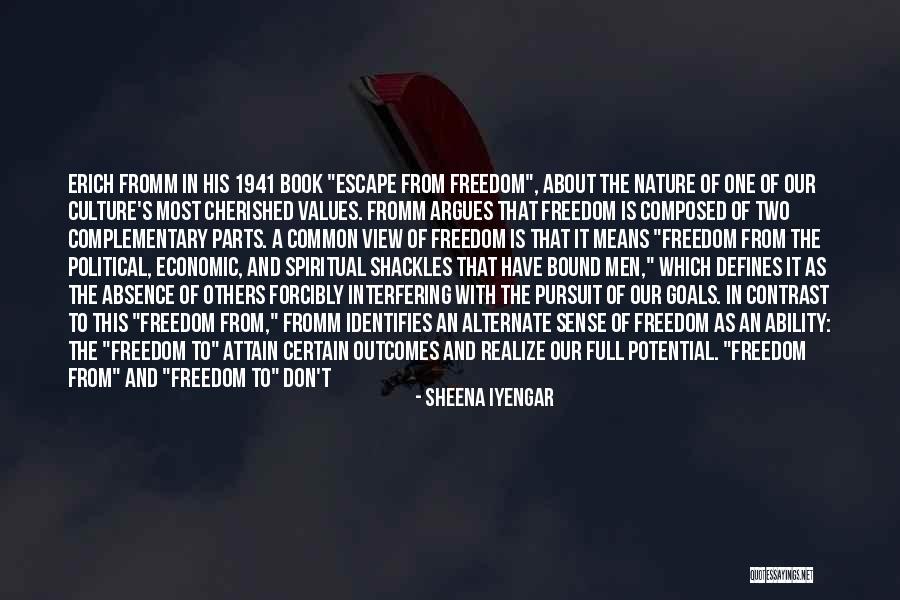 Erich Fromm in his 1941 book "Escape from Freedom", about the nature of one of our culture's most cherished values. Fromm argues that freedom is composed of two complementary parts. A common view of freedom is that it means "freedom from the political, economic, and spiritual shackles that have bound men," which defines it as the absence of others forcibly interfering with the pursuit of our goals. In contrast to this "freedom from," Fromm identifies an alternate sense of freedom as an ability: the "freedom to" attain certain outcomes and realize our full potential. "Freedom from" and "freedom to" don't always go together, but one must be free in both senses to obtain full benefit from choice. A child may be allowed to have a cookie, but he won't get it if he can't reach the cookie jar high on the shelf. — Sheena Iyengar
One of the key paradoxes in Buddhism is that we need goals to be inspired, to grow, and to develop, even to become enlightened, but at the same time we must not get overly fixated or attached to these aspirations. If the goal is noble, your commitment to the goal should not be contingent on your ability to attain it, and in pursuit of our goal, we must release our rigid assumptions about how we must achieve it. Peace and equanimity come from letting go of our attachment to the goal and the method. That is the essence of acceptance. Reflecting — Dalai Lama XIV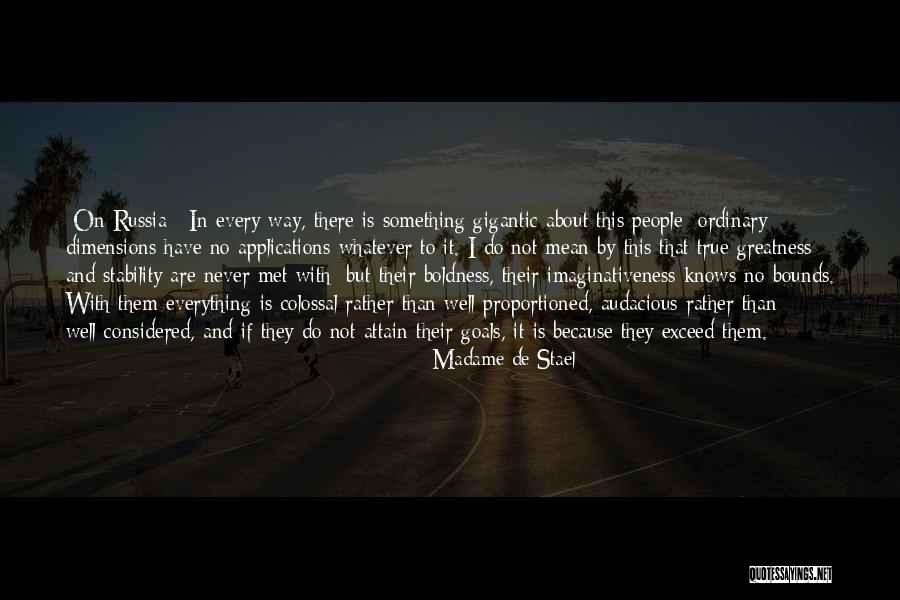 [On Russia:] In every way, there is something gigantic about this people: ordinary dimensions have no applications whatever to it. I do not mean by this that true greatness and stability are never met with; but their boldness, their imaginativeness knows no bounds. With them everything is colossal rather than well-proportioned, audacious rather than well-considered, and if they do not attain their goals, it is because they exceed them. — Madame De Stael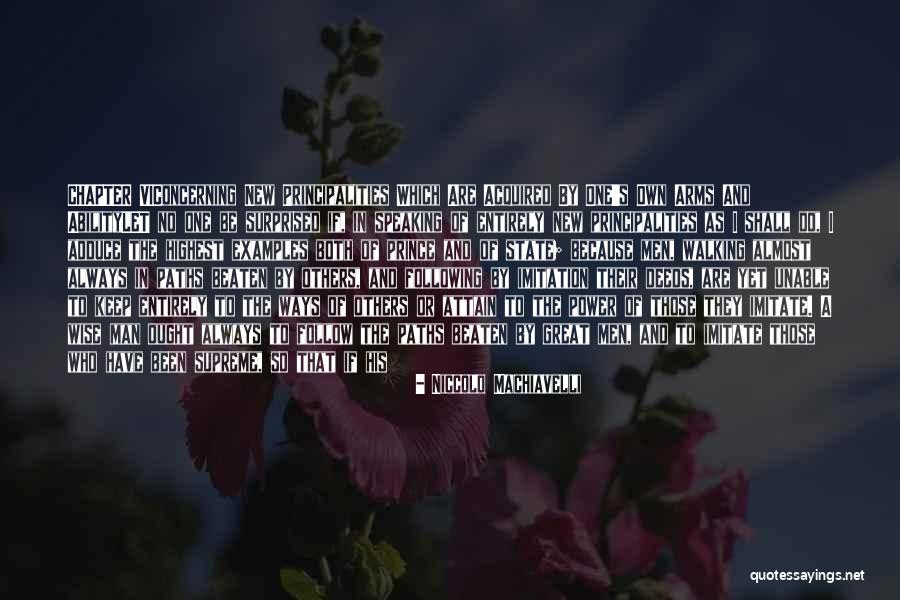 CHAPTER VI
Concerning New Principalities Which Are Acquired By One's Own Arms And Ability
LET no one be surprised if, in speaking of entirely new principalities as I shall do, I adduce the highest examples both of prince and of state; because men, walking almost always in paths beaten by others, and following by imitation their deeds, are yet unable to keep entirely to the ways of others or attain to the power of those they imitate. A wise man ought always to follow the paths beaten by great men, and to imitate those who have been supreme, so that if his ability does not equal theirs, at least it will savour of it. Let him act like the clever archers who, designing to hit the mark which yet appears too far distant, and knowing the limits to which the strength of their bow attains, take aim much higher than the mark, not to reach by their strength or arrow to so great a height, but to be able with the aid of so high an aim to hit the mark they wish to reach. — Niccolo Machiavelli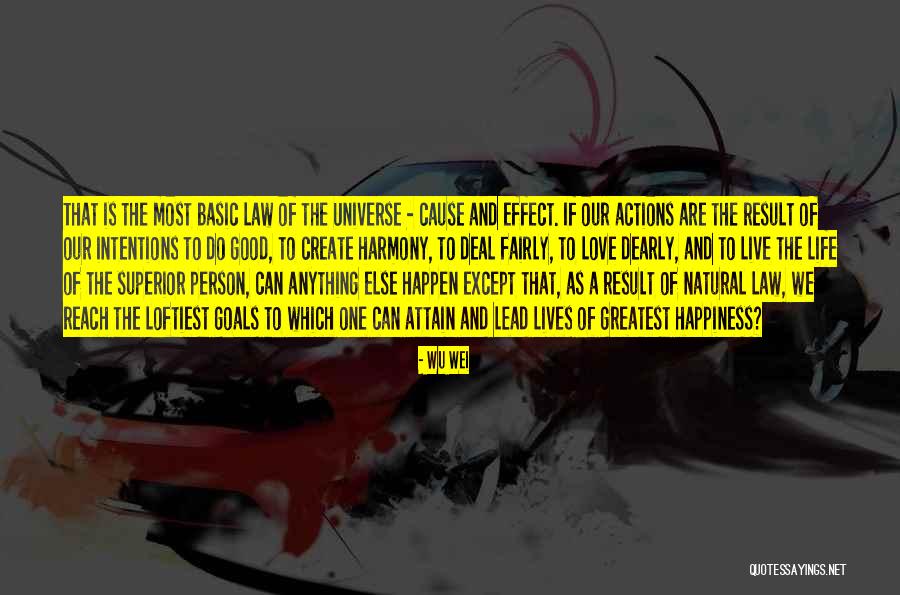 That is the most basic law of the Universe - cause and effect. If our actions are the result of our intentions to do good, to create harmony, to deal fairly, to love dearly, and to live the life of the superior person, can anything else happen except that, as a result of natural law, we reach the loftiest goals to which one can attain and lead lives of greatest happiness? — Wu Wei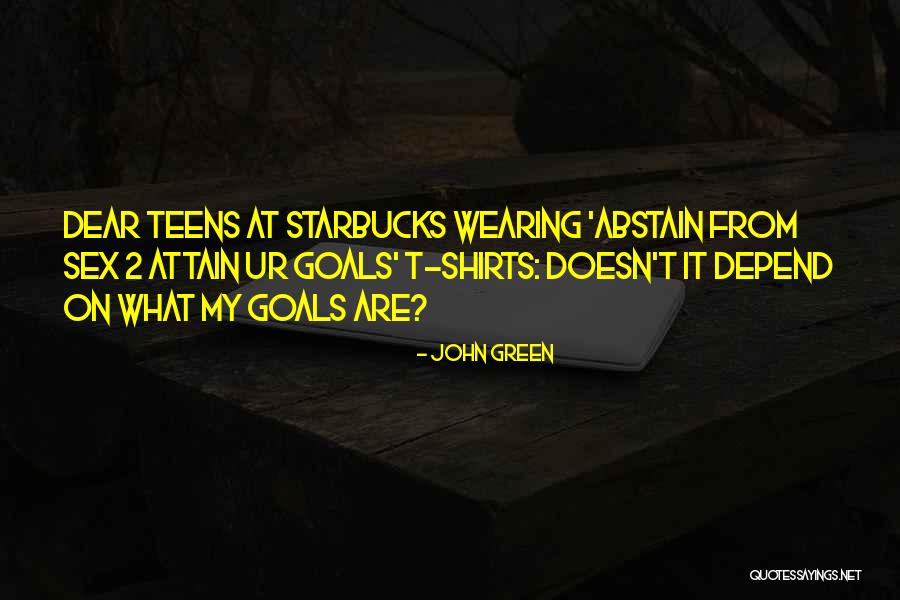 Dear Teens at Starbucks wearing 'Abstain from Sex 2 Attain Ur Goals' t-shirts: Doesn't it depend on what my goals are? — John Green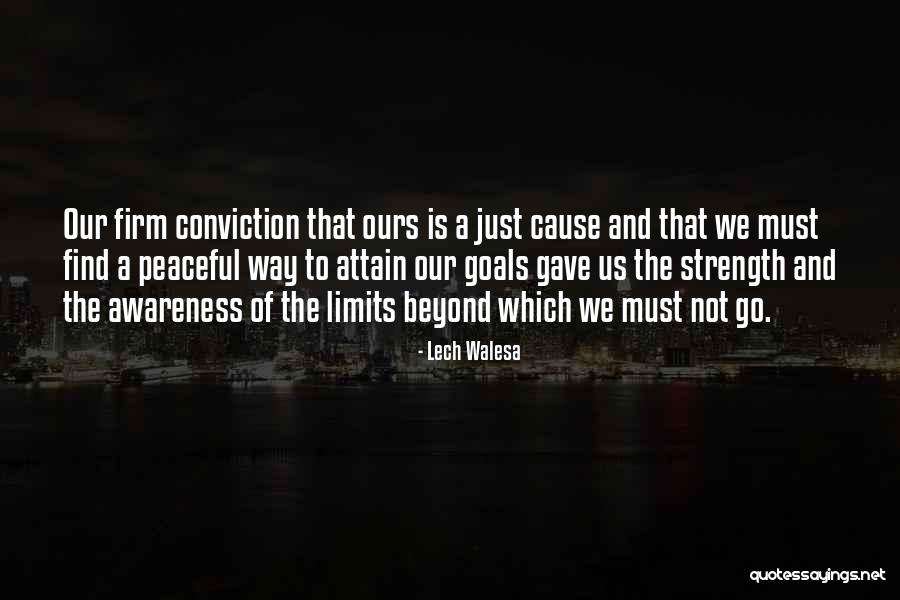 Our firm conviction that ours is a just cause and that we must find a peaceful way to attain our goals gave us the strength and the awareness of the limits beyond which we must not go. — Lech Walesa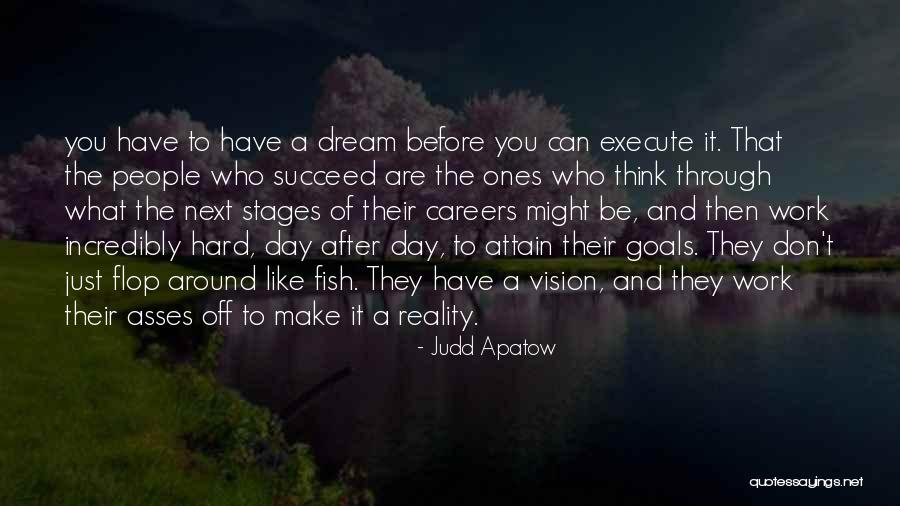 you have to have a dream before you can execute it. That the people who succeed are the ones who think through what the next stages of their careers might be, and then work incredibly hard, day after day, to attain their goals. They don't just flop around like fish. They have a vision, and they work their asses off to make it a reality. — Judd Apatow
The only advice I could give is to stay positive and focused in terms of what your goals are, and stick to them. If you can't attain those goals, maybe they're not realistic. At this level only a small percentage of players make it, so you've really got to strive to get what you want. — Filo Tiatia
Self-realization is largely a matter of achieving a person's formative personality definition. People whom lack self-realization oftentimes fail to integrate their desired personality traits into all phases of their life including social life, family life, and work life. In order to achieve satisfaction with oneself, a person must know what they wish for, know how to go about achieving their goals, be capable of recognizing where they now stand, and understand how they must change in order to attain their ultimate visage. — Kilroy J. Oldster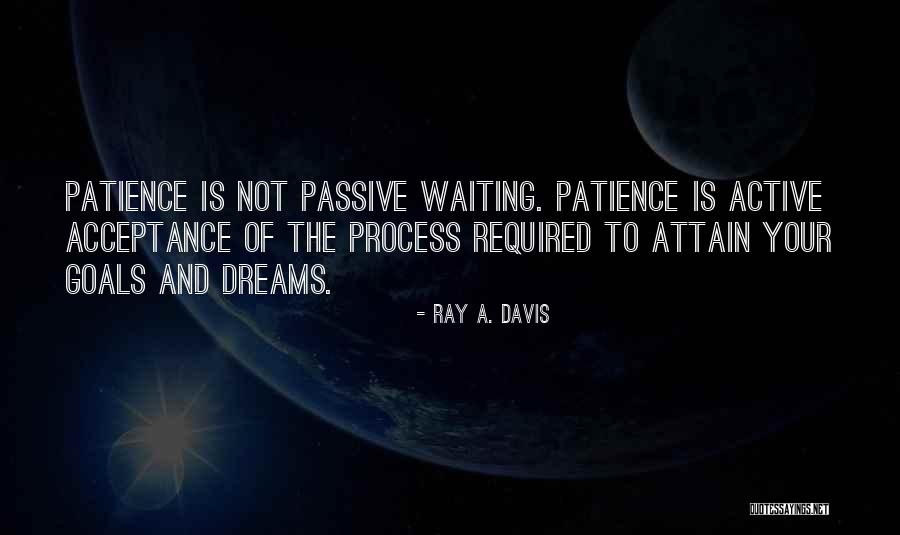 Patience is not passive waiting. Patience is active acceptance of the process required to attain your goals and dreams. — Ray A. Davis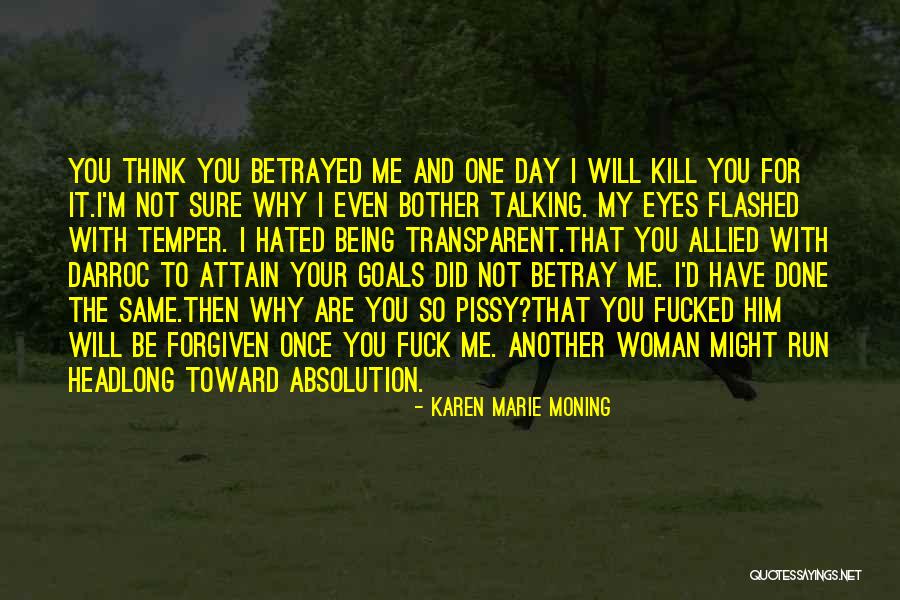 You think you betrayed me and one day I will kill you for it.
I'm not sure why I even bother talking. My eyes flashed with temper. I hated being transparent.
That you allied with Darroc to attain your goals did not betray me. I'd have done the same.
Then why are you so pissy?
That you fucked him will be forgiven once you fuck me. Another woman might run headlong toward absolution. — Karen Marie Moning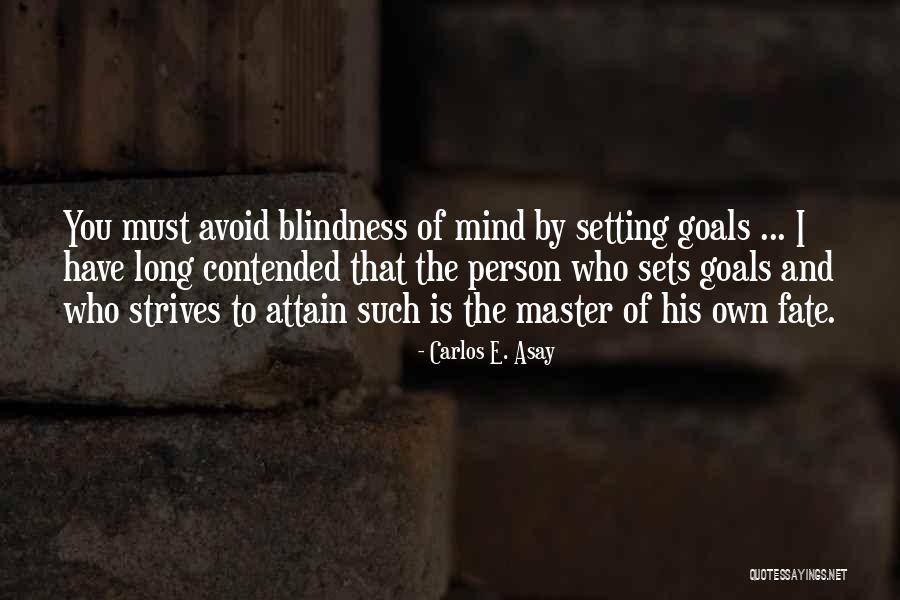 You must avoid blindness of mind by setting goals ... I have long contended that the person who sets goals and who strives to attain such is the master of his own fate. — Carlos E. Asay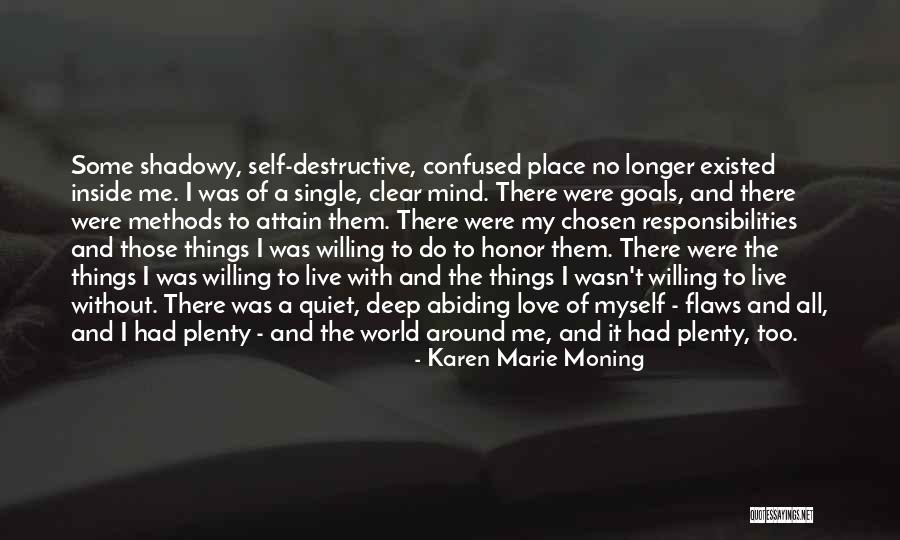 Some shadowy, self-destructive, confused place no longer existed inside me. I was of a single, clear mind. There were goals, and there were methods to attain them. There were my chosen responsibilities and those things I was willing to do to honor them. There were the things I was willing to live with and the things I wasn't willing to live without. There was a quiet, deep abiding love of myself - flaws and all, and I had plenty - and the world around me, and it had plenty, too. — Karen Marie Moning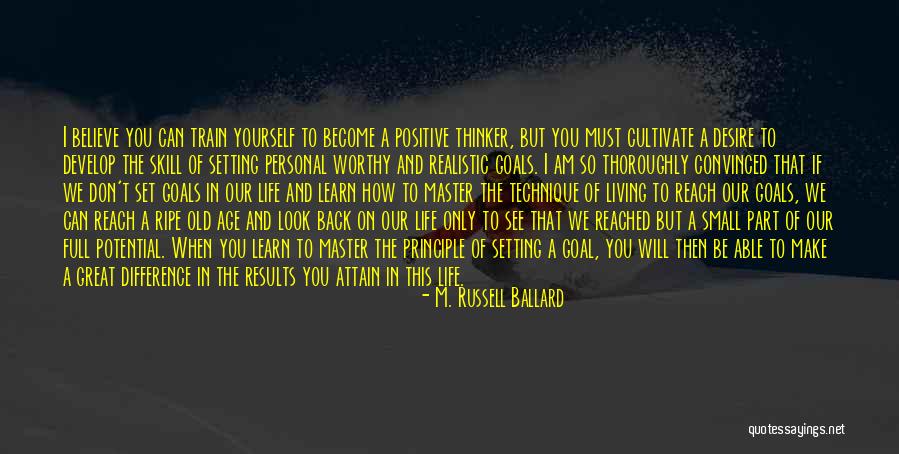 I believe you can train yourself to become a positive thinker, but you must cultivate a desire to develop the skill of setting personal worthy and realistic goals. I am so thoroughly convinced that if we don't set goals in our life and learn how to master the technique of living to reach our goals, we can reach a ripe old age and look back on our life only to see that we reached but a small part of our full potential. When you learn to master the principle of setting a goal, you will then be able to make a great difference in the results you attain in this life. — M. Russell Ballard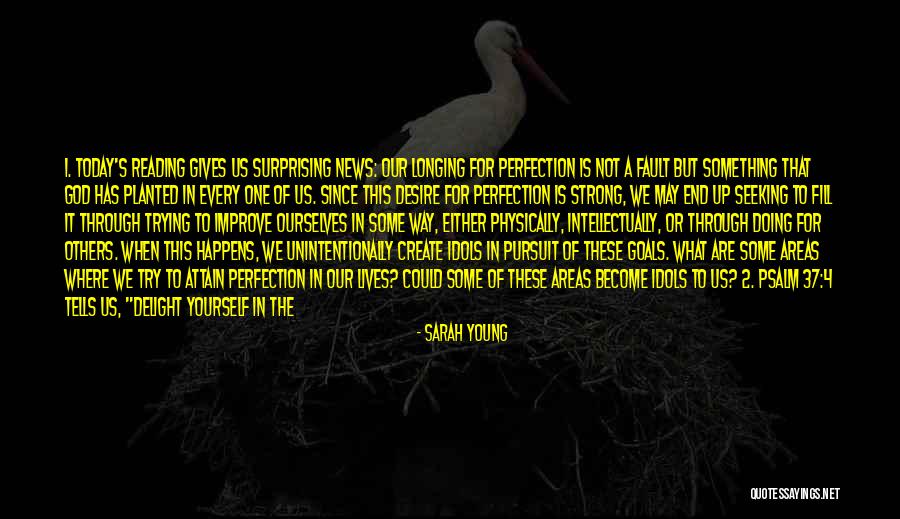 1. Today's reading gives us surprising news: our longing for perfection is not a fault but something that God has planted in every one of us. Since this desire for perfection is strong, we may end up seeking to fill it through trying to improve ourselves in some way, either physically, intellectually, or through doing for others. When this happens, we unintentionally create idols in pursuit of these goals. What are some areas where we try to attain perfection in our lives? Could some of these areas become idols to us? 2. Psalm 37:4 tells us, "Delight yourself in the Lord and he will give you the desires of your heart." What desires does your heart want that might bring you true perfection in Christ, rather than the false perfection you often seek in your life? 3. Looking back on your life, what events or occurrences do you see as evidence of God bringing you closer to Him, or perfecting you in your walk with Him? — Sarah Young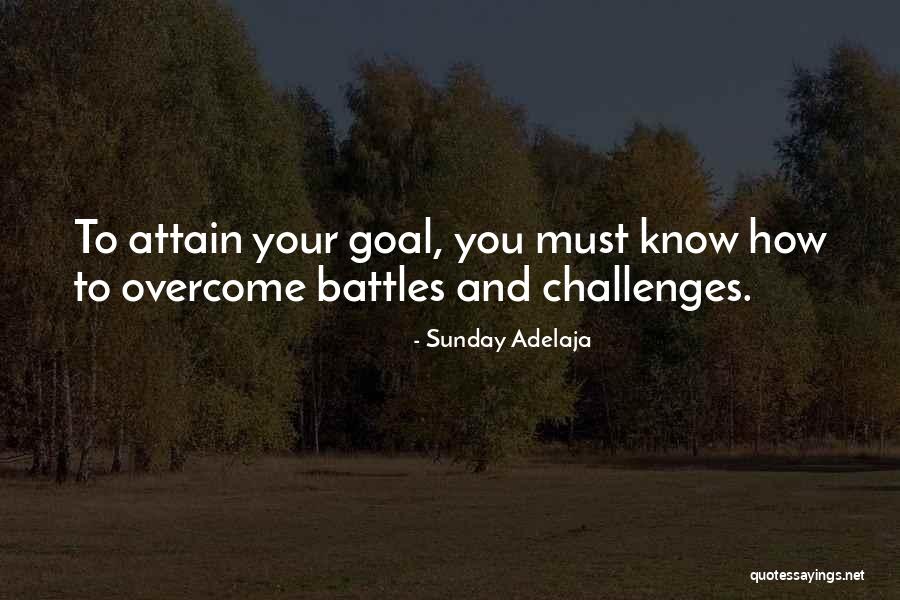 To attain your goal, you must know how to overcome battles and challenges. — Sunday Adelaja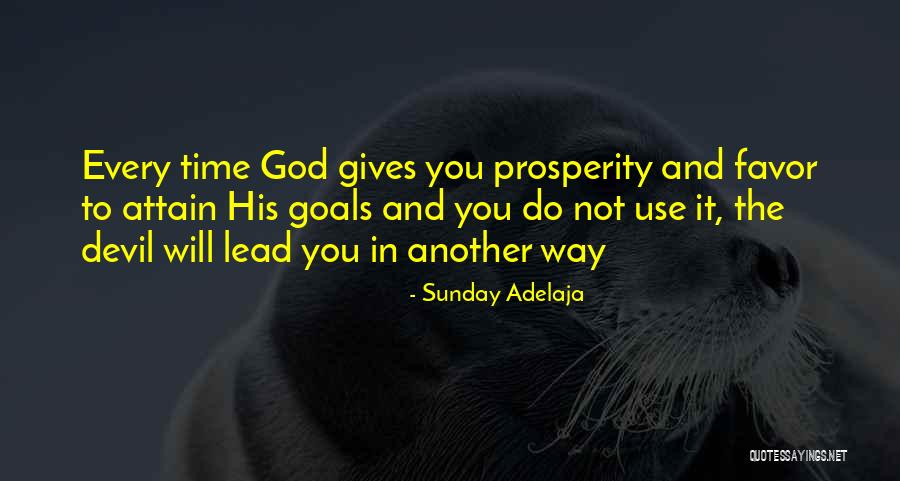 Every time God gives you prosperity and favor to attain His goals and you do not use it, the devil will lead you in another way — Sunday Adelaja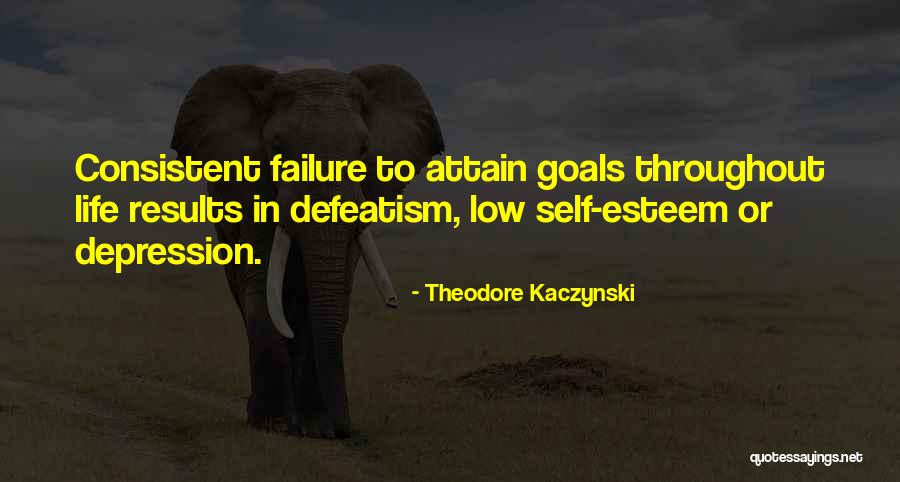 Consistent failure to attain goals throughout life results in defeatism, low self-esteem or depression. — Theodore Kaczynski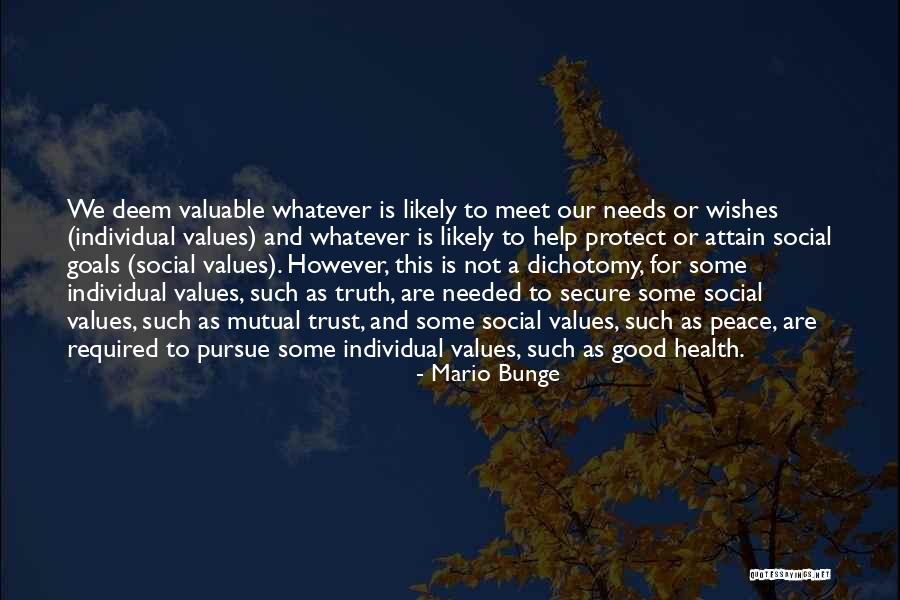 We deem valuable whatever is likely to meet our needs or wishes (individual values) and whatever is likely to help protect or attain social goals (social values). However, this is not a dichotomy, for some individual values, such as truth, are needed to secure some social values, such as mutual trust, and some social values, such as peace, are required to pursue some individual values, such as good health. — Mario Bunge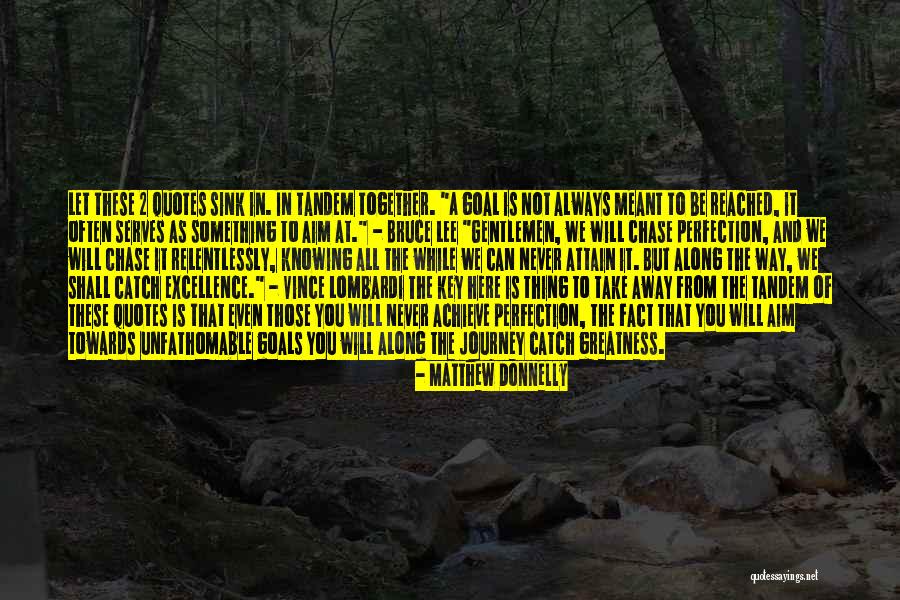 Let these 2 quotes sink in. In tandem together.

"A goal is not always meant to be reached, it often serves as something to aim at." - Bruce Lee

"Gentlemen, we will chase perfection, and we will chase it relentlessly, knowing all the while we can never attain it. But along the way, we shall catch excellence." - Vince Lombardi

The key here is thing to take away from the tandem of these quotes is that even those you will never achieve perfection, the fact that you will aim towards unfathomable goals you will along the journey catch greatness. — Matthew Donnelly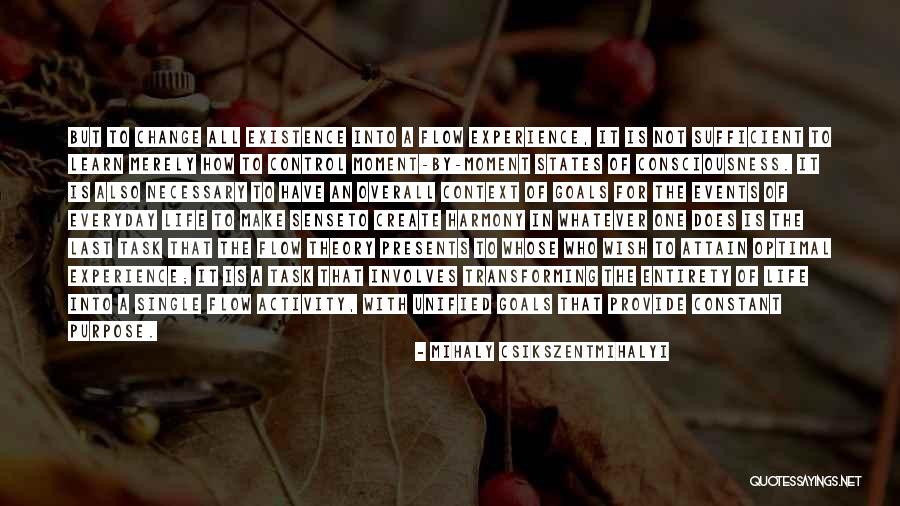 But to change all existence into a flow experience, it is not sufficient to learn merely how to control moment-by-moment states of consciousness. It is also necessary to have an overall context of goals for the events of everyday life to make senseTo create harmony in whatever one does is the last task that the flow theory presents to whose who wish to attain optimal experience; it is a task that involves transforming the entirety of life into a single flow activity, with unified goals that provide constant purpose. — Mihaly Csikszentmihalyi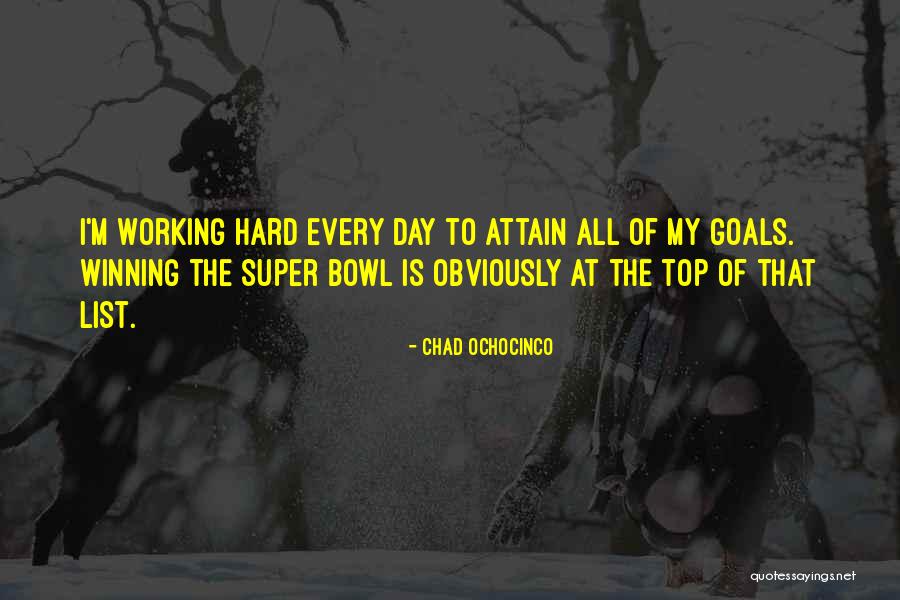 I'm working hard every day to attain all of my goals. Winning the Super Bowl is obviously at the top of that list. — Chad Ochocinco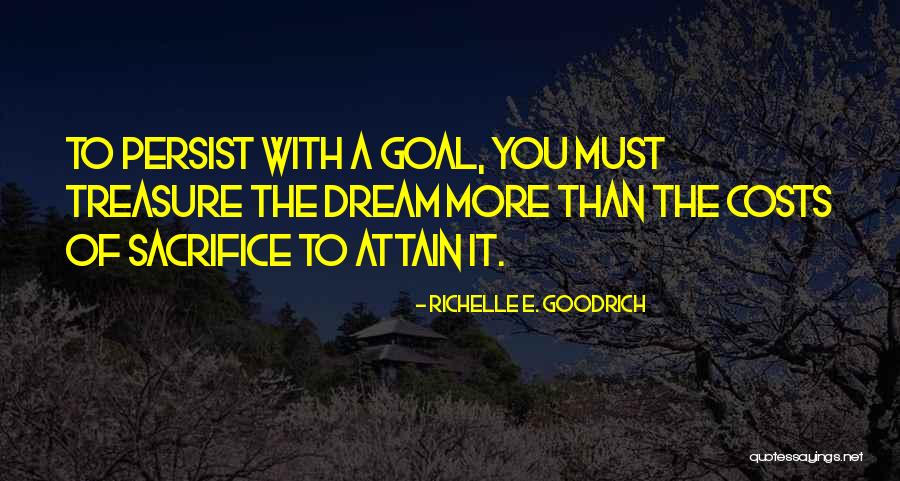 To persist with a goal, you must treasure the dream more than the costs of sacrifice to attain it. — Richelle E. Goodrich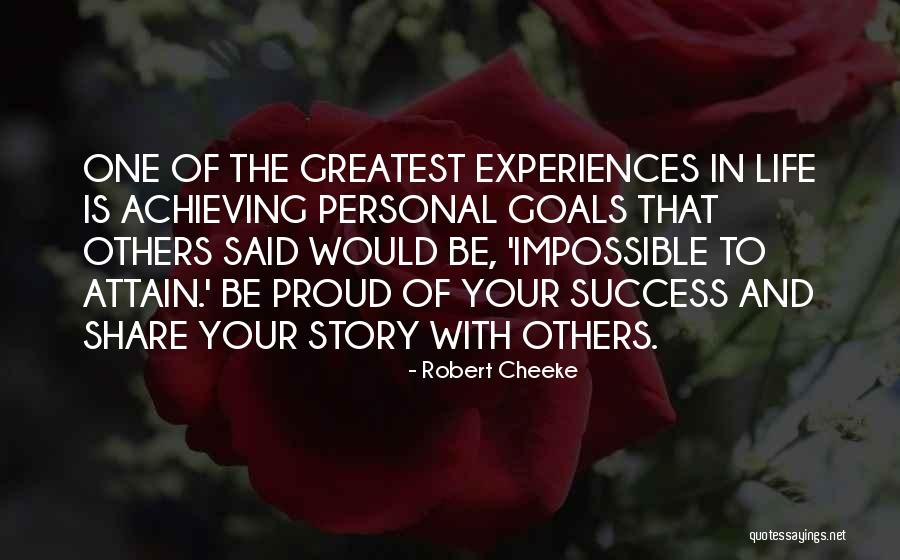 ONE OF THE GREATEST EXPERIENCES IN LIFE IS ACHIEVING PERSONAL GOALS THAT OTHERS SAID WOULD BE, 'IMPOSSIBLE TO ATTAIN.' BE PROUD OF YOUR SUCCESS AND SHARE YOUR STORY WITH OTHERS. — Robert Cheeke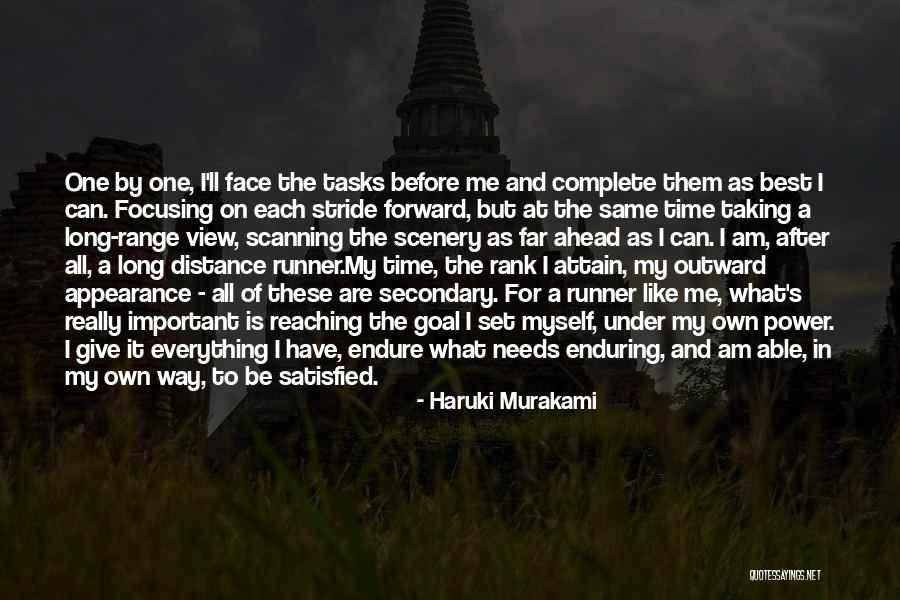 One by one, I'll face the tasks before me and complete them as best I can. Focusing on each stride forward, but at the same time taking a long-range view, scanning the scenery as far ahead as I can. I am, after all, a long distance runner.
My time, the rank I attain, my outward appearance - all of these are secondary. For a runner like me, what's really important is reaching the goal I set myself, under my own power. I give it everything I have, endure what needs enduring, and am able, in my own way, to be satisfied. From out of the failures and joys I always try to come away having grasped a concrete lesson. (It's got to be concrete, no matter how small it is.) And I hope that, over time, as one race follows another, in the end I'll reach a place I'm content with. Or maybe just catch a glimpse of it. — Haruki Murakami
God has purpose for every man to fulfill certain tasks and attain concrete goals — Sunday Adelaja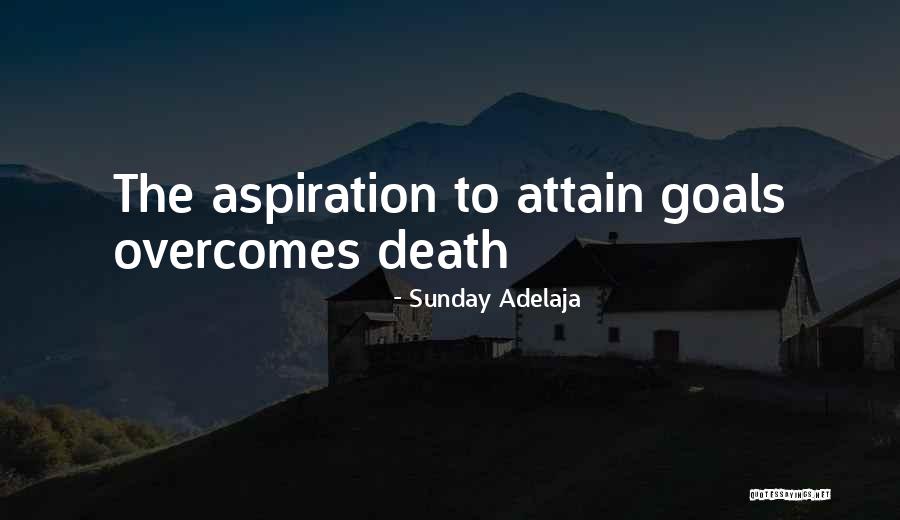 The aspiration to attain goals overcomes death — Sunday Adelaja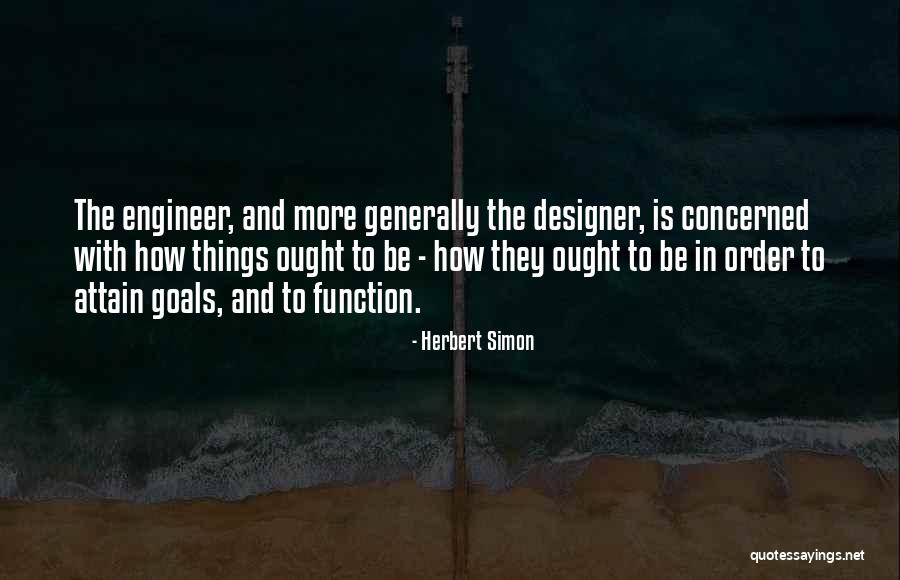 The engineer, and more generally the designer, is concerned with how things ought to be - how they ought to be in order to attain goals, and to function. — Herbert Simon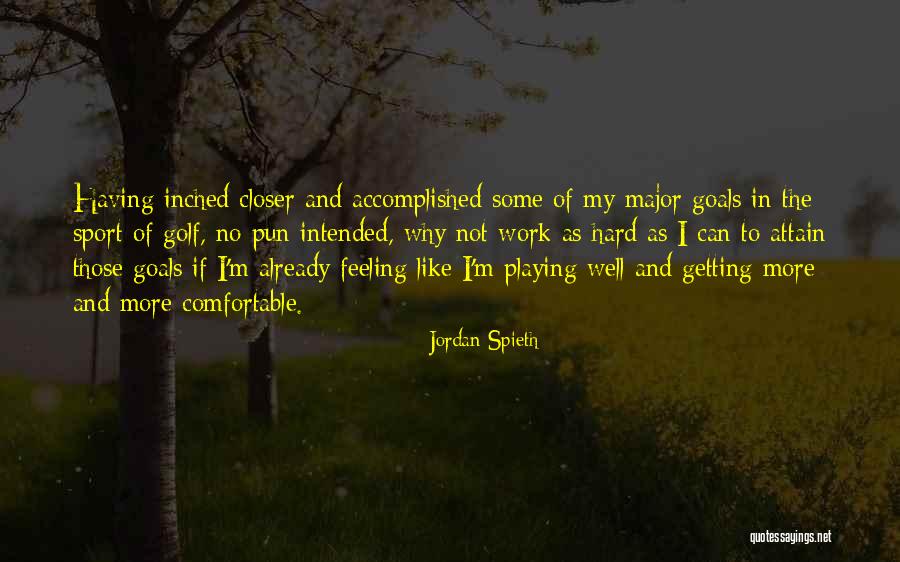 Having inched closer and accomplished some of my major goals in the sport of golf, no pun intended, why not work as hard as I can to attain those goals if I'm already feeling like I'm playing well and getting more and more comfortable. — Jordan Spieth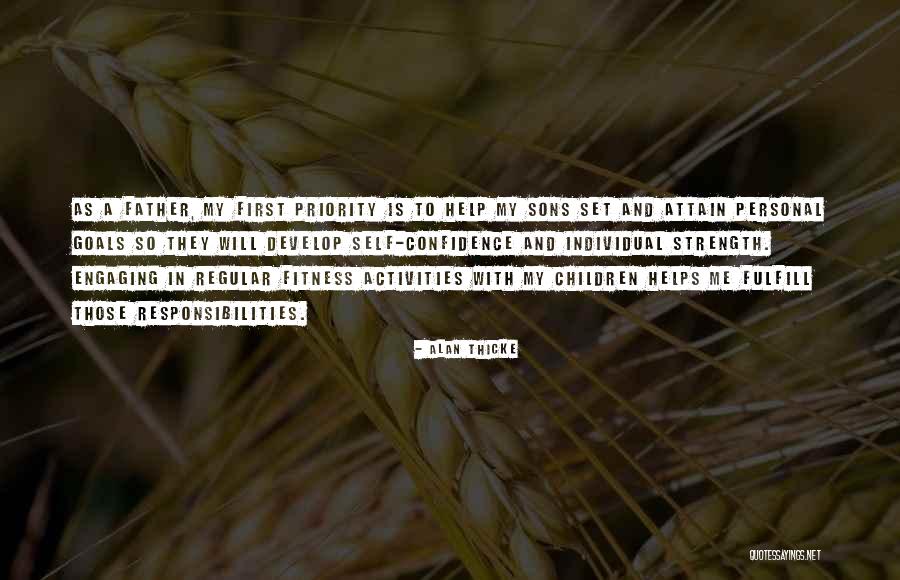 As a father, my first priority is to help my sons set and attain personal goals so they will develop self-confidence and individual strength. Engaging in regular fitness activities with my children helps me fulfill those responsibilities. — Alan Thicke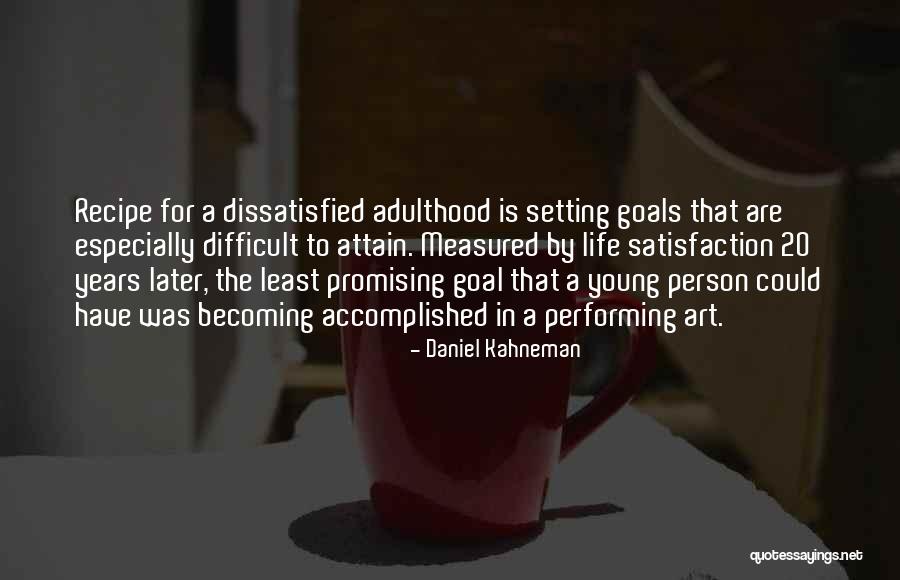 Recipe for a dissatisfied adulthood is setting goals that are especially difficult to attain. Measured by life satisfaction 20 years later, the least promising goal that a young person could have was becoming accomplished in a performing art. — Daniel Kahneman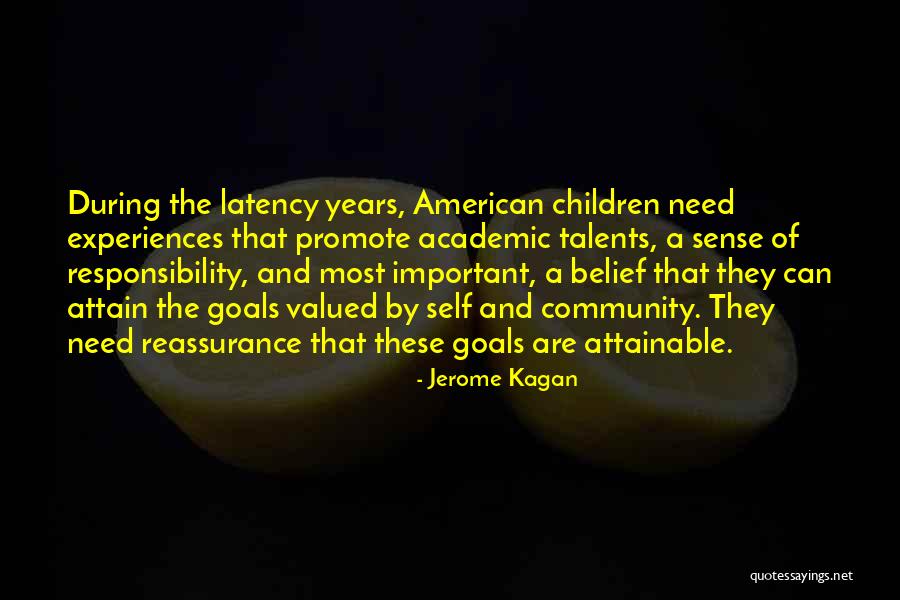 During the latency years, American children need experiences that promote academic talents, a sense of responsibility, and most important, a belief that they can attain the goals valued by self and community. They need reassurance that these goals are attainable. — Jerome Kagan