Quotes & Sayings About An Ending And New Beginning
Enjoy reading and share 49 famous quotes about An Ending And New Beginning with everyone.
Top An Ending And New Beginning Quotes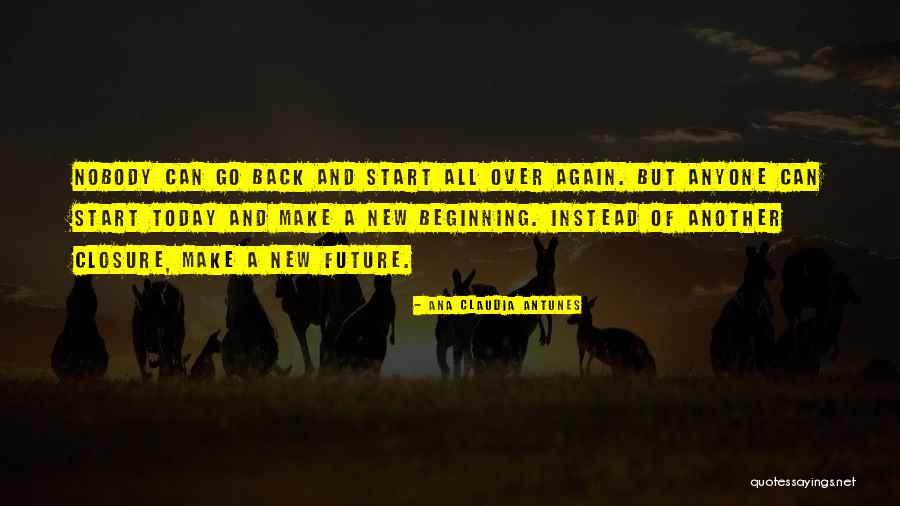 Nobody can go back and start all over again. But anyone can start today and make a new beginning. Instead of another closure, make a new future. — Ana Claudia Antunes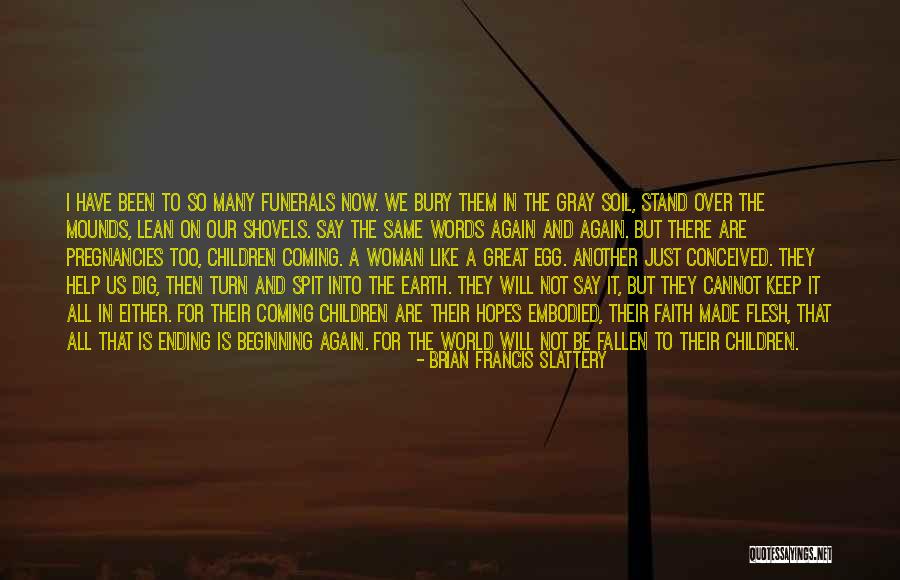 I have been to so many funerals now. We bury them in the gray soil, stand over the mounds, lean on our shovels. Say the same words again and again. But there are pregnancies too, children coming. A woman like a great egg. Another just conceived. They help us dig, then turn and spit into the earth. They will not say it, but they cannot keep it all in either. For their coming children are their hopes embodied, their faith made flesh, that all that is ending is beginning again. For the world will not be fallen to their children. It will only be the world, new as they are. And perhaps if we tell them enough, if we say the right thing, they will see a way out, and know what to do. — Brian Francis Slattery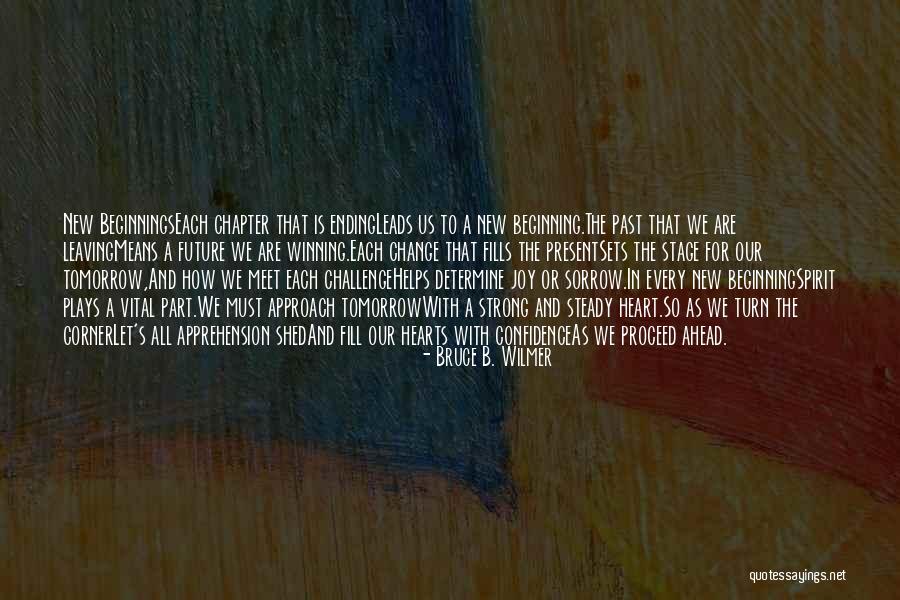 New Beginnings


Each chapter that is ending
Leads us to a new beginning.
The past that we are leaving
Means a future we are winning.

Each change that fills the present
Sets the stage for our tomorrow,
And how we meet each challenge
Helps determine joy or sorrow.

In every new beginning
Spirit plays a vital part.
We must approach tomorrow
With a strong and steady heart.

So as we turn the corner
Let's all apprehension shed
And fill our hearts with confidence
As we proceed ahead. — Bruce B. Wilmer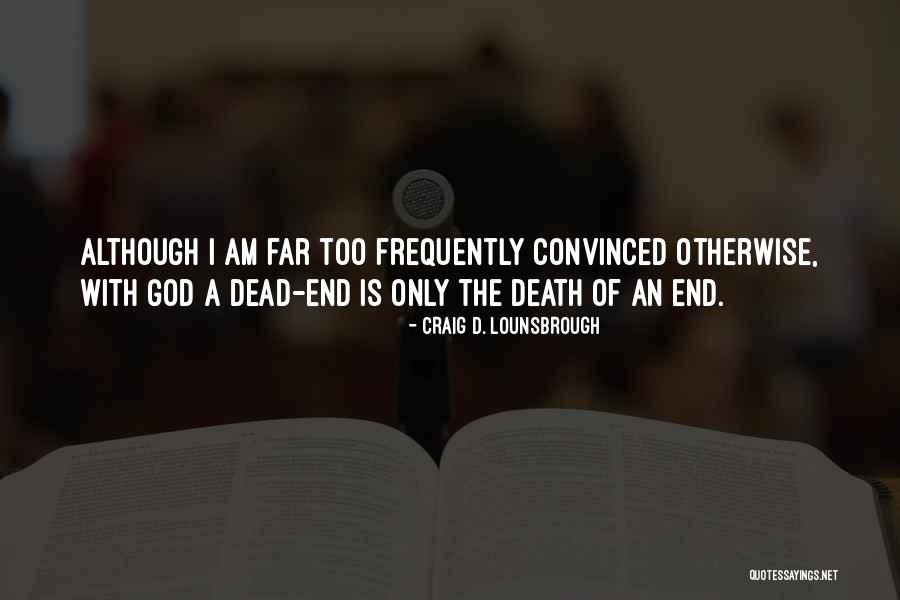 Although I am far too frequently convinced otherwise, with God a dead-end is only the death of an end. — Craig D. Lounsbrough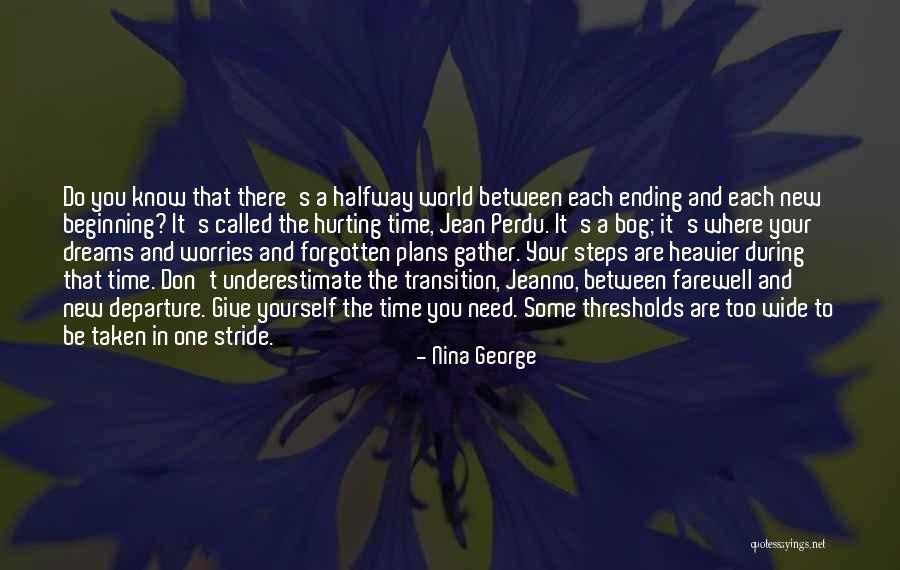 Do you know that there's a halfway world between each ending and each new beginning? It's called the hurting time, Jean Perdu. It's a bog; it's where your dreams and worries and forgotten plans gather. Your steps are heavier during that time. Don't underestimate the transition, Jeanno, between farewell and new departure. Give yourself the time you need. Some thresholds are too wide to be taken in one stride. — Nina George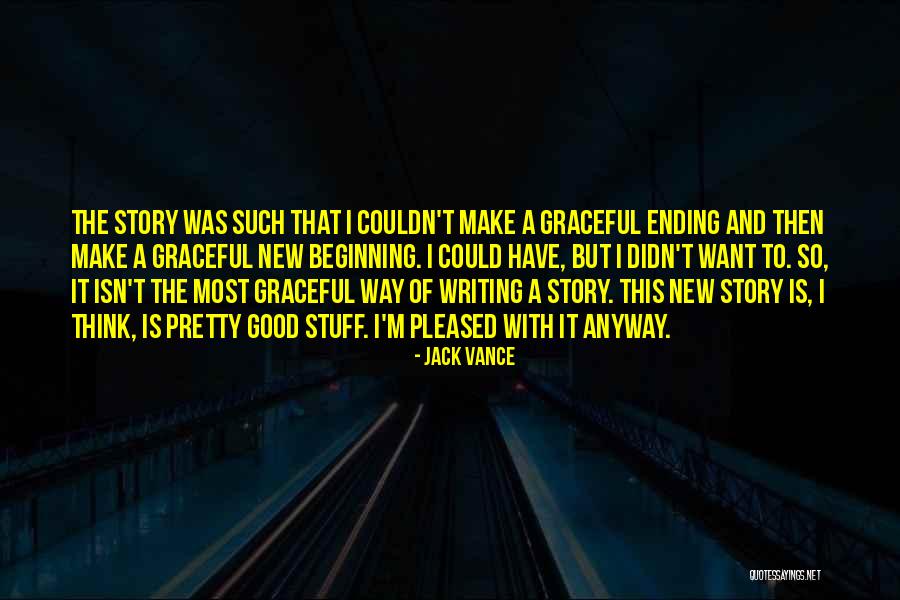 The story was such that I couldn't make a graceful ending and then make a graceful new beginning. I could have, but I didn't want to. So, it isn't the most graceful way of writing a story. This new story is, I think, is pretty good stuff. I'm pleased with it anyway. — Jack Vance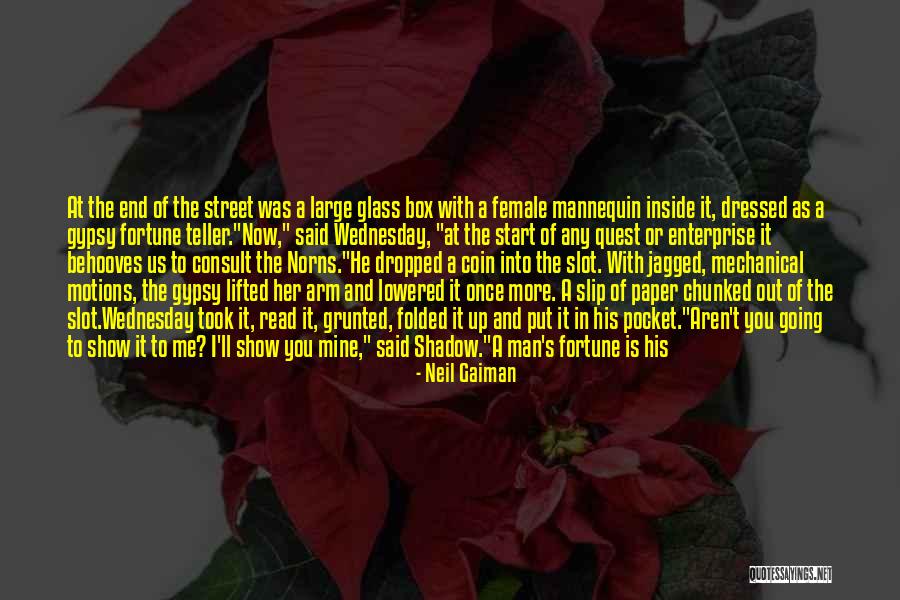 At the end of the street was a large glass box with a female mannequin inside it, dressed as a gypsy fortune teller.
"Now," said Wednesday, "at the start of any quest or enterprise it behooves us to consult the Norns."
He dropped a coin into the slot. With jagged, mechanical motions, the gypsy lifted her arm and lowered it once more. A slip of paper chunked out of the slot.
Wednesday took it, read it, grunted, folded it up and put it in his pocket.
"Aren't you going to show it to me? I'll show you mine," said Shadow.
"A man's fortune is his own affair," said Wednesday, stiffly. "I would not ask to see yours."
Shadow put his own coin into the slot. He took his slip of paper. He read it.
EVERY ENDING IS A NEW BEGINNING.
YOUR LUCKY NUMBER IS NONE.
YOUR LUCKY COLOUR IS DEAD.
Motto:
LIKE FATHER, LIKE SON.
Shadow made a face. He folded the fortune up and put it inside his pocket. — Neil Gaiman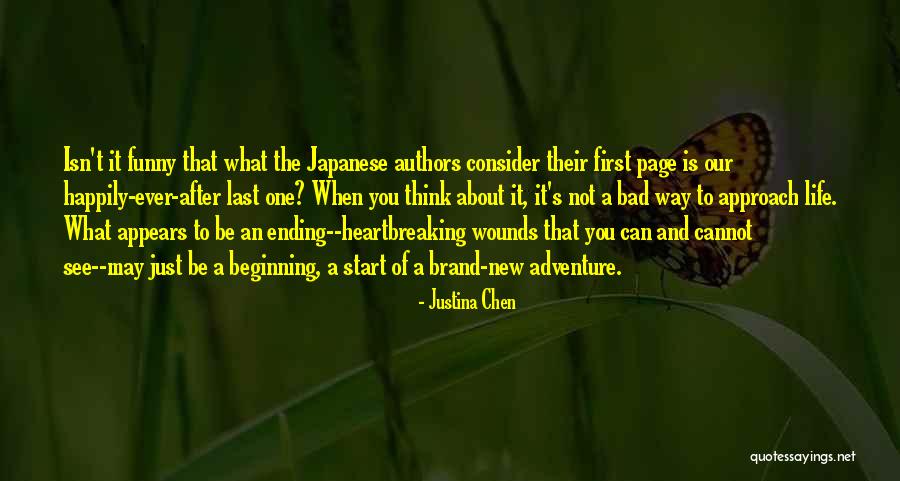 Isn't it funny that what the Japanese authors consider their first page is our happily-ever-after last one? When you think about it, it's not a bad way to approach life. What appears to be an ending--heartbreaking wounds that you can and cannot see--may just be a beginning, a start of a brand-new adventure. — Justina Chen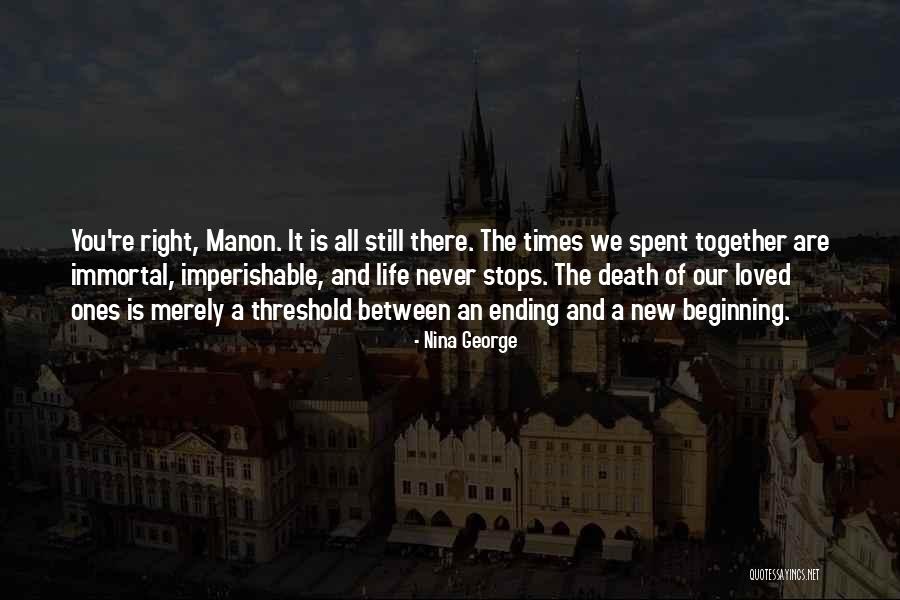 You're right, Manon. It is all still there. The times we spent together are immortal, imperishable, and life never stops. The death of our loved ones is merely a threshold between an ending and a new beginning. — Nina George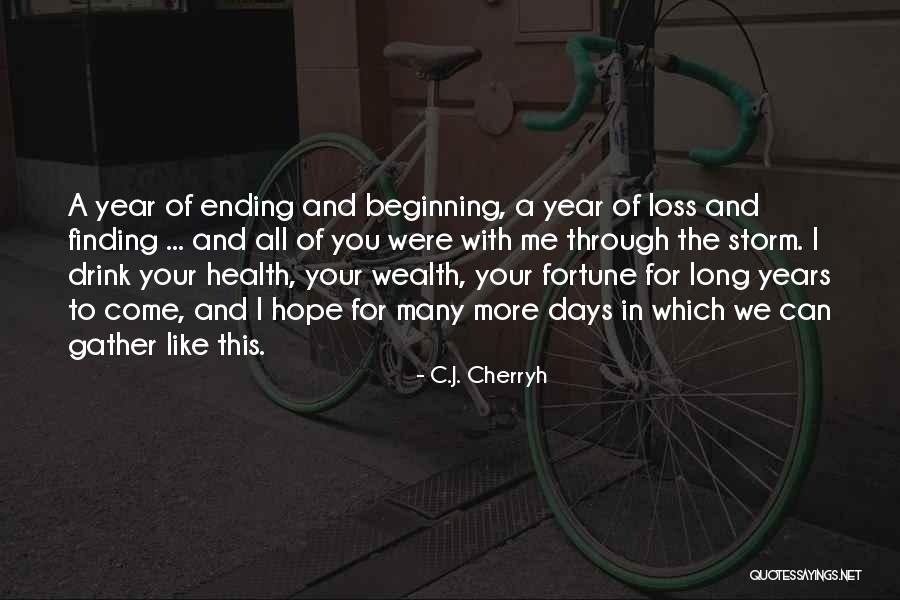 A year of ending and beginning, a year of loss and finding ... and all of you were with me through the storm. I drink your health, your wealth, your fortune for long years to come, and I hope for many more days in which we can gather like this. — C.J. Cherryh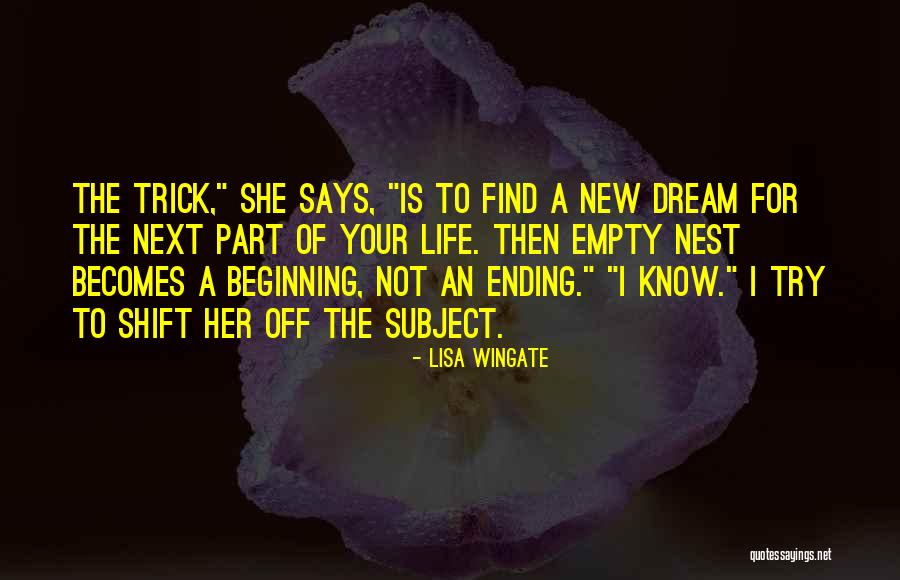 The trick," she says, "is to find a new dream for the next part of your life. Then empty nest becomes a beginning, not an ending." "I know." I try to shift her off the subject. — Lisa Wingate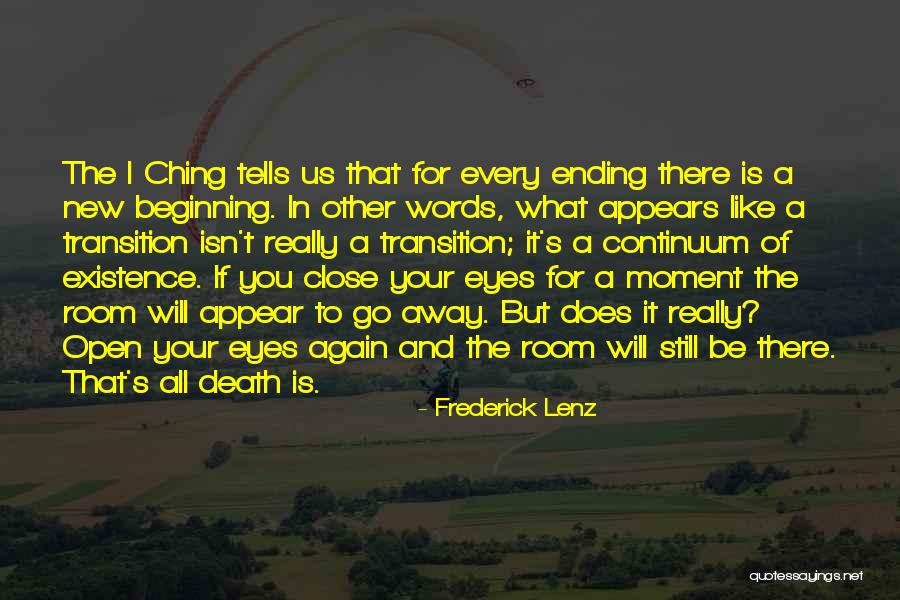 The I Ching tells us that for every ending there is a new beginning. In other words, what appears like a transition isn't really a transition; it's a continuum of existence. If you close your eyes for a moment the room will appear to go away. But does it really? Open your eyes again and the room will still be there. That's all death is. — Frederick Lenz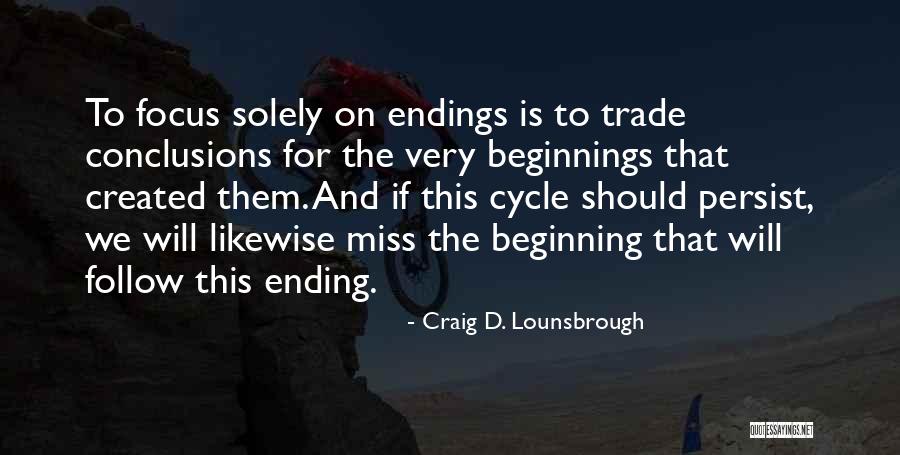 To focus solely on endings is to trade conclusions for the very beginnings that created them. And if this cycle should persist, we will likewise miss the beginning that will follow this ending. — Craig D. Lounsbrough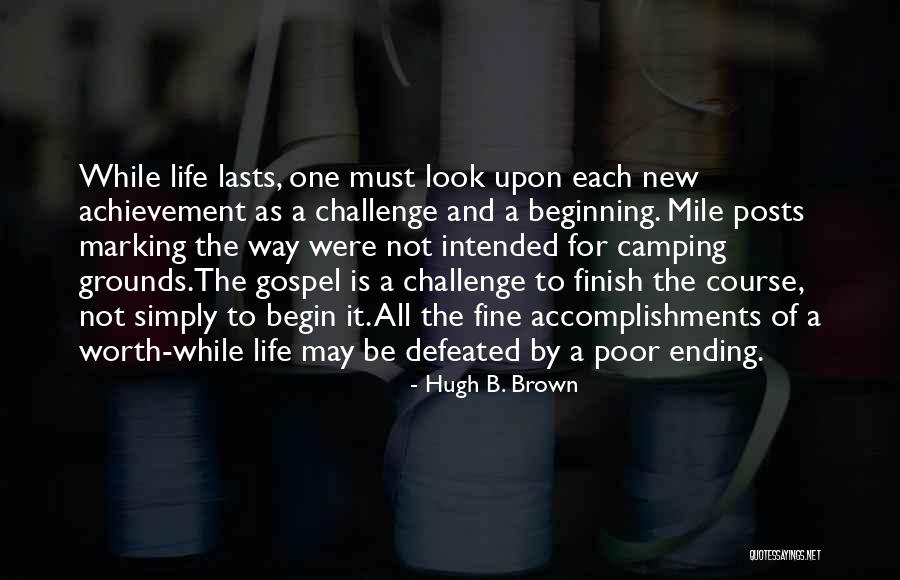 While life lasts, one must look upon each new achievement as a challenge and a beginning. Mile posts marking the way were not intended for camping grounds.
The gospel is a challenge to finish the course, not simply to begin it. All the fine accomplishments of a worth-while life may be defeated by a poor ending. — Hugh B. Brown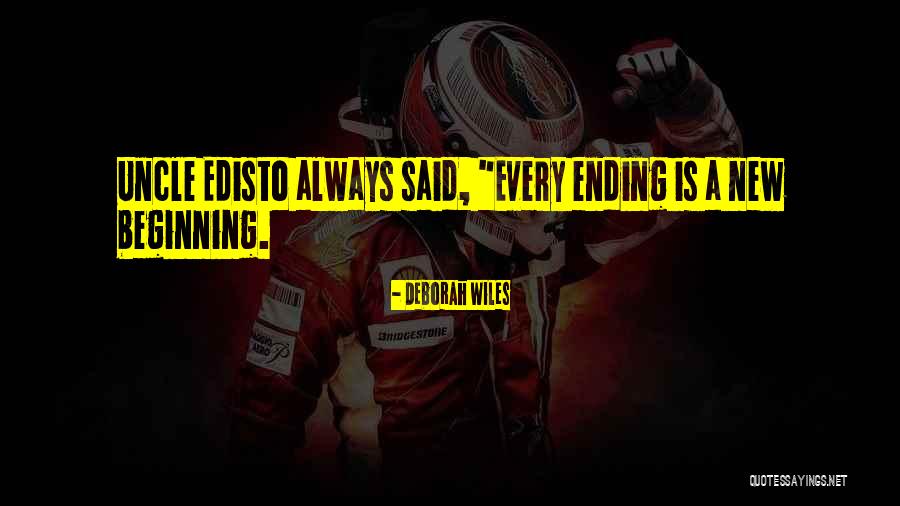 Uncle Edisto always said, "Every ending is a new beginning. — Deborah Wiles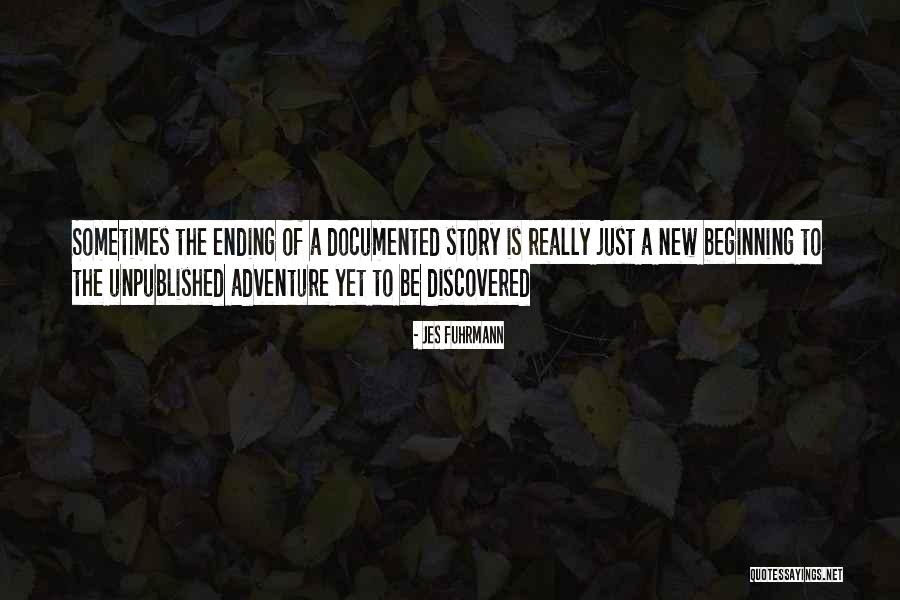 Sometimes the ending of a documented story is really just a new beginning to the unpublished adventure yet to be discovered — Jes Fuhrmann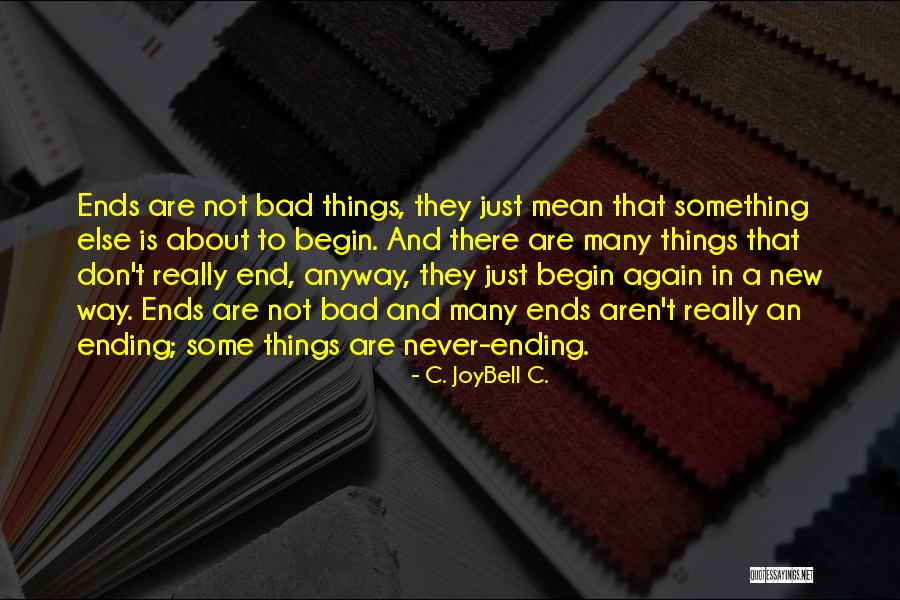 Ends are not bad things, they just mean that something else is about to begin. And there are many things that don't really end, anyway, they just begin again in a new way. Ends are not bad and many ends aren't really an ending; some things are never-ending. — C. JoyBell C.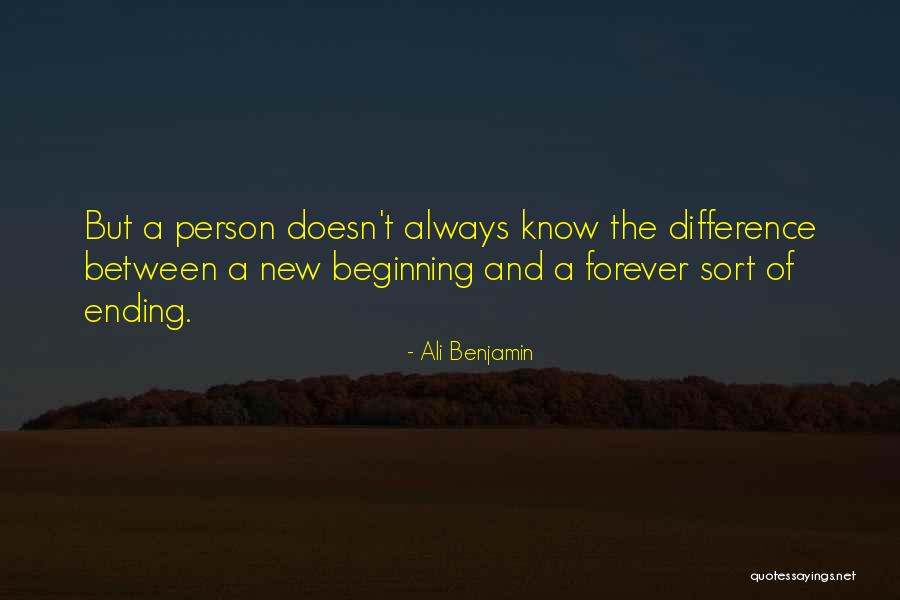 But a person doesn't always know the difference between a new beginning and a forever sort of ending. — Ali Benjamin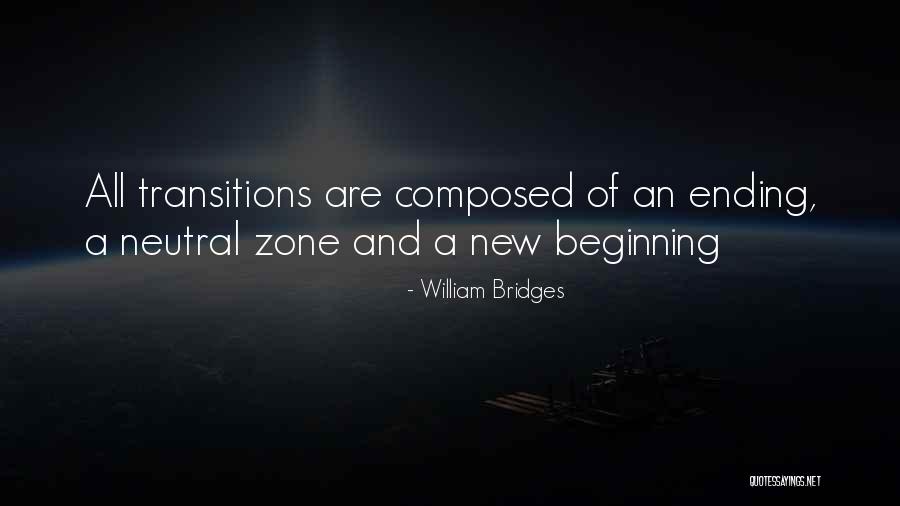 All transitions are composed of an ending, a neutral zone and a new beginning — William Bridges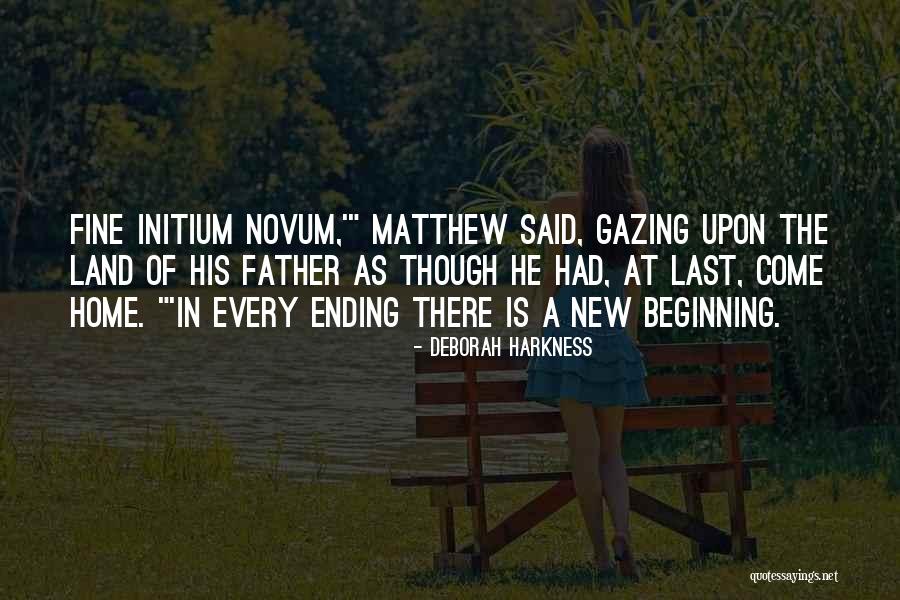 fine initium novum,'" Matthew said, gazing upon the land of his father as though he had, at last, come home. "'In every ending there is a new beginning. — Deborah Harkness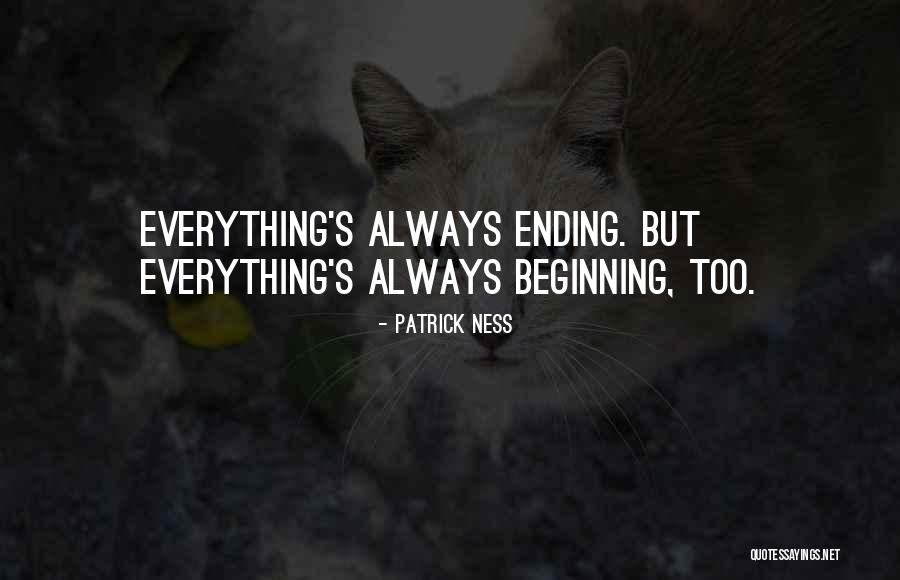 Everything's always ending. But everything's always beginning, too. — Patrick Ness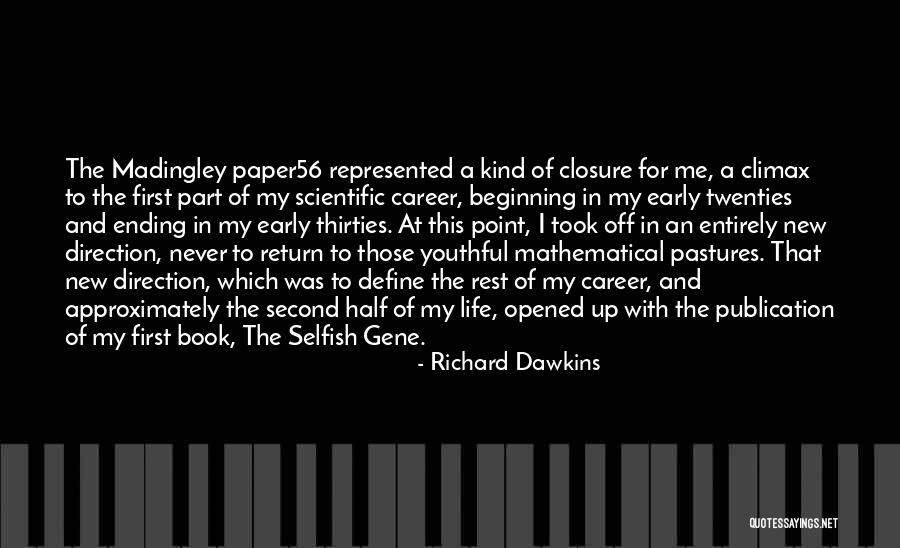 The Madingley paper56 represented a kind of closure for me, a climax to the first part of my scientific career, beginning in my early twenties and ending in my early thirties. At this point, I took off in an entirely new direction, never to return to those youthful mathematical pastures. That new direction, which was to define the rest of my career, and approximately the second half of my life, opened up with the publication of my first book, The Selfish Gene. — Richard Dawkins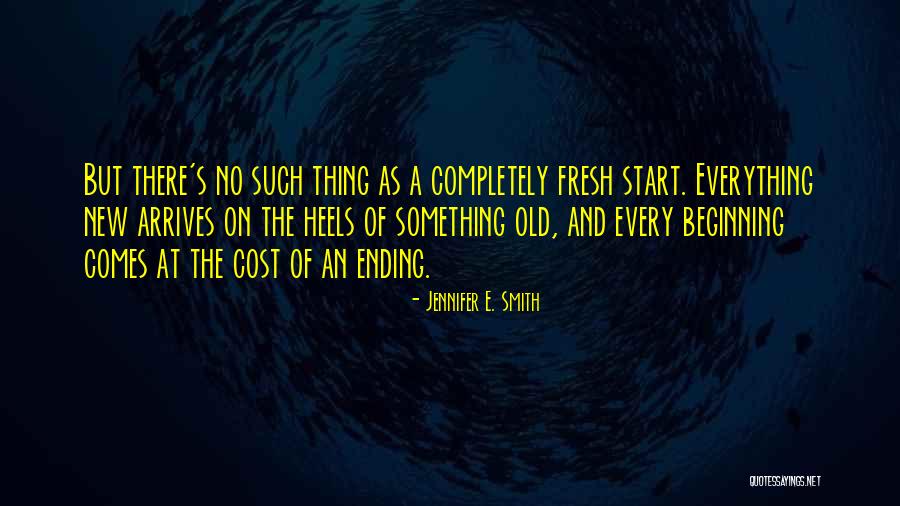 But there's no such thing as a completely fresh start. Everything new arrives on the heels of something old, and every beginning comes at the cost of an ending. — Jennifer E. Smith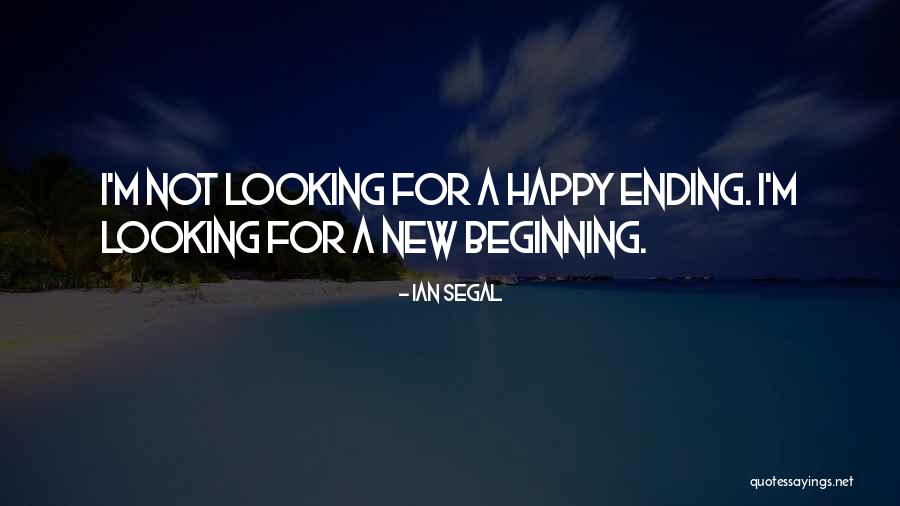 I'm not looking for a happy ending. I'm looking for a new beginning. — Ian Segal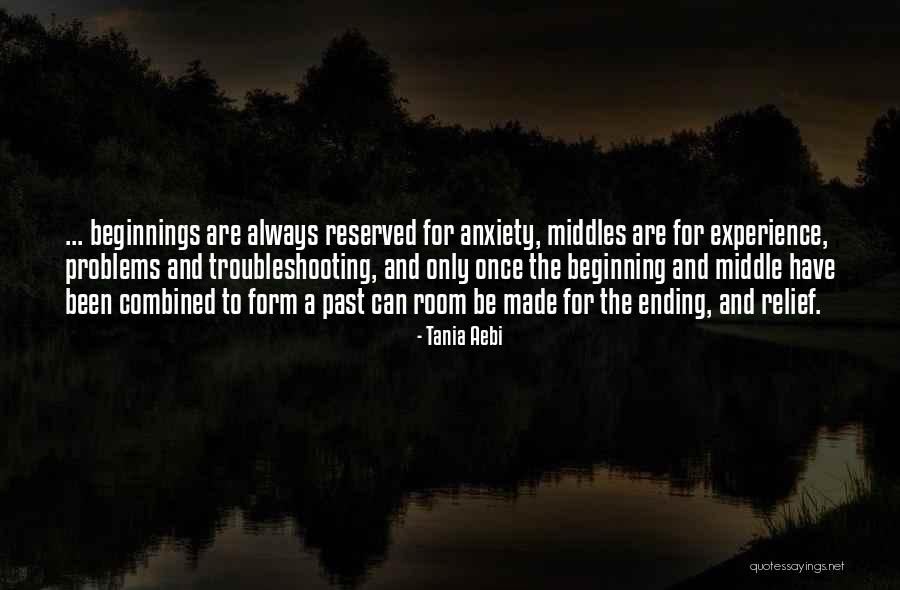 ... beginnings are always reserved for anxiety, middles are for experience, problems and troubleshooting, and only once the beginning and middle have been combined to form a past can room be made for the ending, and relief. — Tania Aebi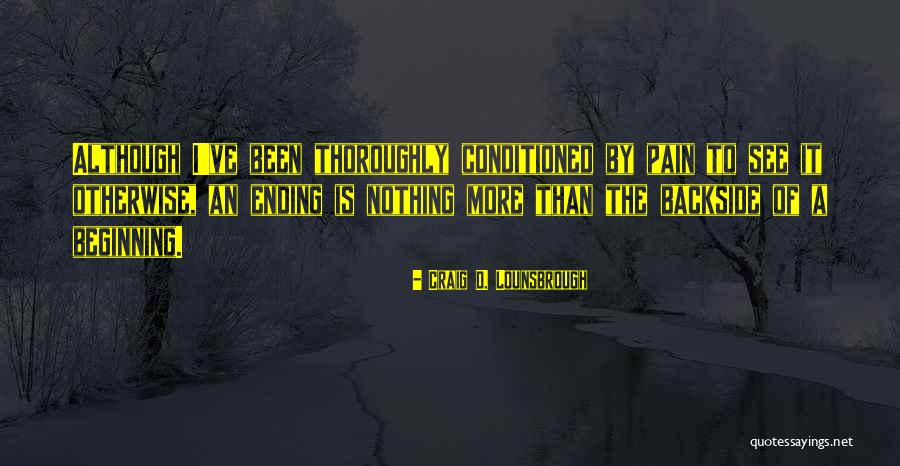 Although I've been thoroughly conditioned by pain to see it otherwise, an ending is nothing more than the backside of a beginning. — Craig D. Lounsbrough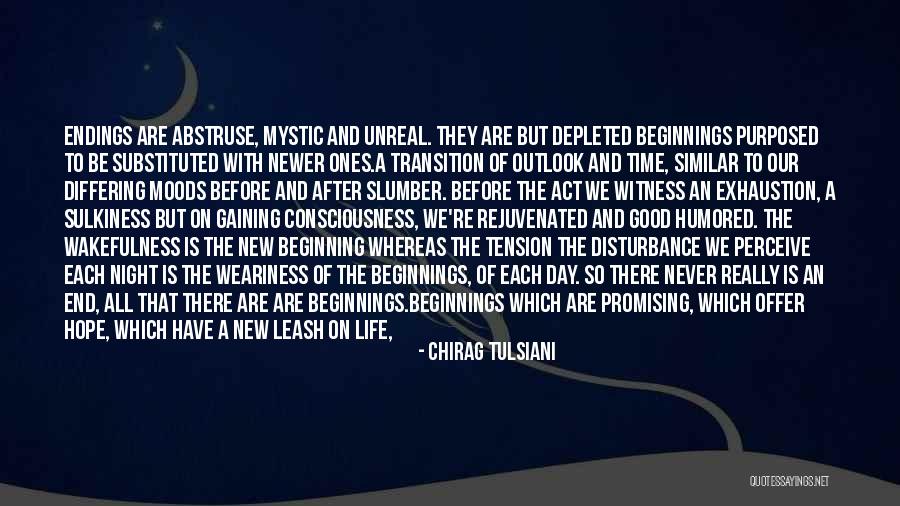 Endings are abstruse, mystic and unreal. They are but depleted beginnings purposed to be substituted with newer ones.A transition of outlook and time, similar to our differing moods before and after slumber. Before the act we witness an exhaustion, a sulkiness but on gaining consciousness, we're rejuvenated and good humored. The wakefulness is the new beginning whereas the tension the disturbance we perceive each night is the weariness of the beginnings, of each day. So there never really is an end, all that there are are beginnings.Beginnings which are promising, which offer hope, which have a new leash on life, which neither denounce nor belittle rather soothe and console by reconstructing the broken pieces of yesterday, mending them and reinforcing them with courage and beauty like never before. — Chirag Tulsiani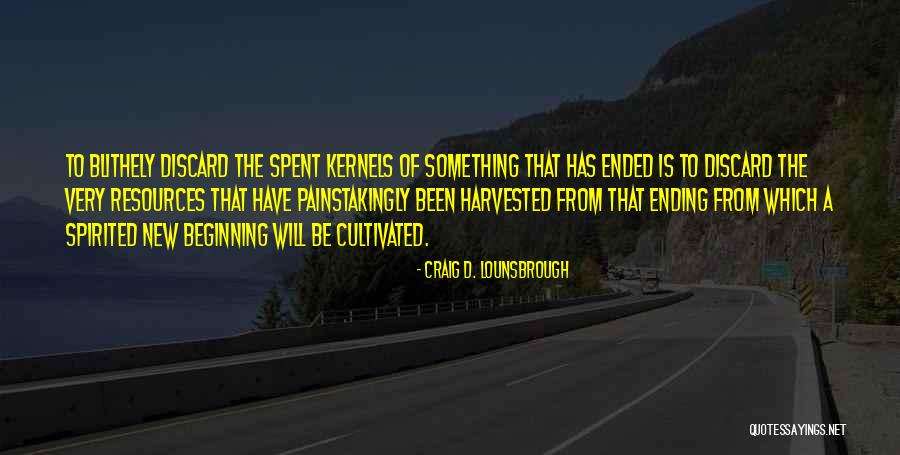 To blithely discard the spent kernels of something that has ended is to discard the very resources that have painstakingly been harvested from that ending from which a spirited new beginning will be cultivated. — Craig D. Lounsbrough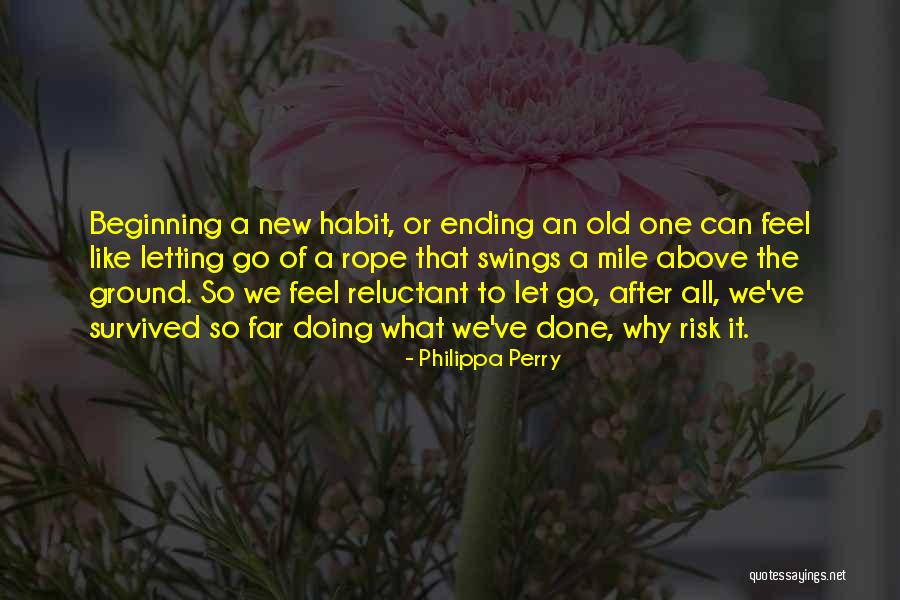 Beginning a new habit, or ending an old one can feel like letting go of a rope that swings a mile above the ground. So we feel reluctant to let go, after all, we've survived so far doing what we've done, why risk it. — Philippa Perry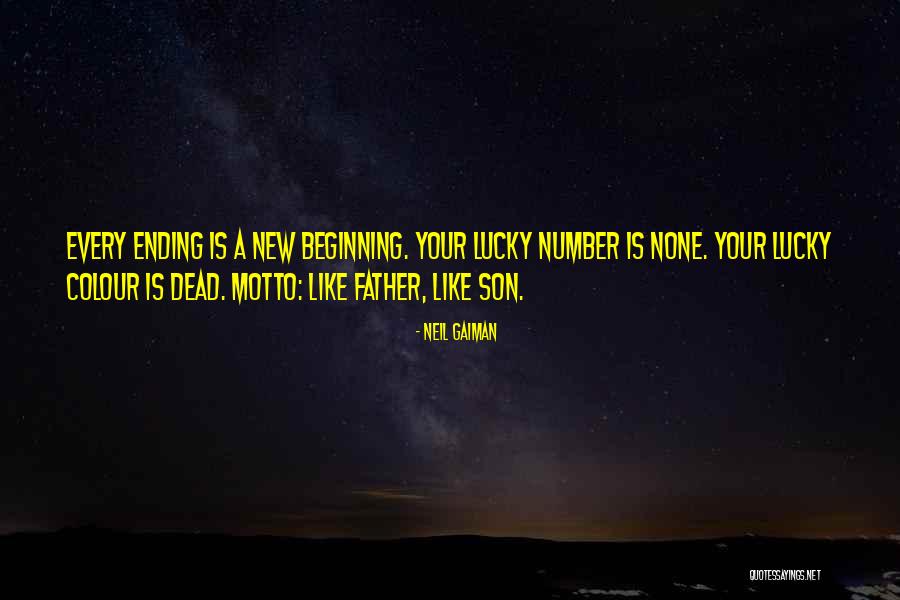 EVERY ENDING IS A NEW BEGINNING. YOUR LUCKY NUMBER IS NONE. YOUR LUCKY COLOUR IS DEAD. Motto: LIKE FATHER, LIKE SON. — Neil Gaiman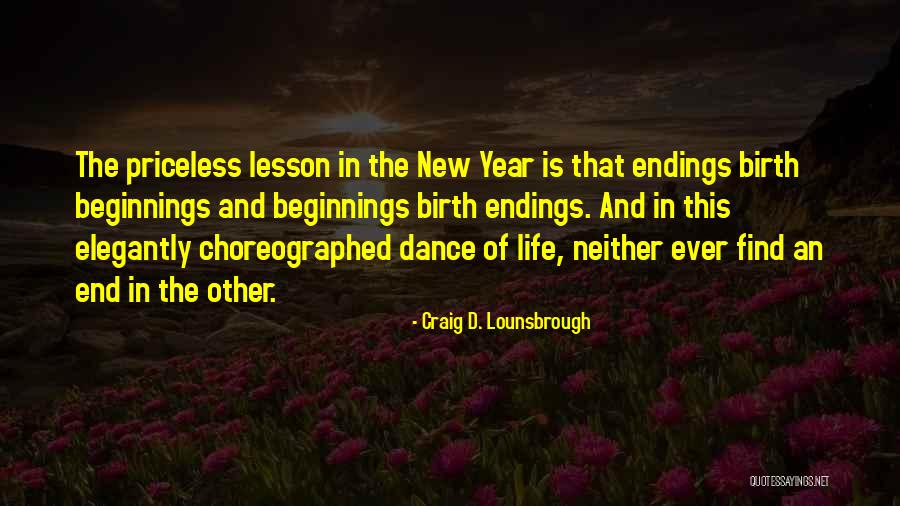 The priceless lesson in the New Year is that endings birth beginnings and beginnings birth endings. And in this elegantly choreographed dance of life, neither ever find an end in the other. — Craig D. Lounsbrough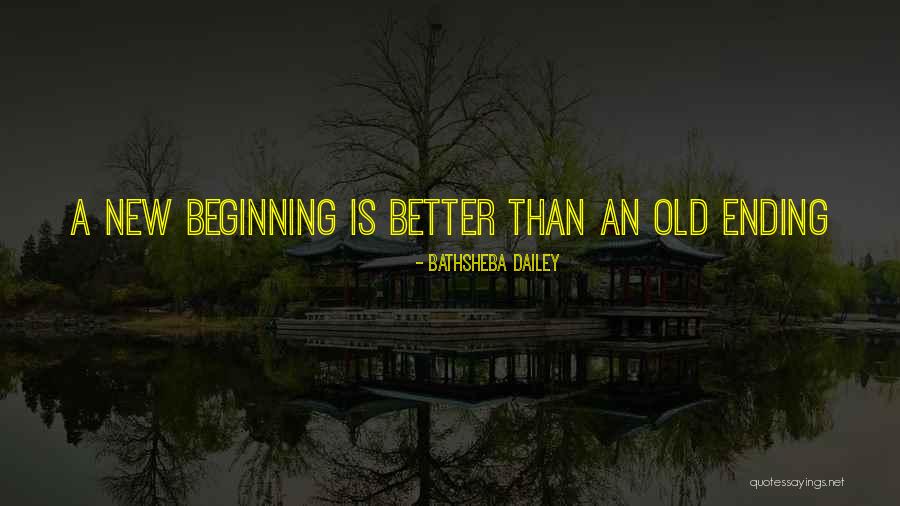 A new beginning is better than an old ending — Bathsheba Dailey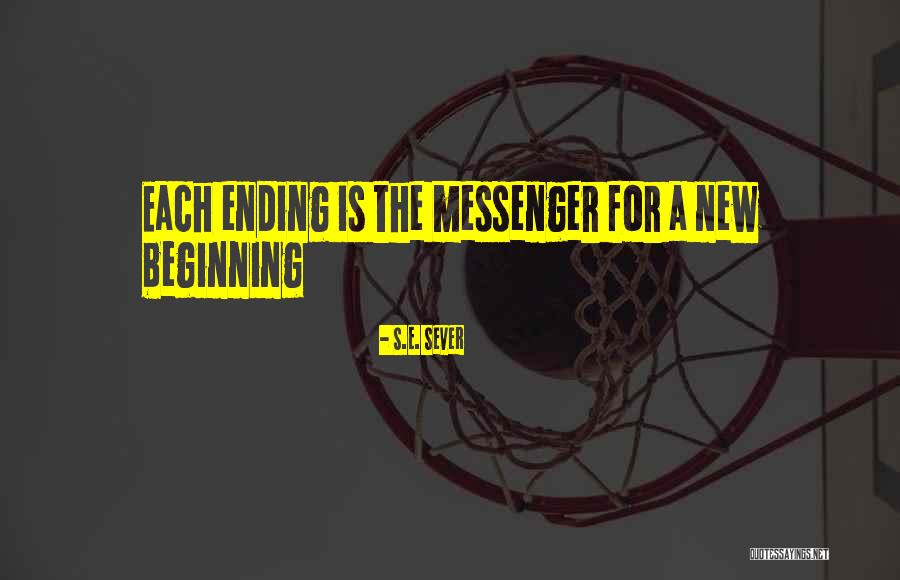 Each ending is the messenger for a new beginning — S.E. Sever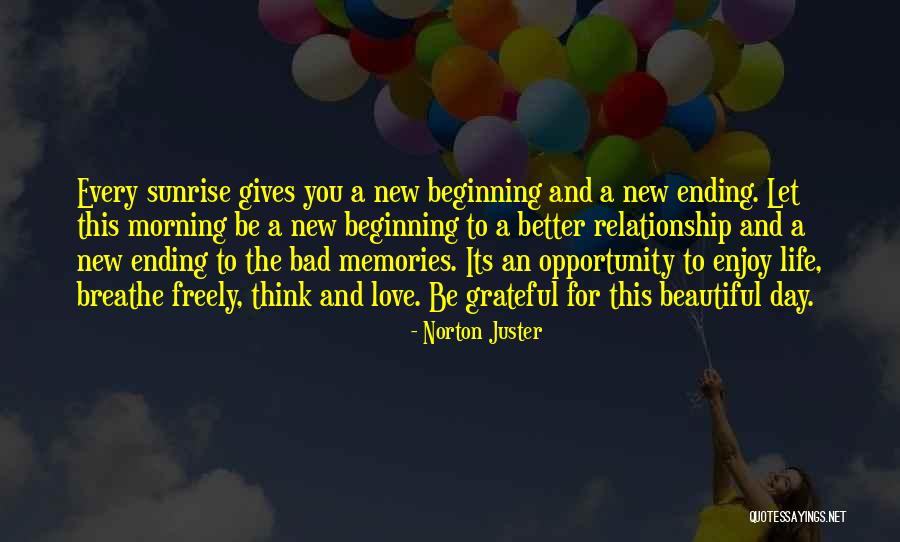 Every sunrise gives you a new beginning and a new ending. Let this morning be a new beginning to a better relationship and a new ending to the bad memories. Its an opportunity to enjoy life, breathe freely, think and love. Be grateful for this beautiful day. — Norton Juster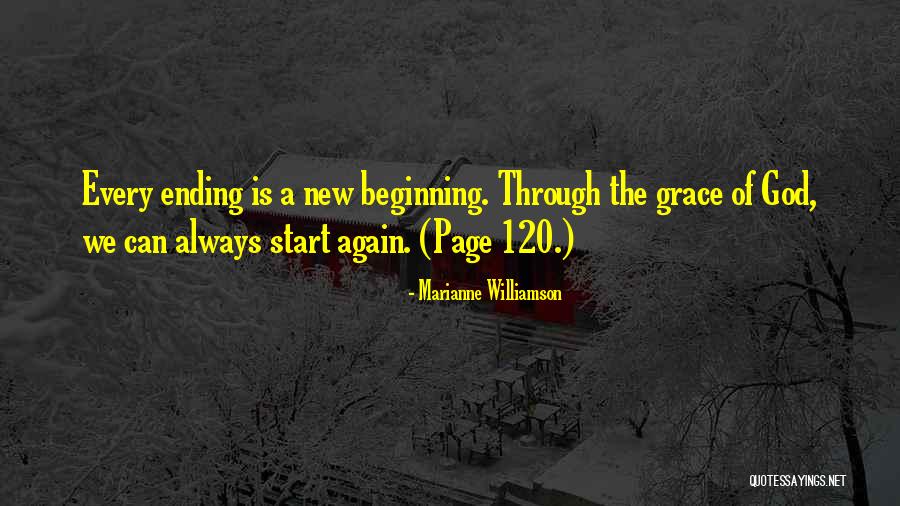 Every ending is a new beginning. Through the grace of God, we can always start again. (Page 120.) — Marianne Williamson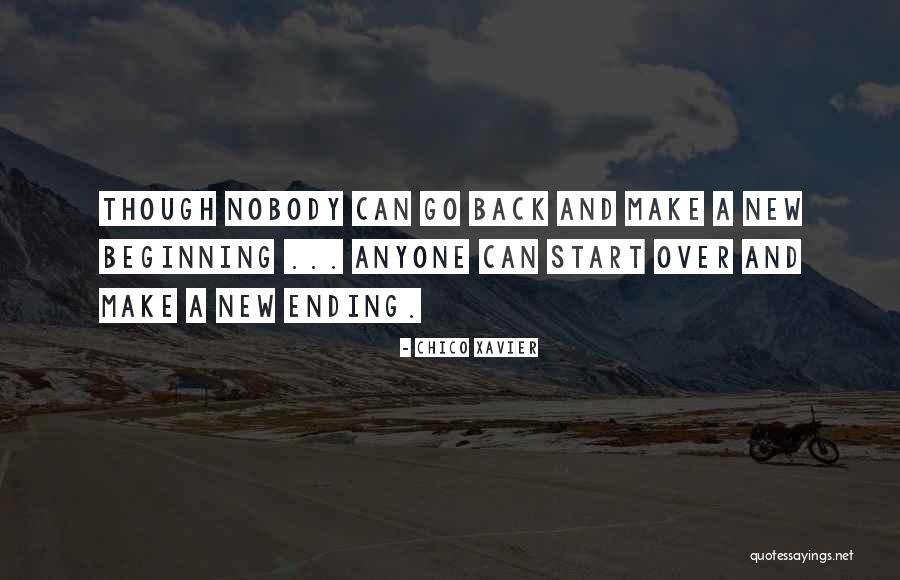 Though nobody can go back and make a new beginning ... Anyone can start over and make a new ending. — Chico Xavier
There is a sad end I used to live
even before I knew
this is how I was meant to begin. — Khadija Rupa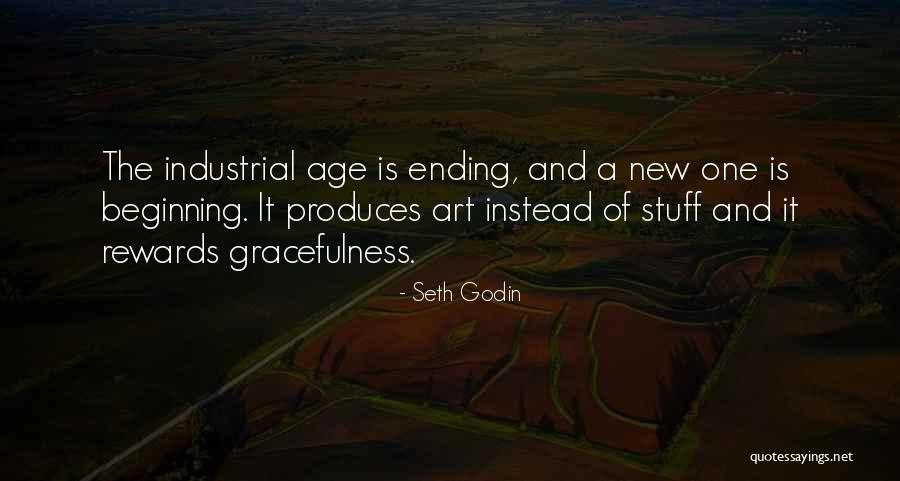 The industrial age is ending, and a new one is beginning. It produces art instead of stuff and it rewards gracefulness. — Seth Godin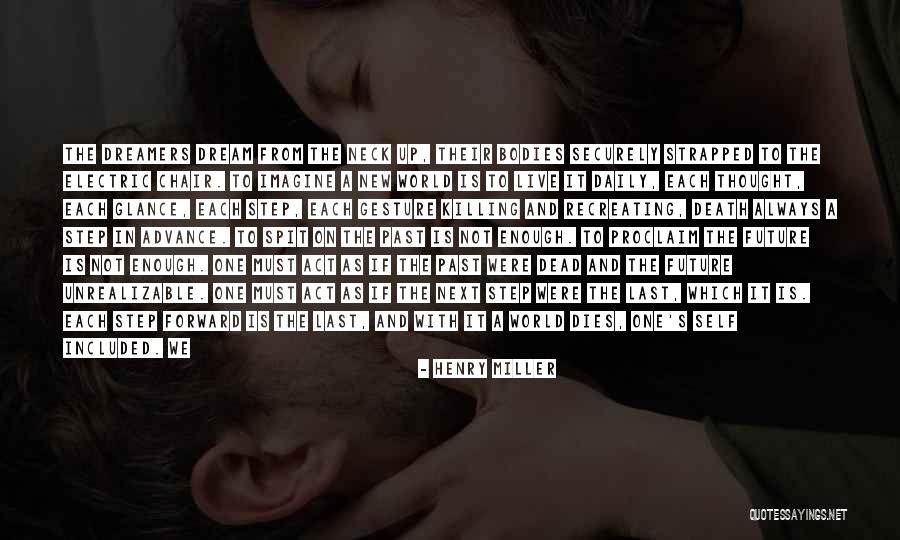 The dreamers dream from the neck up, their bodies securely strapped to the electric chair. To imagine a new world is to live it daily, each thought, each glance, each step, each gesture killing and recreating, death always a step in advance. To spit on the past is not enough. To proclaim the future is not enough. One must act as if the past were dead and the future unrealizable. One must act as if the next step were the last, which it is. Each step forward is the last, and with it a world dies, one's self included. We are here of the earth never to end, the past
never ceasing, the future never beginning, the present never ending. The never-never world which we hold in our hands and see and yet is not ourselves. We are that which is never
concluded, never shaped to be recognized, all there is and yet not the whole, the parts so much greater than the whole that only God the mathematician can figure it out. — Henry Miller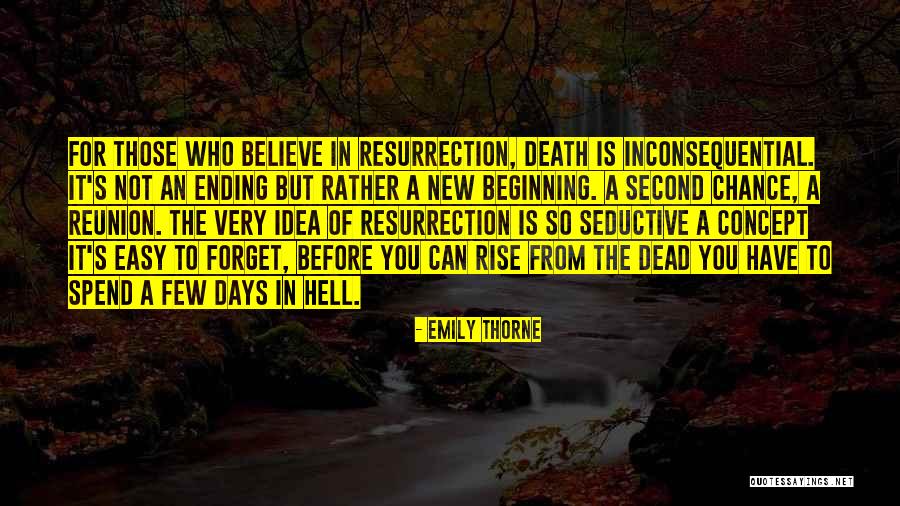 For those who believe in resurrection, death is inconsequential. It's not an ending but rather a new beginning. A second chance, a reunion. The very idea of resurrection is so seductive a concept it's easy to forget, before you can rise from the dead you have to spend a few days in hell. — Emily Thorne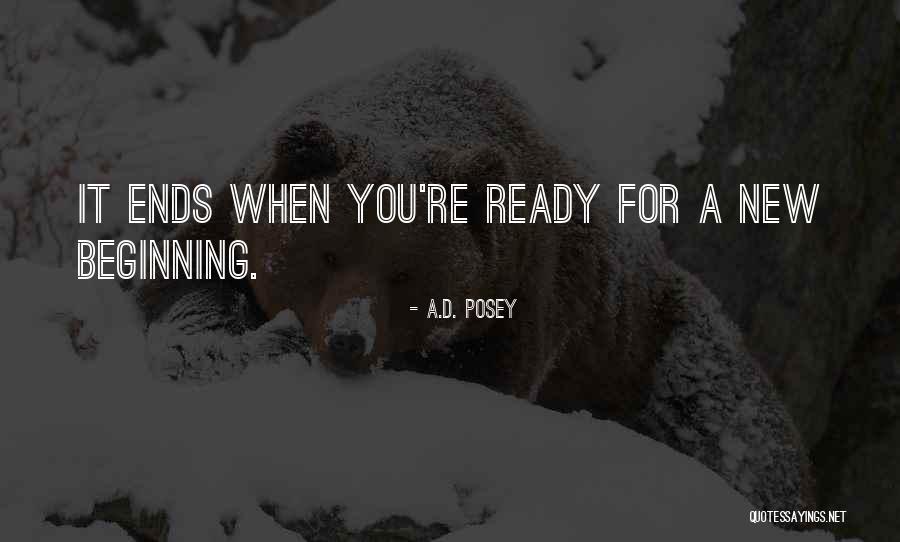 It ends when you're ready for a new beginning. — A.D. Posey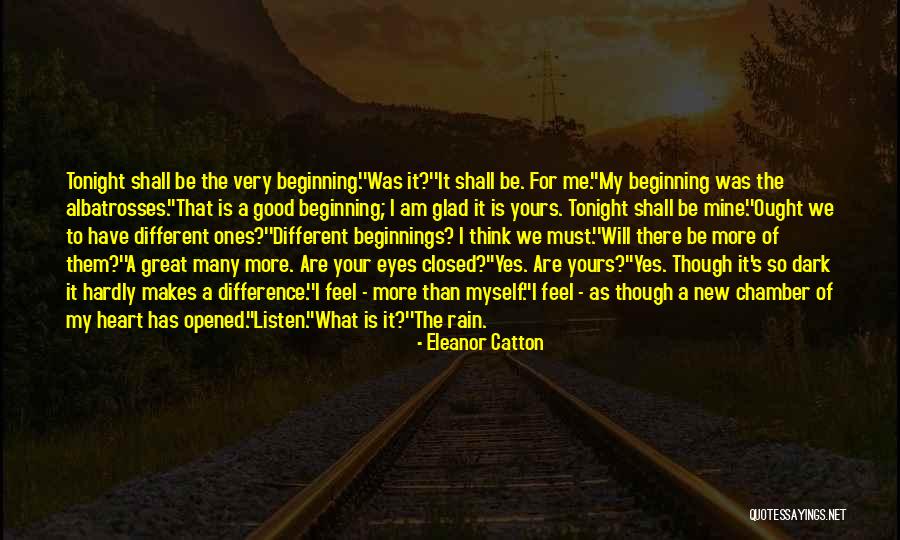 Tonight shall be the very beginning.'
'Was it?'
'It shall be. For me.'
'My beginning was the albatrosses.'
'That is a good beginning; I am glad it is yours. Tonight shall be mine.'
'Ought we to have different ones?'
'Different beginnings? I think we must.'
'Will there be more of them?'
'A great many more. Are your eyes closed?'
'Yes. Are yours?'
'Yes. Though it's so dark it hardly makes a difference.'
'I feel - more than myself.'
'I feel - as though a new chamber of my heart has opened.'
'Listen.'
'What is it?'
'The rain. — Eleanor Catton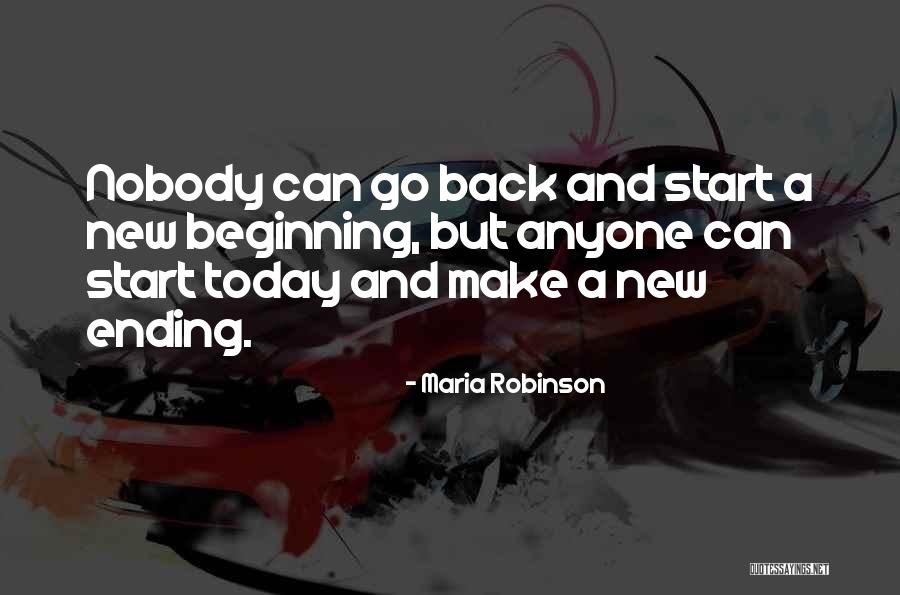 Nobody can go back and start a new beginning, but anyone can start today and make a new ending. — Maria Robinson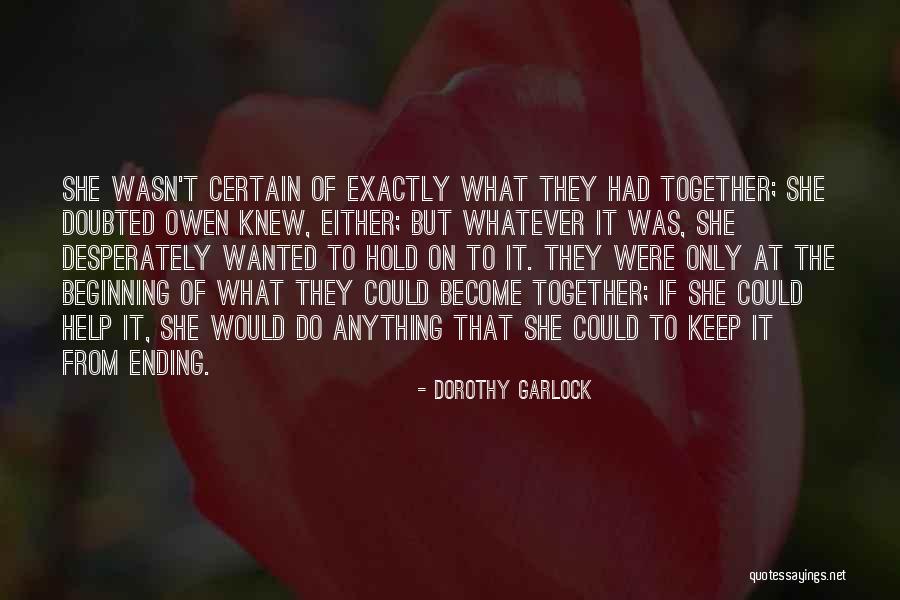 She wasn't certain of exactly what they had together; she doubted Owen knew, either; but whatever it was, she desperately wanted to hold on to it. They were only at the beginning of what they could become together; if she could help it, she would do anything that she could to keep it from ending. — Dorothy Garlock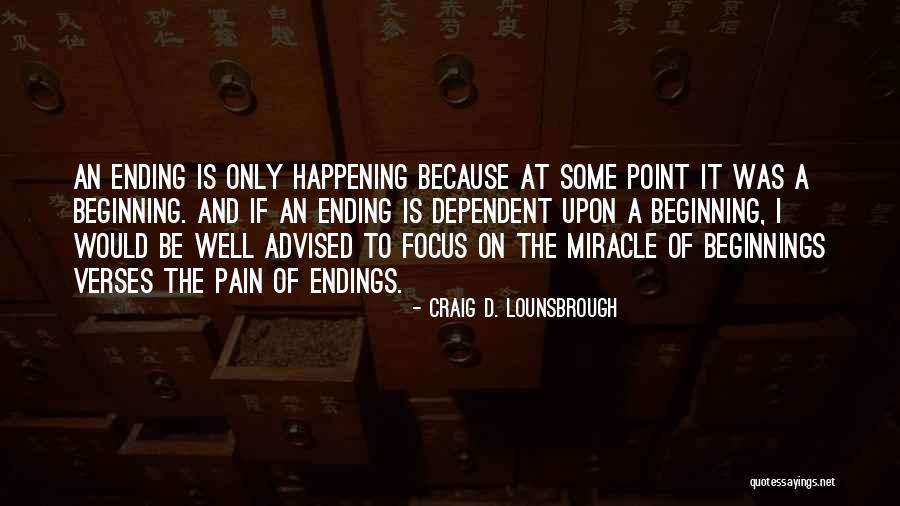 An ending is only happening because at some point it was a beginning. And if an ending is dependent upon a beginning, I would be well advised to focus on the miracle of beginnings verses the pain of endings. — Craig D. Lounsbrough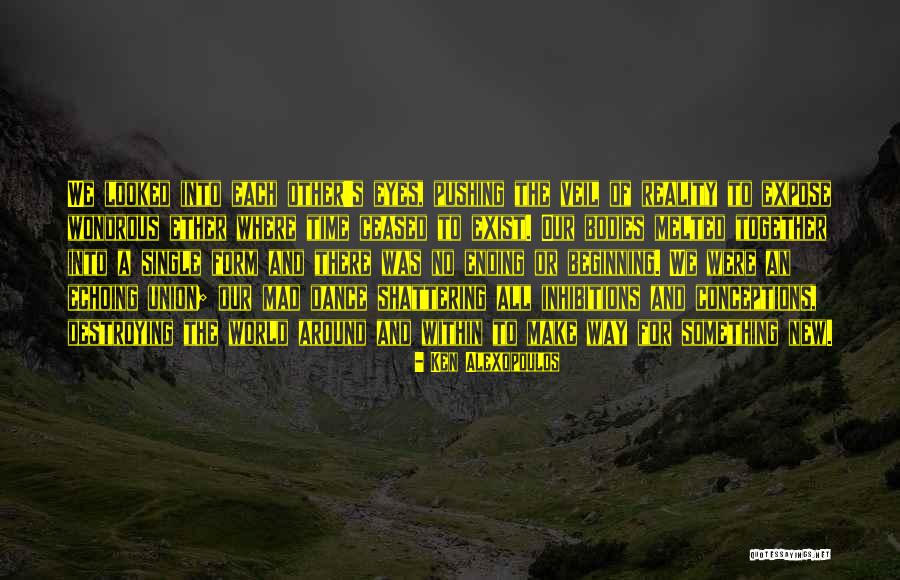 We looked into each other's eyes, pushing the veil of reality to expose wondrous ether where time ceased to exist. Our bodies melted together into a single form and there was no ending or beginning. We were an echoing union; our mad dance shattering all inhibitions and conceptions, destroying the world around and within to make way for something new. — Ken Alexopoulos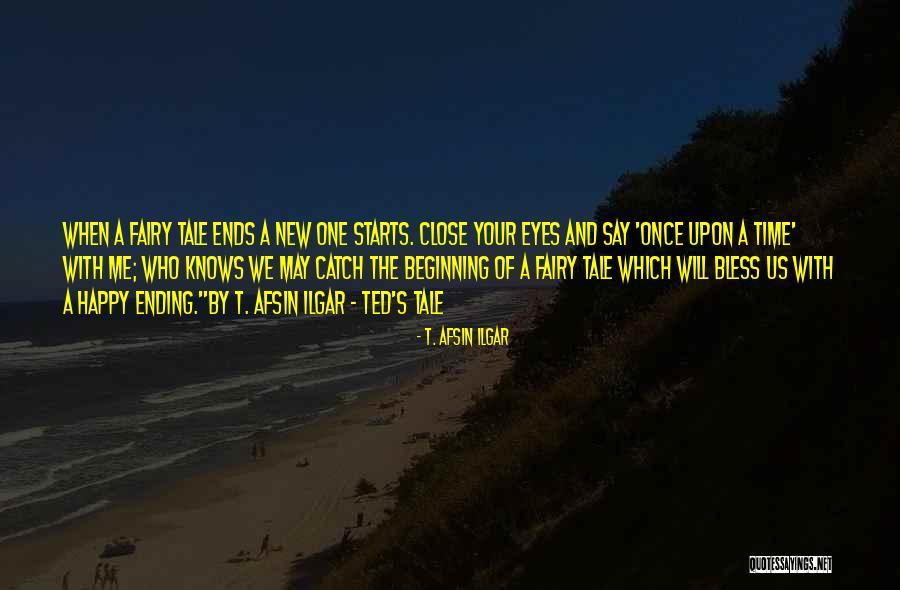 When a fairy tale ends a new one starts. Close your eyes and say 'once upon a time' with me; who knows we may catch the beginning of a fairy tale which will bless us with a happy ending."
By T. Afsin Ilgar - Ted's Tale — T. Afsin Ilgar