Adverts Quotes & Sayings
Enjoy reading and share 37 famous quotes about Adverts with everyone.
Top Adverts Quotes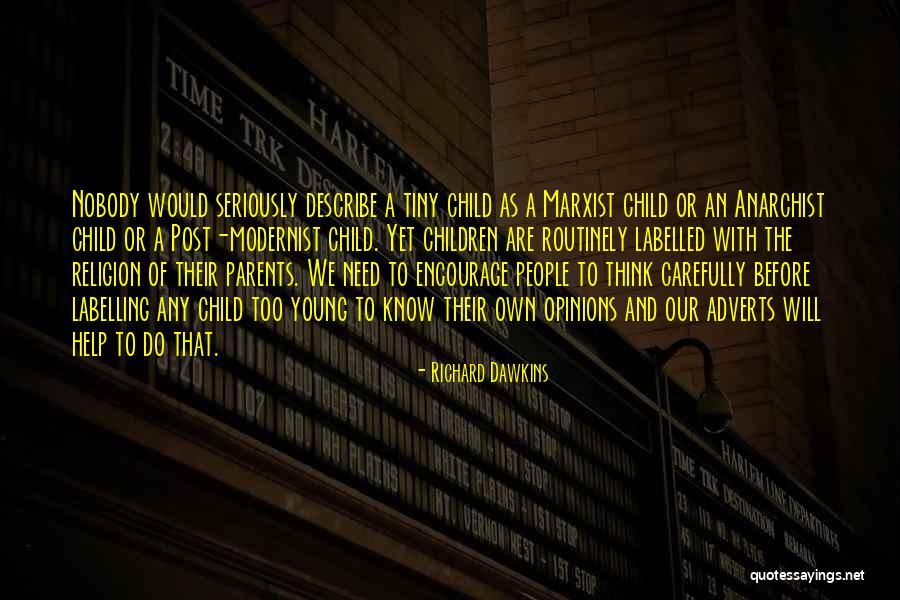 Nobody would seriously describe a tiny child as a Marxist child or an Anarchist child or a Post-modernist child. Yet children are routinely labelled with the religion of their parents. We need to encourage people to think carefully before labelling any child too young to know their own opinions and our adverts will help to do that. — Richard Dawkins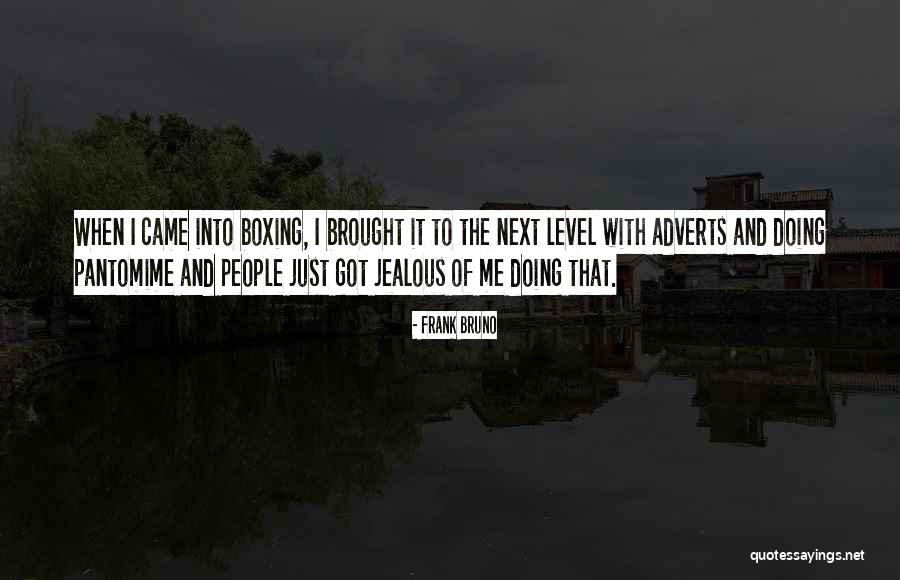 When I came into boxing, I brought it to the next level with adverts and doing pantomime and people just got jealous of me doing that. — Frank Bruno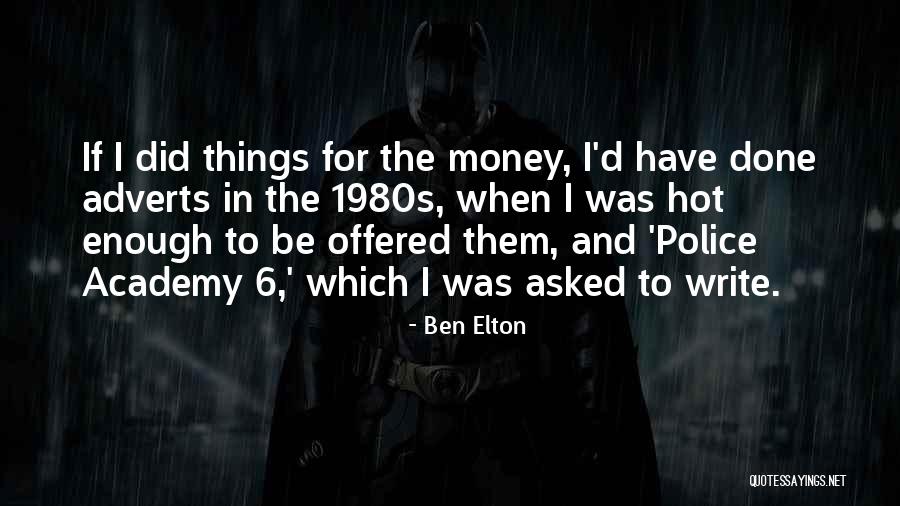 If I did things for the money, I'd have done adverts in the 1980s, when I was hot enough to be offered them, and 'Police Academy 6,' which I was asked to write. — Ben Elton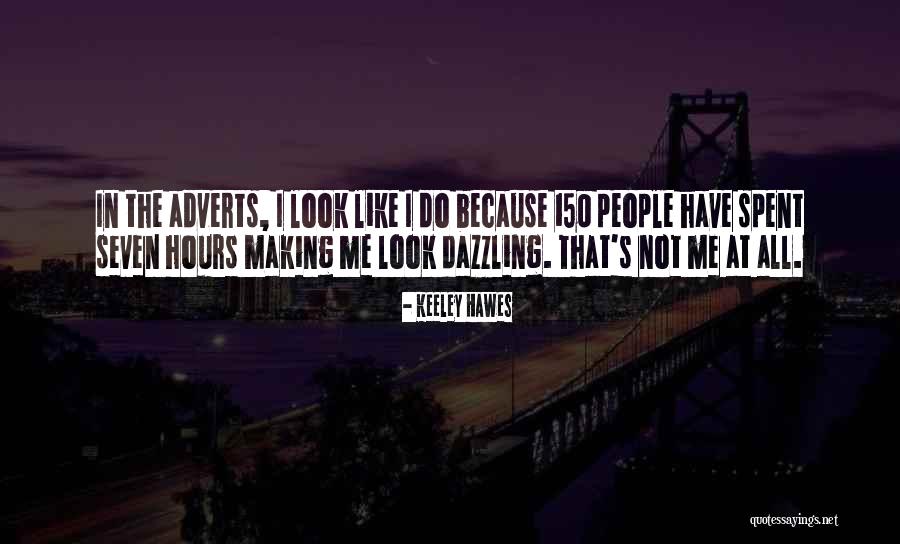 In the adverts, I look like I do because 150 people have spent seven hours making me look dazzling. That's not me at all. — Keeley Hawes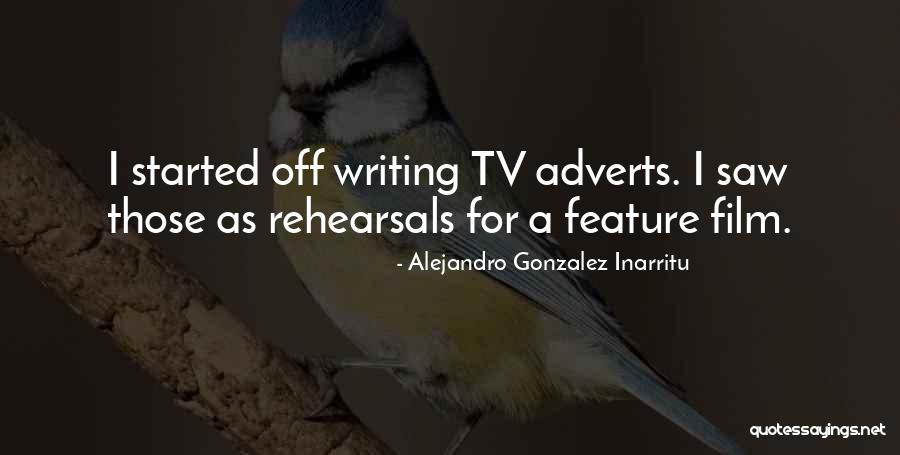 I started off writing TV adverts. I saw those as rehearsals for a feature film. — Alejandro Gonzalez Inarritu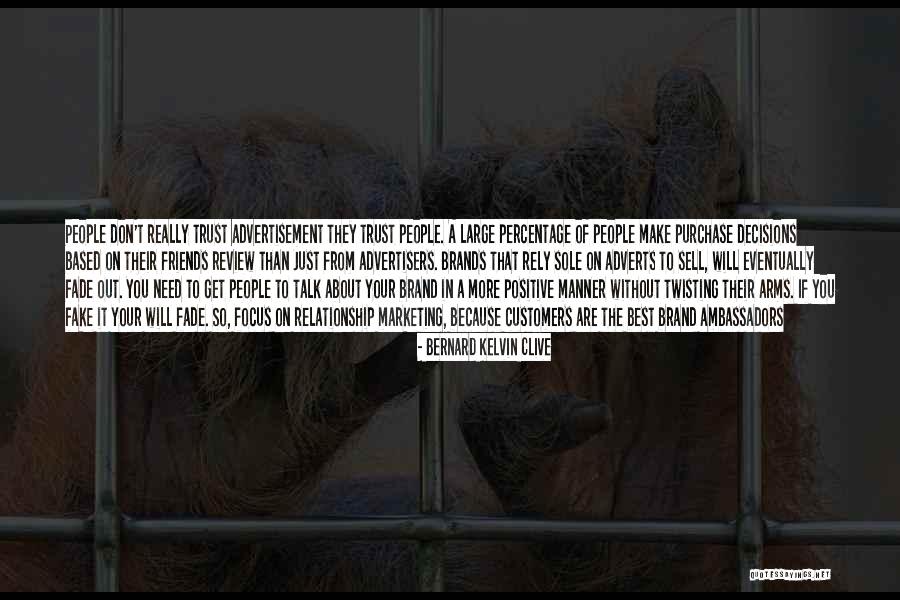 People don't really trust advertisement they trust people. A large percentage of people make purchase decisions based on their friends review than just from advertisers. Brands that rely sole on adverts to sell, will eventually fade out. You need to get people to talk about your brand in a more positive manner without twisting their arms. If you fake it your will fade. So, focus on relationship marketing, because customers are the best brand ambassadors — Bernard Kelvin Clive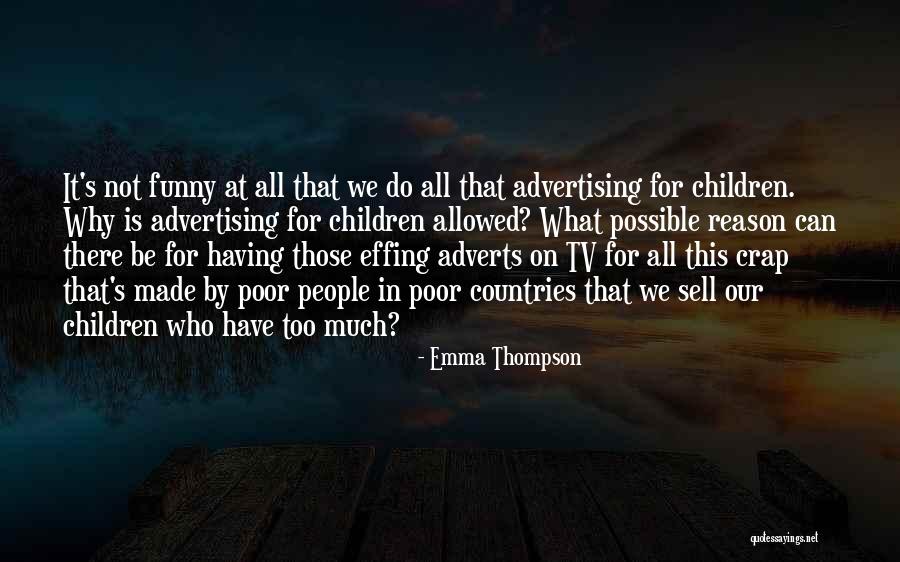 It's not funny at all that we do all that advertising for children. Why is advertising for children allowed? What possible reason can there be for having those effing adverts on TV for all this crap that's made by poor people in poor countries that we sell our children who have too much? — Emma Thompson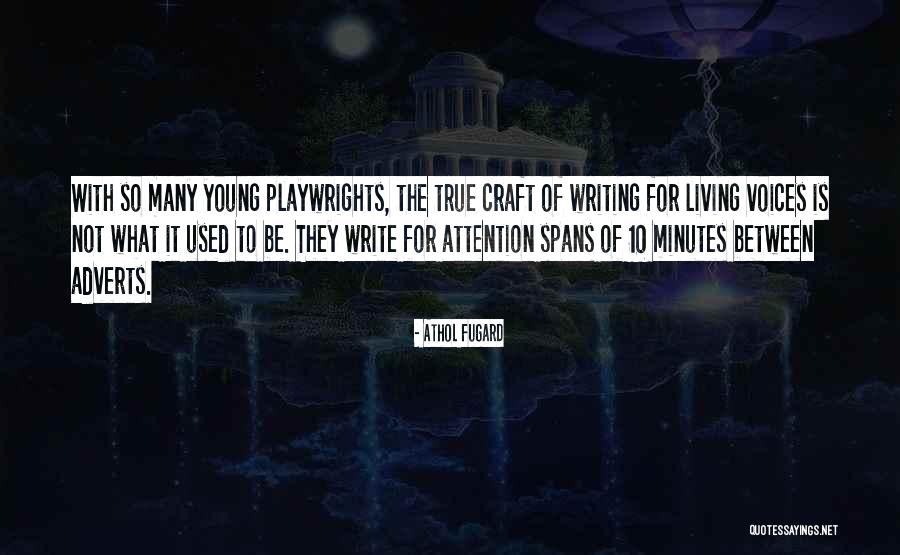 With so many young playwrights, the true craft of writing for living voices is not what it used to be. They write for attention spans of 10 minutes between adverts. — Athol Fugard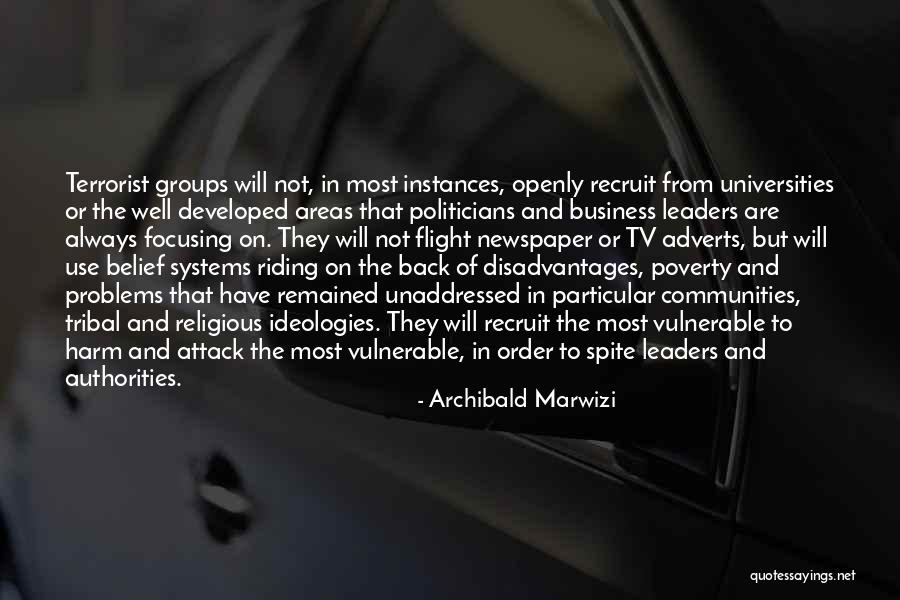 Terrorist groups will not, in most instances, openly recruit from universities or the well developed areas that politicians and business leaders are always focusing on. They will not flight newspaper or TV adverts, but will use belief systems riding on the back of disadvantages, poverty and problems that have remained unaddressed in particular communities, tribal and religious ideologies. They will recruit the most vulnerable to harm and attack the most vulnerable, in order to spite leaders and authorities. — Archibald Marwizi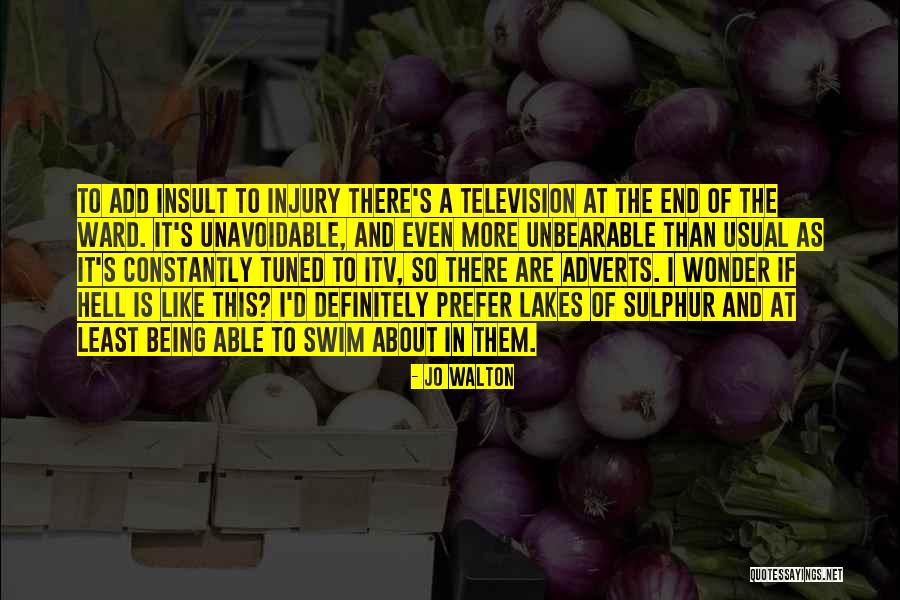 To add insult to injury there's a television at the end of the ward. It's unavoidable, and even more unbearable than usual as it's constantly tuned to ITV, so there are adverts. I wonder if hell is like this? I'd definitely prefer lakes of sulphur and at least being able to swim about in them. — Jo Walton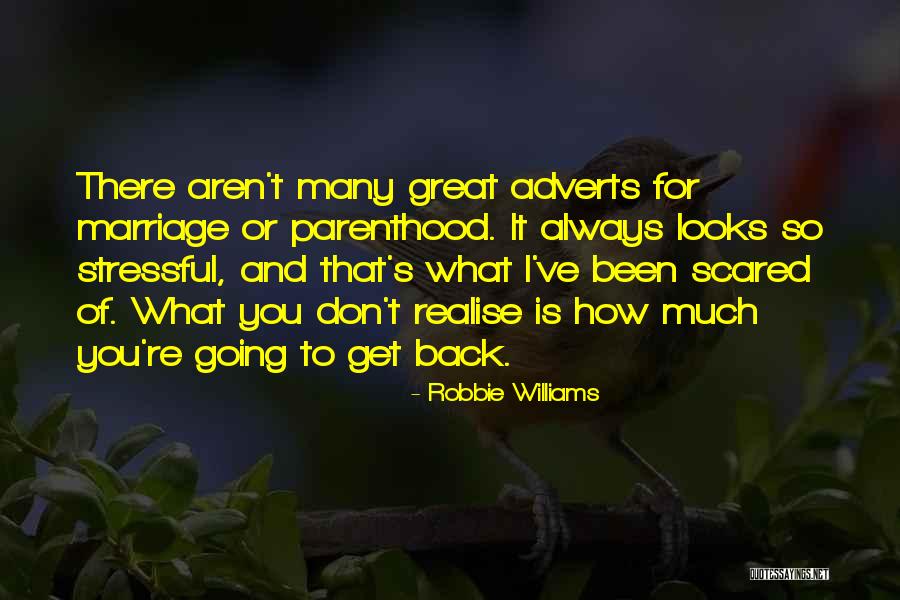 There aren't many great adverts for marriage or parenthood. It always looks so stressful, and that's what I've been scared of. What you don't realise is how much you're going to get back. — Robbie Williams
Indians are very racist. It's deeply ingrained. But there is so much pressure by peer groups, magazines, billboards and TV adverts that perpetuate this idea that fair is the ideal. — Nandita Das
The type of adverts to be found on television and in glossy magazines are visually designed to have a power over the mind before they can even be questioned. The dark side of my work, primarily concerns the internal mechanisms of visual imagery and how these mechanisms address the mind. — Mat Collishaw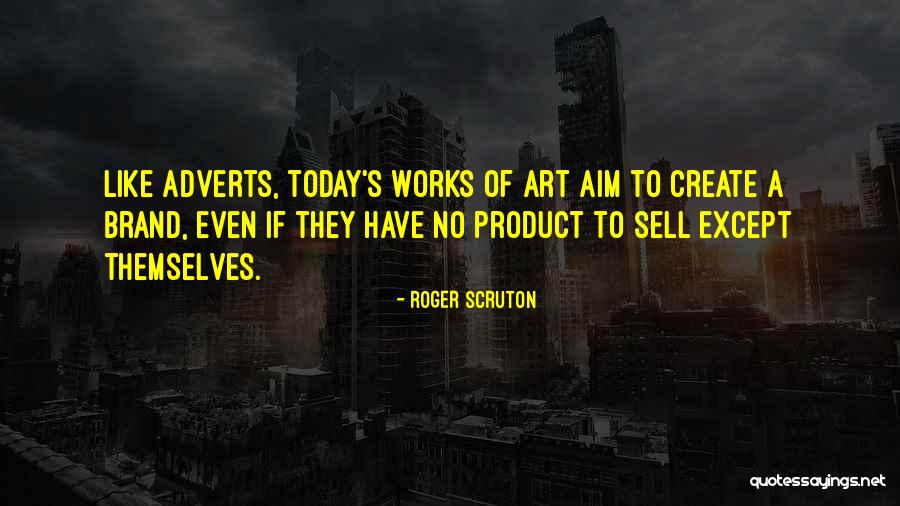 Like adverts, today's works of art aim to create a brand, even if they have no product to sell except themselves. — Roger Scruton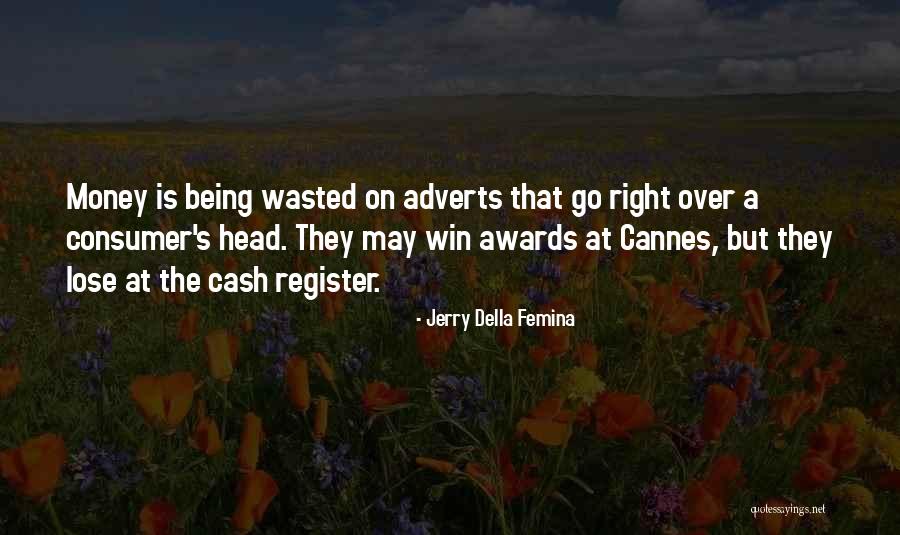 Money is being wasted on adverts that go right over a consumer's head. They may win awards at Cannes, but they lose at the cash register. — Jerry Della Femina
Until relatively recently, mass political movements were still about basic rights of food, shelter, education and self sufficiency. The reasons fewer people vote these days, or turn up for political meetings, is that for the vast majority of us those rights have been fulfilled. These days it's in the adverts for mobile phones or foreign holidays where phrases like "Join the Revolution!" and "Cry Freedom!" are bandied about for a generation which knows nothing of their provenance. Just as now we have luxury illnesses to replace real ones, so now we have luxury politics. — John Diamond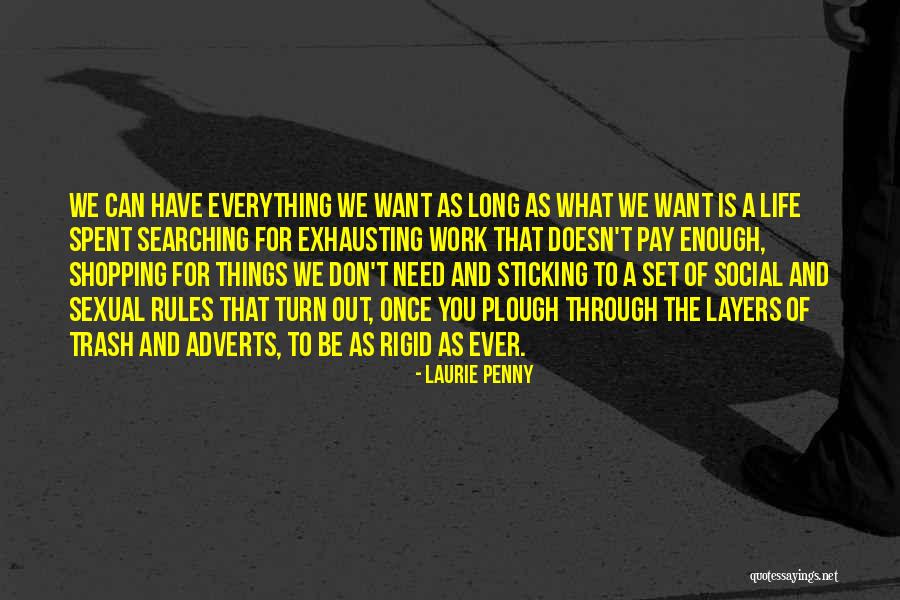 We can have everything we want as long as what we want is a life spent searching for exhausting work that doesn't pay enough, shopping for things we don't need and sticking to a set of social and sexual rules that turn out, once you plough through the layers of trash and adverts, to be as rigid as ever. — Laurie Penny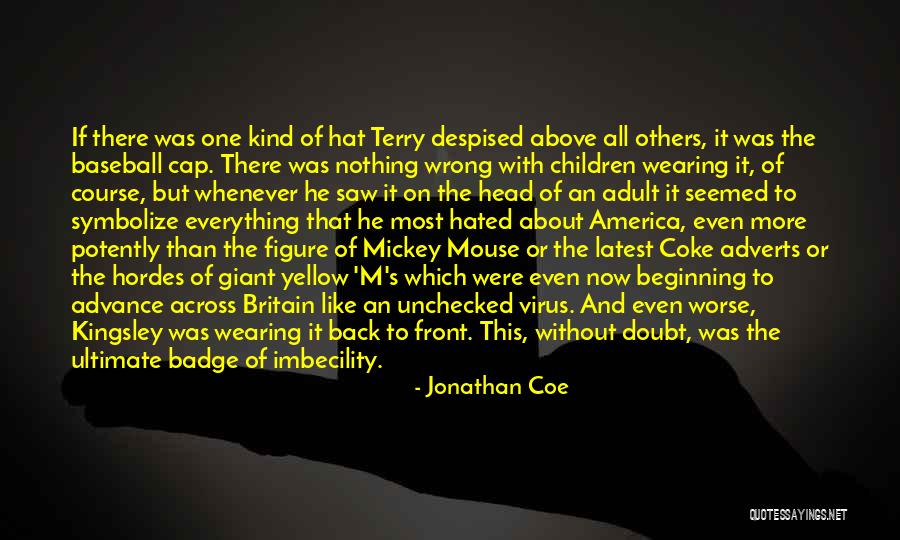 If there was one kind of hat Terry despised above all others, it was the baseball cap. There was nothing wrong with children wearing it, of course, but whenever he saw it on the head of an adult it seemed to symbolize everything that he most hated about America, even more potently than the figure of Mickey Mouse or the latest Coke adverts or the hordes of giant yellow 'M's which were even now beginning to advance across Britain like an unchecked virus. And even worse, Kingsley was wearing it back to front. This, without doubt, was the ultimate badge of imbecility. — Jonathan Coe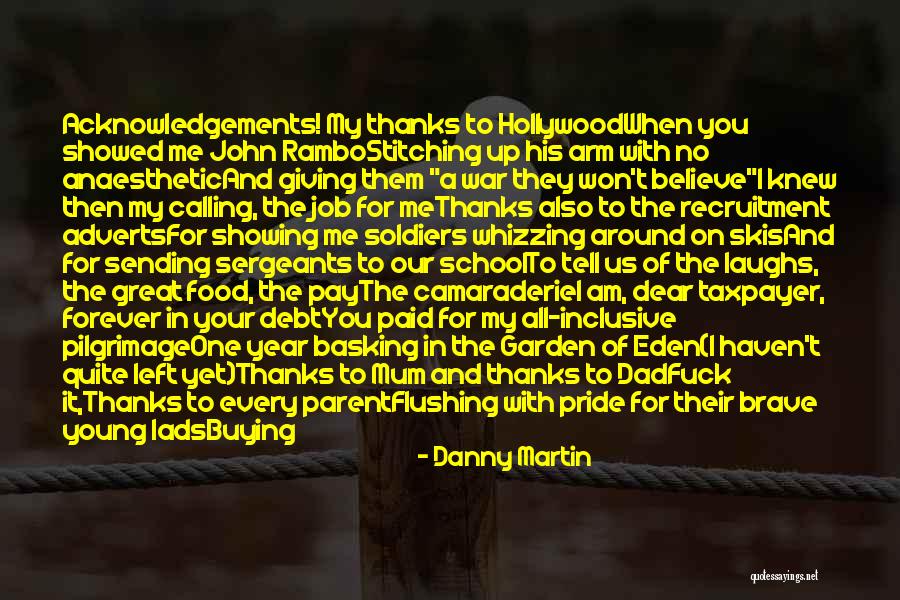 Acknowledgements!
My thanks to Hollywood
When you showed me John Rambo
Stitching up his arm with no anaesthetic
And giving them "a war they won't believe"
I knew then my calling, the job for me

Thanks also to the recruitment adverts
For showing me soldiers whizzing around on skis
And for sending sergeants to our school
To tell us of the laughs, the great food, the pay
The camaraderie

I am, dear taxpayer, forever in your debt
You paid for my all-inclusive pilgrimage
One year basking in the Garden of Eden
(I haven't quite left yet)

Thanks to Mum and thanks to Dad
Fuck it,
Thanks to every parent
Flushing with pride for their brave young lads
Buying young siblings toy guns and toy tanks
Waiting at the airport
Waving their flags — Danny Martin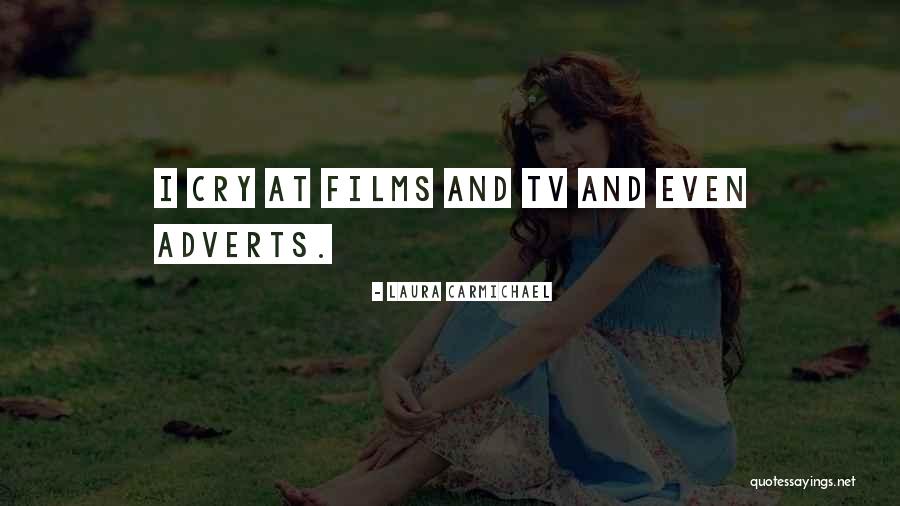 I cry at films and TV and even adverts. — Laura Carmichael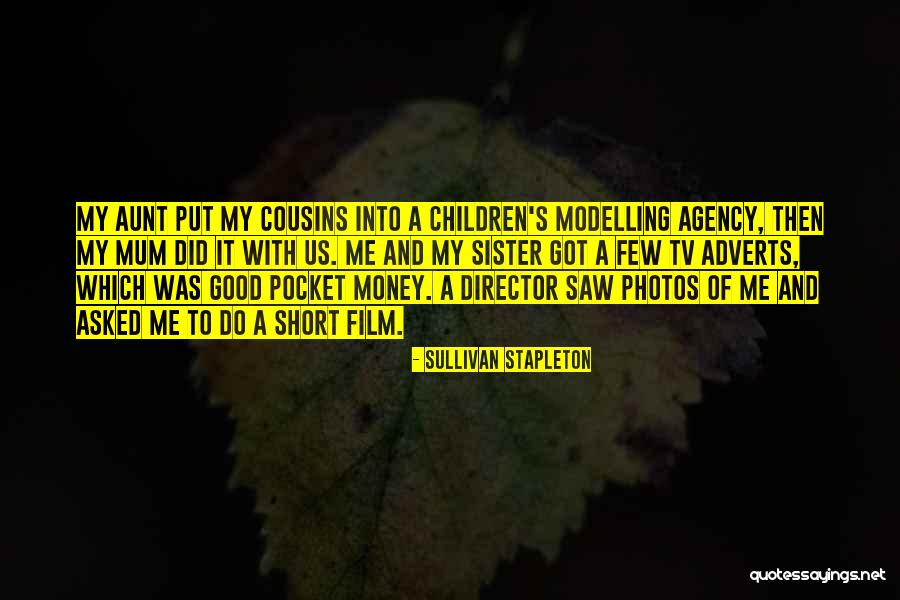 My aunt put my cousins into a children's modelling agency, then my mum did it with us. Me and my sister got a few TV adverts, which was good pocket money. A director saw photos of me and asked me to do a short film. — Sullivan Stapleton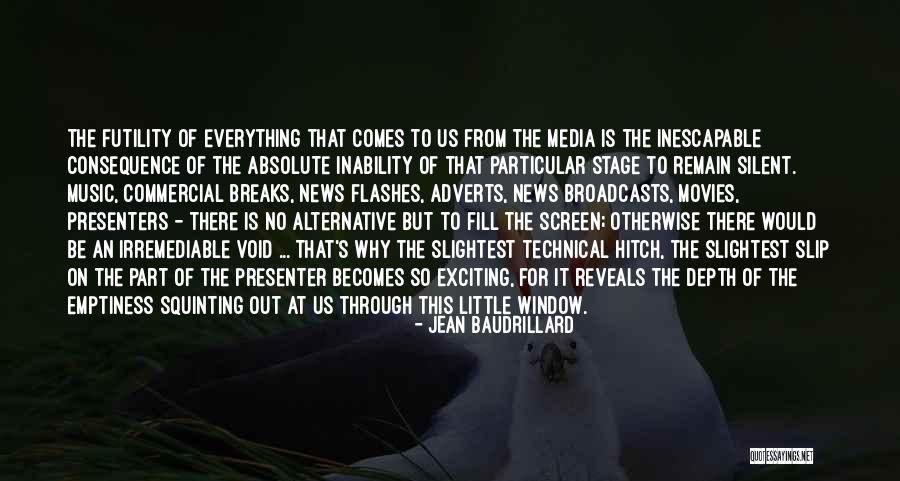 The futility of everything that comes to us from the media is the inescapable consequence of the absolute inability of that particular stage to remain silent. Music, commercial breaks, news flashes, adverts, news broadcasts, movies, presenters - there is no alternative but to fill the screen; otherwise there would be an irremediable void ... That's why the slightest technical hitch, the slightest slip on the part of the presenter becomes so exciting, for it reveals the depth of the emptiness squinting out at us through this little window. — Jean Baudrillard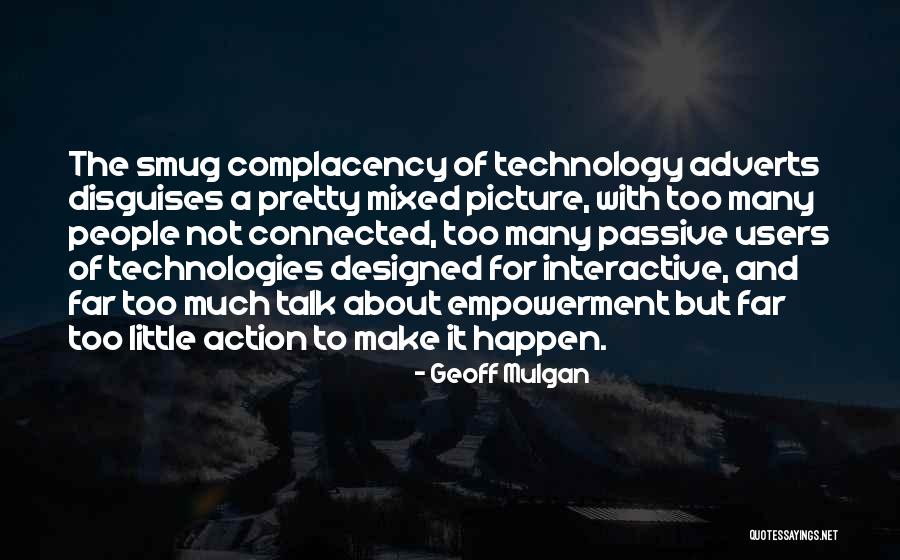 The smug complacency of technology adverts disguises a pretty mixed picture, with too many people not connected, too many passive users of technologies designed for interactive, and far too much talk about empowerment but far too little action to make it happen. — Geoff Mulgan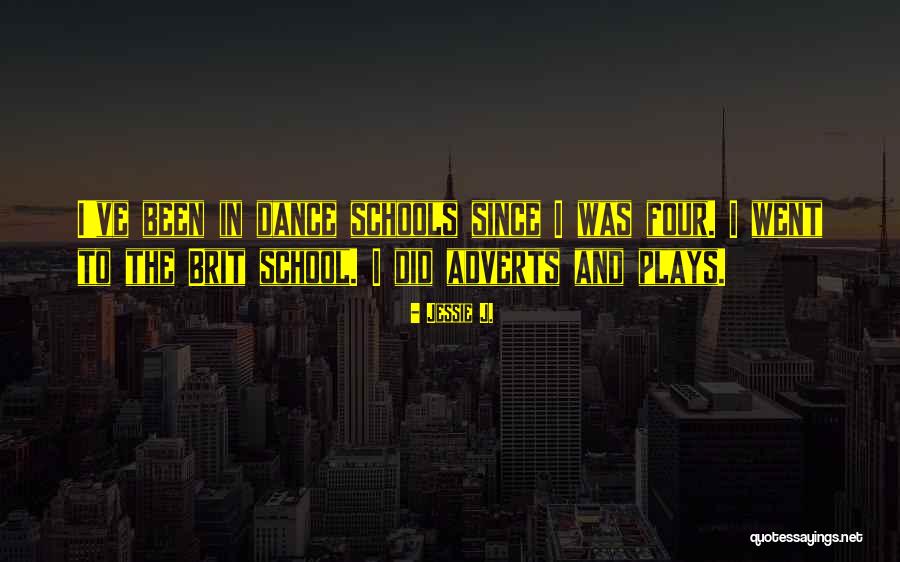 I've been in dance schools since I was four. I went to the Brit school. I did adverts and plays. — Jessie J.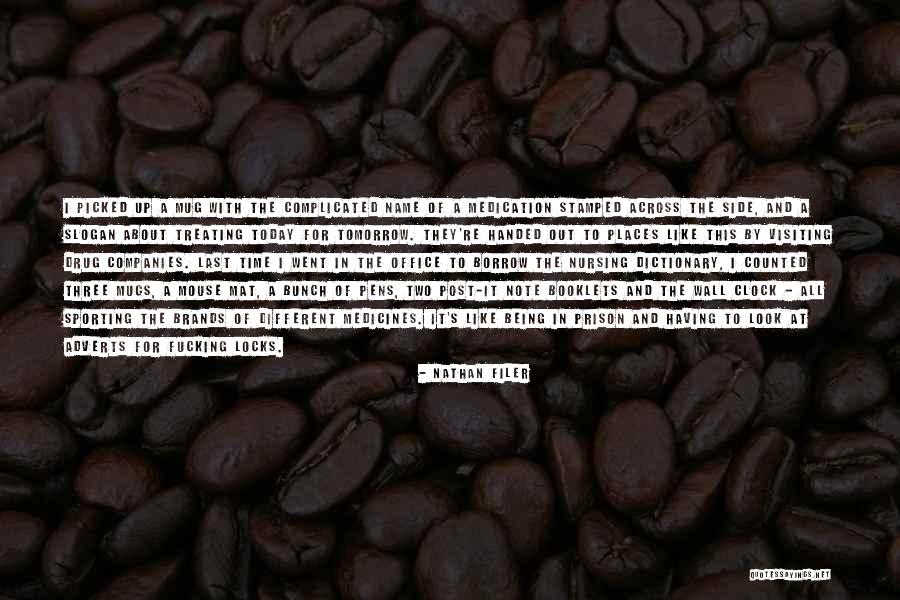 I picked up a mug with the complicated name of a medication stamped across the side, and a slogan about Treating Today for Tomorrow. They're handed out to places like this by visiting drug companies. Last time I went in the office to borrow the Nursing Dictionary, I counted three mugs, a mouse mat, a bunch of pens, two Post-it note booklets and the wall clock - all sporting the brands of different medicines. It's like being in prison and having to look at adverts for fucking locks. — Nathan Filer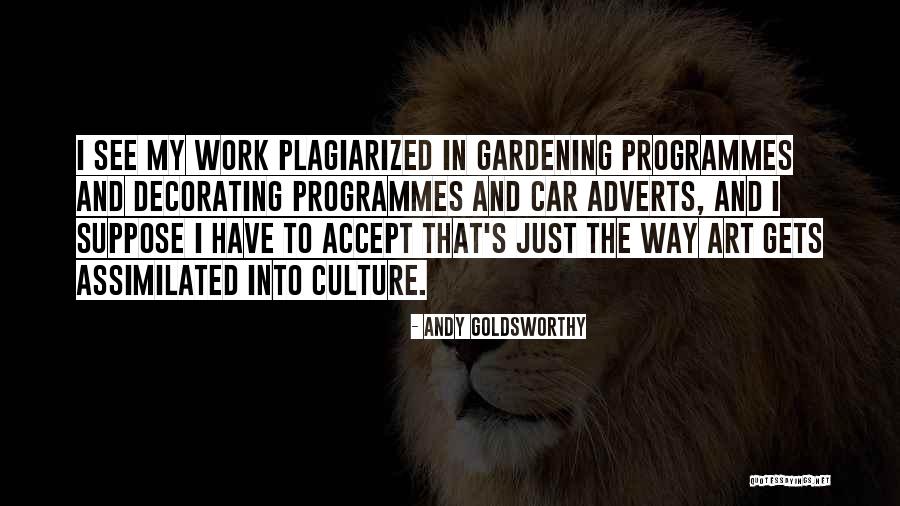 I see my work plagiarized in gardening programmes and decorating programmes and car adverts, and I suppose I have to accept that's just the way art gets assimilated into culture. — Andy Goldsworthy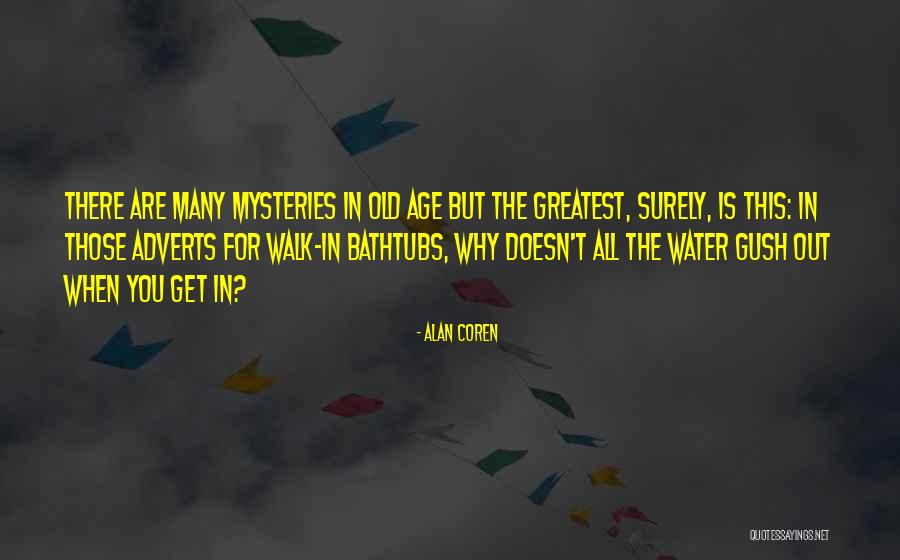 There are many mysteries in old age but the greatest, surely, is this: in those adverts for walk-in bathtubs, why doesn't all the water gush out when you get in? — Alan Coren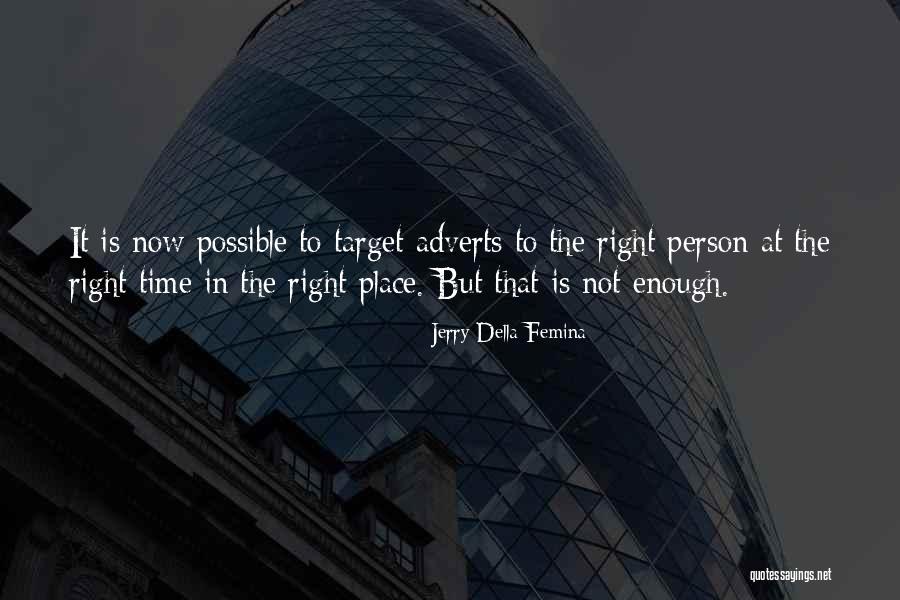 It is now possible to target adverts to the right person at the right time in the right place. But that is not enough. — Jerry Della Femina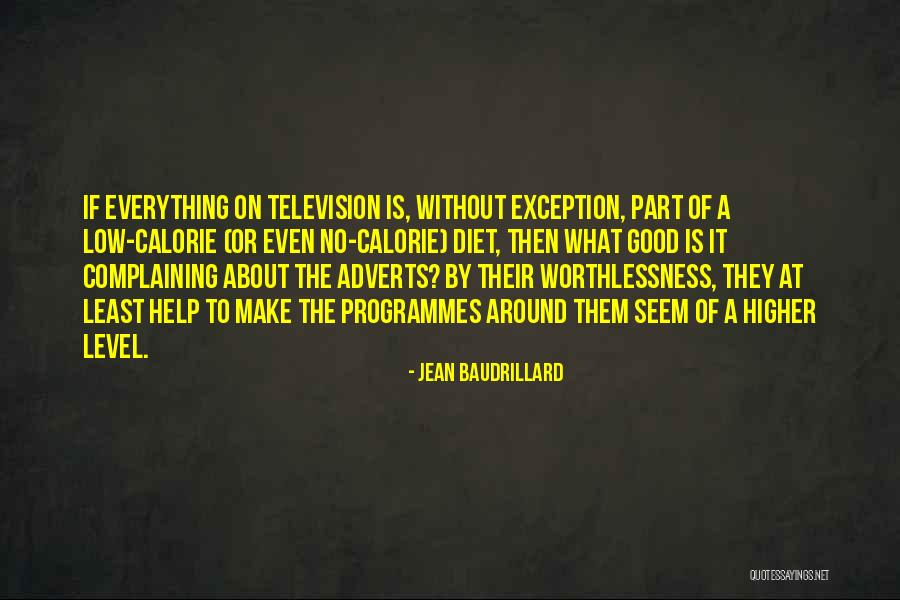 If everything on television is, without exception, part of a low-calorie (or even no-calorie) diet, then what good is it complaining about the adverts? By their worthlessness, they at least help to make the programmes around them seem of a higher level. — Jean Baudrillard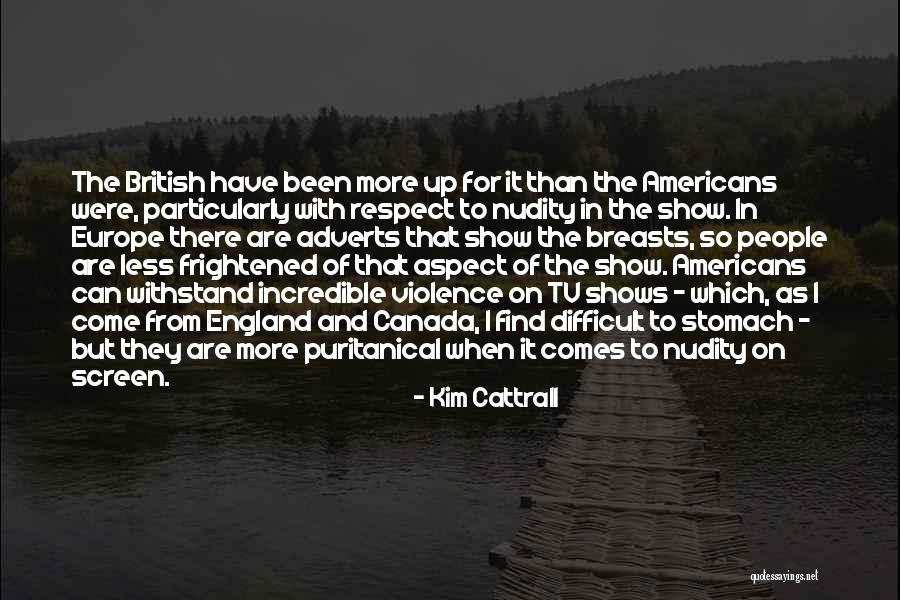 The British have been more up for it than the Americans were, particularly with respect to nudity in the show. In Europe there are adverts that show the breasts, so people are less frightened of that aspect of the show. Americans can withstand incredible violence on TV shows - which, as I come from England and Canada, I find difficult to stomach - but they are more puritanical when it comes to nudity on screen. — Kim Cattrall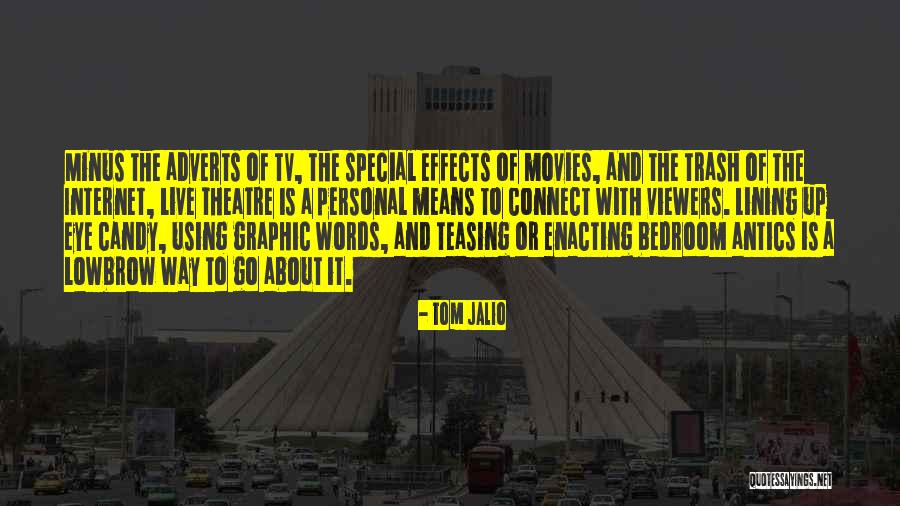 Minus the adverts of TV, the special effects of movies, and the trash of the Internet, live theatre is a personal means to connect with viewers. Lining up eye candy, using graphic words, and teasing or enacting bedroom antics is a lowbrow way to go about it. — Tom Jalio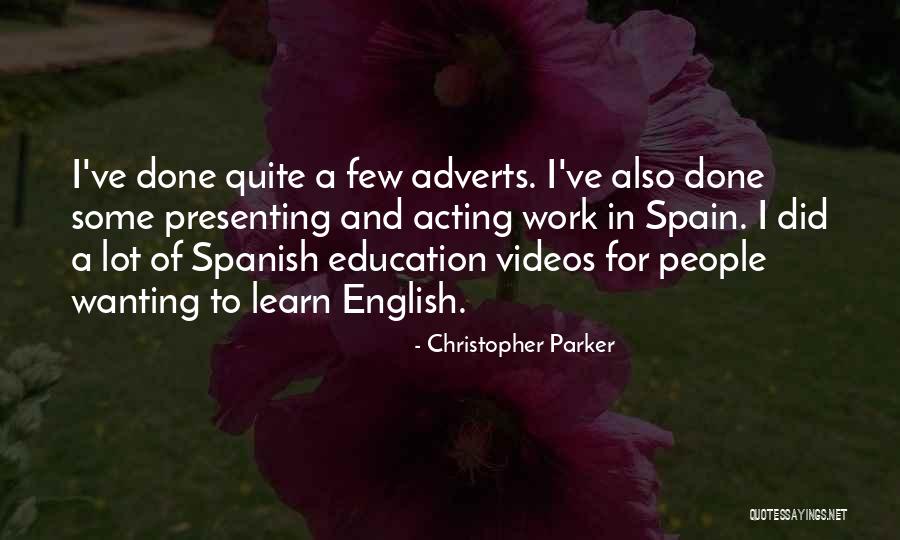 I've done quite a few adverts. I've also done some presenting and acting work in Spain. I did a lot of Spanish education videos for people wanting to learn English. — Christopher Parker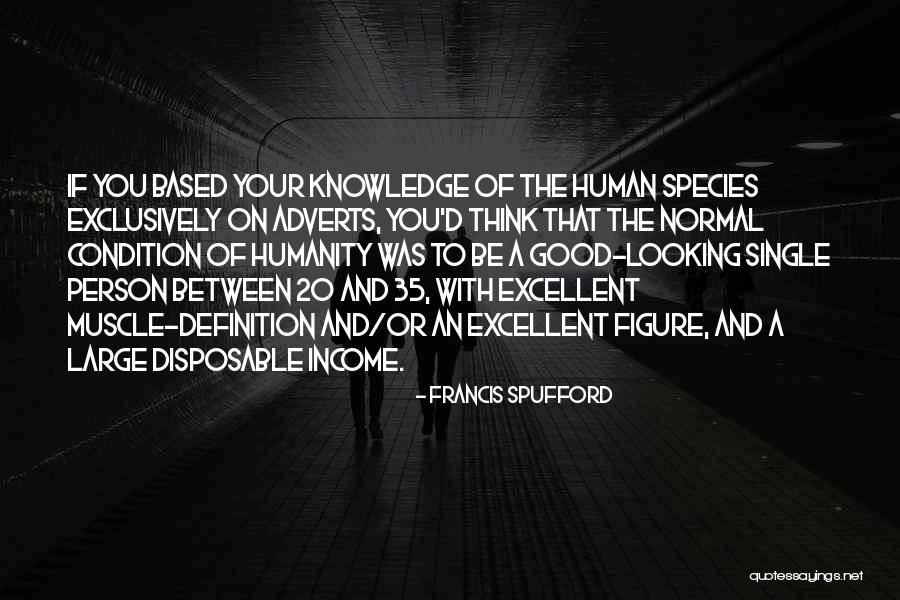 If you based your knowledge of the human species exclusively on adverts, you'd think that the normal condition of humanity was to be a good-looking single person between 20 and 35, with excellent muscle-definition and/or an excellent figure, and a large disposable income. — Francis Spufford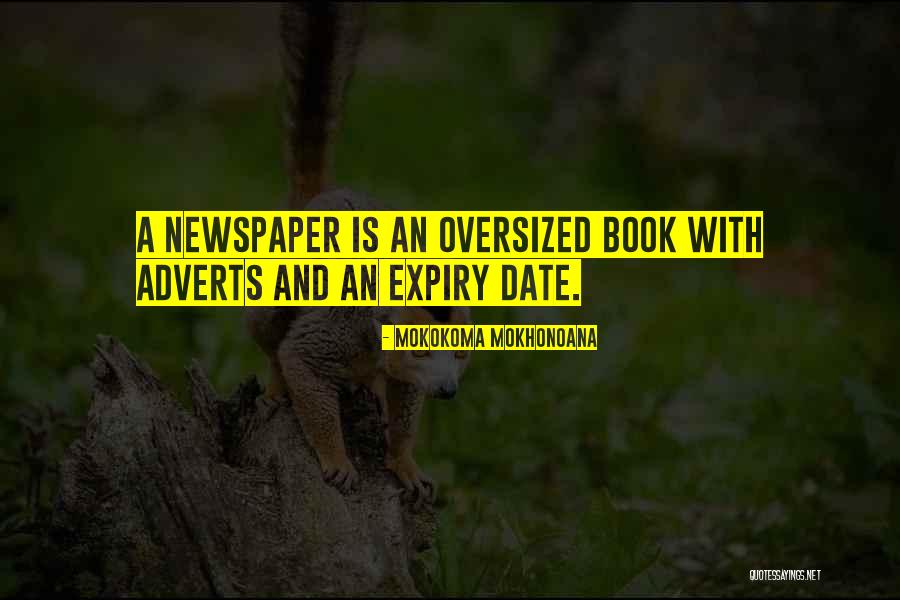 A newspaper is an oversized book with adverts and an expiry date. — Mokokoma Mokhonoana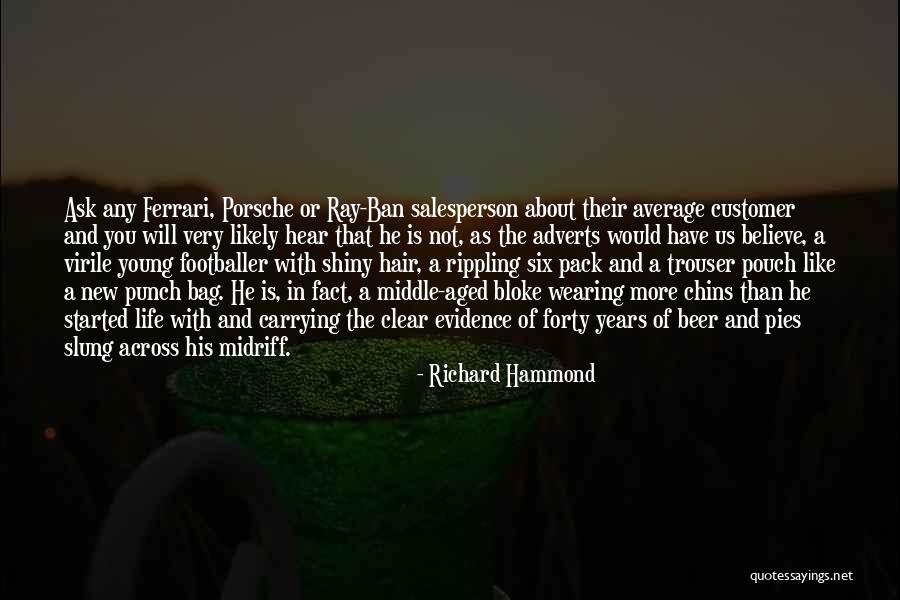 Ask any Ferrari, Porsche or Ray-Ban salesperson about their average customer and you will very likely hear that he is not, as the adverts would have us believe, a virile young footballer with shiny hair, a rippling six pack and a trouser pouch like a new punch bag. He is, in fact, a middle-aged bloke wearing more chins than he started life with and carrying the clear evidence of forty years of beer and pies slung across his midriff. — Richard Hammond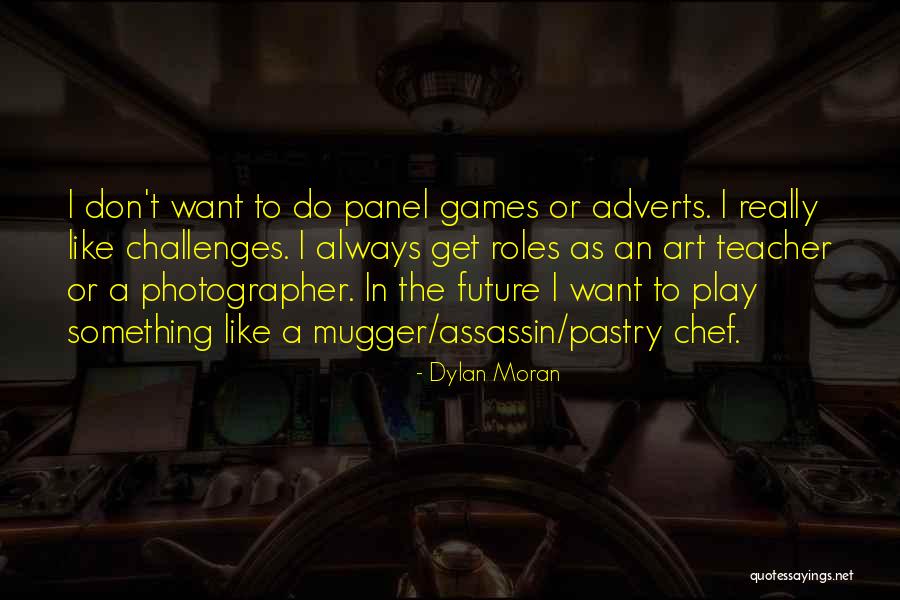 I don't want to do panel games or adverts. I really like challenges. I always get roles as an art teacher or a photographer. In the future I want to play something like a mugger/assassin/pastry chef. — Dylan Moran