About Me Facebook Quotes & Sayings
Enjoy reading and share 36 famous quotes about About Me Facebook with everyone.
Top About Me Facebook Quotes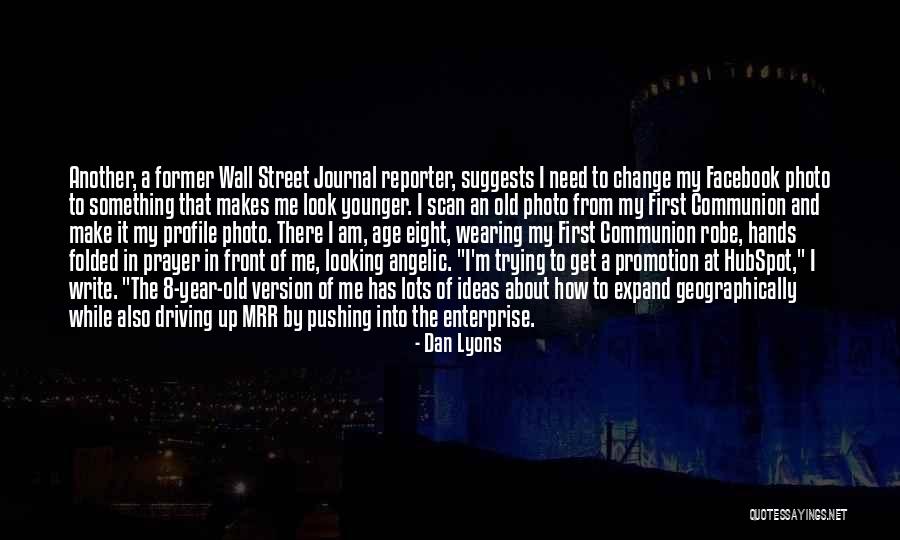 Another, a former Wall Street Journal reporter, suggests I need to change my Facebook photo to something that makes me look younger. I scan an old photo from my First Communion and make it my profile photo. There I am, age eight, wearing my First Communion robe, hands folded in prayer in front of me, looking angelic. "I'm trying to get a promotion at HubSpot," I write. "The 8-year-old version of me has lots of ideas about how to expand geographically while also driving up MRR by pushing into the enterprise. — Dan Lyons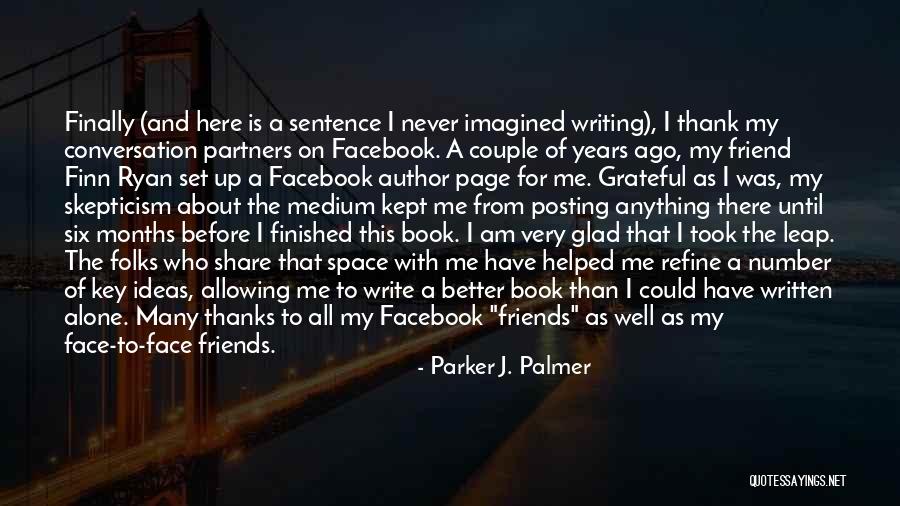 Finally (and here is a sentence I never imagined writing), I thank my conversation partners on Facebook. A couple of years ago, my friend Finn Ryan set up a Facebook author page for me. Grateful as I was, my skepticism about the medium kept me from posting anything there until six months before I finished this book. I am very glad that I took the leap. The folks who share that space with me have helped me refine a number of key ideas, allowing me to write a better book than I could have written alone. Many thanks to all my Facebook "friends" as well as my face-to-face friends. — Parker J. Palmer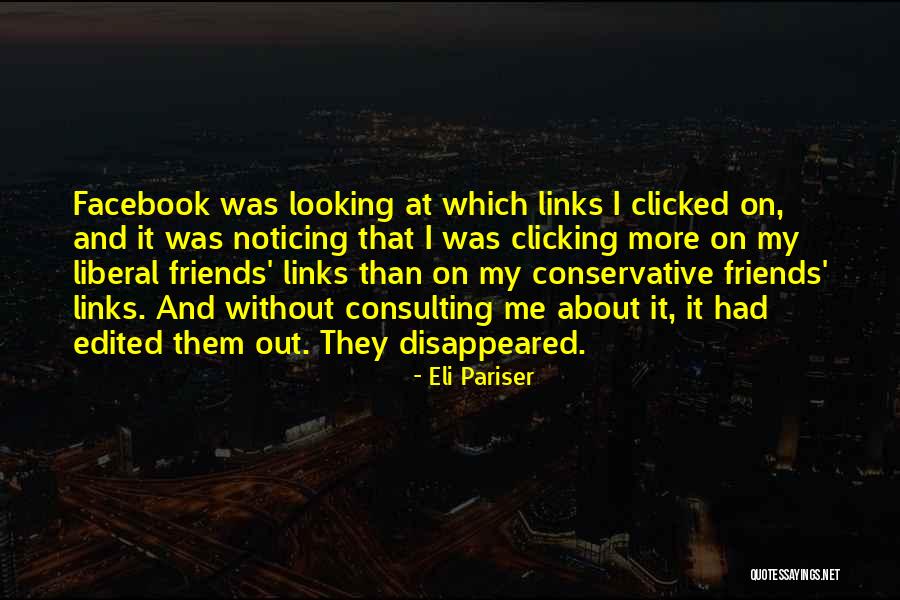 Facebook was looking at which links I clicked on, and it was noticing that I was clicking more on my liberal friends' links than on my conservative friends' links. And without consulting me about it, it had edited them out. They disappeared. — Eli Pariser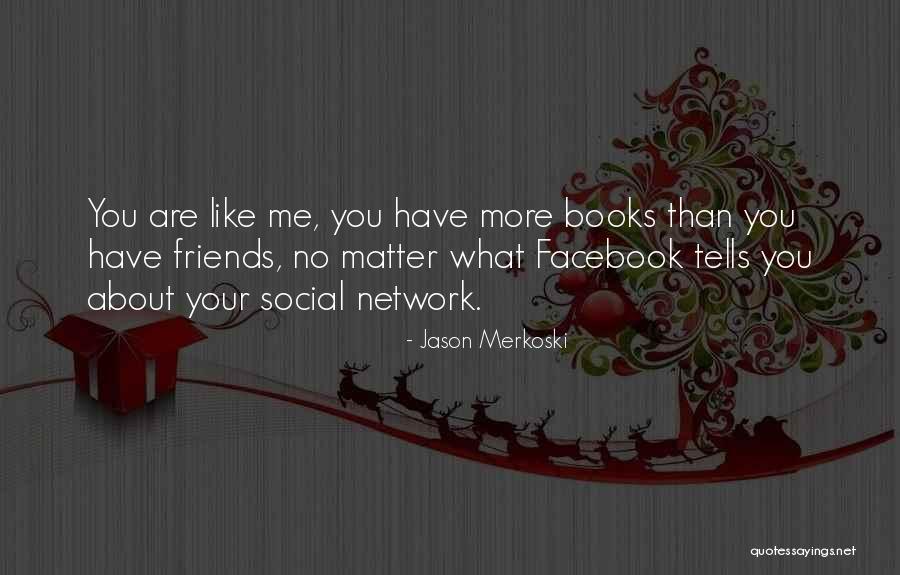 You are like me, you have more books than you have friends, no matter what Facebook tells you about your social network. — Jason Merkoski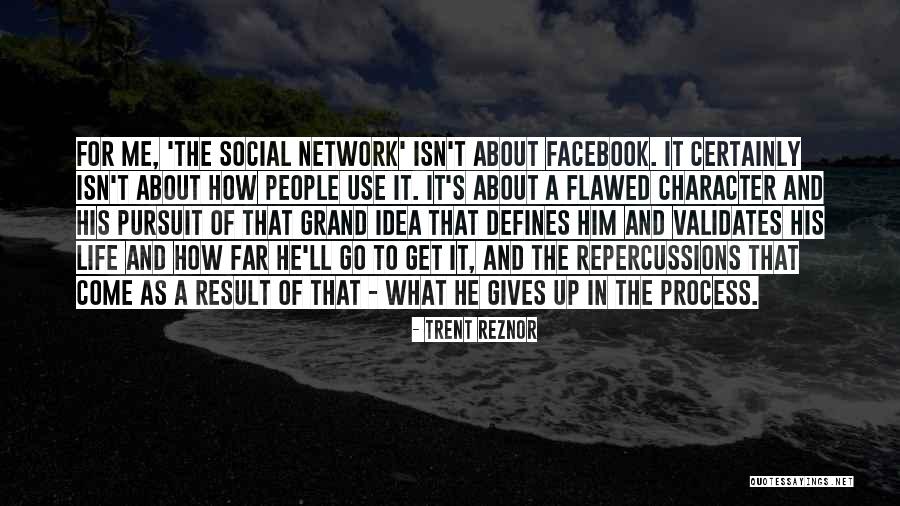 For me, 'The Social Network' isn't about Facebook. It certainly isn't about how people use it. It's about a flawed character and his pursuit of that grand idea that defines him and validates his life and how far he'll go to get it, and the repercussions that come as a result of that - what he gives up in the process. — Trent Reznor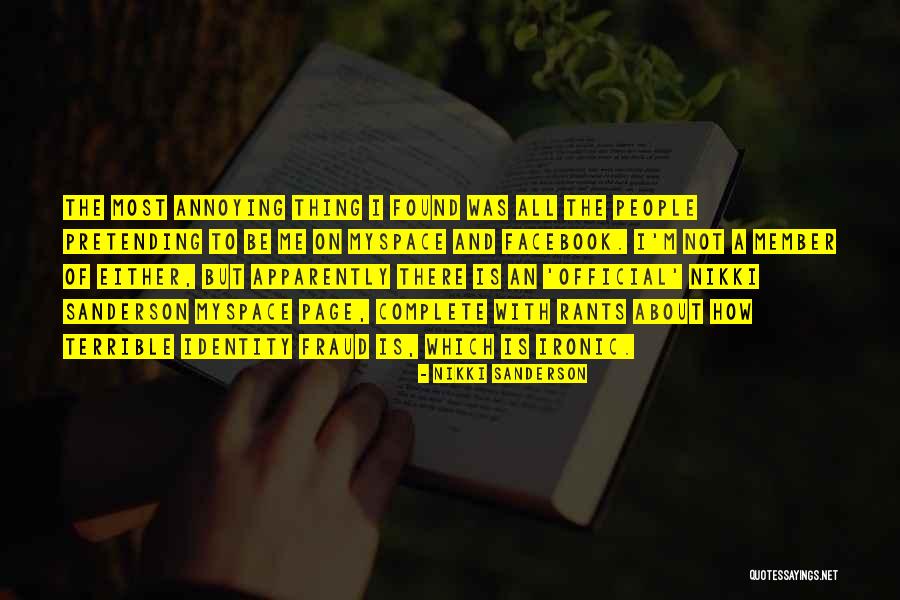 The most annoying thing I found was all the people pretending to be me on MySpace and Facebook. I'm not a member of either, but apparently there is an 'official' Nikki Sanderson MySpace page, complete with rants about how terrible identity fraud is, which is ironic. — Nikki Sanderson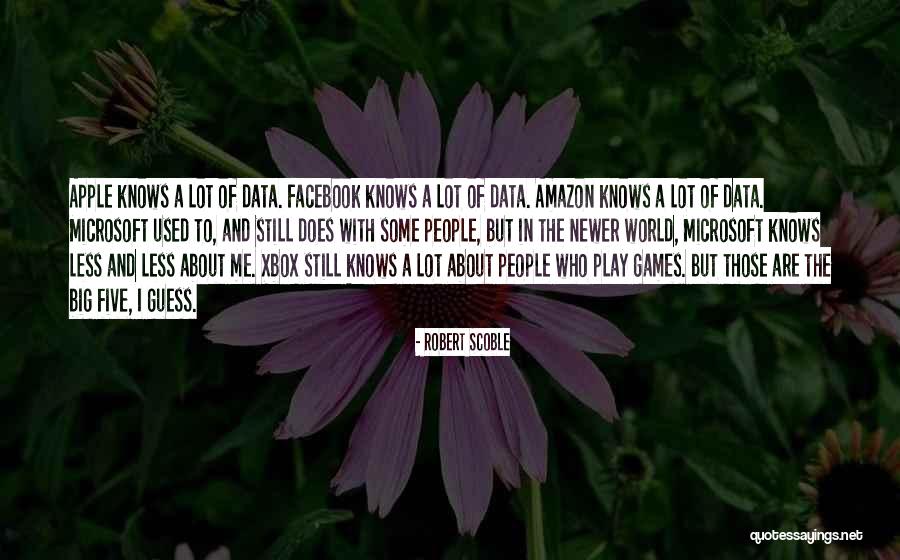 Apple knows a lot of data. Facebook knows a lot of data. Amazon knows a lot of data. Microsoft used to, and still does with some people, but in the newer world, Microsoft knows less and less about me. Xbox still knows a lot about people who play games. But those are the big five, I guess. — Robert Scoble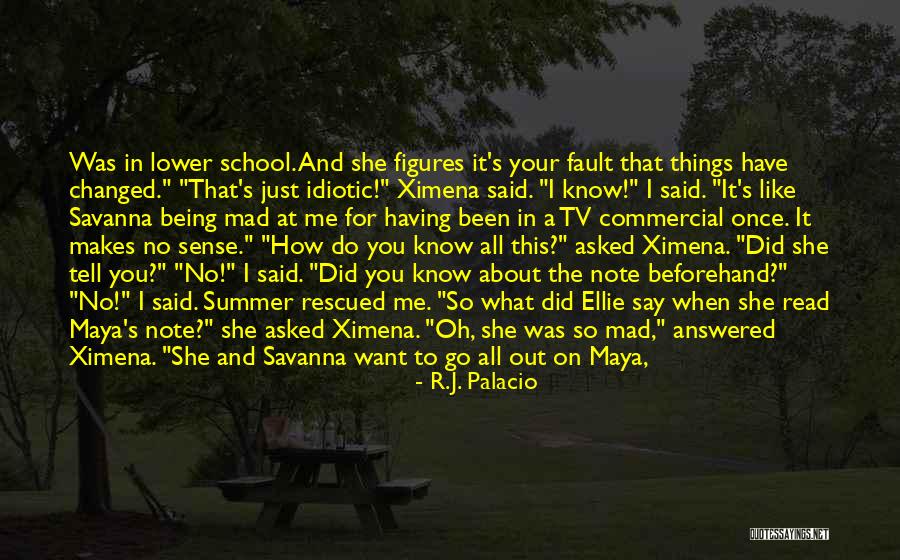 Was in lower school. And she figures it's your fault that things have changed." "That's just idiotic!" Ximena said. "I know!" I said. "It's like Savanna being mad at me for having been in a TV commercial once. It makes no sense." "How do you know all this?" asked Ximena. "Did she tell you?" "No!" I said. "Did you know about the note beforehand?" "No!" I said. Summer rescued me. "So what did Ellie say when she read Maya's note?" she asked Ximena. "Oh, she was so mad," answered Ximena. "She and Savanna want to go all out on Maya, post something super-mean about her on Facebook or whatever. Then Miles drew this cartoon. They want to post it on Instagram." She nodded for Summer to hand me a folded-up piece of loose-leaf paper, which I opened. On it was a crude drawing of a girl (who was obviously Maya) kissing a boy (who was obviously Auggie Pullman). Underneath it was — R.J. Palacio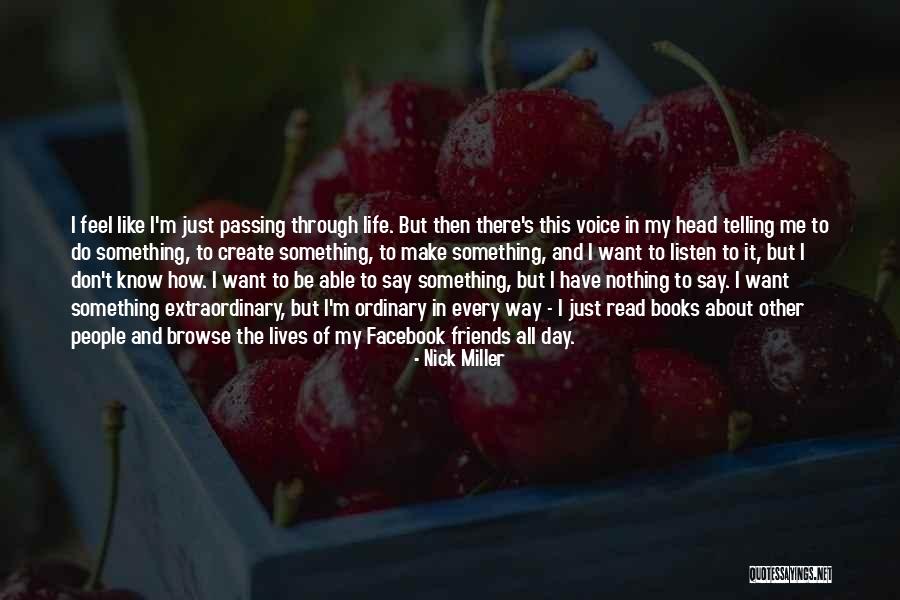 I feel like I'm just passing through life. But then there's this voice in my head telling me to do something, to create something, to make something, and I want to listen to it, but I don't know how. I want to be able to say something, but I have nothing to say. I want something extraordinary, but I'm ordinary in every way - I just read books about other people and browse the lives of my Facebook friends all day. — Nick Miller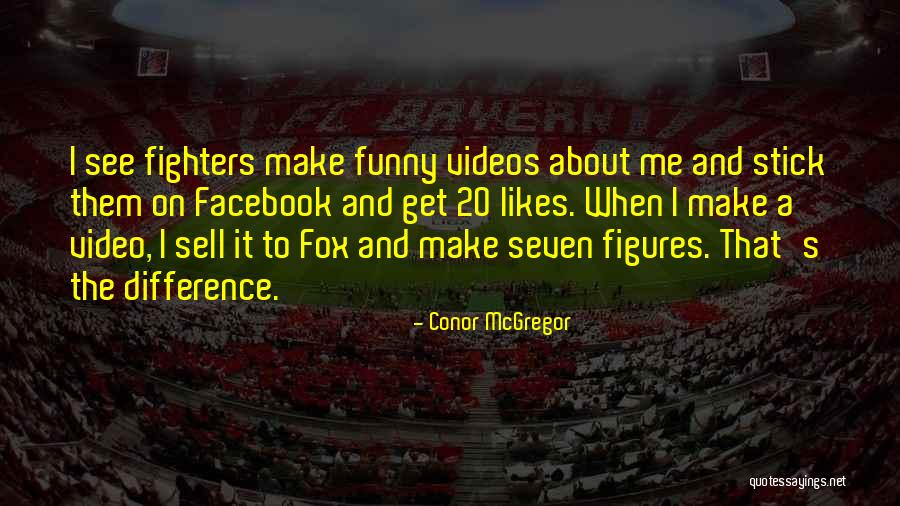 I see fighters make funny videos about me and stick them on Facebook and get 20 likes. When I make a video, I sell it to Fox and make seven figures. That's the difference. — Conor McGregor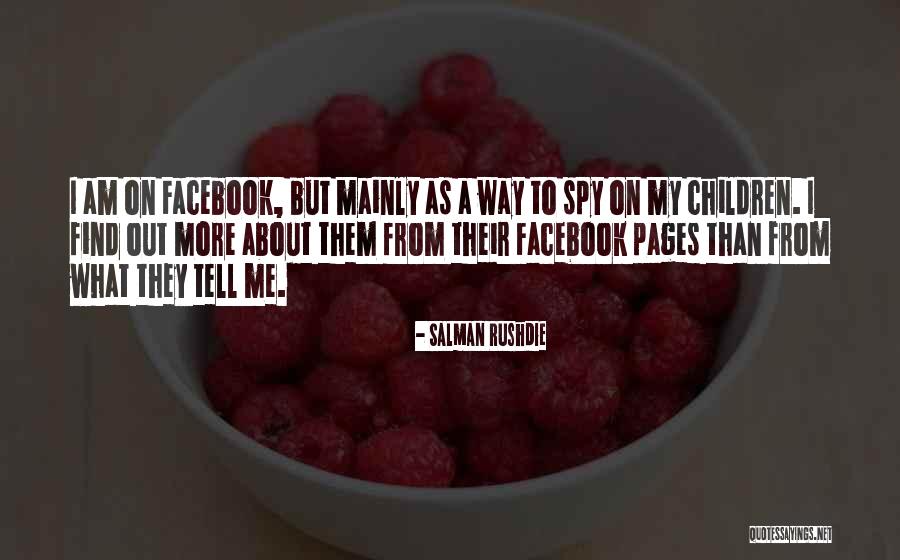 I am on Facebook, but mainly as a way to spy on my children. I find out more about them from their Facebook pages than from what they tell me. — Salman Rushdie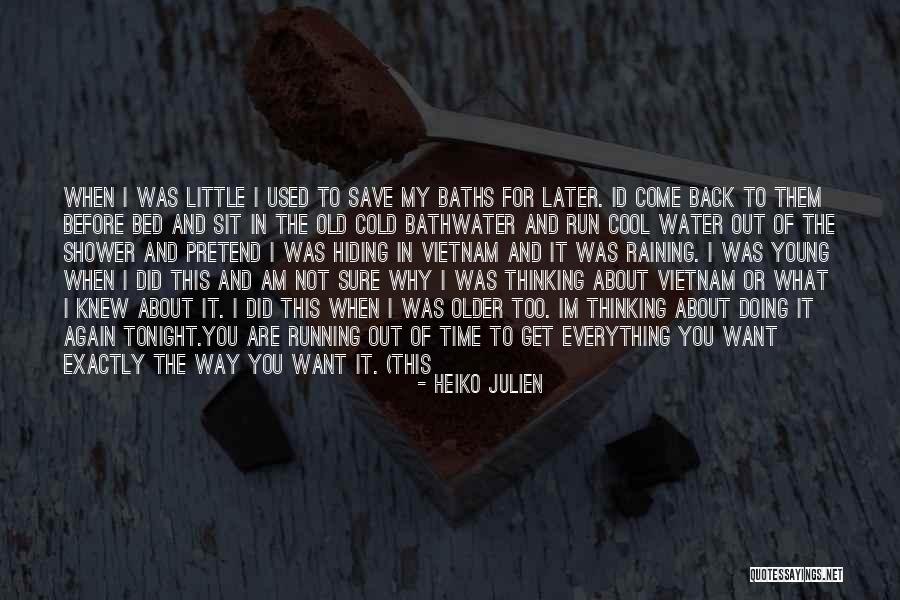 when i was little i used to save my baths for later. id come back to them before bed and sit in the old cold bathwater and run cool water out of the shower and pretend i was hiding in vietnam and it was raining. i was young when i did this and am not sure why i was thinking about vietnam or what i knew about it. i did this when i was older too. im thinking about doing it again tonight.

you are running out of time to get everything you want exactly the way you want it. (this is a joke.) most things are going to be left unsaid. (this is not a joke.) a few weeks ago my mom sent me an email with pictures of eagles that said "how about these eagles." she visits my cousin in jail once a month. that seems like a lot for an aunt. he is in jail because he shot his girlfriend in the face but they are still together. she told me once that she knew in her heart that he is guilty but now she claims she never said that. — Heiko Julien
It took less time to build 'Instagram' than it did for me to get my work visa. The app was an instant hit, and Facebook agreed to acquire the startup for about $1 billion in April 2012. — Mike Krieger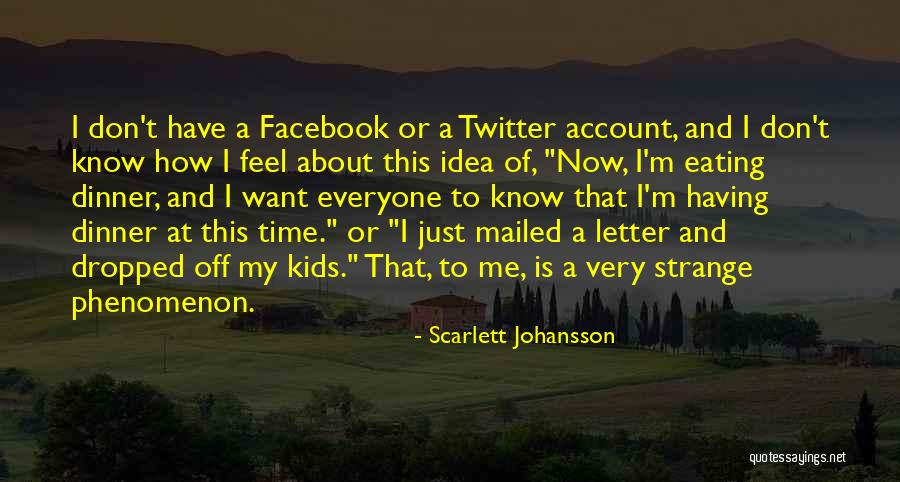 I don't have a Facebook or a Twitter account, and I don't know how I feel about this idea of, "Now, I'm eating dinner, and I want everyone to know that I'm having dinner at this time." or "I just mailed a letter and dropped off my kids." That, to me, is a very strange phenomenon. — Scarlett Johansson
I left Facebook after Facebook groups began appearing about me and suddenly your personal photographs start becoming public property. — Freddie Stroma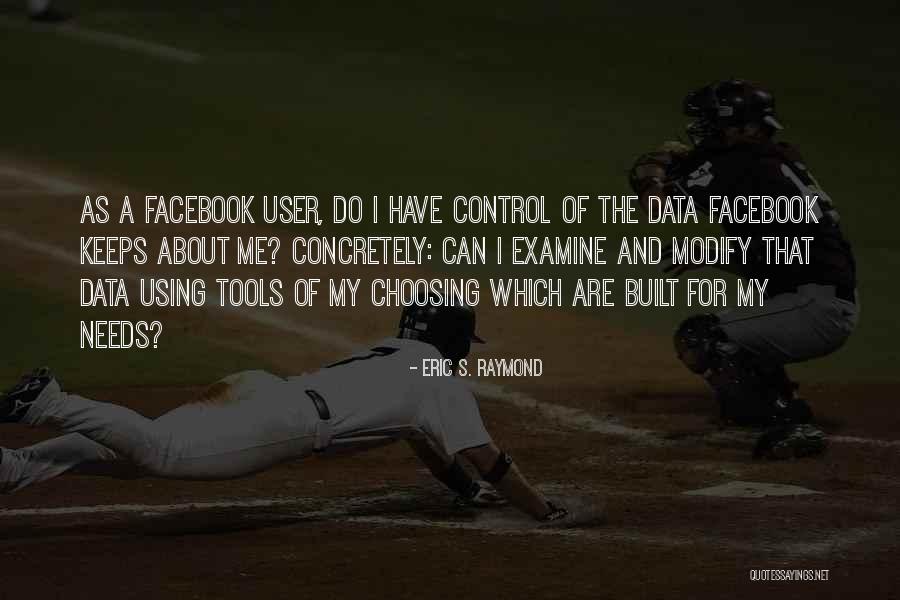 As a Facebook user, do I have control of the data Facebook keeps about me? Concretely: can I examine and modify that data using tools of my choosing which are built for my needs? — Eric S. Raymond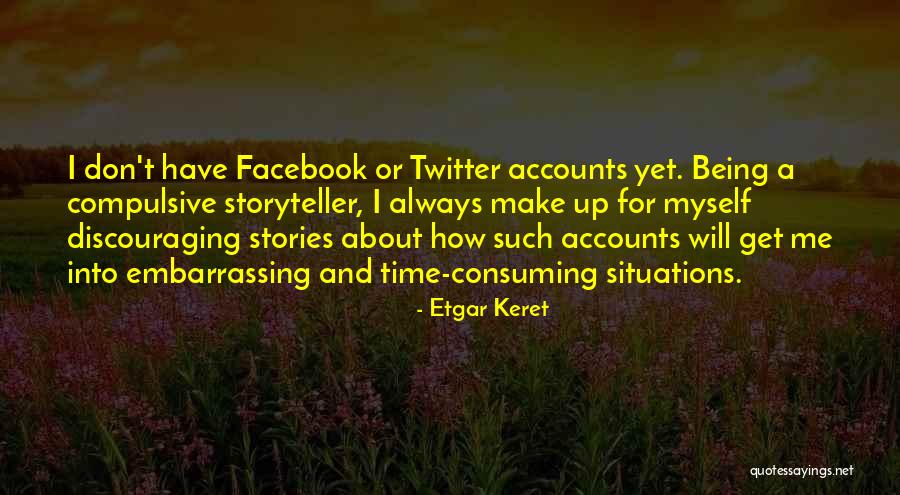 I don't have Facebook or Twitter accounts yet. Being a compulsive storyteller, I always make up for myself discouraging stories about how such accounts will get me into embarrassing and time-consuming situations. — Etgar Keret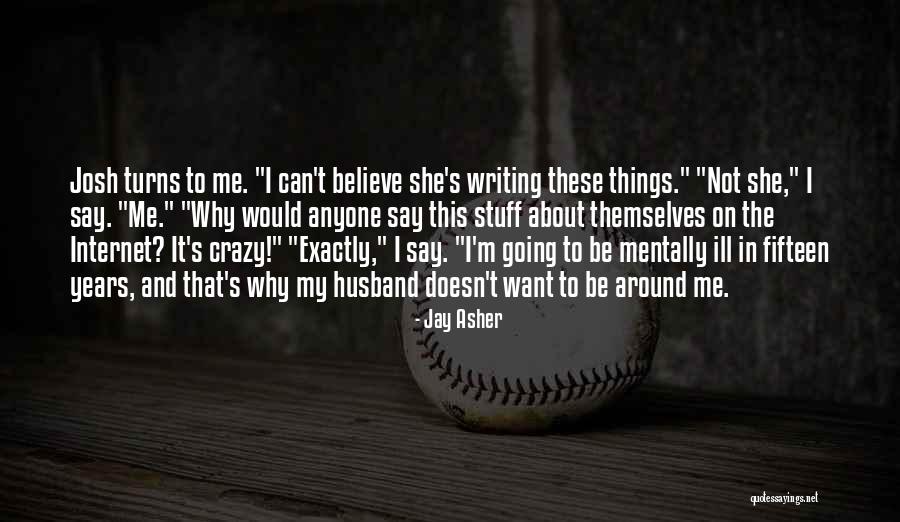 Josh turns to me. "I can't believe she's writing these things." "Not she," I say. "Me." "Why would anyone say this stuff about themselves on the Internet? It's crazy!" "Exactly," I say. "I'm going to be mentally ill in fifteen years, and that's why my husband doesn't want to be around me. — Jay Asher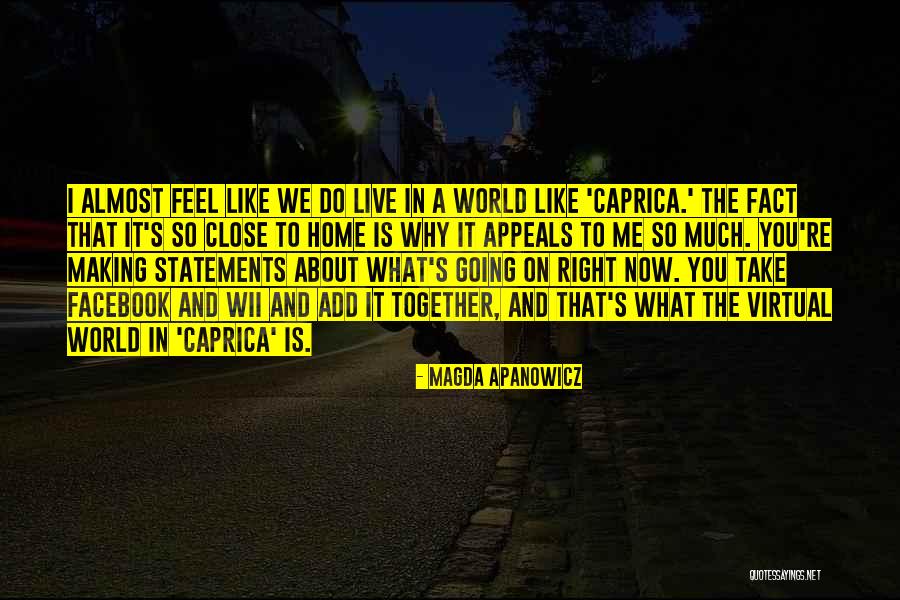 I almost feel like we do live in a world like 'Caprica.' The fact that it's so close to home is why it appeals to me so much. You're making statements about what's going on right now. You take Facebook and Wii and add it together, and that's what the virtual world in 'Caprica' is. — Magda Apanowicz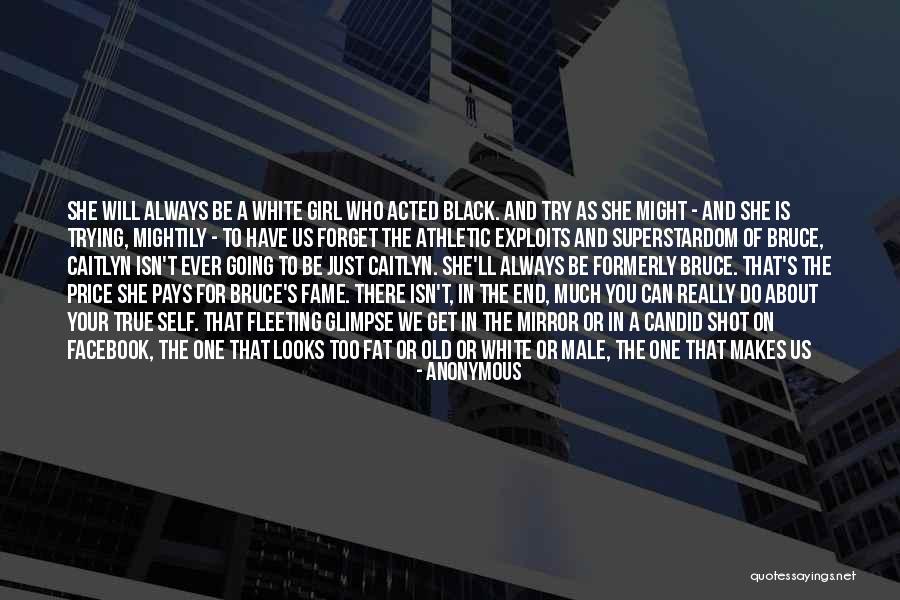 She will always be a white girl who acted black. And try as she might - and she is trying, mightily - to have us forget the athletic exploits and superstardom of Bruce, Caitlyn isn't ever going to be just Caitlyn. She'll always be Formerly Bruce. That's the price she pays for Bruce's fame. There isn't, in the end, much you can really do about your true self. That fleeting glimpse we get in the mirror or in a candid shot on Facebook, the one that looks too fat or old or white or male, the one that makes us say, "That isn't me! That can't be me!" - well, it is. It's you. It's me. It's us. And though we wish it were not so, there is no app for that. Adventures in National Socialism Notes from a weekend with Bernie ANDREW HARRER/BLOOMBERG VIA GETTY IMAGES BY KEVIN D. — Anonymous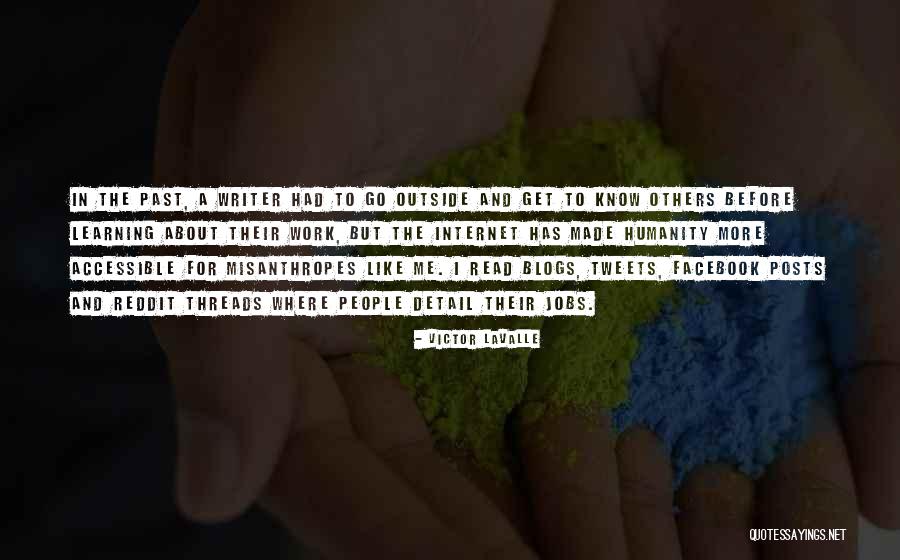 In the past, a writer had to go outside and get to know others before learning about their work, but the Internet has made humanity more accessible for misanthropes like me. I read blogs, tweets, Facebook posts and Reddit threads where people detail their jobs. — Victor LaValle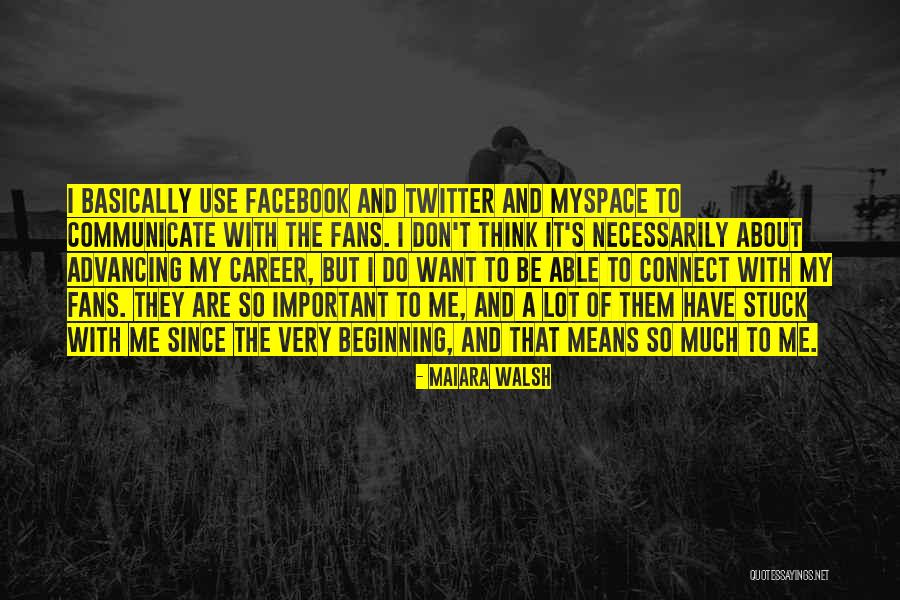 I basically use Facebook and Twitter and MySpace to communicate with the fans. I don't think it's necessarily about advancing my career, but I do want to be able to connect with my fans. They are so important to me, and a lot of them have stuck with me since the very beginning, and that means so much to me. — Maiara Walsh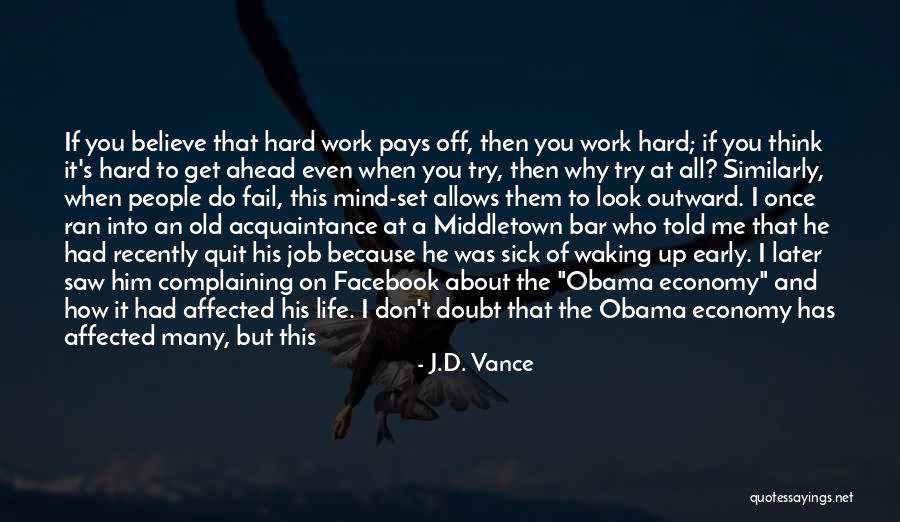 If you believe that hard work pays off, then you work hard; if you think it's hard to get ahead even when you try, then why try at all? Similarly, when people do fail, this mind-set allows them to look outward. I once ran into an old acquaintance at a Middletown bar who told me that he had recently quit his job because he was sick of waking up early. I later saw him complaining on Facebook about the "Obama economy" and how it had affected his life. I don't doubt that the Obama economy has affected many, but this man is assuredly not among them. His status in life is directly attributable to the choices he's made, and his life will improve only through better decisions. But for him to make better choices, he needs to live in an environment that forces him to ask tough questions about himself. There is a cultural movement in the white working class to blame problems on society or the government, and that movement gains adherents by the day. — J.D. Vance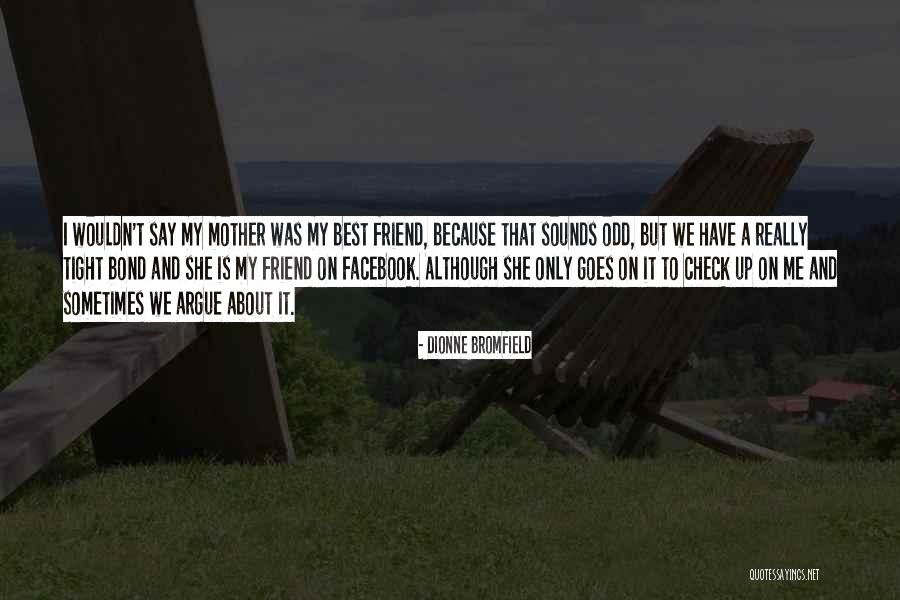 I wouldn't say my mother was my best friend, because that sounds odd, but we have a really tight bond and she is my friend on Facebook. Although she only goes on it to check up on me and sometimes we argue about it. — Dionne Bromfield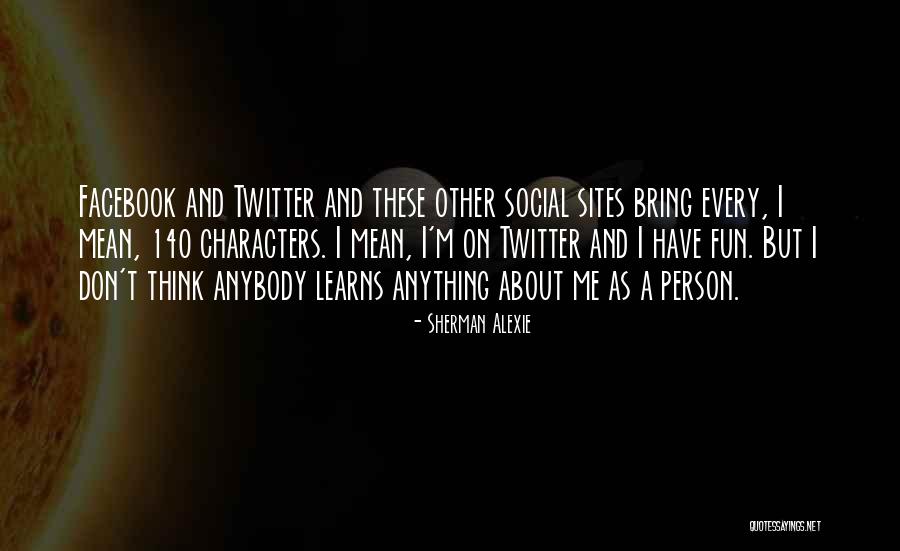 Facebook and Twitter and these other social sites bring every, I mean, 140 characters. I mean, I'm on Twitter and I have fun. But I don't think anybody learns anything about me as a person. — Sherman Alexie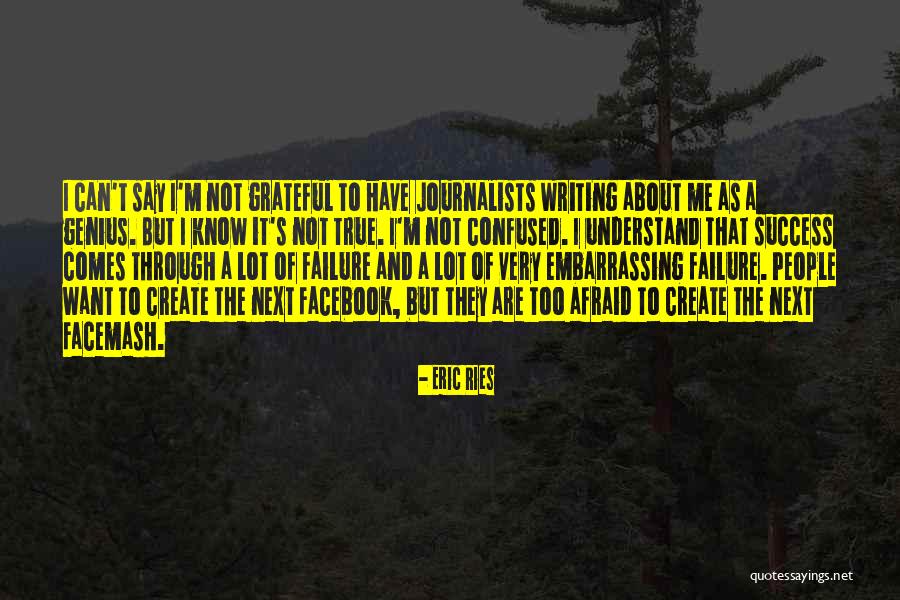 I can't say I'm not grateful to have journalists writing about me as a genius. But I know it's not true. I'm not confused. I understand that success comes through a lot of failure and a lot of very embarrassing failure. People want to create the next Facebook, but they are too afraid to create the next Facemash. — Eric Ries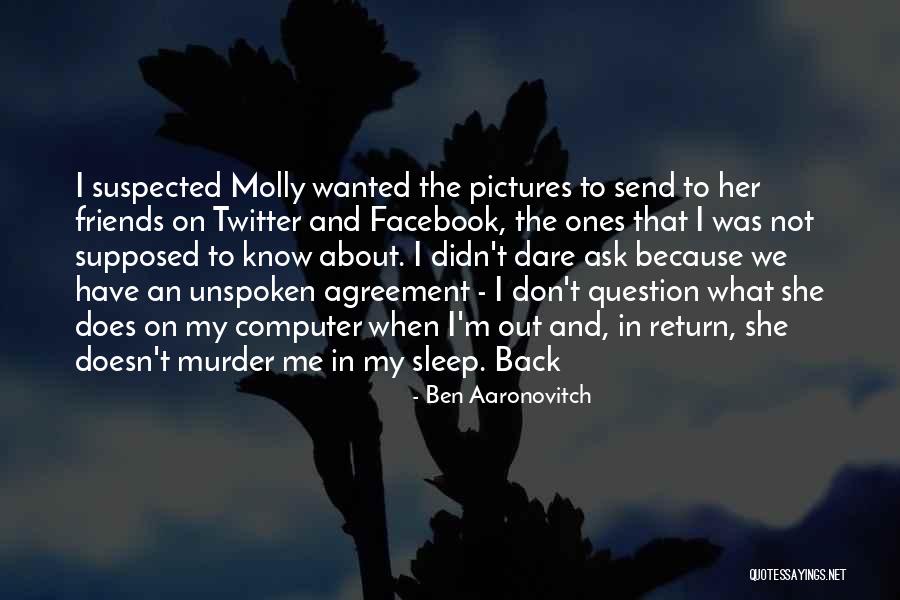 I suspected Molly wanted the pictures to send to her friends on Twitter and Facebook, the ones that I was not supposed to know about. I didn't dare ask because we have an unspoken agreement - I don't question what she does on my computer when I'm out and, in return, she doesn't murder me in my sleep. Back — Ben Aaronovitch
You're gonna die. You're gonna die. And nobody's gonna care which version of the iPhone you used to make something on Twitter, or to go and post about your bowel movement on Facebook. And I'm not even talking about legacy; I'm talking about the fact that I personally feel most alive when I'm making something, and I feel least alive when I'm being led around by some obnoxious use of my attention that I wasn't aware of. To me, that's the thing. You can buy the jogging shoes and you can buy the Runner's World, but until you put them on and walk out the door every day, you're just a fat man. — Merlin Mann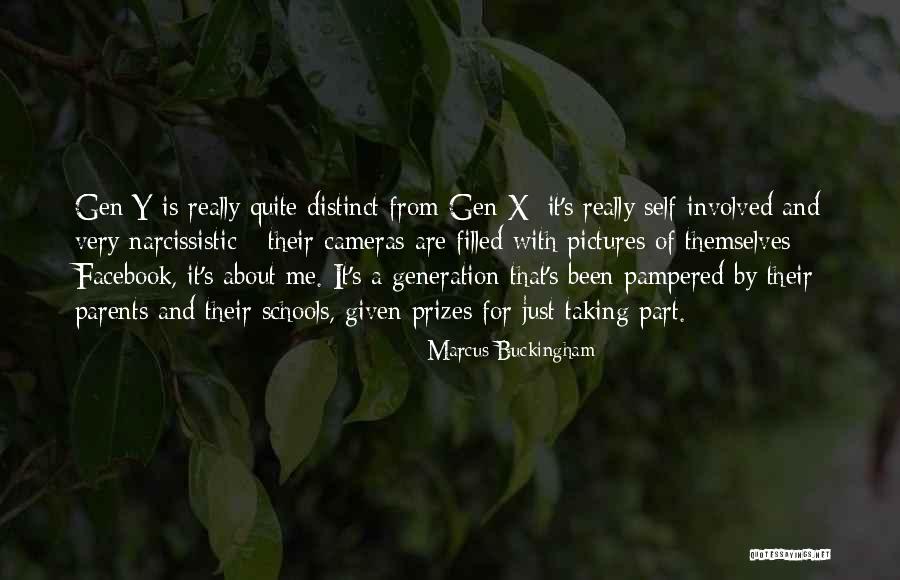 Gen Y is really quite distinct from Gen X; it's really self-involved and very narcissistic - their cameras are filled with pictures of themselves; Facebook, it's about me. It's a generation that's been pampered by their parents and their schools, given prizes for just taking part. — Marcus Buckingham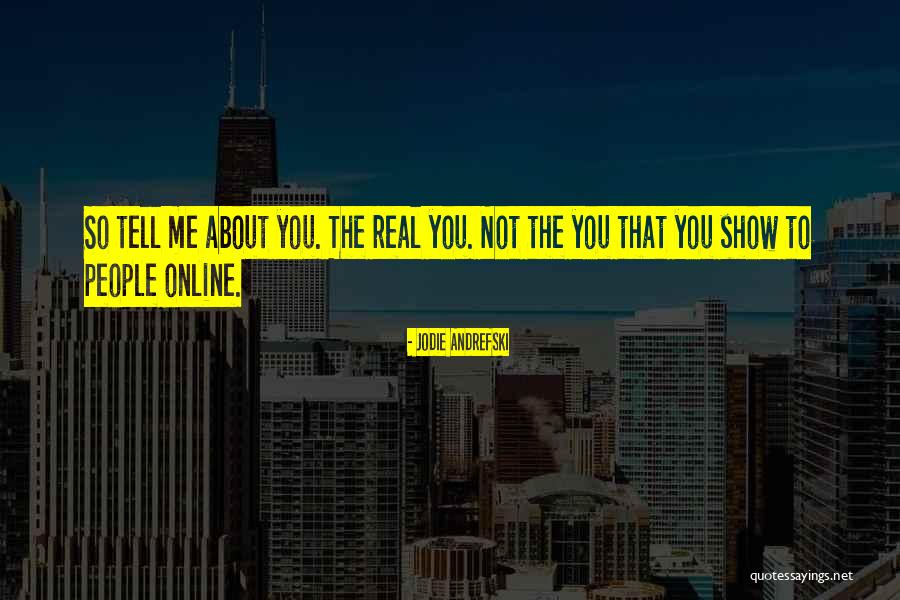 So tell me about you. The real you. Not the you that you show to people online. — Jodie Andrefski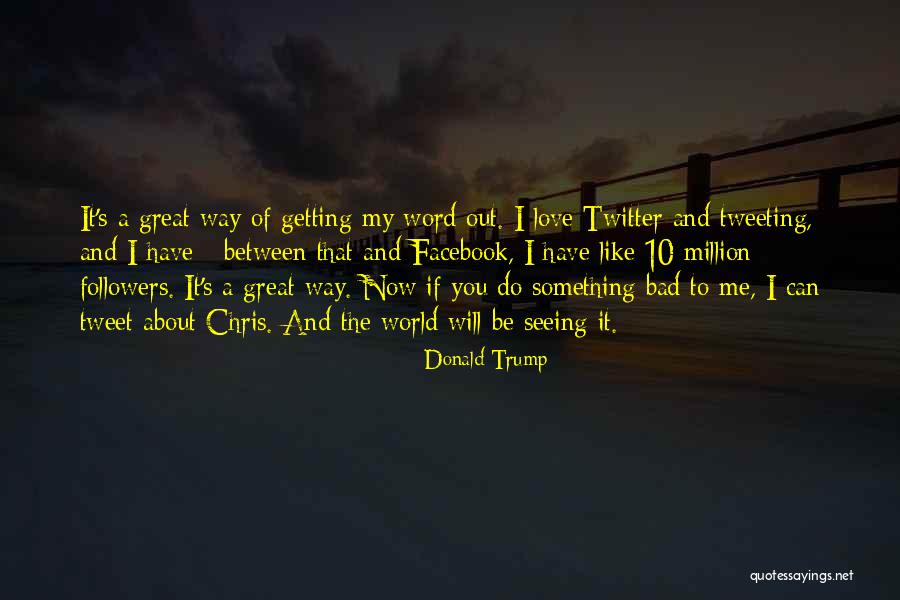 It's a great way of getting my word out. I love Twitter and tweeting, and I have - between that and Facebook, I have like 10 million followers. It's a great way. Now if you do something bad to me, I can tweet about Chris. And the world will be seeing it. — Donald Trump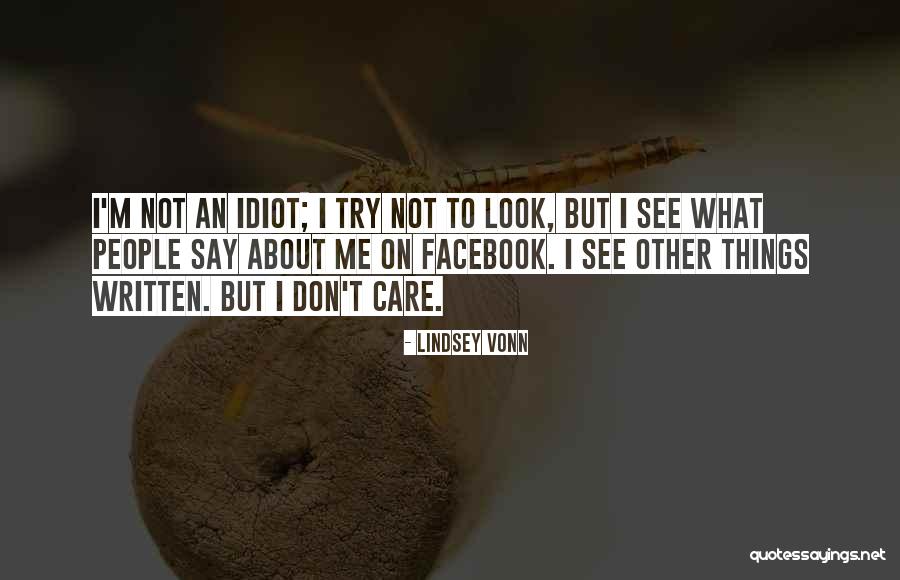 I'm not an idiot; I try not to look, but I see what people say about me on Facebook. I see other things written. But I don't care. — Lindsey Vonn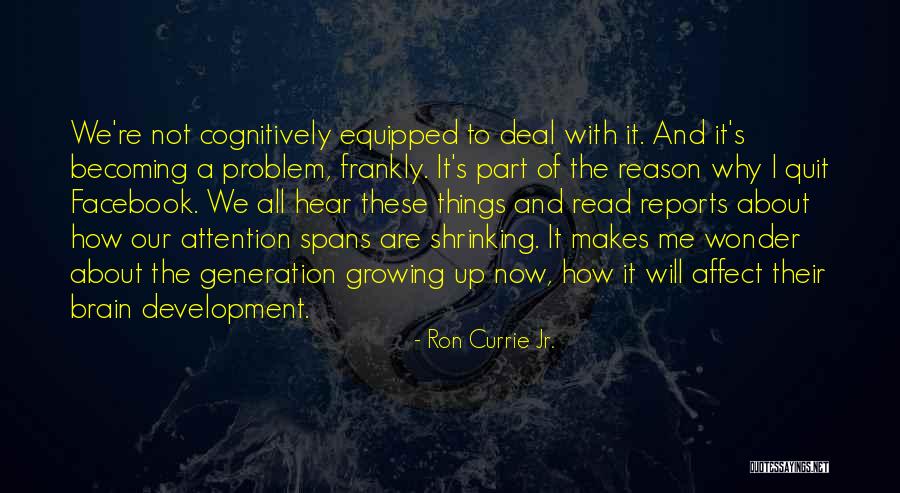 We're not cognitively equipped to deal with it. And it's becoming a problem, frankly. It's part of the reason why I quit Facebook. We all hear these things and read reports about how our attention spans are shrinking. It makes me wonder about the generation growing up now, how it will affect their brain development. — Ron Currie Jr.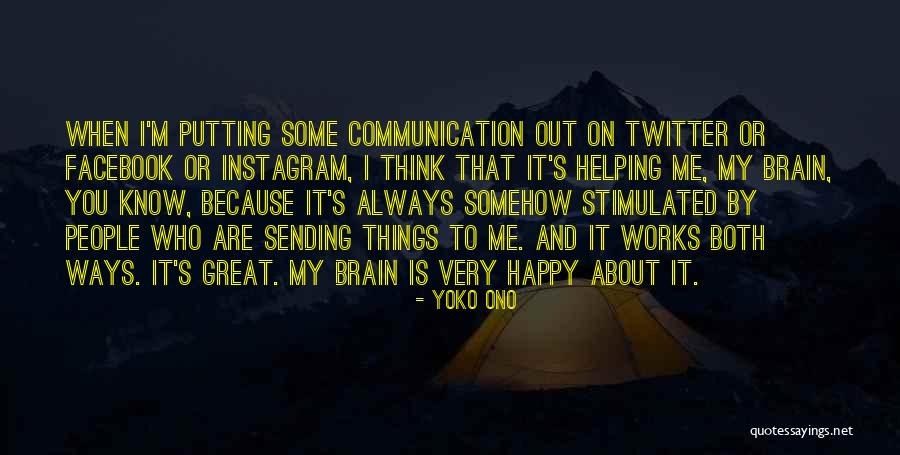 When I'm putting some communication out on Twitter or Facebook or Instagram, I think that it's helping me, my brain, you know, because it's always somehow stimulated by people who are sending things to me. And it works both ways. It's great. My brain is very happy about it. — Yoko Ono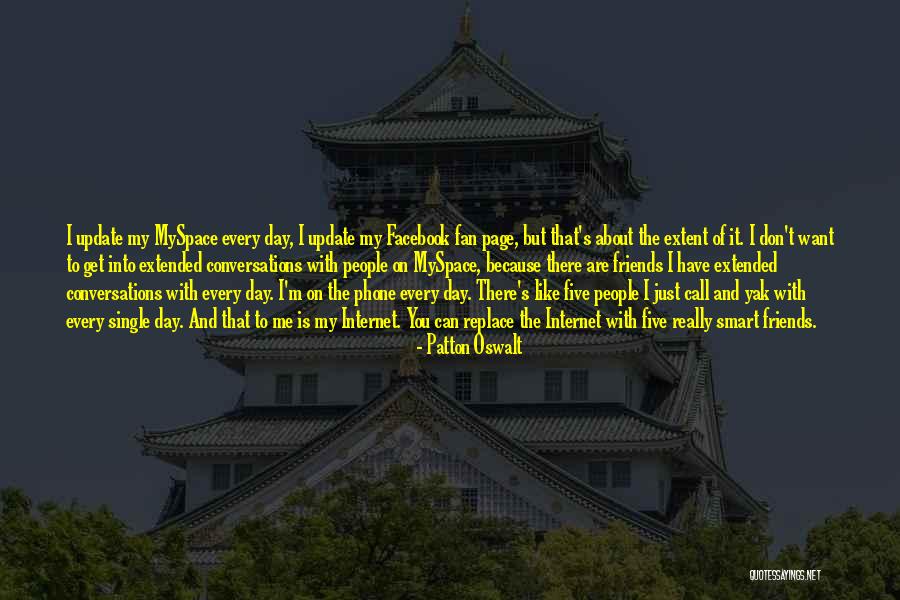 I update my MySpace every day, I update my Facebook fan page, but that's about the extent of it. I don't want to get into extended conversations with people on MySpace, because there are friends I have extended conversations with every day. I'm on the phone every day. There's like five people I just call and yak with every single day. And that to me is my Internet. You can replace the Internet with five really smart friends. — Patton Oswalt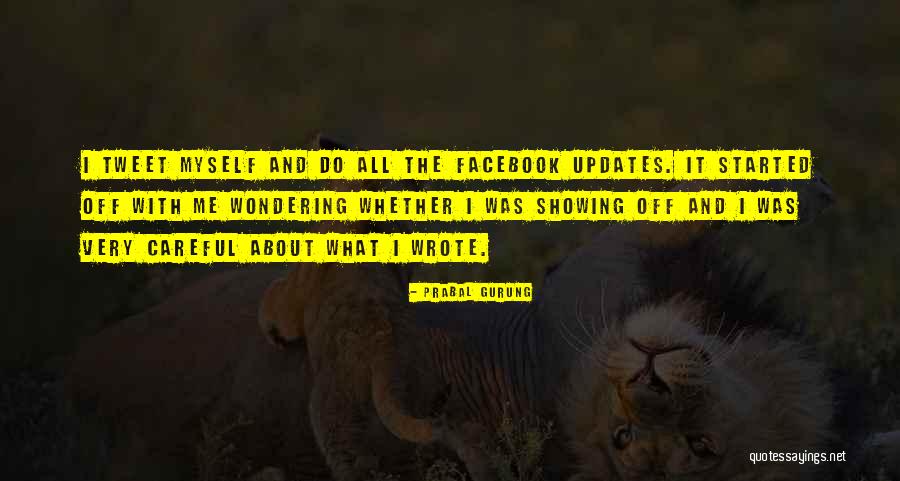 I tweet myself and do all the Facebook updates. It started off with me wondering whether I was showing off and I was very careful about what I wrote. — Prabal Gurung