Quotes & Sayings About A Personal Relationship With Jesus
Enjoy reading and share 30 famous quotes about A Personal Relationship With Jesus with everyone.
Top A Personal Relationship With Jesus Quotes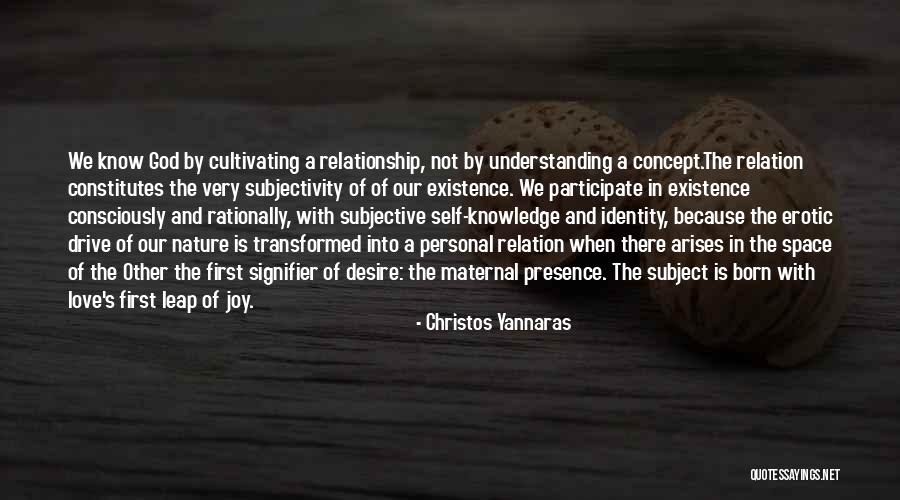 We know God by cultivating a relationship, not by understanding a concept.
The relation constitutes the very subjectivity of of our existence. We participate in existence consciously and rationally, with subjective self-knowledge and identity, because the erotic drive of our nature is transformed into a personal relation when there arises in the space of the Other the first signifier of desire: the maternal presence. The subject is born with love's first leap of joy. — Christos Yannaras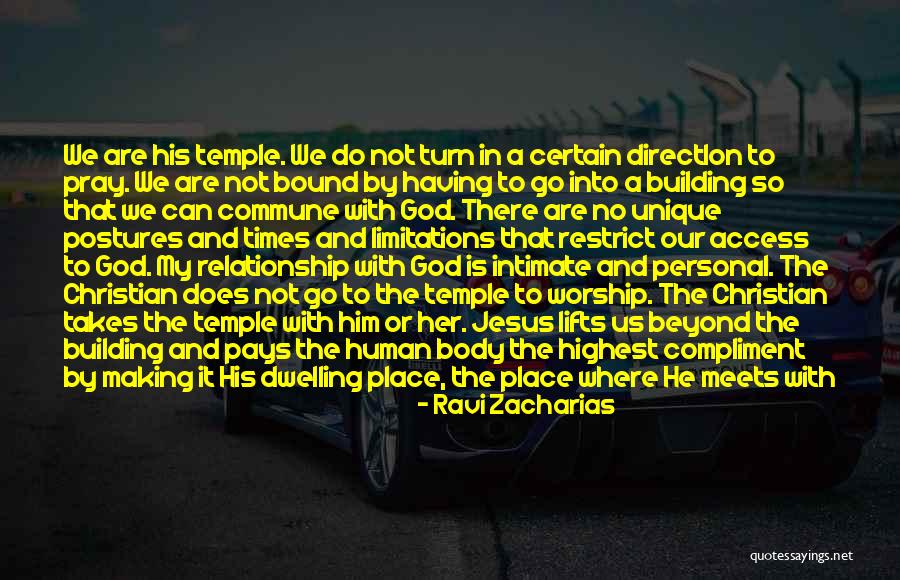 We are his temple. We do not turn in a certain directlon to pray. We are not bound by having to go into a building so that we can commune with God. There are no unique postures and times and limitations that restrict our access to God. My relationship with God is intimate and personal. The Christian does not go to the temple to worship. The Christian takes the temple with him or her. Jesus lifts us beyond the building and pays the human body the highest compliment by making it His dwelling place, the place where He meets with us. Even today He would overturn the tables of those who make it a marketplace for their own lust, greed, and wealth. — Ravi Zacharias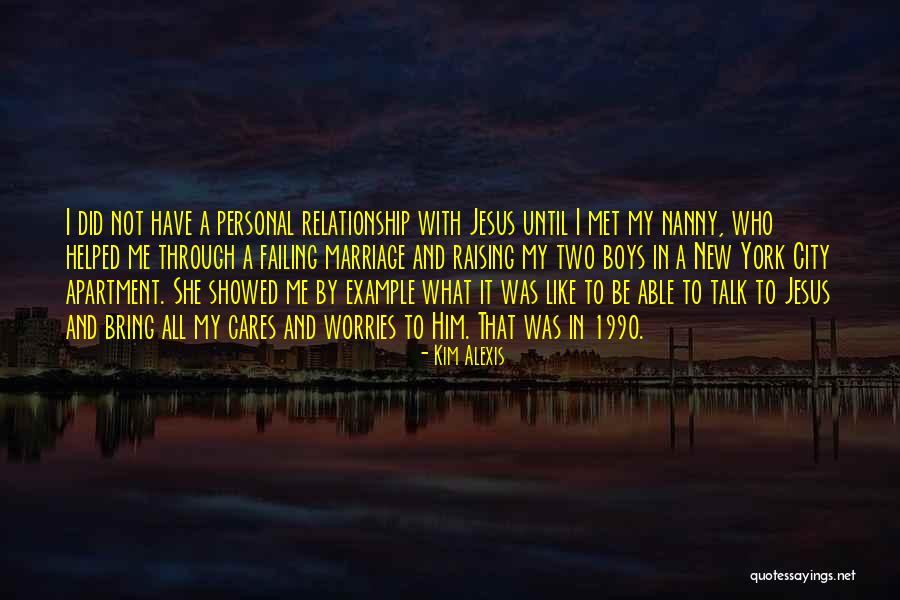 I did not have a personal relationship with Jesus until I met my nanny, who helped me through a failing marriage and raising my two boys in a New York City apartment. She showed me by example what it was like to be able to talk to Jesus and bring all my cares and worries to Him. That was in 1990. — Kim Alexis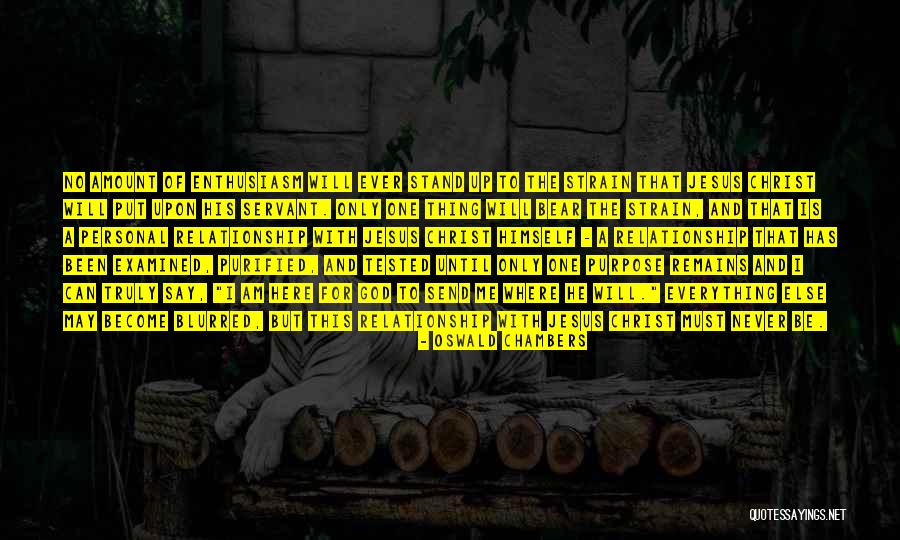 No amount of enthusiasm will ever stand up to the strain that Jesus Christ will put upon His servant. Only one thing will bear the strain, and that is a personal relationship with Jesus Christ Himself - a relationship that has been examined, purified, and tested until only one purpose remains and I can truly say, "I am here for God to send me where He will." Everything else may become blurred, but this relationship with Jesus Christ must never be. — Oswald Chambers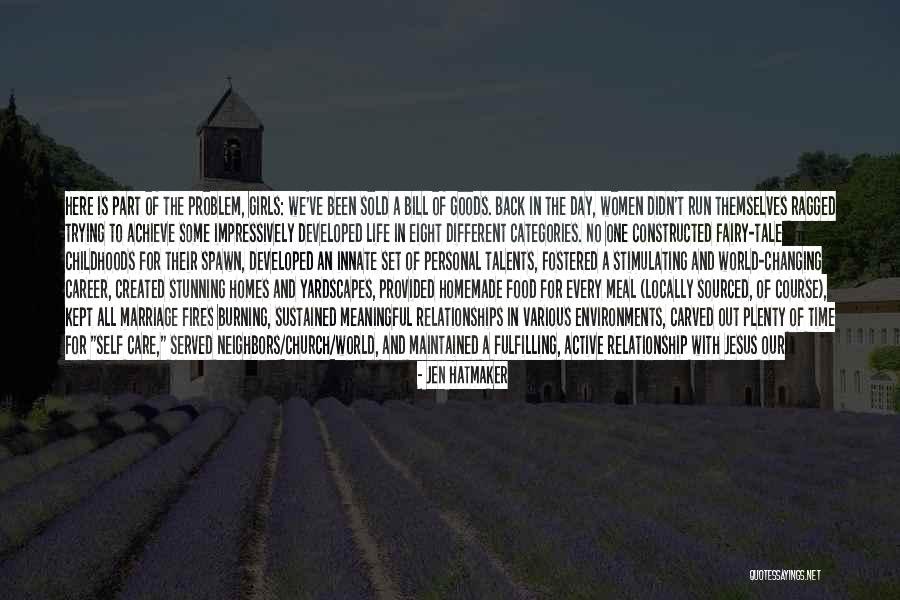 Here is part of the problem, girls: we've been sold a bill of goods. Back in the day, women didn't run themselves ragged trying to achieve some impressively developed life in eight different categories. No one constructed fairy-tale childhoods for their spawn, developed an innate set of personal talents, fostered a stimulating and world-changing career, created stunning homes and yardscapes, provided homemade food for every meal (locally sourced, of course), kept all marriage fires burning, sustained meaningful relationships in various environments, carved out plenty of time for "self care," served neighbors/church/world, and maintained a fulfilling, active relationship with Jesus our Lord and Savior. You can't balance that job description. Listen to me: No one can pull this off. No one is pulling this off. The women who seem to ride this unicorn only display the best parts of their stories. Trust me. No one can fragment her time and attention into this many segments. — Jen Hatmaker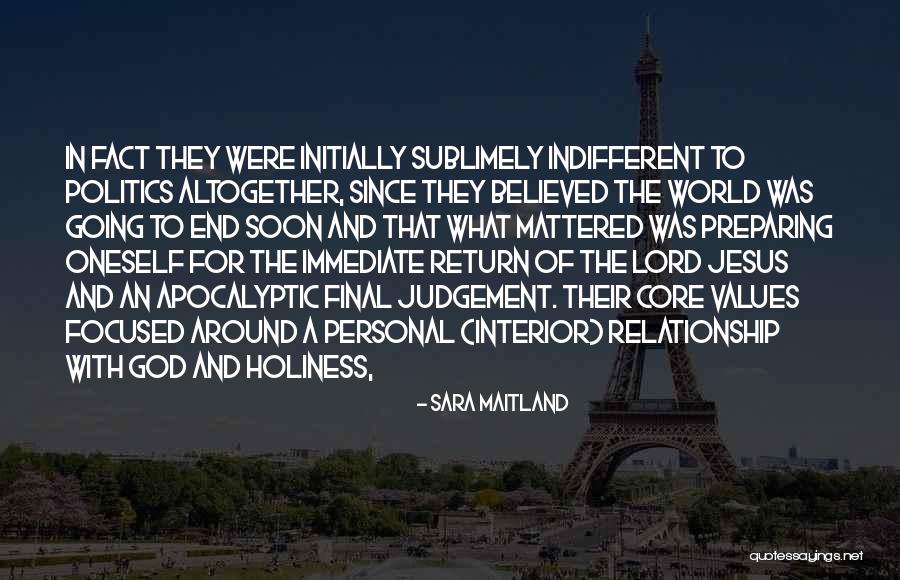 In fact they were initially sublimely indifferent to politics altogether, since they believed the world was going to end soon and that what mattered was preparing oneself for the immediate return of the Lord Jesus and an apocalyptic final judgement. Their core values focused around a personal (interior) relationship with God and holiness, — Sara Maitland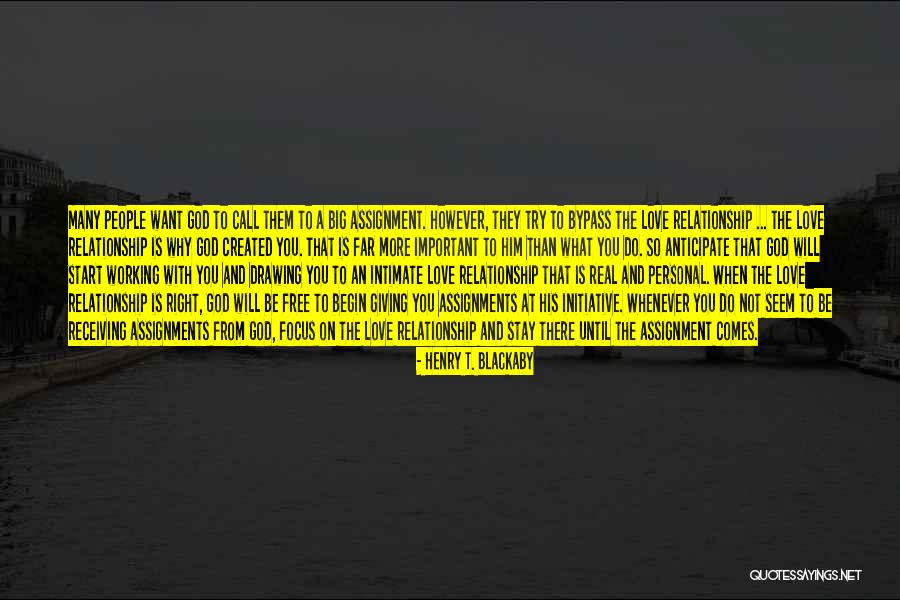 Many people want God to call them to a big assignment. However, they try to bypass the love relationship ... the love relationship is why God created you. That is far more important to Him than what you do. So anticipate that God will start working with you and drawing you to an intimate love relationship that is real and personal. When the love relationship is right, God will be free to begin giving you assignments at His initiative. Whenever you do not seem to be receiving assignments from God, focus on the love relationship and stay there until the assignment comes. — Henry T. Blackaby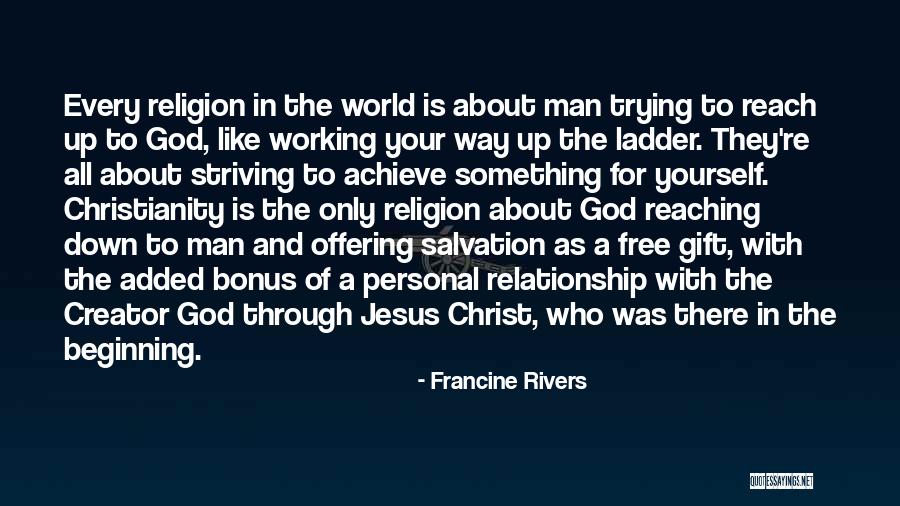 Every religion in the world is about man trying to reach up to God, like working your way up the ladder. They're all about striving to achieve something for yourself. Christianity is the only religion about God reaching down to man and offering salvation as a free gift, with the added bonus of a personal relationship with the Creator God through Jesus Christ, who was there in the beginning. — Francine Rivers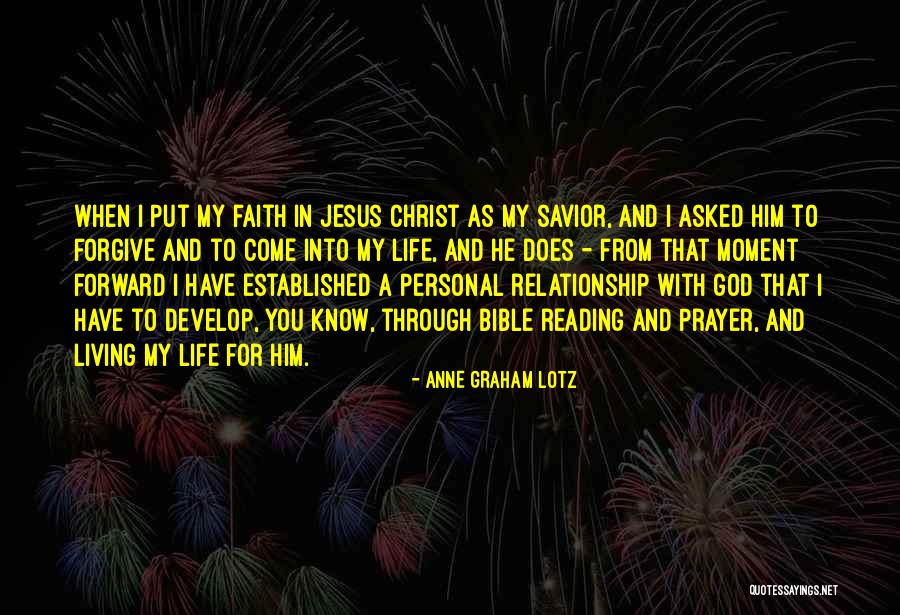 When I put my faith in Jesus Christ as my savior, and I asked him to forgive and to come into my life, and He does - from that moment forward I have established a personal relationship with God that I have to develop, you know, through Bible reading and prayer, and living my life for him. — Anne Graham Lotz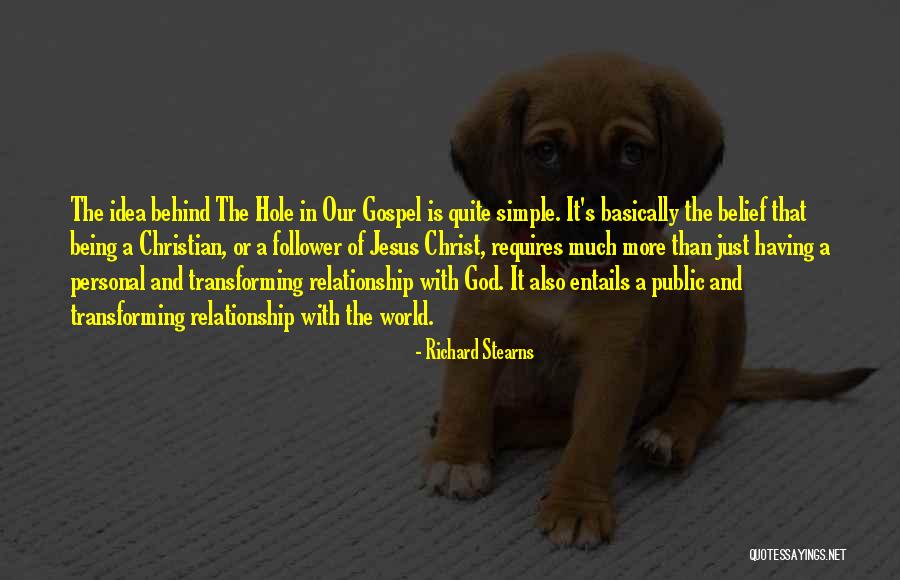 The idea behind The Hole in Our Gospel is quite simple. It's basically the belief that being a Christian, or a follower of Jesus Christ, requires much more than just having a personal and transforming relationship with God. It also entails a public and transforming relationship with the world. — Richard Stearns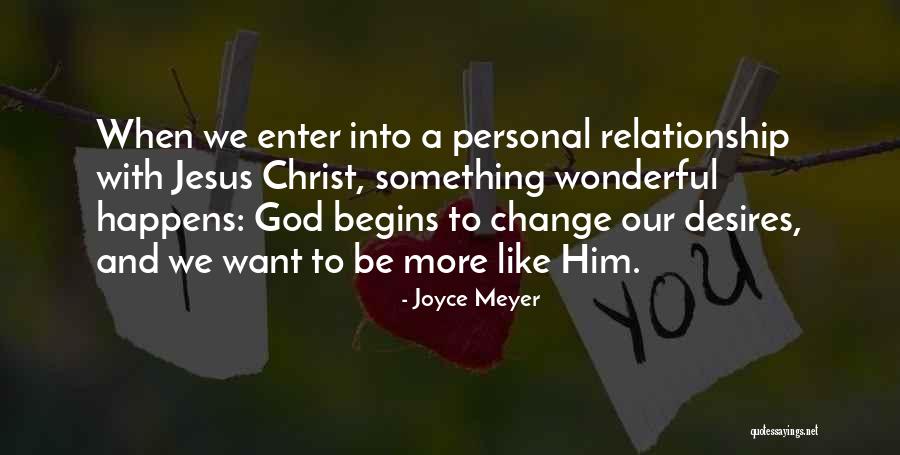 When we enter into a personal relationship with Jesus Christ, something wonderful happens: God begins to change our desires, and we want to be more like Him. — Joyce Meyer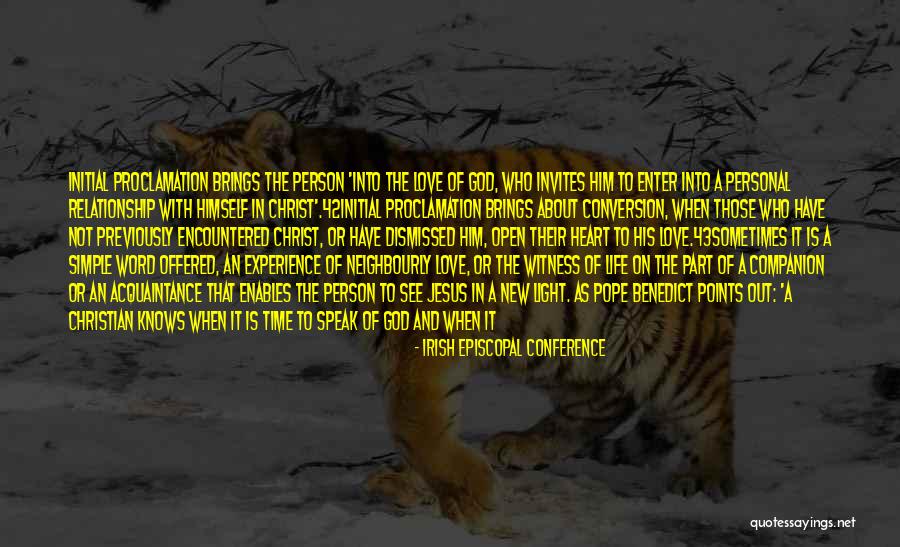 Initial proclamation brings the person 'into the love of God, who invites him to enter into a personal relationship with himself in Christ'.42Initial proclamation brings about conversion, when those who have not previously encountered Christ, or have dismissed him, open their heart to his love.43Sometimes it is a simple word offered, an experience of neighbourly love, or the witness of life on the part of a companion or an acquaintance that enables the person to see Jesus in a new light. As Pope Benedict points out: 'A Christian knows when it is time to speak of God and when it is better to say nothing and let love alone speak. He knows that God is love — Irish Episcopal Conference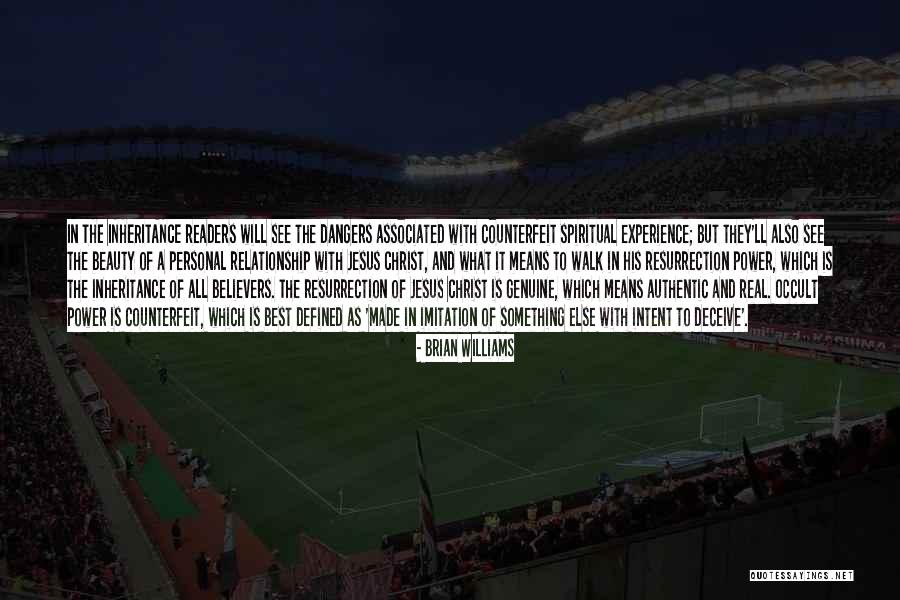 In THE INHERITANCE readers will see the dangers associated with counterfeit spiritual experience; but they'll also see the beauty of a personal relationship with Jesus Christ, and what it means to walk in His resurrection power, which is the inheritance of all believers. The resurrection of Jesus Christ is genuine, which means authentic and real. Occult power is counterfeit, which is best defined as 'made in imitation of something else with intent to deceive'. — Brian Williams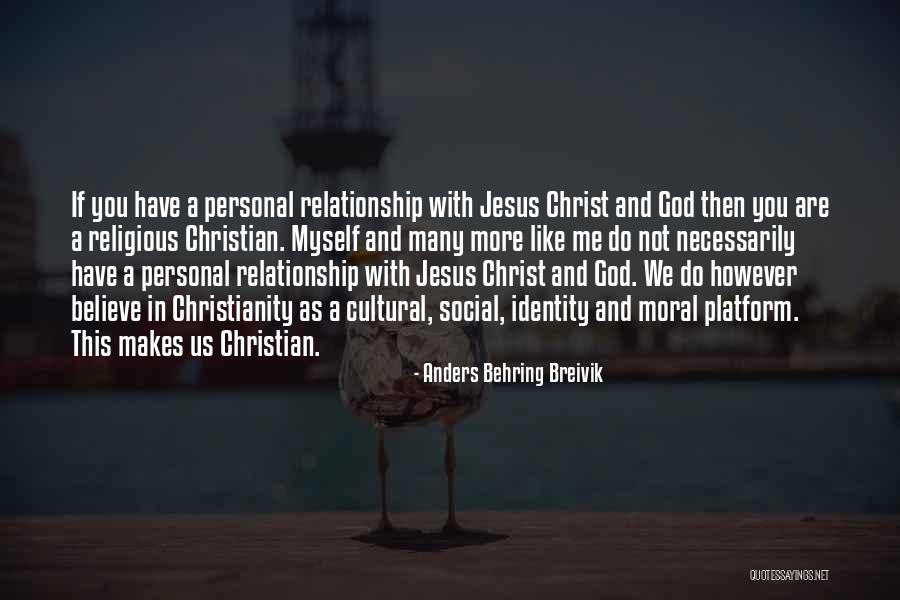 If you have a personal relationship with Jesus Christ and God then you are a religious Christian. Myself and many more like me do not necessarily have a personal relationship with Jesus Christ and God. We do however believe in Christianity as a cultural, social, identity and moral platform. This makes us Christian. — Anders Behring Breivik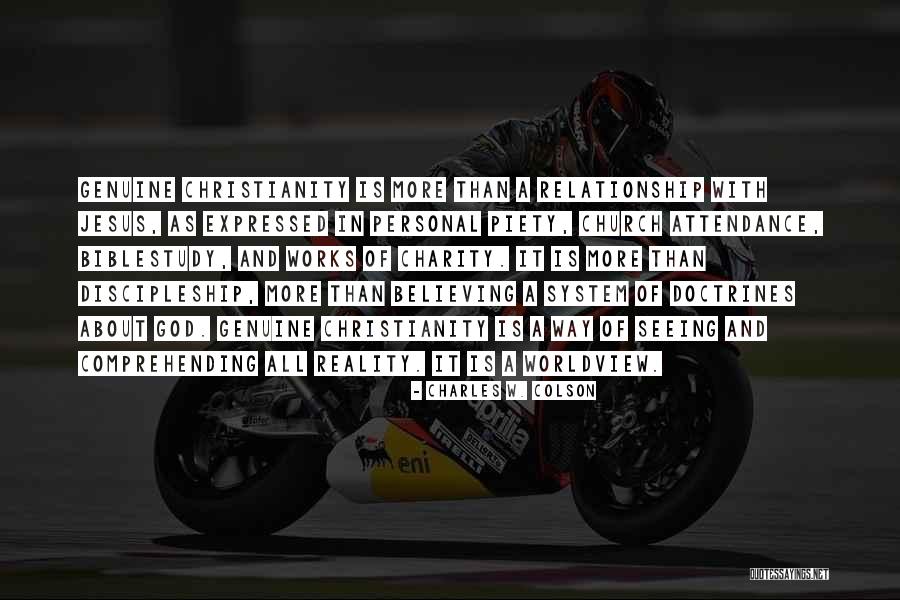 Genuine Christianity is more than a relationship with Jesus, as expressed in personal piety, church attendance, Bible
study, and works of charity. It is more than discipleship, more than believing a system of doctrines about God. Genuine Christianity is a way of seeing and comprehending all reality. It is a worldview. — Charles W. Colson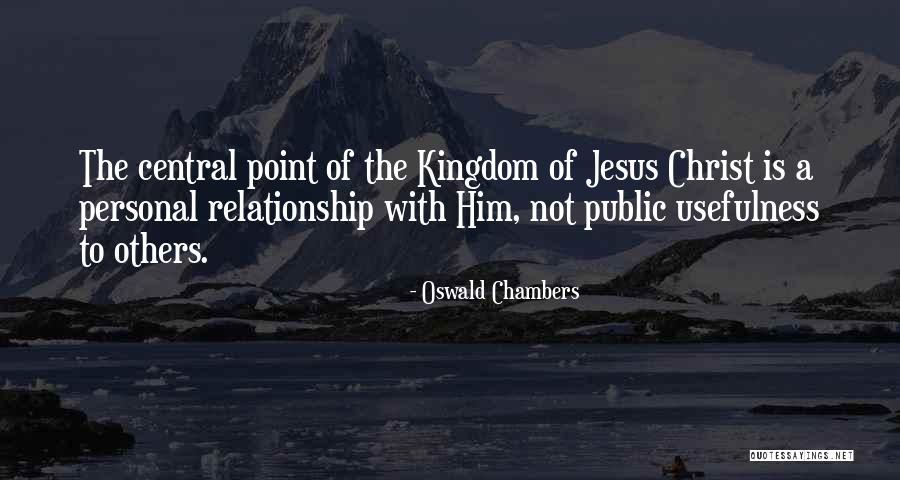 The central point of the Kingdom of Jesus Christ is a personal relationship with Him, not public usefulness to others. — Oswald Chambers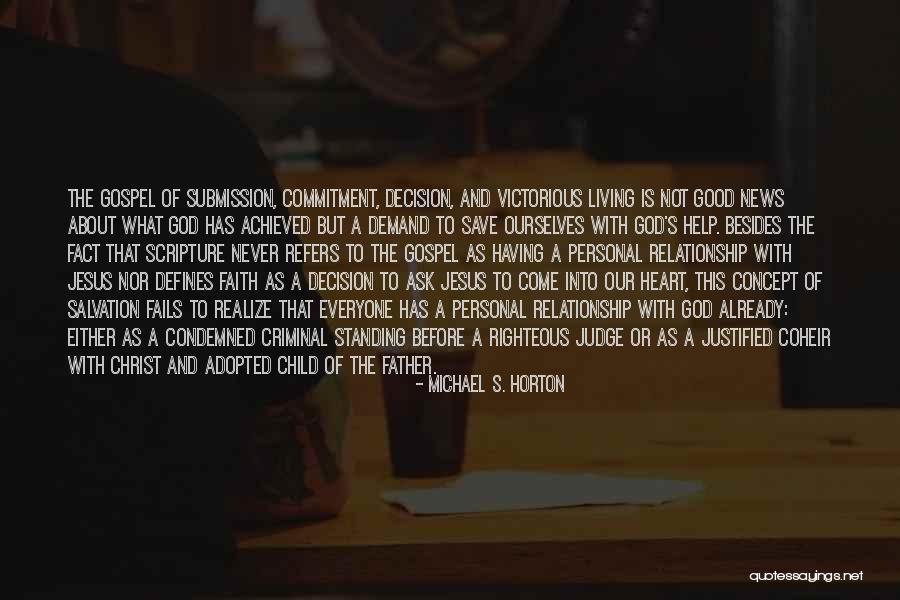 The gospel of submission, commitment, decision, and victorious living is not good news about what God has achieved but a demand to save ourselves with God's help. Besides the fact that Scripture never refers to the gospel as having a personal relationship with Jesus nor defines faith as a decision to ask Jesus to come into our heart, this concept of salvation fails to realize that everyone has a personal relationship with God already: either as a condemned criminal standing before a righteous judge or as a justified coheir with Christ and adopted child of the Father. — Michael S. Horton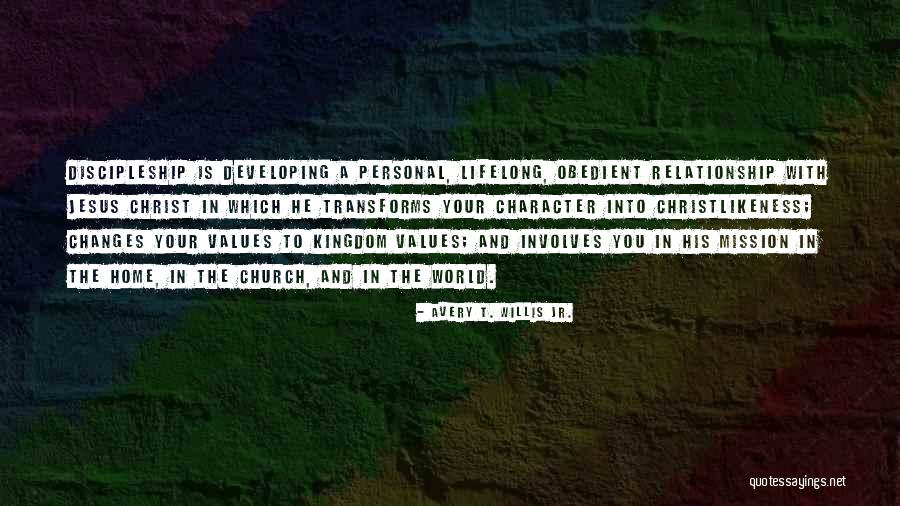 Discipleship is developing a personal, lifelong, obedient relationship with Jesus Christ in which He transforms your character into Christlikeness; changes your values to Kingdom values; and involves you in His mission in the home, in the church, and in the world. — Avery T. Willis Jr.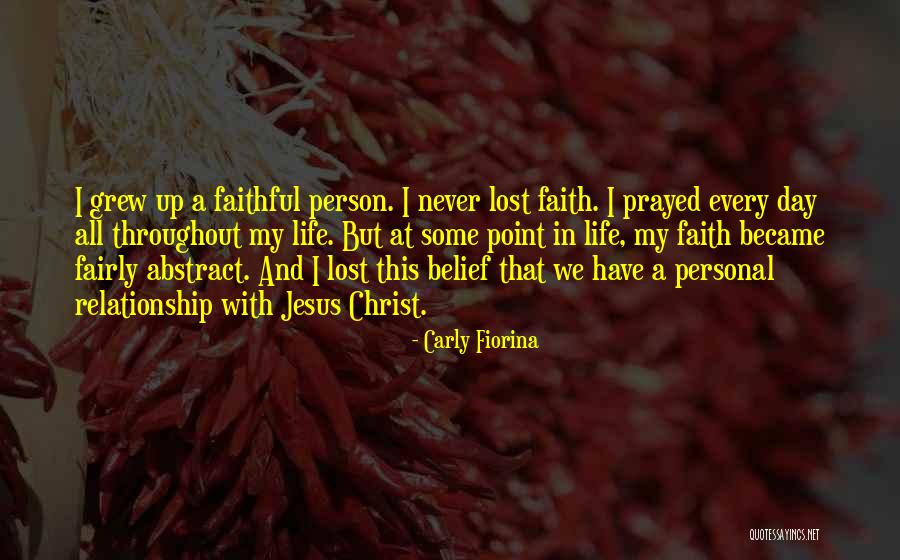 I grew up a faithful person. I never lost faith. I prayed every day all throughout my life. But at some point in life, my faith became fairly abstract. And I lost this belief that we have a personal relationship with Jesus Christ. — Carly Fiorina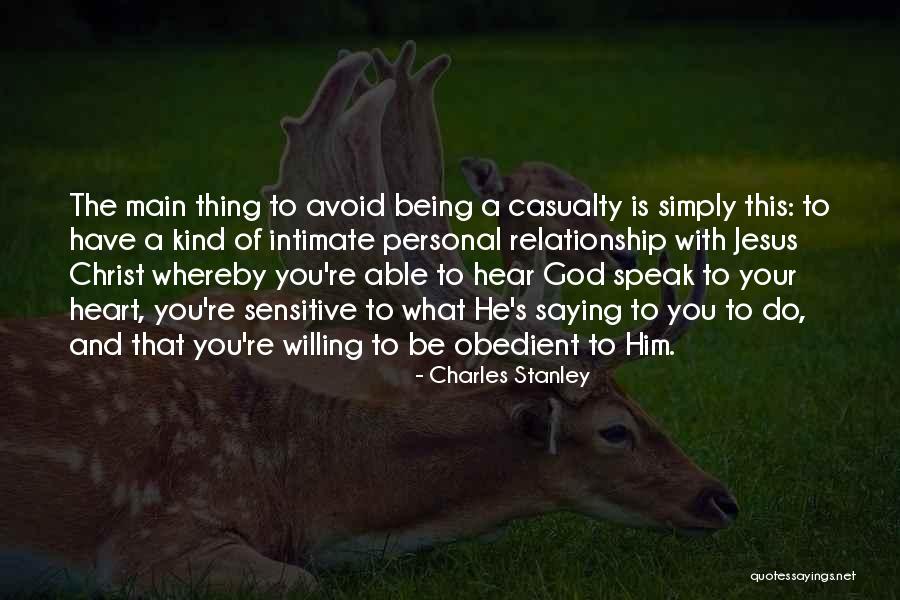 The main thing to avoid being a casualty is simply this: to have a kind of intimate personal relationship with Jesus Christ whereby you're able to hear God speak to your heart, you're sensitive to what He's saying to you to do, and that you're willing to be obedient to Him. — Charles Stanley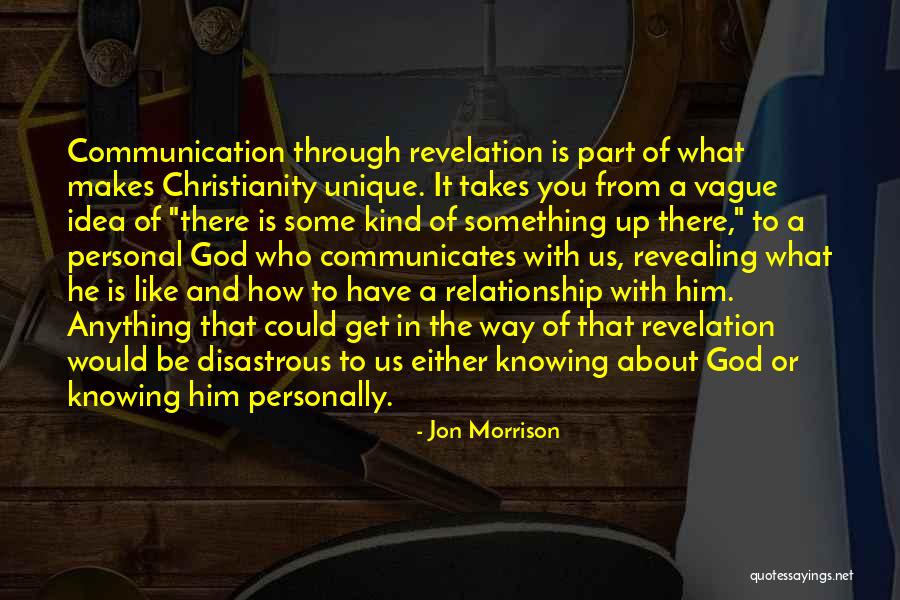 Communication through revelation is part of what makes Christianity unique. It takes you from a vague idea of "there is some kind of something up there," to a personal God who communicates with us, revealing what he is like and how to have a relationship with him. Anything that could get in the way of that revelation would be disastrous to us either knowing about God or knowing him personally. — Jon Morrison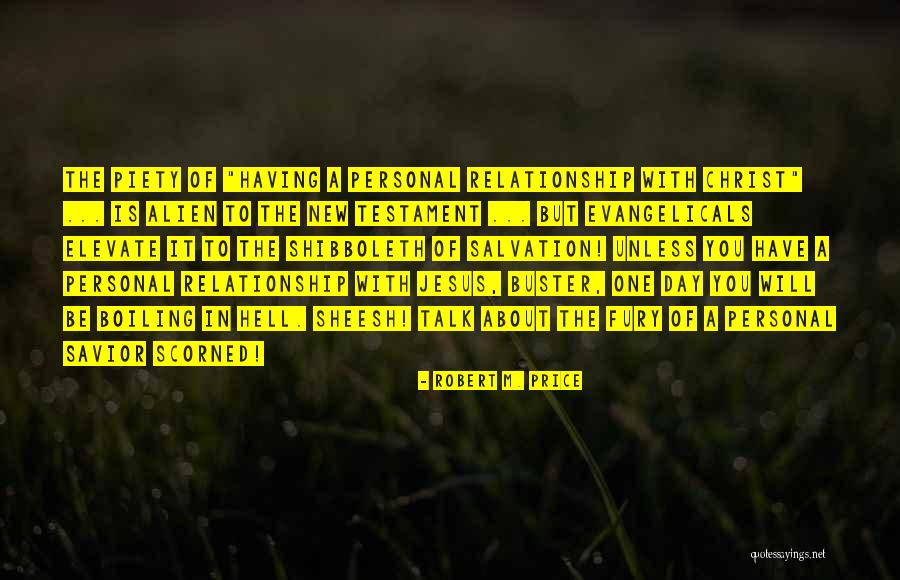 The piety of "having a personal relationship with Christ" ... is alien to the New Testament ... but evangelicals elevate it to the shibboleth of salvation! Unless you have a personal relationship with Jesus, buster, one day you will be boiling in Hell. Sheesh! Talk about the fury of a personal savior scorned! — Robert M. Price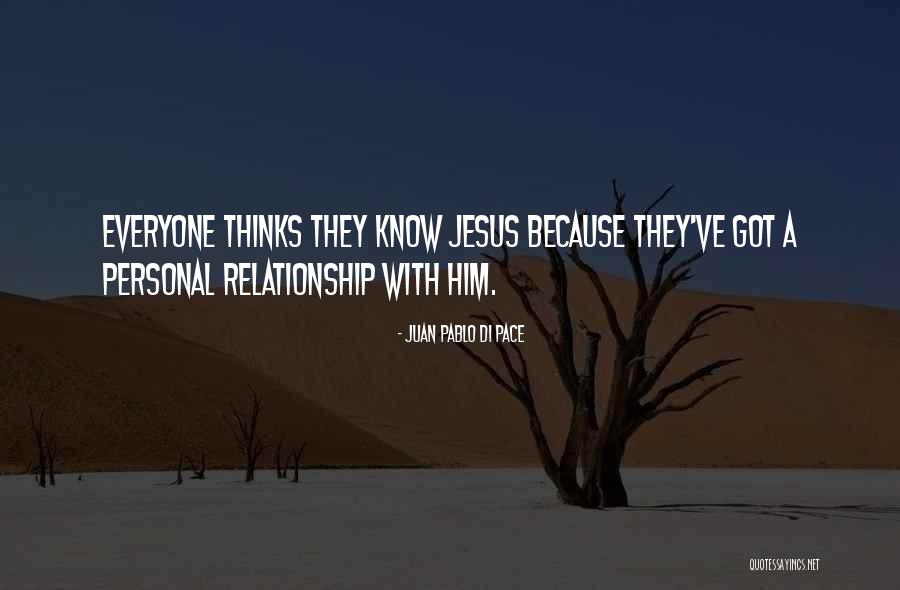 Everyone thinks they know Jesus because they've got a personal relationship with him. — Juan Pablo Di Pace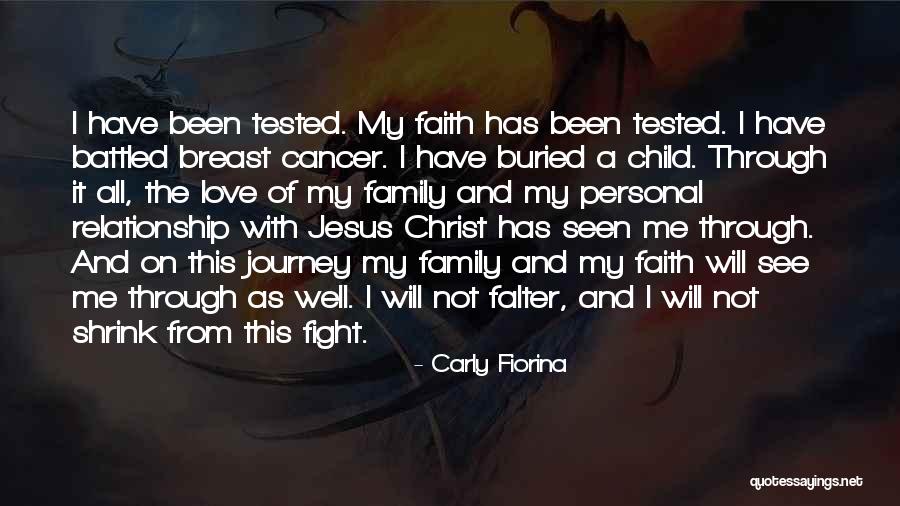 I have been tested. My faith has been tested. I have battled breast cancer. I have buried a child. Through it all, the love of my family and my personal relationship with Jesus Christ has seen me through. And on this journey my family and my faith will see me through as well. I will not falter, and I will not shrink from this fight. — Carly Fiorina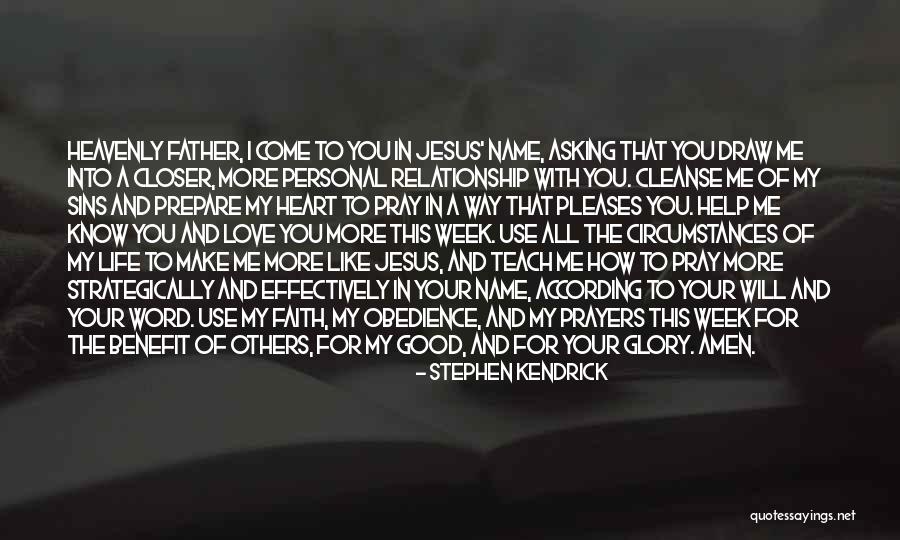 Heavenly Father, I come to You in Jesus' name, asking that You draw me into a closer, more personal relationship with You. Cleanse me of my sins and prepare my heart to pray in a way that pleases You. Help me know You and love You more this week. Use all the circumstances of my life to make me more like Jesus, and teach me how to pray more strategically and effectively in Your name, according to Your will and Your Word. Use my faith, my obedience, and my prayers this week for the benefit of others, for my good, and for Your glory. Amen. — Stephen Kendrick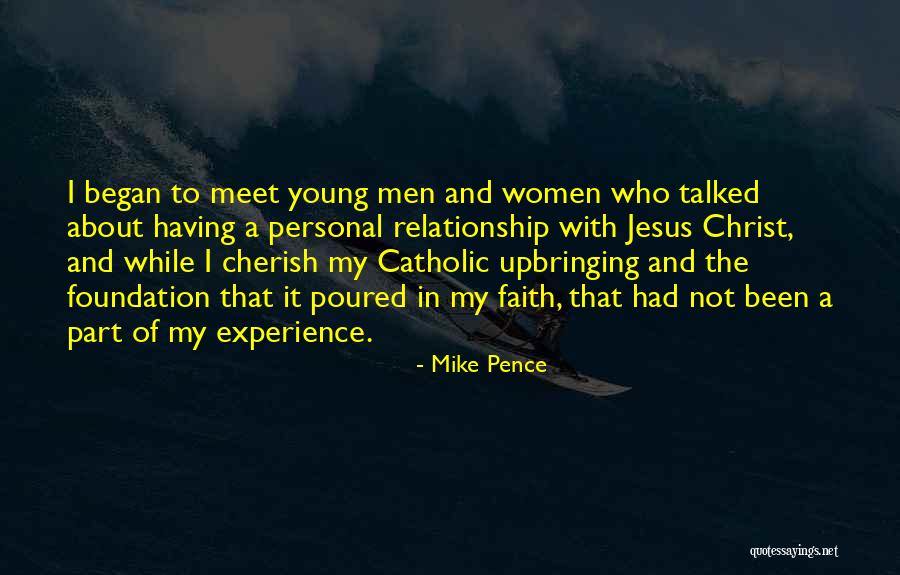 I began to meet young men and women who talked about having a personal relationship with Jesus Christ, and while I cherish my Catholic upbringing and the foundation that it poured in my faith, that had not been a part of my experience. — Mike Pence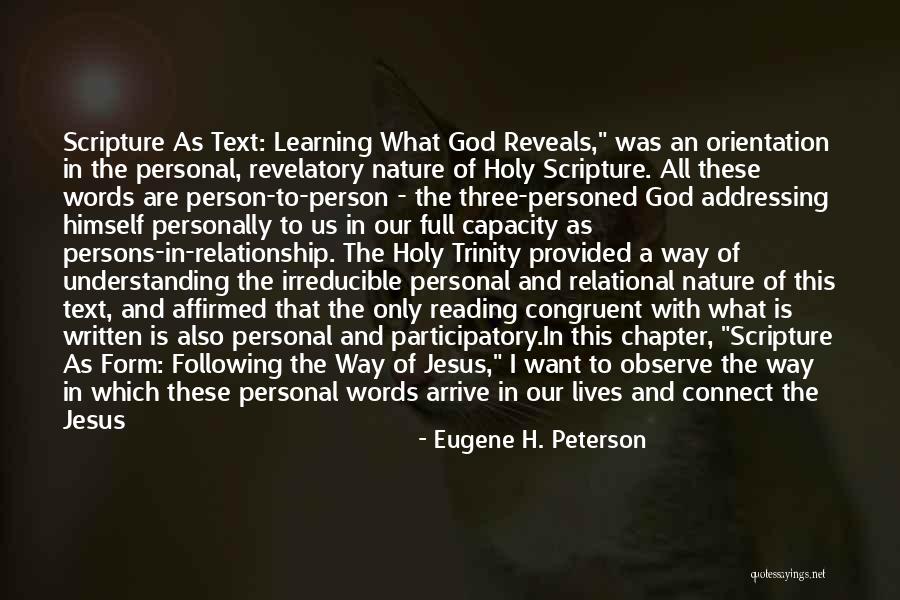 Scripture As Text: Learning What God Reveals," was an orientation in the personal, revelatory nature of Holy Scripture. All these words are person-to-person - the three-personed God addressing himself personally to us in our full capacity as persons-in-relationship. The Holy Trinity provided a way of understanding the irreducible personal and relational nature of this text, and affirmed that the only reading congruent with what is written is also personal and participatory.
In this chapter, "Scripture As Form: Following the Way of Jesus," I want to observe the way in which these personal words arrive in our lives and connect the Jesus way with the way in which we now live them. I want to attend to the way that the form of Scripture is also the form of our lives. — Eugene H. Peterson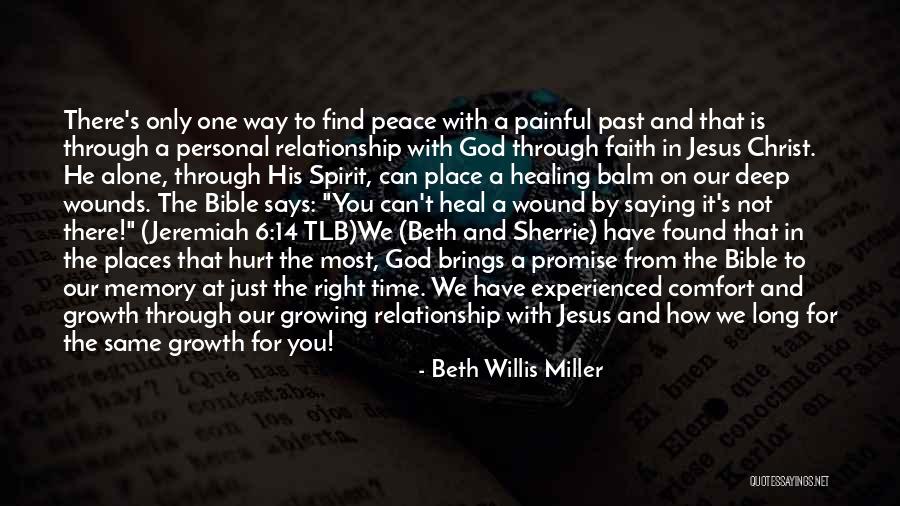 There's only one way to find peace with a painful past and that is through a personal relationship with God through faith in Jesus Christ. He alone, through His Spirit, can place a healing balm on our deep wounds. The Bible says: "You can't heal a wound by saying it's not there!" (Jeremiah 6:14 TLB)
We (Beth and Sherrie) have found that in the places that hurt the most, God brings a promise from the Bible to our memory at just the right time. We have experienced comfort and growth through our growing relationship with Jesus and how we long for the same growth for you! — Beth Willis Miller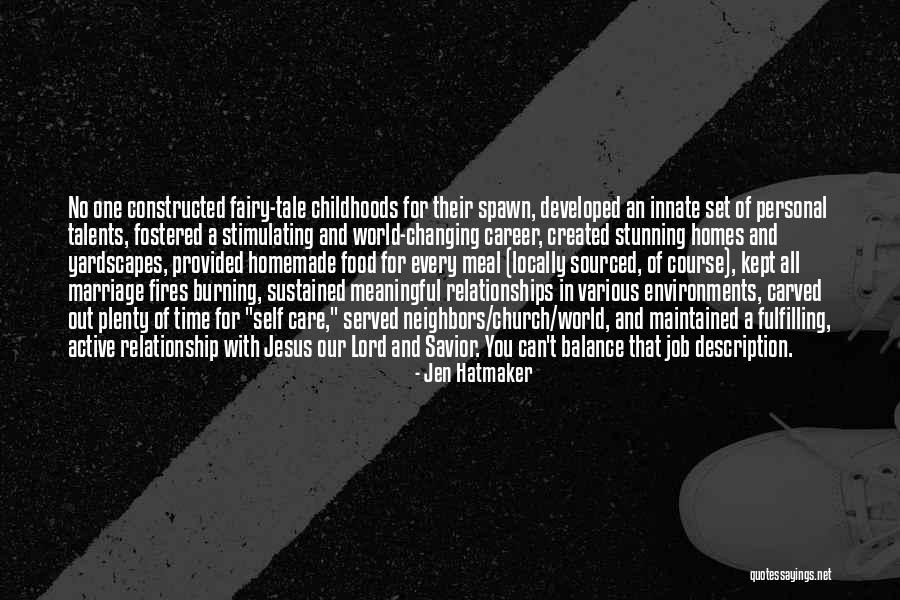 No one constructed fairy-tale childhoods for their spawn, developed an innate set of personal talents, fostered a stimulating and world-changing career, created stunning homes and yardscapes, provided homemade food for every meal (locally sourced, of course), kept all marriage fires burning, sustained meaningful relationships in various environments, carved out plenty of time for "self care," served neighbors/church/world, and maintained a fulfilling, active relationship with Jesus our Lord and Savior. You can't balance that job description. — Jen Hatmaker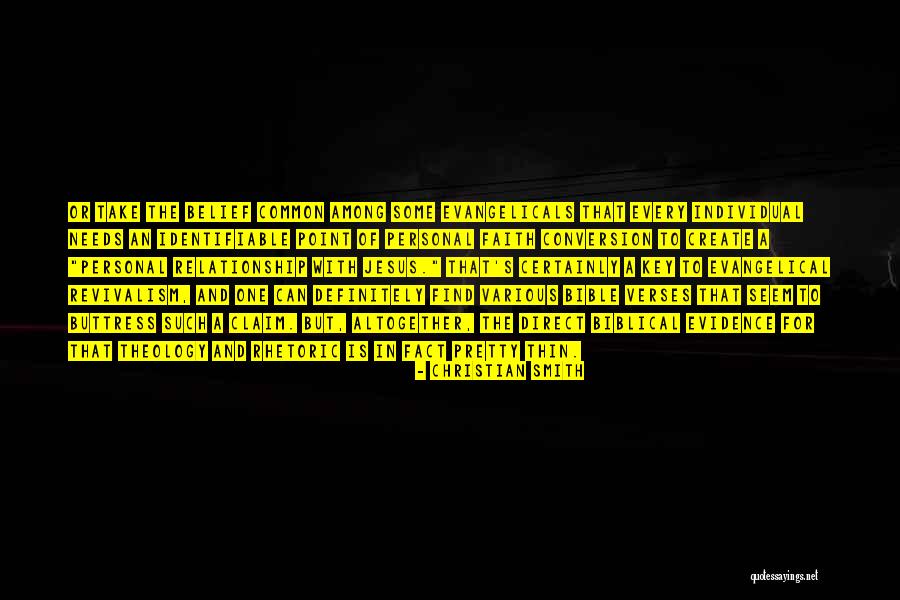 Or take the belief common among some evangelicals that every individual needs an identifiable point of personal faith conversion to create a "personal relationship with Jesus." That's certainly a key to evangelical revivalism, and one can definitely find various Bible verses that seem to buttress such a claim. But, altogether, the direct biblical evidence for that theology and rhetoric is in fact pretty thin. — Christian Smith